Kali River Rapids at Disney's Animal Kingdom
Kali River Rapids is a raft style attraction located in the Asia section of Animal Kingdom in Walt Disney World. This attraction offers the opportunity to rush down raging rivers before plunging down a 20-foot drop. You will definitely get wet.
How wet? It's difficult to say. But the last time I rode Kali River Rapids, years ago, we all got so wet that I vowed to never ride it again.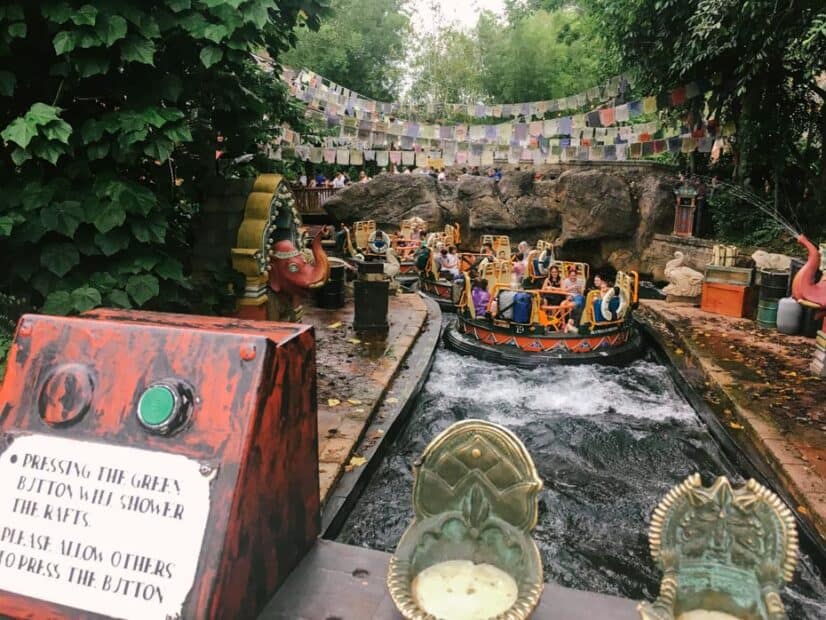 Here are all the details:
| | |
| --- | --- |
| Kali River Rapids | Animal Kingdom |
| Location: | Asia |
| Disney Height Requirement: | 38″ |
| Animal Kingdom FastPass | Yes, when available |
| Ride Type: | Water Raft Ride |
| Seats Per Vehicle: | 8 per raft |
| Rider Switch at Disney: | Yes |
| Extra Magic Hours: | None |
| Good For: | Anyone who likes water rides. |
| Scary Factor: | Medium |
| Must-Do List: | Low Priority |
| Perfect For: | Tweens, Teens, and Adults |
| Special Mention: | Pack your poncho, you will get wet! |
Kali River Rapids Review
Remember that Kali River Rapids does have a height requirement and often meets to lengthy wait times during the hotter portions of the day. Especially during the summertime. If you visit in a cooler month and the attraction is open, there probably won't be any significant wait times.
In my Disney packing list, I always recommend carrying a couple of disposable ponchos in your park bag. On your Animal Kingdom day, you might want to carry a few extra. That way you can slip one on before boarding Kali River Rapids and it will help somewhat.
Additionally, there is a locker area across from the Kali River Rapids entrance. It's tucked in beside the restrooms. The area is called the Kali River Expedition Storage Lockers.
You can reserve a locker for up to two hours at no charge, and that will give you plenty of time to experience the attraction and then retrieve your belongings. You'll just need to swipe your card at the kiosk and then select a pin for your locker assignment. Don't forget your pin number or locker number!
I recommend storing your mobile device and all personal items in a locker prior to entering the queue. You really don't want to ruin anything of value.
As far as Kali River Rapids goes, I personally feel it's a bit overrated. It is a beautiful area of the park, but there's not a lot of substance to the ride in my opinion. You seem to float through an area, spin around a few times, and then hit a drop.
There are a few waterfall areas that help build on anticipation. And depending on what side of the raft floats under them, it could leave you a bit drenched.
Personally, I don't care to be drenched when I'm in the theme parks. That's more of a water park thing for me. But if for some reason you don't heed any of this advice and decide to ride, good luck. Some people love it, I'm just not one of them.
I'll let you decide.
Check out the full list of Animal Kingdom attractions that includes more positive reviews than this one. Some of the most popular rides at Animal Kingdom include:
Planning a trip to Disney World? We specialize in providing Disney World Resort Reviews. Check out some of our favorites like the Disney's Animal Kingdom Lodge Review. You might also enjoy Disney's Boardwalk Inn (Review) or read about our stay at the newer Disney's Riviera Resort.
And if you enjoy water rides like Kali River Rapids, you'll definitely want to check out the Blizzard Beach Rides Guide. It goes over all of the water park rides at the park.
So, leave a comment and share whether or not you're planning to ride Kali River Rapids?