Disney and Pixar Short Film Festival at Epcot
The Disney and Pixar Short Film Festival is located adjacent to the large triangular Imagination Pavilion in Epcot. In the picture below, you can see that the entrance to the film festival is only a few steps away from the exit of the pavilion.
This review will cover the need-to-know information about the Disney and Pixar Short Film festival. We will also discuss when and whether or not it's worth your time to experience this attraction.
Additionally, you can now see Mickey or a favorite Disney Pal at this location.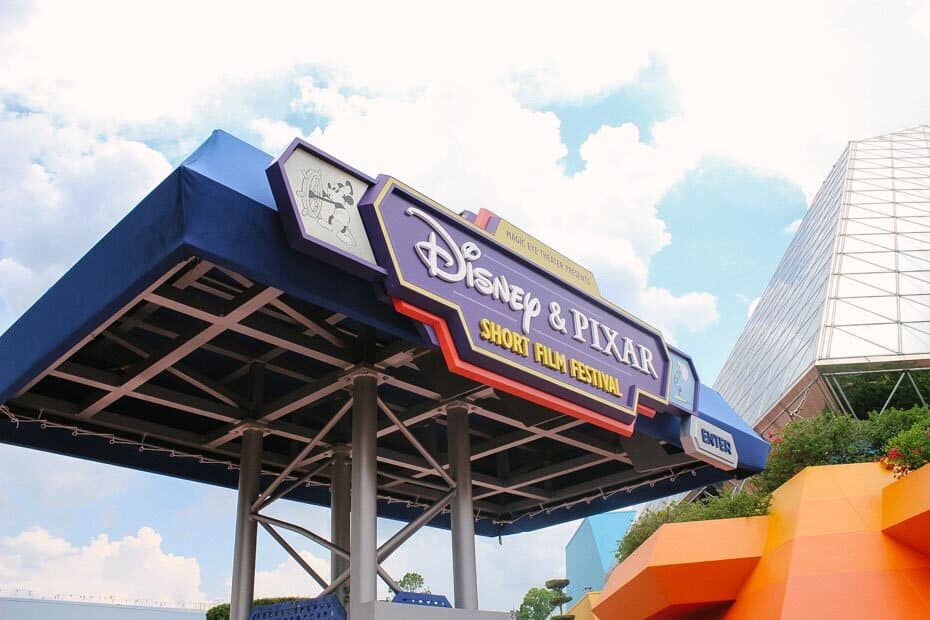 Below is a quick reference chart for experiencing the featured short film cartoons.
| | |
| --- | --- |
| Disney and Pixar Short Film | Epcot Attractions |
| Location: | Imagination Pavilion |
| Height Requirement at Disney World: | None |
| Genie+ Eligible | Yes, not needed |
| Ride Type: | Theater Show |
| Seats Per Vehicle: | Theater |
| Duration: | 18 minutes |
| Good For: | Taking a break. |
| Scare Factor: | Low |
| Must-Do List: | Low |
| Perfect For: | All Ages |
| Special Mention: | Great area to be in during a shower. |
Disney & Pixar Short Film Festival
The Disney & Pixar Short Film Festival is a combination of three different shorts (cartoons) from Disney or Pixar. In addition, there are a few unique effects that occur during the festival.
For example, you will experience a bit of movement in areas while watching. The shorts are also in 3D, so you will need to pick up a pair of glasses before entering the theater.
As far as Genie+ goes, the only wait you should expect for this experience is for the next show to begin. So, therefore, if you are in the area and refreshing Genie+ and this comes up, don't select it.
If crowds are high and you need a break, the Short Film Festival is a decent place to visit. I recommend getting in line and waiting for the next show to begin.
While the Short Film Festival is cute, it's only a few cartoons that are also available in a variety of different places online. You aren't going to miss anything if you skip it, and those on a tight schedule will want to prioritize their time.
Now, if you end up touring Epcot on a rainy day, this is one of the areas I highly recommend touring. The Imagination Pavilion offers a variety of things to do in one covered area. Since the Shorts Film Festival is only a few feet away, it's another easy thing to do while waiting on the rain to clear off.
Remember to keep this area in mind when you need a break from the heat or escape the rain.
For more Epcot attractions reviews, check out these articles:
While we cover a good deal of information on the site, Resorts Gal specializes in providing detailed information about the Walt Disney World Resorts. Browse our reviews of the Disney Resorts to begin planning your next Disney vacation.
You might also be interested in these nearby Epcot Hotel Reviews:
Hopefully, you'll have enough time to check out the Disney and Pixar Film Festival. Do you have a favorite Disney short? Let me know below in the comments.