Walt Disney World Swan Reserve Review (Why We Adore This Upscale Hotel)
In this article, we review the Walt Disney World Swan Reserve, a Marriott-owned and operated hotel located in the Epcot Resorts area. We'll discuss the details of our stay, including dining, recreation, and transportation items. Additionally, I'll share with you why we adore this upscale hotel with a few thoughts on whether or not it might be a good fit for your vacation.
It's no secret that we are loyal Disney Swan and Dolphin Resorts fans. Over the years, we've stayed at both hotels more times than we can count.
So it was far past time that we planned a stay at the newer Swan Reserve. This upscale hotel is considered a deluxe resort and sits on Walt Disney World property. It's immediately across the street from the Swan and Dolphin.
Additionally, the hotel is within walking distance of Disney's Yacht and Beach Club, Boardwalk Inn, Epcot, and Hollywood Studios. As you can imagine, the hotel's location is its prime amenity.
Swan Reserve Hotel Review
Upon our arrival at the Swan Reserve, we dropped our luggage off with the bellman and parked the car. If driving, you'll have the option to valet or self-park.
Usually, I prefer to valet. However, the parking lot sits directly behind the hotel and is only a short walk. So having your car nearby in valet is not a massive benefit because it's already close.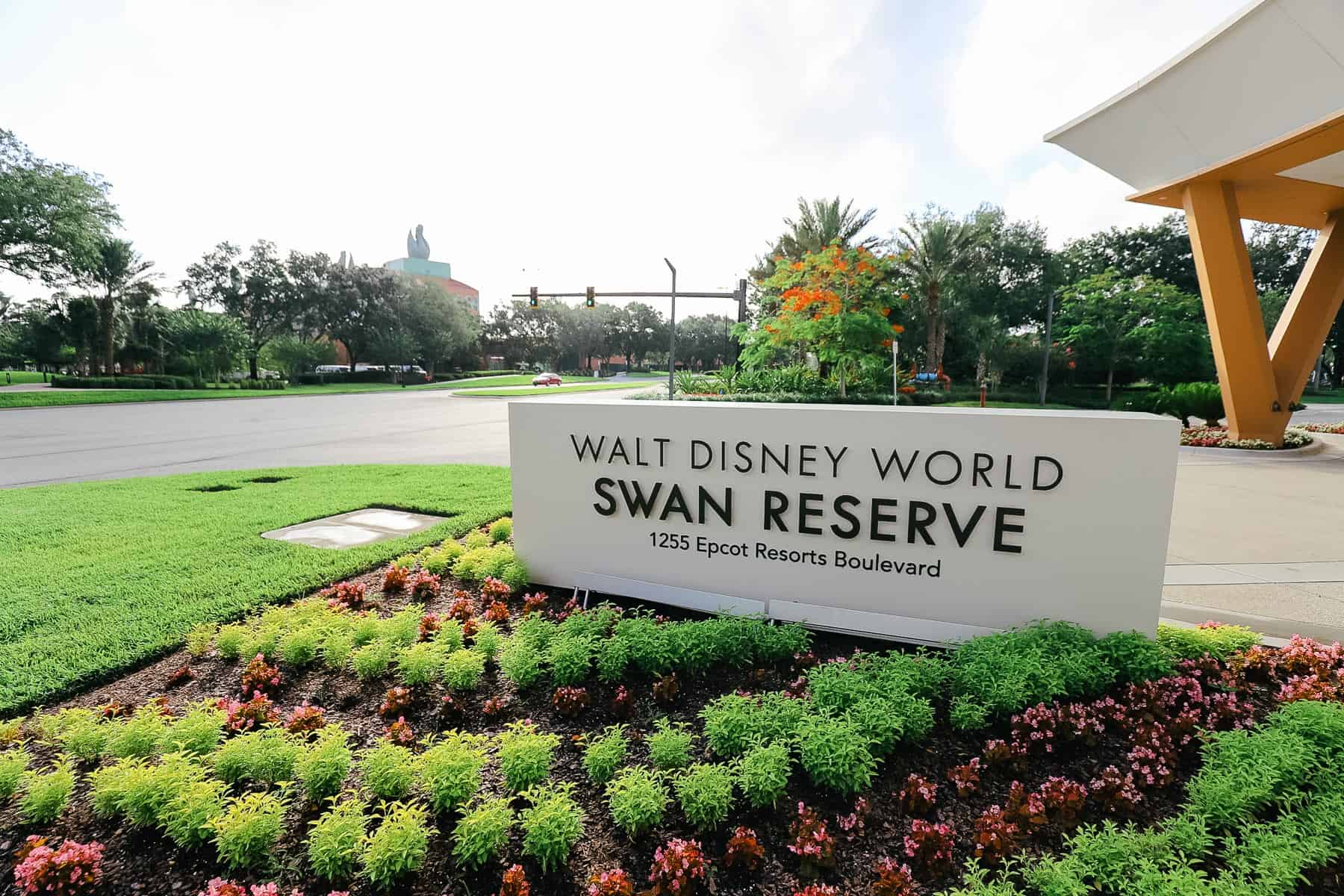 Before arriving, we'd received a text that our room was ready. Since I live close to Walt Disney World, I often communicate that we will arrive around lunchtime. It has been my experience that all of the Swan and Dolphin hotels, including the Reserve, do their best to accommodate early check-in requests.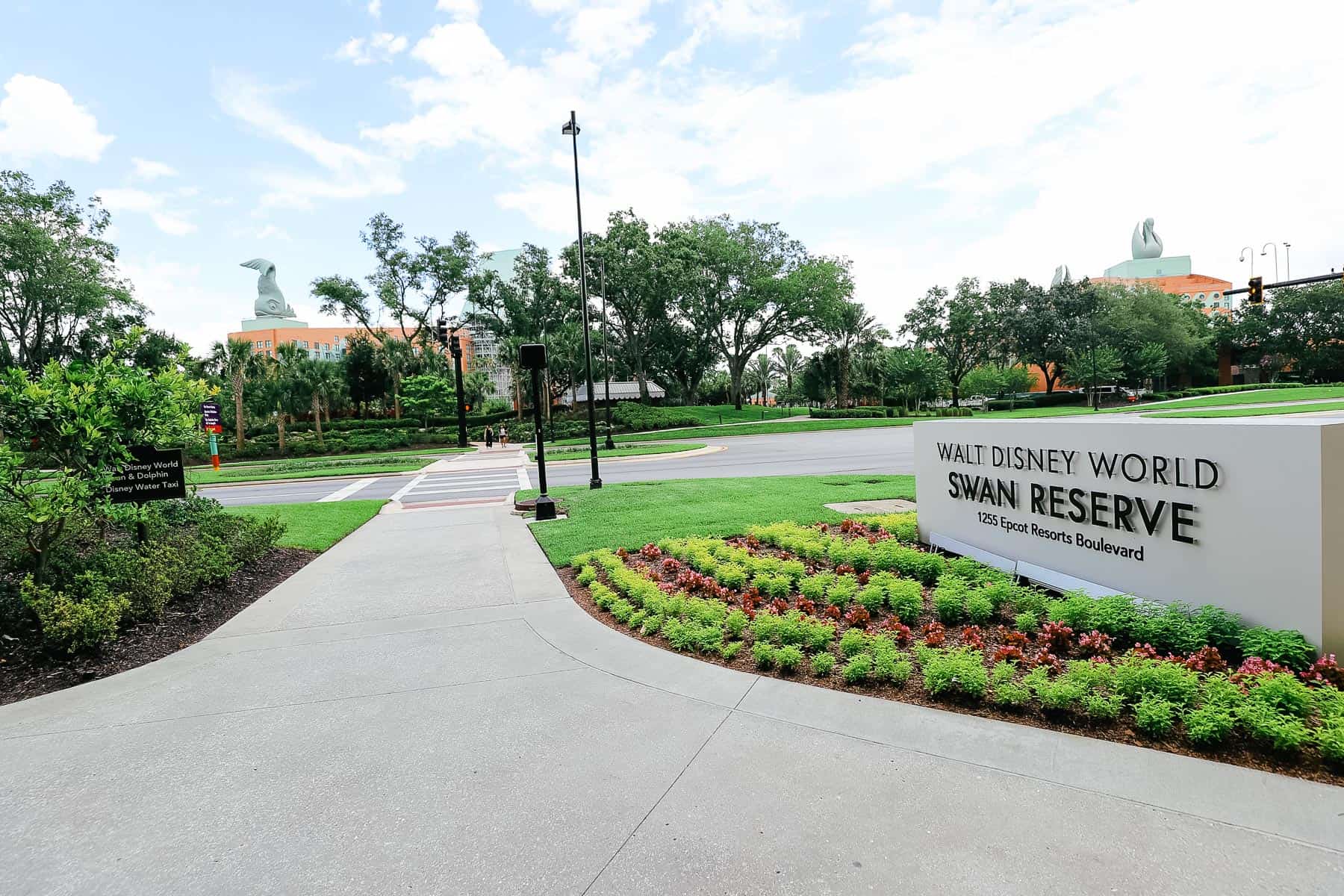 Since the hotel wasn't busy, I took a few photos before heading to the room. This live sculpture with vines sits at the front entrance.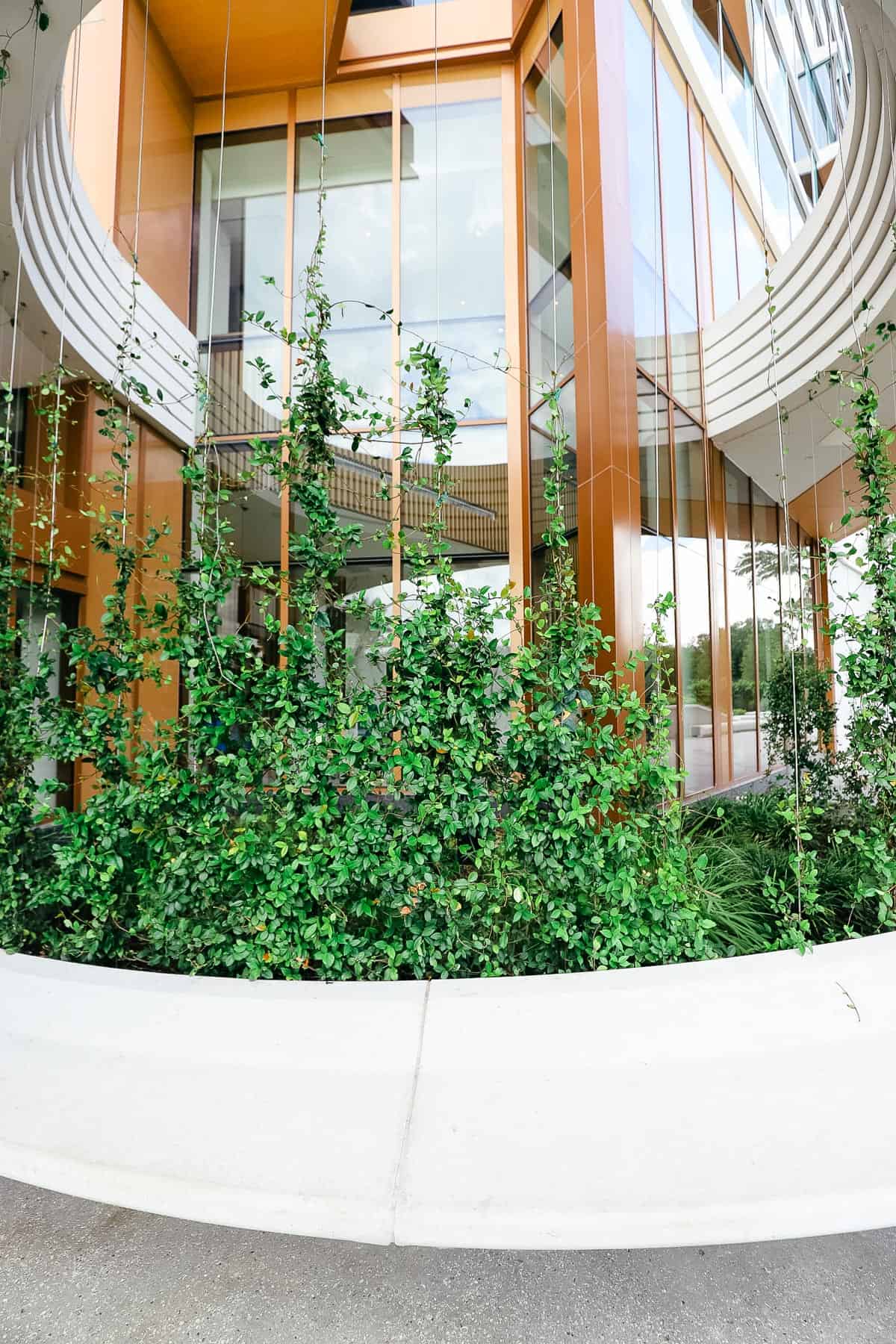 The Swan Reserve is set up a little differently from most hotels I've visited. When you enter what would typically be the hotel lobby, you are greeted with a small space that has a desk and a waiting area to the side.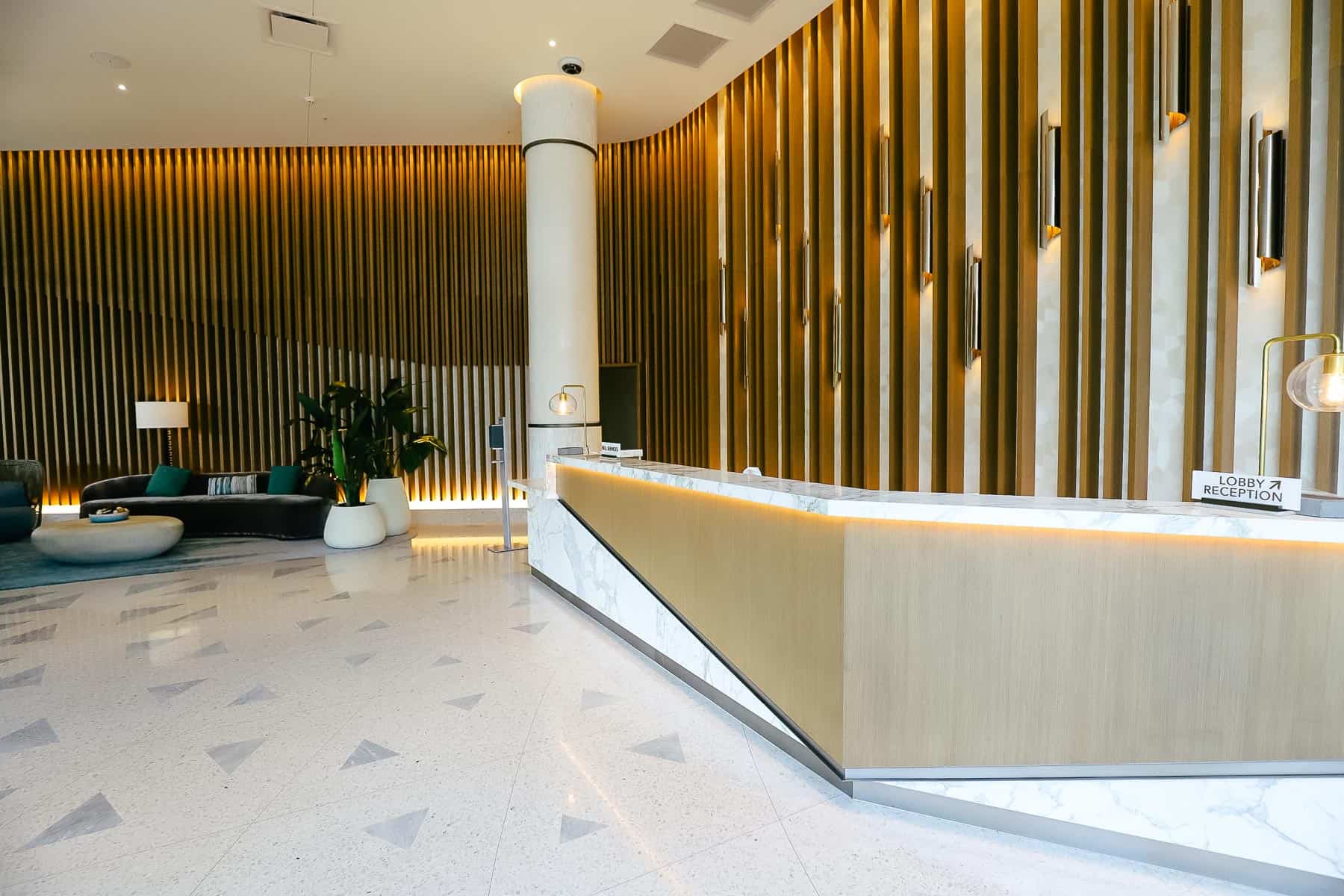 Complimentary water was waiting to greet guests, which I always consider welcoming.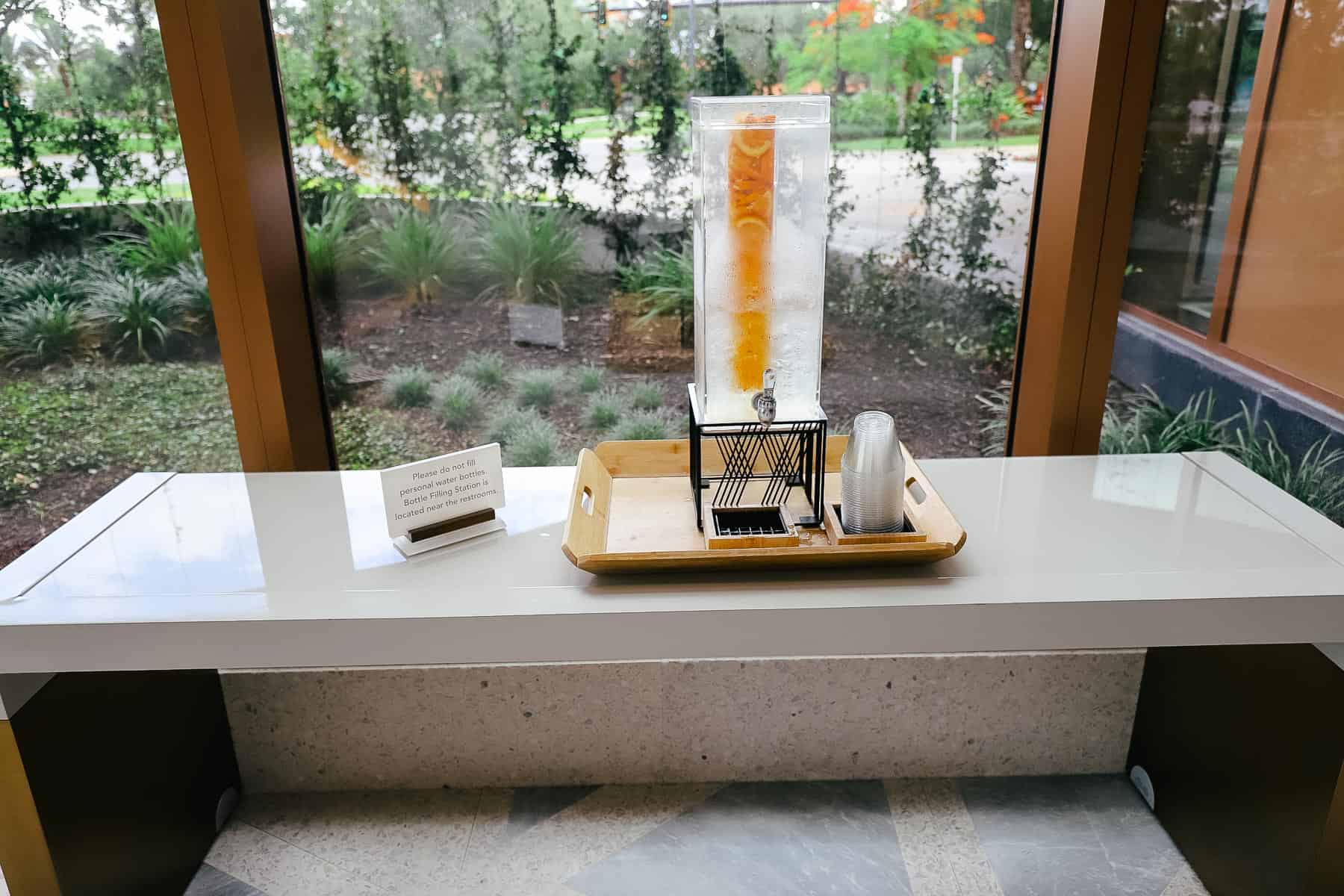 You'll need to take the stairs, escalator, or elevators to head up to the hotel's third floor, which is the central hub of the resort.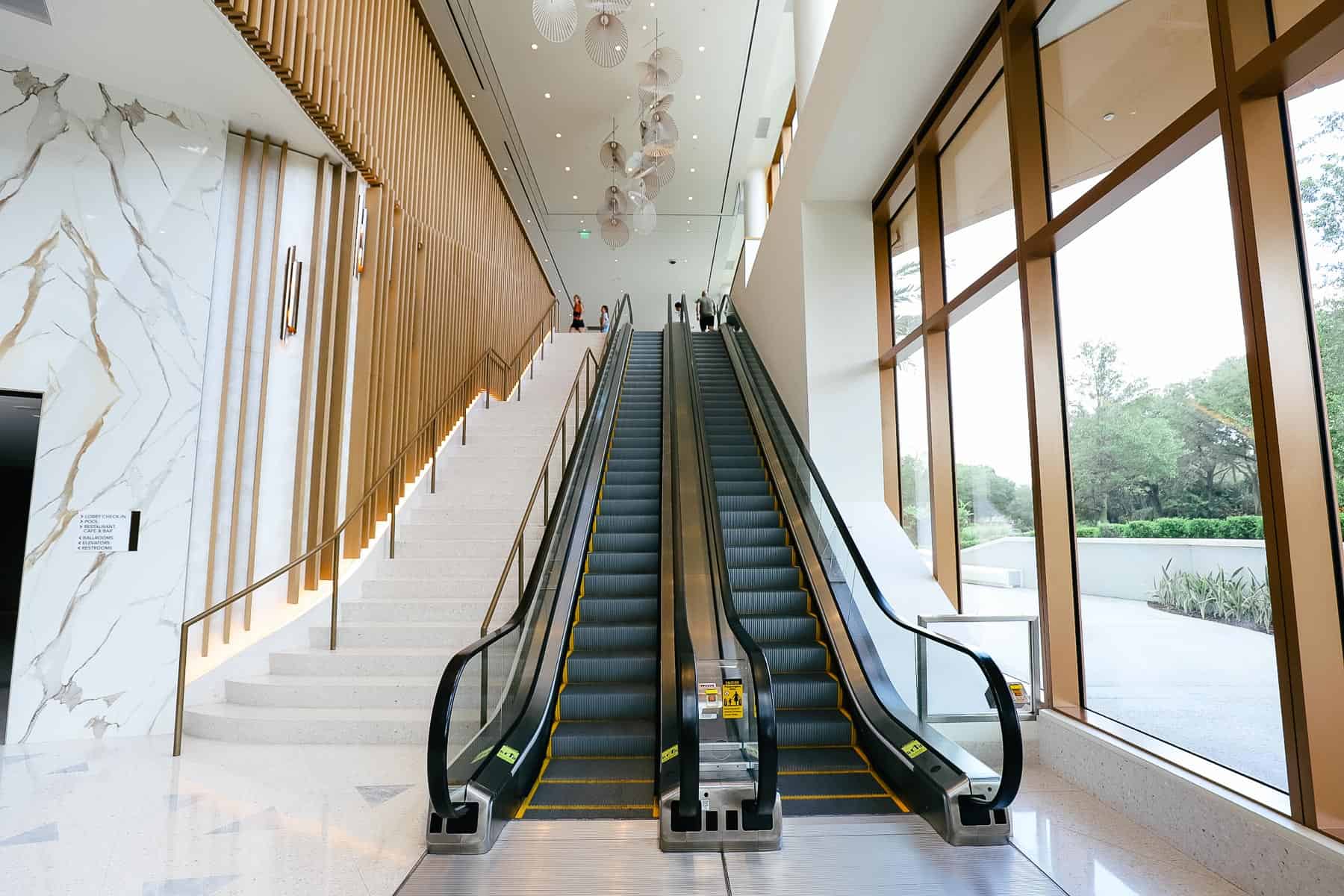 When you reach the top, everything begins to make sense. This is where the hotel's restaurants, lounges, reception, and lobby area are located.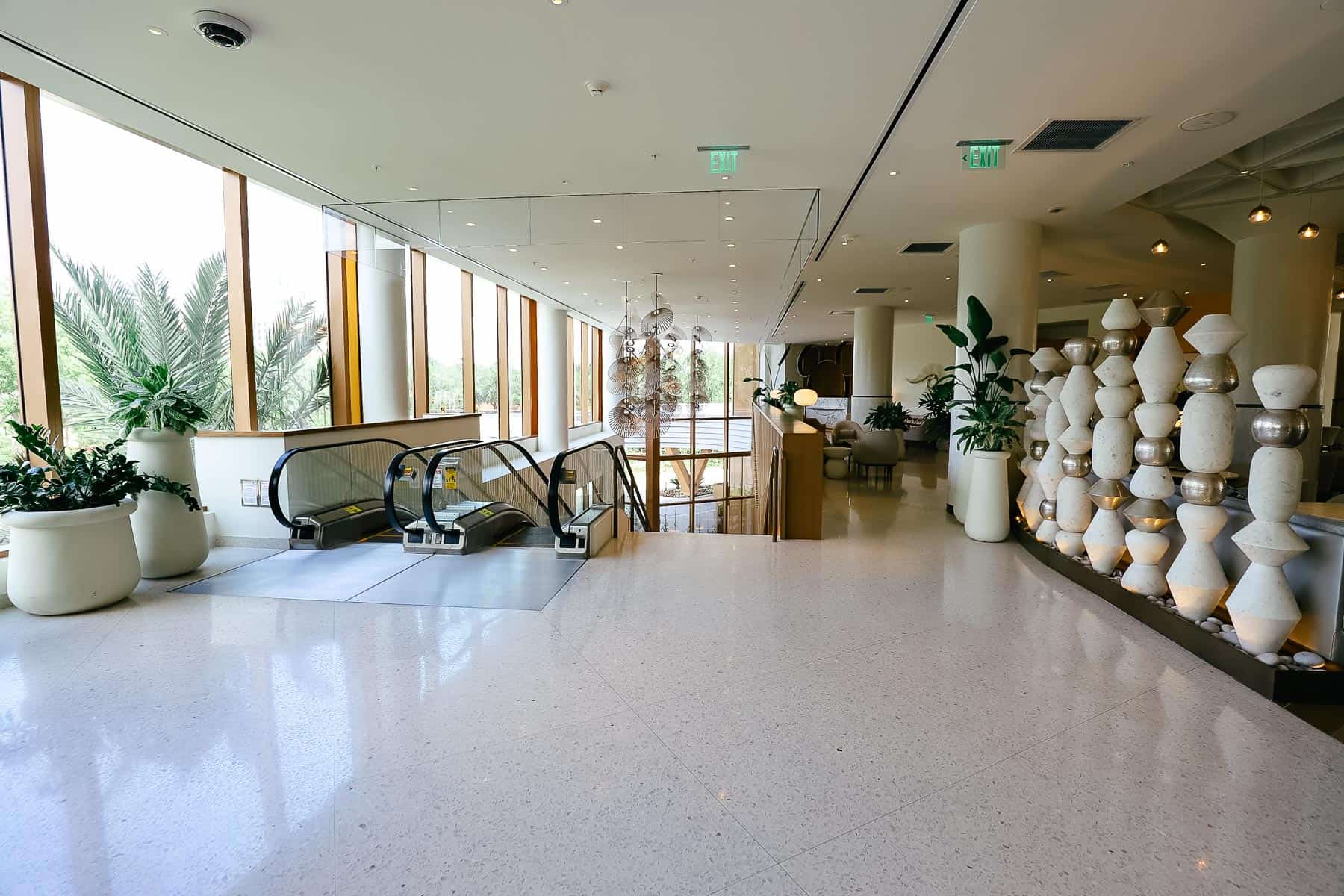 You'll notice a few touches of Mickey here and there. But overall, the hotel has an upbeat modern vibe.
Stir, the hotel's primary lounge, sits in the center of the third floor. Guests will find ample places to sit and enjoy the lobby area.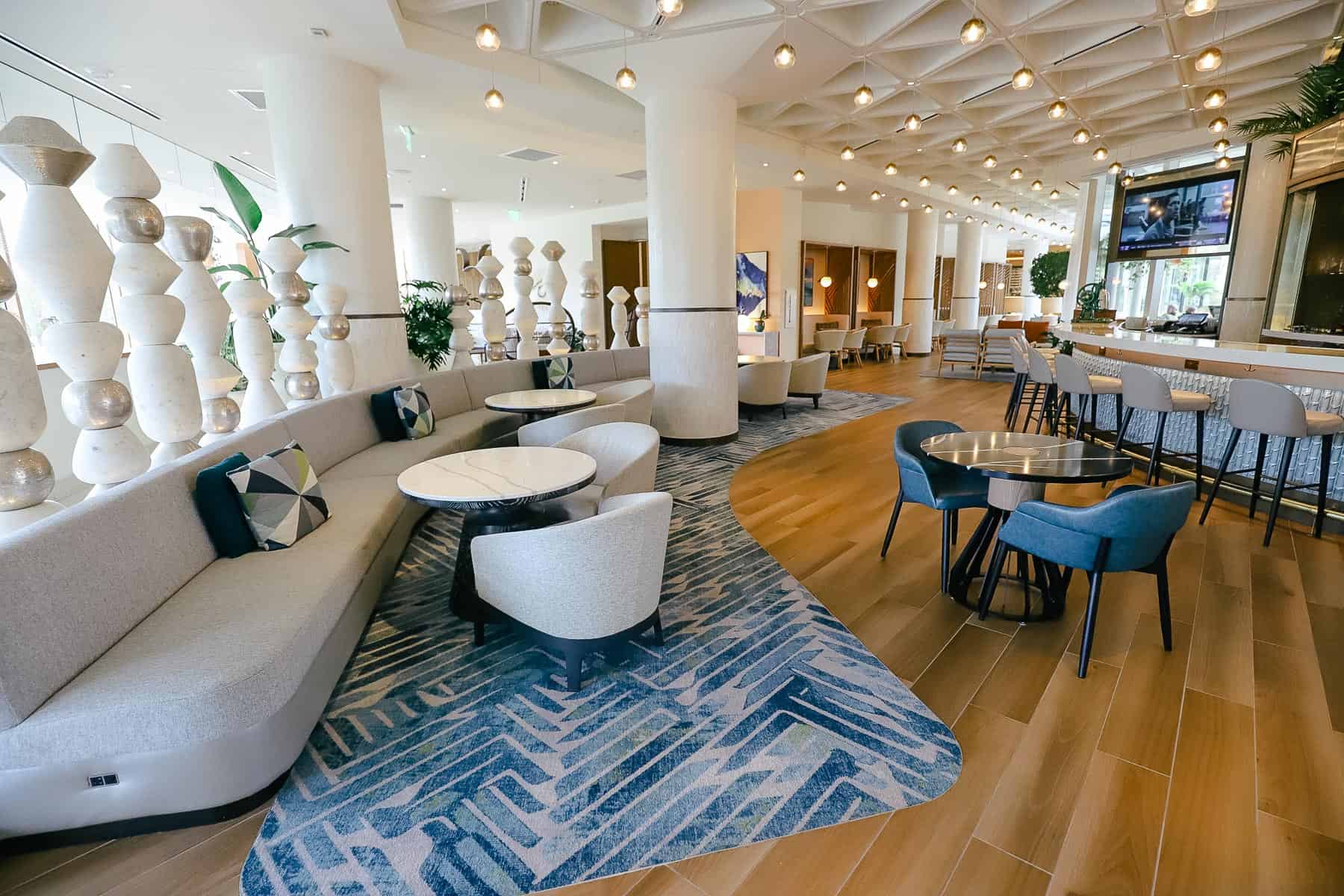 A large bar sits in the middle of Stir. Bar and lounge service is available from 3:30 p.m. until late evening. This location offers a full menu that includes bar snacks, appetizers, flatbreads, and entrees.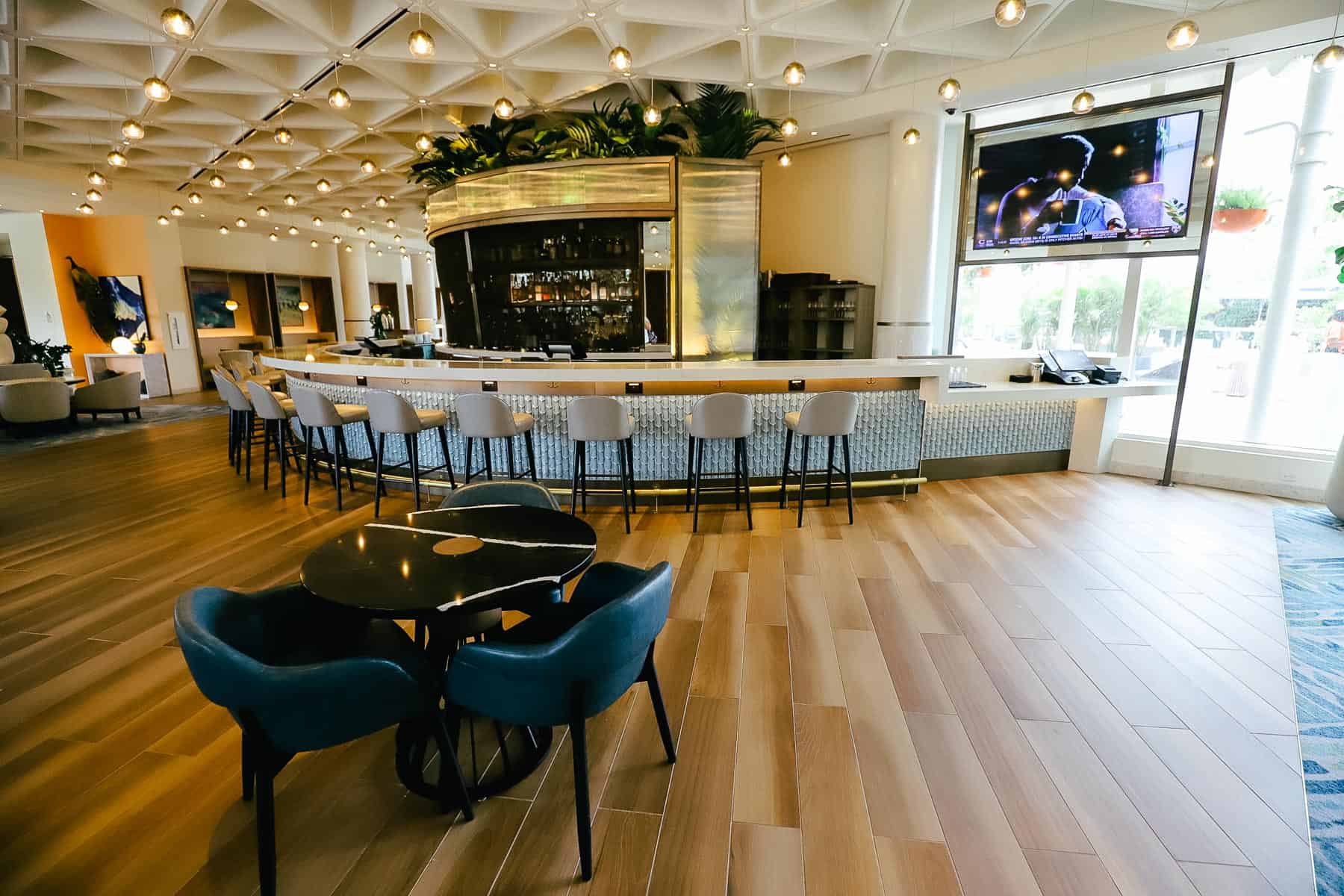 One of the things I love most about the Swan Reserve is the sitting areas between the lounge and the restaurants. You'll find a long row of seating arrangements that offer privacy or a setup similar to mini-living rooms.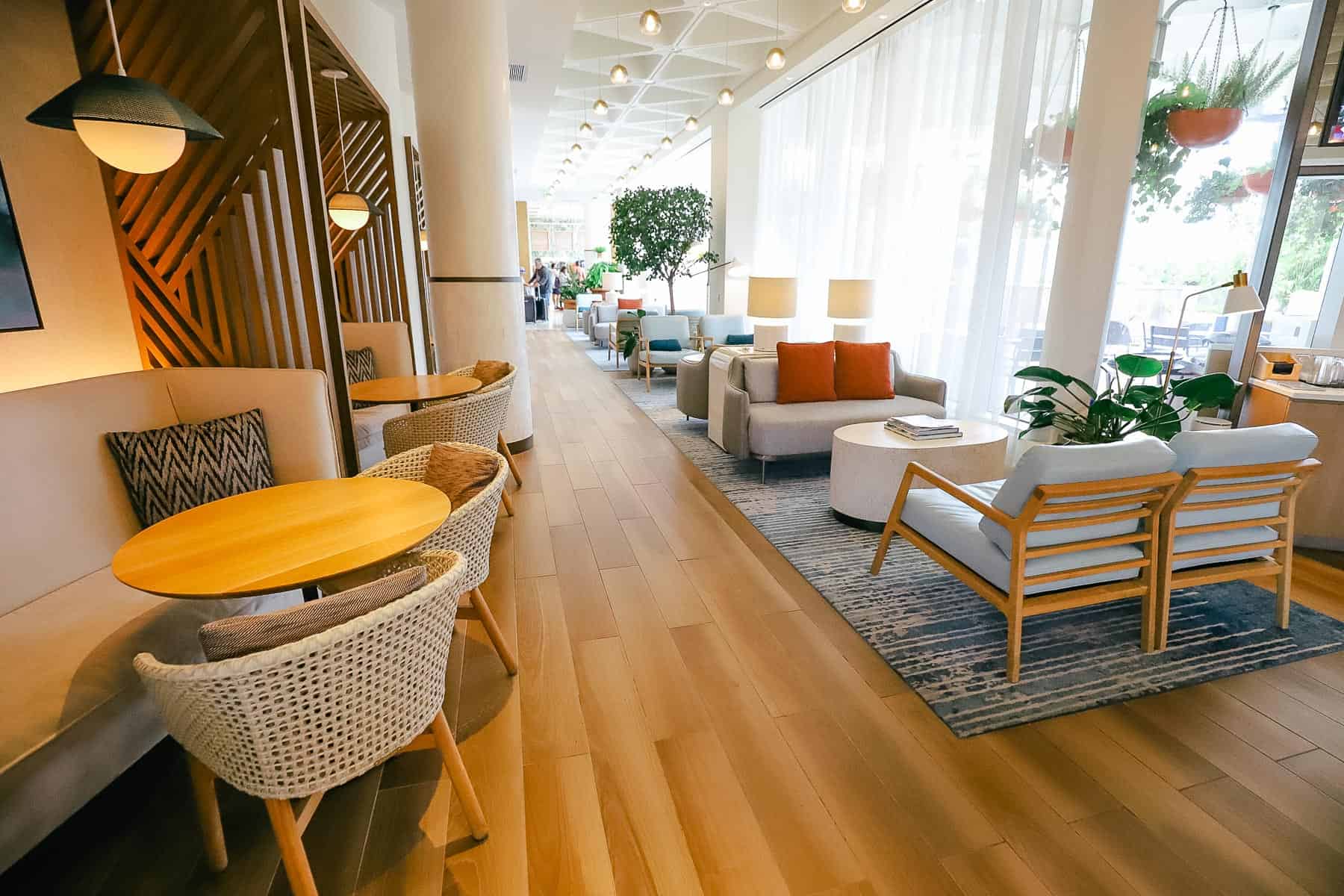 These nooks provide a perfect space to relax or get some work done while on vacation.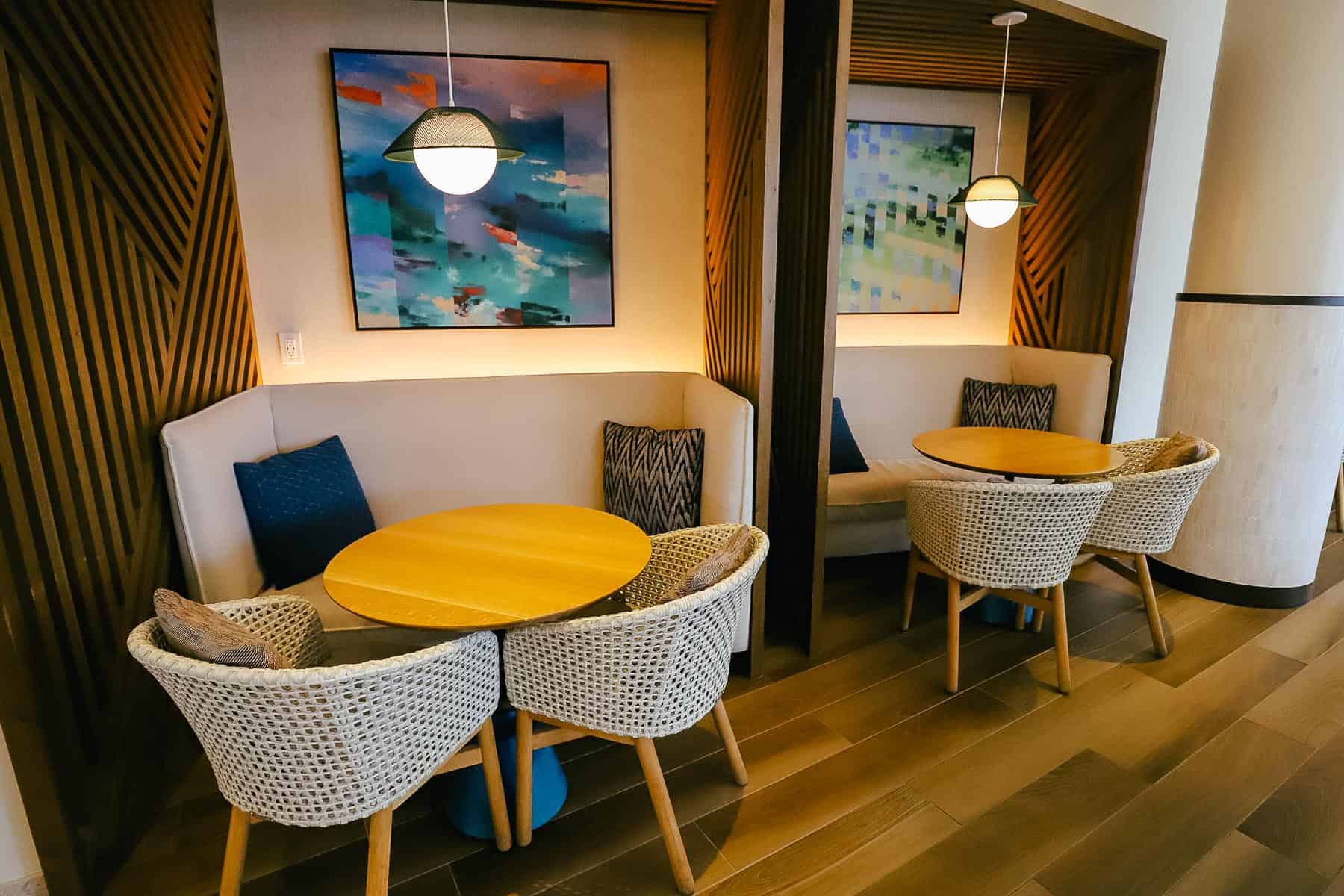 This space below is a wonderful place to meet up with friends or family before dinner or heading out to the parks first thing in the morning.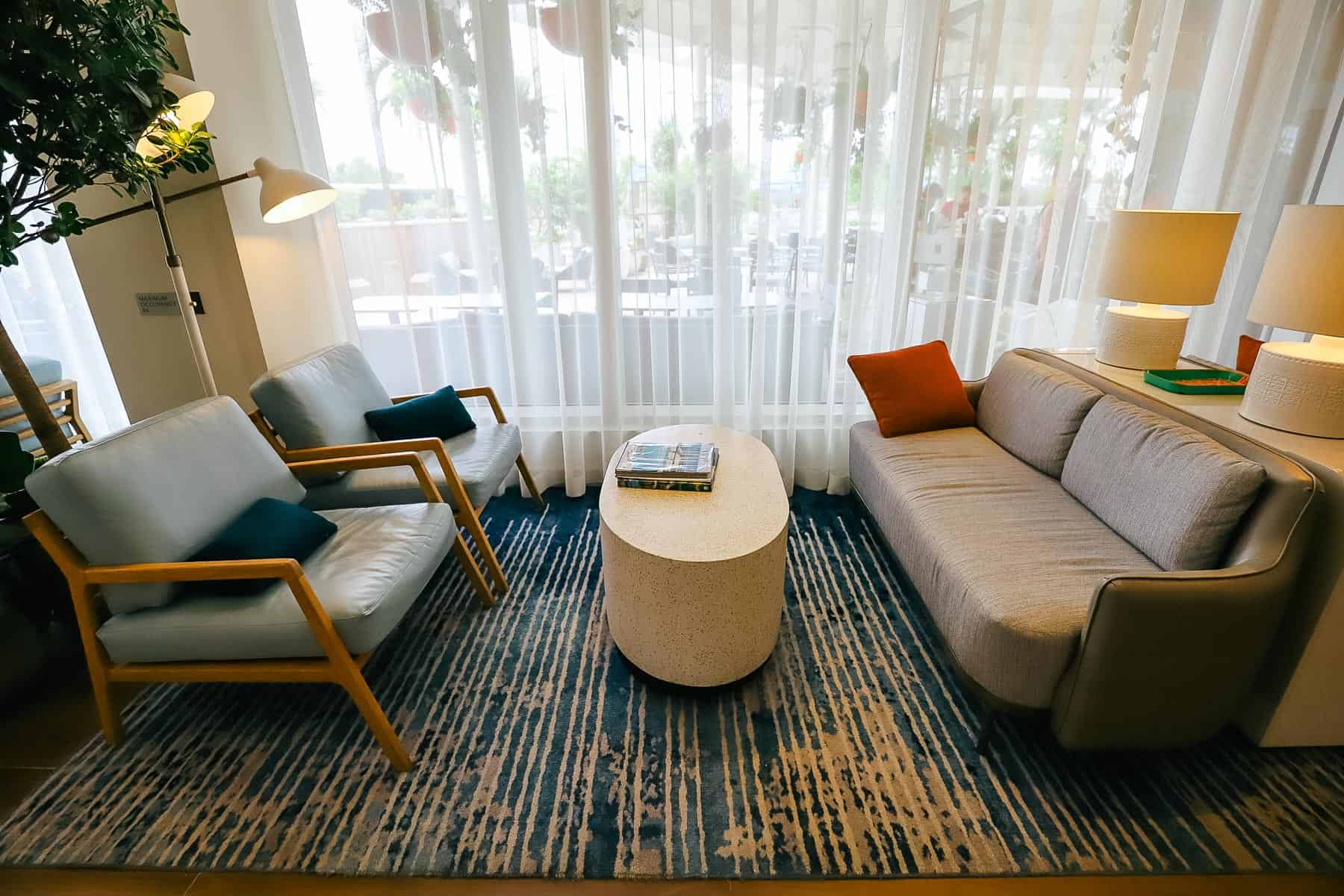 At the end of the long row of sitting areas, we run into Amare, the resort's signature dining restaurant. Amare serves breakfast, including a breakfast buffet, in the mornings. At night the restaurant transitions to fine dining.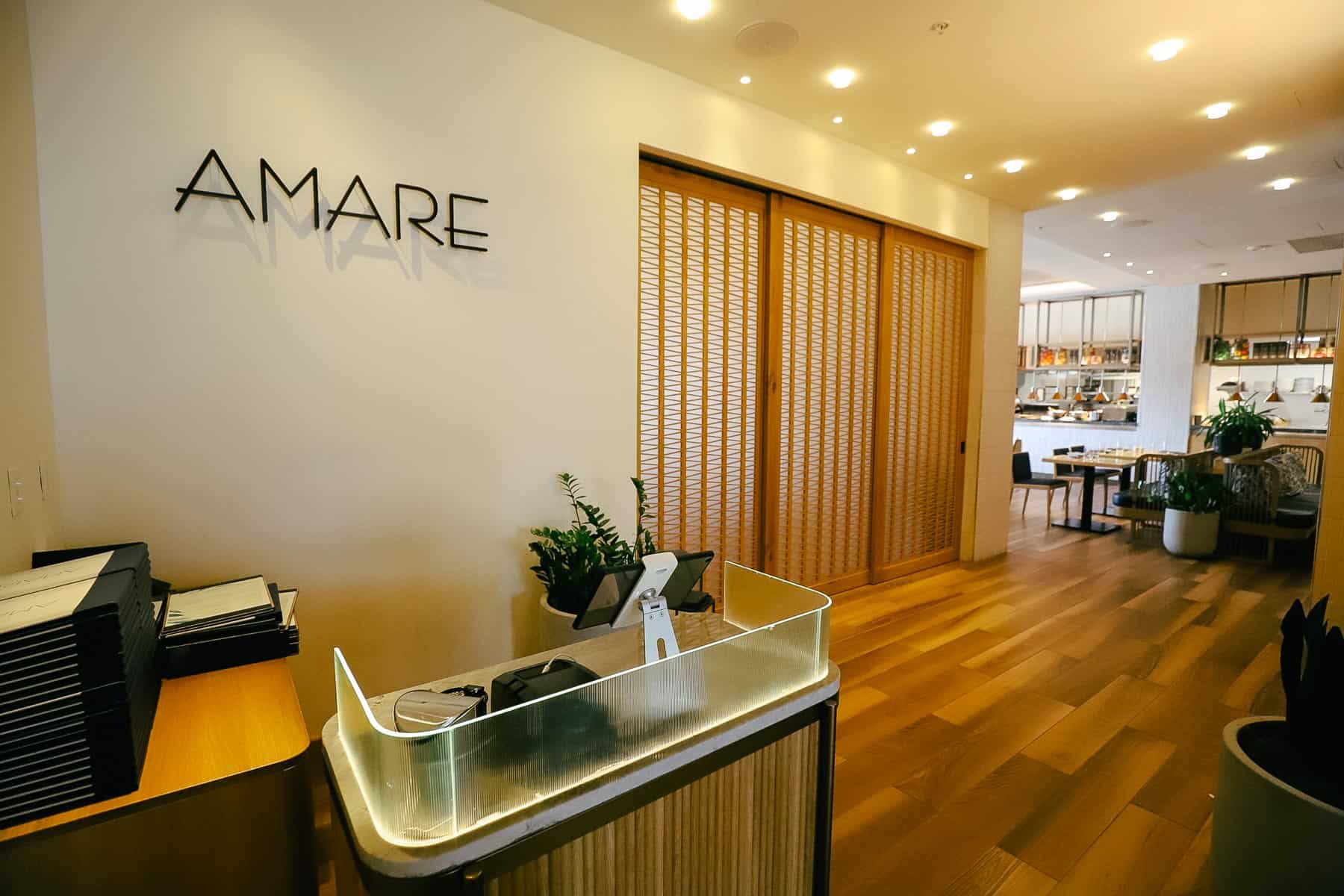 A large display of wine bottles makes up part of the entrance to the restaurant.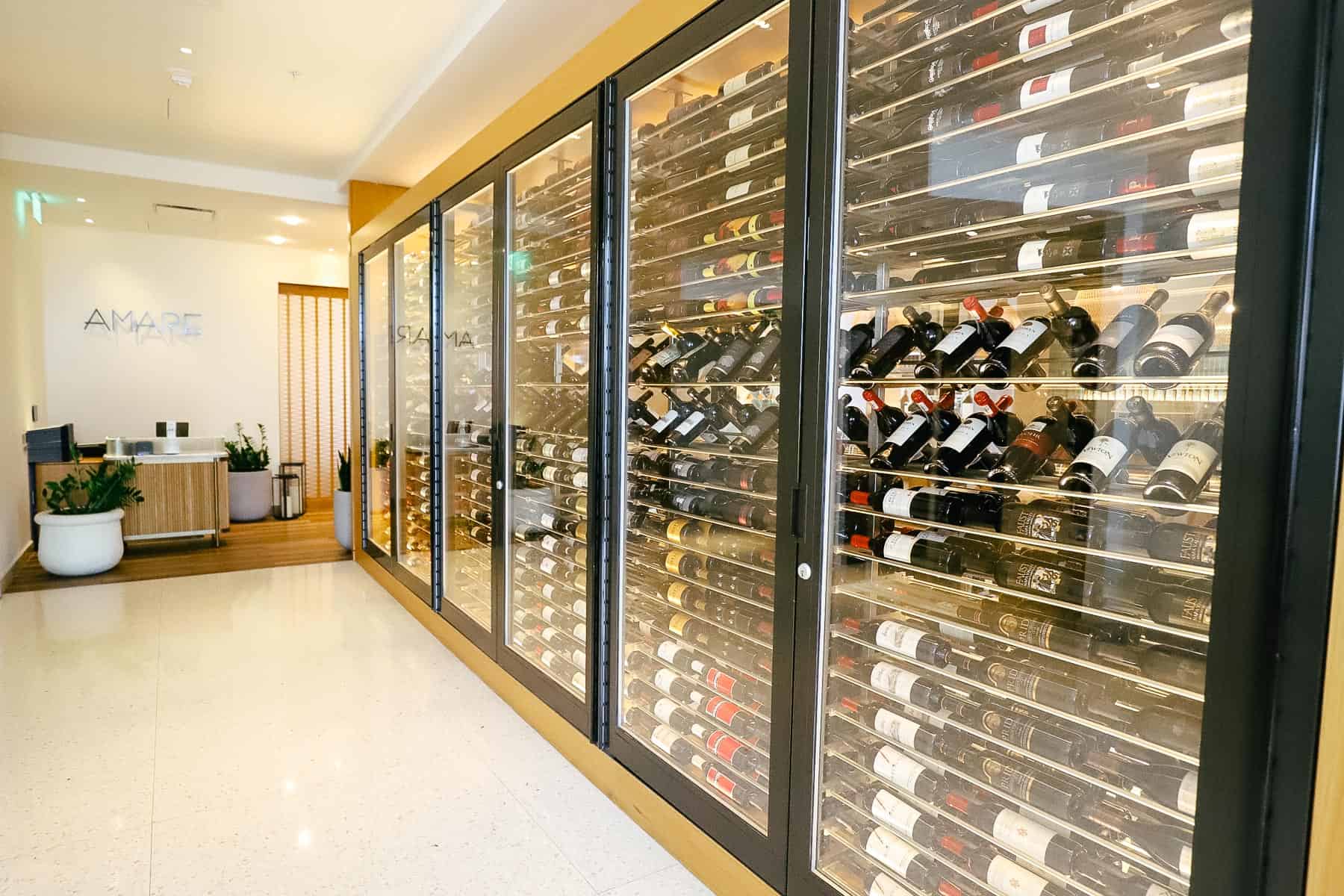 Grounds sits between Amare and the resort's pool area. Grounds is the resort's quick service (grab-and-go) dining location.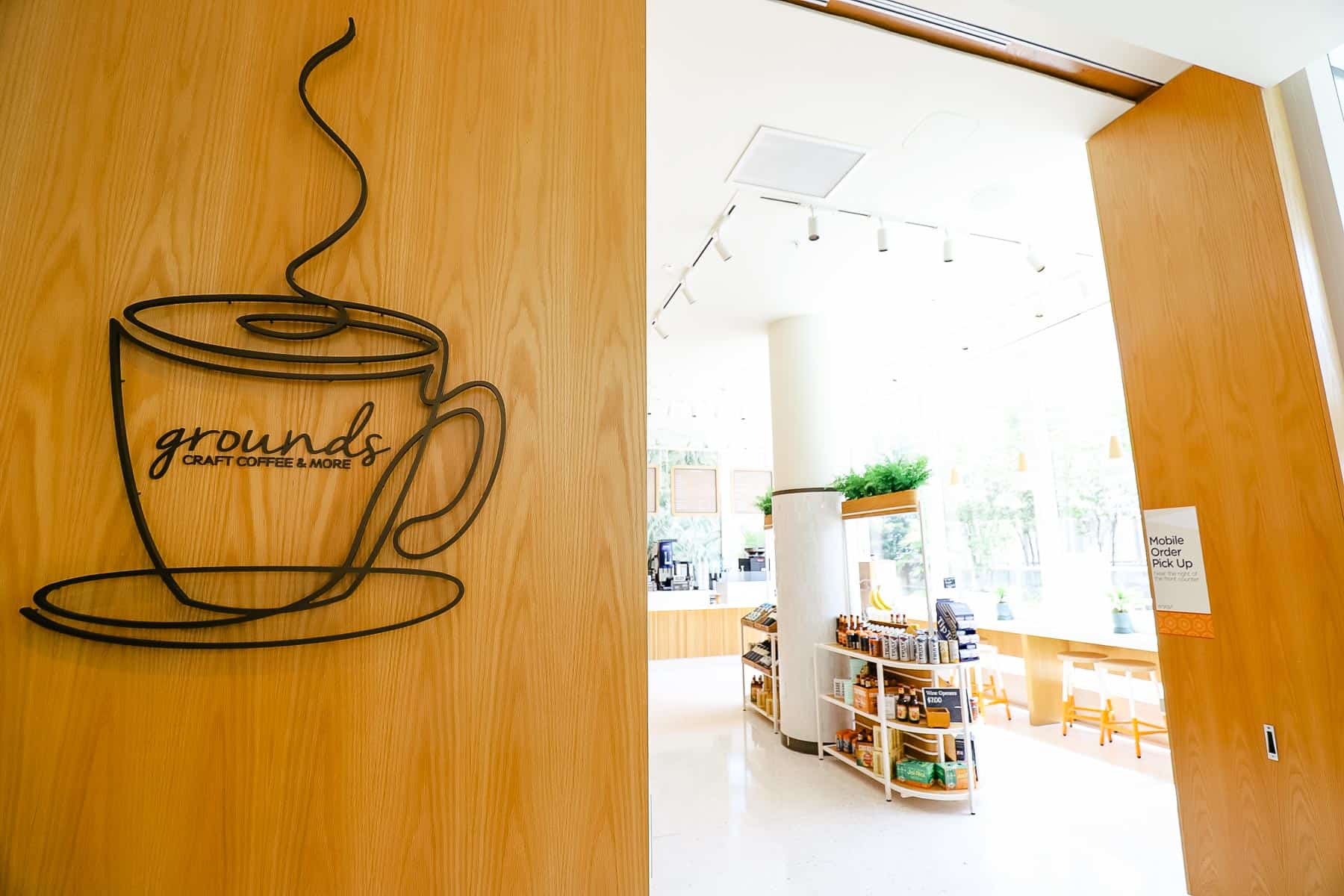 We have a look inside Grounds if you would like to preview what all the location offers. Mostly, you'll find snacks, beverages, wine, beer, and a few premade sandwiches at the registers. Of course, with a name like Grounds, you can expect a full menu of specialty coffee beverages.
Related: Grounds at the Swan Reserve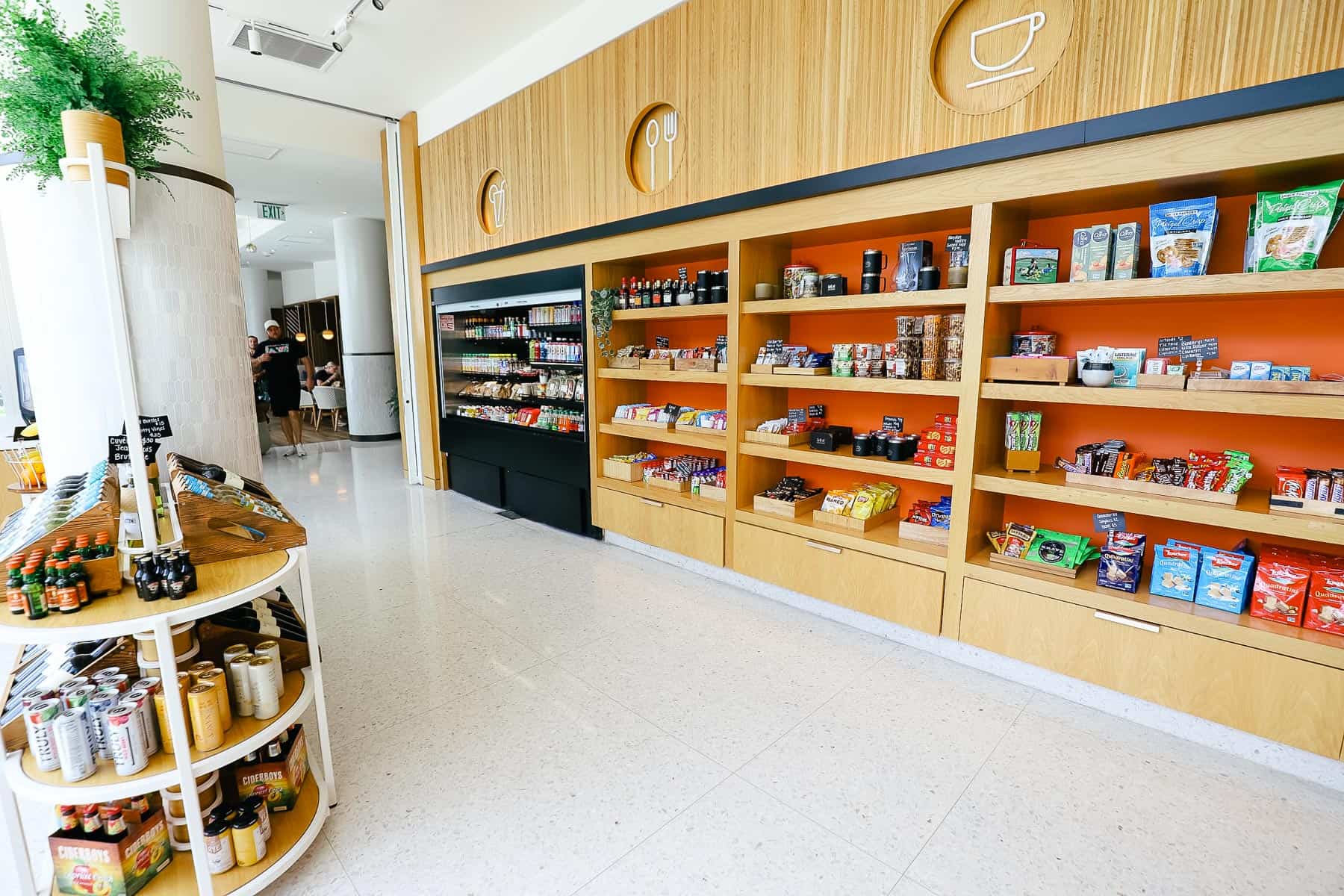 If you want, you can enjoy a coffee or sandwich inside Grounds. A small bar along a wall of windows faces out to the pool area.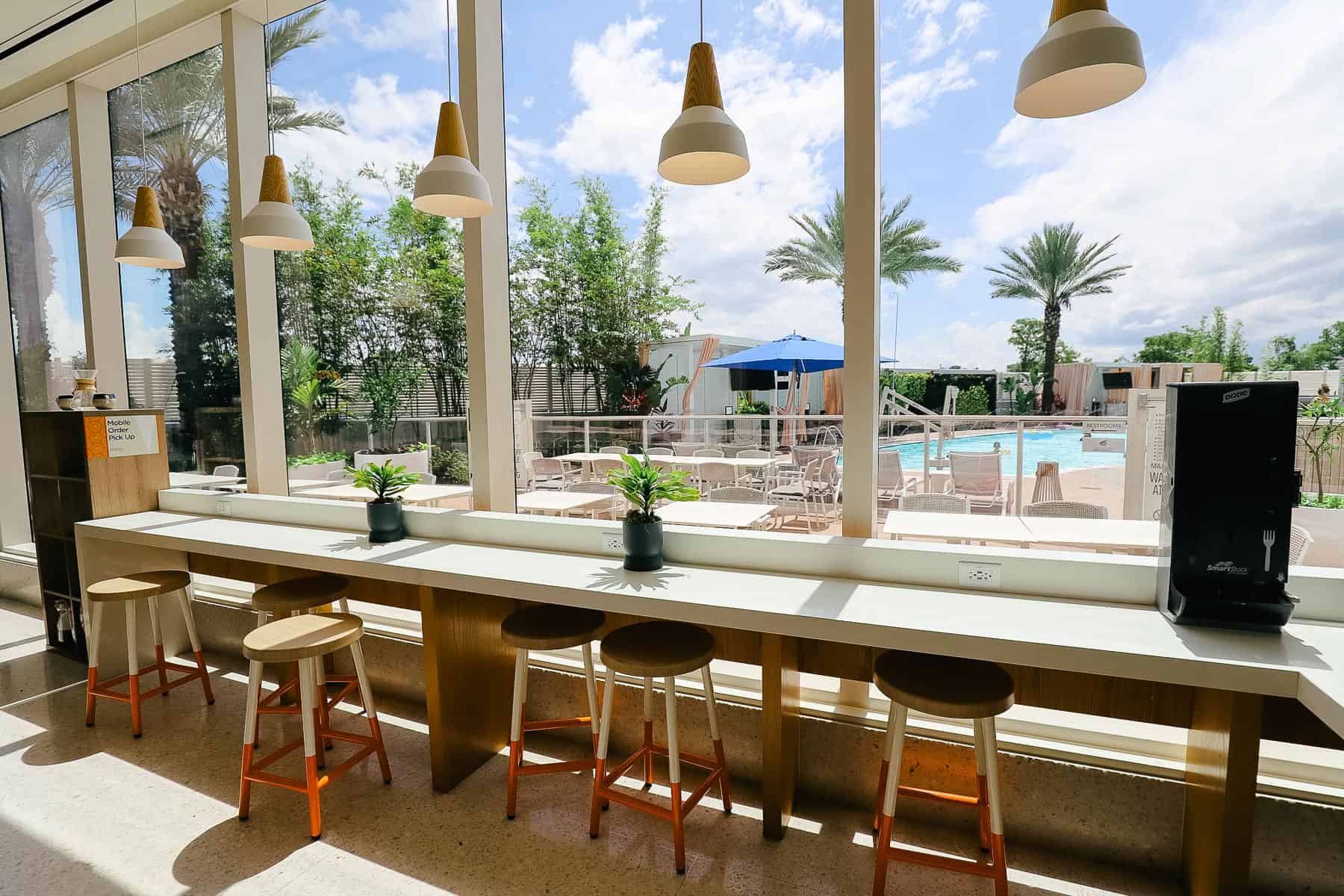 Outside you'll find more tables and chairs behind the pool area.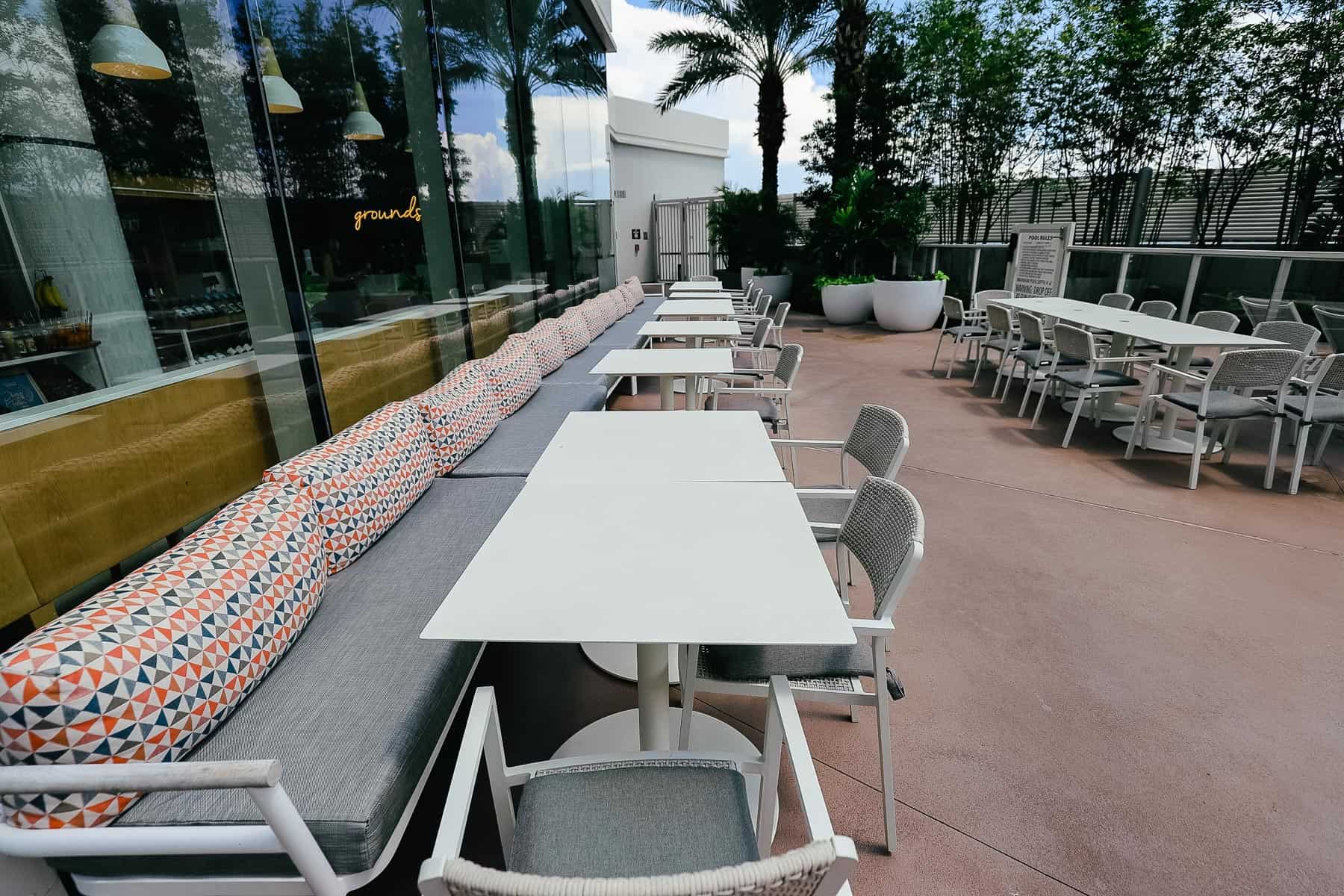 Or you can hang out at the pool. The Swan Reserve's pool and most of the resort's other amenities are on the third floor.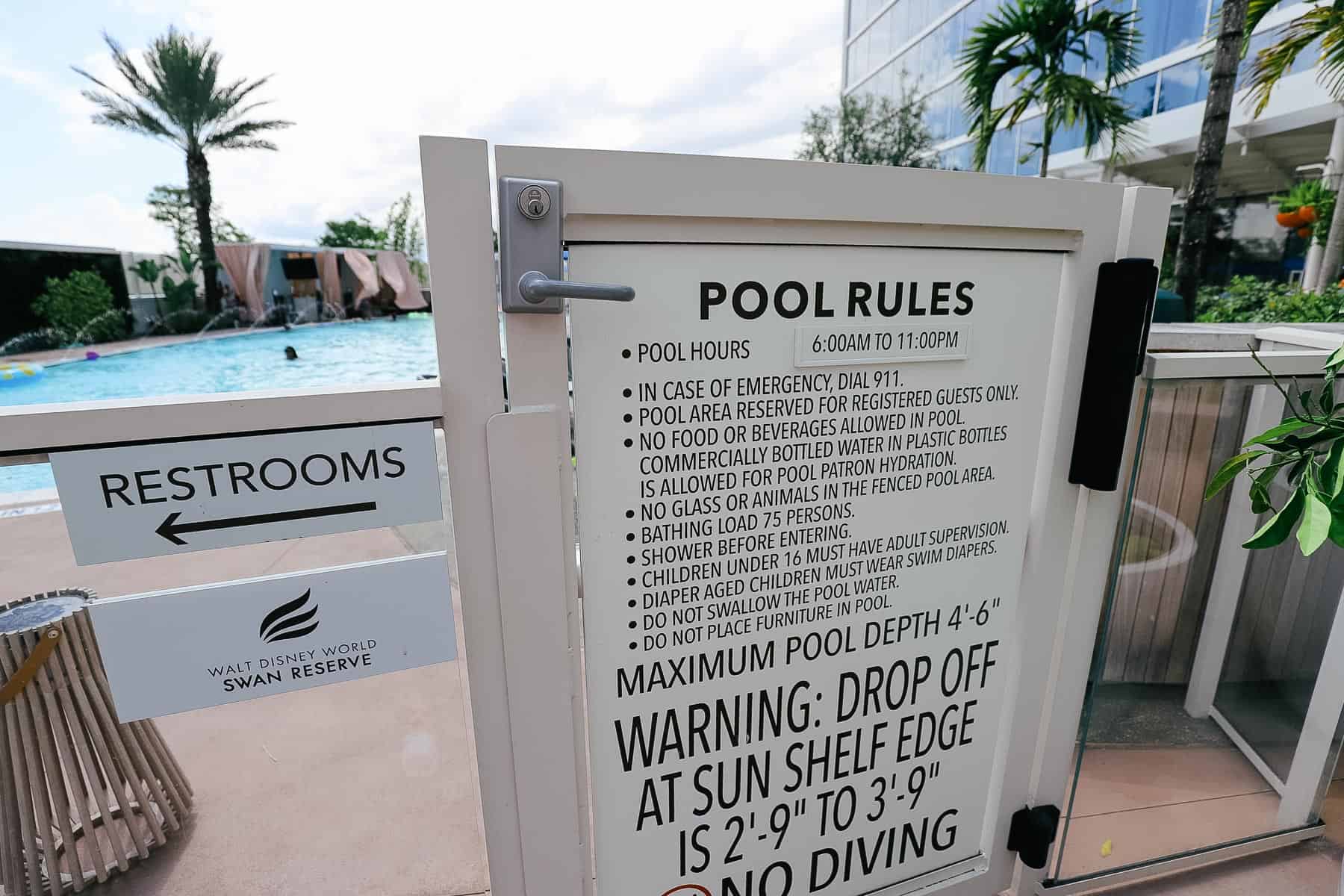 When I stepped outside, I couldn't help but smile at the reflections of the cloudy sky on the windows.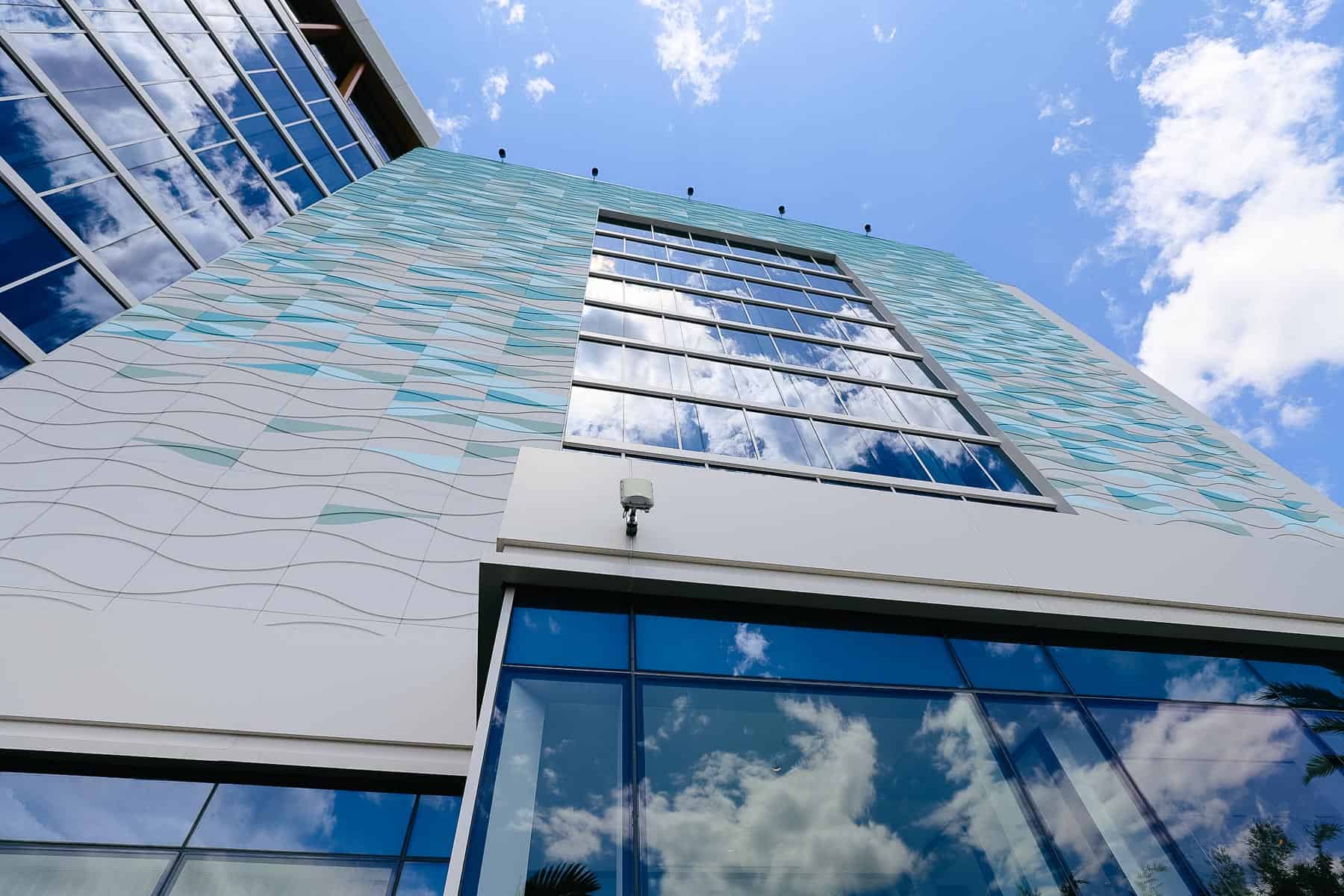 The Swan Reserve continues to offer plenty of lounge areas outside.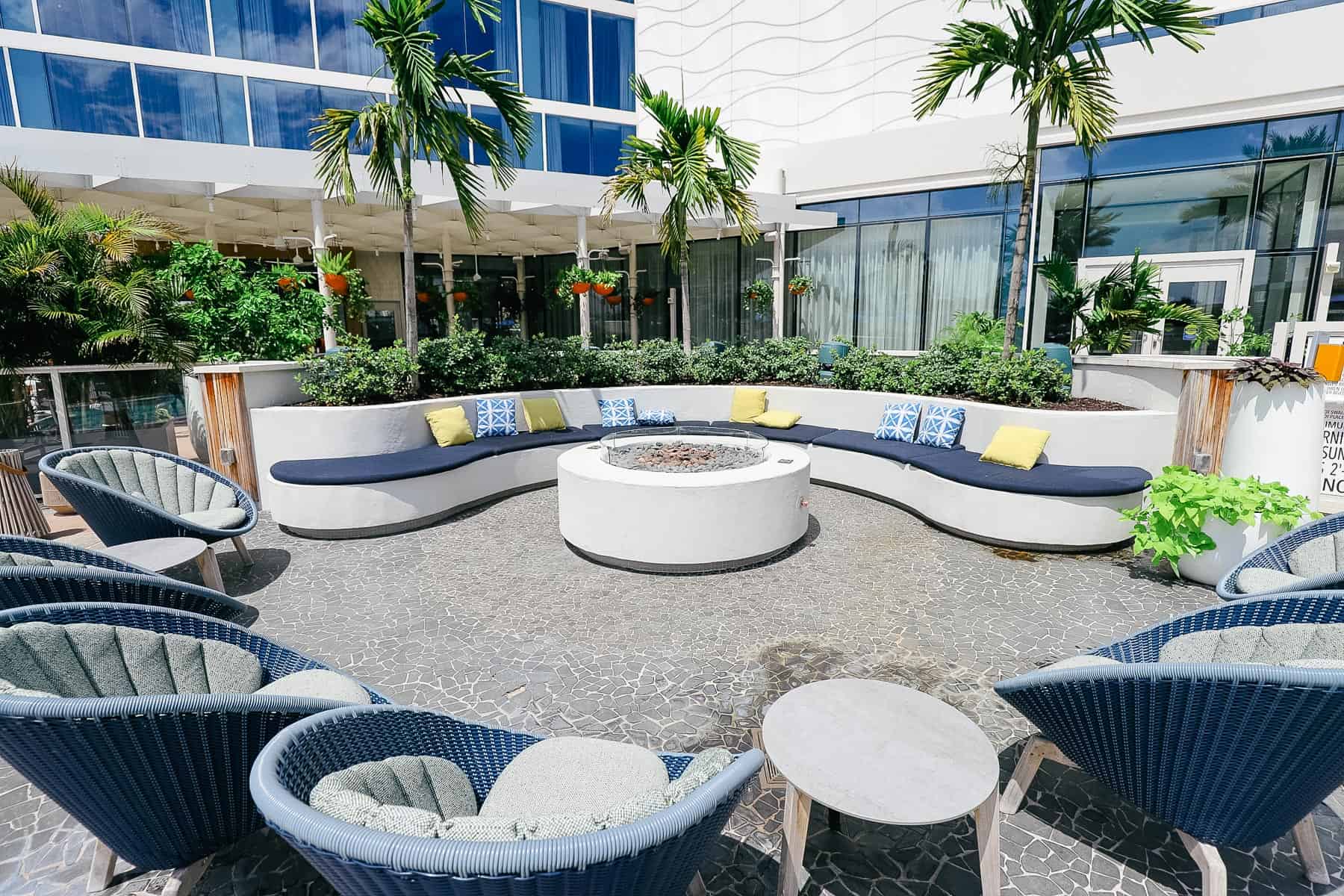 Inside the pool gates, you'll find lounge chairs with umbrellas.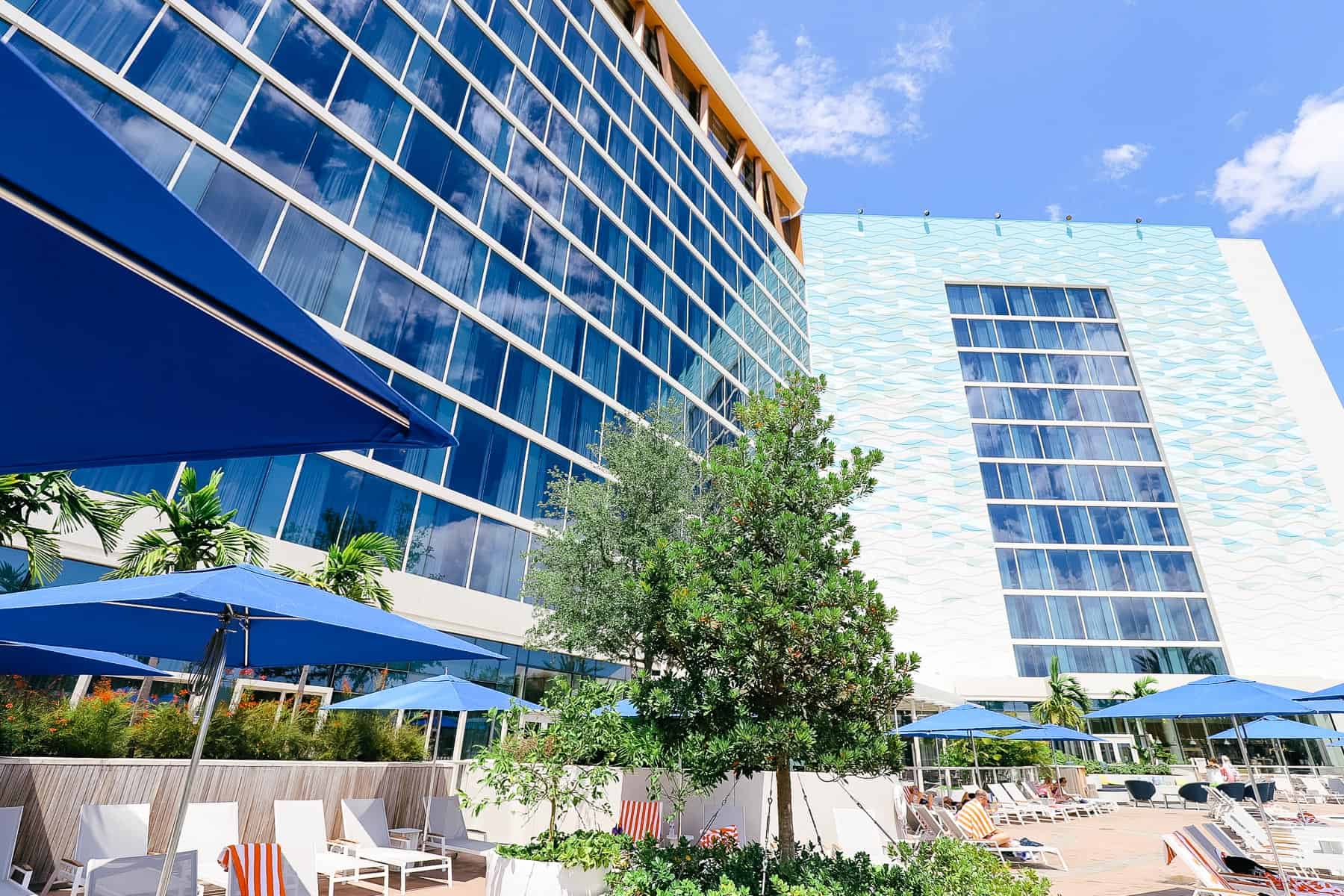 Since the hotel's pool area was pretty busy, I decided to come back early the following day for people-less pool pictures. Unfortunately, someone had already beaten me to the pool. For those who like to take photos without people in them, you already know there's always someone.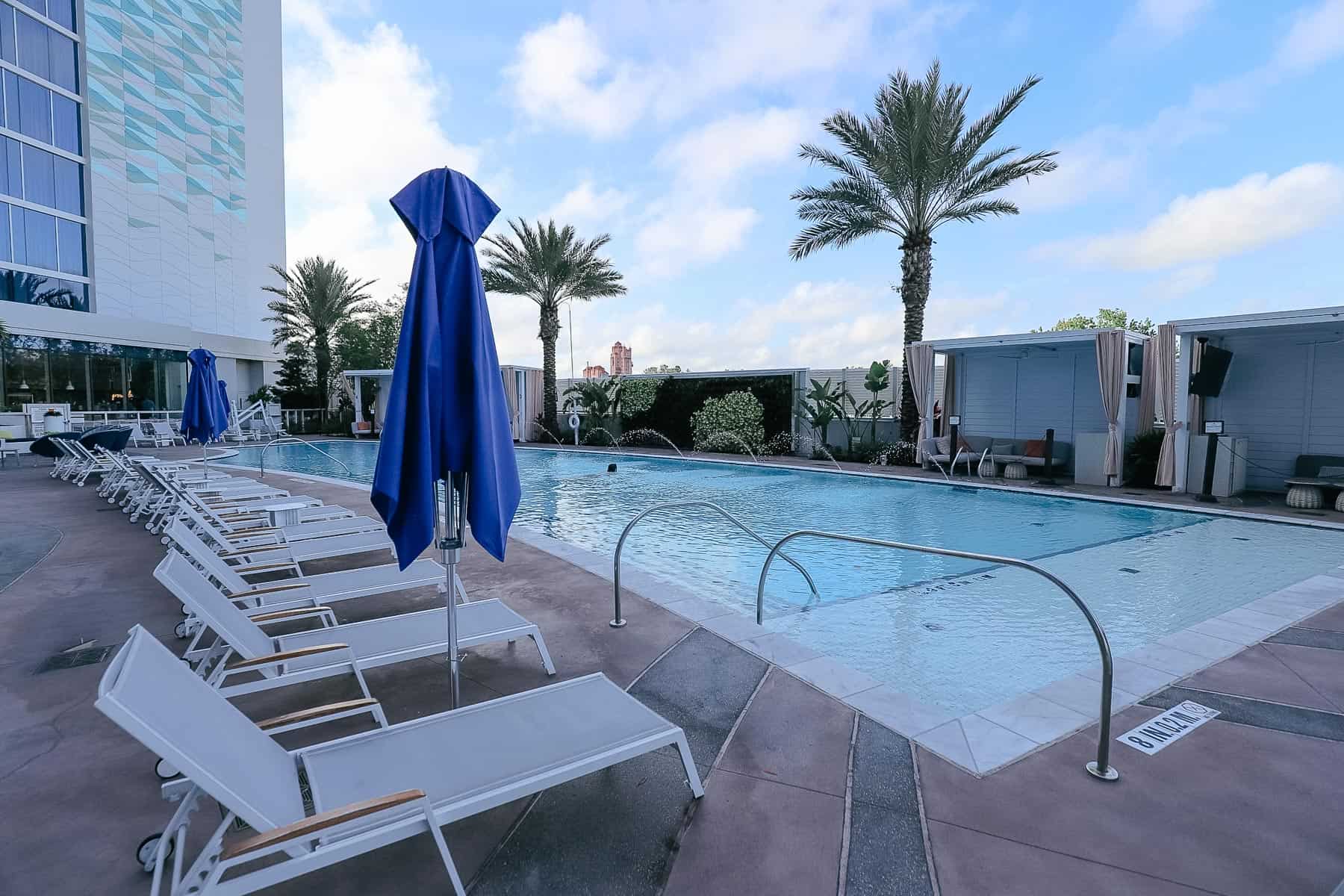 So you might look at this pool and think it's a little small, and you would be right. It's a boutique hotel with a boutique pool. We'll get to it shortly, but we spent the afternoon at this pool and had no complaints.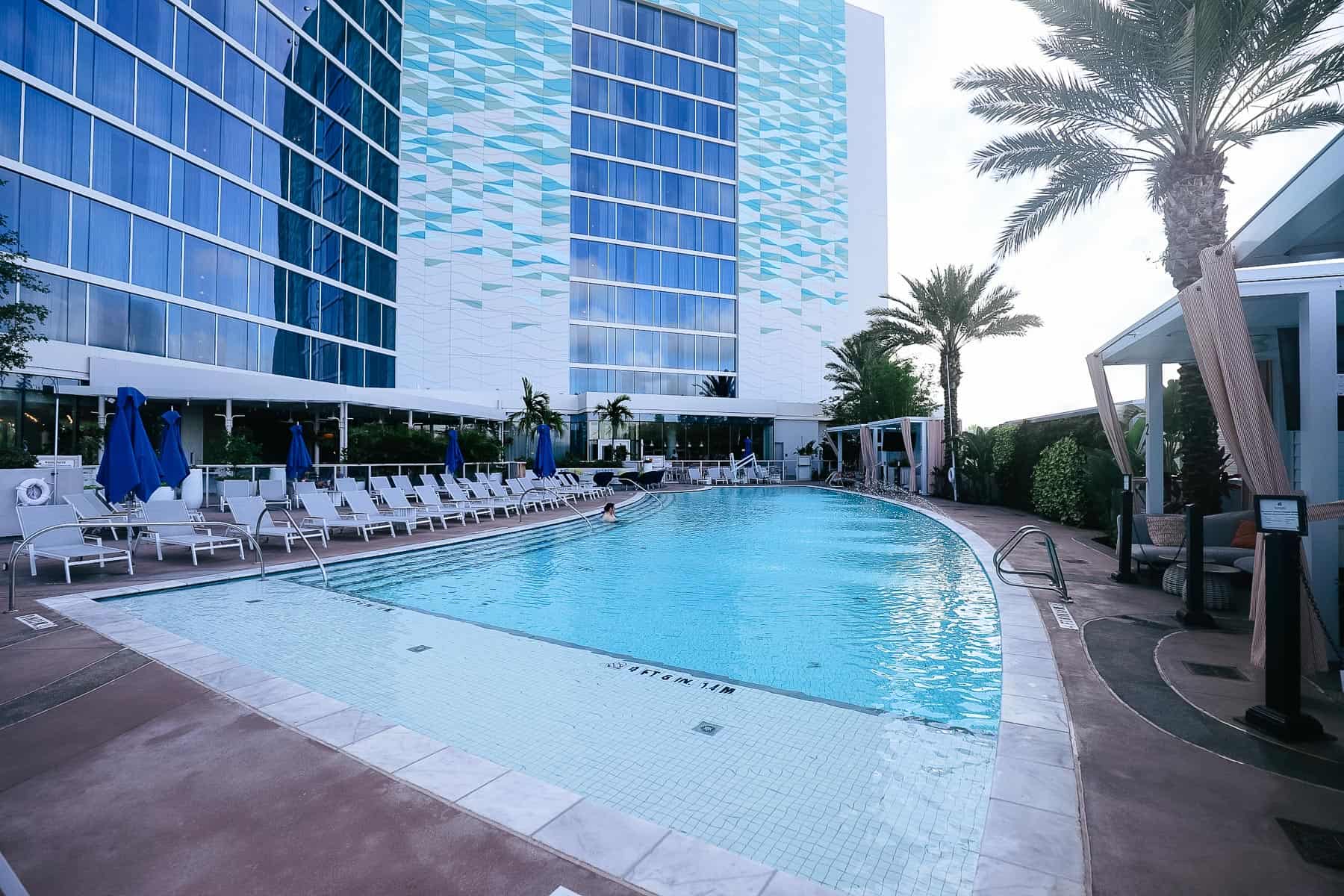 It's a unique pool. One end had a shallow area, almost like a zero-depth entry, that falls off into the pool.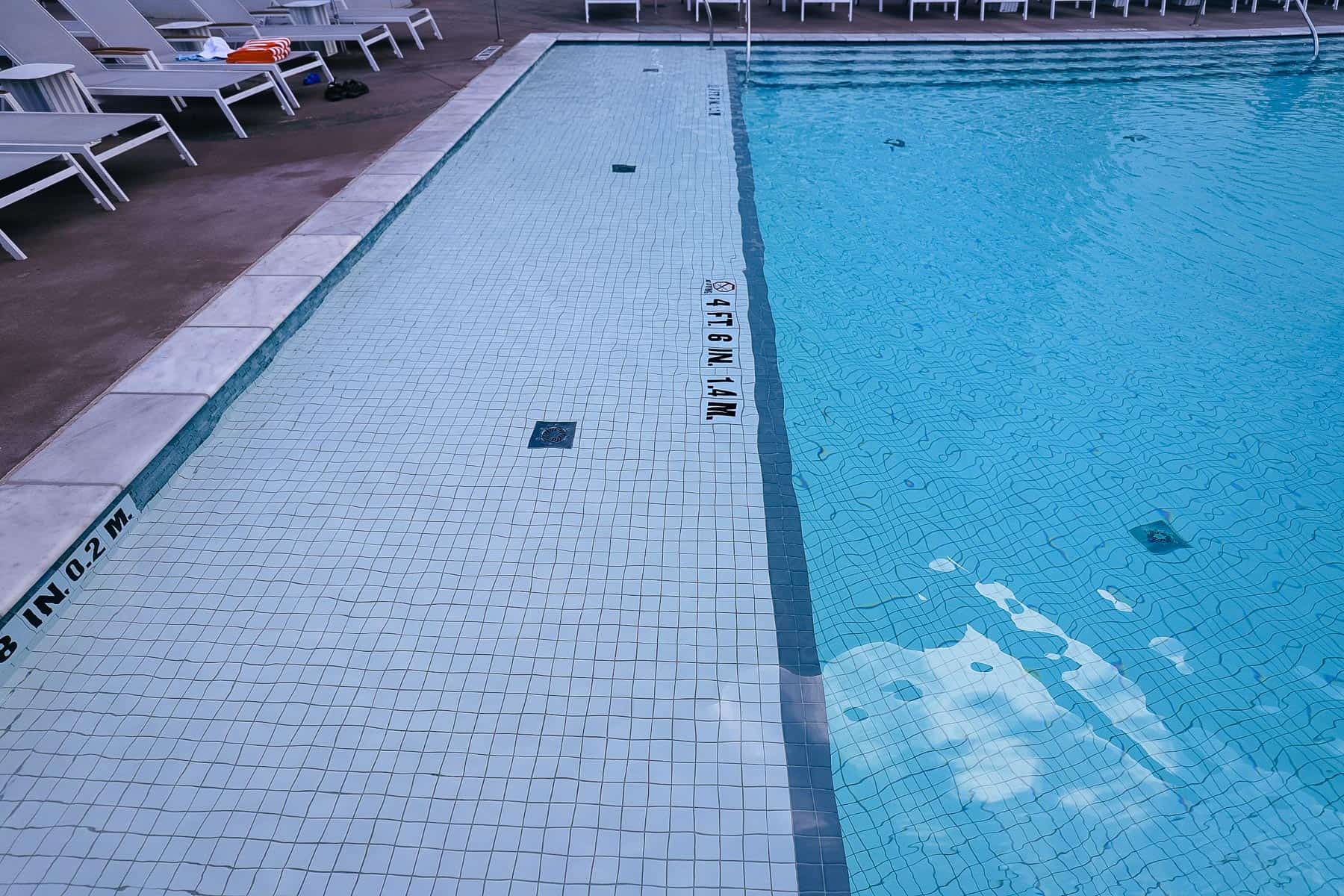 In the distance, you can see the Twilight Zone Tower of Terror at Hollywood Studios.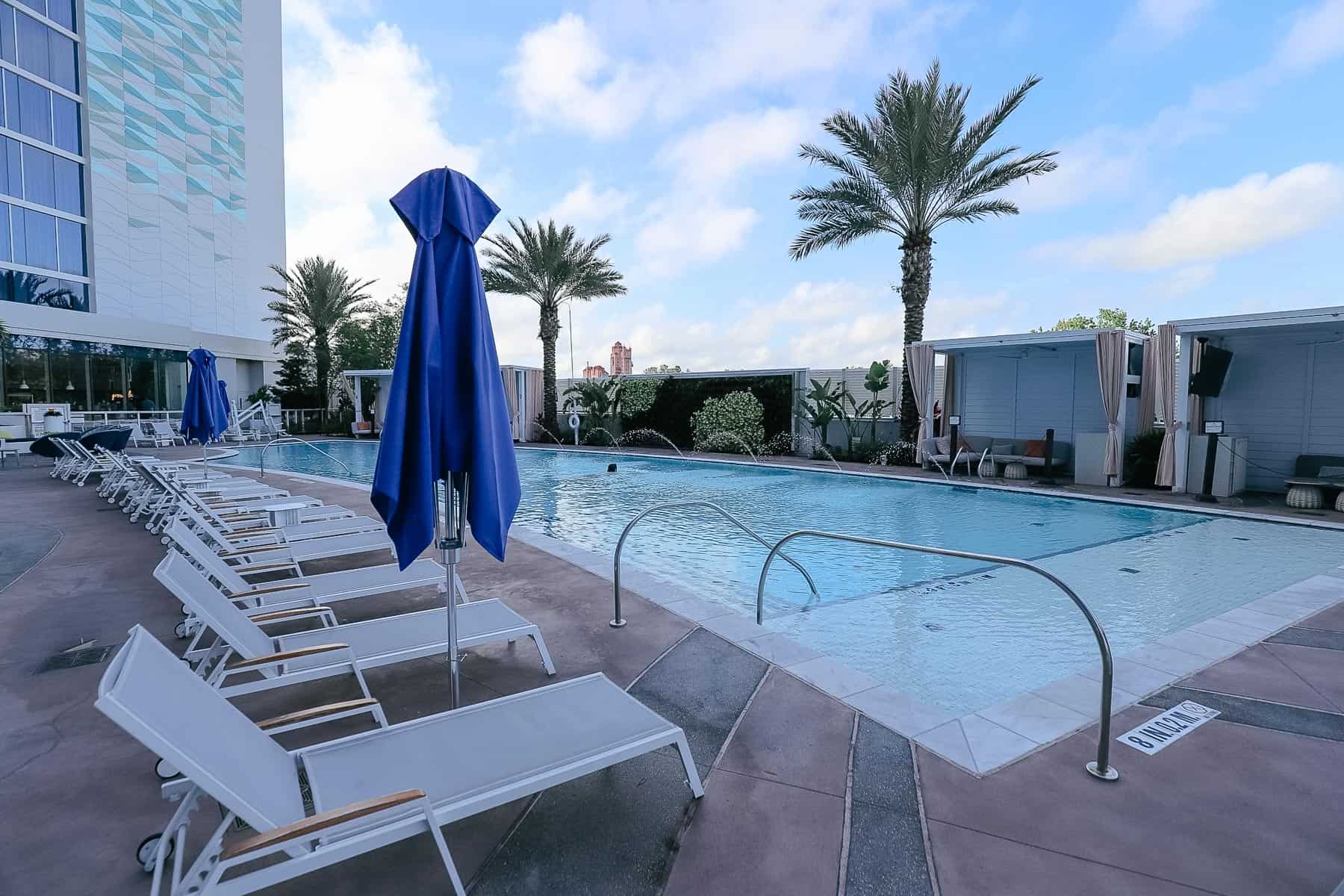 A couple of cabanas are available for rent near the pool.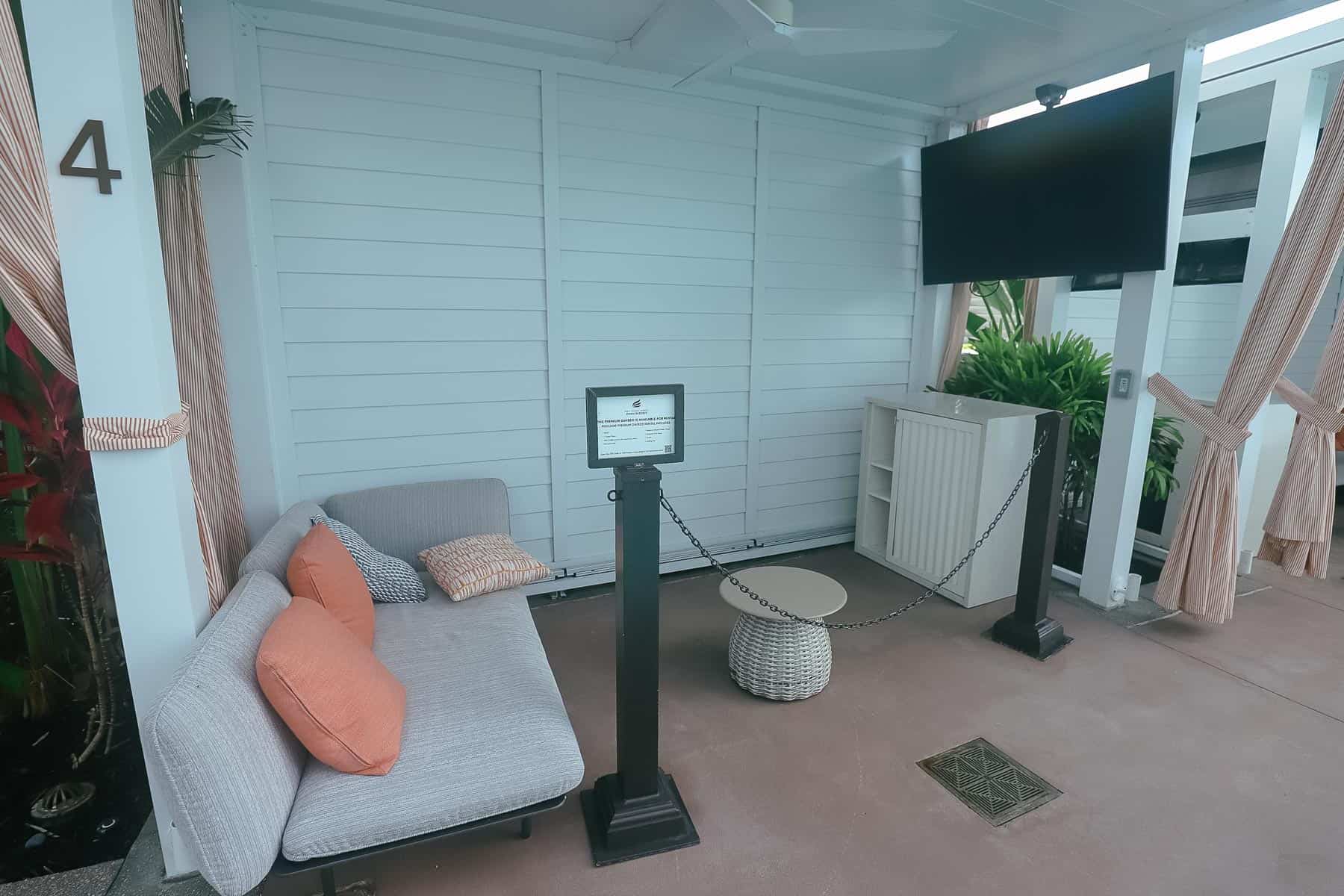 We haven't done a cabana rental at any of the Marriott hotels. But we have rented a cabana at Disney's Beach Club. If it interests you, I recommend planning a resort day and dedicating it to relaxing poolside.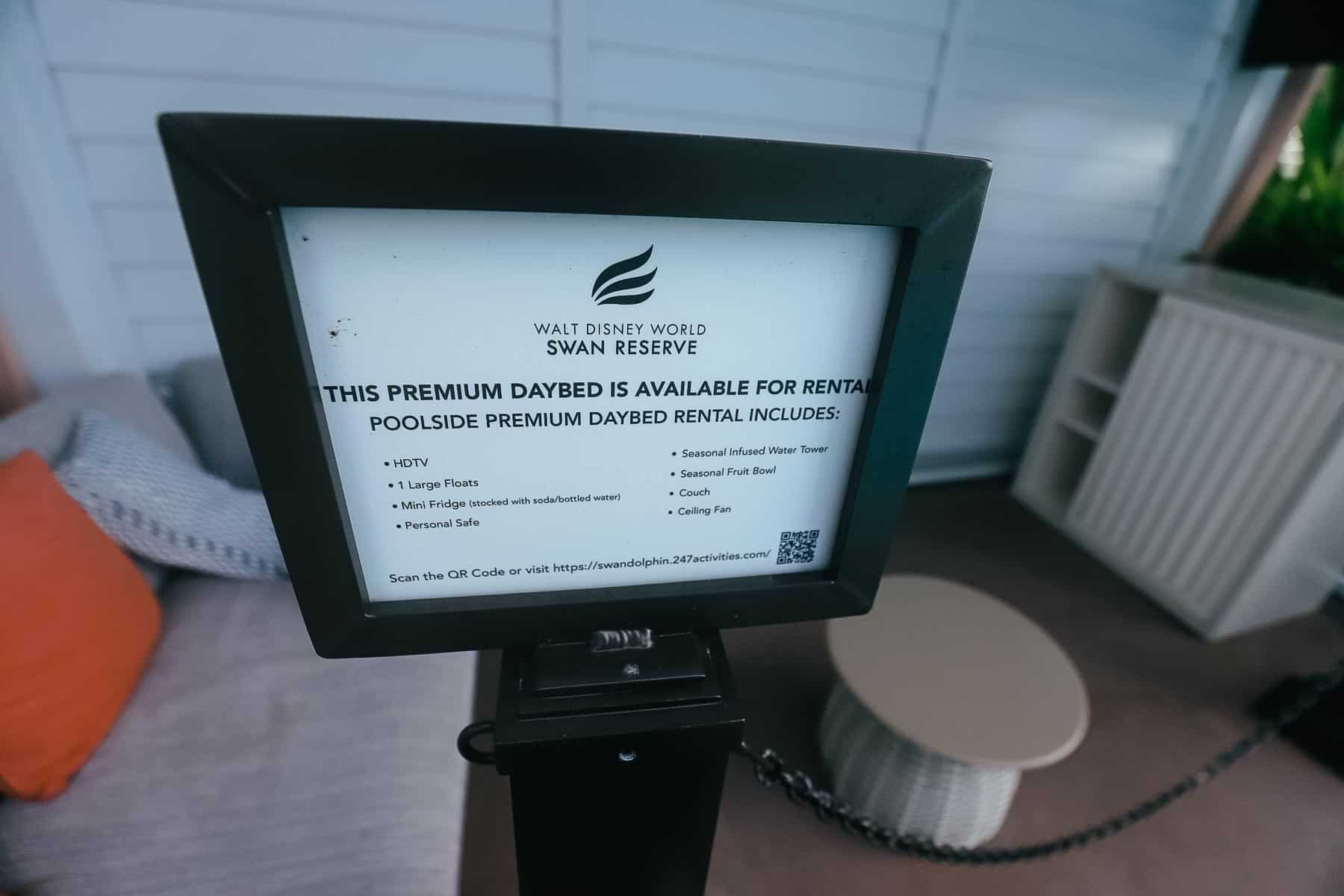 So at this point, I went to our room to get photos and videos out of the way before having our luggage delivered. When I opened the door to this space, I was delighted. It was a gorgeous room.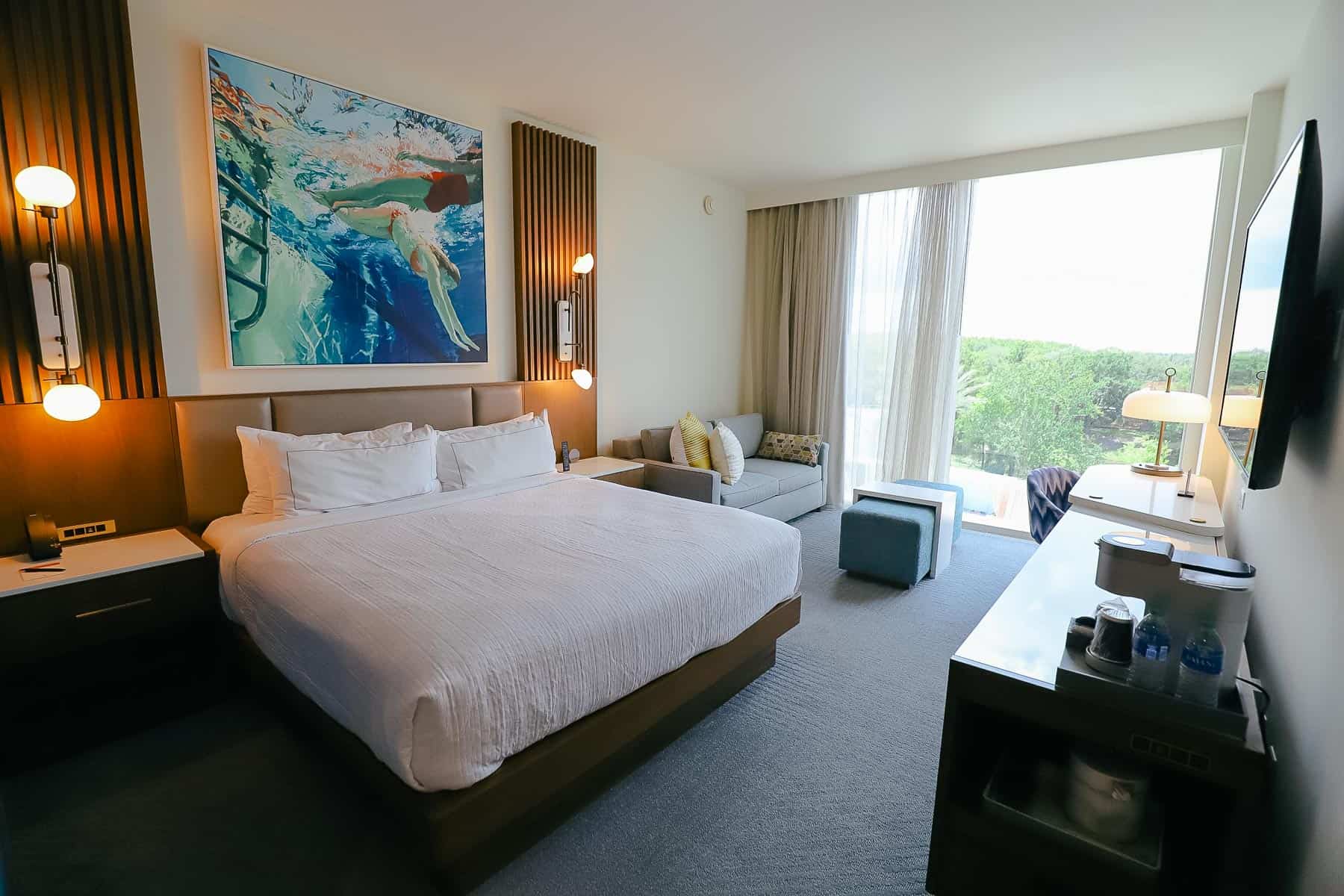 Of course, the best feature was the floor-to-ceiling window. Wow! During our stay, I constantly found myself taking in the views.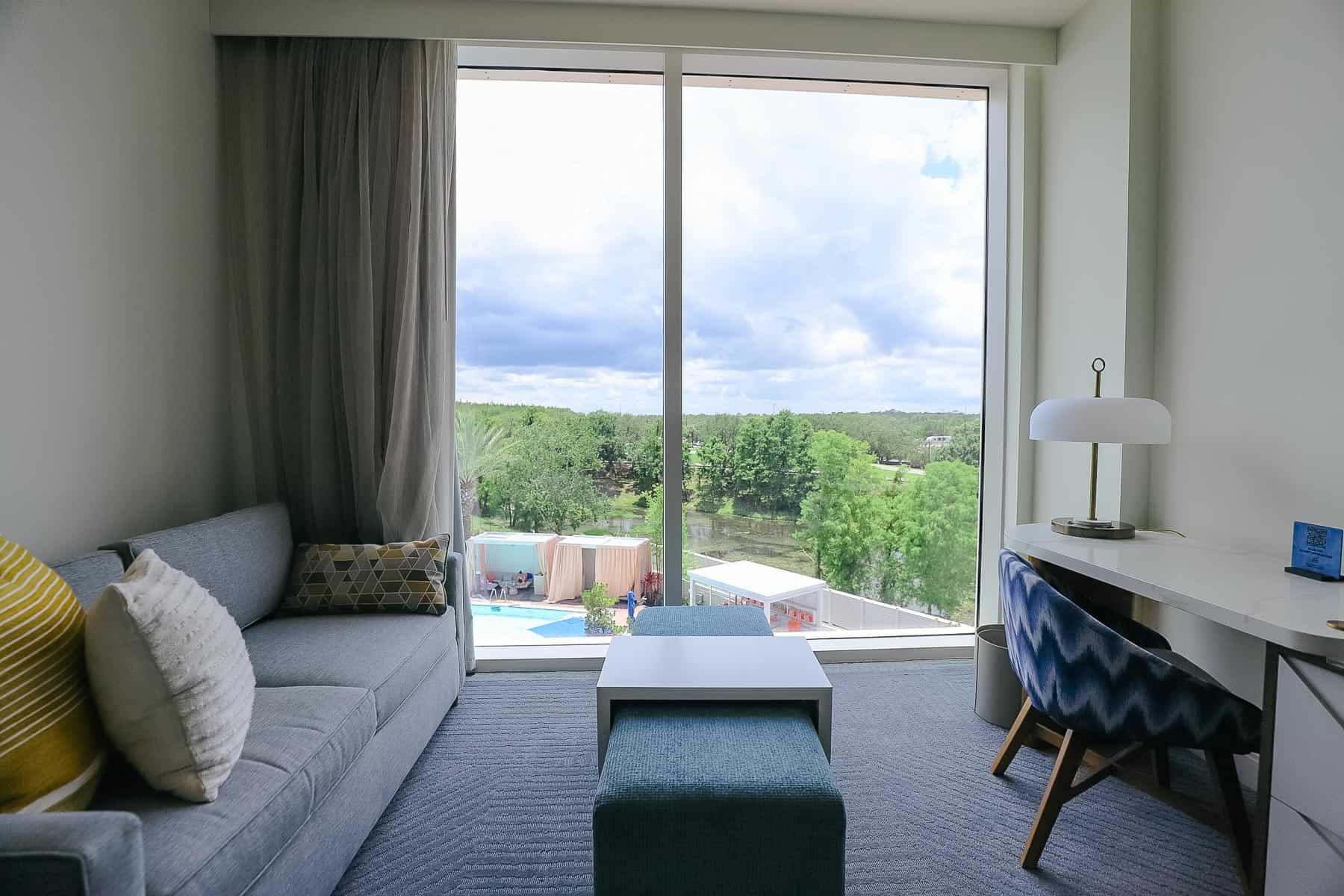 And who wouldn't? Seriously, the view was stunning.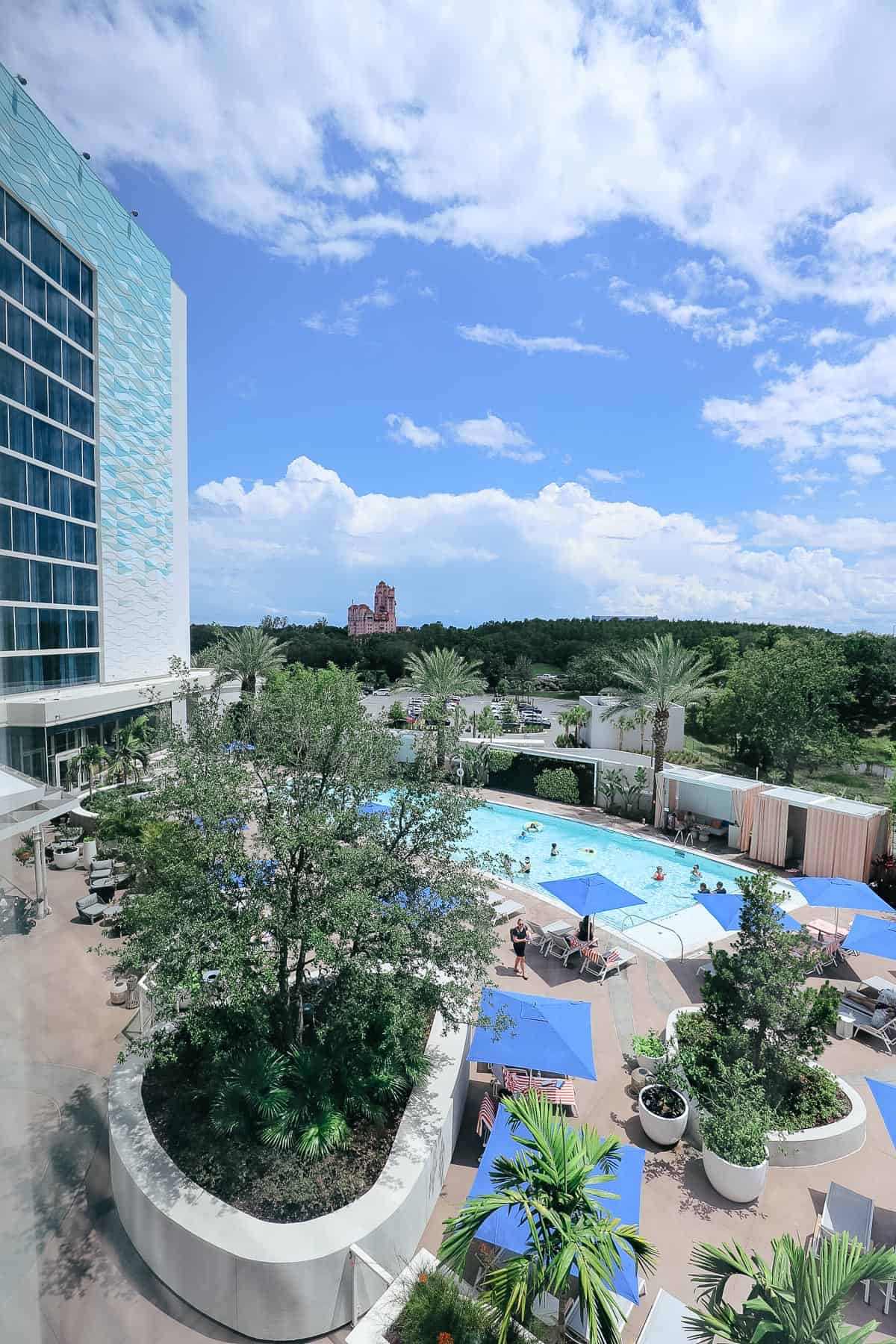 Our guest bath had ample counter space, and open storage was available underneath the vanity. I also enjoyed the brand of toiletries that were provided and have used the lotion several times since I left. That is rare for me. So you know it has a lovely, fresh scent that's not overpowering.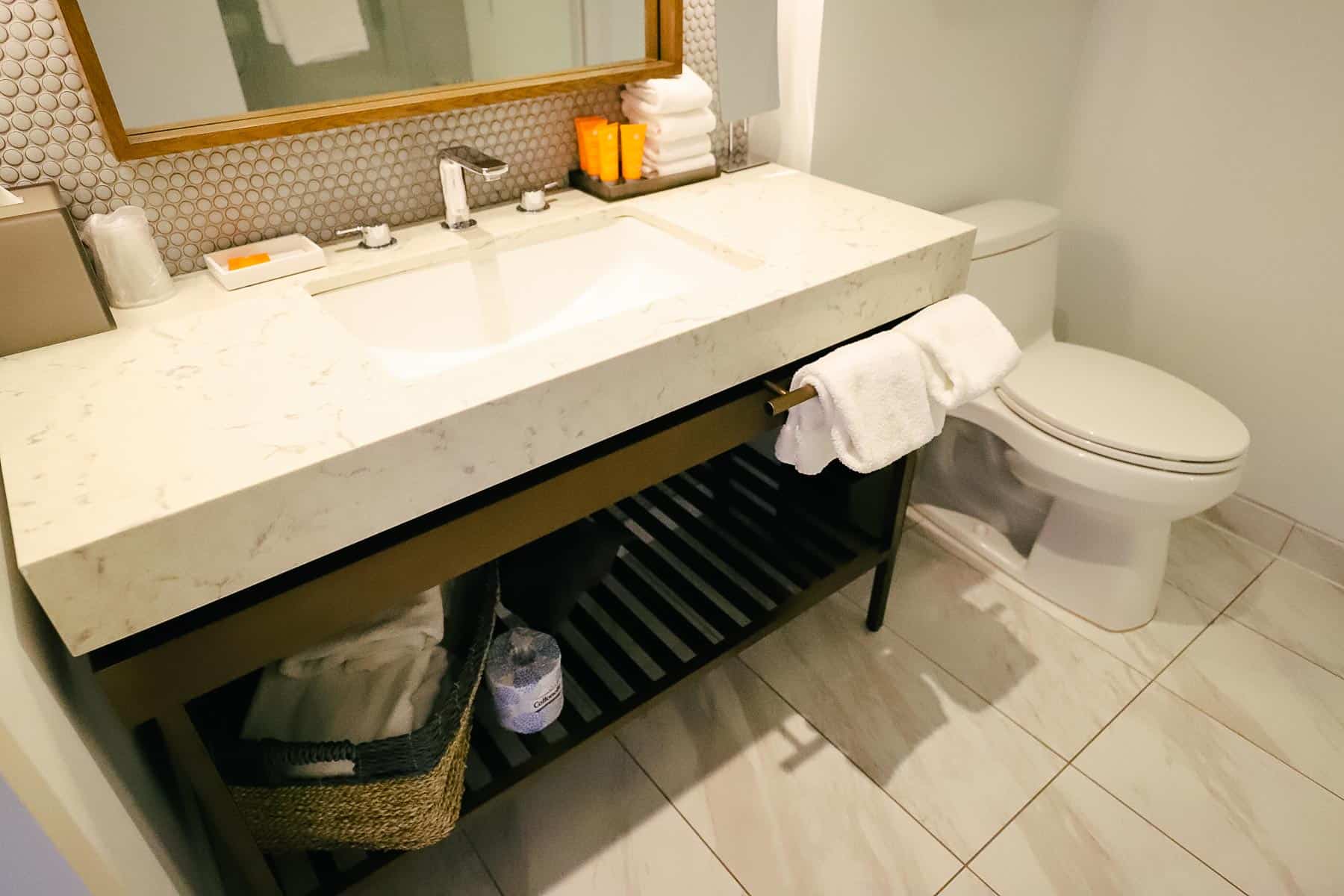 A walk-in shower was also available. It featured a rain-style showerhead and a detachable showerhead attachment.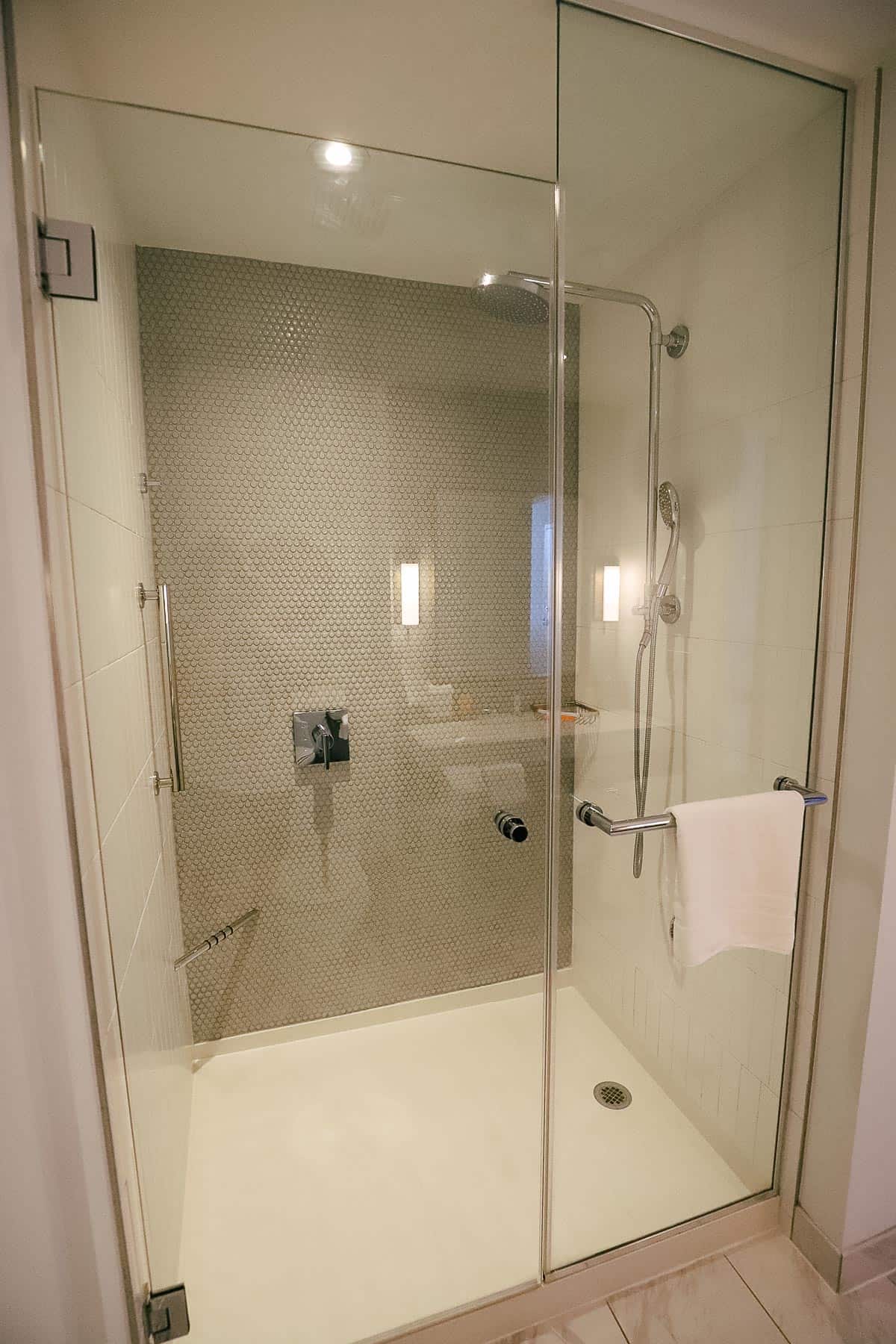 Two robes hung in the closet, along with a few other amenities. Those robes were greatly appreciated. We have a separate room tour if you would like more details about this room.
Related: Swan Reserve Room Tour with Video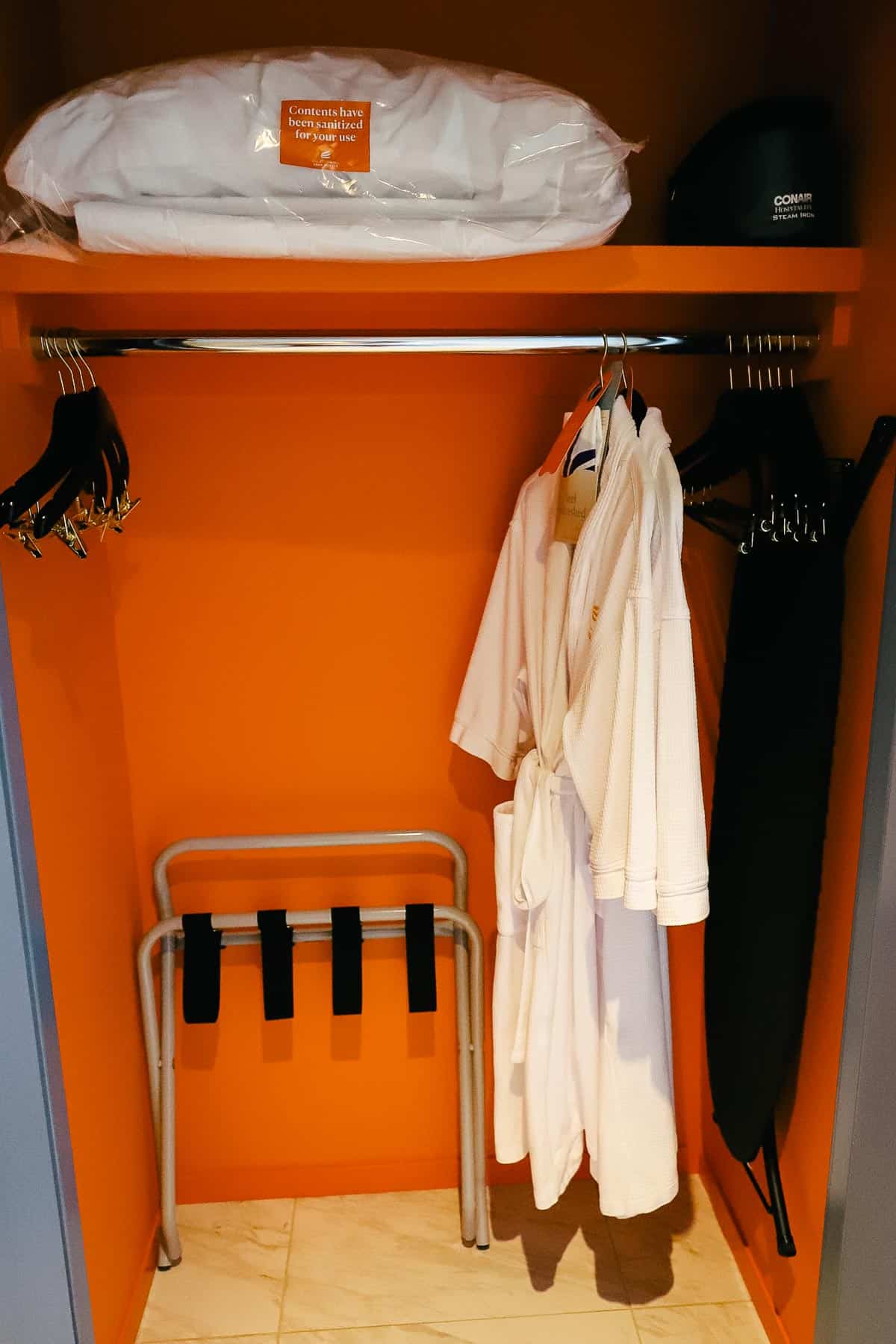 After getting all of the photos and videos to share with you, it was time for a break. So our luggage was brought up to the room, and we changed and headed out to the pool.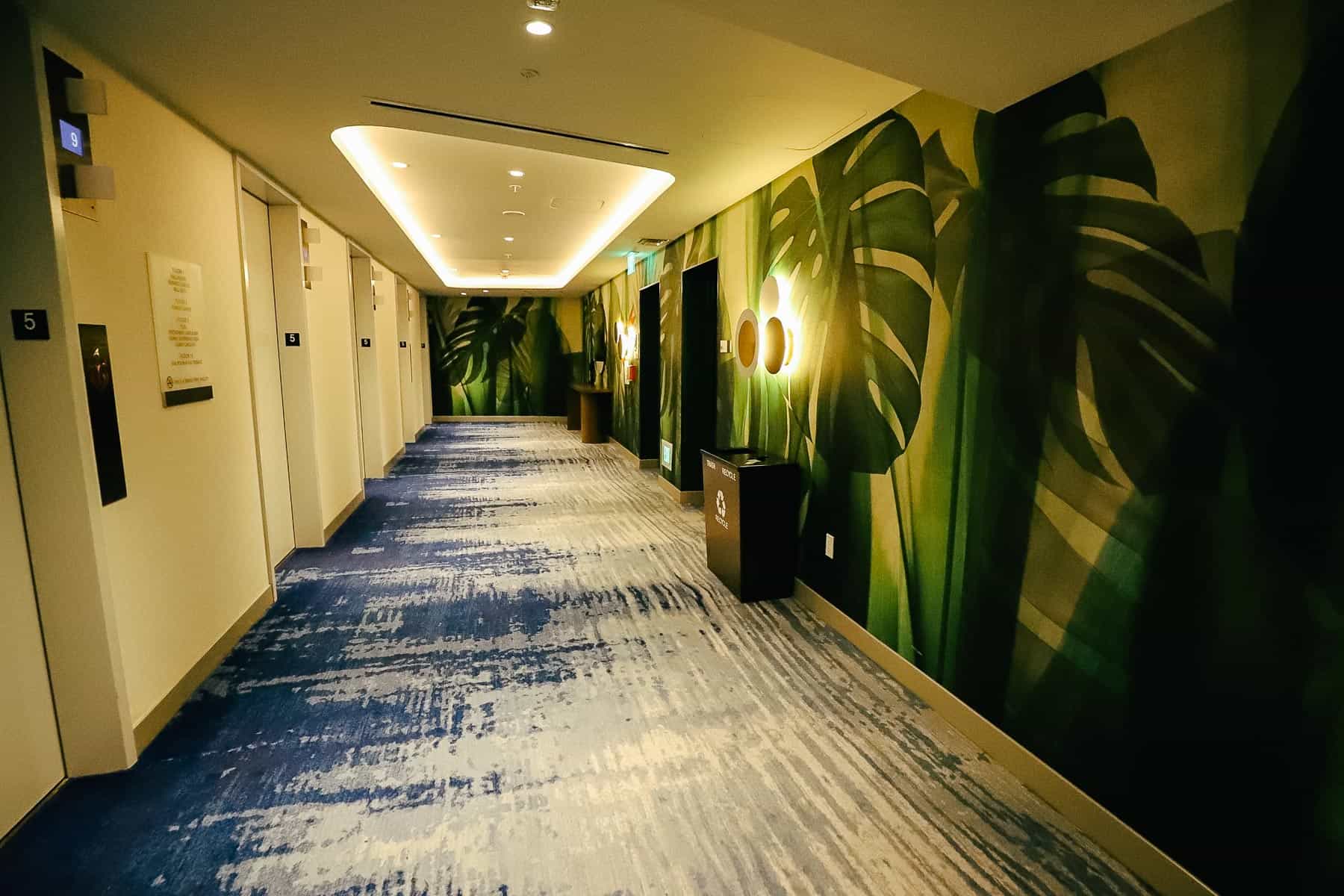 After securing a few seats in the shade, I decided to find out what was available for a late lunch. A server was out on the pool deck and directed me to pick up a menu at the Towel Hut, which was only a few feet away.
This is also where you pick up complimentary towels for the pool. Other complimentary items, like toys and games for children to use at the pool, were available. Additionally, some essential things like sunscreen and sunglasses were available for purchase.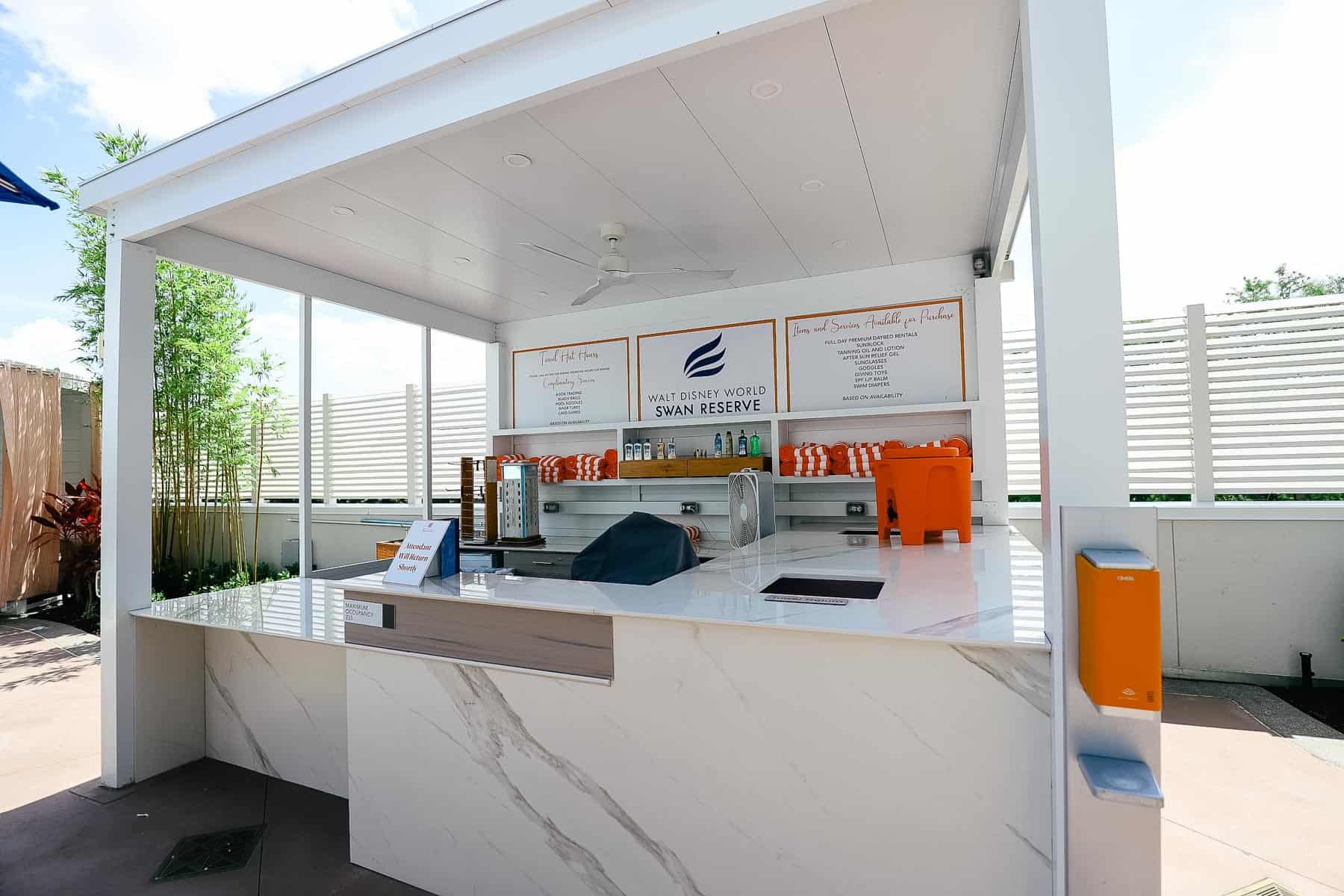 I thought the basket of pool noodles and beach ball toys were fun for children. When you're looking at photos of the hotel, it doesn't necessarily appear to be child-friendly. But I think these minor extras are nice, and I feel like the hotel is welcoming to everyone.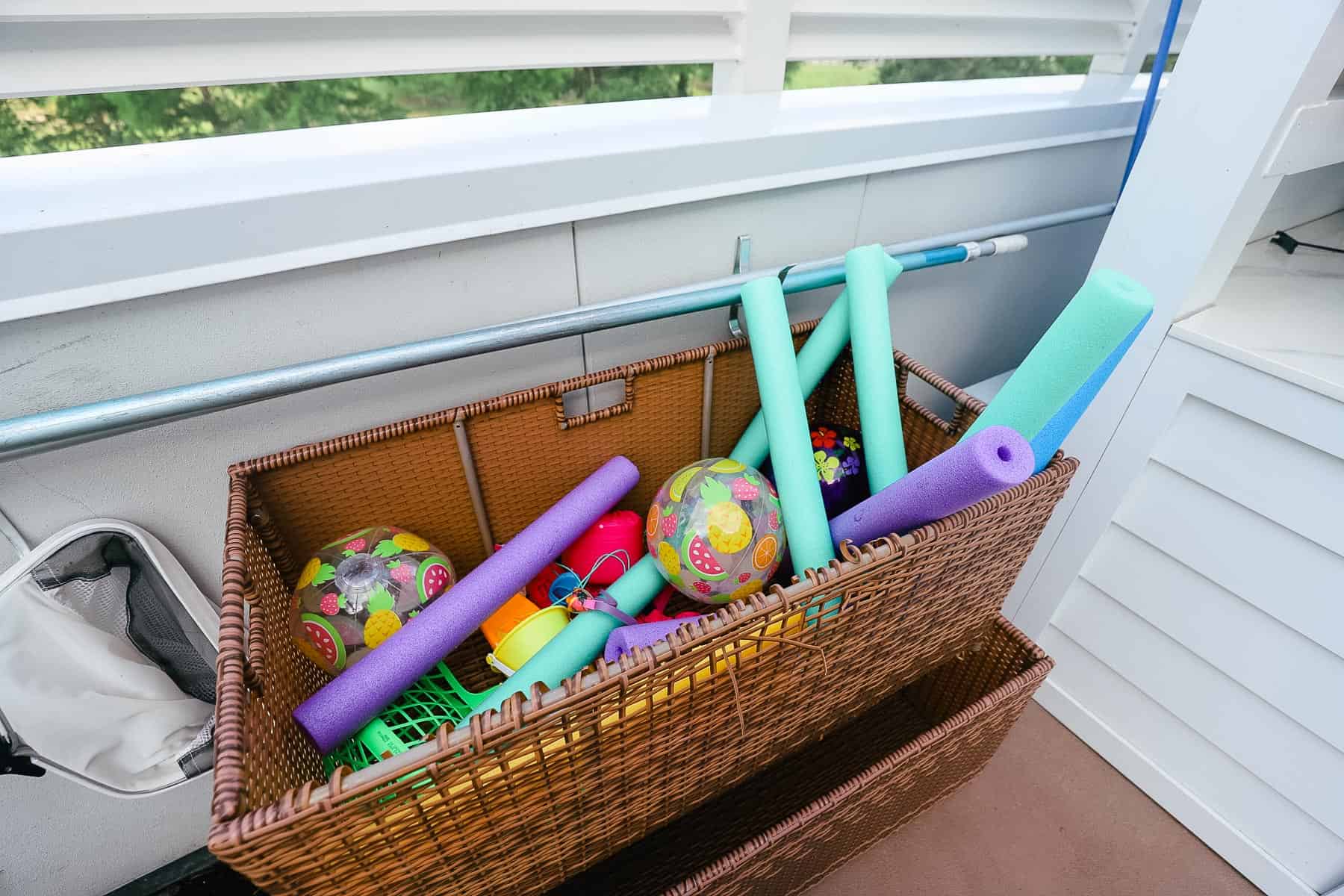 After browsing the menu for Tangierine, the poolside lounge, I was afraid it might take too long to prepare something. So I headed to Grounds to see if I could get a quick bite. Unfortunately, it was disappointing to find so many pre-made items.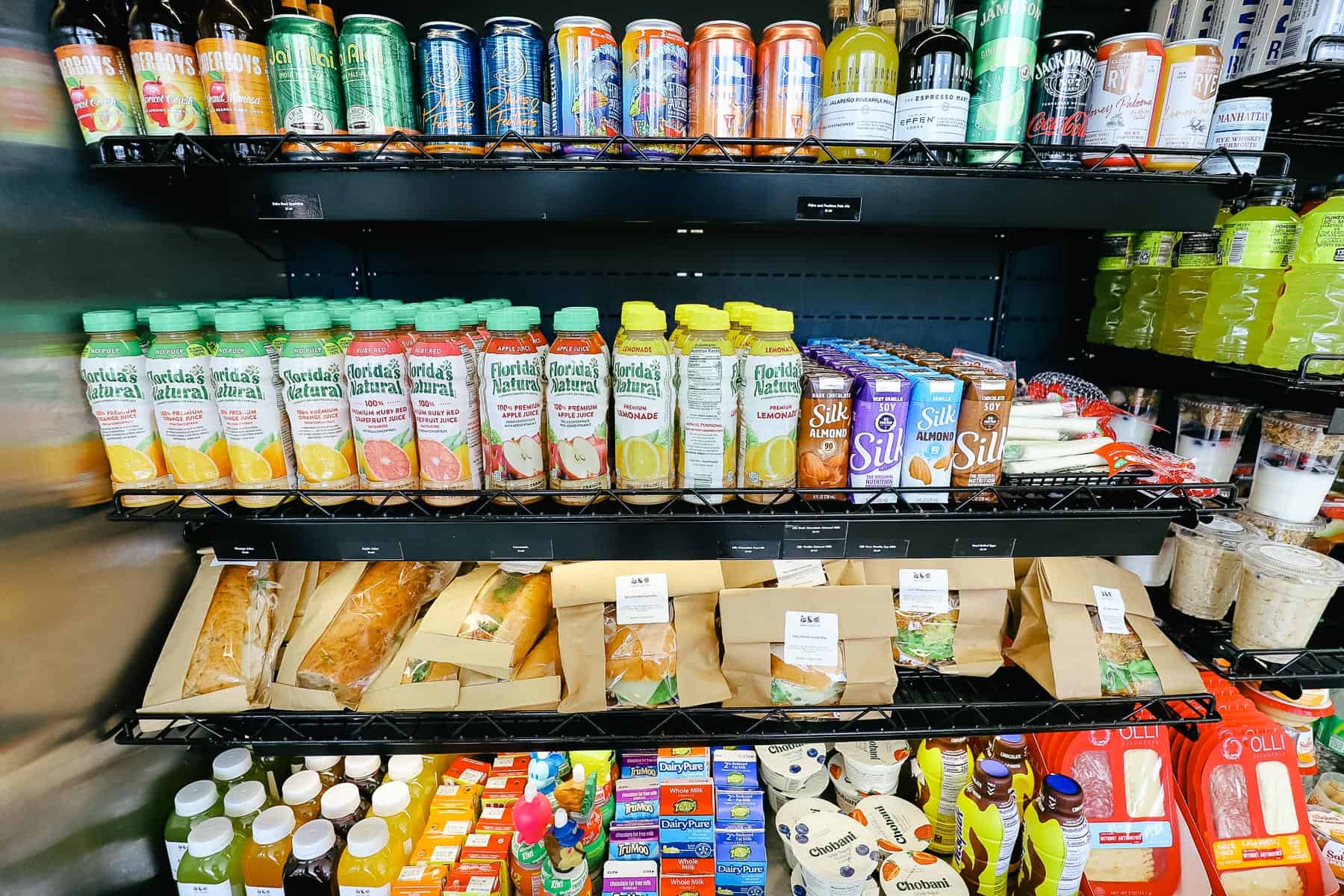 I had heard good things about the ham sandwich and noticed one displayed. When I asked the lady at the register if she could make me one with the mustard on the side, she apologized and explained that they were all made earlier in the day and delivered to the store.
She was kind enough to pull out the tray of sandwiches and show them to me, and I could see them smothered in mustard. So ultimately, this was my one complaint about our stay. I couldn't find a freshly-made quick service item.
I don't know about you, but the last thing I want is a soggy sandwich made earlier that day. Years ago, I got food poisoning ordering a premade item at Disney's Yacht Club, and if I can keep from it, that will never happen again.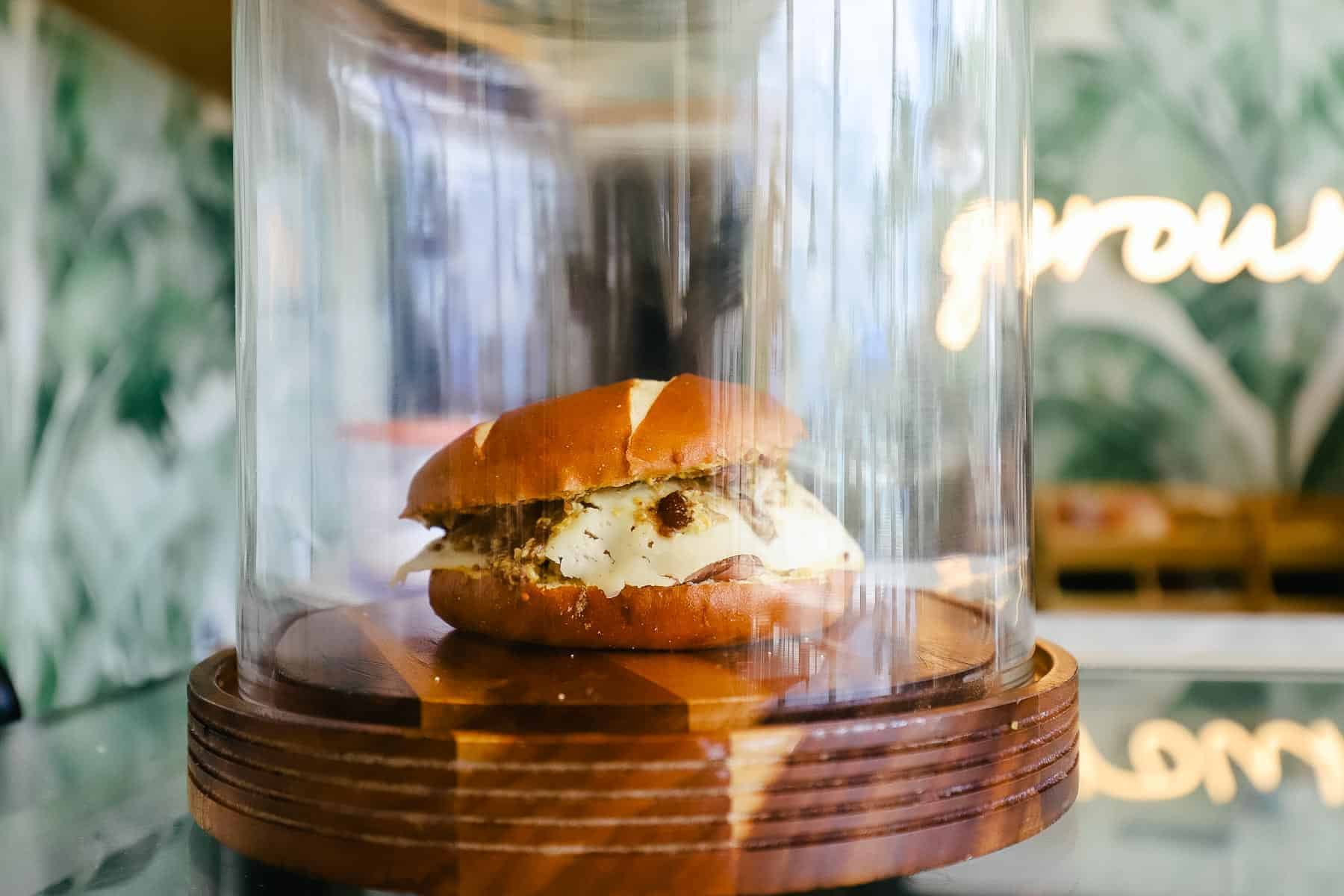 After looking through everything, I grabbed a container of fruit and a bag of Cheez-Its and decided to see if they had a kids' meal menu at Tangerine.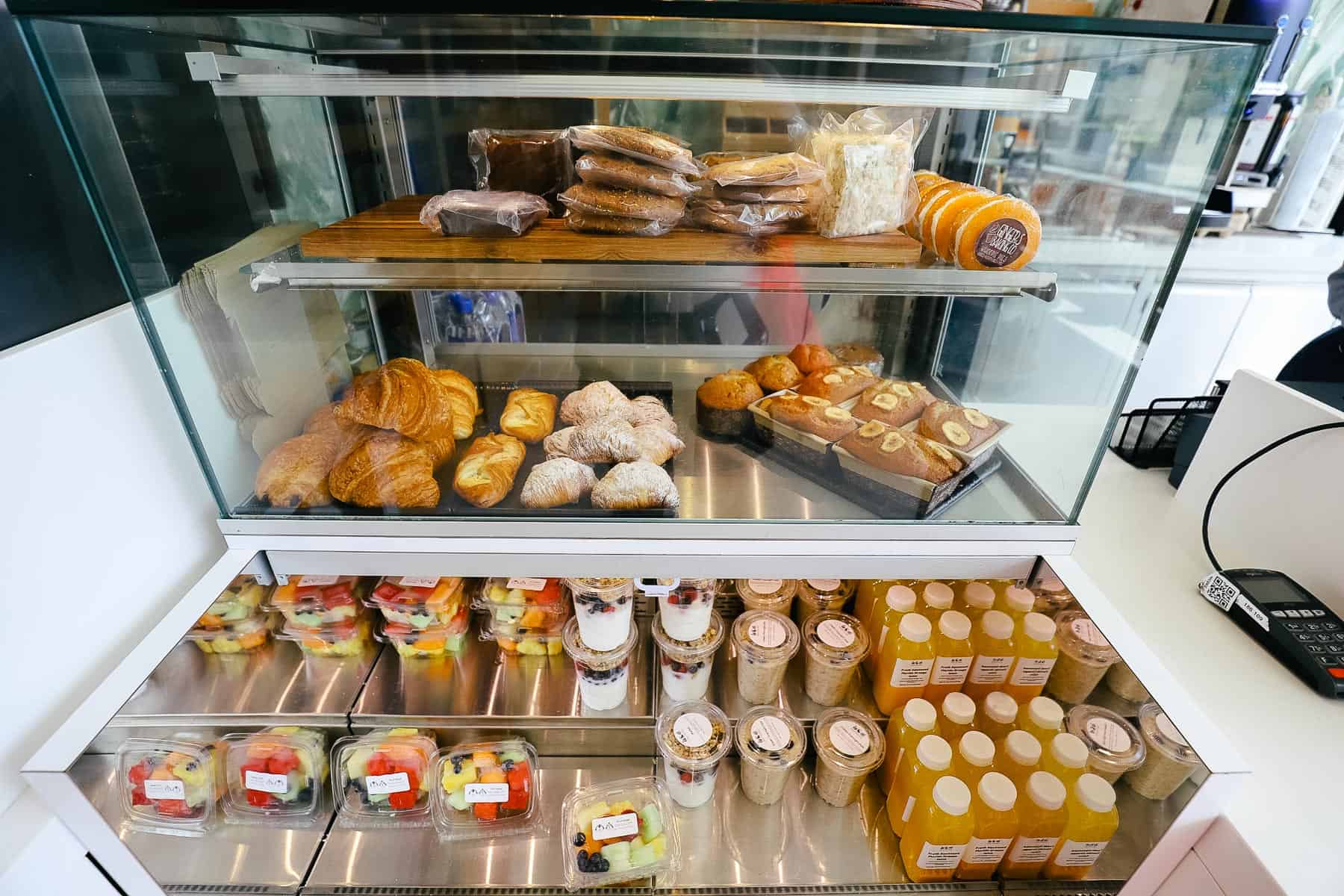 On the way back to the pool, I stopped at Tangerine and asked if they had any other options. Thankfully, several kids' meal selections were available. Our server from the pool took my order and promised to put a rush on it. She could tell I was hungry.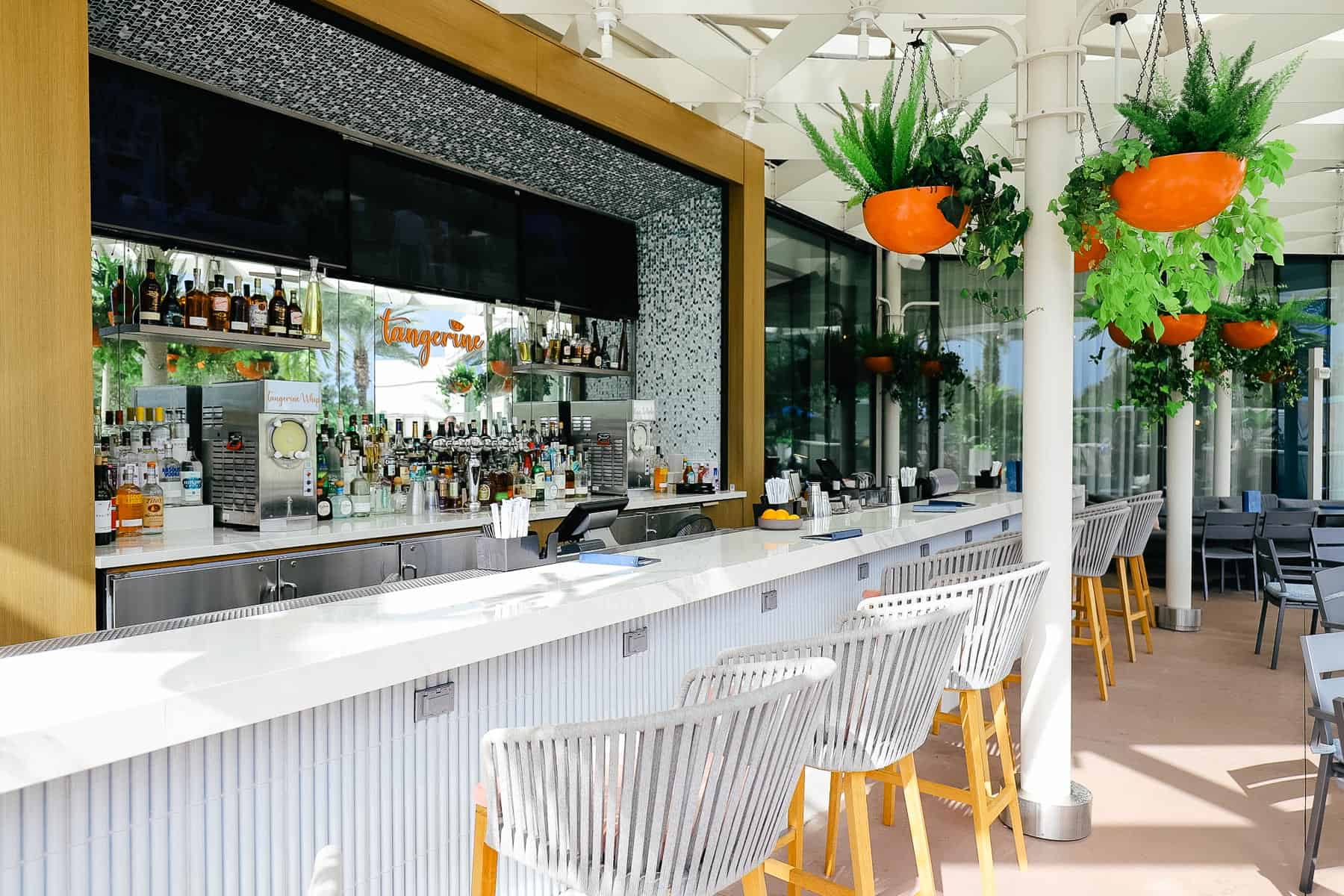 Tangerine is the outdoor side to Stir. It has a seating area that sits separate but adjacent to the pool.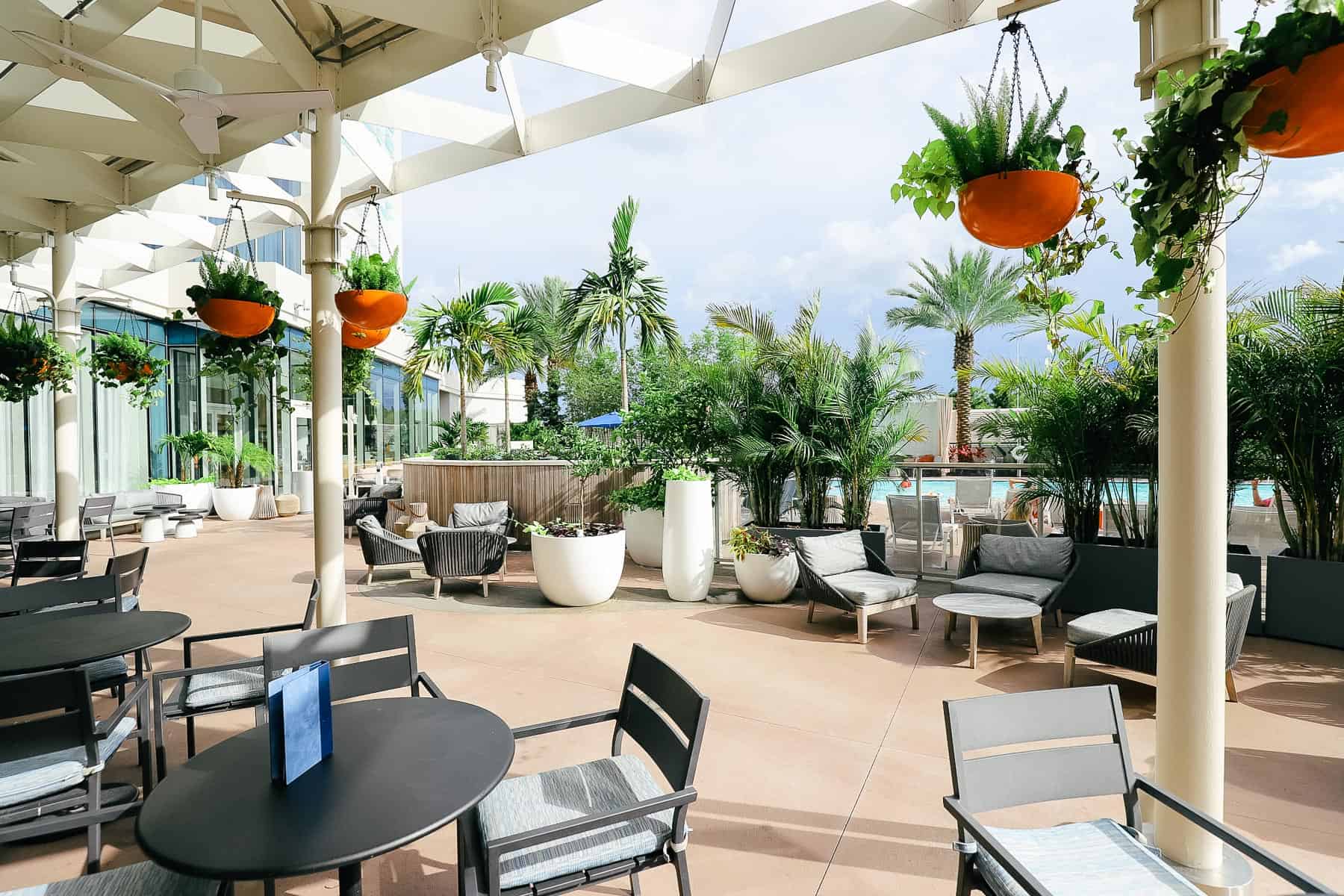 Within 10 minutes, my sweet server brought an order of chicken fingers. It was a huge portion, and she said it was the norm!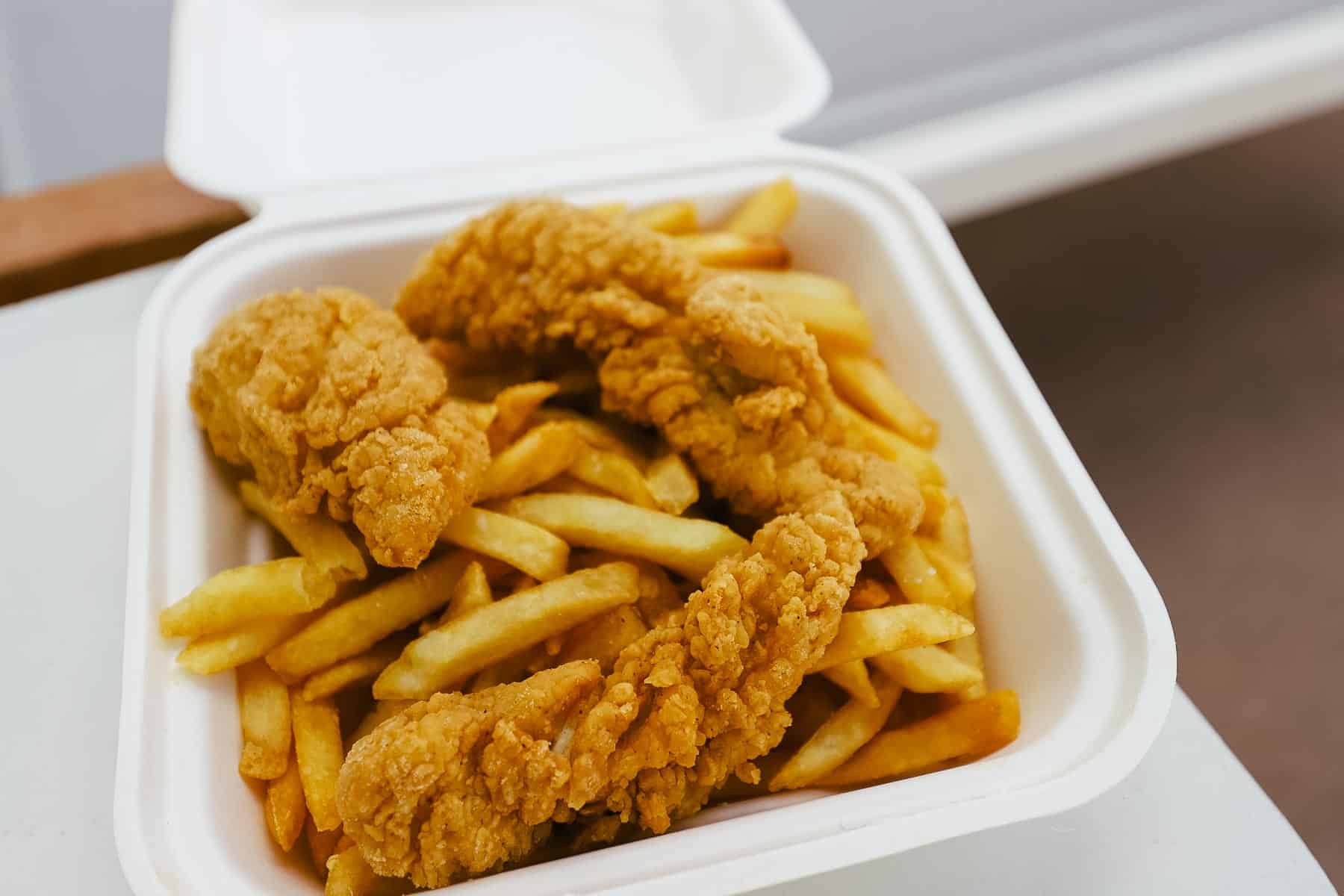 We ended up enjoying our afternoon at the pool. Our server came by at least every fifteen minutes to see if we needed anything. At one point, she brought out a tray of orange Sherbert cups and handed them out to everyone at the pool.
It was the nicest gesture, and it made me think how something so small could make such a big difference. Since the lounge is called Tangerine, it made perfect sense. These small details, like the bright orange towels and orange dessert, were impactful, whether you realized it or not.
Eventually, it was time to get ready for our evening at Epcot. We were attending Disney After Hours at Epcot to provide a review. Walking back and forth between the hotel and the theme park for the event was pleasant.
Unfortunately, I forgot to track the distance on our way to Epcot. And we were exhausted by the time we left after 1:00 a.m. So the following day, I woke up early to take photos of all the pools between the hotels.
On the walk over to the Grotto Pool, I decided to map my walk from the Swan Reserve to the Friendship Boat dock. If you're staying at the Swan Reserve, you can take one of the Friendship Boats to and from the Swan and Dolphin to Epcot, Hollywood Studios, or the other surrounding resorts.
So if you're not up for walking, the Friendship Boats provide an alternative for traveling around the area. However, you do have to cross the street and walk to the boat dock, which sits on a floating bridge between the Swan and Dolphin. It was a 0.22-mile walk from the Swan Reserve to the boat dock that took approximately five minutes.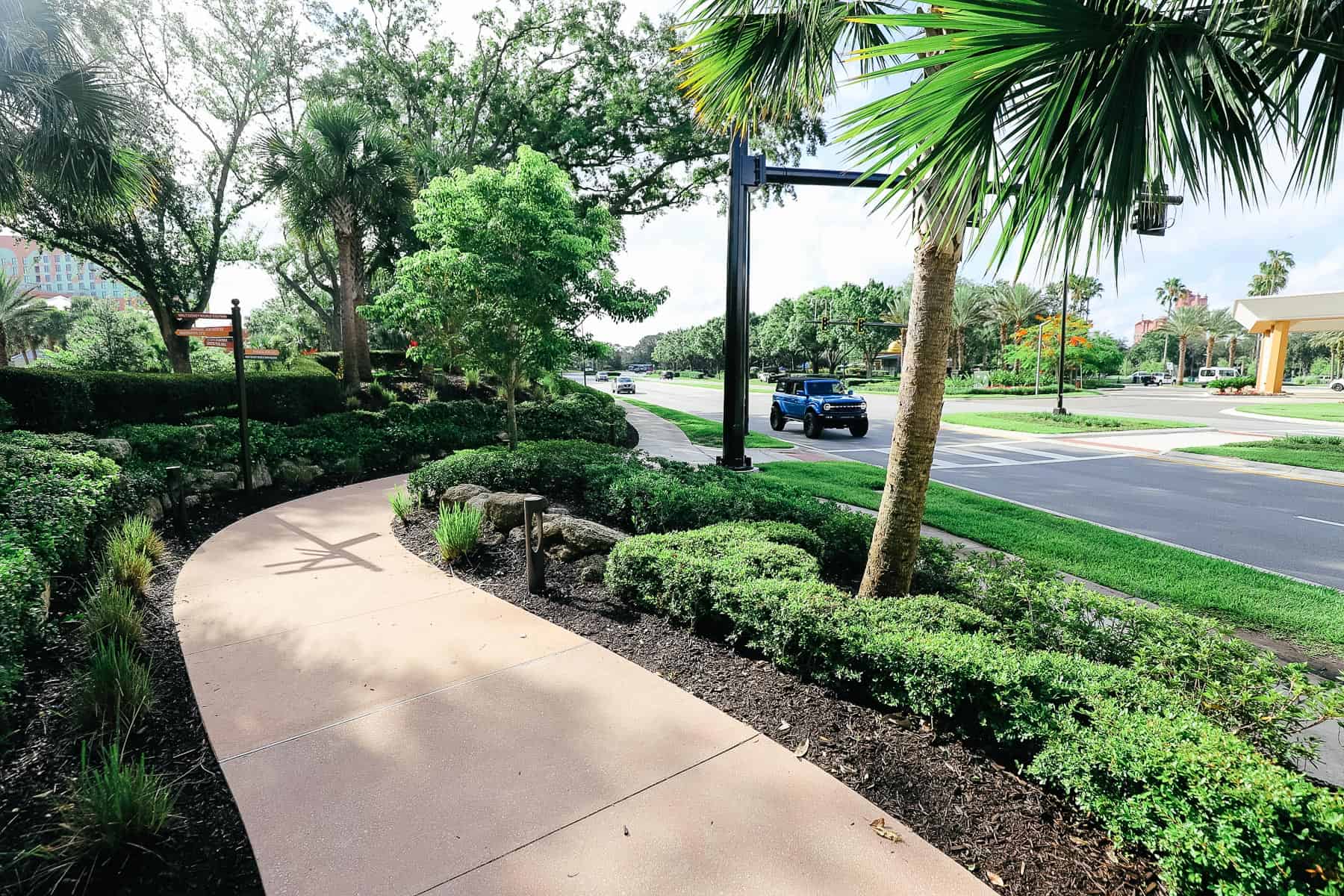 After crossing the street, you'll encounter a beautifully landscaped area that you can take to the Swan and Dolphin Hotels.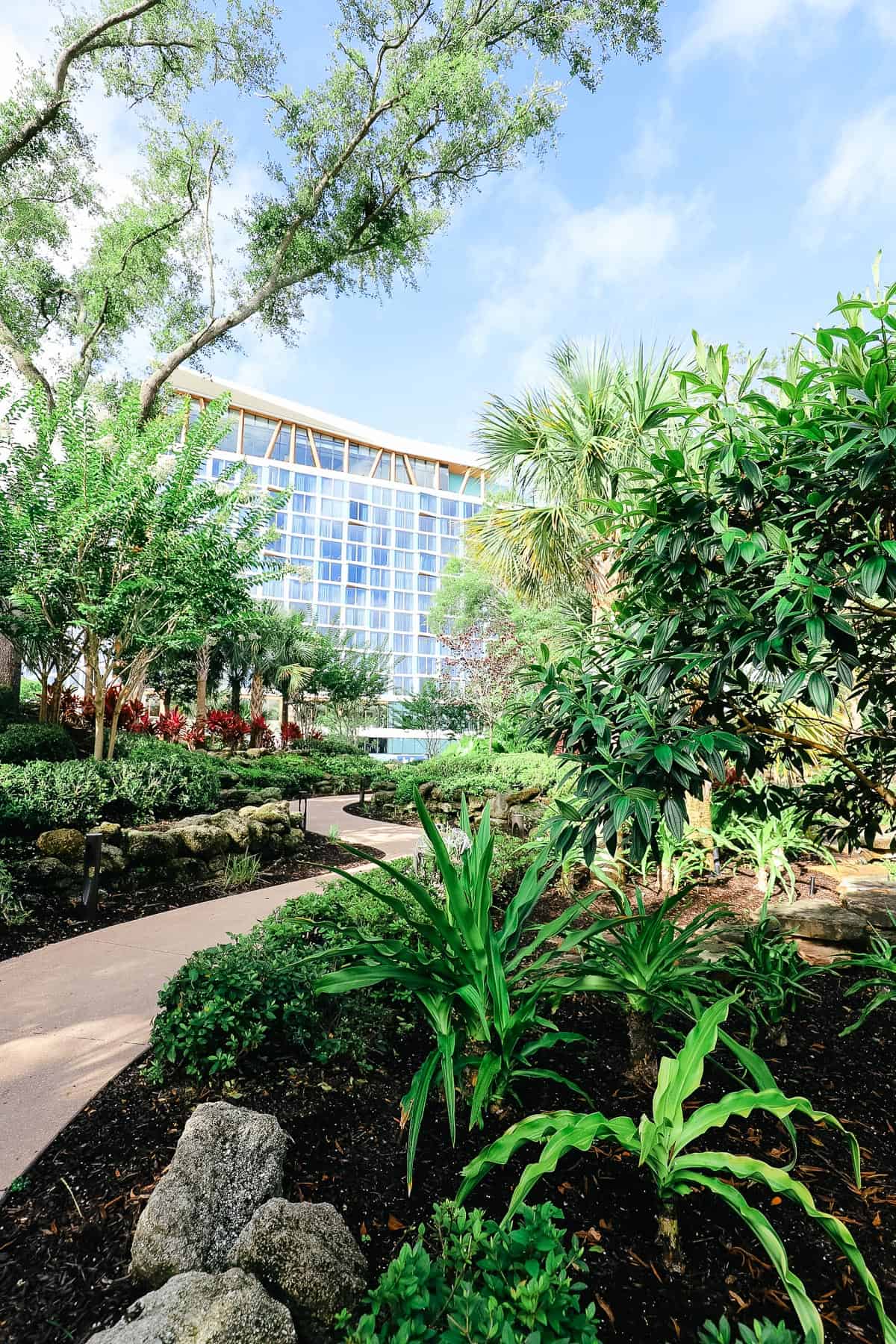 At the end of the walkway, you can continue toward the resorts. Or if you look to the left, you'll find yourself immediately next to the Grotto Pool. The Grotto Pool is available to all Swan, Dolphin, and Swan Reserve guests. It is a massive pool area that extends far beyond the photo below.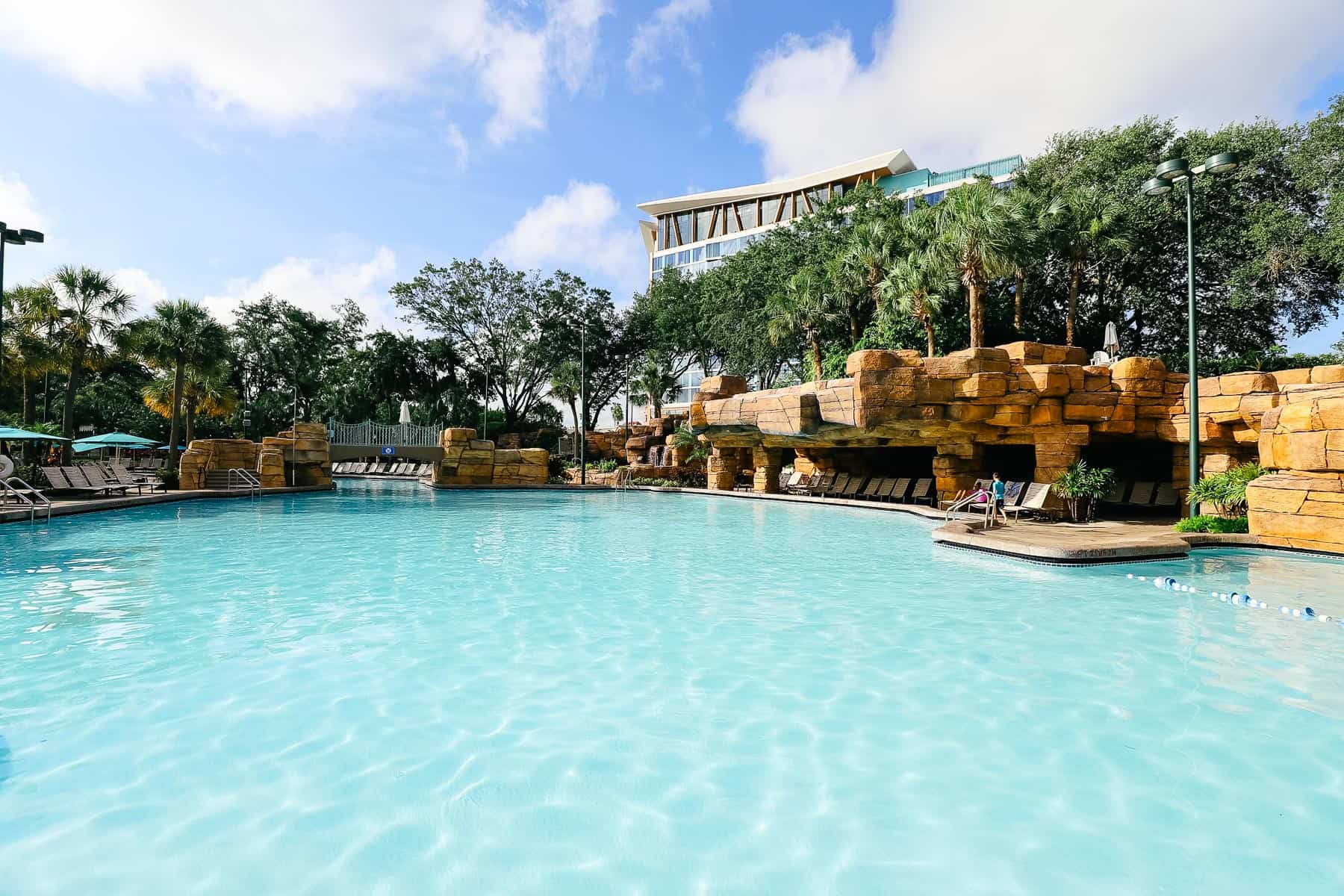 Additionally, the Grotto Pool ranks as our second choice for the best pool at Walt Disney World. It features multiple hot tubs, a waterfall grotto area, a waterslide, a kiddie pool, private cabanas, and so much more!
Related: The Pools at Disney's Swan and Dolphin
After photographing the pool, I returned to the Swan Reserve to tie up one loose end before breakfast. That open end was the hotel gym.
Swan Reserve has a fitness center located on the second floor,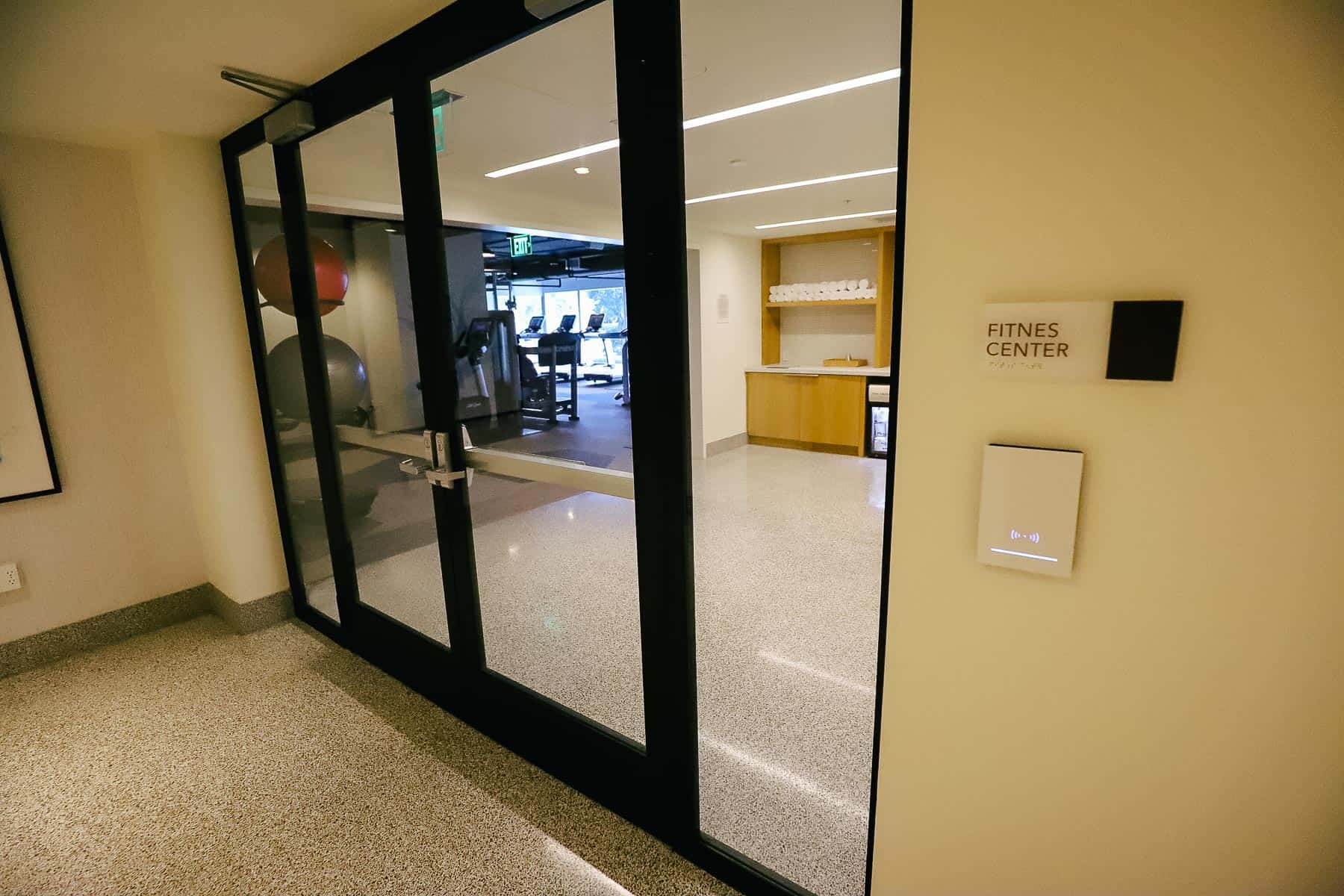 Here are a few photos of what you'll find inside. Make no mistake. The gym is packed with state-of-the-art equipment and amenities.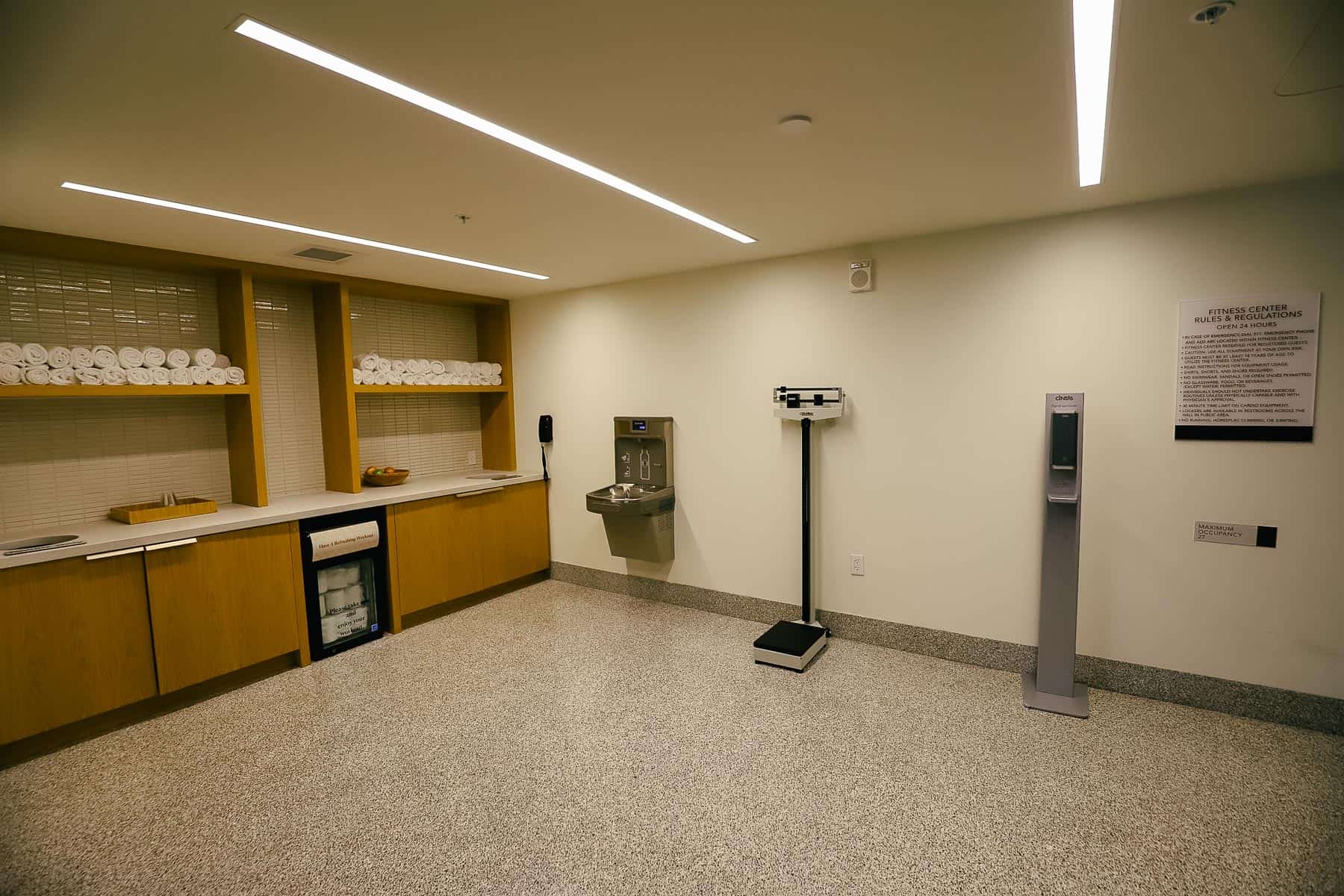 Chilled towels are available. I love to jog the hotel's surrounding area. If you're staying at the resort, you can stop at the gym for a crisp, cold towel. If you're unfamiliar with the area, a jogging map is available in the hotel's app.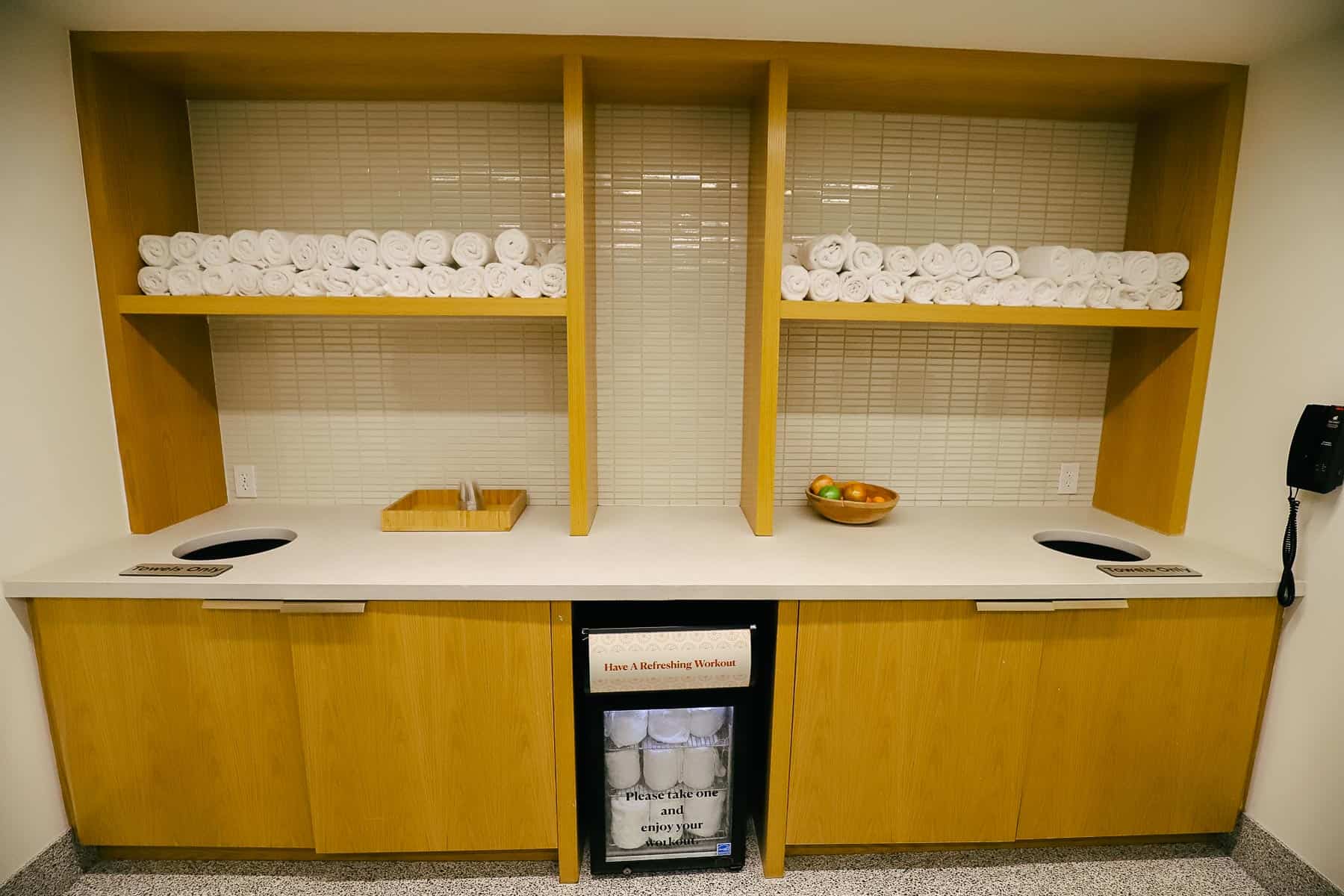 You might also refill any water bottles here.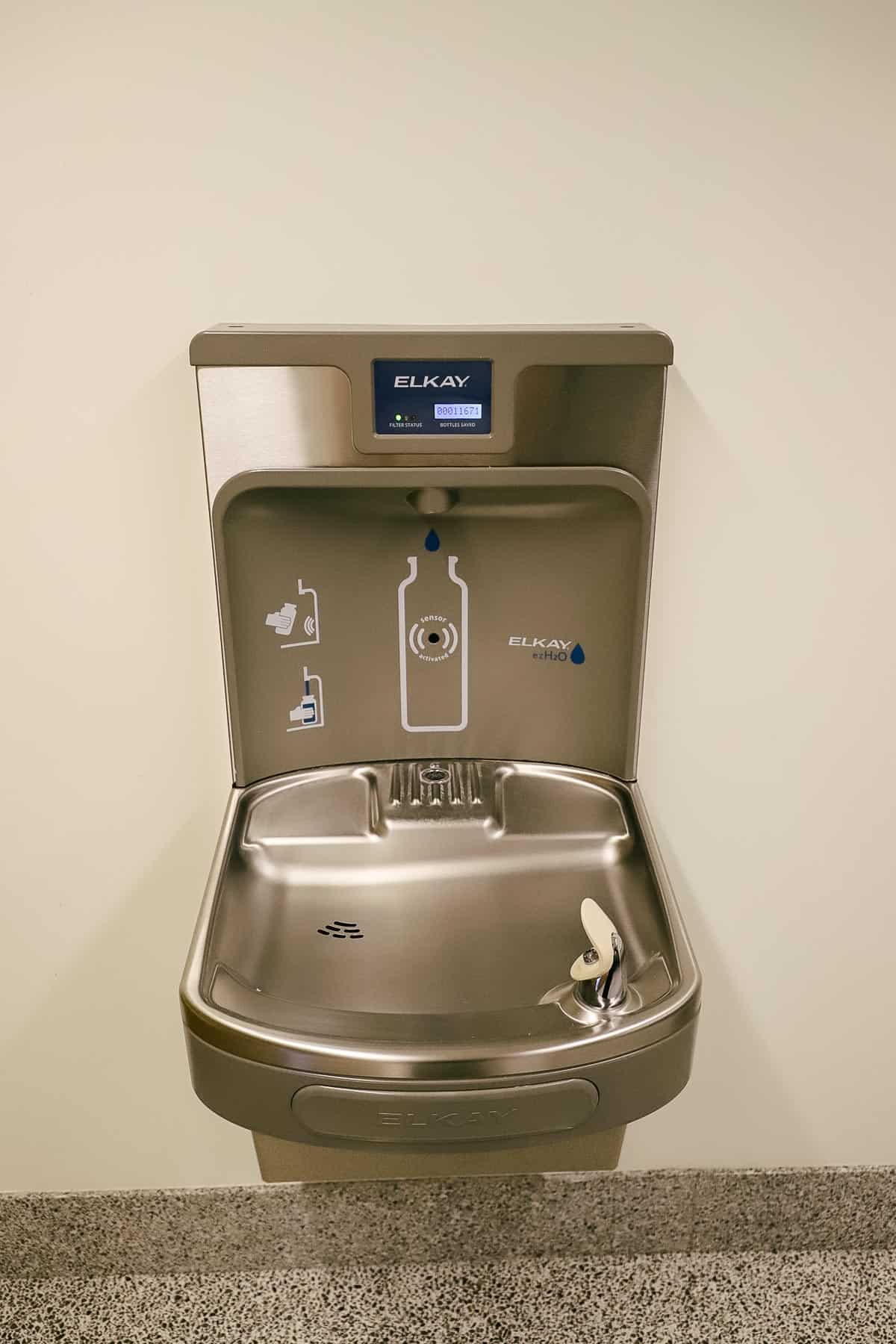 Plenty of space is available to do floor aerobics or other exercises.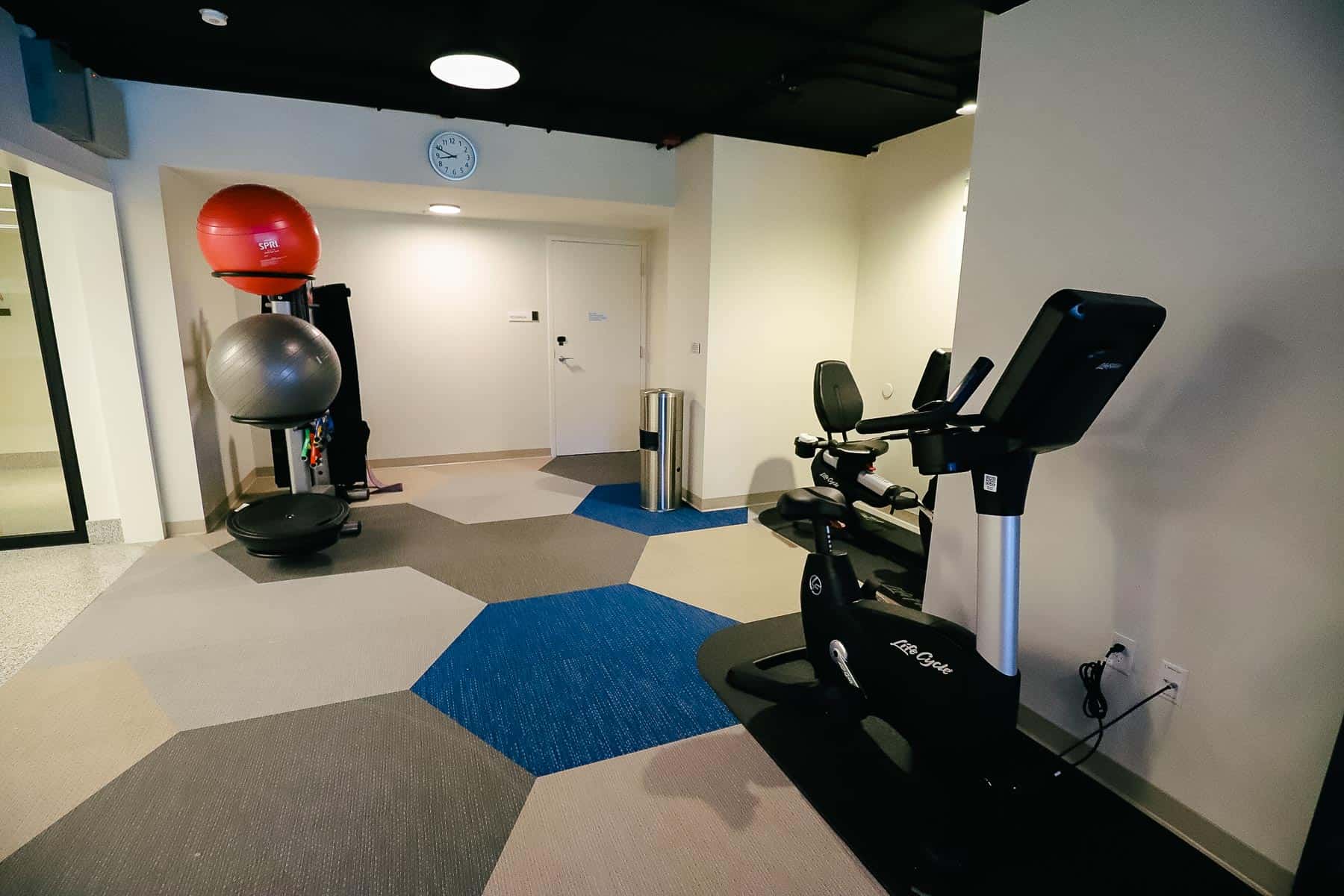 Additionally, treadmills, ellipticals, and other machines were available.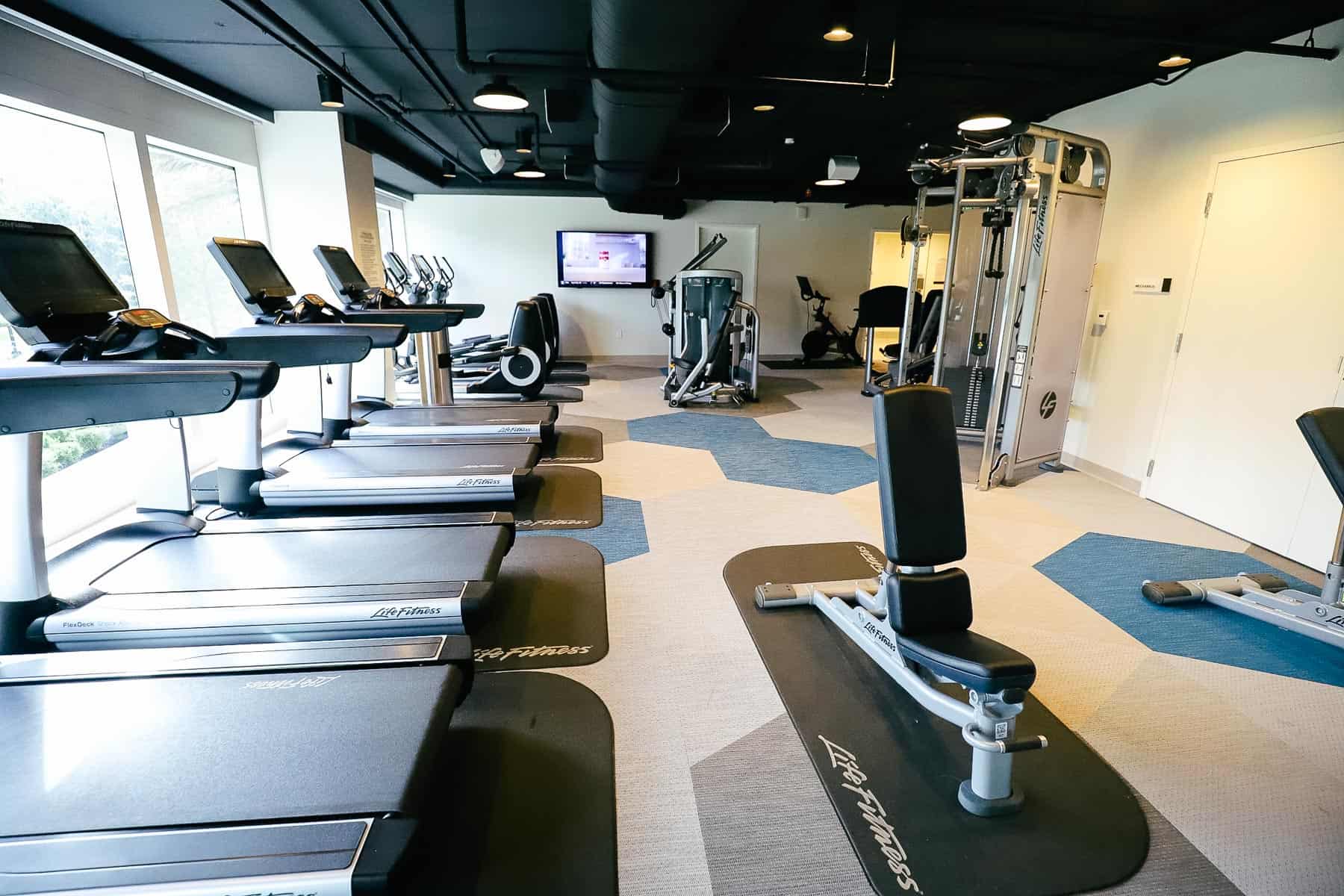 Here is a photo with the free weights.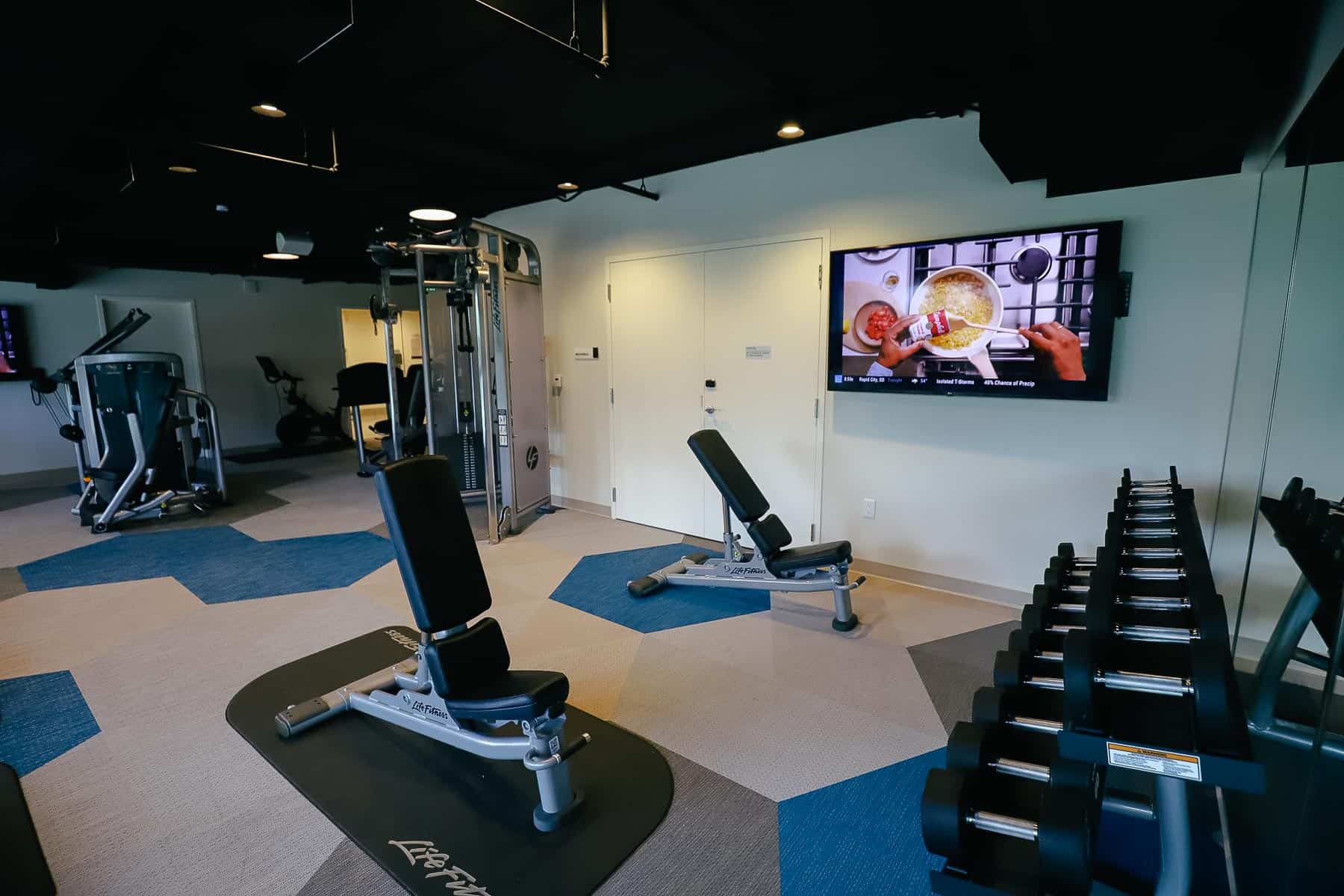 It's a more than adequate gym.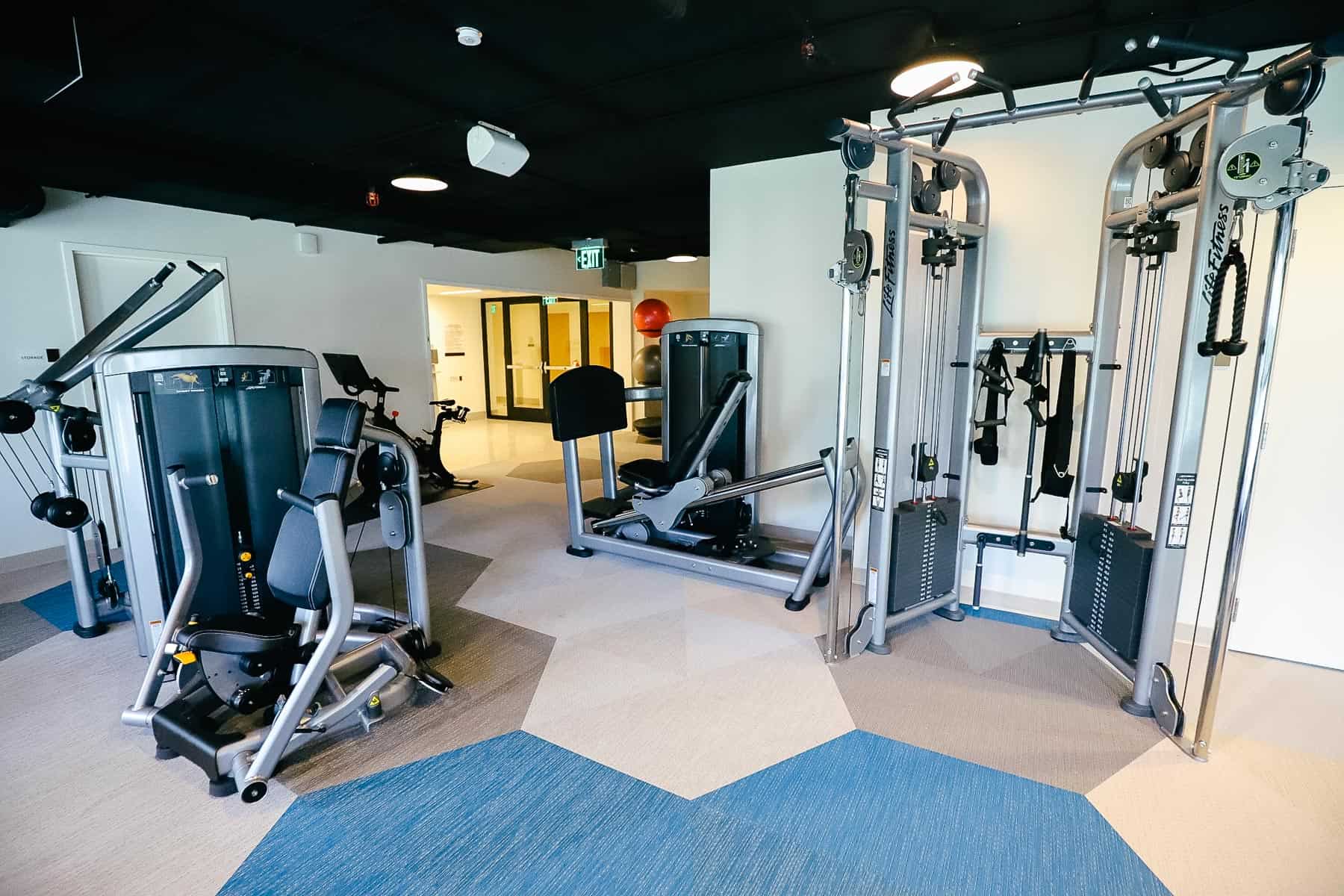 After taking all those photos of the pool and gym (and having less than five hours of sleep), it was time for breakfast. So I returned to the third floor and enjoyed a leisurely breakfast while most everyone else was still peacefully sleeping.
Amare, the restaurant's table service dining location, has a full breakfast buffet and an à la carte menu.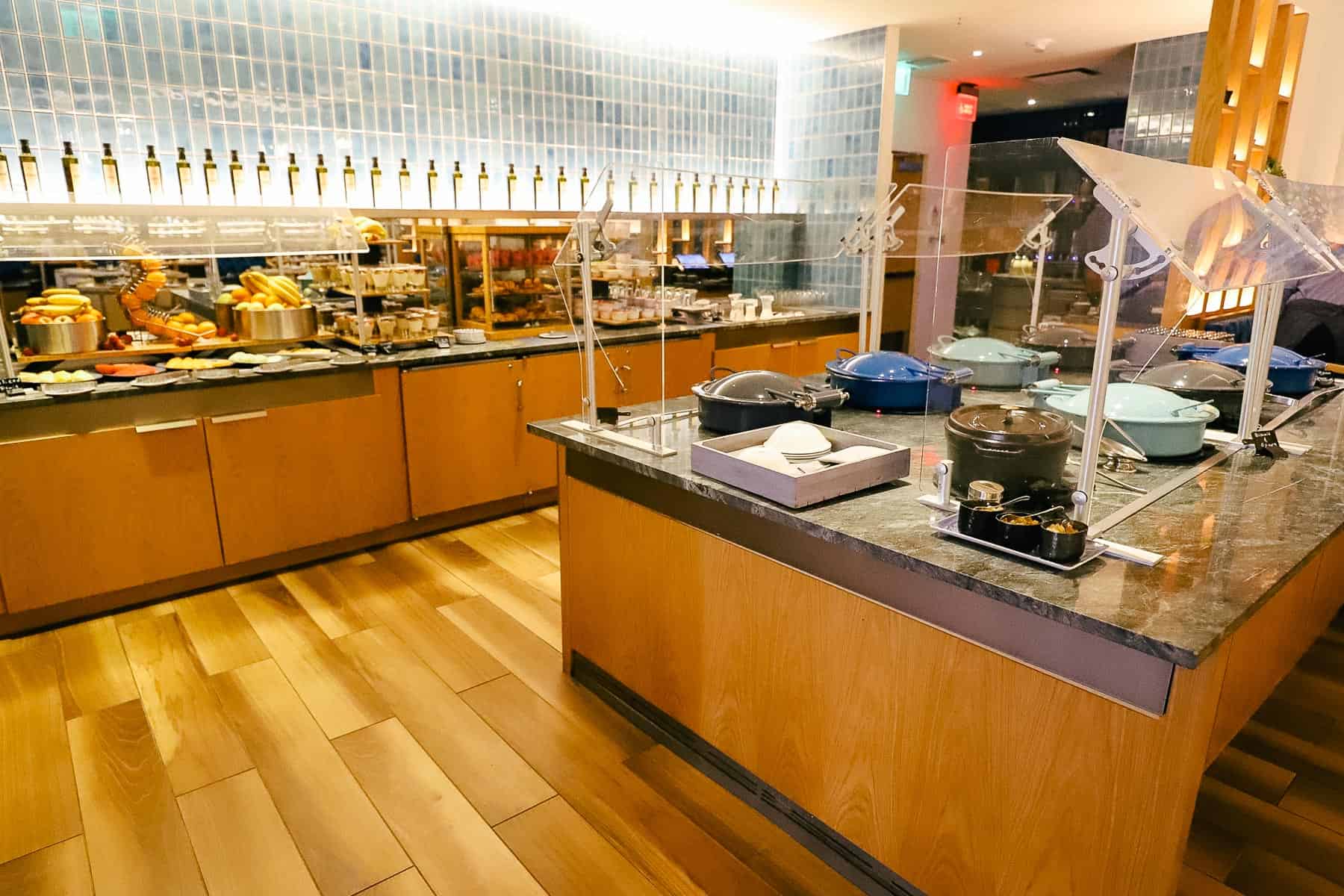 I went with an à la carte item–the Belgian waffles. This was a delicious meal and the perfect way to start the day.
Related: Amare Breakfast Review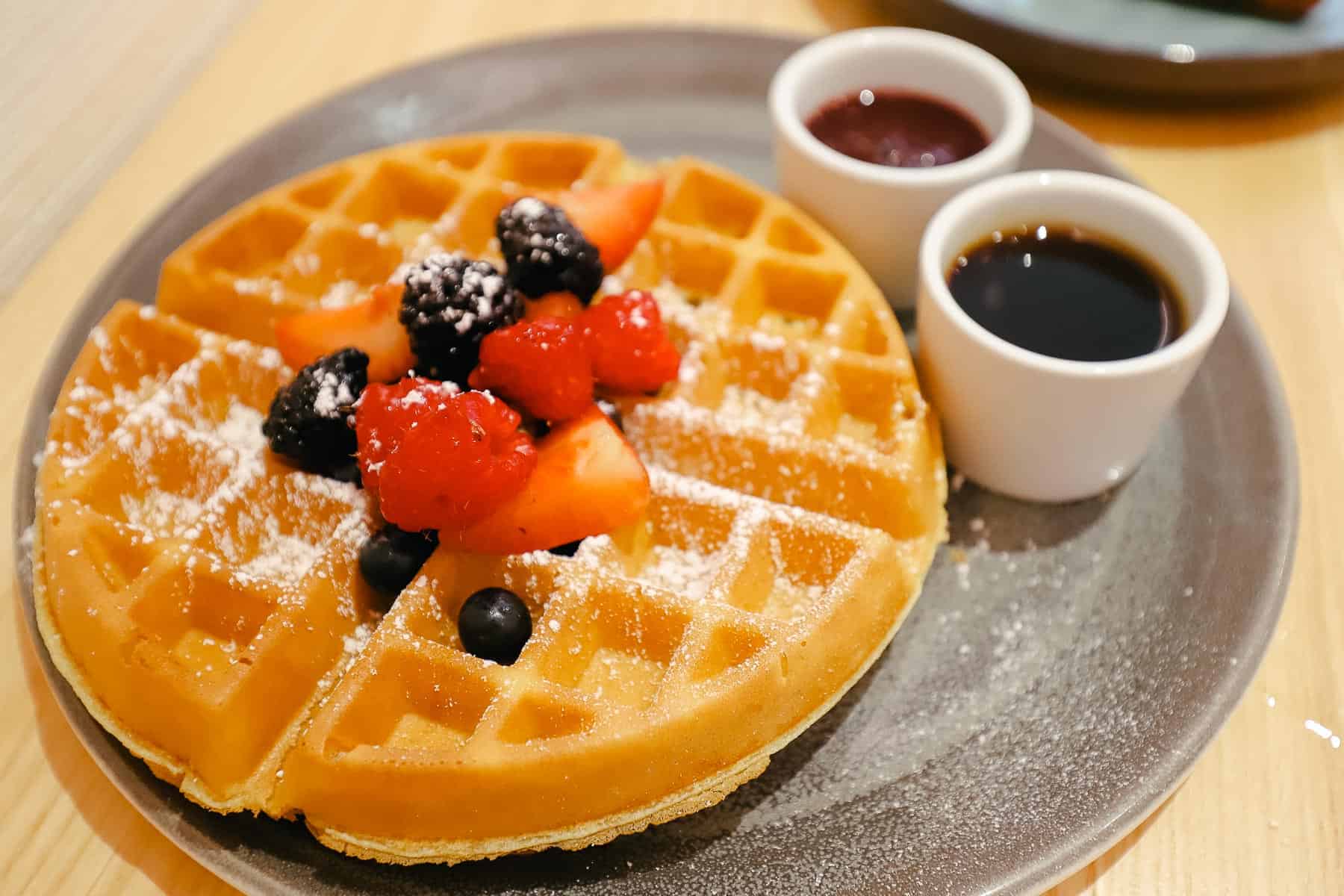 Lastly, I walked outside to take photos of the transportation options. One significant difference between these hotels is that they do not participate in the same bus service as Disney Resorts.
So you'll have to take a private bus service to Disney's Animal Kingdom, Magic Kingdom, and Disney Springs. At Magic Kingdom, you'll be dropped off at the Transportation and Ticket Center, so you'll have to take the ferry across or monorail around the lake to get to the park.
Unfortunately, this means it will take a little more time to get to the park than if you were staying at one of Disney's Resorts. However, being within walking distance of both Epcot and Hollywood Studios far outweighs this factor, in my opinion.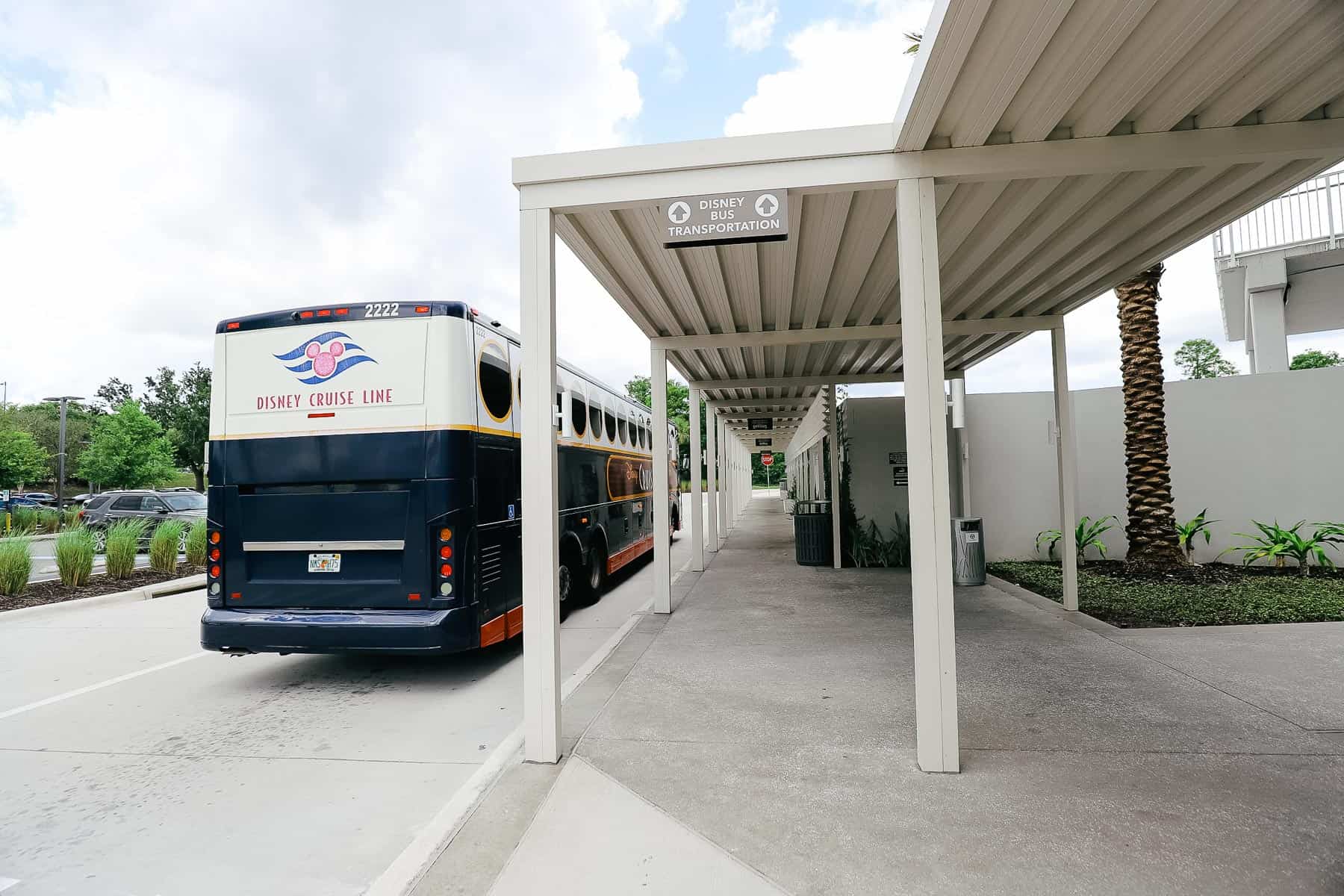 Of course, many guests have found ways of getting around this small issue. For example, we like to have breakfast at Ale and Compass at the neighboring Yacht Club. After breakfast, we use their bus stop to get where we're going.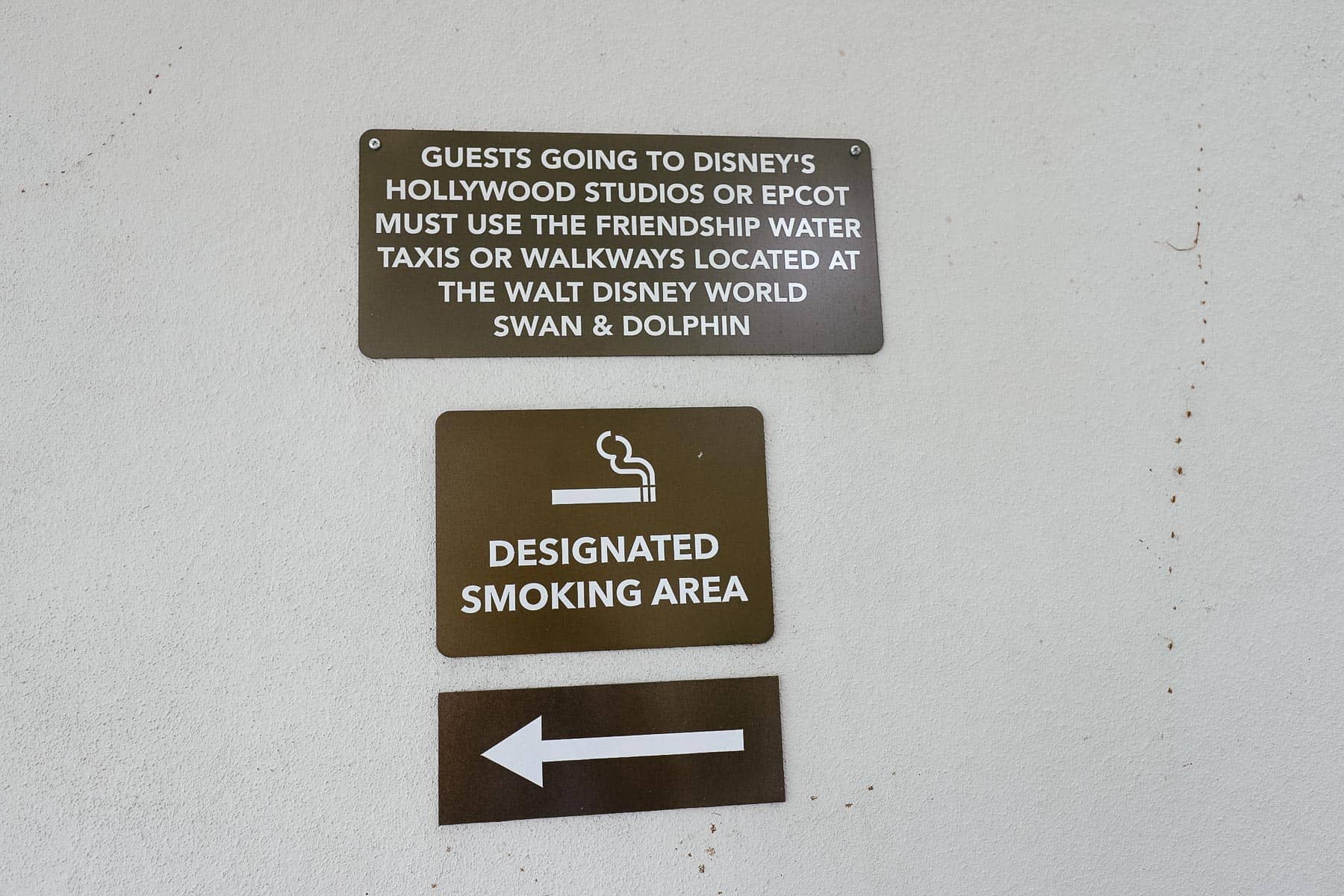 Here is a look at the Swan Reserve's parking lot. From where I'm standing, my car is parked near the back of the lot. So you can tell it's only a short walk to the hotel.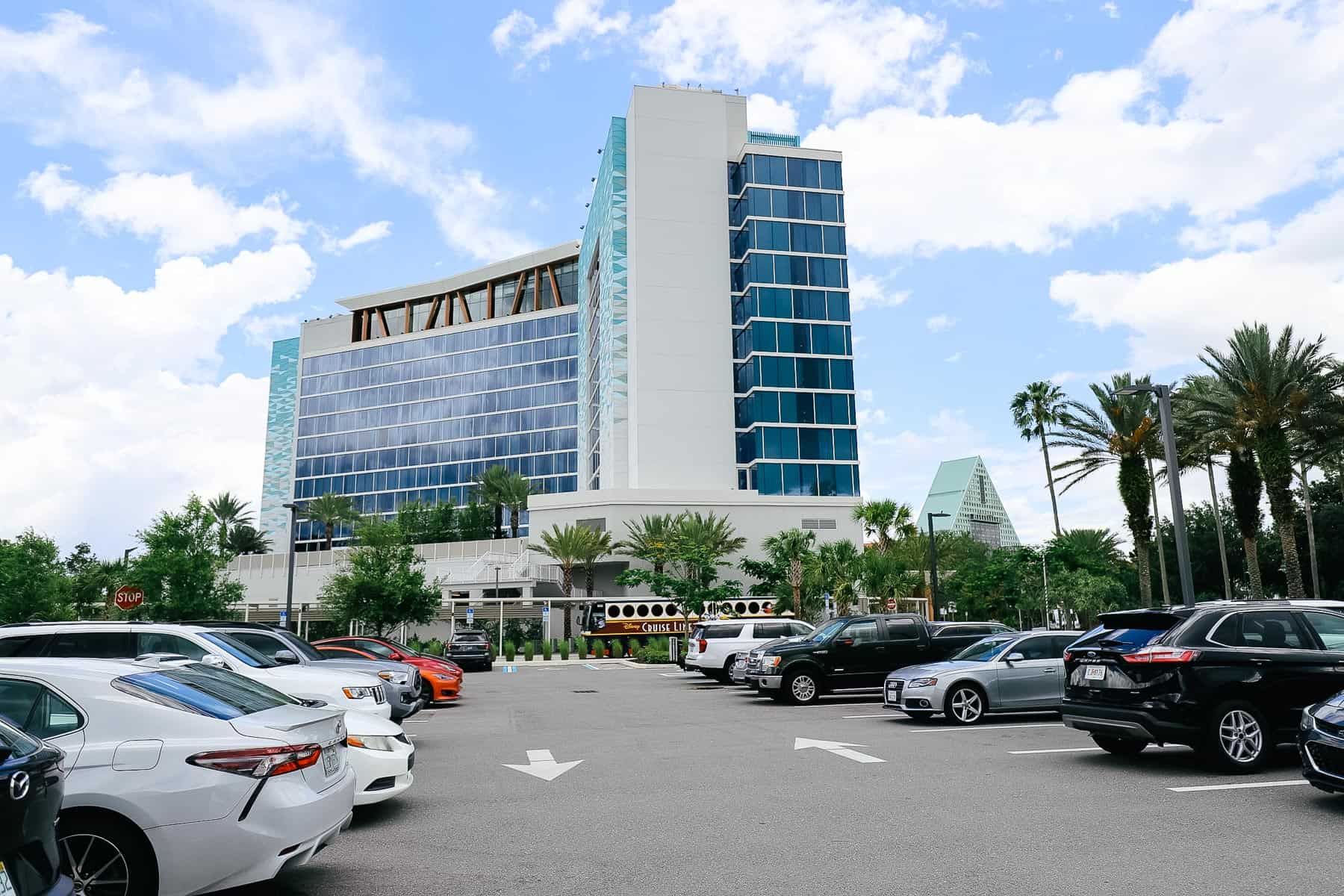 Speaking of parking, the Swan Reserve charges for parking. You may remember that Disney-owned and operated resorts dropped their parking charges earlier this year, which was a great relief.
At the time of this review, parking charges at the Swan Reserve are:
Self-Parking – $32 per day, plus tax
Valet Parking – $42 per day, plus tax
Additionally, the Swan Reserve charges a daily resort fee. However, due to recent legislation, hotels are now including the resort fee in the total cost of the hotel.
While I'm not necessarily a fan of the government getting involved in business. I can assure you this is the right way to go.
When I booked this stay, I didn't spend extra time calculating how much I would pay. To me, "resort fees" are more about the hotel's business than mine. I want to know what I must pay upfront and not worry about anything else coming up later.
However, the parking charge was something extra I did have to account for because we drove our car. Most guests visiting the area do not have a car. So that charge isn't absolute for everyone.
You can learn more about the Junk Free Prevention Act on Congress.Gov if you like.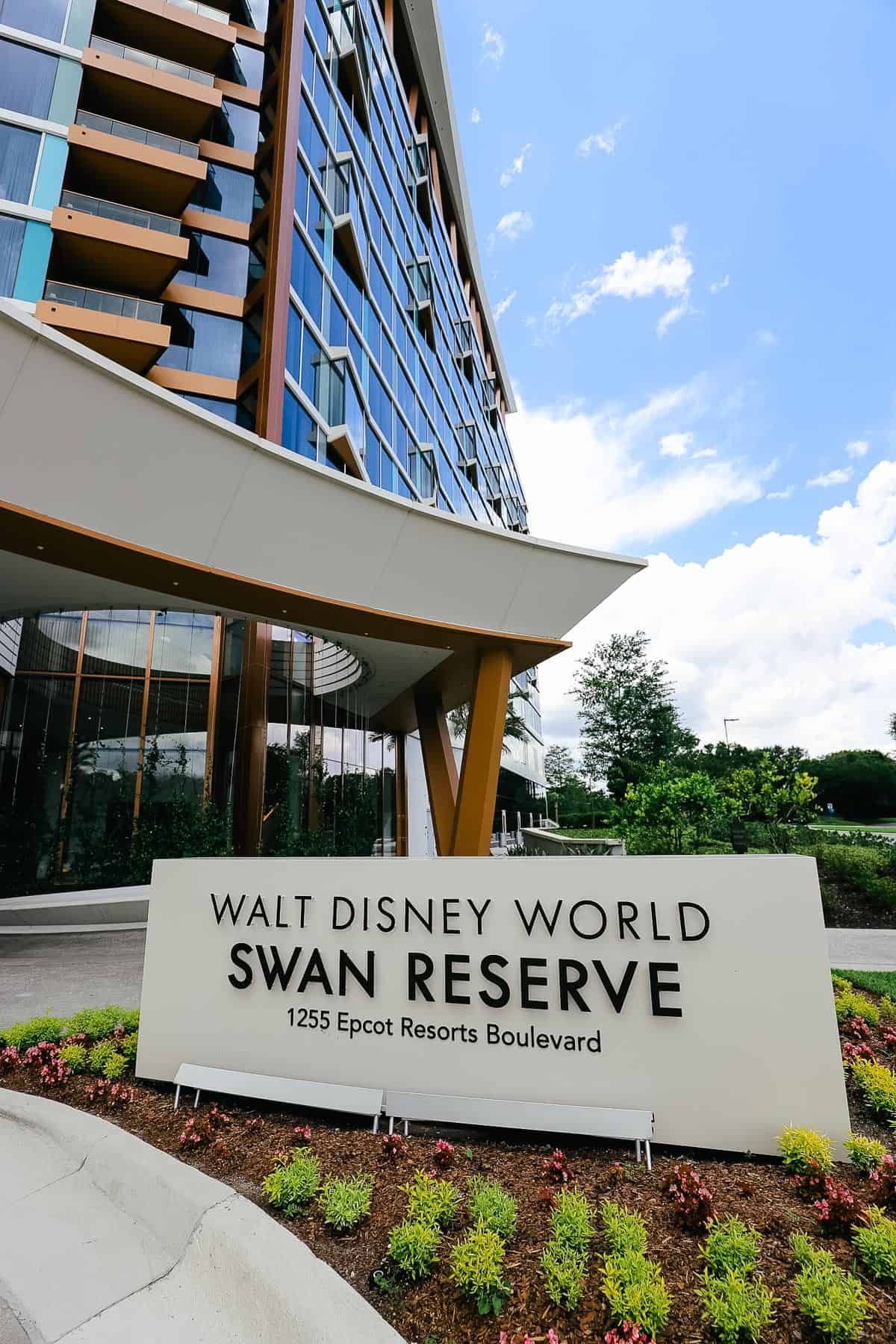 Final Thoughts
Overall, we enjoyed our stay at the Swan Reserve and found it an excellent value for the price. I wouldn't hesitate to return and will add it to our rotation. We already enjoy staying at the Swan and Dolphin every so often to enjoy time at the pool and restaurants. Ultimately, our future trips will be determined by which resort has the best rate or availability.
As I finish this review, a few things come to mind that we haven't fully discussed.
You will want to download the hotel's app for your stay. It is user-friendly and provides dining and recreation details you'll want to know for your visit. Additionally, you can use it to order room service.
The Swan and Dolphin's pool areas are open between 6:00 a.m. and 11:00 p.m. This is a huge asset. Unfortunately, Disney started opening their feature pools at 10:00 a.m. in the last few years. So it is difficult to visit the pools early in the morning before it gets hot.
I hope you enjoyed this Swan Reserve review. You'll have a marvelous time if you're open to trying a new resort. Most will agree that the hotel has convenience in mind. You can get down to dinner or the pool within less than five minutes of leaving your room.
For more about this resort and the Swan and Dolphin, we have a resort guide:
Or you might enjoy the following:
Or you can browse the entire list of Walt Disney World Resorts.
In the Comments
What are your thoughts on this review of the Swan Reserve? Do you have any questions about the resort? Have you visited it yet?