Disney's Epcot Resorts Area and Hotel Guide
The Epcot Resorts area at Walt Disney World is one of the most charming places you'll ever visit. This space between Disney's Hollywood Studios and Epcot is a venue within itself.
It's home to multiple resorts, a beautiful lake, and Disney's Boardwalk. For many, the area is worth visiting at least once over the course of a week's vacation.
Below, we'll discuss each of the resorts near Epcot. Additionally, we'll touch on a few amenities and dining options you might enjoy during your visit.
If you're considering staying at one of these hotels, there are links under each section to the specific review for that resort. We've stayed at each and every Epcot Resort and think they are all equally excellent options.
However, the best thing about the resorts near Epcot is their proximity to both Epcot and Hollywood Studios. If you get to the point you need a break, you can easily walk back to your room from either park.
In addition, the hotels near Epcot provide a nice place to escape the crowds. You might even enjoy a pleasant stroll around Crescent Lake or take advantage of the variety of restaurants in the area.
This article was updated on March 13, 2023.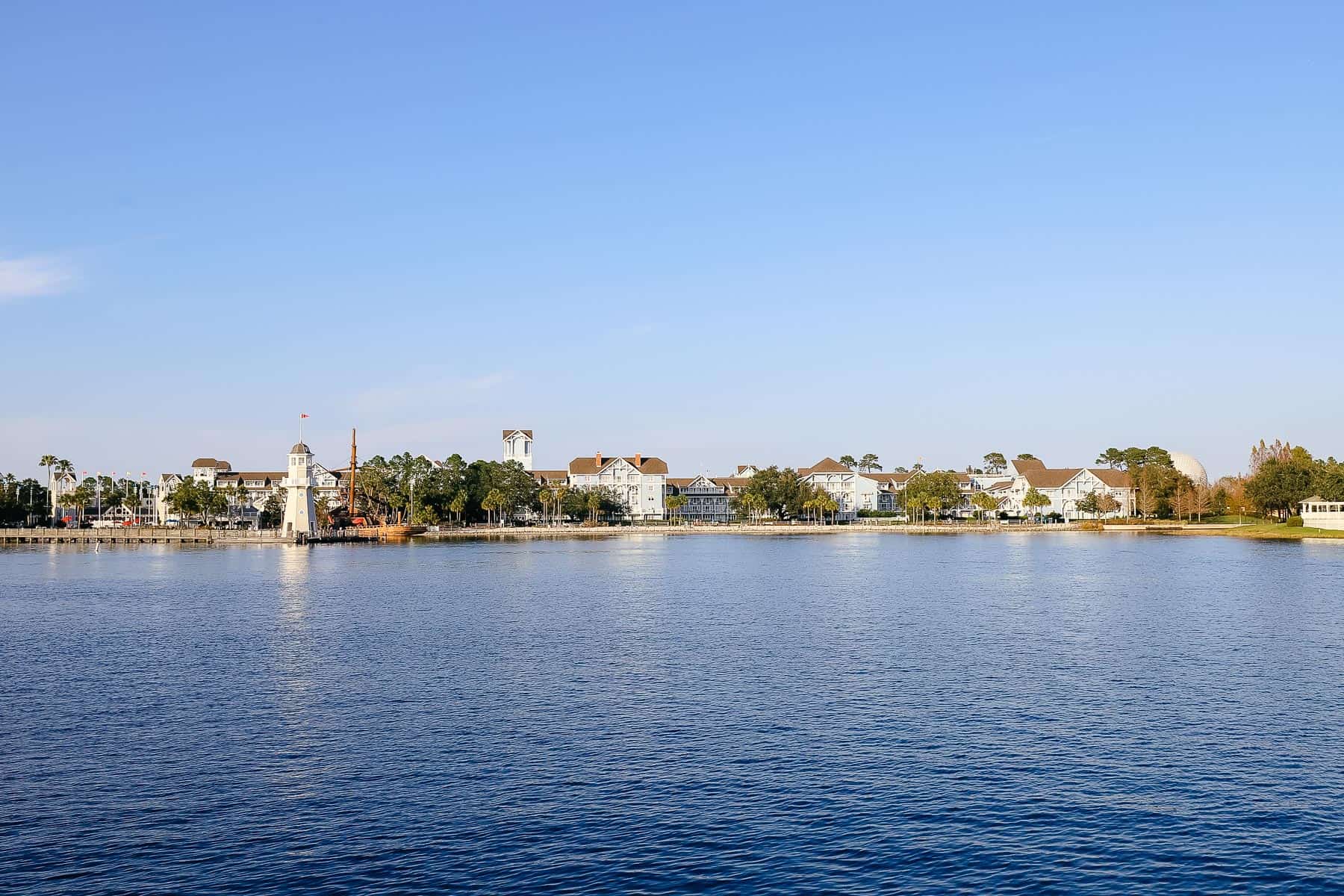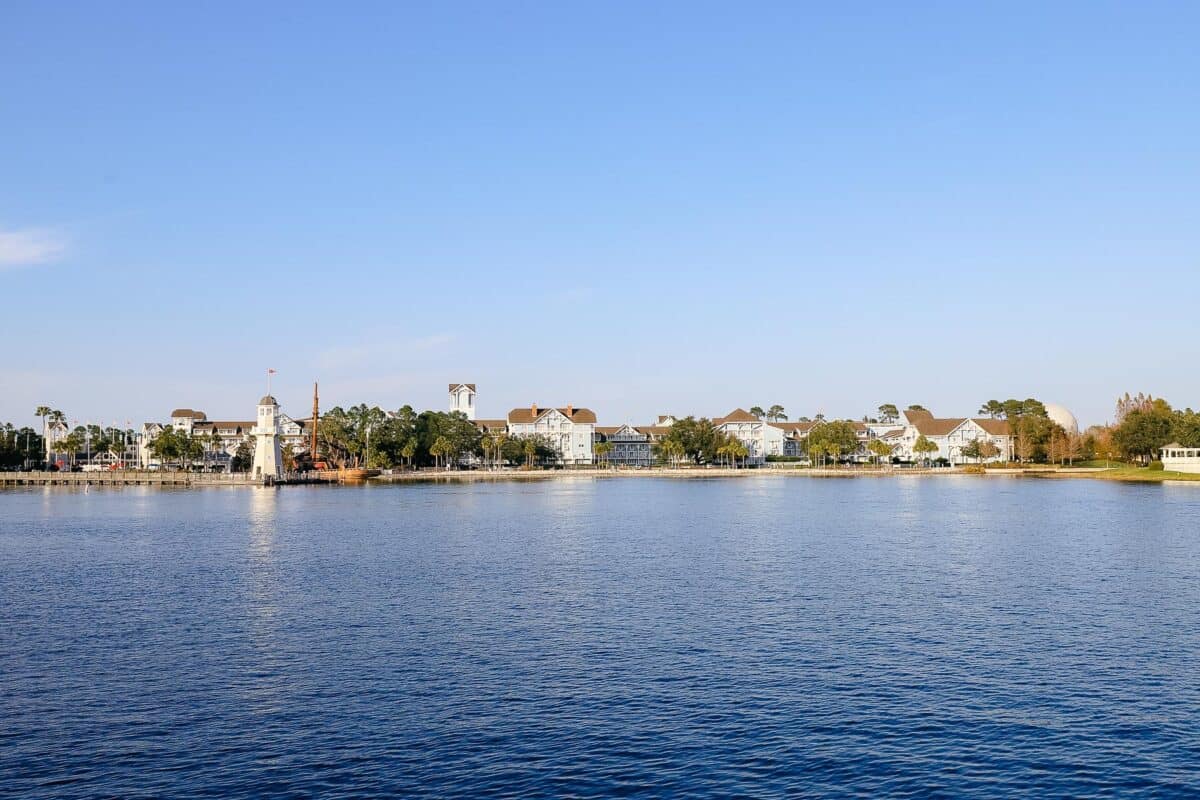 Epcot Resorts Area
The following hotels are all located near Epcot. These resorts are only a short walk to Epcot and Disney's Hollywood Studios.
The Walt Disney World Swan and Dolphin and Swan Reserve hotels are independently owned and operated by Marriott. They are the only hotels on Disney property that Disney does not operate.
Related: Best Marriott Hotels Near Disney World
Additionally, the following resorts are nearby via the Disney Skyliner. However, they are not within walking distance.
Disney's Riviera and Caribbean Beach are located up the street off Buena Vista Drive and Victory Way. These resorts require a ride on the Disney Skyliner to access either park.
Disney's Beach Club Resort
Our starting point for this tour of the Epcot Resorts area is Disney's Beach Club. The Beach Club is the closest resort to Epcot. It's less than a five-minute walk out of the resort's backdoor to the International Gateway entrance to Epcot.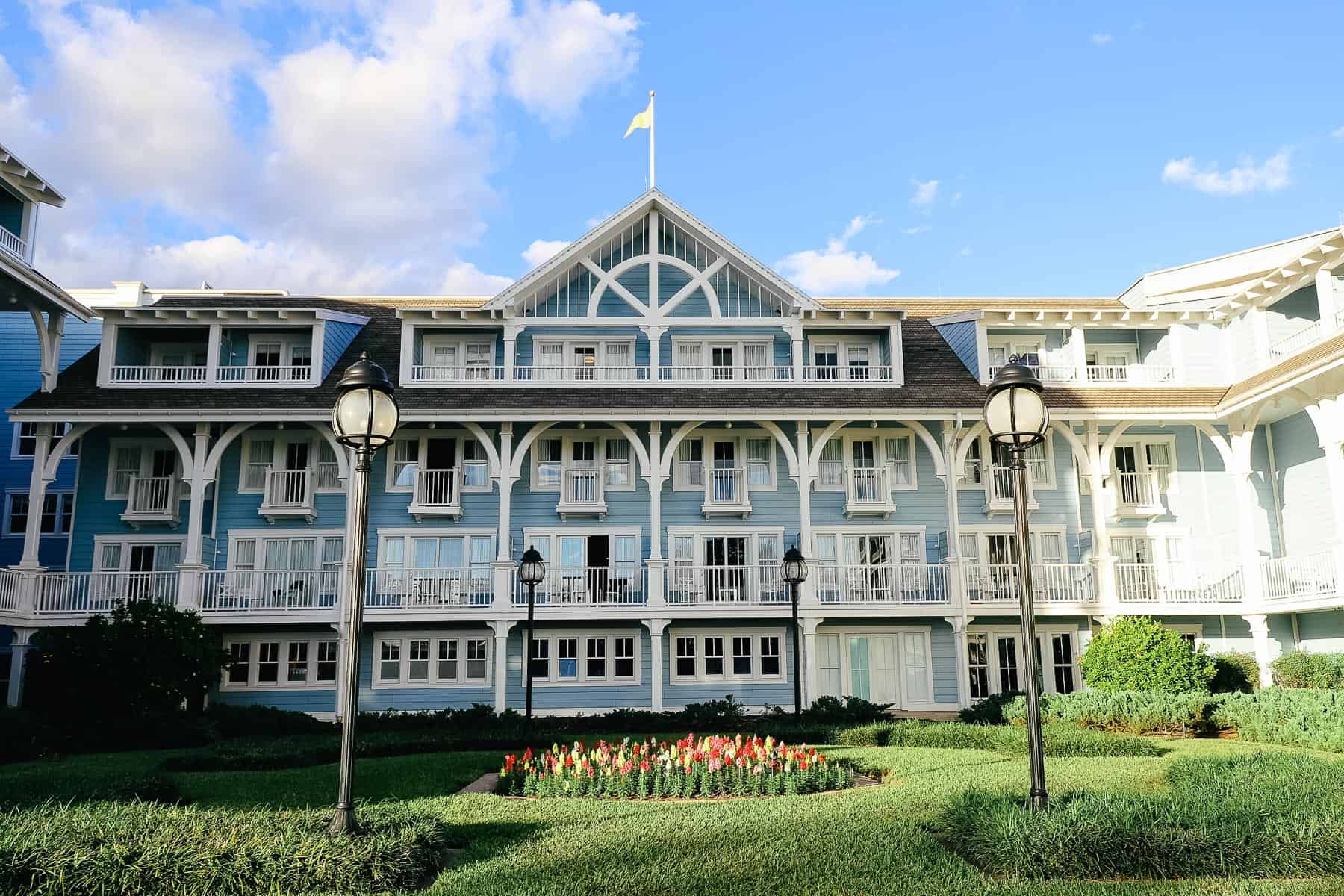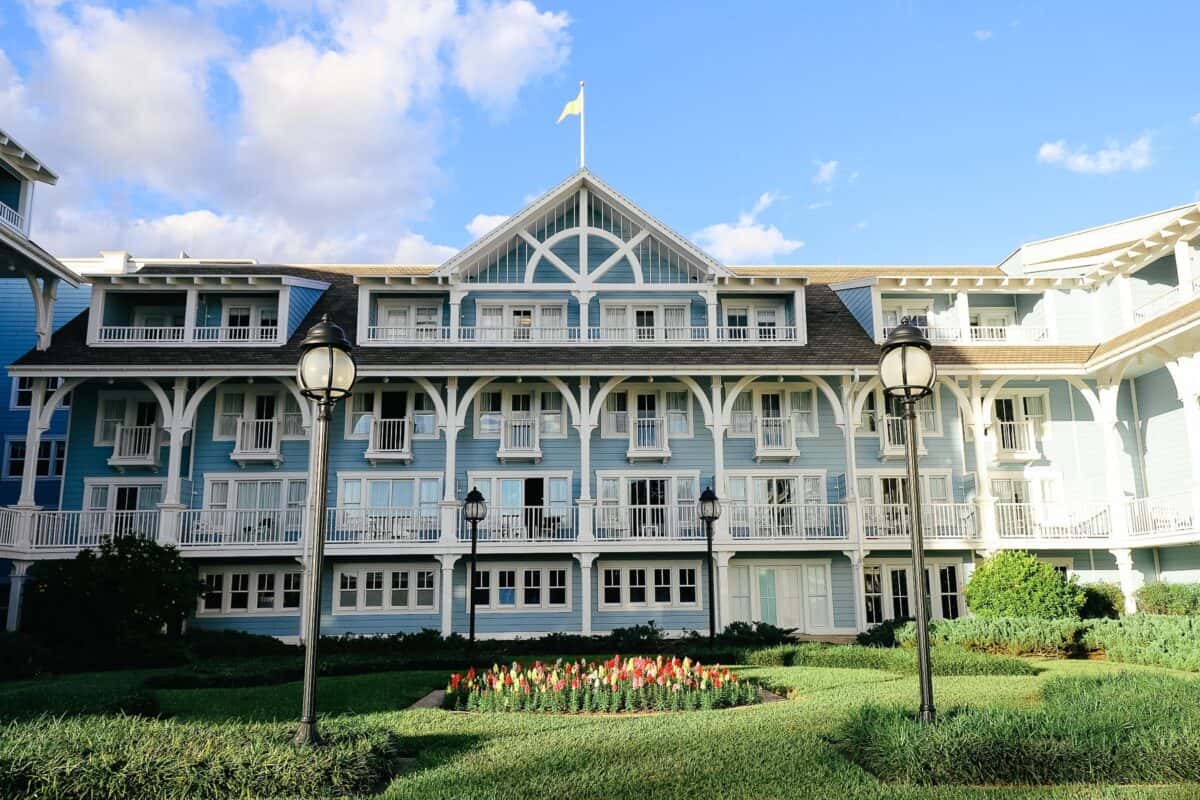 Anyone who has visited Resorts Gal knows that the Epcot Resorts area is a place we consider home. More specifically, Disney's Beach Club pulls the strings on this gal's heart.
When I was younger, I had a dream of staying here one day. Somehow, that dream has come to fruition many times and provided wonderful memories.
The rooms at the Beach Club (like all of the Disney Resorts) are fairly standard. But they are a nice, calming color, and the resort has considerable amenities.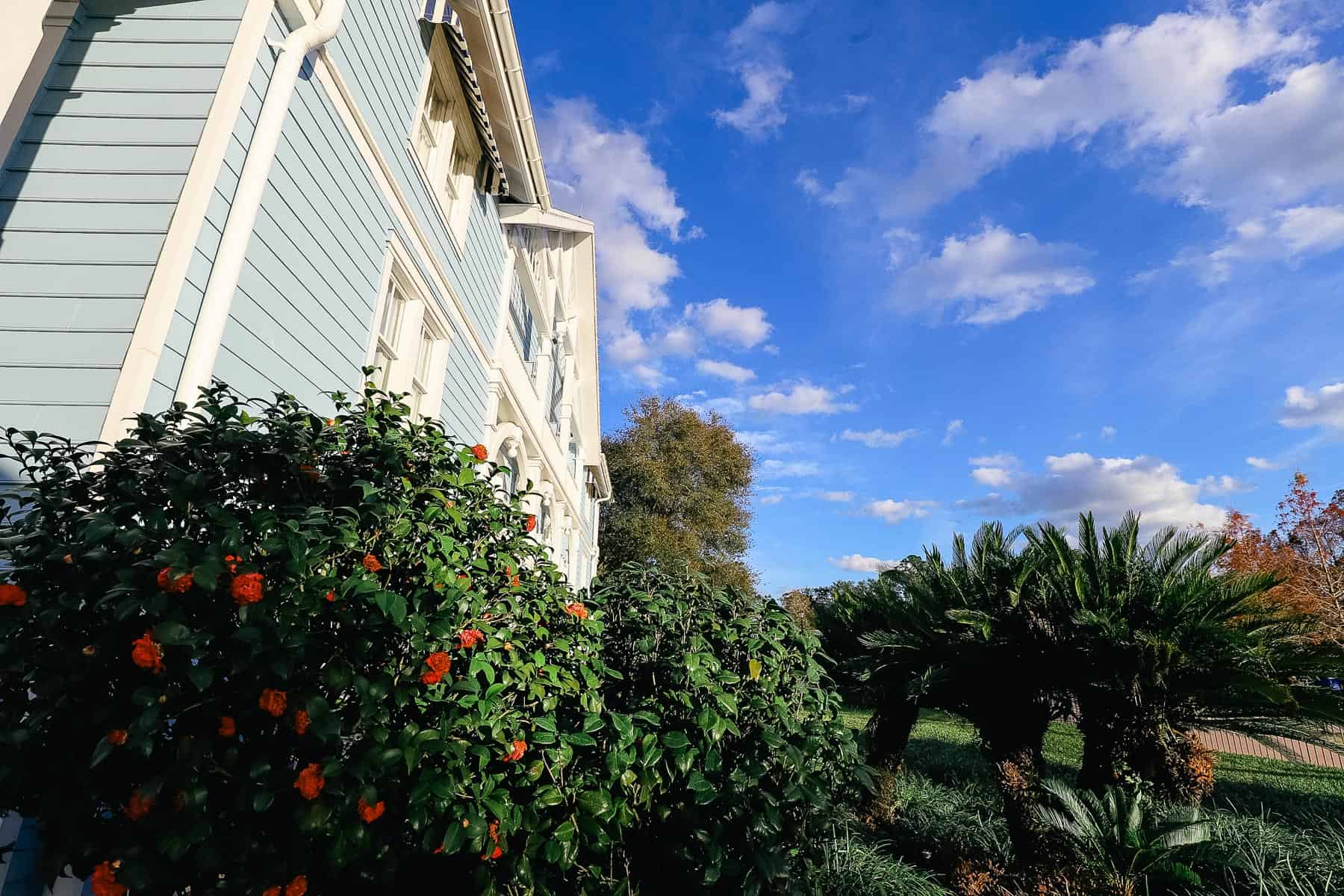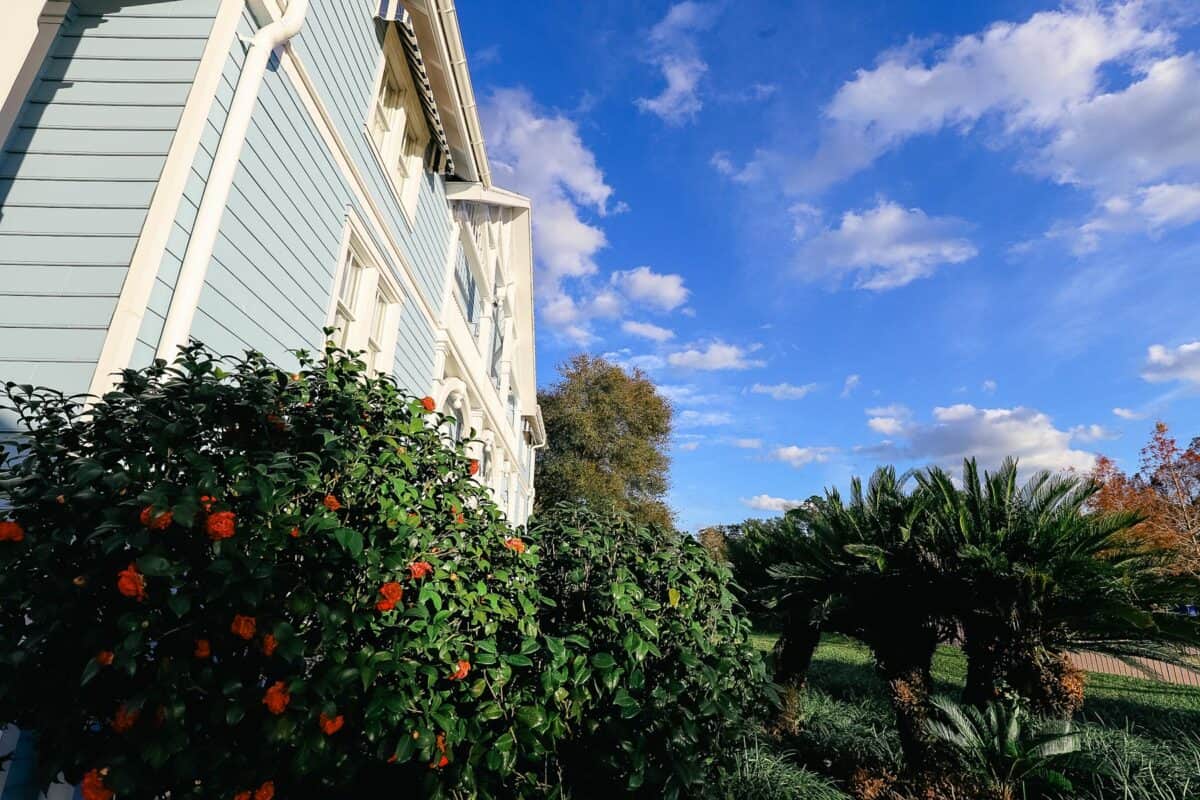 For most, the magnificent pool area is the major draw for Disney's Beach Club. It's more of a water park than your average resort pool.
We love spending the day (or evening) at Stormalong Bay. This area features multiple pools, sand-bottom areas, a small lazy river, a tremendous water slide, and more! There's a good reason it ranks as our top choice for best pool at Disney World.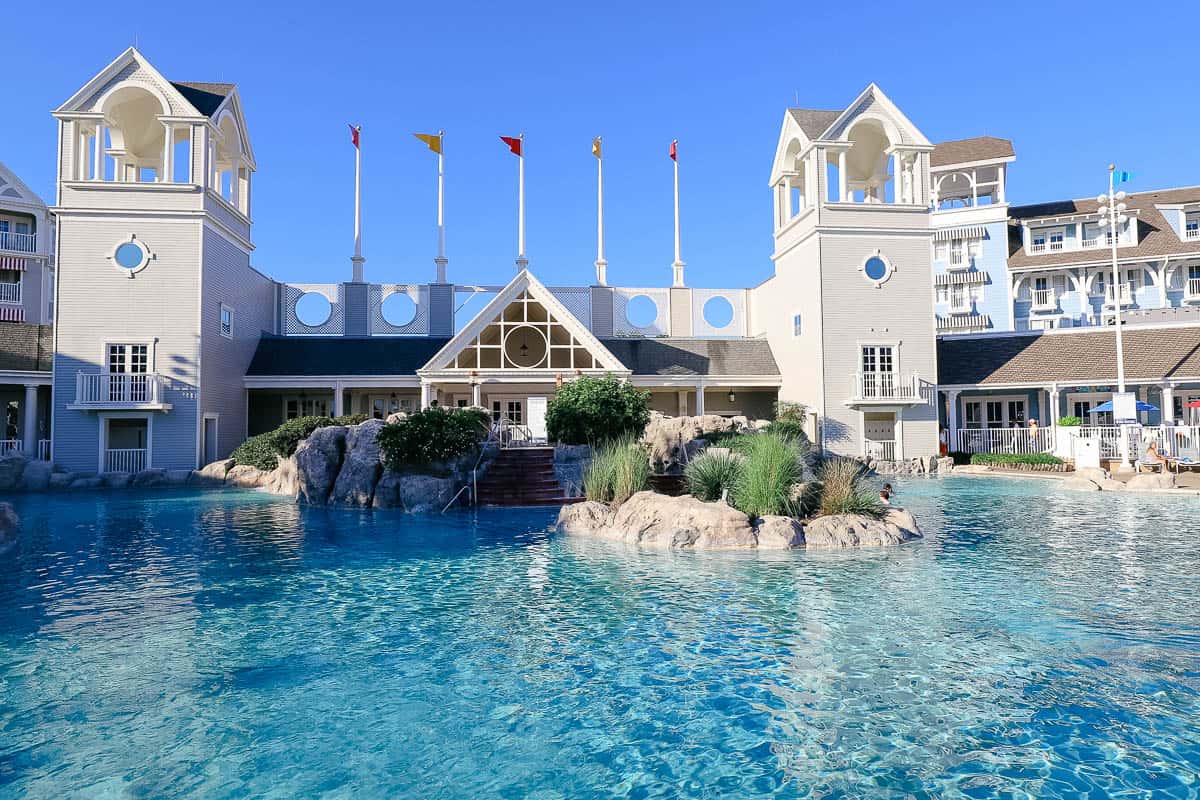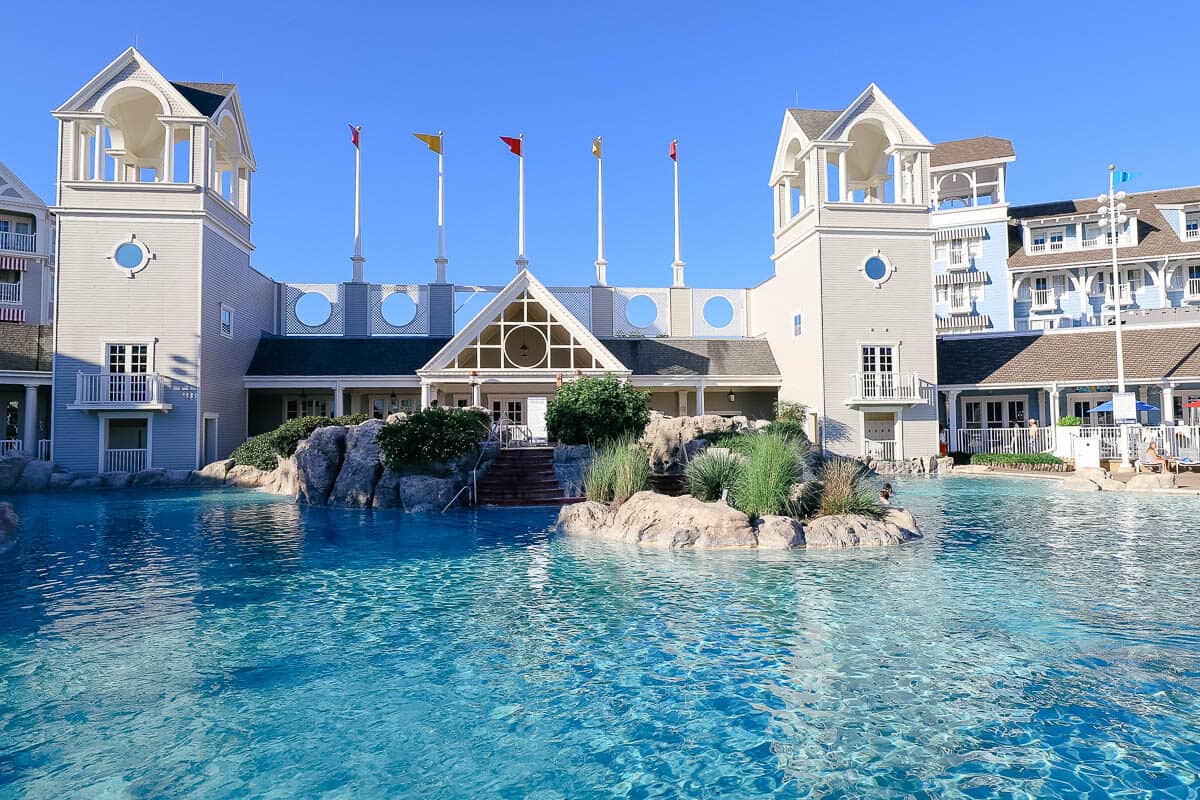 We have a few dining recommendations for those visiting this Epcot area resort. First, there's Hurricane Hanna's, the pool bar. You can easily pick up a drink, a burger, or a grilled chicken sandwich here and enjoy the surrounding views.
There's a separate dining area for guests who aren't staying at the resort. It's a lovely place that looks out to Crescent Lake on the opposite side of the pool.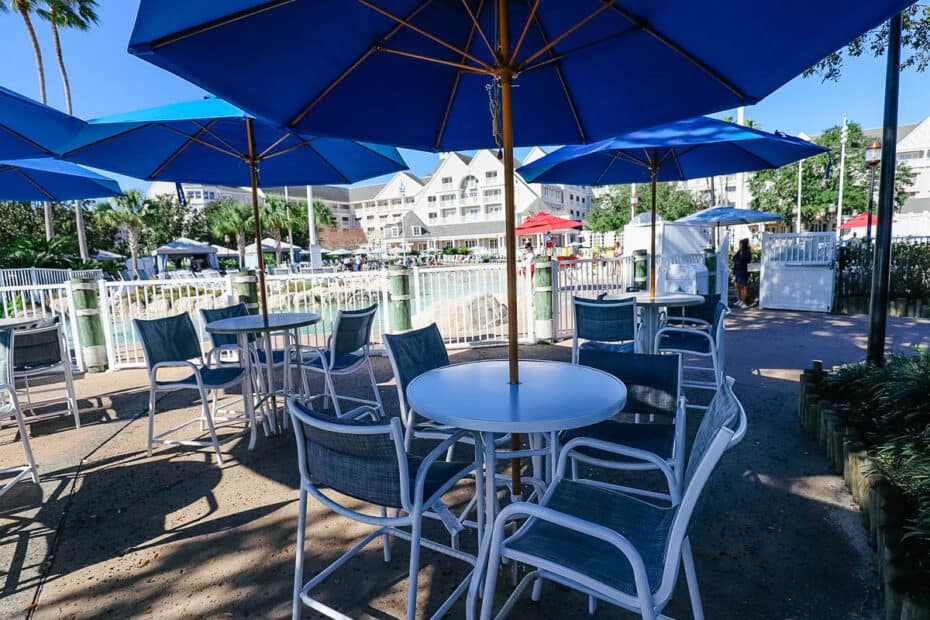 If you want to go old-school, you might enjoy making reservations at Beach Club's Beaches and Cream Soda Shop. Between the burgers and fries to the elaborate sundaes, it's hard to go wrong here.
Of course, you don't have to have reservations. Anyone can walk up to the hostess stand, and a cast member will give you an estimated return time if there is a wait.
Smaller parties might like to eat at the counter. Or if you only want ice cream, there's a separate walk-up window outside.
Related: Disney's Beaches and Cream Review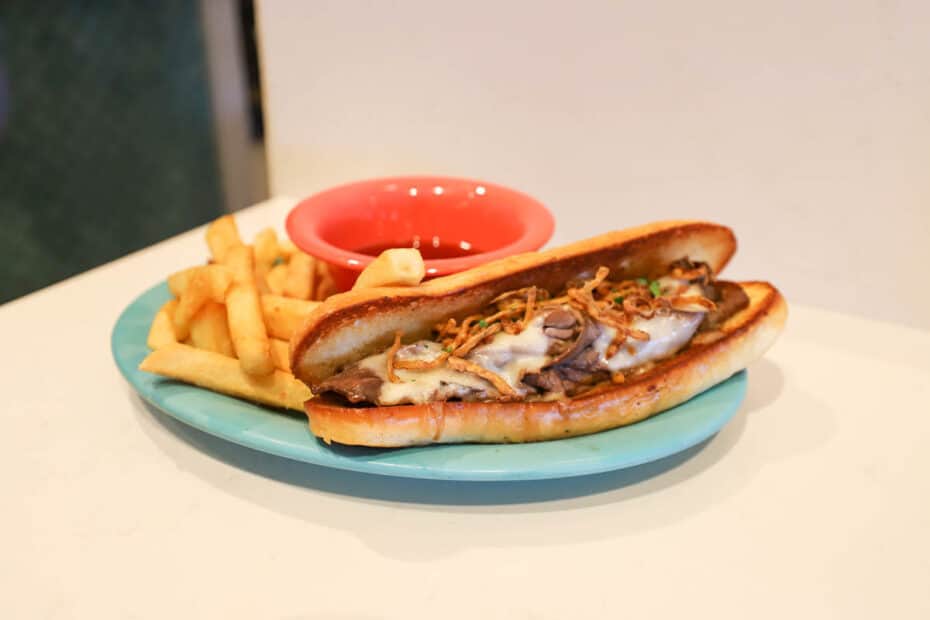 If you enjoy dining with characters, don't miss the opportunity to plan a meal at Cape May Cafe. They host Minnie's Beachside Breakfast Bash each morning.
However, in the evening, this location turns into a seafood buffet. Unfortunately, characters are only available at this location for breakfast.
Related: Cape May Cafe Breakfast Review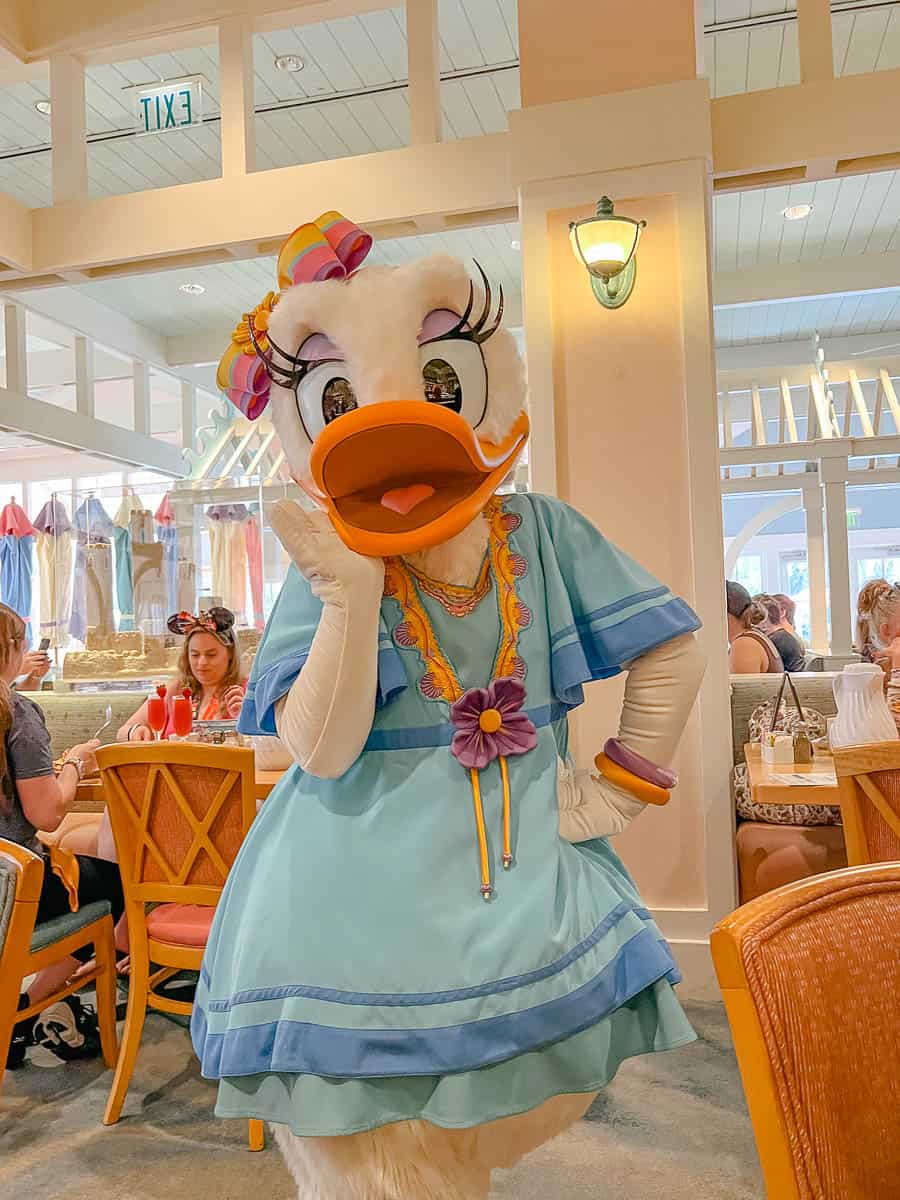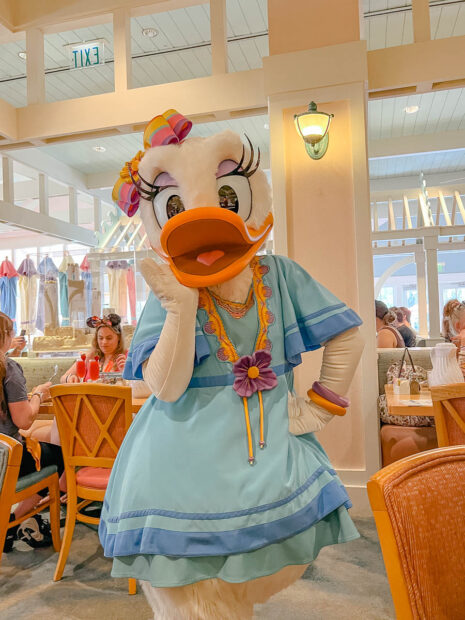 Before moving on, I wanted to touch on why we favor this resort more than others. We enjoy spending a good deal of time at Epcot, especially during the various festivals throughout the year.
I can't stress enough how nice it is to be able to visit the festival and return to your room as needed. When it gets so hot that you need a break, you can walk back to your room.
Then you can return in the evening. There is absolutely little to no effort involved when coming and going from this Epcot Resort to the park.
As for staying at other resorts, we are not always inclined to return when it requires a walk to the bus stop, a wait for the bus, and then travel time to the park. In theory, a break sounds nice. But when a break turns into 1-2 hours of extra travel, it becomes part of the exhaustion.
Not only that, you have to consider how long you might have to wait at the end of the evening for bus transportation from the park back to your resort. If you stay at an Epcot Resort, you can walk out of the park at your leisure. Your hotel room is only a few minutes away.
Location is one of the greatest considerations when planning a vacation.
Related: Disney's Beach Club Review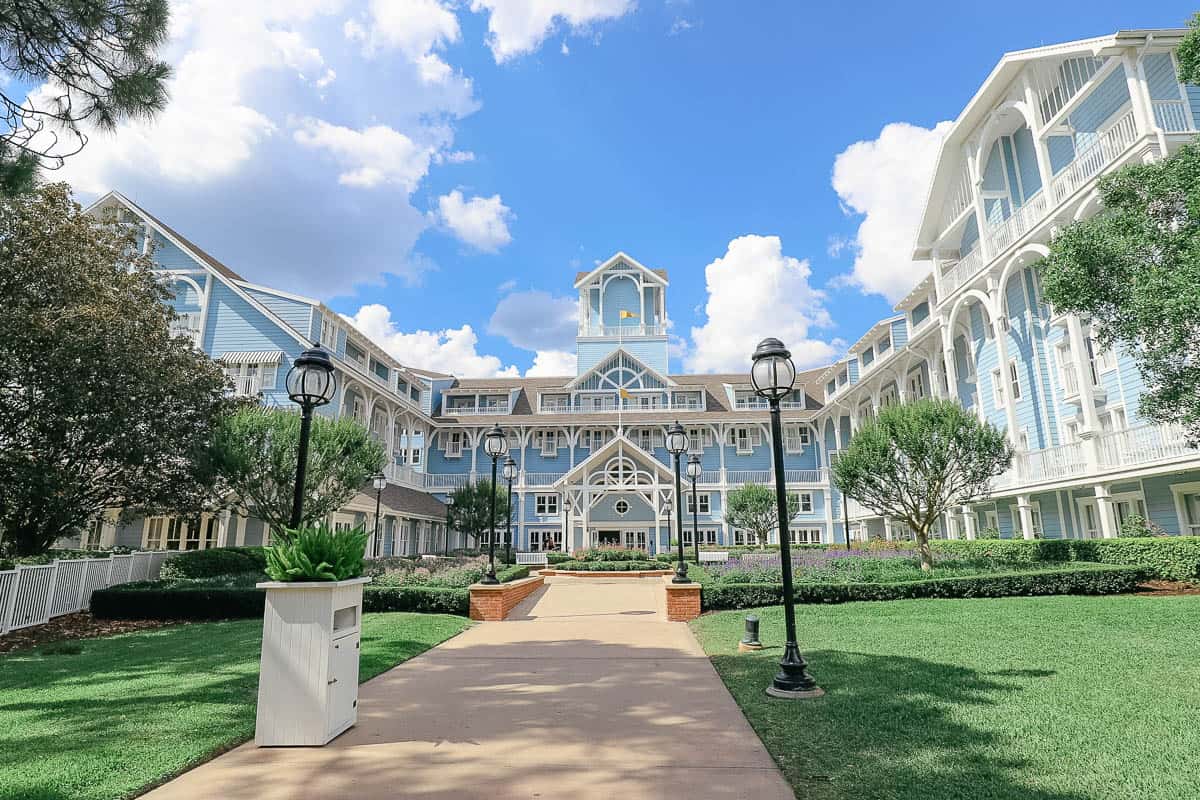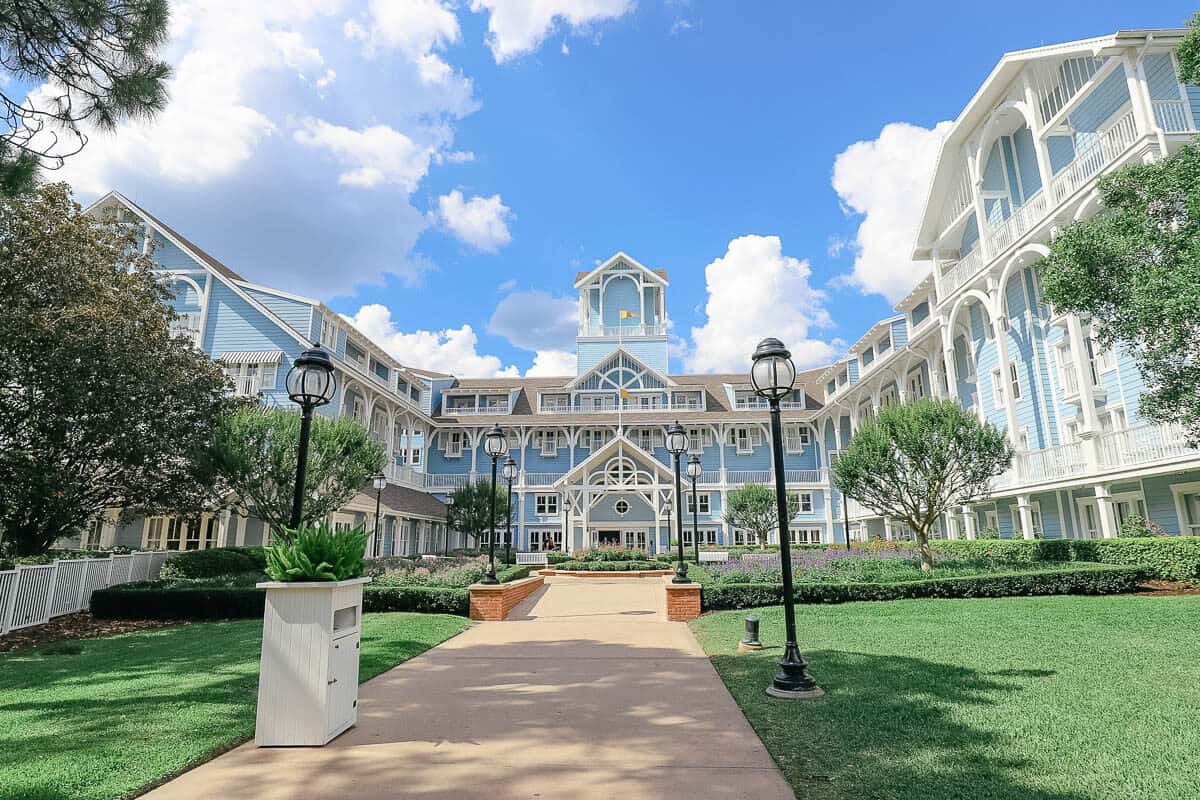 Disney's Yacht Club
Our next stop in the Epcot Resorts area is Disney's Yacht Club. The Yacht Club is connected to the Beach Club. A long indoor and outdoor walkway joins the two resorts.
Yacht Club has more of a crisp, formal feel, while sister Beach offers a softer, casual vibe. They have a way of balancing each other out.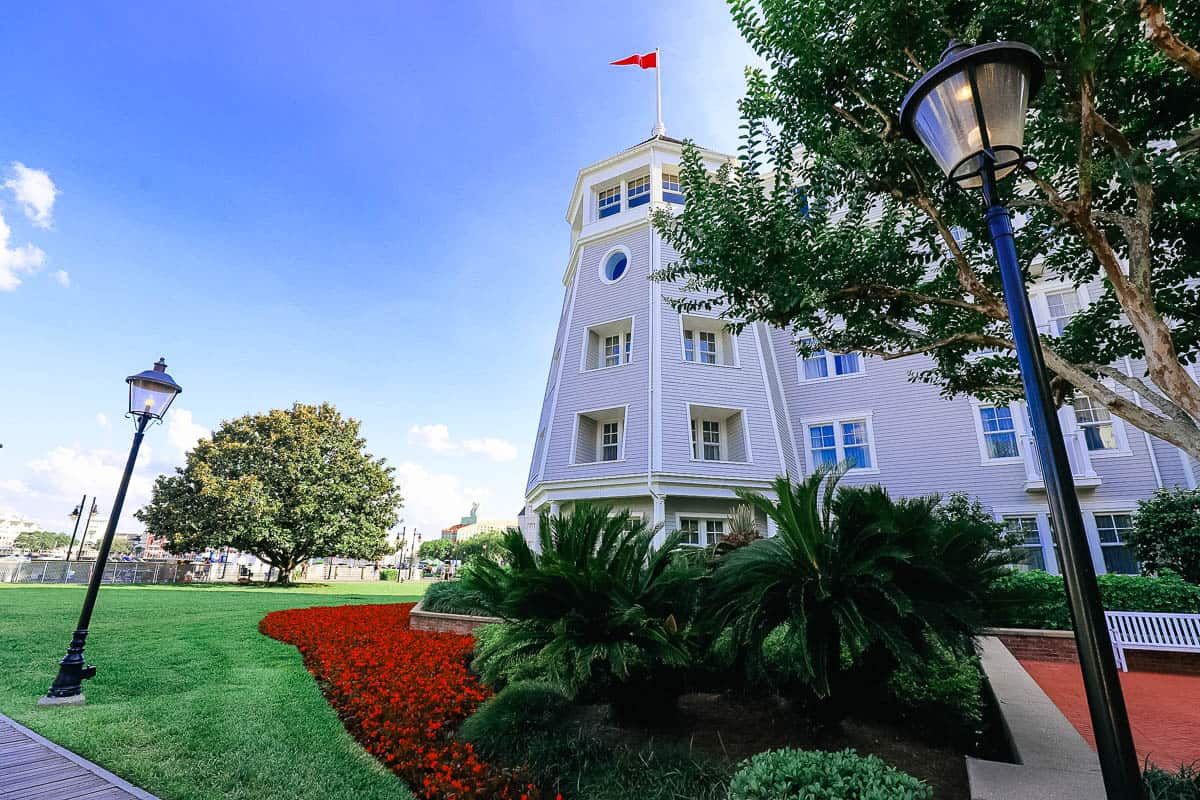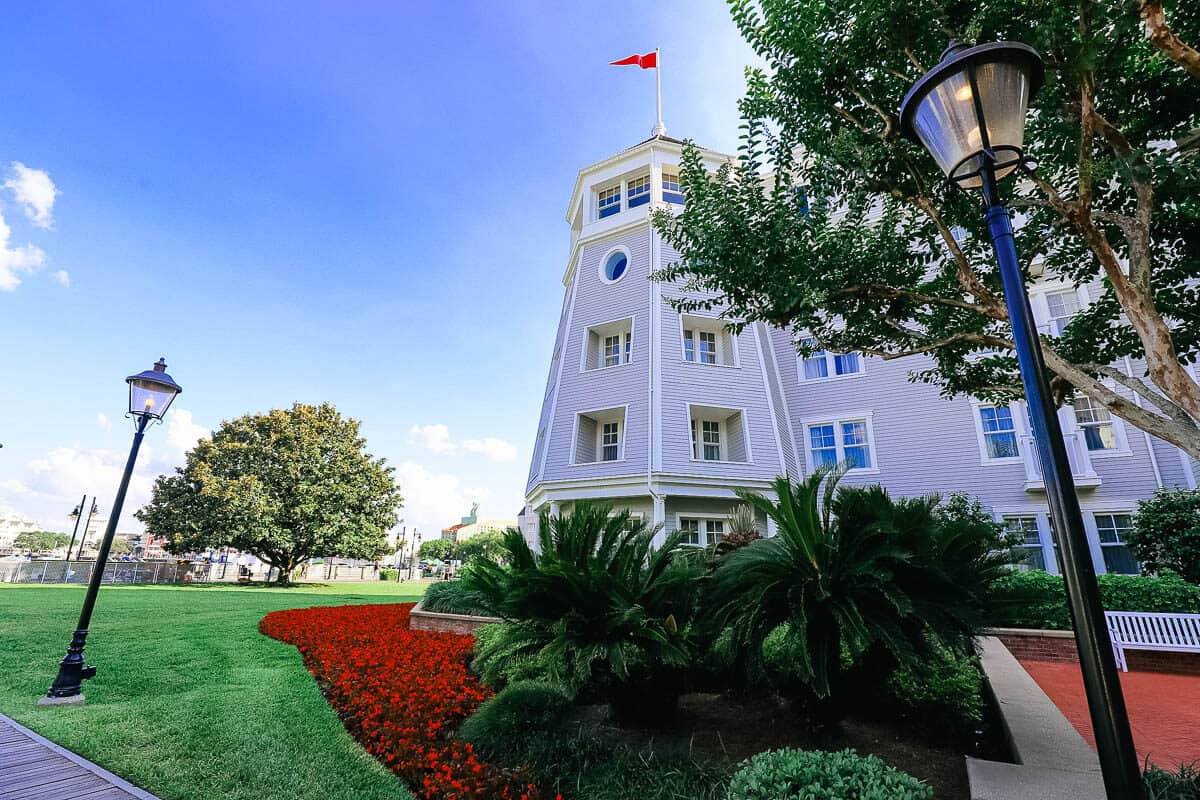 Often, when we're in the area, I enjoy finding a place to sit, take in the views, and count my blessings.
A gazebo is centered in the midst of several hotel rooms that face out to the lake. If you walk through garden area, you might see bunnies, depending on the time of the year.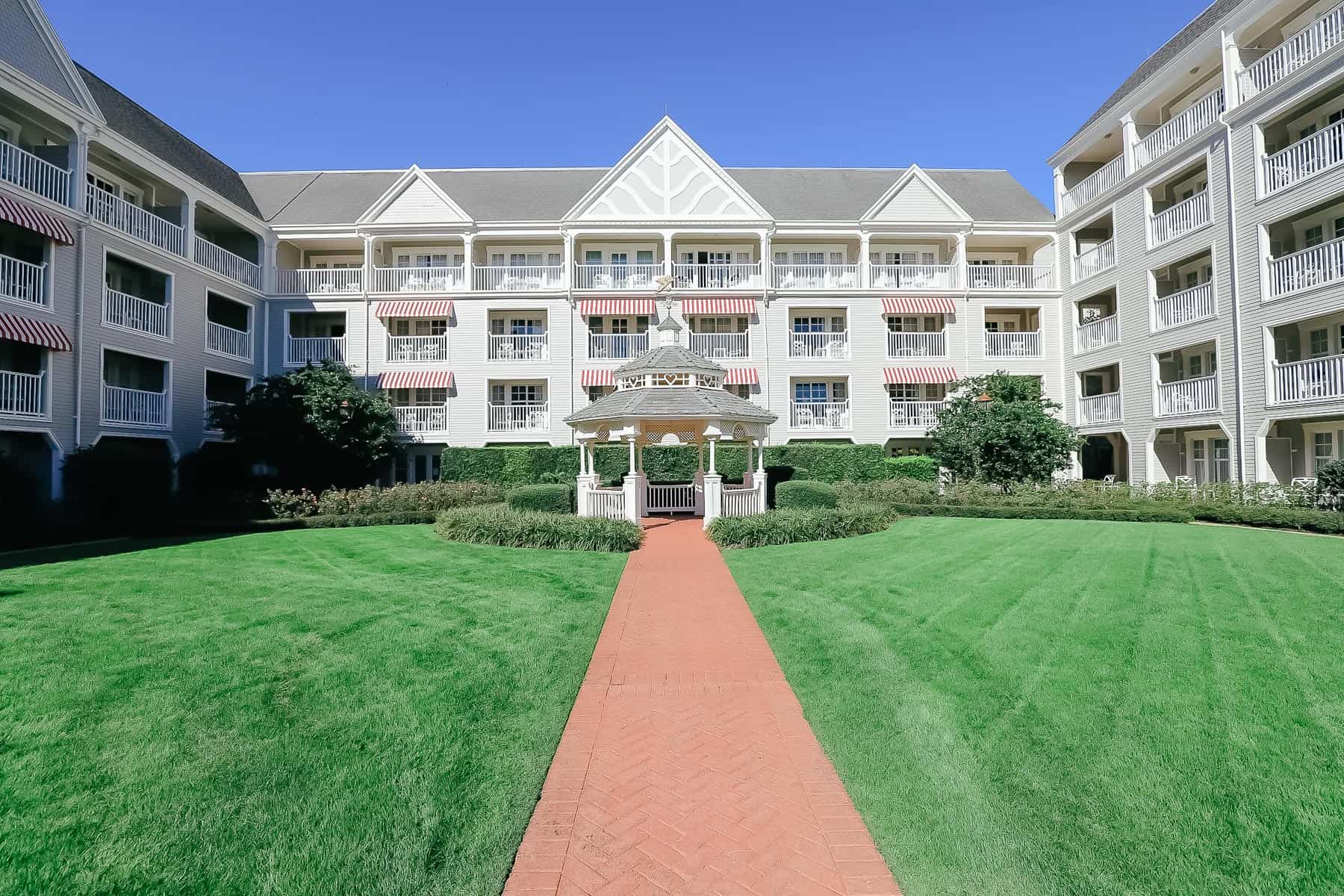 Many of the water-view rooms face out to this area. I can assure you if you receive a room assignment in this area, you will not be disappointed.
Crescent Lake and the Yacht Club's lighthouse sit in front of the resort. You can see directly across to Disney's Boardwalk.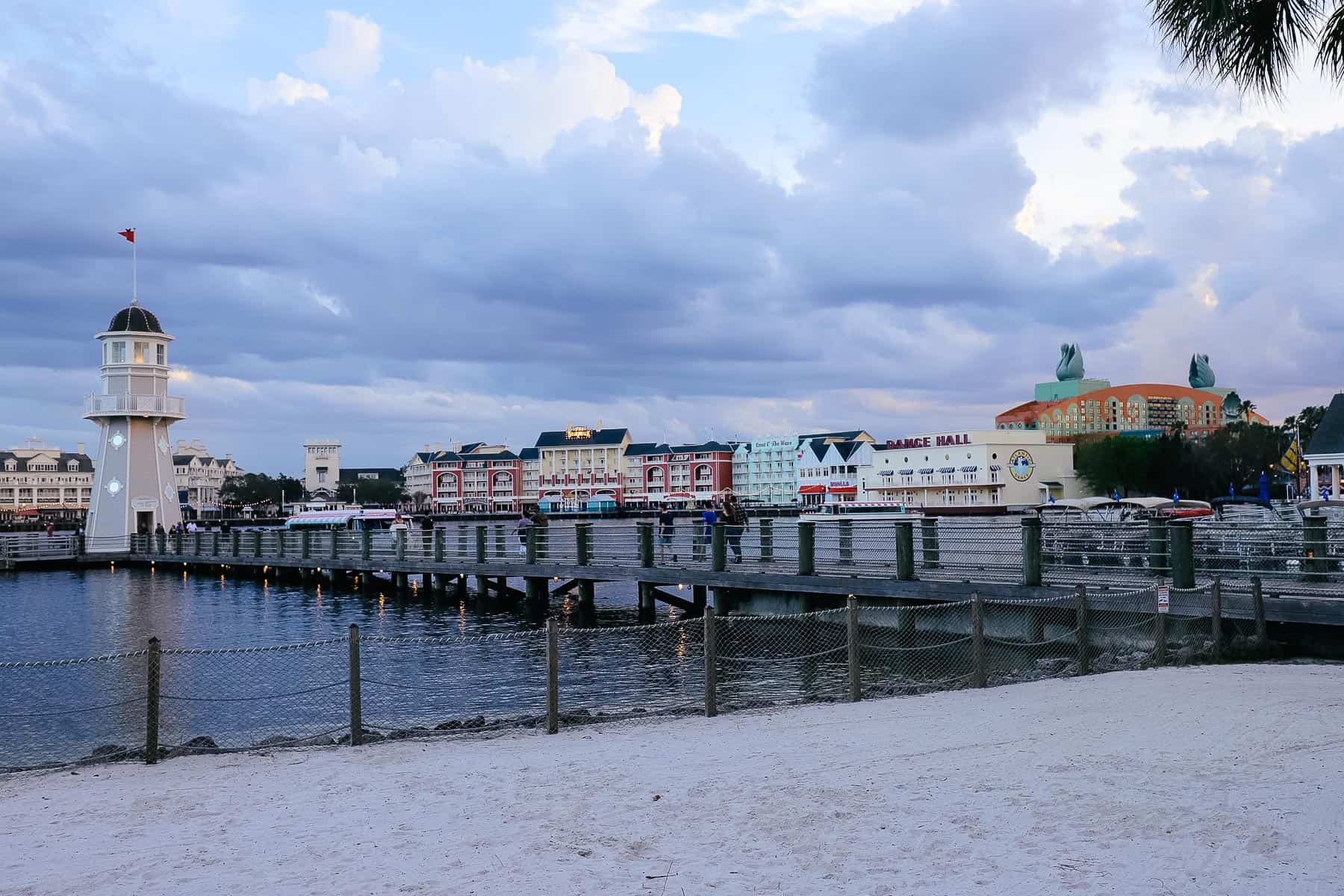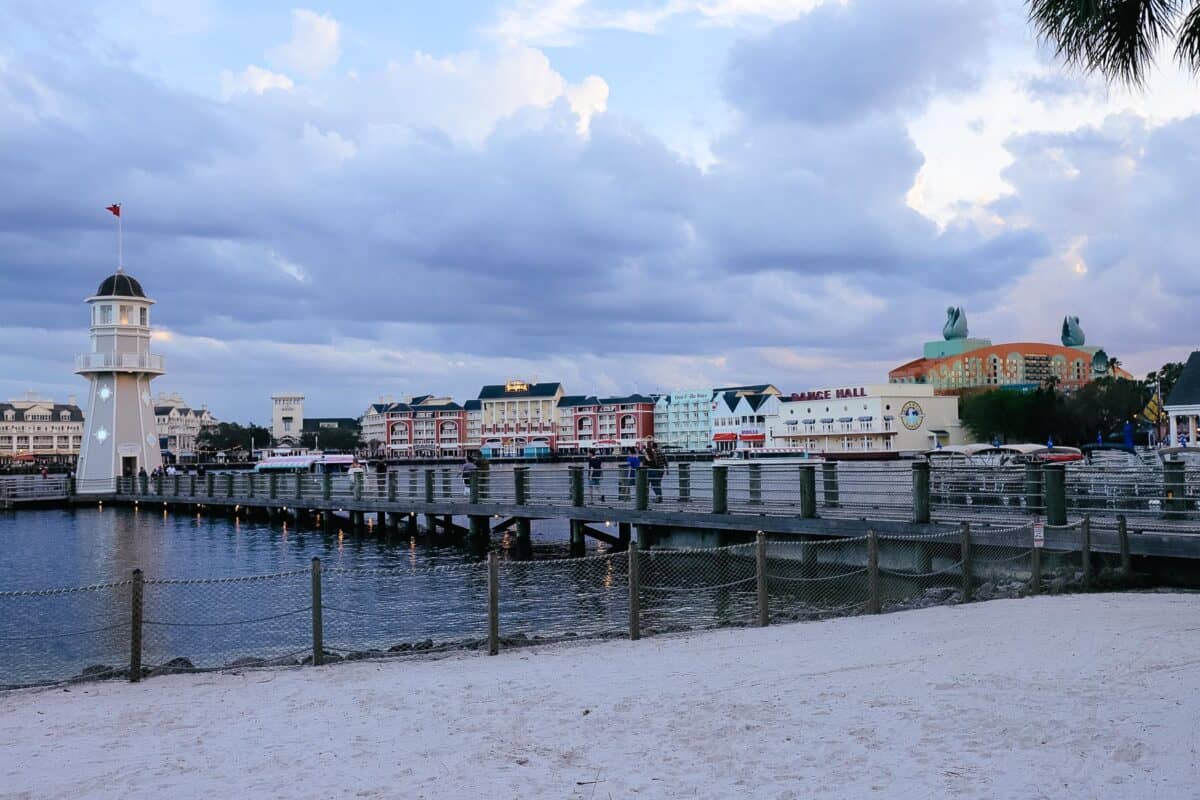 When dining at this Epcot Resort, we have three recommendations. First, there's signature dining at Yachtsman Steakhouse. Anyone with a love for a good steak dinner will want to secure this dining reservation in advance.
Related: Yachtsman Steakhouse Review
And if you are looking for a walk-up, Crew's Cup Lounge is right next door. Even though it says lounge, it's more of a casual table service restaurant with good food and great service. I can't recommend this hidden gem enough.
Related: Crew's Cup Lounge Review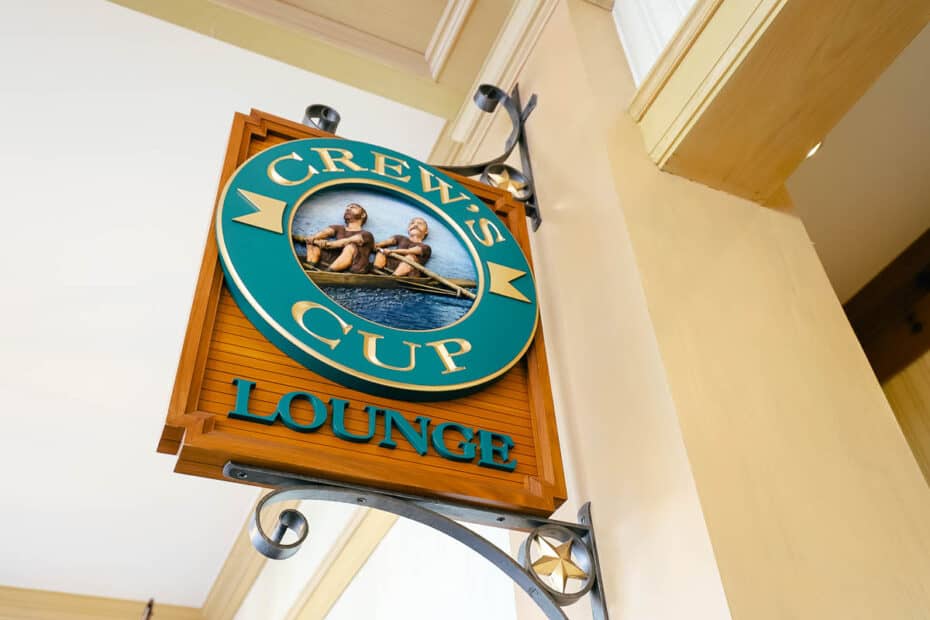 Just off the Yacht Club lobby is another favorite, the Ale and Compass Restaurant. While they take reservations, anyone can typically walk up here and be given a wait time for a seat.
Below is a photo of an entree I had on a previous visit. We enjoy having lunch or dinner at this location.
Related: Ale and Compass Review (Lunch and Dinner)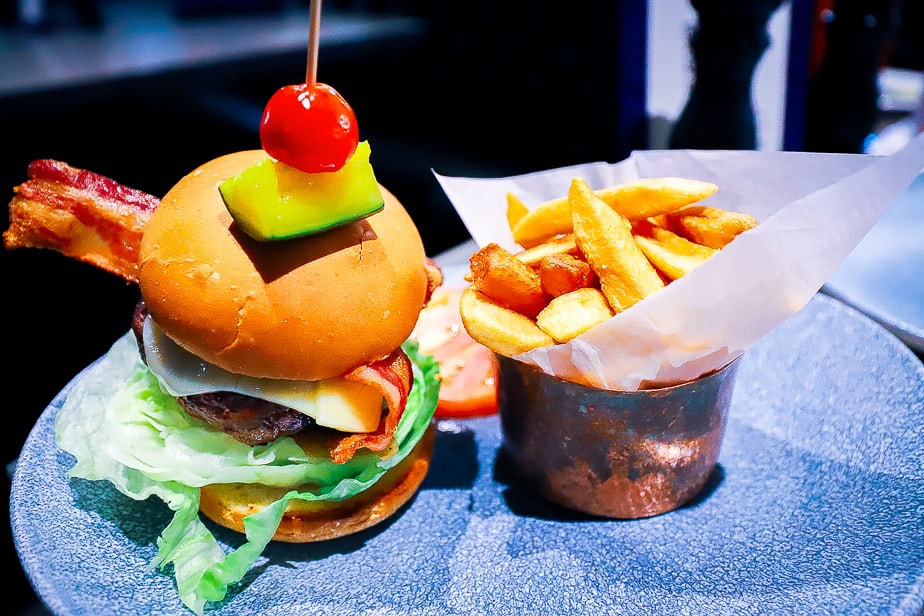 However, more than anything, we love visiting Ale and Compass for breakfast. They have an order of chocolate waffles that are out of this world delicious.
Related: Ale and Compass Breakfast Review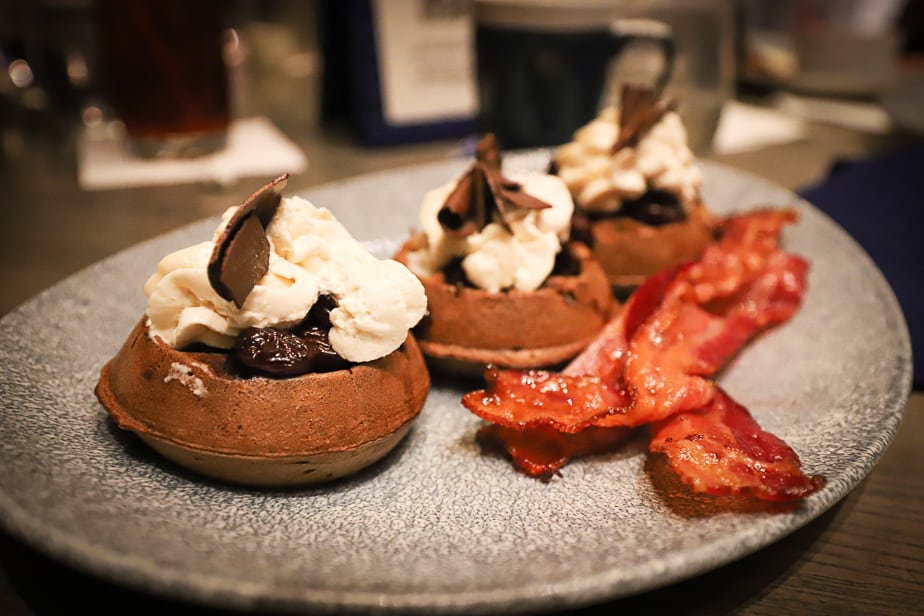 Whether you are trying to decide on a resort to stay at or just plan a meal, the choices in the Epcot Resorts area are difficult! At least if you stay in the area, you can take advantage of seeing the beautiful Crescent Lake at different times of the day.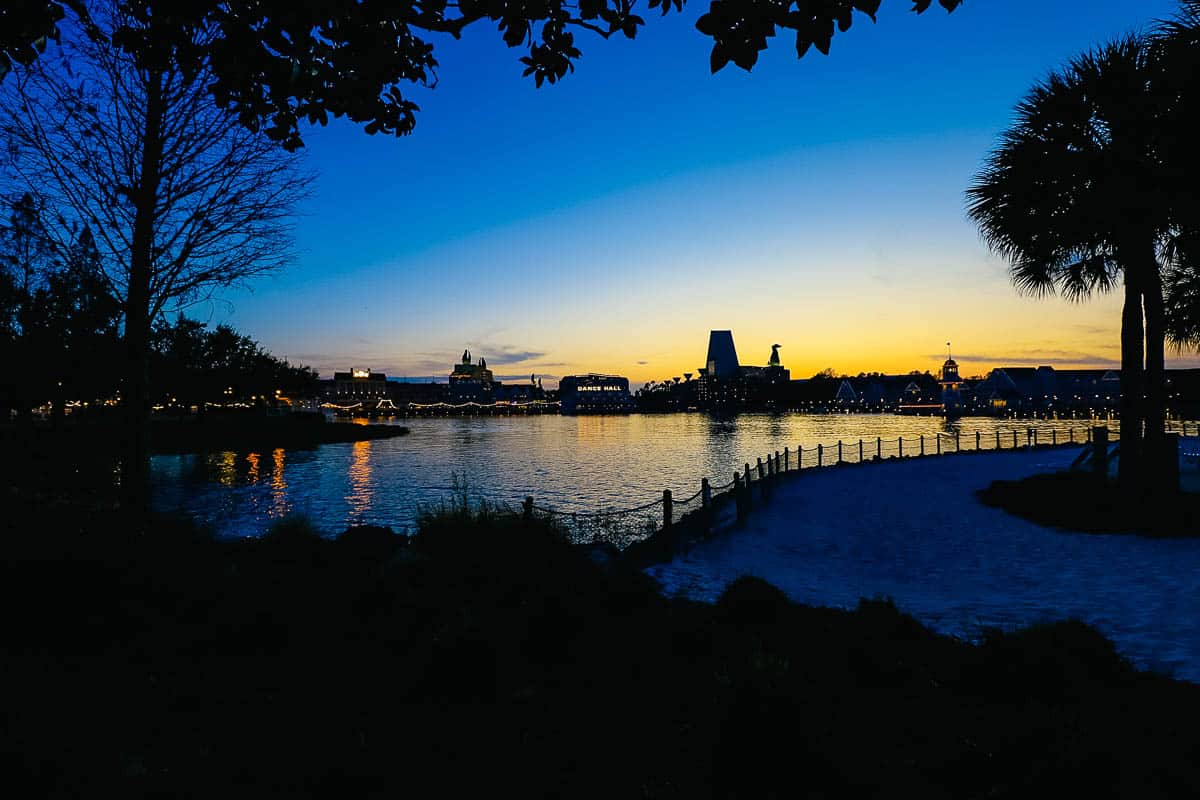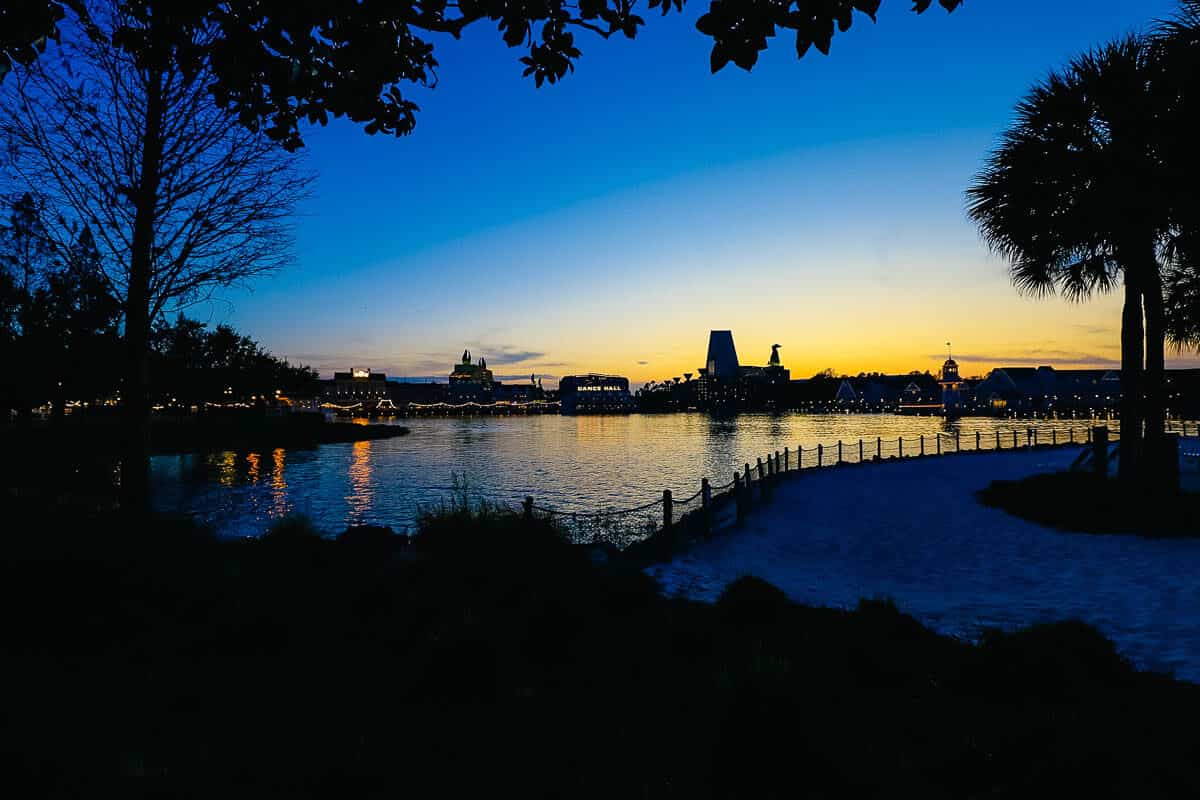 If you were to ask me whether the Yacht Club or Beach Club is better, that's an even tougher choice. They are both wonderful options.
Related: Disney's Yacht Club Review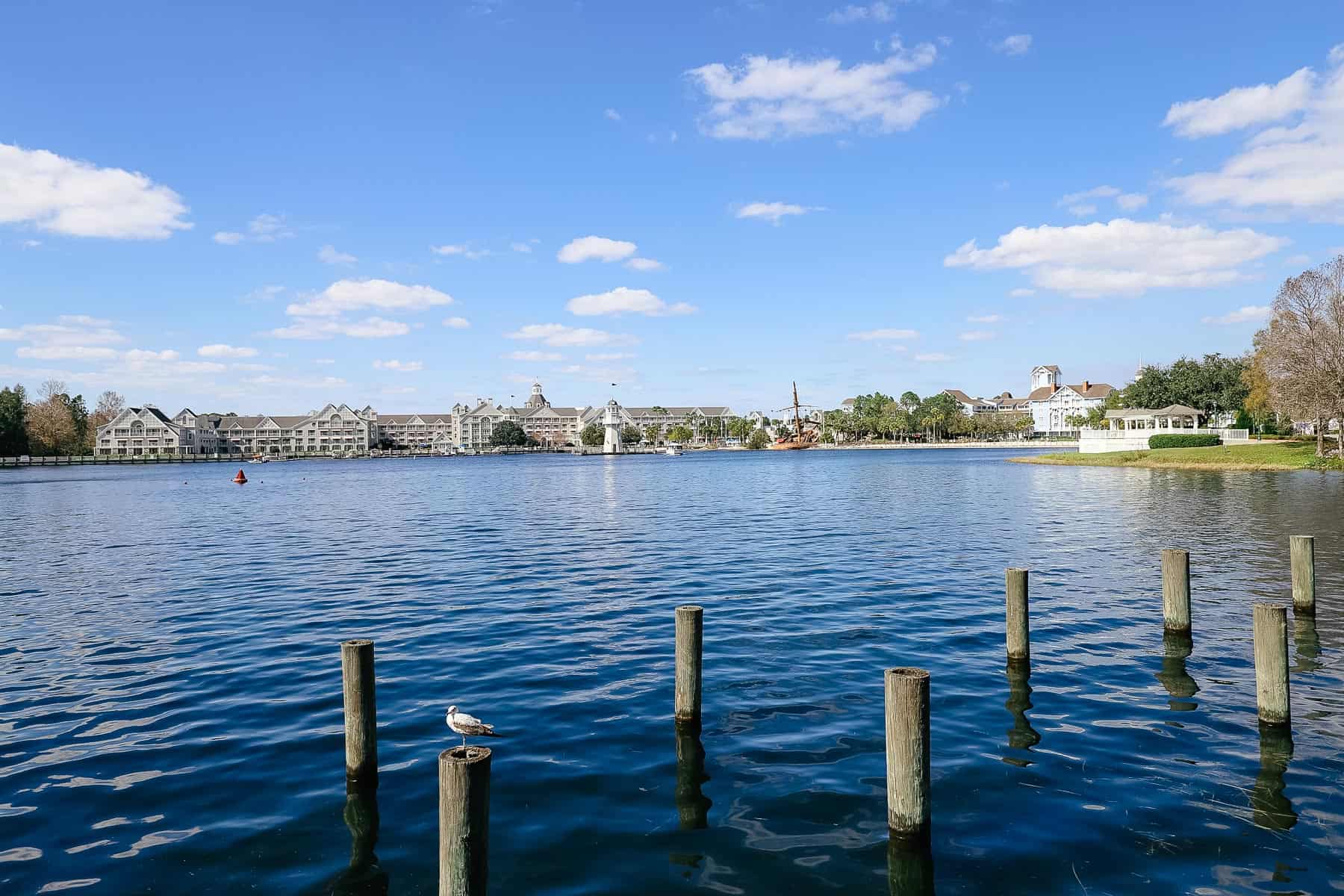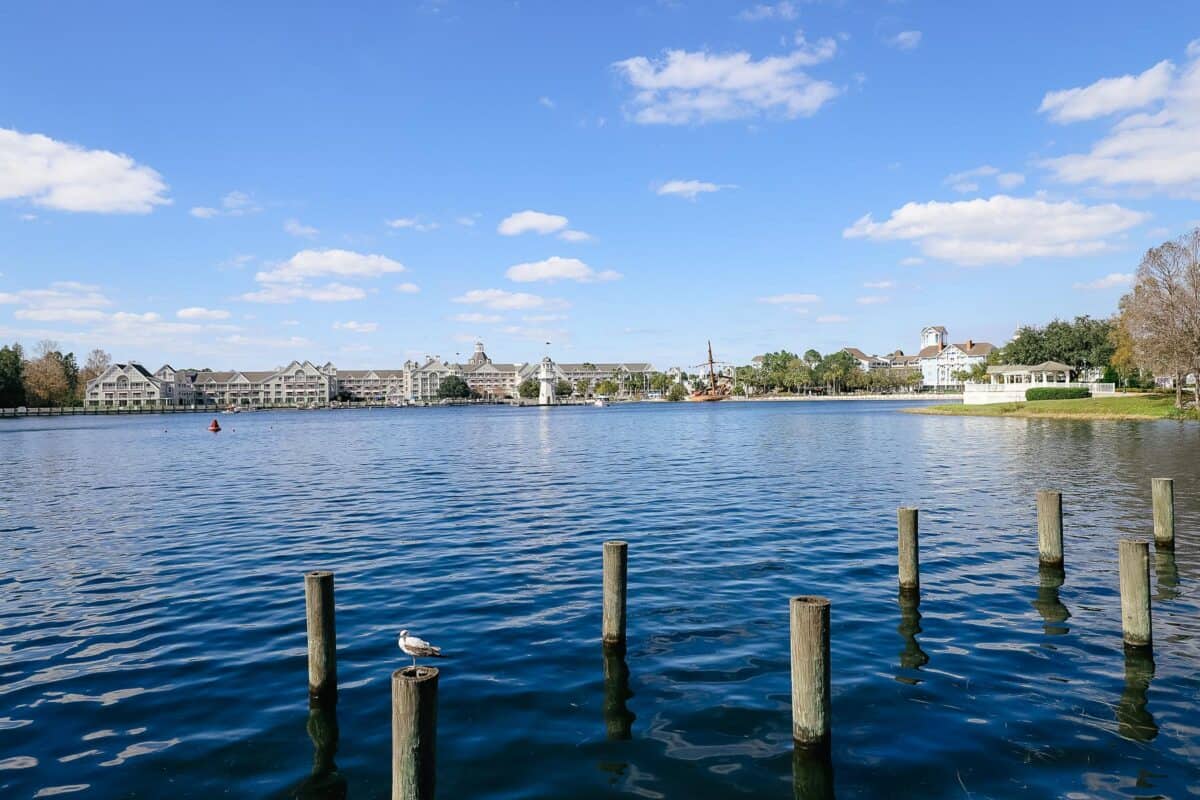 Disney's Boardwalk Inn
Our third Epcot Resort is Disney's Boardwalk Inn. This destination is well-known because so many guests visit the Boardwalk for leisure during their vacation.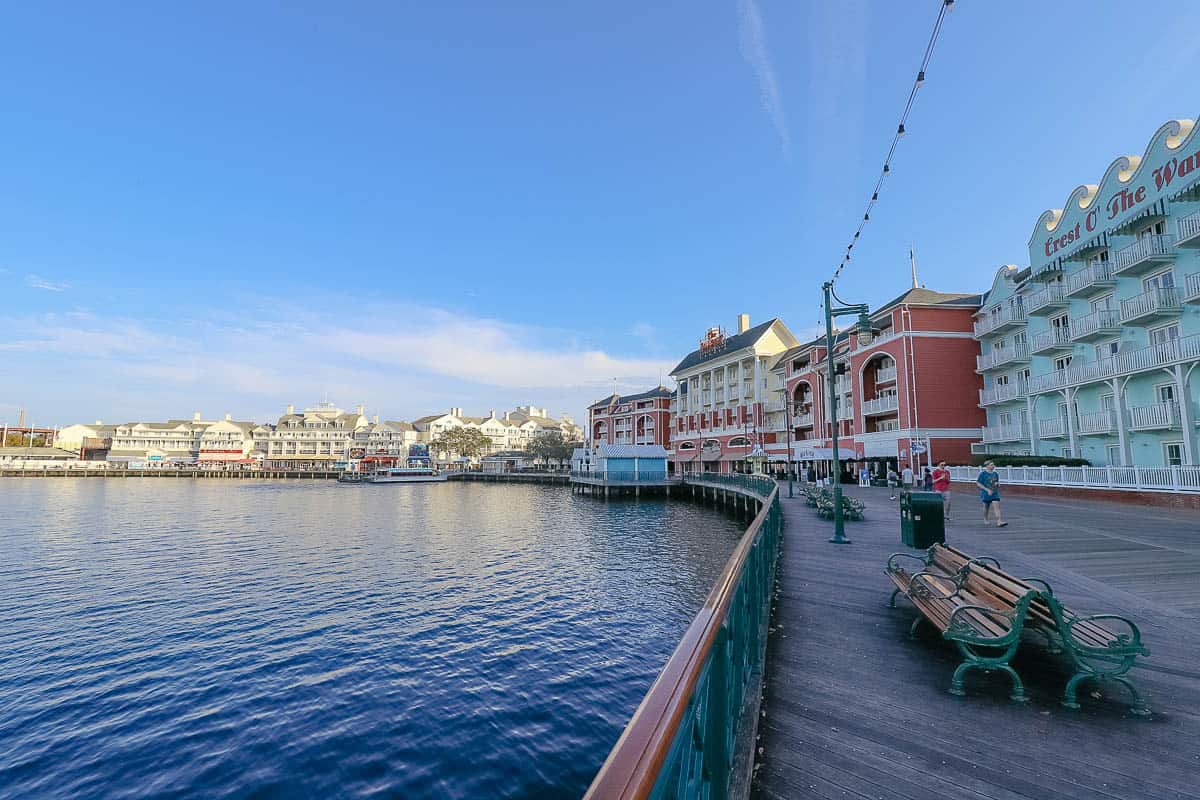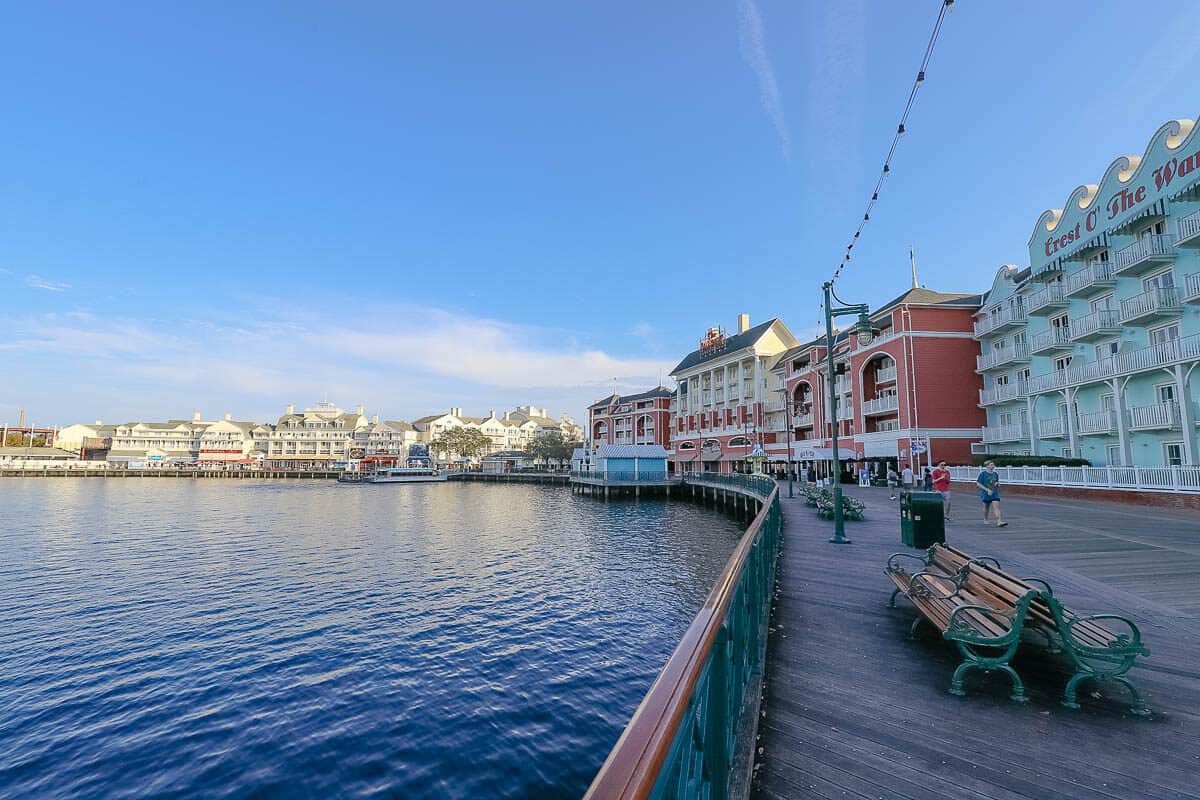 Disney's Boardwalk is as stunning as the rest of the Epcot Resorts on Crescent Lake.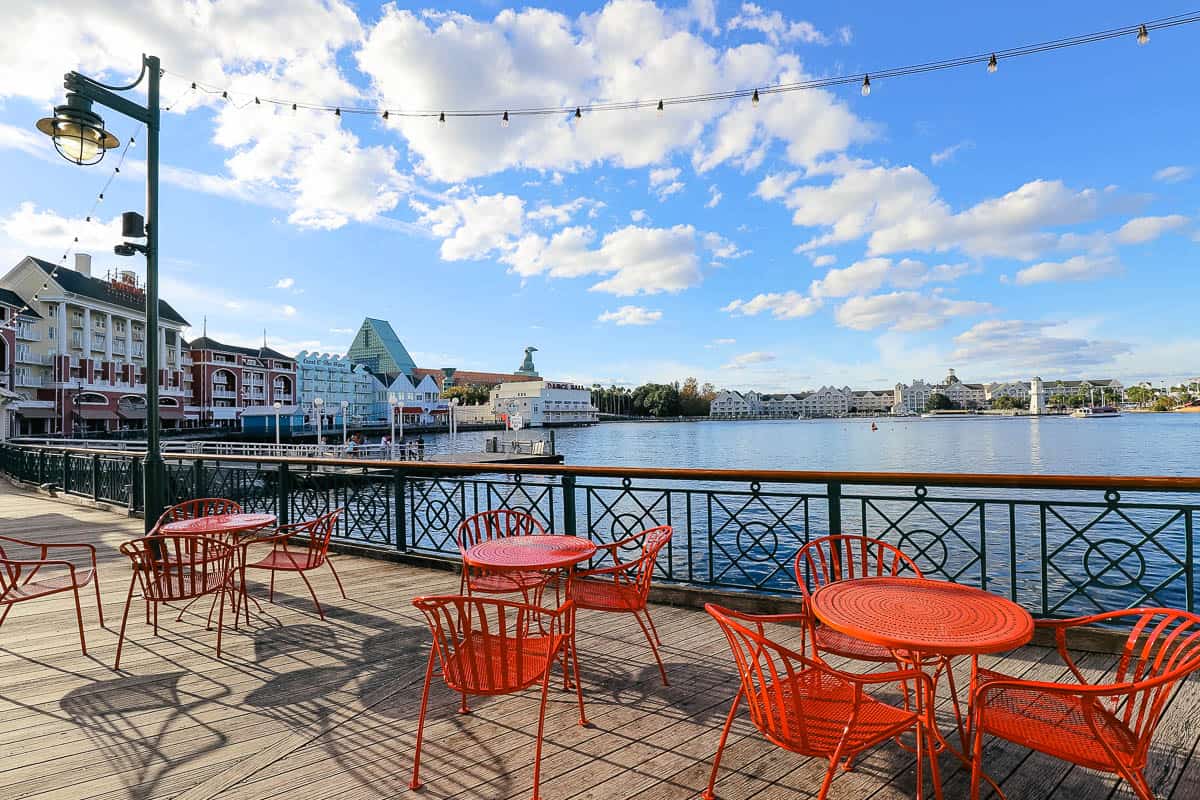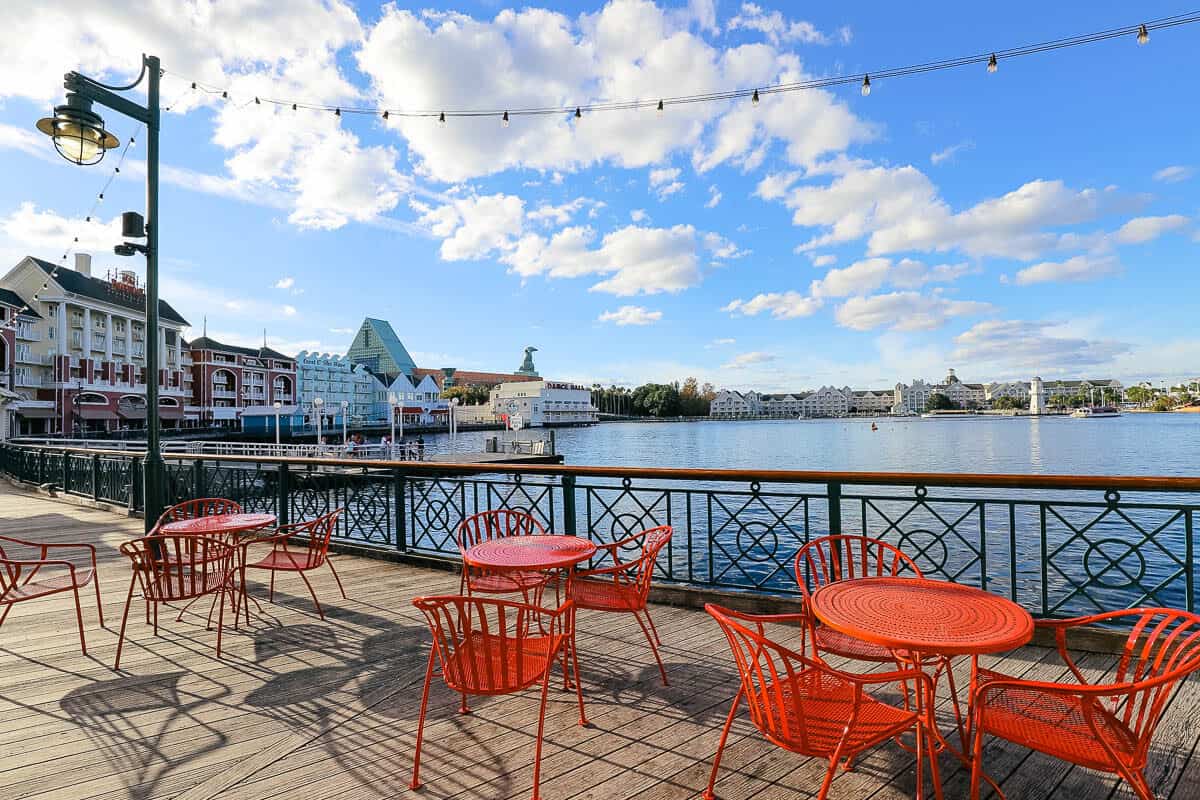 At the time of this update, the entire resort is undergoing a refurbishment. We have an overview of what's going on at the resort.
Related: Disney's Boardwalk Refurbishment Updates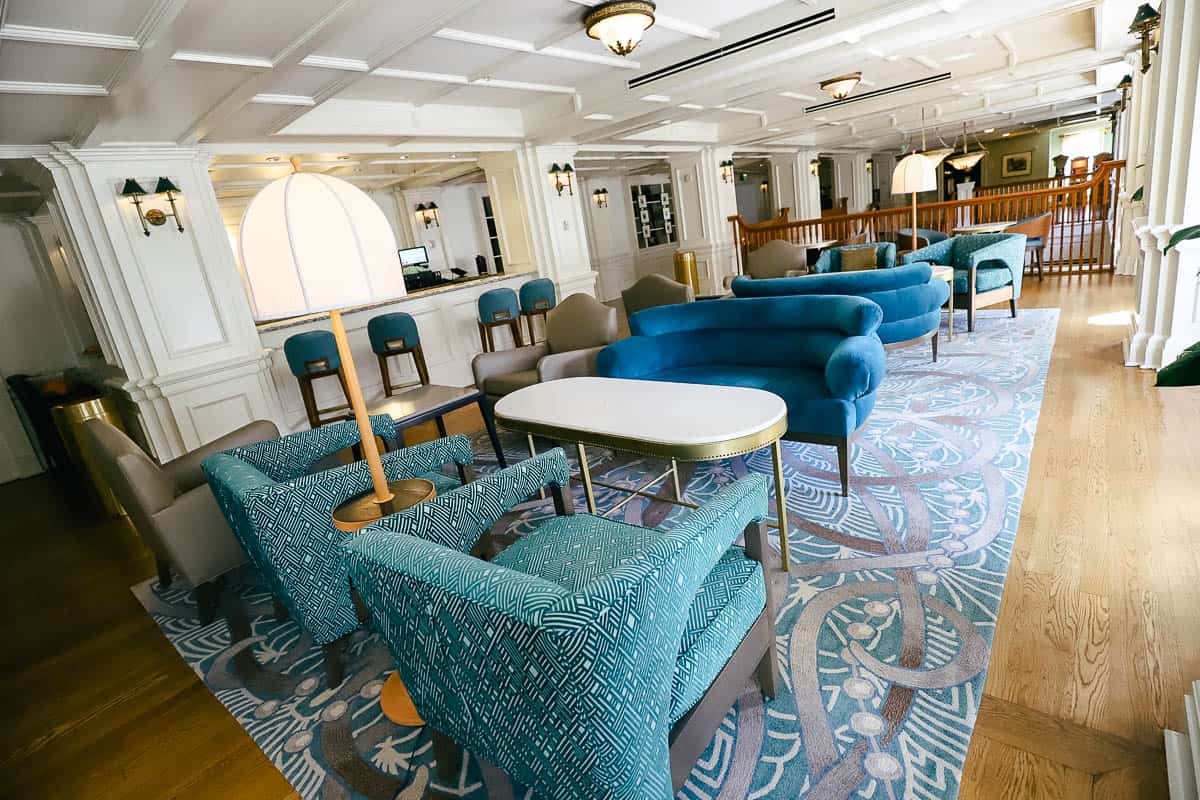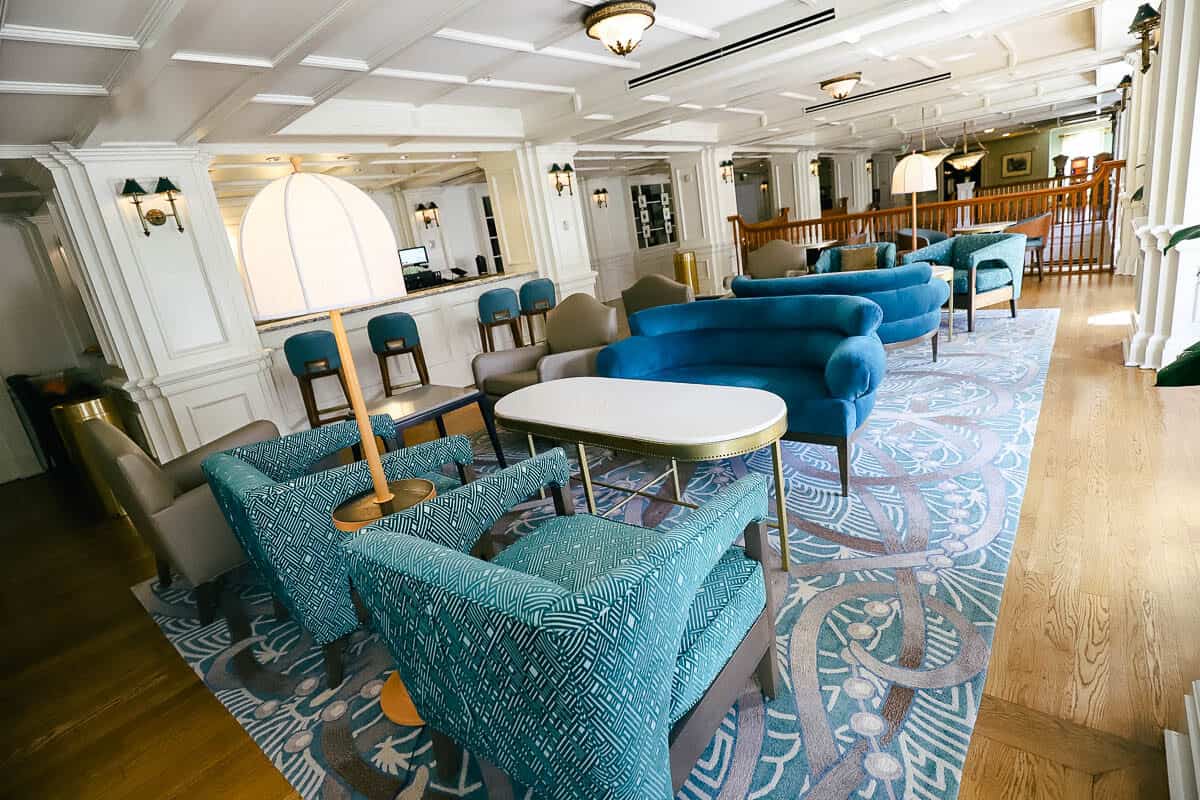 As for dining, there are a few recommendations. First, there's Flying Fish, a trendy Disney signature dining restaurant.
Another hidden gem for the Epcot Resorts area is Big River Grille. Don't expect anything fancy. But do expect reasonably priced food that's good quality.
Boardwalk Deli opened this last year in place of the former bakery. You might enjoy grabbing a sandwich or treat and enjoying it on the Boardwalk. Or you can preview our list of restaurants at Disney's Boardwalk.
Overall, Disney's Boardwalk is an excellent place to stay. If you want to hit the theme parks, there are two within walking distance.
But if you are worn out, this location provides the perfect place to relax. Imagine spending a quiet evening sitting on a park bench as you take in one of Orlando's dazzling sunsets. It doesn't get much better!
Related: Disney's Boardwalk Inn Review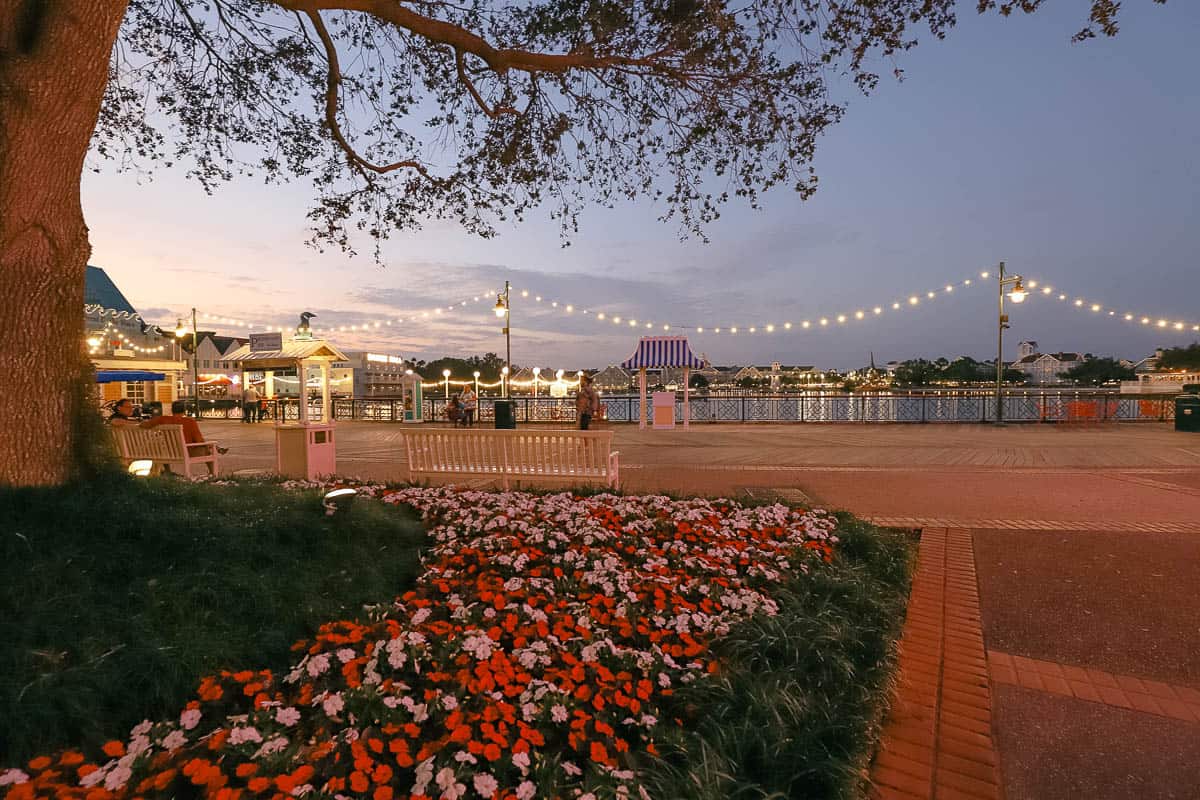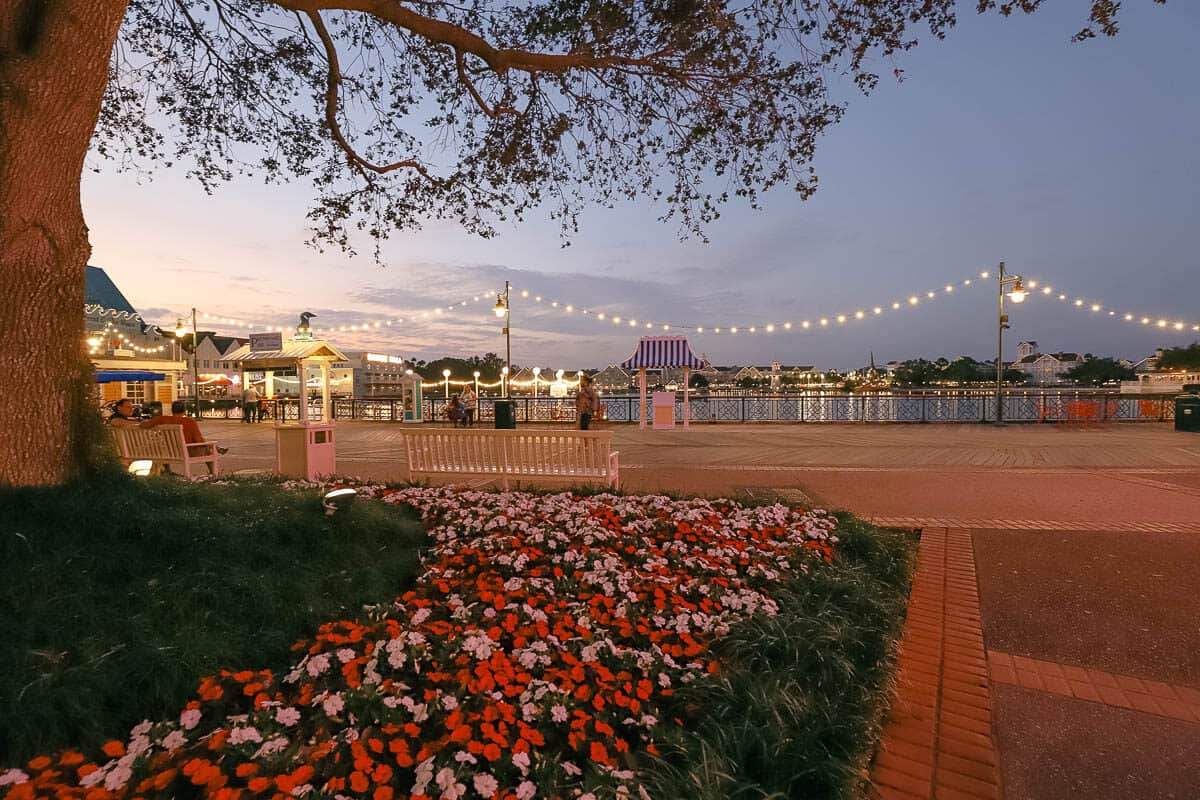 Disney's Swan and Dolphin Resort
Between Disney's Yacht Club and the Boardwalk, you'll find the Swan and Dolphin Hotels and the Swan Reserve. A bridge connects these hotels to the Epcot Resorts area. However, for the Swan Reserve, you'll have a few extra steps and a street to cross.
Friendship boats travel underneath the bridge to pick up guests of the three Marriott Hotels. So if you don't care to walk, you can always take the boat to the nearby theme parks or other resorts.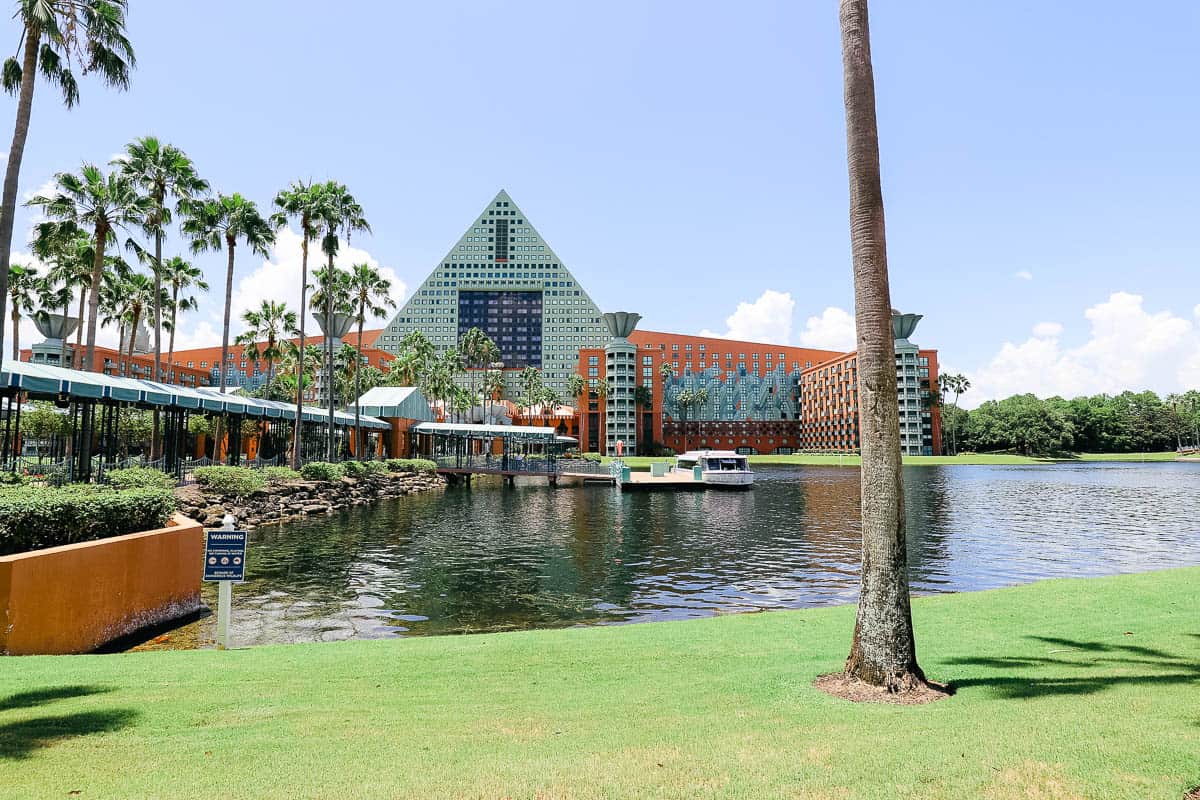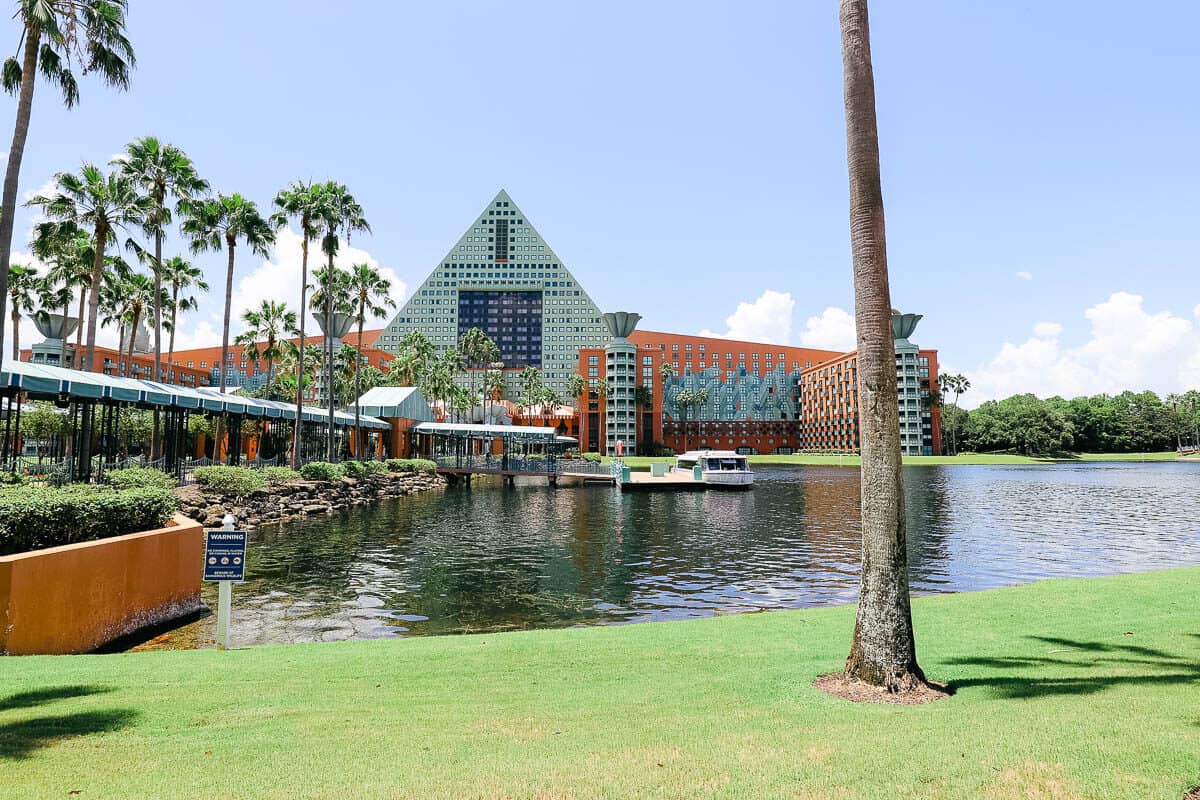 When it comes to staying at the Swan, Dolphin, or Swan Reserve, there are a few differences. However, guests will receive many of the same benefits as deluxe resort guests.
We have a recent review of staying at the Swan that cover those differences in detail. Probably the most significant difference is the hotels have their own shuttle bus for Magic Kingdom, Animal Kingdom, Disney Springs, and the water parks.
Related: Disney's Swan and Dolphin Review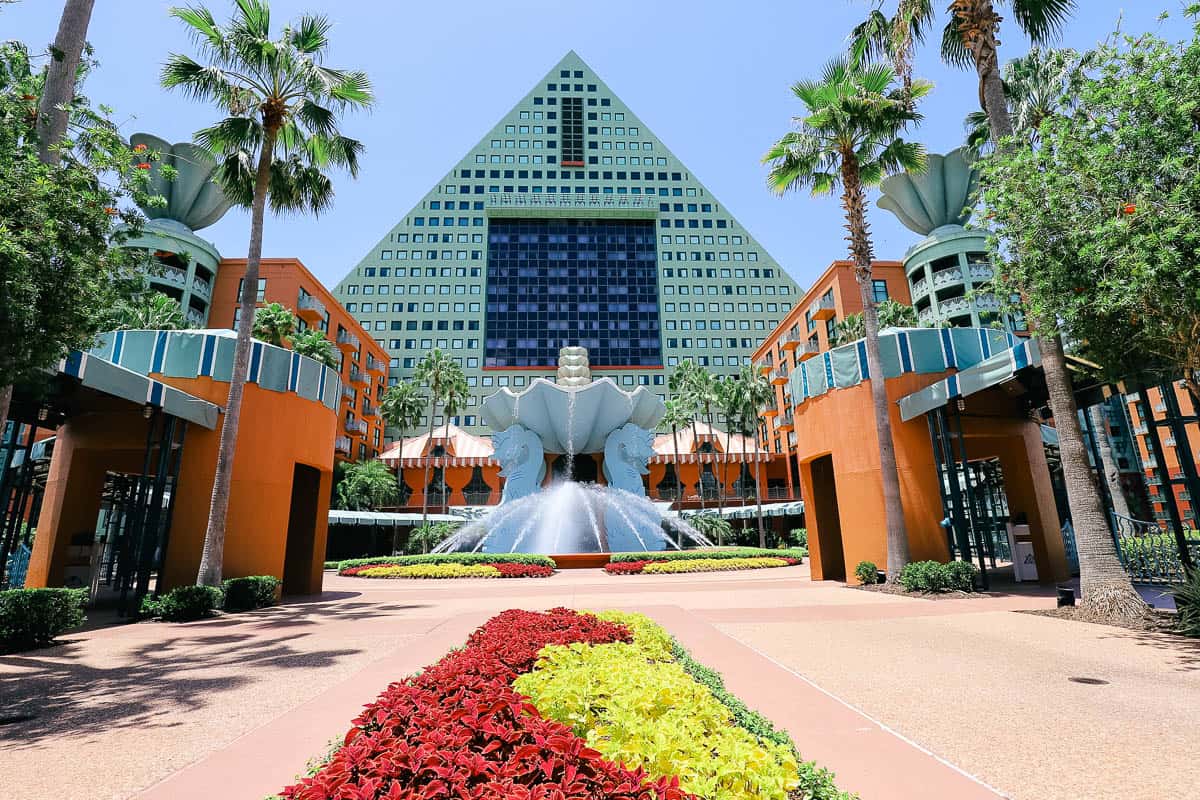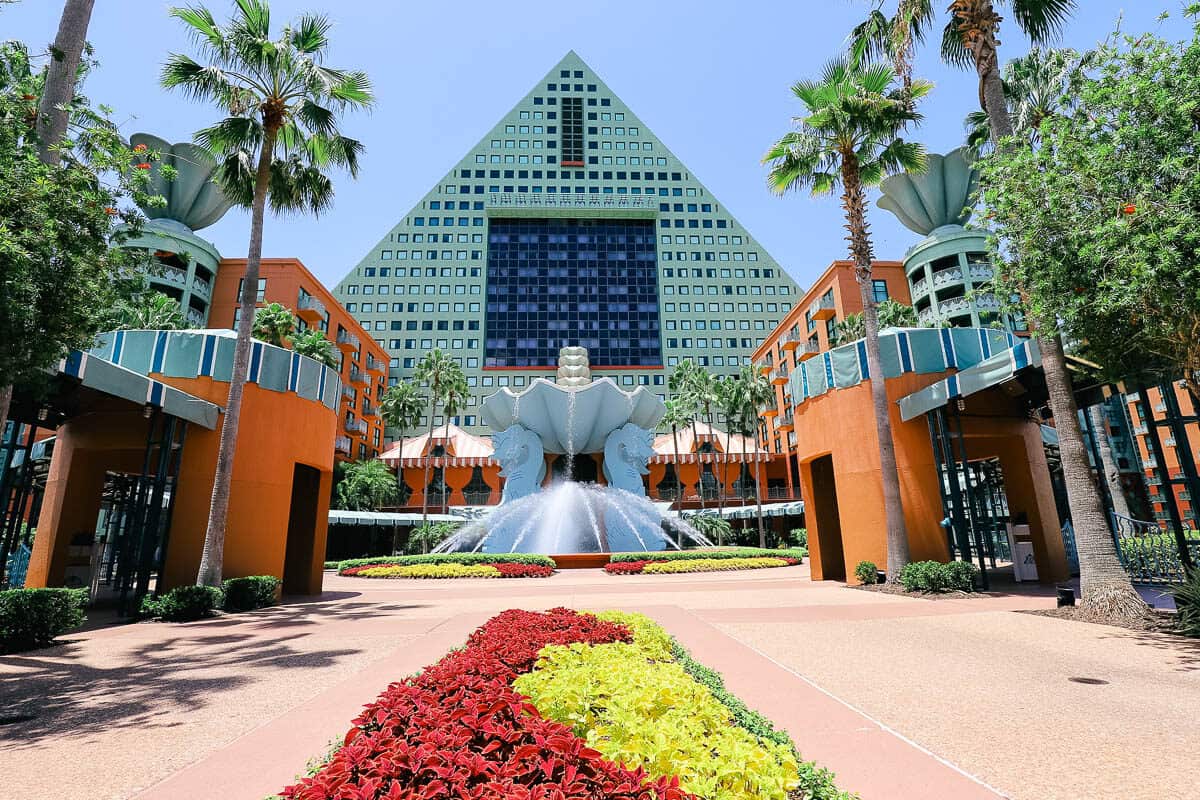 If the price is right, I wouldn't let the transportation differences deter me from staying here. This is one of our all-time favorite hotels.
However, these hotels charge a daily resort fee and parking. So you'll need to factor in those extra charges when comparing the resorts. Disney no longer charges for parking, and they do not charge resort fees.
As far as dining goes at the Swan and Dolphin, there are several excellent options. One of our favorites is a little burger joint called The Fountain.
It is somewhat similar to Beaches and Cream. We've also had the most delightful lunch at the Dolphin's Cabana Bar and Grill.
Then there's Shula Steakhouse, one of our top-rated signature dining restaurants at Walt Disney World. It's located on the Dolphin side of the resort.
Related: Swan and Dolphin Restaurant Guide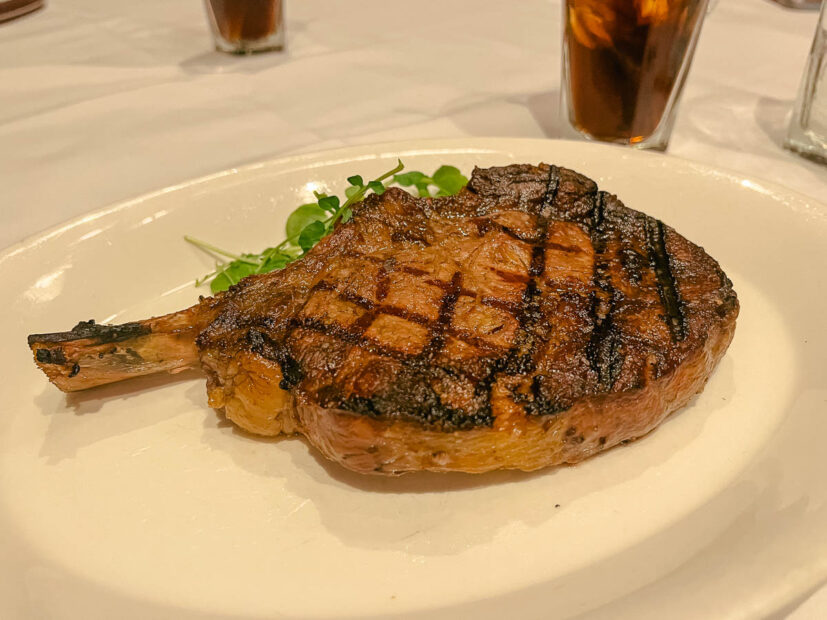 Whether you stay at one of these Epcot Resorts or only visiting as a day guest, keep these tips and dining options in mind. If your day at a neighboring park gets too congested and you are ready to throw your hands up, exit at the International Gateway for a break.
You'll find yourself right in the middle of the Epcot Resorts area, where you can find a bite to eat or cool off and rest in an air-conditioned resort hotel lobby or lounge. When you are ready, Epcot is only a few steps away.
Moving on, we have two more resorts not situated on Crescent Lake. While these resorts are near Epcot, there are some differences.
The main thing to remember is that these resorts are a short Skyliner ride away from Epcot and Hollywood Studios. However, they are not within walking distance of the parks like the previous resorts we discussed.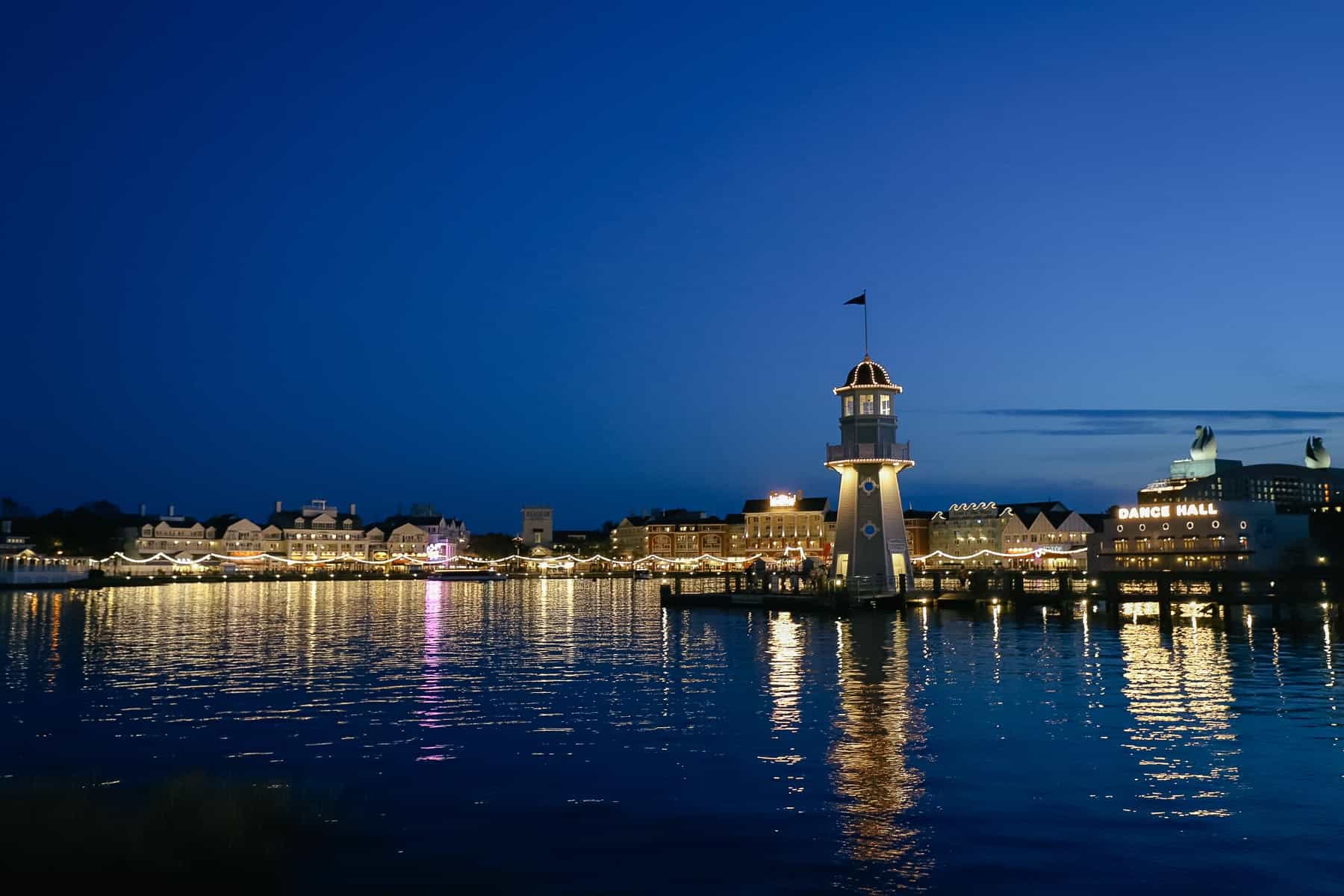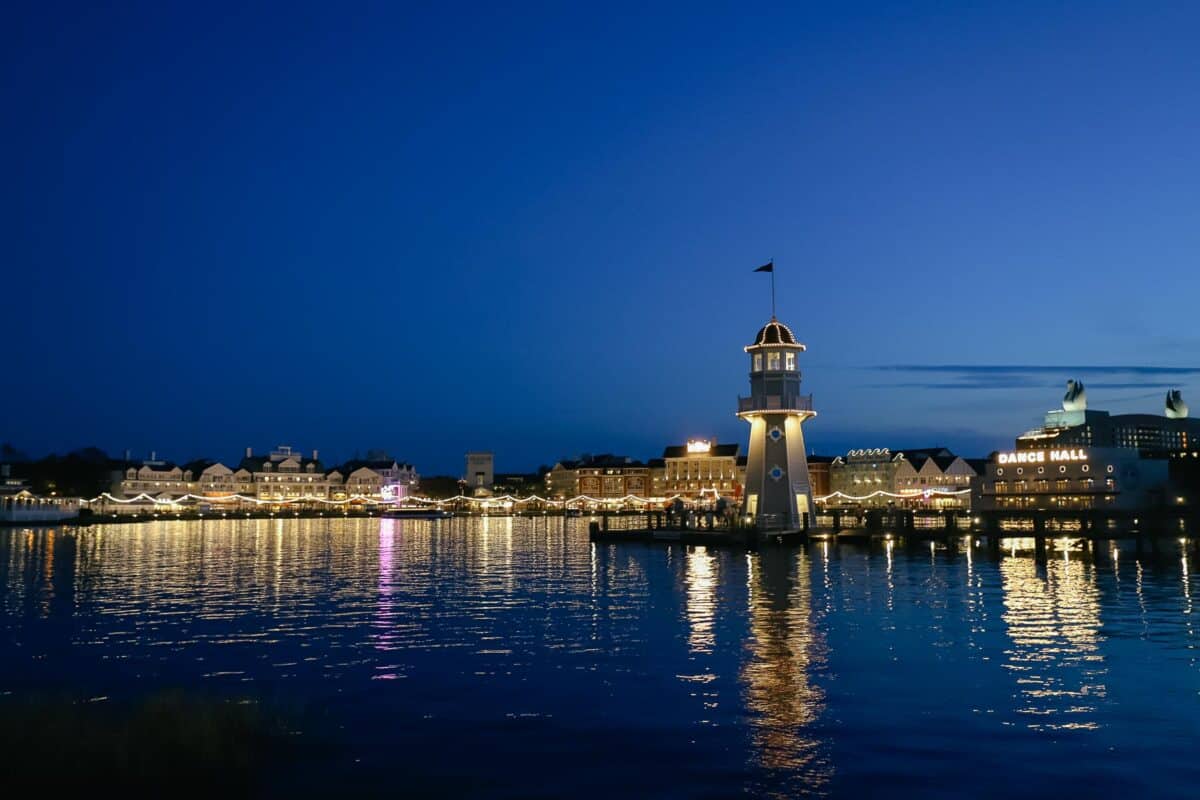 Disney's Riviera Resort
Disney's Riviera Resort is a short Skyliner ride from Epcot and Hollywood Studios. This resort was modeled after the French Riviera and is a dedicated Disney Vacation Club Resort.
Related: Disney World Villa Resorts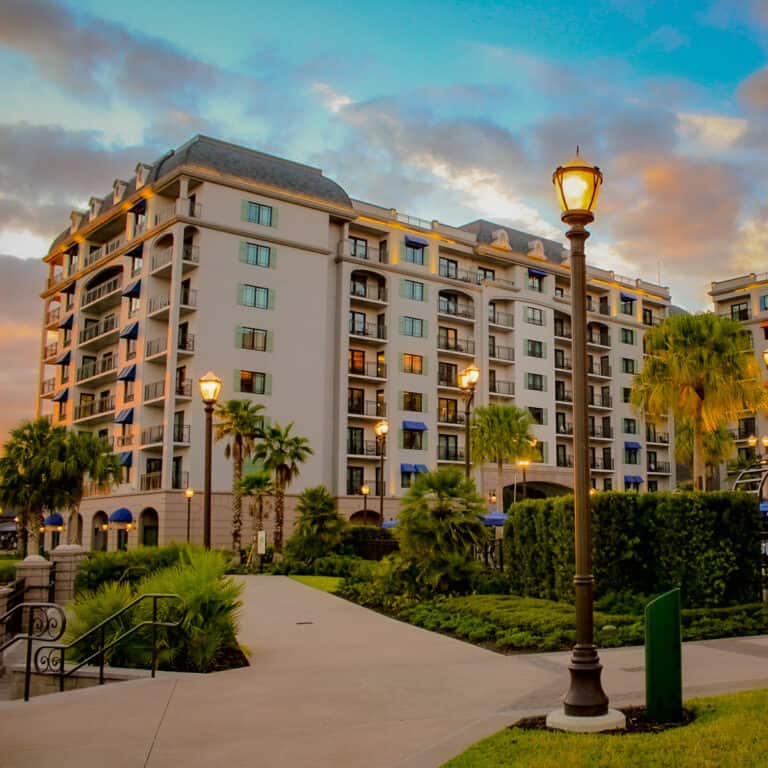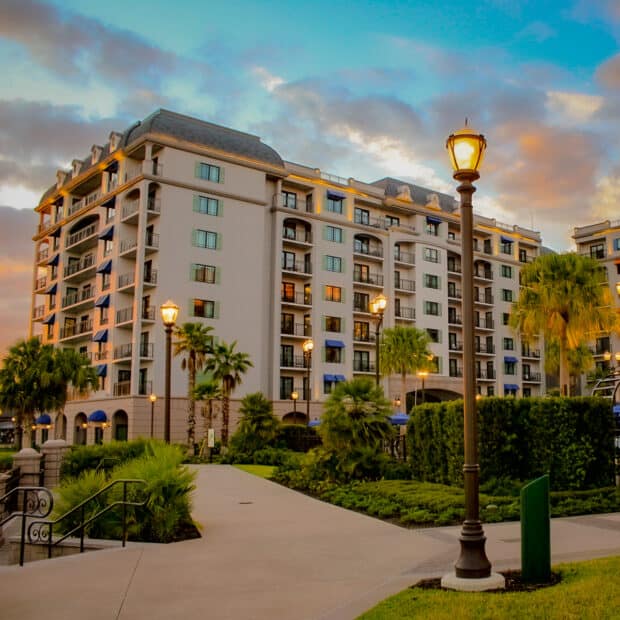 Members of Disney's Vacation Club can buy and use points to stay here, similar to a timeshare. But any guest can reserve a hotel room here. Benefits of staying in a villa include room upgrades that range from kitchenettes to full condo-like apartments.
Related: Disney's Riviera Resort Review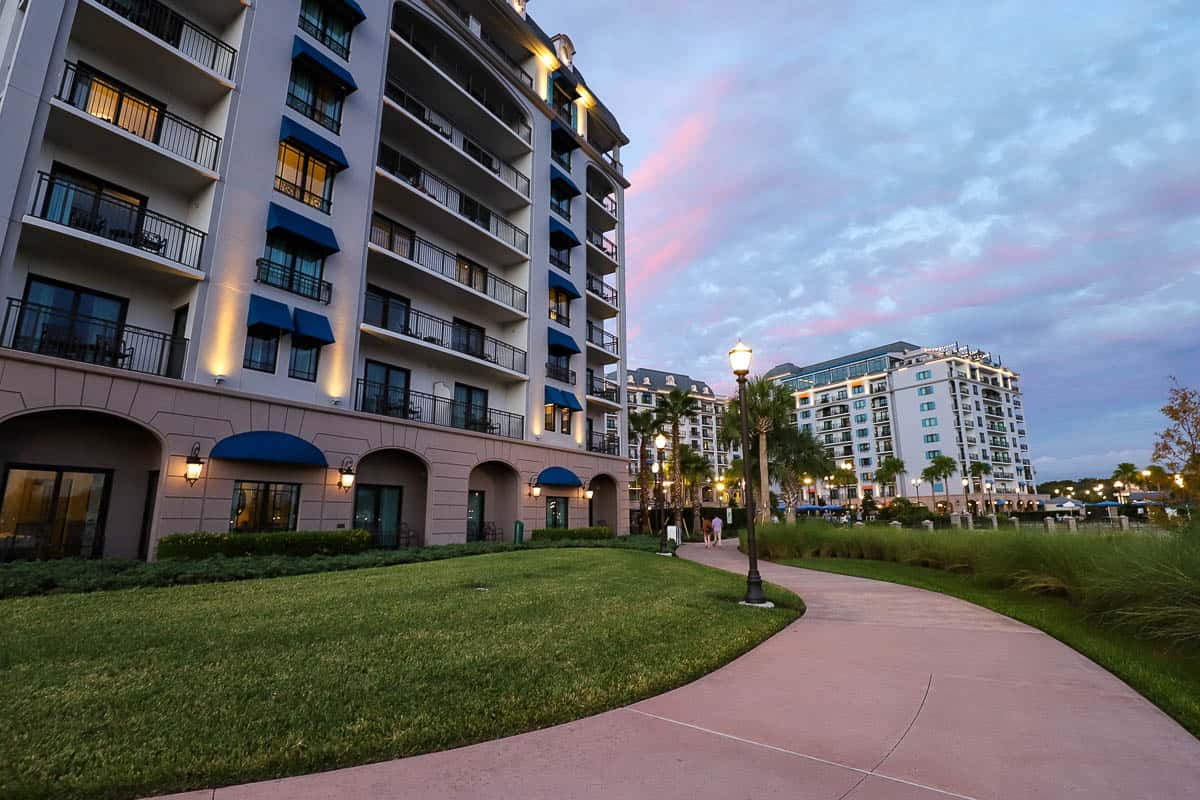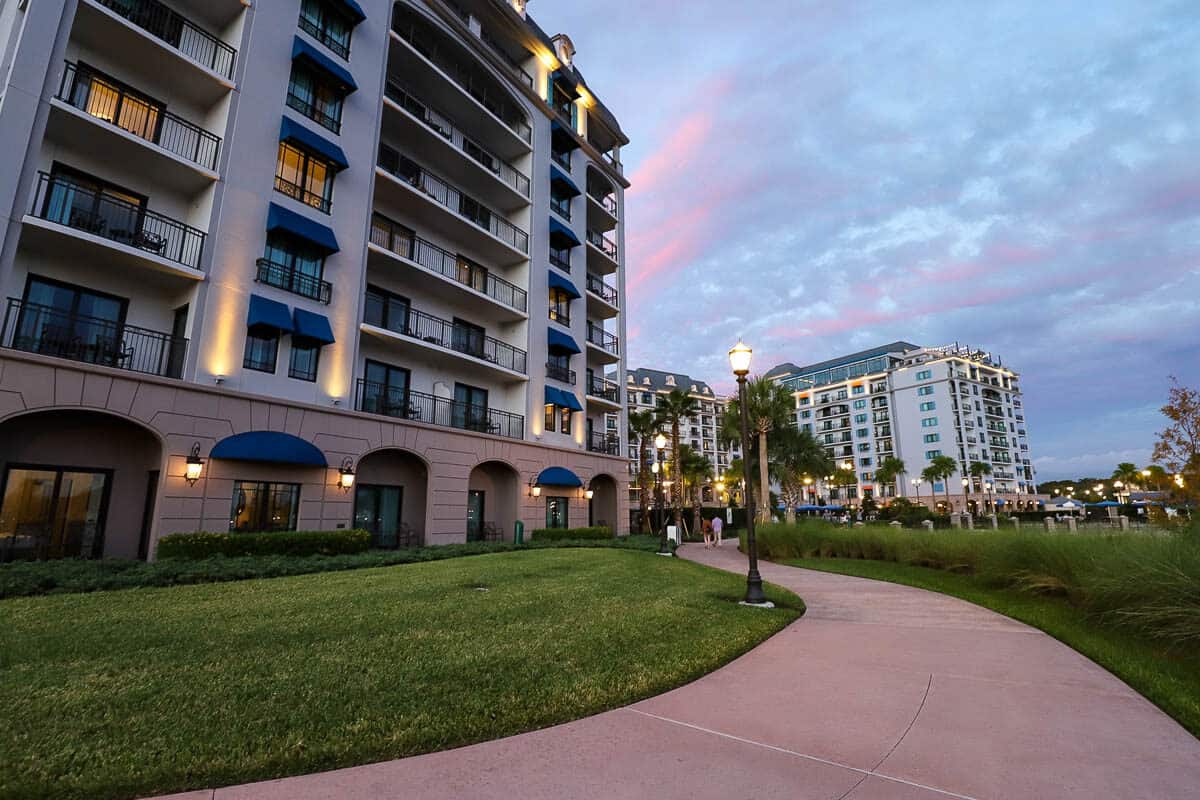 As far as dining goes, Disney's Riviera Resort has several excellent options. We love the character dining option at Riviera Resort. Topolino's Terrace offers a daily breakfast with classic characters.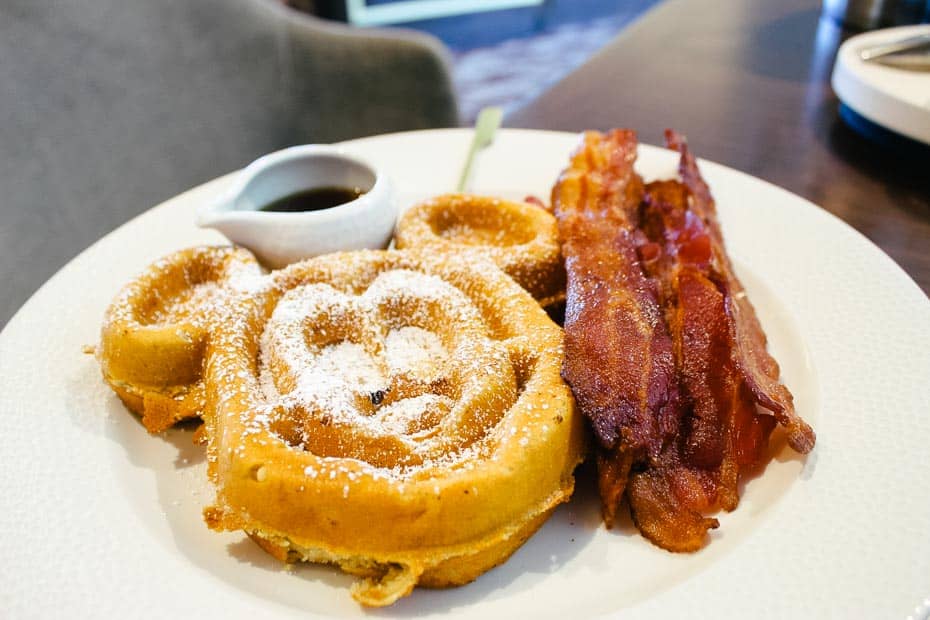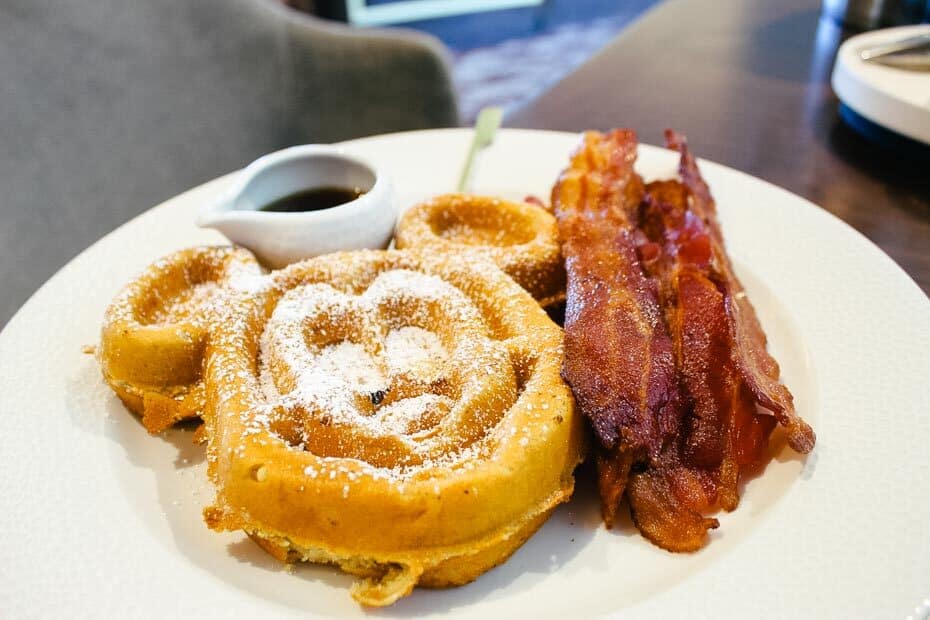 For lunch, we enjoy Primo Piatto, the resort's counter service. As of late, I've taken a break from Epcot several times to enjoy lunch at Bar Riva. You can hop on the Skyliner, exit at the Riviera, and walk to any of these locations.
Here is my last meal, a grilled salmon with orzo from Bar Riva. What a great place to break from the parks!
Related: Bar Riva Review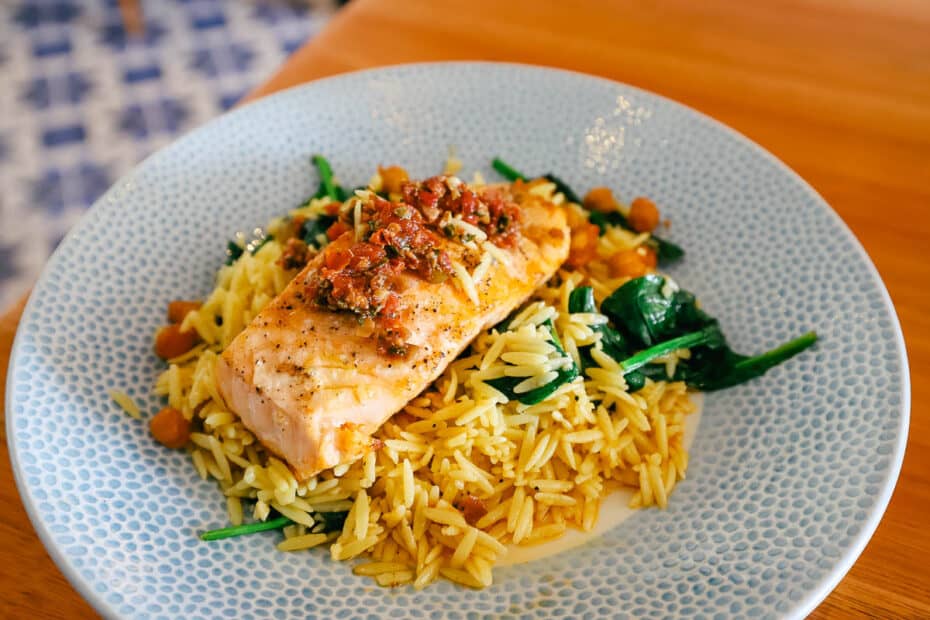 Then there's Le Petit Cafe, a coffee and pastry shop that sits off the resort's lobby. They have an excellent selection of coffee drinks, sweets, and cocktails.
Related: Disney's Riviera Resort Restaurants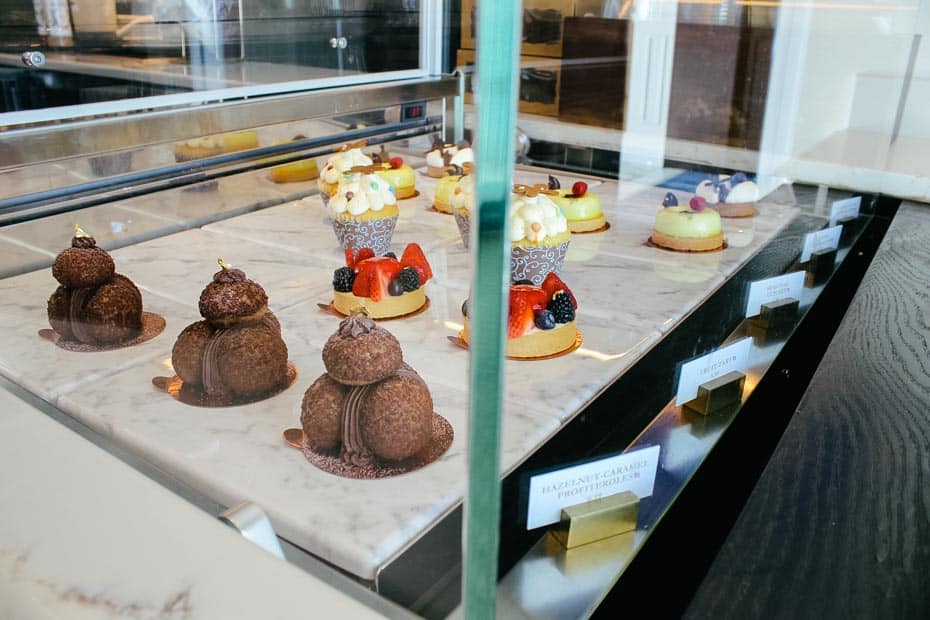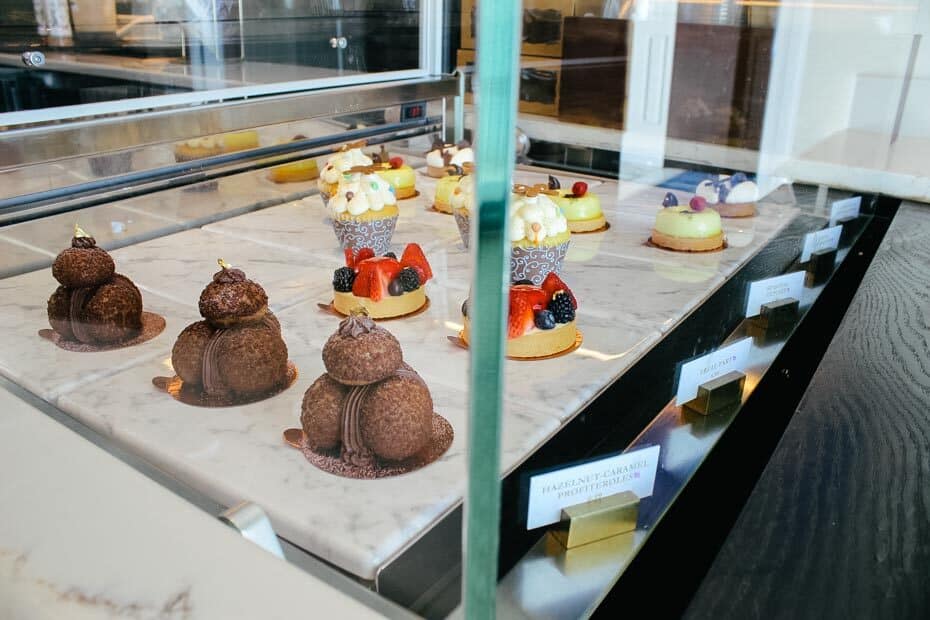 Lastly, we'll take a quick look at Disney's Caribbean Beach Resort. This resort falls under the Disney moderate resort category. Caribbean Beach has recently undergone a full refurbishment and is home to the main Disney Skyliner station.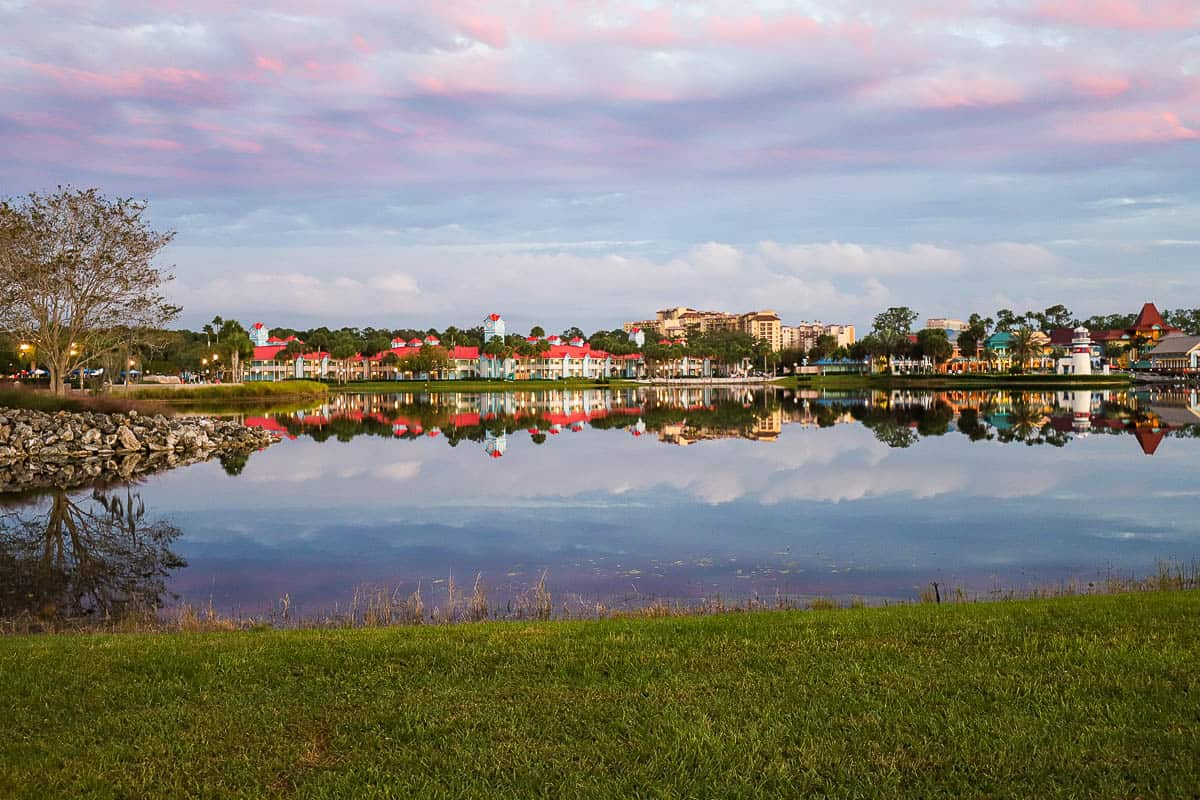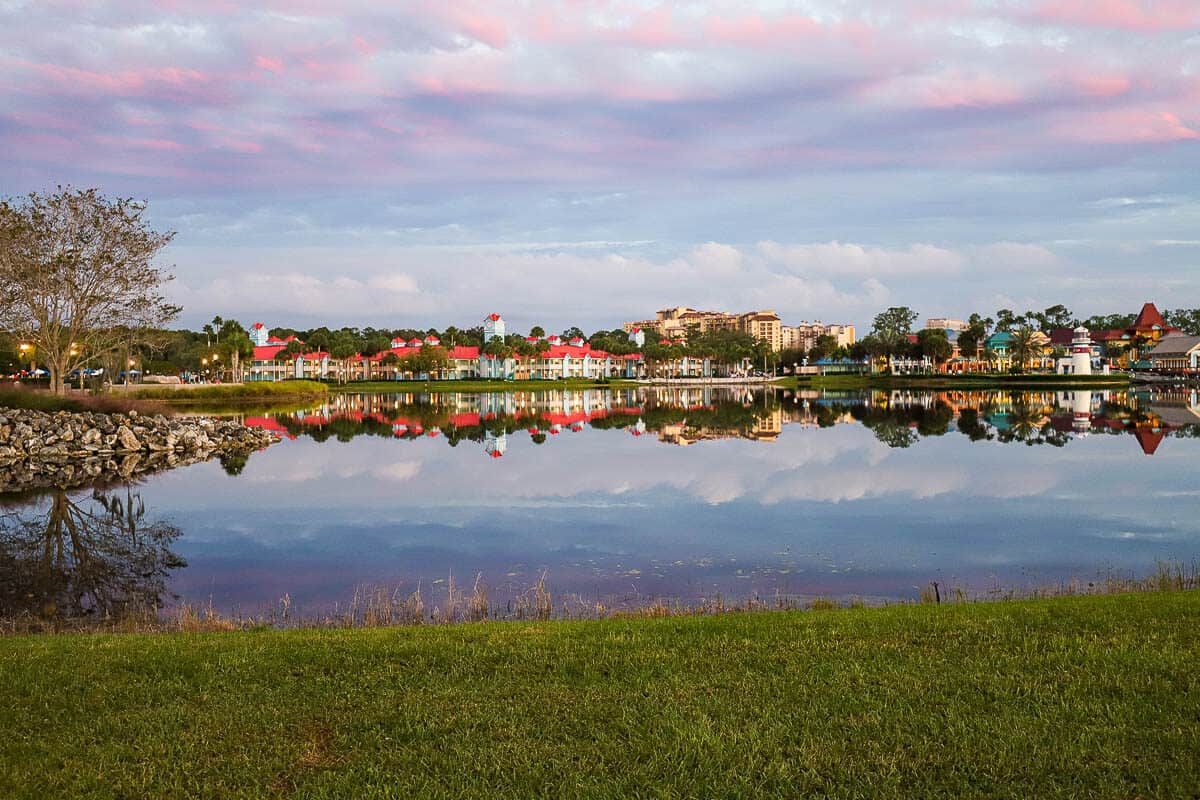 The main difference between this resort and others we have discussed is that it's spread out into sections over a vast area. Often, this means extra walking when staying at this resort.
Additionally, rooms at Caribbean Beach are all in buildings named after islands with exterior access. The other resorts discussed are deluxe resorts with interior rooms and hallways.
Unlike the others, this resort has a large food court with a tremendous variety of options. I recently grabbed a vegan burger with fries and found the meal enjoyable.
While I don't think Caribbean Beach warrants a day visit like the rest of the resorts we've discussed, it's still a wonderful hotel that's more budget-friendly. It's also only a short Skyliner ride away from Epcot.
Related: Caribbean Beach Resort Review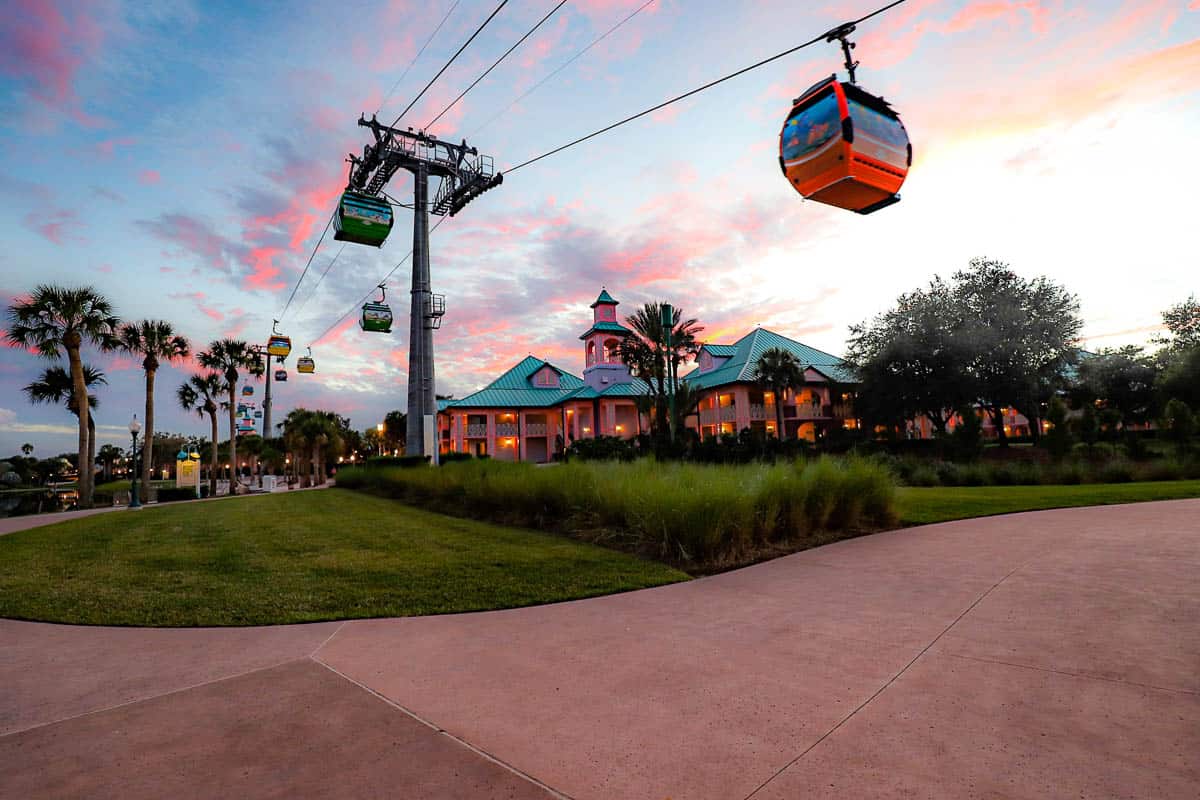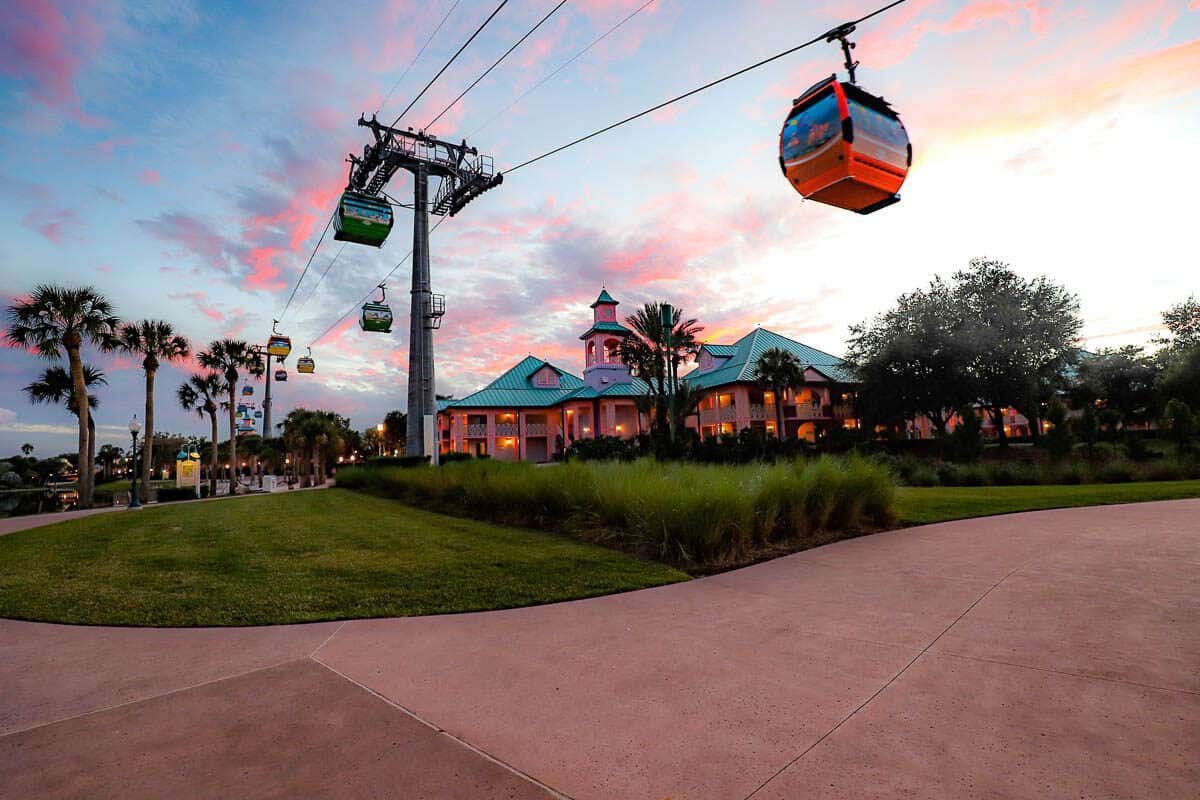 Epcot Resorts Area Transportation Options
To fully cover the Epcot Resorts, I felt it was important to add a few tips for getting around the area. Most will want or need to ride the Skyliner at some point.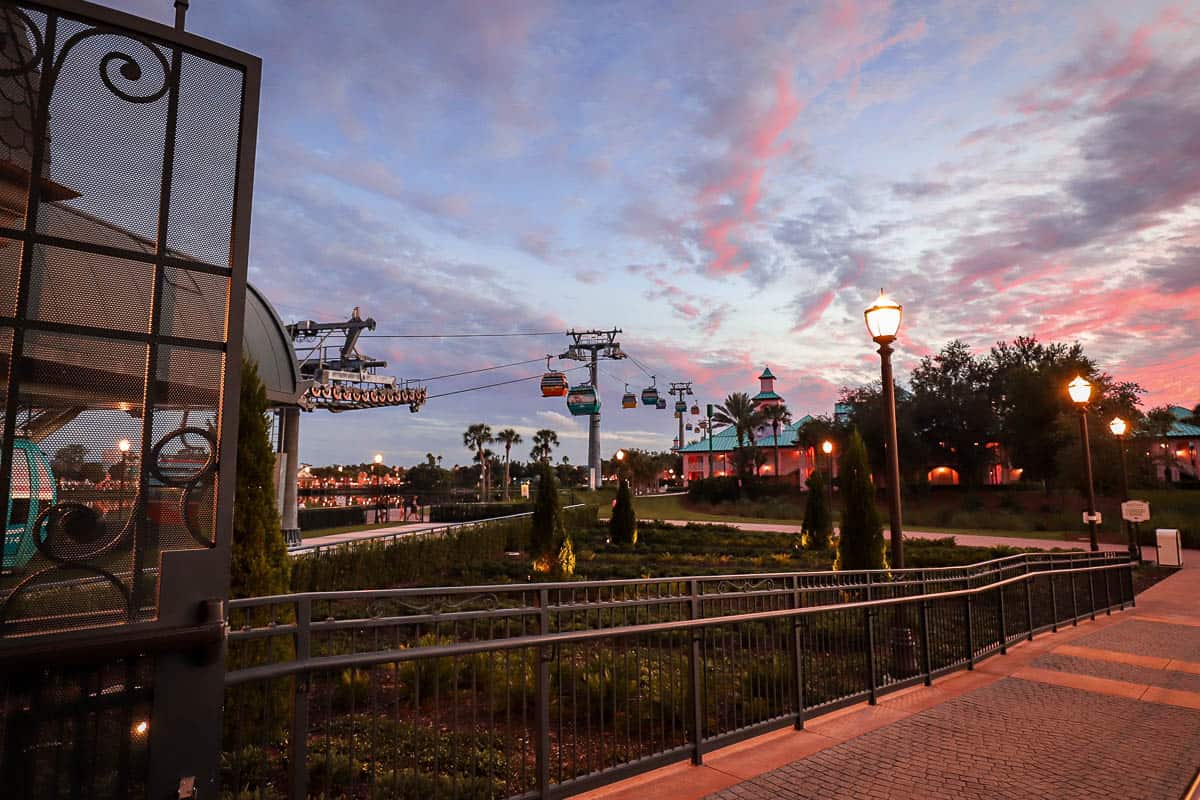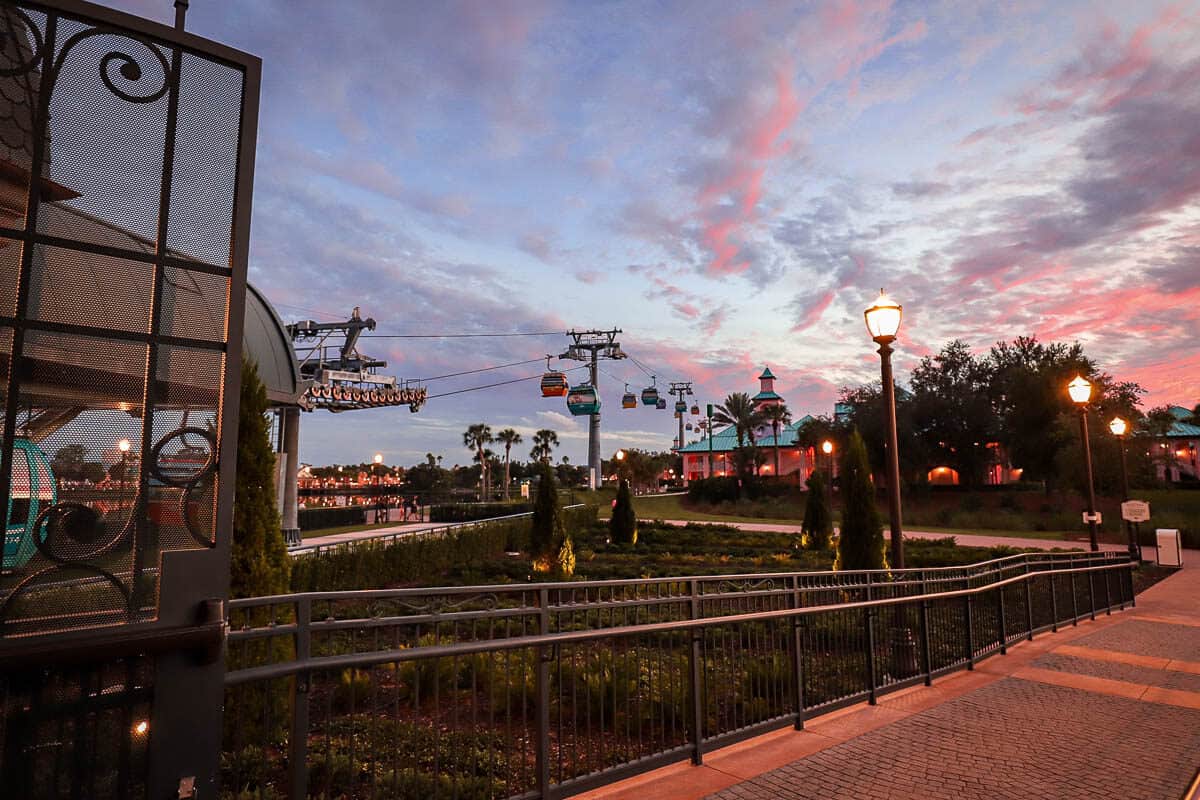 The Skyliner services both Epcot and Hollywood Studios. Like other forms of Disney transportation, guests are welcome to take the Skyliner whether they are staying at a resort or not.
You can board the Skyliner at the Epcot International Gateway or Hollywood Studios entrance. The other Skyliner stops are at Disney's Riviera Resort, Caribbean Beach, and it ends at a shared station between Pop Century Resort and Art of Animation Resorts.
So if you are traveling between Epcot and Hollywood Studios, you can take either route to the opposite park. However, you will have to exit the Skyliner and board a separate gondola when you reach Caribbean Beach.
Related: Disney Skyliner Resorts
Those staying at or visiting the Crescent Lake area can use the Friendship boats. The Friendship boats run daily between Epcot, Beach and Yacht Club, Boardwalk, and Hollywood Studios. They also make stops at the Swan and Dolphin.
Related: Using Disney's Friendship Boat Service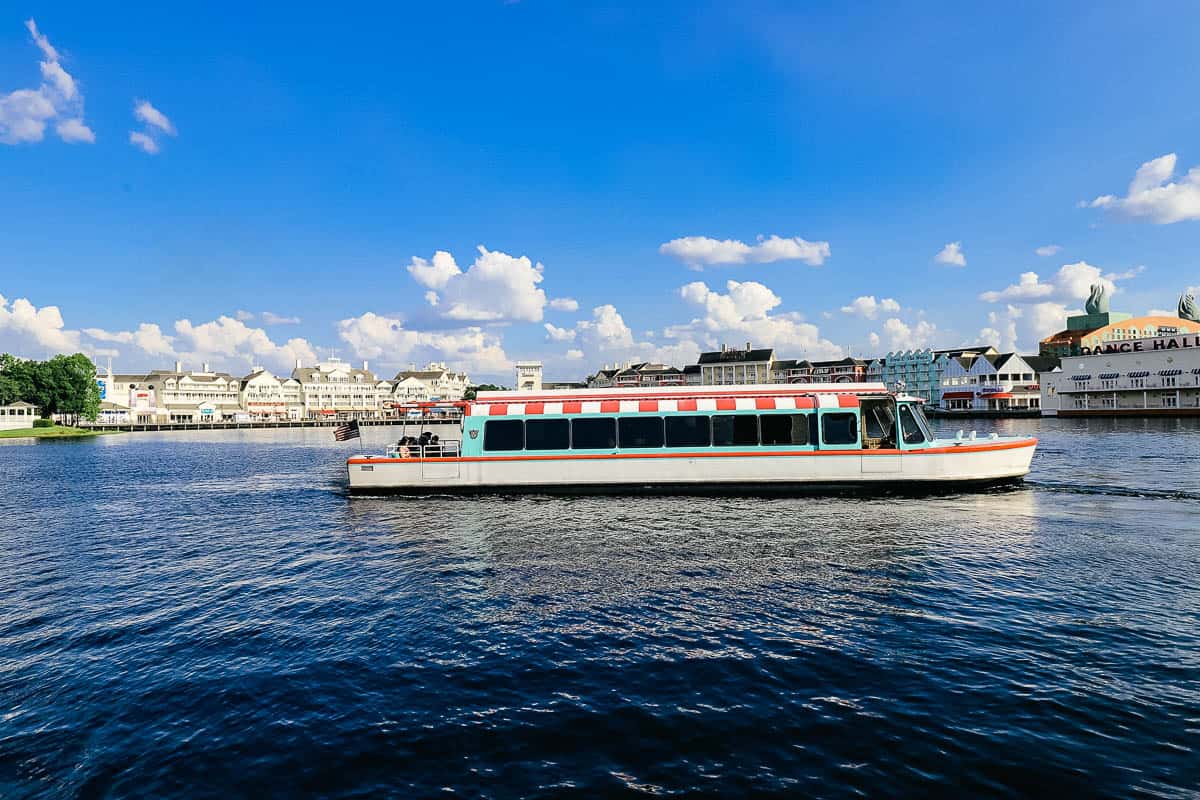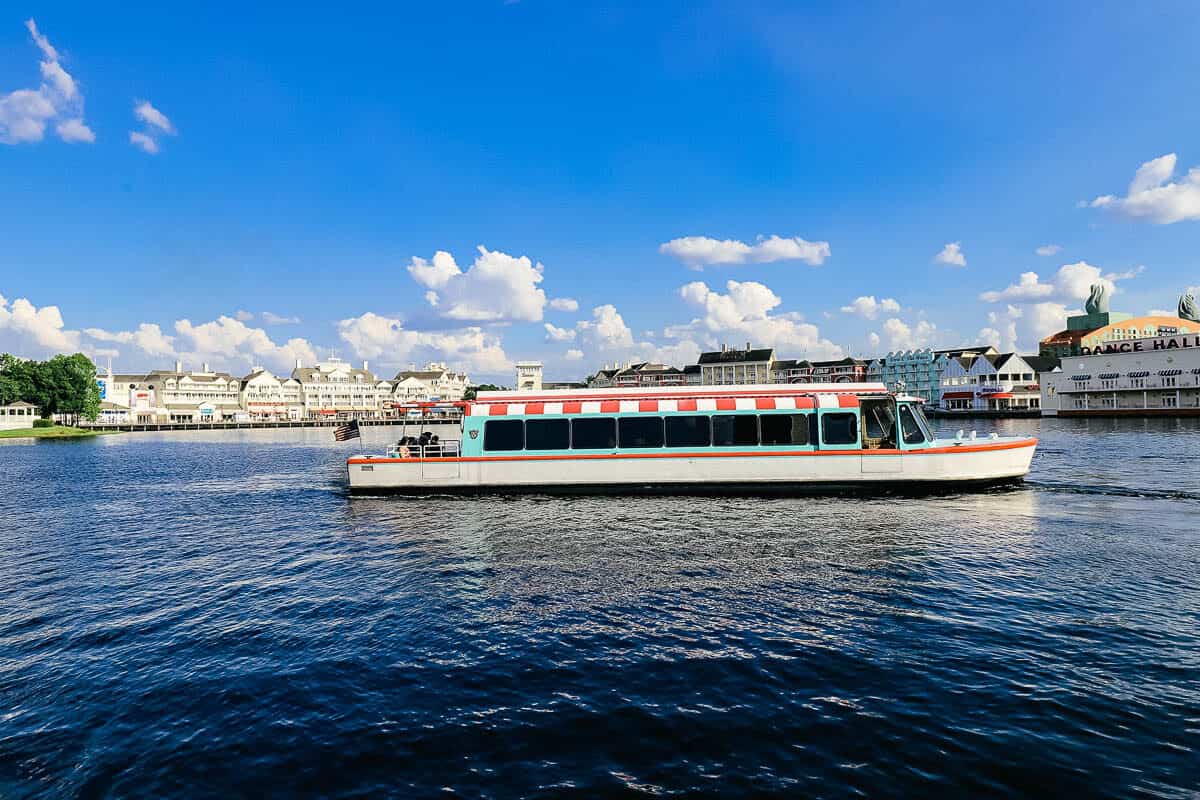 But, again, the main benefit of the Epcot Resorts area is having the ability to walk to the parks. Below is a look at the pathway to Hollywood Studios.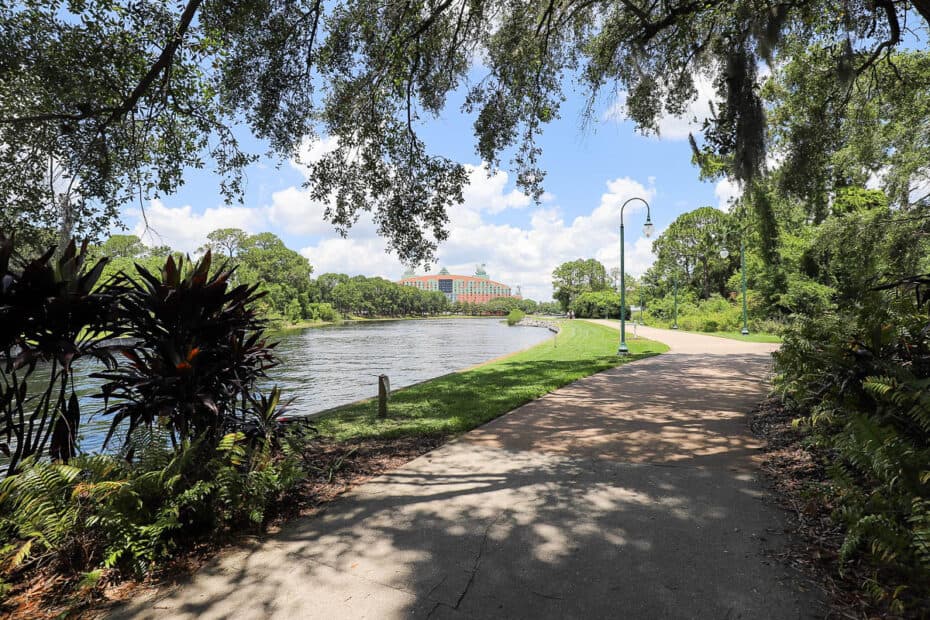 While it's approximately a 15-20 minute walk from Hollywood Studios to the Epcot Resorts, we enjoy this walk. We have found that this walkway provides a much-needed space to decompress after leaving the parks.
Lastly, if you're staying at any of the Epcot Resorts, you will need to use Disney's bus transportation to reach:
Magic Kingdom
Animal Kingdom
Disney Springs
Water Parks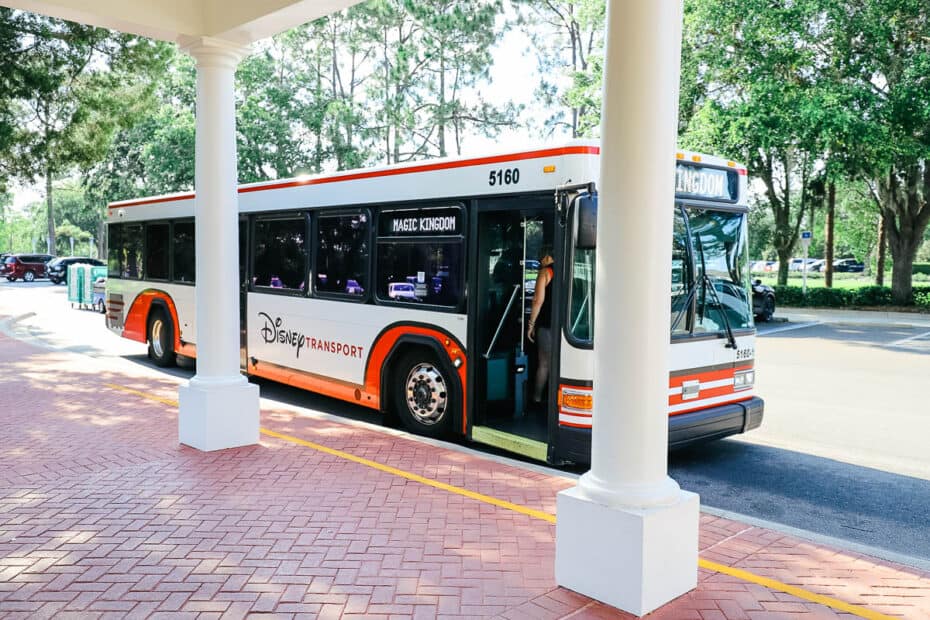 Final Thoughts on the Epcot Resorts
Overall the Epcot Resorts are among the best choices for resorts at Walt Disney World. It's hard to go wrong when you are selecting between these finer hotels.
Most will want to choose which vibe they like the best. If you're a pool person, you're definitely going to want to stay at the Beach or Yacht Club. You'll just have to decide which one best fits your style.
Those who enjoy people-watching will find themselves at home at Disney's Boardwalk. If you plan to spend a decent amount of time in your room, you might consider a Boardwalk view upgrade. You can take in the comings and goings of the Boardwalk anytime from your balcony.
And if you like a more modern hotel feel, it's hard to go wrong with the Swan, Dolphin, or Swan Reserve. These resorts don't necessarily have a Disney feel, but they definitely give appropriate vacation vibes. They also have an excellent pool area with lots of shaded seating.
In addition to the resorts near Epcot, you might like to consider the Magic Kingdom Resorts. While those resorts don't have the same proximity to multiple parks, you will be close to the most magical place on earth.
For some, that alone might tip the scales in the favor of these resorts. Here are a couple of those reviews:
Lastly, if you would like to be near the Animal Kingdom, it's hard to go wrong with these options:
Feel free to browse every single Disney World Hotel Review we have available. This will help you narrow down your choices for a resort.
In the Comments
What do you think about the Epcot Resorts Area? Have you stayed in any of these hotels? Do you have questions about this location?
Planning a Walt Disney World or other Disney Destination vacation?
Our friends and travel partner, Firefly Travels, excels at doing Disney differently. You can fill out a plan your trip form on their website, and someone will reach out shortly to discuss the specifics.