Disney's Epcot Resorts Area and Hotel Guide
The Epcot Resorts area at Walt Disney World is one of the most charming places you'll ever visit. This space between Disney's Hollywood Studios and Epcot is kind of a venue within itself. It's home to multiple resorts, beautiful lakes, and Disney's Boardwalk.
This article will look at the resorts near Epcot along with what you might enjoy while staying in the area. Additionally, if you want to narrow down the Epcot hotels choices even further, I'll link to specific reviews where applicable.
One of the things so great about the resorts near Epcot is their proximity to both Epcot and Hollywood Studios. When it comes to that point in the day where you need a break, you can easily walk back to your room.
In addition, the hotels near Epcot provide a nice place to escape the crowds. You might even enjoy a pleasant stroll around Crescent Lake or take advantage of the variety of restaurants in the area.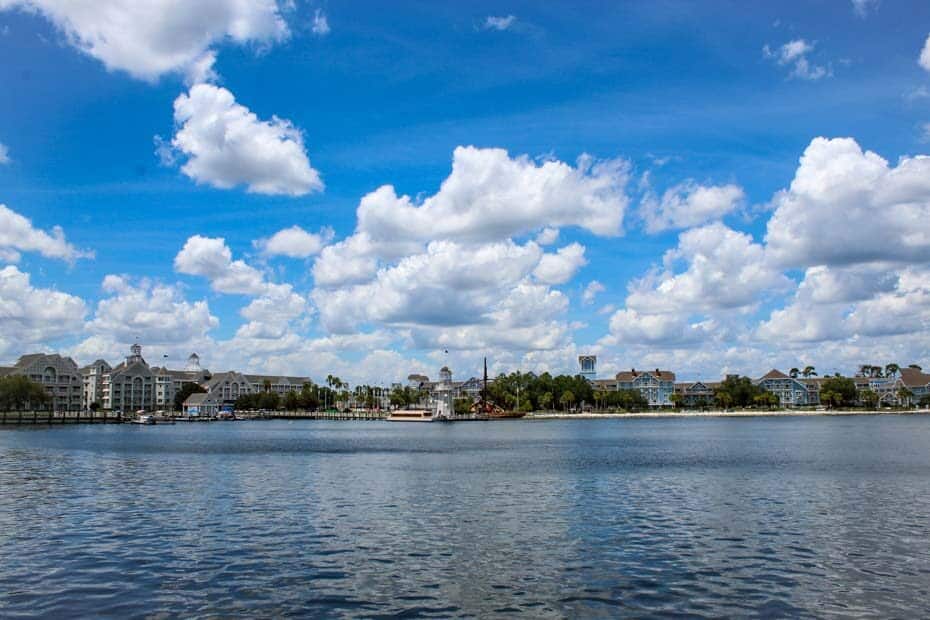 Epcot Resorts Area
The following hotels are all located near Epcot, and we will cover them in more detail below.
Since the Walt Disney World Swan and Dolphin hotels are located in the immediate area, I have included them. However, these hotels are independently owned and operated by Marriott.
Additionally, we add the newer Swan Reserve hotel, which is part of the Marriott brand. Guests of this hotel receive the same benefits as guests of the Swan or Dolphin.
Related: Best Marriott Hotels Near Disney World
The resorts within walking distance to Epcot are Disney's Yacht and Beach Club, Disney's Boardwalk Inn, and the Walt Disney World Dolphin and Swan. These resorts are only a short walk to both Epcot and Disney's Hollywood Studios.
Additionally, they are all located on Epcot Resorts Blvd, which is right off the Lake Buena Vista Drive area of the Walt Disney World Resort.
Meanwhile, Disney's Riviera and Caribbean Beach are located up the street off Lake Buena Vista and Victory Way. These resorts require a ride on the Disney Skyliner to access either park.
However, even though the Riviera and Caribbean Beach are near Epcot, there is no clear walking path between them and the theme park.
Below we'll take a further look at each of the Epcot Resorts.
Disney's Beach Club Resort
Our starting point for this tour of the Epcot Resorts area is Disney's Beach Club. The Beach Club is the closest resort to Epcot. It's less than a five-minute walk out of the resort's backdoor to the International Gateway entrance to Epcot.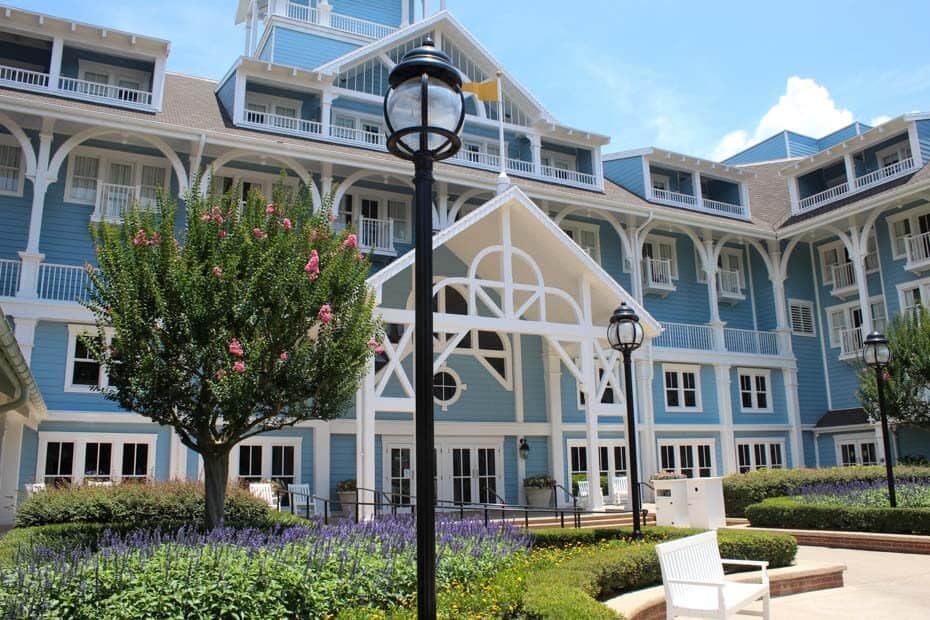 Anyone who has visited Resorts Gal before probably already knows that the Epcot Resorts area is a place I consider home. More specifically, Disney's Beach Club pulls strings on this gal's heart.
When I was younger, I had a dream of staying here one day. Somehow over the years, that dream has come to fruition many times and provided wonderful memories.
The rooms at the Beach Club (like all of the Disney Resorts) are fairly standard. But they are a nice, calming color and the resort has a considerable amount of amenities.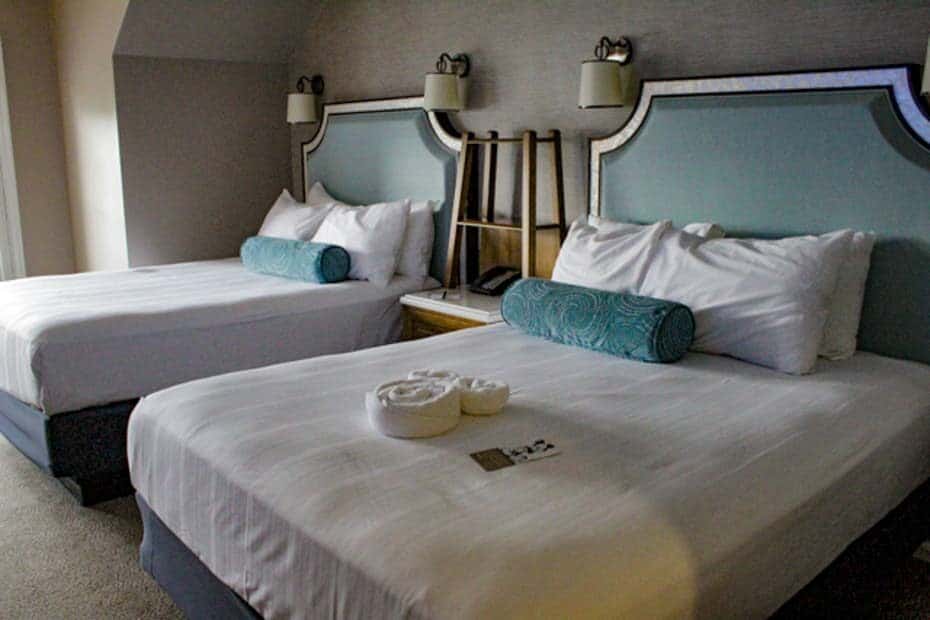 The pool is the major draw for the Beach Club. It actually resembles a water park more than it does your average resort pool. You can read about Stormalong Bay at Disney here if you would like to learn more.
Related: Best Pools at Disney World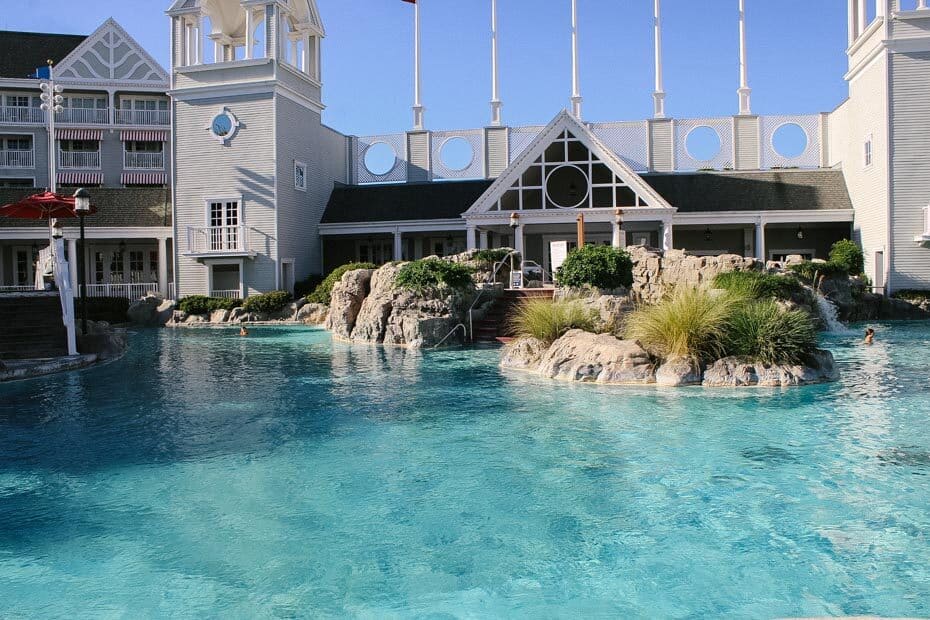 If you are visiting this Epcot area resort, I have a few recommendations. For starters, feel free to grab a drink or counter service meal at Hurricane Hanna's. There is a nice beach area by the lake that anyone can use. It makes for a perfect relaxation spot.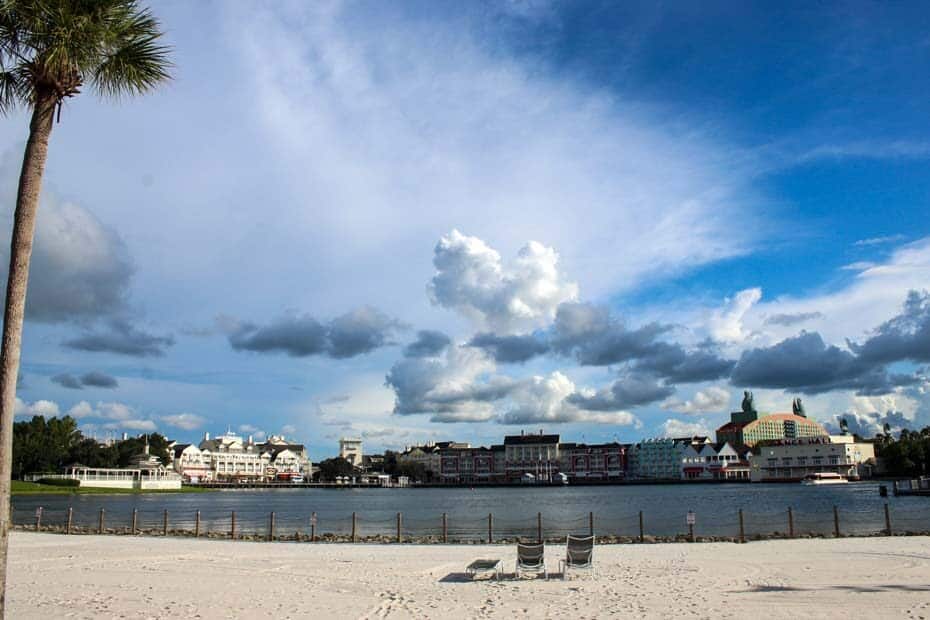 Another thing I recommend is taking a walk around Crescent Lake while you are visiting the area. The sunset hour is an especially opportune time to enjoy a stroll around the lake.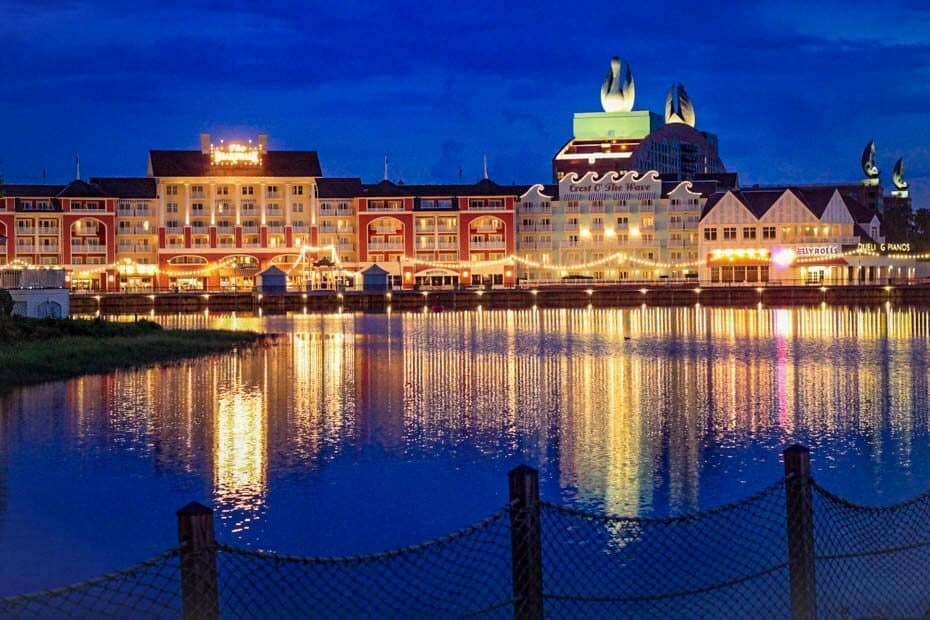 You might even luck up on a sunset like this one.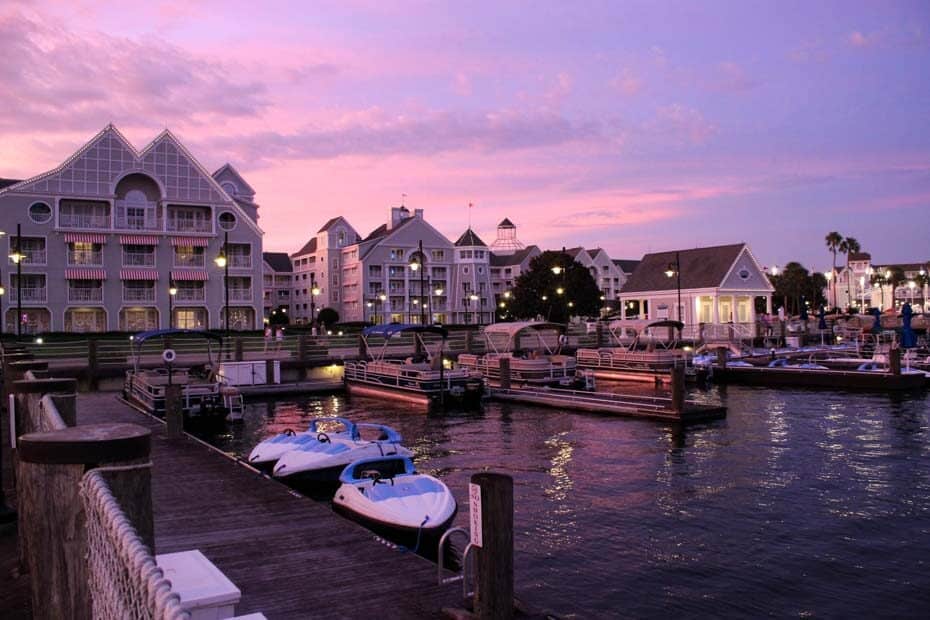 The Epcot Resort area is home to so many different dining options. One of my favorite places to pick up a treat or burger is Beach Club's Beaches and Cream Soda Shop.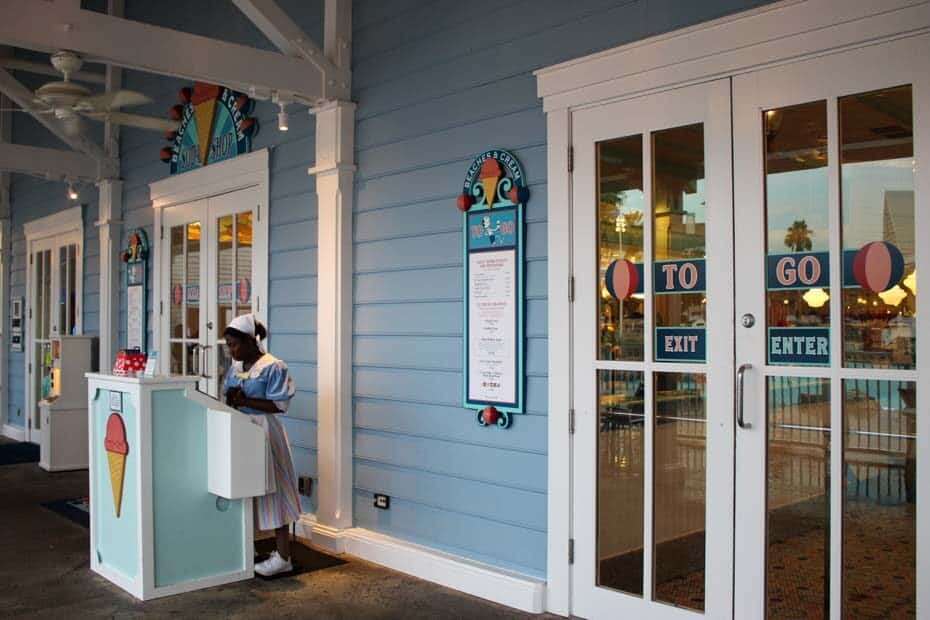 The soda shop doesn't require advanced reservations. Anyone can walk up to the hostess stand, and a cast member will give you an estimated return time if there is a wait. Smaller parties might like to eat at the counter as well.
If you don't want to wait for a table, they have a separate to-go entrance for ice cream. All you have to do is walk in and place your order. There are a few outdoor tables in the immediate area.
Or you might like to take your ice cream on down a bit further toward the Yacht Club. There are several nice covered areas with rocking chairs and side tables.
Word of warning, this place is packed right after Epcot or Hollywood Studios closes. It also tends to get really busy when it's raining, and the pool closes.
On one of my last visits, I ordered the patty melt and substituted the fries for onion rings. A scrumptious pickle came on the side.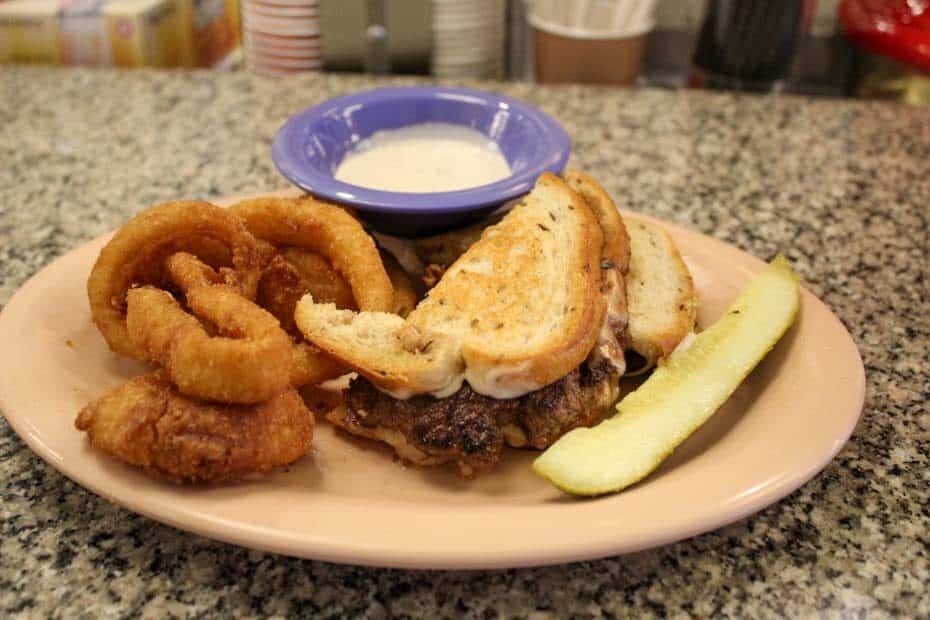 It was oh so good, in case you were wondering! I felt like I received a ton of food for the money. It's also, in my opinion, a great in-between meal.
By in-between, I mean it's a step up from counter service, but not quite as much as most table service experiences either.
Before moving on to our next option, I did want to mention that my favorite time to stay at the Beach Club is during Epcot's Flower and Garden Festival. It is so nice to visit the festival and break during the heat of the day.
Then you can return in the evening after having a rest. There is absolutely little to no effort involved when coming and going from an Epcot resort to the park.
When I've stayed at other resorts, I'm not always inclined to return to the park after a break. Or I'm not always willing to take a break because of the time involved in leaving and returning.
Not only that, you have to consider how long you might have to wait at the end of the evening for bus transportation from the park back to your resort.
These are some of the greatest things to take into consideration when deciding whether or not to stay in the Disney resorts near Epcot.
Related: Disney's Beach Club Review
Disney's Yacht Club
Our next stop in the Epcot Resorts area is Disney's Yacht Club. The Yacht Club is actually connected to the Beach Club. For reference, there is a long walkway that is partially outdoors between the two resorts.
Yacht Club has more of a crisp, formal feel while sister Beach offers a softer, casual vibe. They really balance each other out.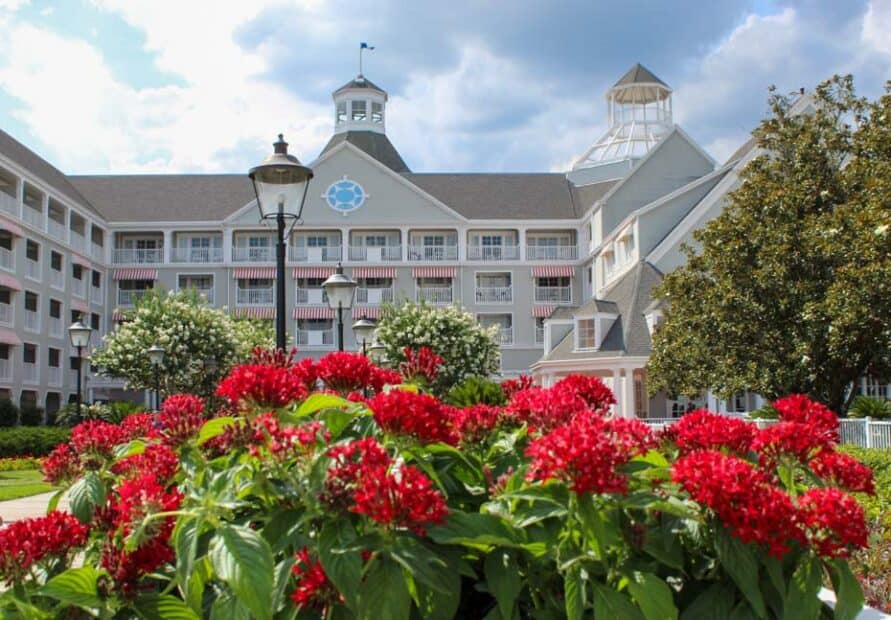 Sometimes when I'm here, I just pull up a swing for a bit. It's nice to take in the views and be thankful for my life, and the time I have here.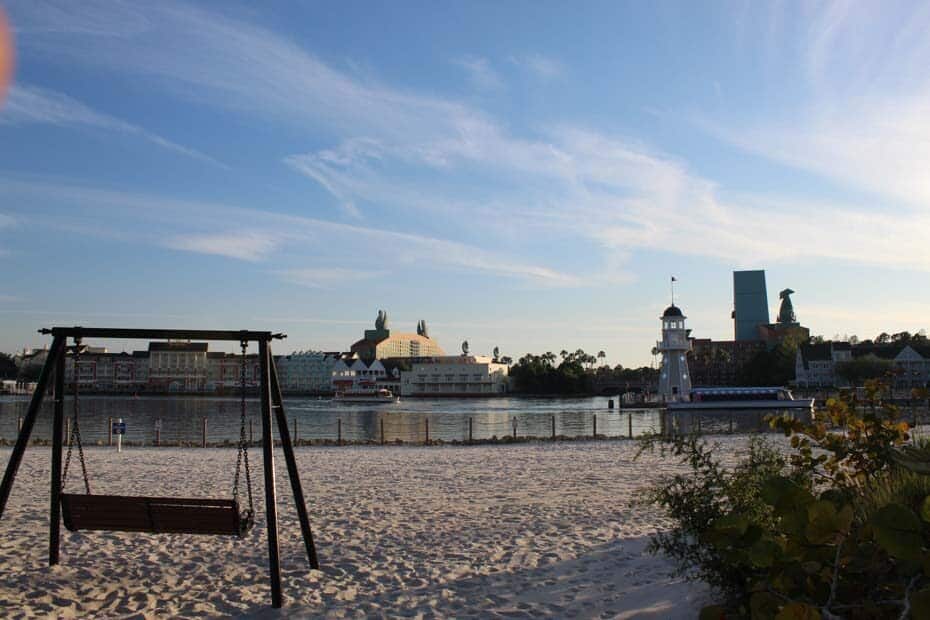 This gazebo is centered in the midst of hotel rooms at the Yacht Club. If you walk into this garden area, you might see a lot of bunnies depending on the time of the year.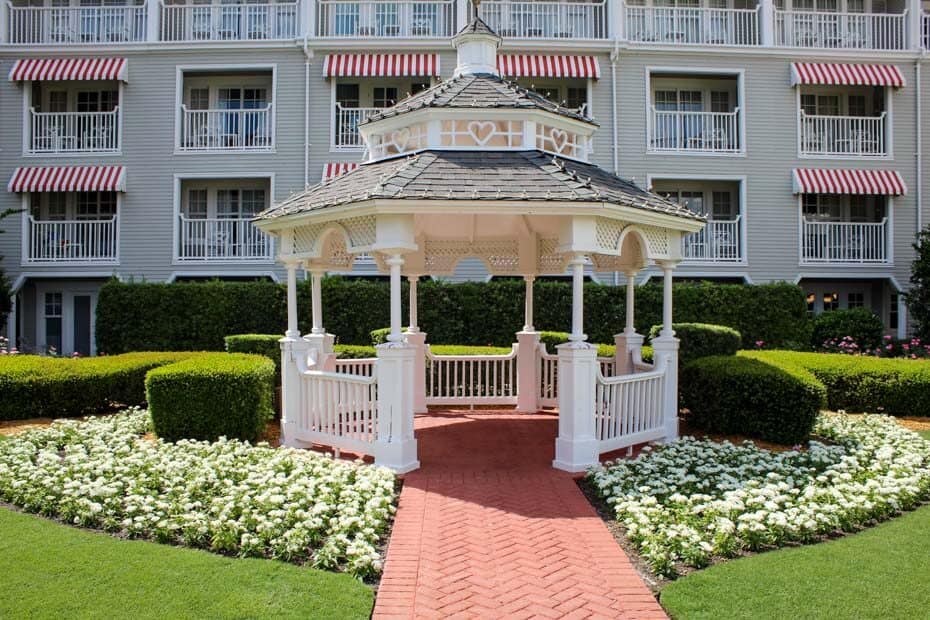 And if you stay at the Yacht Club, most of the rooms face out to this area. You will not be disappointed with this room view at all, trust me.
However, there are some standard room views that might not be as pleasant.
Crescent Lake and the Yacht Club's lighthouse are in the distance. The bunnies like to come out and play in the afternoon while the Friendship boats float by on the lake.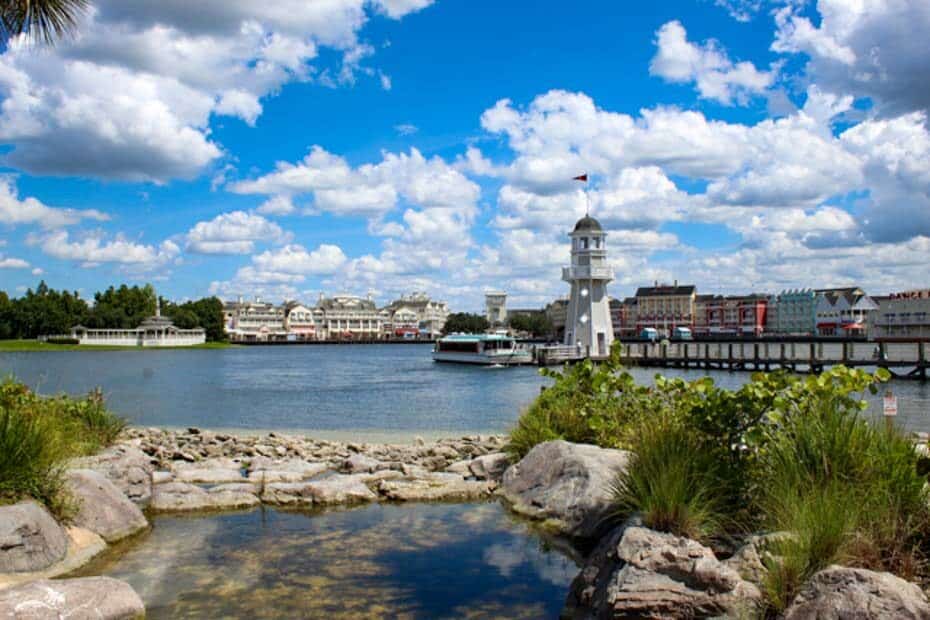 And yes, it's just as nice, if not more, as it sounds.
As for this portion of the Epcot Resorts, I have three different dining recommendations. The first is signature dining at Yachtsman Steakhouse. Anyone with a love for a good steak dinner will want to secure this dining reservation in advance.
Related: Yachtsman Steakhouse Review
And if you are looking for a walk-up, Crew's Cup Lounge is right next door. Even though it says lounge, it's more of a casual table service restaurant that always has good food and great service. I can't recommend this hidden gem enough.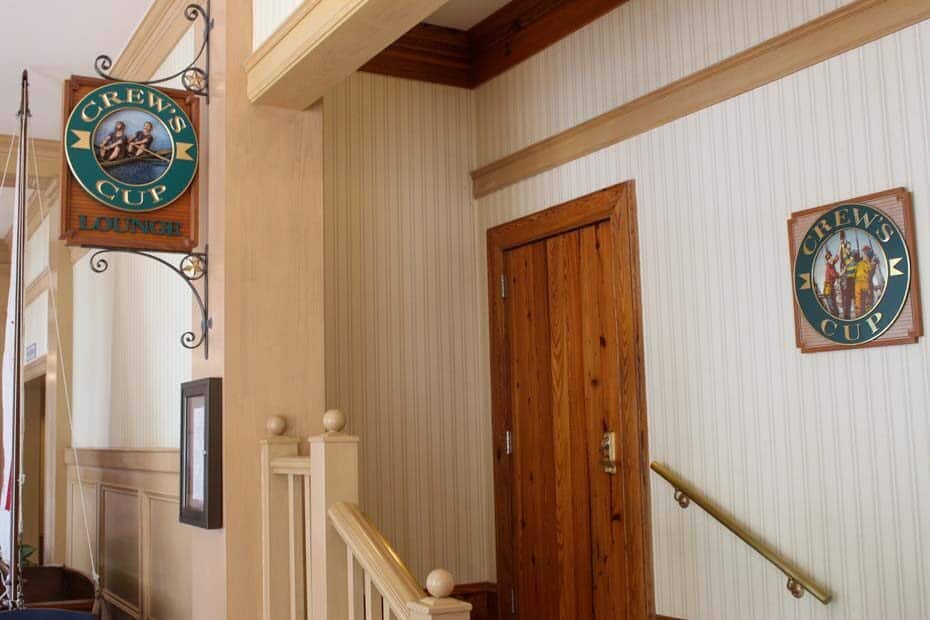 The cast has worked here for a long time, and they have always been so kind to me when I visit.
Just off the Yacht Club lobby is another favorite, Ale and Compass Restaurant. While they take reservations, anyone can typically walk up here and be given a wait time for a seat.
Below is a photo of a delicious breakfast entree I had on a previous visit. And they have chocolate waffles that are kind of out of this world as well. I have a breakfast review of Ale and Compass that includes several different trips to the restaurant.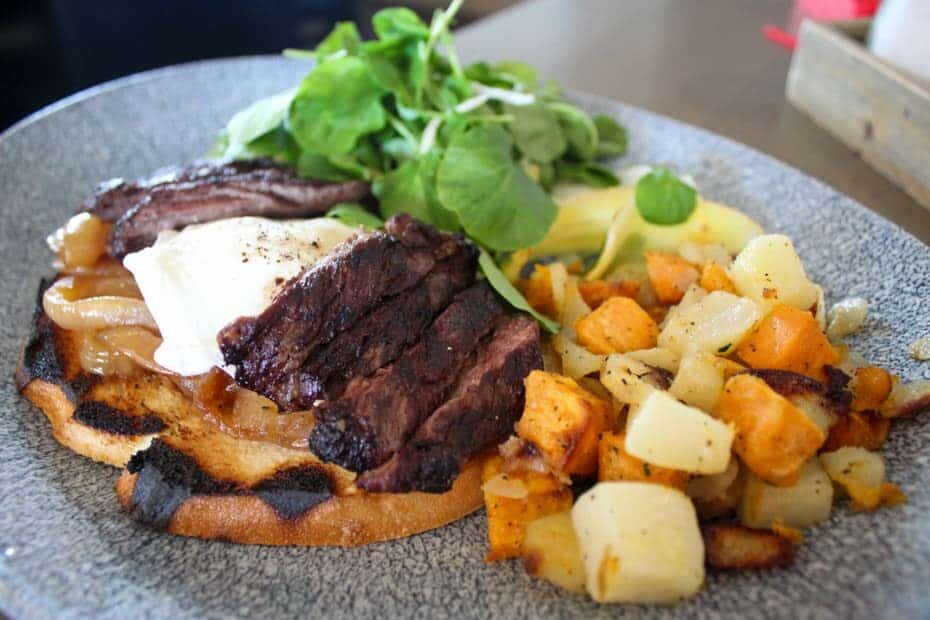 As you can see, choices are pretty tough whether you decide on a resort or just a place to grab a meal in the Epcot Resorts area. At least staying in the area provides the opportunity to see beautiful Crescent Lake at different times of the day.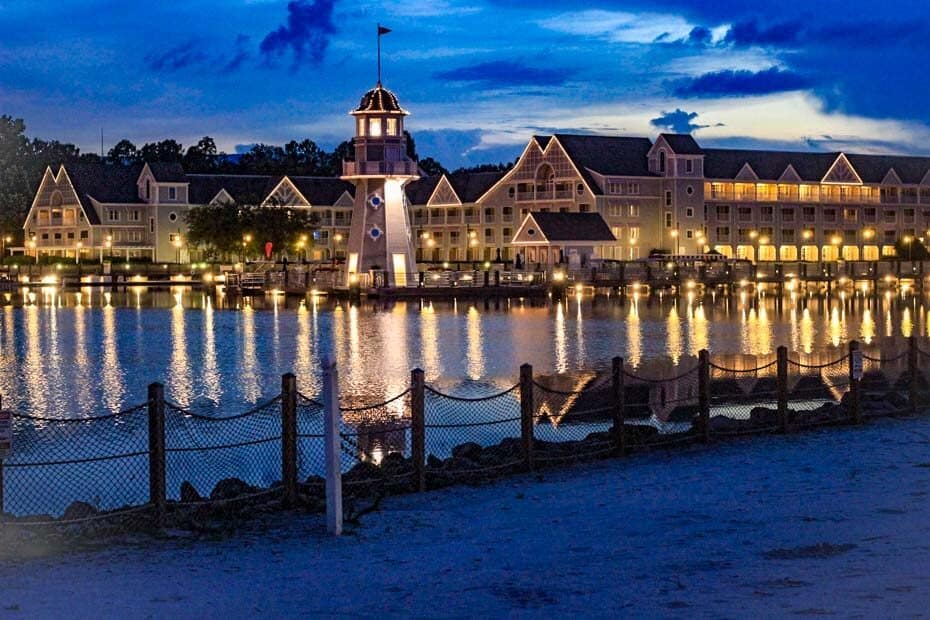 If you were to ask me whether the Yacht Club or Beach Club is better, that's an even tougher choice. They are both wonderful options. Make sure to check our full list of articles for both resorts to compare your options.
Related: Disney's Yacht Club Review
Disney's Boardwalk Inn
Our third Epcot area resort is Disney's Boardwalk Inn. This destination is well known because people often visit the Boardwalk for leisure during their vacation.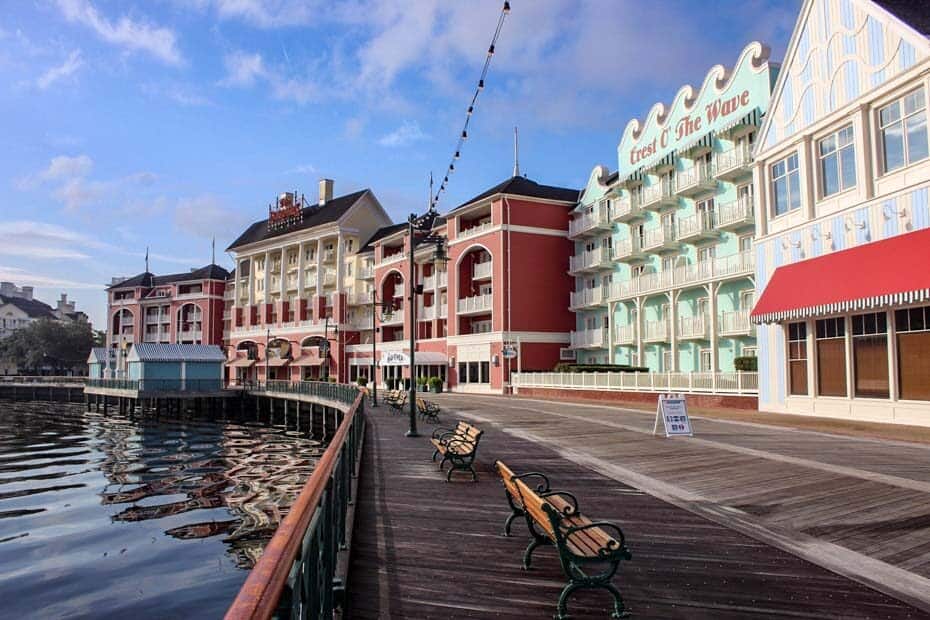 It doesn't hurt that the Boardwalk is absolutely stunning as the rest of the Epcot Resorts on Crescent Lake.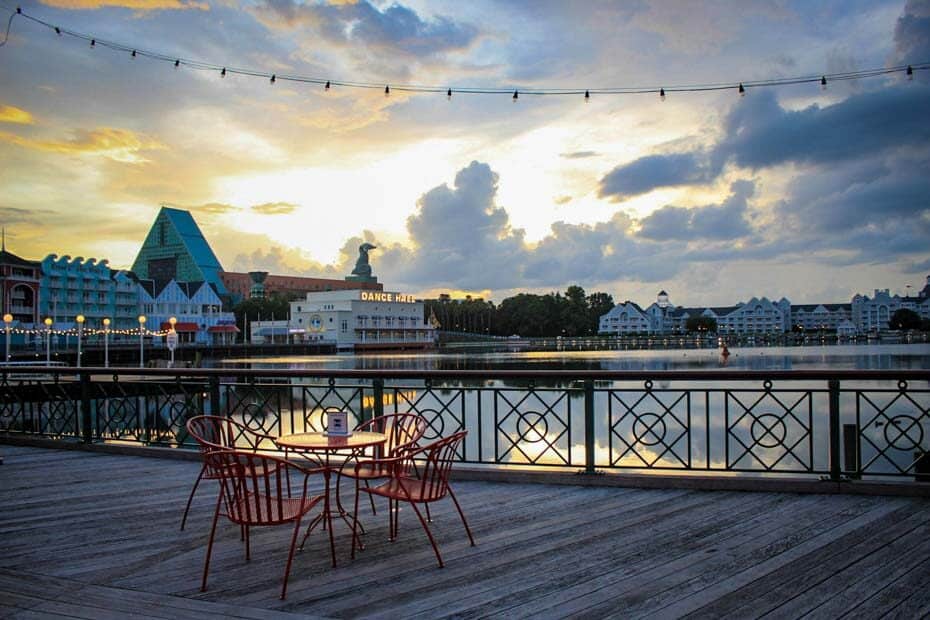 The villa rooms here have recently been updated as well. You can check out the review of our stay in the Boardwalk Studio Villas if you like.
Related: Boardwalk Villas Review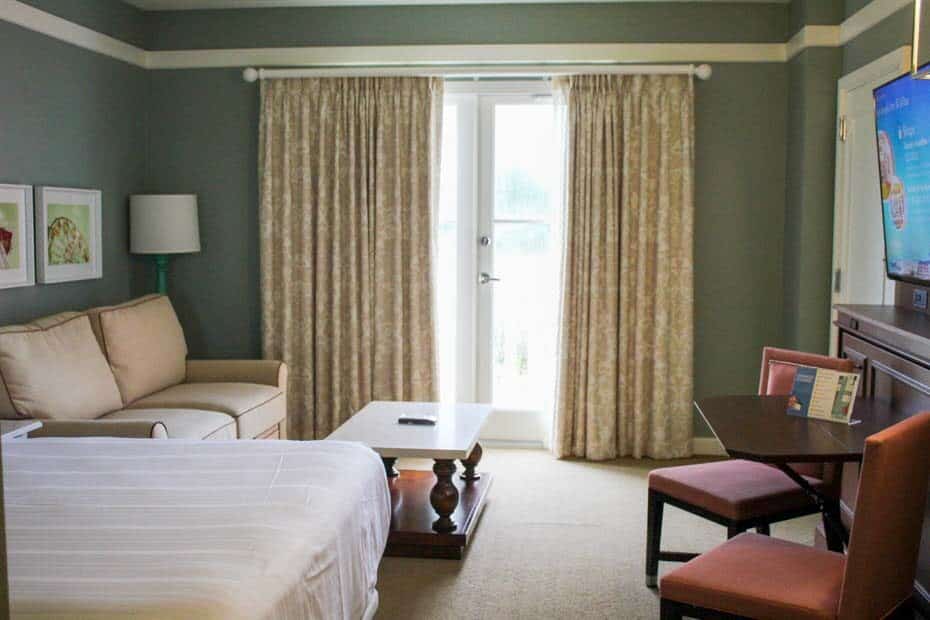 And if you are looking for dining reservations, I have a few recommendations here as well. First, there's Flying Fish, which is a trendy Disney signature dining restaurant.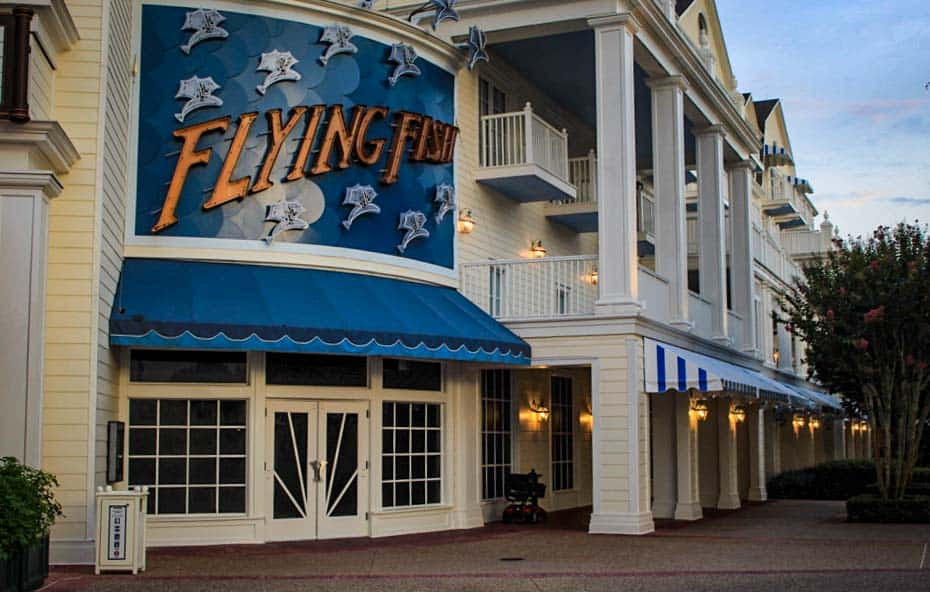 Another hidden gem for the Epcot Resorts area is Big River Grille. Don't expect anything fancy. But do expect reasonably priced food that's good quality.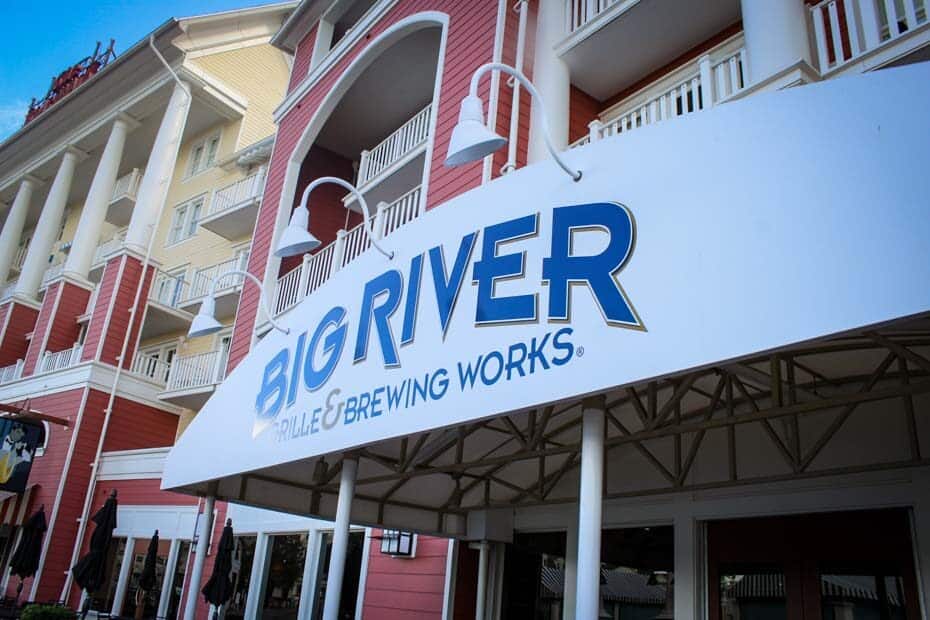 The Boardwalk is kind of a destination within itself around Orlando. Many guests visit for the specific purpose of dining and enjoying a little nightlife.
Related: Disney's Boardwalk Inn Review
Disney's Swan and Dolphin Resort
Between Disney's Yacht Club and the Boardwalk, you'll find the Swan and Dolphin hotels that Marriott operates. A bridge connects these Epcot hotels. You'll find access to the Friendship boats that travel to Epcot and Hollywood Studios in the center of the bridge.
Make sure to read my full review about staying here if you have more interest. Since Disney does not operate the resort, they do have a few differences.
Probably the most significant difference is they have their own shuttle bus that drops off at the parks in different locations.
Related: Disney's Swan and Dolphin Review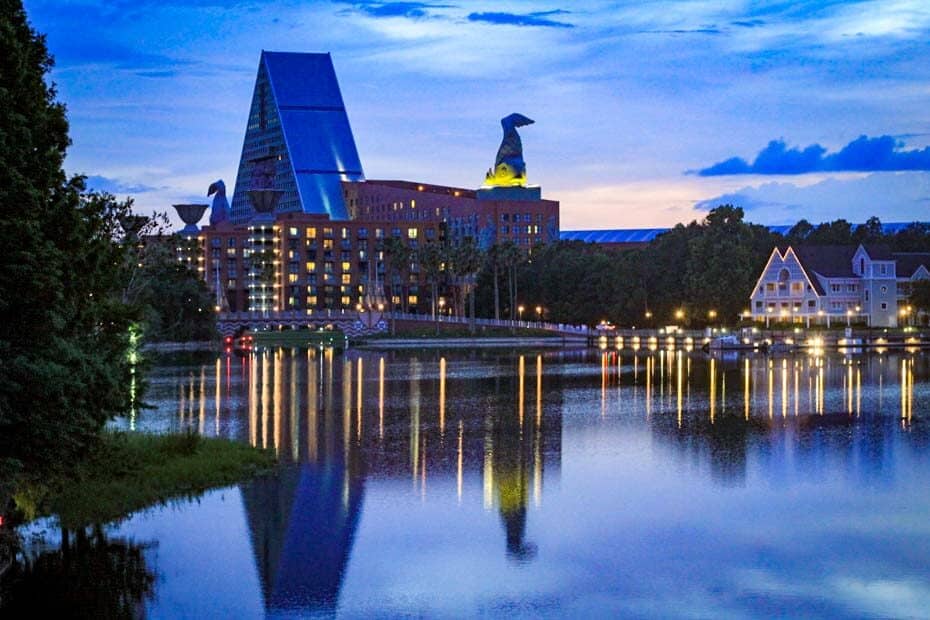 If the price is right, I wouldn't let the transportation differences deter me from staying here. However, they charge a daily resort fee that you need to consider when planning a stay here.
As far as dining goes at the Swan and Dolphin, there's quite a lot. My favorite option is a little burger joint called The Fountain. It is somewhat similar to Beaches and Cream. And I recently had the most delightful lunch at the Dolphin's Cabana Bar and Grill.
If you are looking for fine dining, you might want to check out Shula's Steakhouse. Both of these restaurants are located on the Dolphin side of the resort.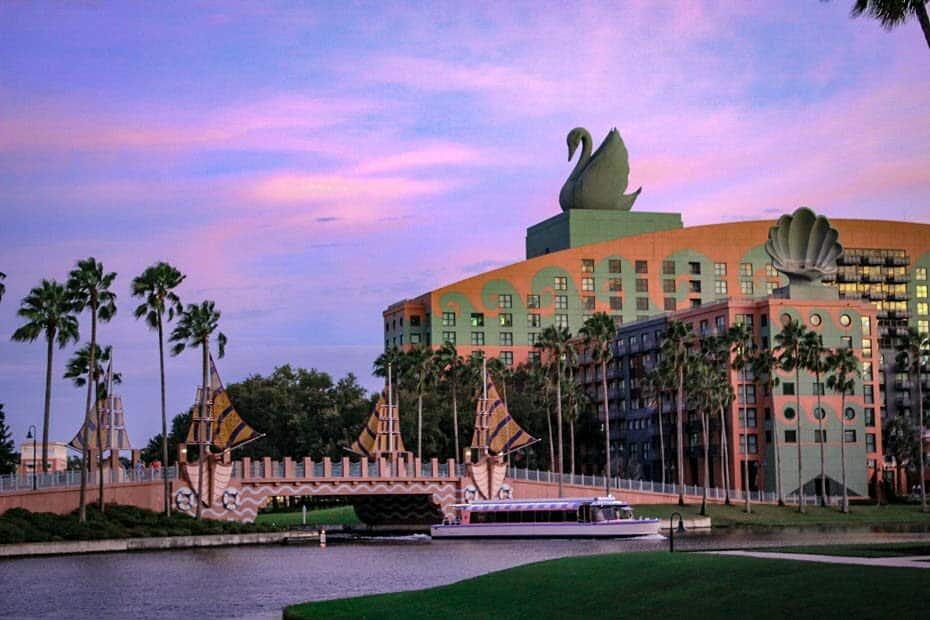 Whether you stay at one of these Epcot Resorts or only tour as a day guest, make sure to remember these tips and dining options. If your day at the neighboring Disney park becomes too congested and you are ready to throw your hands up, exit at the International Gateway for a break.
Grab a bite to eat or cool off in the air conditioning at the resort hotel lobby or lounge. When you are ready to return, Epcot is only a few steps away.
Moving on, we have two more resorts that are not situated on Crescent Lake. While these do fall into the Epcot Resorts area as defined by Disney, there are some differences.
The main thing to remember is that these resorts are a short Skyliner ride away from Epcot and Hollywood Studios. However, they are not within walking distance to the parks like resorts one through four in our review.
Related: Swan and Dolphin Restaurant Guide
Disney's Riviera Resort Review
Riviera Resort is currently the newest resort at Disney. This Epcot Resort is designed to resemble what you might expect to find on the French Riviera. It also falls into the deluxe resort category and is a Disney World Villa Resort.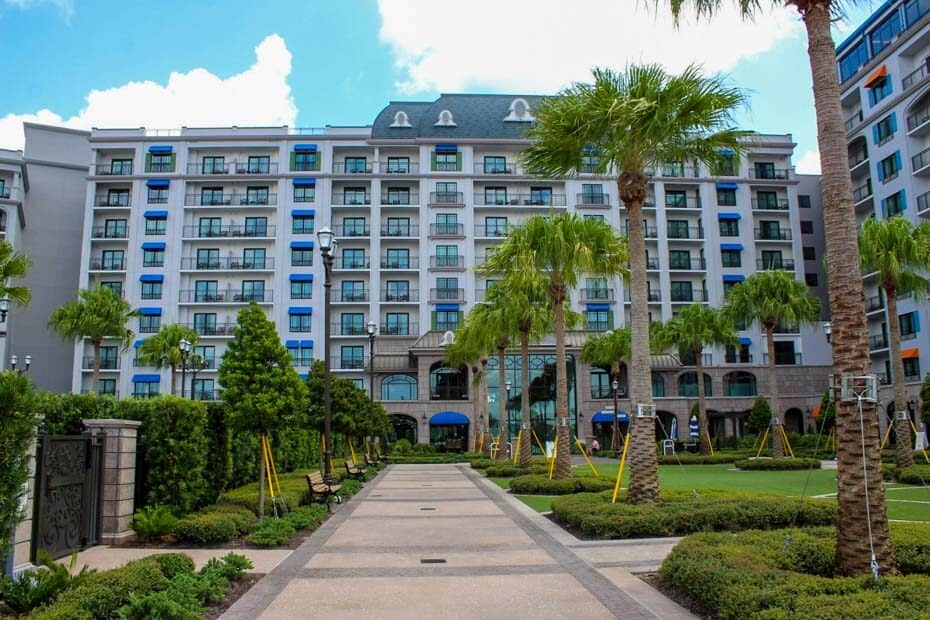 Members of the DVC can buy and use points to stay here, similar to a timeshare.
Related: Disney's Riviera Resort Review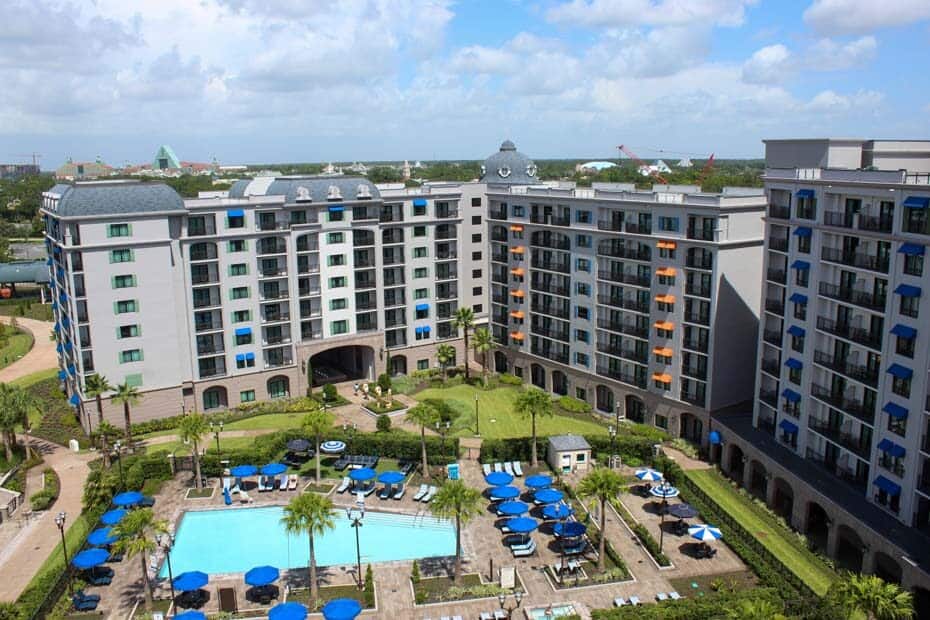 But as with the other DVC resorts, Disney makes these rooms available to the public. Here's a look at our deluxe studio room from a recent stay. That's actually a bed hidden in the wall where the sofa sits.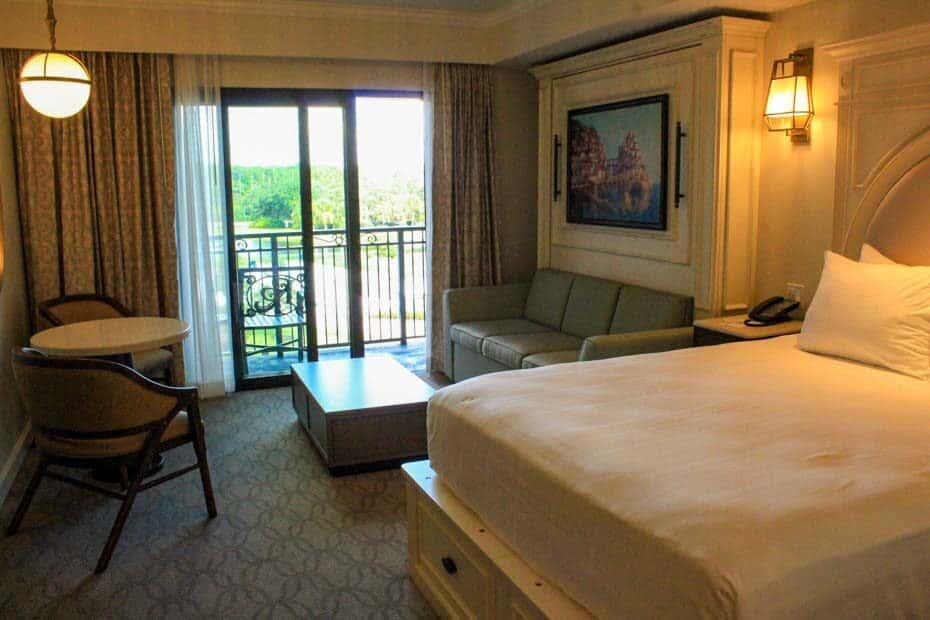 As far as dining reservations go, I recommend the character dining breakfast here at Riviera Resort.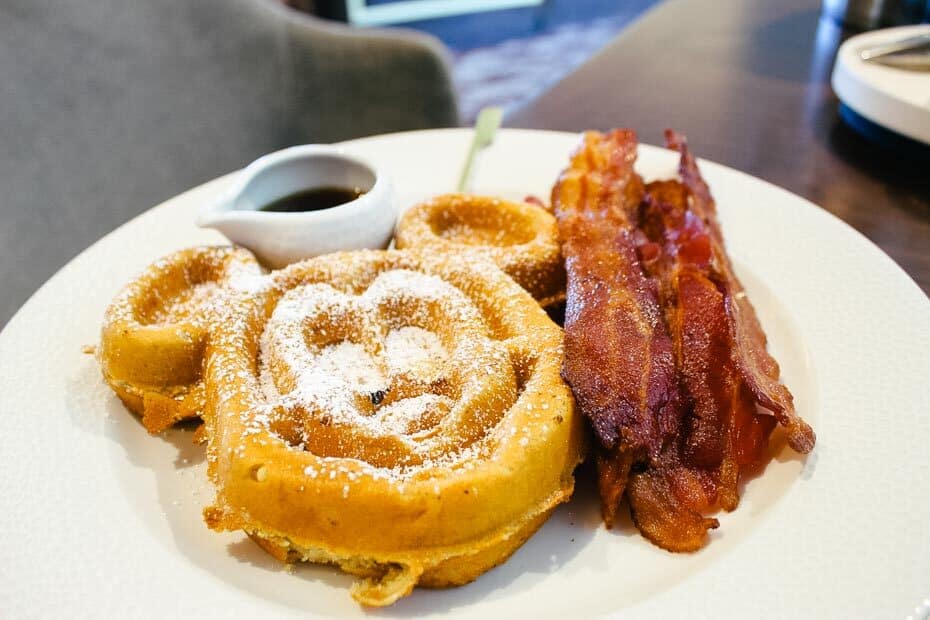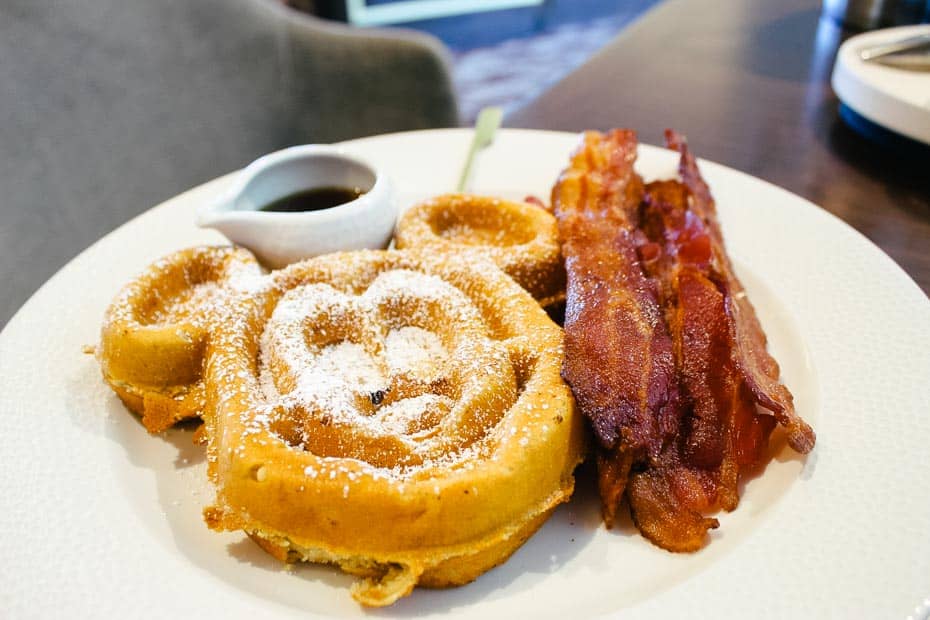 There are also several other dining options here like Primo Piatto, the resort's counter service. Additionally, Riviera is located only a few steps away from Caribbean Beach.
When staying here, you'll need to access the Skyliner when visiting Epcot or Hollywood Studios.
Related: Disney's Riviera Resort Restaurants
Lastly, we'll take a quick look at Disney's Caribbean Beach Resort. This one falls under the Disney moderate resort category. Caribbean Beach has recently undergone a full refurbishment and is home to the main Disney Skyliner station.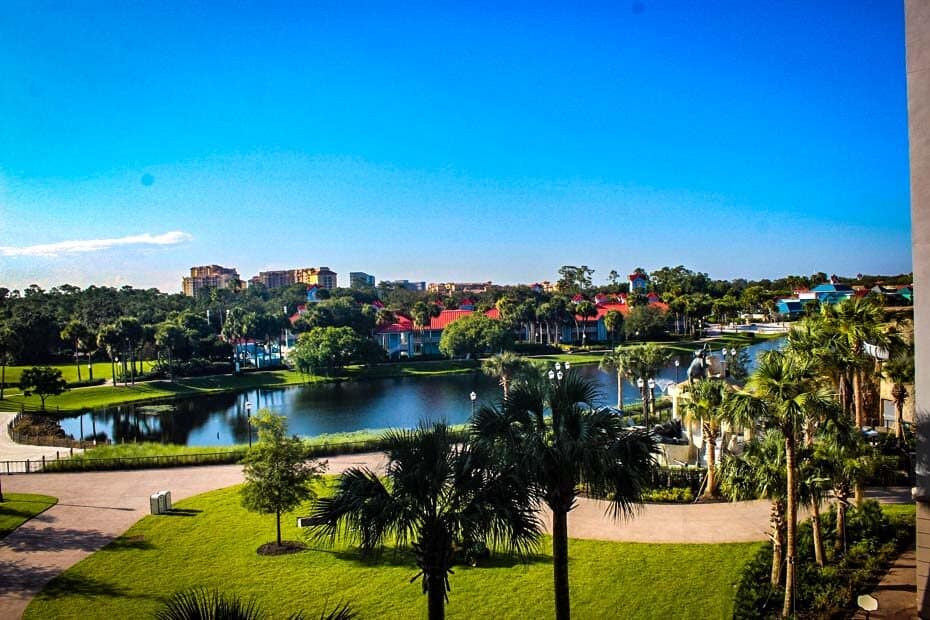 The main difference between this resort from the others we have discussed is that it's spread out into sections over a vast area. This might mean a lot of extra walking time at this Disney World Epcot Resort.
Rooms here are also in buildings that have exterior access. The prior resorts we've discussed in this review all have rooms in interior hallways.
Unlike the others, this Epcot resort has a large food court with a tremendous variety of options. I recently grabbed a vegan burger with fries and found the meal very enjoyable.
Related: Caribbean Beach Resort Review
Epcot Resorts Area Transportation Options
To fully cover the Epcot Resorts, I felt it was important to add a few tips for getting around the area. Most guests will want or need to ride the Skyliner at some point.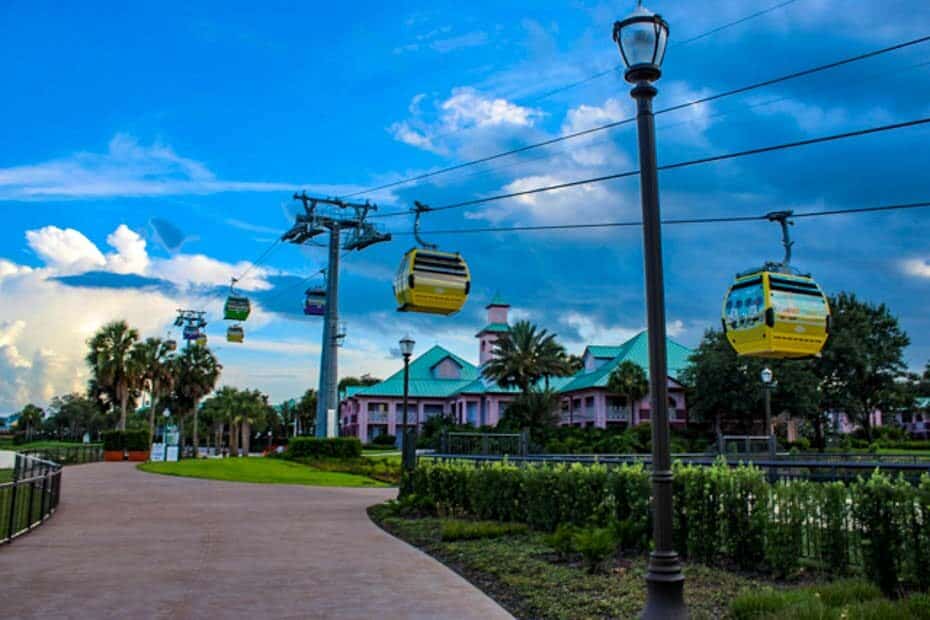 The Skyliner services the entire Epcot Resorts area. Like other forms of Disney transportation, guests are welcome to take the Skyliner whether they are staying at a resort or not.
You can board the Skyliner at the Epcot International Gateway or outside Hollywood Studios. The other Skyliner stops are at Riviera, Caribbean Beach, and dead-ends at the shared station between Pop Century Resort and Art of Animation Resorts.
Related: Disney Skyliner Resorts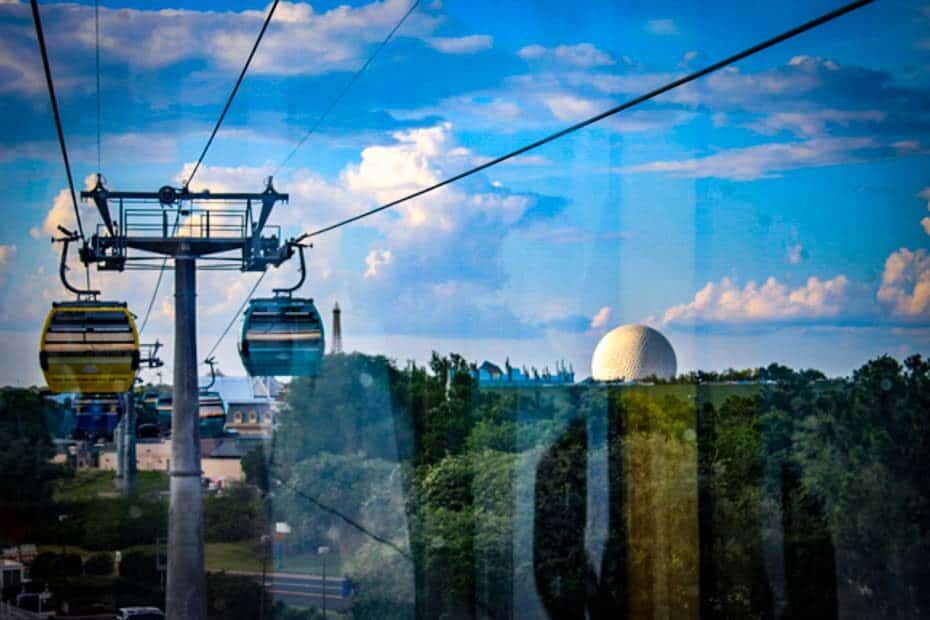 The Crescent Lake portion of the Epcot Resorts area provides Friendship Boat transportation. The Friendship boats run daily between Epcot, Beach Club, Yacht Club, Boardwalk, and Hollywood Studios. They also make stops at the Swan and Dolphin.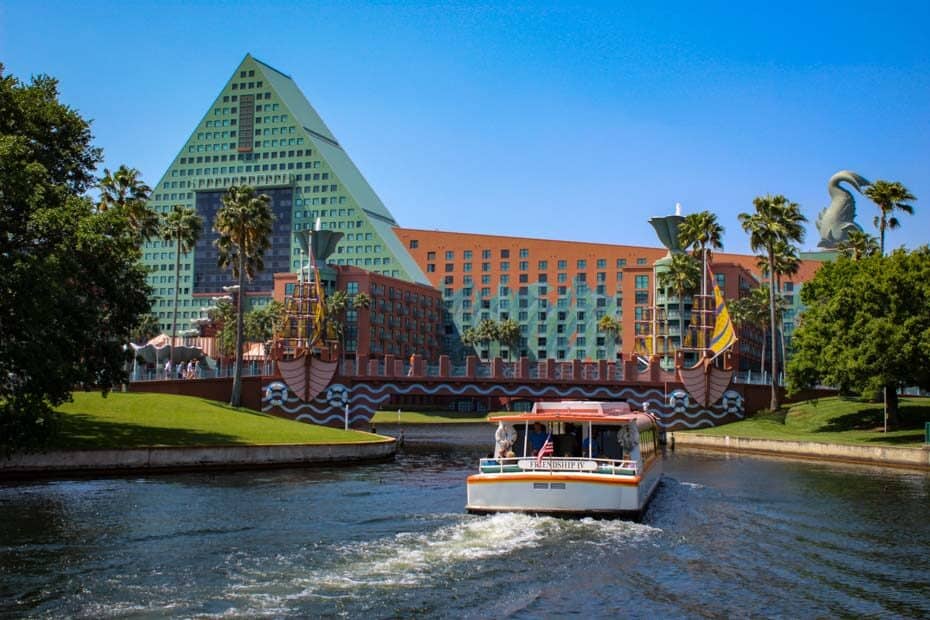 But the main benefit of this area, again, is the ability to walk to the parks. Below is a look at the pathway to Hollywood Studios.
And here is a view of the Hollywood Studios Tower of Terror in the early evening. I was standing in about the same spot as the picture above and facing the opposite way when I took this image.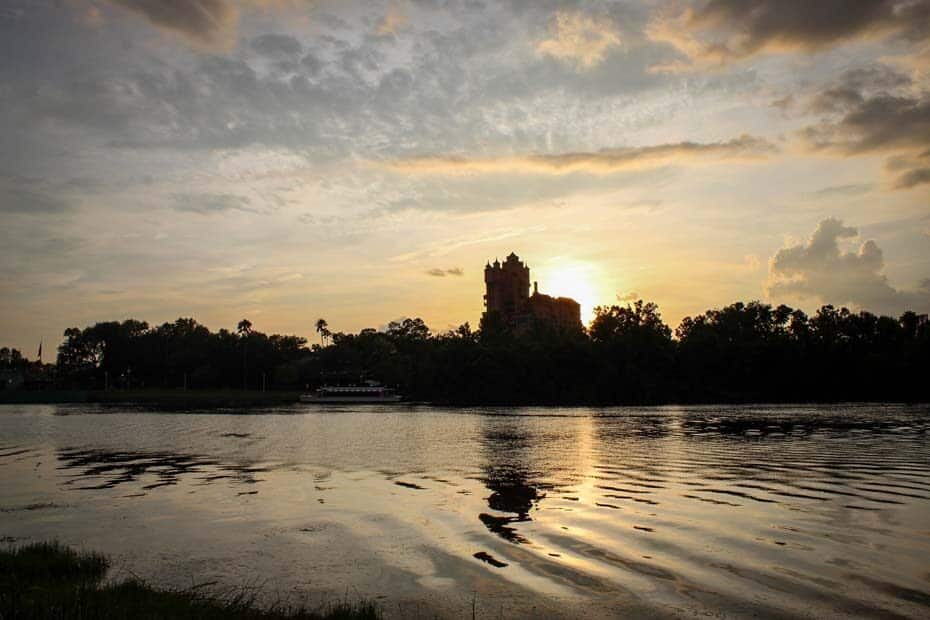 In all of my Epcot Resort reviews, I usually mention how this walk between the parks and resorts provides a much-needed space to decompress.
Guests traveling to Magic Kingdom, Animal Kingdom, and Disney Springs from any of the resorts near Epcot, will need to use Disney bus transportation.
Epcot Resorts Recreation
There are several forms of recreation in the Epcot Resorts area available for any guest. For instance, they have swan pedal boats at the Swan and Dolphin.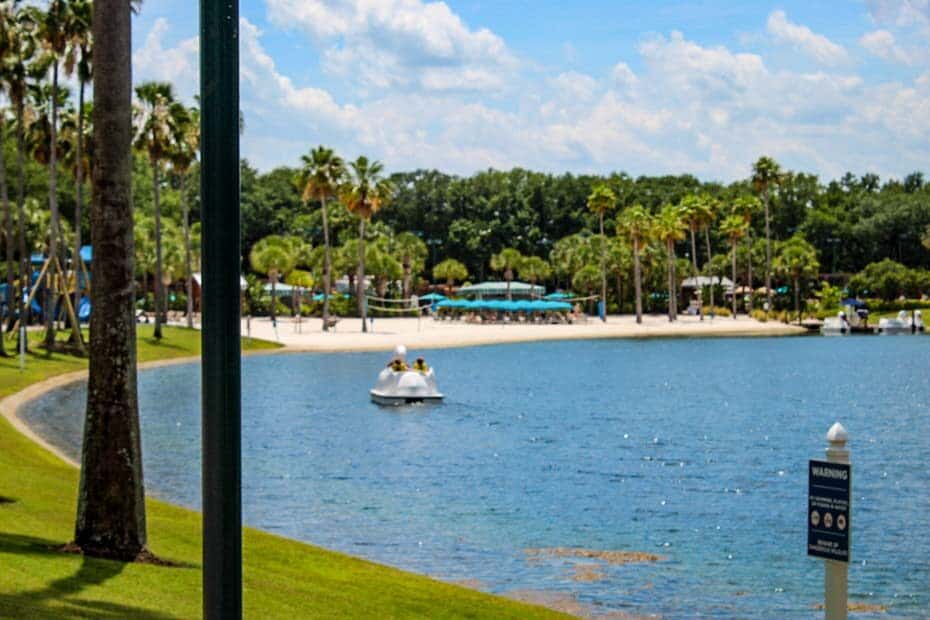 They always look fun, but I can't say I actually recommend them. Sometimes I see them in the distance while standing on the bridge between the Boardwalk and the Swan & Dolphin resorts.
Have you ever actually ridden in a pedal boat? I did with my parents on vacation at Hilton Head Island one time, and all I remember is–Never Again.
Those types of memories are actually kind of funny. I sometimes have the temptation to try one of these to see how hard they are to pedal.
About that time, I'm usually standing on that bridge, and one of those Surrey bike rentals tries to pass me by. (These are available to rent on the Boardwalk.)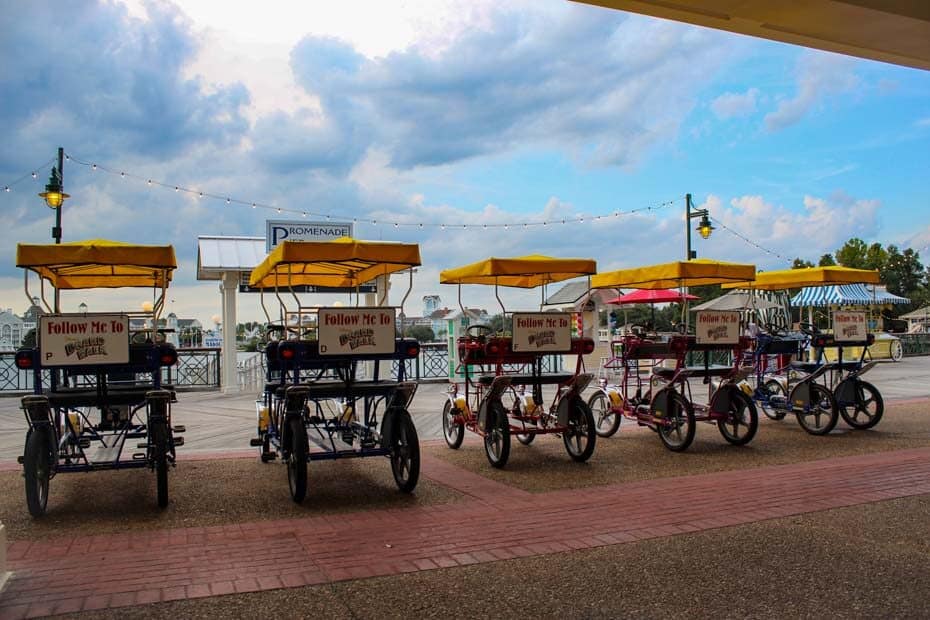 By tries, I mean they are coming up the little hill on the bridge and have to stop because they lose their momentum. Typically the main drivers (aka parents) have to get out and push themselves the rest of the way up.
That's when I make a little note to myself that at least they can get out and push. You can't do that on a swan pedal boat.
But my favorite form of recreation in the Epcot Resorts area is taking a long walk or jog. I know I mentioned this already, but I can't stress enough how peaceful taking a stroll around this area really is.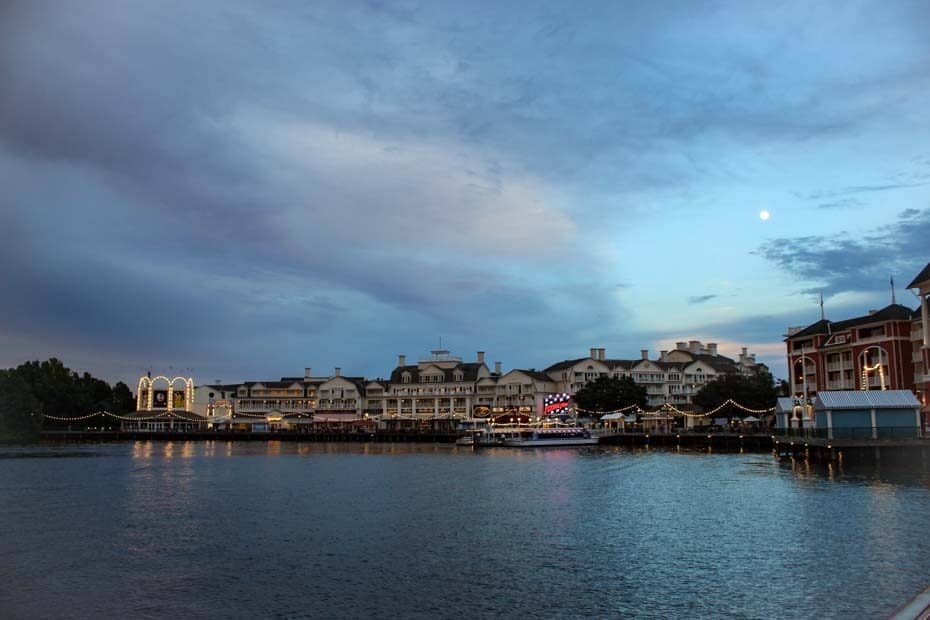 You won't regret it unless you wear inappropriate shoes and wear blisters on your feet or something. I cannot help you there.
If you have any interest in jogging at Disney, this is a great place to start. Sometimes I park at Hollywood Studios and do my warm-up walk over to the bus stops from the parking lot. The pathway to the Epcot Resorts begins right behind the Hollywood Studios bus stop.
From there, you can jog or walk all the way to Boardwalk. Then circle past the International Gateway, Beach and Yacht Club, and on the full circle to the Swan and Dolphin.
At a slow pace, it takes me about 40 minutes to make this full run. It's a wonderfully safe place to log some miles and take in the exquisite scenery.
Final Thoughts on the Epcot Resorts
Thanks for reading along today and allowing me the indulgence of sharing my Disney home with you. For me, the sun tends to shine a little brighter while I'm in this area.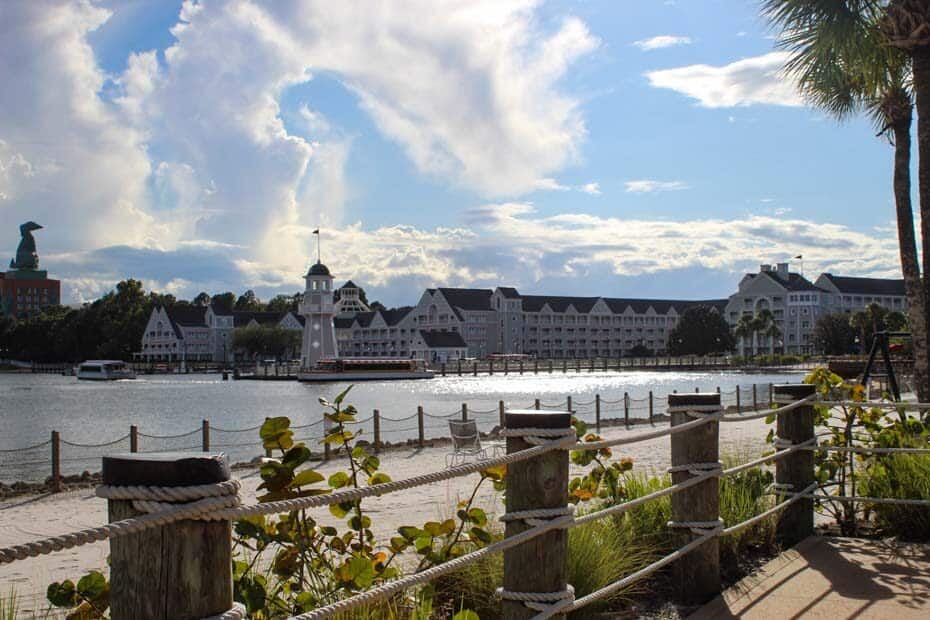 And if it happens to be stormy, look for me inside. I'll probably be hanging out somewhere in those long hallways between the Yacht and Beach Club. Trying to decide if I want Crew's Cup, a patty melt, or maybe skipping straight to ice cream.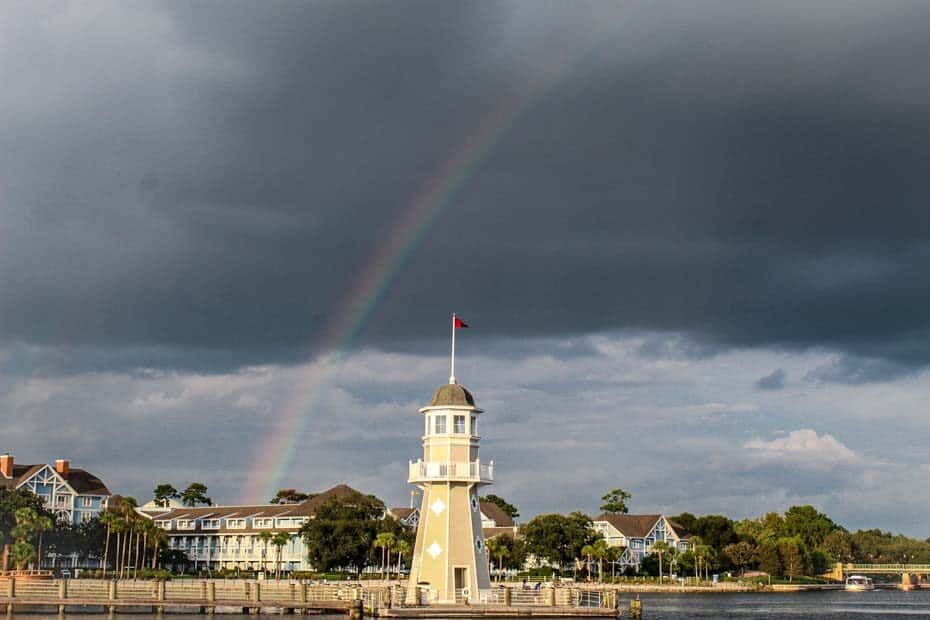 You really never can tell! And that's what makes life a little easier in the Epcot resorts area. There are plenty of options!
As always, our friends at Firefly Travels would be happy to assist you in reserving your next Disney vacation. You can fill out their contact form here for a quote.
If you are interested in touring more resorts make sure to check out some of our other reviews:
Or you might enjoy reading our Magic Kingdom Resorts article which covers all of the hotels in that area. Feel free to browse every single Disney World Hotel Review we have available. This will help you narrow down your choices for a resort.
Please leave me a comment and share your thoughts on these popular resorts and hotels near Disney's Epcot.