A Visit to the Imagination Pavilion at Epcot
If you have ever visited Epcot you are probably familiar with the different pavilions and layout of the theme park. One of the most classic and original pavilions is still around today and is known as the Imagination Pavilion.
The Imagination Pavilion is located in the Future World area of Epcot. Inside you'll find a variety of things to do including the signature ride, Journey into Imagination with Figment.
Figment is somewhat considered the mascot of Epcot, he's the little purple dragon you'll see referenced in the park.
Additionally, there is a character meet, play area (Image Works), and retail store. Of the three pavilions in this area, the Imagination pavilion probably offers one of the best places for children to burn off some steam for a little while.
Imagination Pavilion in Future World
The Imagination Pavilion is in Future World West. If you enter through the front of the park it will be toward the right-hand side. In the Future World West area, you will find the Imagination Pavilion, the Land Pavilion, and the Seas Pavilion.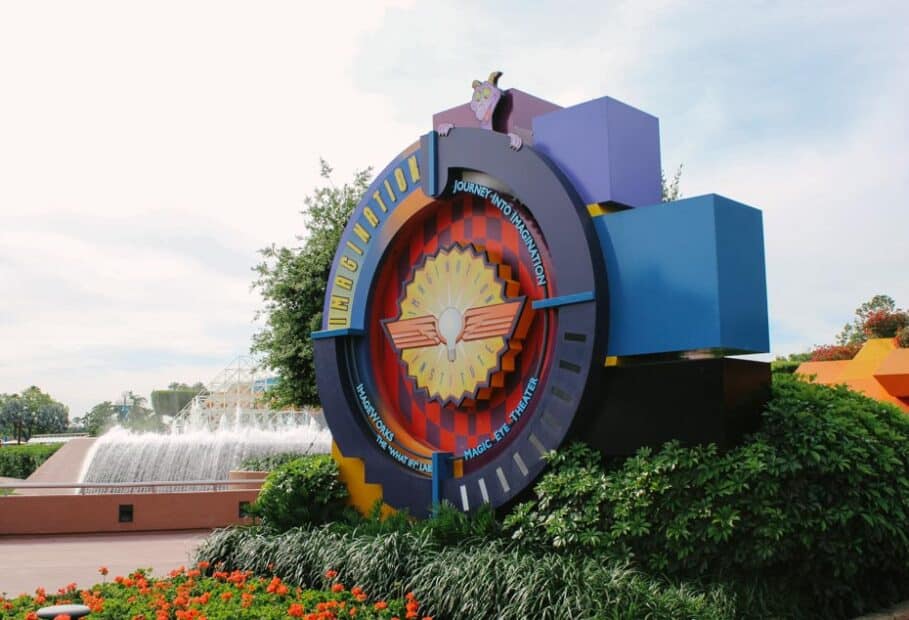 Once you enter this side of Future World, The Land is in the center area and the Imagination Pavilion will be to the left. As you can probably tell from the picture below, it's quite the landmark. You can't miss it.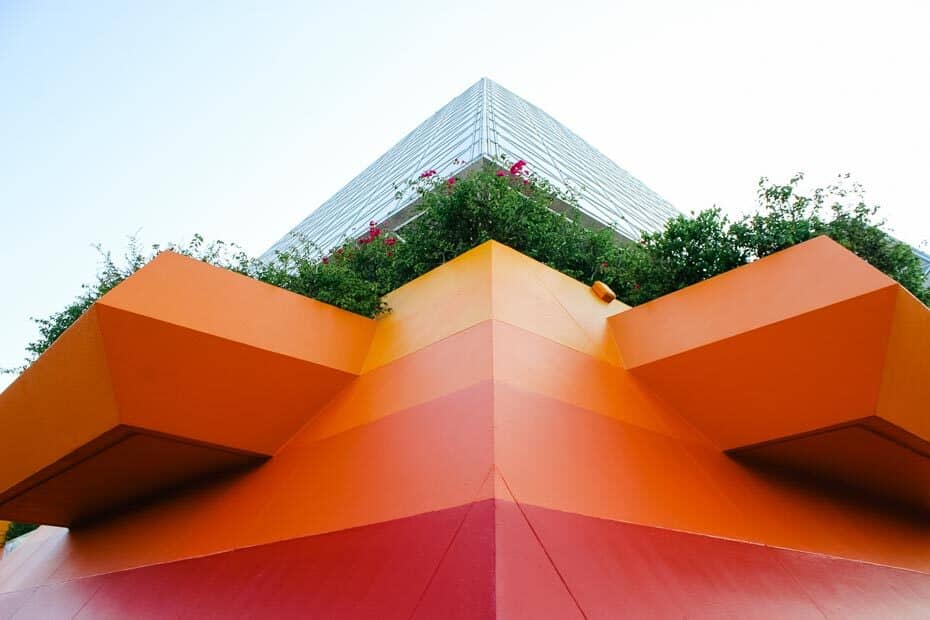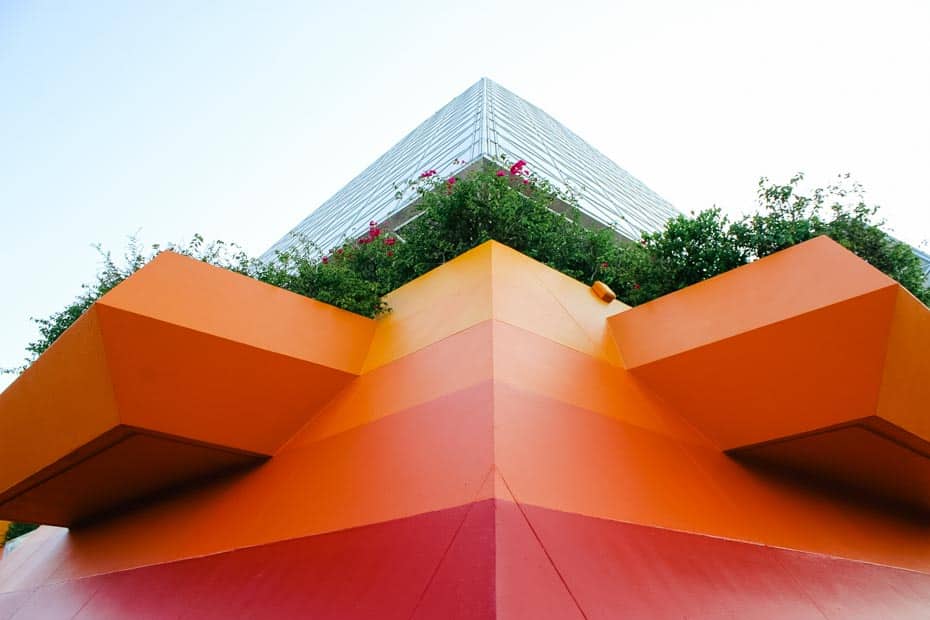 The Imagination Pavilion is a rather large triangular-shaped structure with mirror tiles that reflect light and clouds. Even though this building is older it is really something unique to see. The base is painted in bold reds and oranges with a blue break in between. The shrubbery that encompasses the decking really compliments the building.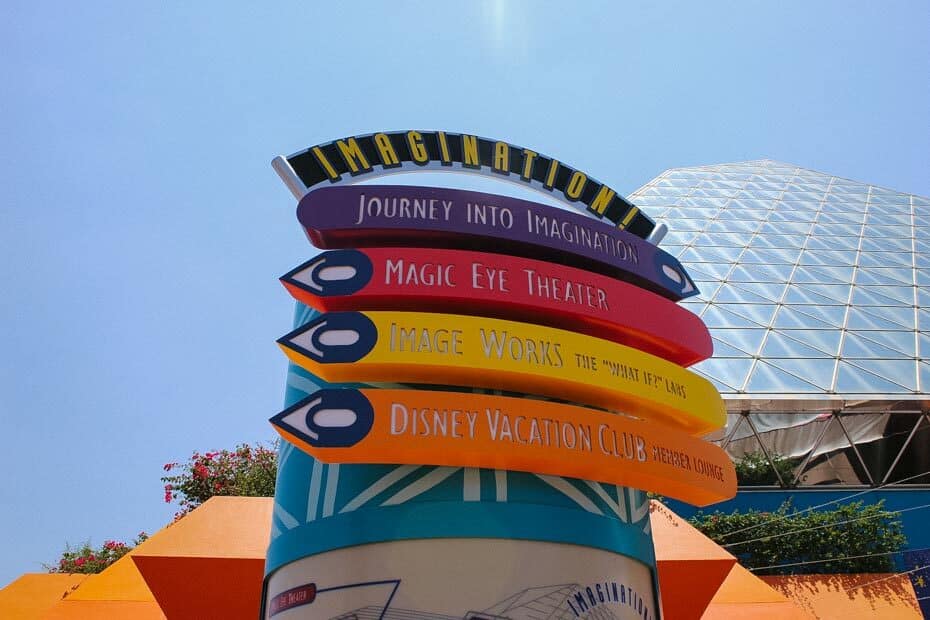 This colorful sign in the photo above sits right out front indicating what all can be found in the Imagination Pavilion.
Imagination Pavilion Fountain
This is one of my favorite buildings to photograph. Especially at night time. The pavilion lights up in different shades of pinks, blues, purples, and greens. The fountain features bright bursts of sunshine colors.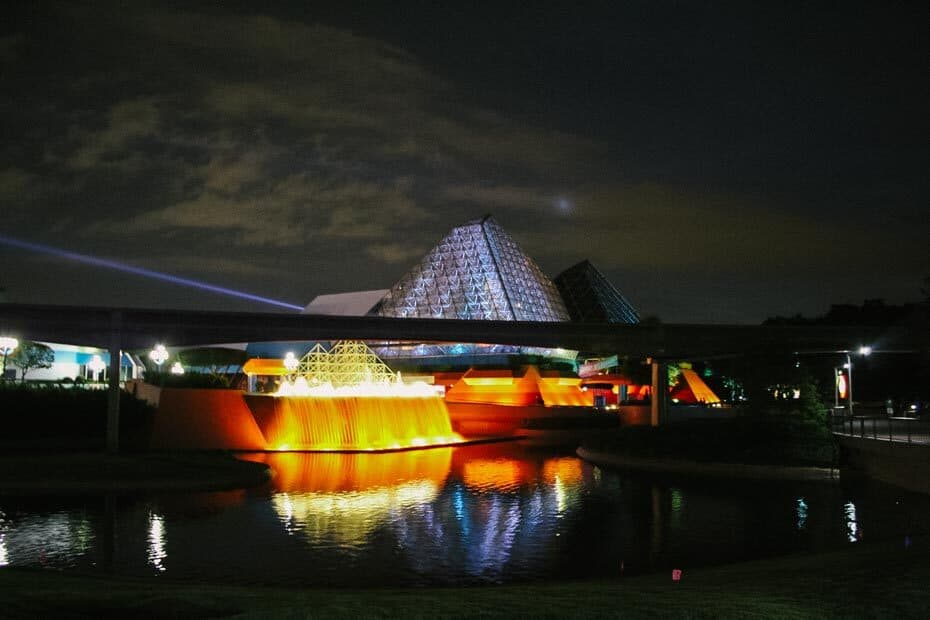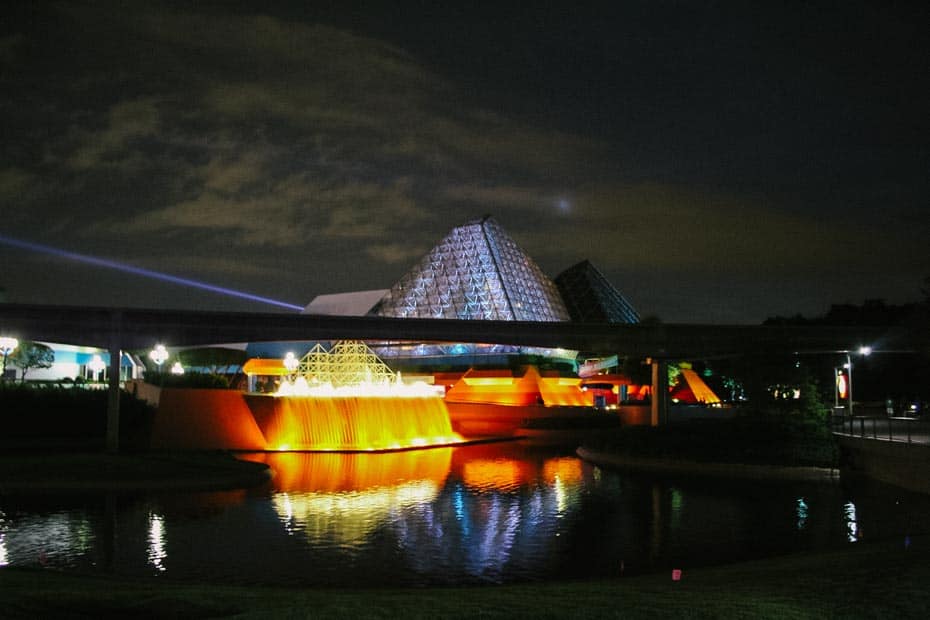 Different light projections offer beautiful views against the black sky backdrop of nighttime.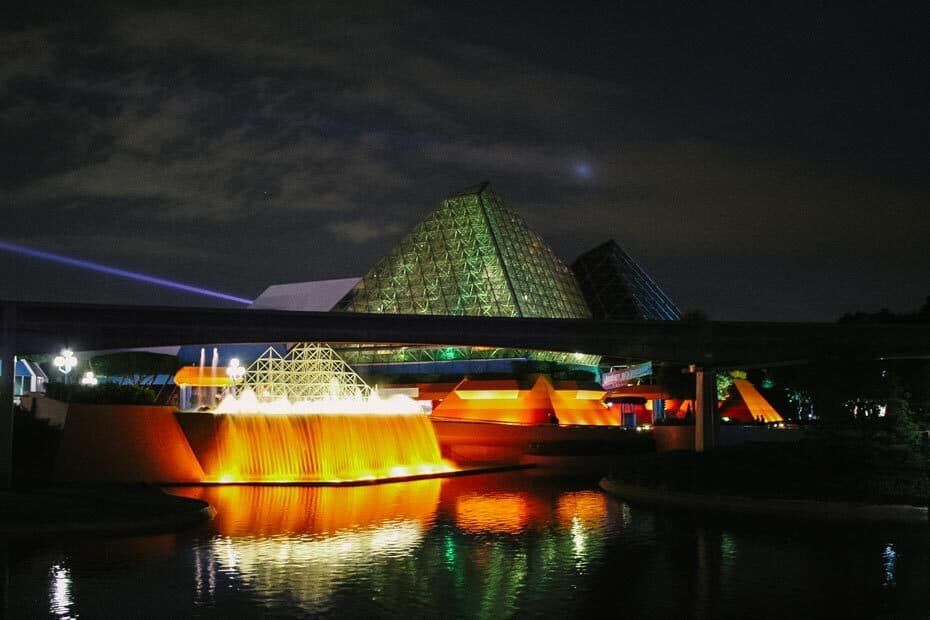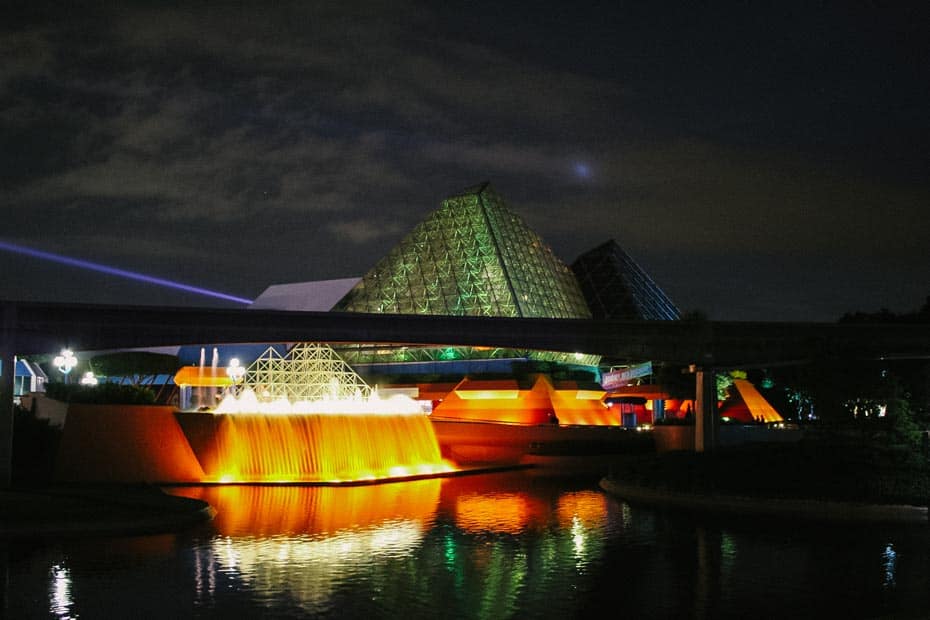 The fountain flows "upside down." If you spend just a little time around the Imagination Pavilion you will find a lot of things tend to wind up–upside down. That's probably why I love this place so much. I tend to find my life upside down the majority of the time.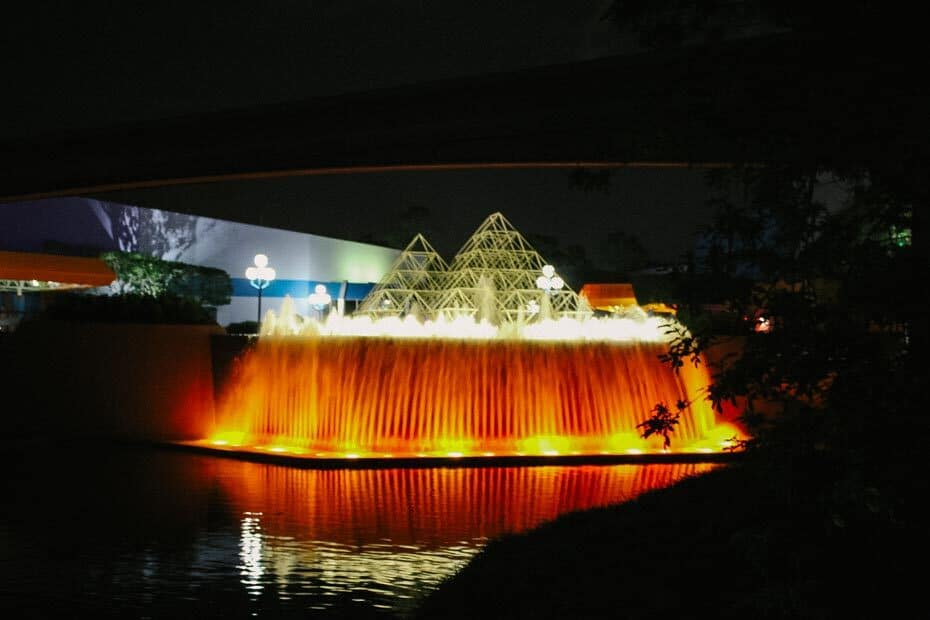 The fountains below are called Leaping Frog fountains. They are on the backside of the upside-down fountain and there are walkways between them.
You will also encounter them when you exit the Imagination Pavilion. They are a lot of fun to watch and run underneath. The water leaps from one fountain to the next in a little routine.
If you look close, below, you can kind of see where I caught the water jumping in mid-air. I spend a good amount of time up here.
There are a few benches around and it's a nice place to take a break. I doubt you will ever find much of a crowd in this area.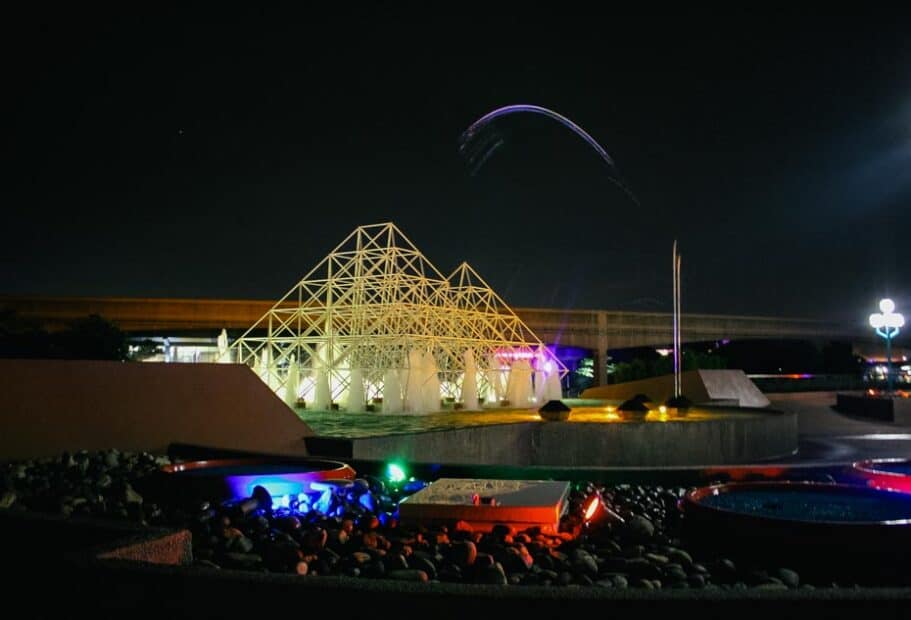 Journey Into Imagination with Figment
Journey into Imagination with Figment is a slow-moving ride that is somewhat classic to Epcot. The attraction has had a few updates over the years. It's really quite cute and children tend to enjoy it much more than you will probably expect.
It's also an attraction that accommodates even the smallest of children. There are no restrictions, making for a good family ride. If you want there is an option for Genie+ at Journey to Imagination but in most cases, you won't need one.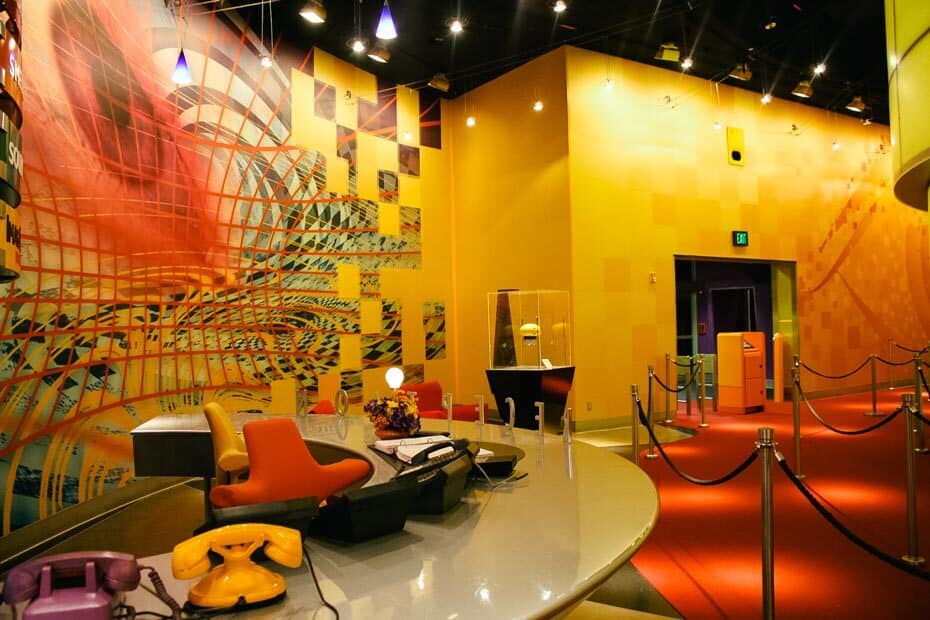 Above is a look at the queue. It features fun, vibrant colors to stimulate your Imagination!
Along your way, you'll encounter Figment and a few of his mischievous pranks.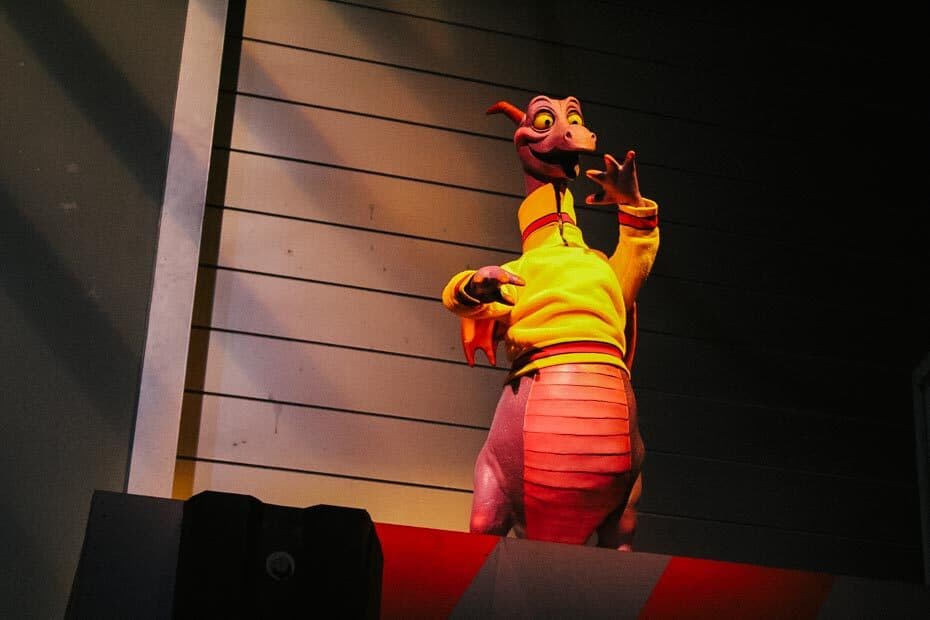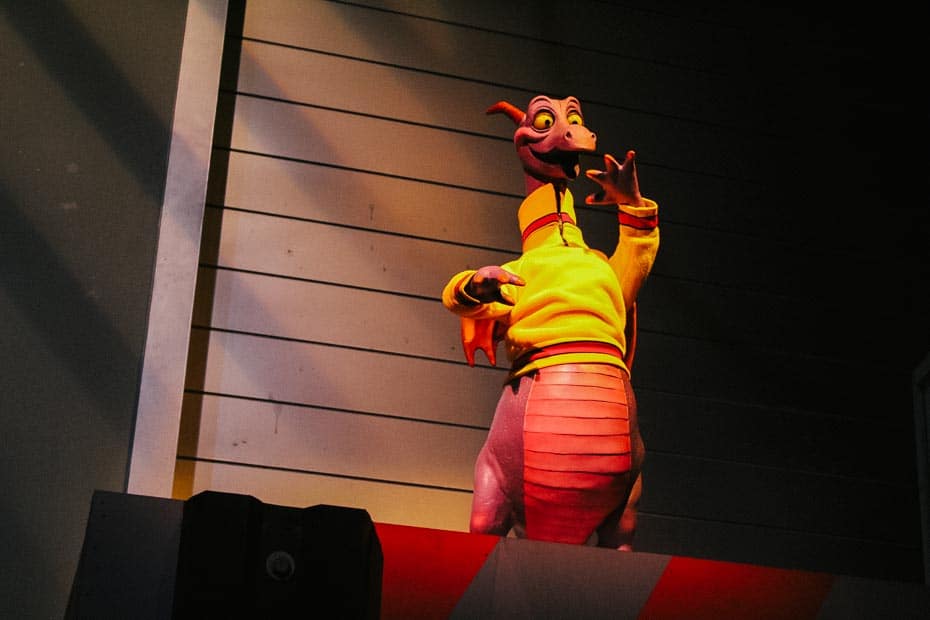 Like upside-down Figment! I personally enjoy watching movies and eating my popcorn upside down. Don't you?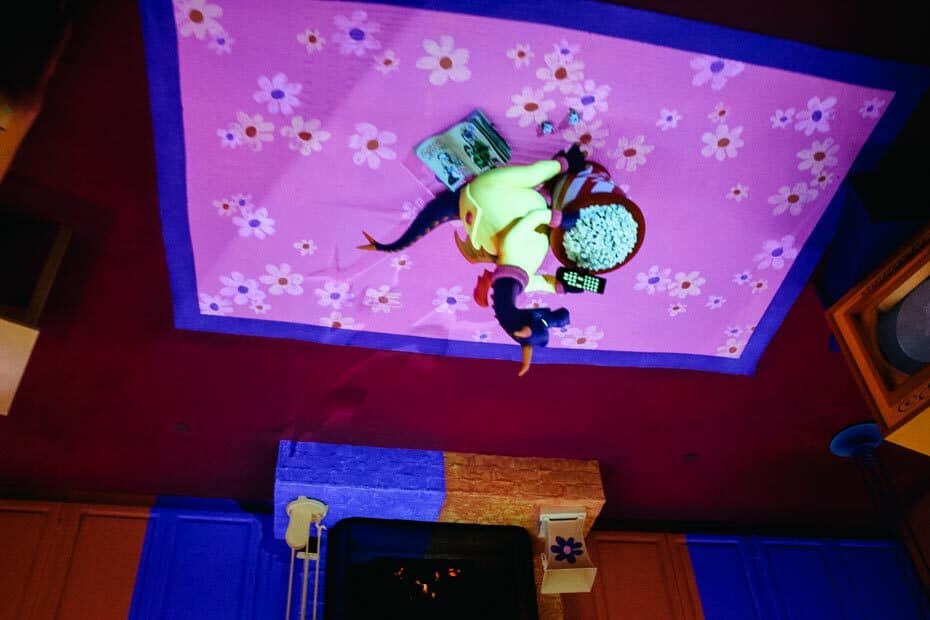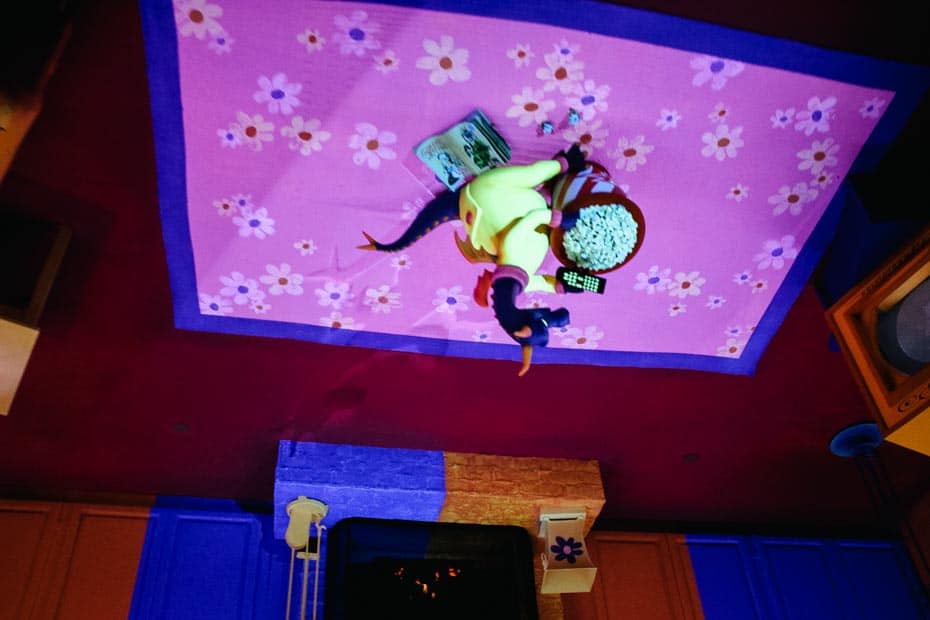 Right before I sneak into the fridge for a late-night snack!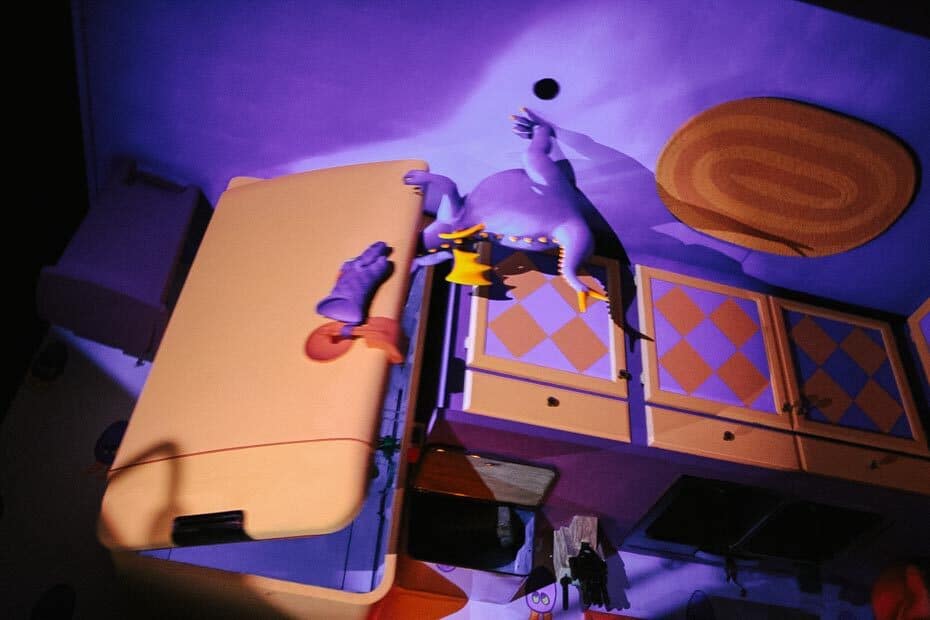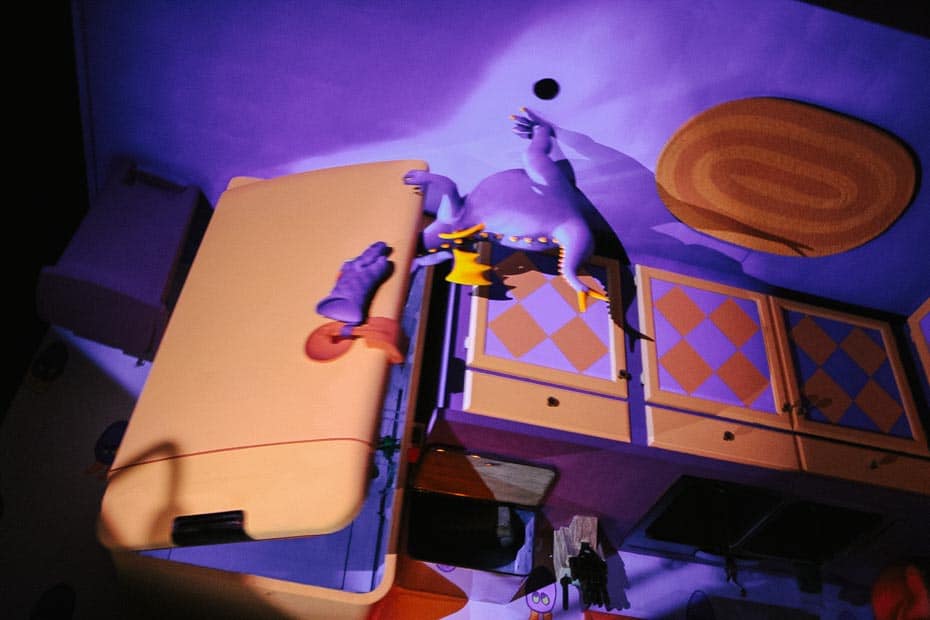 The end scene is rather lovely.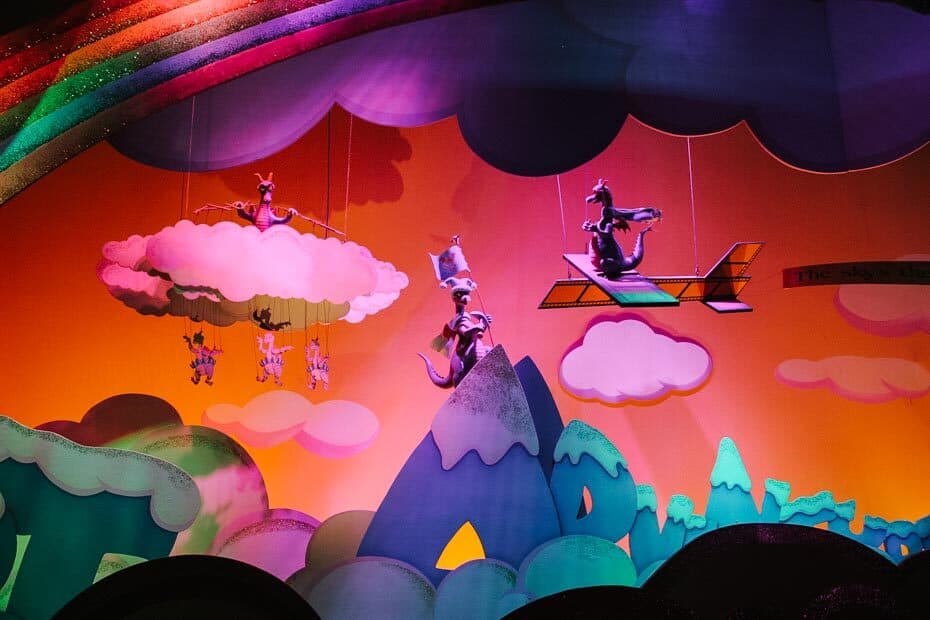 Related: Journey Into Imagination with Figment
Image Works Lab
After you exit the ride you will find yourself in the Image Works Lab. This portion of the pavilion is great and offers children a wonderful play area.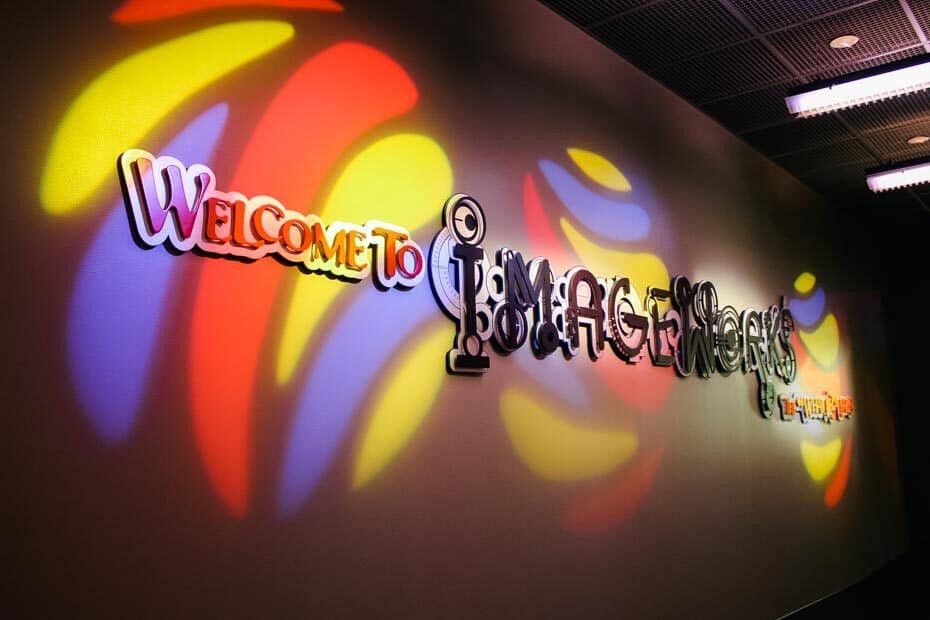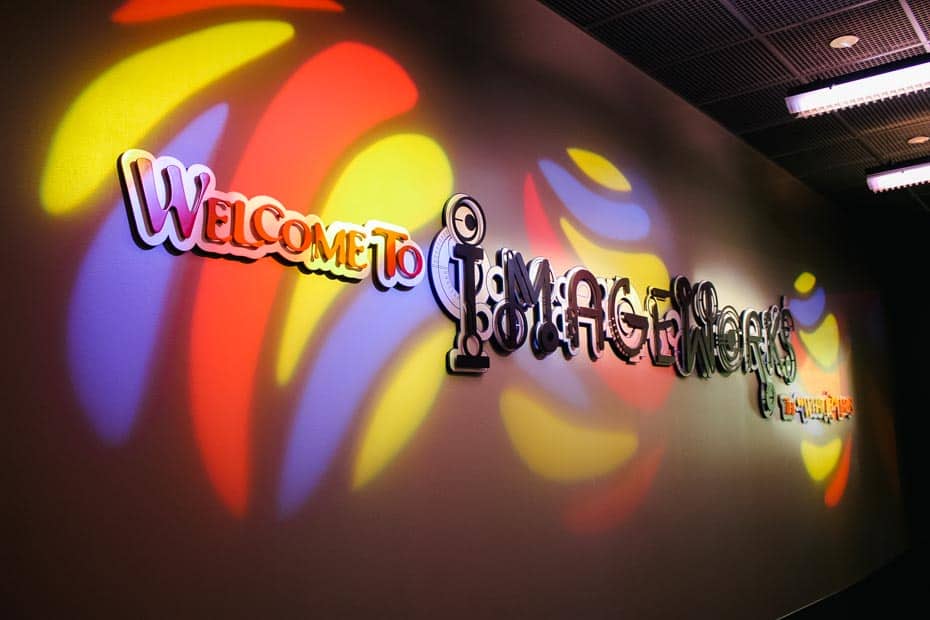 The Image Works Lab offers some fun spaces that include music conducting and other activities. All you have to do is step right up and wave a pretend conductor stick in the dedicated area. Before you know it you'll be directing your own orchestra.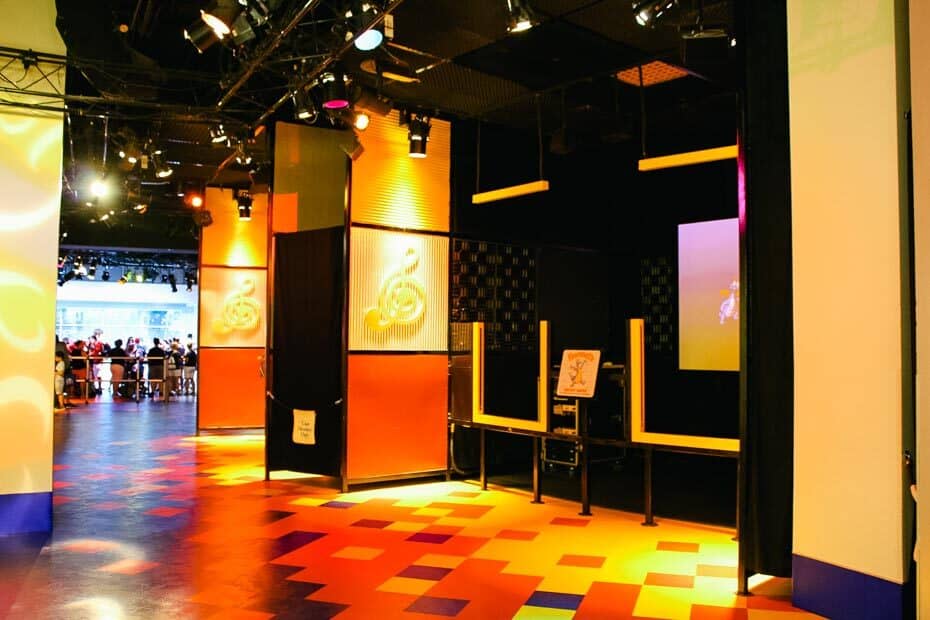 Don't worry Figment is there to help you!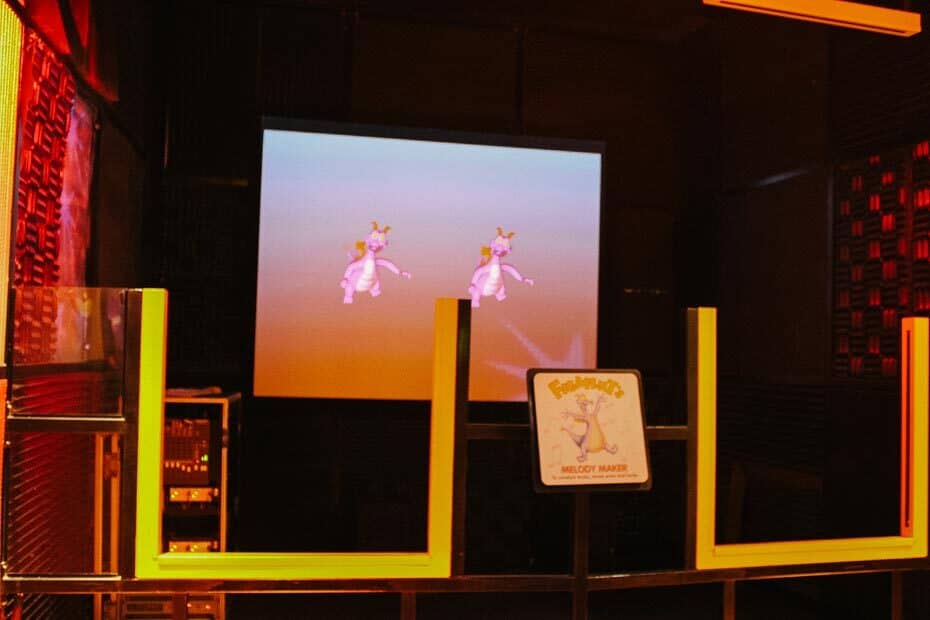 Then you might try your hand, or feet, at making some more tunes by jumping from block to block.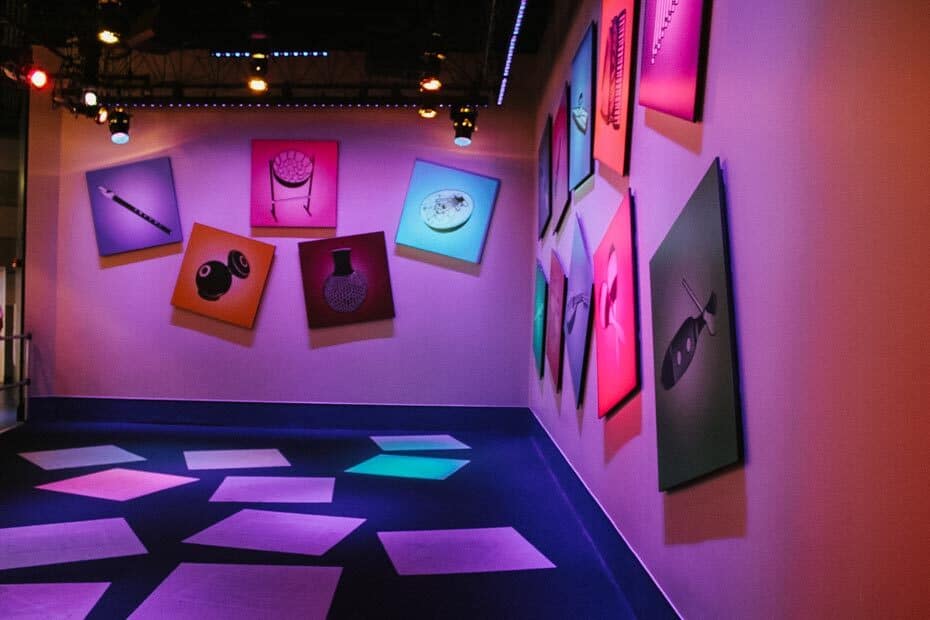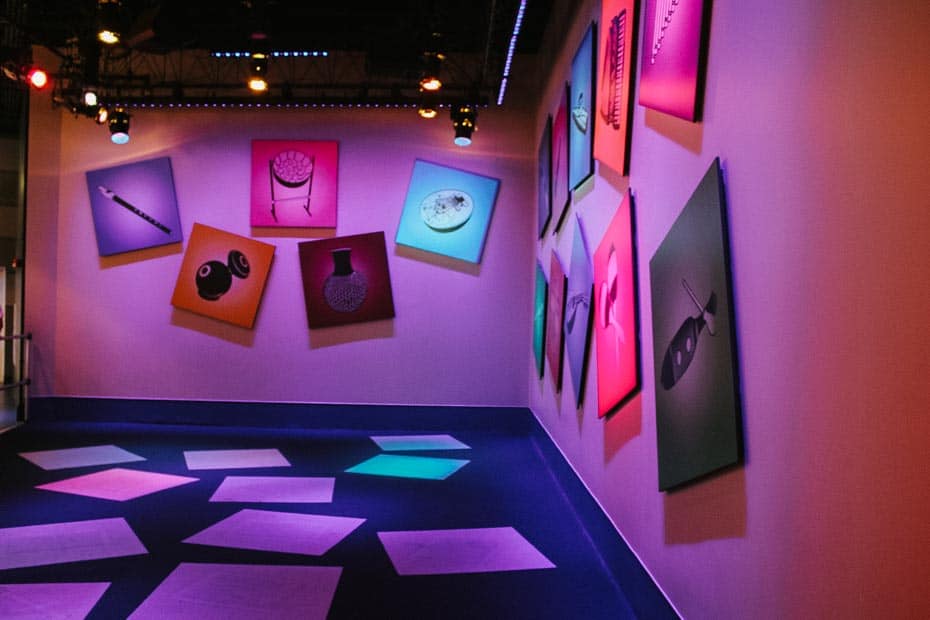 There are a few more interactive games to play in the Image Works area as well before or after meeting a few characters.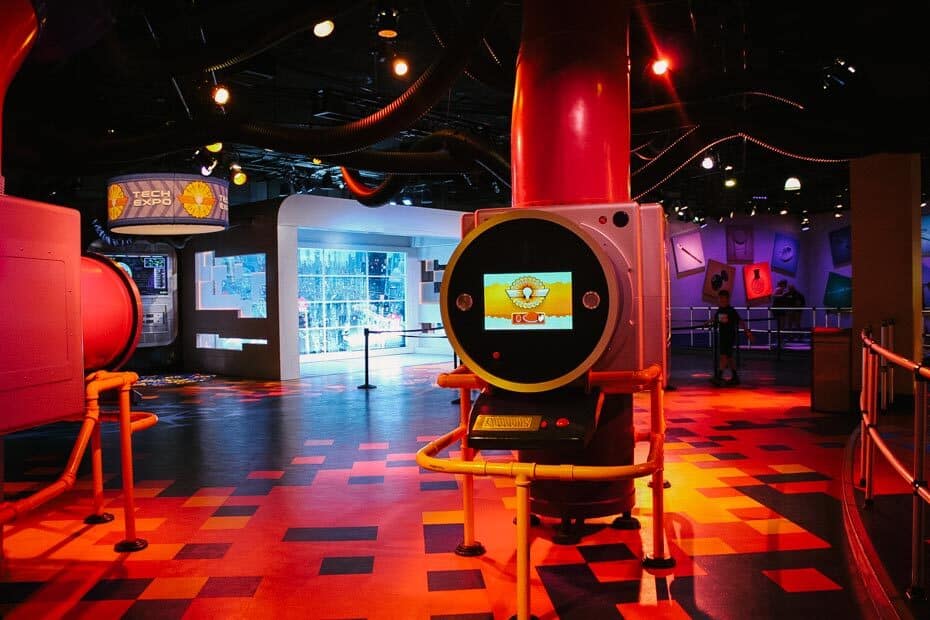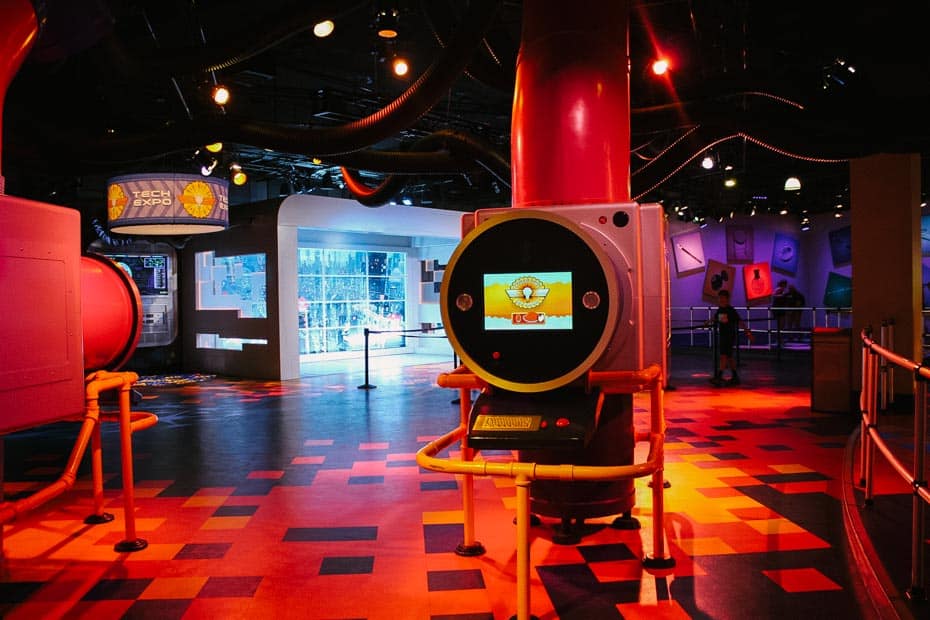 Next, in the Imagination Pavilion, we have the Wreck-It Ralph character meet.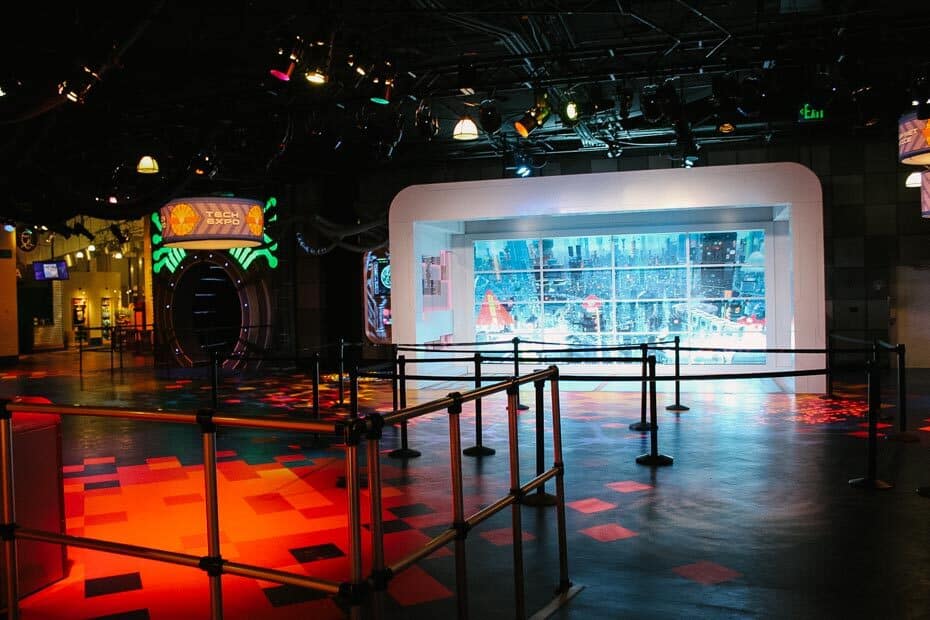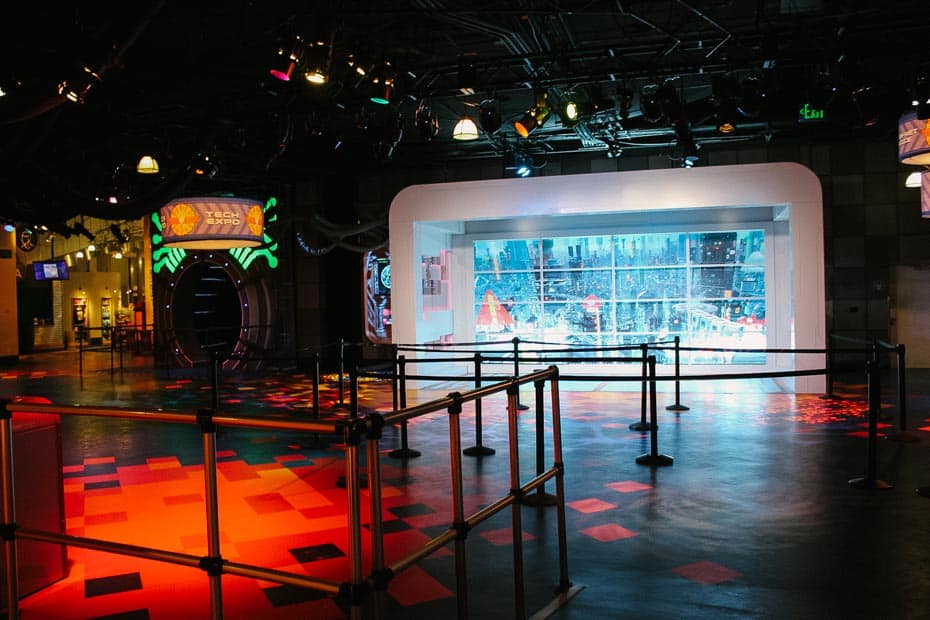 I have a full review of the meet, including a video of Ralph and Vanellope Von Schweetz visiting the internet. Make sure to check the My Disney Experience App for exact meet times on the day of your visit.
Related: Meet Ralph and Vanellope Von Schweetz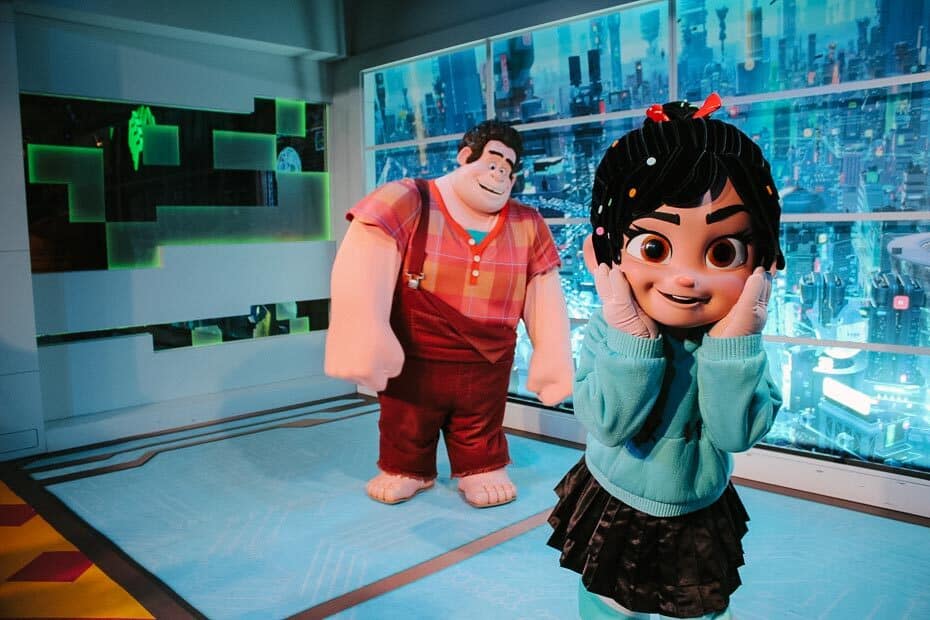 Joy from Inside Out has also recently moved to this area. You might be able to meet her here as well.
Related: Meet Joy from Inside Out at Disney World
Before you exit the Imagination Pavilion there is a retail area full of Figment merchandise. They have shirts, purses, art, and plush among other items. You might want to pick something up that features your favorite Epcot mascot.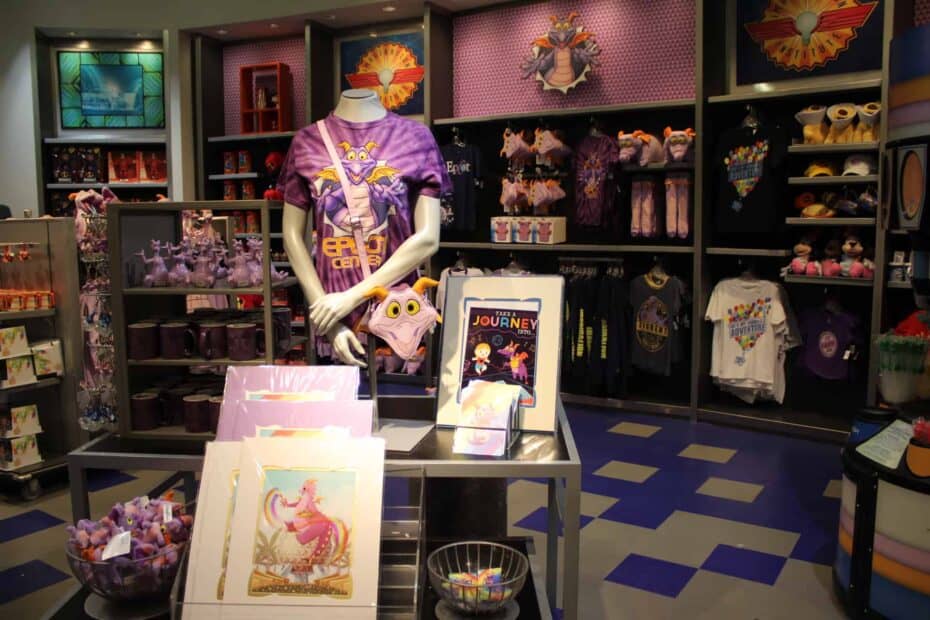 Additionally, you'll find a few candy and snack options in the area as well.
This photo opportunity is also available for an additional fee.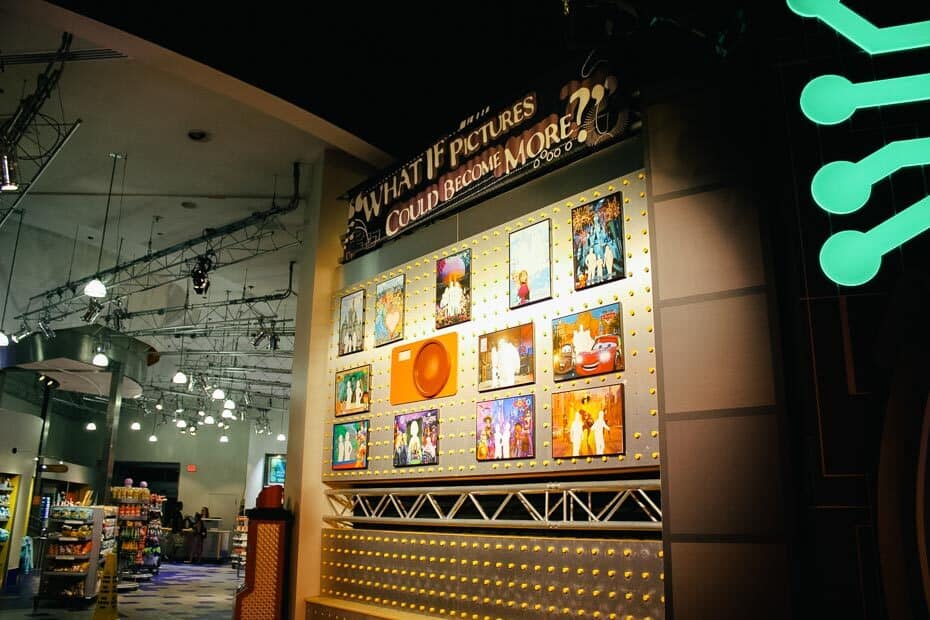 It's one of those where you pick a background and character theme and receive a printout. I haven't had the chance to do this one, but it looks like fun if you are into that sort of thing.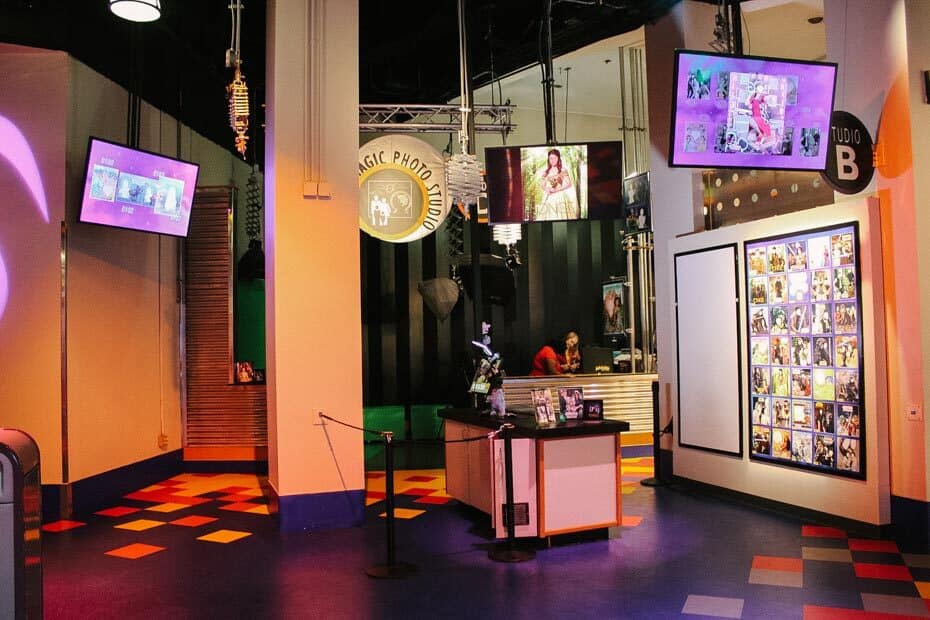 Pressed Penny Machine in the Imagination Pavilion
For all you collectors of pressed pennies out there, don't forget to pick up a few!
I am pretty sure I have all of these but make sure to check because they do change out from time to time.
Disney Pixar & Short Film Festival
Right outside of the main pavilion you will see the Disney & Pixar Short Film Festival to your right. The cartoon shorts that are playing will show up at the top of the sign.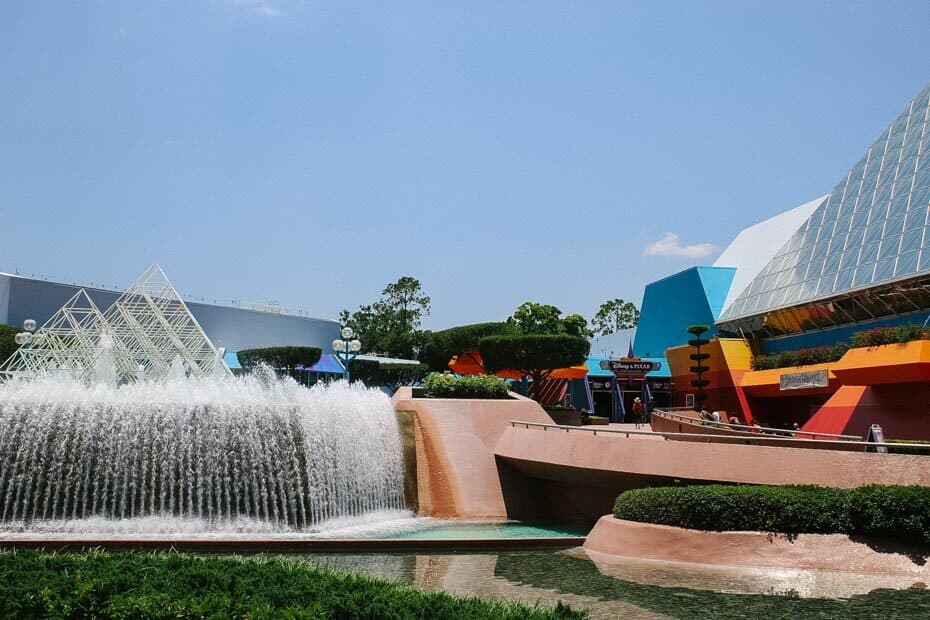 Finally, if you have a Chase Disney Visa card you can visit this special character meet while in the area. Again, this is only available to those that have the Chase Disney Visa and you must show it for entrance.
Related: Disney Pixar and Short Film Festival
In 2022, Mickey Mouse is meeting in this area, read more here.
Final Thoughts on the Imagination Pavilion
In conclusion, the Imagination Pavilion is a great way to slow down your day when you need a break. If it's raining you can easily spend an hour doing the ride, play area, character meets, and browsing a little merchandise.
The pavilion is very close to the Pixar Film Festival. There you can kill another 20 minutes or so watching cartoons in an air-conditioned theater.
The other perk of this location is that it's next to The Land and The Seas which also offer similar layouts and a variety of interior things to do. Epcot is my favorite park for a rainy or super hot day because of all the interior attractions.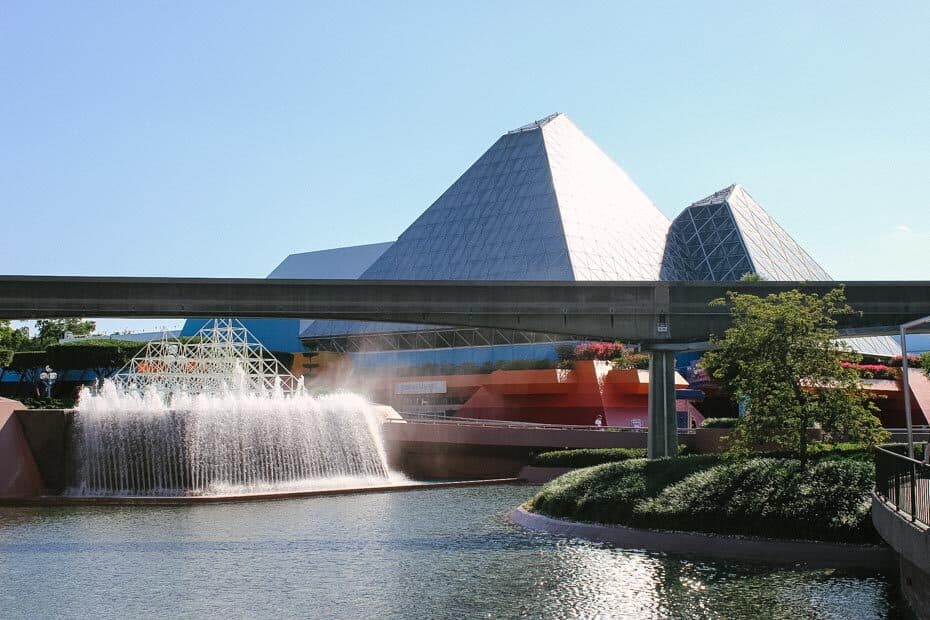 Resorts Gal specializes in providing information about the different resorts at Disney. You can view the full list of Disney World Hotel Reviews. These other resort reviews in the Epcot Hotel area might be of interest to you:
Or you might enjoy these Skyliner Resorts:
Some of our most popular articles include:
Journey into Imagination with Figment is a classic ride and the Imagination Pavilion provides a wonderful place to let kids be kids. If you have any questions or favorite things to do in this area let me know in the comments!