The Gift Shops at Disney's Boardwalk Inn
It's been far too long since we visited the gift shops at Disney's Boardwalk Inn. So before we wrap up our recent coverage of the resort, I thought we'd discuss a few updates regarding shopping at the Boardwalk.
As some of you know, Dundy's Sundries, the lobby gift shop, closed last year to make way for Carousel Coffee. While it's nice to have a coffee shop within the resort, you will have to walk out to the Boardwalk to purchase any sundries or souvenirs.
Along Disney's Boardwalk, you'll find four places to shop. One location is an art gallery. The other three shops sit adjacent to each other with independent names. However, once you're inside, you'll realize the three shops are combined to make one tremendous store.
A wide range of merchandise is available within the gift shops. You might find anything from a t-shirt with the Boardwalk logo to a lollipop the size of your head!
Below, we'll look at each shop, check out a few pieces of resort-branded merchandise, and preview a few sundries and other convenience items.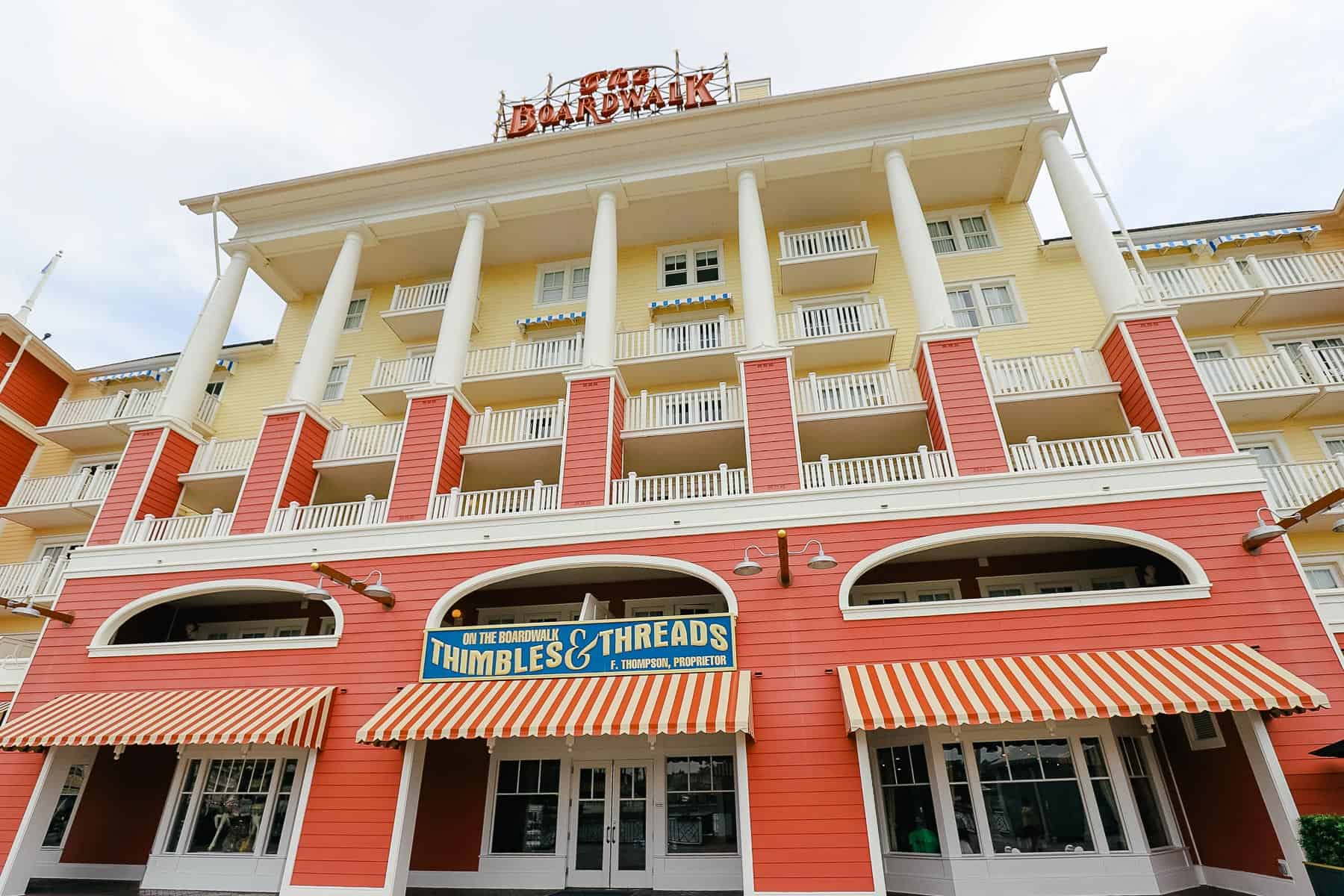 *The photos in this article should provide a good overview of what items you can expect to find during your trip. However, merchandise comes and goes, so every item might not be available during your visit.
Promenade Fine Art Gallery
Our first stop is the Promenade Fine Art Gallery. This gallery opened last year, replacing the former Wyland Art Gallery. The gallery is open daily, and guests are encouraged to step in and preview the various collections. If you are a collector of art, you might like to browse the Promenade's website for more details.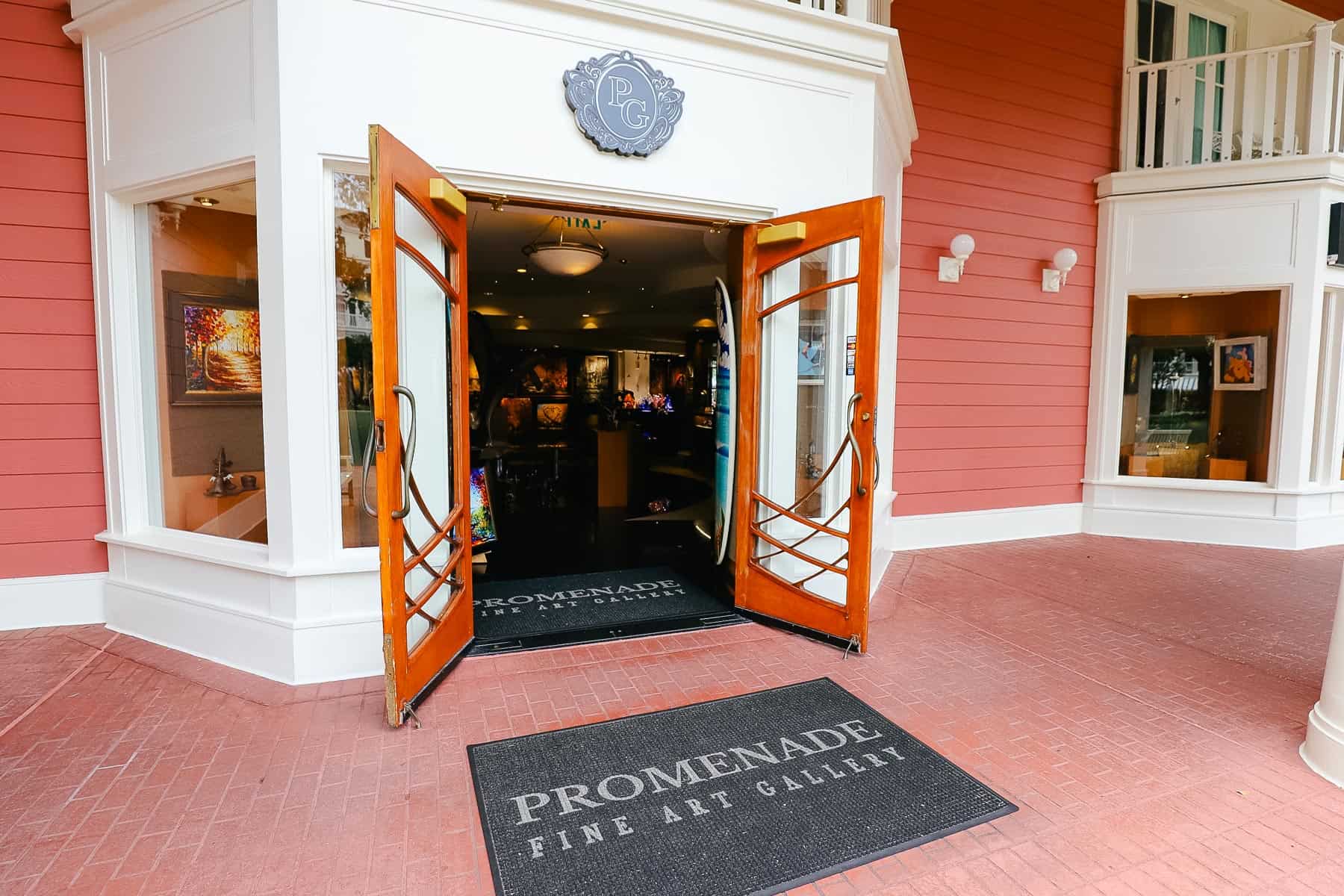 Screen Door General Store
Around the corner from the Promenade, you'll find the Screen Door General Store. It's the first of the three large connected shops.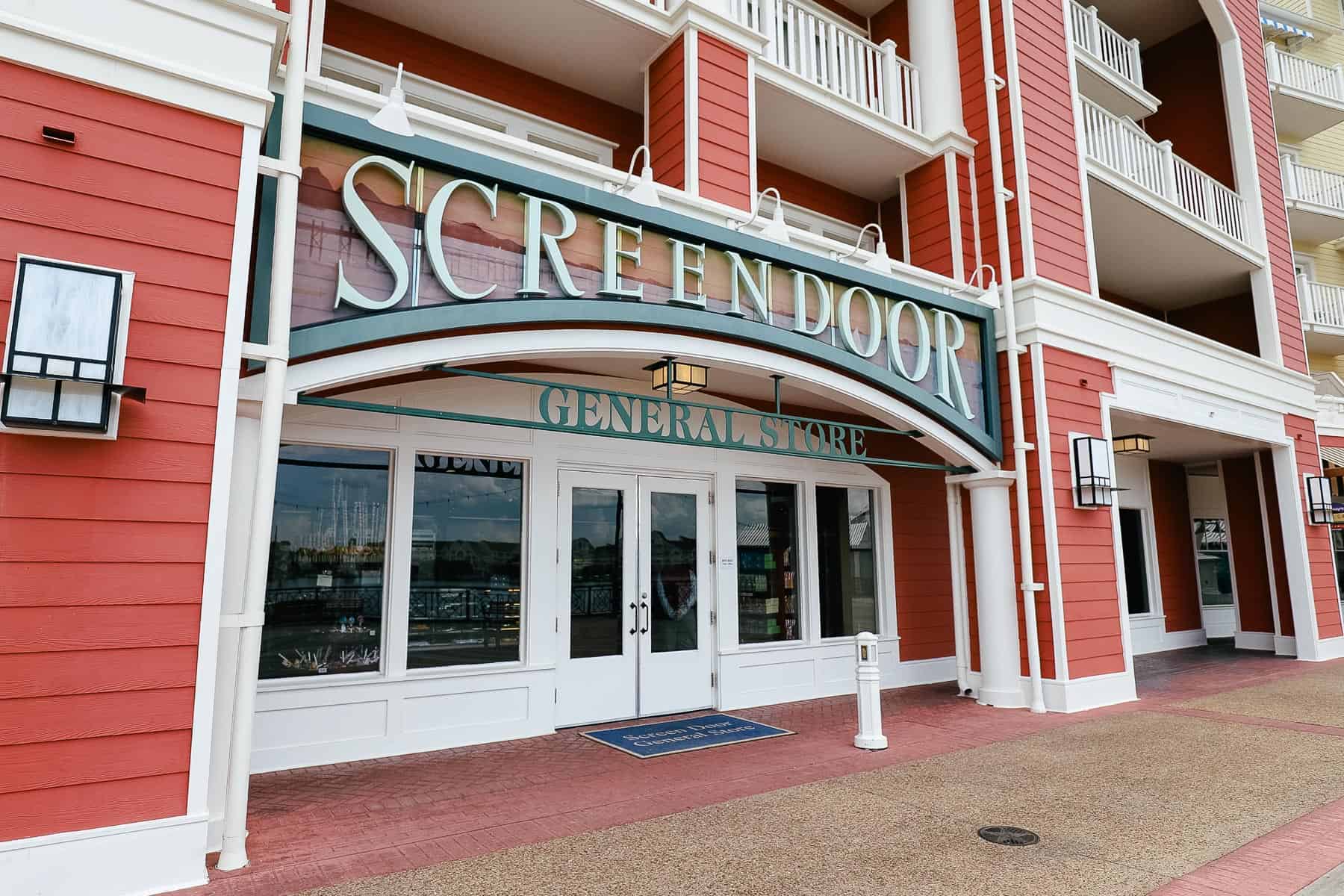 Screen Door is where you'll find groceries, sundries, and other grab-and-go items. Since Disney's Boardwalk is home to Boardwalk Villas, a Disney Vacation Club, the gift shop has a considerable selection of grocery items. For reference, rooms on the villa side of the resort range from studios with kitchenettes to multiple-bedroom units with full kitchens.
Here are the items in the refrigerated case on the far wall.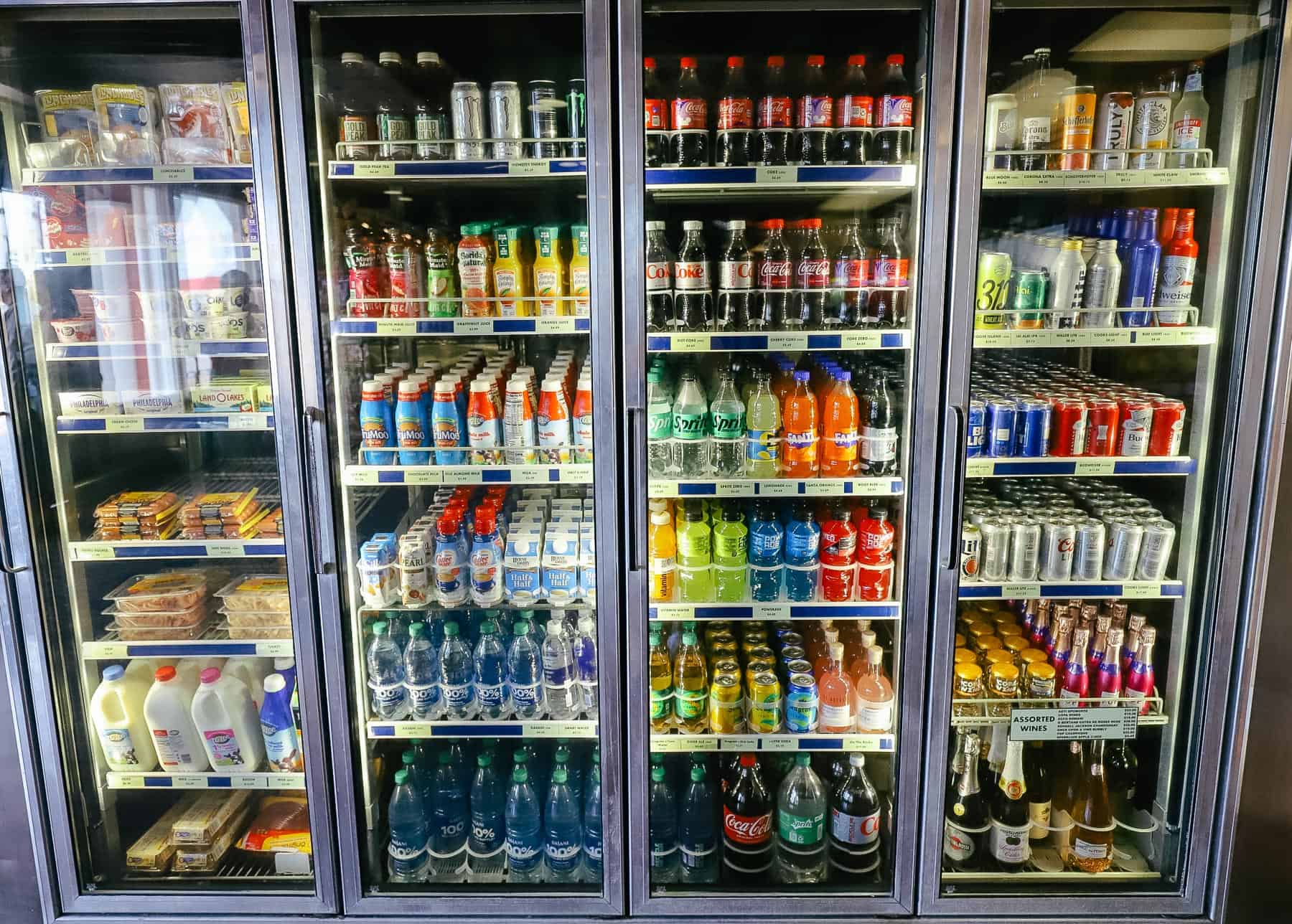 We see things like waffles, frozen pizzas, microwaveable dinners, bags of frozen vegetables, frozen burritos, sausage patties, tater tots, and various ice cream novelties.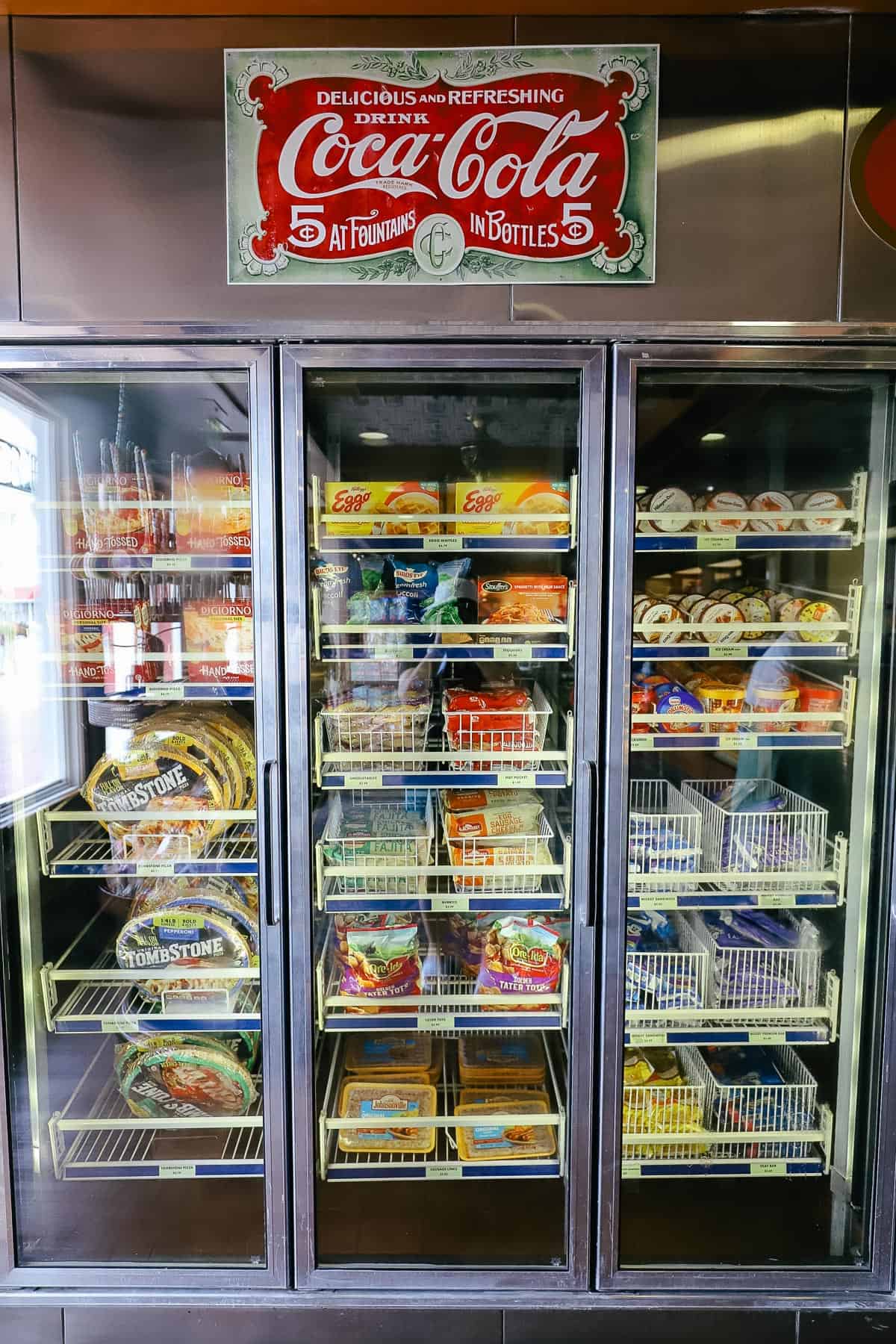 Here's a closer look with some of the prices.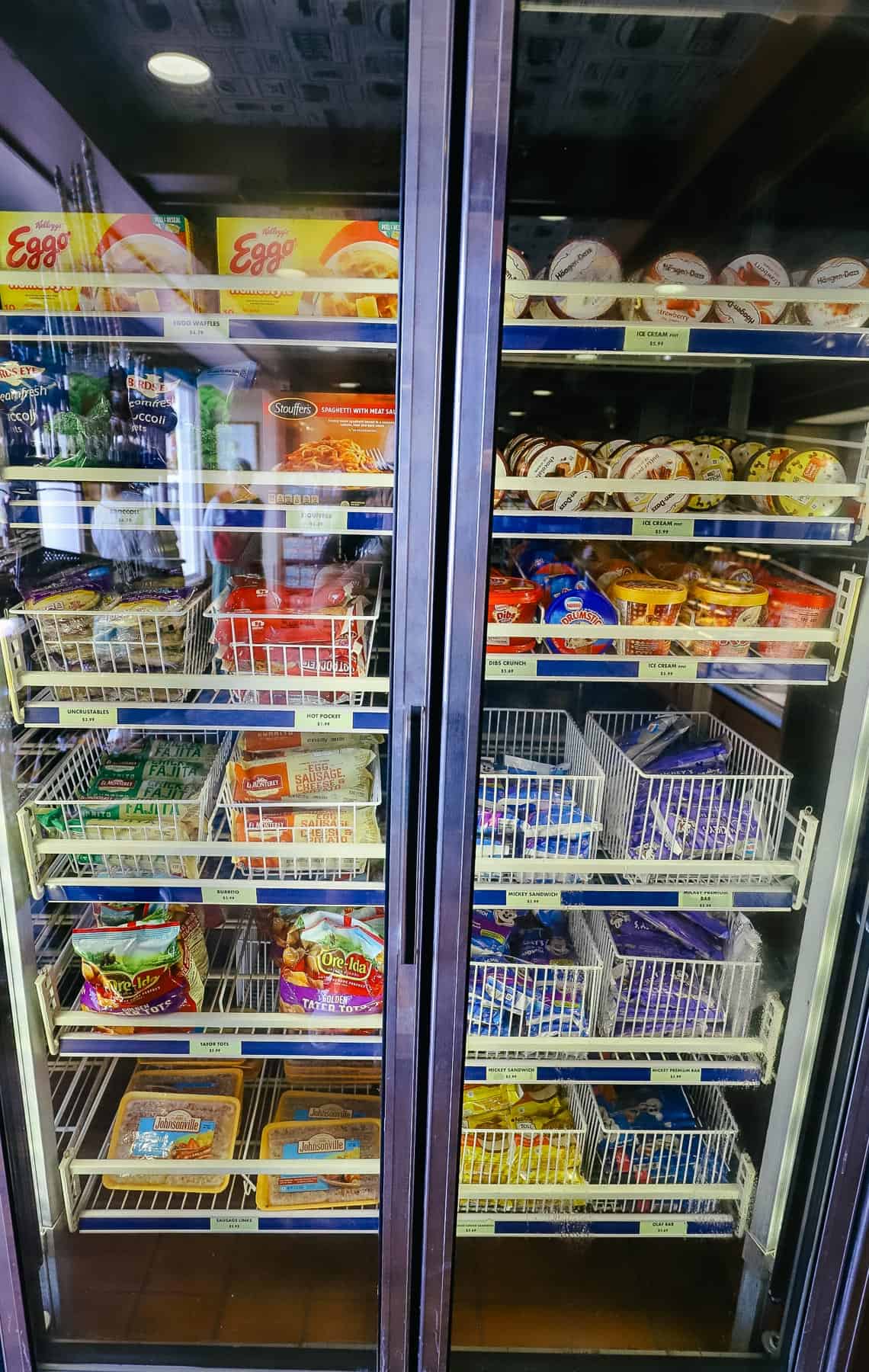 The dairy case on the end had Lunchables, various cheese, yogurt, cream cheese, butter, hot dogs, sandwich meat, milk, juice, eggs, and bacon.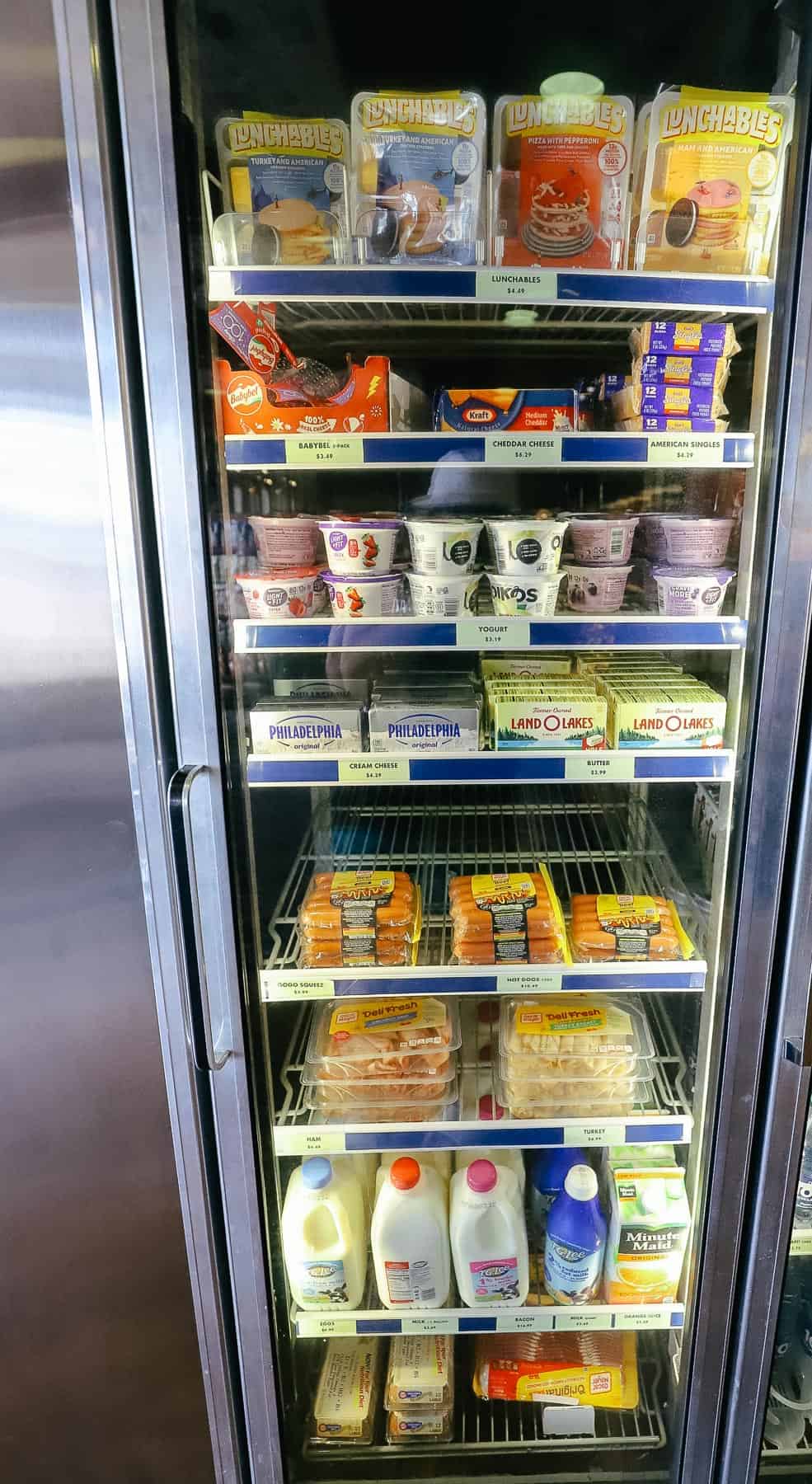 Fruit offerings include apples, bananas, and oranges.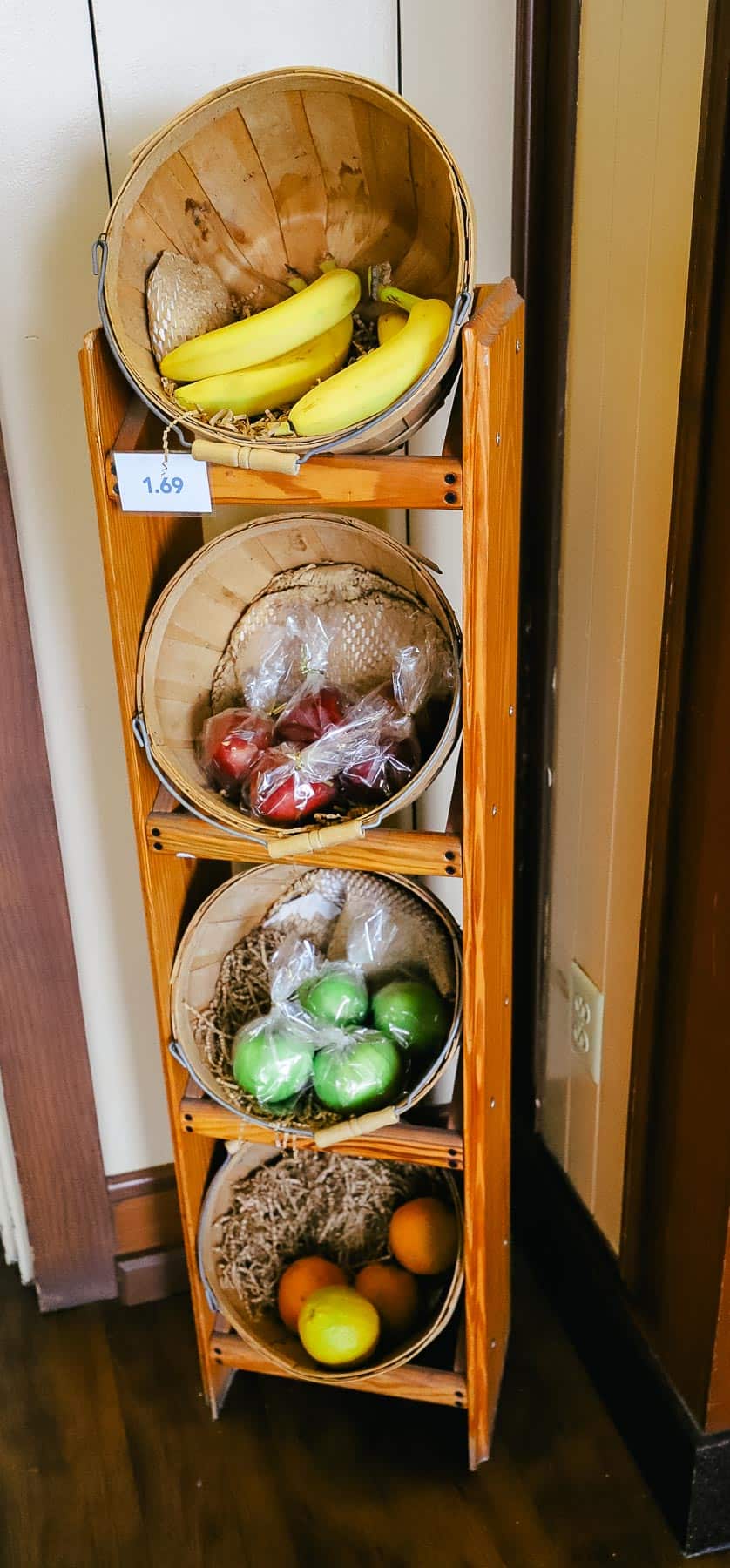 A large display of candy is available similar to what you might find on a real Boardwalk. You can fill a bag and they will weigh it at the register and charge you by the weight.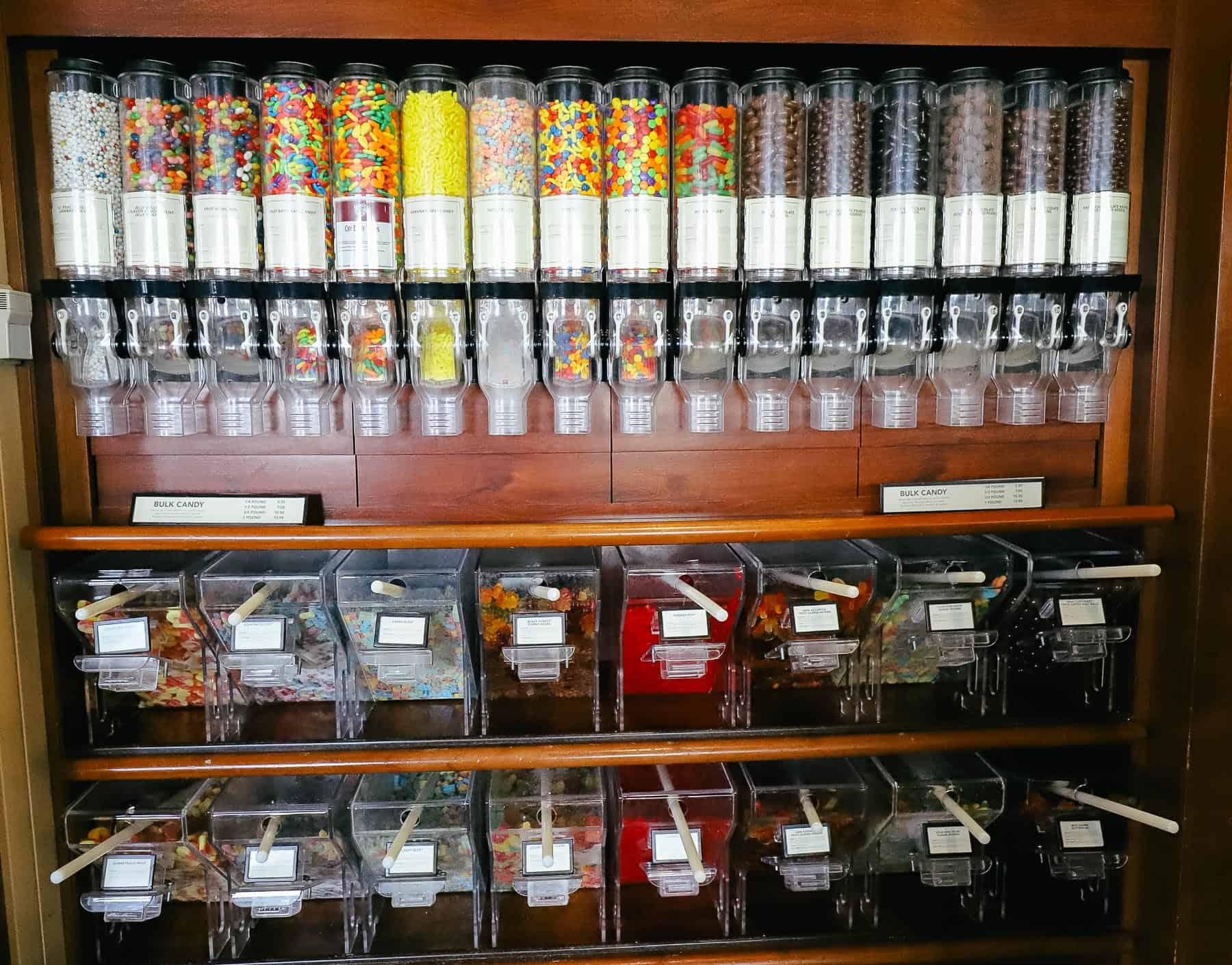 Boardwalk's Screen Door has a display case full of delicious treats. Over the years, I've stopped several times to pick up a slice of fudge to take back to my room. Below we see cupcakes, crispy rice treats, a decorated crispy treat, and a row of flavored fudge on the bottom.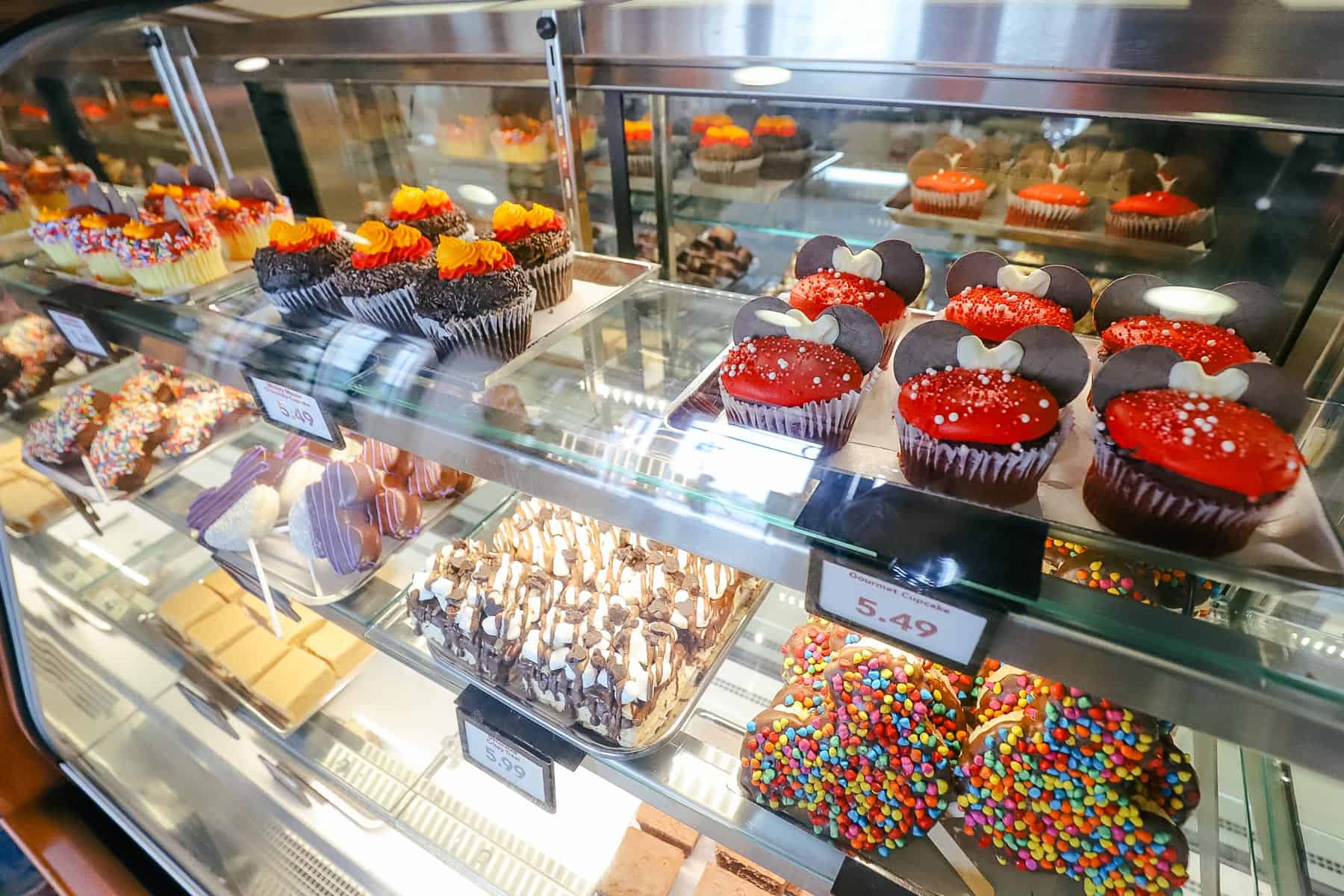 They have caramel and candy apples, cookies galore, scones, Werther's caramel treats, and more! Throughout the year, seasonal treats are available depending on the holiday.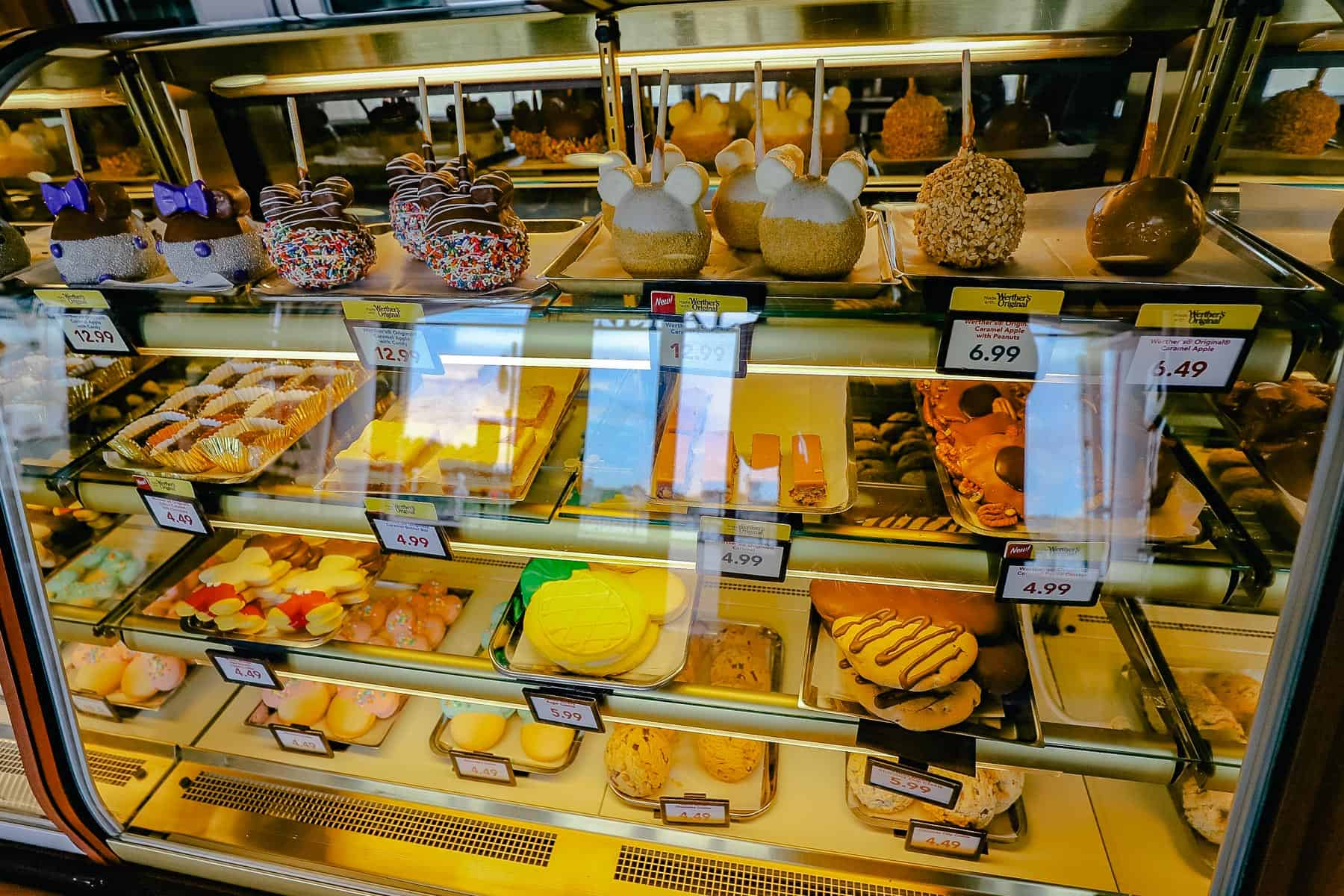 Behind the register, a variety of frozen Goofy Glacier drinks are available. Options included a regular Goofy Glacier, one with a souvenir cup, or you could upgrade with your choice of vodka, rum, tequila, or whiskey.
If you are looking to purchase a bottle of liquor, a private selection is available in a cabinet behind the register area.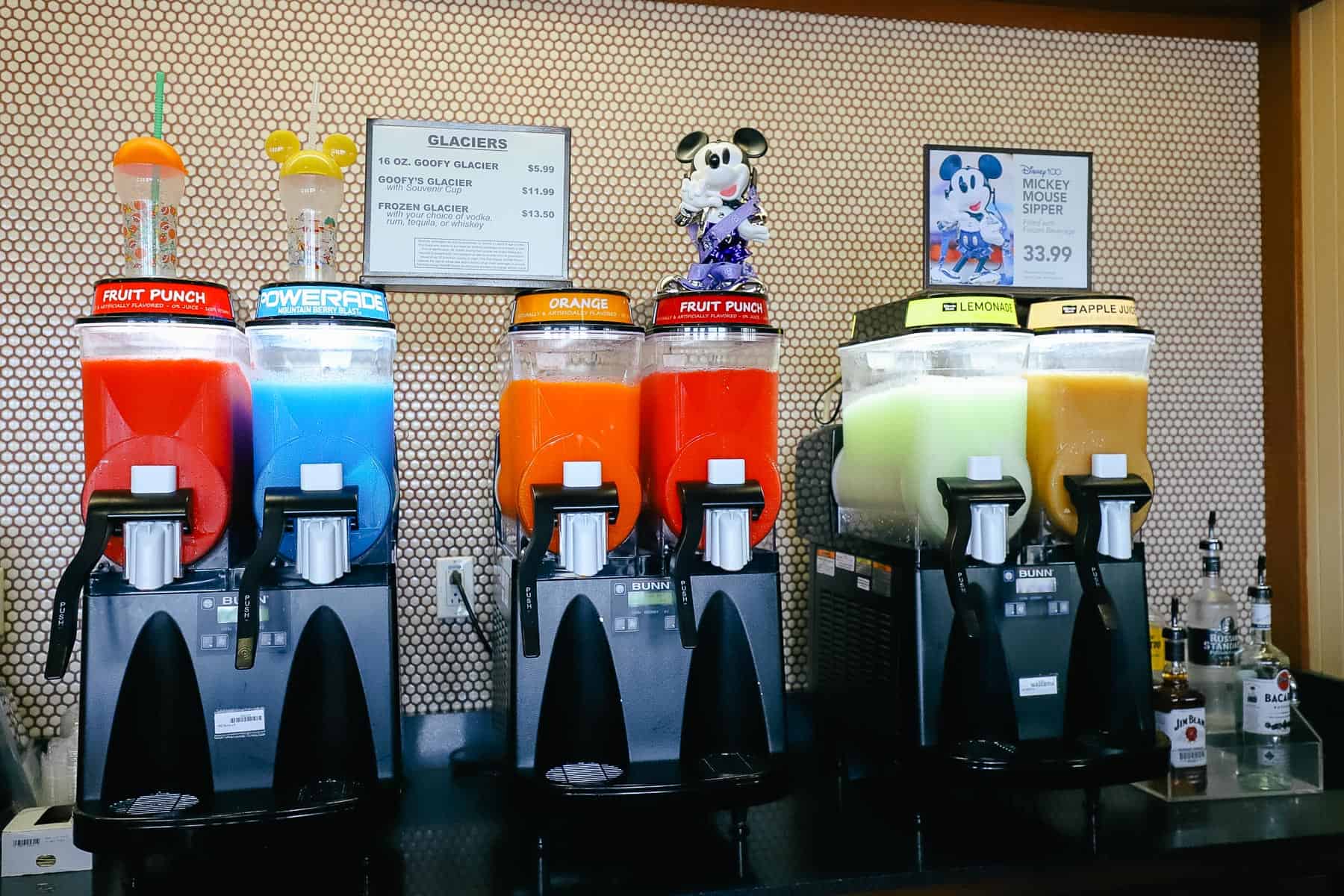 Next, we'll look at the grocery and pantry items. We see various Entemann's pastries, chips, dips, cereal, Pop Tarts, bagels, and bread.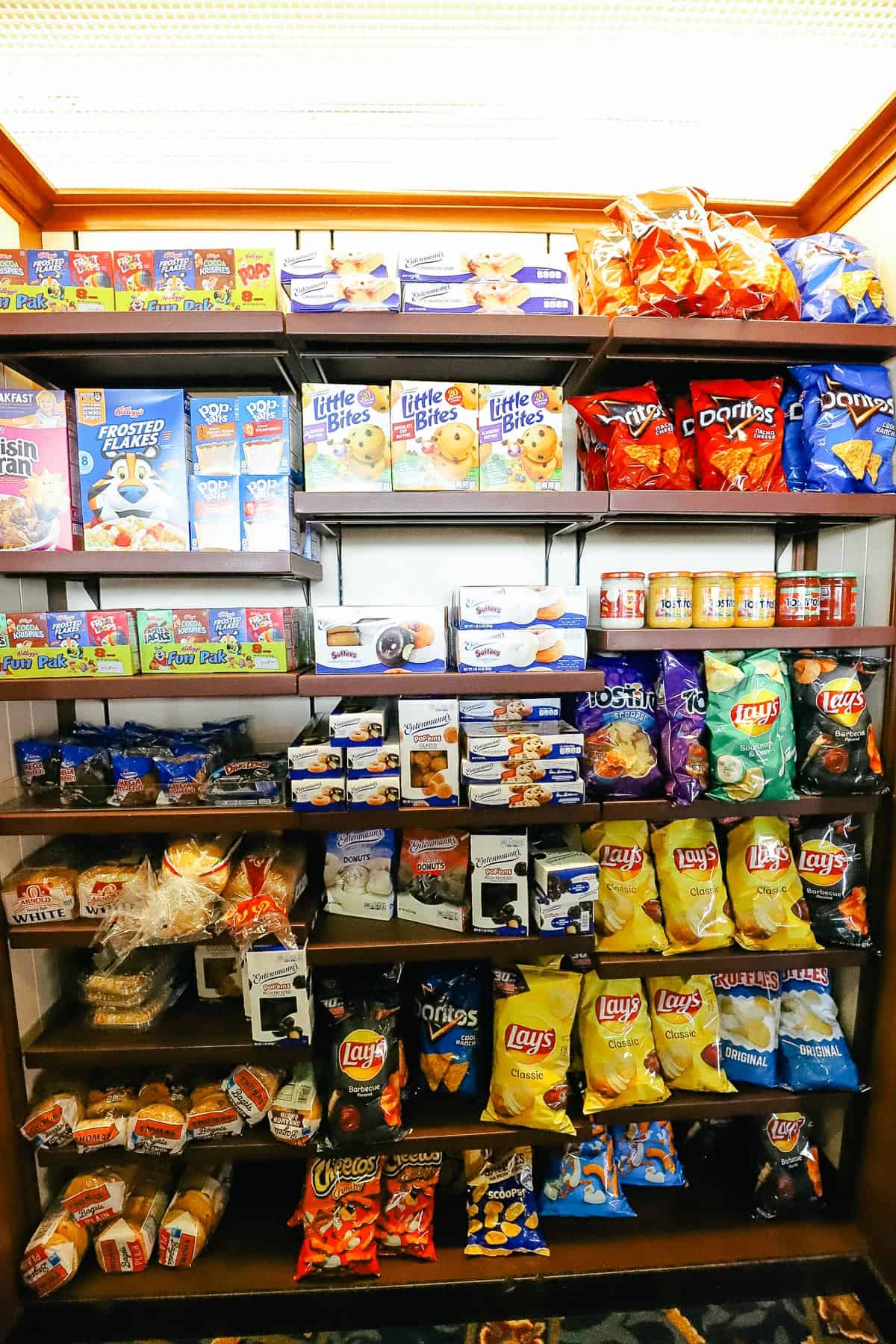 Here we have condiments, pancake mix, syrup, coffee filters, various cookies, sugar, and a few other odds and ends. These items might come in handy if you need something in a pinch. However, most guests who reserve a room with a kitchen bring groceries or have them delivered.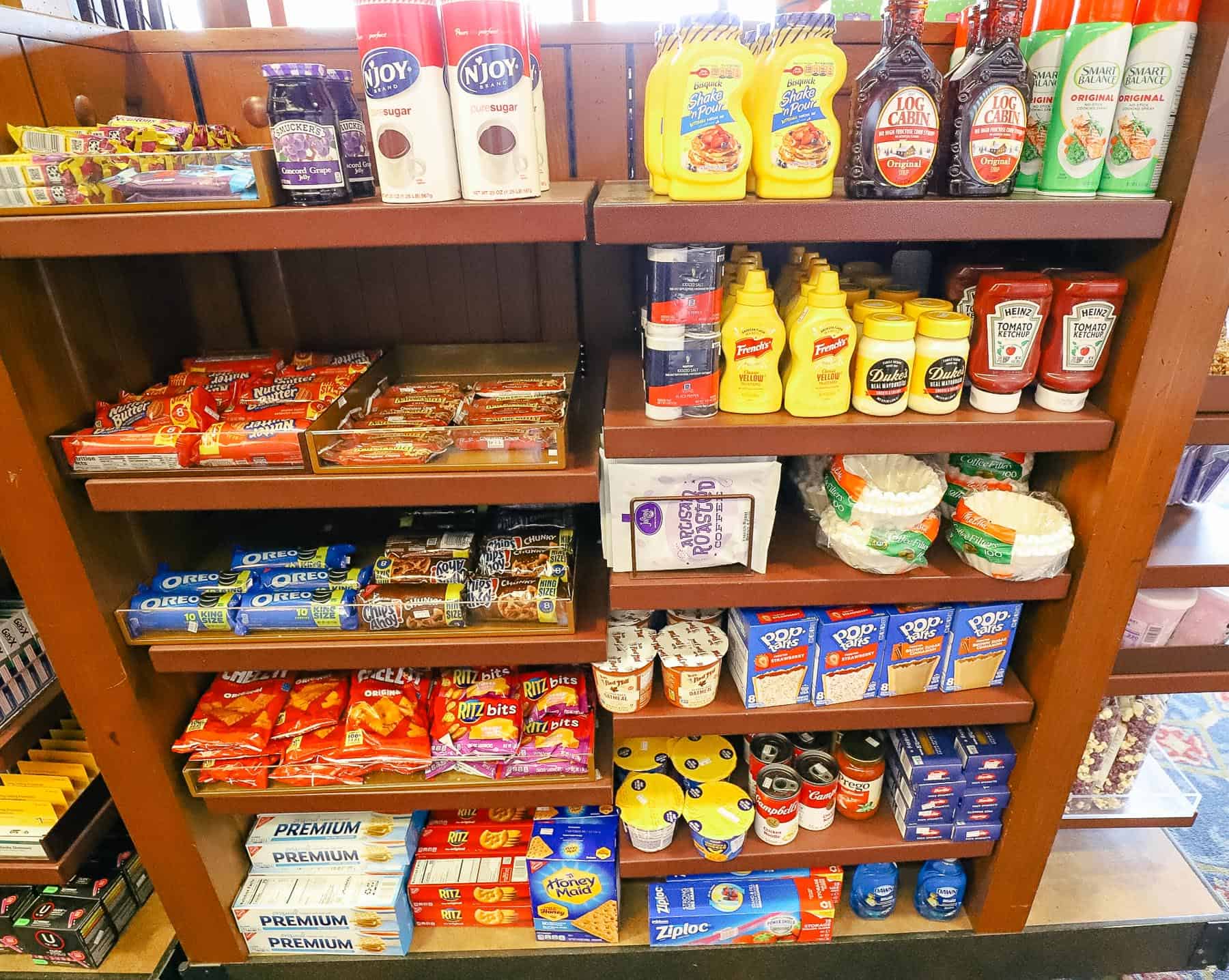 Here we have a few items specifically for babies like baby food, Pedialyte, and diapers. Additionally, we see items like sunscreen, razors, bug spray, mole skin, and Orajel, among other things.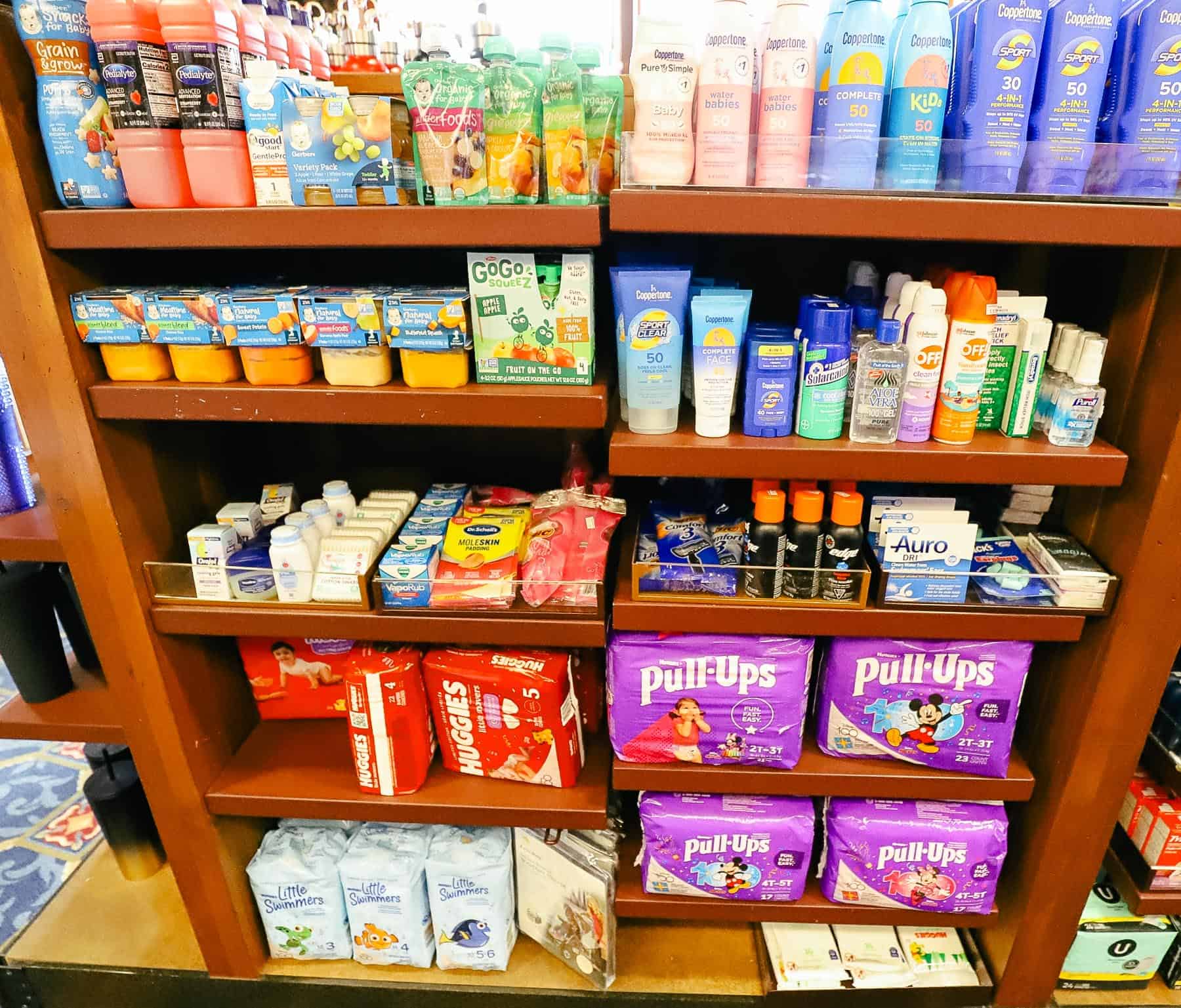 Here are a few other personal convenience items. It is nice that they have these items on hand.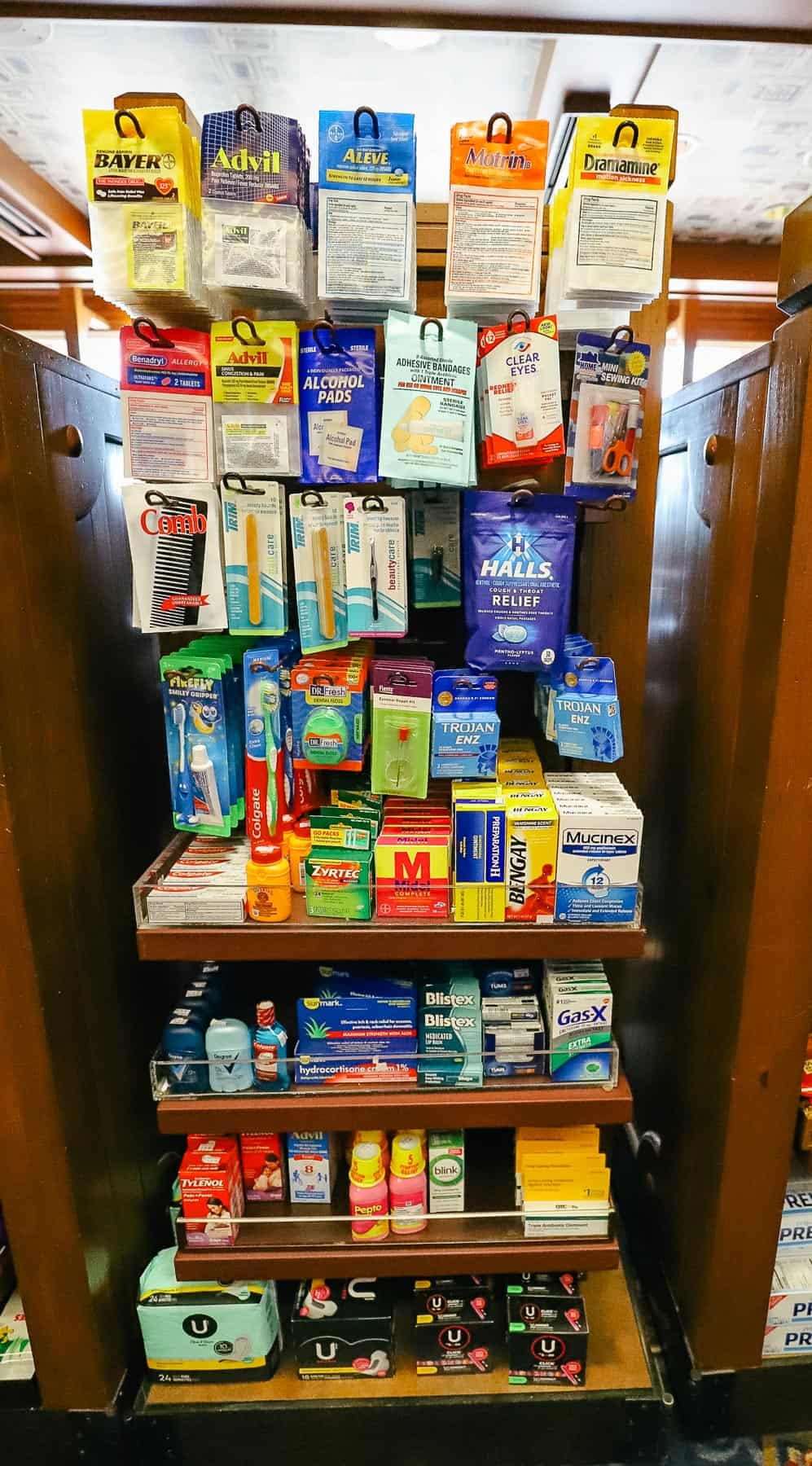 Additionally, a few Disney-branded treats are available. Anything in a Walker's Shortbread package is buttery-delicious.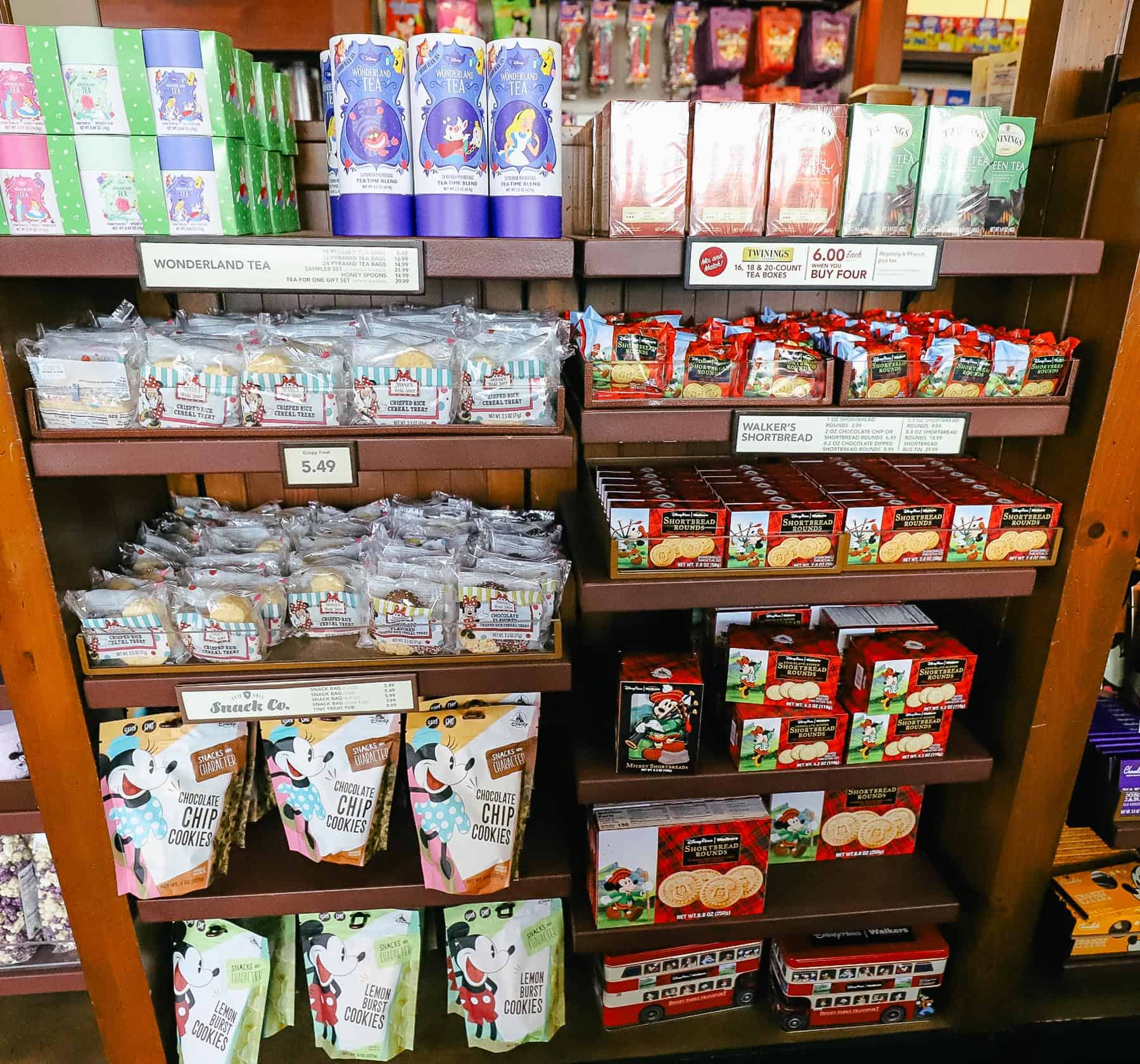 A large display features items for the home.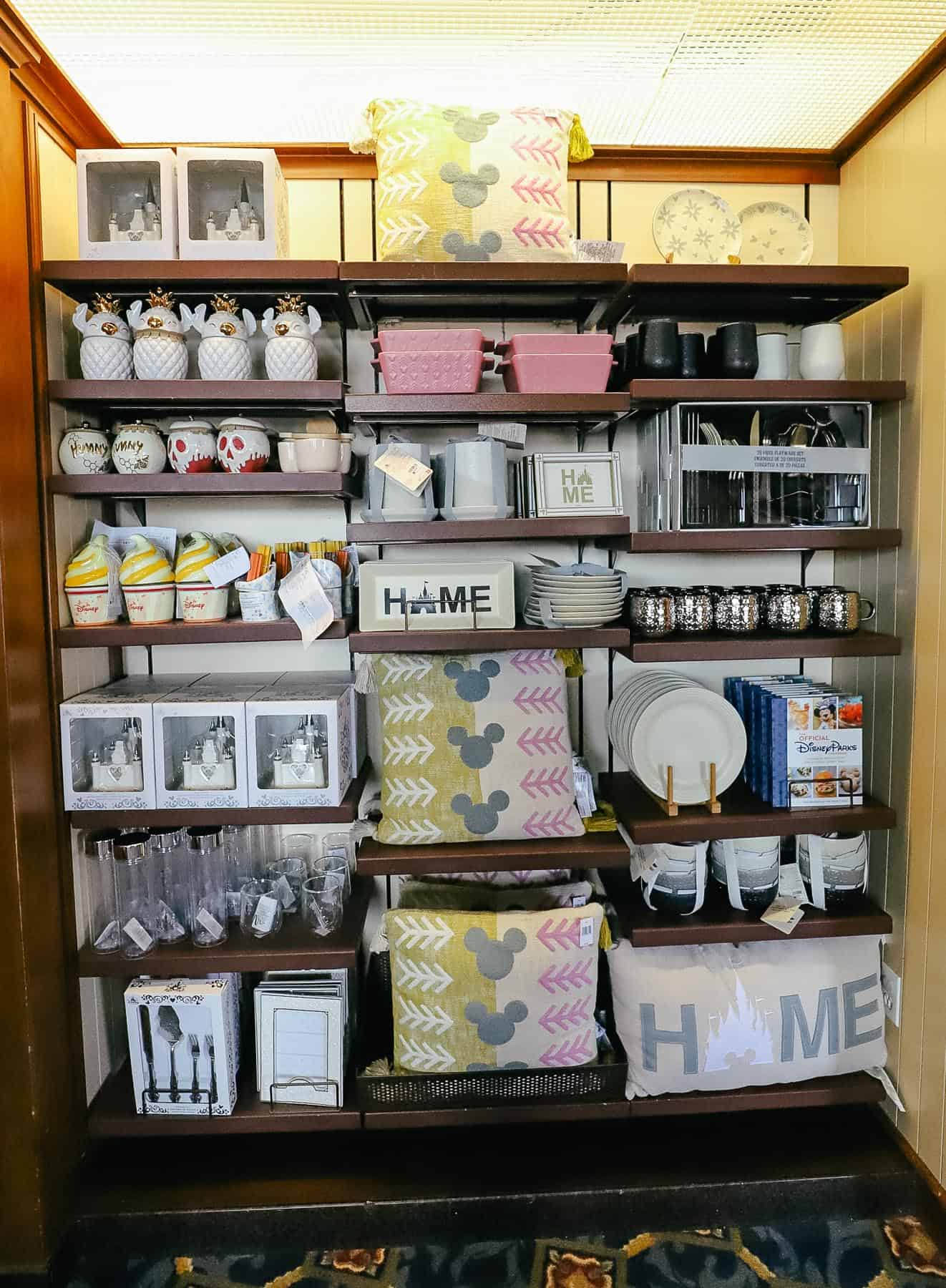 Here we have a few mugs and tumblers.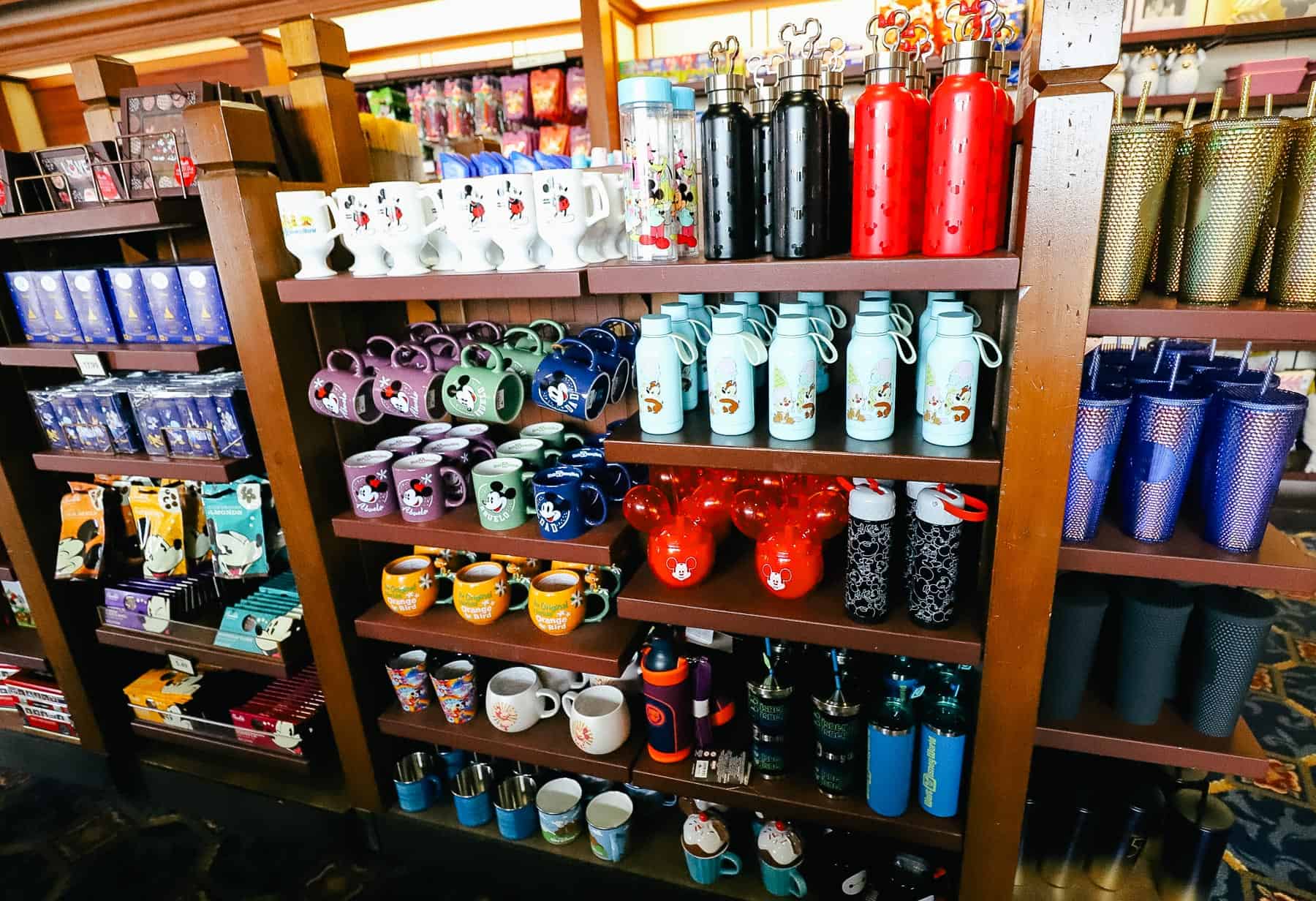 Several bottles and individual servings of wine sit in a corner toward the front of the store.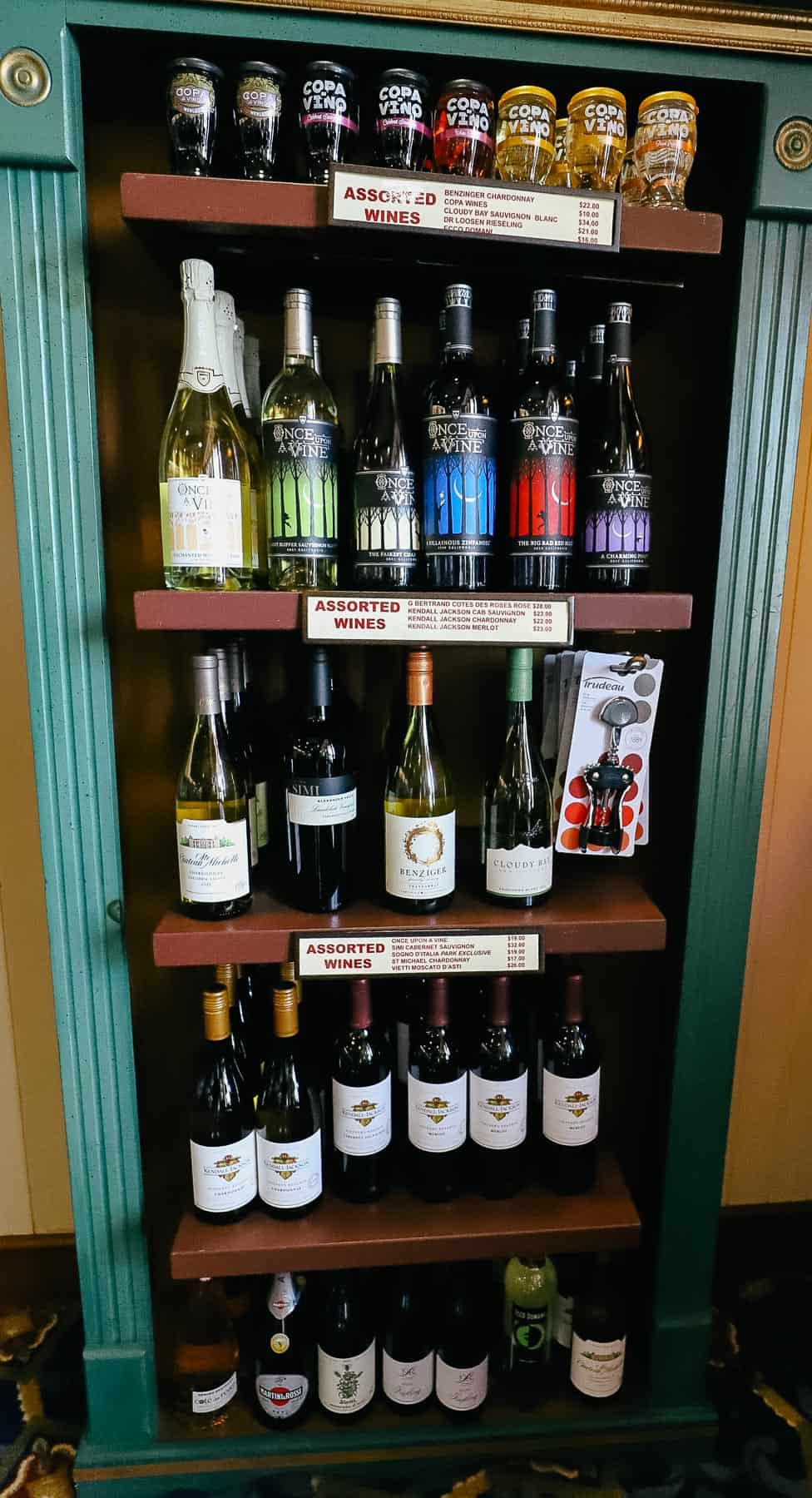 Various champagnes sat nearby in a climate-controlled case.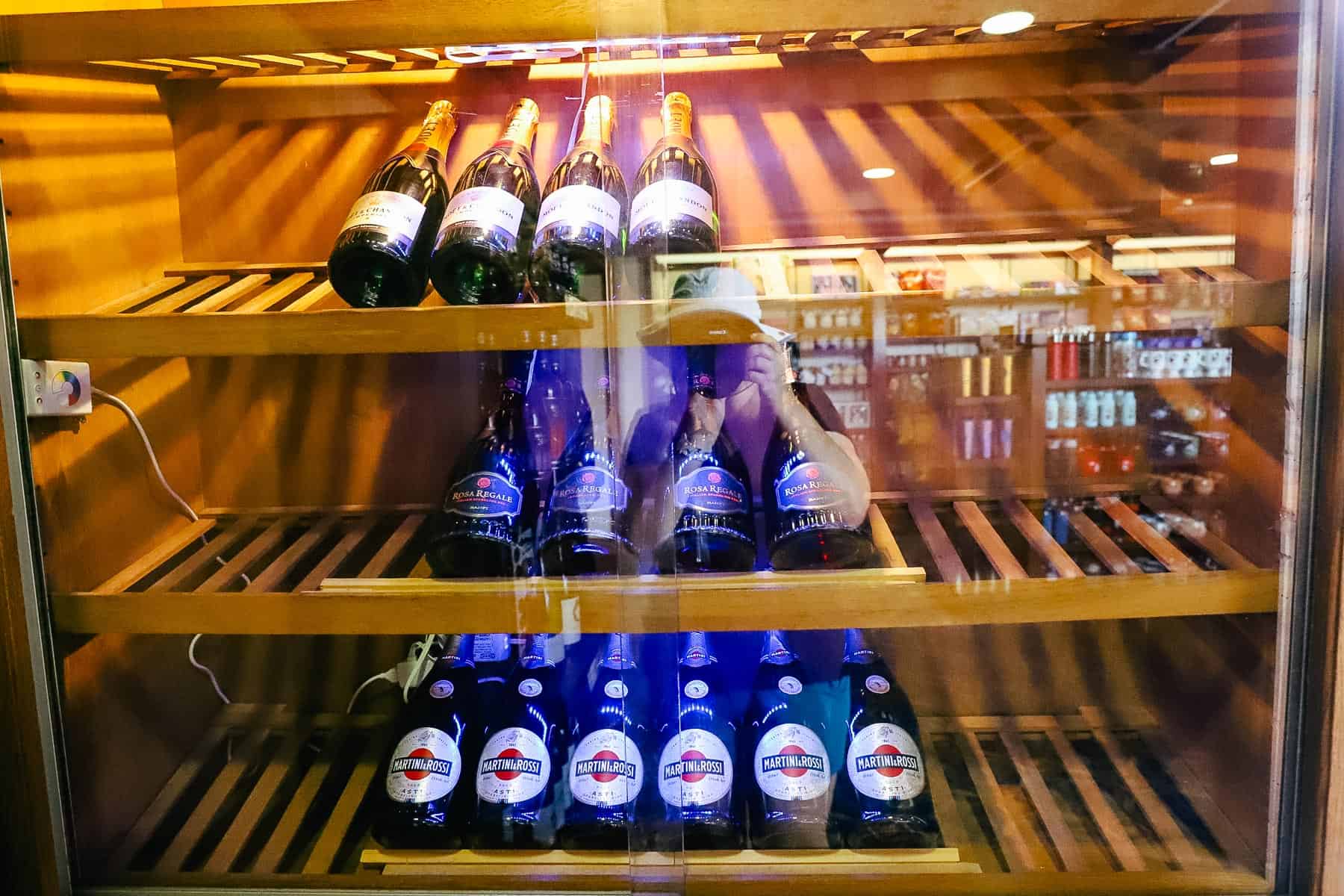 Disney's Character Carnival
Back outside, the store changes names to Disney's Character Carnival. A carousel horse sits on display in the shop window.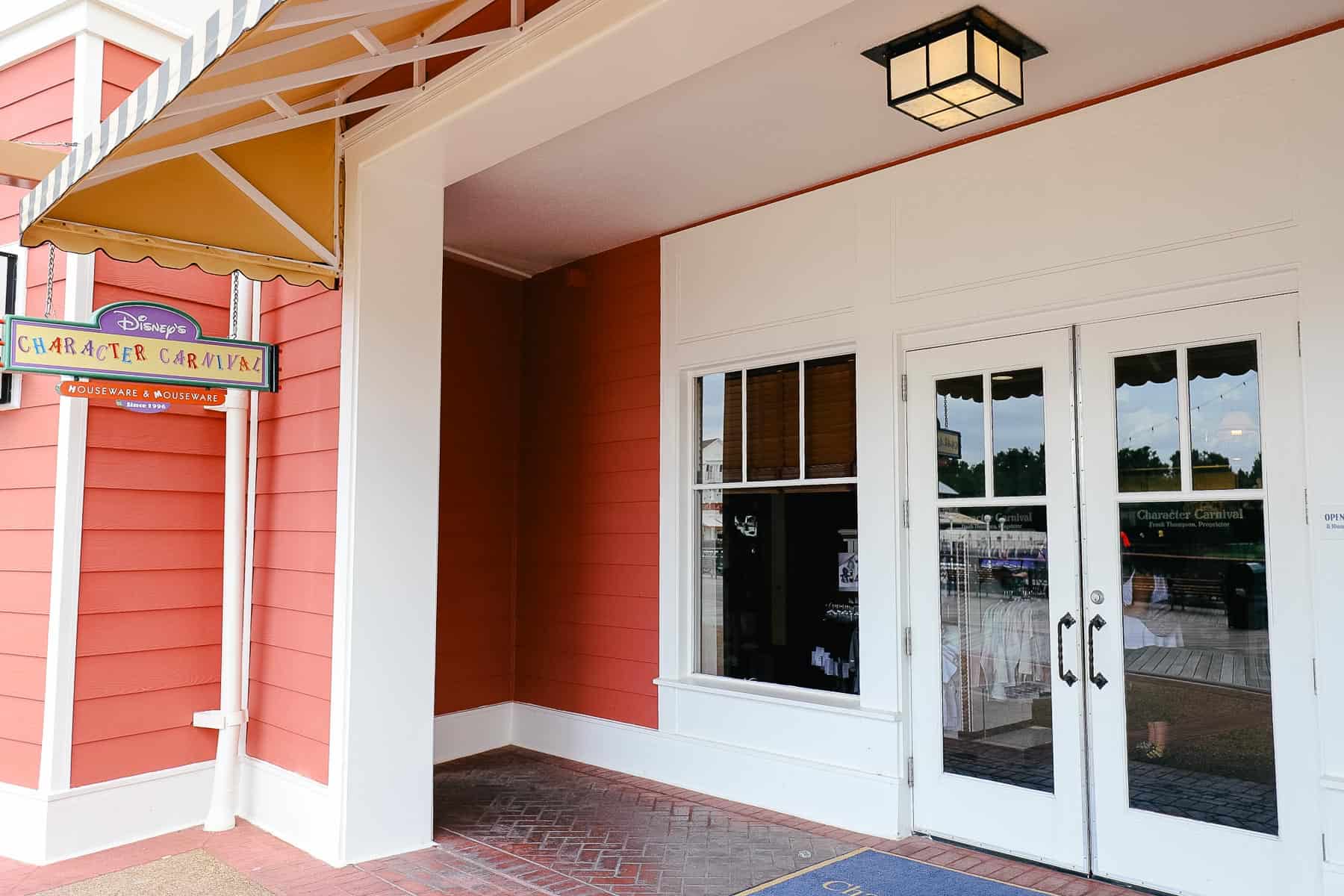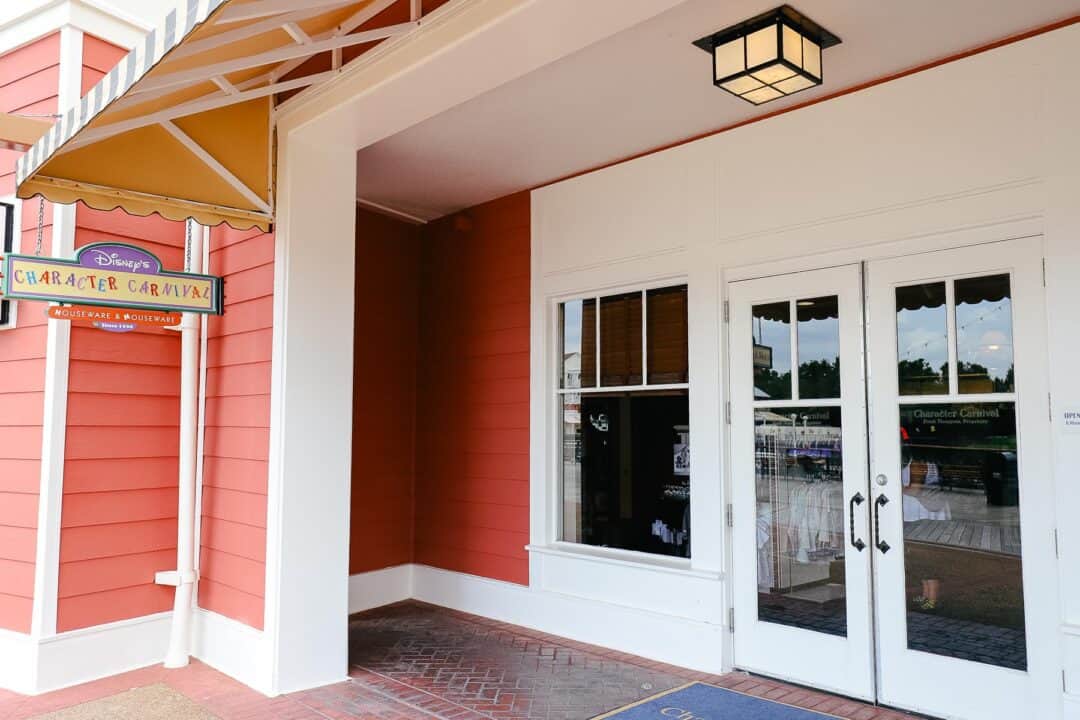 Back inside, we transition into an area with luggage, accessories, and men's and women's apparel.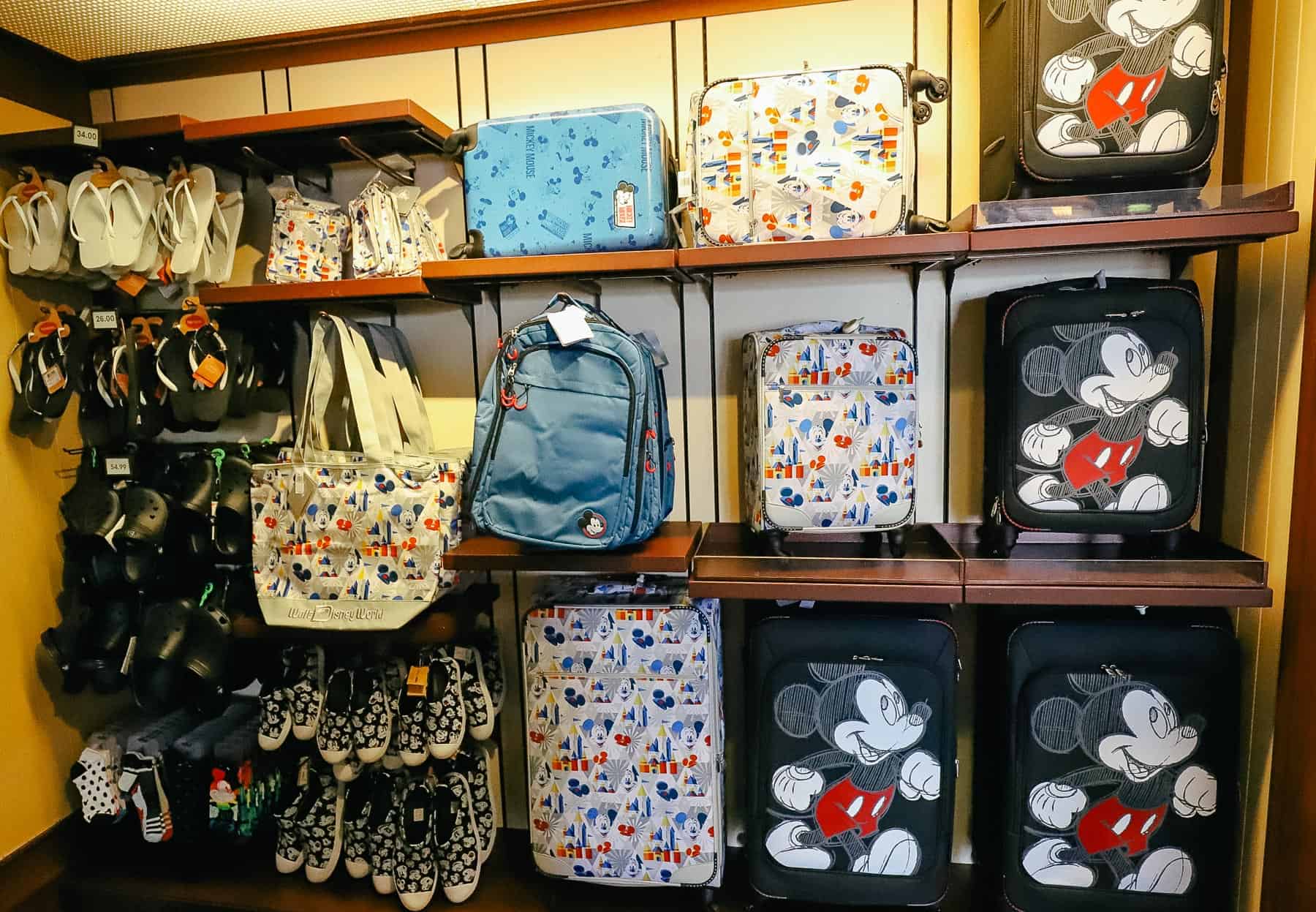 This is also where you'll find any resort-branded merchandise.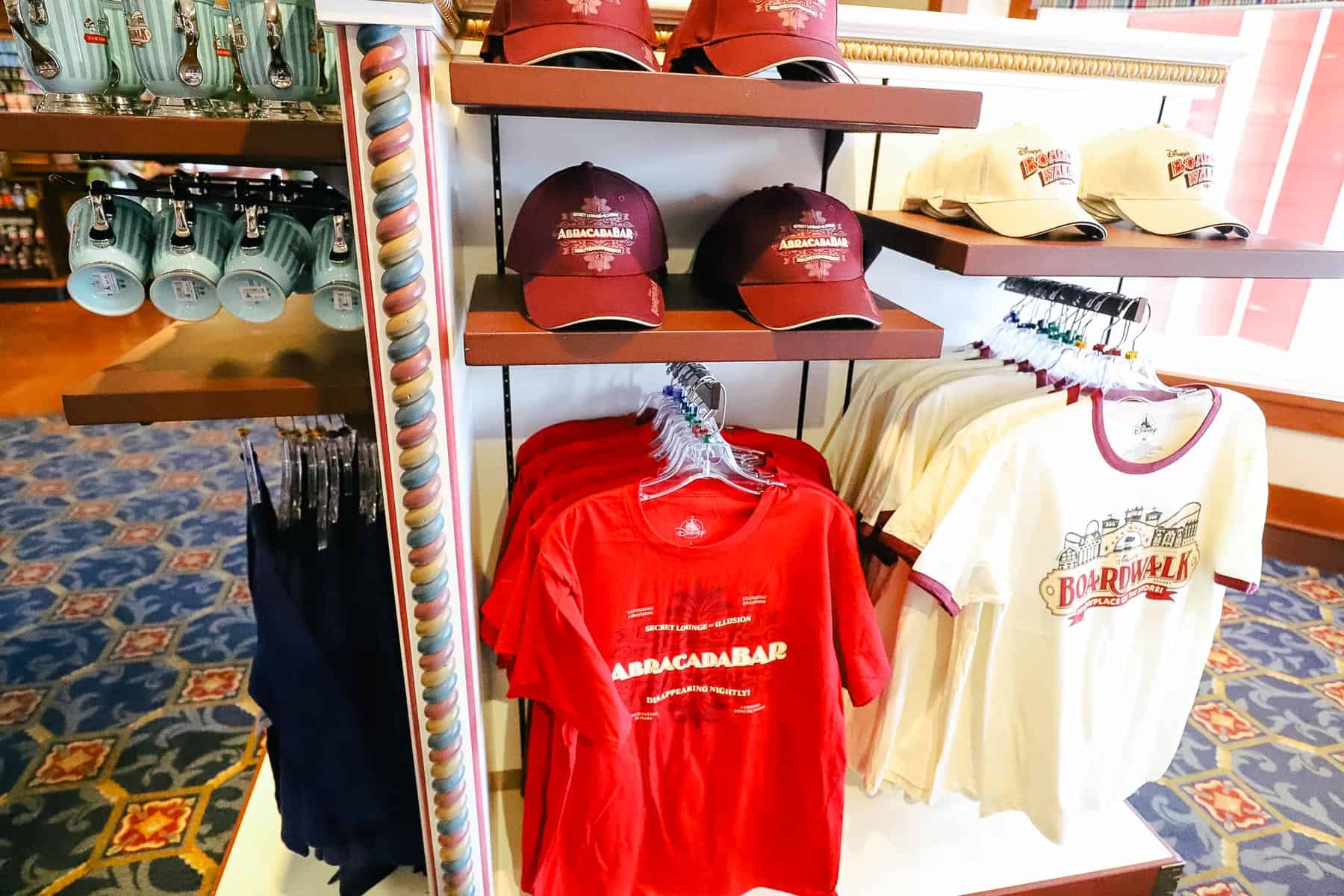 They had several t-shirts with Abracadabar. Some shirts featured Mickey and Minnie on Disney's Boardwalk.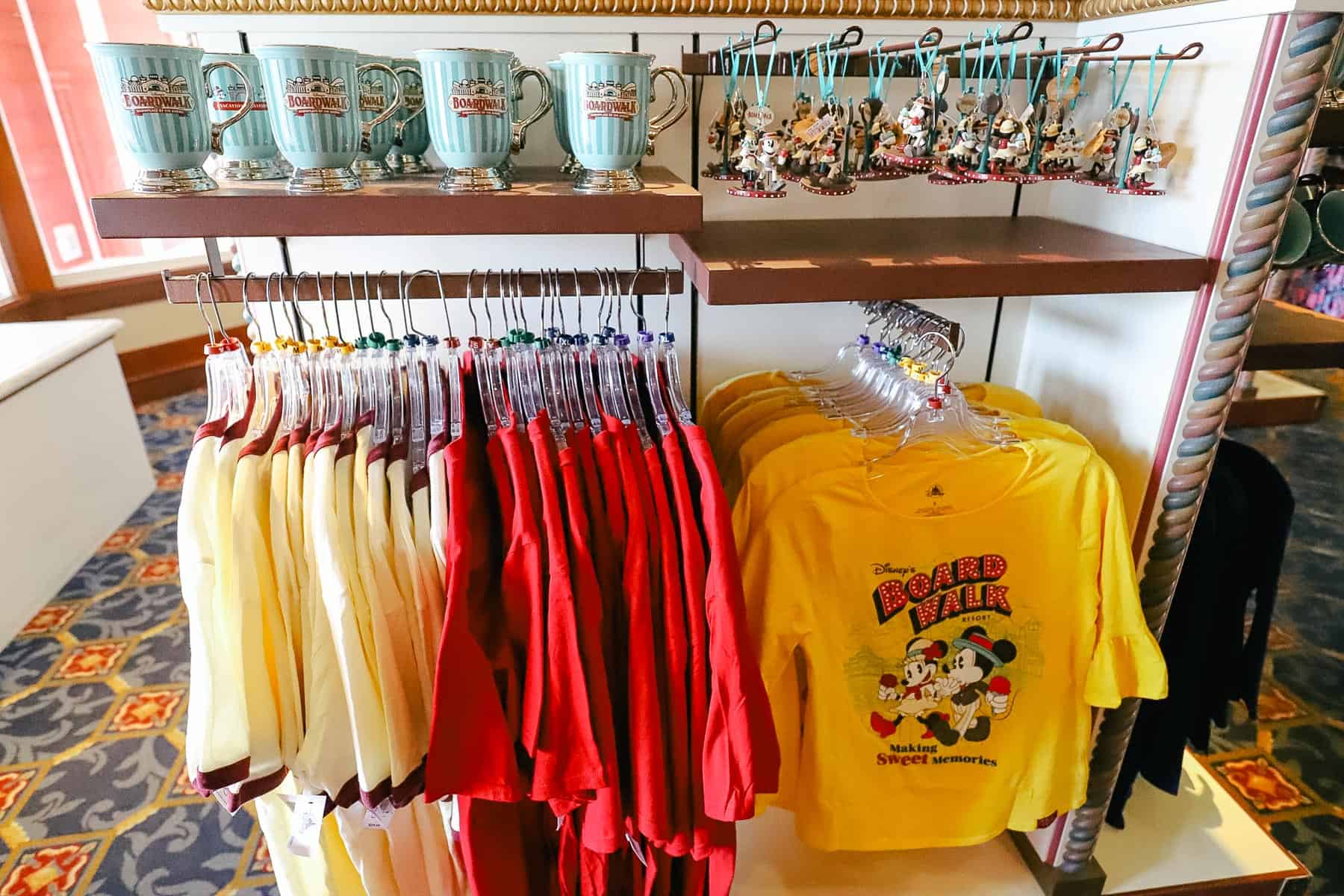 A mug and a Sketchbook ornament were available.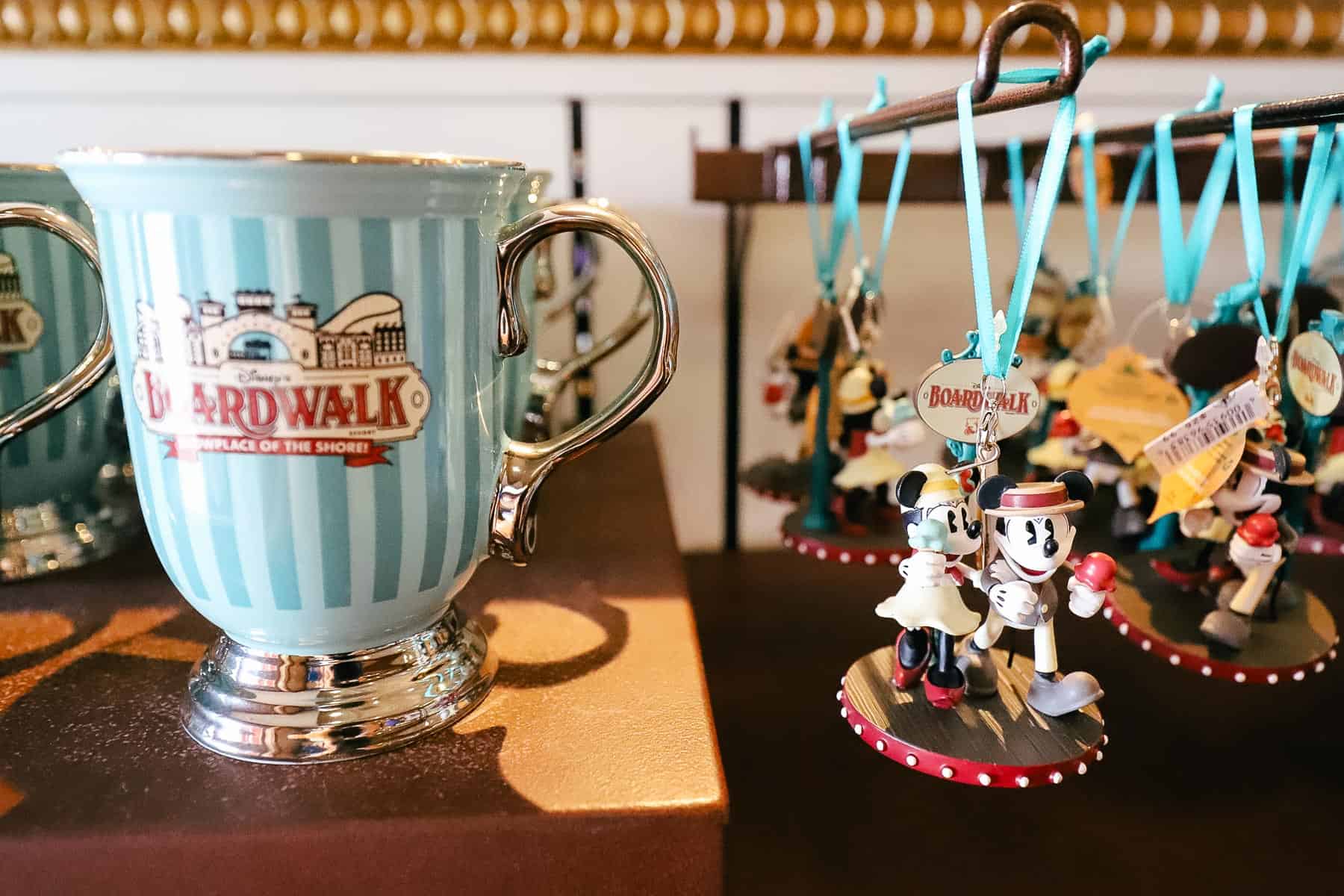 Most Disney deluxe resorts have a robe with the resort's logo. Here is the one for the Boardwalk.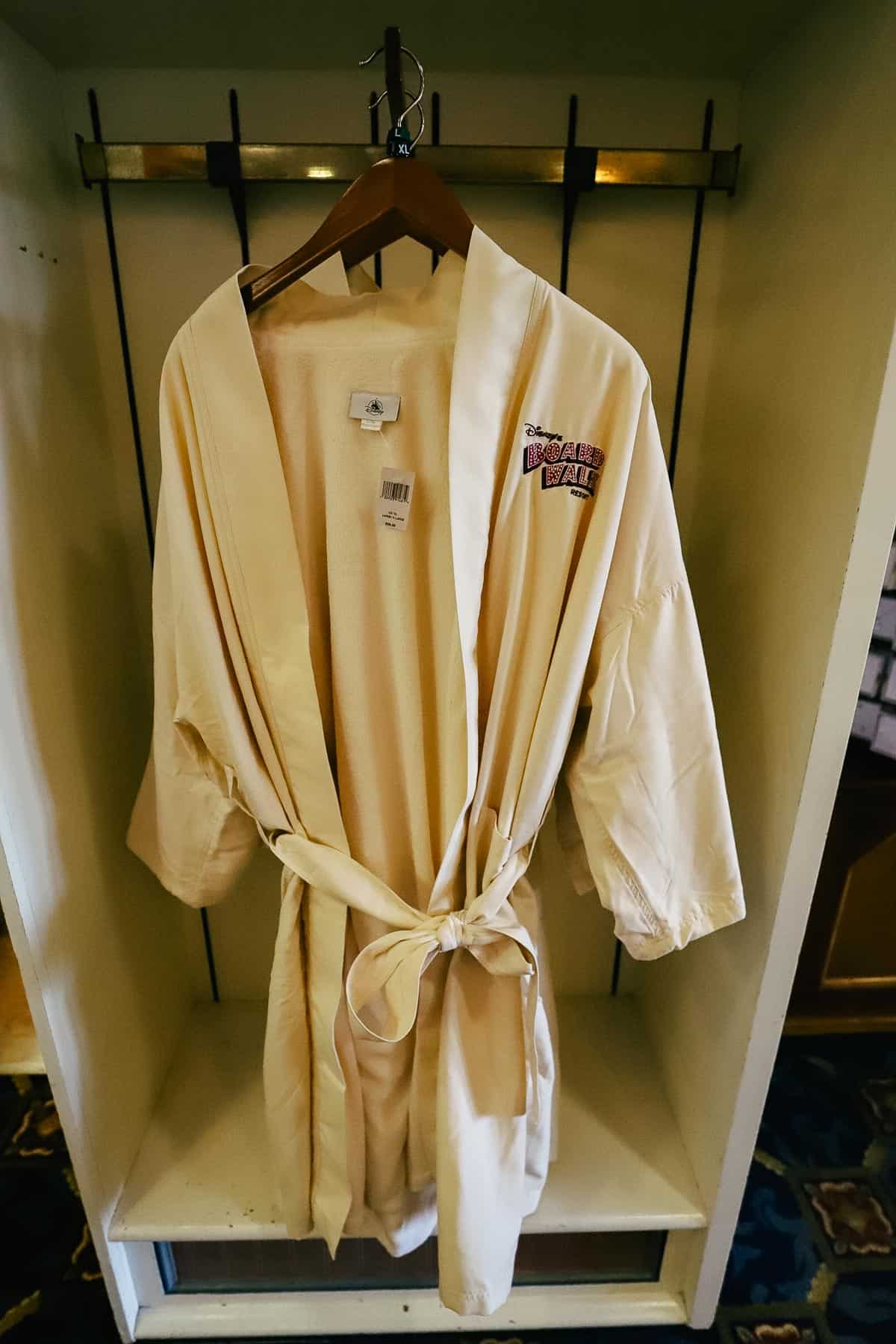 A few pieces of Disney Vacation Club merchandise were available.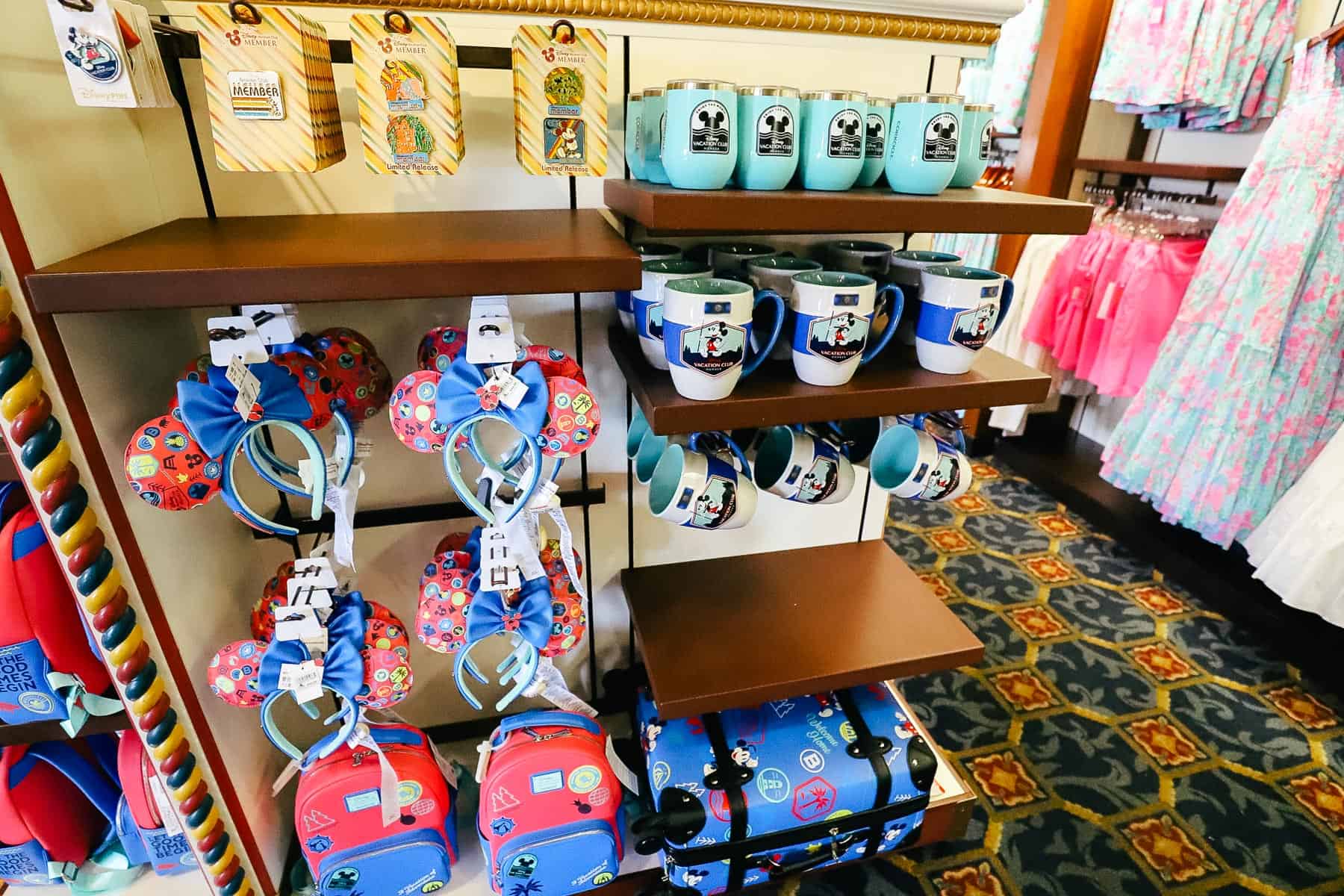 I was happy to see this Disney Parks Loungefly in person. It's super cute!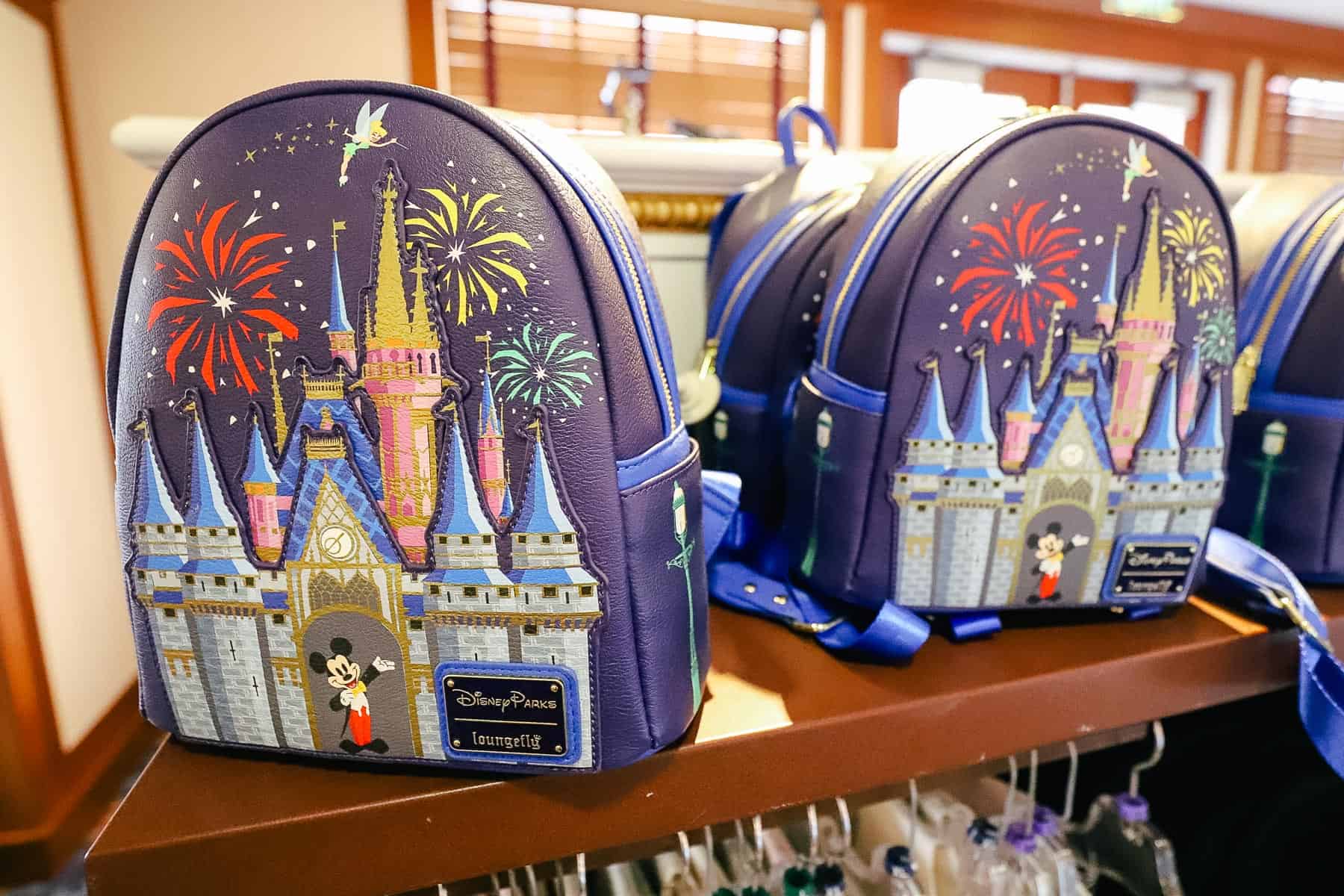 Here we have a display with Minnie Ears.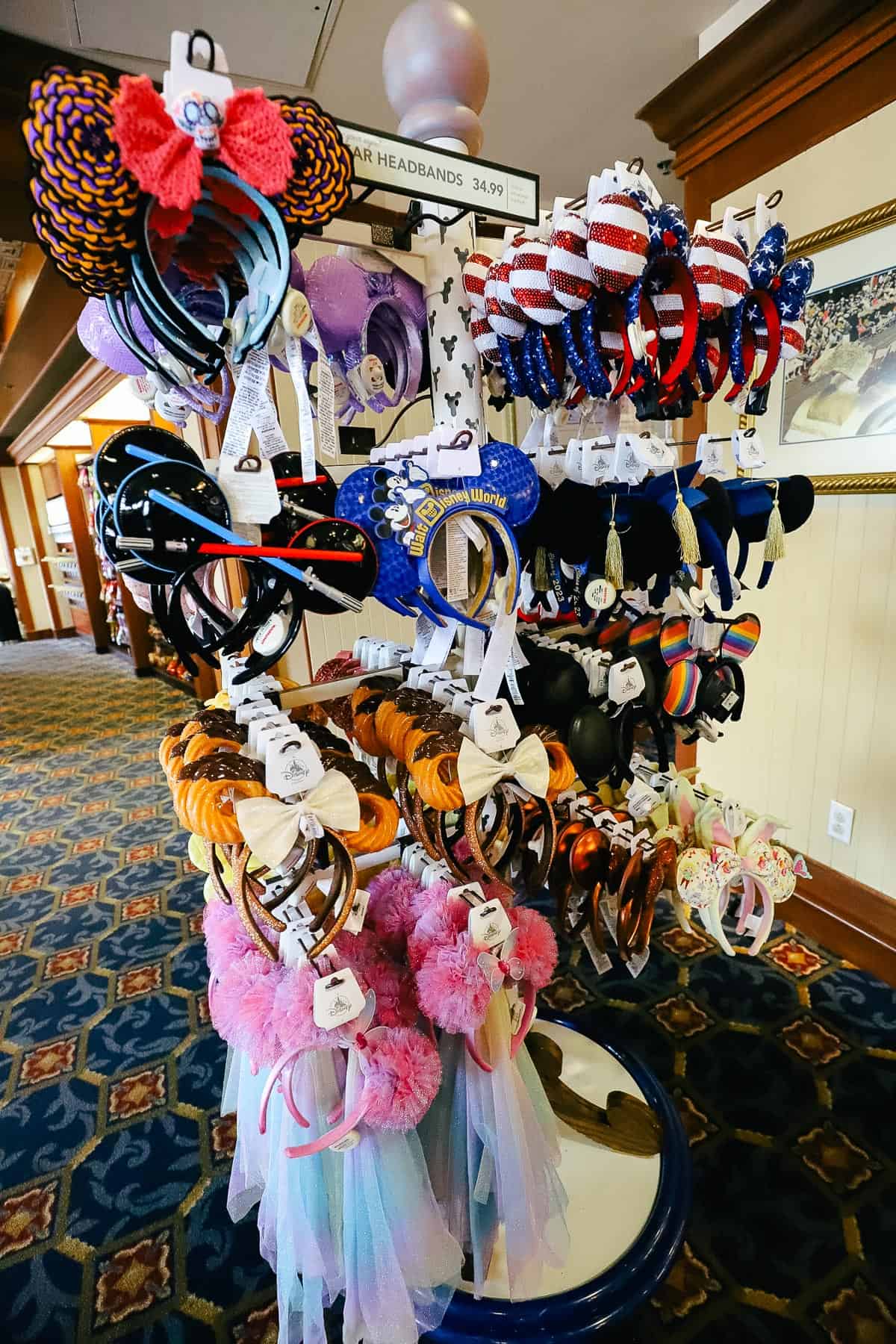 Boardwalk's gift shop usually has a nice assortment of Disney Dooney and Bourke.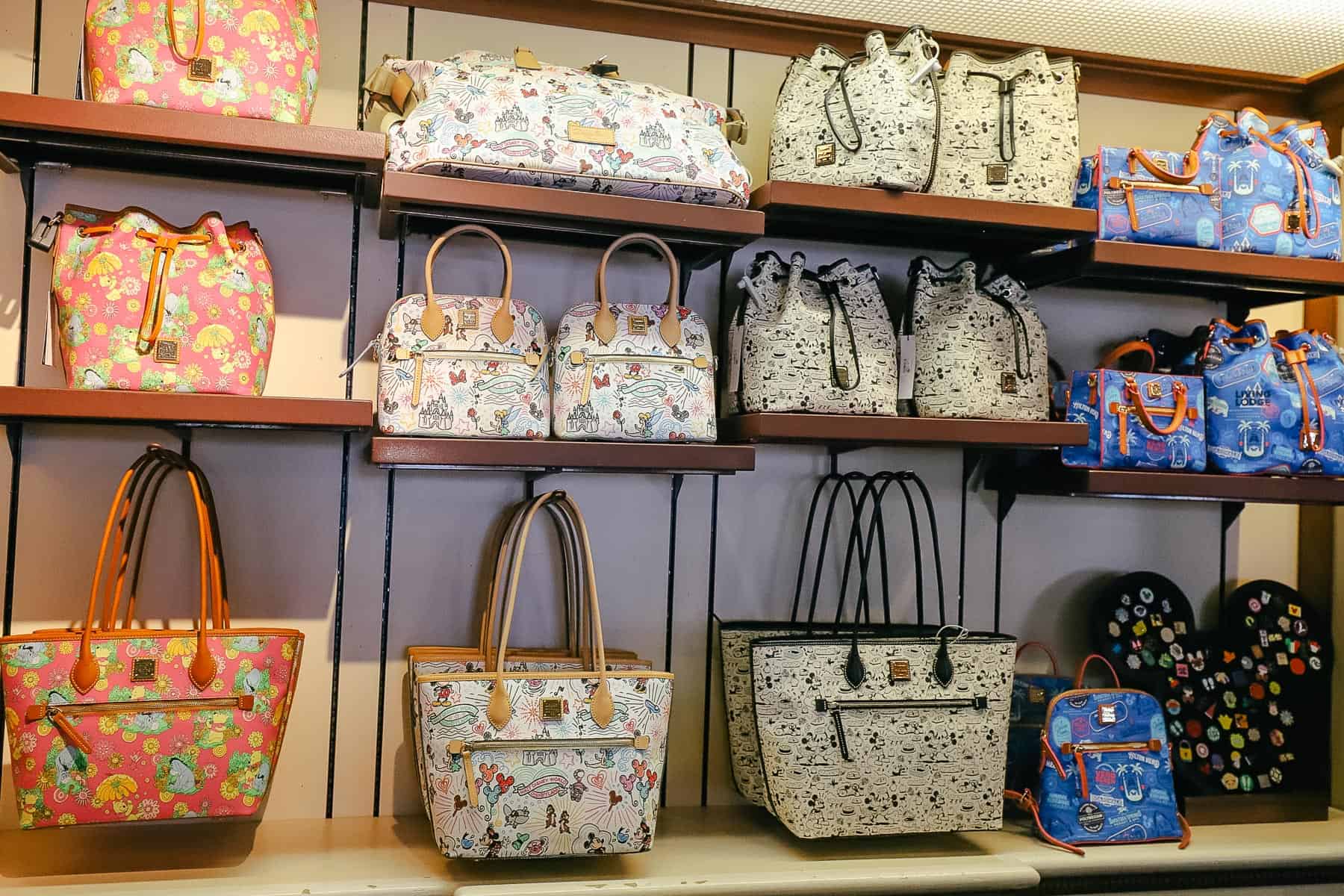 Here we have a collection of Disney 100 statues.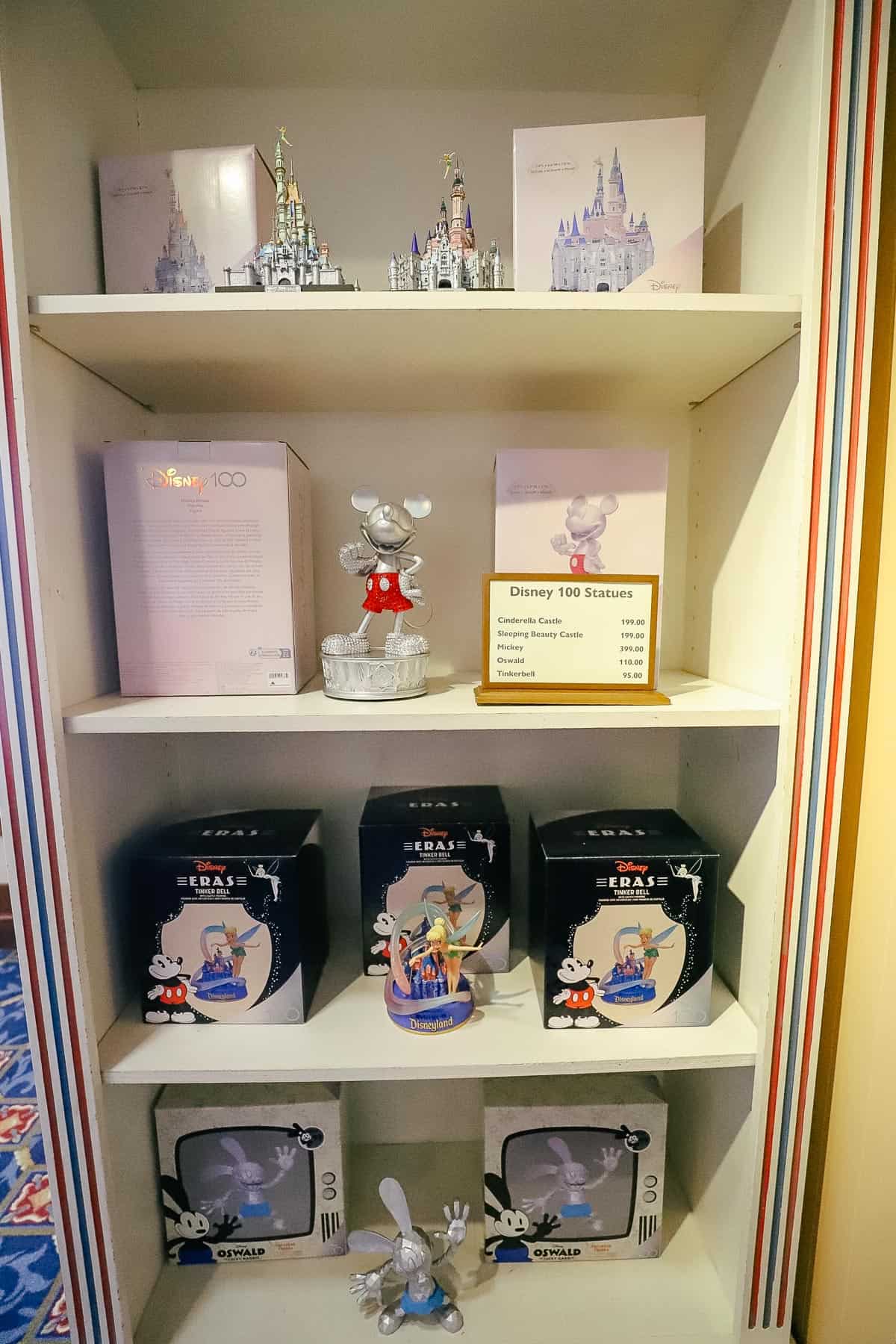 Men's apparel includes a few button up shirts, polos, and swim trunks.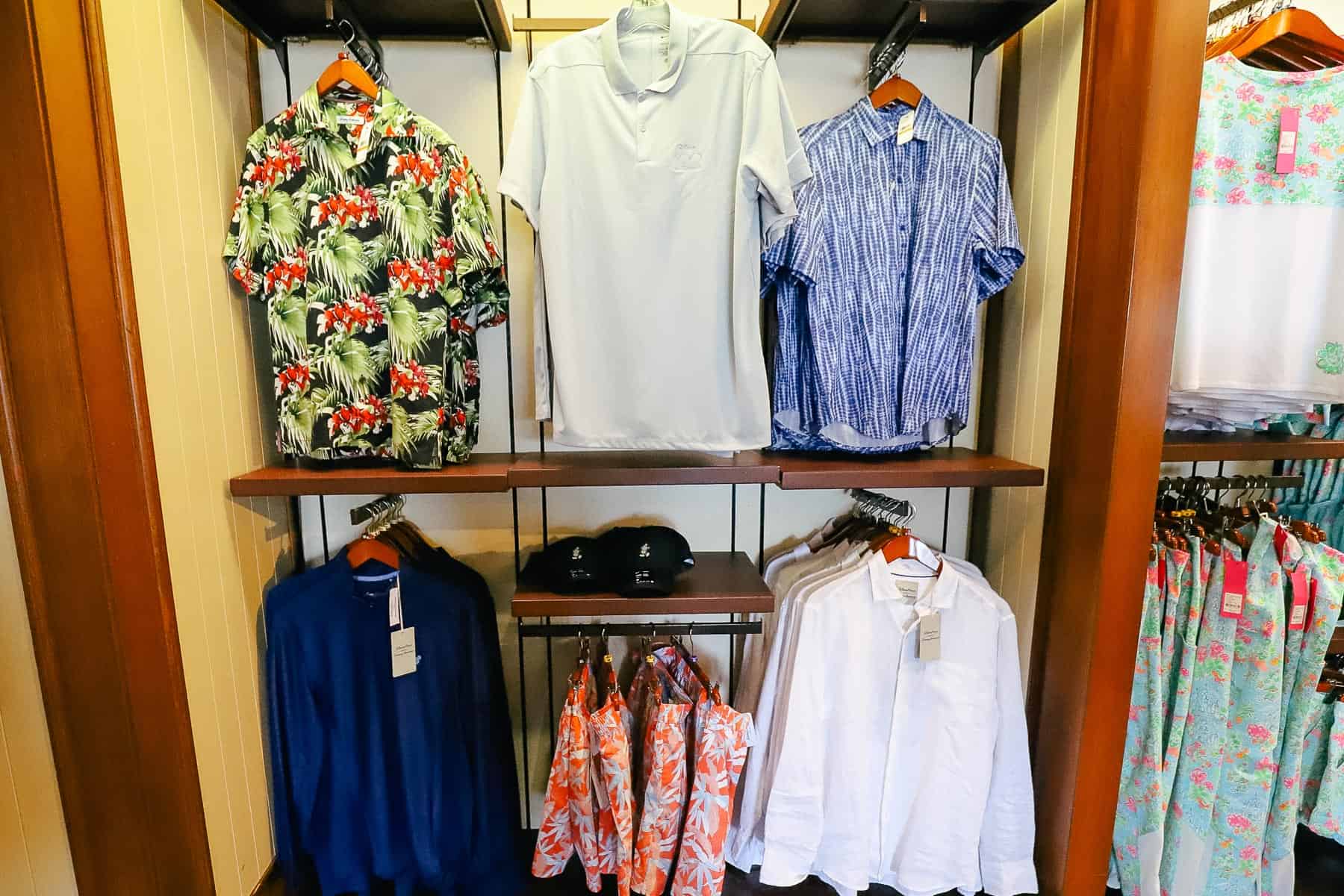 On this visit, the gift shop has a nice selection of women's apparel.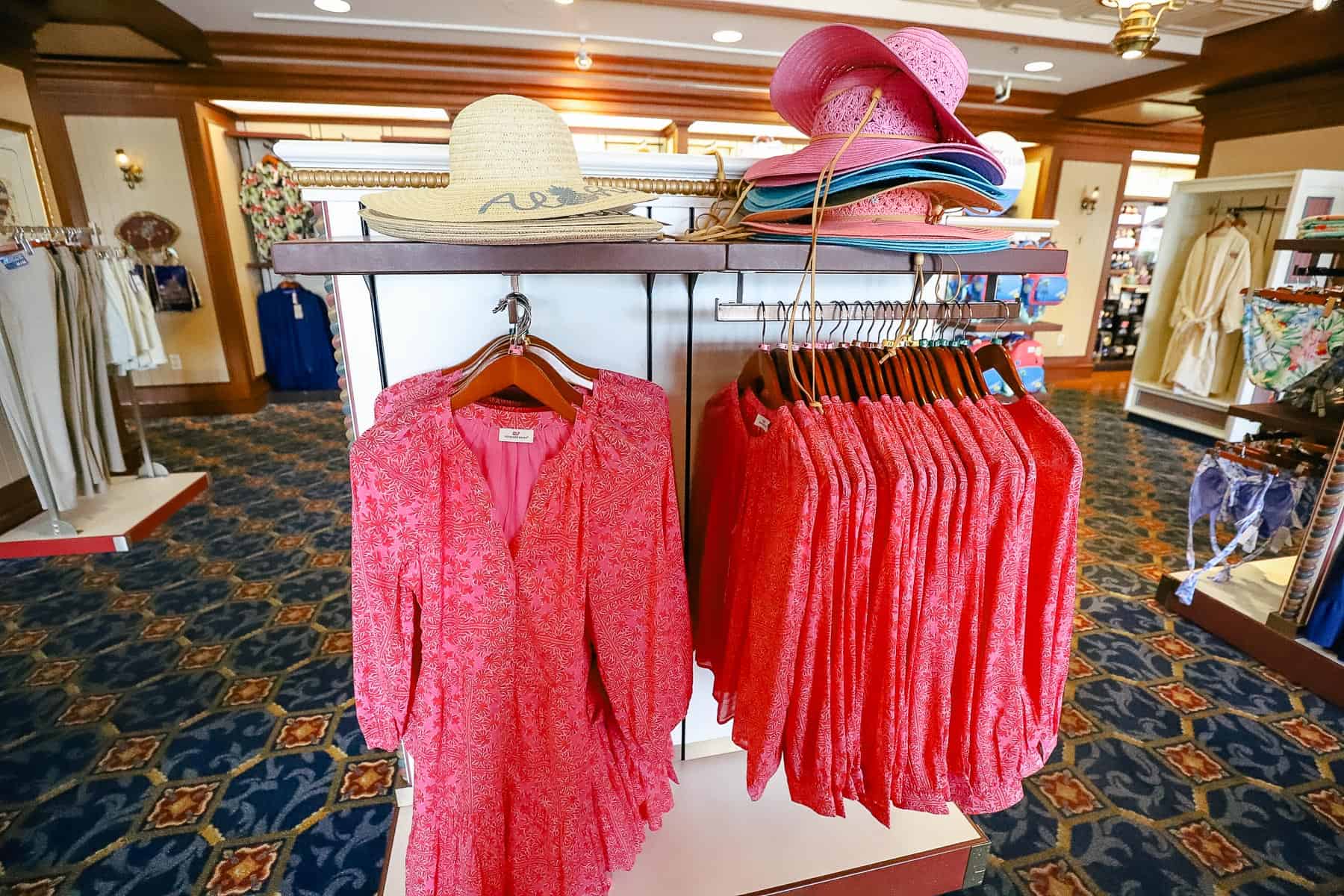 Here we have two displays featuring Lily Pulitzer items. Some of the pieces feature Minnie Mouse.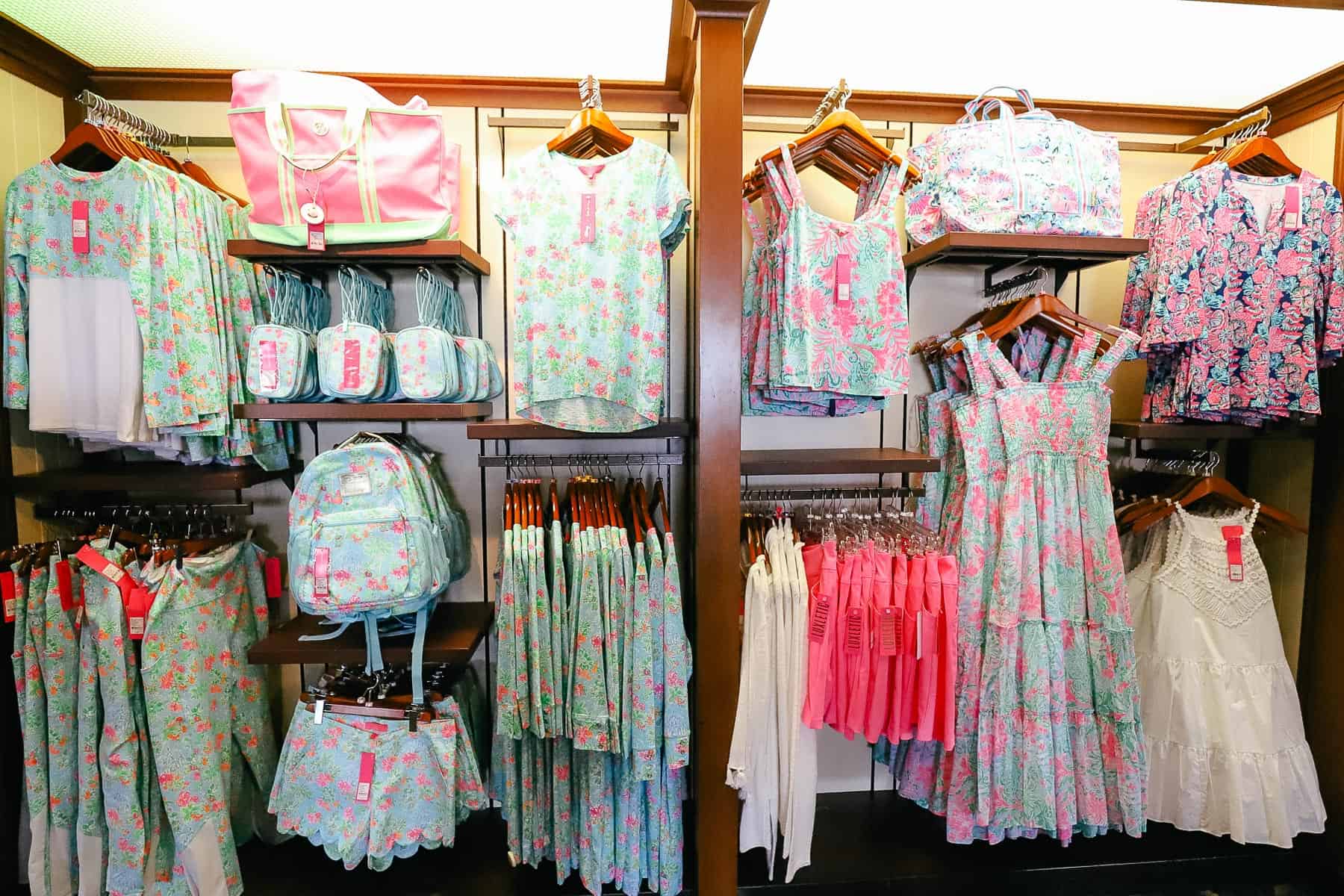 I tend to lean more Tommy Bahamas and Vineyard Vines, which is what we see below.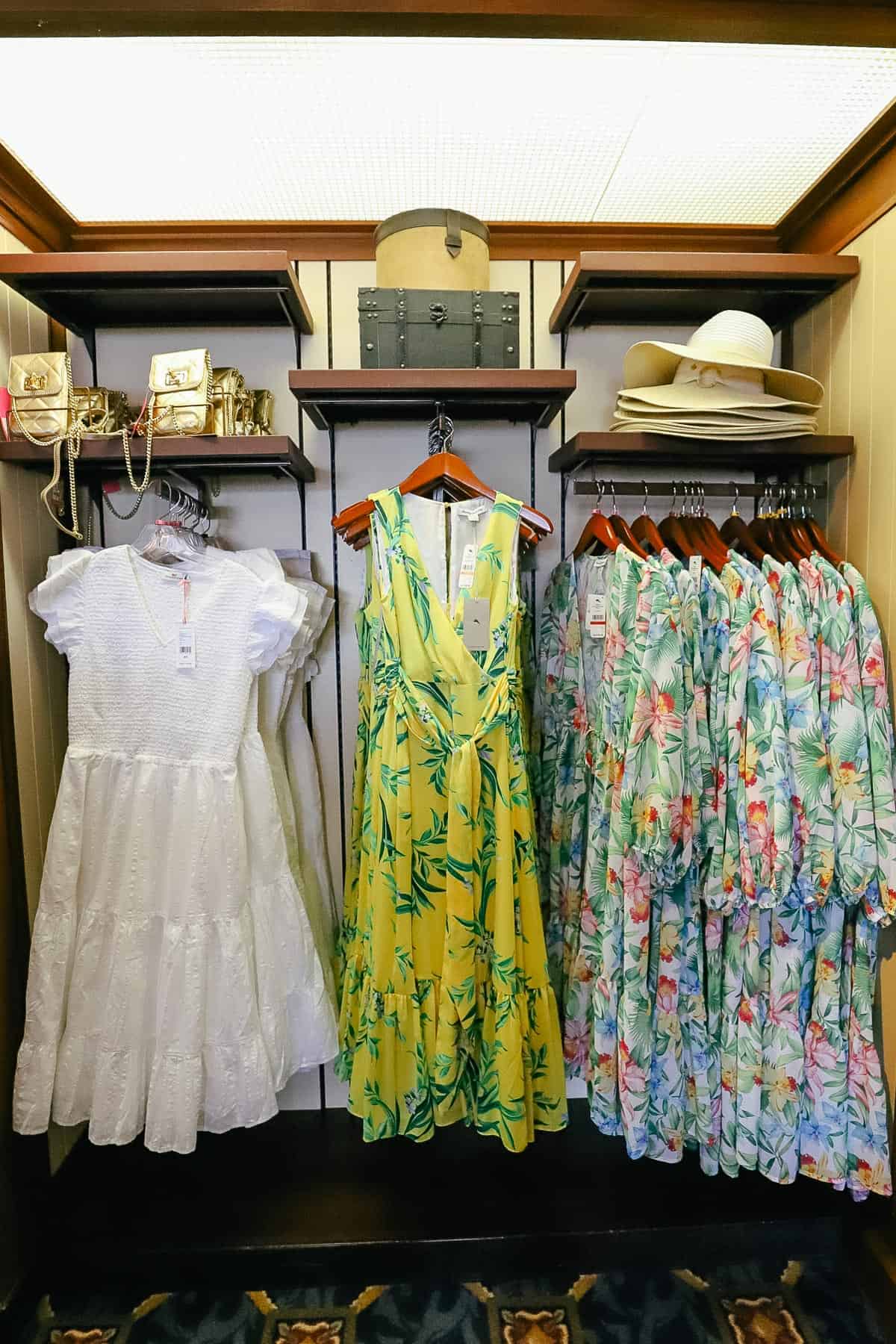 Several swimsuit selections are available.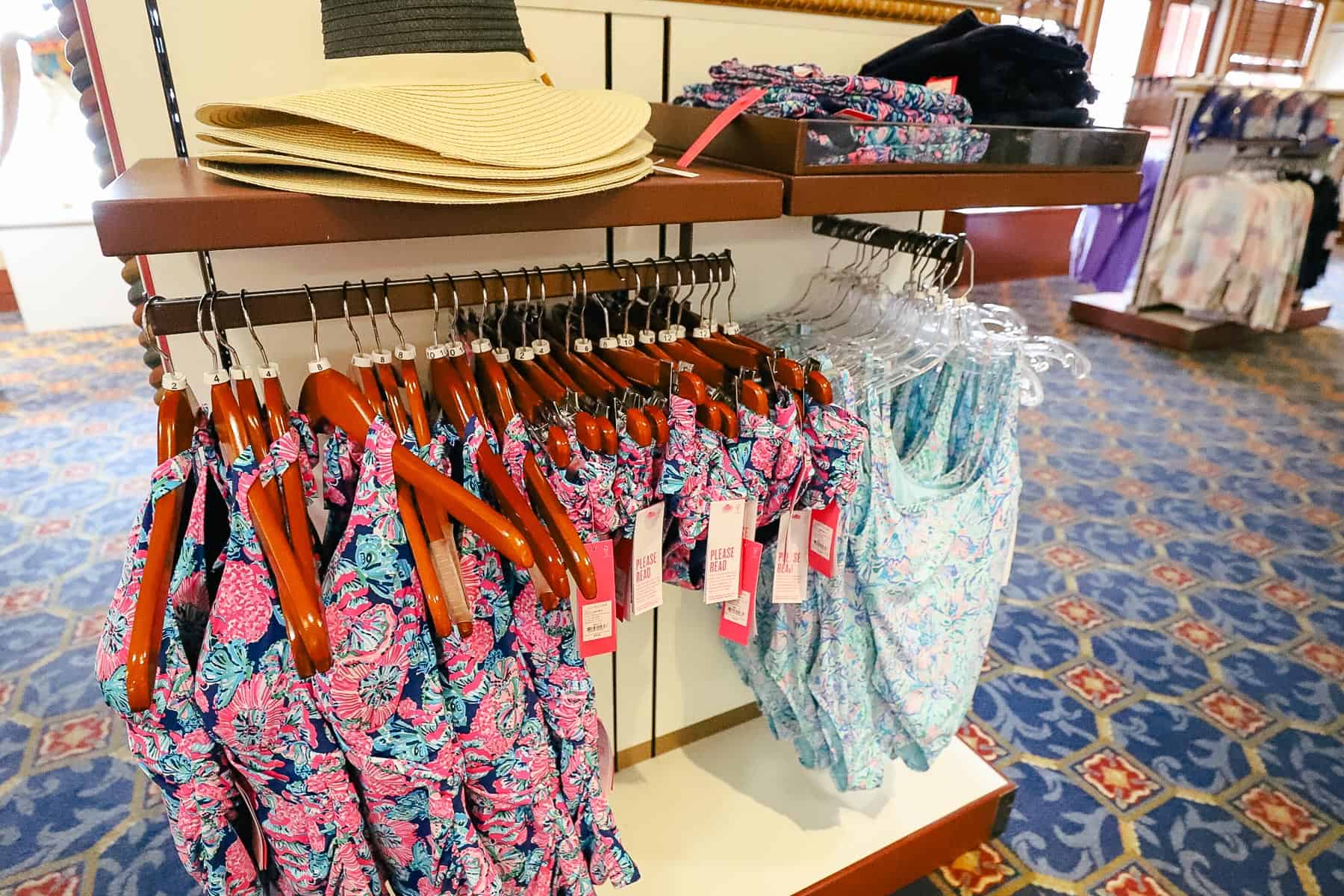 Here we have a few more pieces of Tommy Bahamas.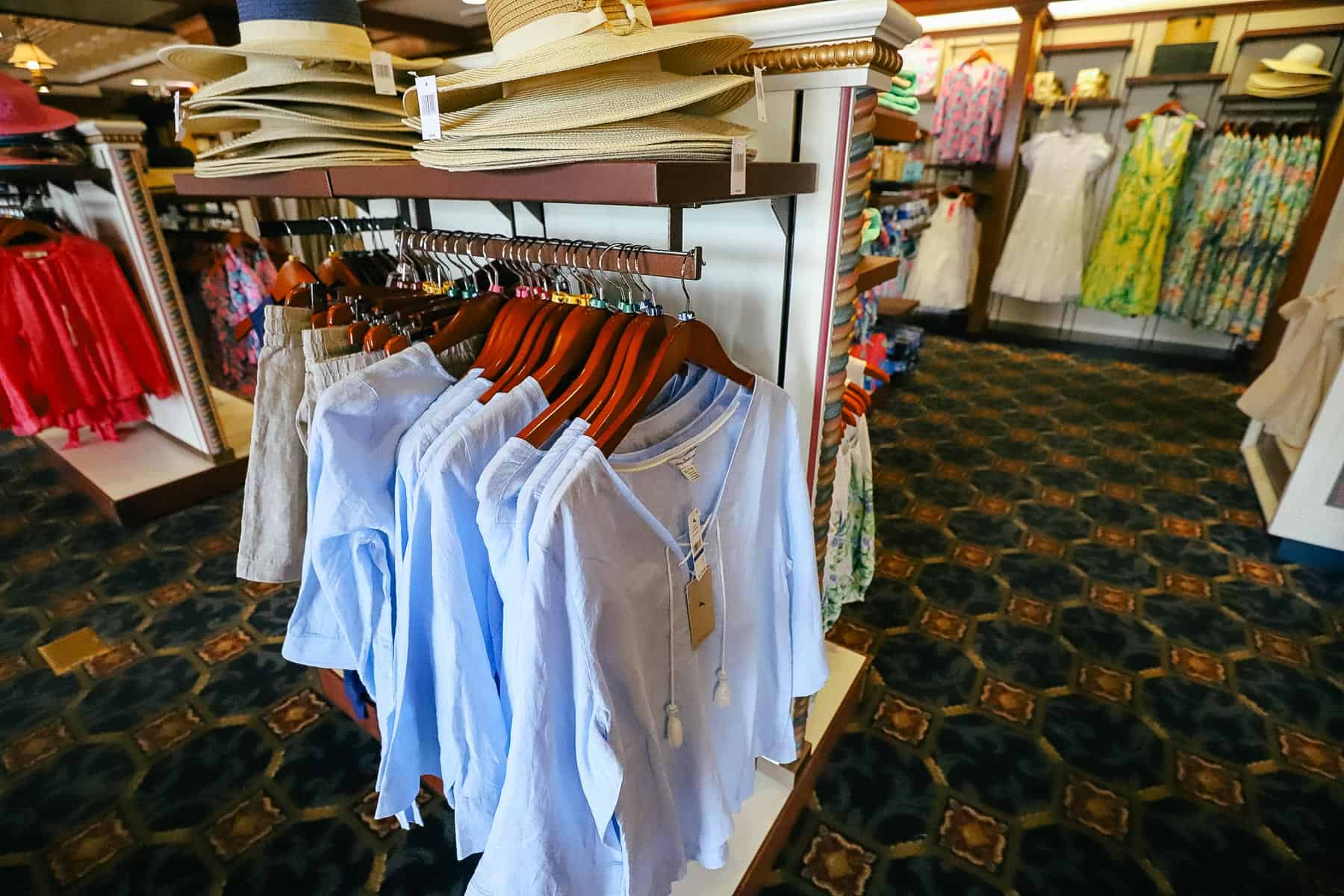 Thimbles and Threads
Thimbles and Threads is the last gift shop on Disney's Boardwalk.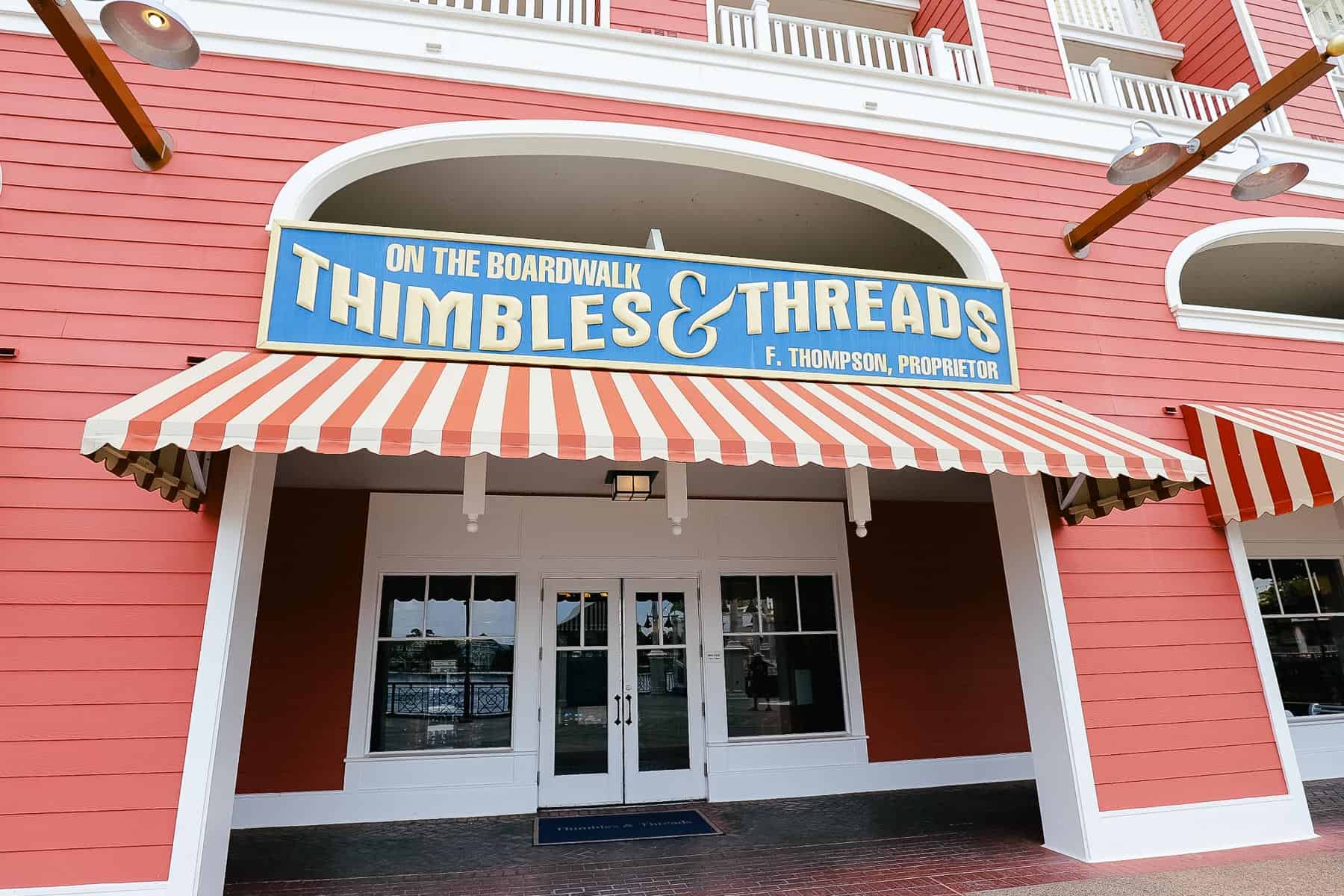 Here are a few more items to use at the pools at Disney's Boardwalk.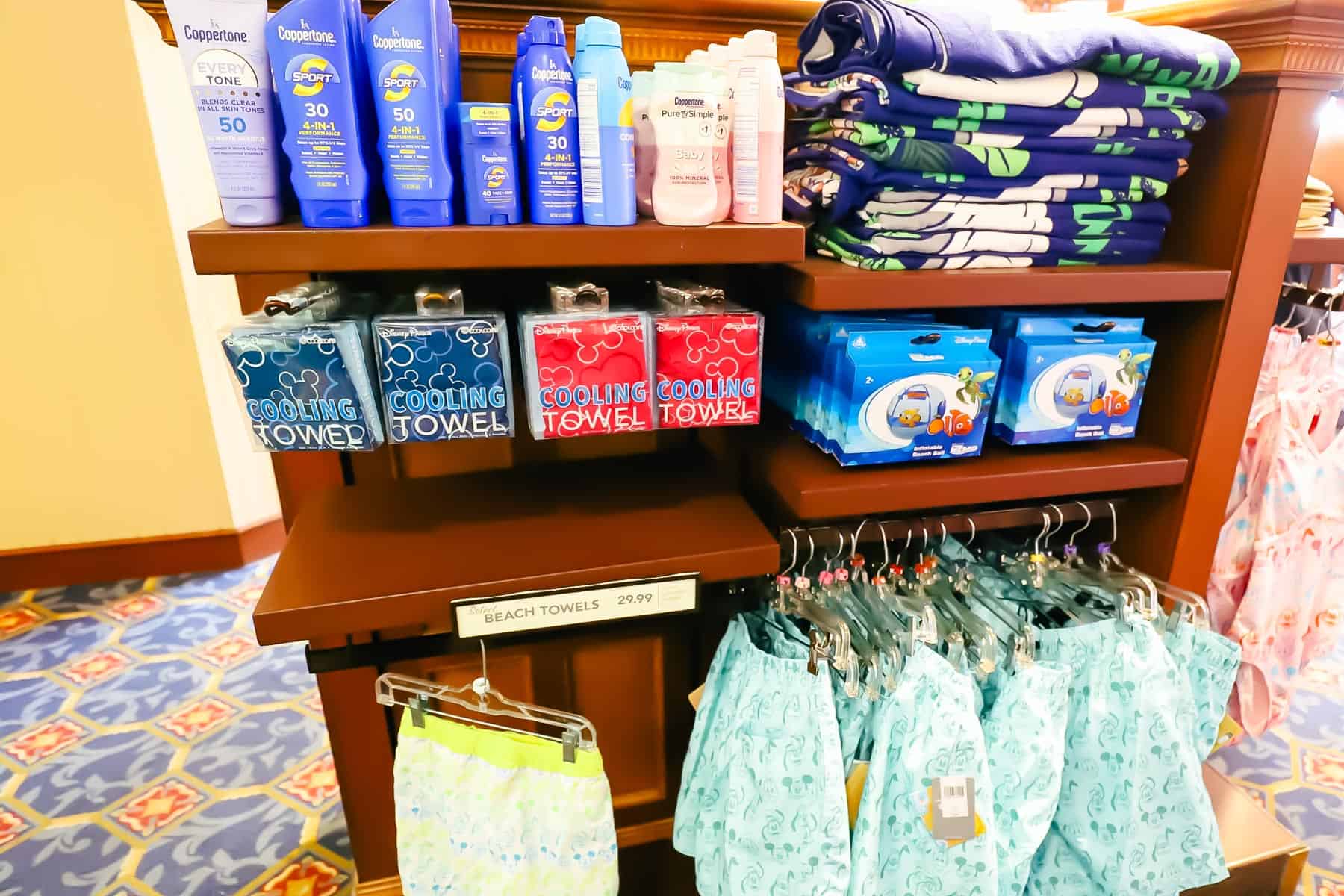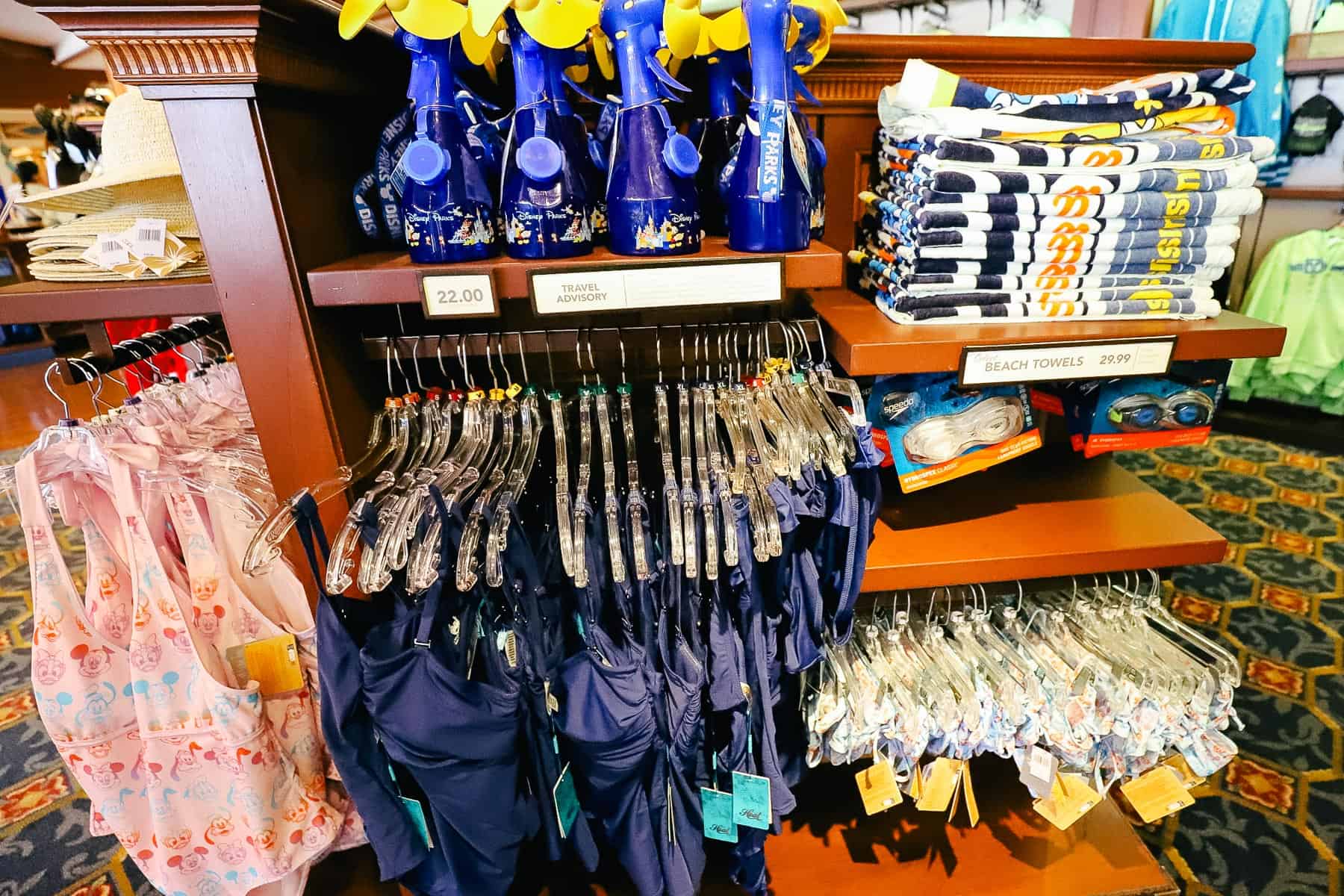 Toward the back of the store, we see a few more Disney-branded clothing items.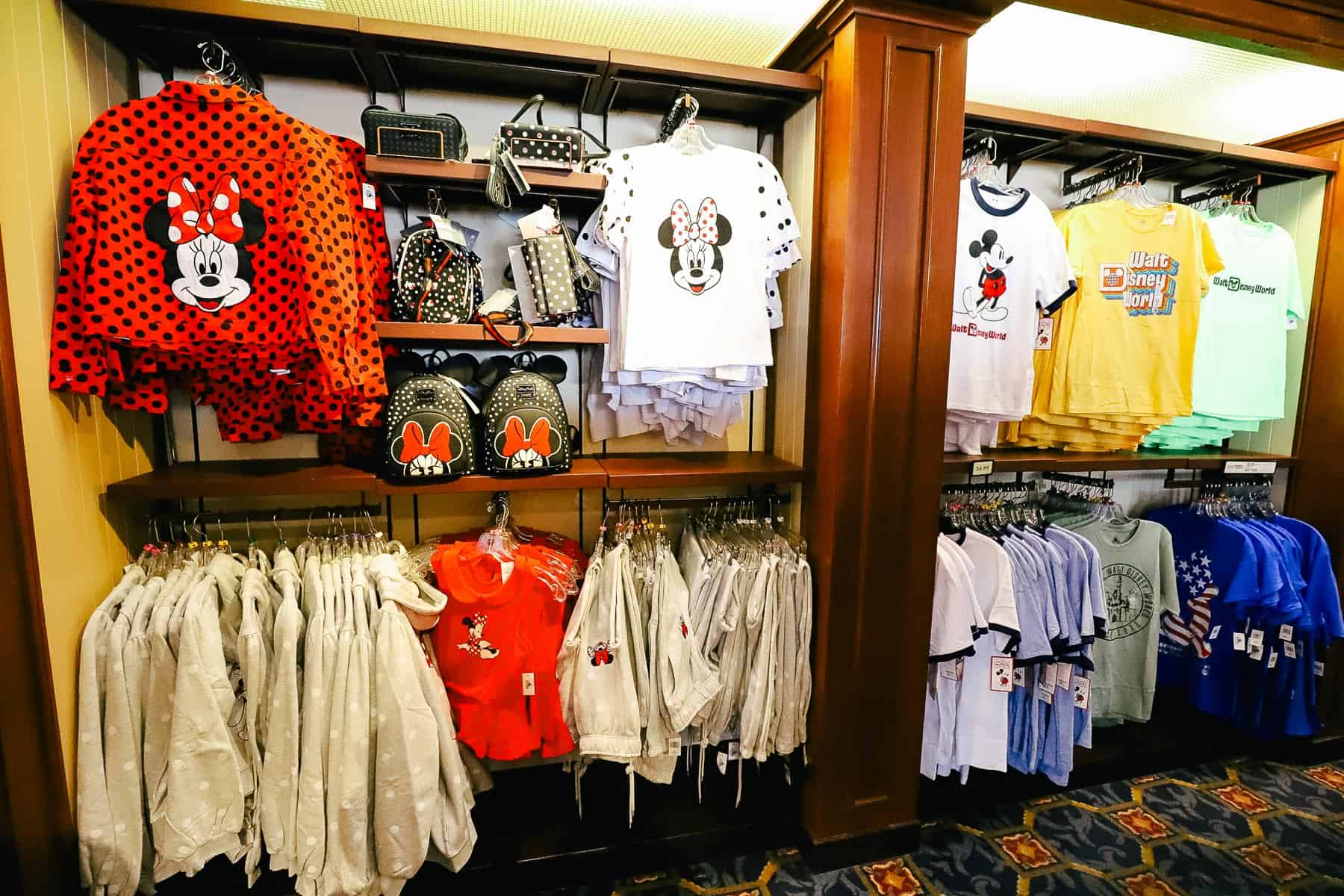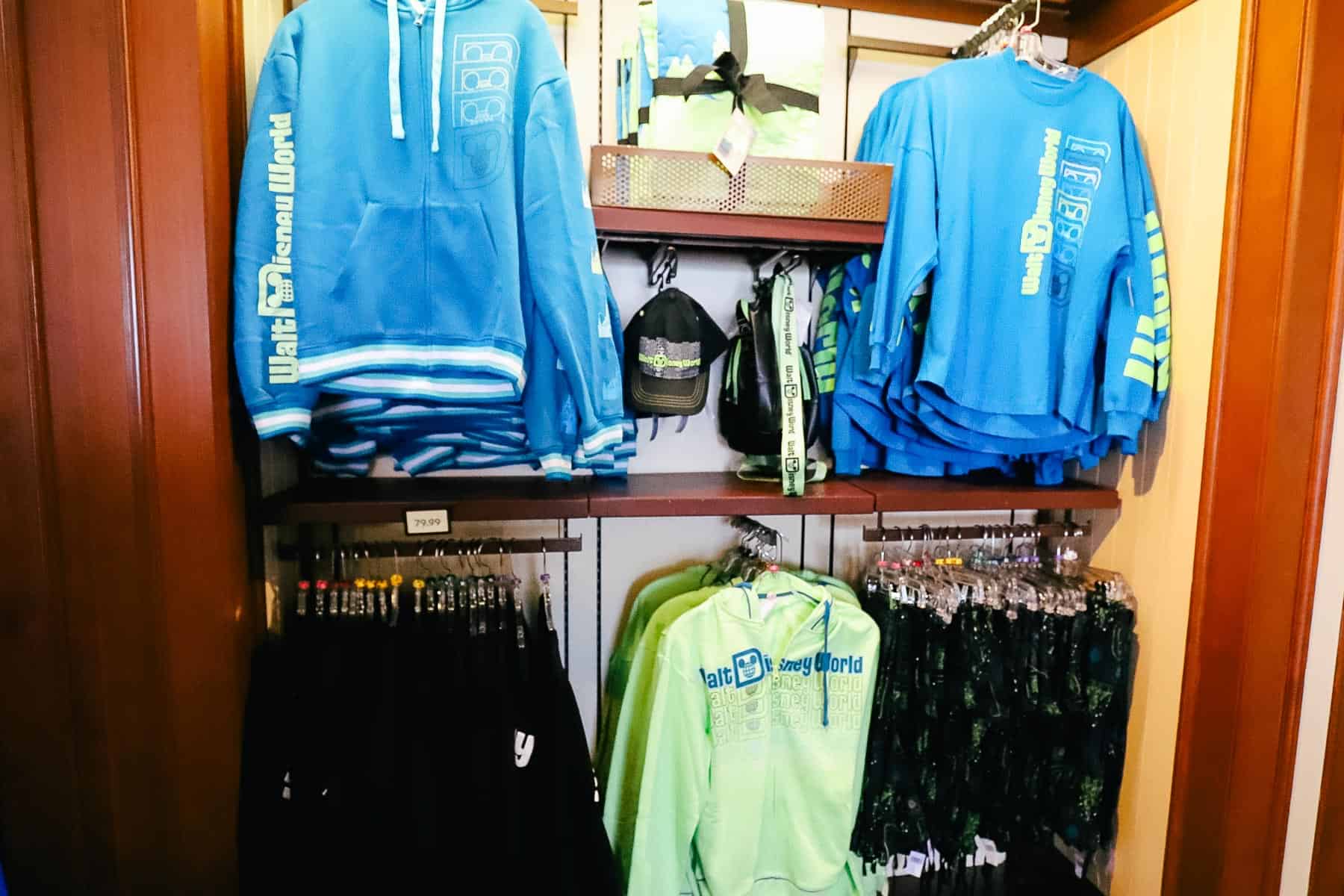 If you are interested in pin-trading, this store usually has a good amount of pins.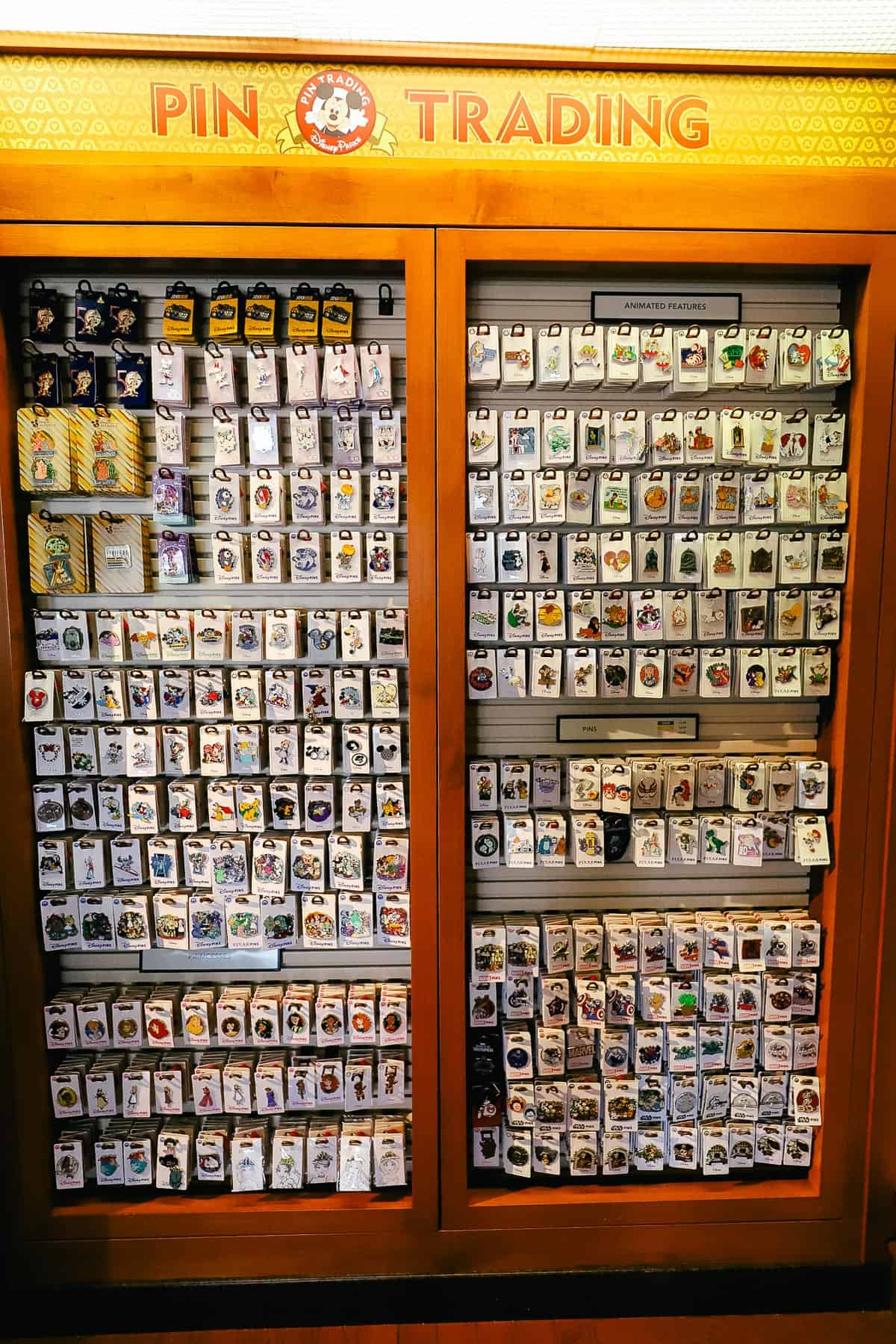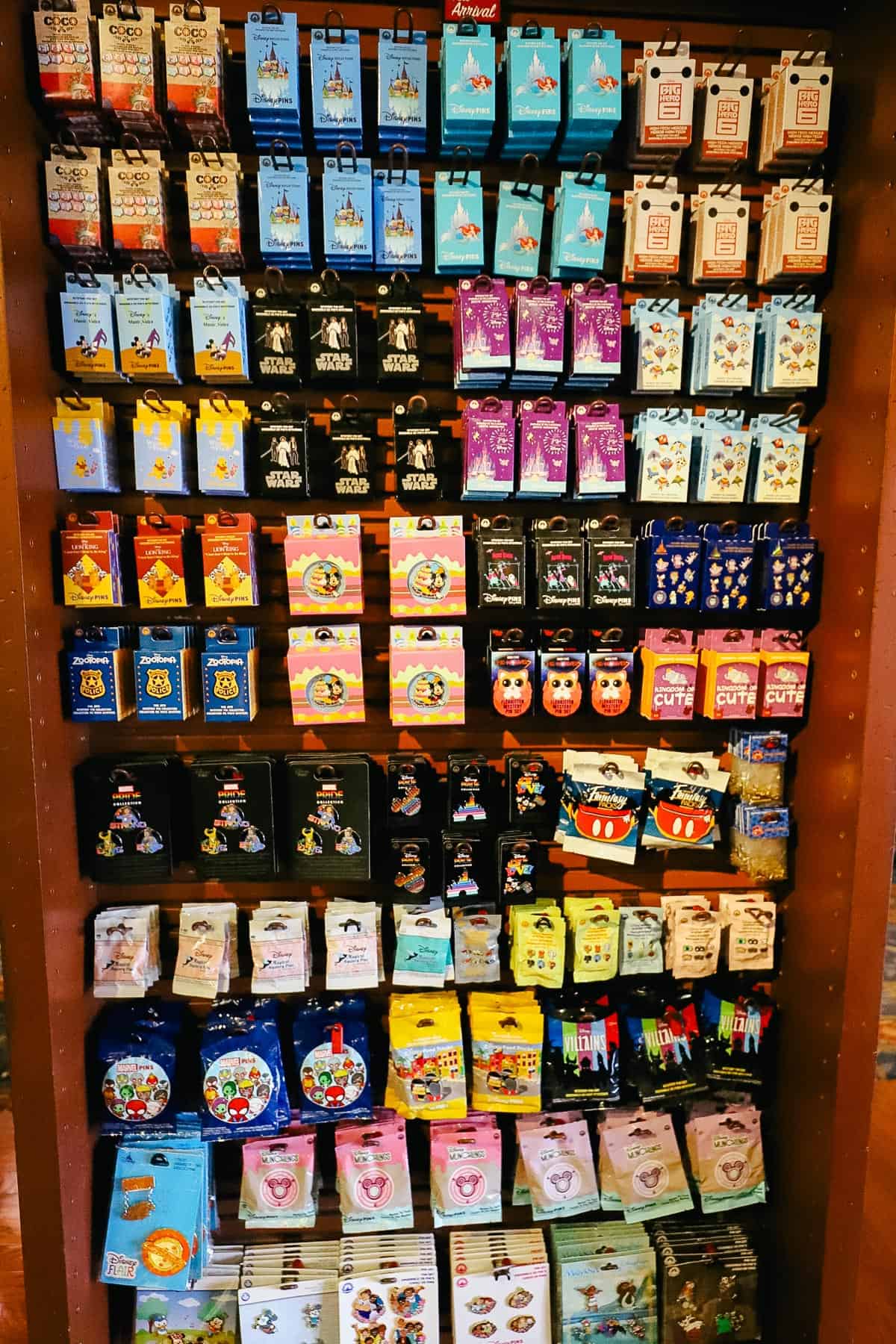 Here we have several autograph books, photo albums, and memory books.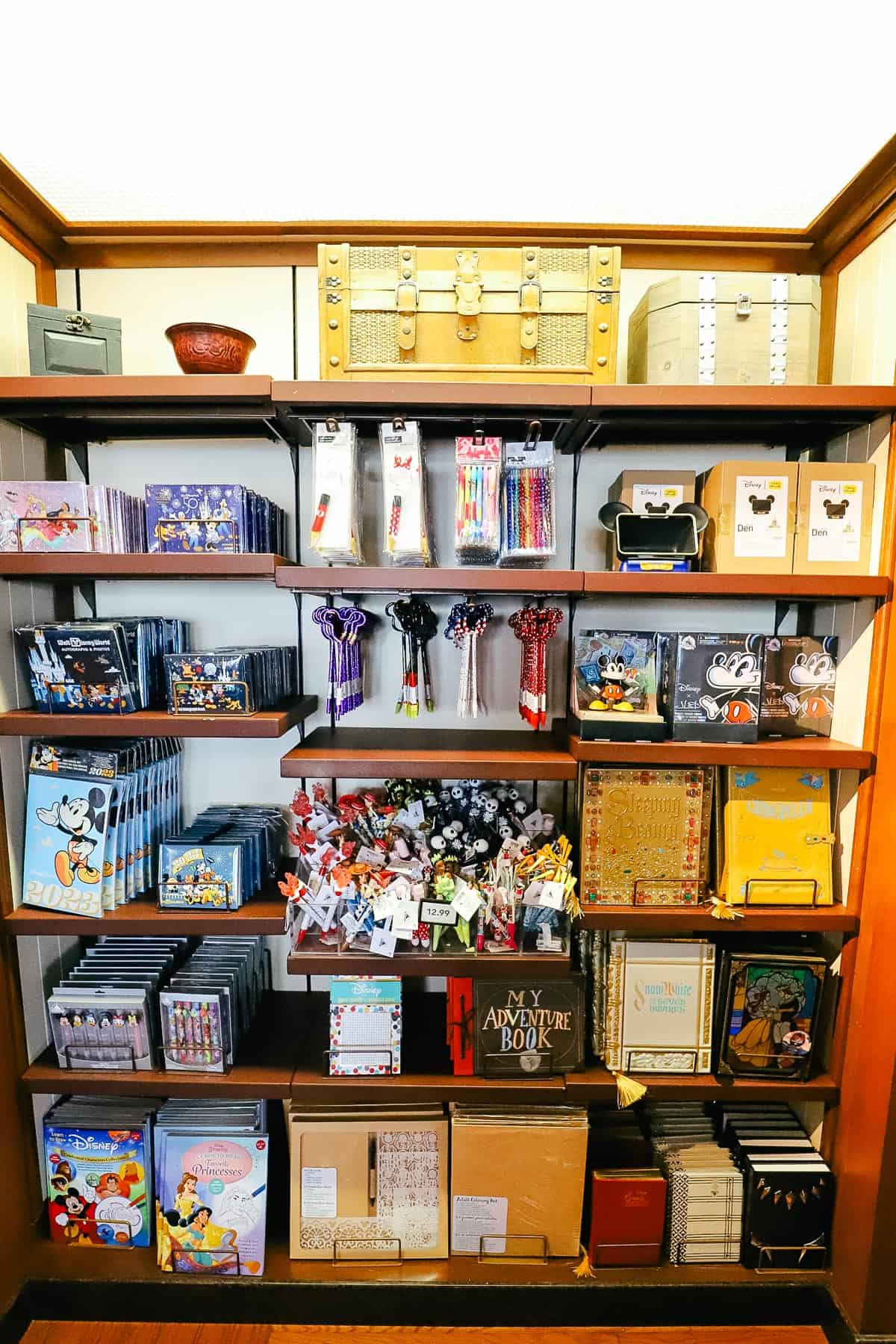 Disney nuiMOs remain popular as far as I can tell. Every once in a while I visit Disney's Character Warehouse Outlet and notice others stocking up on outfits for their nuiMOs.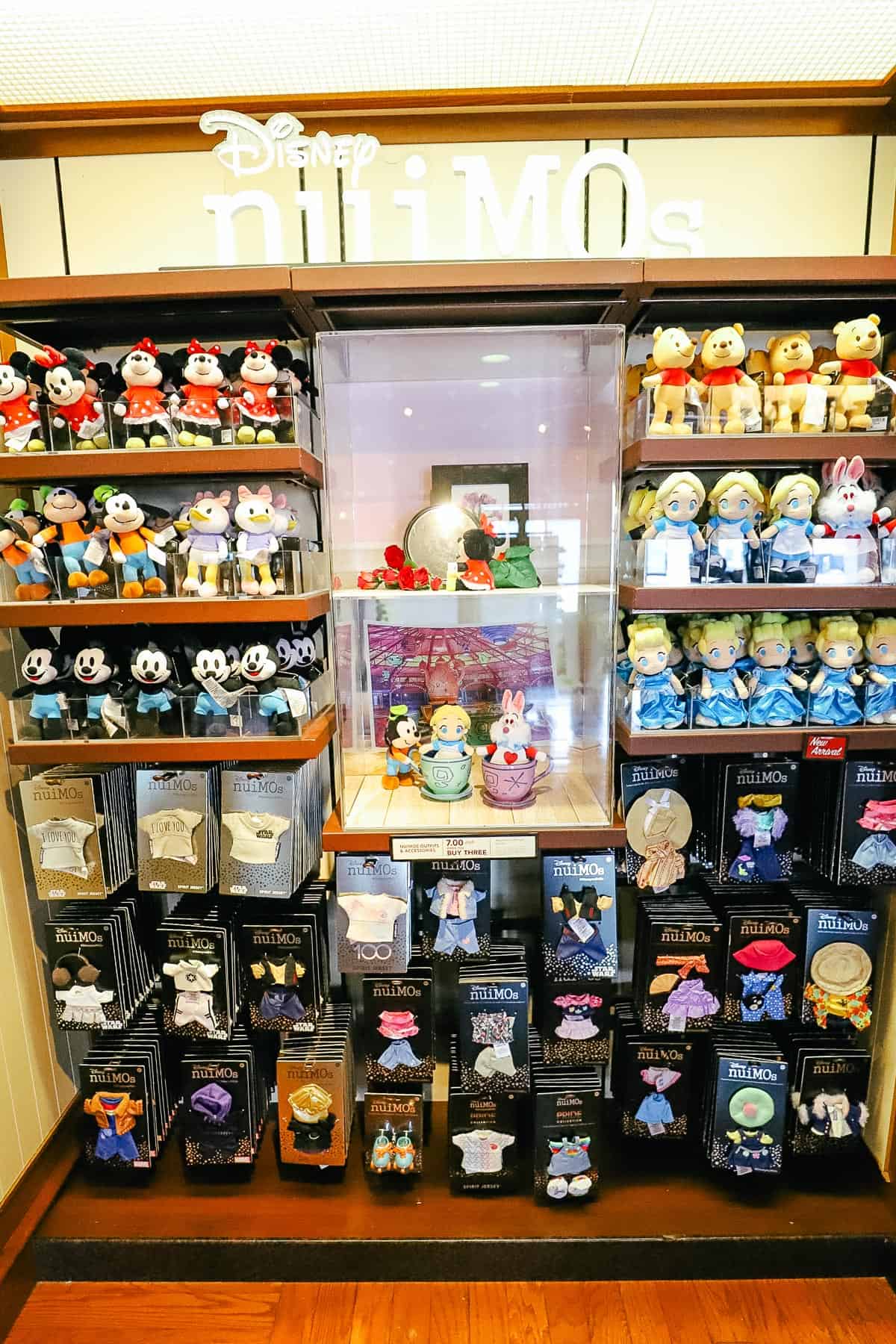 Here we have a selection of baseball caps and bucket hats.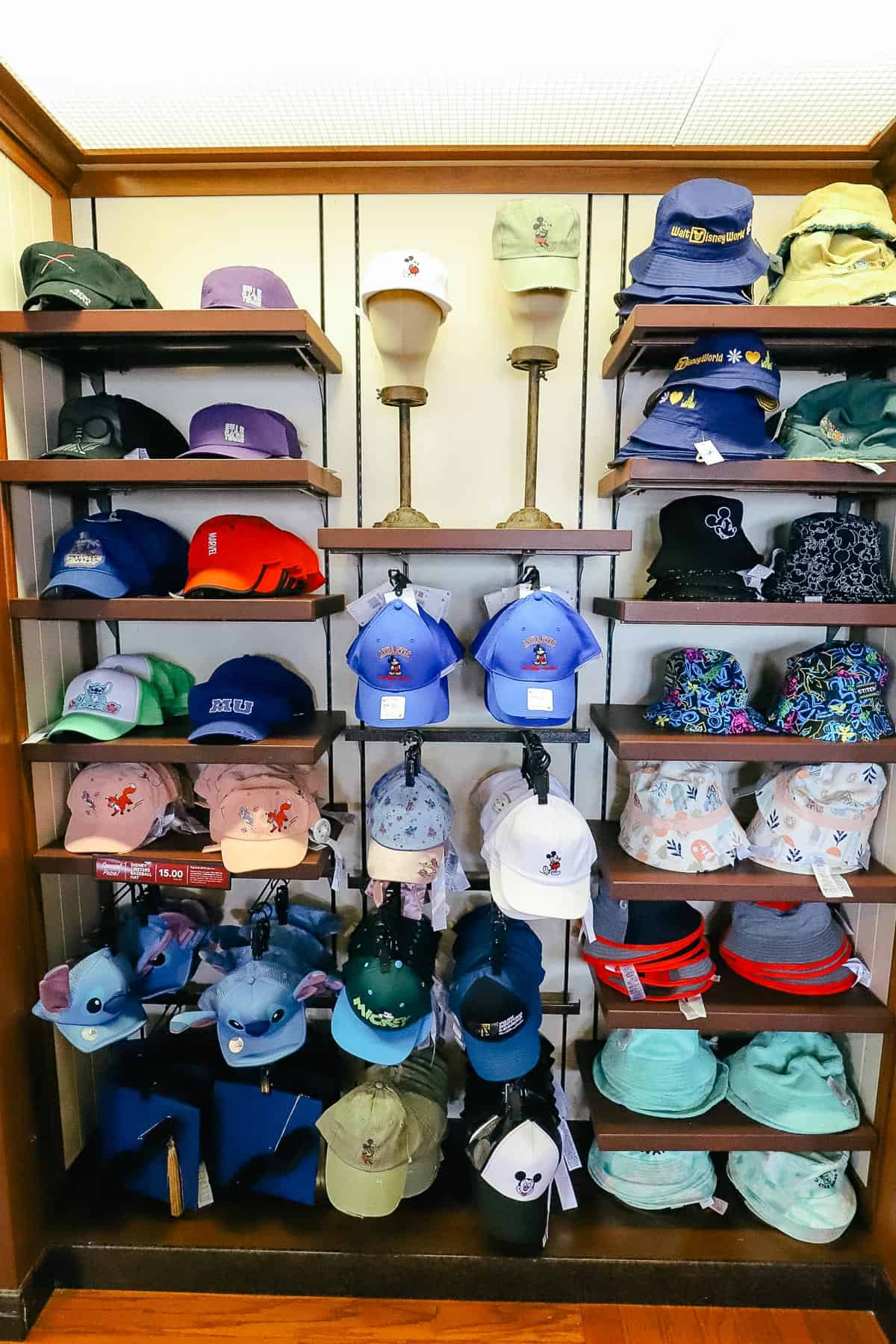 Several collections of Disney dolls are available. It's good to see that the Animator's Classic series are still popular. They are fun sets and make nice gifts.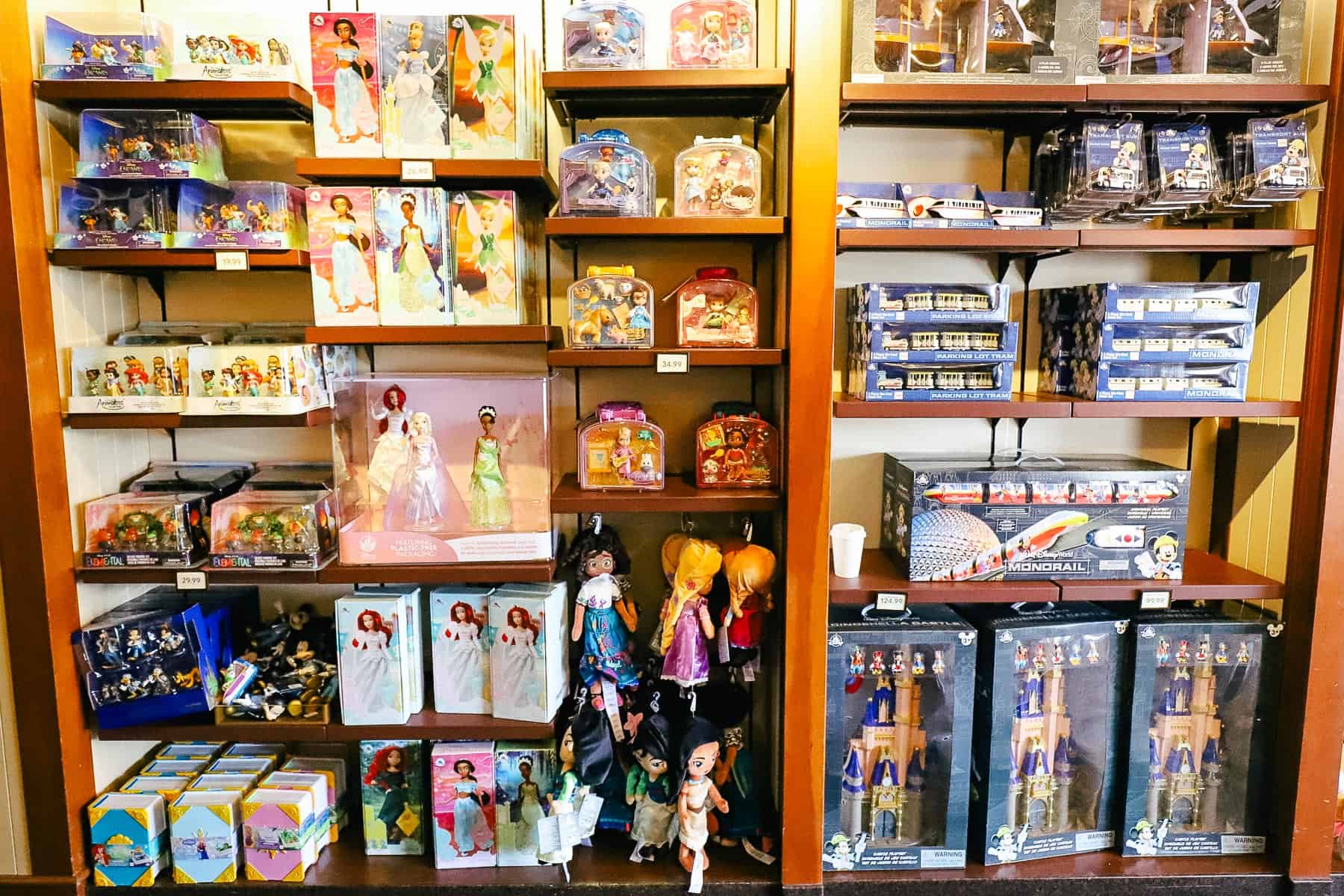 Here are a few toys for younger children.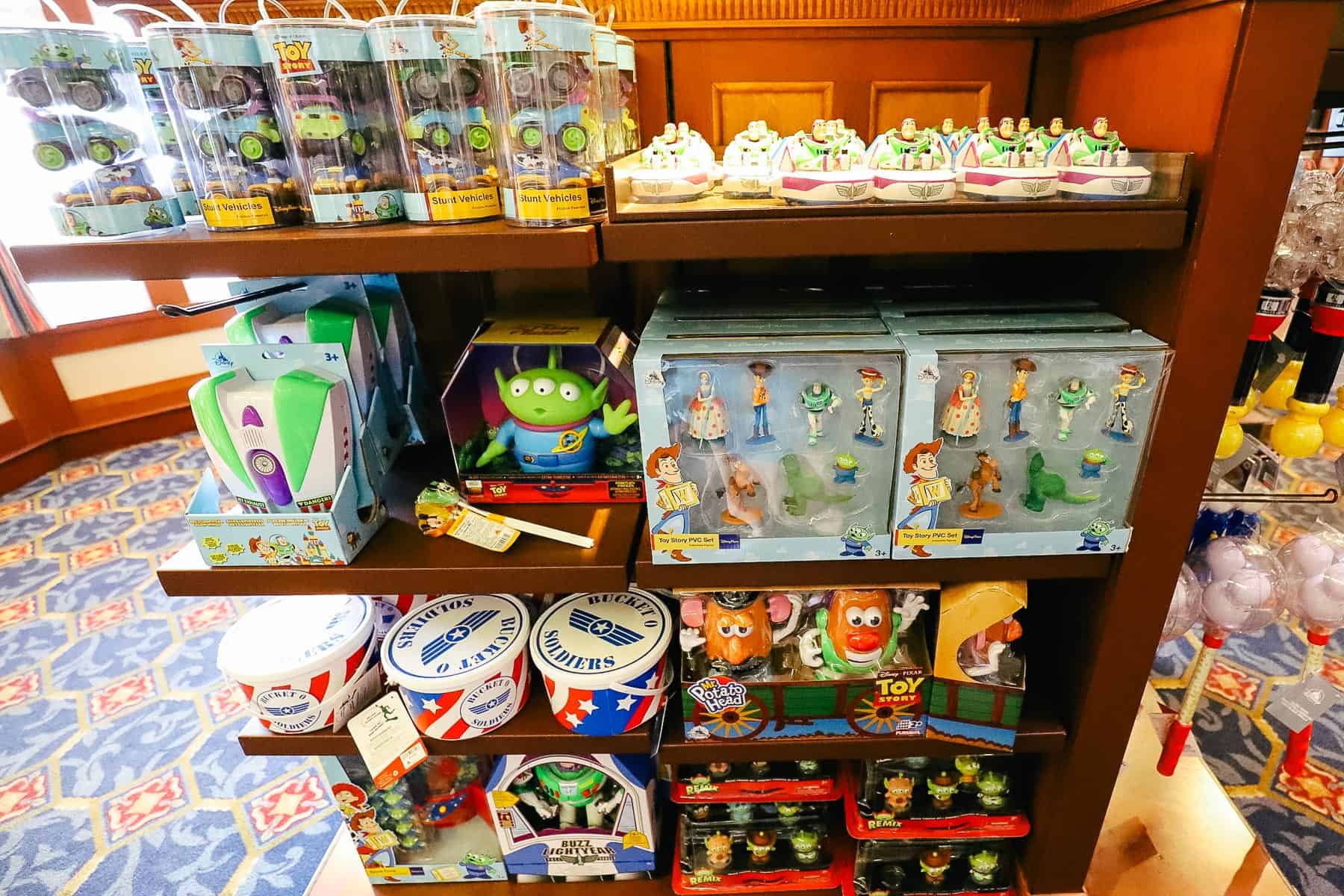 Disney Munchlings are all the rage. They are adorable and have a fresh baked scent.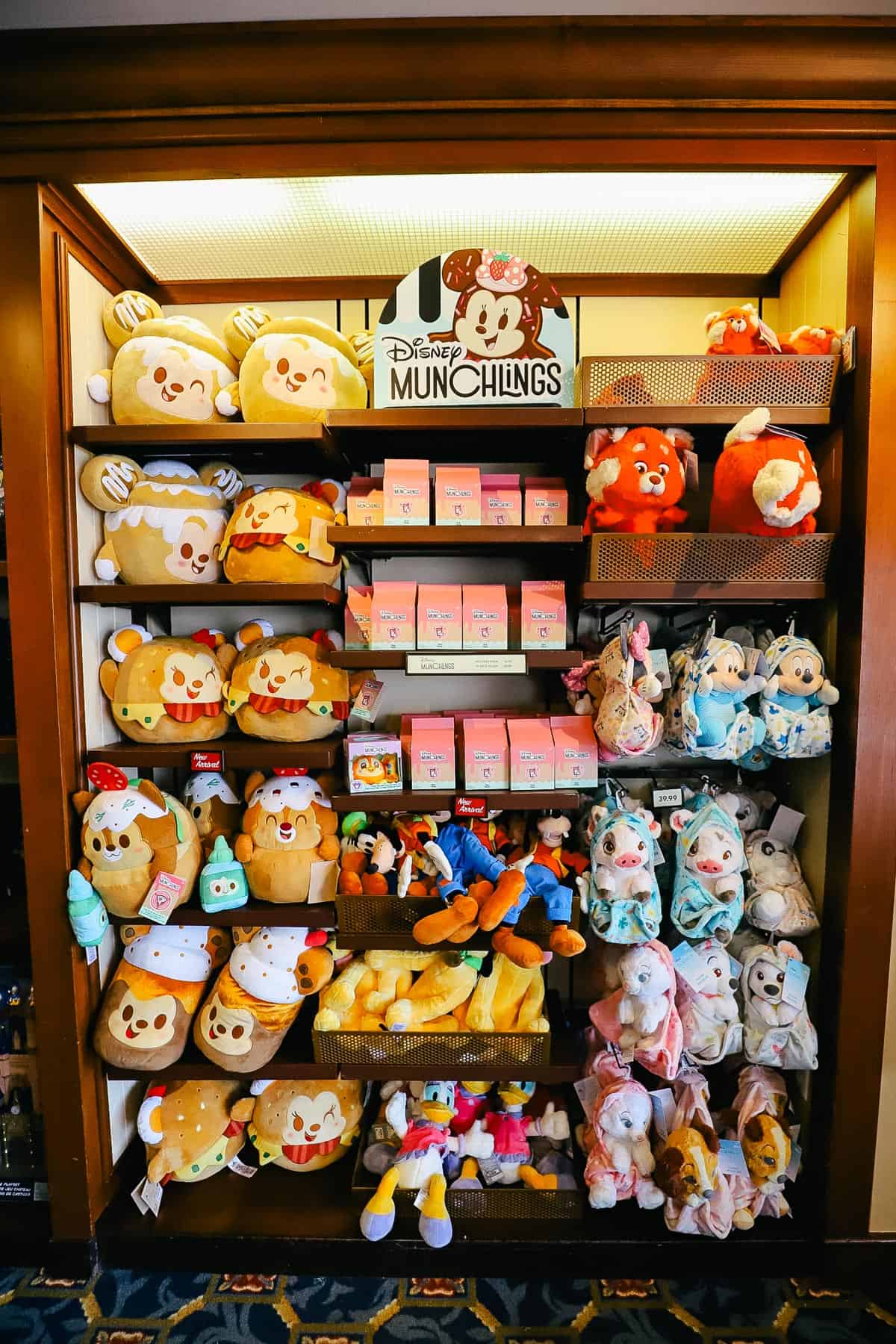 We see a few board games, puzzles, and other novelty items.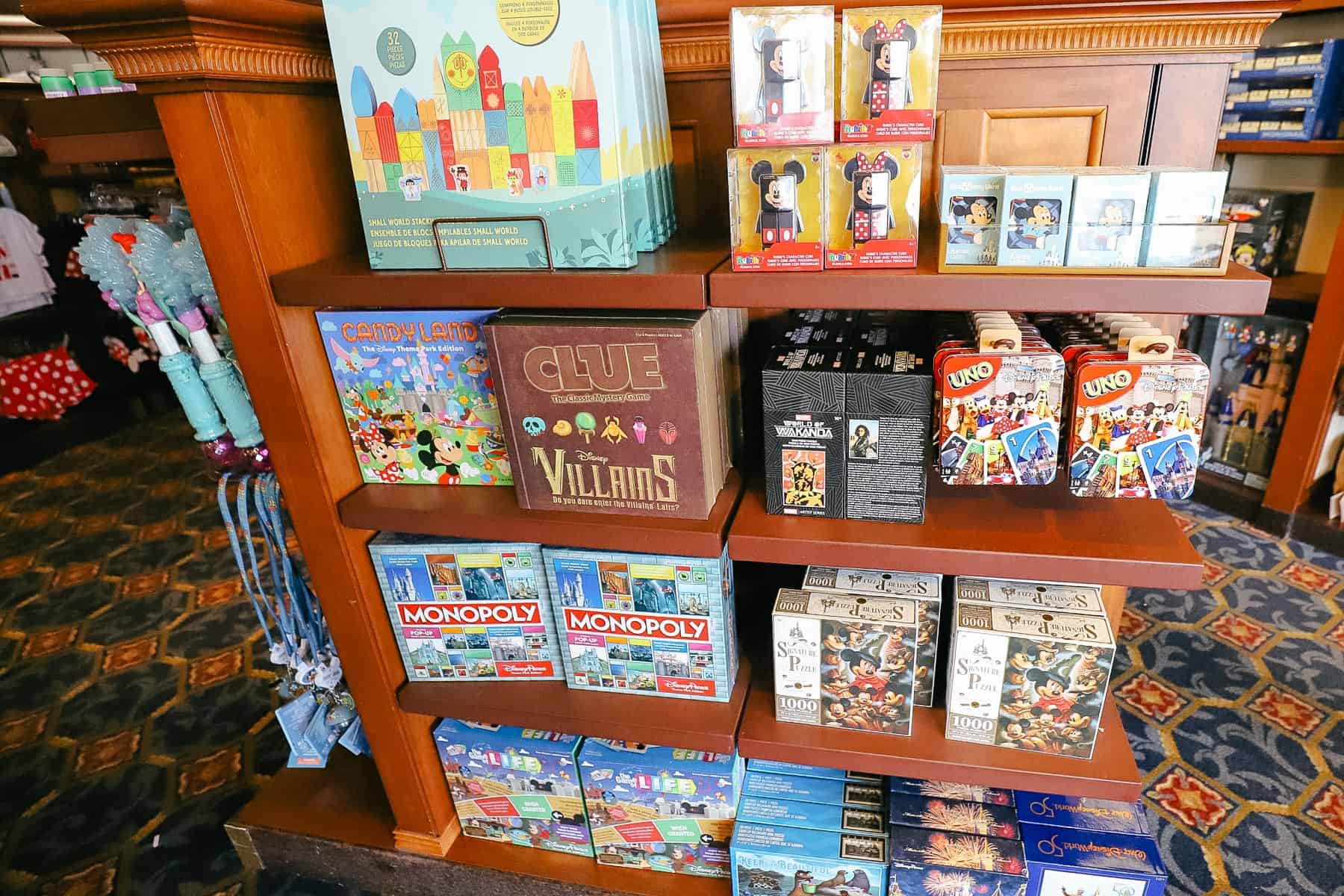 Children's apparel and accessories take up space at the back of the store. The items on the right side of the photo are bath tub sets. They are an excellent gift. When we spent the day at the pool recently, a girl brought her set and shared them with several other children. They played with the bath tub toys for hours!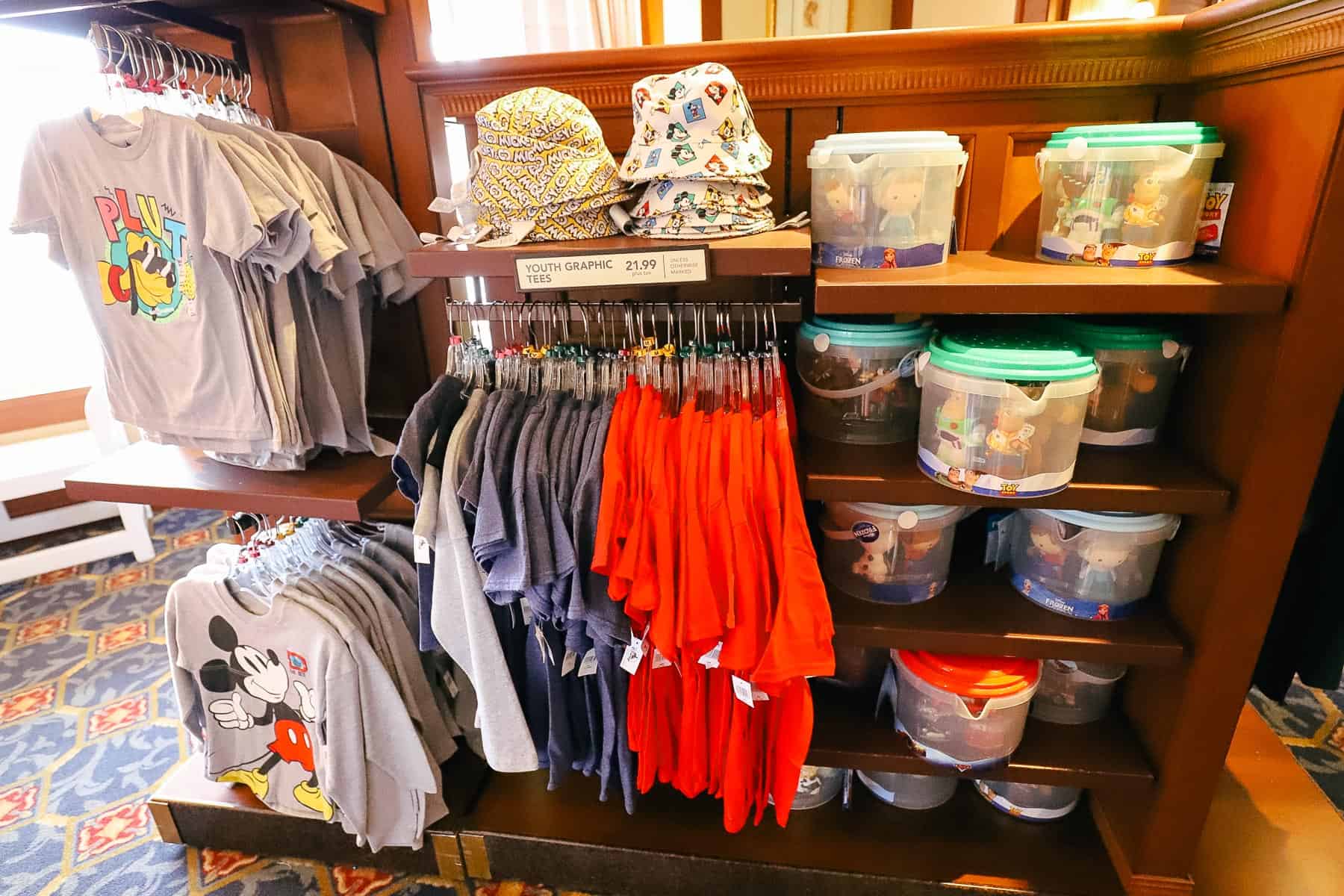 Here are a few more photos of the children's clothing available on our last visit.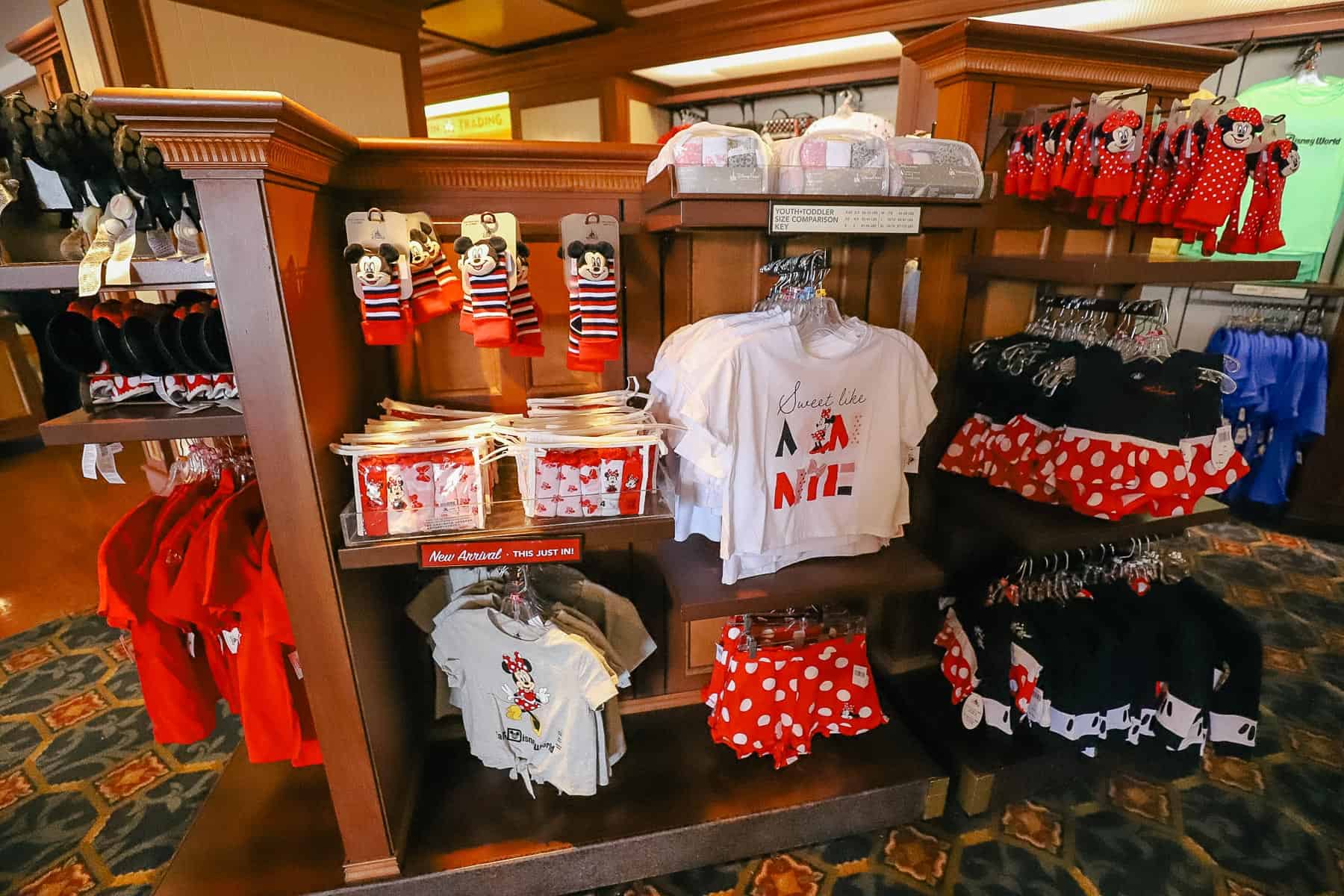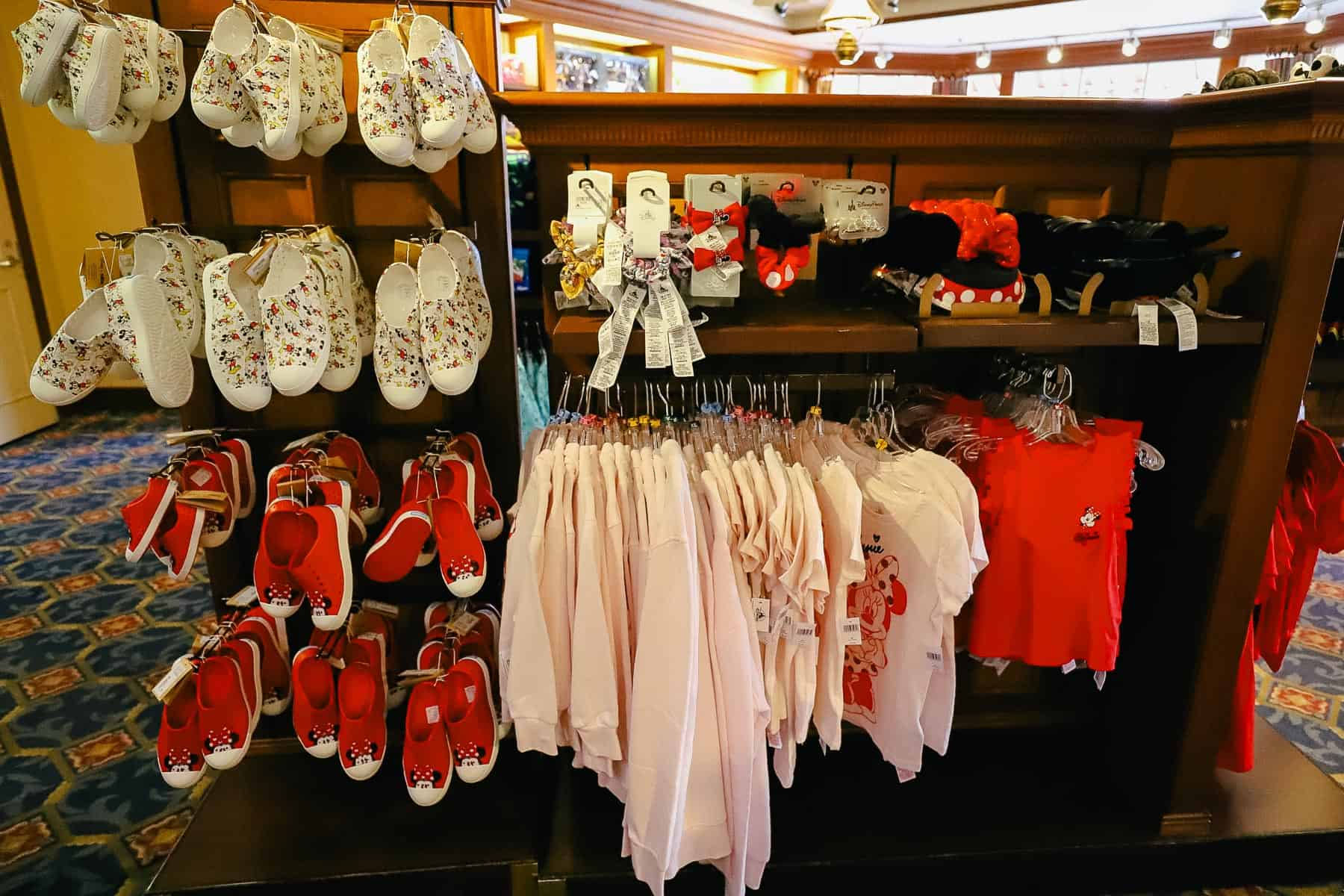 We saw a nice selection of MagicBand+ and a few regular MagicBands.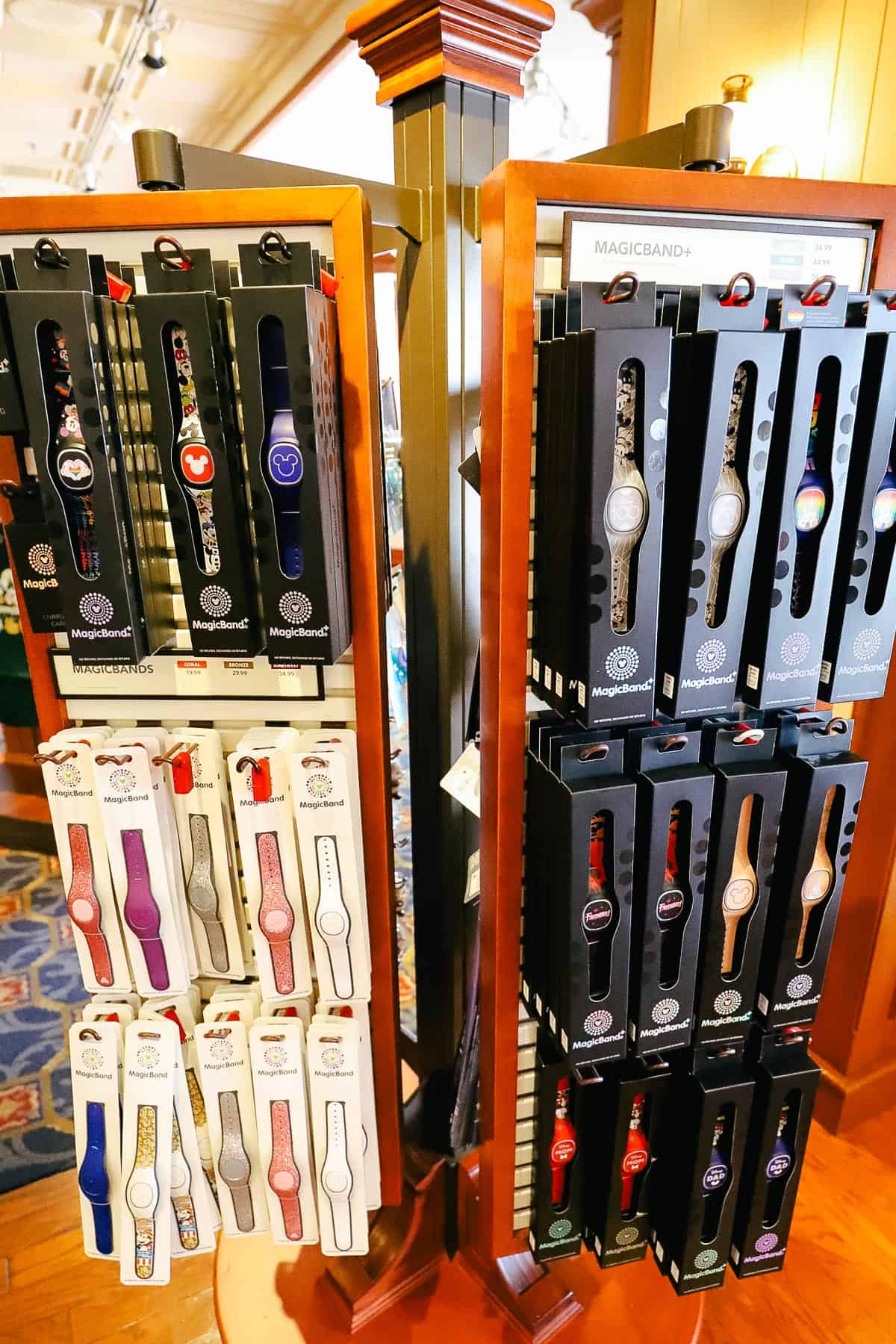 Several sunglasses, jewelry, and watches were available in a display case at the register.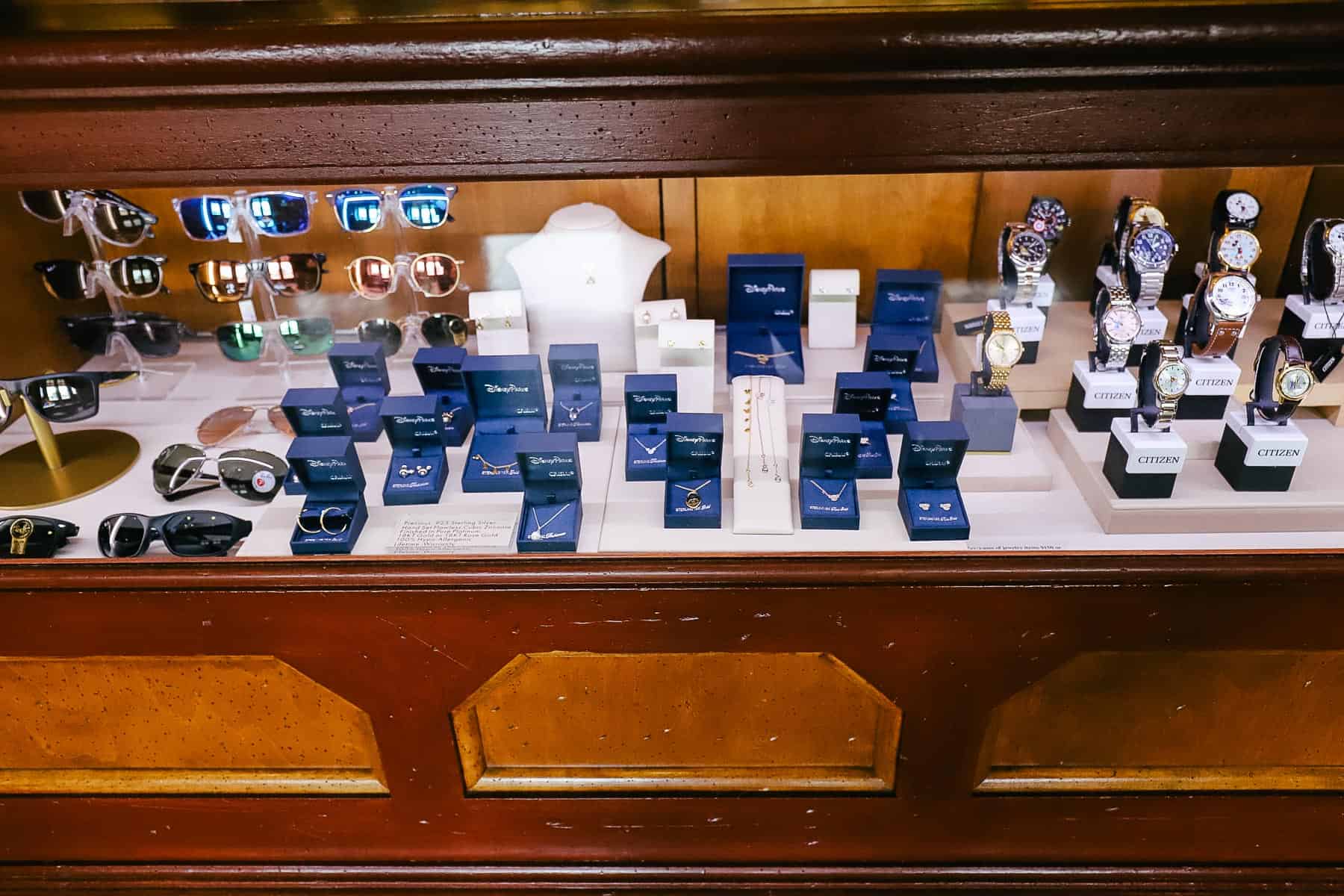 Lastly, a case featuring Pandora charms was available.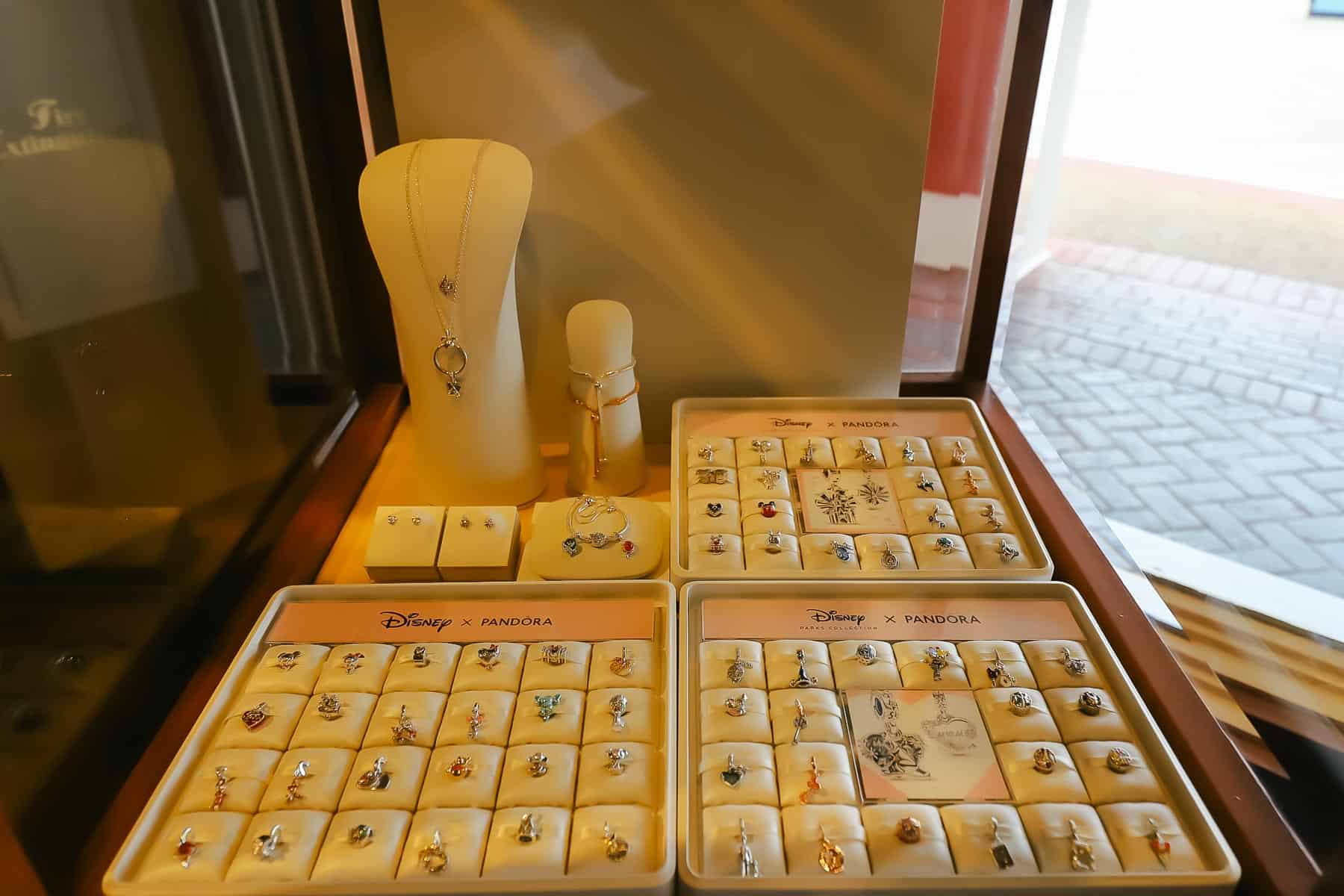 Overall, the gift shops at Disney's Boardwalk have a lot to offer. However, if you're looking to do any serious shopping, you'll likely do better at Disney Springs. We have an article that details the differences between Disney Springs and the Boardwalk.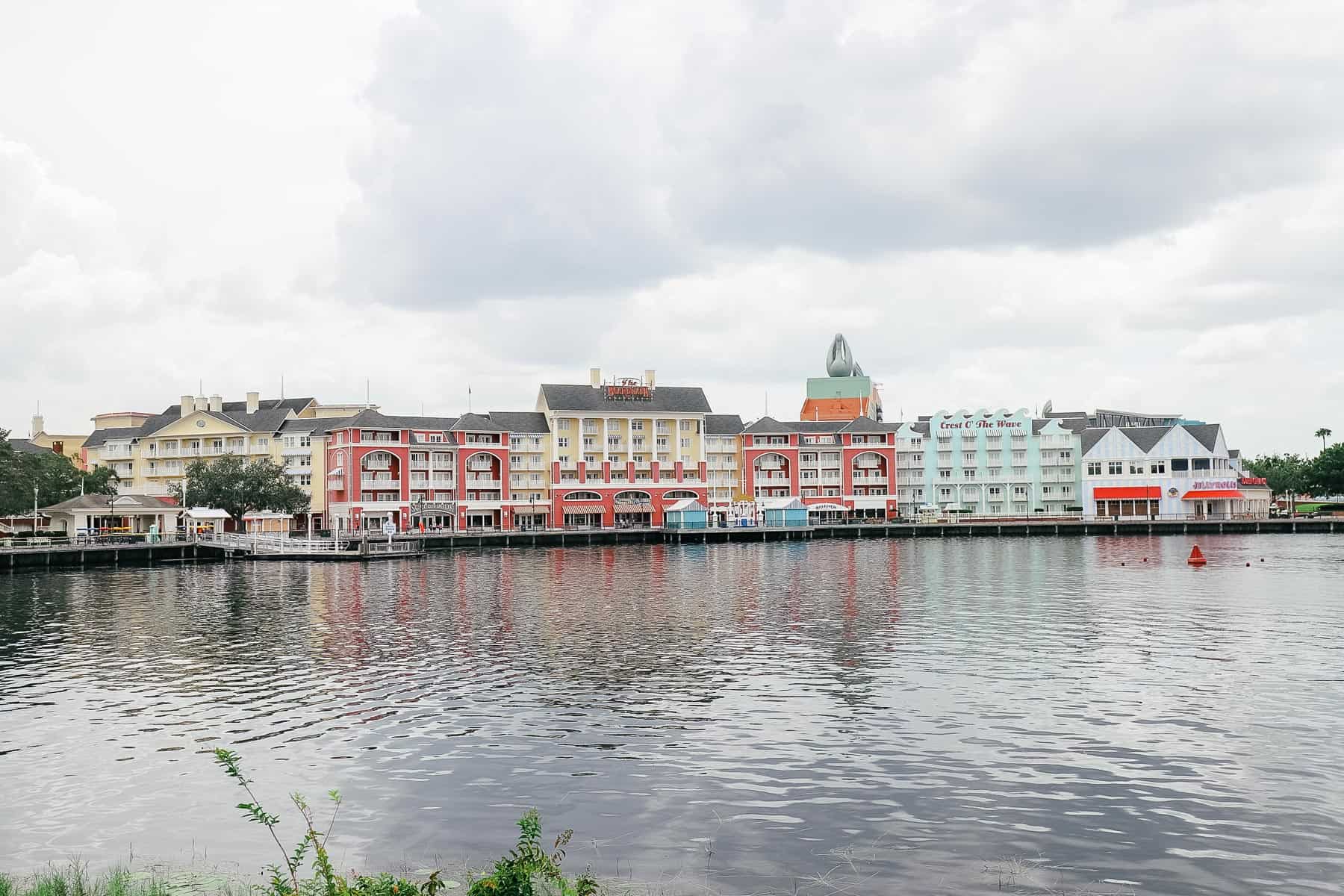 For more information about the resort, we have an entire guide:
You might also enjoy these individual articles:
In the Comments
Do you enjoy browsing the gift shops at Disney's Boardwalk? Do you wish more shopping options were available?
Planning a Walt Disney World or other Disney Destination vacation?
Our friends and travel partner, Firefly Travels, excels at doing Disney differently. You can fill out a plan your trip form on their website, and someone will reach out shortly to discuss the specifics.