For the First Time in Forever: A Frozen Sing-Along Celebration
For the First Time in Forever: A Frozen Sing-Along Celebration is a must-do during your visit to Disney's Hollywood Studios. This entertainment offering provides an excellent opportunity to see characters from Frozen. It's also one of the most delightful performances at Walt Disney World.
Below, I'll walk you through my latest visit to see A Frozen Sing-Along Celebration. Additionally, we'll preview a portion of the special holiday ending offered during the Christmas season.
From the hilarious skit to the superb acting, you'll feel like you're watching a Broadway-style performance. Plus, the Hyperion Theater provides the perfect place to take a break from the heat or afternoon rain showers.
Let's take a closer look.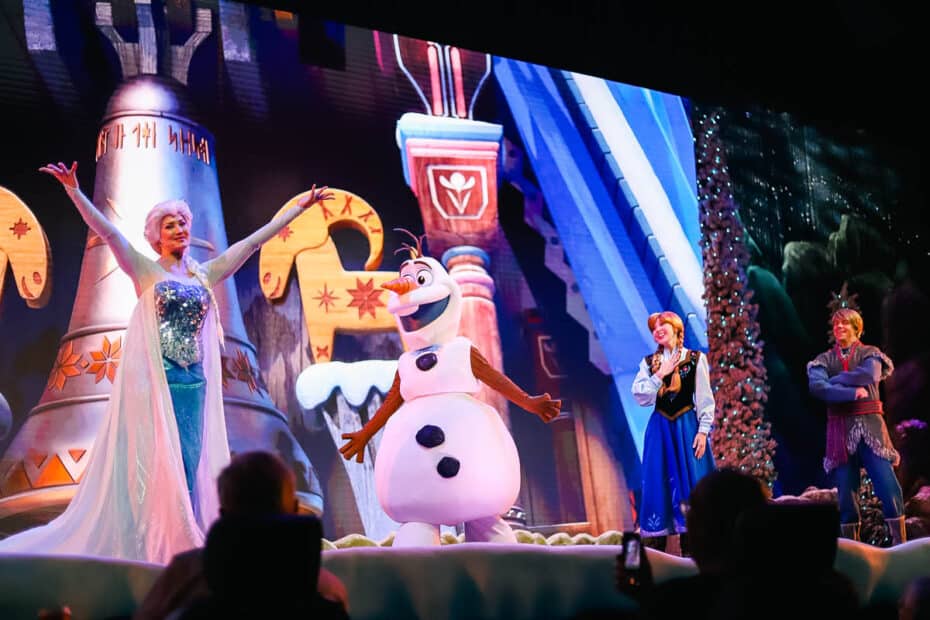 Location and Times for the Frozen Sing-Along Celebration
Disney's Frozen Sing-along is scheduled daily every hour on the half-hour, beginning at 9:30 a.m. with the last performance at 6:30 p.m. You can check the My Disney Experience App or Disney's website here for the exact times on the day of your visit.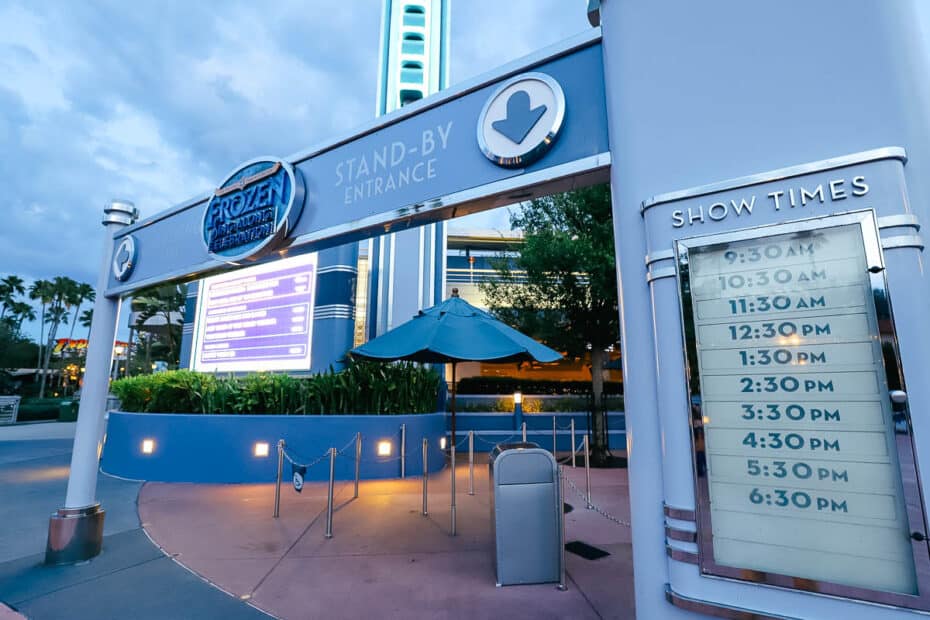 Here's a summary of details for this attraction:
Frozen Sing-Along Celebration
Hollywood Studios Attractions

Location:

Hyperion Theater

Disney Height Requirement:

None

Disney Genie+ Eligible

Yes, but rarely needed.

Ride Type:

Theater Performance

Seats Per Vehicle:

Theater Rows

Rider Switch:

No

Duration:

30 minutes

Good For:

Everyone

Scare Factor:

None

Must-Do List:

Medium Priority

Perfect For:

Frozen Fans (Everything Frozen at Disney)

Special Mention:

Meet Olaf next door after
the performance.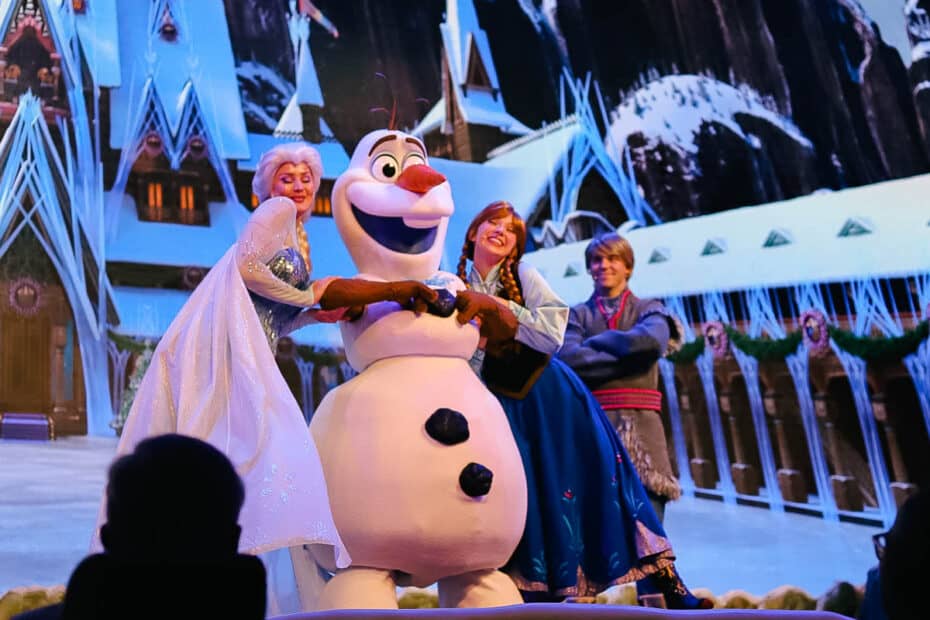 Tips for Seeing the Frozen Sing-Along Celebration
When seeing the Frozen Sing-Along Celebration, you're looking at a minimum 30-minute investment of your time. However, those who choose to join the queue 15 or so minutes early are looking at a total time investment of around 45 minutes.
On the afternoon of this visit, I got in line at 4:08 p.m. Then, at 4:12 p.m., cast members opened the doors for guests waiting in the accessibility area. Naturally, those guests are seated first.
During this time, guests with Lightning Lane are allowed entrance from an entirely separate area. Frozen Sing-Along Celebration's Lightning Lane entrance is opposite the theater from the standard queue.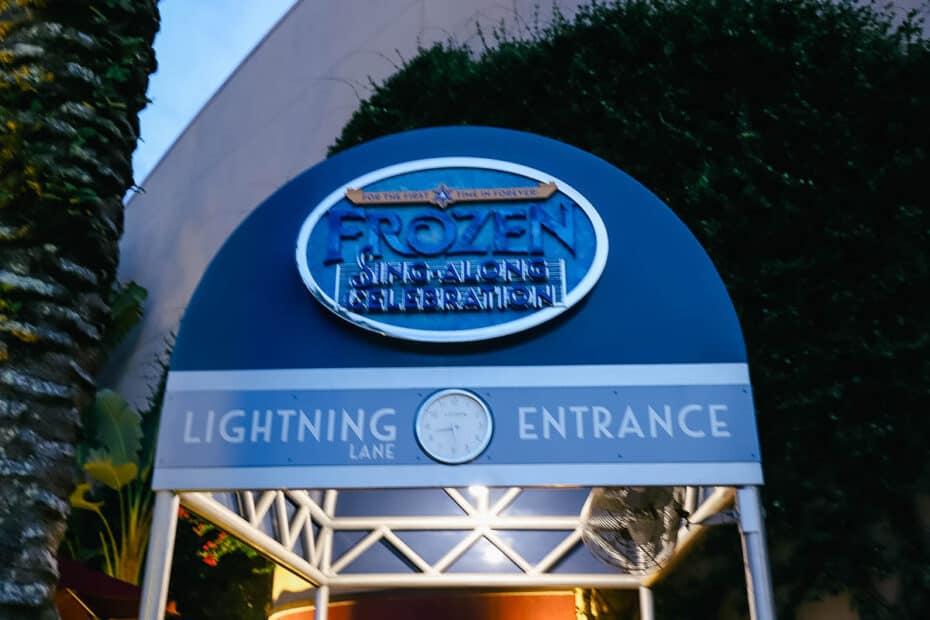 At 4:15 p.m., the doors were opened to all guests. You can choose from any available row except for the first two rows.
Here is the exterior waiting area. Notice how it's sloped, similar to the theater.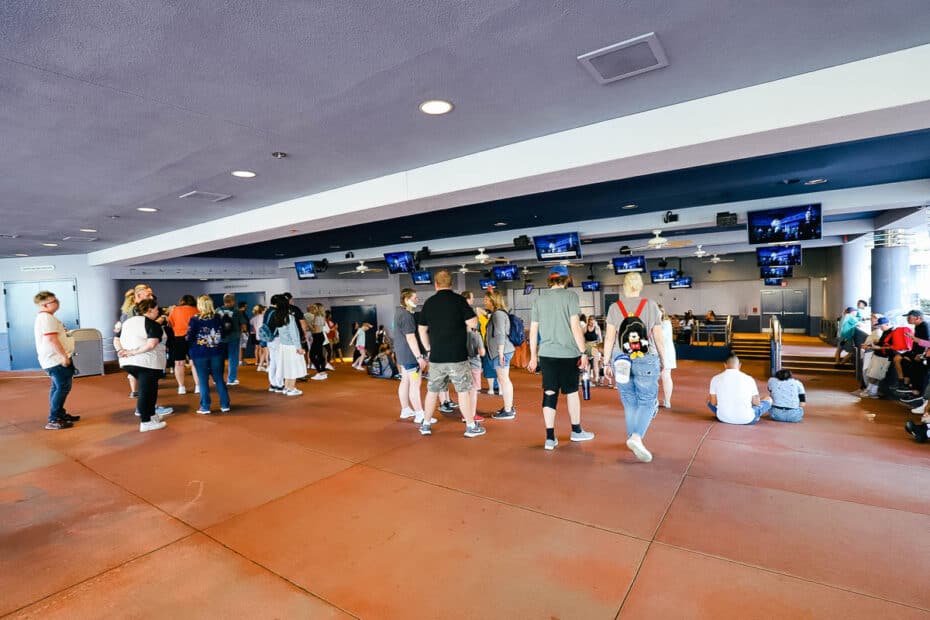 I opted to sit a few rows back from the stage for this performance. Here is my view.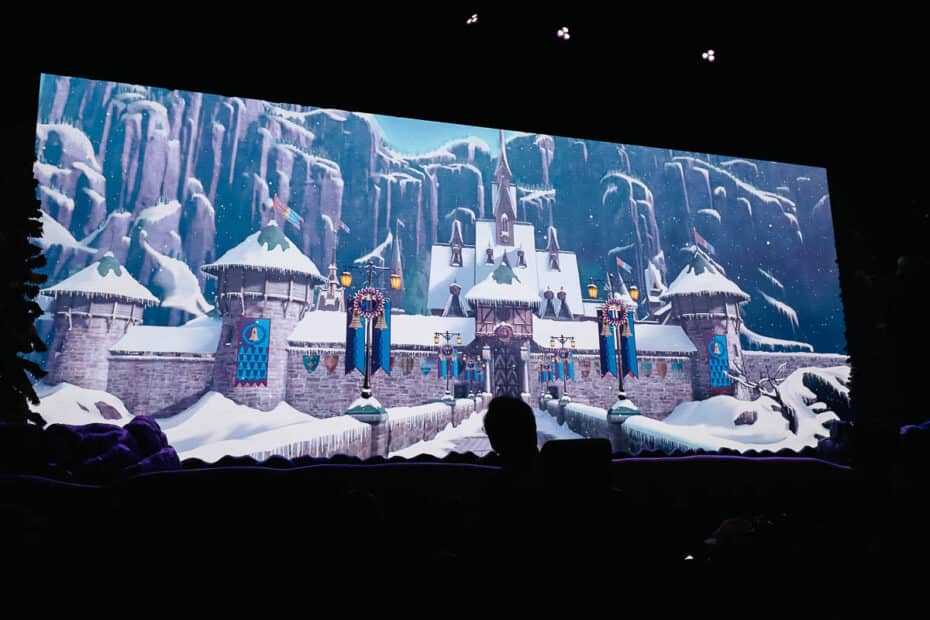 On my last visit, I sat toward the back of the theater.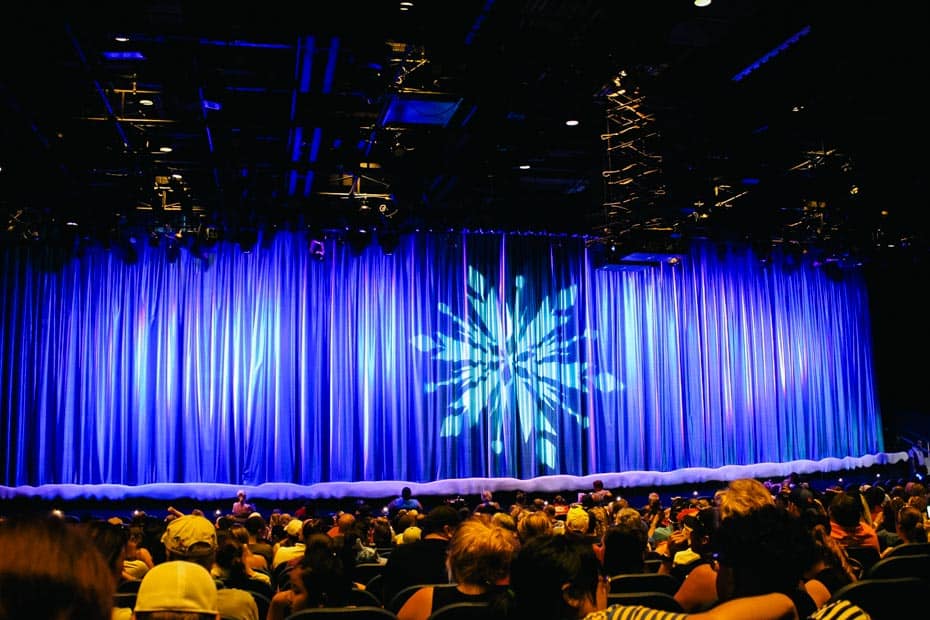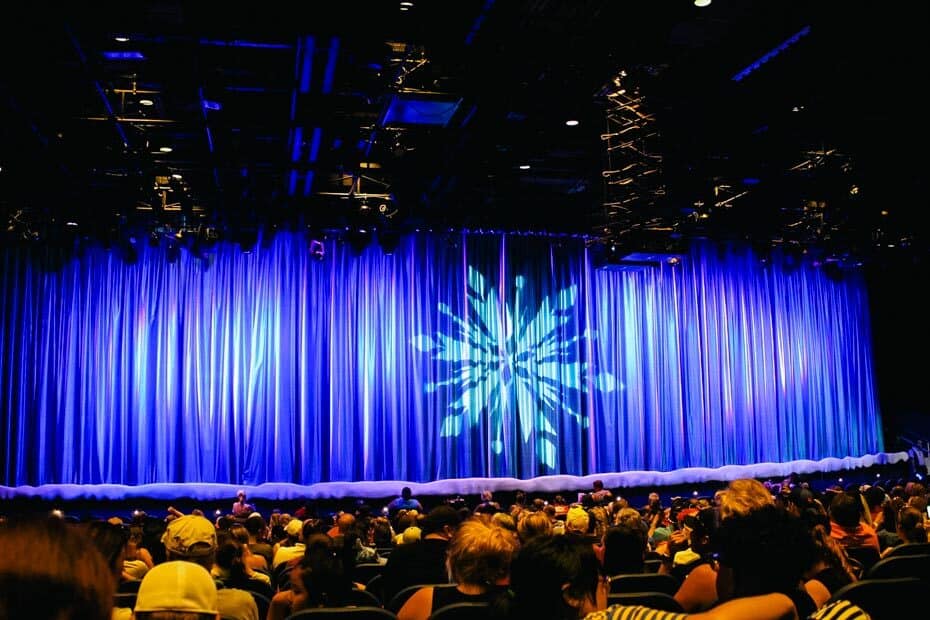 Ultimately, I don't think there's a bad seat in the house. Of course, if you want to see the characters up close, you might prefer the front. But for an overall expansive view of each scene, the back of the theater is excellent.
Best Time to See Frozen Sing-Along Celebration
When's the best time to see the Frozen Sing-Along Celebration? It's really at your convenience.
Most will want to see this performance when wait times are at their highest at other attractions. This is usually during the afternoon hours.
Additionally, you might consider the Sing-Along during the heat of the day or during inclement weather when other attractions close. Unlike Beauty and the Beast Live on Stage, the Hyperion Theater is in an enclosed, air-conditioned building.
It's an excellent place to wait out a rain shower, especially considering the Sing-Along lasts approximately 30 minutes.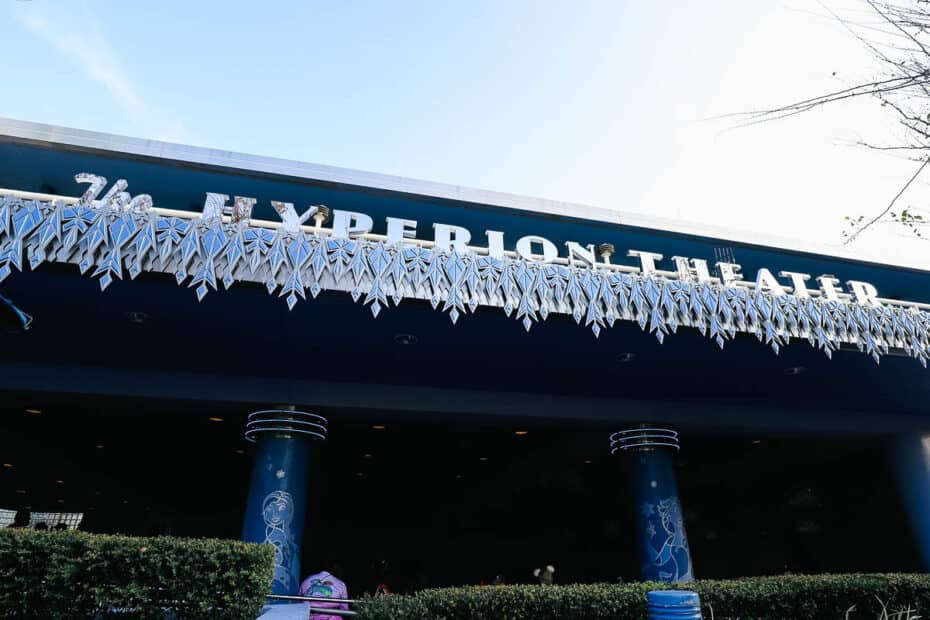 Frozen Sing-Along Celebration Review
For the First Time in Forever: A Frozen Sing-Along Celebration is located in the Echo lake area of the park. You'll find the theater to the immediate left of the Chinese Theatre, which is home to Mickey and Minnie's Runaway Railway.
As mentioned above, Frozen's Sing-Along Celebration has a separate Lightning Lane entrance on the side of the building. However, you likely won't need a Lightning Lane for this attraction.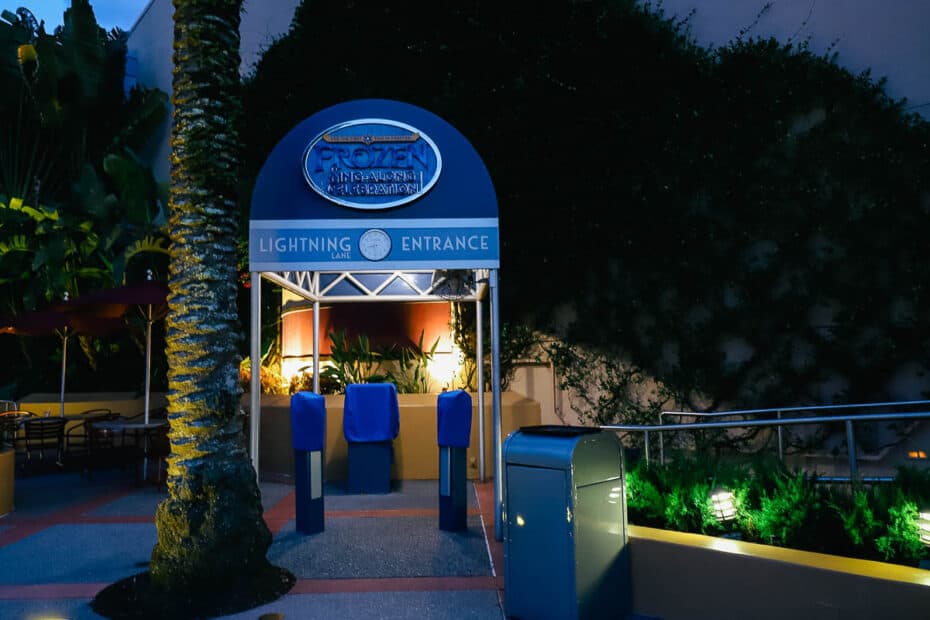 This Genie+ entrance is for priority seating more than anything. Therefore if you use Lightning Lane, you will need to get to the show earlier than regular guests to secure better seating.
Overall, the longest wait for anyone will be for the next show to begin. Promptly 30 minutes after the hour, the show will begin.
Anna is the first of the cast to make an appearance. She is searching high and low for Elsa.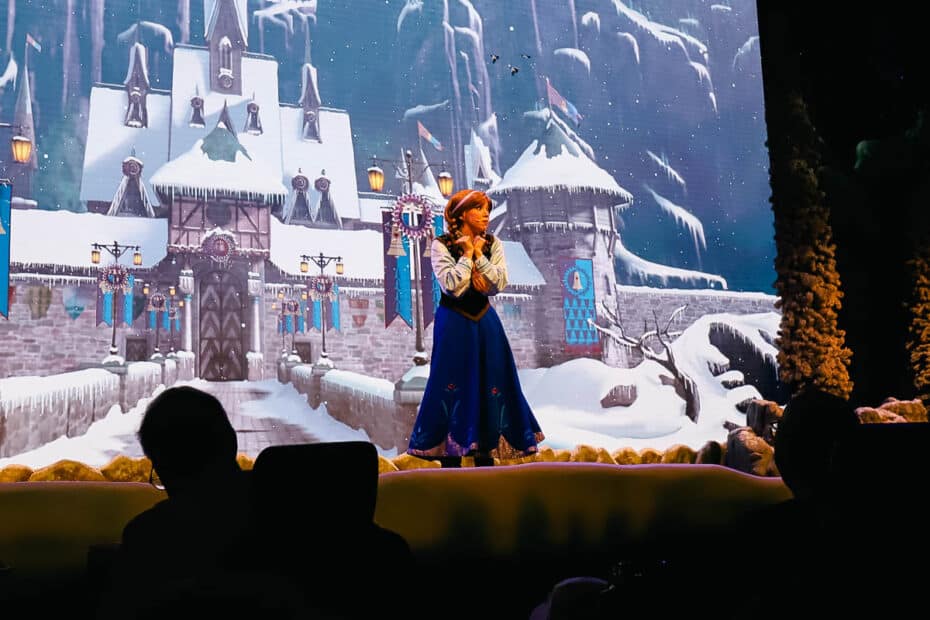 Soon, a couple of Historians from Arendelle join the stage. They act as narrators and often make appearances between the different songs.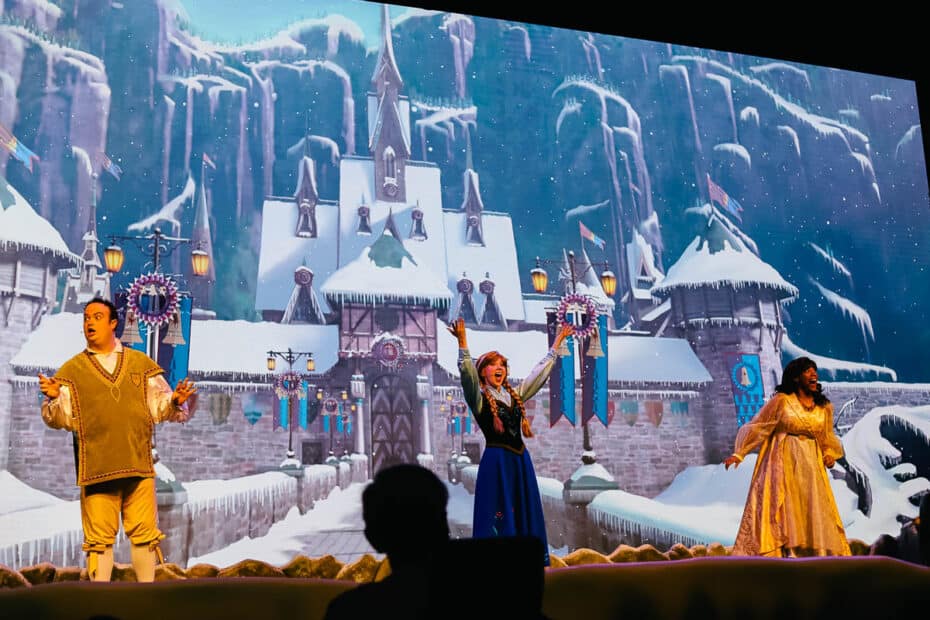 These Historians are a real comedy act. Coming from someone who's seen the Sing-Along more than a few times, I'm always surprised at how much they can make me laugh.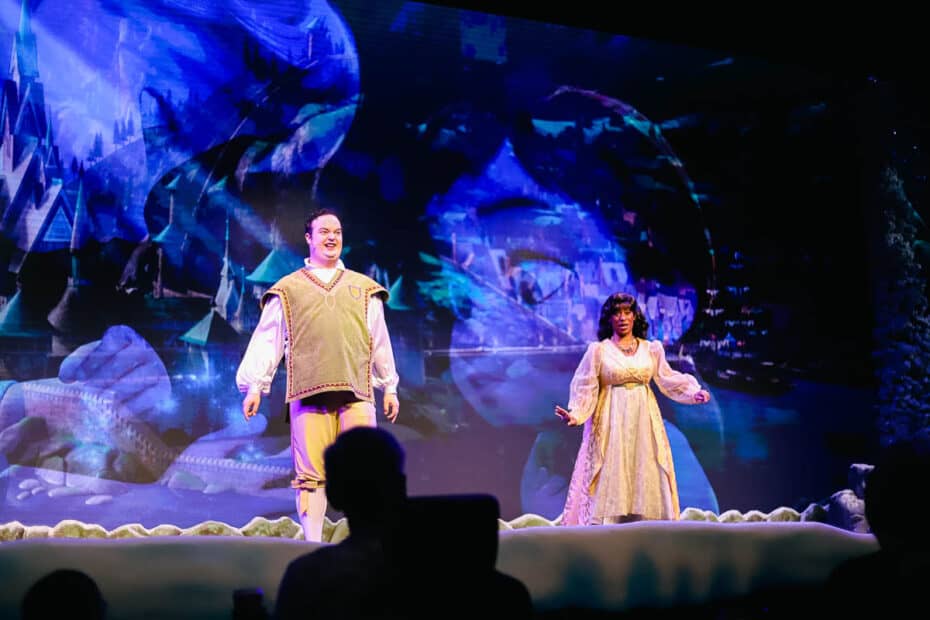 They do an excellent job of condensing the story of Frozen while keeping the adults and children entertained simultaneously.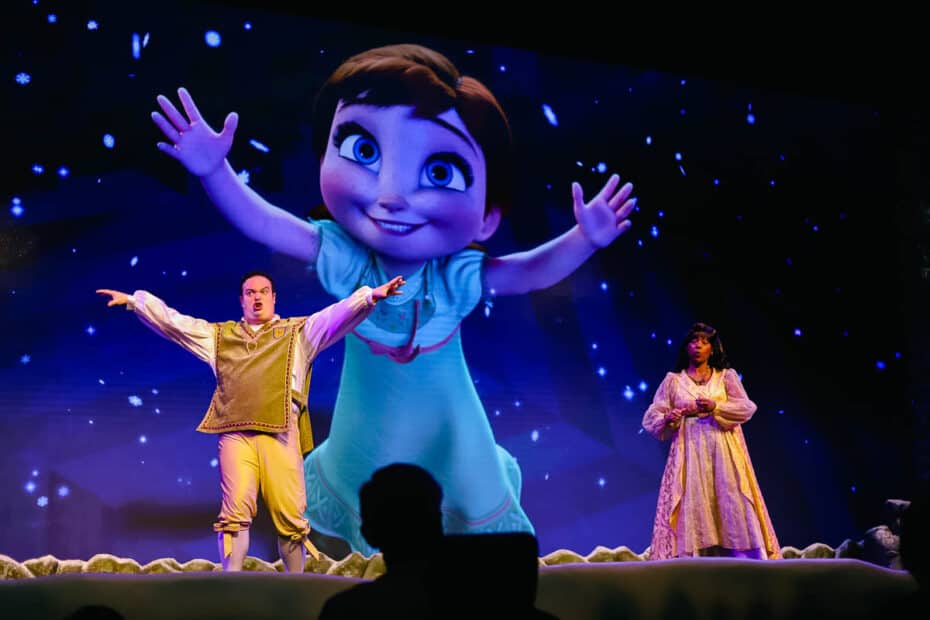 And then there's the Sing-Along part. As the story unfolds, it's hard to move forward without including the movie's award-winning songs.
So the Historians briefly take a back seat as scenes from the movie appear on the screen with lyrics so everyone can "sing along."
First up–Do You Want to Build a Snowman?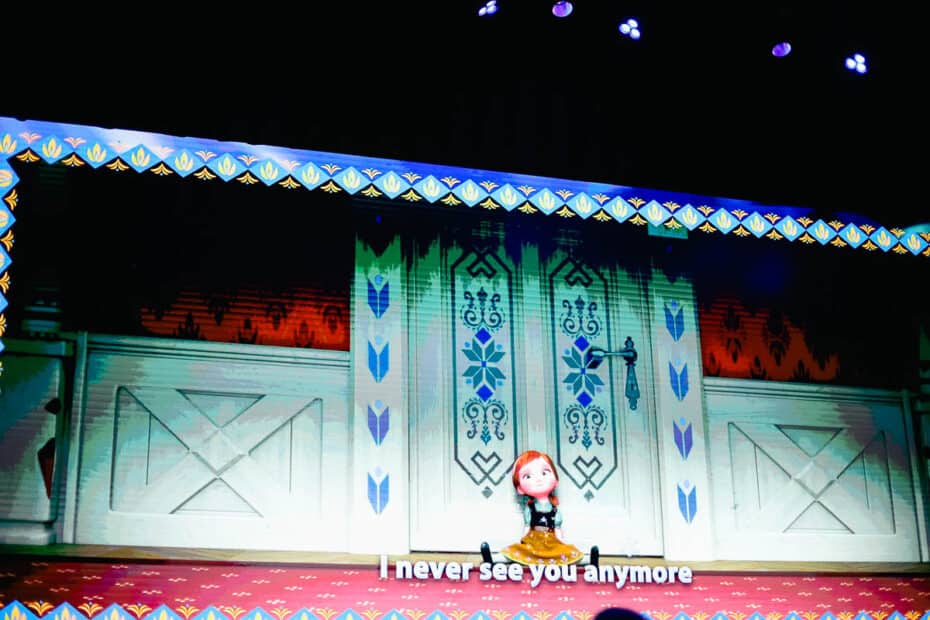 Then–For the First Time in Forever.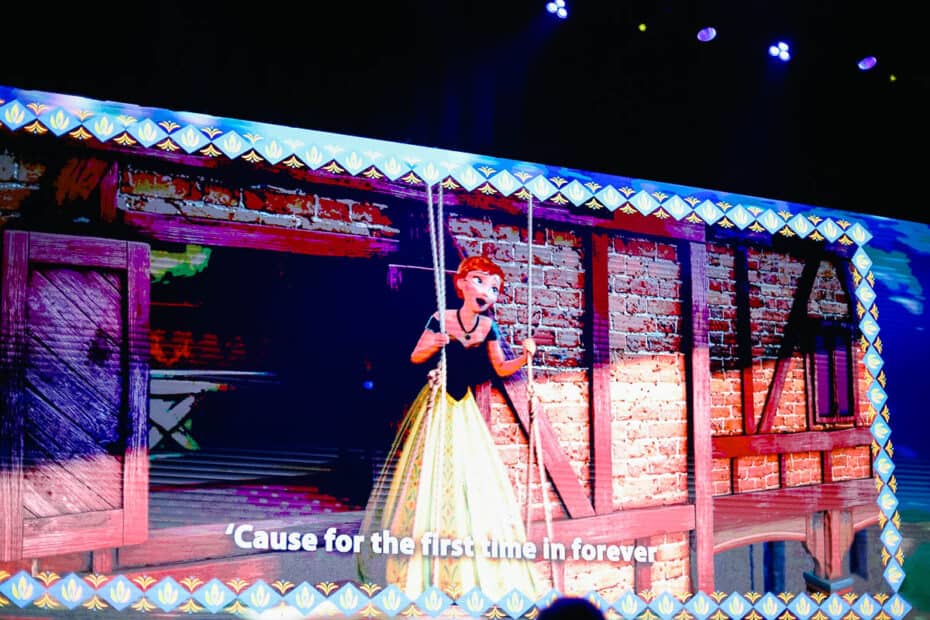 Soon a bad guy in disguise shows up. Unfortunately, one of the historians didn't get the memo about Hans. She's singing, "What a Mighty Fine Man," while the other historian tries to warn her.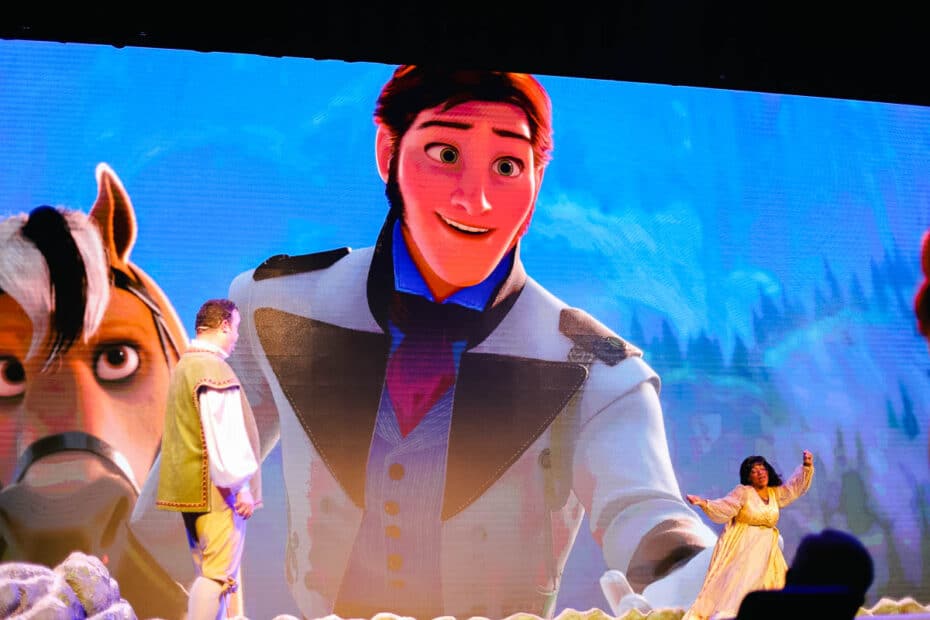 After this moment, only one song can naturally come next–Love is an Open Door!
Unfortunately, that song ends in a proposal, which sends Elsa into a tailspin.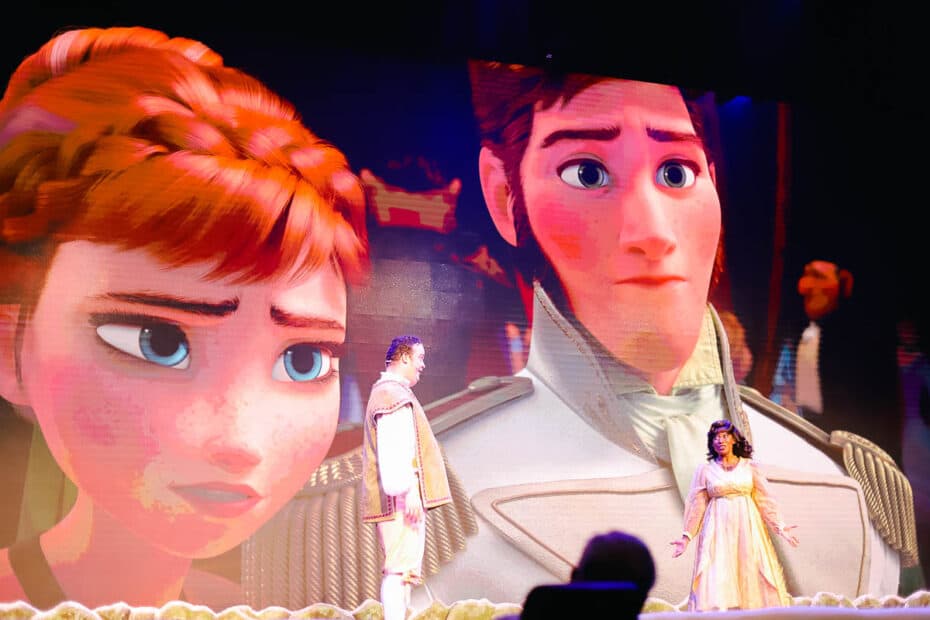 So only, naturally, it's time for the song that all the dads have been waiting for–Let It Go!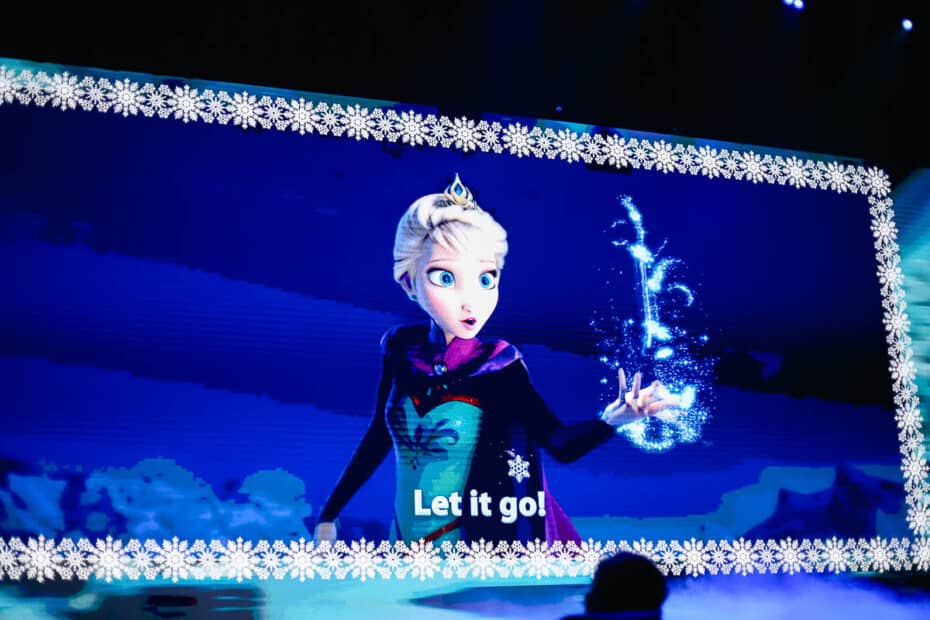 About this time, Kristoff joins the stage. He brings everyone up to speed about how he met Anna and joined in the search to find Elsa.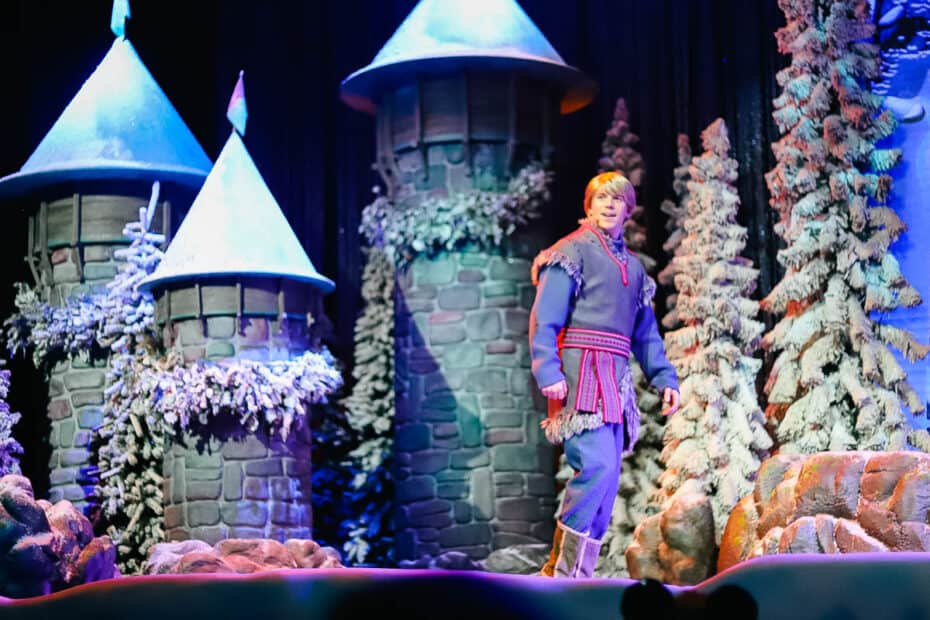 Along the way, they meet Olaf, a snowman that Elsa created during her winter fury. He has dreams of living, well–In Summer.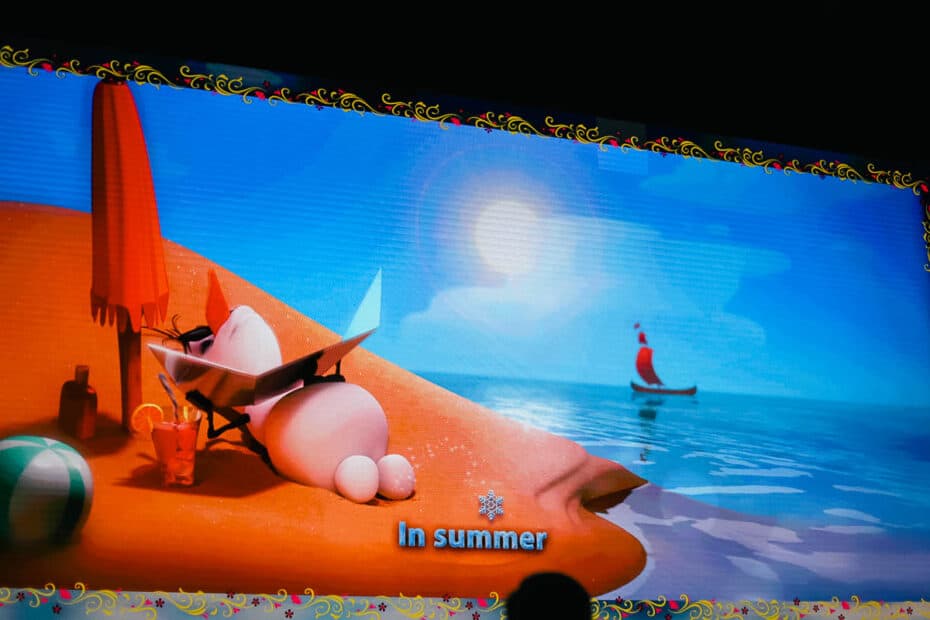 Unfortunately, everyone begins to see about this time that Hans isn't such a nice guy after all.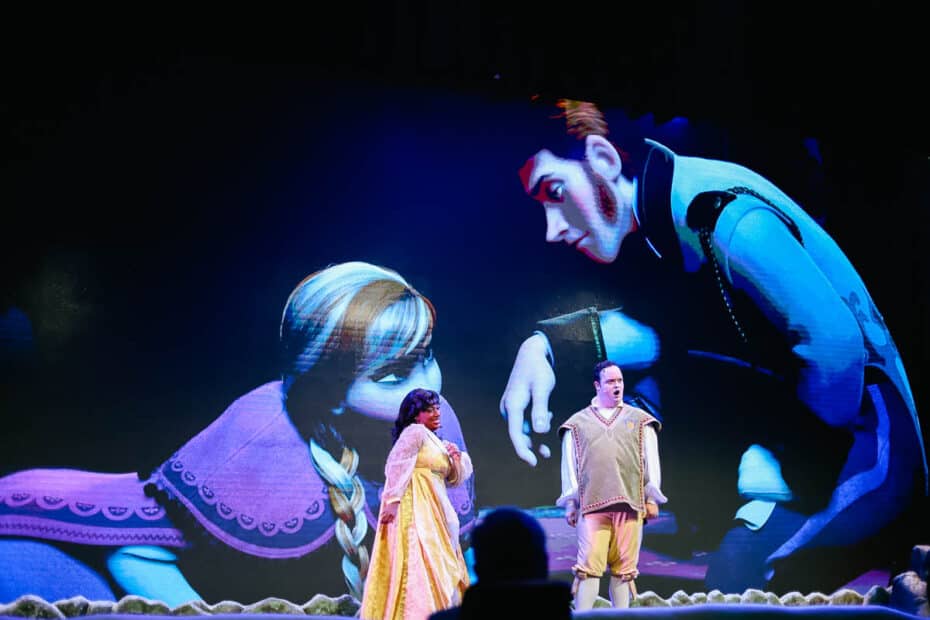 So the historians who failed Arendelle 101 make up their own ending. It went something along the lines that Kristoff saved Anna by giving her true love's kiss.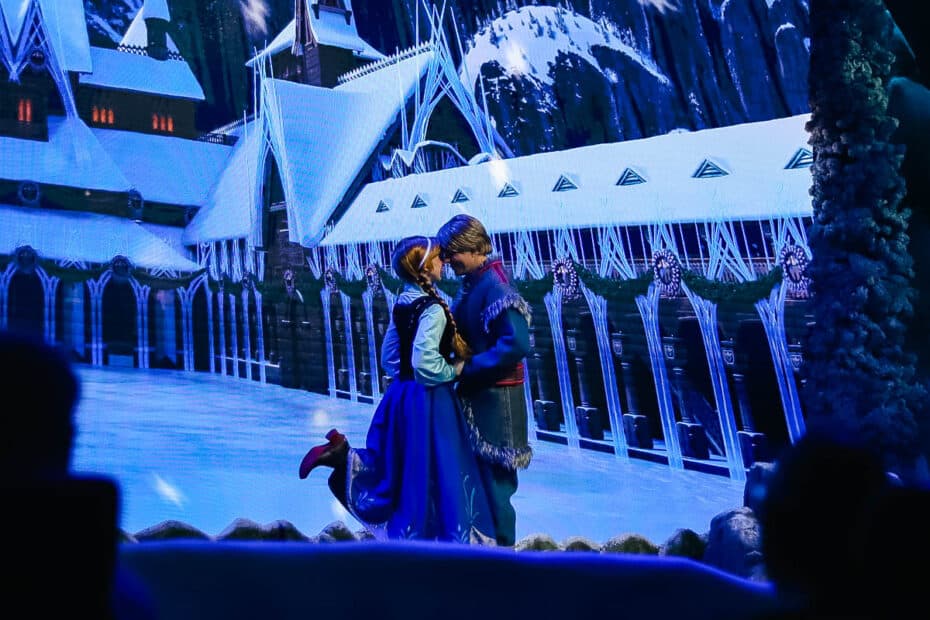 We all know that's not how it happened. Thankfully, Elsa decides to grace everyone with her presence to set the record straight.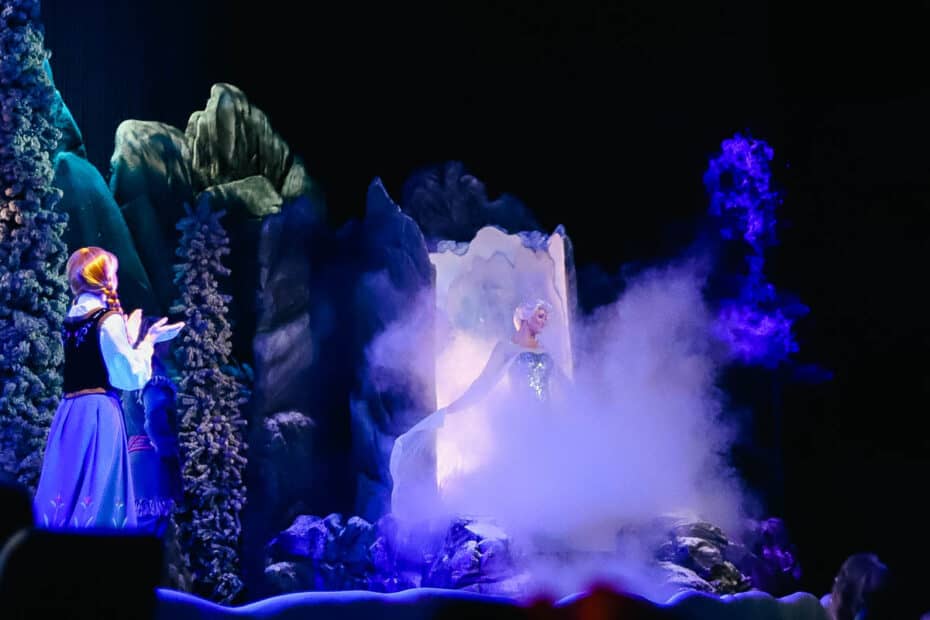 She tells of how Anna saved herself through an act of true love. That act was saving her sister.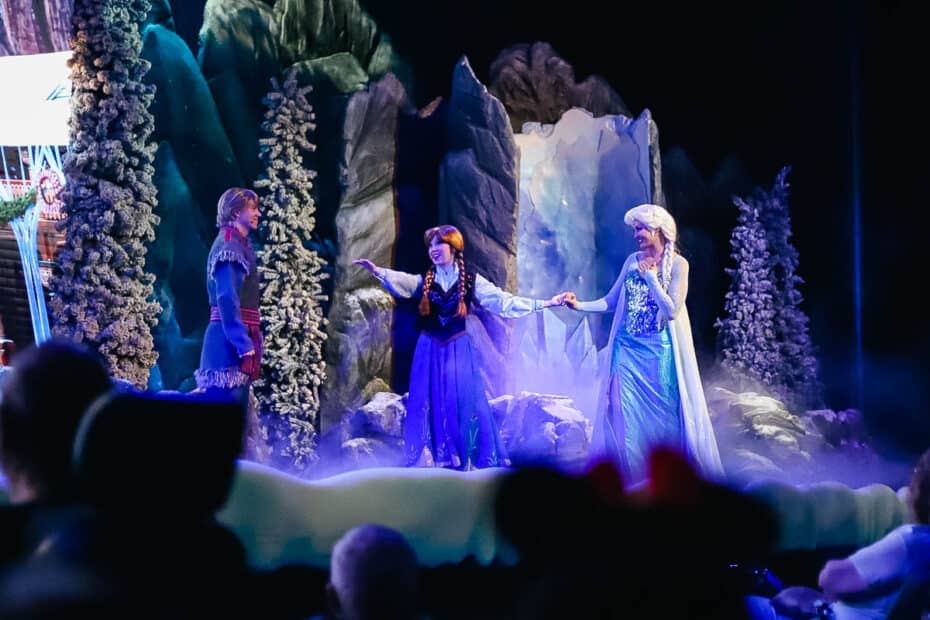 Then, Elsa summons a little snowstorm for the audience.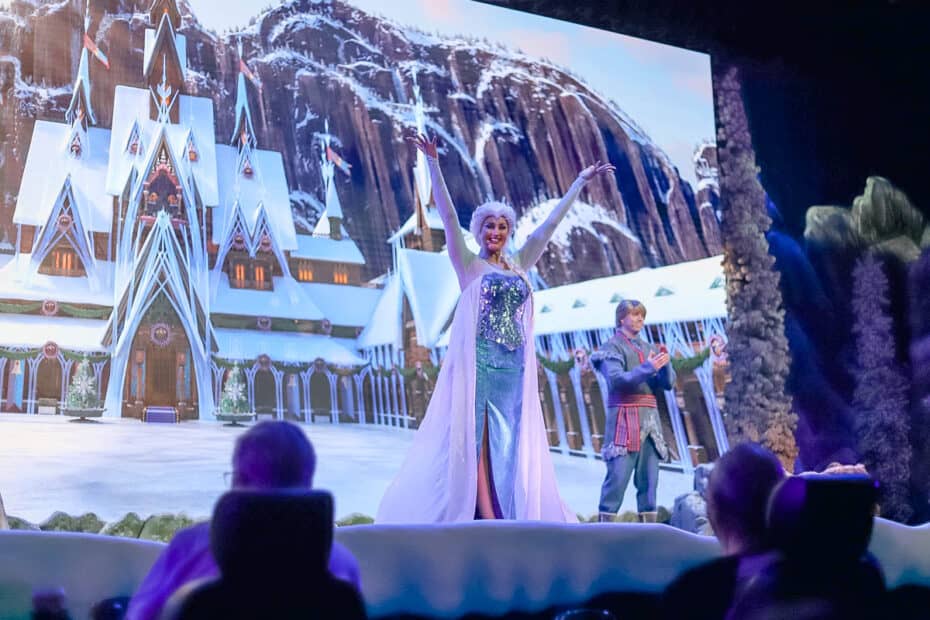 You might not want to mention this surprise element if you're taking your children to see this performance during your visit. It's truly a magical moment when snow (bubbles) begins to fall from above.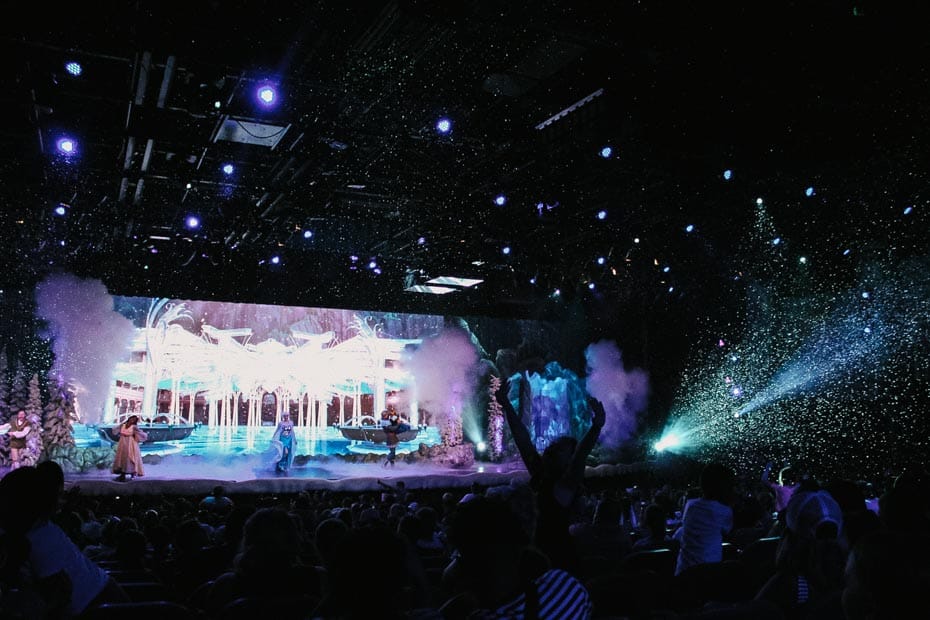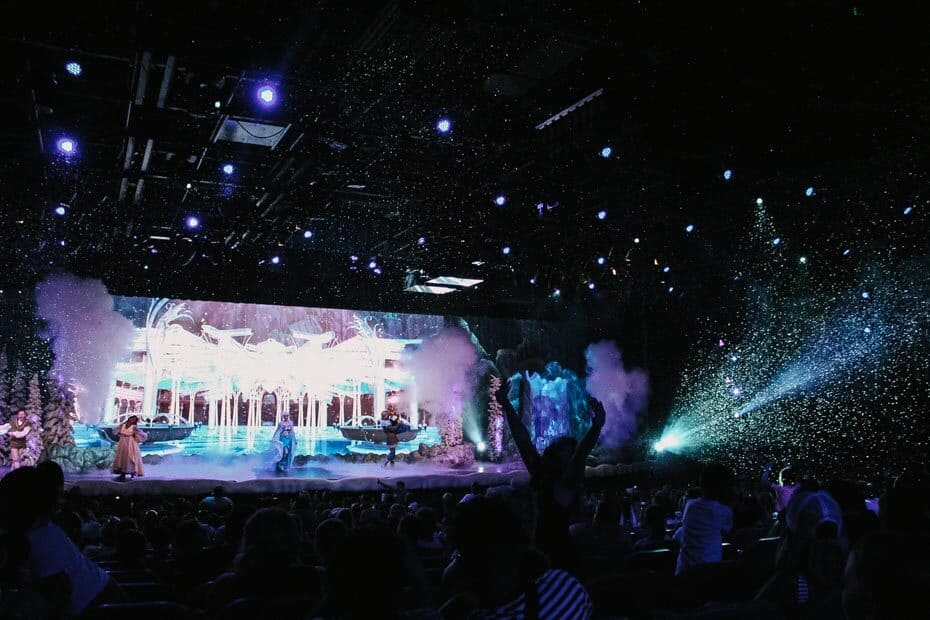 At the end of the Frozen Sing-Along, lights will come on, and everyone exits the opposite side of the theater. This is usually the perfect time to meet Olaf at Celebrity Spotlight. His character meet is near the Hyperion Theater's exit.
Olaf Holiday Ending to Frozen Sing-Along Celebration
For those visiting during the Christmas season at Walt Disney World, you're privy to an extra special ending of the Frozen Sing-Along Celebration. Olaf joins the cast for a special scene that includes the popular holiday song When We're Together.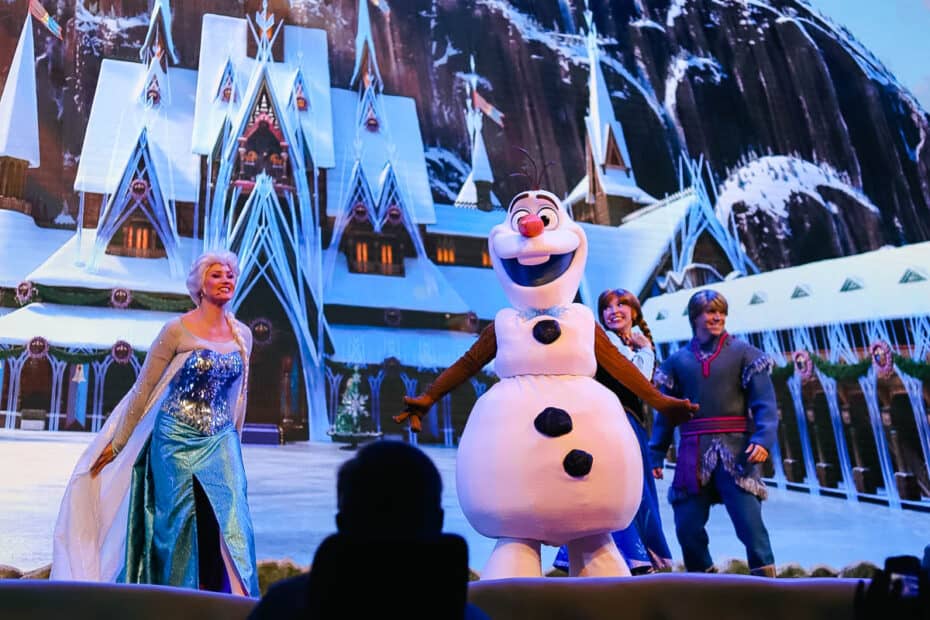 Here is a video of the Frozen Sing-Along Celebration's holiday finale.
Final Thoughts
Overall, For the First Time in Forever: A Frozen Sing-Along is one of those shows that most guests will enjoy far more than they probably expected. And there's nothing wrong with that.
For other experiences during your visit, you might enjoy these individual rides at Hollywood Studios:
Additionally, we specialize in covering the resorts at Walt Disney World. Therefore, you might enjoy browsing all of our hotel reviews.
Some of the ones near Hollywood Studios are located in the Epcot Resort Area. The following resorts within walking distance of the parks are listed below.
In the Comments
Do you have plans to experience the Frozen Sing-Along on your next vacation? Have you seen this performance before? What did you think of it?
Planning a Walt Disney World or other Disney Destination vacation?
Our friends and travel partner, Firefly Travels, excels at doing Disney differently. You can fill out a plan your trip form on their website, and someone will reach out shortly to discuss the specifics.