For the First Time in Forever: A Frozen Sing-Along Celebration
For the First Time in Forever: A Frozen Sing-Along Celebration is a stage show located at Hollywood Studios in Walt Disney World. The sing-along offers the opportunity for children to see some of their favorite characters from Frozen.
This experience is a must-do for anyone who hasn't seen it prior. Frozen Sing-Along's skit is humorous, and the actors are excellent. Additionally, it's a great location to take a break from the heat in the afternoon or rain showers.
In this review, we'll look at everything you need to know to plan the Frozen Sing-Along into your next Disney vacation.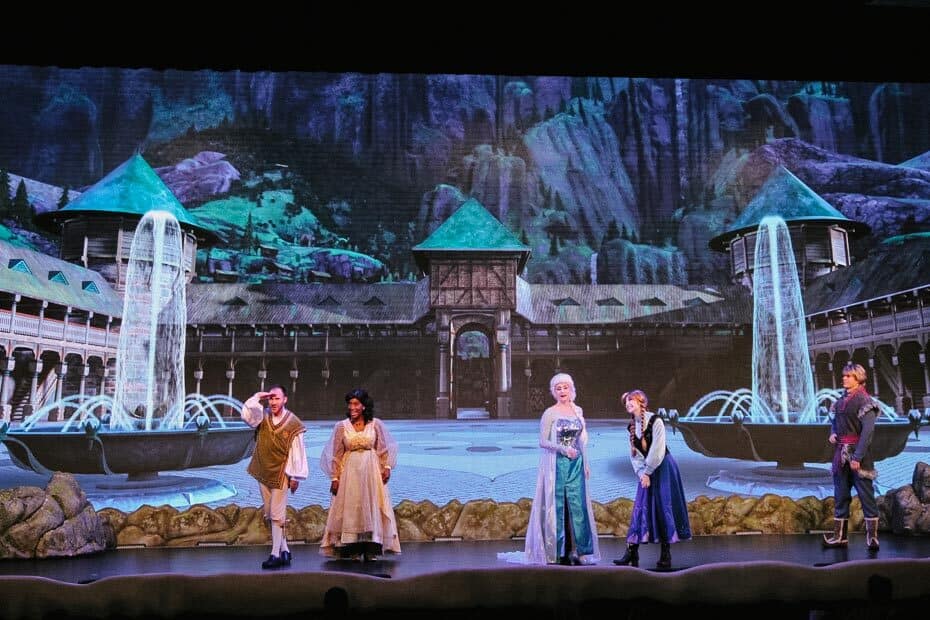 Times for Frozen Sing-Along Celebration:
Frozen Sing-along is usually scheduled daily every hour on the half-hour, beginning at 10:30 a.m. with the last performance at 7:30 p.m. You can check the My Disney Experience App or Disney's website here for the exact times on the day of your visit.
Here's a summary of details for the attraction:
Frozen Sing-Along Celebration
Hollywood Studios Attractions

Location:

Hyperion Theater

Disney Height Requirement:

None

Disney Genie+ Eligible

Yes, but rarely needed.

Ride Type:

Theater Performance

Seats Per Vehicle:

Theater Rows

Rider Switch:

No

Duration:

30 minutes

Good For:

Everyone

Scare Factor:

None

Must-Do List:

Medium Priority

Perfect For:

Frozen Fans (Everything Frozen at Disney)

Special Mention:

Meet Olaf next door after
the performance.
Frozen Sing Along Celebration Review
As far as the best time to see the Frozen Sing-along, I typically recommend, at your convenience. More specifically, I suggest when wait times are at their highest at other attractions during the afternoon.
The Frozen Sing-Along is held inside the Hyperion Theater, which makes it a nice place to relax under air-conditioning. Unlike Beauty and the Beast Live, which is in a partially covered outdoor theater.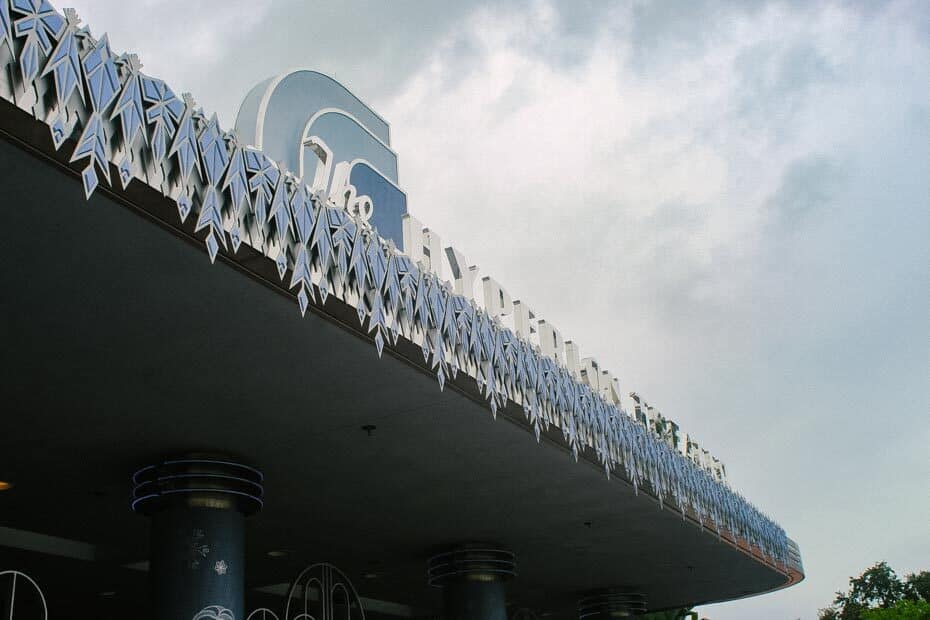 Another difference is that cast members usually announce that you can't eat or drink at the Frozen Sing-Along during the performance. Again, use your best judgment here. I say this because most people are eating and drinking during the show.
It's a 30-minute performance. So if I'm going in to see the Frozen Sing-Along, I usually grab a bottled soda to take with me. That way, I have a lid for it and won't have to throw it away if it were an issue for some reason. Additionally, there's a popcorn booth within a few feet of the Hyperion Theater.
The Hyperion Theater is located in what's considered the Echo Lake area of the park. It's to the immediate left of the Chinese Theatre replica, home to Mickey and Minnie's Runaway Railway.
Formerly, there was a separate entrance for FastPass+. However, that is no longer, and it's now an entrance for Disney Genie+.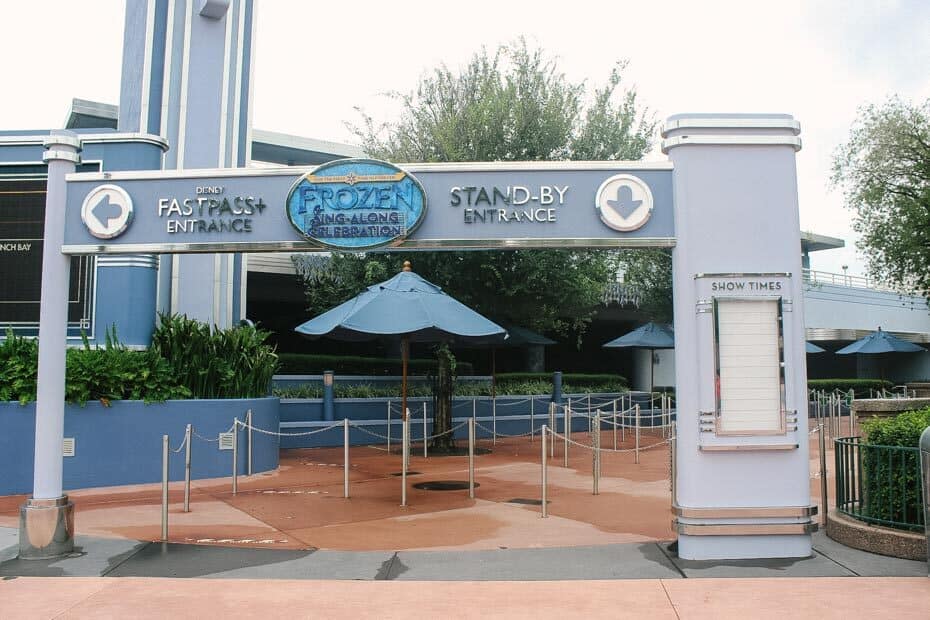 The Genie+ entrance is for priority seating more than anything. Therefore, you will have to get to the show early than regular guests to secure better seating.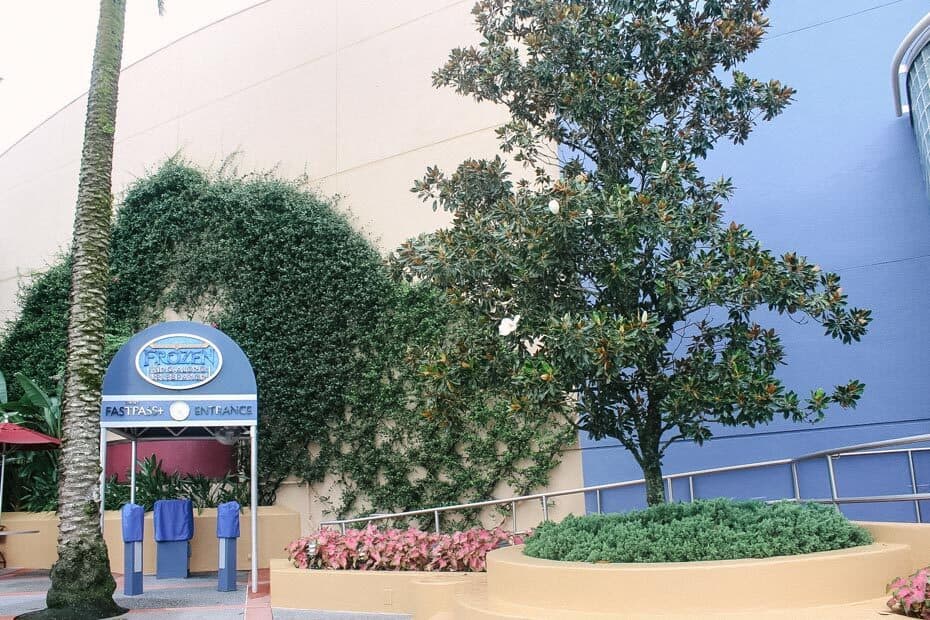 Overall, the longest wait for anyone is going to be for the next show to begin.
Below is a look inside the theater. All of the photos in this review were taken from the next to last row of the theater. As you can probably tell, we had terrific seats even from this far back.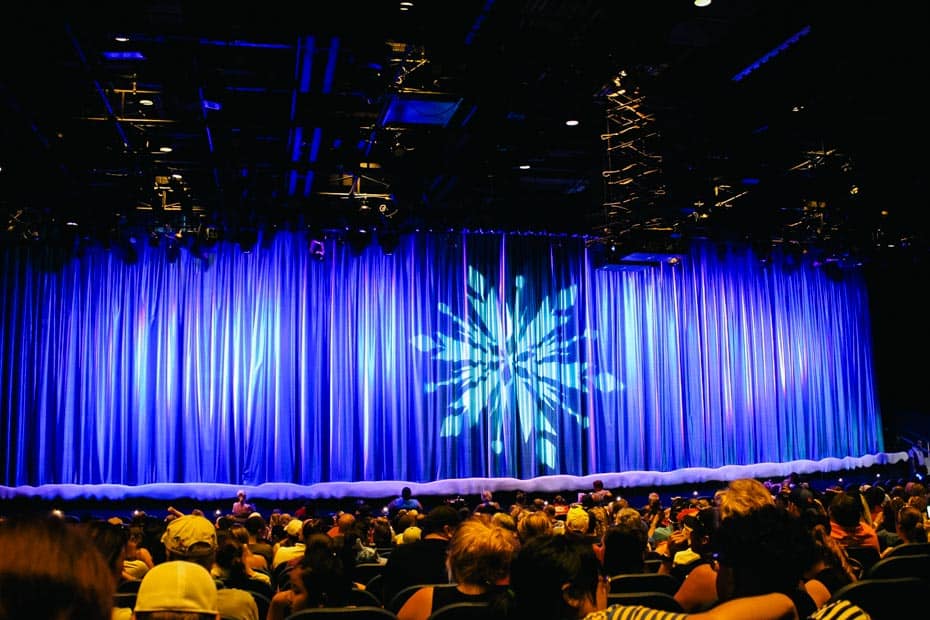 Soon, the Historians of Arendelle will join the stage. They act as narrators and often make appearances between the different songs.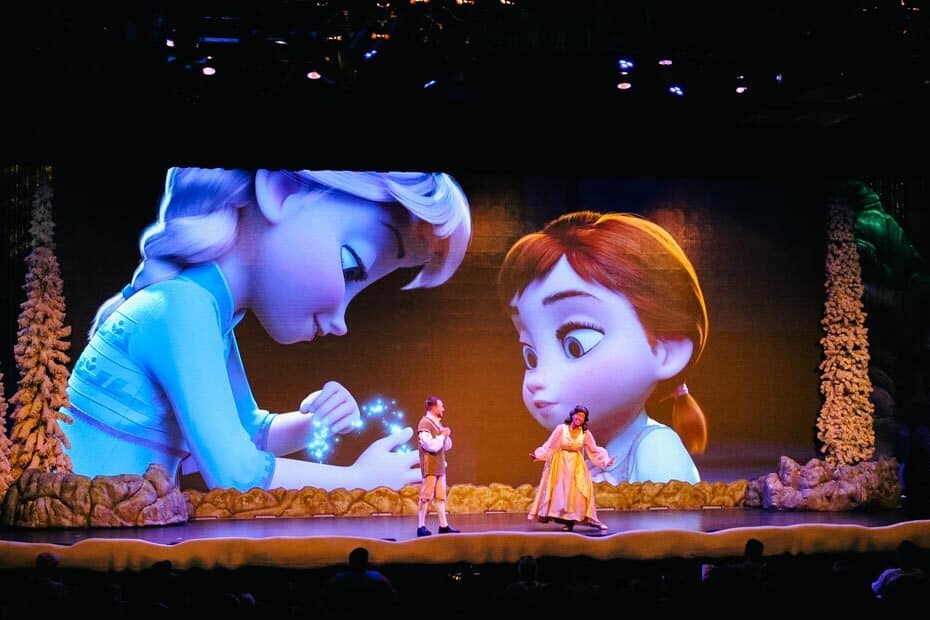 The Historians are funny and help make the show entertaining for everyone. In addition, each song that appears on the screen contains the lyrics underneath so the audience can "sing-along."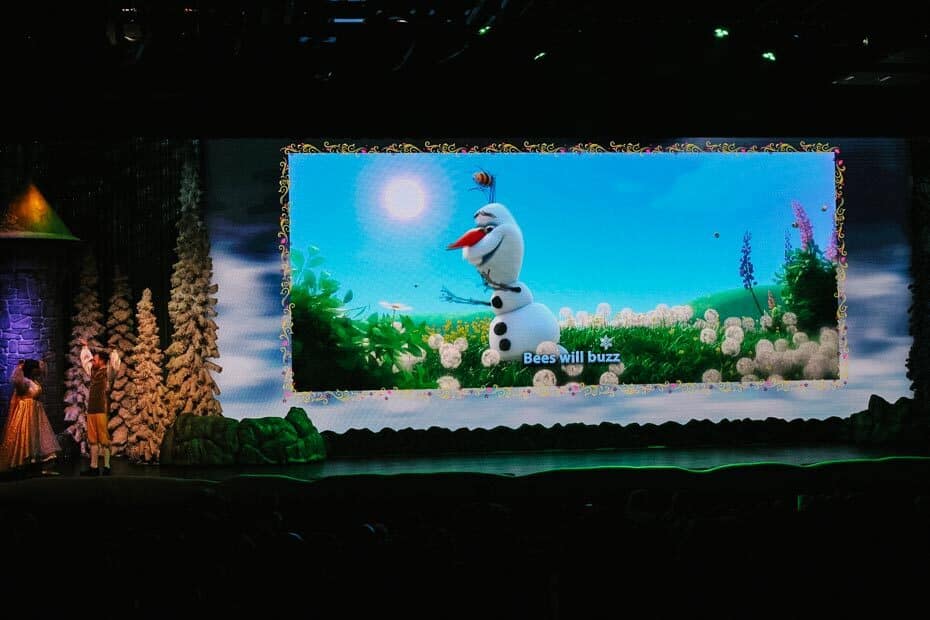 It is the Frozen Sing-Along, after all.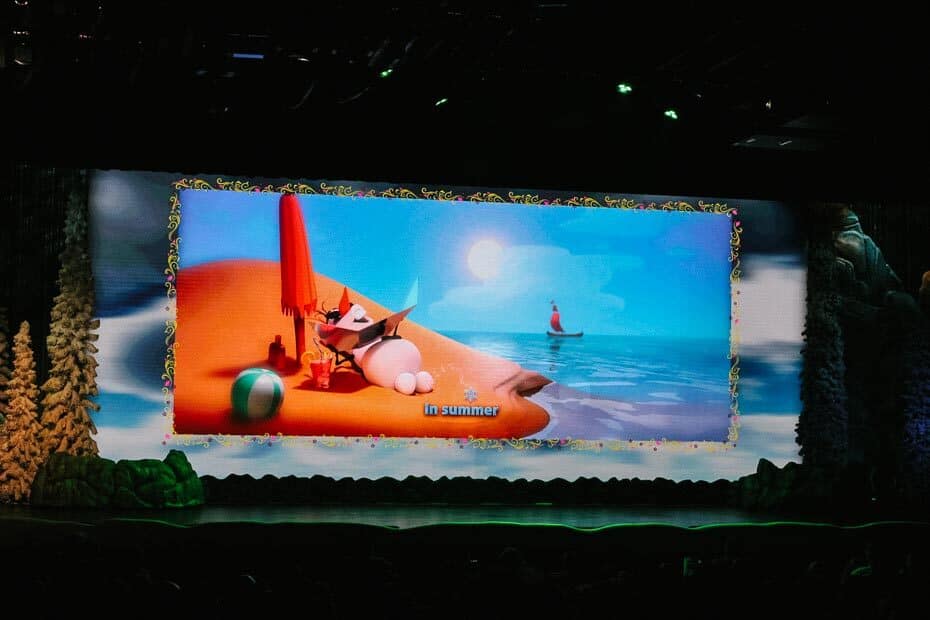 And with songs like these, you'll find the audience participates—especially the younger children and their dads.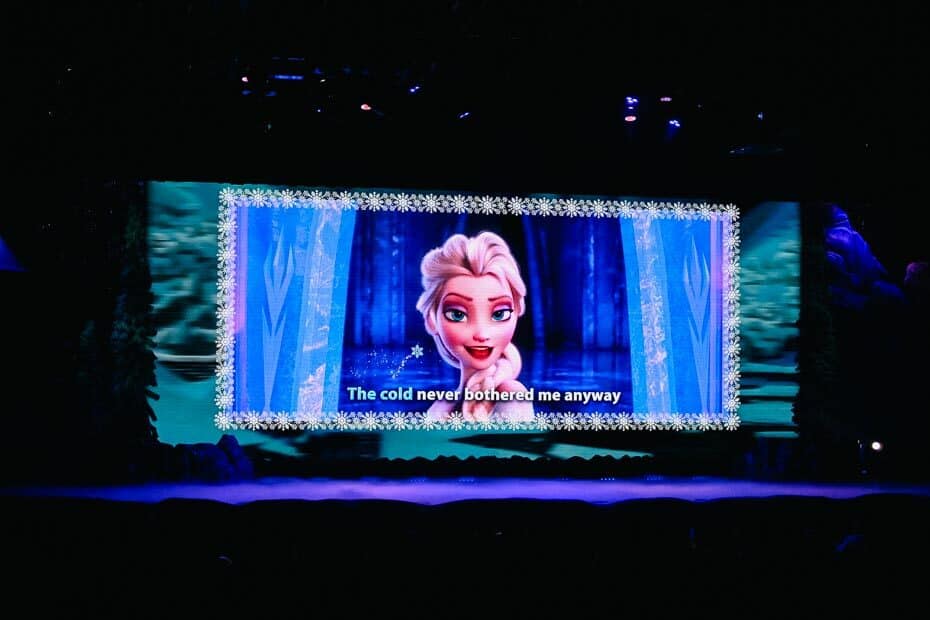 Sometimes we all just need to let it go.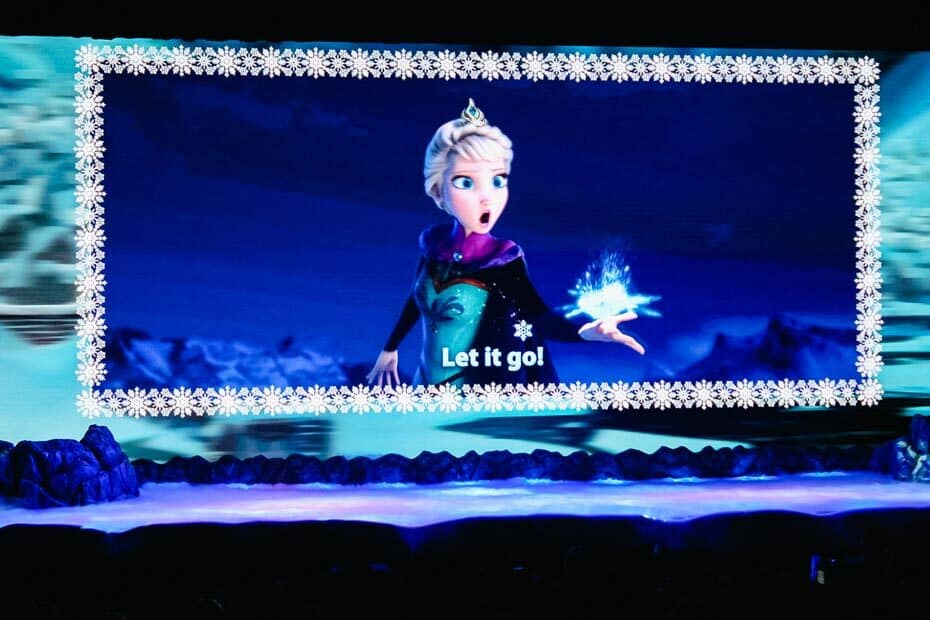 Along with the Arendelle historians, you can expect on-stage appearances from Anna, Elsa, and Kristoff during the performance.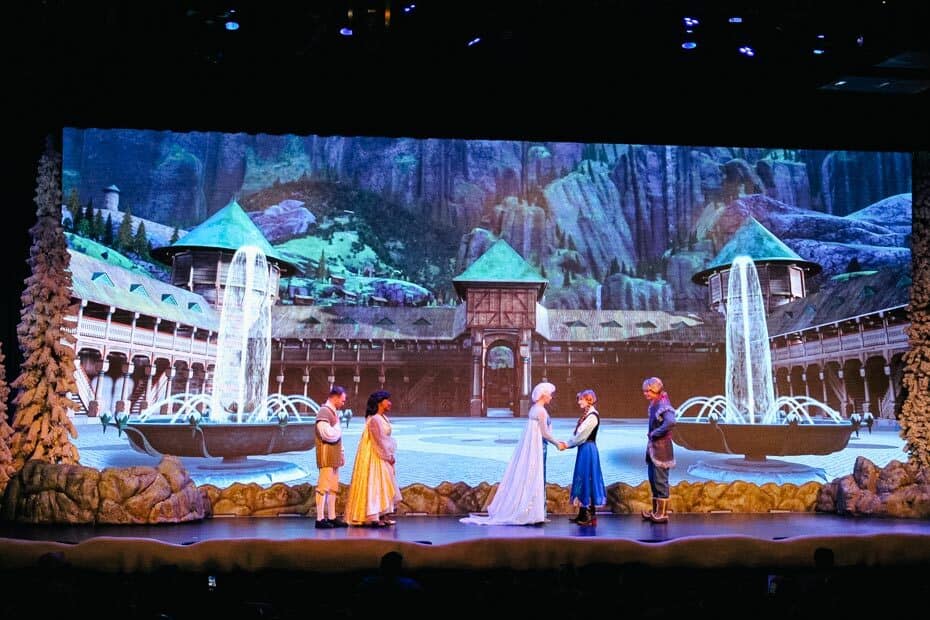 Between the songs, there's this whole storyline where Elsa has disappeared yet again. Meanwhile, Anna and Kristoff are searching for her.
Sound familiar? Well, you know what they say, "Love is an open door!"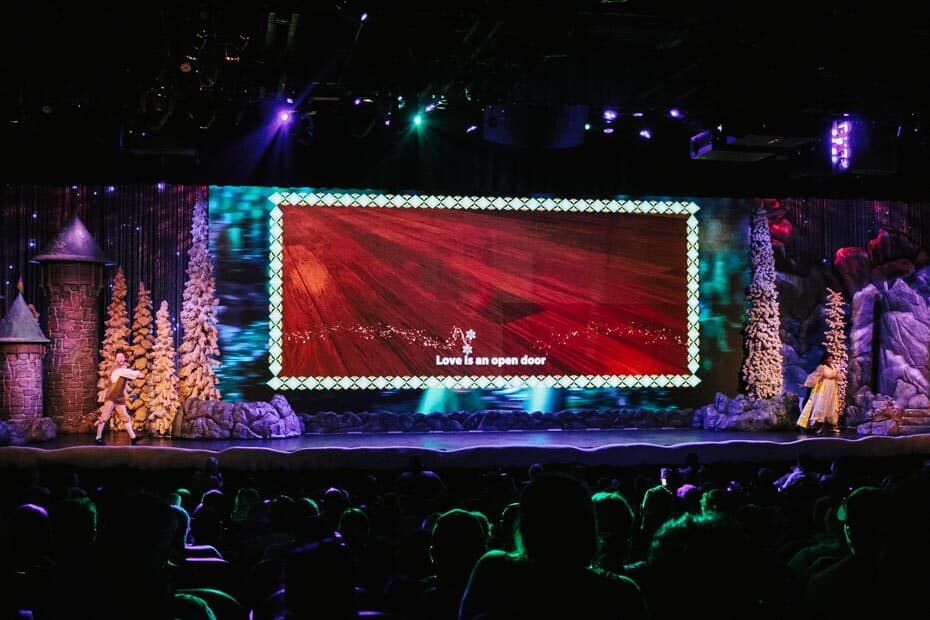 That Elsa is always running off somewhere. You know what she says…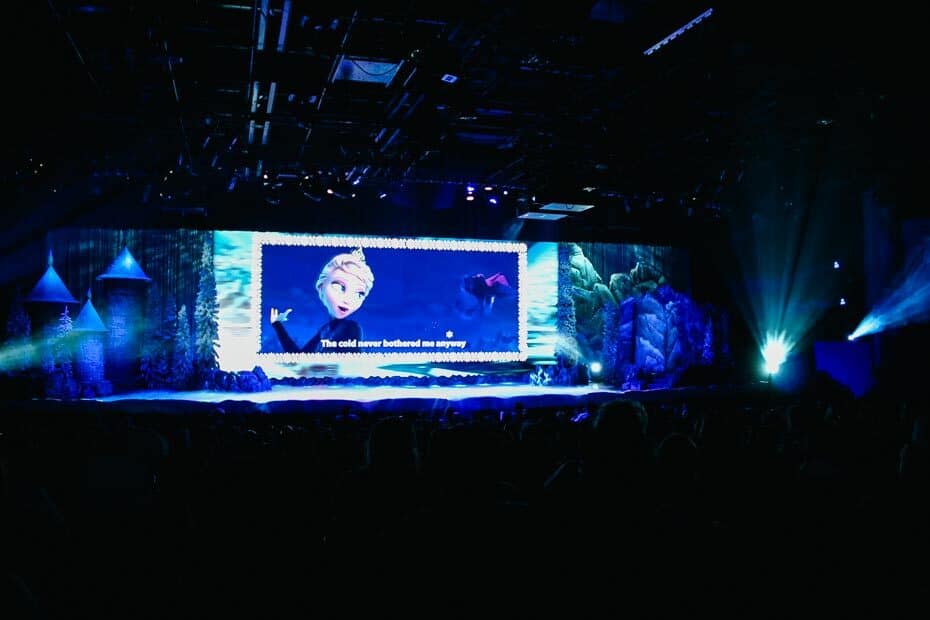 "The cold never bothered me anyway."
Toward the end, Elsa shows up with a bit of a surprise. I think we all know she has a thing for snow. But don't tell anyone!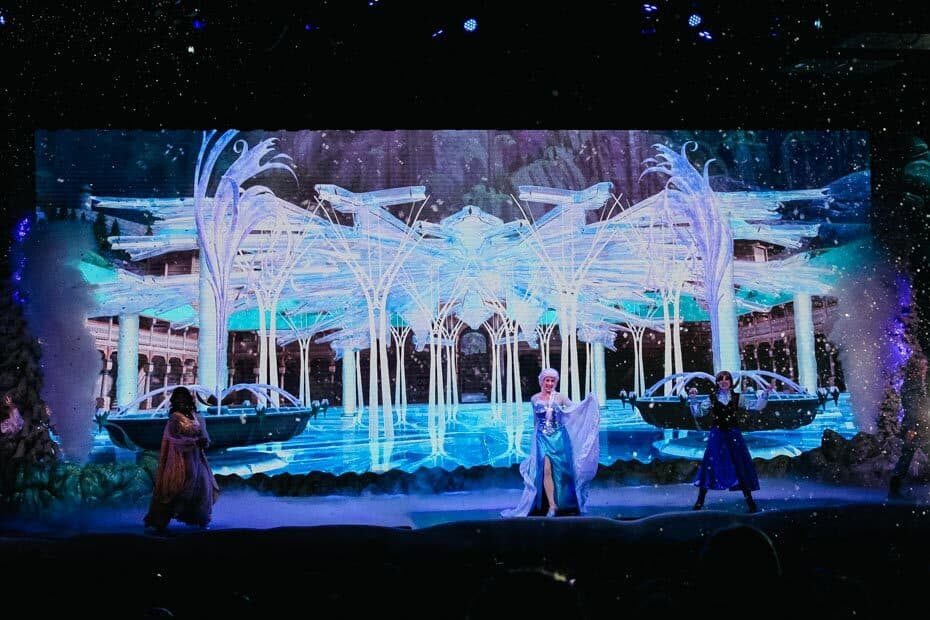 Because it really is a magical surprise for the kids when she summons a snowfall….inside the theater….in the middle of July! Or whenever it is you're visiting.
You can tell how excited the audience is for the snow and seeing their favorite characters on stage.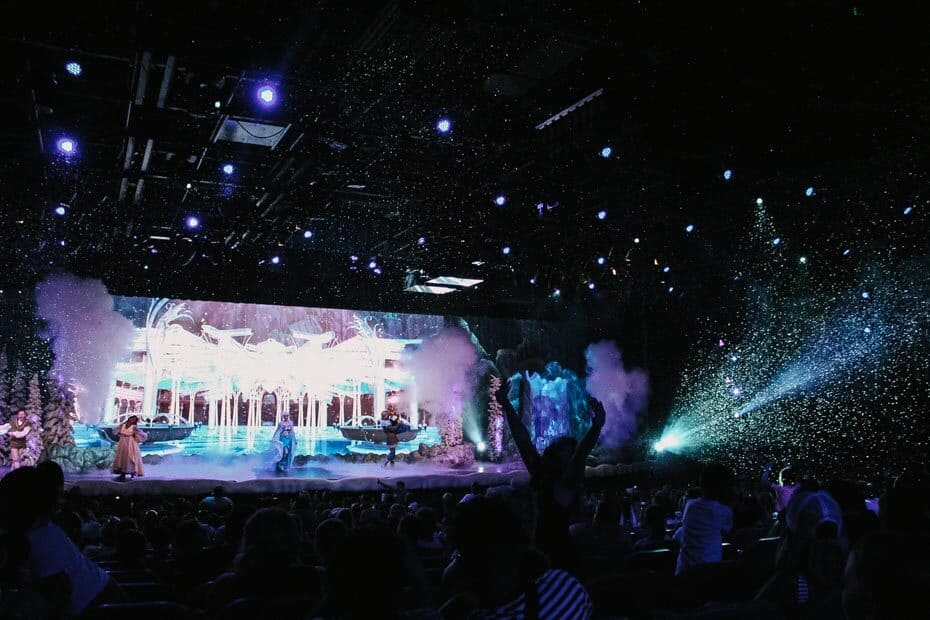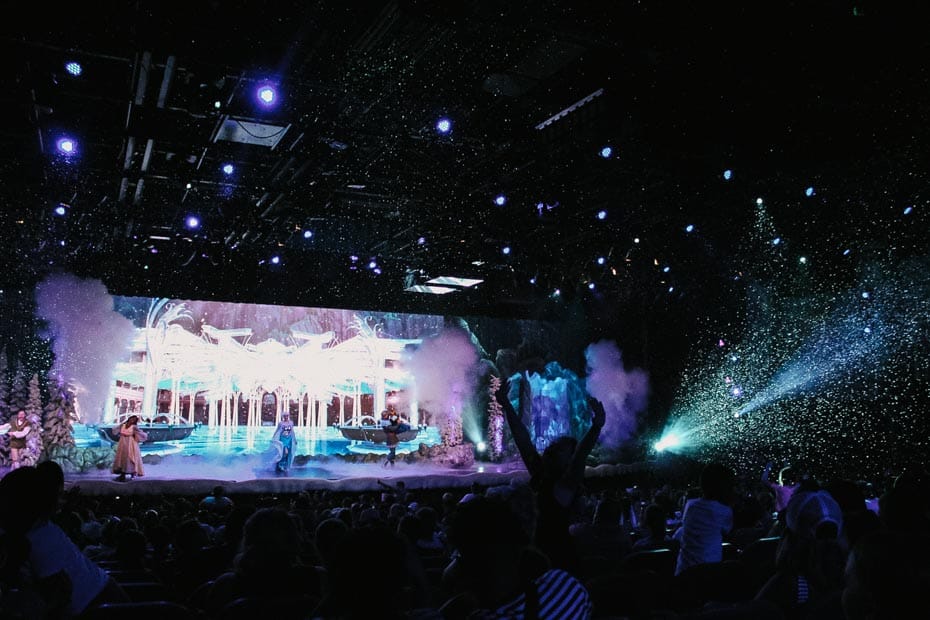 For the First Time in Forever: A Frozen Sing-Along is one of those shows that most guests will end up enjoying far more than they probably expected. And there's nothing wrong with that.
If you are looking for more things to do at the park, you might enjoy these individual rides at Hollywood Studios:
Additionally, we specialize in resorts at Walt Disney World. Therefore, you might enjoy browsing all of our hotel reviews. Some of the ones near Hollywood Studios are located in the Epcot Resort Area. These resorts within walking distance to the park are listed below.
So, do you have plans to experience the Frozen Sing-Along on your next vacation? Leave a comment below with your thoughts.