The Ultimate Guide to Star Wars Galaxy's Edge (Disney World 2022)
Star Wars Galaxy's Edge is a themed land located at Walt Disney World in Orlando, Florida. The area that makes up this Star Wars land consists of fourteen acres. That makes it the most significant single expansion in the history of the Disney Parks.
Not only is Galaxy's Edge large, but the theming is beyond what you would expect to experience from the popular Disney-owned franchise. When you enter the land, you can expect to be in awe. Disney has created a special area here for their guests to enjoy.
For those of you who are Star Wars fans, pack your handkerchief. You are going to be blown away. It's hard to describe the feeling you get when this thing that's been a part of your life for so long materializes in front of you. Expect chills, nerves, tears, the whole works. It's just that good.
As you prepare to visit Star Wars: Galaxy's Edge, there are a few things you will want to familiarize yourself with in advance. Therefore, I've put together this guide of sorts to provide you with an overview of what to expect.
Since this is such a large land, I've written several reviews covering specific areas. I'll share a brief overview of those areas below and provide links to those articles.
The idea of this review is to help enhance your visit. Below, we'll discuss attractions, dining, shopping, and character experiences.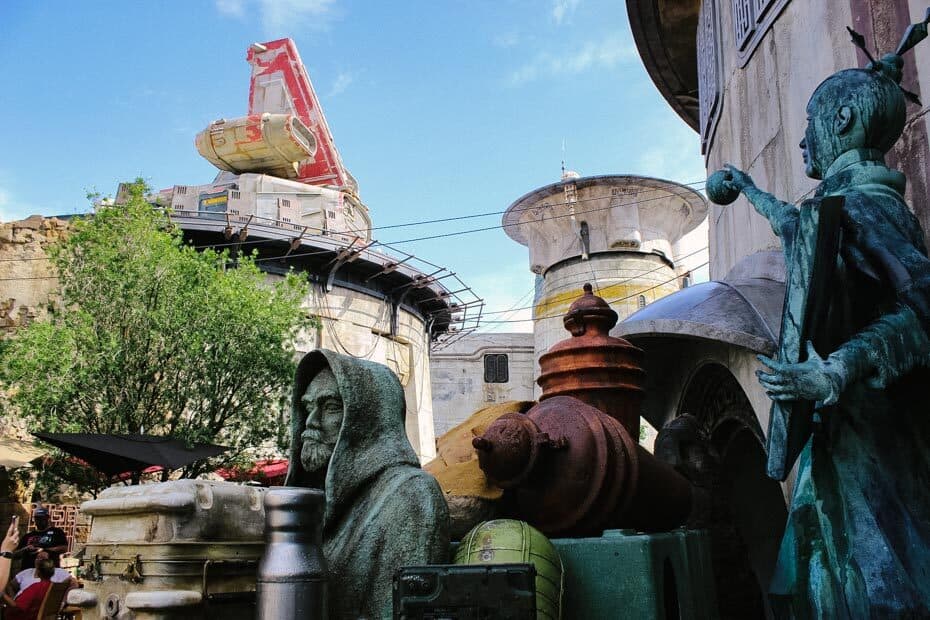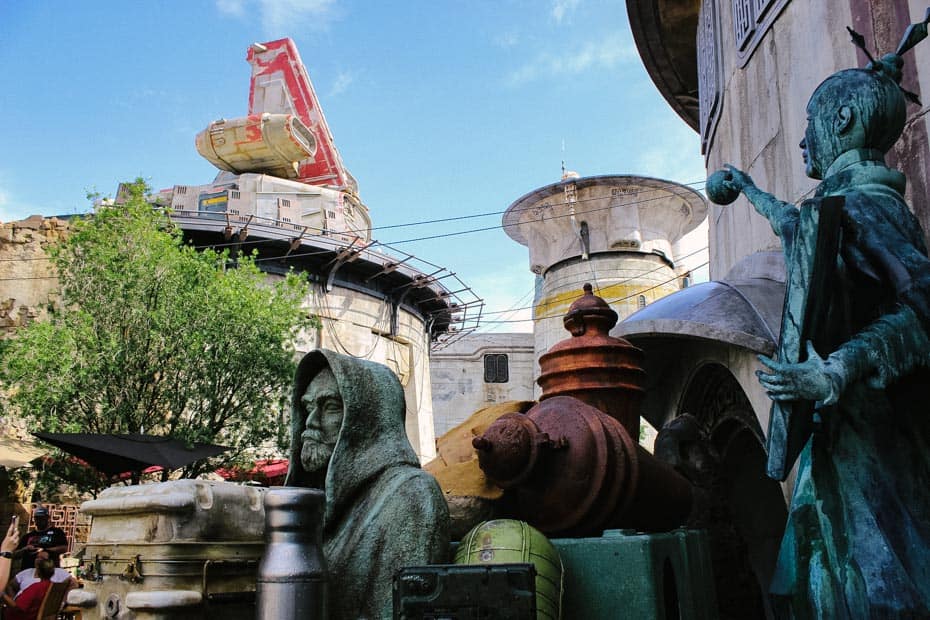 Star Wars: Galaxy's Edge Review
Below are the items we'll cover in this review. At the very end, I've added a gallery with additional photos of Batuu. If you see the mention of Batuu in this review, that's the actual name of the planet you are on when you visit Galaxy's Edge.
Star Wars: Galaxy's Edge Rides
Millennium Falcon: Smugglers Run
Star Wars: Rise of the Resistance
Dining Options
Oga's Cantina
Milk Stand
Kat Saka's Kettle
Docking Bay 7 Food and Cargo
Ronto Roasters
Shopping
Resistance Supply

Dok-Ondar's Den of Antiquities
Savi's Workshop
Droid Depot
First Order Cargo
Creature Stall
Toydarian Toymaker
Black Spire Outfitters
Jewels of Bith
Characters
Roaming characters in various areas of the land.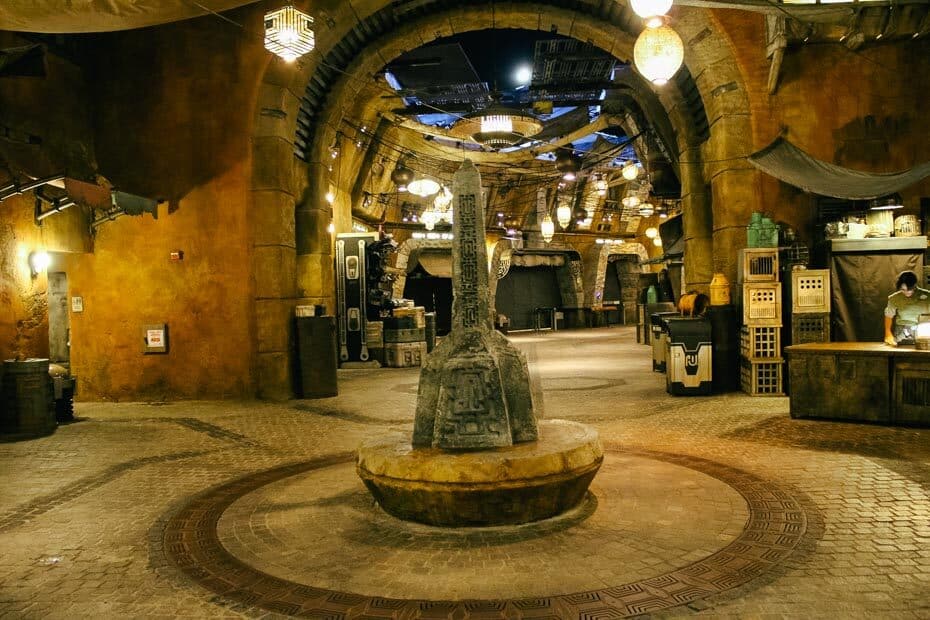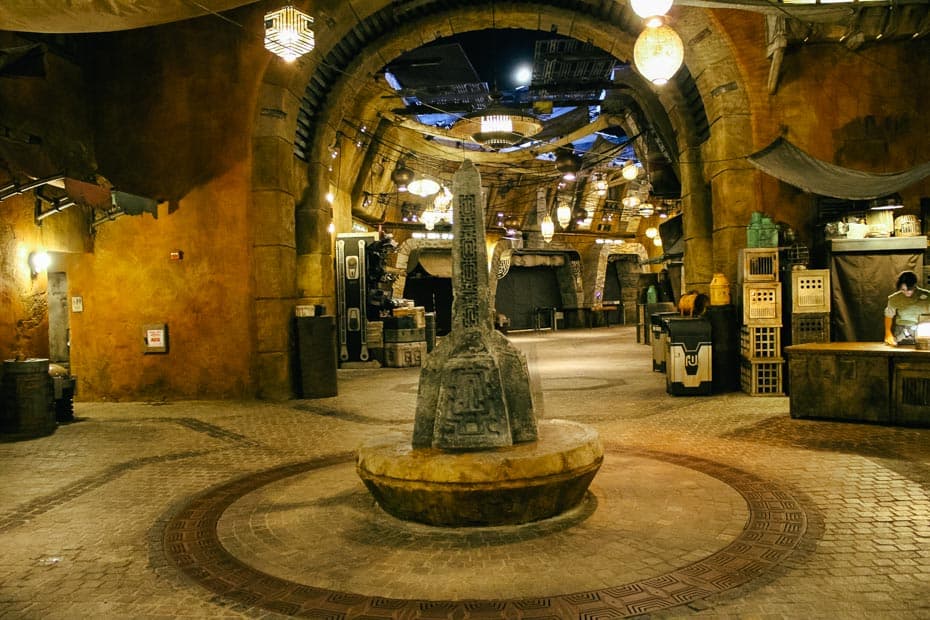 Galaxy's Edge is home to two attractions at Disney's Hollywood Studios:
Millennium Falcon: Smugglers Run
Star Wars: Rise of the Resistance
These rides are some of the most popular and sought-after experiences at Walt Disney World. However, while most guests can easily ride Smugglers Run on their visit, Rise of the Resistance can be a bit of a challenge.
Below we'll take a look at each ride in further detail. I highly recommend bookmarking the Rise of the Resistance review and reading it before your Disney vacation. Since the attraction opened, there have been several changes, and I try to update it as soon as any changes are released.
Smugglers Run is an interactive ride that is similar to a video gaming experience. There are six seats in the cockpit per ride.
The front row is for the pilots, the middle the gunners, and the last row is for the engineers. Each participant is instructed during the ride sequence to press different buttons and controls on the ship.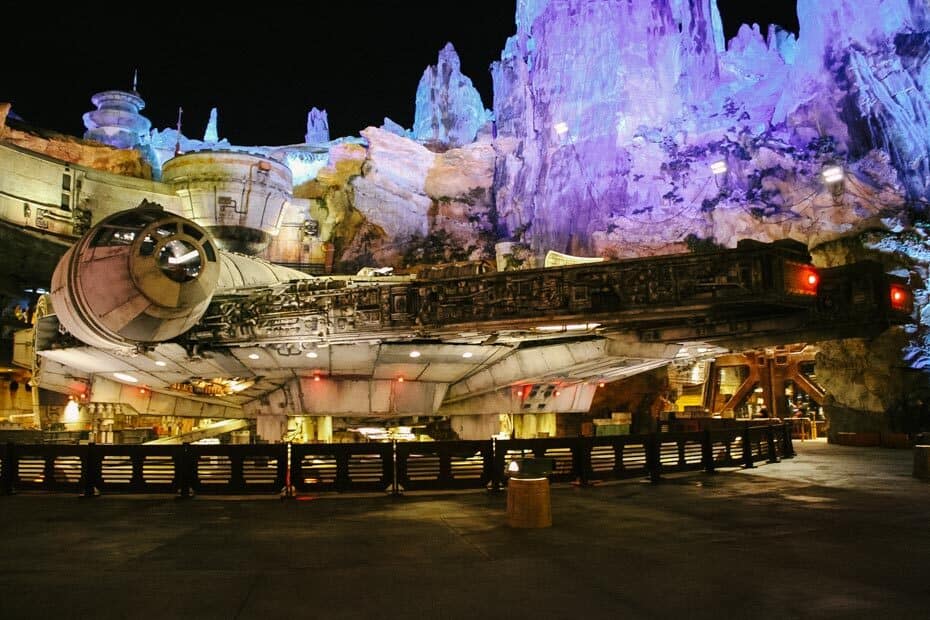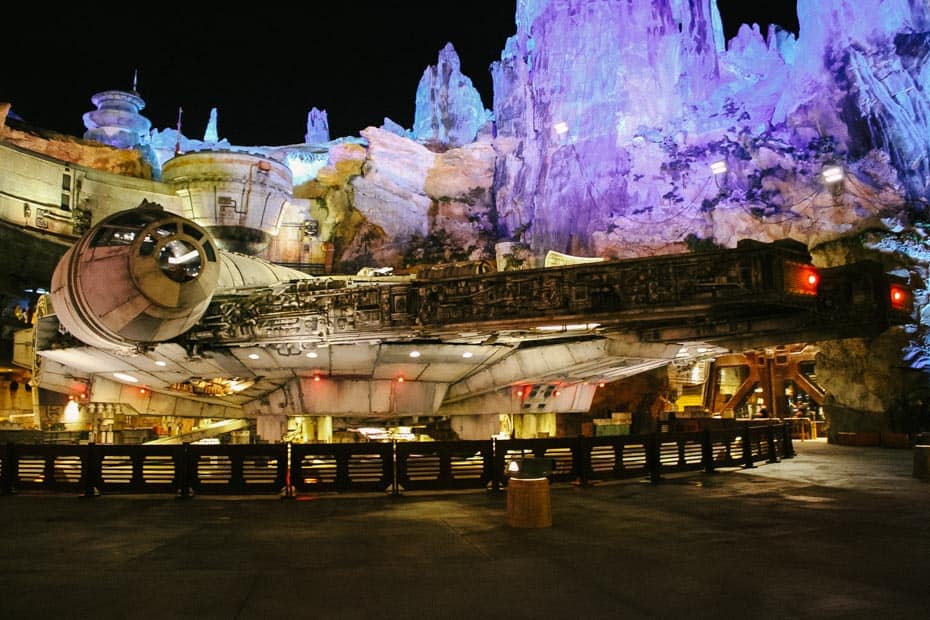 Make sure to check out our entire ride review for this attraction here.
Star Wars: Rise of the Resistance is the hot commodity at Walt Disney World. And it's well worth the visit to experience the attraction for the first time.
Guests can now experience the attraction via the standby line, or there's an option to purchase a Lightning Lane to skip the line. Additionally, resort guests might ride the attraction in the first 30 minutes of park opening using early theme park benefits.
Related: Benefits of Staying at a Disney World Resort
While guests of off-property resorts might prefer to ride it at the end of the evening. However, if it's important to ride this attraction, all guests will likely want to purchase a Lightning Lane.
Related: The Best Off-Property Hotels Near Disney World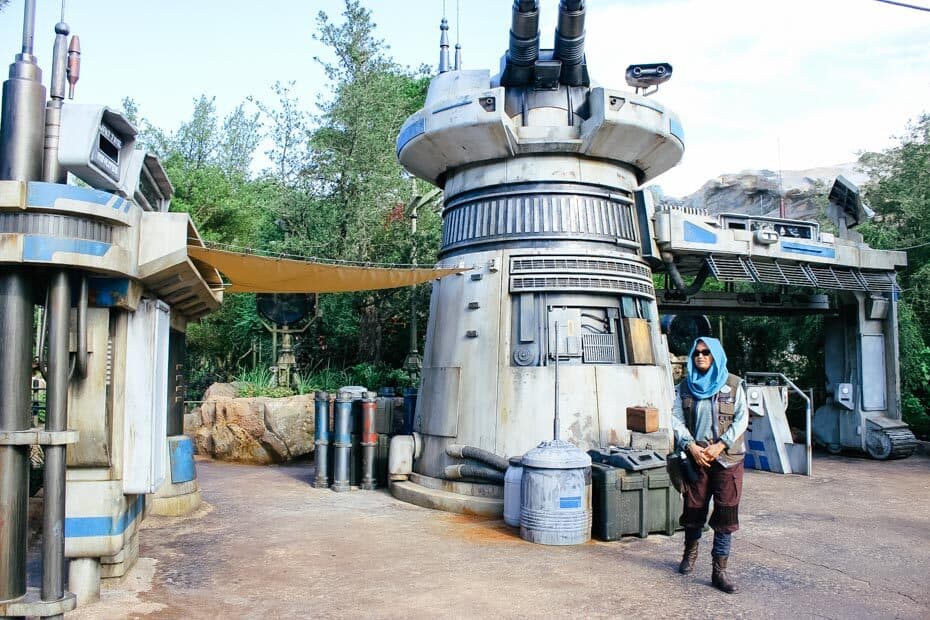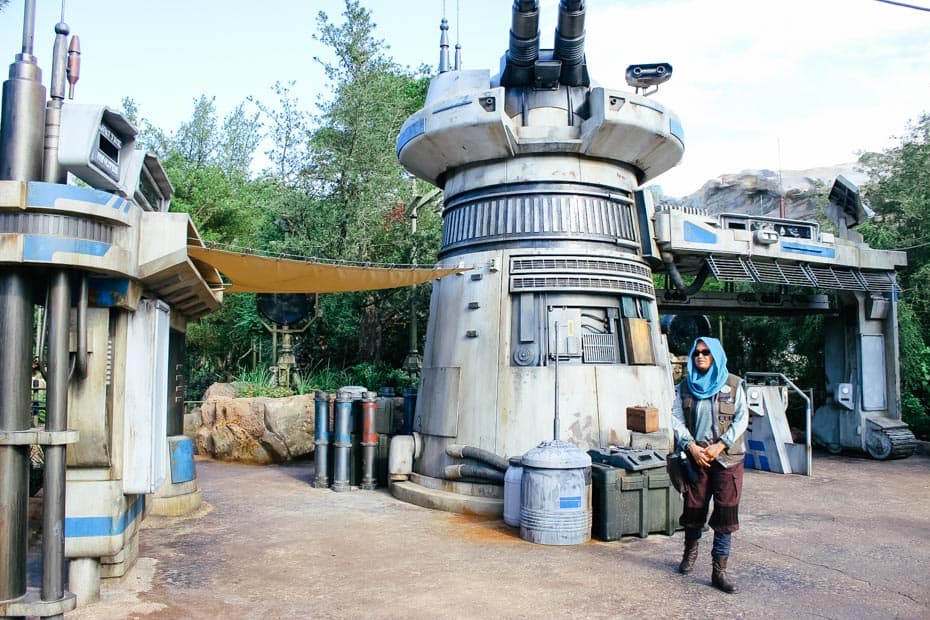 As far as Rise goes, you are going to love it. It's more of an experience that offers a segment of a trackless ride system. You will feel like you've stepped into some alternate Star Wars reality when you enter the initial holding room.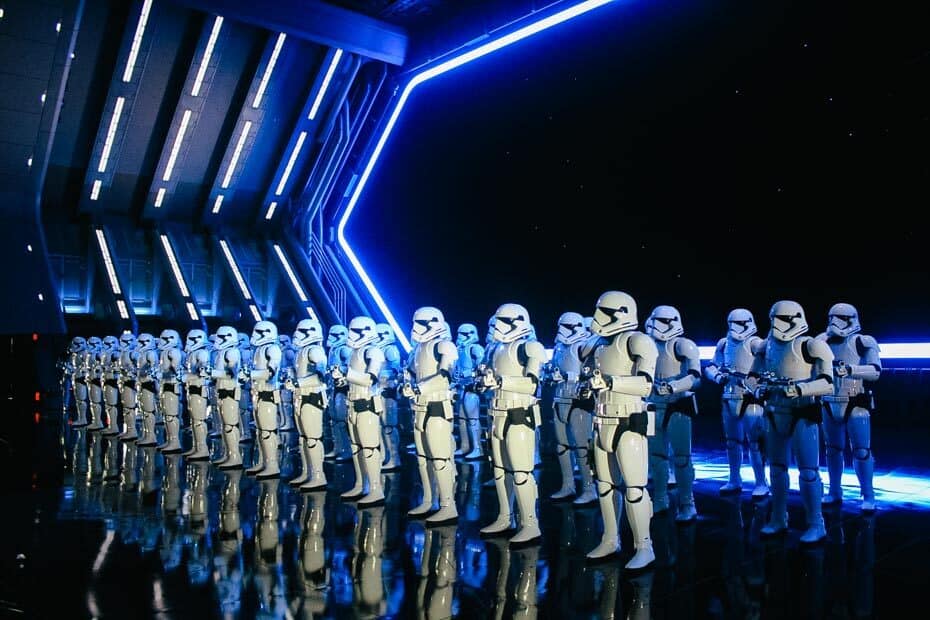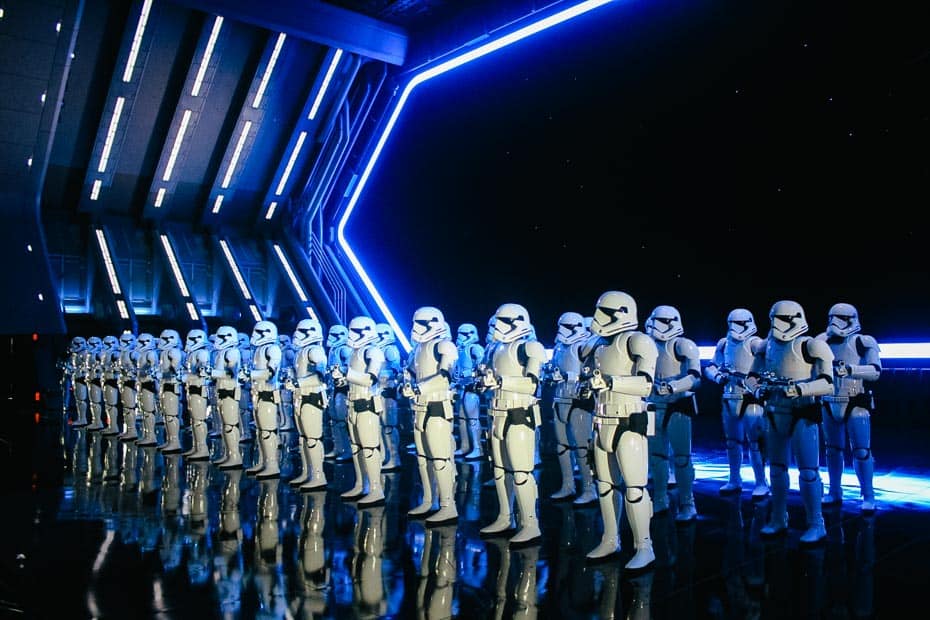 Make sure to check out our complete guide to experiencing this attraction here.
Oga's Cantina is the local beverage hangout in Batuu. From my visits to Galaxy's Edge so far, this has been one of the most detailed and themed locations. There is a droid DJ playing tunes, a tremendous bar, and coves providing seating around the outer rim of the establishment for larger parties.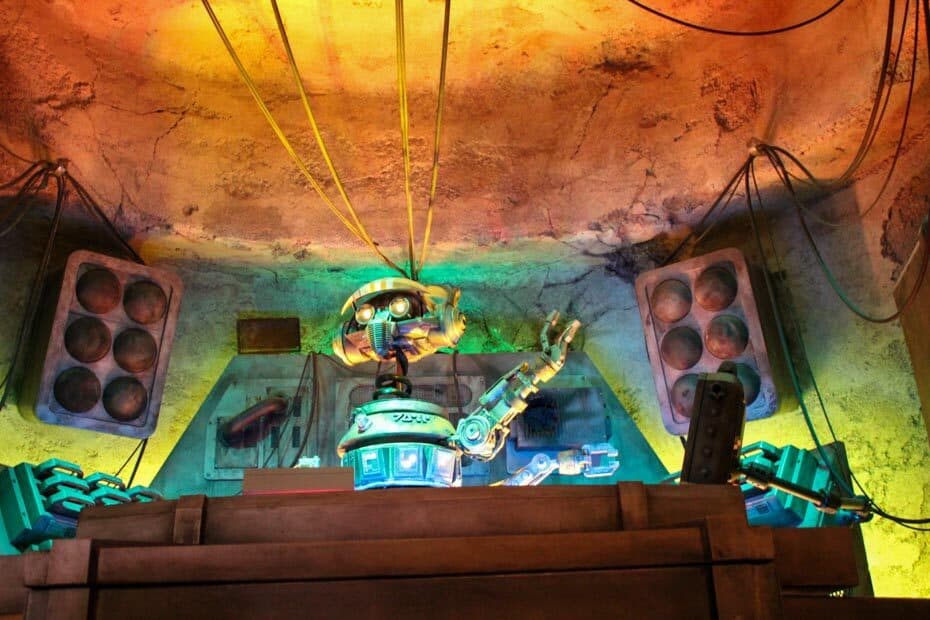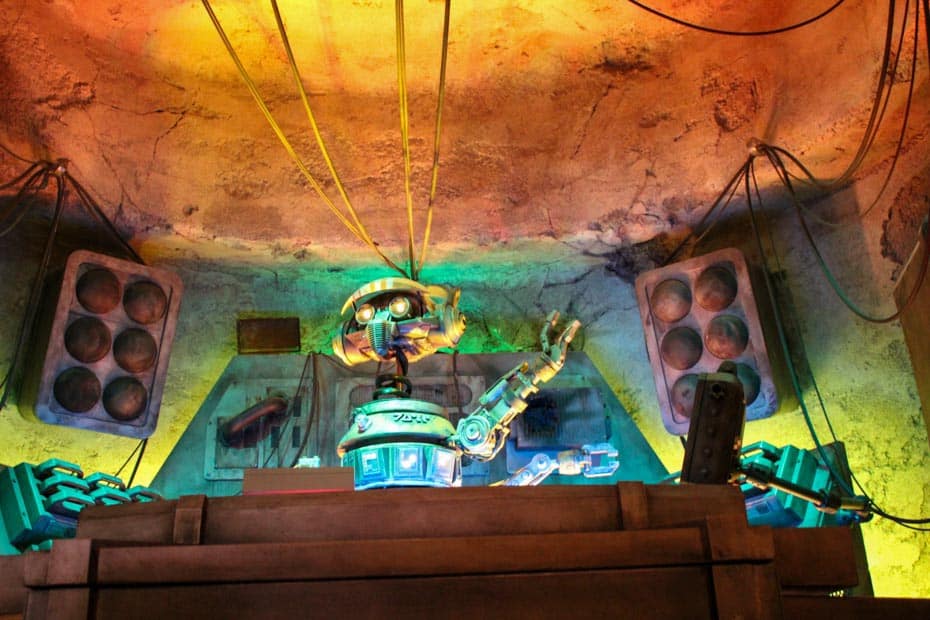 Here is a look at the bar and the overall theming of Oga's Cantina.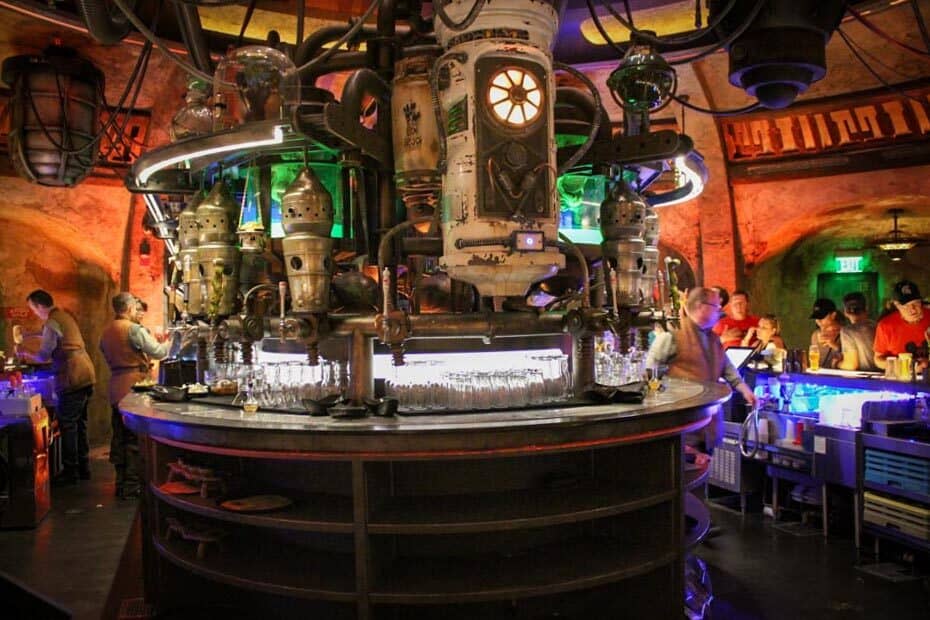 Below is a picture of my favorite drink selection so far, the Bespin Fizz. It's a sweet and sour-style drink offering flavors of cranberry and pomegranate. The drink comes in a fun, almost bubbling-over presentation, as you might tell from the picture.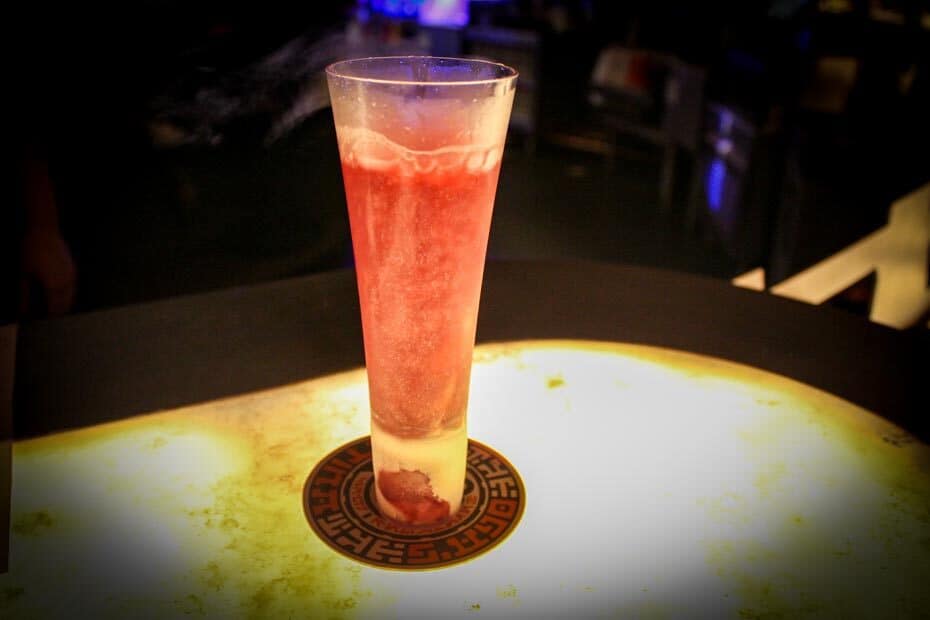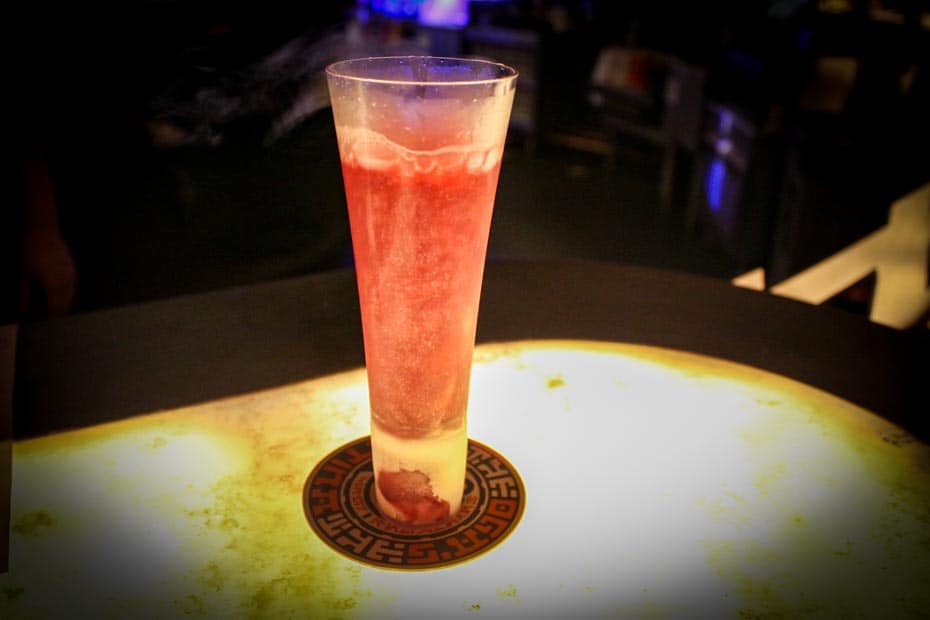 We have a full review of Oga's Cantina here with every drink we've tried to date.
Between The Market and Docking Bay 7 Food and Cargo, you will find the home of Ronto Roasters. This location offers wraps or turkey jerky and a variety of drinks. They also have a few options for breakfast.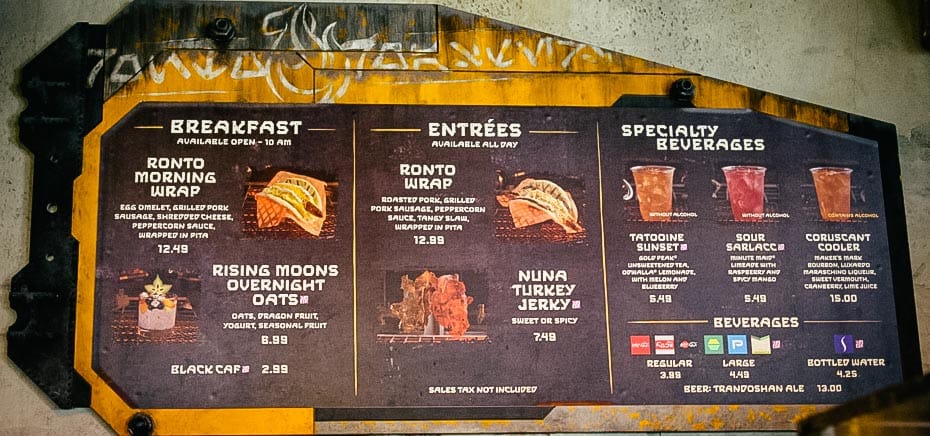 One sole droid appears to be running the entire operation.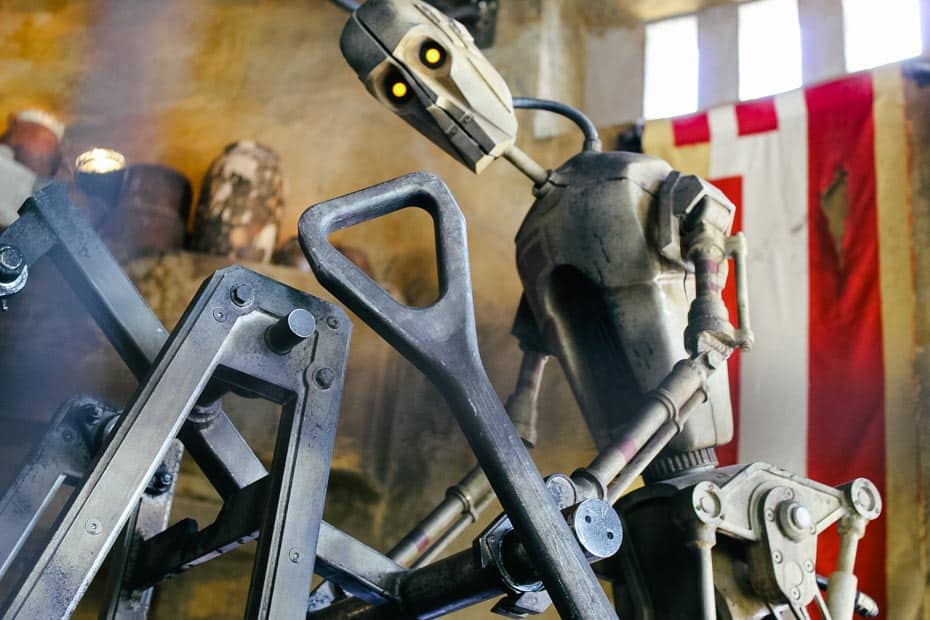 He is doing an excellent job with the Ronto Wraps. Anyone with an interest in sausage will enjoy a Ronto Wrap. They are tasty and incredibly filling. It's a pork sausage on pita bread with slaw in peppercorn dressing. They are delicious.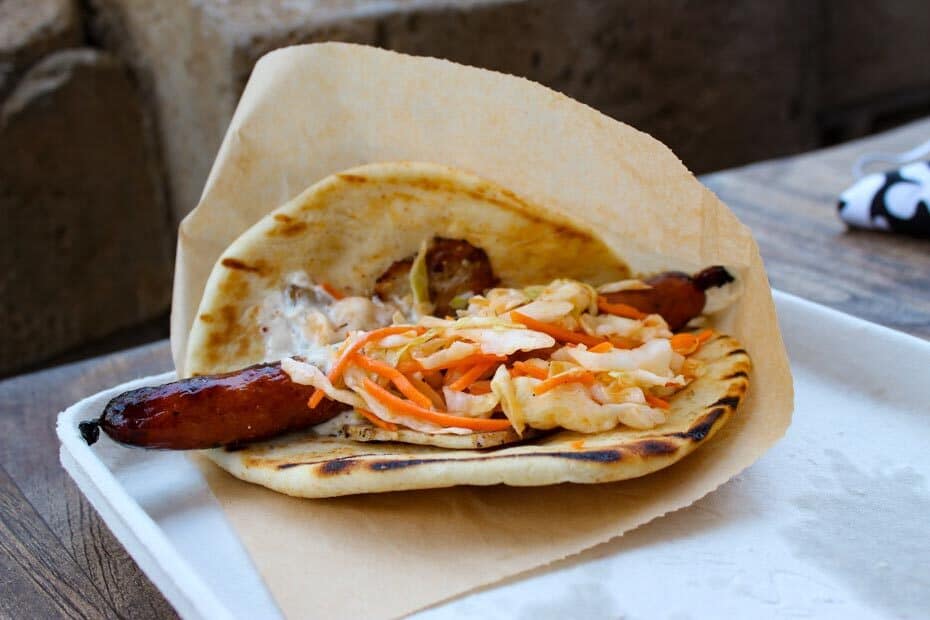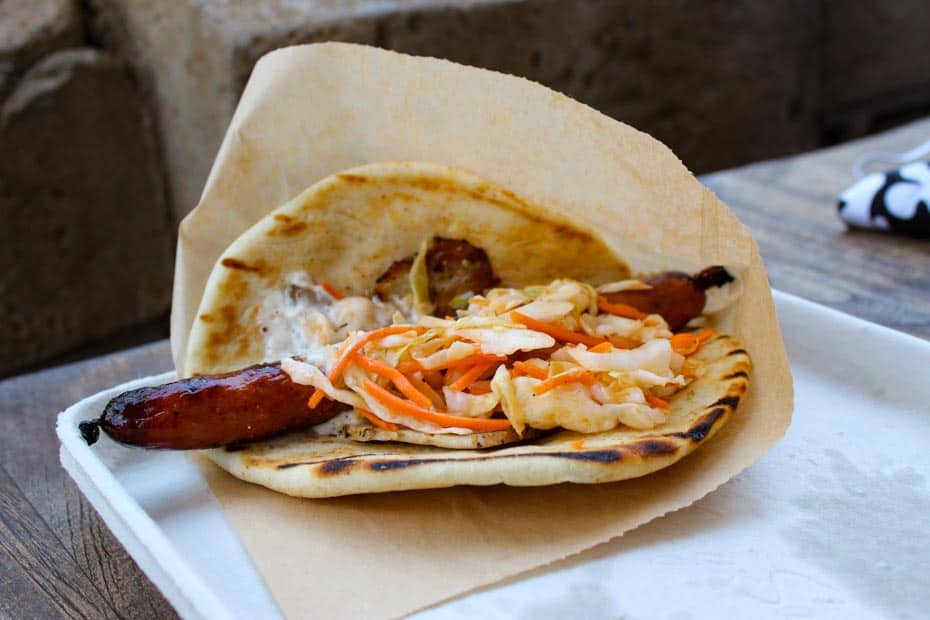 The wrap comes in paper and is easy to eat. You can grab a seat to enjoy it or take it with you. We get one of these nearly every time we visit the park!
Learn more about Ronto Roasters at Hollywood Studios here.
Docking Bay 7 Food and Cargo
Docking Bay 7 is the large counter service dining location in Galaxy's Edge. Below is a look at a portion of this interior quick-service dining location. It's relatively sizable and made up of two different rooms.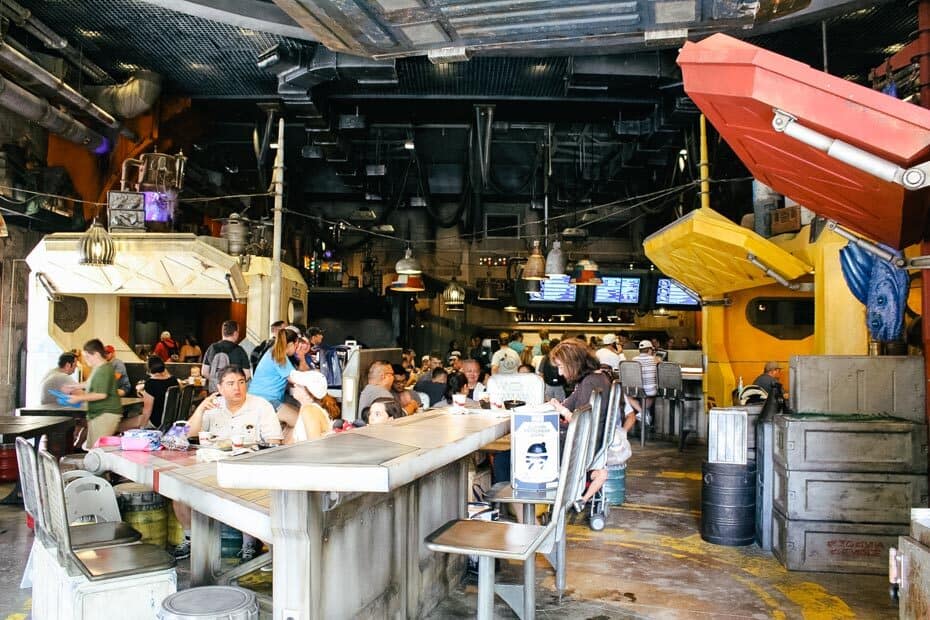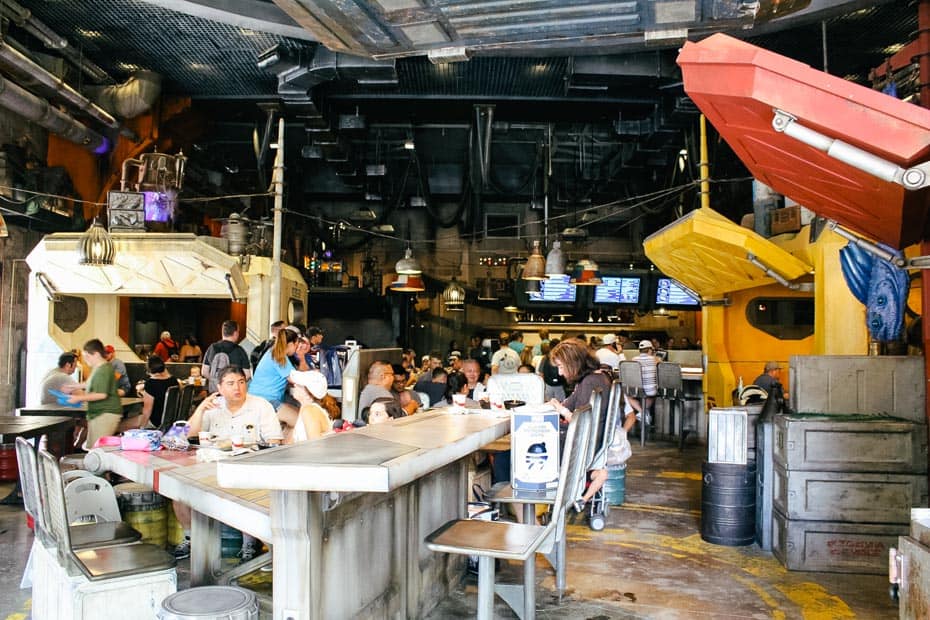 Like the rest of Batuu, you'll find tons of theming here.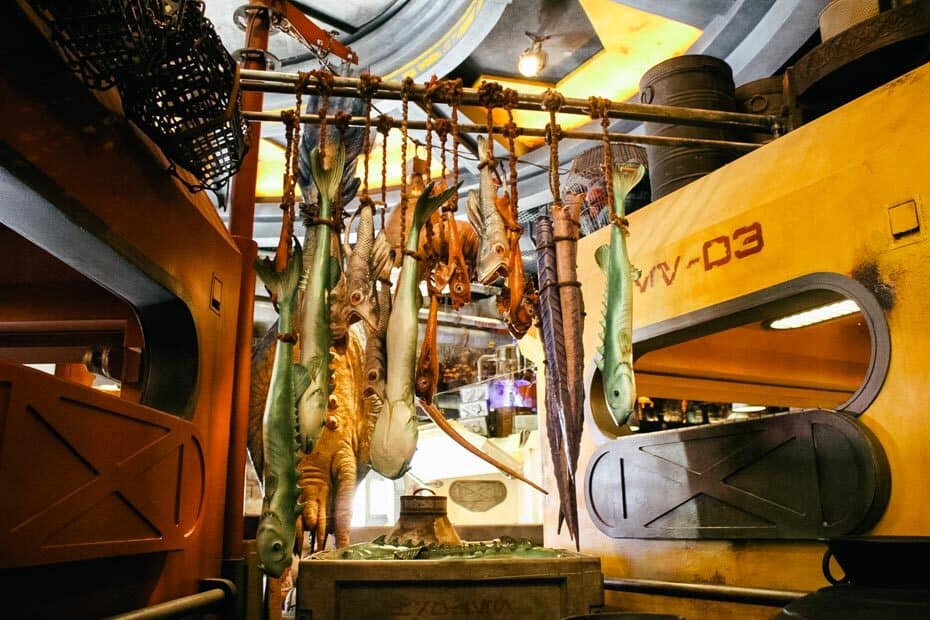 Below is the menu. You can also preview it here on Disney's site.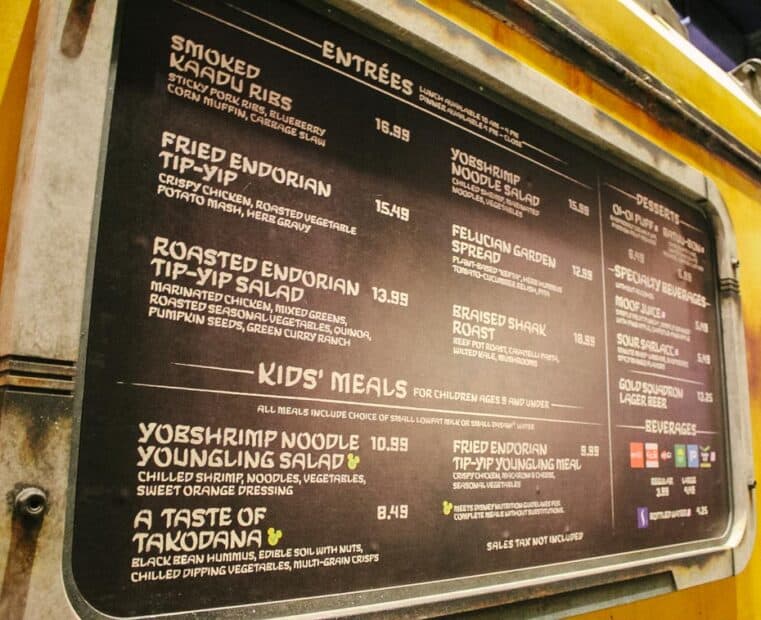 I tried the Roasted Endorian Tip Yip Salad. This meal was an enjoyable and was somewhat healthy.
The salad came with a green curry ranch-style dressing. Not being a big fan of dressing in general, I ordered mine on the side.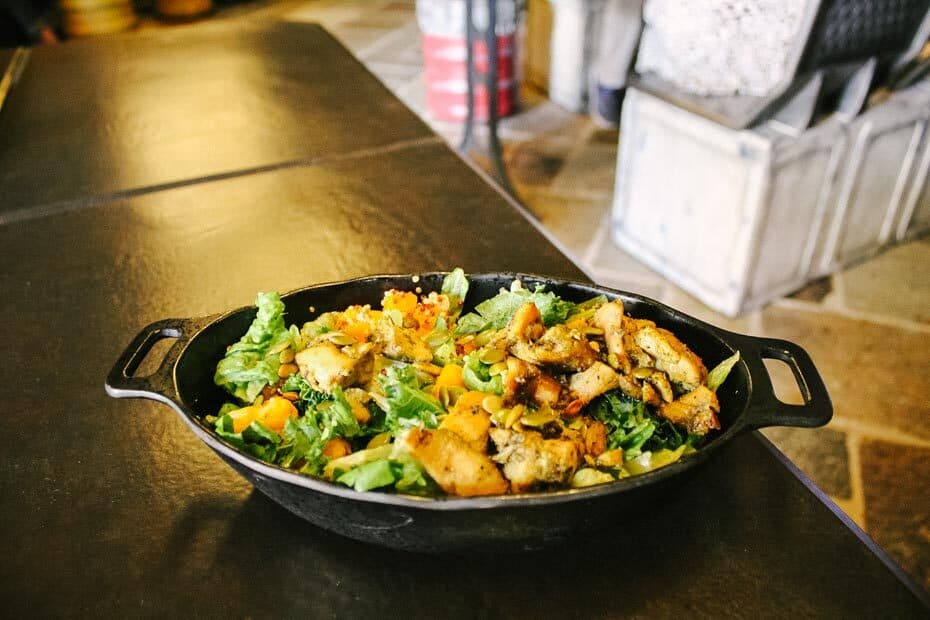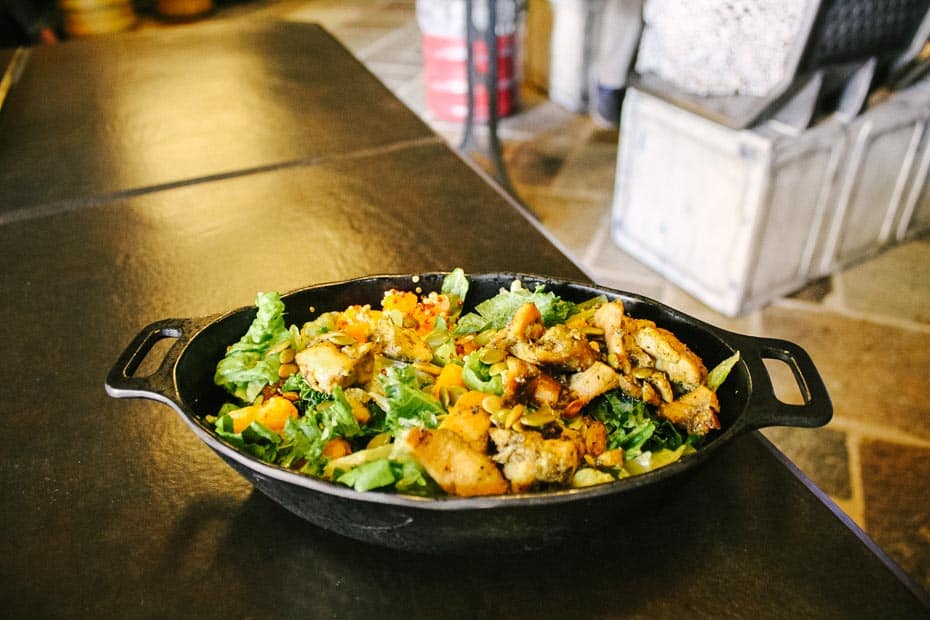 You can dine inside in one of the large dining areas that accommodate several guests. But I prefer to dine outside.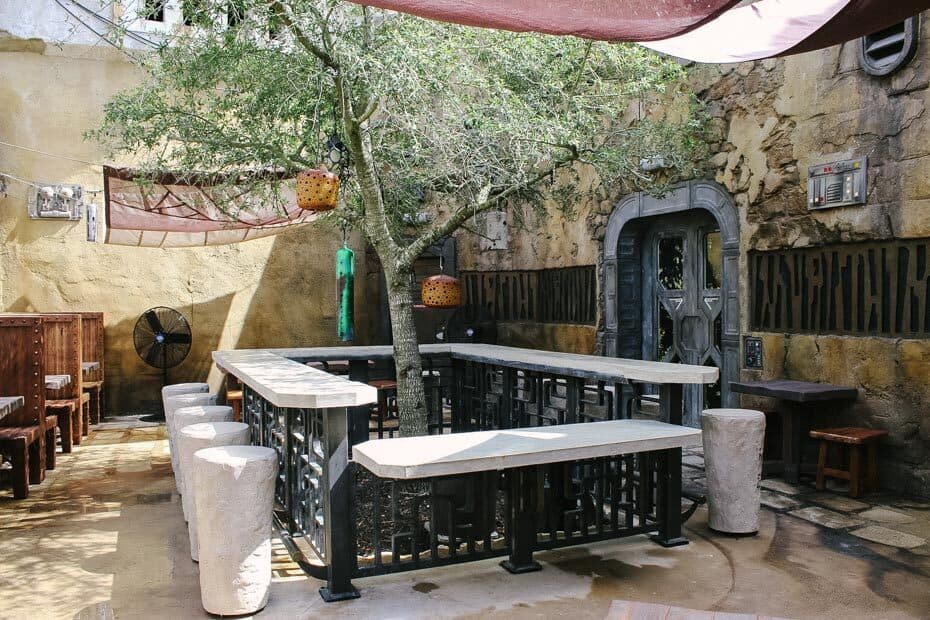 Milk Stand
I'm sure if you have heard of Galaxy's Edge, then you have heard of the green and blue milk. There is a place on the planet of Batuu called Milk Stand.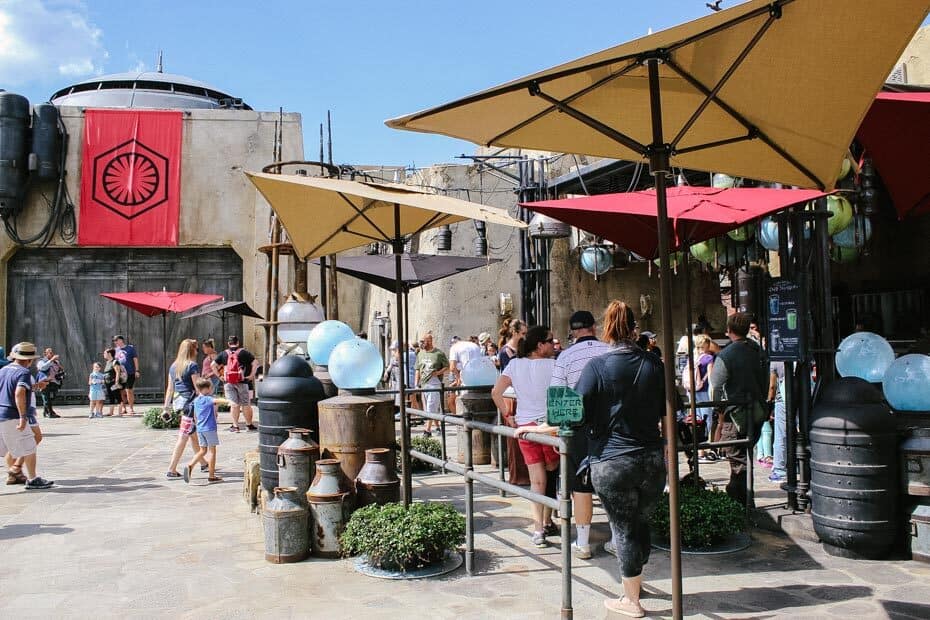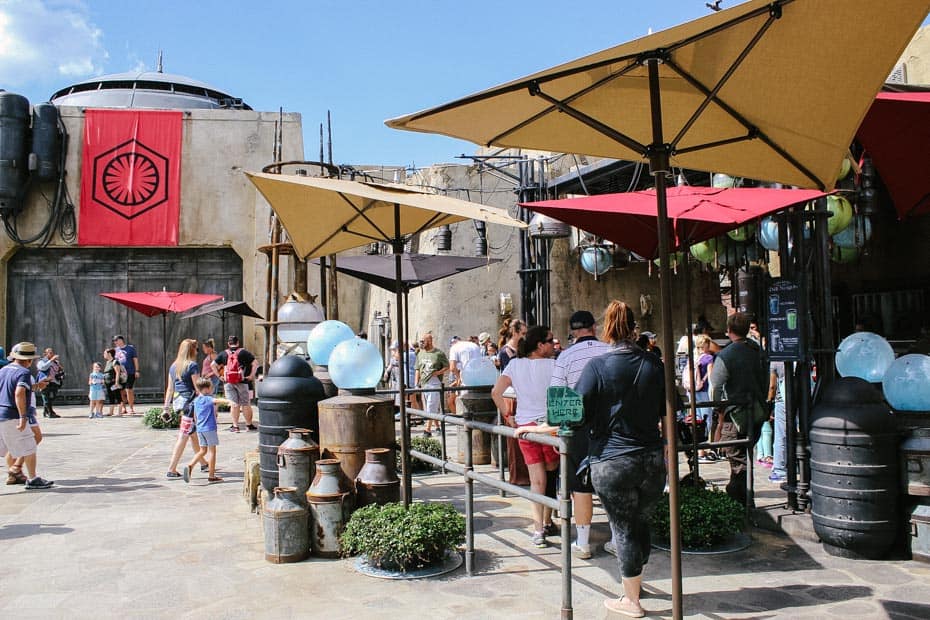 Milk Stand is where you can pick up either milk selection or both and decide which one is the best. You can also upgrade your milk to an alcoholic version if desired.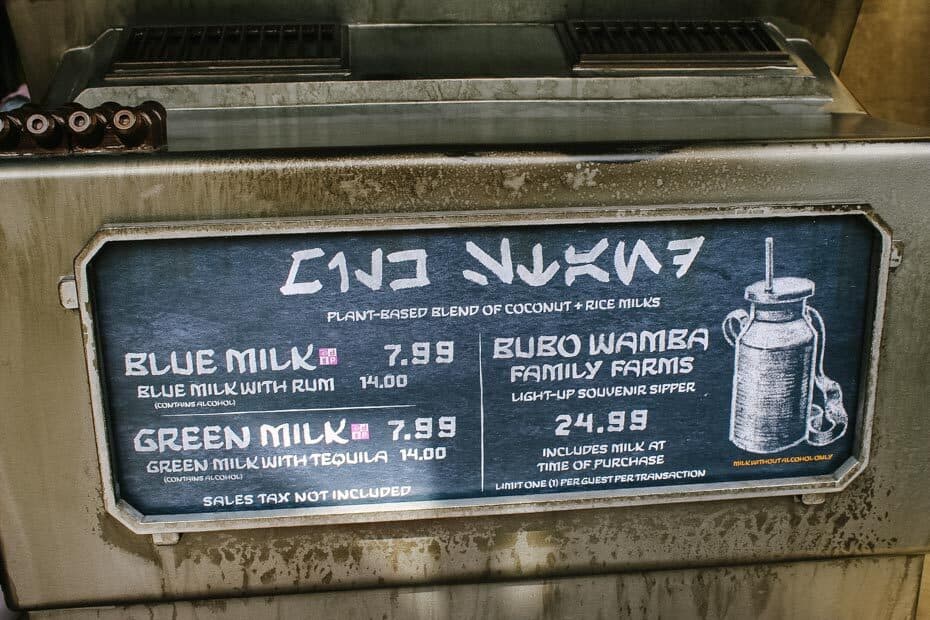 Here is the regular green milk that I tried. It is kind of a frozen mixture that reminded me of a tutti-fruity-type flavor. Maybe Fruity Pebbles cereal or something similar? It wasn't bad and, for sure, a unique flavor.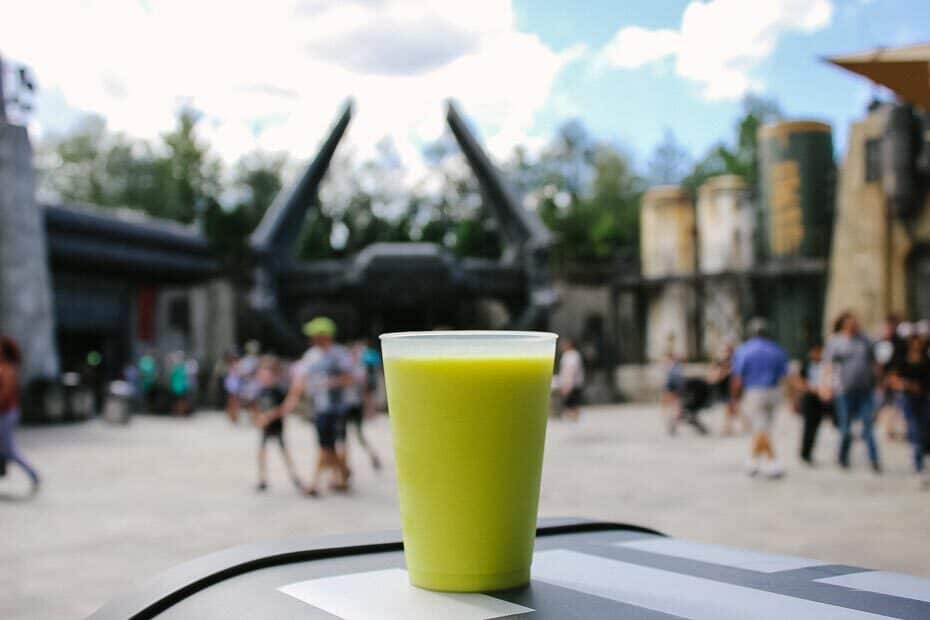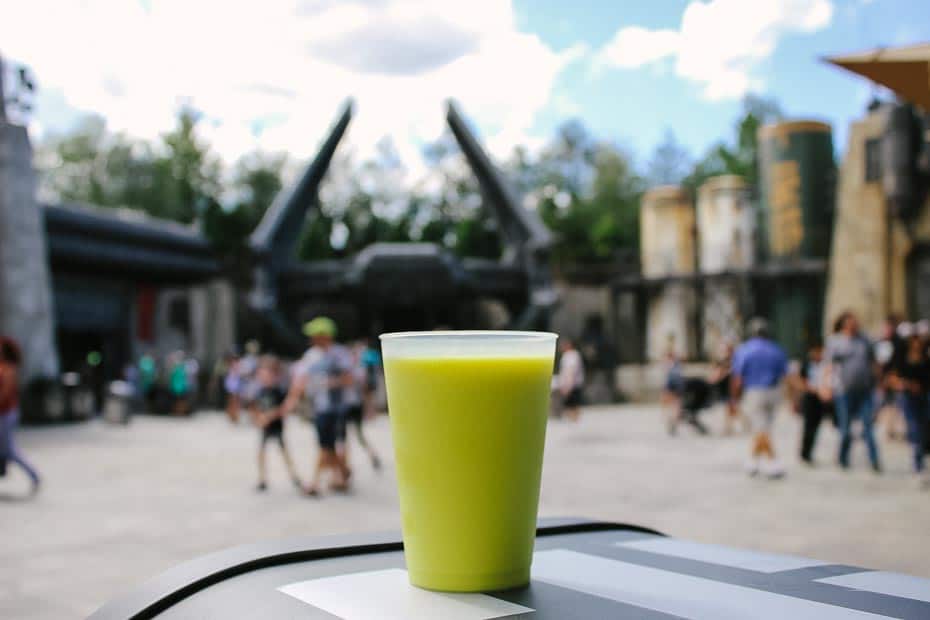 Would I order it again? Probably not. I think it's more of a rite of passage type deal. Additionally, I'm not a fan of many frozen drinks.
Kat Saka's Kettle
Kat Saka's Kettle is a snack stand located within The Market area offering flavored popcorn and soft drinks.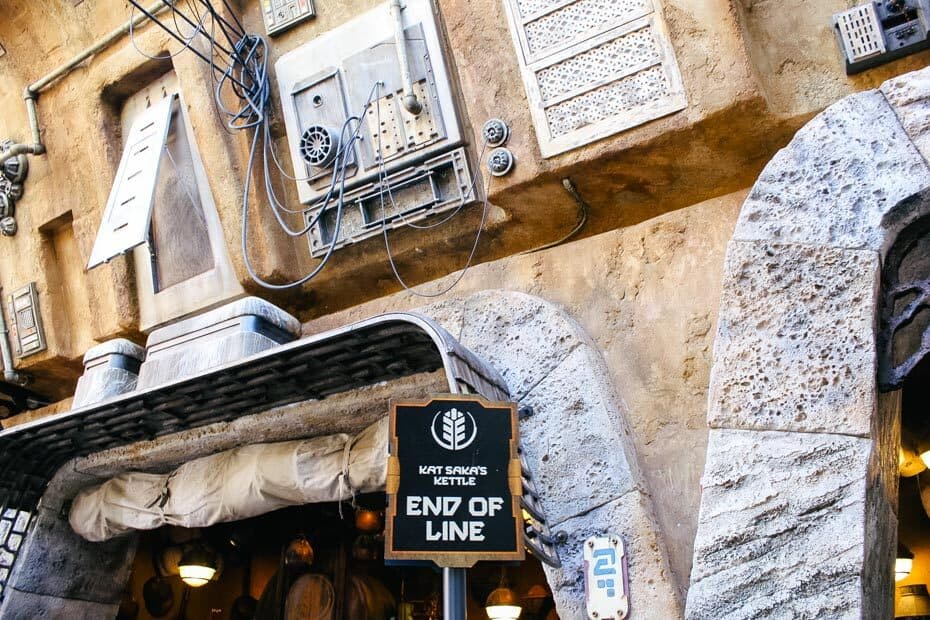 Here is a look at those droid-shaped drinks that caused quite a fuss when Galaxy's Edge first opened.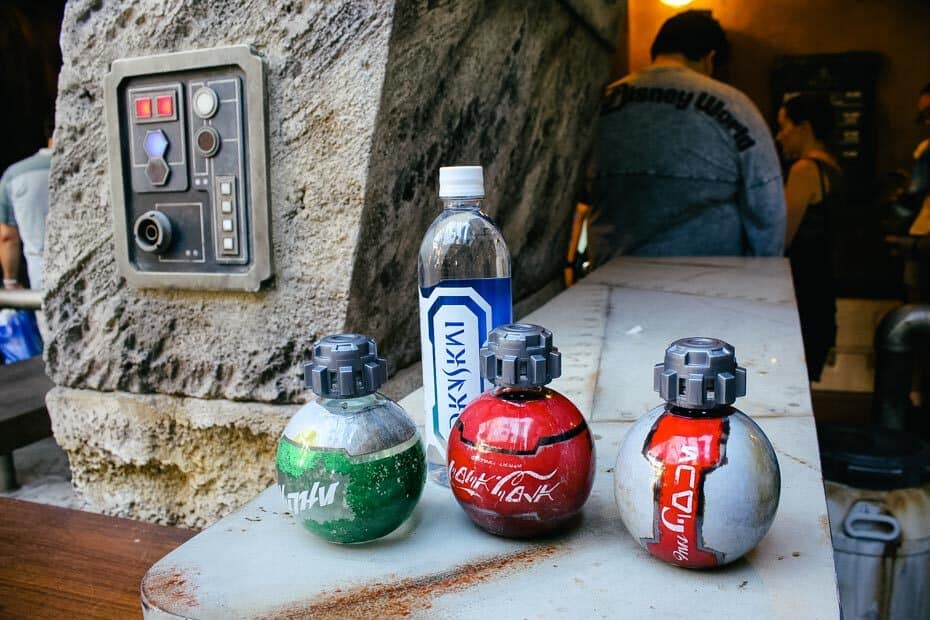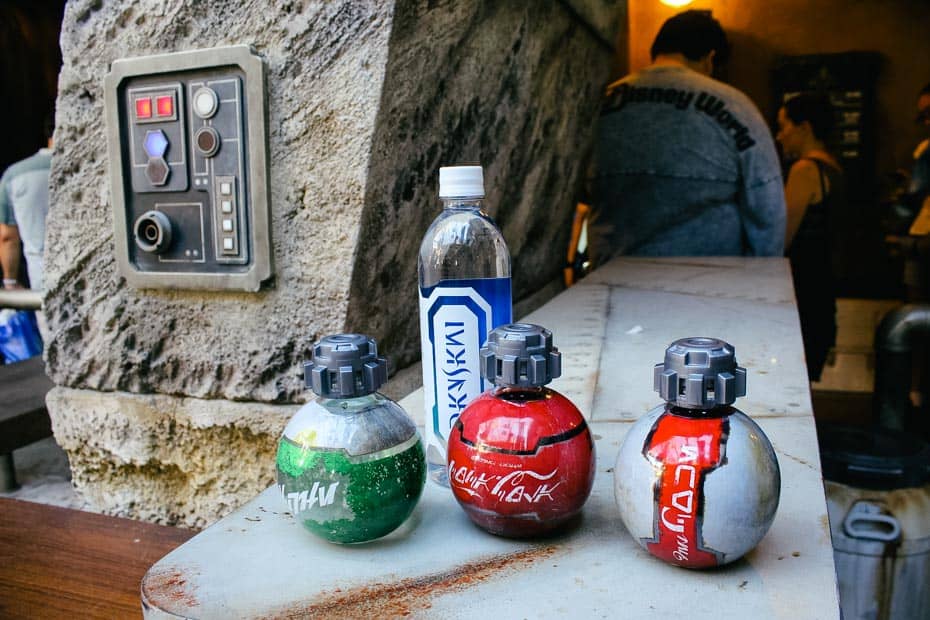 If you walk by the area, you can see the flavored popcorn that's available.
Star Wars: Galaxy's Edge Merchandise
There are plenty of retail merchants in Batuu. Imagine that. At least there is some fun theming involved. Below is a look into the cage at Creature Stalls below. It is located in The Market area.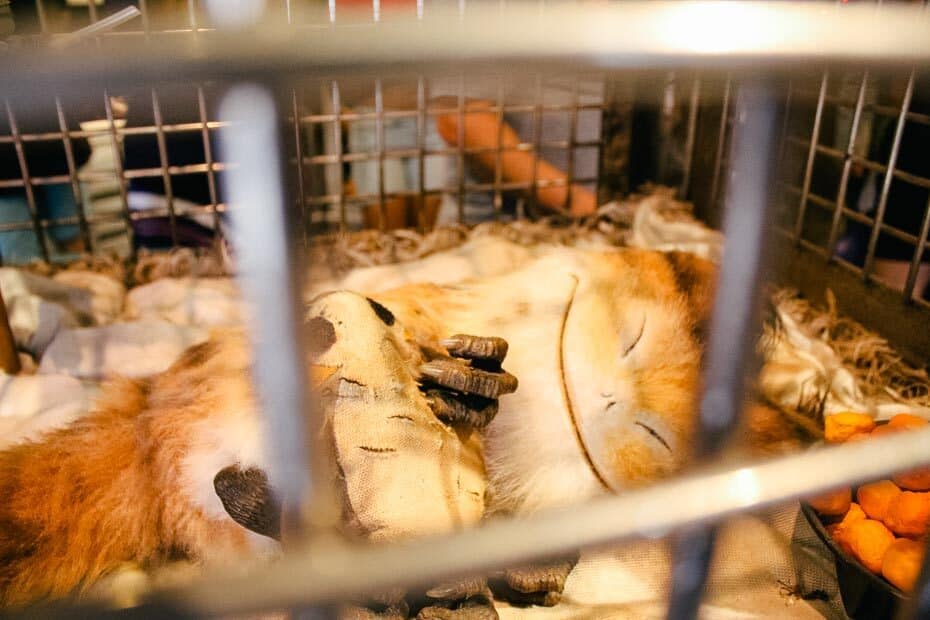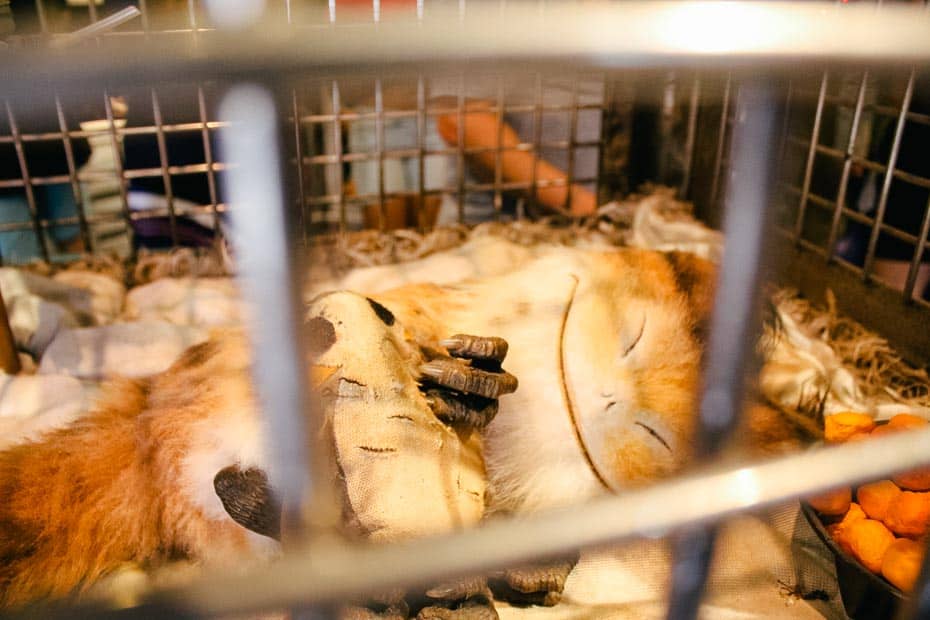 There are a variety of Resistance and Rebel store locations in Batuu. They are spread out through the land itself and then a more targeted area at The Market.
Probably the first place you will run into is the Resistance Supply. It's located toward the far left before The Market when you first enter Batuu. Here are the type of items they have on display.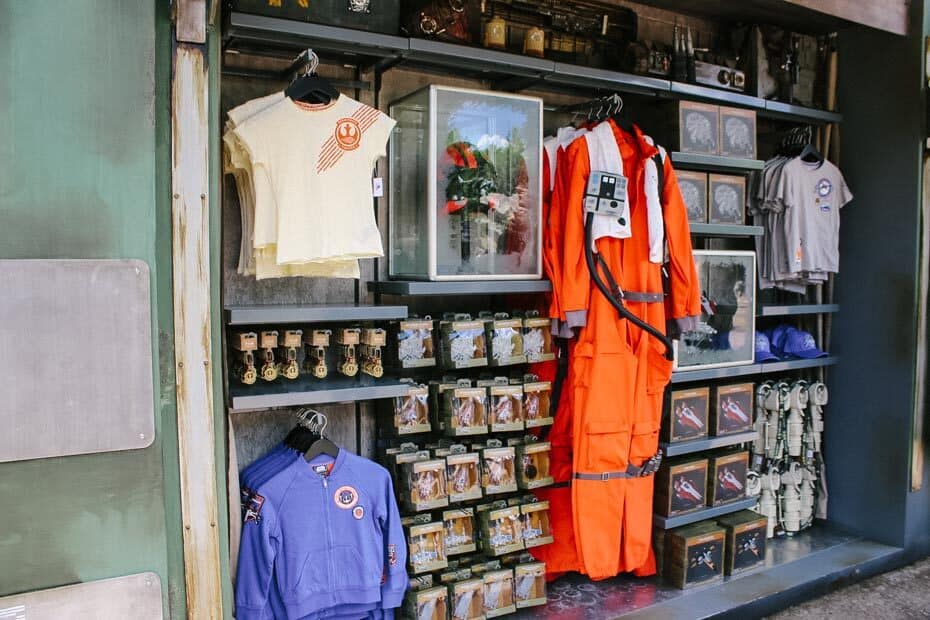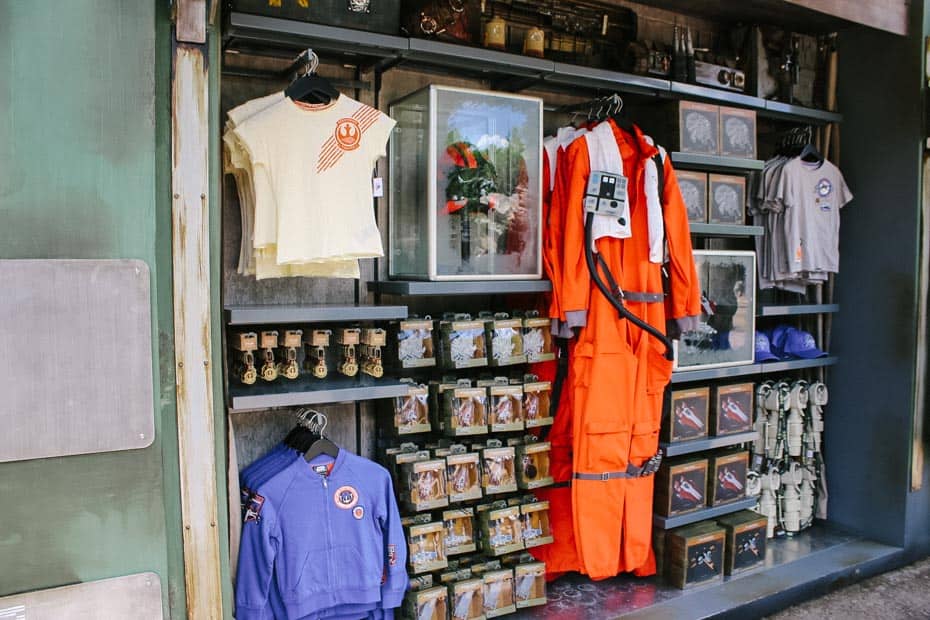 Perhaps one of the most well-themed stores on Batuu is Dok-Ondar's Den of Antiquities. During more crowded times, there might be a line to enter the store. As guests leave, they allow others to enter the store.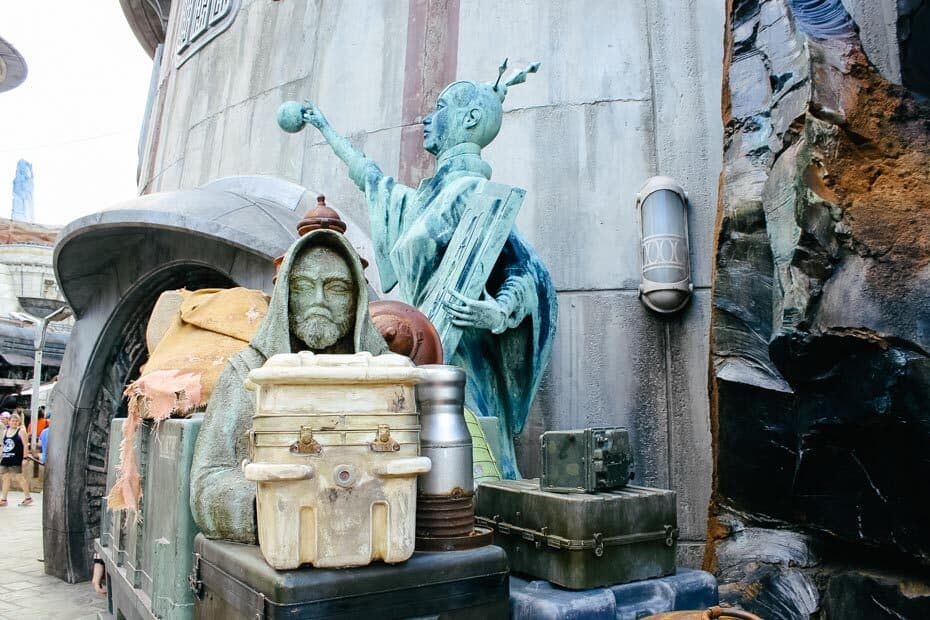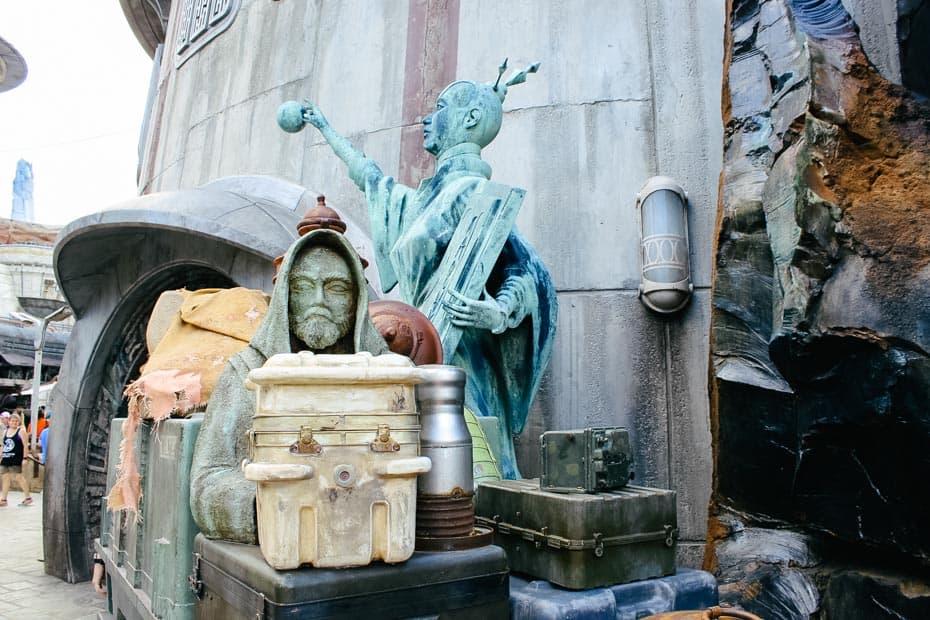 Den of Antiquities is located just across the street from Docking Bay 7 Food and Cargo for reference. Most of the doors on Batuu open and close, as shown below. This adds to the theming.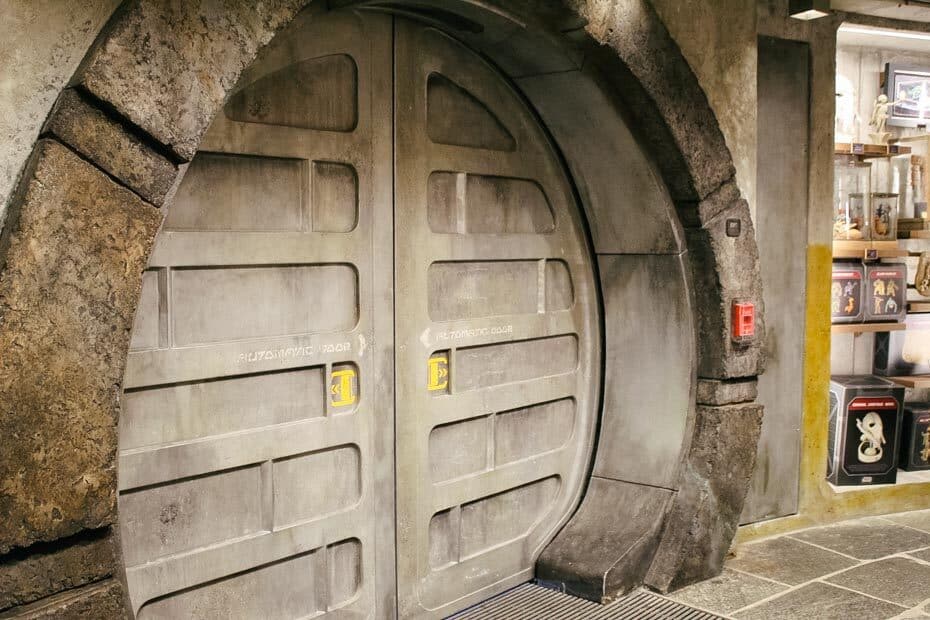 Den of Antiquities is where you'll find some of the galaxy's most sought-after treasures. If you haven't had a chance to visit the store, you will want to allow some time into your day to step inside. It's well done, and there's quite a lot to see inside.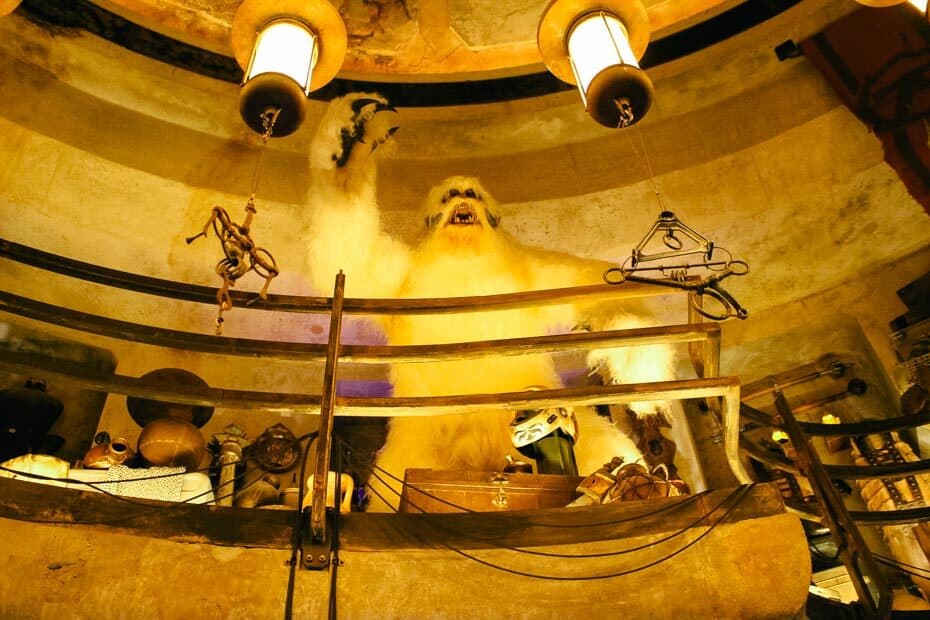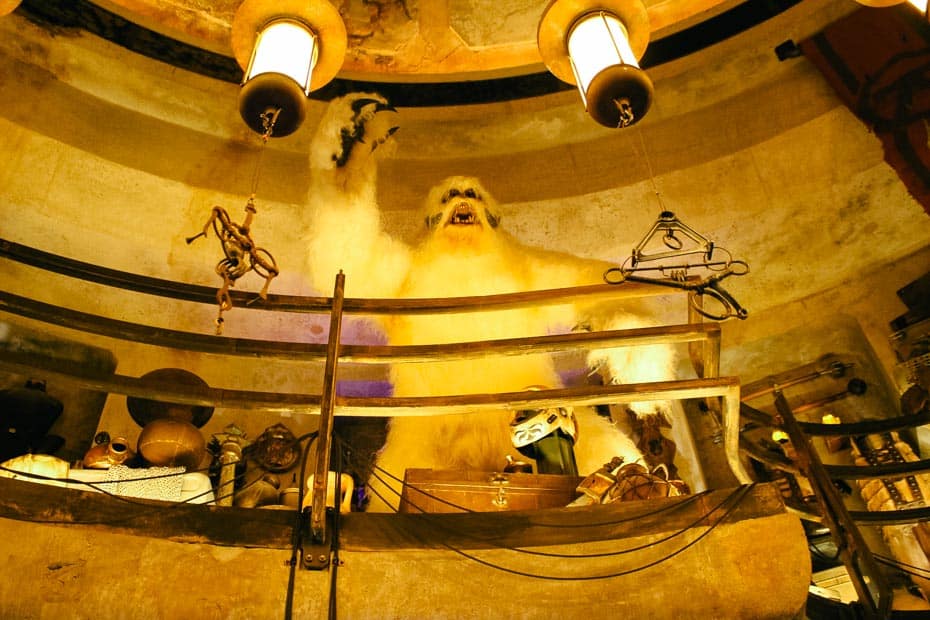 Savi's Workshop is a reservation-only, build-your-own lightsaber experience. Here is the entrance and the exterior waiting area if you have an appointment. Seeing as how these lightsabers cost more than $199.99, I will direct you here to book your reservation.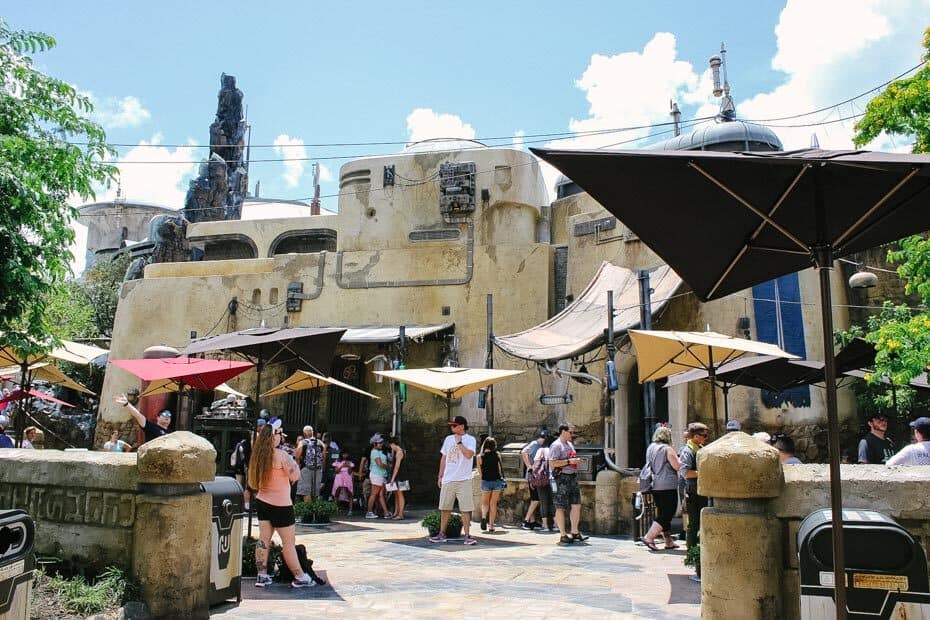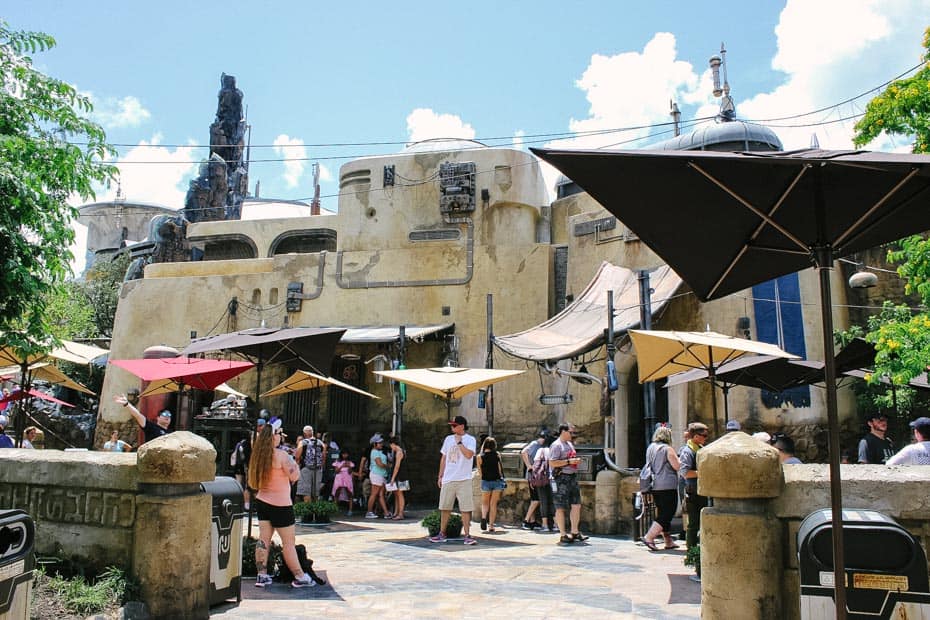 Another custom experience that has to be reserved in advance at Galaxy's Edge is the build-your-own droid at Droid Depot. From what I can tell, this looks like a lot of fun. I've also seen quite a few people playing with their droids out in the resorts' hallways and whatnot.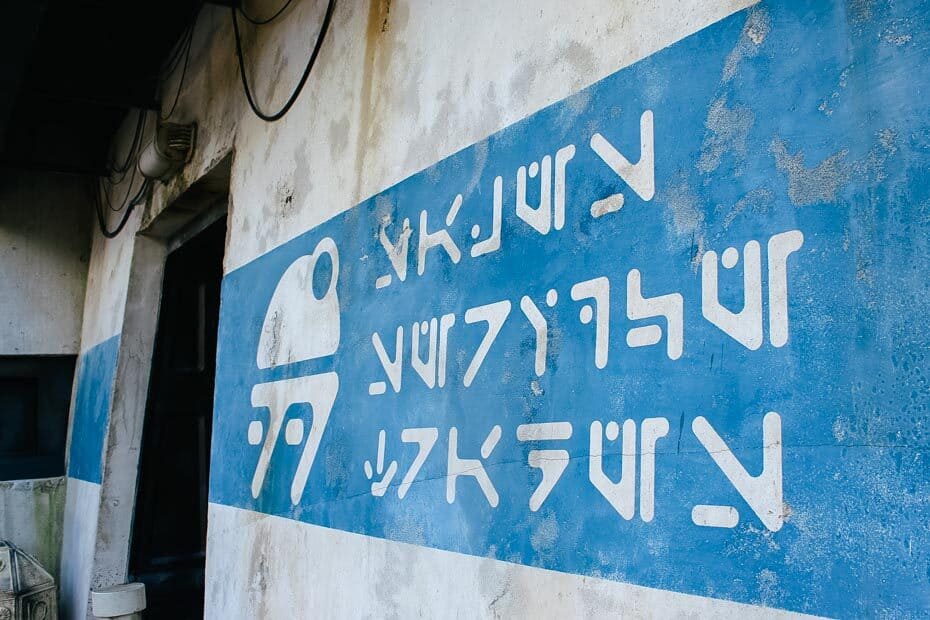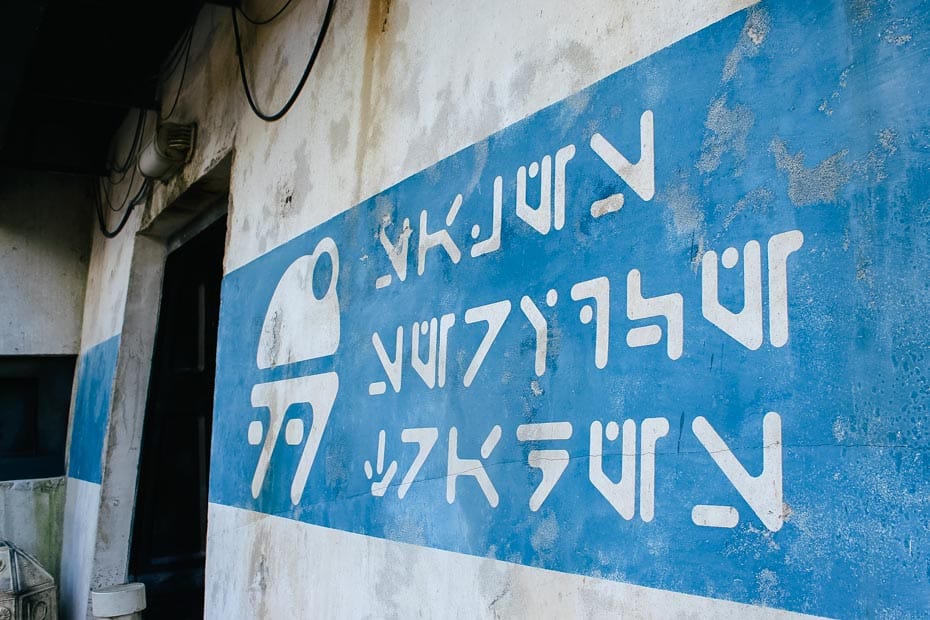 This experience comes in at $99.99, so it's a considerable difference between this and the lightsaber. Here is the link to reserve a spot for this experience.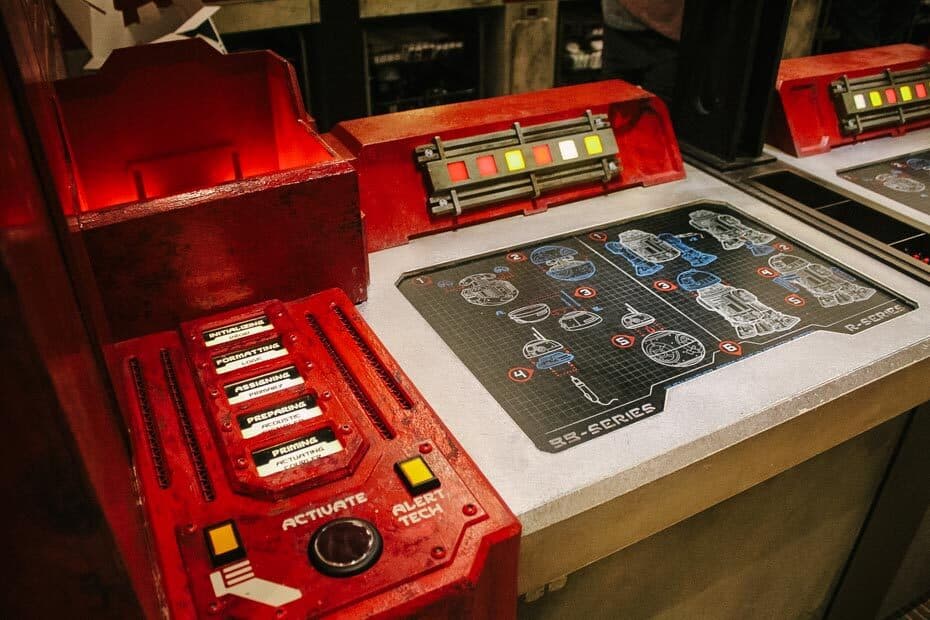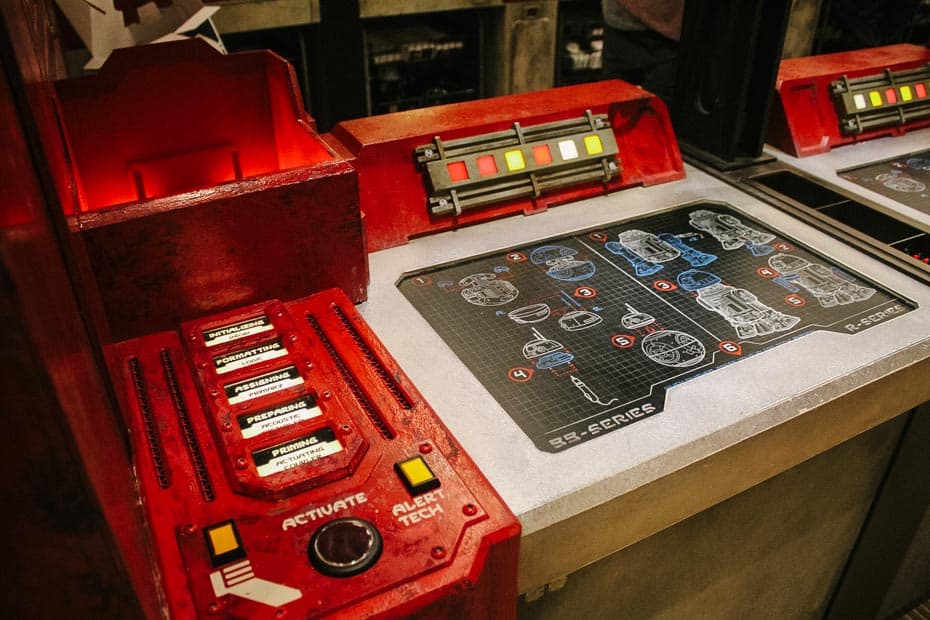 Below is a sample droid you can build. It comes with remote control. As for figuring out how to use it as a drink beverage cart droid, I don't think those instructions are included. But I'm sure there's someone out there that already has it figured out.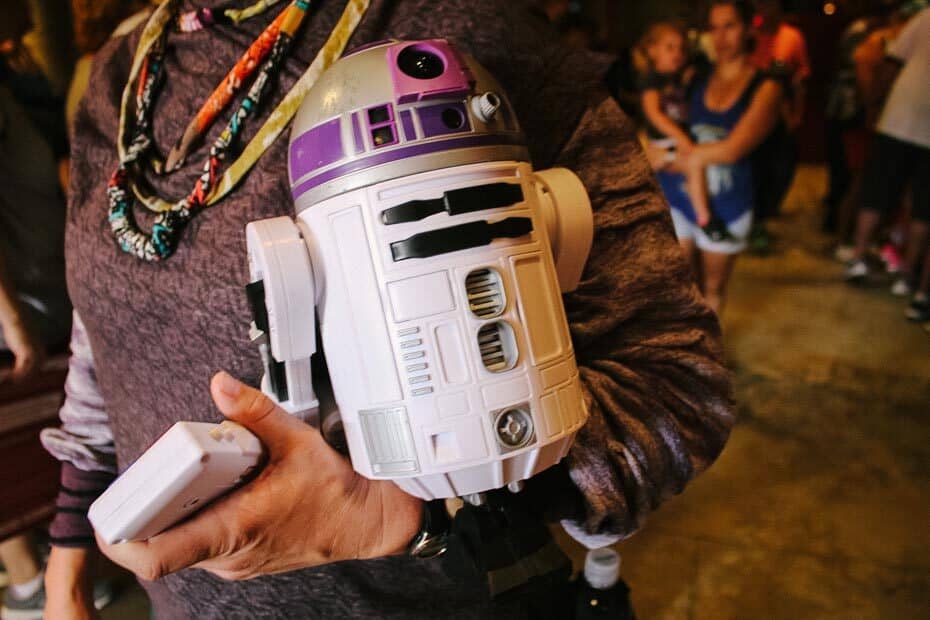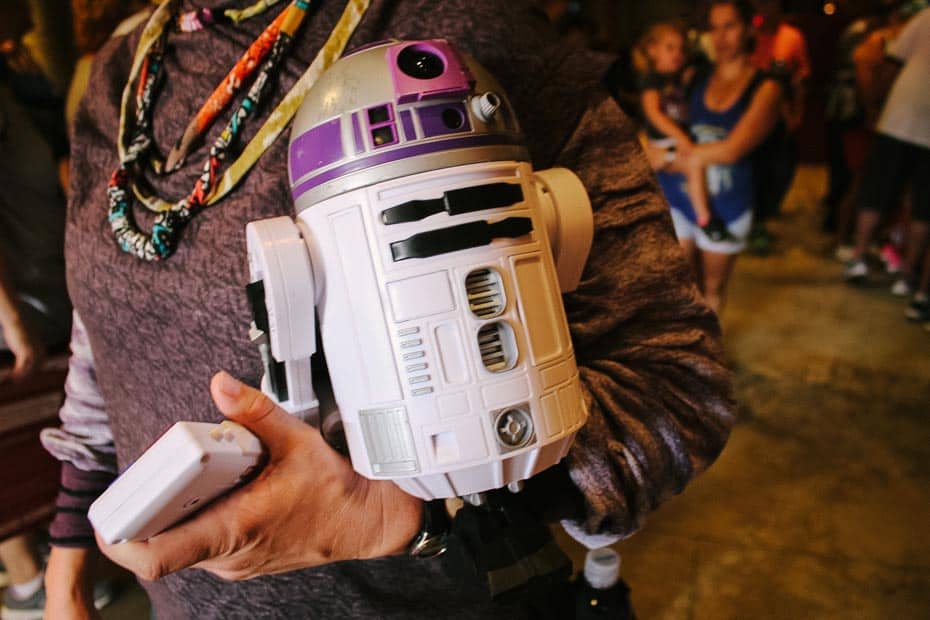 The Droid Depot is something to see. It's very bright and colorful with all kinds of options. If I elected to participate in something of this nature, I would take my time and make sure to enjoy the entire experience.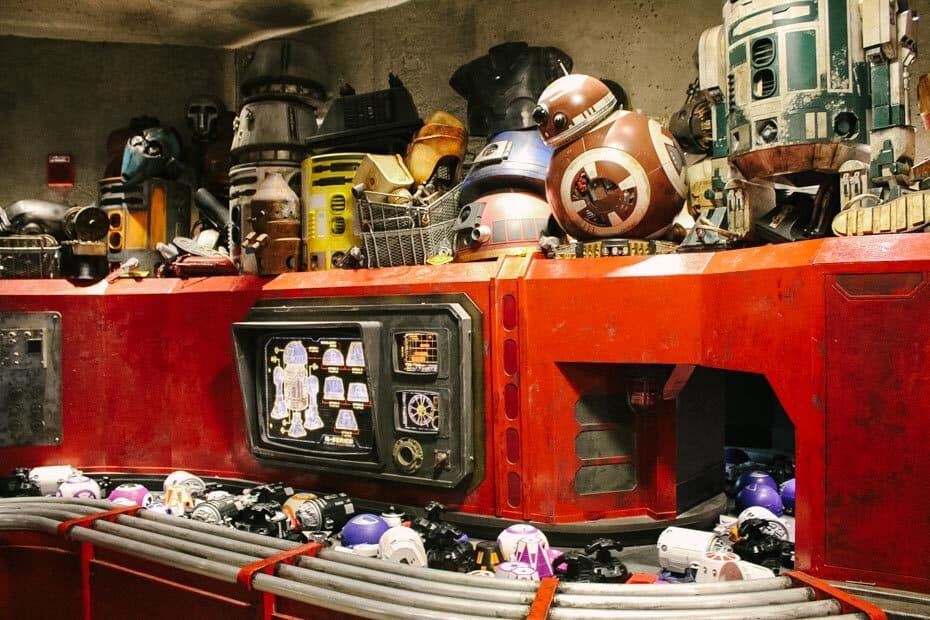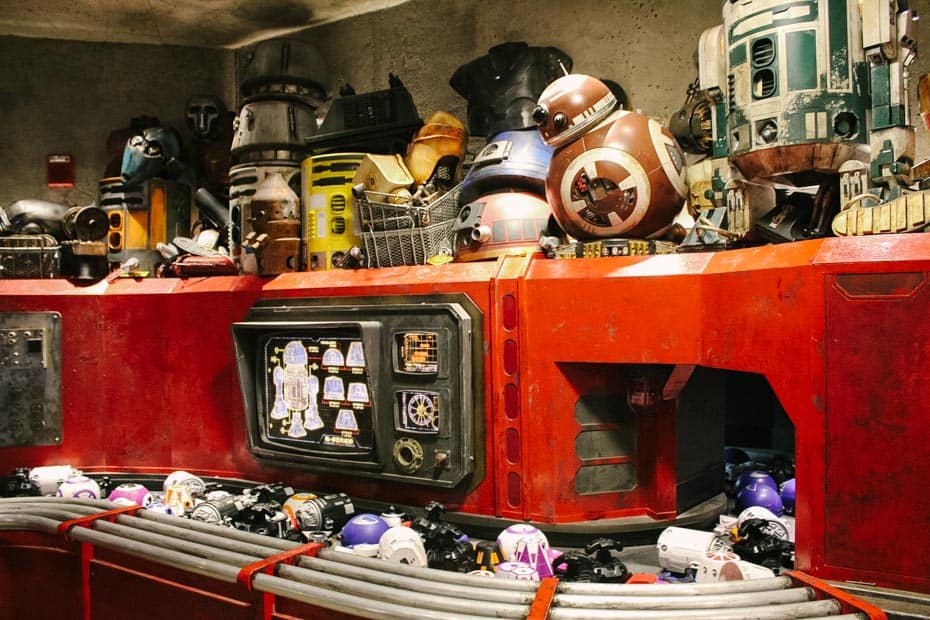 There is also a retail area with our very own R2-D2 over in one of the corners.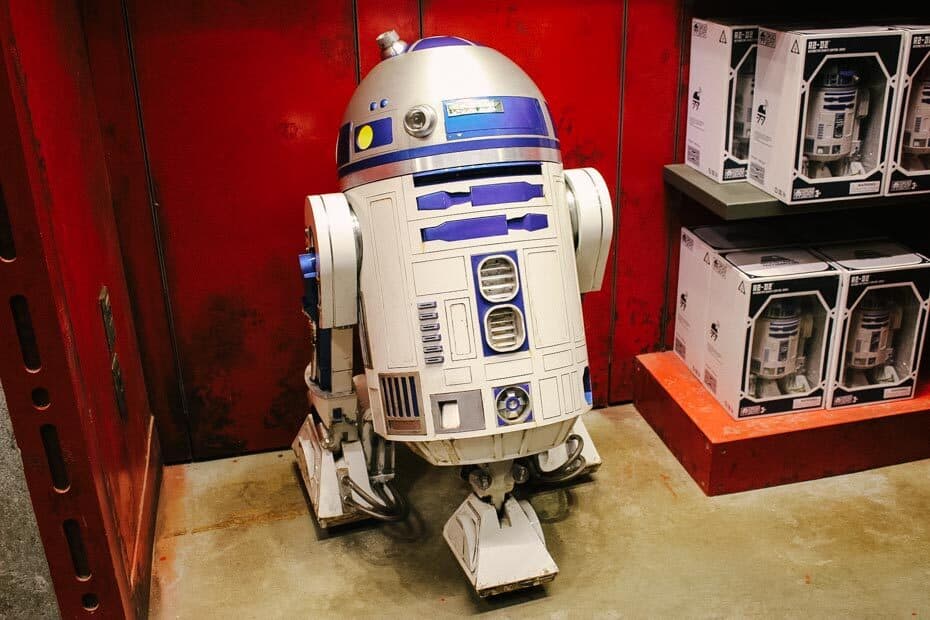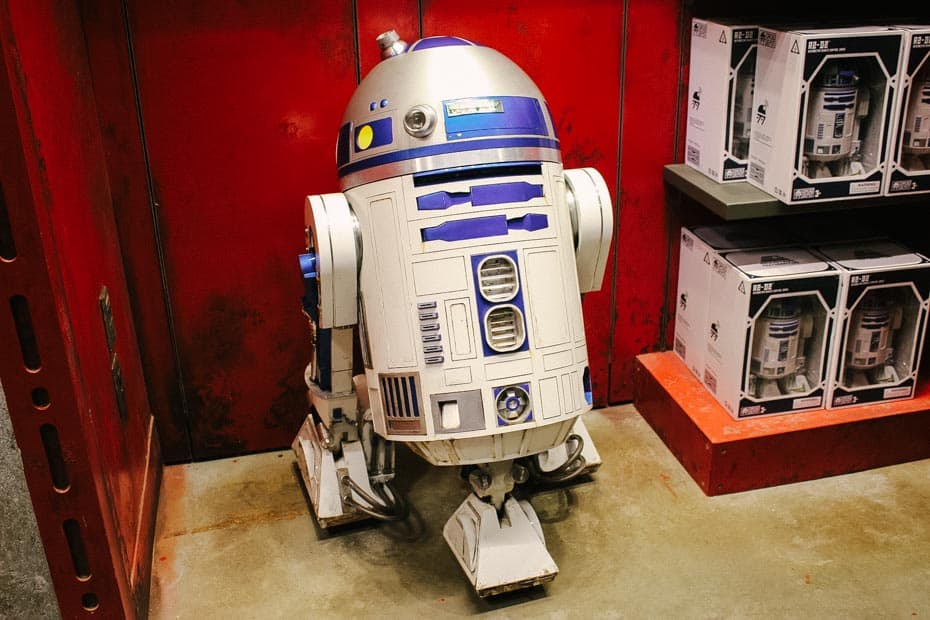 Back over in First Order territory, you will find the First Order Cargo store.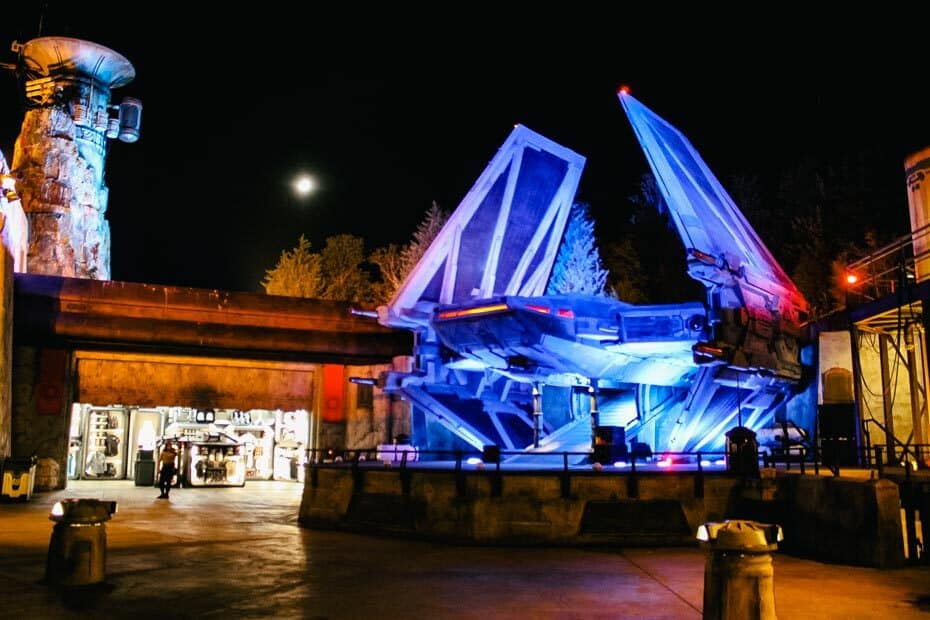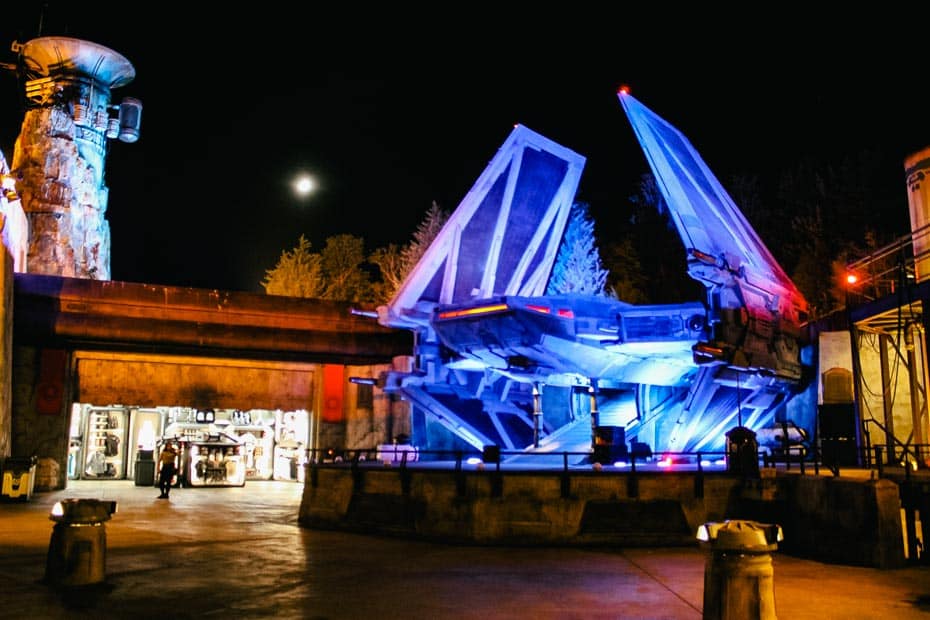 As you can imagine, they have quite a few black, white, and red color-focused items.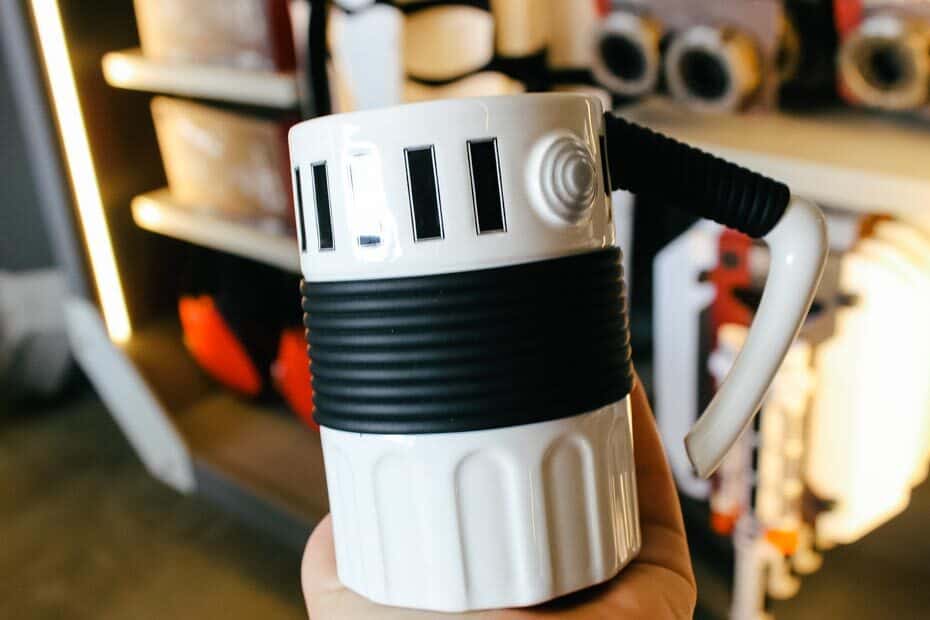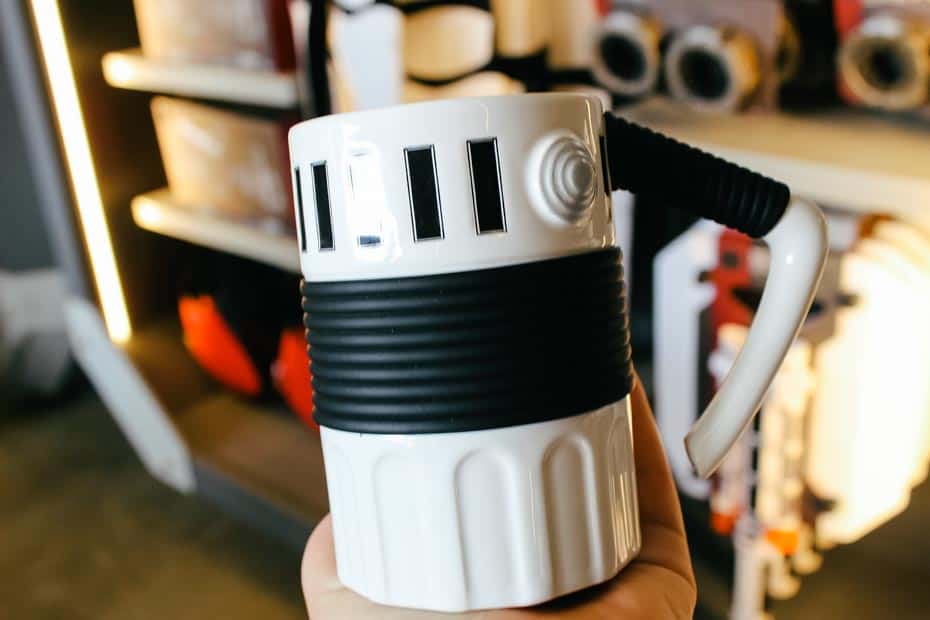 I've always wanted a Storm Trooper mug. Maybe one day.
I'm not big on purchasing a lot of items, but I do enjoy looking. These magnets are adorable and are a nice souvenir.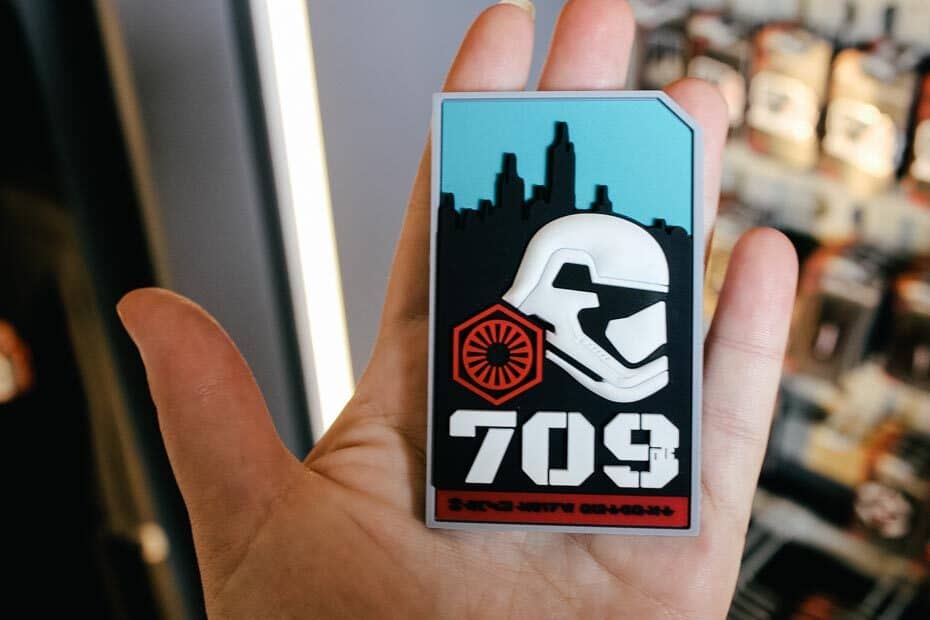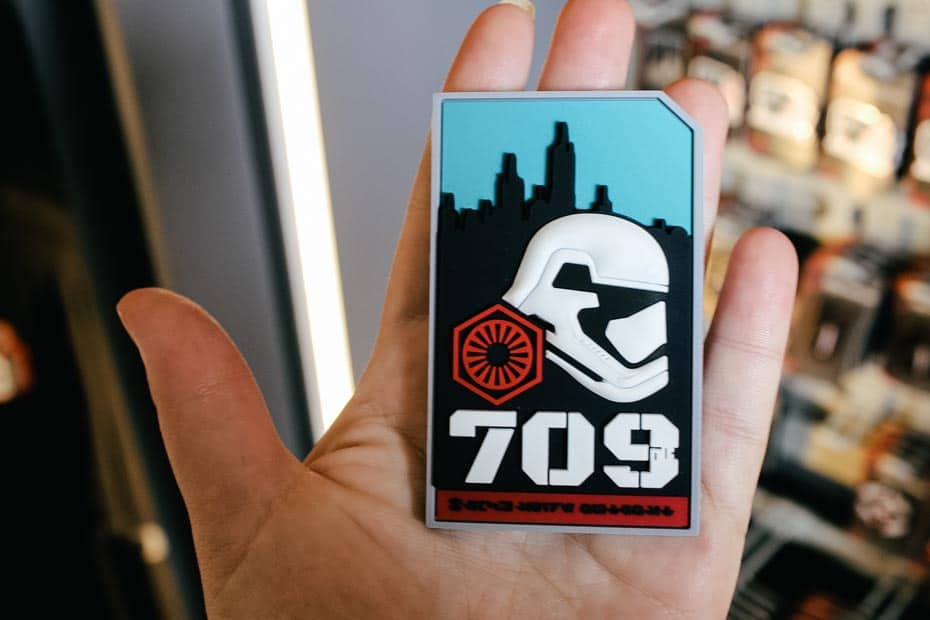 Inside The Market area of Galaxy's Edge, you'll find little dwellings that offer a variety of merchandise. Along with the merchandise, the stores provide detailed theming, like Creature Stall in the picture below.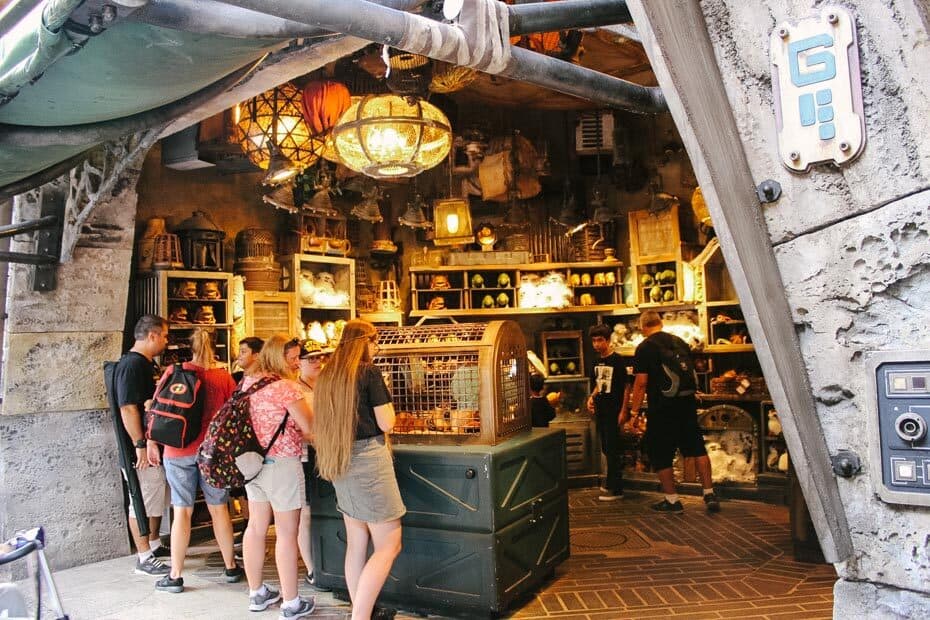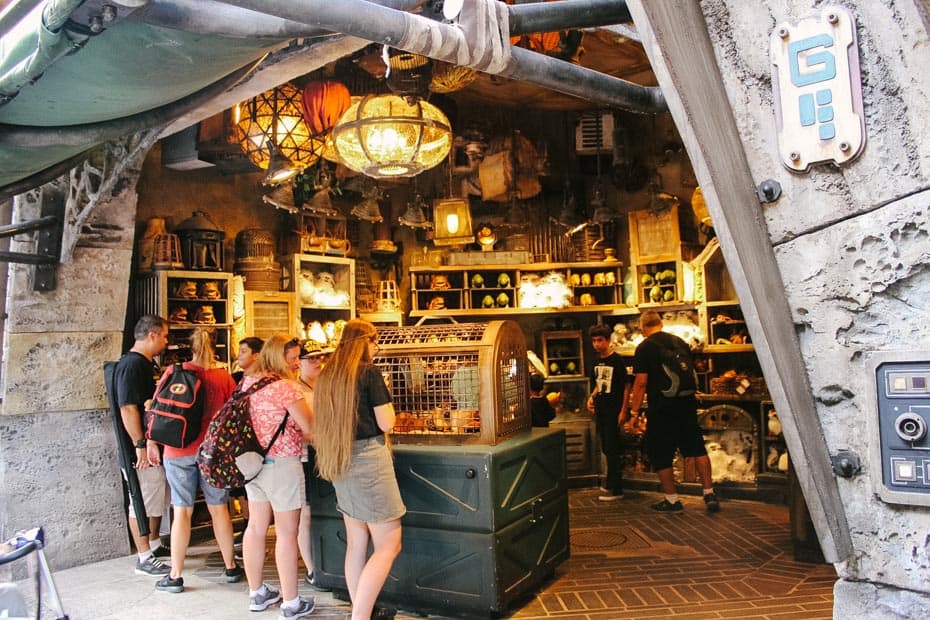 I have found myself enjoying wandering around through The Market at Galaxy's Edge. There are a ton of details in nearly every nook and cranny.
Just look at these little dolls for purchase at Toydarian Toymaker. I don't think I've quite seen anything like them. They also look like the kind of item you might find entertaining a child from Batuu.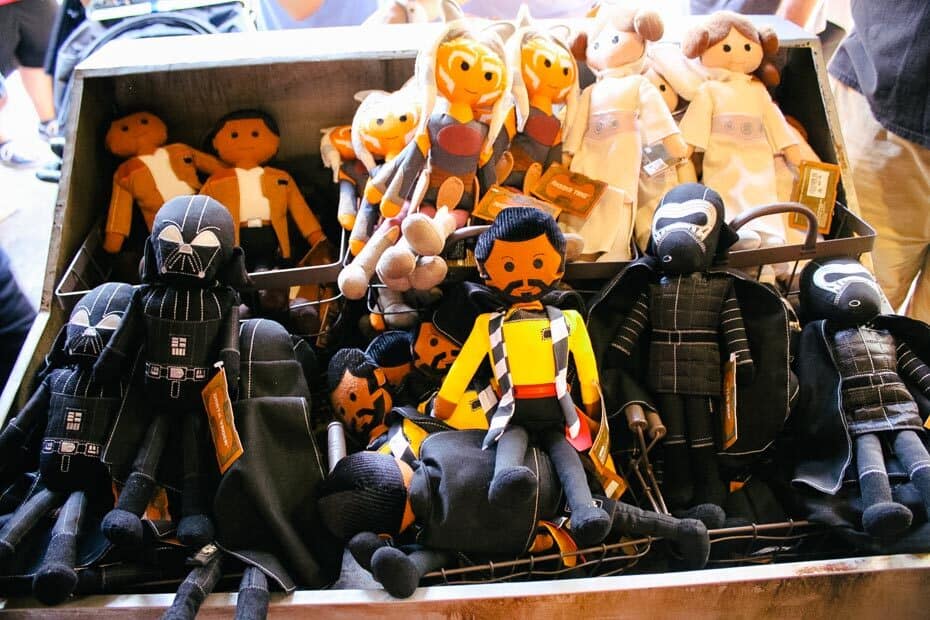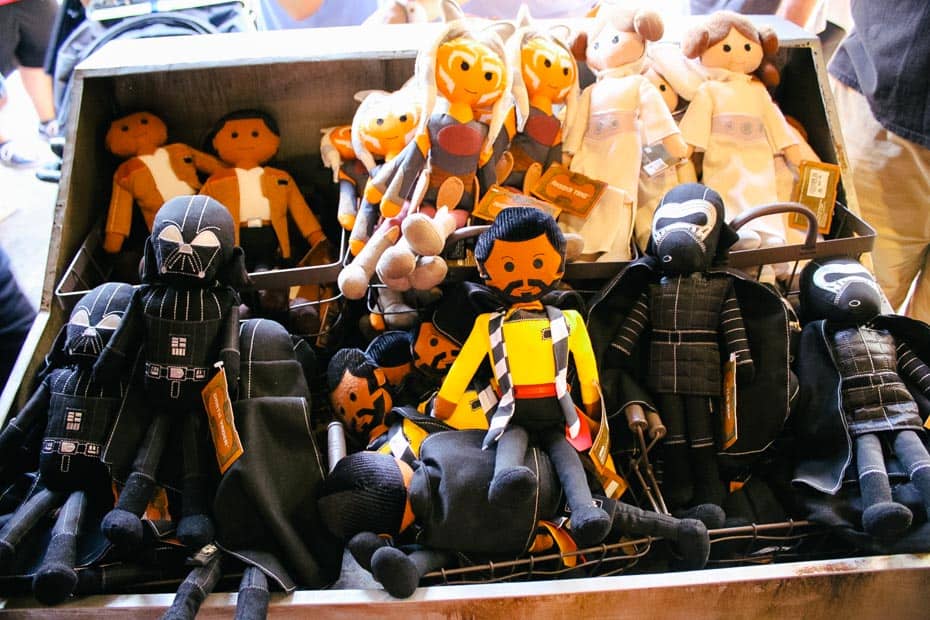 And even cuter are some of these mini-plush items. I will take one of everything, please. Just kidding, I could barely afford my green milk.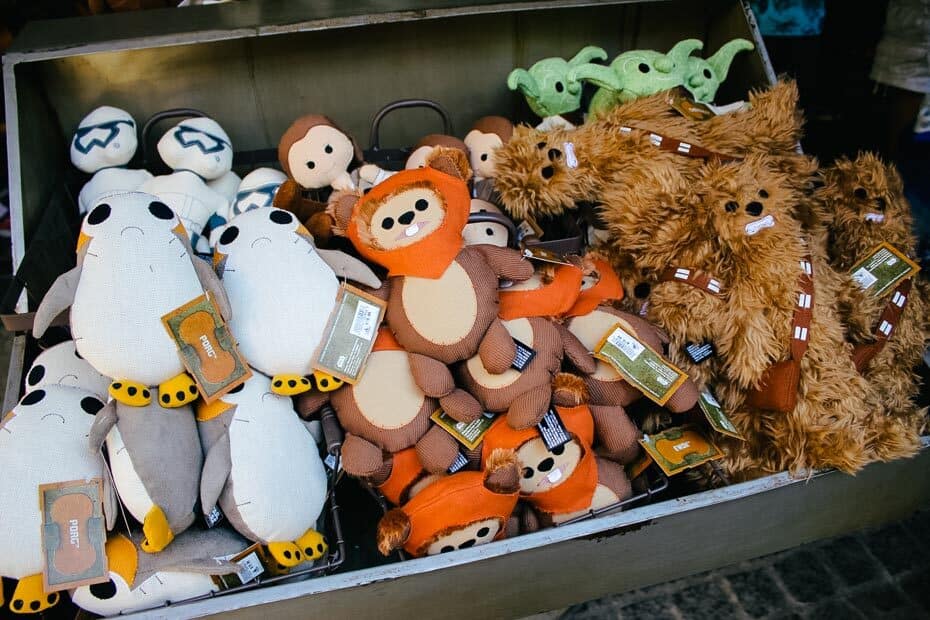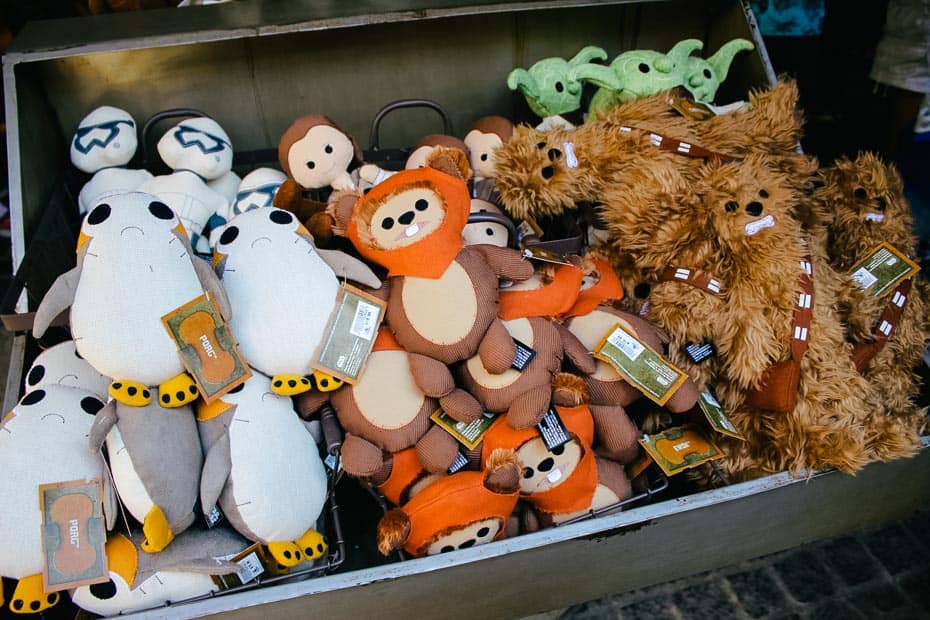 Anyway, there are a lot of fun items to choose from all over the planet of Batuu.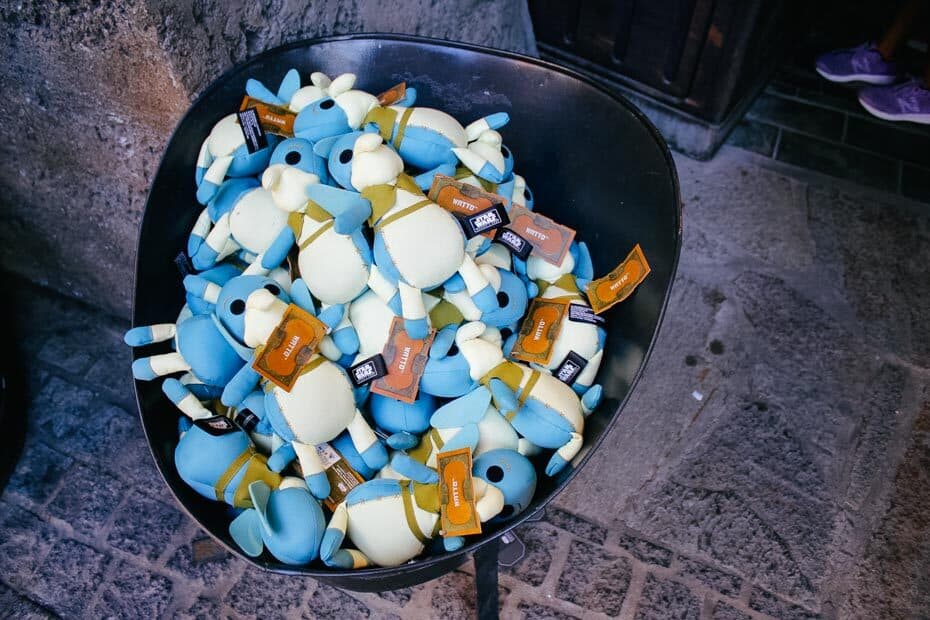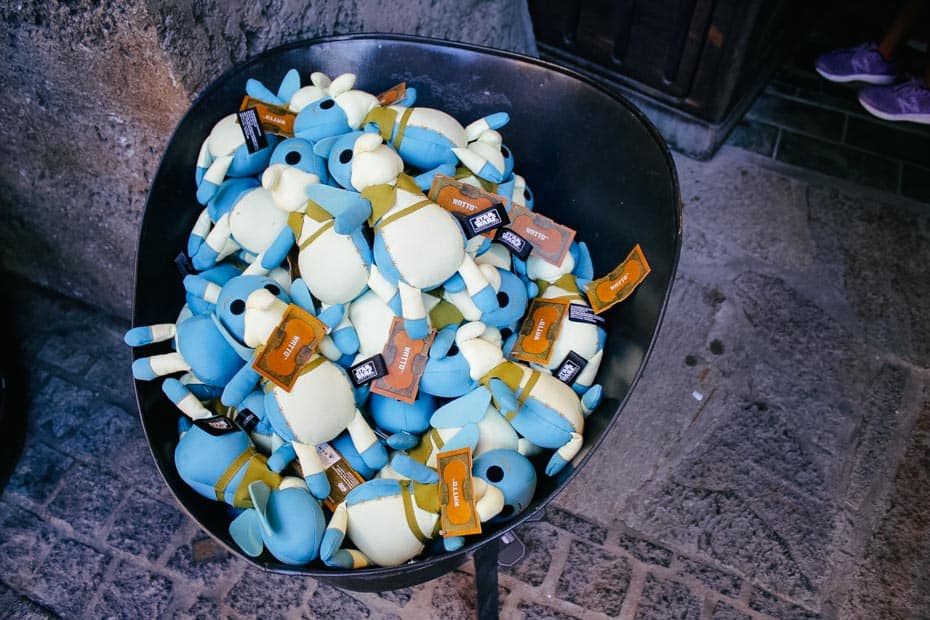 At this point in the game, who knows when you'll make it over to Galaxy's Edge?
Regardless, you can always pick up a full-on Jedi-style garment at Black Spire Outfitters when you do ever make it to the new land.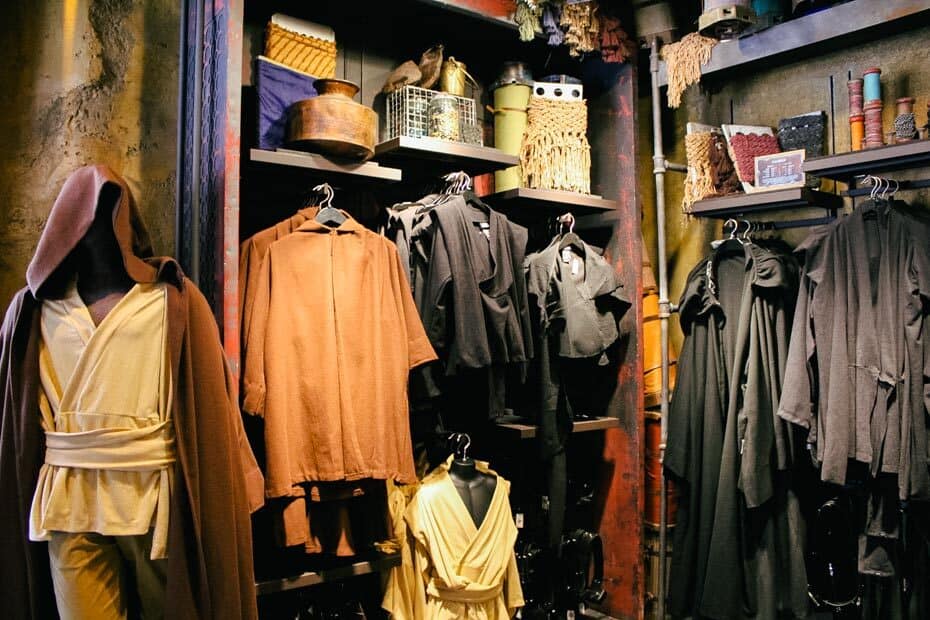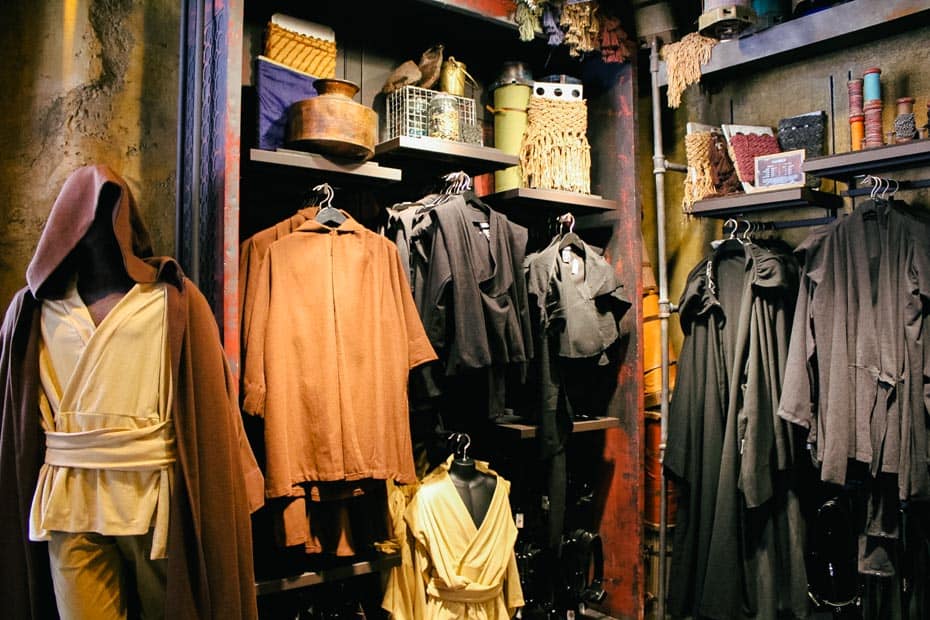 There are a lot of other things you can do with these types of outfits. For instance, pack it away neatly to save and wear for that Star Wars hotel reservation.
Better yet, Halloween is always just around the corner. So maybe this will be the year to commit to dressing up as the average family from Batuu. See, I wasn't even kidding. There are many things you can do with one of these garments.
I already have a wardrobe full of these items, and I rotate them out on my Hollywood Studios visits now. Trust me, when you are in Batuu, you want to be seen. It's not a place you will want to play incognito.
Kylo Ren and company might throw you in a Storm Trooper suit if they aren't scared of you. The people of authority in Batuu will let you know that they are just "allowing" you to be there. These types of places have rules, you know.
Jewels of Bith is another place to purchase a few items at Galaxy's Edge. The outfit options here are probably a bit more toned down than Black Spire Outfitters.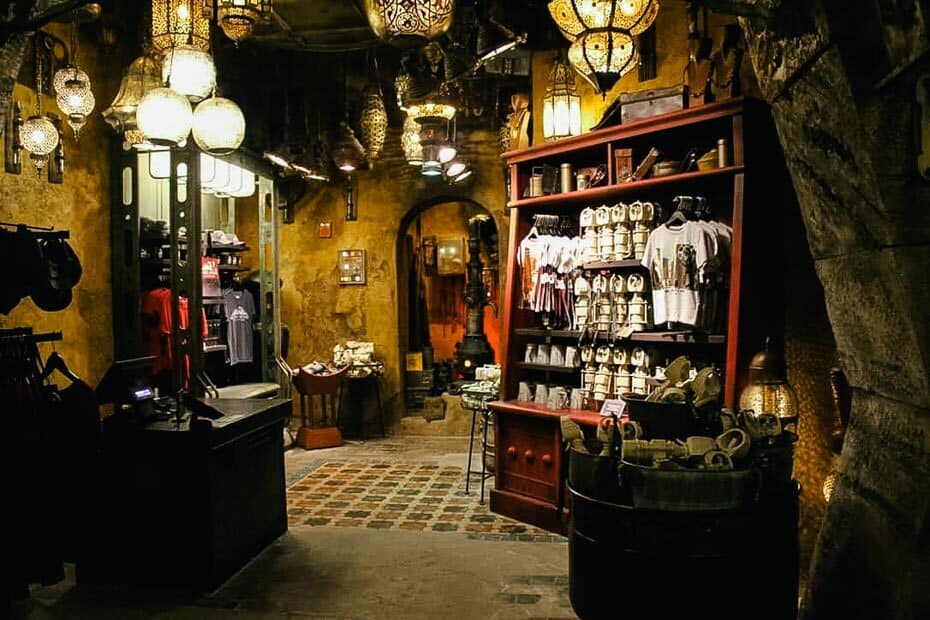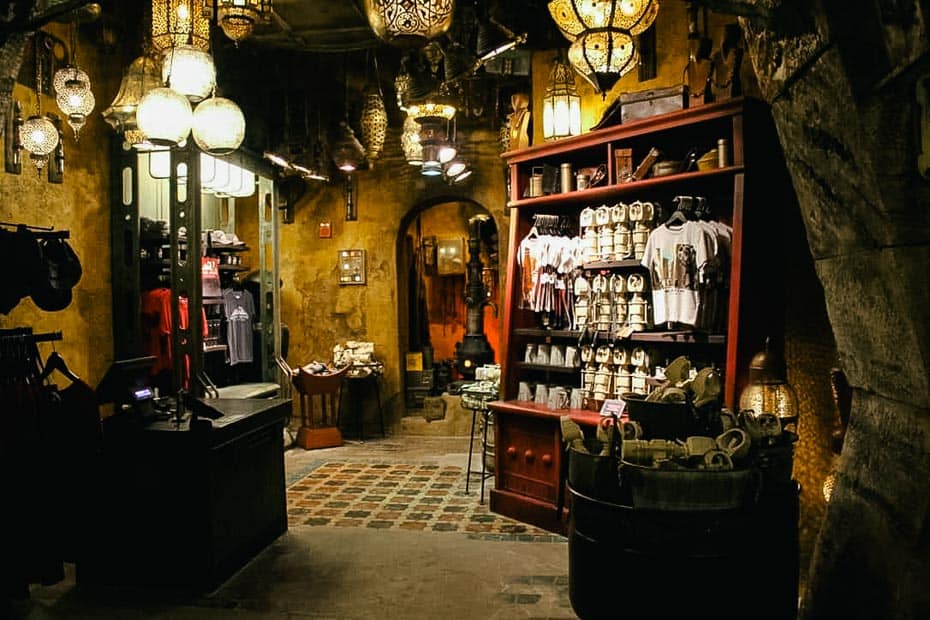 Characters at Star Wars: Galaxy's Edge
As I mentioned above, there are a lot of roaming characters in Batuu. Not only that, but the cast members are in character as well. If you have a question, expect an answer in Batuu-speak.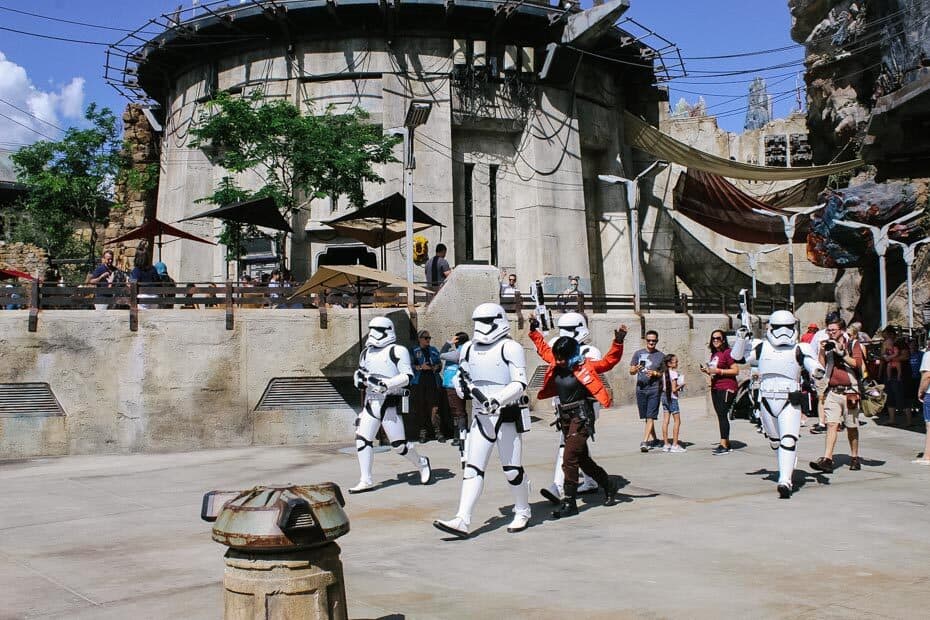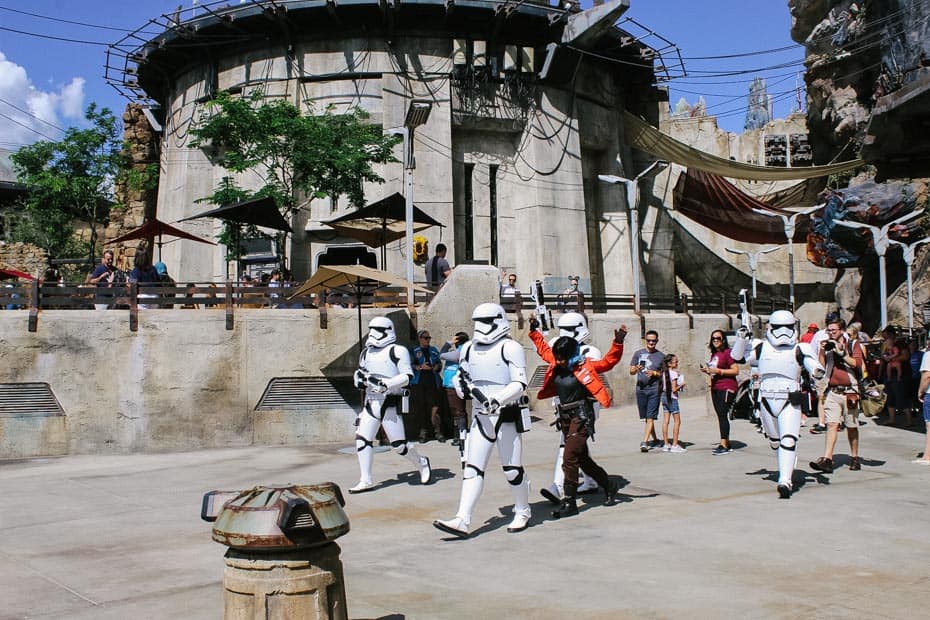 Above, the Stormtroopers were carting away their latest Rebel spy capture. Whew, I was for sure glad I didn't pick that outfit on that day.
Below is a commander, and I'd hate to run into him in a dark alley at The Market. He was chewing the Storm Troopers out. It was one of those times I was reminded that I was allowed to be there on the planet.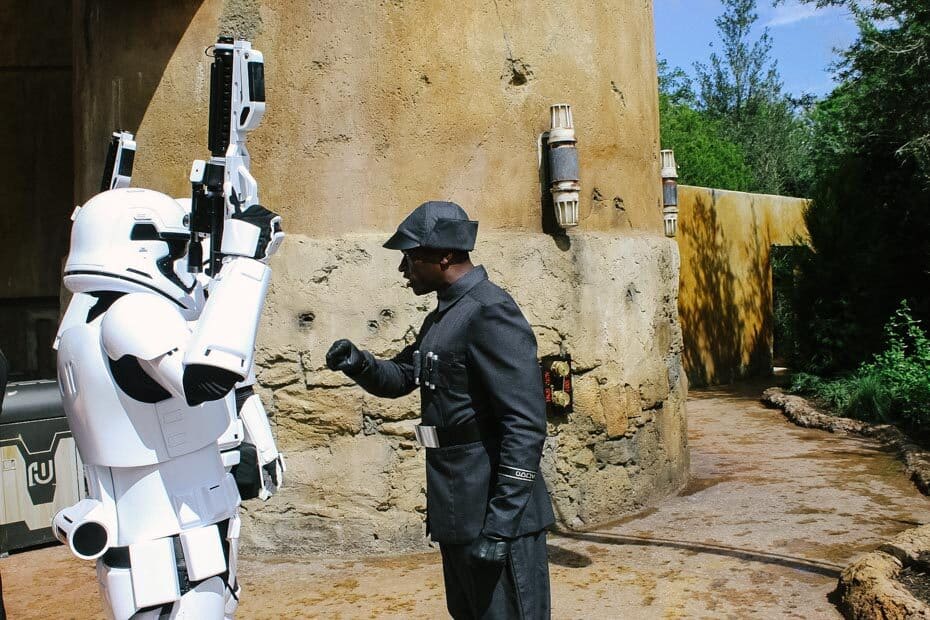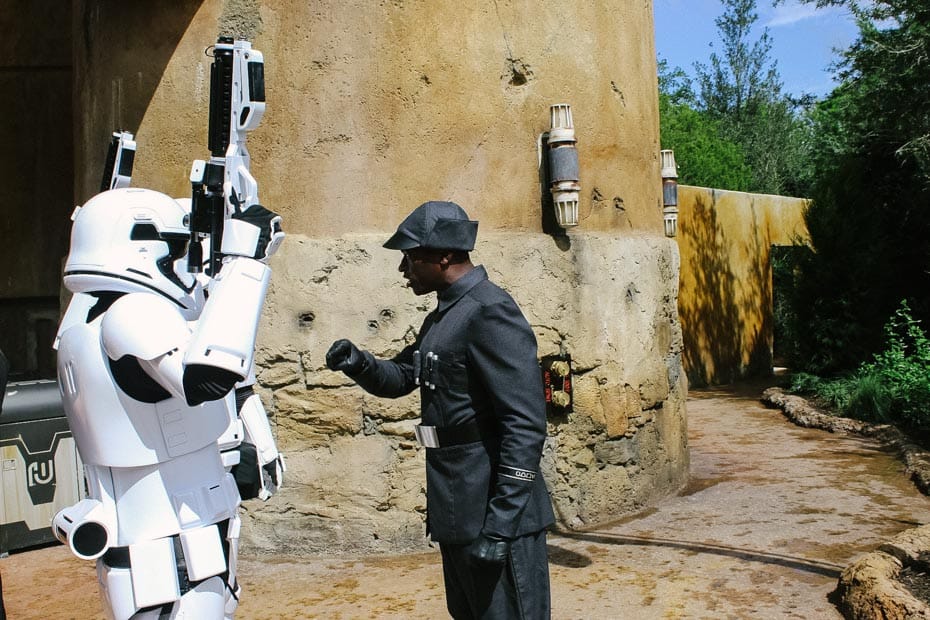 Chewbacca roams the land from time to time. He has a little game he plays with children. I think the gist of it is he's teaching you how to sneak up on someone Wookie-style.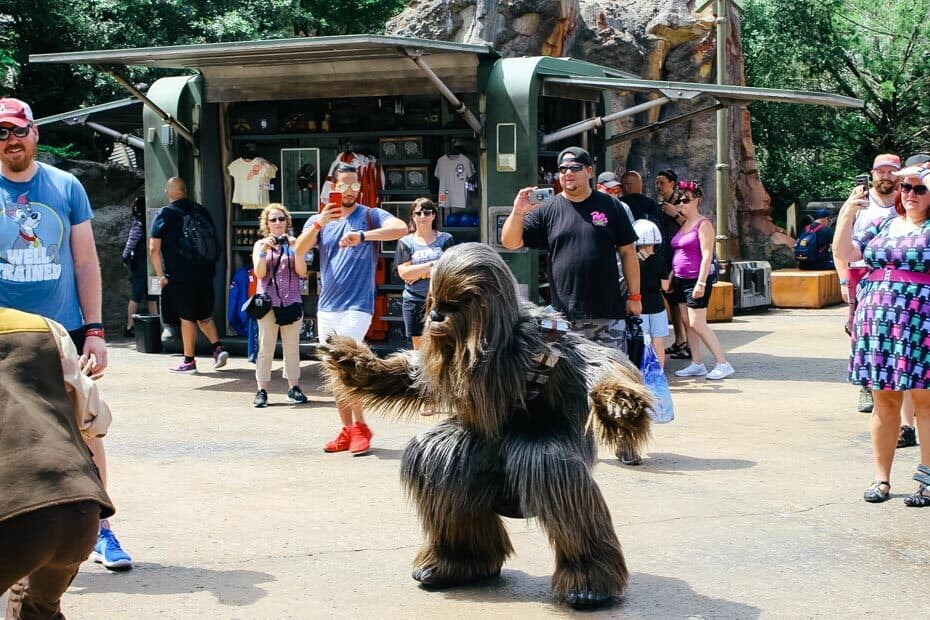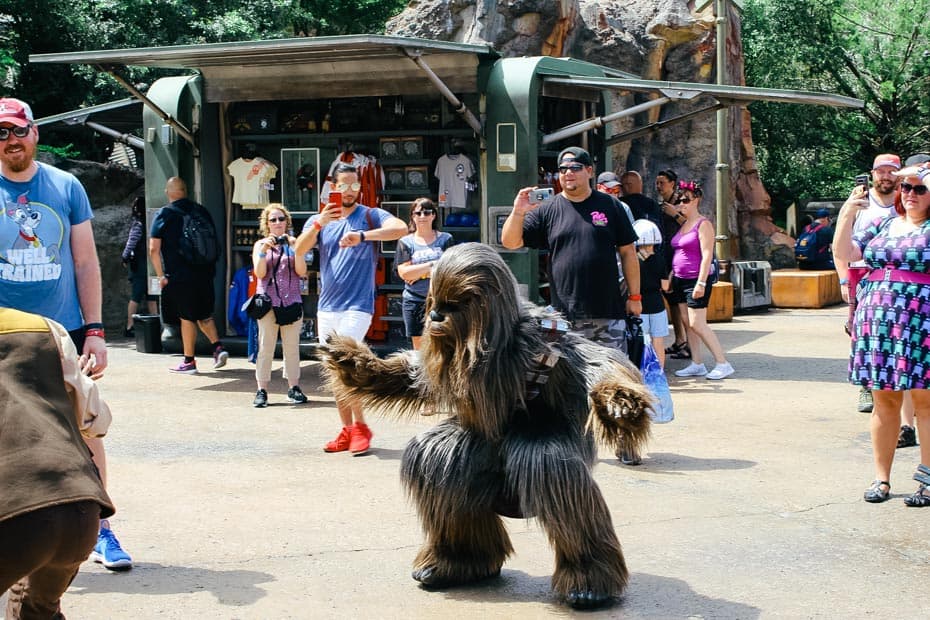 Rey is also out and about at various places on Batuu. It's common to find her out around her ship, the Millennium Falcon, during the day.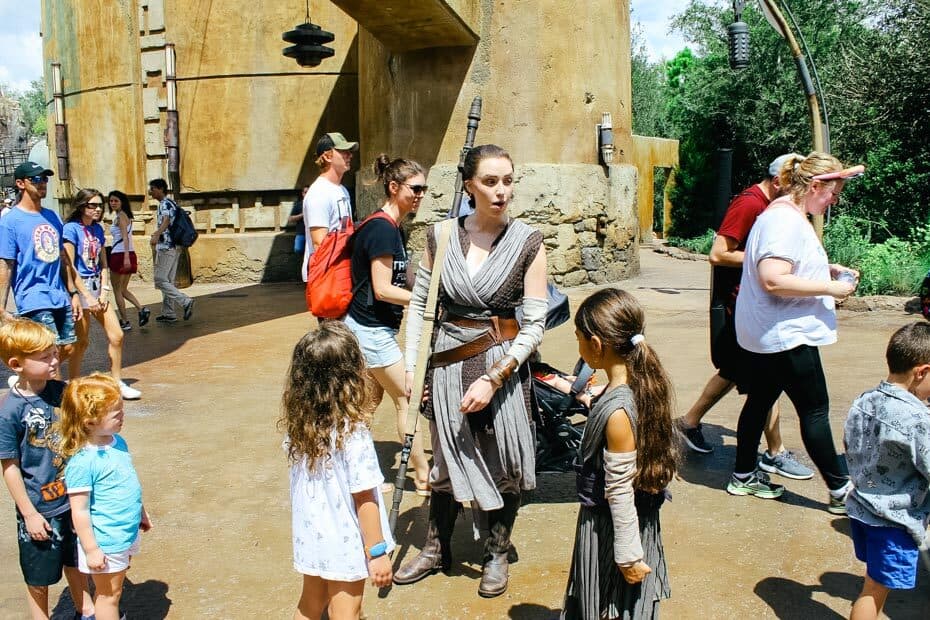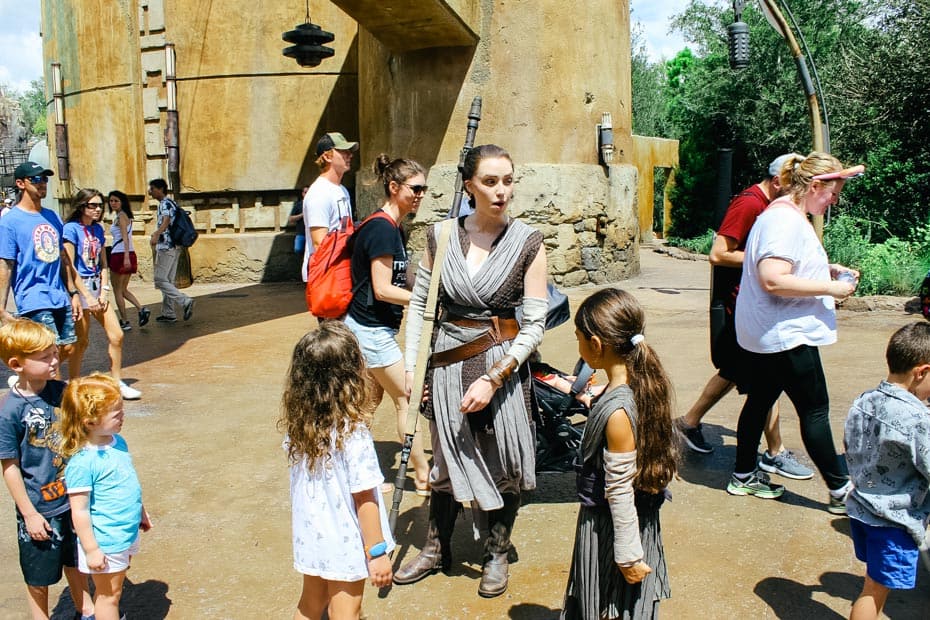 For more character information, you can visit our updated list of Disney World Characters. Or you might enjoy these individual meets:
Extras at Galaxy's Edge
There are two sets of restrooms in Galaxy's Edge. One is on the far left-hand side of The Market. The other is over past Droid Depot on the right-hand side.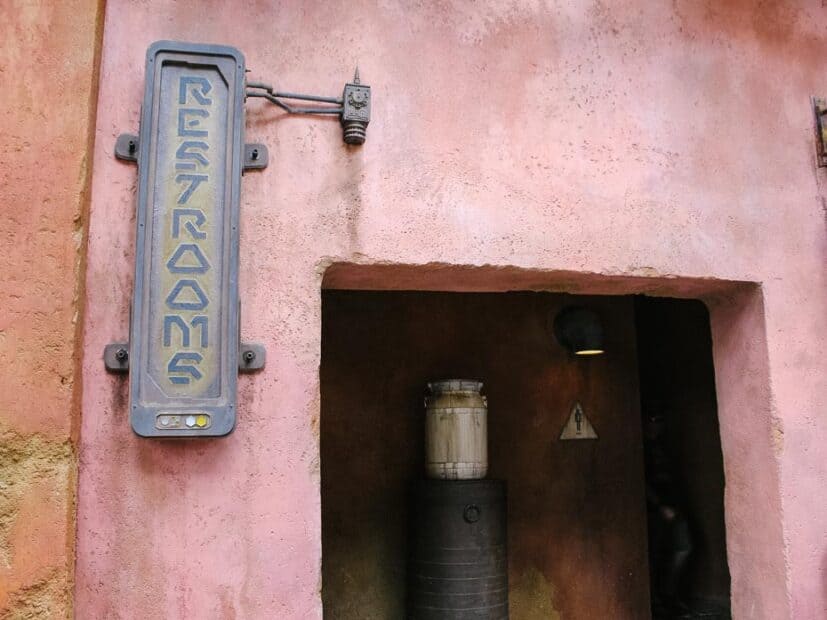 You can enter Star Wars: Galaxy's Edge through the main entrance located past Muppets Courtyard and the Streets of America. There is a bit of a cave or tunnel you walk through that establishes the transition between Batuu and Hollywood Studios.
Here is a look at the exit area.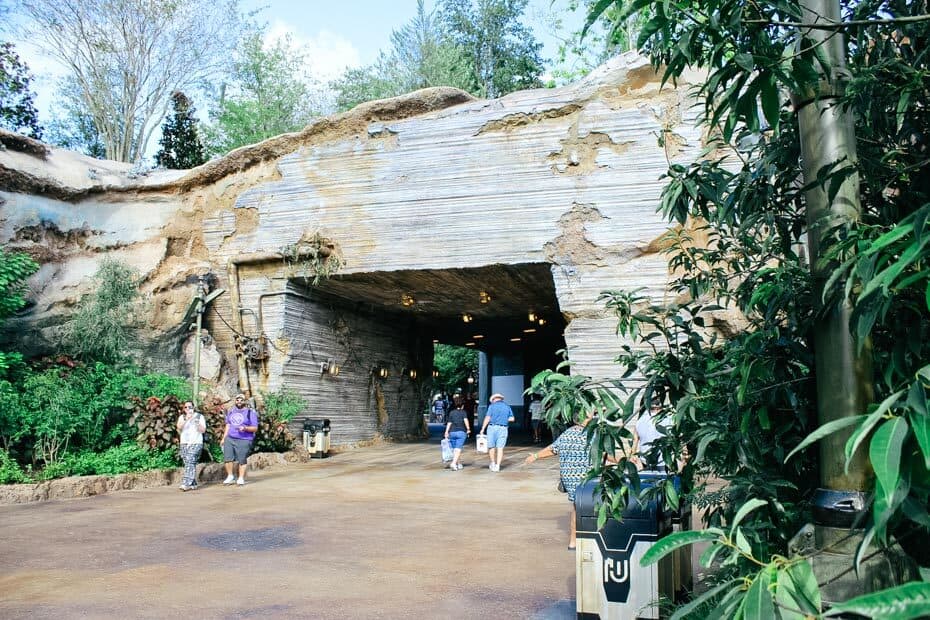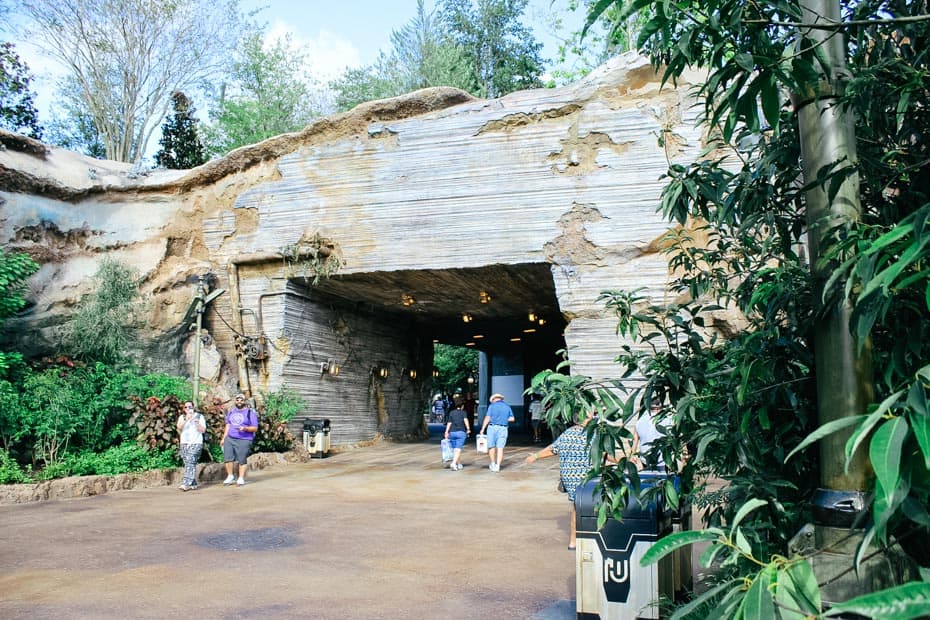 Also, there is an additional entrance/exit from Toy Story Land. It's a bit of a shaded walkway and makes for an easy way to move between the lands.
Final Thoughts on Star Wars: Galaxy's Edge
Star Wars: Galaxy's Edge is a wonderful addition to Hollywood Studios. I'm sure in time; we will have a lot more coverage of the new land here on the site.
But for now, this is a good place to get started. First, I would allow 2-3 hours to tour and enjoy Galaxy's Edge on your visit. Then, if you can get reservations to Oga's Cantina, I would add an hour.
When you get back to the Millennium Falcon, you will tend to just be in that space and forget how large the land is overall.
Another note I wanted to make is allowing time to see Galaxy's Edge during daytime and nighttime hours. There are so many sounds and lights in the evening that make the whole planet come to life. I think most of these are going on during the daytime, but you don't notice them until the crowds die down in the evening.
I'll leave you with a few Galaxy's Edge photos to browse.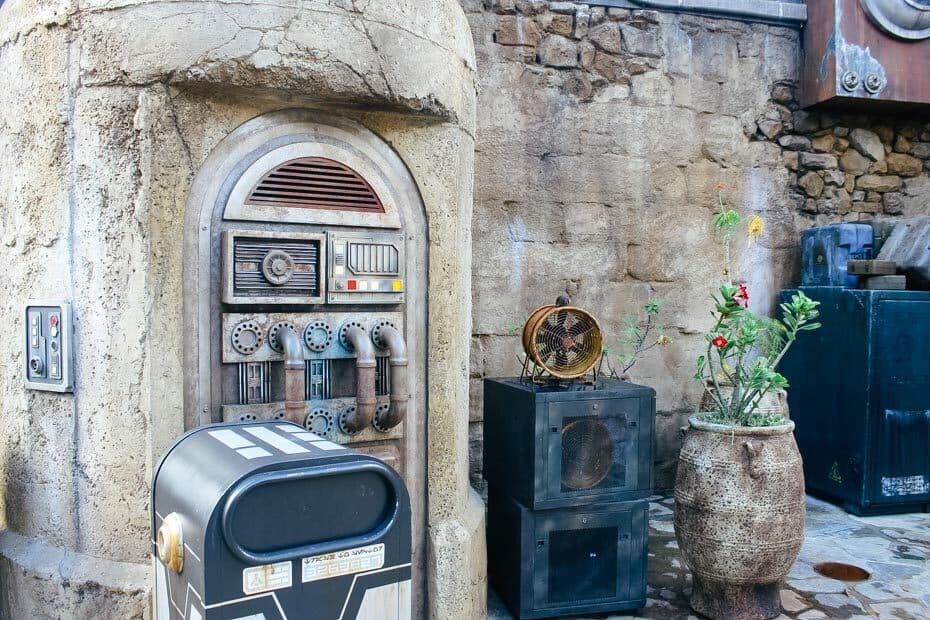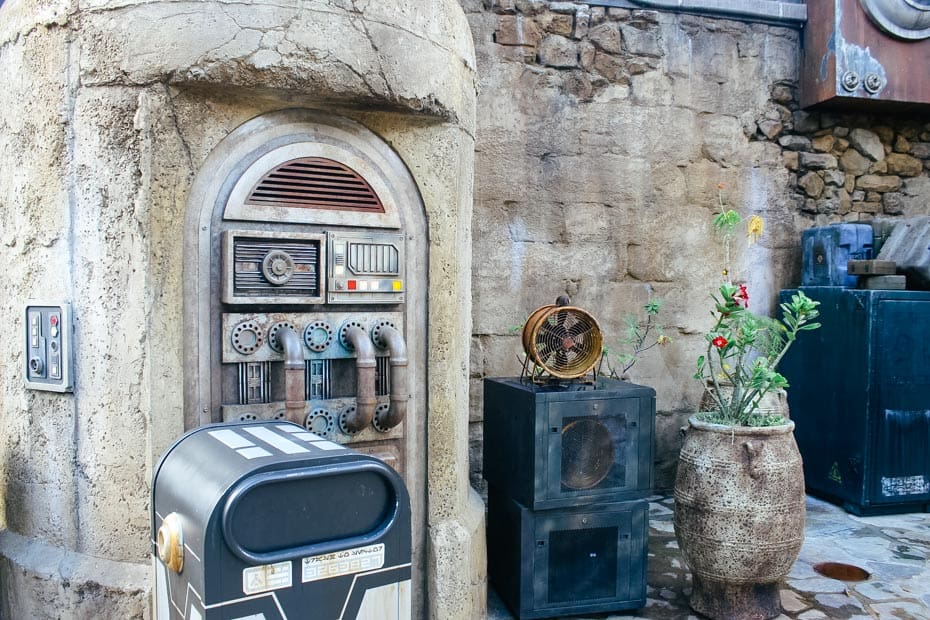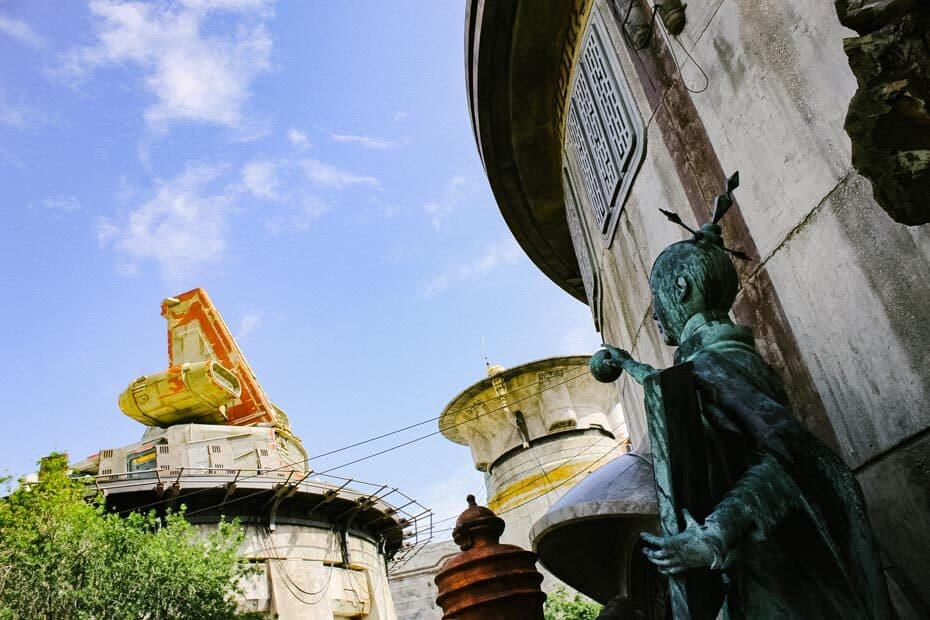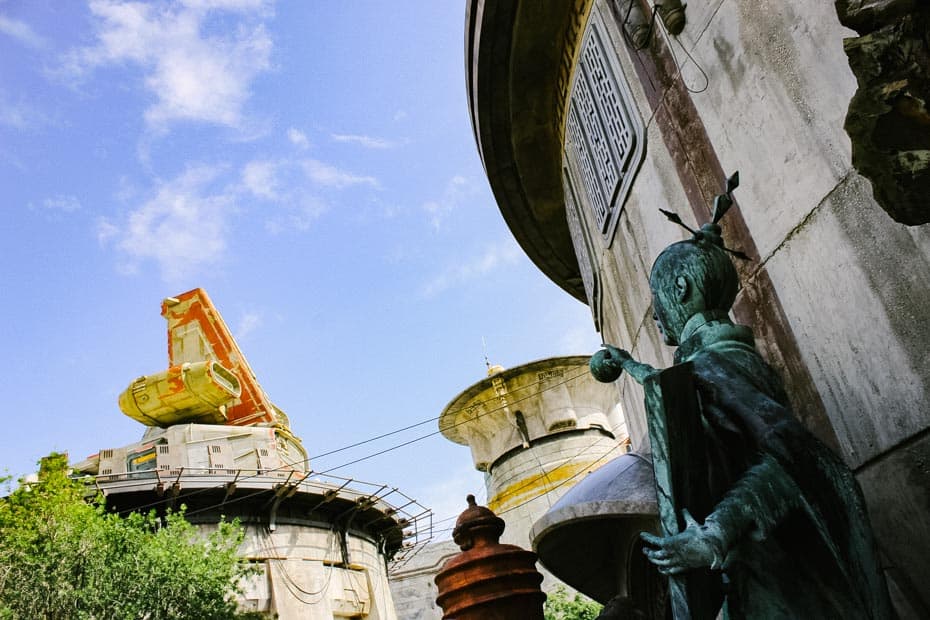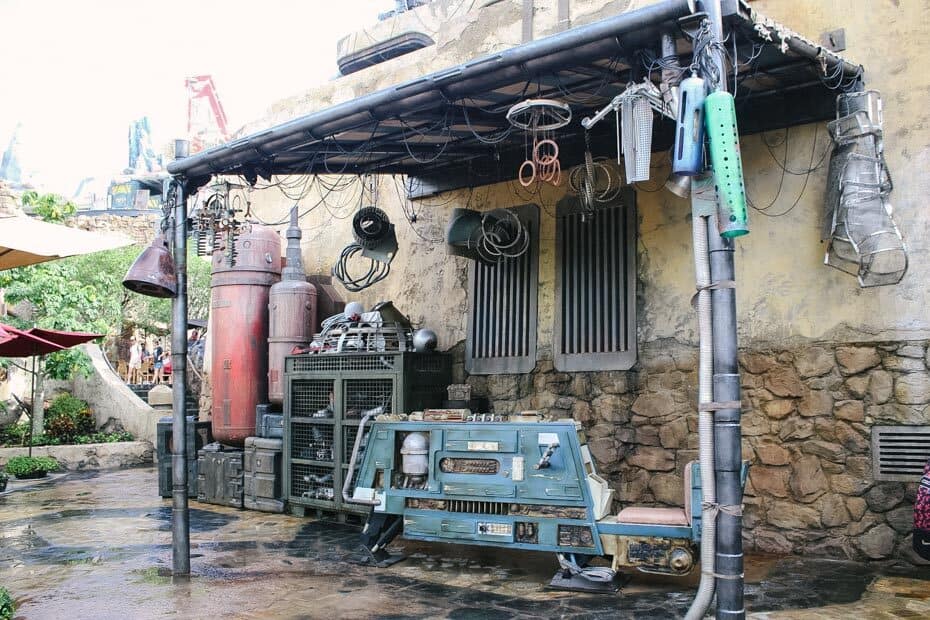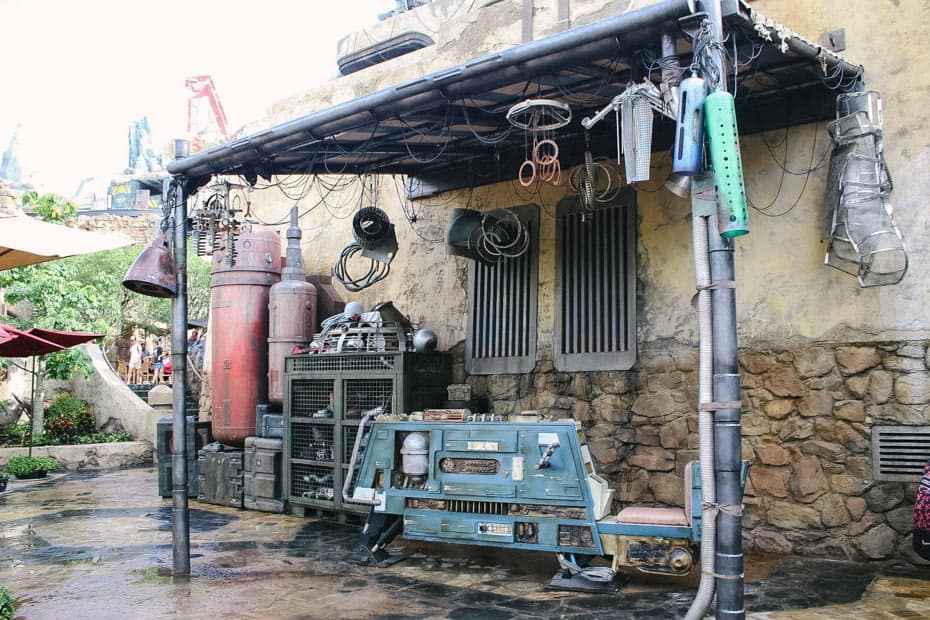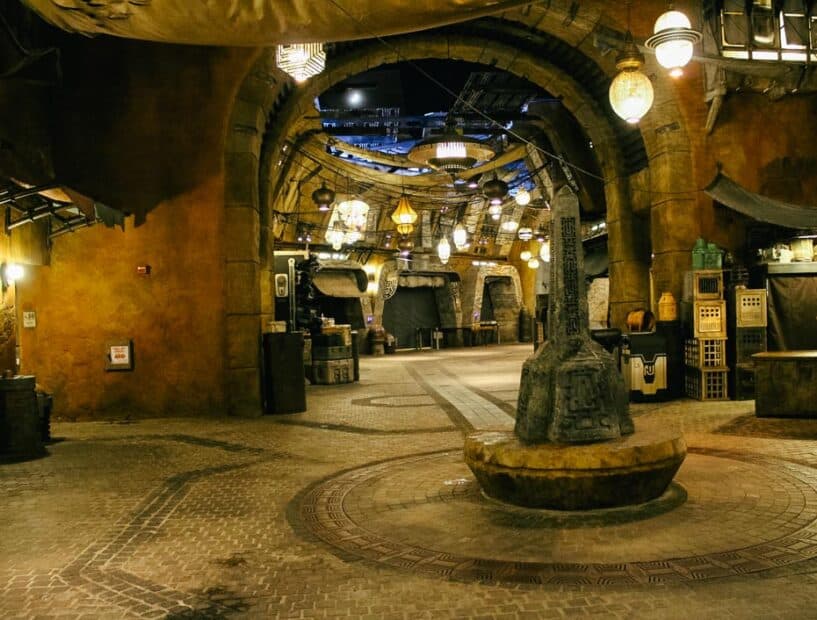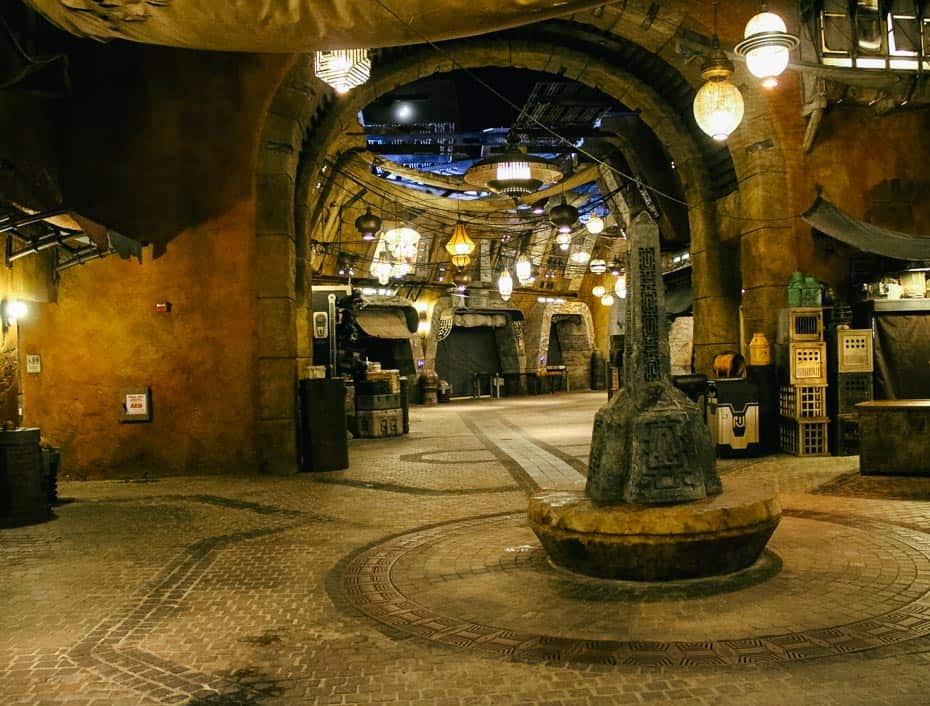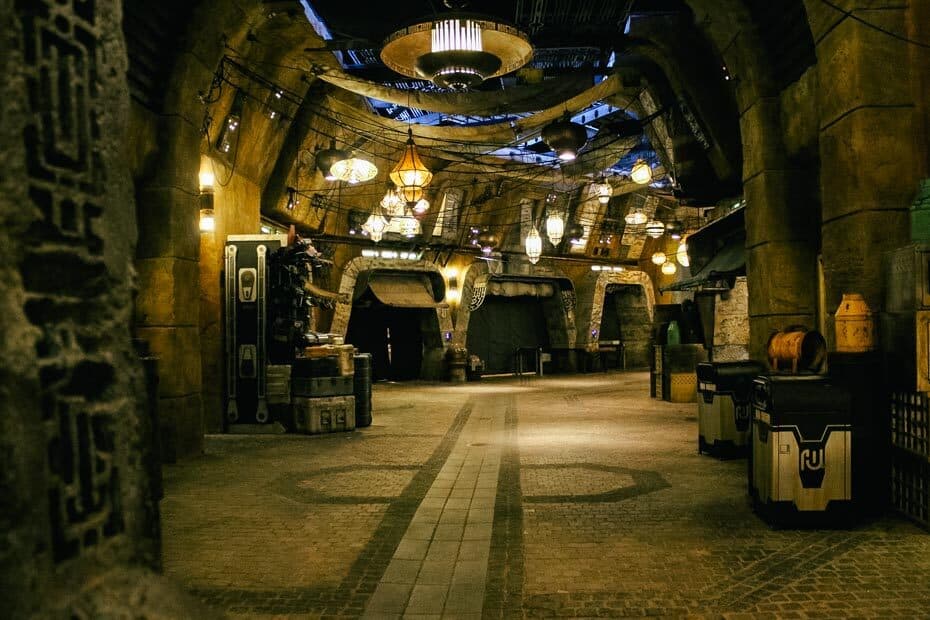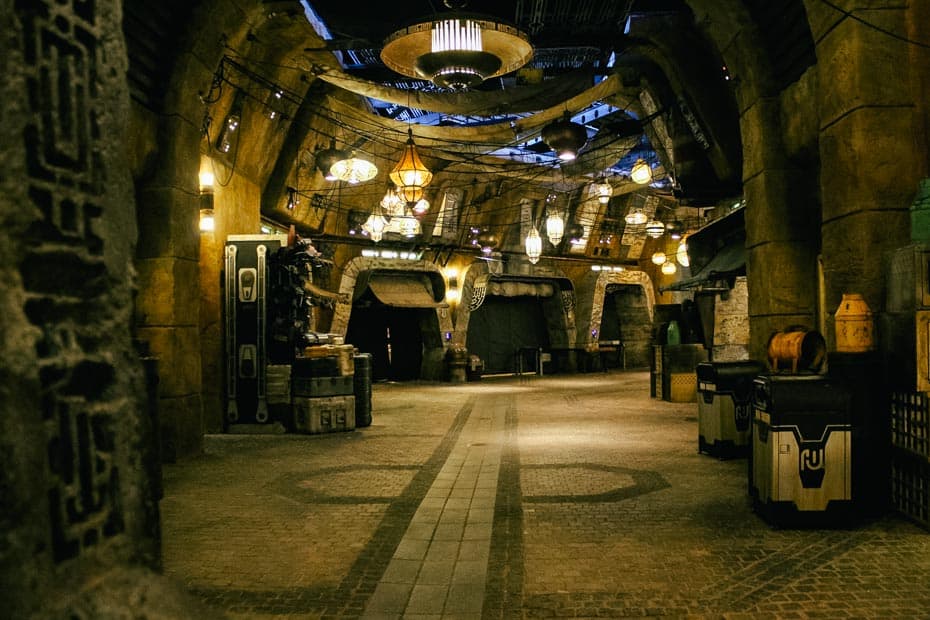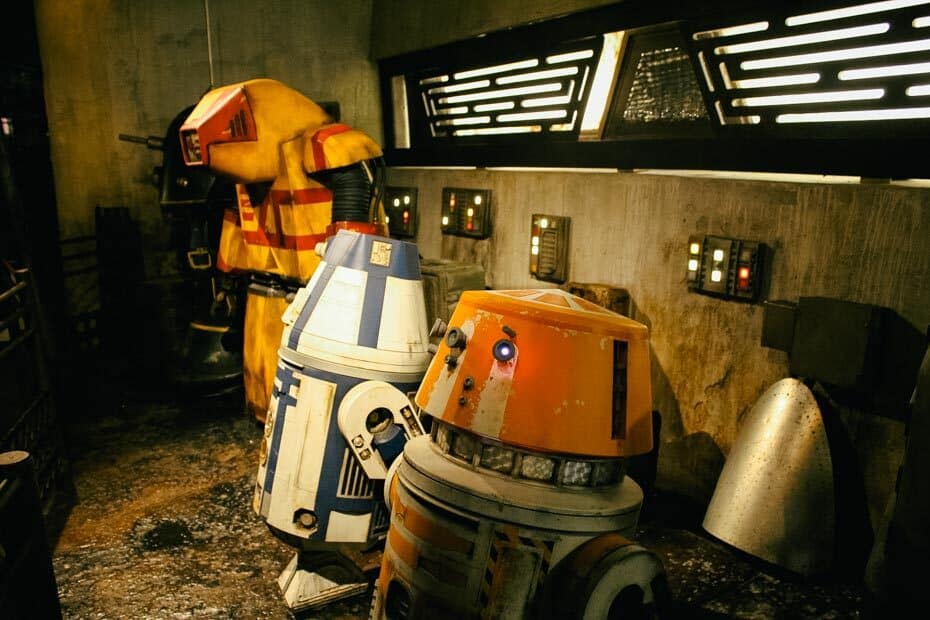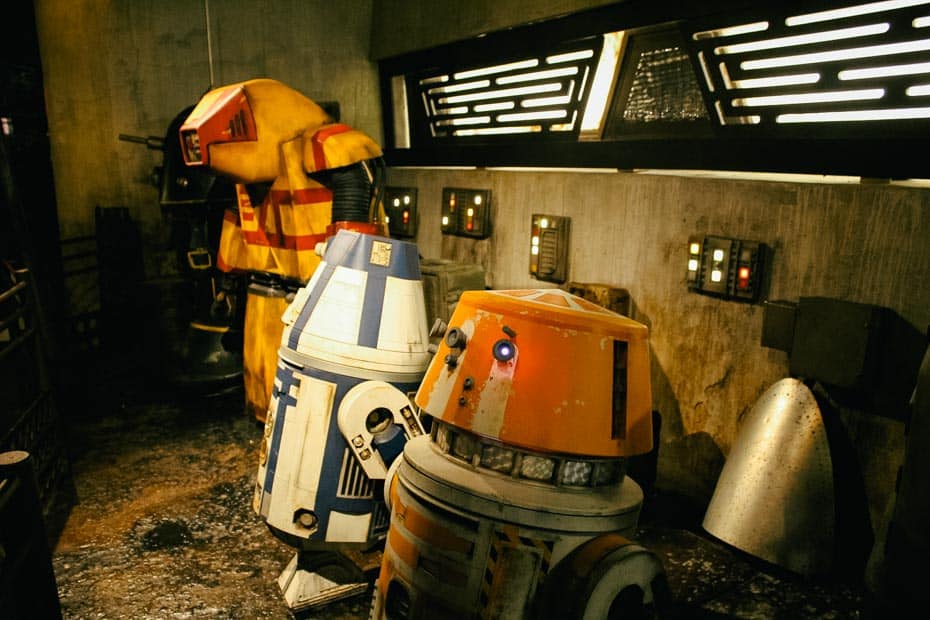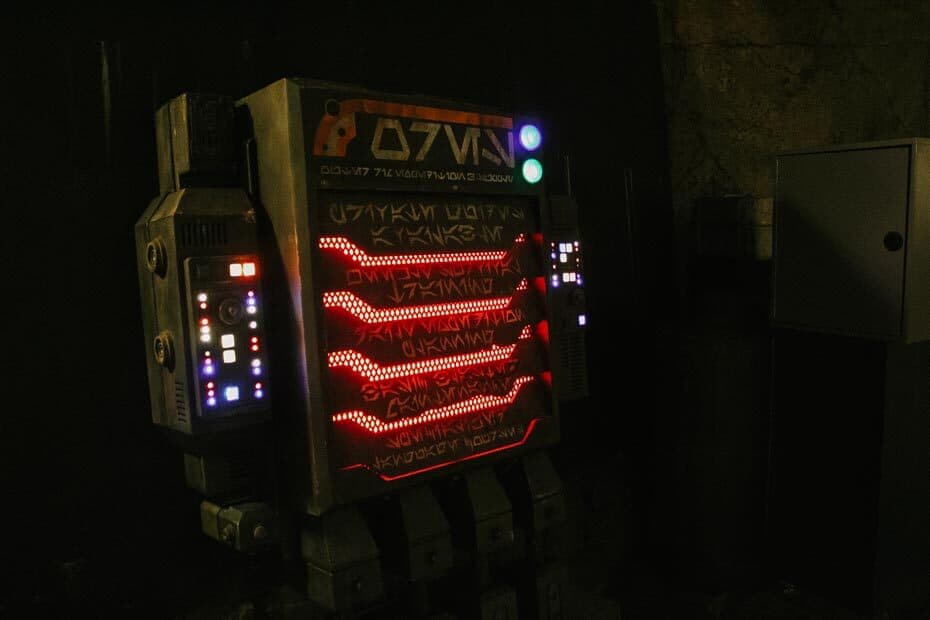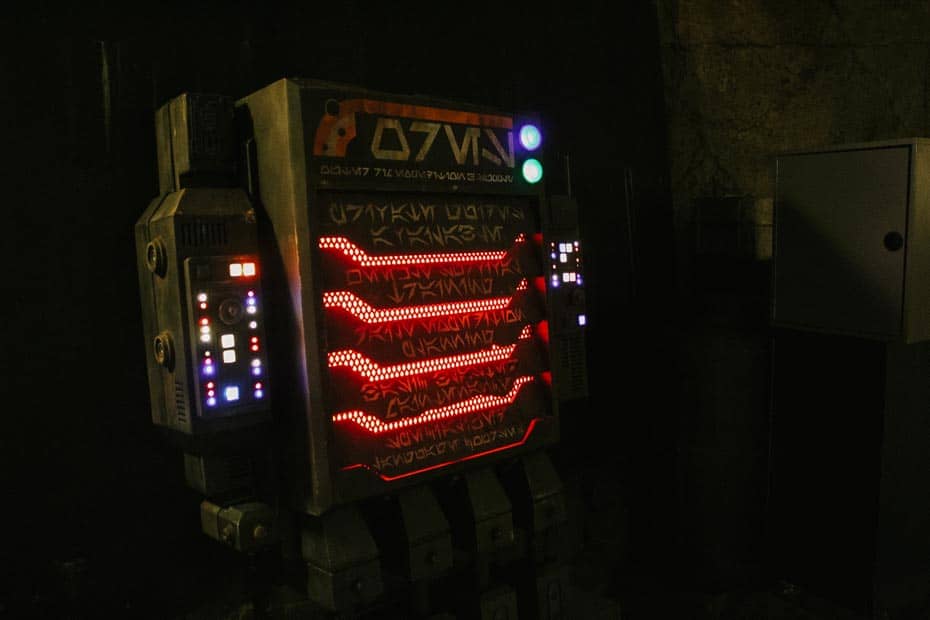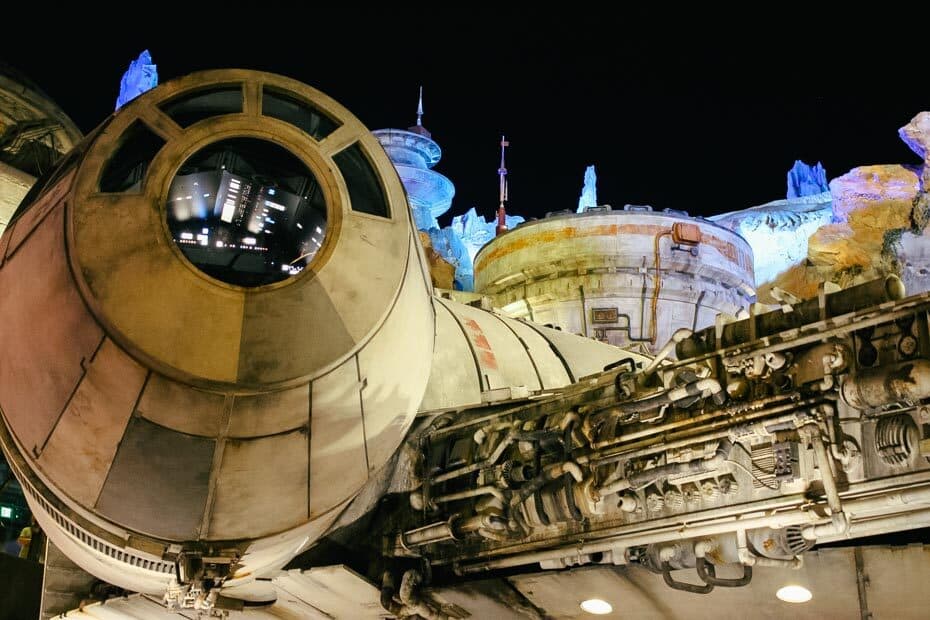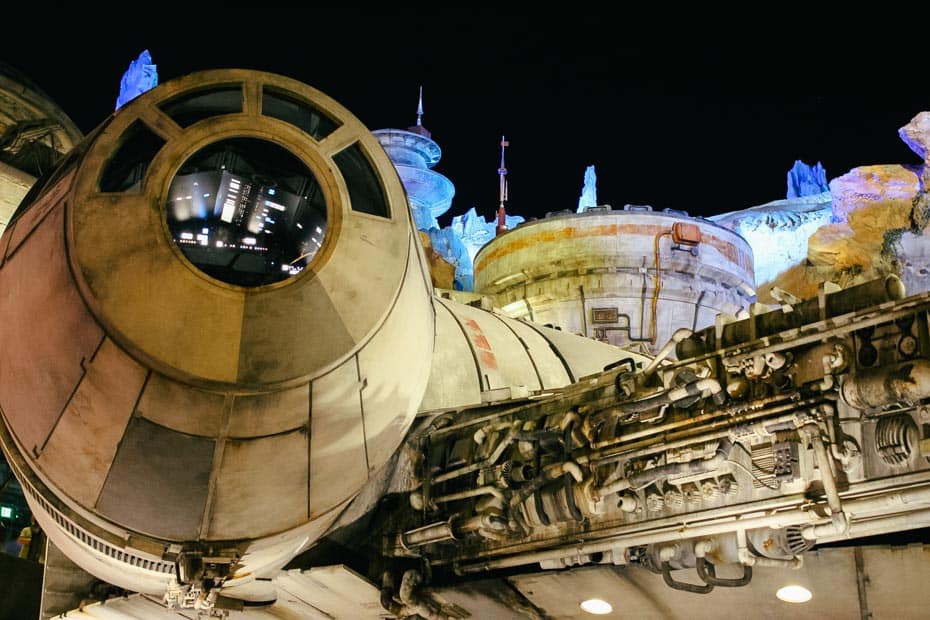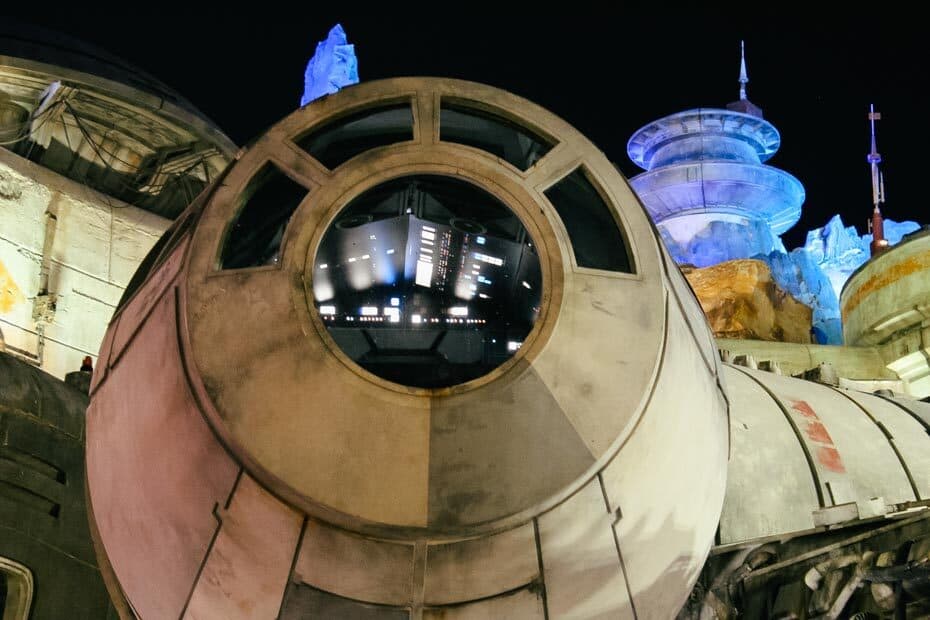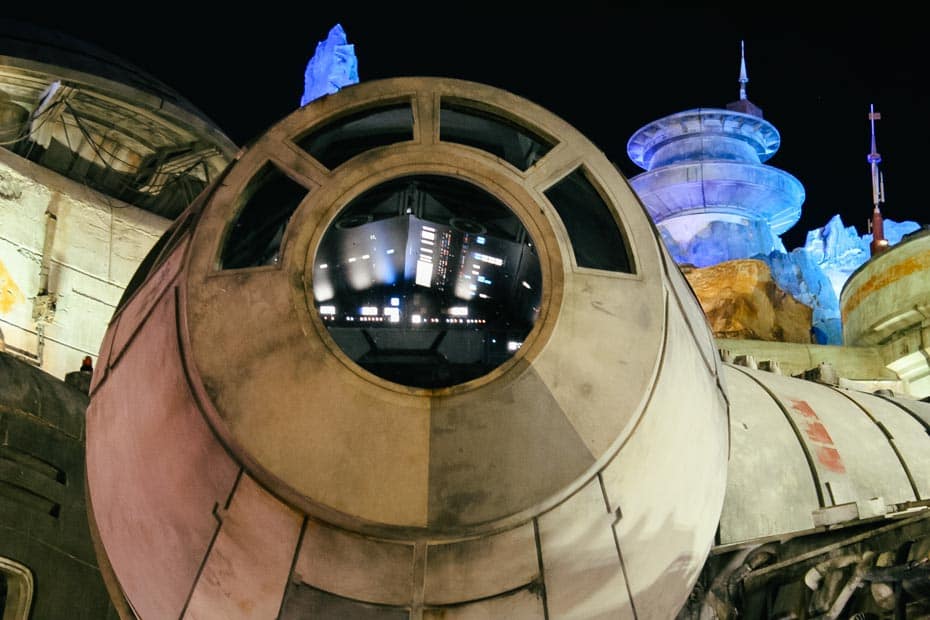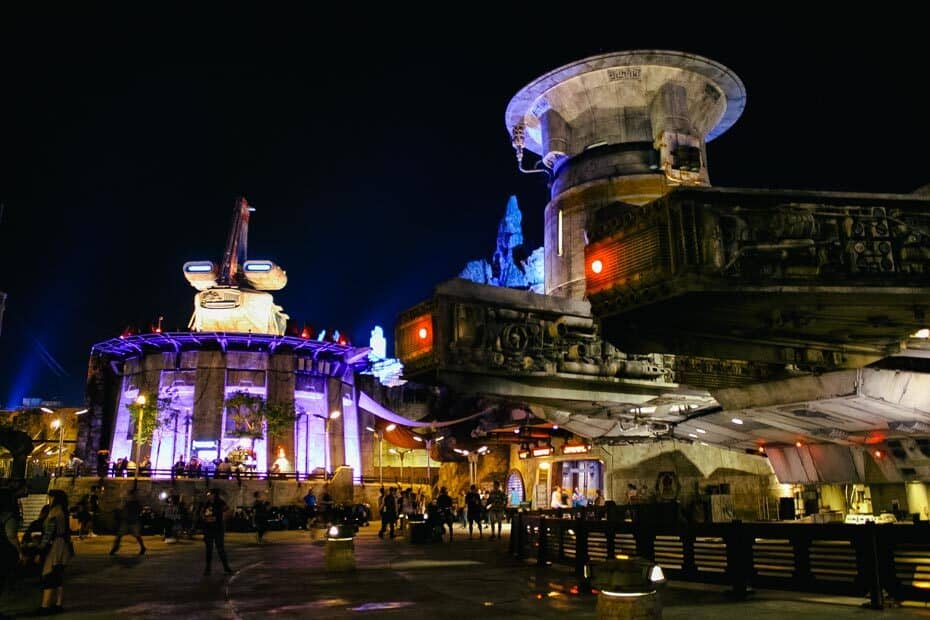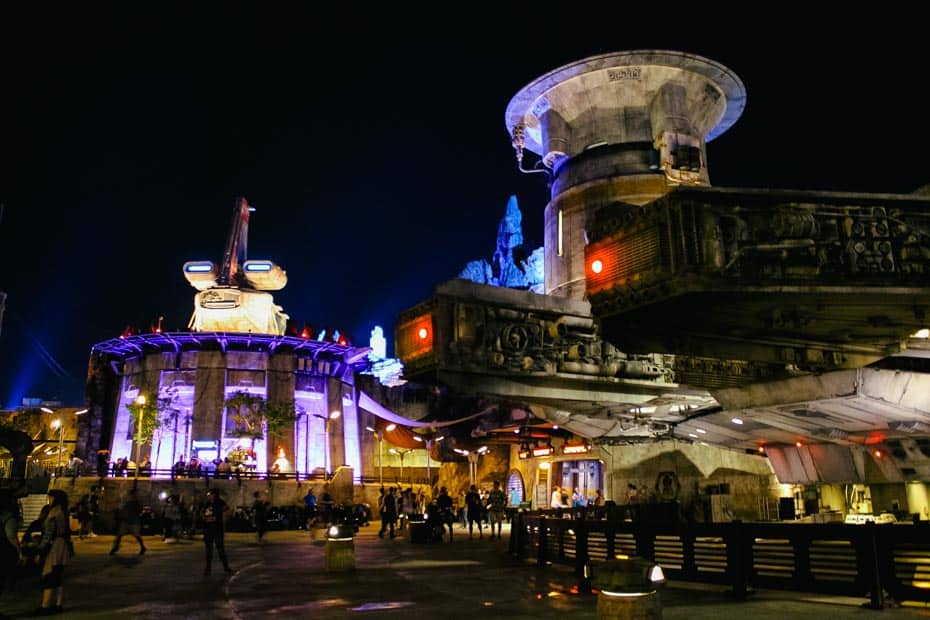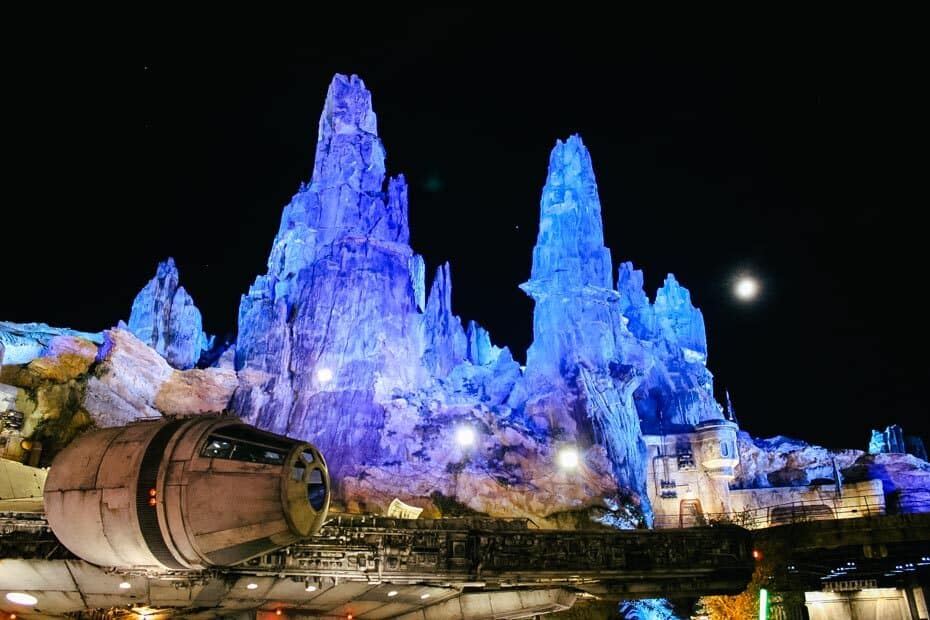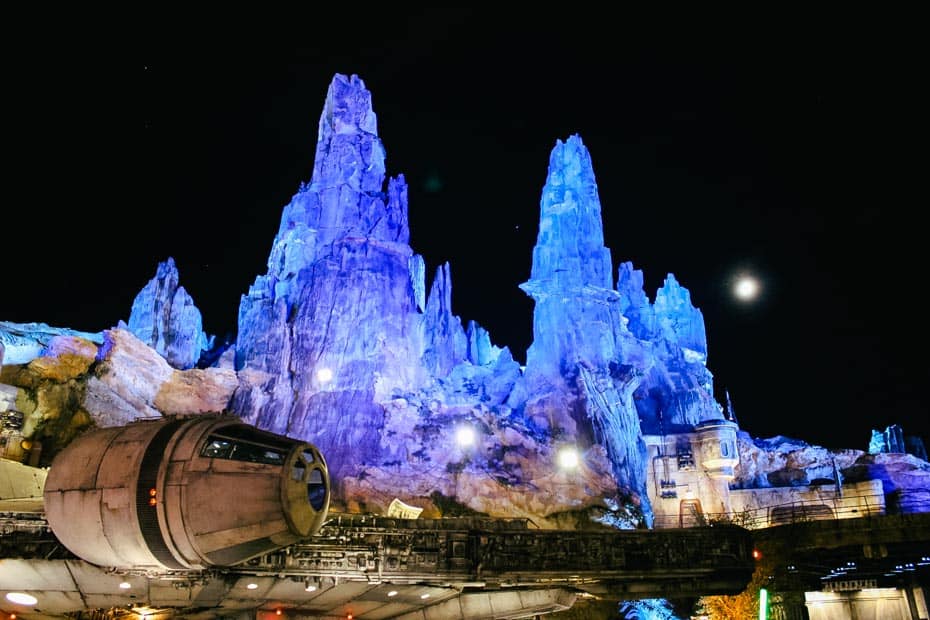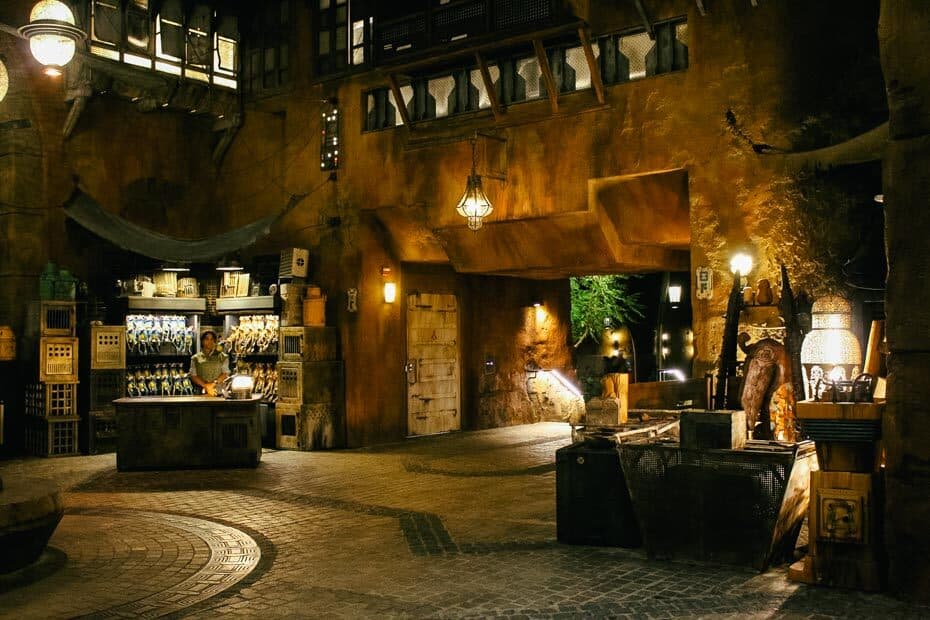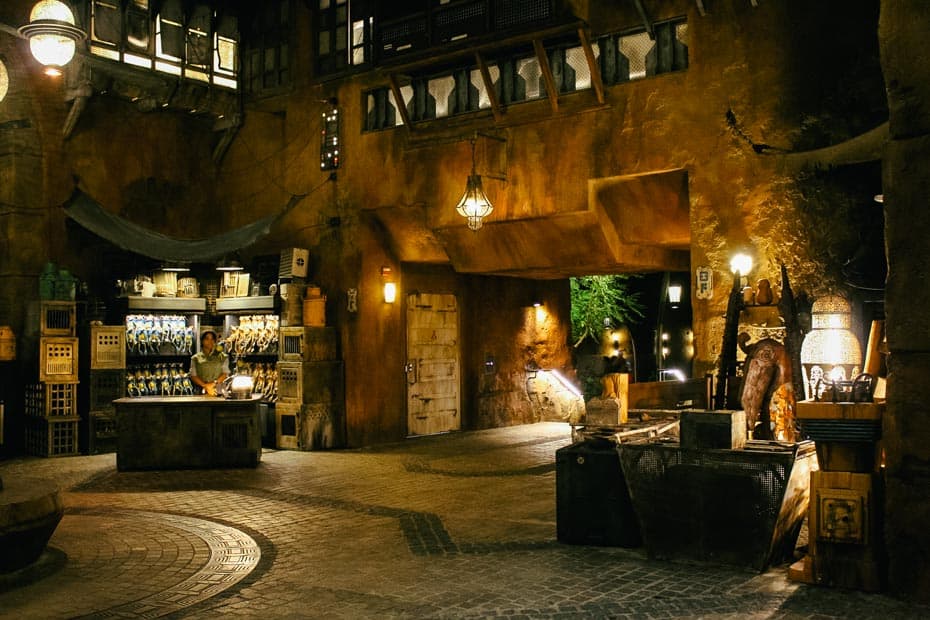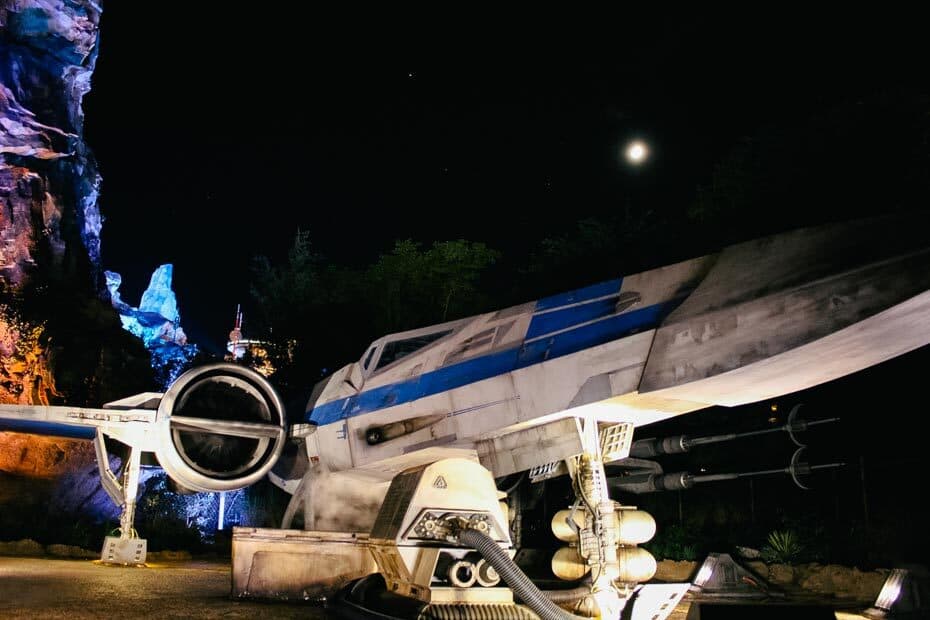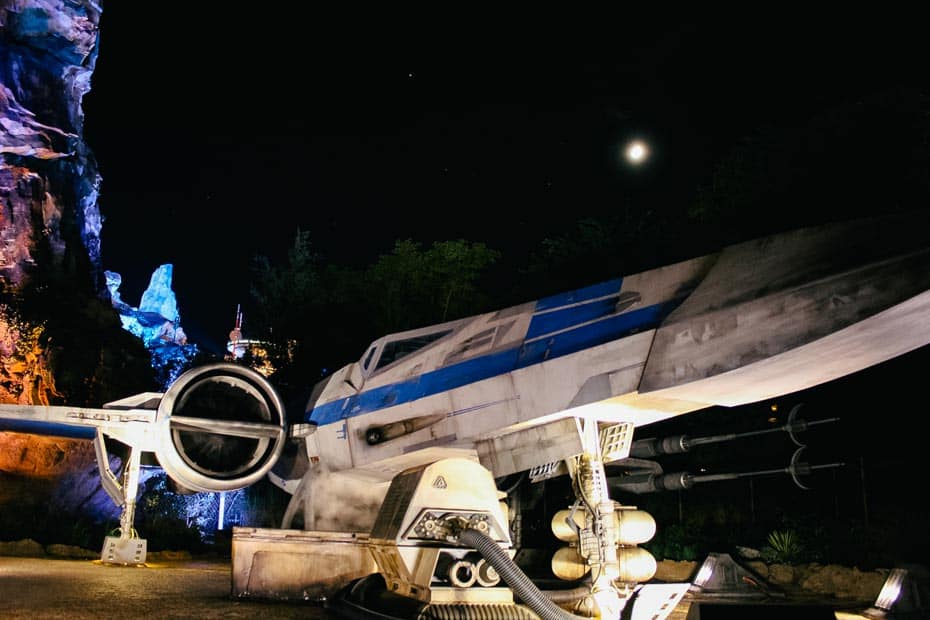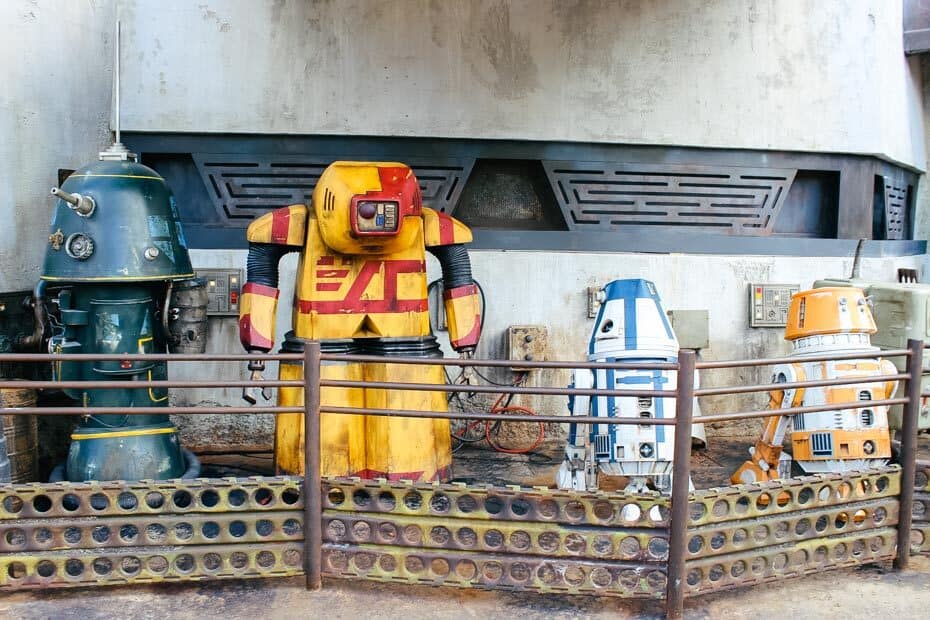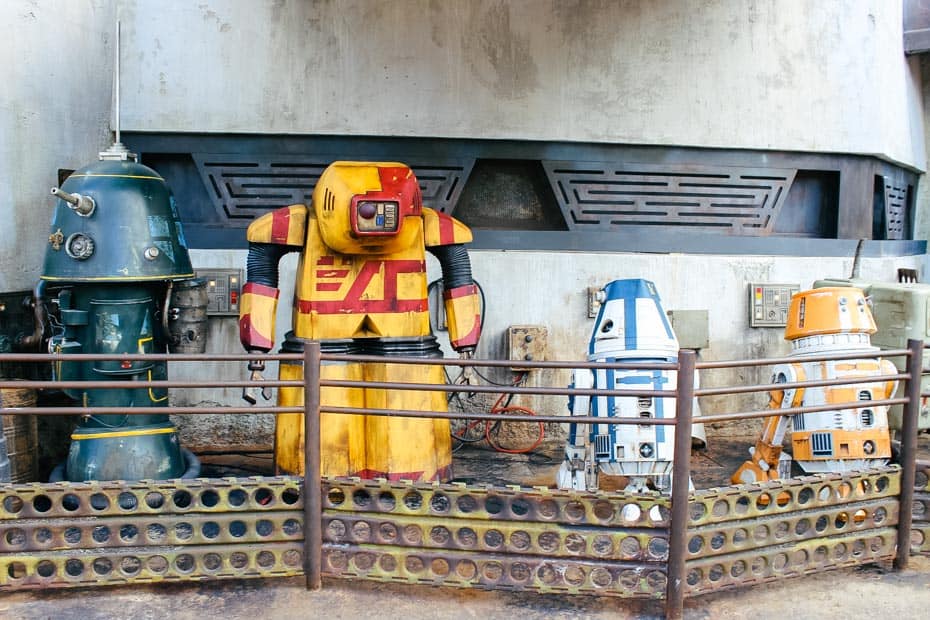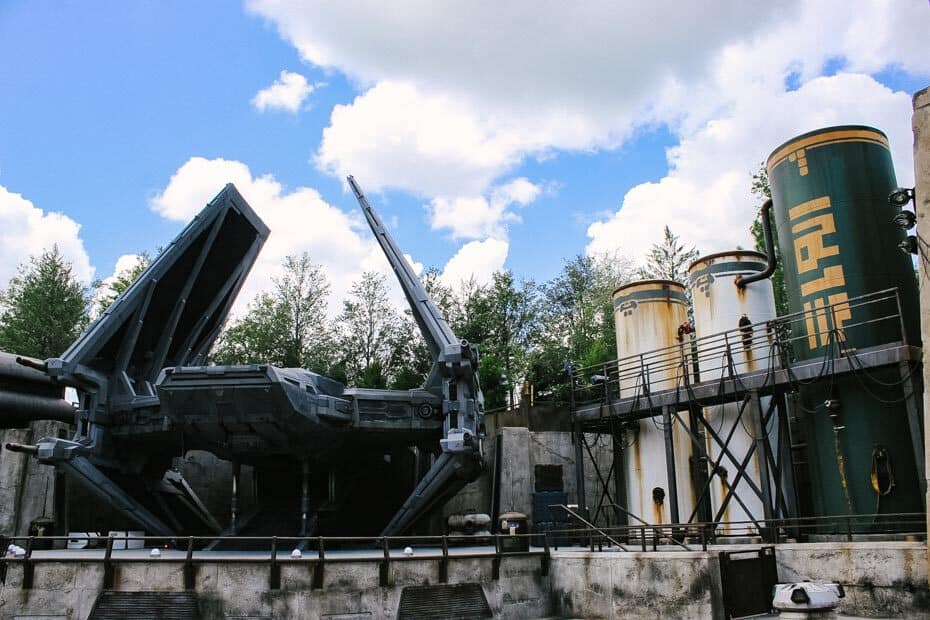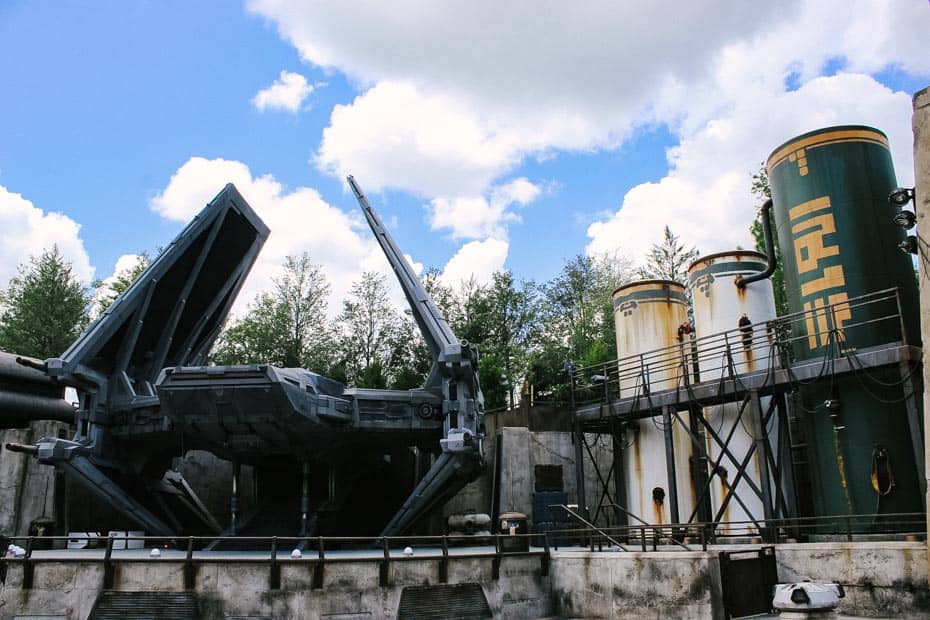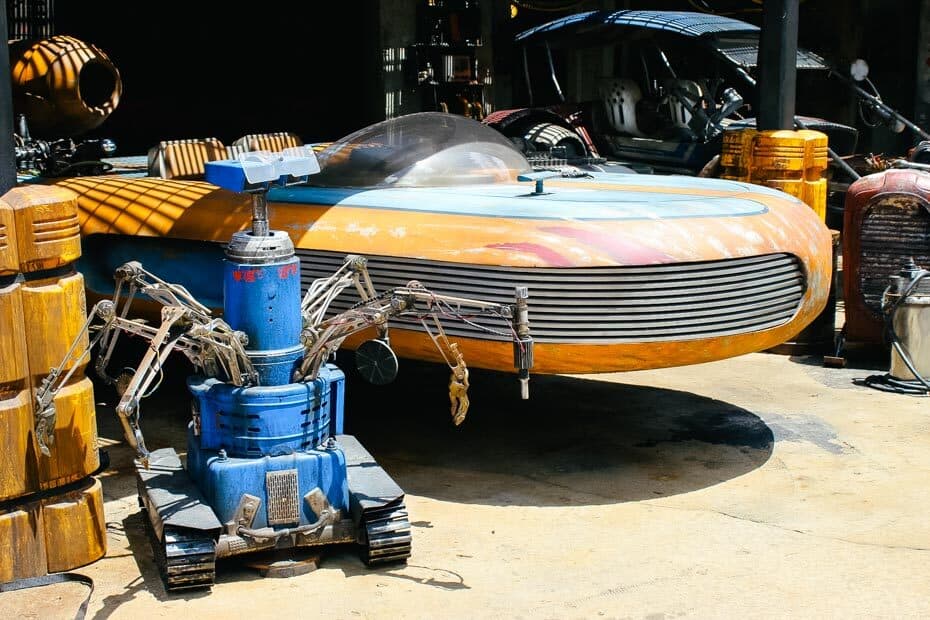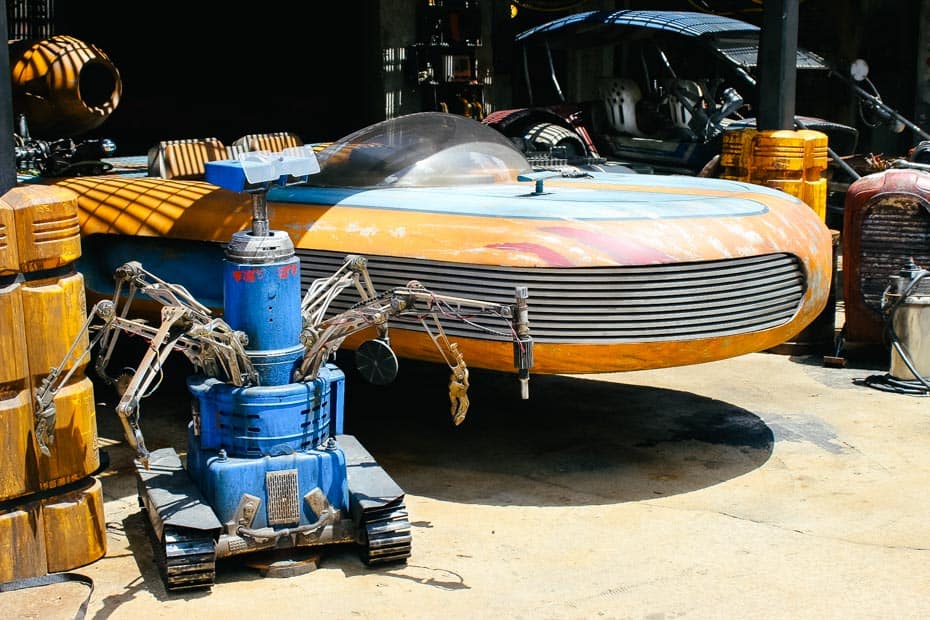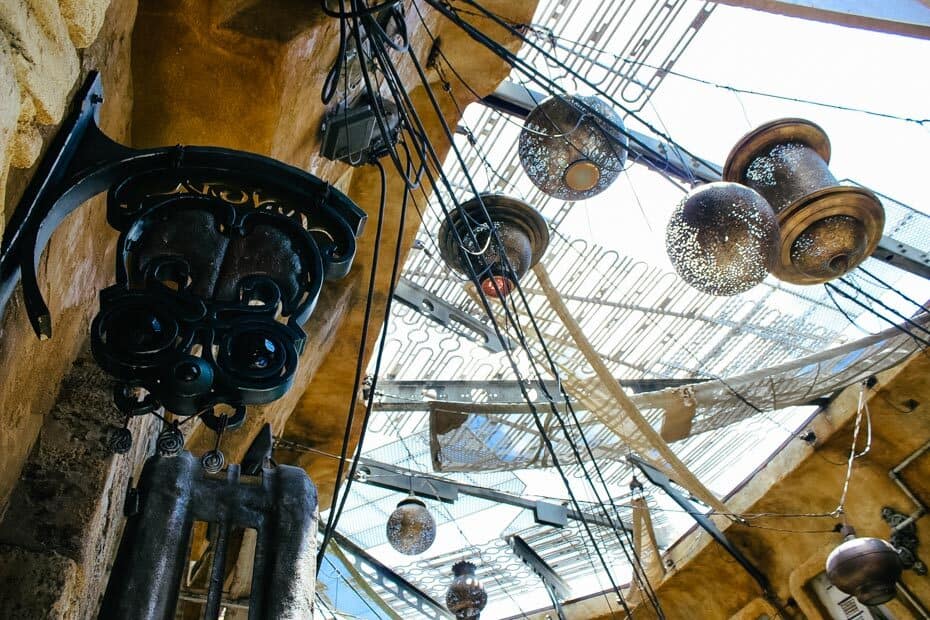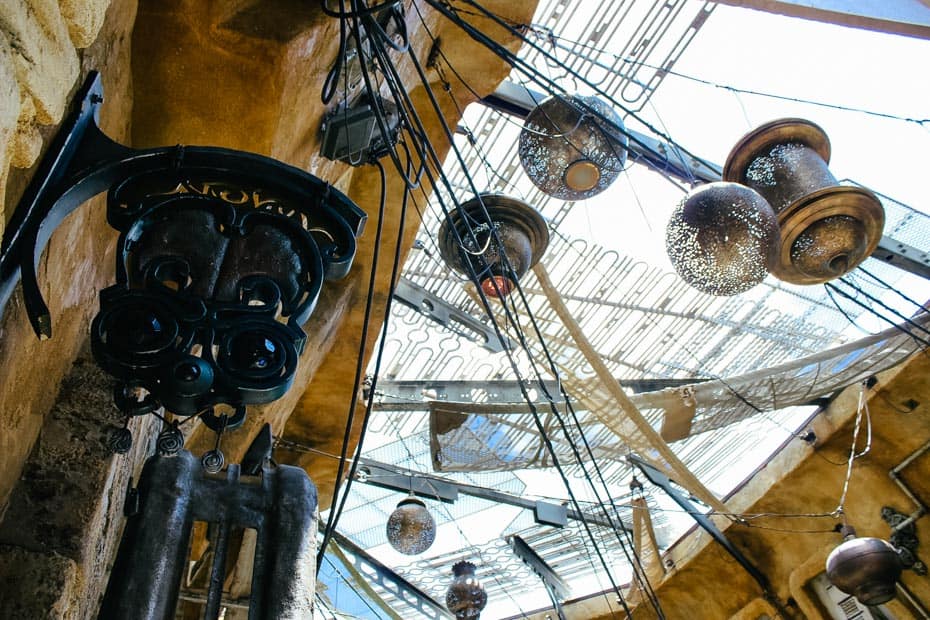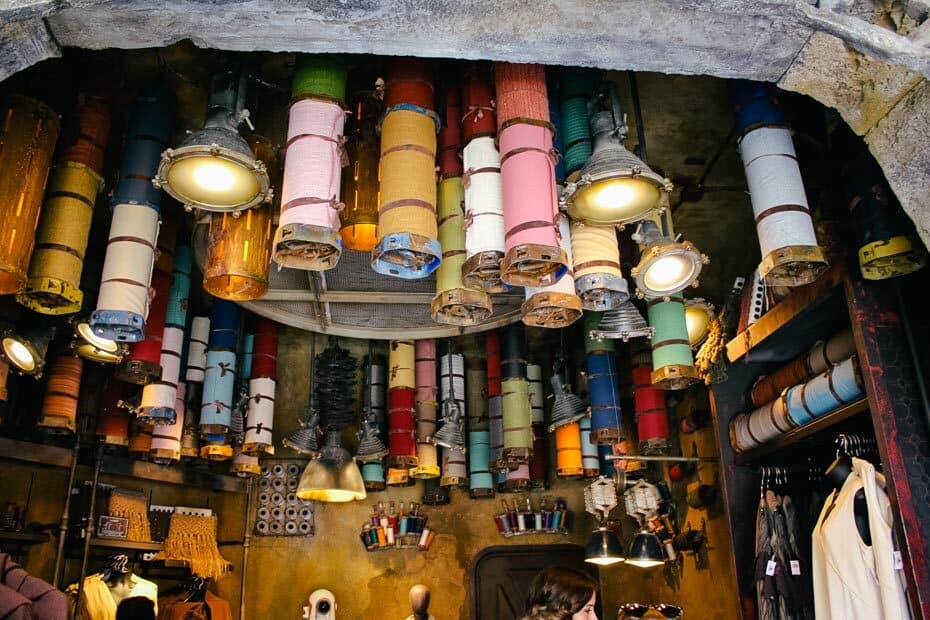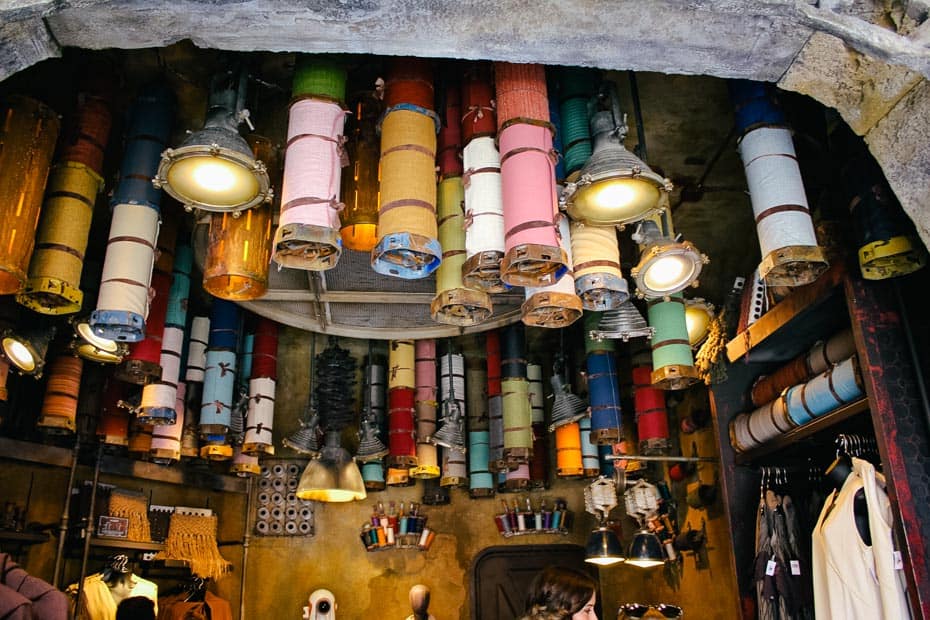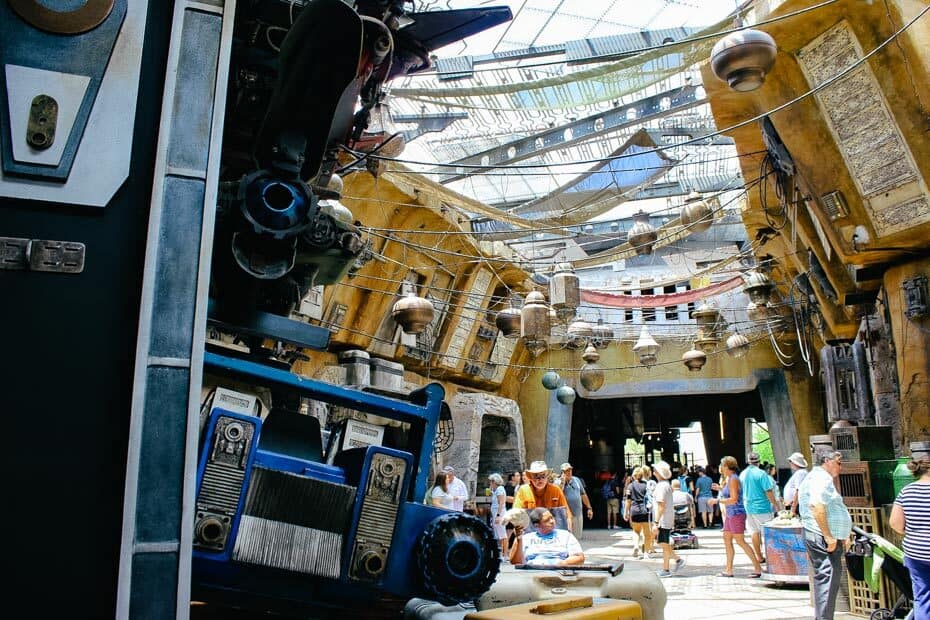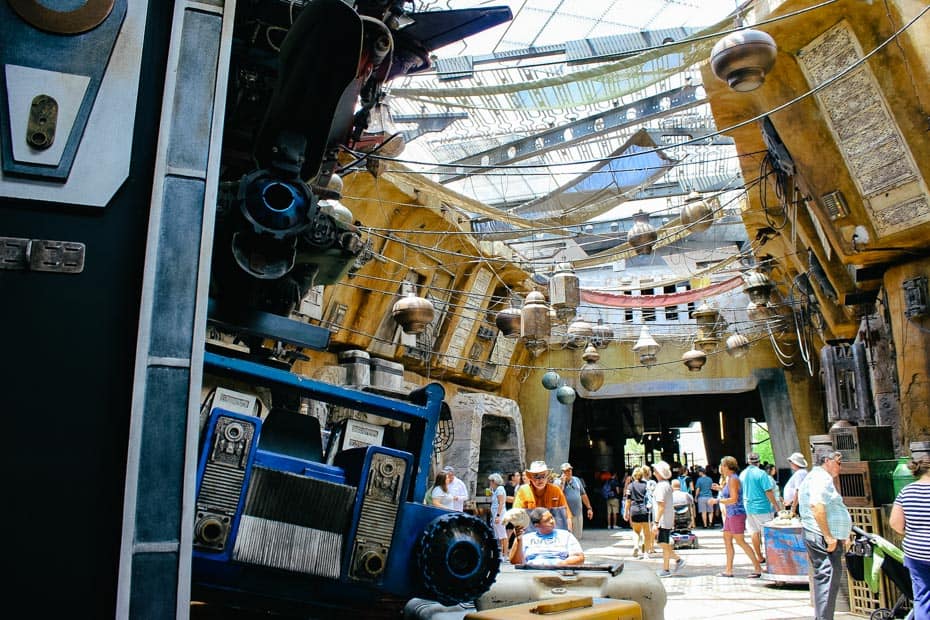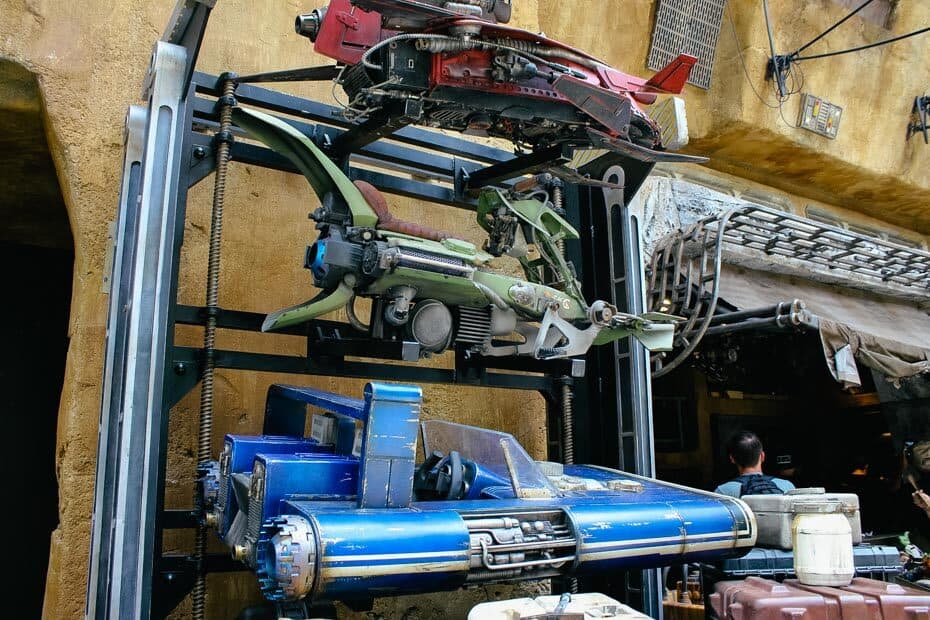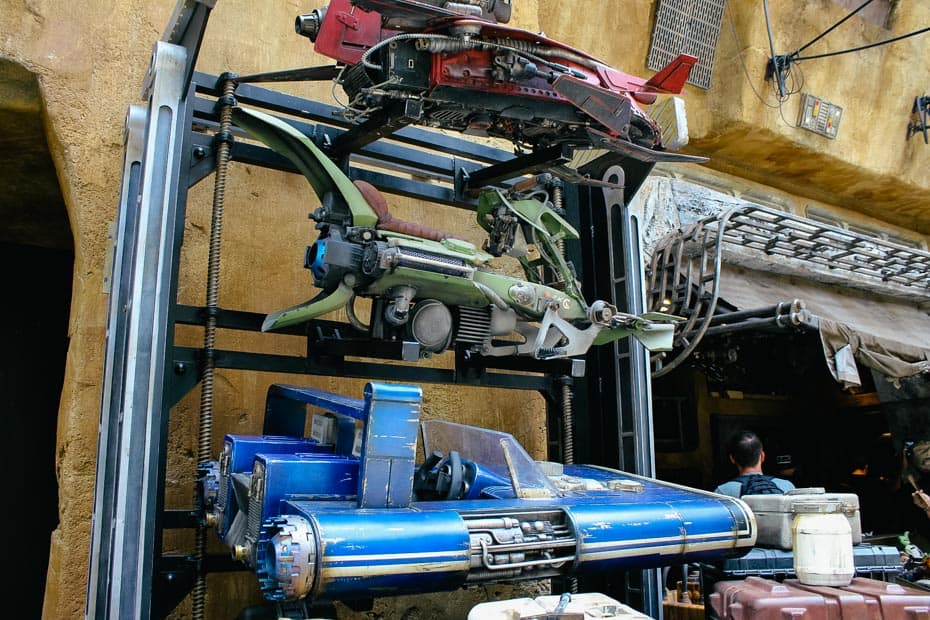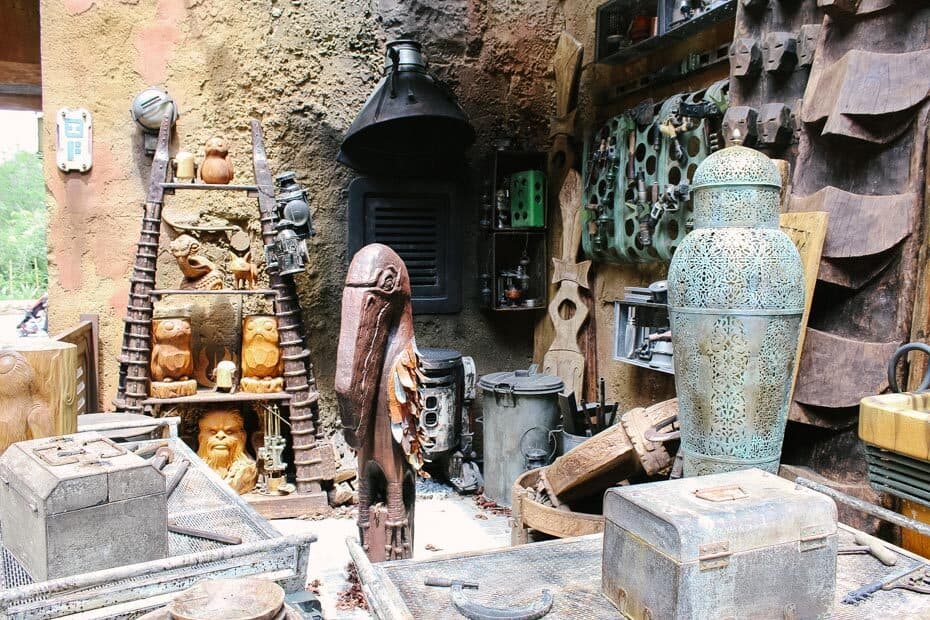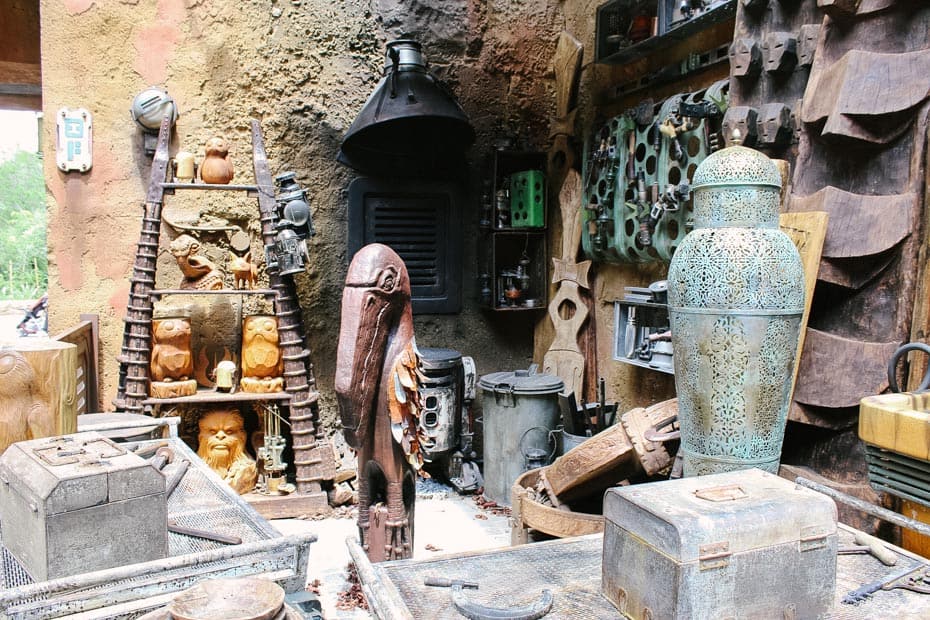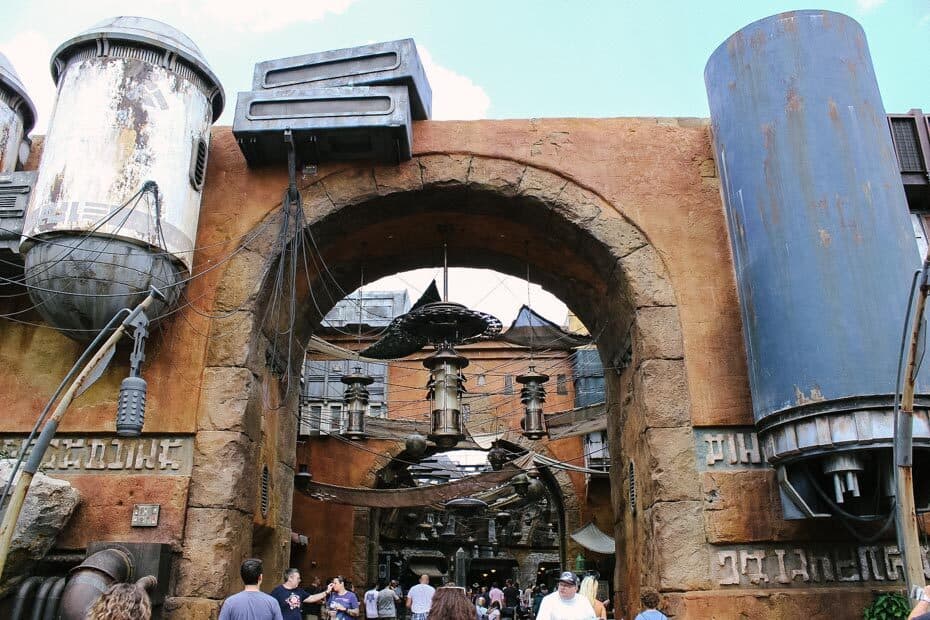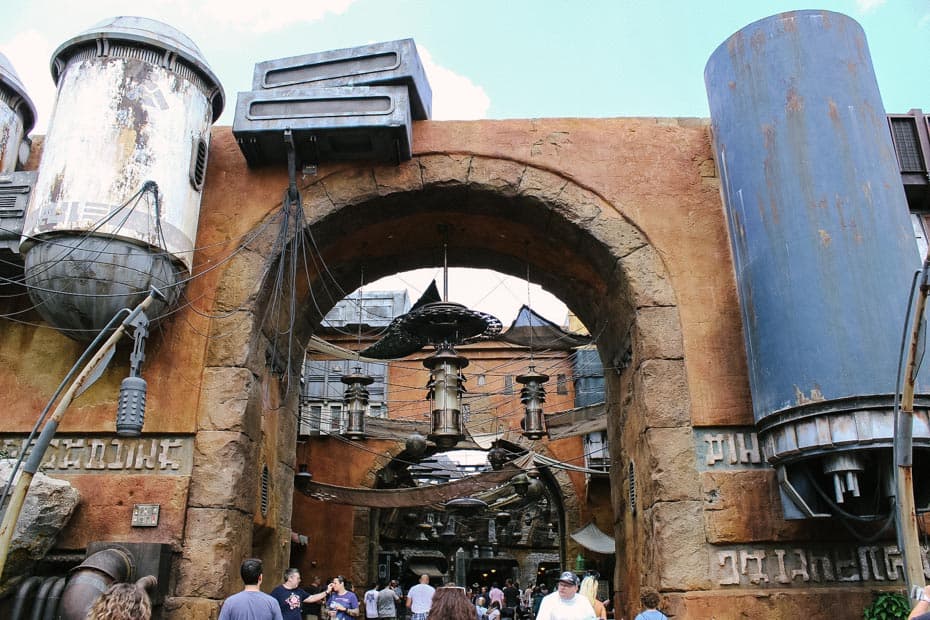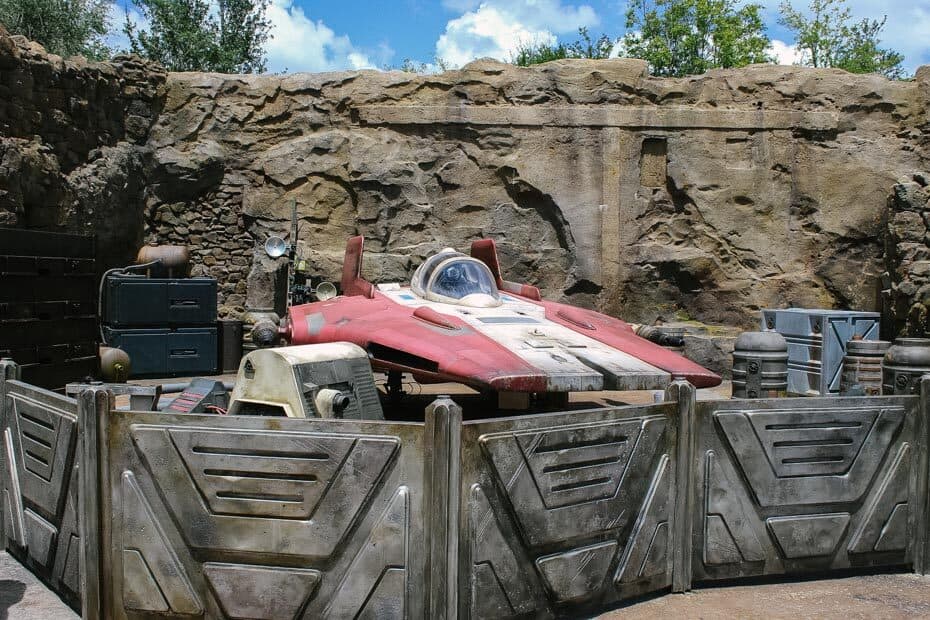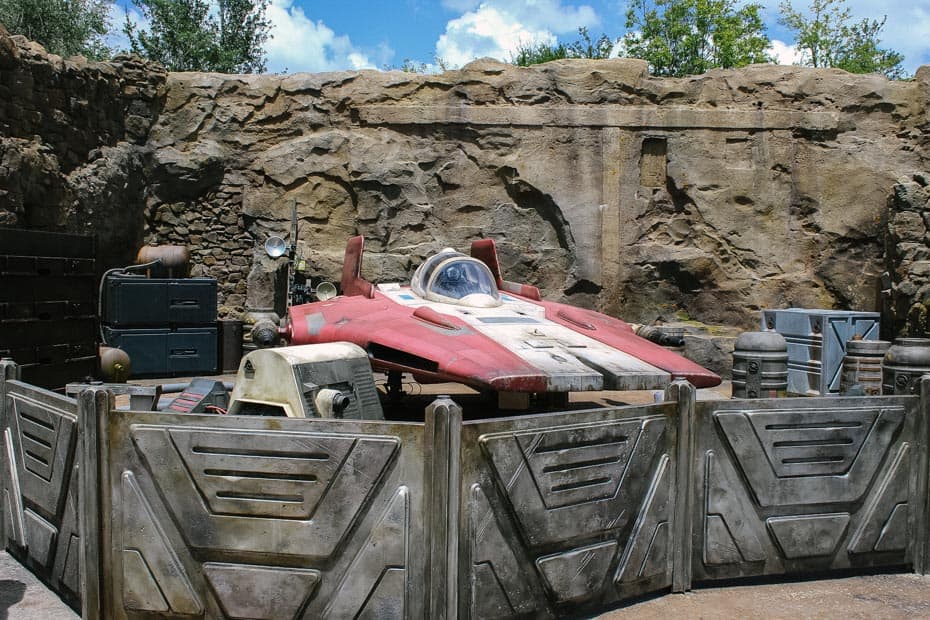 Resorts Gal specializes in providing reviews of the Disney World Resorts. If you plan to visit Hollywood Studios several days during your vacation, you might want to consider one of the Skyliner Resorts. They include:
Or you can view the entire list of Walt Disney World Resorts.
And don't forget the Star Wars Galactic Cruiser is scheduled to open on March 1, 2022.
Are you excited to visit Galaxy's Edge for the first time? What are your thoughts? Leave a comment below and share.