2022 Gingerbread Carousel at Disney's Beach Club Features Disney Princesses
This article previews the 2022 Disney Princess Gingerbread Carousel at Disney's Beach Club.
As the holidays approach, gingerbread starts to appear. However, at Disney's Beach Club, that gingerbread comes in the form of a carousel.
Yes, you read that correctly. Every holiday season, the chefs at Disney's Beach Club Resort come together to create a gingerbread carousel for the resort's lobby holiday display.
Each year the carousel has related Disney theming. Last year, we had 'The Little Mermaid' Gingerbread Carousel. But this year, we have a mix of several popular characters that are dear to many of us.
Disney Princesses is the theme for the 2022 gingerbread carousel at Disney's Beach Club. Princesses featured on the carousel include Jasmine, Tiana, Belle, Snow White, and Elsa.
Let's look closer.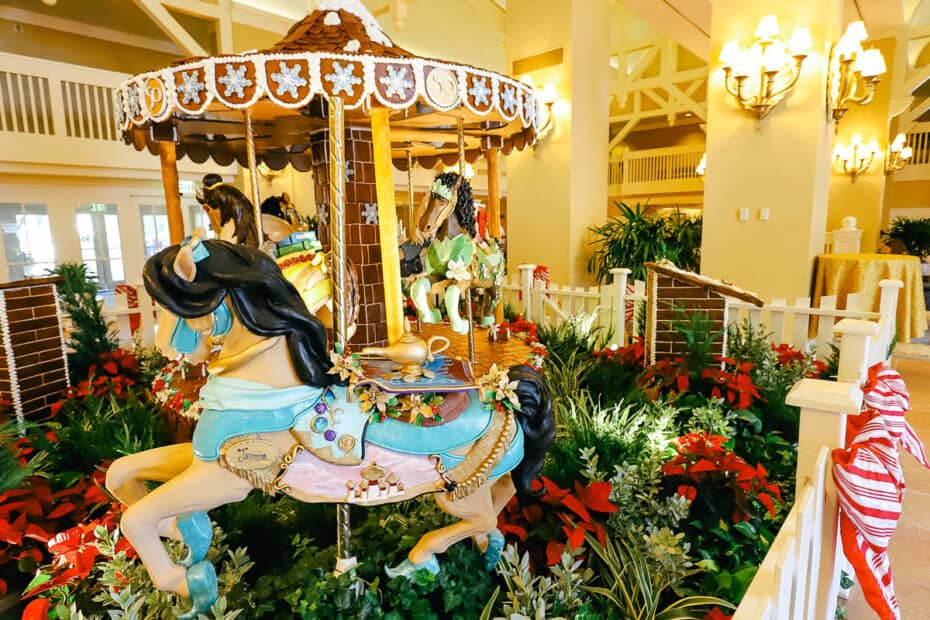 I'm not sure how Disney's chefs chose which princesses to feature on the 2022 gingerbread carousel. One wonders if they drew names or something similar.
Regardless, the carousel is as stunning as ever.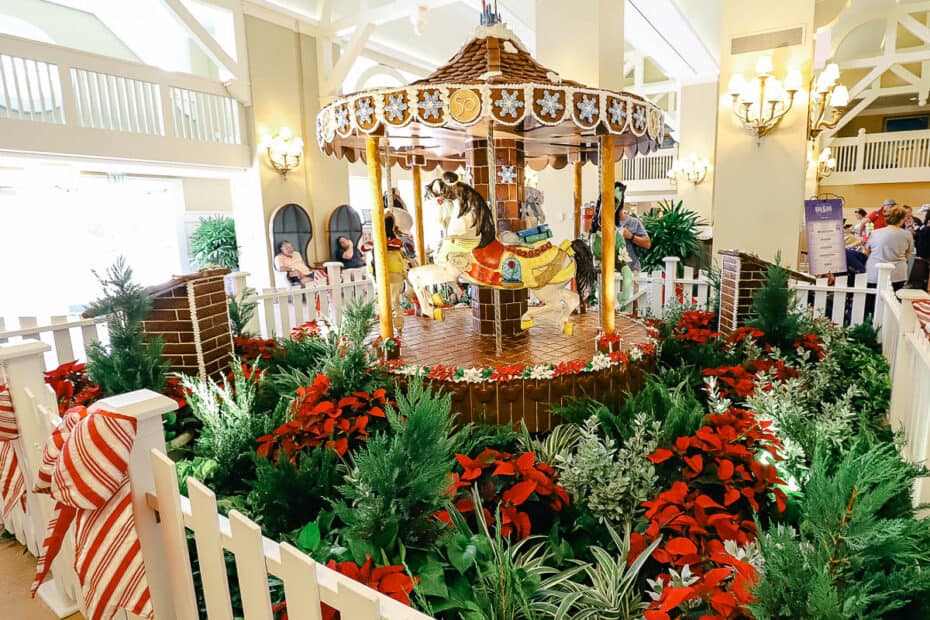 On the morning of this visit, we disembarked the new Disney Wish cruise ship at Cape Canaveral. From there, we drove to Disney's Beach Club to try the character breakfast at Cape May Cafe.
Since I had been offline most of the week, I wasn't expecting to see the gingerbread carousel completely assembled. Additional holiday decorations are expected to be completed in the coming week.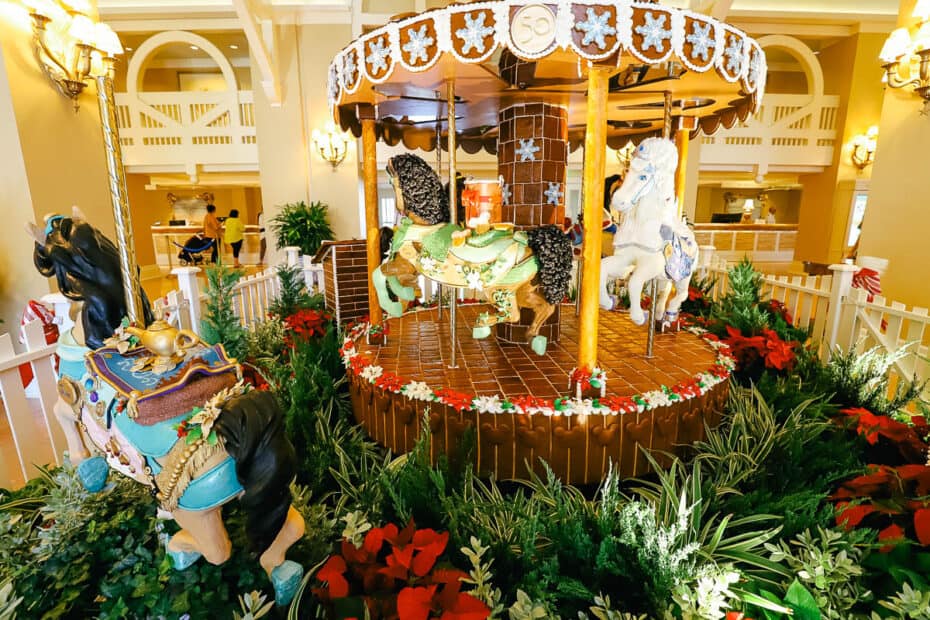 I plan to return to the resort next week and take photos of the rest of the decor. But I figured it would be okay to take pictures of the carousel in the meantime.
Undoubtedly, some of you have been excited about the arrival of the holiday season.
As usual, one horse sits in front of the carousel. This is a nice touch because you can see some of the details more closely.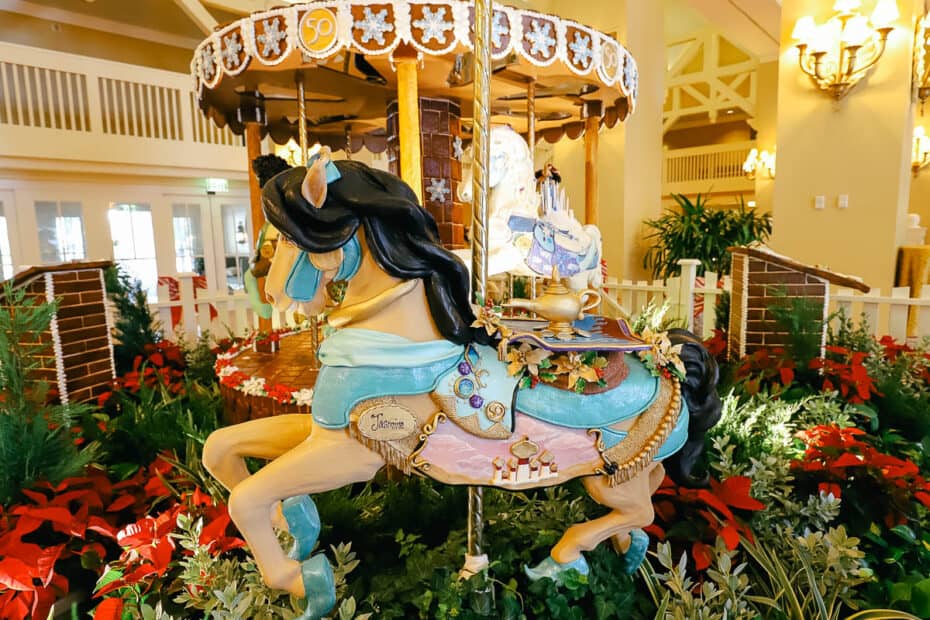 Jasmine, representing Princess Jasmine from Aladdin, has a beautiful mane of chocolate hair. In addition, she is adorned with pretty jewels made of candy.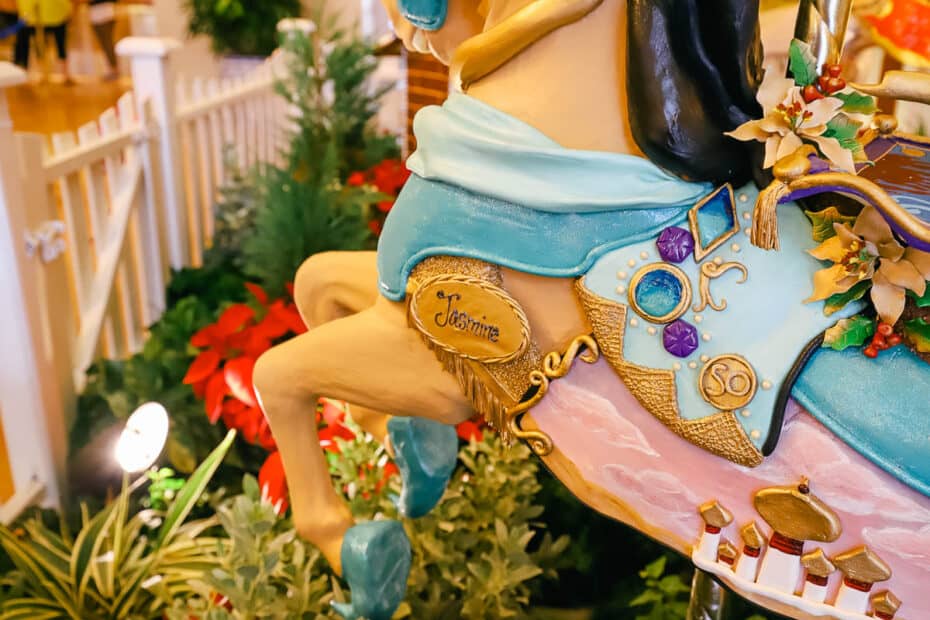 On her saddle sits Genie's lamp. A few golden coins from the Cave of Wonders are scattered around it. Look closely. There's the magic carpet underneath.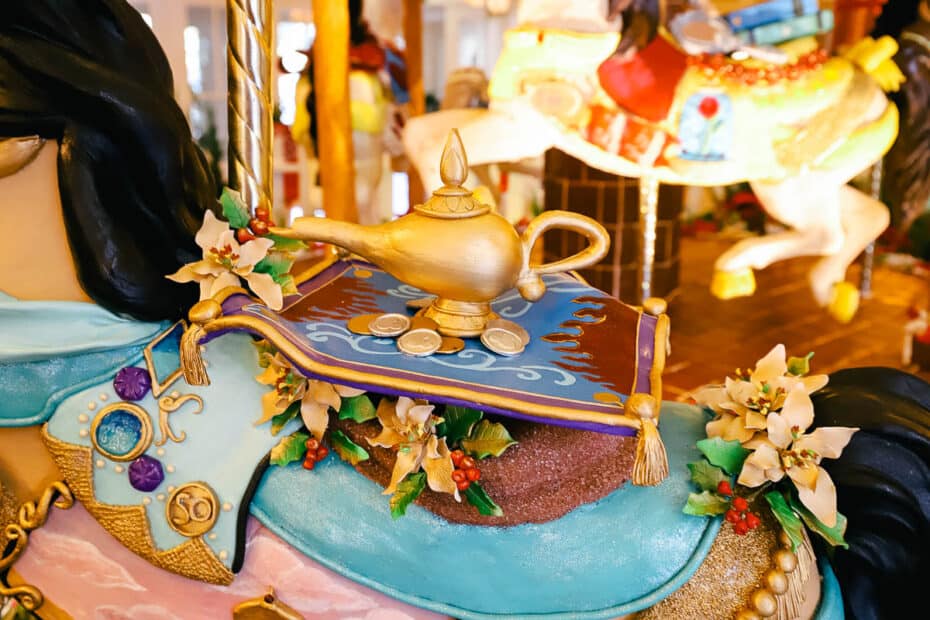 Four horses sit on the moving carousel. First, we have Tiana from The Princess and the Frog.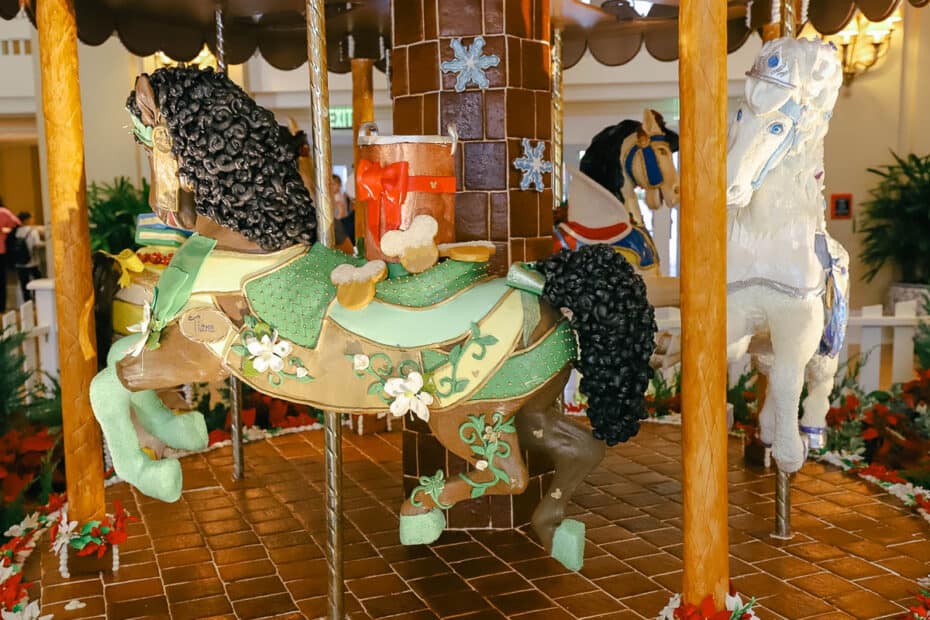 She has a few beignets sitting on her saddle. I have yet to figure out what the bucket with the bow represents.
But the detailed pattern on her saddle is exquisite. Look closely to spot the golden Mickey Mouse shapes.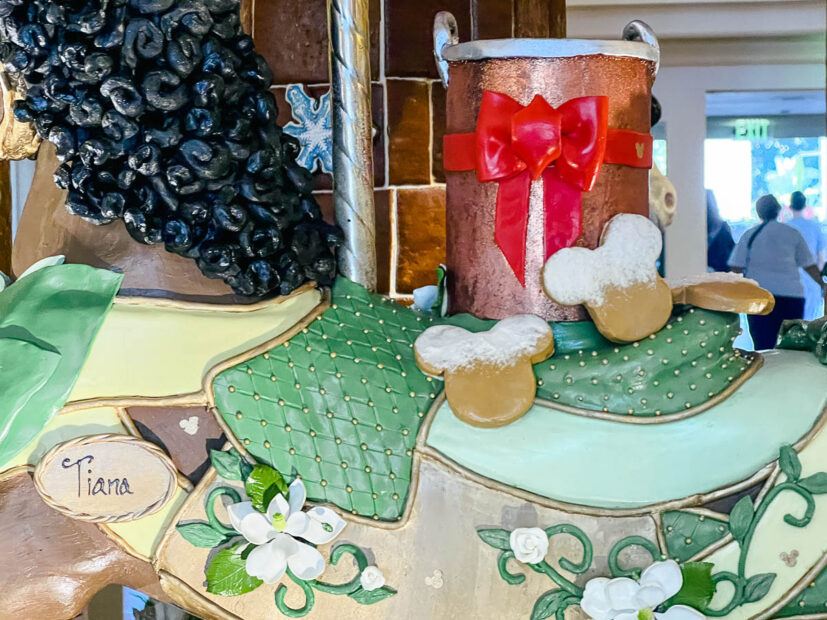 Snow White is vibrant with pops of red, blue, and yellow. Like the movie, her dark mane complements her fair complexion.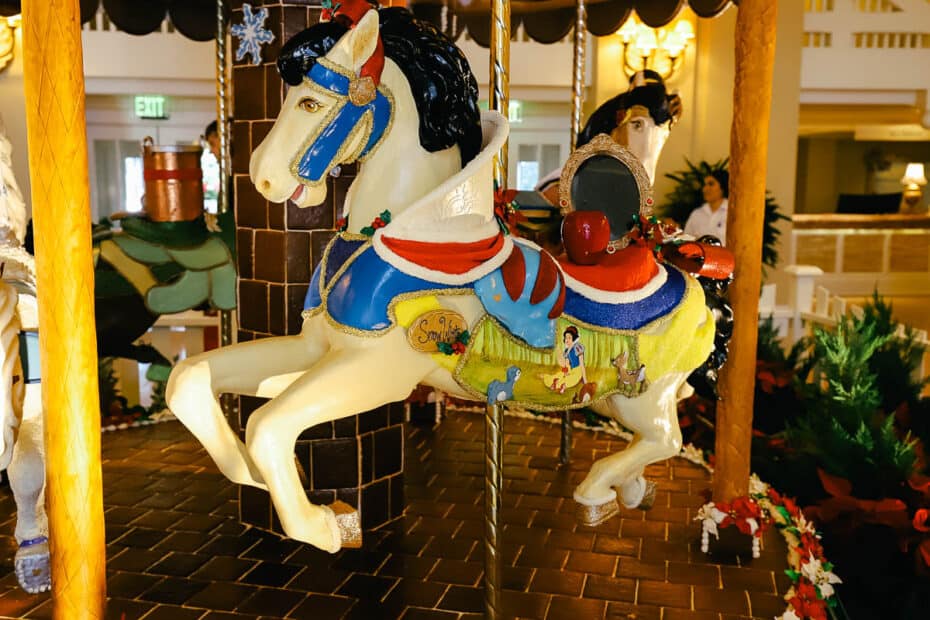 Snow White's saddle features a poison apple and a magic mirror. In addition, she has what appears to be an airbrush design with several dimensional fondant friends, I mean, forest friends.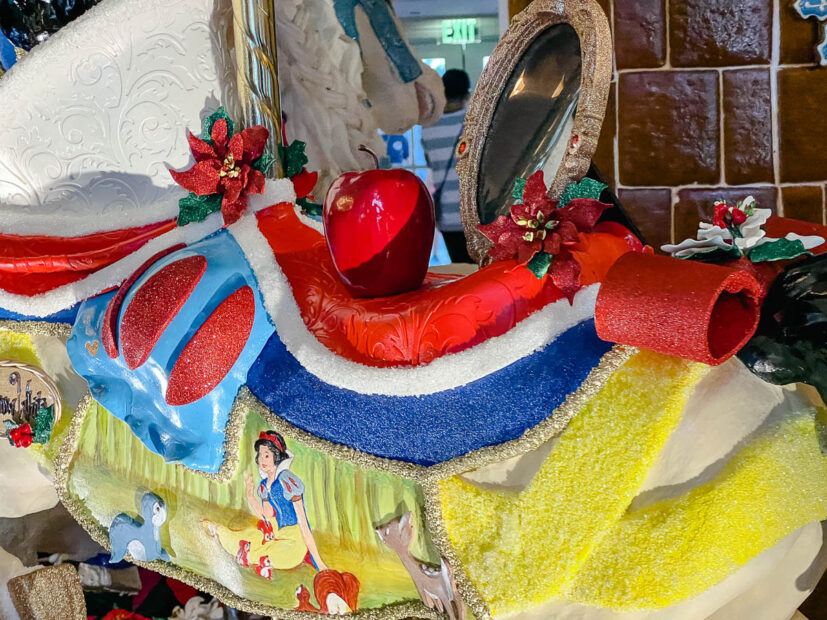 Snow White's horse on the gingerbread carousel is, without a doubt, the fairest of them all.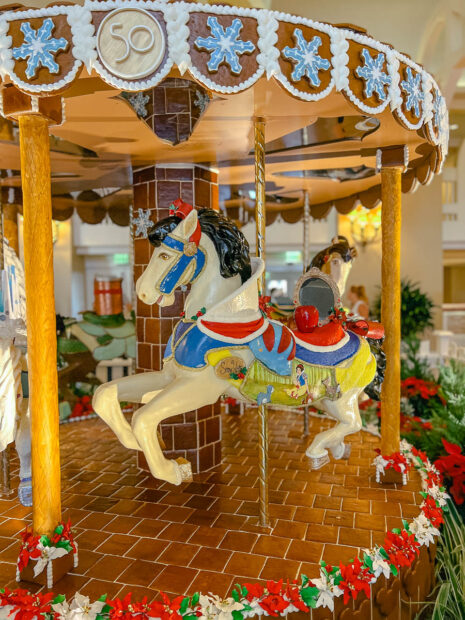 Next, we have a horse that's fond of books. Belle from Beauty and the Beast sits majestically on the gingerbread carousel at Disney's Beach Club.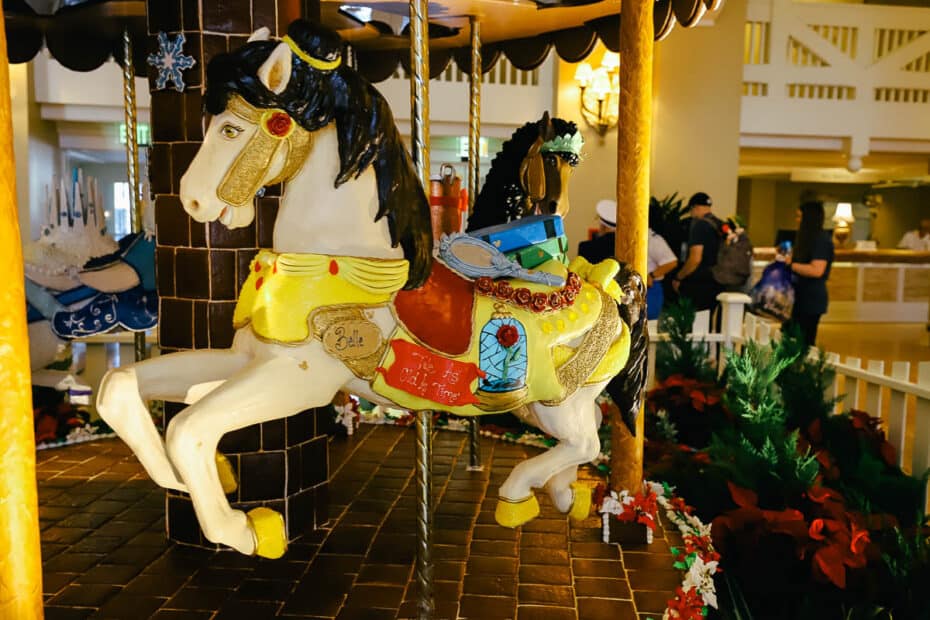 She also has a magic mirror and two books with golden Mickey Mouse shapes on her saddle. "Tale as old as time" is written below her mane next to the enchanted rose that's lost a few of its petals.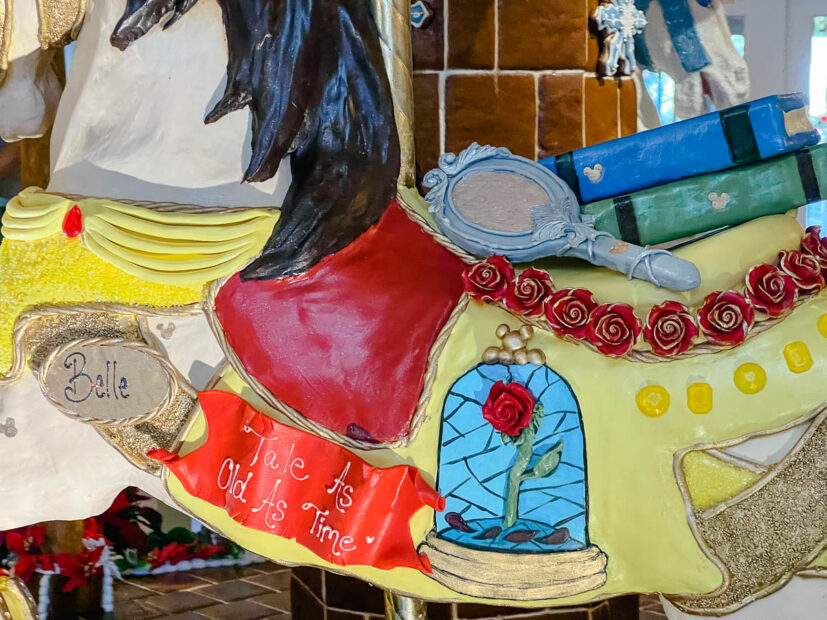 Elsa is our last horse. I thought she was an odd choice, given she's not considered a Disney Princess. Nevertheless, she is beautiful and has an impressive sculpture on her saddle.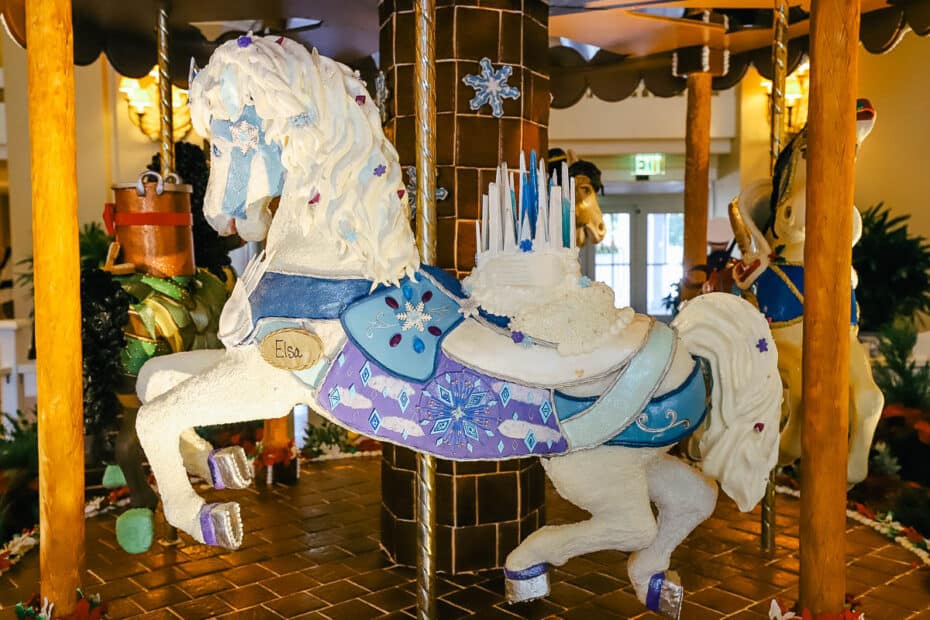 Here is a closer look at the ice castle. I thought the hidden Mickey snowman was a nice touch. She has pretty snowflakes in her icy mane.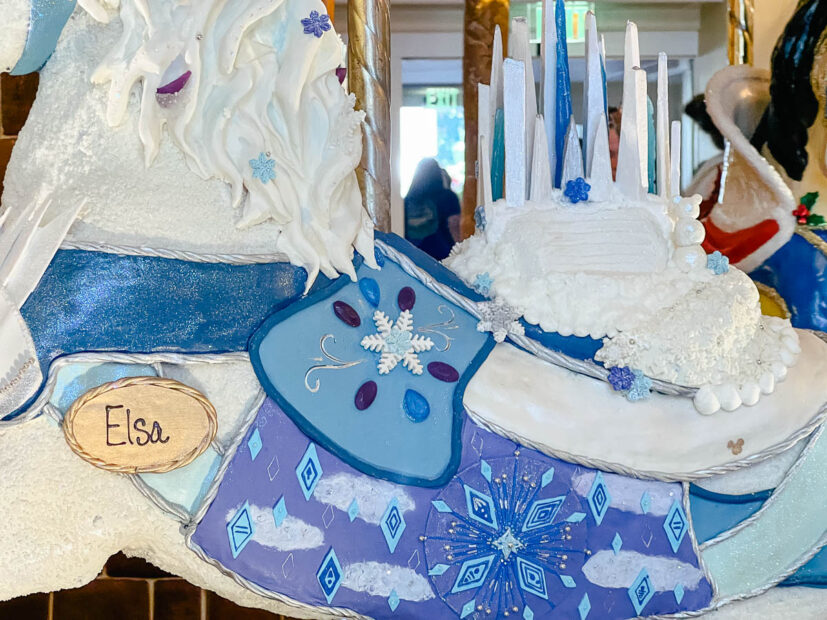 Speaking of snowflakes, the carousel is trimmed in them. Every so often, an opening pays homage to Walt Disney World's 50th anniversary. Of course, this is the last holiday season we'll see the anniversary decorations displayed.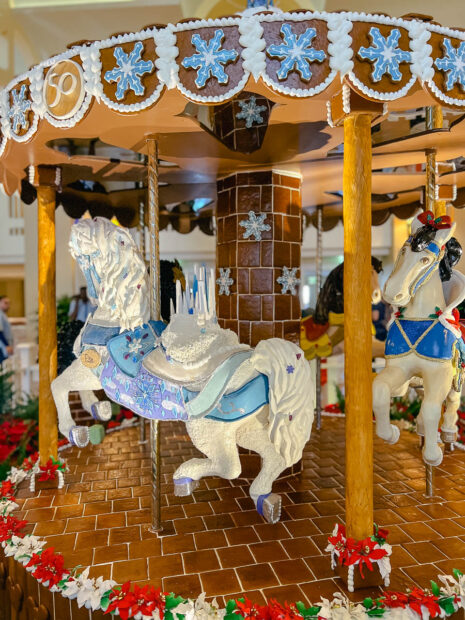 If you zoom in on the picture below, you'll notice an iridescent castle sits at the top of the gingerbread carousel.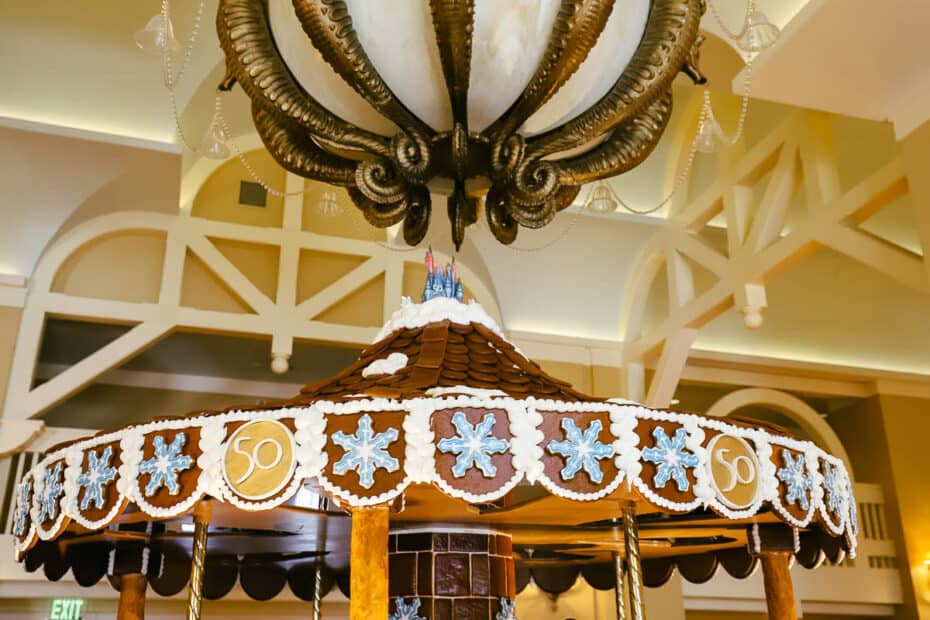 You'll find the carousel directly in the center of Disney's Beach Club's lobby. On one side, a display lists the ingredients used to make the carousel.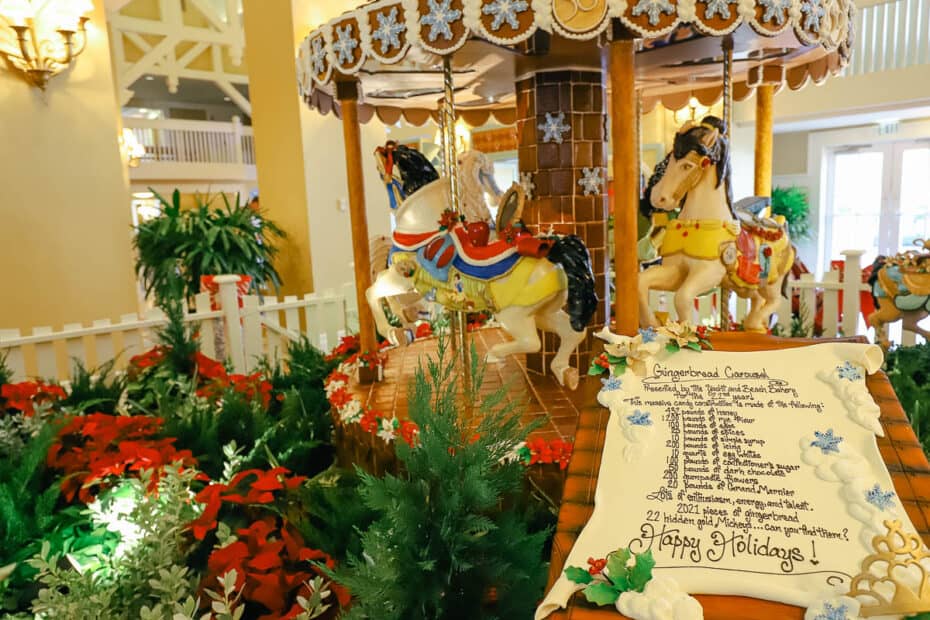 On the opposite side, you'll find Santa's Nice List. Don't worry if you don't see your name on it. These are the names of the Yacht and Beach Club Pastry team members.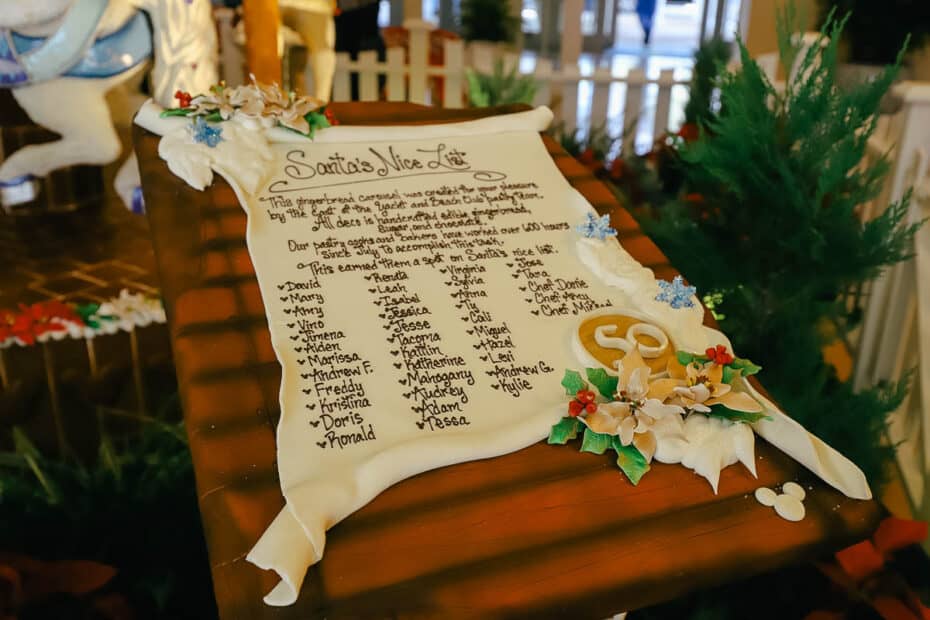 If you find yourself longing for a gingerbread snack or some other sweet, there is a stand with treats toward the back of the lobby.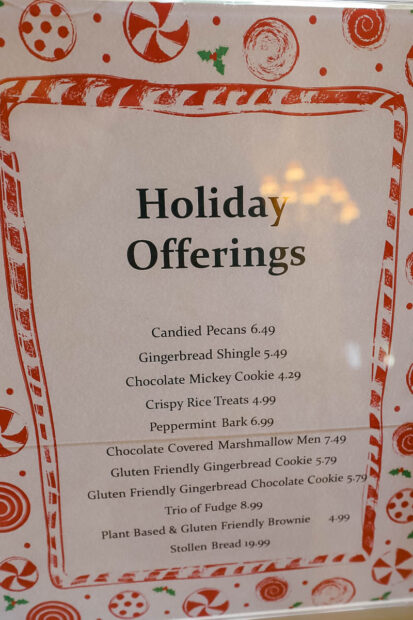 These items were available on my visit:
Candied Pecans ($6.49)
Gingerbread Shingle ($5.49)
Chocolate Mickey Cookie ($4.29)
Crispy Rice Treats ($4.99)
Peppermint Bark ($6.99)
Chocolate Covered Marshmallow Men ($7.49)
Gluten-Friendly Gingerbread Chocolate Cookie ($5.79)
Trio of Fudge ($8.00)
Plant-Based and Gluten-Friendly Brownie ($4.99)
Stollen Bread ($19.99)
In addition, there were a few special holiday pins available.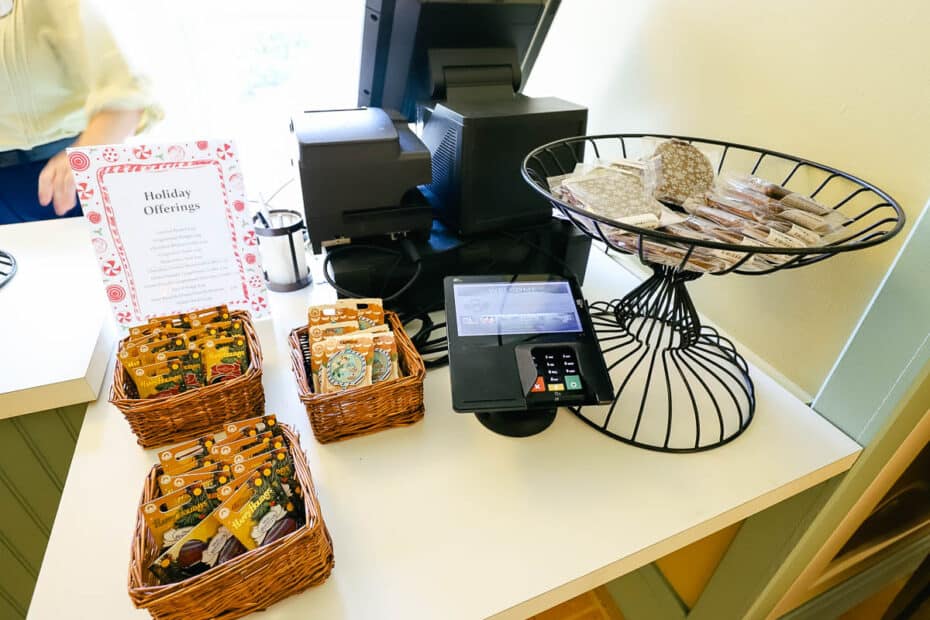 These were all limited editions. It's not often I see pins representing the resorts.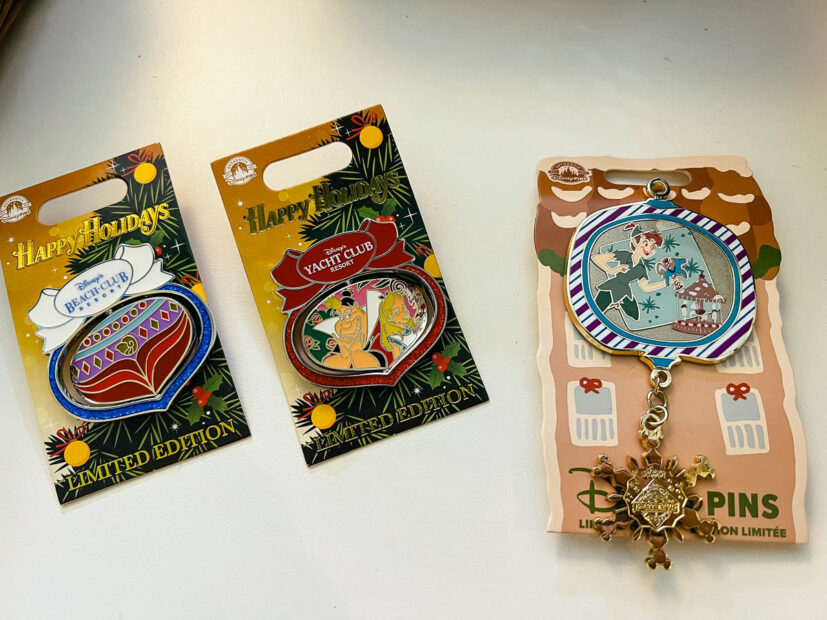 Here is that trio of fudge.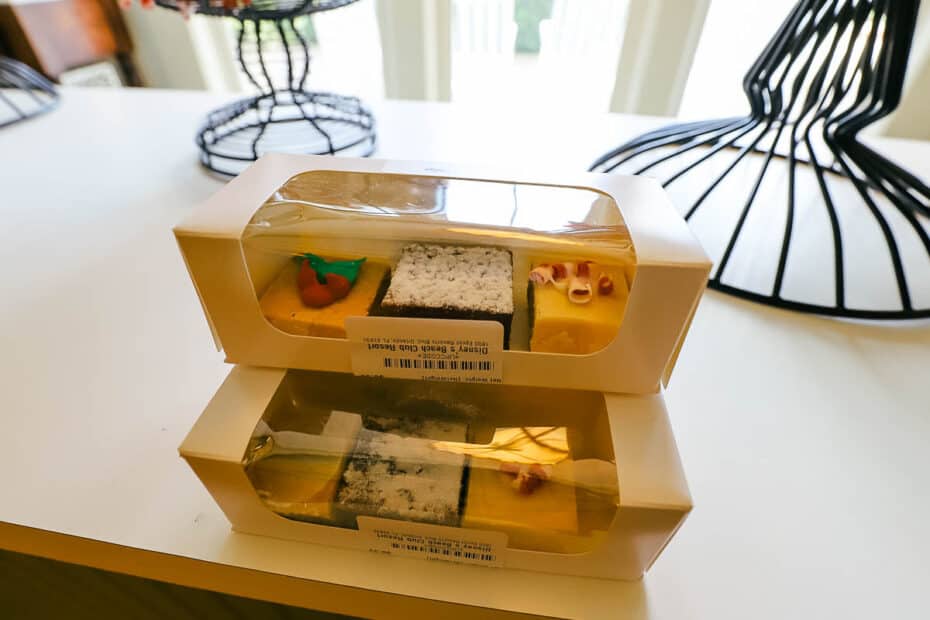 Pretty peppermint bark was wrapped in festive packages.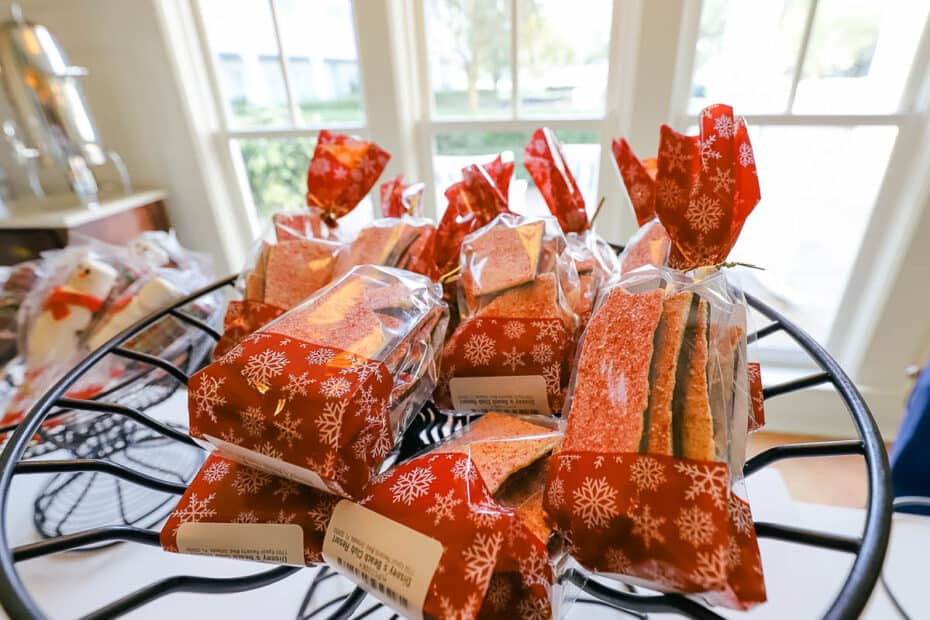 I would have a hard time eating that marshmallow snowman. He's too cute.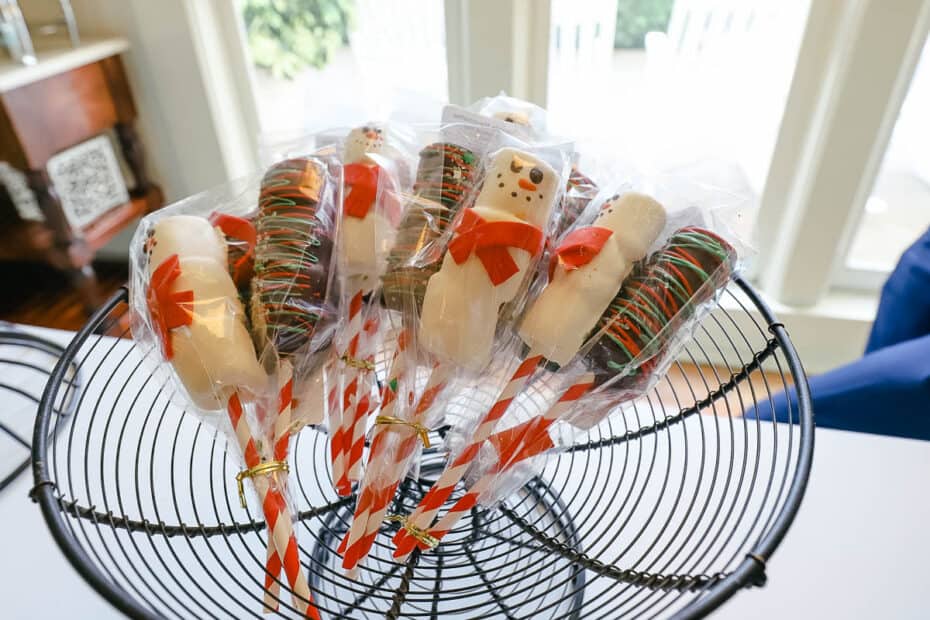 Have you ever tried Stollen Bread?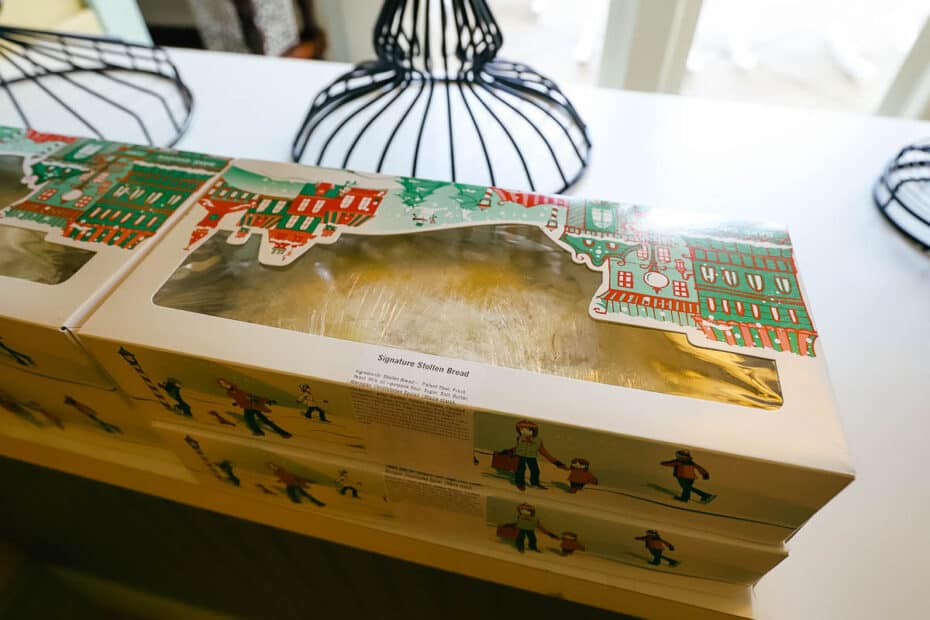 Some of you will appreciate the gluten-friendly options.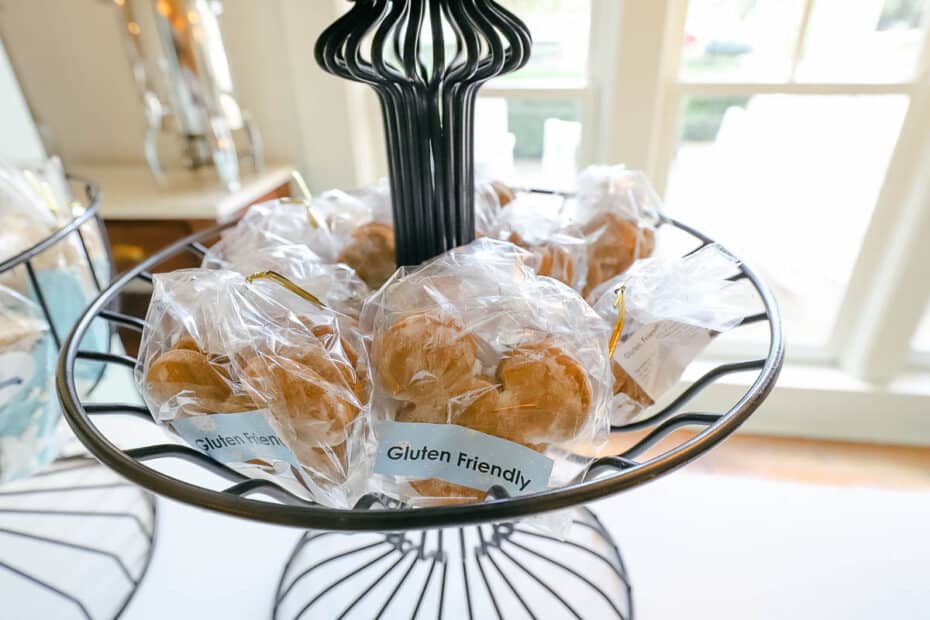 And the crispy rice treats are always a win in my book. What would you pick?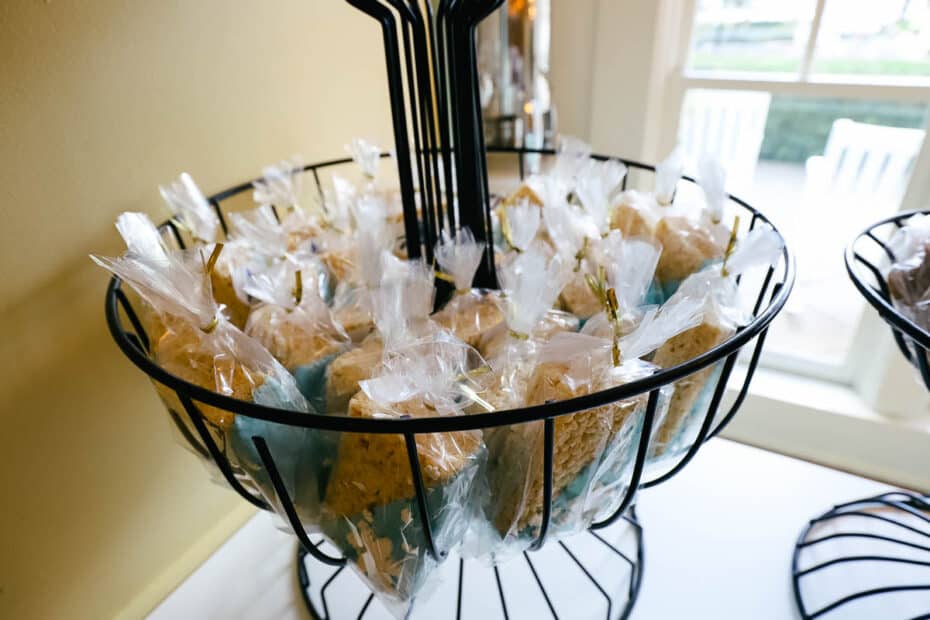 Video: 2022 Gingerbread Carousel at Disney's Beach Club
Final Thoughts
Overall, the carousel is a must-see for anyone with plans to visit Walt Disney World over the holidays. Beach Club's carousel and holiday decorations will remain up until the first of January.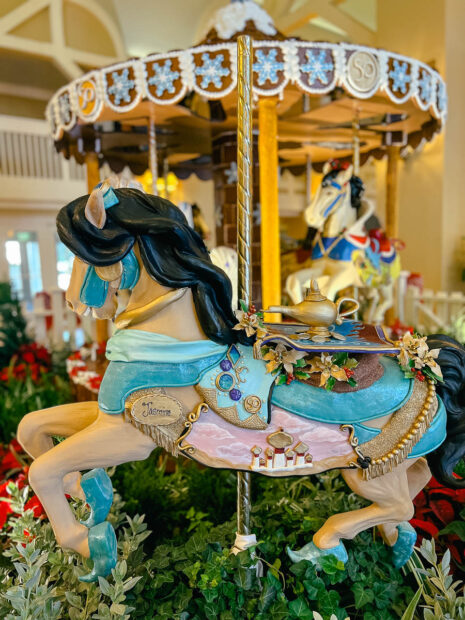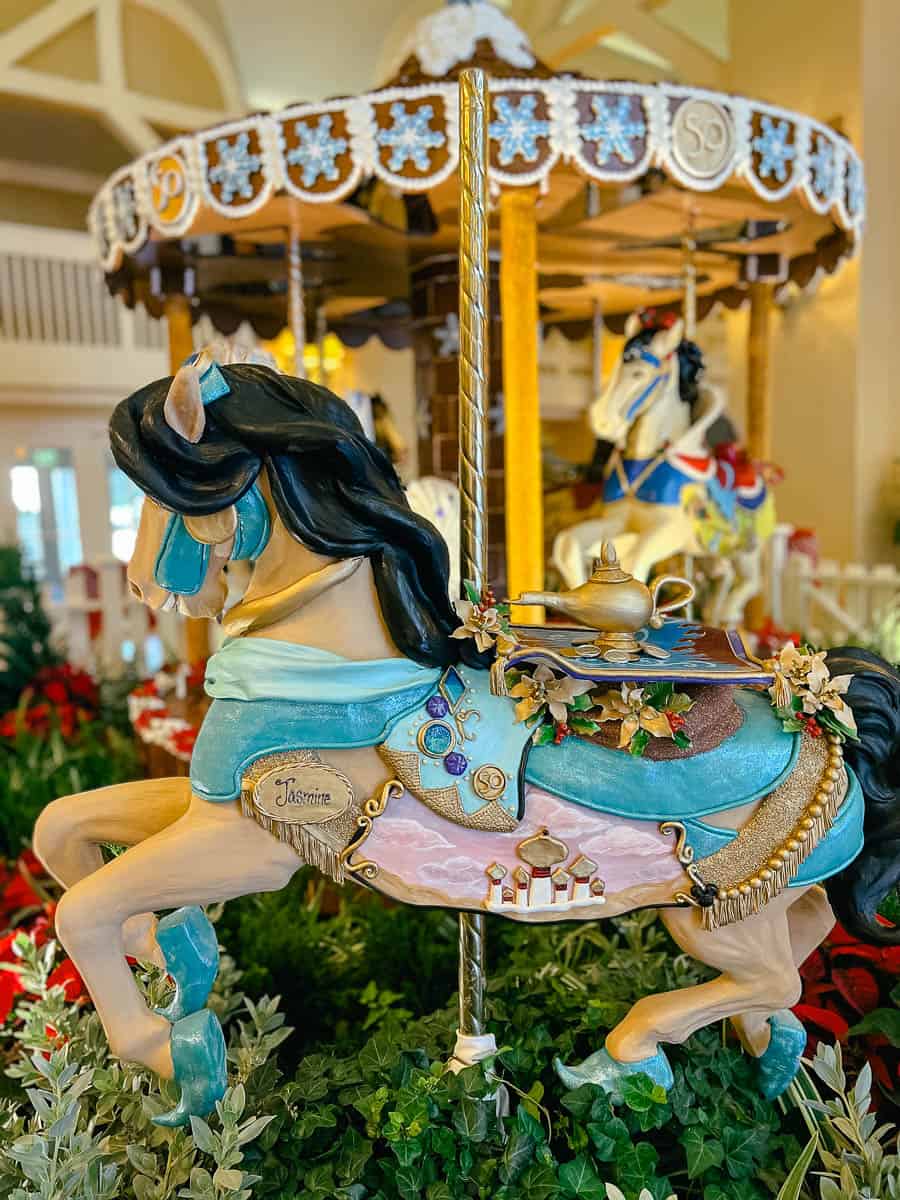 For more information about Disney's Beach Club, we have a guide that lists all of our articles related to the resort:
Or you might enjoy some of these other Disney World Christmas articles:
In the Comments
What are your thoughts on this year's gingerbread carousel at Disney's Beach Club? Do you have plans to visit over the 2022 holiday season?