Where To Find Every Gingerbread Display at Walt Disney World (in 2022)
Since Walt Disney World has so many things to see and do, it's difficult to remember everything. So with those thoughts in mind, I put together an overview of where to find each gingerbread display.
In this article, we'll preview every gingerbread display at Walt Disney World in 2022. That way, if you're visiting the parks over the holidays, you can figure out which ones you want to see and how to locate them.
Of course, some of you will likely do a little resort hopping to see the various gingerbread displays and Christmas decorations. You might pick one day of your vacation to have a "resort day" and see all the holiday trimmings at the hotels.
Others might plan to see the resorts near the parks they are touring. For example, taking a midday lunch break from Magic Kingdom to visit the Grand Floridian might leave you feeling refreshed to take on the crowds when you return.
Whatever you decide, I hope you see every gingerbread display on your must-do list. Let's see which ones will make that list.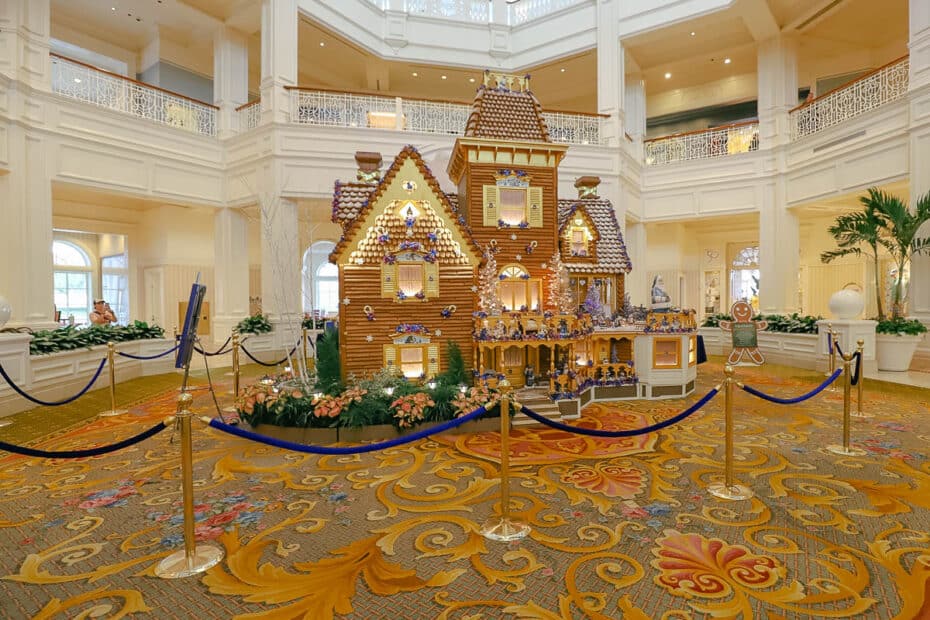 List of Walt Disney World Gingerbread Displays
Here is a list of each gingerbread display at Walt Disney World in 2022.
American Adventure in Epcot Gingerbread Display
Animal Kingdom Lodge Gingerbread Giraffe and Zebra
Disney's Contemporary Resort Gingerbread Castle
Boardwalk Inn Gingerbread Display
Beach Club Gingerbread Carousel featuring Disney Princesses
Grand Floridian Gingerbread House
Except for one, the gingerbread displays are located at several deluxe resorts. Unfortunately, we didn't see a gingerbread display at Disney's Wilderness Lodge in 2022.
American Adventure Gingerbread Display at Epcot
Perhaps, the little most known about gingerbread display at Walt Disney World is the one at the American Adventure in Epcot. Unfortunately, even I have forgotten about this one in the past.
However, since most guests visit Epcot at some point during their vacation, it's pretty simple to see. That is if you remember it.
Epcot's gingerbread display is open daily through December 30, 2022, during the parks operating hours.
Three gingerbread houses are on display inside the American Adventure lobby. This is also the same area where the Voices of Liberty–Dickens Carolers perform.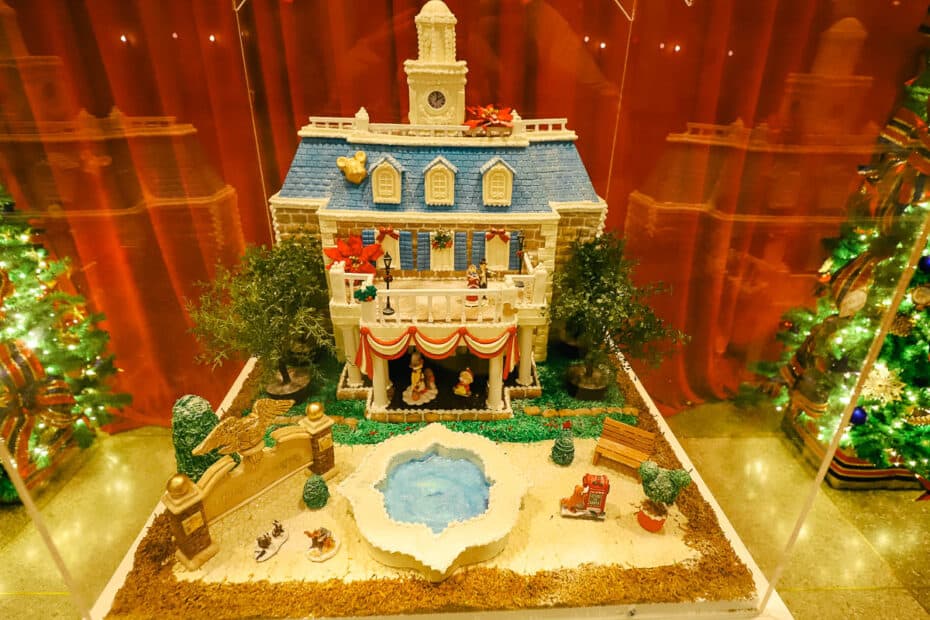 You might enjoy taking in a performance and then seeing the gingerbread houses afterward. Their schedule is available here on Disney's site, or you can locate it in the entertainment section of the My Disney Experience app.
You'll see the following gingerbread creations:
The American Adventure at Epcot
Lincoln Memorial
Martin Luther King, Jr. Memorial
Related: Epcot Christmas Photos
Animal Kingdom Lodge Gingerbread Giraffe and Zebra
Animal Kingdom Lodge joins in the gingerbread fun this year with a unique holiday display. Toward the back of the lobby, you'll find two gingerbread animals.
Here we have Ginger-affe, a gingerbread giraffe, and Debra, the gingerbread zebra.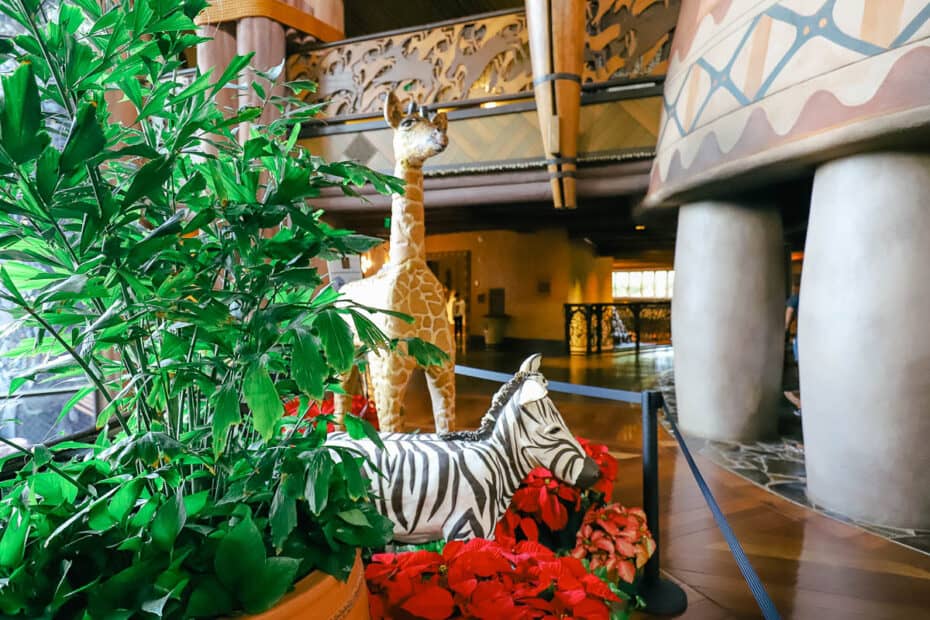 Ultimately, the Animal Kingdom Lodge will be the furthest location from anything else. However, it's worth a visit if you plan a meal at Jiko–The Cooking Place, Sanaa, or Boma–Flavors of Africa.
Related: Gingerbread Giraffe and Zebra at Animal Kingdom Lodge
*Gingerbread treats are available at this location.
Contemporary Resort's Gingerbread Castle
Near Magic Kingdom, Disney's Contemporary Resort has a gingerbread display in the form of a castle to celebrate the 50th anniversary of Walt Disney World.
Once you exit the monorail, you'll take the escalator or elevator down one floor to the Grand Concourse. This darling gingerbread castle sits near the back of the resort near the bridge that leads to Bay Lake Tower.
While at the Contemporary, you might also like to browse Bay View Gifts and a few other shops.
Related: 2022 Contemporary Gingerbread Castle
*Gingerbread treats are available at this location.
Boardwalk Inn's Gingerbread Display
Similar to the Contemporary, we see the return of gingerbread to Disney's Boardwalk Inn this holiday season. What can I say? This gingerbread display mimics the new Boardwalk Deli, and it's adorable.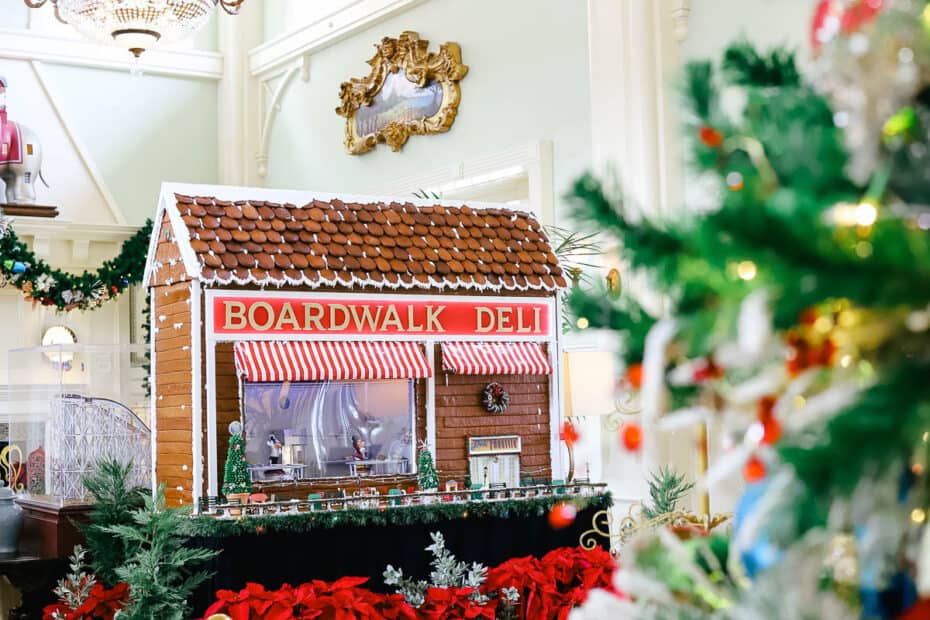 Look closely, and you'll notice that Mickey and Minnie are busy at work in the kitchen.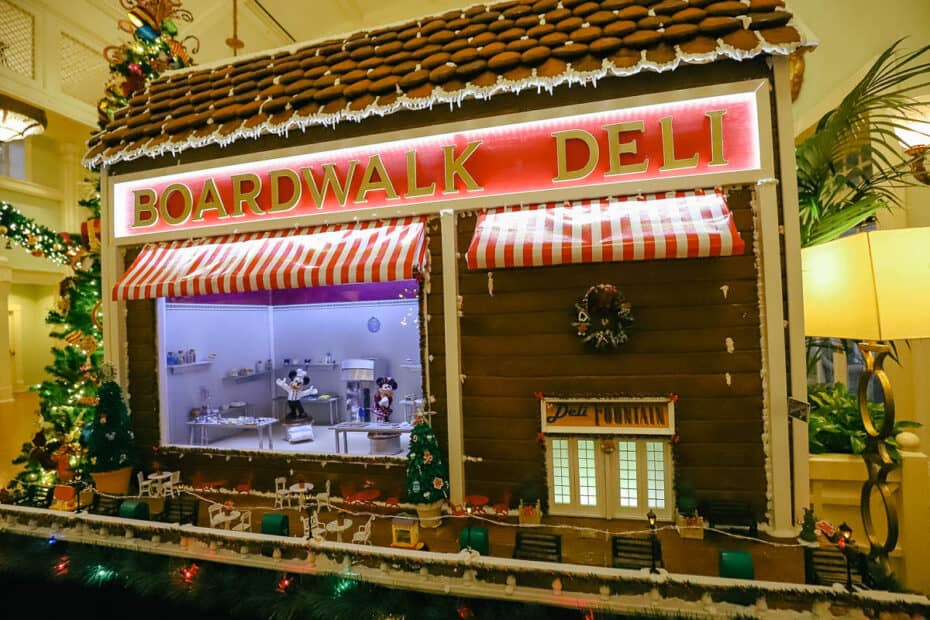 If you're hoping to squeeze this one into your schedule, you can always walk or boat over from Epcot's International Gateway. While you're at it, you can stop at Disney's Beach Club, which is next on our tour of gingerbread displays at Walt Disney World.
Related: Boardwalk Inn's 2022 Gingerbread Display
*Gingerbread treats are available at this location.
Beach Club's Gingerbread Carousel
Every year, the chefs at Disney's Beach and Yacht Club come together to decide on a new theme for the gingerbread carousel. This year, that theme is Disney Princesses.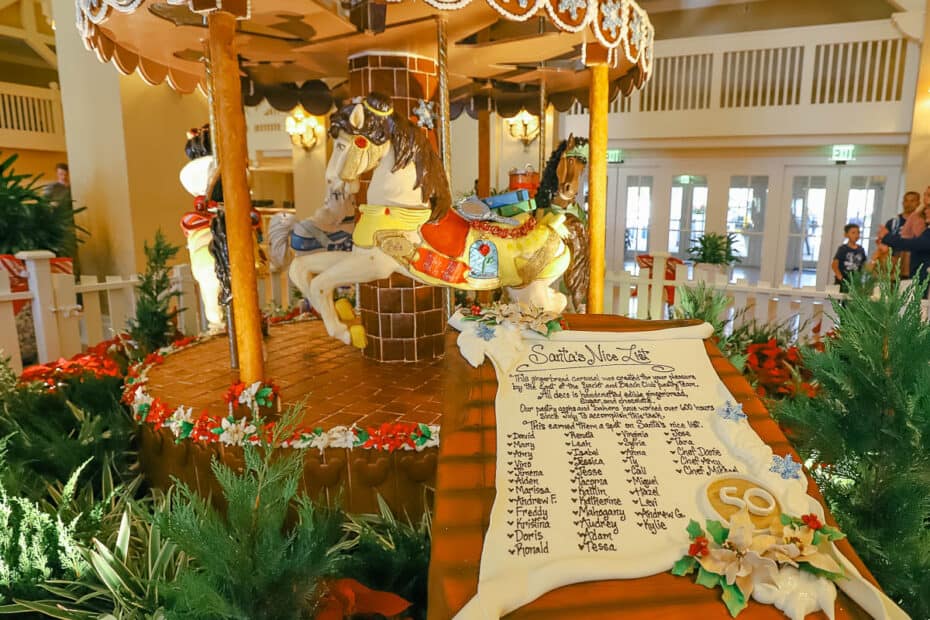 This timeless display sits in the center of Disney's Beach Club and is only a five-minute walk from Epcot. One carousel horse sits on display while the other four spin round and round on the carousel.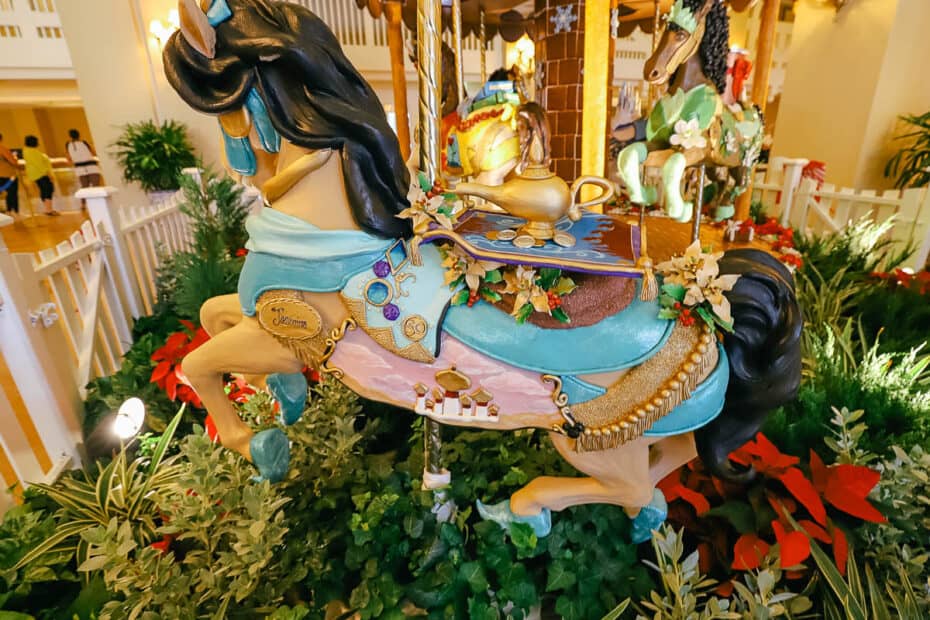 Related: 2022 Disney Beach Club Gingerbread Carousel
*Gingerbread treats are available at this location.
Grand Floridian Gingerbread House
Sadly, we've reached the last of the holiday gingerbread displays at Walt Disney World. However, it is the grandest of them all.
Of course, given this gingerbread house resides in the Grand Floridian, it is fitting.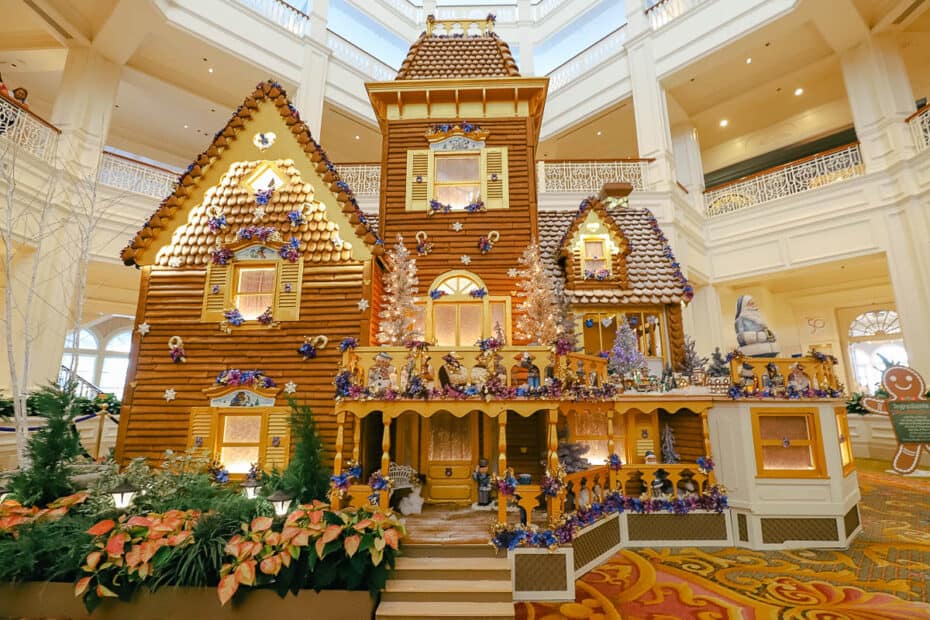 This gingerbread display celebrates Walt Disney World's 50th anniversary. So it features a mix of blues, pinks, and golds similar to the iridescent colors symbolizing the celebration.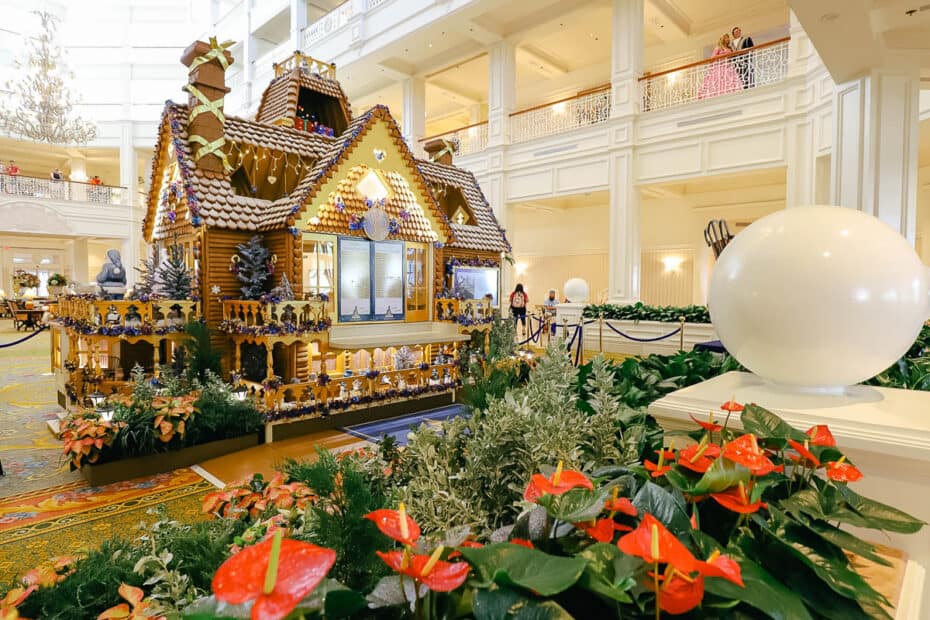 You can easily hop on the resort monorail from Magic Kingdom and stop at Disney's Grand Floridian to see this gingerbread creation. While you're at it, you can also stop at the Contemporary to see their castle.
Related: Grand Floridian's 2022 Gingerbread House
*Gingerbread treats are available at this location.
This concludes our visit to the gingerbread displays at Walt Disney World. I hope you enjoyed our tour and get to see a few for yourself this holiday season!
For more Christmas at Walt Disney World, you might enjoy these articles:
Or try our list of the best resorts to see at Walt Disney World during Christmas.
In the Comments
Which of these Walt Disney World gingerbread displays is your favorite? Do you plan to see any of them this holiday season?