2021 Gingerbread Carousel "The Little Mermaid" at Disney's Beach Club
Disney's Beach Club's gingerbread carousel is back for 2021, and we couldn't be more excited! This year's gingerbread carousel features characters from Disney's The Little Mermaid.
You'll be delighted to see favorite characters featured on each carousel pony. Those characters include King Triton, Prince Eric, Sebastian and Flounder, Ursula, and Ariel.
Below, we'll take a look at a few photos of the 2021 gingerbread carousel, along with the special treats available to purchase. If you plan a trip to Walt Disney World over the holidays, visiting Disney's Beach Club to see this gingerbread feat is a must-do!
Updated: 2022 Gingerbread Carousel Features Disney Princesses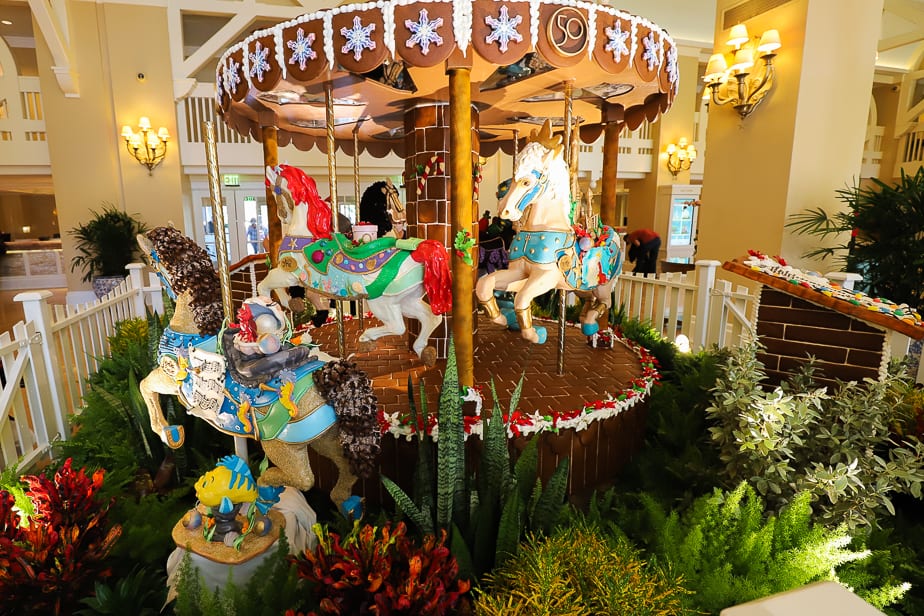 To give you a little history, each year (except for last year), chefs of Disney's Beach Club come together and select a theme for the gingerbread carousel. In the past, we've seen carousels featuring animated classics like Lilo and Stitch or favorite characters like Mickey Mouse and friends.
The carousel is made of all edible materials, including over 1200 pounds of flour and 432 pounds of honey! In addition, the 2021 Little Mermaid carousel has 2020 pieces of gingerbread and features a total of 21 hidden Mickey's.
Make sure to look for those hidden Mickey's during your visit. They are fun to find, and you'll notice many other details by observing this real, moving carousel so closely.
We'll start with King Triton's carousel pony. I thought he was stunning, with a sandcastle representing the city of Atlantica resting on the saddle. His trident is properly posed on the side.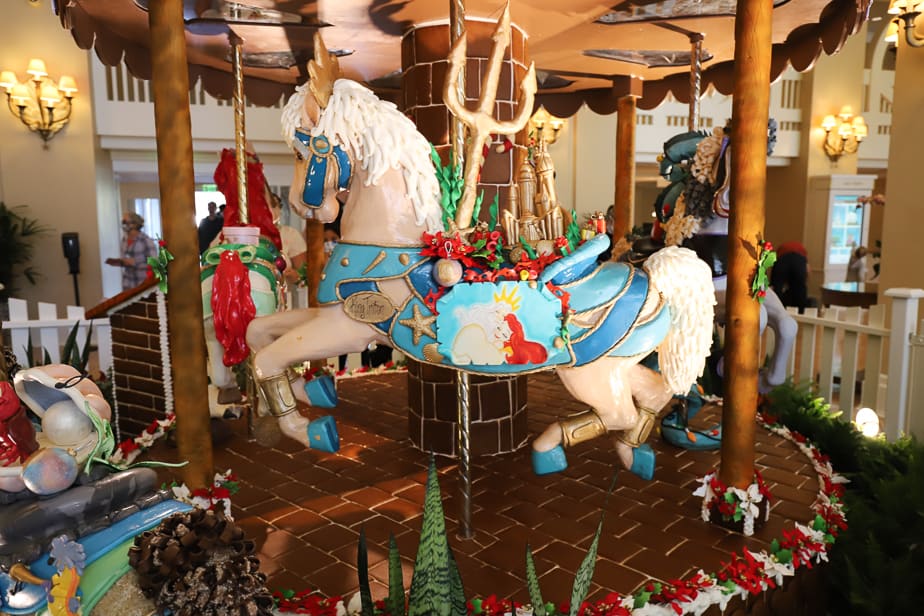 Notice he's depicted with a picture of Ariel underneath the saddle. And a crown adorns the top of the pony's magnificent curly sugar mane.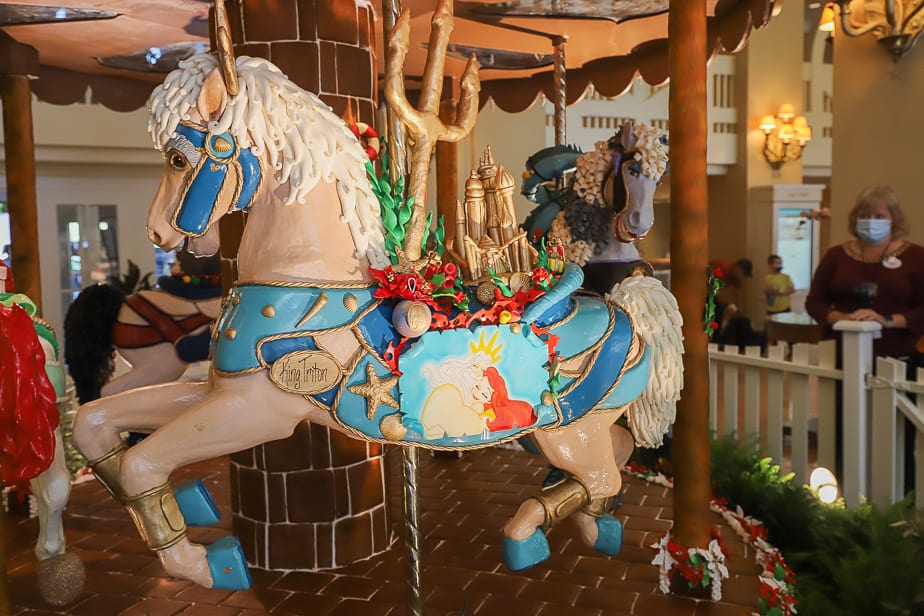 Look closely, and you'll see the horse bears the name "King Triton," and there's a 50th ornament hanging from the decor on his saddle.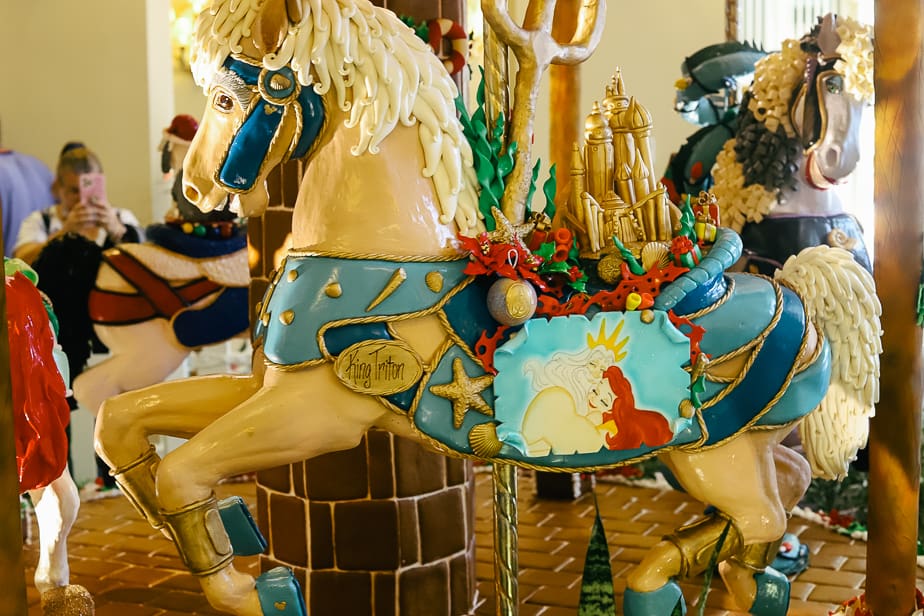 Next, we have Prince Eric, who makes a fine carousel pony. Max is patiently awaiting Christmas perched on the saddle.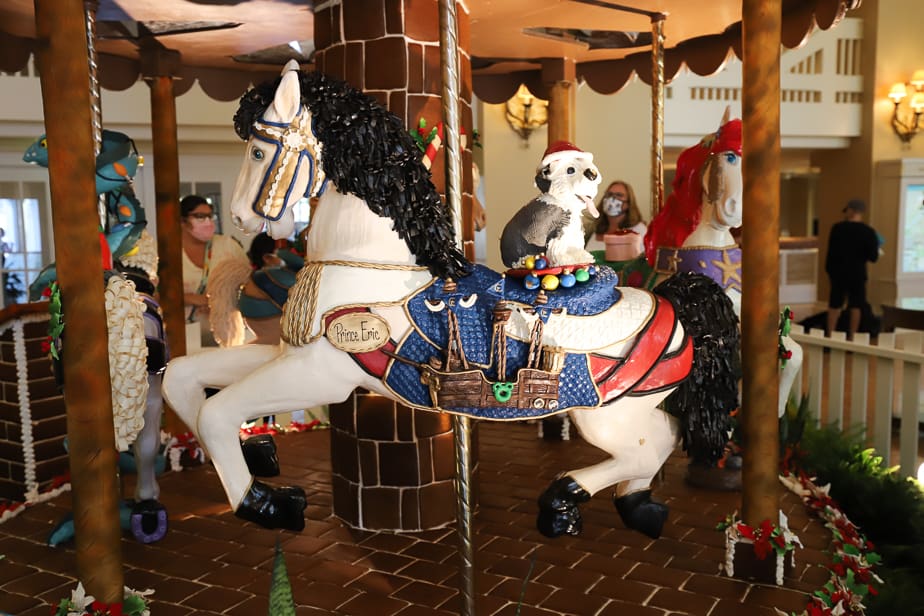 Prince Eric's saddle is subtle, but if you look closely, you'll notice his ship. And I think there's a hidden Mickey.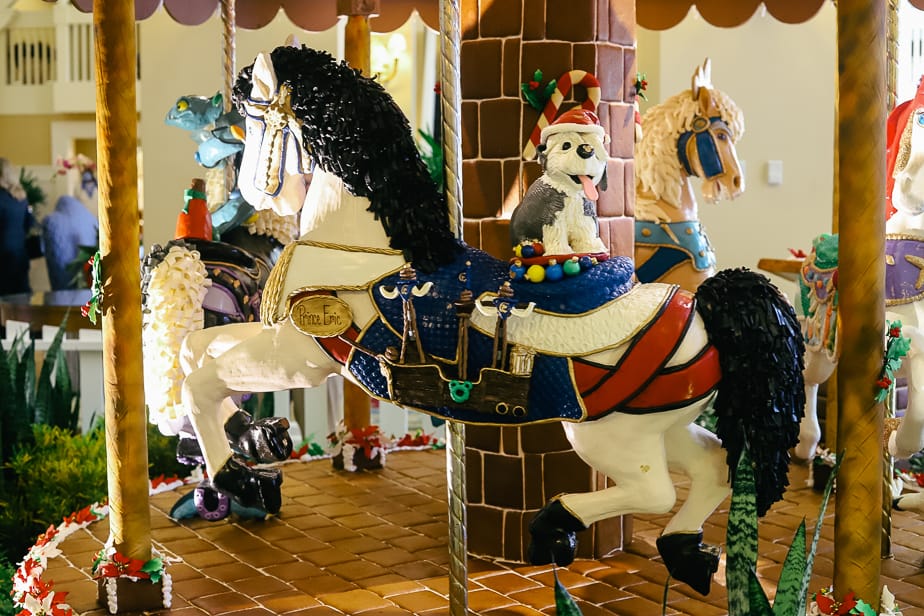 While taking photos of the gingerbread carousel, I noticed that many were saying Ursula was their favorite. And she is a sight to behold!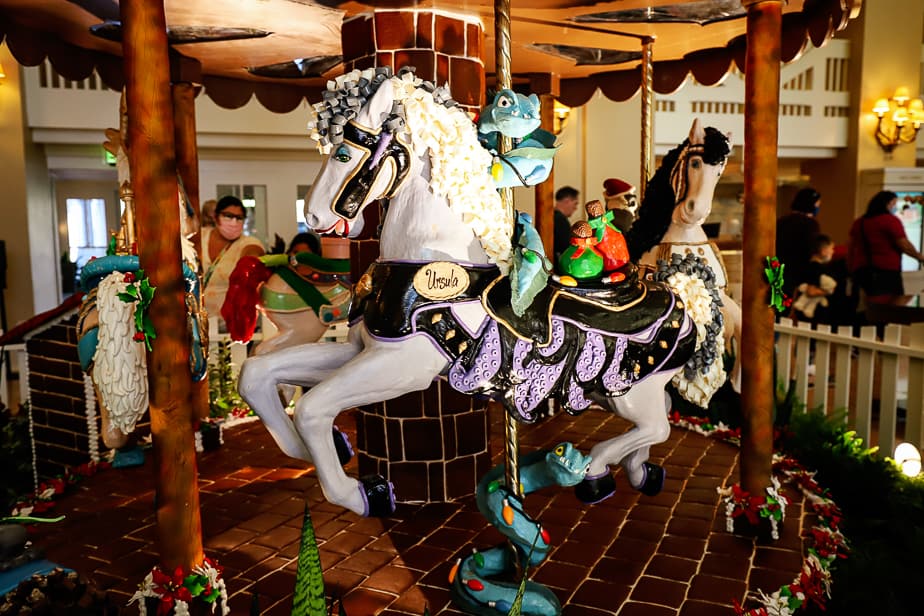 Flotsam and Jetsam, her eel minions, were nearby. I thought it was comical that they had gotten tangled in the Christmas lights. Additionally, Ursula had a few holiday potions resting on her saddle. And the tentacle detail is worth raving over.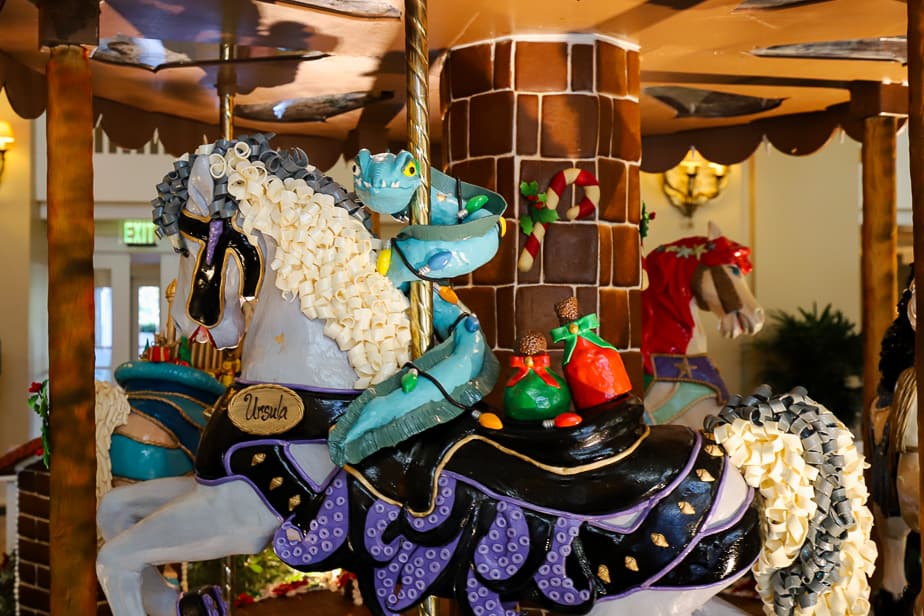 Our heroine, Ariel, is the brightest of the carousel ponies. She is sporting a beautiful red mane.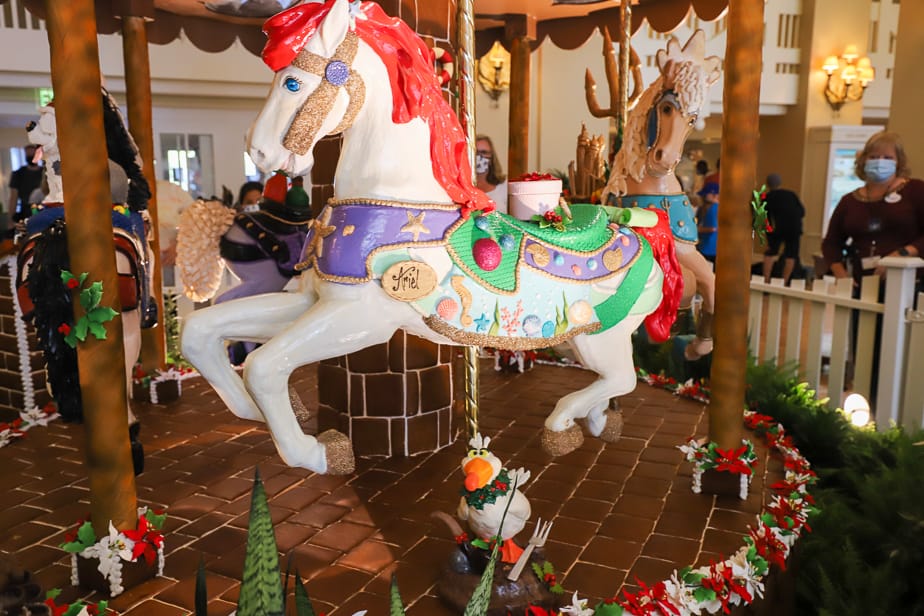 Her saddle is fin-like, and there are all sorts of seashells adorning her pony. I don't know about you, but I think that bow on her tail is the perfect touch!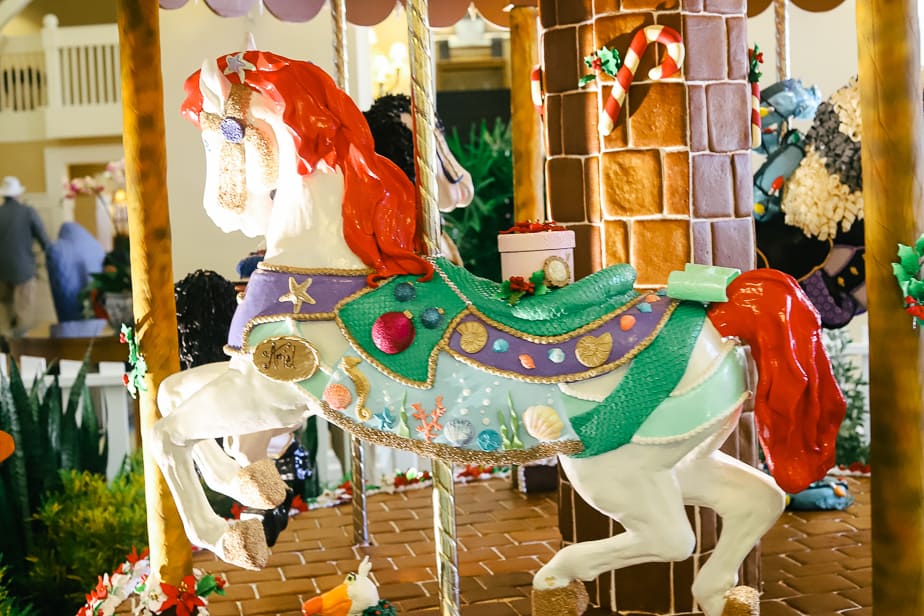 Scuttle sits below her with a dinglehopper in case Ariel needs to brush her mane. You can see Ariel's sandy hoofs below. They are too cute!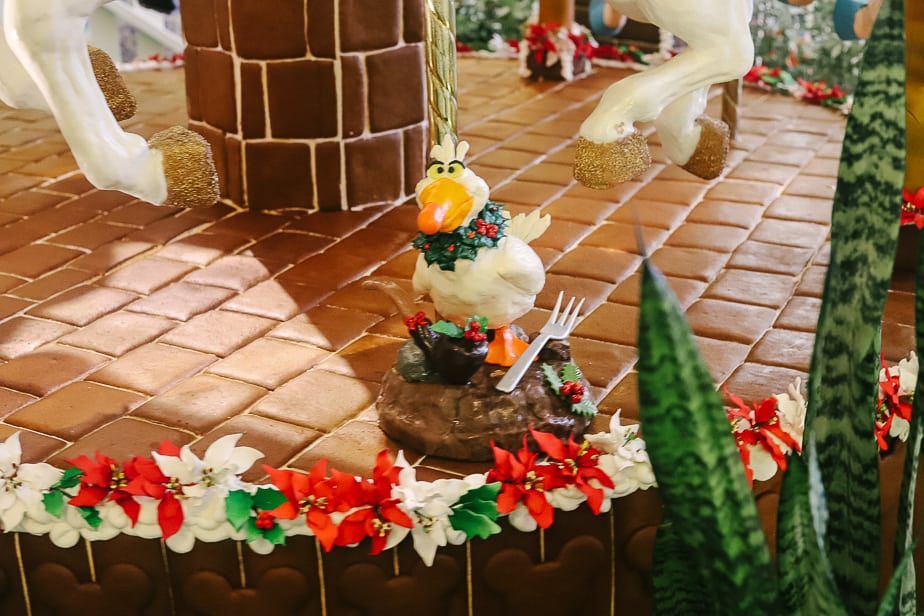 While all the above ponies are on the moving portion of the gingerbread carousel, there is one separate stationary pony.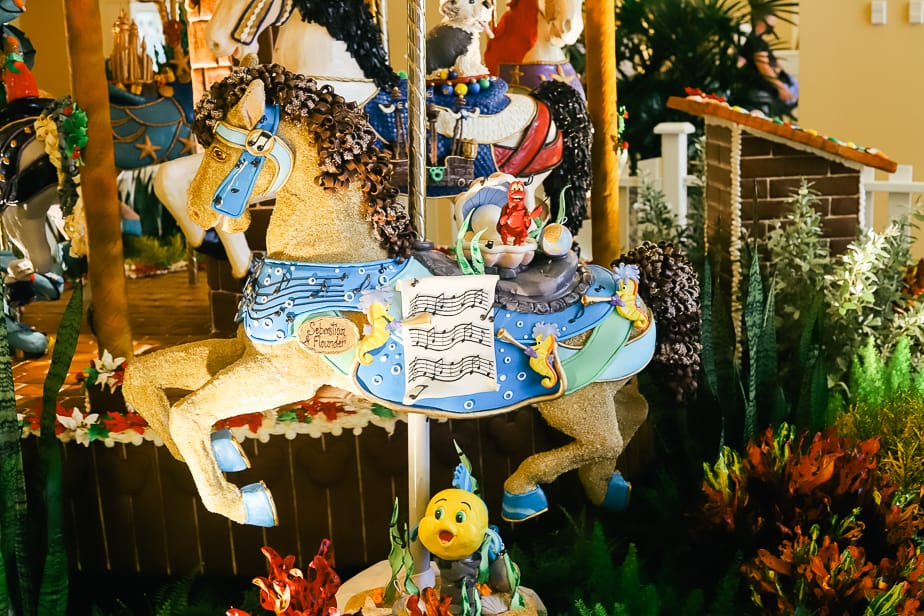 It features Sebastian and Flounder! I thought this was a nice touch given the recent passing of Sebastian's voice actor, Samuel E. Wright.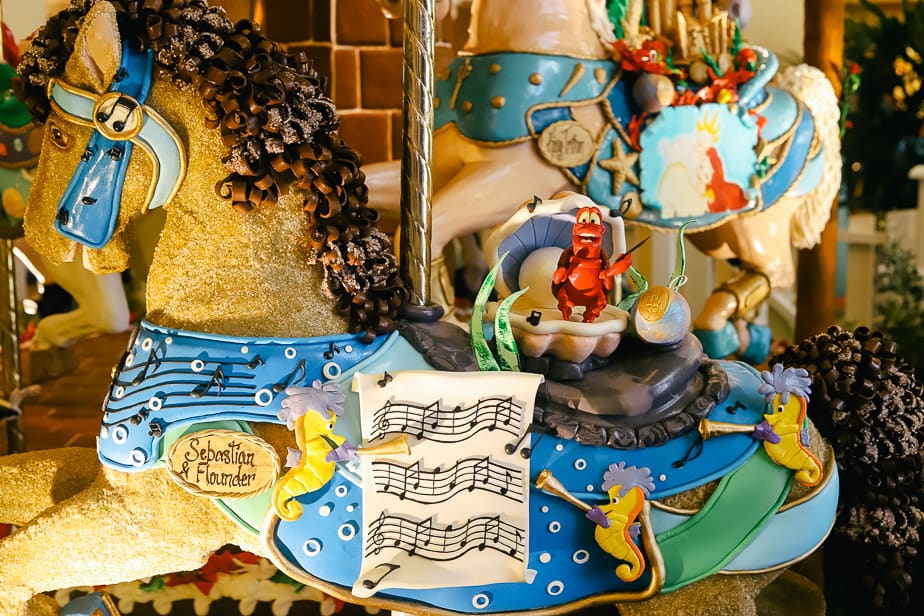 Sebastian sits proudly on the saddle conducting the whole thing.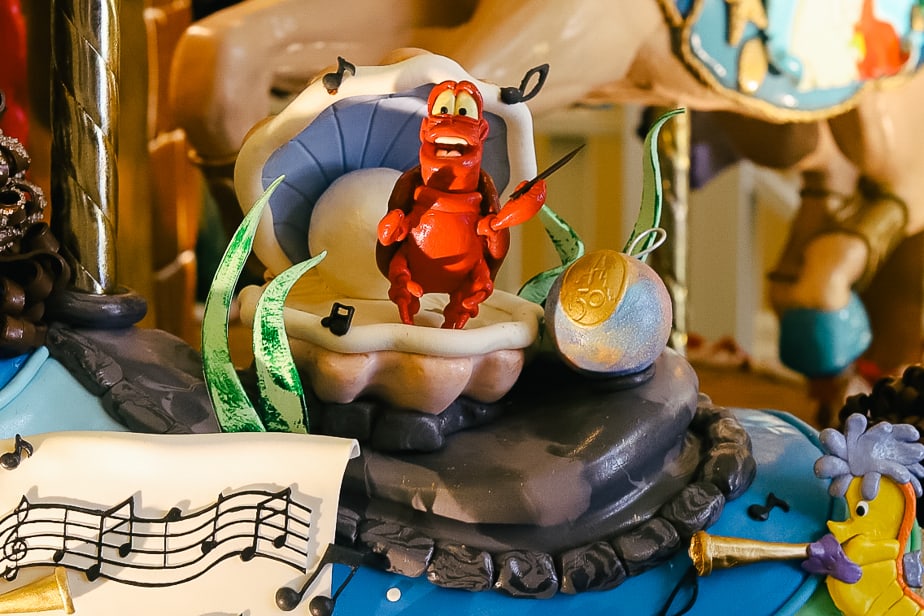 Flounder sits below, minding his own business. You can tell he's not looking to get into any trouble. All of the plants around the carousel are designed to imitate coral and life "under the sea."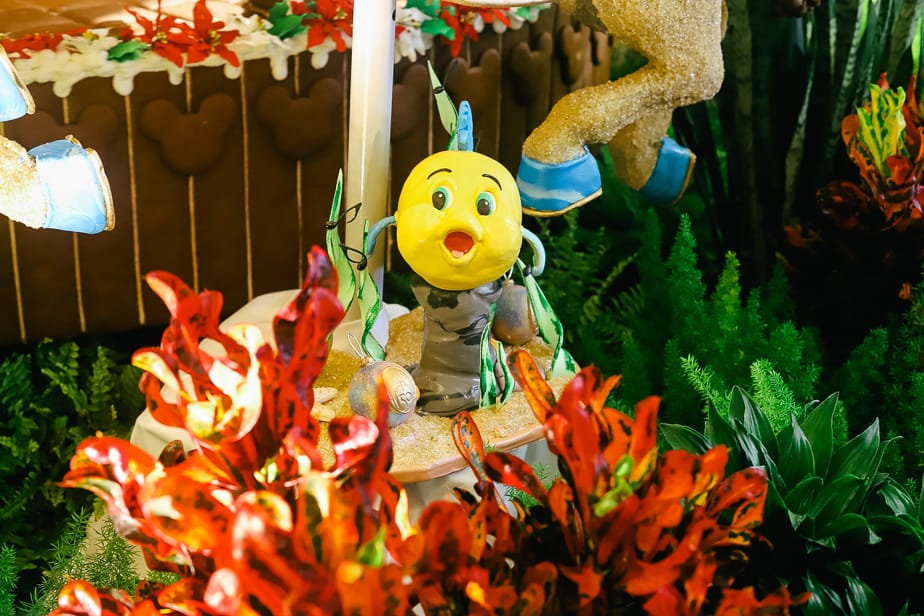 Everything is well done.
On one side of the carousel, a display lists the ingredients used to make the carousel. Below is a photo of the recipe.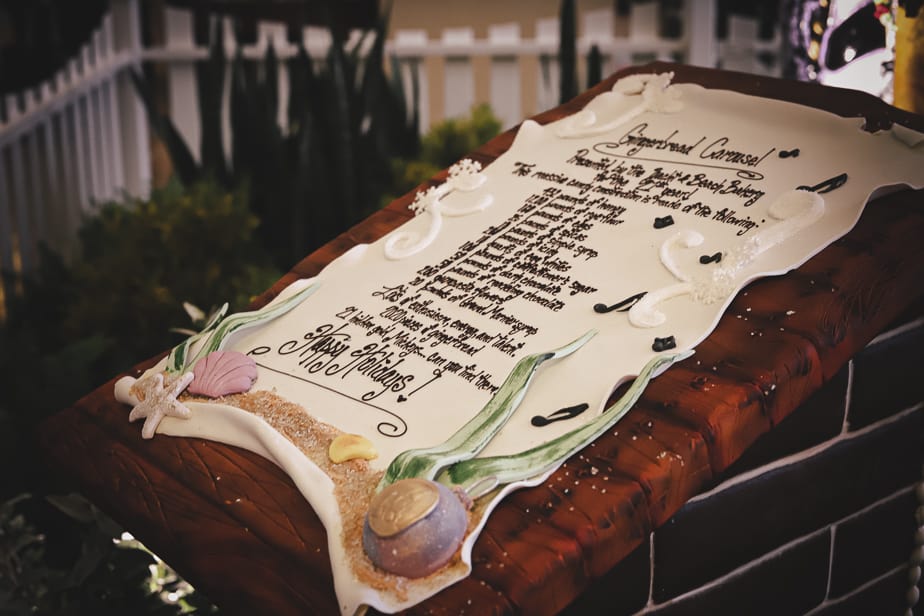 On the opposite side is Santa's nice list. The nice list includes the cast members and chefs whose hard work went into making this stunning creation. Then, further down, there's a tiny naughty list that notes Ursula, Flotsam, and Jetsam.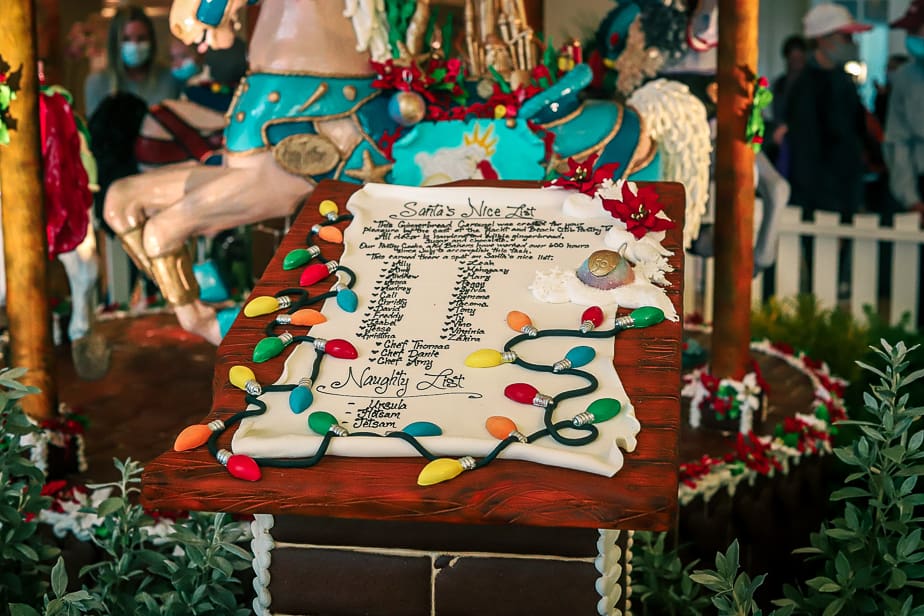 Across the lobby from the gingerbread carousel sits a pop-up shop with unique items and holiday treats.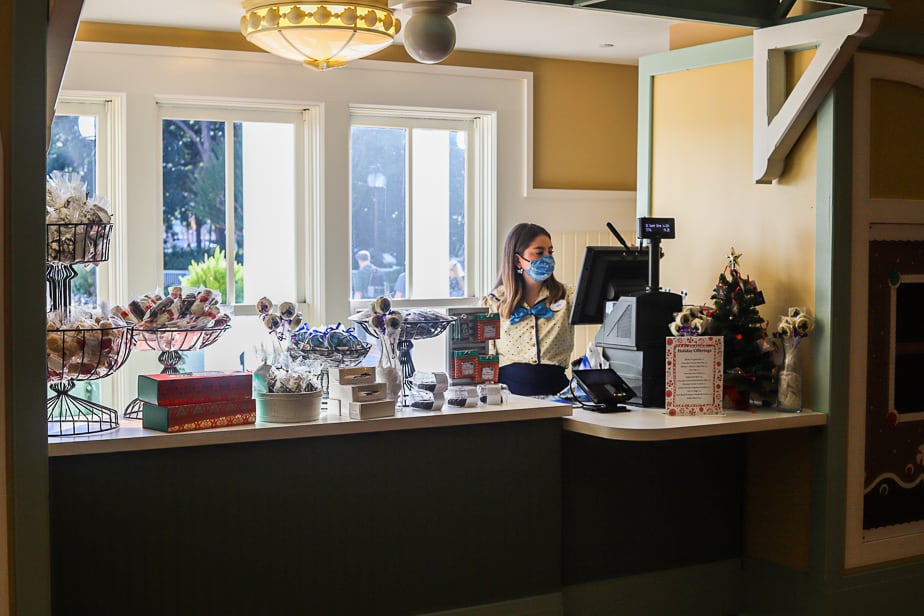 Here is a look at the display.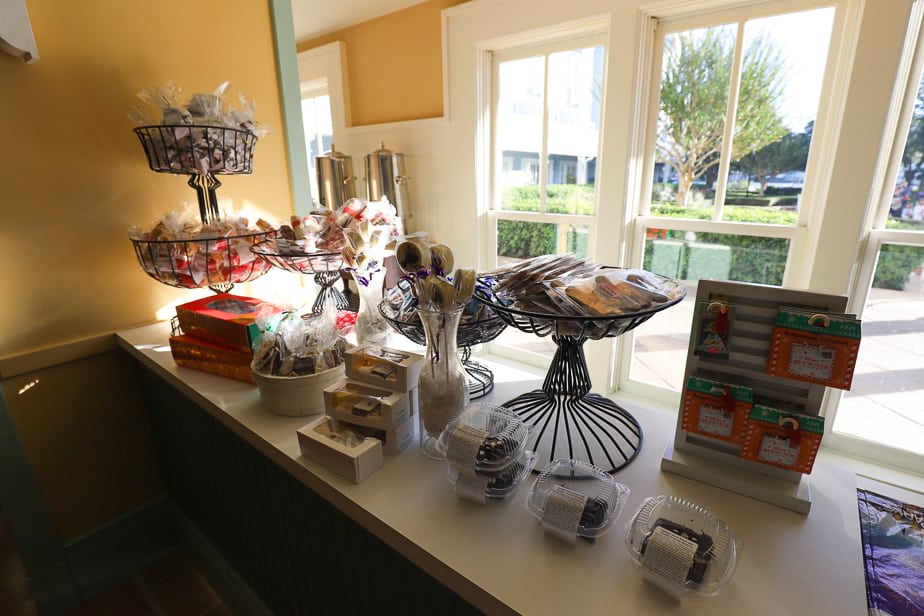 There are some lovely holiday treats available this year.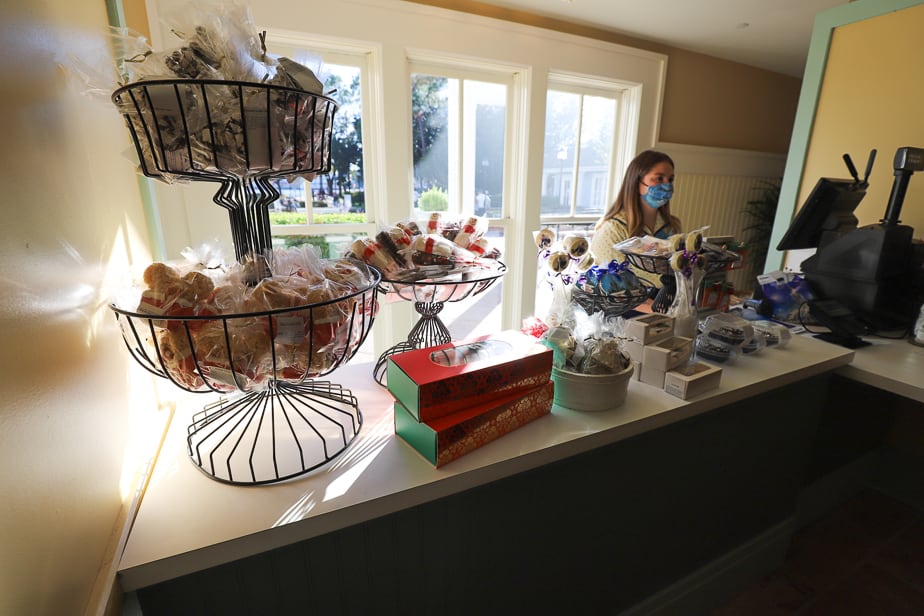 They include chocolate crinkle cookies, a Santa rice treat, and holiday marshmallow pops.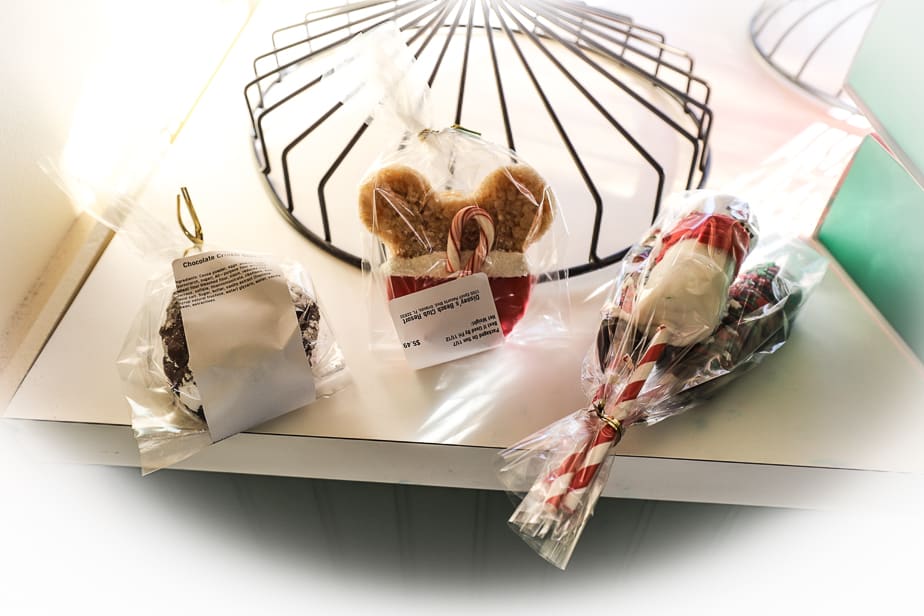 Gingerbread Mickey's and marshmallow snowmen are available.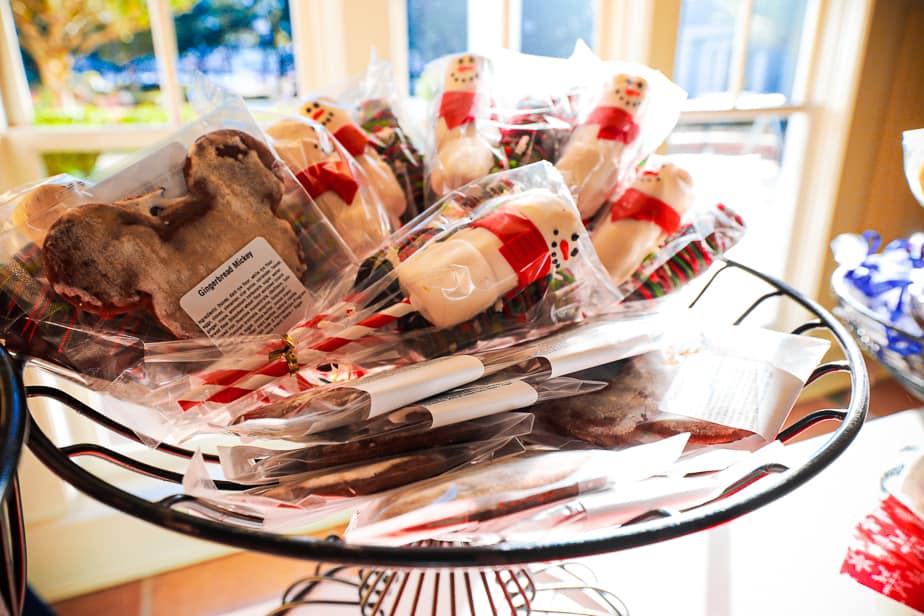 Cookies are decorated to celebrate the 50th anniversary of Walt Disney World.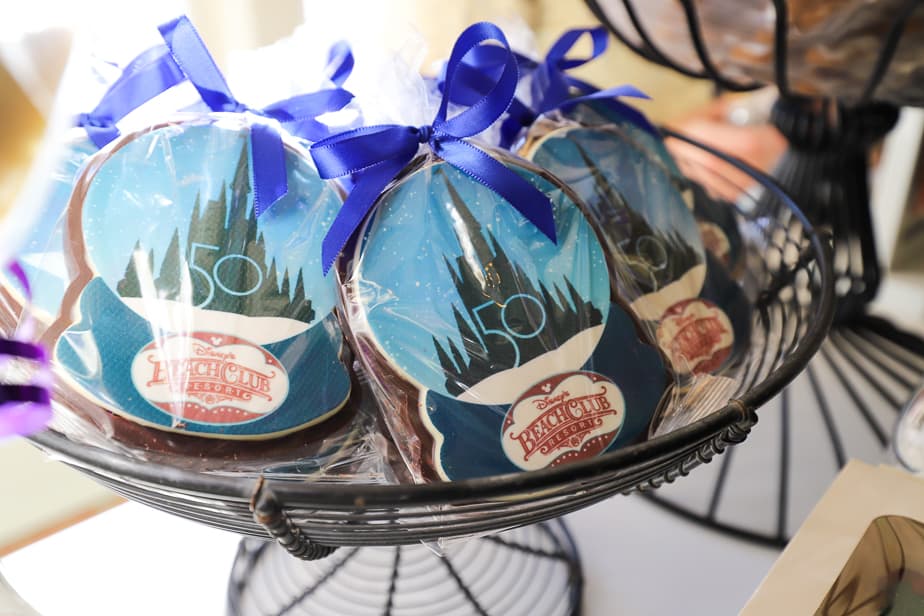 And there were bites of fudge and other yummy goods.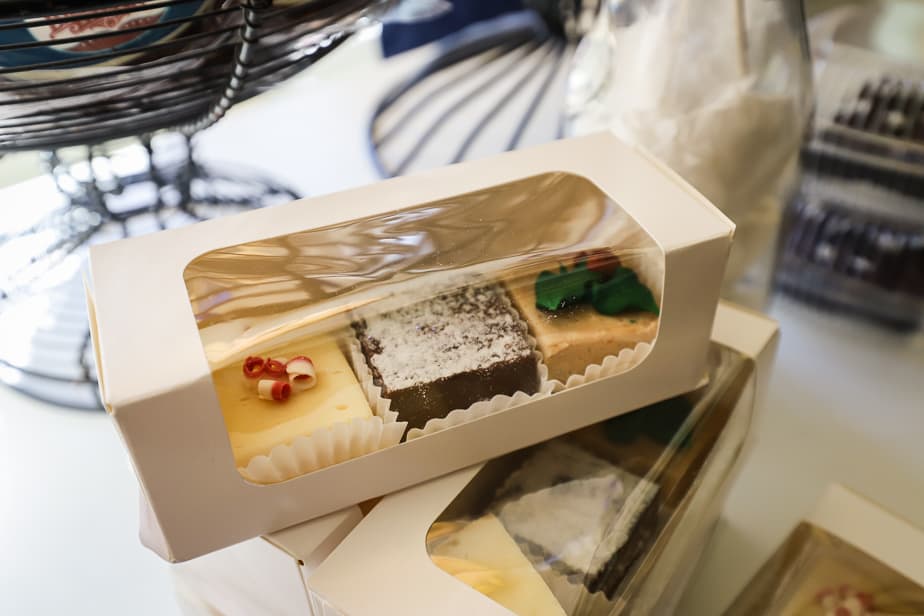 Ursula is featured on a few white chocolate pops, too.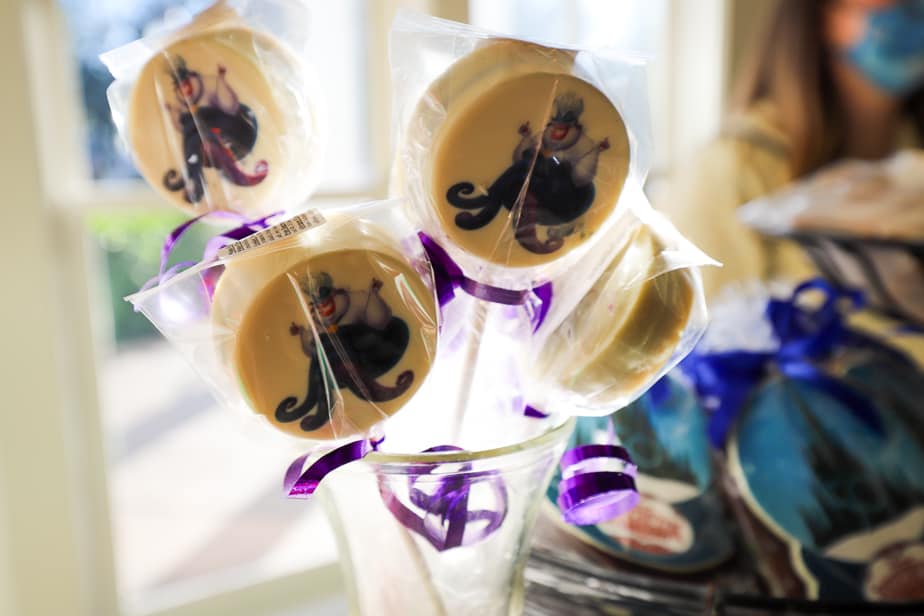 And here is the price list with the formal name of the different holiday offerings.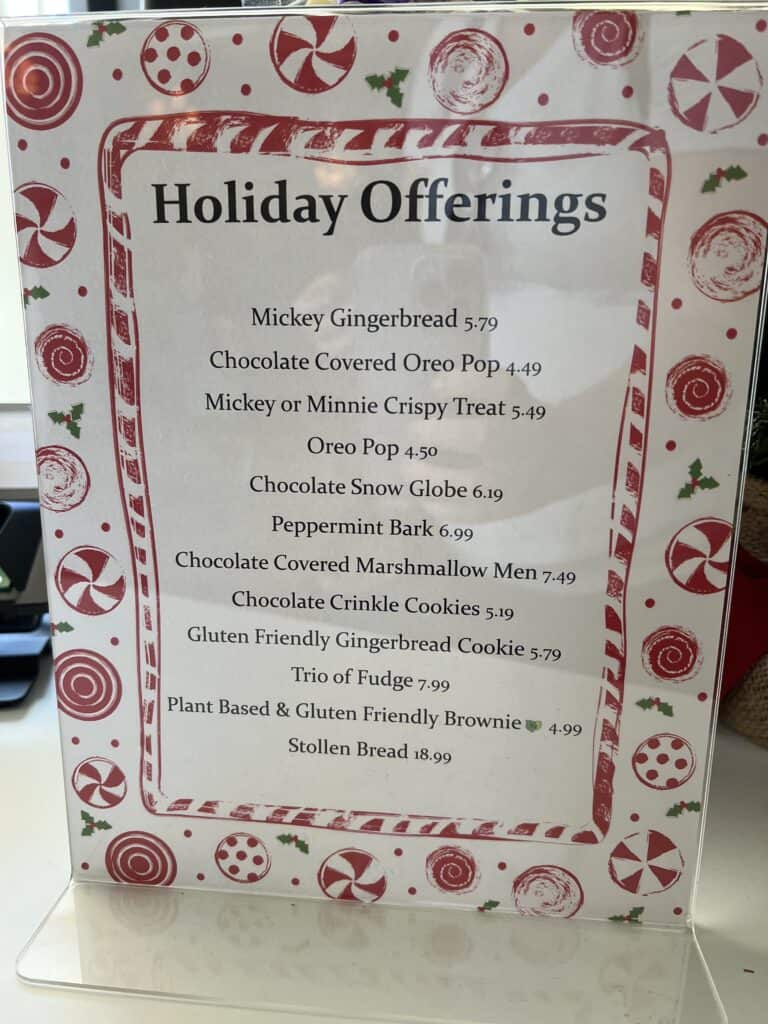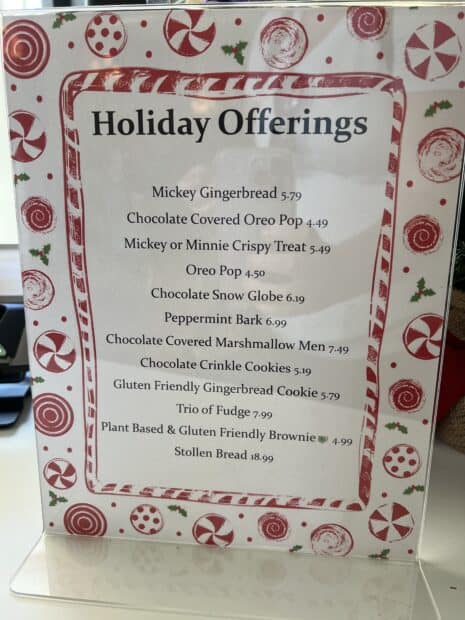 Additionally, these treats are available at the Beach Club Marketplace and The Market at Ale and Compass.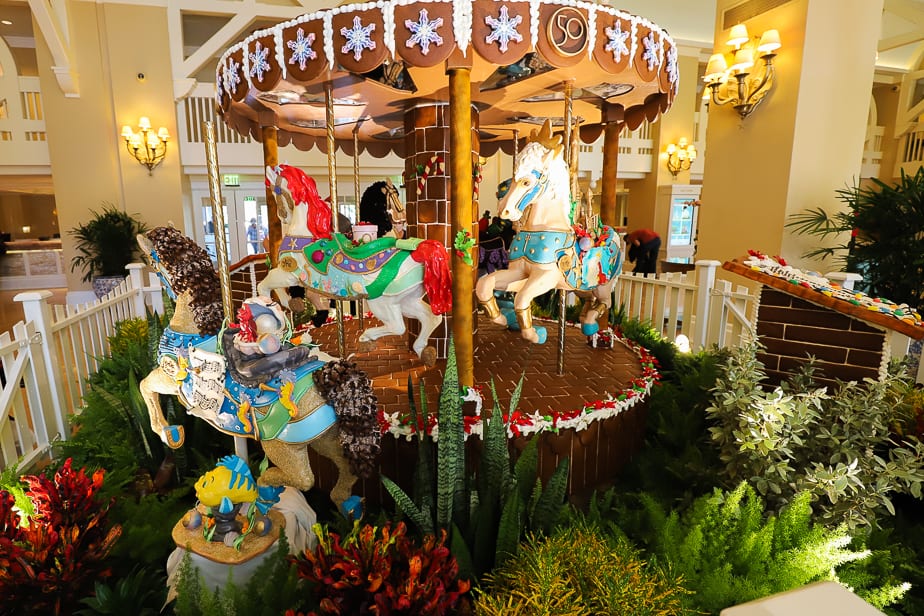 I'm so excited for you to get to see the gingerbread carousel this year! And if you aren't visiting, I hope seeing these pictures will help put you in the holiday spirit. We'll take a look at the 2021 gingerbread house at Disney's Grand Floridian in our next post.
Updated: 2022 Grand Floridian Gingerbread House
For more information about Disney's Beach Club, all of our articles are listed here.
If you would like to learn more about the holidays at the Disney World Resorts, try these articles:
Those articles all contain the holiday decor you can expect to find at the resorts during Christmas. I'll be updating them for 2021 as more decorations go up this next month.
So, what did you think about this year's gingerbread carousel at Disney's Beach Club? Will you get a chance to see it over the holidays? Let me know down below in the comments.