2023 Easter Egg Display at Disney's Grand Floridian Resort
Hoppy Easter! It's that time of year when we visit Disney's Grand Floridian to see the resort's magnificent Easter egg display.
In all of our years visiting the Grand Floridian to see the Easter eggs, I don't remember ever seeing so many! Below are photos of each and every egg created for the display.
Additionally, I've included a video of the eggs along with a list of the various treats available at this year's Grand Cottage. For those who haven't visited recently, the Grand Cottage is a stand set up in the lobby. It debuted with last year's display.
Who is egg-cited to see the eggs? I apologize in advance for all the Easter puns.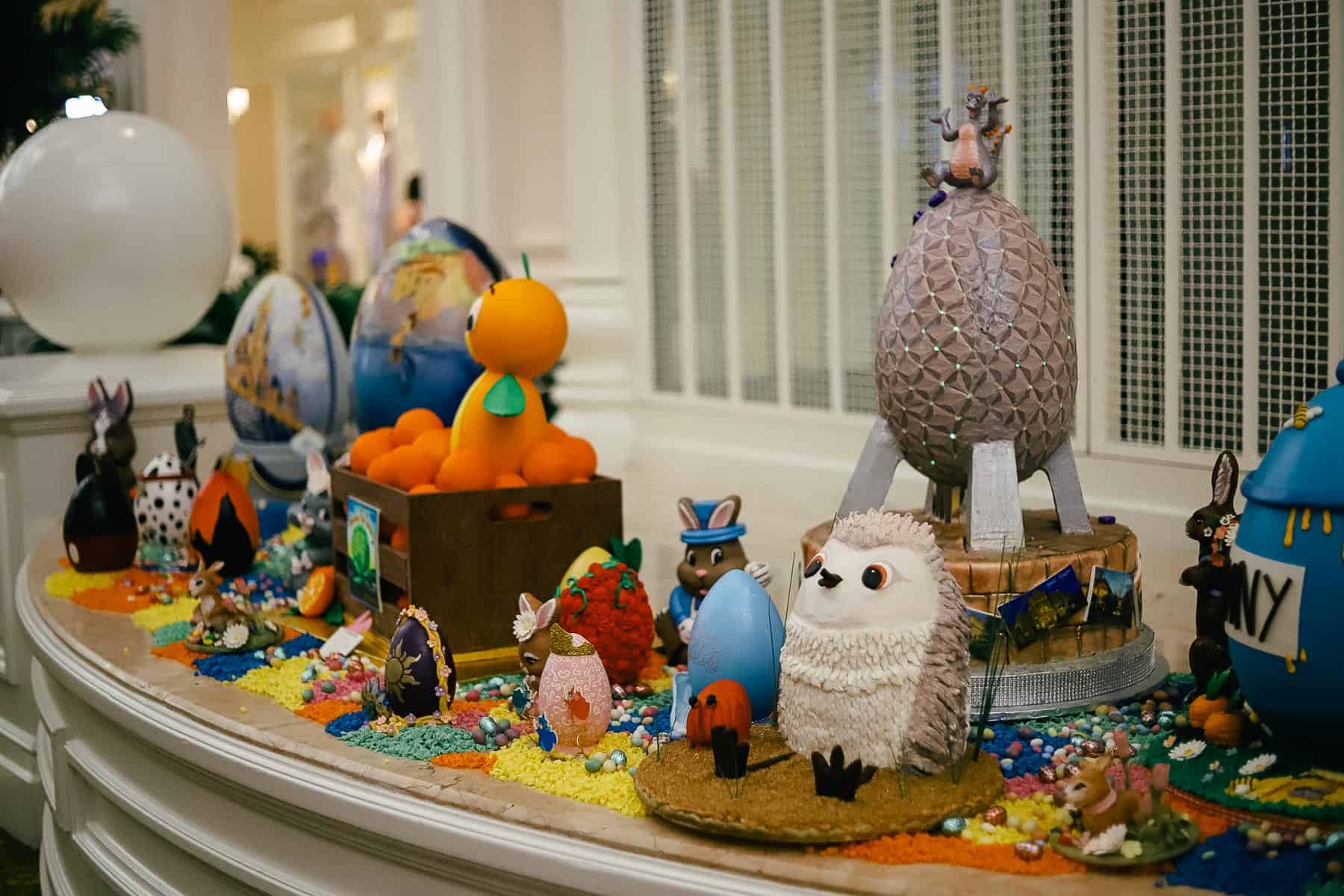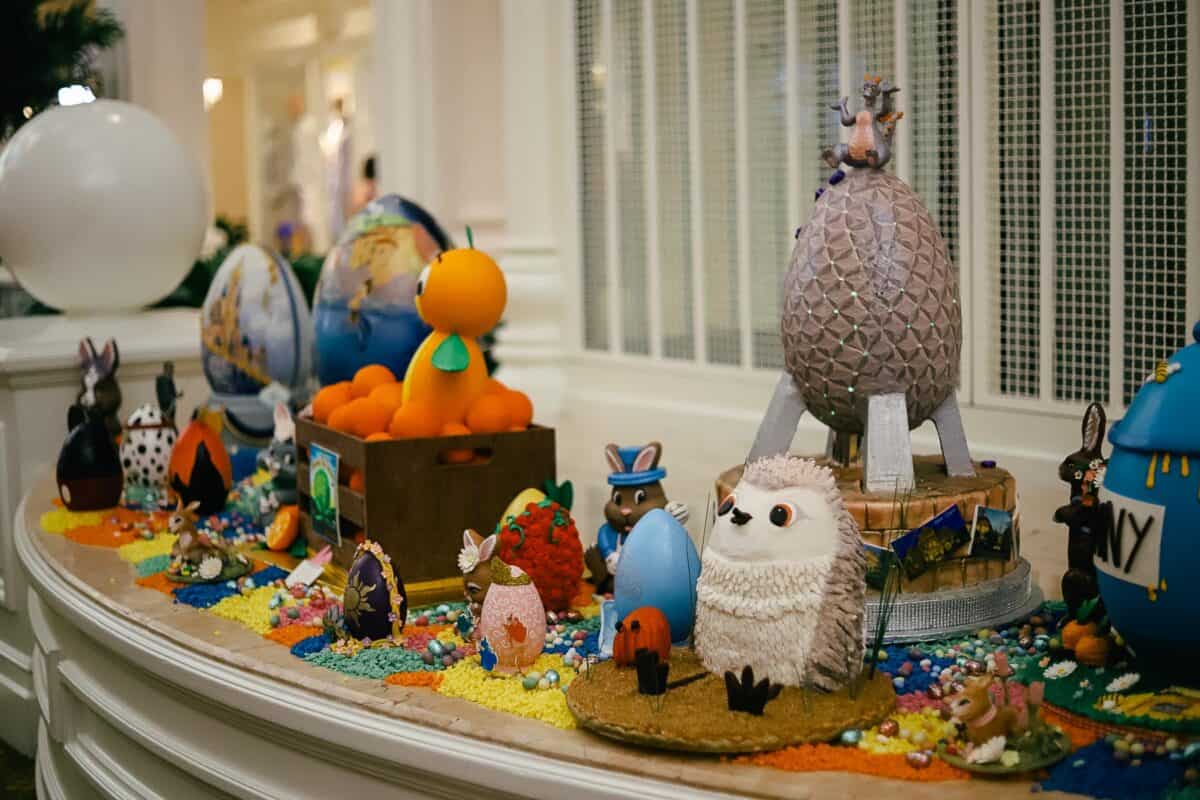 Easter Eggs at Grand Floridian
Three large areas make up the 2023 Easter egg display at Disney's Grand Floridian. We'll start on the right side of the lobby and make our way around in the order that we photographed them.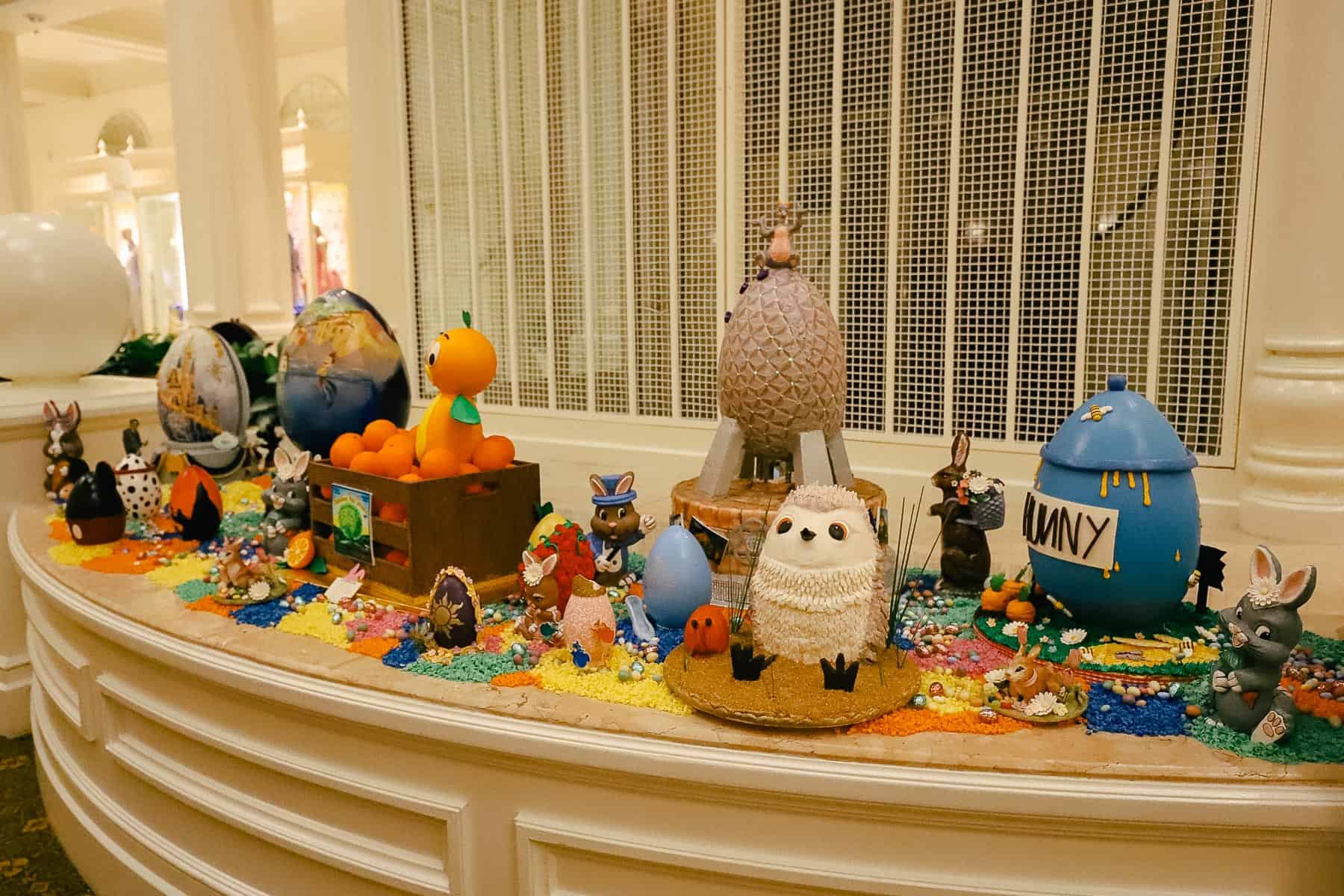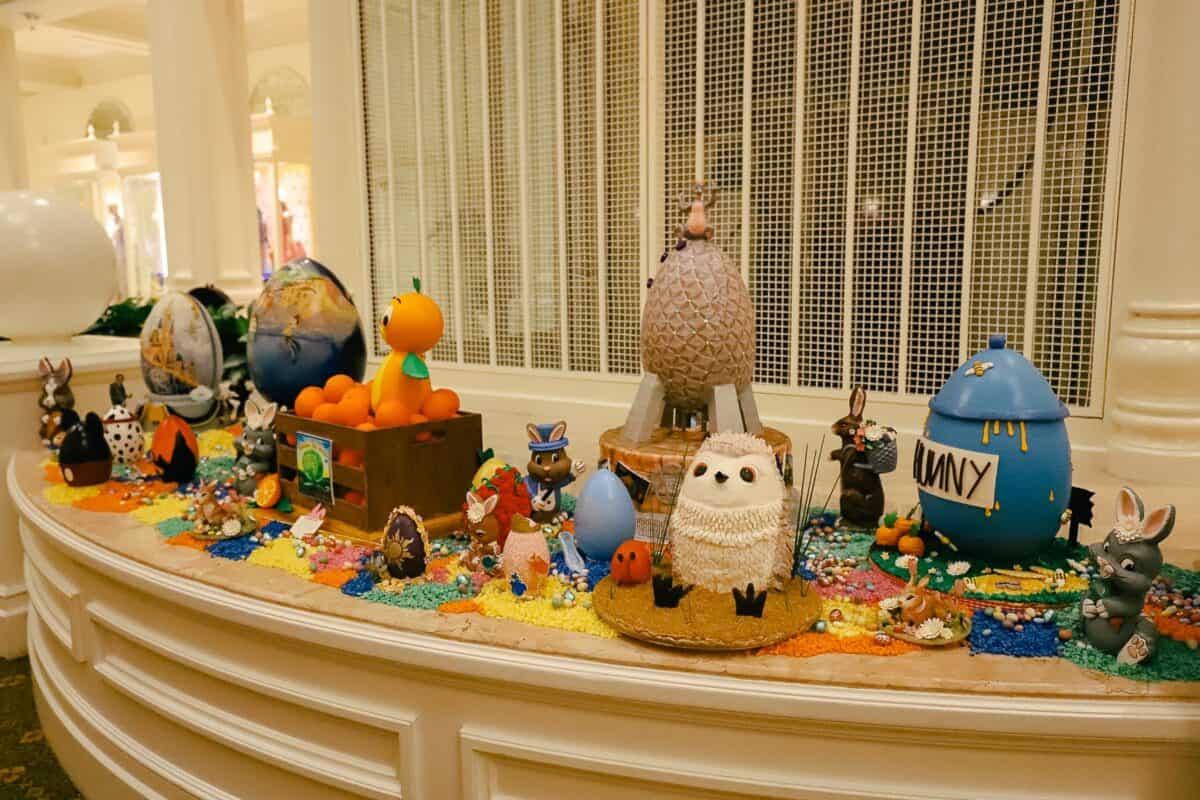 First, there's a cute Hunny pot paying homage to The Many Adventures of Winnie the Pooh.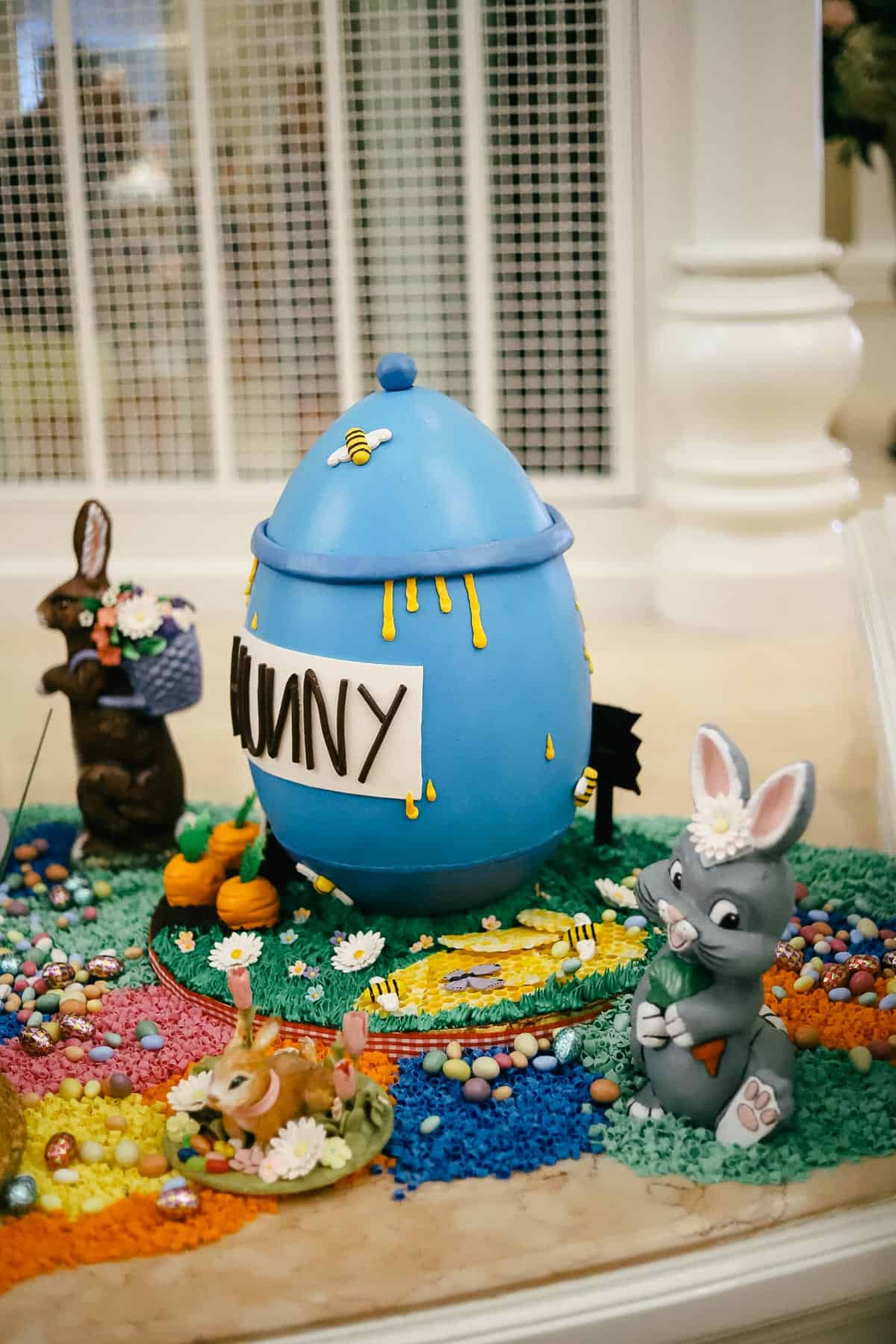 The back reads, "100 Aker Woods."
Next is Piper from the Disney Pixar short film, Piper. This cartoon was released with Finding Dory, and it won an Academy Award for the best animated short film.
If you've seen Piper before, you probably instantly recognize this egg. If not, you might take a moment to watch it. It plays daily at the Disney Pixar Short Film Festival at Epcot. Or you can always find it on YouTube.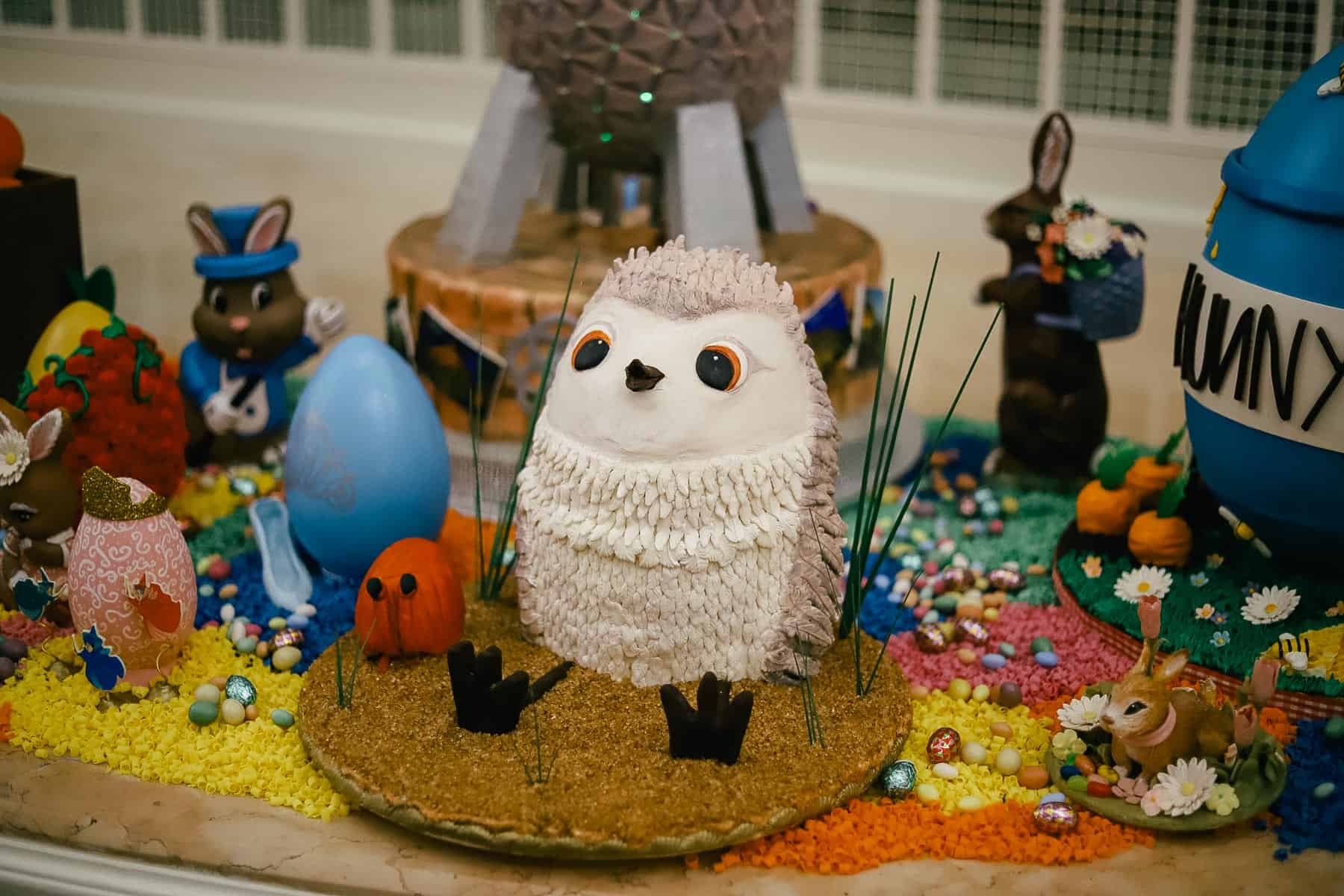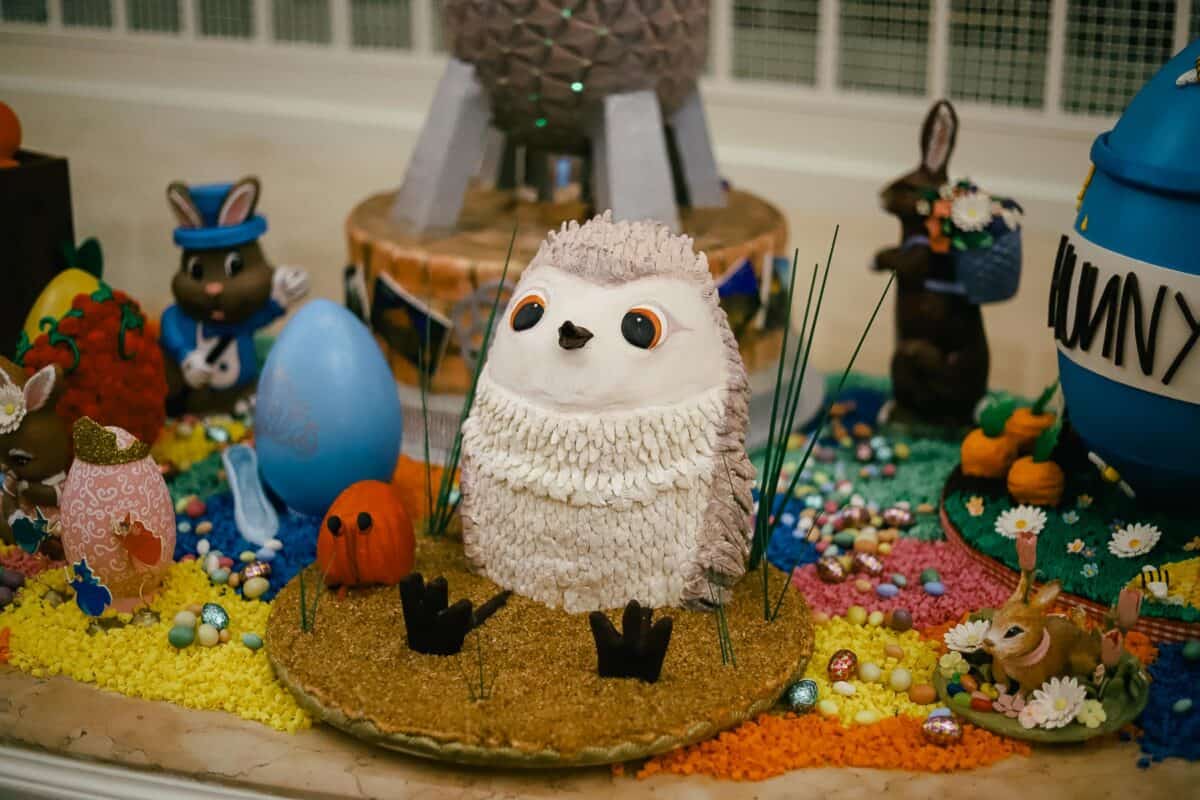 Figment sits atop an egg with a slightly familiar geometric pattern. The attention to detail does not go unnoticed with this egg-travagant piece. Tiny lights have been added to mimic the projections on Spaceship Earth.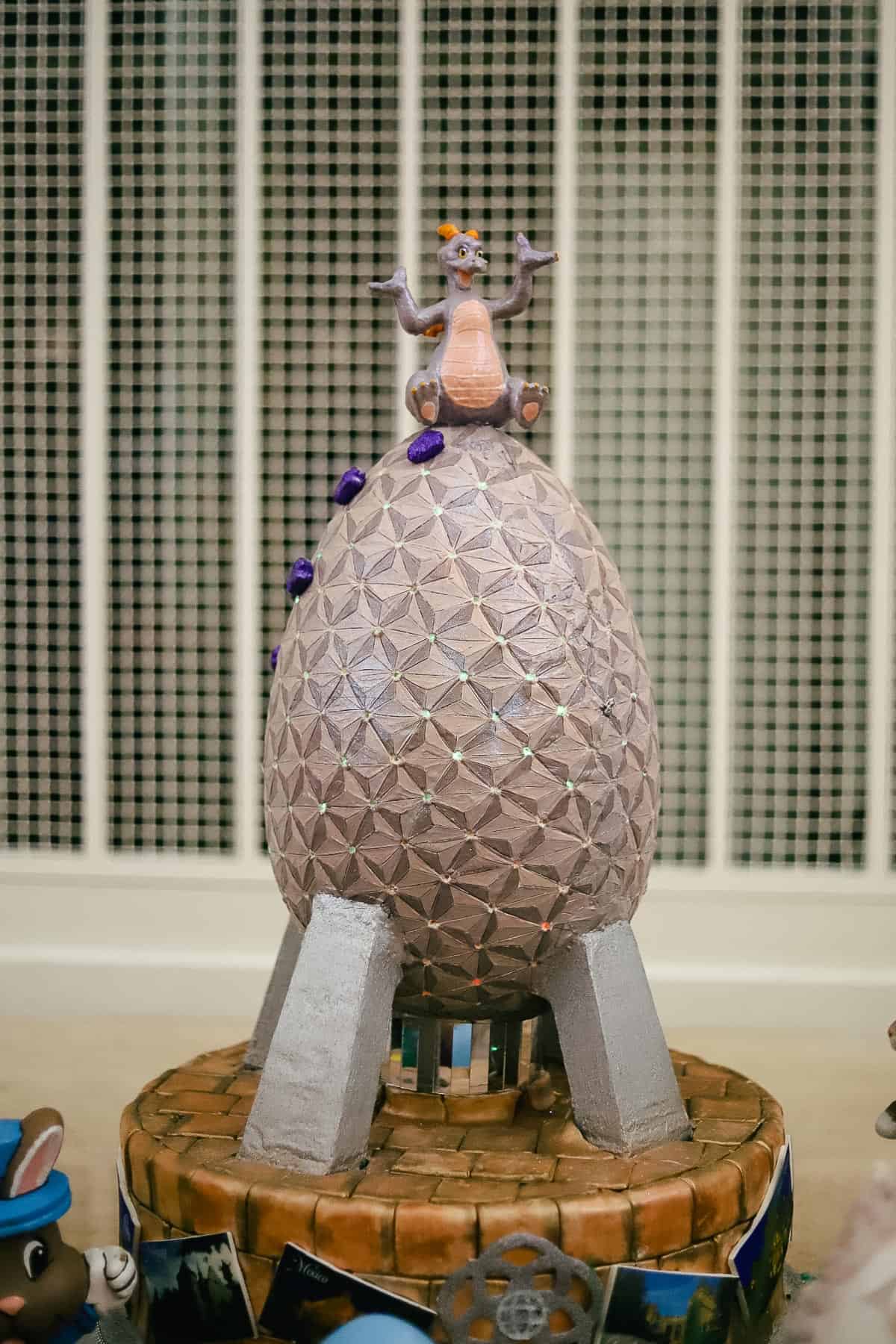 Miniature paintings of each country in the World Showcase are framed around the base!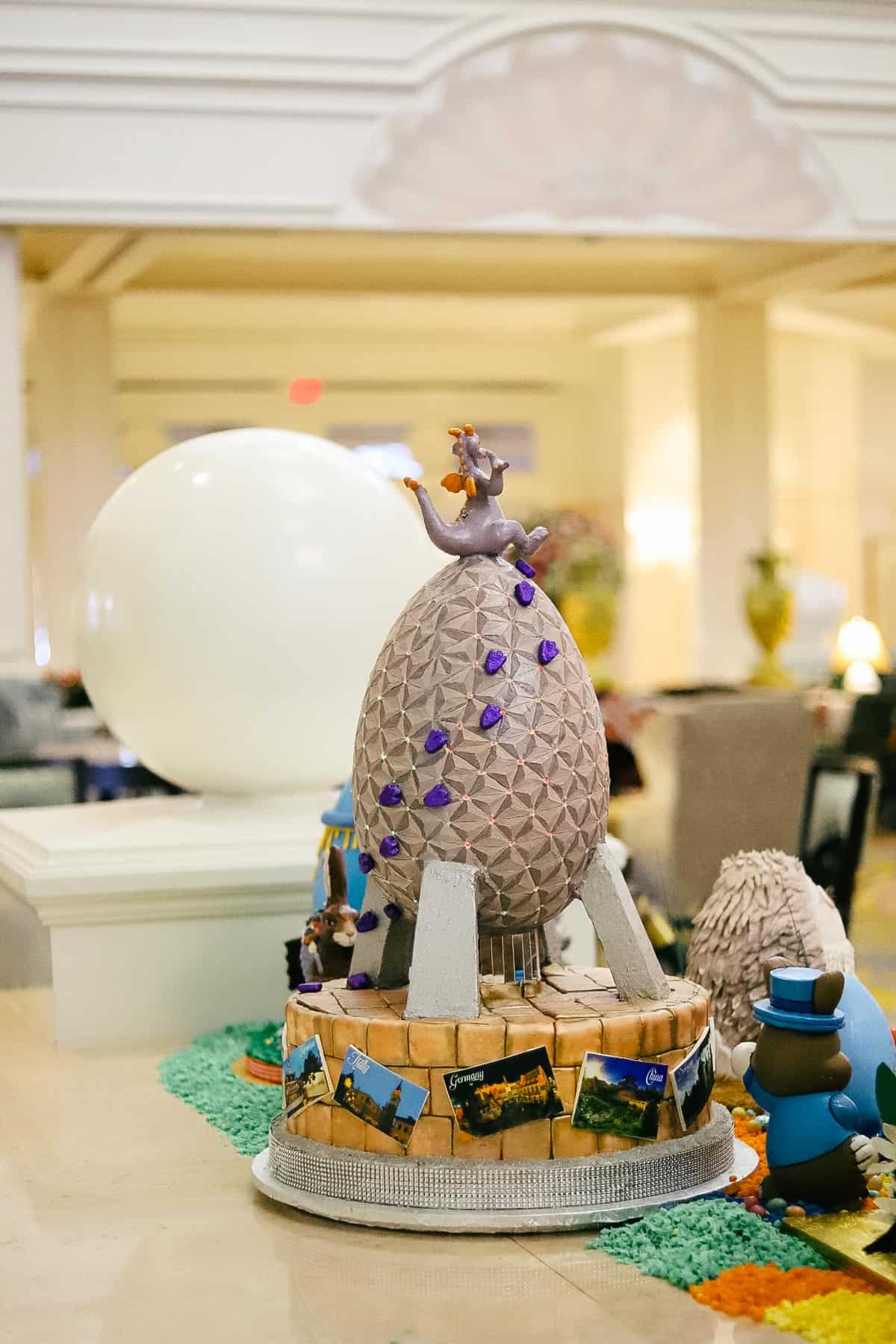 Each table has piles of white chocolate curls dyed in various colors. Layers of jelly beans and metallic-wrapped chocolate eggs are part of the mix. Each table is egg-cellently decorated.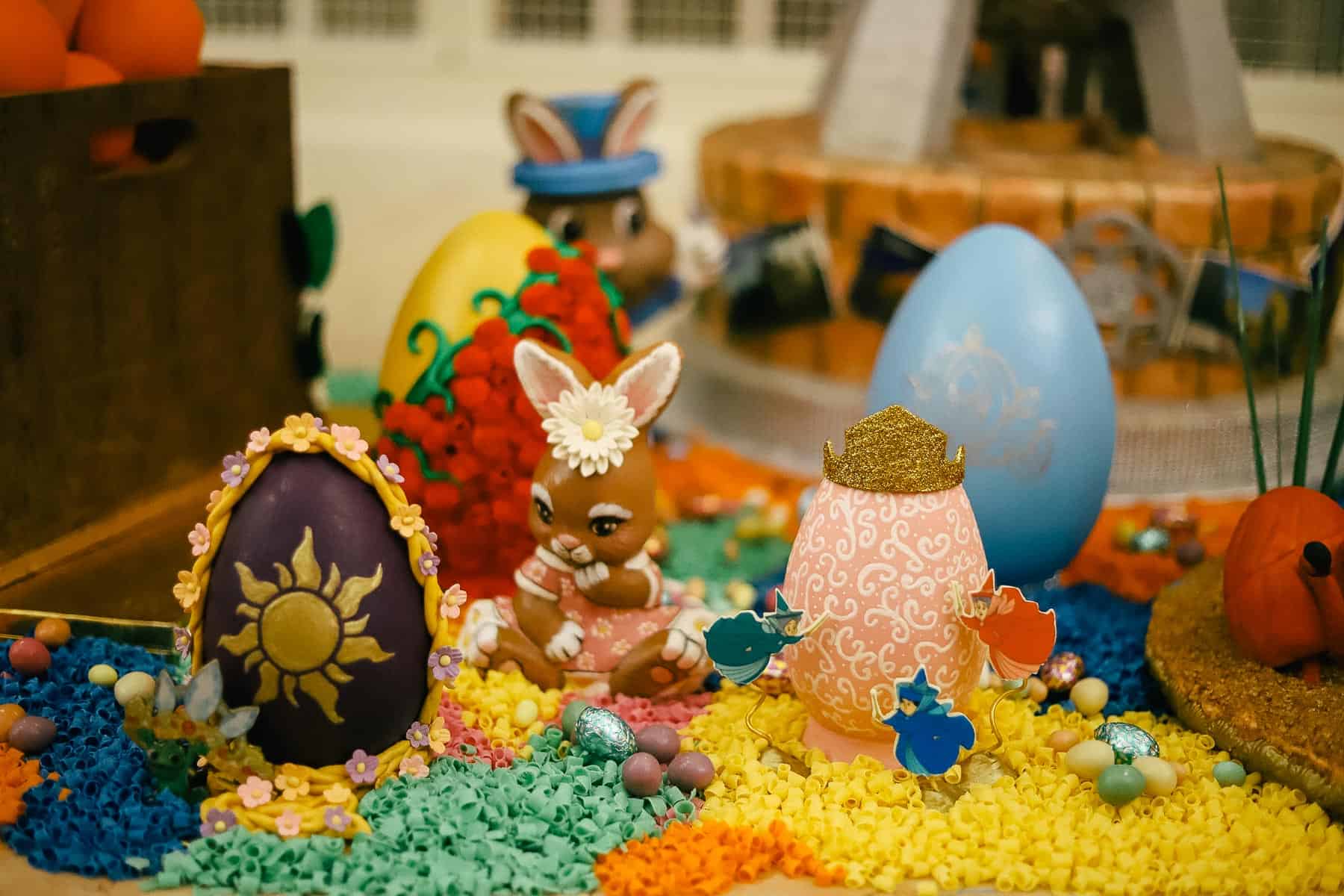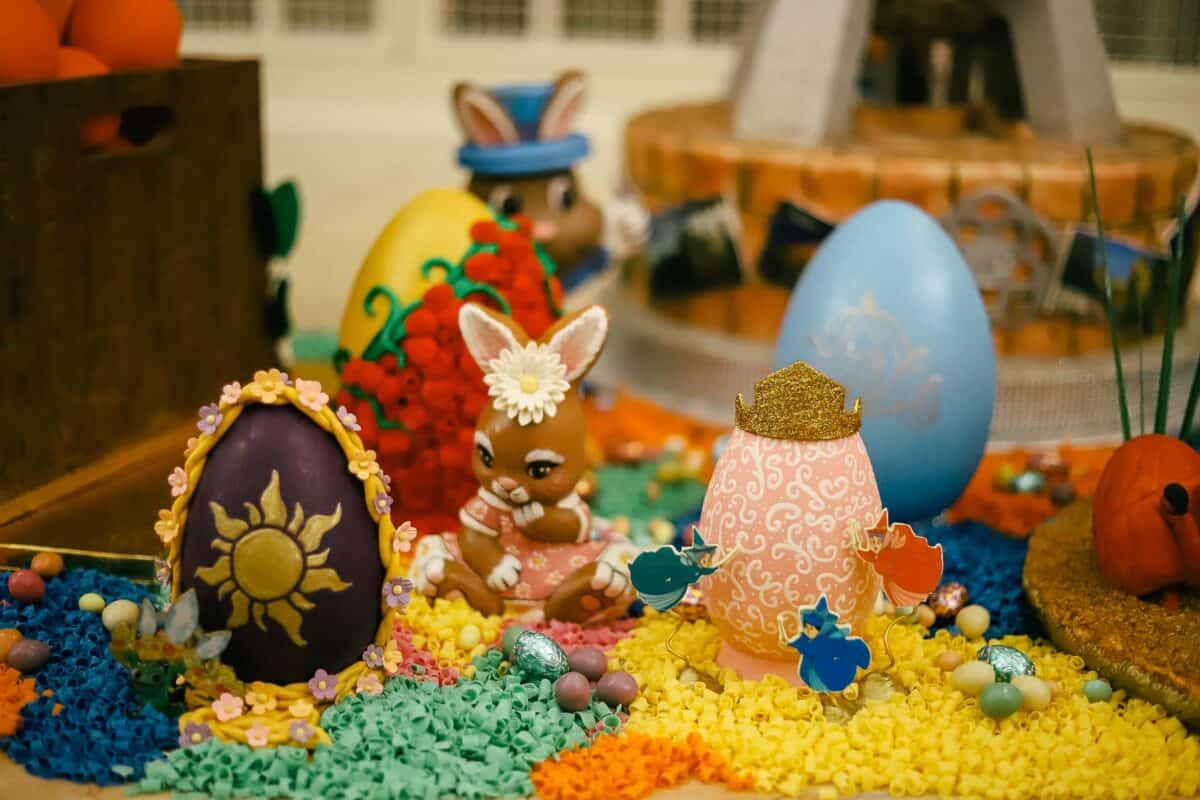 An Orange Bird egg centers the first display. I cannot imagine the time that went into creating these masterpieces.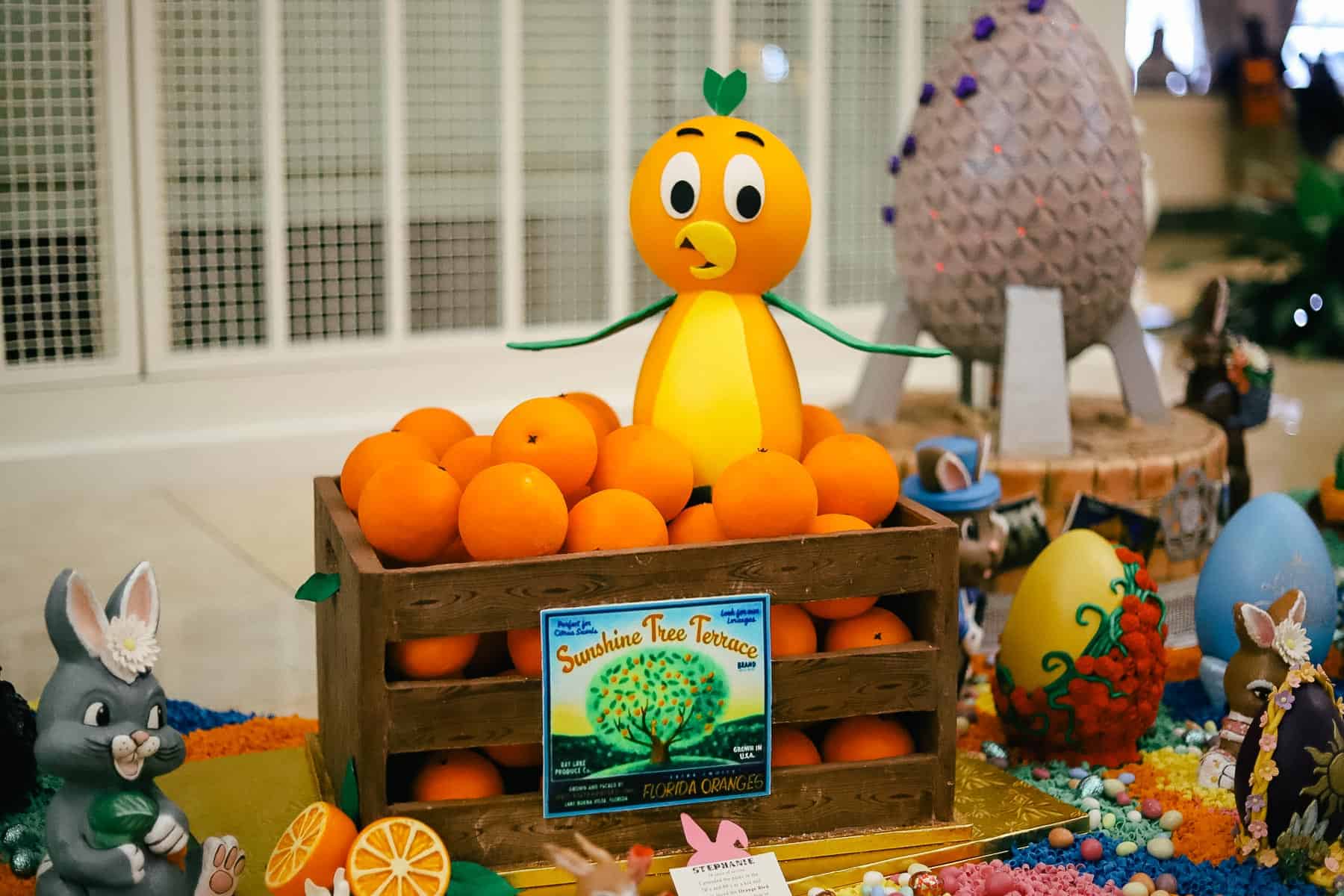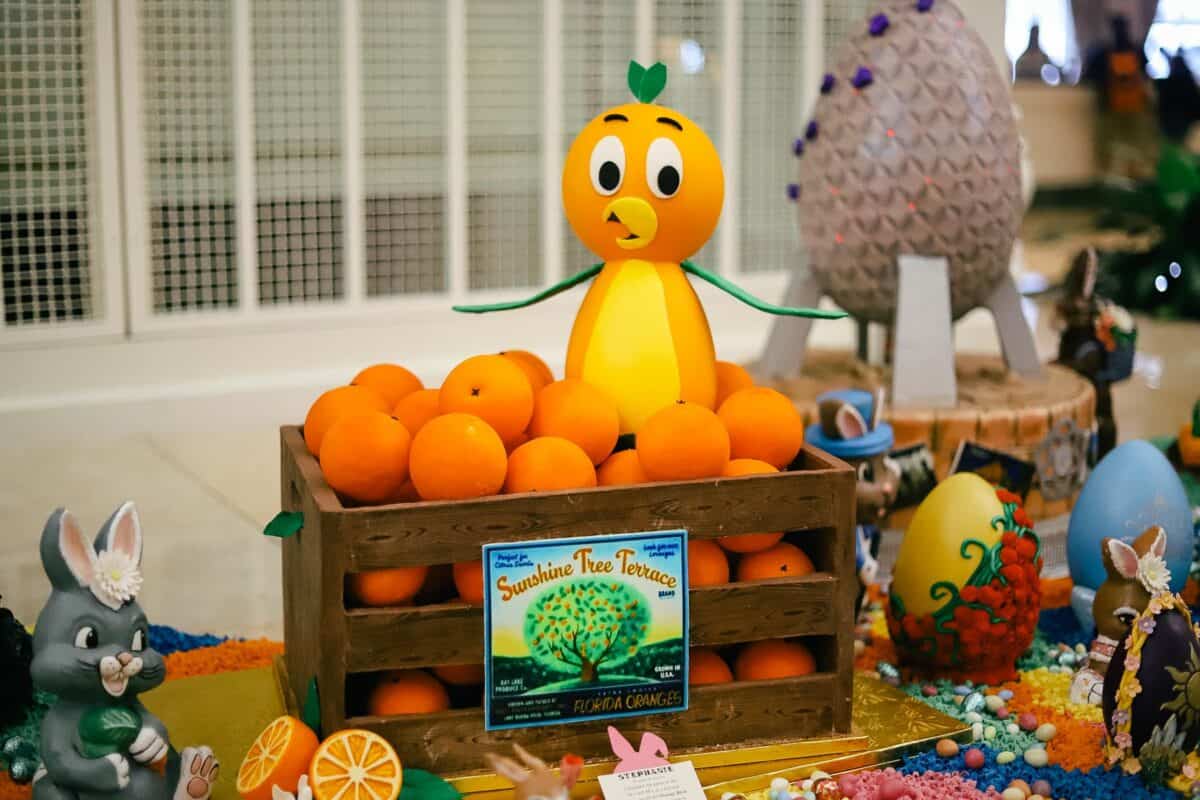 Here are a few more eggs.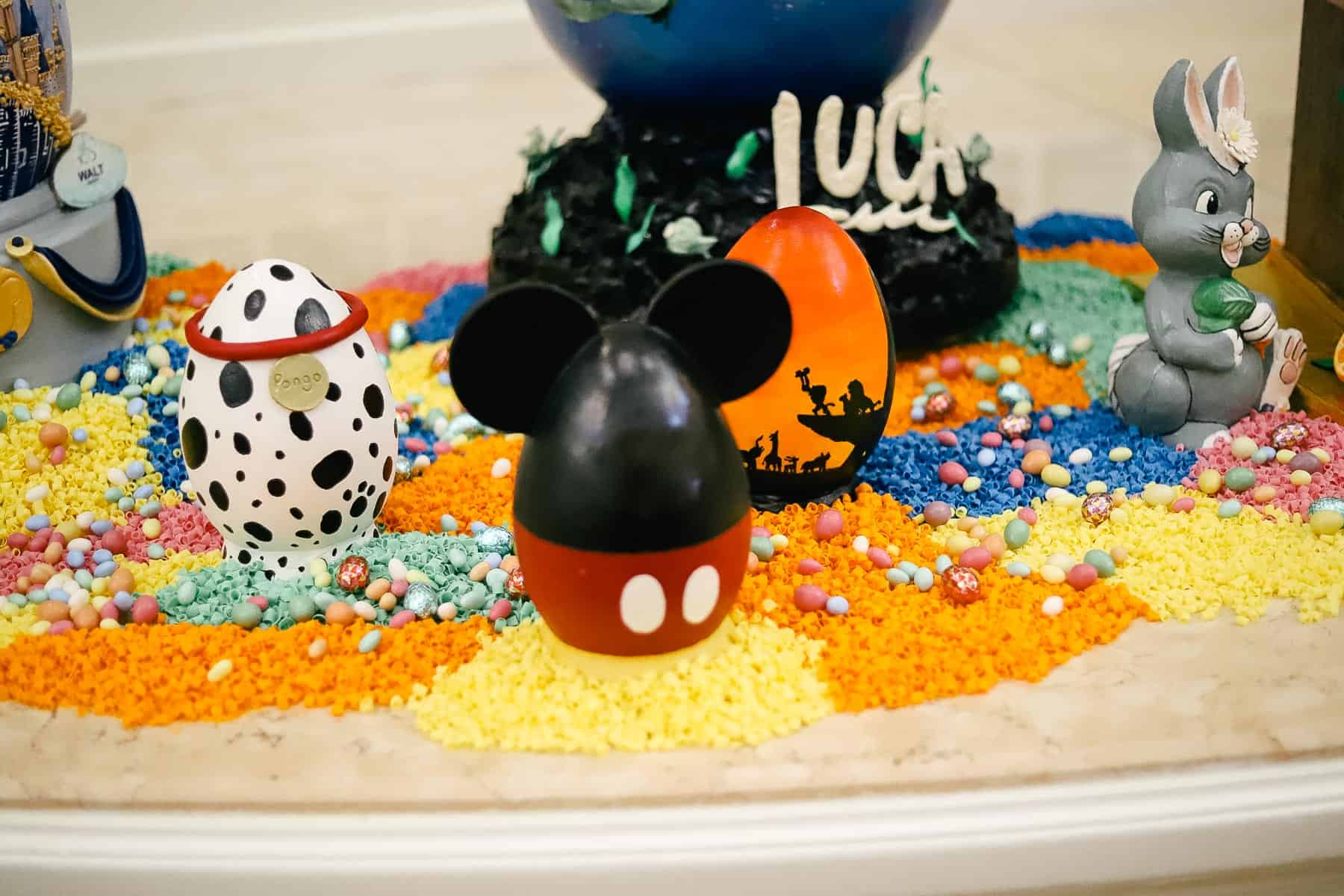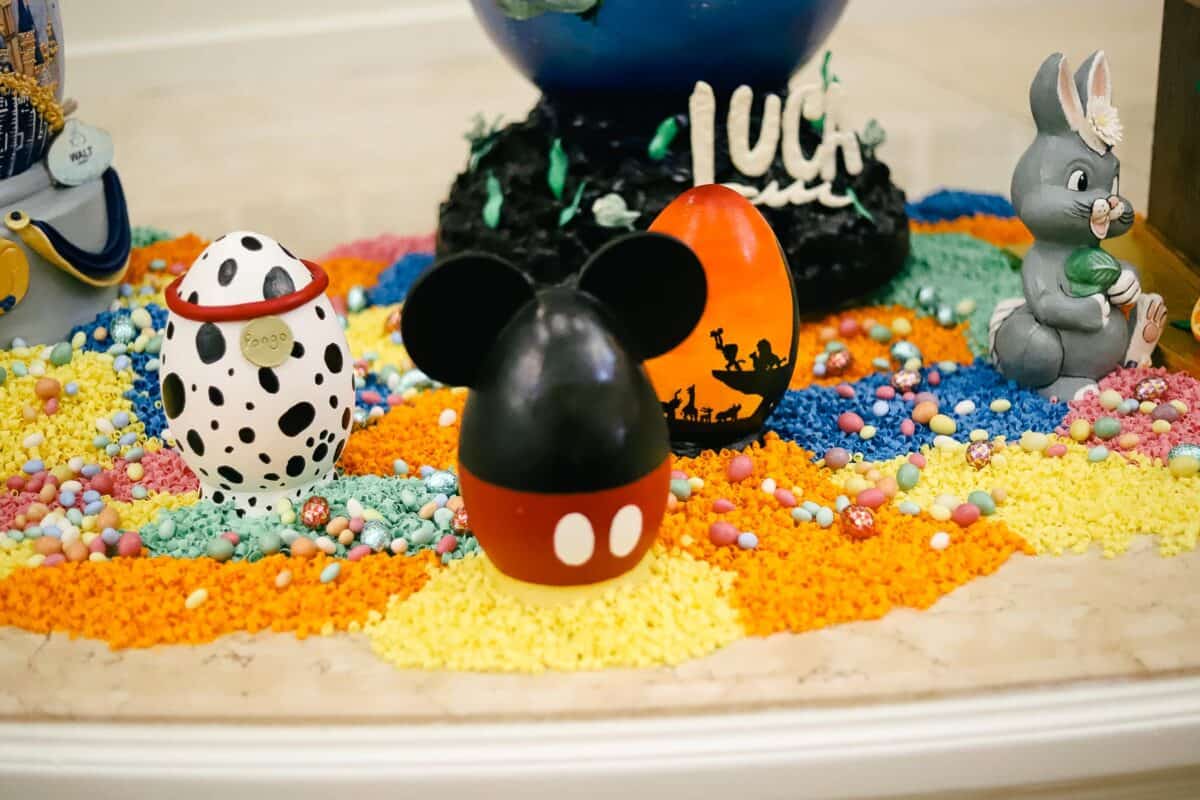 This egg represents Luca. Notice how the heads above the water are human, while the parts underneath are sea monsters! Thankfully, these sea monsters aren't really monsters at all.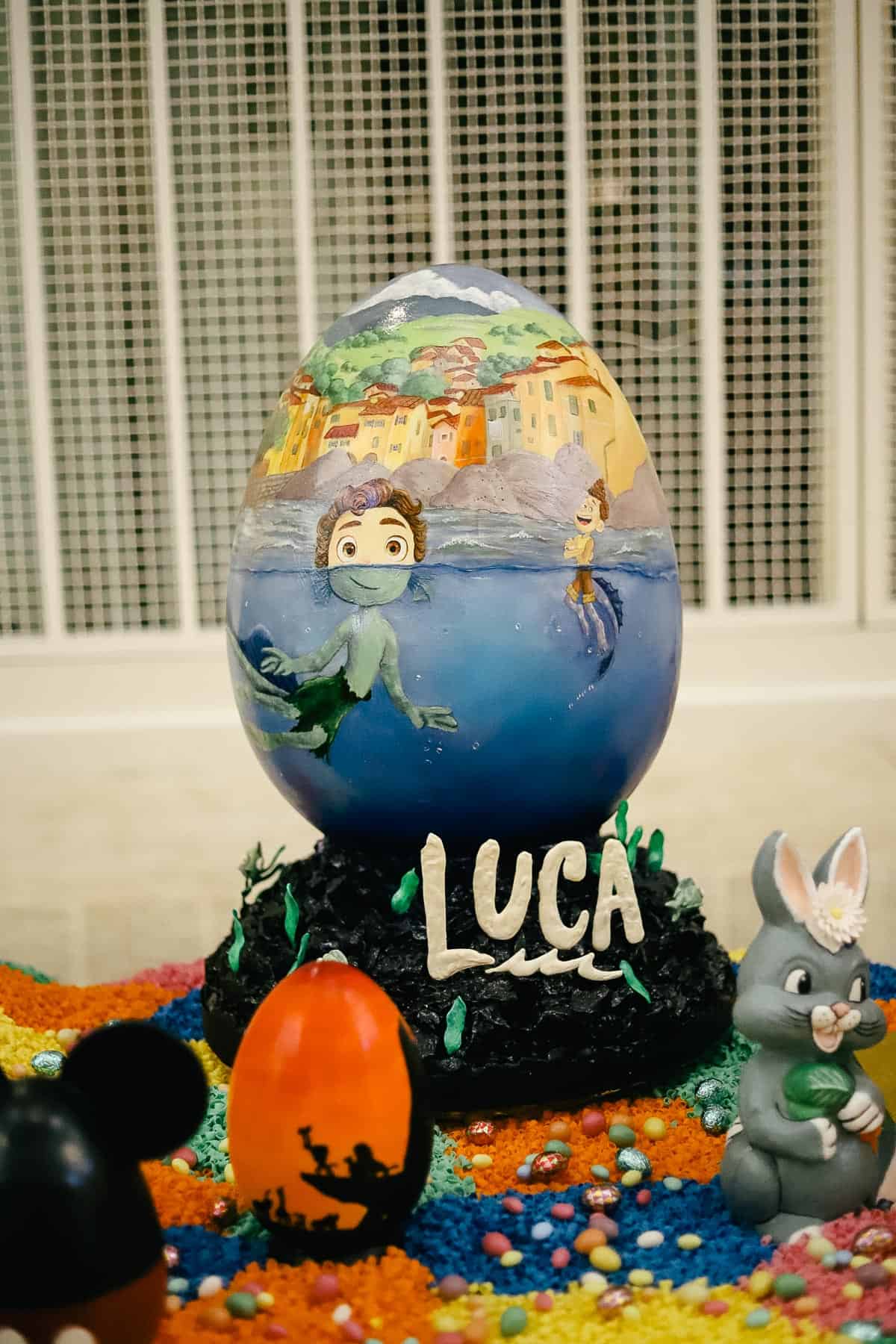 At the end of this table, there's an egg showcasing Walt Disney as he points to the design prints for Cinderella Castle. Halfway up the egg, the castle transitions as the dream is realized. Pixie dust defines the transition.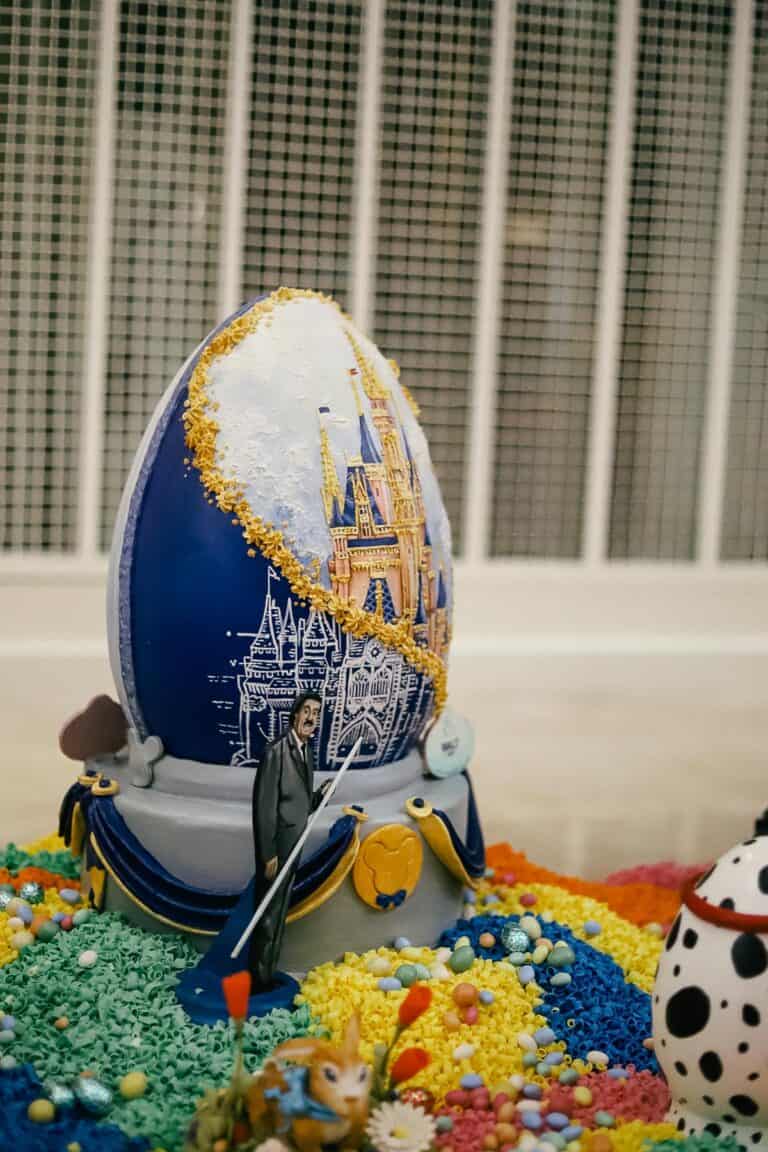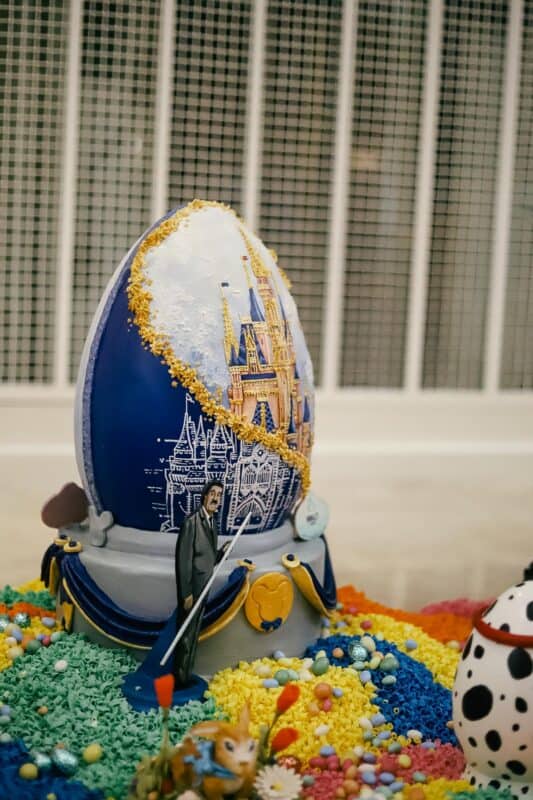 On the back of this egg, there's a portion of a quote from Walt Disney:
"You can design and create and build the most wonderful place in the world. But it takes people to make the dream a reality."
I don't know about you, but I think this one is egg-stra special. And don't miss that nod to Roy, either. It takes two.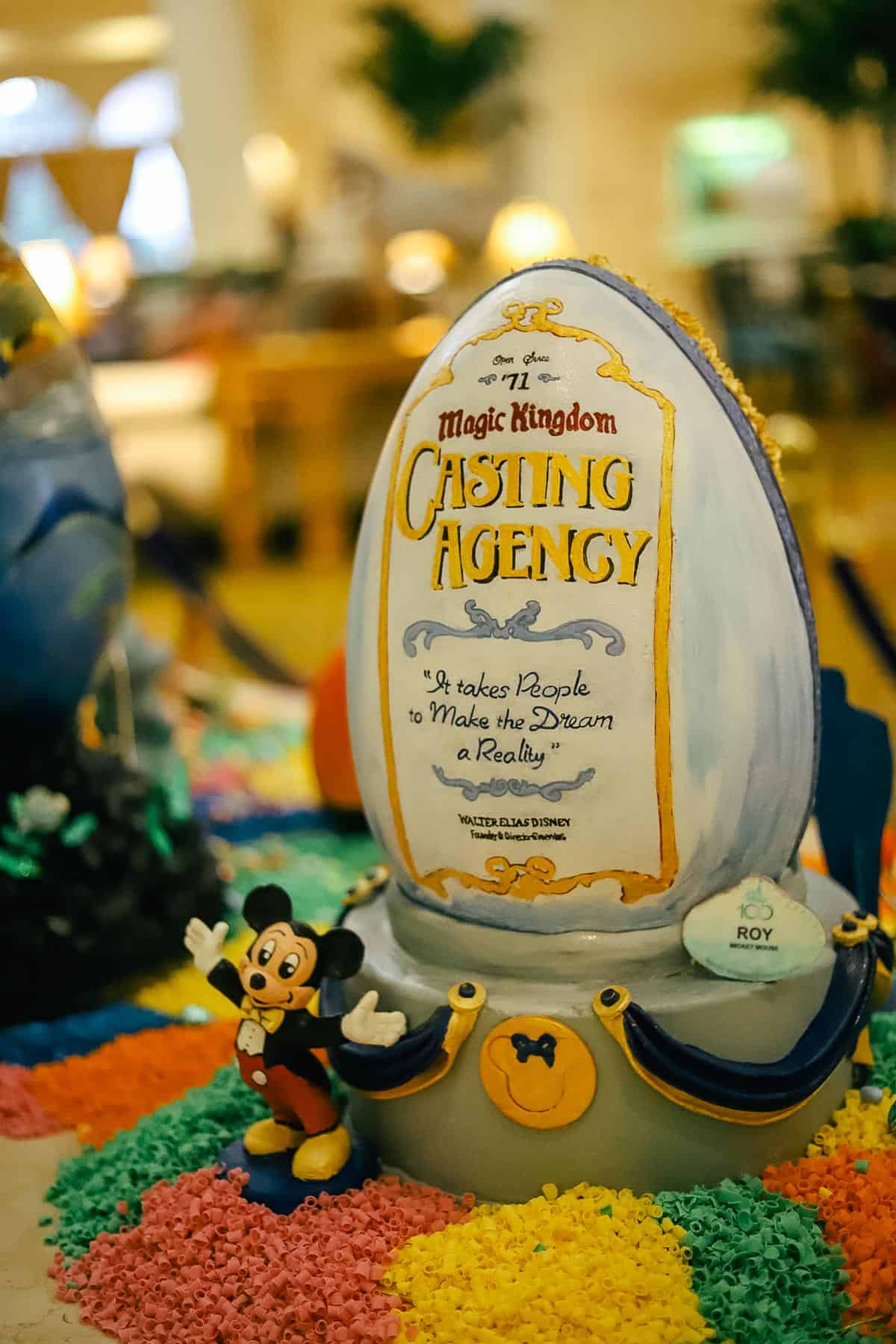 We'll do the bunny hop over to the center Easter egg display. Here we have an egg representing the Cars films.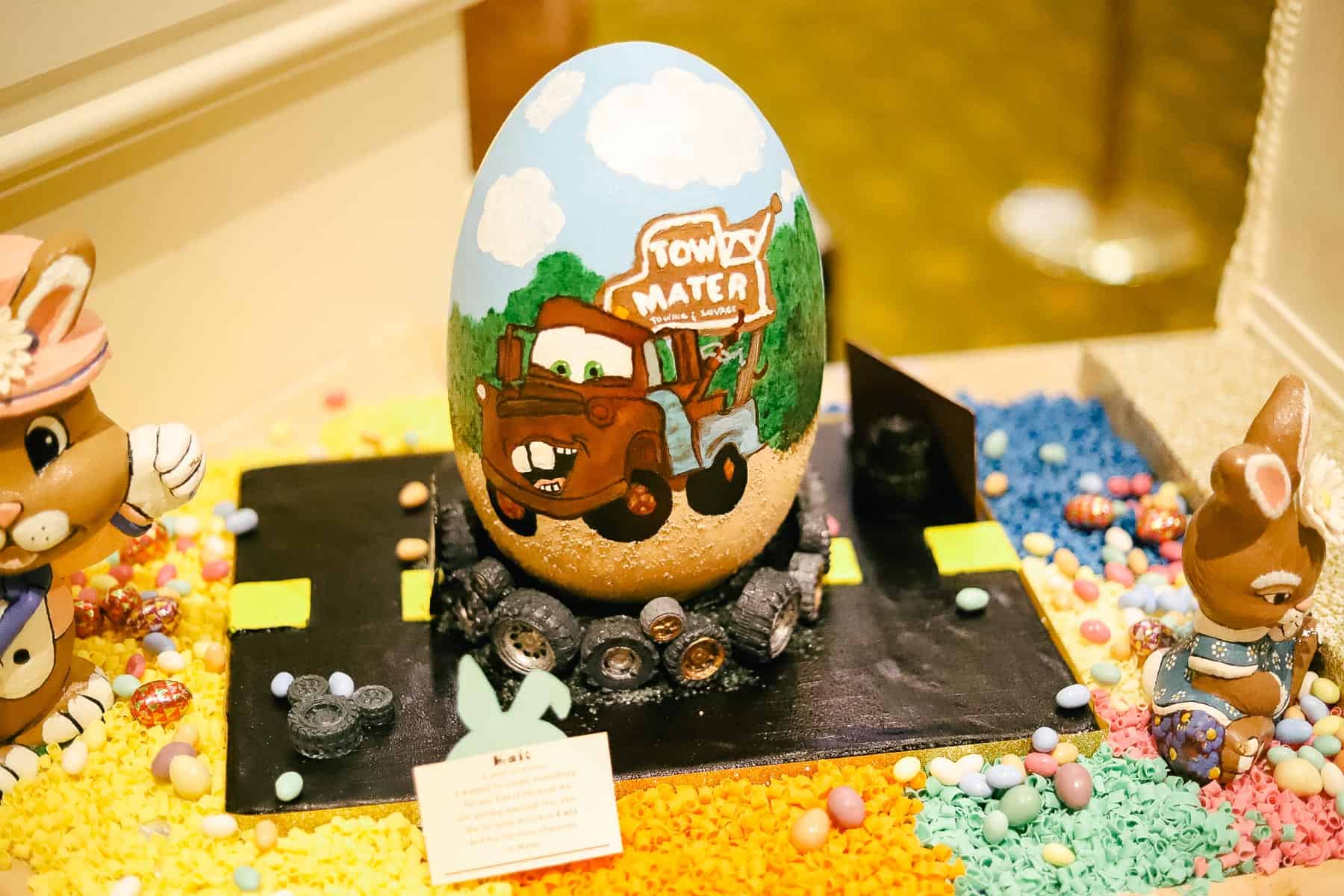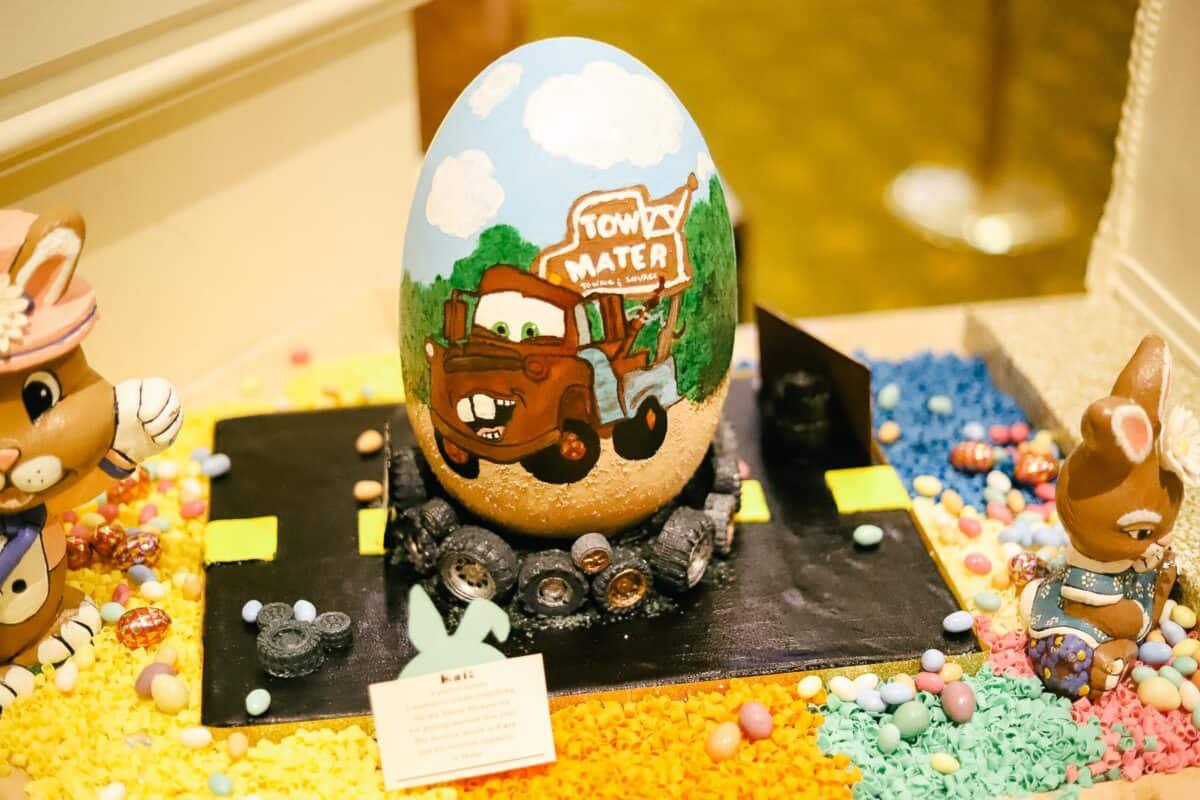 Here is the opposite side. How cute are those tires around the outer shell?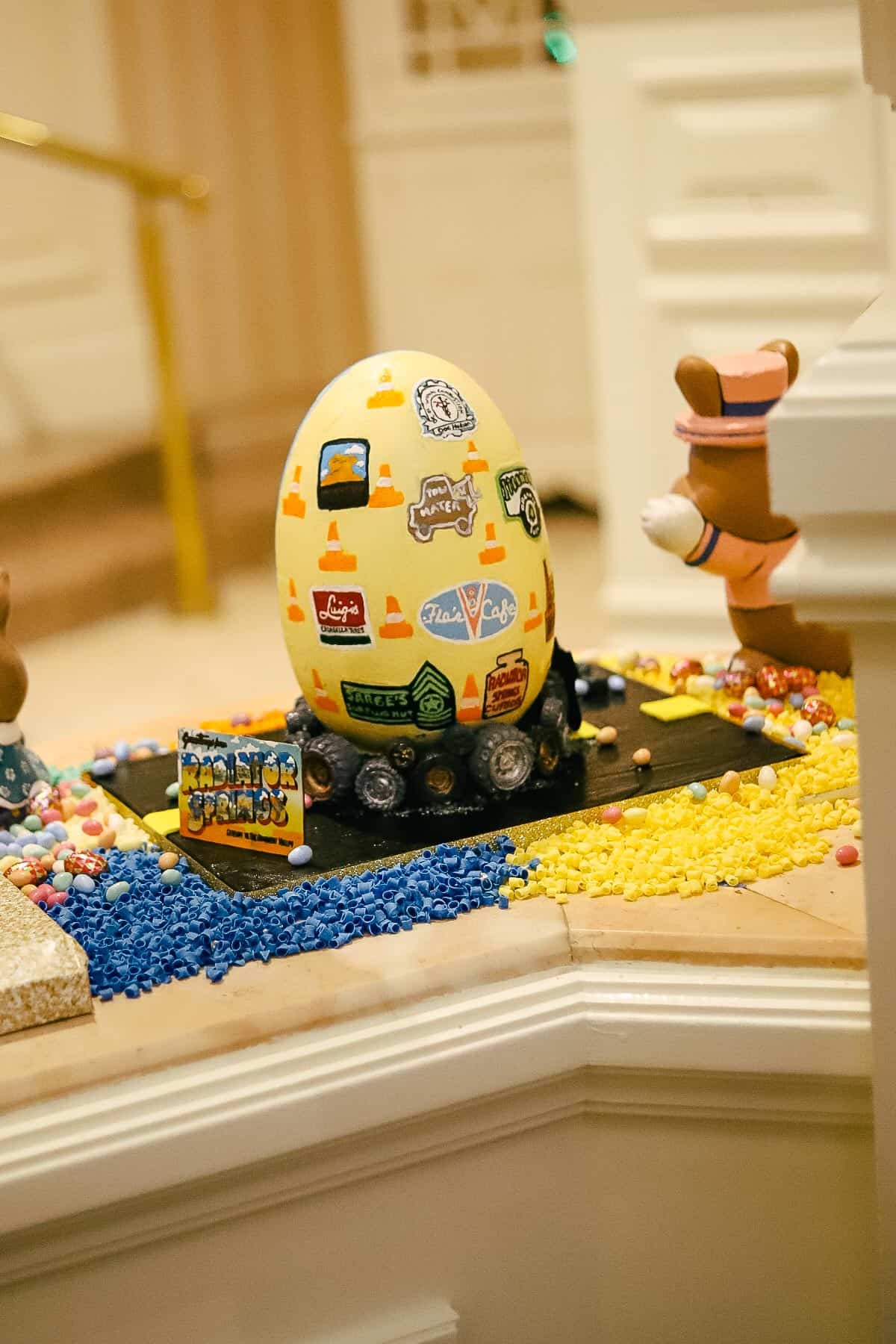 This next egg was one of my favorites. I think for many of us, it brings back memories of dyeing Easter eggs as children.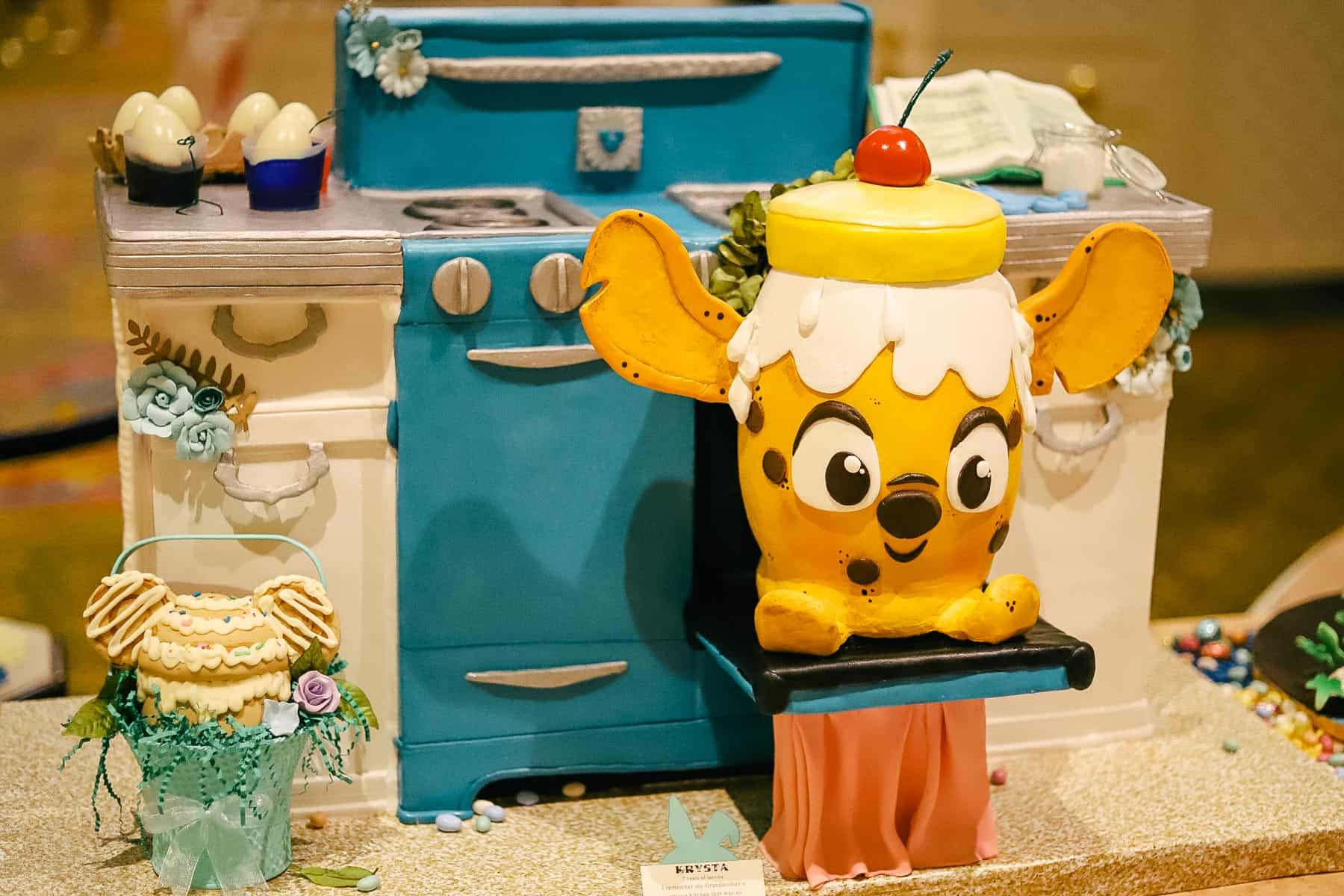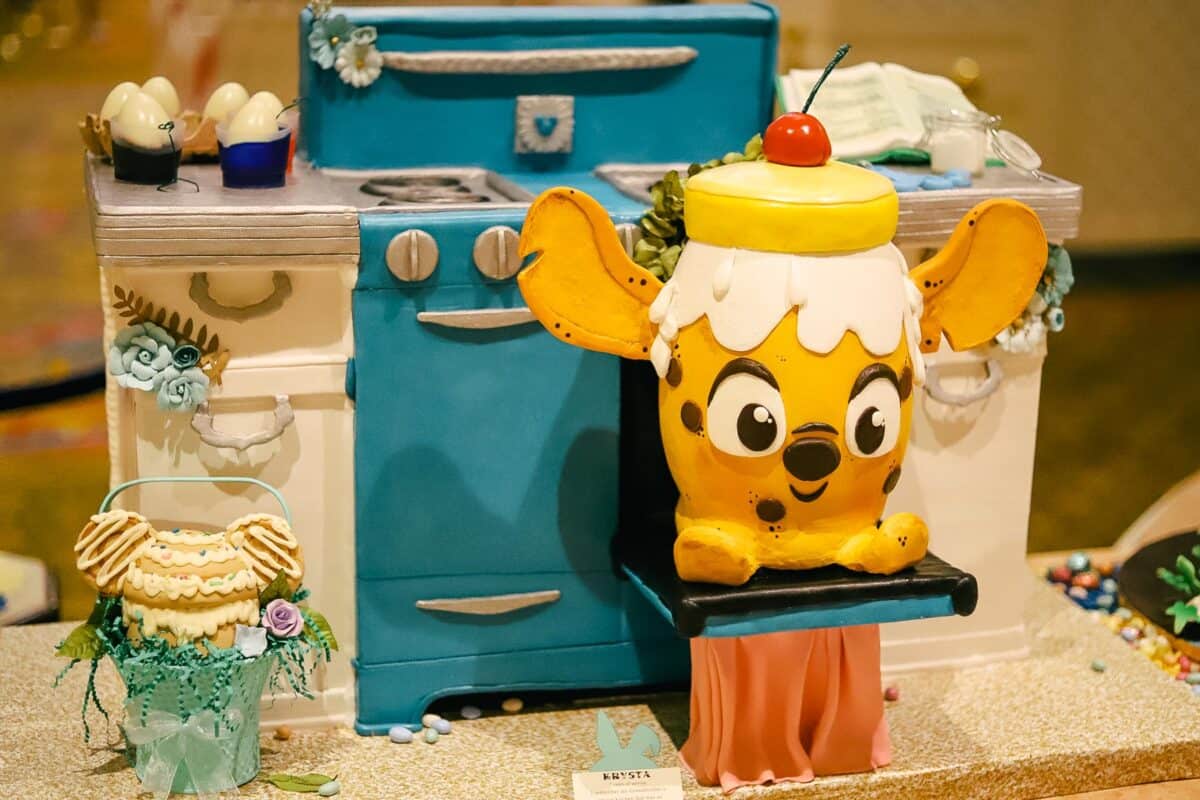 It also features something new with the egg designed to look like a Disney Munchling. I believe this is the Stitch Pineapple Upside-Down Cake Munchling.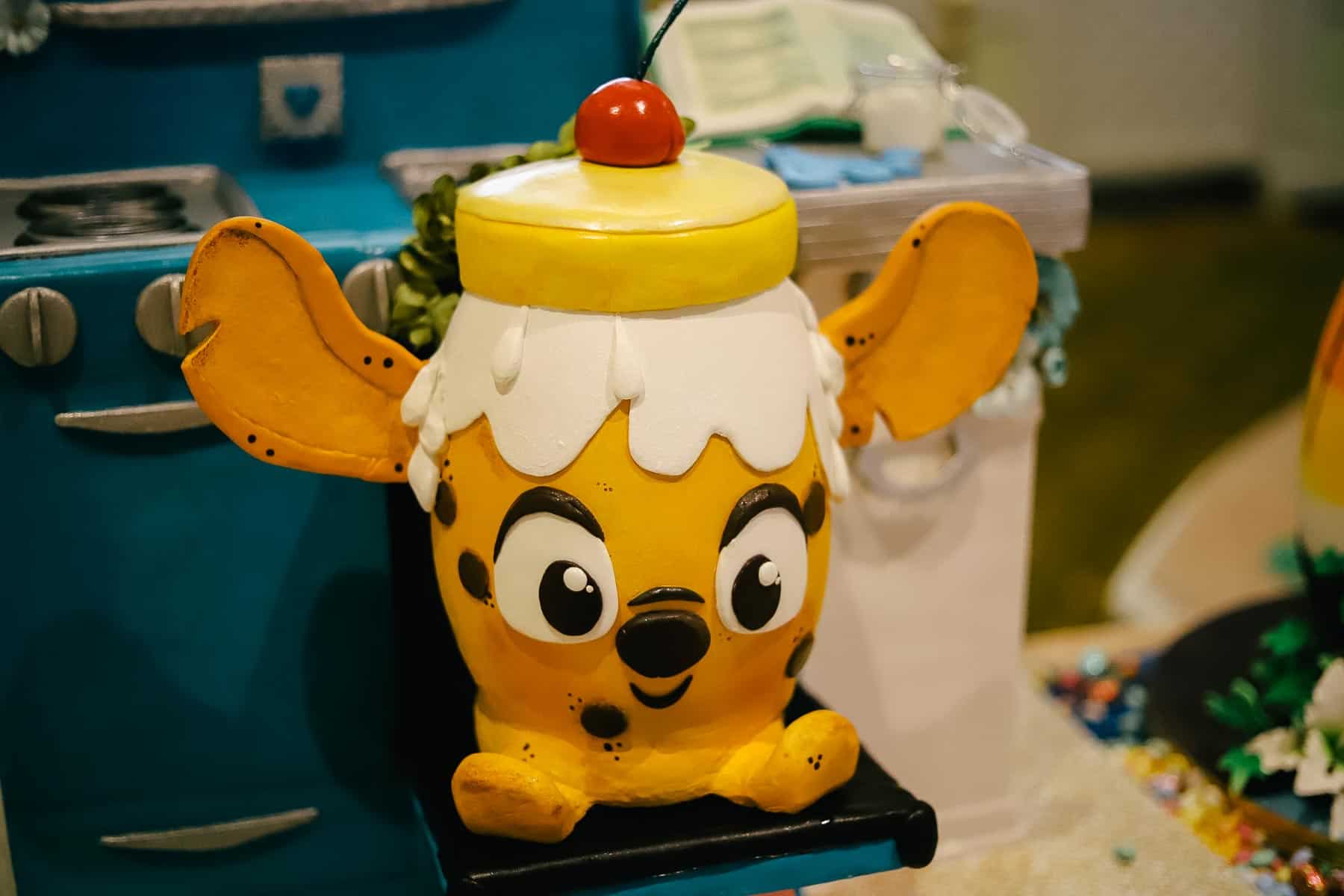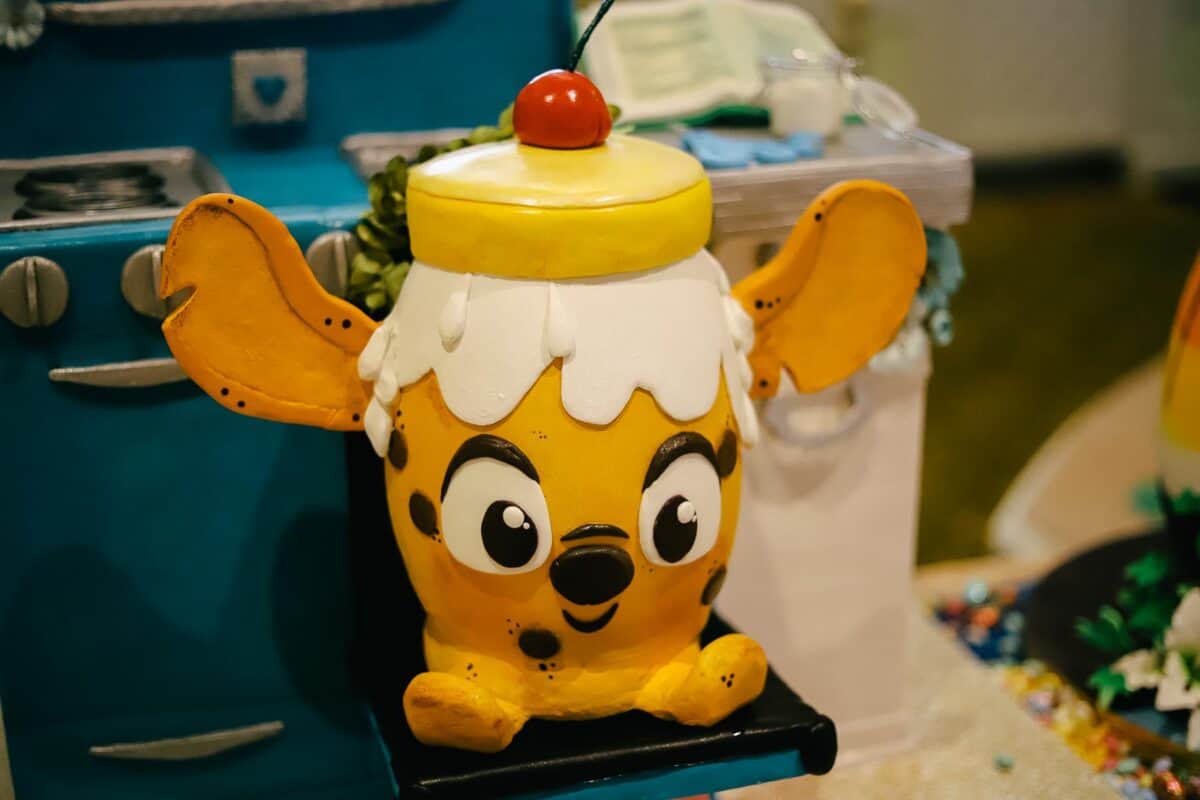 Look at those eggs!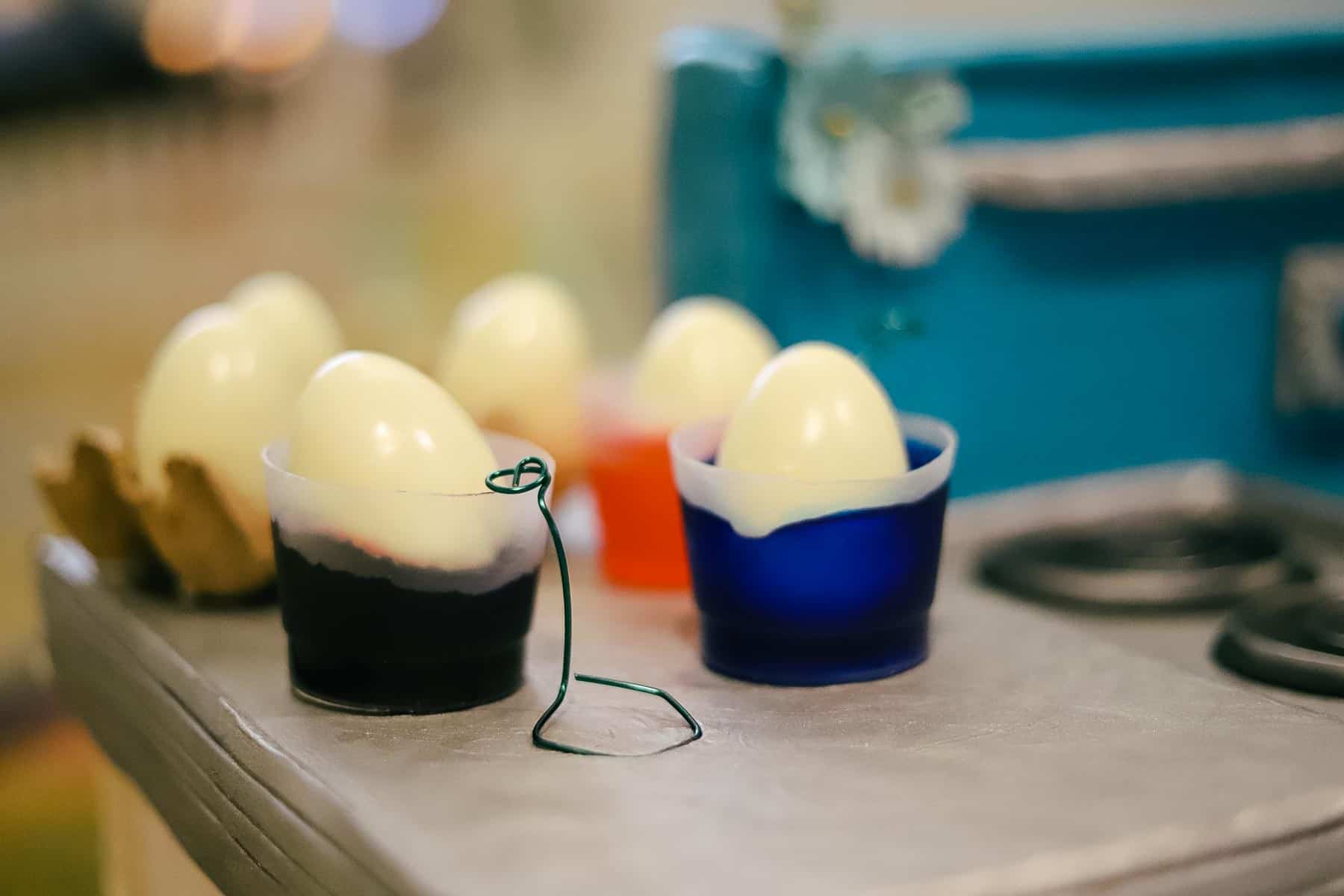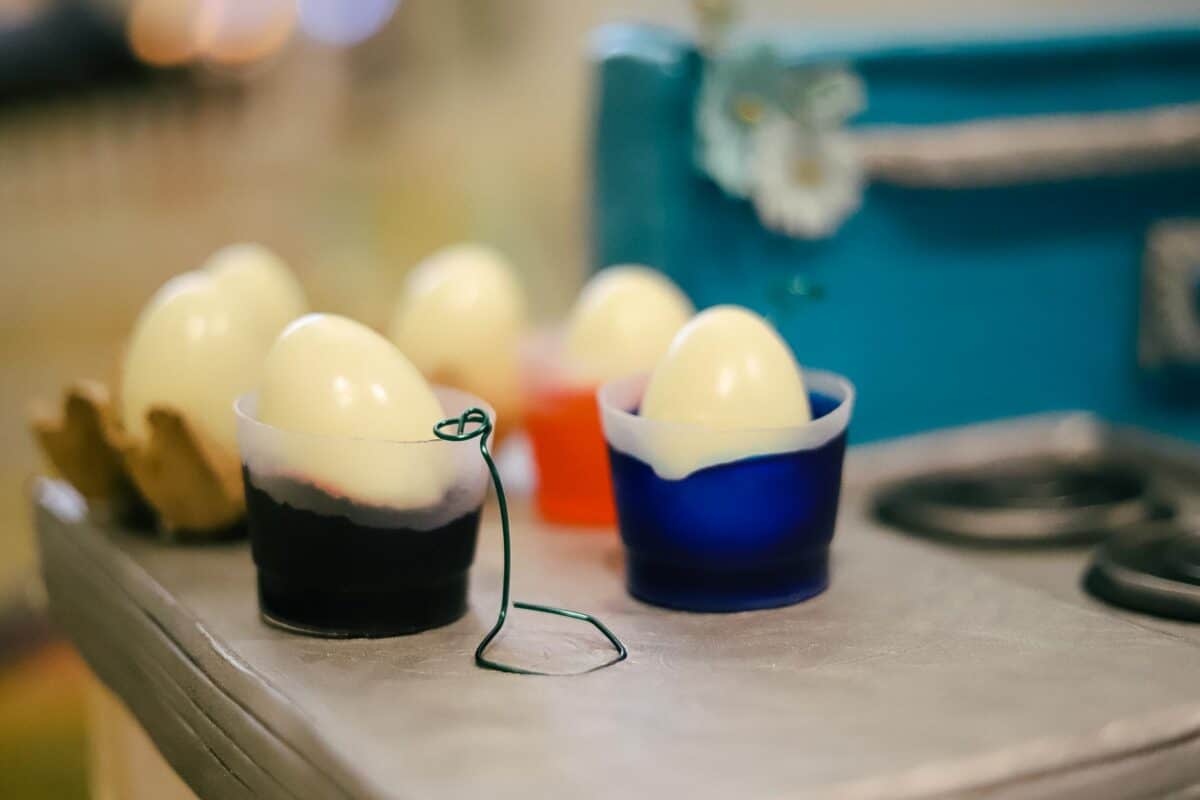 On the opposite side of the stove, there's a cookbook open with a canister of sugar and measuring spoons.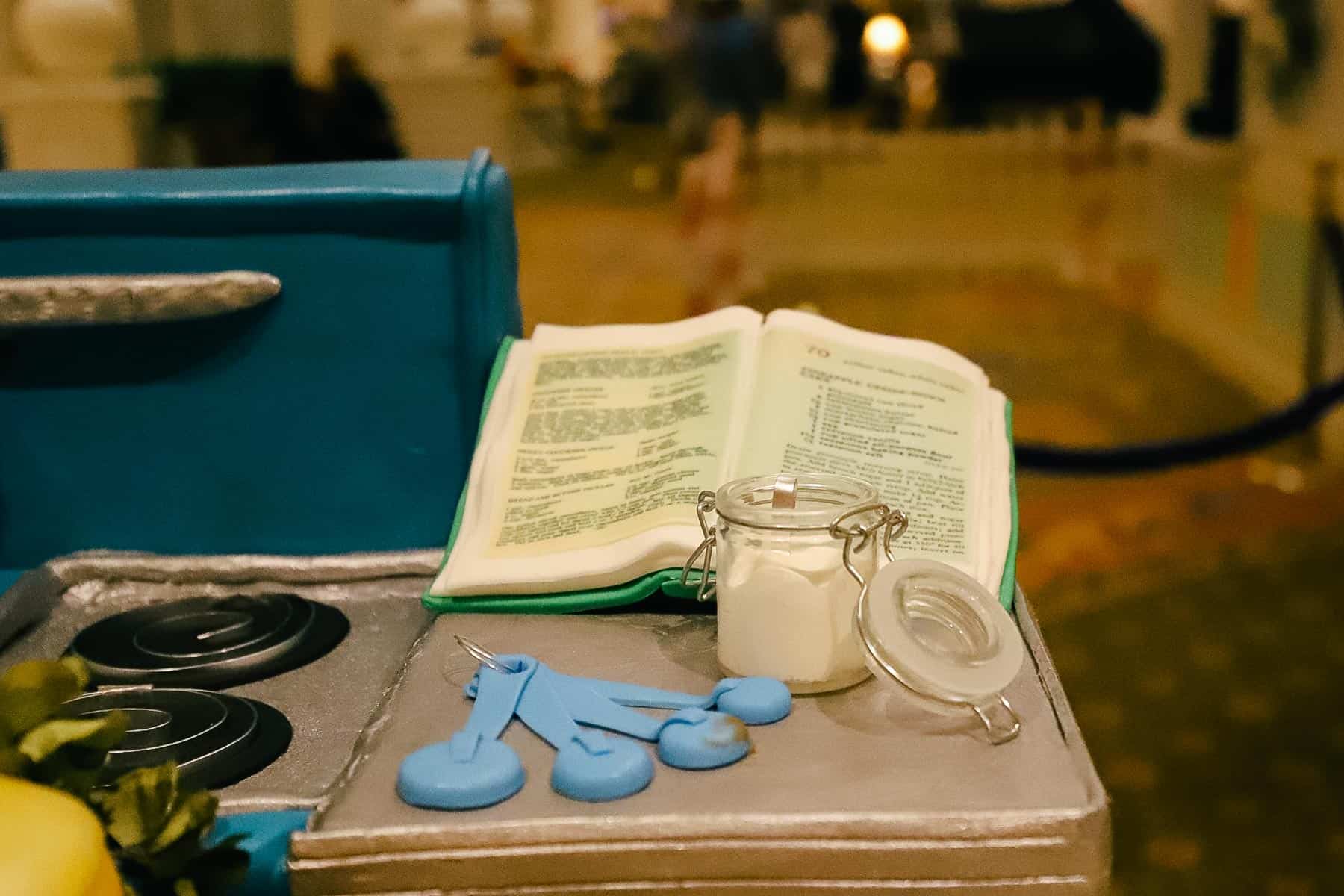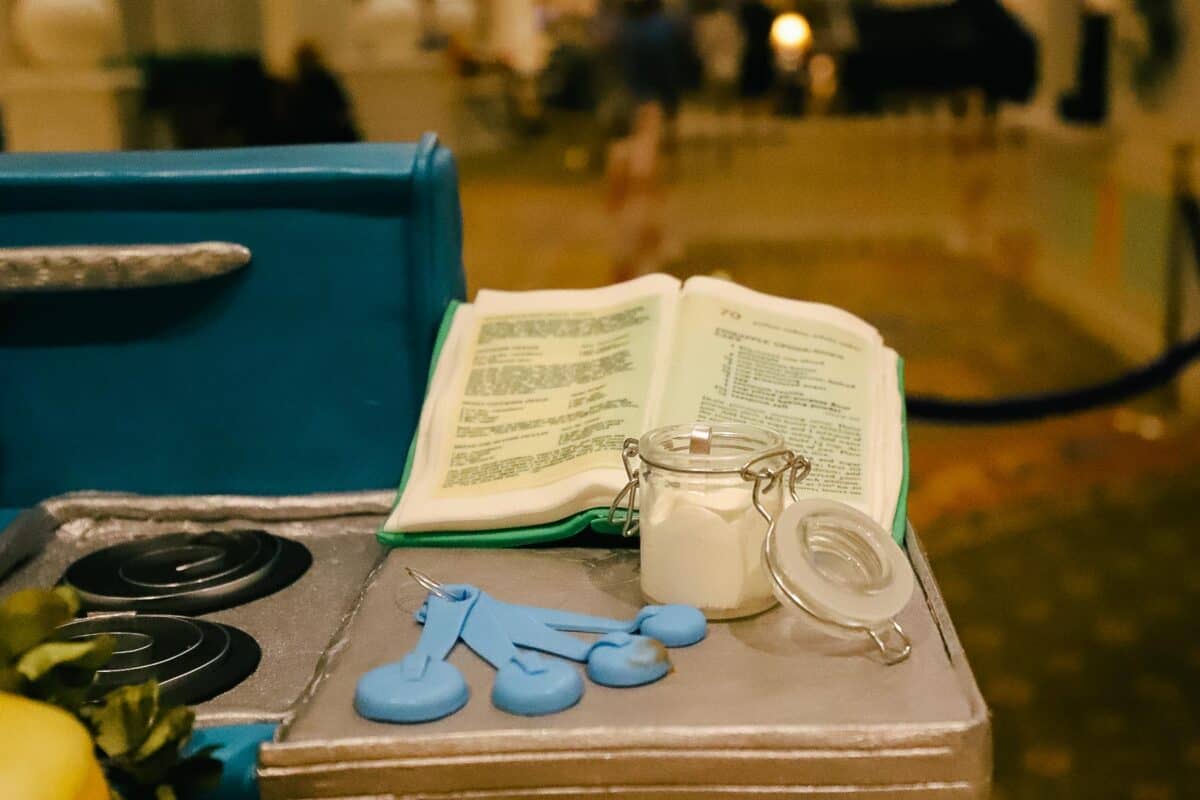 A hidden Mickey Easter egg sits nearby in a basket.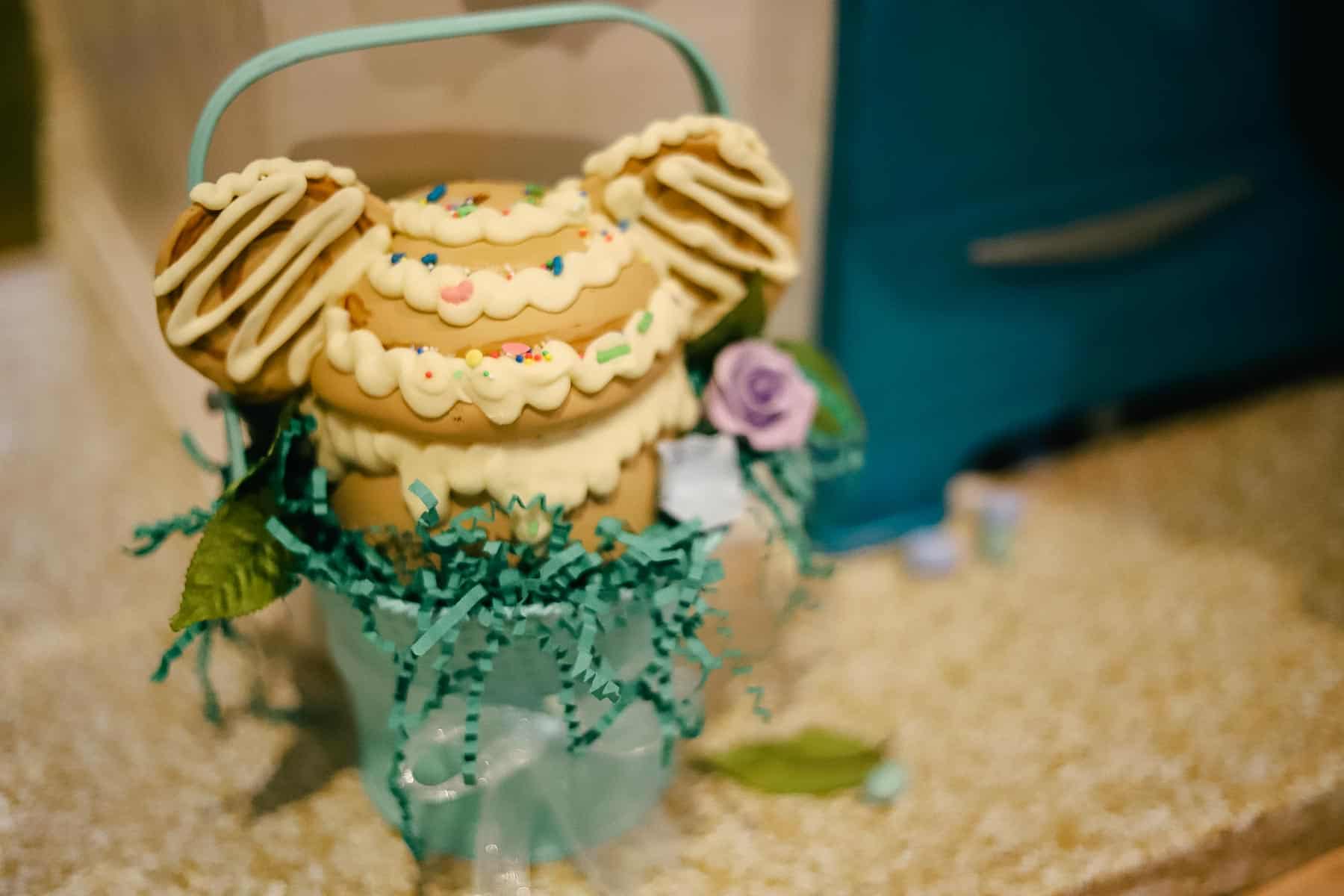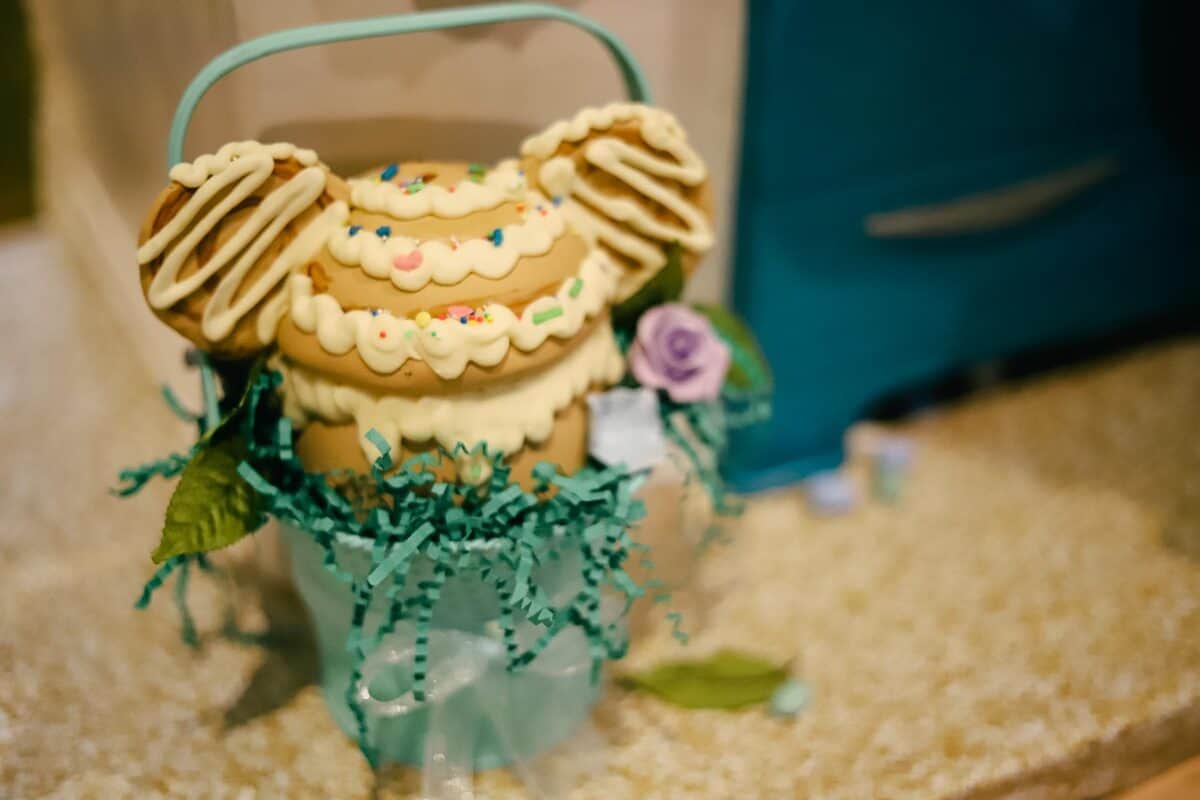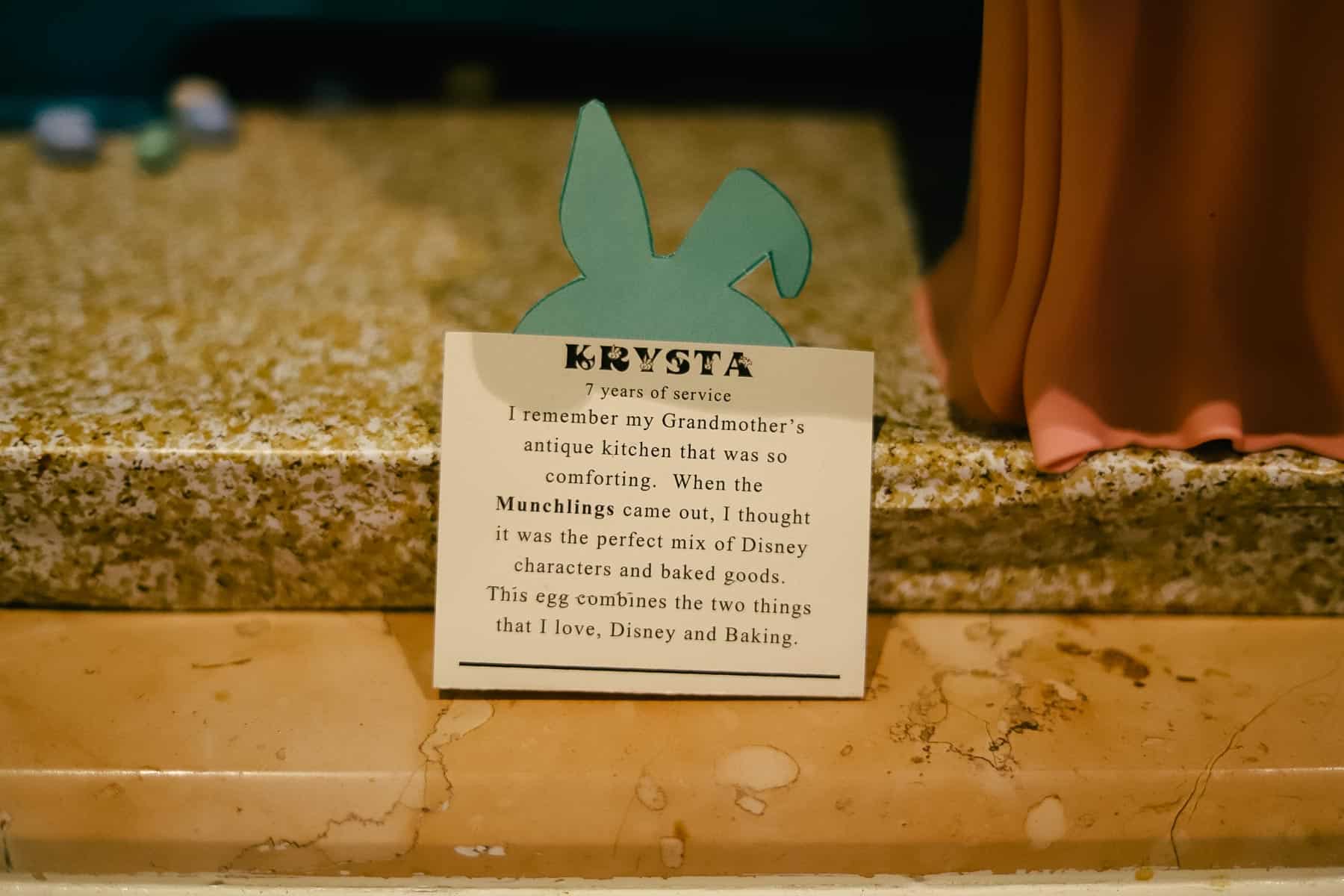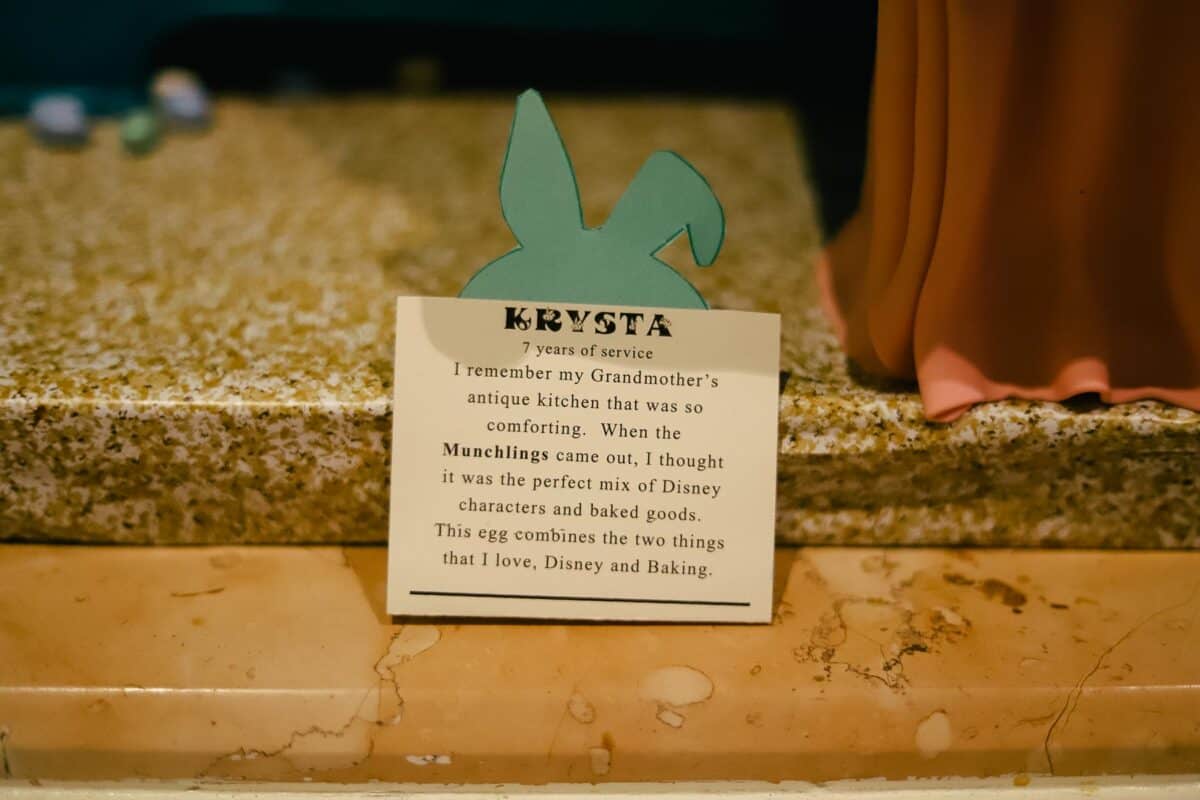 This next egg represents The Princess and the Frog. Tiana's silhouette is perfect!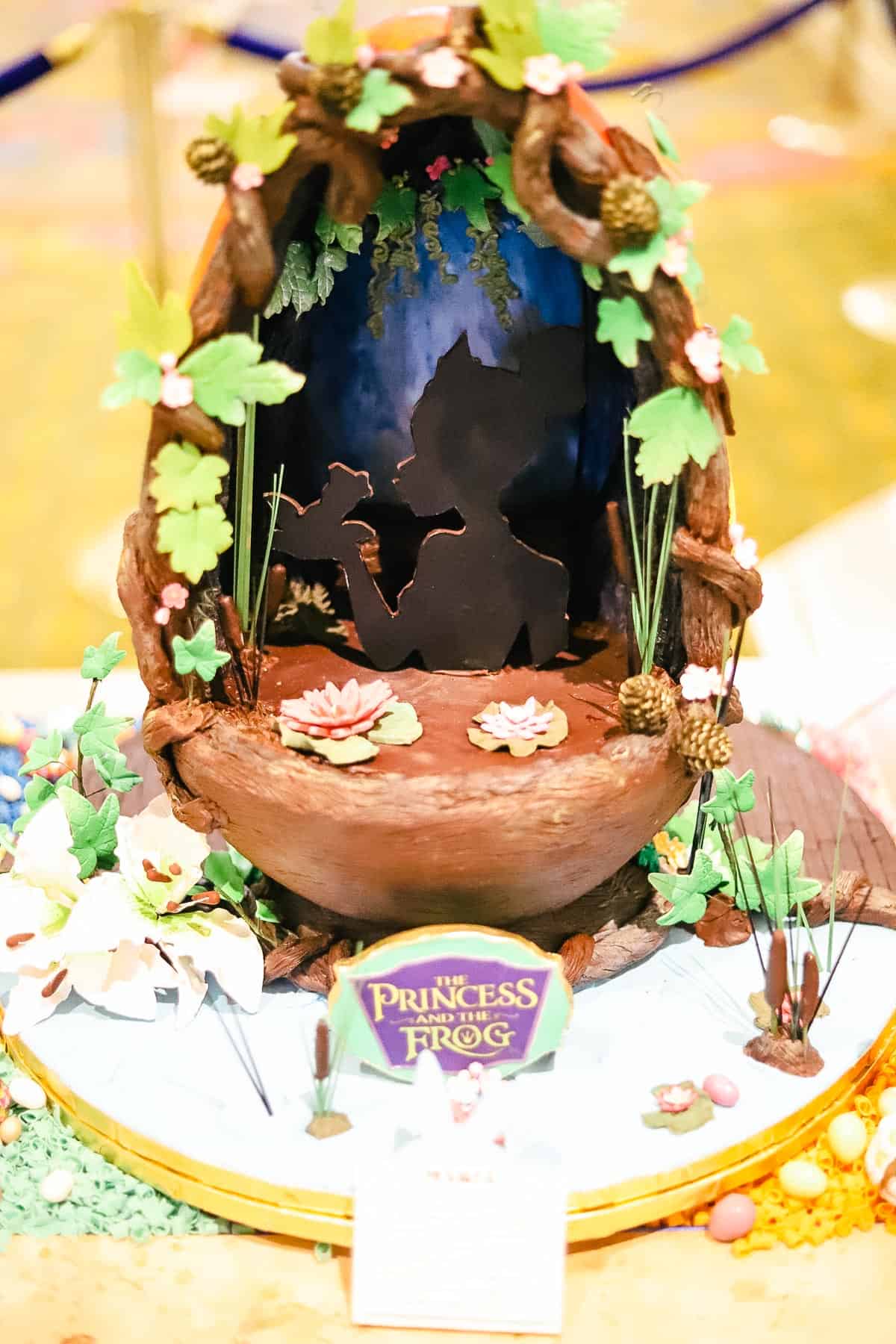 It looks entirely different on the backside.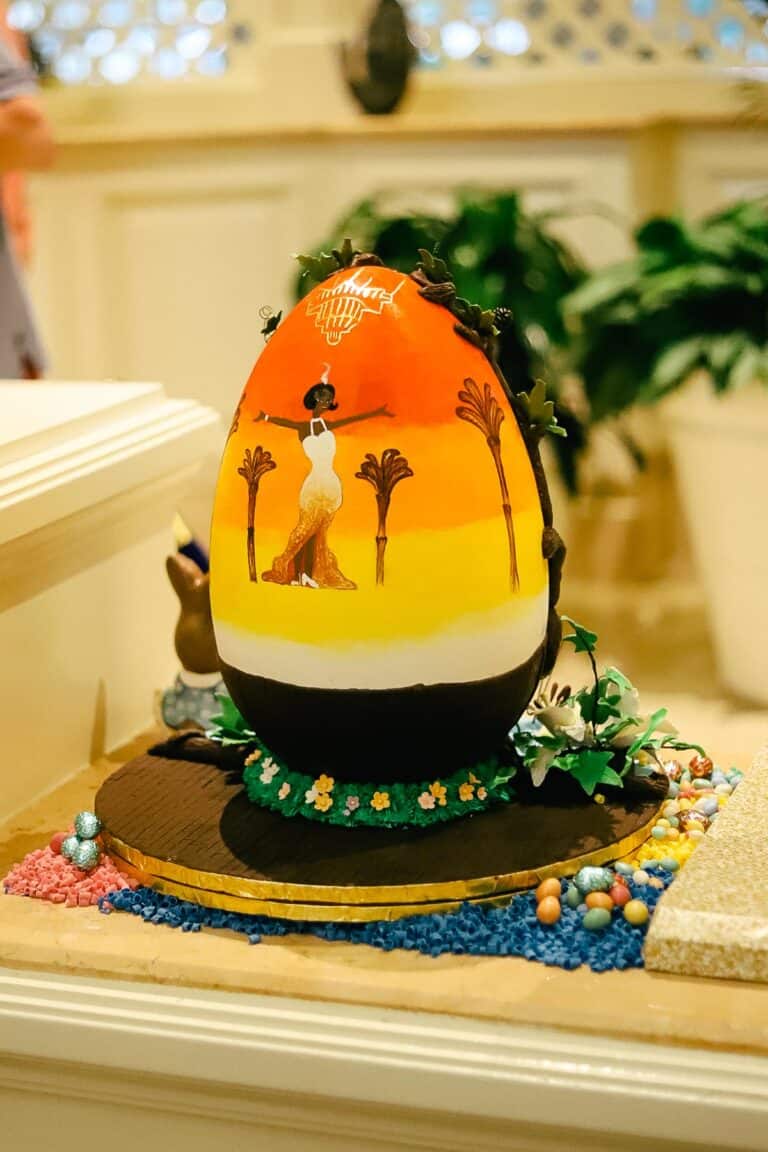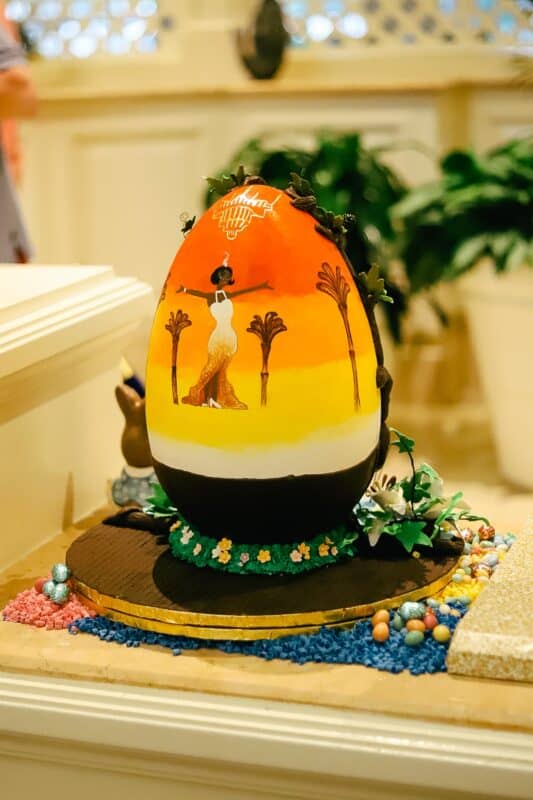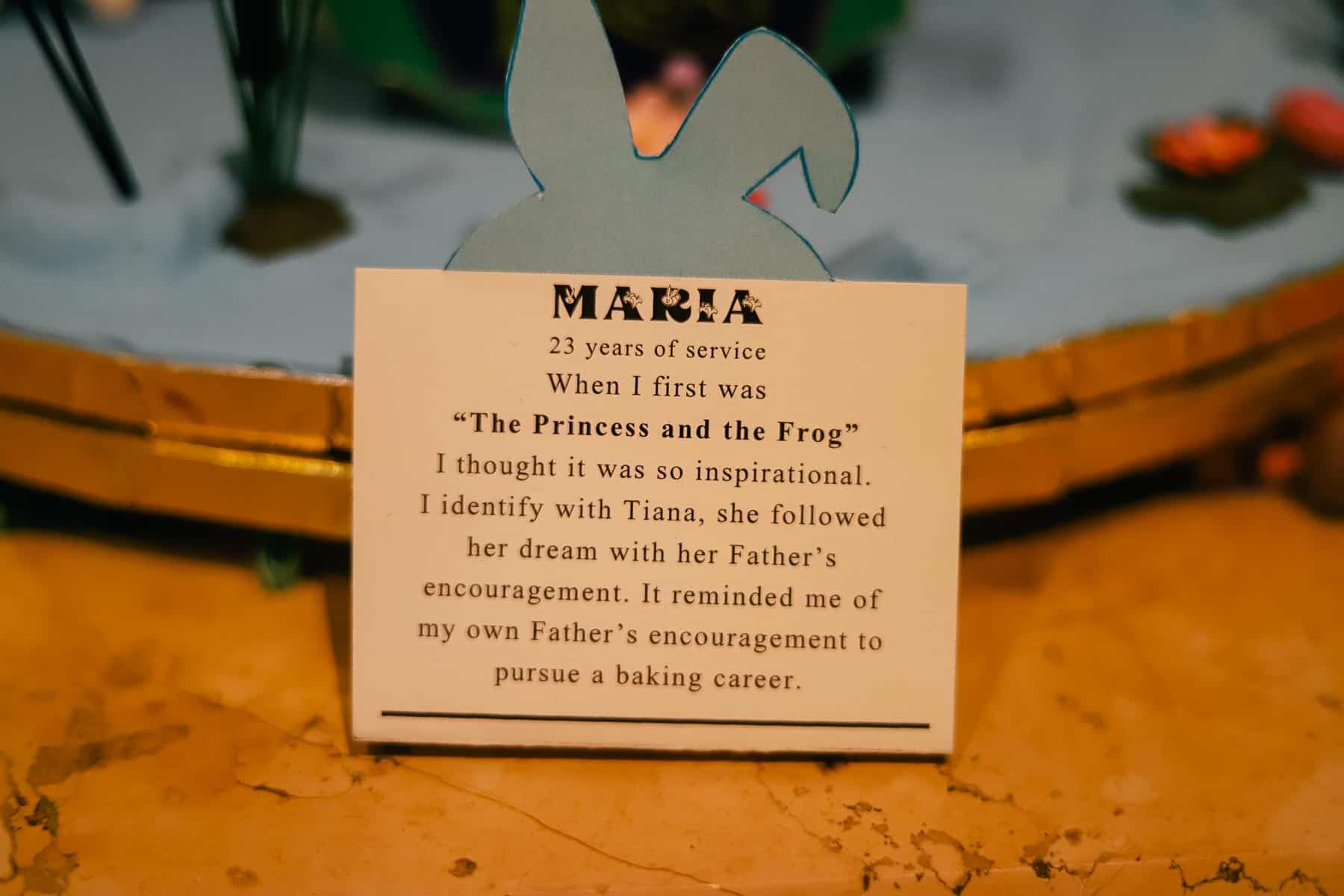 Okay, Country Bears fans, here's your egg. It lights up! You can see it better in the video further down.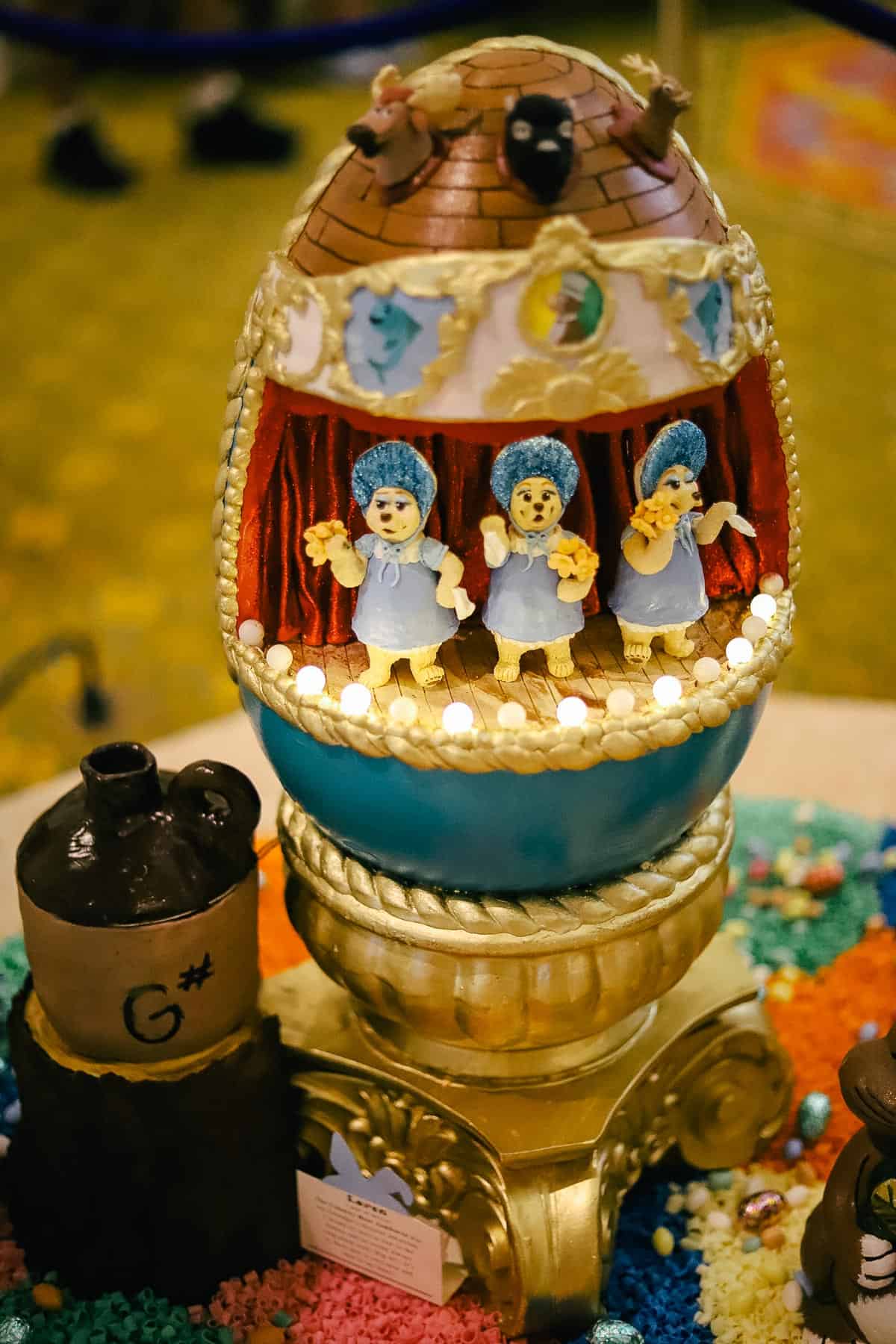 Framed portraits of our beloved Country Bears hang on the backside as though they are in Grizzly Hall.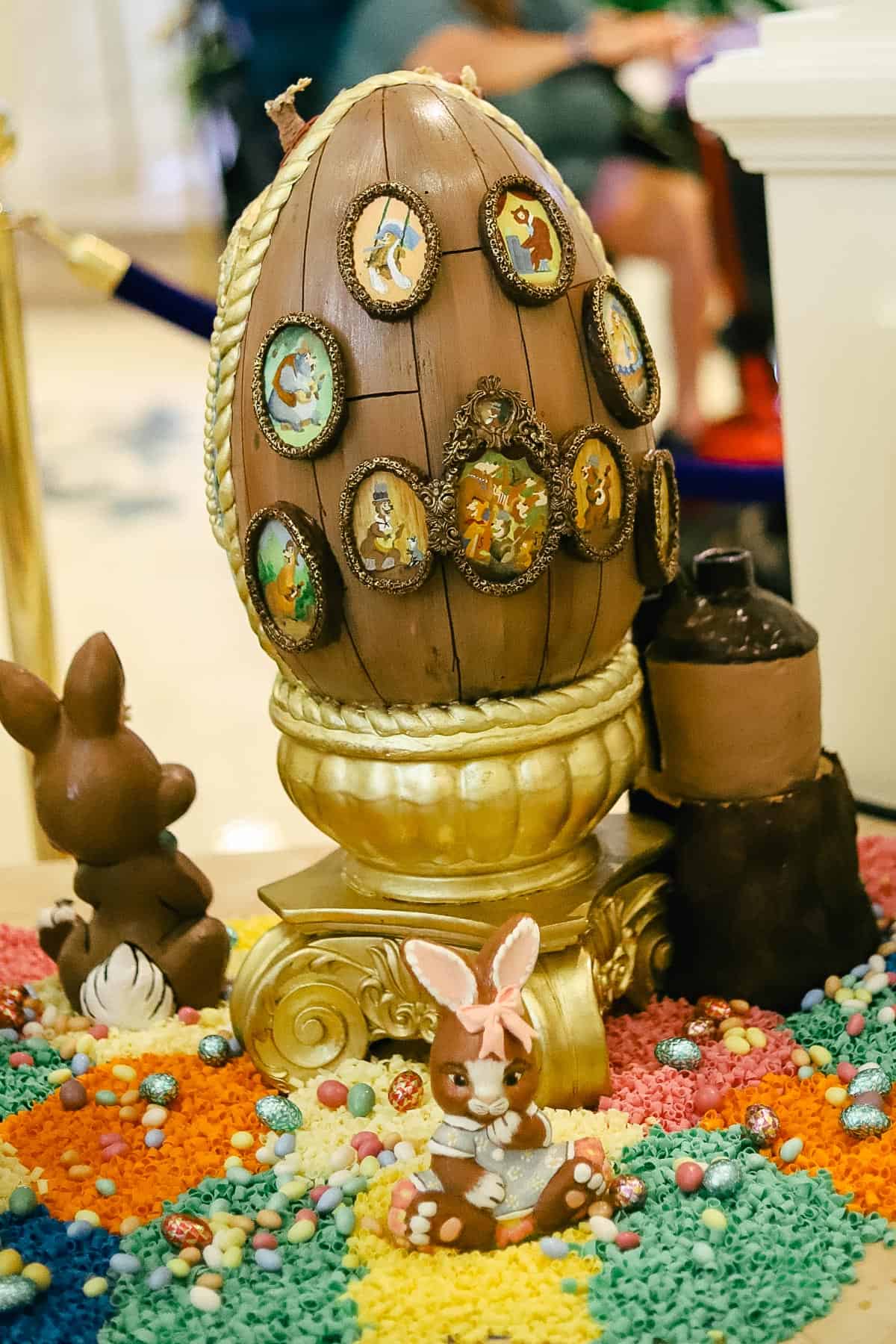 This next egg is a nod to Bambi and florals.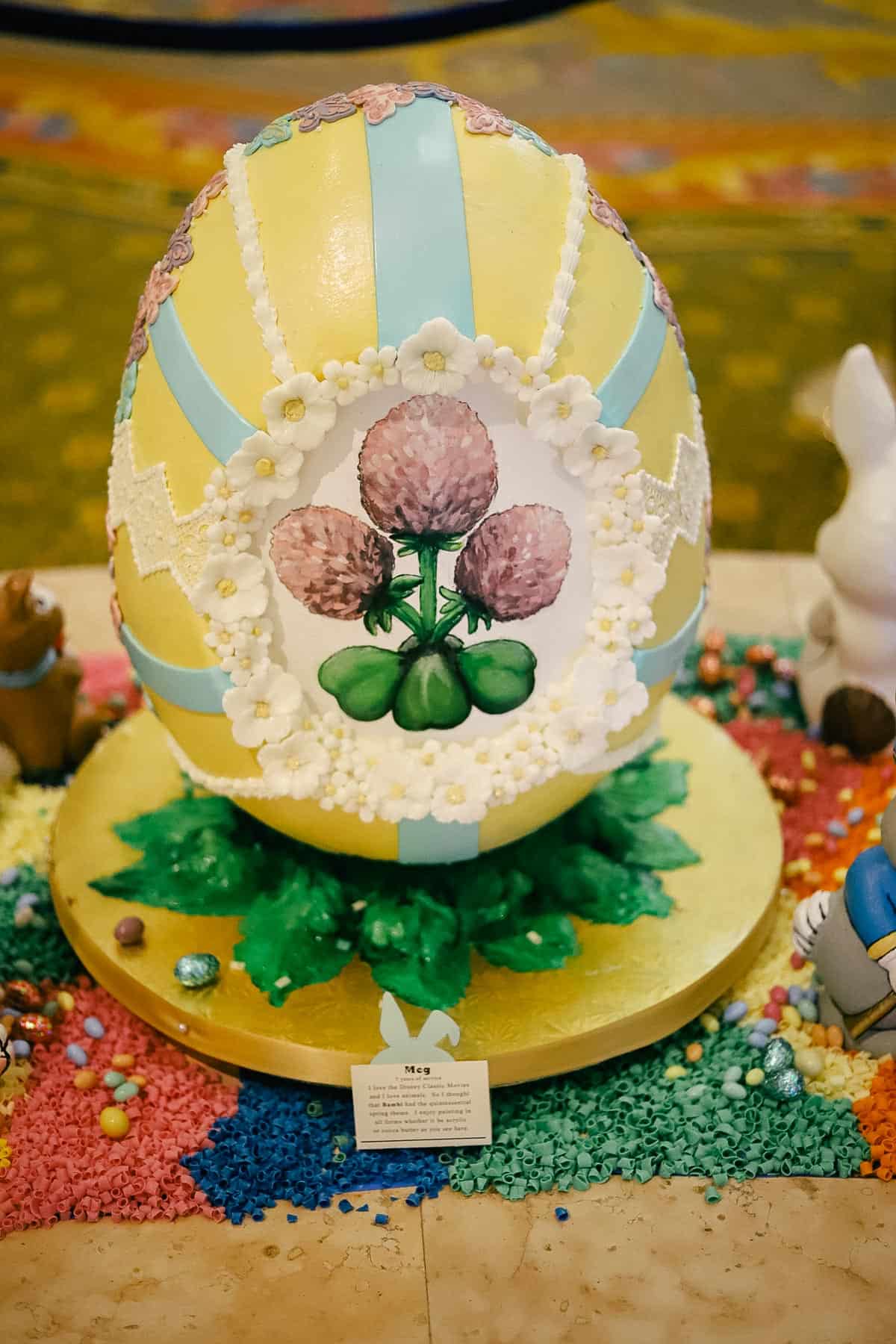 This painting was done with cocoa butter. Needless to say, the cast members that created these eggs are beyond talented.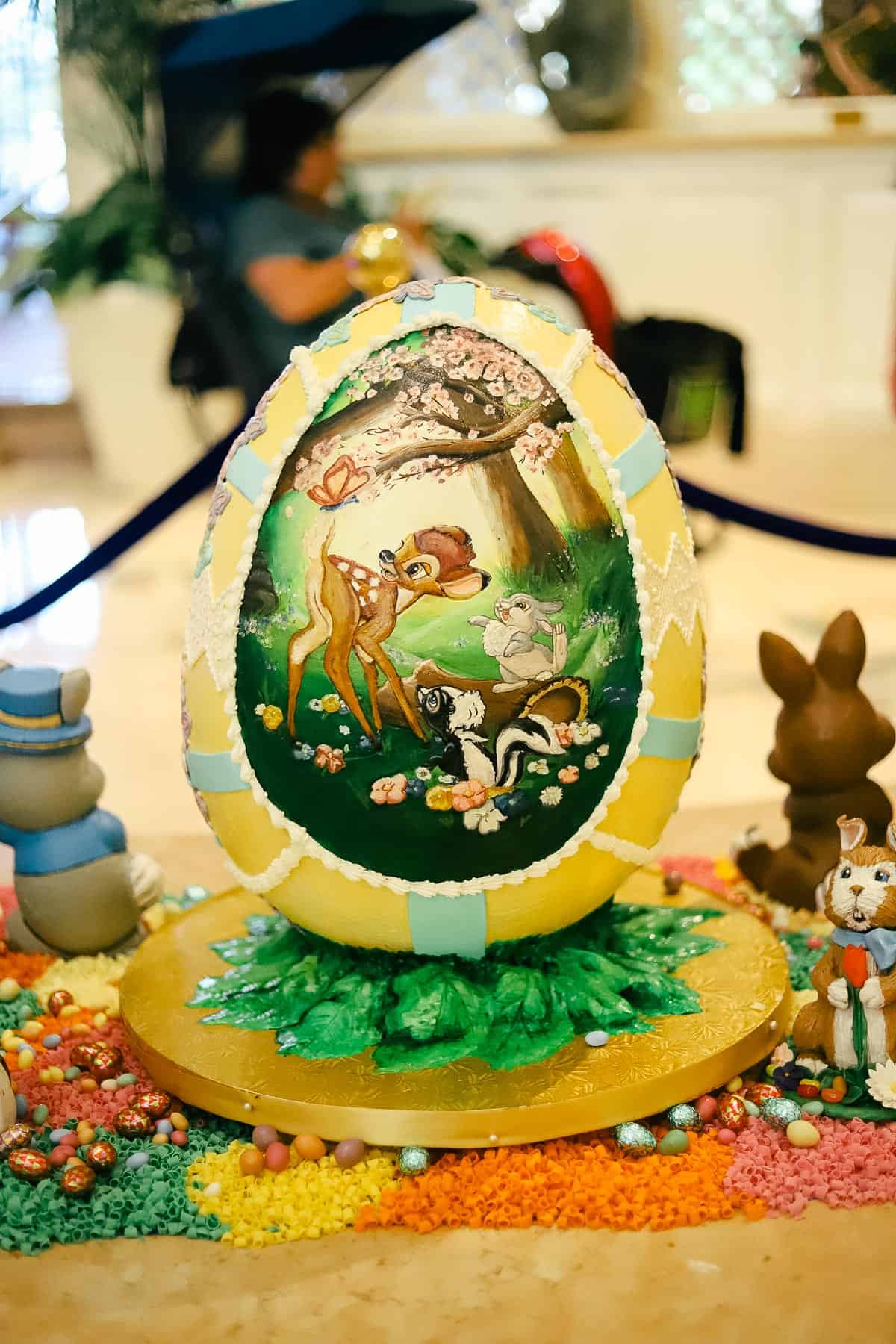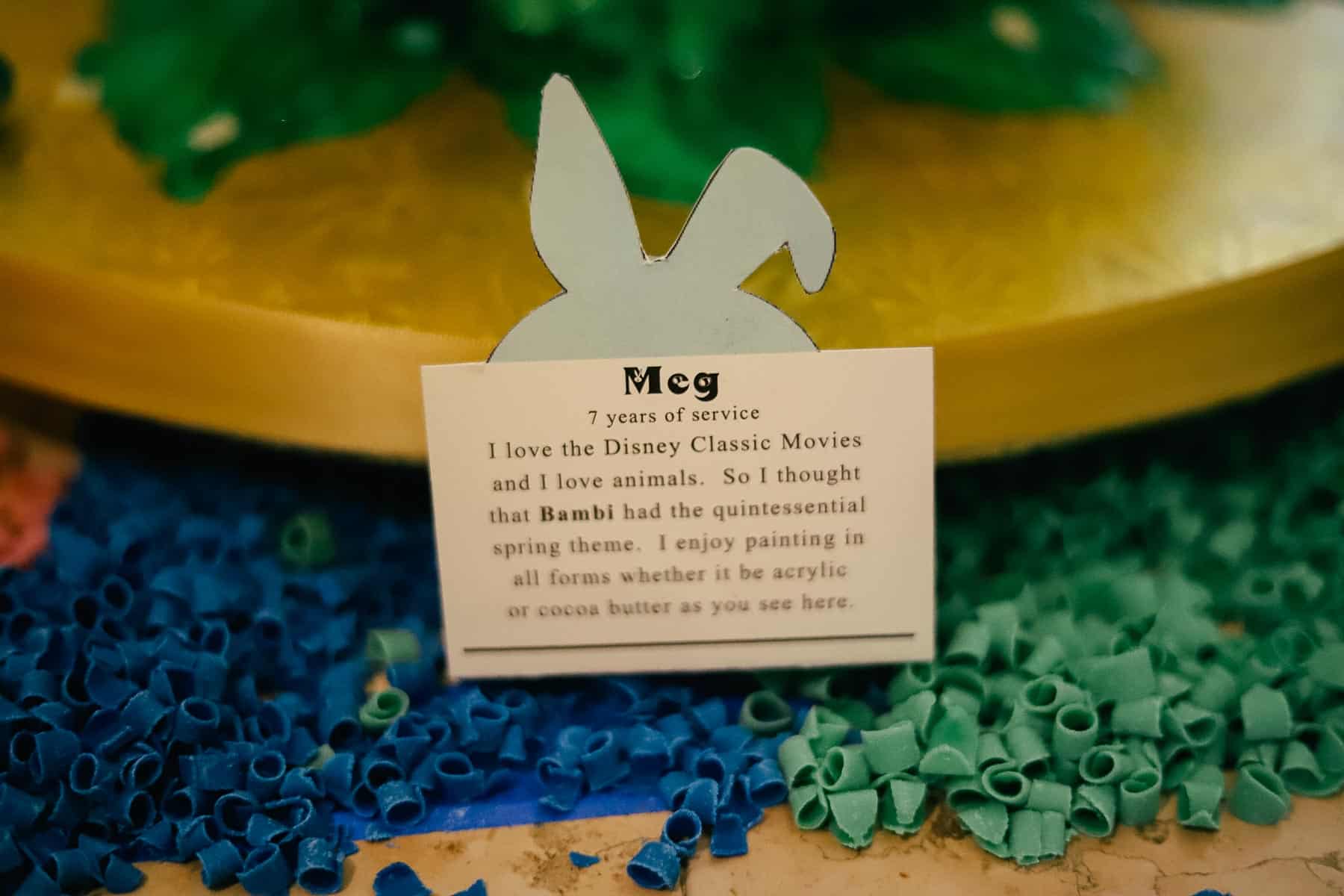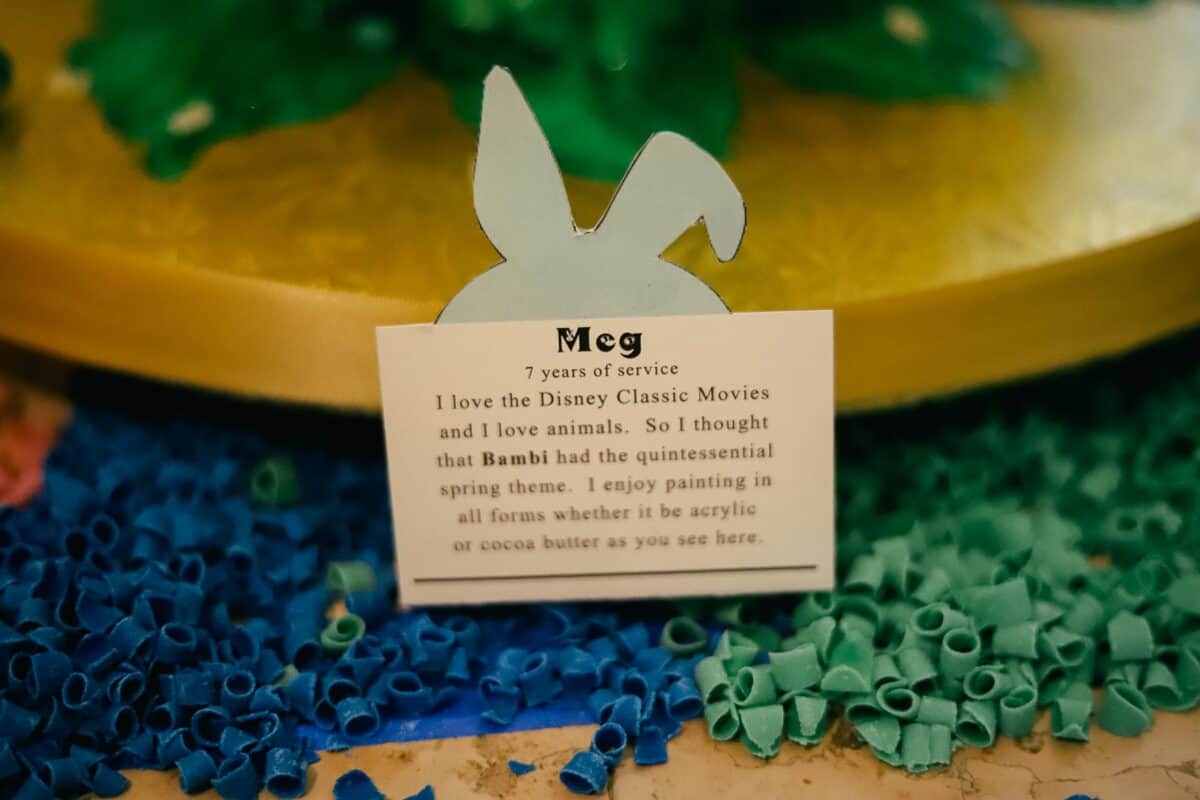 The White Rabbit keeps time with this next egg. Don't miss the hidden Mickey in the clockwork.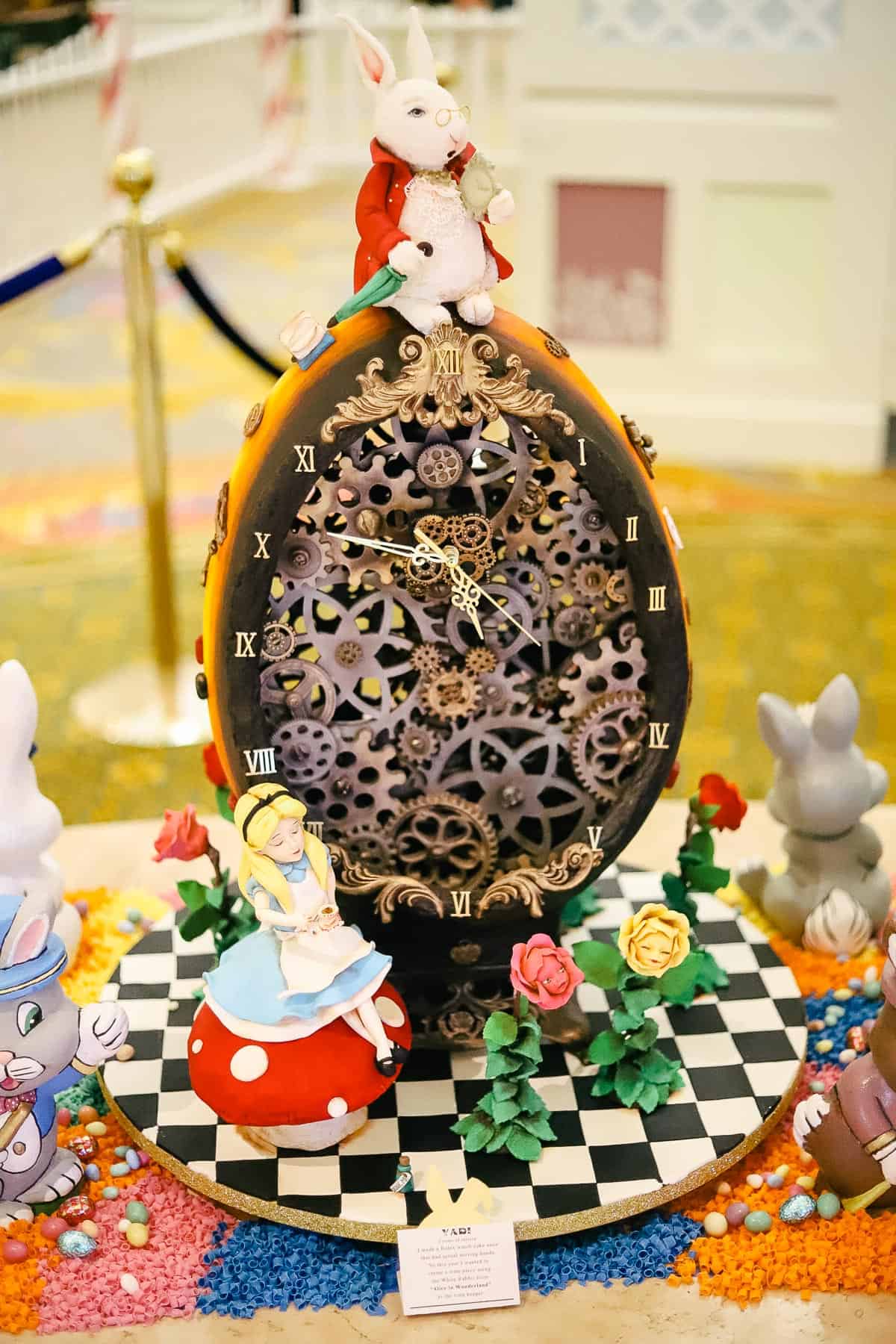 Someone has done their reading by adding the chessboard floor. And the flowers look as lovely as ever, even though they aren't the friendliest.
Cheshire lounges on the back of the display. I think that's his head and tail. So the egg must be his body, or else I'm imagining things.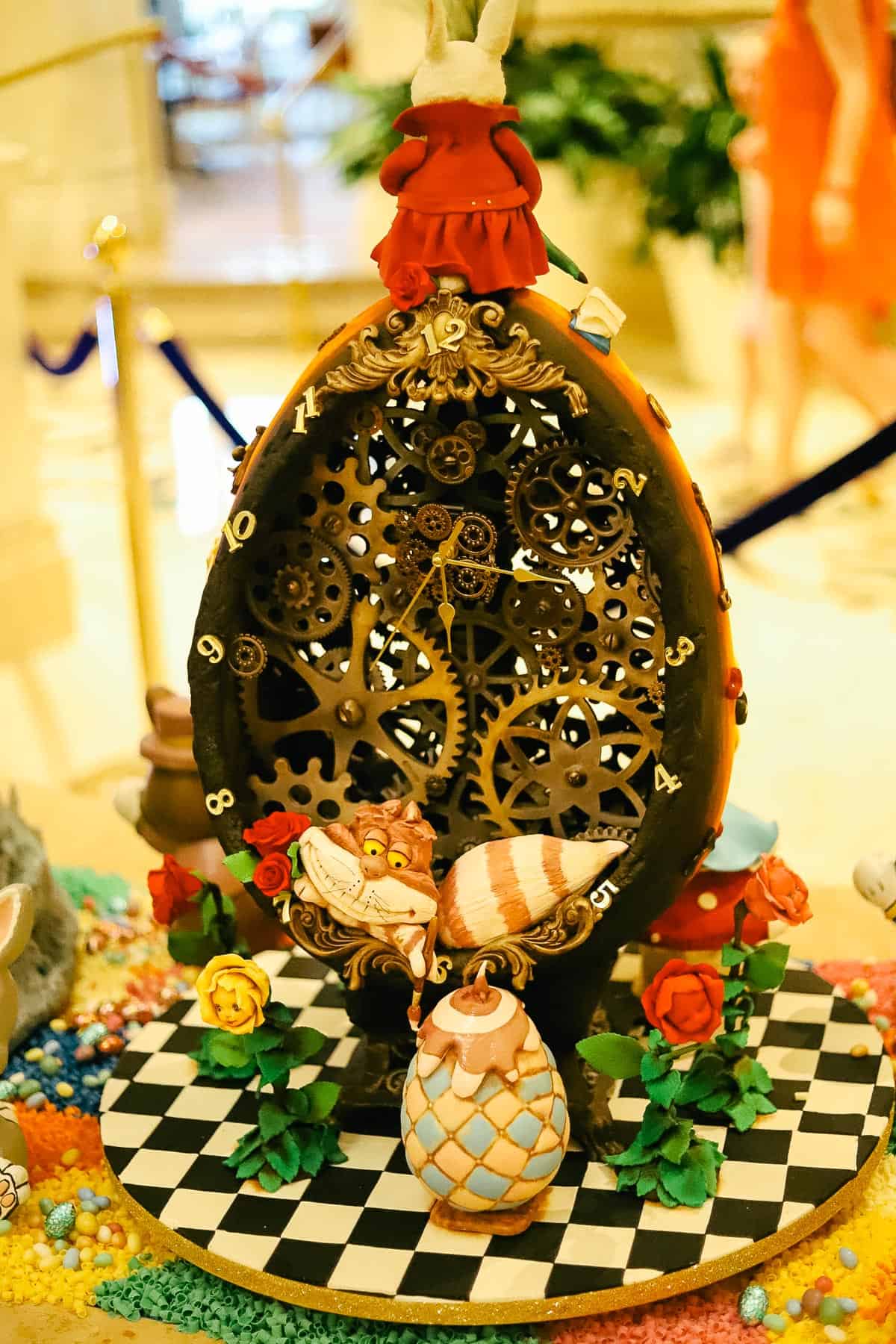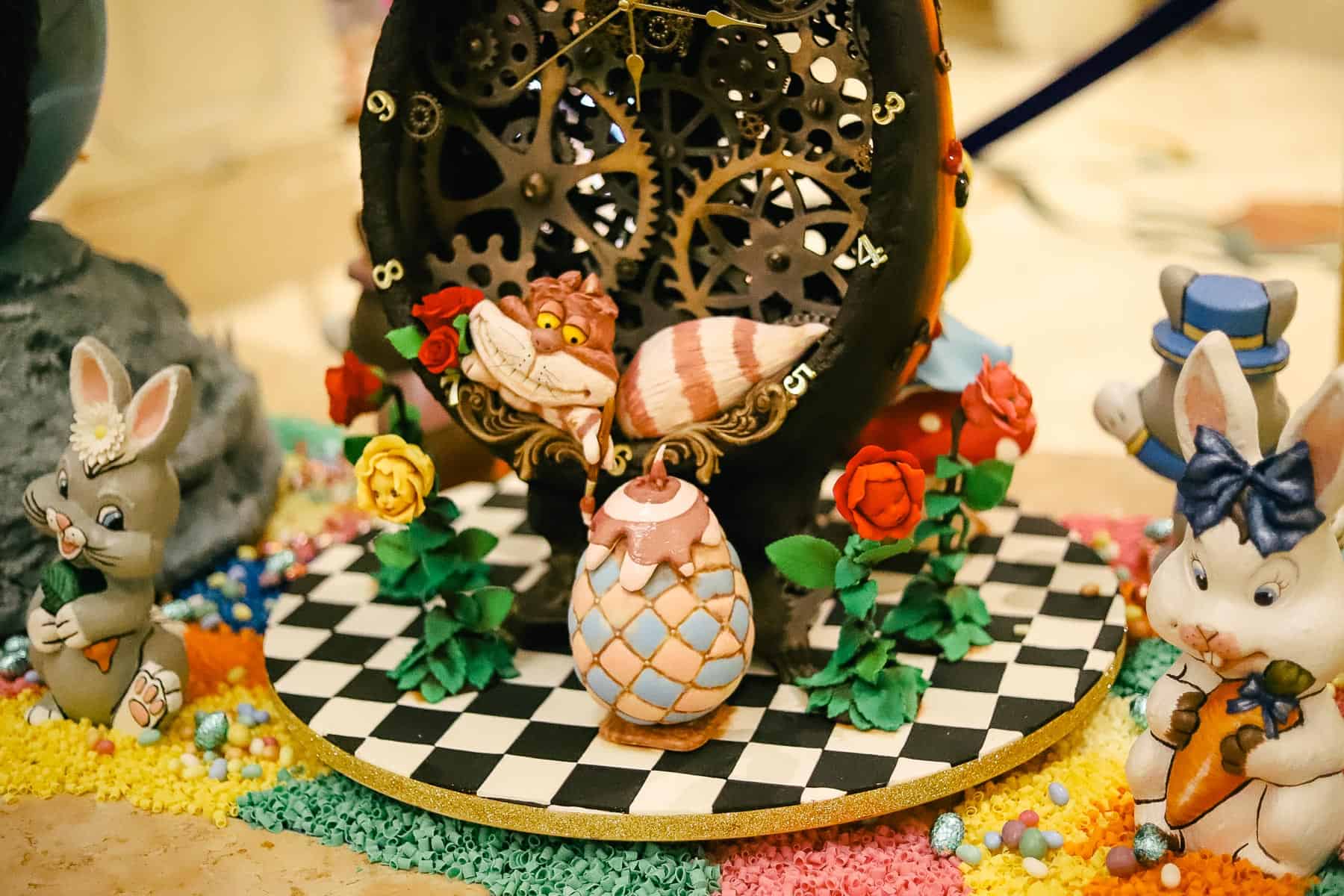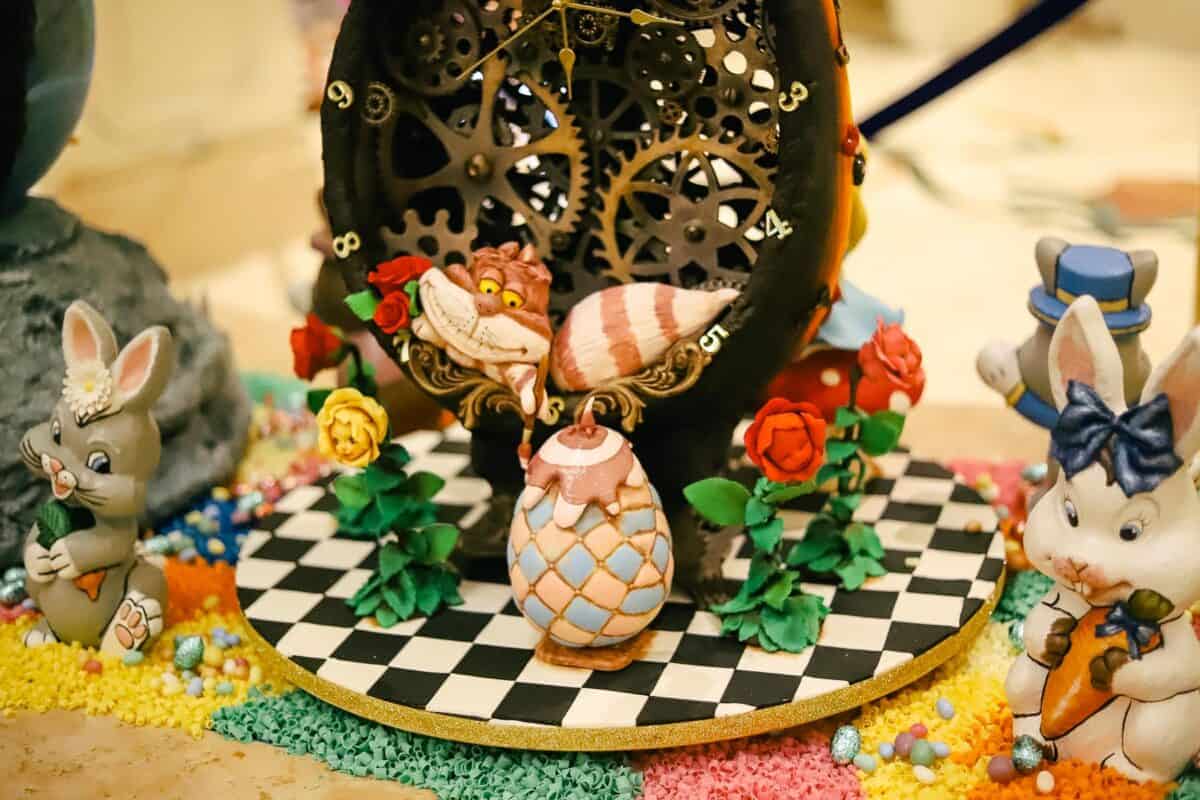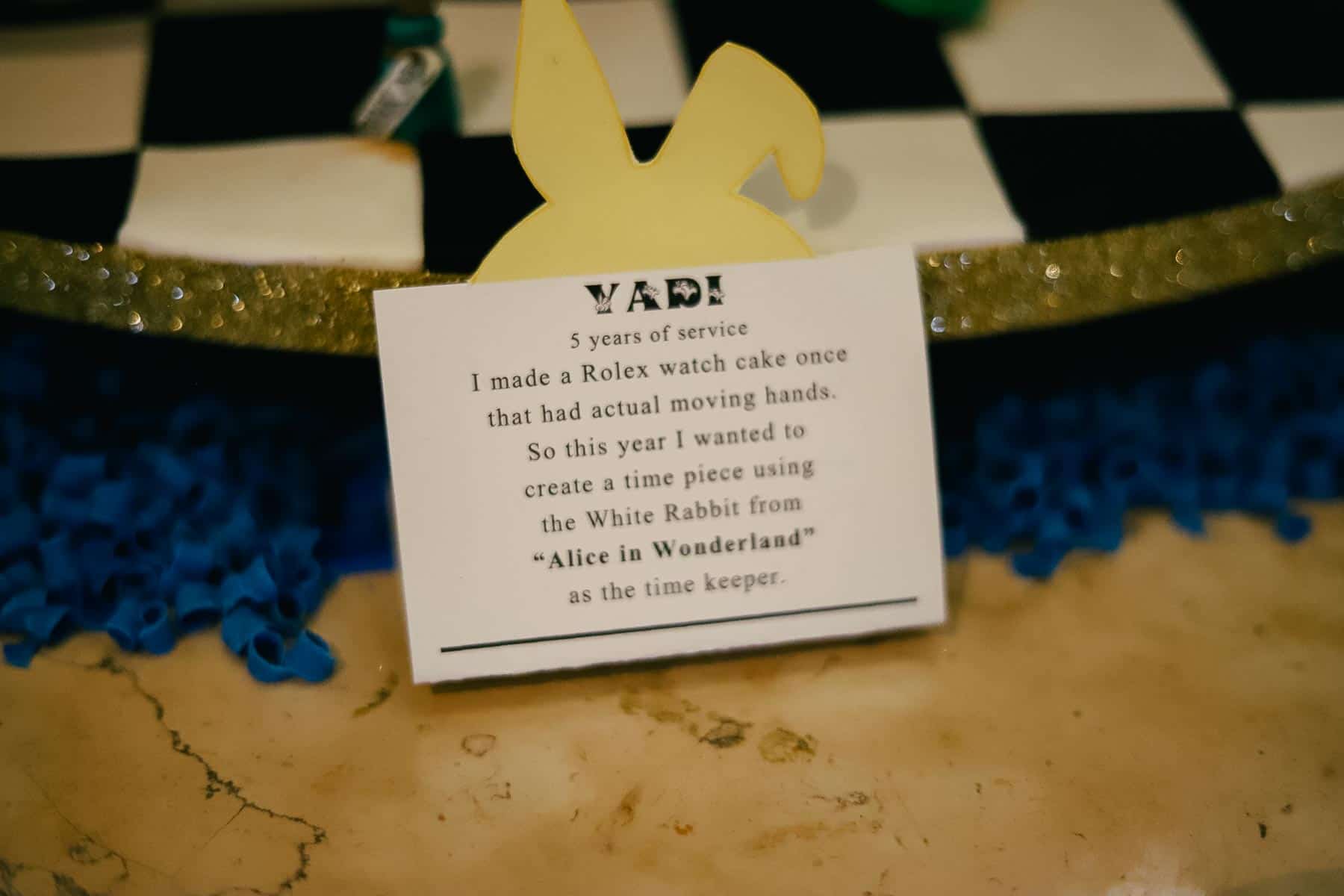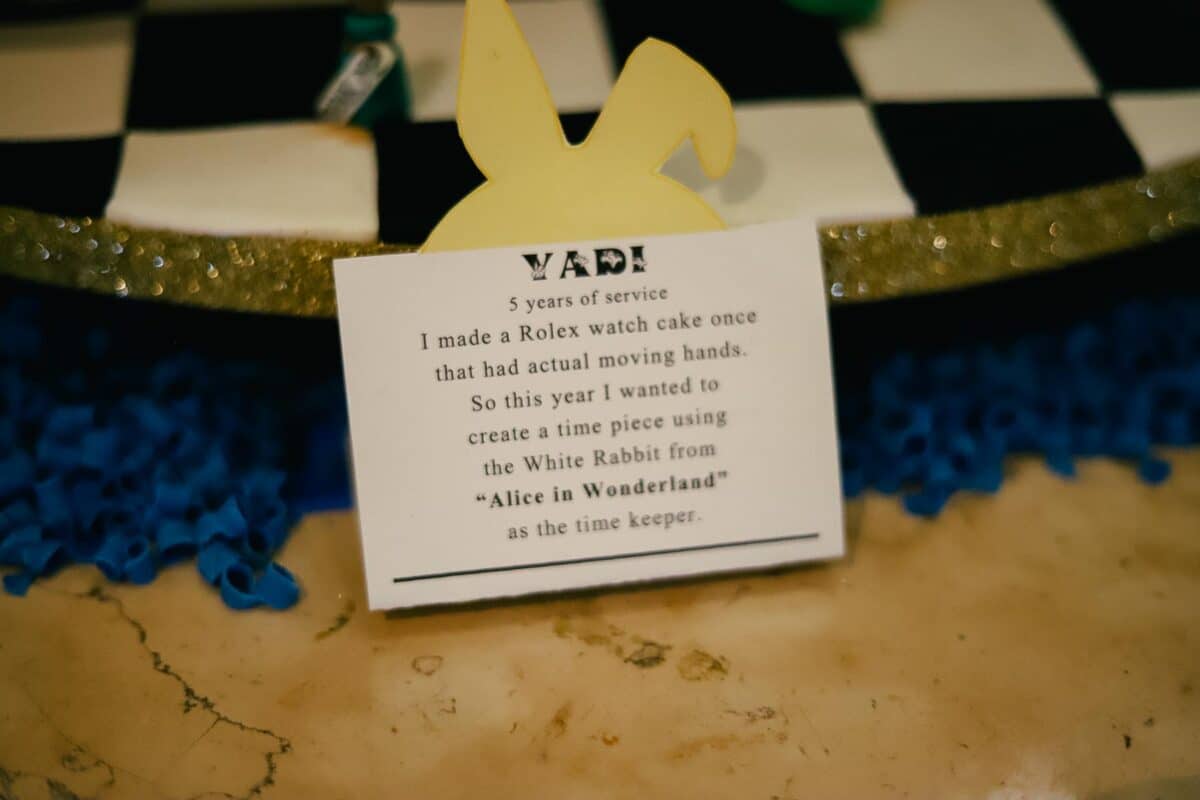 Thank you to whoever created this Egg-calibur egg representing The Sword and the Stone.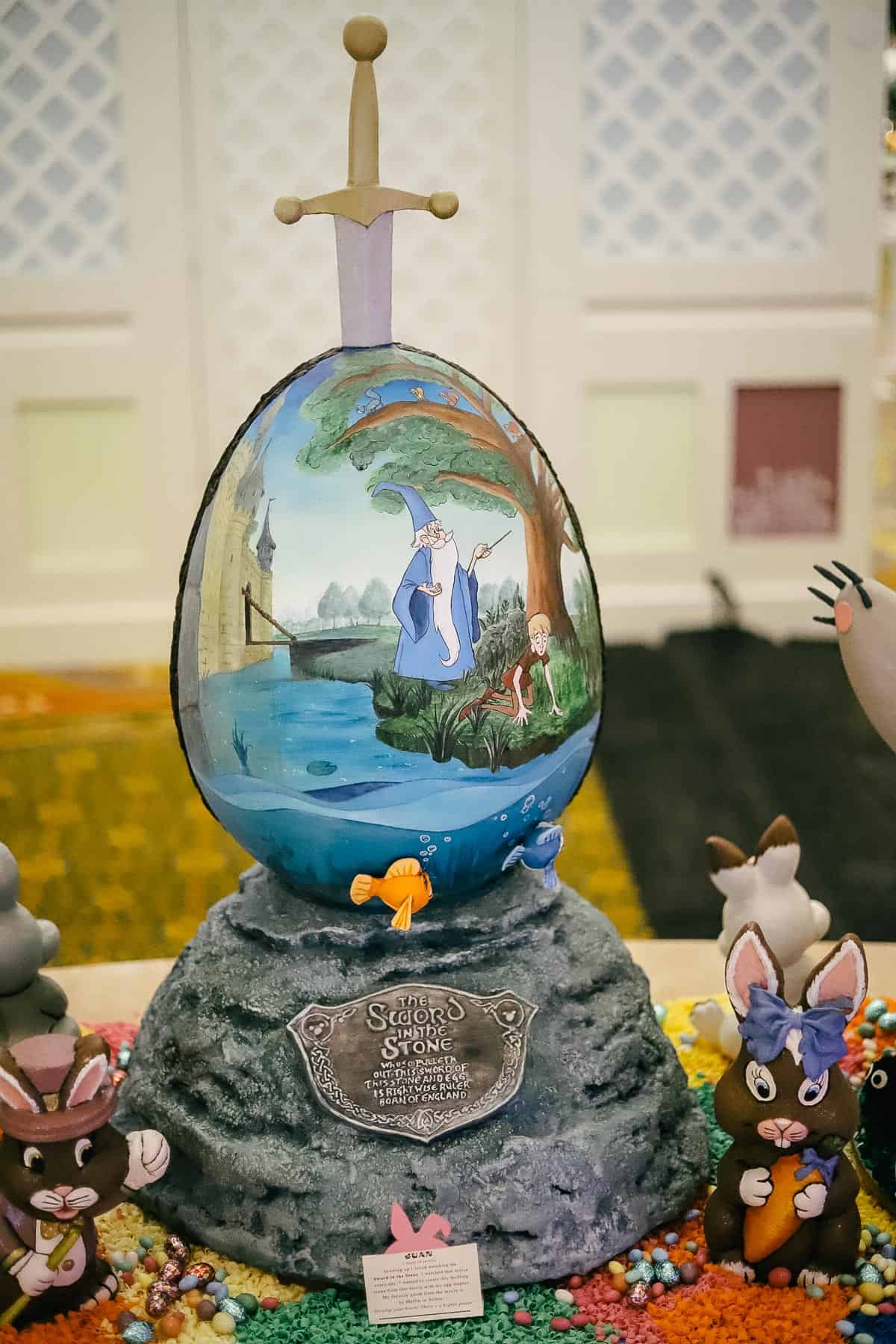 There are so many things one can learn from such a cartoon. Even this egg's creator thinks so.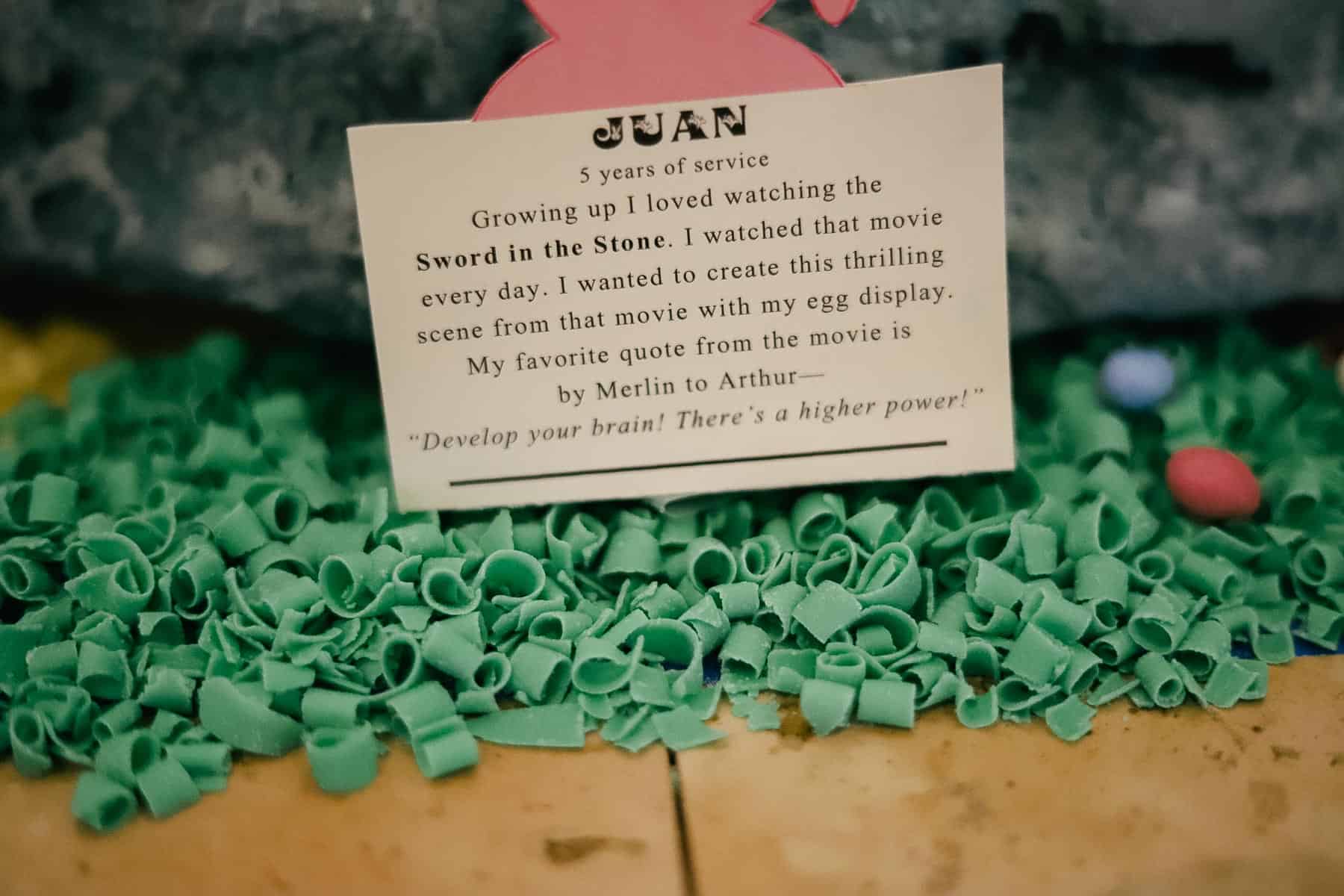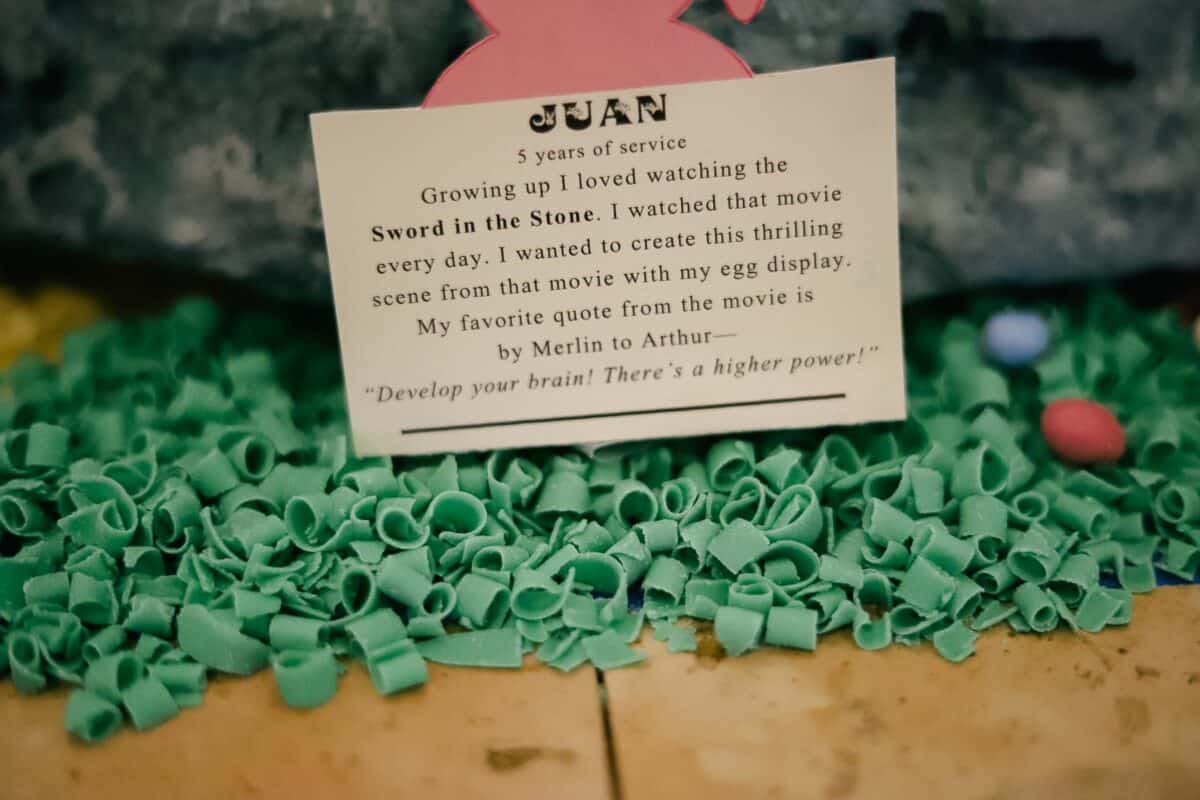 Another cast member was inspired to create an egg representing My Neighbor Totoro, a Japanese animated film.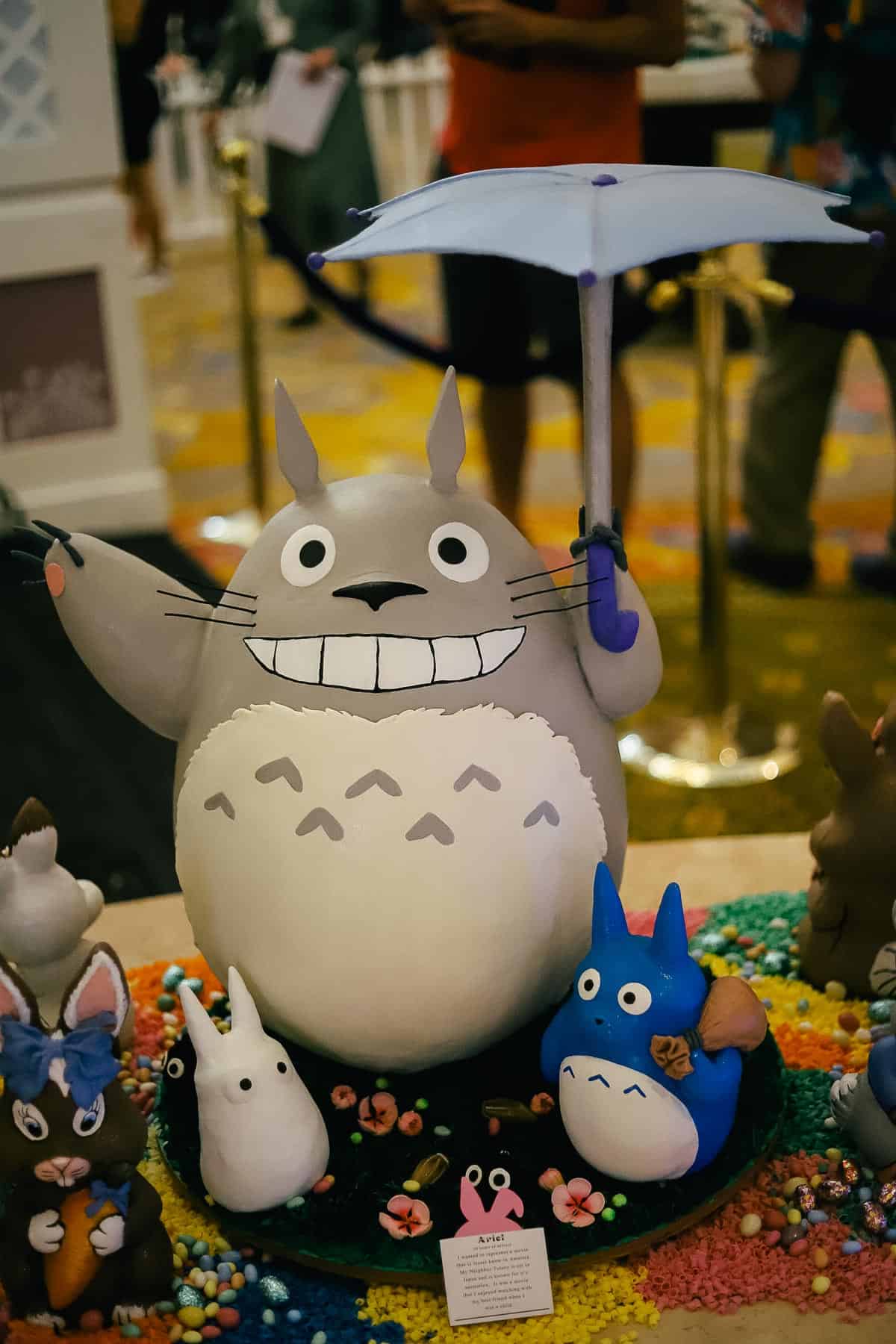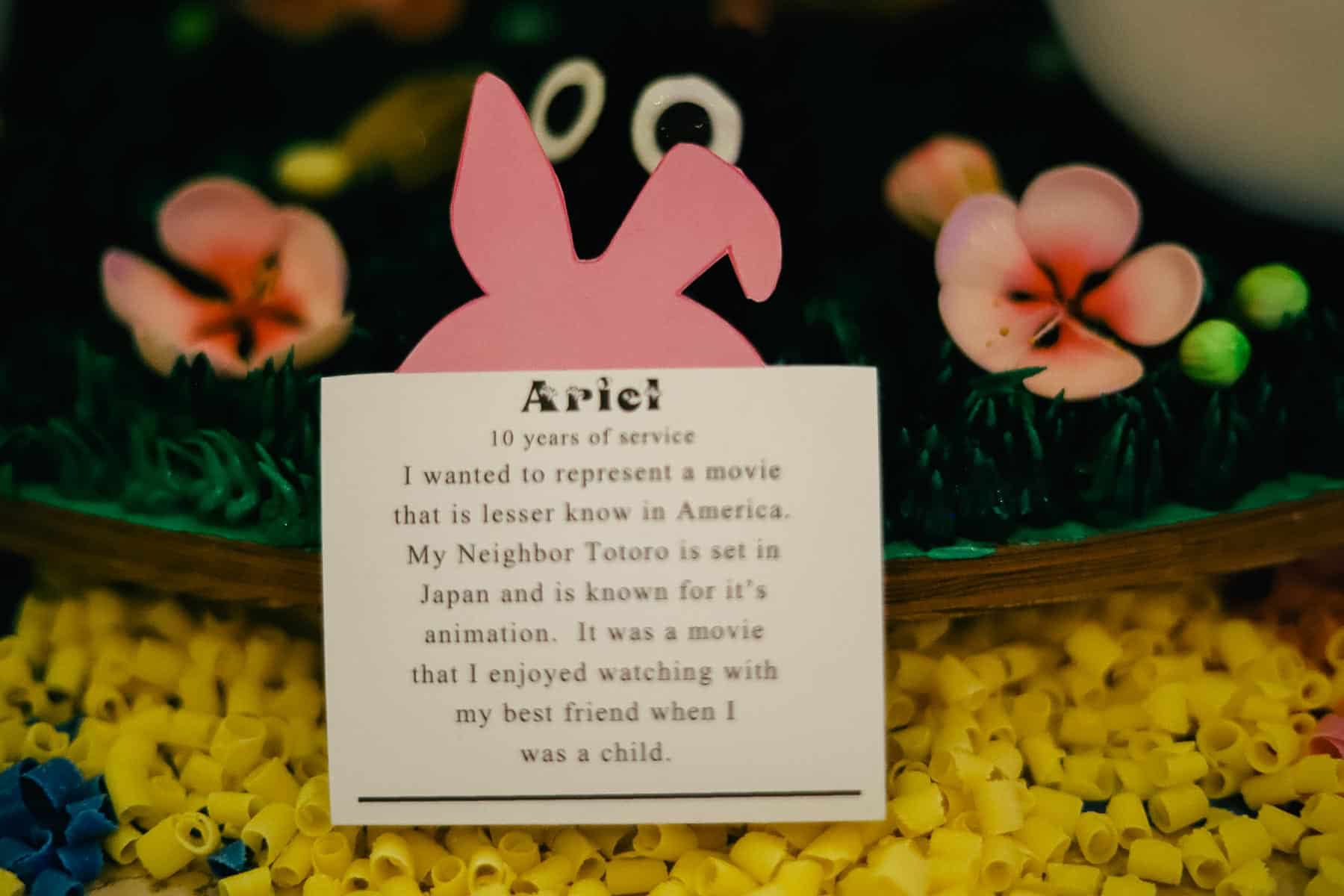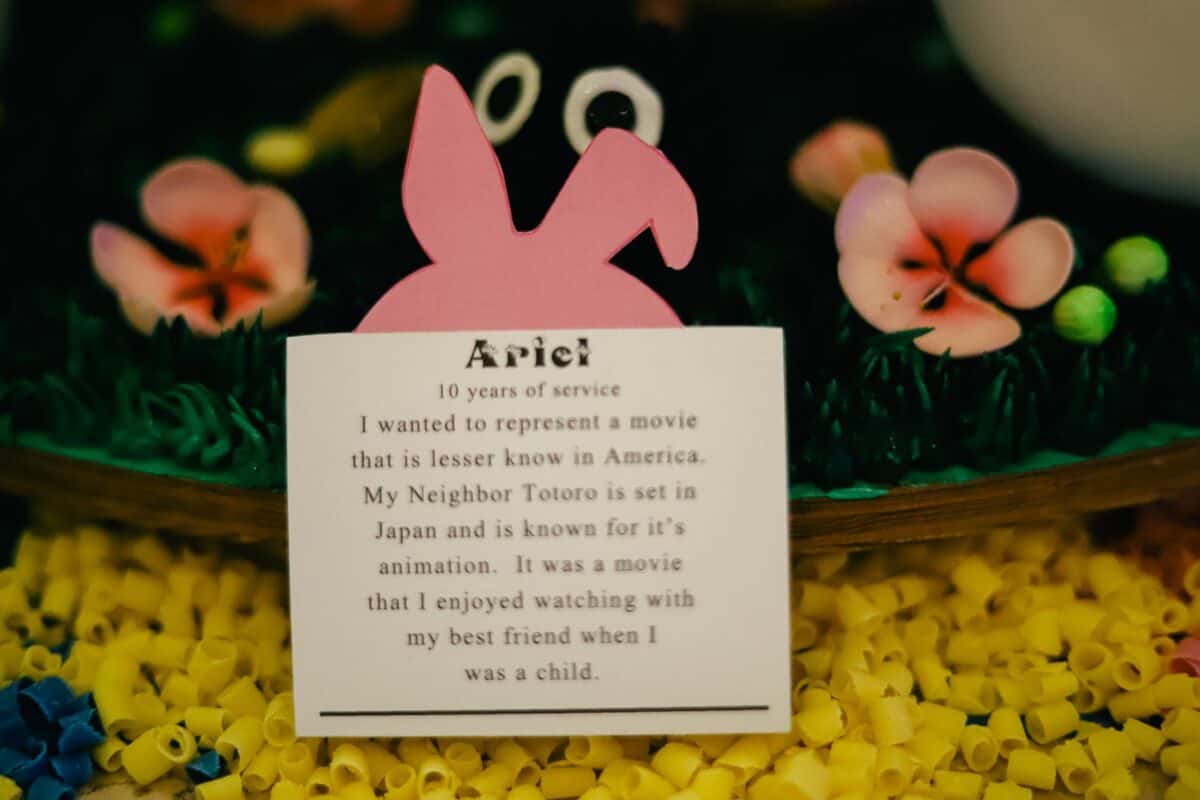 This next egg was inspired by Celebrate Mickey: InspEARations. Seventy-five statues were created to celebrate Mickey's 75th birthday in 2004.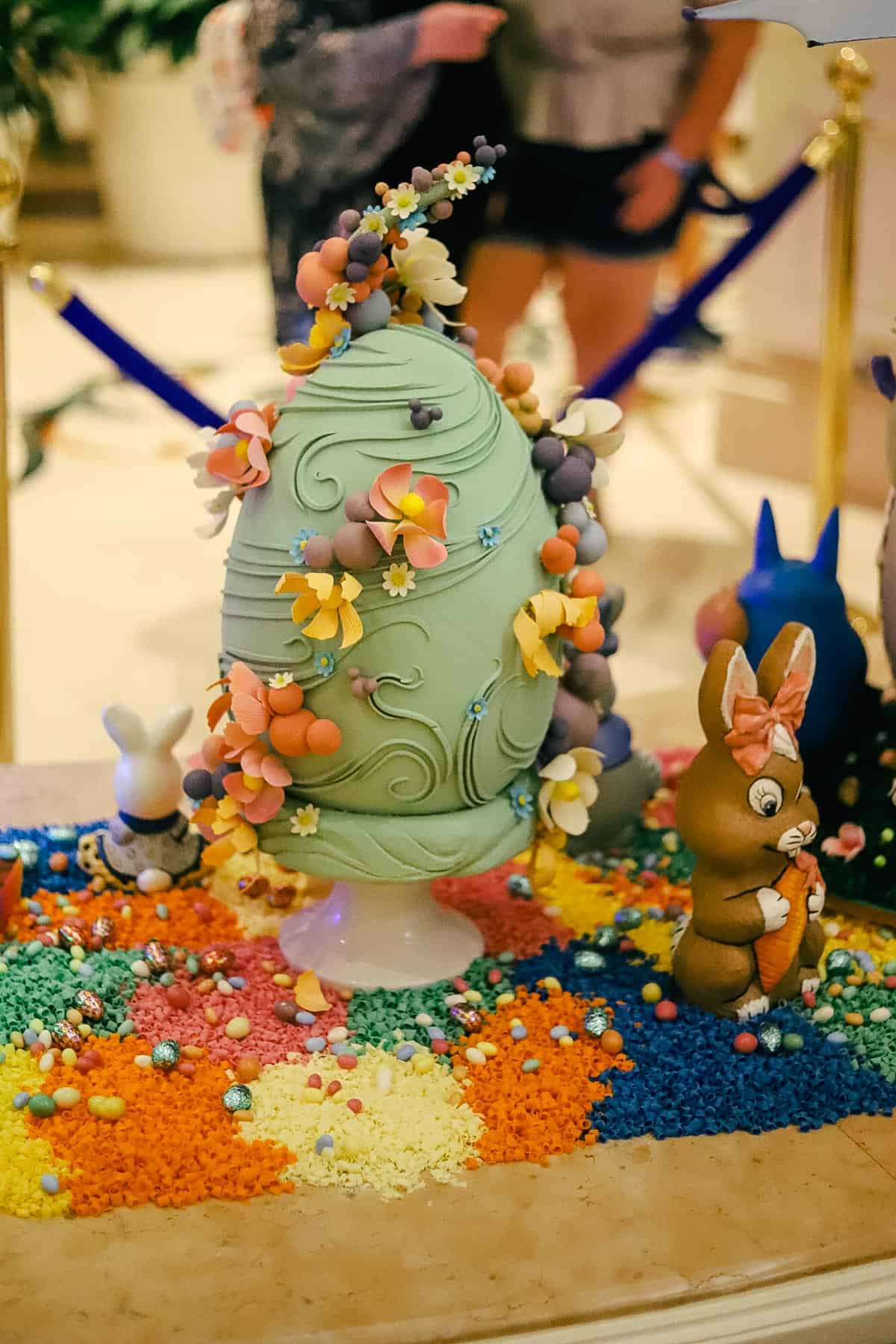 Another favorite, this egg features hidden Mickey's galore.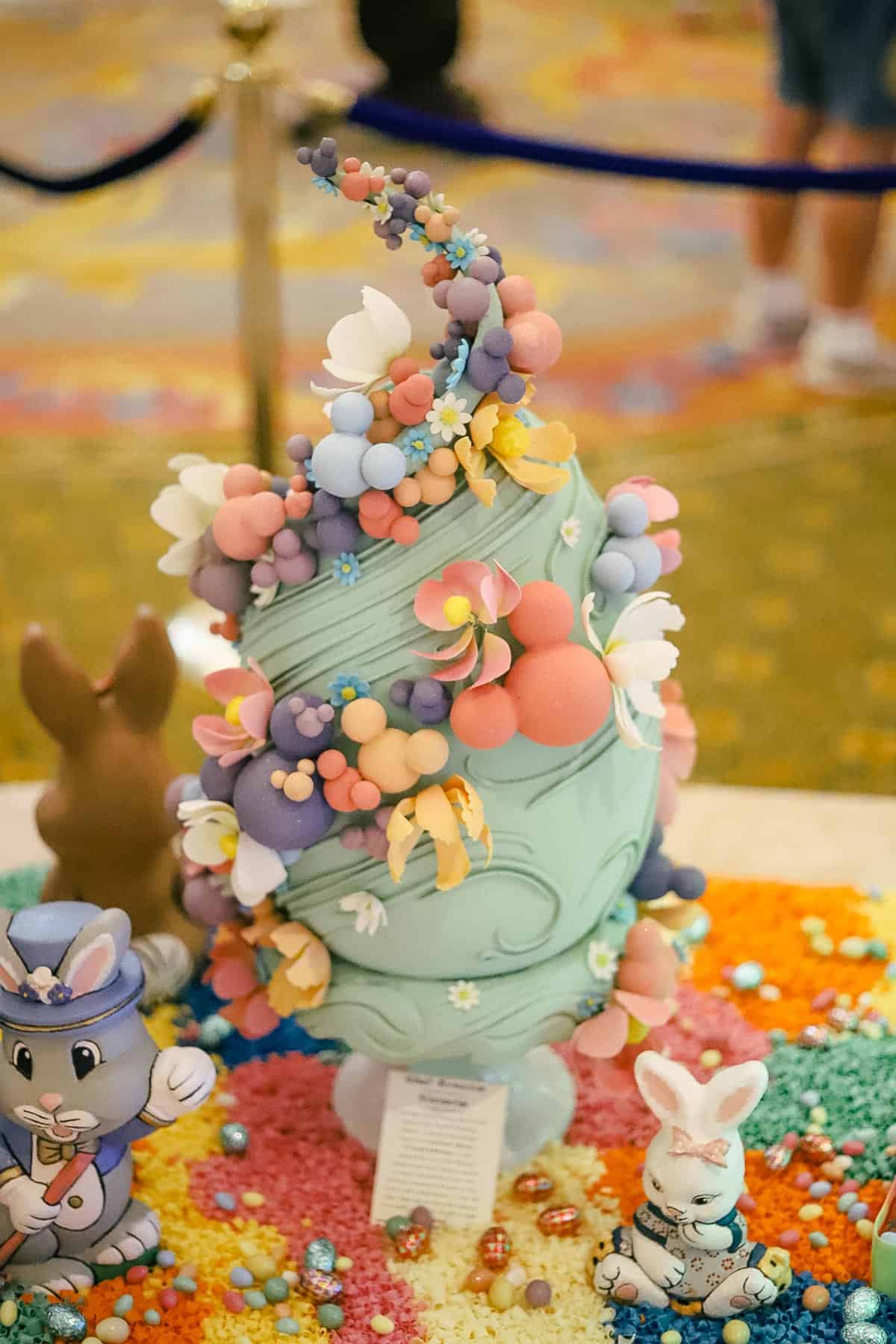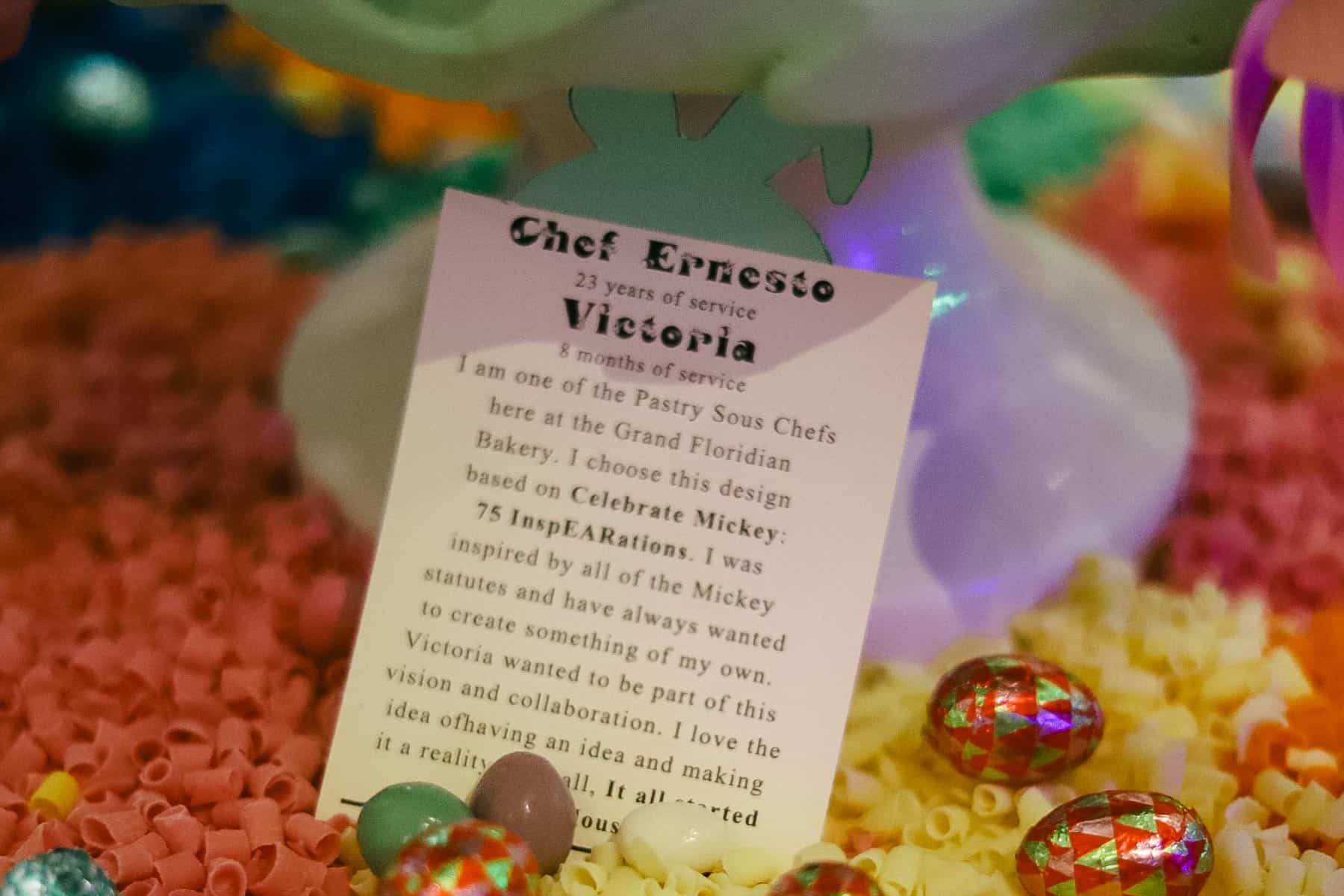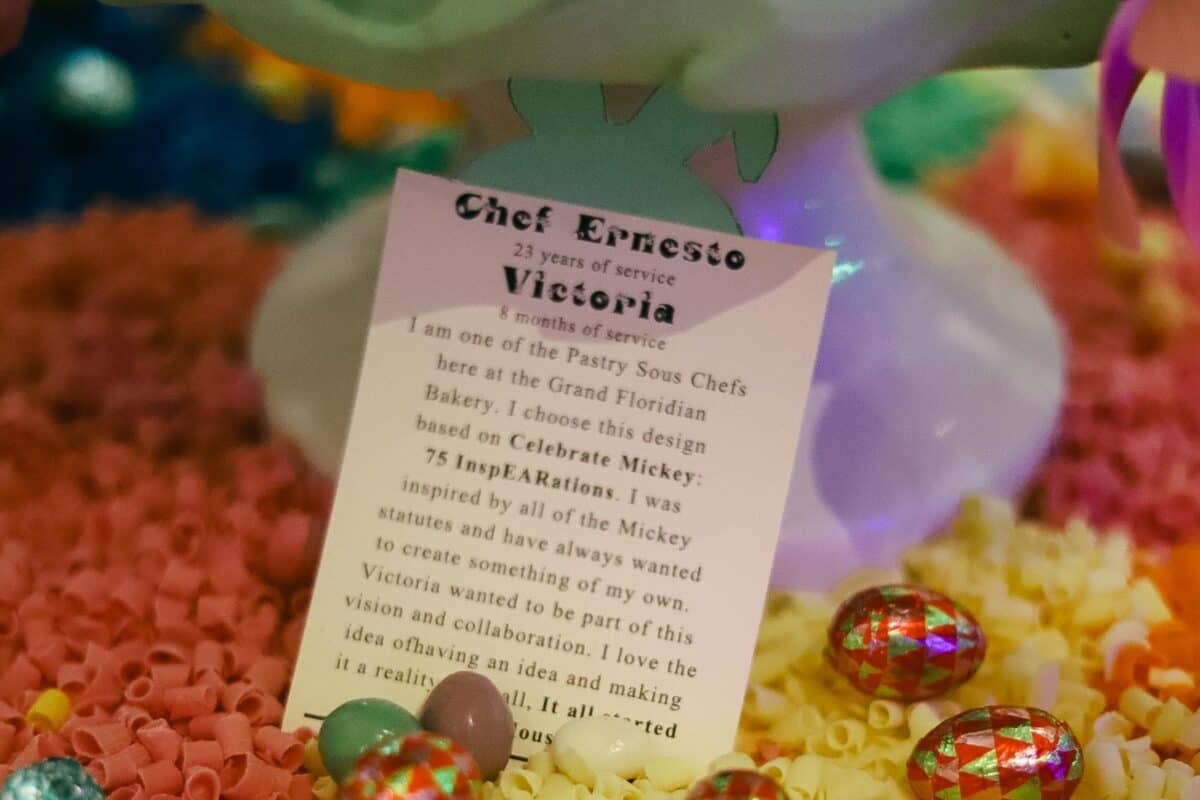 Unfortunately, I didn't get a great shot of this next egg representing the Main Street Electrical Parade.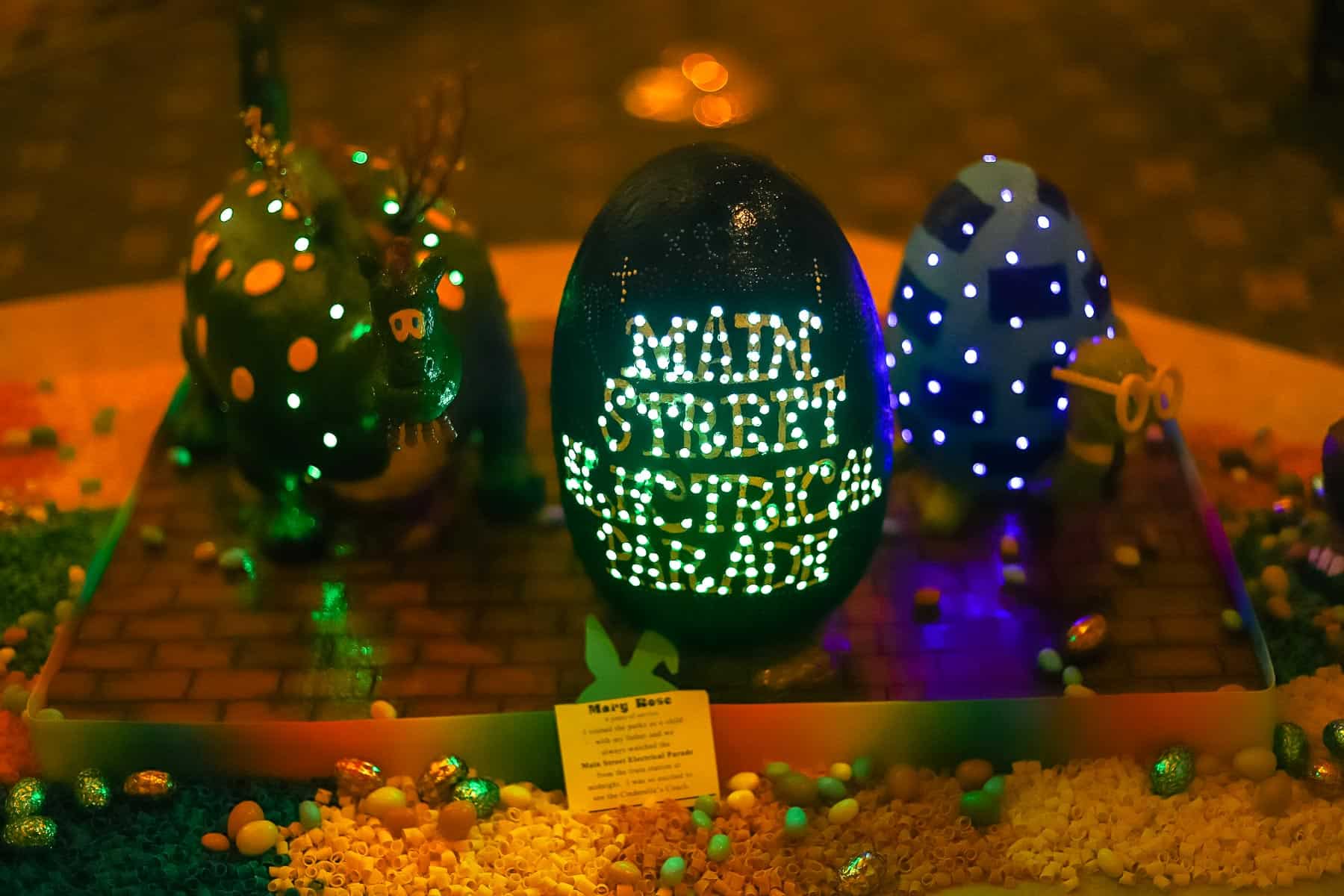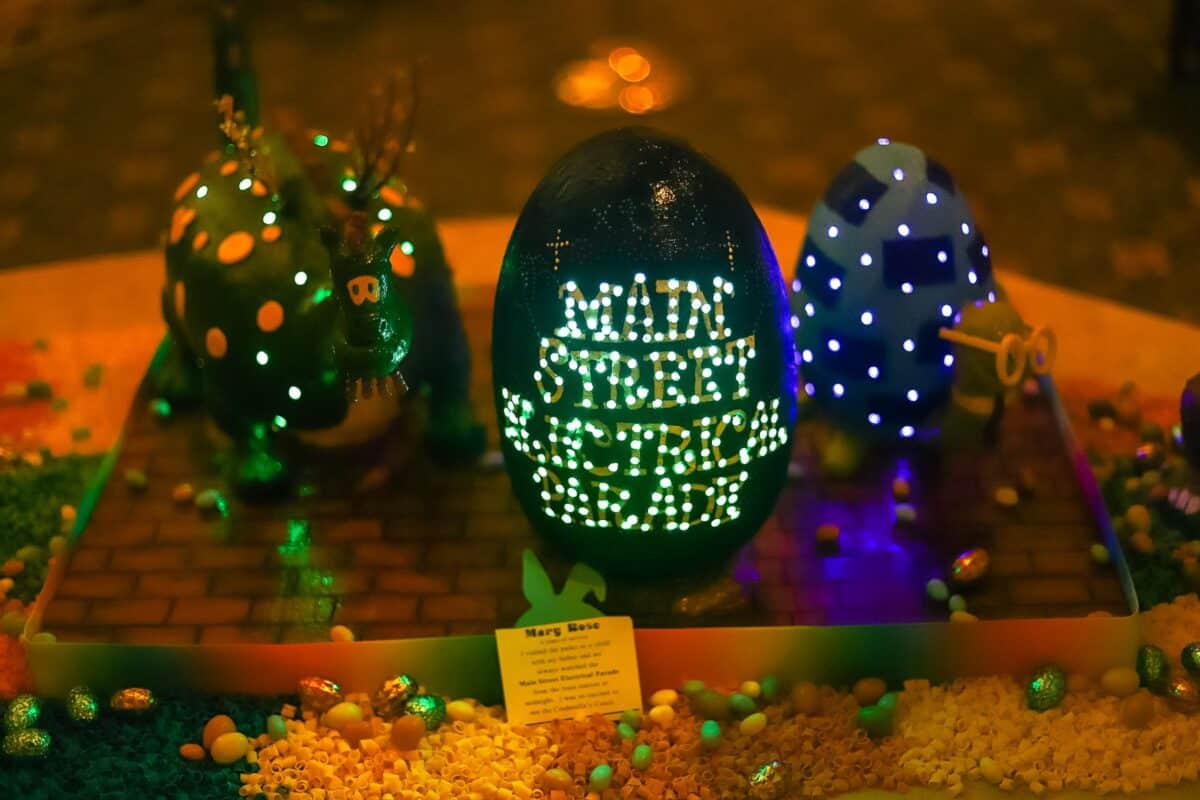 Perhaps, you can see it better from this view.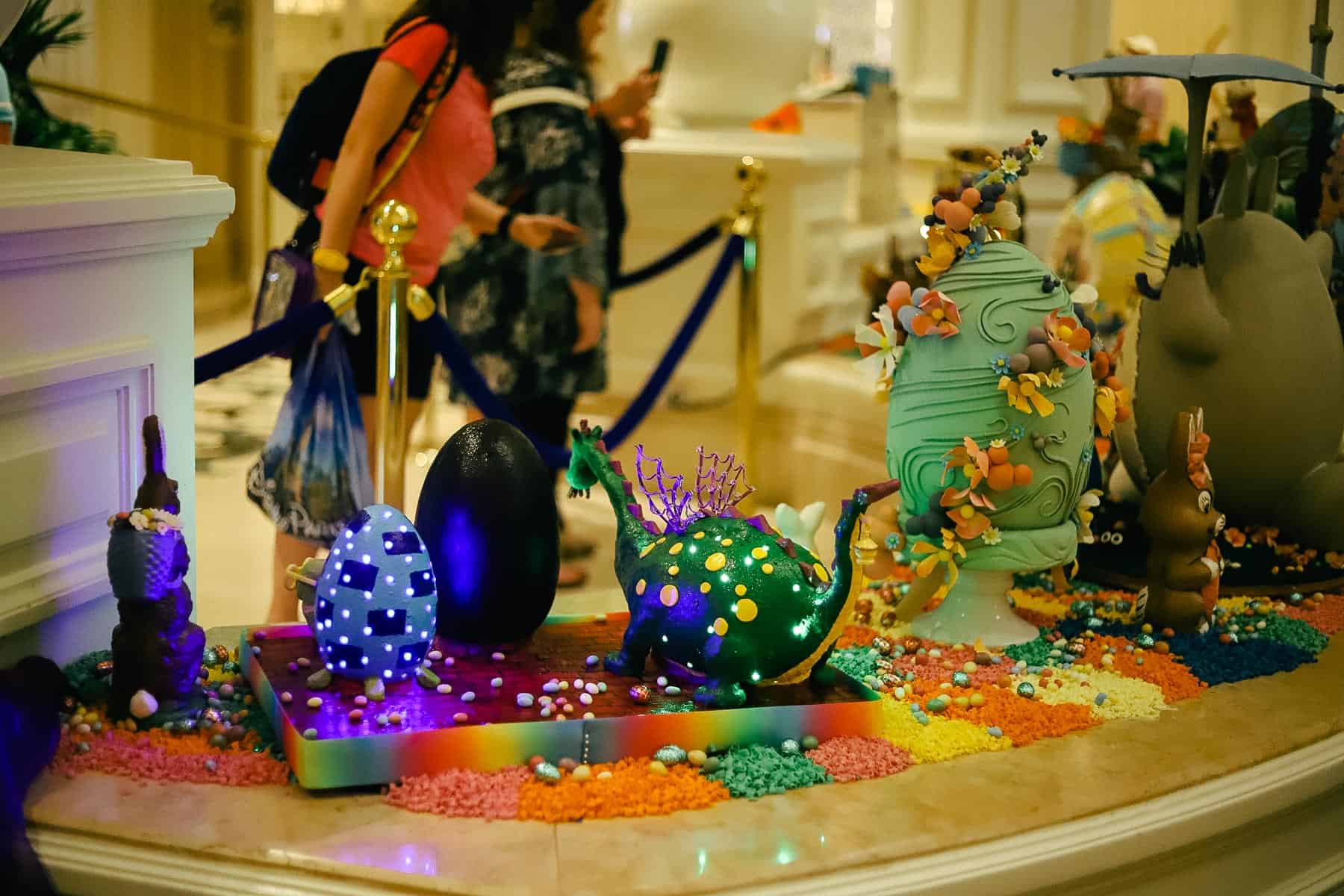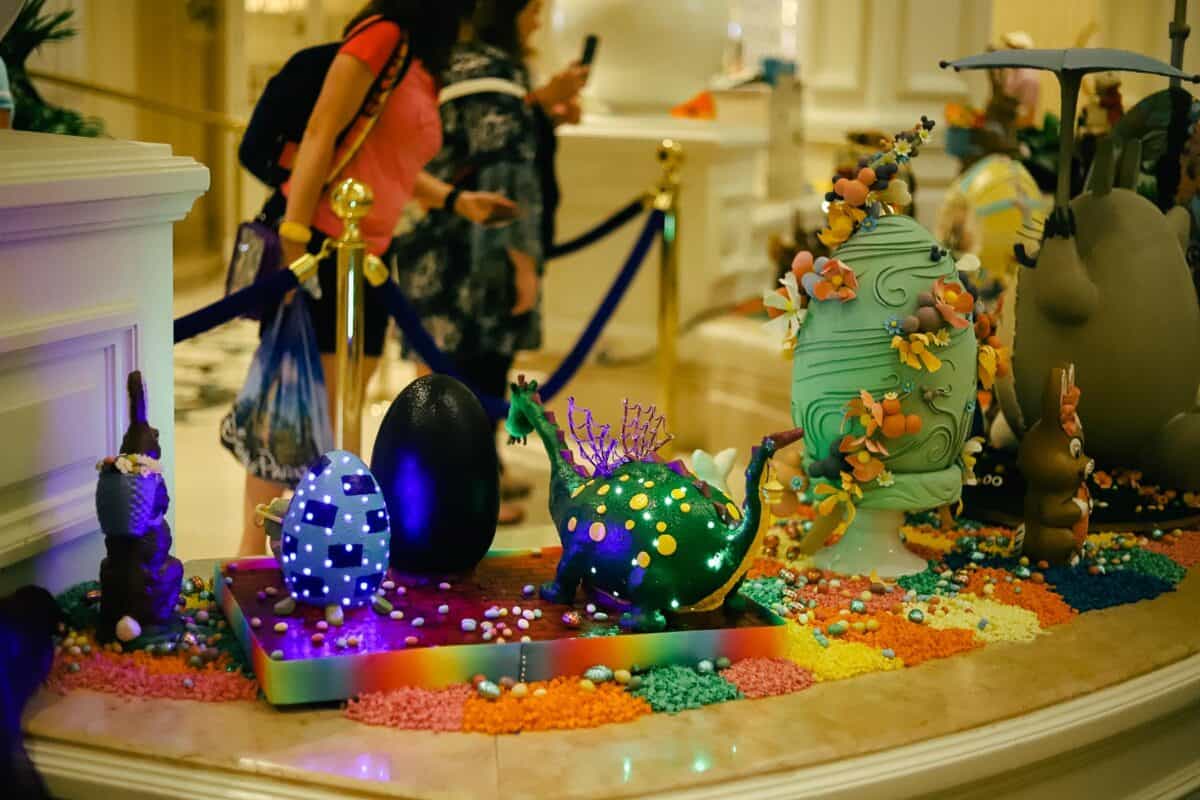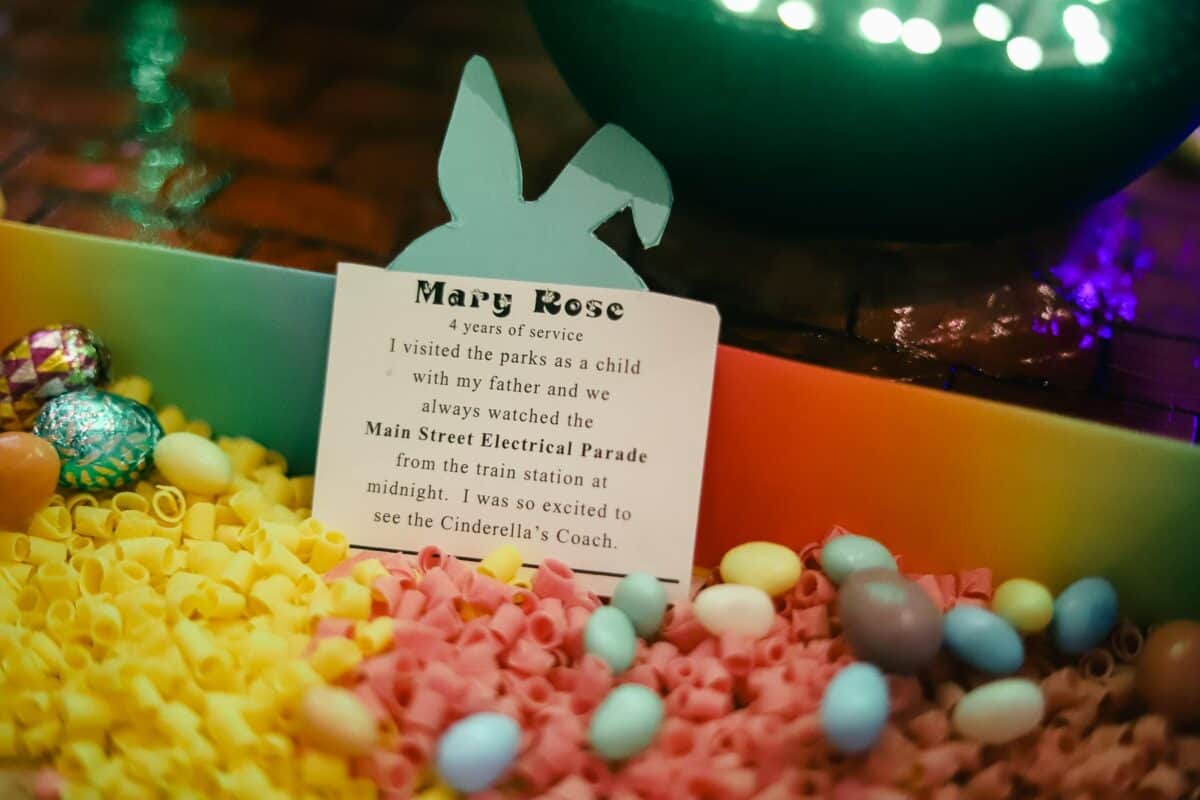 We have another Winnie the Pooh egg! This one is accompanied by the book.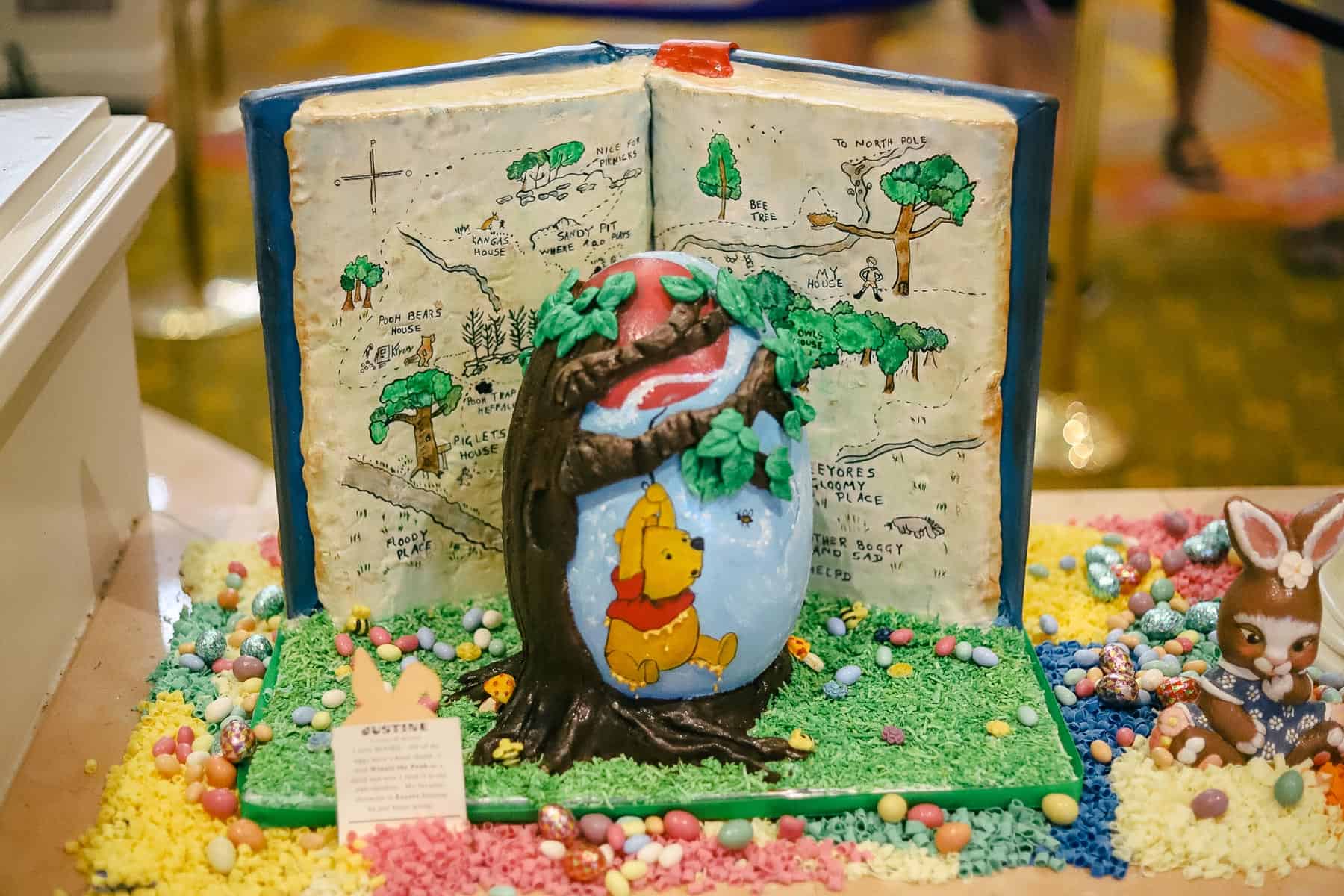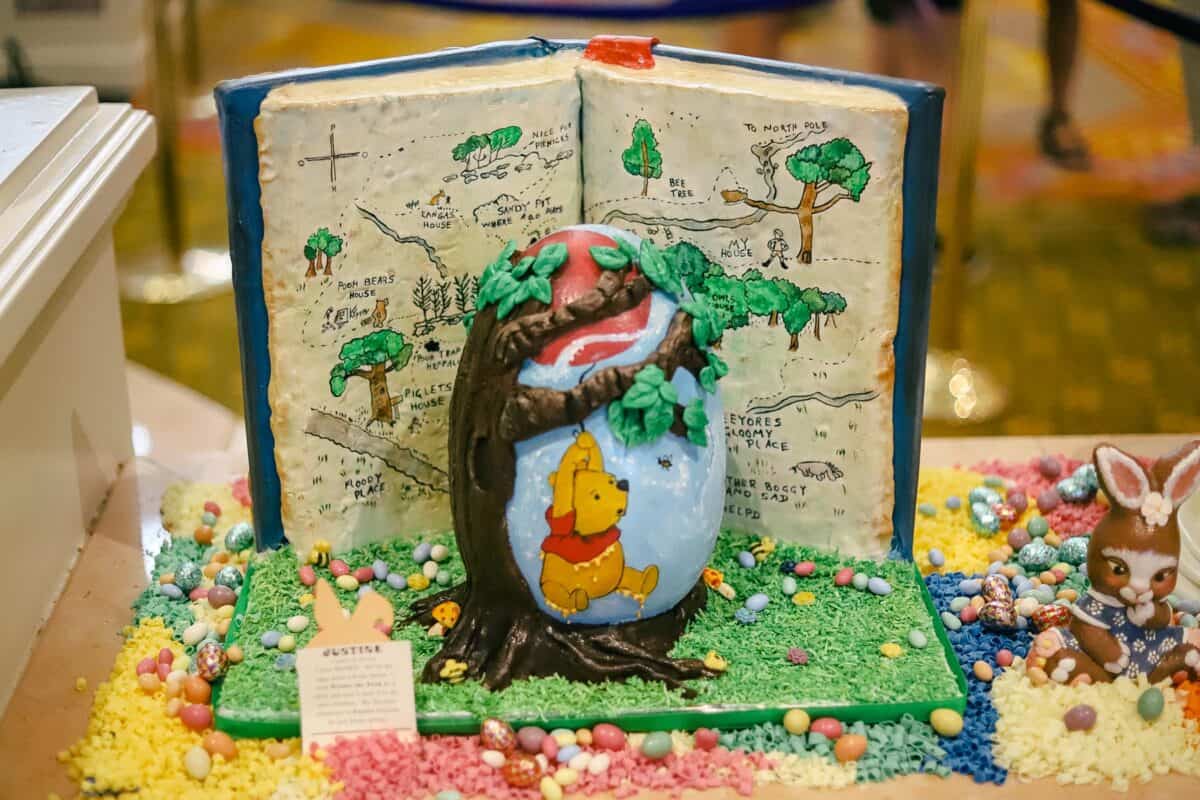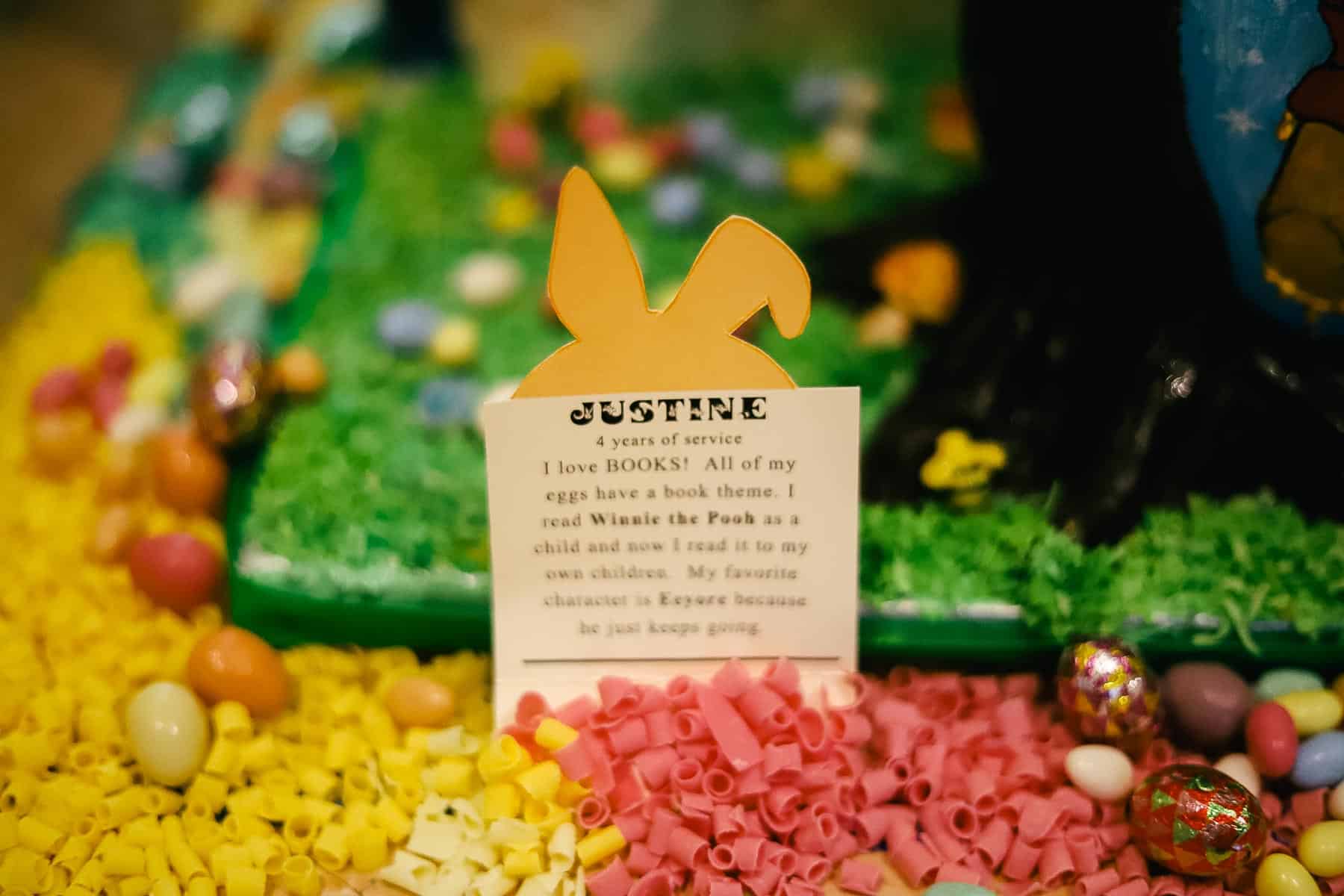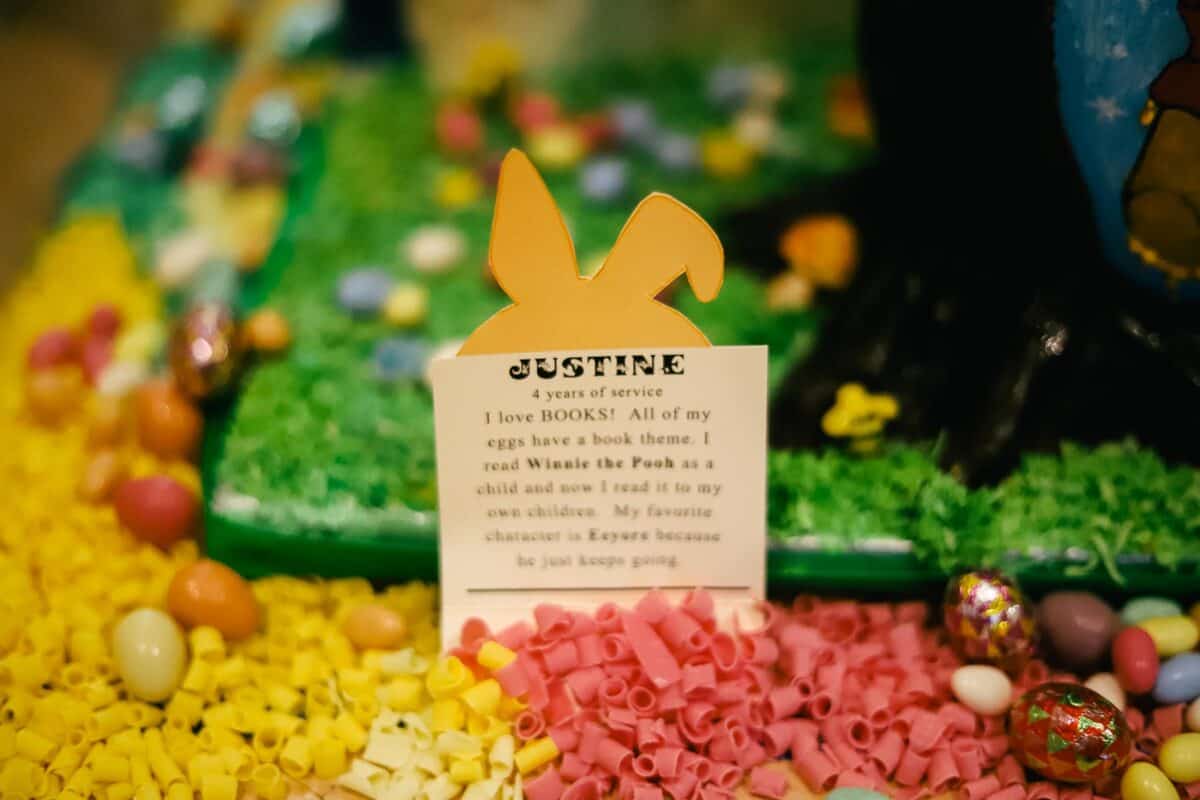 It took me a minute to recognize this next egg. It's from The Lion, the Witch, and the Wardrobe. That's the wardrobe opening to the light pole. Winter is no more.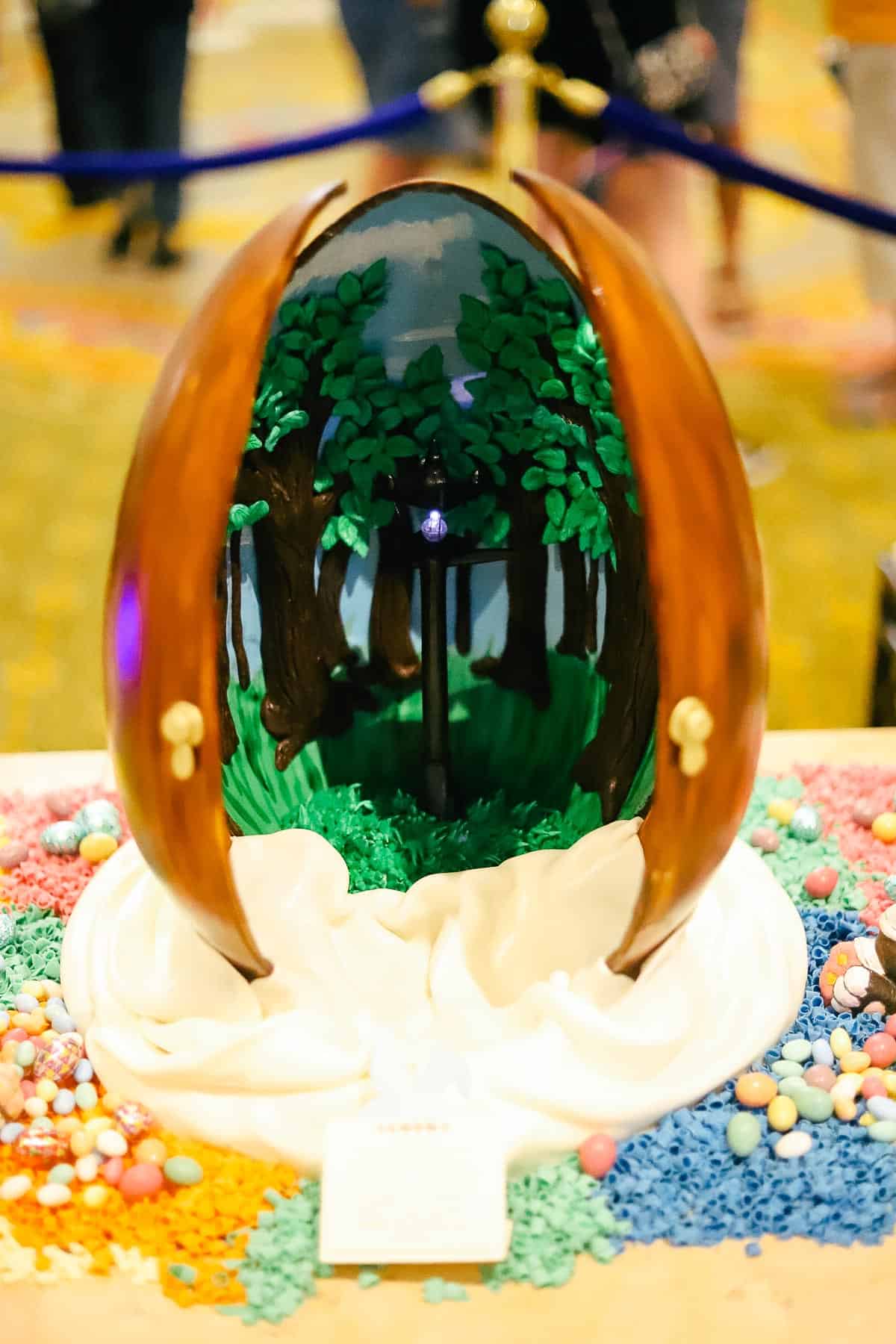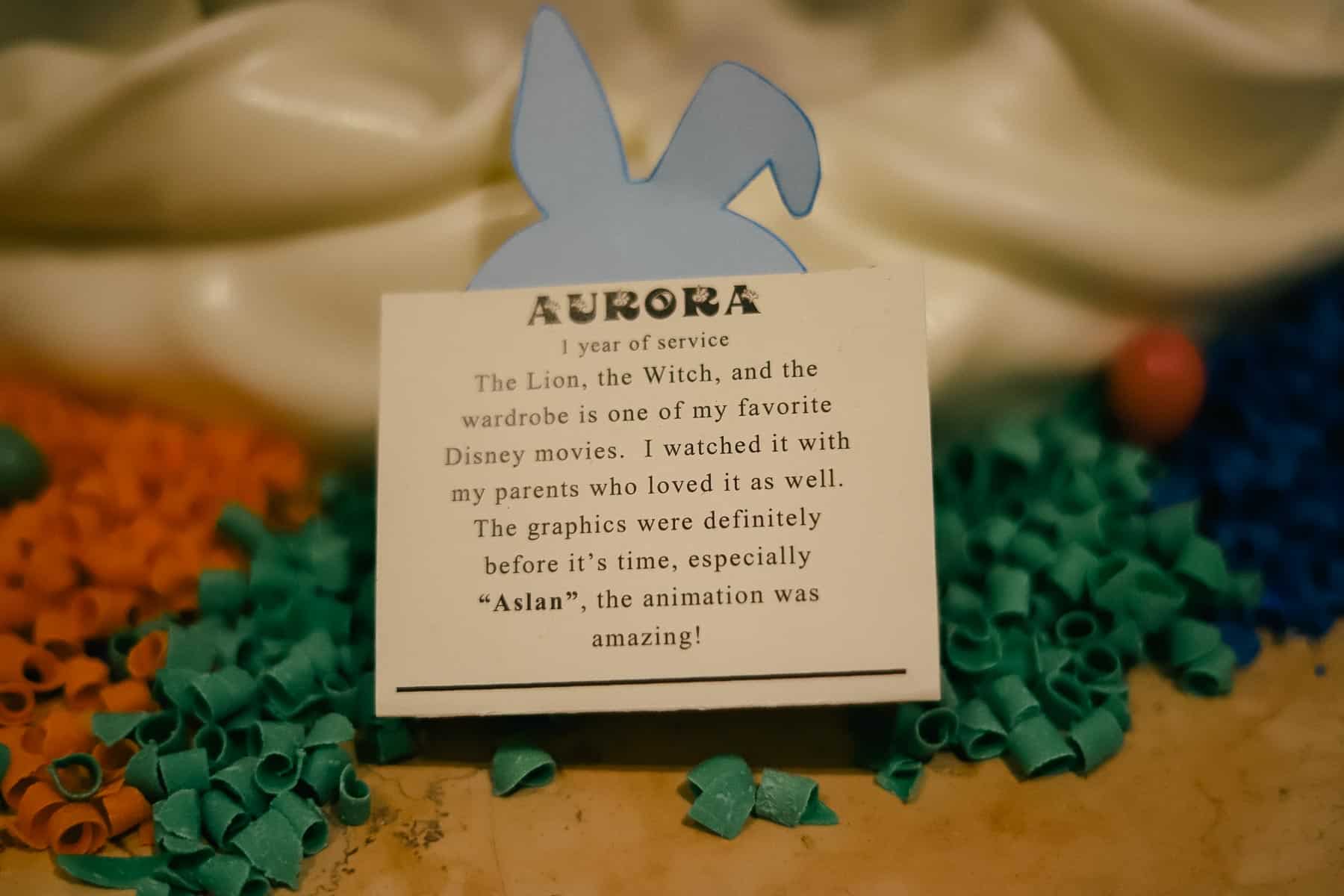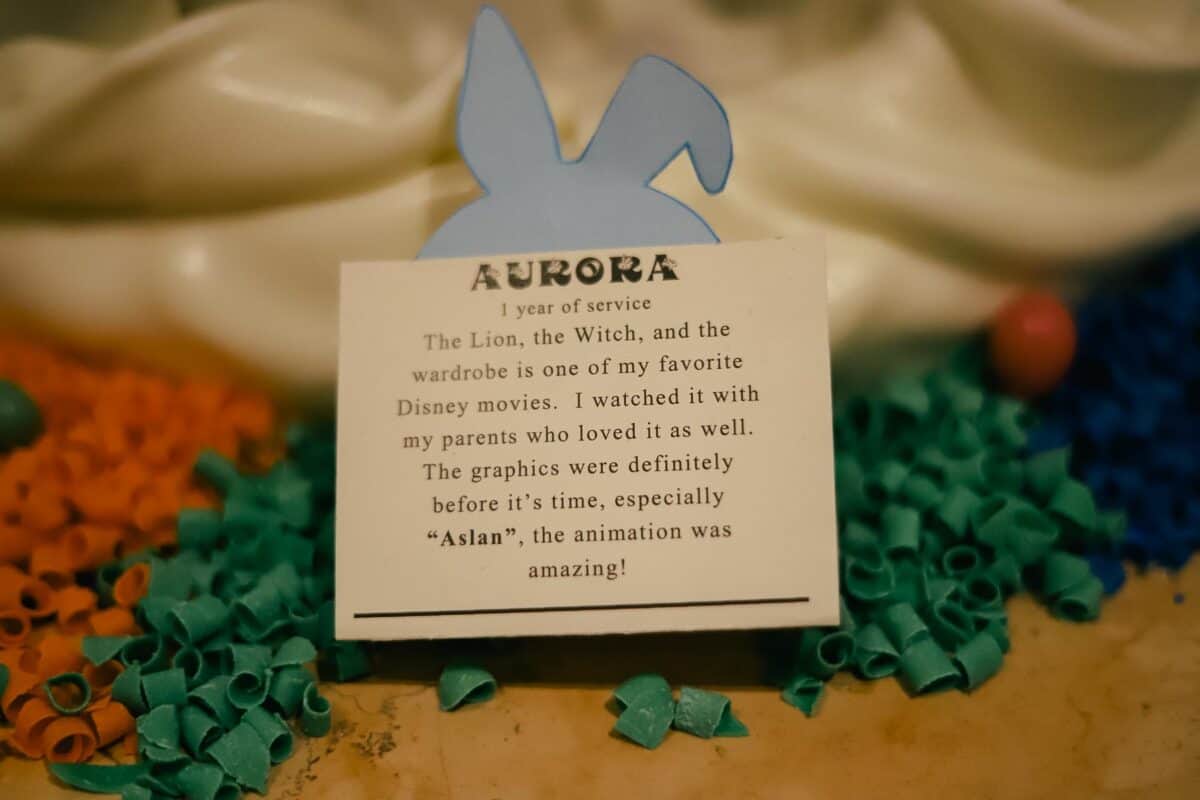 This next egg features Donald and Daisy Duck.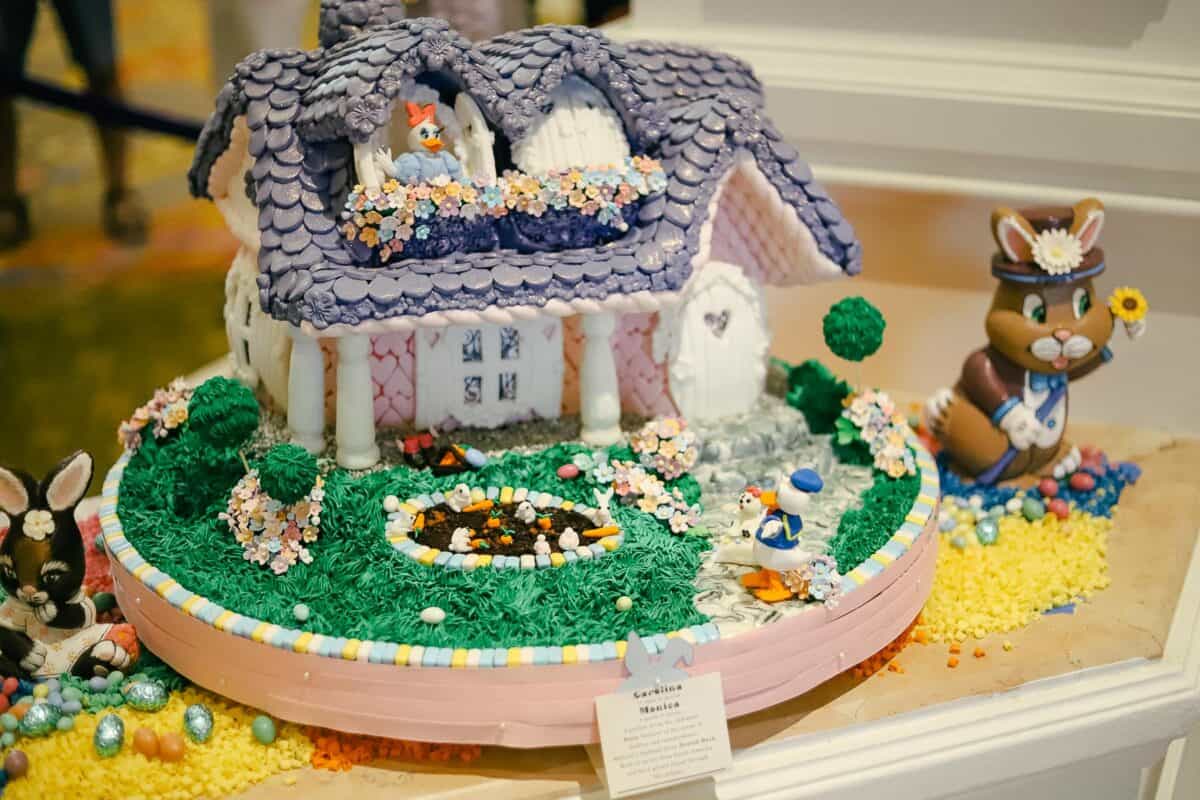 I can't imagine the attention to detail that went into this piece.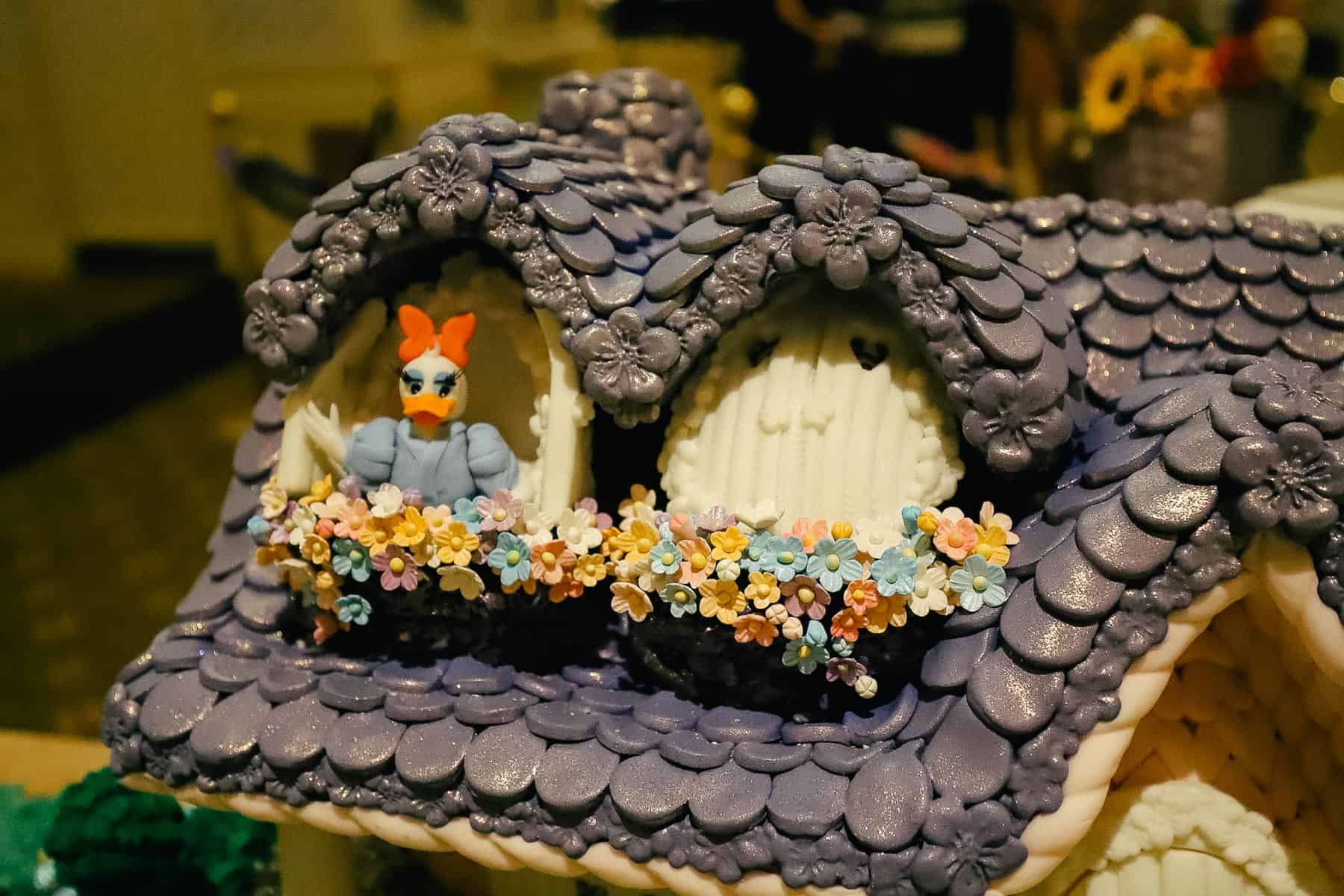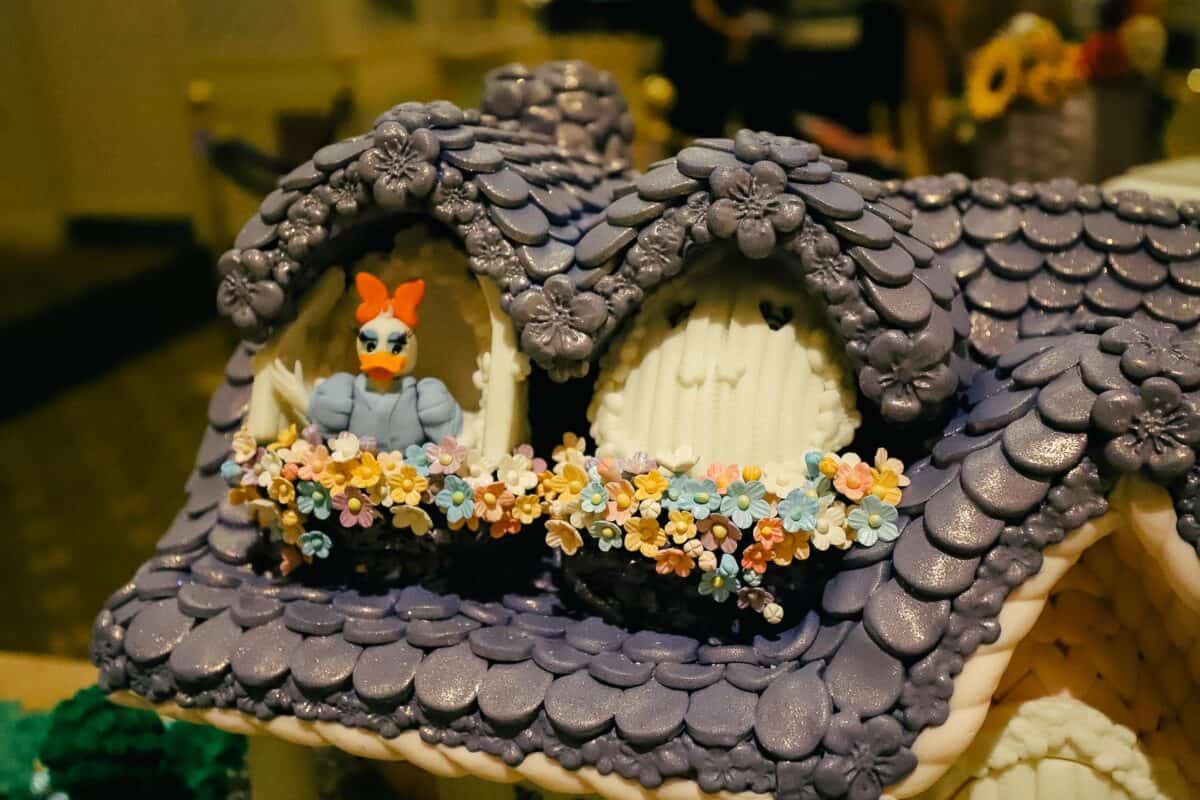 Donald seems unsure of what to do.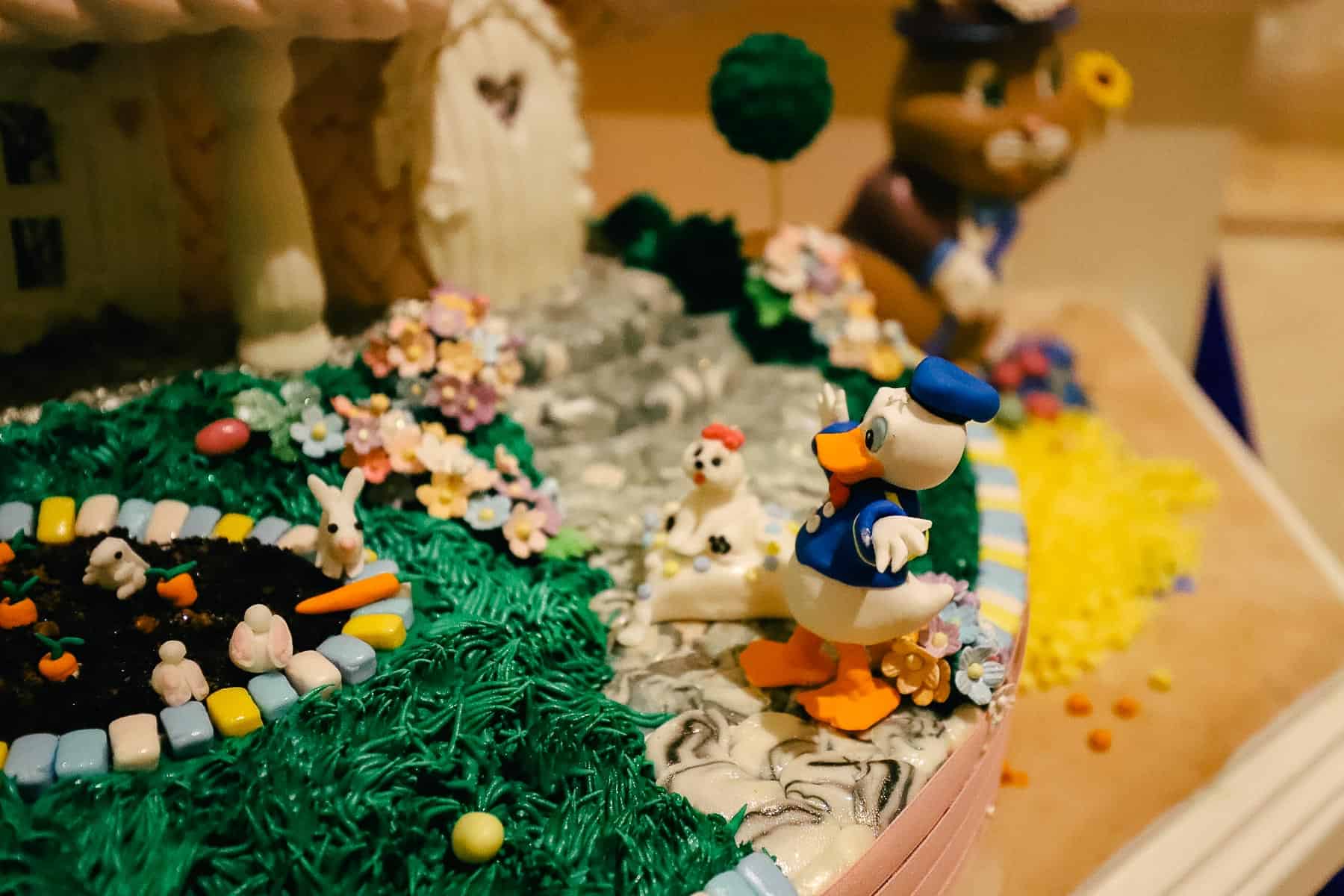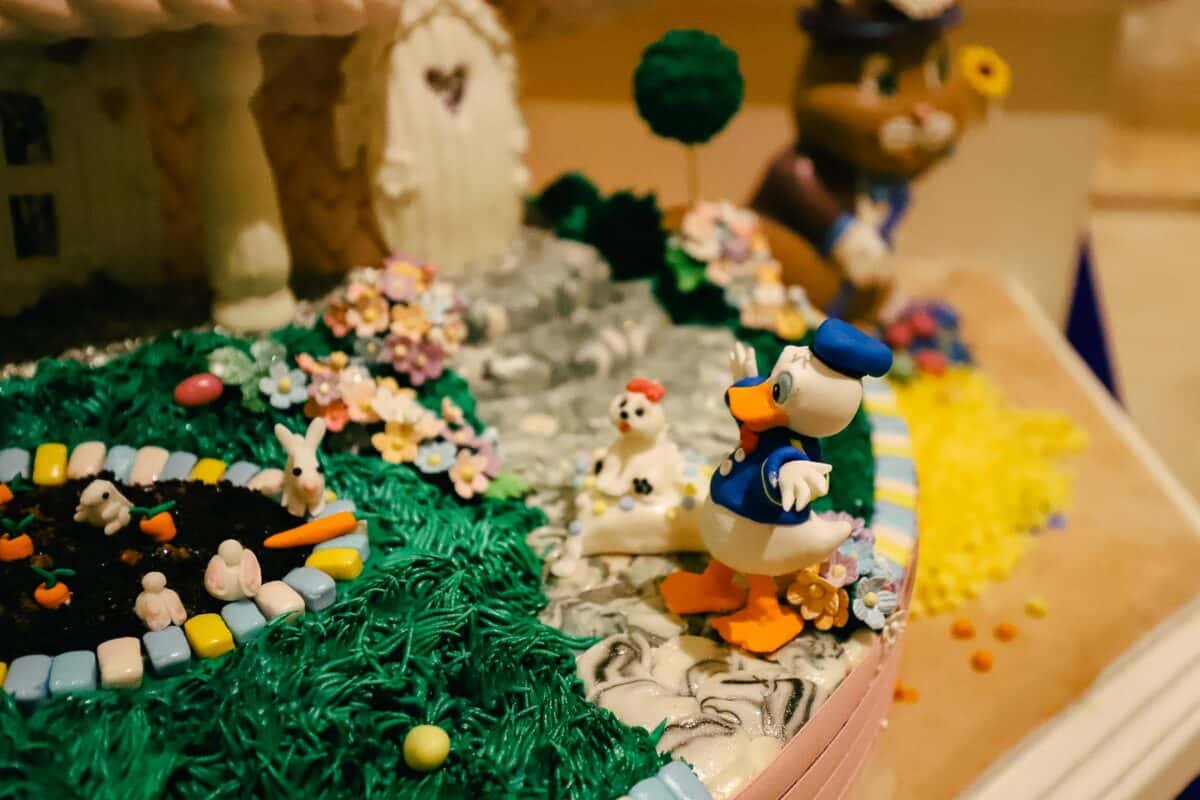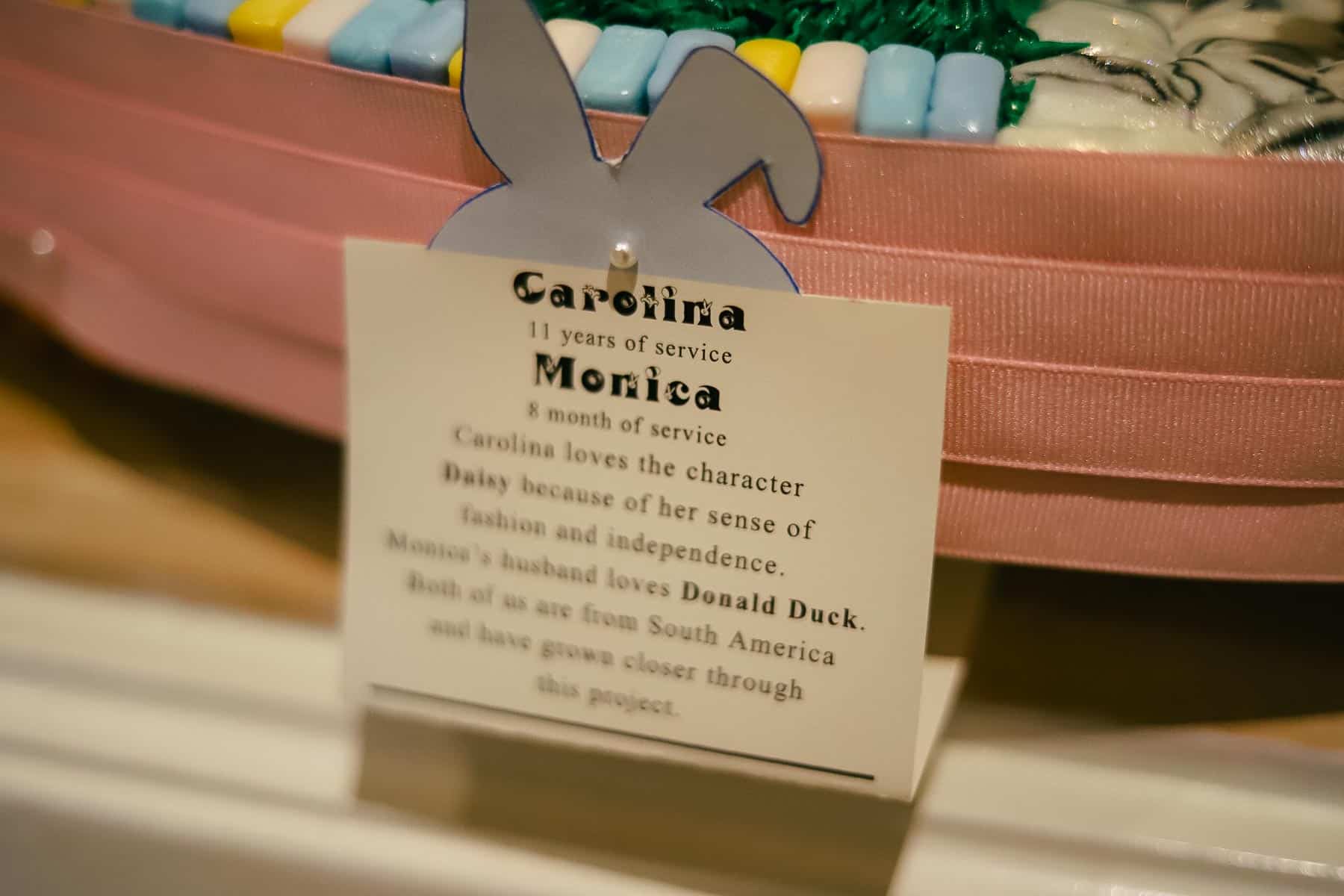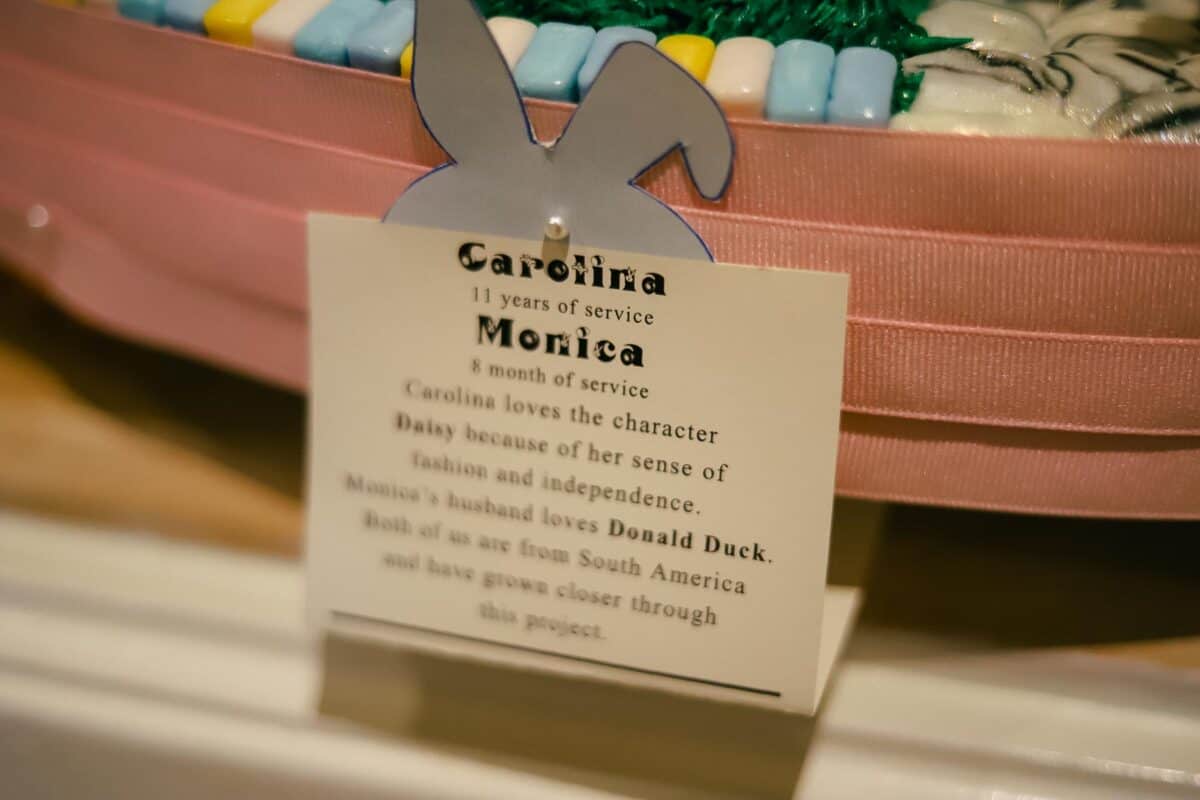 As we hop on over to the last display, we run into the character egg.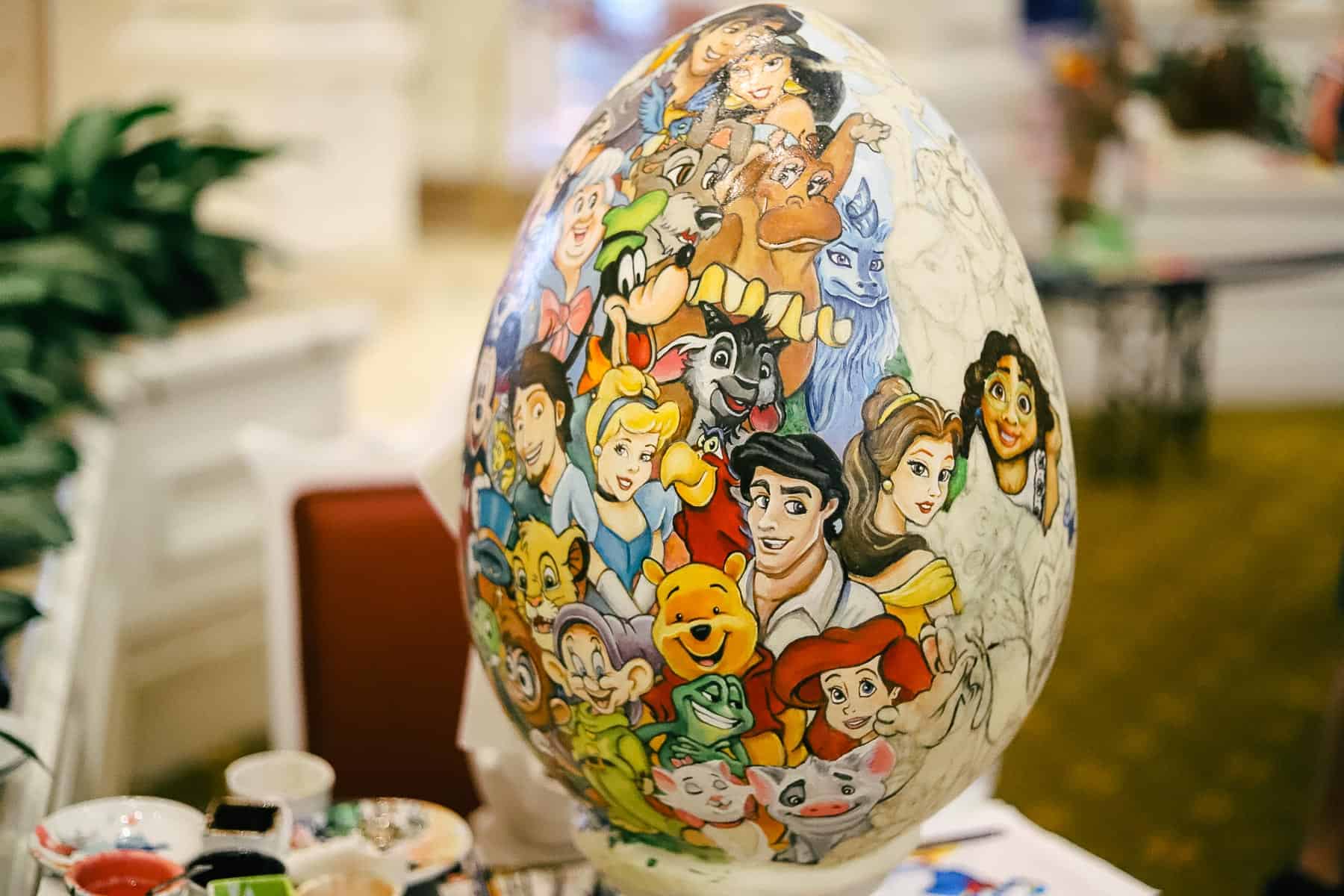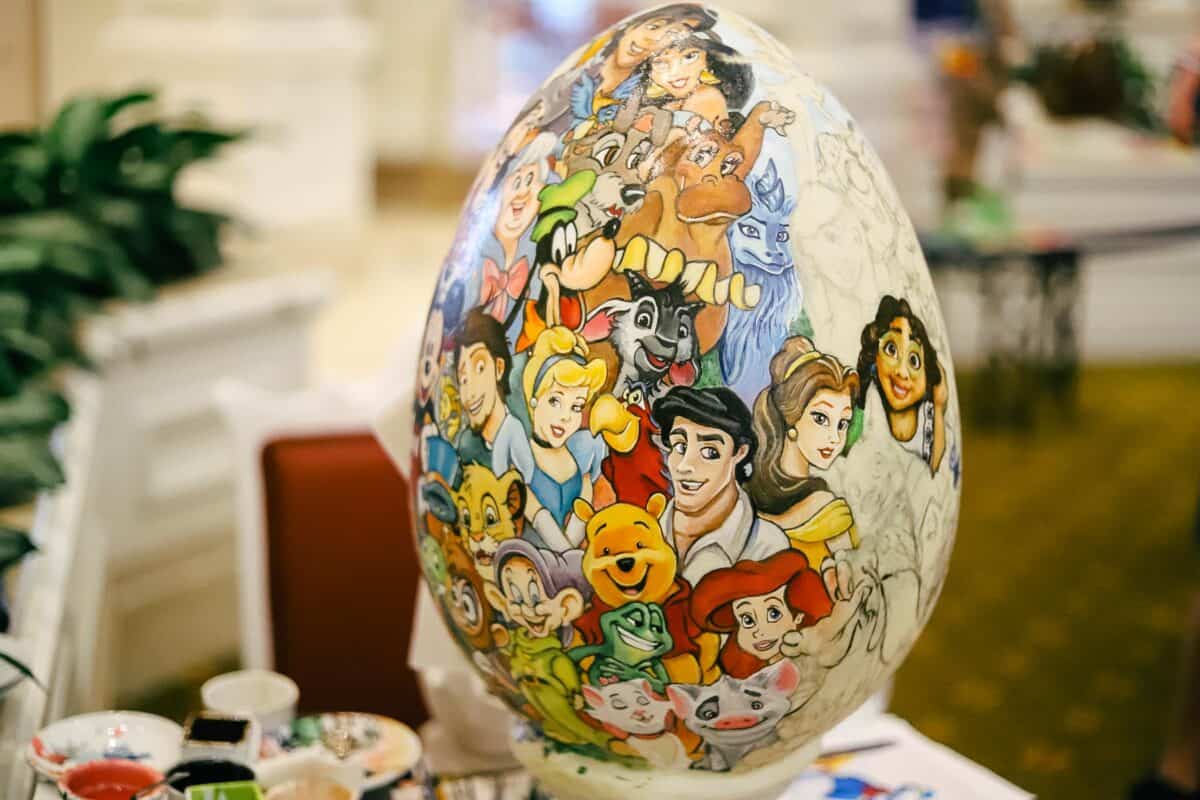 Until it's finished, talented pastry artists will make appearances in the lobby to work on the egg. We saw someone painting during our visit.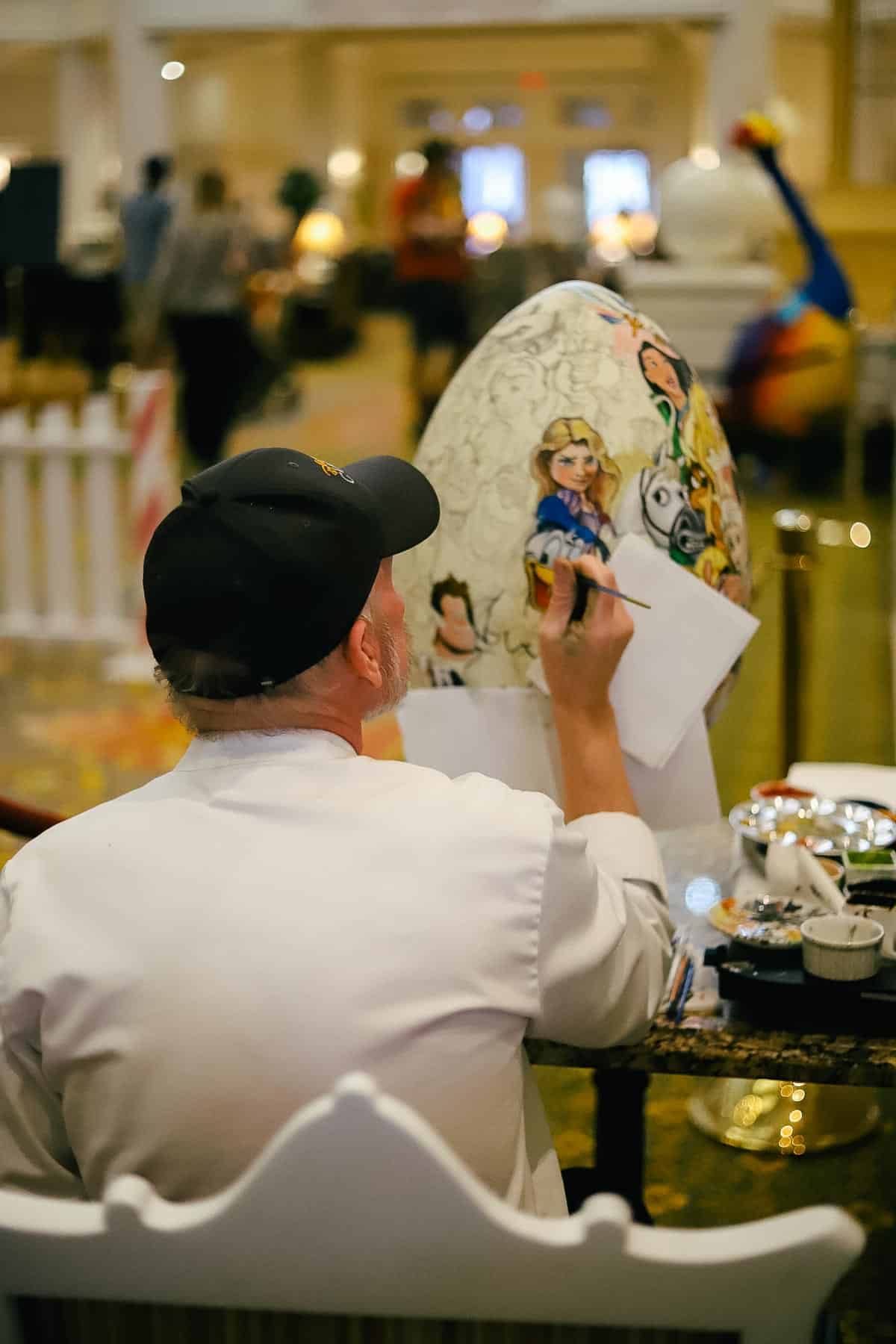 It is absolutely stunning.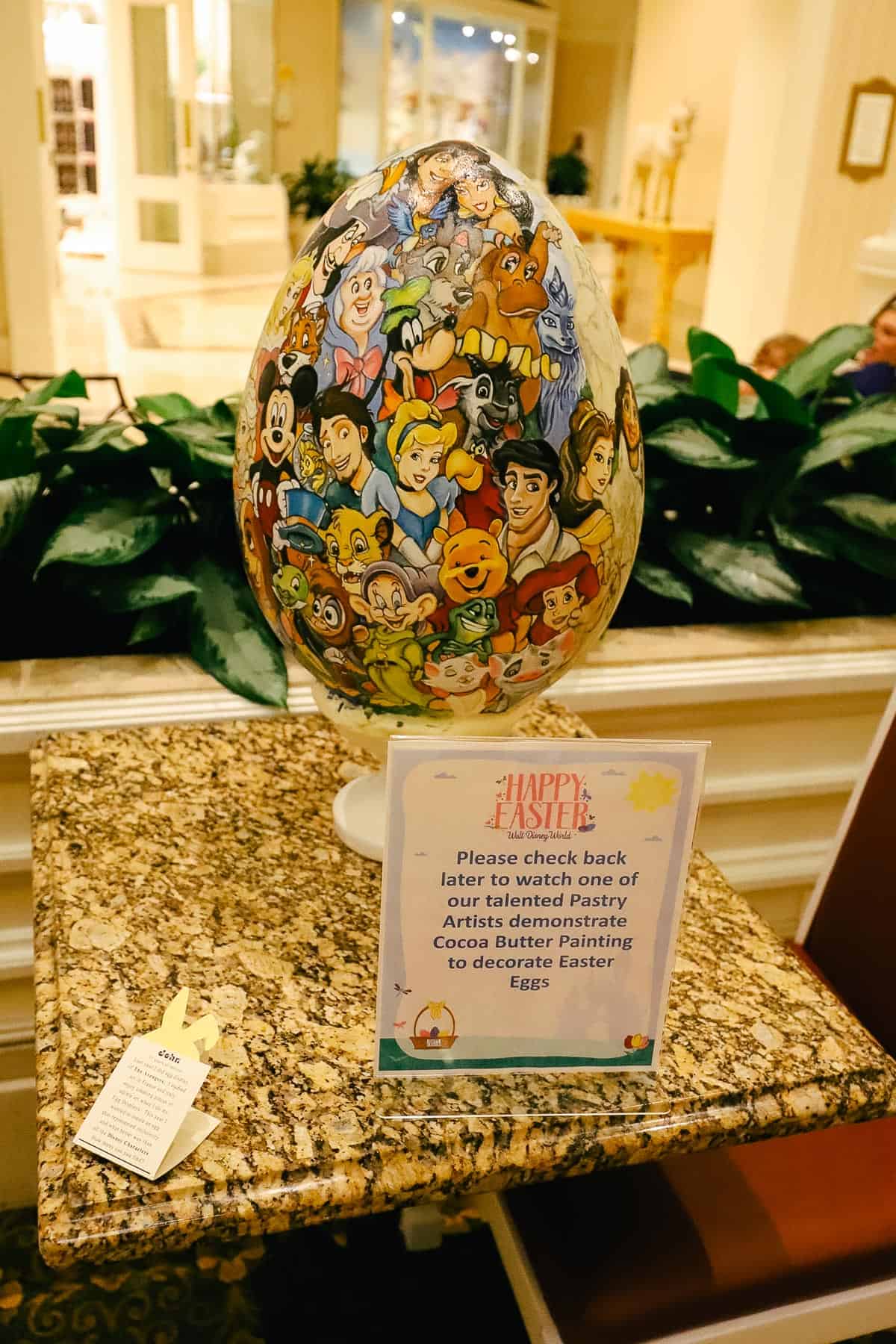 Given her size and babies, Kevin's egg sits to itself in the lobby.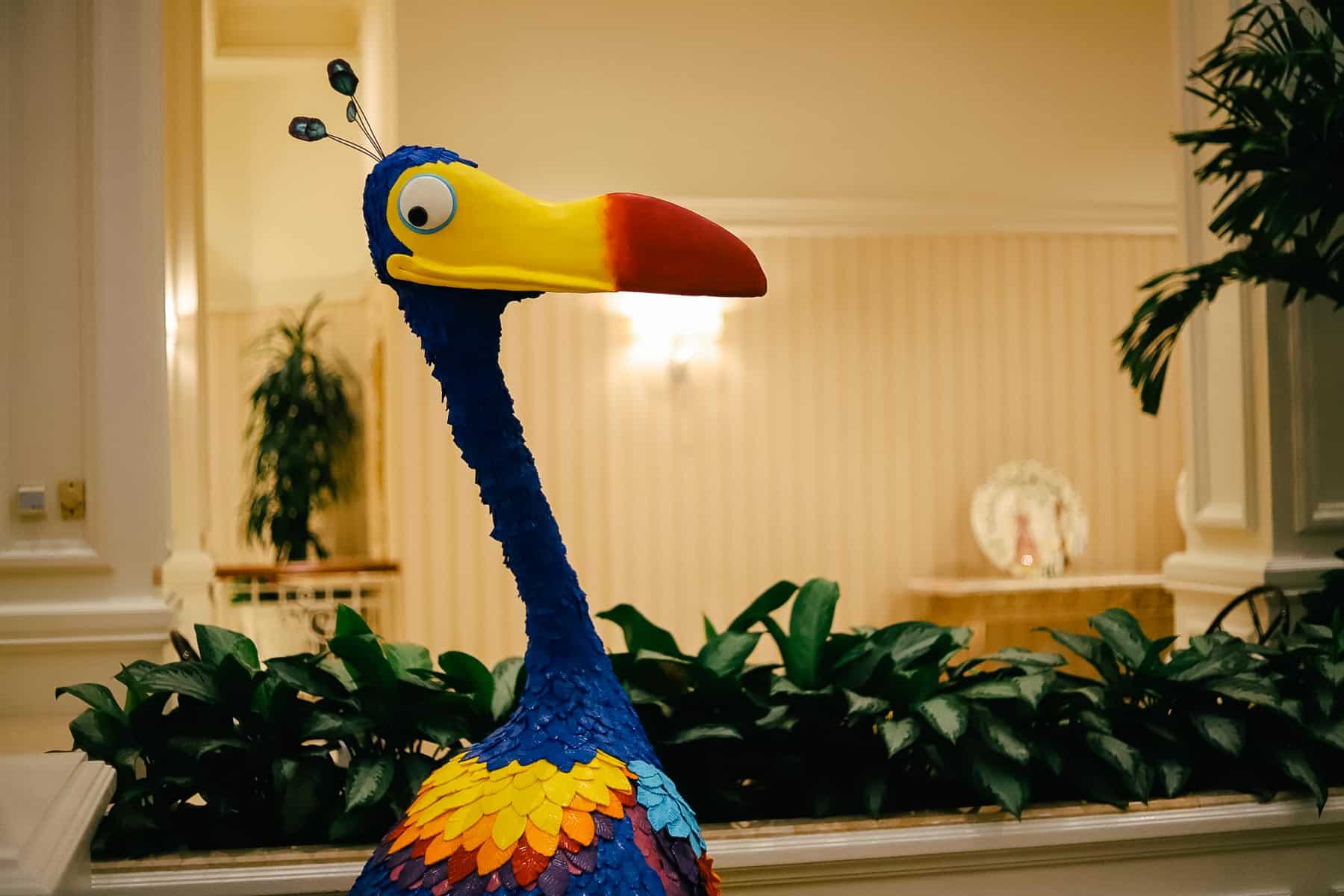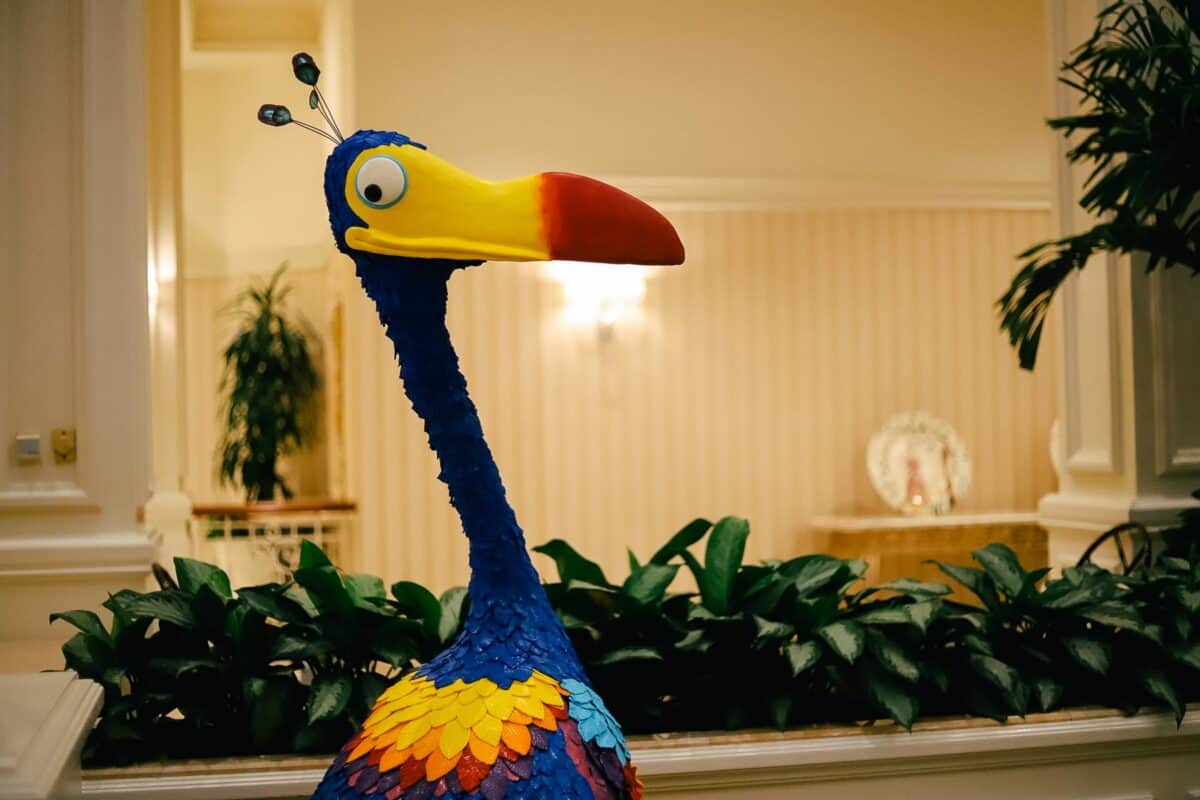 Her babies surround her, and if I remember correctly, there was a half-eaten chocolate bar laying around somewhere.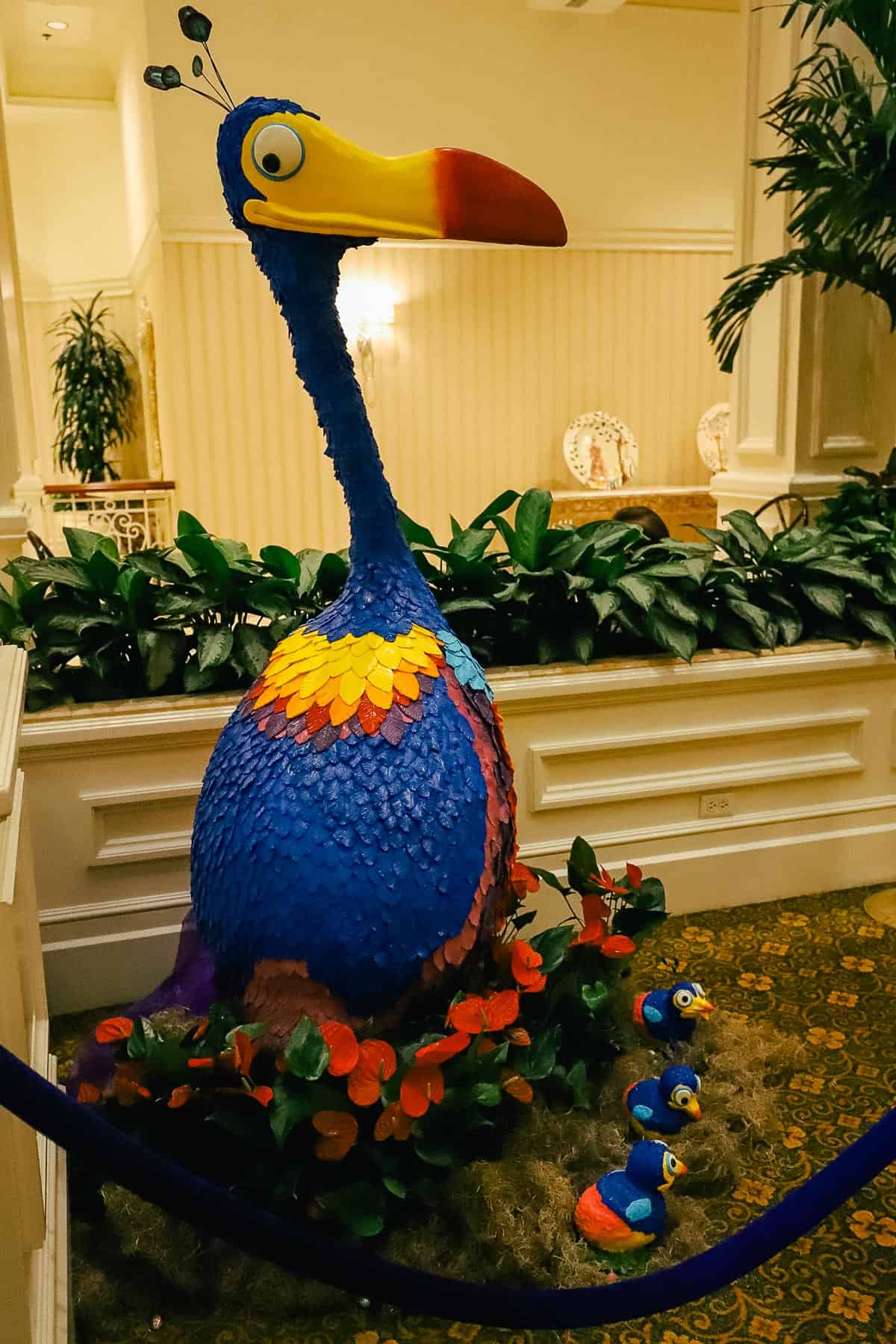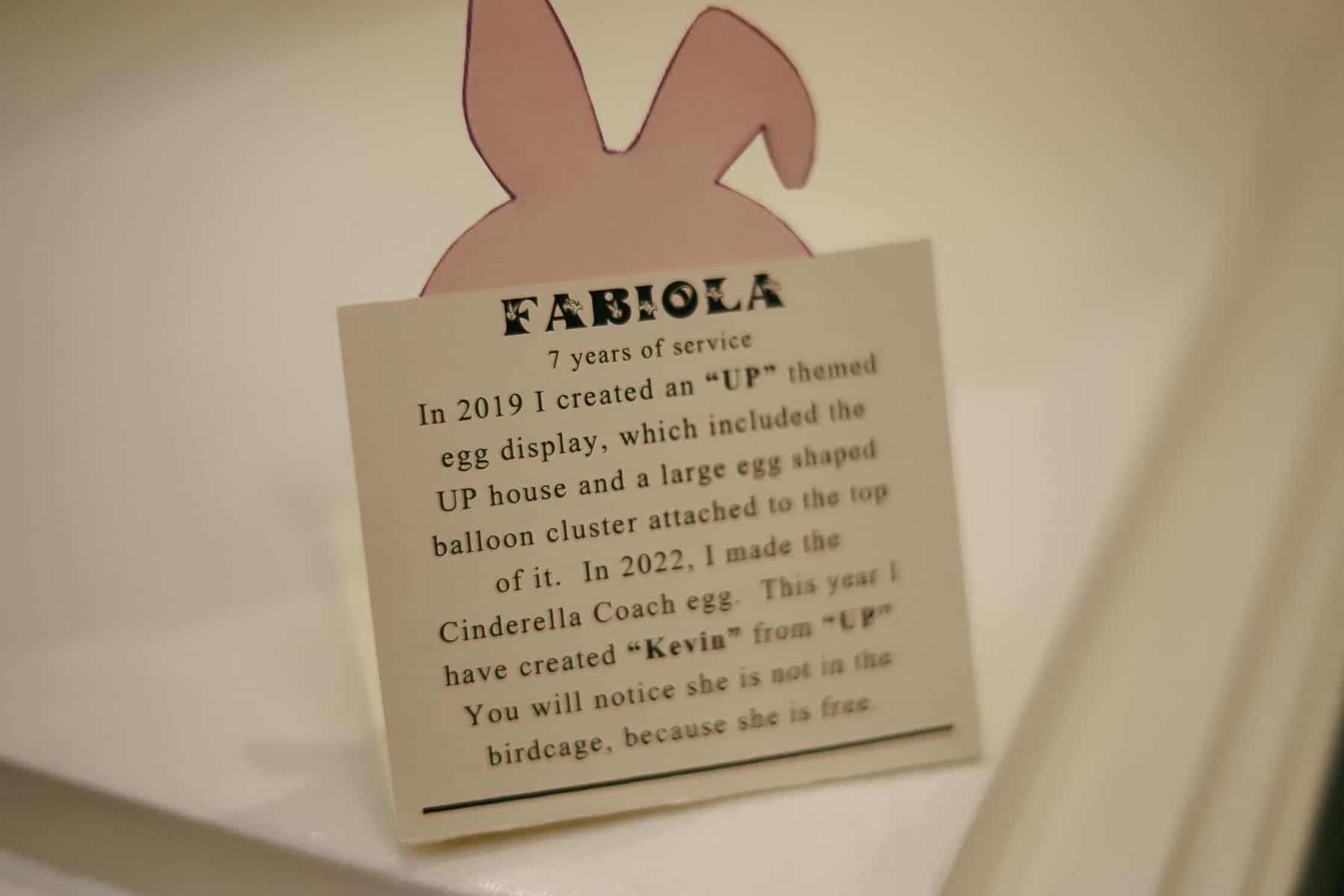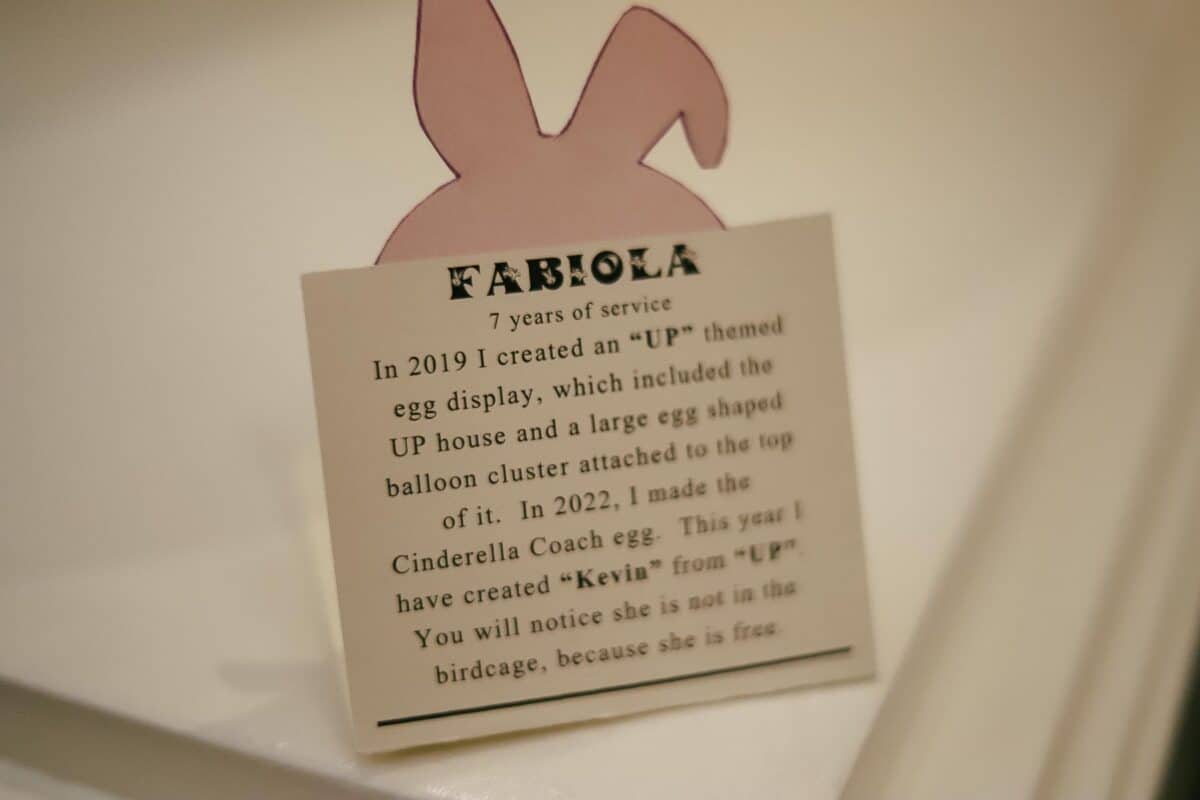 Here is the final display.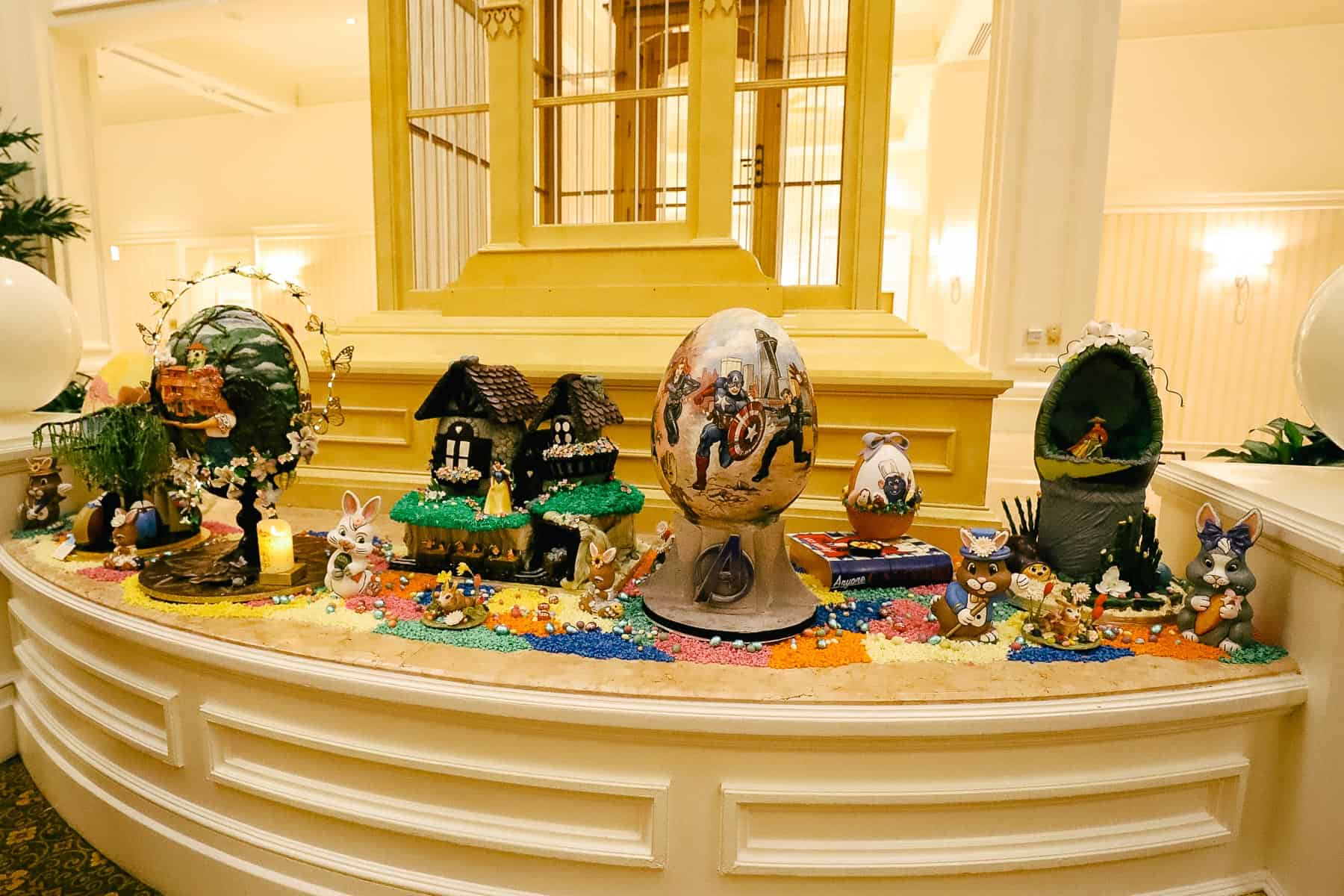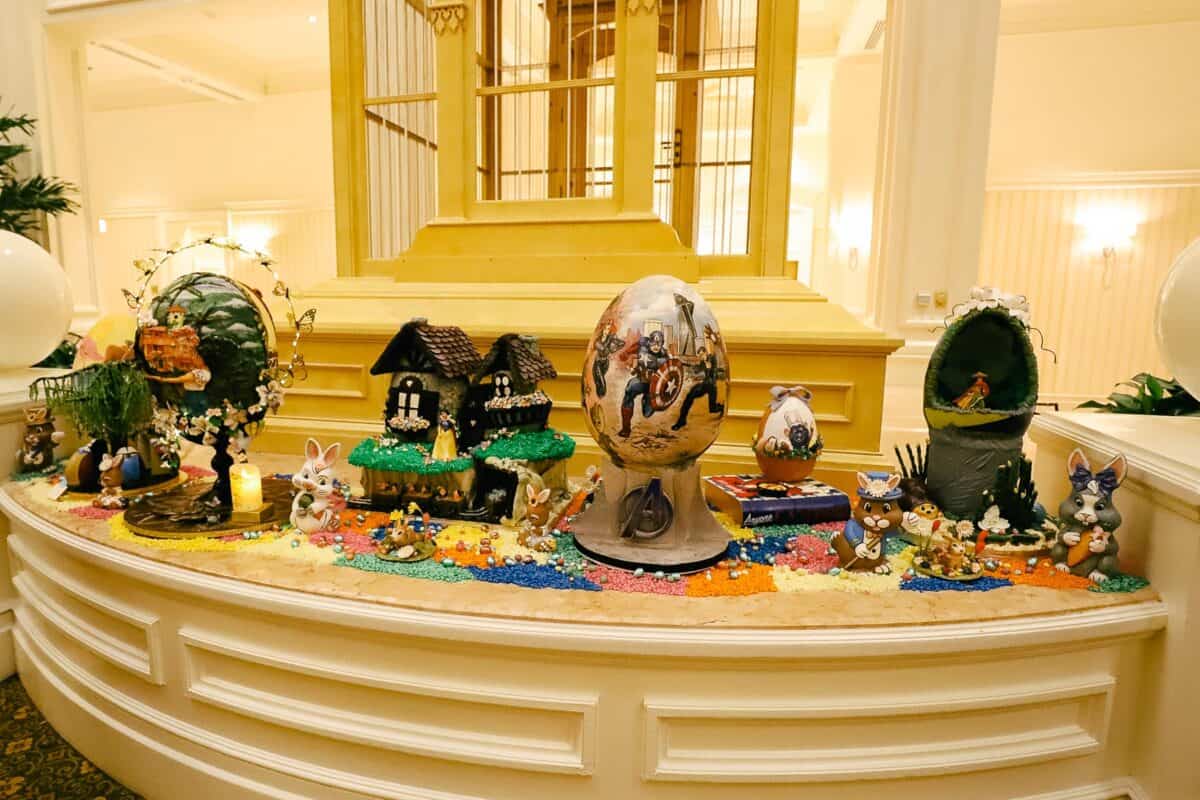 First, we have an egg from Raya and the Last Dragon. This one is egg-tastic!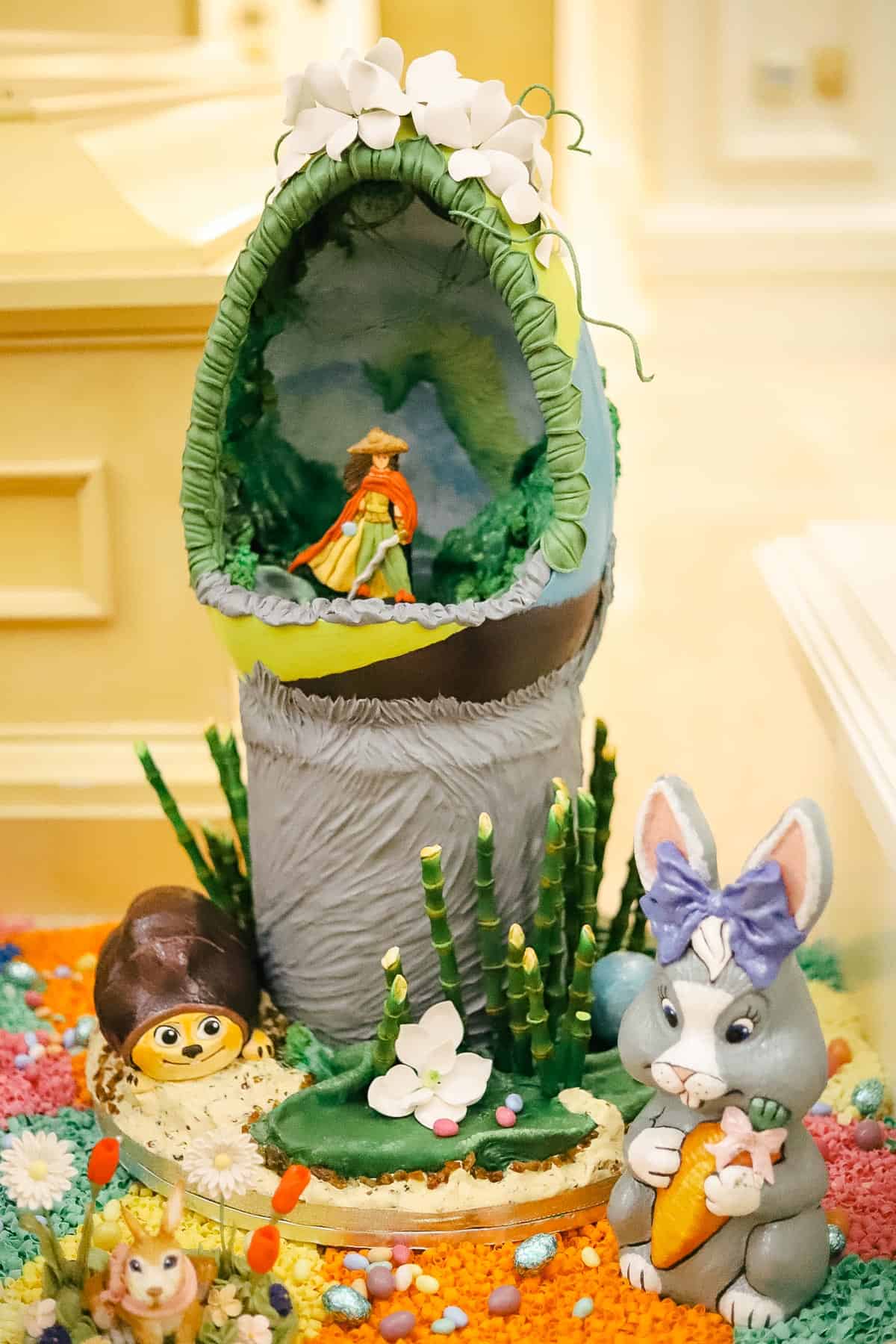 Moving on, we see Remy and friends from Ratatouille. This egg is designed to look like an Easter basket.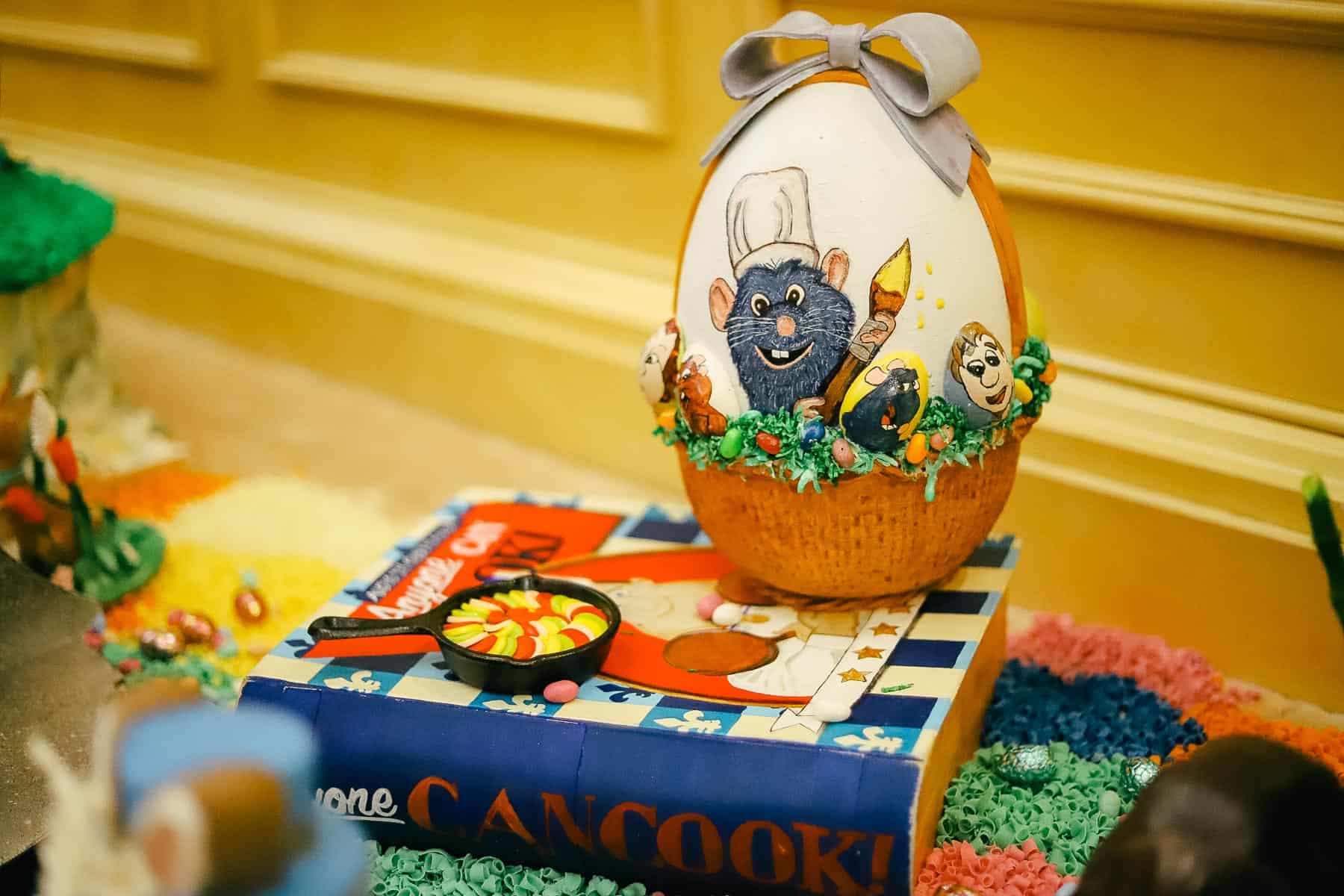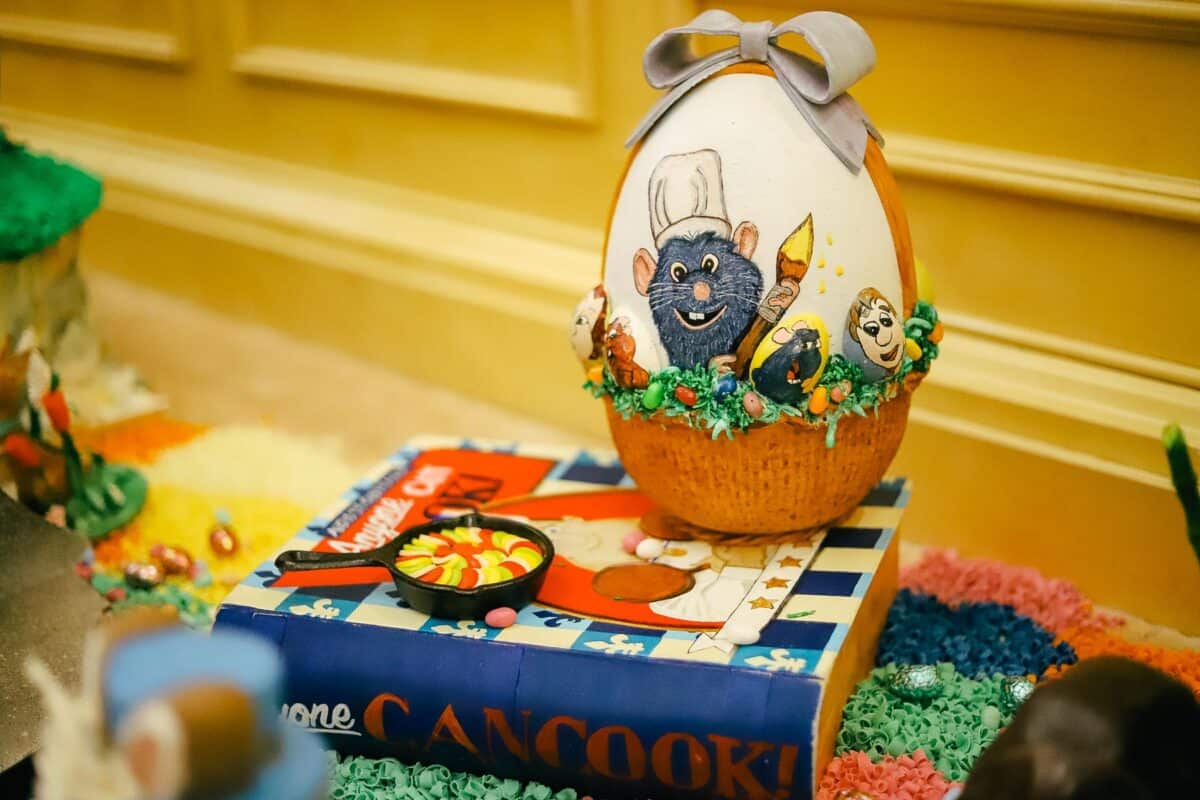 It sits on Chef Gusteau's famous cookbook–Anyone Can Cook!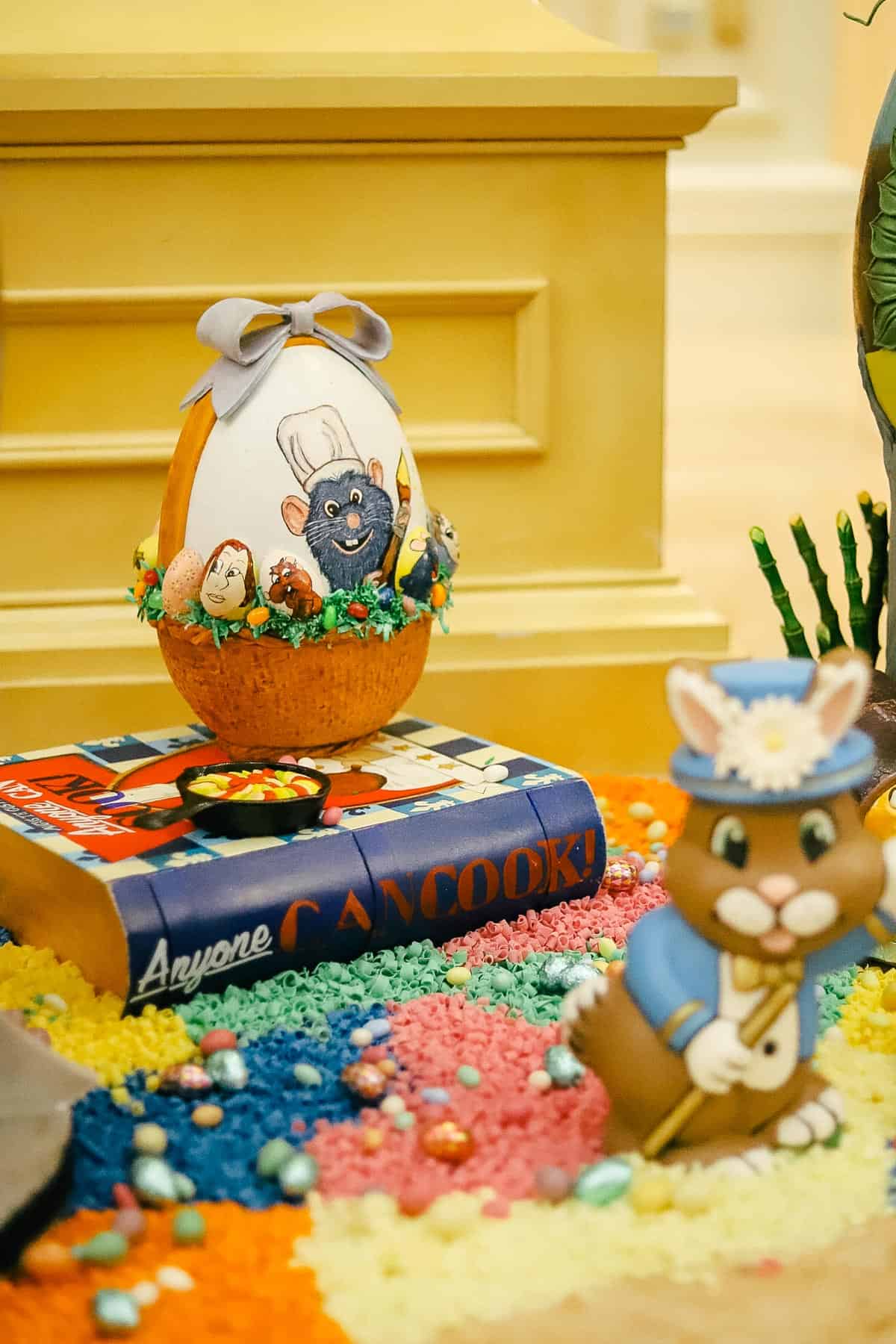 Avengers represent this next egg-quisitely painted egg.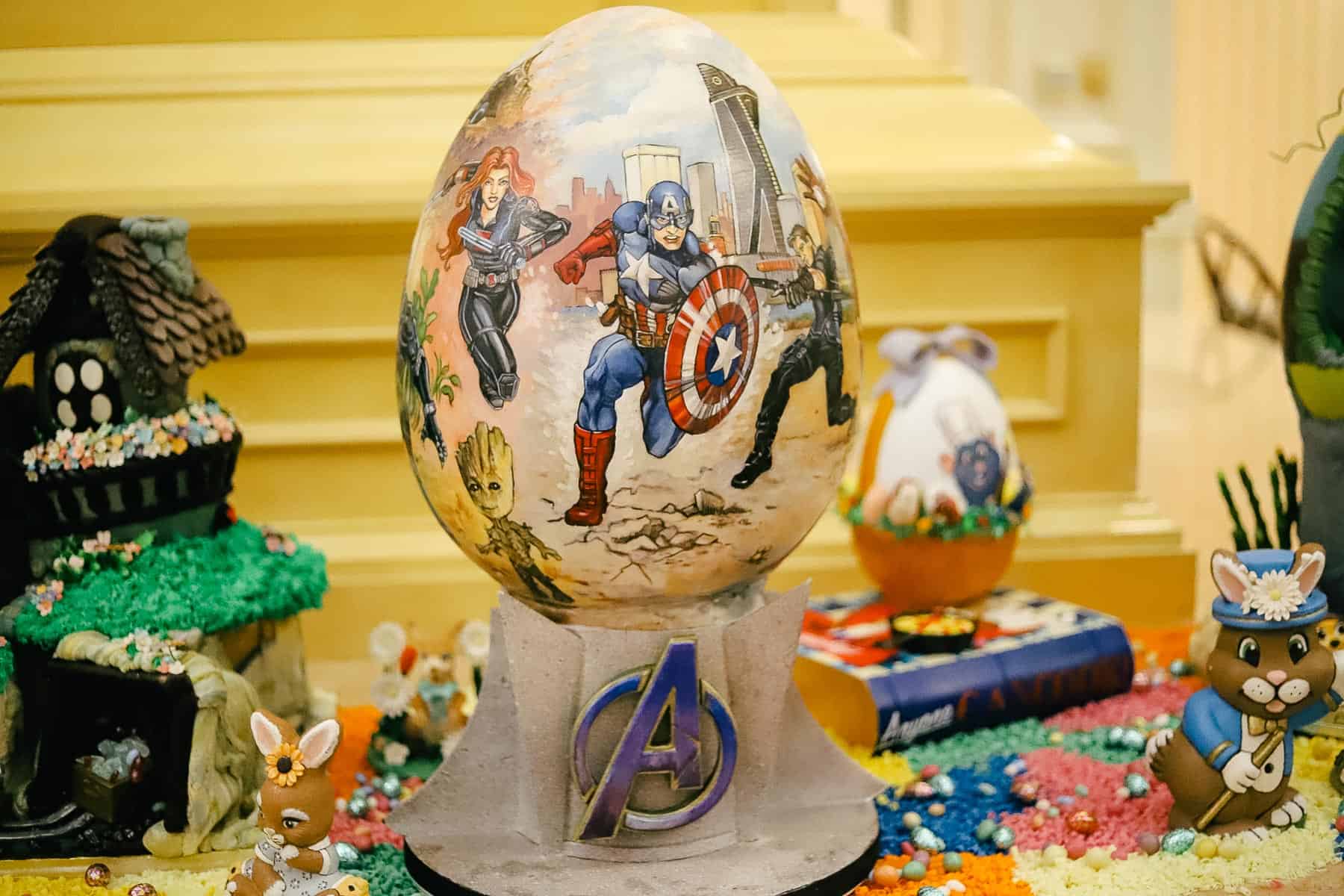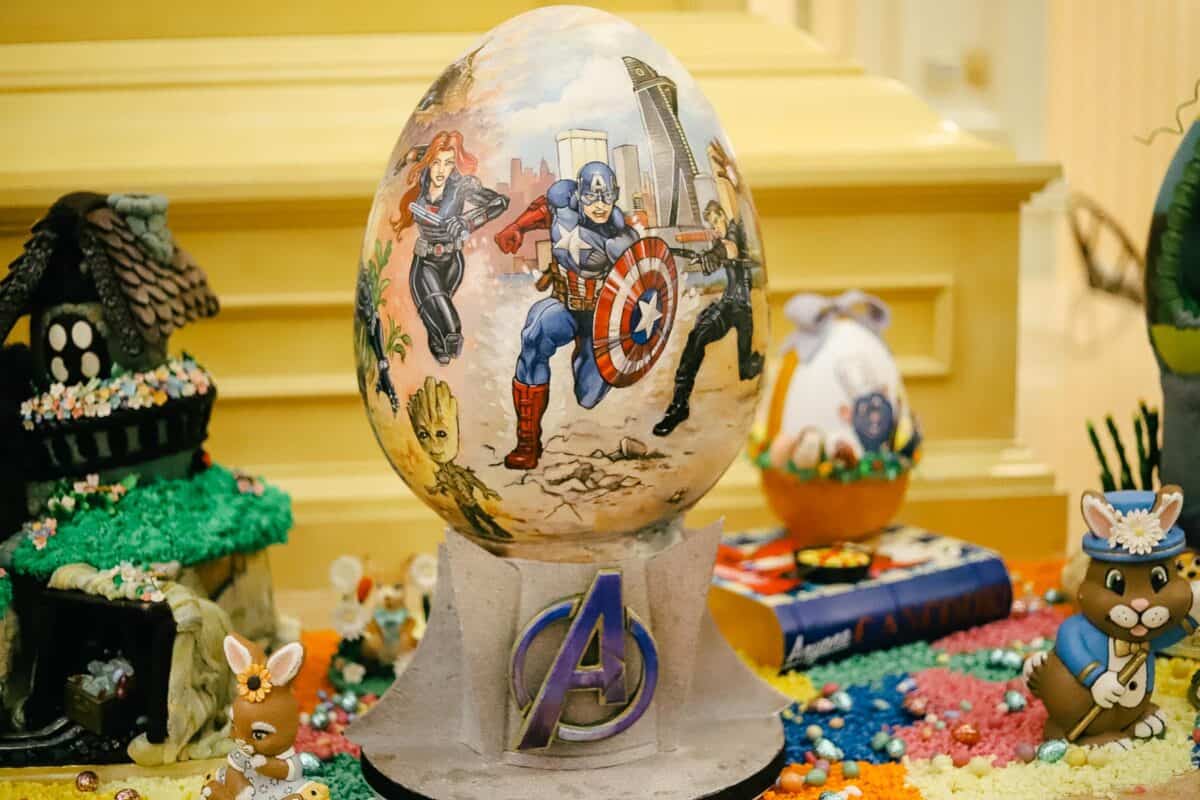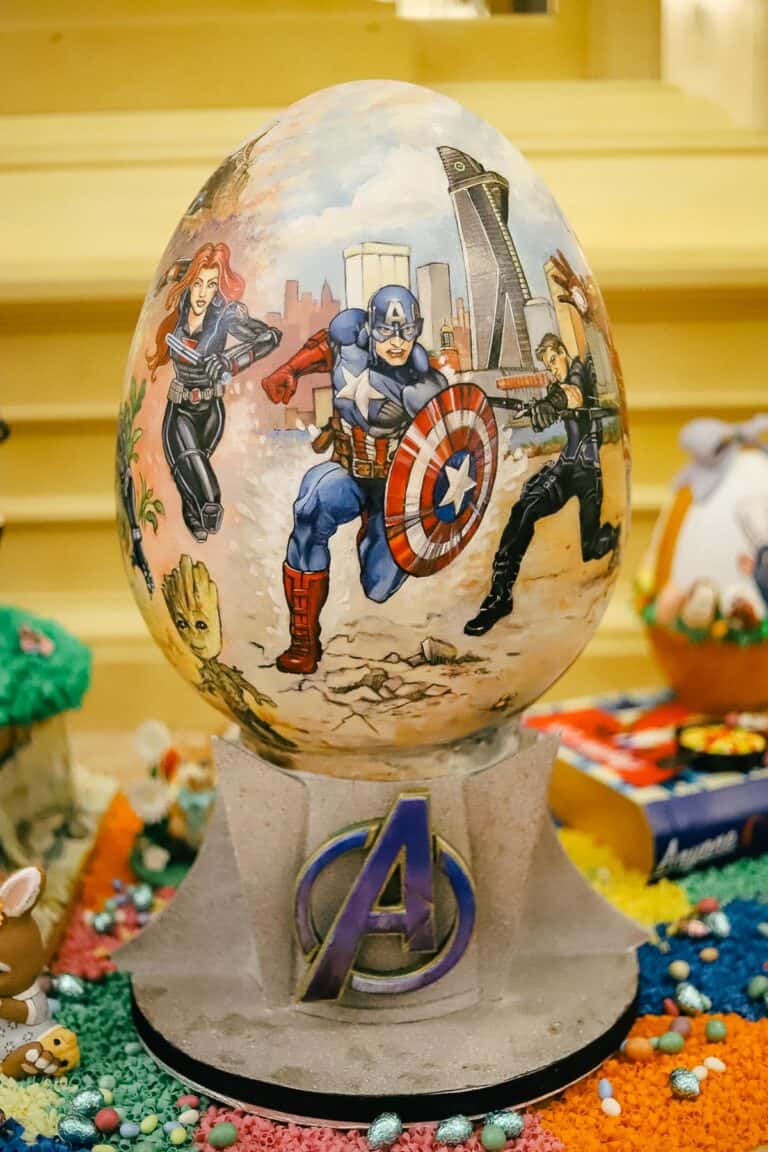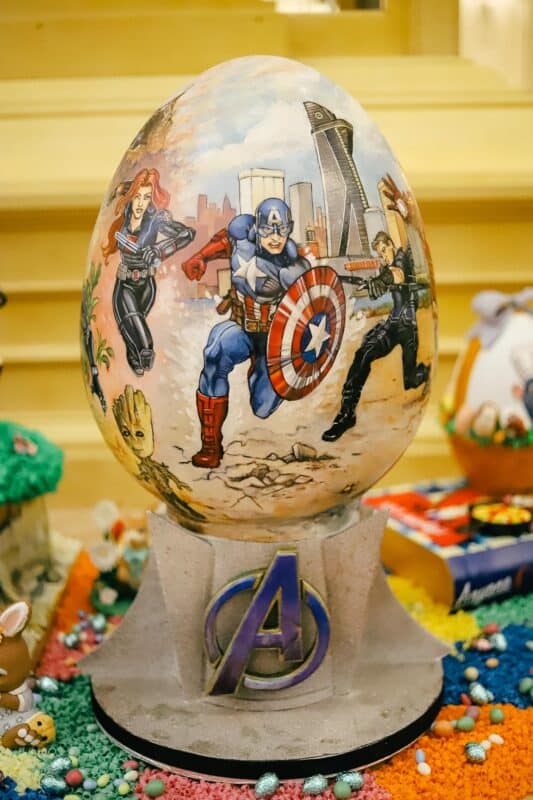 It's hard to see, but the entire egg features various Marvel characters.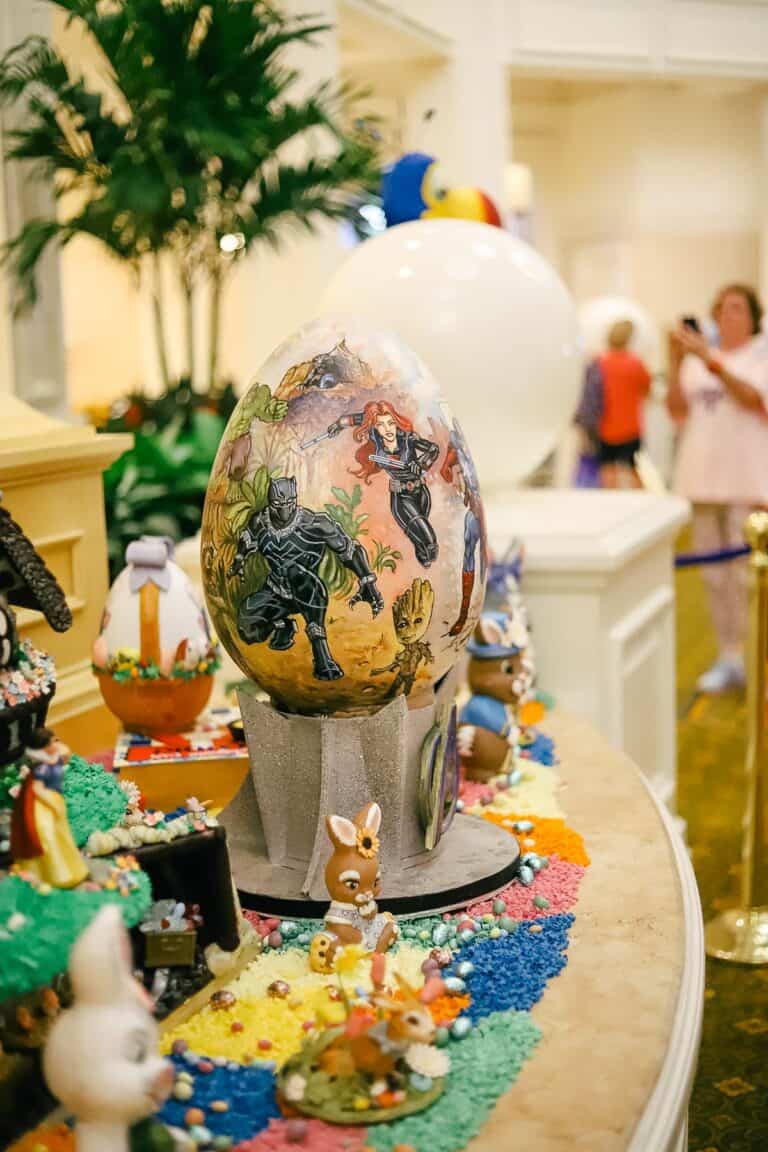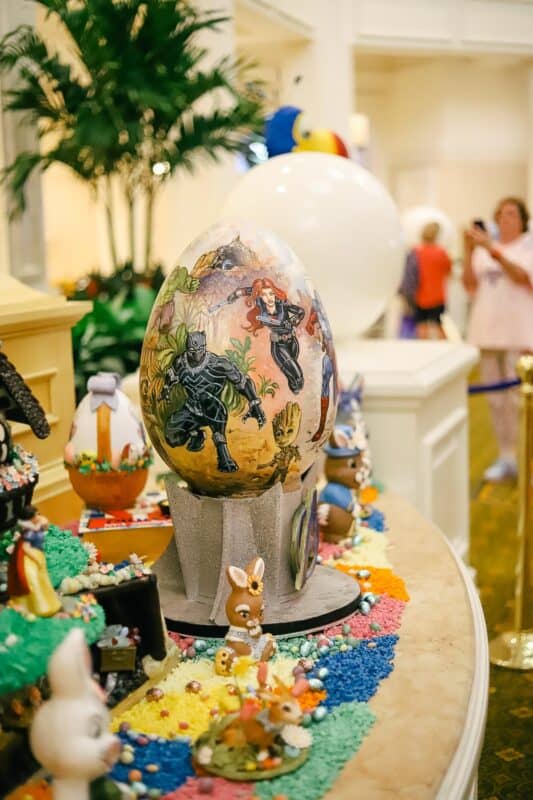 The Seven Dwarfs cottage looks adorable in egg-shape, doesn't it?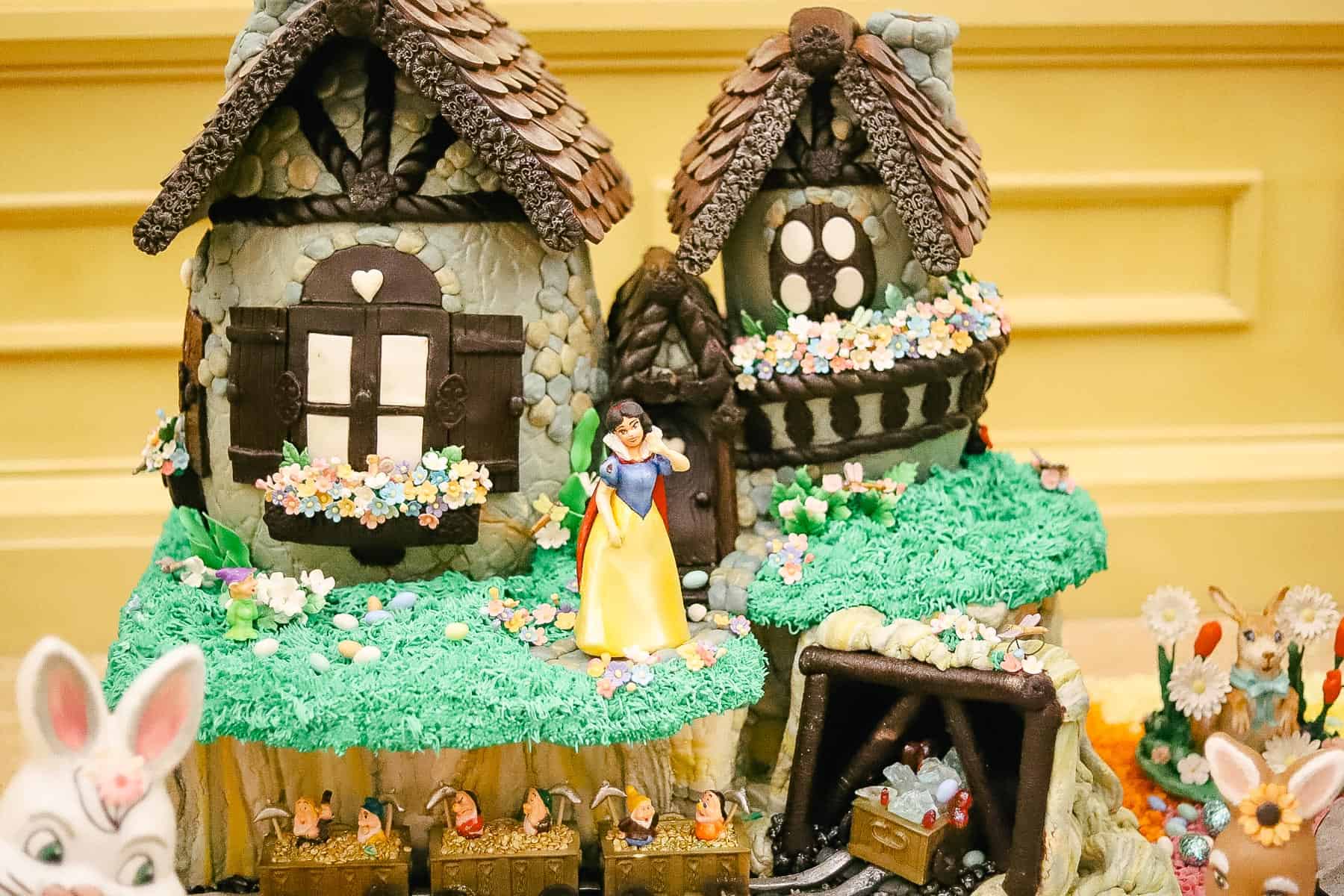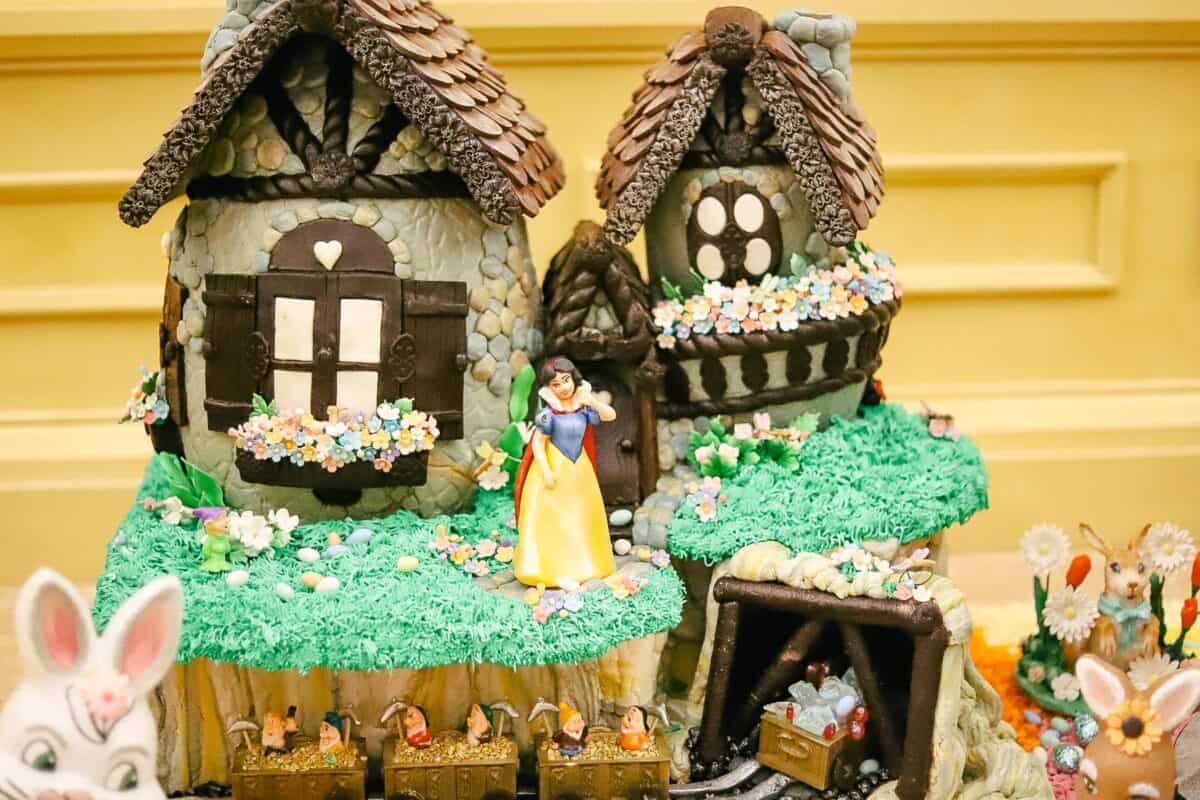 Snow White is waiting for her friends to come home from the mine.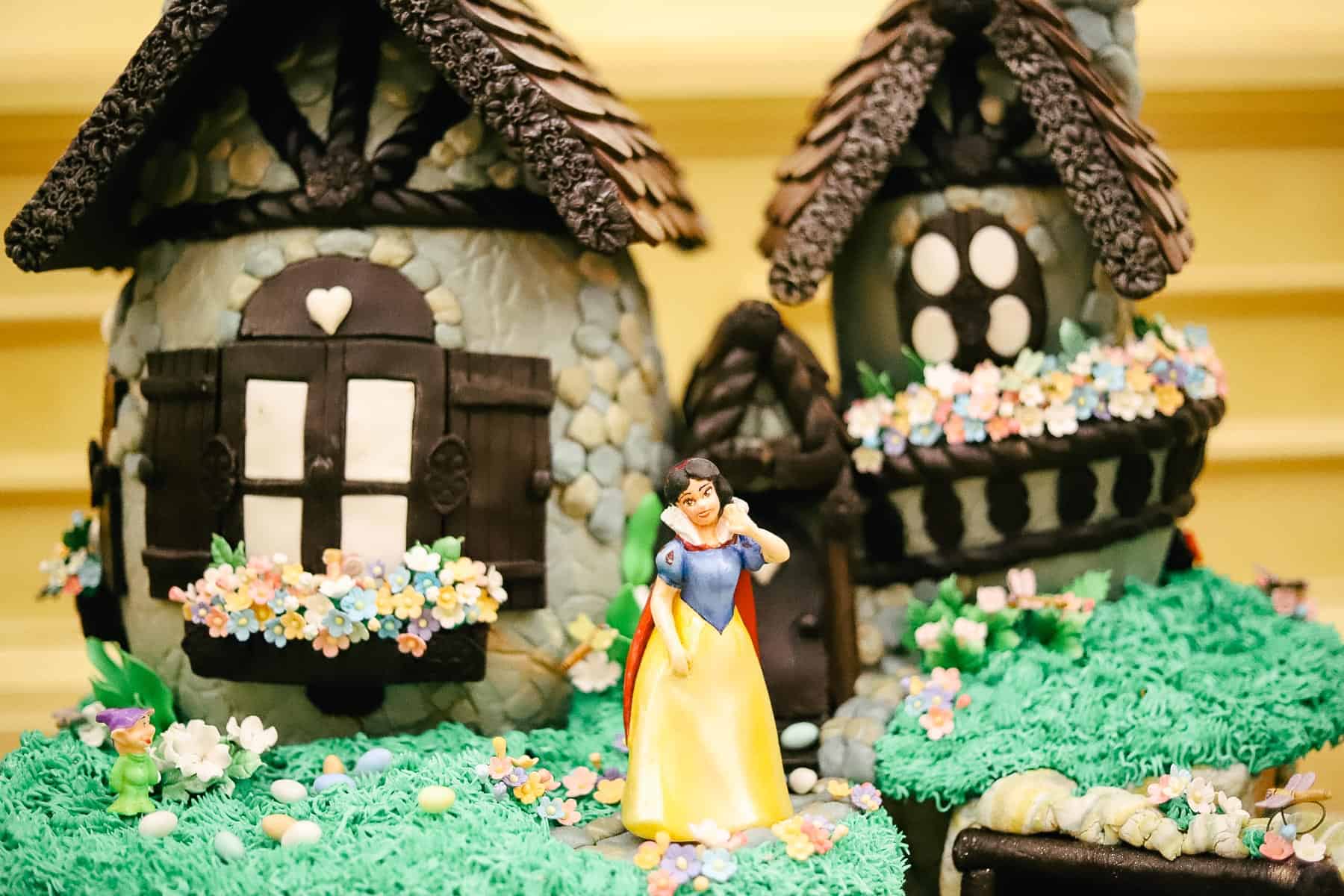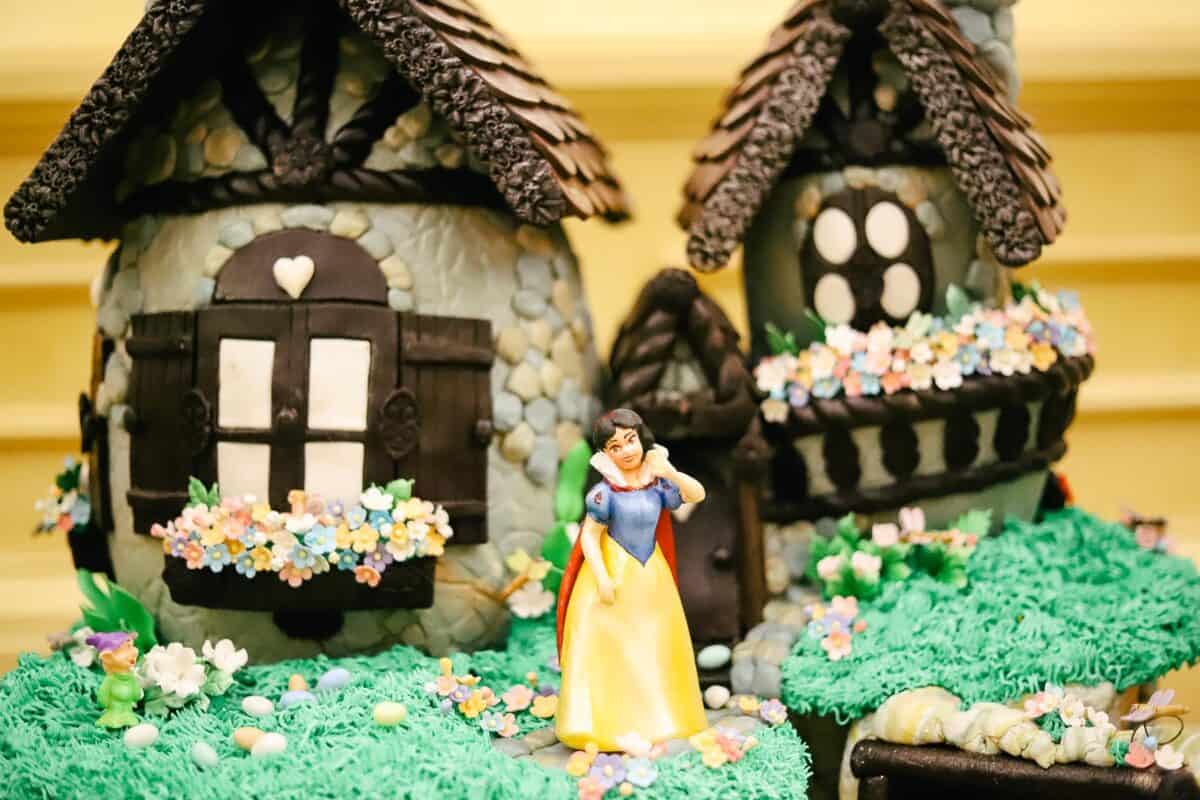 Look closely, and you'll see they've been hard at work!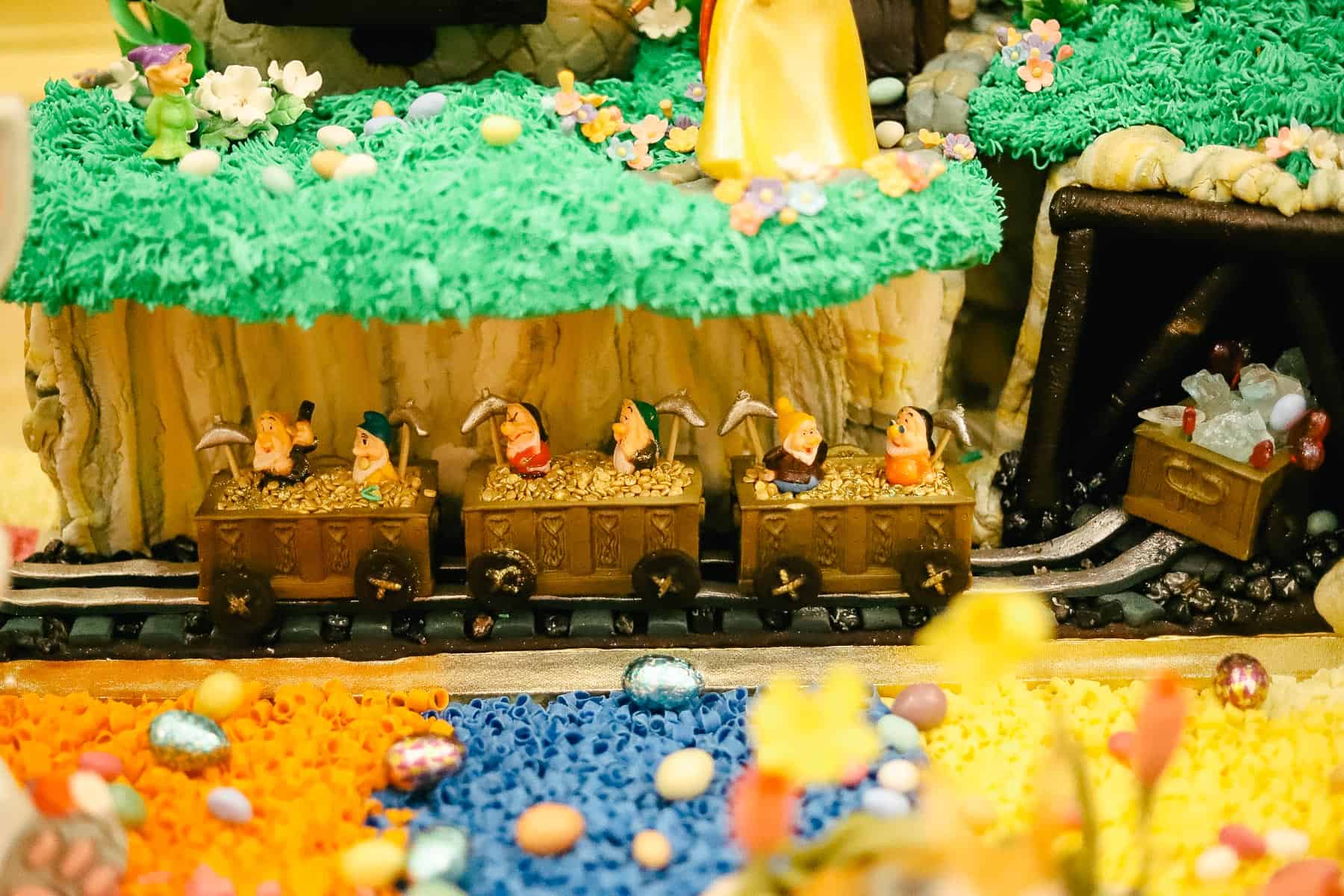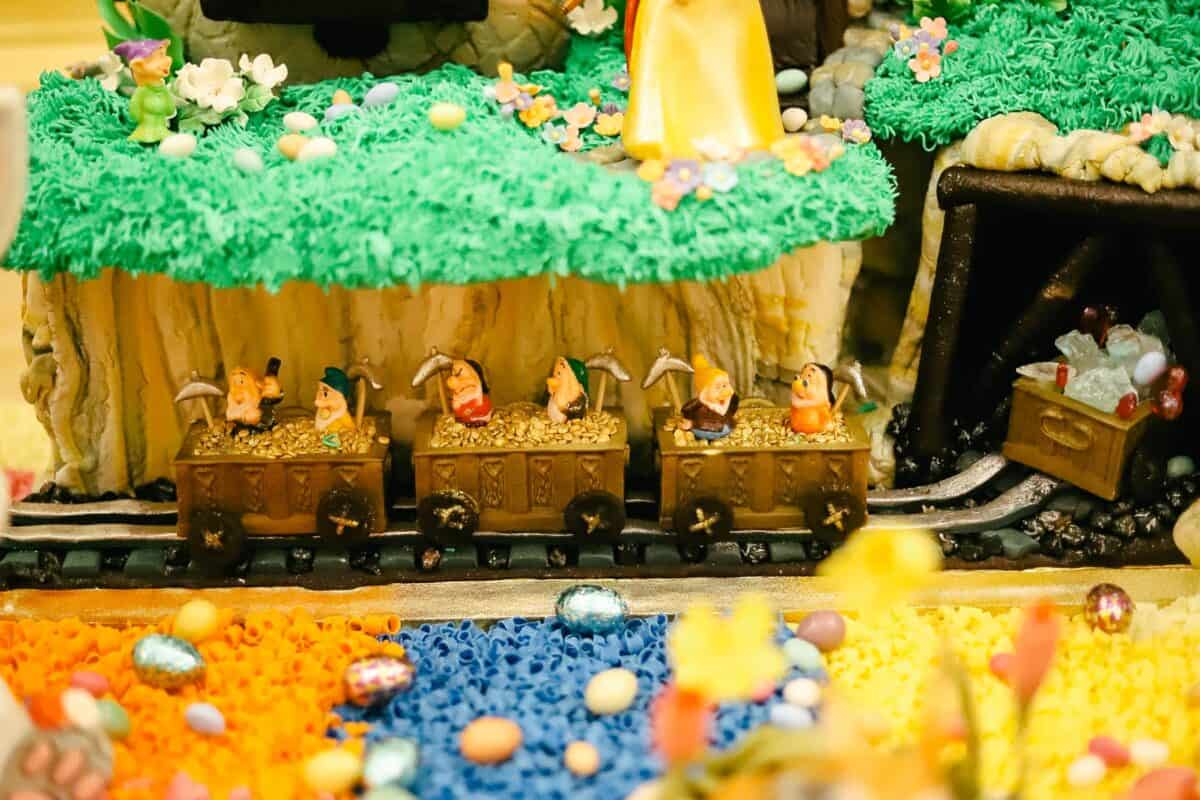 This next egg features Mirabel and Isabela Madrigal from Encanto.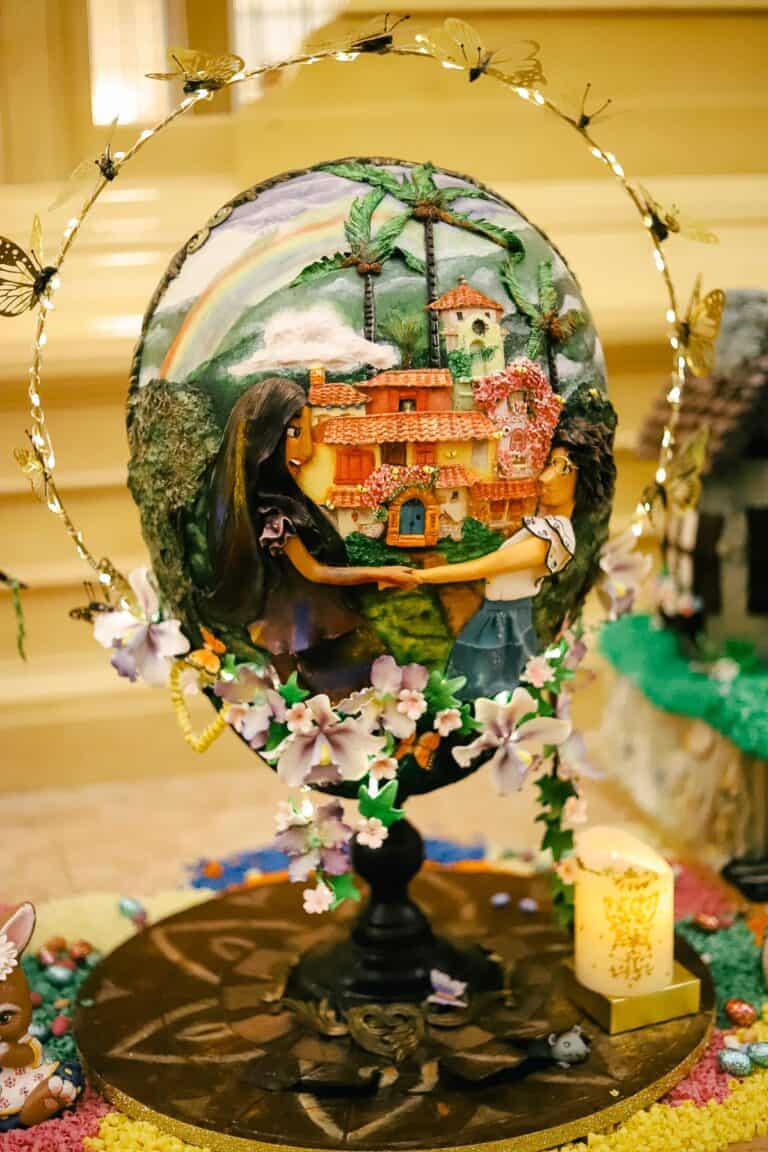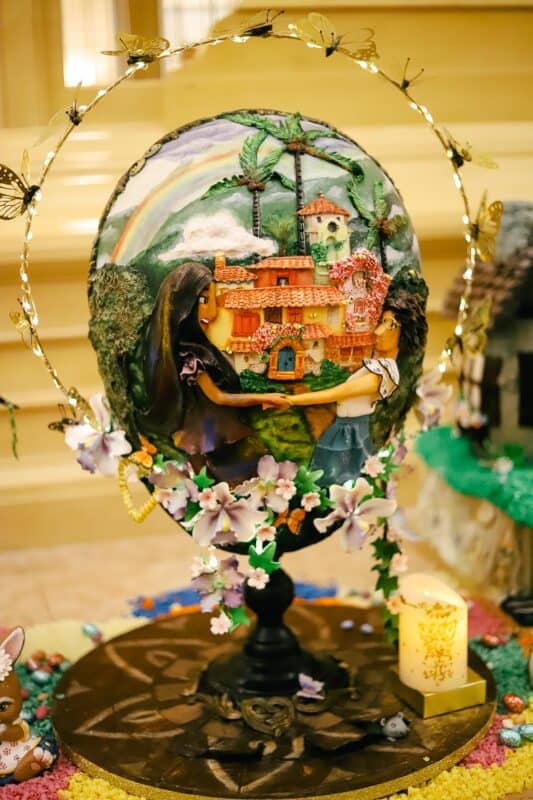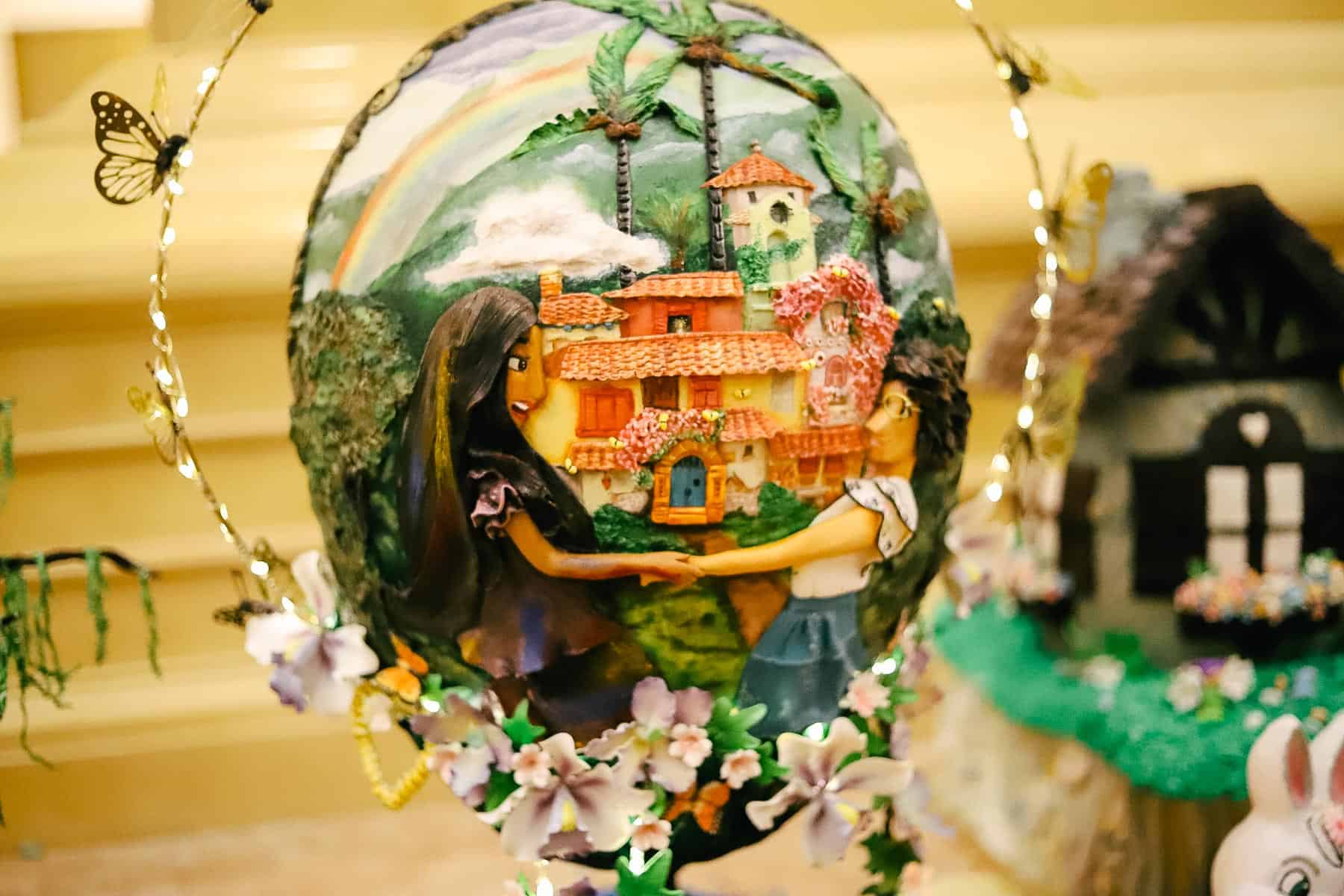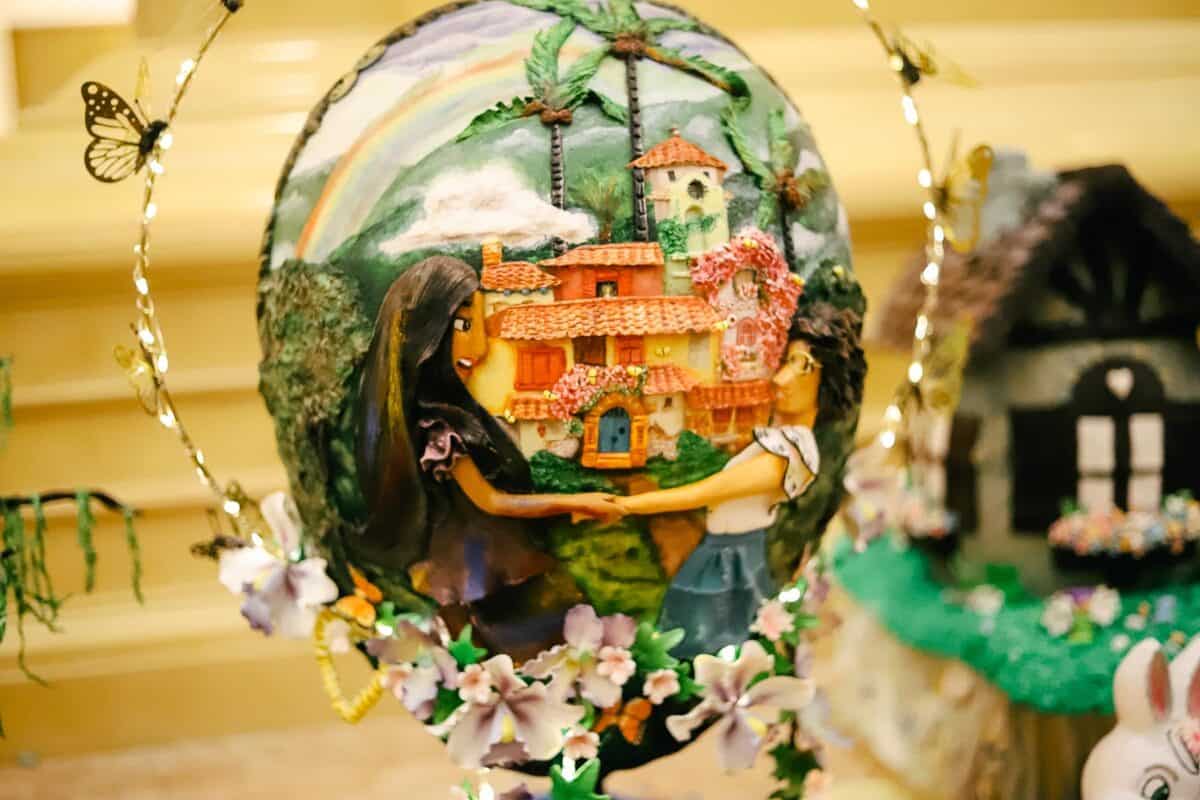 Here are the last two eggs.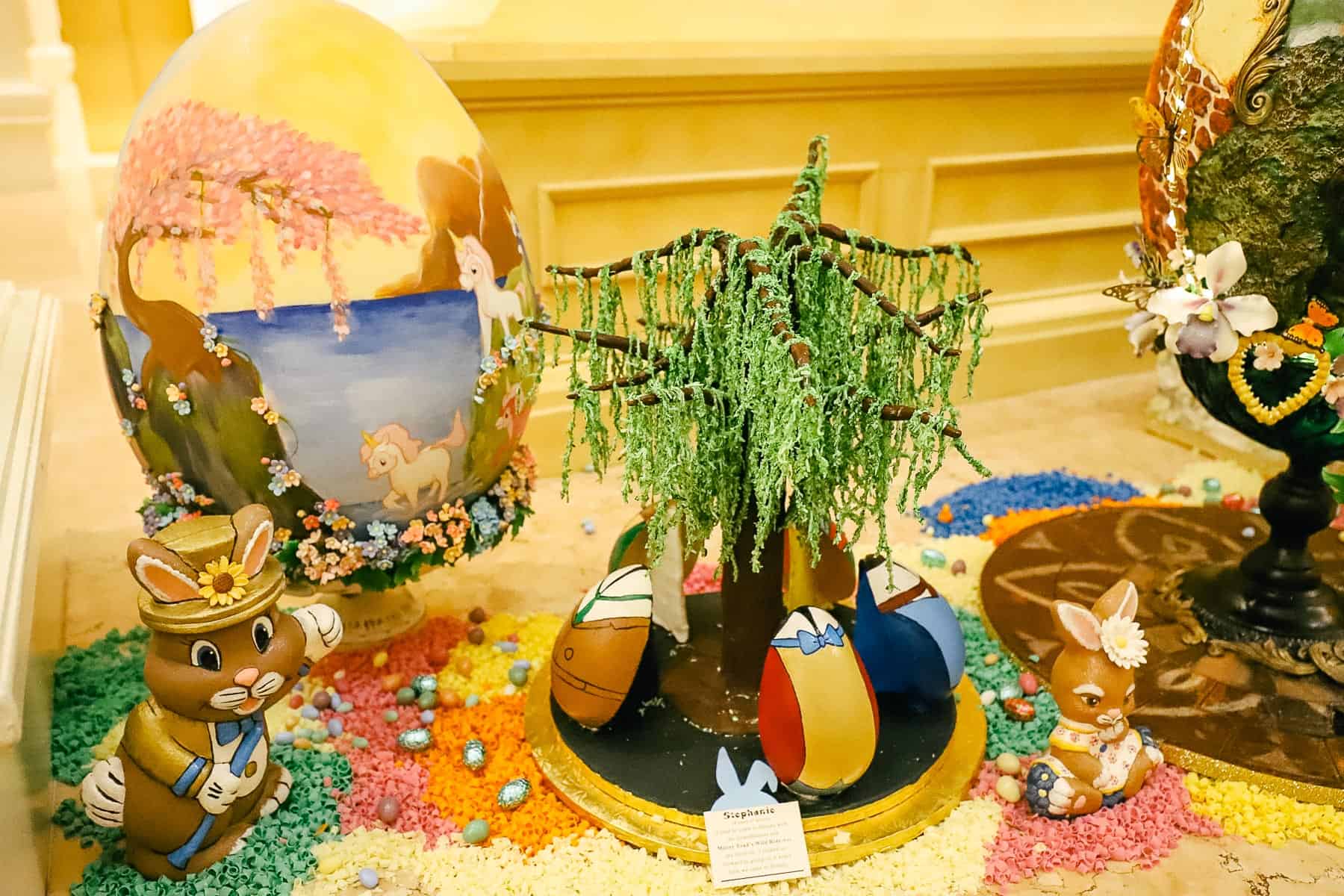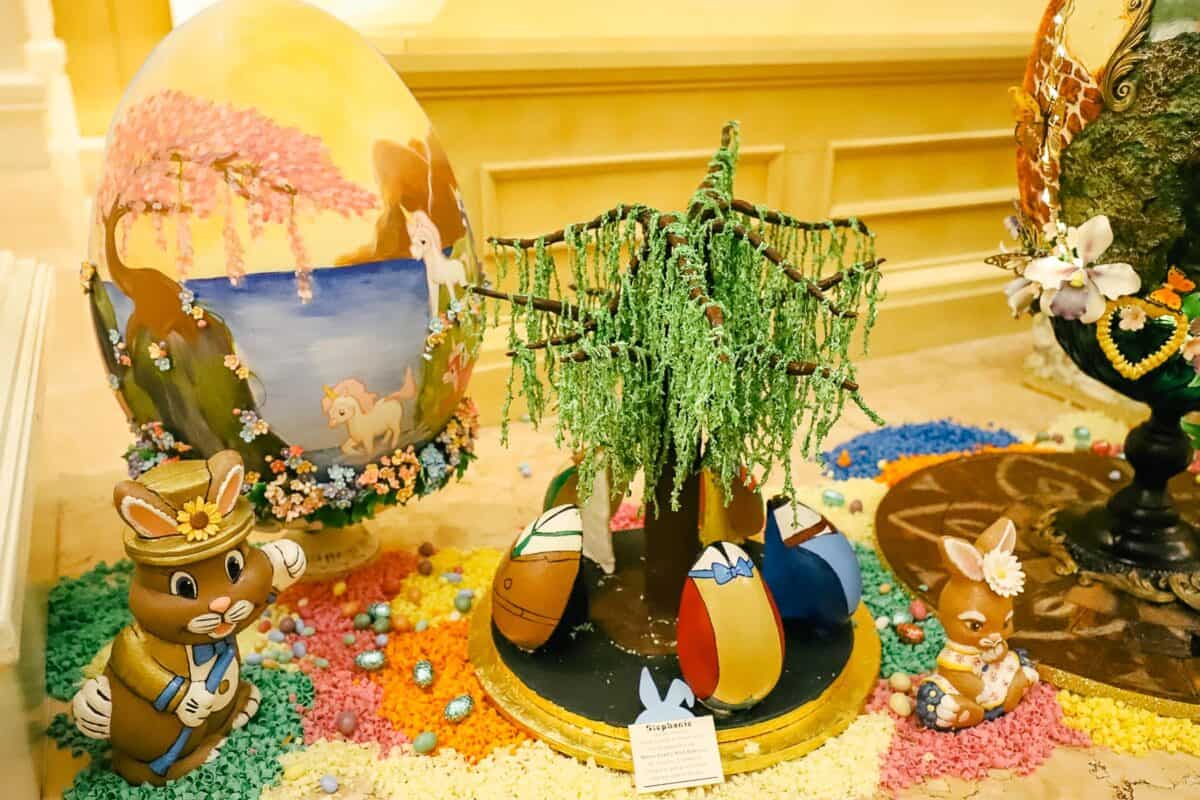 First, we have an egg representing Mr. Toad and other characters from The Wind in the Willows.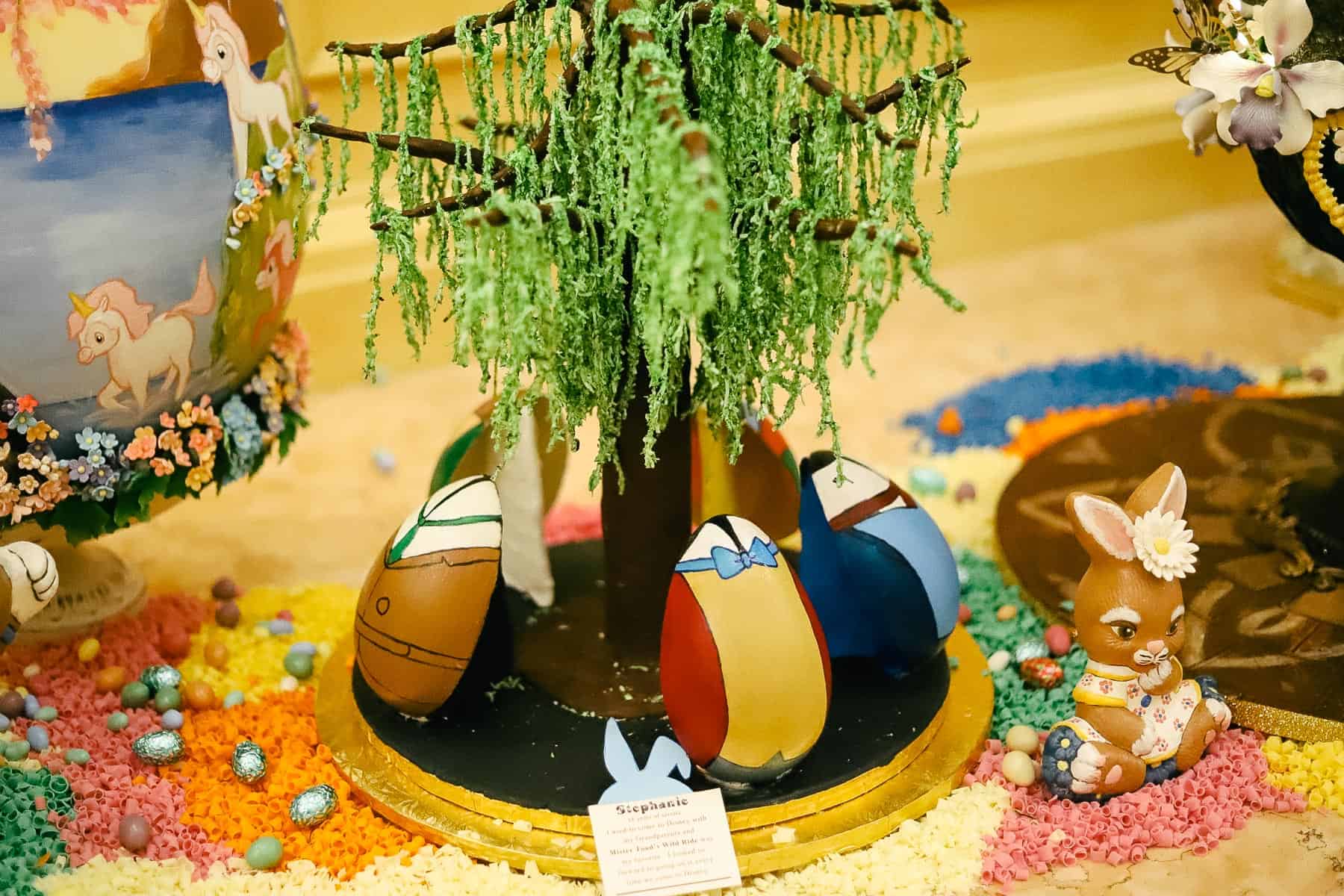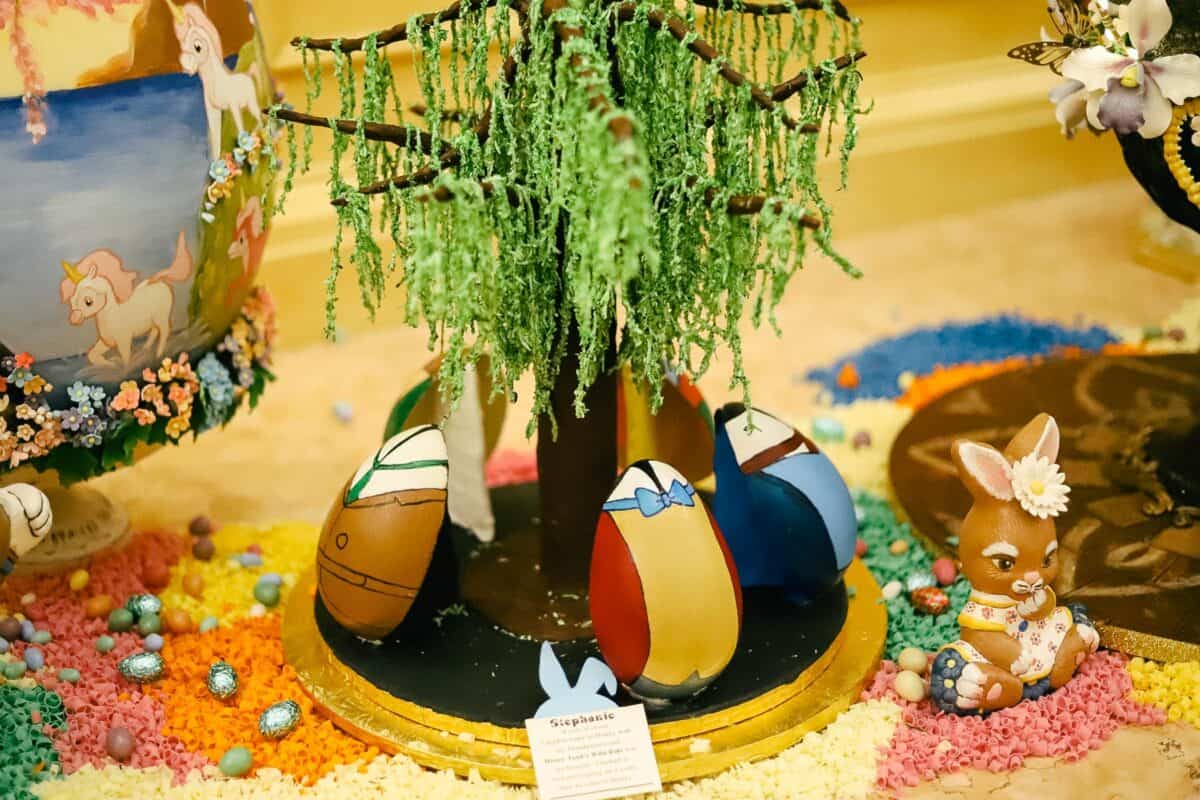 Each eggshell represents one of the characters in the book.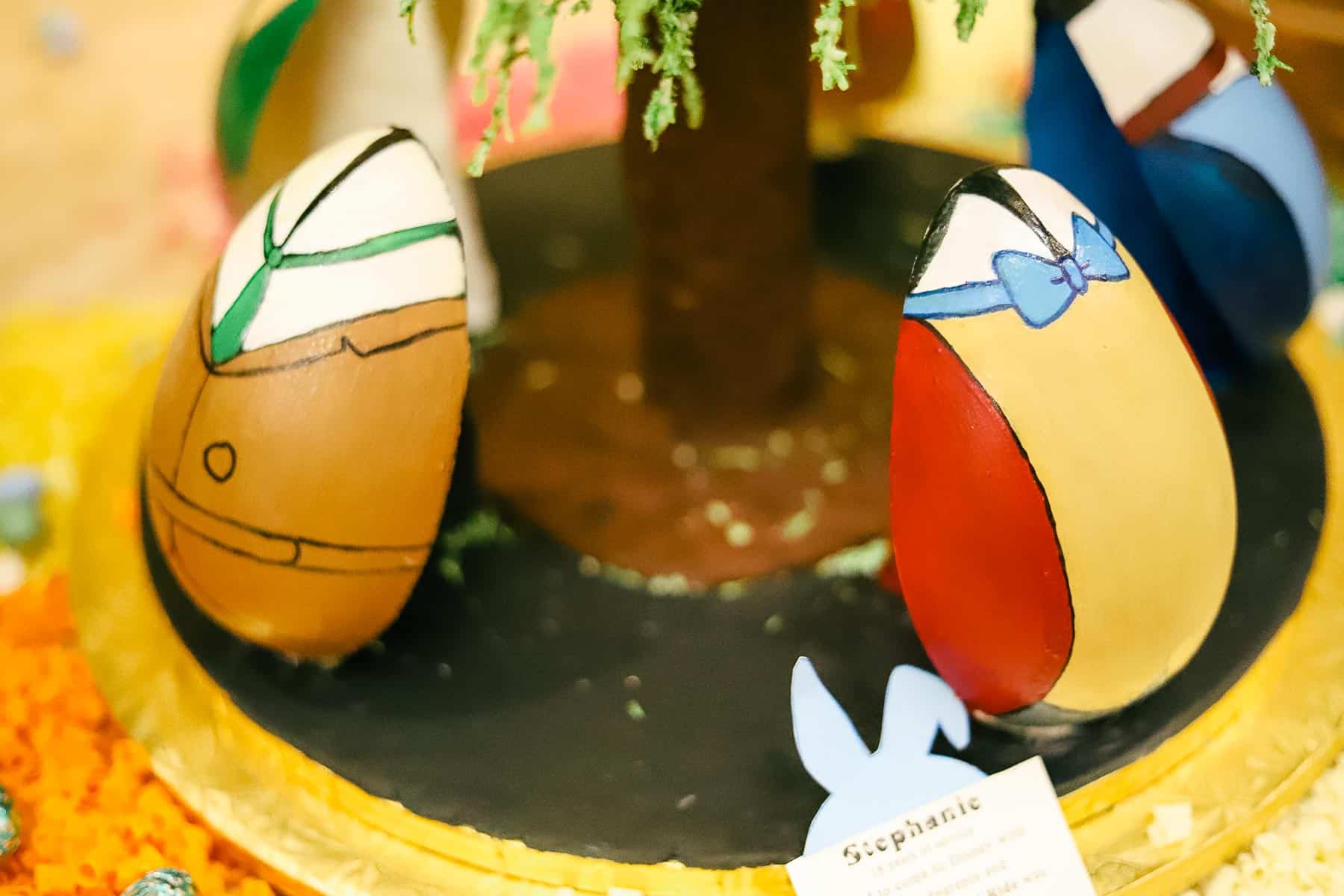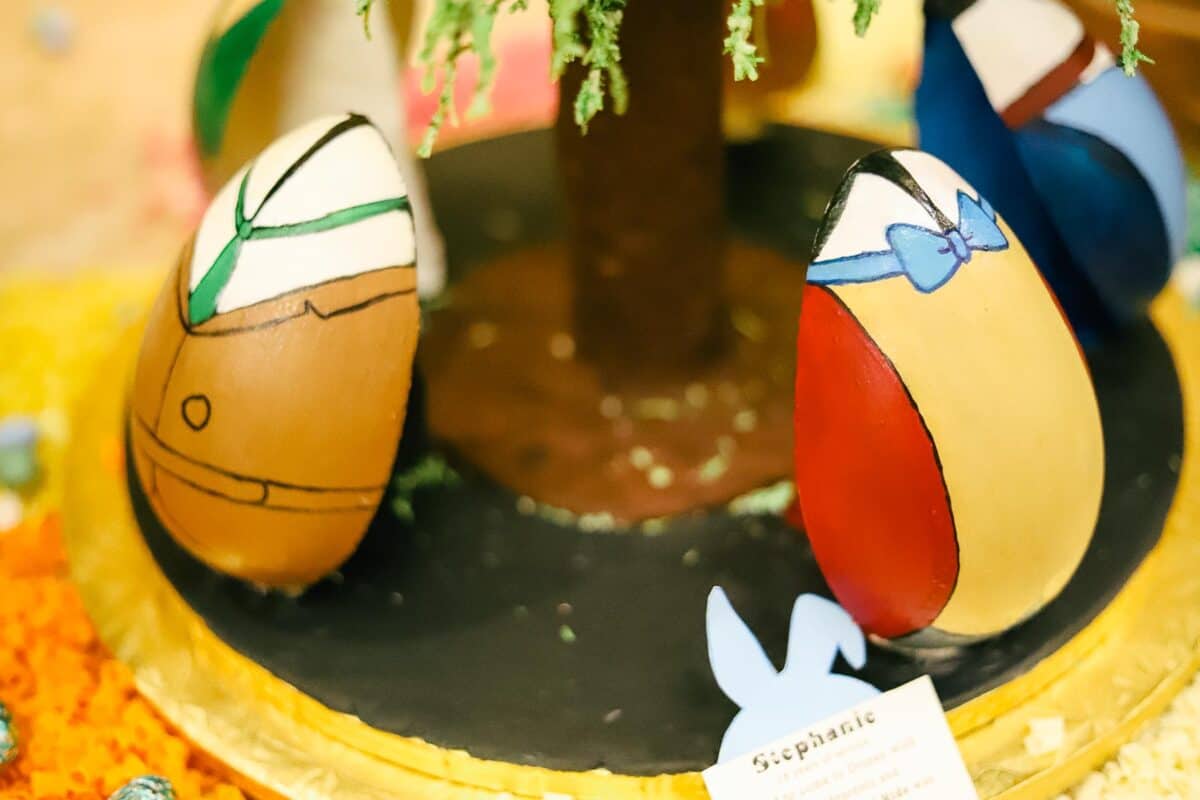 This other beauty is from Fantasia.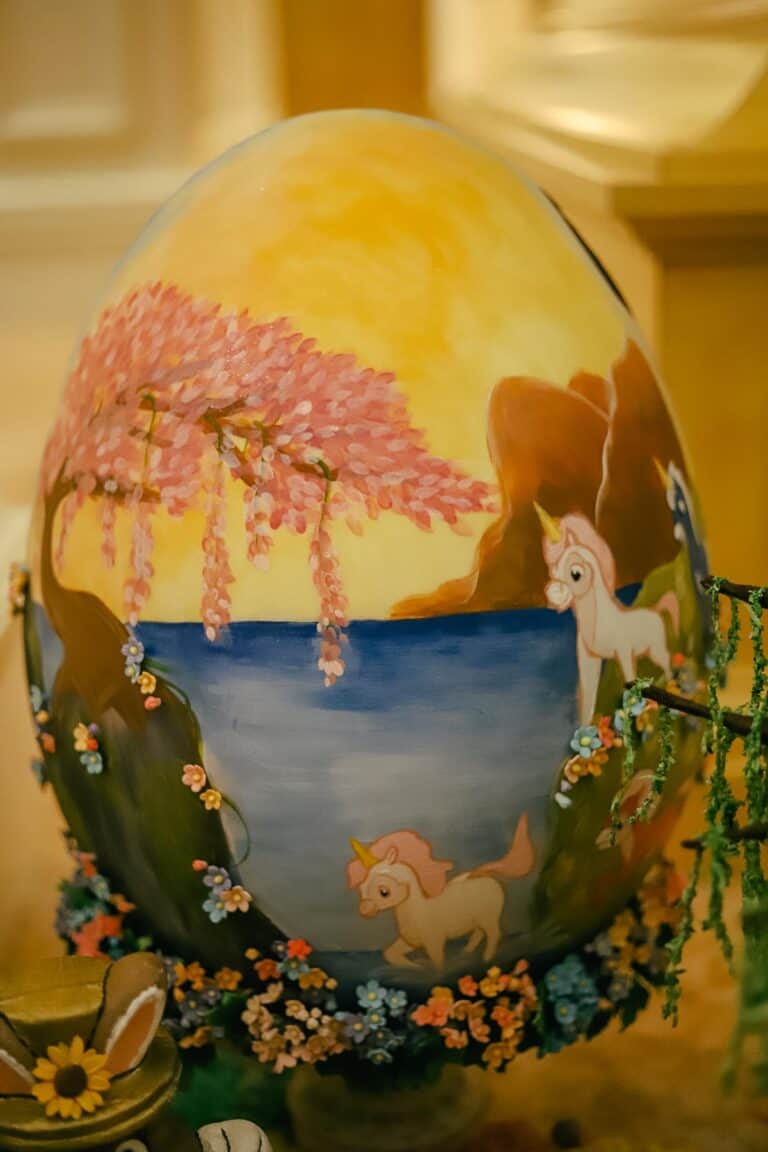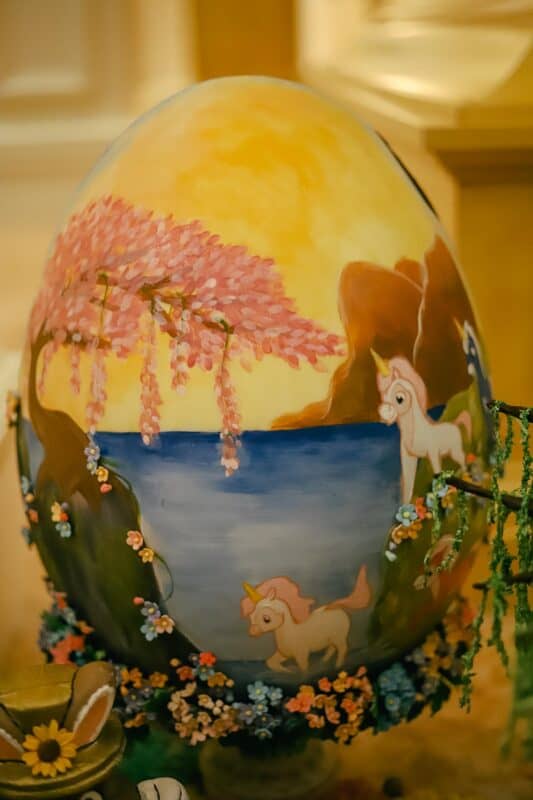 Here is a look at the back of the egg.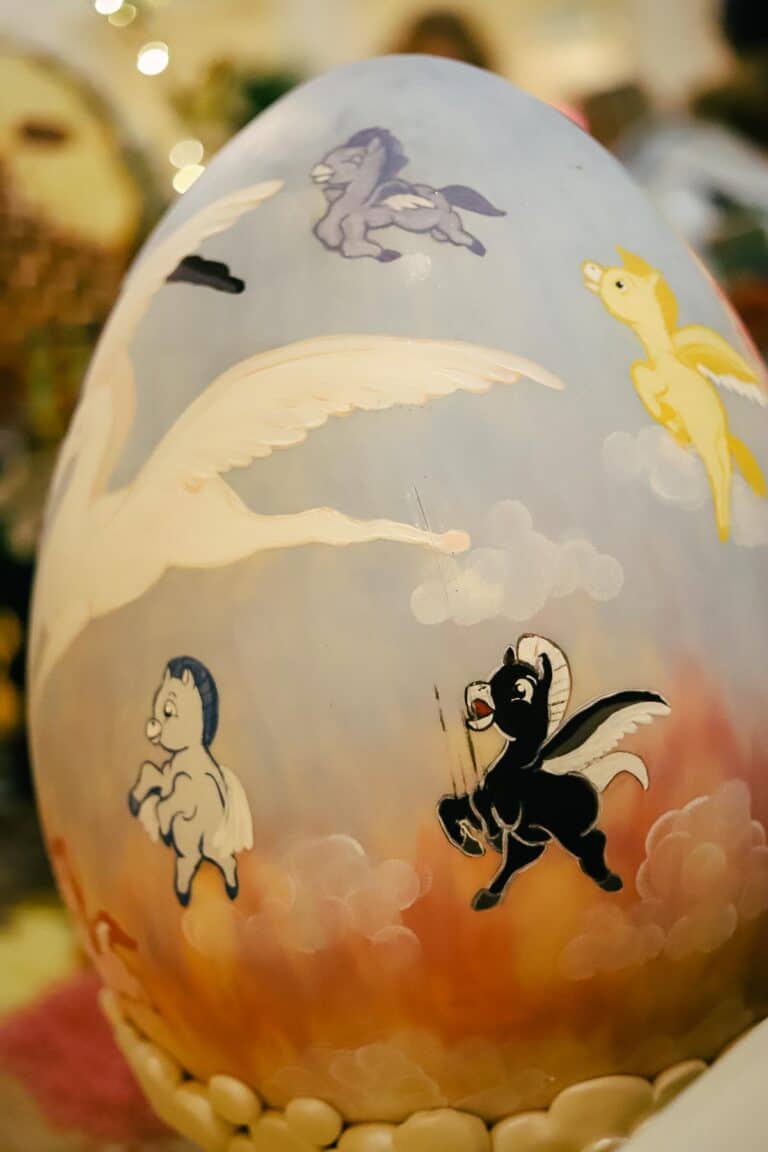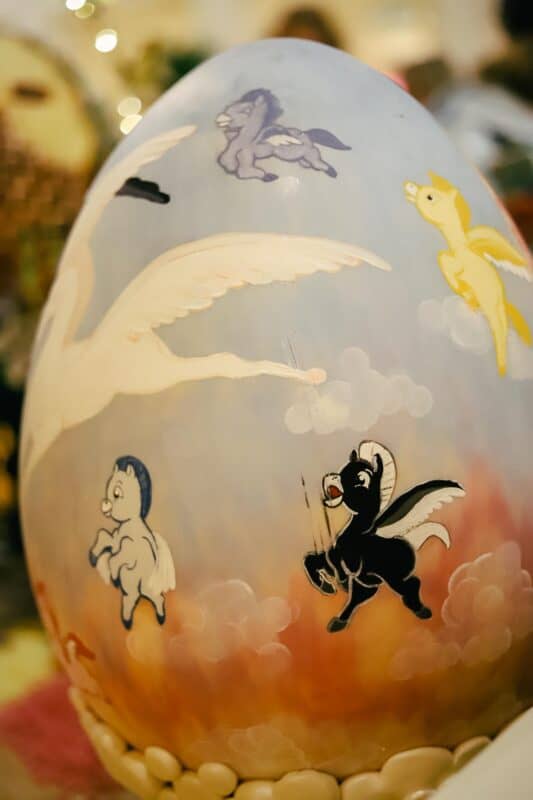 Grand Floridian's Easter Egg Display Video
Here is a video that better shows some of the features of the eggs that light up.
Grand Cottage Treats at the Grand Floridian
Last year, The Grand Cottage debuted at Disney's Grand Floridian. It's a small stand in the lobby that sells Easter treats.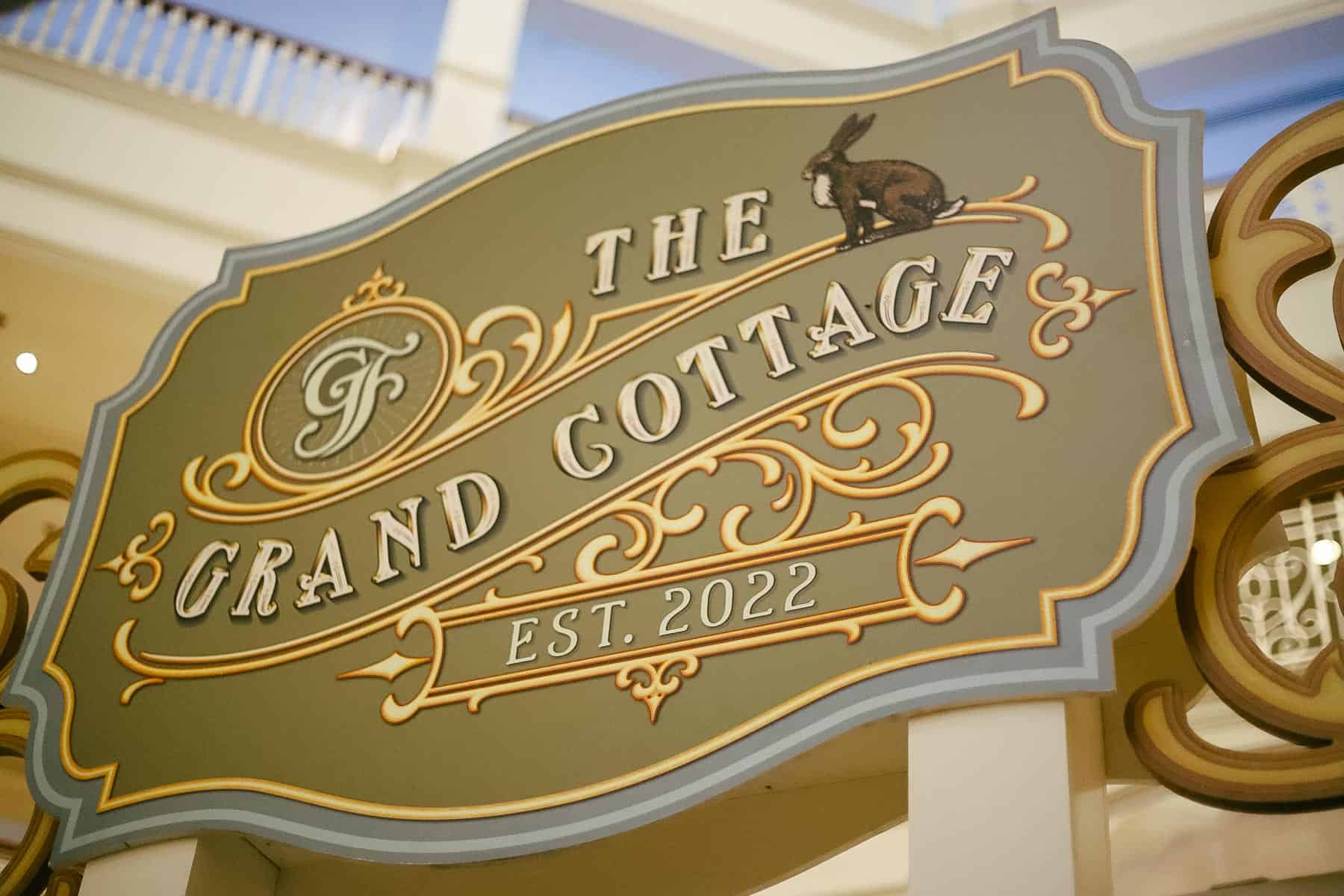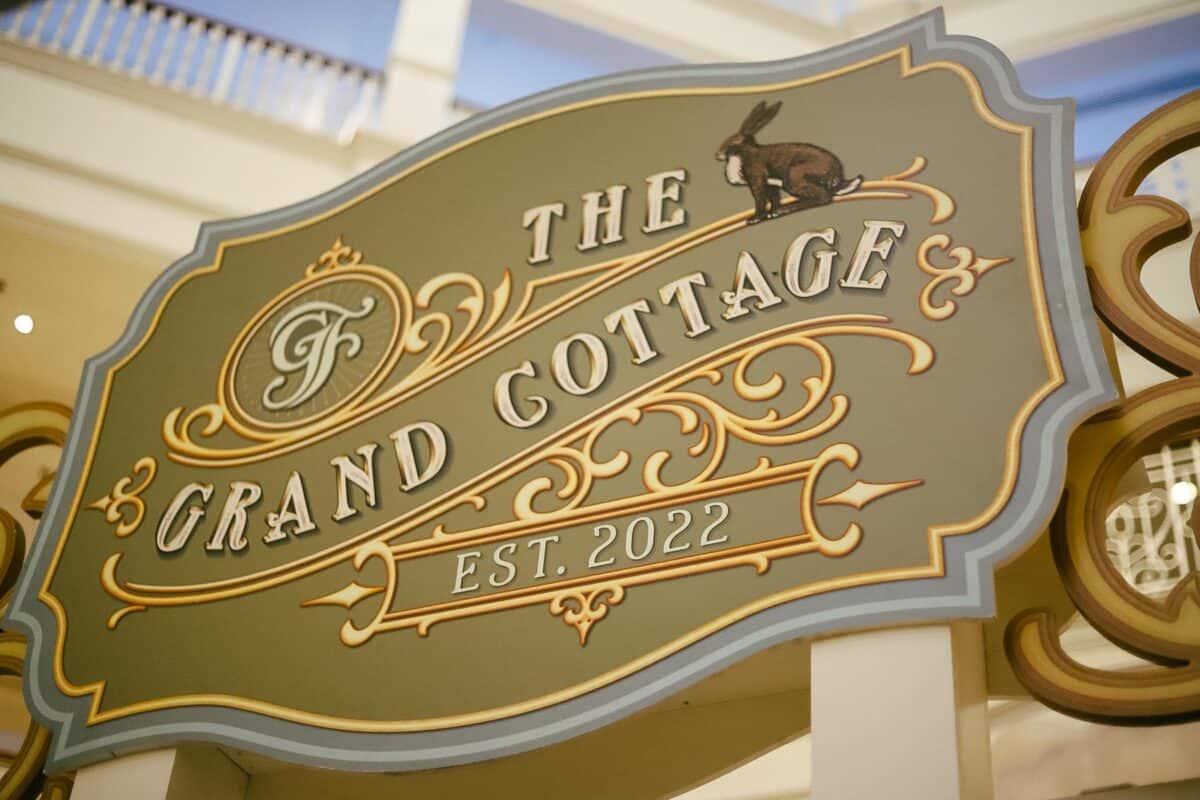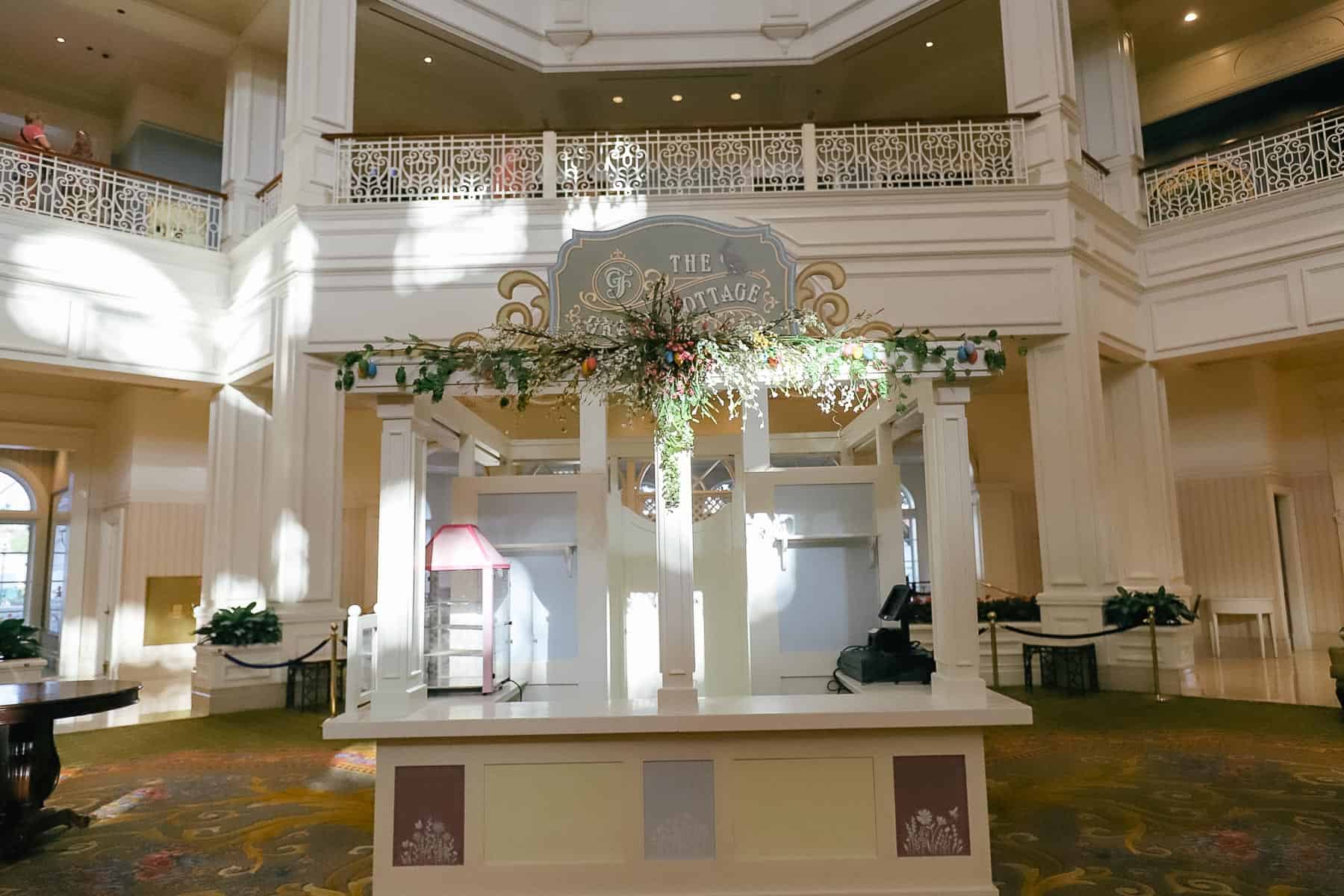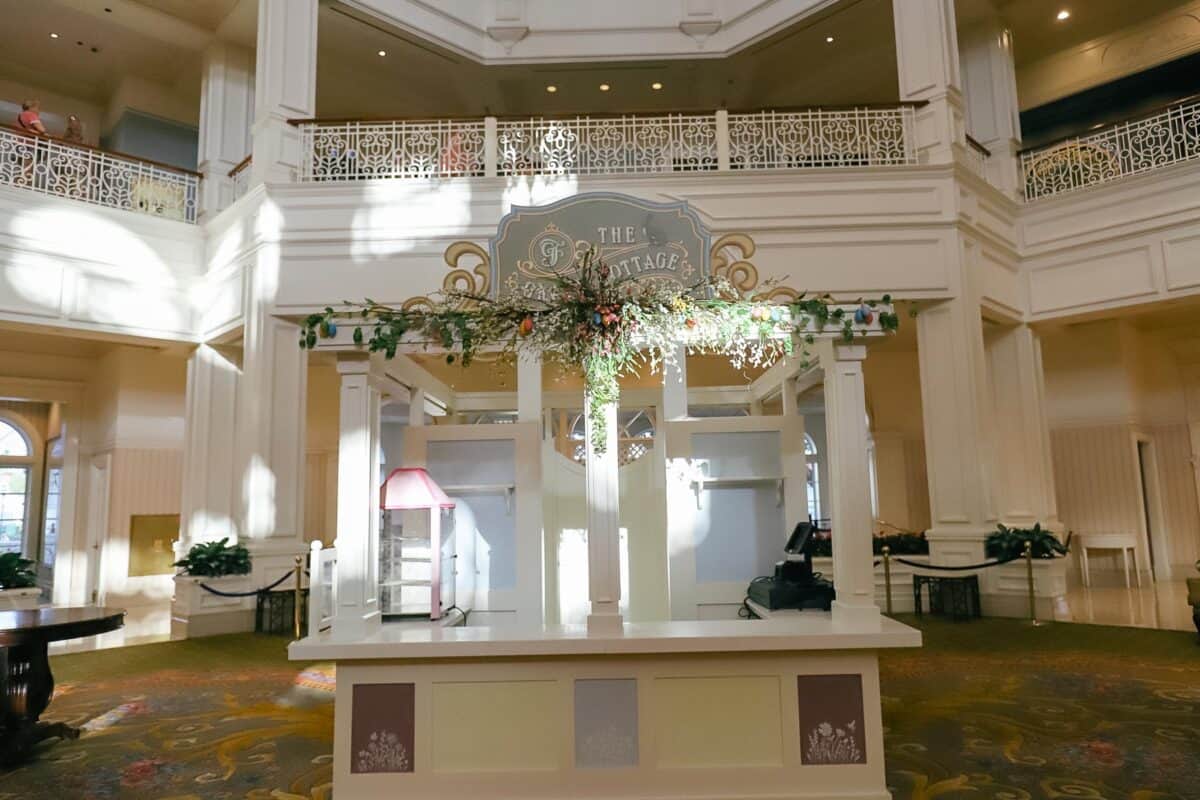 The Grand Cottage is open daily between 11:00 a.m. and 6:00 p.m.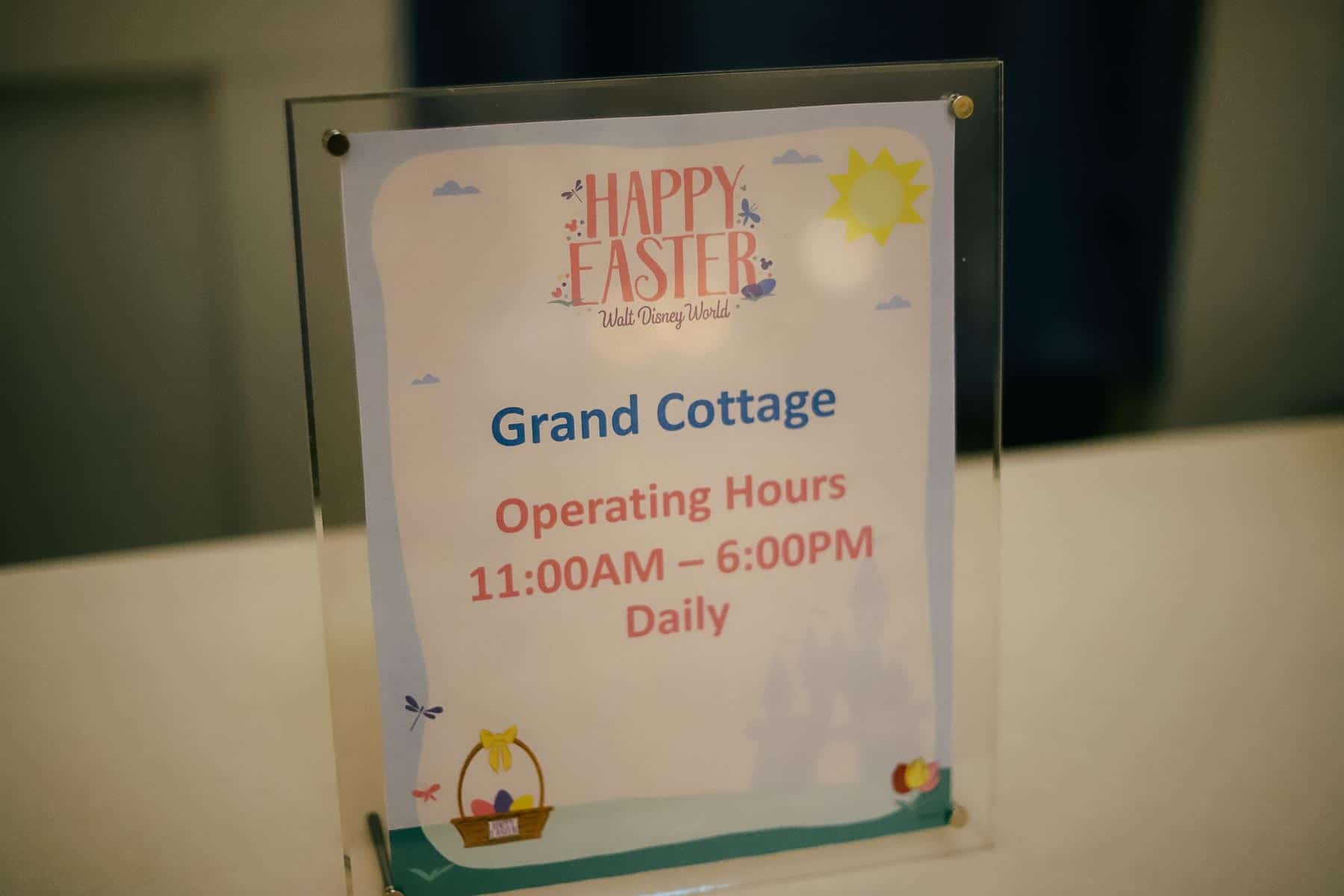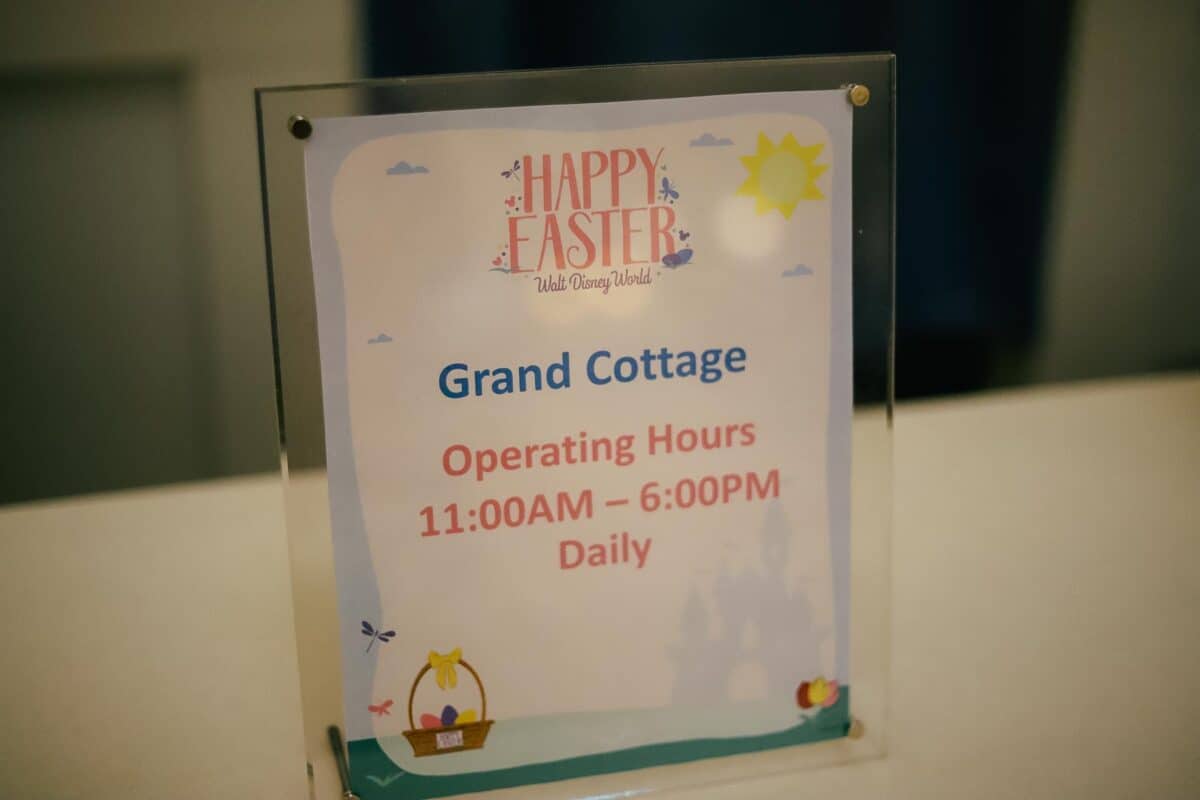 Here is their menu.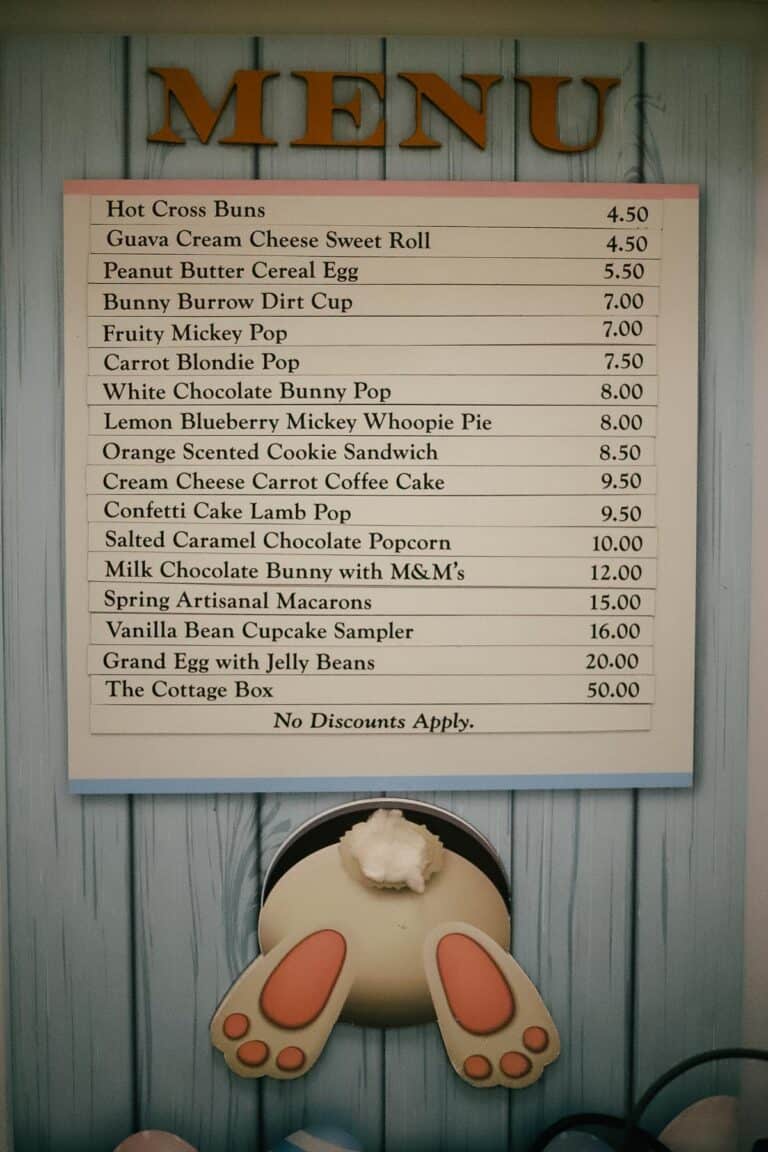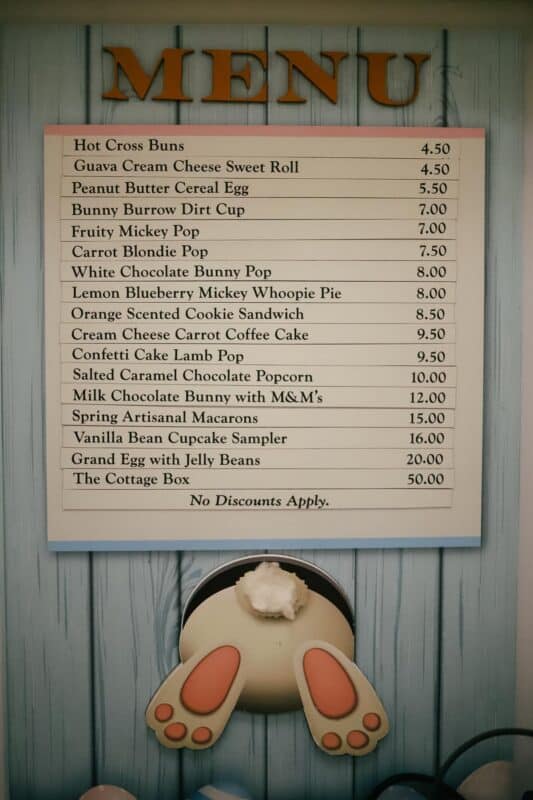 A display featuring the treats sits in the lobby. So you can preview any of the items. Here they are:
The Cottage Box $50.00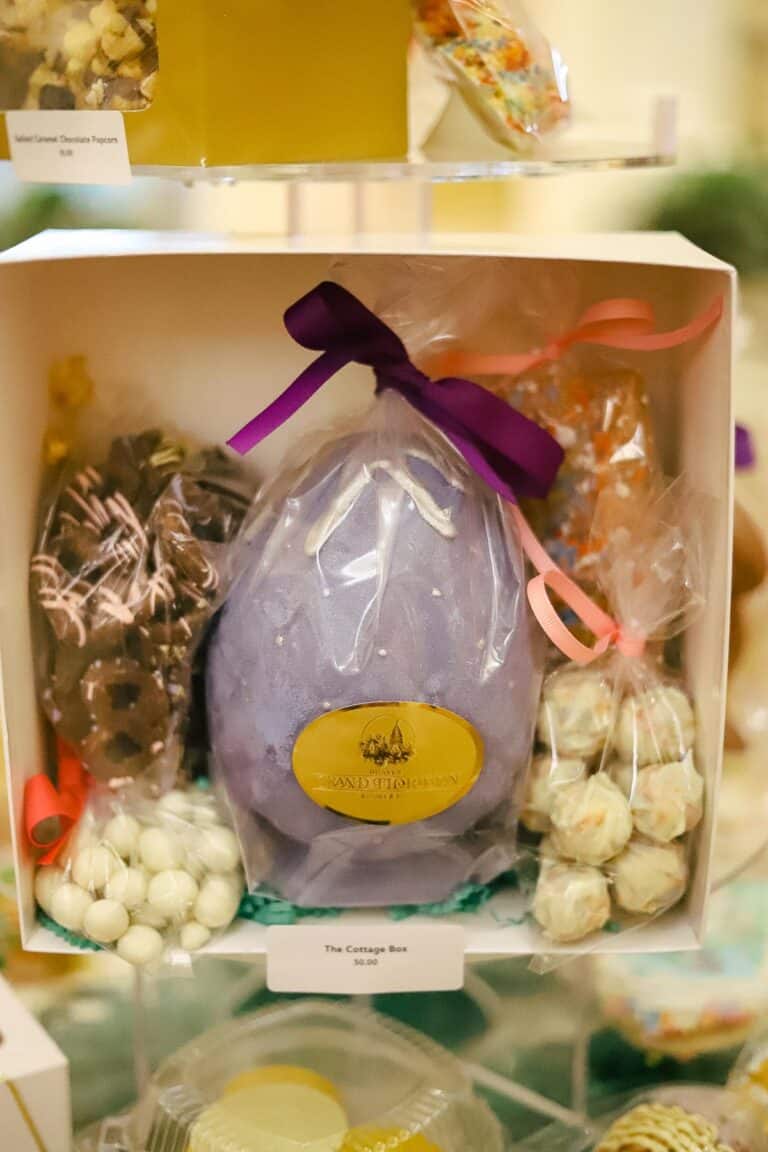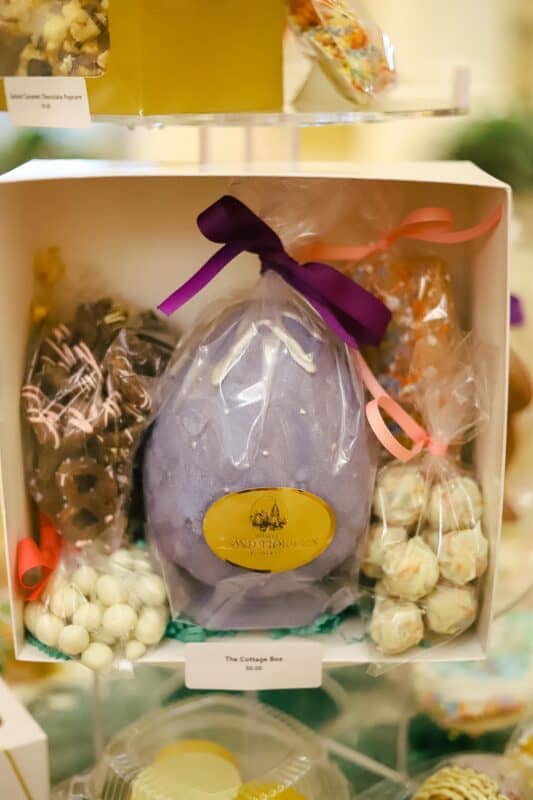 Lemon Blueberry Mickey Whoopie Pie $8.00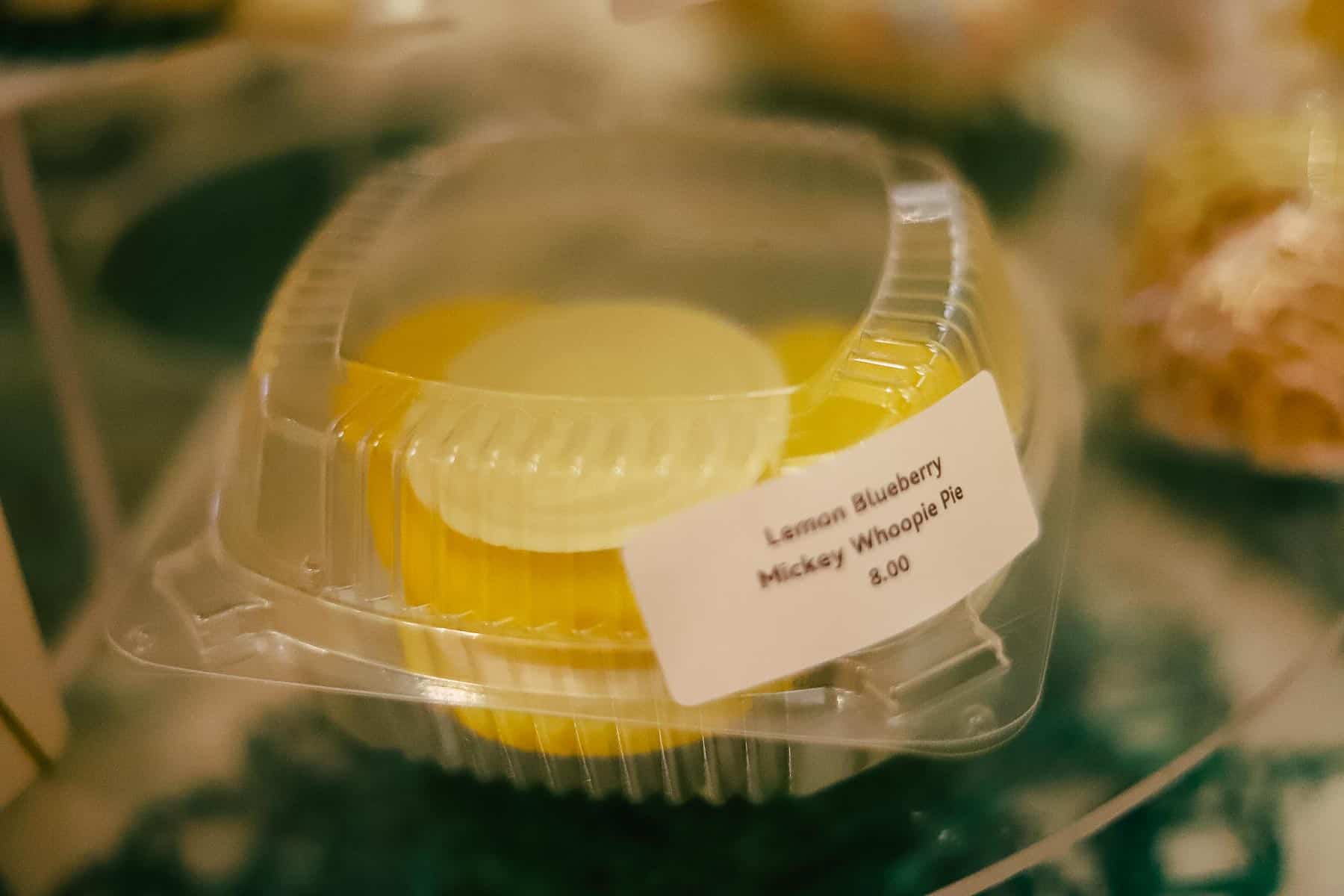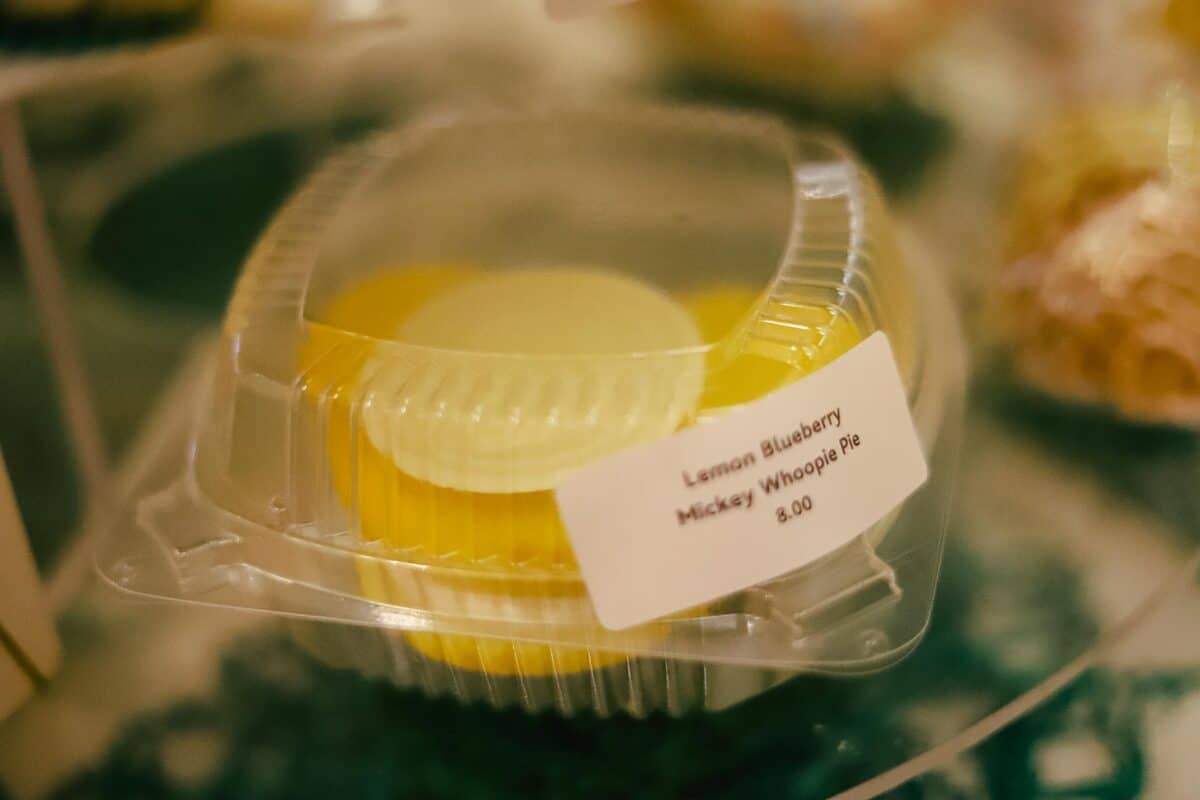 Peanut Butter Cereal Egg $5.50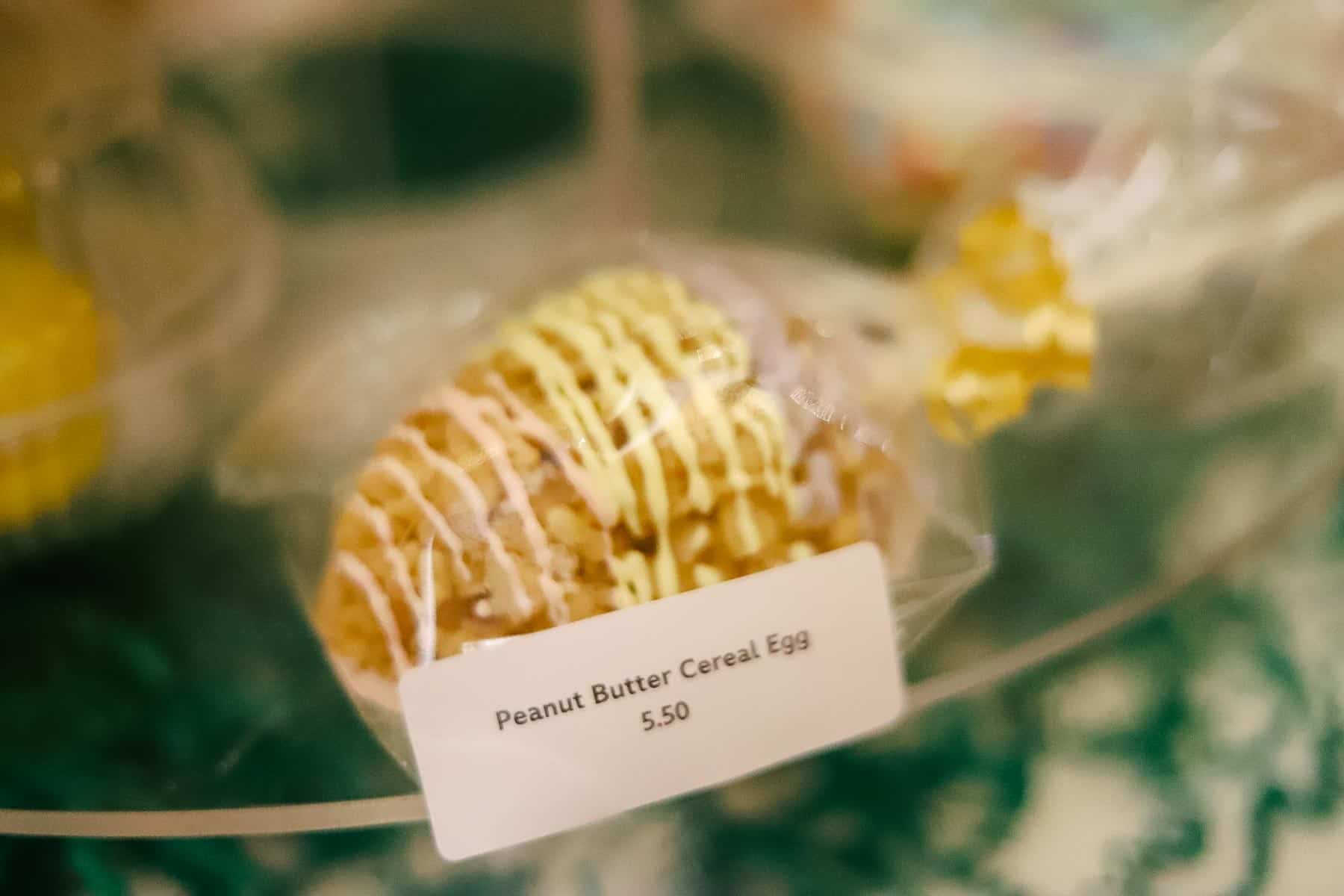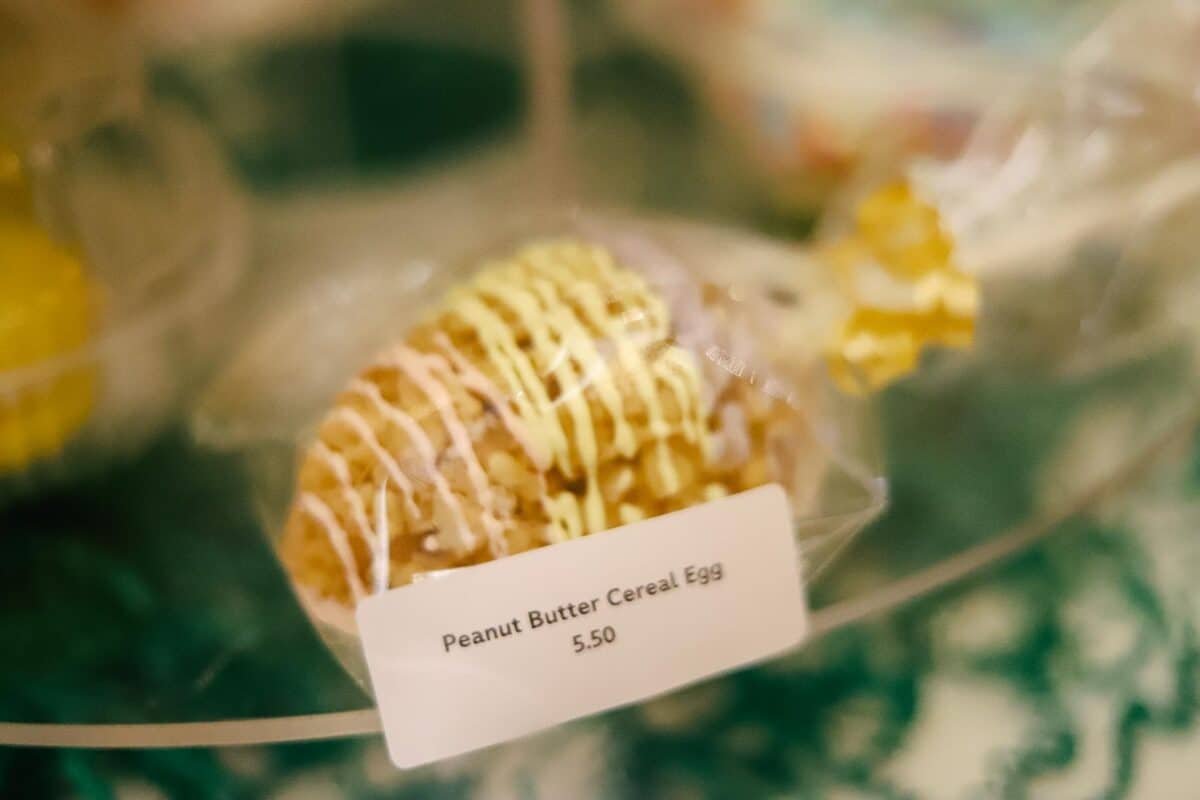 Orange-Scented Cookie Sandwich $8.50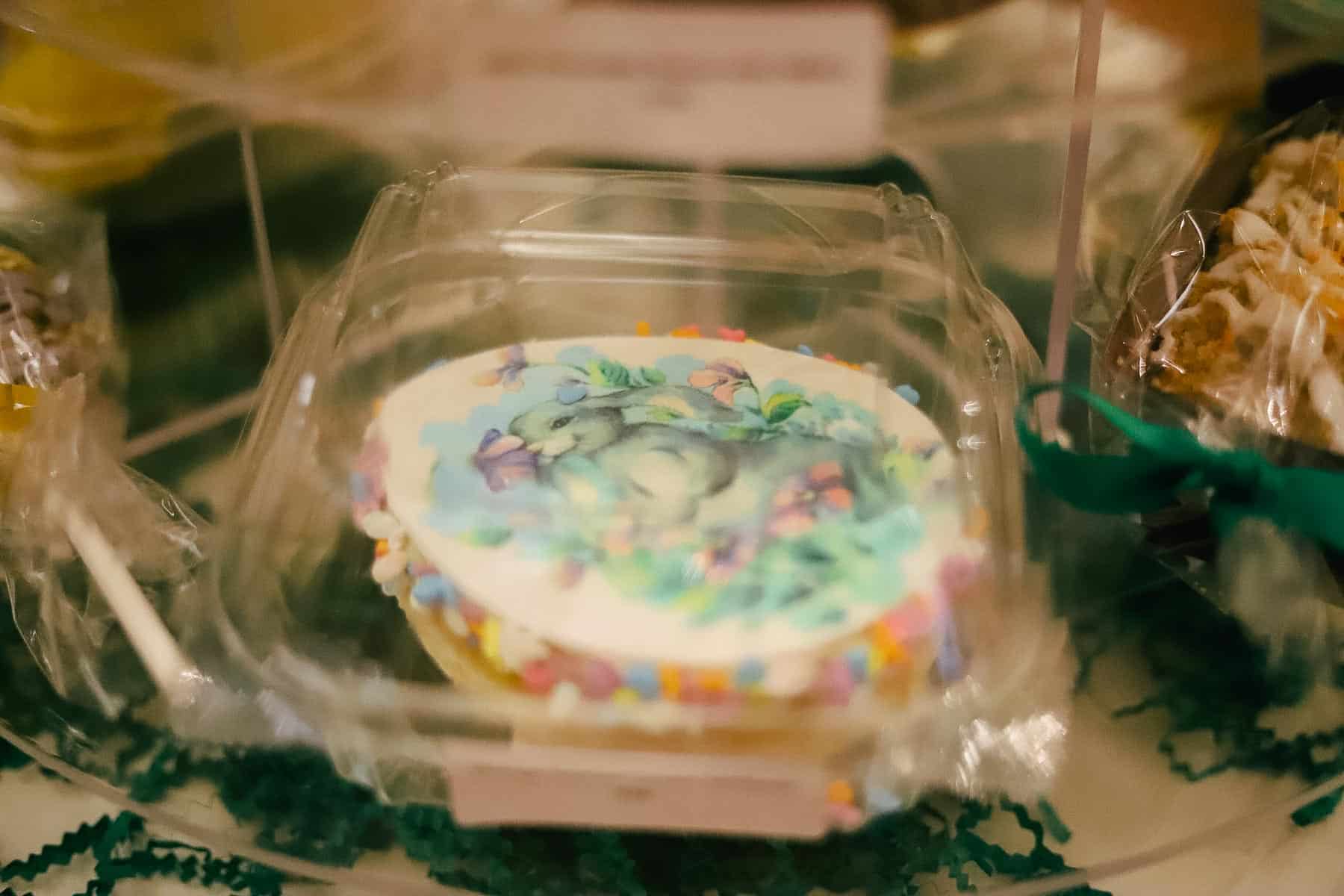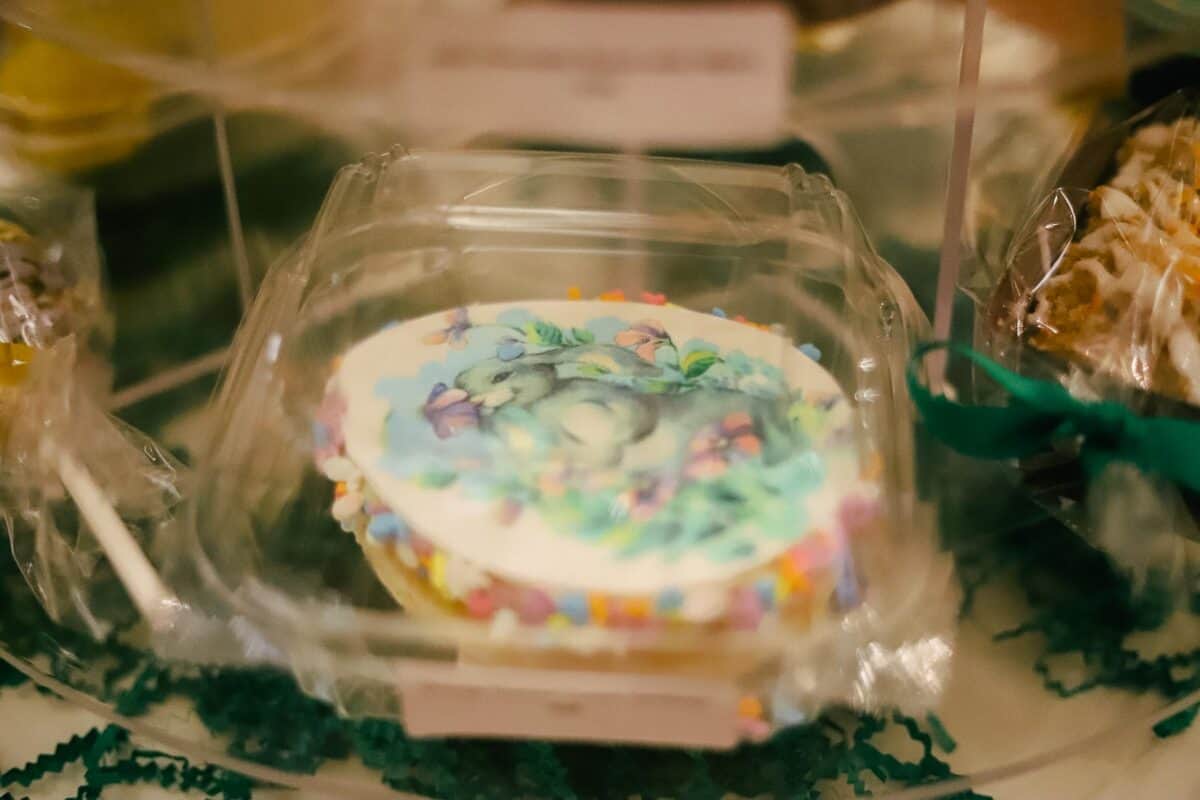 Milk Chocolate Bunny with M&M's $12.00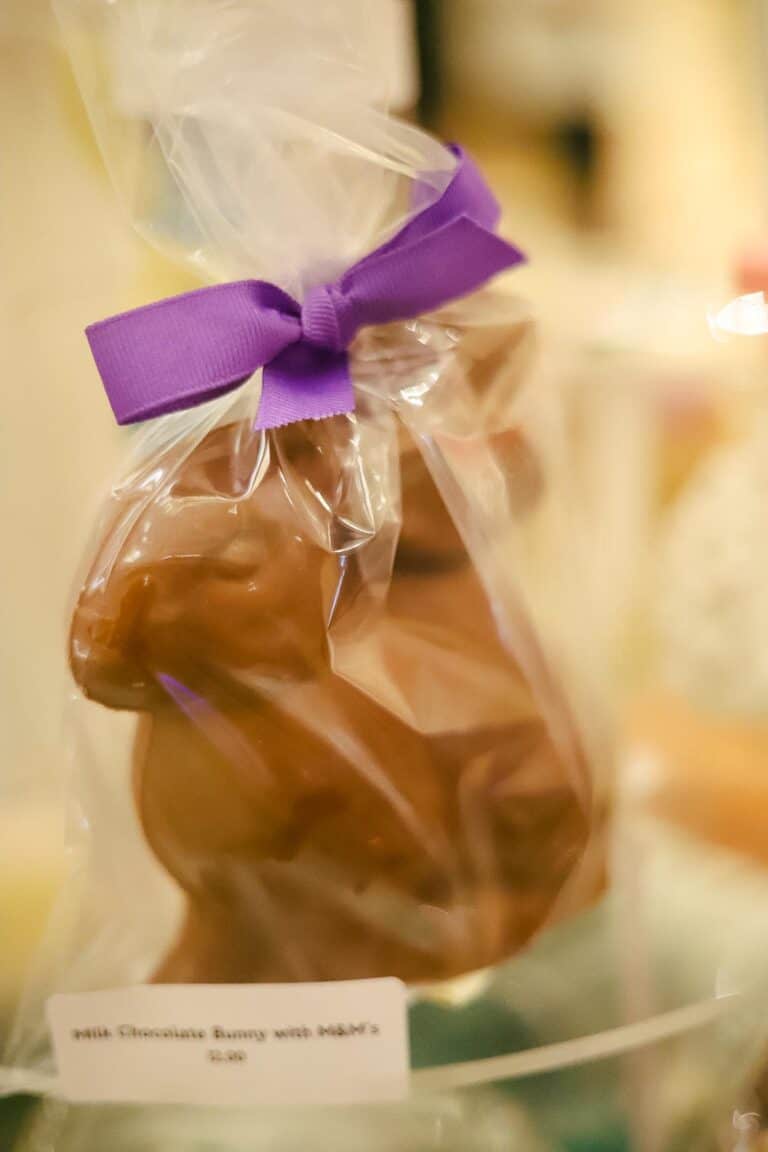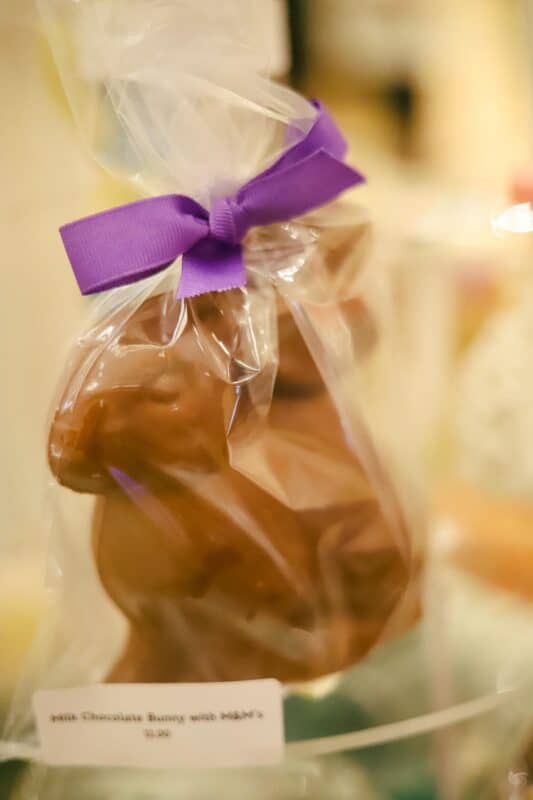 Fruity Mickey Pop $7.00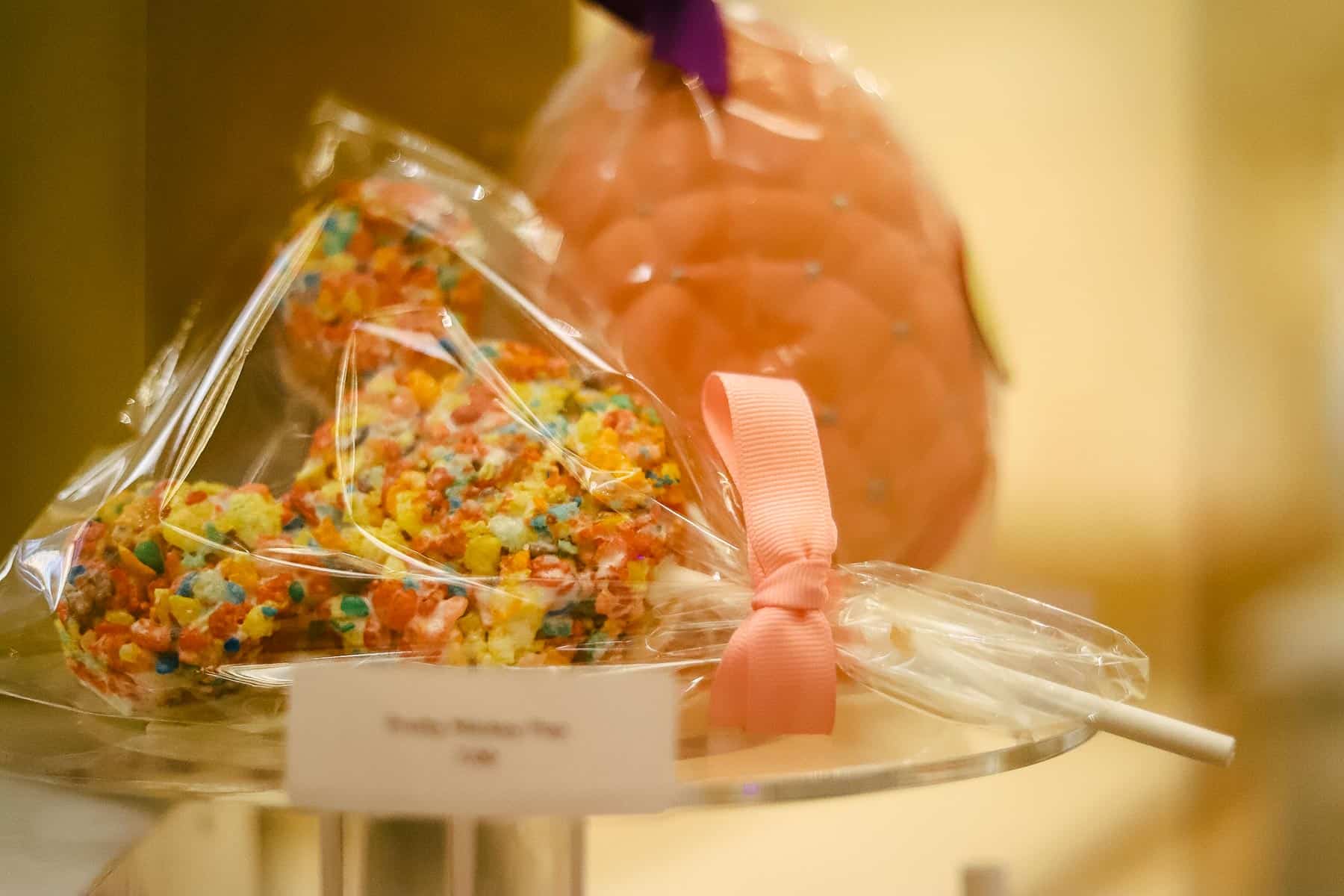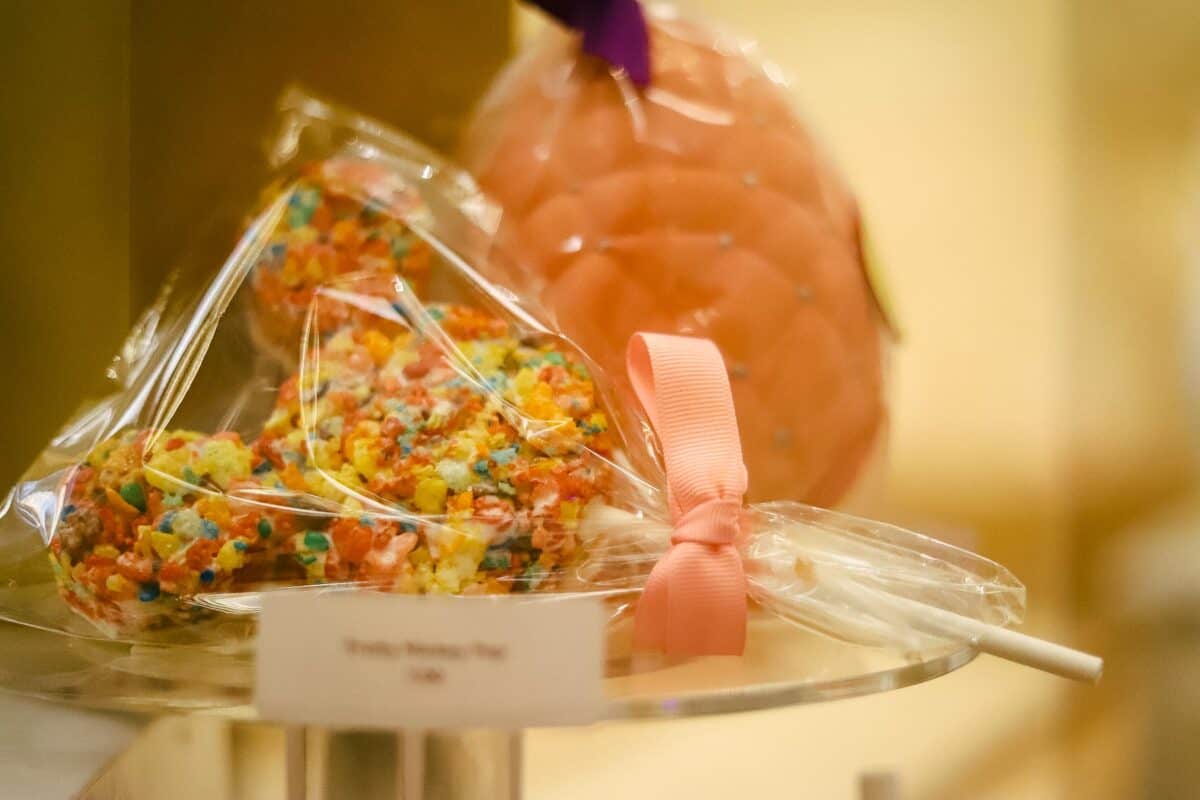 Cream Cheese Carrot Coffee Cake $9.50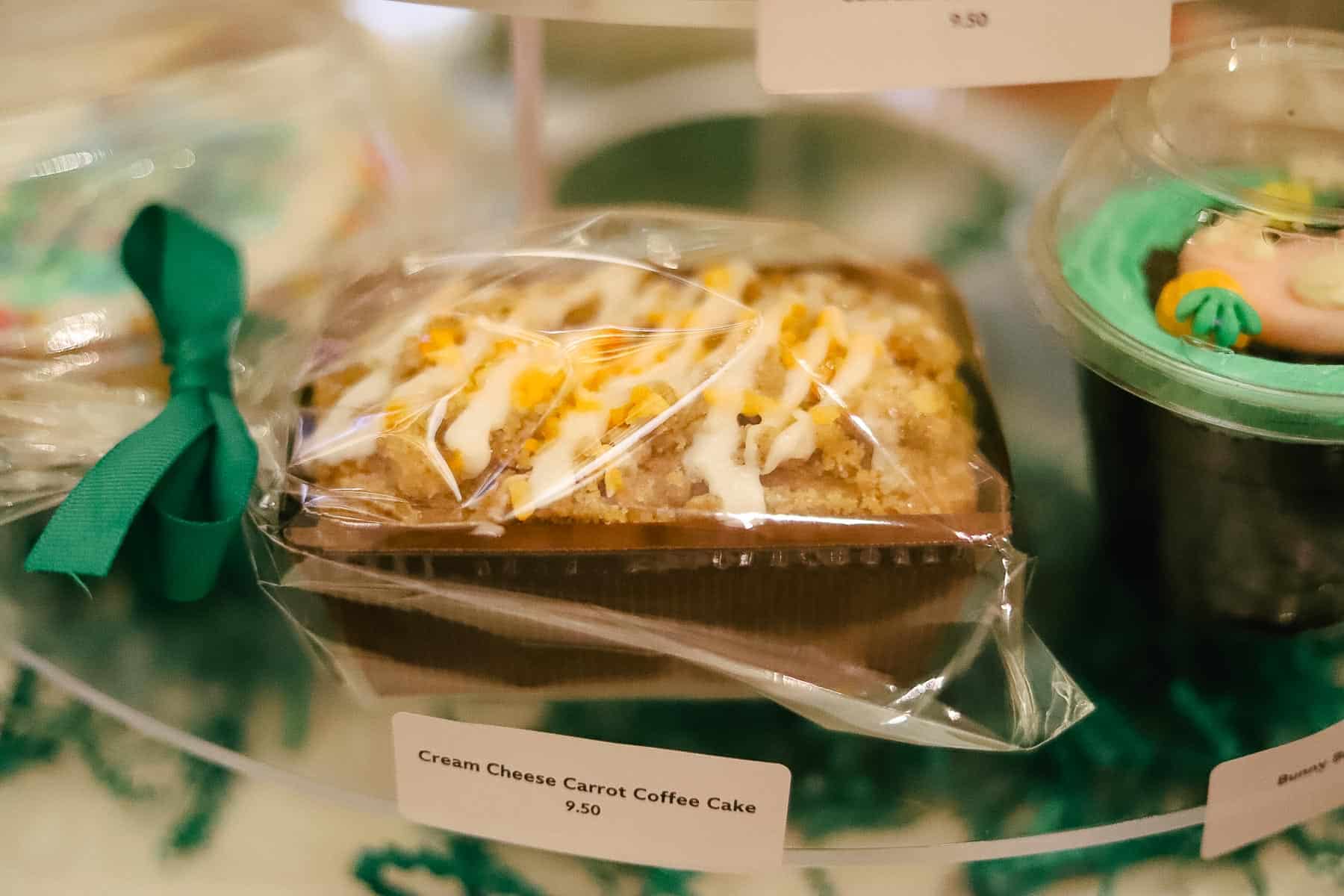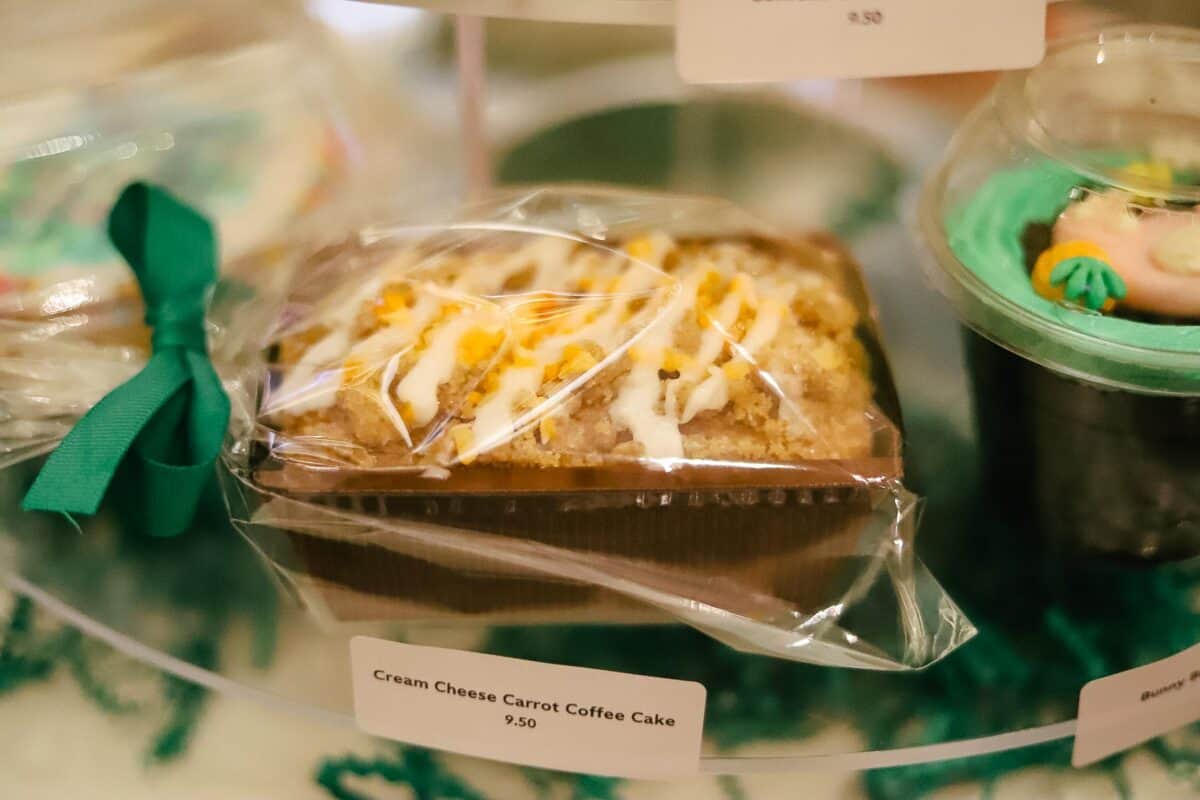 Confetti Cake Lamb Pop $9.50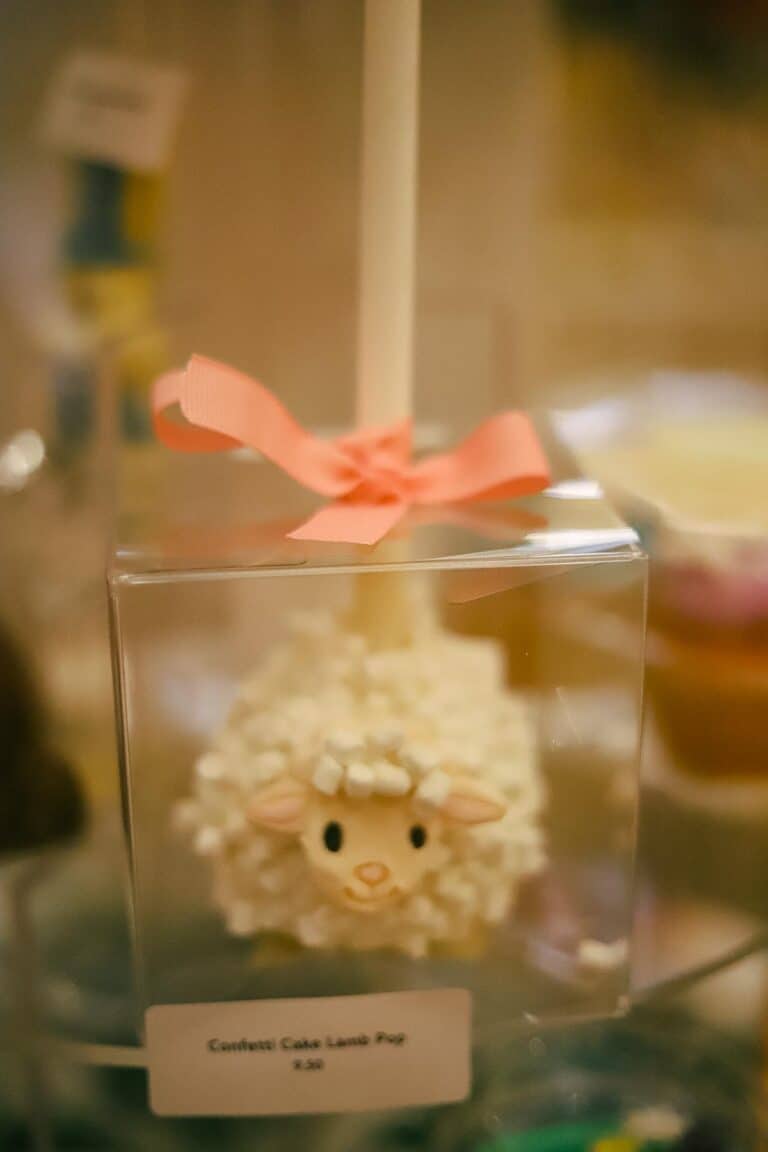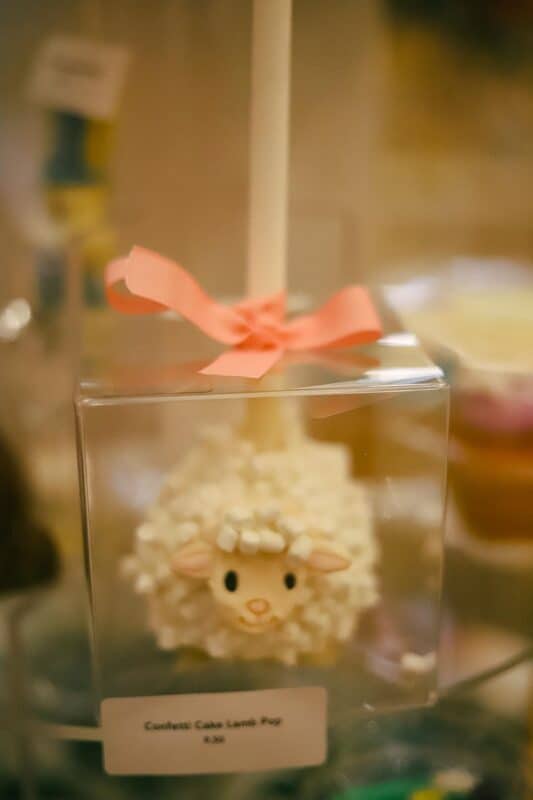 Grand Egg with Jelly Beans $20.00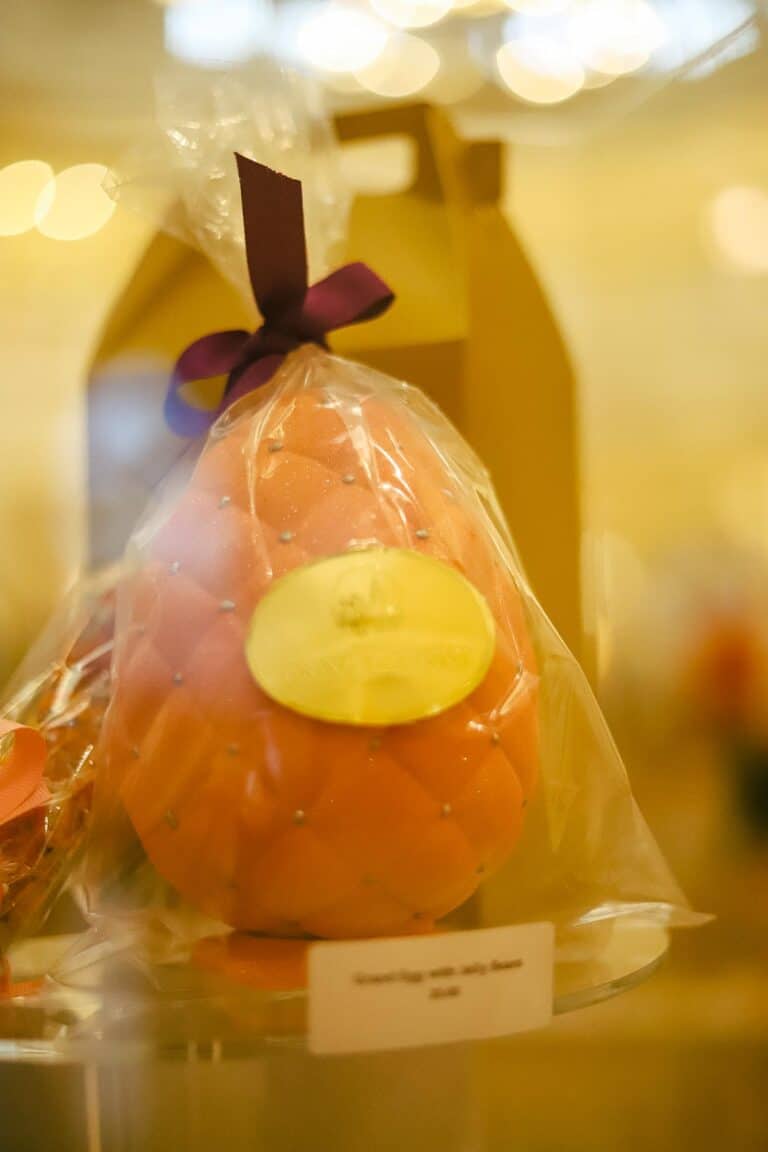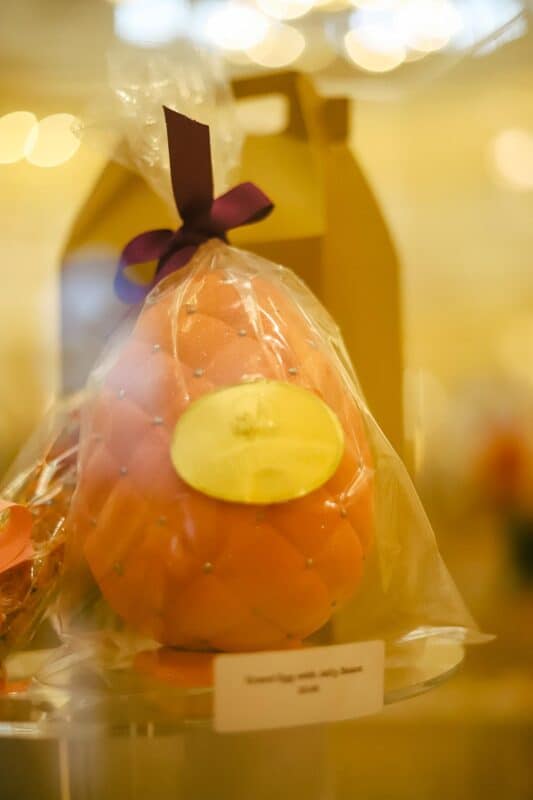 Bunny Burrow Dirt Cup $7.00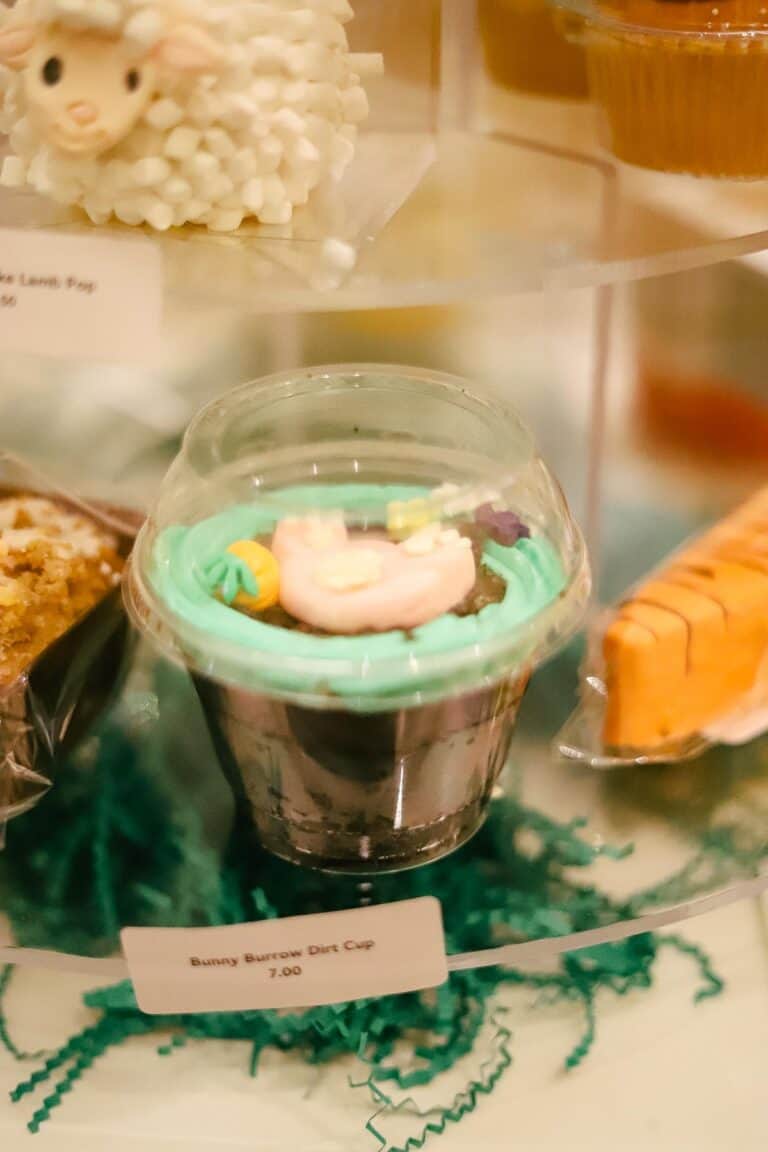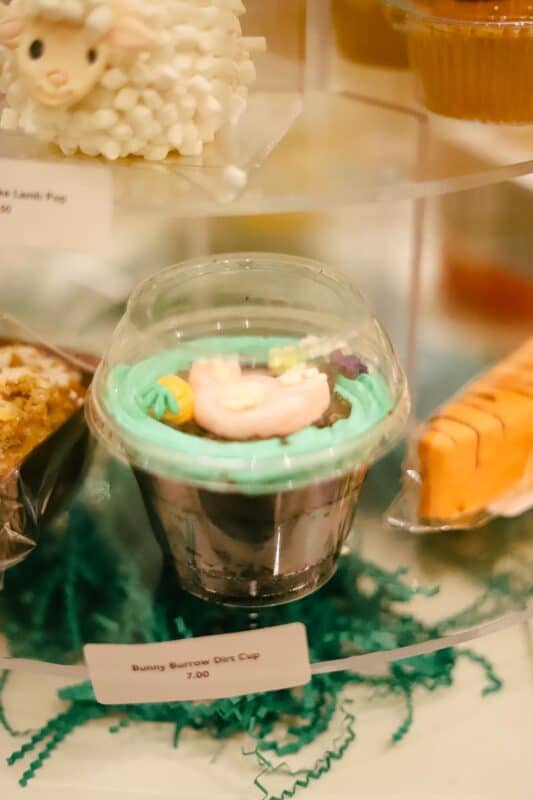 Hot Cross Buns $4.50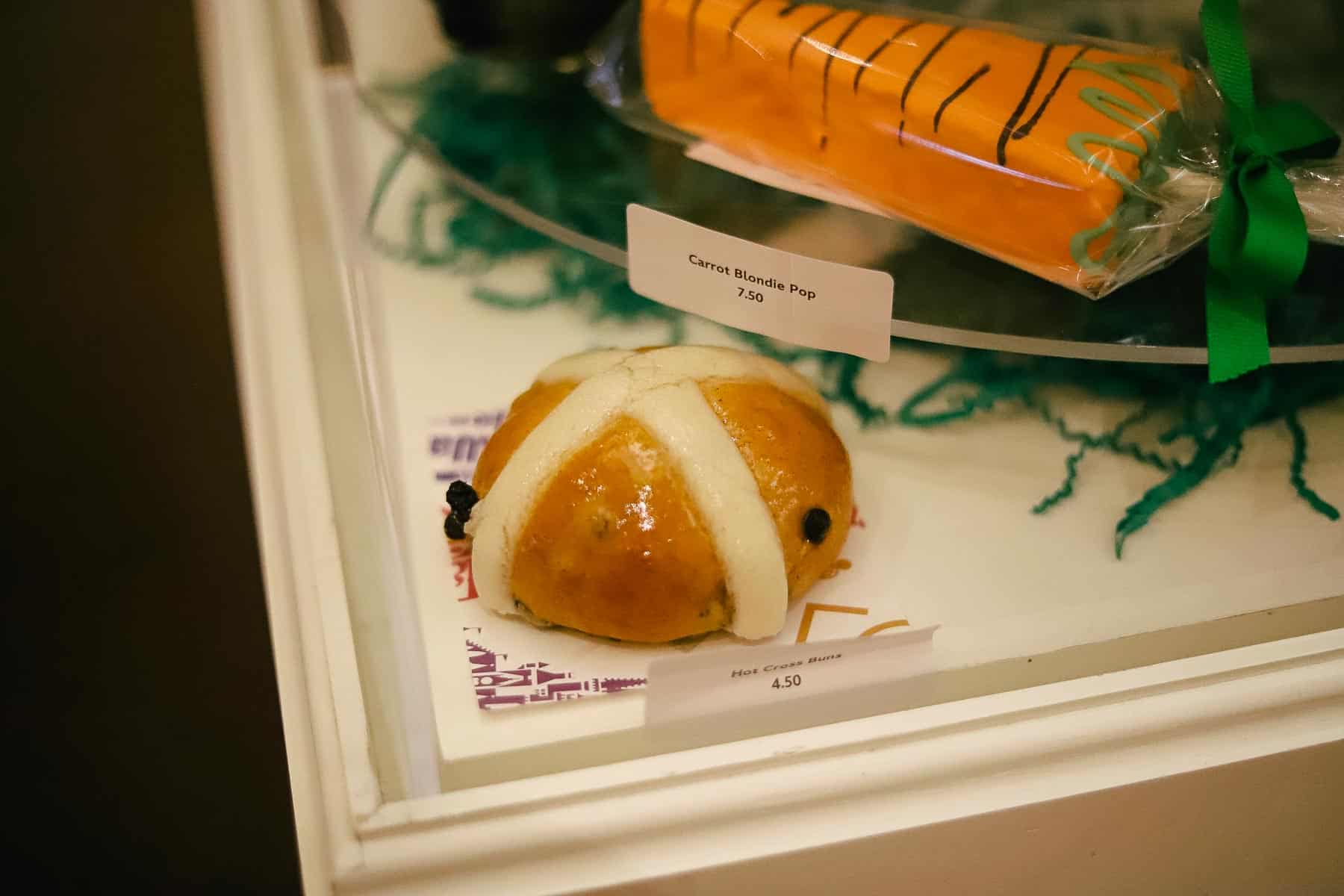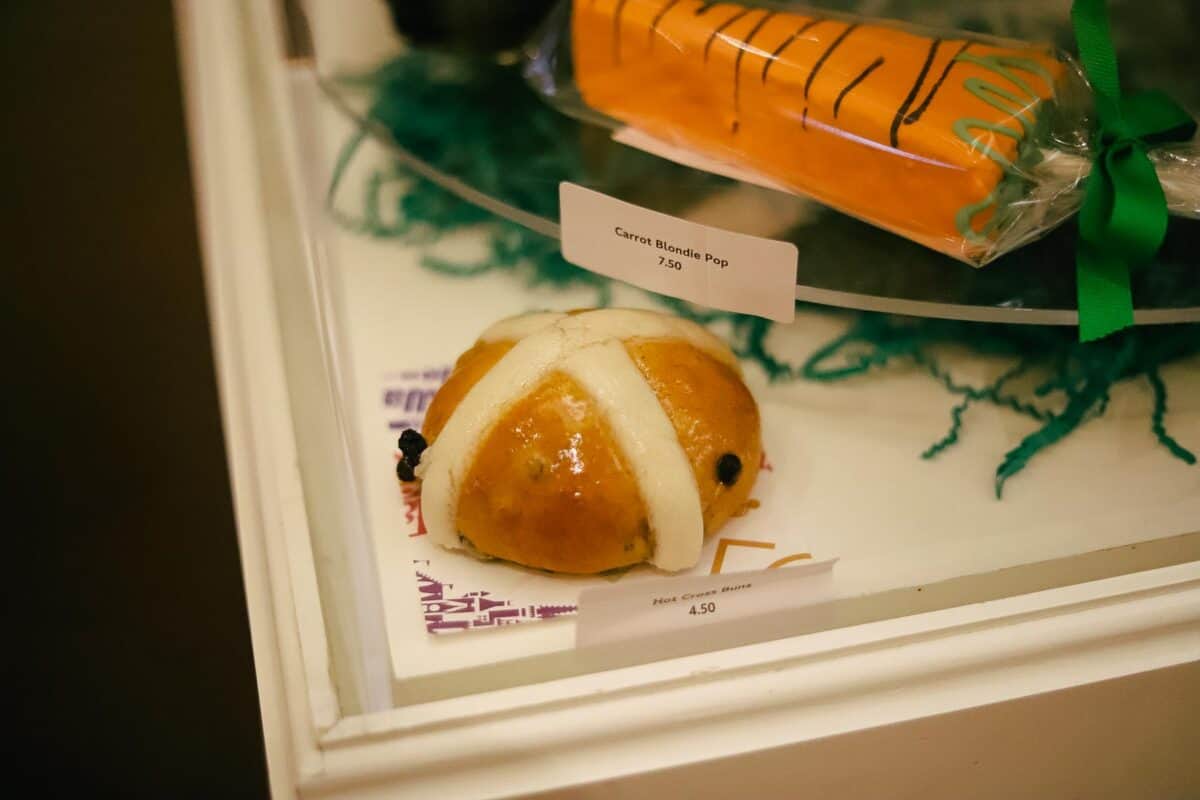 Carrot Blondie Pop $7.50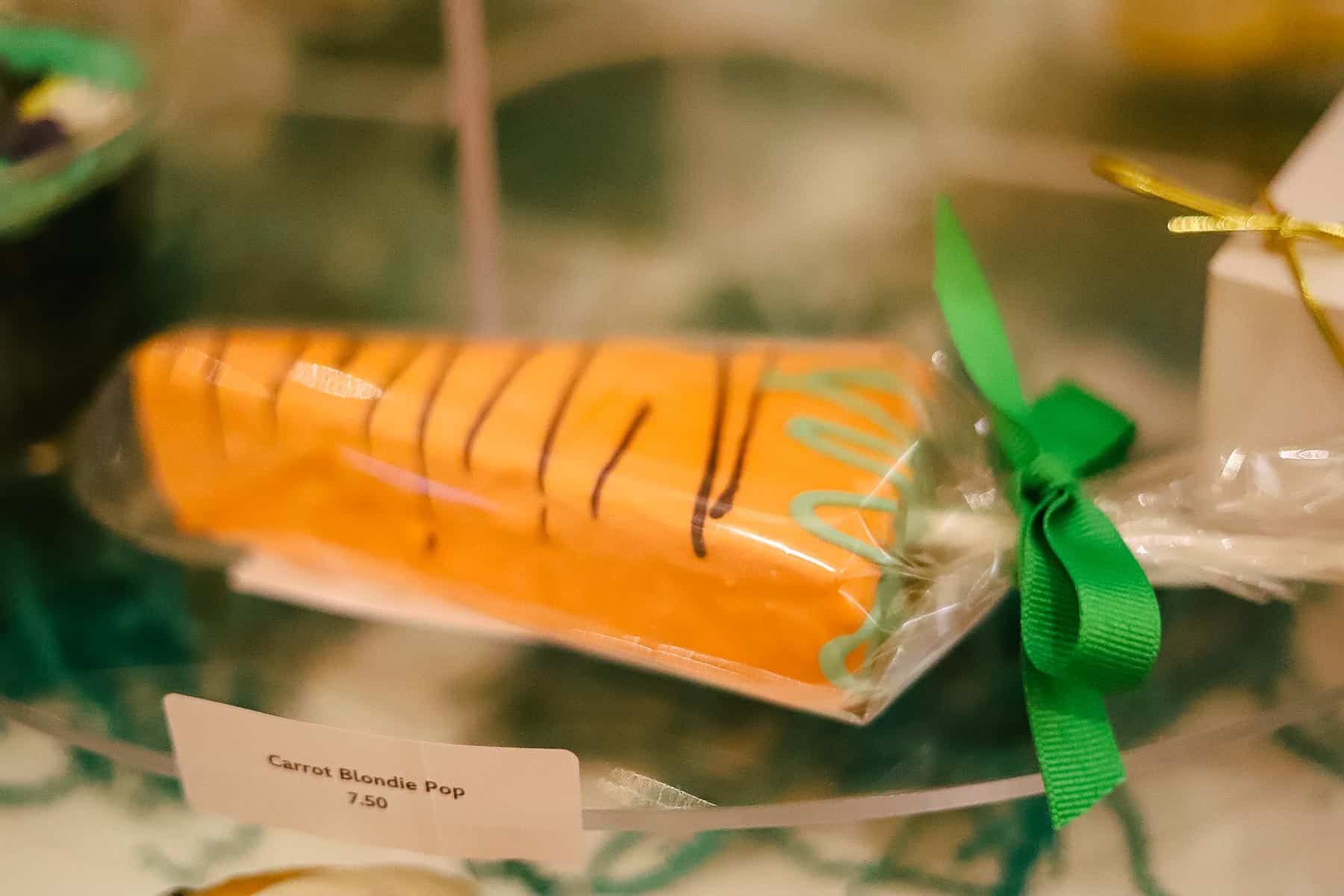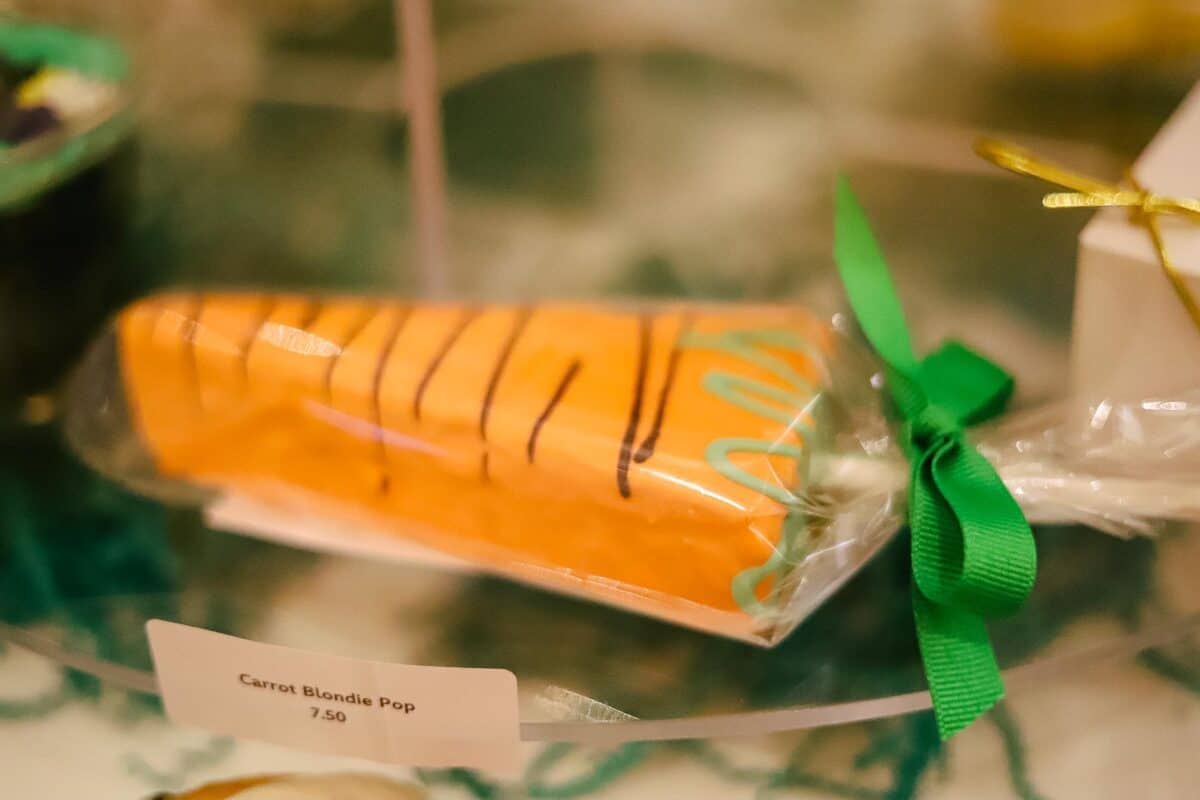 Vanilla Bean Cupcake Sampler $16.00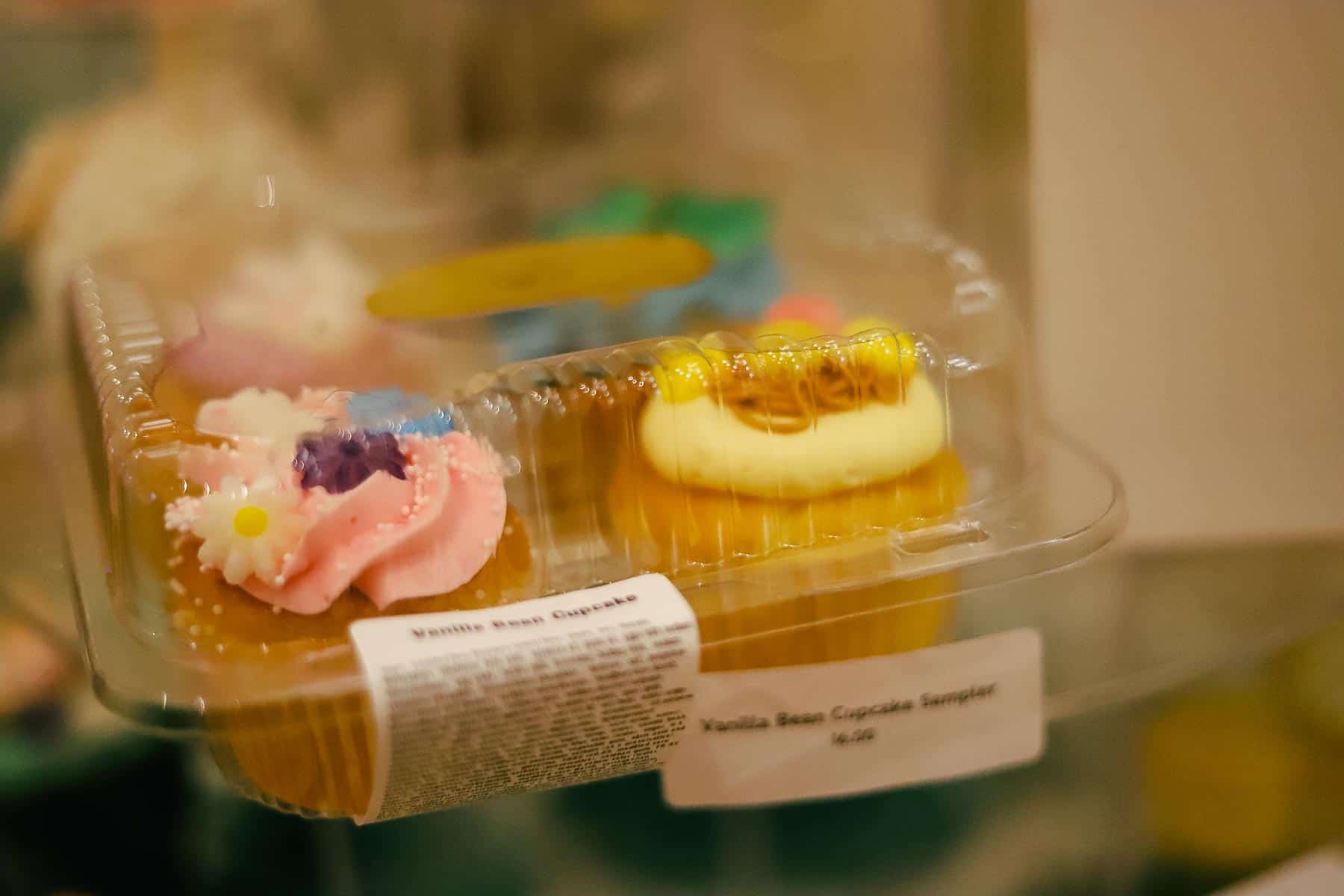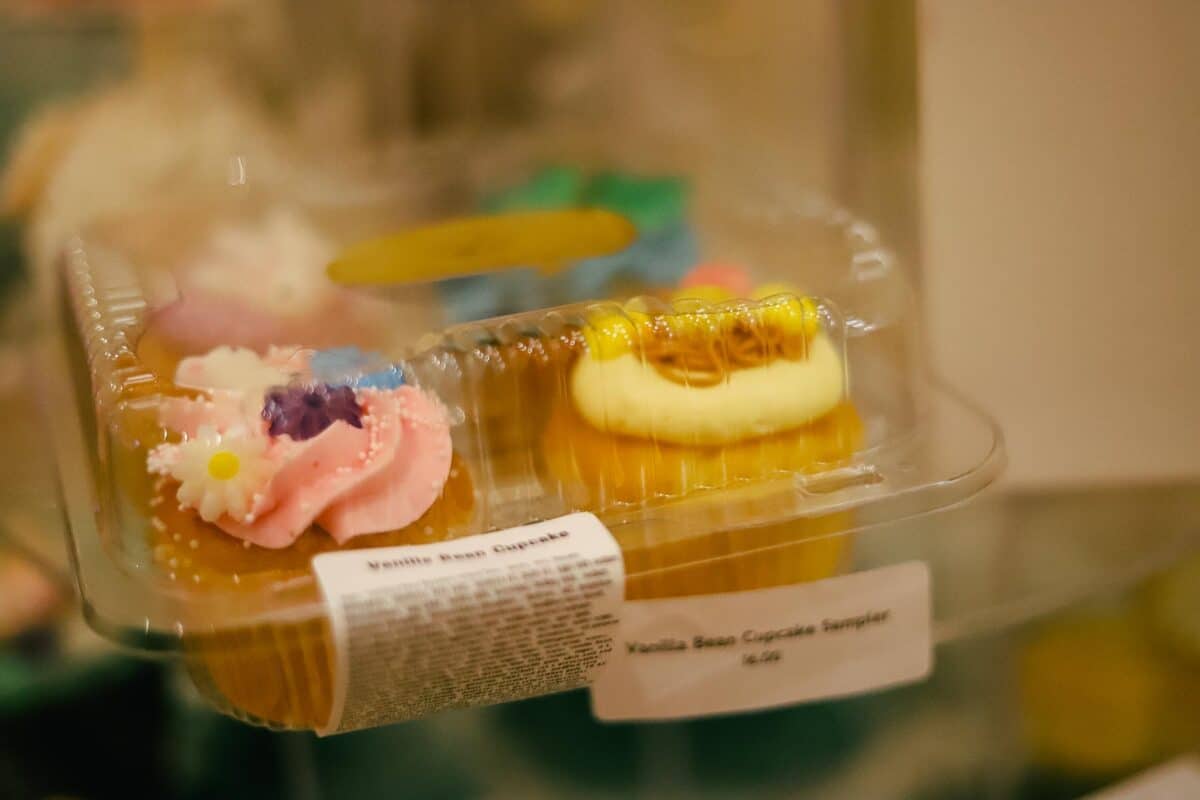 Spring Artisanal Macarons $15.00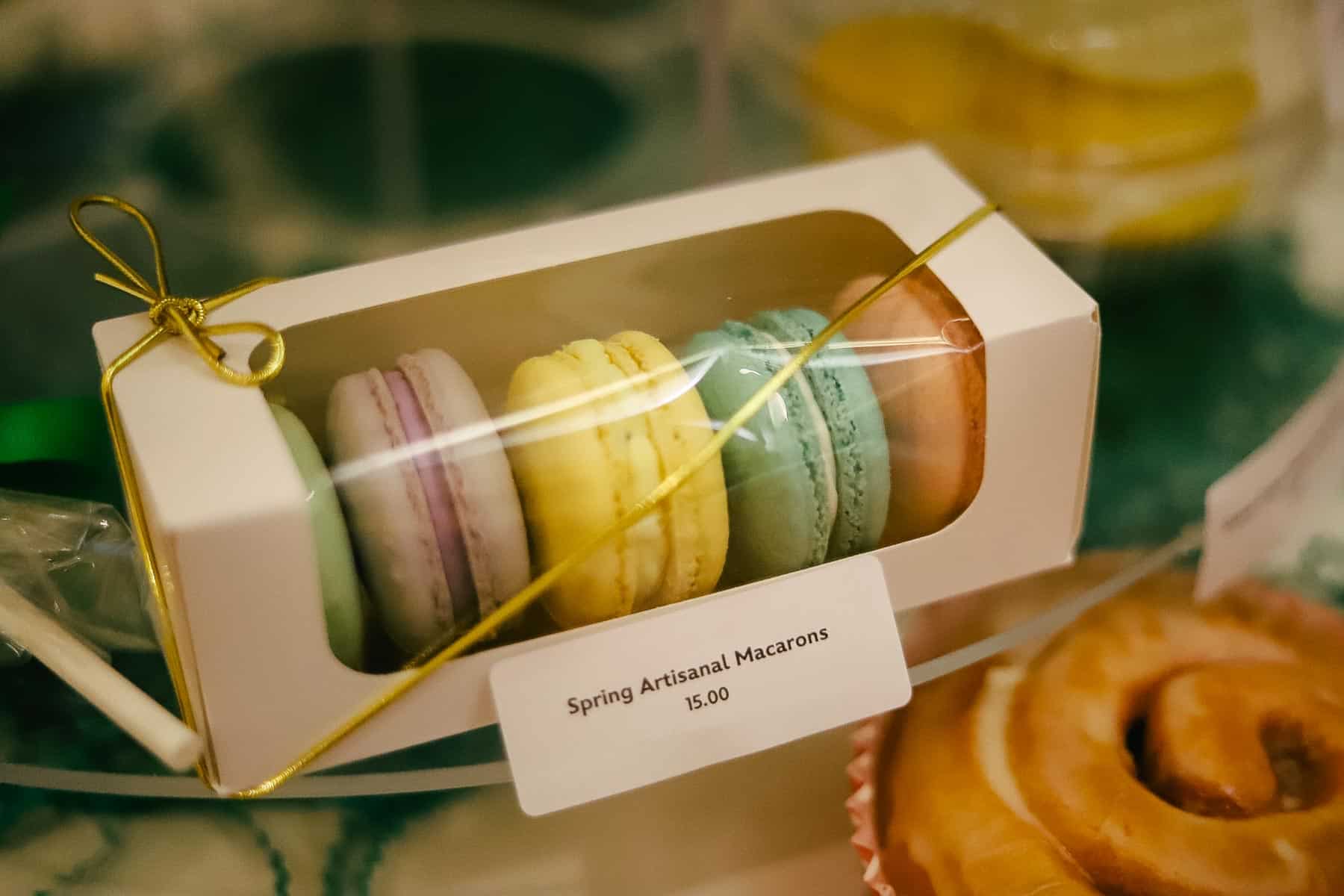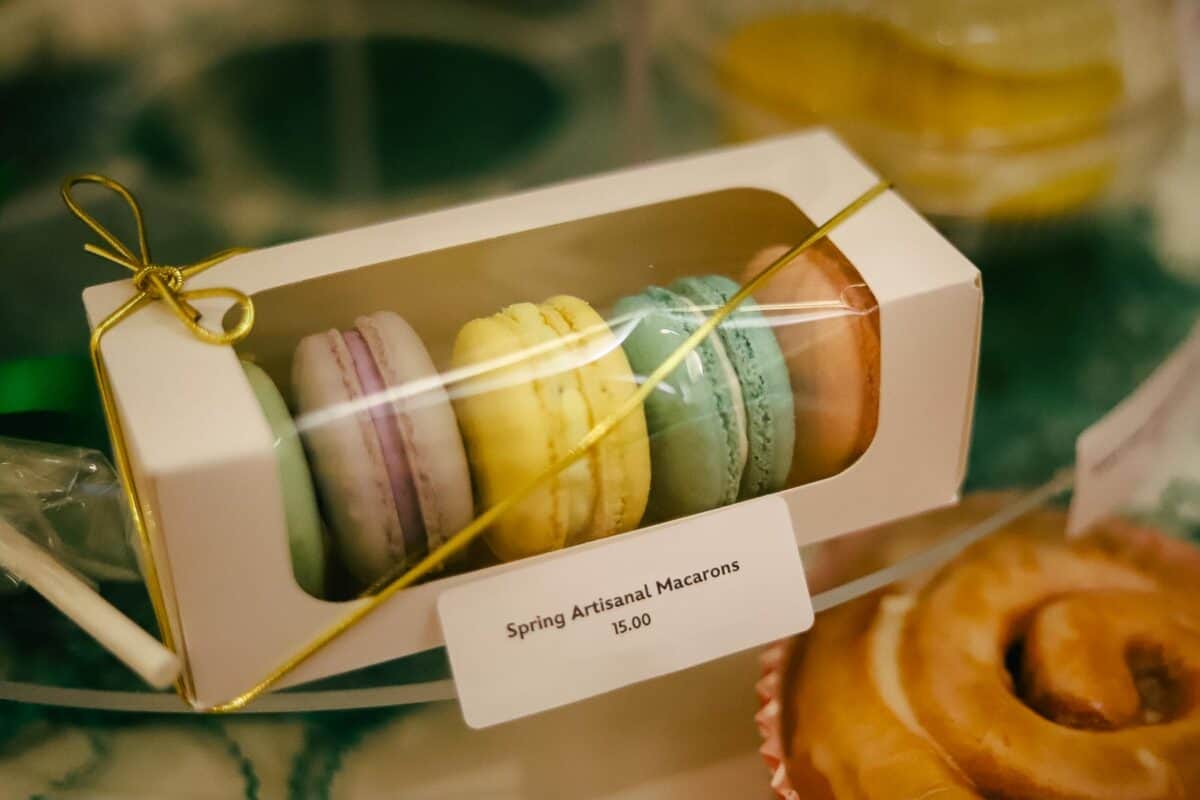 Guava Cream Cheese Sweet Roll $4.50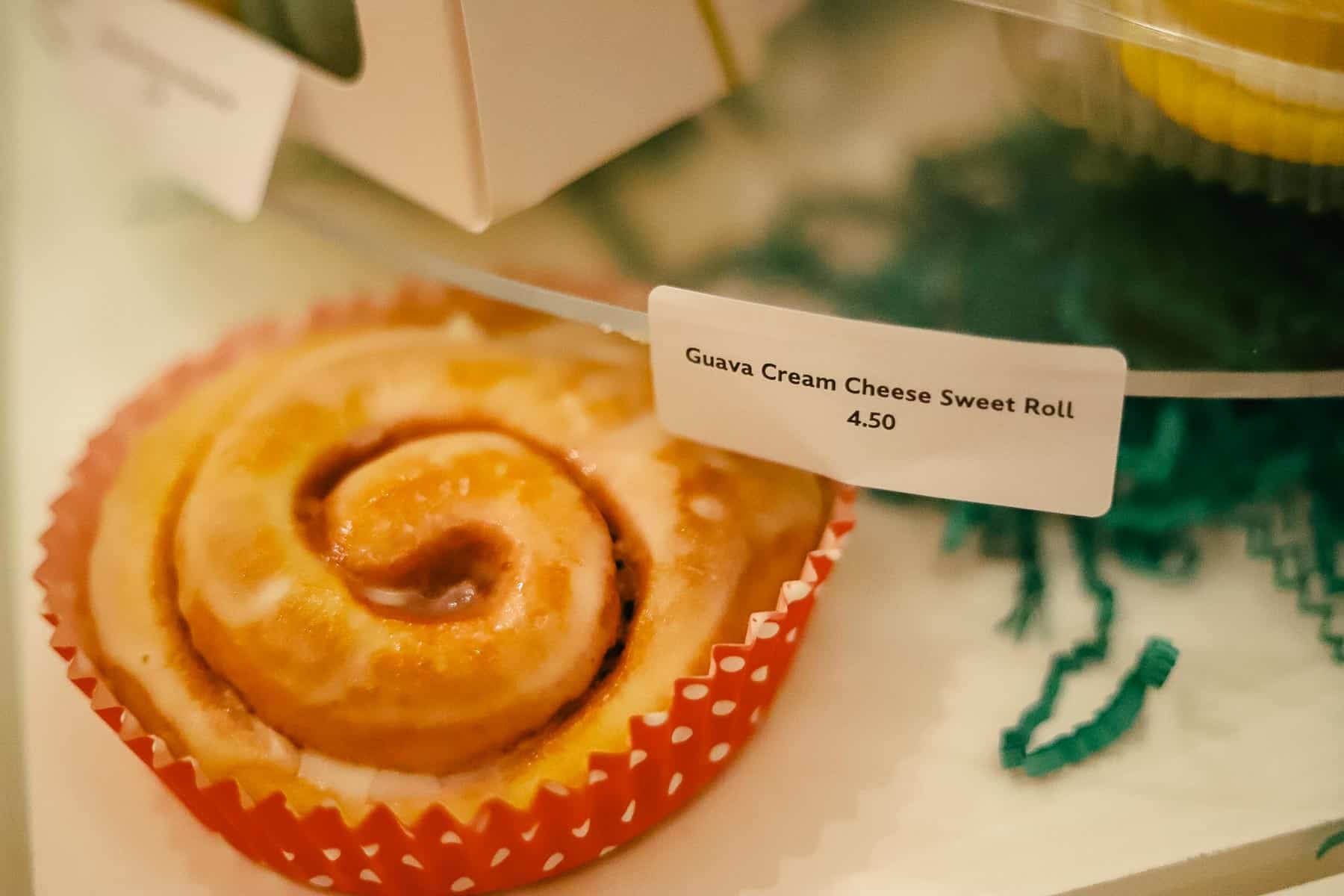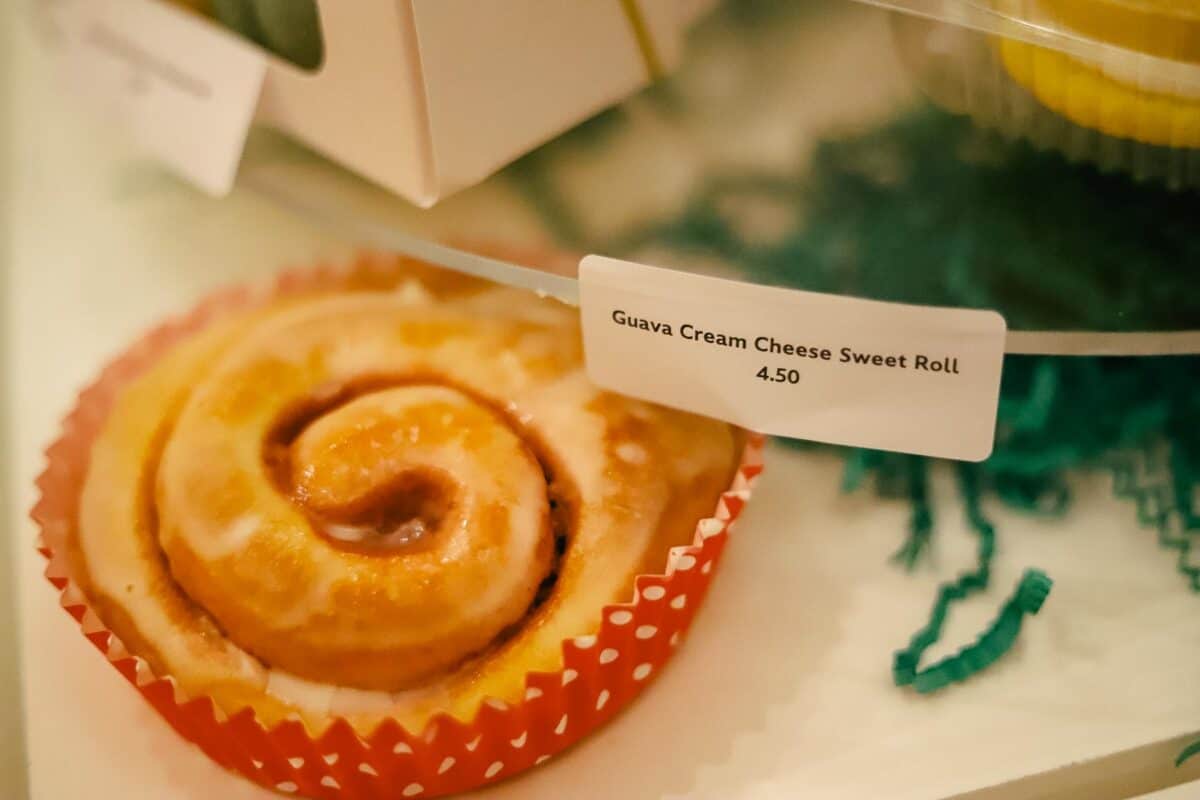 Salted Caramel Chocolate Popcorn $10.00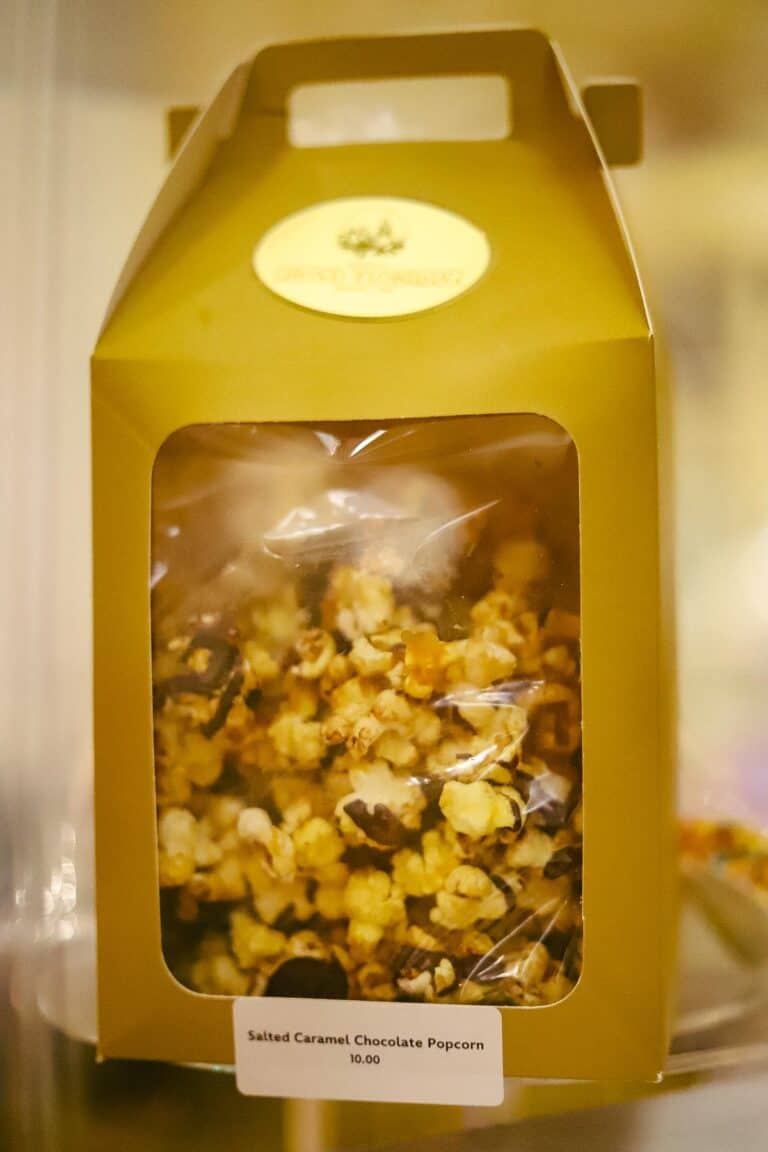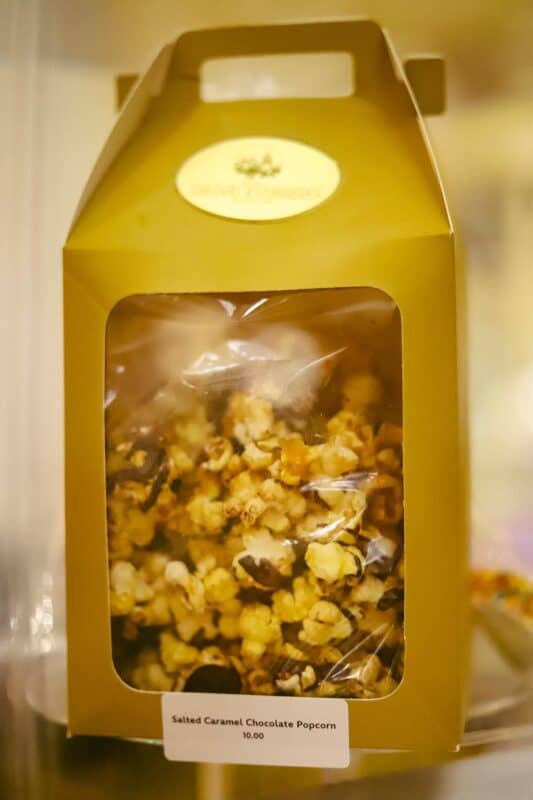 Final Thoughts
Disney's Grand Floridian Easter egg display will be available now through Easter, which falls on Sunday, April 9, 2023. If you are visiting over the coming weeks and have an interest in seeing the eggs, guests are welcome to stop by the resort to see the display.
For other Easter Eggs at the Disney World Resorts, you might like these:
Often, we like to plan a resort-hopping day. Or you could take a break from Magic Kingdom and use the monorail or boat to visit the resort.
We recently spent an afternoon at the Grand Floridian and had lunch at Gasparilla Island Grill. Or you might enjoy having a meal at Grand Floridian Cafe during your visit. However, a meal at Grand Floridian Cafe will require reservations unless they have walk-up availability.
For more details about the Grand Floridian, our articles are listed in one guide:
You might also enjoy these individual articles:
In the Comments
What do you think of this year's Easter egg display at Disney's Grand Floridian? Do you have any favorites? It's so difficult to choose only one!