Tour the Moana Rooms at Disney's Polynesian Resort (50+ Photos and Video)
We stayed in the Moana rooms at Disney's Polynesian Village Resort and loved them! In this article, we'll specifically discuss details of the Moana-themed rooms, including photos, a video tour, and other amenities you can expect.
A few years ago, Disney's Polynesian Village Resort underwent an entire resort refurbishment. During that time, standard guest rooms at the Polynesian received an entire overhaul. When the new Moana rooms at the Polynesian debuted, they were instantly a hit. After our latest stay at the Polynesian, we can see why. The rooms are kind of perfect!
As many of you know, I rarely use words like "perfect," and exclamation points are thin on the ground when it comes to this blog. But from the moment I set foot inside our assigned room, I was taken aback–in a good way.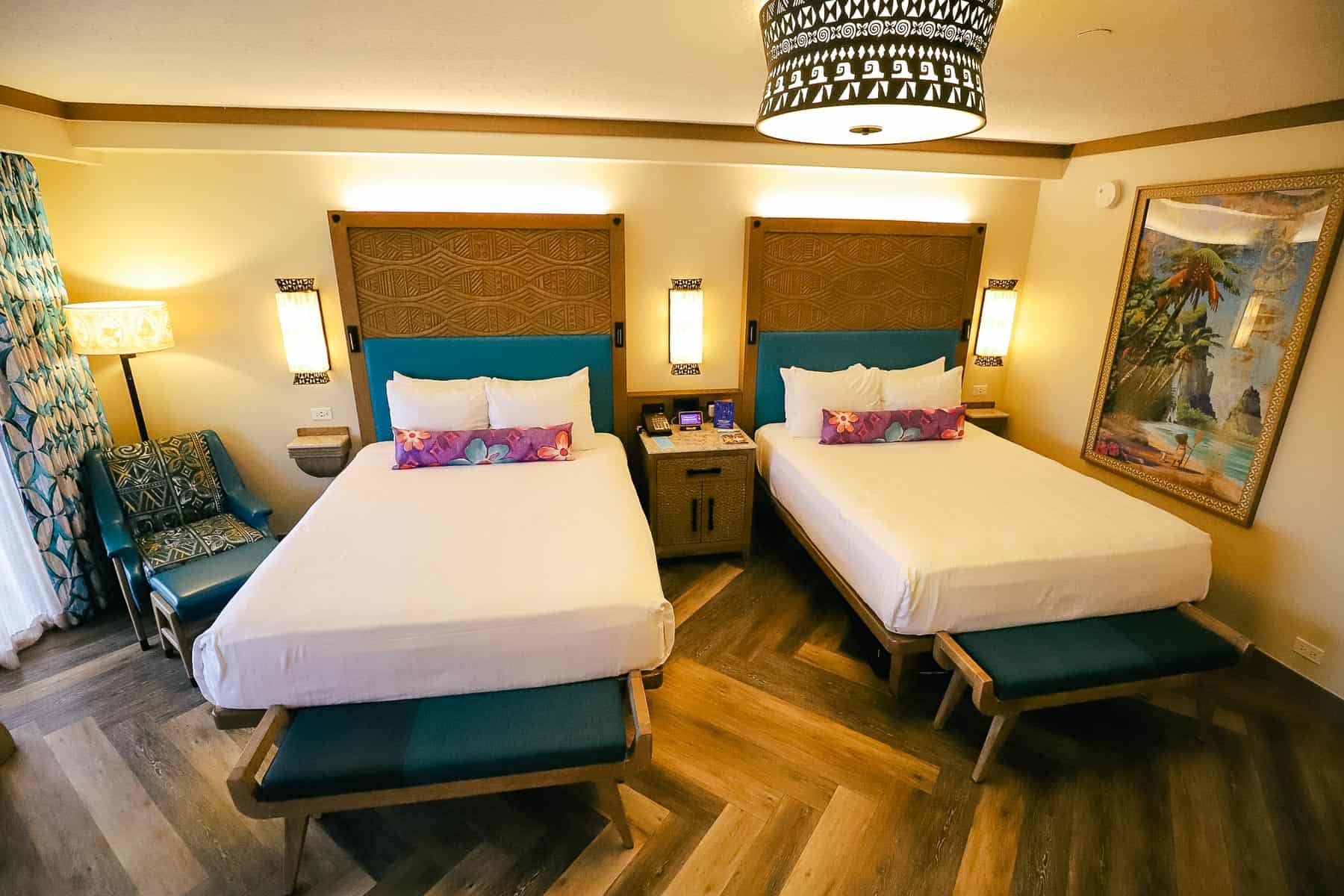 We stayed in room number 3531 in Hawaii. Hawaii is the home of the Kamehameha Club at Disney's Polynesian Resort. We'll have a review of the club level at Disney's Polynesian Resort in a separate article.
However, it is important to note that all standard Moana rooms at the Polynesian will be almost entirely identical to this room. The only buildings that do not offer Moana rooms are Moorea, Pago Pago, Tokelau, and the Bora Bora Bungalows.
Those buildings are home to Disney's Polynesian Villas, a Disney Vacation Club Resort. They consist of deluxe studios featuring Lilo and Stitch theming.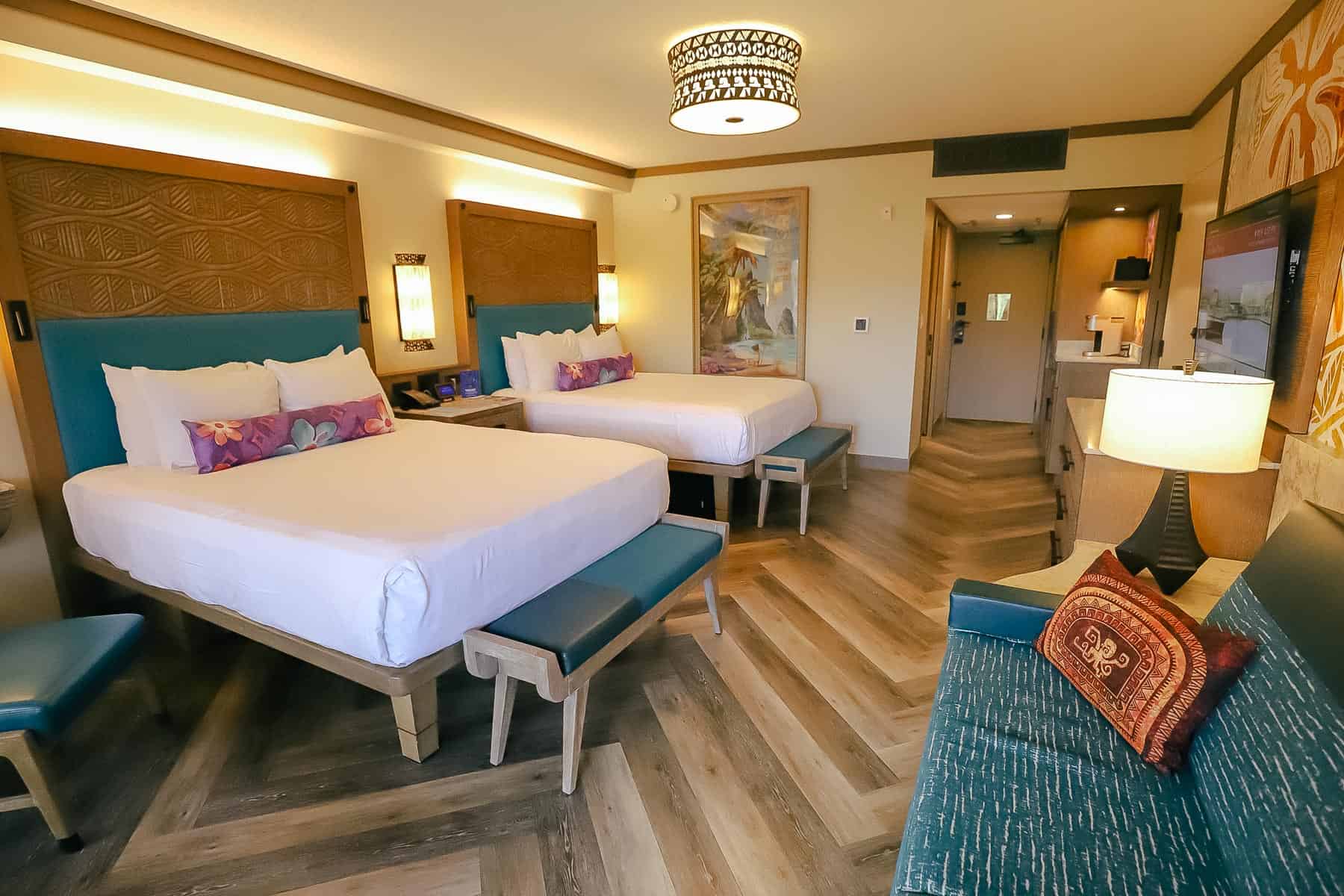 I was pleasantly surprised by the size of our room. Standard rooms at Disney's Polynesian average 415 square feet. However, specific rooms, like a corner unit, are usually larger. We had a corner unit when we stayed in the new rooms at Disney's Boardwalk a few months ago.
Upon first glance, you might not notice the subtle Moana theming. The colors used in the room were inspired by the Pacific Ocean and Polynesian Islands. Pops of turquoise and purple bring a touch of tropical cheer to the space.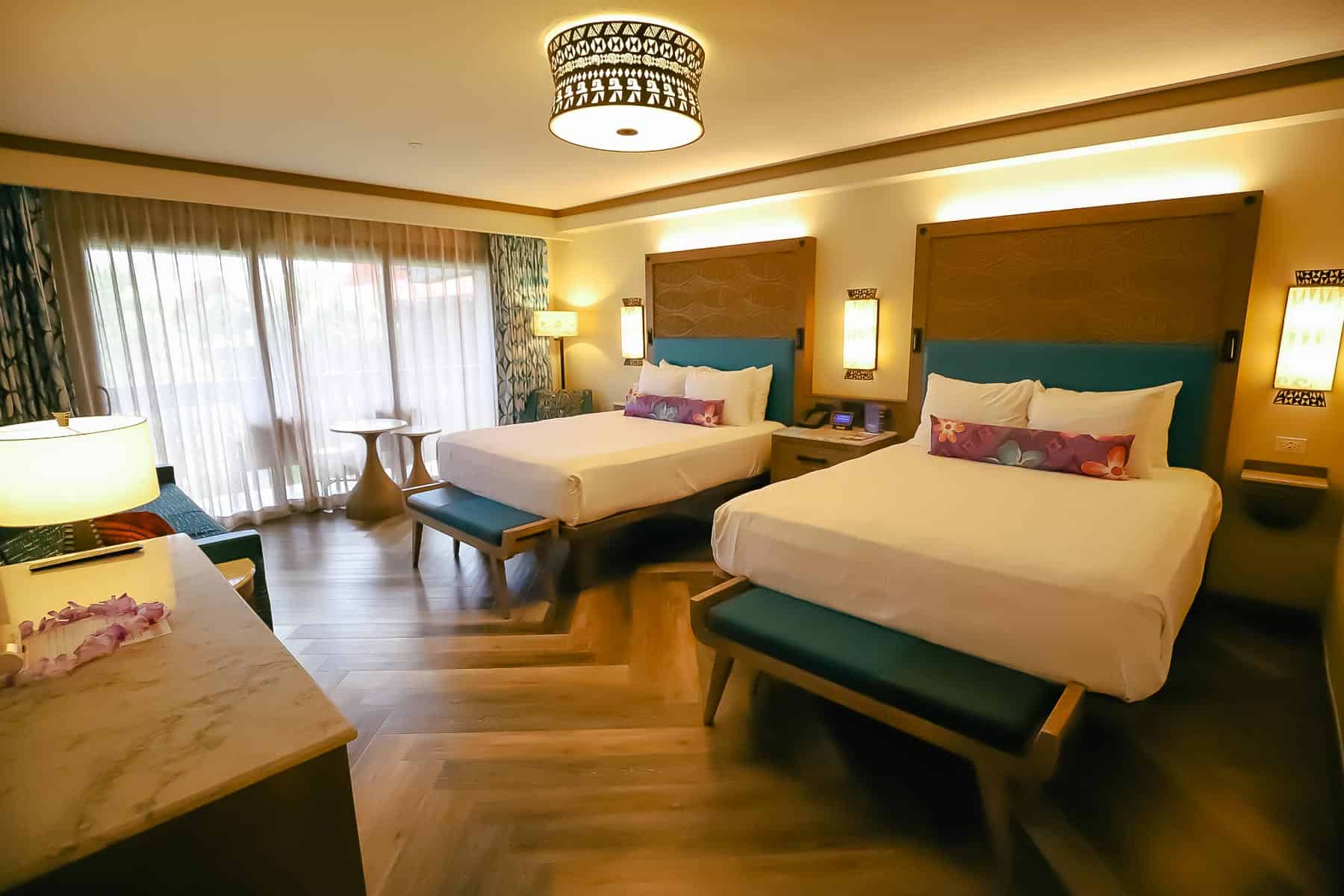 One of the things I immediately noticed was that the room had excellent lighting. Lighting can make or break a space. However, I found that the light fixtures and lamps added a warm glow to the room during the day and night.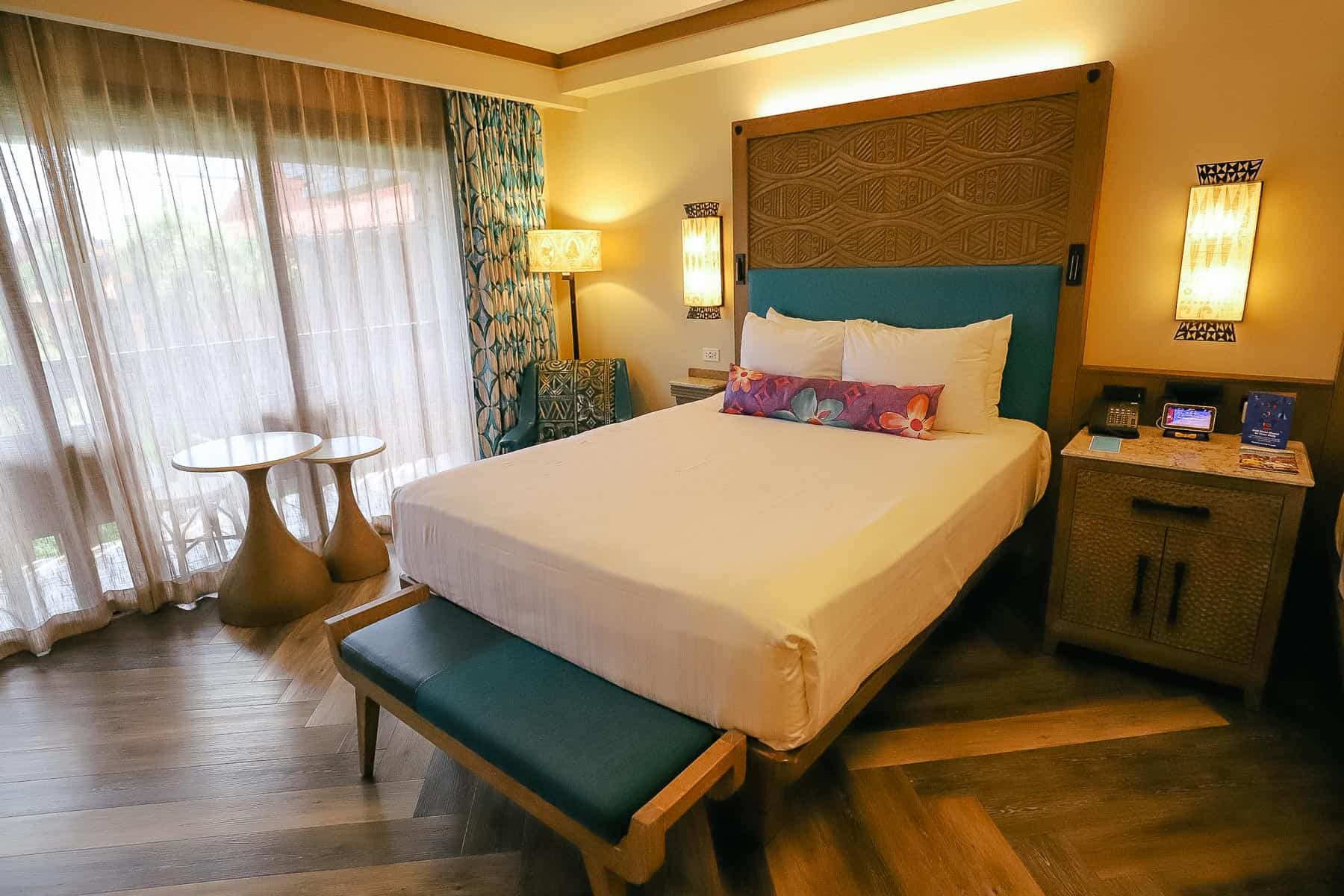 A nightstand sits between the two queen beds. Each side of the headboard features a small pen light that provides a bright burst of UV light when pulled from its socket.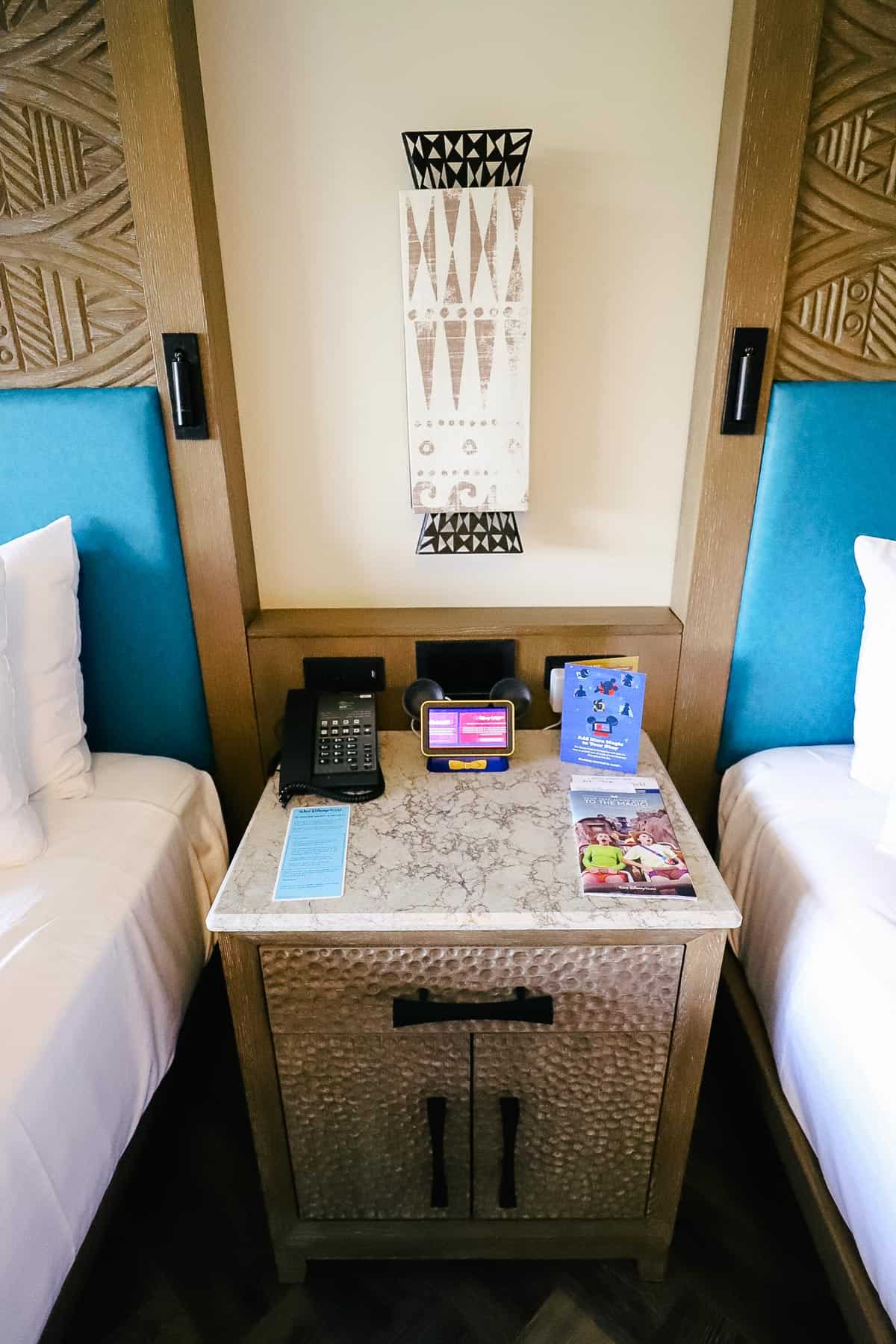 We see the same kind of Hey Disney! device that was installed in our Little Mermaid room at Art of Animation. Once again, we unplugged it so we didn't have to deal with the light. We don't necessarily have an issue with the device, but we don't understand the need.
It's difficult to conceive why Disney spends money for this kind of thing, yet they don't offer complimentary Disney+ in their hotel rooms. Of course, we can always cast our subscriptions to the television.
Most of us want things to feel effortless when we travel. I don't know about you, but when I have the television set at home–I know how to work it. But when I get to a hotel, I want to use the remote and not deal with the technical side of things.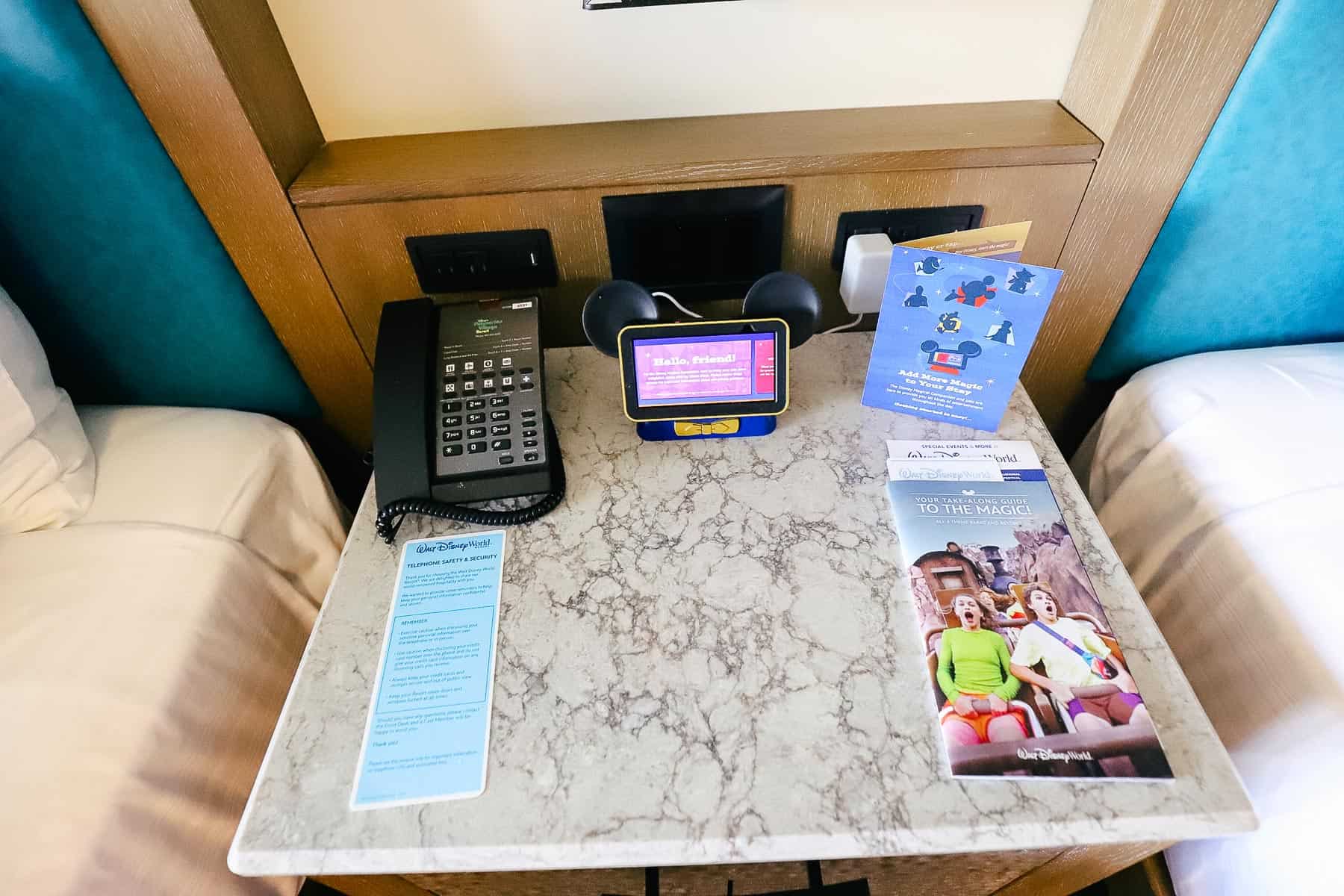 Benches sat at the foot of each bed. This is such a nice feature that is always appreciated. You can use the bench to put on, remove, and store shoes underneath. Additionally, the benches are an excellent place to lay out your clothes for the next day.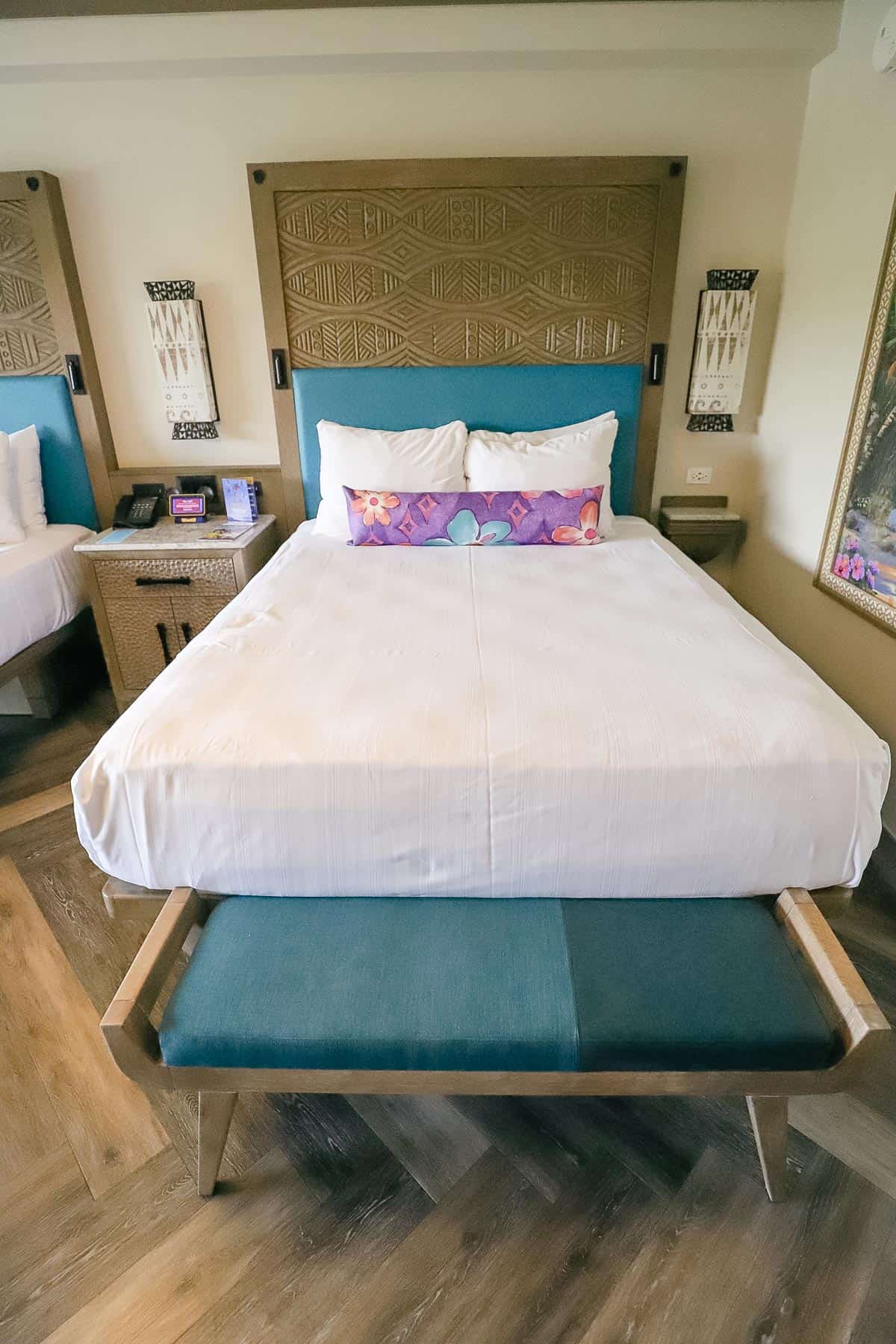 A light fixture hangs in the center of the room. These rooms do not have ceiling fans. But the rooms cool so well, I don't think you would miss one.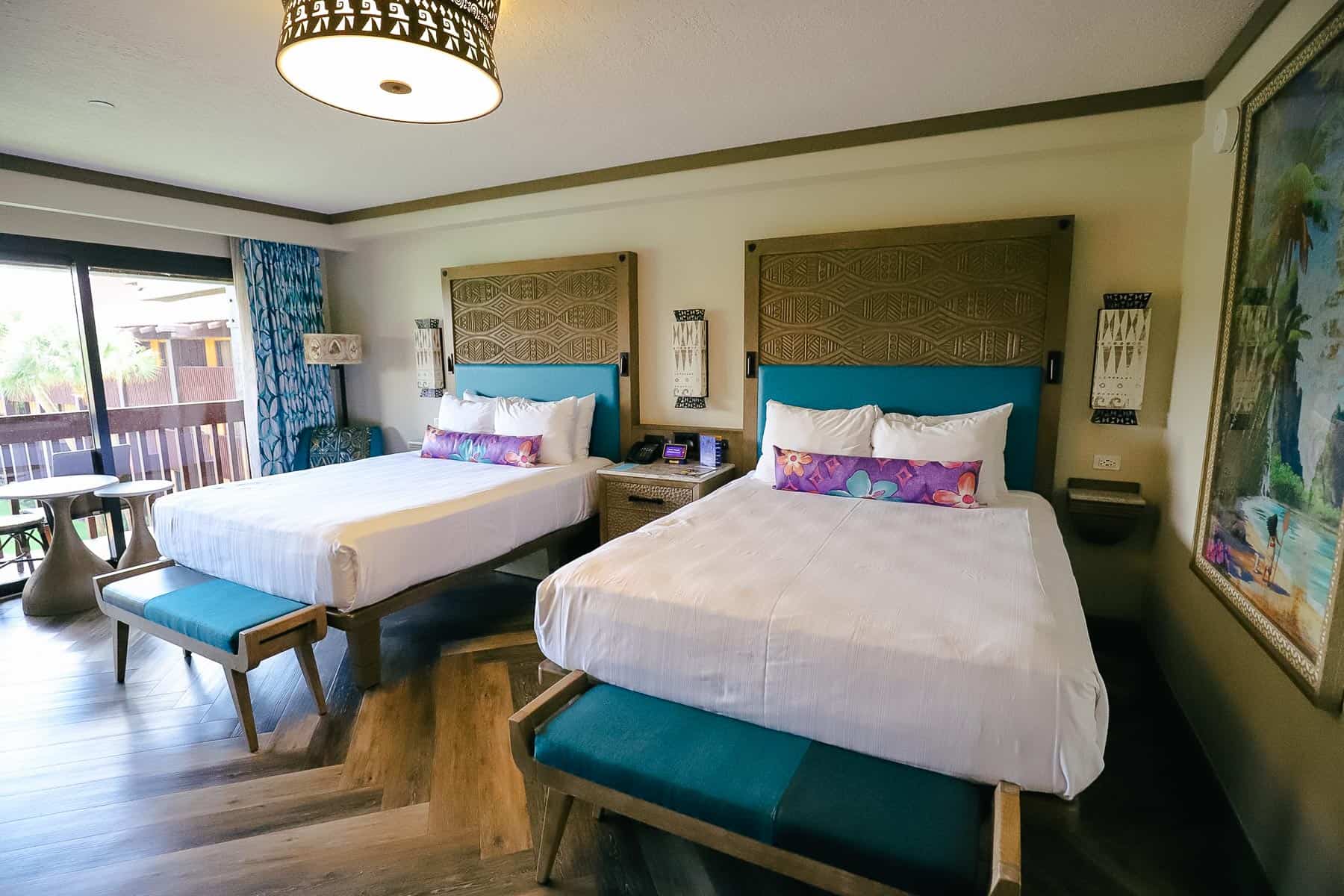 A chair with an ottoman sits near the window in the far corner of the room.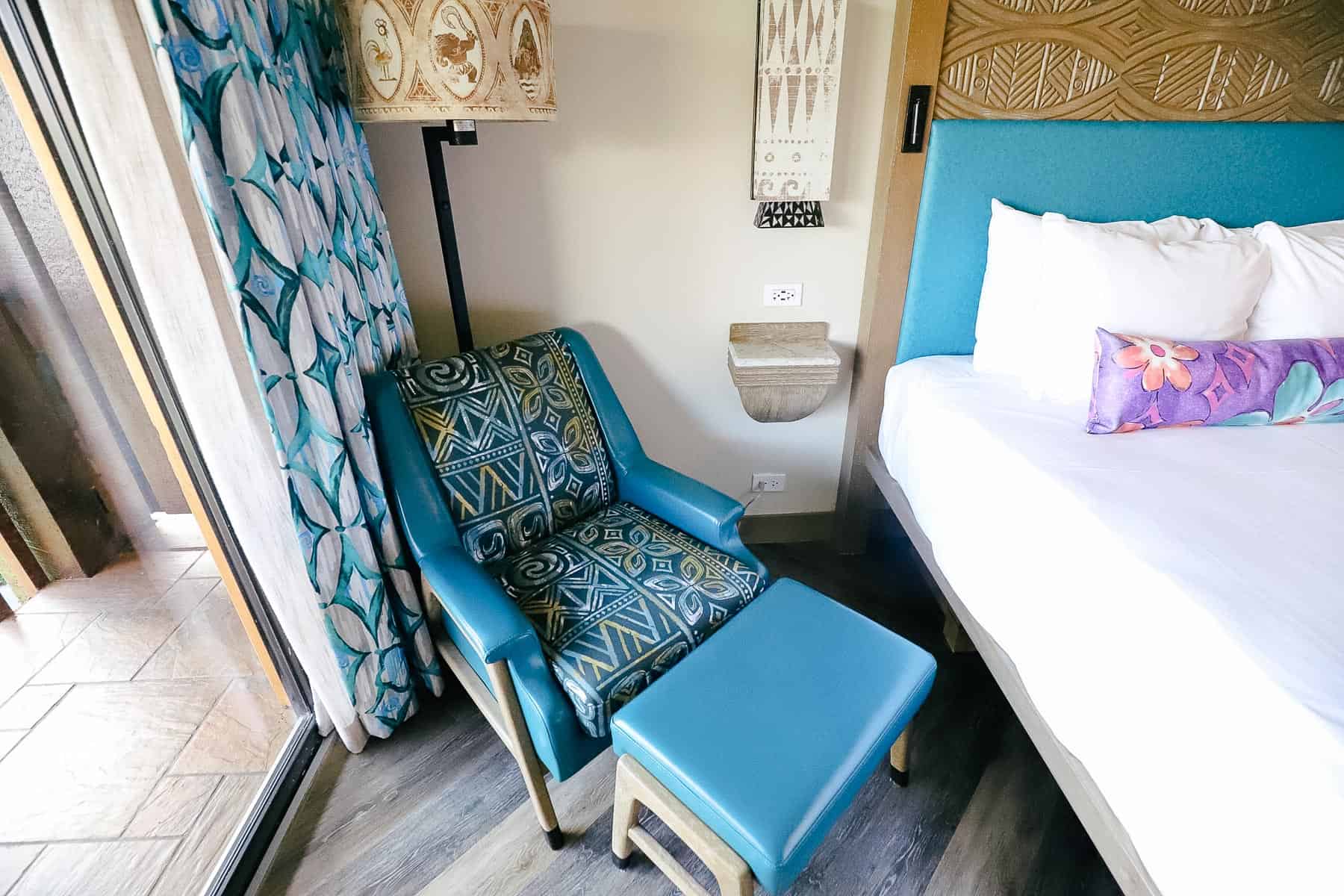 Artwork featuring Moana and Pua hangs on the wall.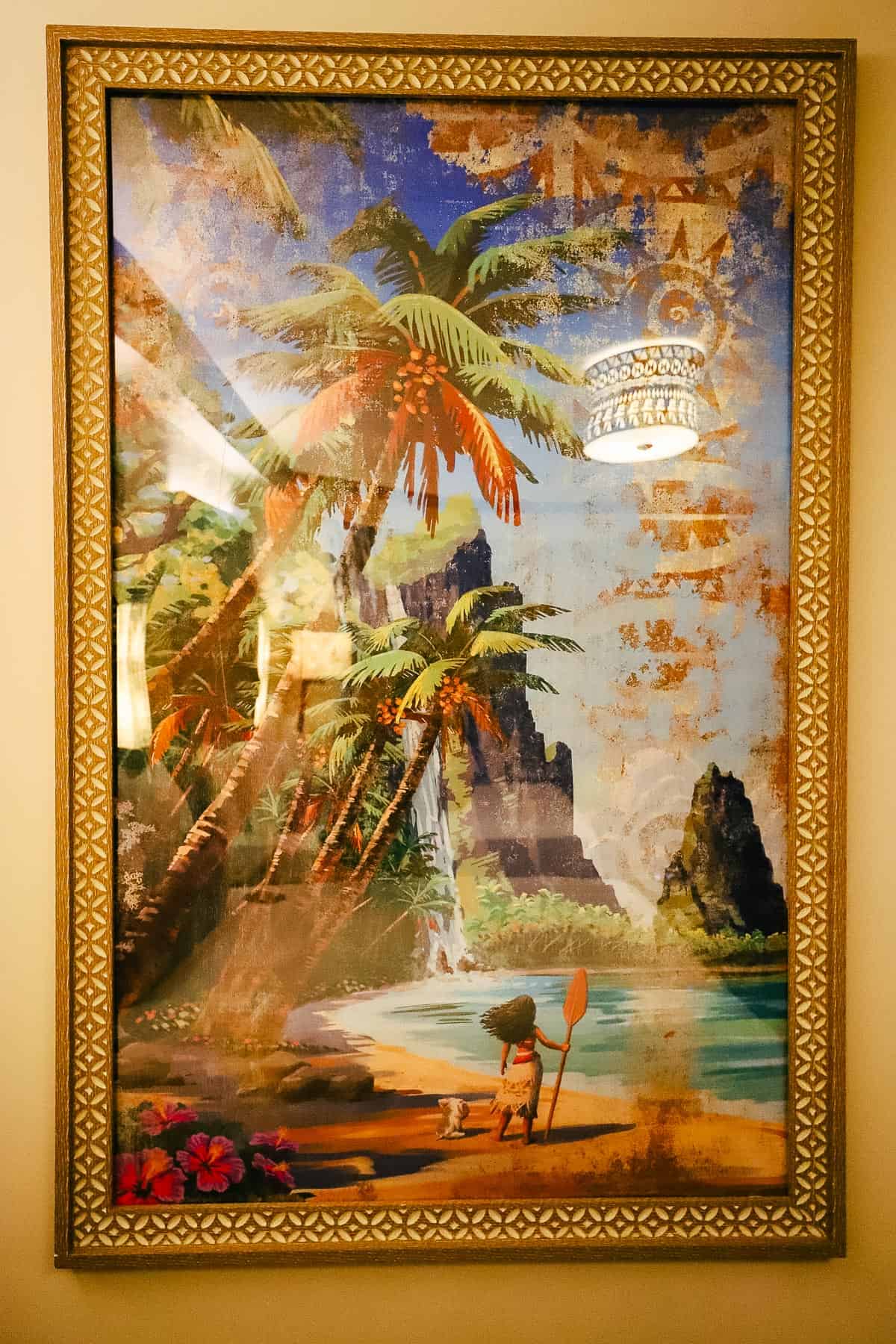 On the far side of each bed, a shelf provides a place to store a few items. Above it, a few outlets and USB ports.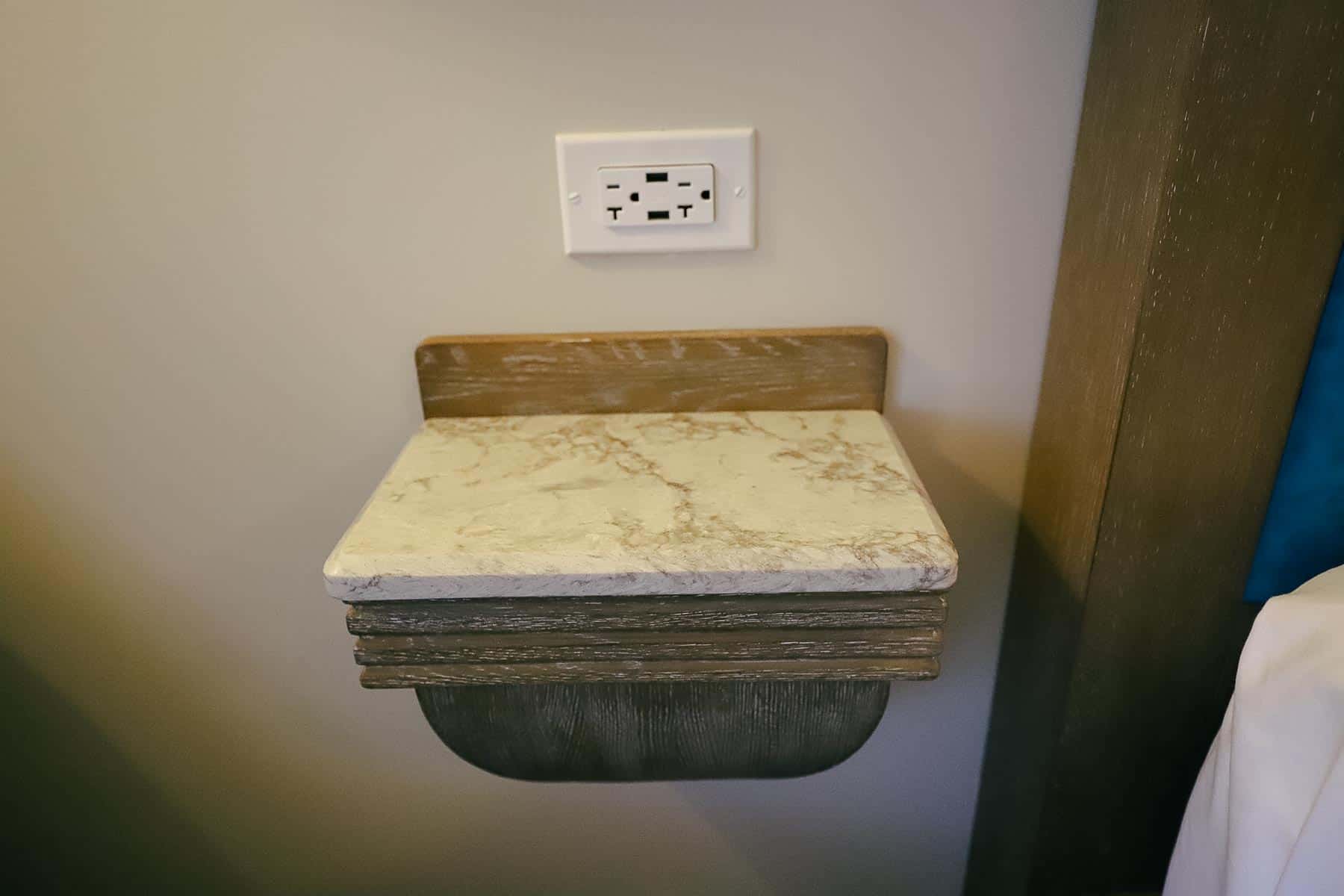 If you look closely, you'll find references to Moana. Disney did an excellent job taking guest feedback and incorporating references from the characters we know and love in these Moana rooms.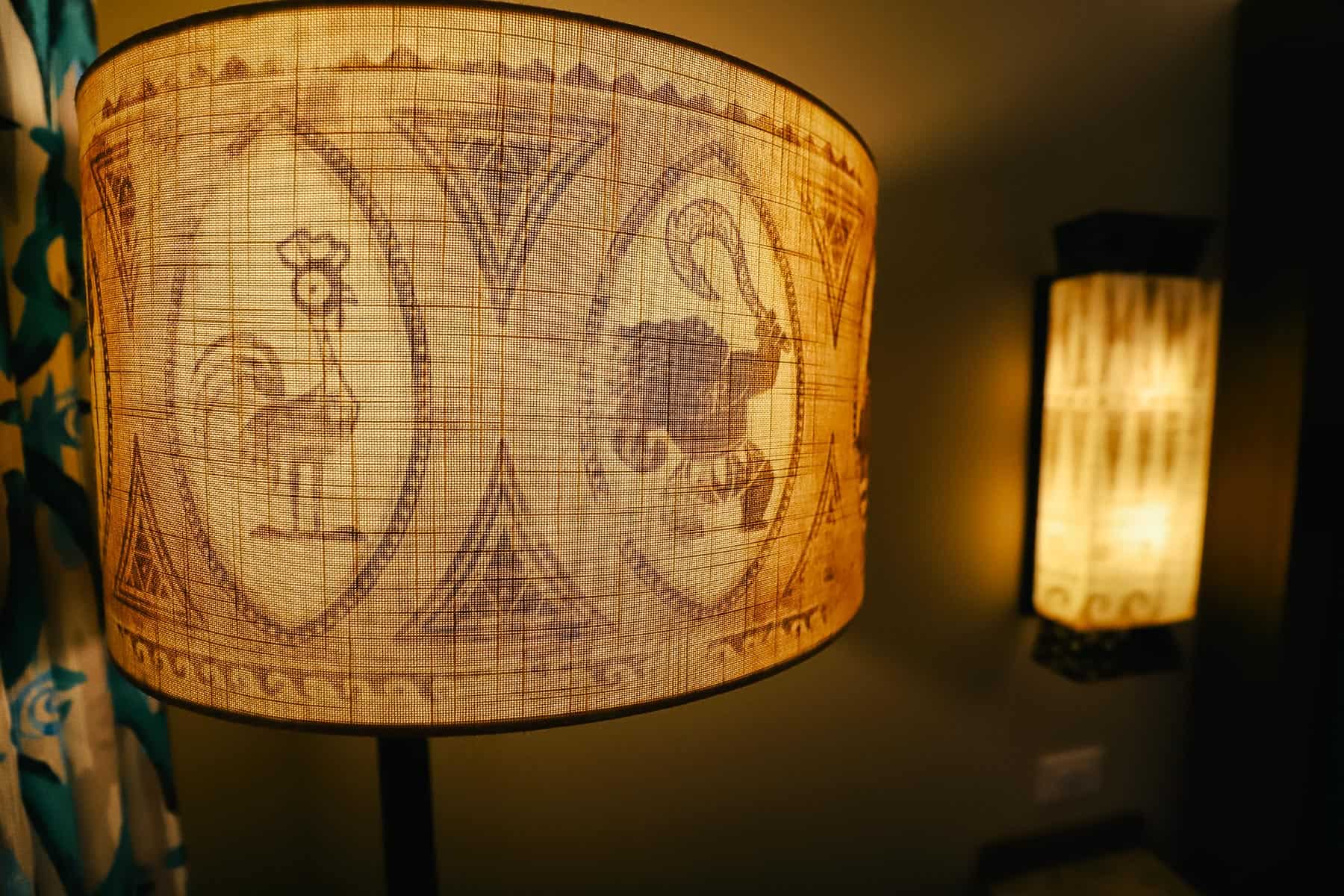 Here is a view of the room from the opposite corner.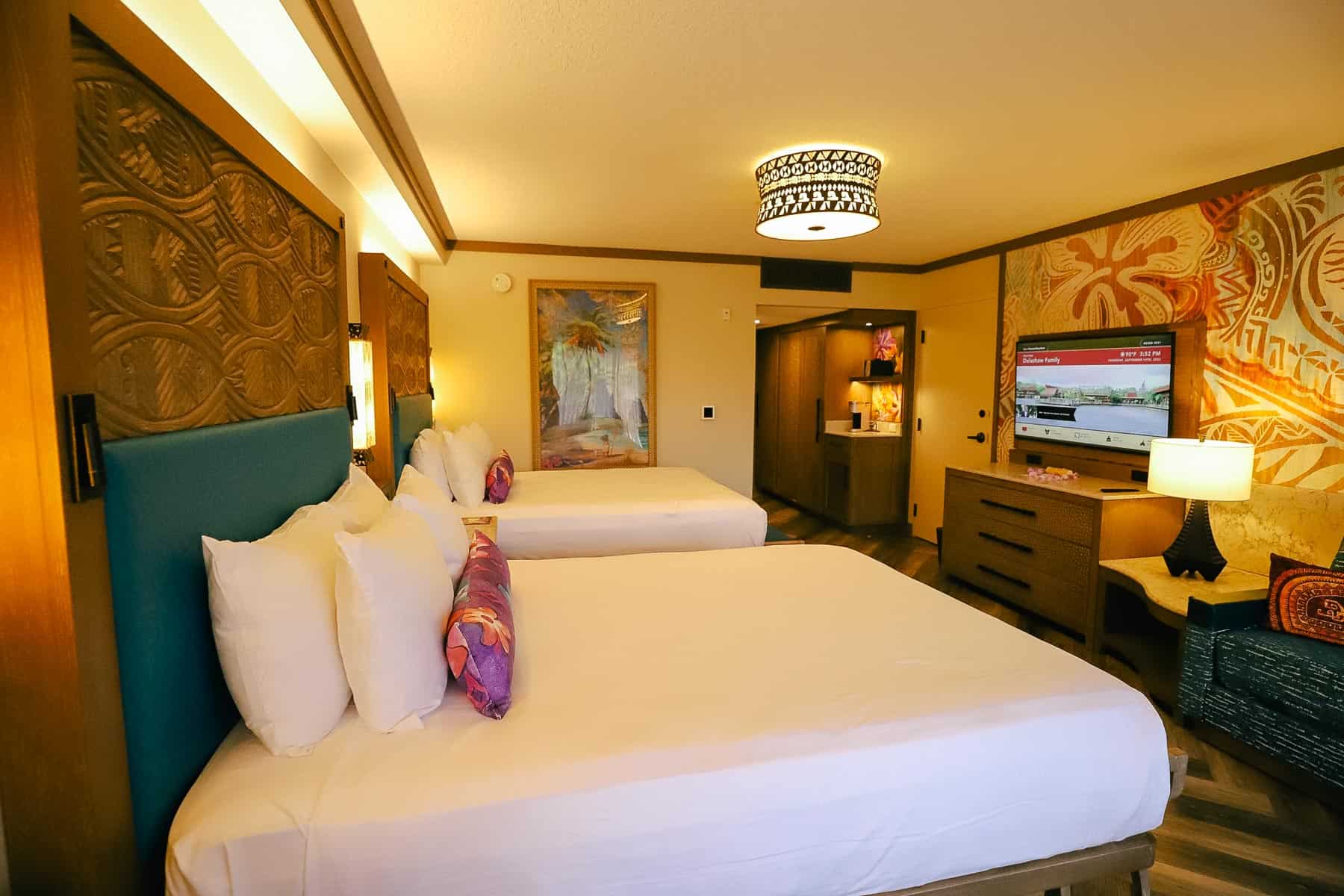 On the room's feature wall, we see a wallpaper with Moana and Maui.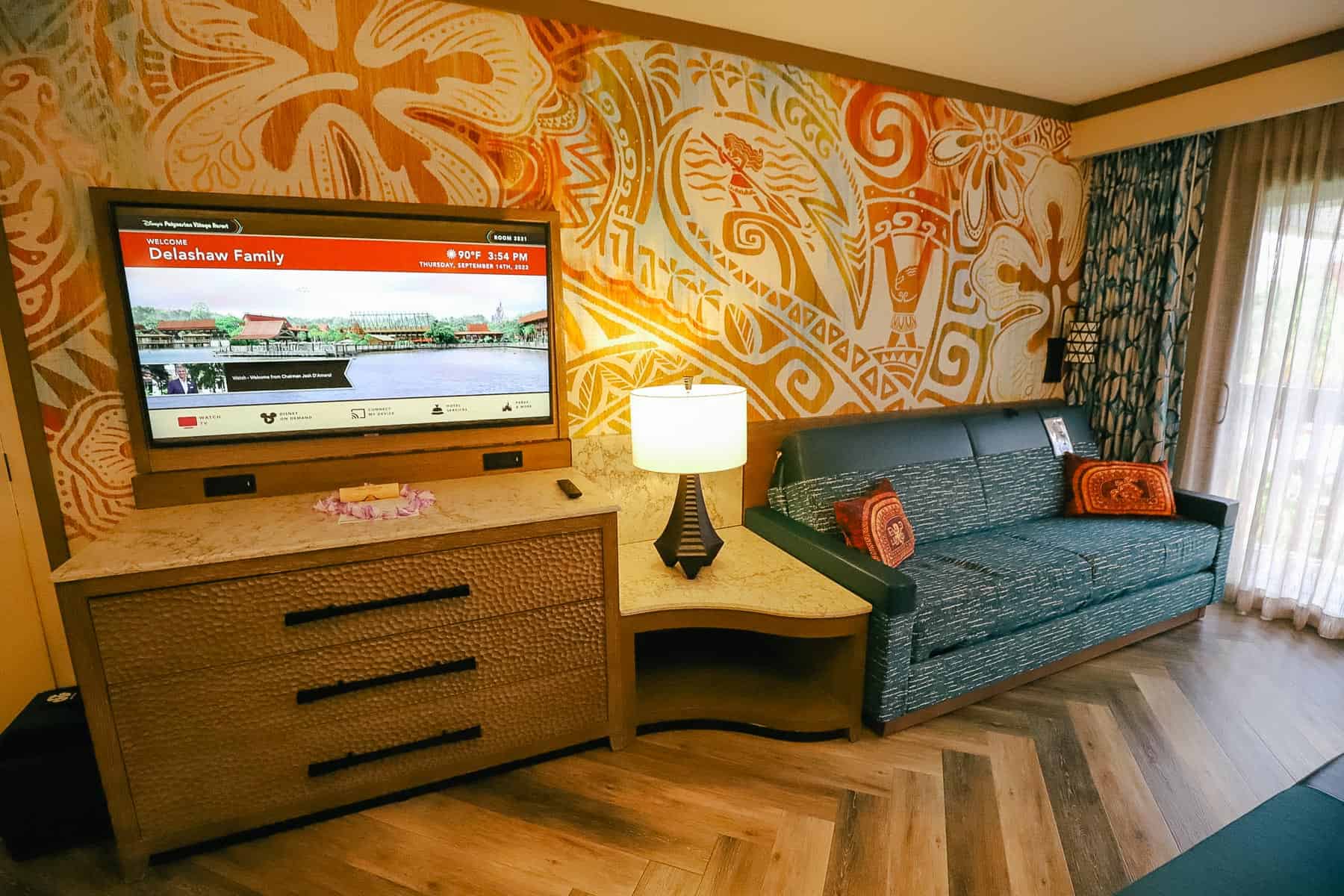 Here's an up-close look.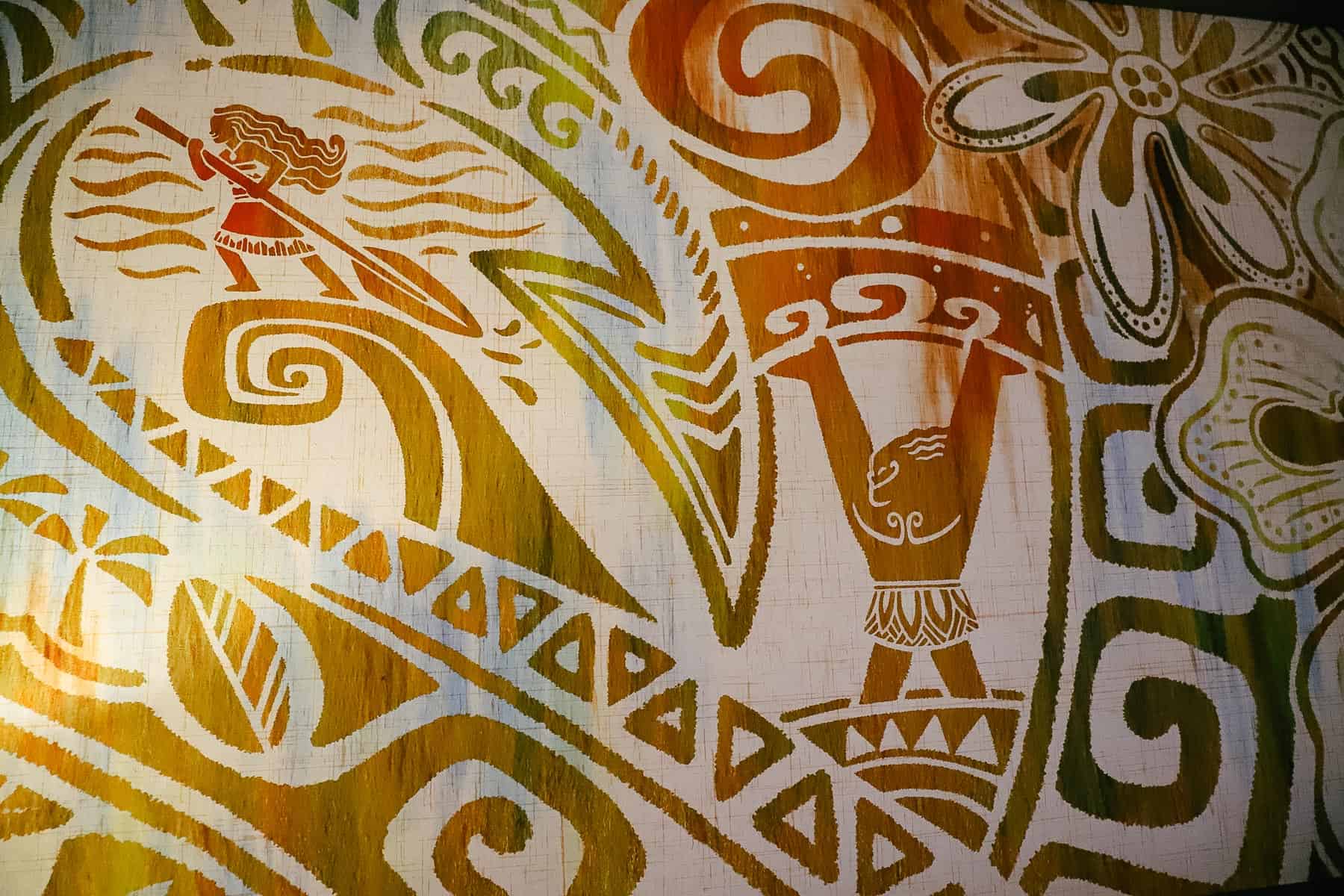 A sofa sits in this corner of the room. It doubles as a day bed.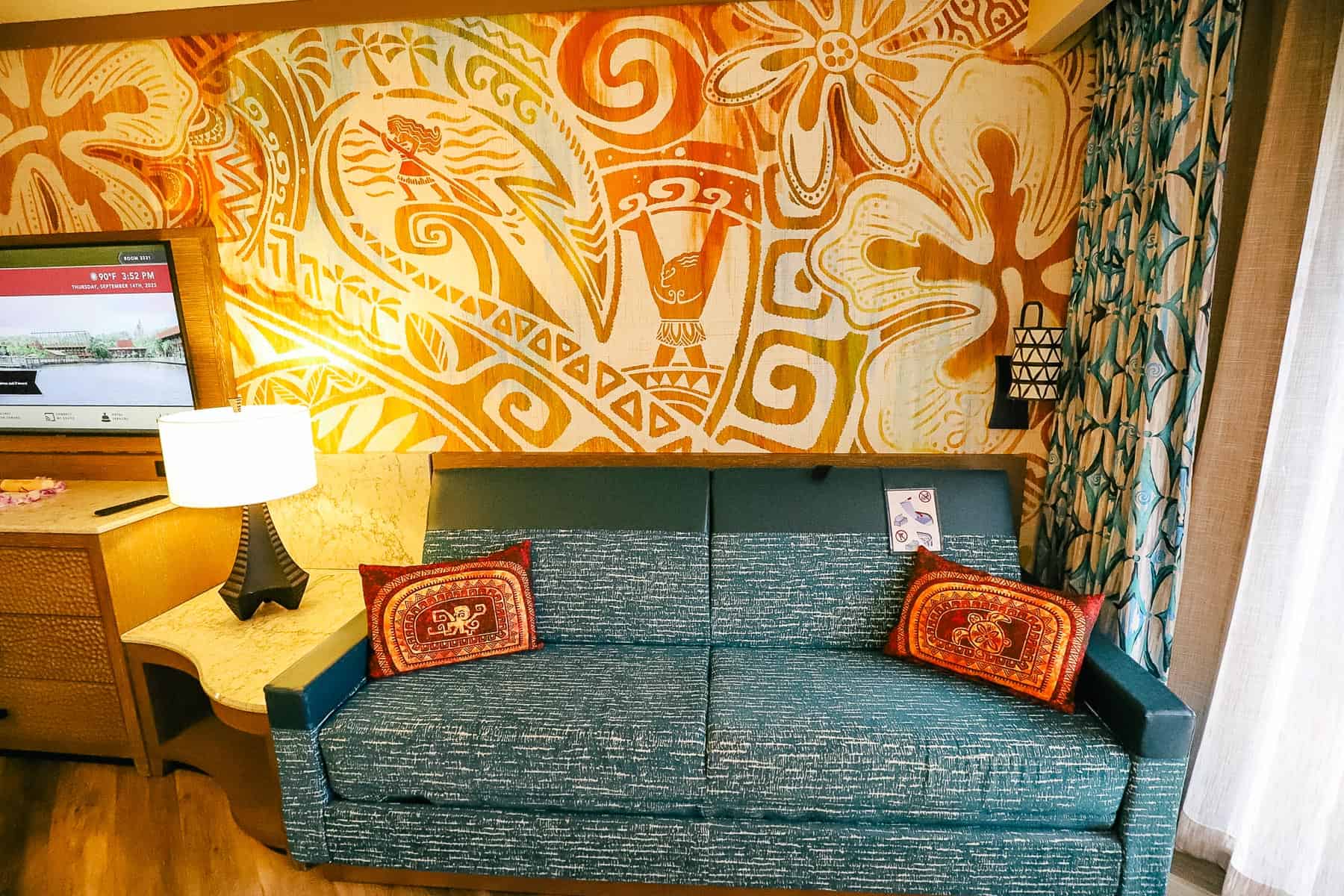 You'll adjust a lever on the right side of the sofa to unlock the mechanism. Then, pull the back strap toward you to convert it to a day bed.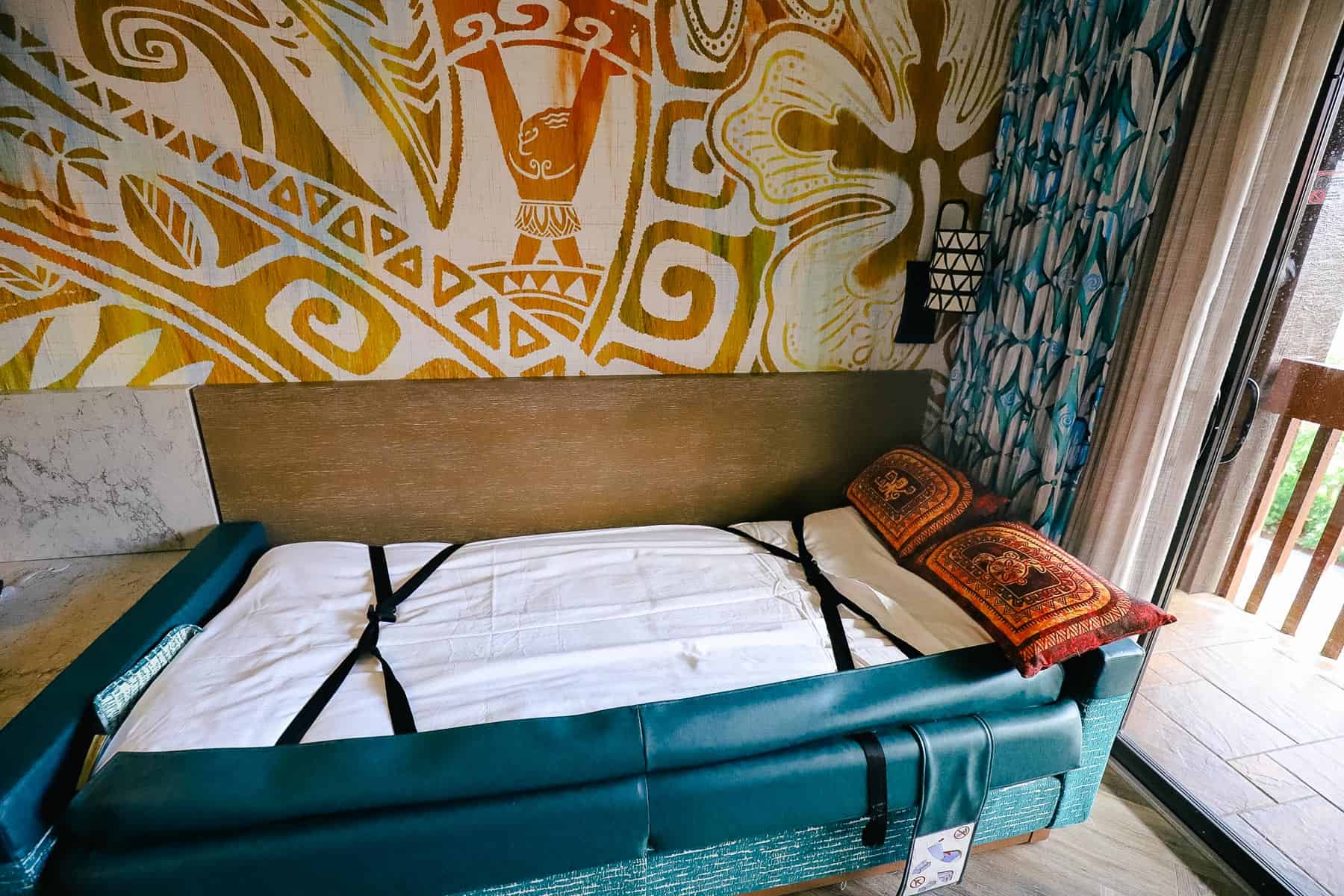 This is the same type of fifth sleeper we saw in the Incredible Rooms at Disney's Contemporary, the resort view rooms at Disney's Yacht Club, and our stateroom on the Disney Wish.
We've had an eleven-year-old sleep comfortably on this type of bed for a week, and I used the same kind on the Wish. So, while they are a little shorter, we have found them as comfortable as a regular twin bed.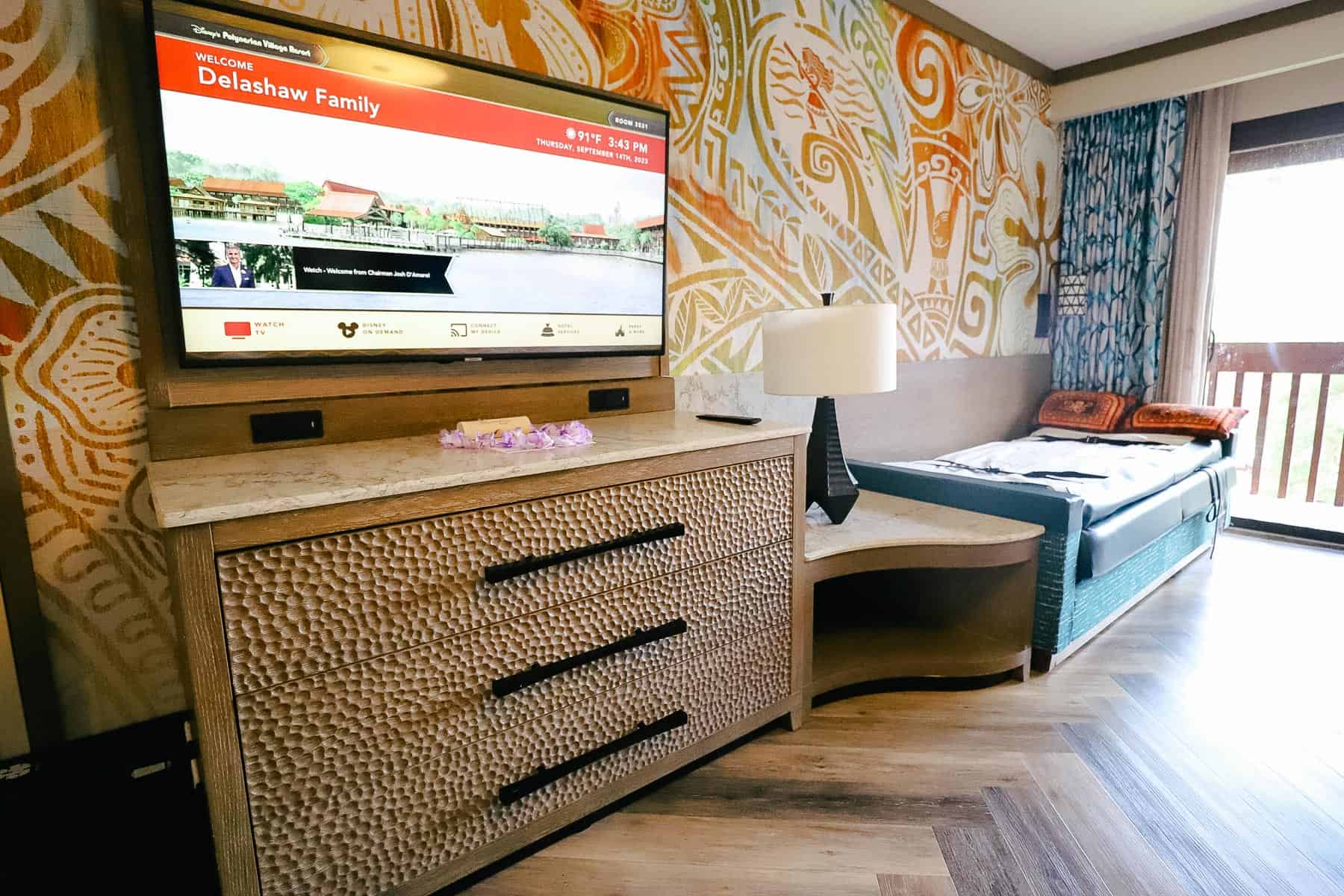 Our room had solid surface flooring. However, the interior hallways still have carpeting, which somewhat helps with noise reduction.
We were slightly surprised by some of the noise we heard from the hallway. Unfortunately, I think the issue was more unsupervised children and loud-speaking adults who seemed oblivious that other guests might be resting or sleeping nearby.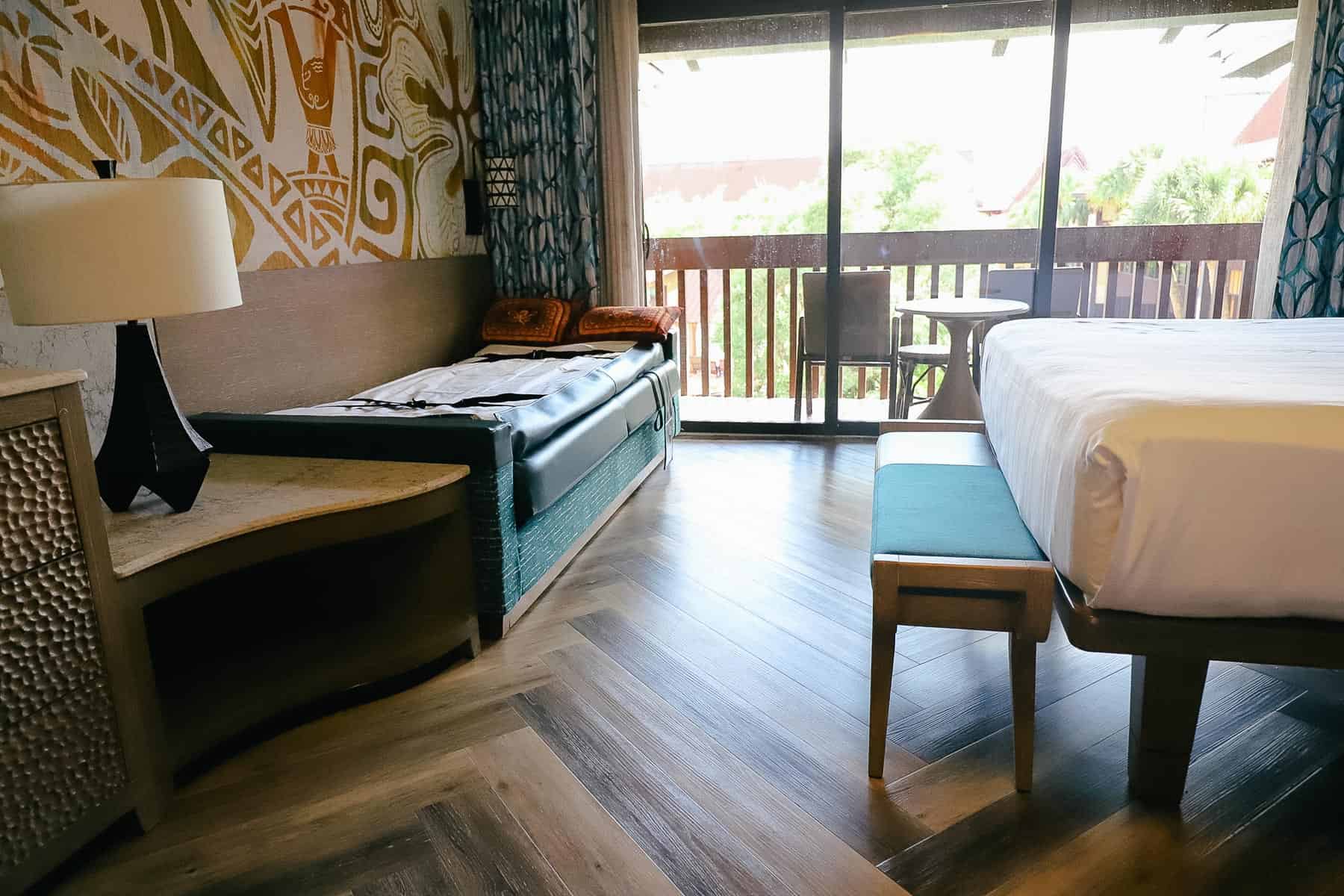 This room had a flat-screen television suspended over the dresser. The dresser had three drawers with plenty of storage space. It had a solid top with additional outlets and USB ports.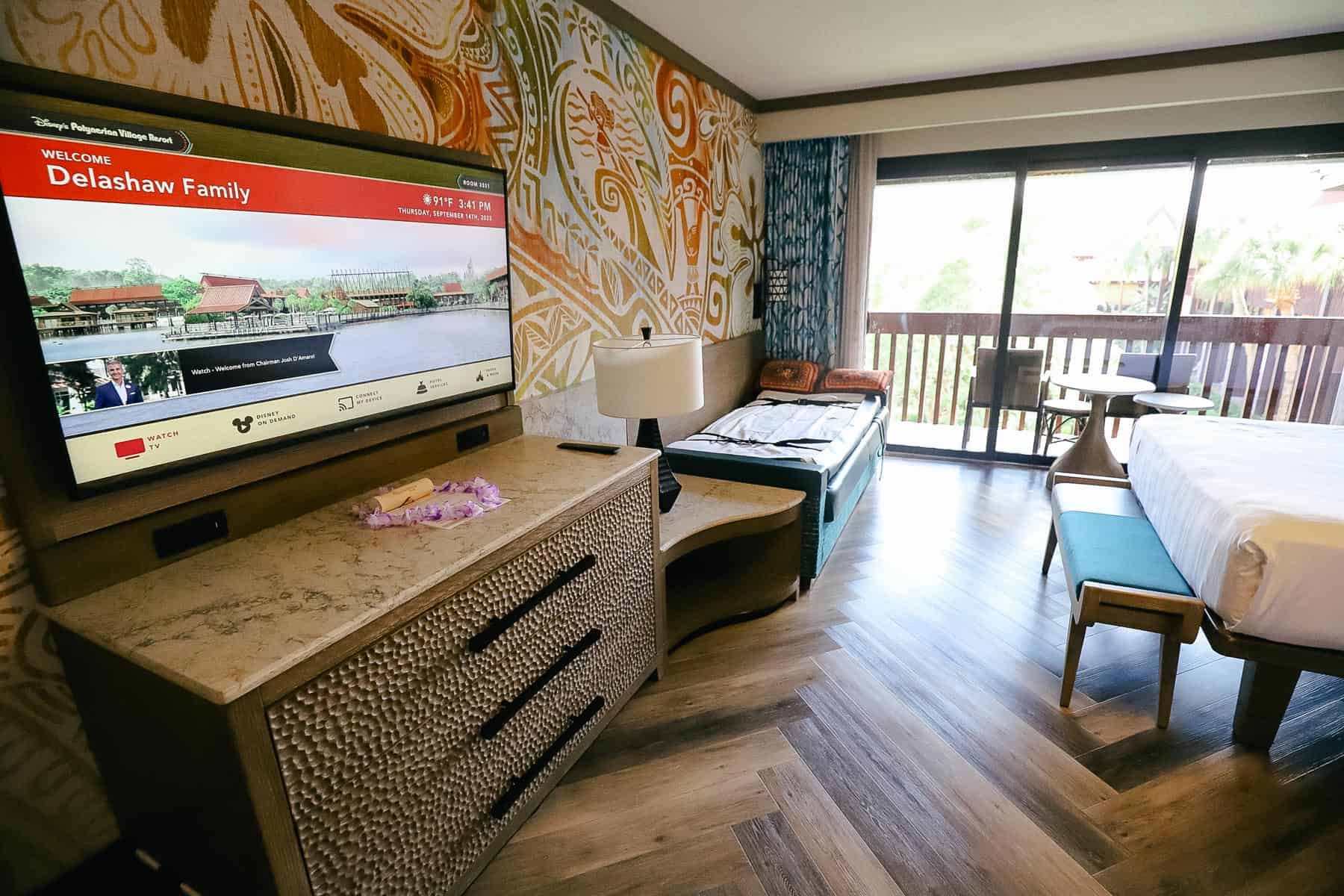 The foyer had a built-in closet space with a few other amenities.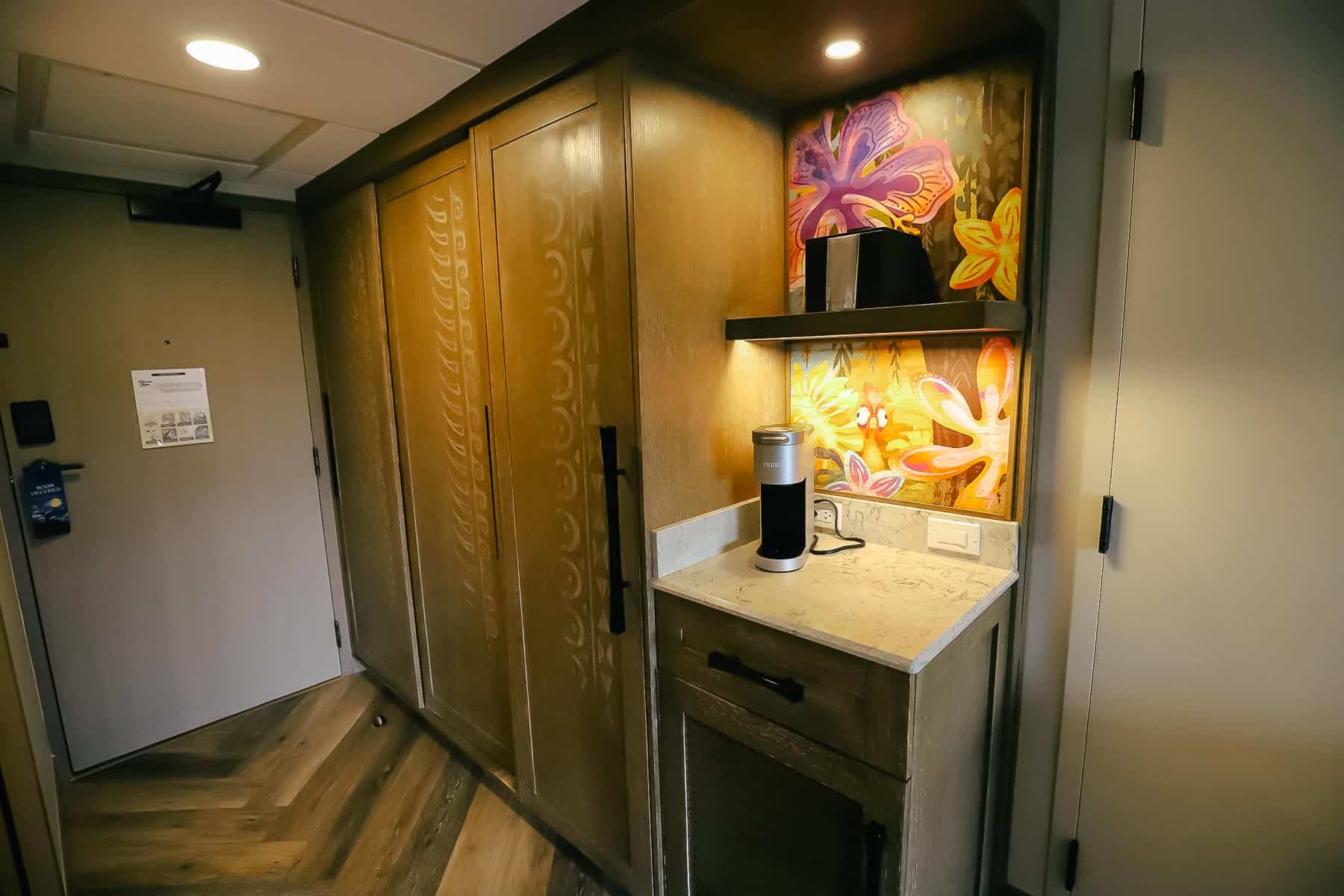 An ice bucket was available on the top shelf.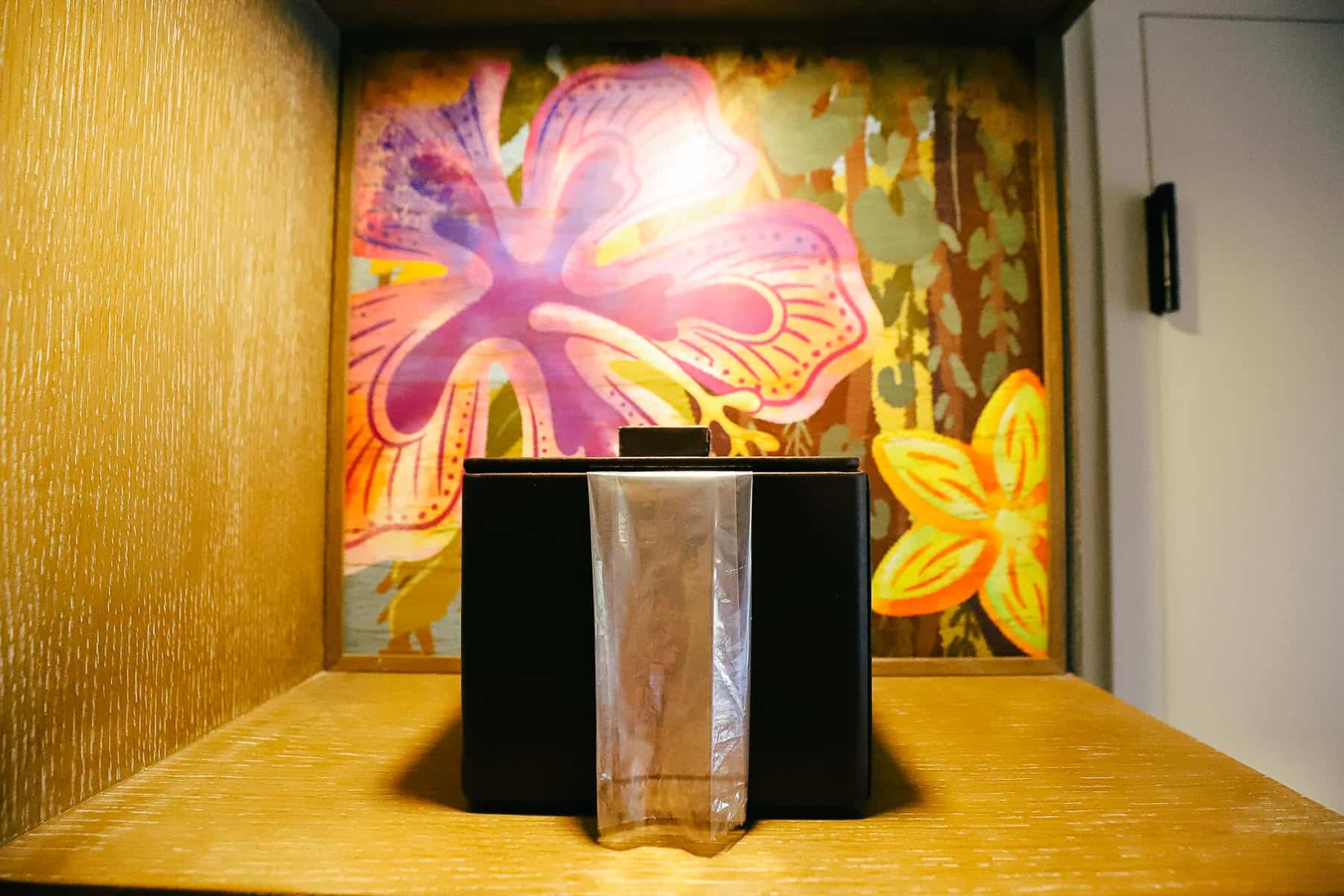 On the main counter, we had a Keurig coffee maker (individual cup). Hei Hei was painted on the wall art behind the Keurig.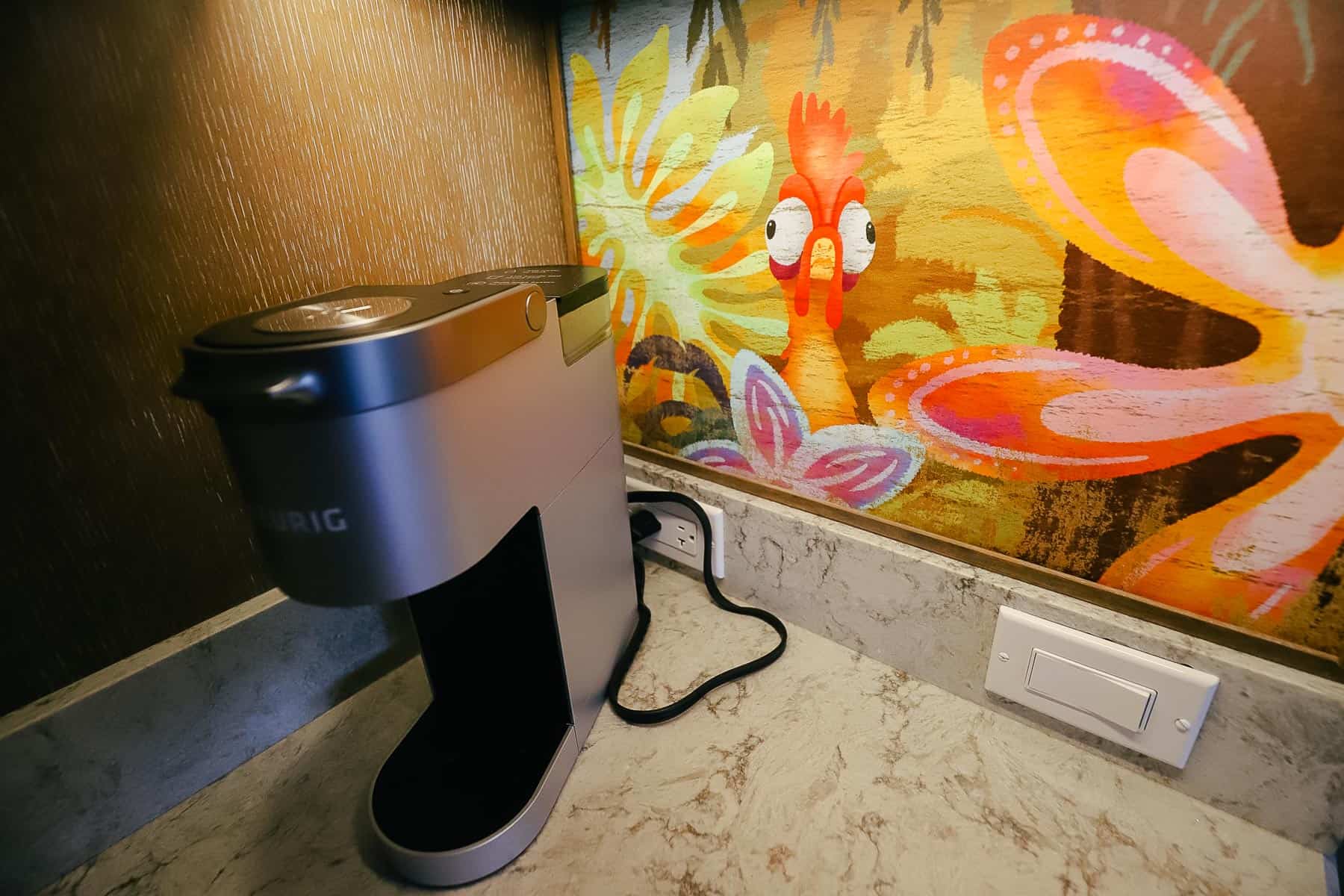 A drawer underneath had items to make coffee, tea, and other accompaniments.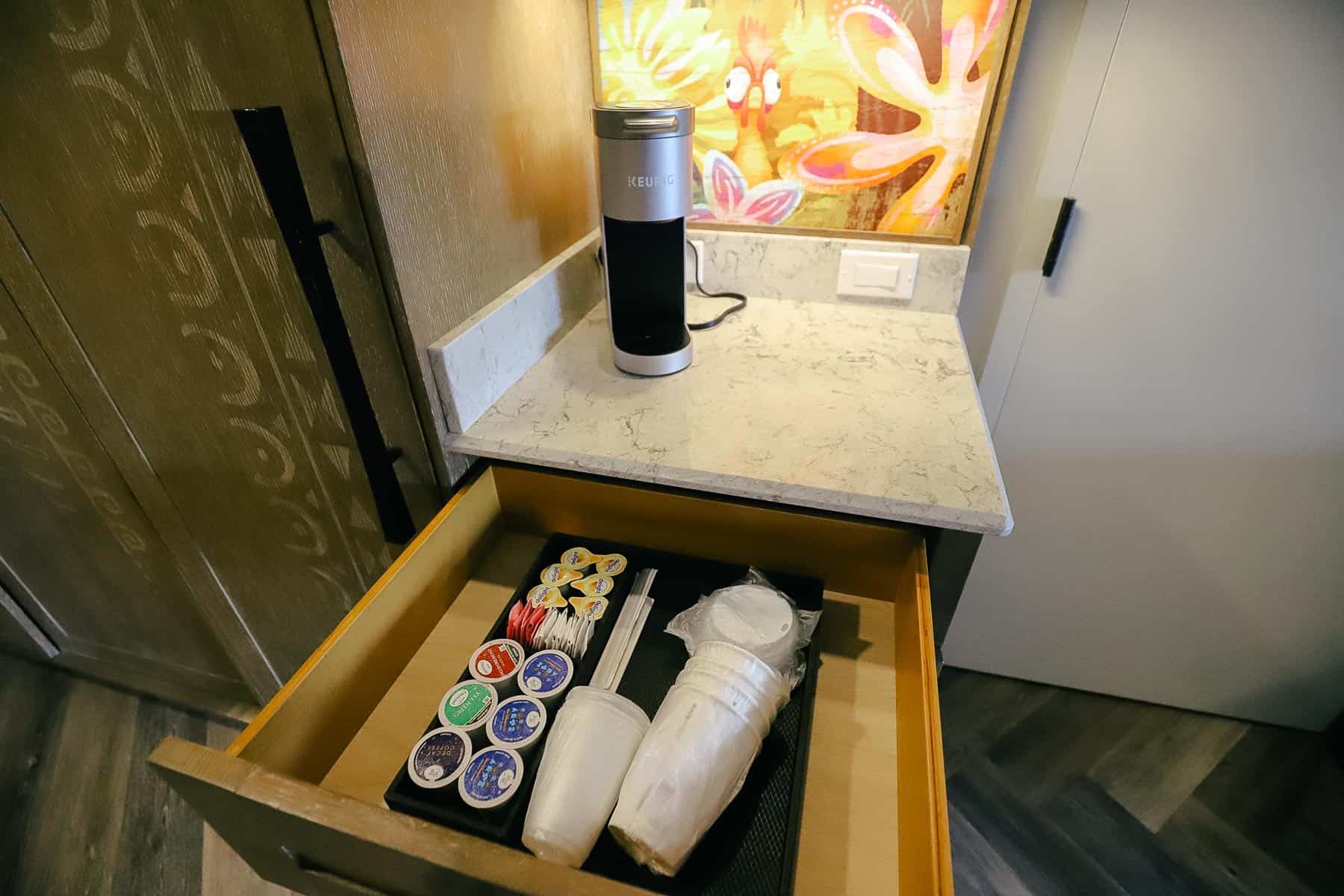 Underneath the coffee drawer, you'll find a cabinet that opens to reveal a beverage cooler. An in-room safe was also available.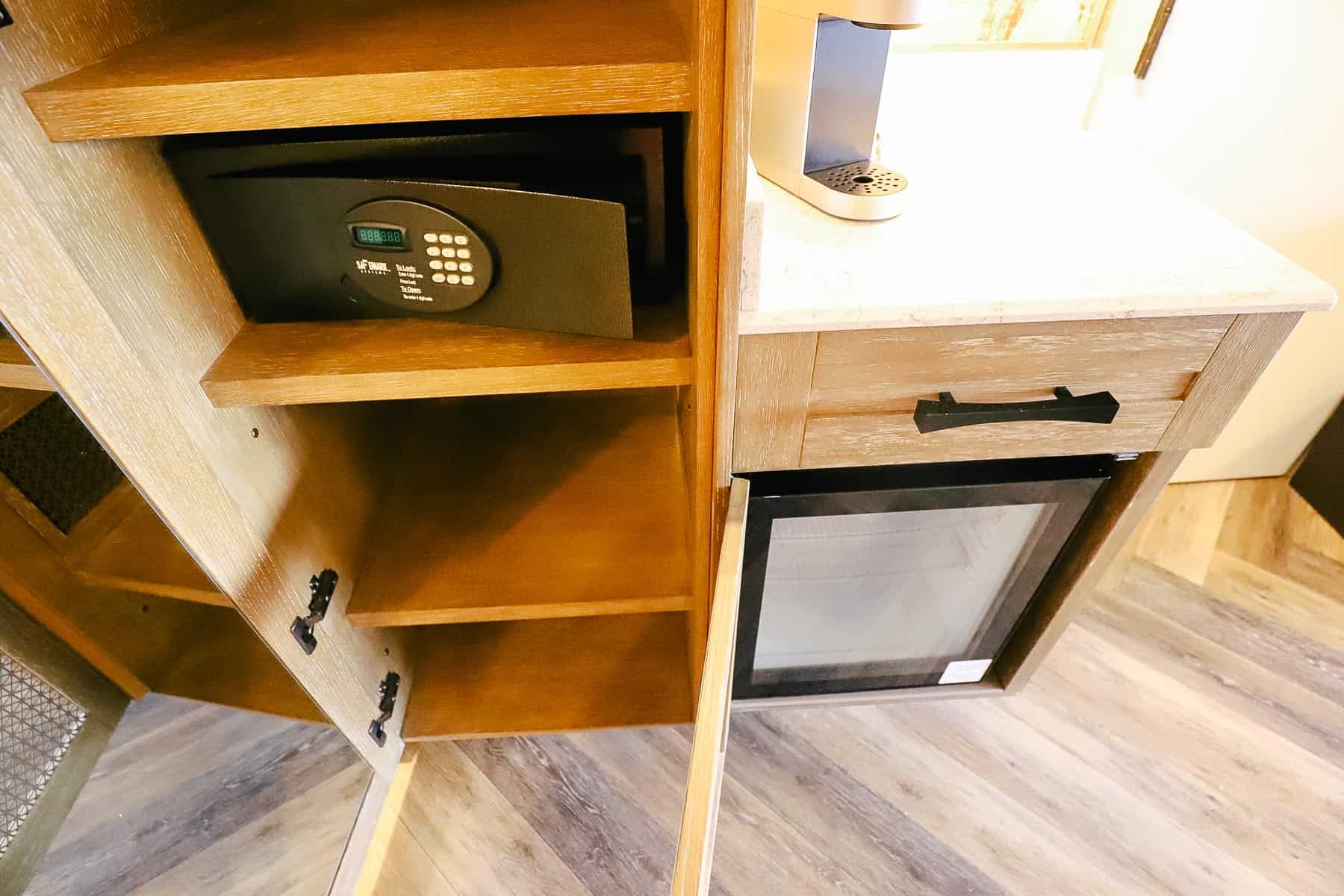 There was ample space to store a few items in the cabinets. This is also where the room's full-length mirror is installed inside the cabinet door.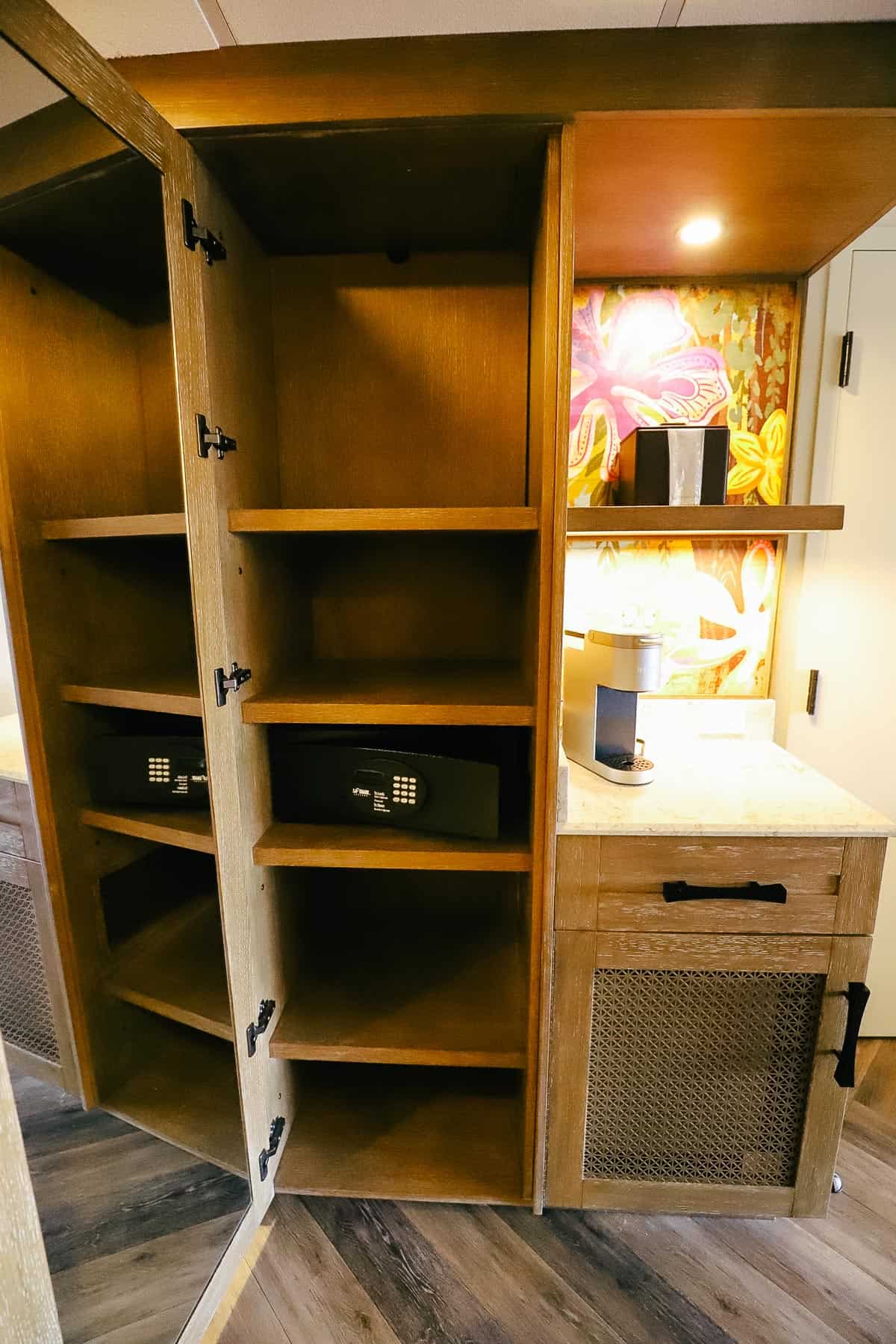 Here is a look at the beverage cooler. We put a few bottled waters in it, and it worked well. We mention this often in our room tours, but it's important to note that beverage coolers are not to be confused with a mini-fridge. They are designed to chill drinks and not keep perishable food items at an appropriate room temperature.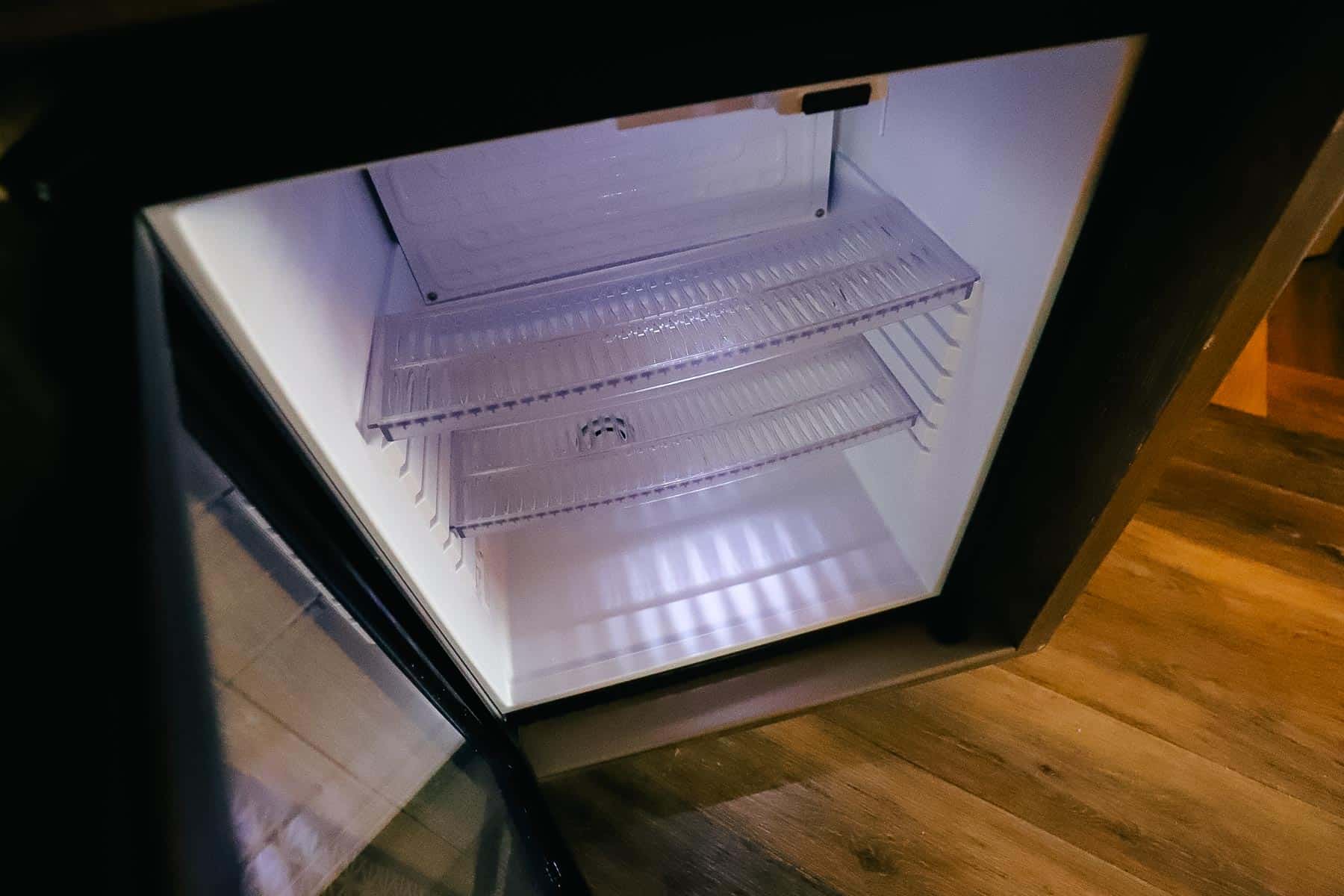 Two other built-ins provide closet space. An extra pillow and blanket were at the top of this closet. If you need more, call housekeeping from the room phone; they will bring extras. I was also happy to see a luggage rack.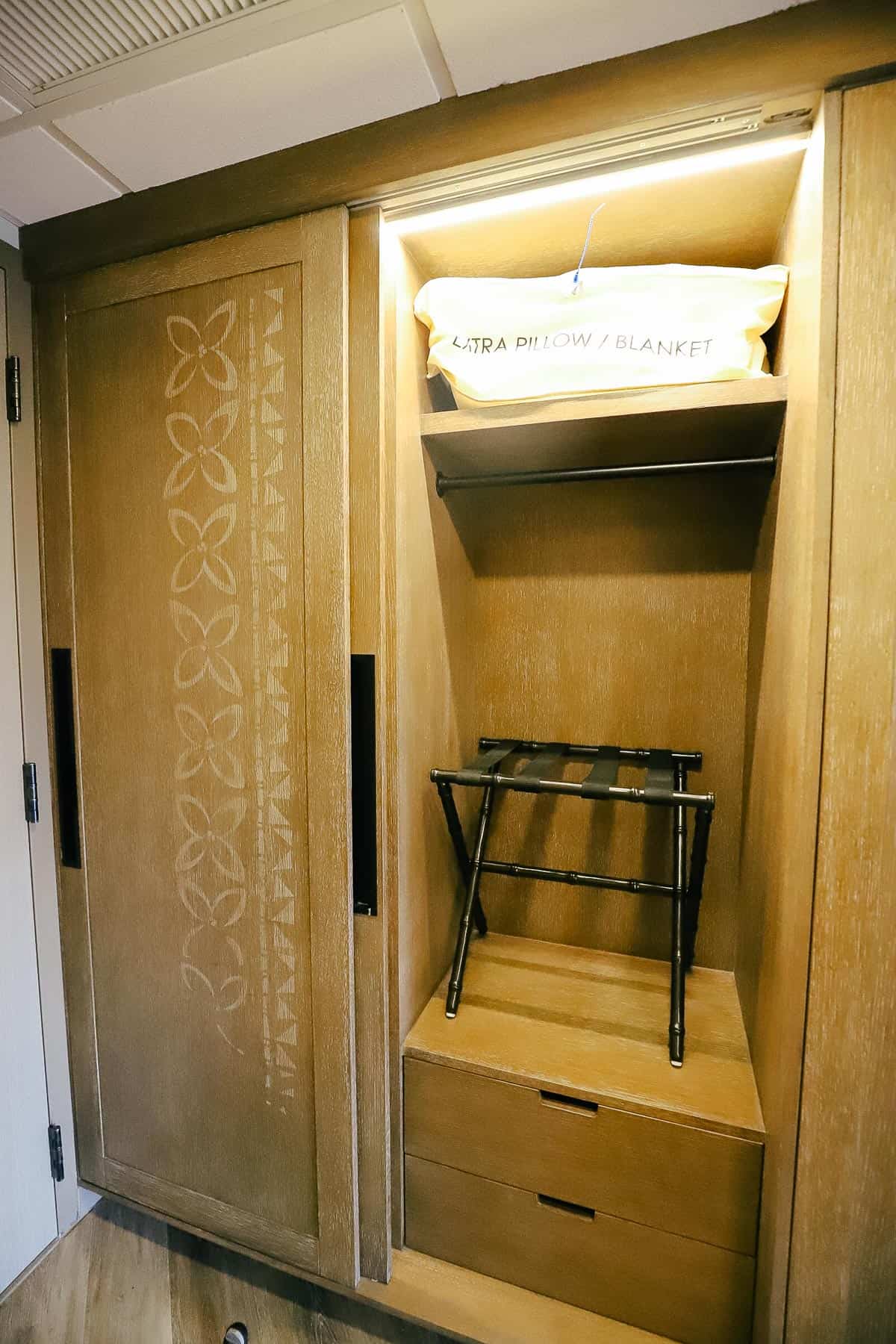 Two white waffle robes were available–this is a club-level extra.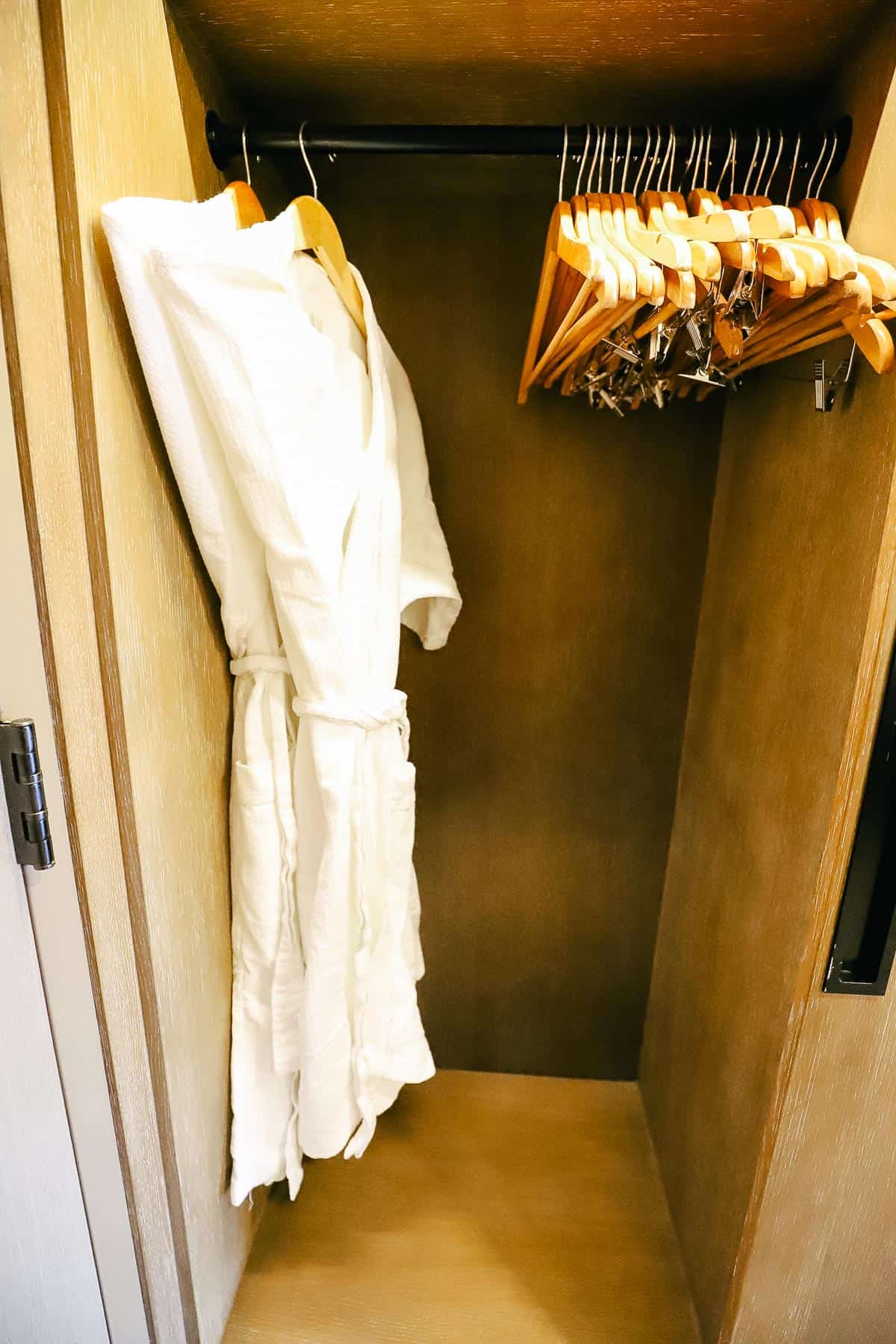 Most deluxe resorts now have handheld steamers instead of irons with ironing boards.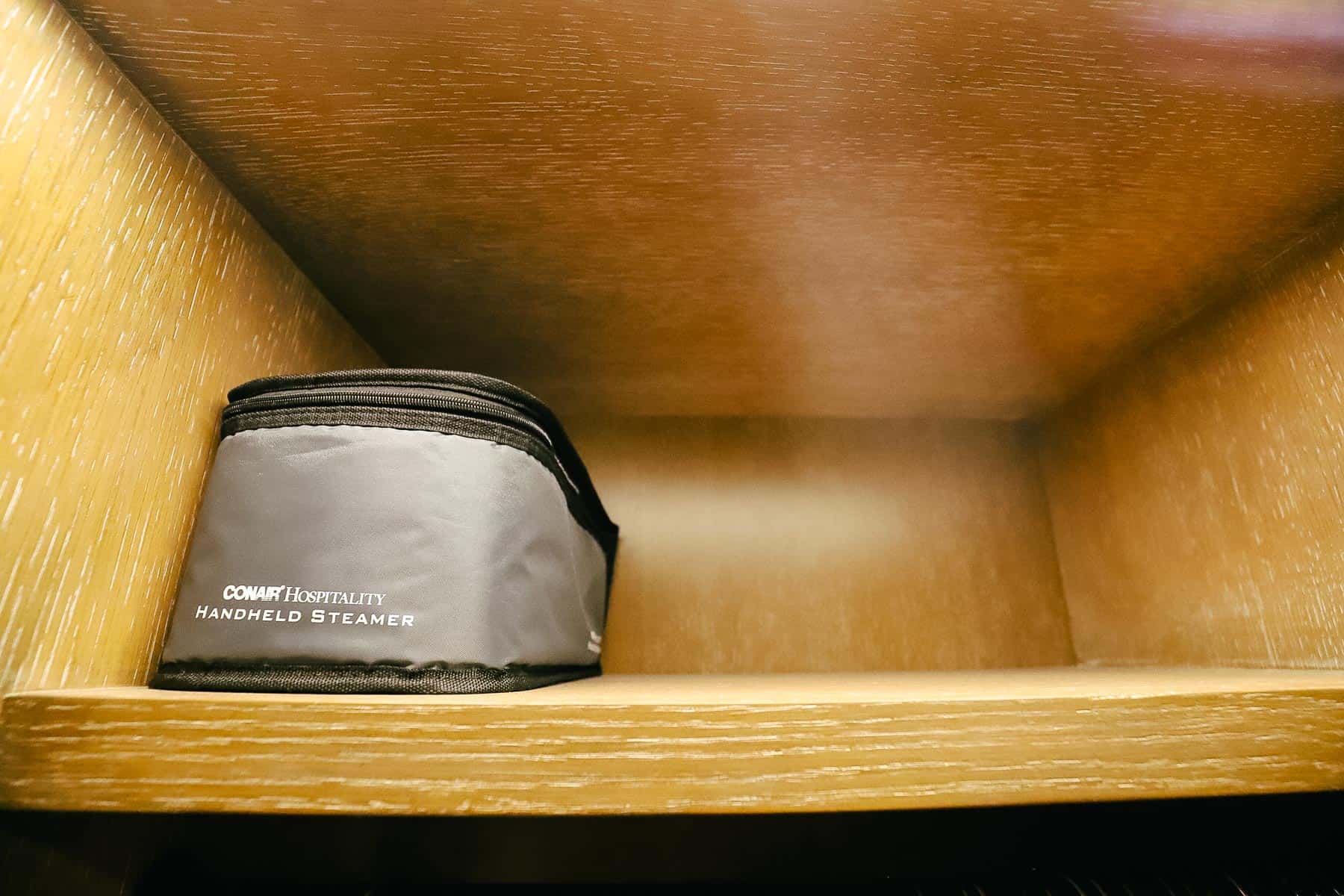 Our bathroom reminded me of Disney's Contemporary. It was spacious, with a separate water closet housing the toilet toward the back. Both the Polynesian and Contemporary were original resorts, so the plumbing was laid out this way when they were built.
Unfortunately, that means the space is not as efficiently used as what we see in more modern resorts. So everyone has to take their turn while getting ready.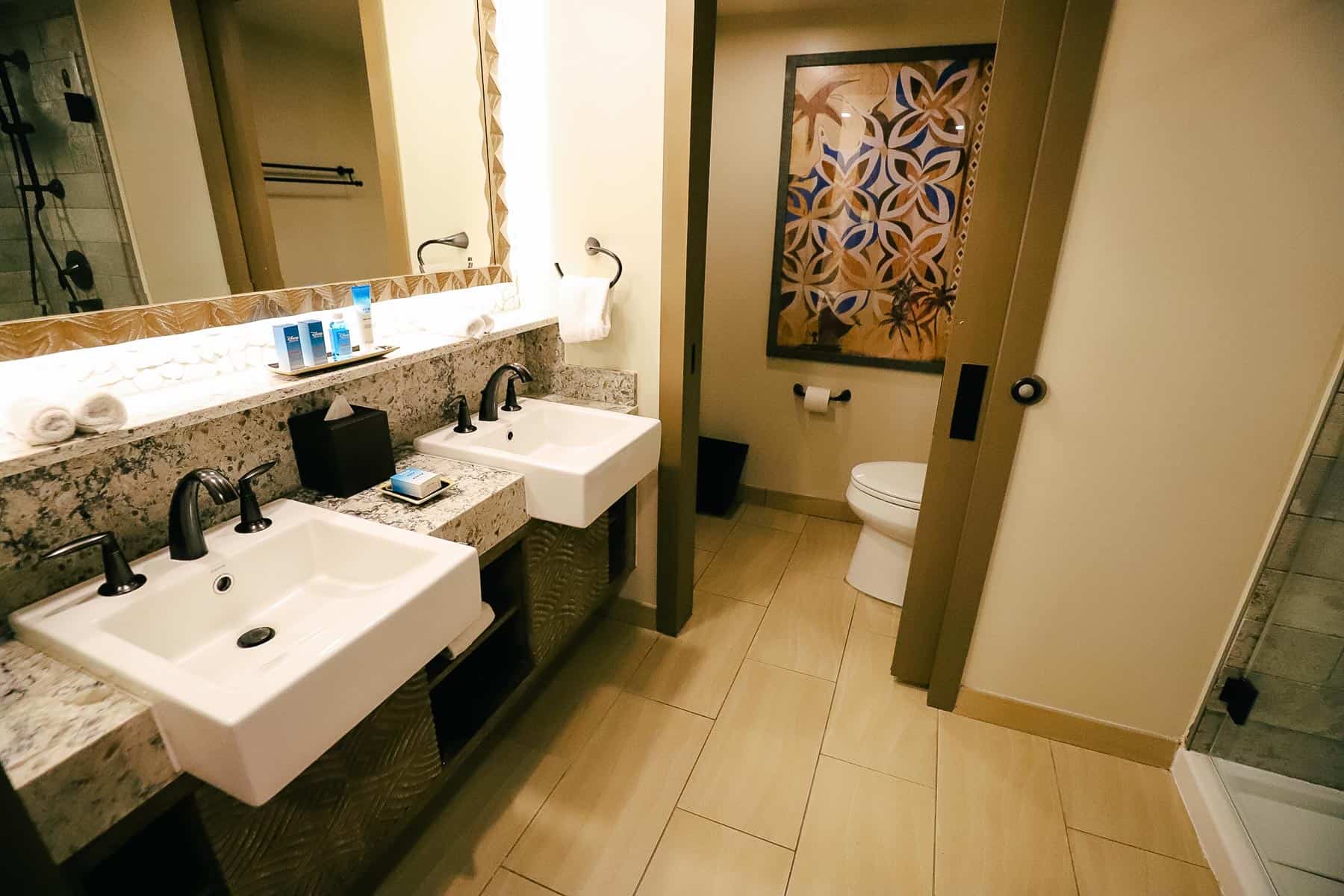 A pocket door slides over the water closet.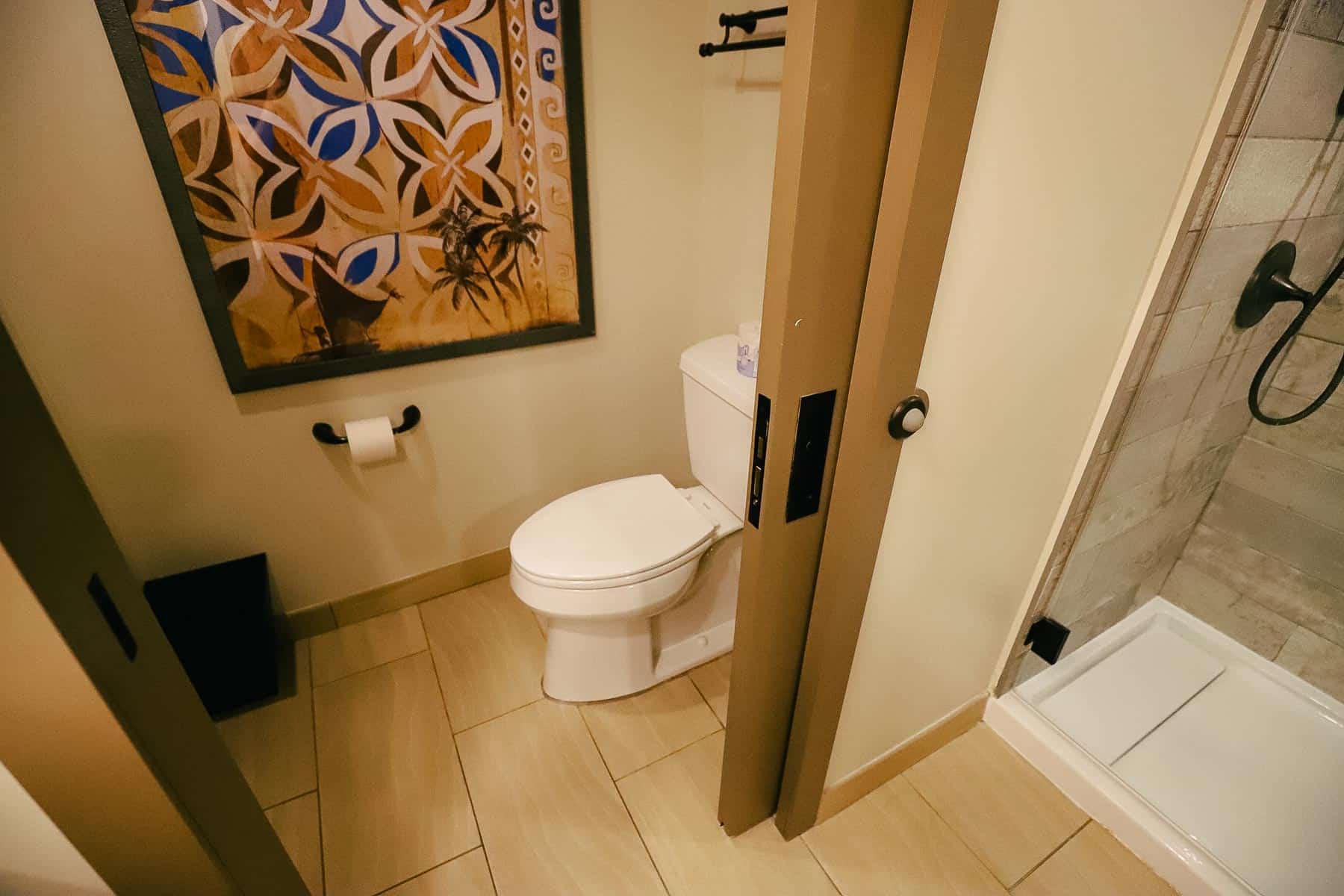 Inside, the water closet has shelves with extra towels and artwork featuring Moana.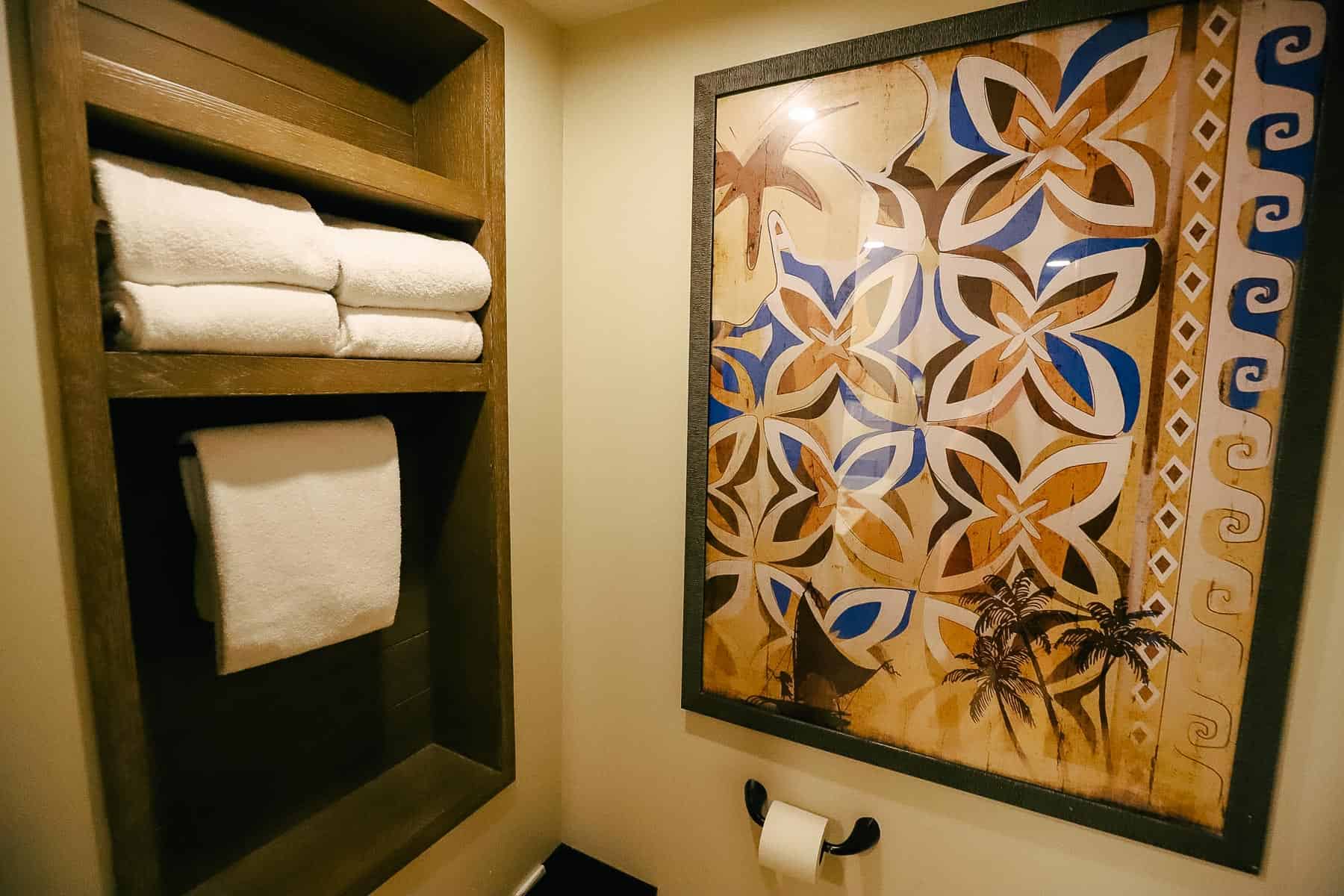 The vanity features double sinks.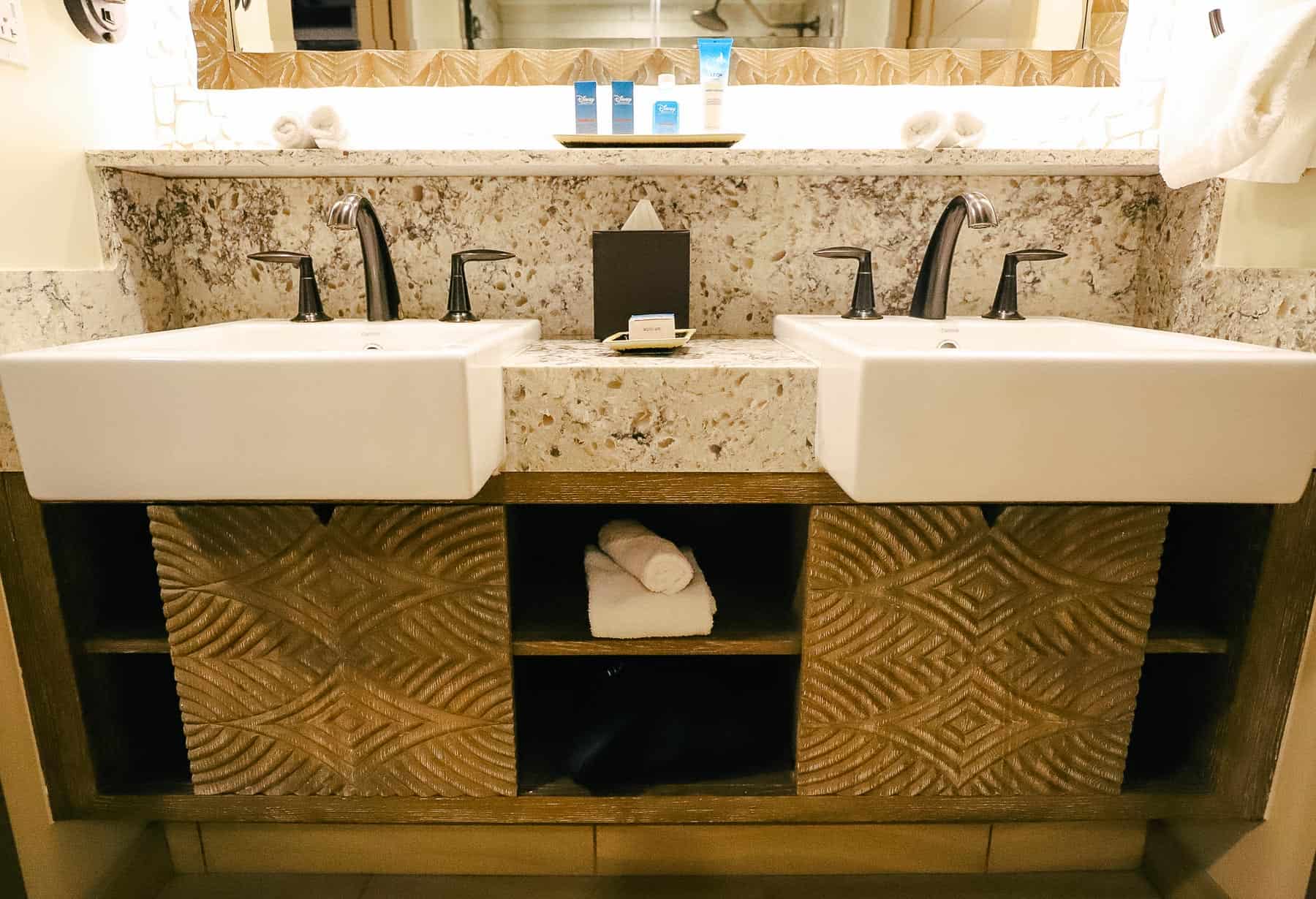 A ledge above the sinks provides counter space to store personal items.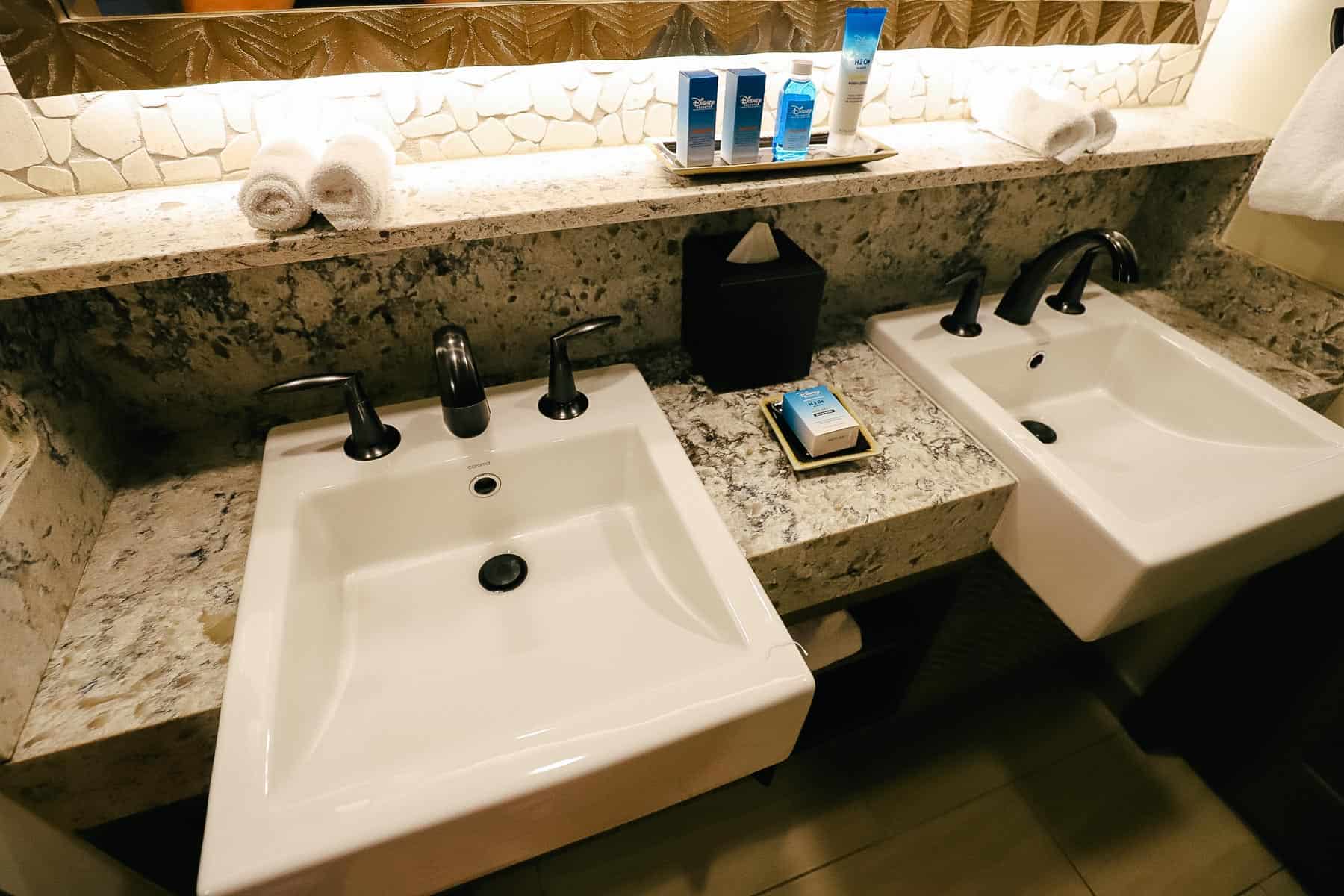 Here, we have a few toiletries like a shower cap, vanity kit, mouthwash, and body lotion.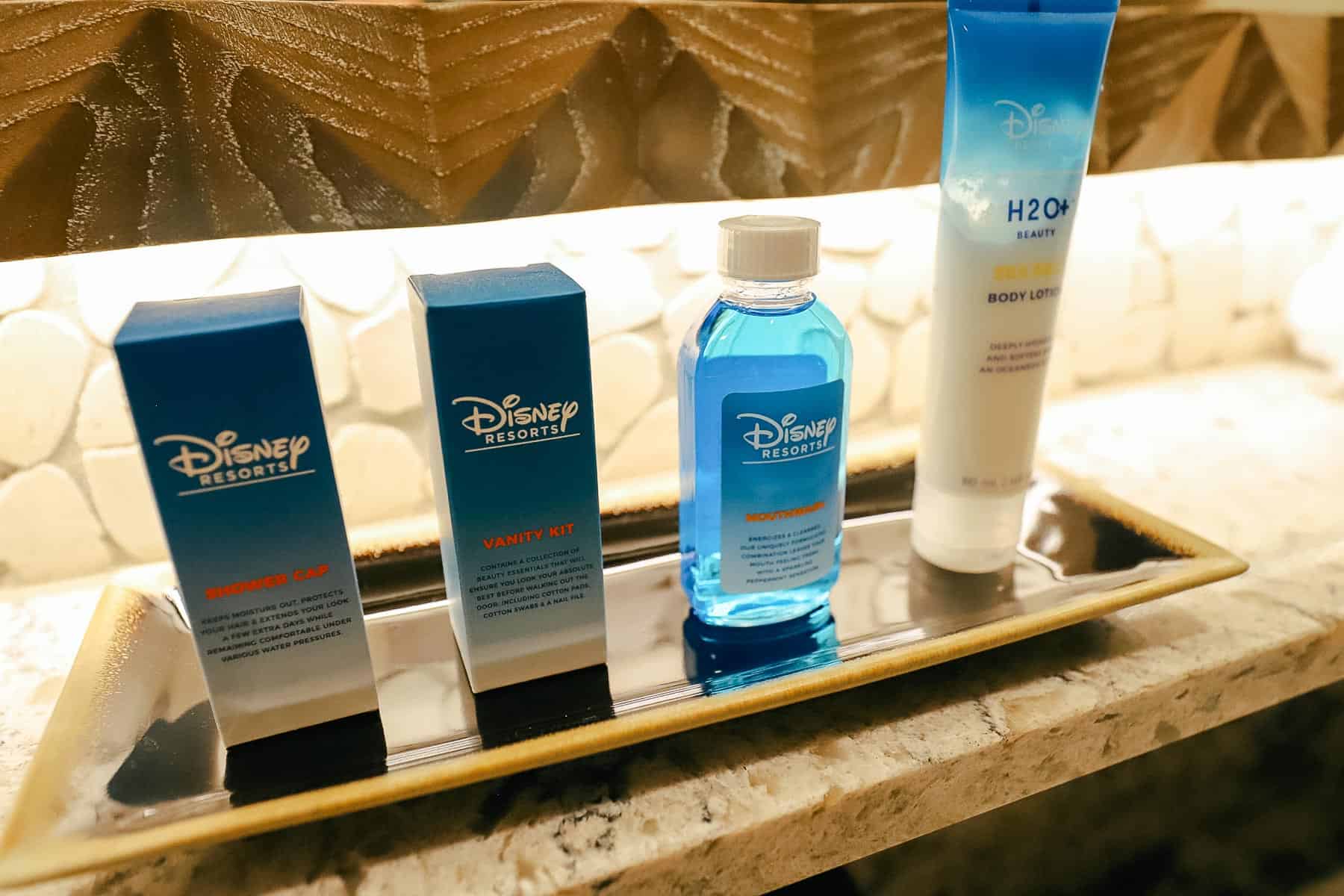 Our room had a large walk-in shower.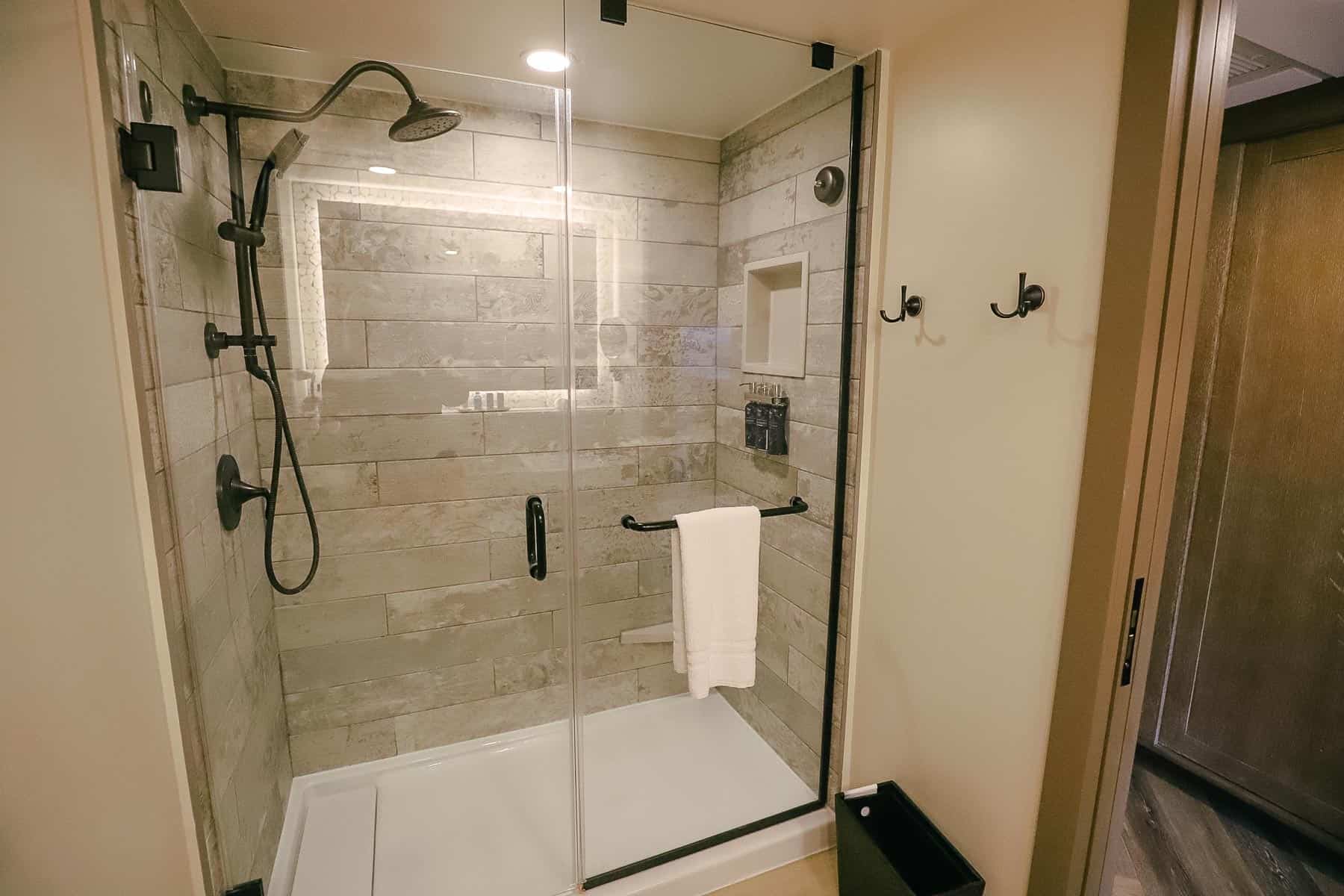 A small shelf was provided for personal items. Additionally, built-in body wash, shampoo, and conditioner were available inside the shower.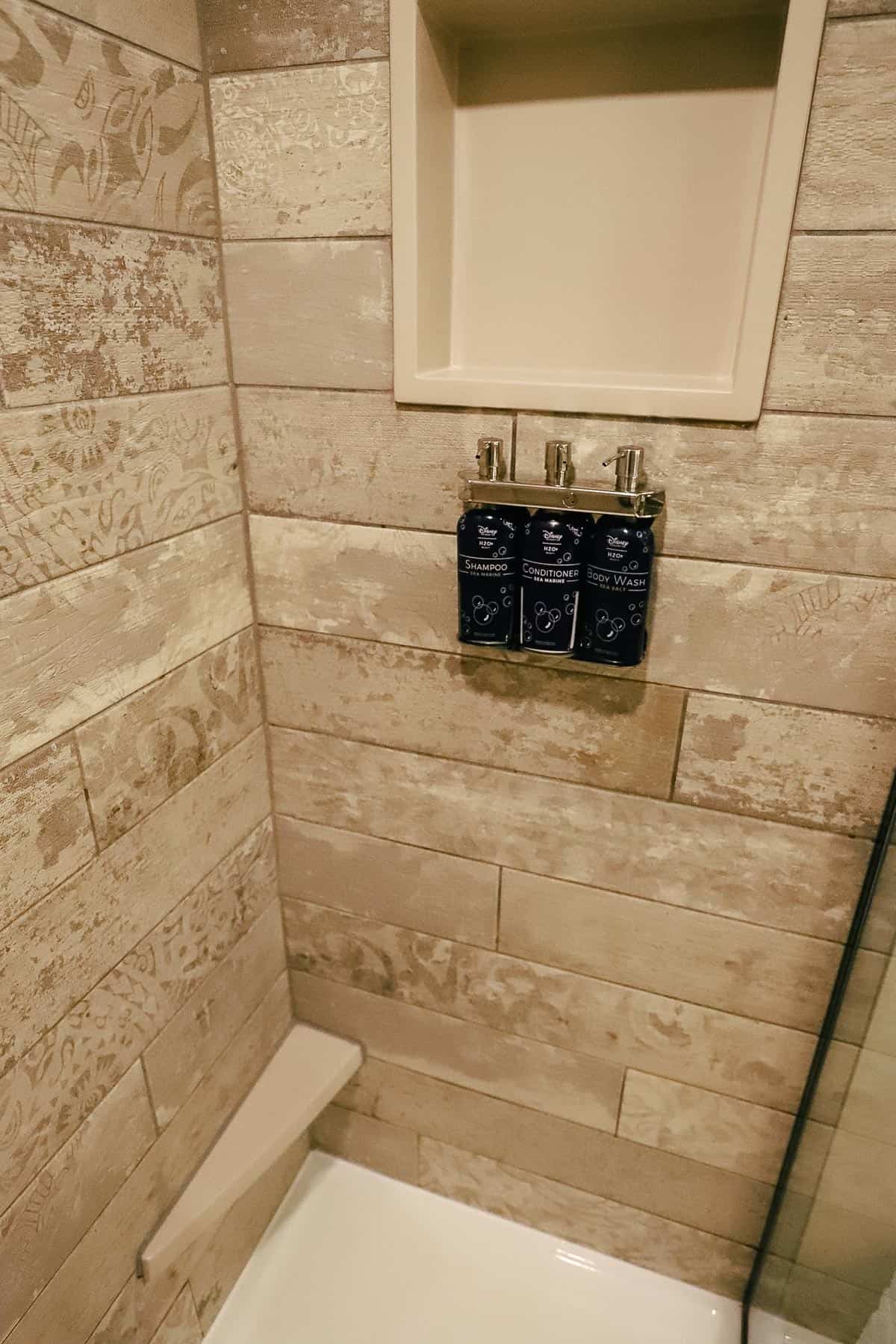 The shower's water pressure was good. We had one large fixture with a rainfall-like effect and a detachable showerhead.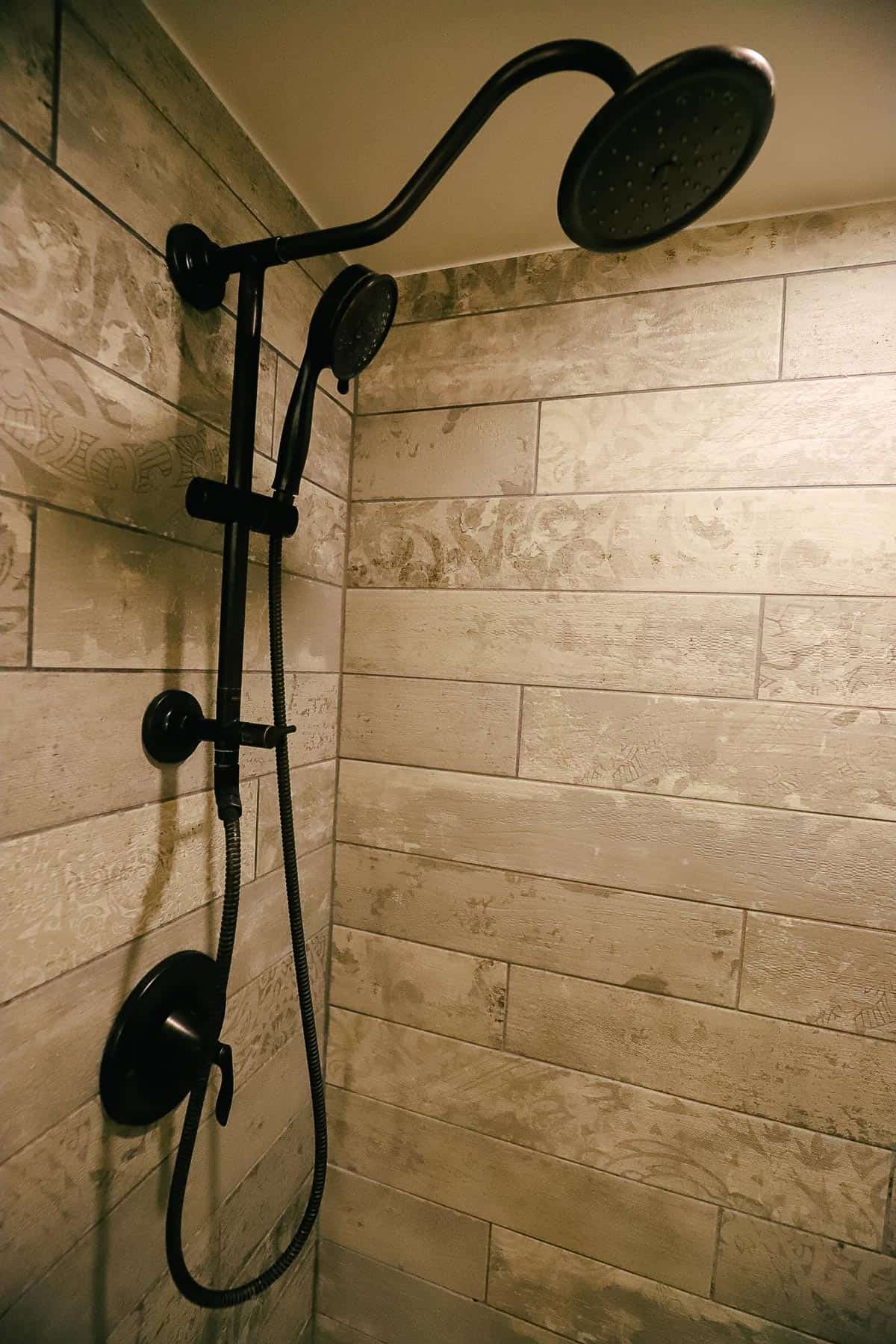 Two hooks were available on the wall outside the shower door. This feature was much appreciated.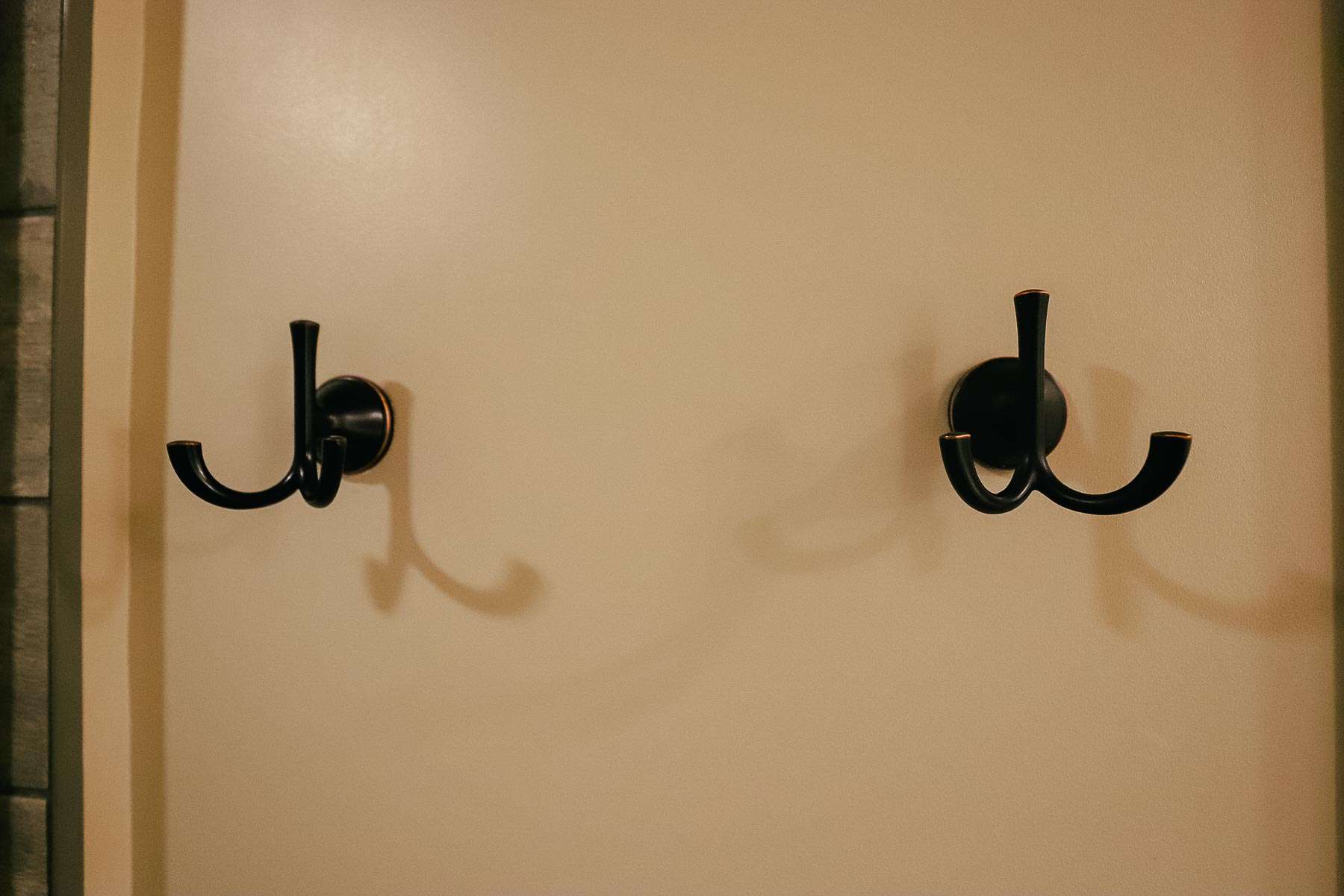 We had booked a resort view club-level room at Disney's Polynesian Resort. We were more than elated to receive a third-floor room when we arrived.
For reference, most of the longhouses at Disney's Polynesian have three floors. If you receive a first-floor room, you'll have a patio; second-floor rooms have a Juliette balcony (read standing room only), and third-floor rooms have a full balcony.
We prefer third-floor rooms at the Polynesian and the Garden Wing at Disney's Contemporary, which have a similar setup. If we had received a second-floor room, it would have been okay.
But I spent a good amount of time in the room during this stay, and much of that time was spent on the balcony. We especially enjoyed the solitude one night when it poured down rain for several hours.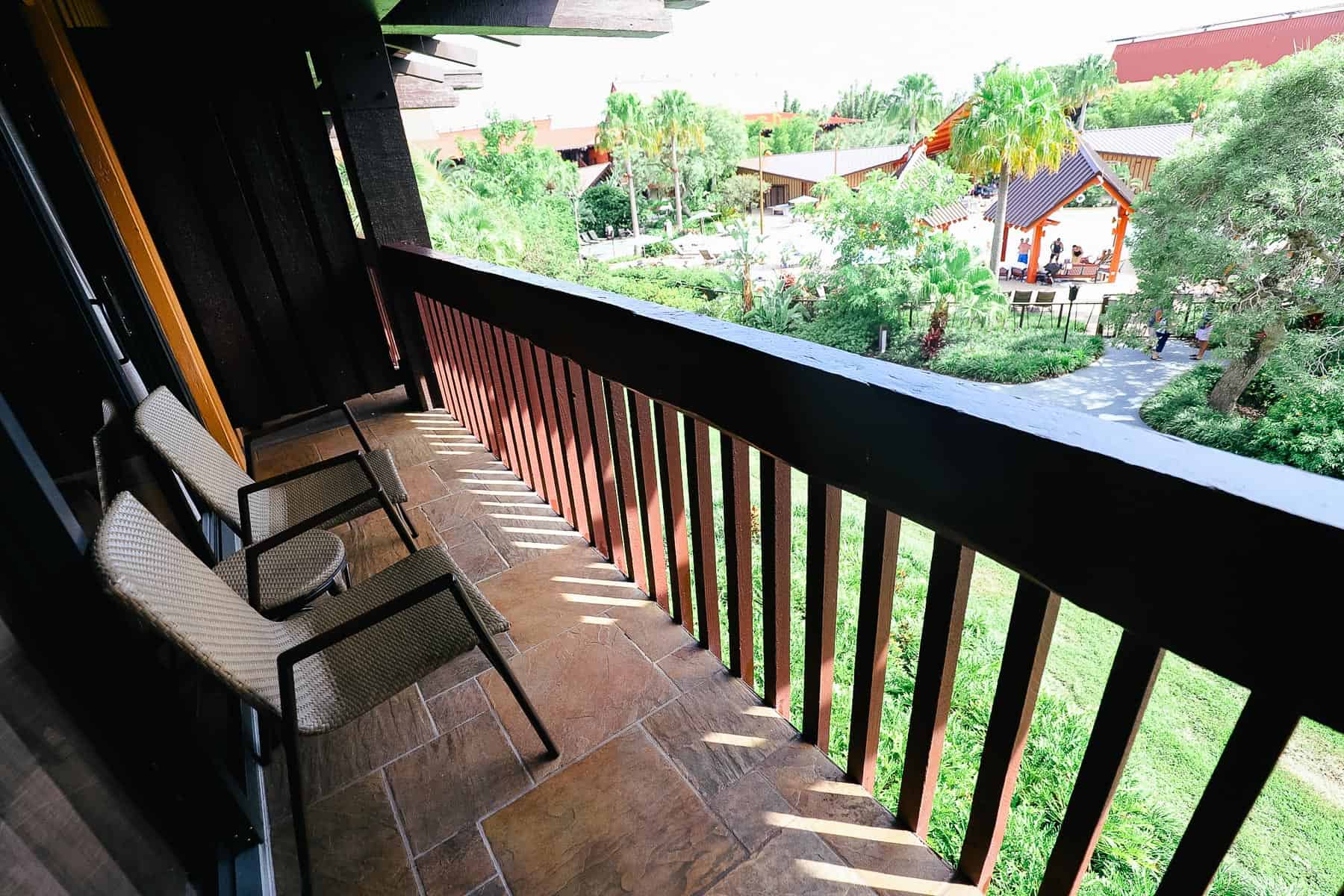 Of course, our view of the Oasis Pool was gorgeous. We were within a few steps of both the Oasis and Lava Pools at the Polynesian.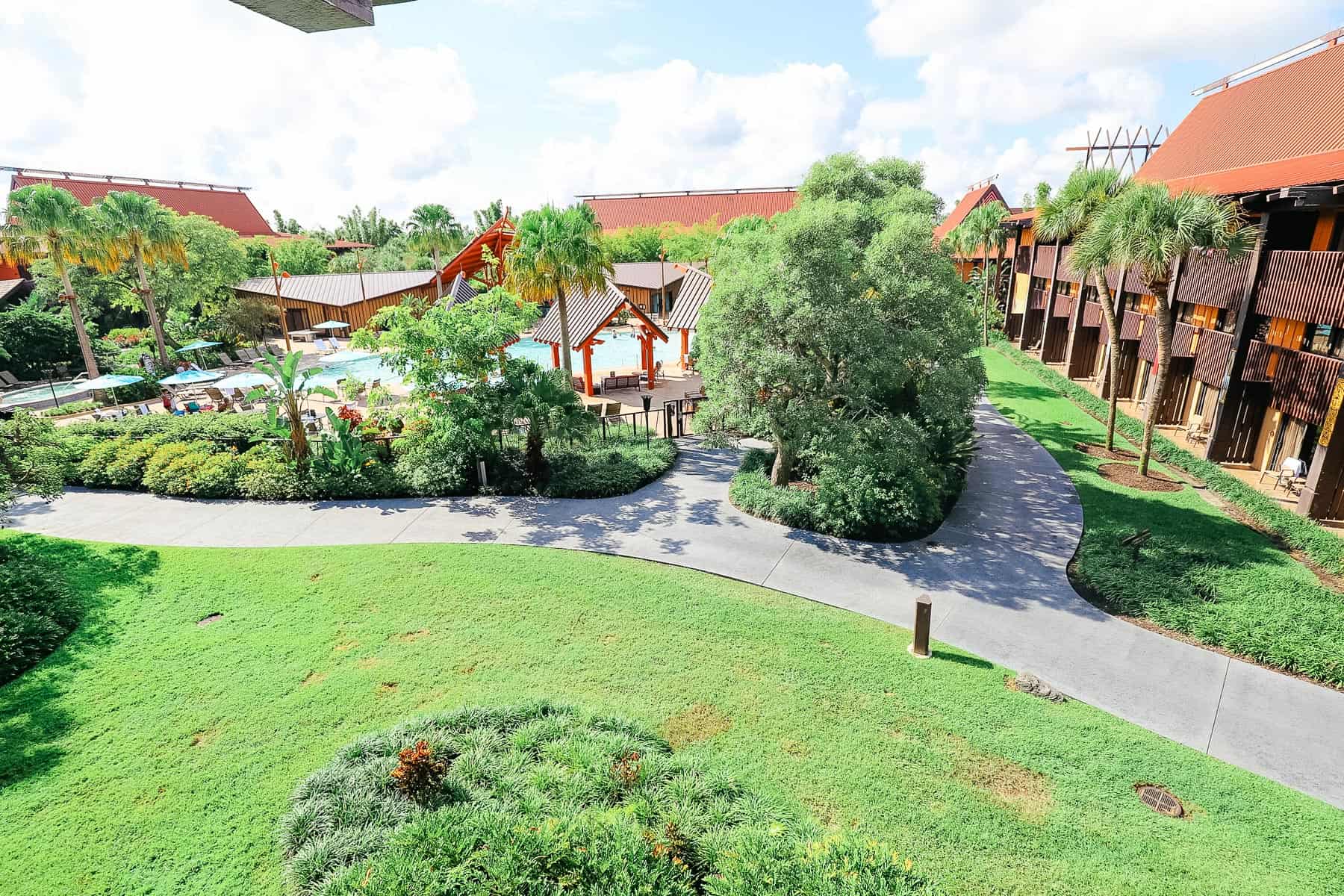 Regarding room views, other options at the Polynesian include a theme park view, a water view, and a lagoon view.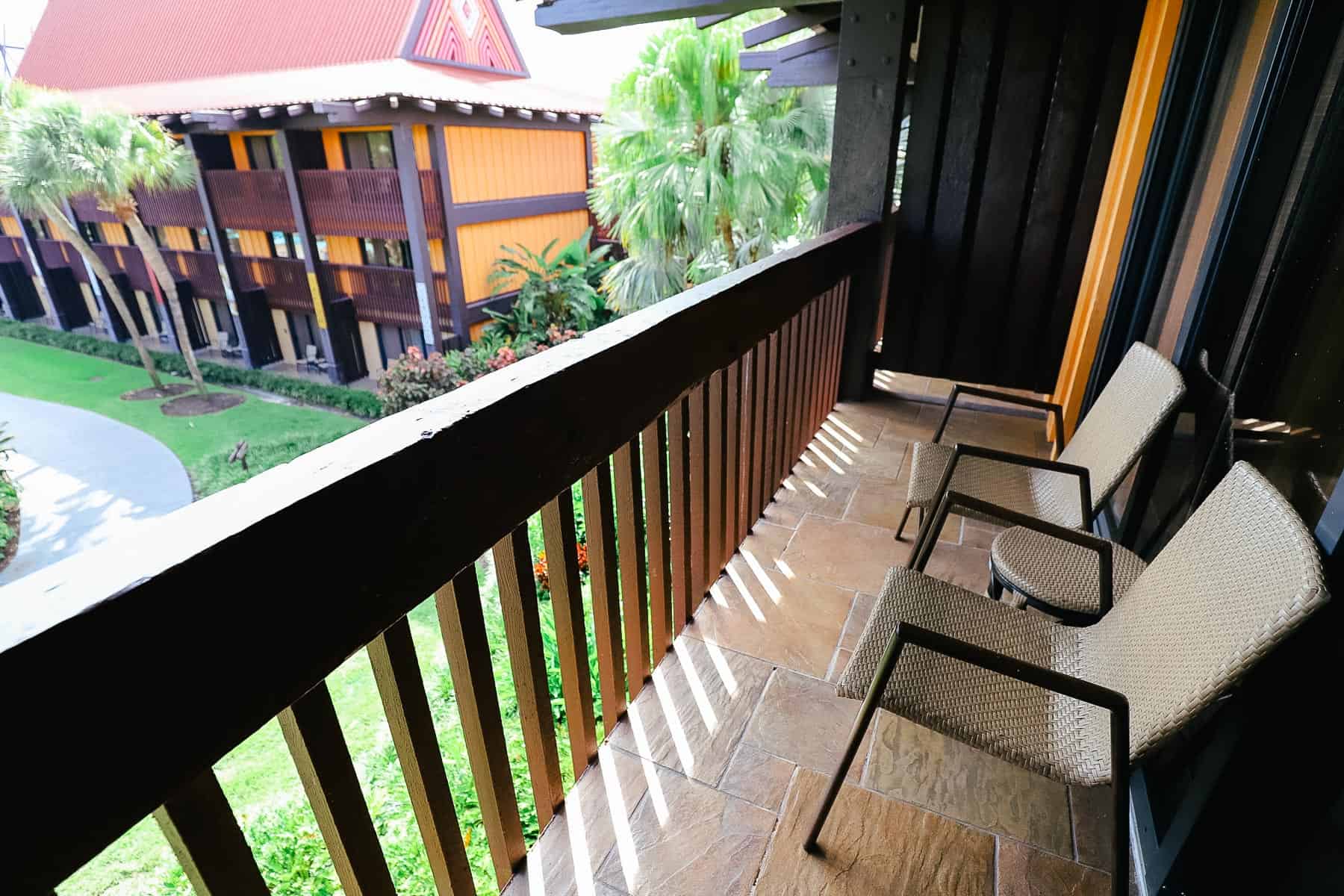 The Lava Pool sits a few steps beyond the palm trees in the photo below. Our room was a short walk from the Great Ceremonial House, opposite the Lava Pool.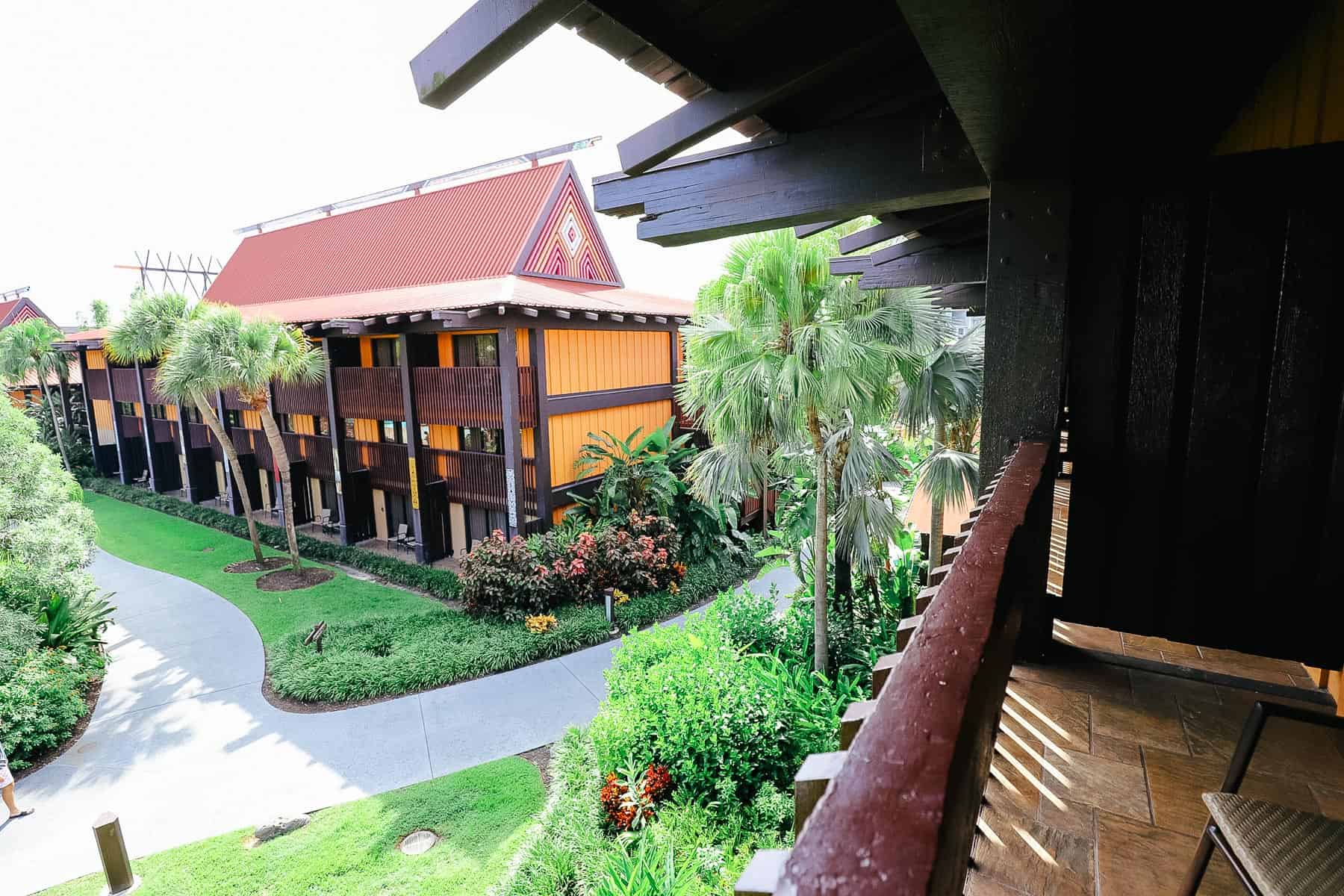 Moana Room Video
Here is a video tour of the Moana rooms at Disney's Polynesian.
Moana Room Photos
Here are a few extra photos of the room and the interior hallways of the Hawaii building.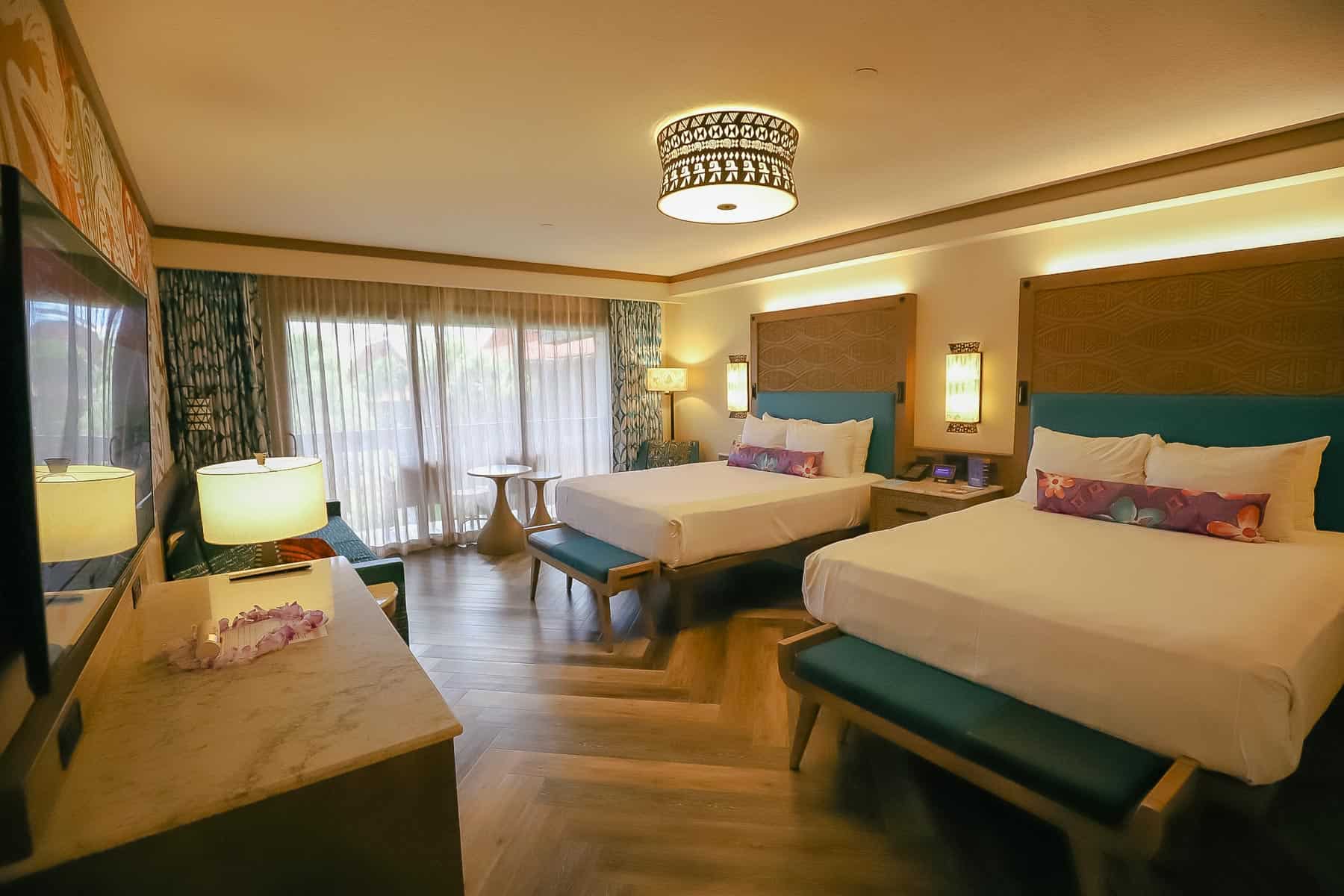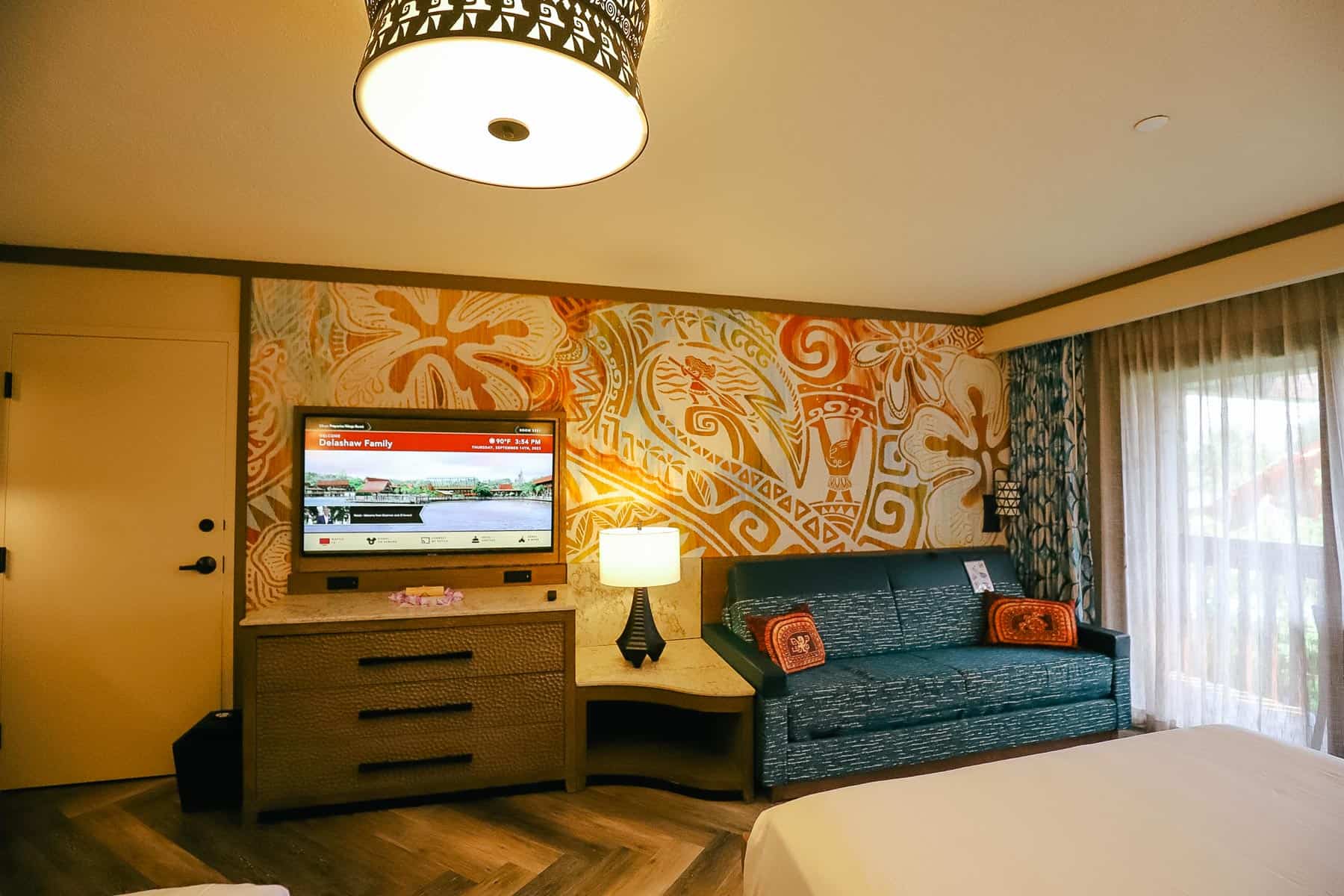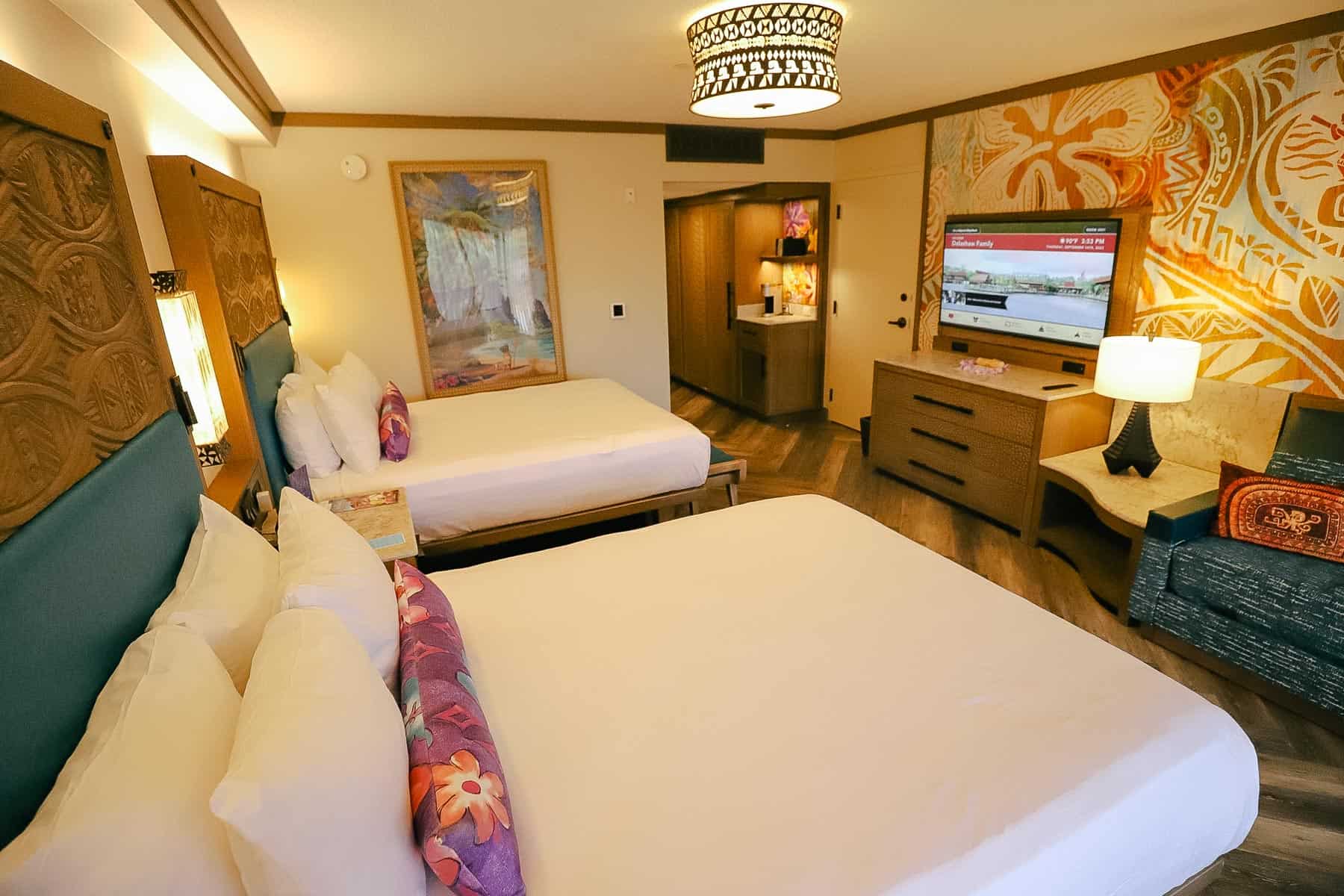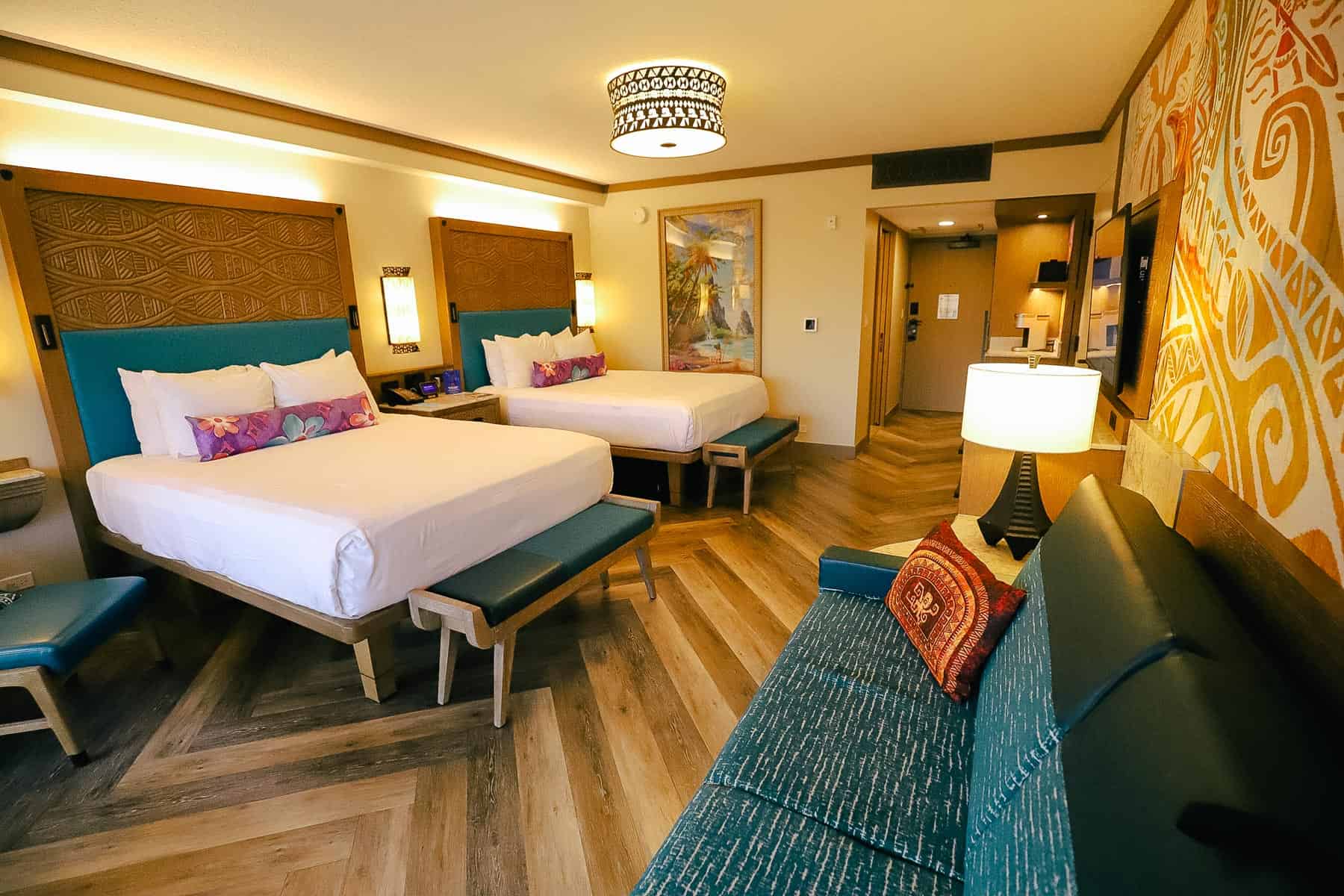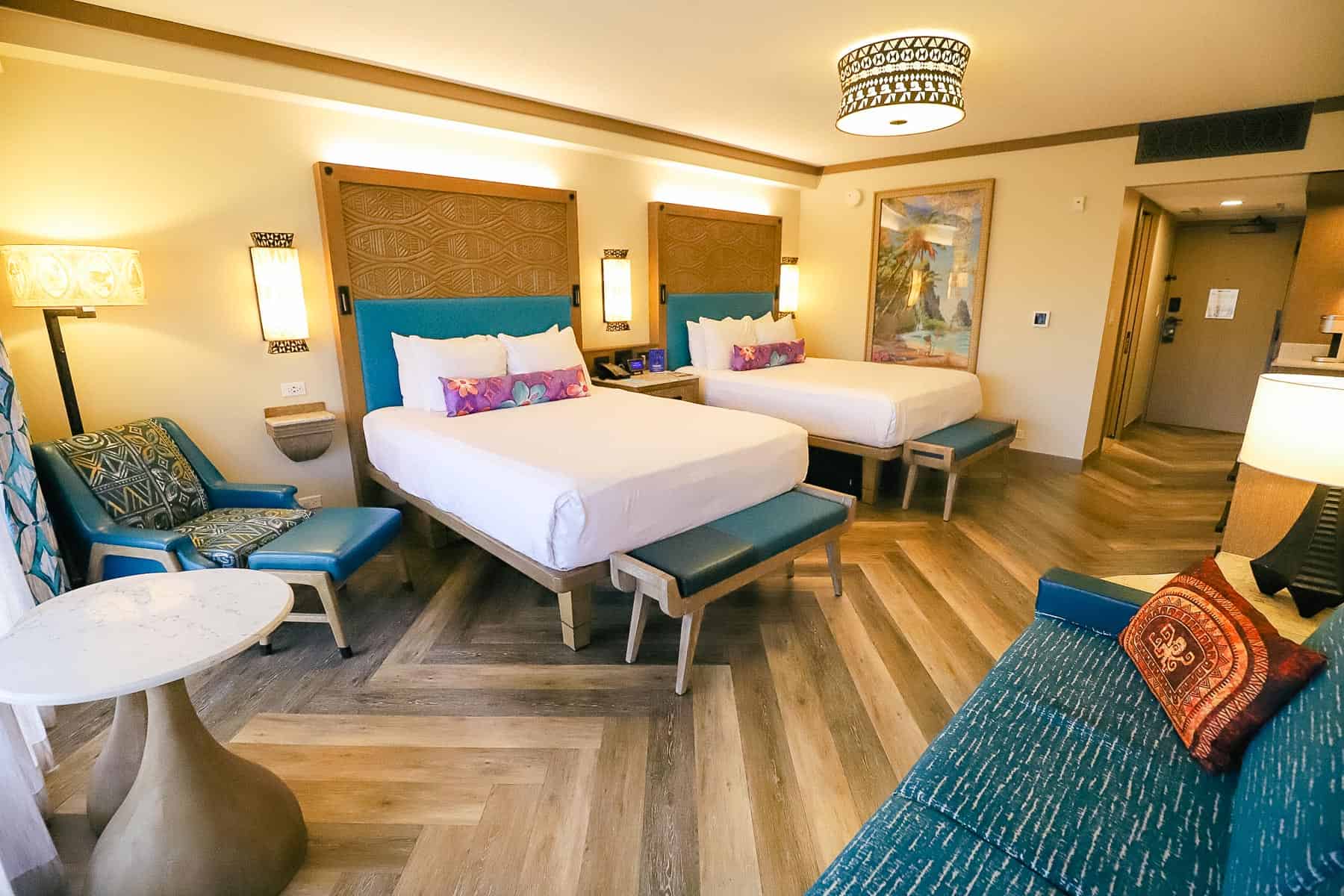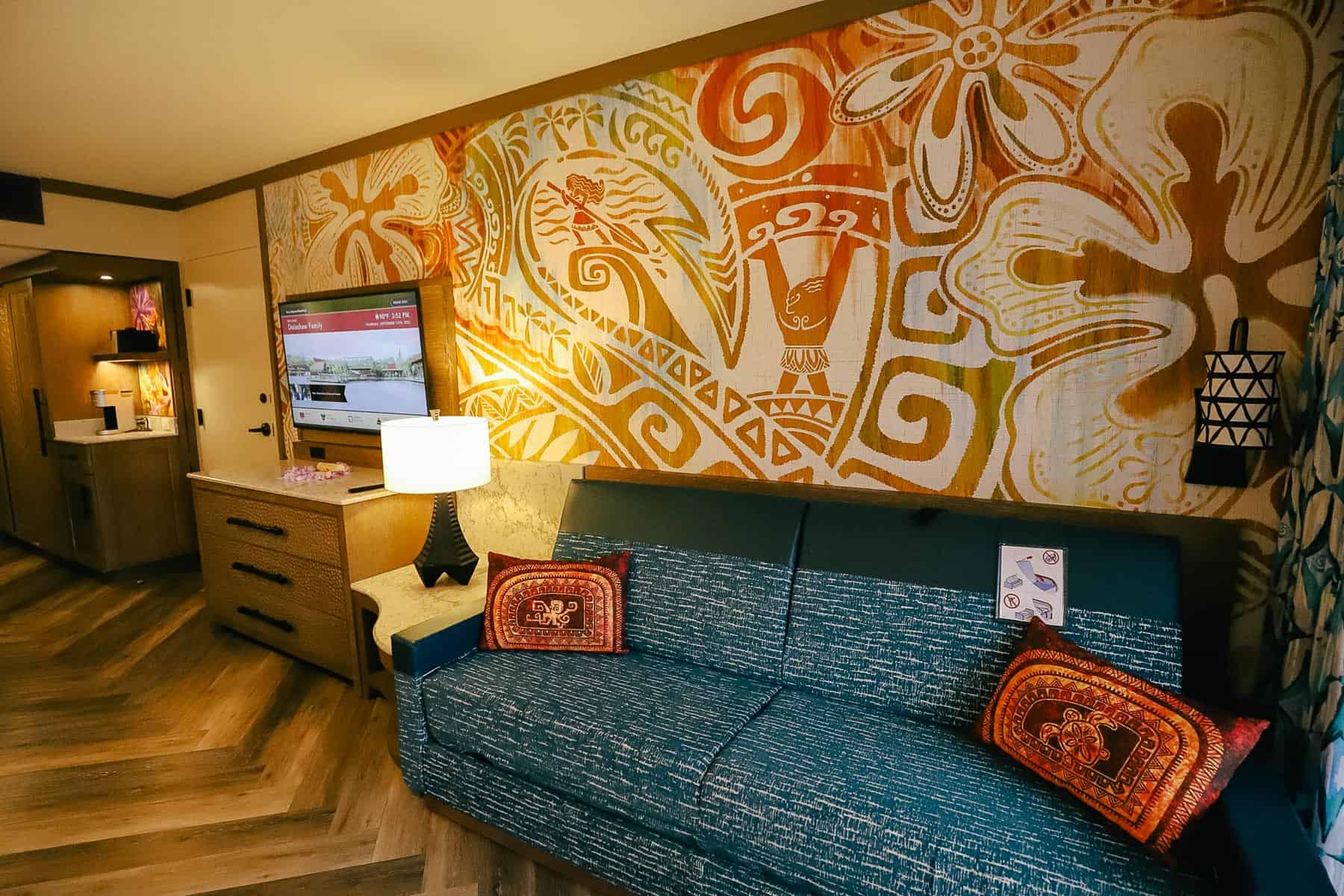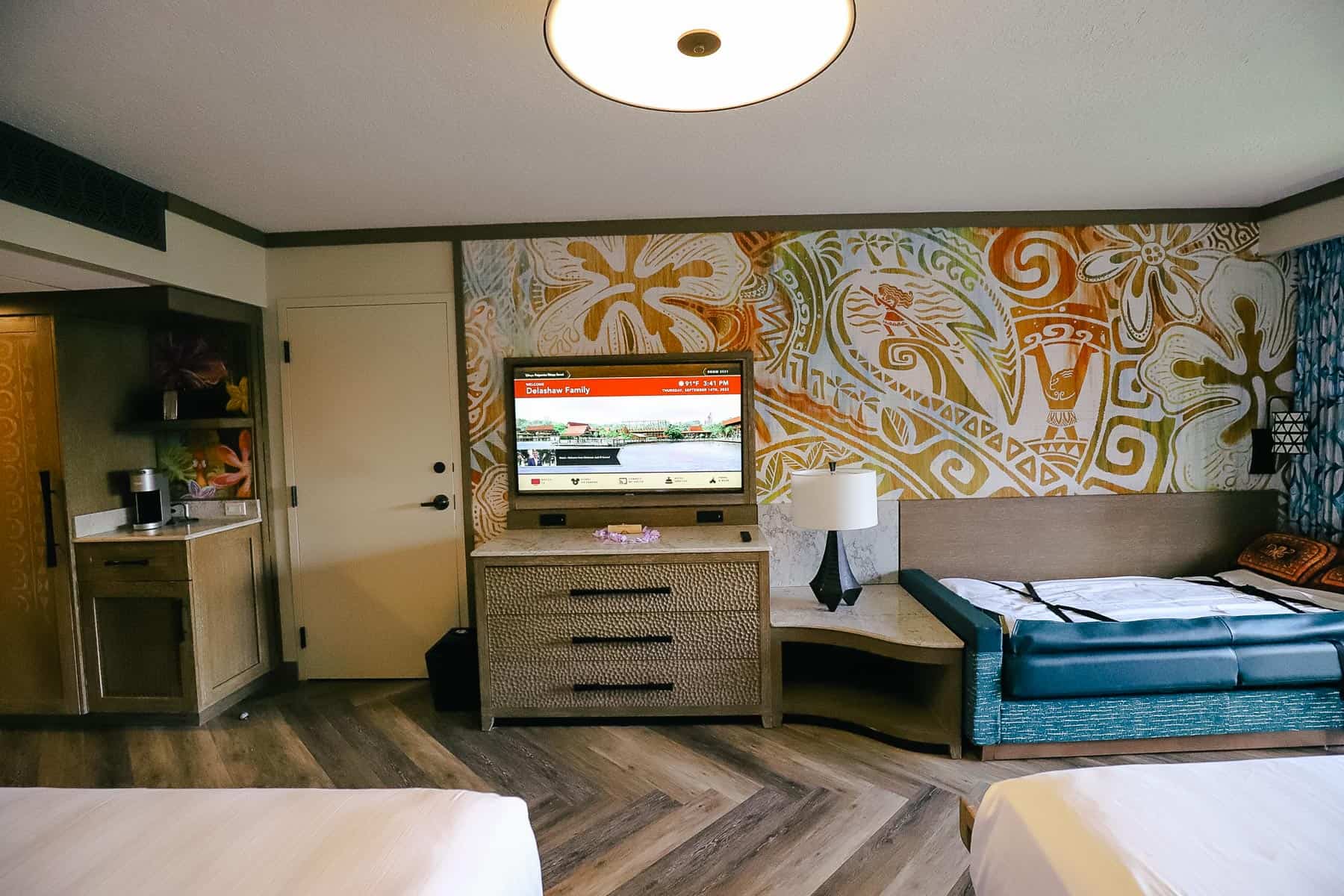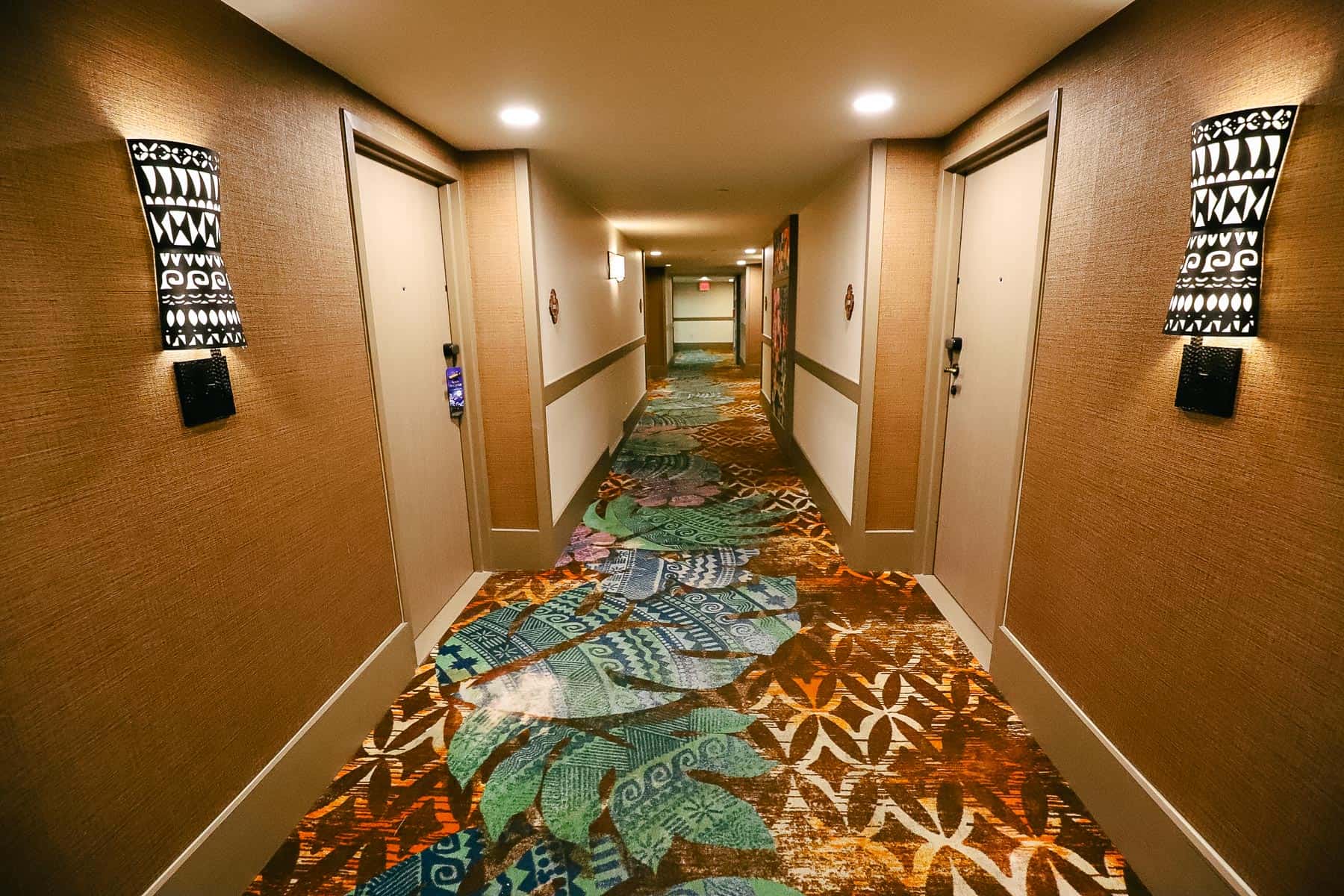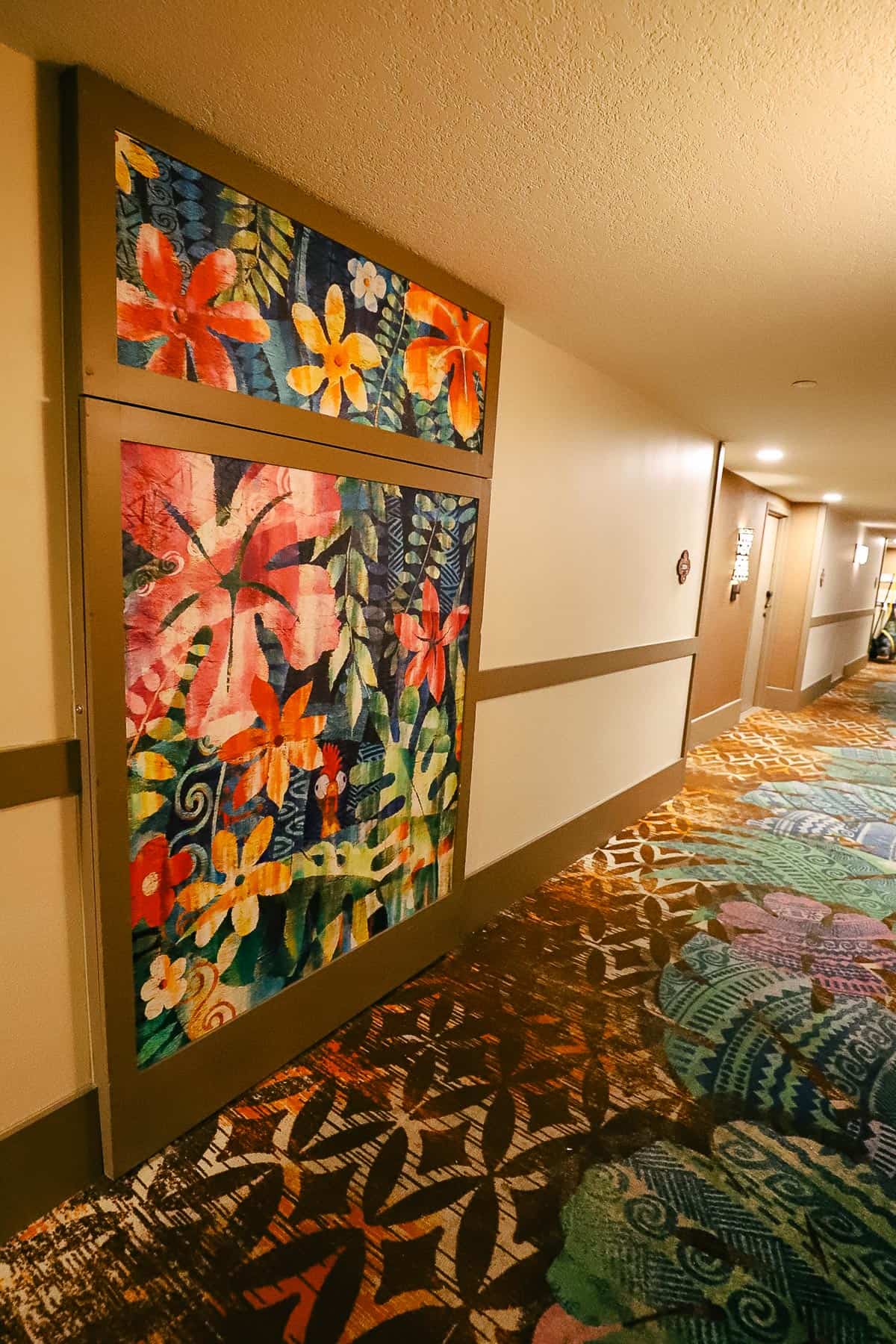 Final Thoughts
We enjoyed our time at Disney's Polynesian immensely. Had it not been for a tight schedule during this stay, we would have extended the trip a few more days. Unfortunately, there is much work to be done–and many more resorts to review.
But I have a feeling that we'll return to Disney's Polynesian Village Resort probably sooner than later. Until then, Aloha.
For more articles related to Disney's Polynesian Village Resort, try these:
What do you think of the Moana rooms at Disney's Polynesian? Have you stayed in one of these rooms yet? Please leave a comment and share your thoughts and opinions. Sharing your unique perspective provides valuable insight for us and others who read this website.