'Ohana Breakfast Review (The Best Friends Breakfast with Lilo and Stitch)
In this article, we provide an 'Ohana Breakfast review, more formally known as the Best Friends Breakfast with Lilo and Stitch.
Any reason to visit Disney's Polynesian is a good reason. So when my friend Denise invited me to join her family for breakfast at 'Ohana, I accepted without hesitation.
A few years ago, my son and I visited 'Ohana for this same character breakfast. Unfortunately, that visit didn't go so smoothly.
We dined at 'Ohana on a holiday morning and waited almost an hour and a half past our reservation to be seated. Frankly, it was such a bad experience that I had no plans to return anytime soon.
But plenty of time has passed since that last visit, and I was hopeful things had improved. So, the question is, have they?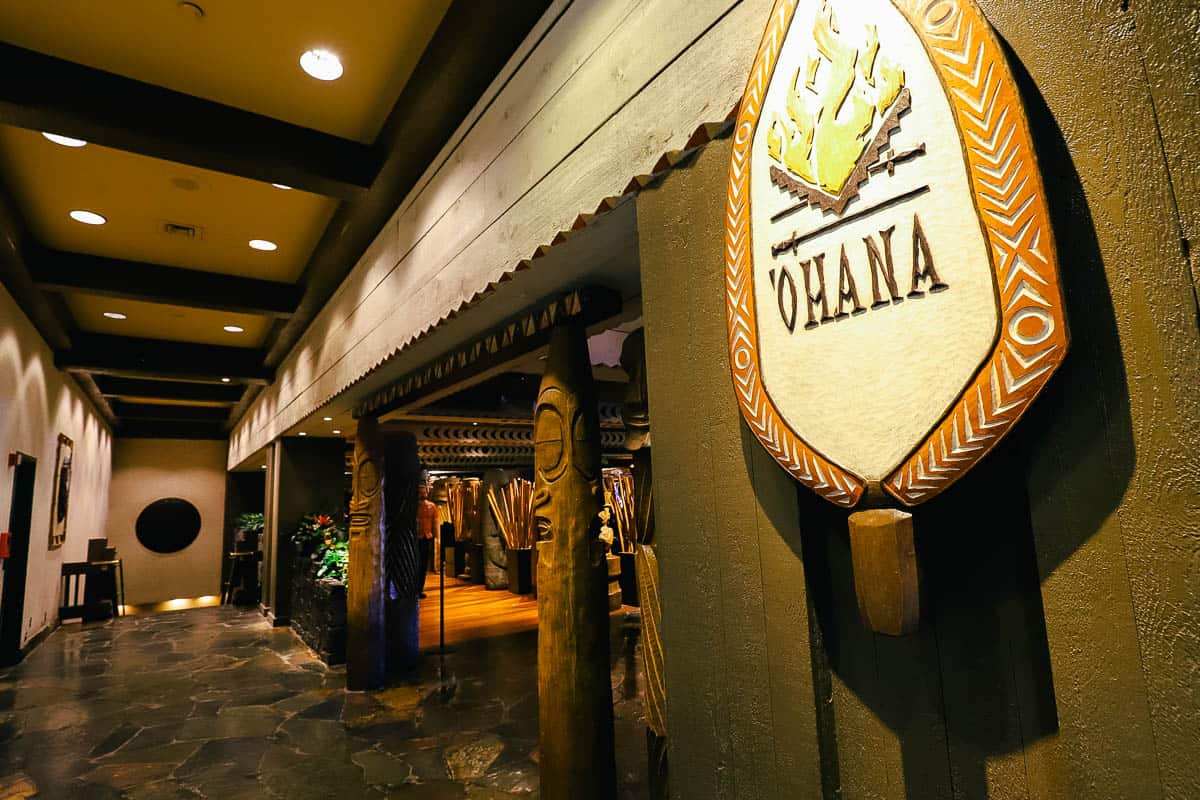 'Ohana Character Breakfast
'Ohana sits on the second floor of the Great Ceremonial House at Disney's Polynesian Resort. This restaurant offers two different dining experiences.
First, the 'Ohana Best Friends Breakfast is offered each morning between 7:30 a.m. to 12:00 p.m. This meal period is considered character dining.
Secondly, 'Ohana serves dinner each evening. Dinner is an all-you-care-to-eat skillet meal with Hawaiian flavors featuring noodles, various meats, and veggies. Characters are not present at dinner. We have a separate review of dinner at 'Ohana if you want to learn more.
'Ohana is a Hawaiian term that means family. So you can expect cast members to provide a feeling of 'Ohana when you dine here. Don't be surprised if someone calls you "aunty" or "uncle" during your visit. It's part of the culture.
Breakfast at 'Ohana is served family style. You'll receive bread service and a bowl of fruit upon arrival. A little later, a large skillet or two will arrive at the table containing various breakfast items.
During breakfast, you'll receive a visit from the following characters:
Pluto
Mickey Mouse
Stitch
Lilo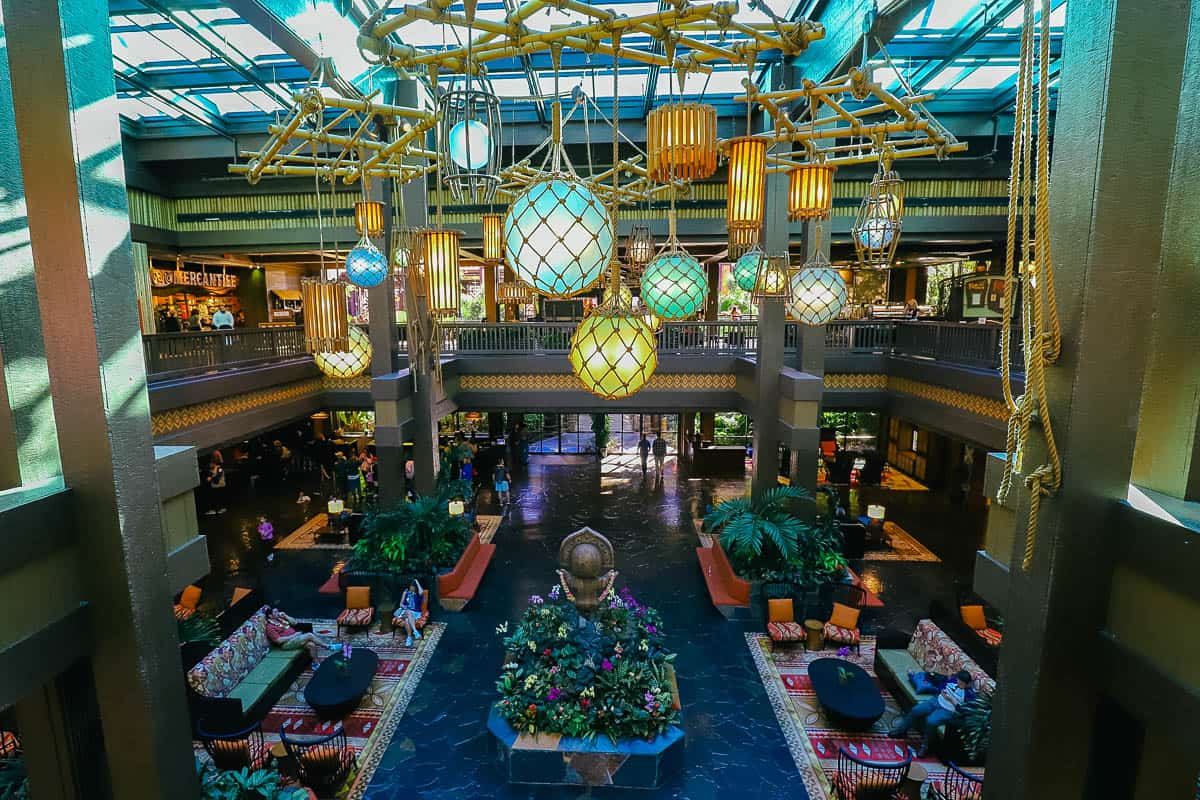 'Ohana Breakfast Review
When we arrived at Disney's Polynesian Resort for breakfast, I noticed the majority of the sitting area off Tambu Lounge was full. Tambu Lounge sits adjacent to 'Ohana and services the resort's second-floor lobby.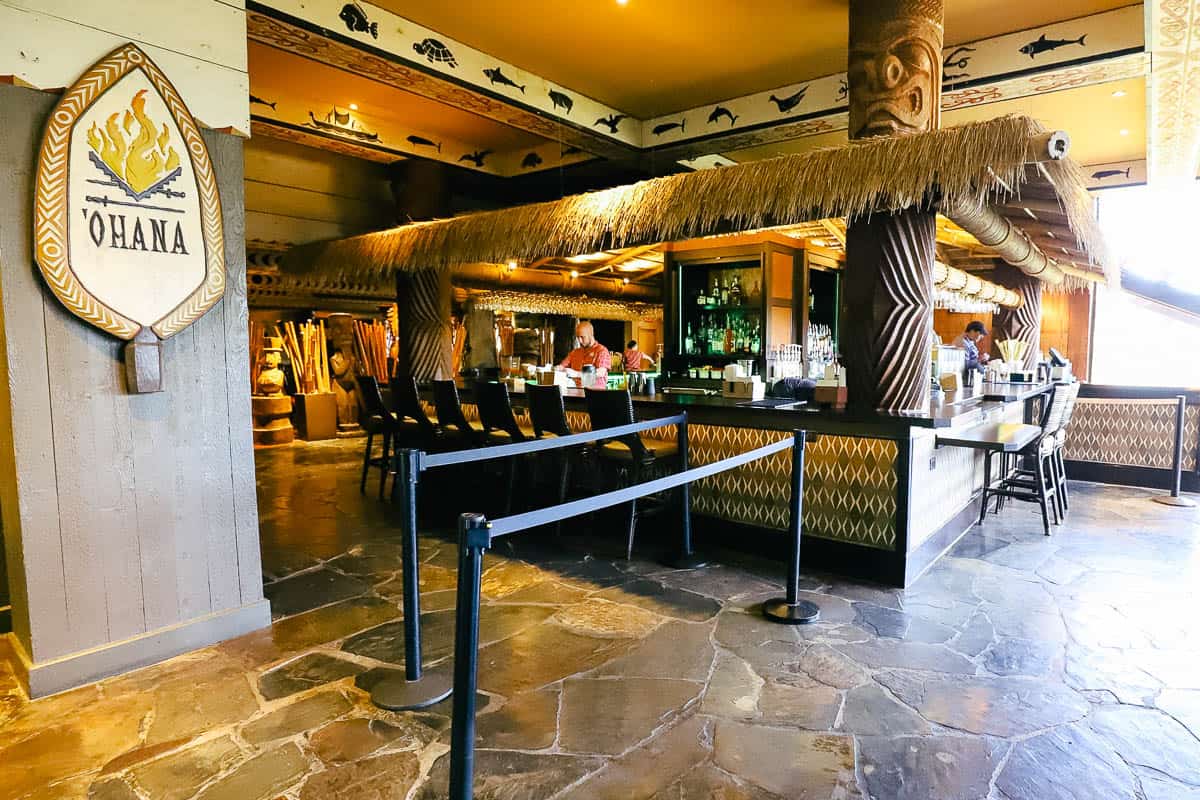 Our reservation was for 9:50 a.m. We checked in a few minutes early and were told to grab a seat in the lounge. Within a few minutes, we received a text notification that our table was ready–so far, so good.
I was hopeful that we might get a window seat. 'Ohana's entire back wall has a row of windows that look out to the Lava Pool. In the distance, you can see Magic Kingdom.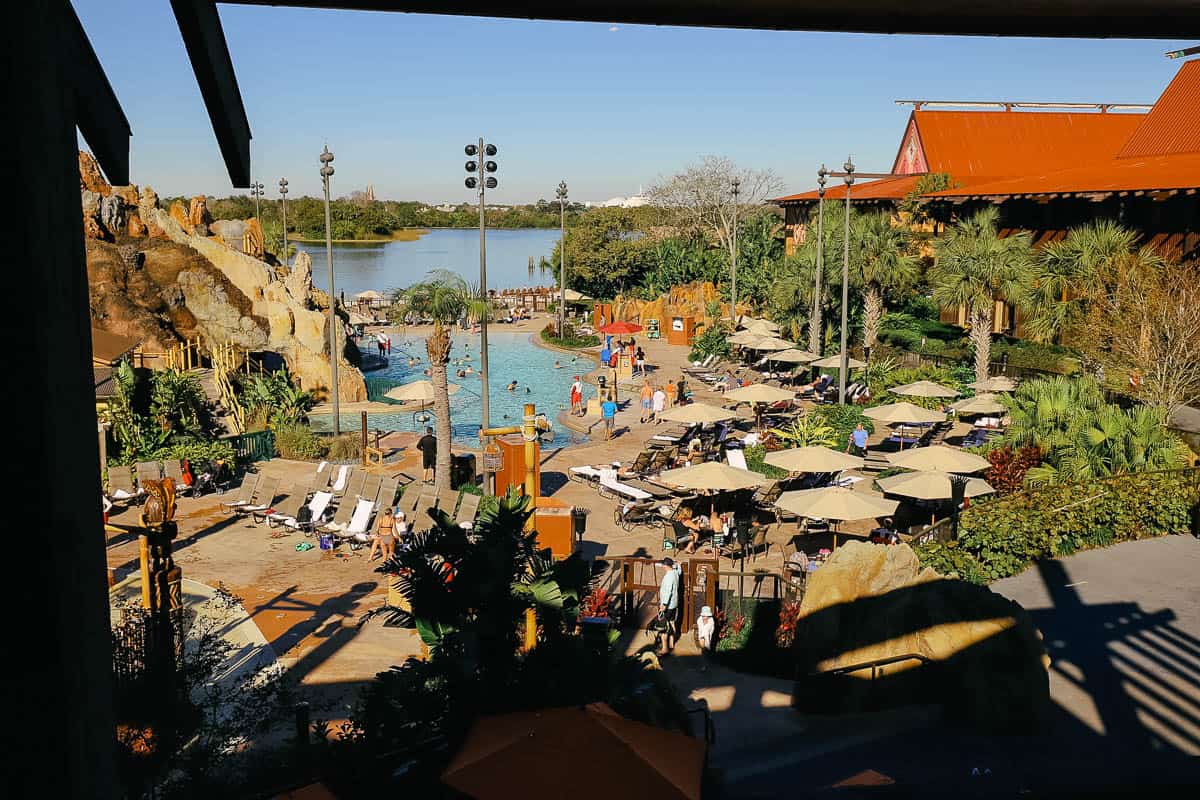 Unfortunately, we were seated toward the front entrance of the restaurant. Since character dining involves more than the typical dining experience, you're usually placed near other guests.
It's not uncommon to see large groups of tables empty. This is because Disney uses a system where they seat guests in rotation to see the characters in a particular order.
So you could request a specific area. However, your request might not be granted, or it could end up causing you to wait longer to see the characters.
From my experiences with character meals, it takes an entire hour on average to see every character. Often, when there's a buffet involved, cast members will warn you not to leave your table when a character is nearby. If you miss one, they say it can take a long time for them to return to that area.
Related: Character Dining at Disney World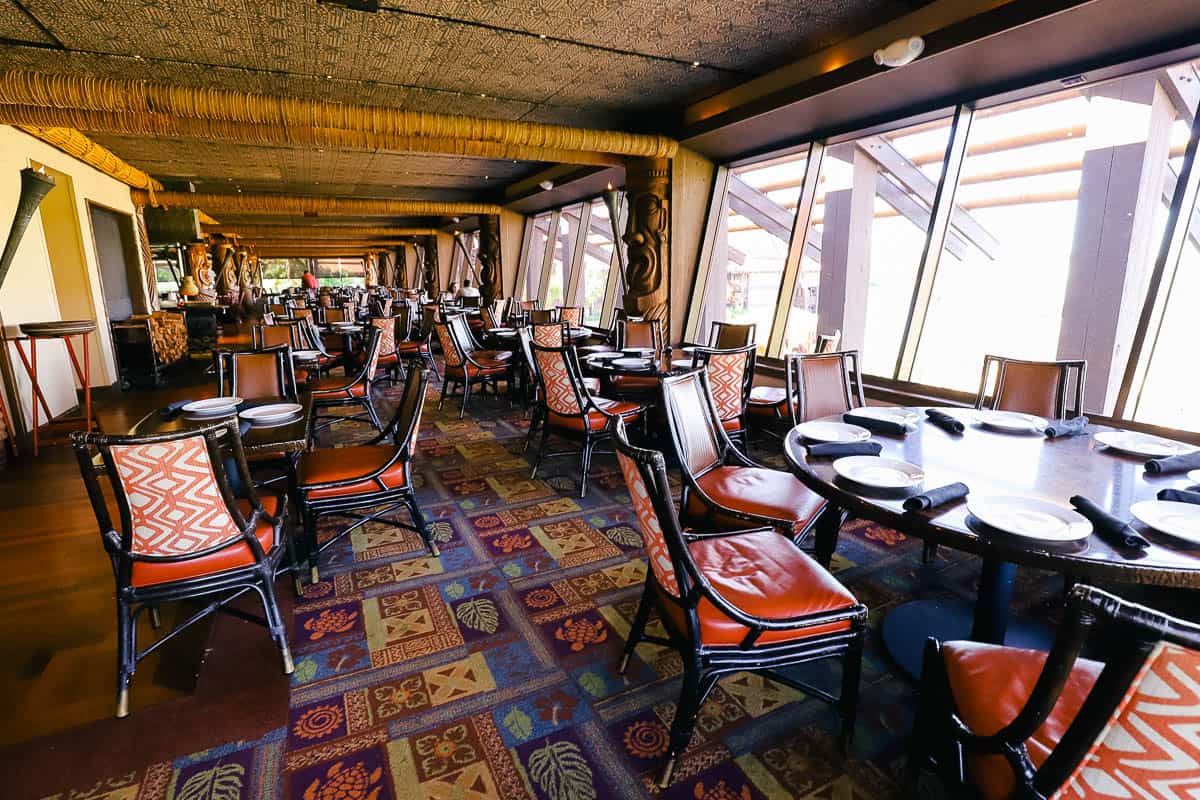 On our way to the table, our server stopped at a window that looked into 'Ohana's kitchen. He picked up a plate of freshly prepared pineapple-coconut breakfast bread.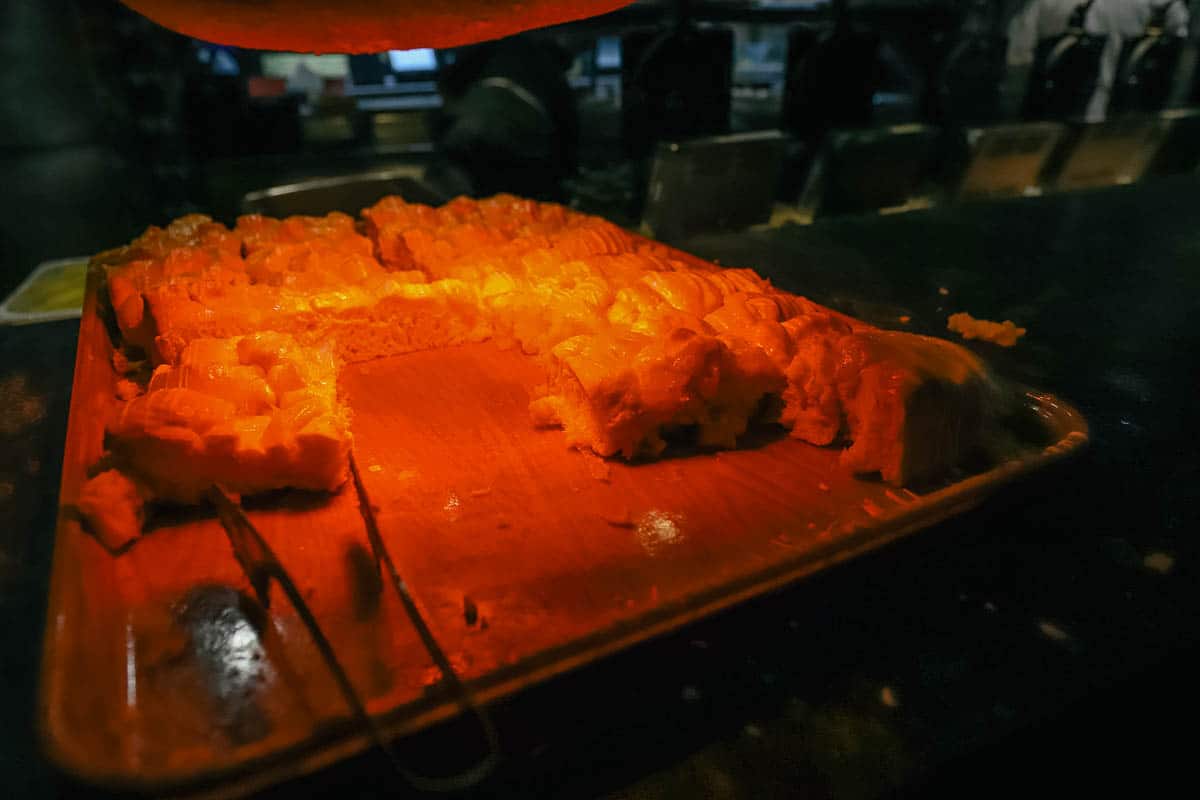 Here is a better look at the delicious pineapple-coconut breakfast bread guests rave about.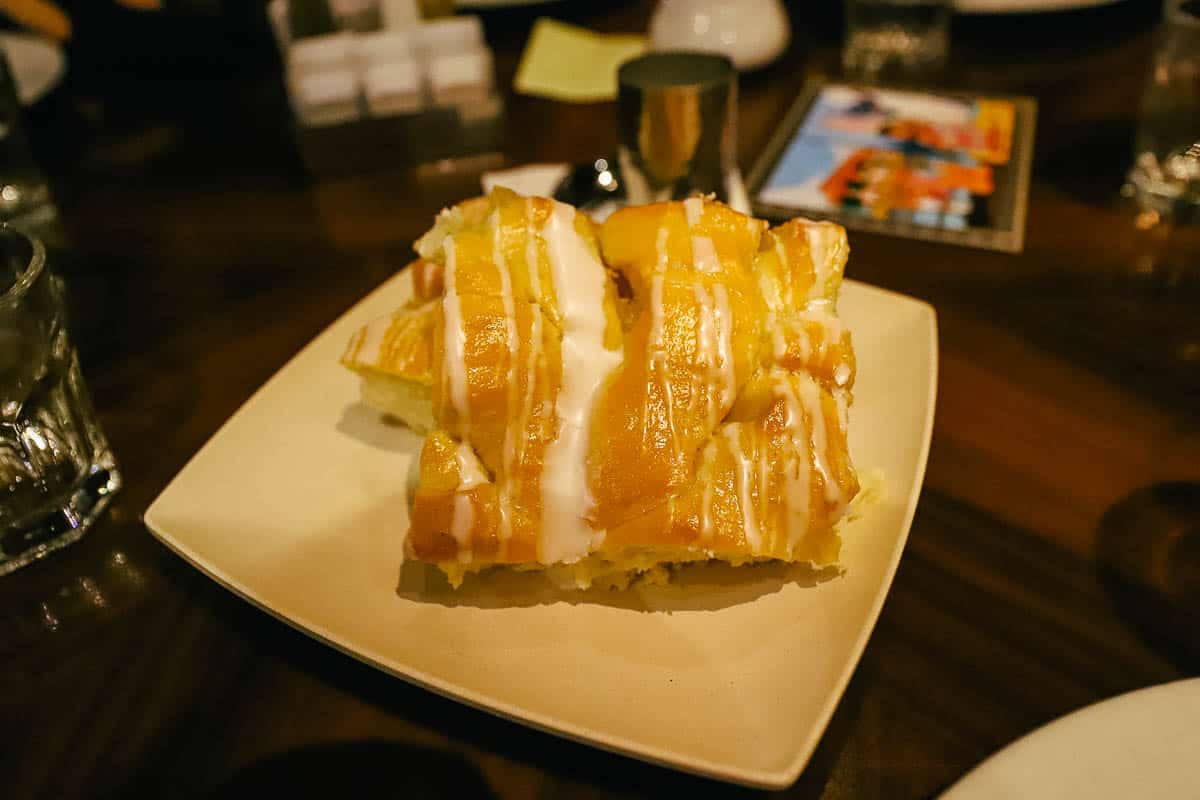 It is a light and airy style of bread with a sweet glaze over the top. While it looks like a large serving, I would describe it as one of those things that tend to disappear quickly.
On our previous visit, my son was given an allergy-friendly cinnamon sugar donut made by Erin McKenna at Disney Springs. This is now part of the plant-based menu at 'Ohana's character breakfast.
He forgot and took a bite before even thinking about the picture. But I want to mention this for anyone with a food allergy interest.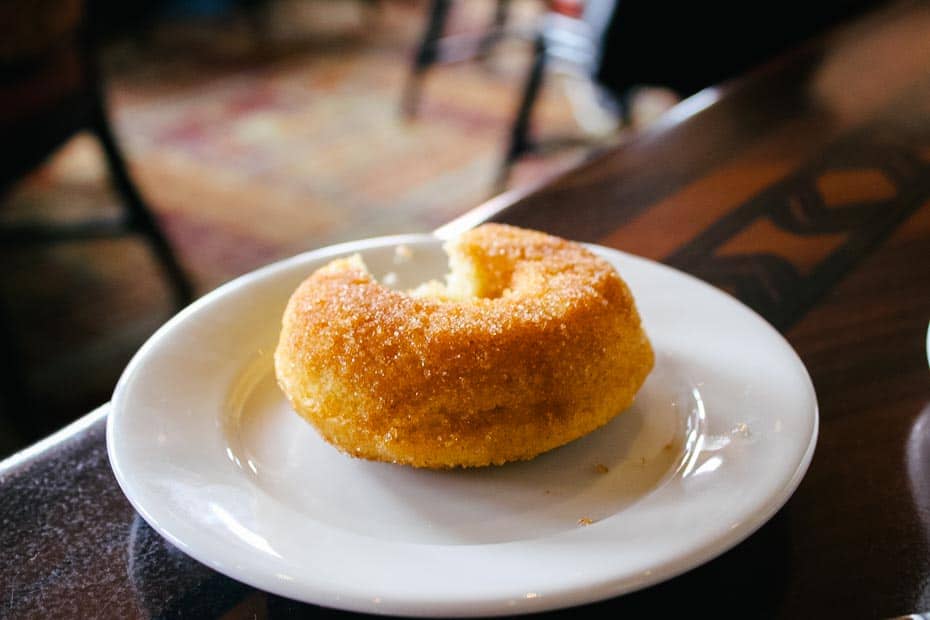 Back to this visit. Immediately after being seated, we were brought a bowl of fresh fruit that included grapes, strawberries, cantaloupe, and pineapple. Our server then took our drink order.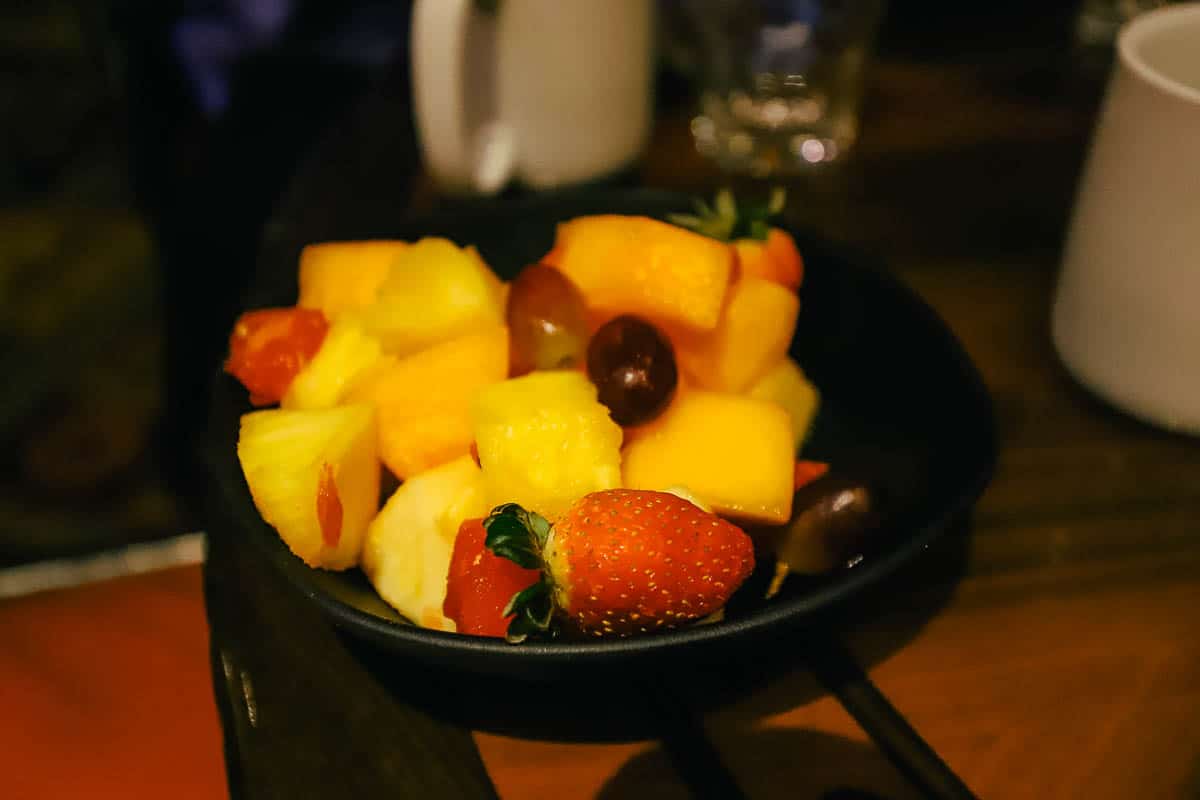 In addition, our served poured us POG juice, a mix of Passion Fruit, Orange Juice, and Guava. If you've been following along, we've also had this juice at Boma, Flavors of Africa, and Tusker House Restaurant.
Related: Boma, Flavors of Africa Breakfast Review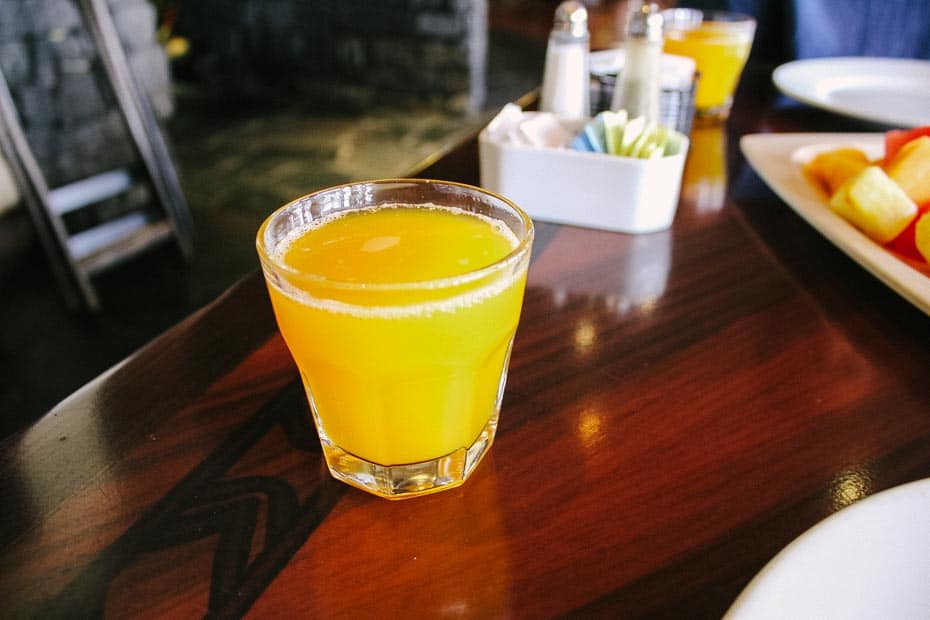 Regular coffee, fountain drinks, and water come with the meal in addition to the POG juice. However, other drinks are available at an upcharge. You might care to order Kona sourced coffee, which comes to the table in a French press and serves two.
Other non-alcoholic drinks include a Lilo Smoothie, Stitch Smoothie, Moana Smoothie, and a specialty character drink. Specialty cocktails include the Polynesian Red Eye, Lapu Lapu, Warped Hula Hoop, Wasabi Bloody Mary, and a Mimosa.
Breakfast offerings are brought to the table in an all-you-care-to-eat style. Each breakfast skillet has scrambled eggs, pork breakfast sausage links, Hawaiian-style ham topped with a pineapple compote, fried island-style potatoes, Mickey-shaped waffles, Stitch waffles, and biscuits.
Since there were five of us, we were brought three skillets. One skillet had Stitch and Mickey waffles, while the other two had a little bit of everything else.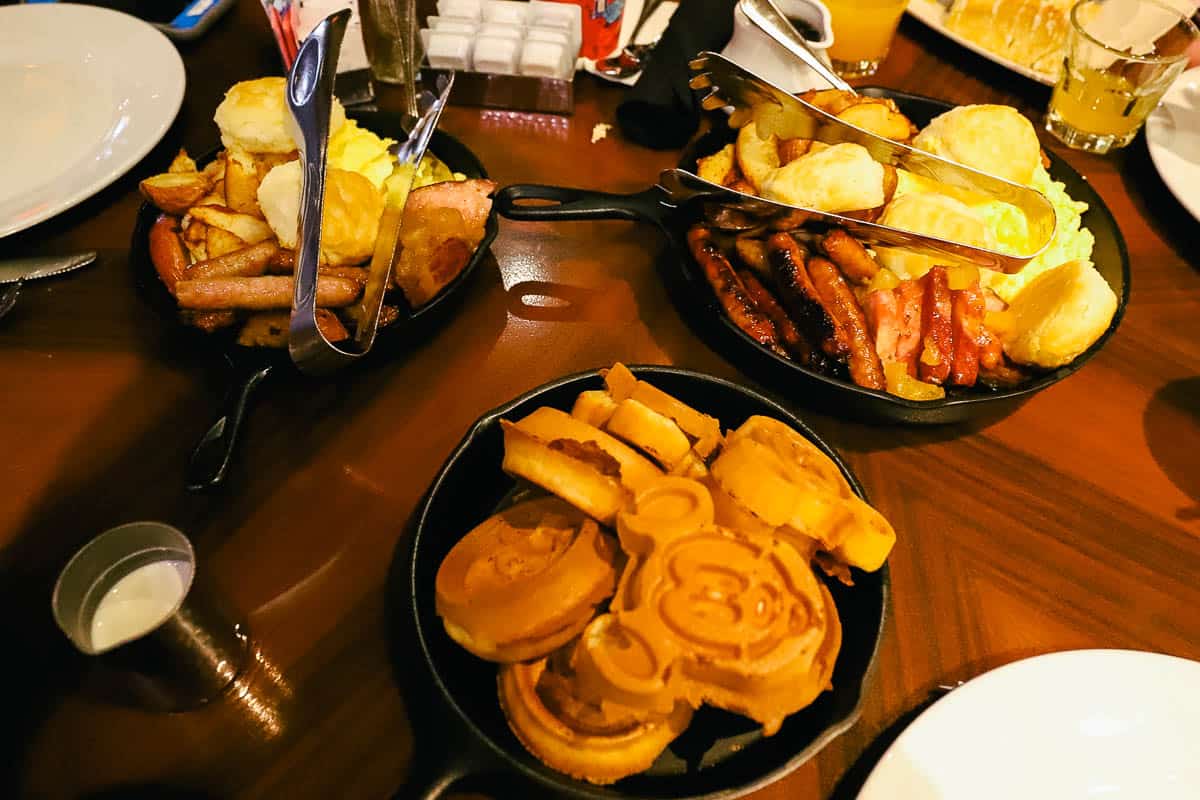 Here is the Mickey-shaped waffle.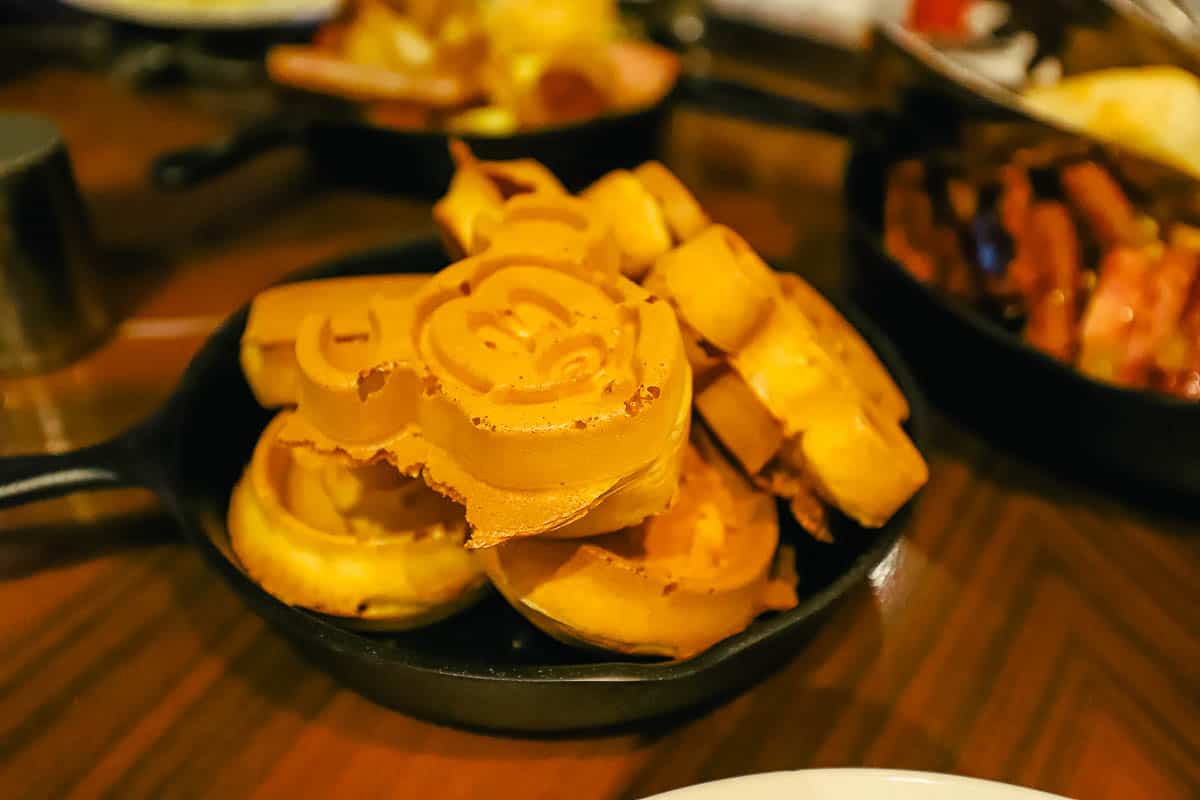 Here's the one with Stitch imprinted on the waffle.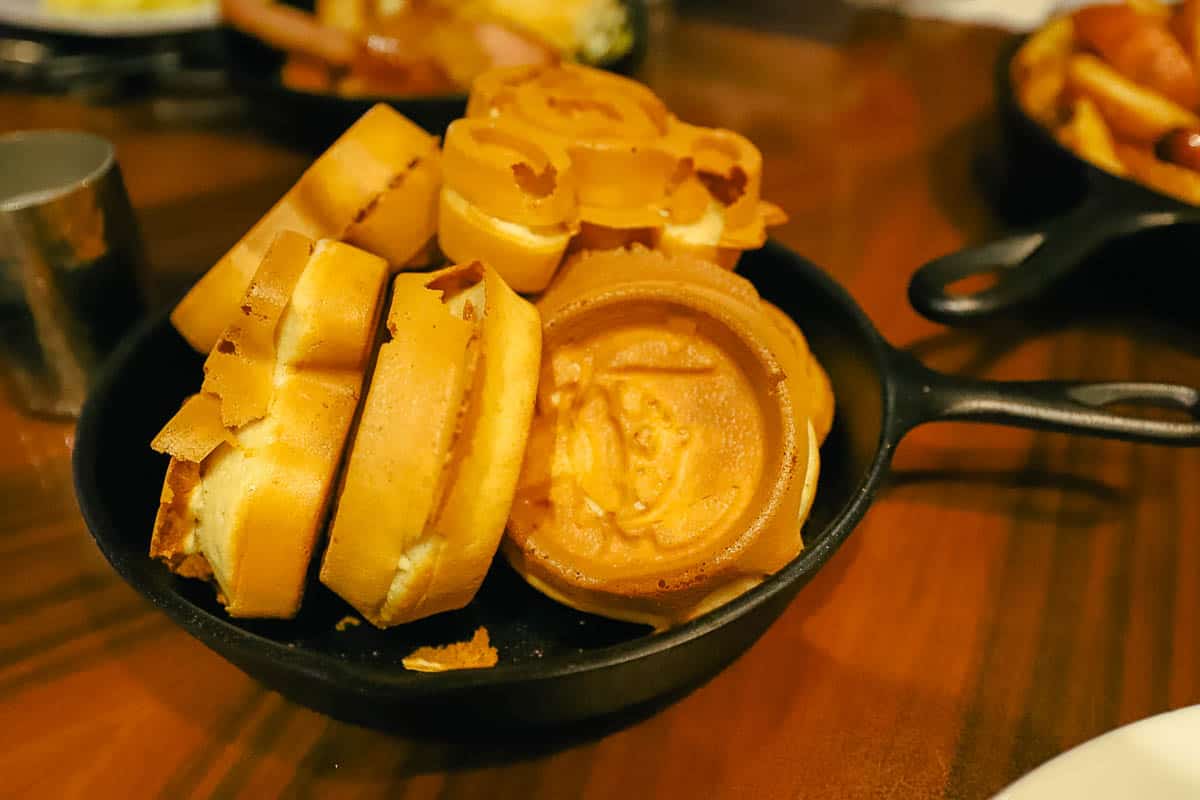 Our skillets were piled high with the rest of the offerings. If you run out of something or would like to request a specific item, a server will bring out a new skillet of that item.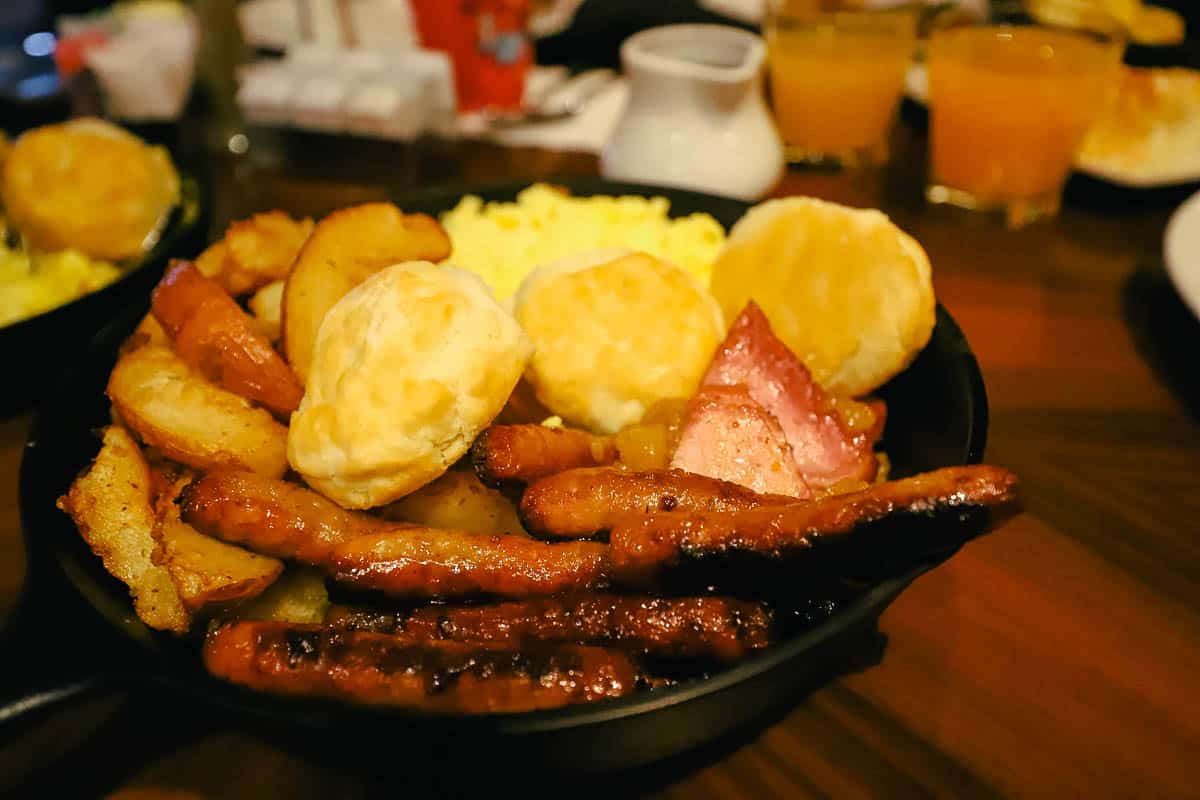 For reference, when I last dined here with my son, we were given individual skillets due to his food allergies. Allergy-friendly waffles come in the standard Mickey shape and are cooked separately to avoid cross-contamination. (They will do the same for anyone who orders a gluten free or plant-based breakfast.)
They also brought my son a selection of ham, sausages, and potatoes since he couldn't have eggs.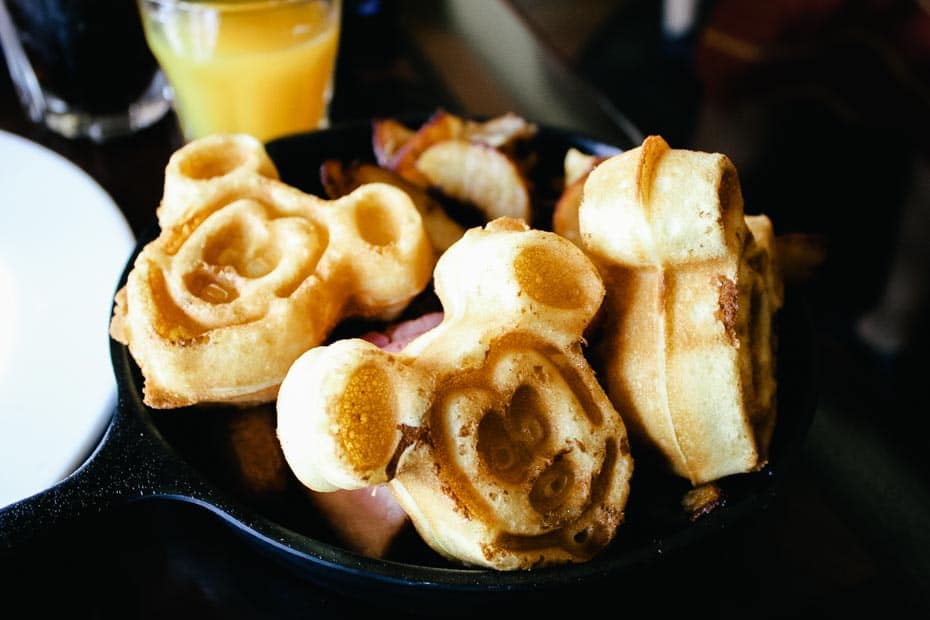 As far as the food served at 'Ohana's breakfast, it's pretty generic. We all agreed that the ham with the pineapple compote was the star of the meal.
Additionally, all of our food was good. However, I want to point out that most of these items, except the ham and special bread, are the same things you can order at a quick-service dining location.
For instance, if you went to Captain Cook's at the Polynesian for breakfast, you can get the Bounty Platter for $12.99. That platter comes with scrambled eggs, French toast, bacon, sausage, breakfast potatoes, and a biscuit.
In comparison, breakfast at 'Ohana currently costs $45.00 per person and $29.00 for children ages 3-9 years old. So, going into this breakfast at 'Ohana, know you're paying the costs of having characters present at the meal. You can check the current price of breakfast at 'Ohana on Disney's Site. ('Ohana Breakfast Menu with Prices)
Now, about those characters.
'Ohana Breakfast Characters
One of the reasons the Best Friends Breakfast at 'Ohana is so popular is because you can meet one exceptionally rare character and a few other favorites.
This character breakfast is one of two places on Disney property where you can meet Lilo from Lilo and Stitch. The other place to meet her is at Disney's Typhoon Lagoon, but that is rare.
Not long after we were seated, Lilo came by our table. She is a wonderful character meet.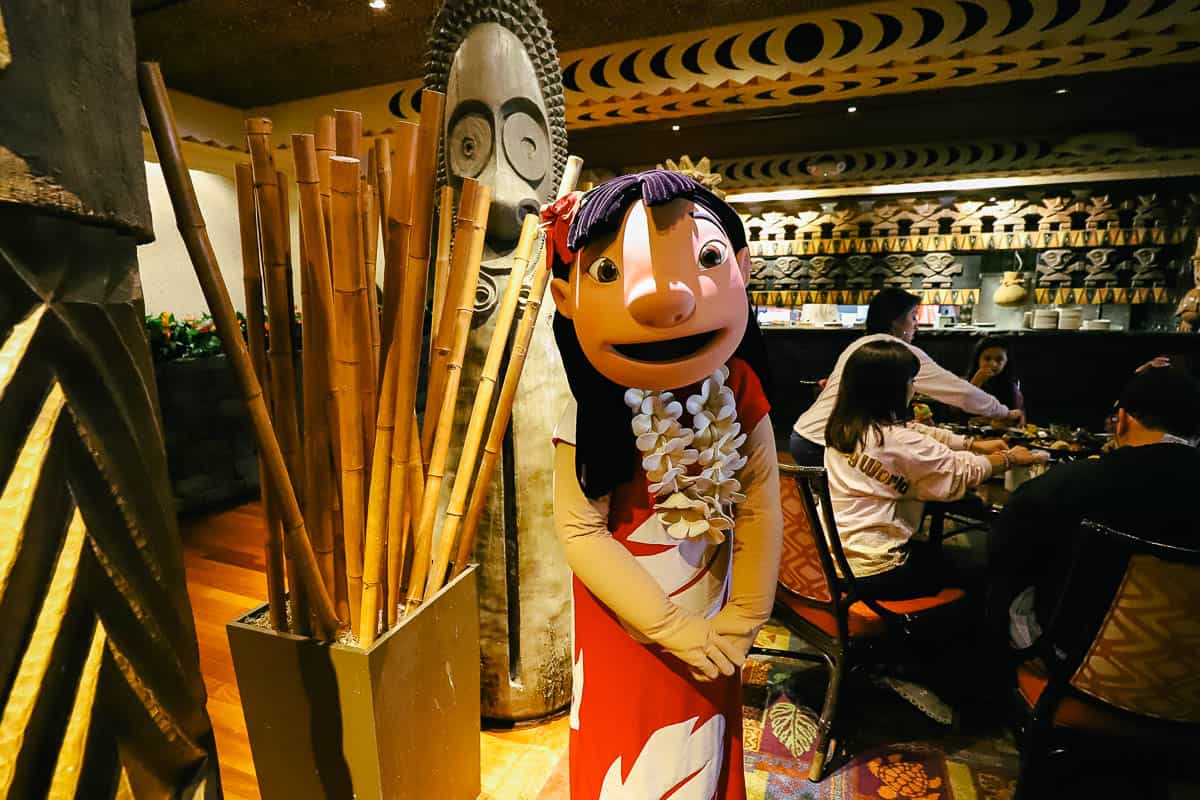 When Lilo appeared, Leo, the toddler in our group, immediately became shy. He's a big fan of the Lilo and Stitch cartoon series.
It was endearing for all of us to see his reaction. His family will have that memory for years to come.
Often, these special moments remind us of the reason we decided to spend our vacation time at Walt Disney World. (And it's why we shell out the big bucks for character meals!)
After Lilo's visit, we were able to start enjoying our meal. But before we knew it, Mickey Mouse popped in to see us!
He is decked out in a fabulous Hawaiian shirt. I figure the shirt probably came from Bou-Tiki downstairs in the lobby.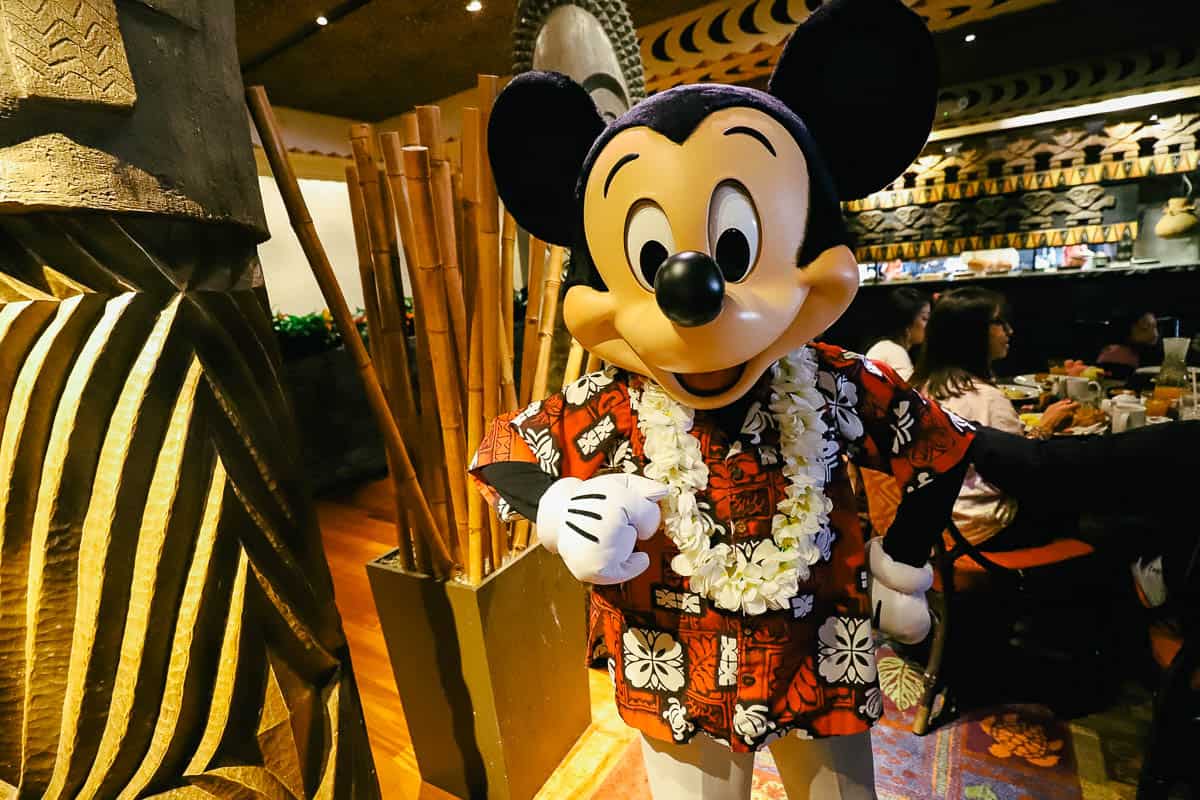 I might be a bit of a fan. Meeting characters is fun, but sometimes it can be a little intimidating. I mean, Mickey Mouse is a BIG DEAL. (I wonder if Walt would chuckle after all these years over his little cartoon character's continued success?)
Before long, we had a visit from our old pal, Pluto. He loves to make silly poses with his ears.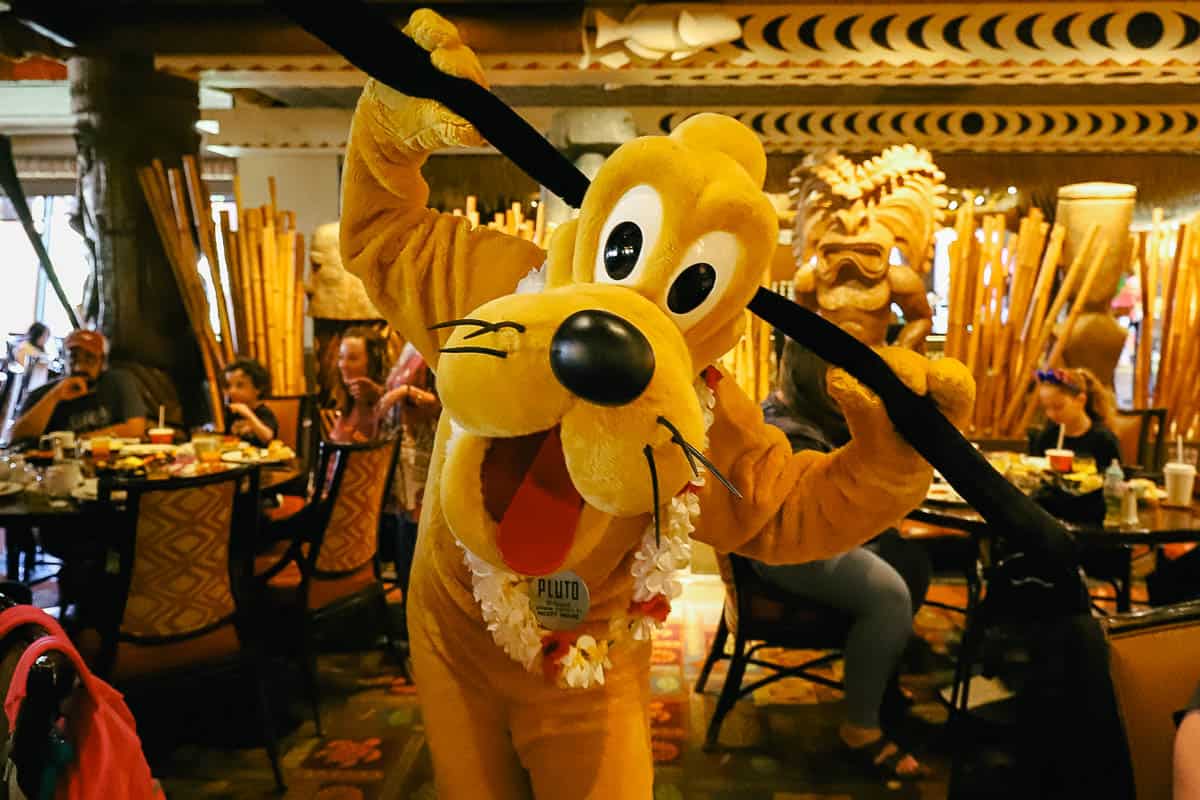 Lastly, we received a visit from Stitch. Isn't he adorable?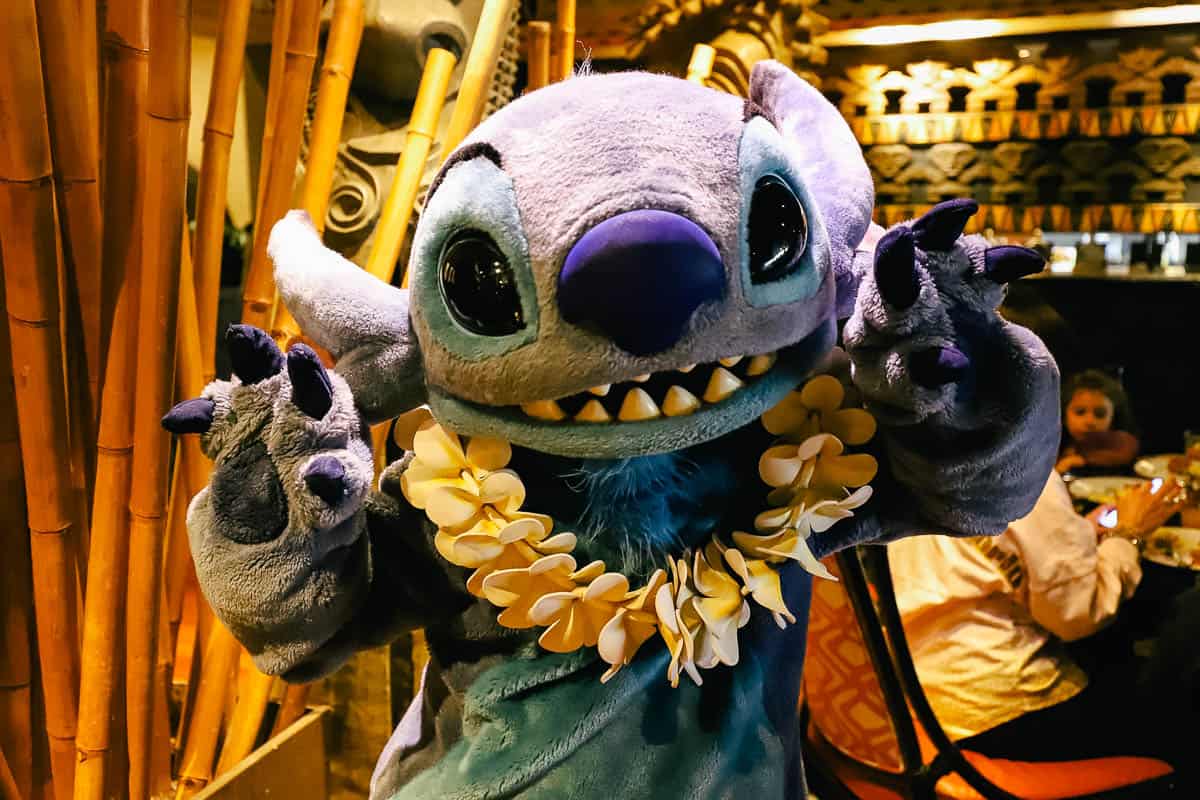 While at the Best Friends Breakfast, we witnessed two celebrations where the characters grouped to parade through the restaurant. An announcement was made over the intercom that it would start soon and that guests were to remain in their seats.
Moments later, Hawaiian Roller Coaster Ride blasted in the background, and the characters joined together and paraded through the restaurant. This small break is pleasant and allows everyone to see the characters.
However, if you're table is next, there's no need to worry. As soon as the music stops, the characters return to where they left out.
Cast members are specifically assigned to the characters and keep a watch on them while they're visiting. Toward the end of the meal, you can expect someone to stop by your table and confirm that you've met all the characters.
If you've missed someone for some reason, they'll make sure the character gets back to you. However, you might have to wait a little longer.
Before we wrap things up, I wanted to touch on two other items–photos and autographs. Unfortunately, there are no PhotoPass photographers at this character meet. So you'll want to have your camera out and ready to take photos or a video when the character comes to your table.
We received a character autograph card on our visit, which is always a nice touch. However, the characters do hug and sign autographs. So if you are collecting autographs, have your book and a pen ready to sign.
Here is the front of the card. It shows the characters that are present at the meal.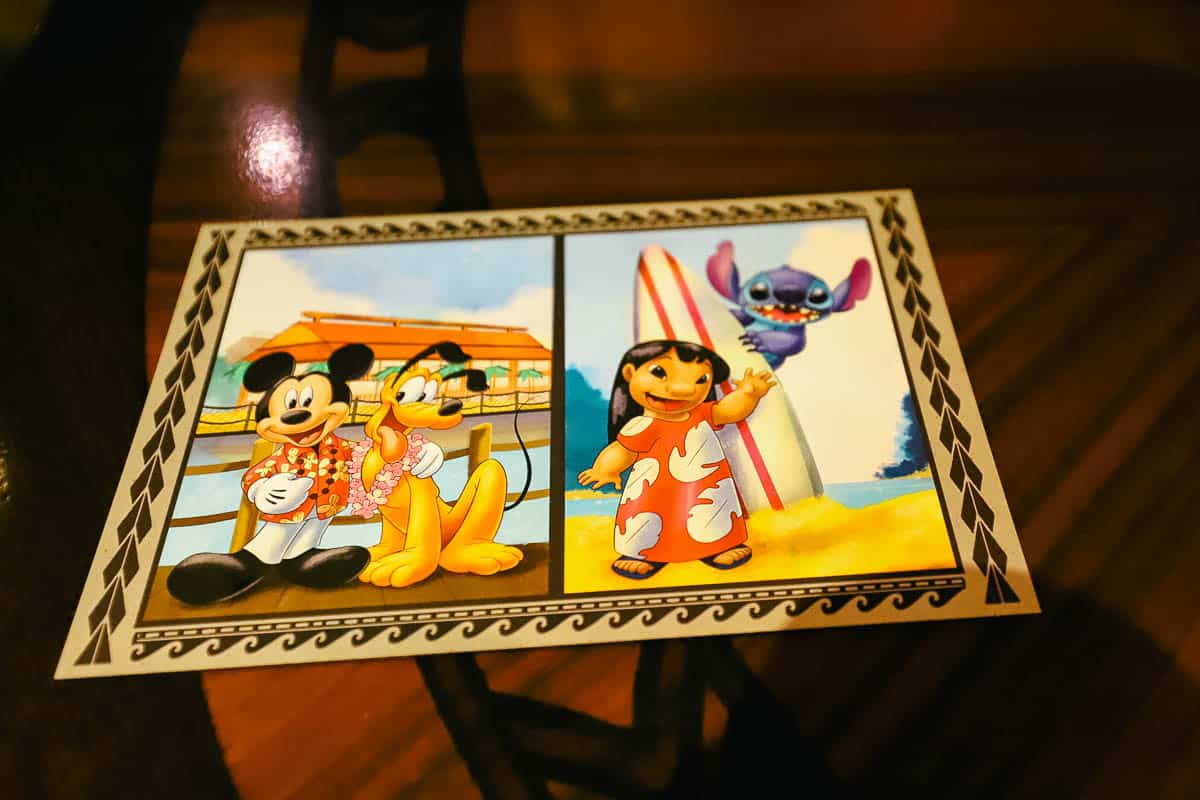 Each of the character's autographs is printed on the back of the card.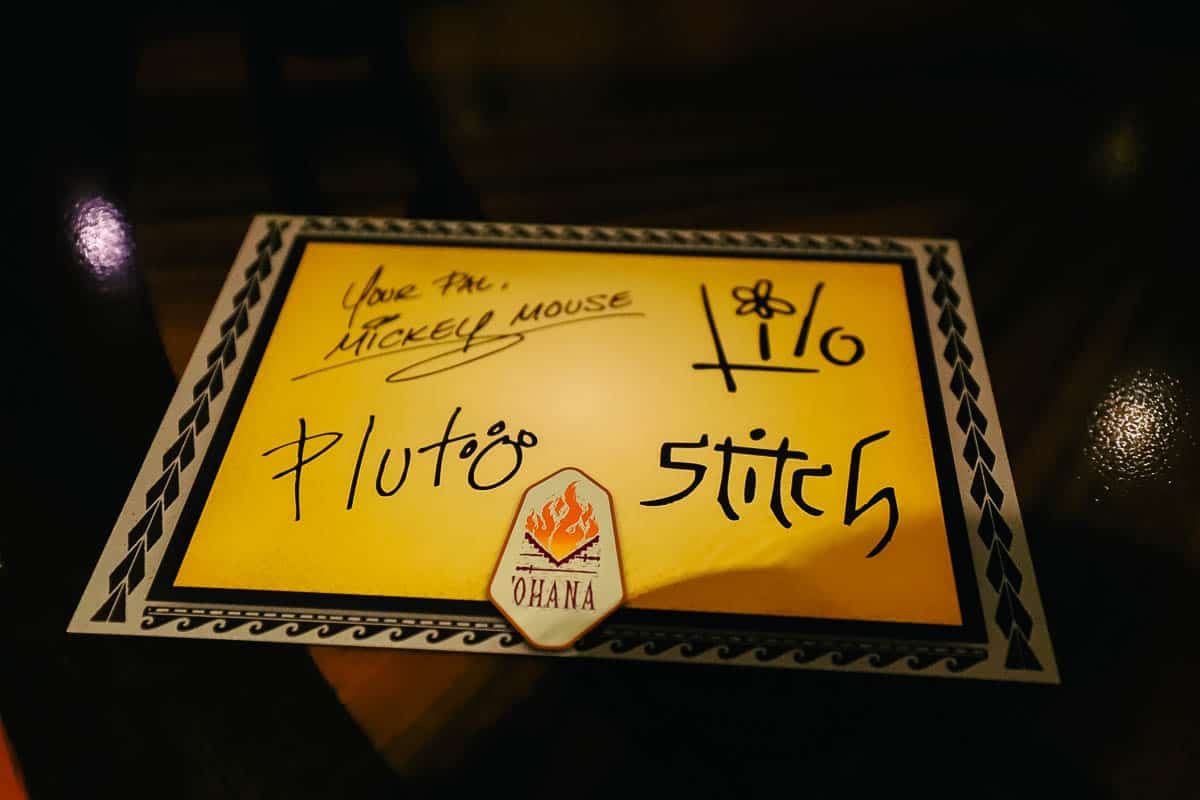 Final Thoughts
Needless to say, our return visit to 'Ohana for breakfast was a success. We were seated within moments of arrival and received excellent service and outstanding character interaction.
Regarding the food, remember we're not talking anywhere near a five-star quality menu. However, everything we had was tasty with a few highlights, like the ham with pineapple compote.
Overall, if you're visiting 'Ohana for the characters, you will have a wonderful time. This breakfast provides an excellent opportunity to enjoy a leisurely breakfast, meet a handful of Disney characters tableside, and spend some time at Disney's Polynesian Village Resort.
For more information, we have a guide to the best character breakfasts at Disney World. Or you might enjoy some of these recent character meal reviews:
Or you might enjoy these articles related to the Polynesian:
In the Comments
What are your thoughts on this Ohana Best Friends Breakfast review? Would you plan a meal here? Which characters would you like to meet? Share your thoughts in the comments section below.