Disney's Beaches and Cream Review (A Late Afternoon Lunch)
If you're looking for a guilty pleasure type of meal that will knock your socks off, look no further than Beaches and Cream. This restaurant is located at Disney's Beach Club Resort.
Beaches and Cream is well-known for its famous sundae, The Kitchen Sink. In addition to the popular dessert item, the restaurant offers a variety of sundaes, shakes, burgers, and sandwiches.
I recently had the opportunity to stop in for a late lunch at the popular diner. So I thought I'd put together a review of Beaches and Cream to share with you.
Eating at Beaches and Cream can be a bit of a challenge if you don't have reservations. While reservations aren't required (they take walk-ups), the restaurant is often at capacity.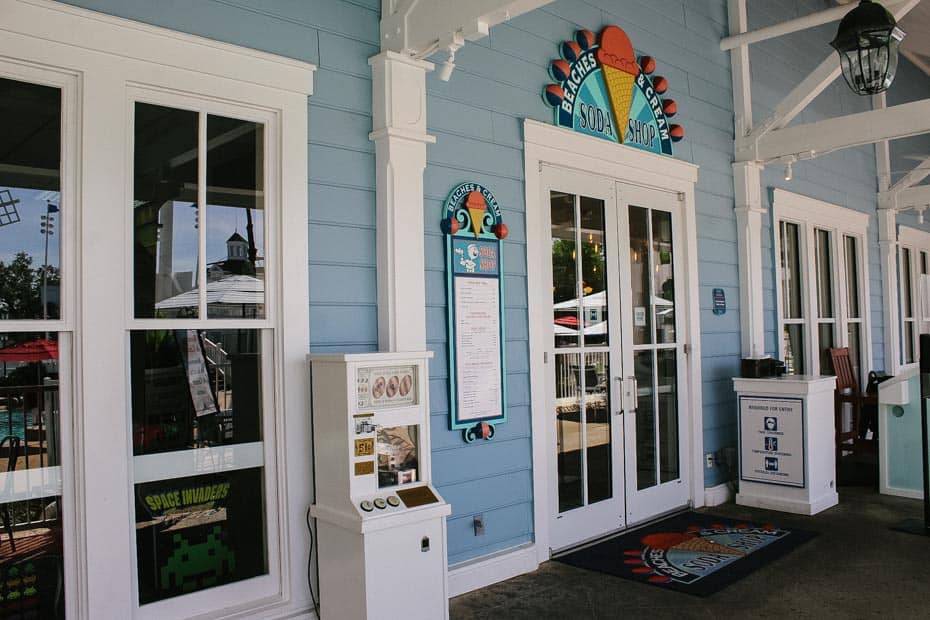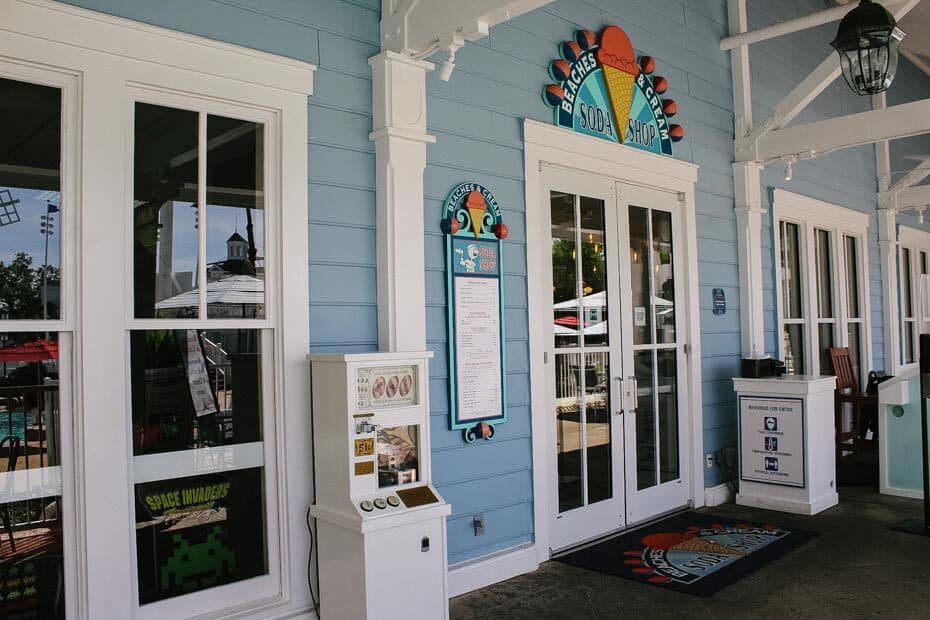 On the afternoon I dined here, I had been over at Epcot catching up on character meets to review here on the site. It was a pretty hot afternoon, and I was famished by the time I finished.
Related: Character Meets at Epcot
Since I was near the International Gateway, the Beach Club Marketplace popped up on the My Disney Experience app as a nearby counter-service restaurant. Hmmm..I thought to myself as I began to peruse the menu.
There was a roast beef sandwich available, and I used to love the roast beef sandwich at Beach Club Marketplace. The former sandwich came with a side of house-made potato chips, and I would go out of my way to pick one up.
You know what they say, "if something's too good to be true, it probably is." Unfortunately, when I arrived at the counter service, I quickly located the roast beef sandwich.
It was in the refrigerated cooler, of course. Pre-made. I still cringe thinking about how Disney thinks it's okay to offer a plethora of pre-packaged sandwiches at their deluxe resorts in the Epcot area.
I apologize to those of you who follow along. You know I don't complain often. But the pre-made sandwich saga continues.
Last time I checked, the Beach Club is not a gas station. And you don't want to know what I have to say about the poor counter service at Coronado Springs.
We'll get to that in the coming weeks. But if you prefer fresh food, you probably don't want to eat at El Mercado right now.
Anyway, when I discovered the refrigerated roast beef on rye, I found myself in a dilemma. Now, what was I going to eat?
I walked over to Martha's Vineyard, but it appeared there was a sizable business group taking up most of the space in the lounge. So I decided to head over to Crew's Cup Lounge.
Crew's Cup is one of the lounges on the Yacht Club side of the resort. It's directly next door to Yachtsman Steakhouse and serves the same to-die-for onion rolls.
Related: Yachtsman Steakhouse Review
On the way, I ran into Beaches and Cream. It was a few minutes after 4:00 p.m., and I inquired if a seat was available for a party of one.
Yes, I was by myself, and I dine alone often. A blogger does have to eat, you know.
Thankfully, my request was almost immediately granted. While I was waiting, I took a few photos of the outside.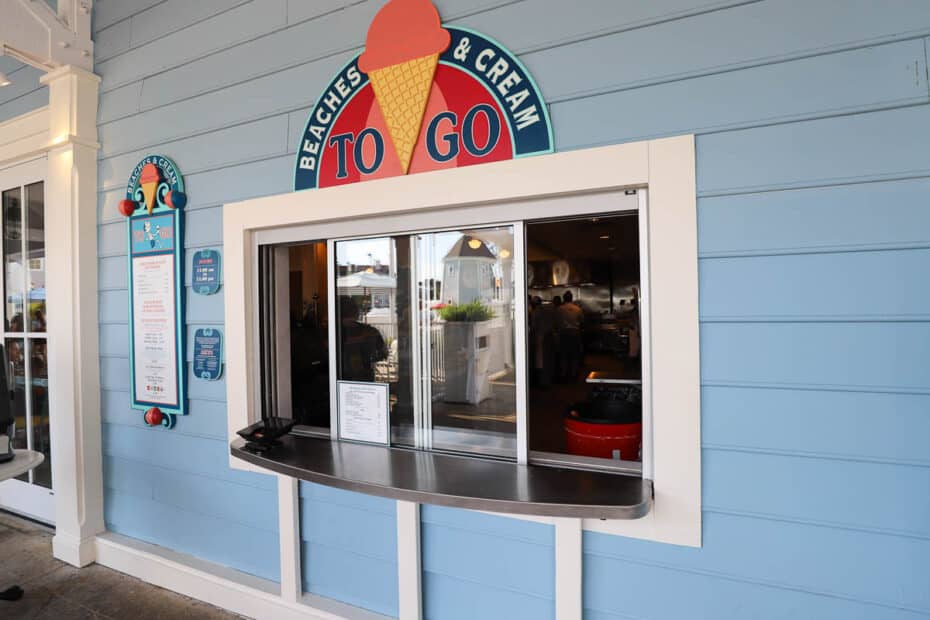 Beaches and Cream has a large to-go window outside the restaurant. Unfortunately, the to-go window doesn't serve appetizers and entrees.
However, you can pick up dessert here, which is a nice touch since Stormalong Bay sits nearby. If you're staying at the resort, I recommend spending at least one full resort day at the pool.
You can enjoy lunch from Hurricane Hanna's and then pick up a sweet treat at Beaches and Cream's walk-up window. It's one of my favorite ways to spend a day at Walt Disney World.
You might even rent a cabana.
Related: Renting a Cabana at Disney's Beach Club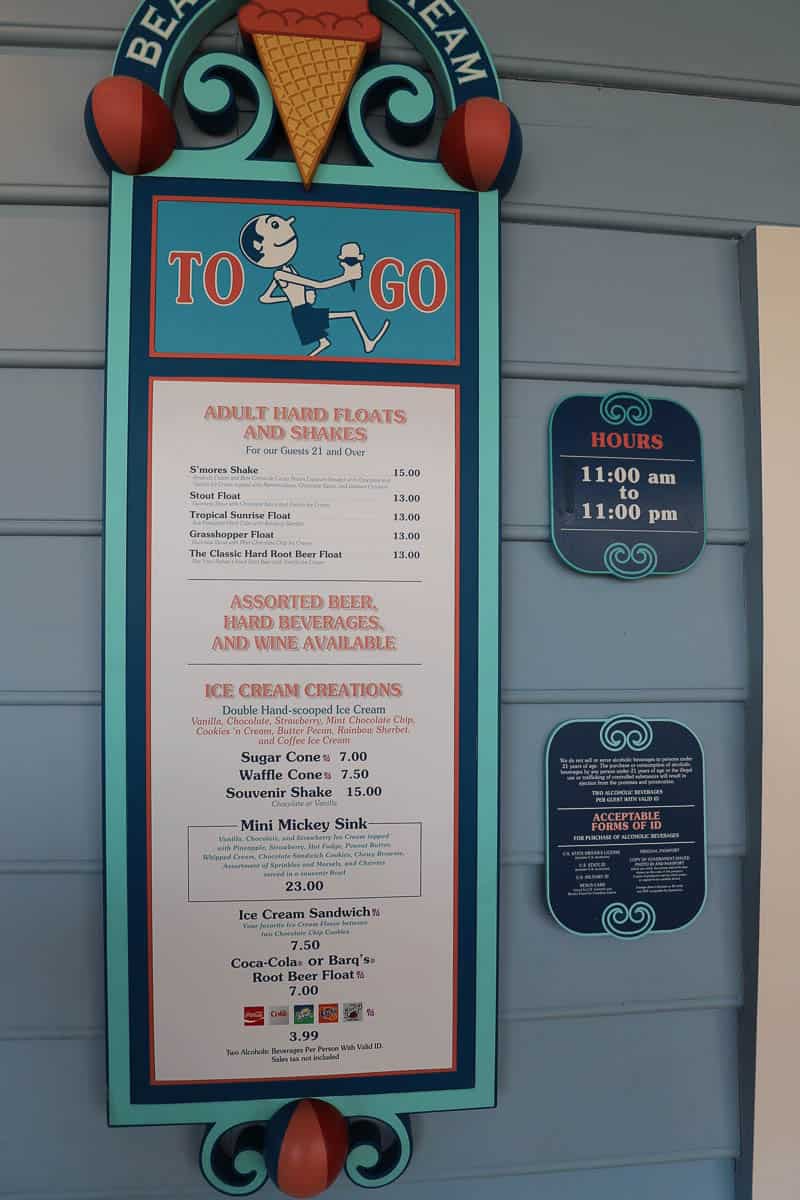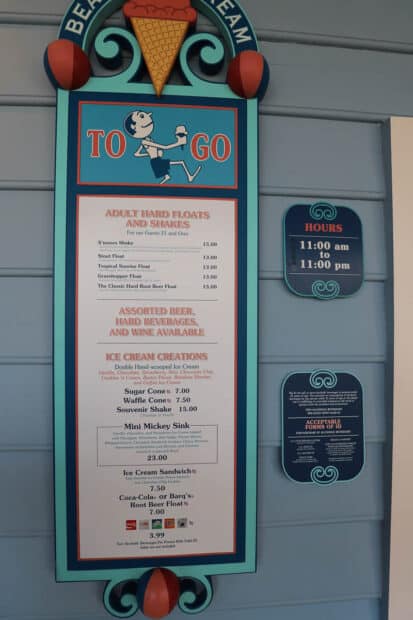 Beaches and Cream's to-go window offers a variety of adult hard shakes and floats. Some of the ones on the menu include:
S'mores Shake
Stout Float
Tropical Sunshine Float
Grasshopper Float
The Classic Hard Root Beer Float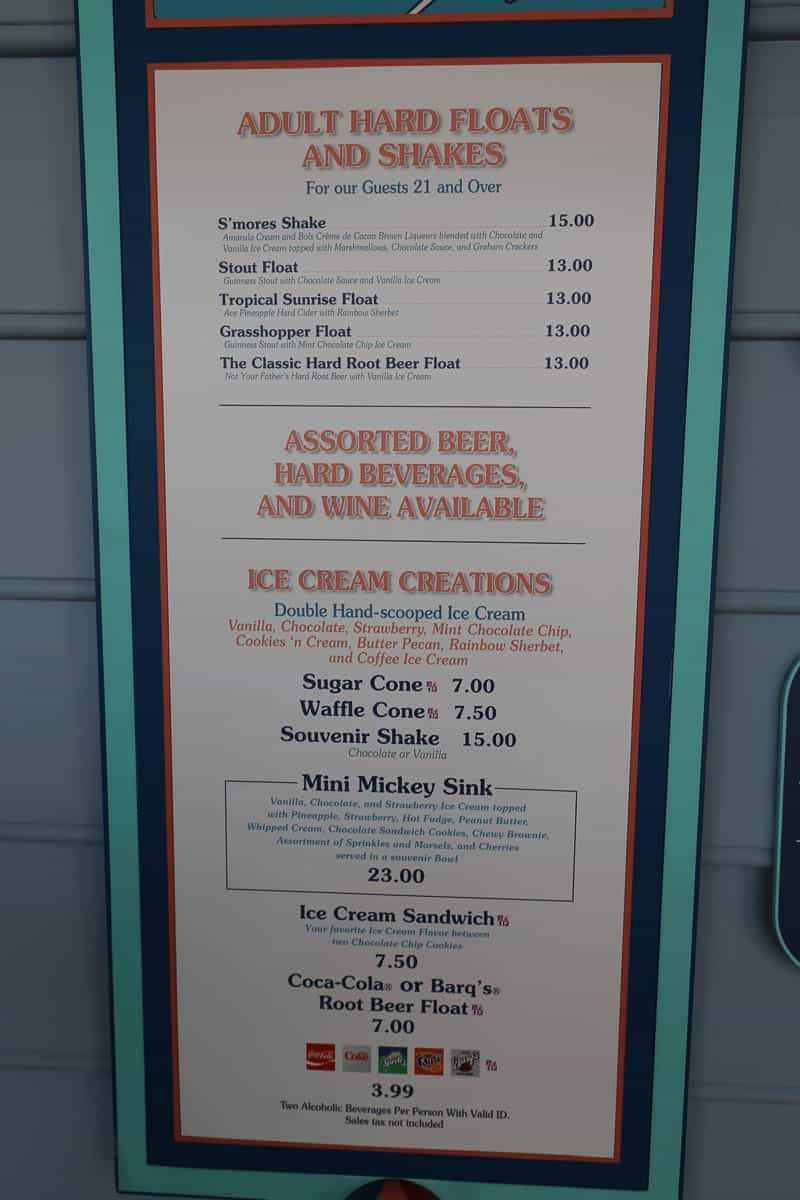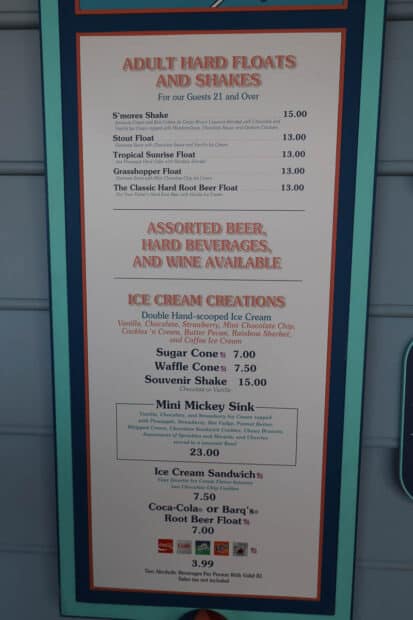 Additionally, they have several flavors of hand-scooped ice cream available. Flavors include:
Vanilla, Chocolate, Strawberry, Mint Chocolate Chip, Cookies n' Cream, Butter Pecan, Rainbow Sherbert, and Coffee Ice Cream
You can get the ice cream in a cup, sugar cone, waffle cone, or a shake.
And while you can't order the Kitchen Sink at the to-go window, you can order a Mini Mickey Kitchen Sink. The Mini Mickey Kitchen Sink comes in a medium plastic tub shaped like Mickey's shorts.
The smaller version of the Kitchen Sink contains vanilla, chocolate, and strawberry ice cream topped with pineapple, strawberry, hot fudge, peanut butter, and whipped cream. In addition, it has chocolate sandwich cookies, chewy brownies, sprinkles, morsels, and cherries!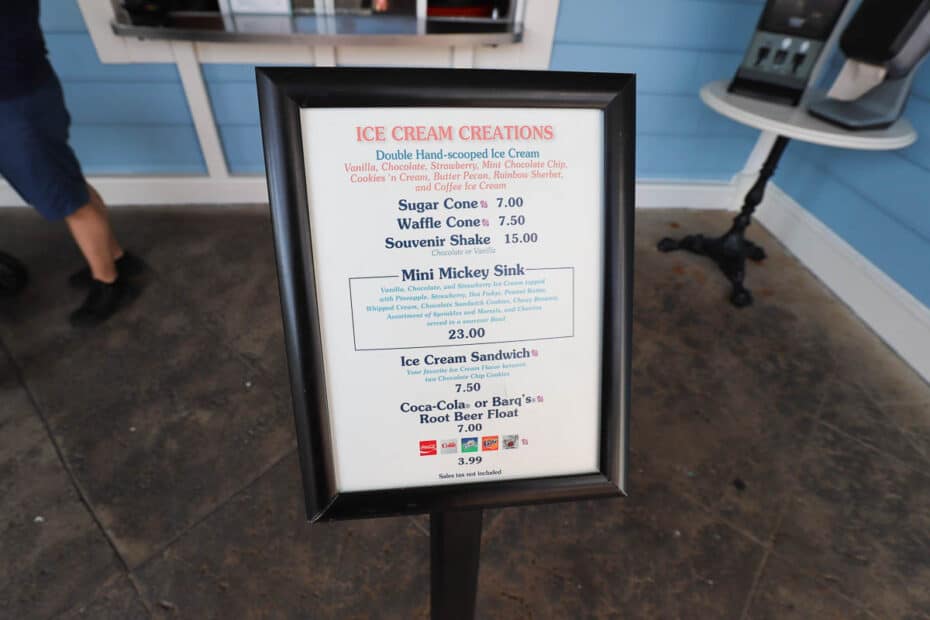 You'll need a few friends or family members to undertake such a ginormous treat. I wouldn't dare go it alone.
If you opt to enjoy a treat at the to-go window, there are a few outdoor tables and chairs reserved for customers of Beaches and Cream.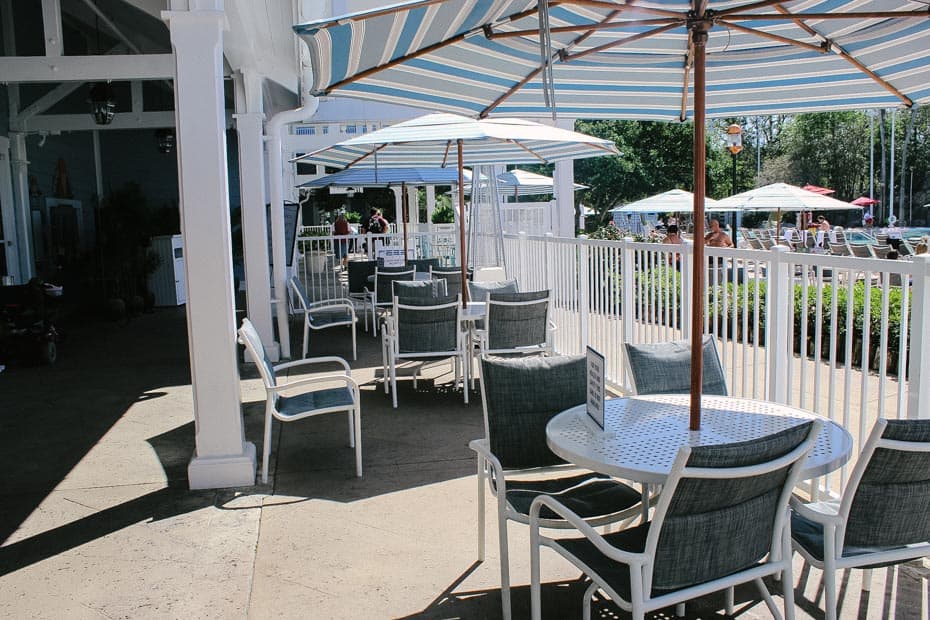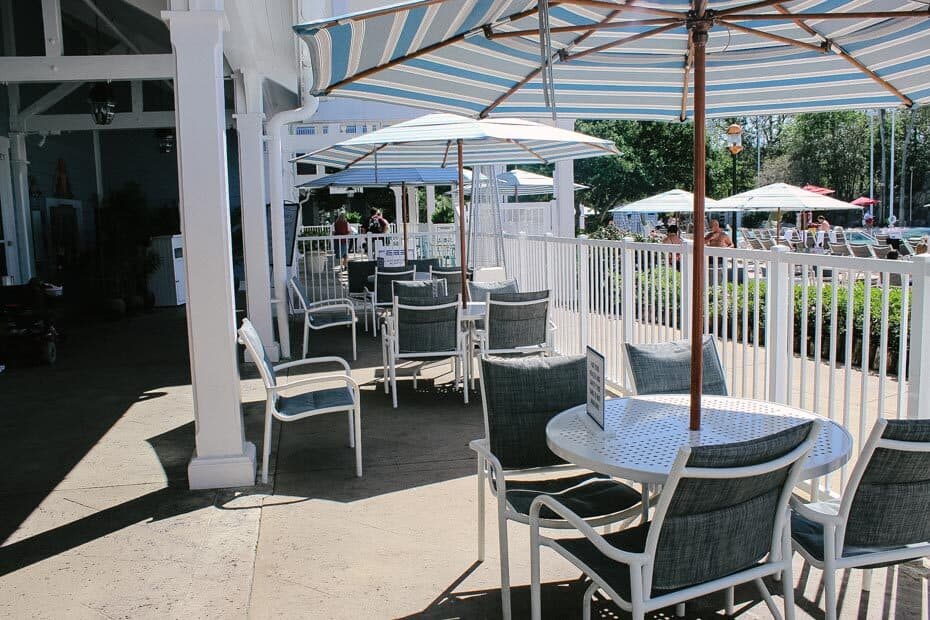 Some of the smaller tables are shaped like ice cream cones.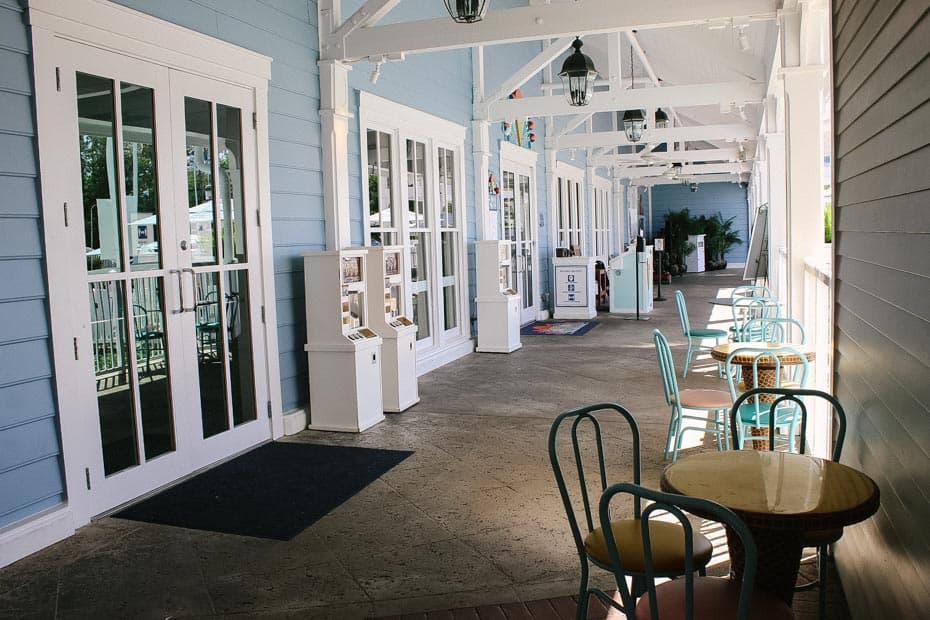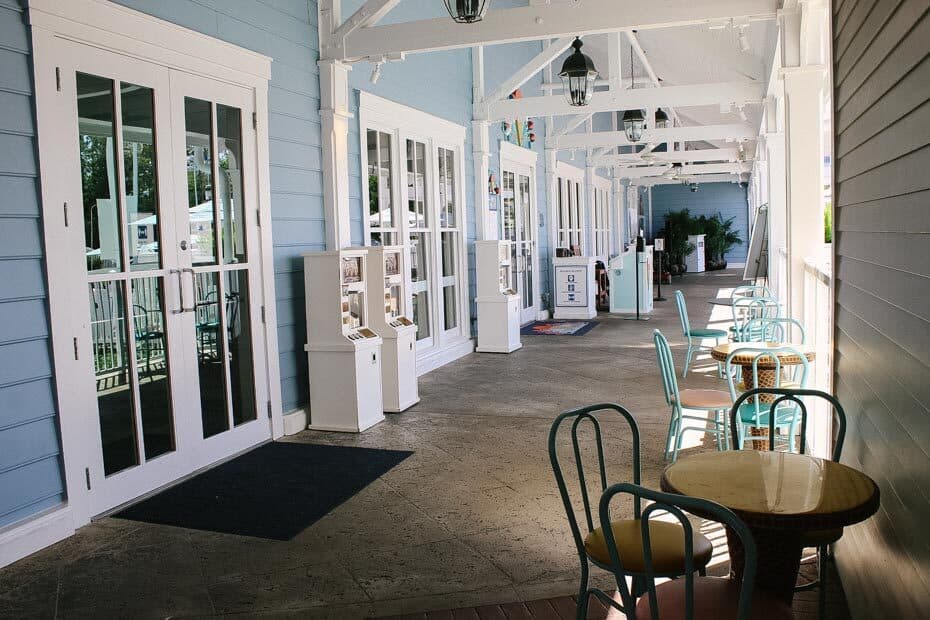 Inside the restaurant, there's a variety of tables and chairs. A few years back, Beaches and Cream was renovated, and the restaurant was significantly expanded.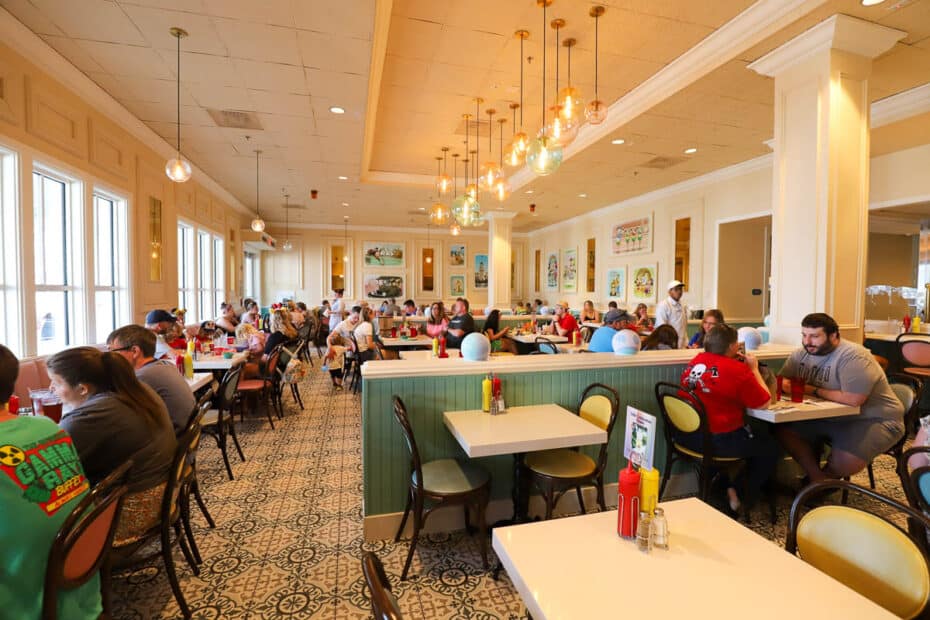 There are table-height counters and bar stool-height counters available.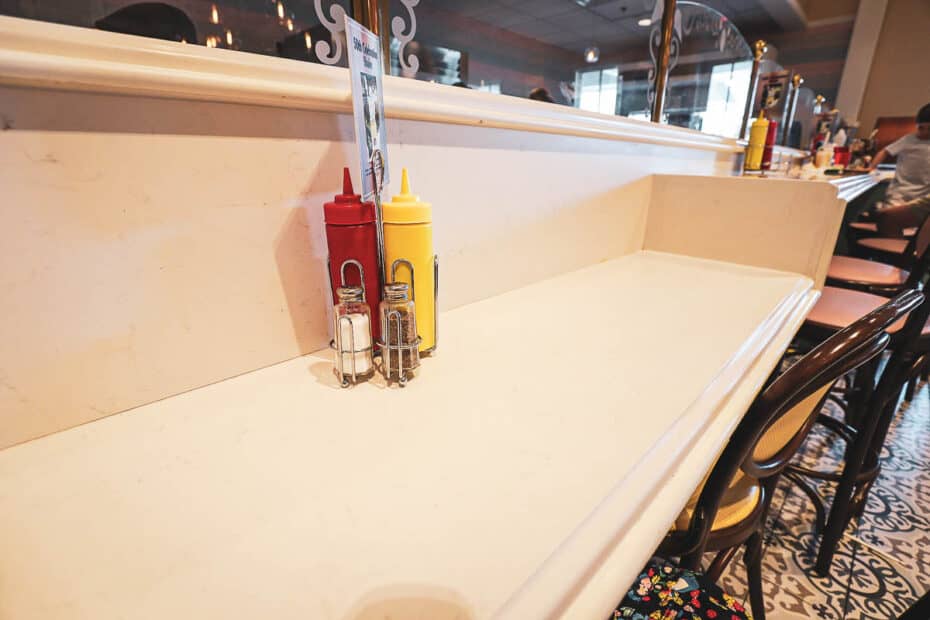 I was provided a QR code at my counter to scan and review the menu. A small menu at the table listed the different hard shakes, floats, and sundaes.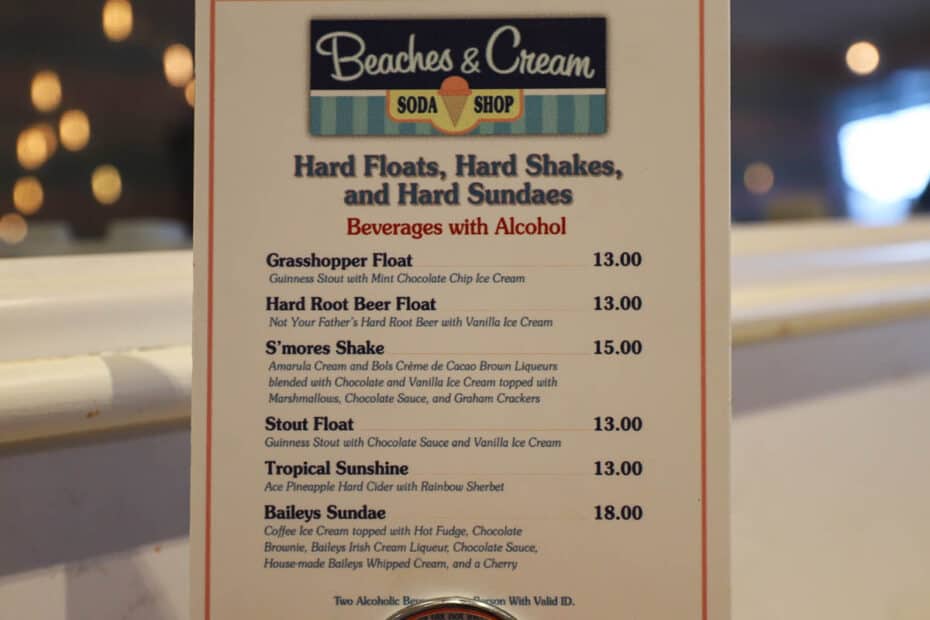 Usually, when I eat at Beaches and Cream, I order a patty melt. But it wasn't on the menu this visit, so I went with the French Dip Sandwich.
And now I have a new favorite roast beef sandwich. It was oh-so-good.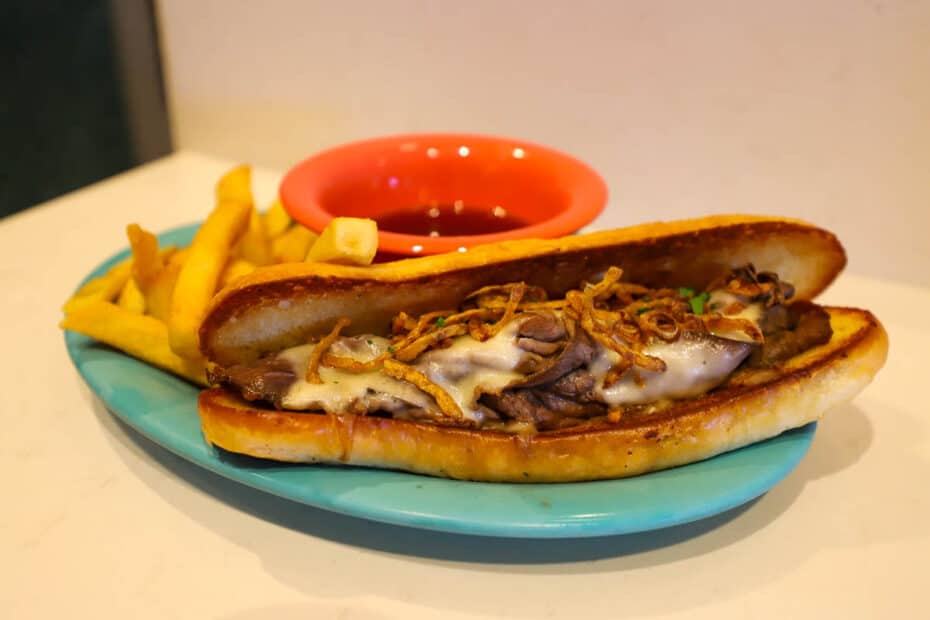 The French Dip came with shaved roast beef, melted Swiss cheese, and was topped with crispy onions. On the side, there was an Au Jus dipping sauce.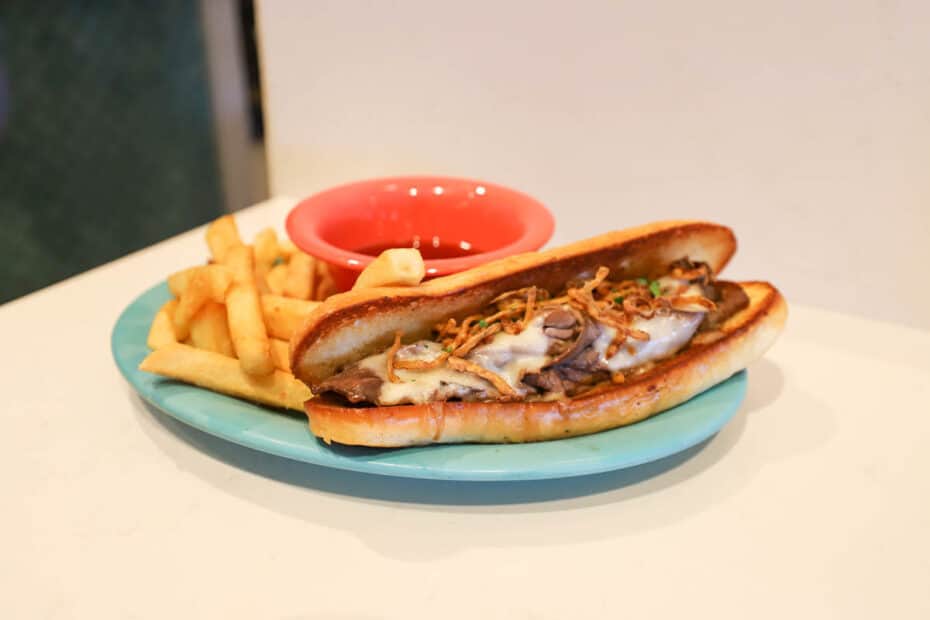 I had the choice of ordering fries or onion rings. Typically, I lean toward onion rings when I eat here. But on this day, I was in the mood for fries.
Regardless, I was tired, hungry, and wound up being glad I ate there. The food was yummy, the service was terrific, and the atmosphere was fun.
Several times during my meal, a server turned off the lights. At this time, flashing lights with alarms would sound. If this happens during your visit, consider it an emergency and pay close attention.
Someone, somewhere in the restaurant, has ordered The Kitchen Sink. And I'm talking about the whole kitchen sink.
Several cast members get involved, and the whole thing is a bit of a production. But an order of ice cream that costs $35.00 should be a pretty big deal, right?
The Kitchen Sink consists of scoops of vanilla, chocolate, strawberry, cookies 'n cream, and mint chocolate chip topped with hot fudge, peanut butter, SNICKERS® pieces, fresh-baked brownie, and smothered in every additional topping available. (Additionally, there are two other versions: Chocolate Lovers or Neapolitan)
If this dazzling dessert sounds a bit over the top for your party, you might consider one of the other popular desserts. The No Way Jose is an extremely popular sundae featuring a mix of caramel and chocolate.
And there are items like the Fudge Mud Slide and the Classic Banana Split. Or you might stick with the Old-Fashioned Sundae. Whatever you choose, it's hard to go wrong with ice cream.
You can preview the entire menu for Beaches and Cream here on Disney's site.
Overall, this visit to Beaches and Cream turned out favorable. It's a charming, family-friendly restaurant, and dining here feels like a rite of passage.
If you're staying at the resort or nearby, I consider this location a must-do stop for lunch or dinner. And for those who might be staying club level at the Beach Club and don't want to plan a ton of dining reservations, you can always stop in for ice cream.
All in all, there are plenty of reasons to secure a dining reservation at Beaches and Cream.
For more information about dining in this area, you might enjoy these reviews:
Or you can preview all of our Disney Restaurant Reviews. Categories include:
In the comments: What are your thoughts on enjoying a meal at Beaches and Cream? Have you ever dined there? Would you order the Kitchen Sink?