Disney's Hurricane Hanna's Waterside Bar and Grill Review
Disney's Hurricane Hanna's Waterside Bar and Grill is the quick-service dining location for the pool area at Disney's Yacht and Disney's Beach Club Resort. This location is usually open daily from 11:00 a.m. until 10:00 p.m.
Over the years, we've eaten at Hurricane Hanna's numerous times. We have found this location is often better than either of the resort's counter service locations.
Unfortunately, both The Market at Ale and Compass and the Beach Club Marketplace mainly offer pre-made sandwiches except for a few freshly prepared items. This leaves Hurricane Hanna's as the primary place to pick up a quick burger with fries or chicken nuggets at the resort.
In this review of Hurricane Hanna's Waterside Bar and Grill, we'll preview the menu and discuss a few of our dining experiences here.
This article was updated on January 17, 2023.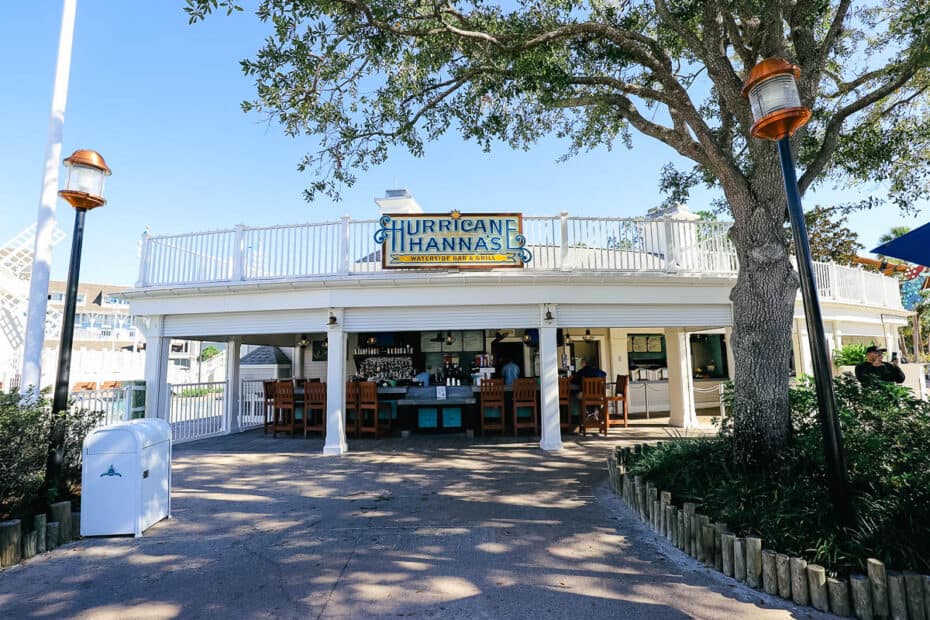 Before we continue, I have to take a moment to mention the cast members that work at Hurricane Hanna's. Since I frequent the Beach and Yacht Club, I've become familiar with the friendly faces that work there. Many of those cast members have worked here for years. They do an excellent job of taking care of their guests.
Hurricane Hanna's at Disney
Hurricane Hanna's is on the walkway between Crescent Lake and Stormalong Bay pool. It sits directly across from the shipwreck.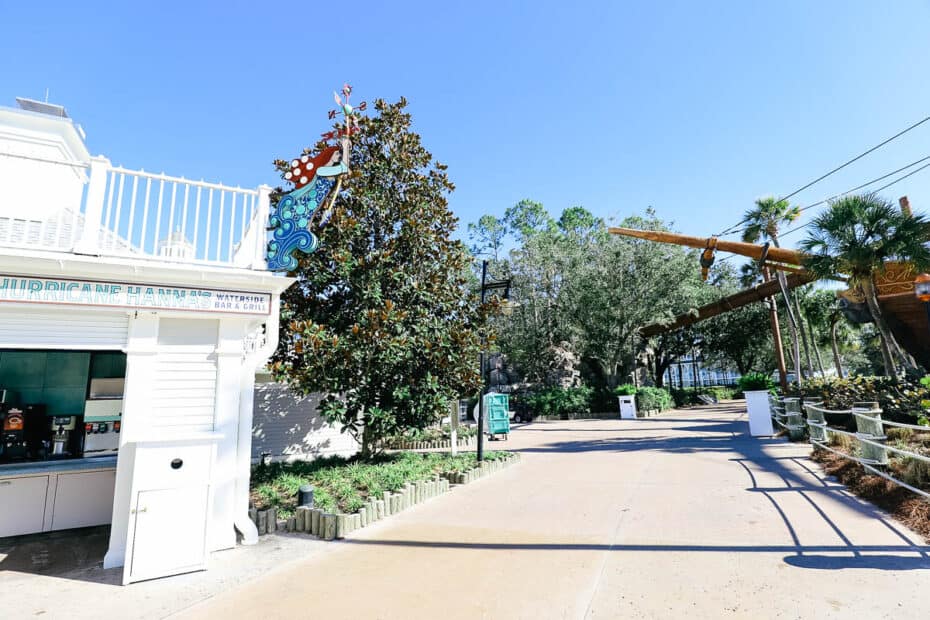 While only guests of the Yacht and Beach Club can enter the pool area, anyone can stop at Hurricane Hanna's for a meal, drink, or snack. A separate dining area sits outside of the fenced-in pool area.
Hurricane Hanna's dining area is casual, with high-top tables, umbrellas, and chairs. Plus, you can't beat the surrounding view of the Epcot Resorts Area.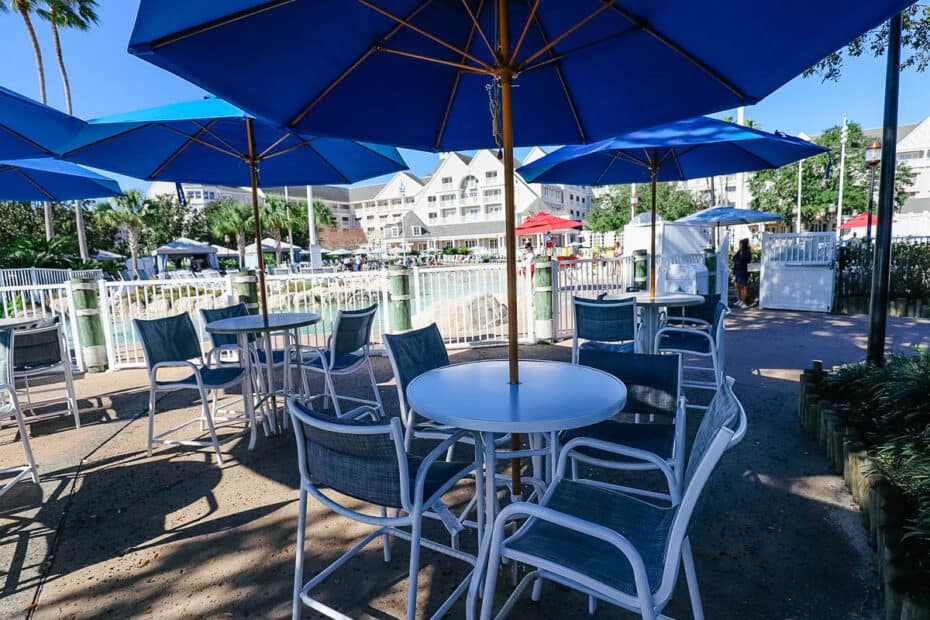 Guests of the resort have to step outside the fenced area to order their food. However, cast members provide resort guests with a wristband that allows them to come and go from the pool area.
Additionally, several servers usually wait on pool guests during the busier part of the day. So guests of Stormalong Bay can place an order, and a server will bring it back to them.
Hurricane Hanna is divided into two areas. One side is a quick-service restaurant. Additionally, a separate walk-up window serves as the pool bar.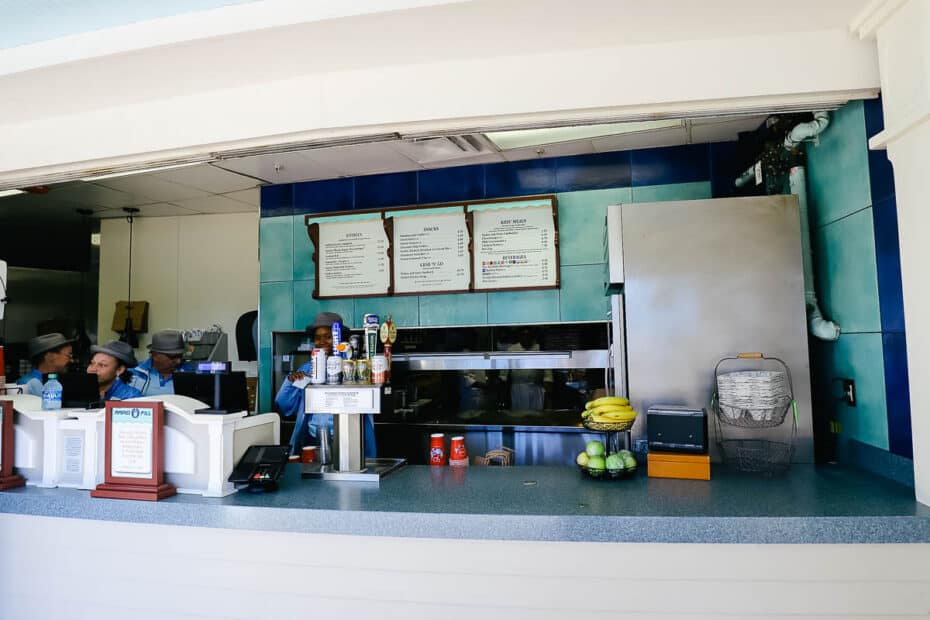 Next to the quick-service window, there's a drink station and condiments area.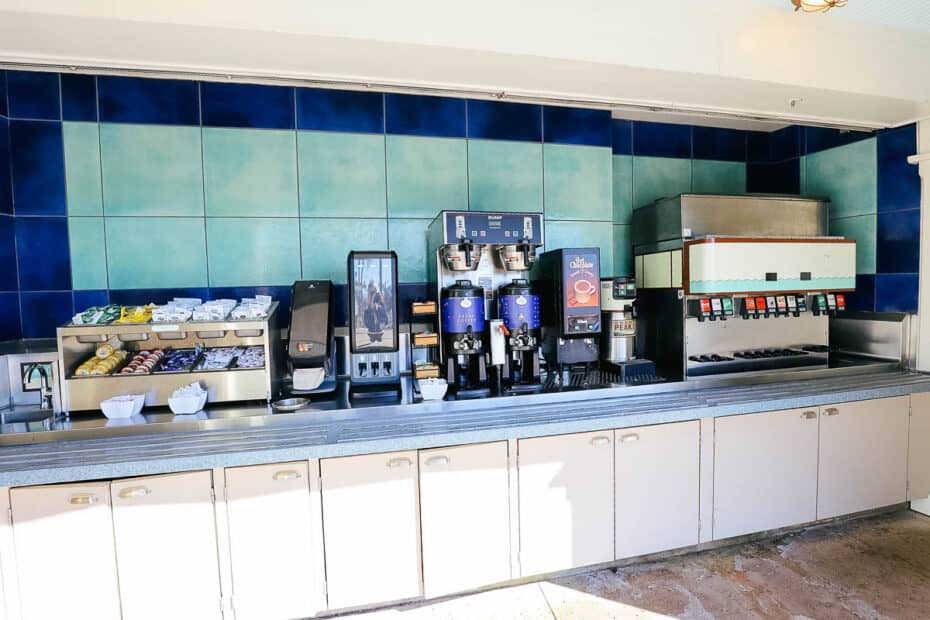 Resort guests can refill their Rapid Refill mugs here where applicable. Rapid Refill mugs are available at either resort's counter service locations. At the time of this update, they cost $21.99.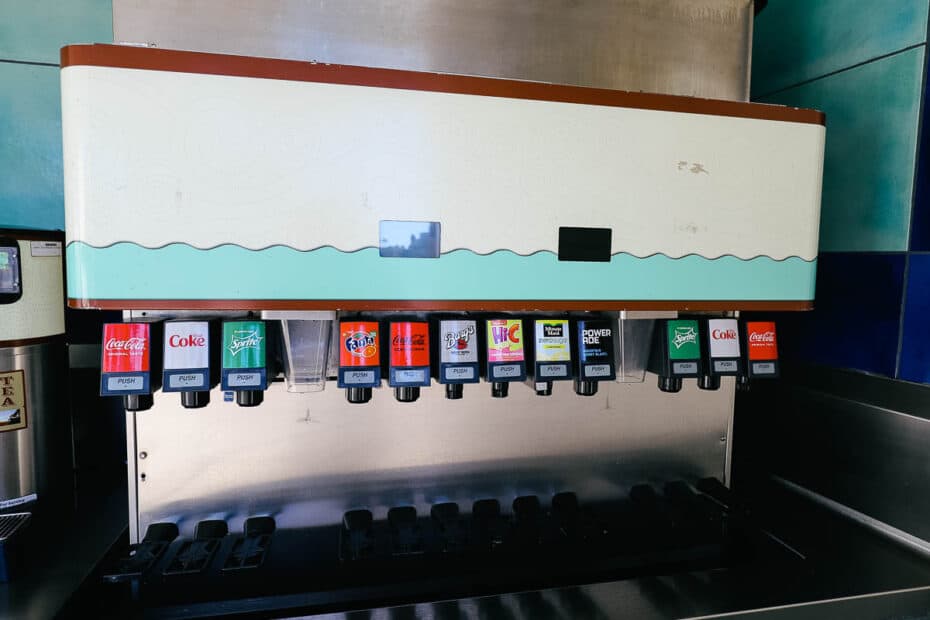 Here is the menu for the pool bar.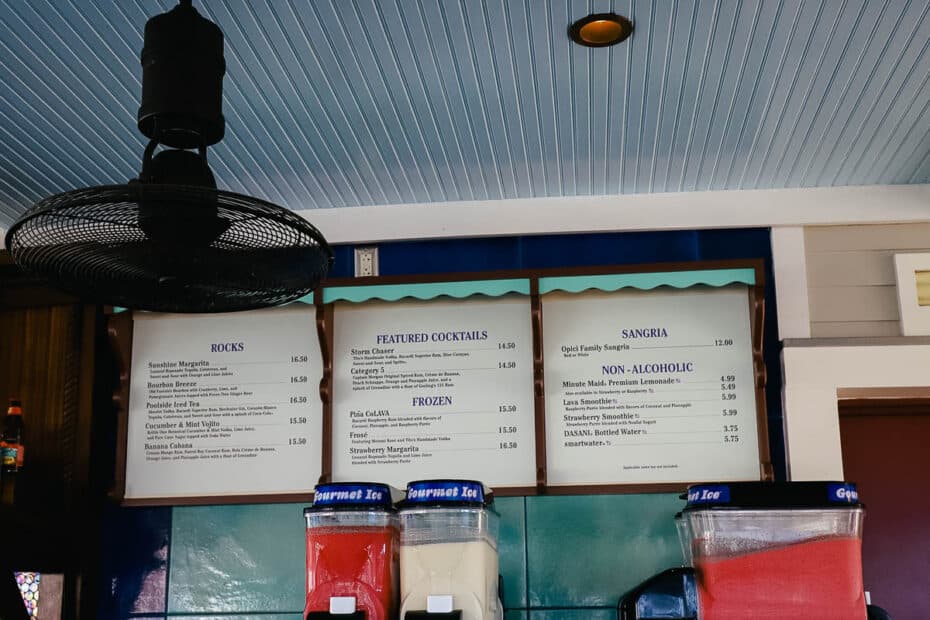 Some of the drinks include:
Sunshine Margarita (Lunazul Reposado Tequila, Cointreau, and Sweet-and-Sour with Orange and Lime Juices)
Bourbon Breeze (Old Forester Bourbon with Cranberry, Lime, and Pomegranate juices topped with Fever-Tree Ginger Beer)
Poolside Ice Tea (Absolut Vodka, Bacardi Superior Rum, Beefeater Gin, Corazón Blanco Tequila, Cointreau, and Sweet-and-Sour with a splash of Coca-Cola)
Cucumber and Mint Vojito ( Kettle One Botanical Cucumber and Mint Vodka, Lime Juice, and Pure Cane Sugar topped with Soda Water)
Storm Chaser (Tito's Handmade Vodka, Bacardi Superior Rum, Blue Curaçao, and Sweet-and-Sour topped with Sprite)
Category 5 (Captain Morgan Original Spiced Rum, Crème de Banana, Peach Schnapps, Orange and Pineapple Juice, and a splash of Grenadine with a float of Gosling's 151 Rum)
You can preview the entire drink menu for Hurricane Hanna's here on Disney's site. Additionally, the Stormchaser or Category 5 can be served in a signature Yacht and Beach Club souvenir cup for $24.00.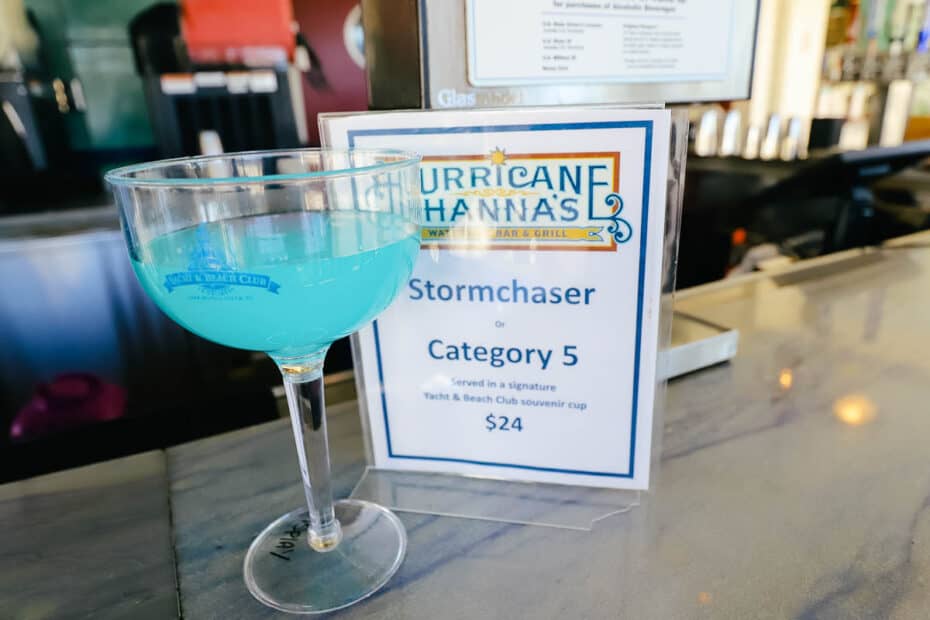 Complimentary water is also available on the far side of the bar.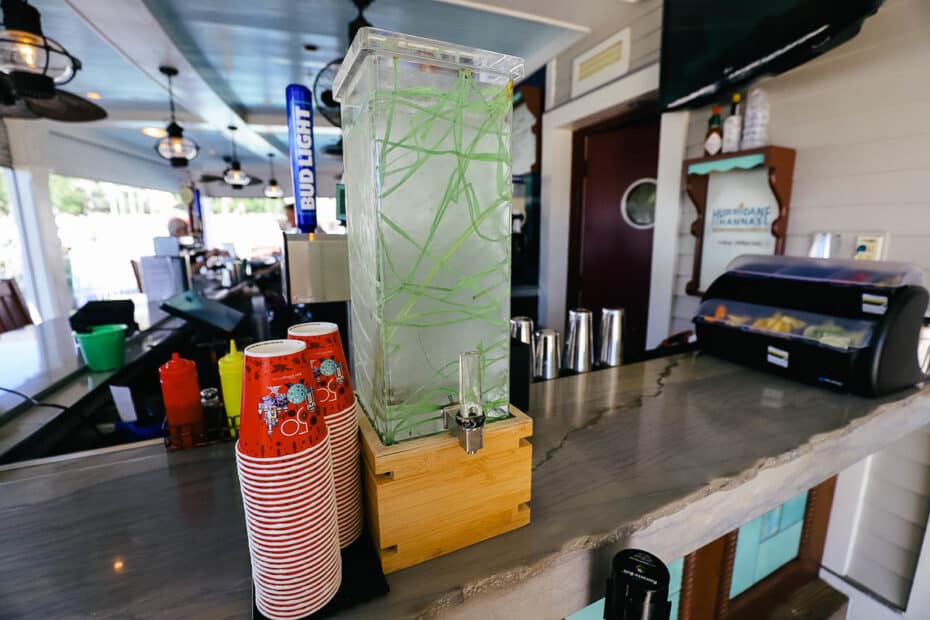 Here is the menu for the quick-service side of Hurricane Hanna's.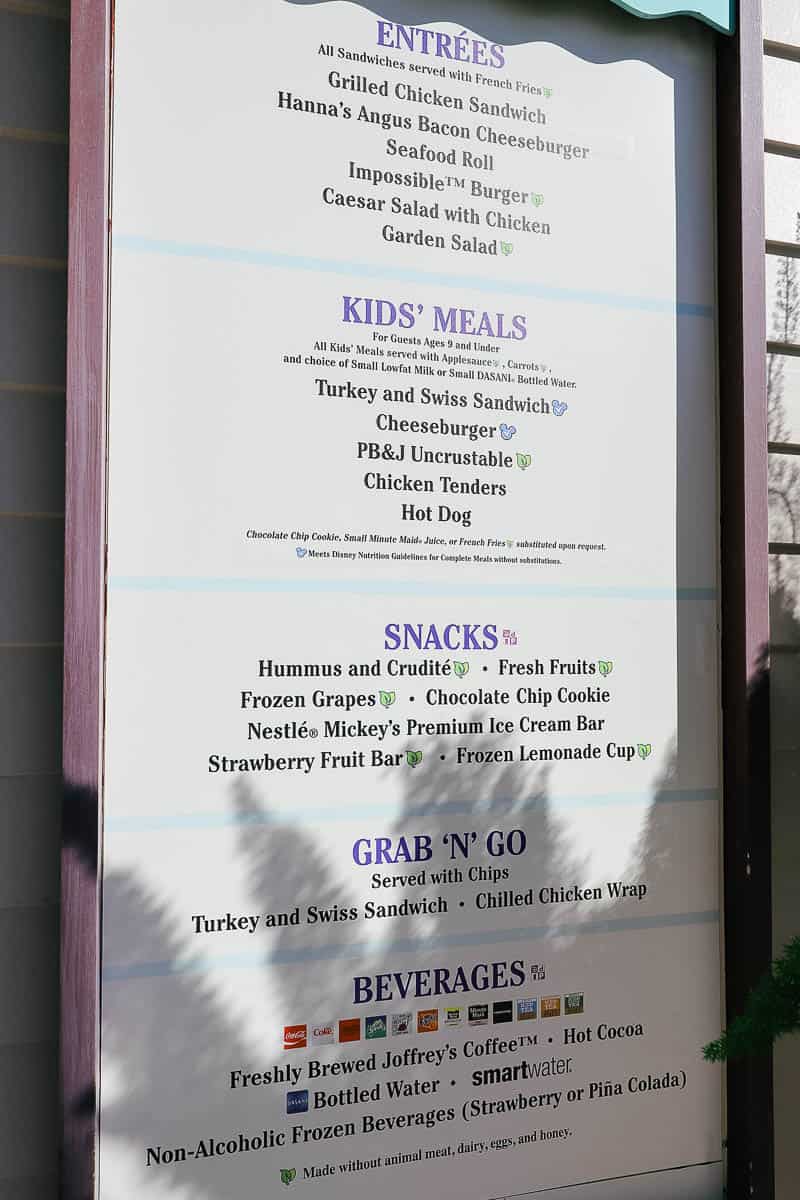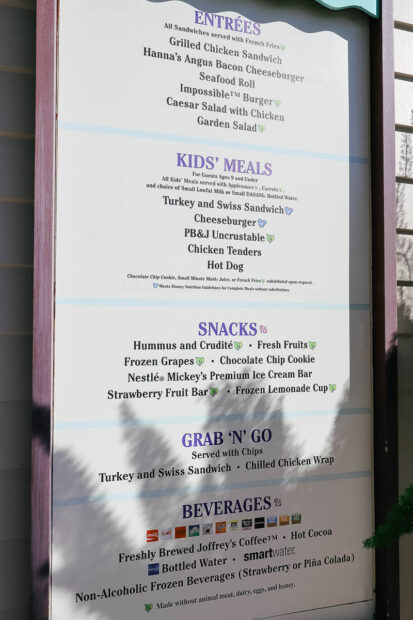 The menu includes:
Grilled Chicken Sandwich
Hanna's Angus Bacon Cheeseburger
Seafood Roll
Impossible Burger
Caesar Salad (with or without chicken)
Garden Salads
Kids' meals include:
Turkey Sandwich
Cheeseburger
Pb&J Uncrustables
Chicken Tenders
Hot Dogs
*All kids meals are served with grapes, applesauce, or carrots and a choice of small lowfat milk or a small Dasani bottled water. (Substitutes for sides include a chocolate chip cookie, juice, or French fries.)
Snacks include:
Hummus and Crudite
Fresh Fruit
Frozen Grapes
Chocolate Chip Cookie
Nestle's Mickey Ice Cream Bars
Strawberry Fruit Bar
Frozen Lemonade Cup
You can preview the entire menu here on Disney's site.
Here are a few items we've tried at Hurricane Hanna's. First, we have Hanna's bacon cheddar cheeseburger with lettuce and tomato on a brioche bun. I ordered this at the pool one afternoon during a club-level visit.
Related: Club Level at Disney's Beach Club Resort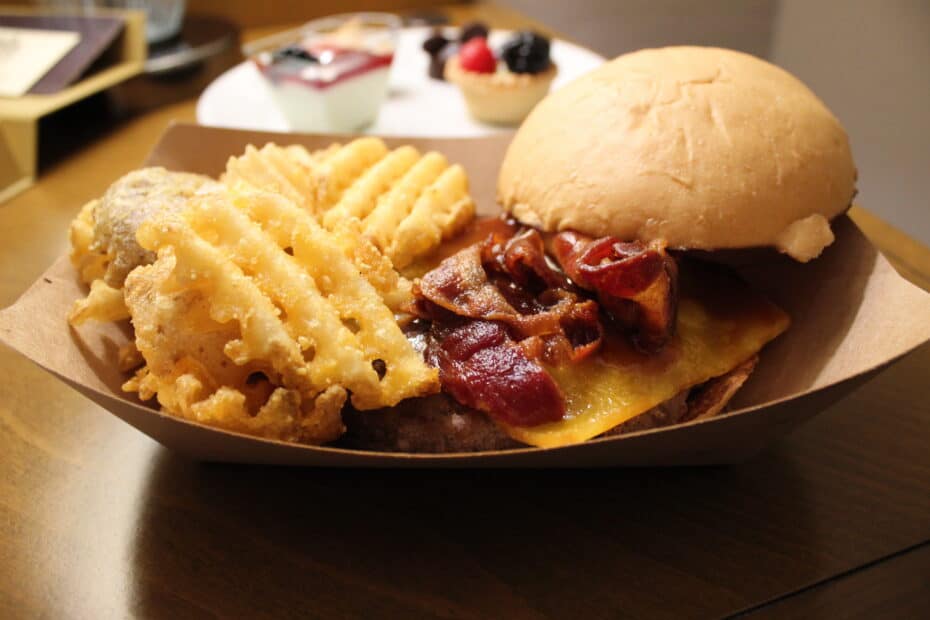 On another visit, I ordered the plant-based hummus and pita chips. Unfortunately, this was a terrible snack.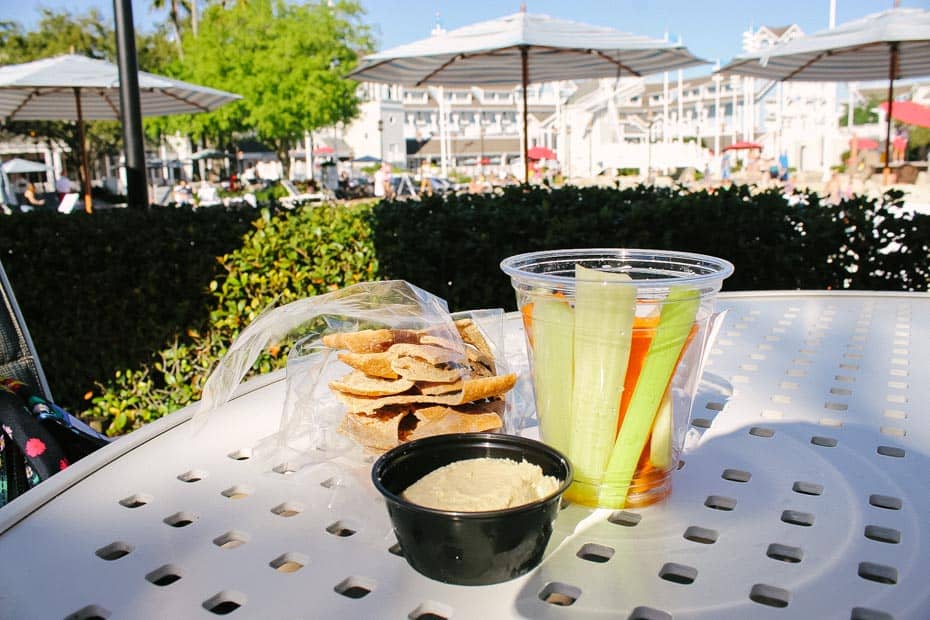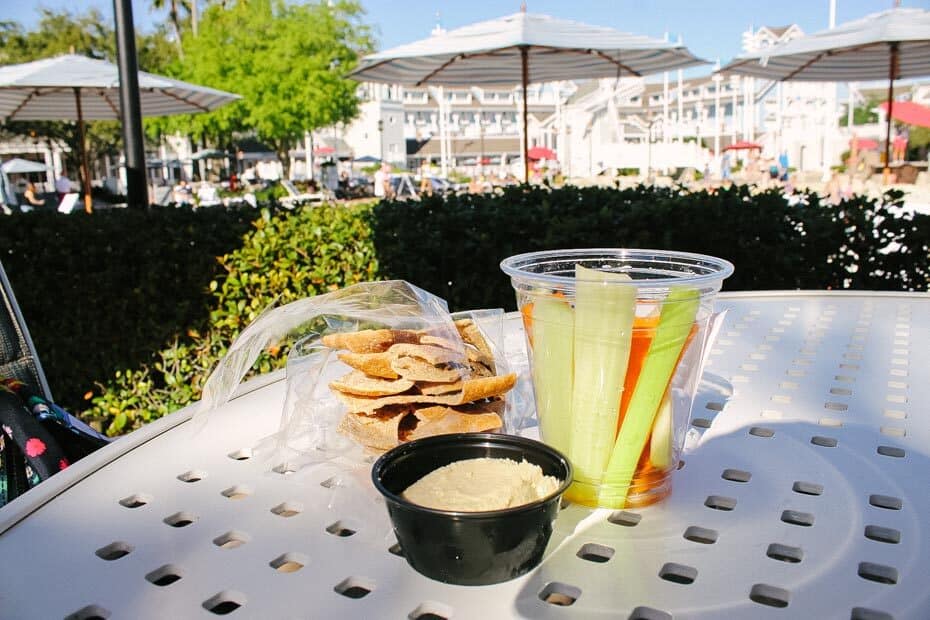 I would have trashed the entire thing if the cup of celery and carrots hadn't come with the snack. Those pita chips were pretty terrible.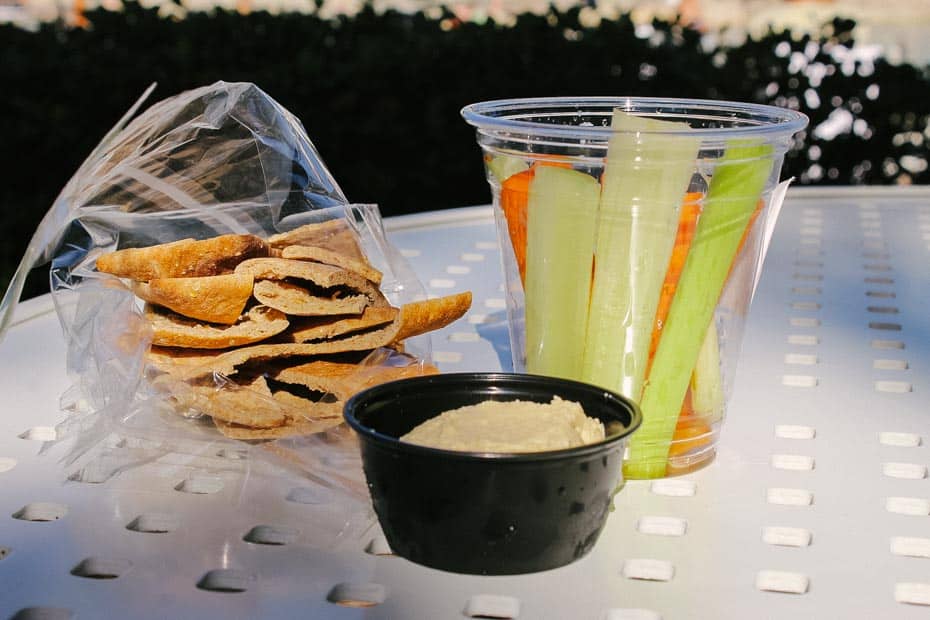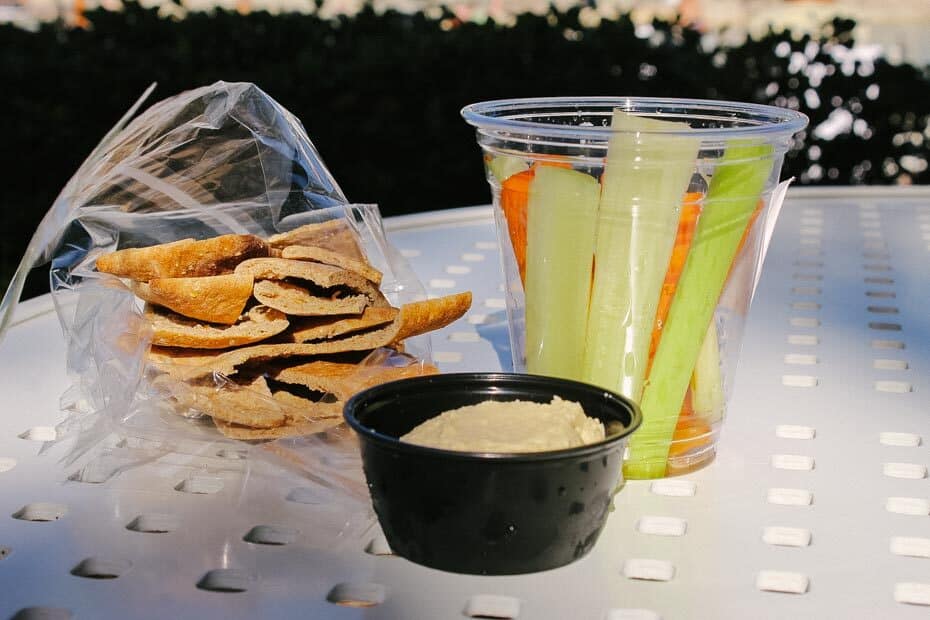 Then in the late Fall, we spent a week at Disney's Beach Club Villas. For this visit, we rented a poolside cabana.
Related: Poolside Cabana Rental at Disney World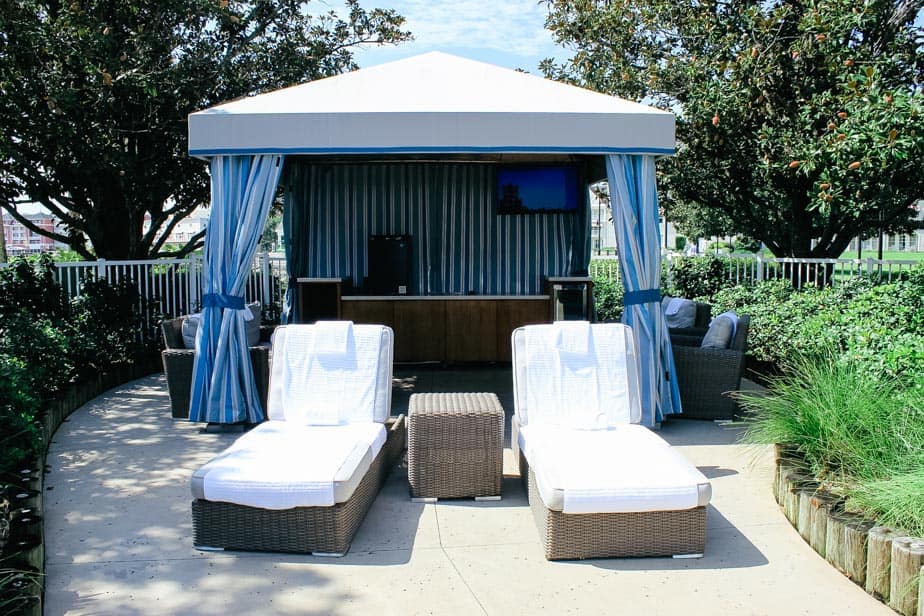 One of the perks of the cabana is having a server from Hurricane Hanna's wait on you throughout the day. When I arrived that morning, menus were waiting.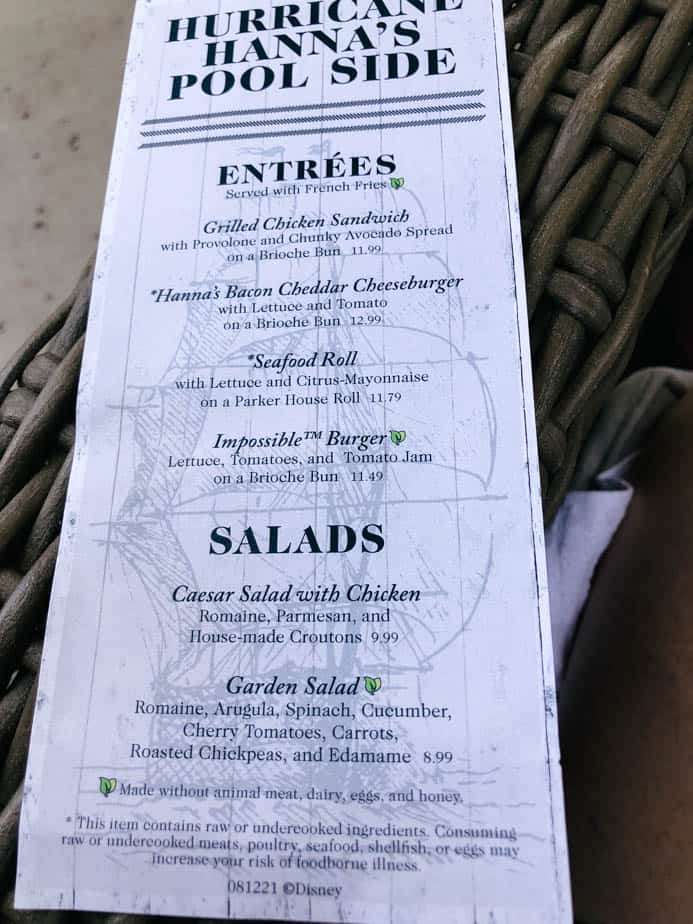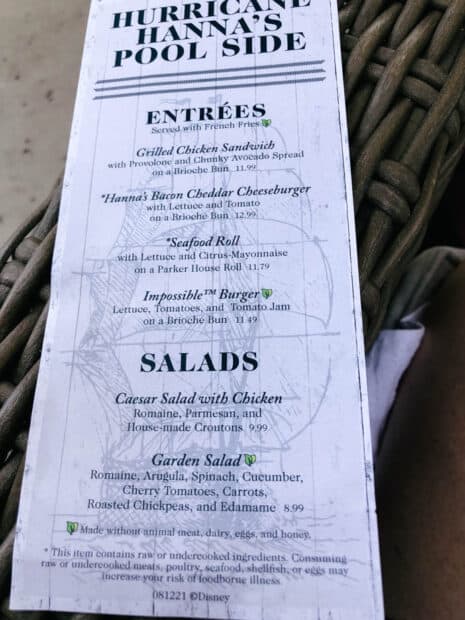 On the opposite side of the menu, there were a few grab-and-go items, which translates to previously made things.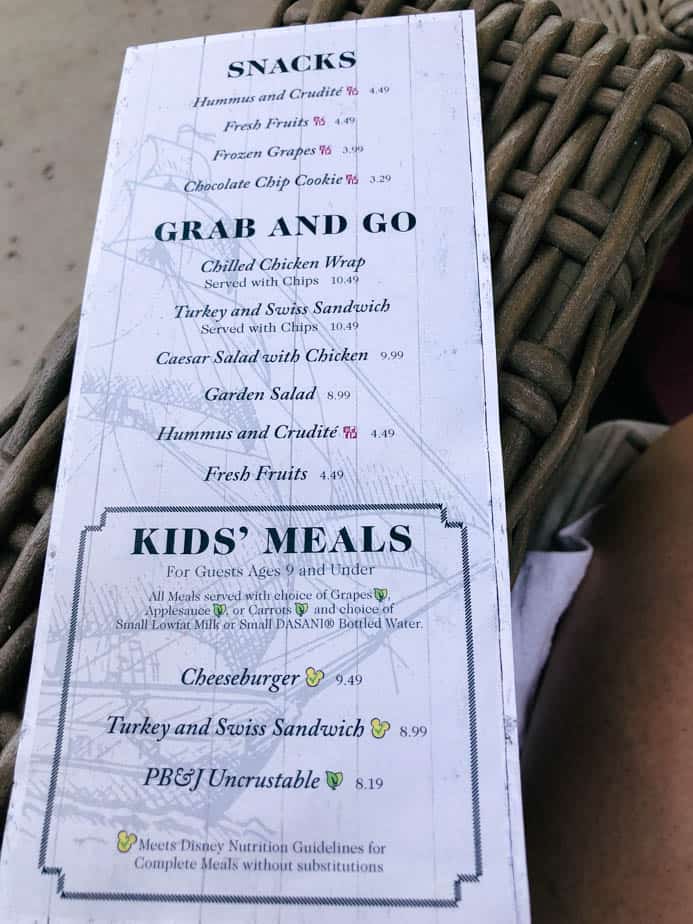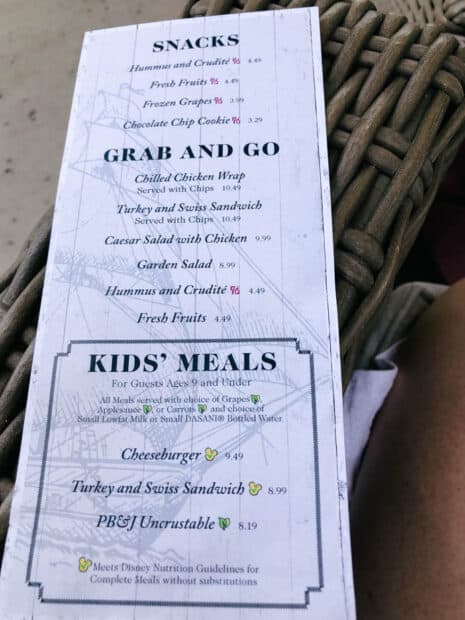 Kristen was with me on this visit and ordered the Uncrustables kids' meal. At the time, kids' meals at Hurricane Hanna's came in a sand pail with a shovel.
However, as of this update, they are not available. Hopefully, we'll see them return. Children enjoy using the sand pail and shovel in the sand pool.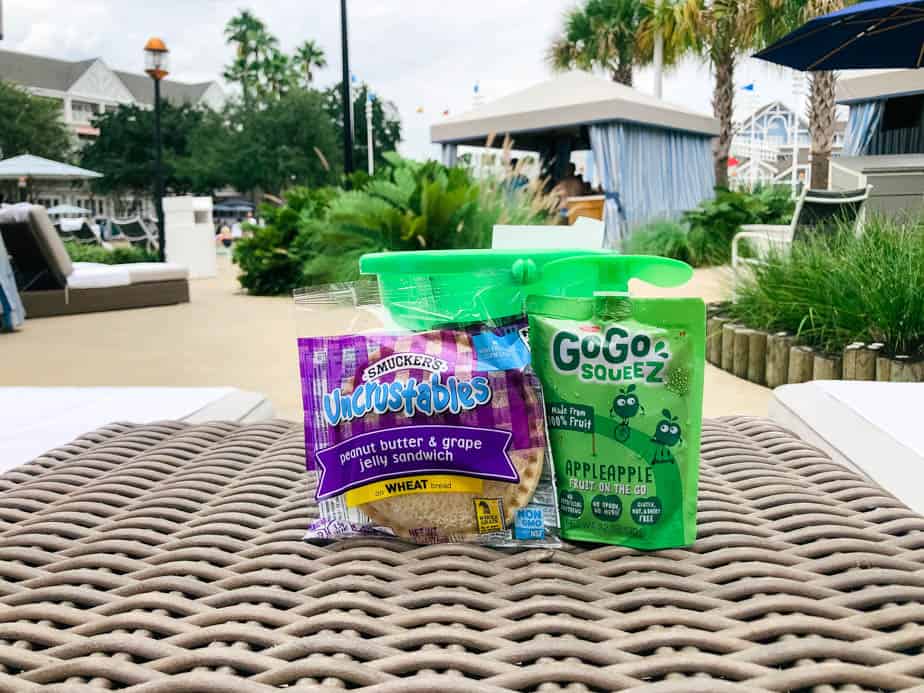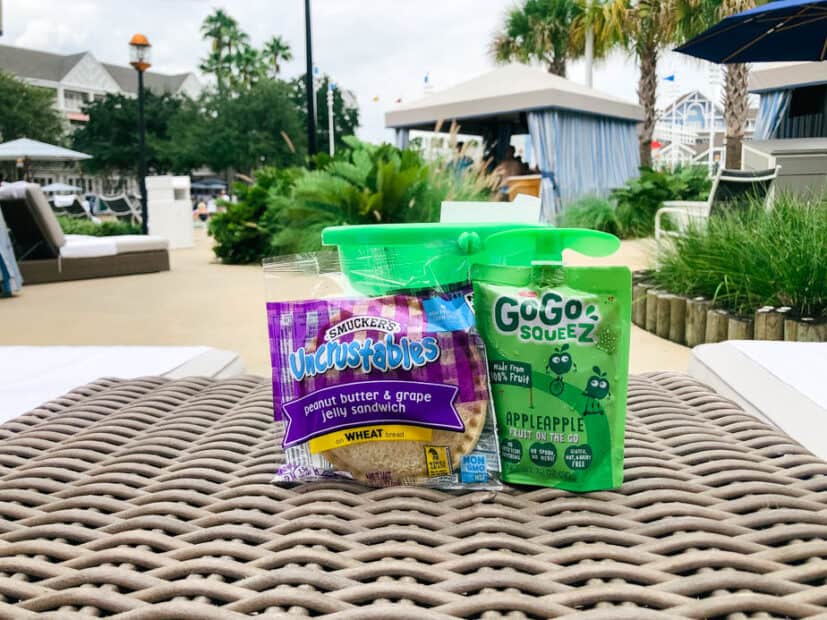 For reference, one of the pools has a large mound of sand in the middle. Warning, after they see it, your children will want to spend their entire vacation out here.
Related: Stormalong Bay Pool (Everything You Need to Know)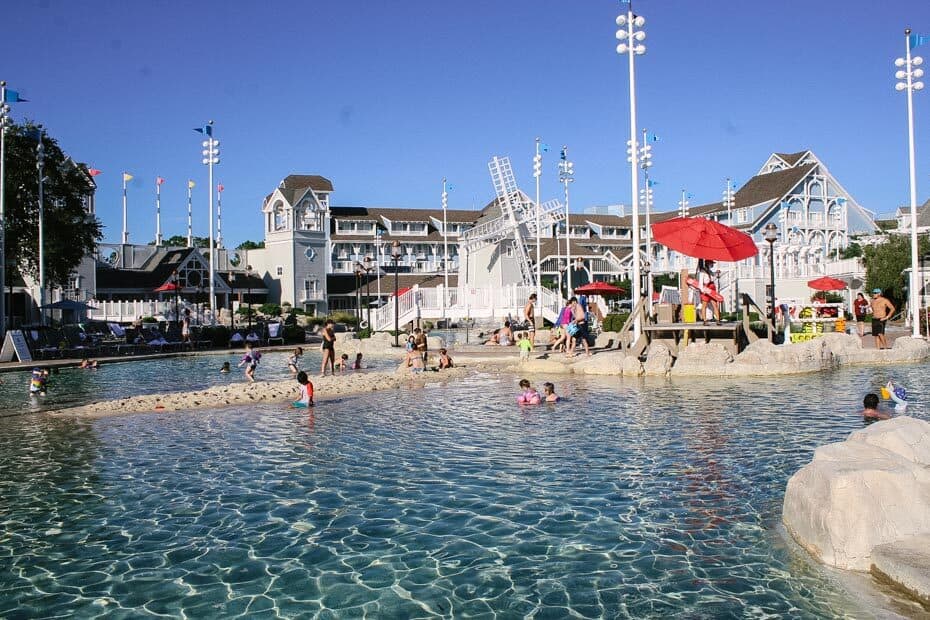 On our cabana day, I ordered the grilled chicken sandwich. It comes with provolone, arugula, and avocado spread on a brioche bun with fries.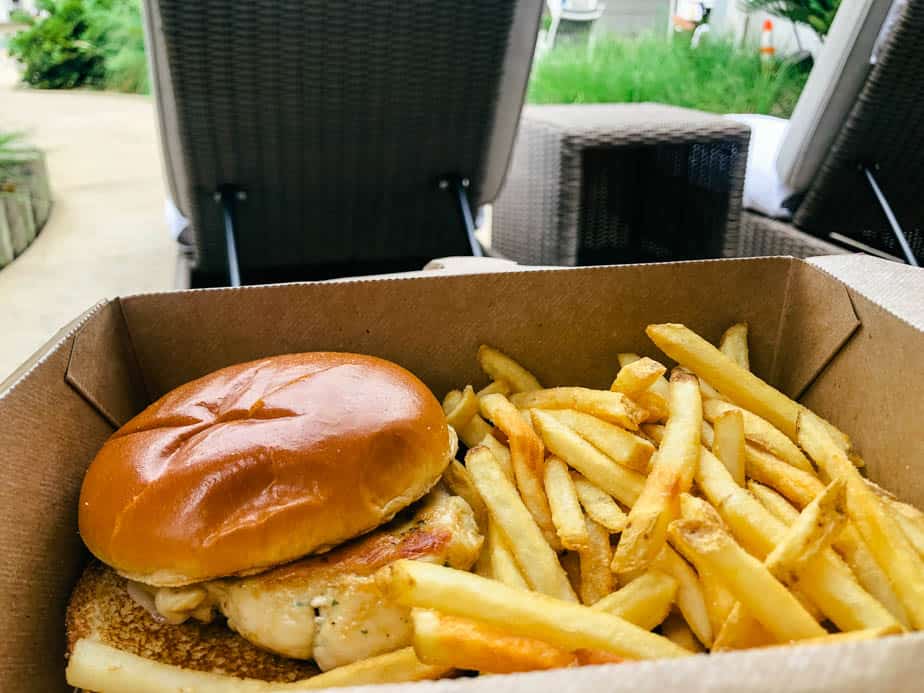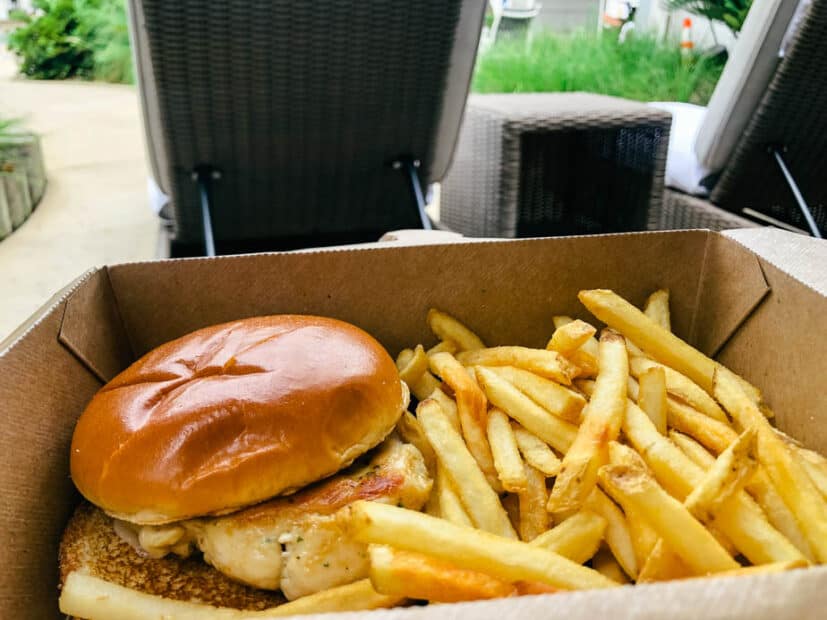 This was a great sandwich to enjoy at the pool. It was also large enough that you could easily split it with someone.
Overall, we love Hurricane Hanna's and think it's a simple counter-service dining area that works great for the pool. However, we wouldn't mind if more items were added to the menu!
As for these sister resorts, we have complete guides that list our articles for each one:
You might also enjoy these other Walt Disney World dining reviews for the surrounding area:
In the Comments
What are your thoughts on Hurricane Hanna's Waterside Bar and Grill? Does this look like a place you might enjoy a meal? Did you see anything in this review that looked appealing?