Disney's Hurricane Hanna's Waterside Bar and Grill Review
Disney's Hurricane Hanna's Waterside Bar and Grill is the quick service dining location for Disney's Stormalong Bay pool area at the Yacht and Beach Club. Over the years, I've eaten at Hurricane Hanna's numerous times and can say it's a place I would normally recommend.
However, both resorts have shifted to offering mostly pre-made items at their quick-service locations in the past few years. That move has made its way to Hurricane Hanna's as well, and I hope that it's not permanent.
With that being said, I have to take a moment to mention the cast members that work here. Since I frequent the Beach Club, I've become familiar with the friendly faces that work there. The majority of the cast at Hurricane Hanna's have been there for years, and they do an excellent job of taking care of their guests.
I don't always take the time to brag on these people as much as I should. But they really do a good job at adding a personalized touch to the overall vacation experience.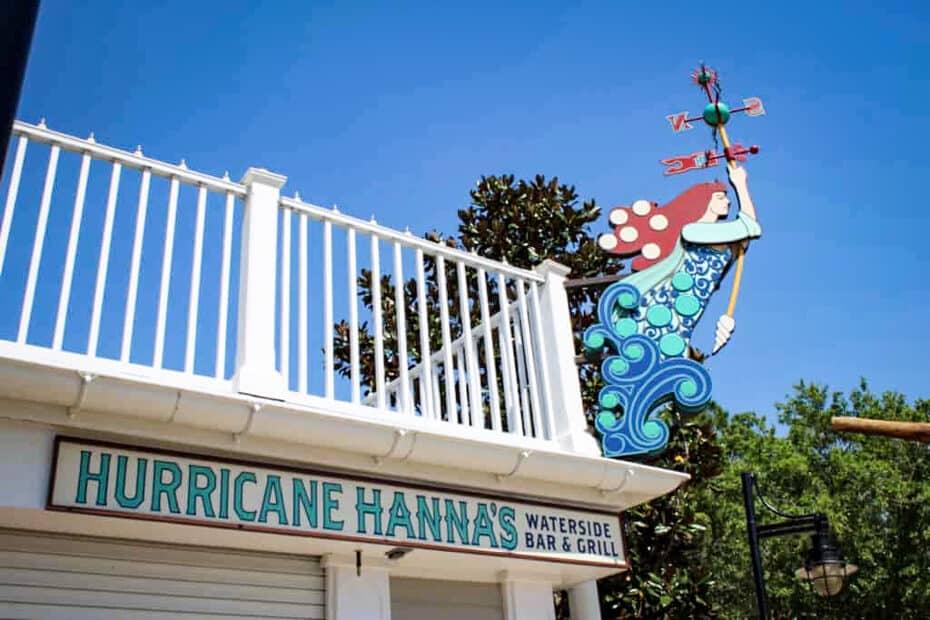 Hurricane Hanna's is located on the walkway between Crescent Lake and Stormalong pool. There is usually an A-frame sign out on the walkway indicating their location.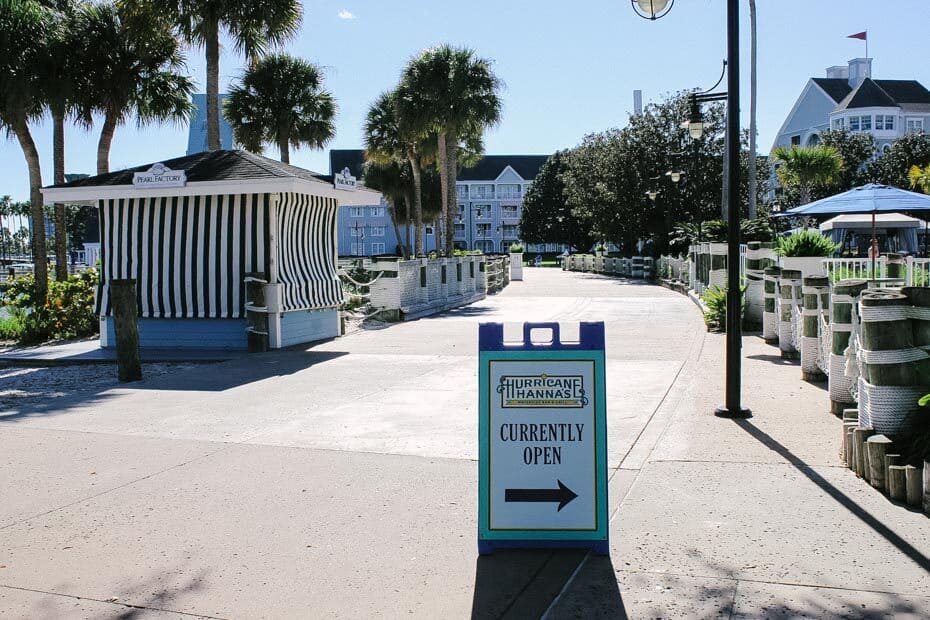 Anyone can stop in at Hurricane Hanna's for a meal, drink, or snack. Usually, I look forward to having a meal here, even when I'm not staying as a guest. The outdoor dining area is casual with high-top tables, umbrellas, and chairs. You can't beat the view of the Epcot Resorts area either.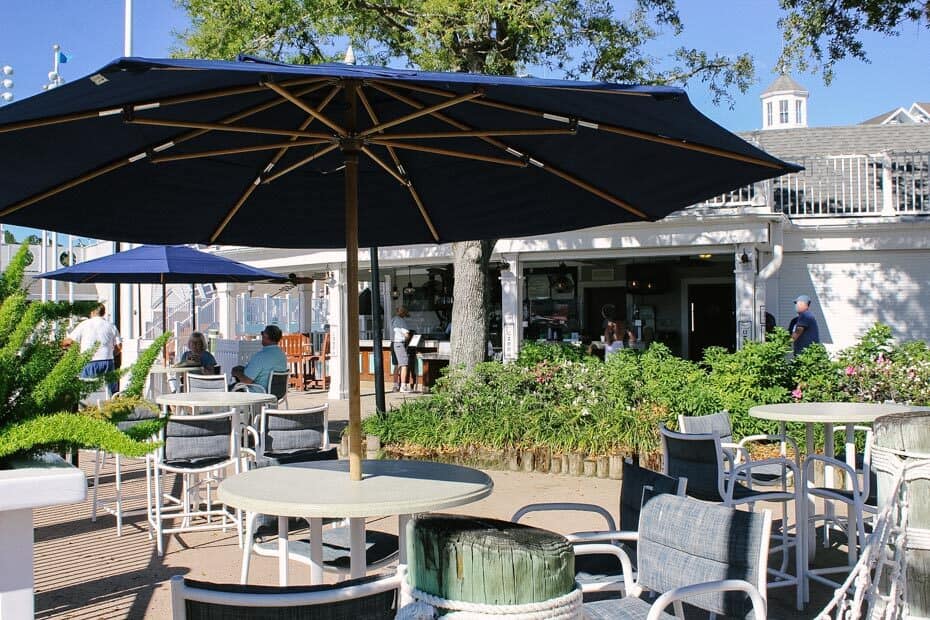 Guests of Disney's Yacht or Beach Club Resort can take their order back inside the pool area. However, if you aren't staying at either resort, you'll need to eat in the public dining area. There is usually some form of security checking for resort wrist bands.
Hopefully, a better menu will return as we head to what looks to be a brighter future. This reduced menu is more than likely a product of current times.
On the day I visited Hurricane Hanna's, I was working on a review of the pool area at the resort. Therefore, I felt I should have a meal here to provide an updated experience.
Since I'm on a vegetarian diet, I was disappointed to see there wasn't much to choose from on the menu. I had enjoyed a wonderful late breakfast at Primo Piatto, Riviera's counter service that morning. Since then, I had walked all over Disney and back. I'd built up quite an appetite.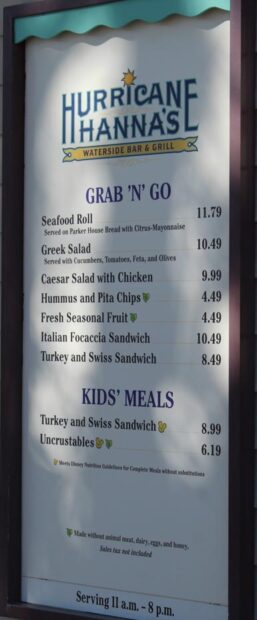 What was even more disappointing was that these are all the same pre-made entrees available at Beach Club Marketplace and the Yacht Club's Market. I knew because a few days before, I had intended on trying the plant-based sandwich at Marketplace.
When I got there, I was shown where I could grab a sandwich from the refrigerated case and check out. No, thank you.
On that day, I ended up having a freshly prepared meal next door at the Swan and Dolphin's Cabana Bar and Grill. I'll try to get that review out in the next few weeks, but if you are visiting in the meantime, they have a wonderful menu selection with reasonable prices.
When I'm visiting a Disney deluxe resort, I expect much higher quality food than what I can pick up at a gas station. I hate to sound harsh, but these kinds of things were in place before last year's closure.
Anyway, back to Hurricane Hanna's, the bar is the only portion of the counter service that is open right now. Normally, there's a food service window to the right of the bar that has a kitchen where items are freshly prepared.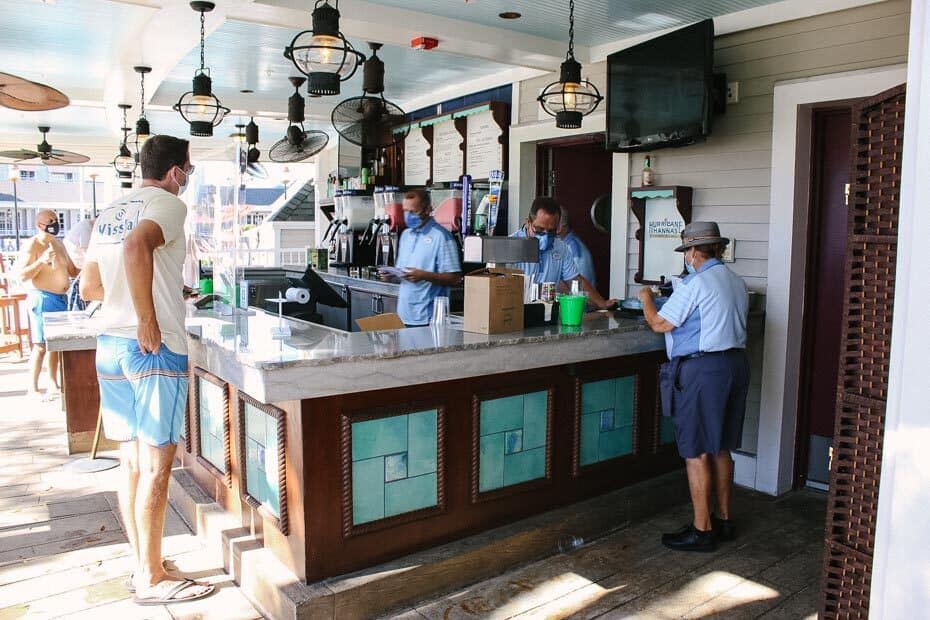 The last time I had a meal at Hurricane Hanna's was when we stayed club level at the Beach Club. At that time, I had a freshly prepared bacon cheeseburger with fries.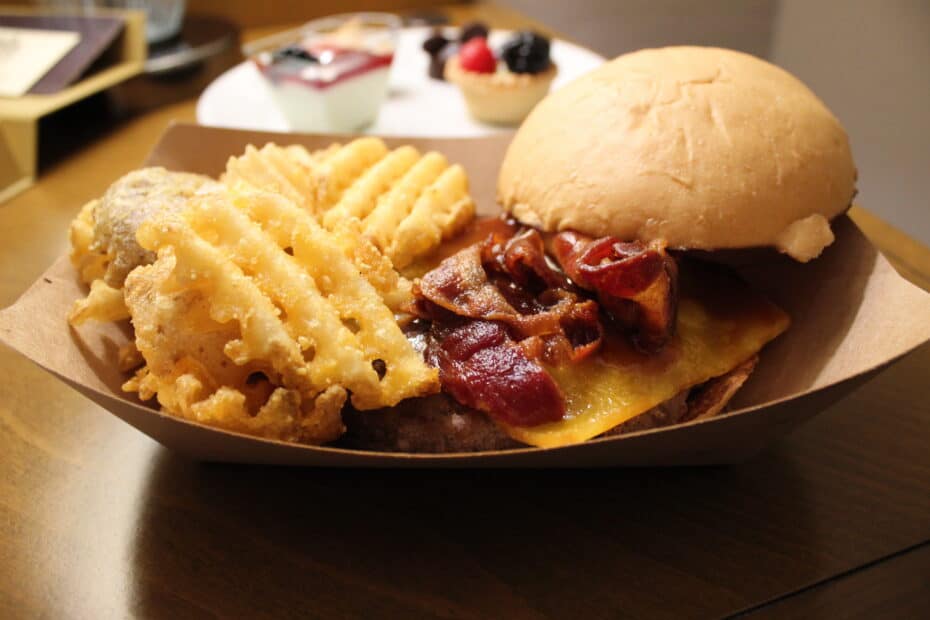 Obviously, I was eating meat back then. I remember coming back from Epcot this evening and stopping in to place a to-go order for the burger. I also ordered allergy-friendly chicken nuggets for my son. We enjoyed a nice meal in our room.
On this visit, I would have loved to order fries or even a plant-based burger. But my only option was the hummus and pita chips, as shown below. The veggies weren't listed, so I was happy to see them when I opened my bag out by the pool.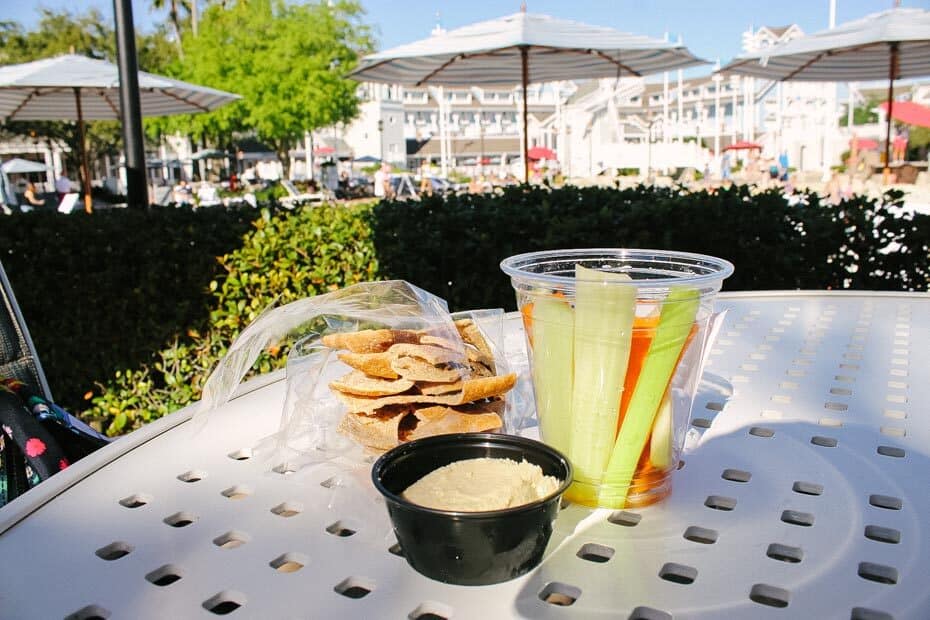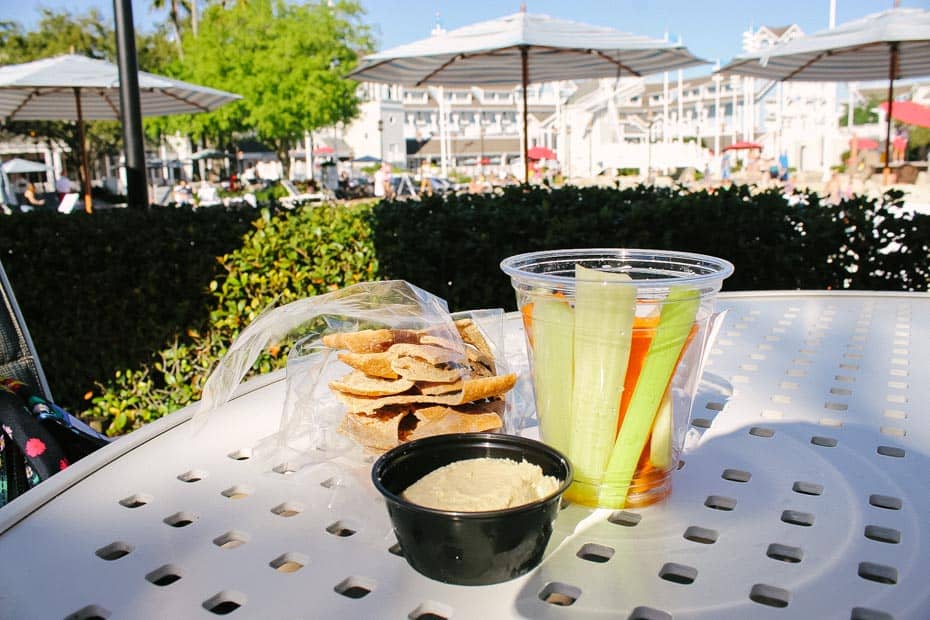 If the cup of celery and carrots hadn't come with the snack, I would have trashed the entire thing.
Those pita chips were literally garbage. They tasted like old, stale bread that should have been tossed out a week prior. Thankfully, the veggies were fresh, and I enjoyed a quick bite at the pool.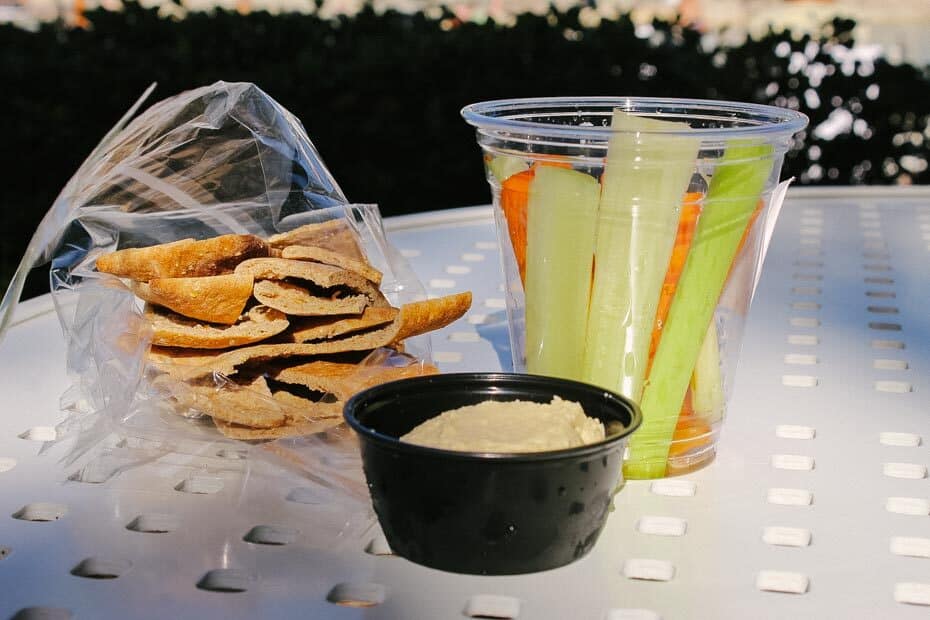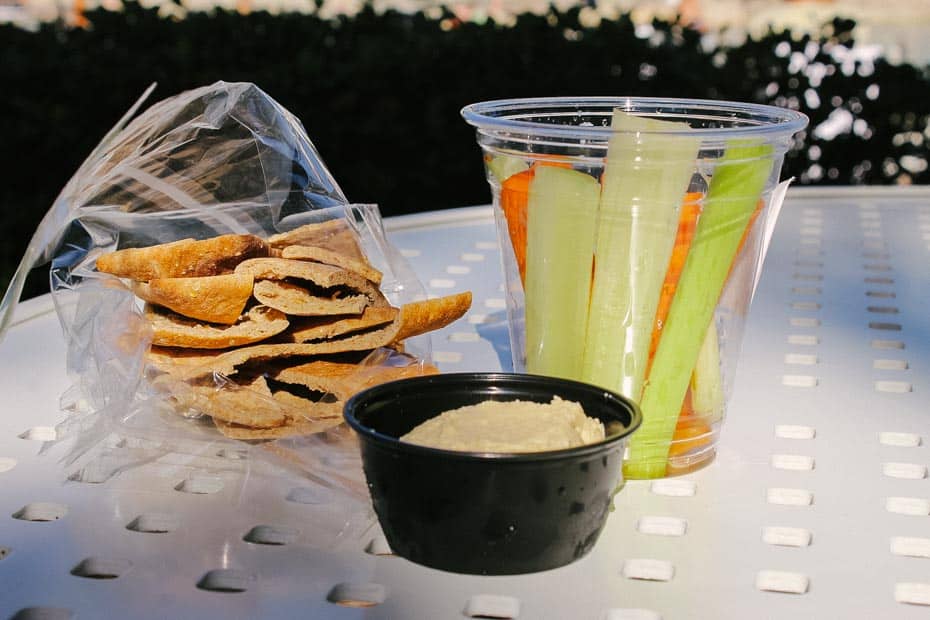 Maybe some house-made chips or another option would have helped. At least there wasn't a large expense involved.
My best advice is to check the menu items and see if any fresh, made-to-order items have returned on your trip. For kicks, I googled "veggie sandwich at Disney's Beach Club," and an article here from Vegan Disney World popped up. Their take on the pre-made sandwich is exactly what I would expect….not good.
If you find yourself at the pool here, I can suggest an option to help remedy this issue. I recommend ordering a to-go meal from Ale and Compass restaurant, pick it up, and then bring it back out to the pool.
The only issue is that they serve breakfast from 7:30 to 11:00 and dinner from 5:00–10:00 p.m. So there's not a good option for that long lunch period in between. Additionally, the Beach Club Marketplace does have a few made-to-order items on its menu, so all is not lost there. Make sure to familiarize yourself with Disney mobile order before your trip.
If you are looking for more dining options at Disney, I have a full list of Disney Restaurant Reviews. Those include a mix of regular dining, vegetarian, and vegan meals.
Please leave a comment and share your thoughts on any of these items discussed. I welcome other's feedback in the comments. What is your take on pre-made items?
I will return to Hurricane Hanna's at some point to see what changes have been made. And while I don't want to deter you from enjoying a meal here, my best recommendation is to check the menu first.