Disney's Hurricane Hanna's Waterside Bar and Grill Review
Disney's Hurricane Hanna's Waterside Bar and Grill is the quick service dining location for the pool area at Disney's Yacht and Beach Club Resort. This quick-service sits toward the back of Disney's Stormalong Bay Pool.
Over the years, I've eaten at Hurricane Hanna's numerous times, and it's a place I recommend. Whether staying at the resort or just passing through in the afternoon, a meal here is usually pleasant and affordable.
When I initially wrote this review of Hurricane Hanna's, the resorts were still in the reopening stage. Additionally, both had shifted to offering mostly pre-made items at their primary counter-service locations.
Unfortunately, both The Market at Ale and Compass and Beach Club Marketplace still offer a good deal of premade sandwiches. However, as of early 2022, Hurricane Hanna's has returned to providing more made-to-order items on its menu.
Before we continue, I have to take a moment to mention the cast members that work here. Since I frequent the Beach Club, I've become familiar with the friendly faces that work there.
The majority of the cast at Hurricane Hanna's have been there for years. And they do an excellent job of taking care of their guests.
I don't always take the time to brag on these people as much as I should. But they do an excellent job at adding a personalized touch to the overall vacation experience.
This article was updated on February 6, 2022.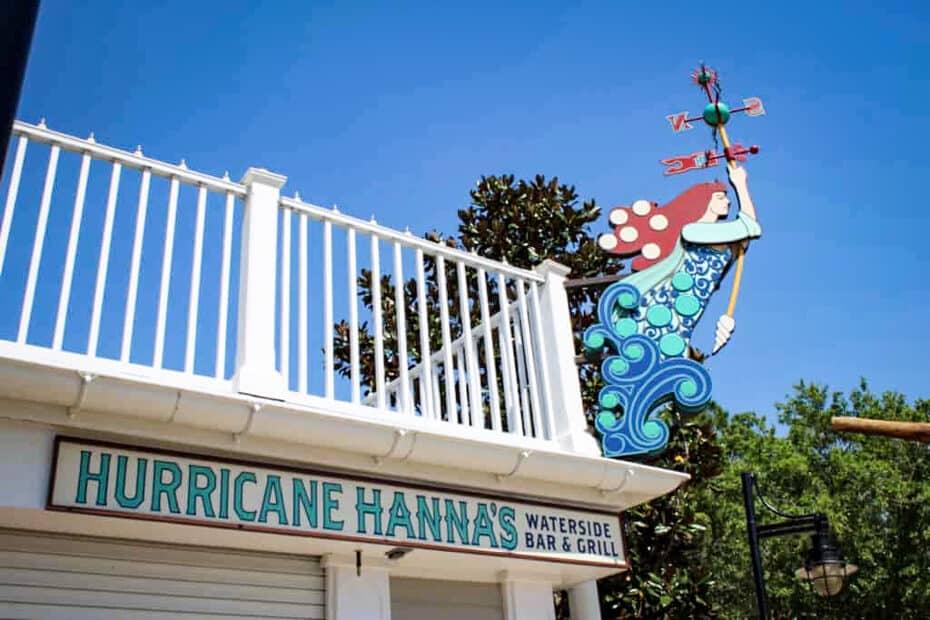 Hurricane Hanna's is located on the walkway between Crescent Lake and Stormalong Bay pool. There is usually an A-frame sign out on the outer walkway indicating their location.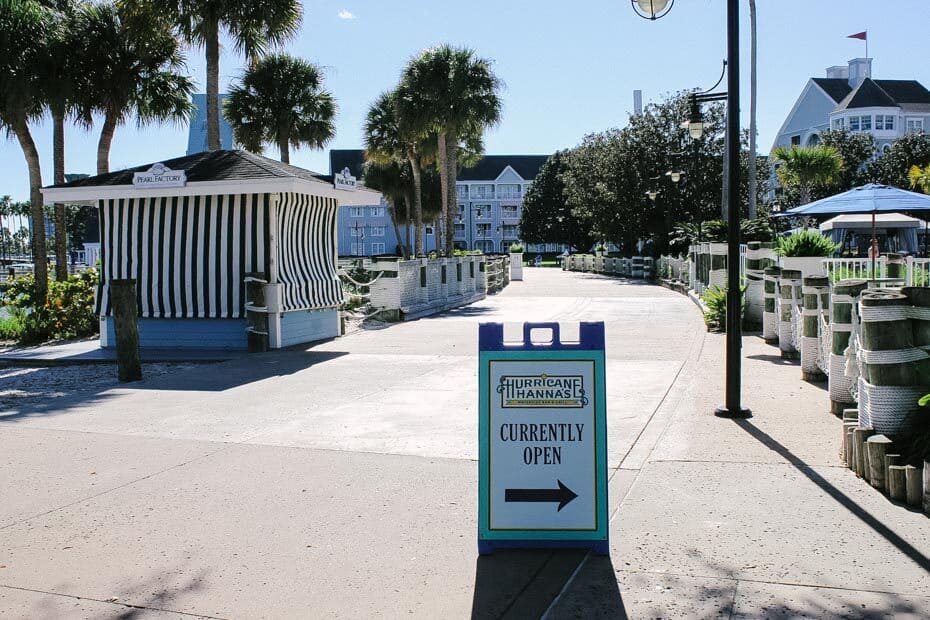 Anyone can stop in at Hurricane Hanna's for a meal, drink, or snack. As I mentioned above, I look forward to having a meal here, even when I'm not staying as a guest.
The outdoor dining area is casual, with high-top tables, umbrellas, and chairs. You can't beat the view of the surrounding Epcot Resorts Area.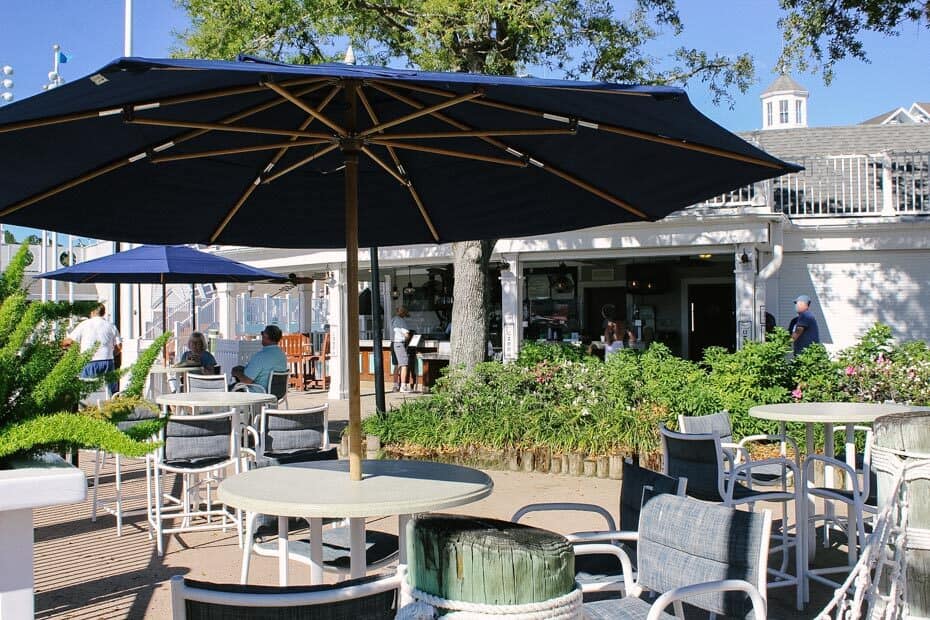 Guests of Disney's Yacht or Beach Club Resort can take their order back inside the pool area. However, if you aren't staying at either resort, you'll need to eat in the public dining area.
Security usually stands at the pool gates checking for wristbands. So if you're not staying there, you're probably not getting past them, which is understandable given what guests pay to stay there.
When I initially wrote this article, I was working on a piece for the resort's pool area. Therefore, I felt I should have a meal at Hurricane Hanna's to provide the entire experience.
Related: Disney's Stormalong Bay Pool Area
At the time, I was on a vegetarian diet. So I was disappointed to see there wasn't much to choose from on the menu.
Earlier that day, I had enjoyed a wonderful late breakfast at Primo Piatto, Riviera's counter service. Since then, I had walked all over Disney and back. So, I had built up quite an appetite.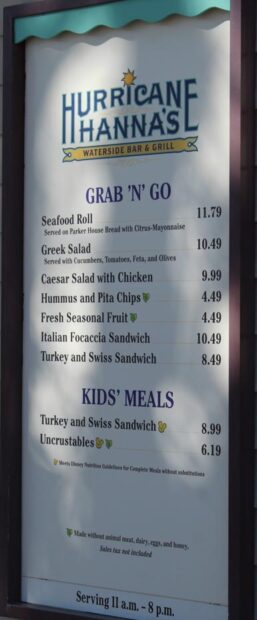 Unfortunately, all of the items listed were pre-made entrees and snacks. No, thank you.
A few days before, I had enjoyed a freshly prepared meal next door at the Swan and Dolphin's Cabana Bar and Grill. That was an excellent meal, reasonably priced, and you couldn't beat the poolside location.
I don't know about you, but when I'm visiting a deluxe resort at Disney, I expect much higher quality food than what I can pick up at a gas station. I hate to sound harsh, but these premade items were already taking over before the closure.
Anyway, back to Hurricane Hanna's, one portion of the quick service is the pool bar.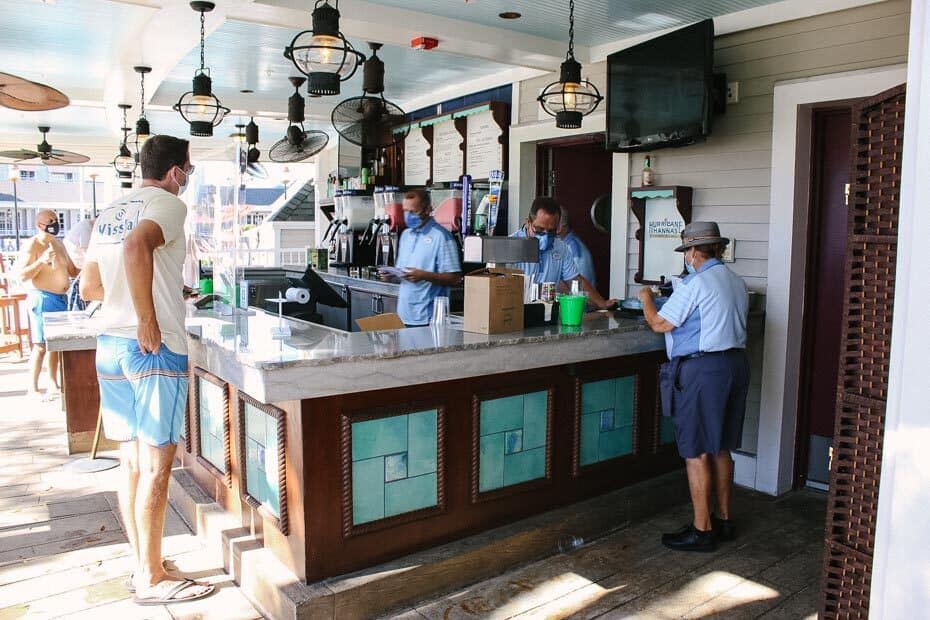 In addition, there's a separate food service window to the right of the bar. This area houses a kitchen where items are freshly prepared. Thankfully, that area has reopened.
Before this visit, the last time I had a meal at Hurricane Hanna's was when we stayed club level at the Beach Club. On that visit, I ordered Hanna's bacon cheddar burger with fries.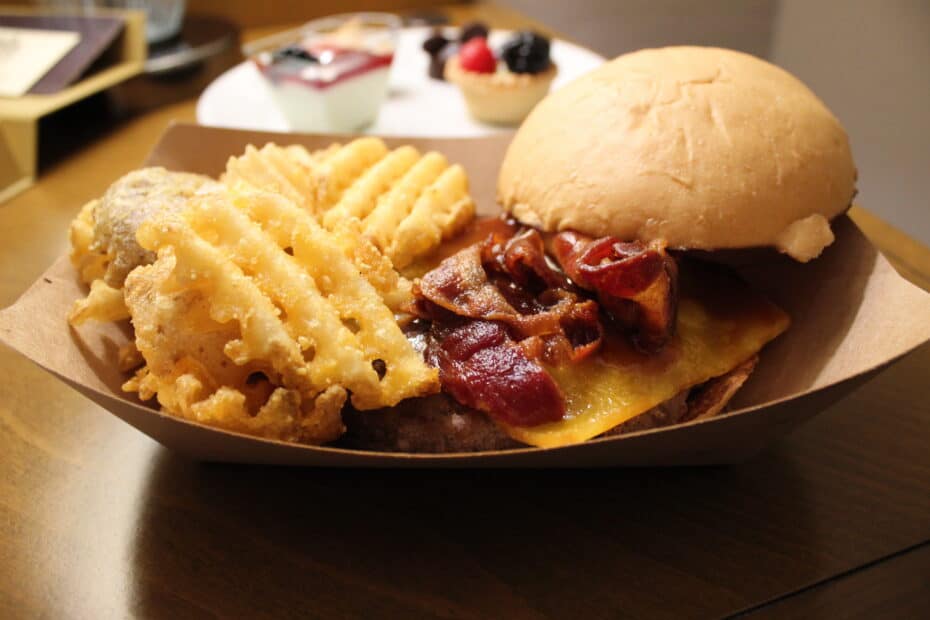 I remember coming back from Epcot and stopping in to place a to-go order for the burger. I also ordered allergy-friendly chicken nuggets for my son. We enjoyed a lovely meal in our room.
On the next visit, I would have loved to order fries or even a plant-based burger. But my only option was the hummus and pita chips, as shown below.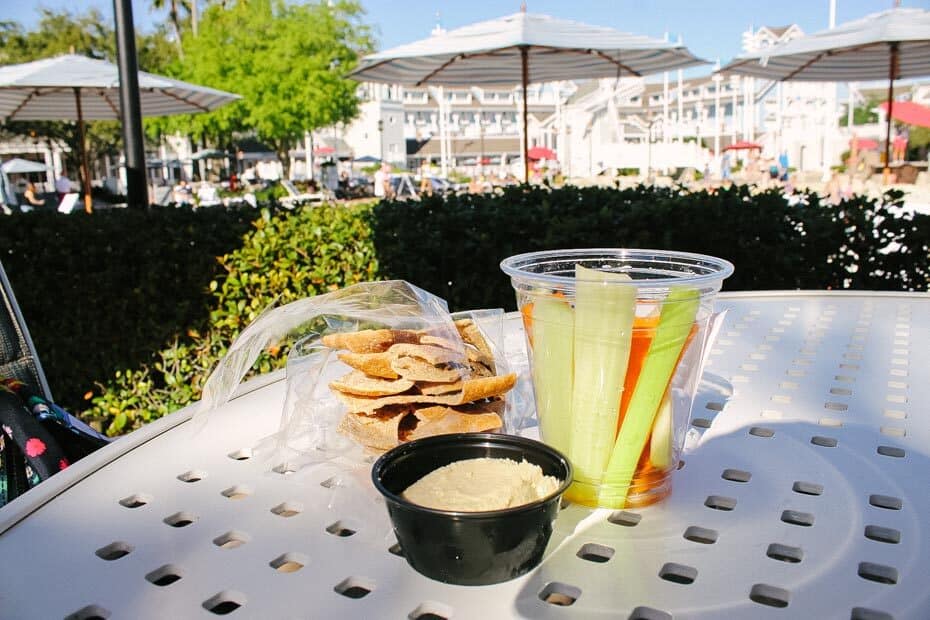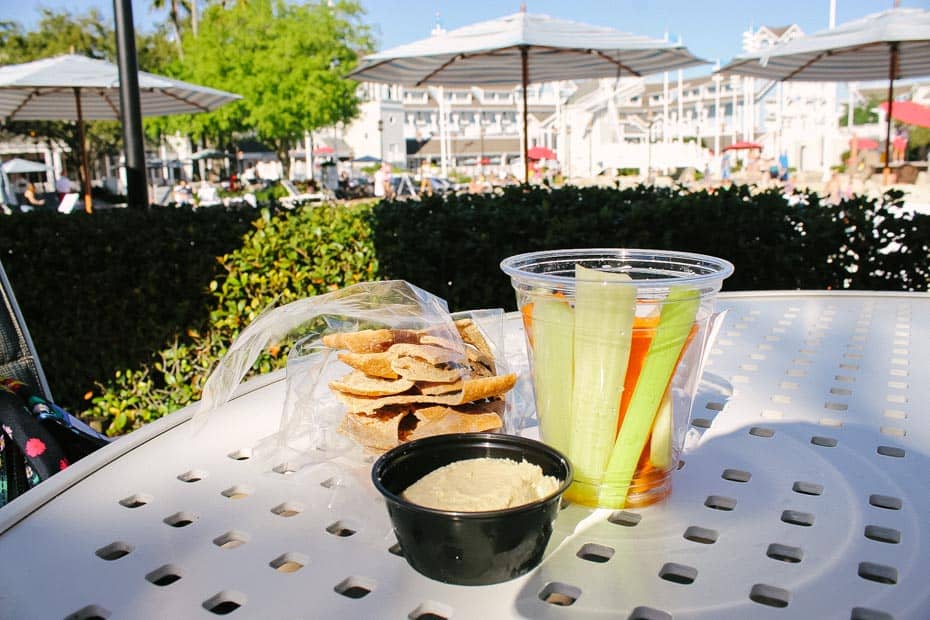 As of this update, a quick menu check shows this item is still on the menu. It's listed as hummus and crudites. If the cup of celery and carrots hadn't come with the snack, I would have trashed the entire thing.
Those pita chips were literally garbage. They tasted like old, stale bread that should have been tossed out a week prior. Thankfully, the veggies were fresh, and I enjoyed a quick bite at the pool.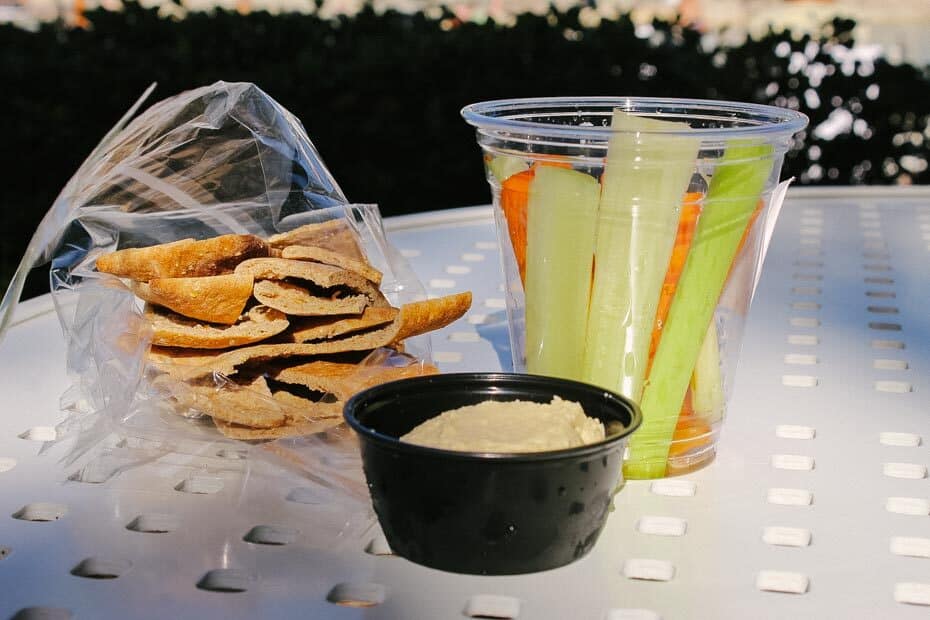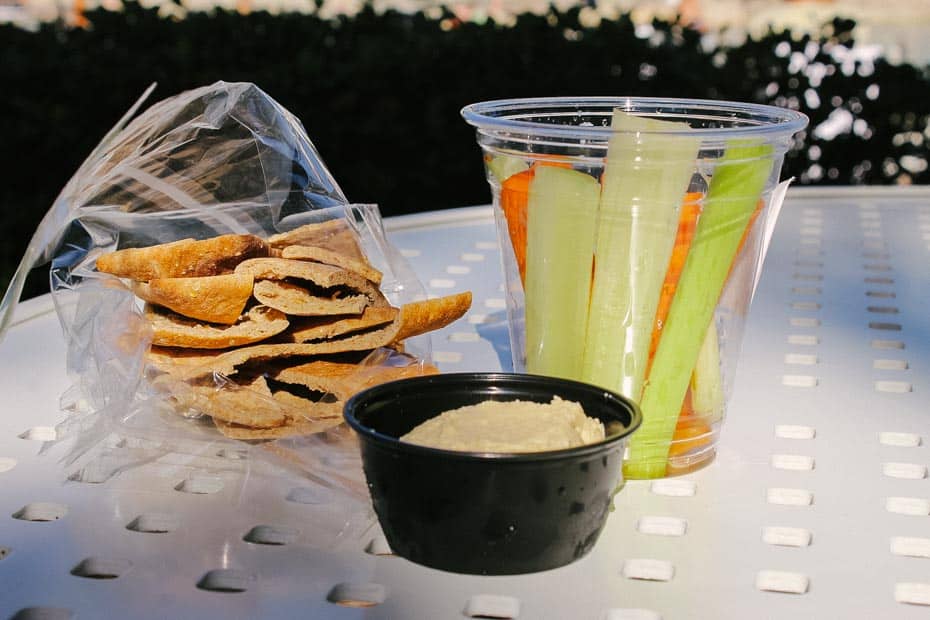 Maybe some house-made chips or another option would have helped. At least there wasn't a considerable expense involved.
Then in the late Fall, we spent a week at Disney's Beach Club Villas. On this visit, I rented a cabana at the pool.
Related: Poolside Cabana Rental at Disney World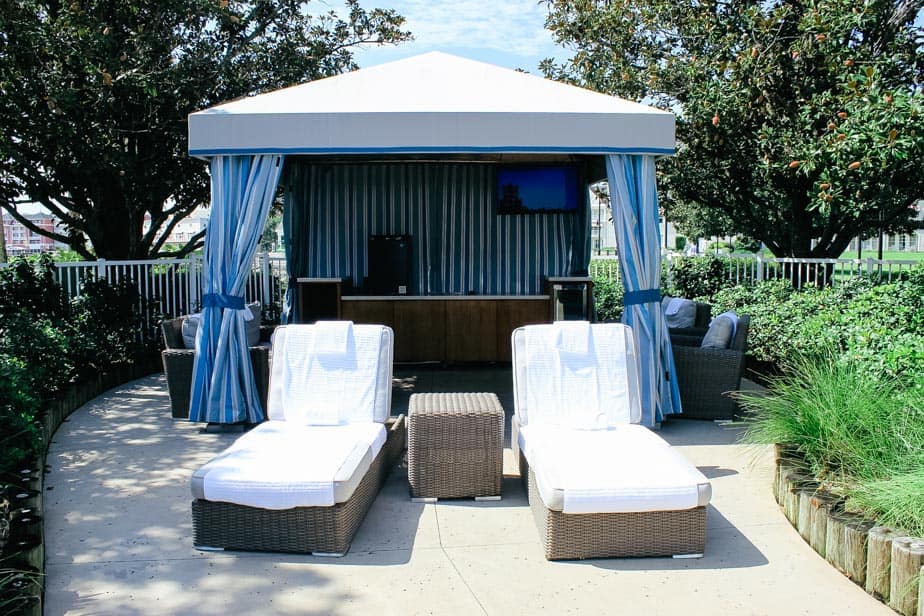 One of the perks of the cabana is having a server from Hurricane Hanna's wait on you throughout the day. When I arrived that morning, menus were waiting.
I was happy to see that these hot, freshly-prepared items were available. Hanna's Bacon Cheddar Cheeseburger was back. And there was even a vegan Impossible burger on the menu.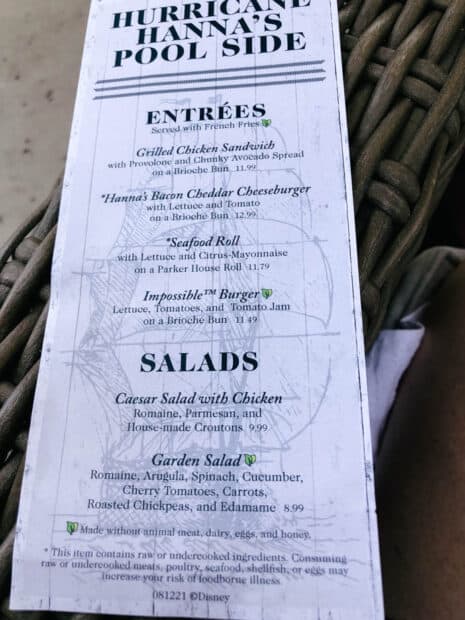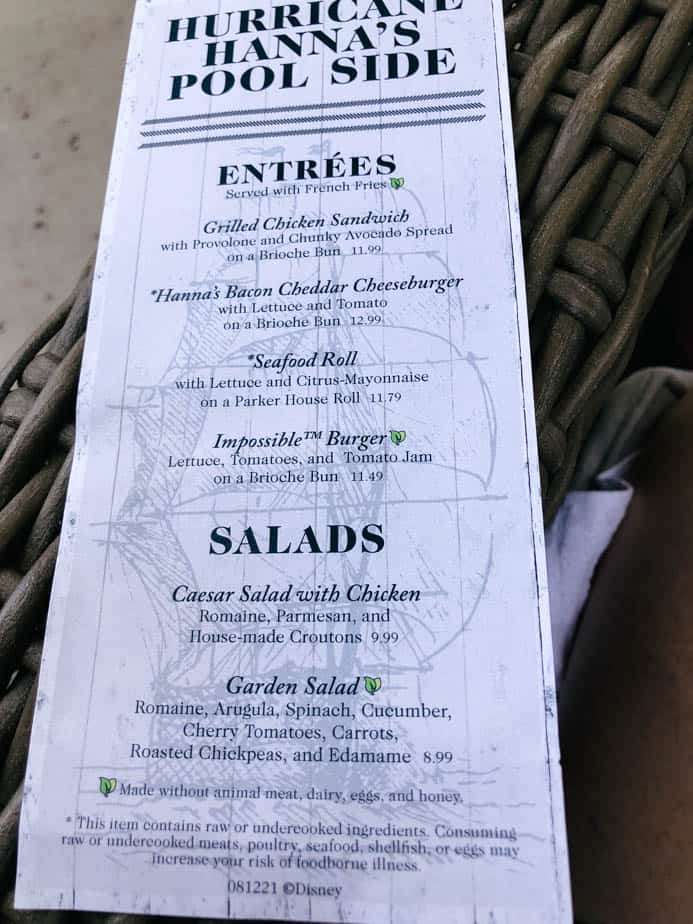 It felt like someone had read this article.
The opposite side of the menu listed the premade items that are still available. Anything that says grab-and-go means it's already made.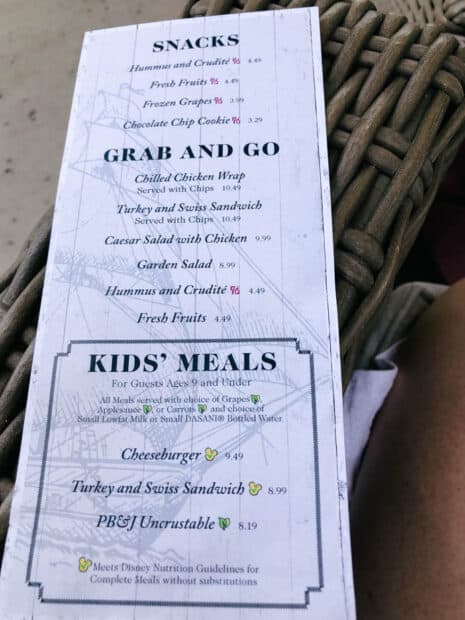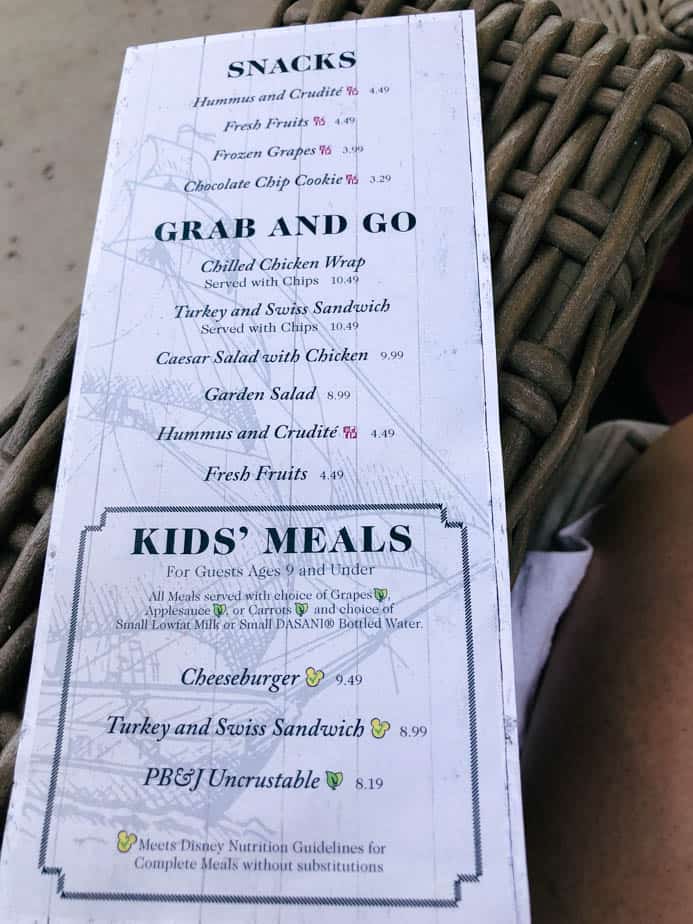 Additionally, there was a beverage menu available. Unfortunately, it wasn't in the best shape.
However, this is Disney's standard cocktail menu that's available at pretty much every resort pool.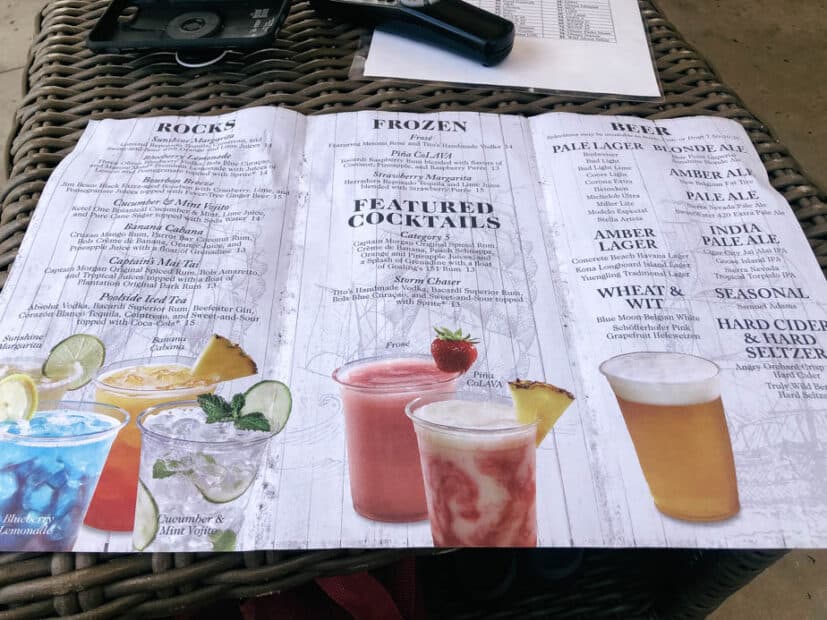 Kristen was with me on this visit, and she ordered the Uncrustables kids' meal. All of the kids' meals at Hurricane Hanna's come in a sand pail with a shovel.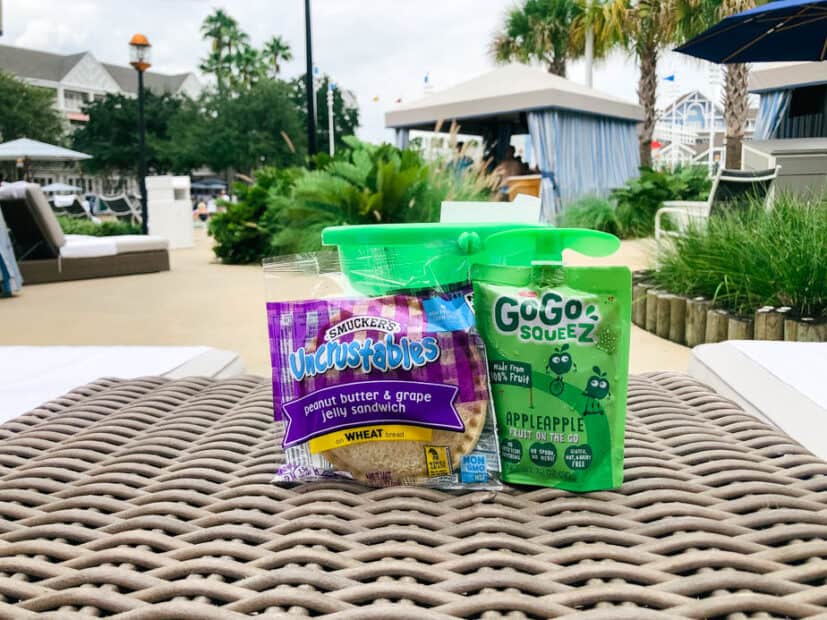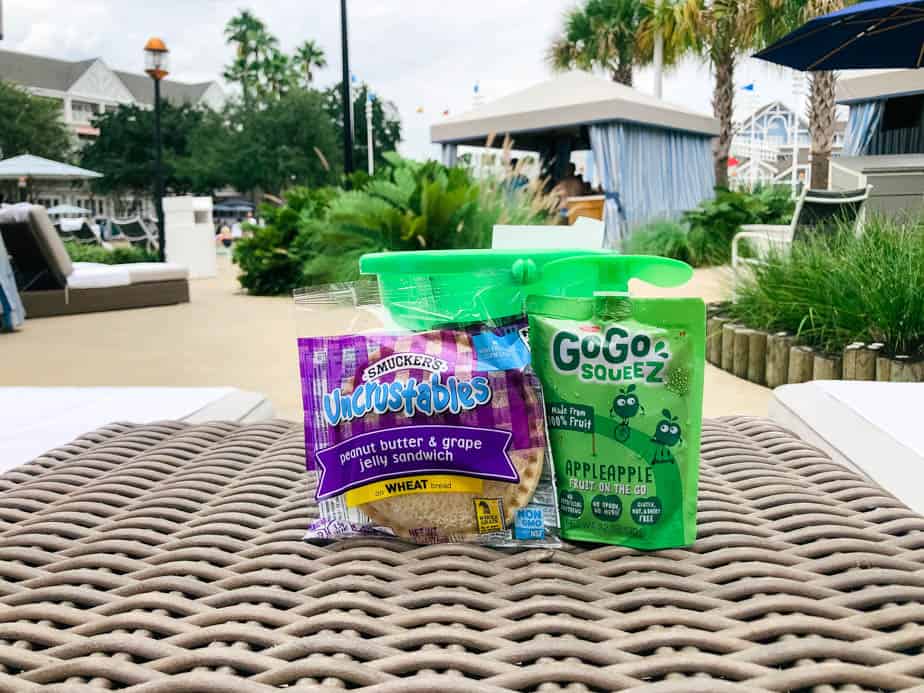 So, if you have children, you'll likely want to order at least one. They can have a snack or a meal. Then they can use the sand pail out in the sand-bottom pool.
One of the pools has a large mound of sand in the middle. Warning, children will want to spend their entire vacation out here.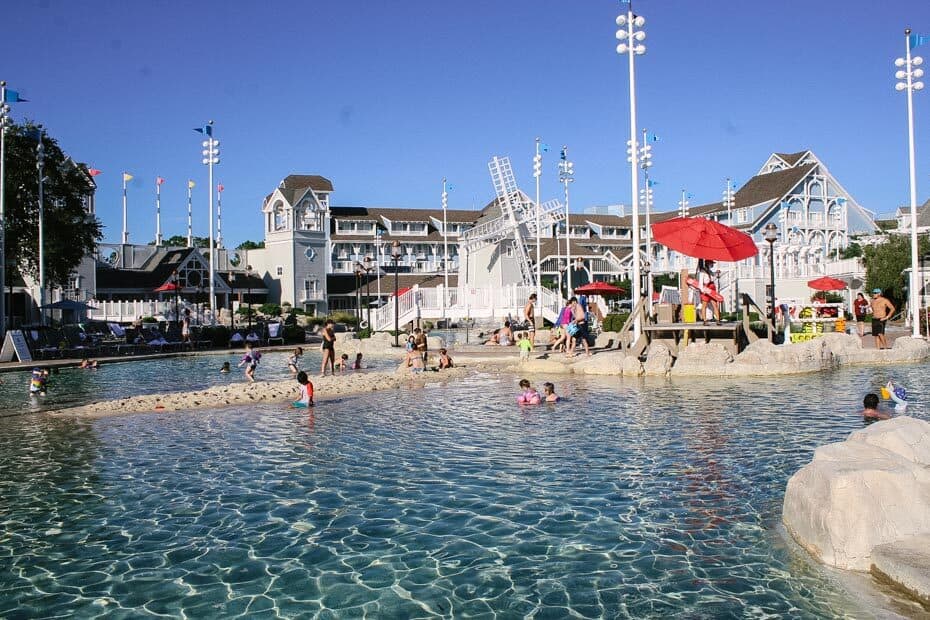 On our cabana day, I ordered a grilled chicken sandwich with avocado and cheese. It was served on a Brioche bun with fries.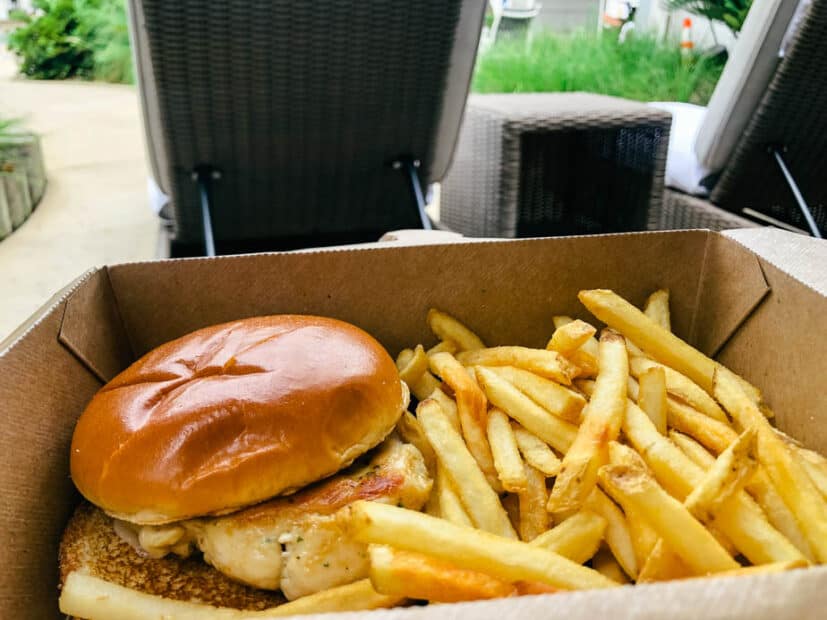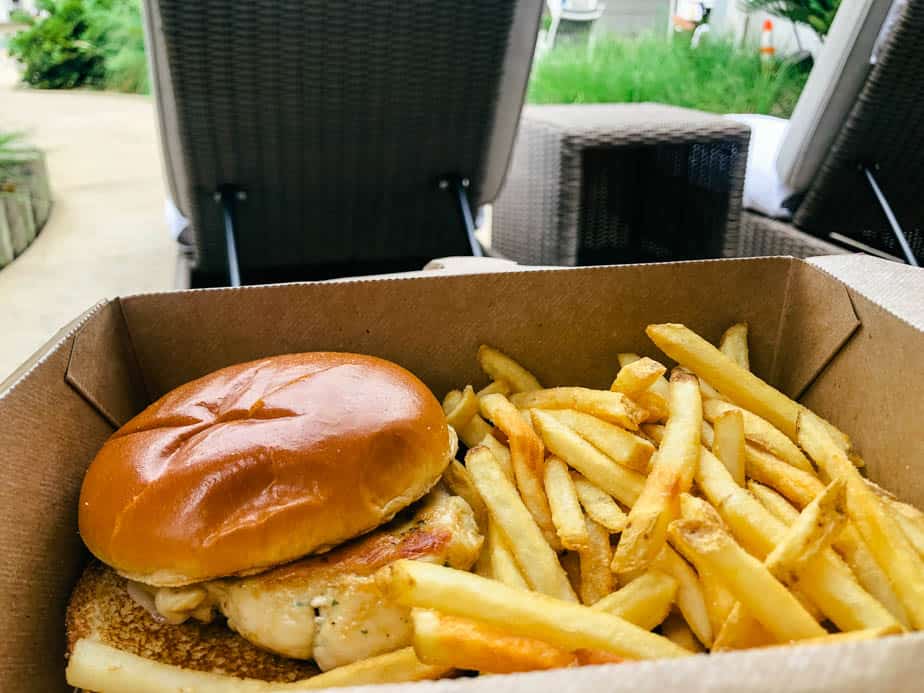 This was a great sandwich to enjoy at the pool. It was large enough that you could easily split it with someone.
Overall, I was glad to see that Hurricane Hanna's has returned to its former glory. With a lack of counter service dining options in the area, a stop like this is desperately needed.
For more dining in the area, you might enjoy these other articles:
Additionally, all of our articles for Disney's Yacht Club are listed here. And all of our articles for Disney's Beach Club are here.
And here are a few other favorite Disney Restaurant Reviews you might consider:
Comments: What are your thoughts on Hurricane Hanna's? Does this look like a place you might enjoy a meal?