A Mini-Review of Wolfgang Puck Bar and Grill at Disney Springs
This article reviews Wolfgang Puck Bar and Grill at Disney Springs.
Wolfgang Puck Bar and Grill is a contender in our list of the best restaurants at Disney Springs, and with good reason. On a recent visit to Disney Springs, I stopped in for lunch and ended up with enough food to feed a small army.
My intention was to order Wolfgang's famous Chinois Chicken Salad, and I did. Only somehow, I ended up with an additional entree and dessert. Let me tell you how it went.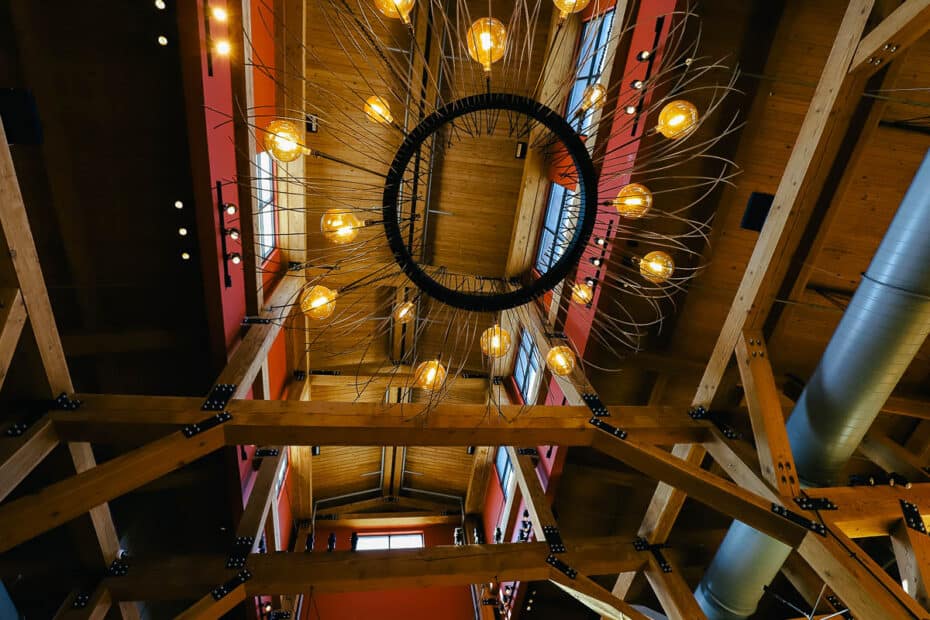 Wolfgang Puck Bar and Grill is located in the Town Center portion of Disney Springs. It's closest to the orange parking garage and directly across the walkway from Chicken Guy!
Related: Chicken Guy Review Disney Springs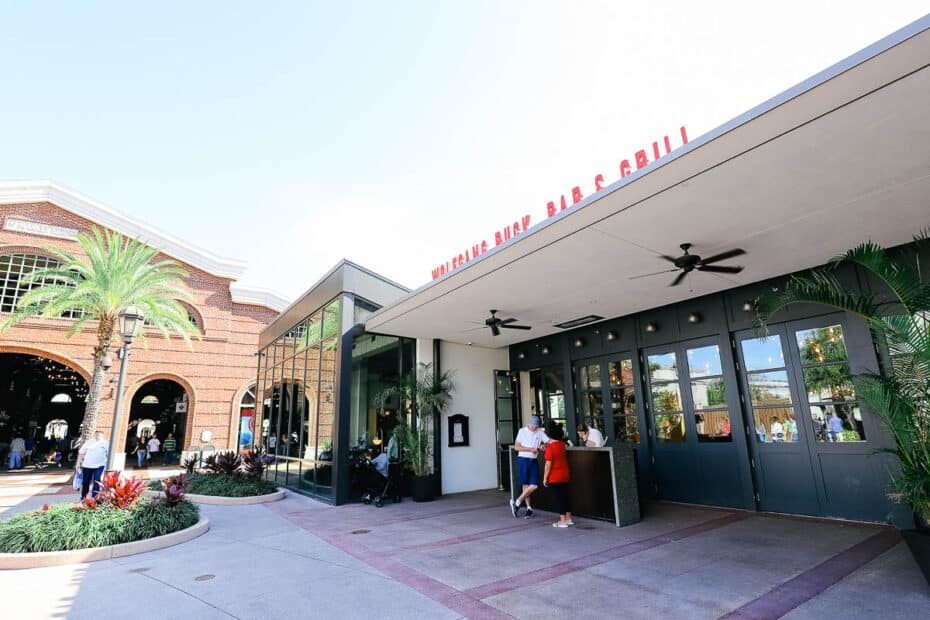 Formerly, Wolfgang Puck had a counter-service restaurant at Disney Springs called Wolfgang Puck Express. Of course, at that time, the venue was called Downtown Disney.
If you ever visited Downtown Disney, you might have eaten there. For some of us, having dinner at Wolfgang Puck Express on our arrival day was almost like a rite of passage.
But when Disney rebranded the space to Disney Springs, it was out with the old and in with the new for Wolfgang Puck's brand. A new restaurant, Wolfgang Puck Bar and Grill, was to be built. Only this location would be considered a signature dining location.
Related: Signature Dining at Disney World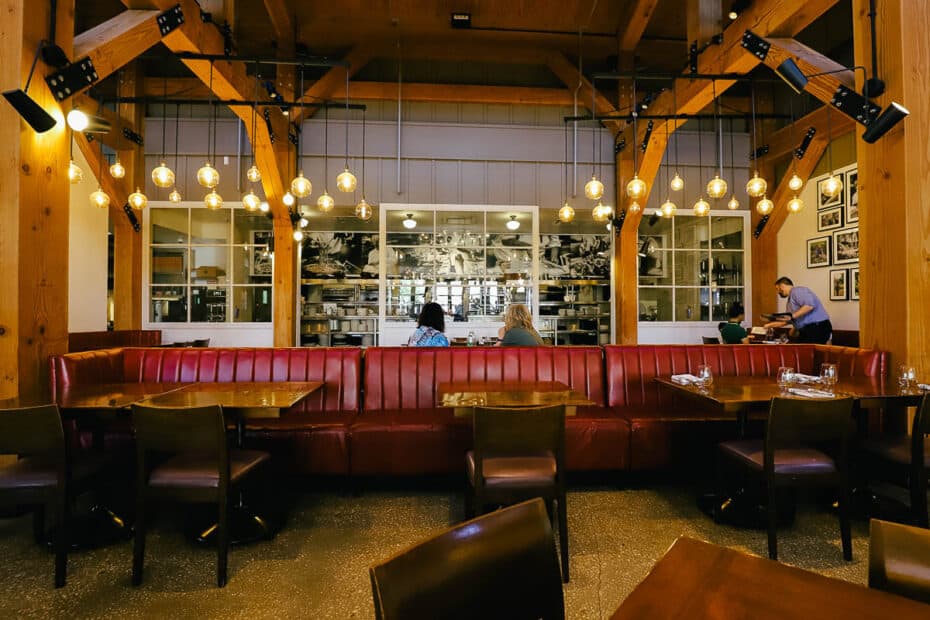 A while back, Disney+ released a documentary detailing Wolfgang Puck's life. So naturally, being the chef-y person that I am, I watched it.
My main takeaway was that he invented the Chinese chicken salad. He created it in the early 80s for his restaurant Chinois in Santa Monica.
As you can imagine, it was a hit and quickly became one of his signature dishes. So a few months ago, I was at Disney Springs, and I stopped to browse the menu posted outside.
That's when I saw the Chinois Salad on the menu. I vowed then and there to return for lunch one day and try the original version of the salad. Little did I know what I was getting myself into.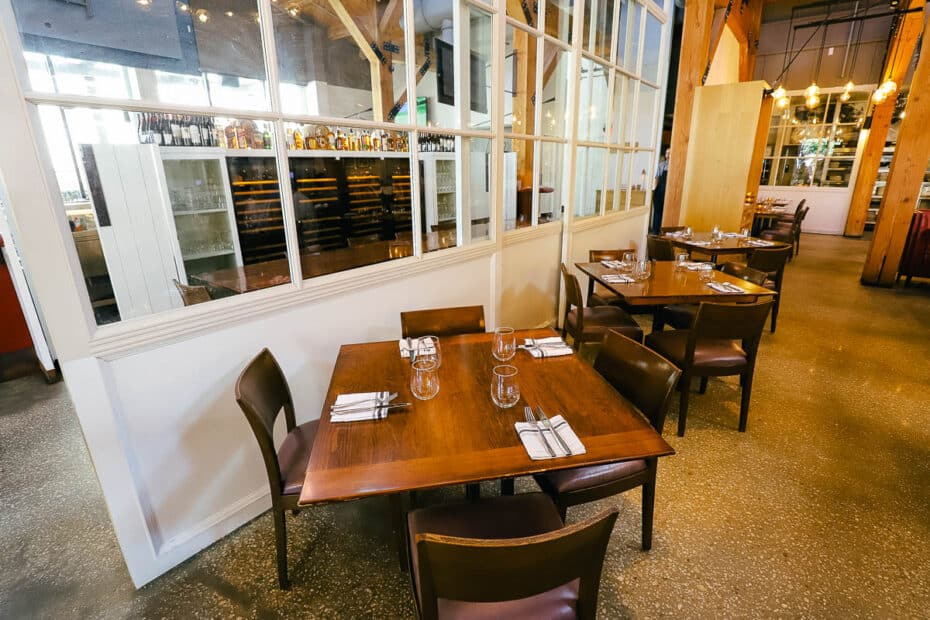 Wolfgang Puck Bar and Grill has a simple, sleek interior divided into three spaces. Toward the front of the restaurant, there's an area with counter-height seats surrounding a wood-fired pizza oven.
Someone is actively preparing pizzas while you dine. This might be an interesting place to sit on a future visit.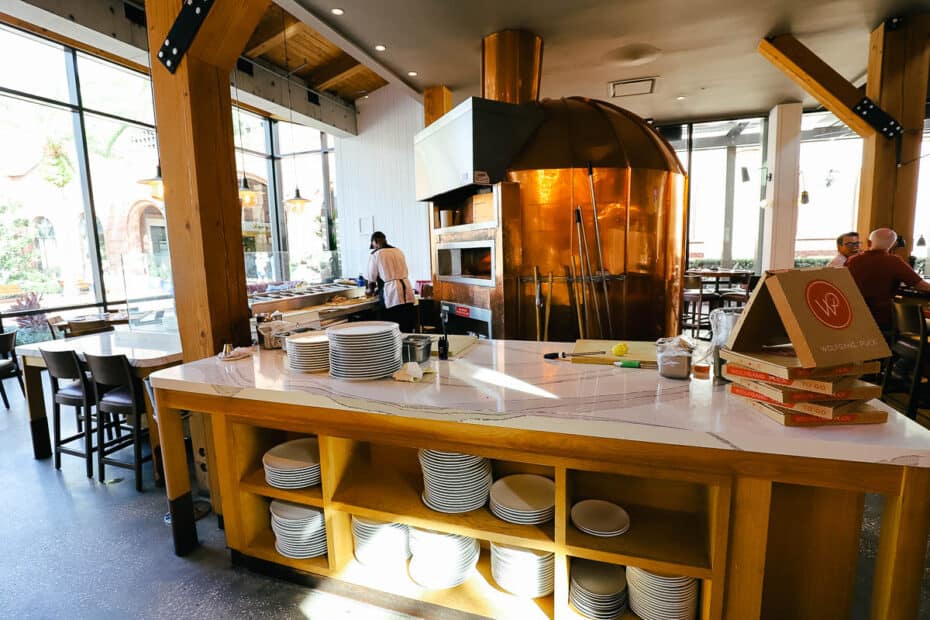 There were a few copies of Wolfgang Puck Makes it Healthy on display.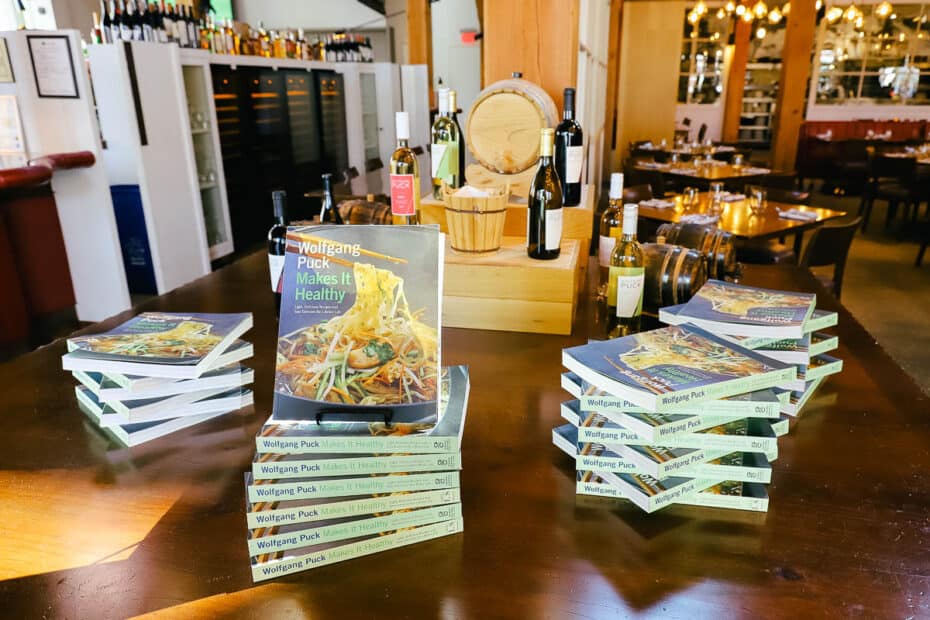 But what I loved most about the restaurant was the traditional farmhouse touches and stunning light fixtures. It's almost like two contradicting designs collided and formed the most pleasant dining space.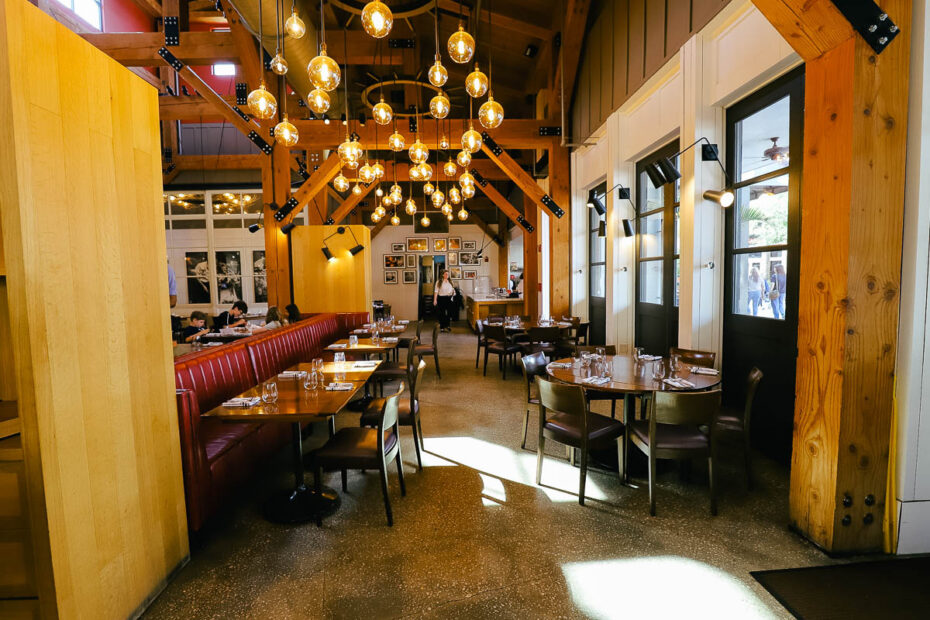 If you're a larger party, you might end up at this semi-private table between the bar and the main dining room.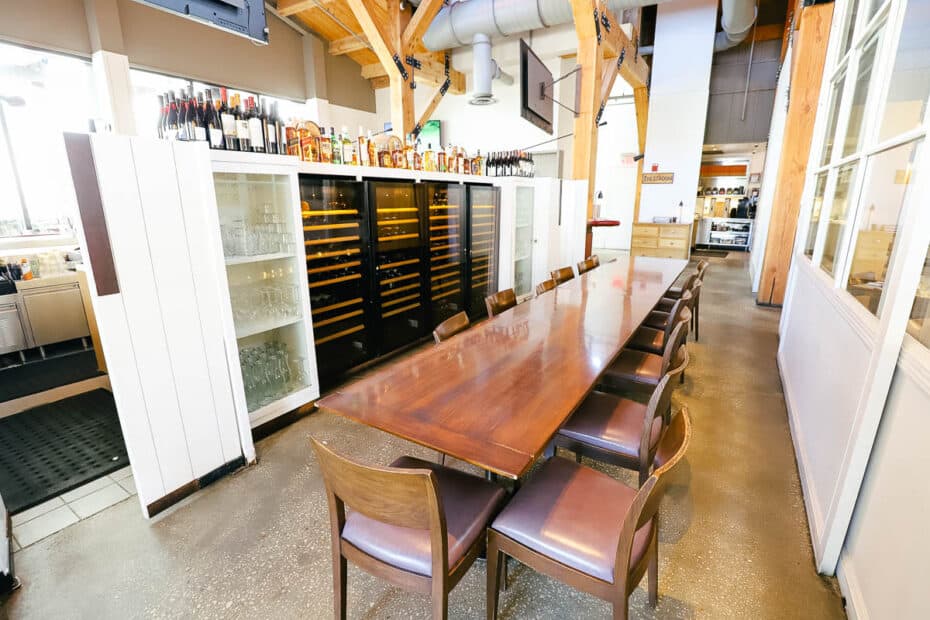 Speaking of the bar, it's considerable.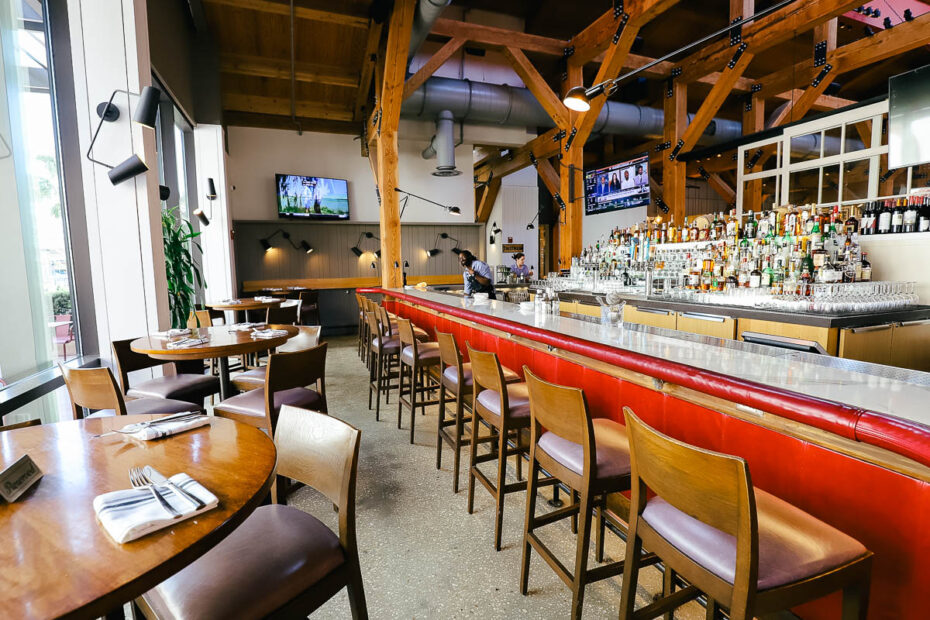 I imagine they could make you almost any cocktail you desired.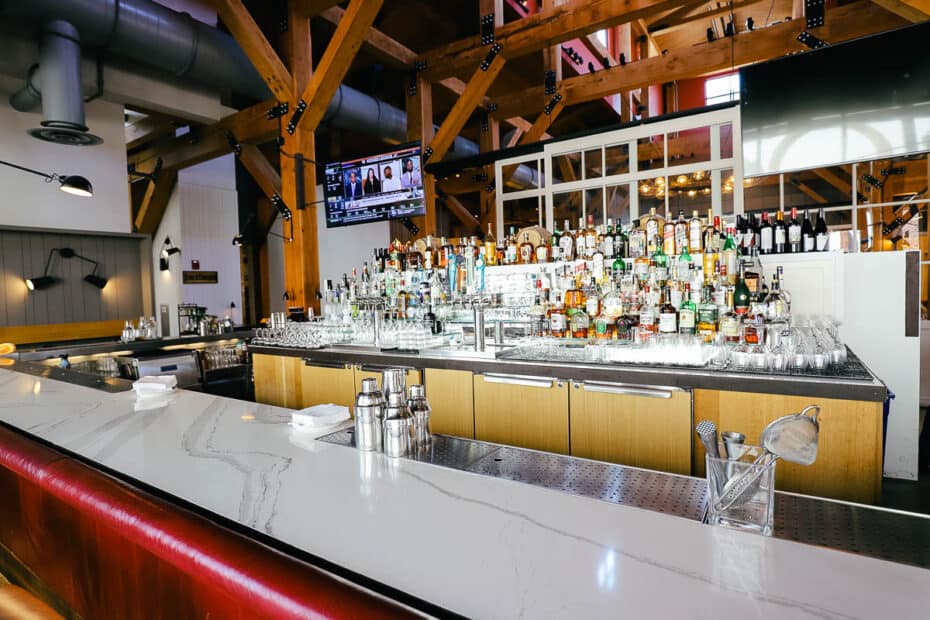 I arrived at Wolfgang Puck on a reasonably slow weekday a little before lunchtime. I planned to order the salad and find a spot to enjoy it outside. However, there weren't many people at Disney Springs, so I ended up inside at a table.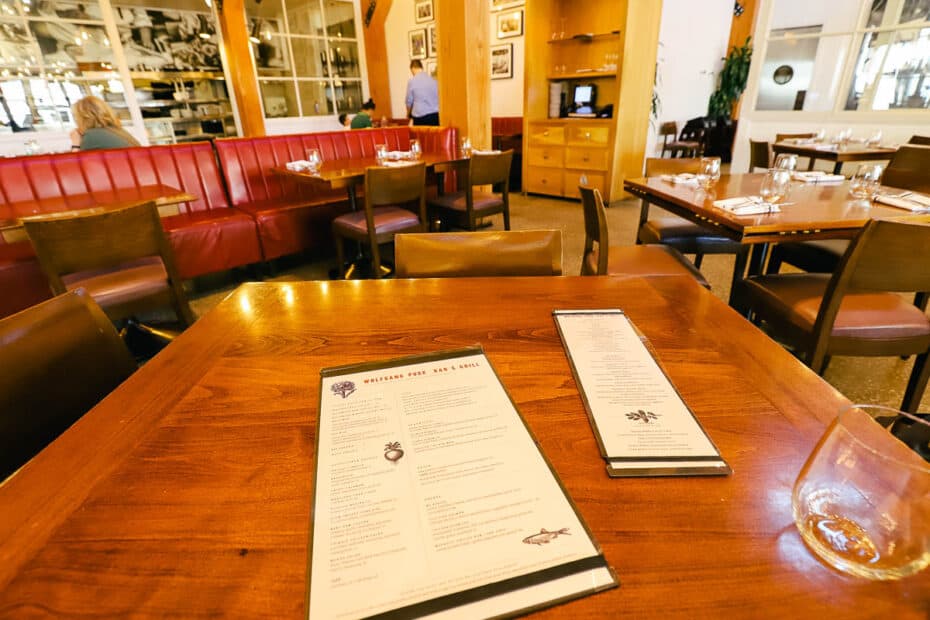 Here is the menu, or you can preview it here on the Disney Springs site.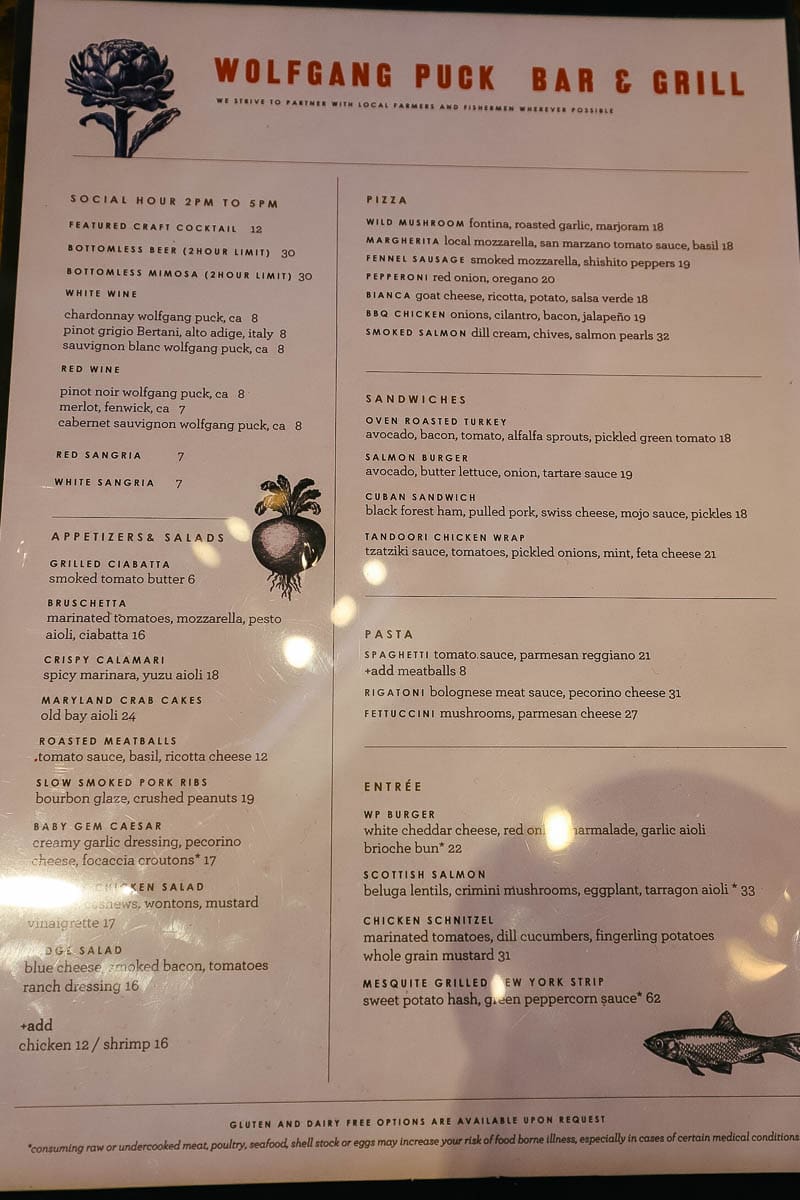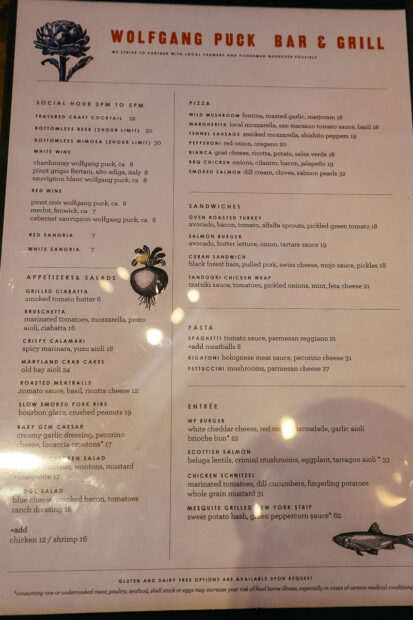 Also, I was presented with this second menu with a unique offering. Of course, this offering was specific to the time of my visit, so you might not find the same deal. But the server said from time to time, they have specials.
For $39.00 per person, you get a salad, an entree, and a dessert. Upon first glance, I noticed the Chinois Salad was listed as one of the salad selections. So I could order the salad for $17.00, or I could try two other items with the salad for $39.00.
Ultimately, I decided to go with the three-course menu. It seemed like a no-brainer.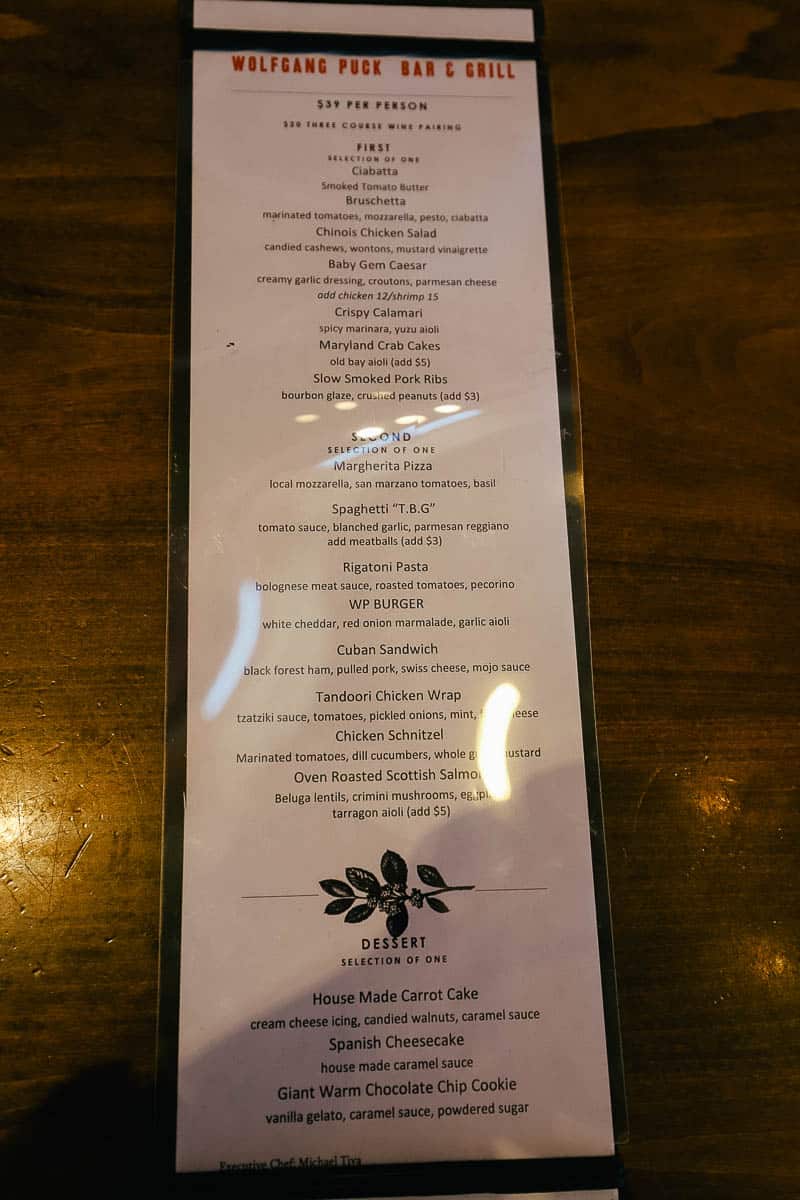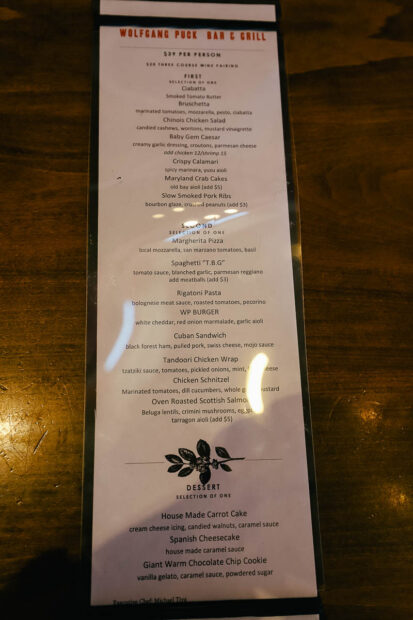 My first course was the Chinois Salad, and it was delicious. However, I was surprised that I received such a large portion.
Wolfgang's Chinois Salad contains lettuce mixed with carrots, cabbage, chicken, candied cashews, and wonton strips. It's tossed in a mustard vinaigrette.
After the fact, I found out this is the whole portion. It's more than enough for one person. Since this was a three-course menu, I had expected to receive smaller amounts of each item. However, everything came out as it would if you ordered it individually.
Anyway, I loved the salad and found it refreshing and filling. I would gladly order it again.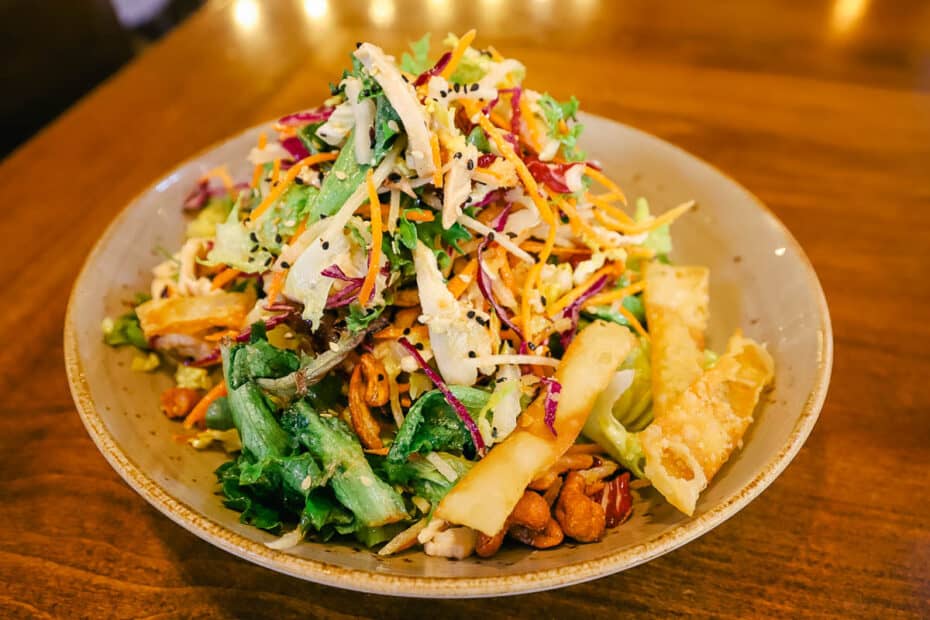 Before long, my entree came out, spaghetti and meatballs. I don't know if you can tell, but this was at least a pound of pasta.
When this dish was presented, the table next to me stopped the waiter. They had each ordered the same three-course menu and asked if they could change it to just one and share it.
Unfortunately, I didn't have that option, and I had plans for the rest of the day. Therefore, I couldn't take leftovers with me. Next time, I'll know better.
With that said, the spaghetti was good. However, it was tomato-heavy, and I'm not a fan of raw tomatoes. So I probably would order something else to avoid the tomatoes. On the other hand, there were no complaints about the meatballs.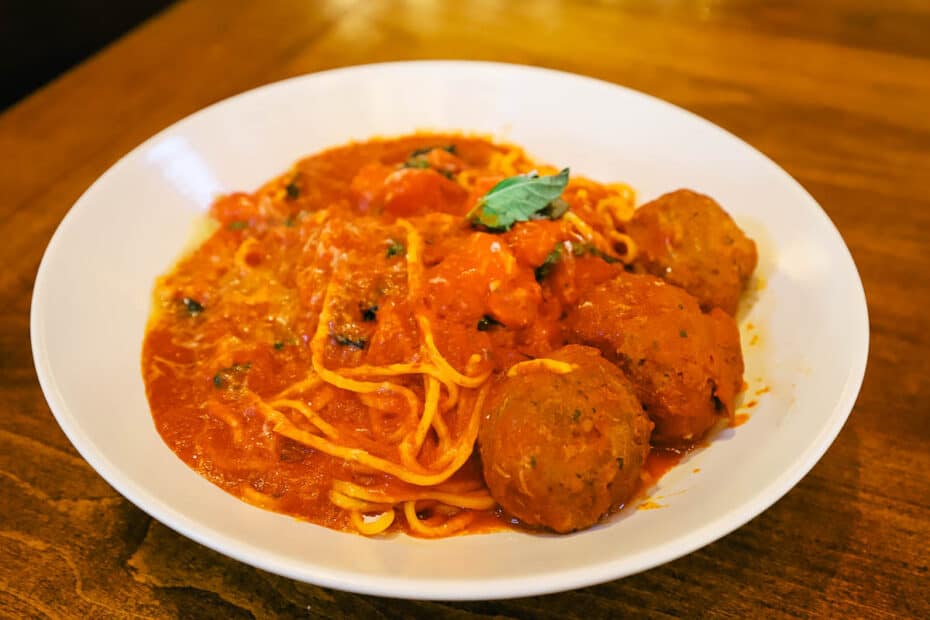 By this time, I was trying to figure out if I had time to run home and store my leftovers in the fridge. But ultimately, I had a busy afternoon, and dealing with traffic could have left me running late.
That's when the carrot cake arrived. Oh my goodness! It was massive, and I was so embarrassed that I kept getting these huge dishes. My table neighbors were laughing and glad they had reduced their order.
It was so yummy. I mean, look at it. This is a housemade carrot cake with layers of cream cheese topped with a rich caramel sauce. A caramel gelato comes on the side. As if it needed ice cream.
Not only that but there were giant drop stars of cream cheese topped with walnut halves on the top and sides. I had to refrain from eating every single bite. But the cake was so soft, and the cream cheese had that perfect twang. It kept you coming back for more.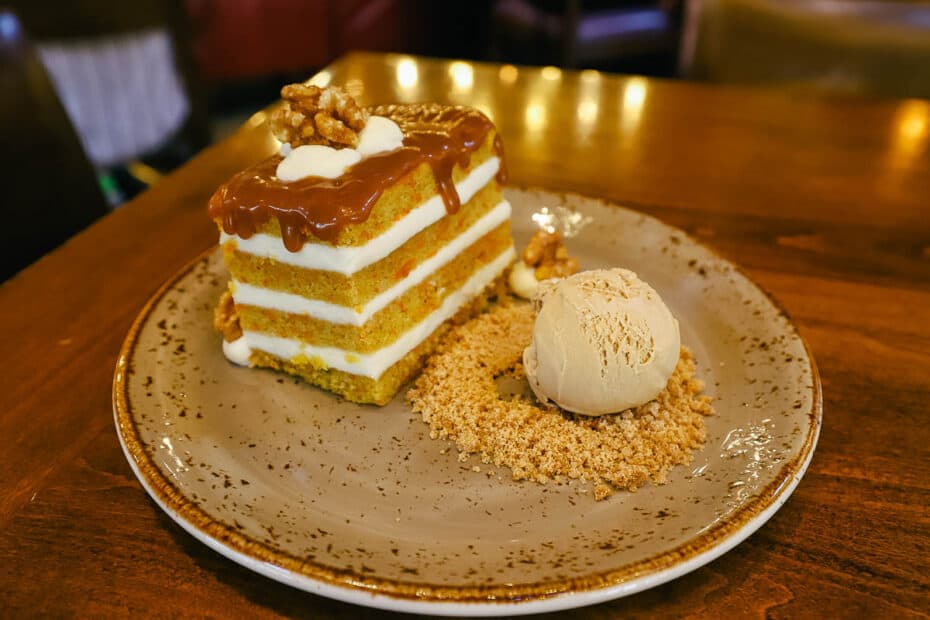 At least half of it was left on the plate, and I sadly waved goodbye when the server removed the dish. It's true what Shakespeare says–"parting is such sweet sorrow."
Looking back, I can't help but laugh at the entire experience. Most of the dining reviews I share here are meals enjoyed with friends and family.
But some days, I am out working by myself. So on those days, I'll end up with a single entree that doesn't constitute a full review.
So the last thing I was expecting at Wolf Gang Puck's restaurant was to leave with enough to share with you. But here we are.
Hopefully, this mini-review of Wolf Gang Puck Bar and Grill gave you an idea of what to expect at the restaurant. We'll eventually get back to try a few more items, only next time I'm bringing someone.
For more dining, you might like to preview our list of Disney Restaurant Reviews. Some of our favorites include:
In the Comments
What do you think of this Wolfgang Puck's Bar and Grill review? Do you enjoy dining at Disney Springs?
Planning a Walt Disney World or other Disney Destination vacation?
Our friends and travel partner, Firefly Travels, excels at doing Disney differently. You can fill out a plan your trip form on their website, and someone will reach out shortly to discuss the specifics.