Akershus Royal Banquet Hall Breakfast Review
Akershus Royal Banquet Hall has now reopened. Unfortunately, as of this update, only dinner is offered at the restaurant. Hopefully, we'll see the return of the character breakfast at Akershus in 2023. We'll update you when it becomes available.
In the meantime, you are welcome to read about the princess breakfast below.
This Akershus breakfast review details having a morning meal at Epcot's Norway with princesses.
Everyone has to have breakfast while on vacation. However, breakfast with princesses is a special treat for the young and young at heart.
Most character dining meals at Disney World, in general, are the kind of place where you take someone special because you know how much they will love it.
Maybe that memory ends up being for you in the long run, especially for those with children too young to remember. Or it might even become a core memory that your child cherishes long after the meal.
Either way, taking your children to these dining experiences is usually a selfless act of love. So in this review, I want to share my experience at the Akershus Breakfast with princesses at Epcot.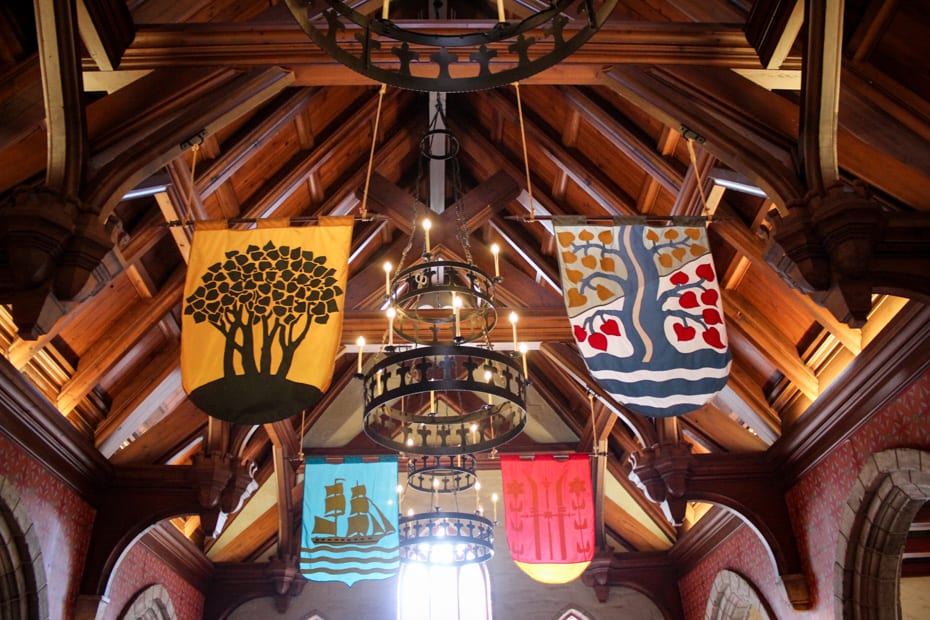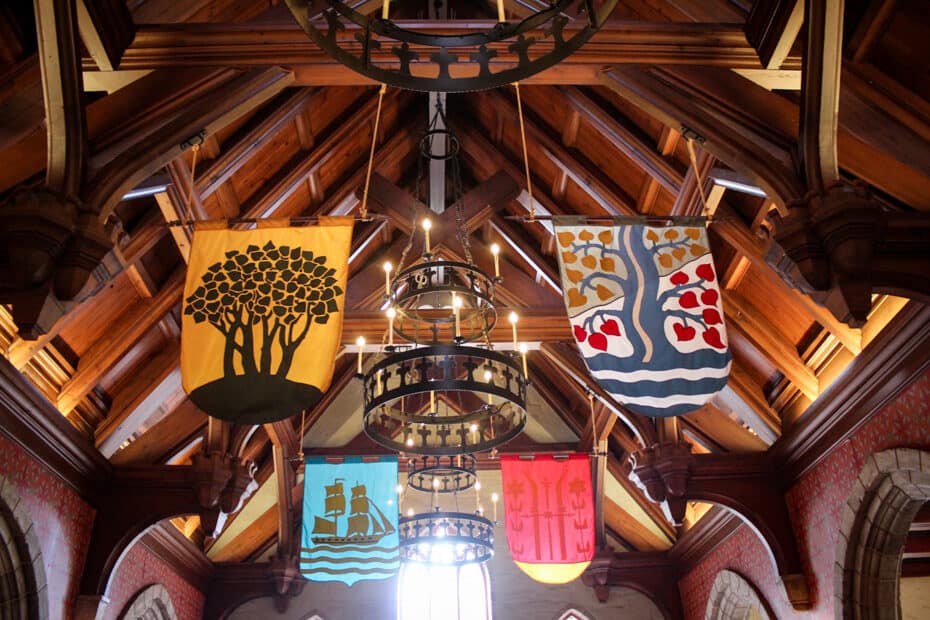 The Akershus Breakfast allows guests to dine with princesses while partaking in a Norwegian smorgasbord-style buffet. In addition, guests will receive an all-you-care-to-enjoy breakfast platter at the table.
The platter paired with the buffet makes for a reasonably substantial breakfast. But the real reason most guests visit Akershus is to dine with princesses.
You'll have the opportunity to meet five princesses at the Akershus breakfast. And while the meal is expensive, you might save hours waiting in line to meet characters later in the day.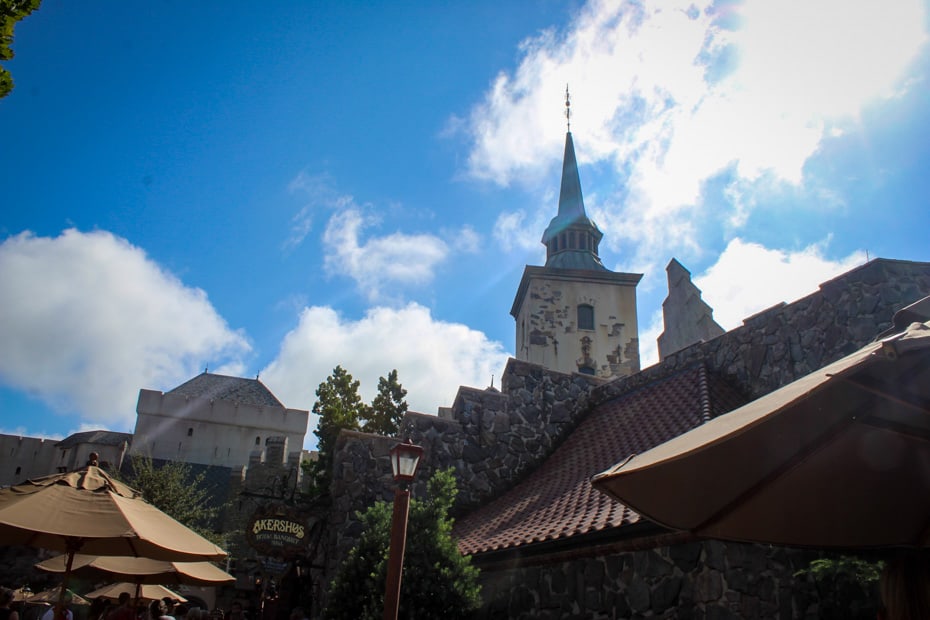 Akershus Royal Banquet Hall is located in the Norway Pavilion of Epcot. The restaurant is immediately on the right if you are heading into the pavilion.
Additionally, Akershus requires reservations.
Reservations for character dining are typically sat in staggered groups. So after checking in, it might take a few minutes for your group to be called.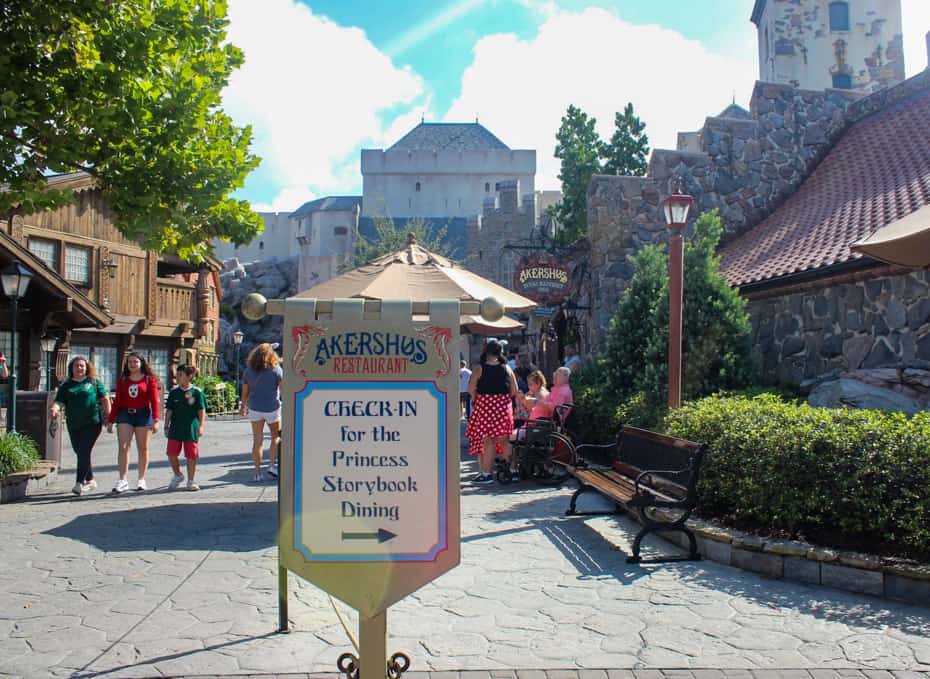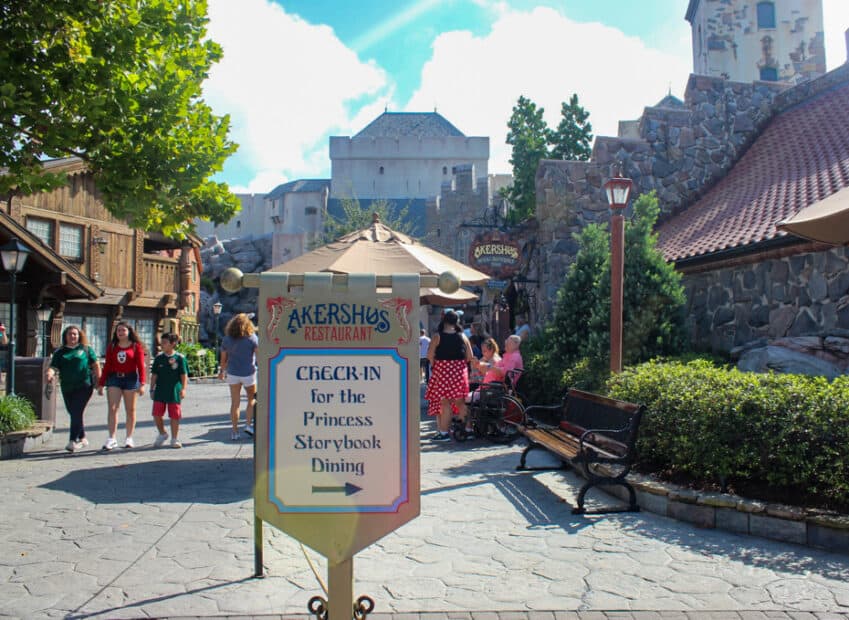 The table groupings ensure that everyone meets all the princesses promptly while dining. I would say that eight times out of ten, the idea of this does work.
But, occasionally, they do get behind or miss someone. If that happens, you might find yourself waiting a bit longer to meet a specific princess.
Akershus Breakfast Review
Unfortunately, I have mixed feelings about character breakfasts in general at Walt Disney World. This picture is me trying to tell you the food isn't great at Akershus and still deliver it with a smile.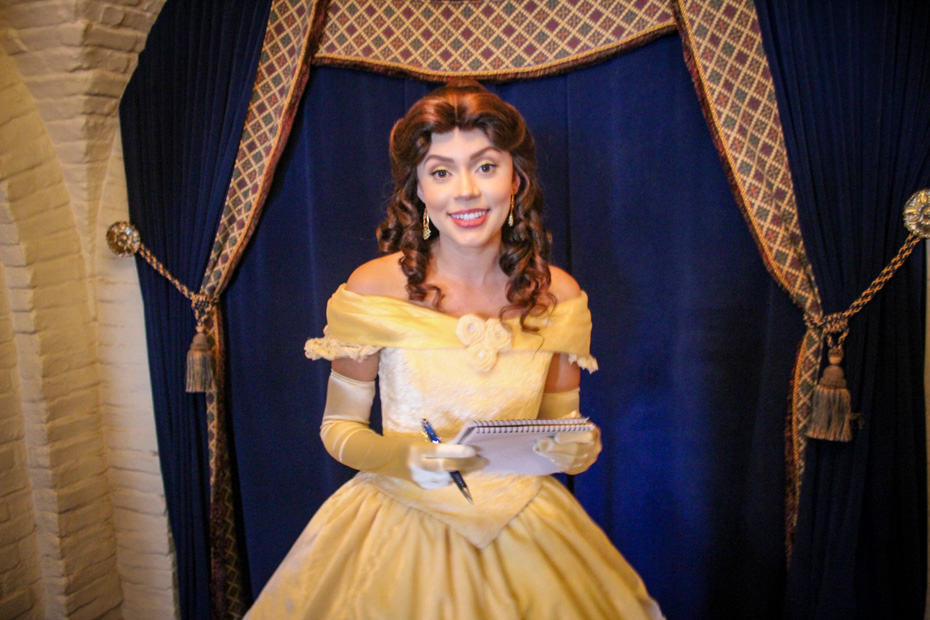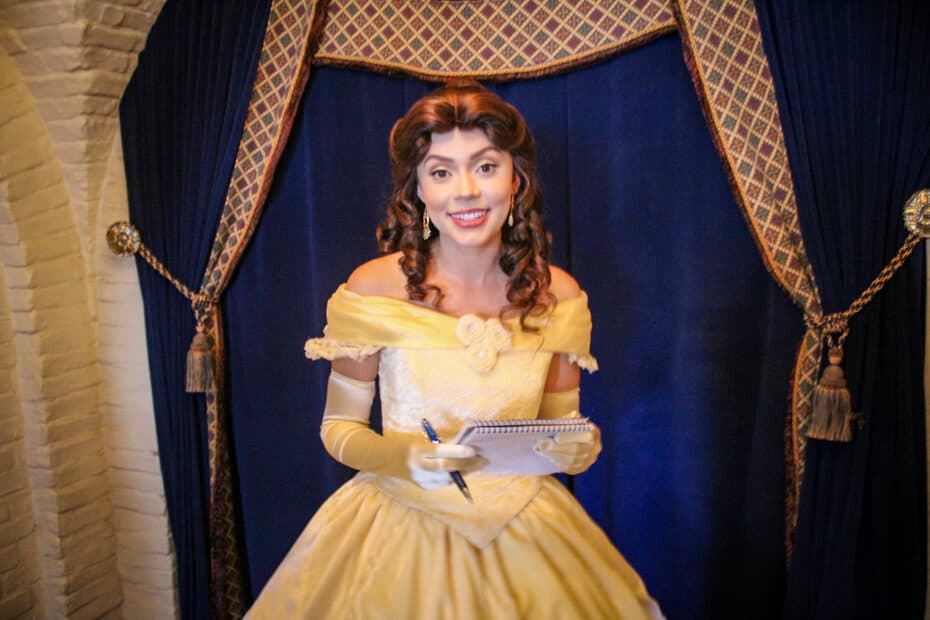 I've had the good fortune of enjoying dinner at Cinderella's Royal Table twice in the past ten years. Those meals were excellent, and I felt the value justified the higher price tag.
However, the recent character meals I've enjoyed have been disappointing when it comes to food. For instance, the character breakfast at 'Ohana was a bit of a fiasco.
We felt like we were starving after being seated over an hour late, and then the food was disappointing.
Related: 'Ohana Character Breakfast Review
I felt the same way about the food here at Akershus. It reminded me of the same food you get at a value resort's food court.
Since I initially wrote this review, I've enjoyed the character breakfast at Topolino's Terrace. That meal was a good value because the food and characters were excellent.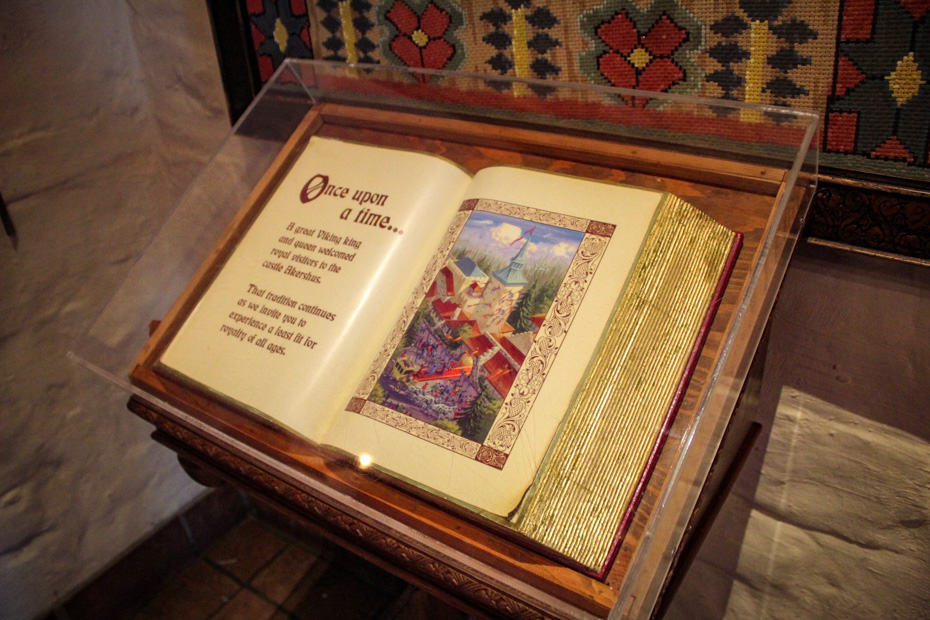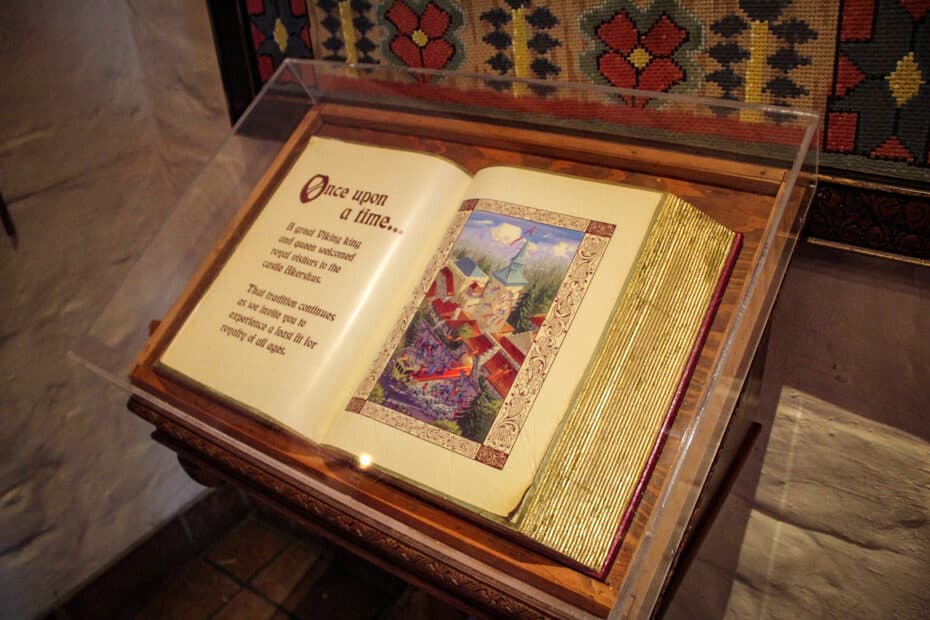 If you're wondering, the price for my Akershus breakfast for one adult came in at a whopping $52.00 before tip. My receipt estimates the tip for this meal at $8.64 at a standard 18% rate.
You might remember our breakfast at 'Ohana was $41.00, and I felt like that was high. So it's hard to say what price would have made me feel personally good about dining here.
Looking back, if I had enjoyed the food, I probably wouldn't have anything negative to say.
So going into this meal, understand that the price is high because of the characters. But unfortunately, it's still hard for me to wrap my mind around a nearly $200.00 breakfast for a family of four.
Akershus Royal Banquet Hall offers the feeling of sitting inside a castle. Unfortunately, it is rather dark inside, so you might not get the best photo opportunities.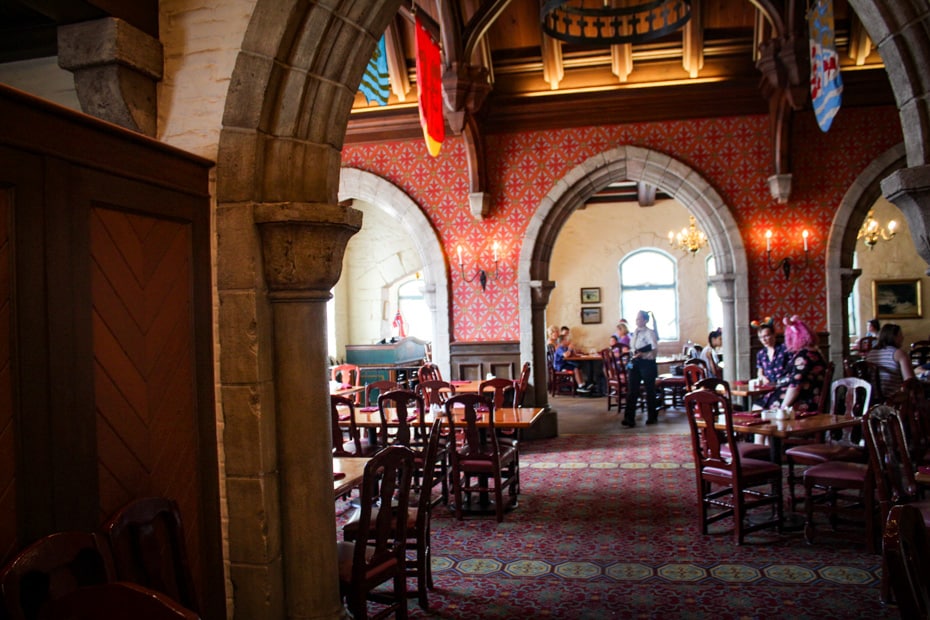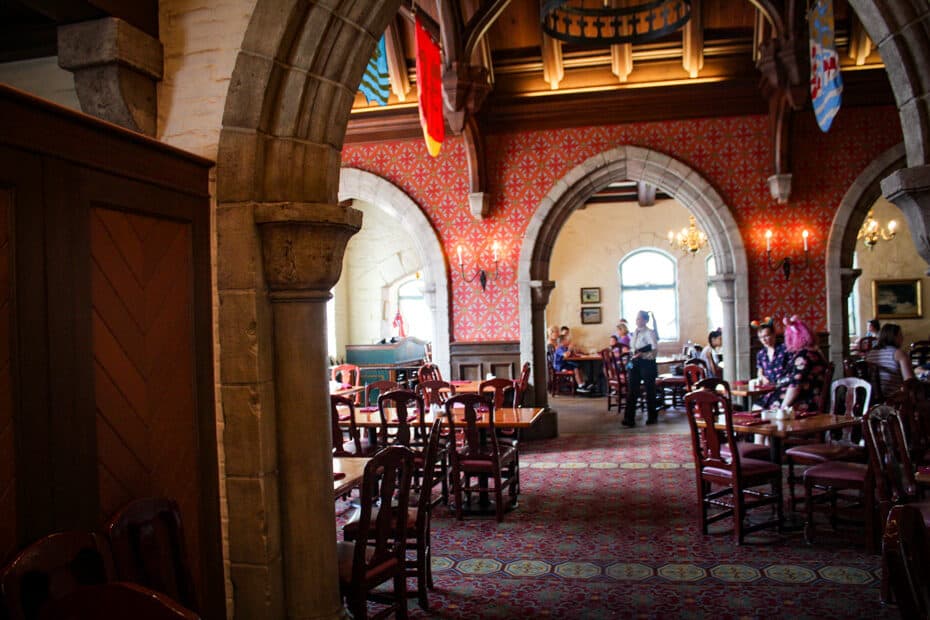 When you first enter the restaurant, you will stand in the foyer and wait for a photo opportunity with Belle. There is a PhotoPass photographer present in this area only.
If you don't have the memory maker package, they should give you a digital download card for this individual photo.
One princess will be available to greet you in this area. And this will likely be your only opportunity to meet this specific princess. A cast member told me that Belle greets guests at the entrance ninety percent of the time.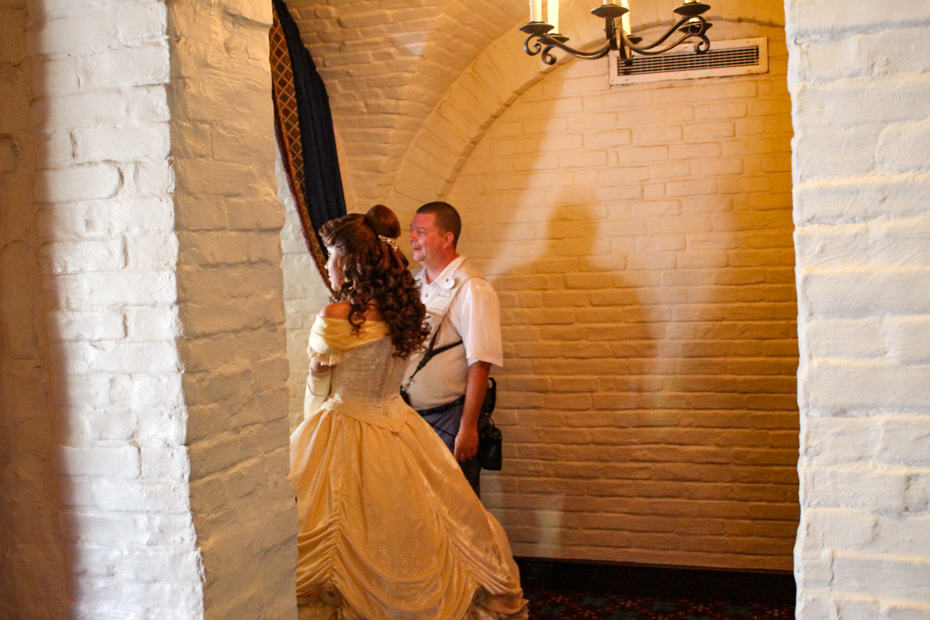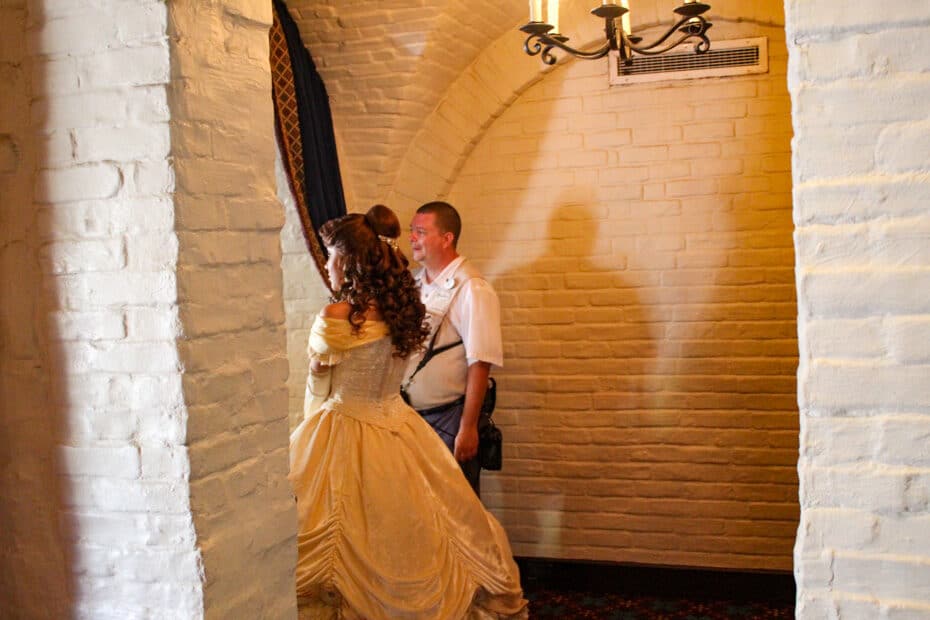 Belle is not always easy to find in the parks, so this is a somewhat rare opportunity to meet with her. Additionally, she does meet some during the day in France at Epcot.
But long lines tend to form for her rather quickly when she is out. You can also find her at Magic Kingdom's Enchanted Tales with Belle, but that's not a real meet and greet.
Related: Meet Belle at Disney World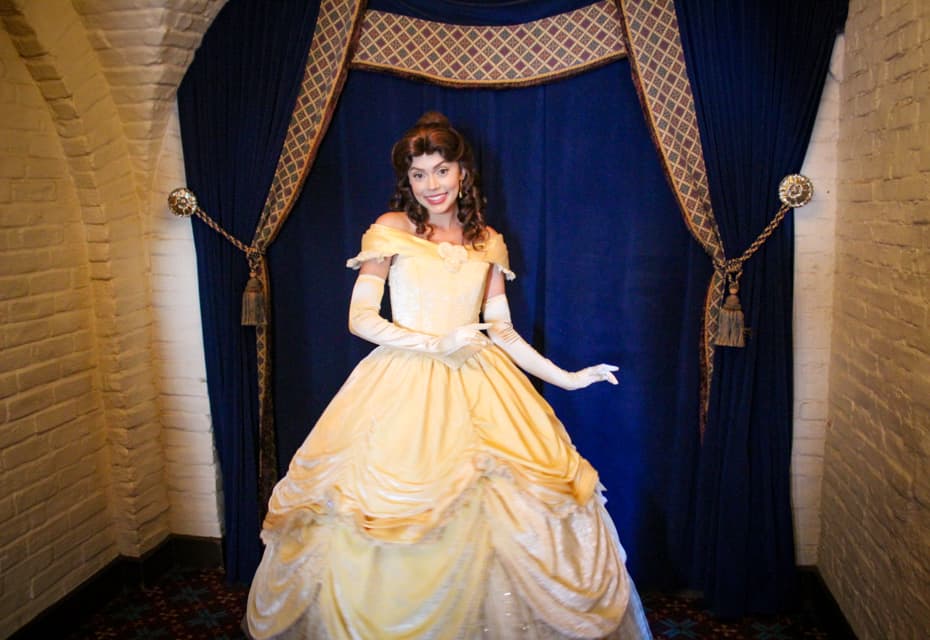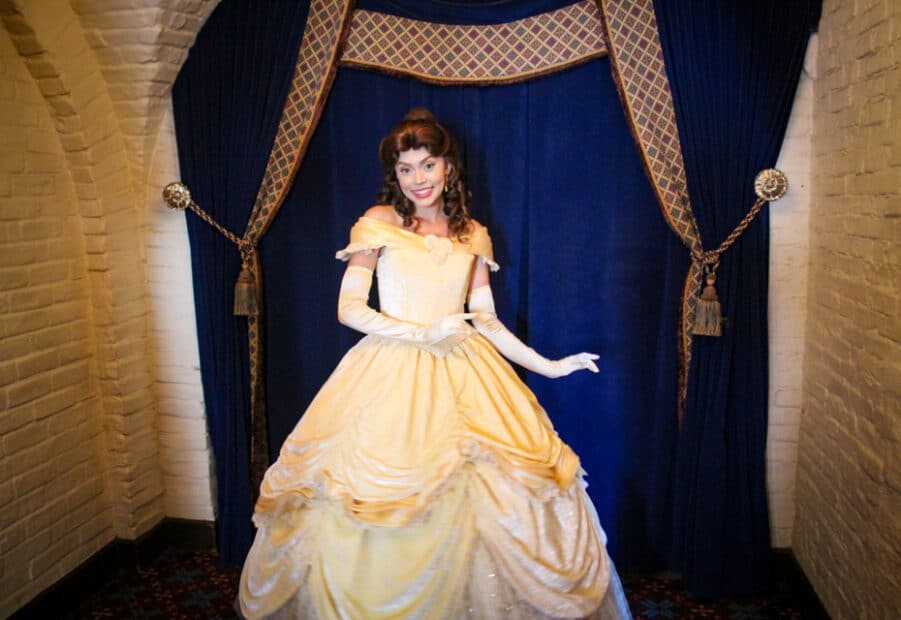 As you can see, the meet here makes for a nice picture. If your children have autograph books, make sure to have them out and ready.
Since Akershus is a buffet with platters brought tableside, the menu is not standard. After being seated, the server will take your drink order and direct you to the breakfast buffet.
The breakfast buffet at Akershus is nothing to write home about, like the breakfast buffet at Boma. Now that meal is worthy of a prize.
Related: Boma, Flavors of Africa Breakfast Review
The buffet has a selection of fruits, yogurt, cheese, and a few Norwegian-style smorgasbord offerings.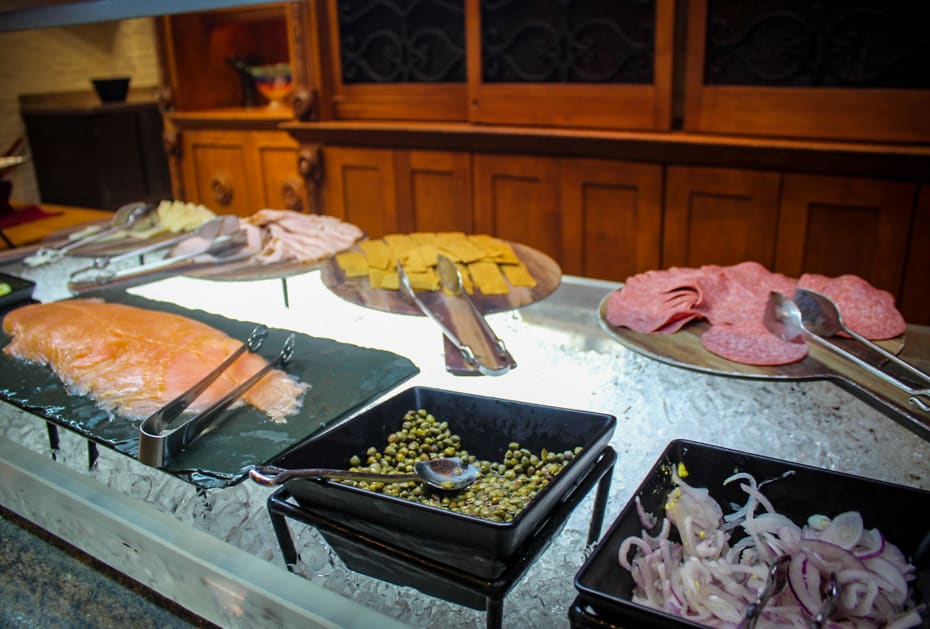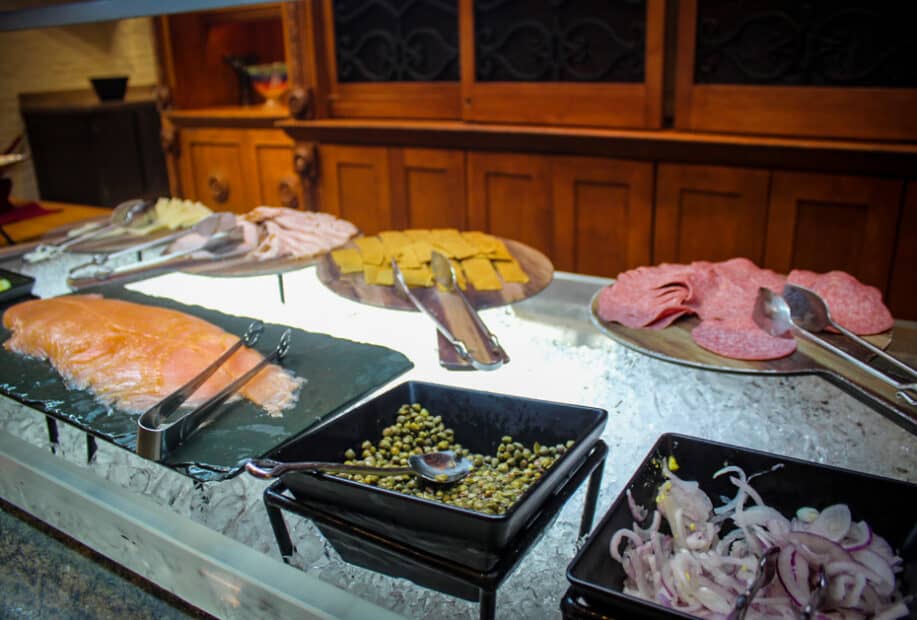 Buffets tend to have these one or two items that everyone looks forward to trying most of the time. I didn't find anything that special here. It wasn't bad but rather mediocre.
As you can see, there are bananas along with grapes, pineapple, and several melons.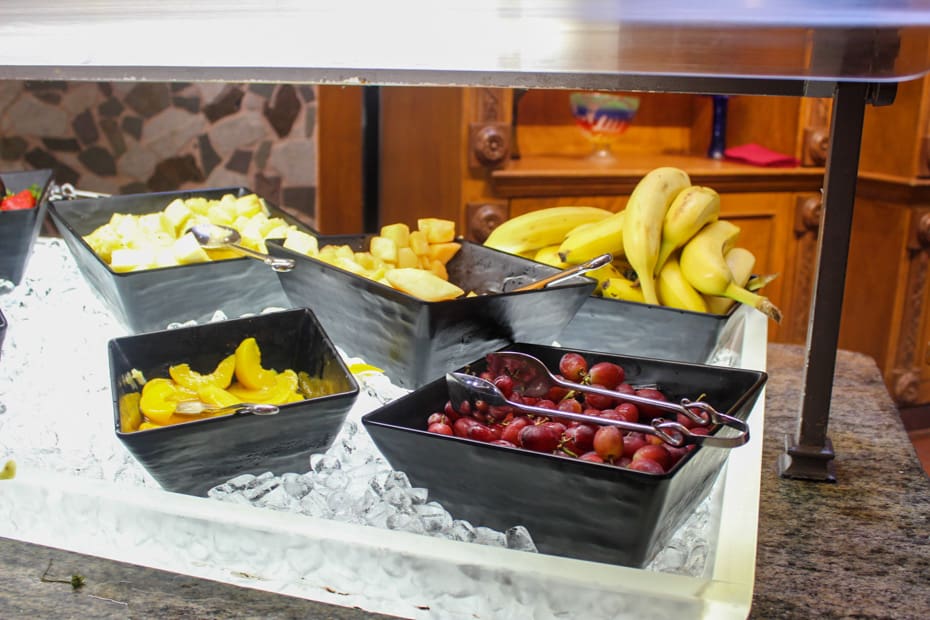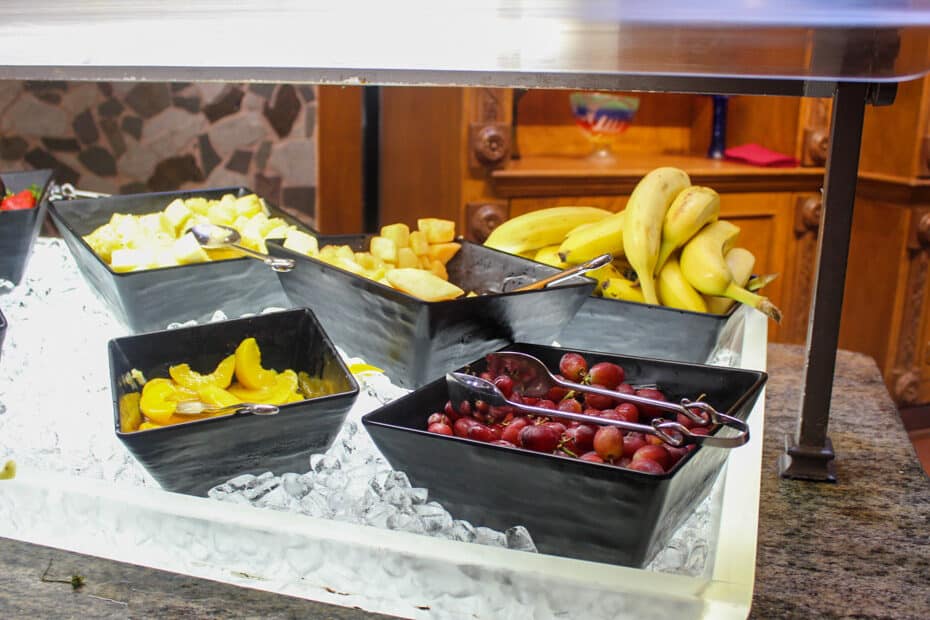 Strawberries with yogurt and toppings are also included in this portion of the breakfast buffet.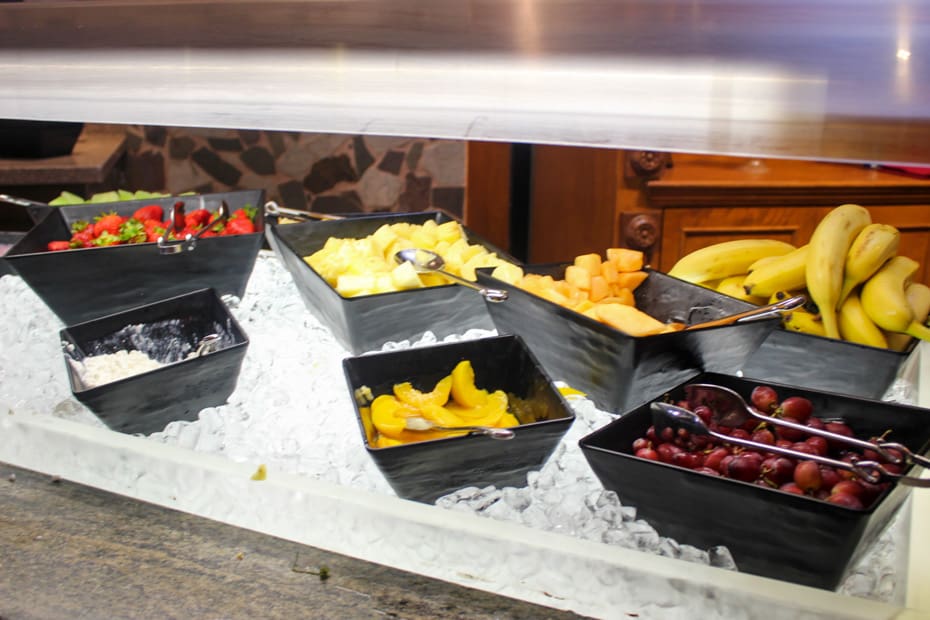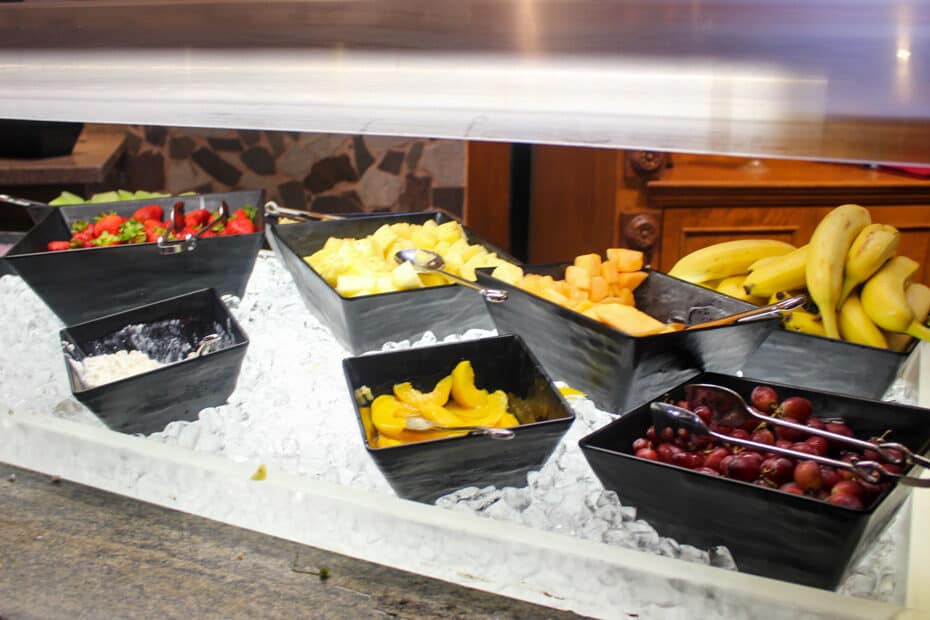 Here is a closeup.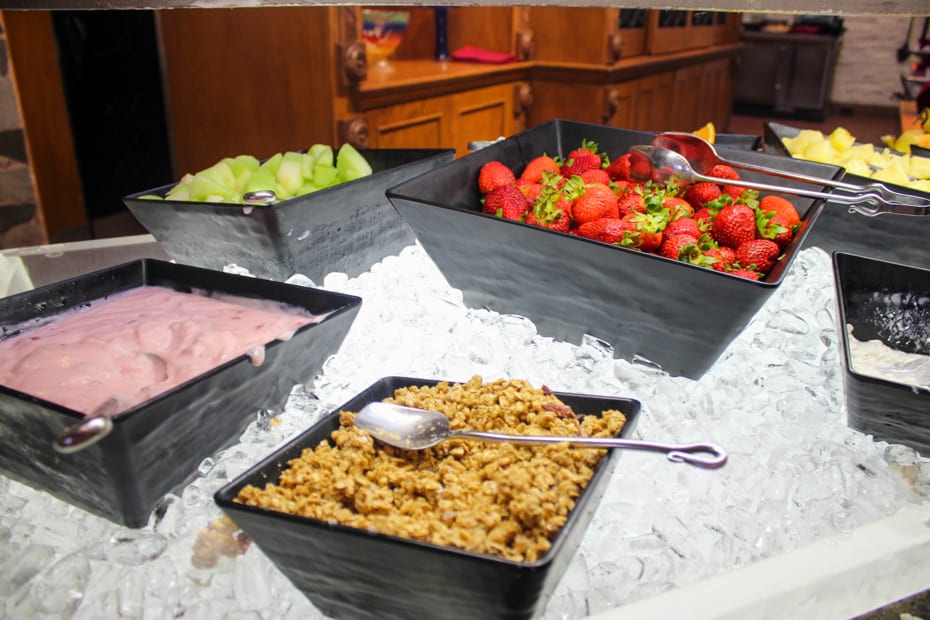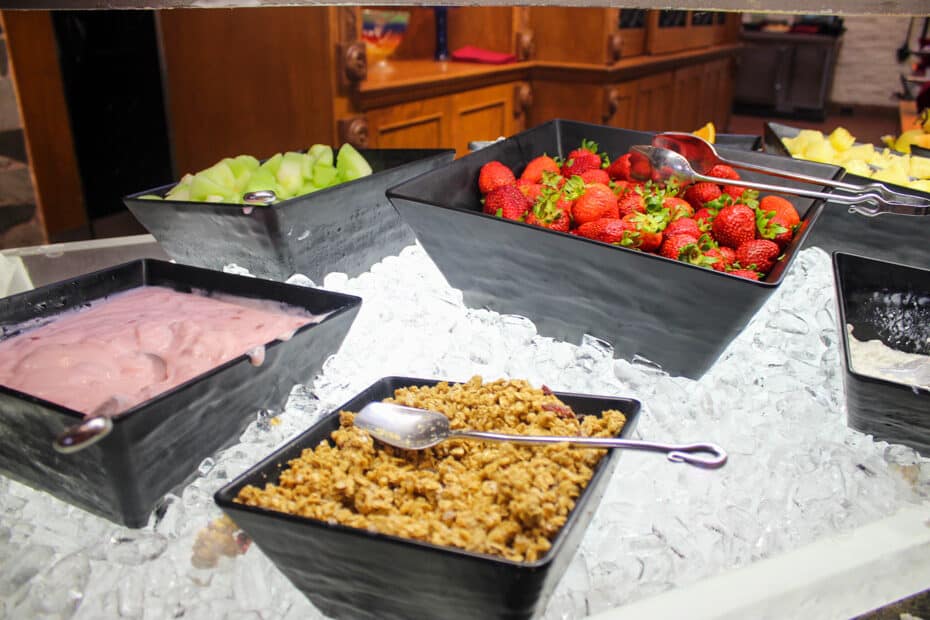 Then you will find a few bread selections. There are bagels with cream cheese. You can pair them with the smoked salmon on the smorgasbord next door.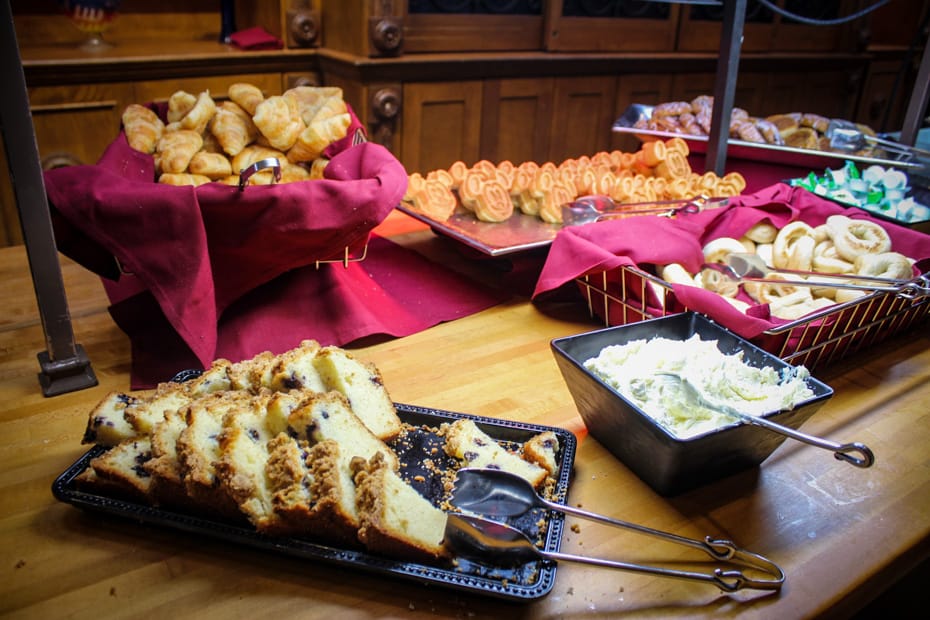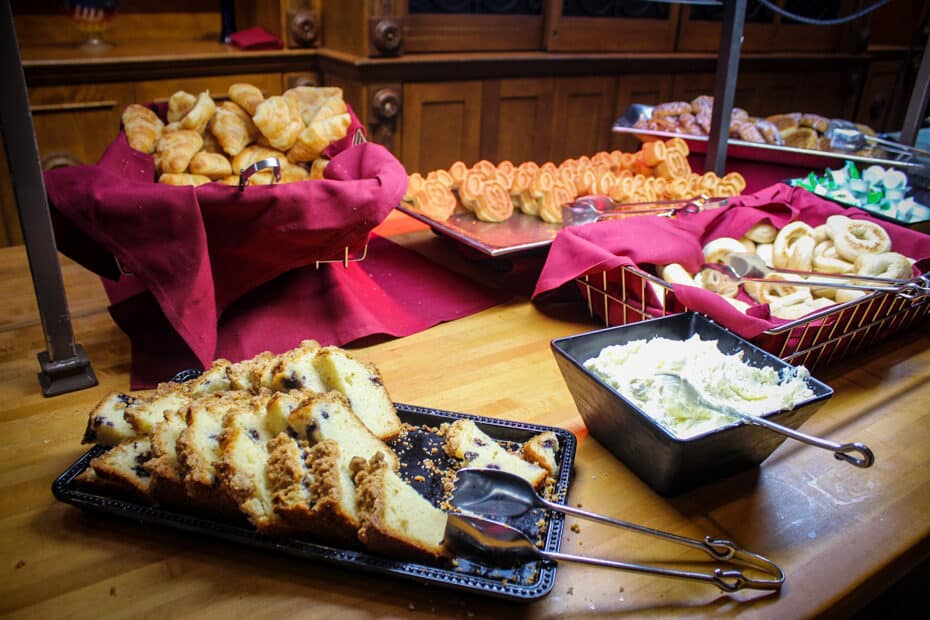 And, of course, the very popular Mickey waffles are available on the Akershus breakfast buffet.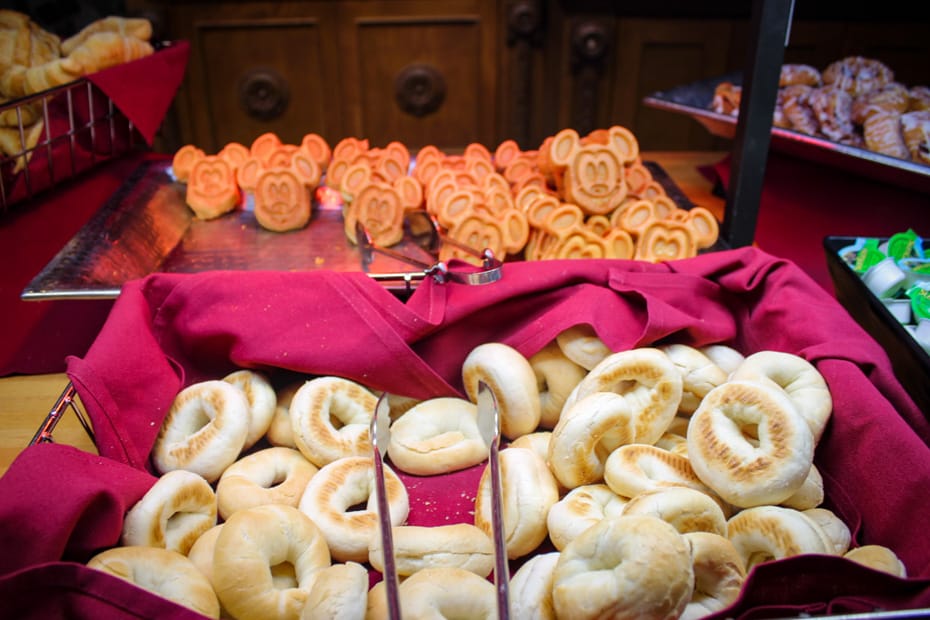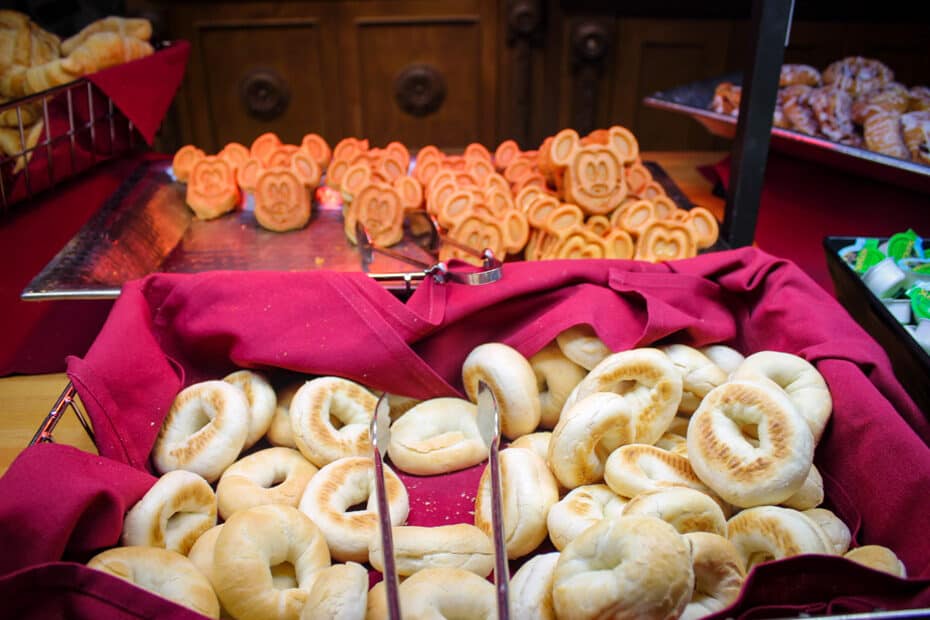 Here are a few of the select Norwegian items for breakfast.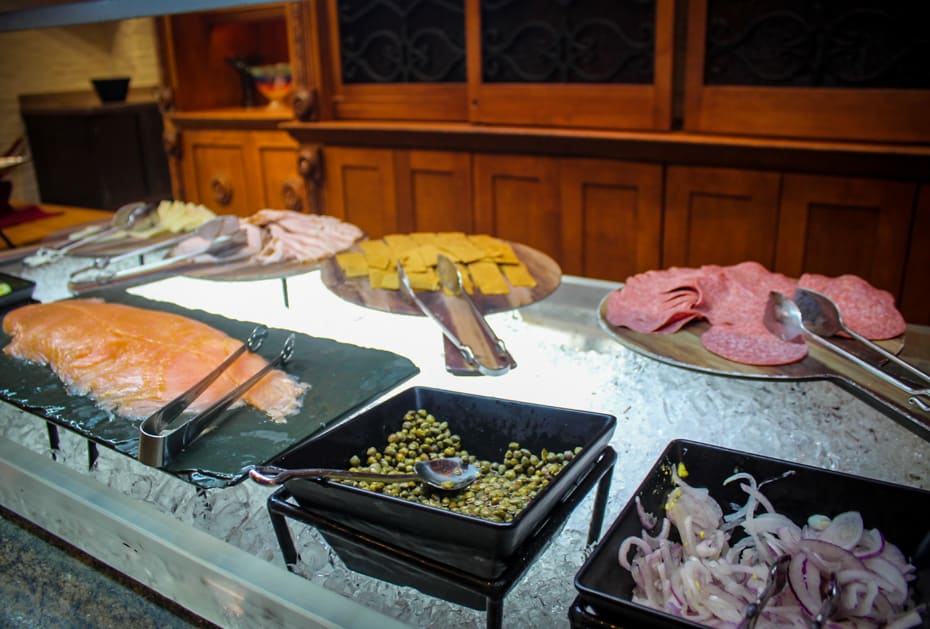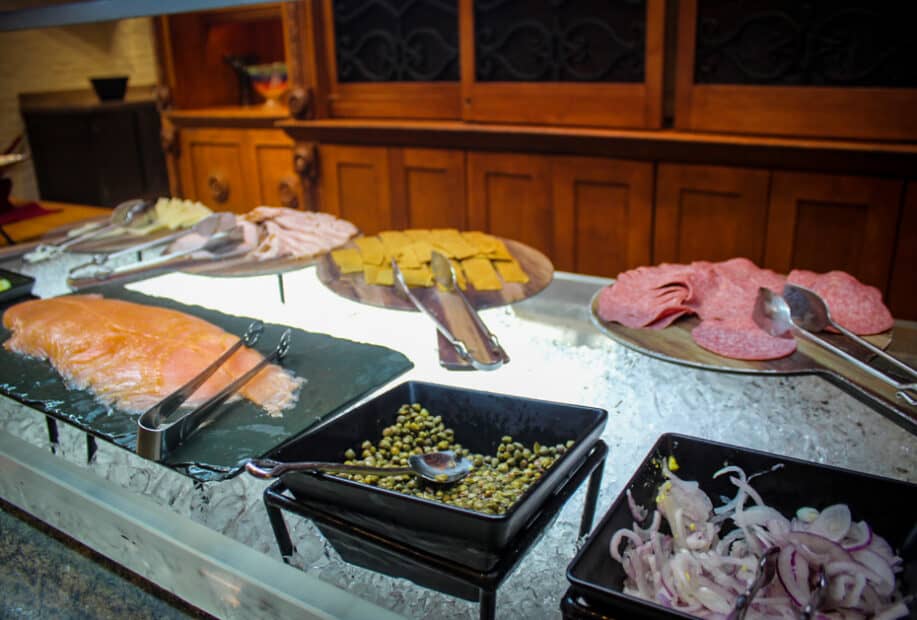 That is salami and Gjetost cheese in the back center. My server told me it was a unique caramelized cheese popular in Norway. To the far side of the cheese, smoked turkey slices were available.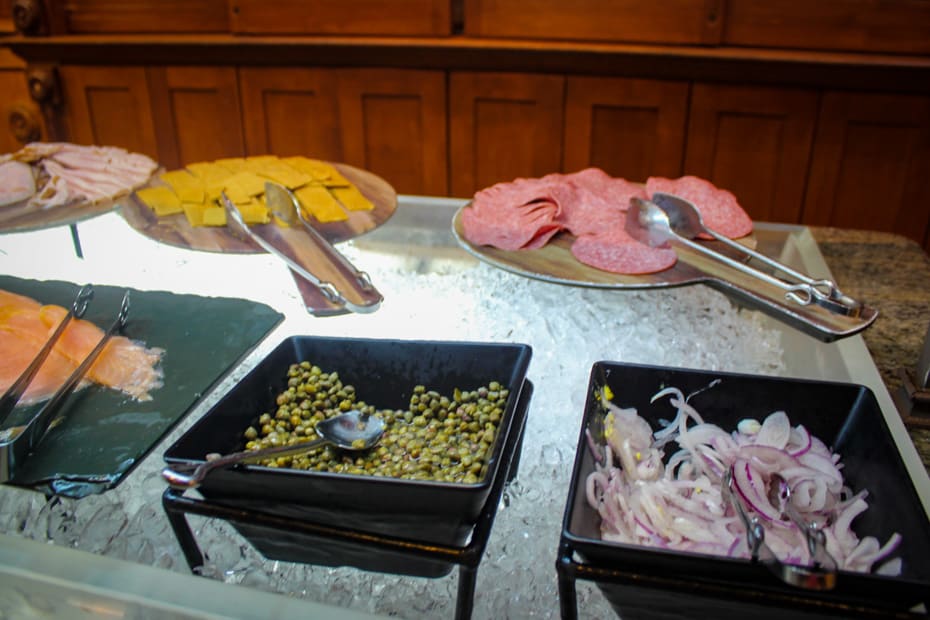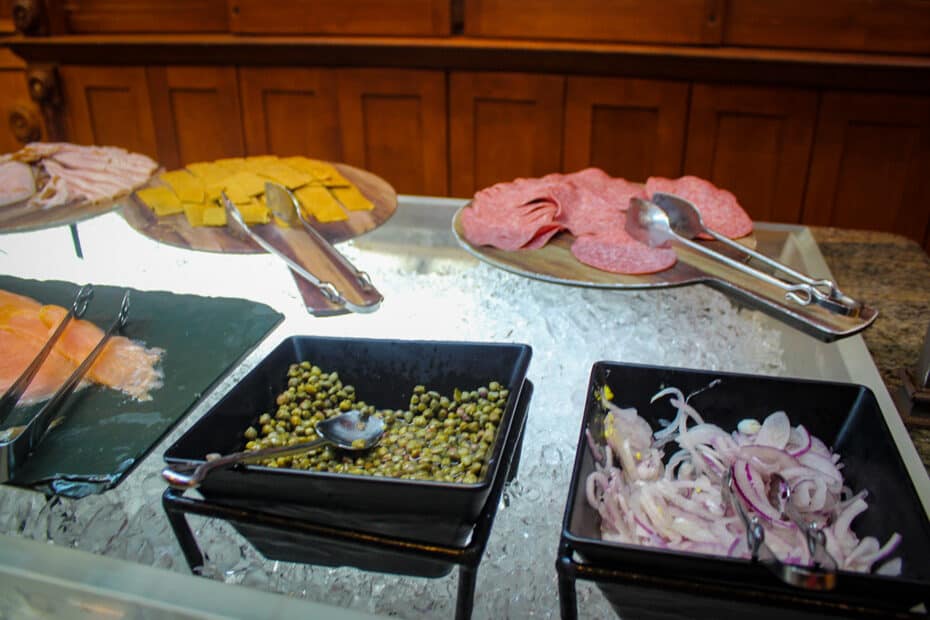 There were also the usual accompaniments for the smoked salmon. These items are what you might consider the star of the meal as far as special menu items go.
You will soon find yourself with a platter of more standard breakfast items back at the table. Below we have the all-you-care-to-enjoy platter.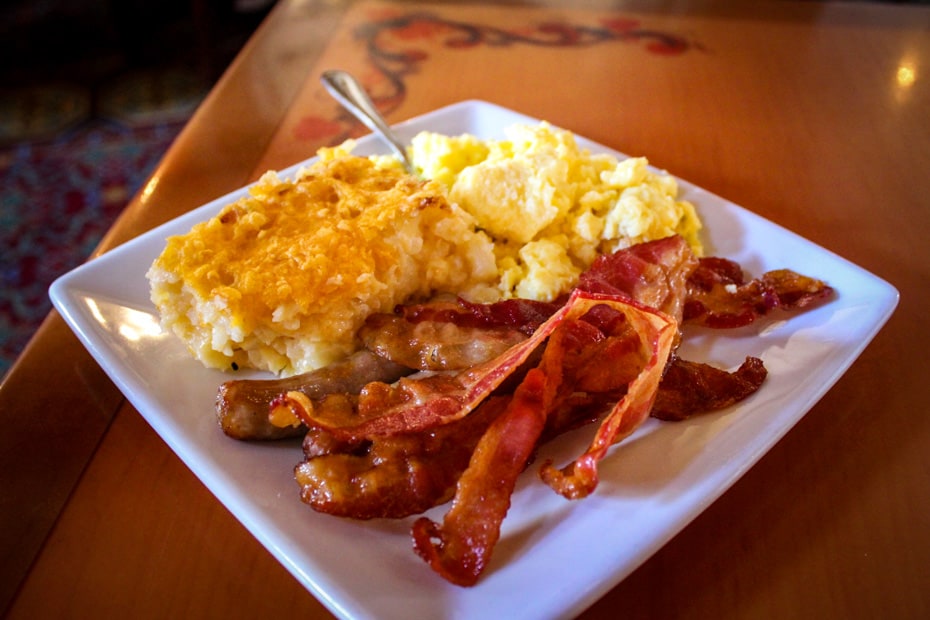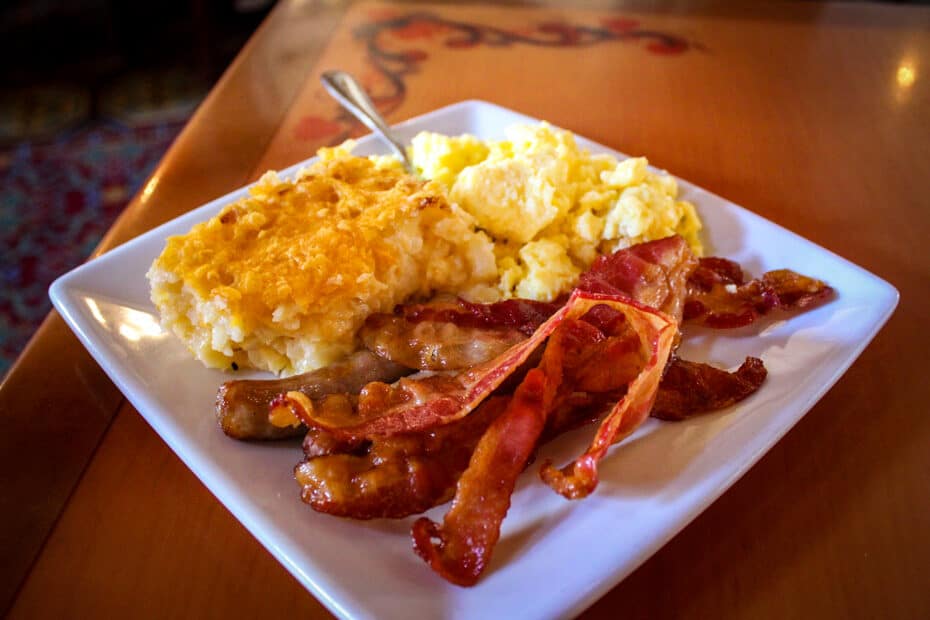 It comes with bacon, sausage, eggs, and potato casserole.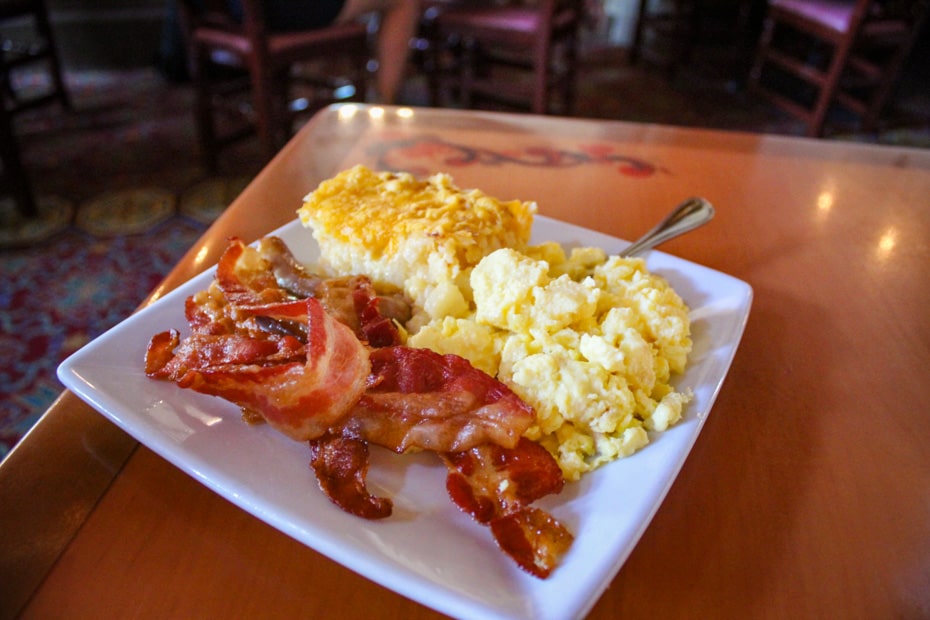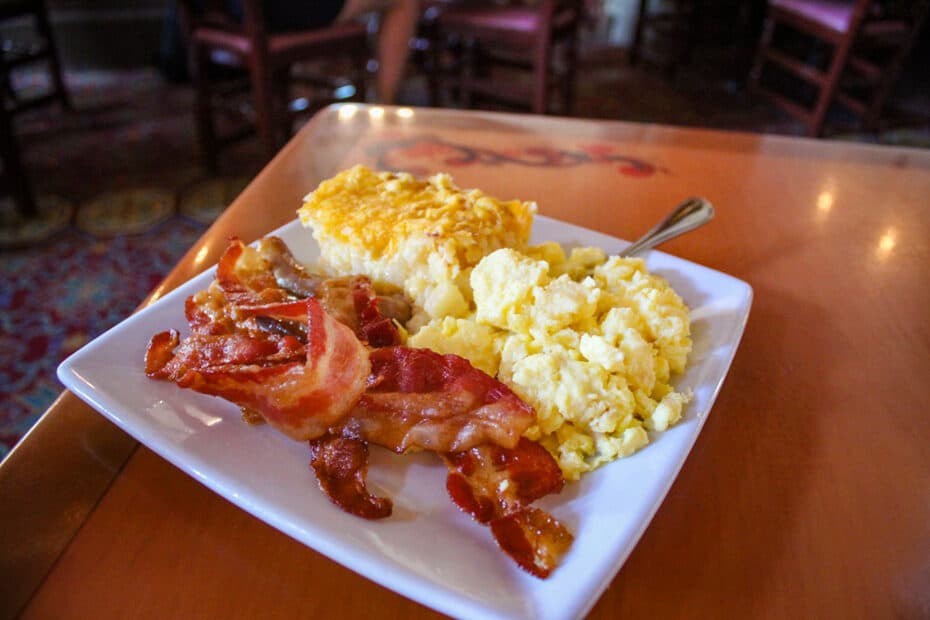 These are the exact items you can get at a value resort for breakfast at a $10.00 price tag.
If you are a bit skeptical, you might remember my recent breakfast over at Art of Animation, coming in at $8.70. It features the same bacon, sausage, and waffles instead of potato casserole.
Related: Art of Animation Review
Don't get me wrong. These items are acceptable. However, they are standard and not necessarily what you would expect at over $50.00 per person.
Akershus Princesses at Breakfast
Thankfully, I have saved the redeeming factor for last, and that's the Akershus princesses. The characters are the endearing part of the whole meal.
Having breakfast with princesses roaming the room is a fun experience. It also gives children, who might be shy, a much less pressured experience in meeting characters.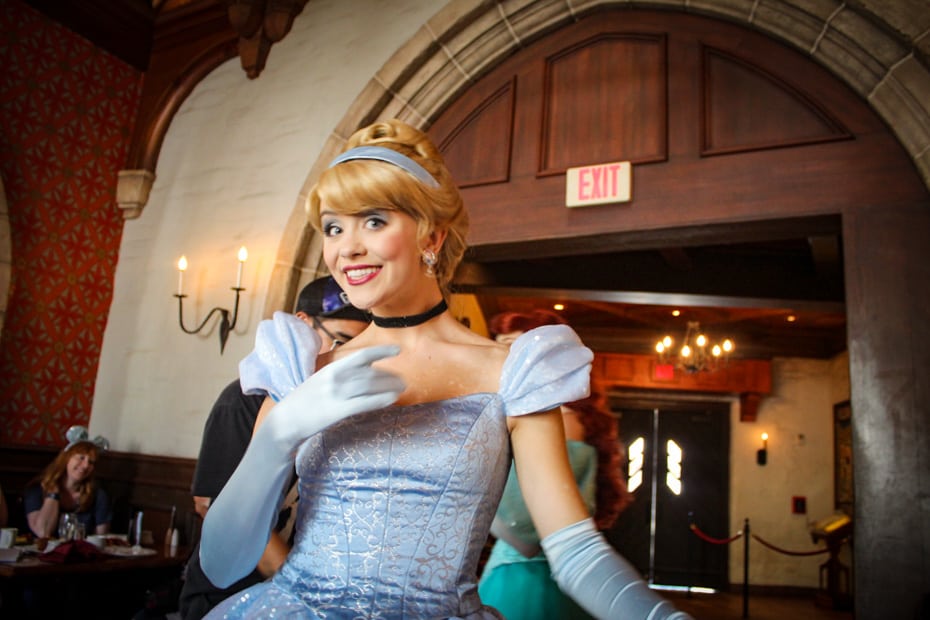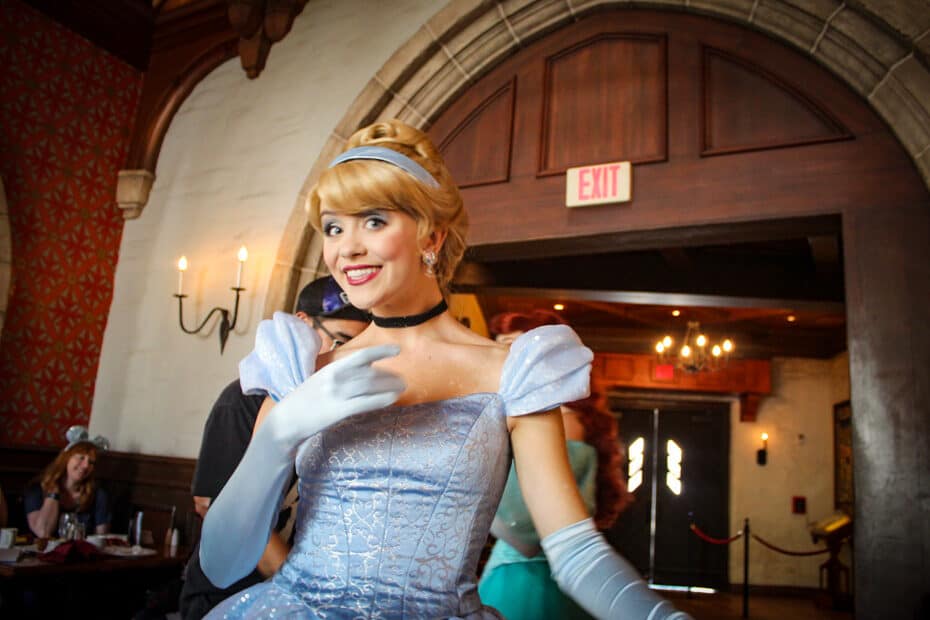 Cinderella was the first to visit the table. We discussed what her stepsisters had been up to recently. And I asked her about the Nightingale song, and we had a giggle over their not-so-melodic singing voices.
This is the look that I, too, get on my face anytime someone asks for my autograph. Or at least I think this is the look I would get. No one has asked for my autograph.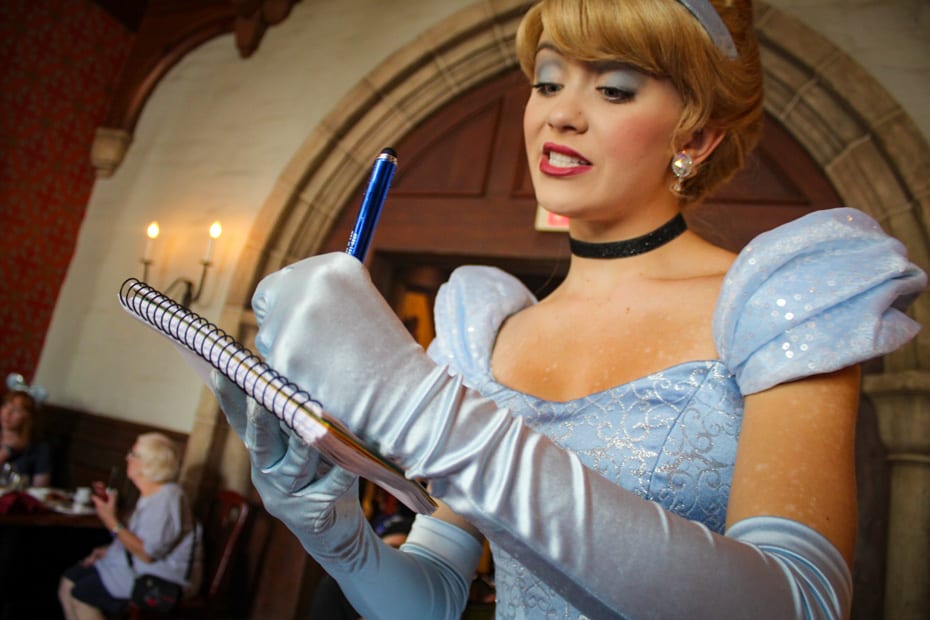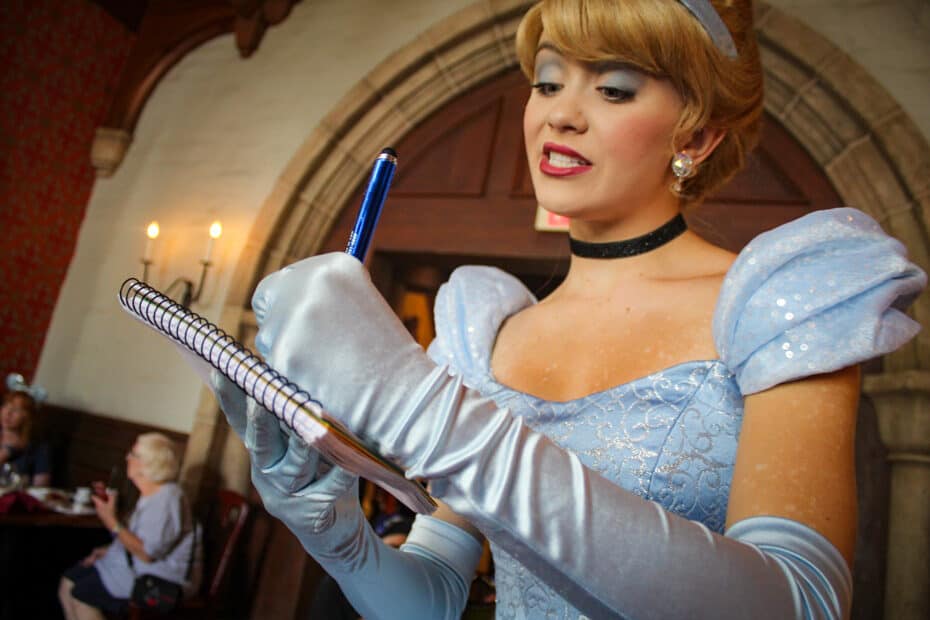 Cinderella does sign autographs. Below is a photo of the one I received this day.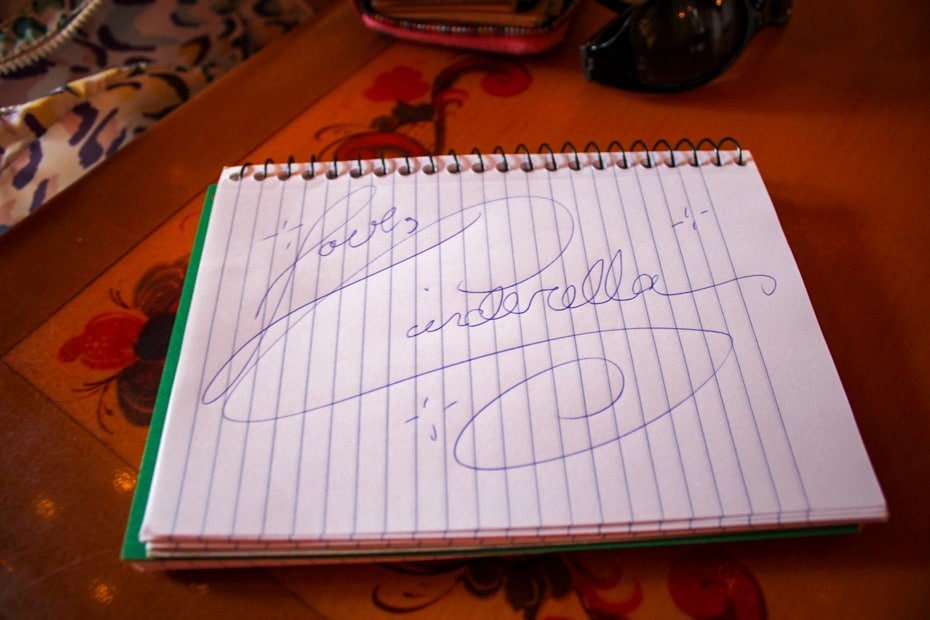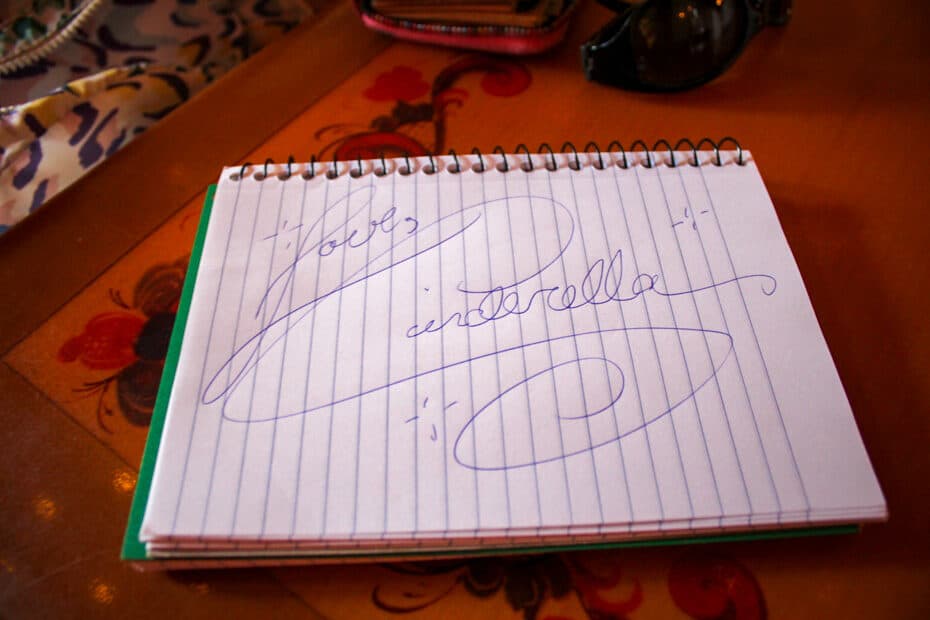 I will try to do a better job of getting a picture of the autographs in the future. This is something fun for children to collect on vacation.
As you can see, I used my notebook, which I carry with me in case I need to jot down a few notes during my visits. It helps me keep up with points I want to remember when writing these blog posts.
I take many notes, as you can probably imagine. I always need a new one.
Ariel meets at the Akershus breakfast. She is my all-time favorite princess.
Akershus provides an excellent opportunity to meet this hard-to-find Disney Princess. She is "land" Ariel here and sometimes roams Epcot, but she's not easy to find.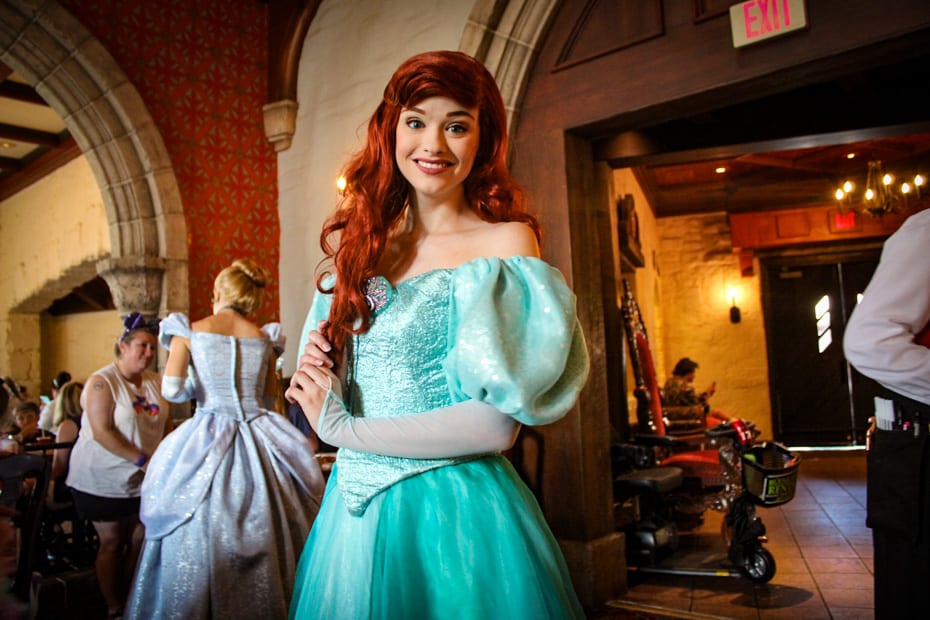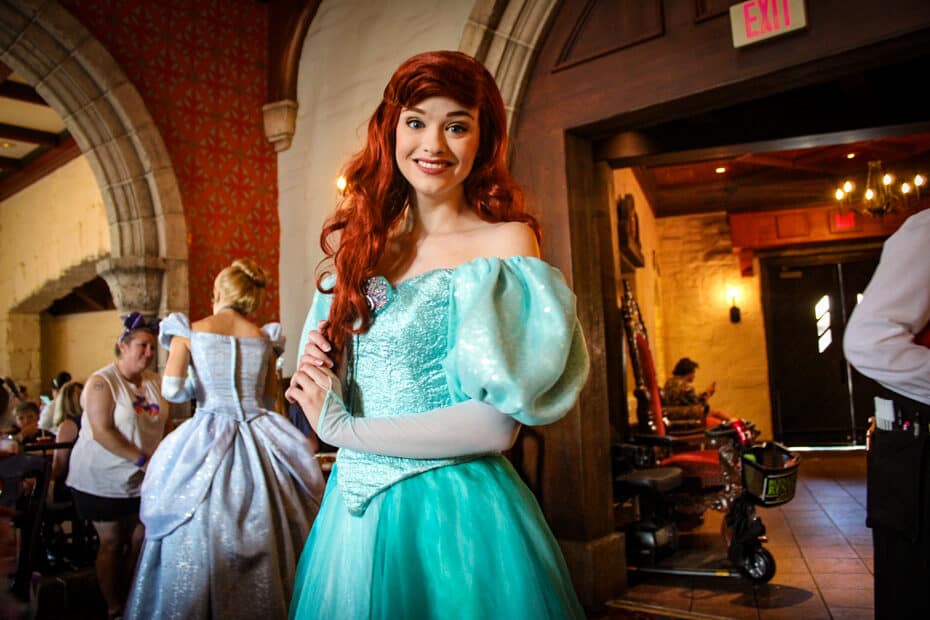 Our conversation was about Prince Eric taking her dancing later that evening.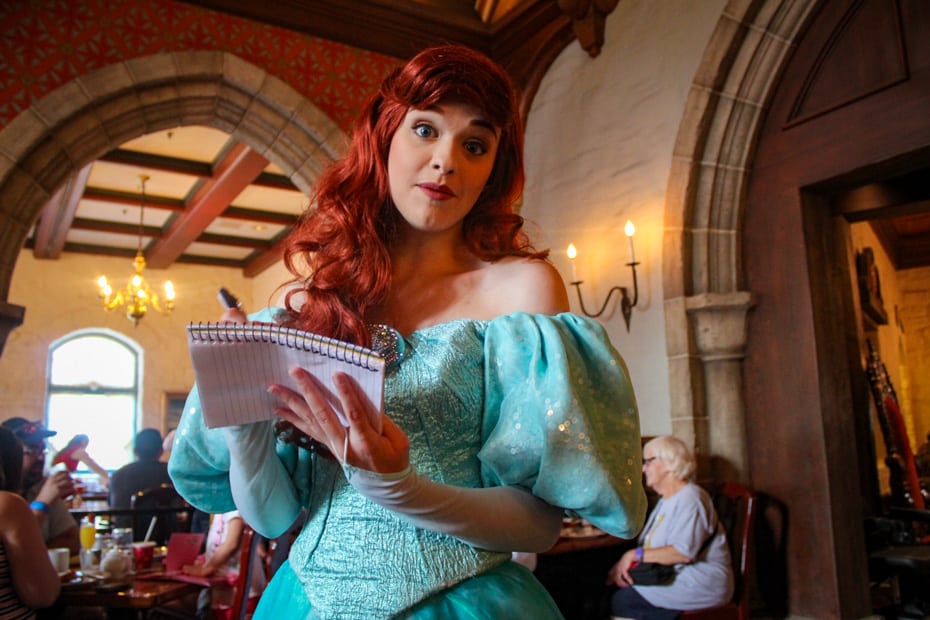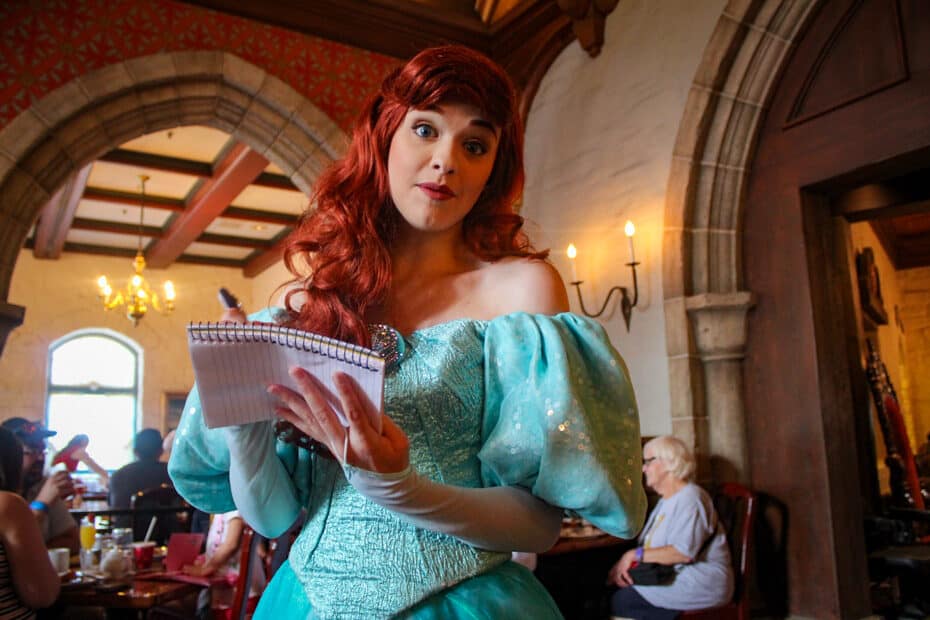 I mention these conversations to give you some ideas to help start the conversation when a character visits your table. Be aware that they do stay in character.
Here is her autograph. I like the bubbles.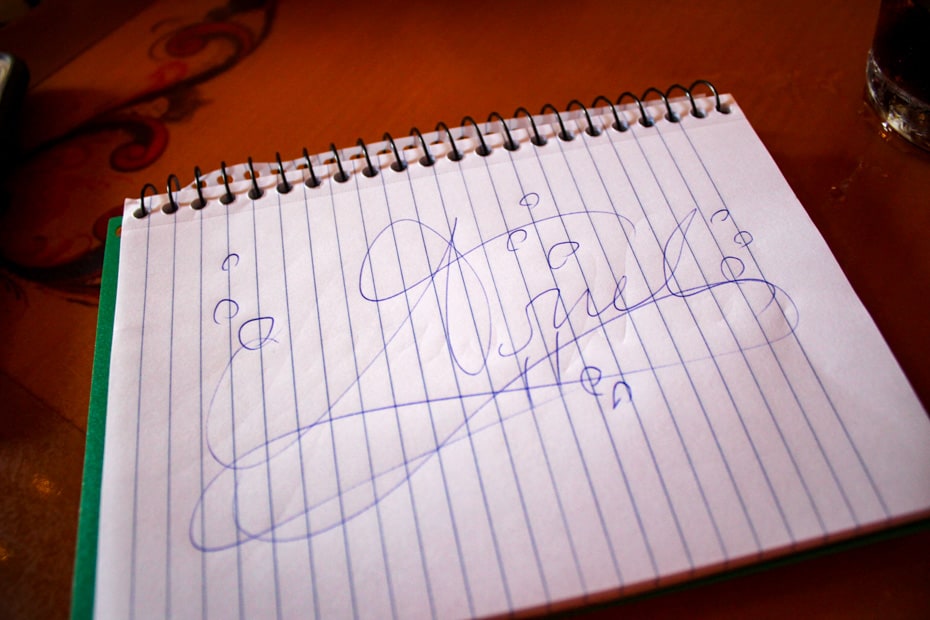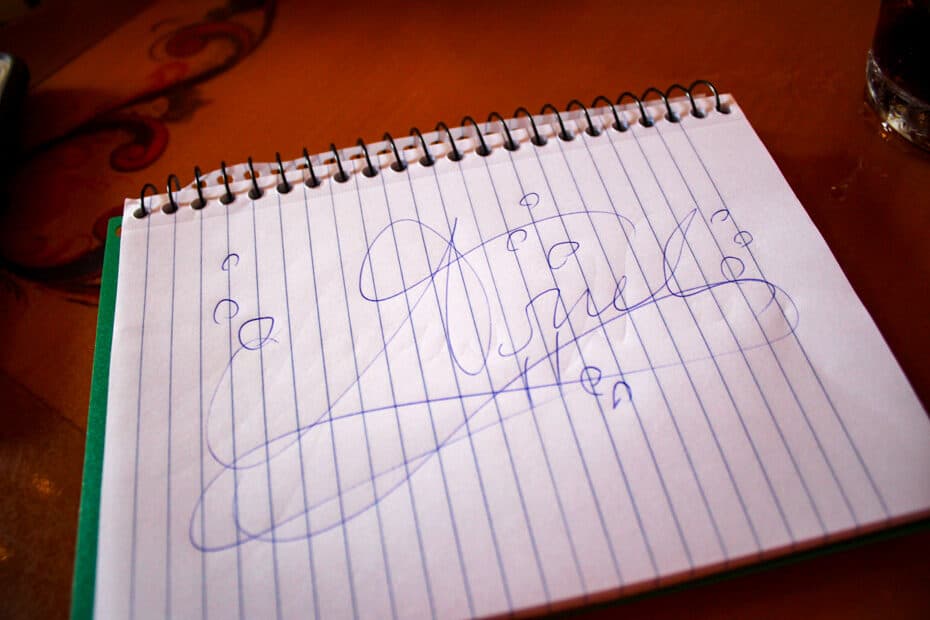 Snow White, the fairest of them all, is quite friendly. She loves to talk about anything related to dwarfs and moods. Snow White is sure to have a friend that is grumpy, happy, or bashful. There might be a few others, also.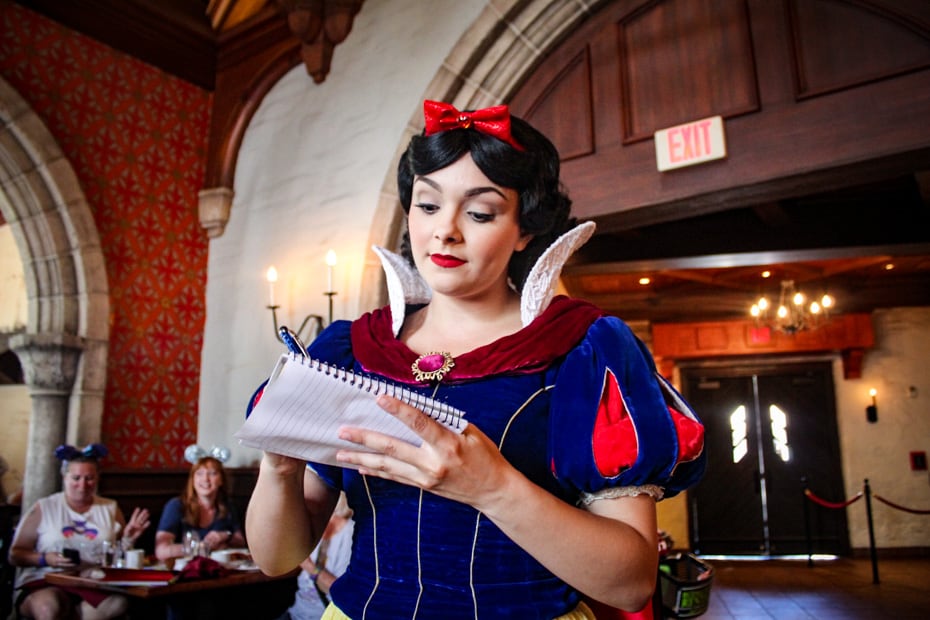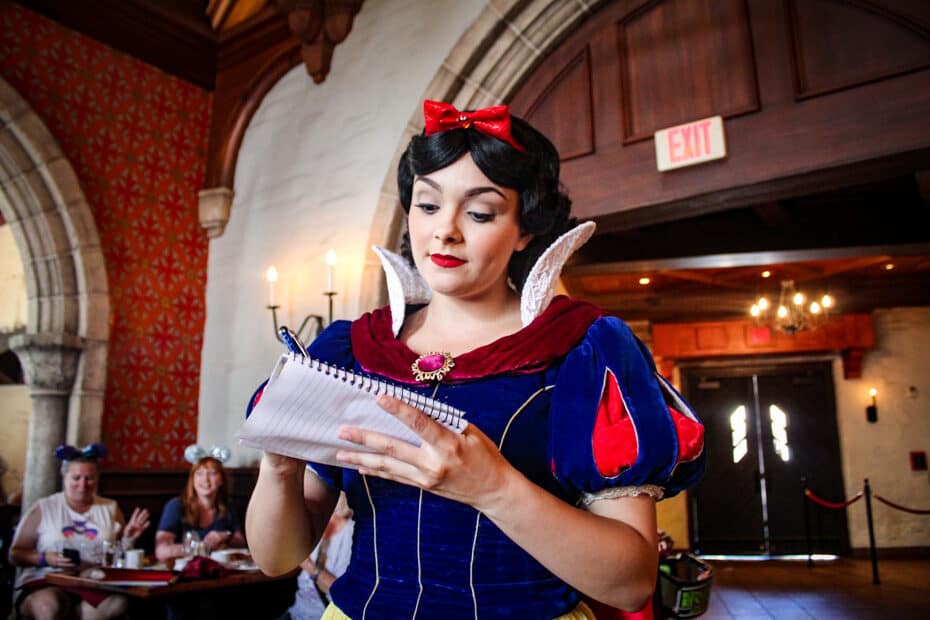 We had a good laugh that day when I told her how my nickname was Sneezy because of all my allergies.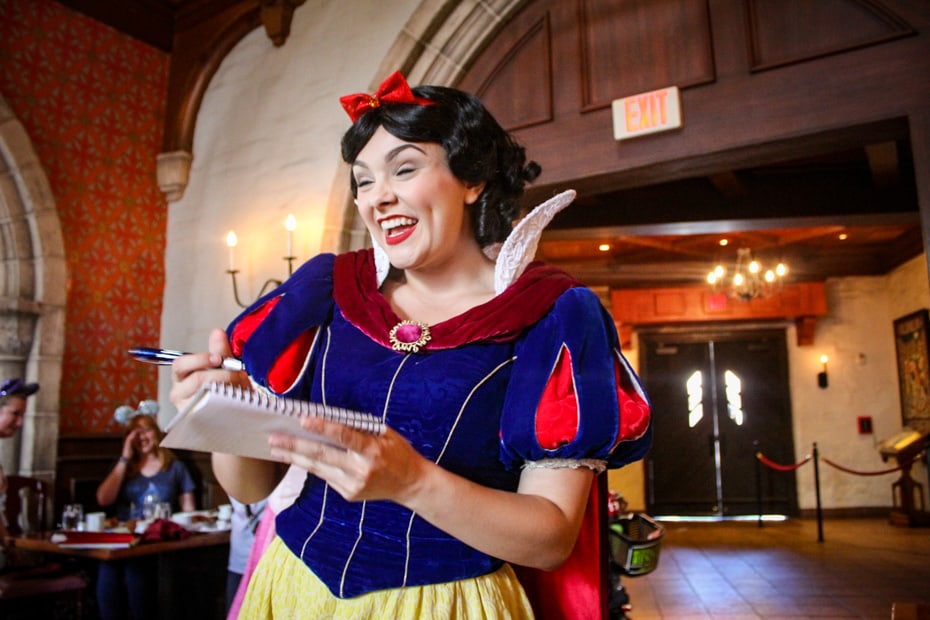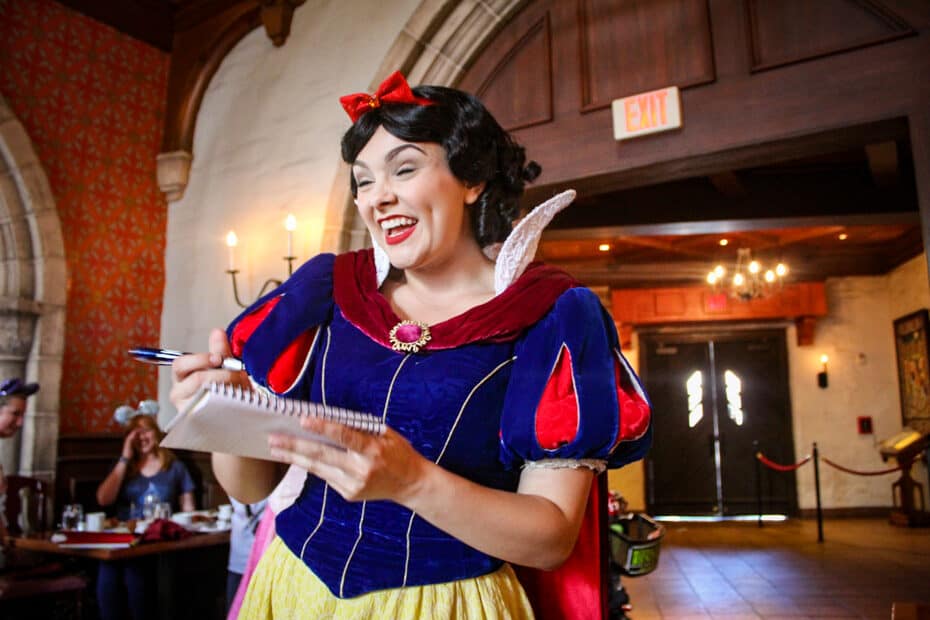 Here is a look at Snow White's autograph. She dots her "i" with a heart.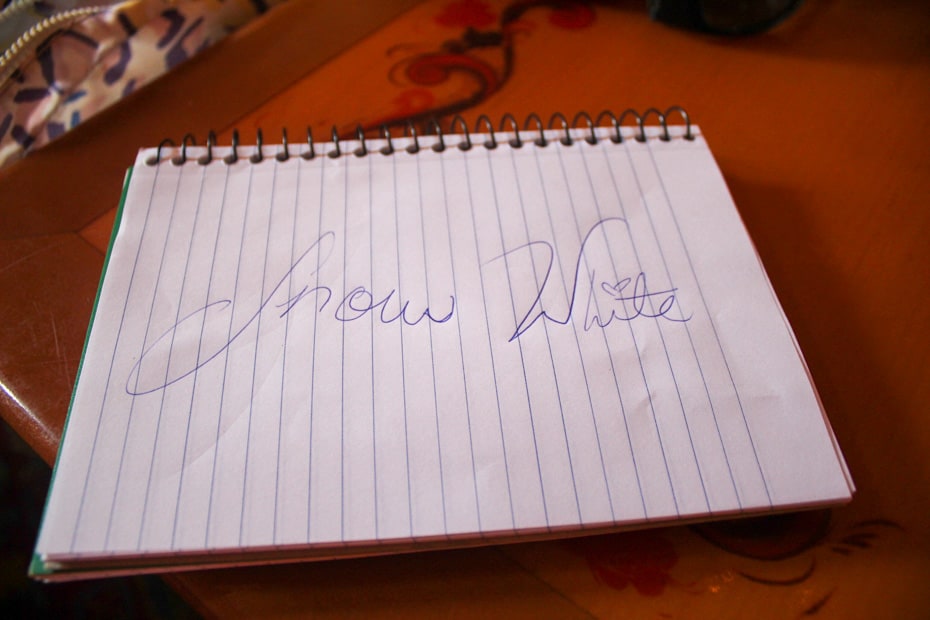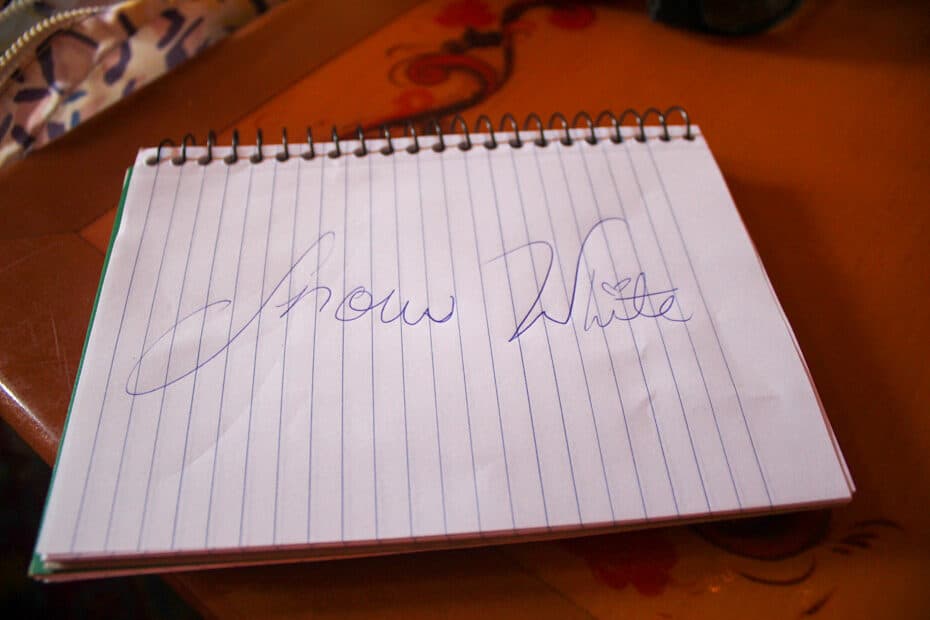 You can also find her at her character meal at Disney's Wilderness Lodge.
Related: Storybook Dining at Artist Point with Snow White
Last but not least, we have another princess awakened by love's true kiss. Aurora is fun and of good nature.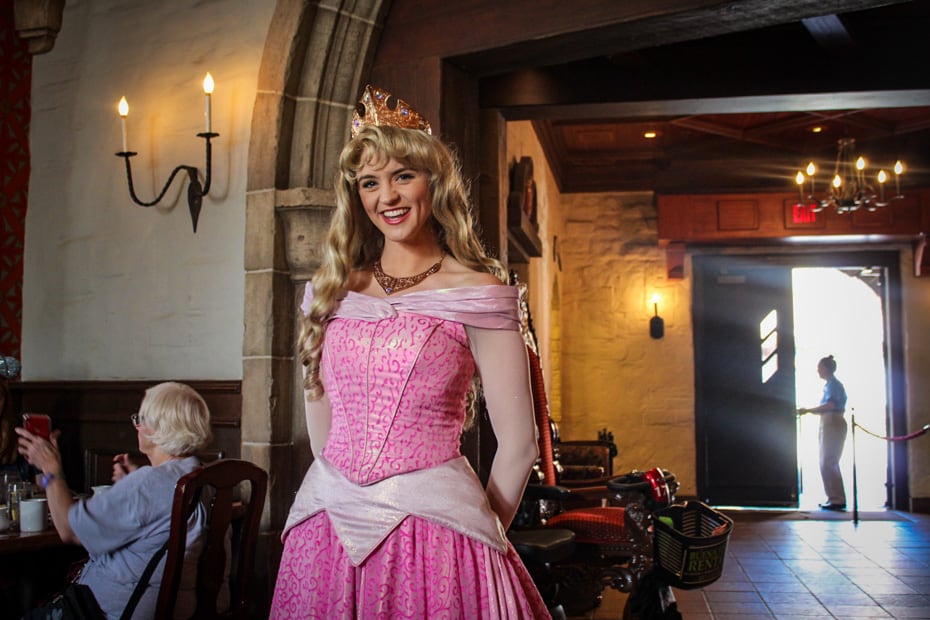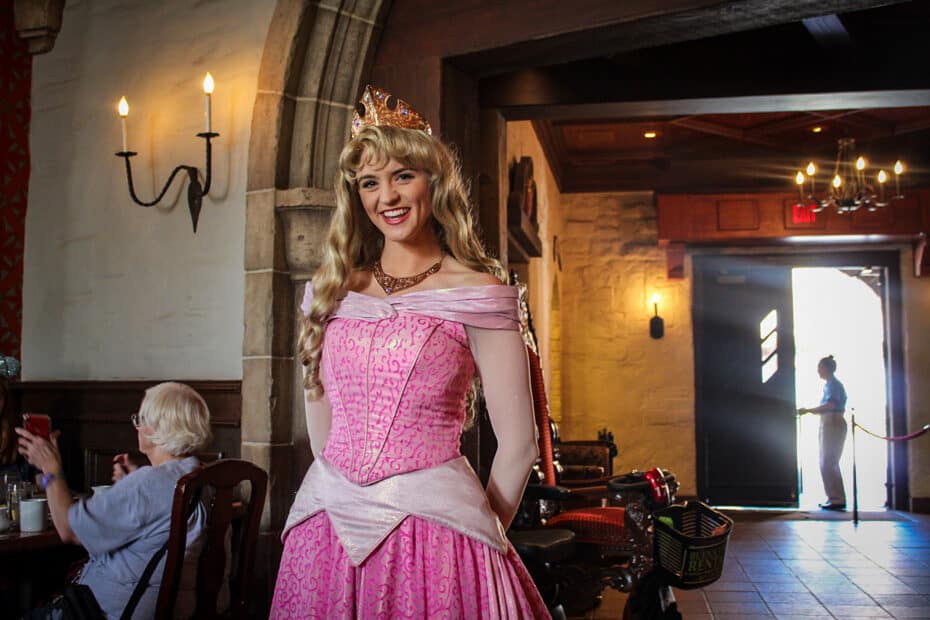 She signed her autograph with "Princess" in front.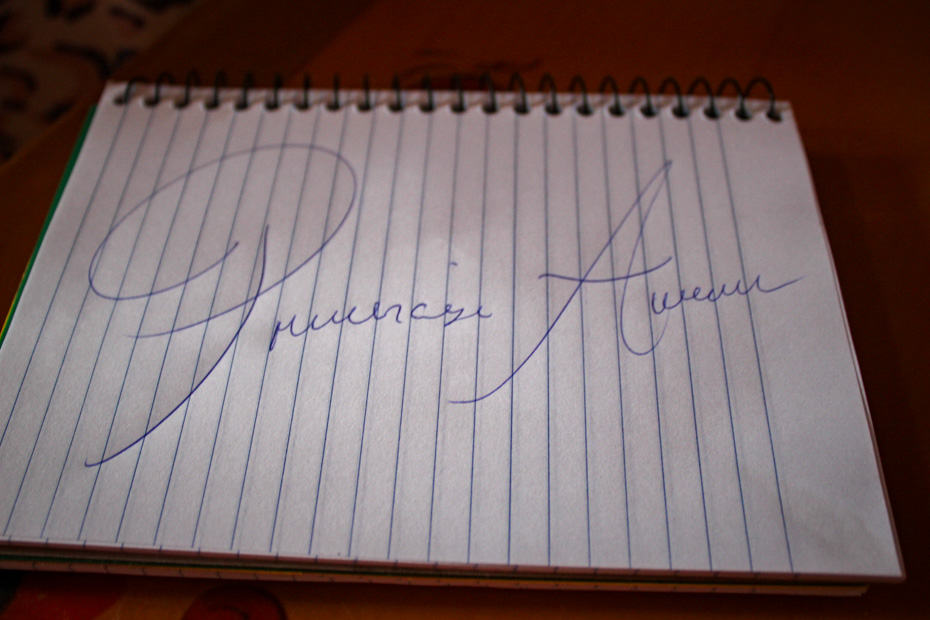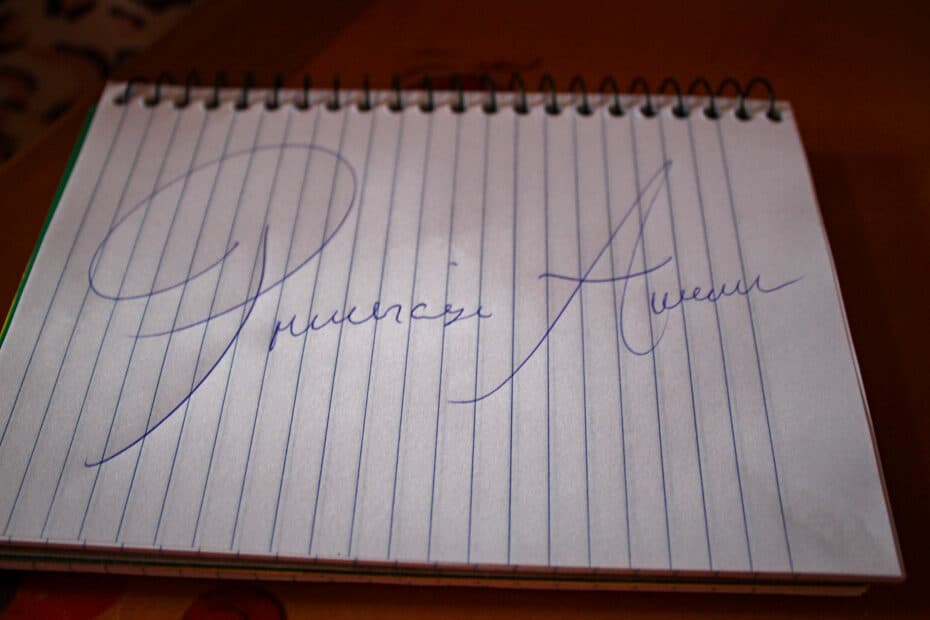 During the Akershus breakfast, a song was played twice. The music alerted the diners and princesses of a special occasion. Every so often, a royal Princess Procession is performed.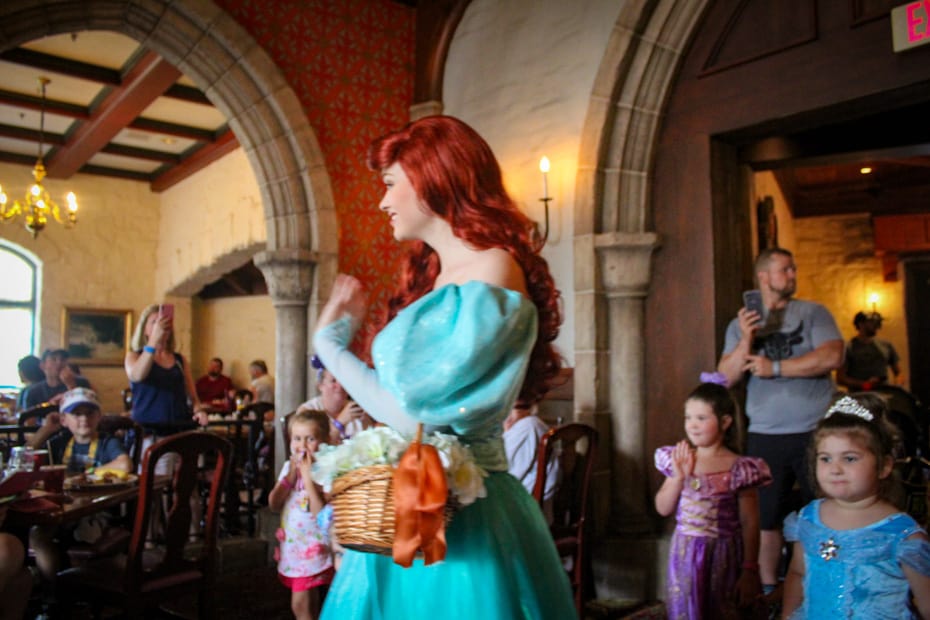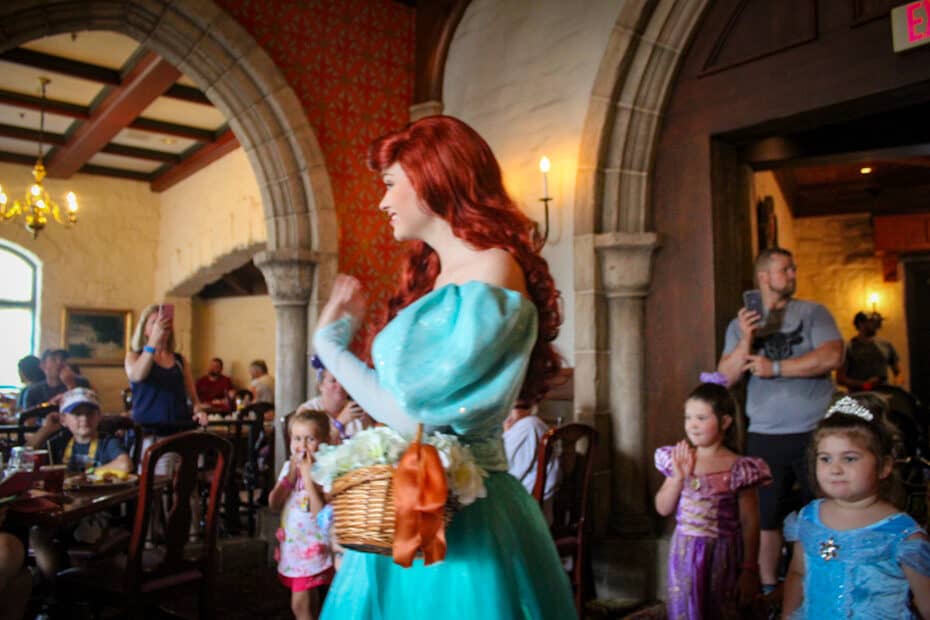 The princesses grab a basket and gather all the children in the room to form a line.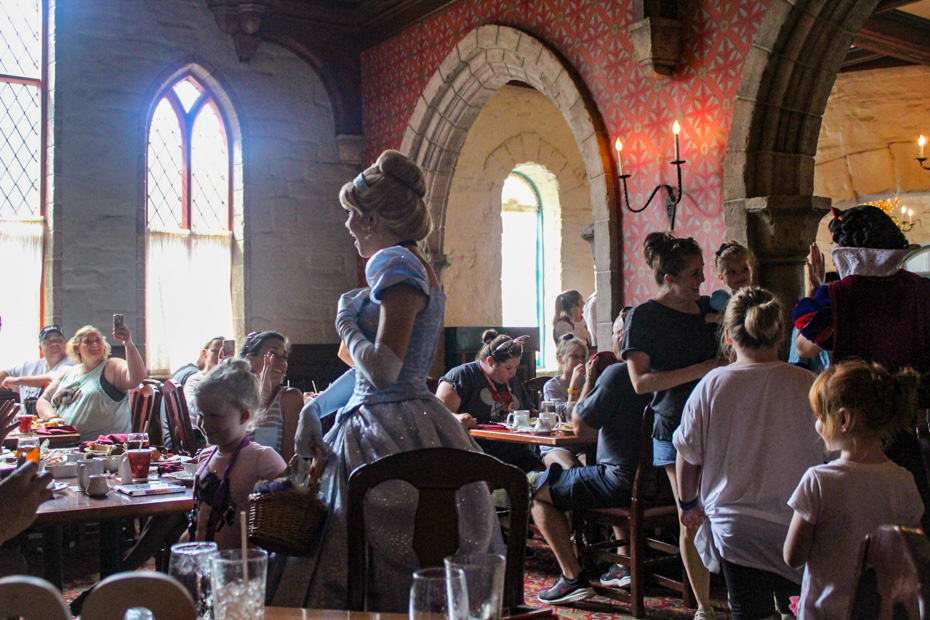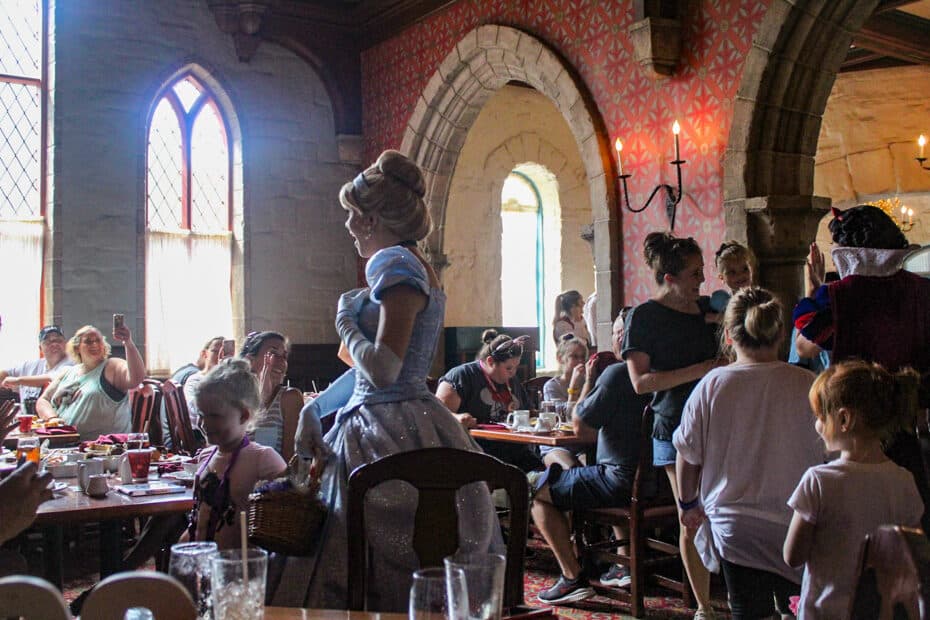 Then the music plays for about three minutes, and they parade around the entire banquet hall. It's probably not as odd as it sounds.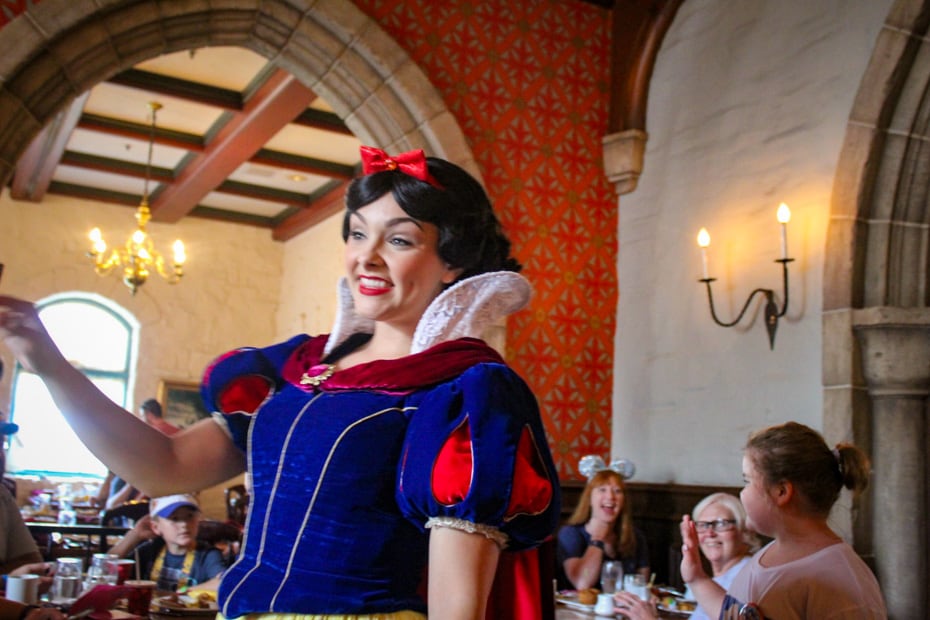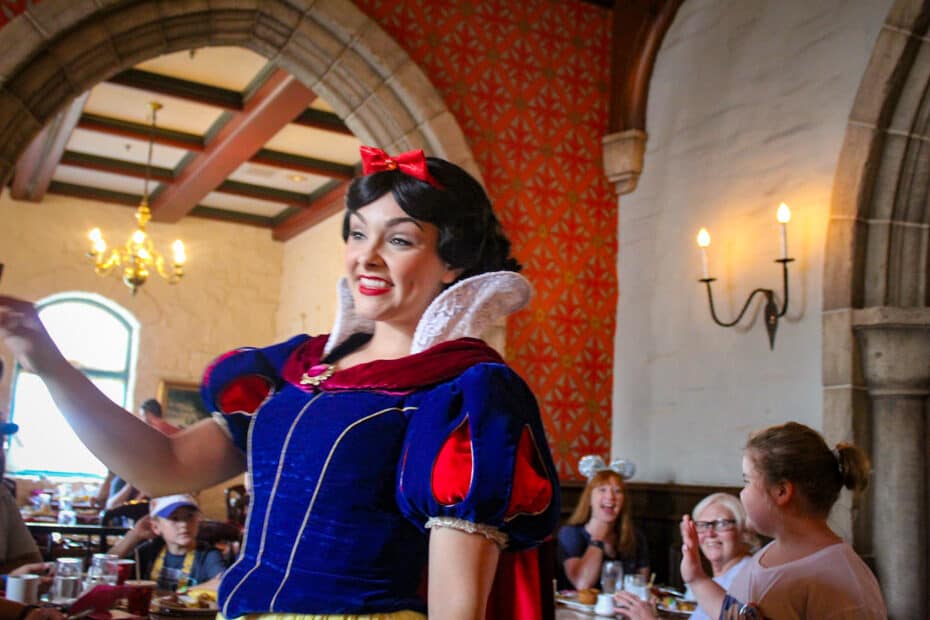 The children get to feel like they participated in the experience. Everyone there seemed to enjoy the procession. I thought it was a nice touch, especially after seeing the children's enjoyment.
Since I'm not a morning person, I scheduled my breakfast for later in the morning. If you plan to eat a large breakfast, I probably wouldn't recommend this. You see, when I had finished, it was approaching the time for the lunch turnover.
I can also assure you that my meal went much quicker than the diners around me. For reference, I had a 10:50 a.m. reservation time.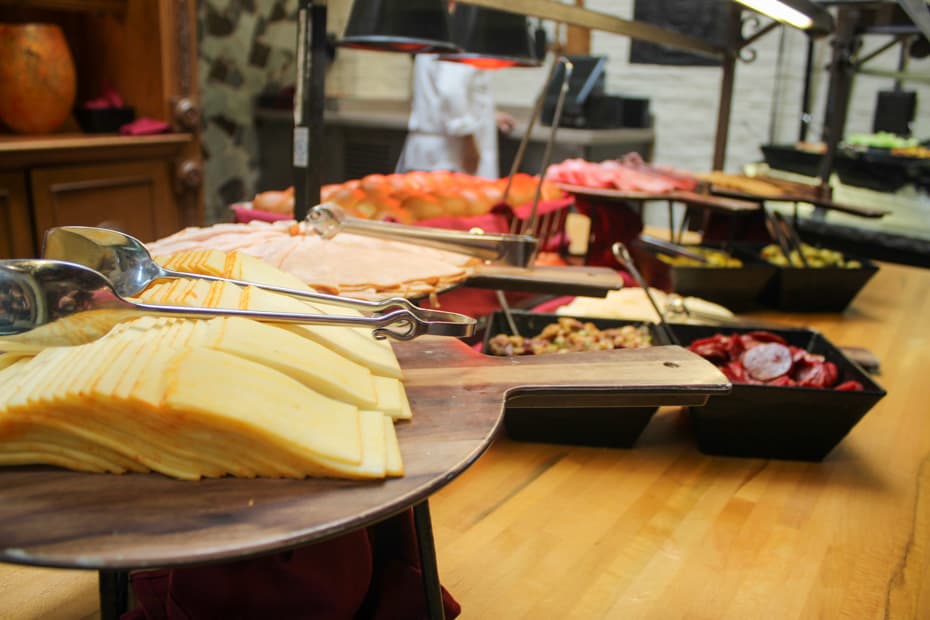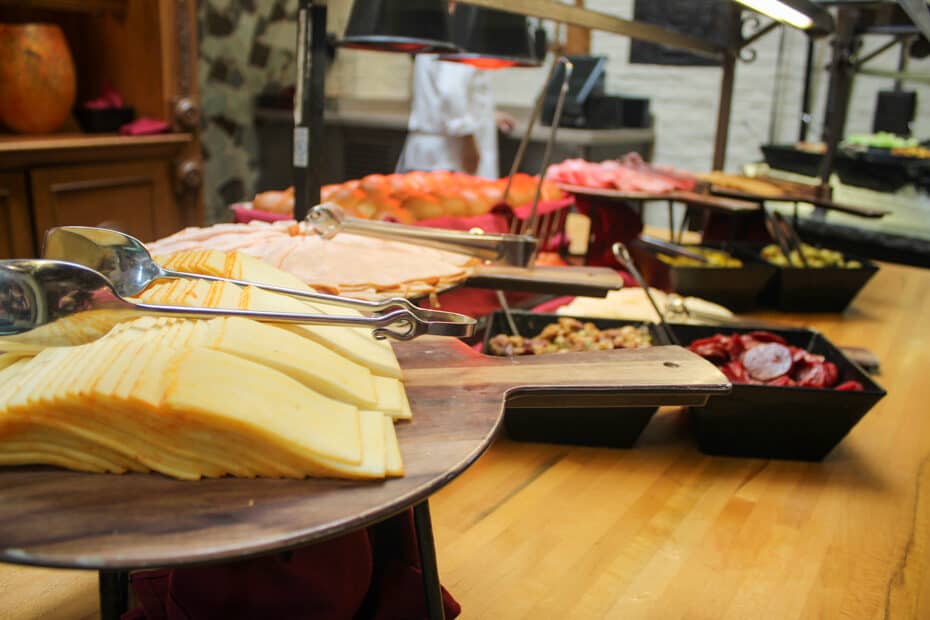 When I went back to the buffet to take a few more pictures with fewer crowds, they had completely changed over to lunch. These lunch items were roped off, and a few breakfast leftovers were pushed to the end.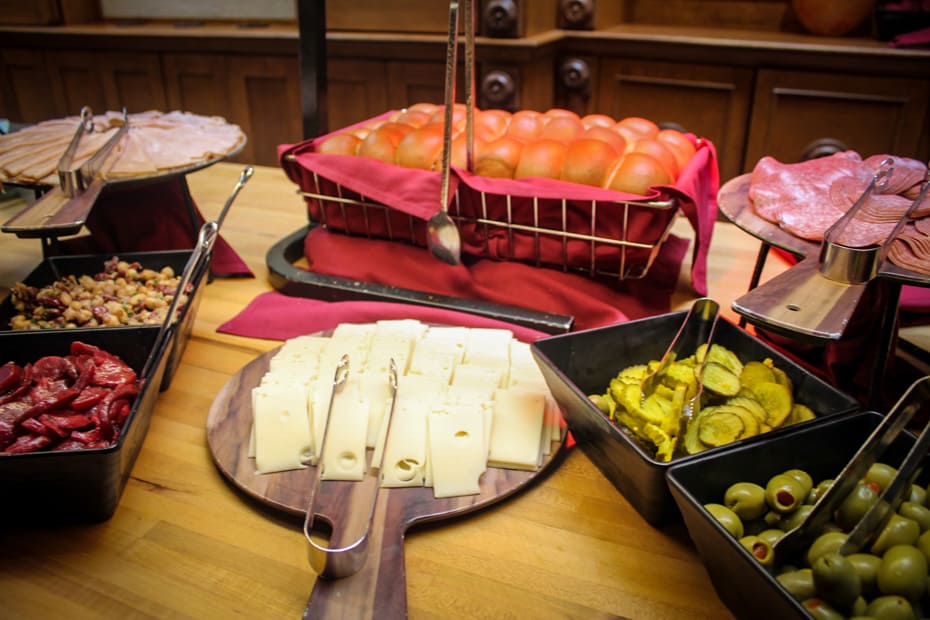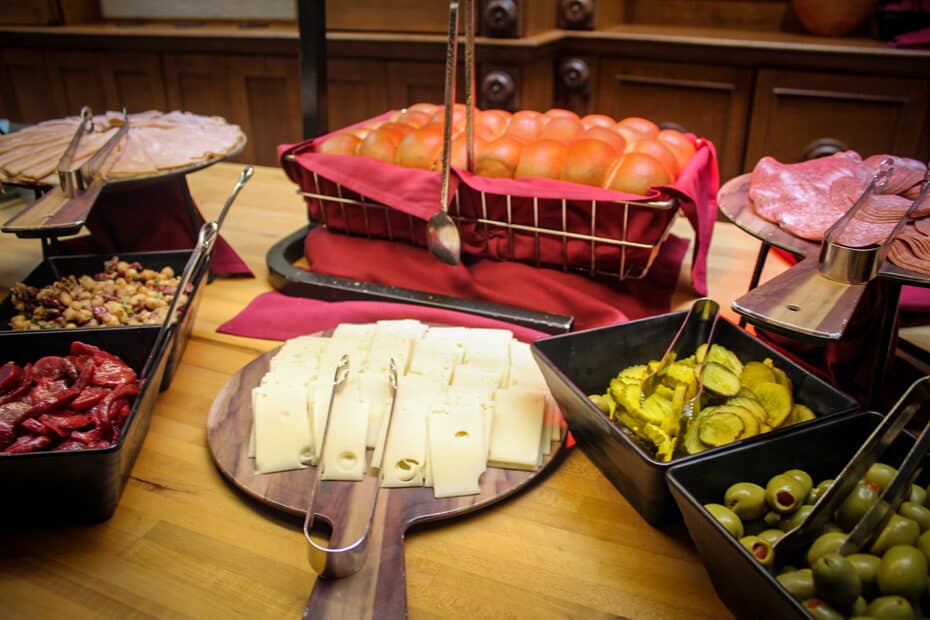 As one who tries to make lemonade out of life's lemons, I decided to give you a bit of a photo preview of the lunch buffet at Akershus. However, since I didn't eat any of these items, I can't comment.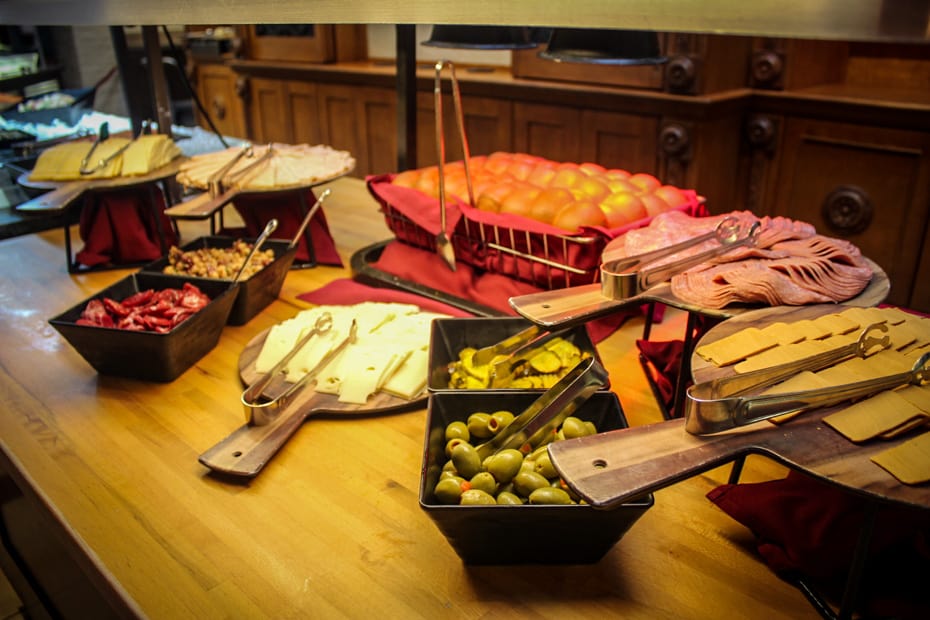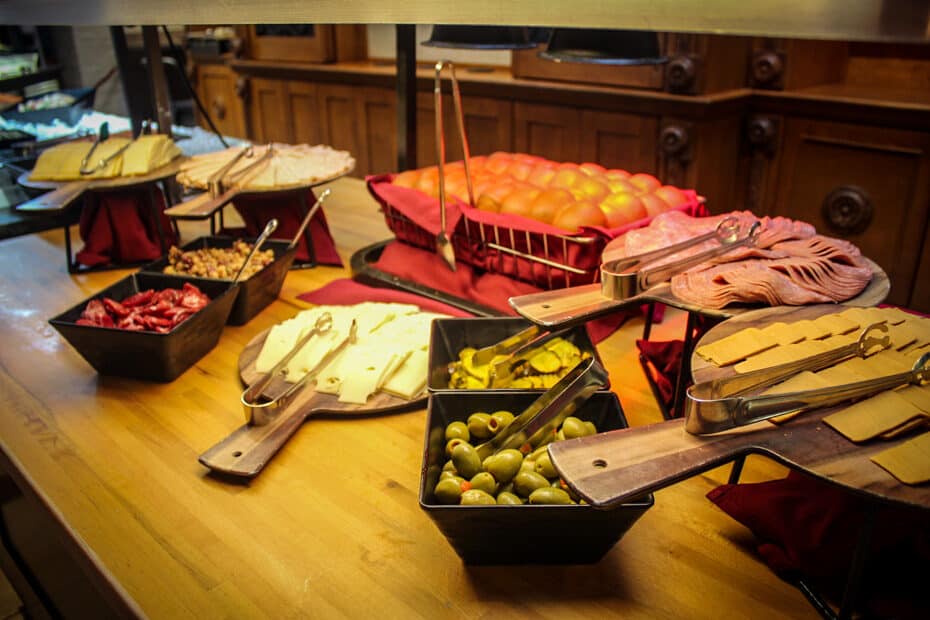 After seeing this spread in comparison to breakfast, I'm sure I would have found much more favor with lunch as well. But, you see, lunch comes with an actual entree selection instead of a generic platter on the side.
The salad bar did appear to have excellent, fresh options.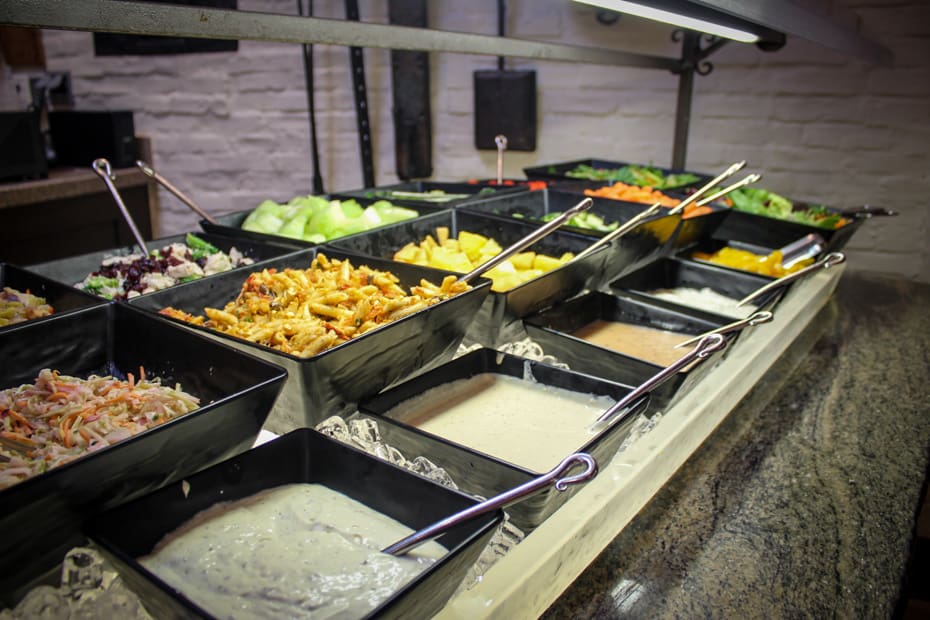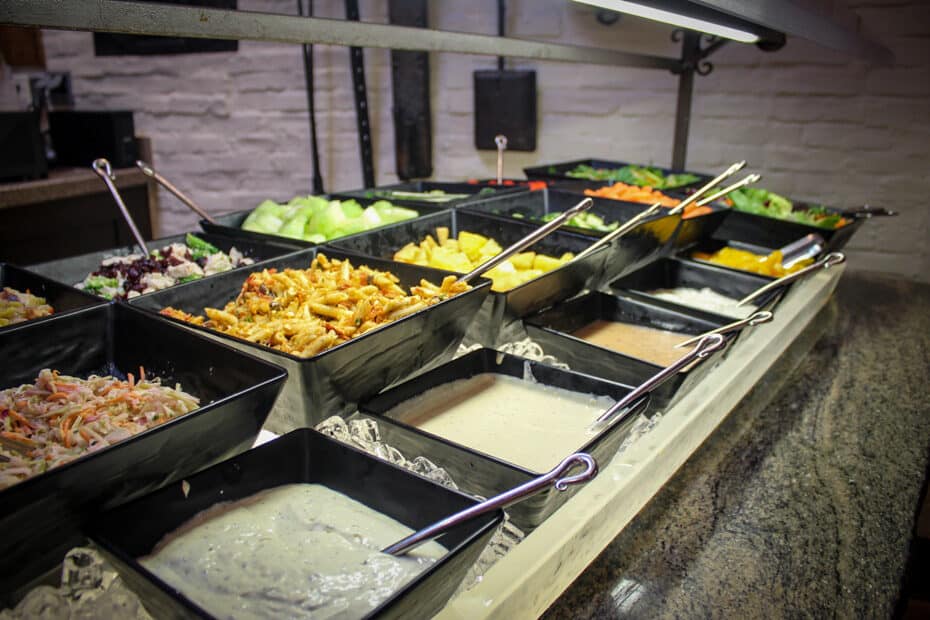 I was disappointed because all the lunch items looked delicious. Eventually, I'll have to get back to compare.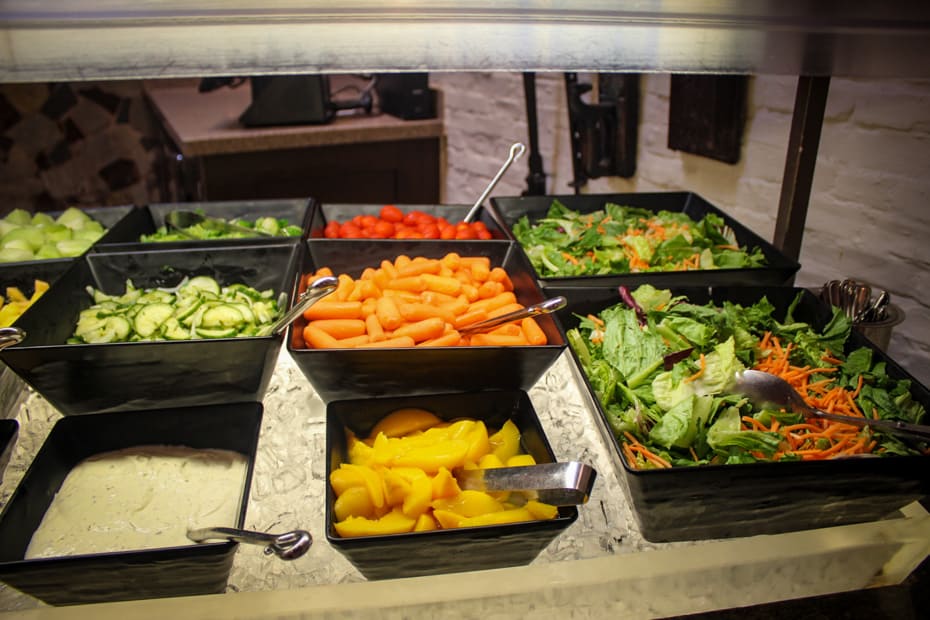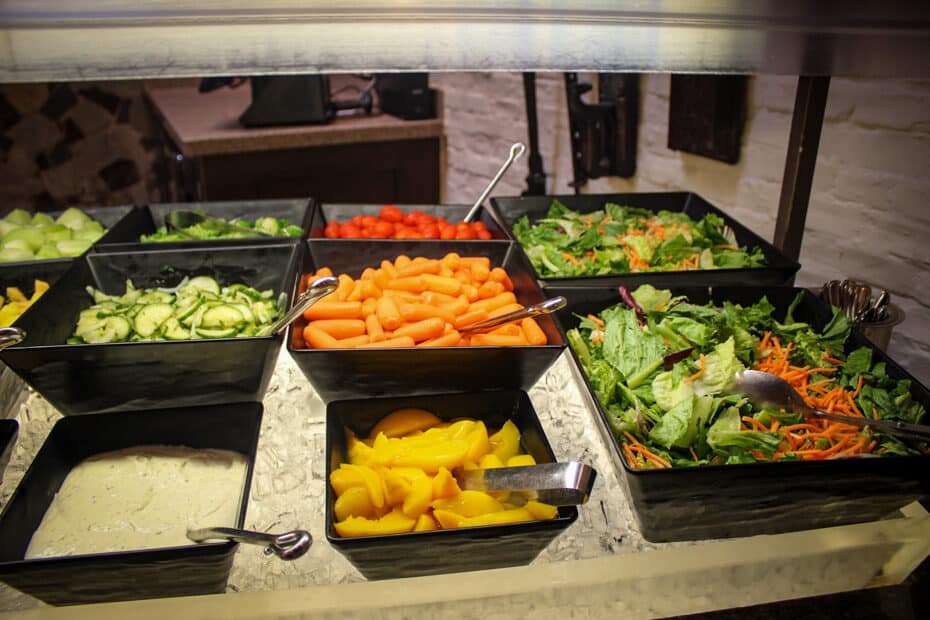 Overall, breakfast at Akershus is perfect for those with a princess character priority! But, unfortunately, it's not one I can recommend for the food.
The food isn't bad by any means. It's just somewhat generic.
However, there are a few high notes at the Norwegian smorgasbord buffet. But not enough, in my opinion, to justify the cost of the meal.
It was also disappointing to see the lunch buffet look much better than breakfast. I found myself wishing I had researched a little more and had gone to lunch instead.
On a positive note, I don't feel you can beat the character interaction. I also received outstanding service during my visit.
But I can't help thinking about that family of four paying close to $200.00 for this meal.
If you are looking for a similar meal with a buffet and entree selection, you can't beat my all-time favorite breakfast at Ale and Compass over at Disney's Yacht Club. That meal won't break the bank either. Sadly, it doesn't include characters.
Related: Breakfast at Ale and Compass Review
Make sure to check out all of our Disney dining reviews. Or you might enjoy these popular articles:
You might additionally enjoy our guide to Disney Signature Dining and the list of best restaurants at Disney Springs. And there are the best breakfasts at Disney World.
If you are planning to meet characters, try the Epcot Characters Guide. Additionally, we have an article about meeting princesses at Epcot.
I hope this Akershus breakfast review provided you with enough information to decide whether a meal here is suitable for your family. If your little ones are fans of the princesses, I don't think you'll begrudge the expense.
In the comments:
What are your thoughts on Akershus? Do you think dining with princesses is something your family will enjoy?
Planning a Walt Disney World or other Disney Destination vacation?
Our friends and travel partner, Firefly Travels, excels at doing Disney differently. You can fill out a plan your trip form on their website, and someone will reach out shortly to discuss the specifics.