Drury Plaza Hotel at Disney Springs Review (A Hotel that Knows Hospitality)
This article provides a review of our stay at the Drury Plaza Hotel at Disney Springs. The Drury Plaza Hotel is the newest hotel within the Disney Springs area and is a Walt Disney World Good Neighbor Hotel.
As the title suggests, the Drury Plaza Hotel at Disney Springs is a hotel that knows the meaning of hospitality. So much so that I have difficulty expressing how much I appreciated the amenities that benefited me as a guest during this stay.
I could say that the Disney Springs Drury runs like a well-oiled machine. It does. It also reminded me of a cruise ship. Once you're on board, everything else is taken care of, and you're job is to have a good time.
Of course, you have to worry about grossly overpriced food and other upcharges with most hotels. But this hotel offers an array of complimentary meals throughout the day and has no extra resort fee.
So for this review, I want to walk you through my one-night stay at the Drury Plaza Hotel. My only complaint–I wish I had stayed longer!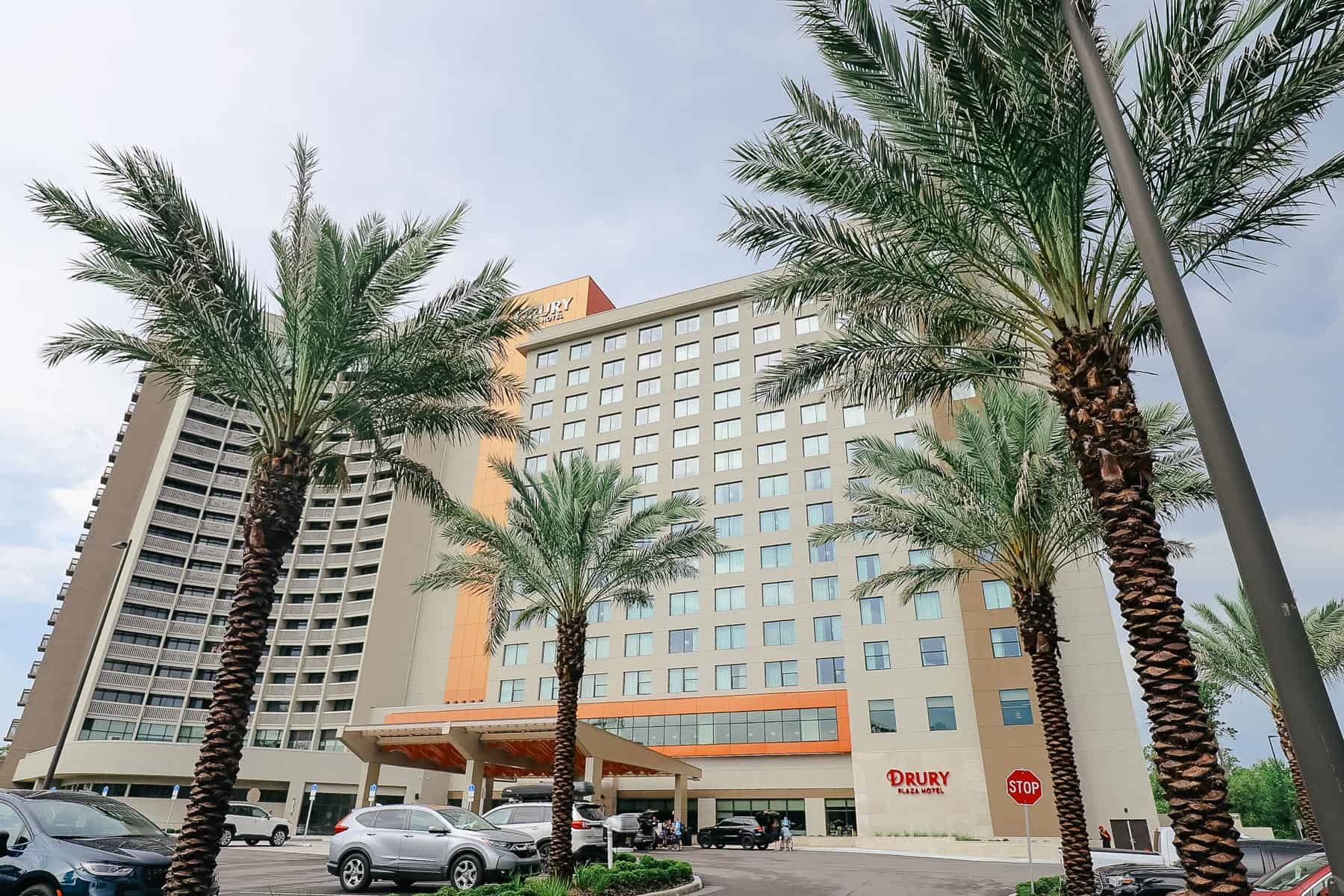 Earlier this week, I found myself playing catch-up on the website. We keep a list of hotels to try, and my primary goal is to stay at a new hotel each month. However, things like room updates and older content require us to revisit the hotels at Disney World regularly.
When I realized I hadn't reviewed any off-site hotels recently, other than the Swan Reserve, I decided to check a few rates. Surprisingly, I found a reasonable rate of under $140.00 at the new Drury Plaza Hotel at Disney Springs.
A $25.00 parking charge was the only extra fee besides tax. So if you have a car, you'll want to consider the nightly parking charge.
With no significant plans aside from work, I reserved the room and planned an afternoon at Disney Springs. Since Disney Springs is within walking distance, I thought I might walk from the hotel after settling in my room.
Unfortunately, several thunderstorms passed through that afternoon. So I left early and parked my car in the Lime Garage at Disney Springs. That way, I could continue to the Drury when I was finished.
For reference, the Drury Plaza Hotel sits directly across the street from the Hilton Doubletree Hotel. When we reviewed the Disney Springs Doubletree last year, I measured the distance to Disney Springs.
It's 0.7 miles from the Drury Plaza Hotel to the Marketplace entrance of Disney Springs, about a 15-minute walk at an average pace. Once you reach the Lake Buena Vista intersection, you'll take the stairs or elevator to the pedestrian bridge.
So you do not have to worry about crossing any streets to get to Disney Springs. They are all fenced off to keep pedestrians safe.
After a late lunch at D-Luxe Burger and a facial at Sephora, I continued to the Drury. On a side note, if you ever need a reasonably priced facial, they have a 30-minute option that only costs $60.00.
I parked my car and brought my luggage when I arrived at the Drury.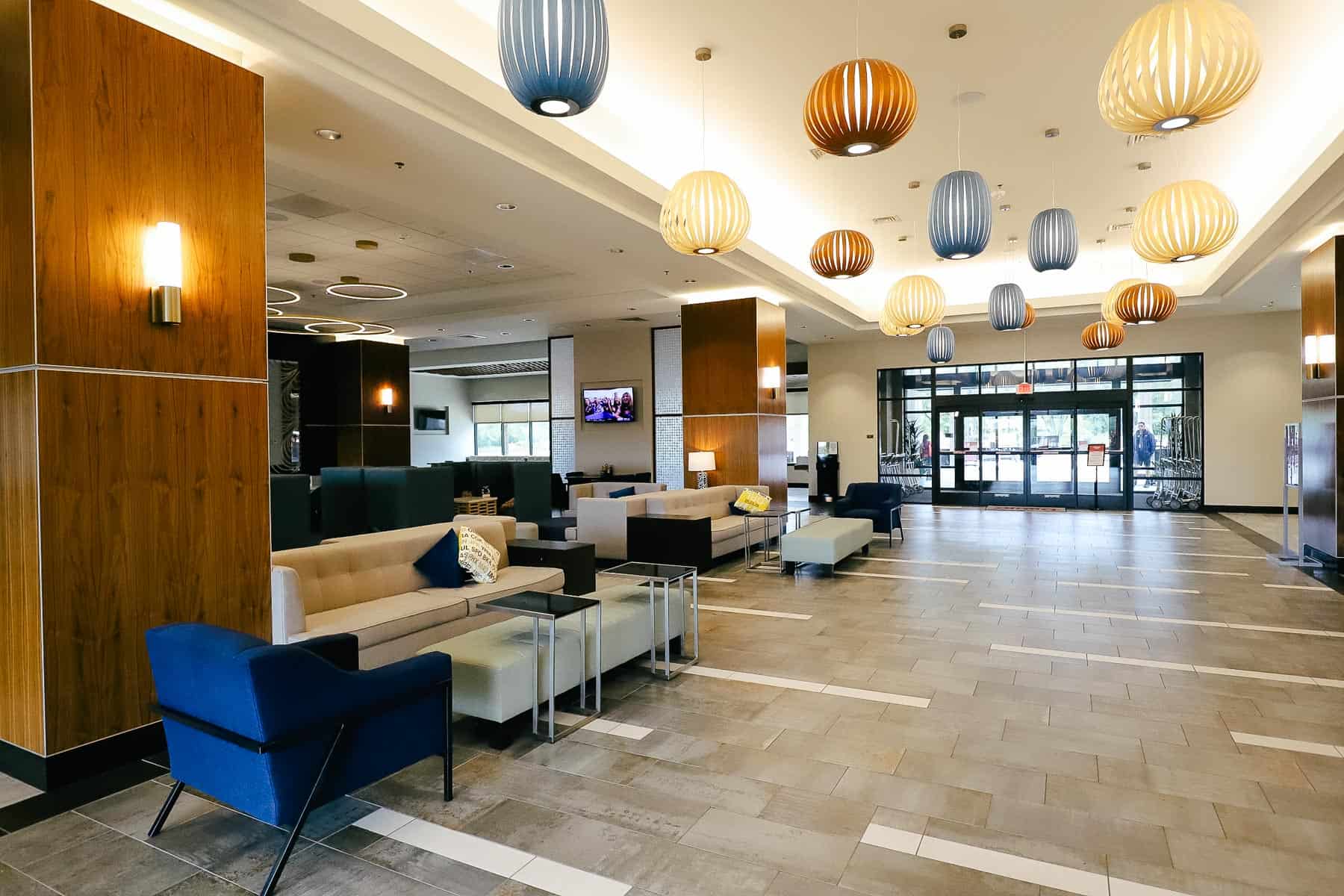 A bellman was available to assist guests who needed help. However, almost everyone appeared to be taking advantage of these luggage carts inside the breezeway.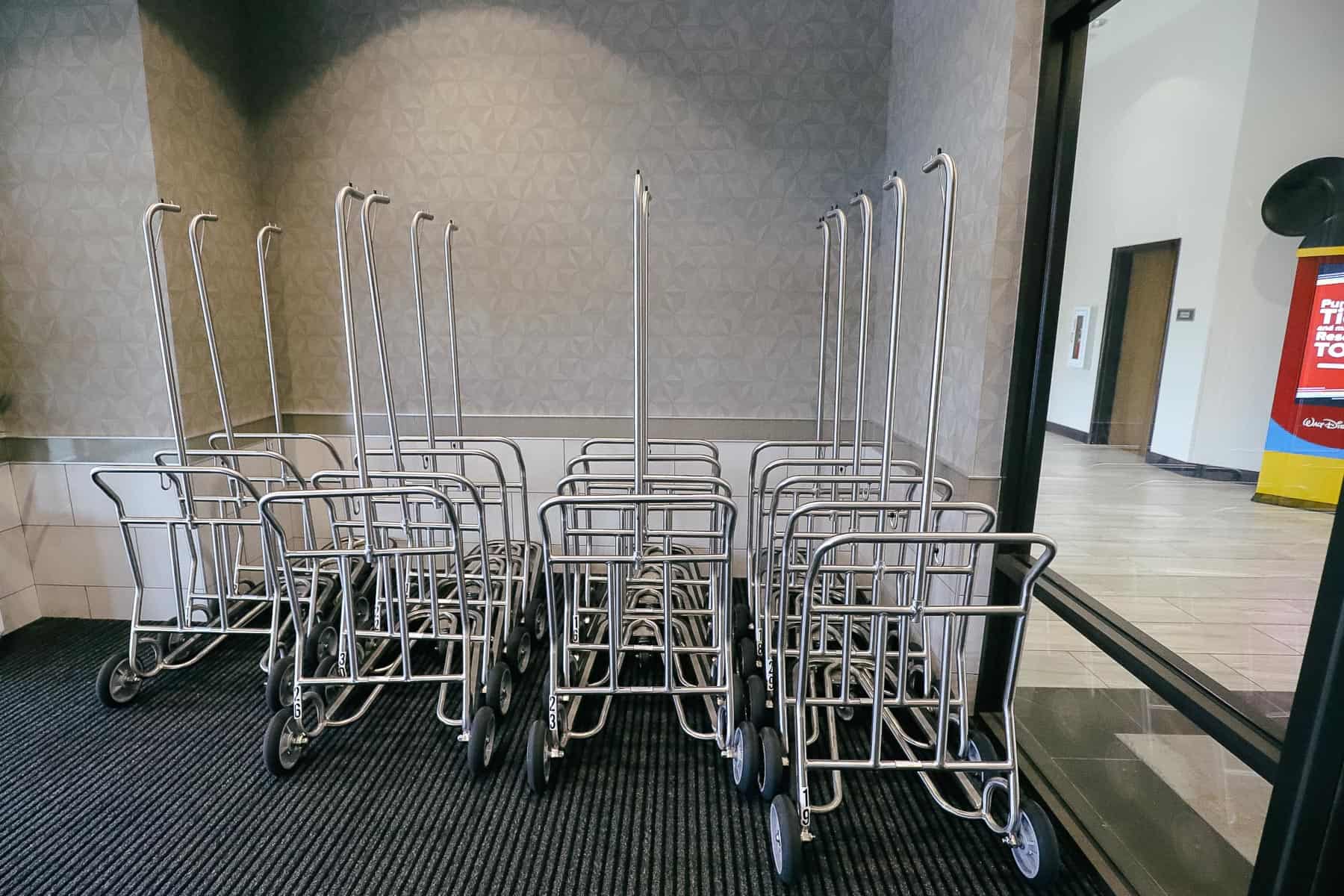 Upon entry, I was impressed with the clean, modern look of the hotel. A kind lady at the check-in desk quickly helped me with my room assignment. She answered all of my questions and was very knowledgeable about the hotel.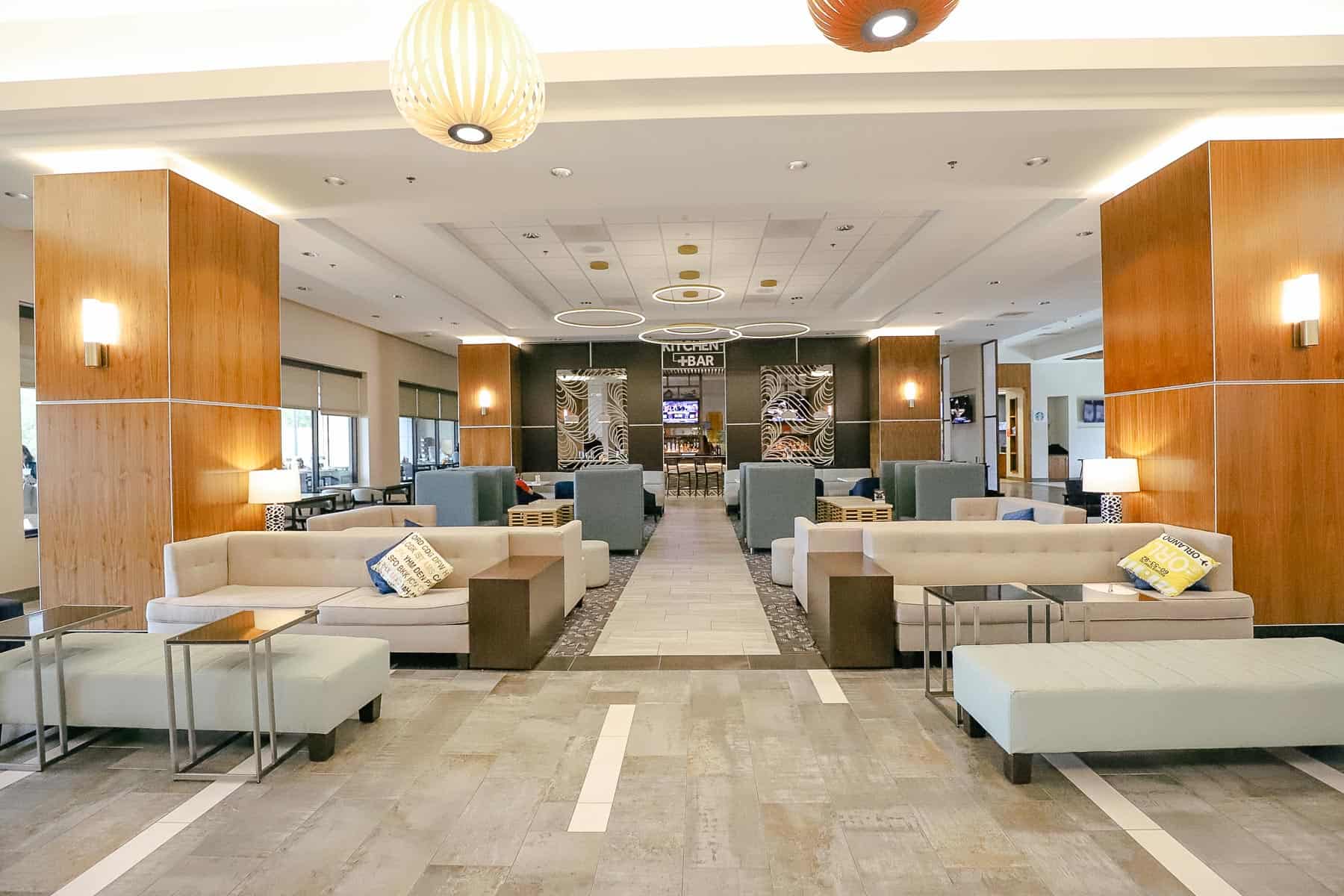 My room assignment was on the Cypress Tower side on the 15th floor. All I can say is that, thankfully, the elevators moved swiftly.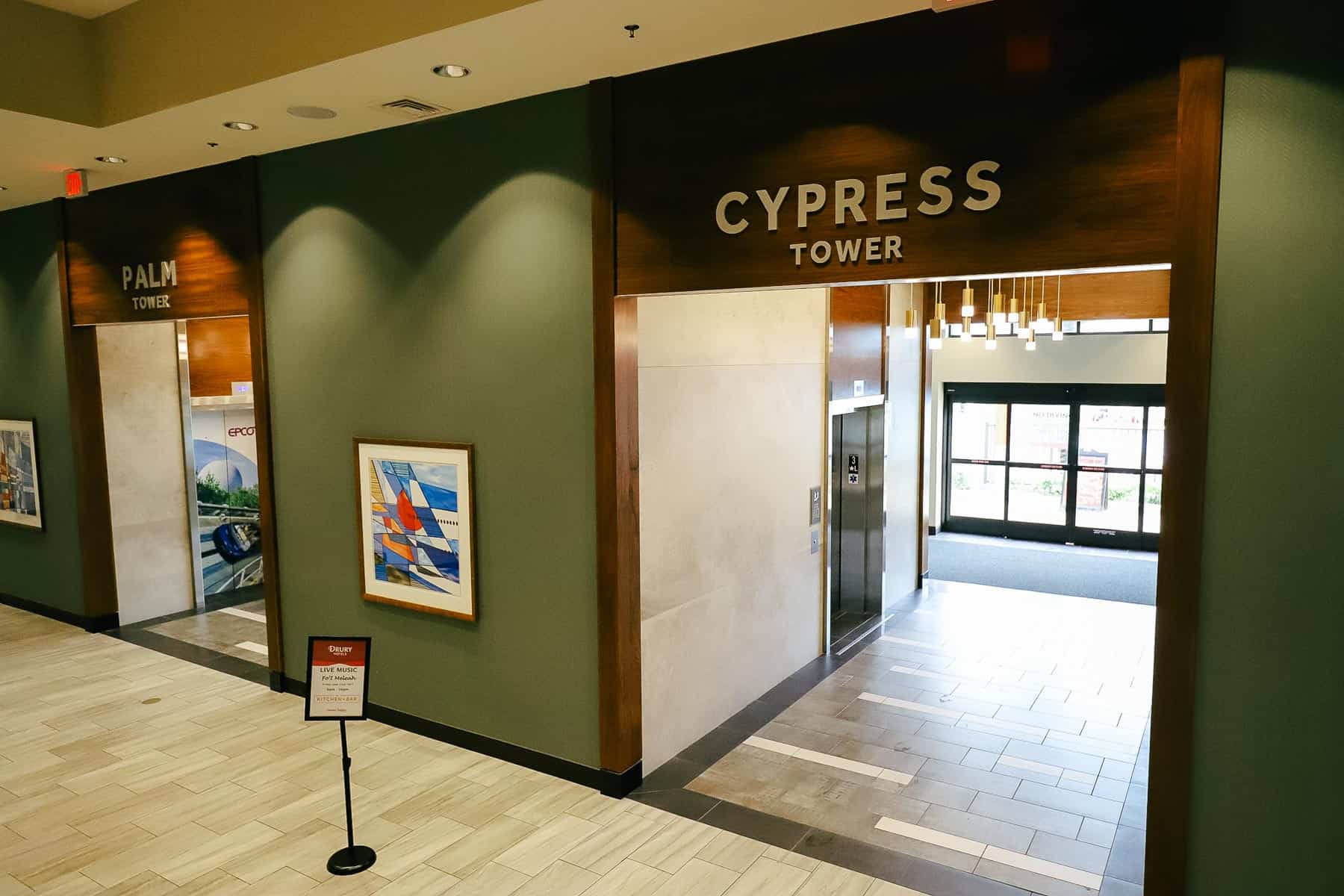 At the top, I was greeted by an expansive foyer leading to a hall of guest rooms.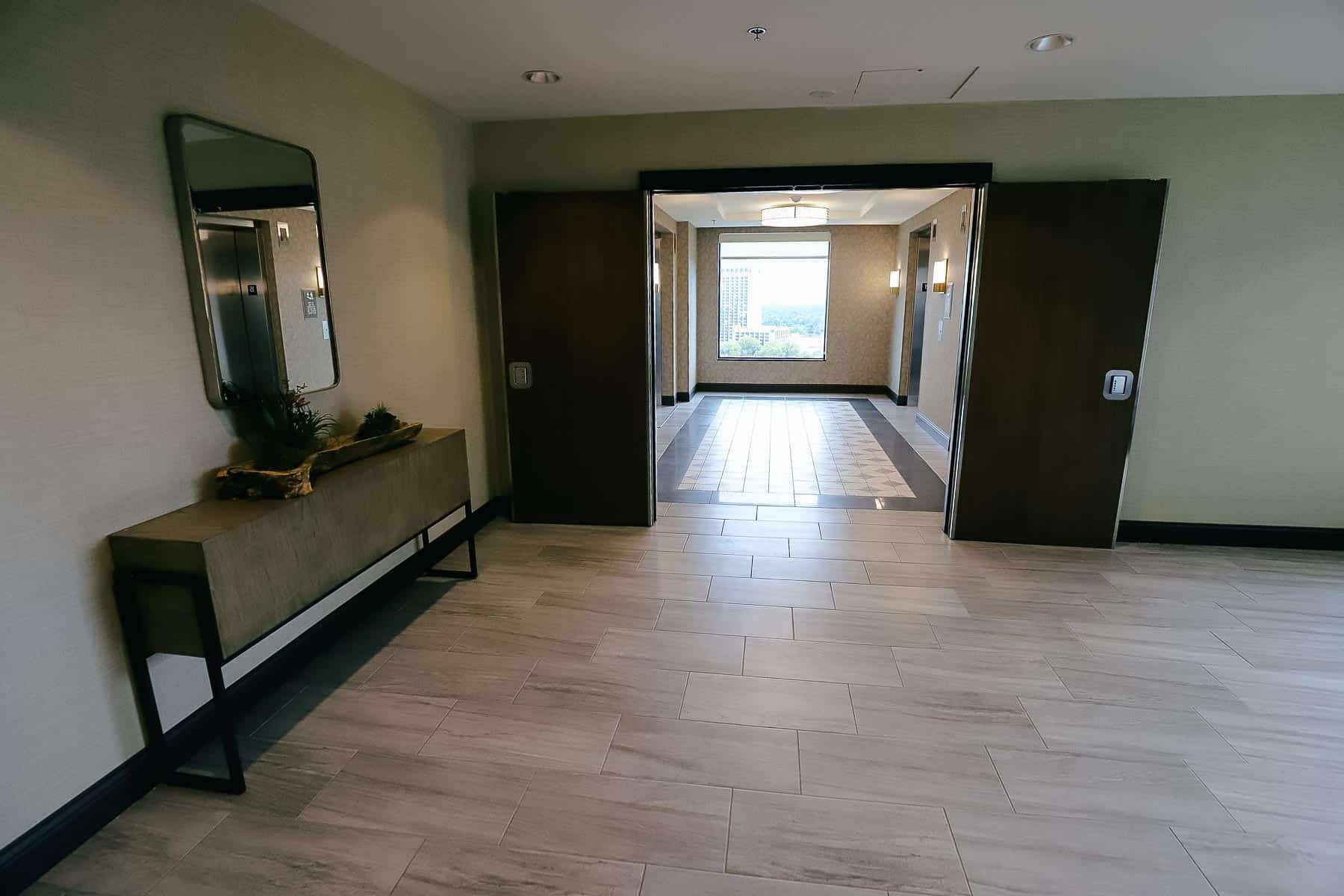 A window looked out to the resort's pool.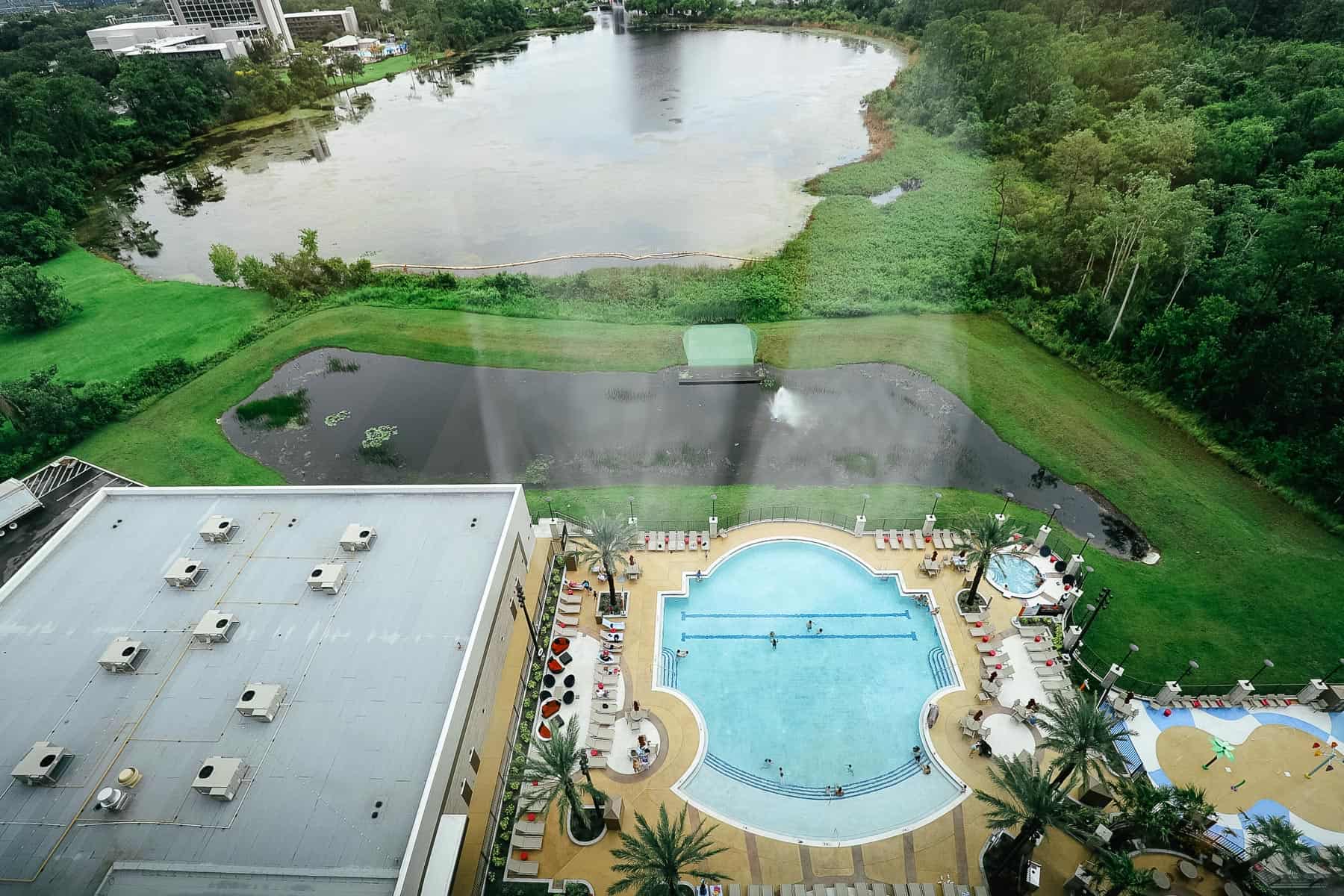 My guest room was more than adequate. It had plenty of space and more extras than I'm used to seeing in a hotel.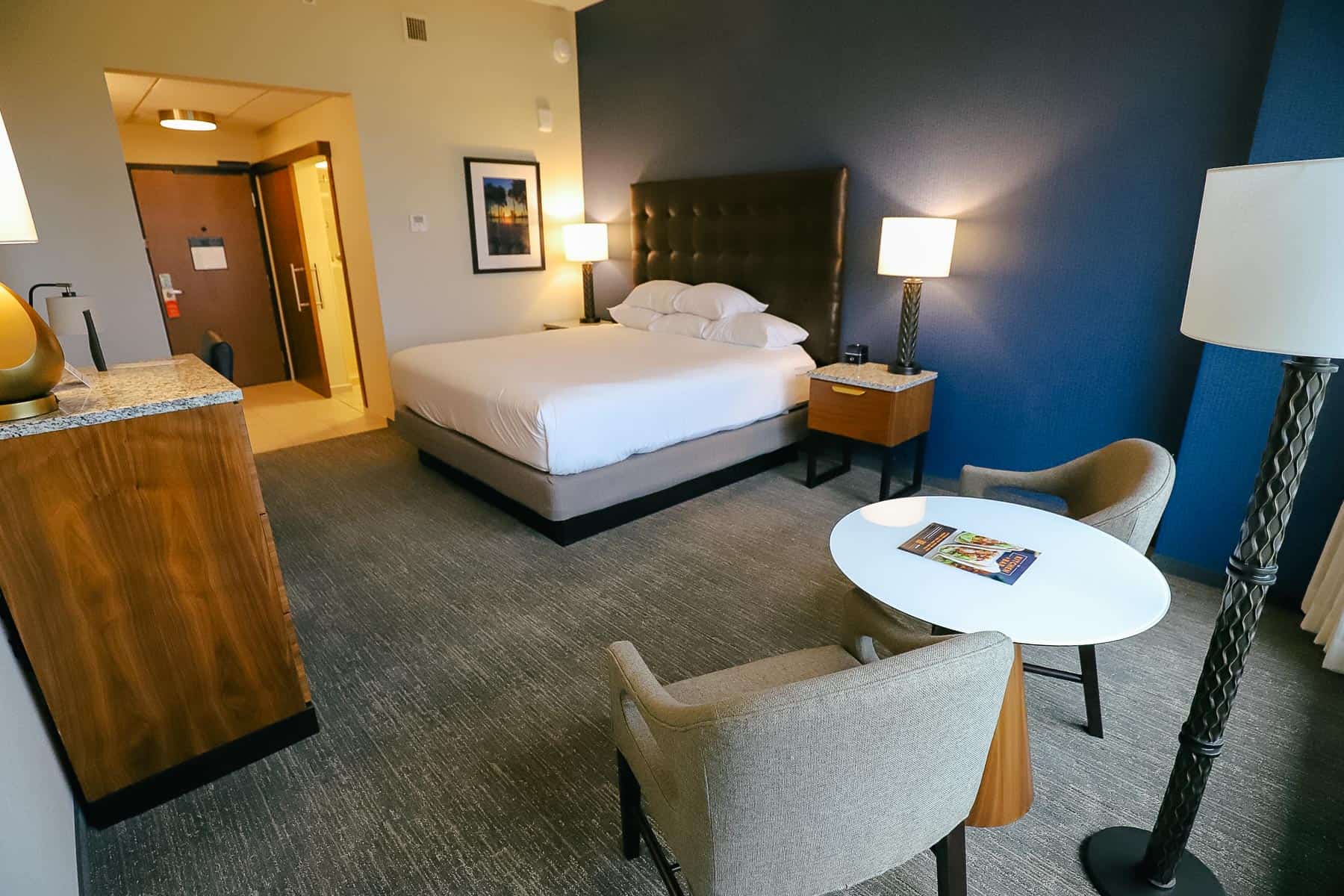 I acknowledged early on that I could easily spend a week in this room.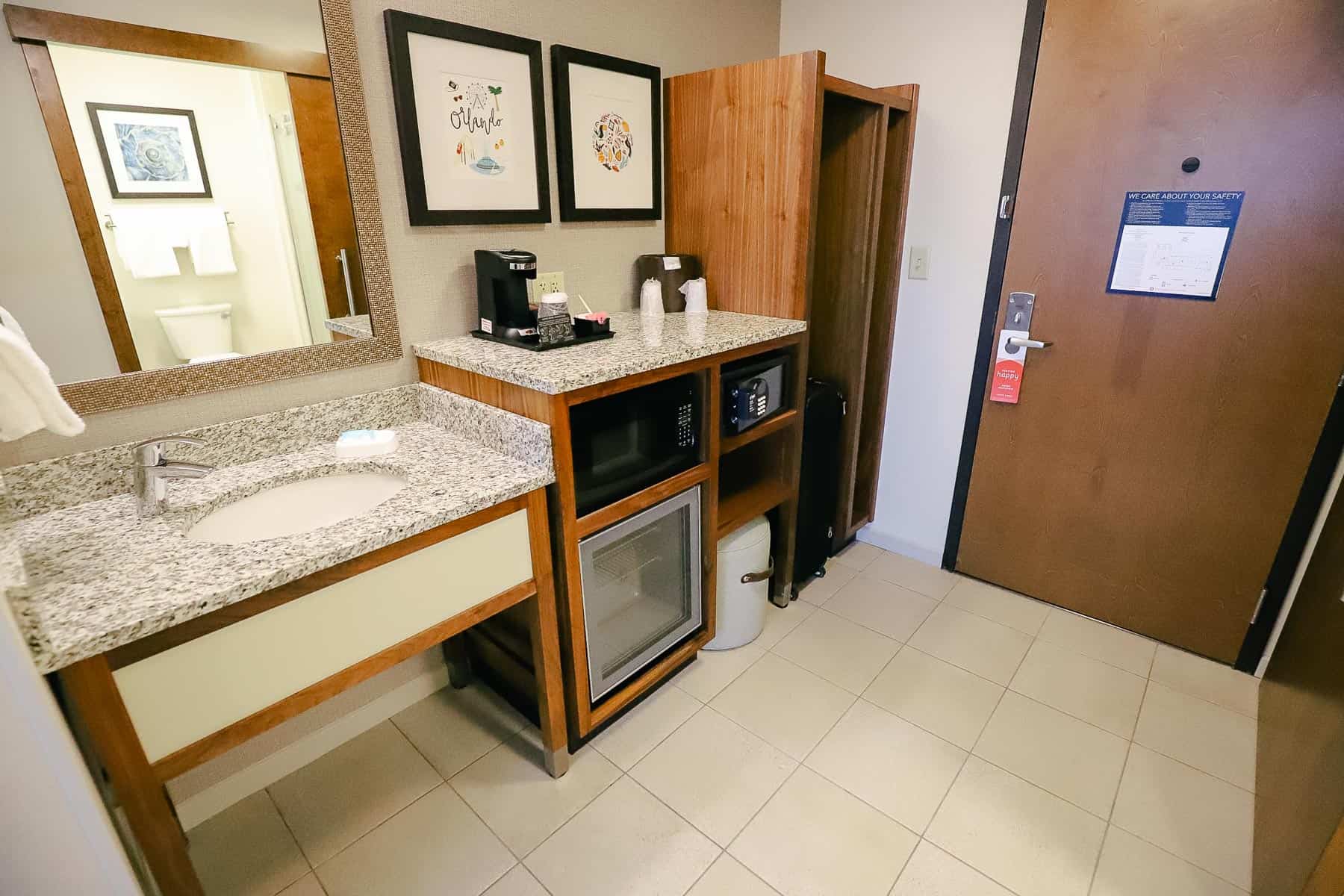 It is rare to see a microwave, and I used it to reheat leftovers after a late night at Hollywood Studios. We'll get to that. But having a microwave in a hotel room is a tremendous asset.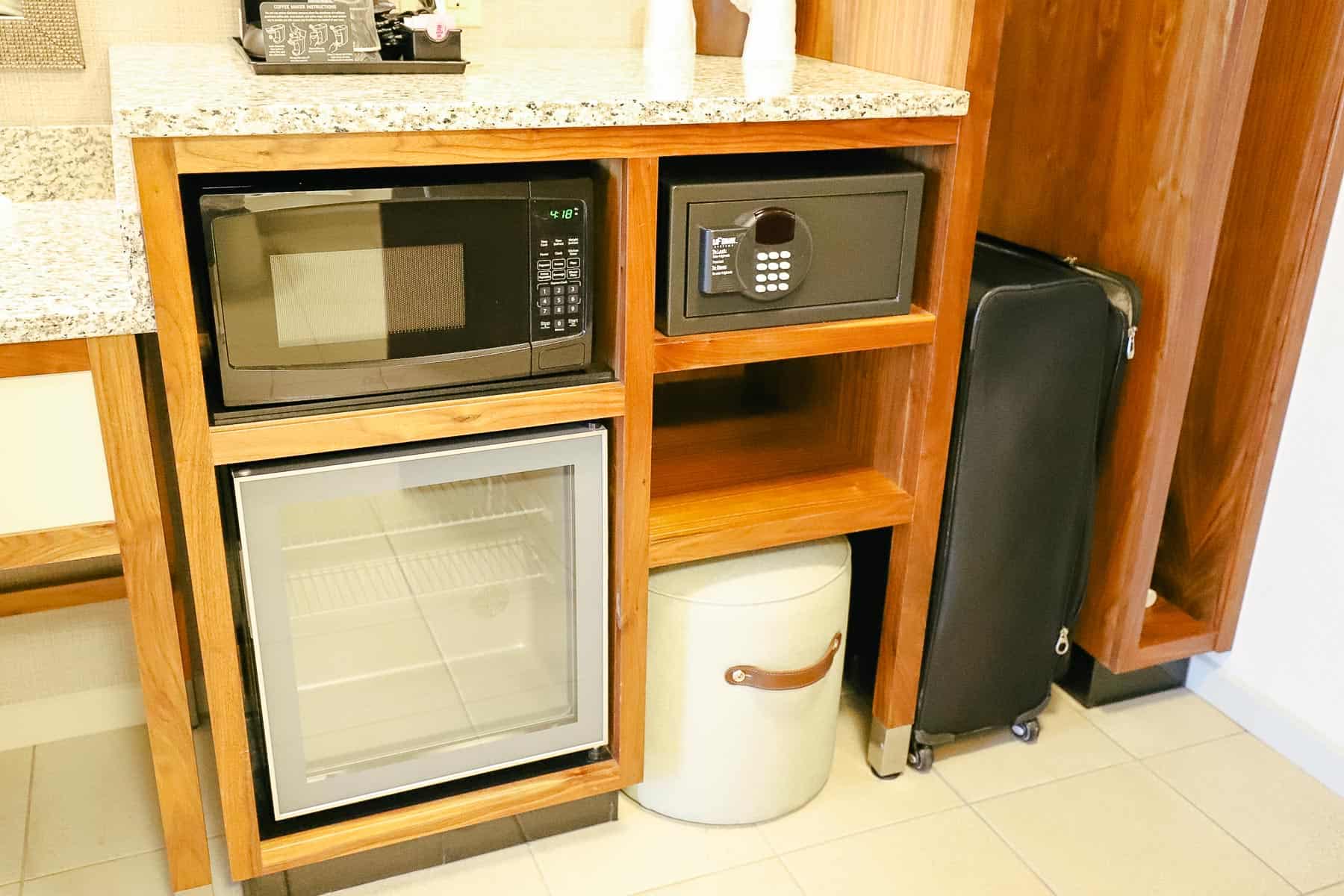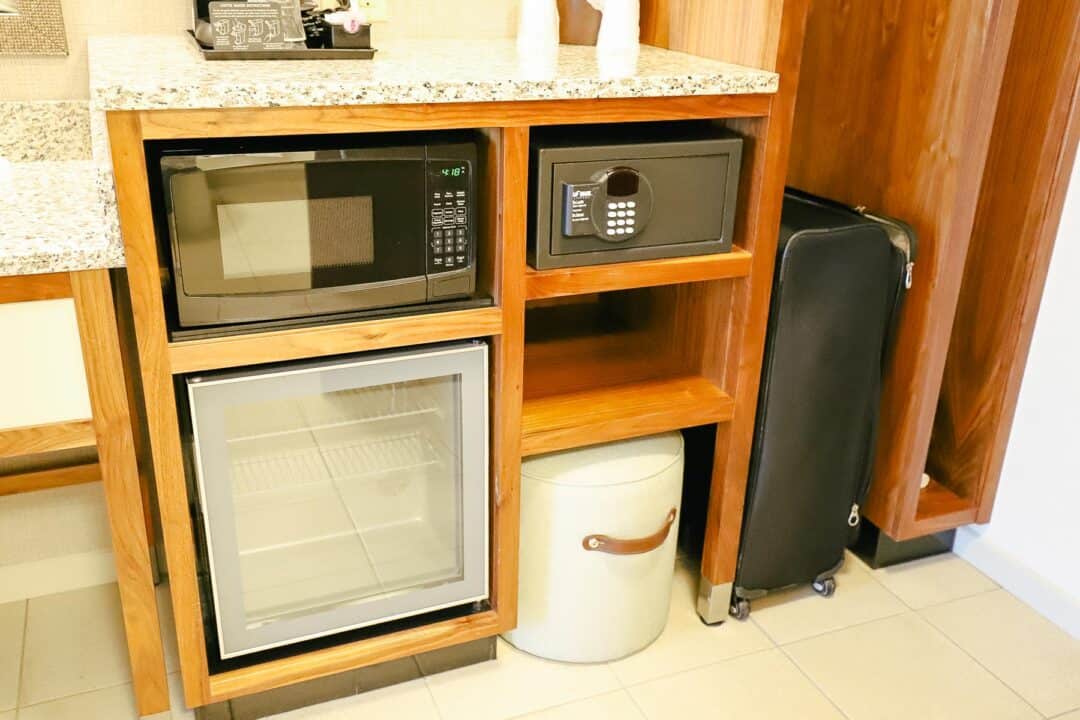 Here is the walk-in shower with built-in toiletries. It had excellent water pressure–and we're talking the 15th floor!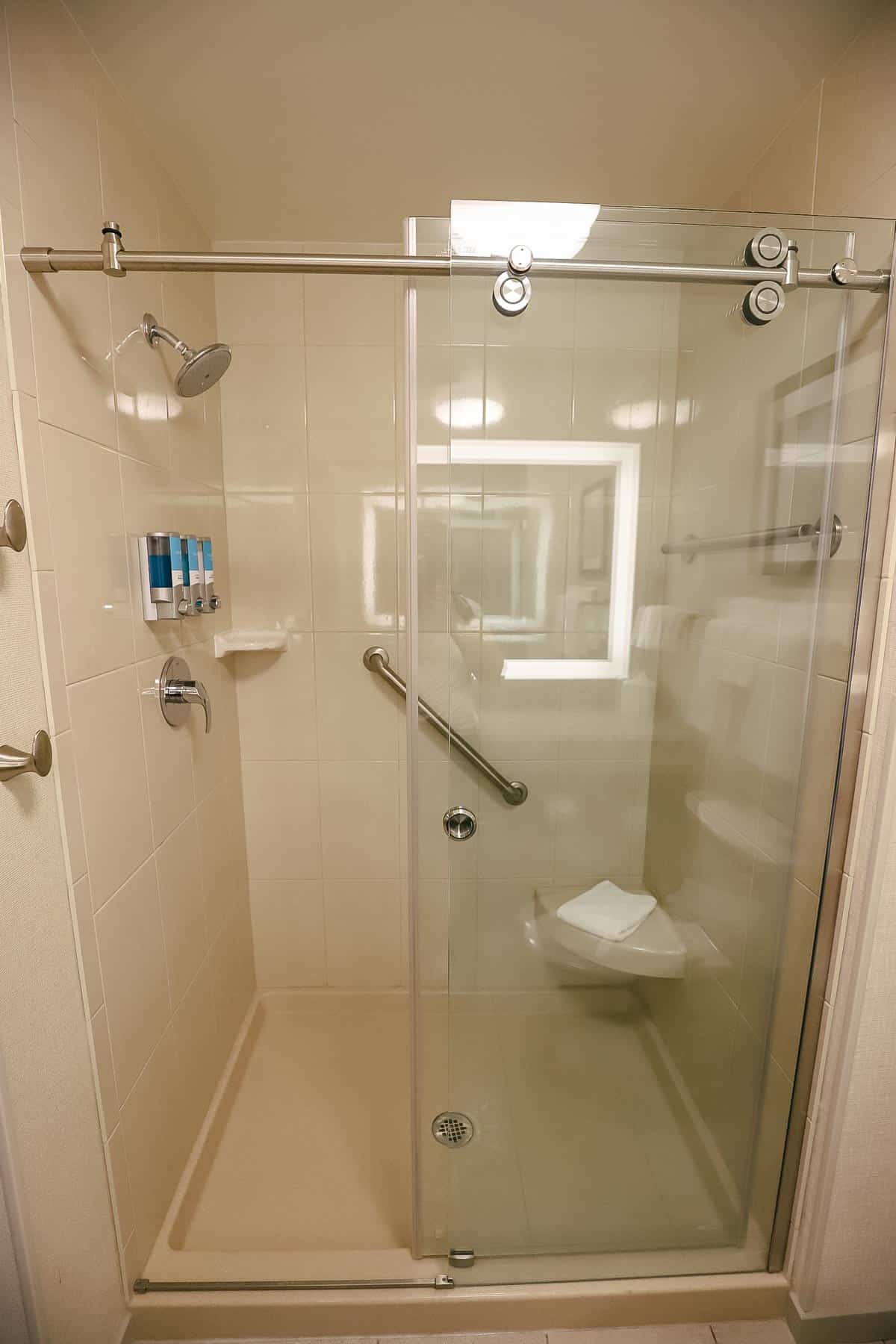 Here is the vanity, which provided plenty of counter space and storage areas. We have a separate room tour of the Drury Plaza Hotel that contains more photos of the room and a video.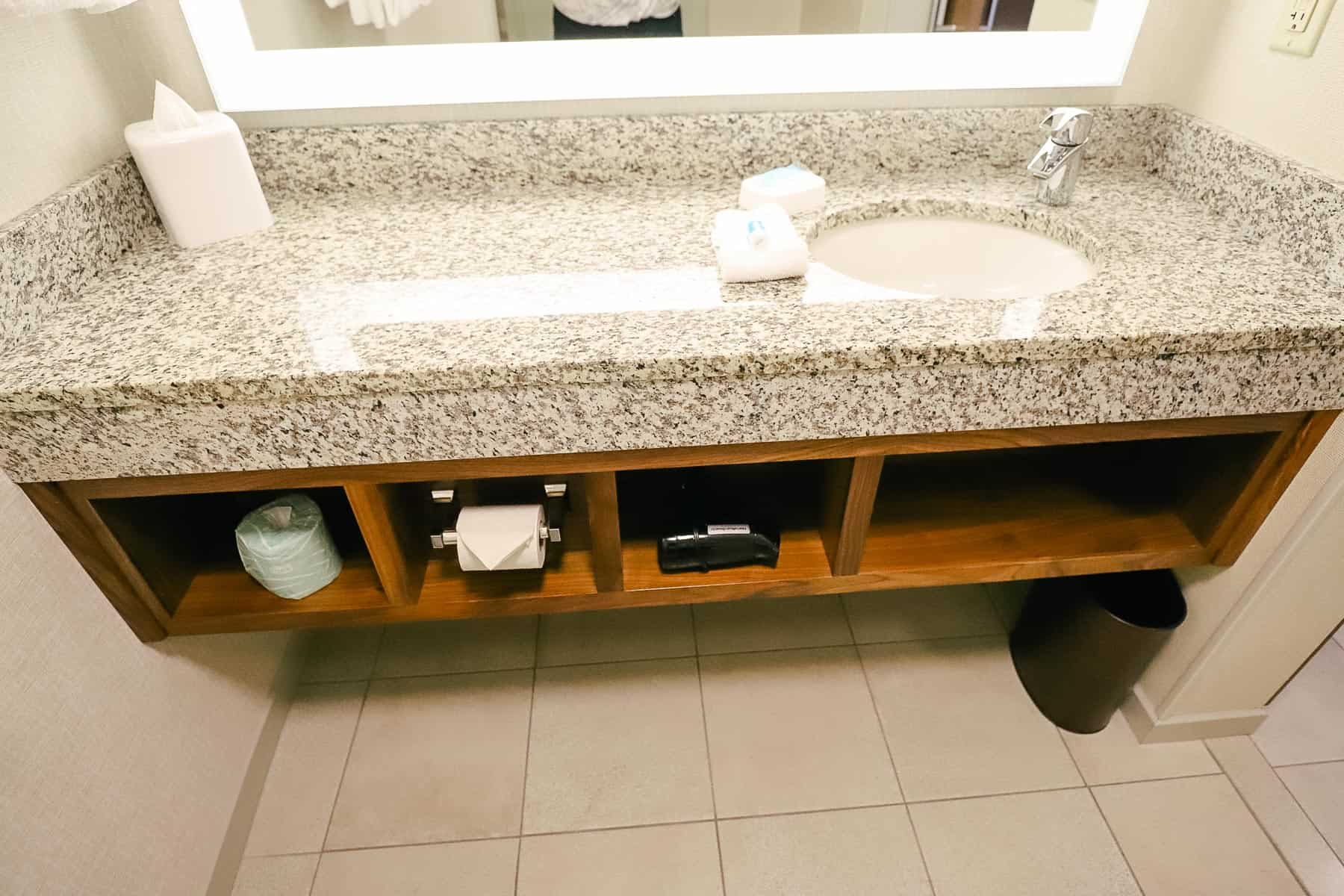 At this point, the weather was unfavorable. My plans were to take photos of the room, and I had considered taking the resort's shuttle service to Disney's Hollywood Studios for the evening.
So I decided to look over the items they had given me at the front desk and tour the inside of the hotel. I also wanted to check out the 5:30 p.m. Kickback, which I was unaware of before this stay.
One of the pamphlets read, "Our generous, free amenities are designed to help you…Travel Happy." Those amenities include a hot breakfast, evening kickback, popcorn with soda, and free wifi throughout the hotel.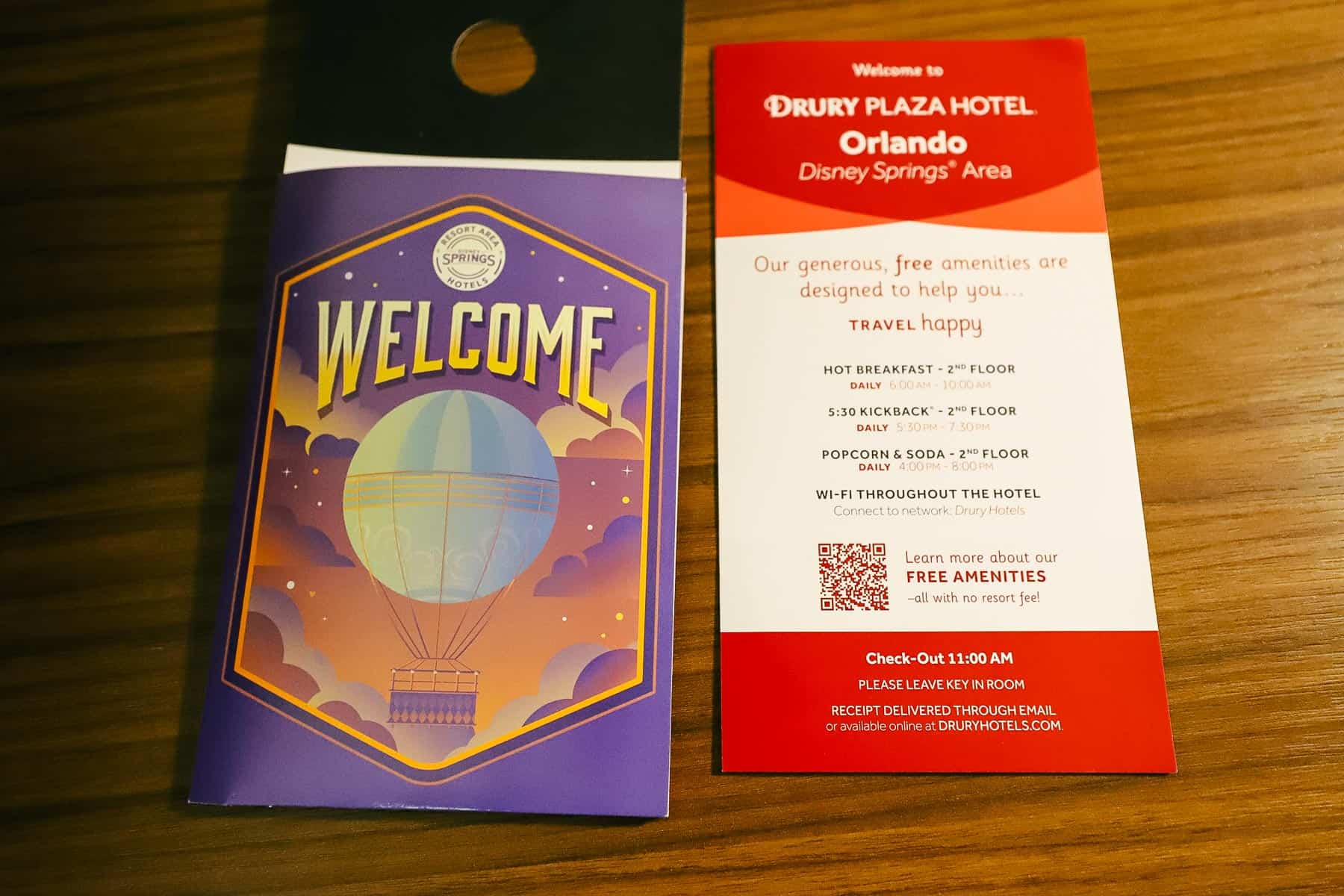 Each evening between 5:30 p.m. and 7:30 p.m., the Drury has what I would call a cocktail hour. However, it's so much more than that. It's more like staying club-level at Disney World, except this option is complimentary and doesn't cost you an arm and a leg.
Adults are given a Kickback drink card at check-in that allows them three (yes, 3) cocktails per night of their stay. So if you have two adults in your room, you'll each get three drinks per night. I know this might seem hard to fathom, but it's true.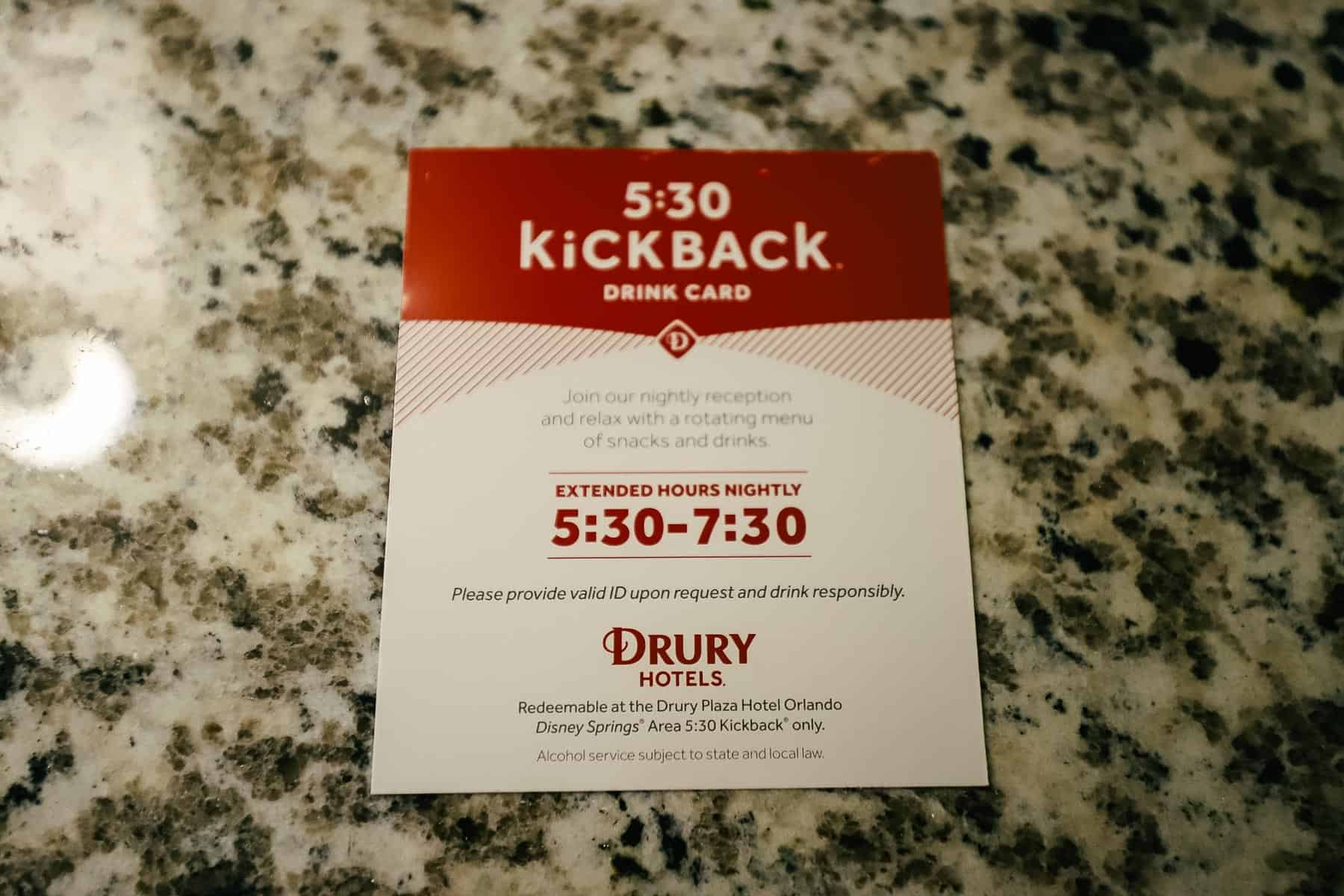 Disney Spring's Drury also offers complimentary bus transportation to the theme parks, Disney Springs (in the afternoon and evening), and Typhoon Lagoon. After browsing the schedule, I realized I had just missed the last bus to Hollywood Studios for the day, which left the hotel at 4:30 p.m.
Now that was not the last return bus from Hollywood Studios, and I imagine I would be one in a few who would leave for a park so late in the evening. But whether or not you'll need to use bus transportation is something you'll want to consider. It costs to park at the hotel, and it costs to park at the theme parks. So parking costs can quickly add up.
Here is the schedule, and I think most will find it efficient. The top column shows pick-up times from the hotels to the parks, and the bottom shows return times from the parks to the hotel.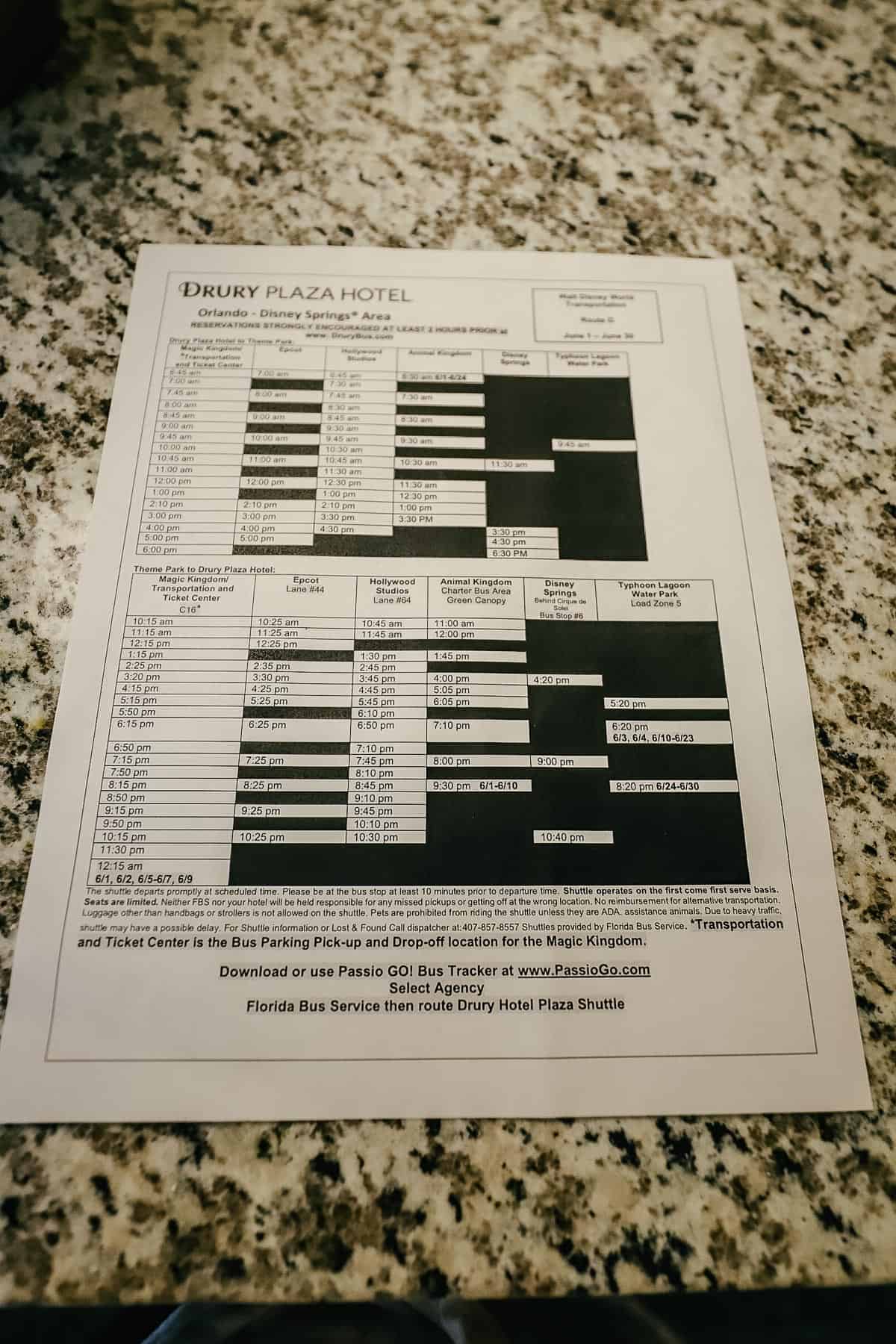 After reviewing the schedules, I headed down to the second floor. It was about 4:45 p.m., so I thought I would check out the popcorn and soda treat listed between 4:00 p.m. and 8:00 p.m.
Sure enough, guests could make their own bag of popcorn and fix a fountain drink at one of the machines.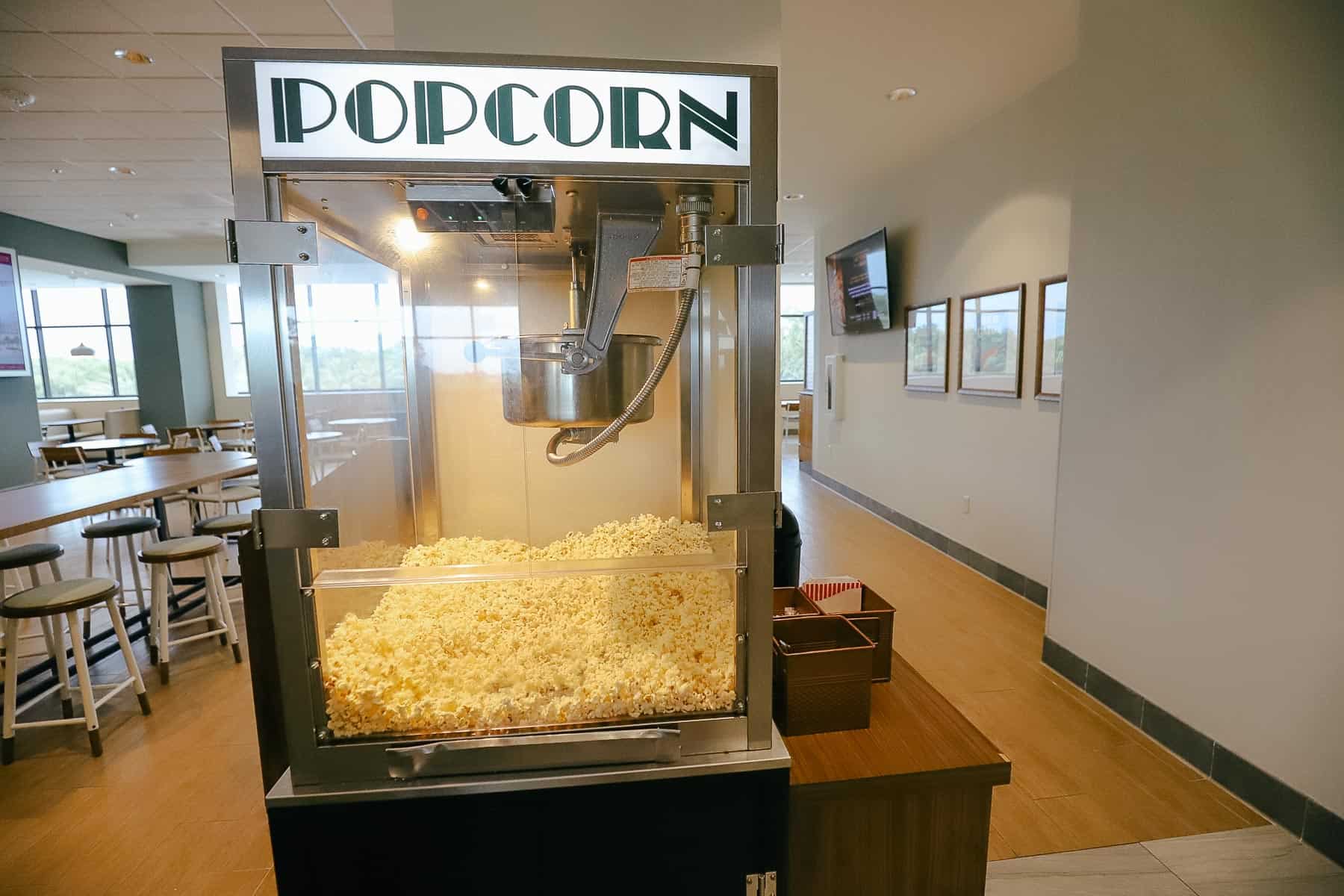 What a nice treat!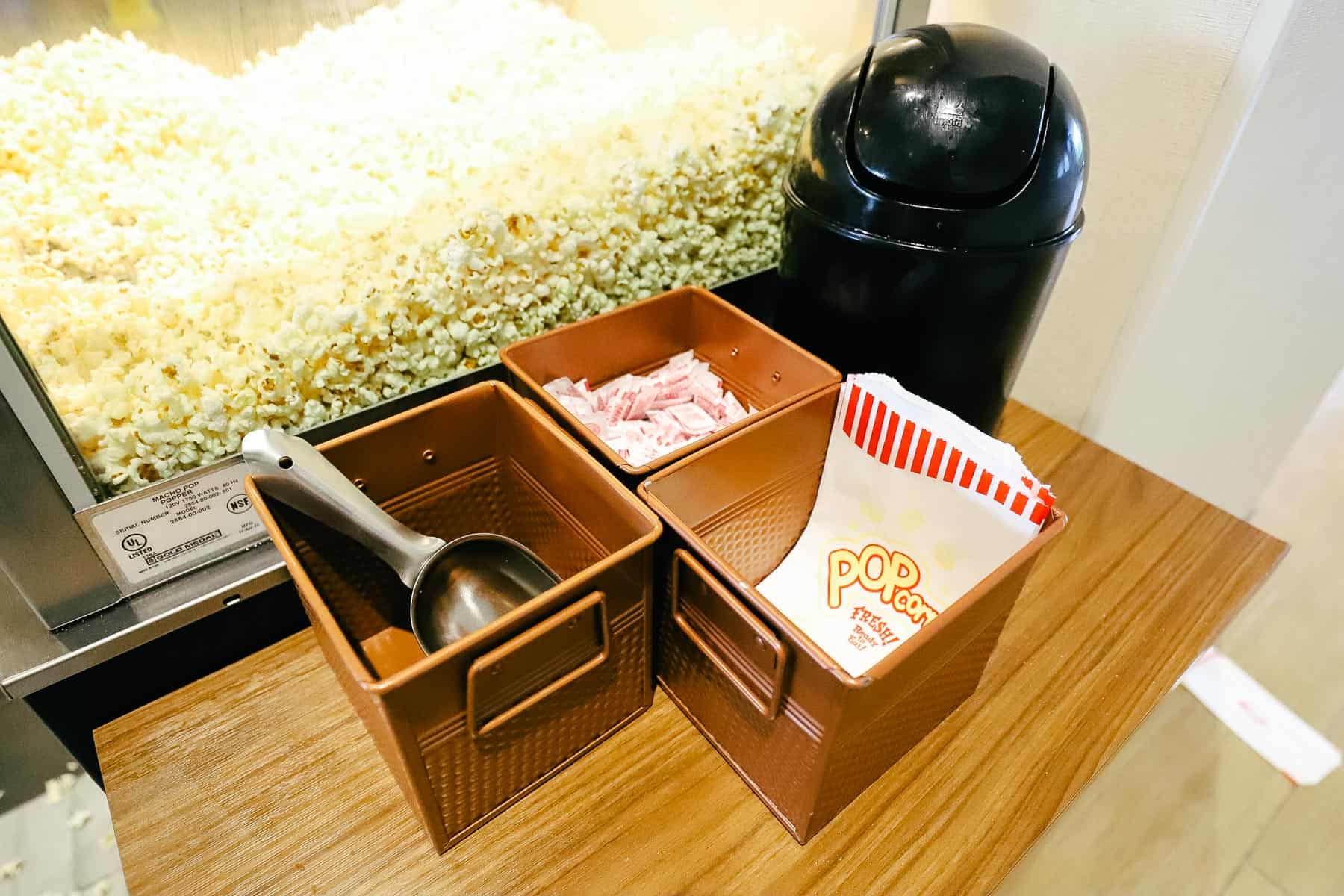 Since this was where the Kickback and Hot Breakfast are offered daily, I decided to take a few photos before the space filled.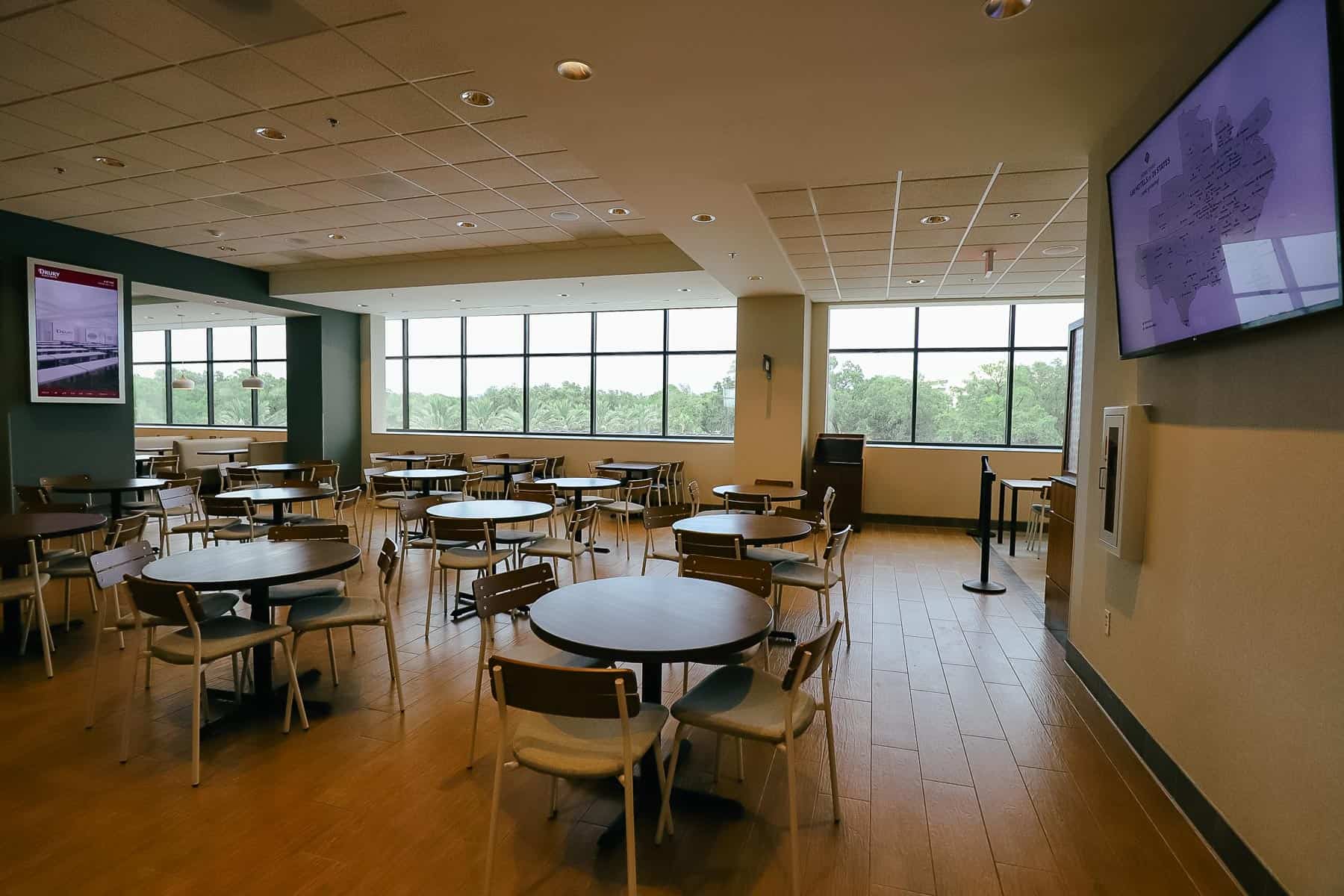 It's a vast area taking up most of the floor.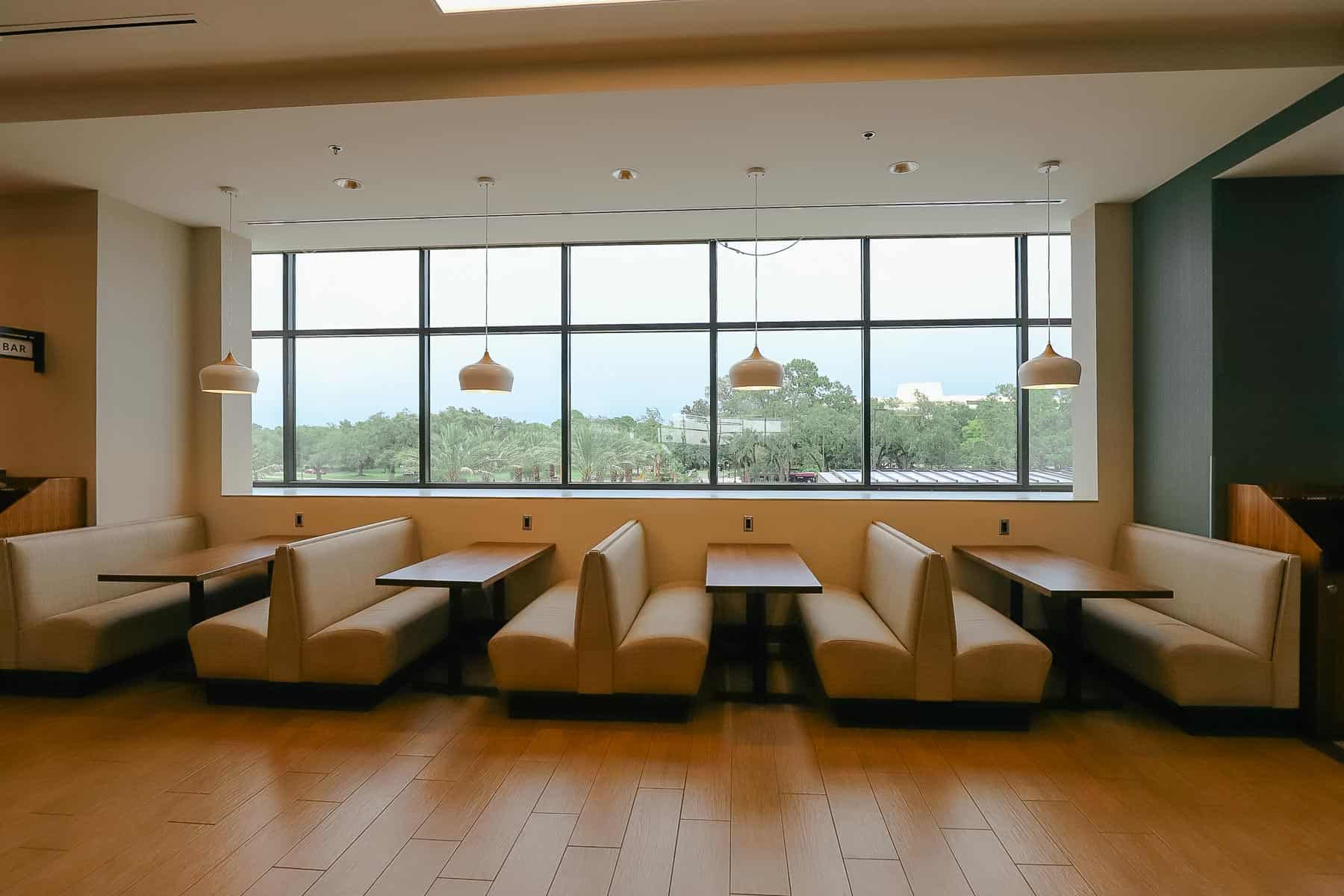 Here is the dining area. Guests are instructed to start in the middle and go to the right or the left. Each side has identical items.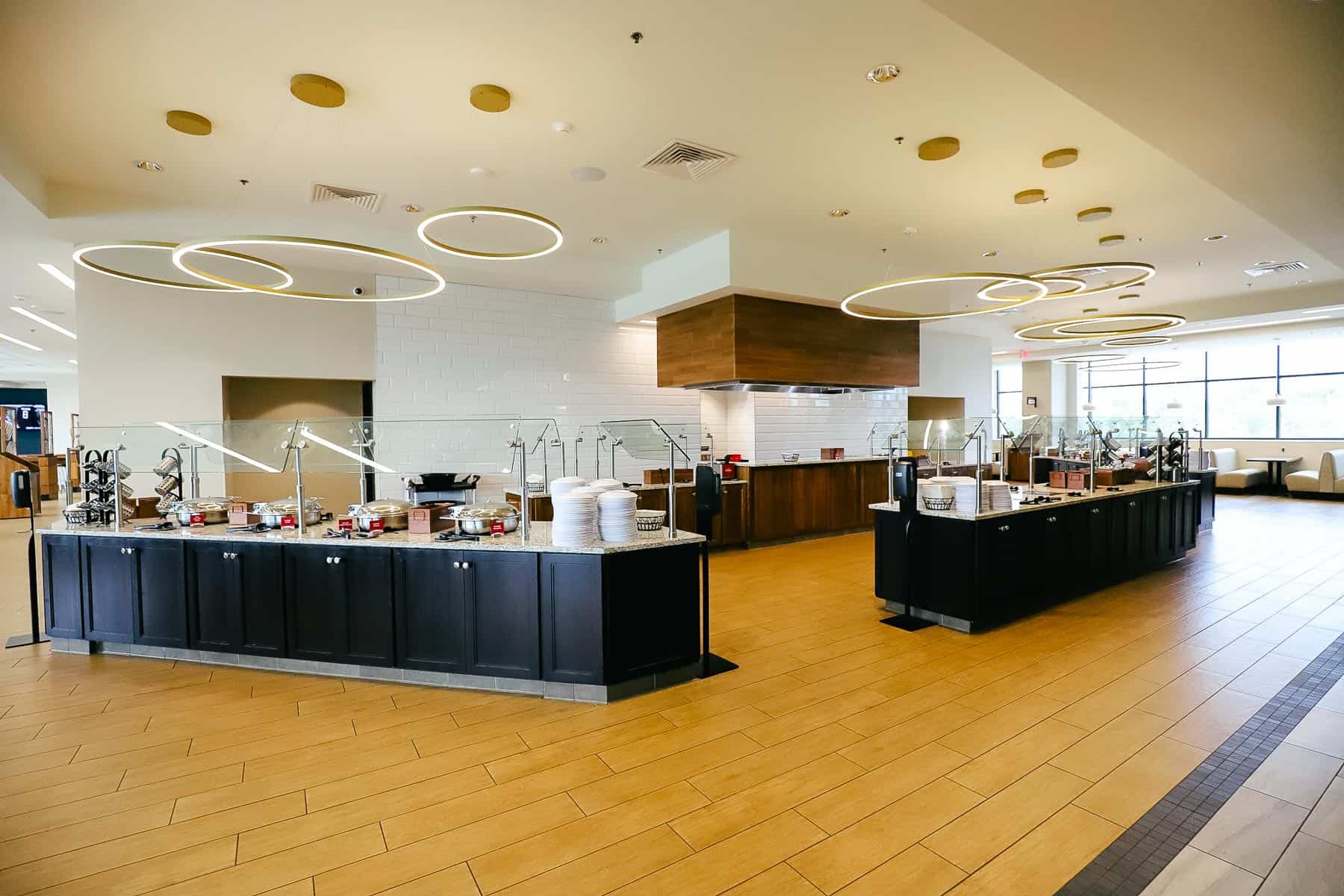 Additional seating is located on both sides of the expansive area. This part reminded me of one of those large dining rooms on a cruise ship where guests can partake in an all-day buffet for breakfast and lunch.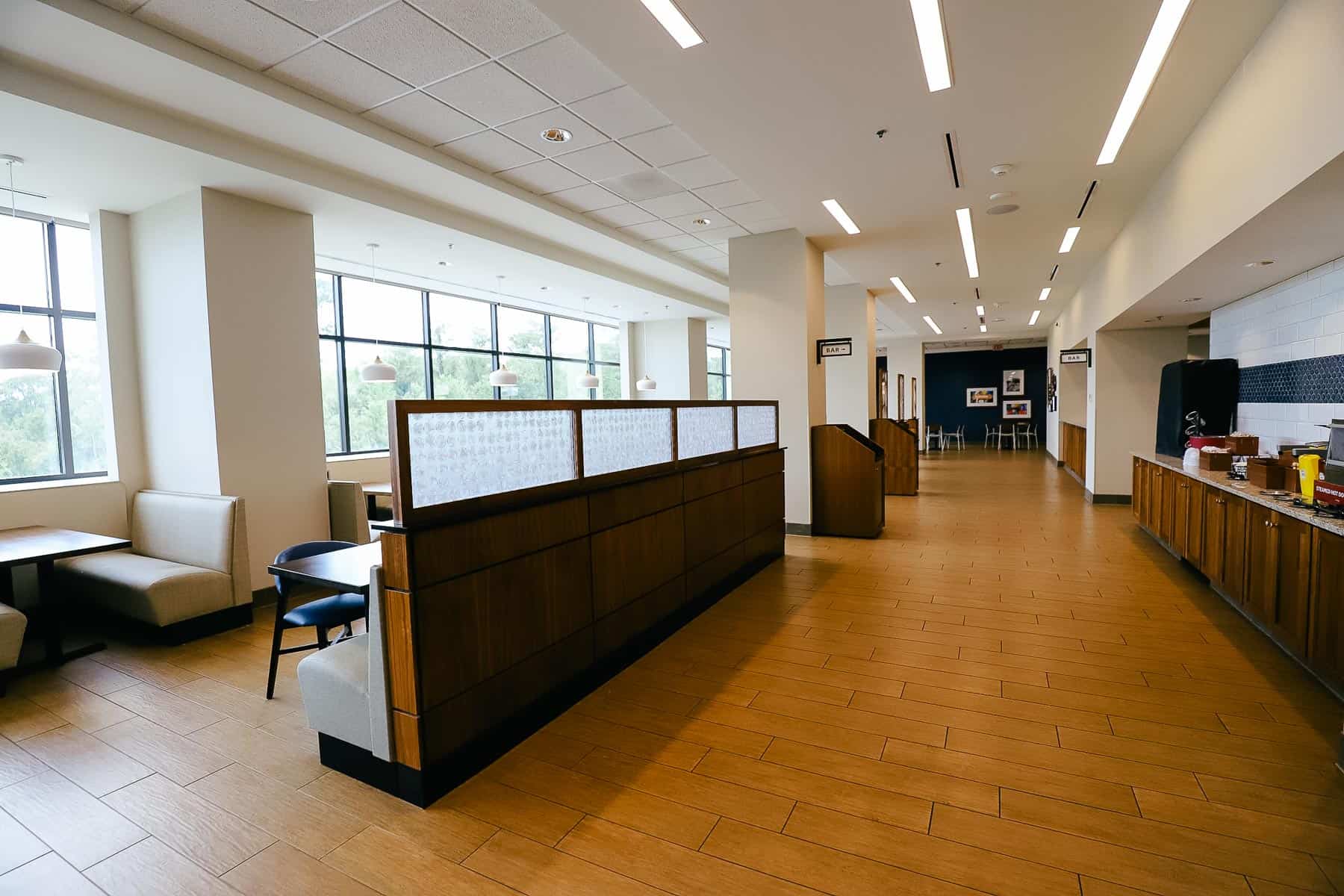 Here is the opposite side looking back toward the front of the restaurant.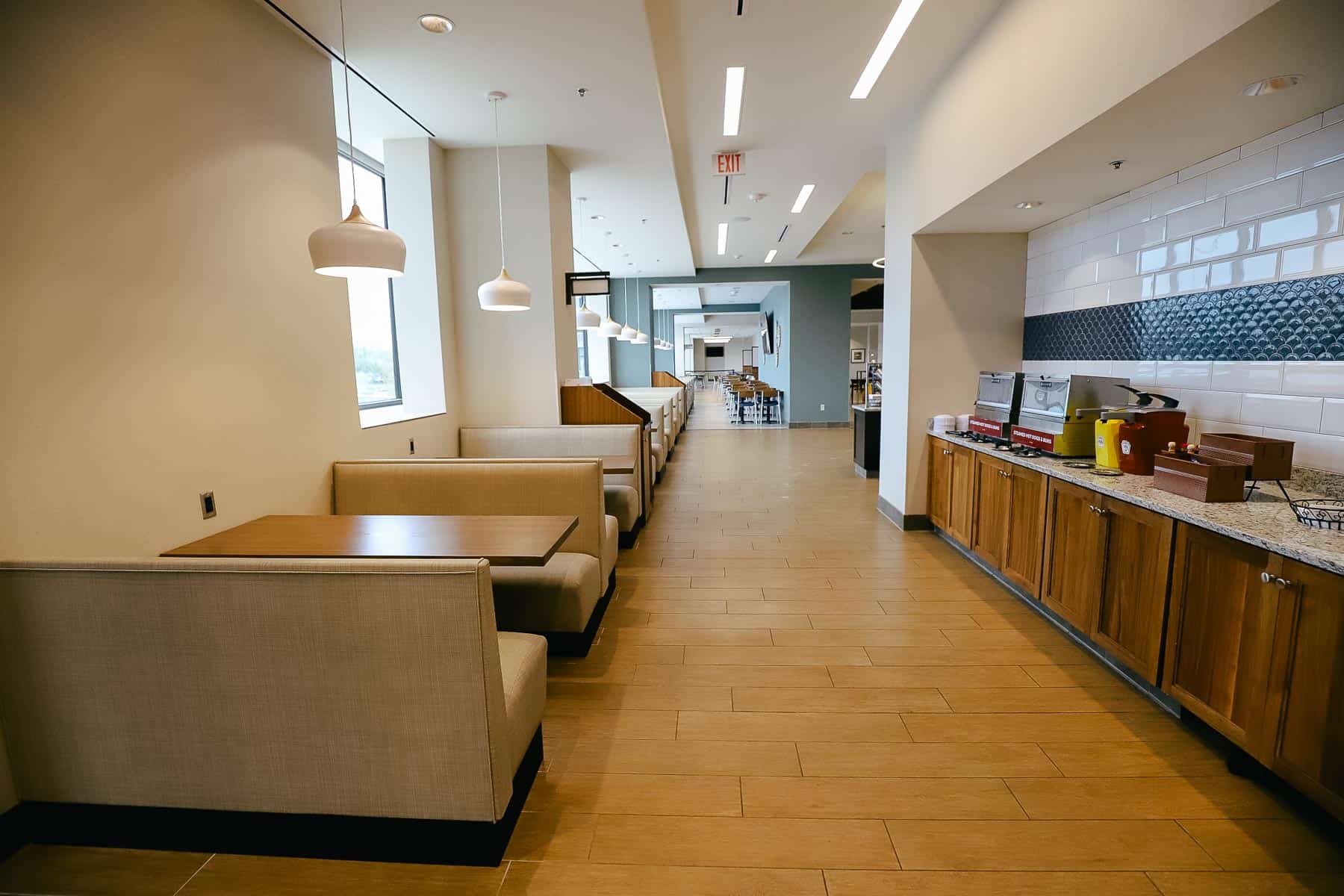 You'll find the bar area at the end of each side. This is where you show your ticket for the three complimentary cocktails between 5:30 p.m. and 7:30 p.m.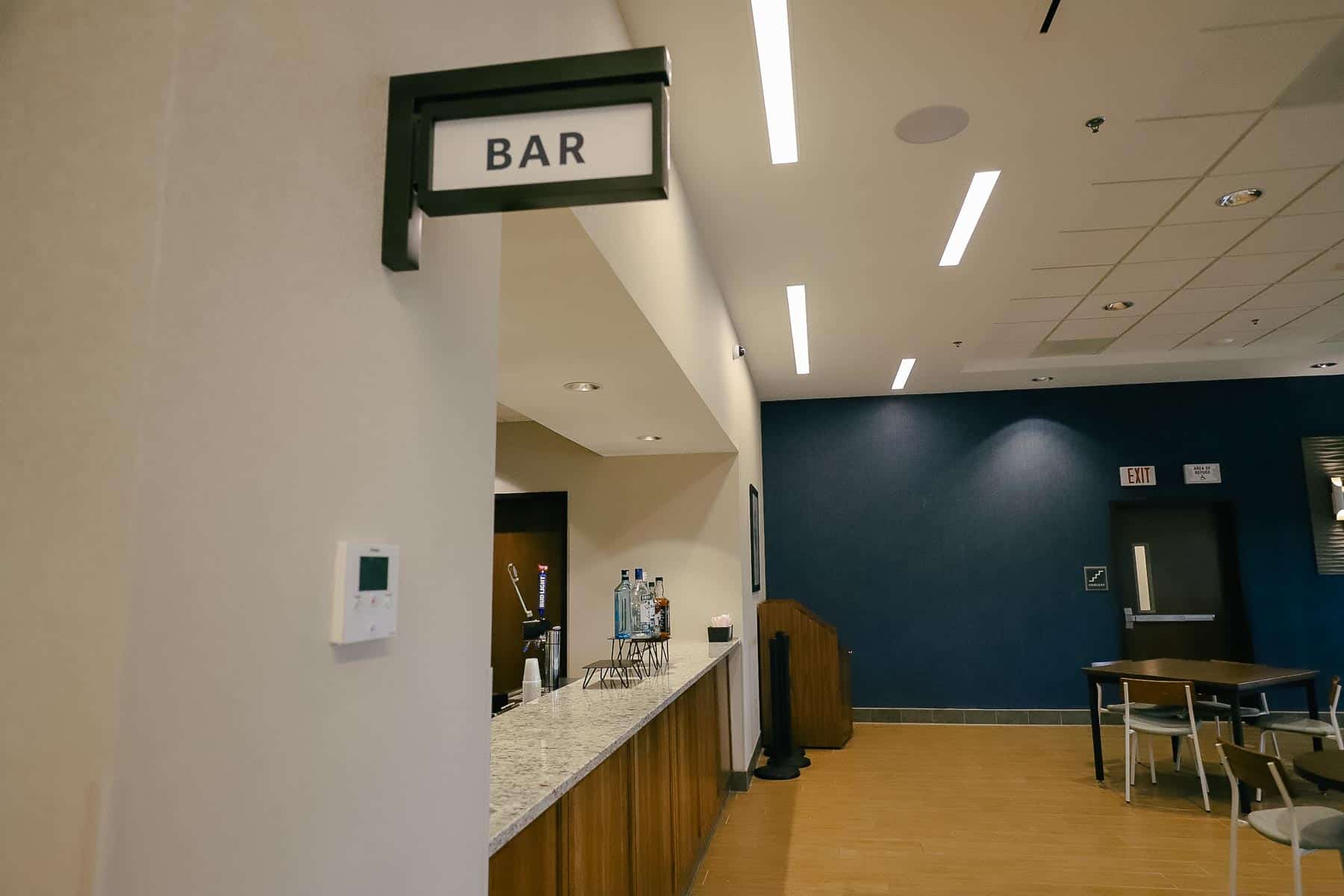 A few liquors were on display.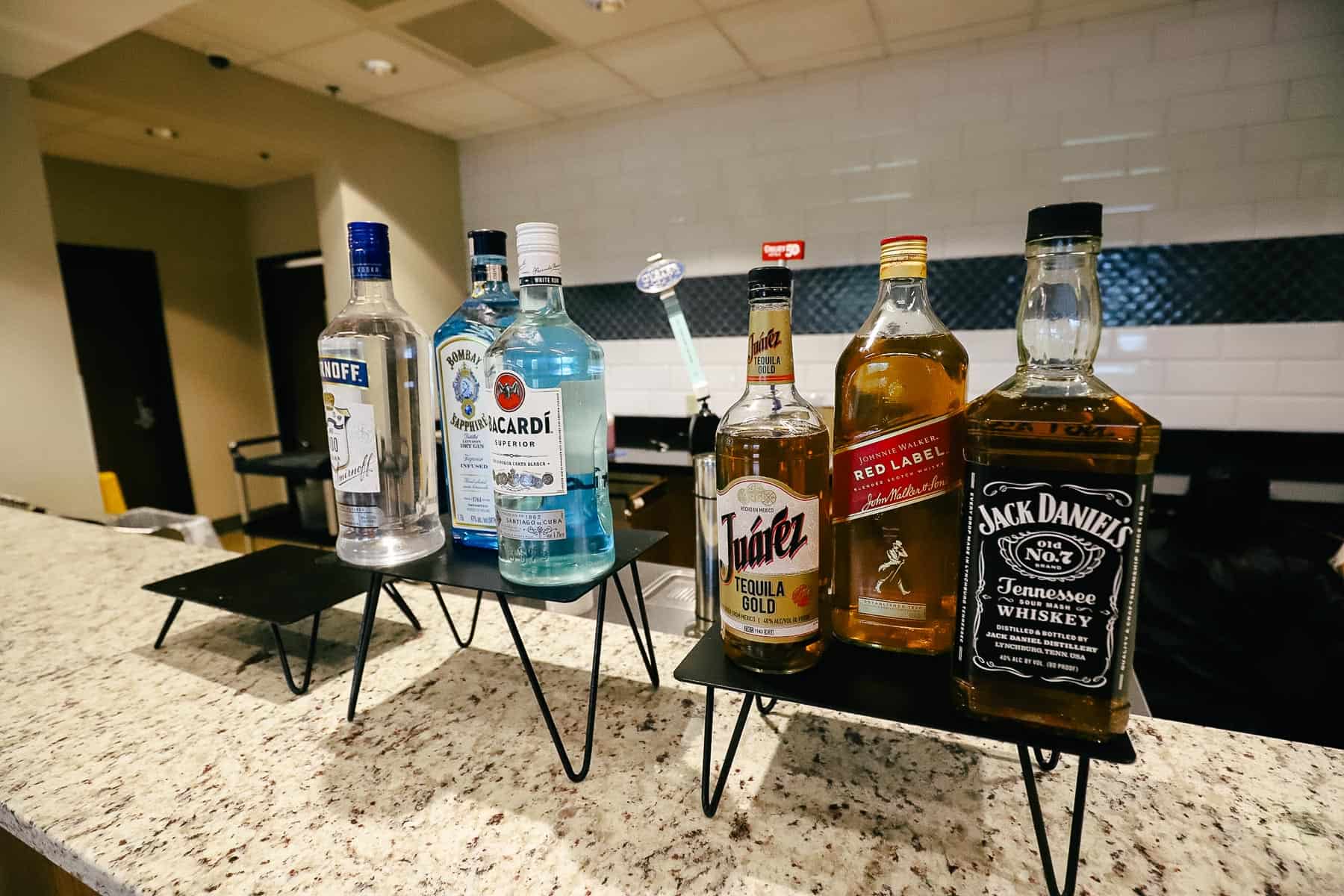 Here is the drink menu.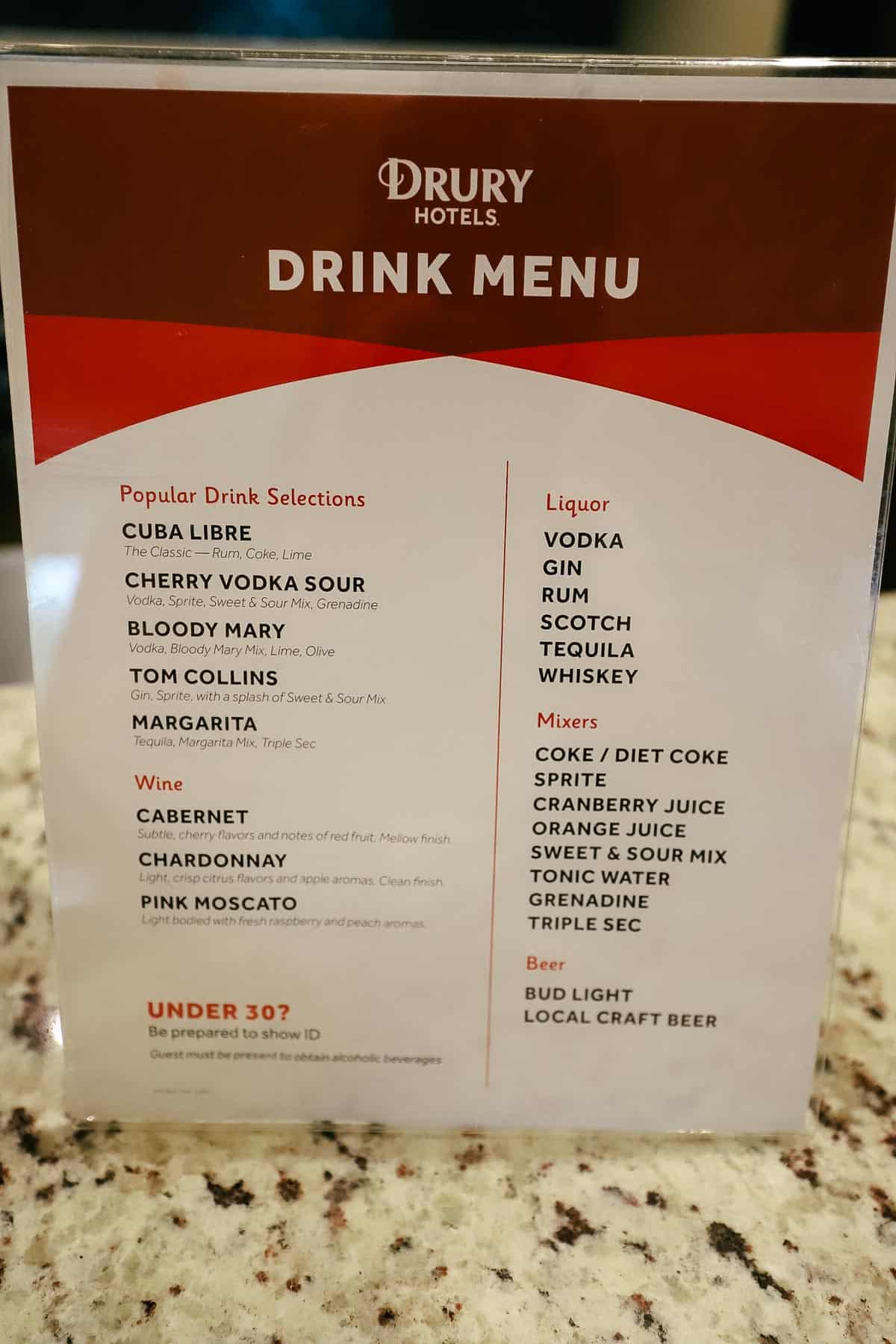 We'll look at a few more photos and then return for dinner.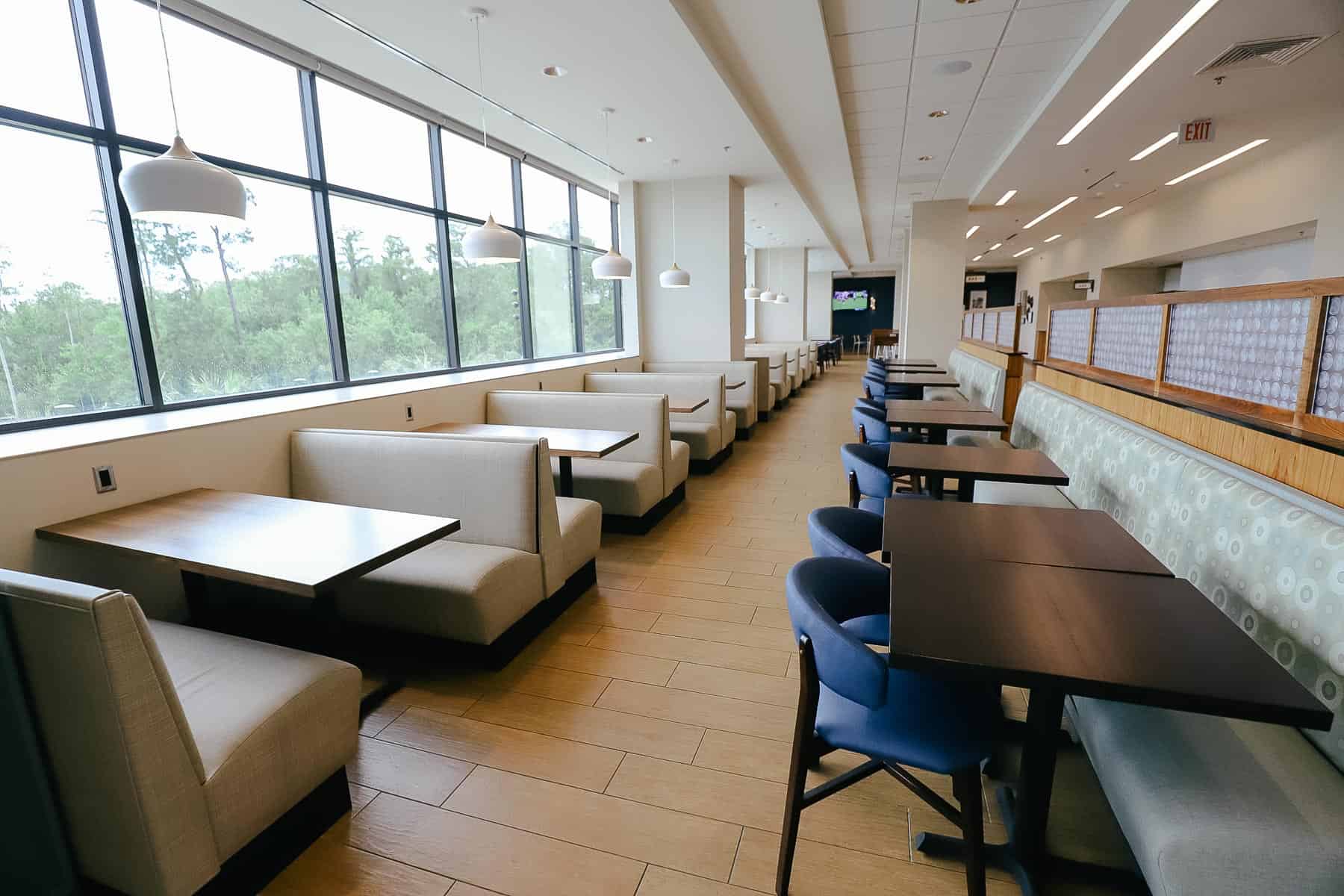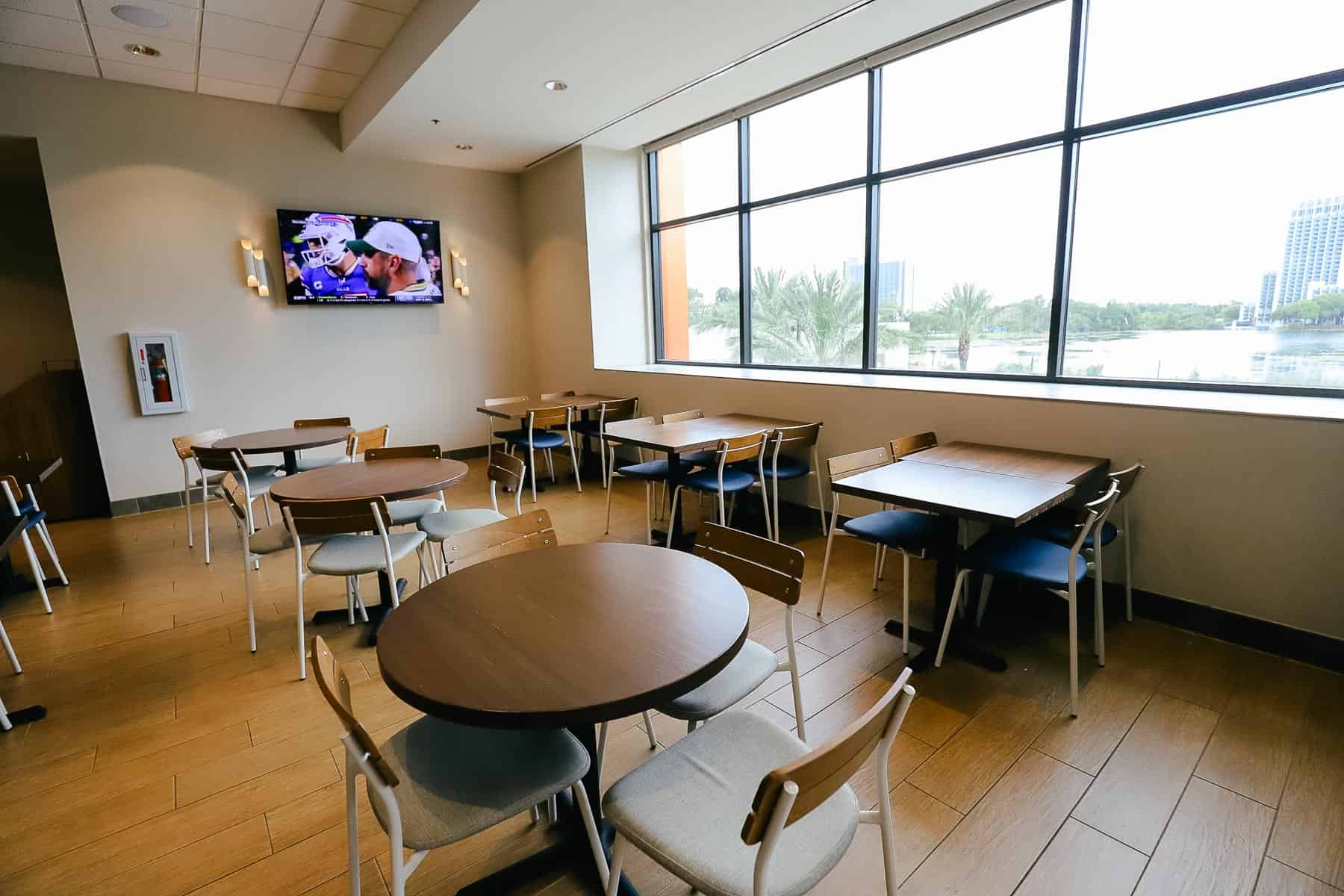 I noticed many of the tables had outlets and USB ports–how considerate.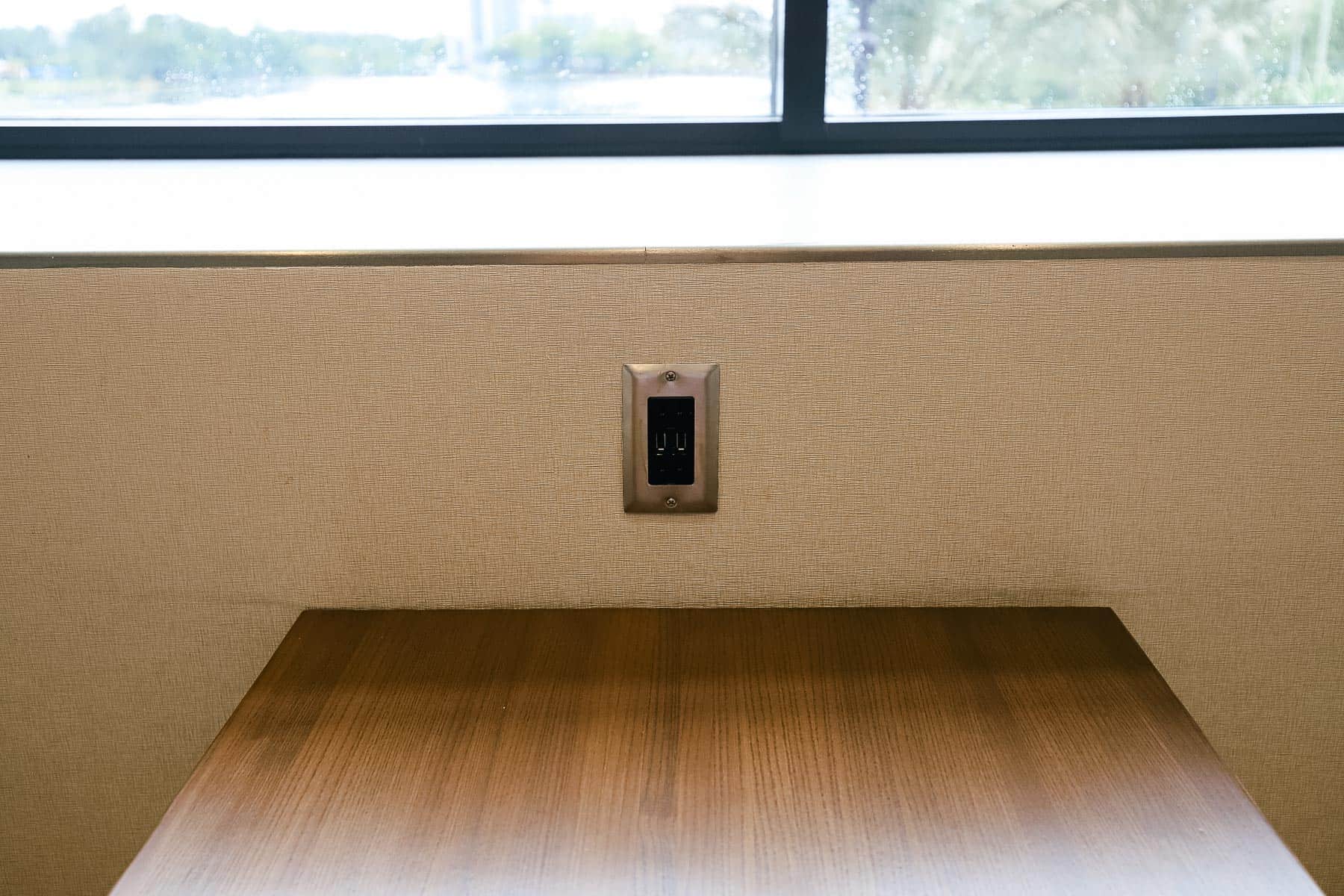 While on the 2nd floor, I decided to check out the other amenities on the same level.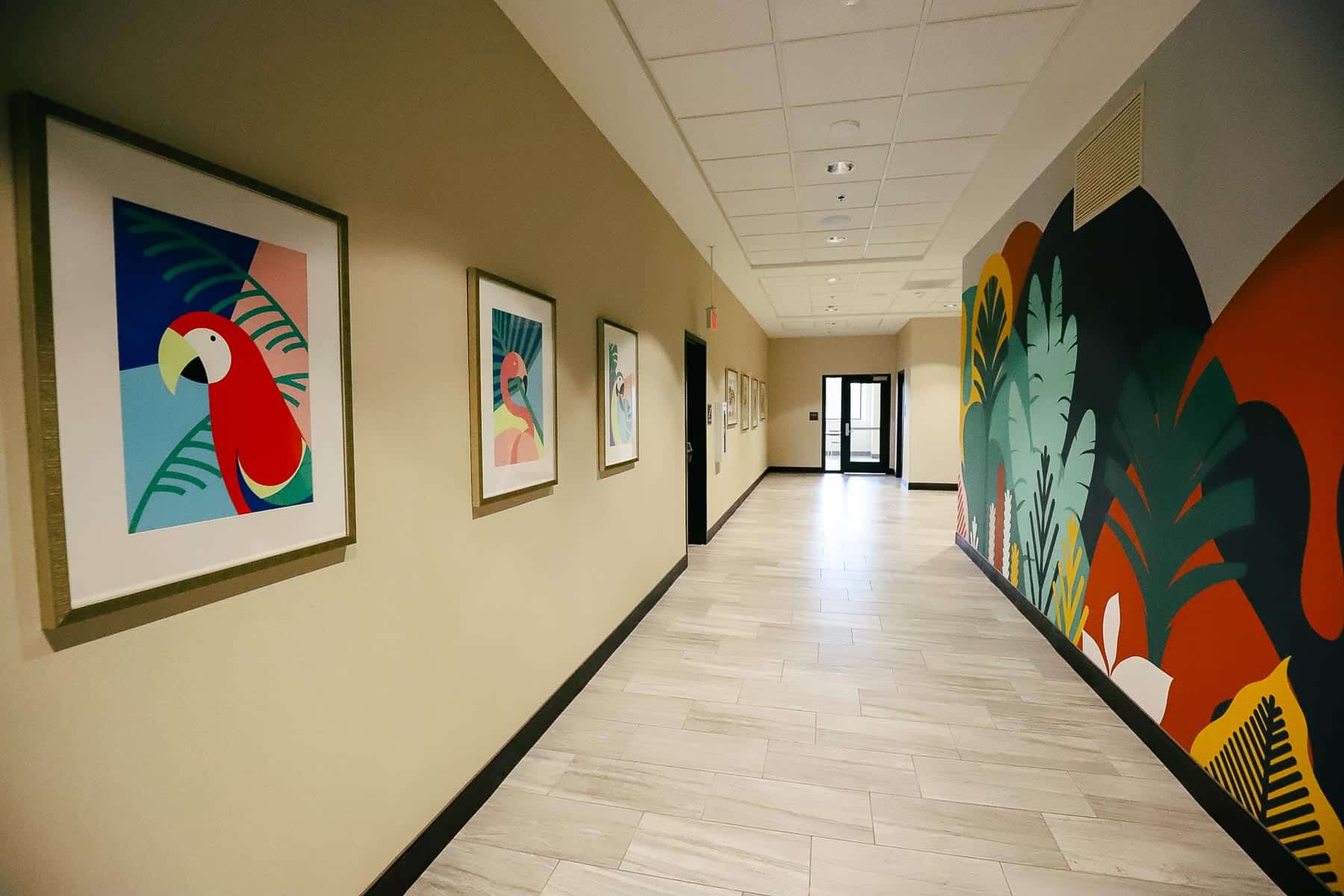 A hallway leads to the laundry room.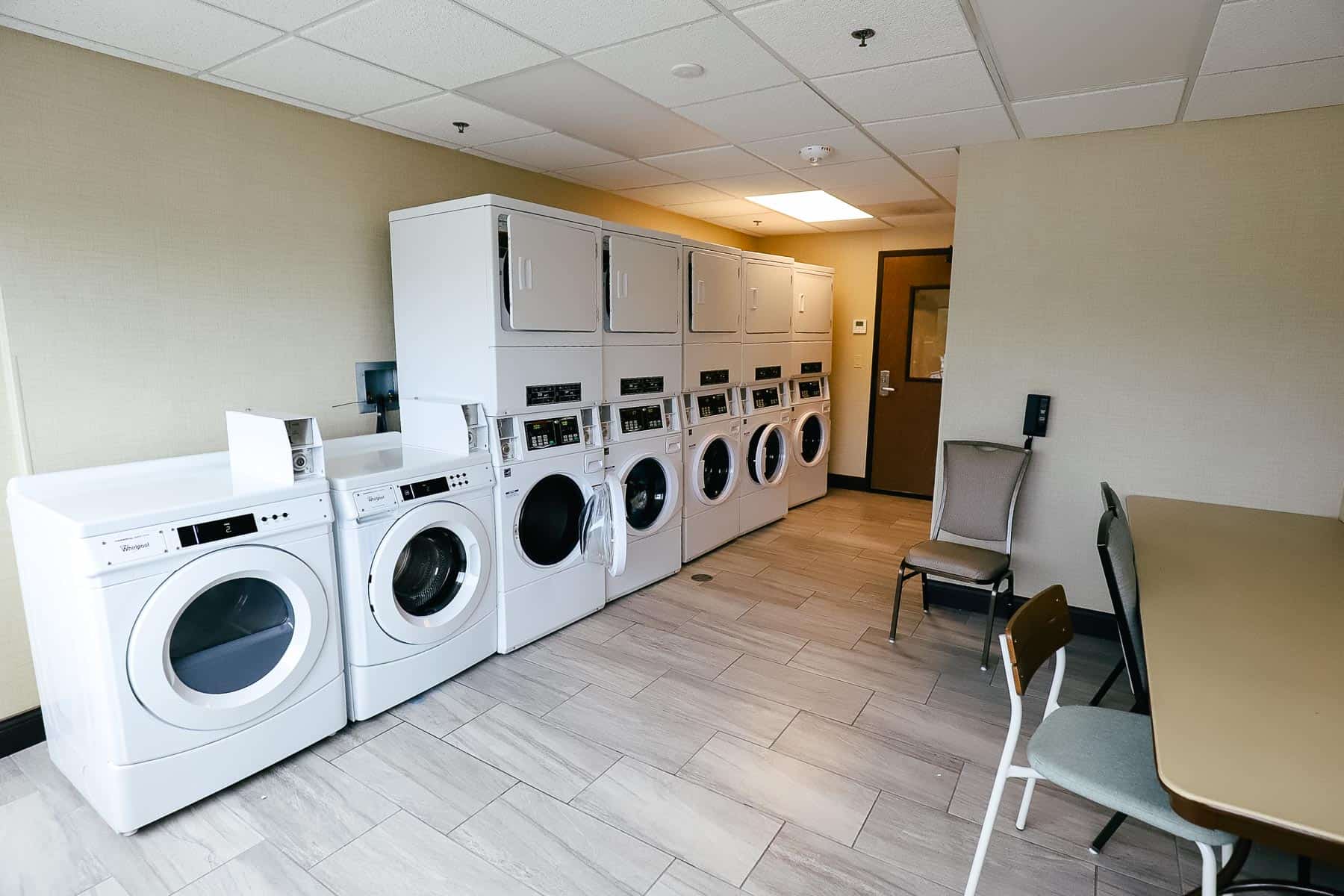 Laundry costs $2.00 per load. Detergent and fabric softener were available in the resort's gift shop. They also provide change at that location.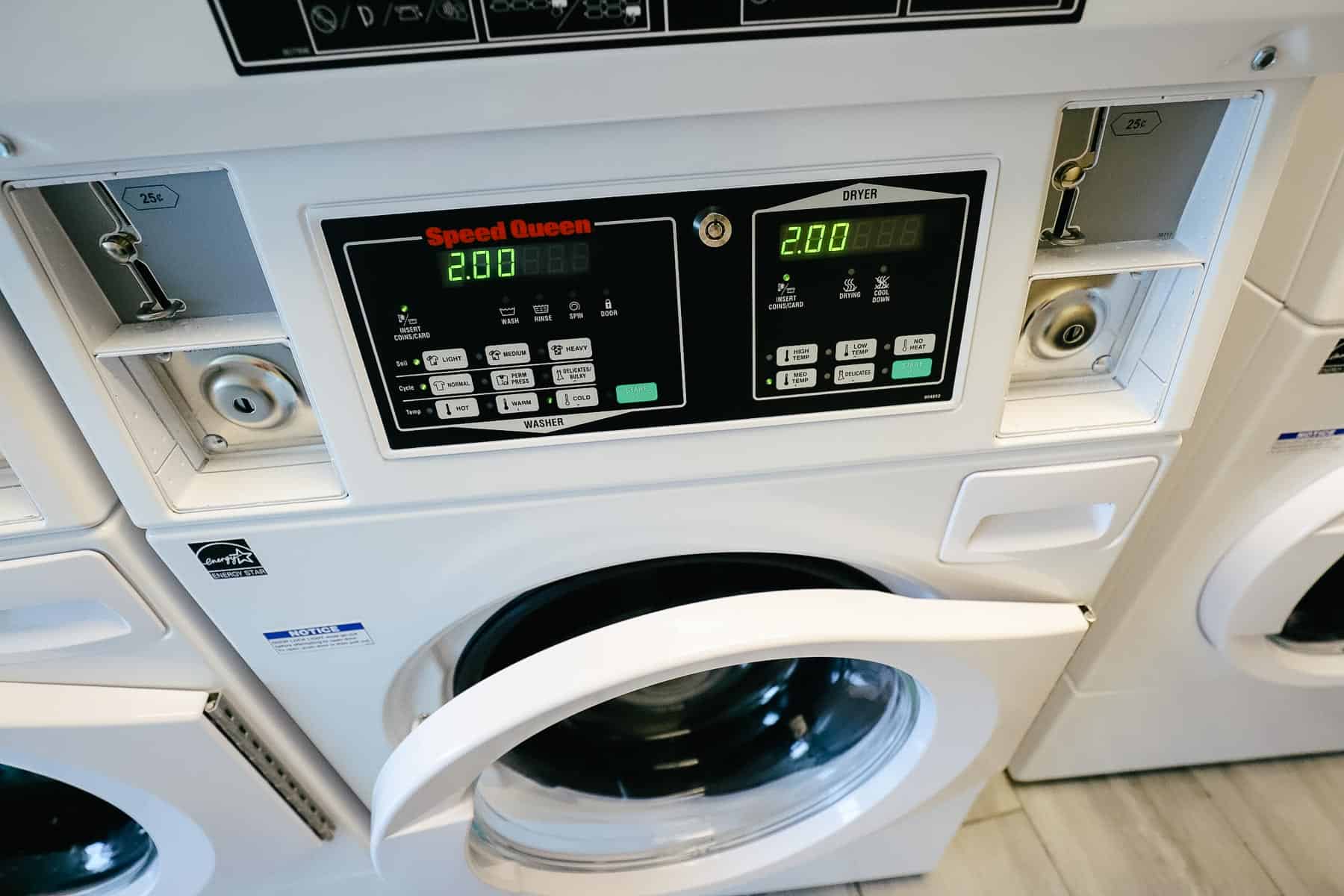 A fitness center is also available.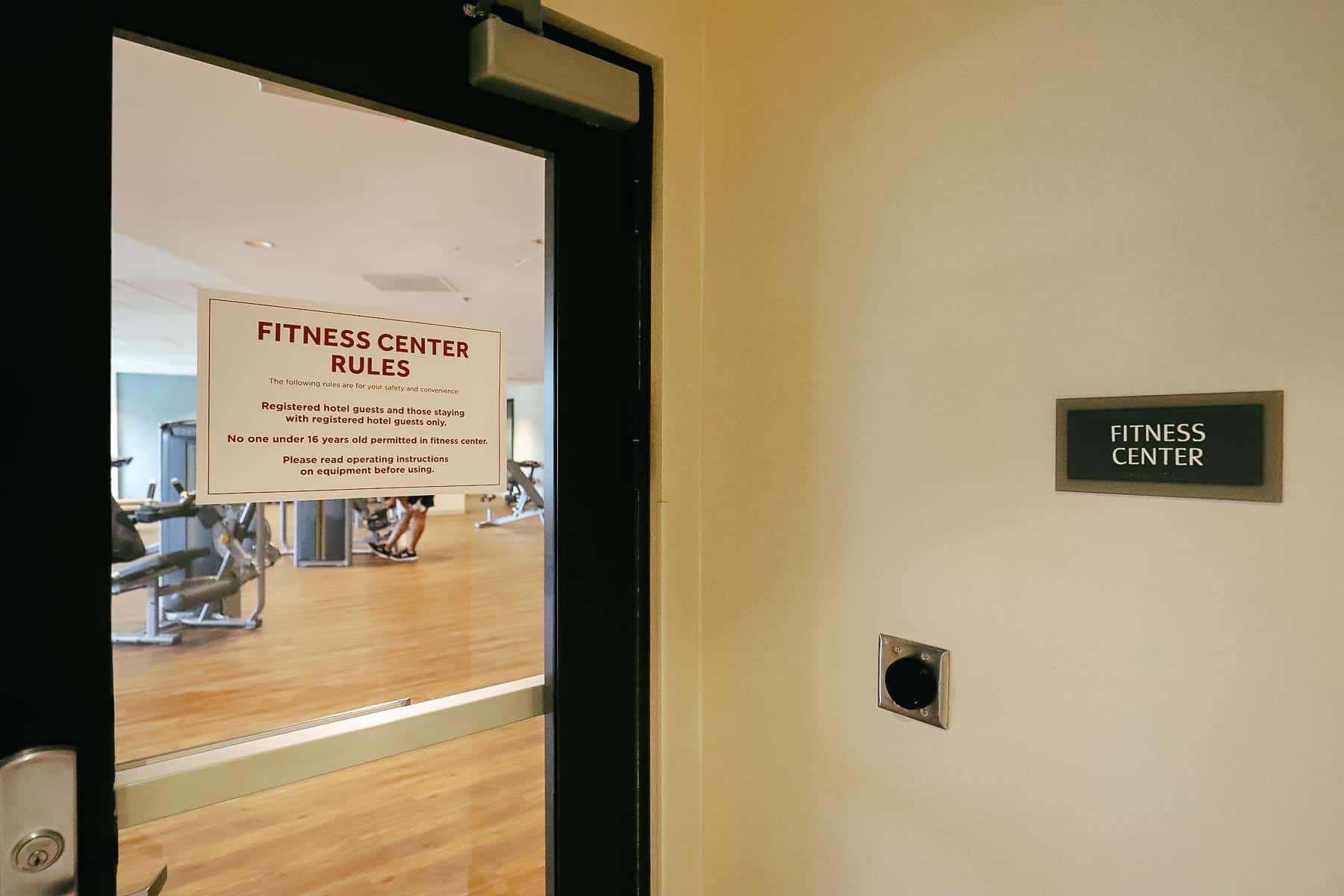 Here are a few photos of the gym's weights, machines, and other amenities.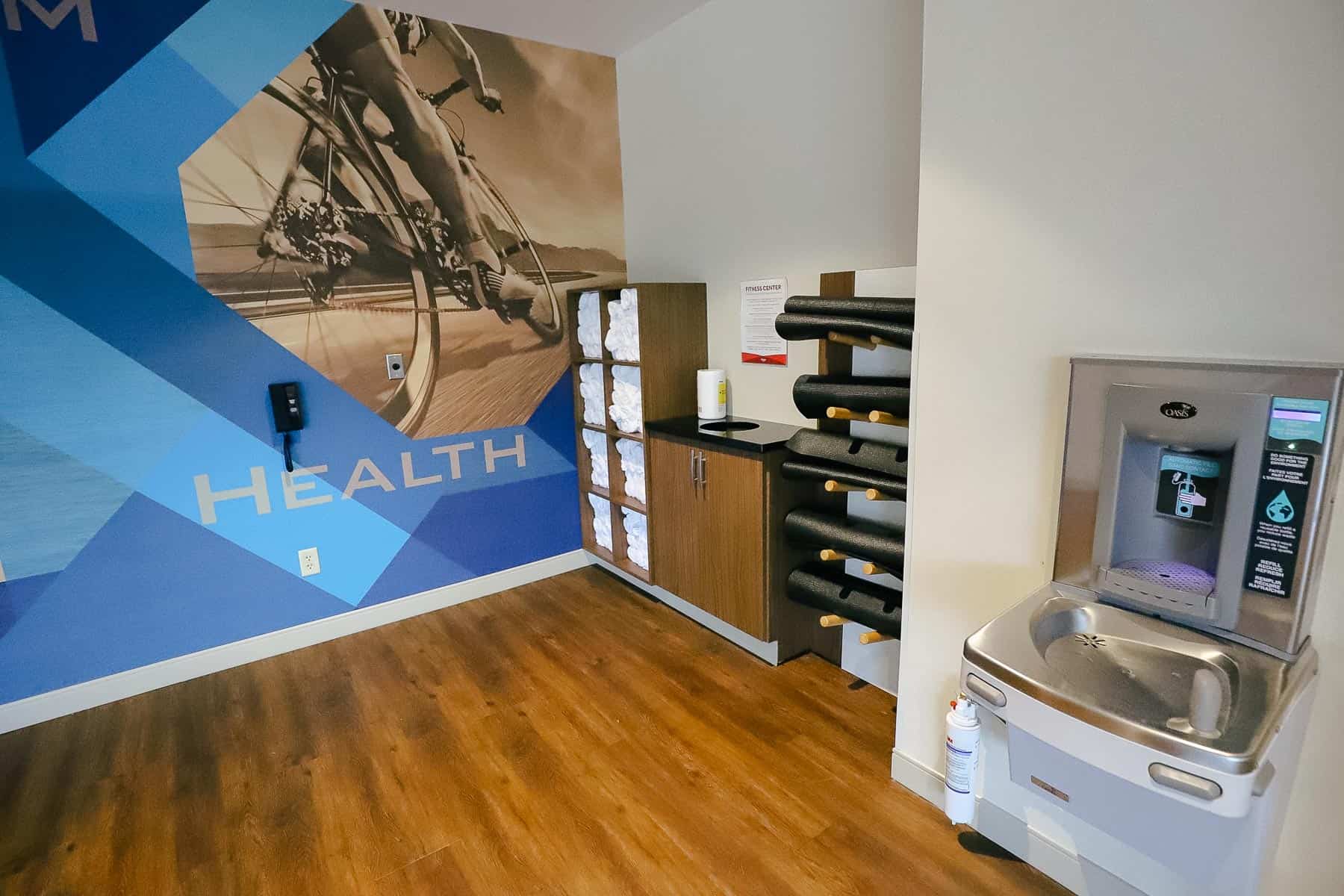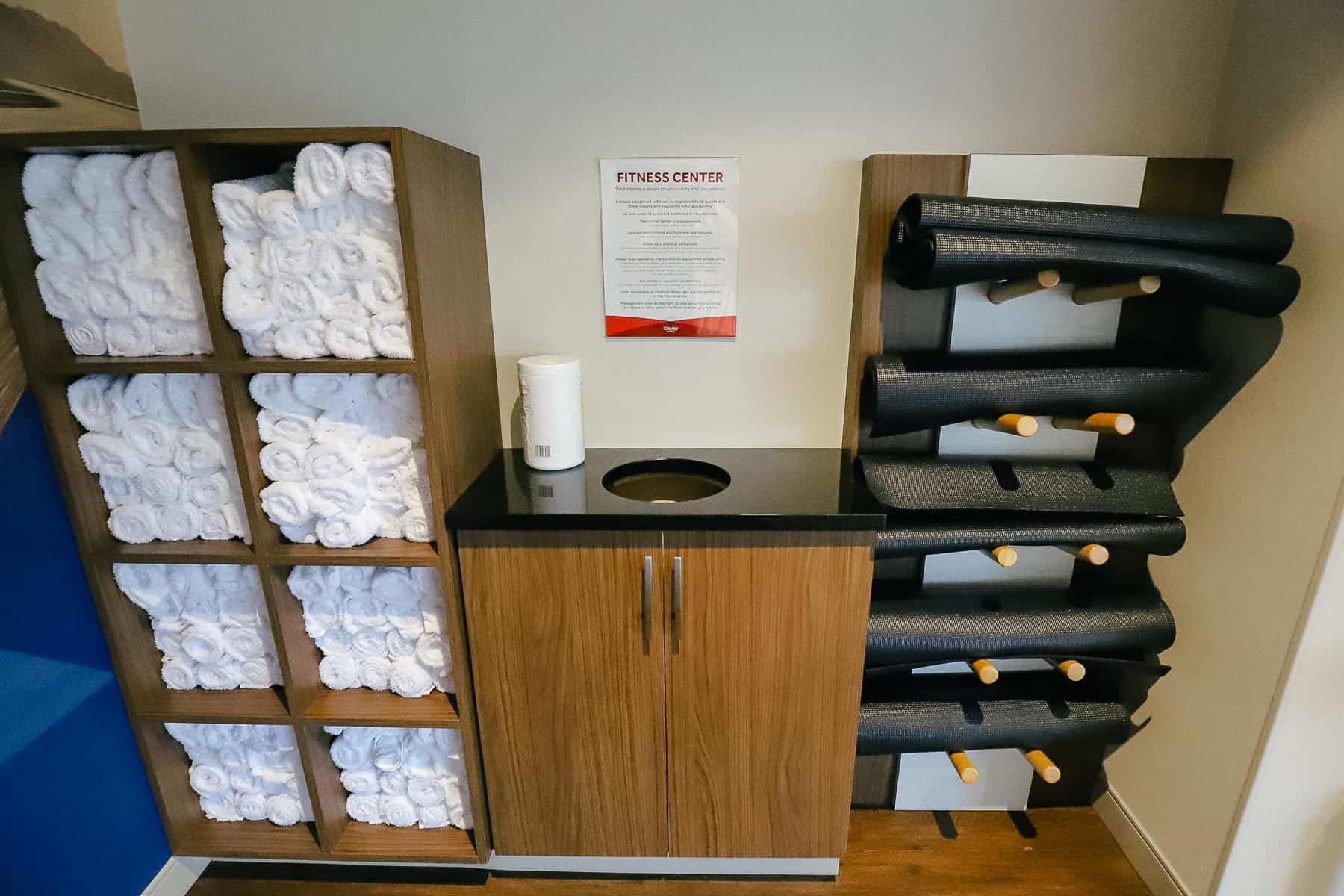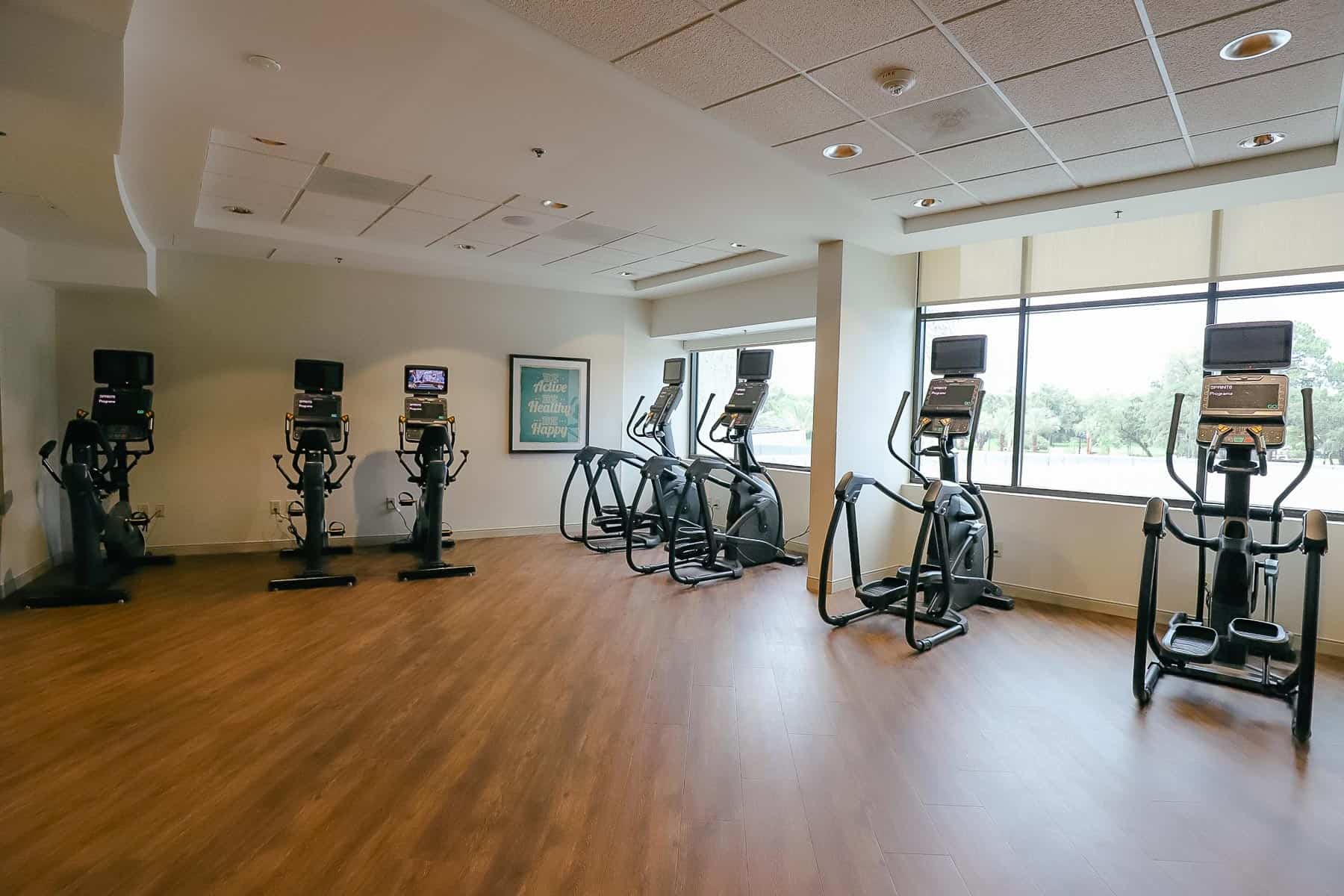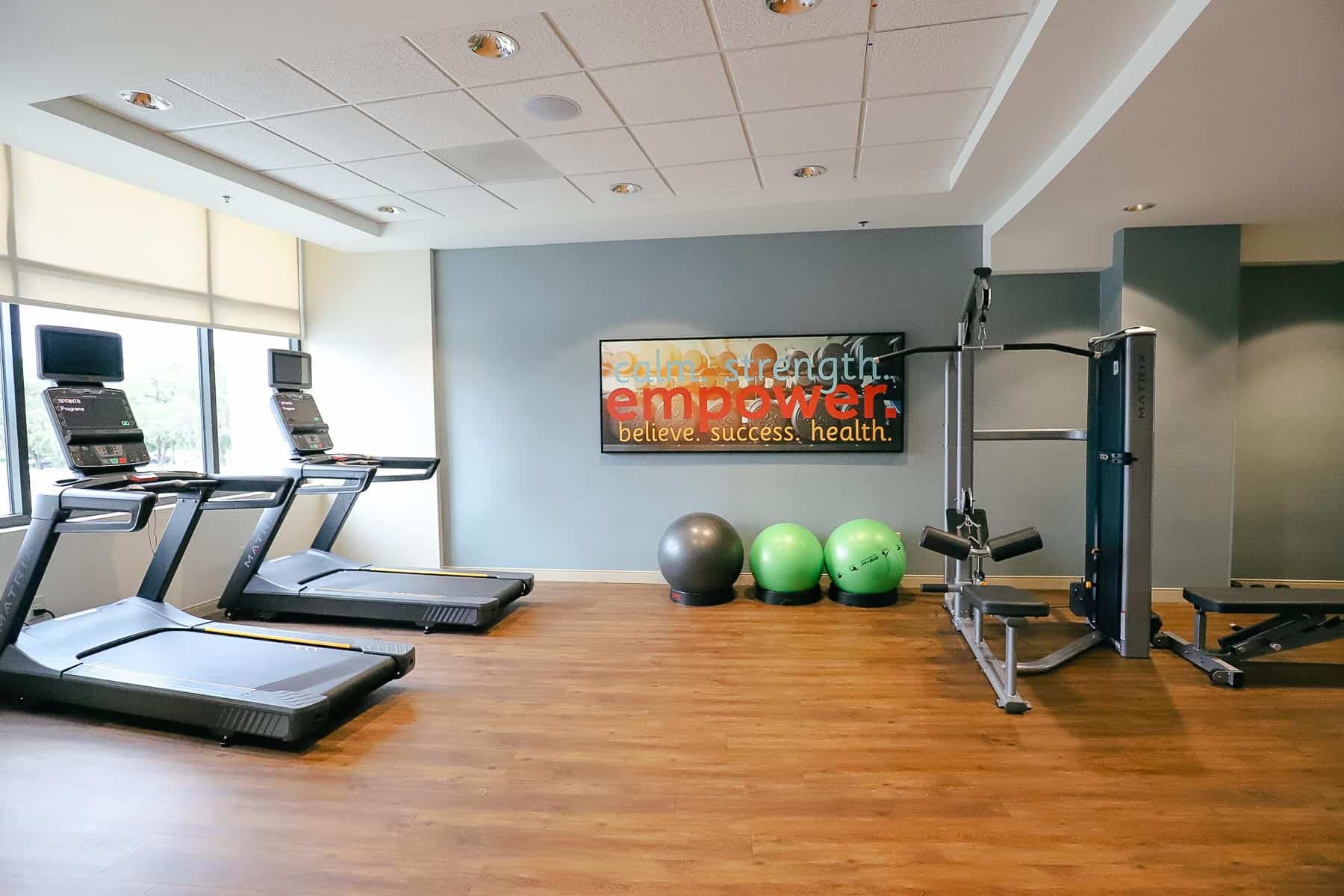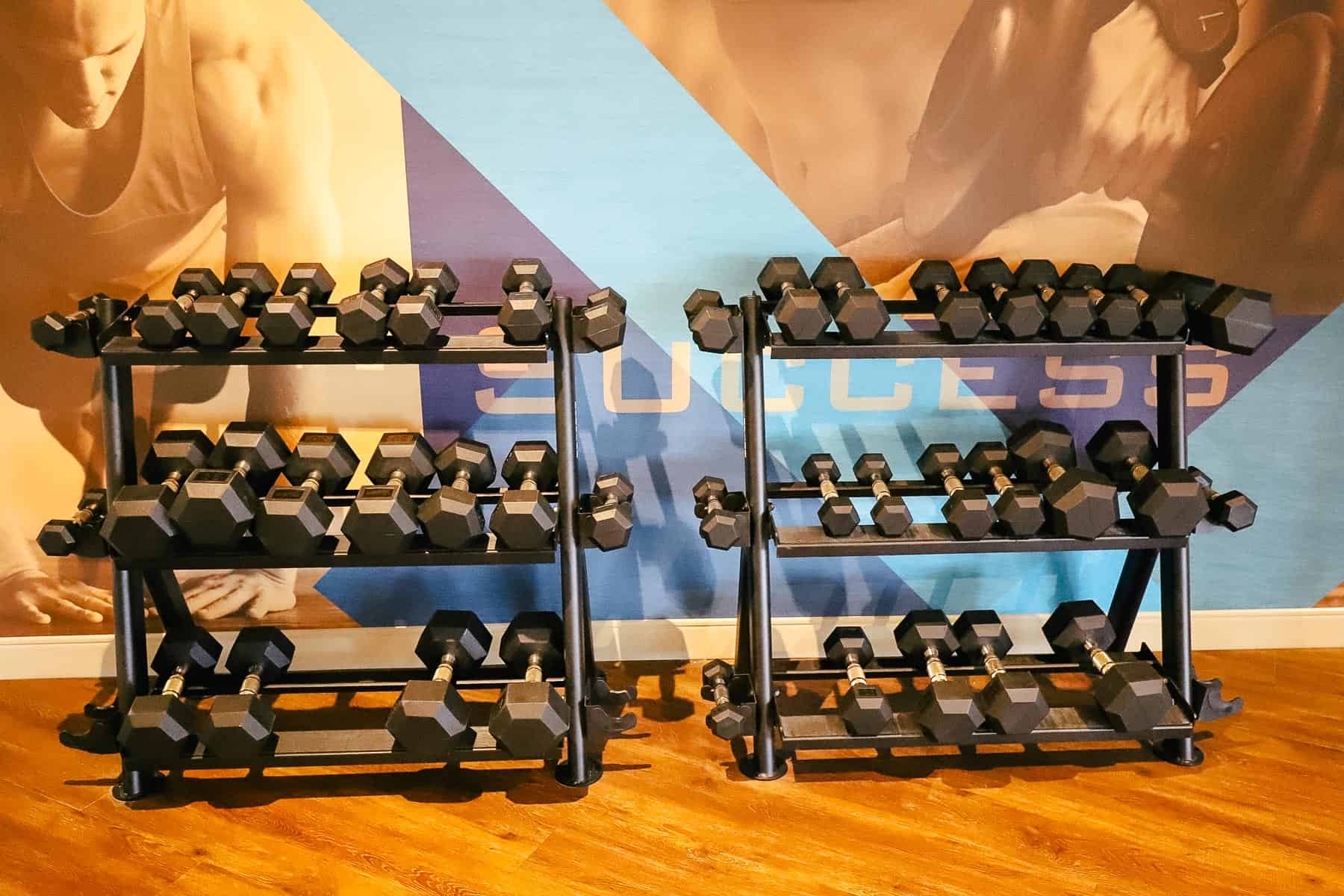 After the fitness center, I took the open stairway to the first floor. It was still pretty cloudy, but the storm appeared to have passed.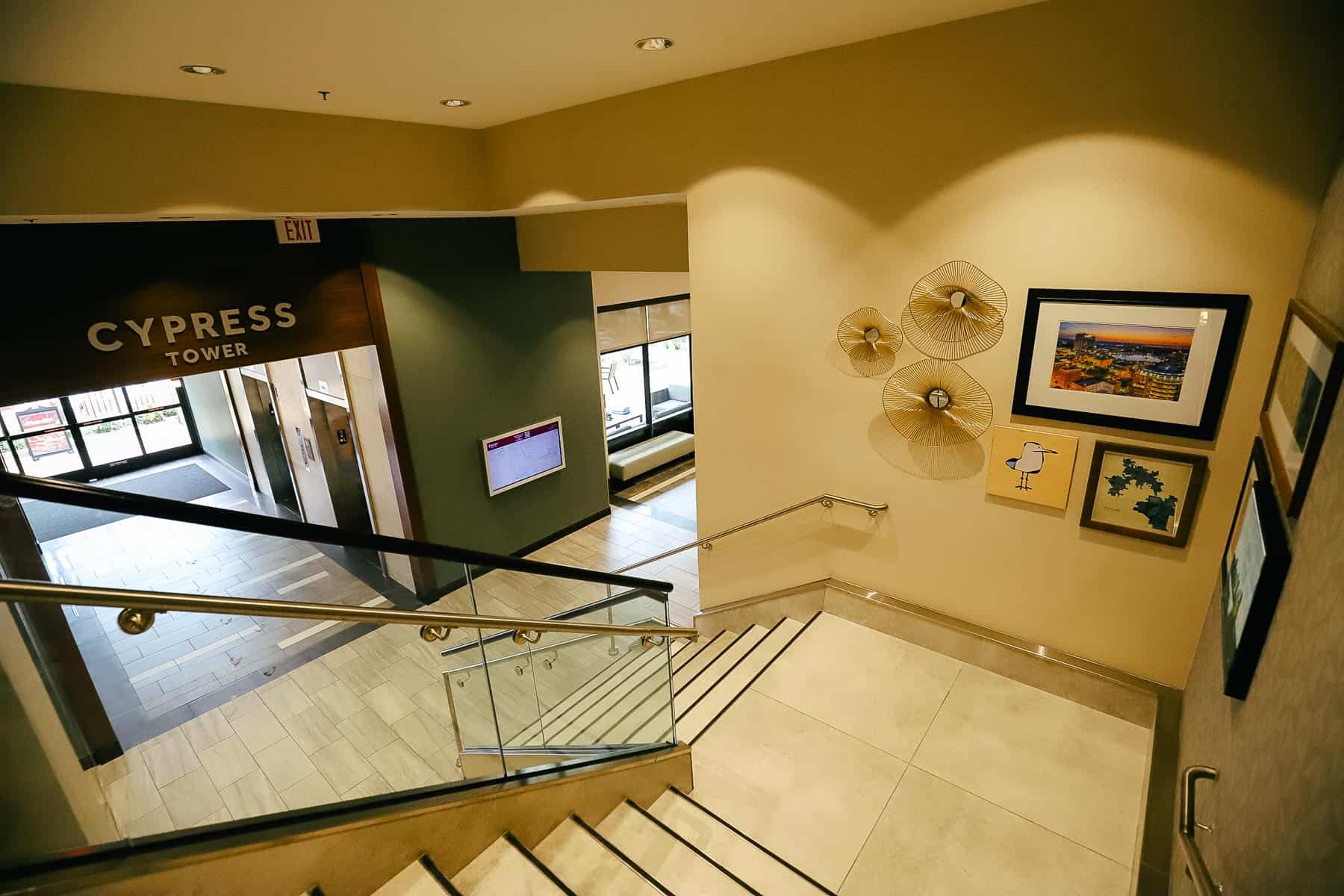 I noticed this transportation map that showed the various routes and bus schedules.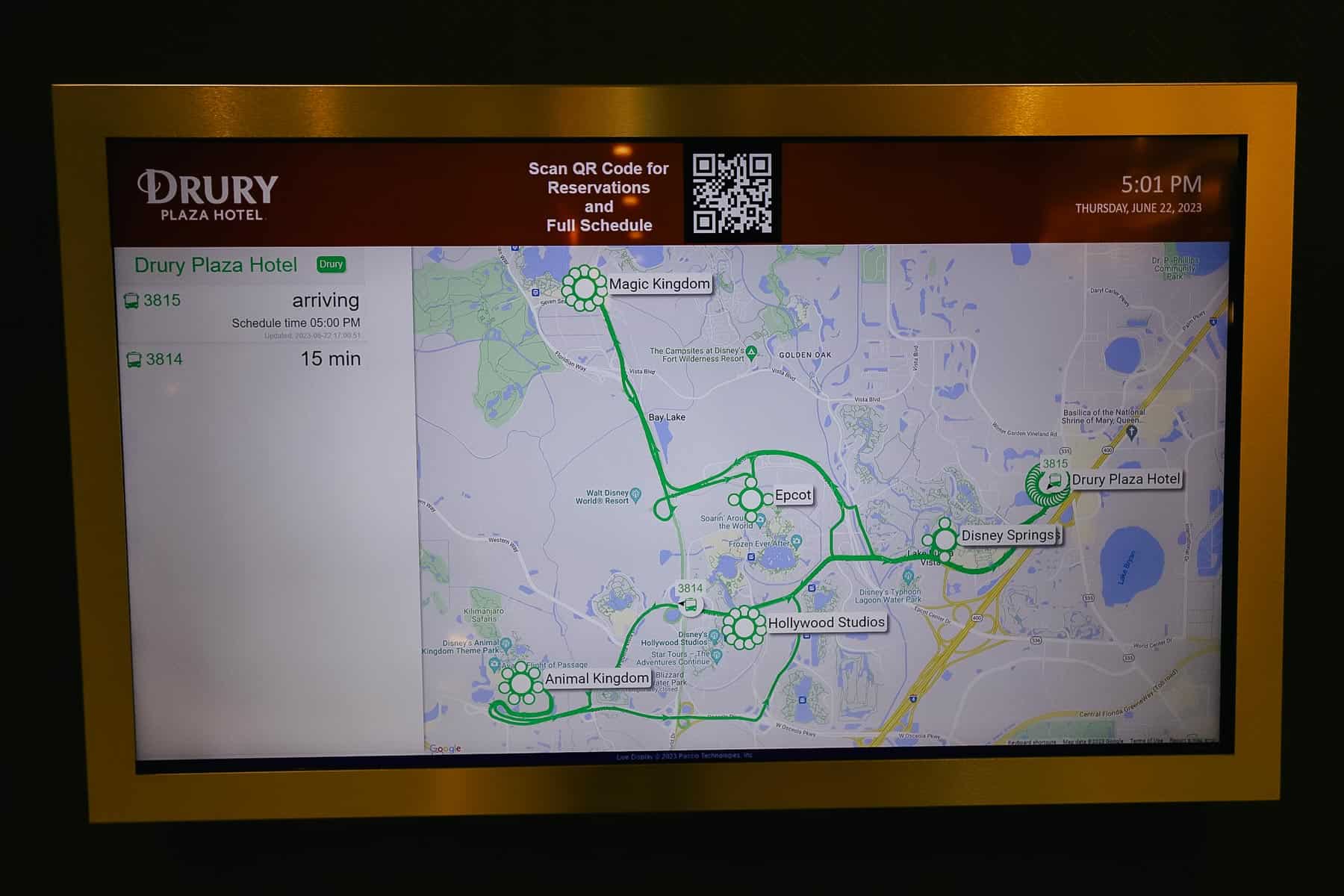 An arcade was also available.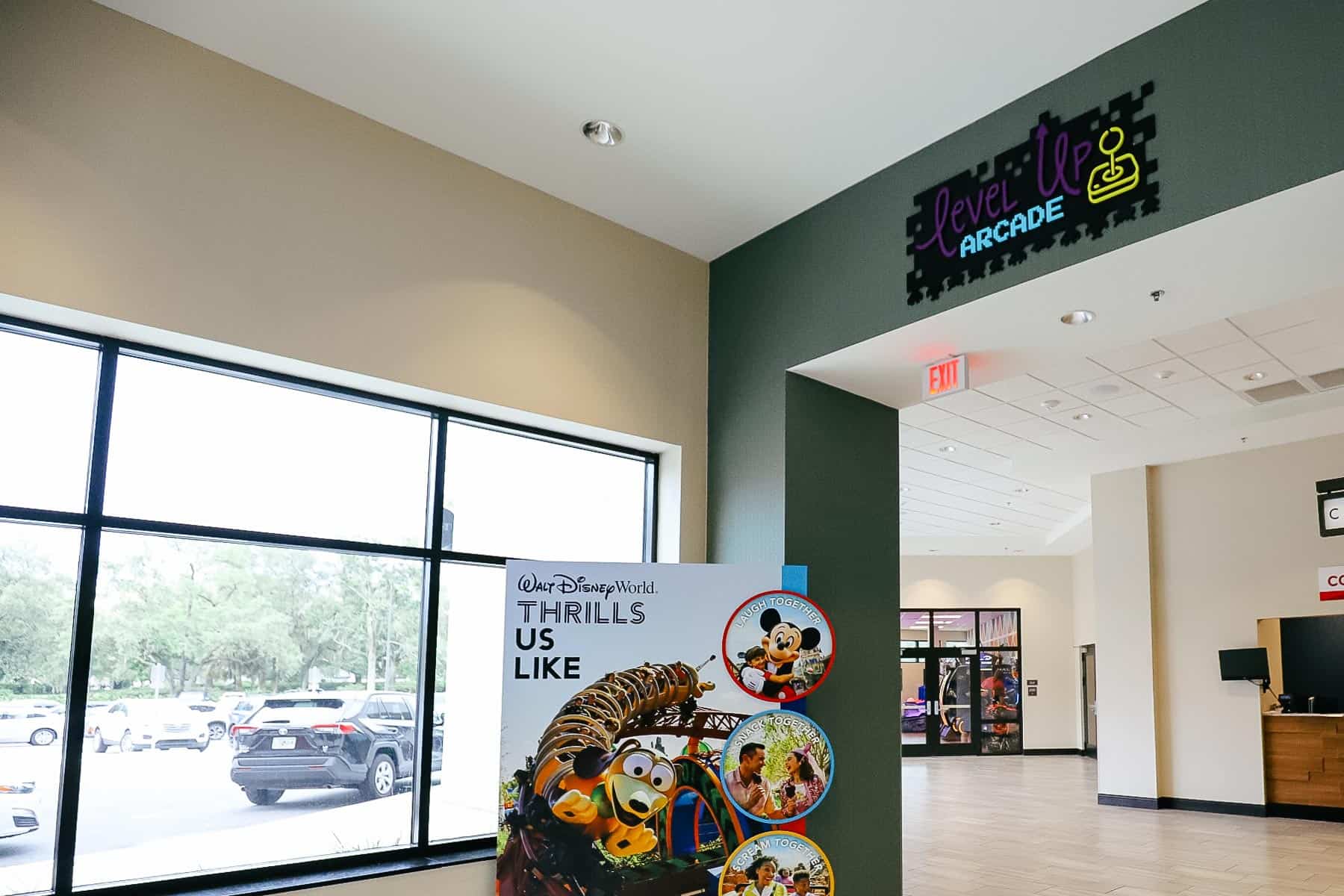 It was pretty busy, so I never got a photo of the inside.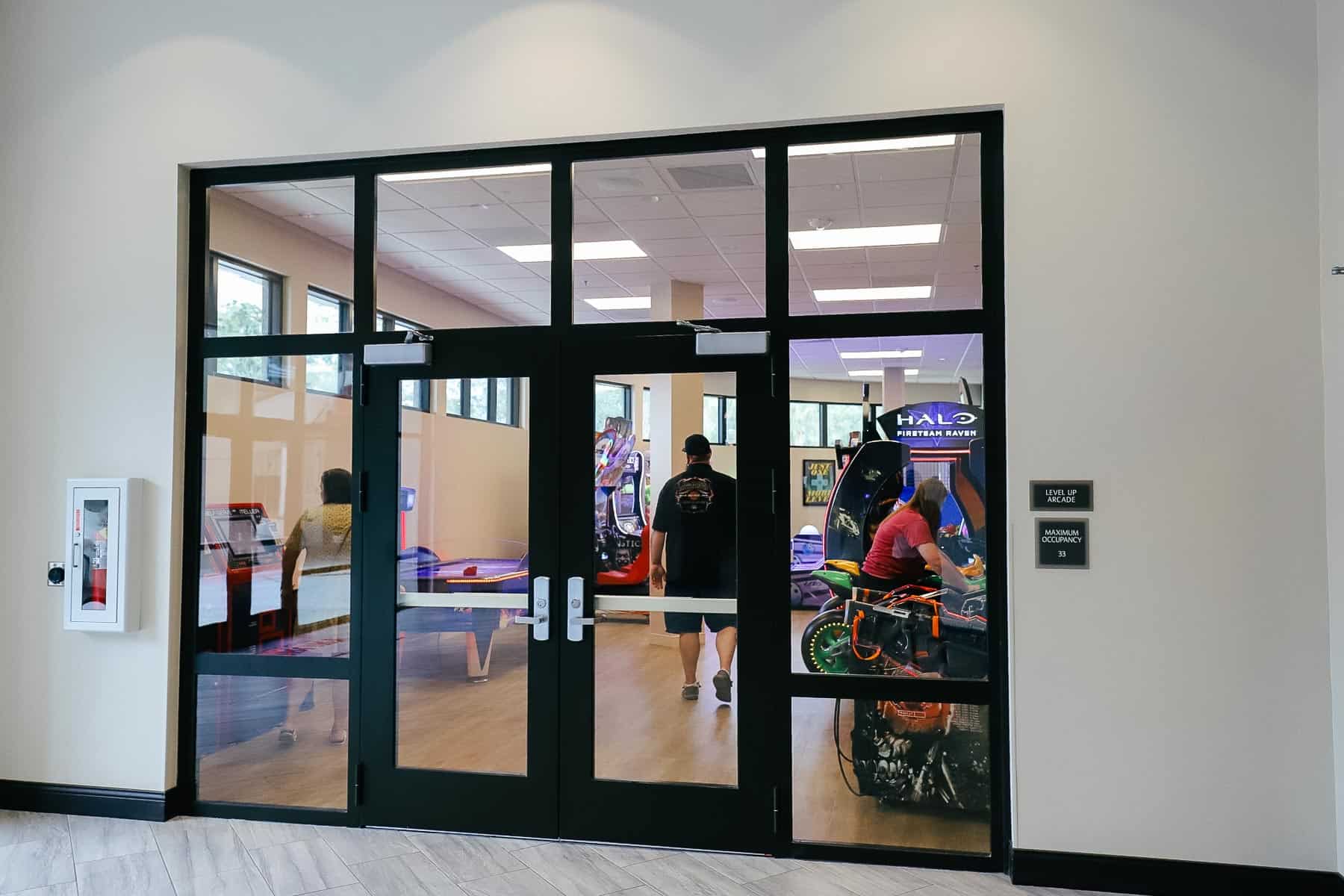 A coffee bar is set up a few steps off the lobby. So you can easily prepare a cup when you're coming or going.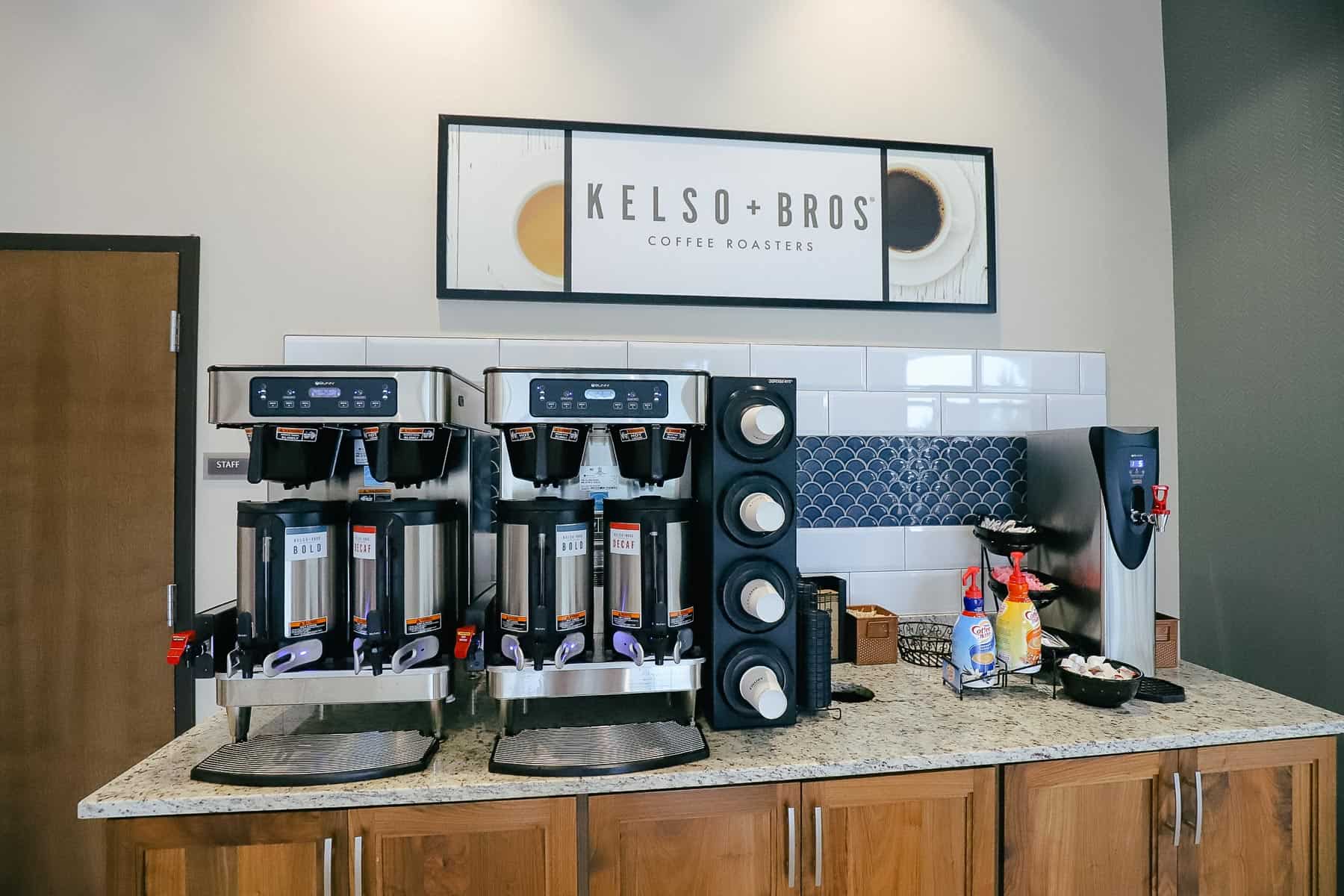 Back inside the lobby, I checked out the Kitchen Bar.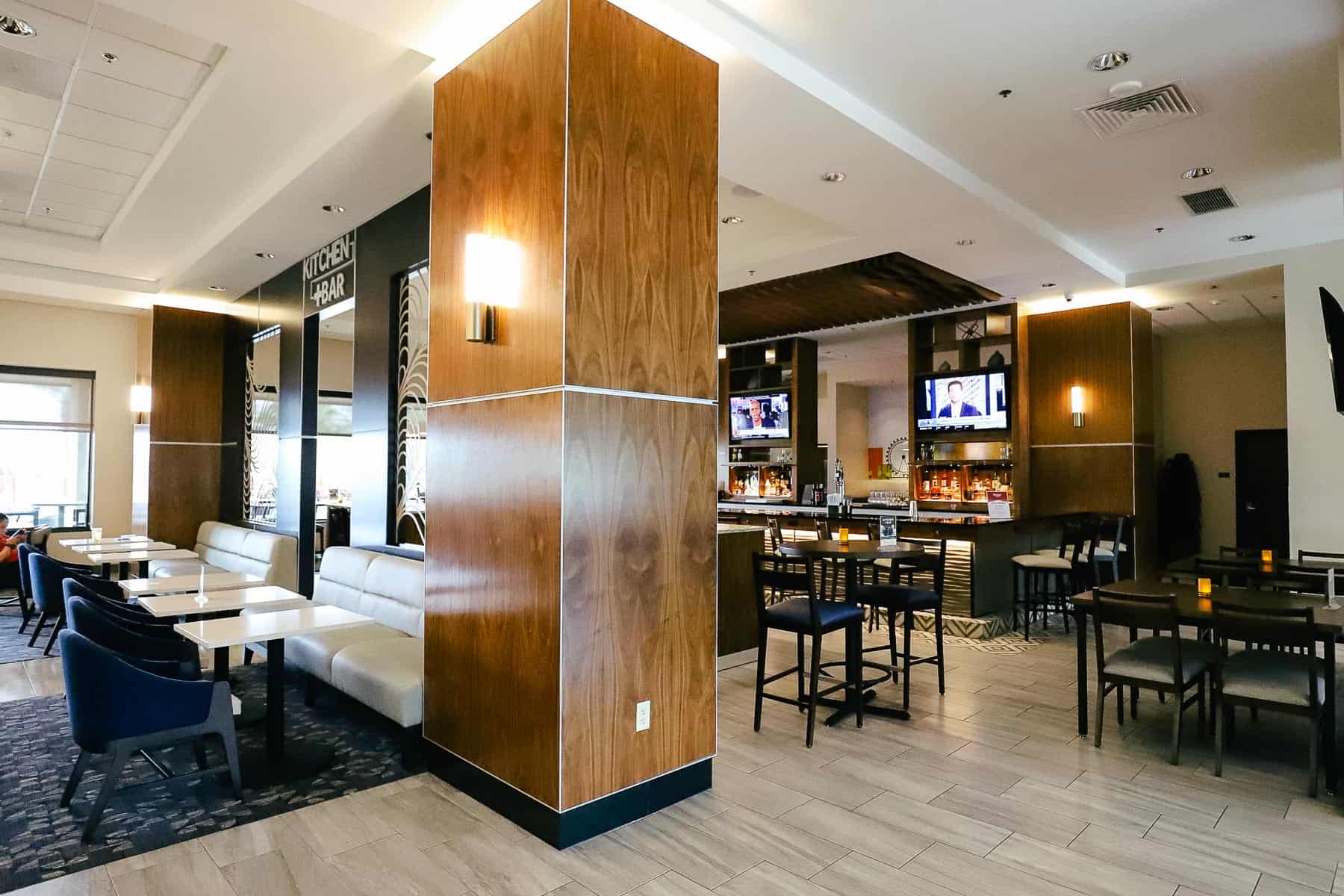 This location serves cocktails and regular menu items. They had several specials on display, like $5.00 desserts for cocktail hour. Most of the desserts ranged from $9.00 to $15.00 in price.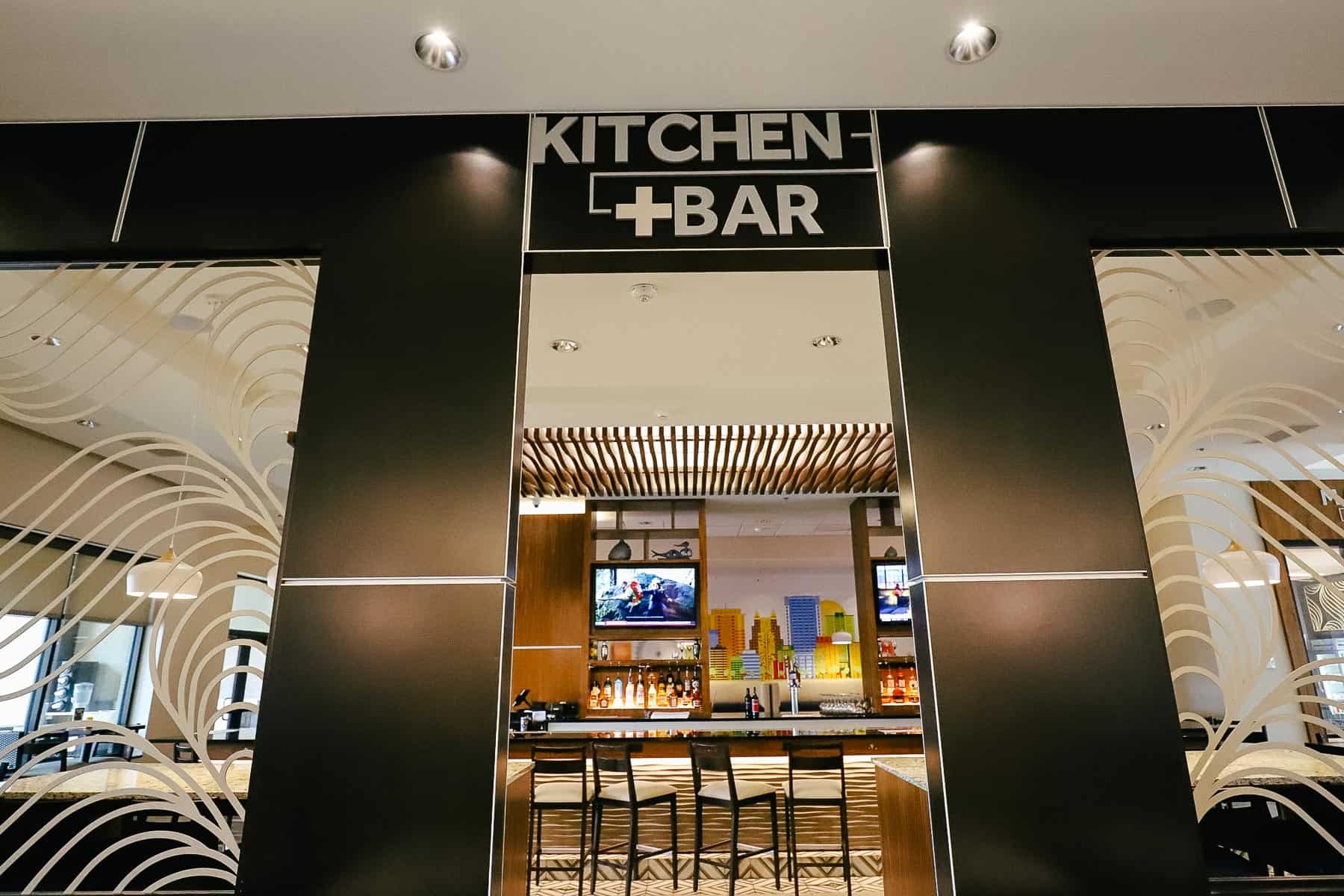 A sizable gift shop was available toward the back of the lobby. It had an impressive inventory.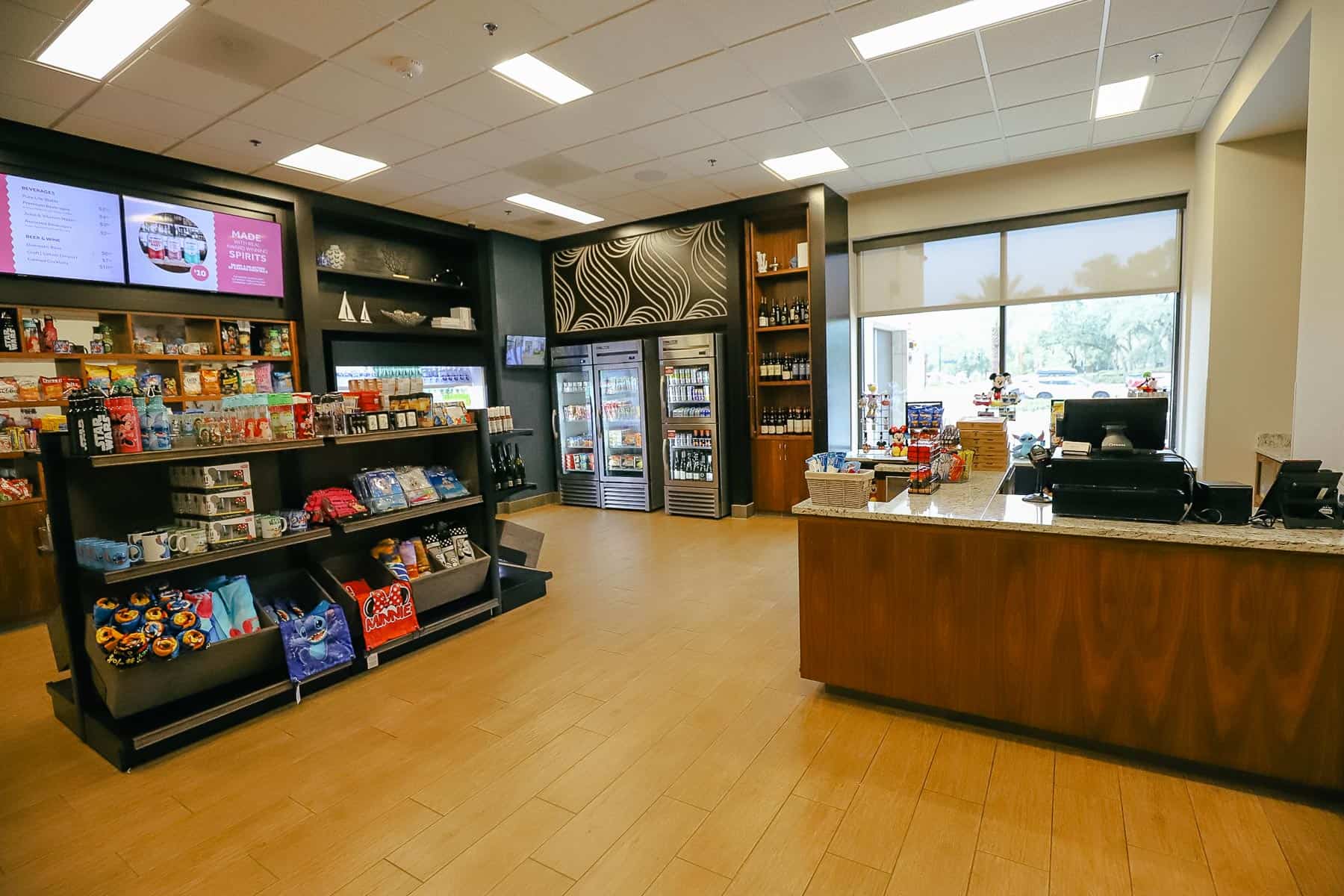 This location serves Starbucks coffee. However, I enjoyed the complimentary coffee, so you might like to try it before purchasing a cup.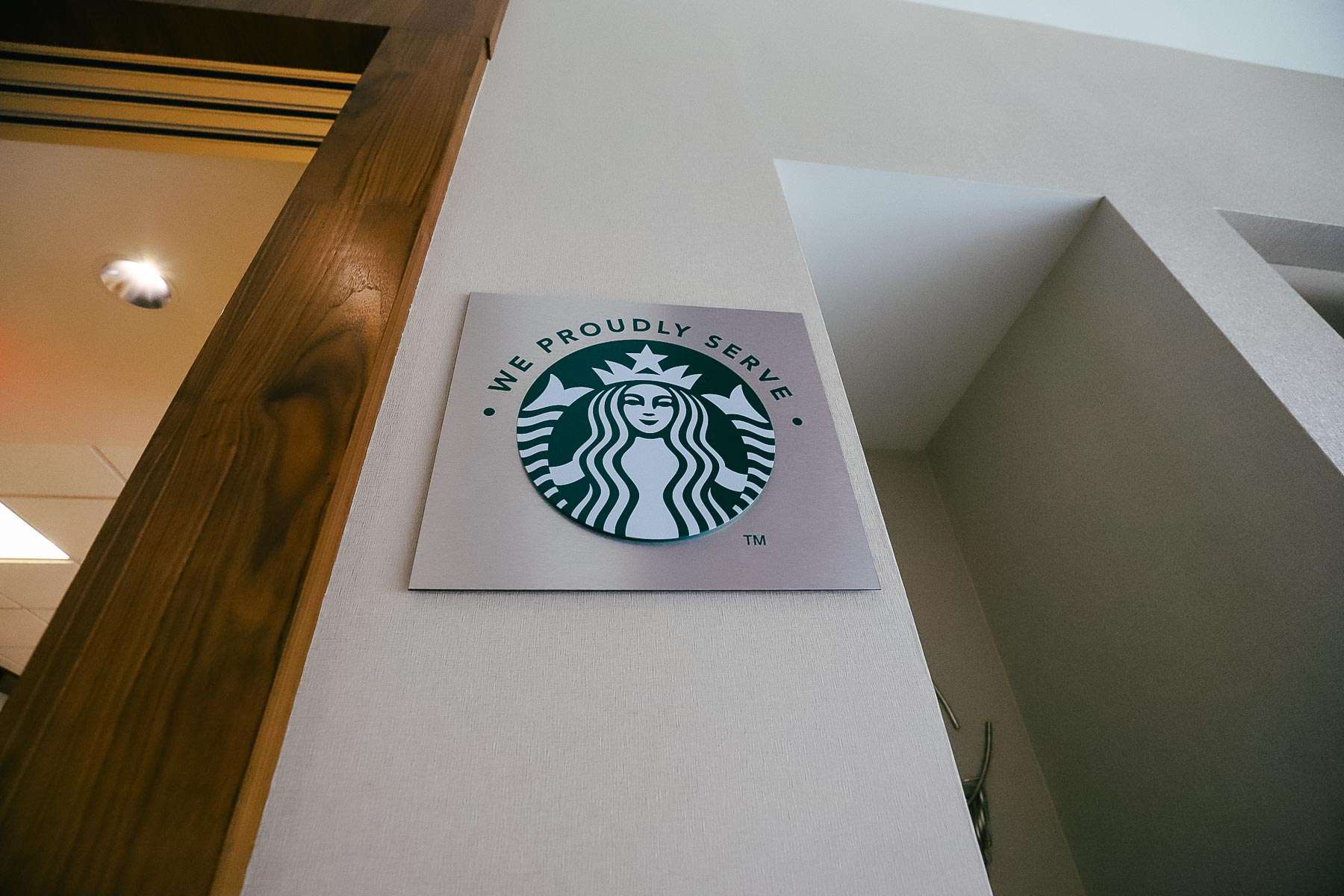 Here are a few souvenir items.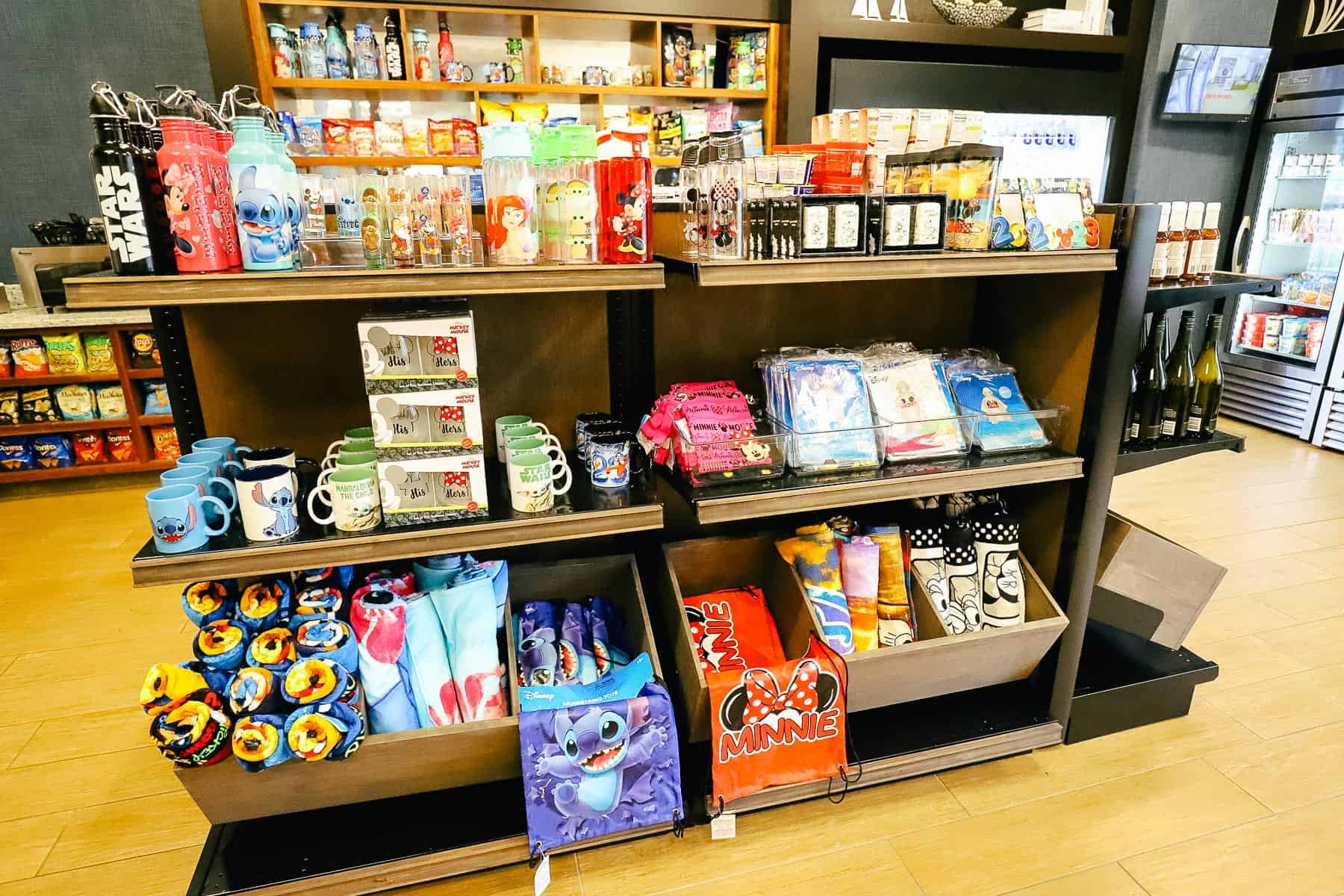 Some other souvenirs extended beyond the register.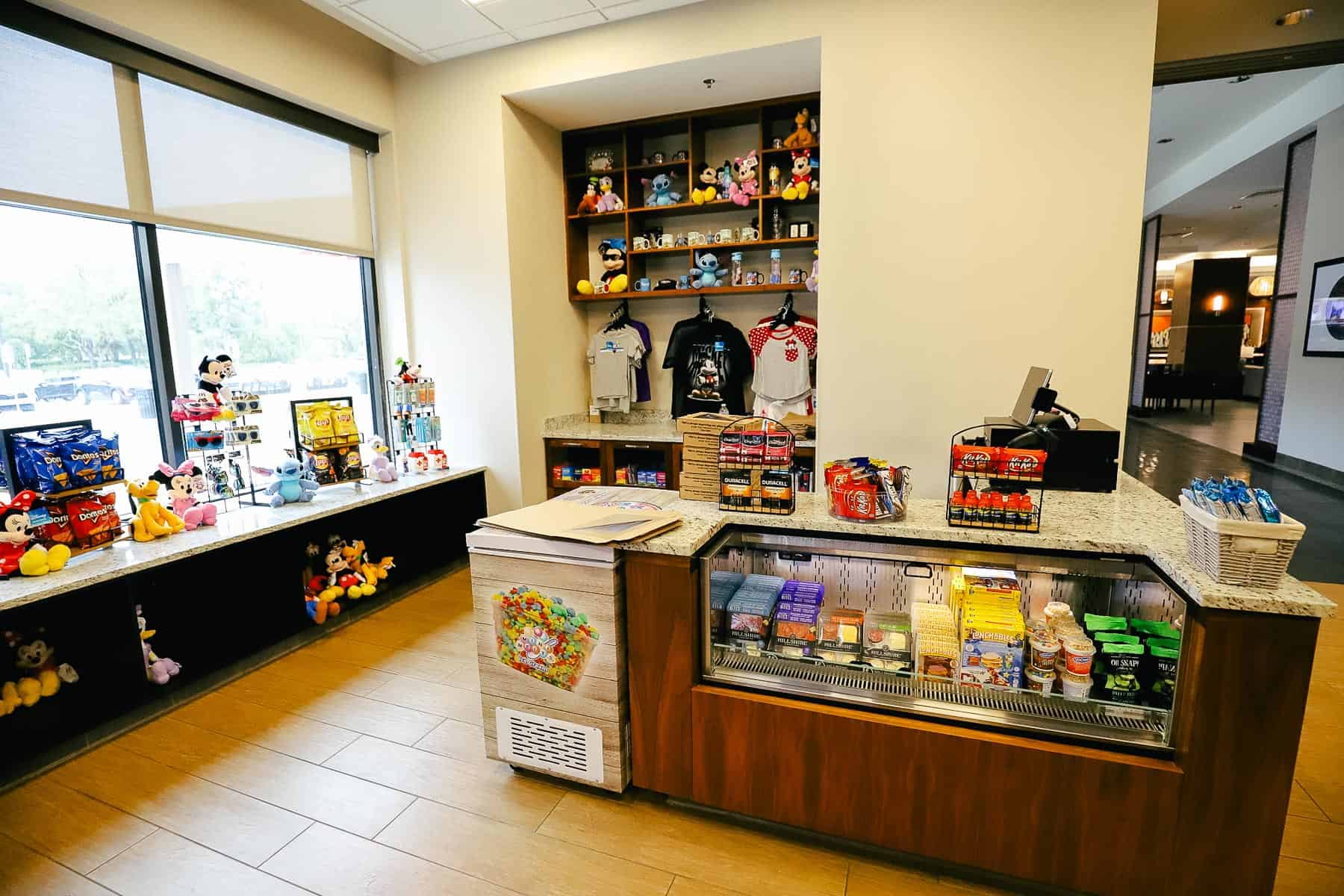 A refrigerated case contained plenty of items that could be microwaved in the room. The gift shop is open every day until midnight. So if you come back late and find yourself starving with no dining options, you can likely find something here to make do until breakfast.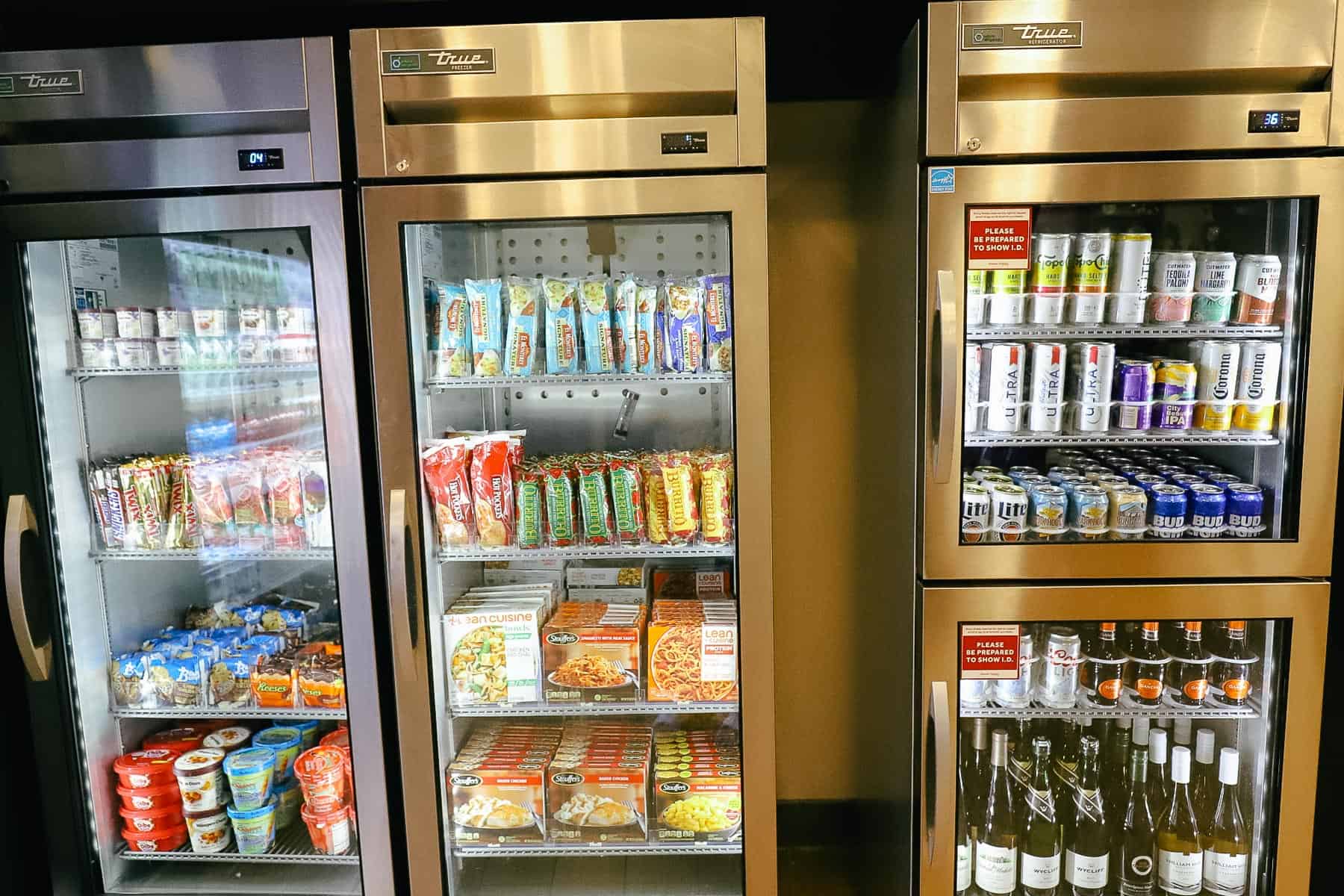 Even better, if you get in after they close, someone at the front desk can let you in the store to make a purchase.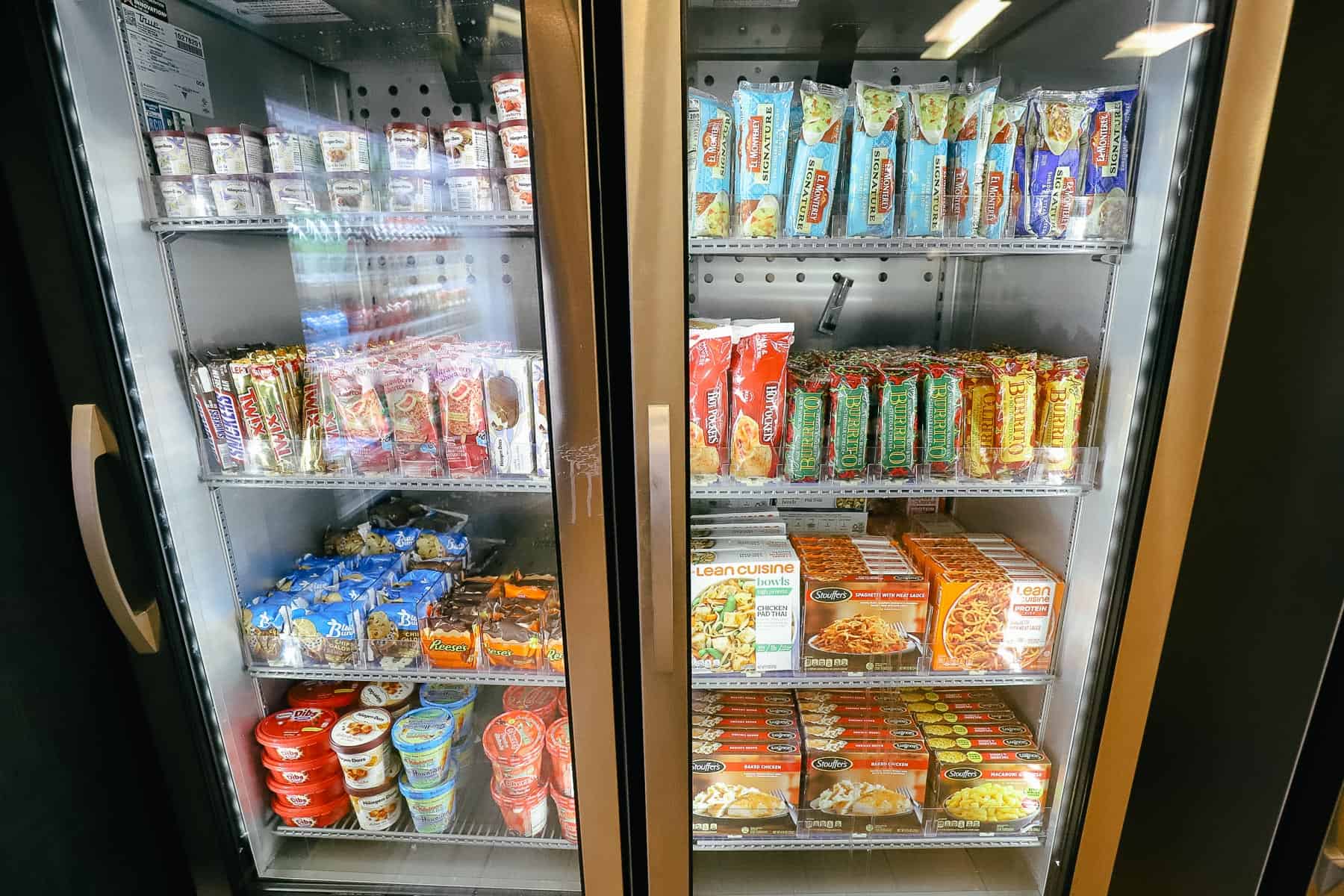 Here is a closer look.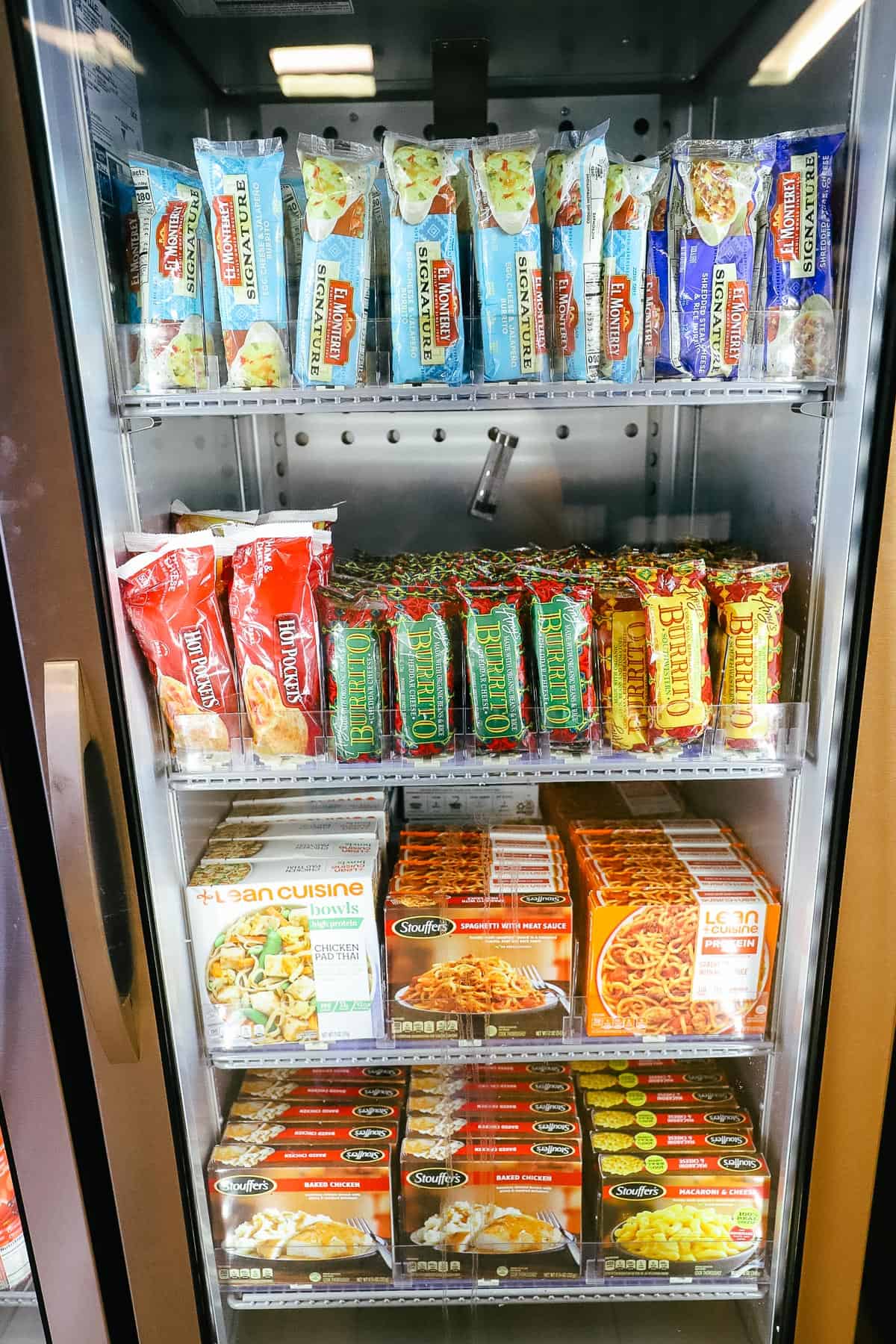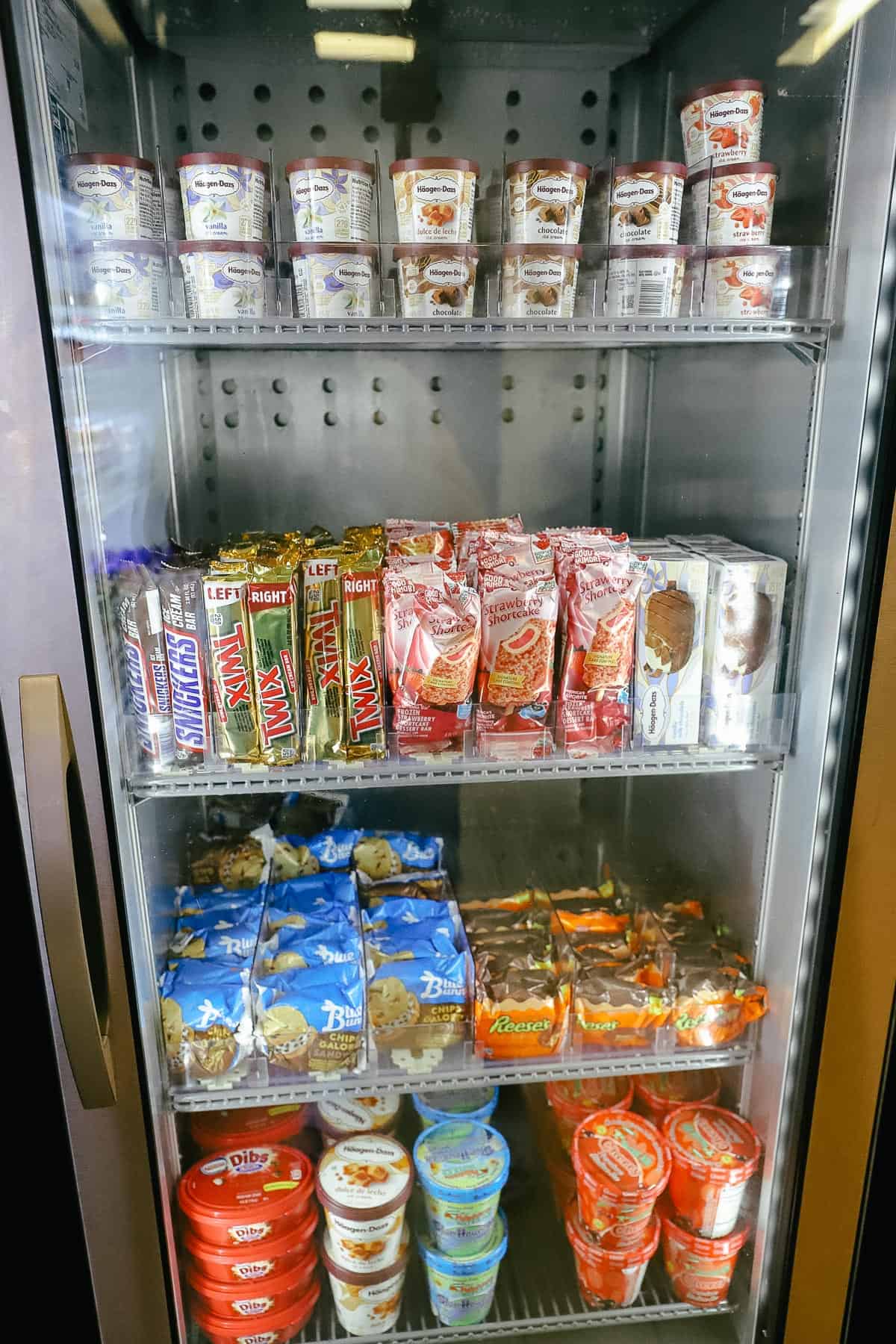 As someone who regularly takes photos of random merchandise in hotel gift shops, I was impressed with how neatly items were displayed. Everything at the hotel felt designed to keep guest satisfaction in mind.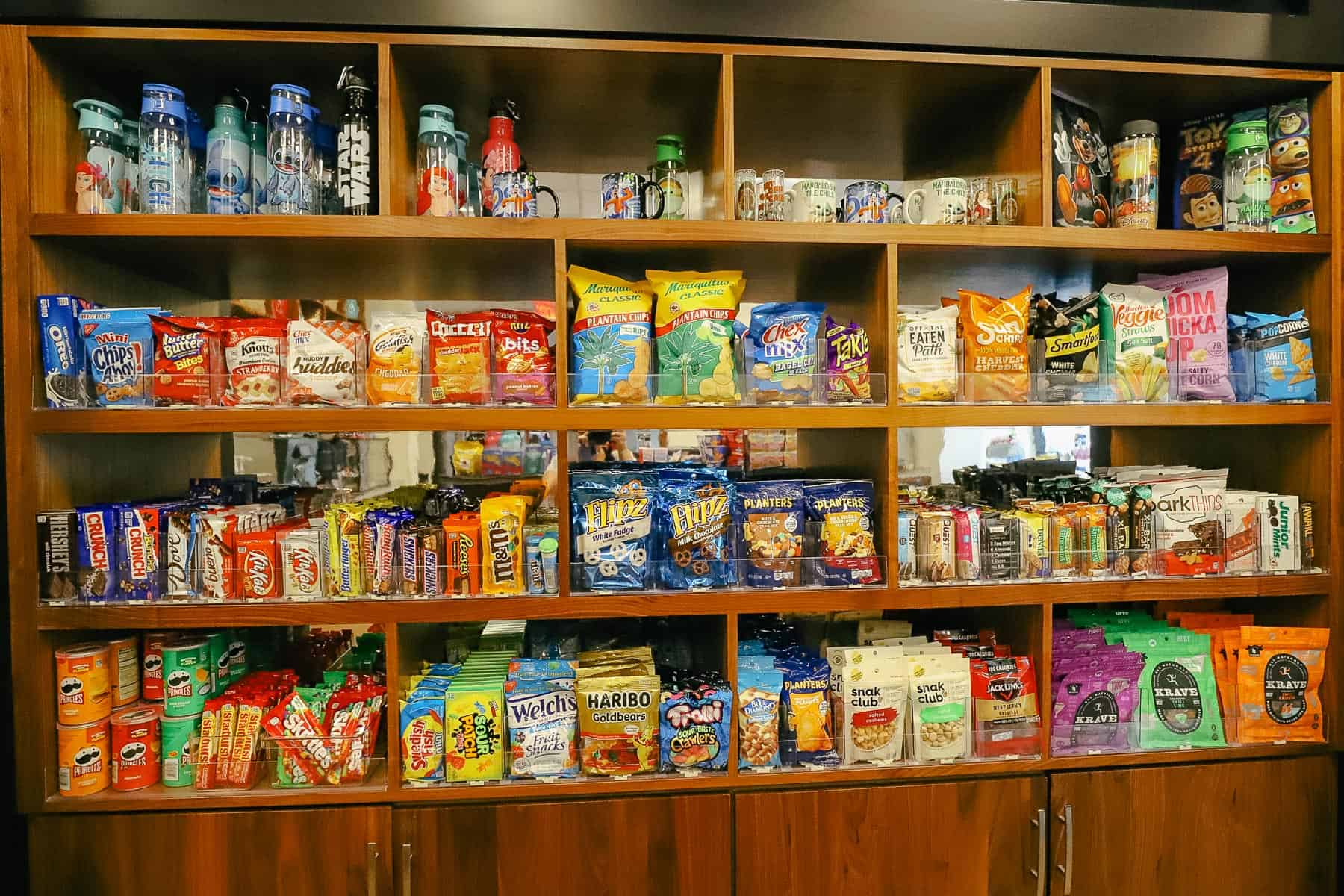 A separate microwave was available to heat something to enjoy elsewhere. Pizza Hut Express personal pan pizzas were available from 11:00 a.m. until midnight. You could order them in the gift shop. They cost $9.00 to $12.00 each. Cheese, pepperoni, and supreme were the three options.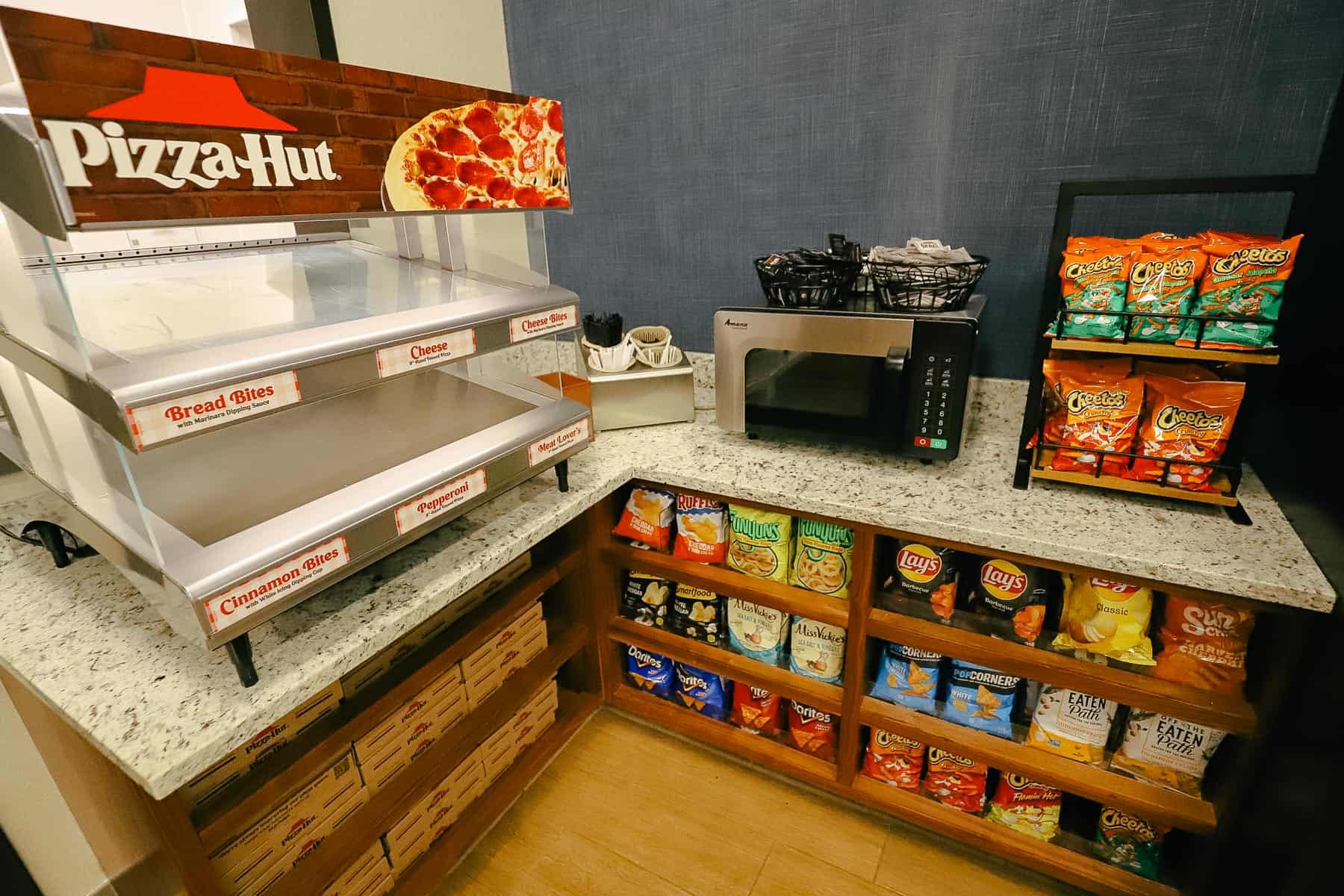 Here is the Starbucks coffee.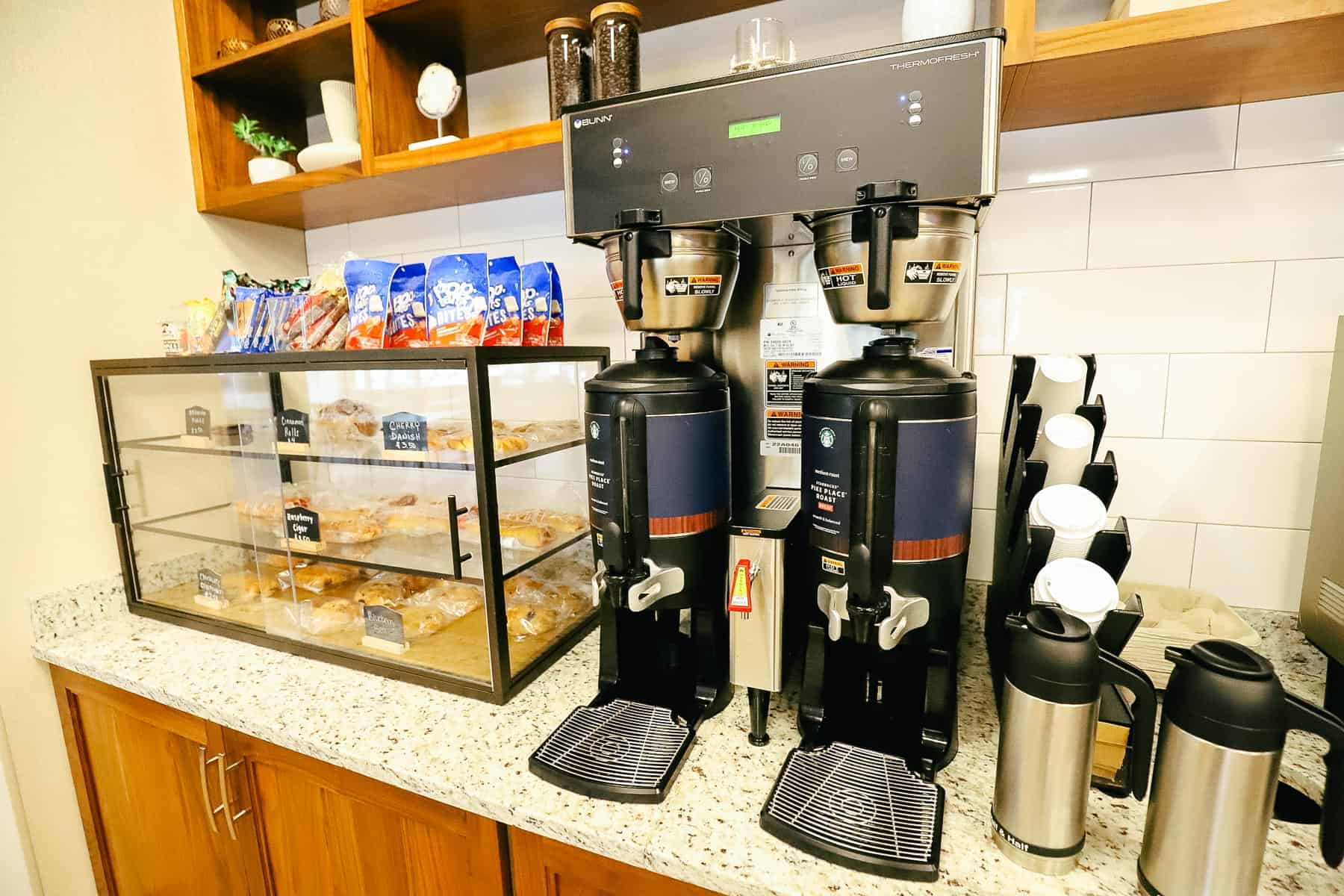 A few pastries were also available.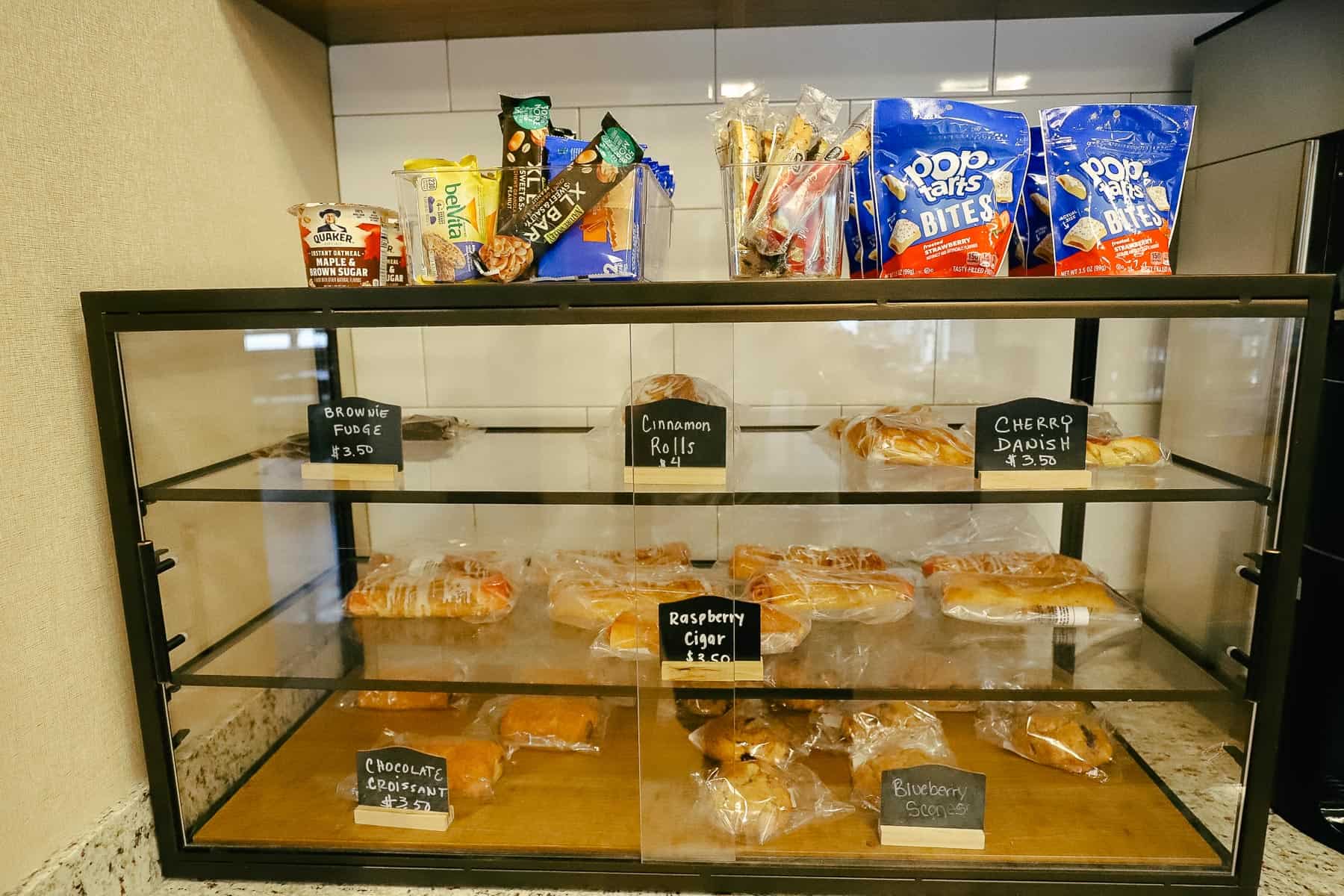 Outside, the Drury Plaza Hotel has a large dining and lounge area close to the pool.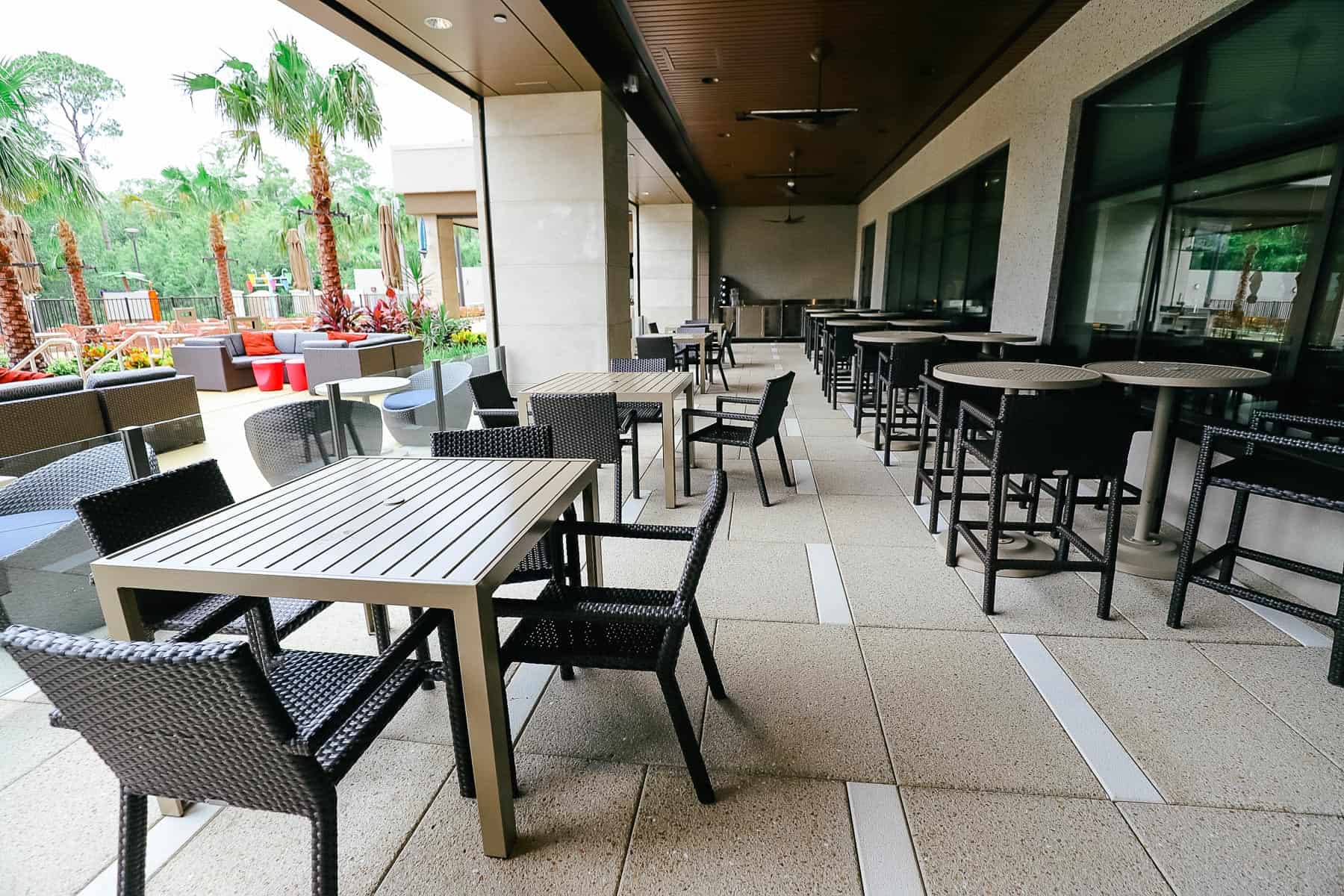 You could find plenty of spaces to relax and enjoy the surroundings.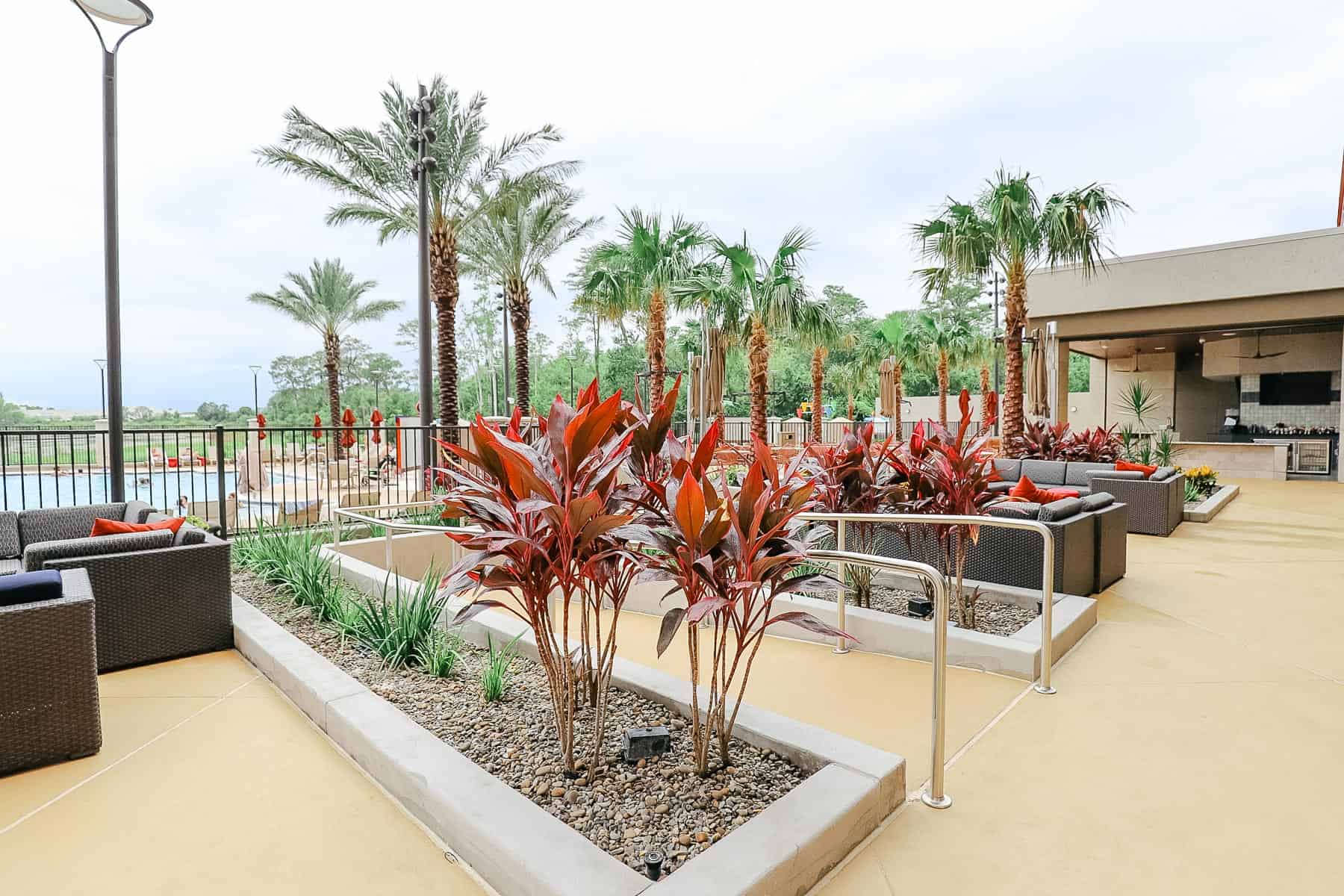 Lakeside Bar and Grill is available by the pool. It appeared to be an extension of the indoor bar and grill in the lobby.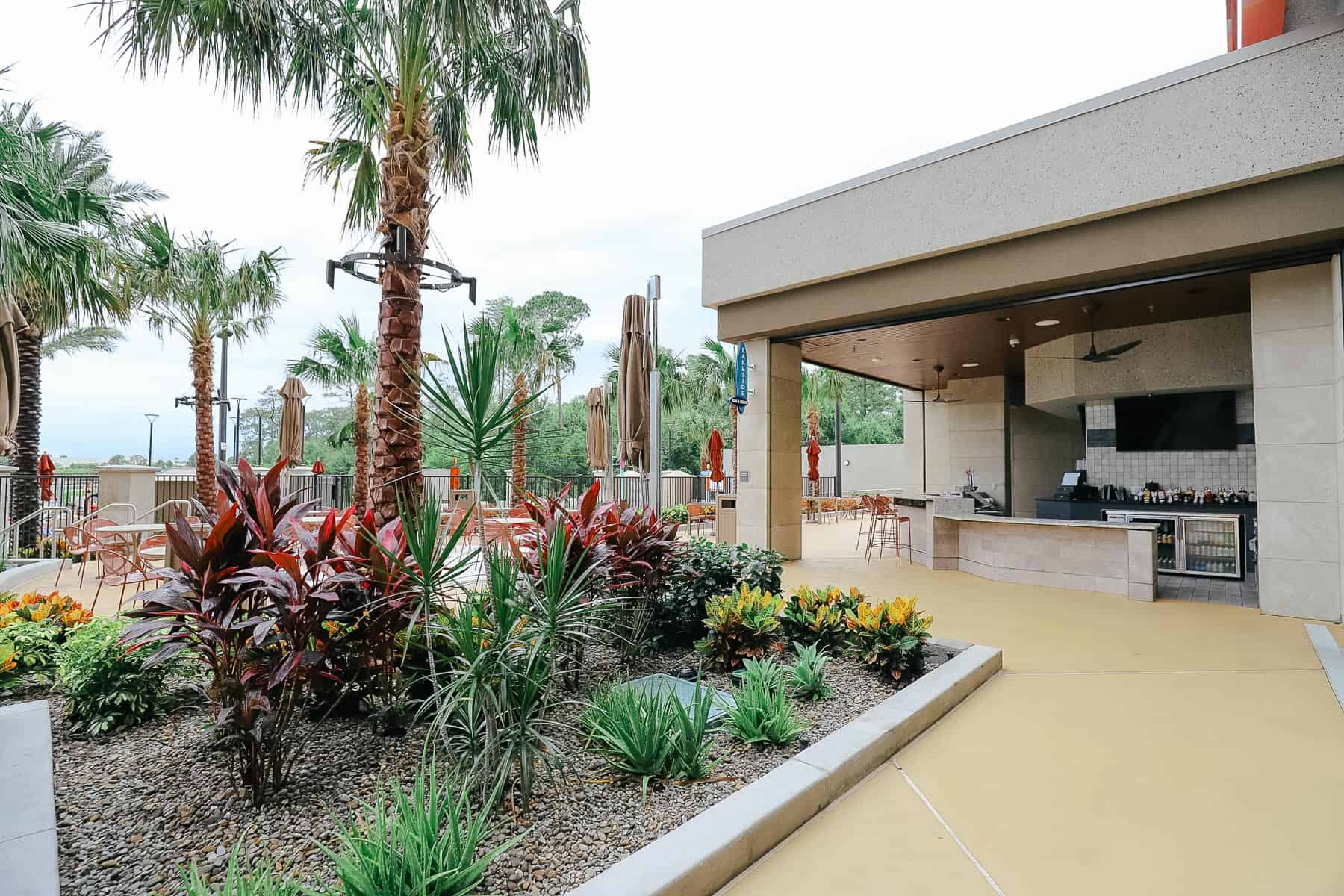 They had plenty of items at reasonable prices. Kids' meals were $9.00 each, which is pretty on par with most places. However, I think the Pizza Hut option is a win-win for most people.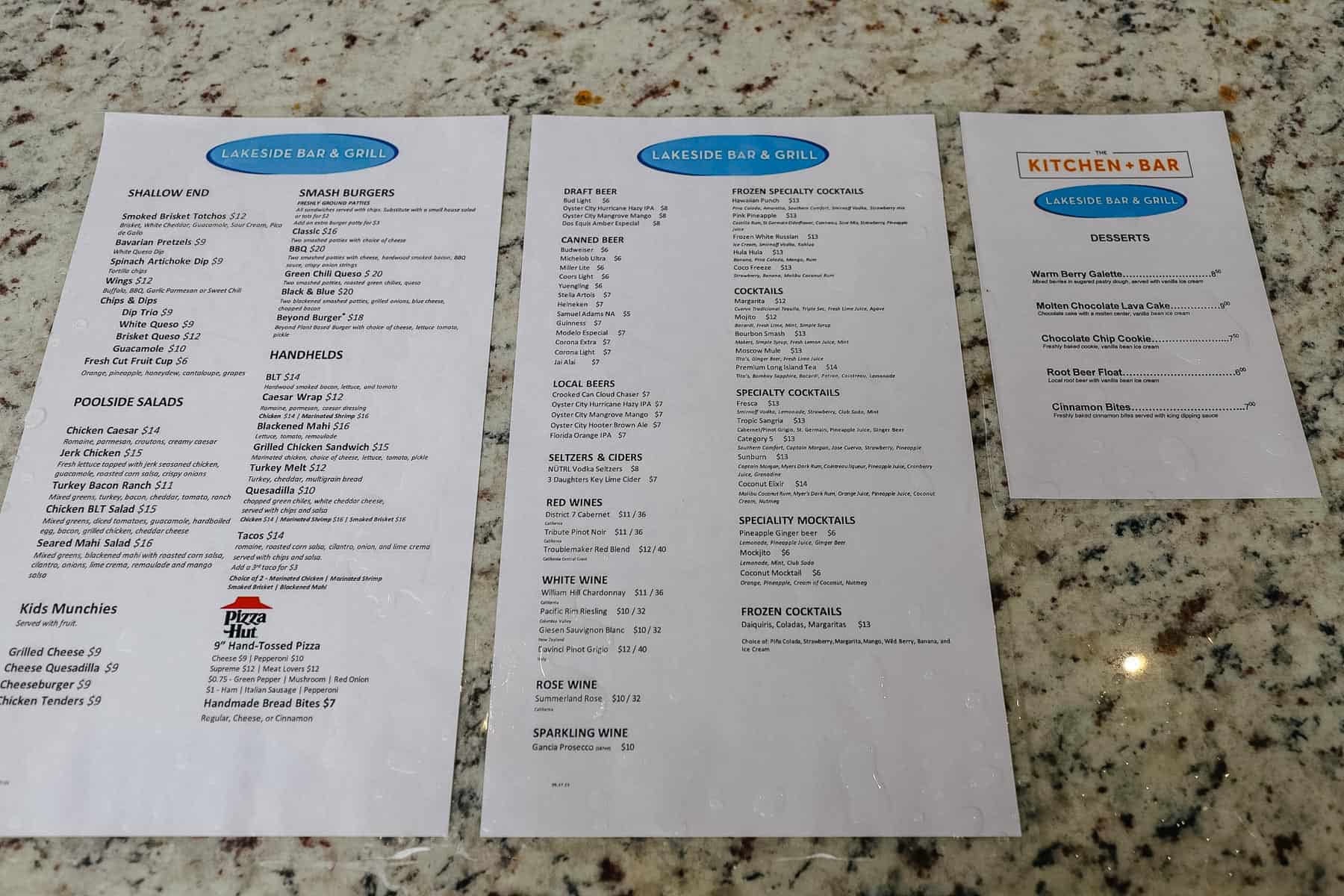 Here are a few more photos of the outdoor area. Unfortunately, the pool area filled up quickly since the sun was starting to pop out. So I resolved to wake up early the following day for pool pictures.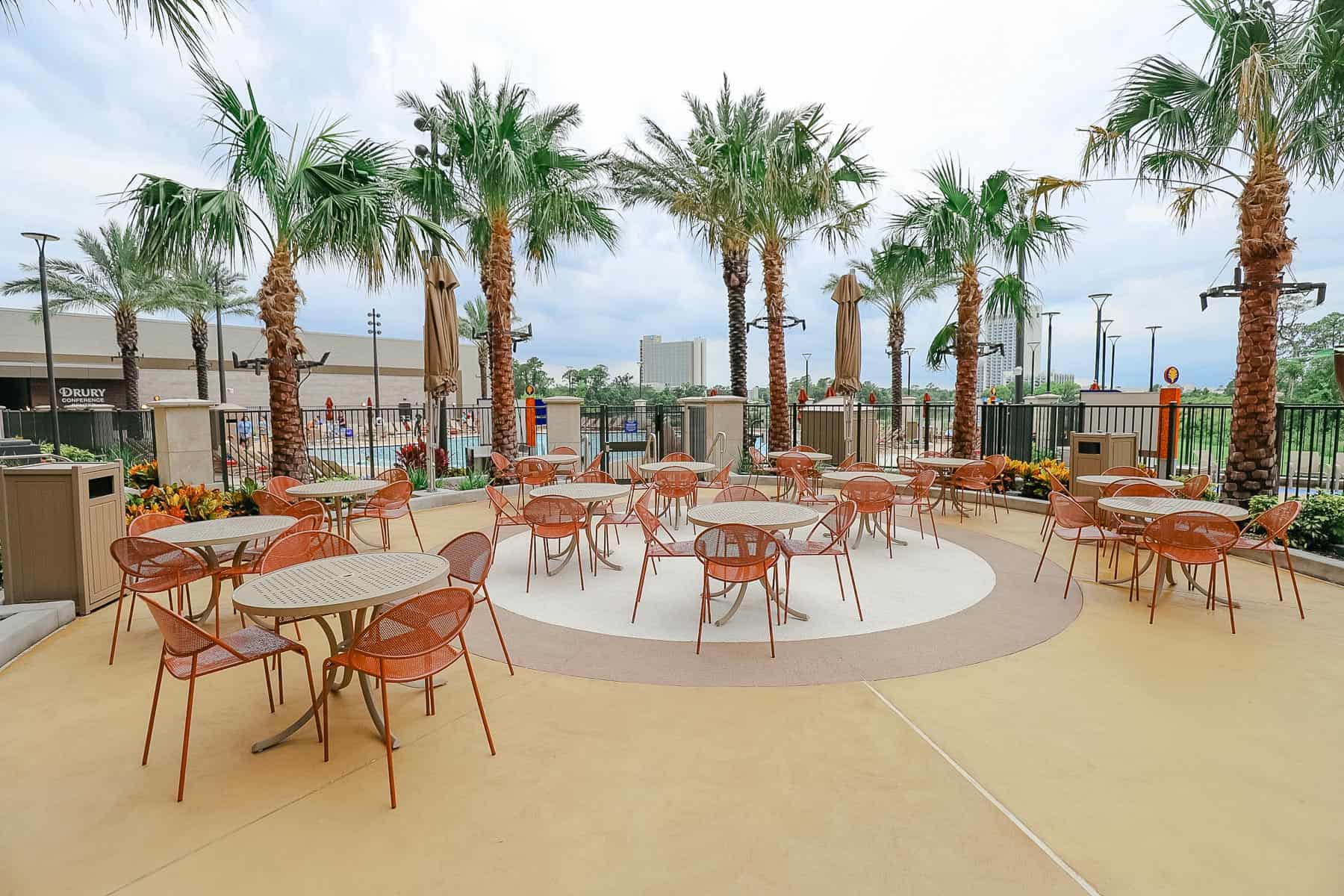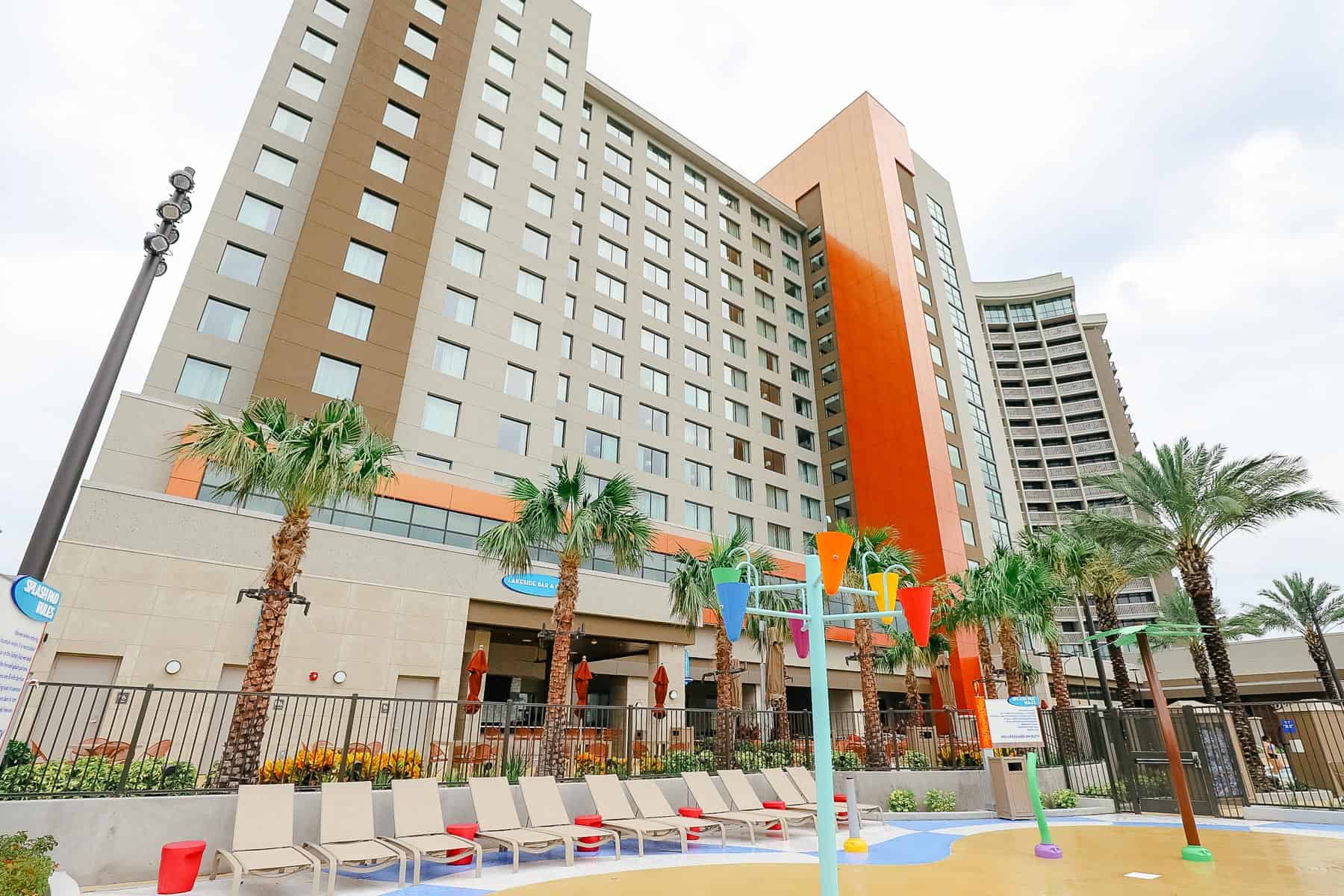 A splash pad sits on the far edge of the pool area. It's in a separately fenced area, so parents can sit and enjoy the area and not worry about their children wandering into the pool.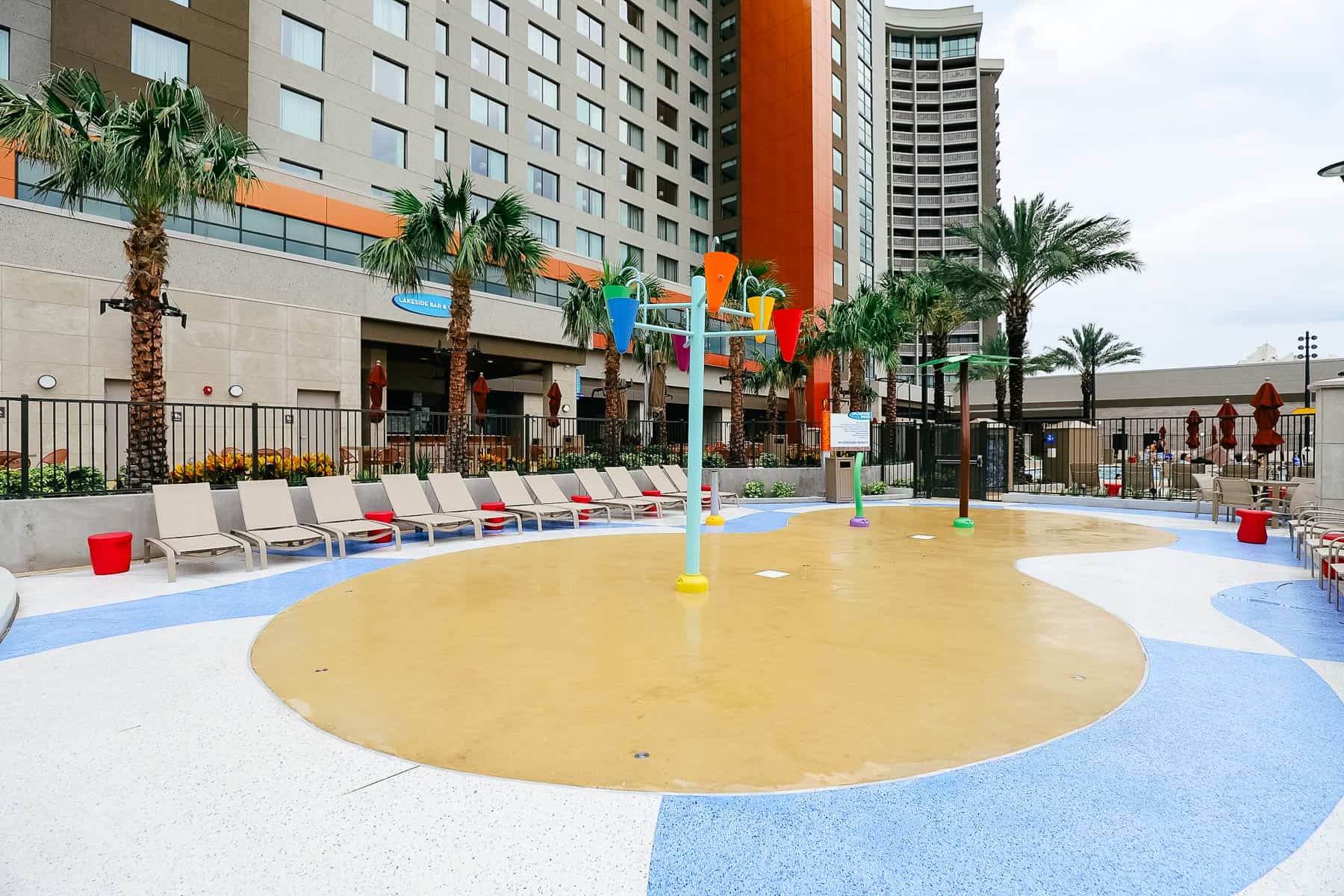 At this point, the Kickback hour had started, so I decided to see what it was all about. On the way up, I walked by the conference side of the resort.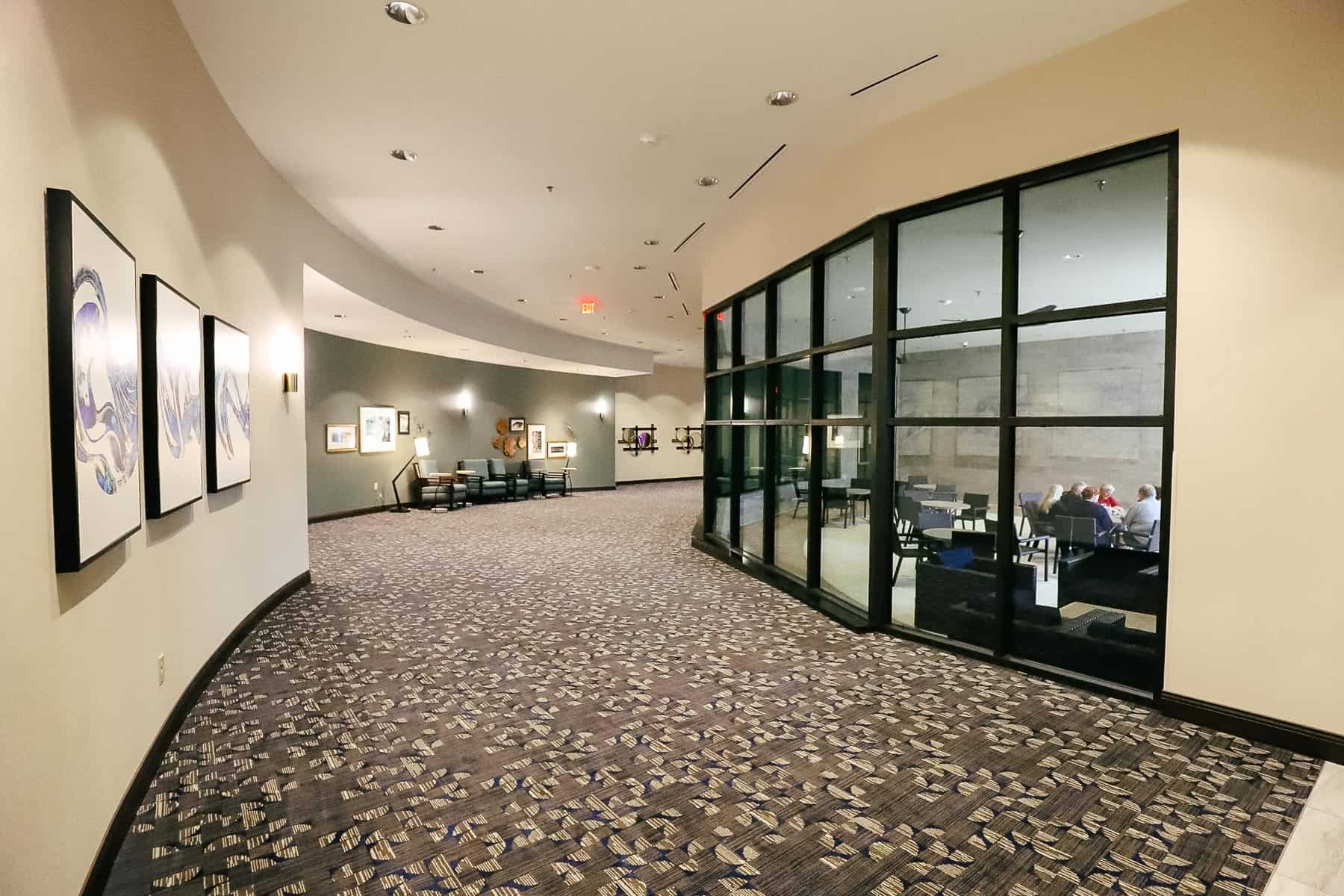 This is the part that surprised me the most. When I returned to the second floor, I found the space bustling with guests from all walks of life. Everyone was preparing their plates and finding a table.
We'll start with the salad.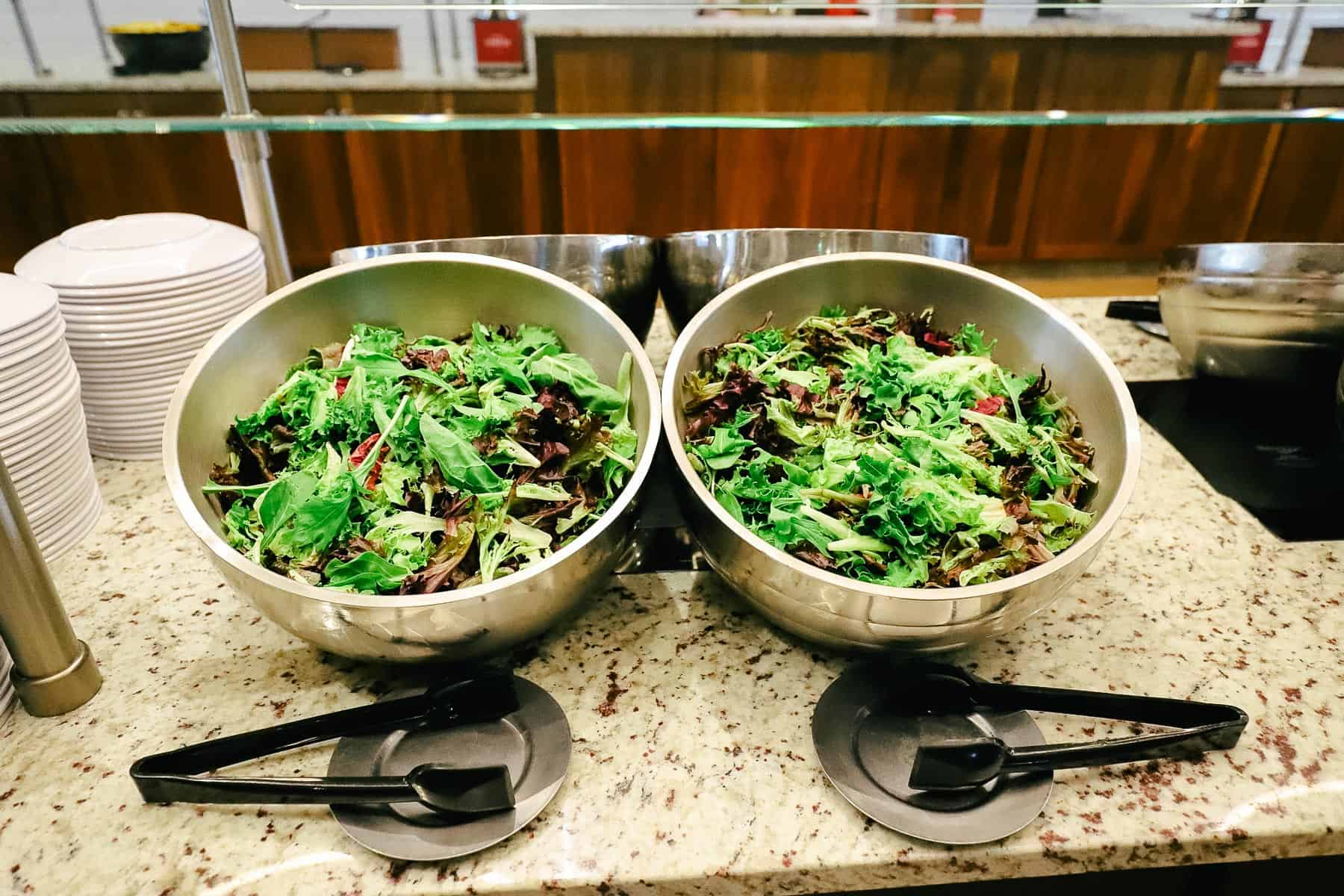 It was a nice spring mix with Roma tomatoes on the side.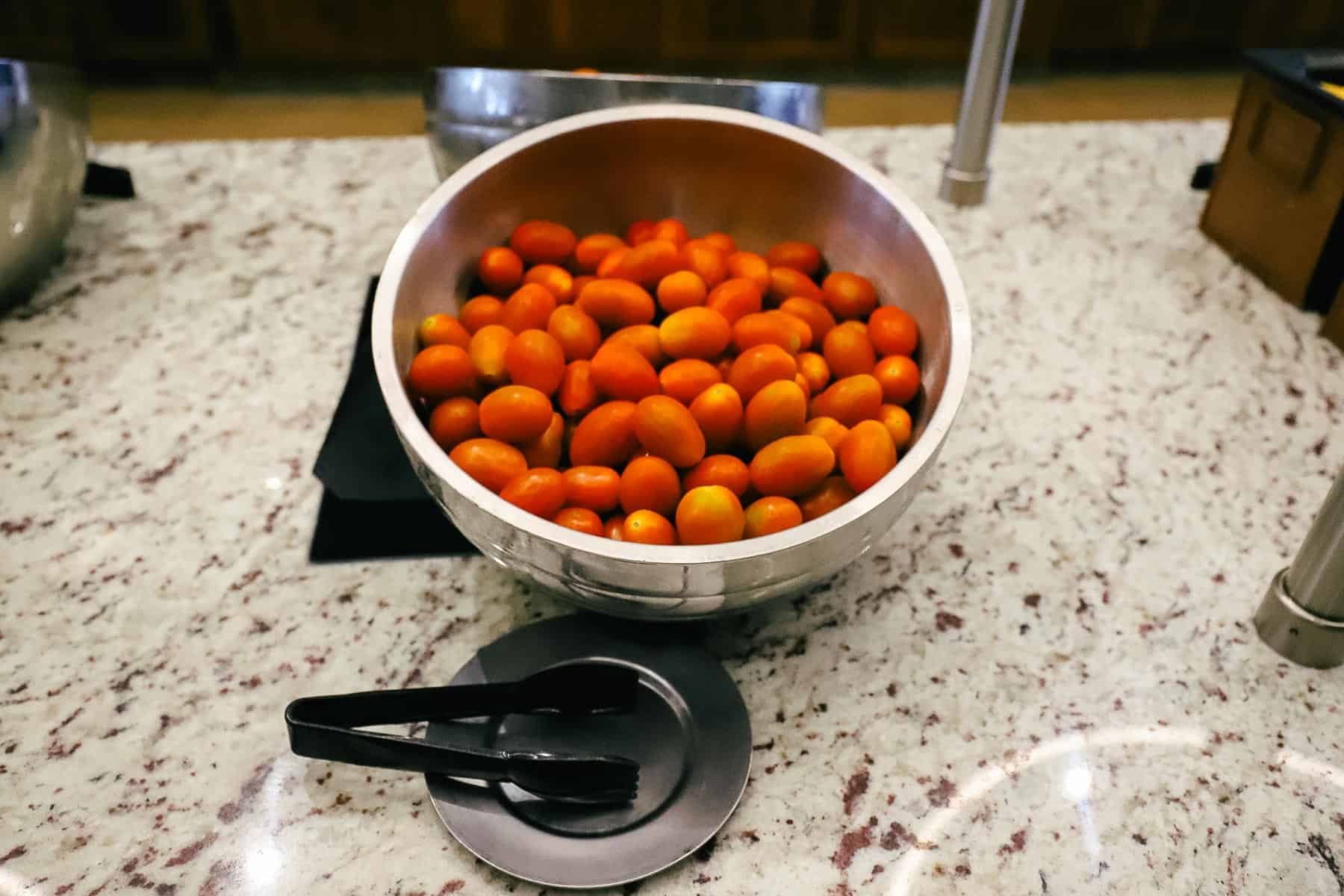 Shredded cheese was also available.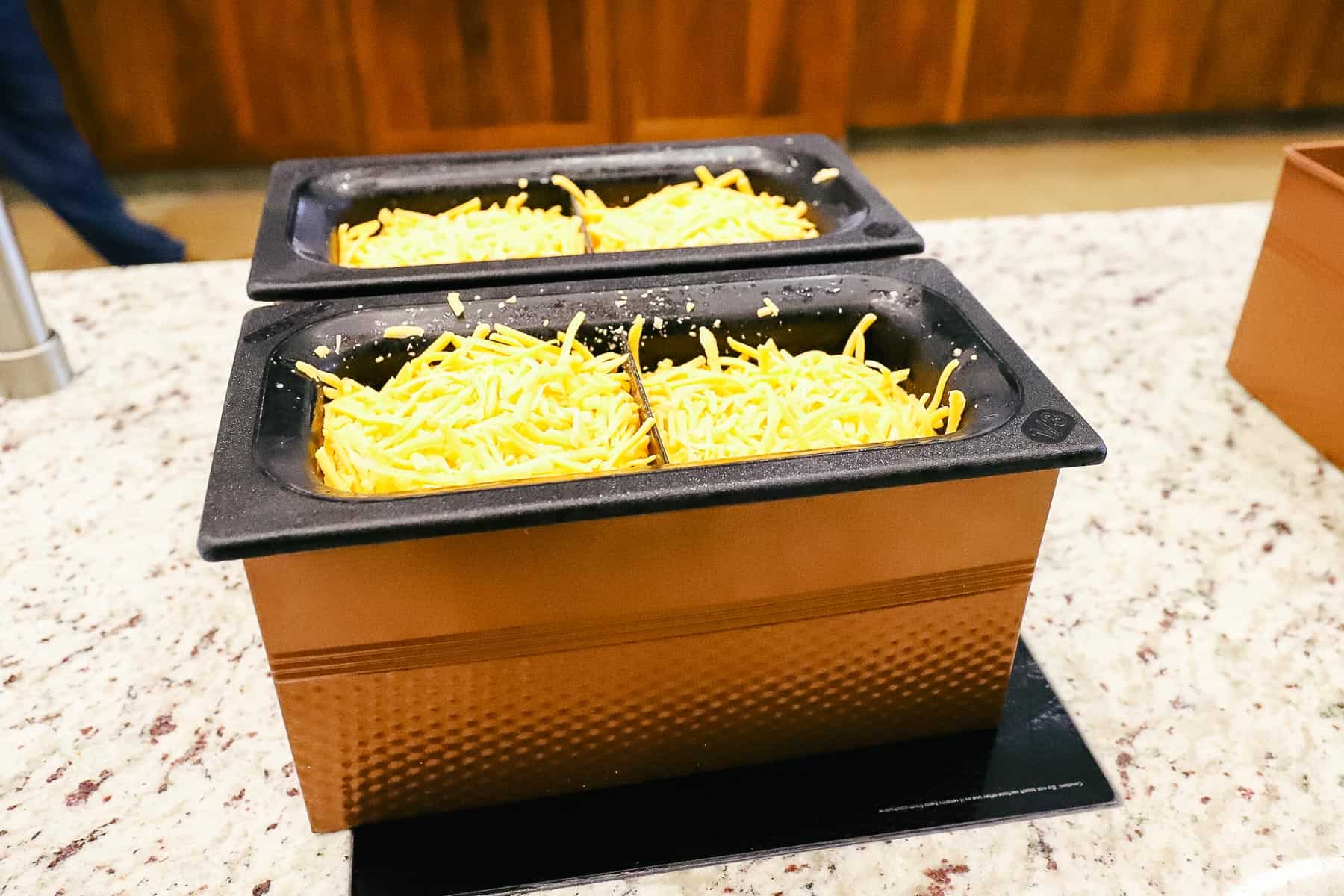 A few dressings and croutons were also present.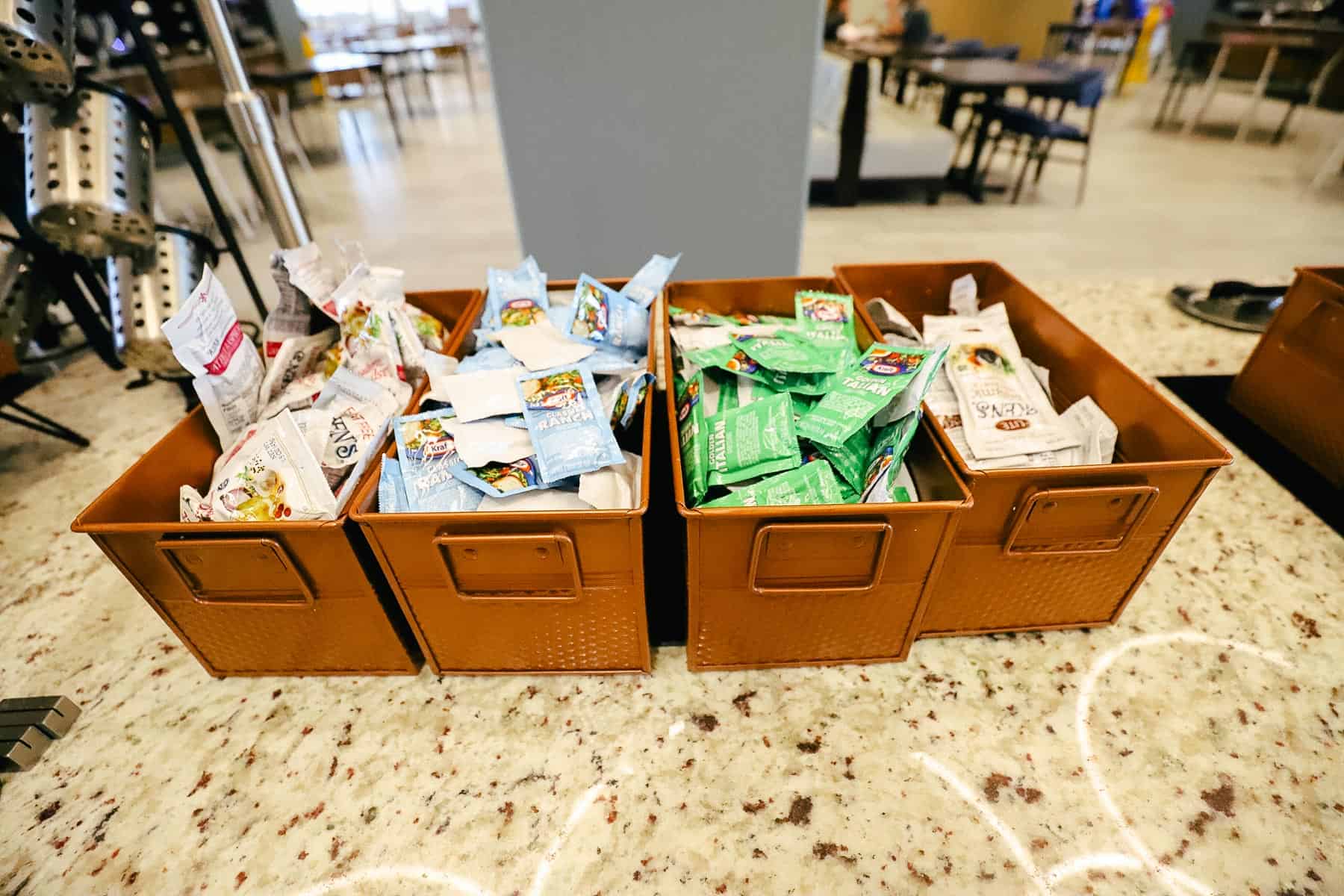 Behind the salad bar, nachos with toppings were available.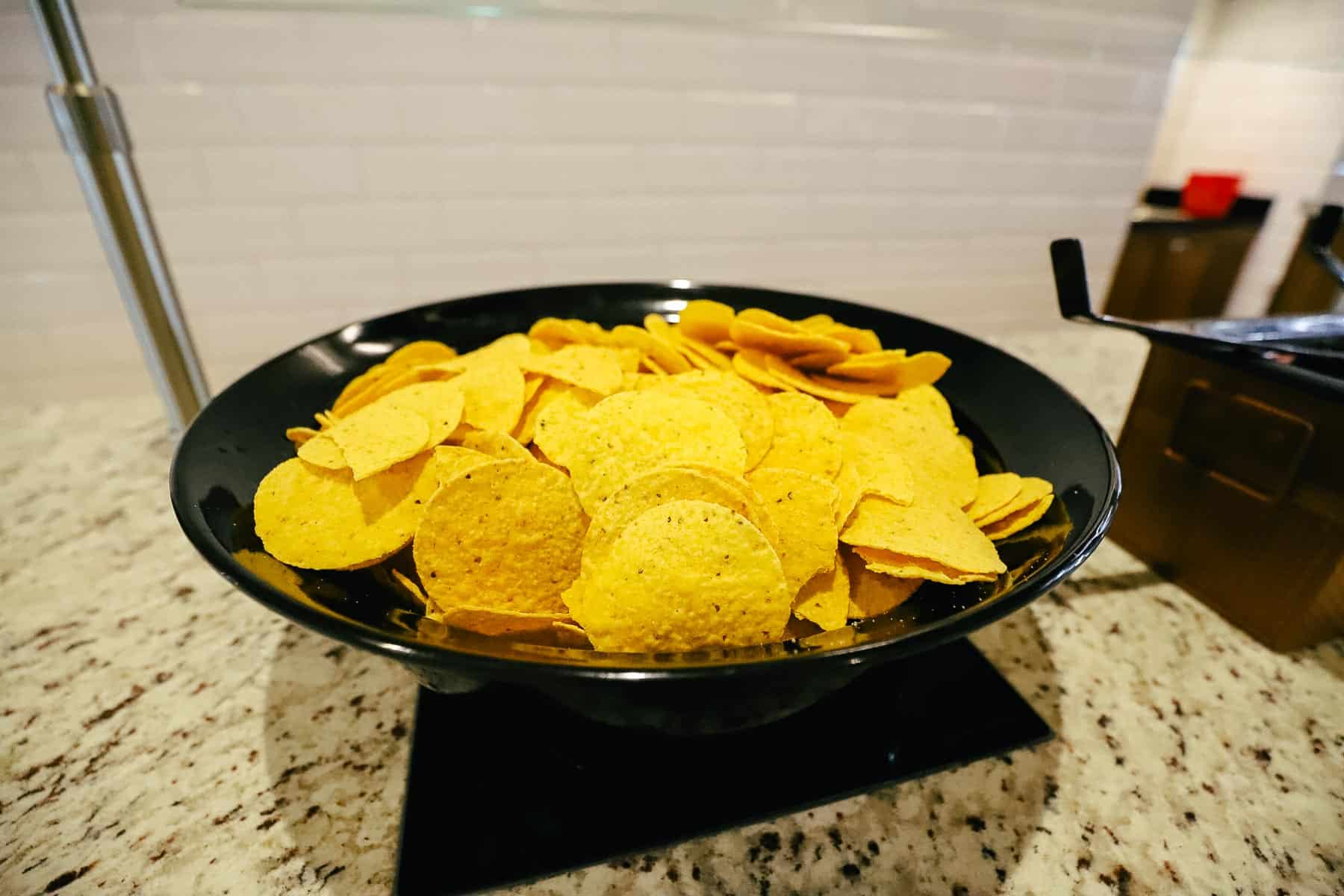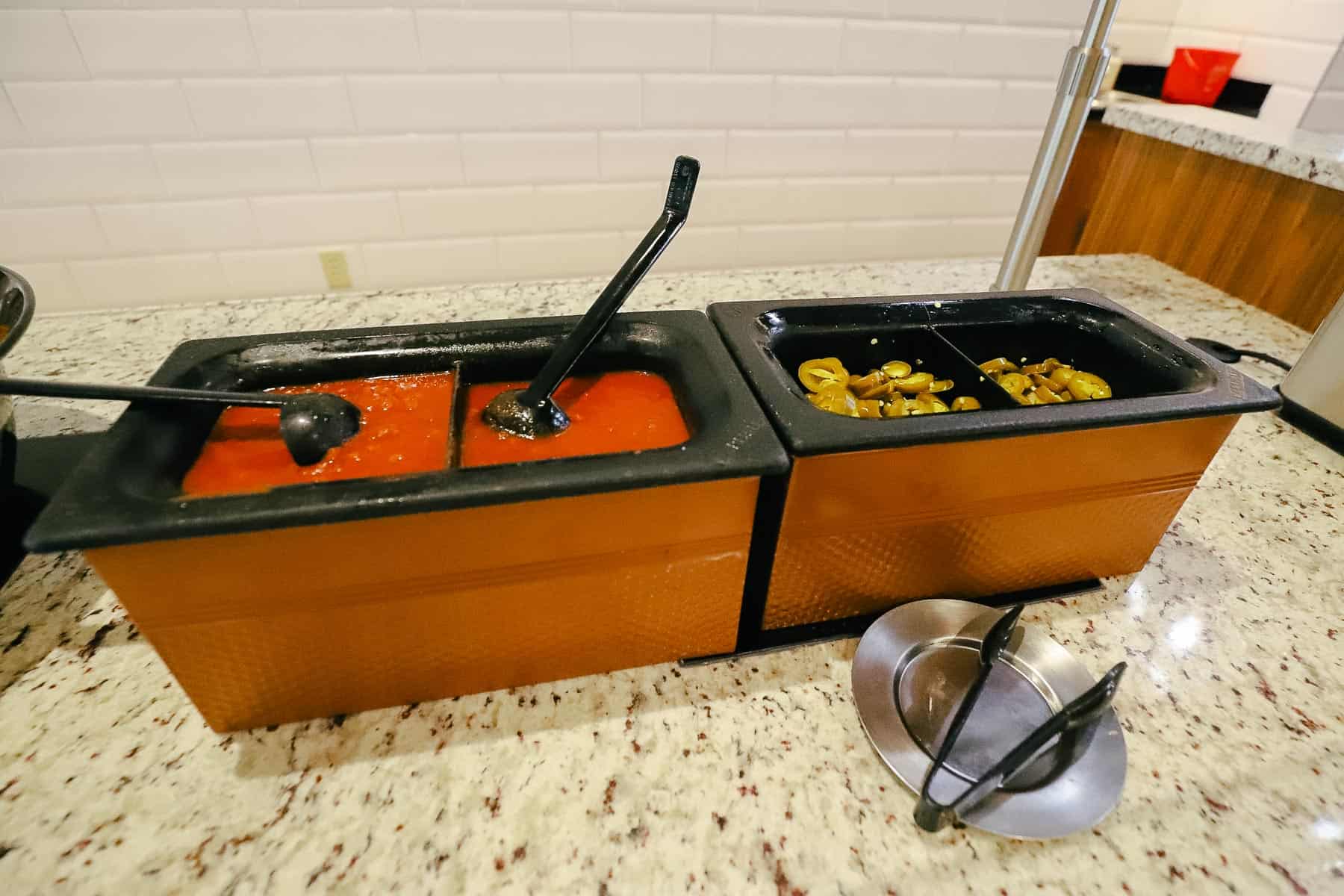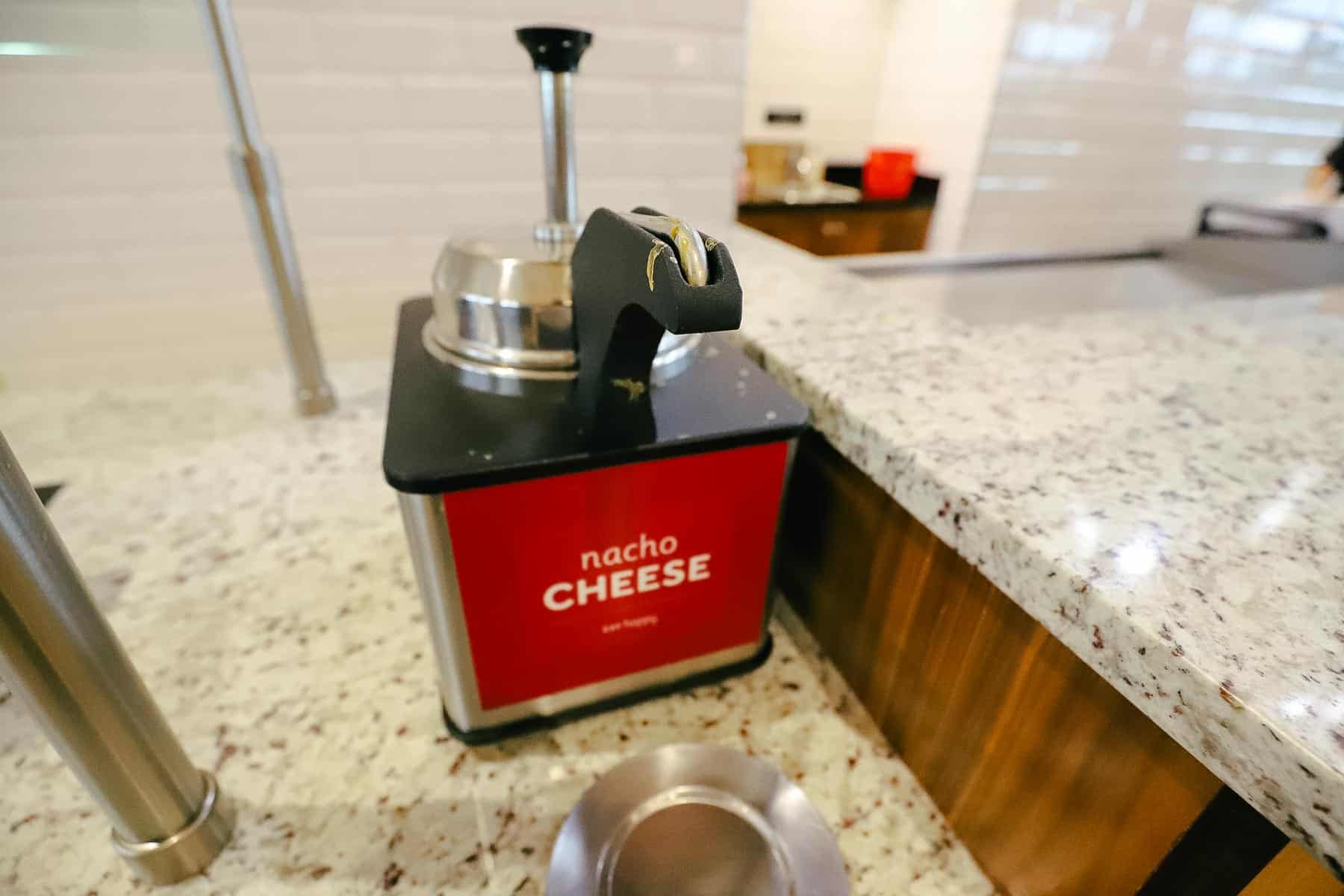 Around the corner, I found hot dogs and buns.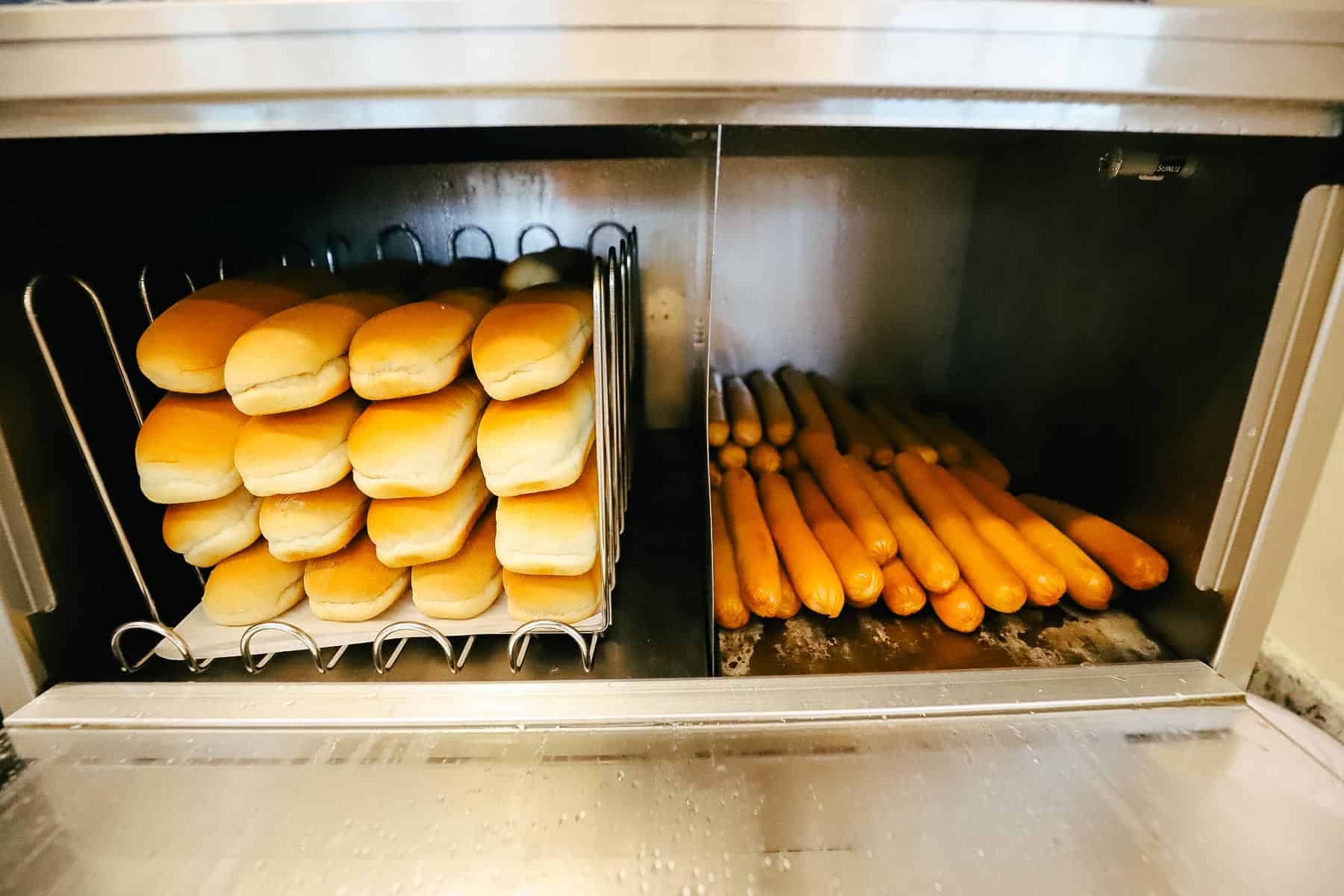 Some guests were having chicken noodle soup.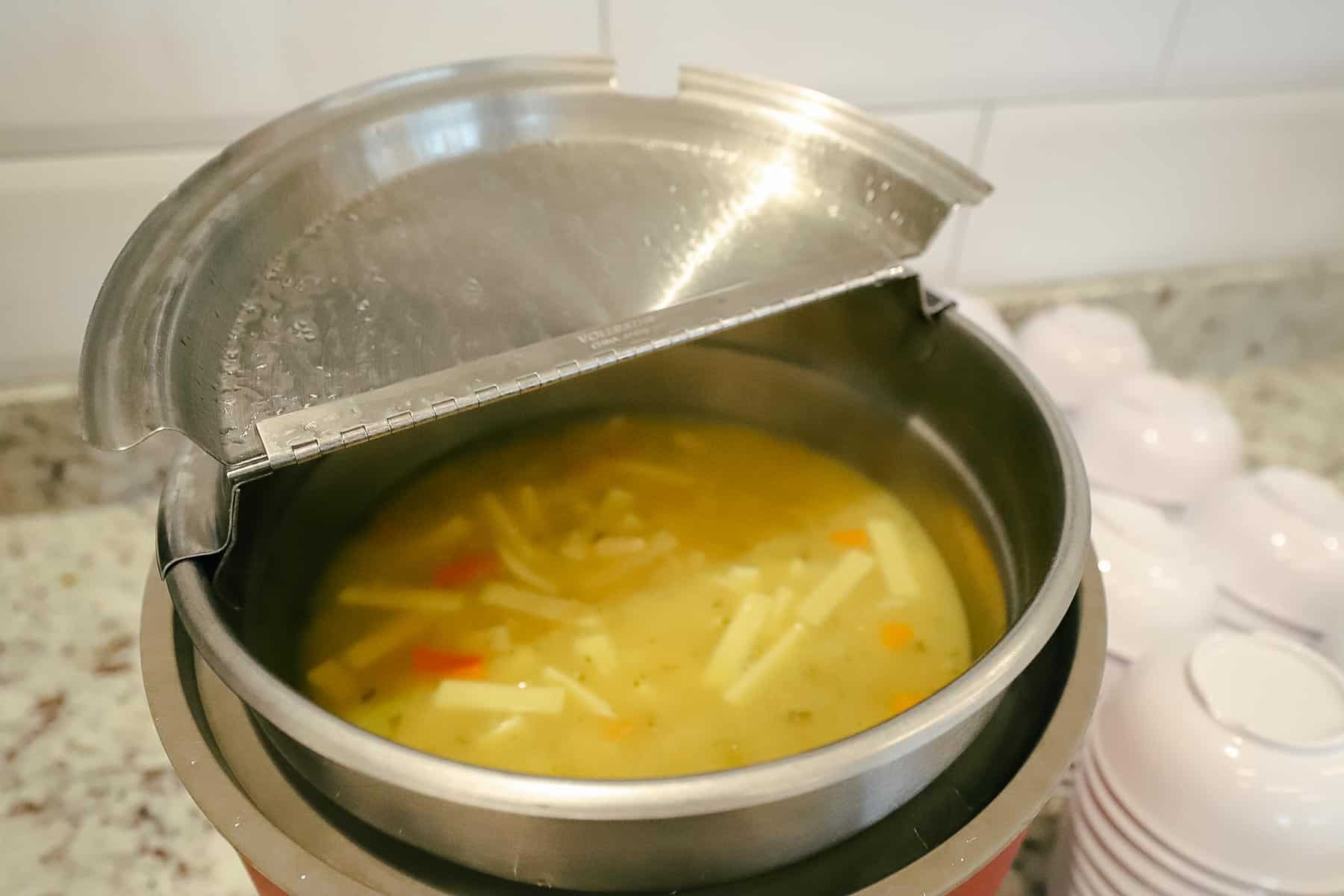 Baked potatoes started off the entree bar.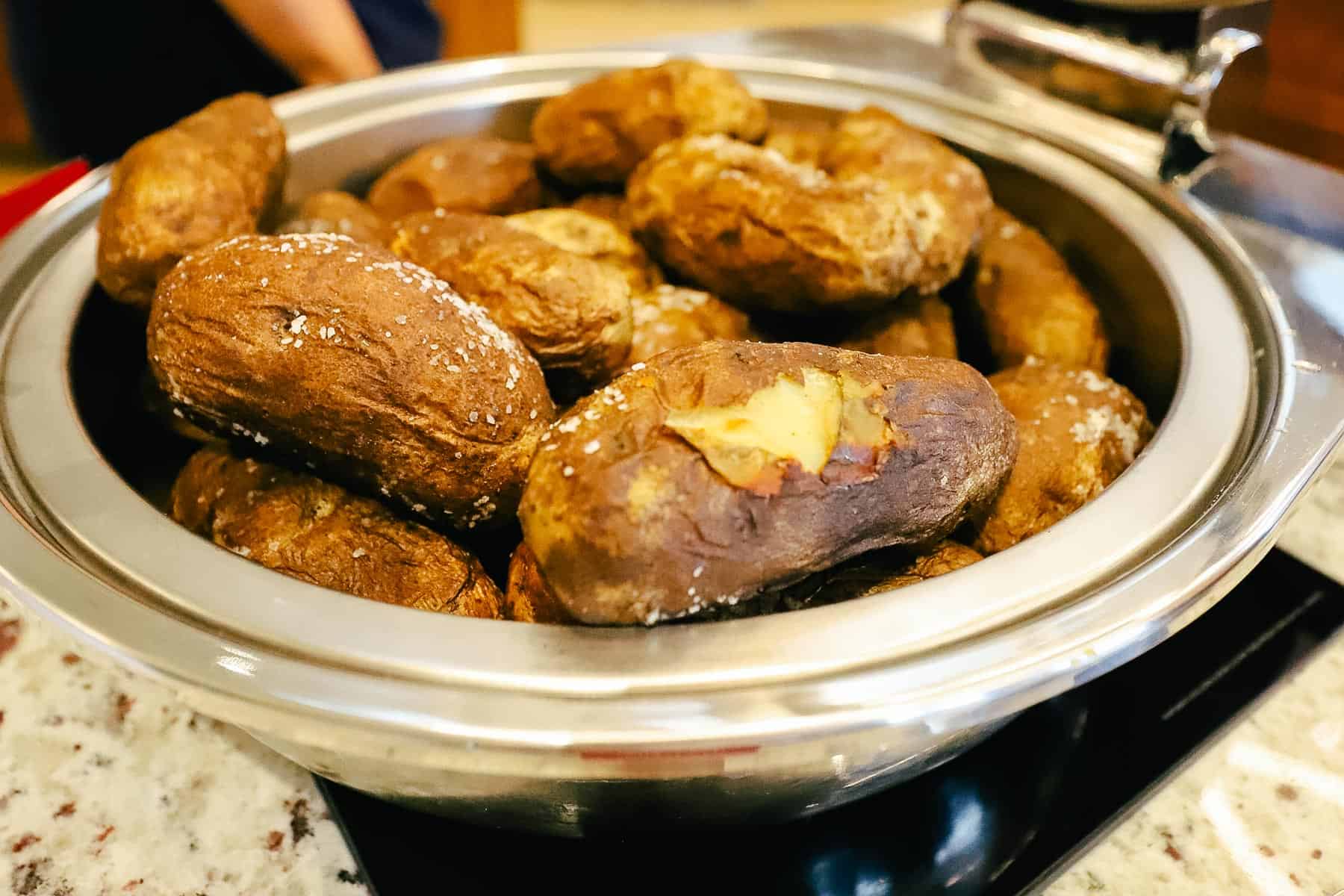 Then slider buns, which could double as dinner rolls.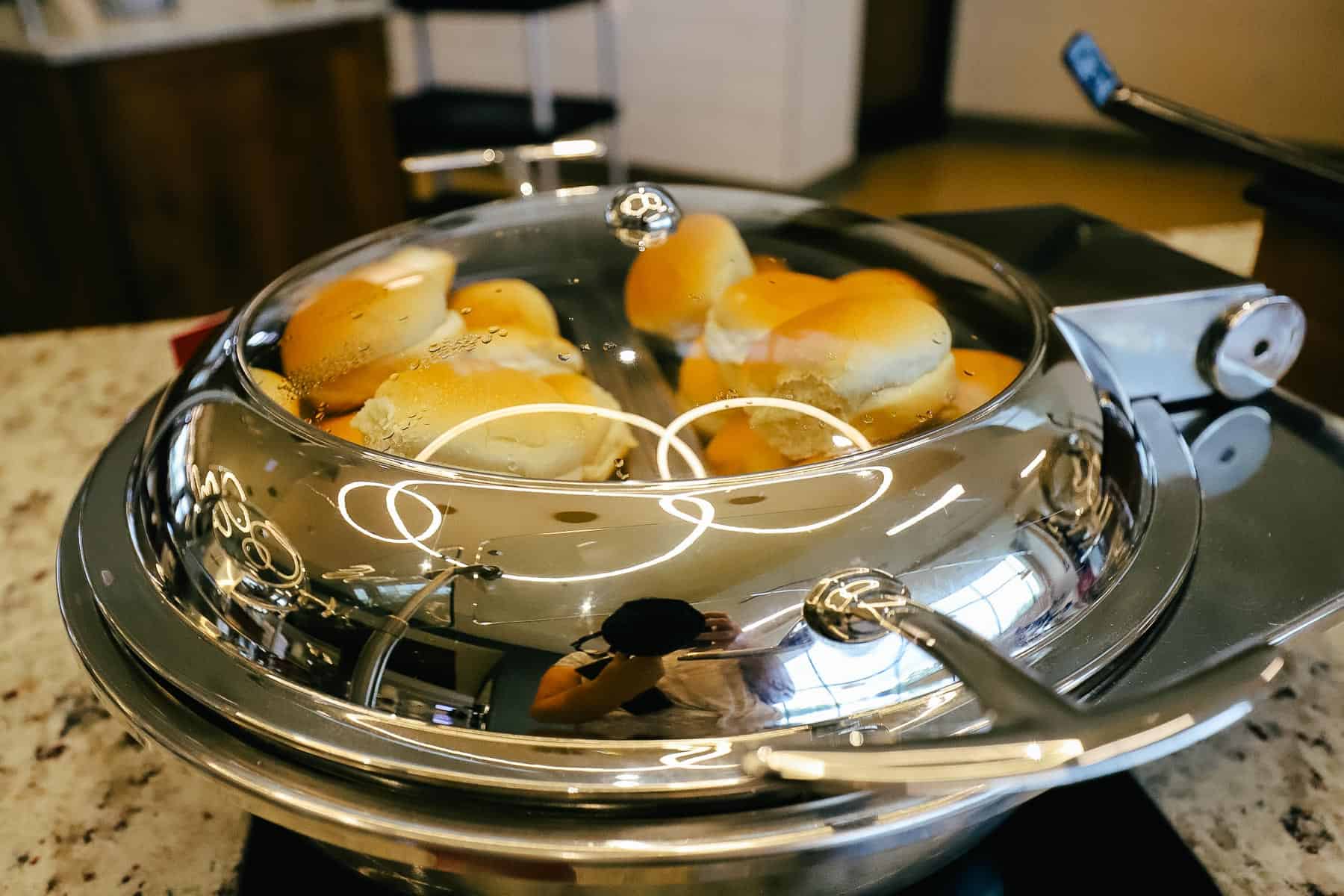 Barbecue was the main protein.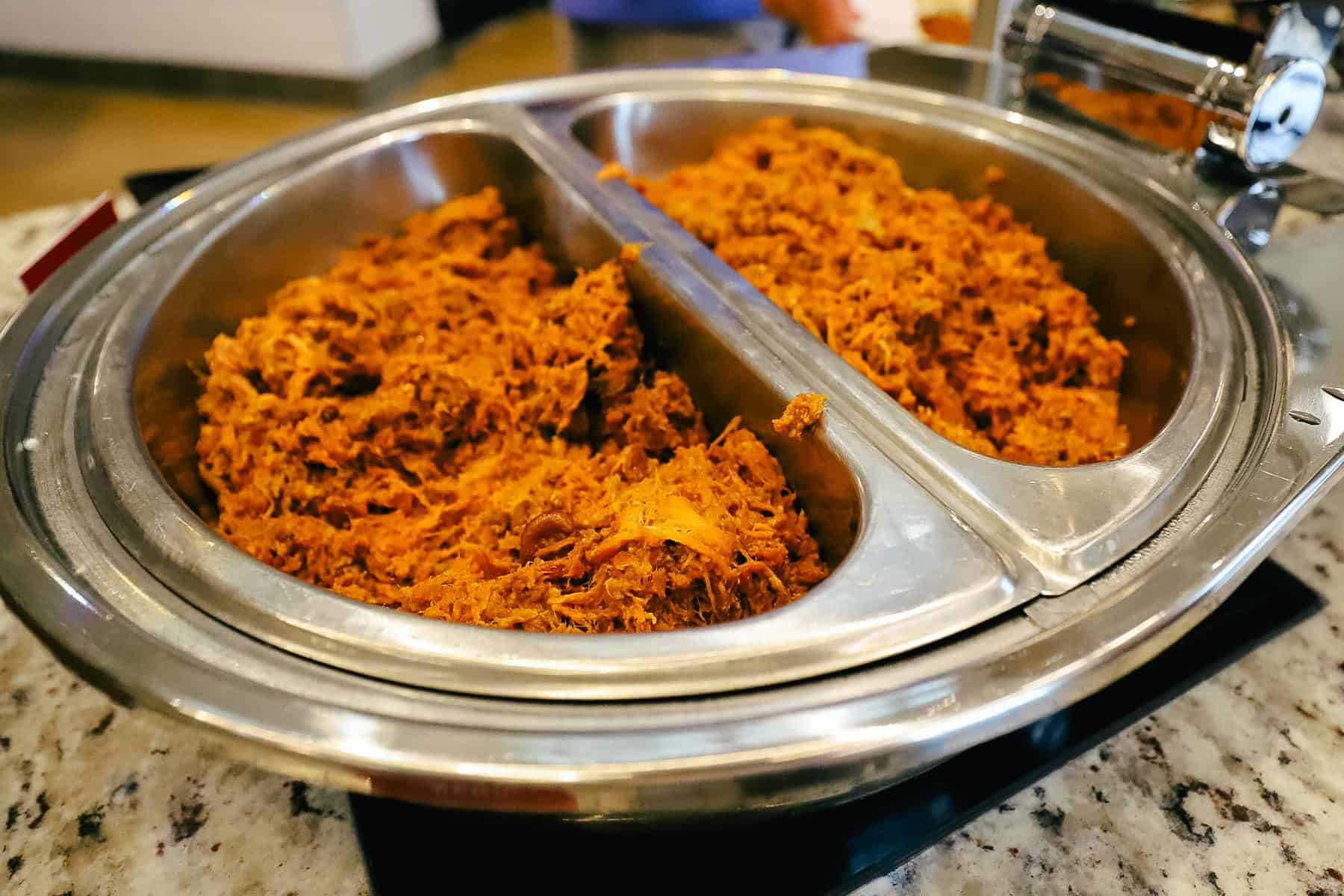 This is a terrible photo, but baked beans and veggies were next.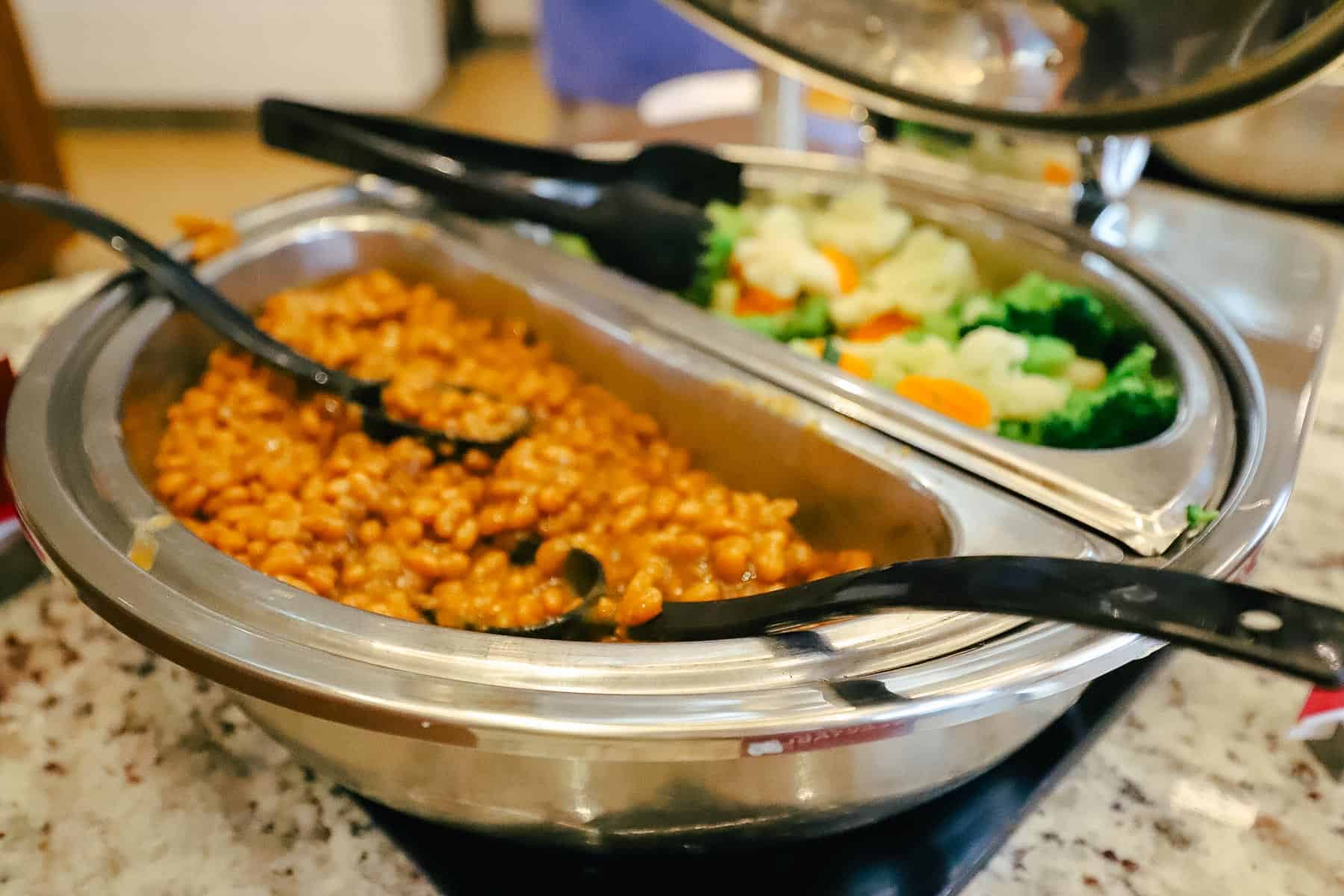 Back at the bar area, a few wine and beer selections had been laid out. However, from what I could tell, everything was on tap.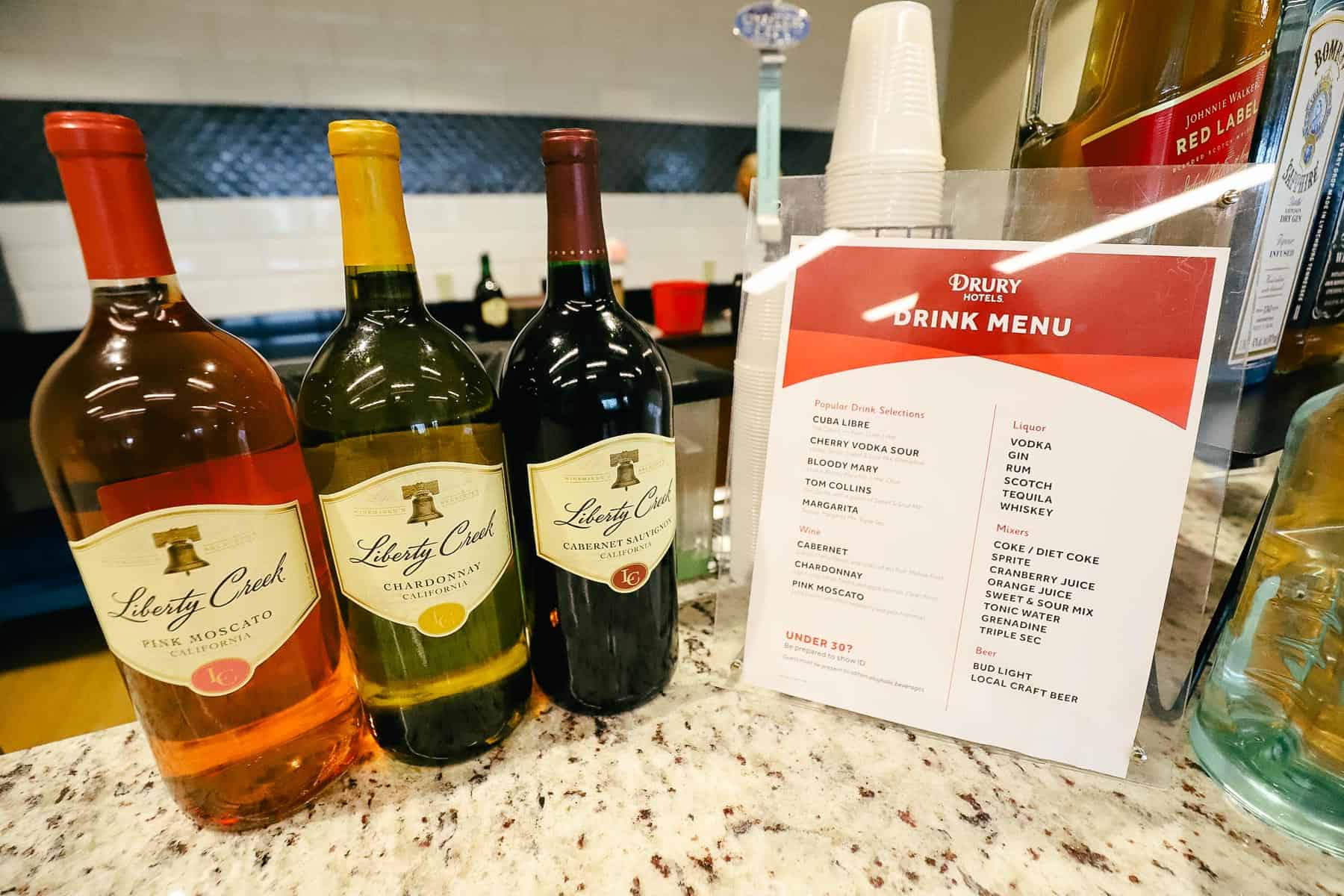 Additionally, guests could select various fountain drinks, tea, or coffee.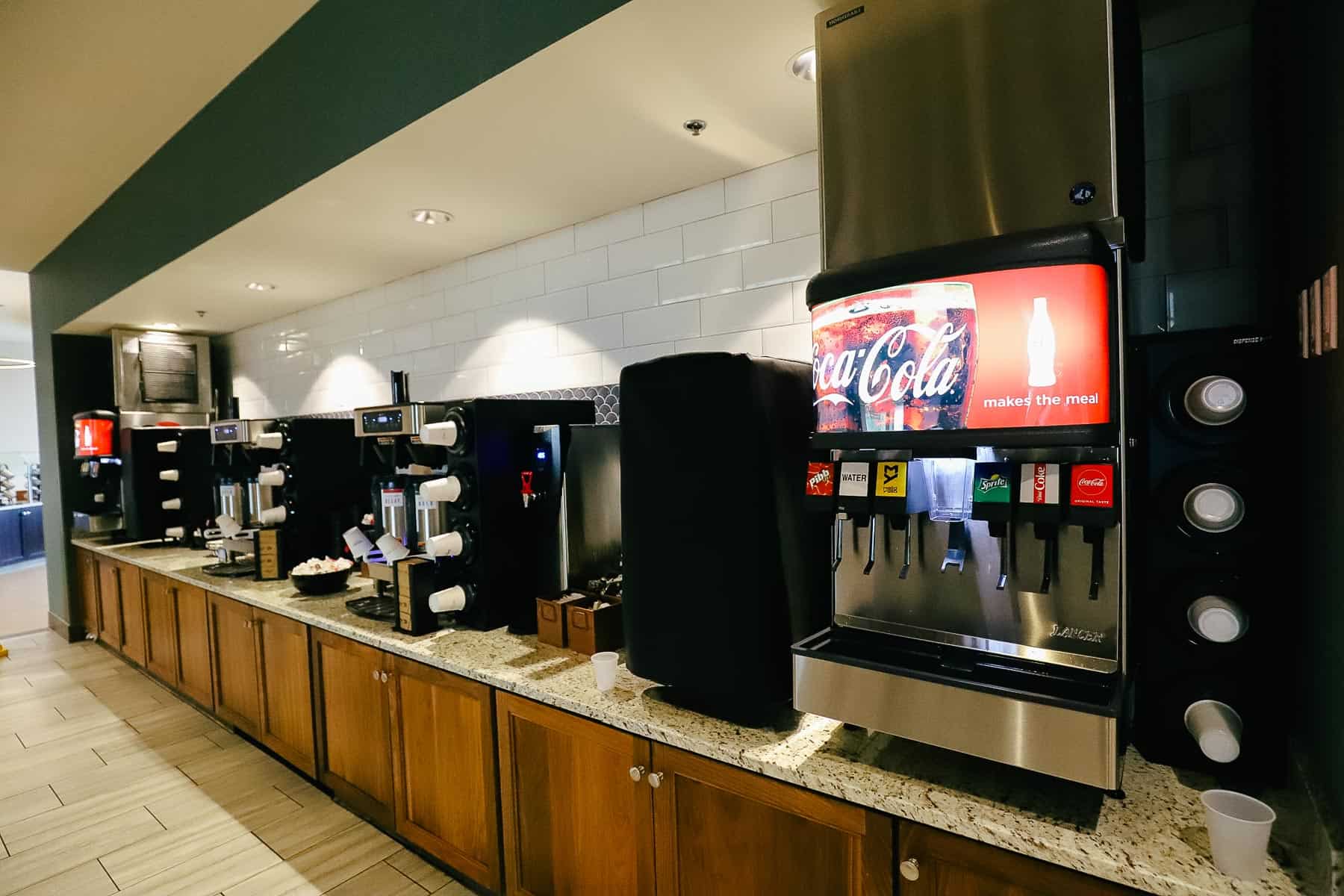 Anyone could walk up and prepare what they liked.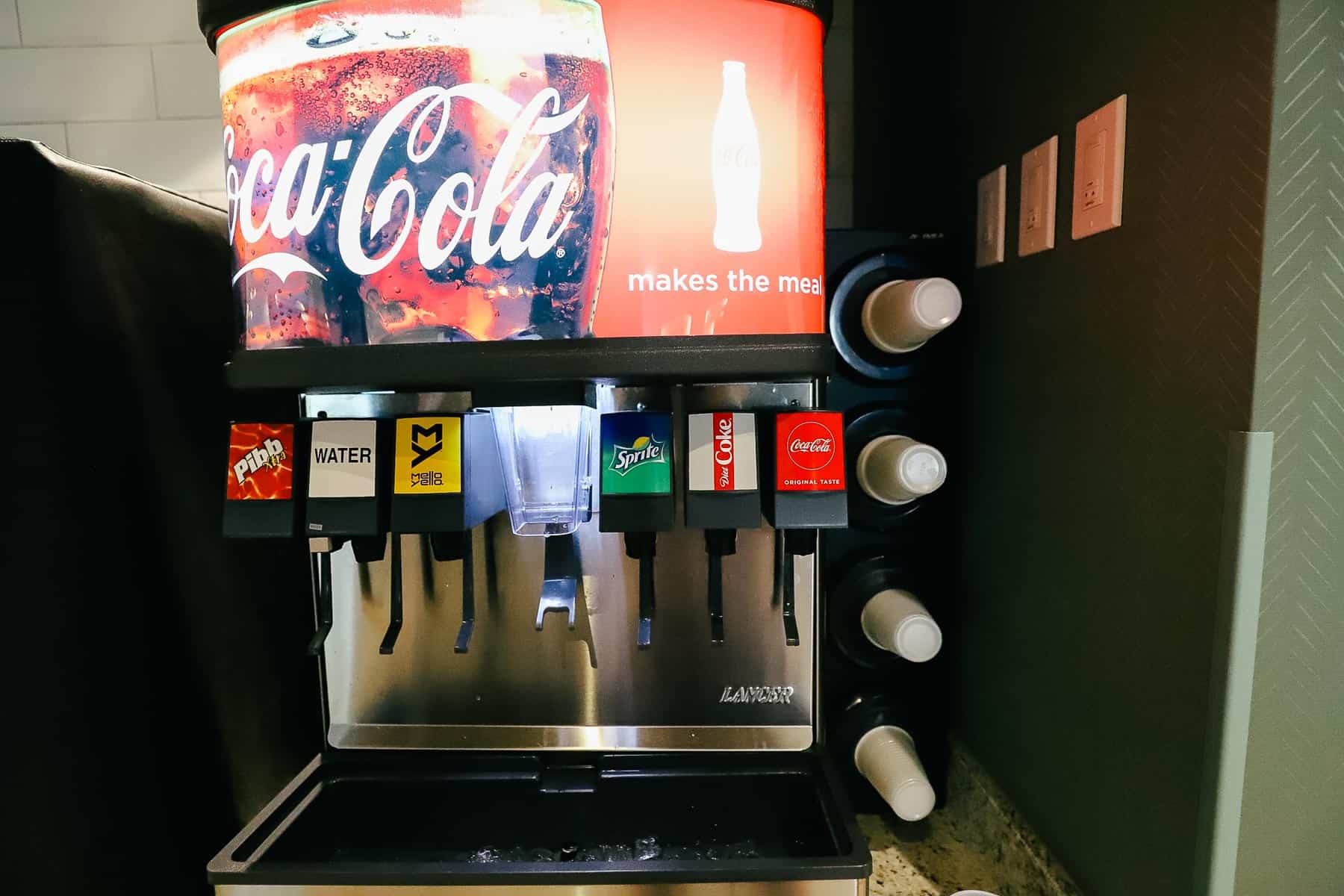 So I ended up having a complimentary dinner that consisted of a salad, a baked potato topped with cheese, a roll, and a few veggies. I also had a Diet Coke and a cranberry spritzer.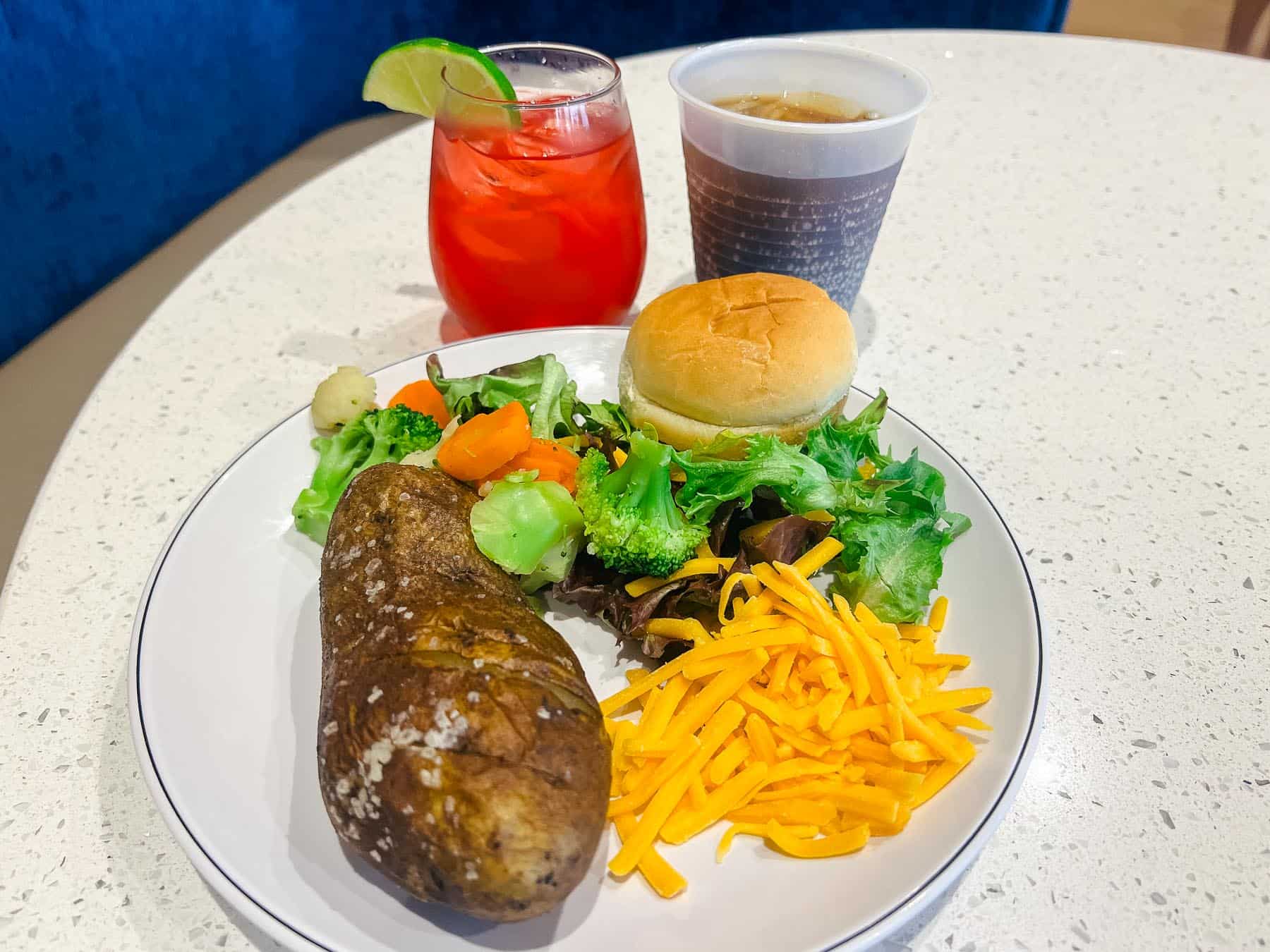 To my recall, I've never visited a hotel that offered a complimentary dinner. I have teared up thinking about this meal several times since I left. It was apparent that the Drury cared about its guests. They don't have to do this. No one else does.
But it's this very kind of thing that sets them apart. So many people splurge to visit Walt Disney World. Prices are exorbitant for theme park tickets, hotels, and other charges.
Many of us were fortunate to live in a time when we knew that the companies we love cared about us. But those times have passed. We now live in a time where everyone, including the places we do business, strives to be trendy while still turning a profit.
Unfortunately, social media has given us an outlet that's caused us to try and "keep up" or compare ourselves to others. The Drury doesn't do that. They have a good thing going on, and I'm willing to bet their biggest return is through repeat business and word-of-mouth.
Anyway, after my meal, I drove to Hollywood Studios. It was approximately 7:30 p.m. when I got there. But I was still able to ride Star Tours, which I hadn't done since Disney After Hours at Hollywood Studios earlier this year.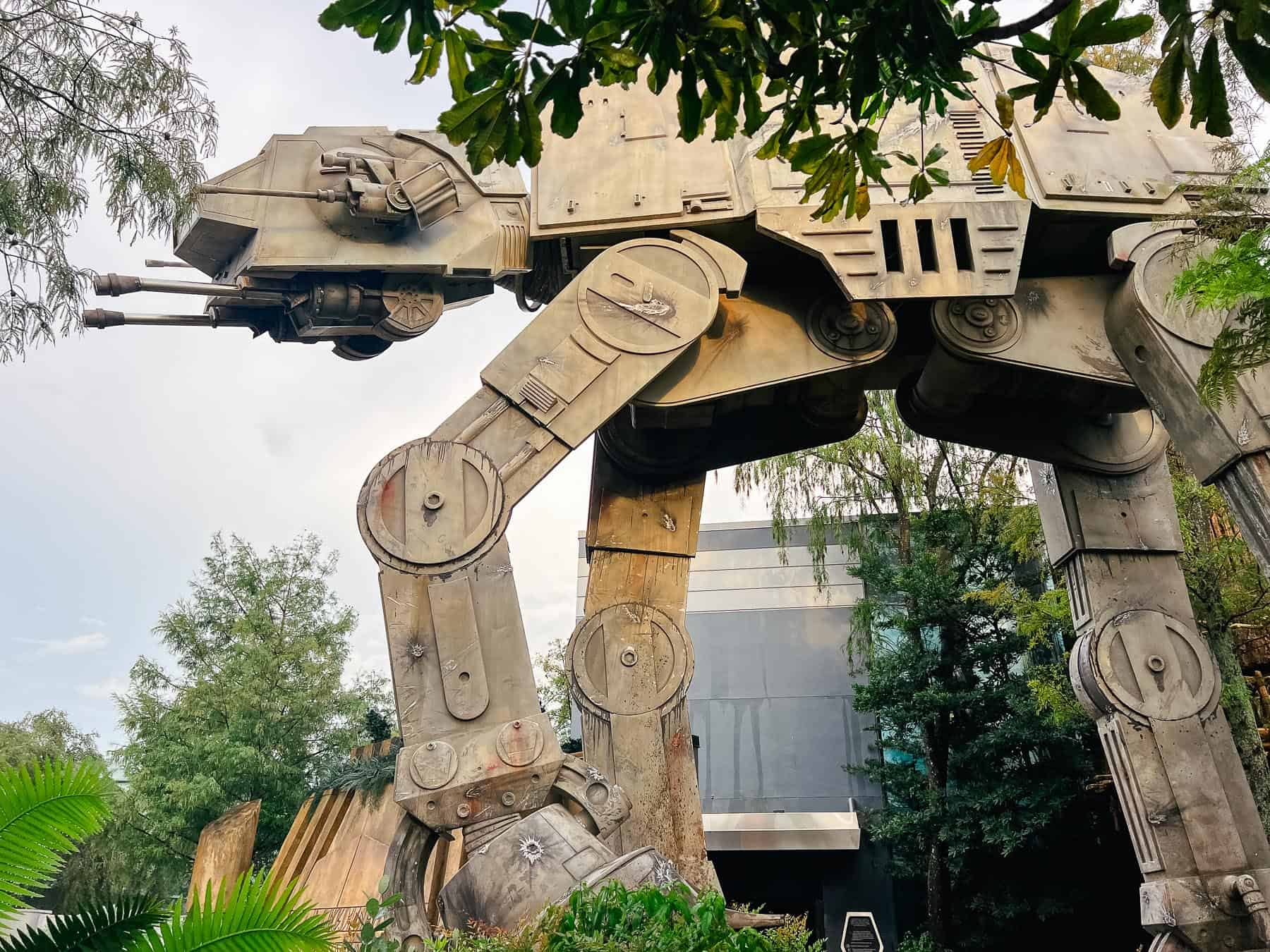 Then I took a little time to walk through Galaxy's Edge before heading to Toy Story Land. I took a spin on Alien Swirling Saucers and met a new friend while waiting in line.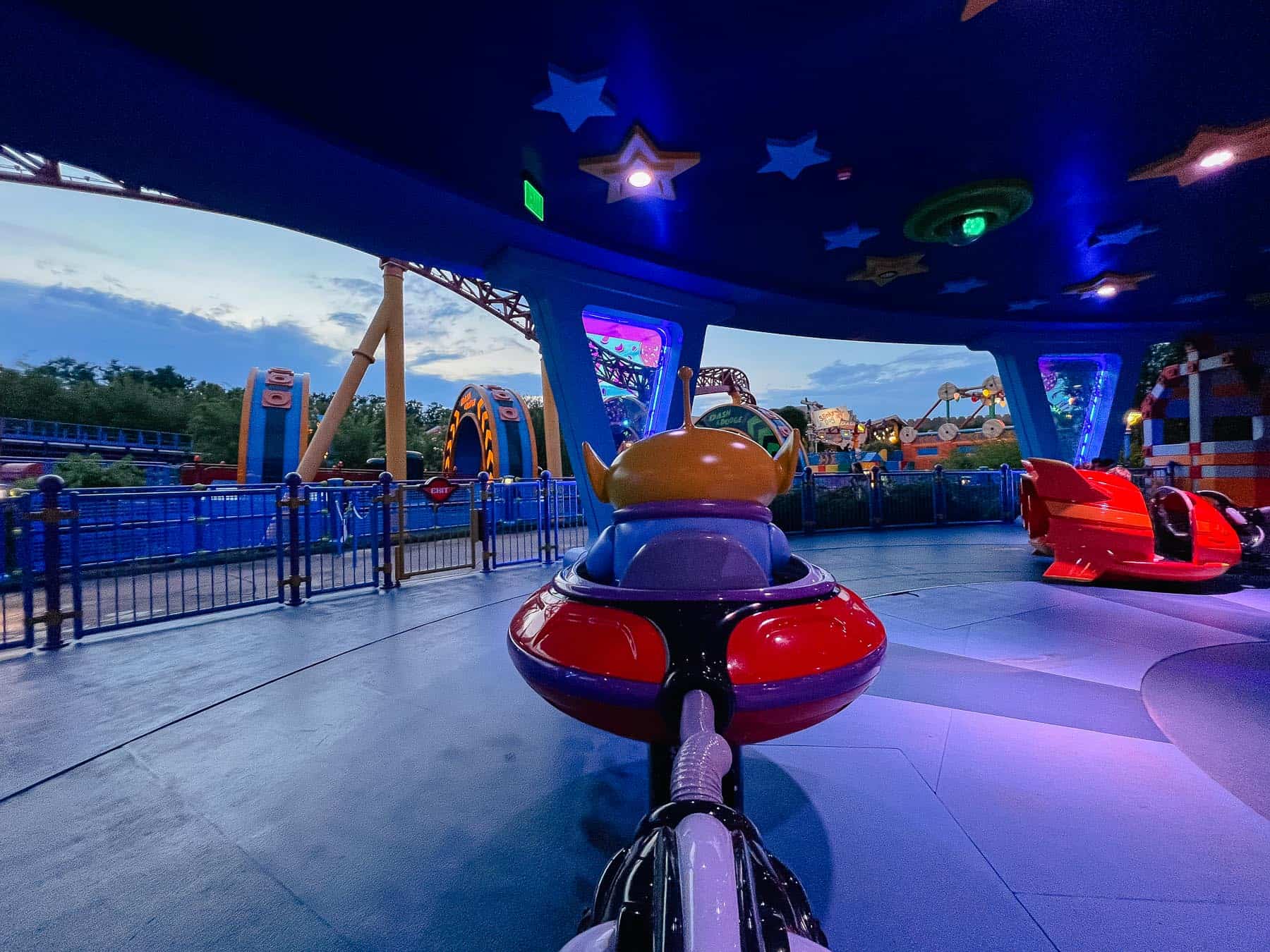 After that, I hoped to ride Toy Story Mania and Slinky Dog Dash. But I walked off Toy Story Mania at 9:01 p.m., so there wasn't enough time.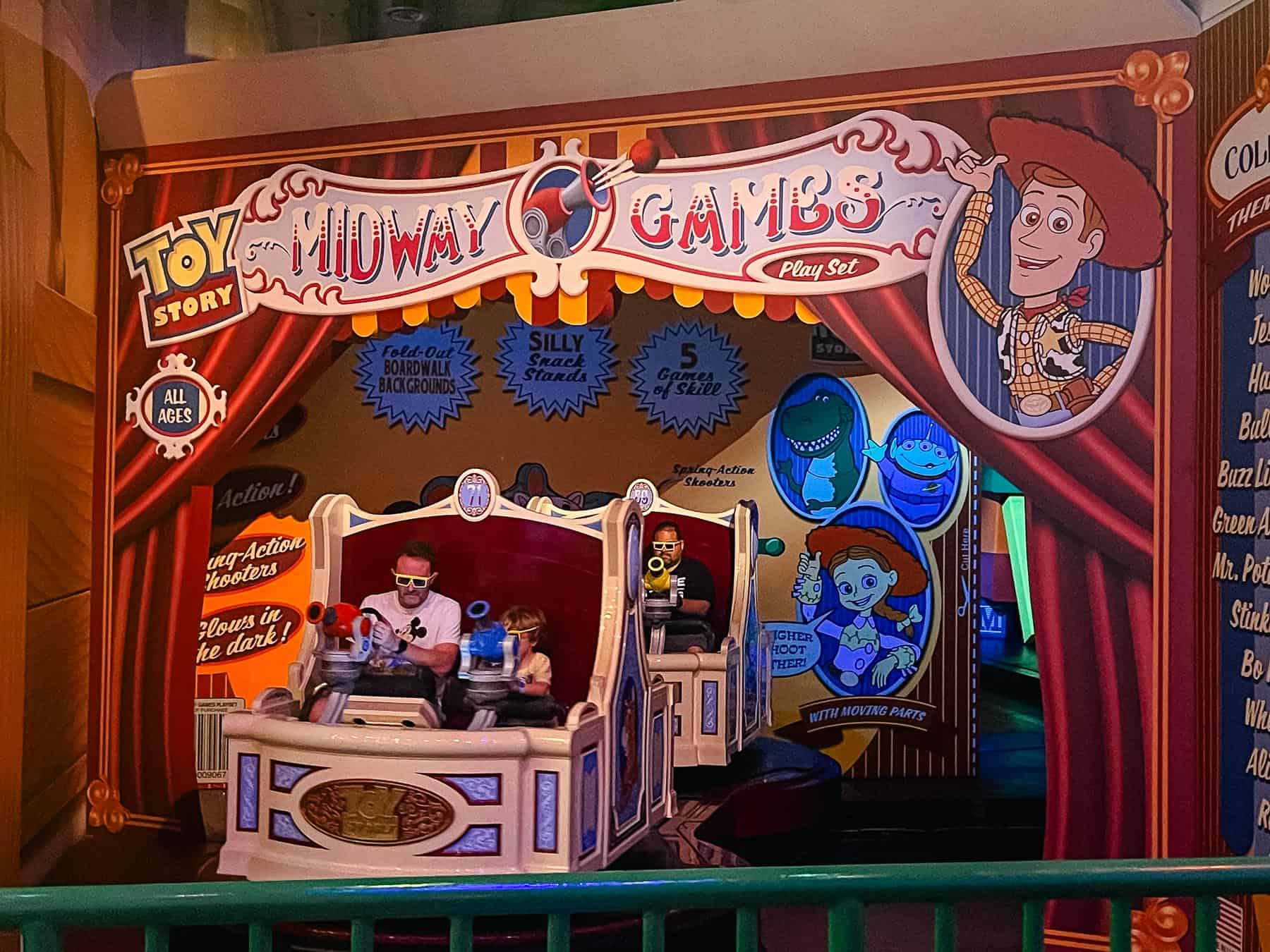 Usually, I can do all three rides in Toy Story Land in that last hour before the park closes. But I had a late start and did a few other things first, so it didn't work out that way this evening.
Since it had rained, the temperature was pleasant. I stopped and watched the Wonderful World of Animation Projection Show.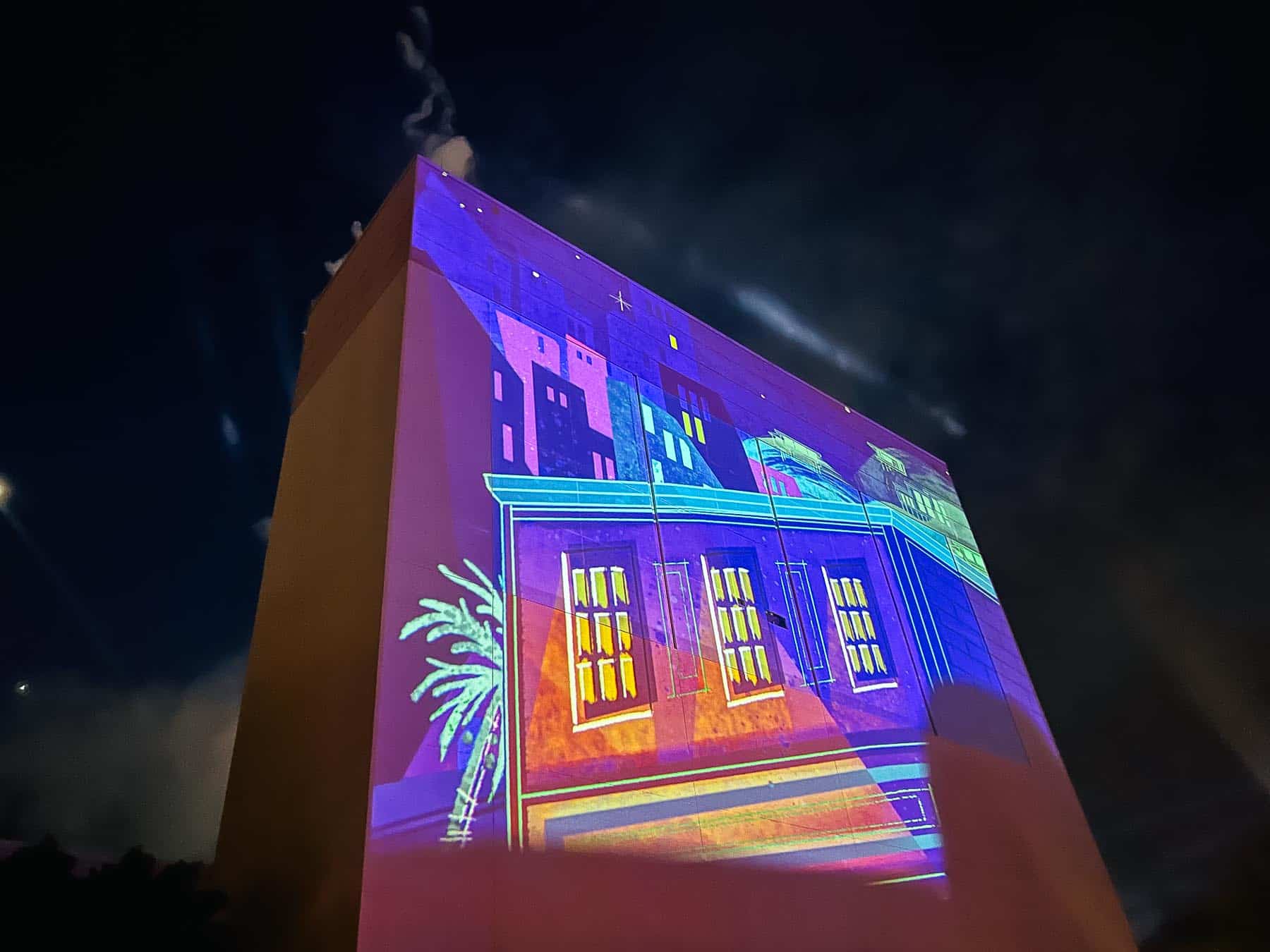 Then I walked down Sunset Boulevard to check out some of the neon lights. For those who don't know, the park often closes at 9:00 p.m. However, Fantasmic didn't start until 9:30 p.m. this evening. So while the rides close, all the shops remain open. Guests can still enjoy the main areas toward the front of the park.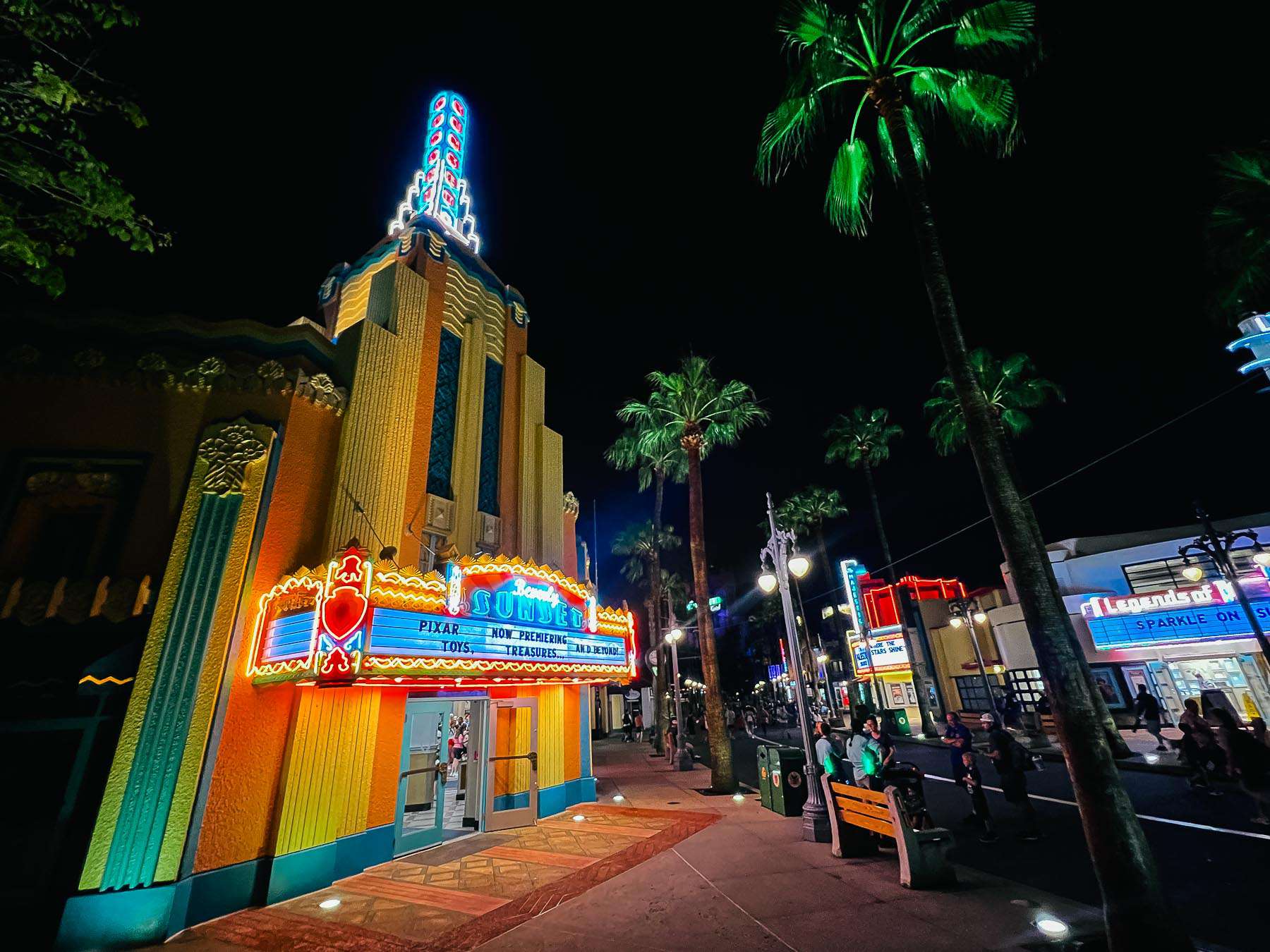 I wished I had brought my camera, but I got a few fun shots with my cell phone.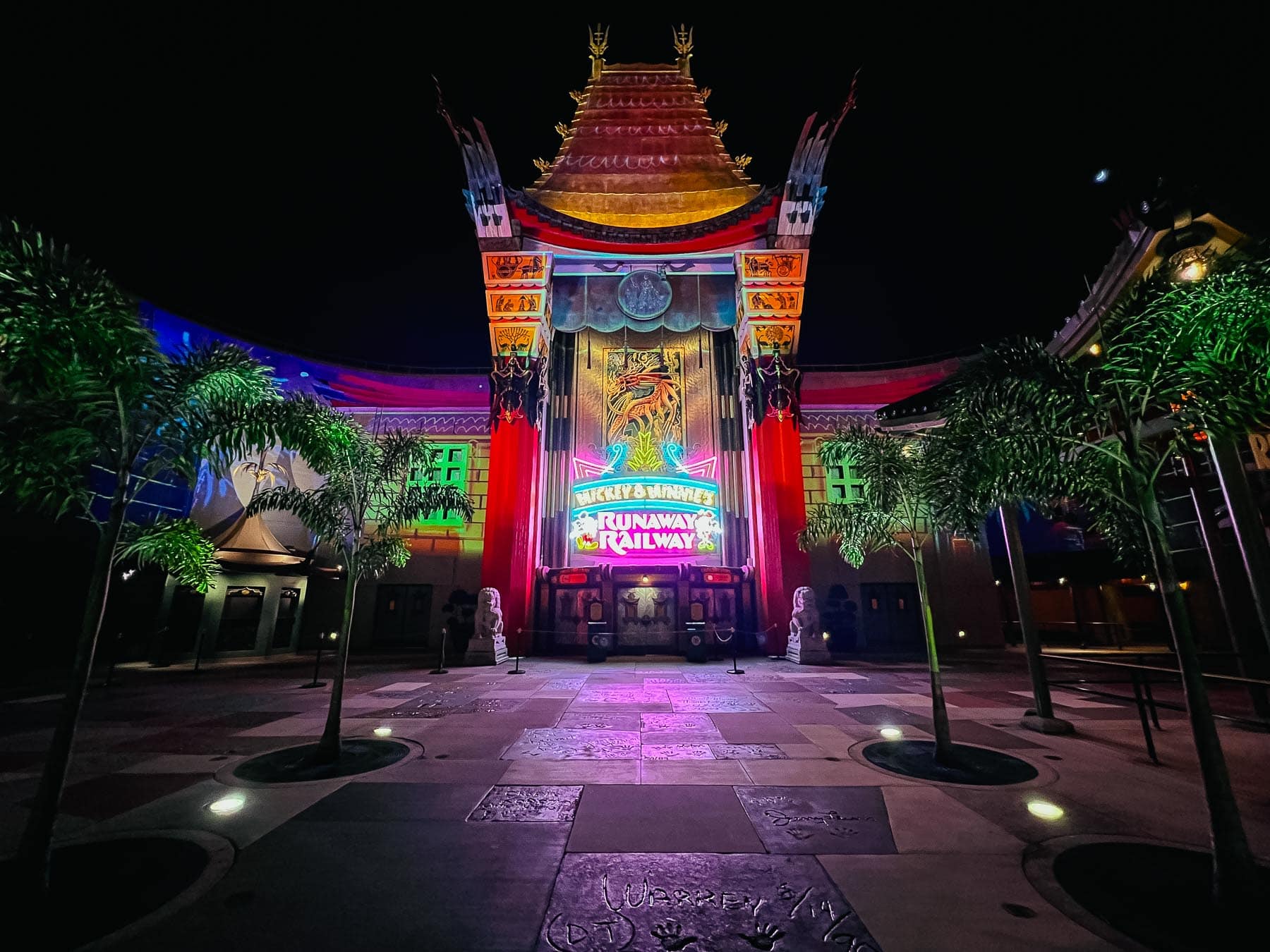 I think it's swell, too–Mickey.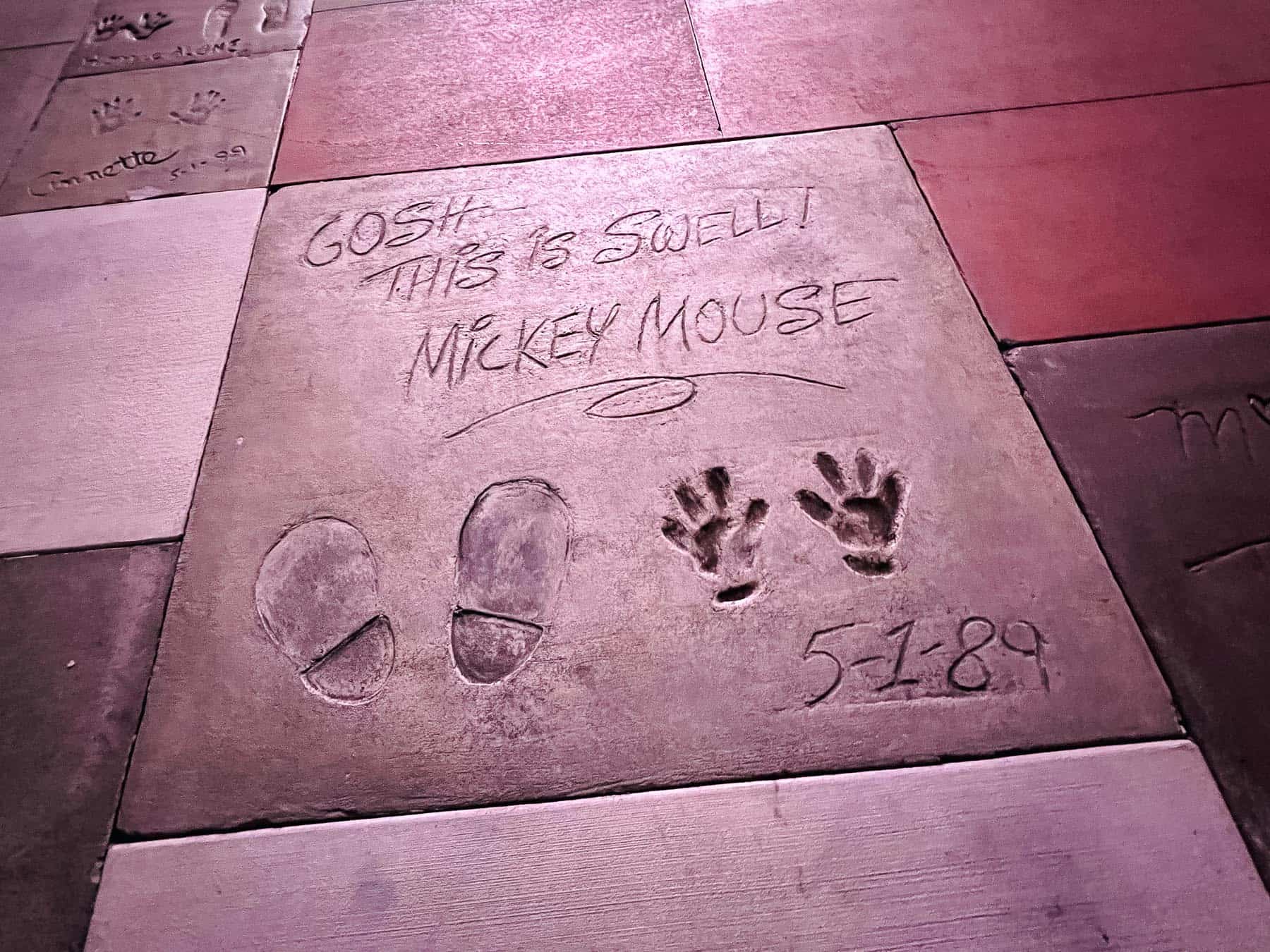 After the Studios, I drove back to the Drury and heated up a late-night snack. I forgot to mention I had taken a hot dog back to my room and put it in the mini-fridge after dinner. As silly as it sounds, I thoroughly enjoyed it as I watched television in my pajamas.
Unfortunately, my alarm clock went off bright and early the next morning, and it was storming again. But I was still able to get a few photos of the pool.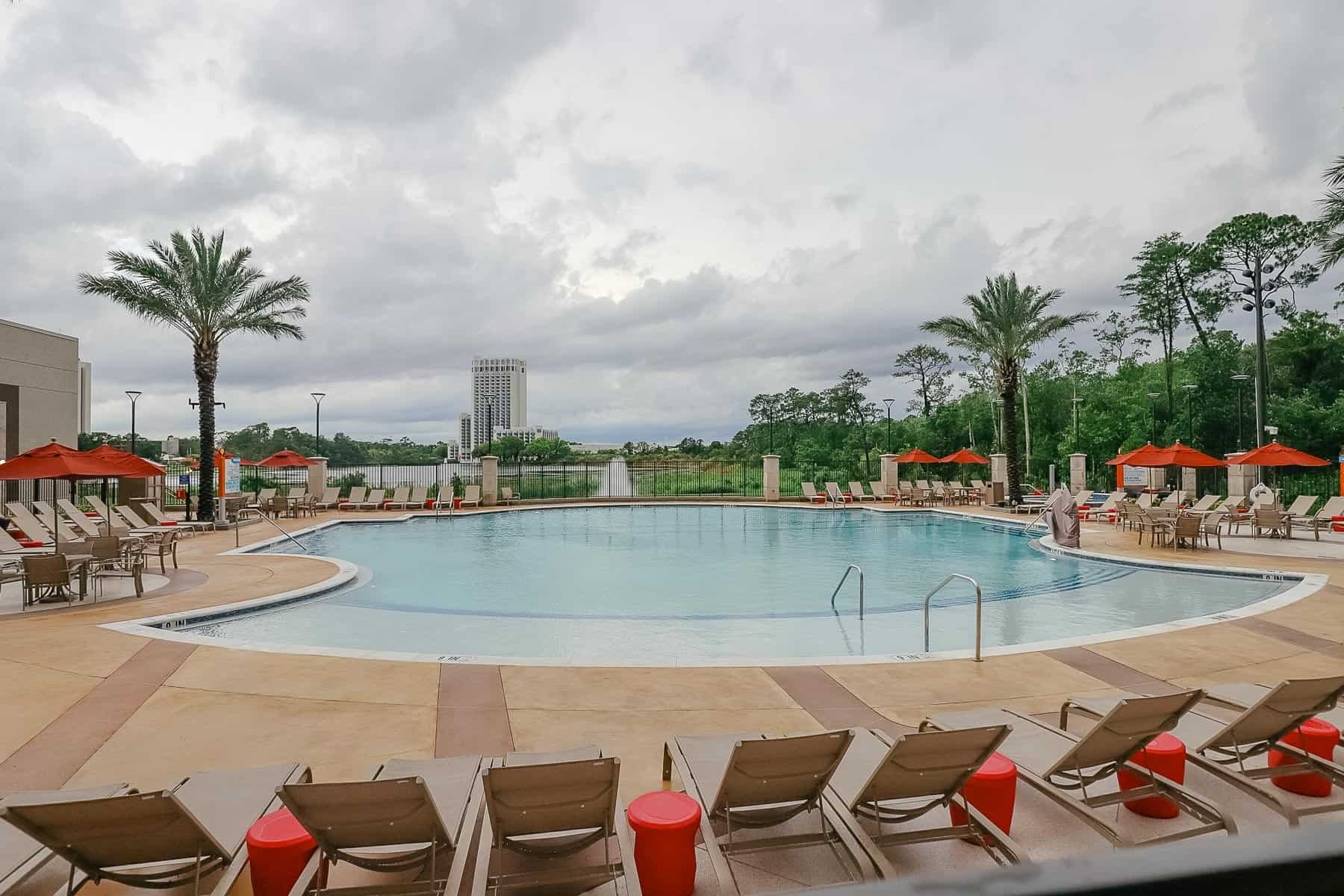 It was a sizable pool that ranged from 9″ (inches) to 5′ (feet) deep.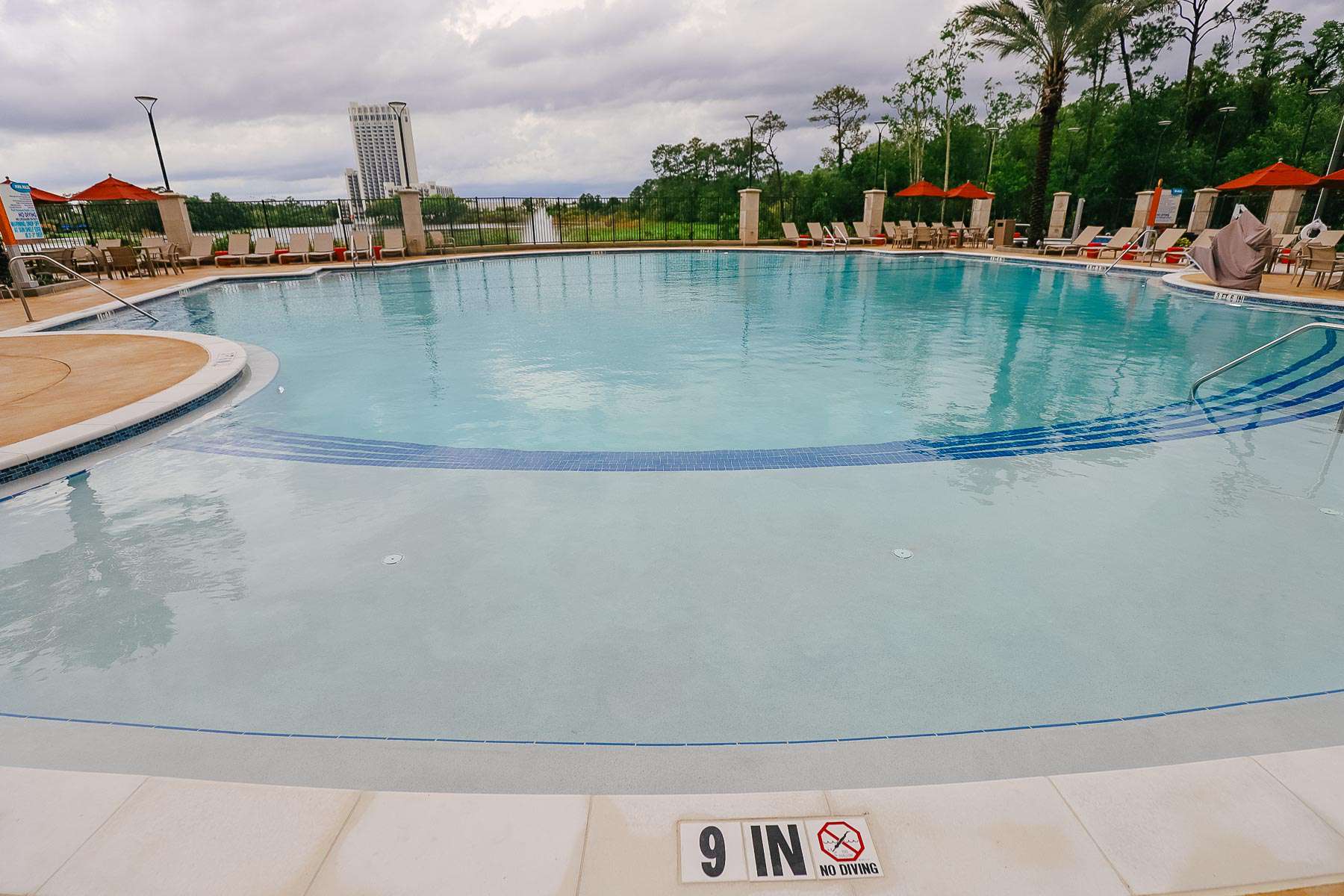 From my understanding, this is a saltwater pool.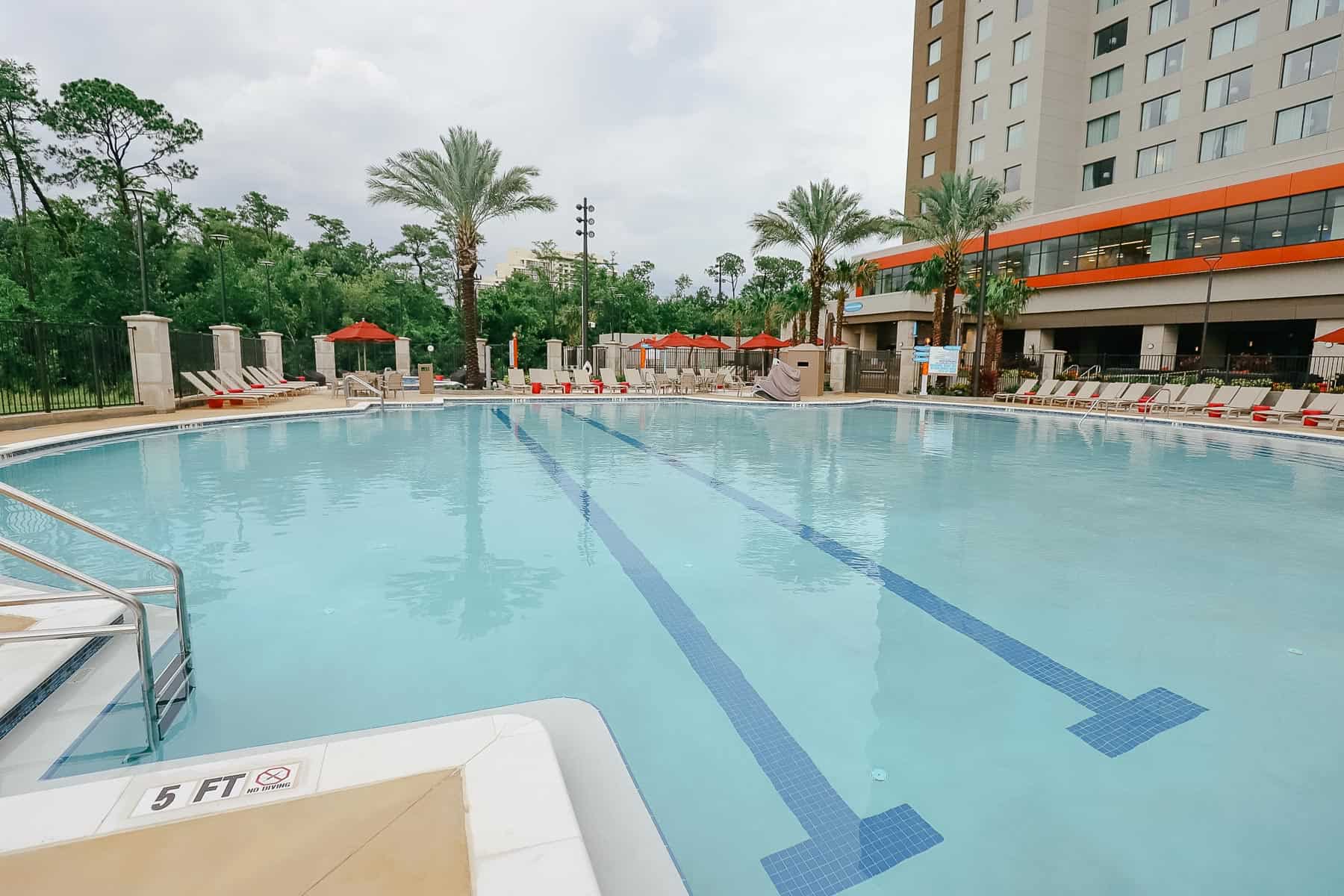 The pool is open daily between 8:00 a.m. and 11:00 p.m.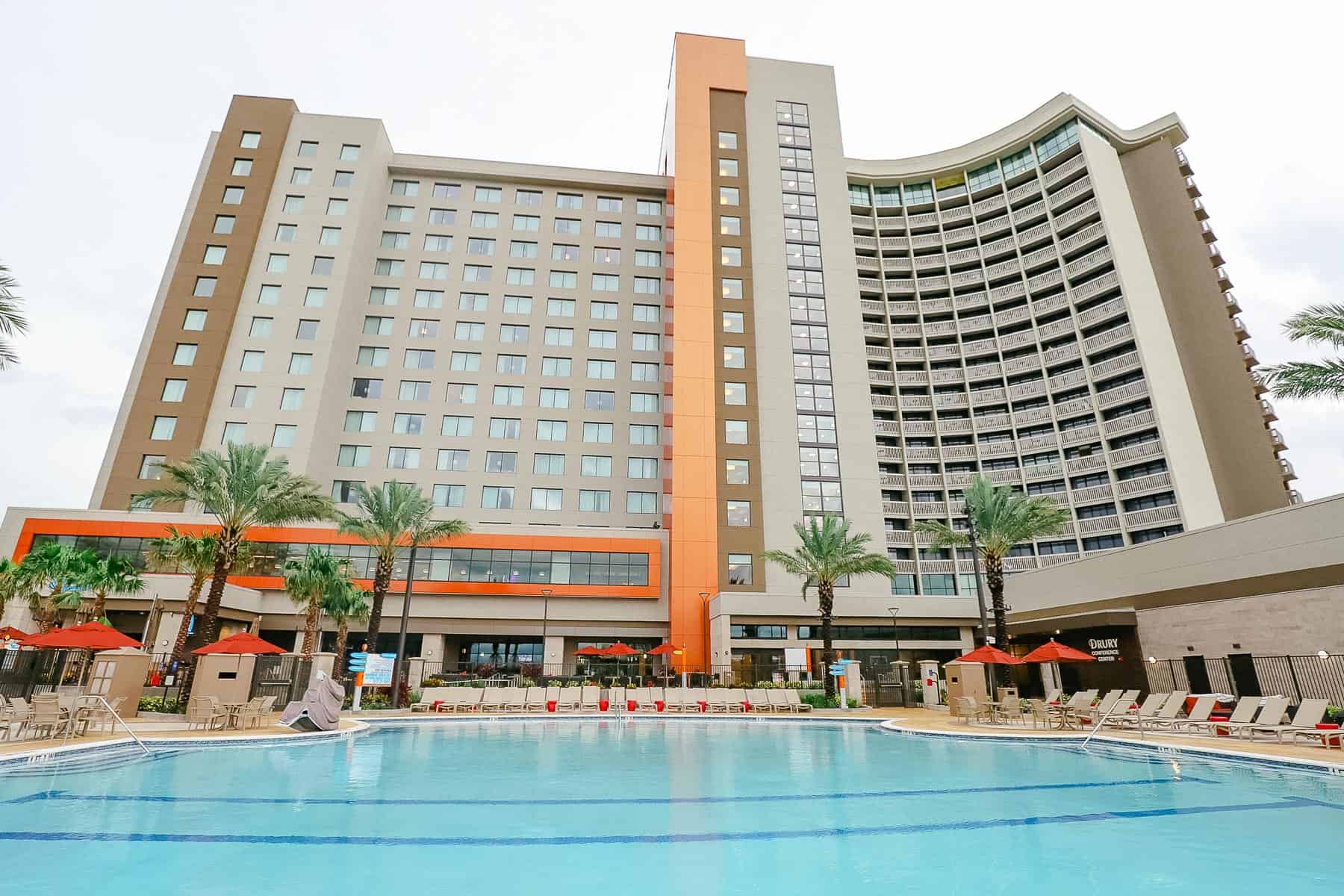 A whirlpool spa sat adjacent to the pool area.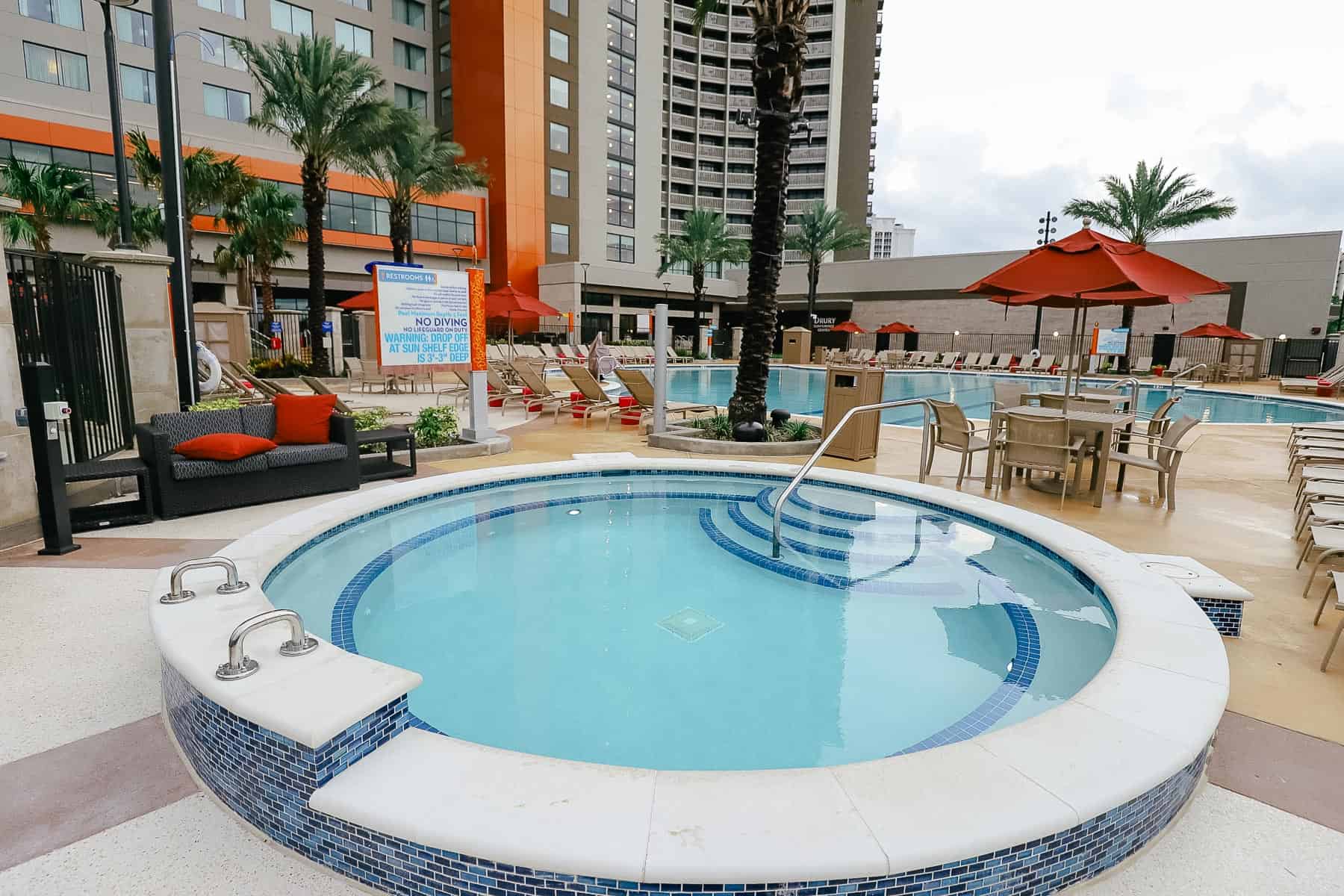 After a few pool pictures, it was time to check out the Hot Breakfast, offered daily from 6:00 a.m. until 10:00 a.m. We'll start with the scrambled eggs.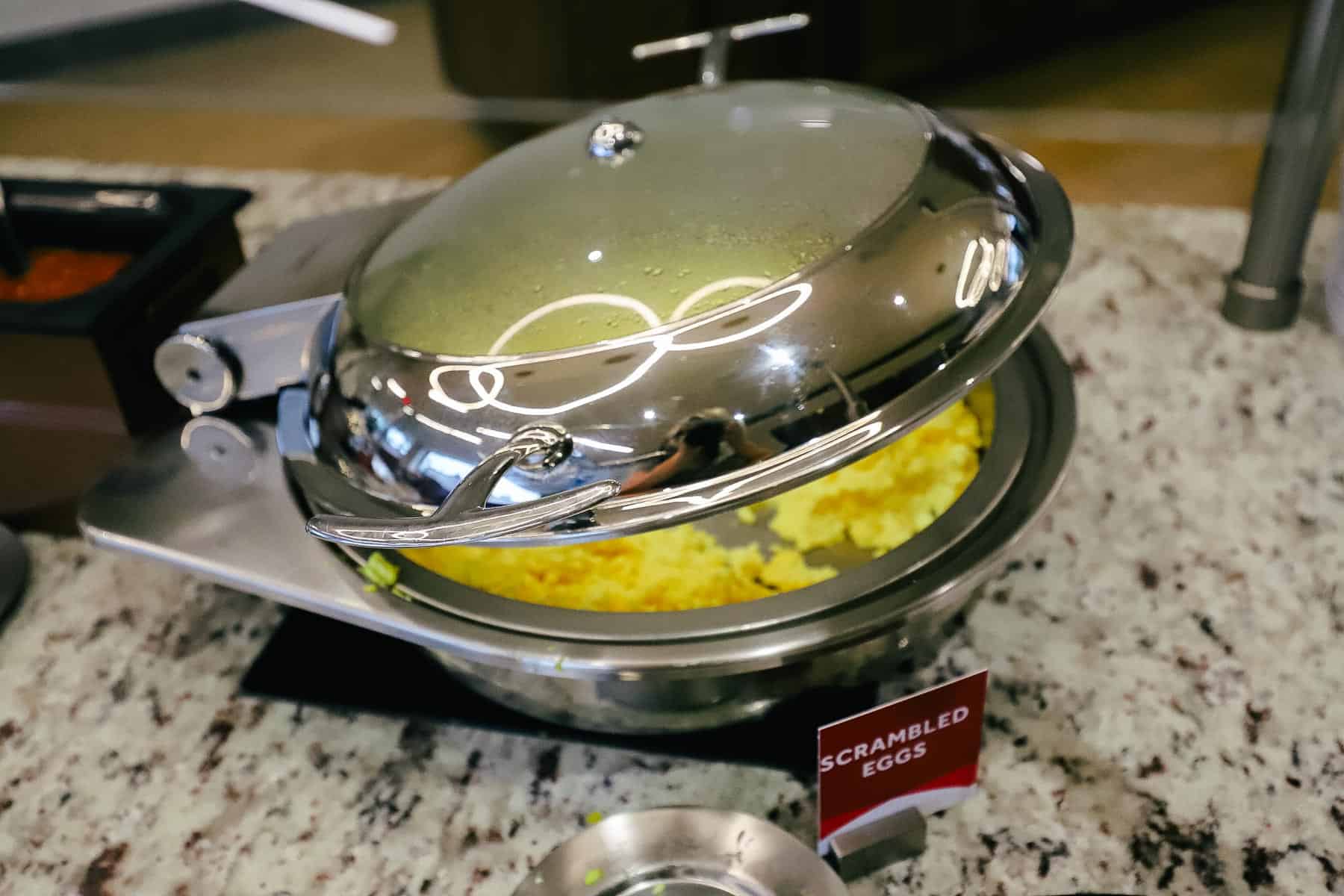 Next, we have breakfast potatoes.
Here we have sausage, which was a good quality brand.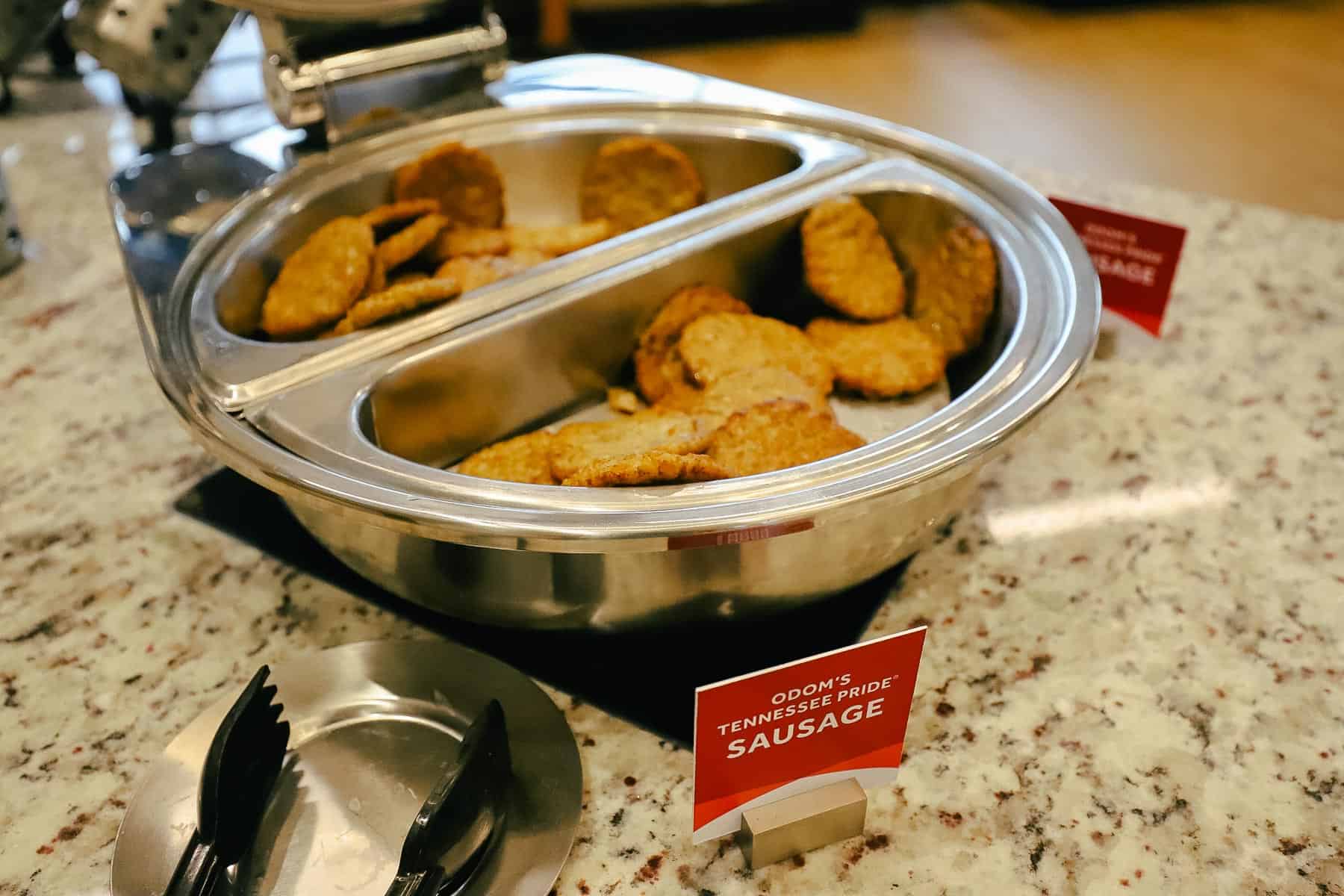 Buttermilk biscuits came next.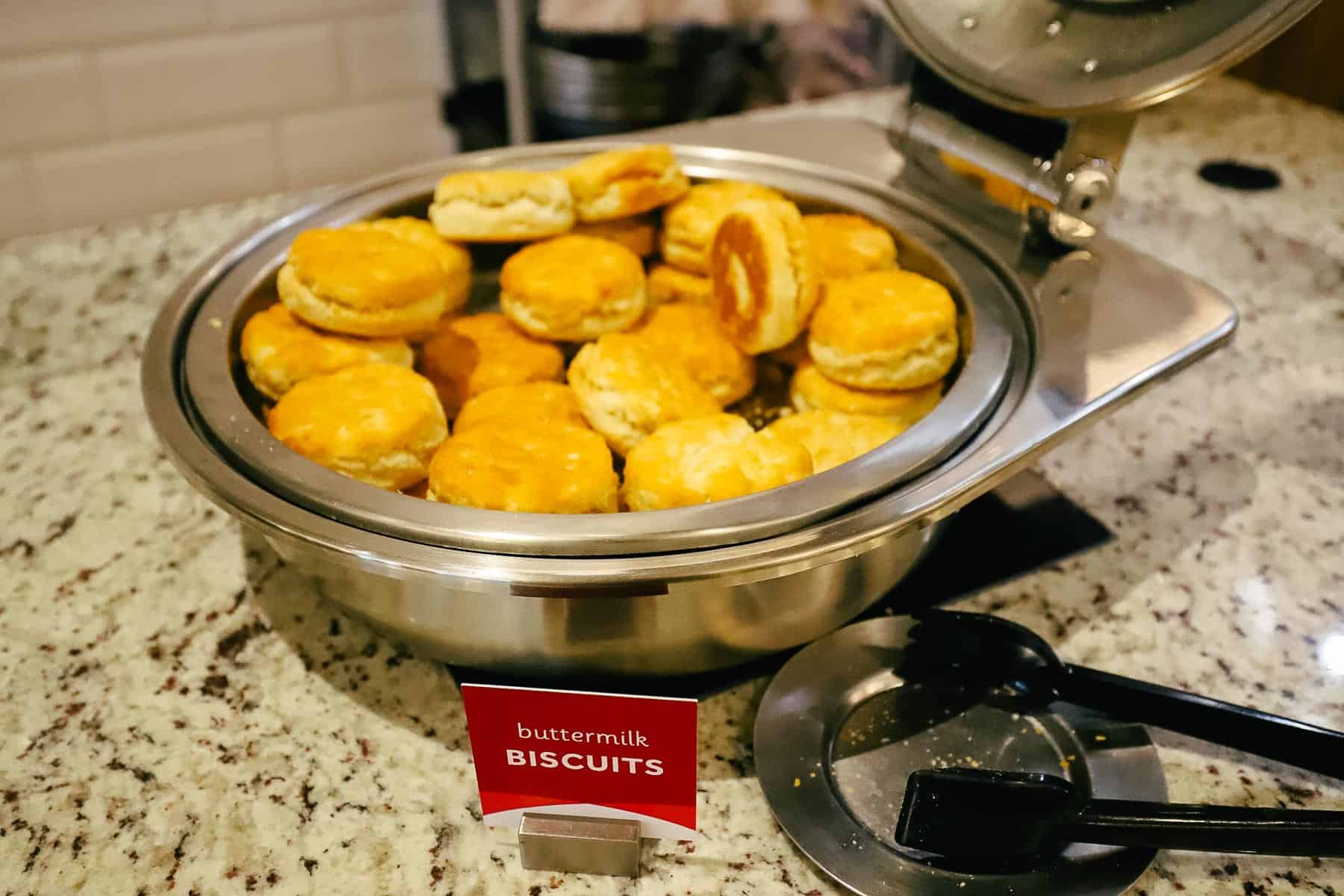 The gravy sat nearby.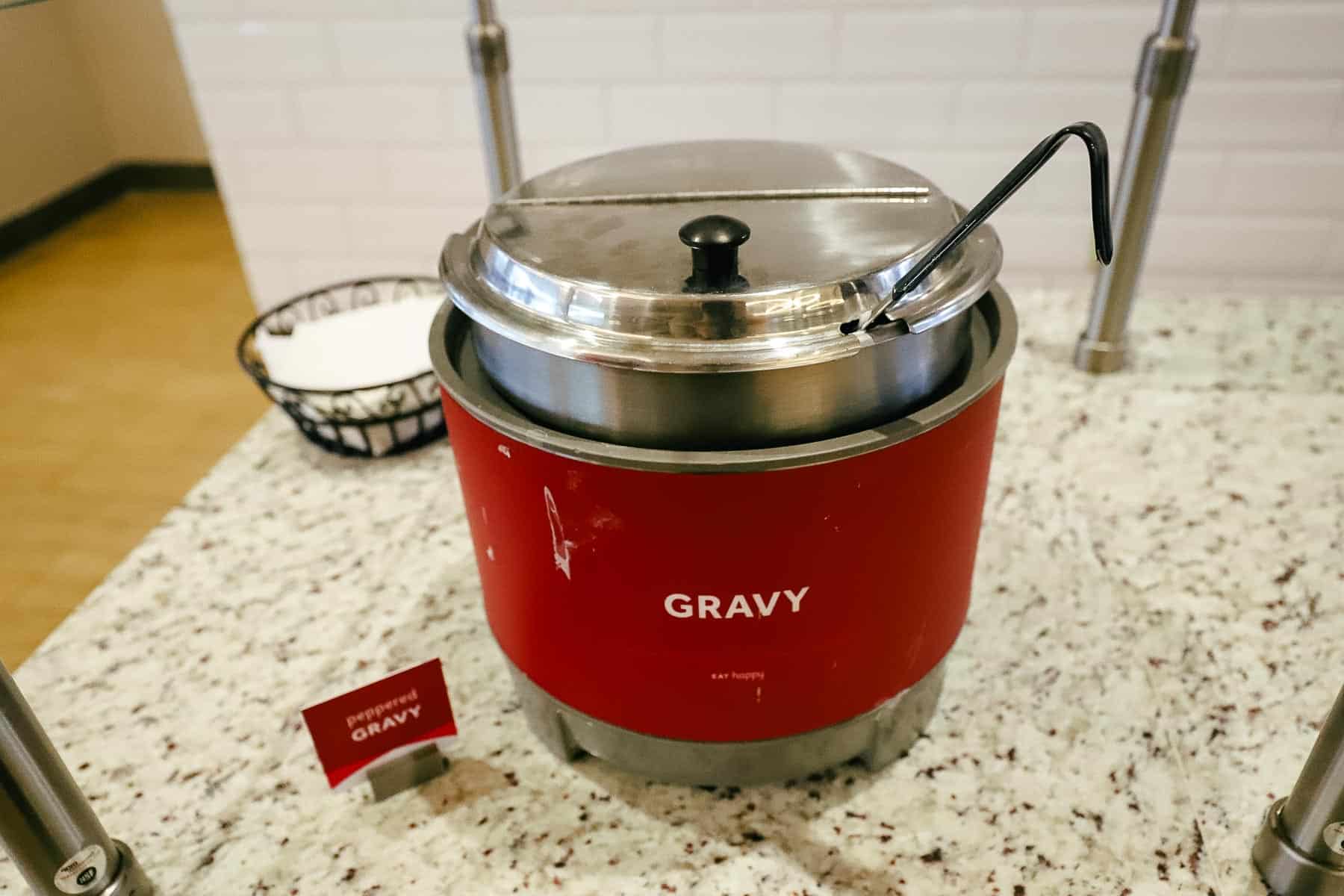 Pancakes were another option. Someone was freshly preparing these on a nearby griddle.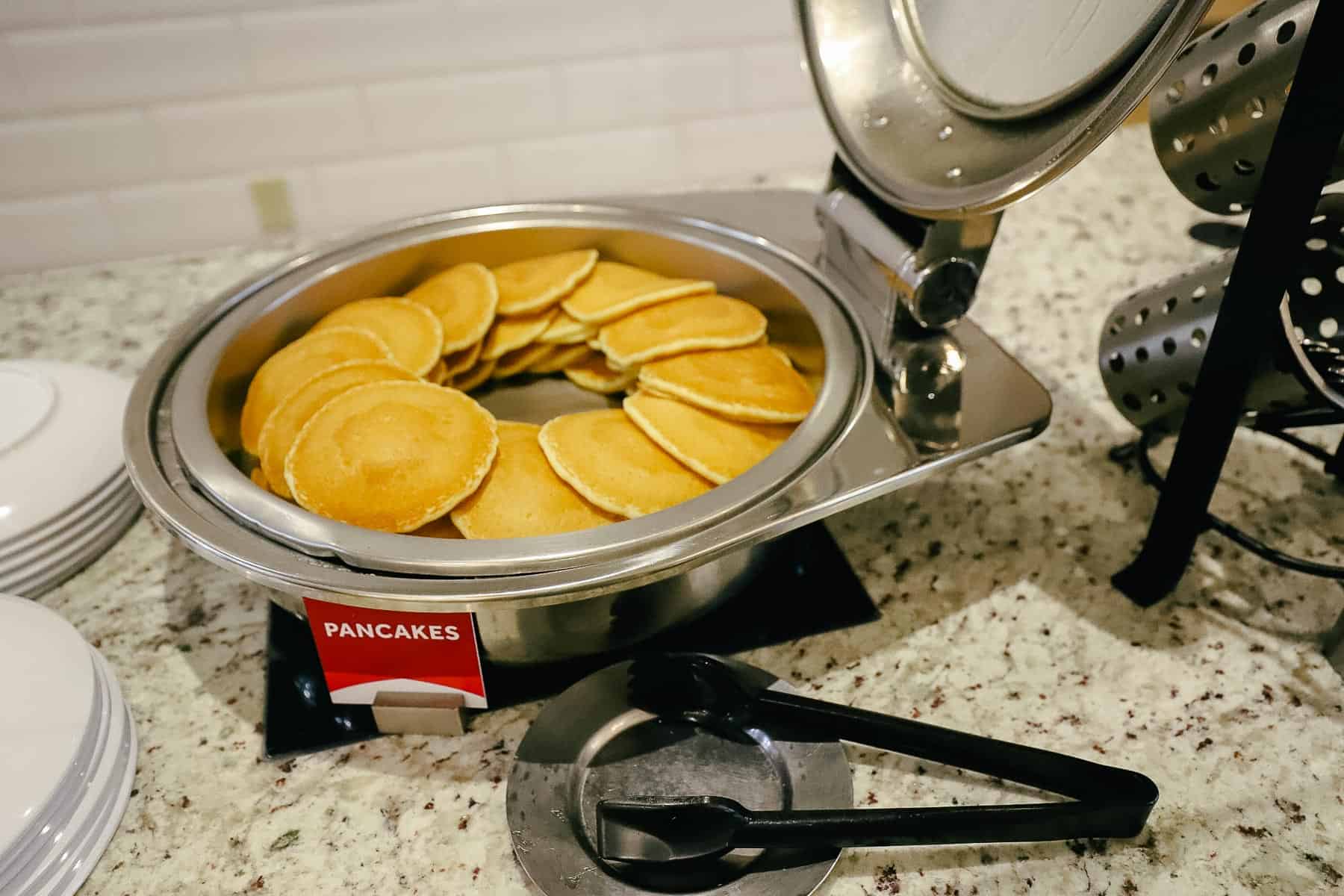 Or you could cook your own Mickey waffles.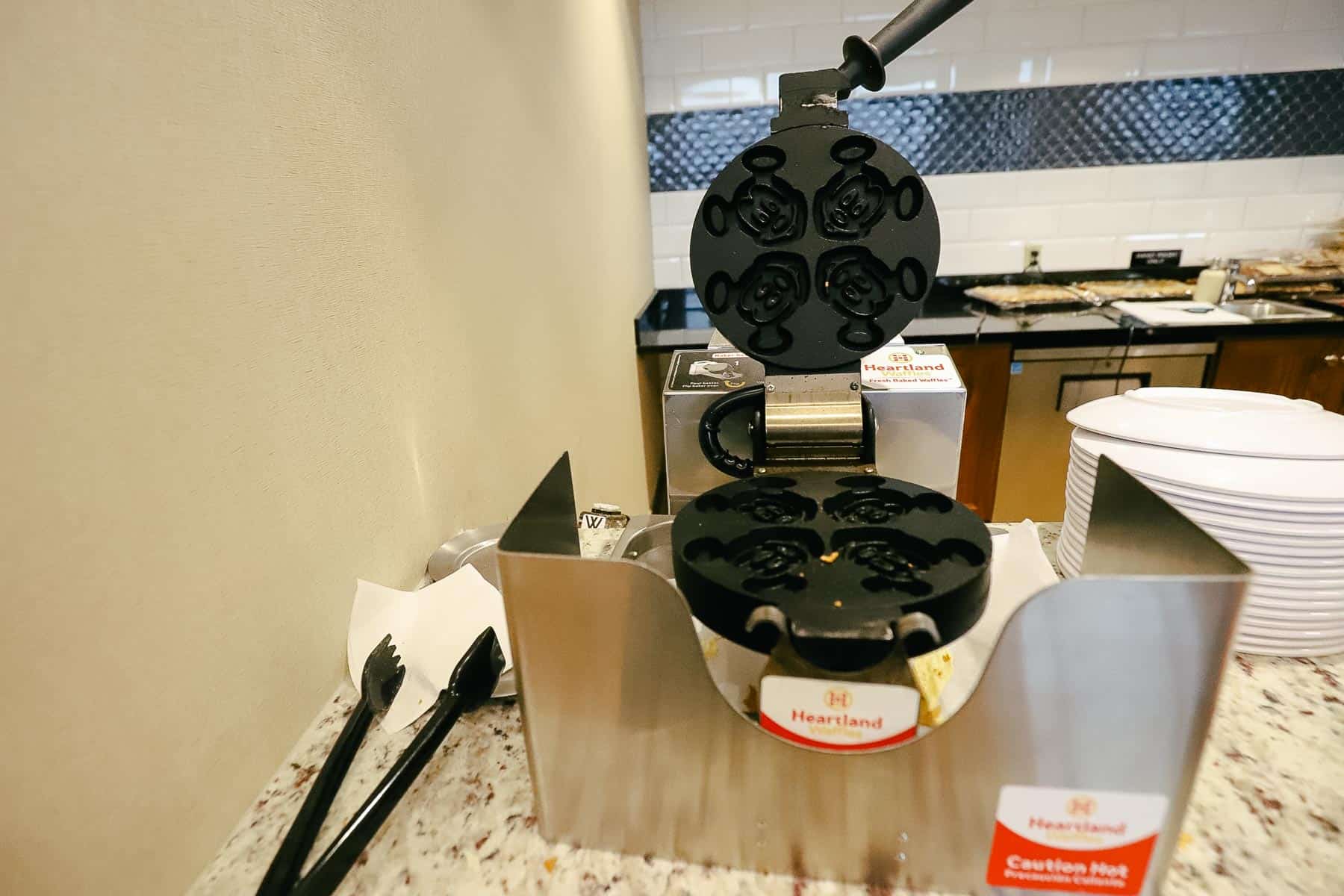 Butter and several syrups were available.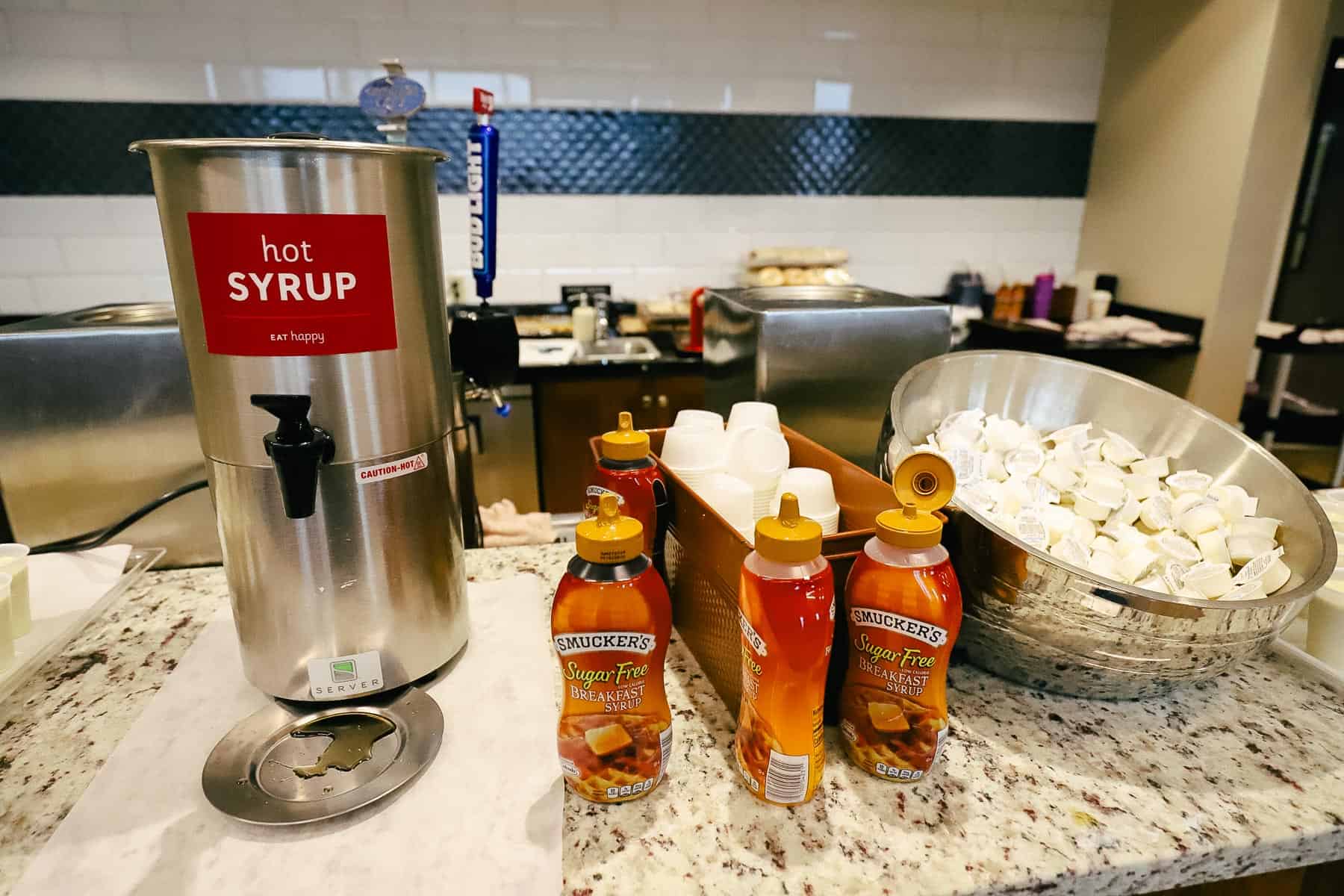 Here we have cereal selections, milk, and yogurt.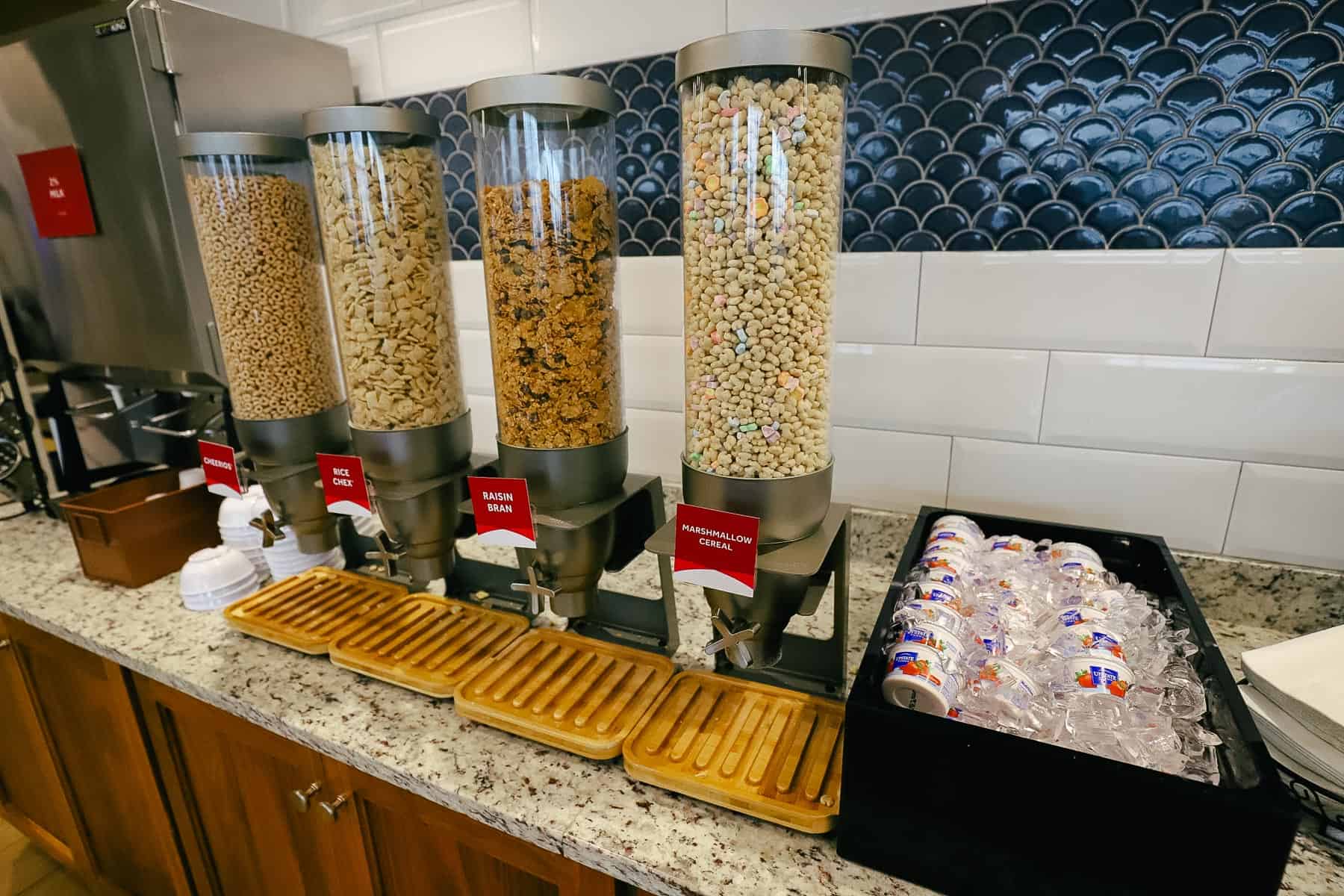 Several fresh fruits were available.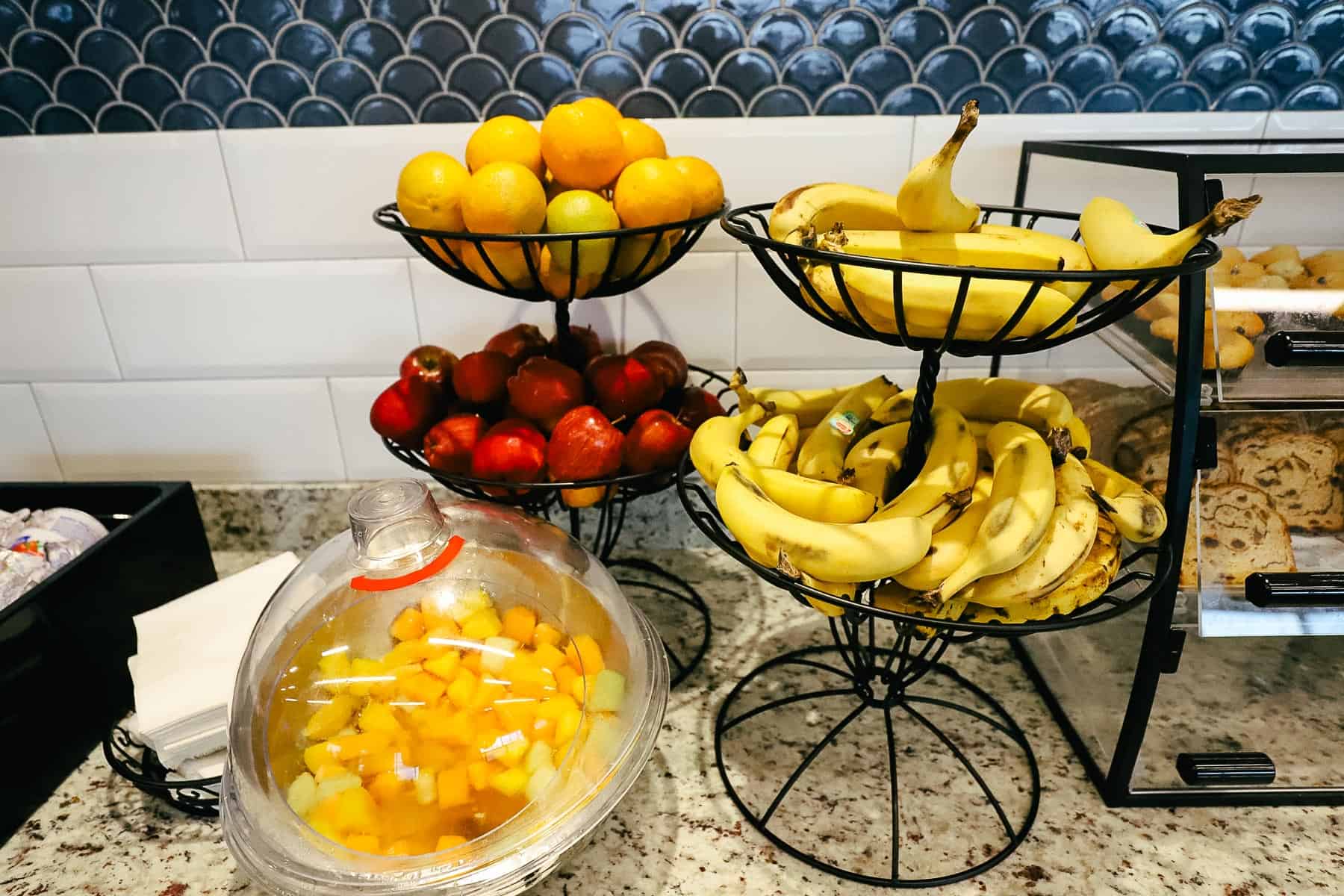 Pastries included cinnamon raisin toast, muffins, bagels, and regular bread.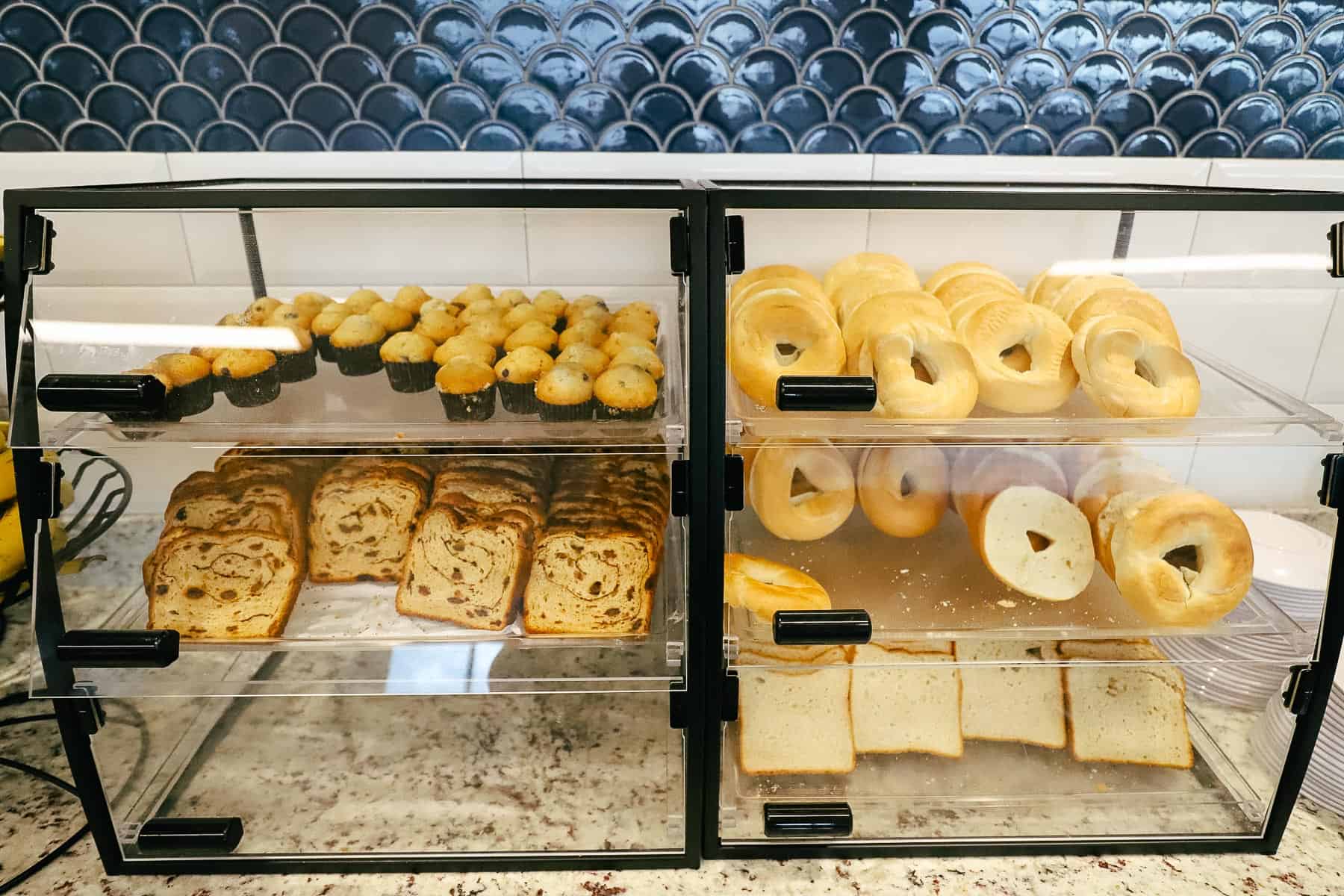 Hard-boiled eggs were also present.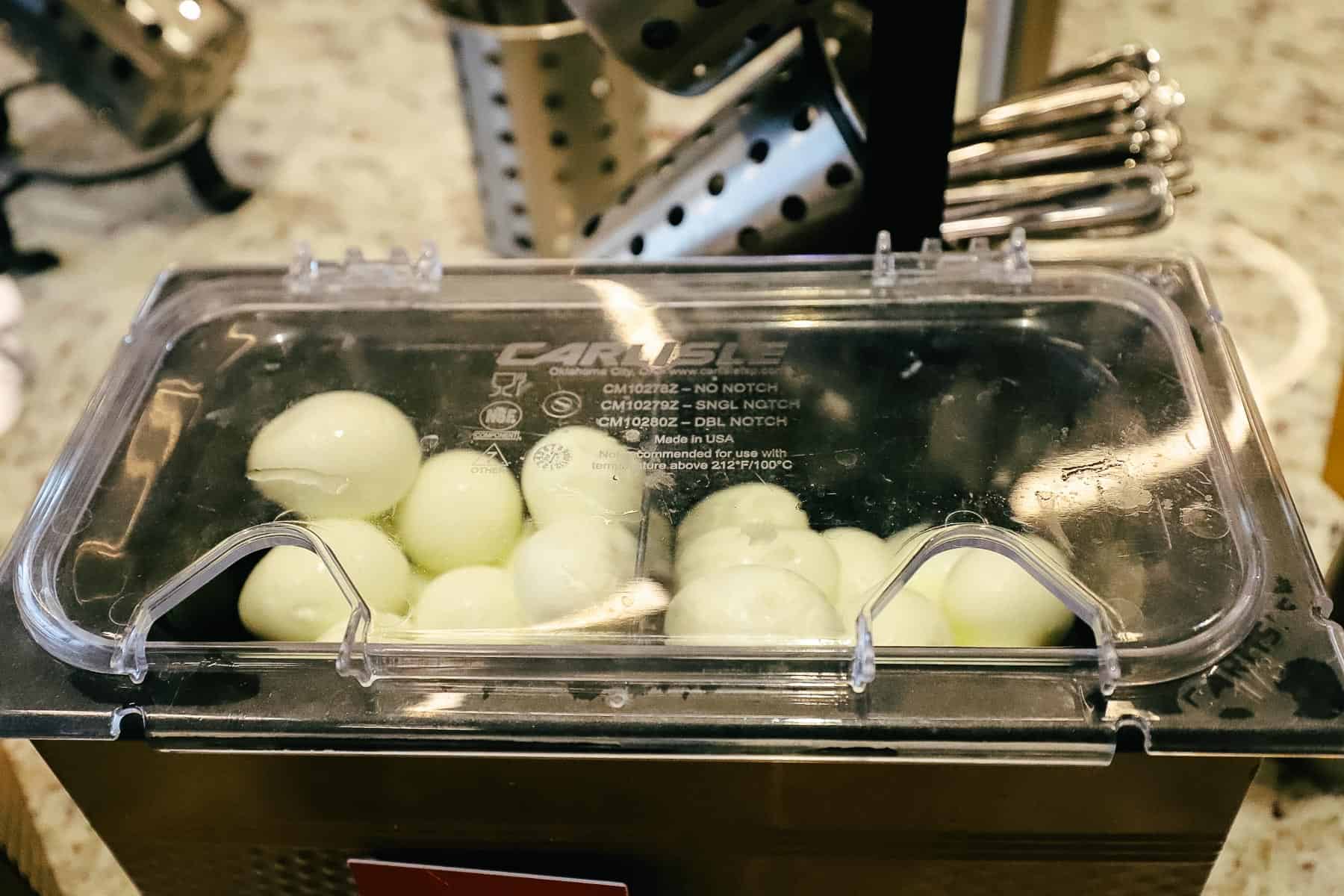 In addition to soda, coffee, tea, and water, a few juices were also available at breakfast.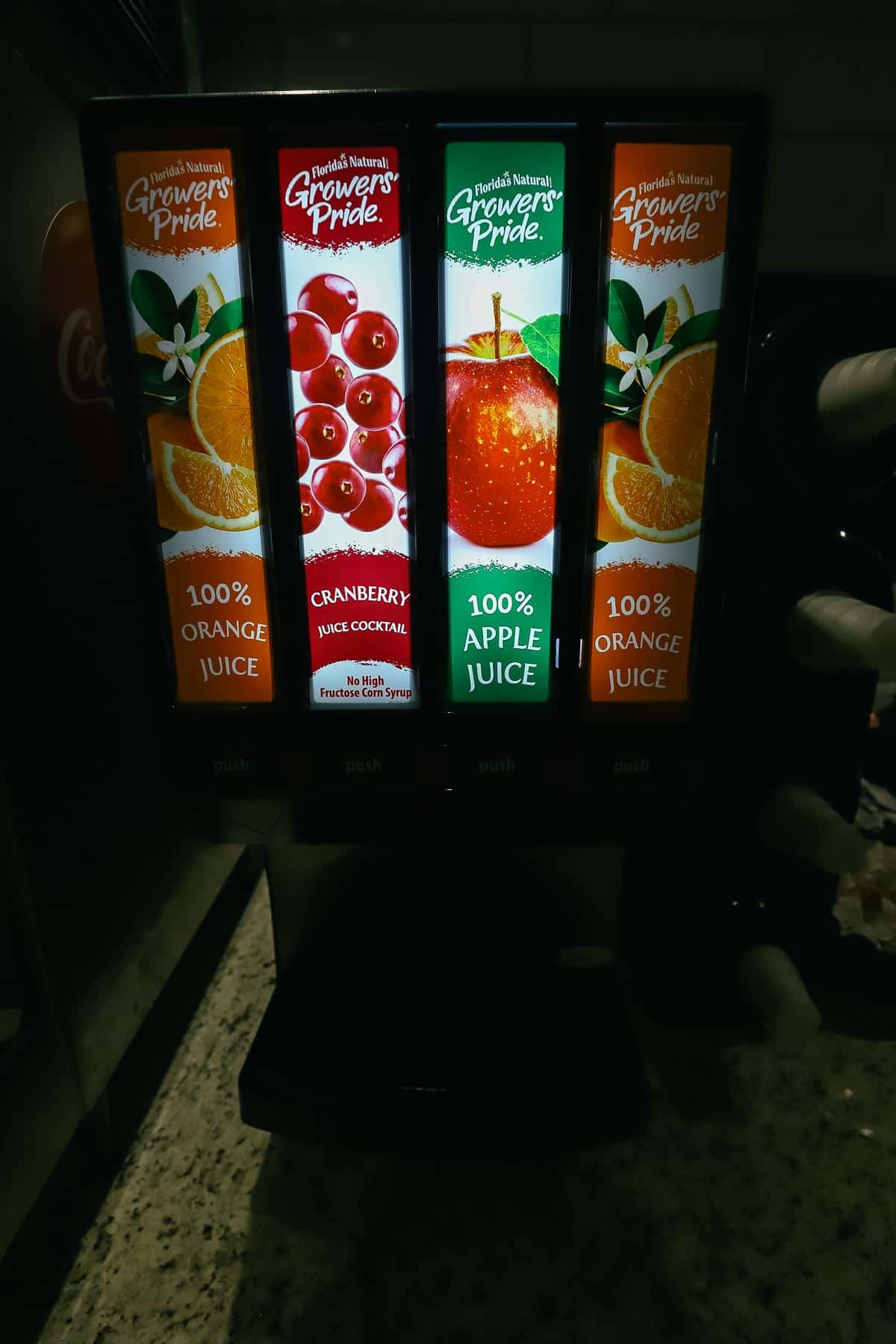 This stay was only for one night. But in less than 24 hours, I had received two complimentary meals, the option to have up to three cocktails, a warm breakfast that far exceeded most continental options, popcorn, soda, coffee, and juice.
If these items weren't offered, I would have purchased dinner at Hollywood Studios, a late-night snack at the hotel, and likely whatever the hotel had for breakfast the next morning. For me alone, that would have likely been around $50.00 to $75.00, depending on whether I had counter or table service for dinner.
Naturally, if this is a trip to Walt Disney World, you probably won't be back for dinner at the hotel every evening. But I imagine you would take advantage of this perk on your check-in day and a resort day at the pool. You might also have a day when you return early due to excessive rain or thunderstorms. If so, dinner is waiting between 5:30 p.m. and 7:30 p.m.
Additionally, that free hot breakfast is the kind of thing that makes most dads happy. You know I am right.
Also, I'm reminded of one other benefit. The Drury Plaza Hotel at Disney Springs is eligible for early entry at the theme parks. That's where guests of select hotels can enter the theme parks 30 minutes earlier than regular guests. It applies to each theme park every day of the week.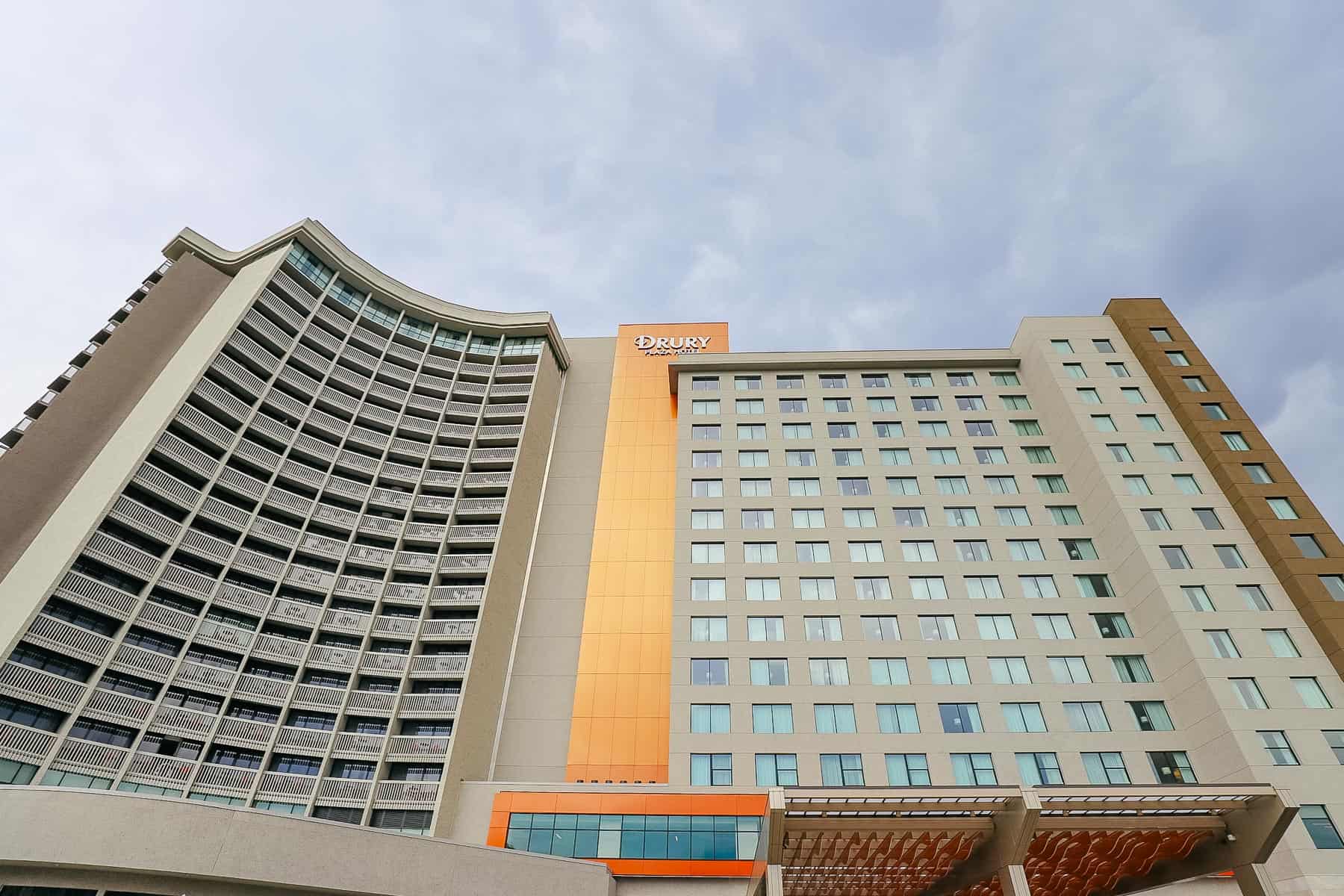 Final Thoughts
Overall, I enjoyed this visit to the Drury Plaza Hotel and was happily overwhelmed with the amenities provided. This is an excellent option for anyone, whether you're looking for a budget-friendly hotel or want a nice hotel near Disney Springs.
Lastly, I couldn't finish this review without a nod to the hotel staff. Everyone I encountered at the hotel was friendly and had a smile to offer. Employees working during breakfast and dinner would come by and offer to remove items you had already finished.
It was the kind of atmosphere where you want to throw your money at people for being so lovely. I'm still a little positively puzzled over the whole thing.
Check Rates for the Drury on Expedia. 
Other Off-Property Hotels to Consider:
Or you can check out our list of the best hotels near Disney World. We'll be adding this one to the list in our next update.
In the Comments
What are your thoughts on this review of the Drury Hotel at Disney Springs? Did you know about these amenities?