The Spyglass Grill Review at Disney's Caribbean Beach
We took advantage of the Spyglass Grill more than I would have ever thought during our recent stay at Disney's Caribbean Beach. This quick-service restaurant is located in the Trinidad section of the resort. It sits adjacent to the village's quiet pool.
As we discussed in our review of Disney's Caribbean Beach, Trinidad is a unique area of the resort that's pretty far out from almost everything except the Skyliner. Formerly, this section of the resort featured pirate-themed rooms, which were supposed to be the draw for Trinidad's not-so-desirable location. Ironically, the pirate rooms rarely received good reviews because of a few design elements.
However, those rooms in Trinidad now feature subtle references to 'The Little Mermaid'. They've completely been redone, and what was old and dated is now fresh and new. Therefore, if you reserve a room with a fifth sleeper, you could end up in Trinidad. And if you do, you'll want to be aware of the Spyglass Grill.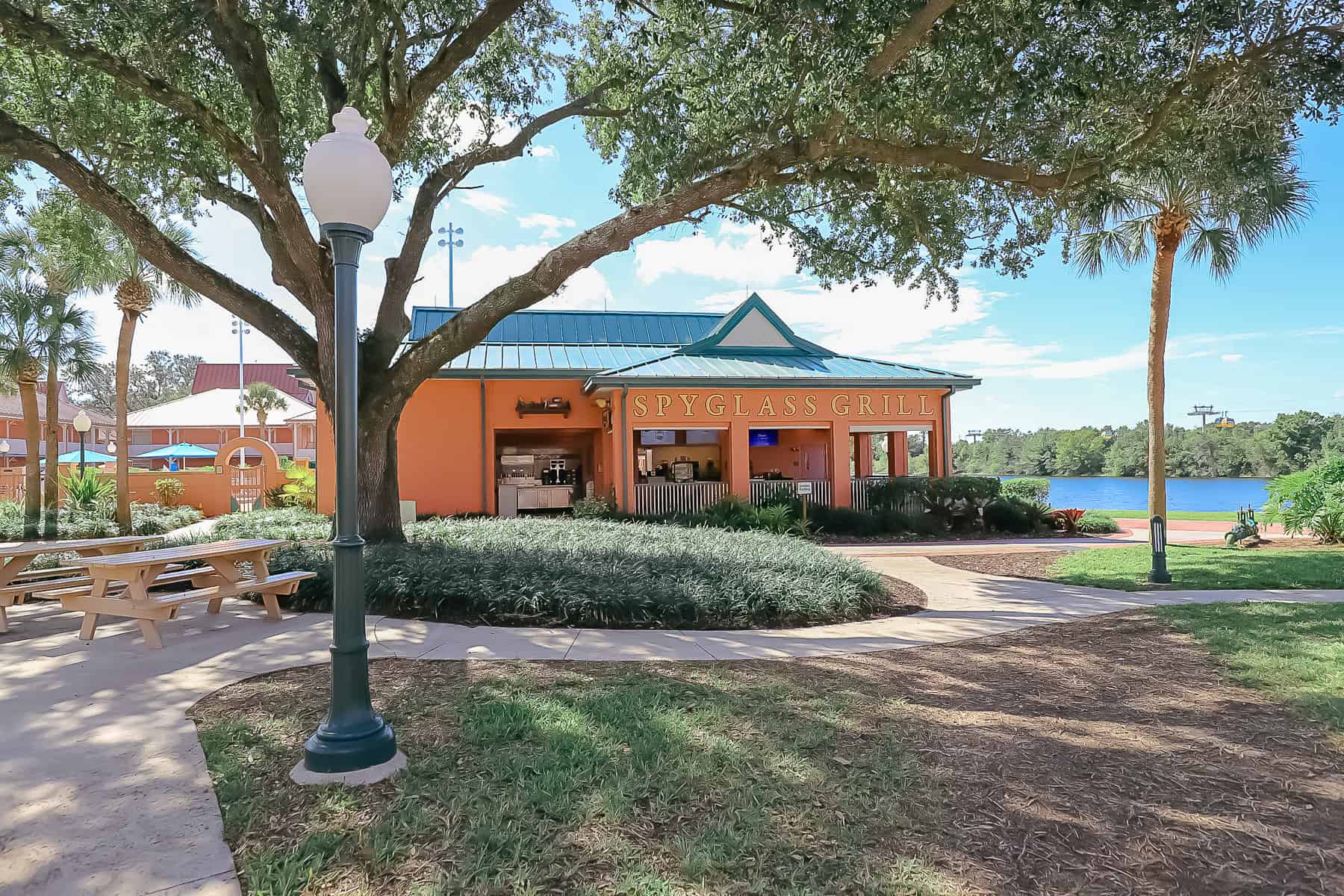 The Spyglass Grill is located in the center of Trinidad. Buildings 34, 35, and 36 sit on the front side, and buildings 37, 38, and 39 are behind it.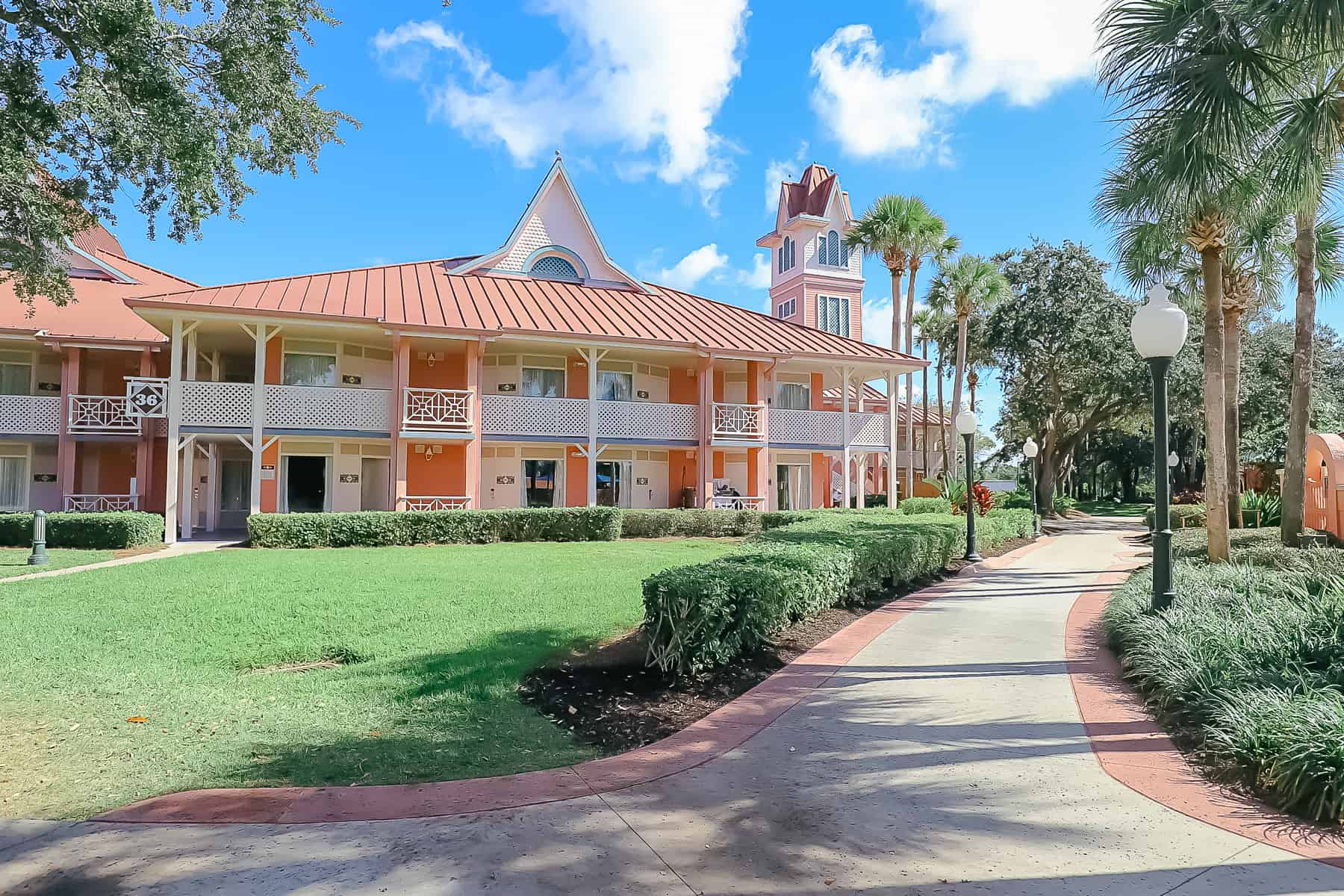 A mural with the Spyglass Grill written on it faces the lake.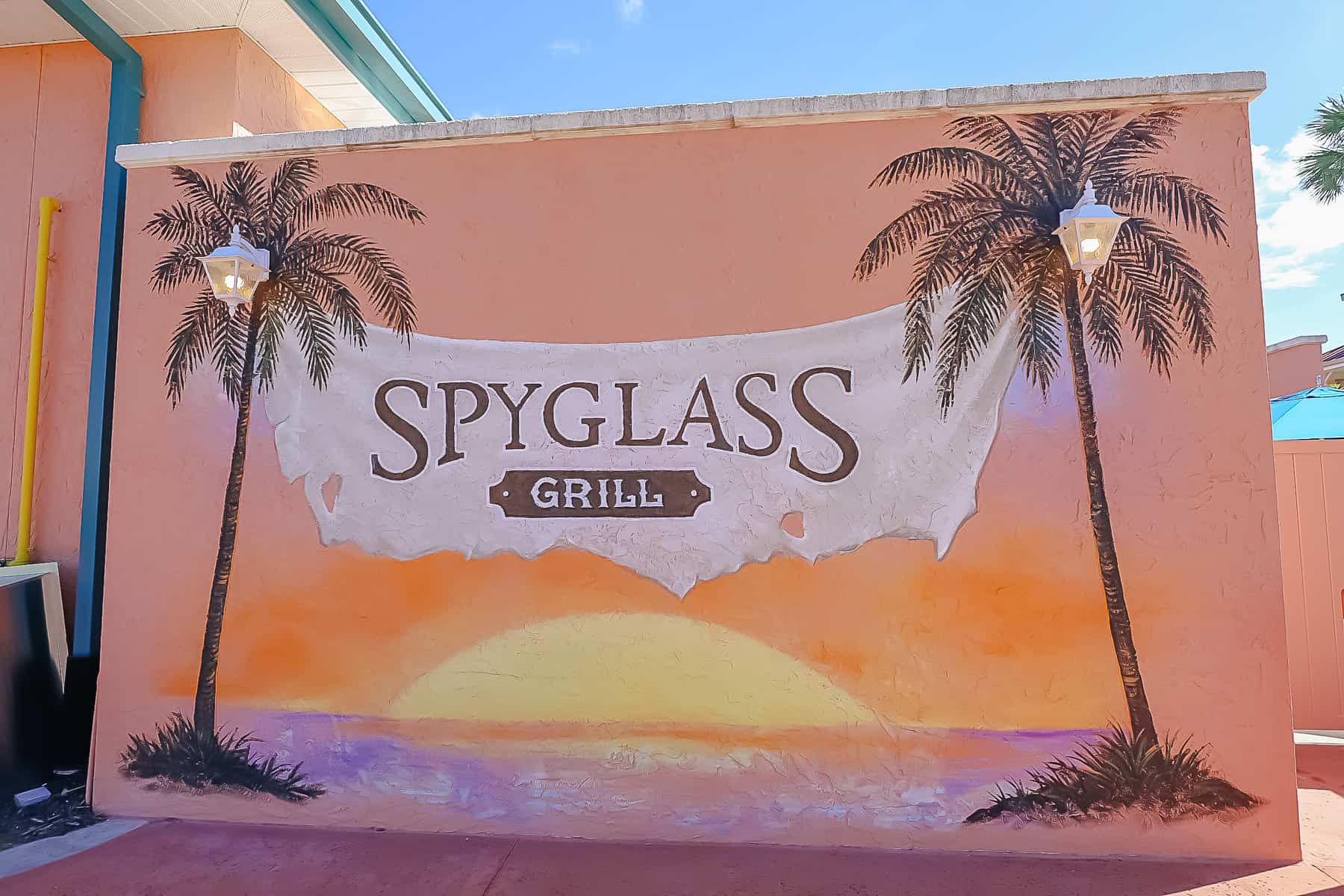 The Spyglass grill has subtle pirate theming. It sits in an open-air space that's covered with a roof. If it's chilly, you'll probably want to get something to-go. But it's not the worst place to enjoy a meal or a snack when the weather is pleasant.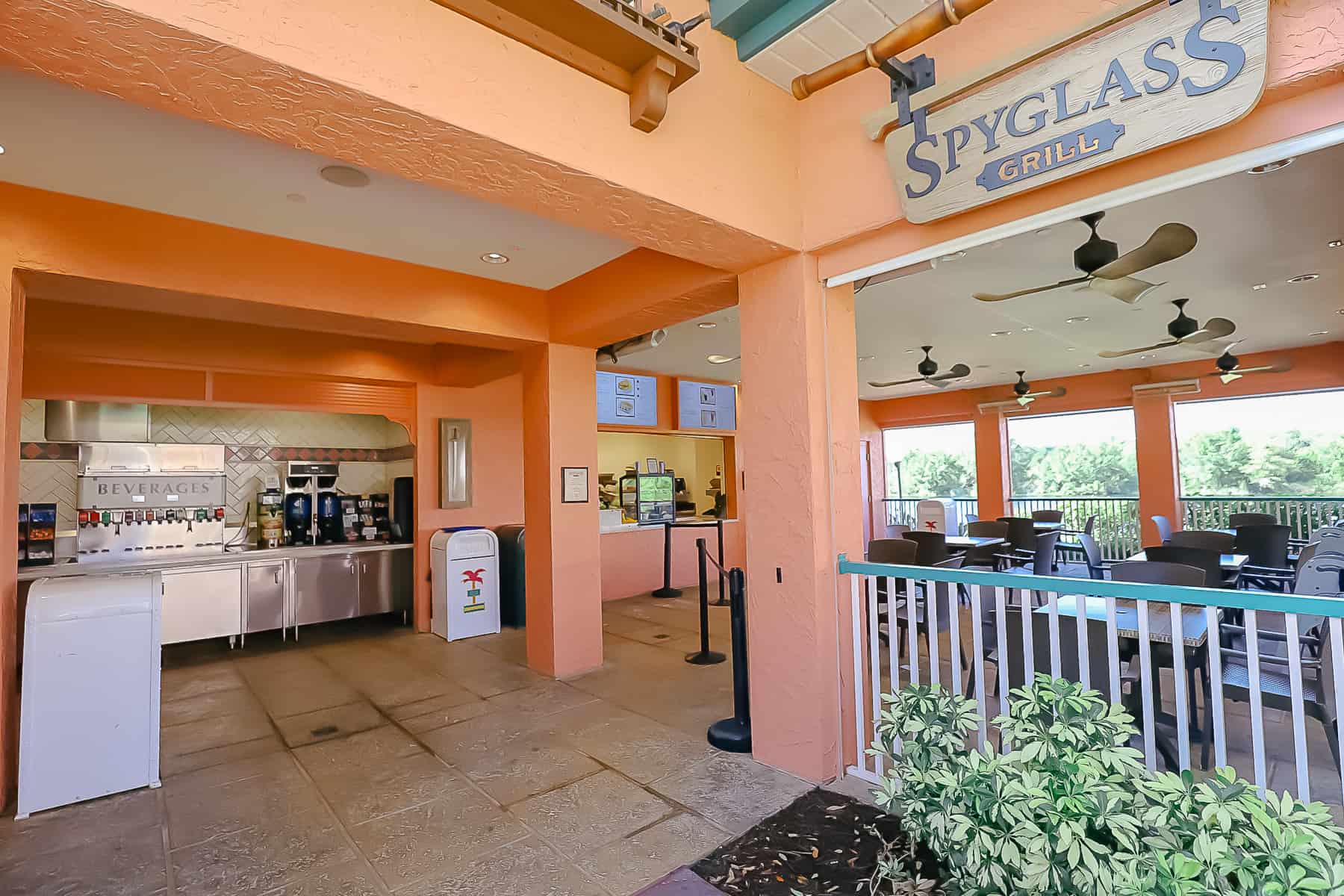 During our stay, the Spyglass Grill was open between 7:00 a.m. and 10:00 p.m. They serve breakfast, lunch, and dinner.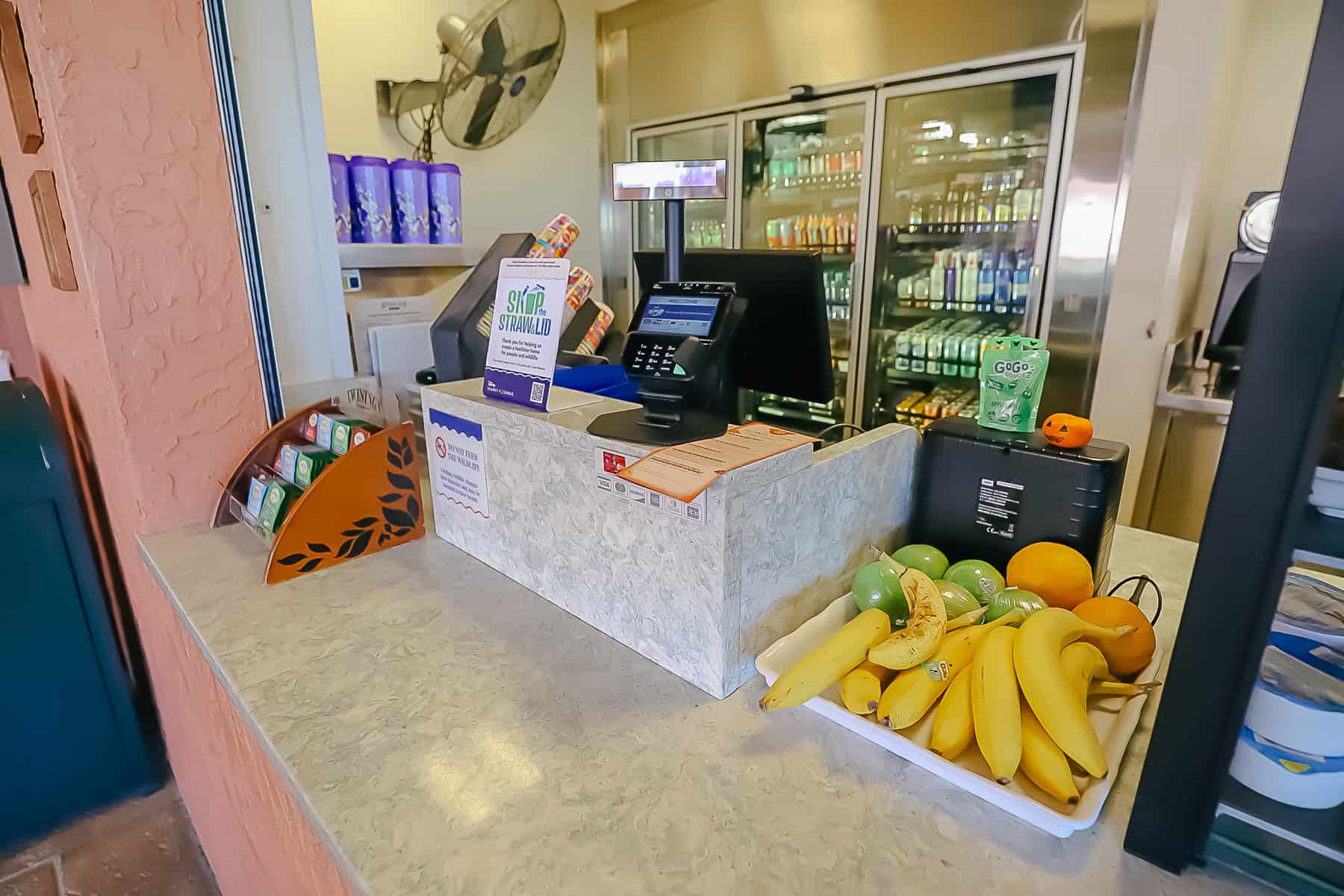 Behind the register, there's a refrigerated case with bottled soda, tea, milk, water, juice, sports drinks, beer, and more. I stopped here nearly every night to pick up a Sprite before returning to the room. I would also request a cup and fill it with ice. Of course, ice buckets are available. But this was more convenient than returning to the room and leaving again to fill the ice bucket.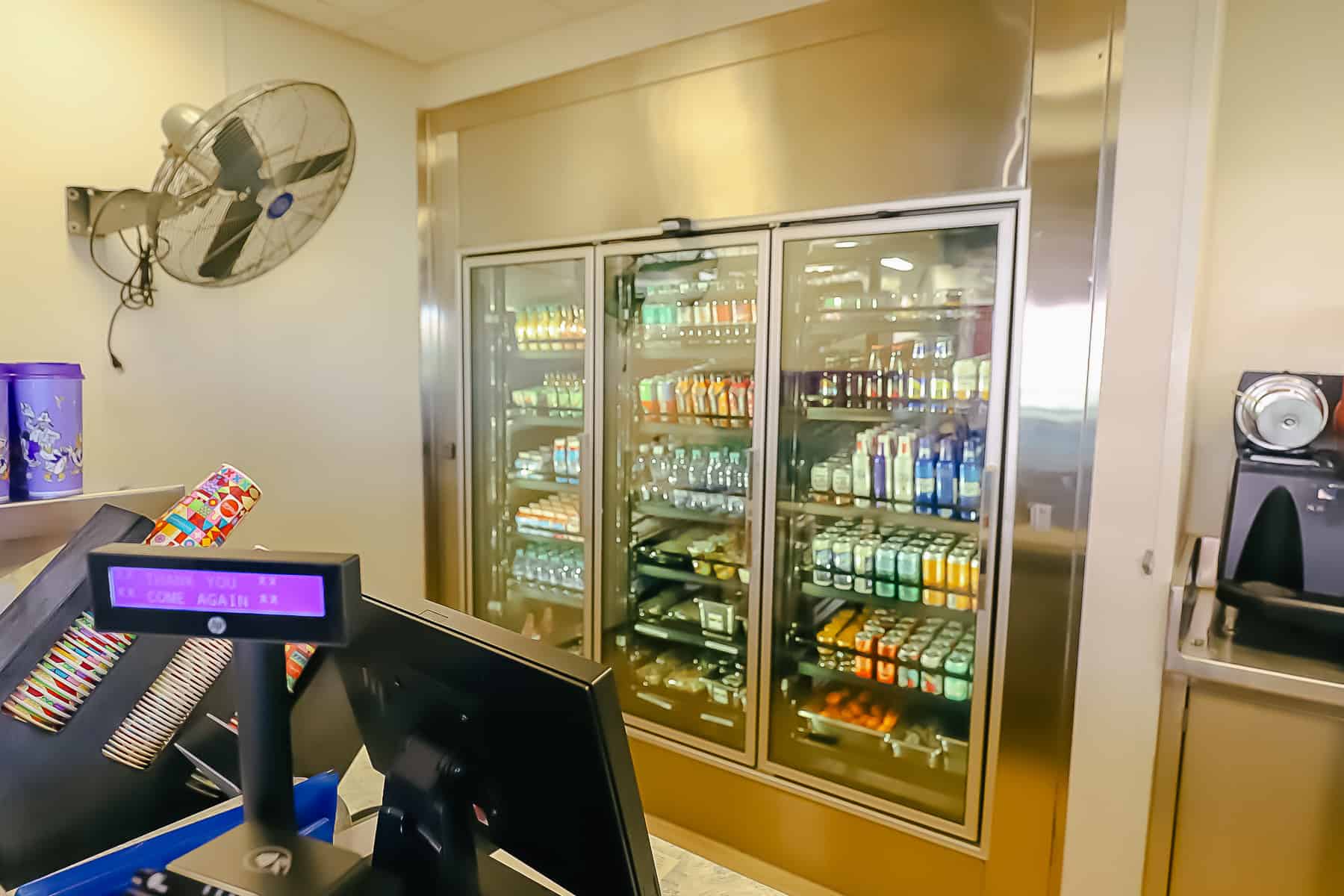 A case was available with pastries like muffins, danishes, croissants, bagels, and cinnamon rolls. You could also purchase an individual bowl of cereal.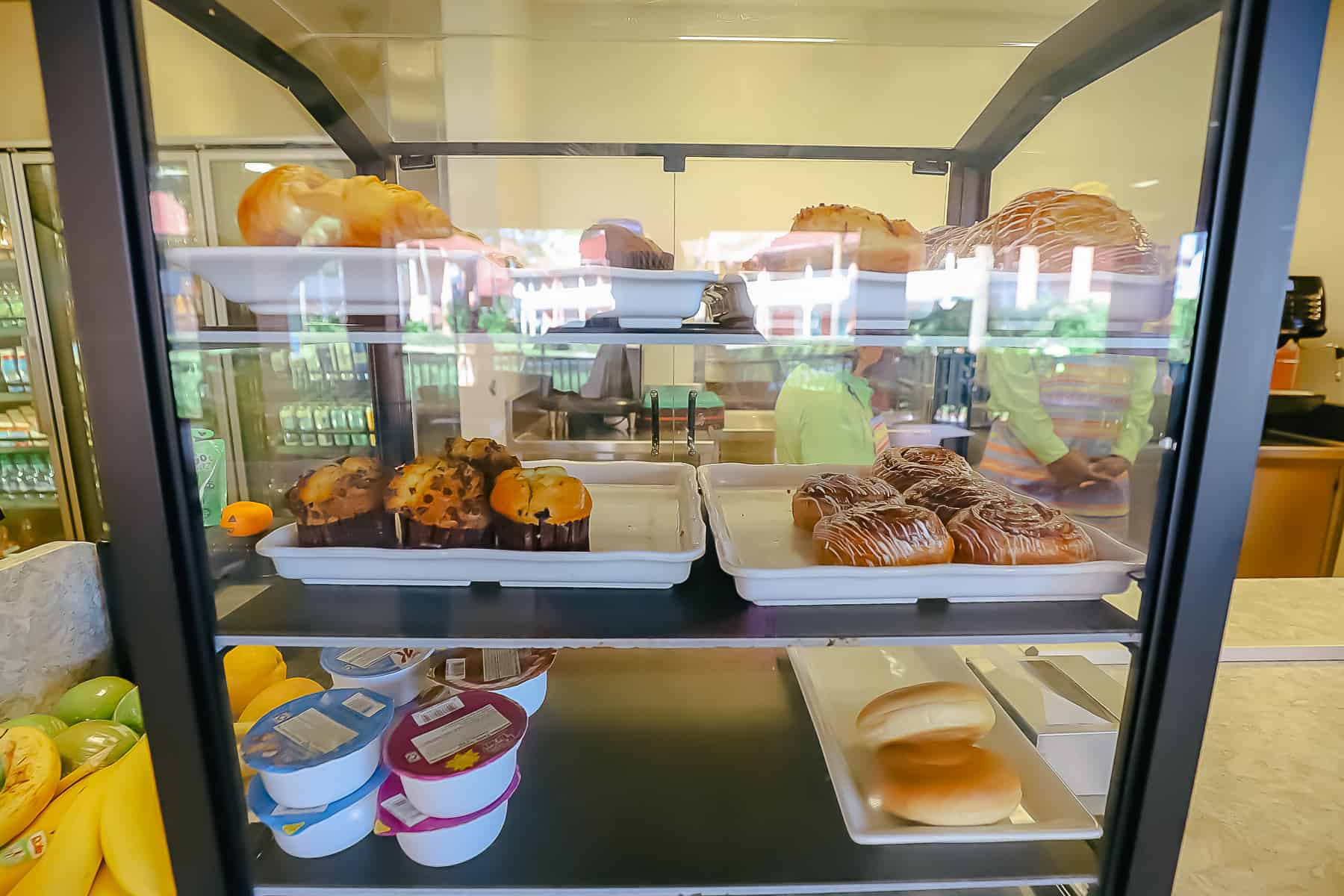 Rapid Fill mugs were available for purchase at the Spyglass Grill. You can enjoy refills of soda, coffee, and tea at any resort self-service beverage location for the length of your stay. So, if you visit another resort, you might want to bring your mug along in case you want a drink.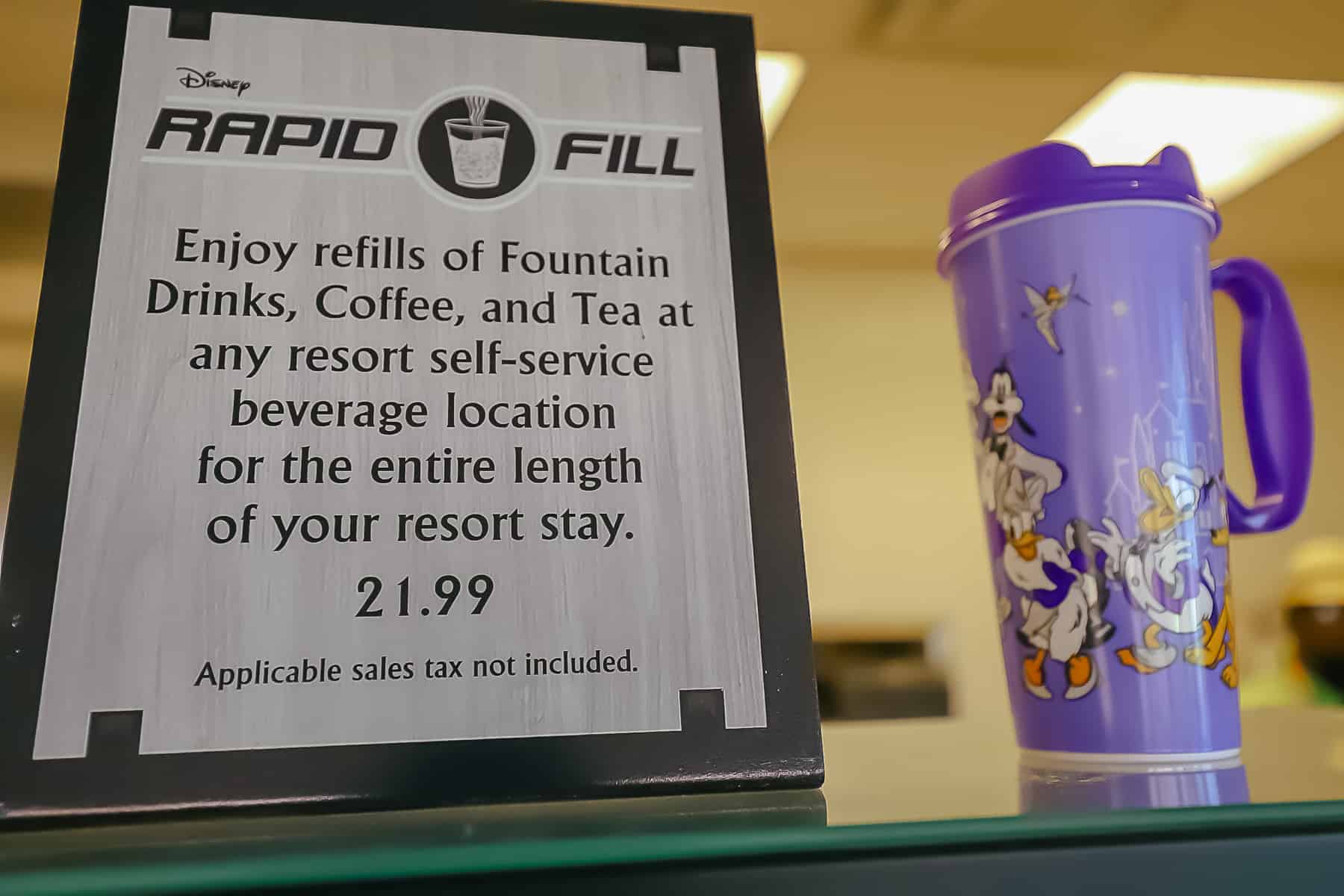 Here is a photo of the lunch and dinner menu. They had items like a bacon cheddar burger, a Cuban sandwich, a smoked turkey sandwich, chicken strips, an Impossible plant-based burger, and tacos. A few bowls, salads, and sides were also available.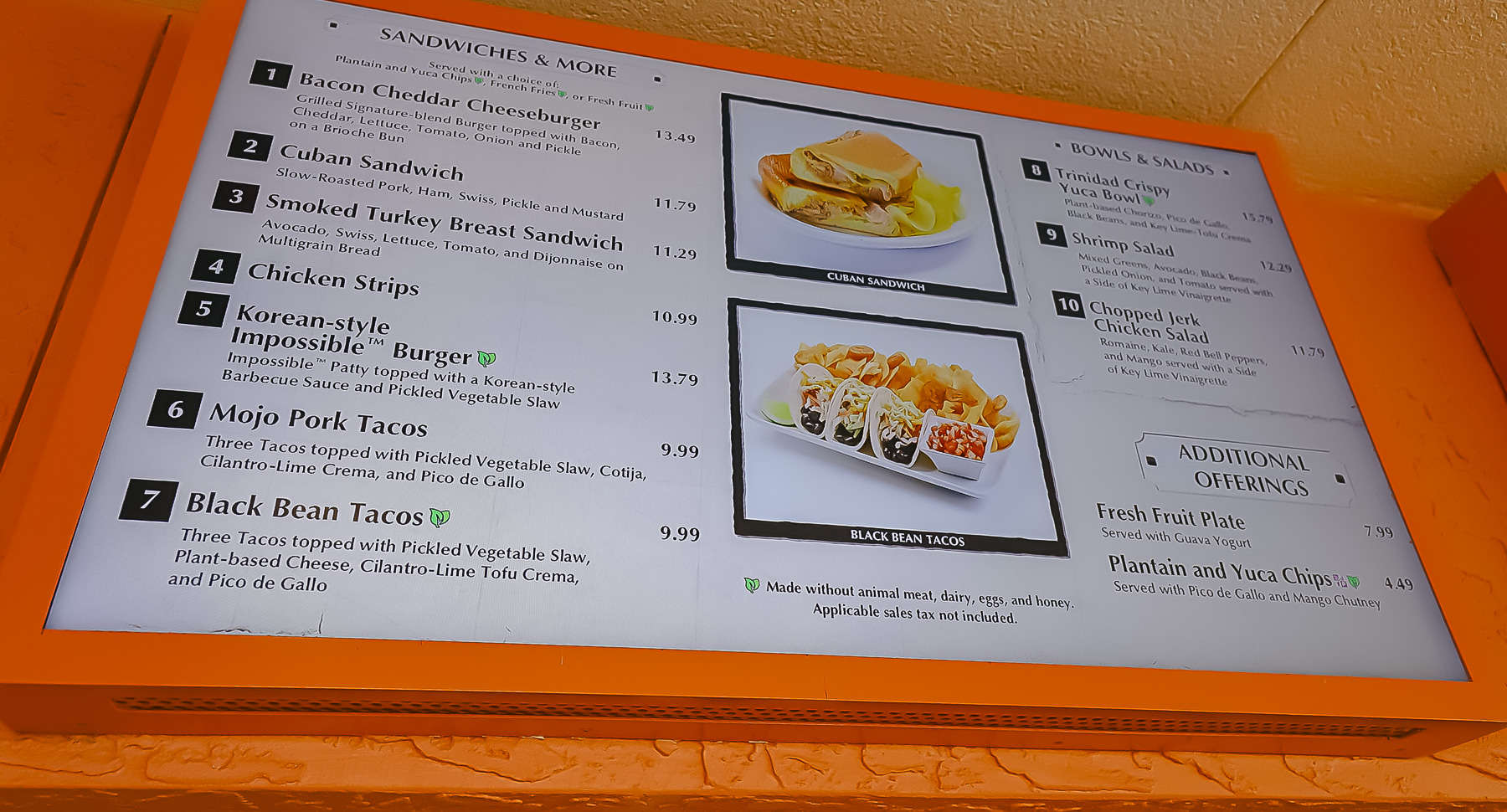 Kids' meals included a shrimp salad, a jerk chicken salad, a cheeseburger, tacos, and chicken strips. Dessert items, along with select coffee and tea, were also available.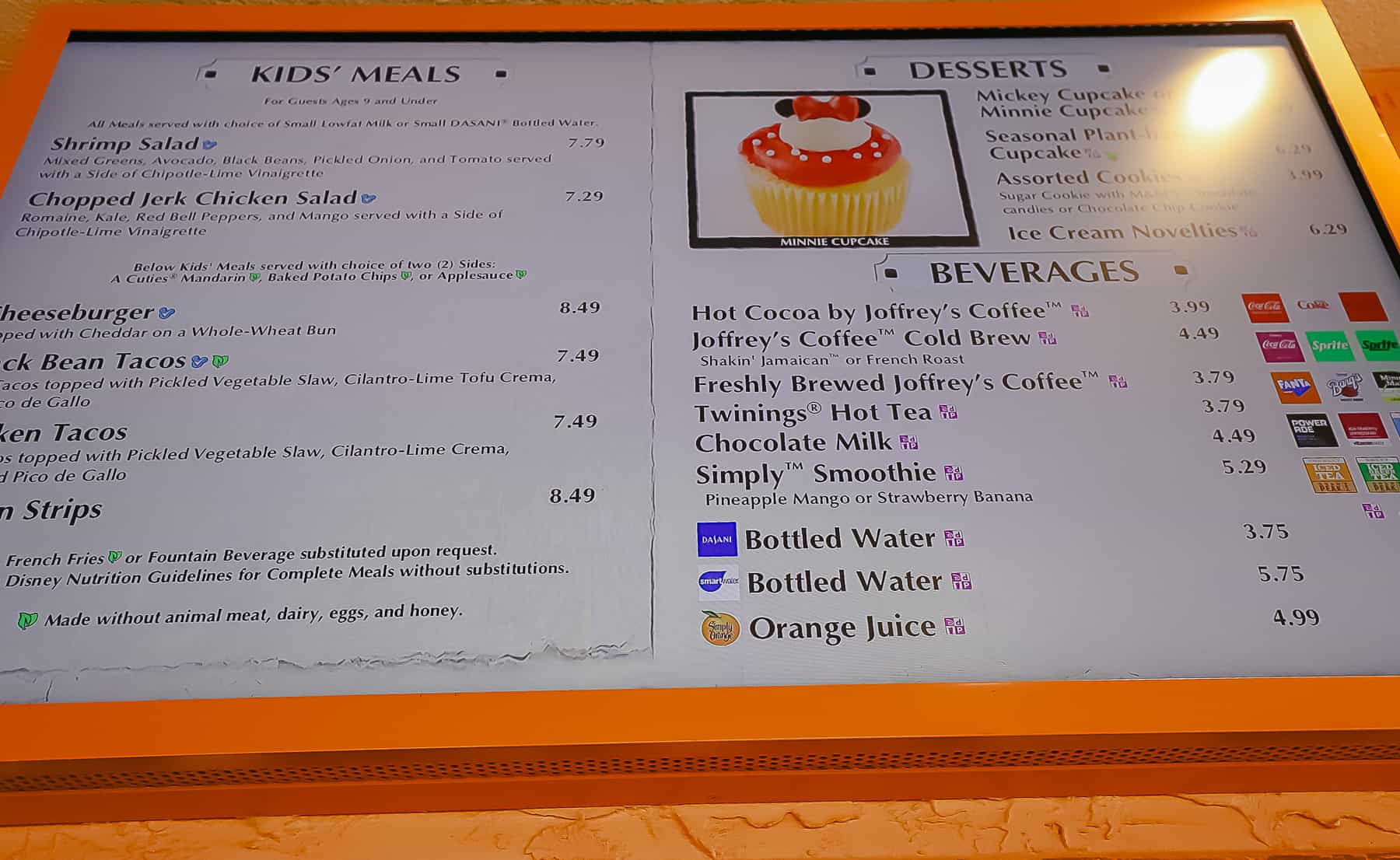 Since the Spyglass Grill sits adjacent to the pool (and because of Trinidad's fairly remote location), the quick service doubles as a poolside bar. So, if you don't want to walk to the Fuentes del Morro feature pool, you'll still have access to cocktails and more at the Spyglass Grill. This is a unique offering that you wouldn't normally find at a resort's quiet pool.
Preview the Spyglass Grill Menu with Prices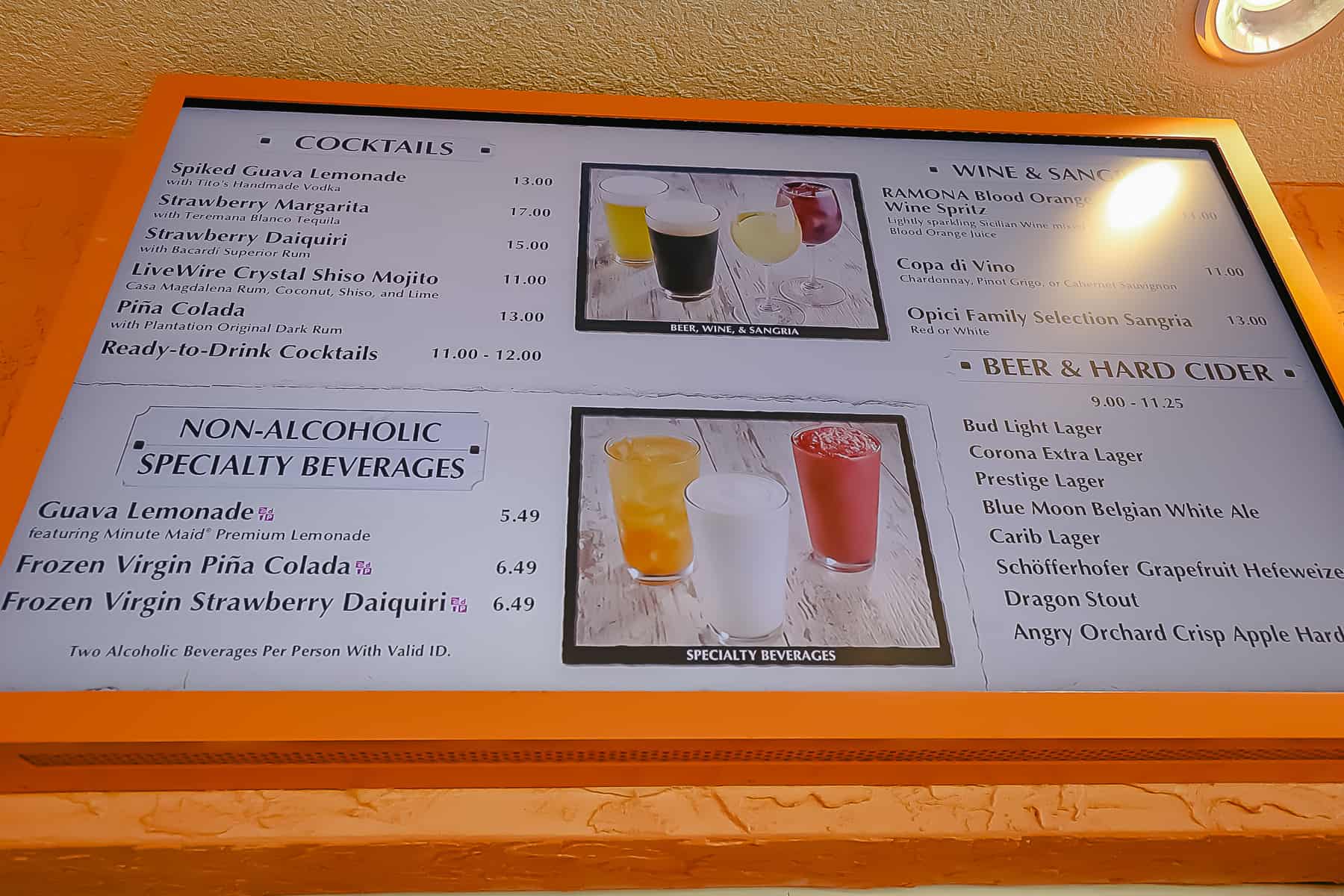 Here is the beverage refill station.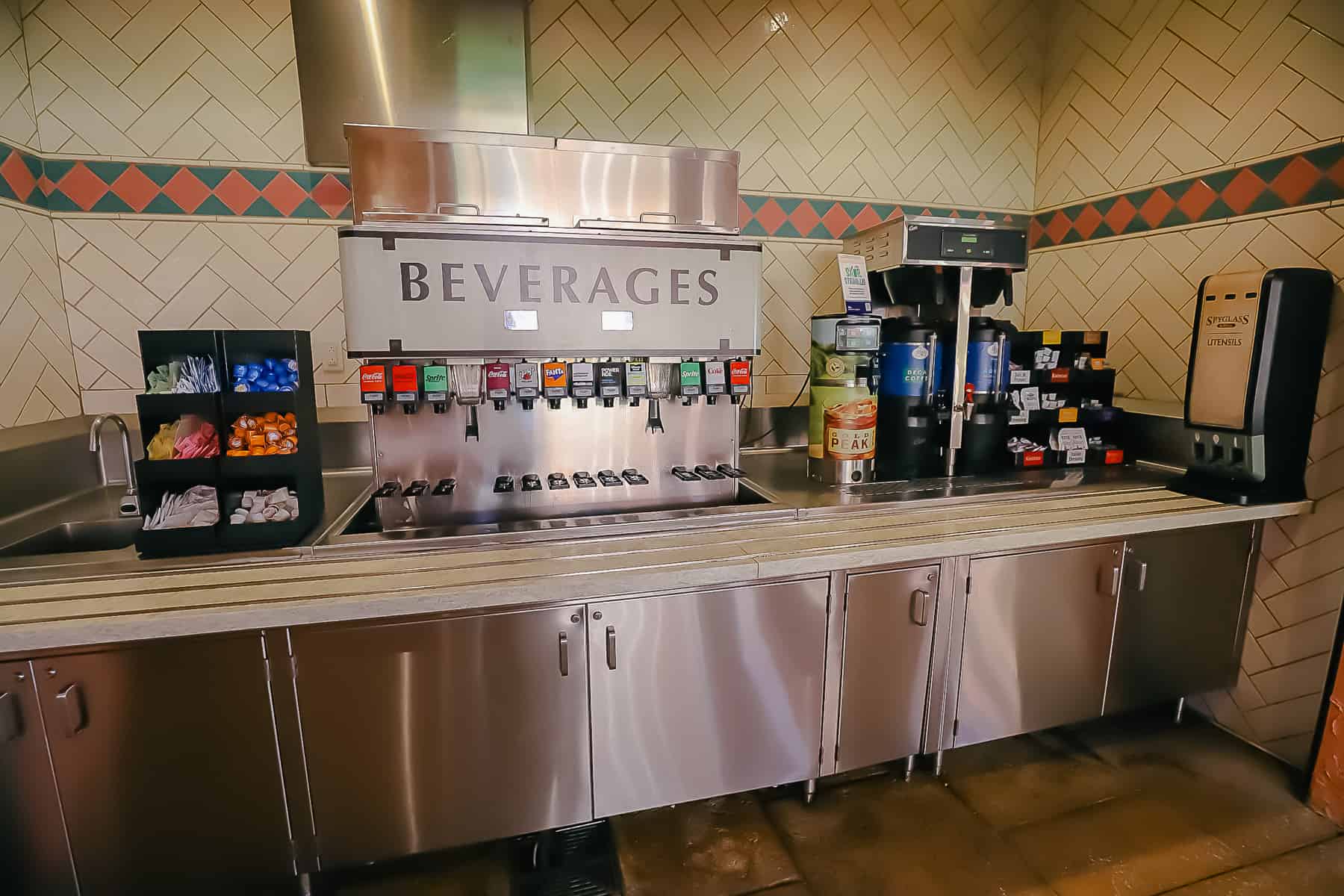 Gold Peak Tea, Joffrey's coffee, and a few other condiments were available.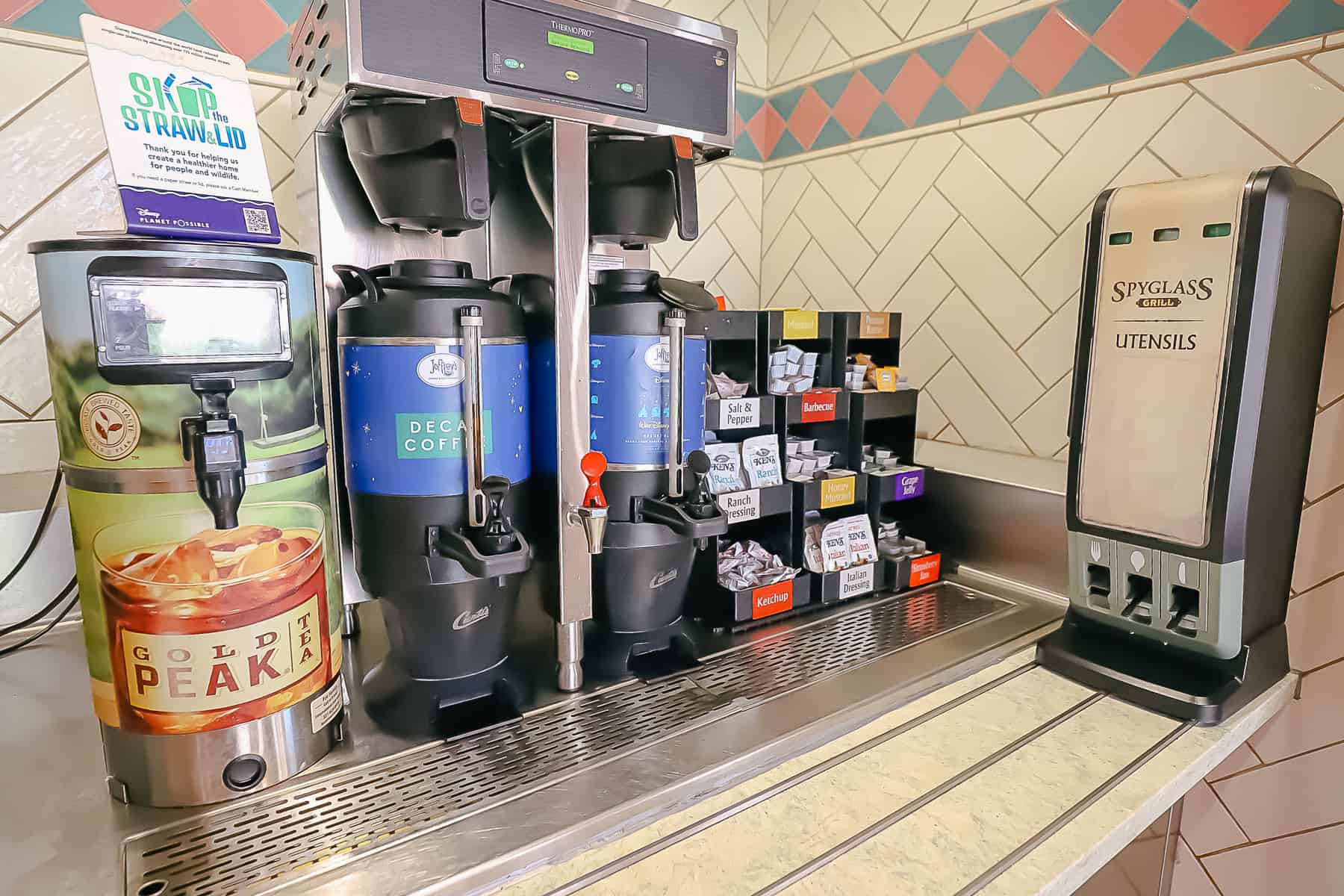 Coca-Cola fountain drinks included Coca-Cola, Coke Zero, Diet Coke, Sprite Zero, Sprite, Cherry Coke, Barq's Root Beer, Fanta, Acai Blueberry Pomegranate Vitamin Water, Zero Sugar Minute Maid Lemonade, and Powerade.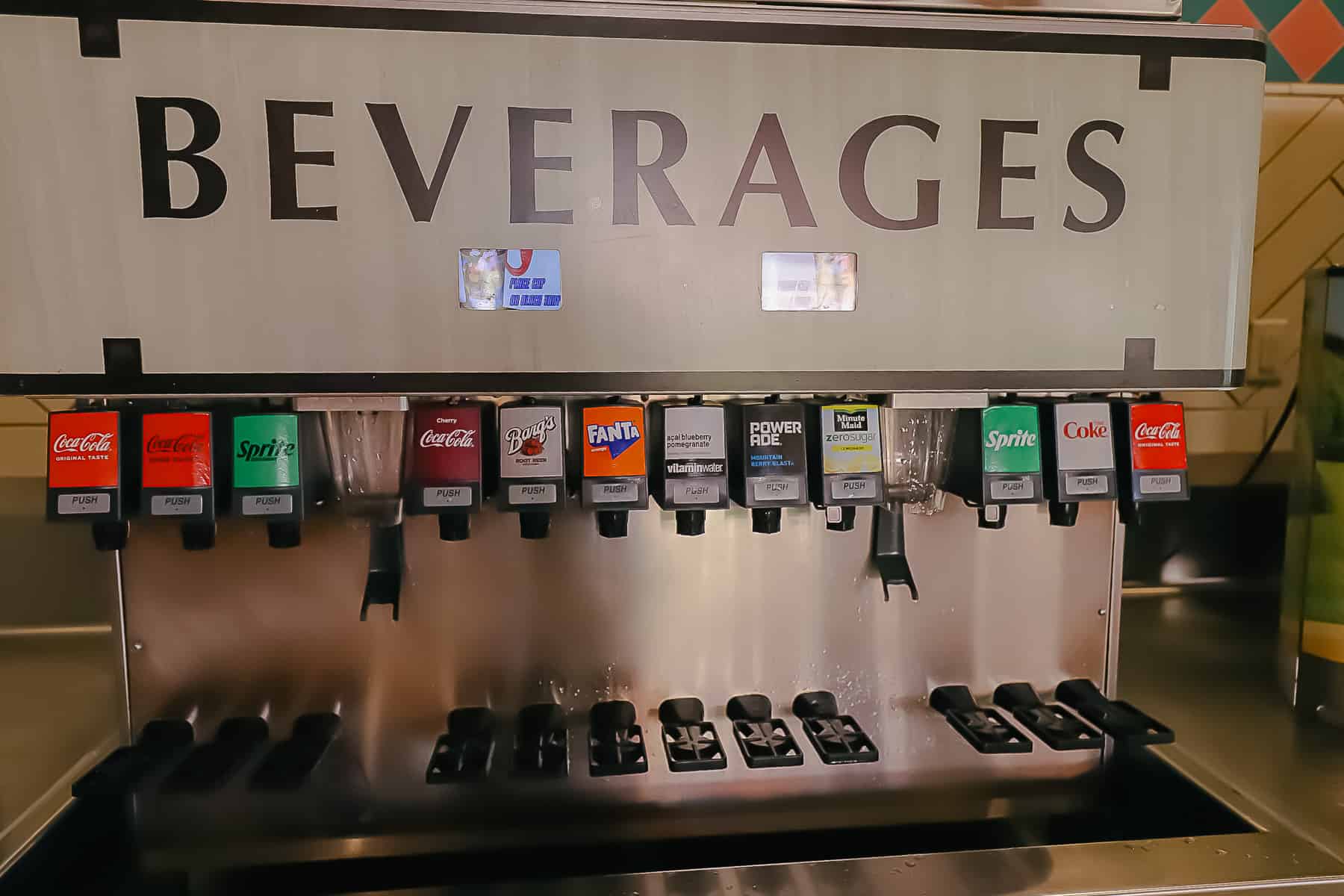 A sink for rinsing your mug was also available.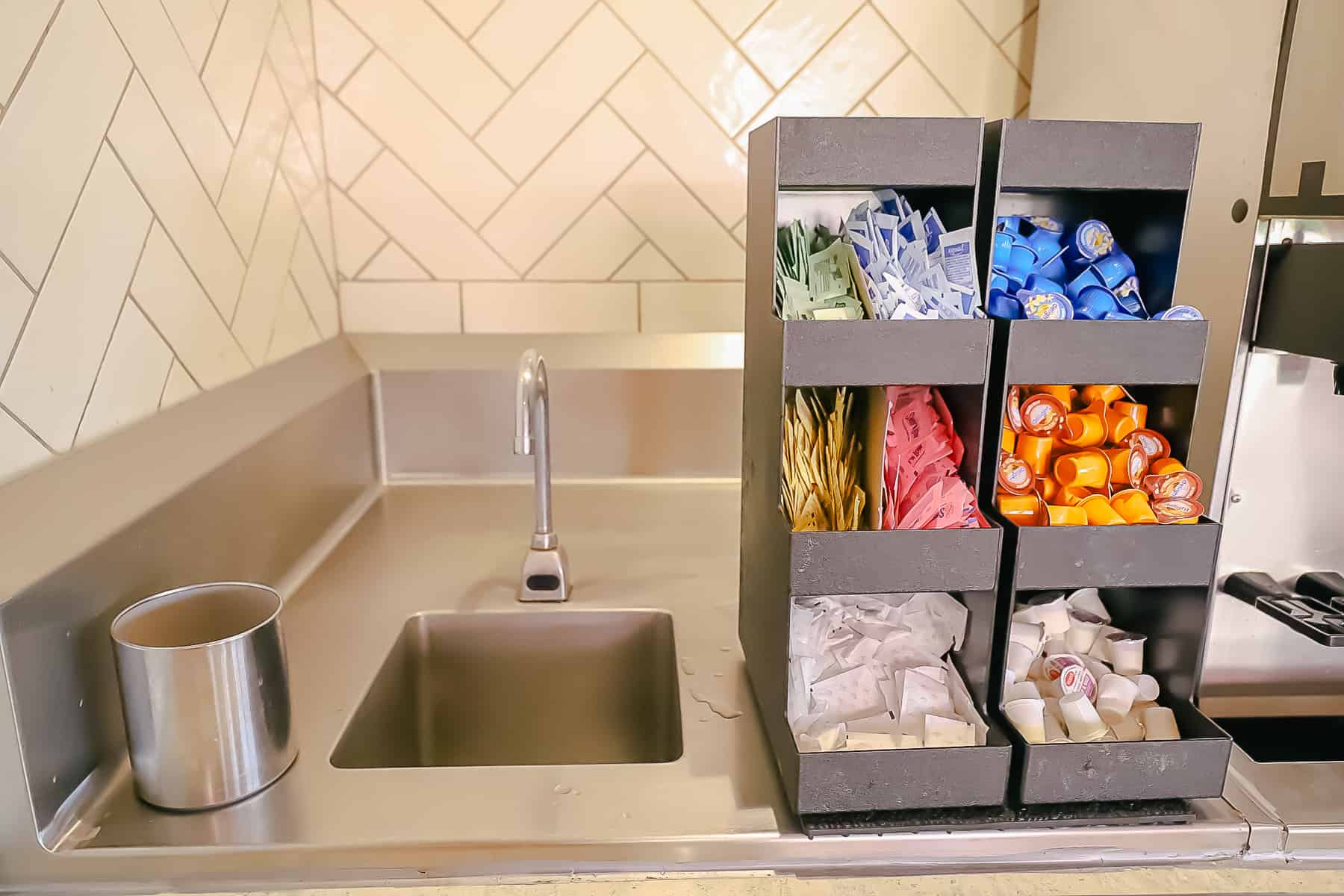 If you require a microwave or toaster, they have one for guests to use.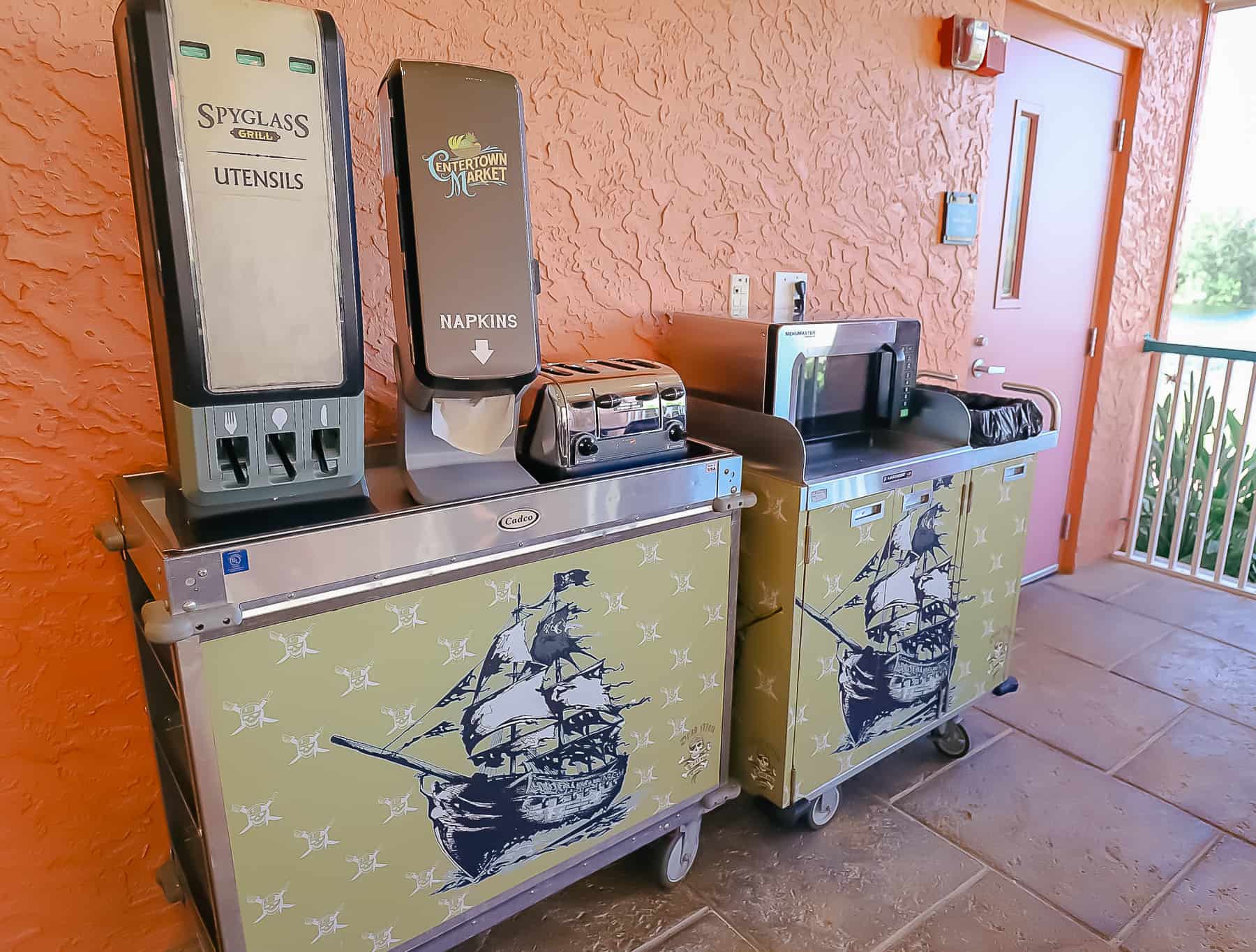 Here are a few design elements.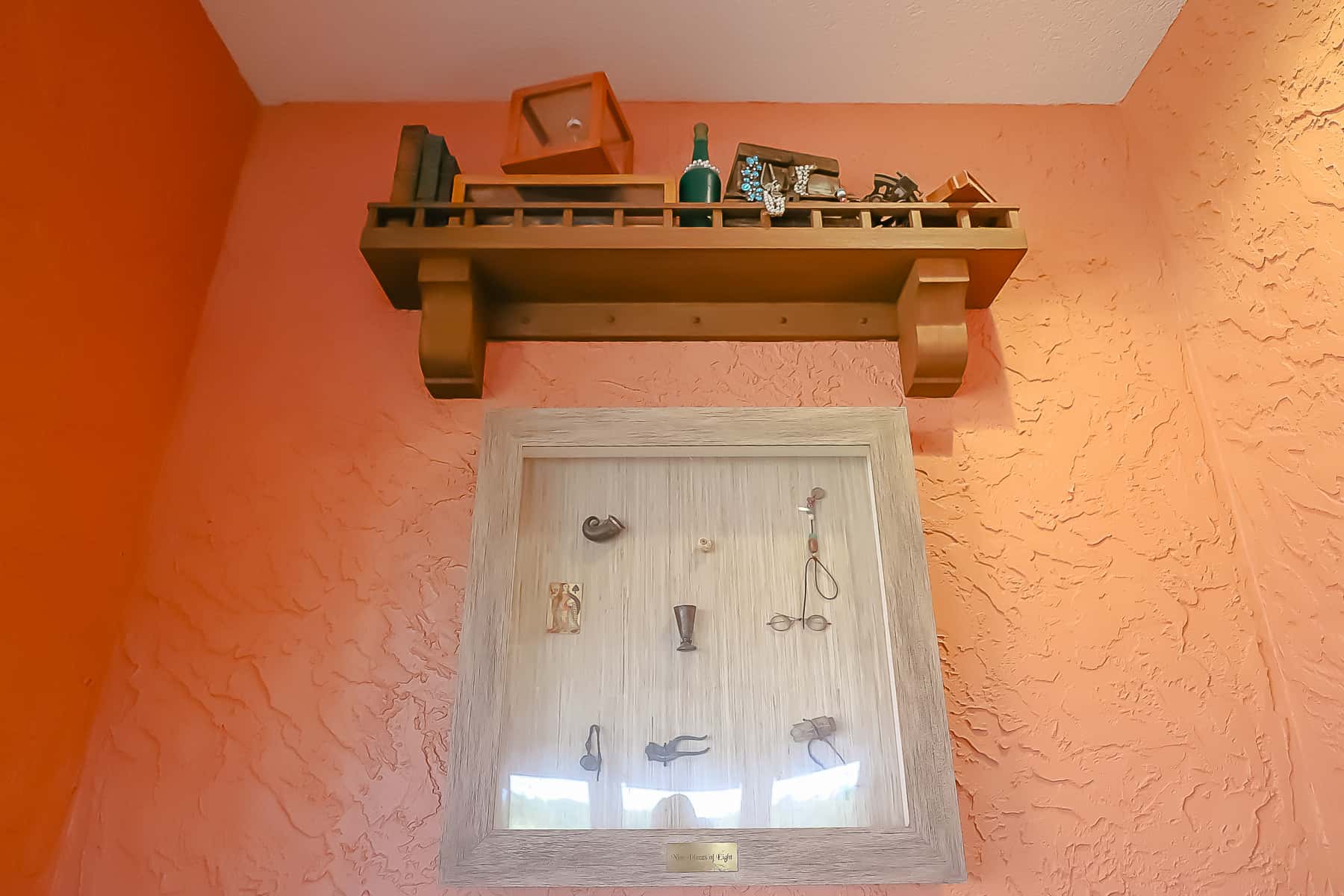 As far as seating goes, several tables with chairs were available underneath the covered area. You'll have a nice view of the lake and the Skyliner from most of these tables.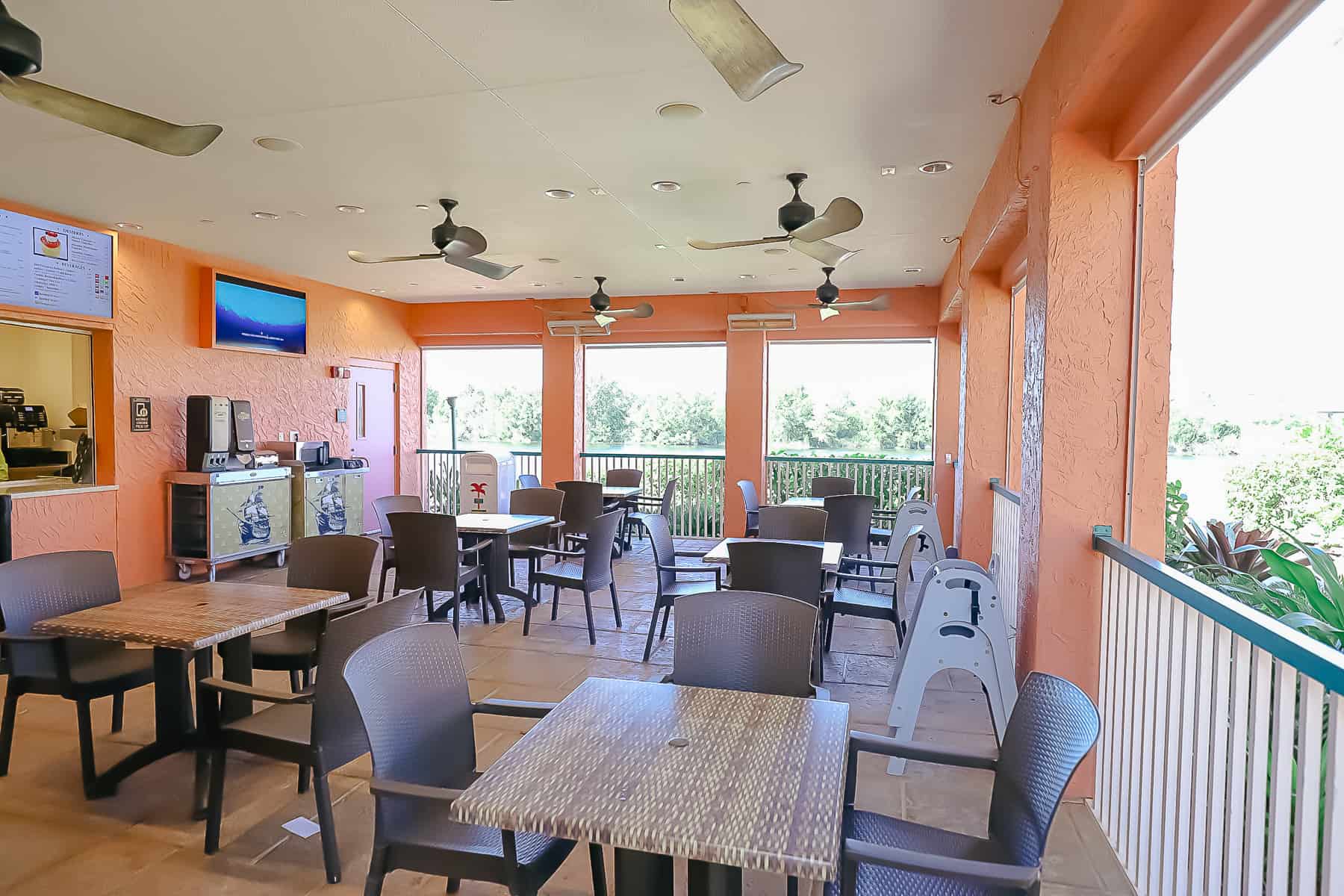 A sign outside noted that additional seating was available.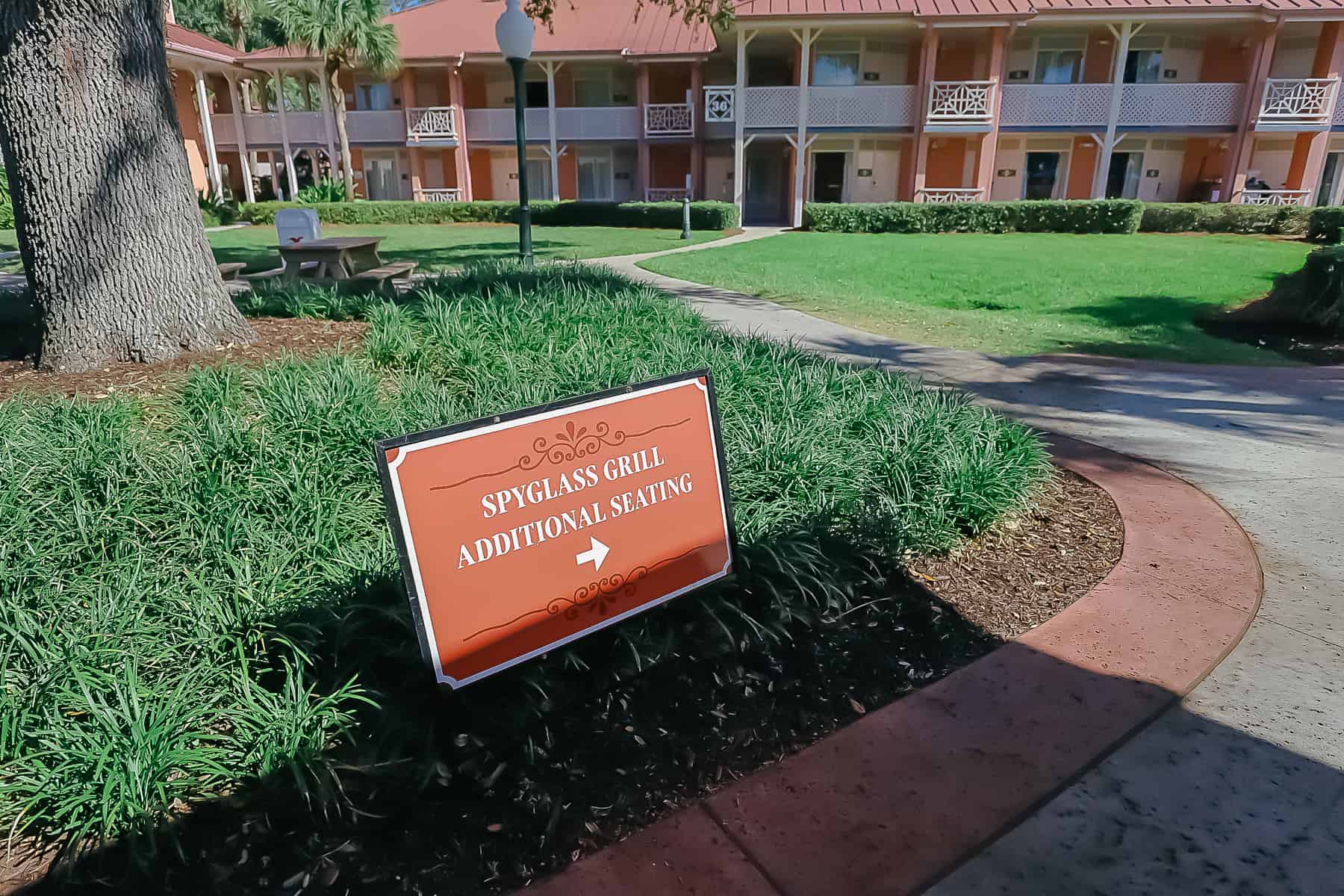 These tables with chairs and umbrellas sit between the bus stop and the Trinidad laundry room. Of course, plenty of tables and chairs are within the pool area.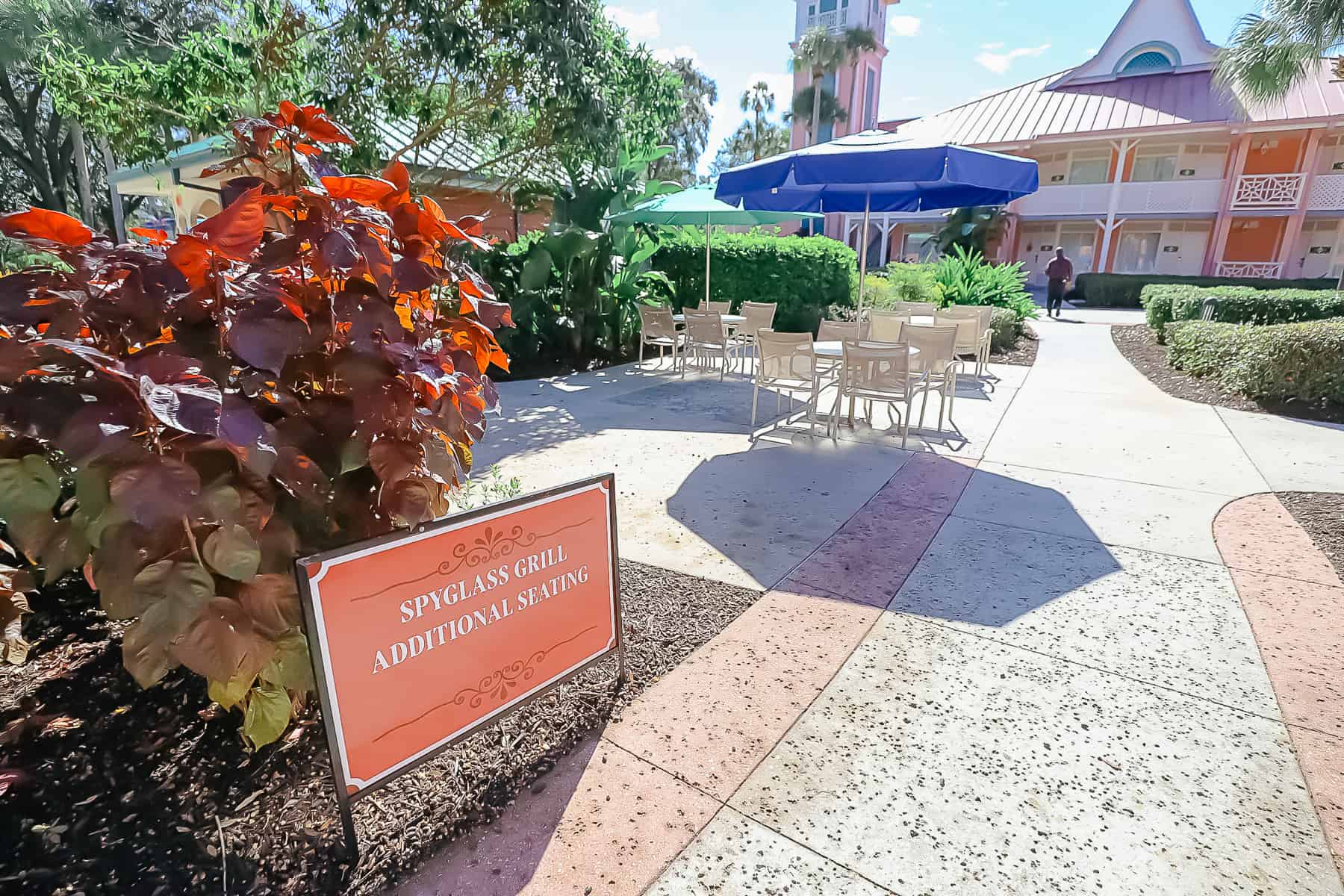 We didn't end up dining at the Spyglass Grill during our stay. But we did stop in several times to pick up a few things. On our first night, we got back to the room a little after 9:00 p.m. We had ridden the Skyliner back to the resort from Hollywood Studios, and I was too tired to walk to Old Port Royale for a soda. When I realized the Spyglass Grill was open, I was elated.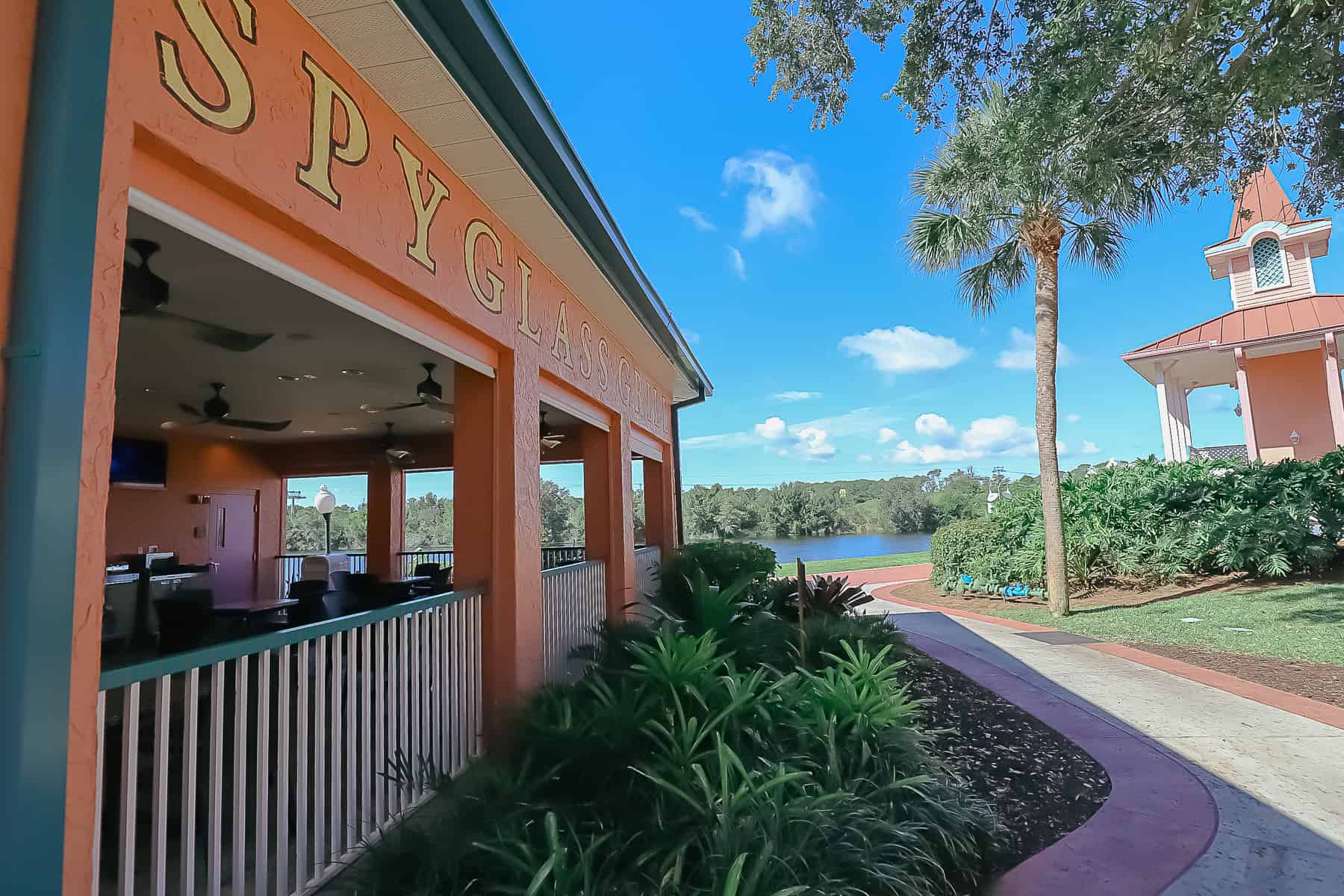 So, I wanted to make sure that you were aware of this convenient option if you have upcoming plans to stay at Disney's Caribbean Beach. Of course, if you end up in another section of the resort, you'll likely never have a need to visit Trinidad. But if you do wind up in Trinidad, you'll have two things going for you–the Spyglass Grill and quick access to the Skyliner.
For more details about Disney's Caribbean Beach, you may enjoy these articles:
What Do You Think?
Have you ever taken advantage of the Spyglass Grill at Disney's Caribbean Beach Resort? What do you think of this location? Feel free to share your thoughts, questions, and feedback in the comment section below.