Our Stay in 'The Little Mermaid' Rooms at Disney's Caribbean Beach Resort (Photos + Video)
Disney's Caribbean Beach is one of those resorts that we love to explore. However, it's never been one of our go-to resorts because of its rooms. But the tables have turned–Caribbean Beach now has new rooms.
Below, we'll preview photos and a video of the new rooms at Disney's Caribbean Beach. We'll specifically look at the rooms themed to The Little Mermaid, which are only in the Trinidad section of the resort.
Every room in Trinidad has a fifth sleeper. However, it's important to note that other sections of the resort have rooms with a fifth sleeper–just not the same rooms. If you reserve a room with a fifth sleeper, you won't necessarily get a Little Mermaid-themed room. So we'll also discuss your chances of getting this room category, how we got this room, and whether or not you even want to stay here in the first place.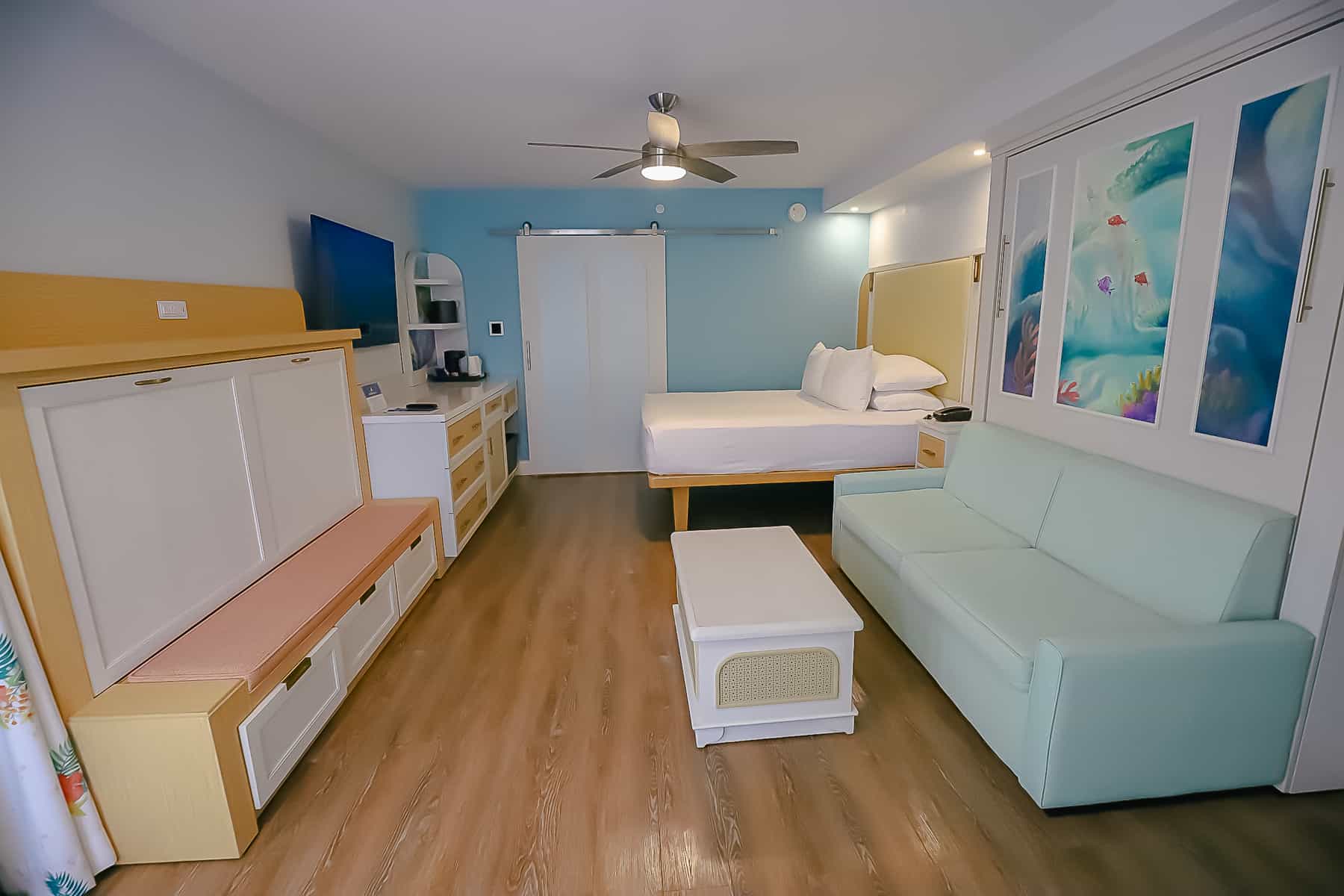 When we heard The Little Mermaid-themed rooms had replaced the former pirate rooms–it came as a surprise. Pirate rooms sound fun, don't they? Unfortunately, they have never been popular due to their layout and style of beds. Think of uncomfortable beds shaped like boats that narrow at the bow and stern.
Until this last visit, the pirate rooms were among the few places we advised people not to stay at Walt Disney World. Thankfully, these new "under the sea" themed rooms are a gross improvement. That said, our stay wasn't perfect–so we'll share a few things you'll want to consider when planning a stay here.
First, it's important to note that Caribbean Beach is not the only resort at Walt Disney World with rooms themed to The Little Mermaid. Art of Animation has Little Mermaid rooms we've stayed in several times. While both resorts have Skyliner stations, Caribbean Beach is a moderate resort, and Art of Animation is a value resort.
Therefore, these resorts are not comparable in price and amenities. Caribbean Beach will be more expensive but offer more amenities resort-wide.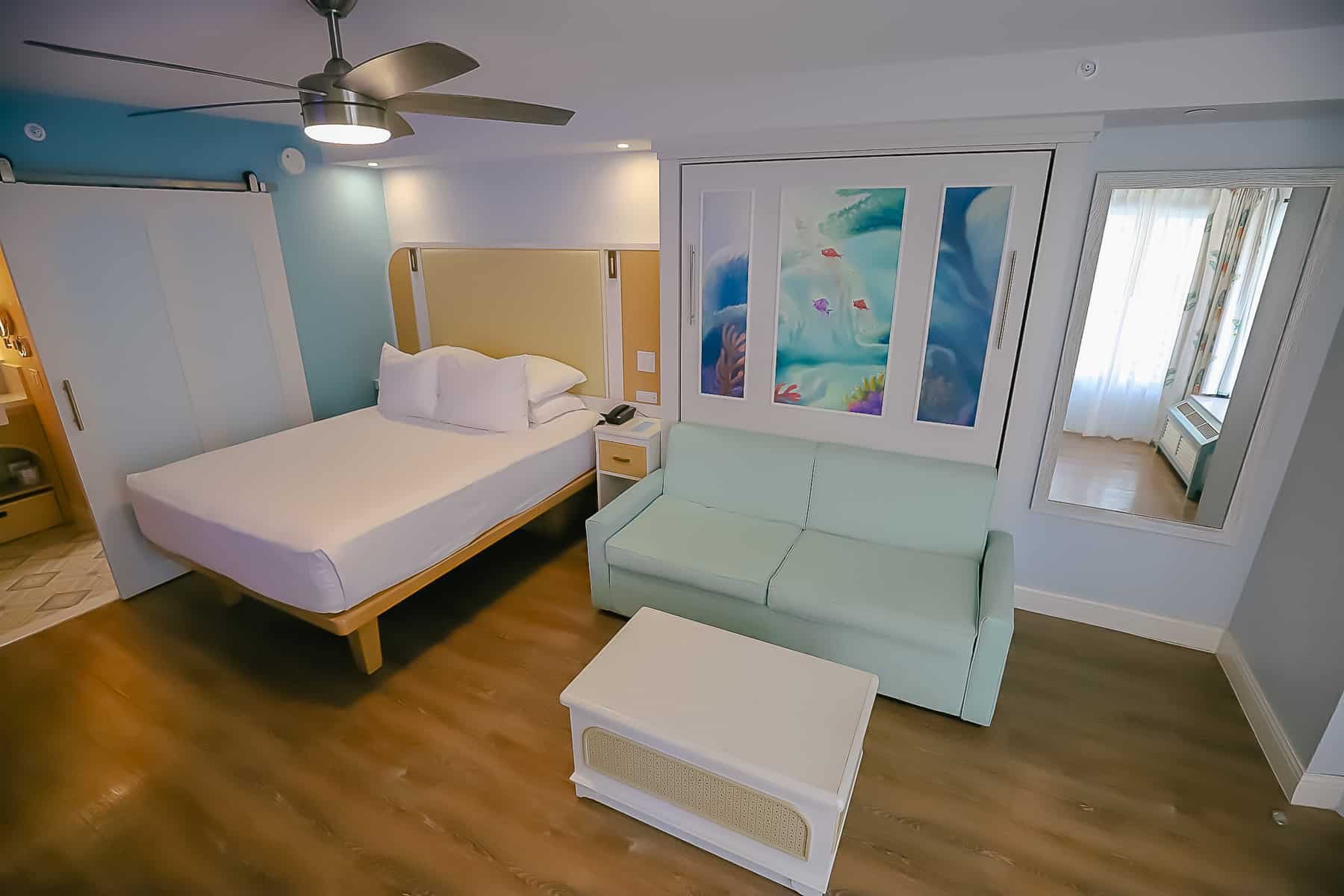 If you decide you want to book this room category, know that it's not guaranteed that you'll receive a room assignment in this section of the resort. Trinidad is a unique area that sits on the far end of the resort. However, it is exceptionally close to the Skyliner station at Caribbean Beach. So you'll want to do the following to try and secure this room type:
Reserve a room with a 5th Sleeper.
After reserving your room, add room preferences as "Near the Skyliner" in the My Disney Experience app.
Use the chat feature in the My Disney Experience app to request this room type.
If you arrive early, stop at the front desk and request a Little Mermaid room.
When we reserved this room, I did everything mentioned above except the chat feature. We live close, and generally, I like to see where the chips fall regarding room assignments. Of course, the entire point of staying here was to check out the new rooms.
We got to the resort at approximately 9:45 a.m. on our check-in day. Surprisingly, our room was available by 10:30 a.m. We received a room in building 34 of Trinidad. Buildings 34, 35, and 36 are the most sought-after buildings in this section of the resort. However, Trinidad is a decent walk to the resort lobby and feature pool. But it's a fairly short walk to the Skyliner.
If you're looking for a room with an excellent location, we prefer the Jamaica section of the resort. Rooms in Jamaica are close to the Skyliner, a short walk to Disney's Riviera Resort, and near the entrance to the bridge to Old Port Royale (lobby and pool). We'll discuss room locations more when we update our resort review of Disney's Caribbean Beach.
Rooms at Caribbean Beach are spread out into villages. Each village has buildings with two floors. None of the buildings have elevators. So, if you have an accessibility issue, requesting a first-floor room will be a priority.
Our room was on the second floor, which was not an issue. Thankfully, this was a short stay, and we only had one large suitcase. If you do have a lot, a bellhop can assist you. But you might have to wait your turn. It's a large resort, so if you need assistance on your check-out day–don't wait until the last minute.
Here is a video with the layout of our room.
We took a good deal of photos of the room, too.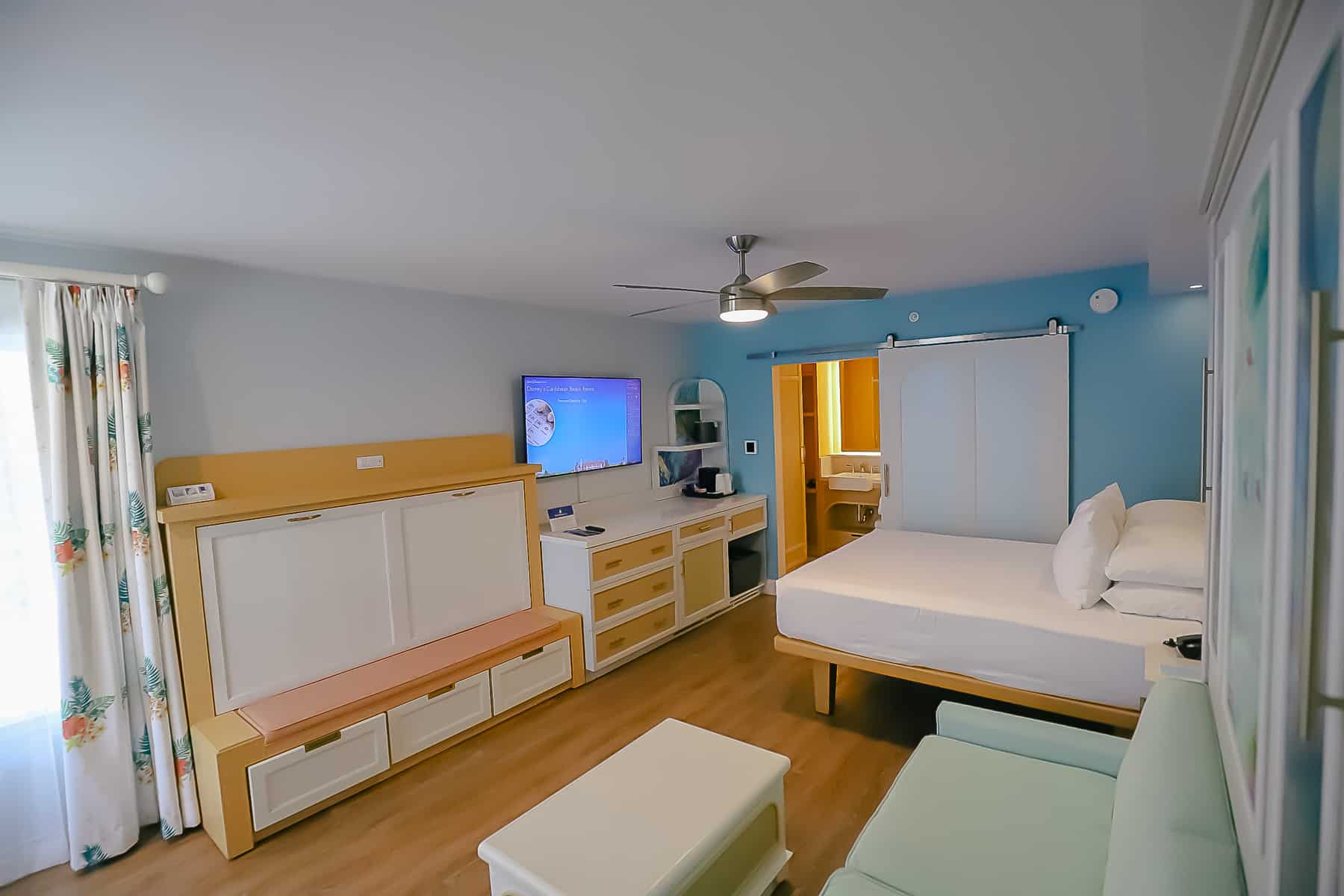 We'll start with the Murphy bed. You can pull the handles on either side of the artwork above the sofa, and a bed slowly lowers from the wall. The sofa collapses neatly underneath.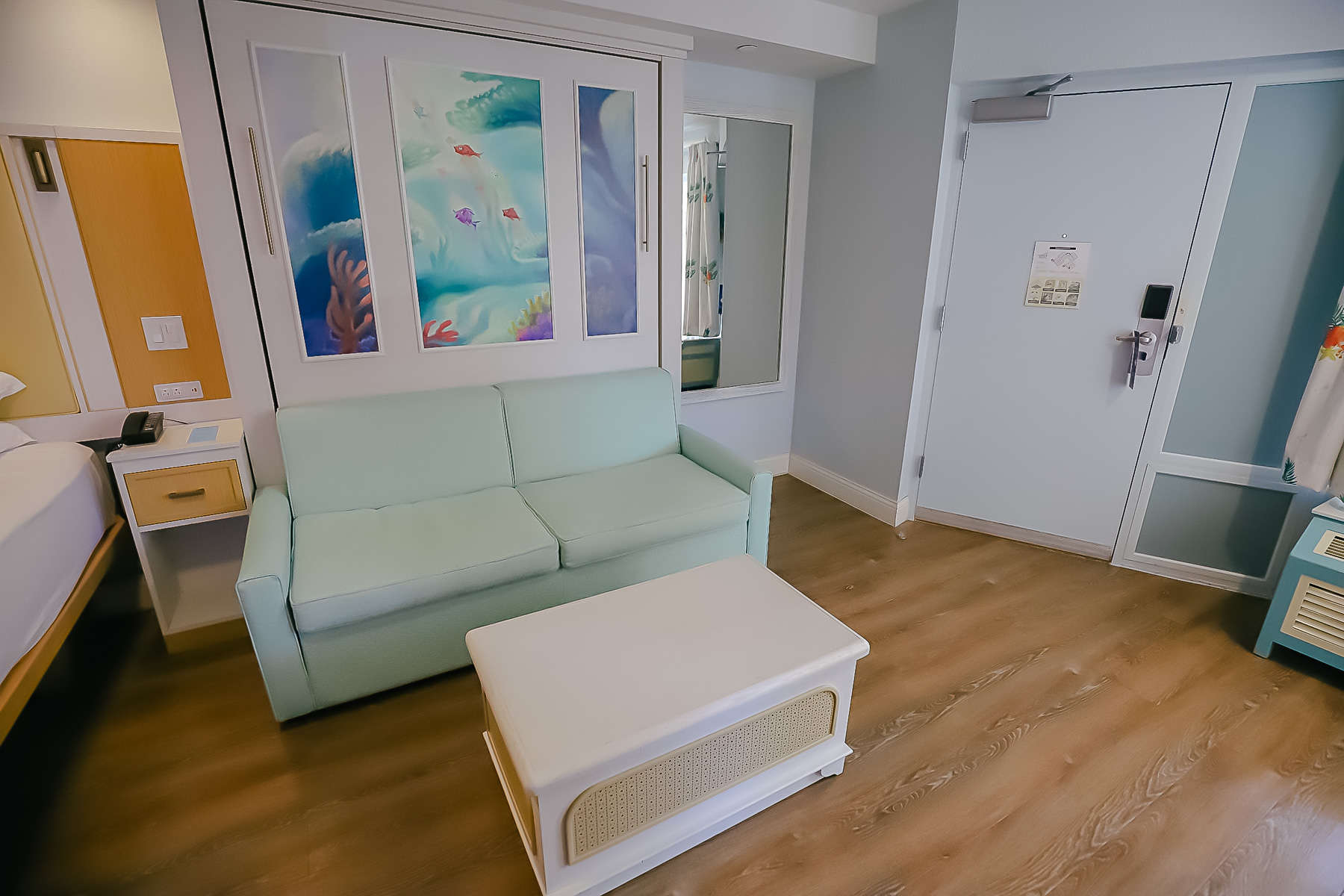 The artwork above the sofa features a subtle under-the-sea look with several fish and coral.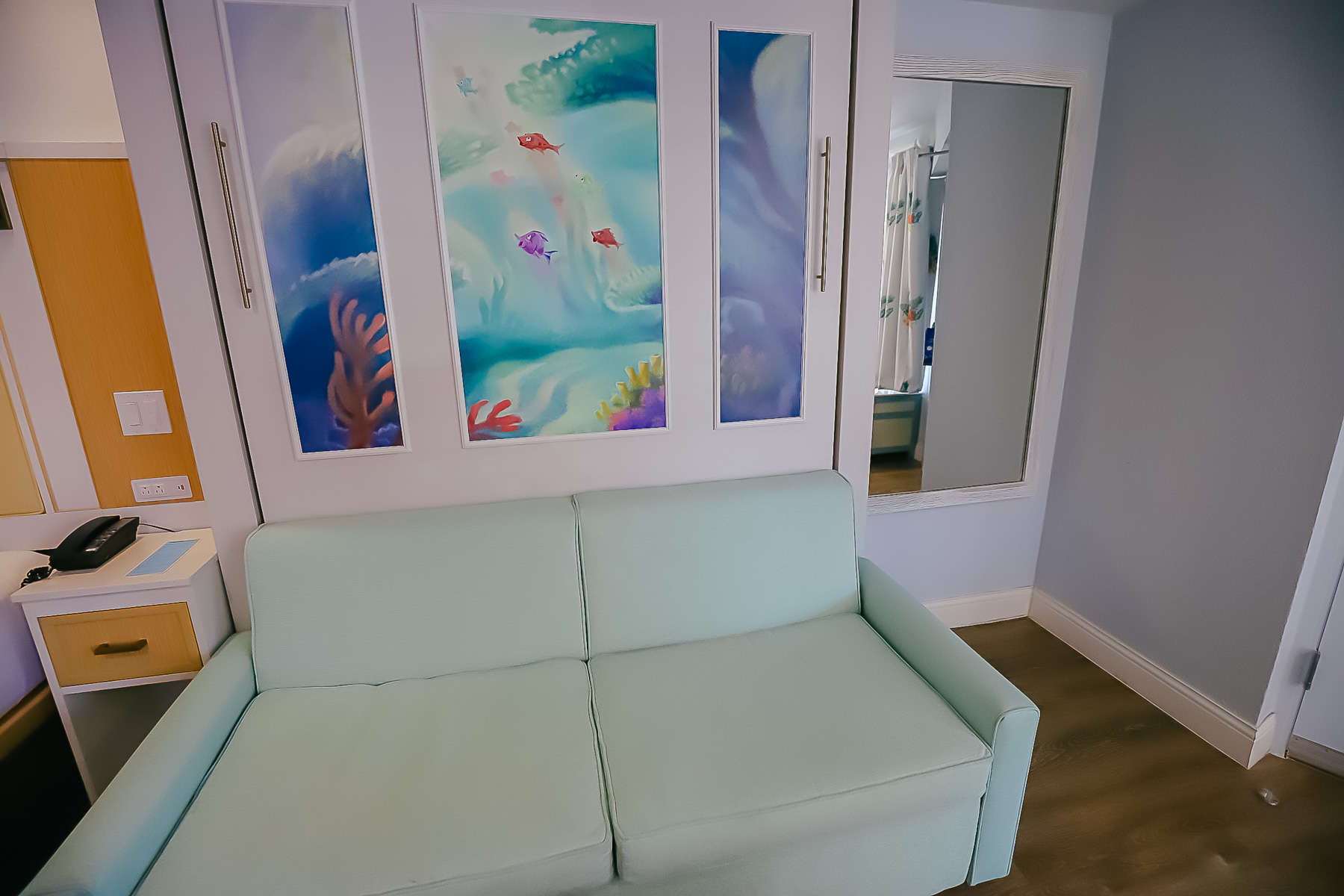 A coffee table on rollers sits immediately in front of the sofa.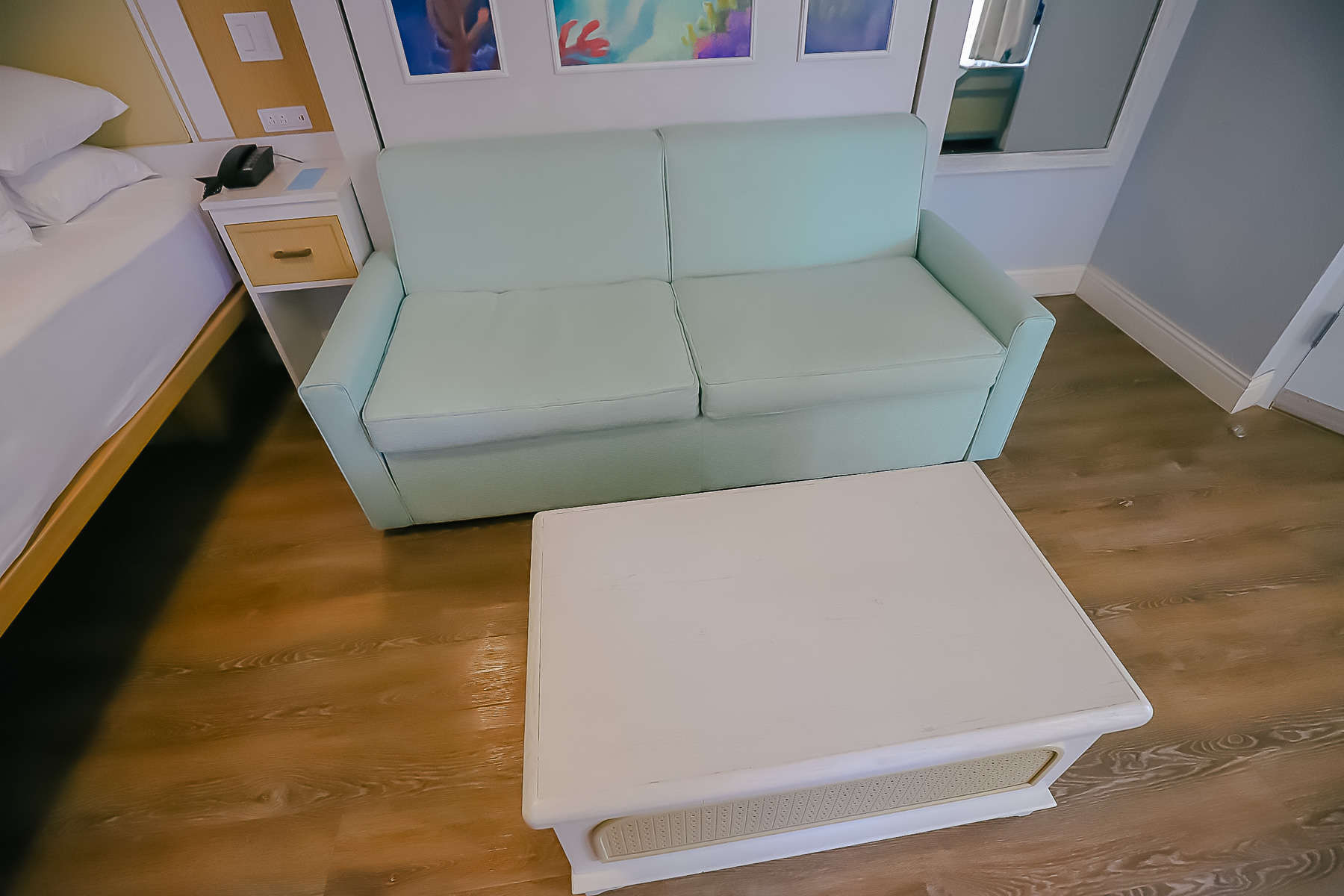 It lifts to accommodate guests. Unfortunately, this room doesn't have a table with chairs. So, the lift table provides a substitute. I wrote a blog post here during our stay, and we picked up dinner from the Riviera one evening and used this space. It worked well, so I had no complaints.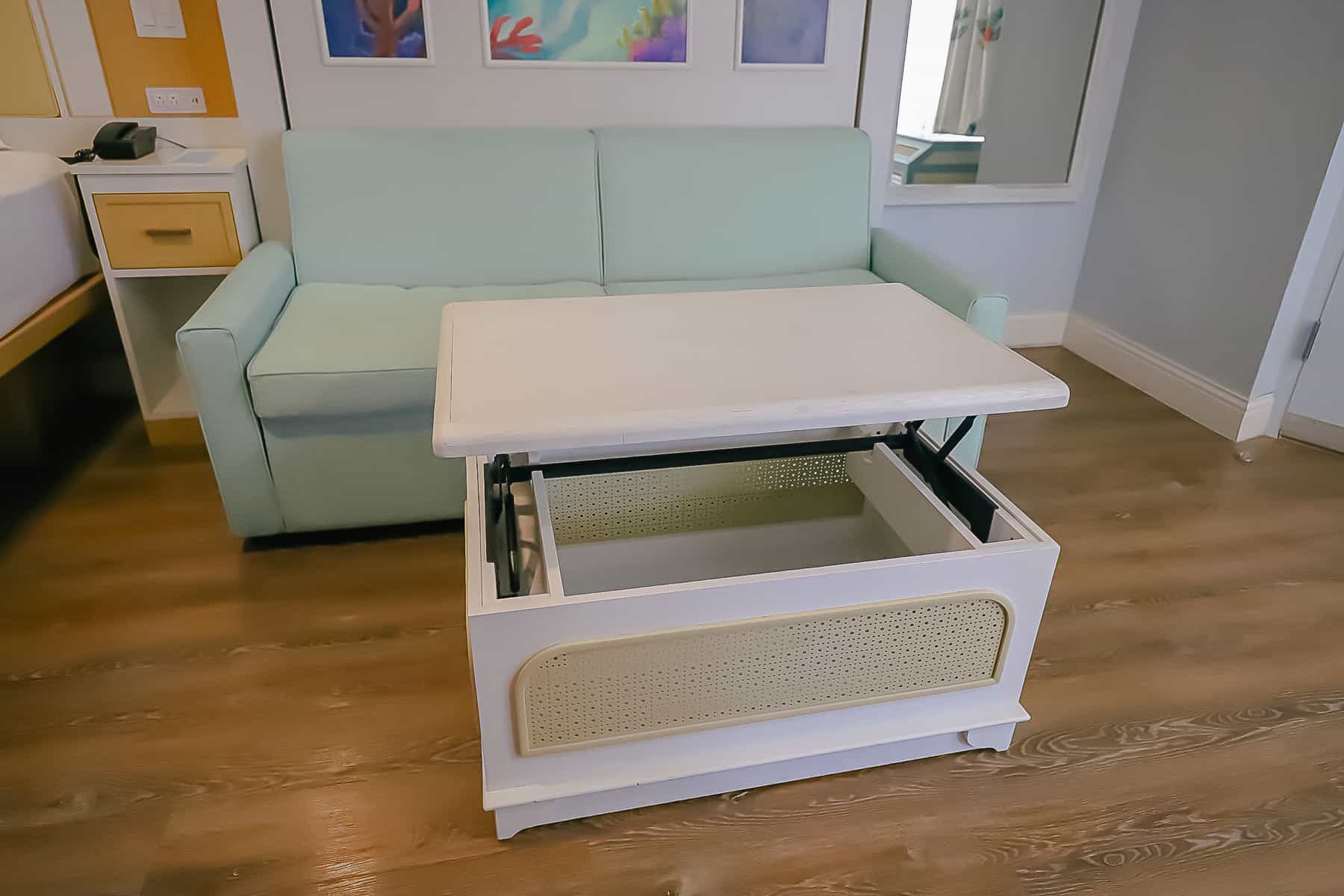 When taking photos, I rolled the table to the corner of the room to get it out of the way. It was no trouble. However, that antique air conditioner unit was pretty awful! I was going to mention it later, but seeing it in the photo below reminded me of how loud it was at night. We almost always have the TV on if we're in the room. So I didn't notice it much during the day. But on our first night, I thought something was wrong. It wailed throughout the night like the wind in a fierce storm.
My other issue with the room was the length of the curtains over the unit. They were cut about two inches short. You can tell there's a gap between the curtains and the top of the unit. Since this was a corner room, we had a bright security light outside our window. At night, this gap allowed a bright light to shine into the room. So you'll probably want to place a towel at the base of the window to block the light at nighttime.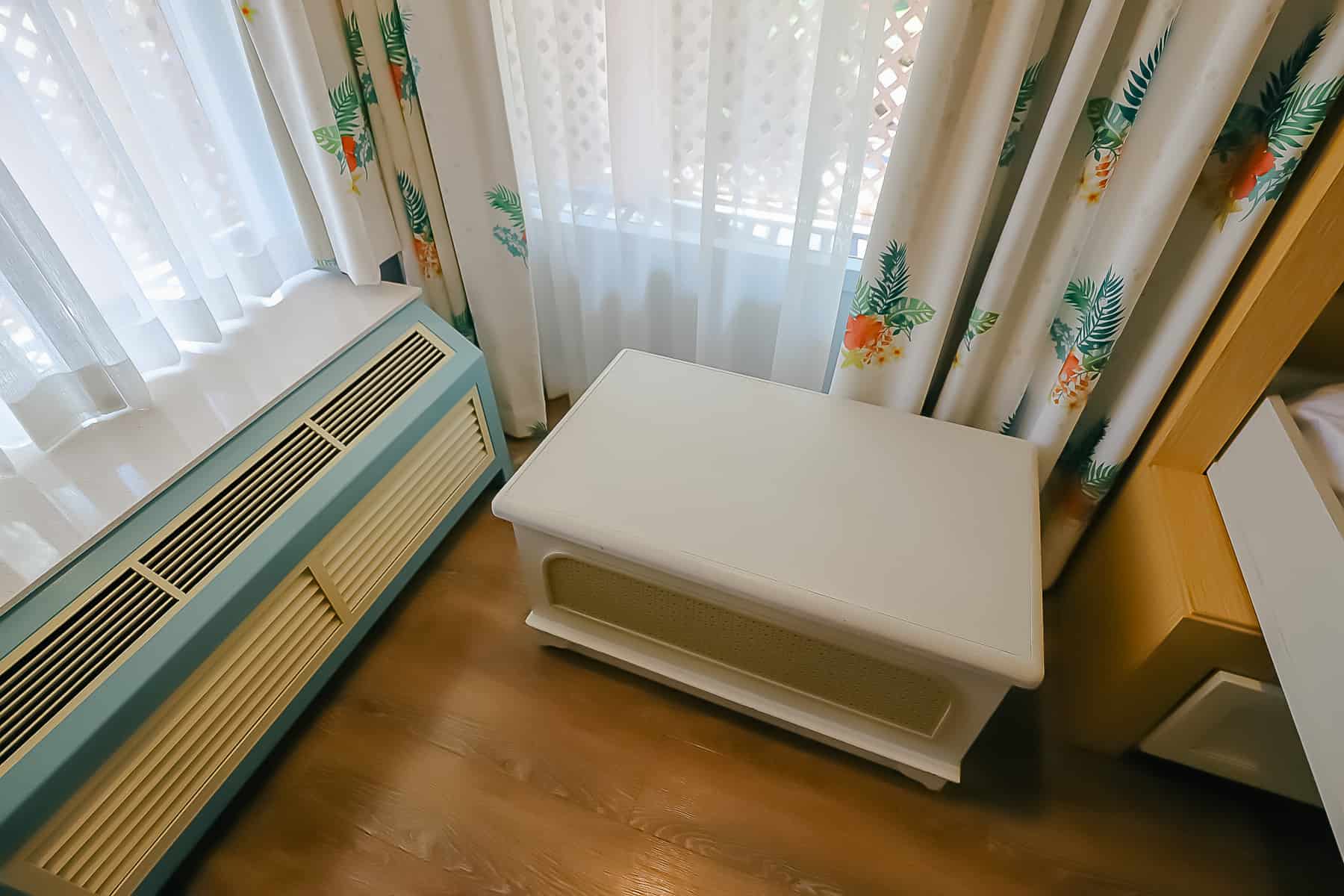 The Little Mermaid rooms feature a queen-size bed, one queen-size pull-down bed, and a child-size sleeper. There isn't much guidance for the fifth sleeper other than child-size. I imagine it would sleep most children to 11-13 years old, depending on their height. It's basically the size of a trundle bed.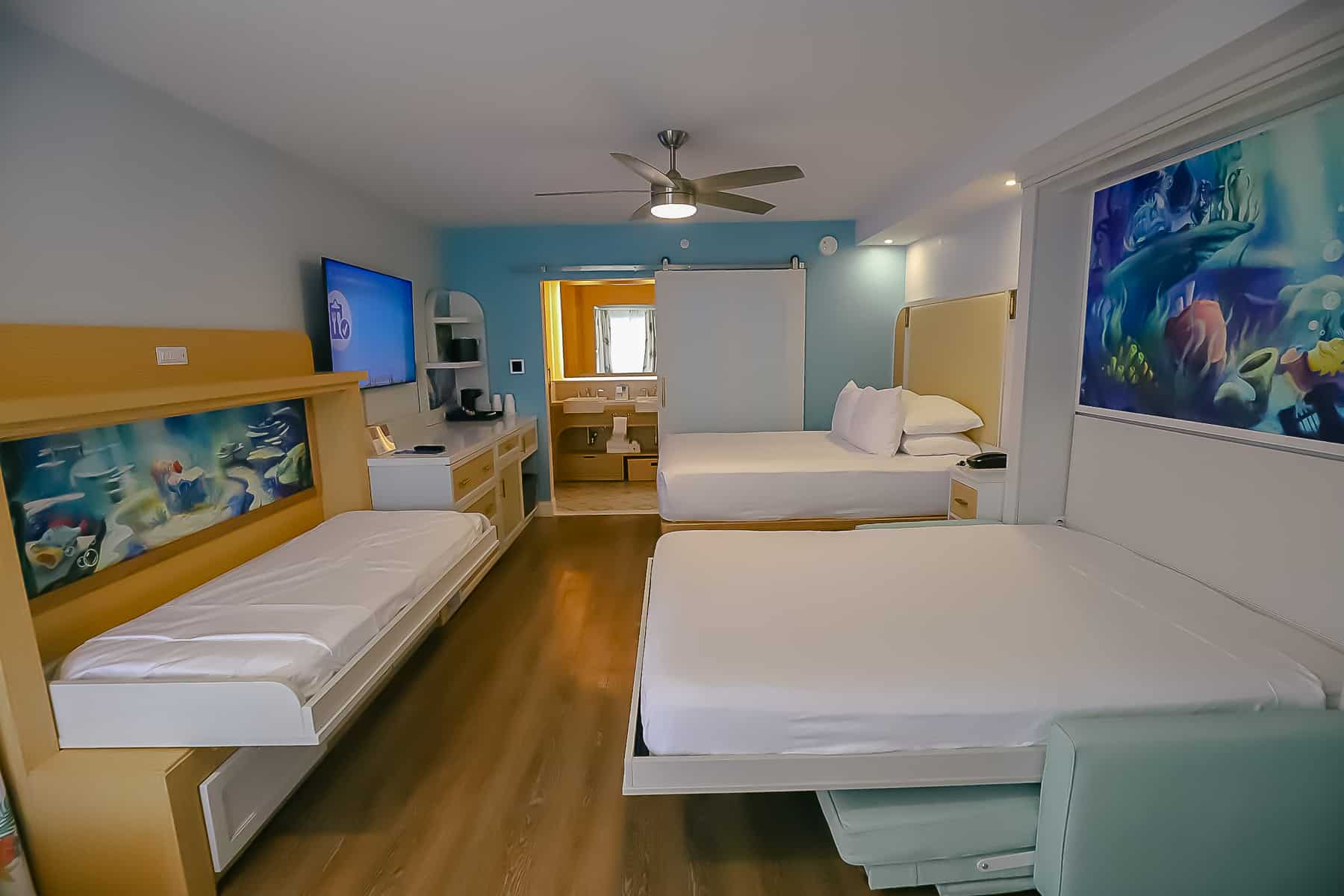 When the Murphy bed is in use, we see Flounder snoozing in the background.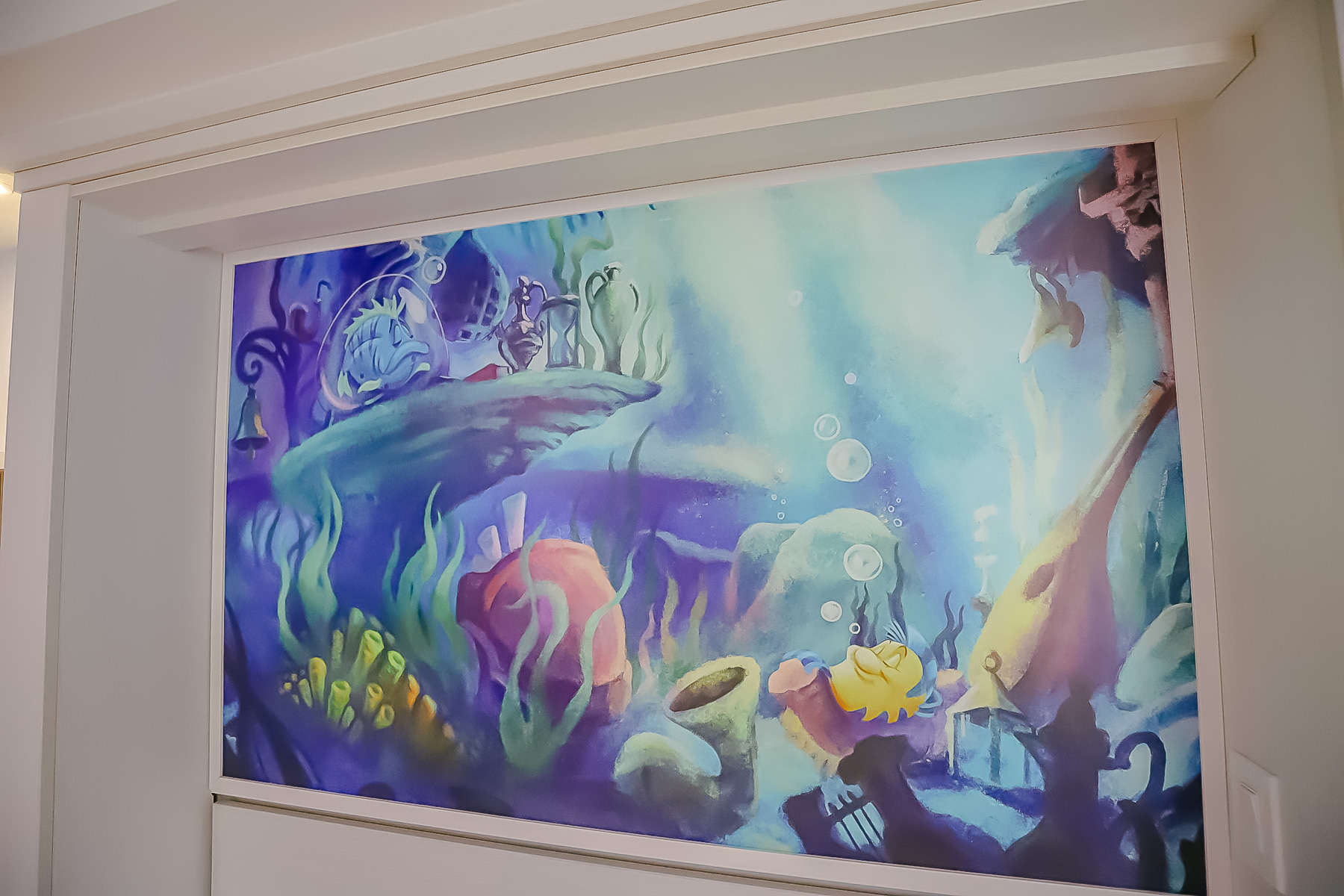 Here is the queen-size bed. It has pin lights on each side of the bed that make for a good nightlight if you need one during the middle of the night.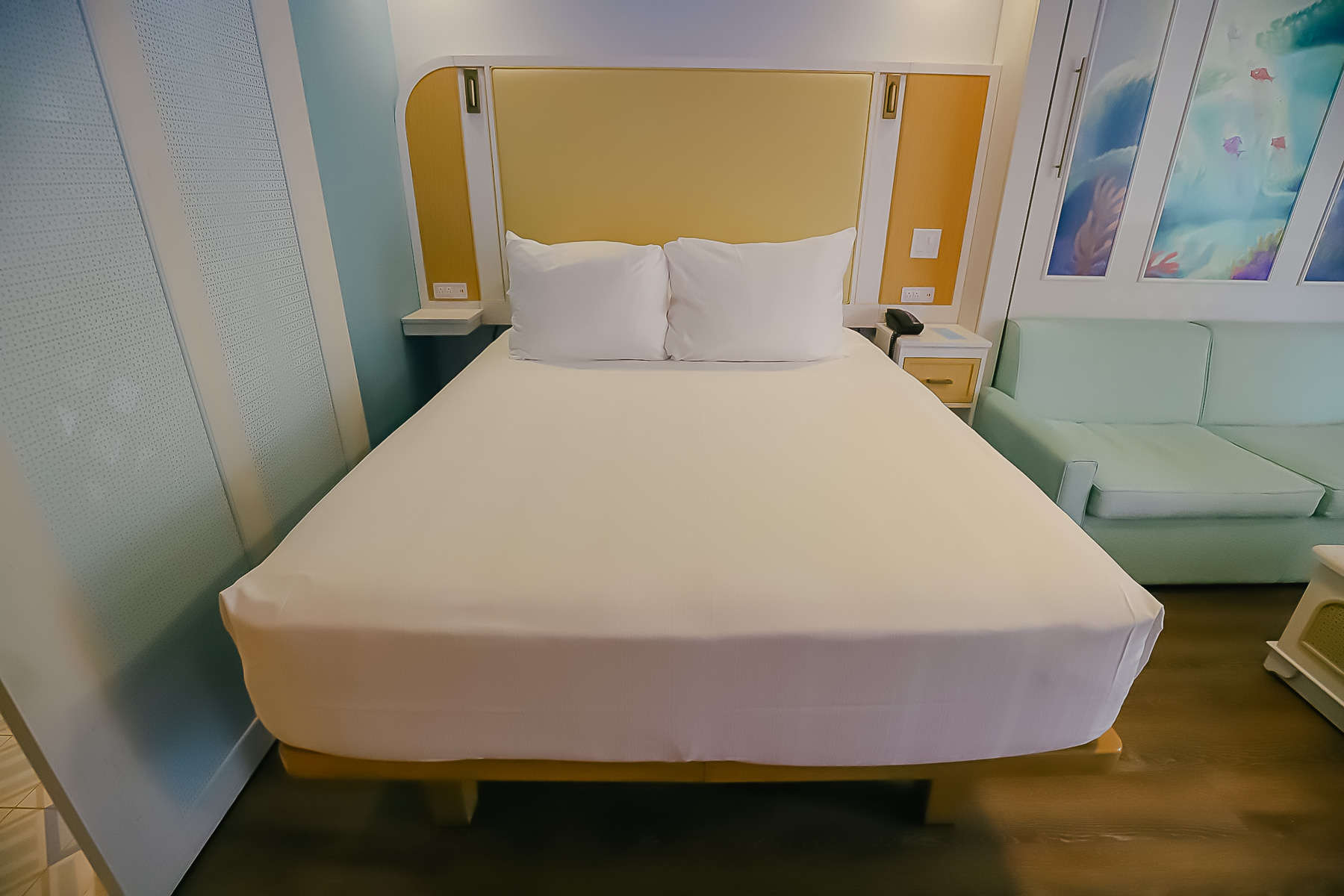 A built-in nightstand sits between the beds. It had two outlets and USB ports for charging devices.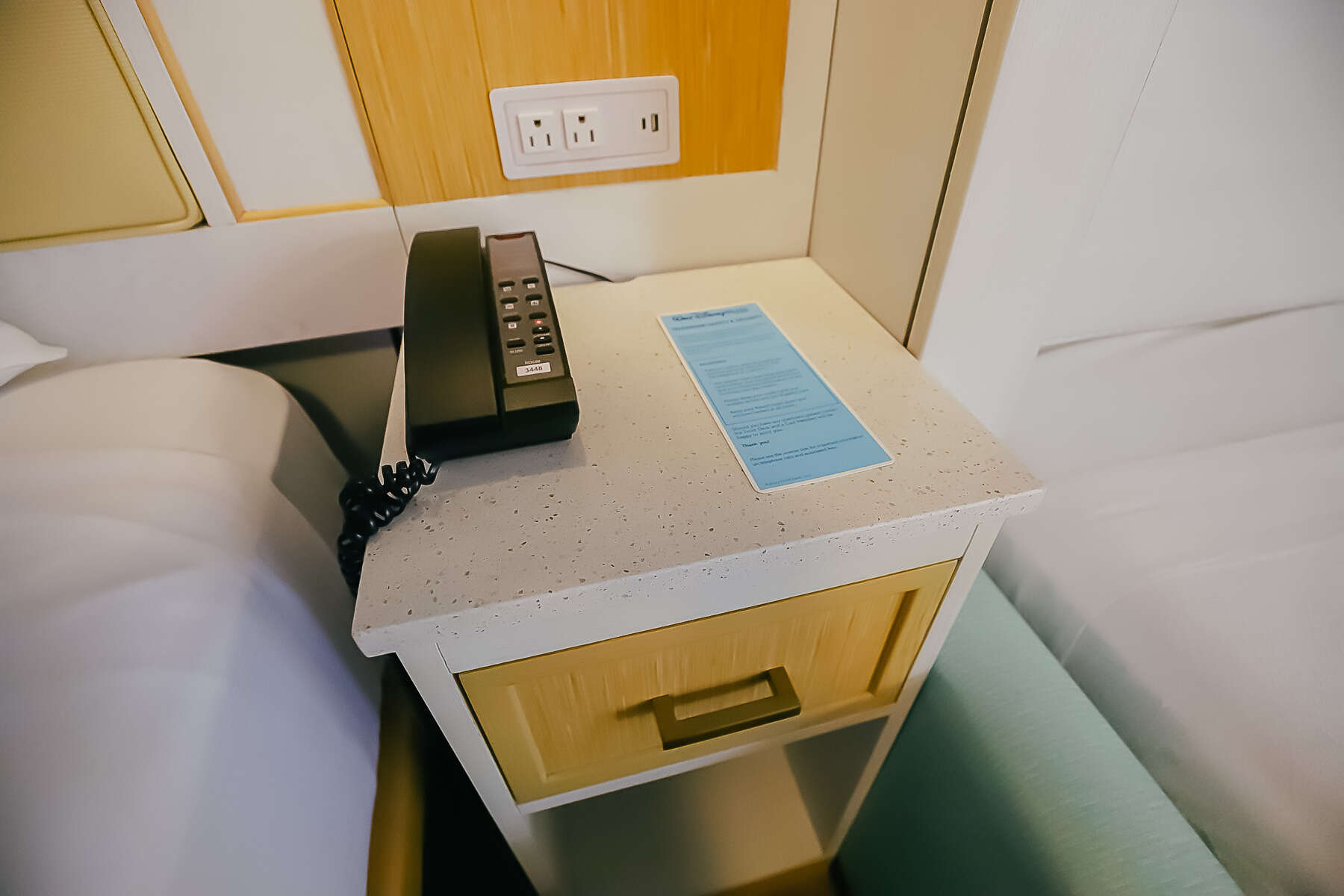 A small built-in countertop with more outlets is available on one side of the bed. What would we do without the ability to charge our devices?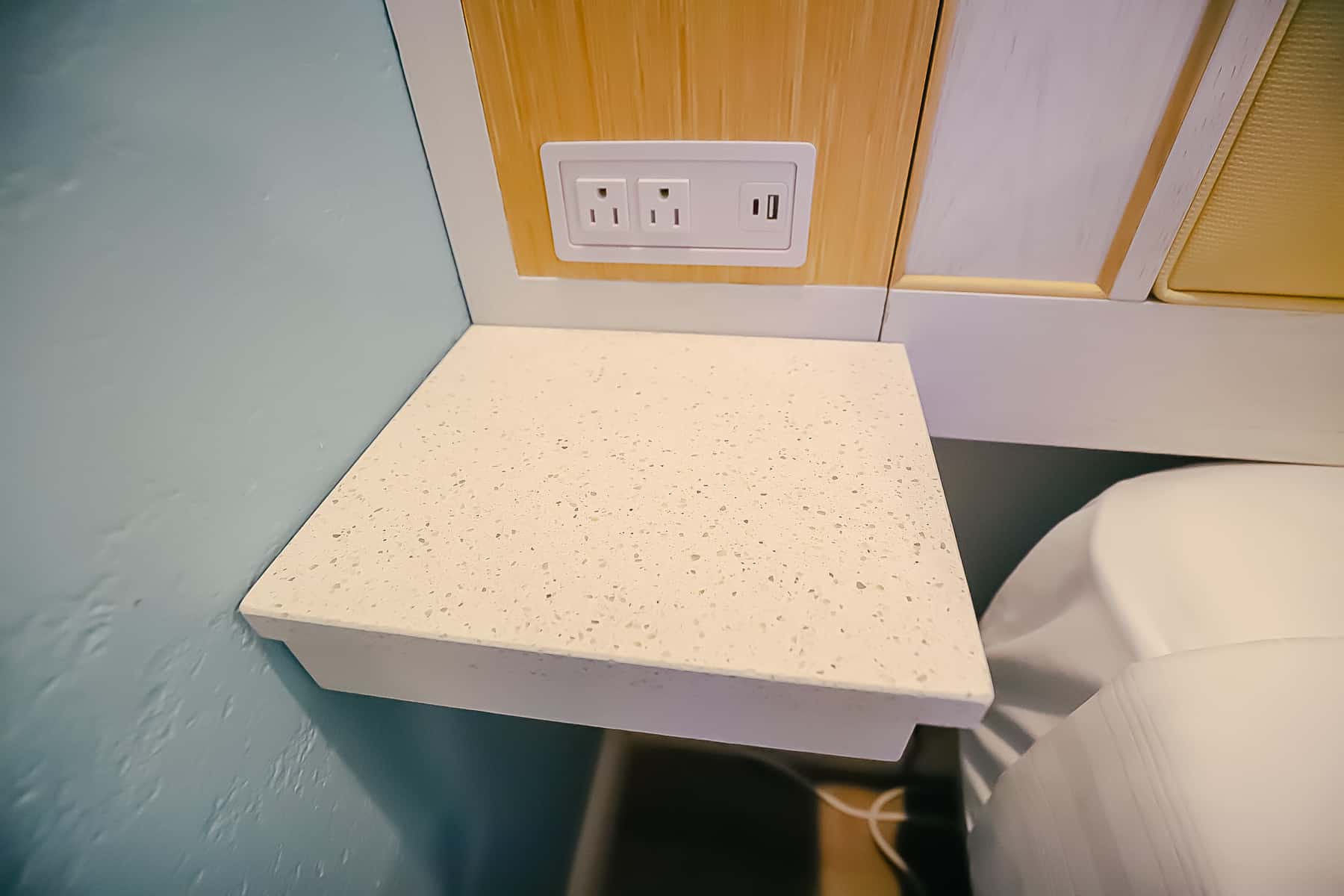 On the opposite side of the room, we see the fifth sleeper, television, and dresser.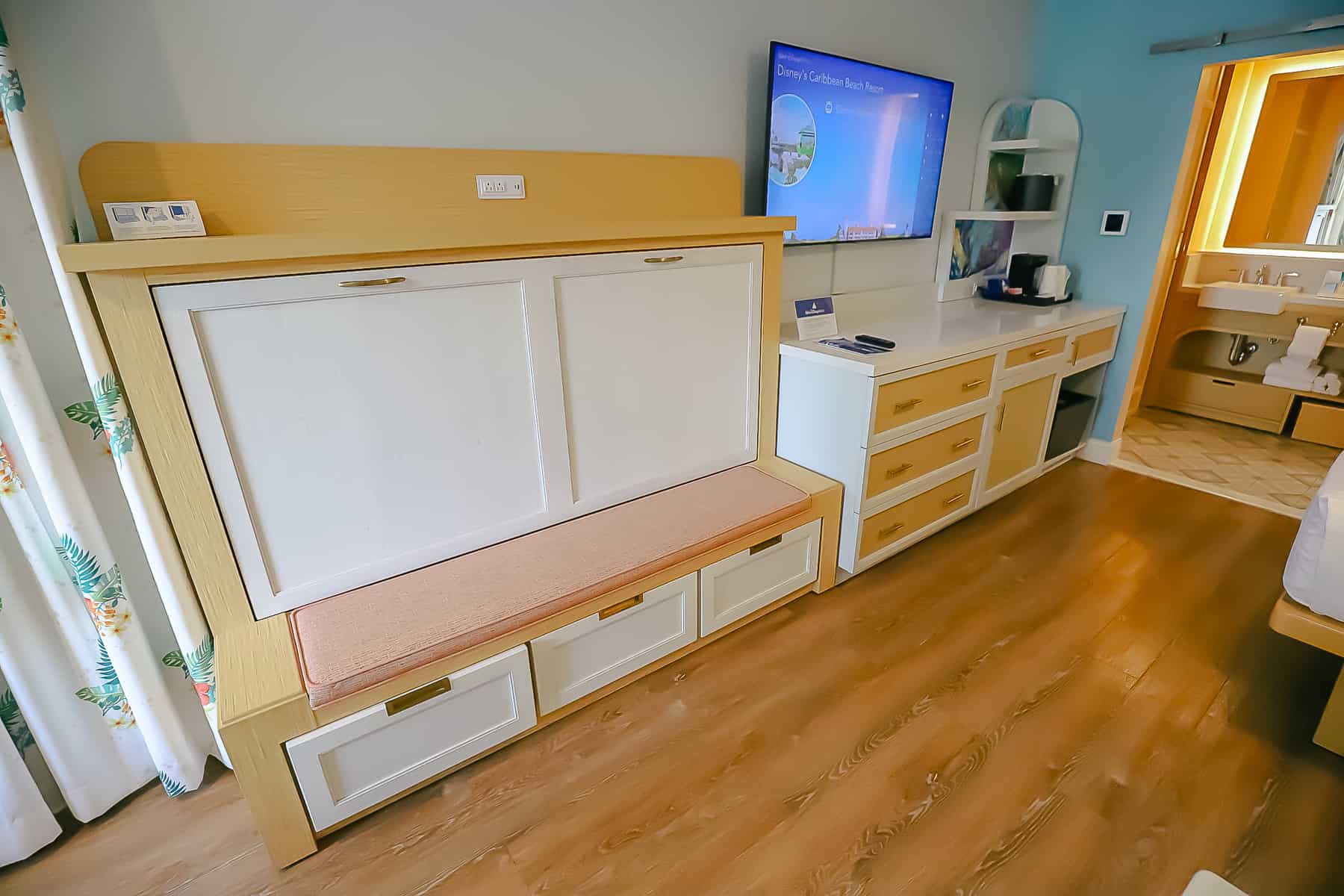 Here is the fifth sleeper shown pulled down from the wall. You might notice the upper framework of the bed provides a shelf with more outlets.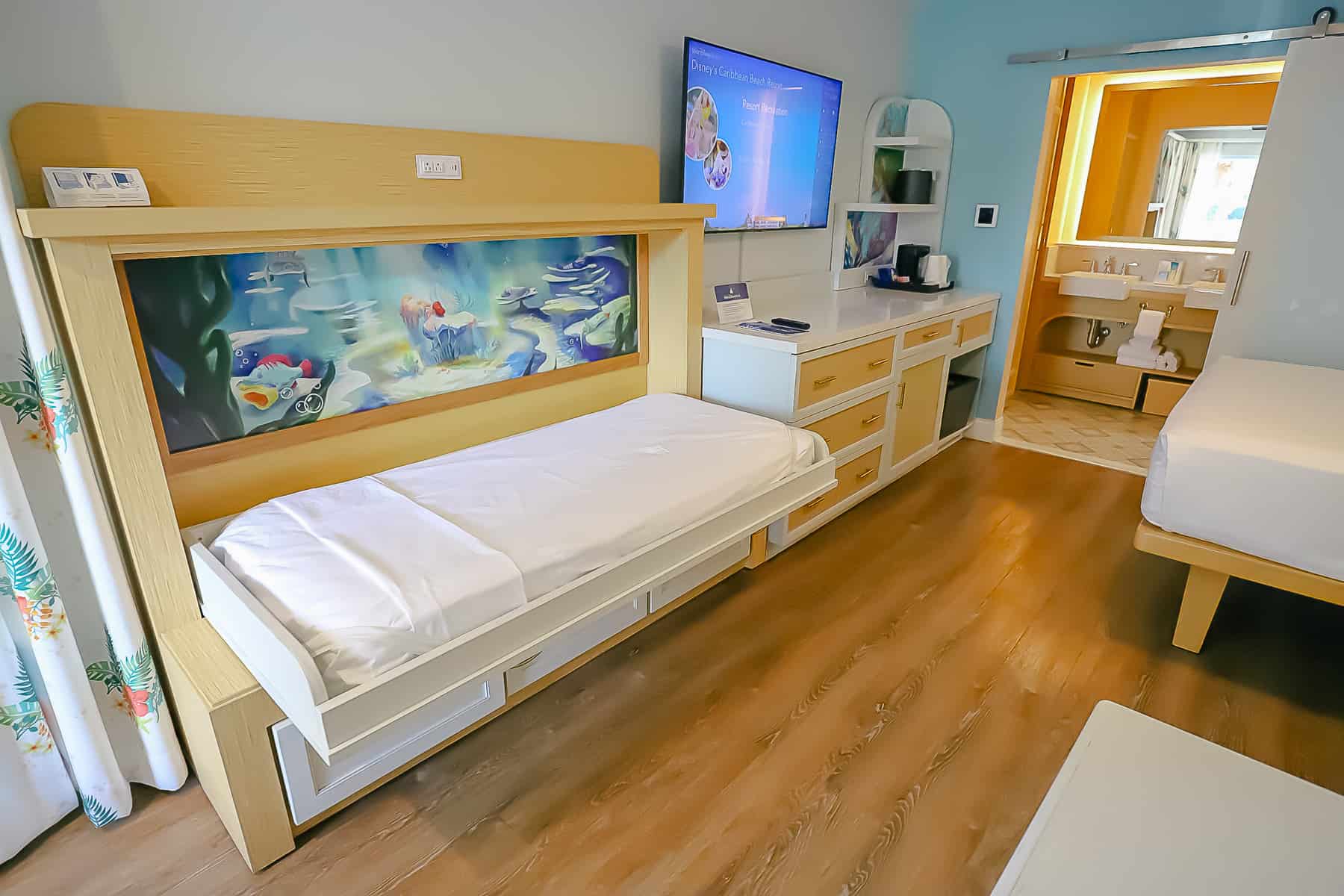 When the bed is pulled down, more artwork is revealed.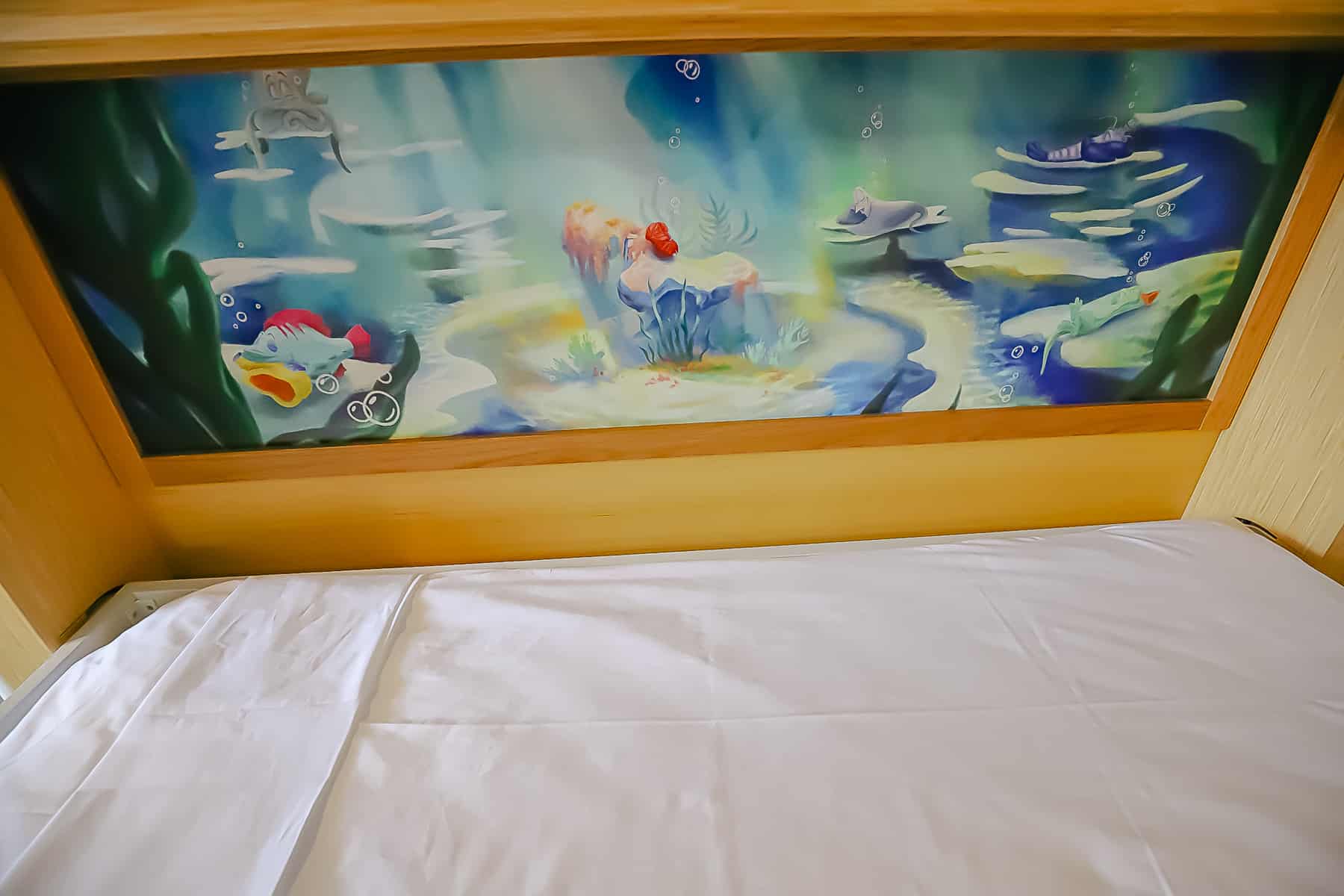 When the bed is not in use, you can use the bench to put on or remove shoes. You can then store them in the cubby holes underneath the bench. This is an excellent way to get shoes out of the way instead of having everyone throw them off and tripping over them later.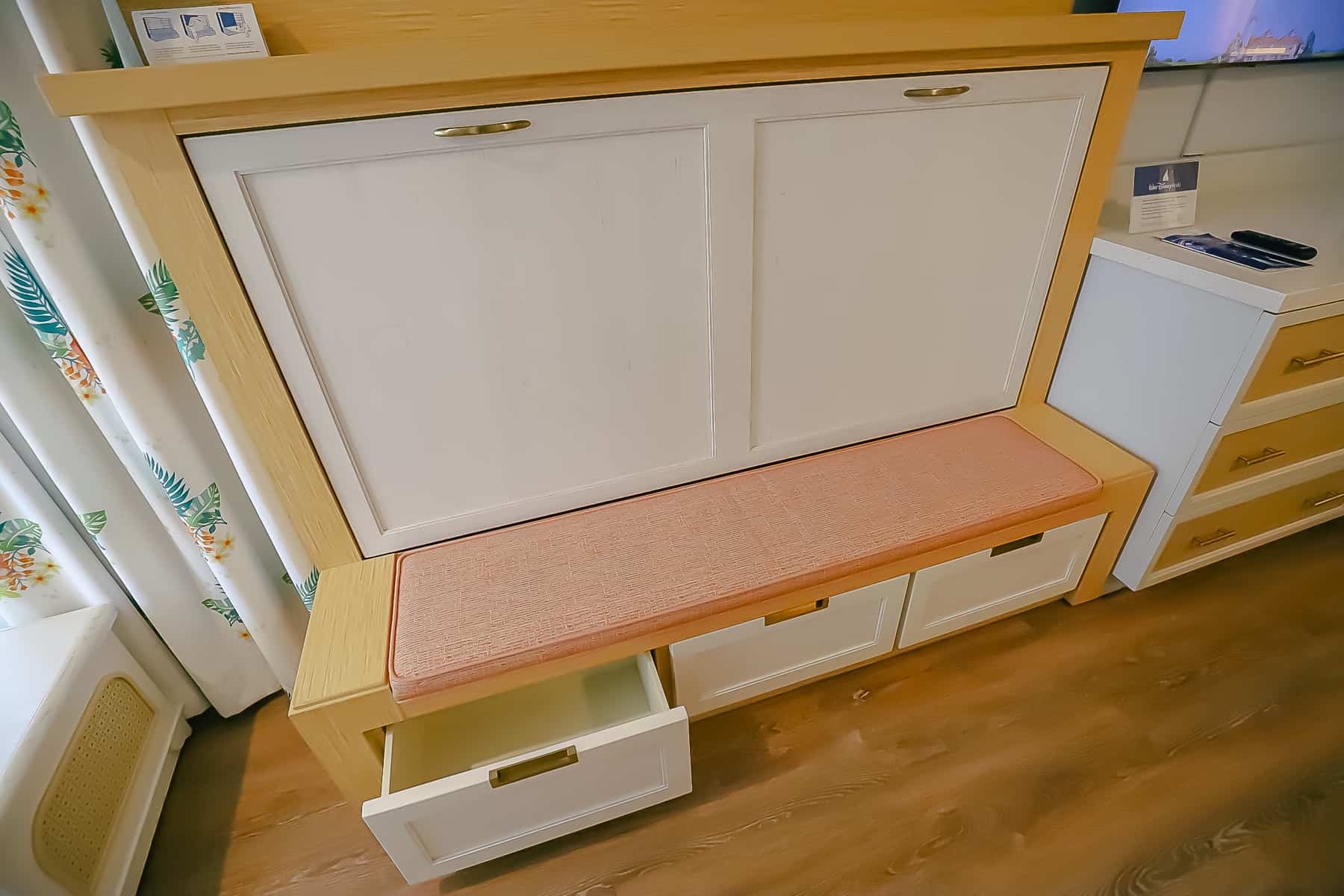 As far as storage goes, you can slide suitcases underneath the platform bed. We have a large suitcase, and it fits fine. While we're down at this angle, you might also notice the room had laminate flooring. We're not talking high-end finishes. But I'll take this any day over heavily treaded carpet.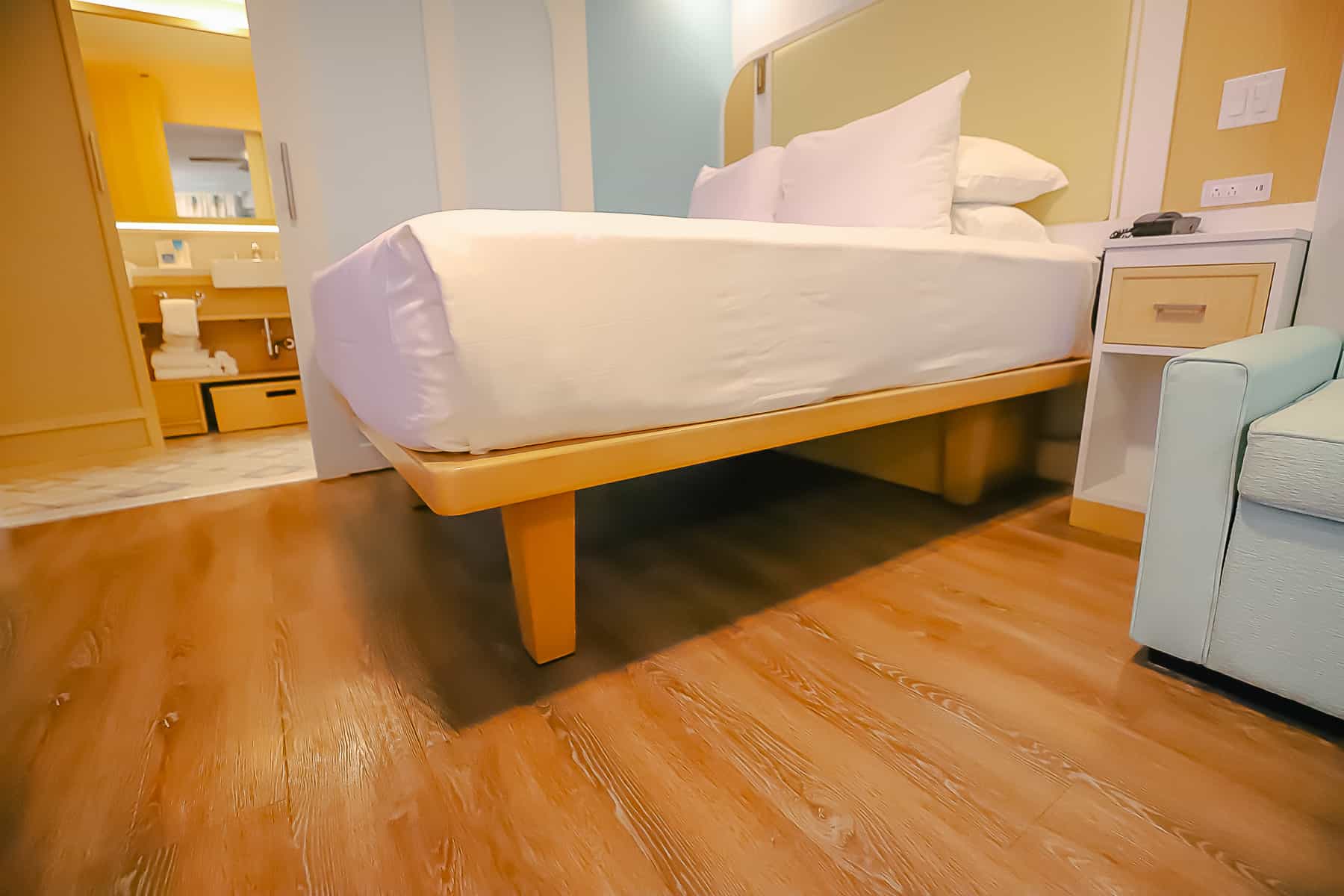 The dresser provided a countertop with a couple of drawers for storing items.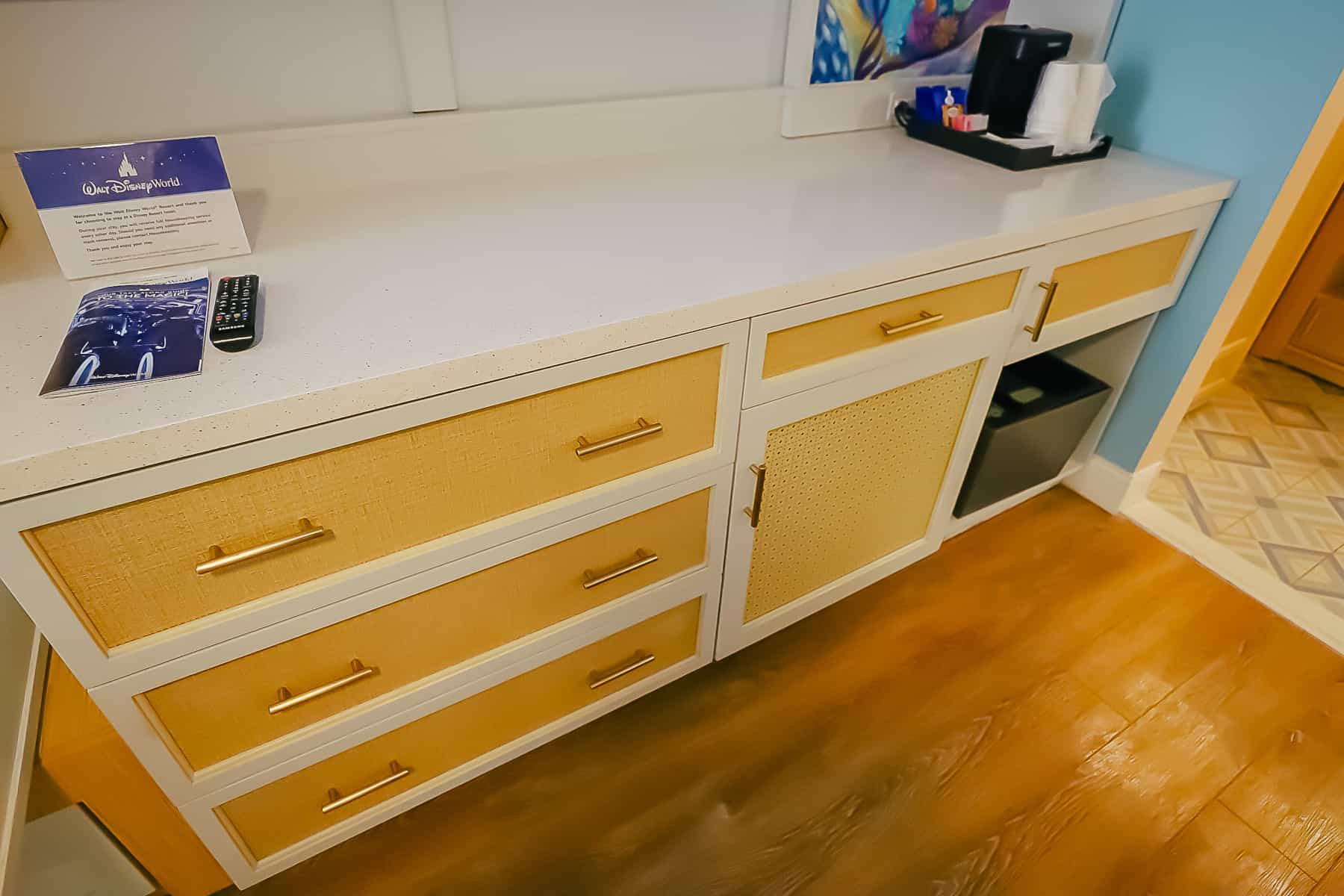 The screen door cabinet opens to reveal the beverage cooler. These work okay for cooling beverages. But you probably wouldn't want to use one for storing perishable items. Our water and sodas never got as cold as we would have liked. But we always pick up a cup of fresh ice on our way back to the room at night.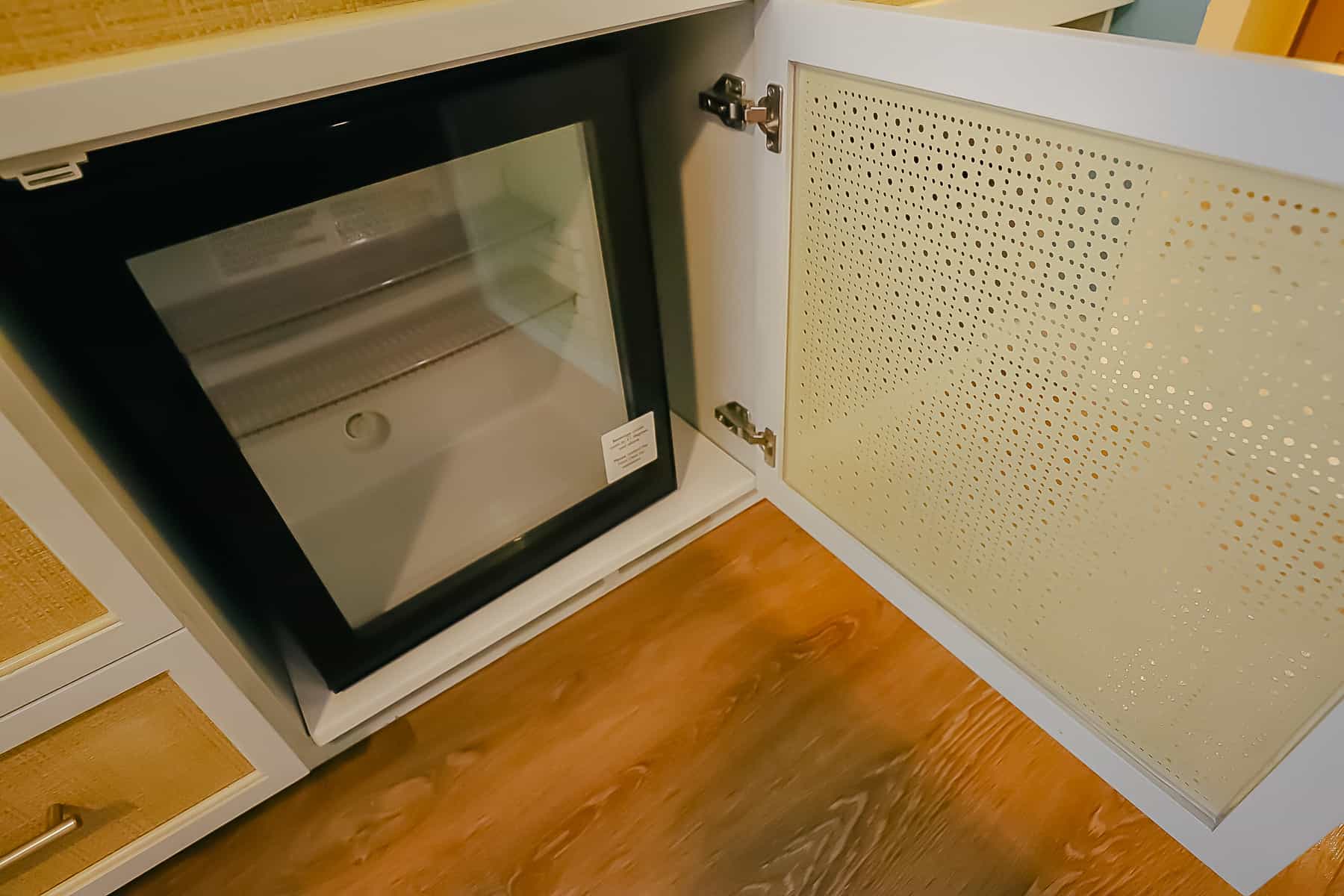 Toward the end of the dresser, a cabinet opened to reveal an in-room safe.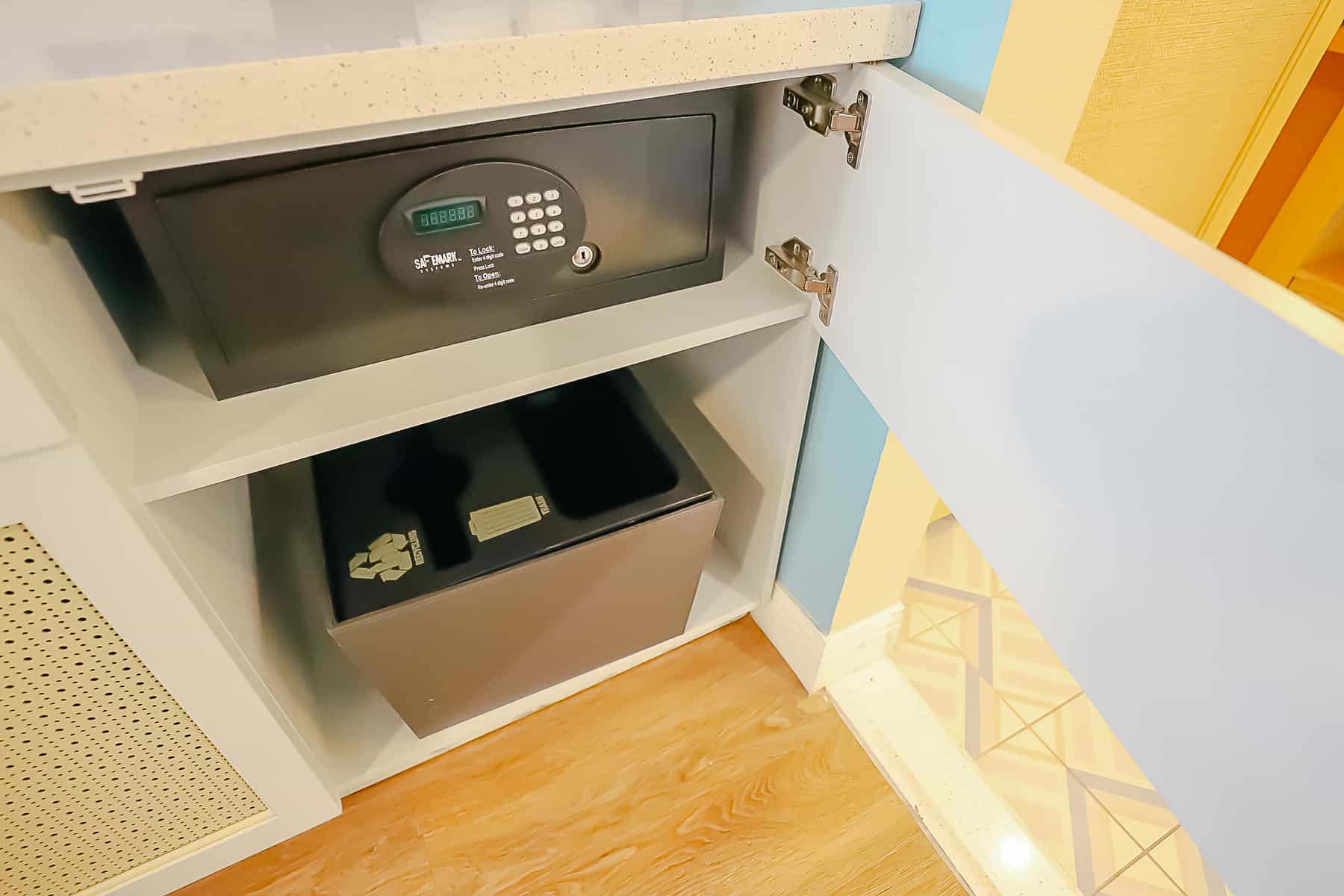 A Cuisinart individual coffee maker was available.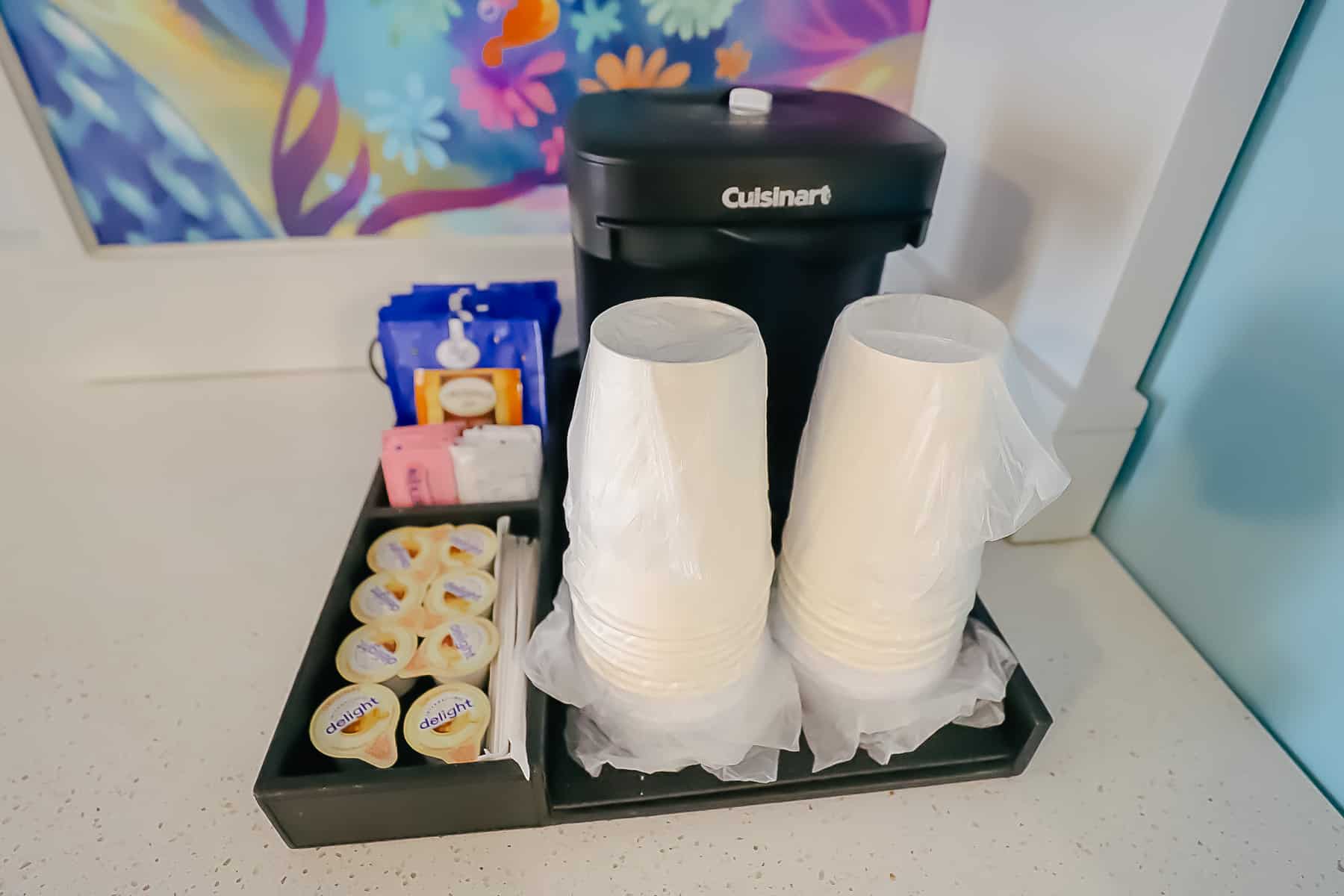 A few shelves are available above the dresser. This is where you'll find an ice bucket. Ice machines are available near the center of each building. Most nights, I would stop at The Spyglass Grill and get a few cups of ice.
The Spyglass Grill was open every night until 10:00 p.m. and was a huge benefit. For reference, this is a partially outdoor quick-service restaurant specific to the Trinidad section of the resort. They had a nice variety of items available to order, along with grab-and-go selections. You could also refill Rapid Fill mugs at this location.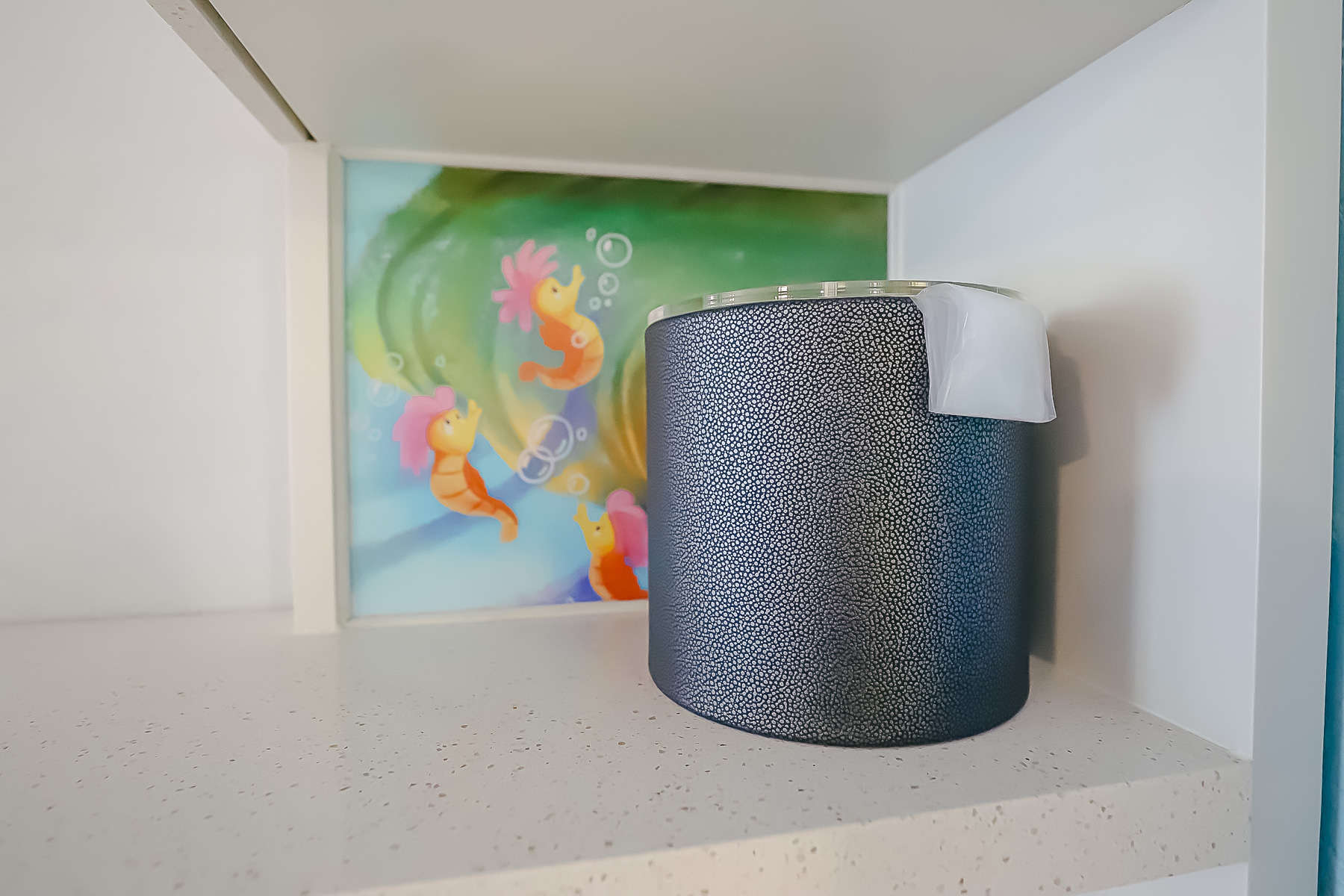 I thought the artwork was adorable. Nothing in the room screamed The Little Mermaid, nor was the decor loud or tacky. It was all subtle, feeling fresh and new. But you still knew you were at Disney World, and a tropical oasis awaited outside your room.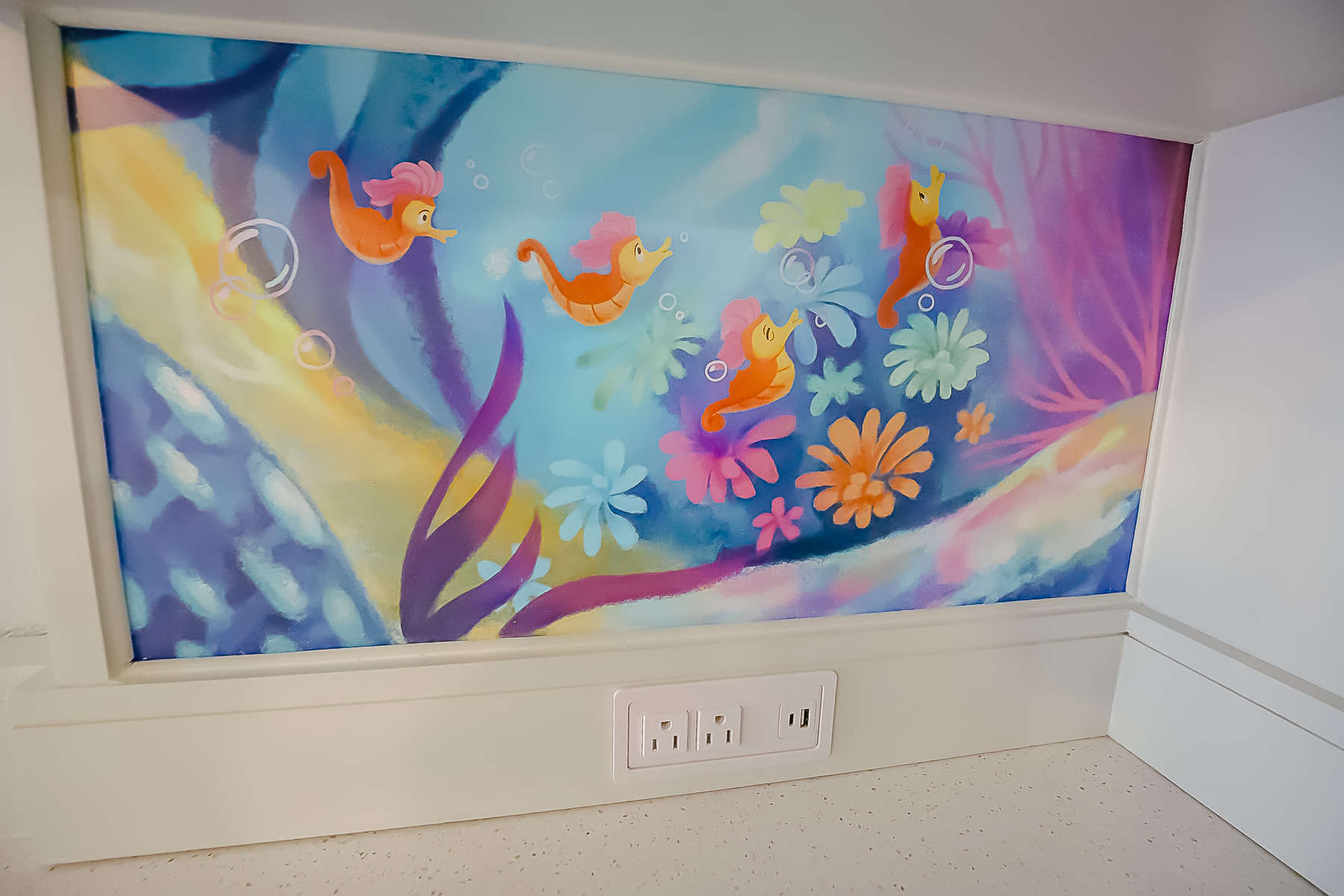 The guest bath was divided into two areas. One area had a vanity with two sinks, additional closet space, and other amenities. A step stool is available under one of the sinks.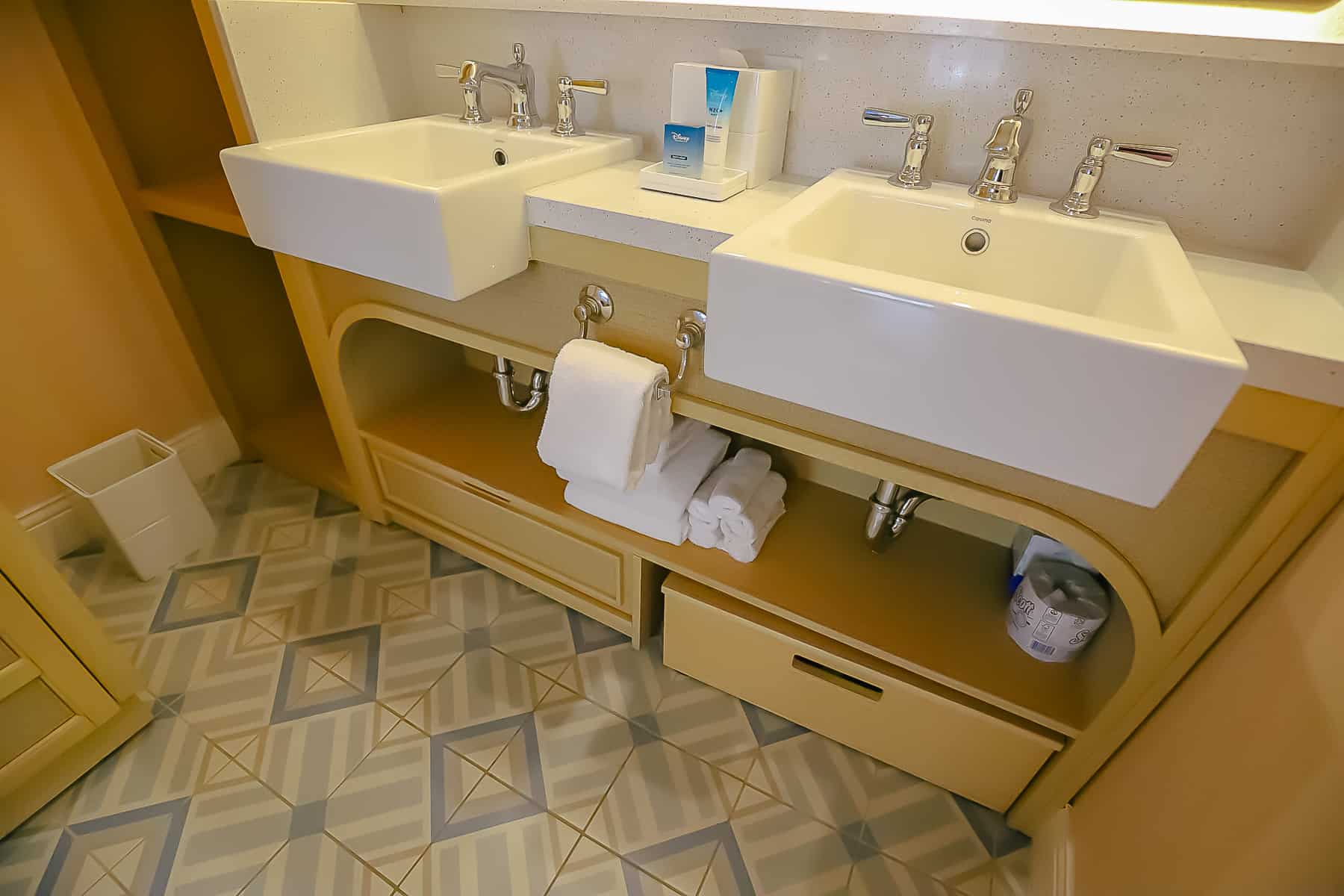 A ledge sits above the sink area. It provides a practical place to store things out of the way.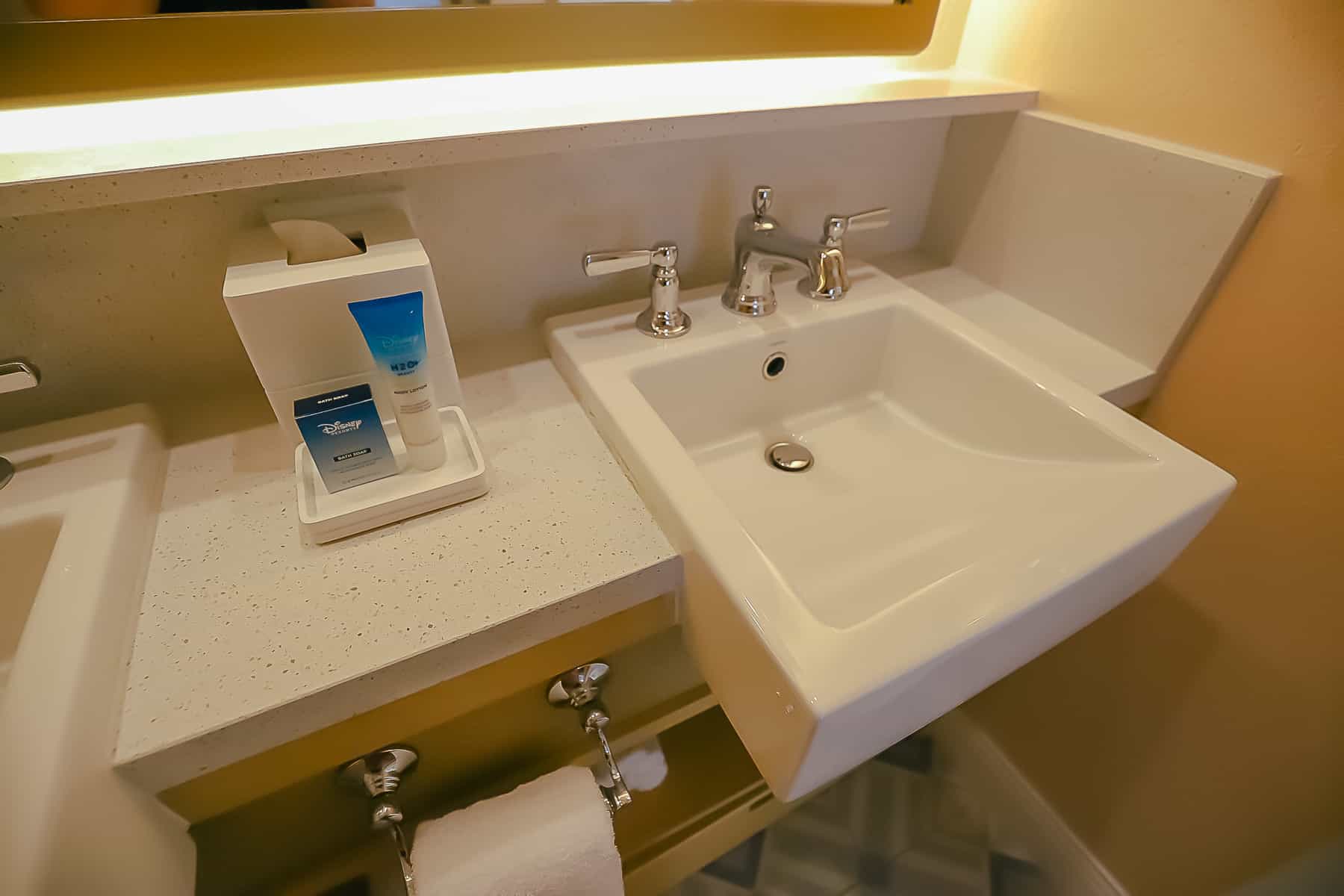 We had regular soap and lotion. But that's about as good as it gets for the moderate resorts.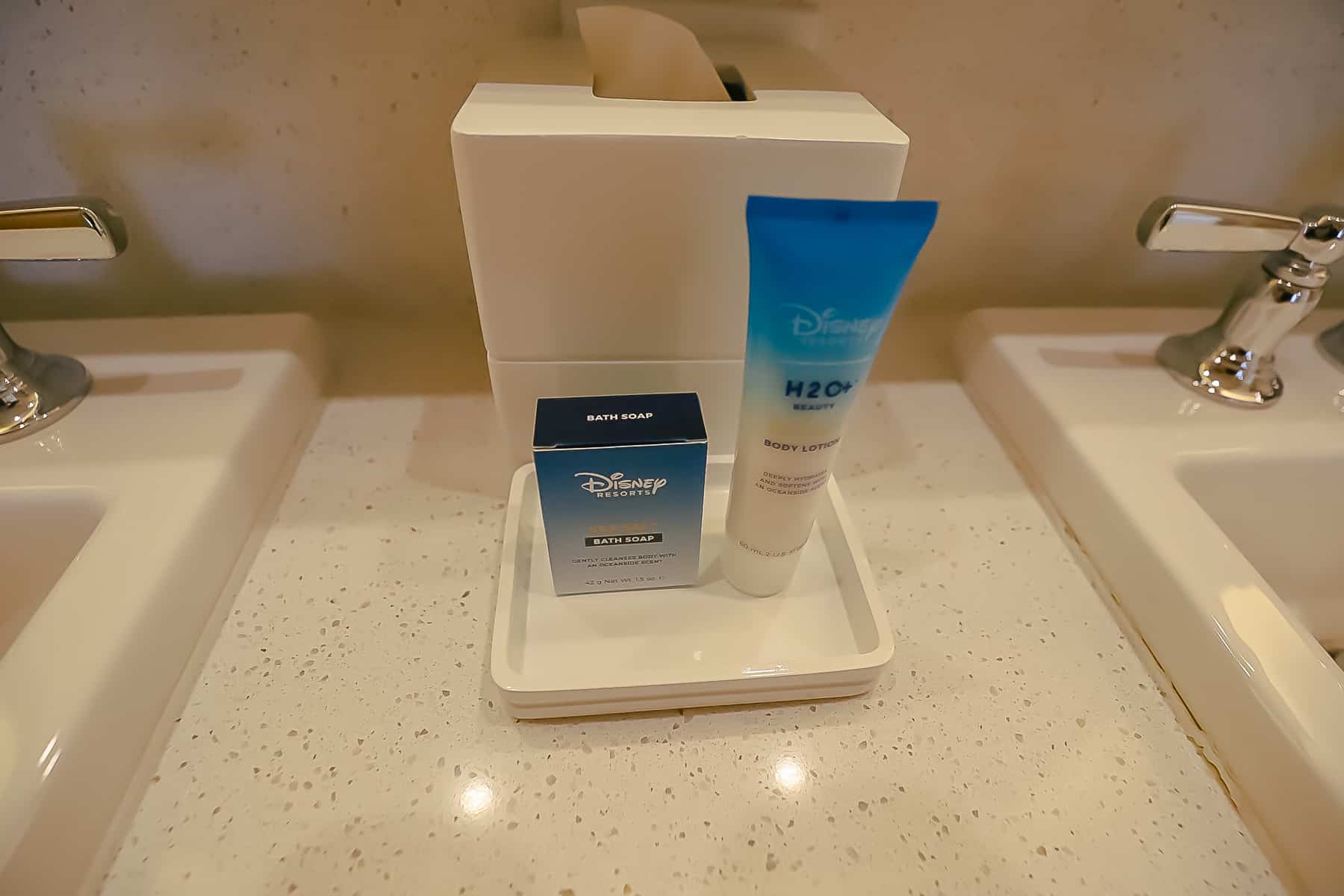 A makeup mirror is attached to the wall.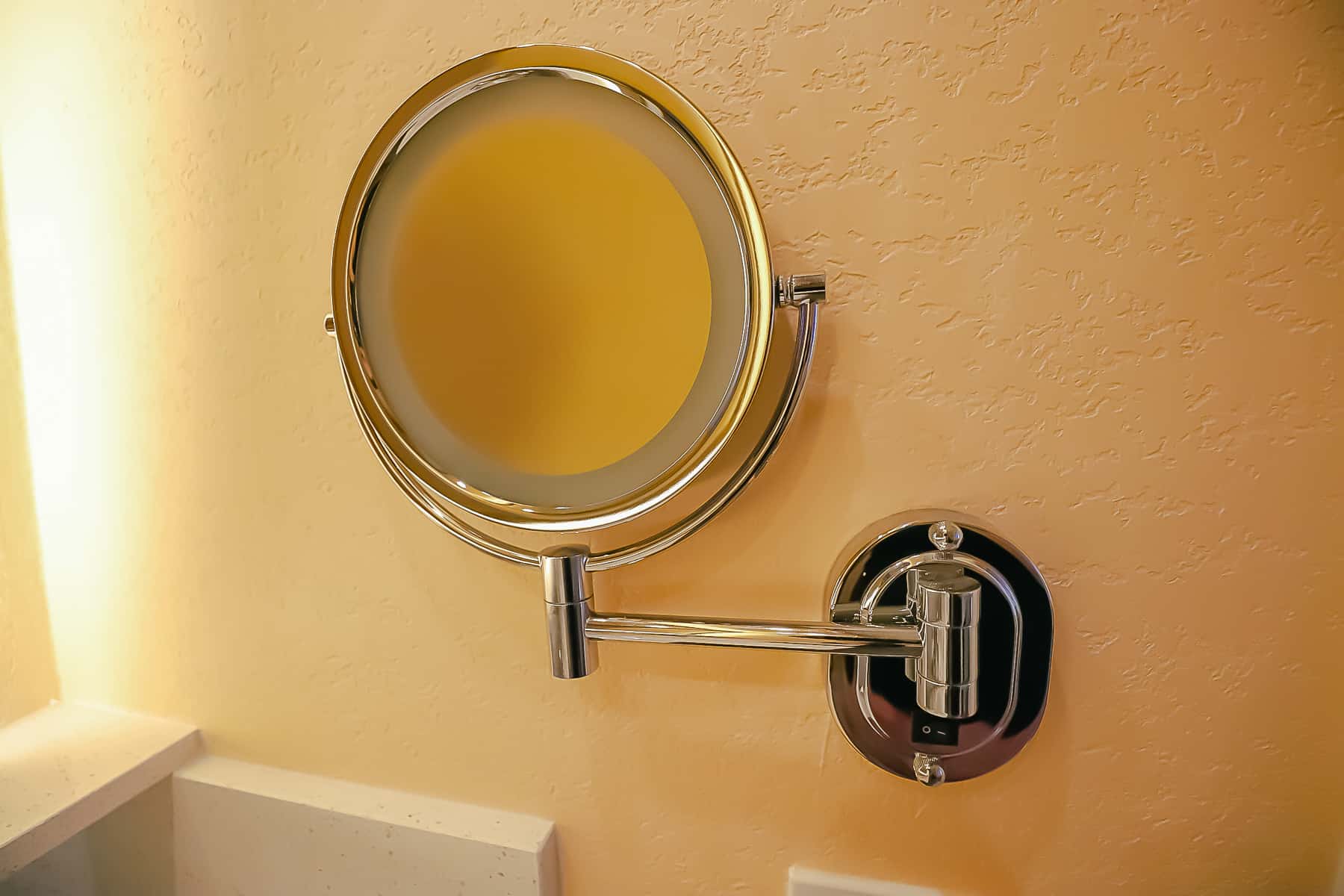 On the far left of the vanity area, a few open shelves are available for storing items. A hairdryer sat on one of the shelves.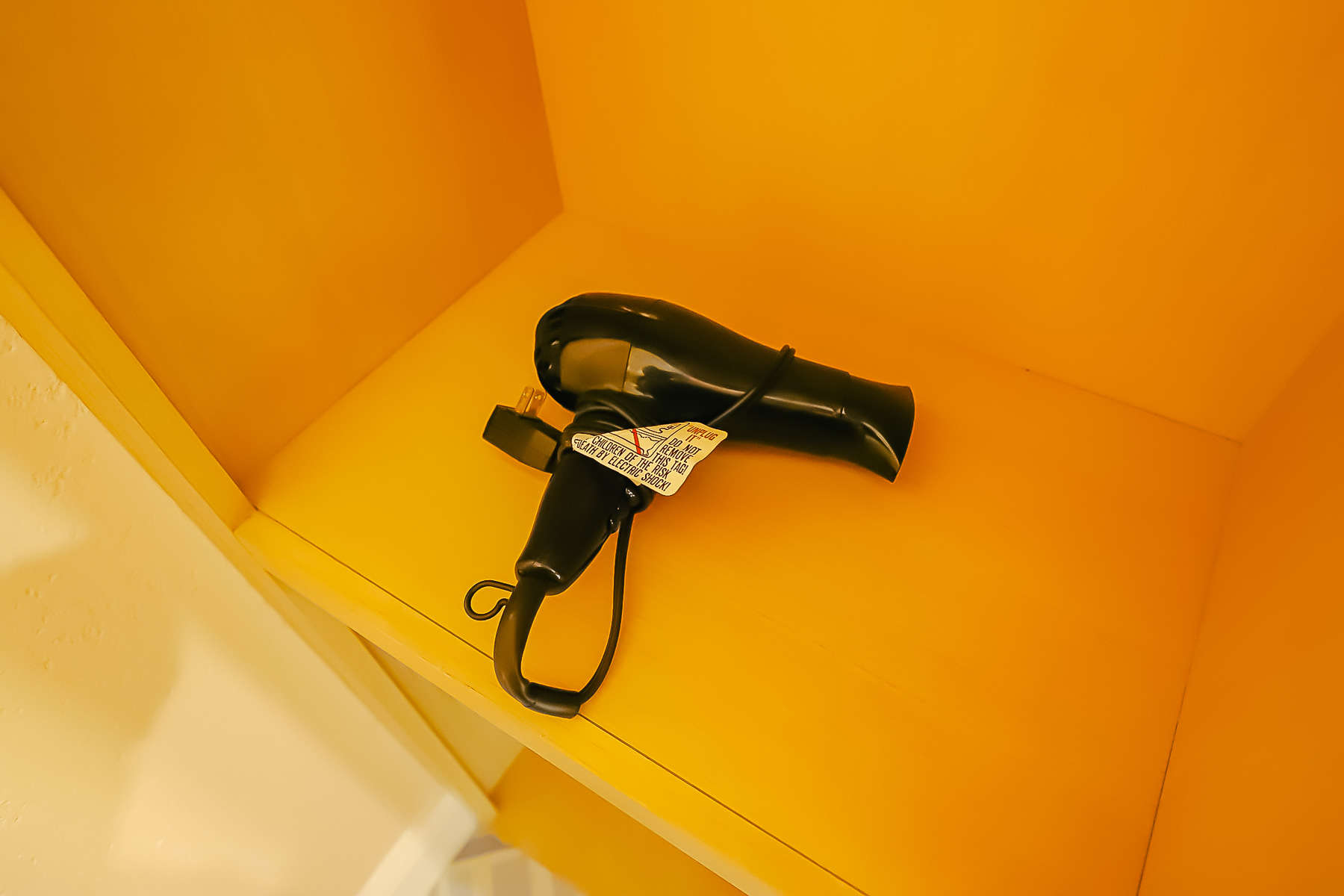 The water closet is a separate area. We had a tub with a shower combination with sliding glass shower doors. On our last stay at Caribbean Beach, we had shower curtains. The glass doors are a vast improvement. However, if you're bathing children, you might want to request a few extra towels to fold over the door guide.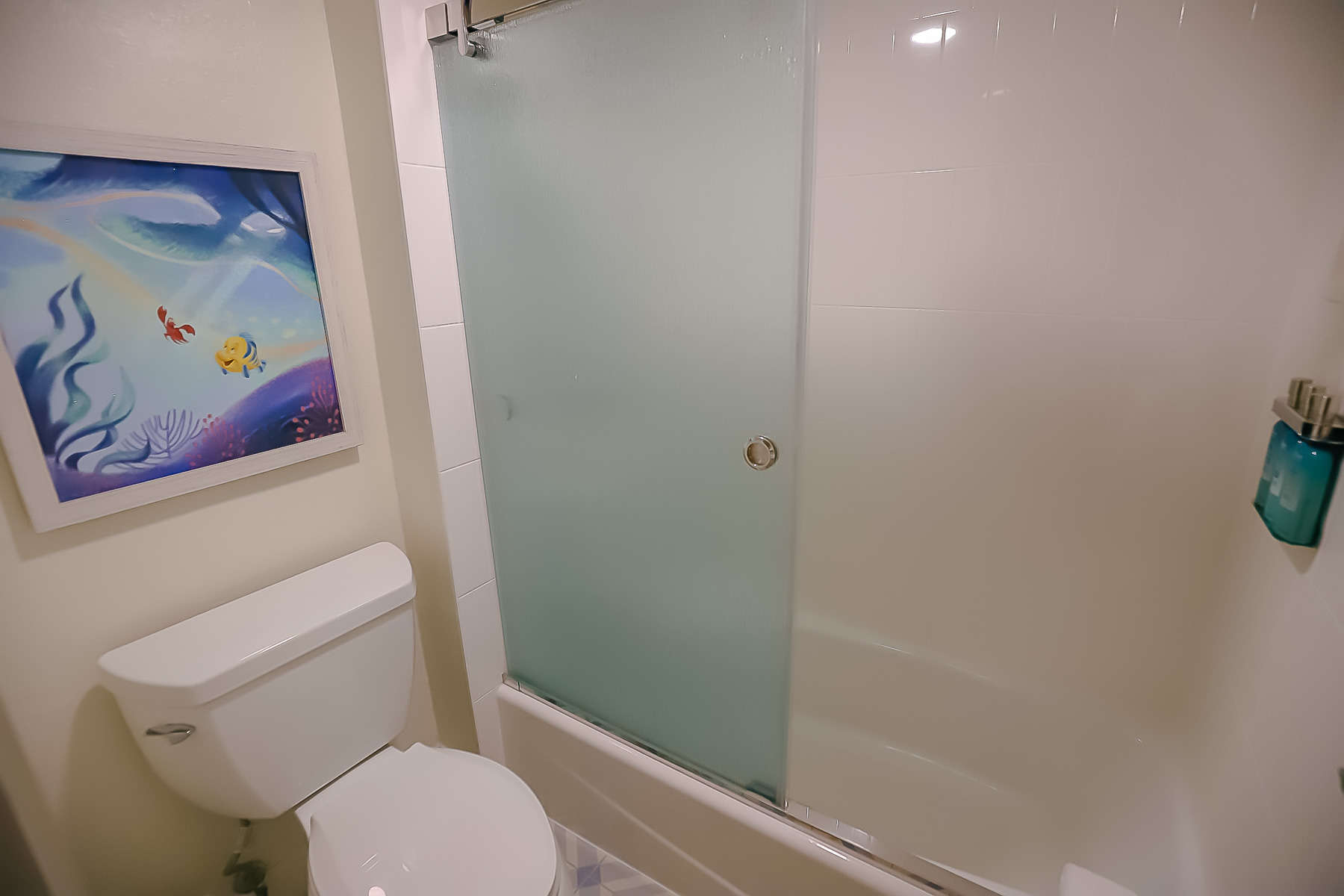 A piece of framed art featured Sebastian and Flounder.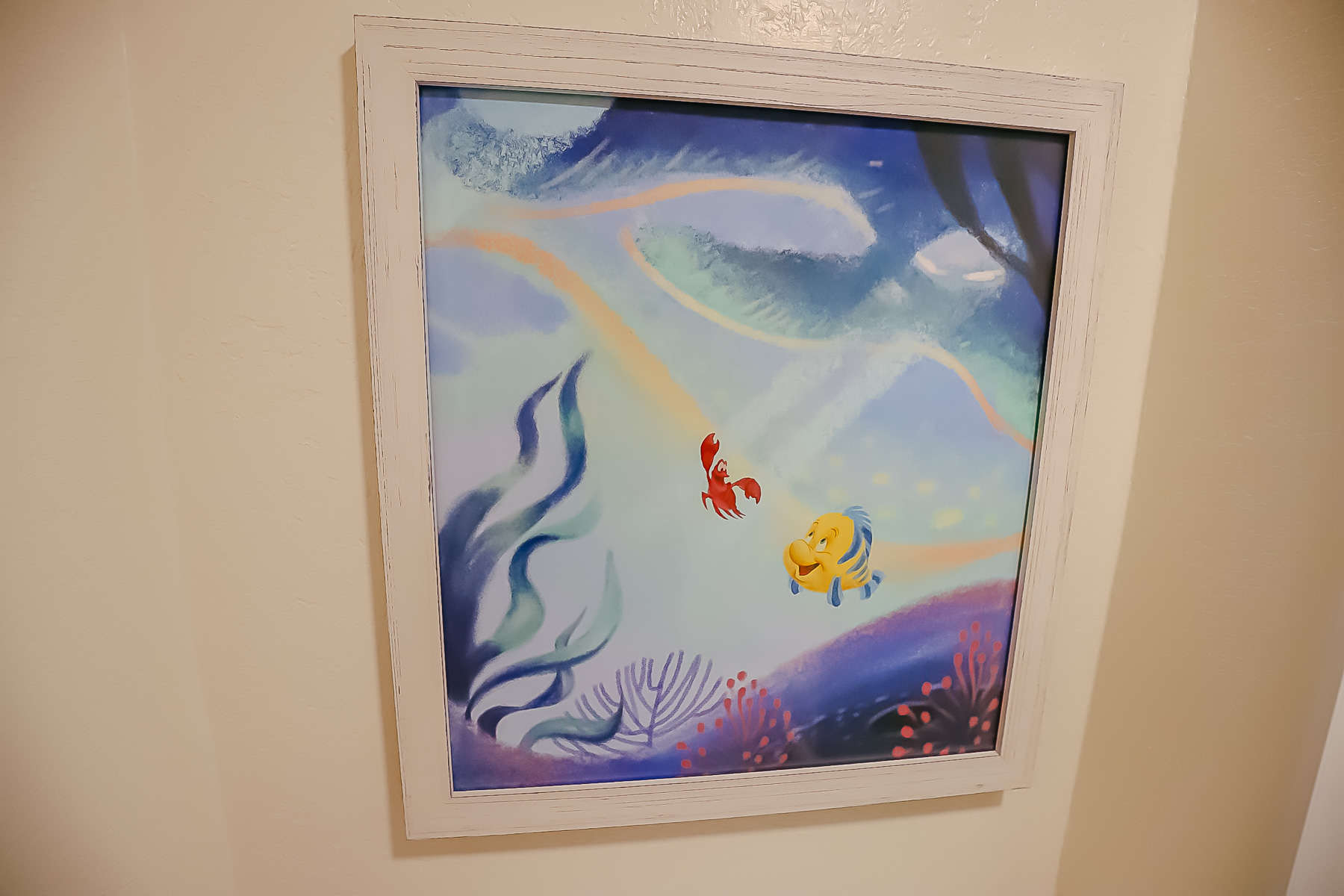 Toiletries are provided in built-in fixtures in the shower. They include body wash, shampoo, and conditioner.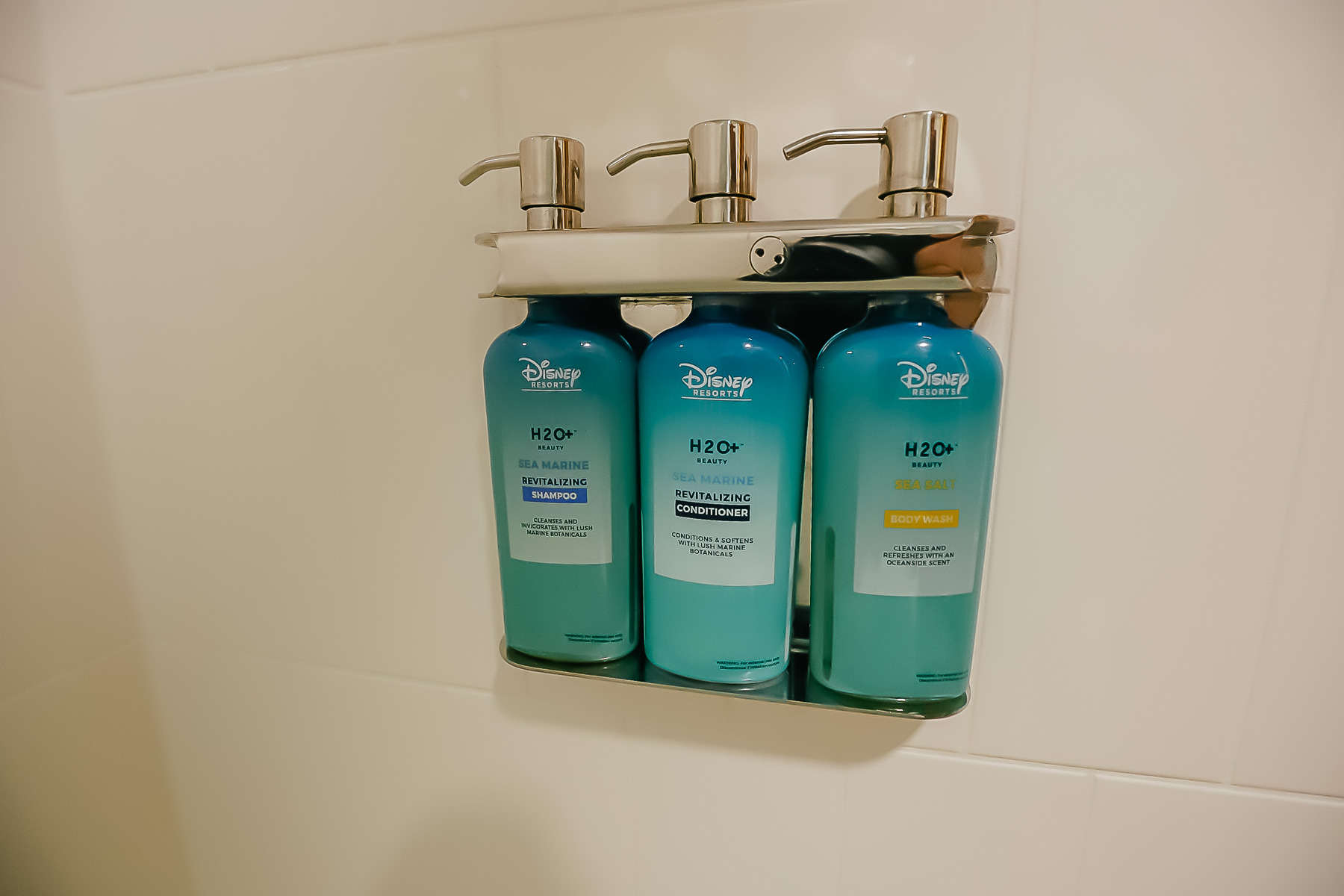 Here is a better look at the closet. An iron with an ironing board was tucked neatly inside.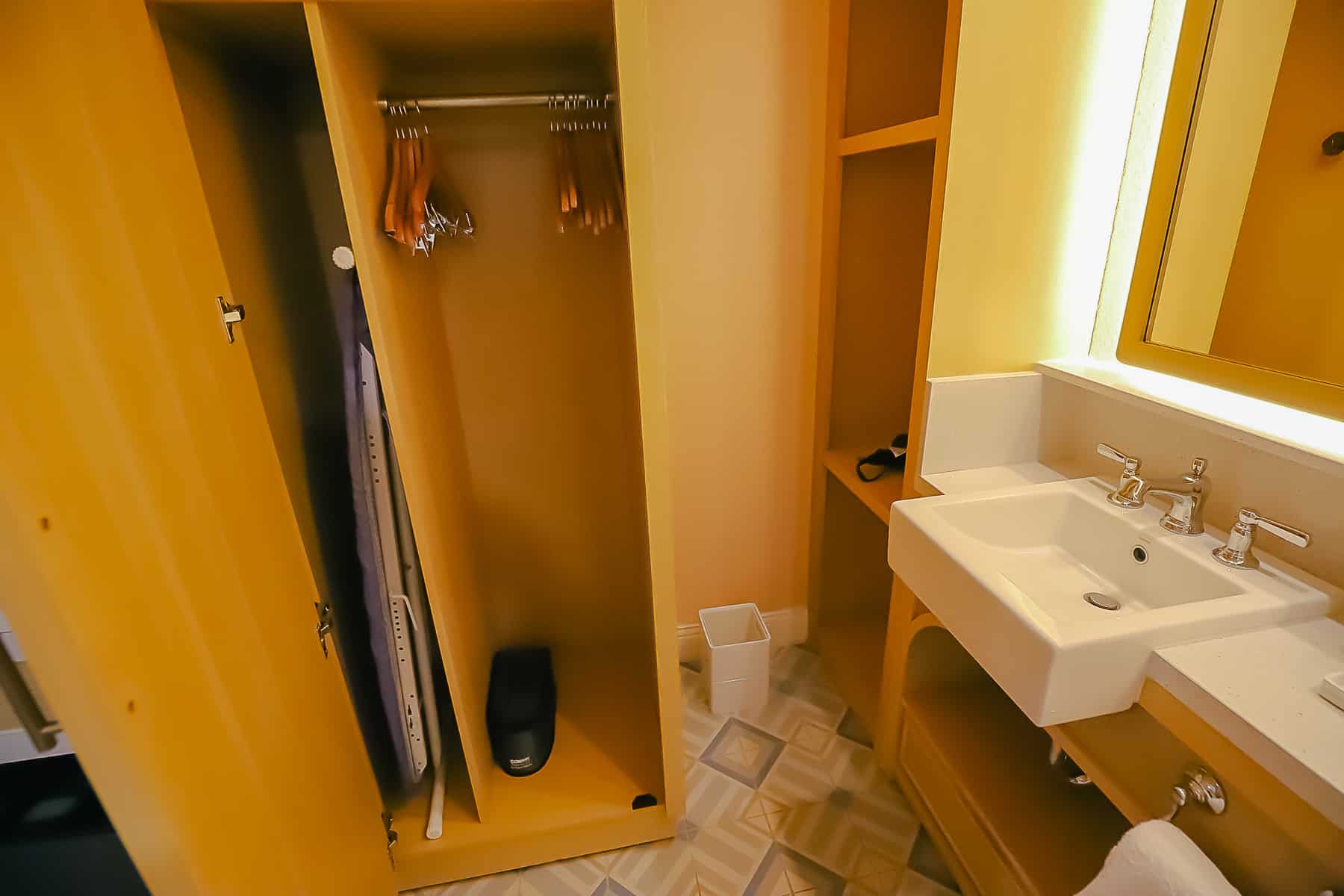 An extra pillow and blanket were also provided. If you ever need extra towels or bedding, you can call housekeeping, and they will gladly deliver them to your room. Or sometimes I'll leave a note after our first night, and they'll be in the room when we return.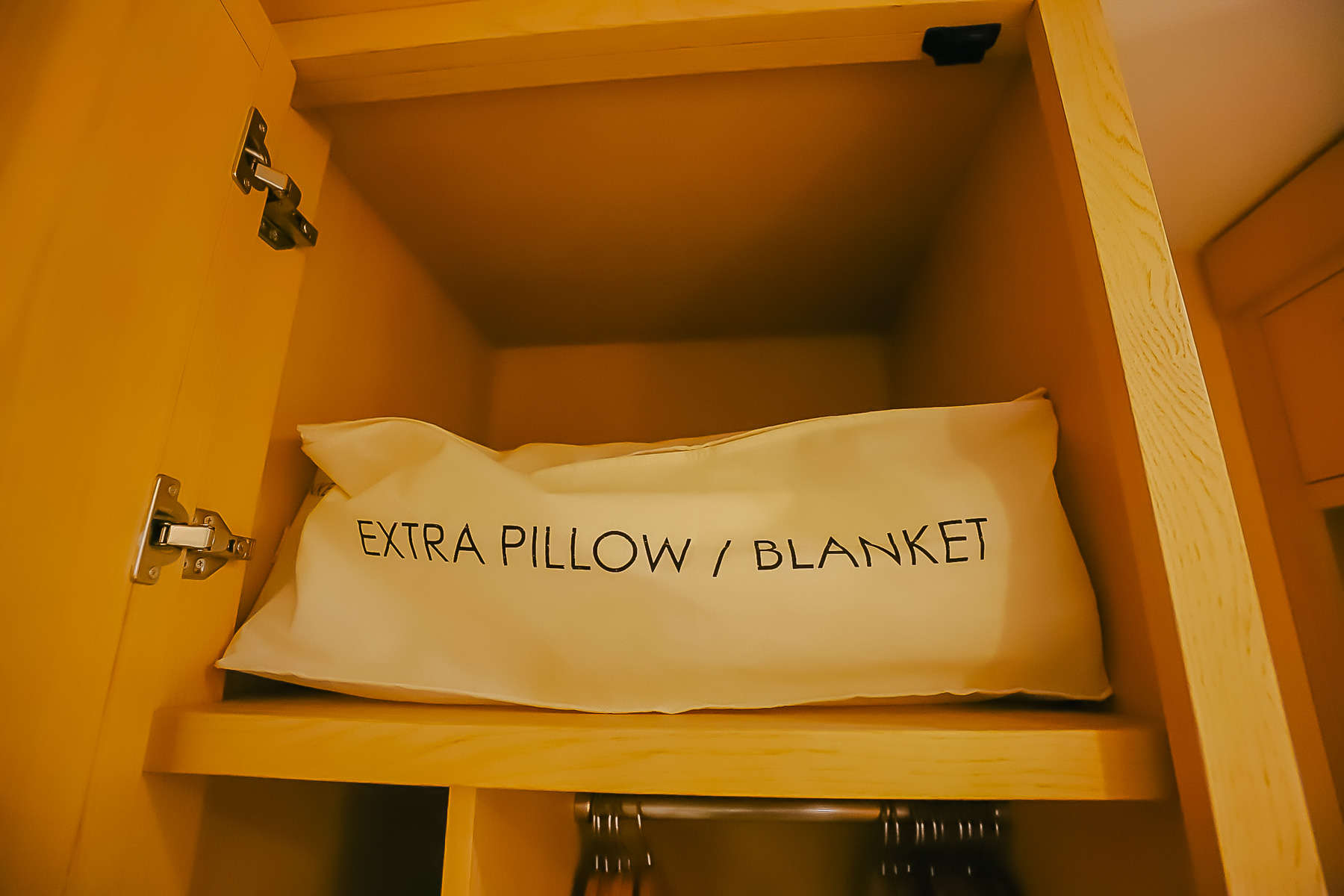 Here is another look at the corner window towards the front of our room. We booked a standard view room for this stay. Since these rooms don't have a private balcony, I've never seen the point of having an upgraded view. We prefer to keep the shades drawn since anyone walking through can stare directly into your room.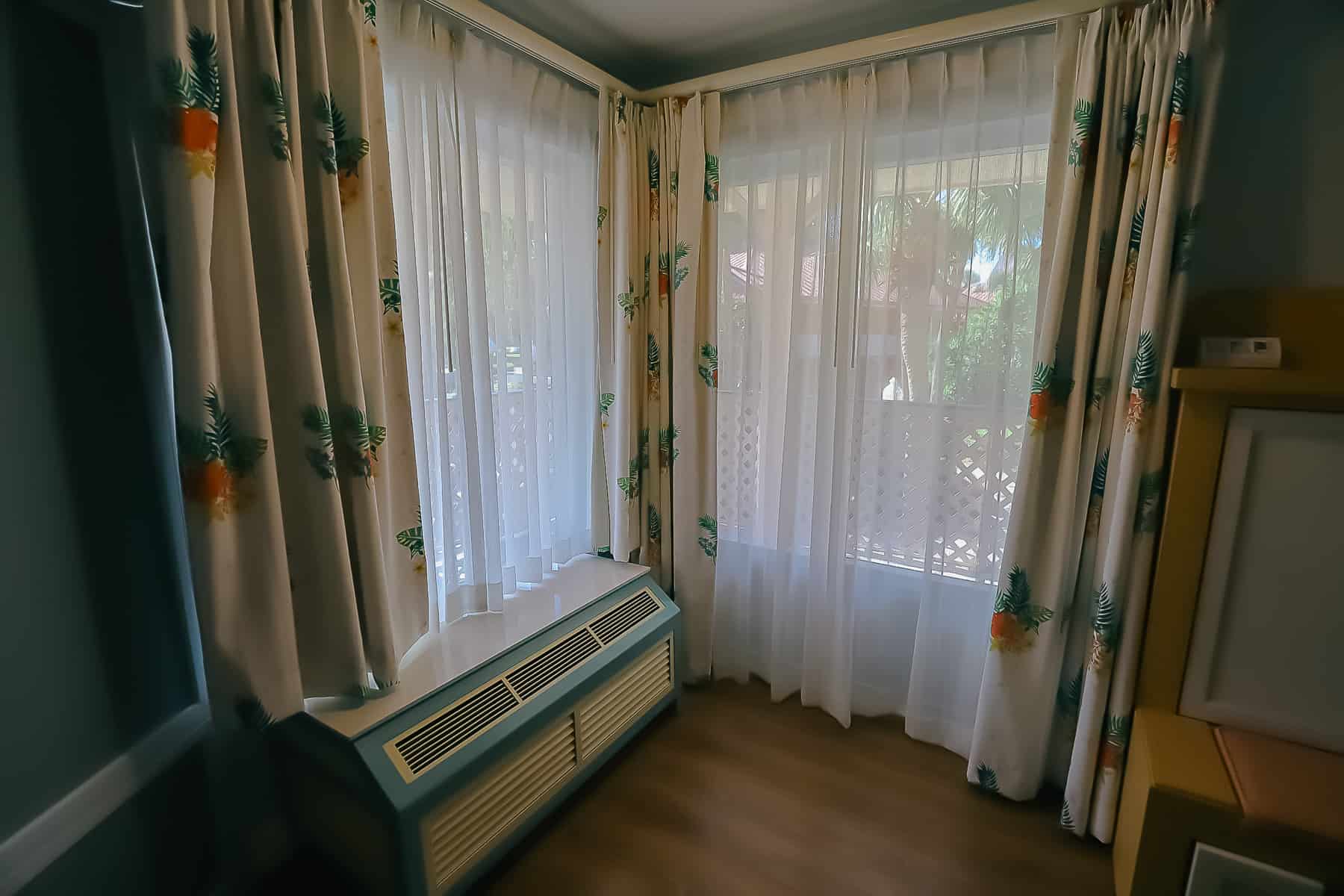 These rooms tend to be a little dark. So I thought the new white curtains and lighter paint colors added a bit of cheer that wasn't overbearing.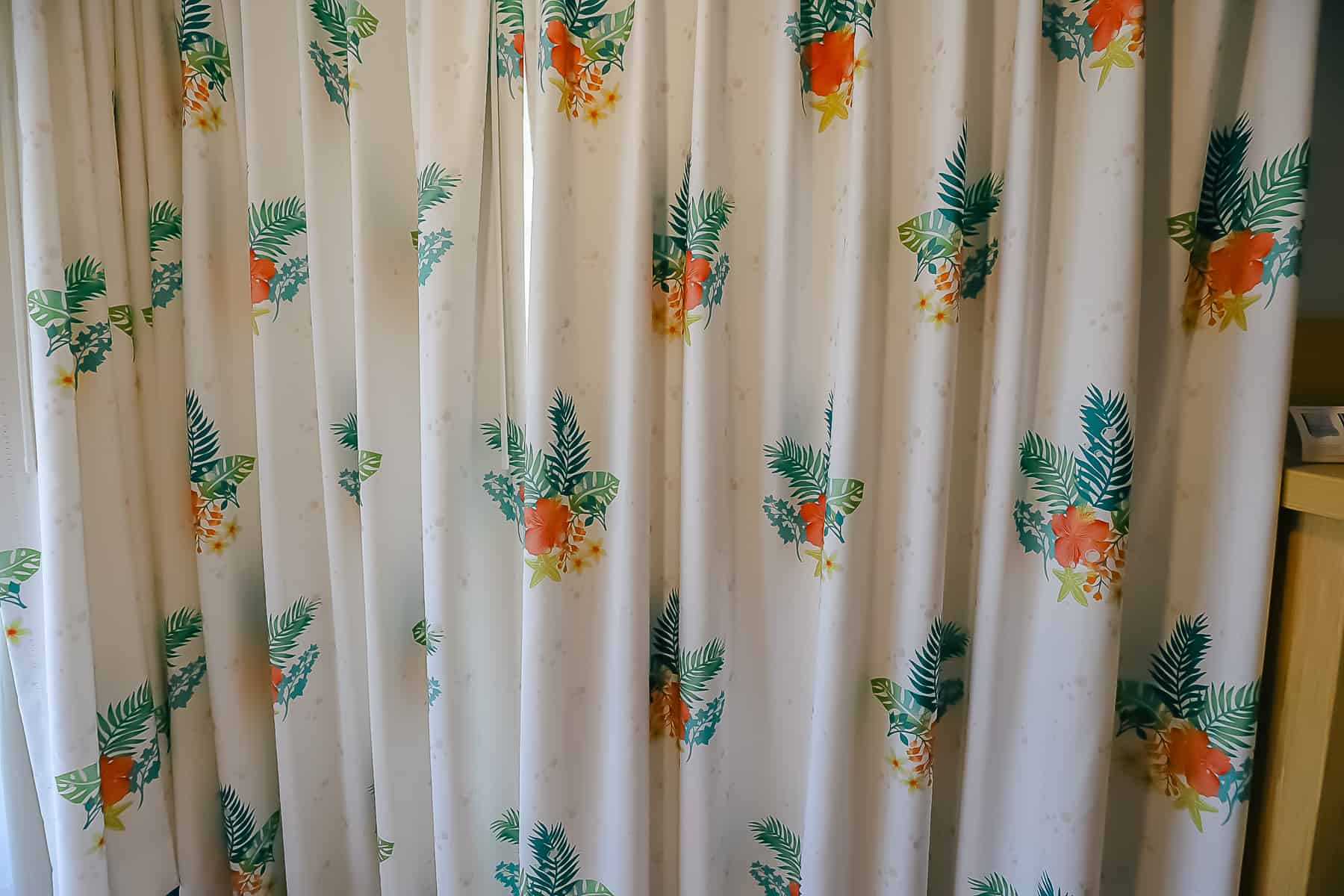 Here is a closer look at the print on the fabric. Life is the bubbles–hidden Mickey bubbles.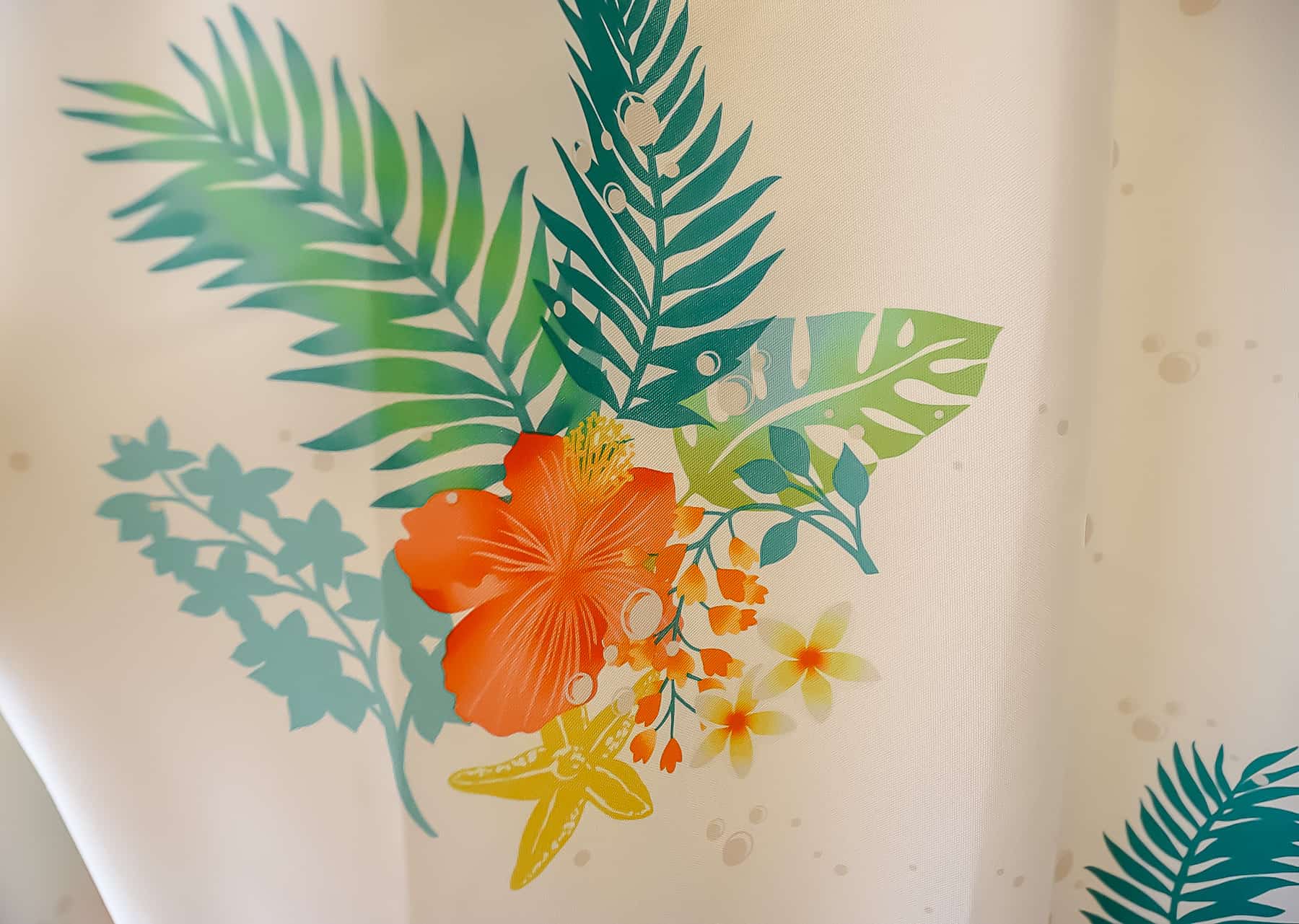 We were in room number 3448 on the second floor. This was the view from the walkway outside of our room.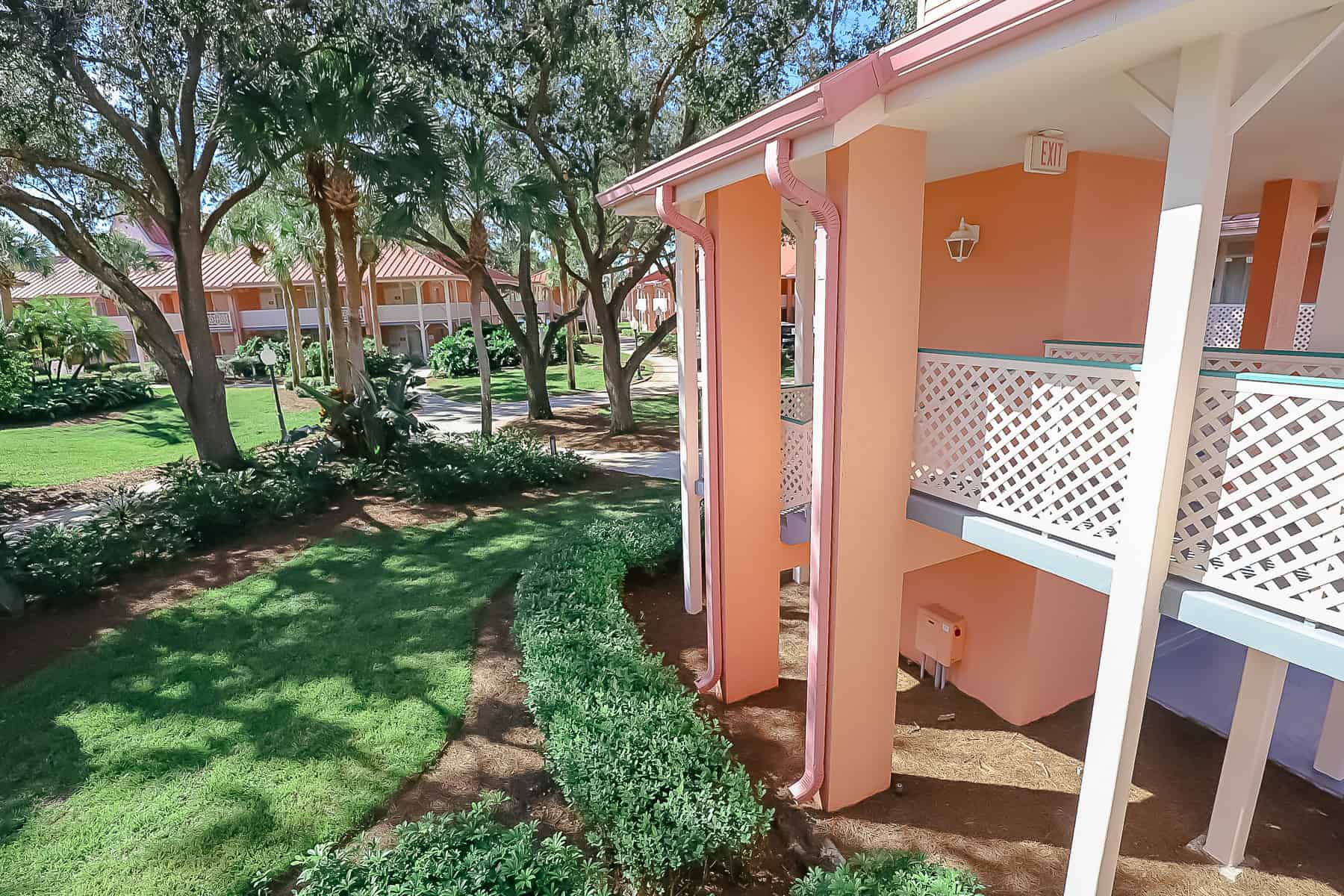 As mentioned earlier, we did have to take the stairs. They were pretty easy to manage and consisted of three landings with about five to six stairs each.
On the positive, we loved the entire makeover. The pretty blue accent wall added the right splash of color. You may also notice that a sliding door is available to separate the bath area from the room. We thought the convertible beds were a nice touch. As a smaller party, we could make use of the living space.
From experience, I can tell you that we rarely see the couch when traveling with more people. We tend to leave the second bed pulled down. Like any hotel room, if you're a family of four or five, it will be a tight squeeze. But I don't see how this space could be any more efficient. It's a nice room.
On the negative, the loud air-conditioning might be a big issue for some, and it's a pretty common complaint at this resort. Other than that, the thing with the light coming in under the curtain was something we could circumvent. So it wasn't the end of the world.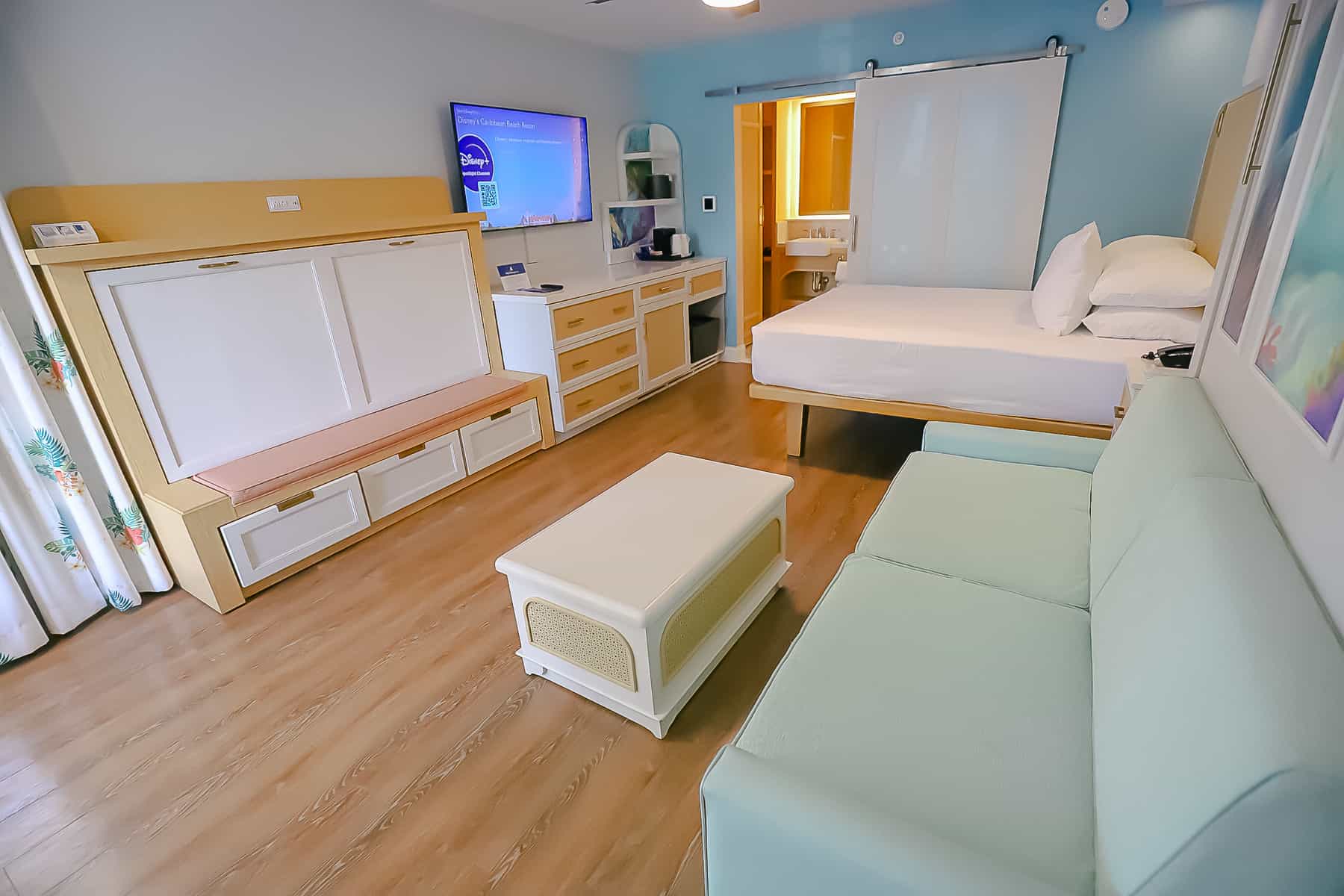 Overall, we enjoyed our Little Mermaid room at Disney's Caribbean Beach Resort. These rooms were just what the resort needed.
For more information about Disney's Caribbean Beach Resort, you might enjoy the following:
What Do You Think?
What do you think about the new Little Mermaid rooms at Disney's Caribbean Beach? Do you like the updates? Have you stayed at this resort before? Tell us what you think below in the comments. We value your thoughts, opinions, and feedback.