Transportation Options at Disney's Caribbean Beach
Are you planning a vacation to Disney's Caribbean Beach Resort? Or are you trying to figure out the best routes from Caribbean Beach to other Disney destinations?
This article will detail the transportation options at Disney's Caribbean Resort. We'll discuss the ins and outs of getting to and from the resort during your vacation.
Additionally, I'll provide tips for walking to the nearby Riviera Resort. And we'll look at a few of the best ways to get to other Disney Resorts from Caribbean Beach for resort-hopping and dining reservations.
Caribbean Beach has a fantastic location near Epcot and Hollywood Studios and offers two forms of transportation. Those options are the Skyliner, Disney's newest mode of transportation, and Disney's bus service.
Let's take a closer look at how to get around Disney World from the resort.
Skyliner at Caribbean Beach Resort
If you're considering Caribbean Beach as your vacation destination, you likely already know it's a Skyliner Resort.
The Skyliner travels from Caribbean Beach to the following locations: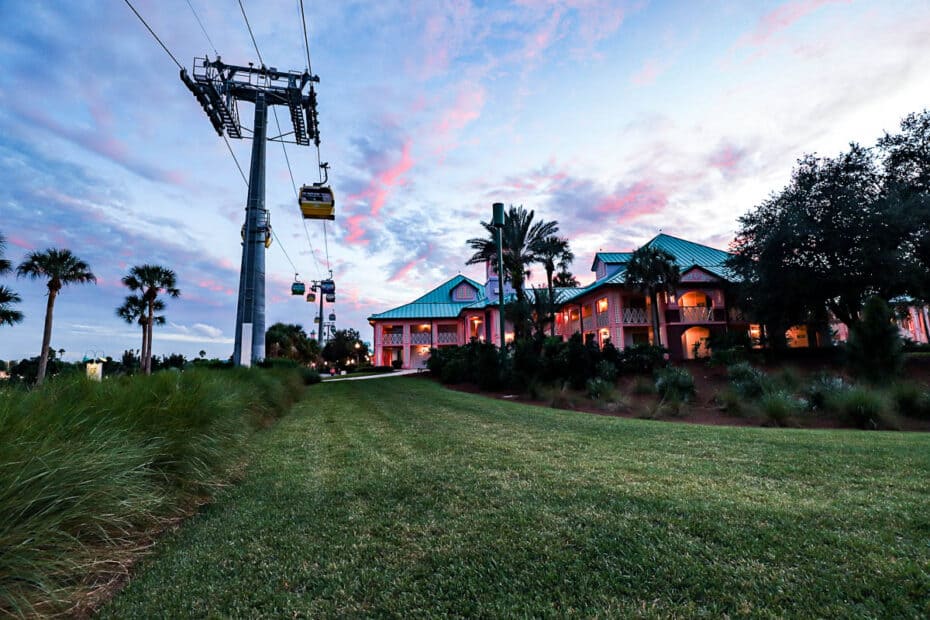 Caribbean Beach is home to the Skyliner's central hub. So every resort and theme park line feeds back to Caribbean Beach.
While the Skyliner travels directly to the locations above, it dips through the Riviera station on the way to Epcot. So if you're traveling to Epcot, you'll stay on the Skyliner at the Riviera.
However, if you're stopping at the Rivera, you'll exit here.
Guests coming from Pop Century and Art of Animation have to exit at Caribbean Beach. They will then join the line for either Epcot or Hollywood Studios.
Additionally, guests of Riviera who are traveling to Hollywood Studios will exit at Caribbean Beach. They will then join the line for Hollywood Studios.
Therefore, you can expect long lines for the Skyliner in the mornings before and around park opening time.
The Skyliner begins running about one hour before the park opens. Don't forget, the parks open 30 minutes early for Disney Resort guests. This offering is part of the early theme park benefit available during Disney World's 50th anniversary.
Related: Disney World Resort Benefits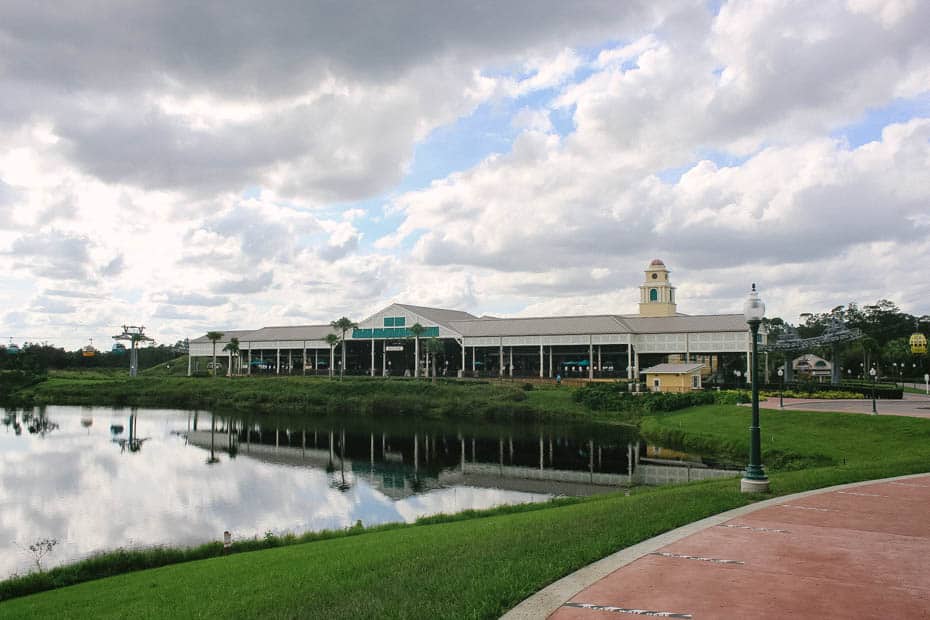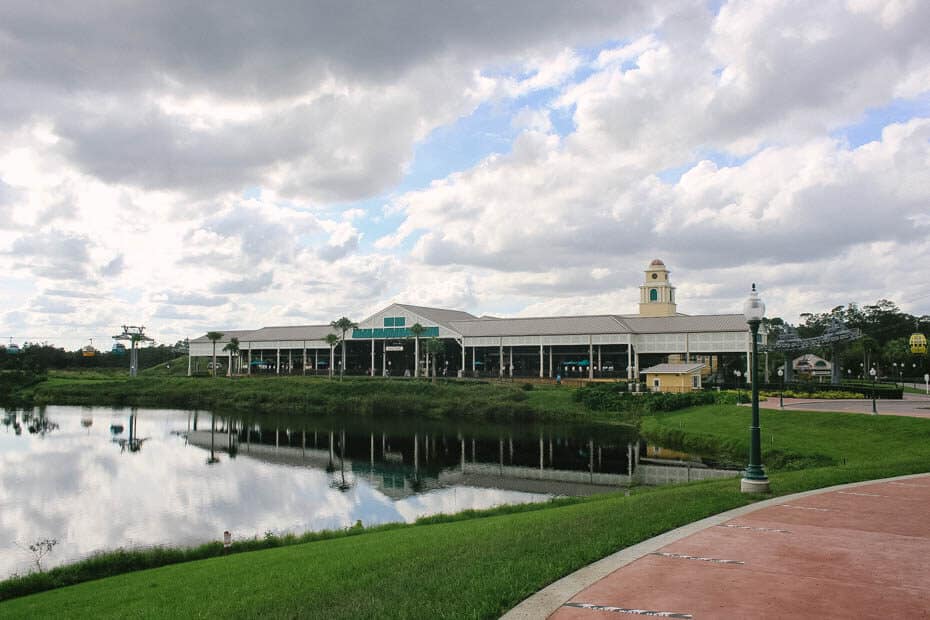 Depending on your room location at Caribbean Beach, you'll want to decide if the Riviera or Caribbean Beach Skyliner station is the closest. Aruba and Martinique are closer to the Riviera.
Our last stay at Caribbean Beach was in the Jamaica section. For Epcot, we walked to the Riviera Station, and for Hollywood Studios, we walked to Caribbean Beach.
Related: Caribbean Beach Resort Review
Those staying in Barbados and Trinidad will want to use the Skyliner station at Caribbean Beach. You can preview the map of the Caribbean Beach here to get a better idea.
It will take less than five minutes to travel between Riviera and Caribbean Beach. From Caribbean Beach to Hollywood Studios, you'll be in the air for approximately eight minutes.
Tip: To avoid long lines in the morning for the Skyliner to Hollywood Studios, you might consider taking a car service. It's less than five minutes from Caribbean Beach's main entrance to Hollywood Studios. You can take the Skyliner back to the resort at the end of the day.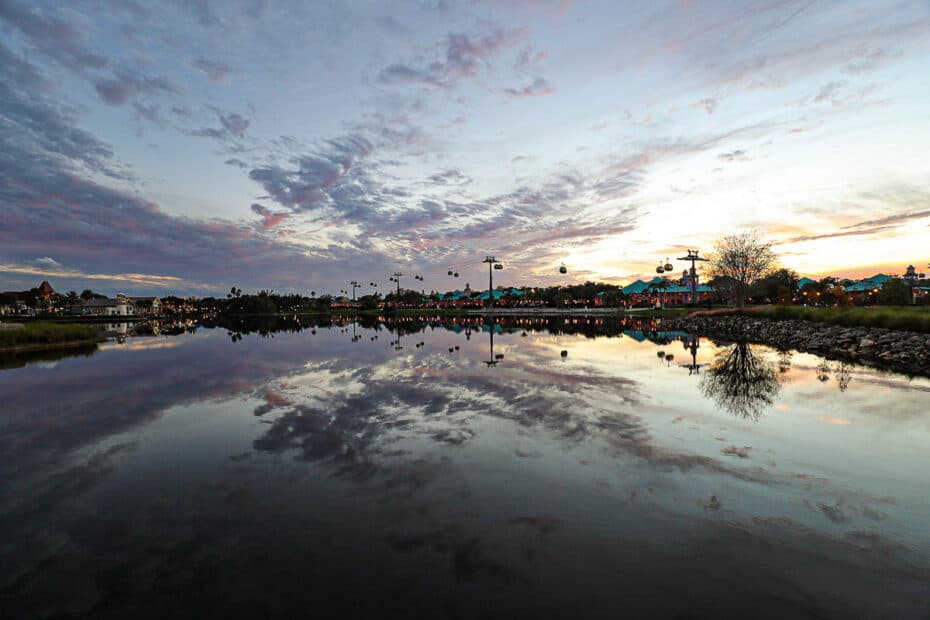 And the ride from Caribbean Beach to Epcot will take approximately 15 minutes. At Epcot, you're dropped off at the International Gateway entrance.
Tip: Epcot's International Gateway is located toward the back of the park and is much more convenient than the front entrance. However, you'll want to know which way to head first when you enter the park. This location won't be as crowded, but it will be further away from some popular attractions.
Buses at Disney's Caribbean Beach
Caribbean Beach is one of the larger moderate resorts at Disney World. Since the resort is so large, they offer an internal bus system.
Each village has a bus stop at Caribbean Beach. The buses travel in this order:
Martinique
Old Port Royale
Barbados
Trinidad
Jamaica
Aruba
*If you're staying in Trinidad, you might check if Trinidad North and South bus stops are available. The South bus stop is near building 39 at the far end of the resort.
Disney's Caribbean Beach Resort offers bus transportation to the following locations:
Magic Kingdom
Animal Kingdom
Disney Springs
Typhoon Lagoon
Blizzard Beach
*From time to time, Disney requires bus transfers to its waterparks. If this system is in use, a sign at the bus stop will indicate you must transfer buses.
For Typhoon Lagoon, you'll take a bus to Disney Springs. Then, you'll take another bus to Typhoon Lagoon.
For Blizzard Beach, you'll take a bus to Animal Kingdom. From there, you'll transfer to Blizzard Beach.
You'll have to do the same transfer on return. So don't forget to bring decent clothes to change into at the end of the day.
As far as buses go at Caribbean Beach, I felt it was important to discuss how multiple bus stops work at a large resort. They can be a bit of a headache.
For instance, if you're in Aruba, you'll be the last bus stop for pick-up. Unfortunately, it is common for buses to fill up before making it to all the different stops.
When this happens, you will end up waiting longer for a bus. Many who stay here will walk over to Old Port Royale and board at that bus stop. You can always get off at your bus stop on the way back.
If you're staying in Jamaica or Aruba, you can walk across the bridge over Barefoot Bay to access Old Port Royale.
Additionally, there is an internal shuttle that you can take from your bus stop to any other village.
Lastly, Disney buses usually begin operating up to 45 minutes before the park opens. They continue to run until resort guests have emptied the parks after closing.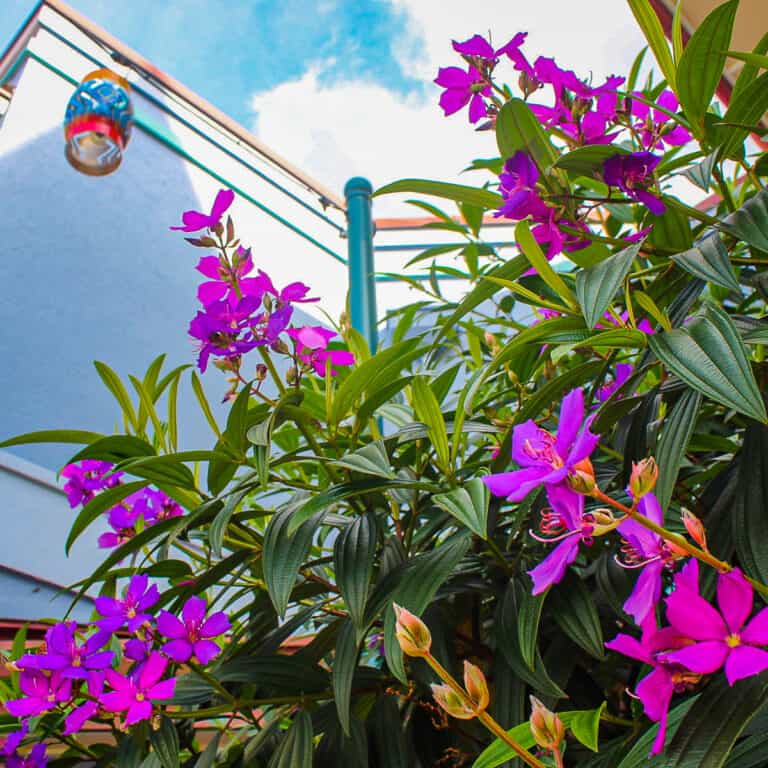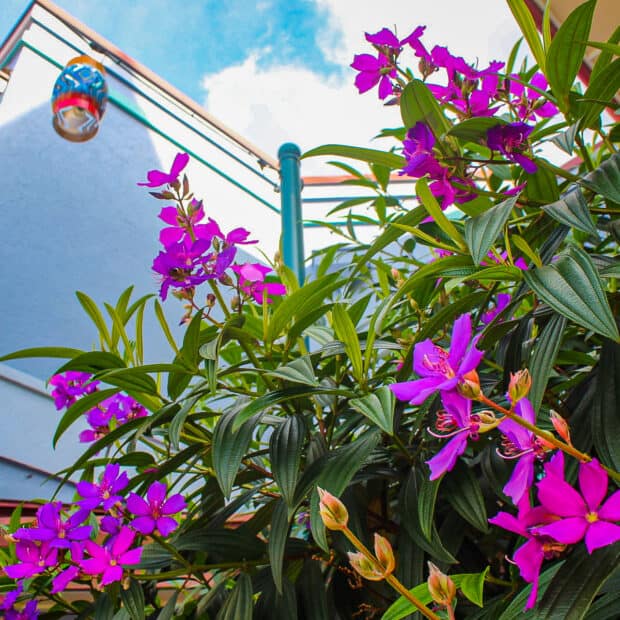 Walking Options for Caribbean Beach
Unfortunately, you cannot walk from Caribbean Beach Resort to any theme parks.
However, you can walk from Caribbean Beach to Disney's Riviera Resort. Riviera is located between Jamaica and Martinique.
For reference, it takes approximately 12 minutes at a steady pace to get from Old Port Royale (Caribbean Beach's main lobby) to the Riviera.
You might plan a meal or two at the Riviera if you're staying at Caribbean Beach. The resort offers excellent dining options.
Related: Riviera Resort Restaurant Guide
Some of our favorites include the following:
Disney's Riviera is a dedicated Disney World Villa Resort. It is more comparable to a deluxe hotel than a moderate one. So it's nice having such a luxurious hotel within proximity to Caribbean Beach.
Related: Disney's Riviera Resort Review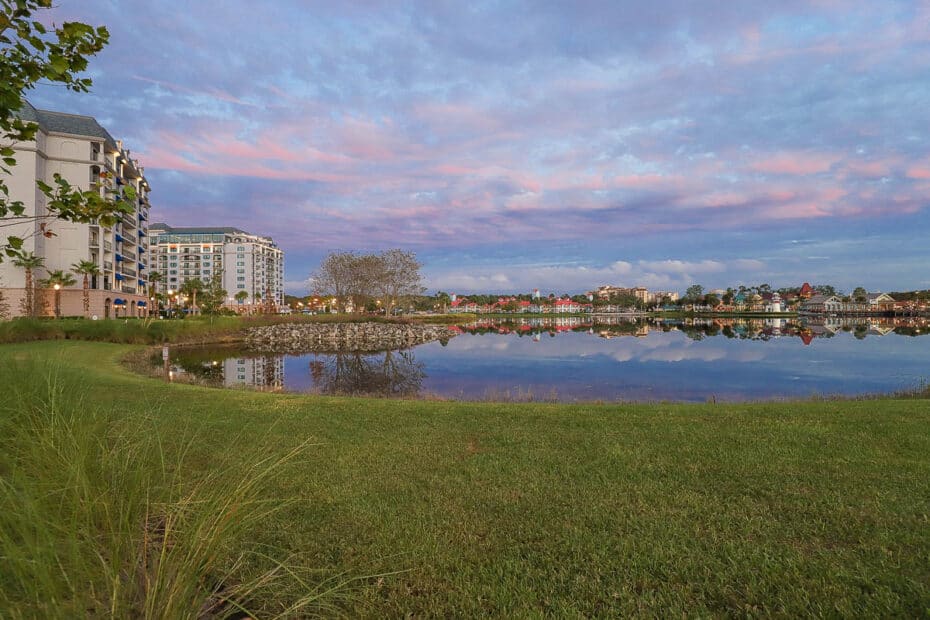 Getting from Caribbean Beach to Other Disney Resorts
Lastly, I wanted to touch on the best ways to get to a few popular resort destinations for touring or dining reservations. I don't know about you, but we tend to spend a good deal of time resort-hopping.
Related: Resort Hopping at Disney World
Since the Skyliner opened, you can easily climb aboard a gondola to visit the Epcot Resorts Area from Caribbean Beach.
You're dropped off at the International Gateway when you arrive at Epcot. Instead of heading into Epcot, go the opposite direction. Within minutes you'll be at the following hotels:
For a casual meal, you might enjoy Ale and Compass at Disney's Yacht Club. It's one of our favorite locations for breakfast at Disney World. But they have an excellent lunch and dinner menu too.
Related: Ale and Compass Dinner Review
And for signature dining, try Flying Fish at Boardwalk, Yachtsman Steakhouse at Yacht Club, or Shula's Steakhouse at Swan and Dolphin.
Related: Yachtsman Steakhouse Review
If you don't want to walk to the Epcot Resorts, you can take the Friendship Boats from the International Gateway to all three resorts.
Related: Friendship Boats Route and Schedule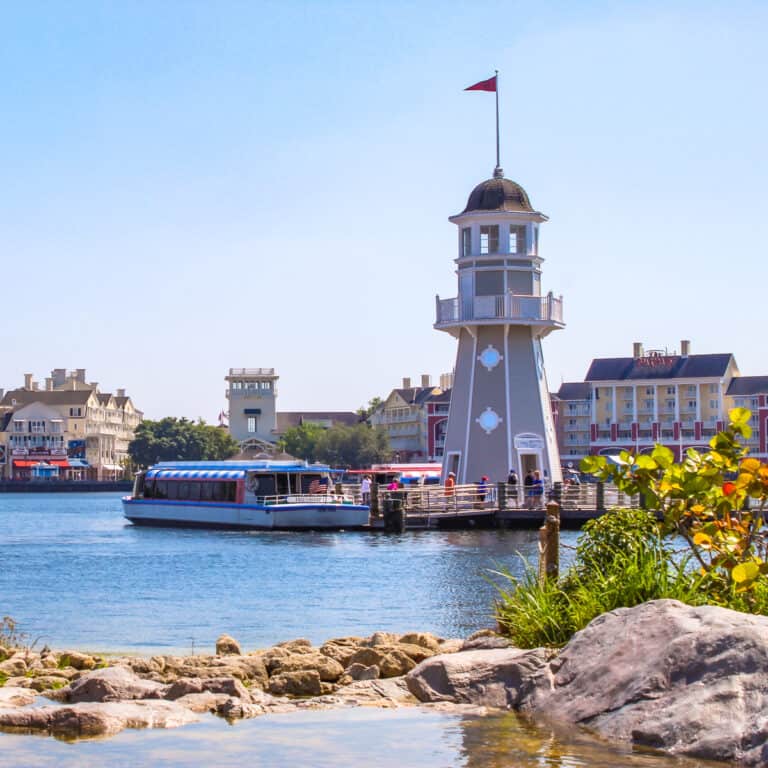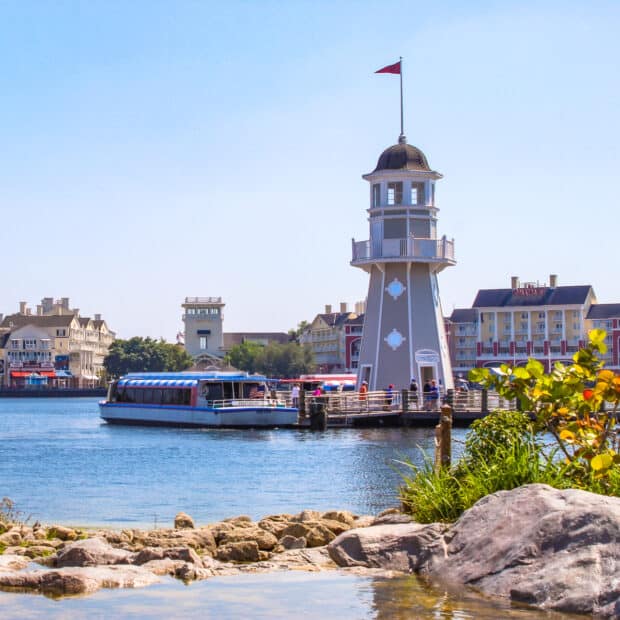 For visiting the Magic Kingdom Resorts, you'll want to take a bus from Caribbean Beach to Magic Kingdom. At Magic Kingdom, you'll have to go through security, but not the ticket turnstiles.
Then you'll want to do one of the following depending on where you are headed:
Walk to the Contemporary
Take the monorail to Contemporary, Grand Floridian, or Polynesian.
Walk to Grand Floridian (can continue to Polynesian)
Take a resort boat to Grand Floridian or Polynesian
Take a bus or boat to Wilderness Lodge
Take a bus or boat to Fort Wilderness
The following transportation guides will provide specifics:
If you're visiting Animal Kingdom Lodge, you can take a bus from Caribbean Beach to Animal Kingdom. Then, reboard a bus to Animal Kingdom Lodge from the Animal Kingdom park.
Additionally, you can always take a bus from Caribbean Beach to Disney Springs. Then reboard a bus to any Disney Resort from Disney Springs.
Related: Disney Springs Transportation Guide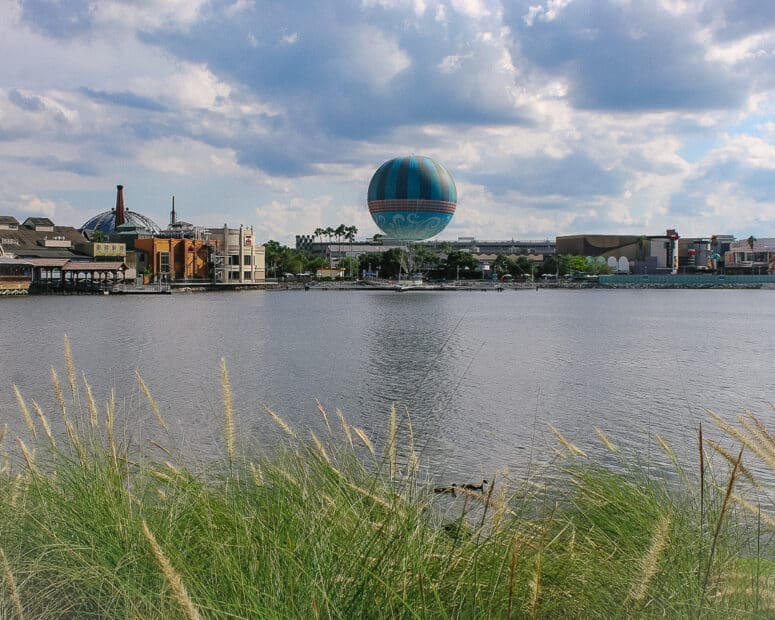 Final Thoughts on Transportation at Caribbean Beach
Overall, it's not that difficult to get around Disney's Caribbean Beach if you know how things work. I hope this transportation guide will benefit your trip.
Remember that you're on Disney's time when you utilize Disney transportation. And sometimes you might have to wait a long time for a bus or other form of transportation.
It's just part of it. So be prepared for possible long waits or take an alternative when possible.
When I'm at Disney, I usually have my car. Over the years, I have found it is nearly always more efficient than relying on a bus or the Skyliner.
However, I still love taking advantage of the transportation options.
I guess sometimes it's more about the journey than the destination itself. And that's especially true for a monorail ride through Epcot or a sunset ride on the Skyliner.
For more information about Caribbean Beach, our articles for the resort are listed here. Or you might enjoy the following:
In the comments: Did you find this Caribbean Beach transportation guide helpful? Do you have any questions about getting to and from the resort?