Disney's Caribbean Beach Restaurants Guide 
Disney's Caribbean Beach Resort is home to four different restaurants, each with its own unique atmosphere and menu. So whether you're looking for a counter service meal at Centertown Market or want to enjoy casual dining at Sebastian's Bistro, there's something for everyone.
This article will provide an overview of each restaurant at Disney's Caribbean Beach Resort. Additionally, we'll discuss a few options for nearby dining.
Since Caribbean Beach sits adjacent to Disney's Riviera Resort, there are a couple of excellent dining options within walking distance. Or, if you're room is located near the Skyliner Station, you might elect to take a gondola between the two resorts.
Related: Disney's Skyliner Resorts and Travel Times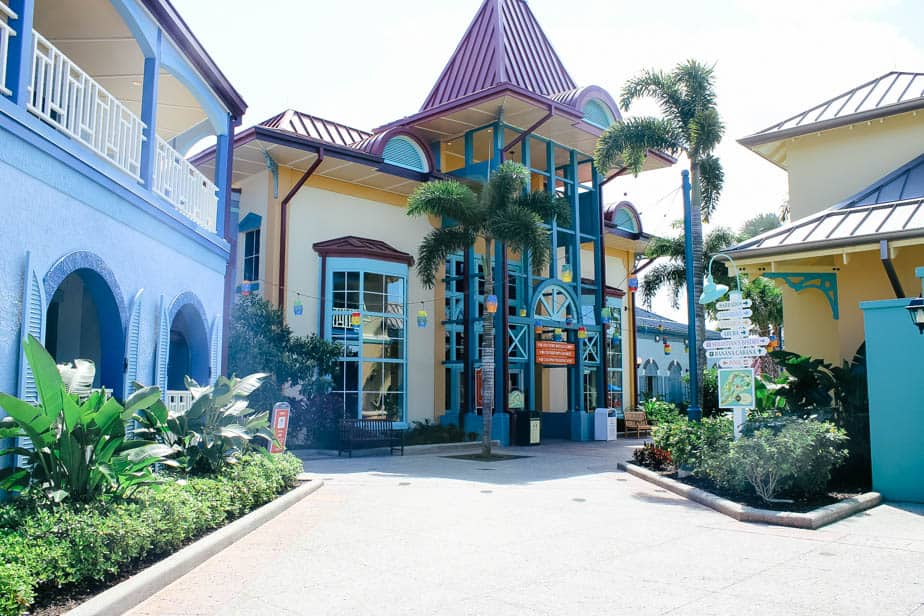 Restaurants at Caribbean Beach Resort
Below is a list of the restaurants at Disney's Caribbean Beach Resort.
Centertown Market
Sebastian's Bistro
Banana Cabana
Spyglass Grill
Additionally, there's a separate Centertown Market Grab and Go area. And a few food and beverage items are available in the resort's gift shop, Calypso Trading Post.
Centertown Market
Centertown Market is a quick-service restaurant located in the resort's main building. This location is the resort's primary counter service and was formerly known as the Old Port Royale food court.
Caribbean Beach underwent an extensive resort refurbishment a few years back, and the name of the food court was changed to Centertown Market. Unfortunately, the food court lost a good deal of its former charm during the remodel.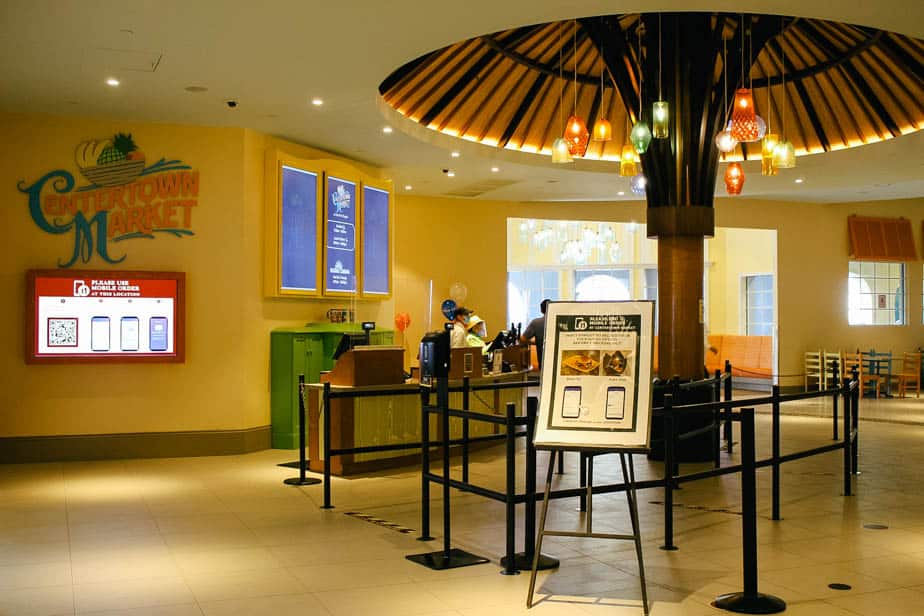 With that being said, Centertown Markets serves breakfast, lunch, and dinner. The food court's hours of operation range from 7:00 a.m. until 11:00 p.m.
Disney does prefer that guests use their mobile order service at this location. However, there is someone available to take your order if needed.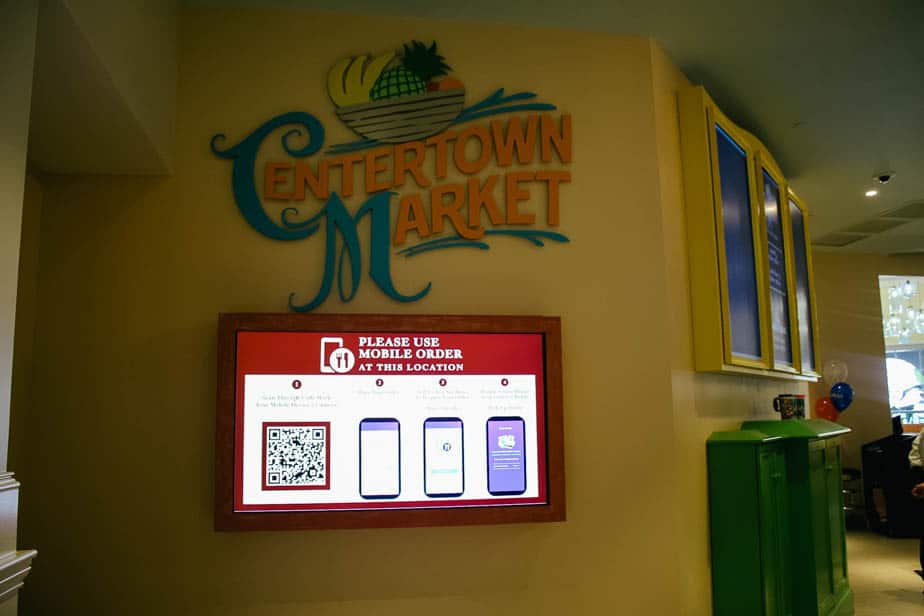 For breakfast at Centertown Market, you can expect standard items including:
Mickey-shaped Waffles
Breakfast Bounty Platter
Continental Breakfast
Plant-Based Items
Kids' Meals
You can view the breakfast menu here on Disney's site.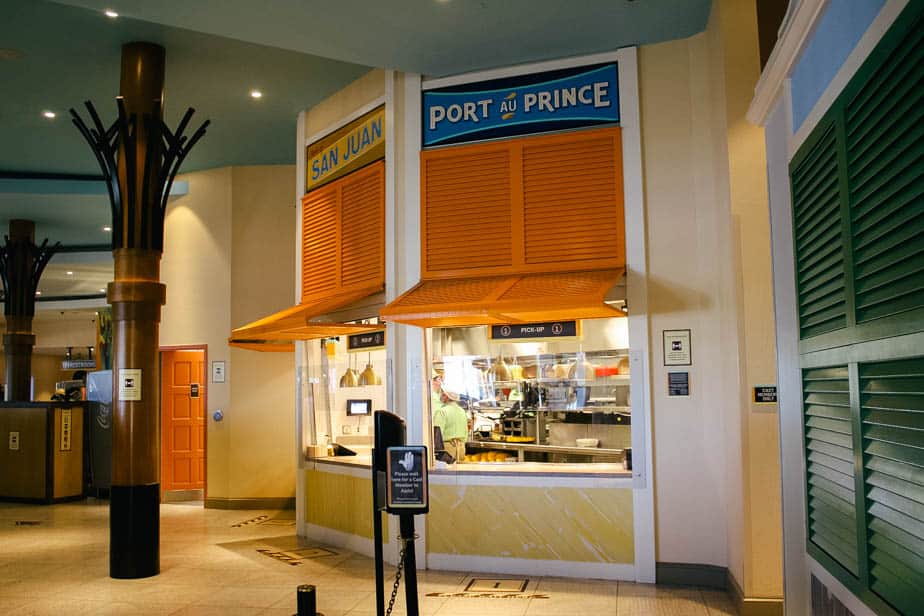 For lunch and dinner, a few items include:
Fried Yucca Bowl
Roasted Half Chicken
Cheeseburgers
Various Sandwiches
Fish Tacos
Chicken Bowl
Pizza (whole or by the slice)
Kid's Meals
You can browse all of the menu items here.
This quick-service restaurant has a large waiting area if you're picking up a mobile order to take with you.
Once you get the notification that your order is ready, you can pick it up at the designated window.
Here is a look at the beverage station. Thankfully, guests can now refill their own beverages. You'll find Coca-Cola products, tea, water, and coffee.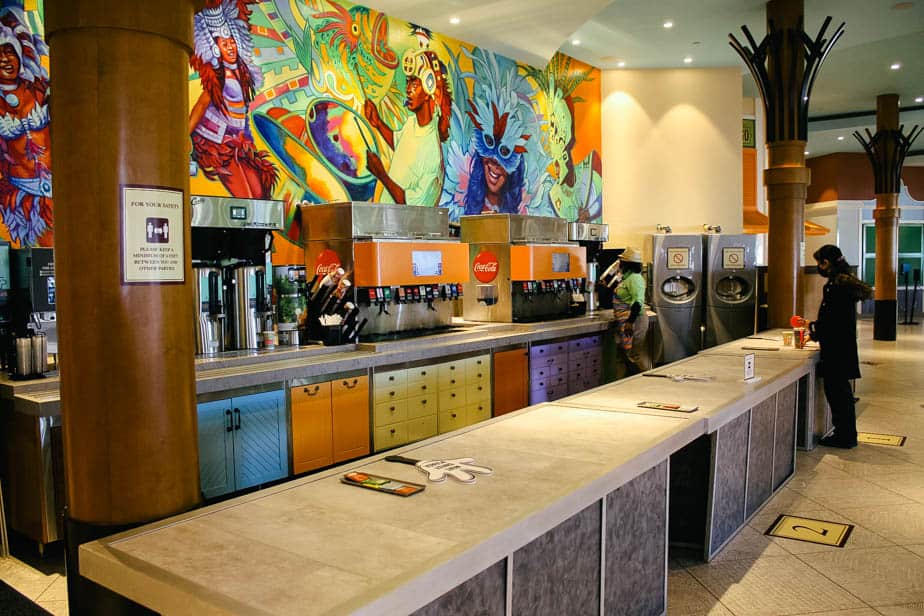 Here are the condiments. I neglected to get a photo, but all food courts usually have a microwave and a toaster.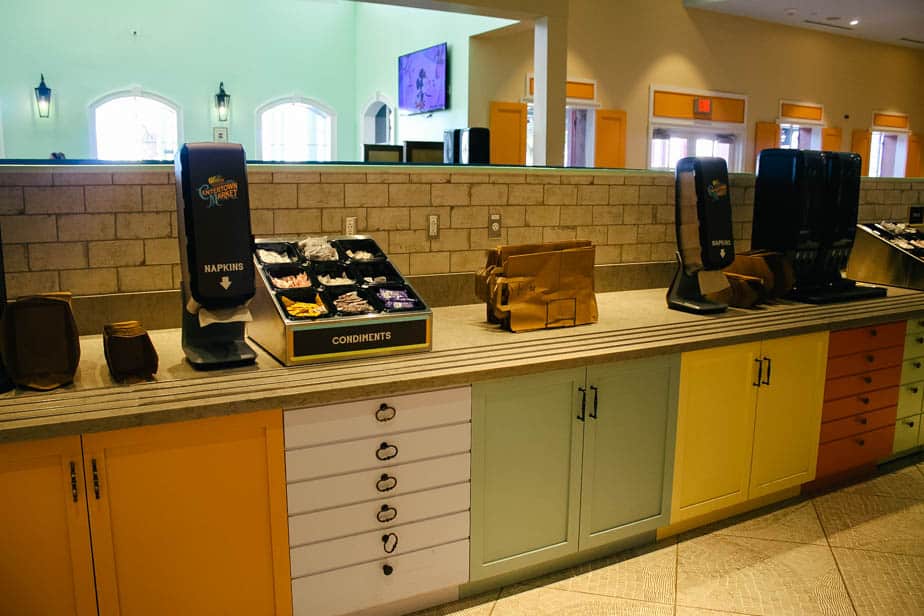 There are several dining rooms inside Centertown Market.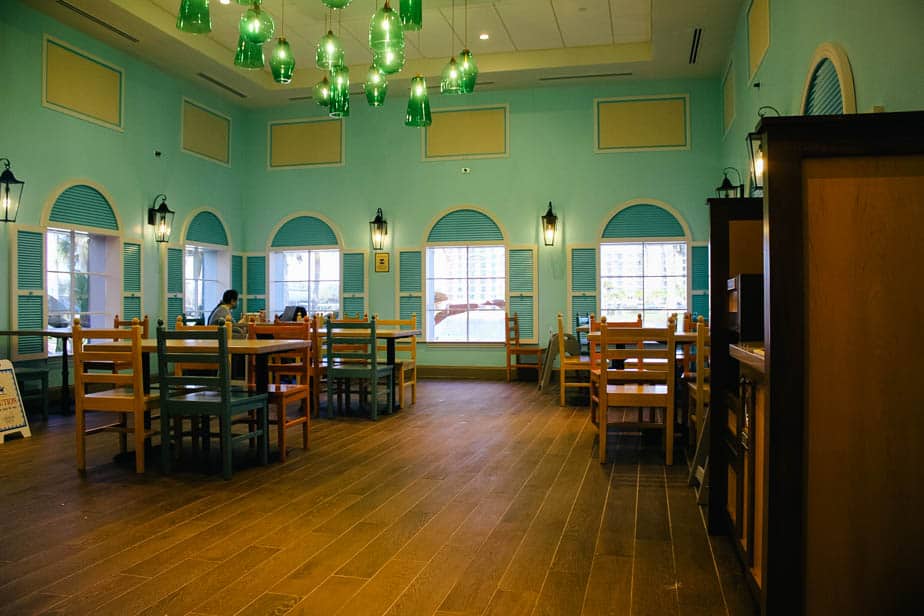 You should be able to find seating pretty easily.
And if you prefer, you can find a seat outside.
This seating area looks out to Barefoot Bay and the Riviera Resort. The views are gorgeous.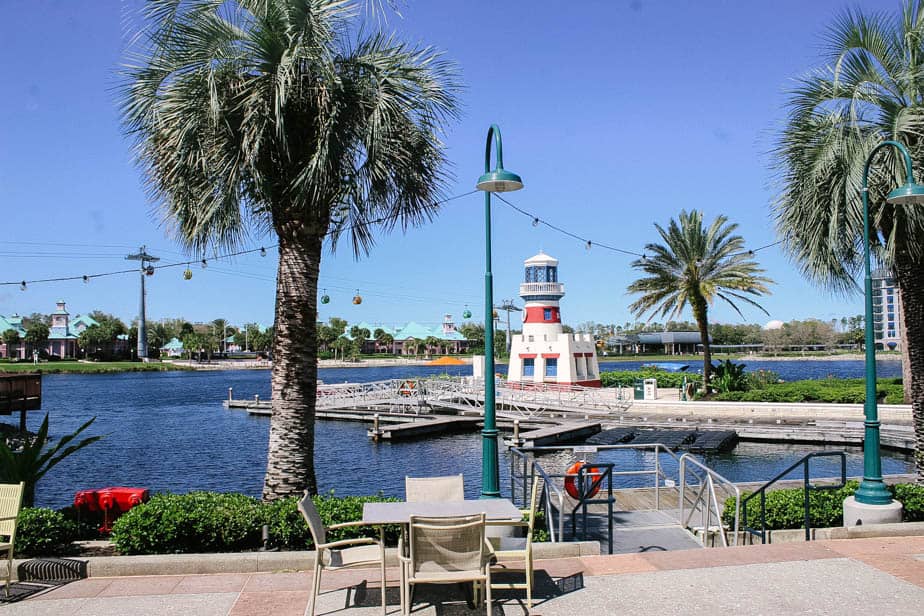 Sebastian's Bistro
Our next restaurant at Caribbean Beach is the resort's table service. Since Caribbean Beach is a moderate resort, they have two quick services, a table service, and a pool bar.
In comparison, if you were to stay at one of the value resorts, you would only have one quick service and a pool bar.
Related: Best Disney Moderate Resorts
Sebastian's Bistro offers a mix of Latin and Caribbean cuisine. The restaurant is open for dinner nightly between 4:30 p.m. and 9:30 p.m.
Unfortunately, this is one of the few resort restaurants I've yet to try. Sooner or later, we'll get over that way for a formal review.
Sebastian's Bistro is similar to an all-you-care-to-enjoy restaurant. For one price, you'll receive several different offerings.
The meal comes with the following:
Butter Rolls
The Spice Necklace Salad
Taste of the Caribbean (Chicken, Pork, and Flank Steak with Rice and Veggies)
Coconut Pineapple Bread Pudding
In addition, there's a taste of the Caribbean coconut shrimp enhancement that costs an additional $8.00.
At the time of this article, the adult meal cost is $29.00, and children are $17.00. Prices do not include tax or tips.
Sebastian's Bistro is a table service that requires a reservation.
Banana Cabana
Next door to Sebastian's Bistro sits Banana Cabana, one of the cutest resort lounges at Disney. Not only is Banana Cabana the lounge at Caribbean Beach, but it also doubles as the pool bar.
Guests can walk over from the pool to the bar. This side of the bar faces the pool, and that's a dedicated line for walk-up guests in the picture below.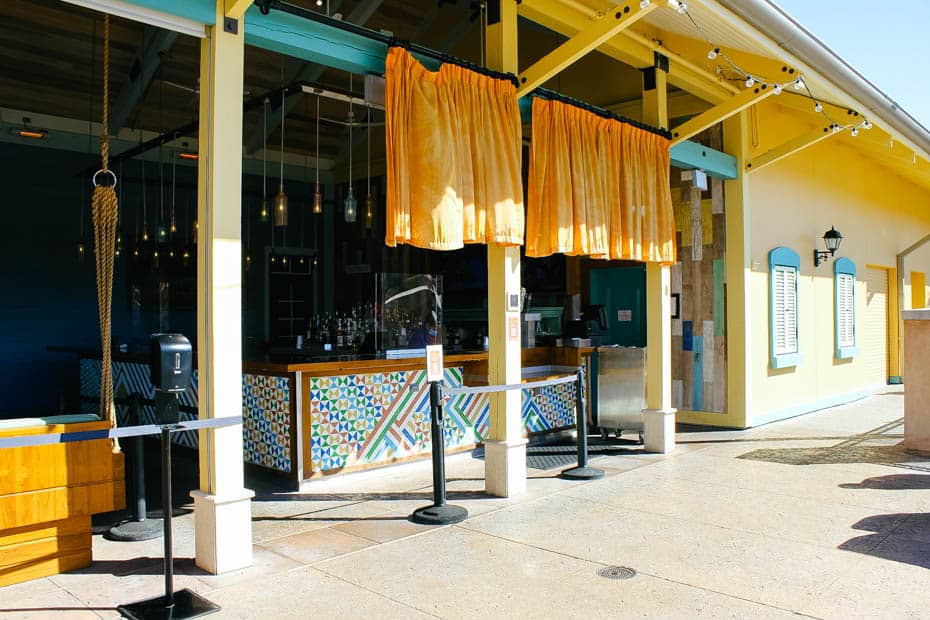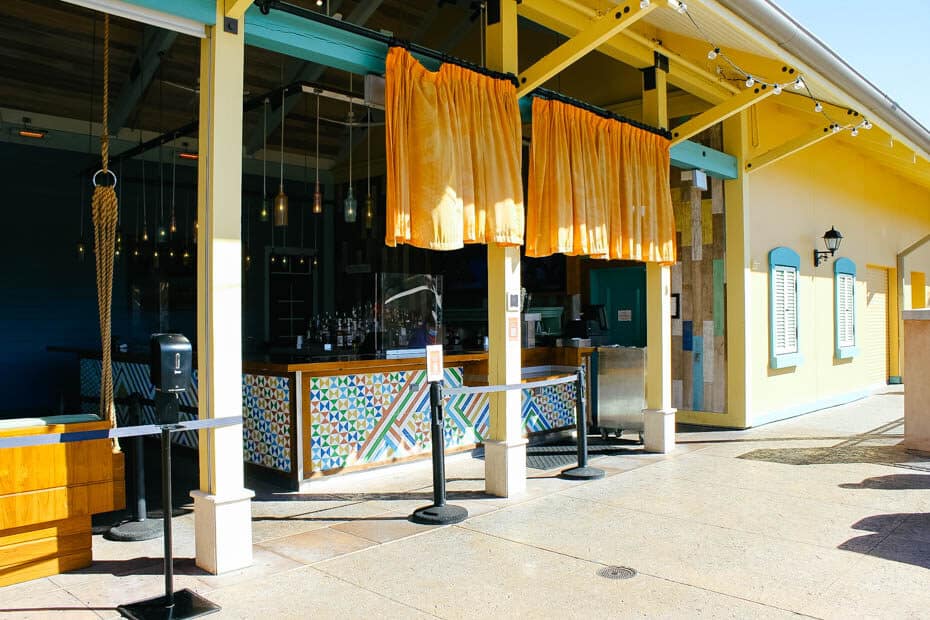 Banana Cabana is open daily from 11:00 a.m. until 10:00 p.m. This location serves quick-service food items, cocktails, and beverages.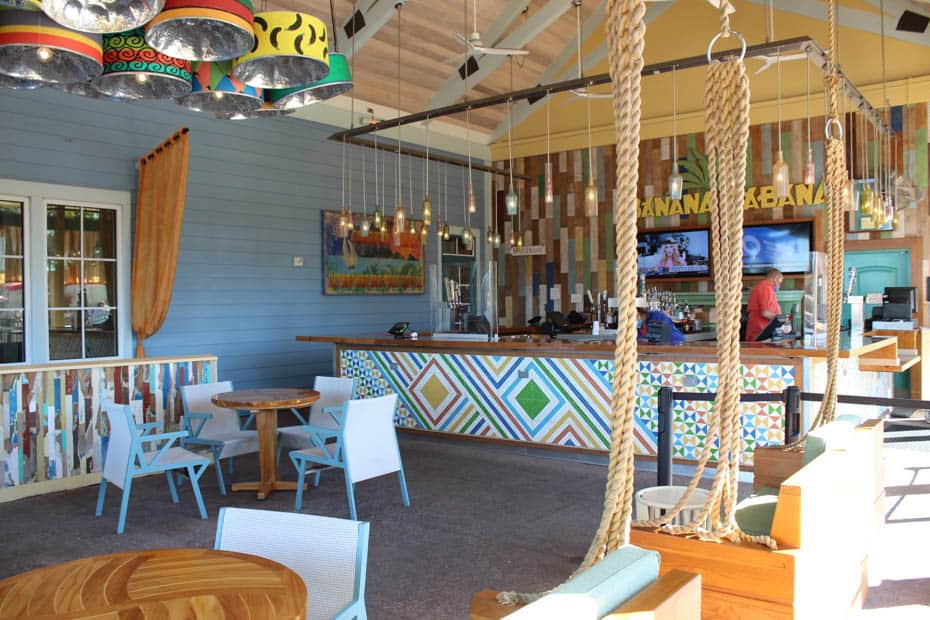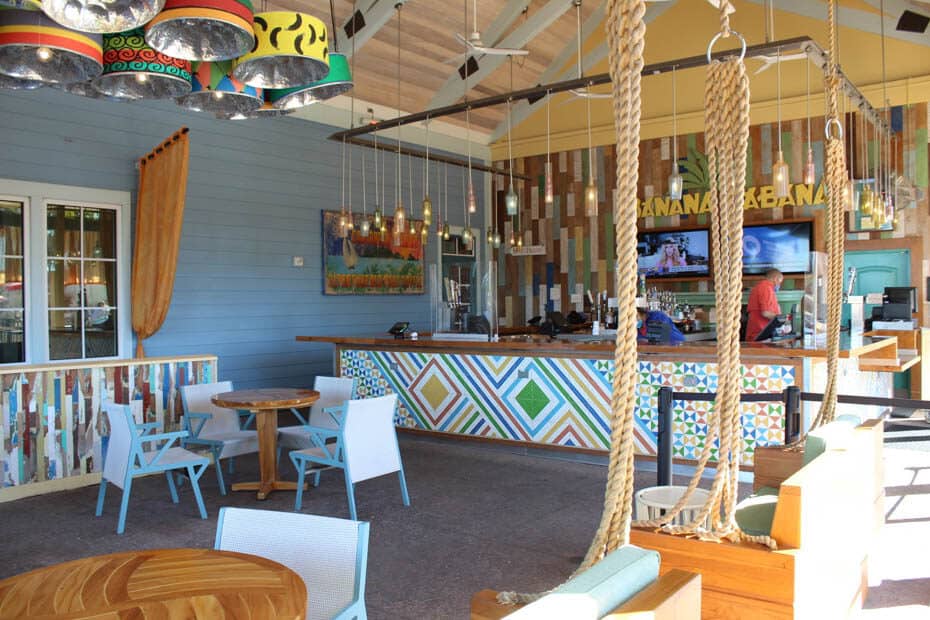 Appetizers for Banana Cabana include:
Jerk Chicken Wings
Loaded Fries
Chili Con Queso
Caribbean Pull-Apart Rolls
Other menu items include:
Jerk Chicken Sandwich
Impossible Burger
Sebastian's Salad with Grilled Shrimp or Jerk Chicken
Angus Bacon Cheeseburger
Cuban Sandwich
You can also pick up a few kids' meals here and an order of that pineapple coconut bread pudding.
Spyglass Grill
Given the size of Caribbean Beach Resort, there is an additional counter service dining location by the Trinidad quiet pool. Unfortunately, the Spyglass Grill has yet to reopen at this time.
Trinidad is located on the far side of the resort across the lake from the Skyliner station. This whole section of the resort is pirate-themed with its own beach area.
If you're staying in one of the pirate rooms, this is the area where your room is located.
We'll circle back for a fresh look when this location reopens. This Caribbean Beach restaurant offered breakfast, lunch, and dinner in the past. You can preview their menu here.
Restaurants Near Caribbean Beach Resort
Before we wrap things up, I wanted to mention a few dining options at the nearby Riviera Resort. Disney's Riviera is one of the newer Disney Vacation Club Resorts at Disney World.
Related: Disney's Riviera Resort Review
Surprisingly, it's quickly become one of the best resorts for dining. So much that I probably eat here now more than I do any other resort at Disney. And that's saying a lot.
For counter service, you'll want to try a meal at Primo Piatto. They have an excellent breakfast, lunch, and dinner menu.
Related: Primo Piatto Review
If you're looking for a character meal, the character breakfast at Topolino's Terrace comes in as our top choice in all of Disney!
Related: Best Character Dining Restaurants at Disney World
Not only that, but there's a fantastic bakery, Le Petit Cafe, that serves breakfast pastries and then changes over to the most delicious desserts and fancy coffee and cocktails throughout the remainder of the day.
And then there's Bar Riva, which serves as the resort's pool bar and lounge. I had one of the best salads there and can't wait to get back to try a few other items.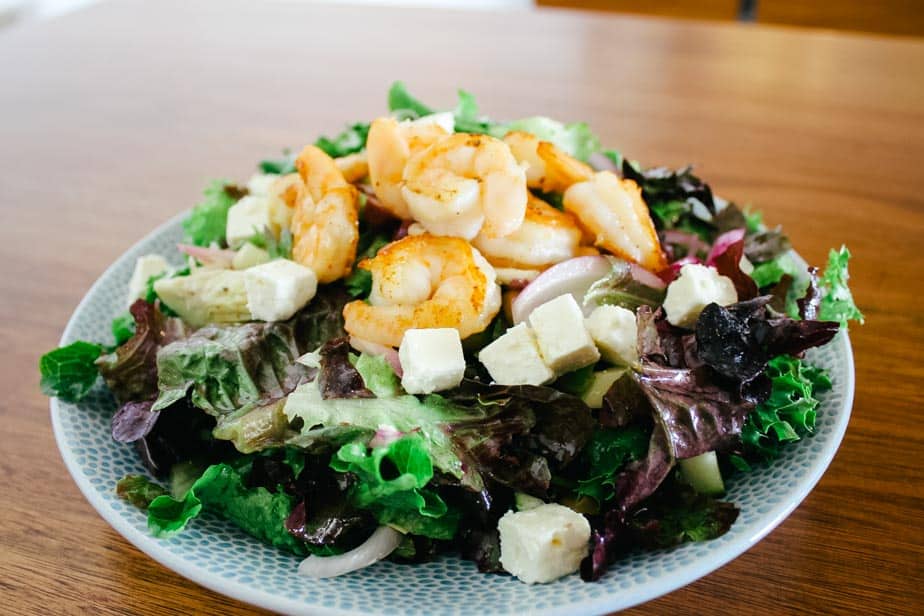 The salad was a delicious meal for a reasonable price.
Related: Bar Riva Review
Final Thoughts on Restaurants at Caribbean Beach
All in all, Disney's Caribbean Beach offers some great dining options. Centertown Market has a few unique entree items that make the food court stand out from most others.
And pretty much everything on the menu at Banana Cabana looks good. I spent a little time at the Banana Cabana one evening on a past visit. After dark, I sat out on one of the lounge chairs that faced out to the water.
While the view wasn't great, we caught a few glimpses of Epcot's fireworks in the distance. It was a nice end to the evening.
Caribbean Beach is a beautiful resort, and I'm always happy to spend time there.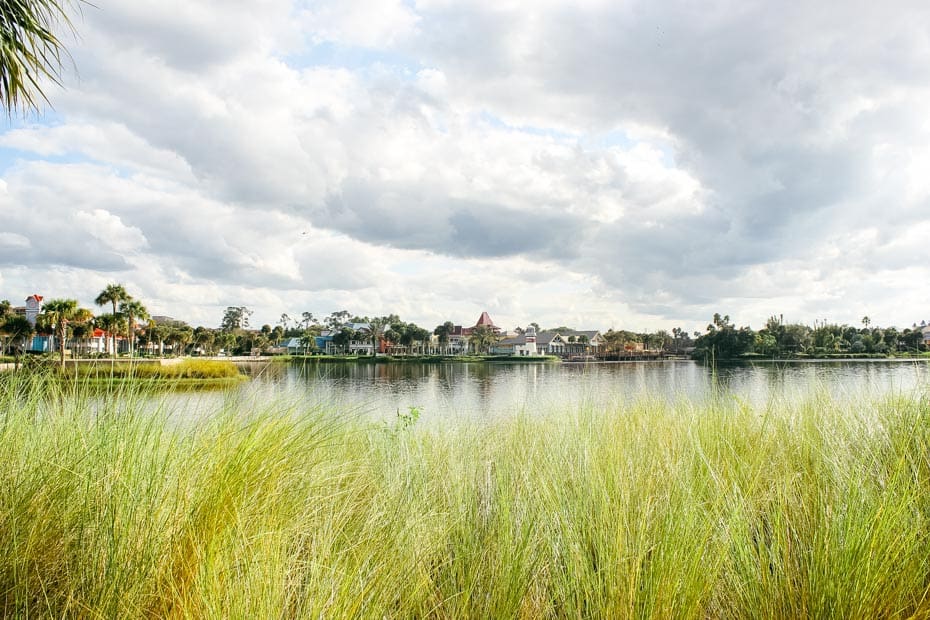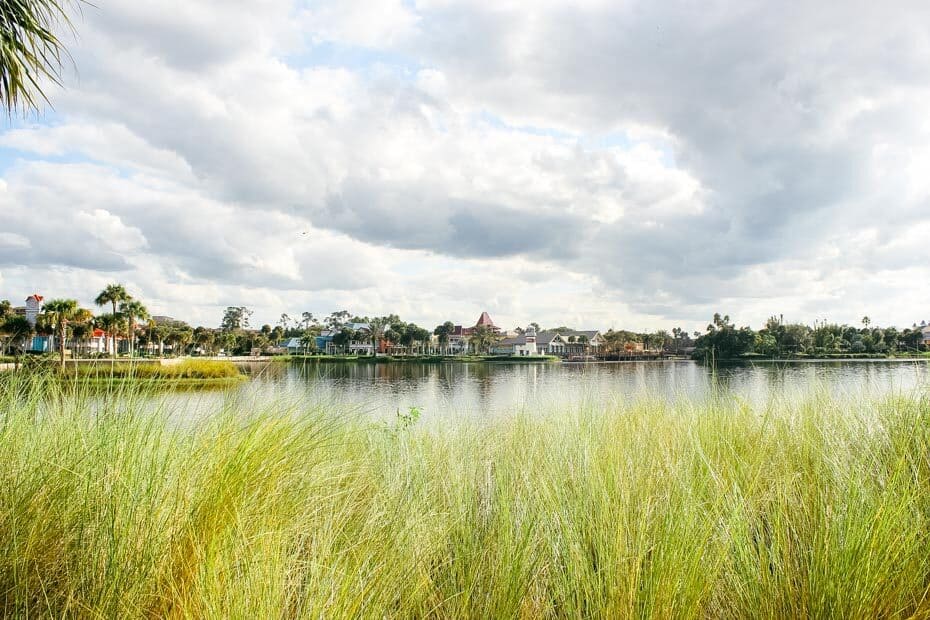 For more information, all of our articles for Disney's Caribbean Beach Resort are available here. Or you might enjoy the following:
If you're planning a Disney World Resort vacation, you might enjoy some of our other popular articles:
In the comments: What are your thoughts about the restaurants at Caribbean Beach? Do any of these look appealing?
Planning a Walt Disney World or other Disney Destination vacation?
Our friends and travel partner, Firefly Travels, excels at doing Disney differently. You can fill out a plan your trip form on their website, and someone will reach out shortly to discuss the specifics.