A Quick Visit to Homecomin' for Thigh High Chicken Biscuits
We're off to Chef Art Smith's Homecomin' to sample their famous Thigh High Chicken Biscuits. I usually like to provide a full restaurant review, as most of you know. However, this turned out to be an unexpected trip to Disney Springs, where we secured a last-minute walk-up reservation.
Homecomin' has been on my list to review for a while. And unfortunately, it's just one of those restaurants I haven't had a chance to get to since I started the site.
Additionally, with the restaurant's primary focus on fried chicken, it's never been on my radar of "allergy-friendly" places my son could eat until now.
In this article, we'll take a look at the delicious Thigh High Chicken Biscuits from Homecomin'. Additionally, I'll share one of their tasty side dishes with you, and we'll preview an allergy-friendly meal option.
We'll start with those yummy chicken biscuits! This evening, we were headed to Disney Springs to take care of a ticket issue. Disney's Guest Relations is located in Town Center near Homecomin'.
This Guest Relations location is a pretty convenient place to visit if you need to adjust a ticket, purchase a ticket, or upgrade. They will take your information and enter you in a virtual queue when they're busy. Then, you'll receive a text to come back, so you can browse the area while you wait.
On this evening, the weather was pretty perfect, considering it was December and it had rained earlier in the afternoon. The temperature was a pleasant 75 degrees, and we decided it would be nice to dine outside.
And since we were near Homecomin', I decided to see if they had any availability at their outdoor eating area. Thankfully, they did, and we only had about a 20-minute wait.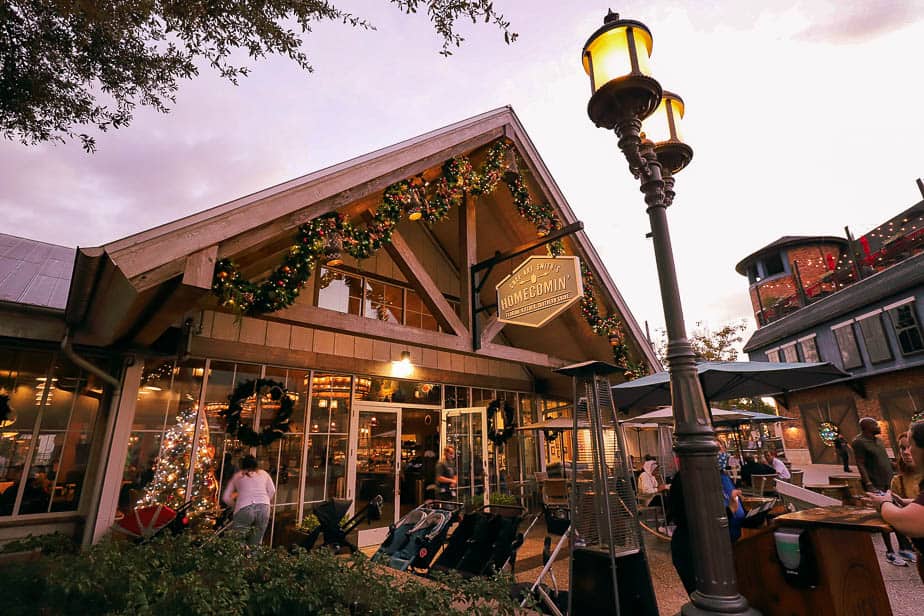 While we waited, I previewed the menu and decided to order the chicken biscuits dish. They are listed on the appetizer portion of the menu. The menu is available here.
As for my son, I wasn't sure what he would eat but felt confident they would come up with something. Our usual allergy-friendly dining spot at Disney Springs is right around the corner, Frontera Cocina.
Related: Frontera Cocina Review
Once we were seated, our server had one of the managers come out and go over allergy-friendly options for my son. He elected to go with The Art Burger.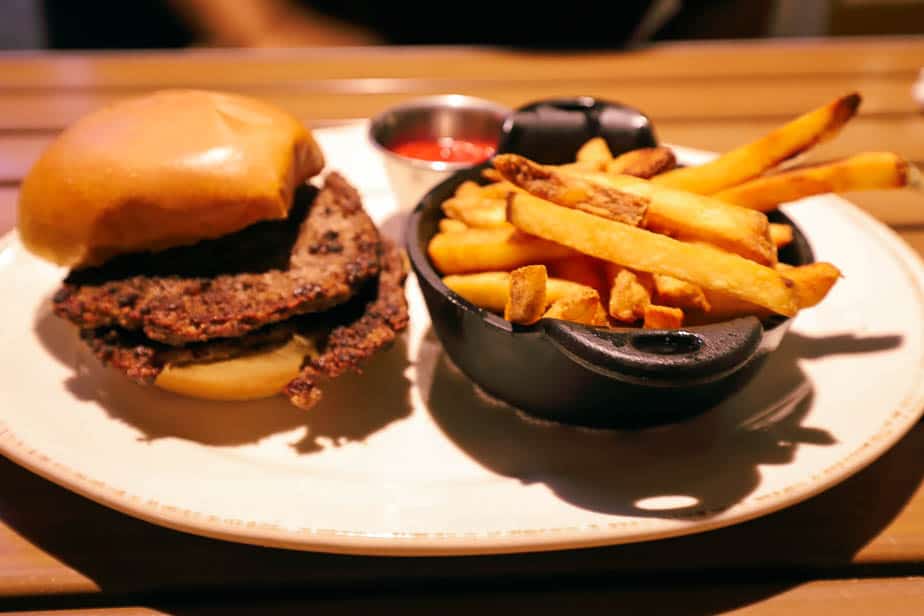 The Art Burger is described on the menu as "two beef patties topped with American cheese, Art's special sauce, tomato-bacon jam, lettuce, tomato, onion, and pickles on a brioche bun."
So as you can probably tell, my son ordered his burger plain with a side of fries. The bread that was provided was a vegan and allergy-friendly bun, which was a great option. If you deal with any food allergies, you already know it can be difficult to find bread options that aren't cross-contaminated.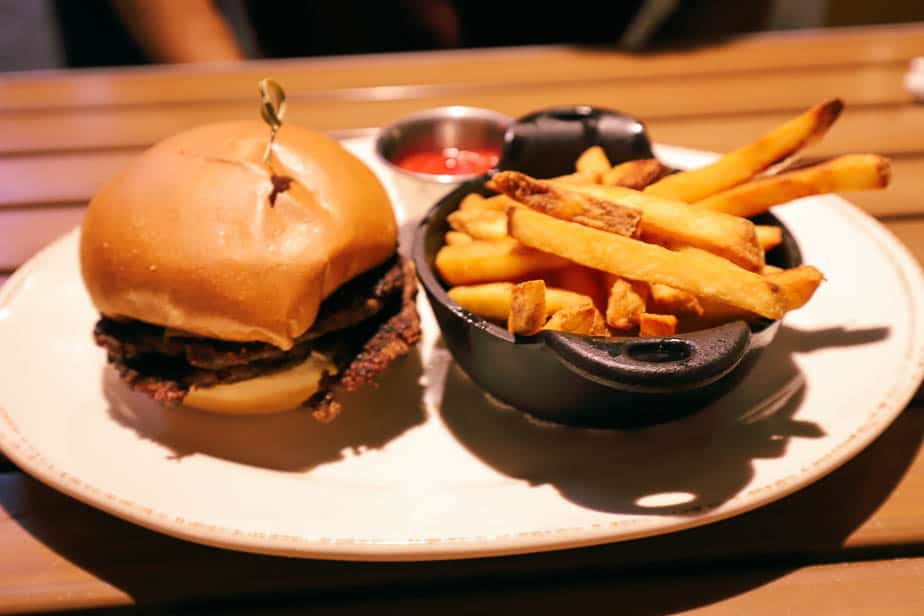 Even without all the extras, the burger was huge, and the beef was top quality. He couldn't finish it and carried the remainder back to our condo to enjoy later.
Now for my chicken biscuits! When the server took my order, I told him I wanted to add a side and kind of make it a complete meal instead of an appetizer.
I had no idea how much food I was ordering! You could definitely split an order of chicken biscuits with someone else and possibly a side. Here are the biscuits.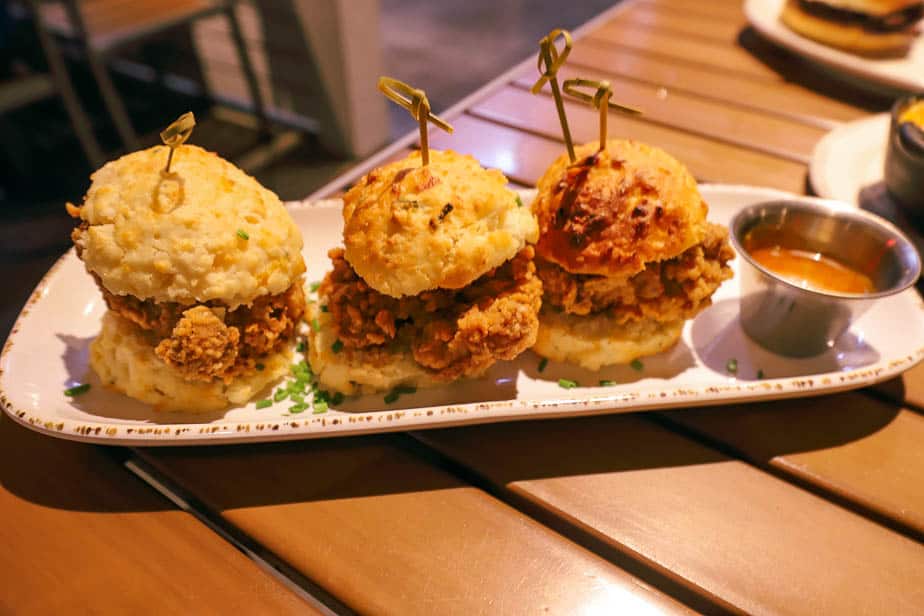 The Thigh High Chicken Biscuits are described per the menu as "three biscuits topped with Chef Art's famous fried chicken thighs along with bread and butter pickles, drizzled with hot honey."
Our server asked if I wanted the hot honey on the side or drizzled over the chicken. I found the sauce to be pretty hot, and I was happy I ordered it on the side. I never got anywhere near finishing it.
So, in case you can't tell, these biscuits are enormous! I was literally only able to eat one. They were so large that I ate them with a fork and knife!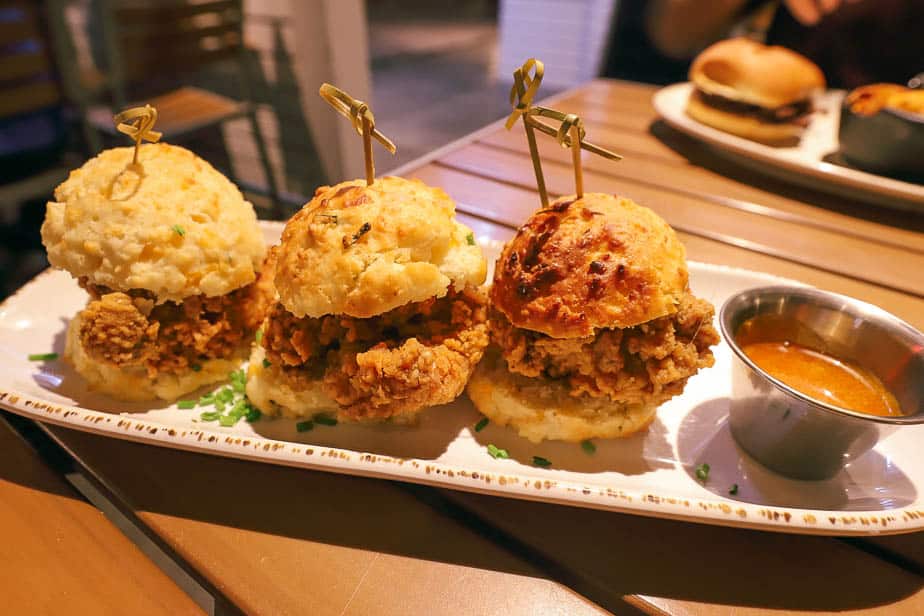 And I ordered a side! What was I thinking? Oh yeah, I was thinking I wanted to try the grits.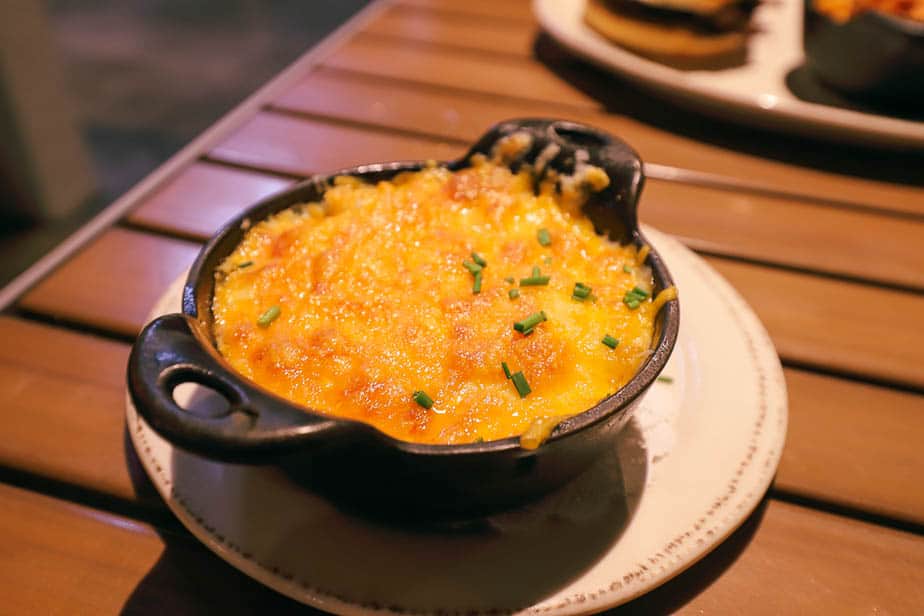 I will say this about the grits, they were delicious. However, they were so rich that I had a little heartburn, which is rare for me.
Additionally, the cheese topping on the grits was extreme. Our server mentioned that it was hard to tell which side was grits and which side was macaroni and cheese when they came out of the kitchen because of the layer of cheese.
At the end of our meal, we both had plenty of leftovers. And enjoy them we did the next day back at the condo.
Believe it or not, the thigh-high chicken biscuits reheated wonderfully in the microwave. They made for an excellent breakfast out on the balcony overlooking the golf course.
I hope you enjoyed our stop at Chef Art Smith's Homecomin'. After having such a wonderful meal, I look forward to returning and trying another version of their famous fried chicken.
Since this meal, we've revisited Homecomin' to provide a full restaurant review:
For more dining at Disney Springs, you'll definitely want to check out our list of the best restaurants at Disney Springs. Or you might enjoy some of these individual reviews:
Try here for a complete list of our Disney Restaurant Reviews.
Now, what is your take on Homecomin' and these Thigh High Chicken Biscuits? Do they look appealing? Have you tried them, or will you?
Planning a Walt Disney World or other Disney Destination vacation?
Our friends and travel partner, Firefly Travels, excels at doing Disney differently. You can fill out a plan your trip form on their website, and someone will reach out shortly to discuss the specifics.