Guide: Disney's Coronado Springs Resort Restaurants
When it comes to Disney's Coronado Springs restaurants, the options seem endless. And if you are planning an upcoming vacation, it's important to familiarize yourself with all of the dining options at Coronado Springs. Come to think of it; you might even want to make a list!
That's because the resort has a rather large amount of restaurants in comparison to other resorts. In fact, Disney's Coronado Springs offers ten different restaurants and dining options.
That's quite a lot of restaurants for a Disney moderate resort. My only complaint? How can you fit it all in when you stay here?
This Coronado Springs Restaurant review will cover all of the dining options at the resort. I'll include a look at everything from the pool bar, Siestas to a little more formal dining at Toledo, the tapas restaurant. This guide should help you get some ideas for planning meals at Coronado Springs during your Walt Disney World Resort vacation.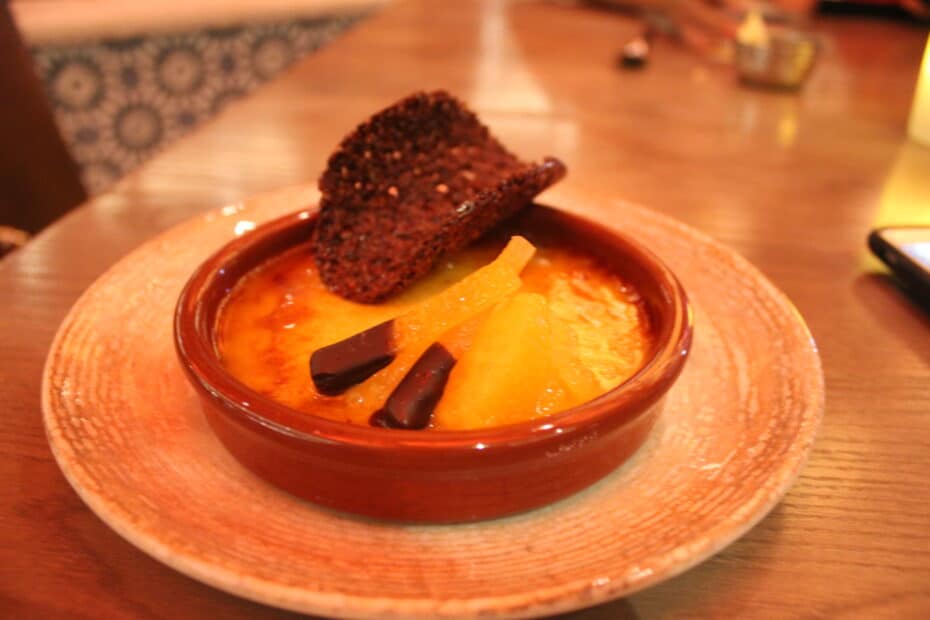 Coronado Springs Restaurants
Below is a breakdown of the dining locations we will discuss. While drafting this post, I decided the best way to cover each restaurant is by its location on the property. Feel free to use the links below to locate any specific resort restaurant.
Coronado Springs Restaurants at El Centro
El Centro is the name of the lobby in the main building of Coronado Springs. This is where guests arrive for check-in and is the central hub of the resort.
If you have ever visited the resort before, you probably remember this fountain centerpiece in the lobby. The resort's check-in area is at the counter in the background.
El Centro is home to the four different dining options at Coronado Springs. Additionally, Panchito's, the gift shop, has some grocery and snack offerings. Below, we'll take a closer look at each option.
El Mercado (Coronado Springs Resort Food Court)
Most guests staying at Coronado Springs for any length of time will likely end up having a meal at El Mercado de Coronado. This is the resort's quick-service dining location. It was formerly known as Pepper Market.
El Mercado serves breakfast, lunch, and dinner. The restaurant is a large food court offering different stations with a variety of food items.
El Mercado is typically open from 7:00 a.m.–11:00 p.m. for breakfast, lunch, and dinner. The Coronado Springs restaurant offers a variety of seating options spread out over the main dining hall.
Below is a selection of the menus that are over each station. This is by no means all of the stations, but you can tell that each one has a certain flavor.
Additionally, the chef's specials menu had Yucatan roasted chicken and BBQ ribs. Per the menu, it was described as "our house specialty seasoned chicken, served with potatoes, vegetables, and a cornbread muffin." The BBQ ribs came with the same sides as listed above.
A create-your-own pasta option was available. In addition, that station provided pizza options as well. Pizza choices were pepperoni, supreme, vegetarian, cheese, and the meat aficionado.
From The Grill station, a variety of burgers are available, including beef, turkey, and the special Beyond Burger plant-based option. Additionally, this station had a shrimp Po'boy sandwich, chicken sandwich, and Philly cheesesteak. This is also the place to pick up chicken tenders kid's meals.
Preview the breakfast menu here on Disney's site.
And I always enjoy perusing the dessert counter at El Mercado.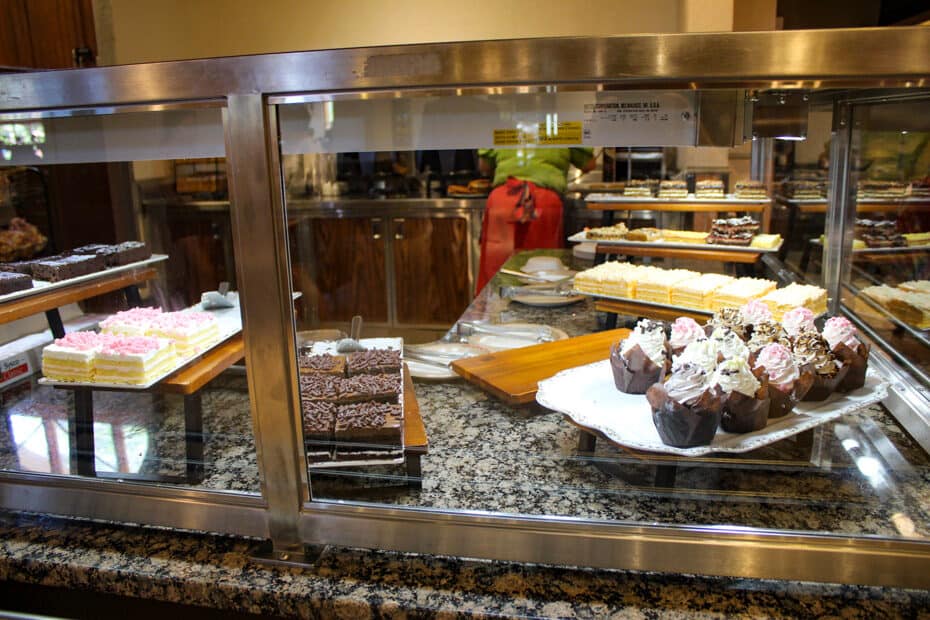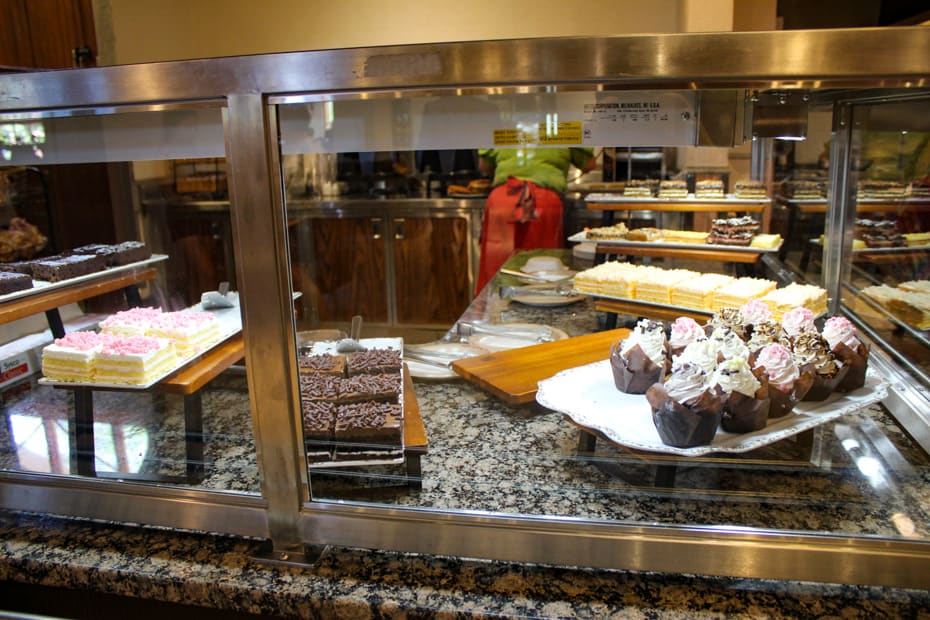 Sometimes I come over to Coronado Springs specifically to take a jog around the property. I really enjoy jogging around lake Lago Dorado. (If you are looking for a workout during your stay, Coronado Springs has a nice fitness center.)
Related: The Best Jogging Trails at Disney World
Anyway, when I do this, I'll jog first and then explore the resort a little bit while I'm cooling off. I have gotten in the habit of getting something for dinner at whatever resort counter-service restaurant I'm at.
The last time I was here, I ended up spending a lot of time staring at the amazing dessert case. But that would have defeated the purpose of my visit, so I did resist.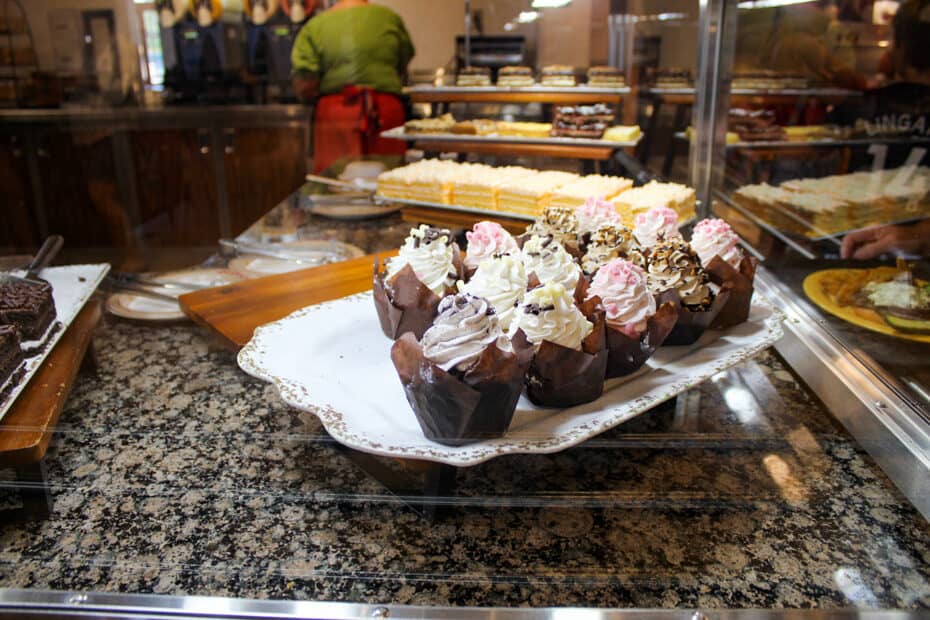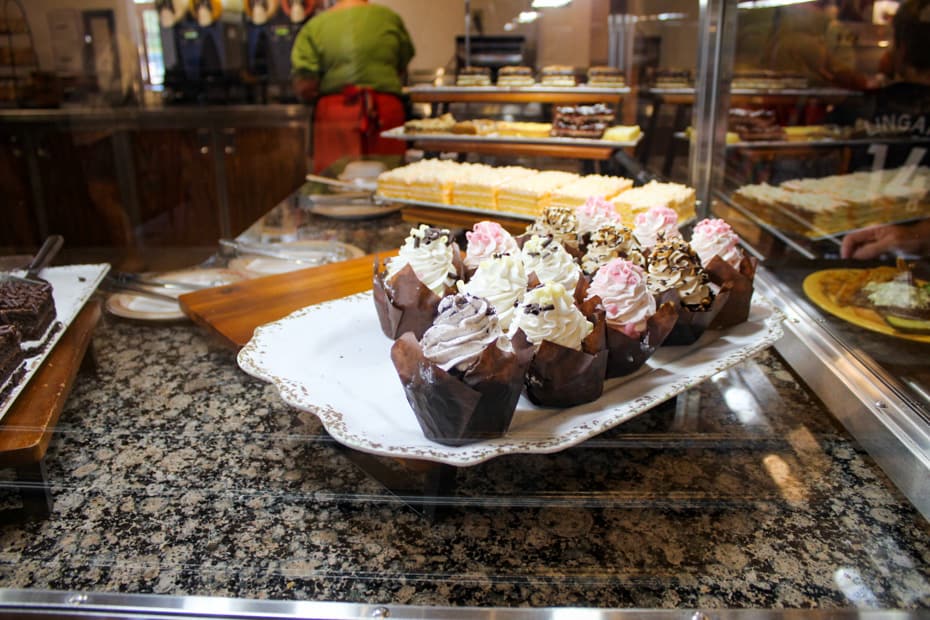 As you can see, they have a lot to choose from at El Mercado. Below is a picture of some of the grab-and-go snacks and refrigerated items.
The fridge labeled "Kid's Corner" is also something to note if you are ordering any kids' meals on vacation. Most of the meals come with the main item and a side like french fries.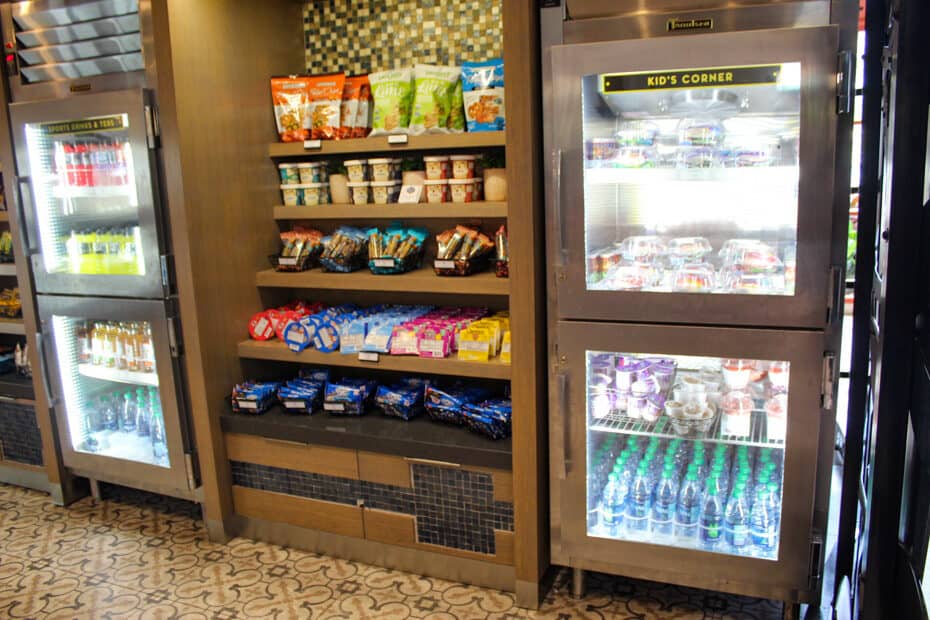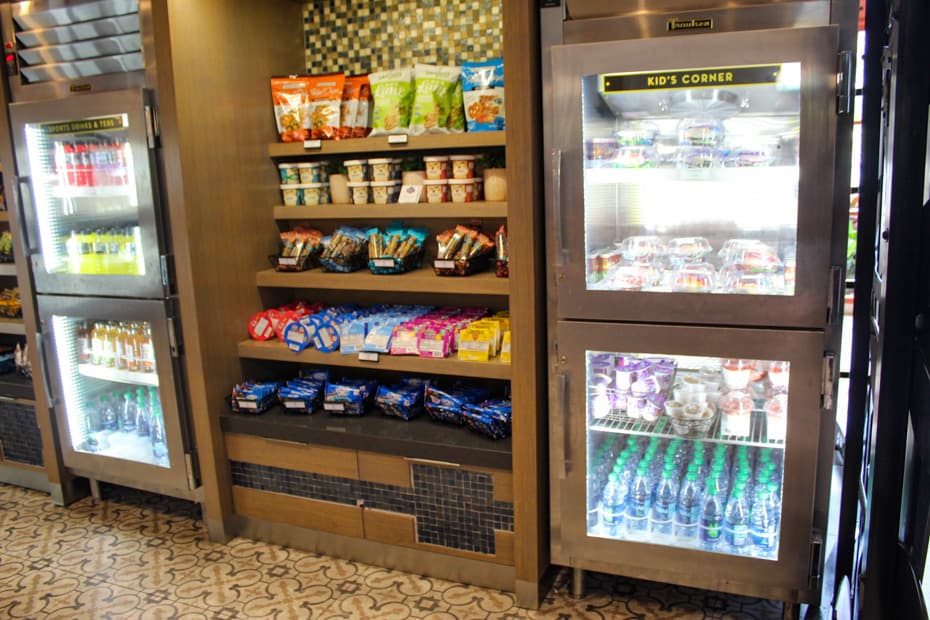 Typically, you get an additional side and drink from this cooler. The sides are usually yogurt, milk, bottled water, juice, apple slices, grapes, etc.
Sometimes, I will get a child's cheeseburger, fries, a fountain drink. Then pick up milk or grapes from the cooler. If you are headed back to your room, you might want to stick the milk in your room fridge to use with cereal the next morning.
You can work it however you want, but I often order a kids' meal for myself. They are a nice-sized portion, and you can save the extra side for later. You might think to yourself that ordering a kids' meal is a bit much. But Disney is not a place where your money goes a long way.
Here are a few of the beer selections.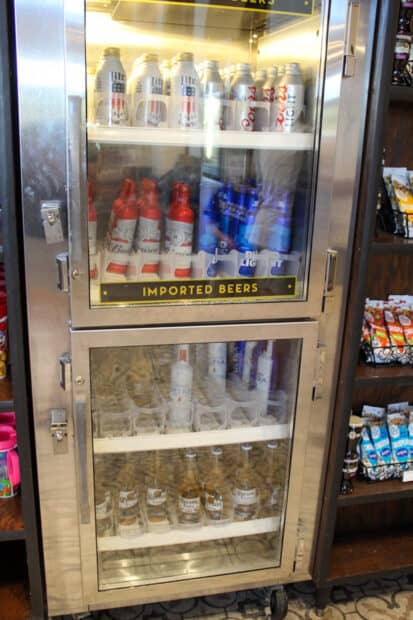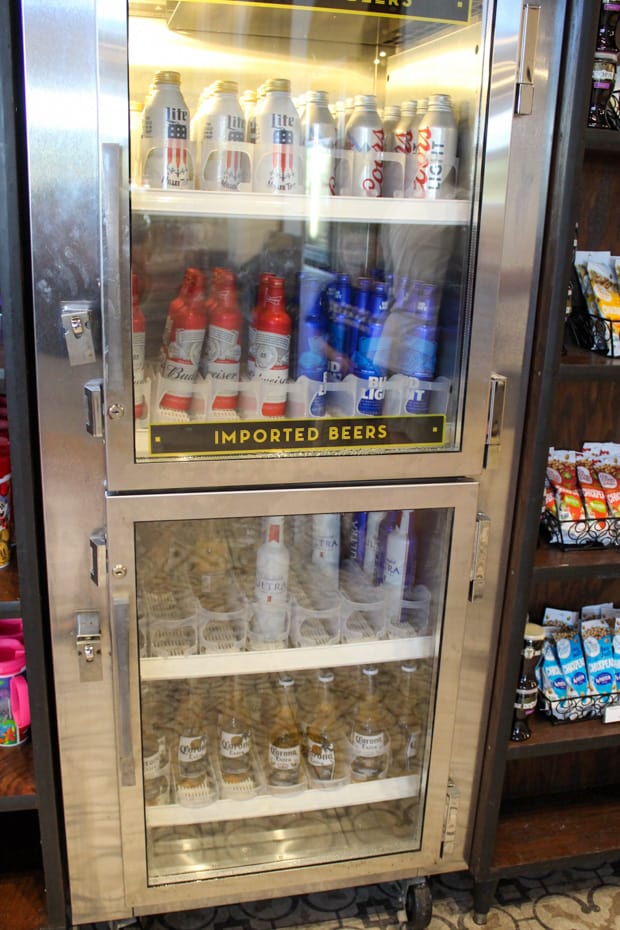 And we have a look at how this Coronado Springs Restaurant is set up overall. You might notice the fresh fruit available.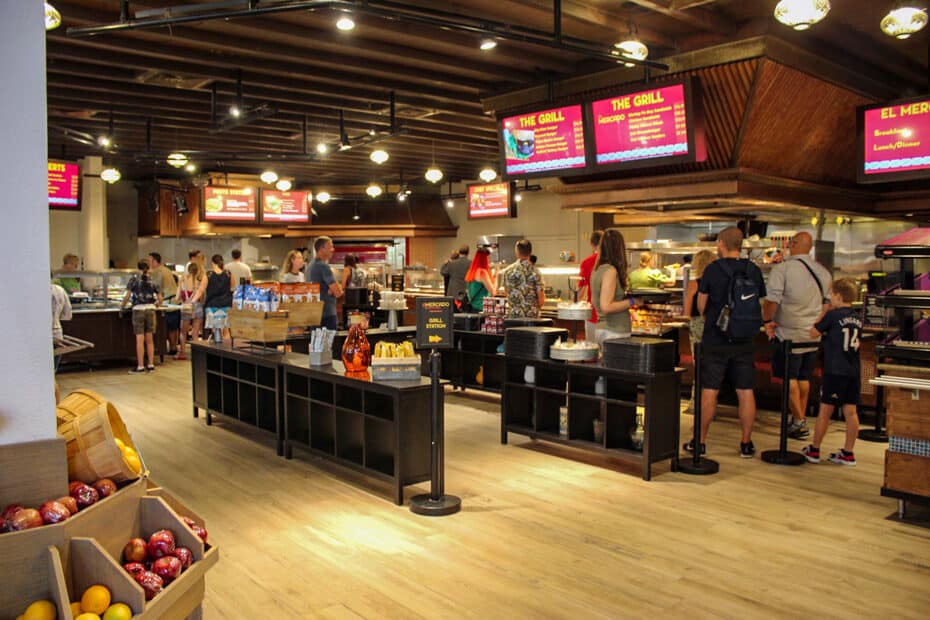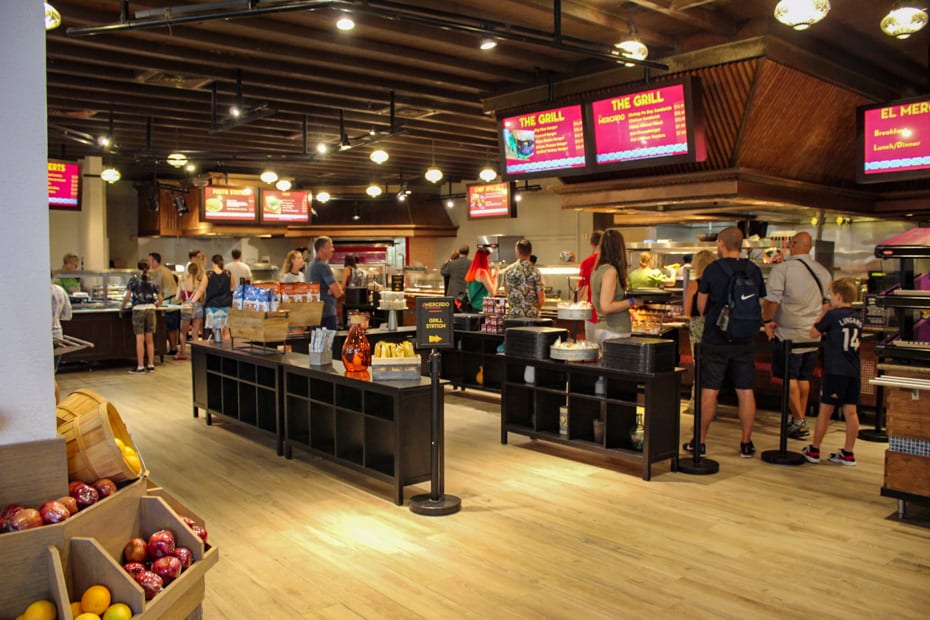 After ordering and receiving your food, you will want to check out and then find a seat. Make sure to have the order boxed to-go if you are taking it back to your room.
Additionally, Disney has implemented mobile order service at this dining option. This is something you'll definitely want to take advantage of during your vacation. It's a huge time-saver.
Also, I wanted to add a note here for those dealing with food allergies. Make sure to ask to speak to a chef at one of the stations and tell the cast member you have food allergies. They will locate a chef to come out and discuss your options with you.
The chefs have a ticket, and they write down all your information. Your order will then be prepared and brought back out to you. We deal with many food allergies, and often, cast members will give us a pager to come back when our order is completed.
Here are a few things that might be considered a "healthy option." Might.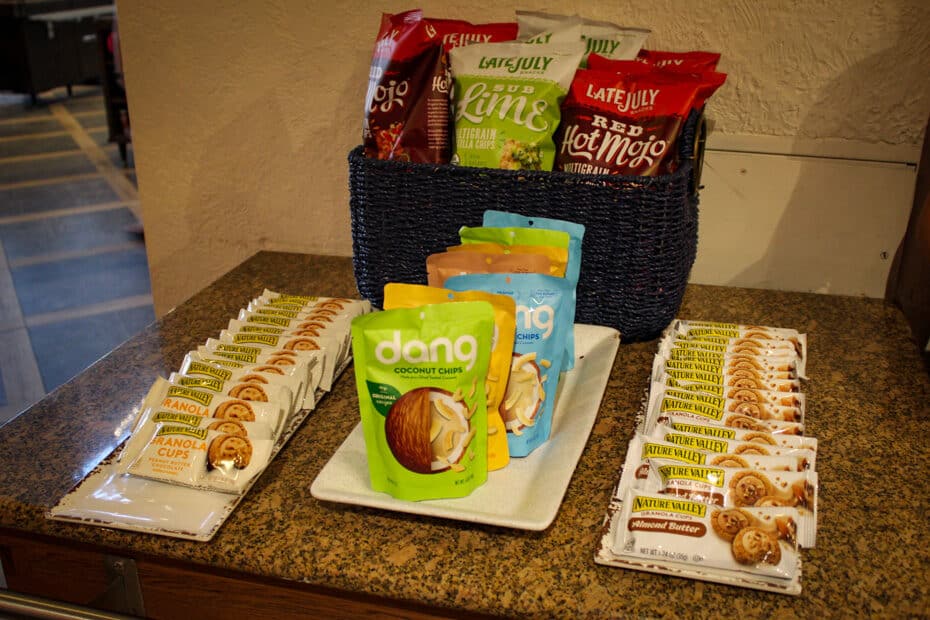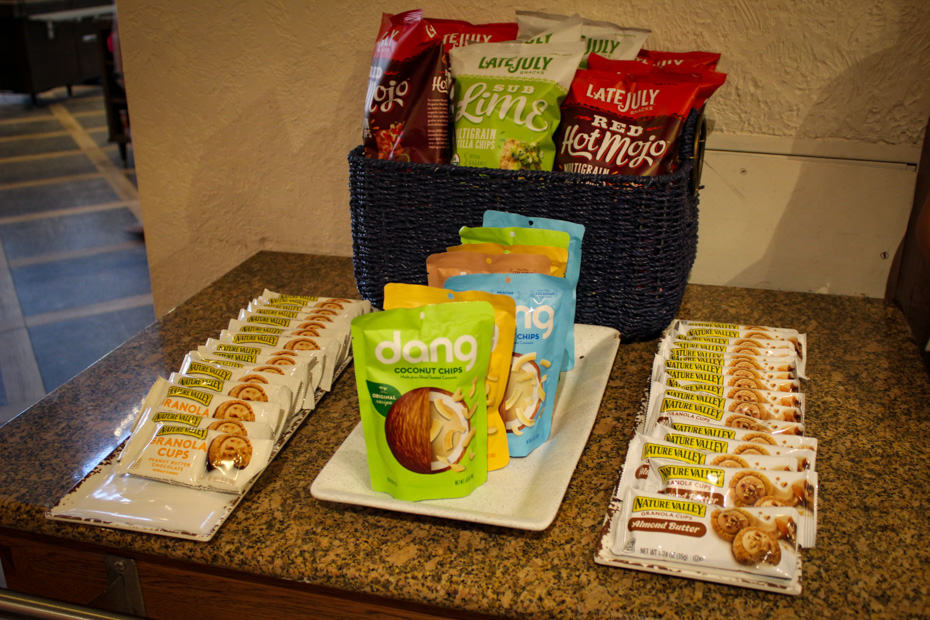 There are a variety of hot sauces on the condiment stand at El Mercado, which seems to go along with the overall Spanish vibe of Disney's Coronado Springs Resort.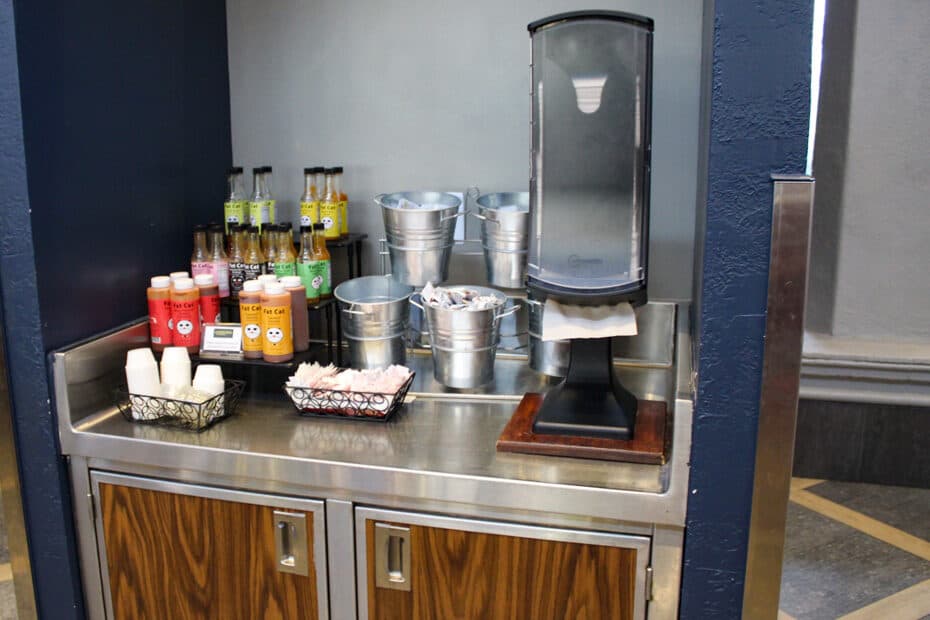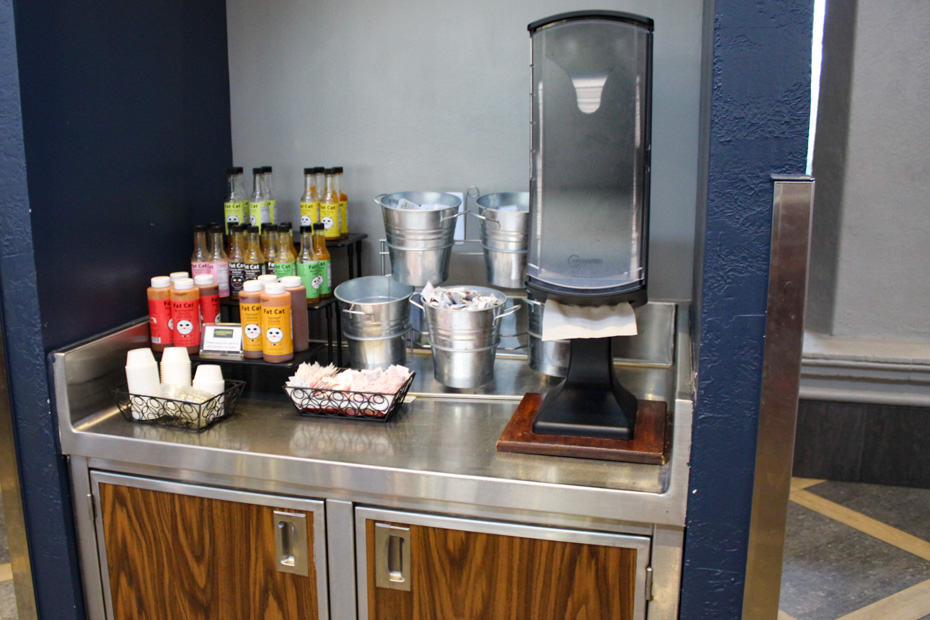 Coffee, fountain drinks, and hot chocolate are available.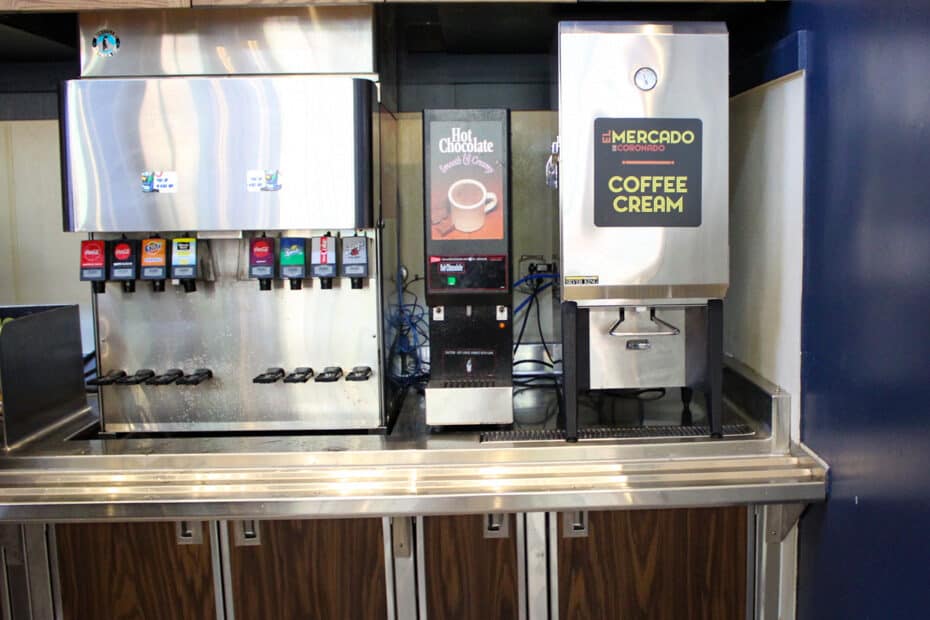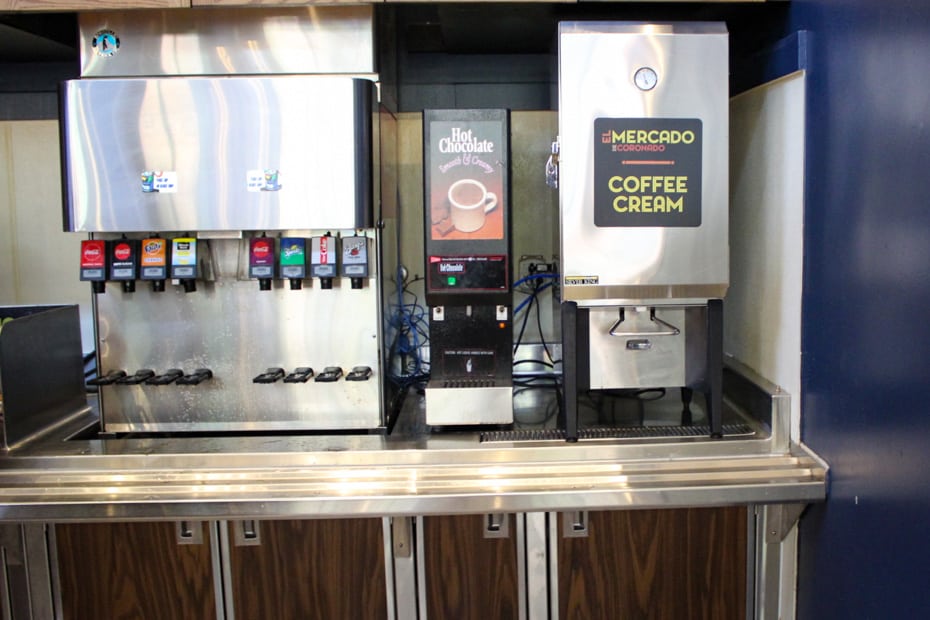 You might want to enjoy your meal in the outdoor seating section. It's located across the hallway from the restaurant. When temperatures are pleasant, I wouldn't miss an opportunity to dine outside.
El Mercado has a wide variety of food for the entire family. It even makes our list of the best counter service at the Disney World Resorts.
Maya Grill
At the end of El Centro's long hallway, you'll run straight into Maya Grill.
Maya Grill is the resort's original table service restaurant offering Mexican cuisine.
Below is a look inside, and here is a link to Disney's menu. I haven't had the opportunity to eat at this location yet.
You might remember that there used to be two table service restaurants at Coronado Springs. Las Ventanas was the second option, but that windowless restaurant closed a while ago.
Rix Sports Bar & Grill
Guests looking for an in-between type food stop with more of a lounge feel will enjoy a stop at Rix Sports Bar & Grill. It is located around the corner from El Mercado, off the main lobby area.
Rix Sports Bar & Grill is a table service restaurant and offers breakfast, lunch, and dinner. Their menu has a primary focus on appetizers, soups, and sandwiches.
If you are looking for a lounge during your stay, this will probably be your best option.
Cafe´ Rix
Cafe´ Rix is in the main hallway before you get to El Mercado. This location offers snacks and lighter meal options.
There are donuts.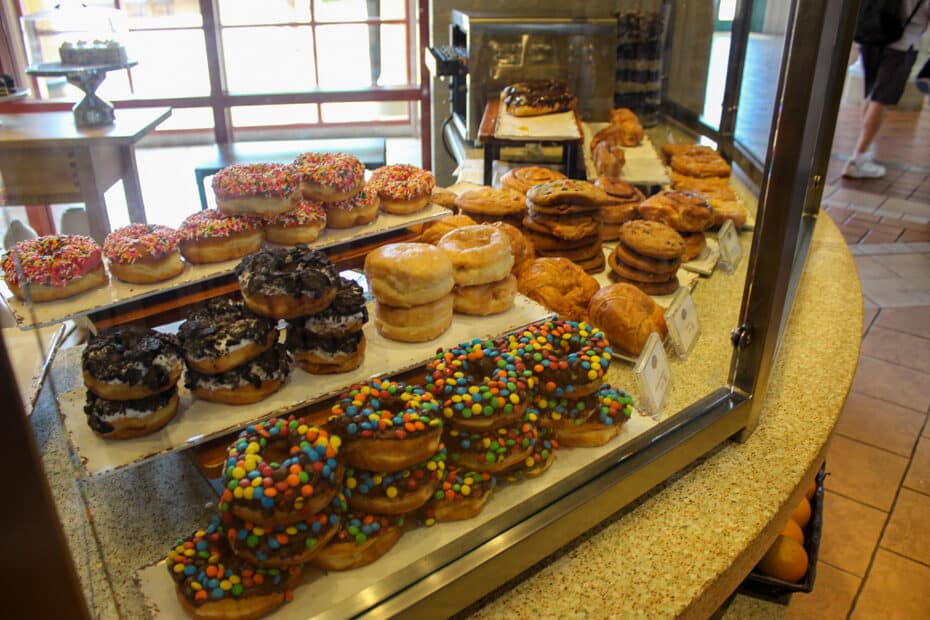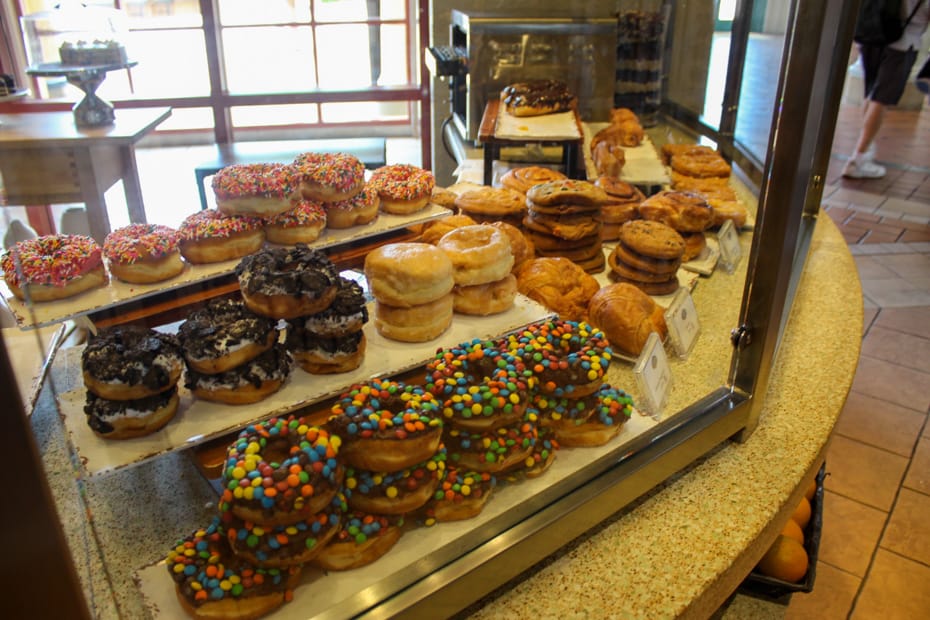 The three C's–croissants, cookies, and cinnamon rolls.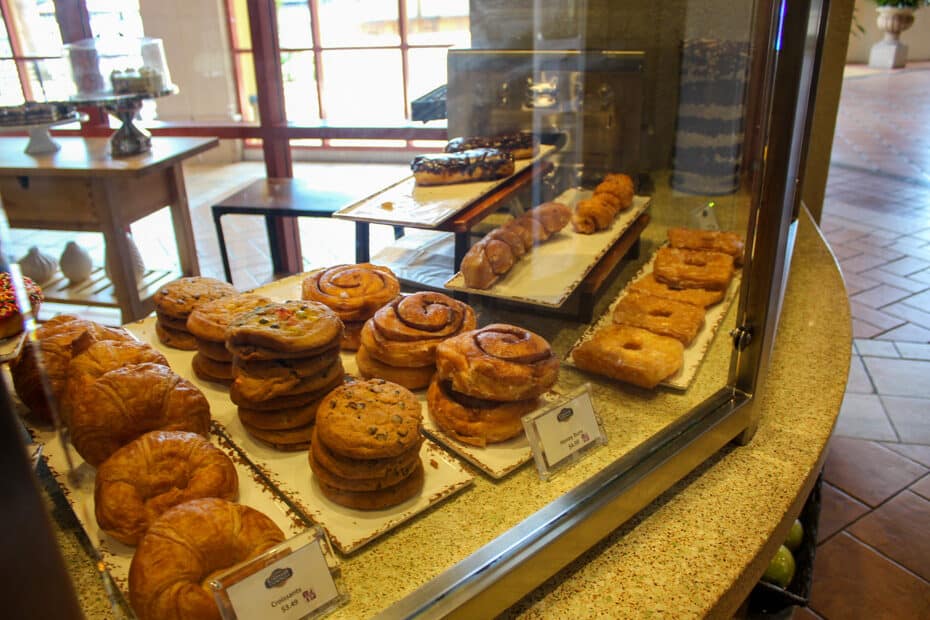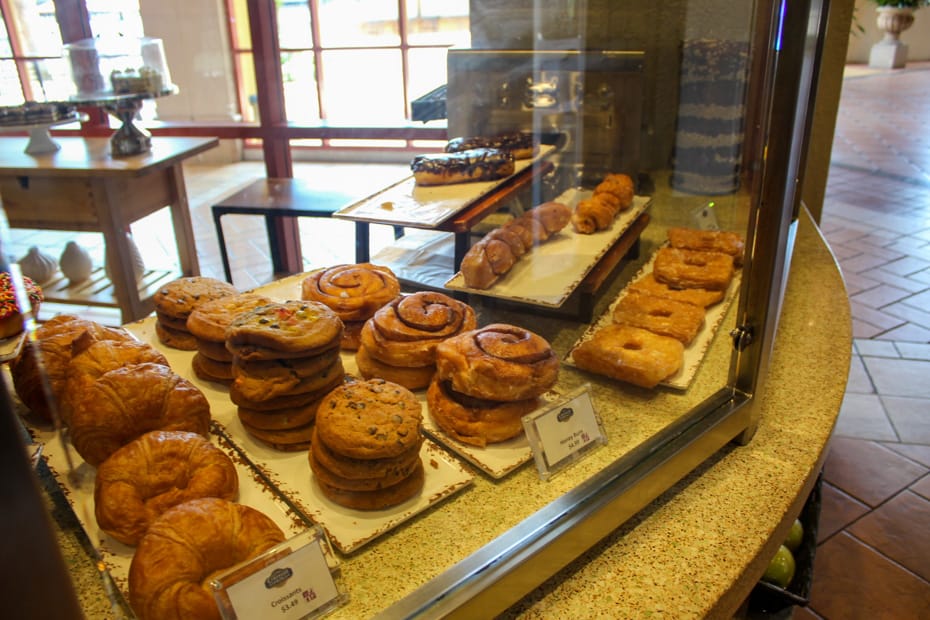 If you are of the type that likes your sweet before your salty, pre-made salads are available next door to the pastry case. You probably won't feel quite so bad if you choose one of each.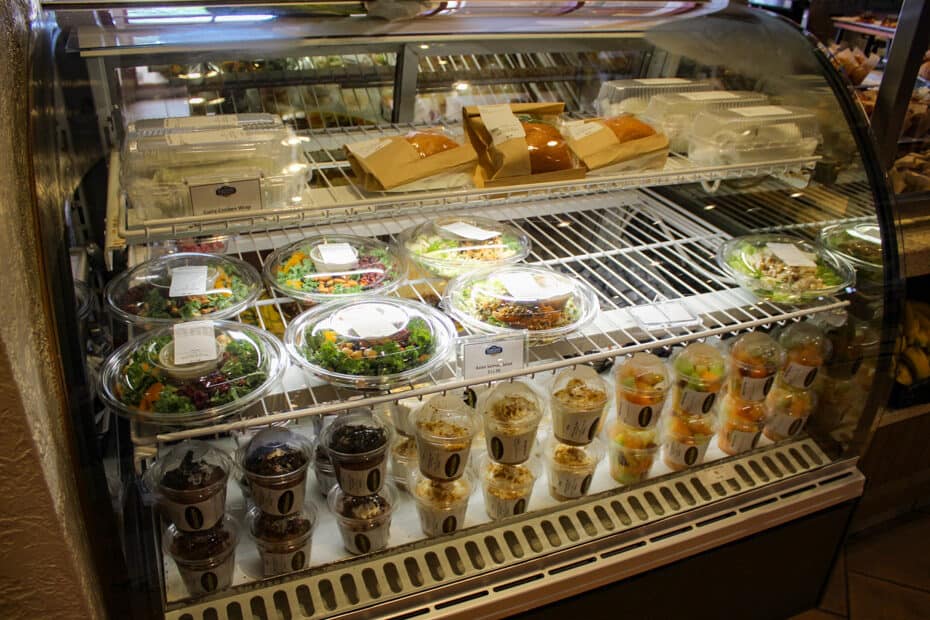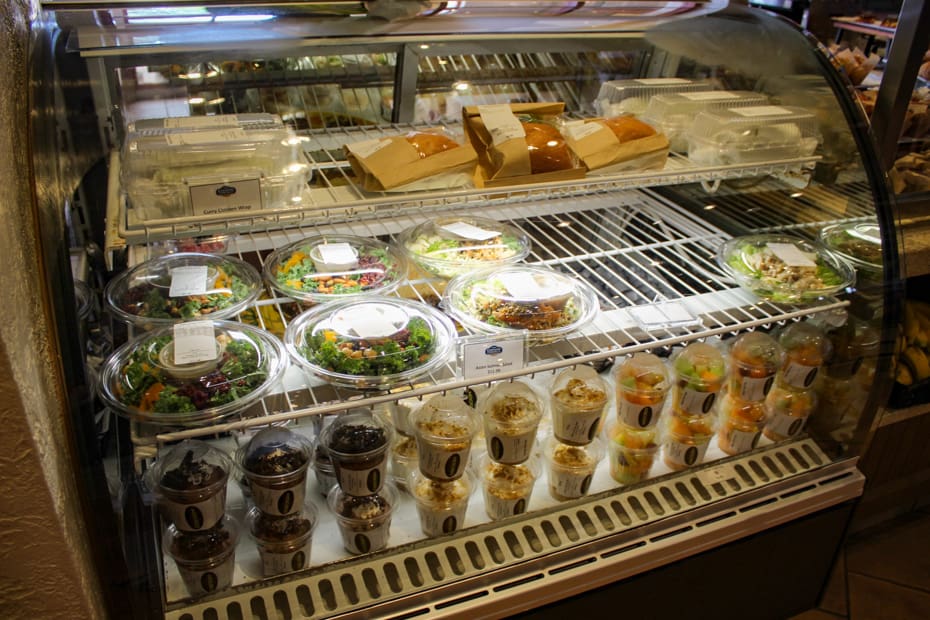 Or you can stop in for a gelato treat. They have a lot of different flavors.
There's a mix and match trail mix station on the wall. I'm not really for sure those items on the right-hand side are actually "healthy" either.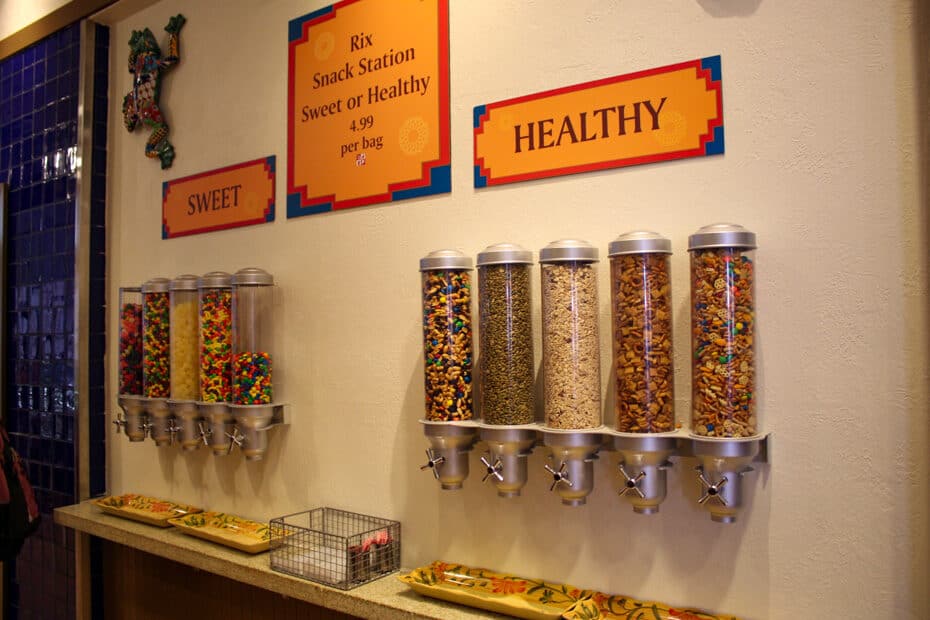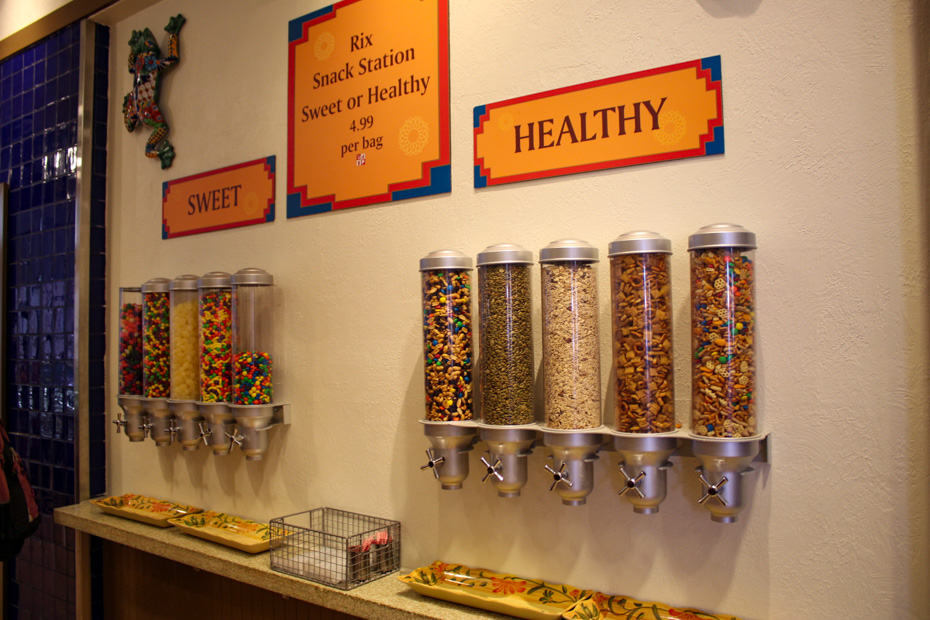 Here is a look at the additional drink station offerings inside Cafe' Rix.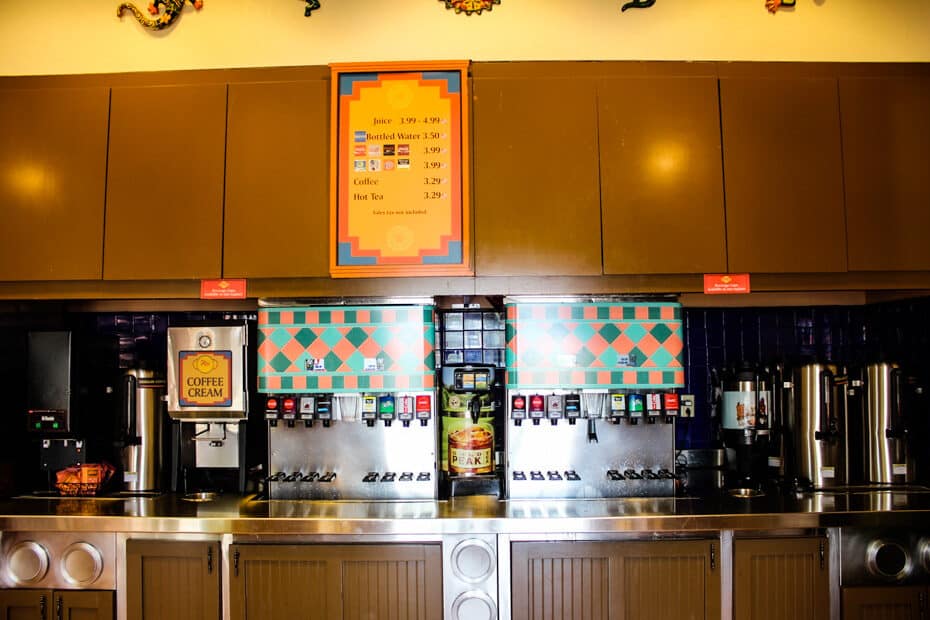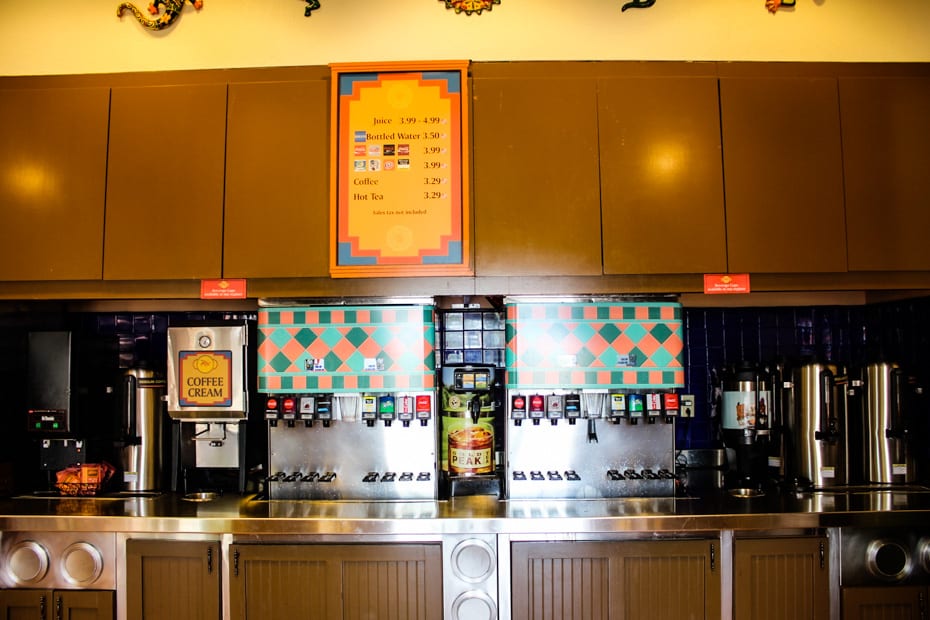 While not a dining stop at Coronado Springs, Panchito's does offer a few food and beverage items. Panchito's is the resort's retail store located off El Centro's main lobby.
Most of these items are located on the back wall of the store.
You might also have luck looking for a specific beverage in the case on the back wall. There are also plenty of good snack offerings to take back to the room.
Coronado Springs Restaurants at Gran Destino
Moving on to Gran Destino at Coronado Springs, we will look at the three dining locations that have recently been added to the resort. I have a full review of Gran Destino Tower at Disney if you would like to learn more.
Barcelona Lounge
The new Gran Destino Tower lobby is made up of two different levels. Barcelona Lounge is tucked neatly under the partially open ceiling of the first floor.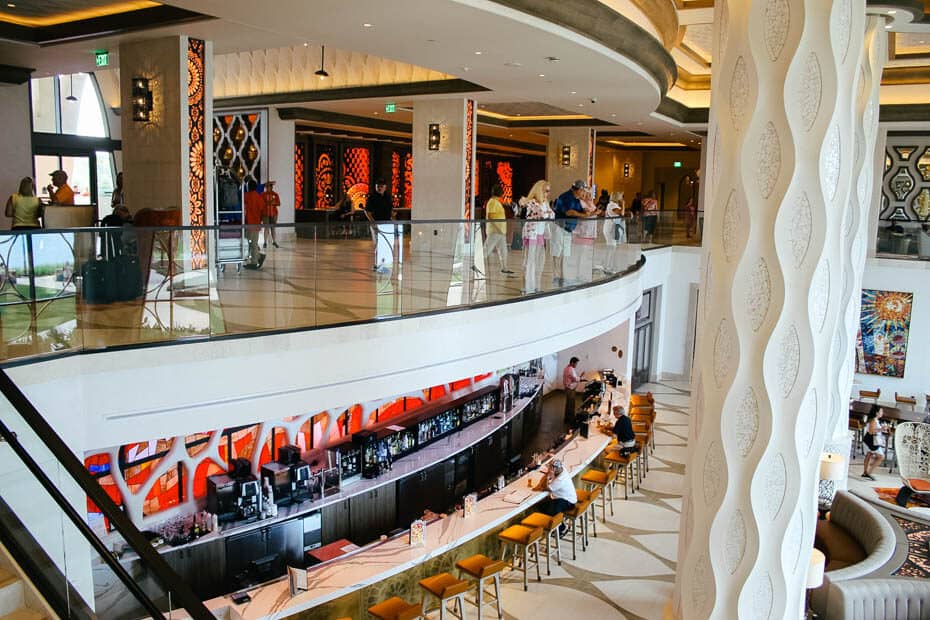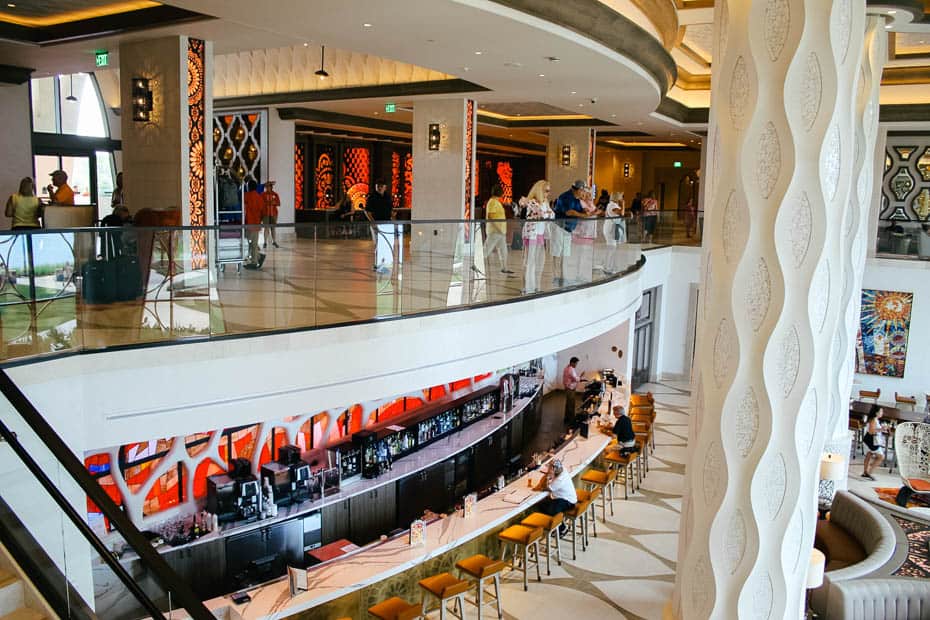 The bar area has a nice stained glass backdrop and is accented by large stone countertops.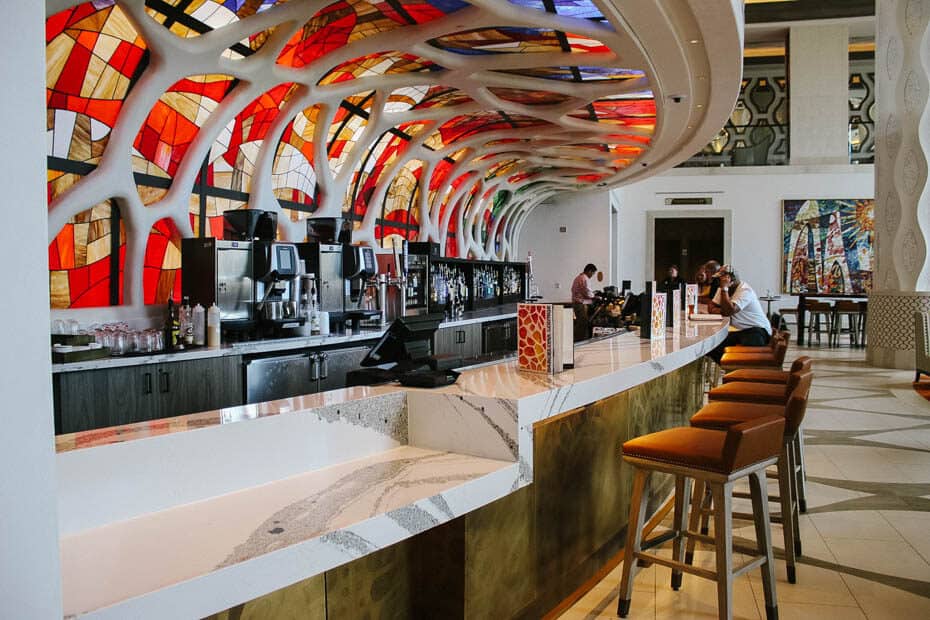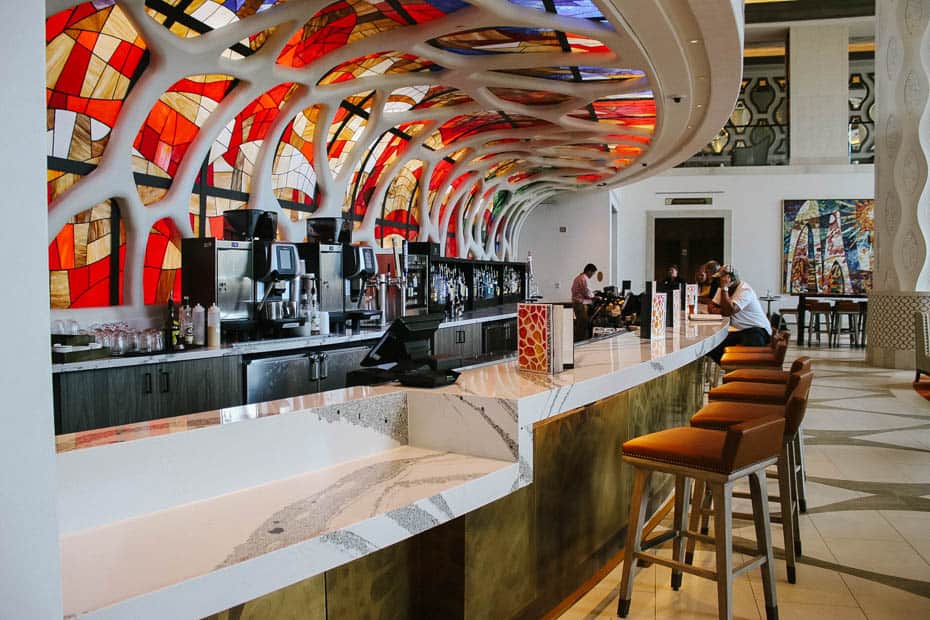 To the immediate left and right of the bar, you will find different stations like the coffee bar below. If you are looking for a specialty coffee, make sure to stop in here.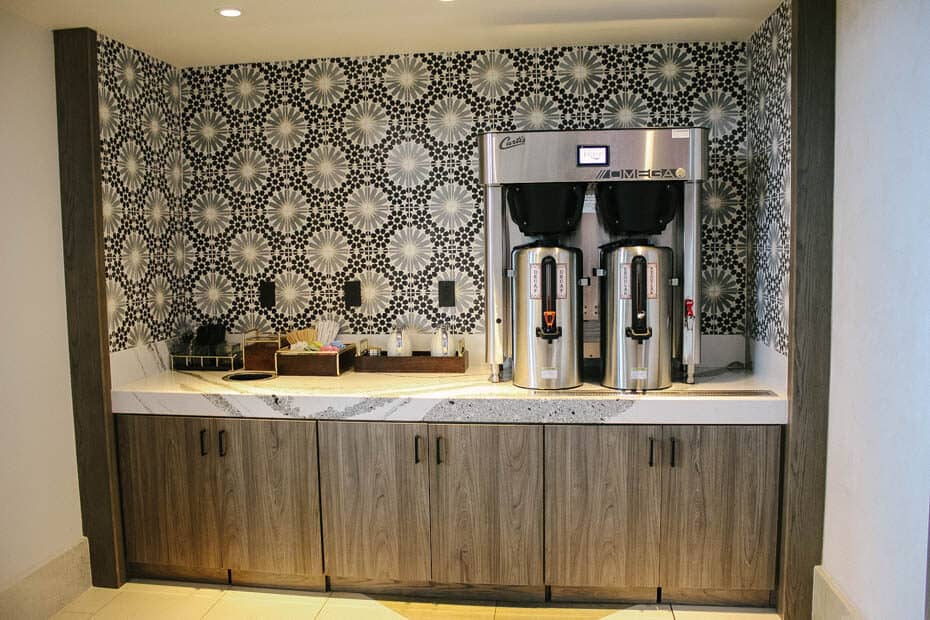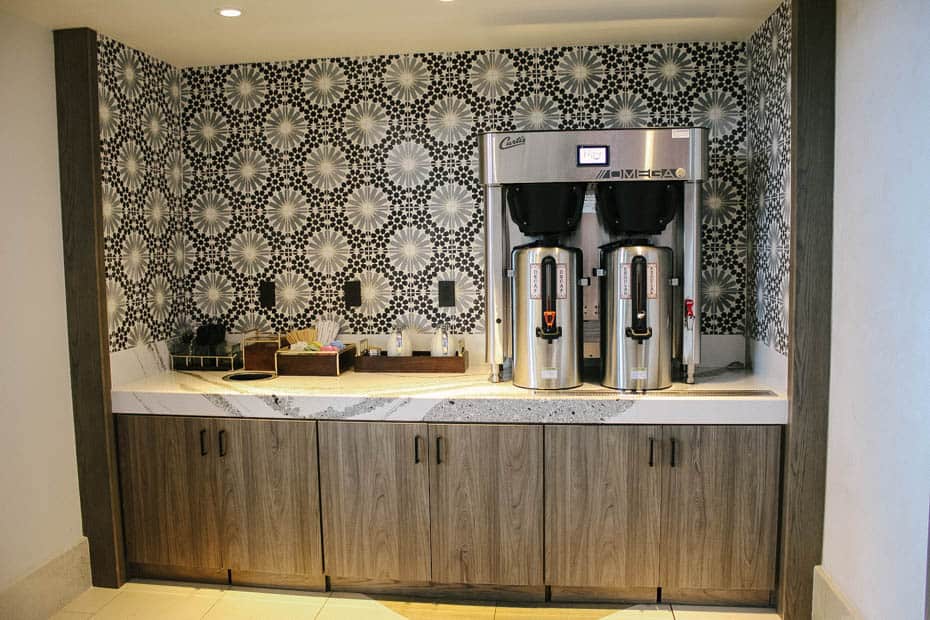 Barcelona Lounge has a seating area for anyone at the resort to enjoy. Coronado Springs is one of Walt Disney World's convention centers. Therefore, you will find a lot more work-friendly seating areas and amenities here.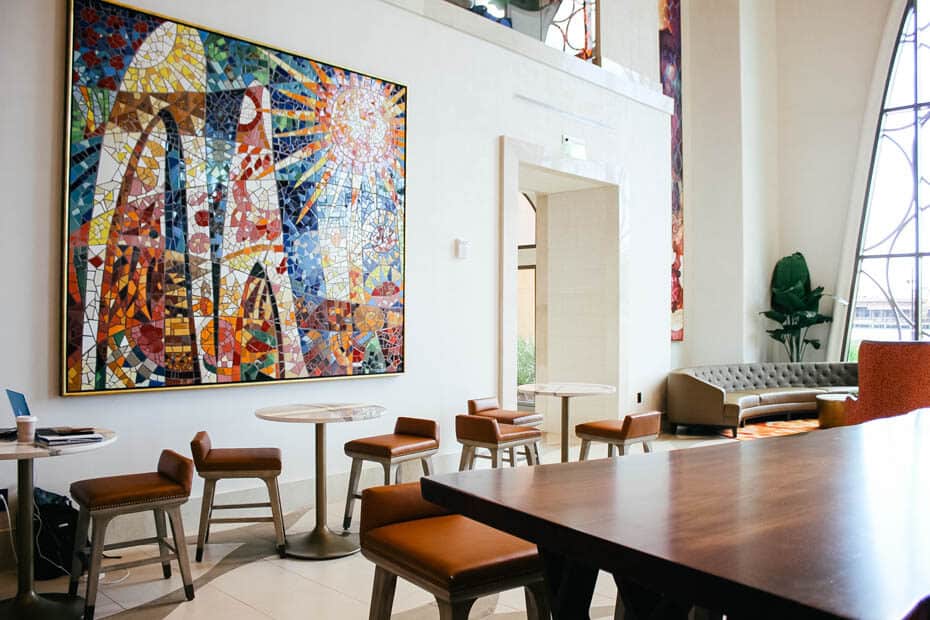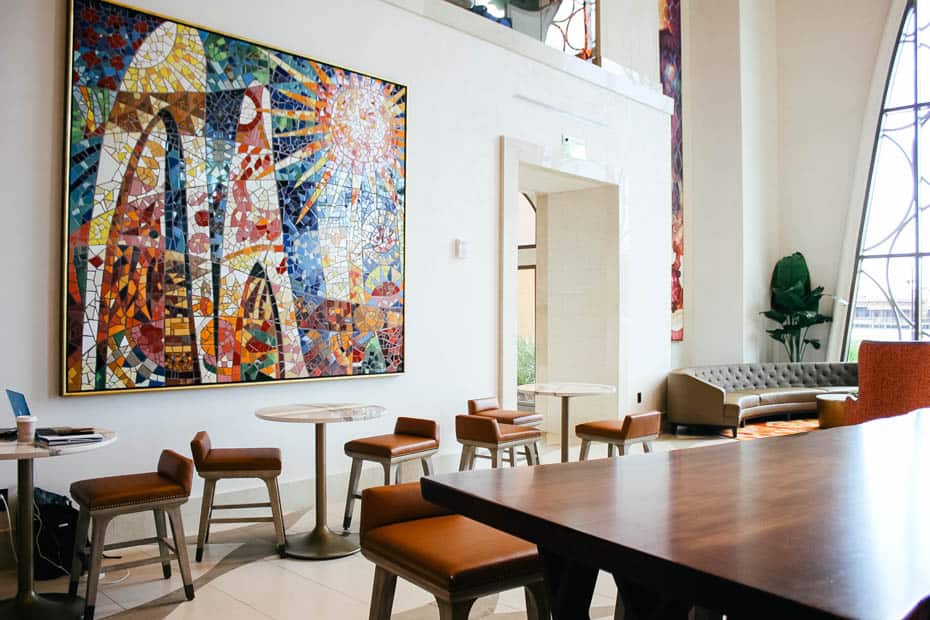 Dahlia Lounge
The top floor of the resort offers Dahlia Lounge and Toledo, a table-service restaurant. Dahlia offers a variety of specialty cocktails you can find at most Disney Resorts. In addition, they have their own signature cocktails specific to this location.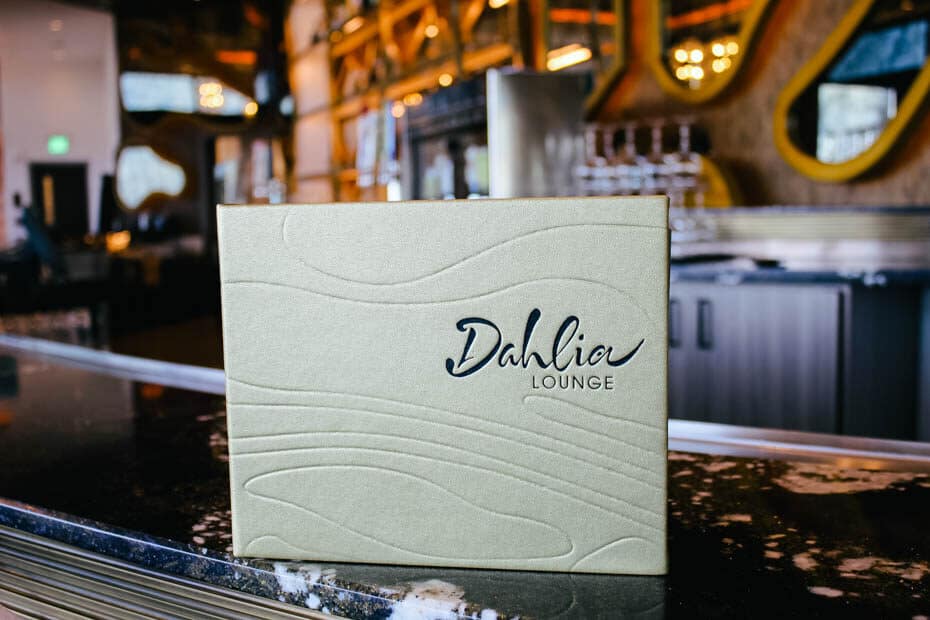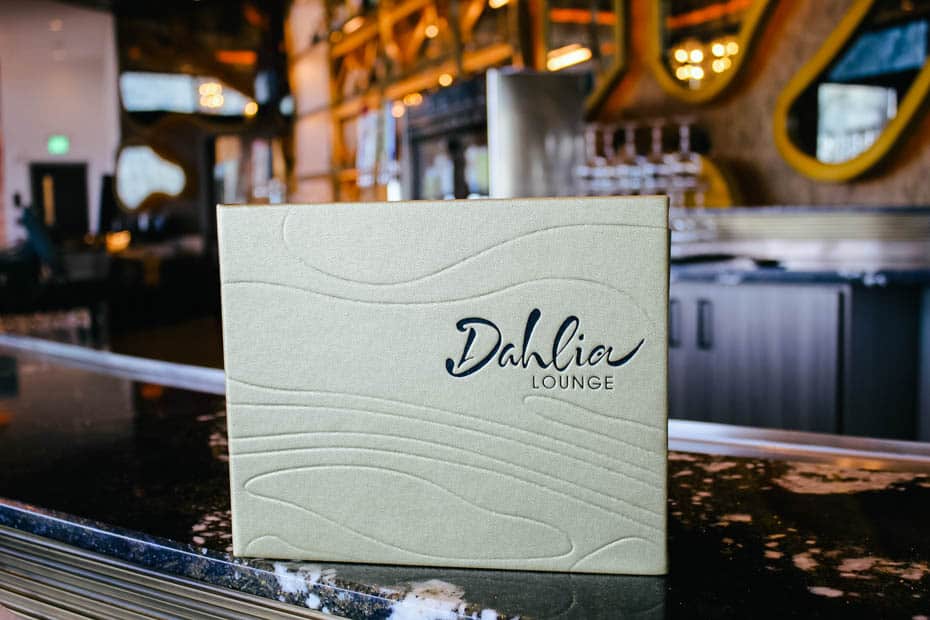 Dahlia has a beautiful interior, but the outside observatory is what really makes the place, in my opinion.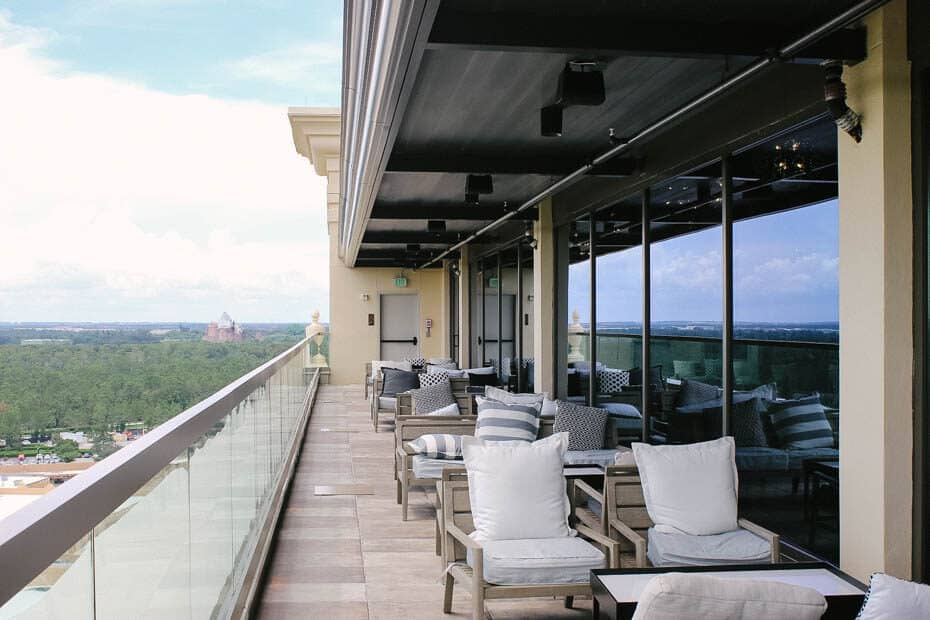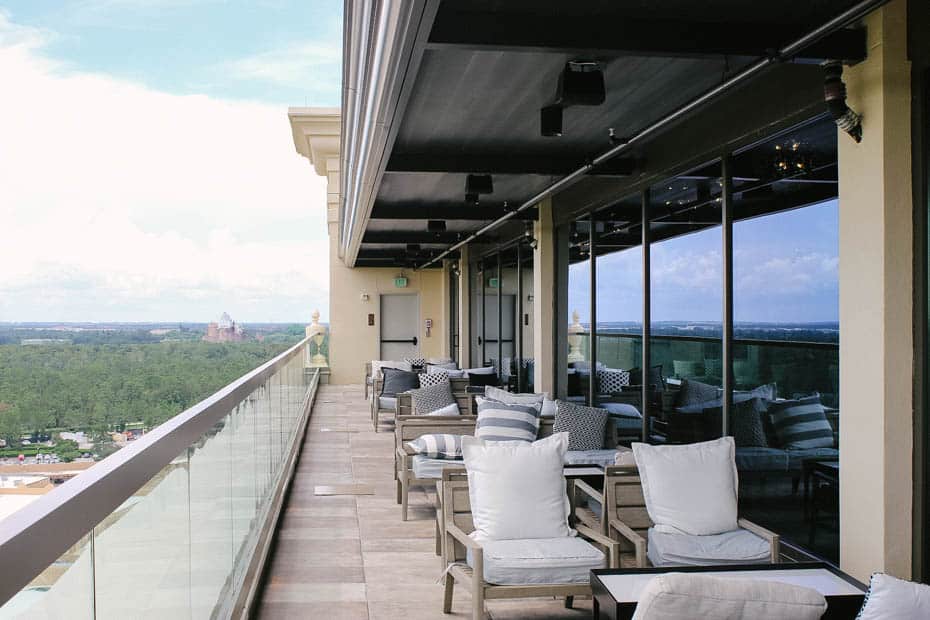 There are a variety of tables, bars, and lounge-style seating if you are looking for something particular.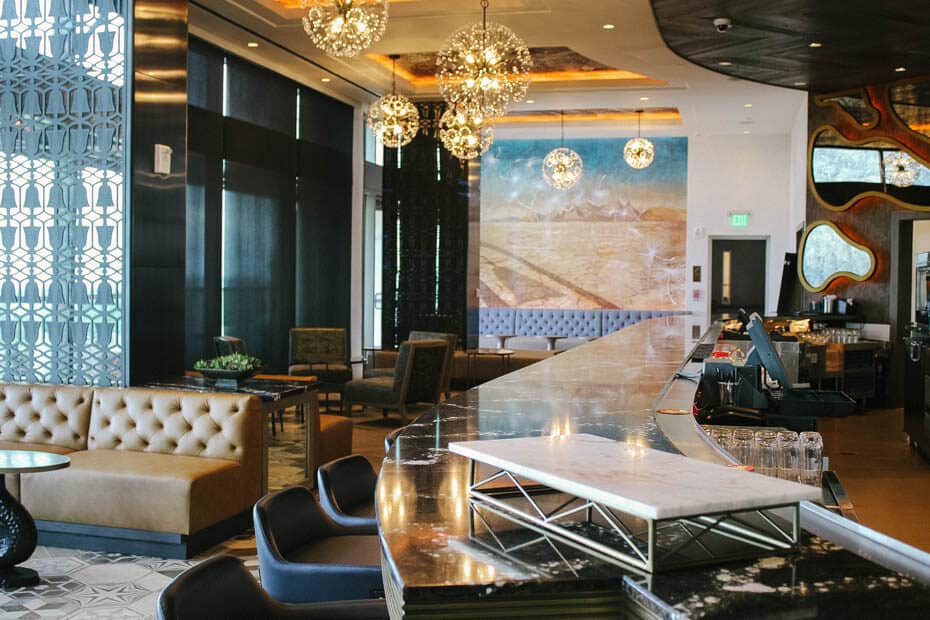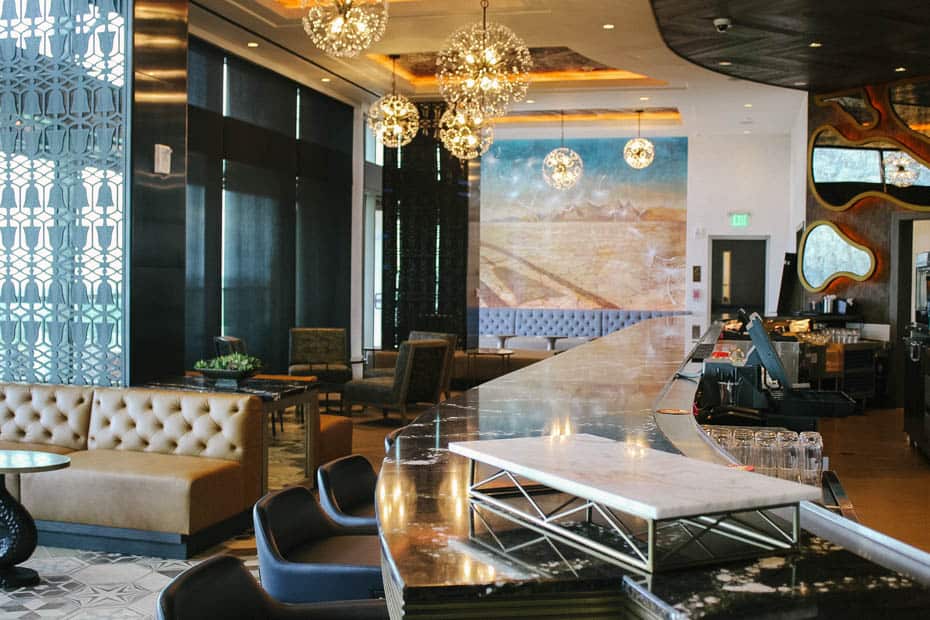 Here is the view from the inside looking out.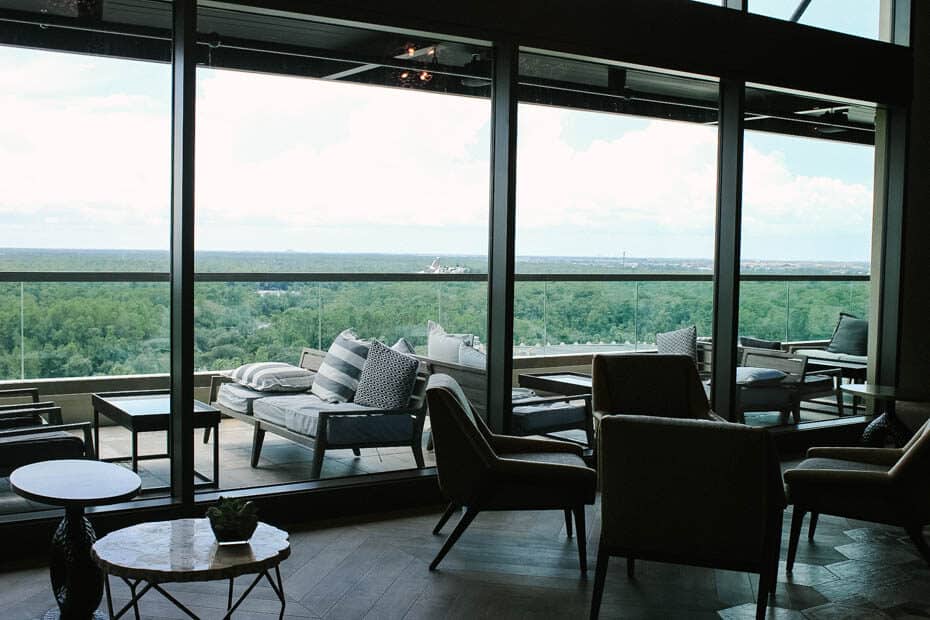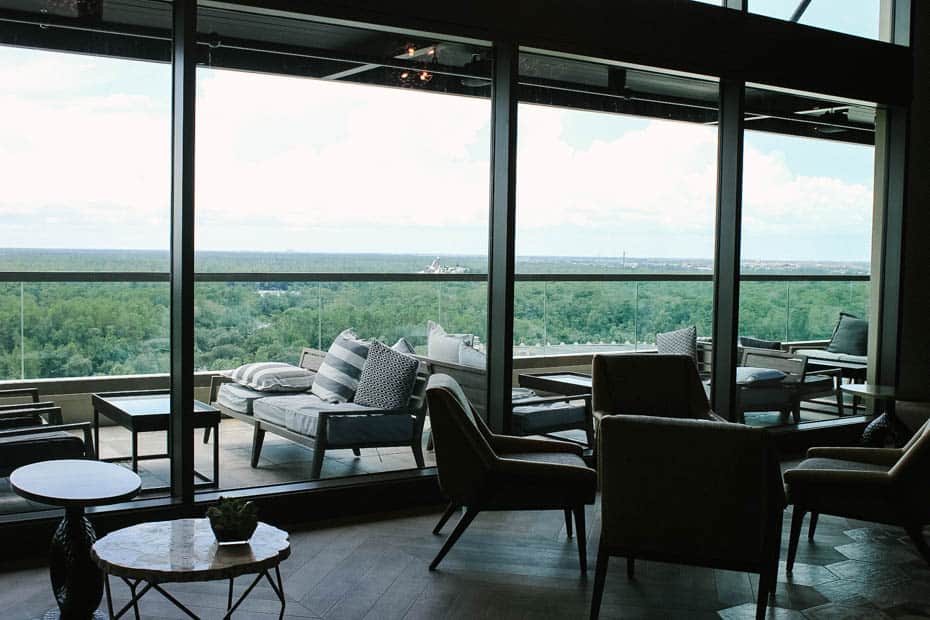 And here is the view from the actual deck of the rooftop lounge. That's the Swan and Dolphin hotels (review here) to the far left, a notable architectural structure on the property. To the far right is the Hollywood Studios Tower of Terror.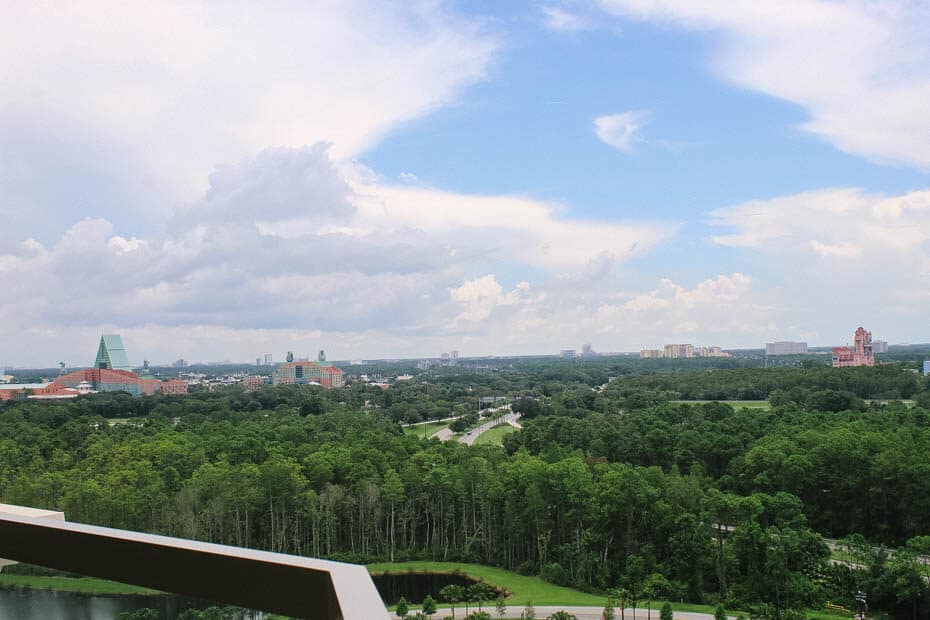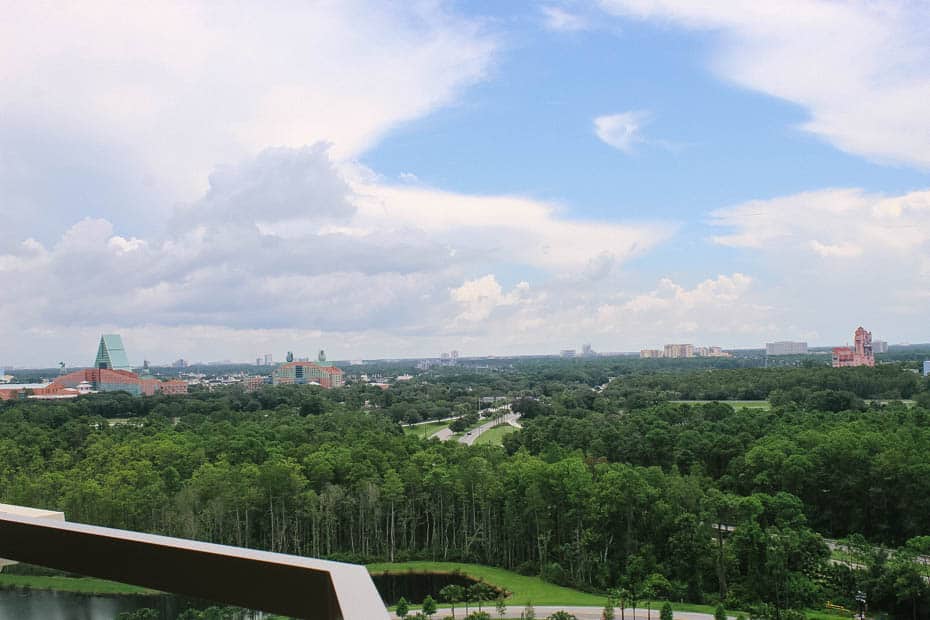 Here is a look at the foyer of the top floor. The elevators are tucked in the middle of this hall on the left-hand side in the picture.
Toledo
Toledo is the newest restaurant at Coronado Springs. I have a full review of Toledo – Tapas, Steak, and Seafood here on the site.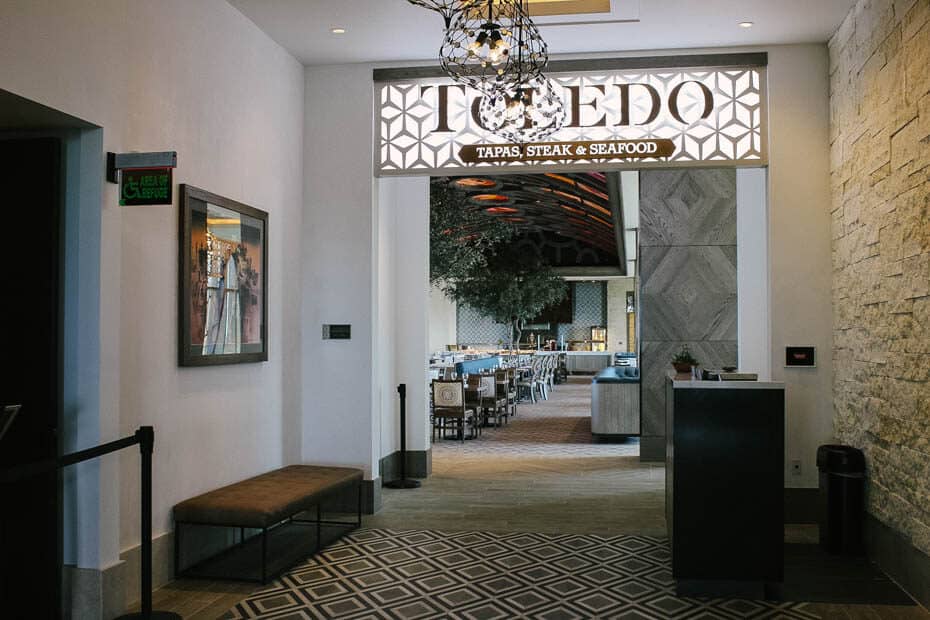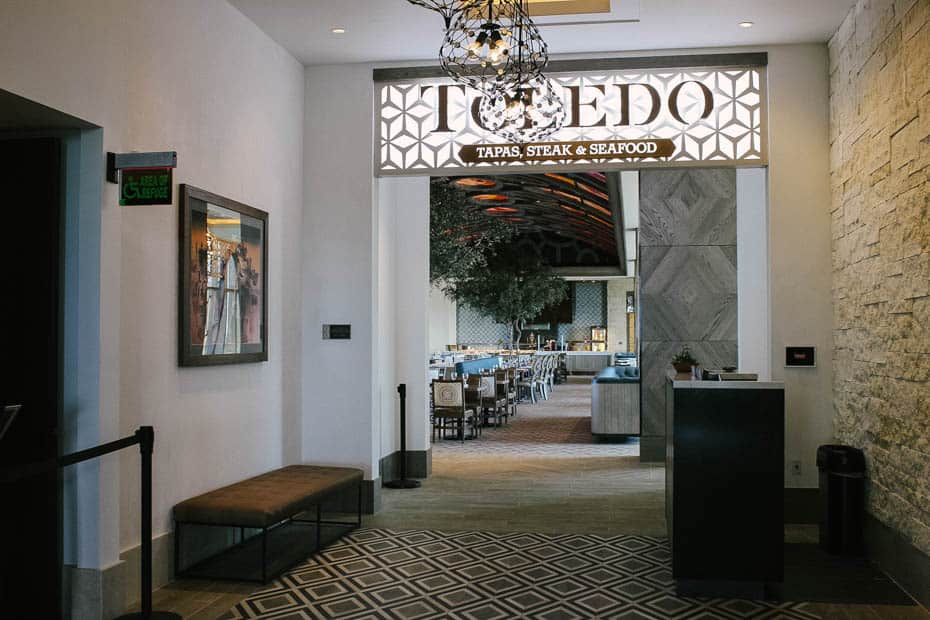 The restaurant is fairly unique, like the rest of Gran Destino Tower in design.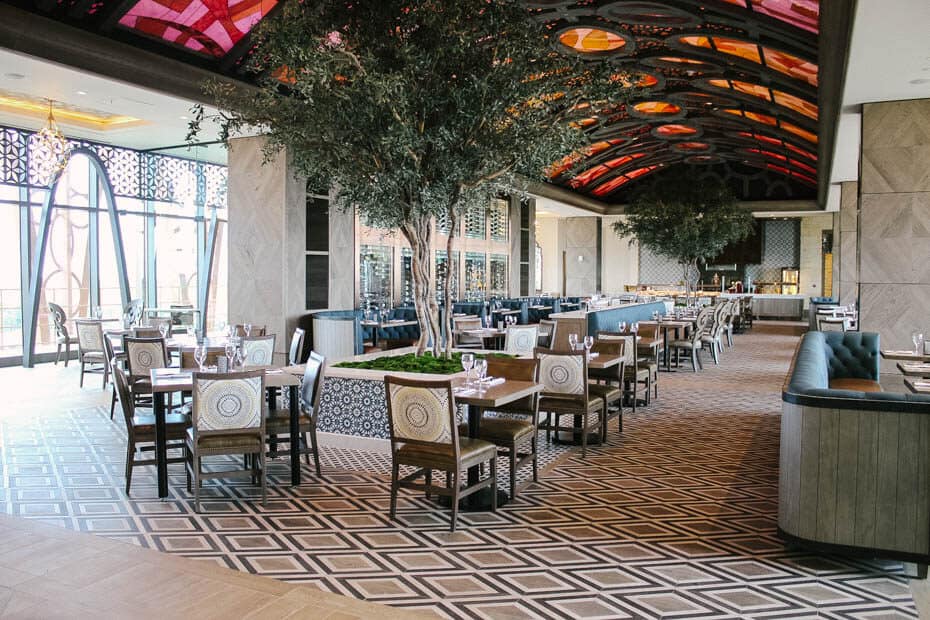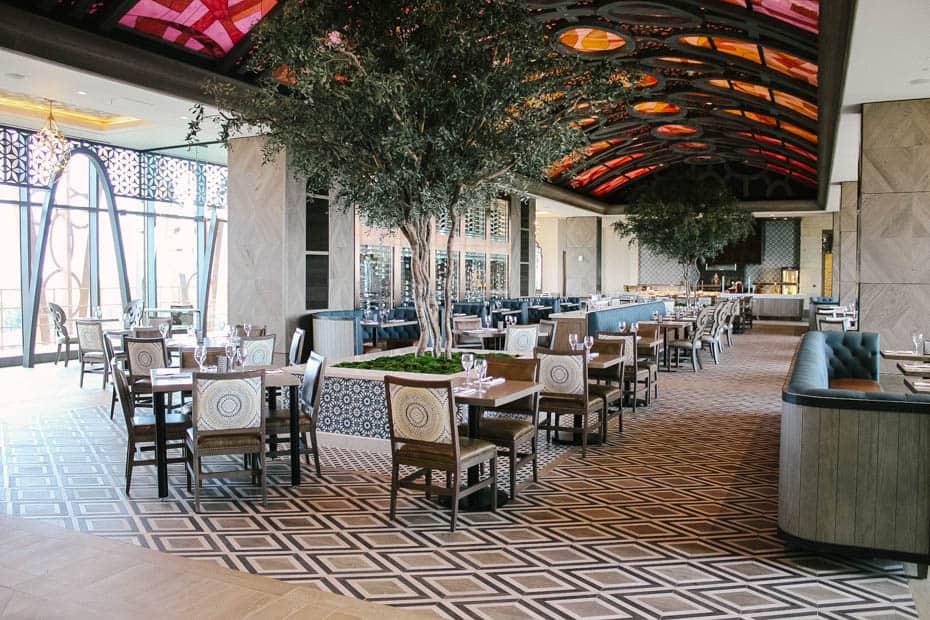 A few more pictures of the inside.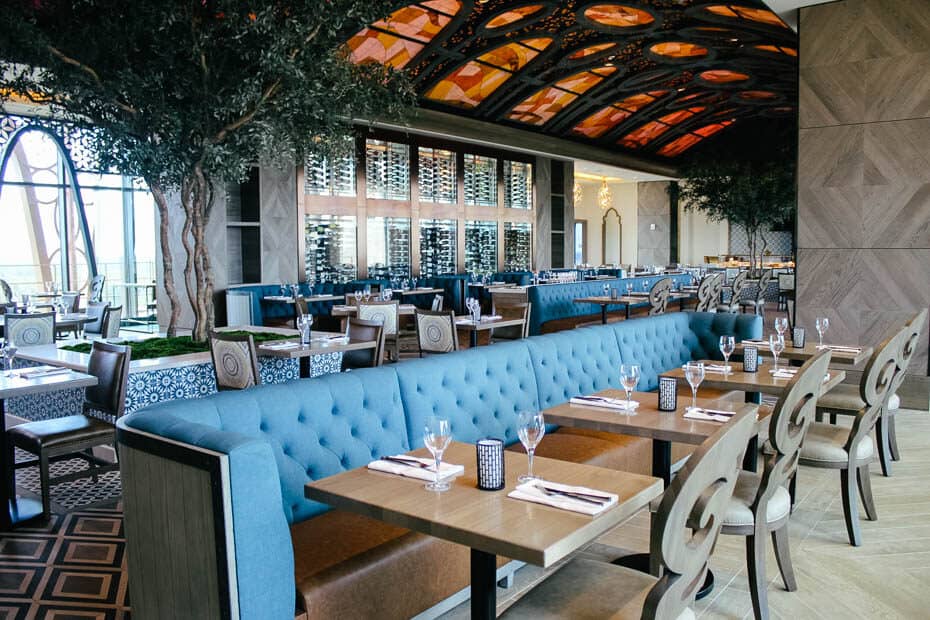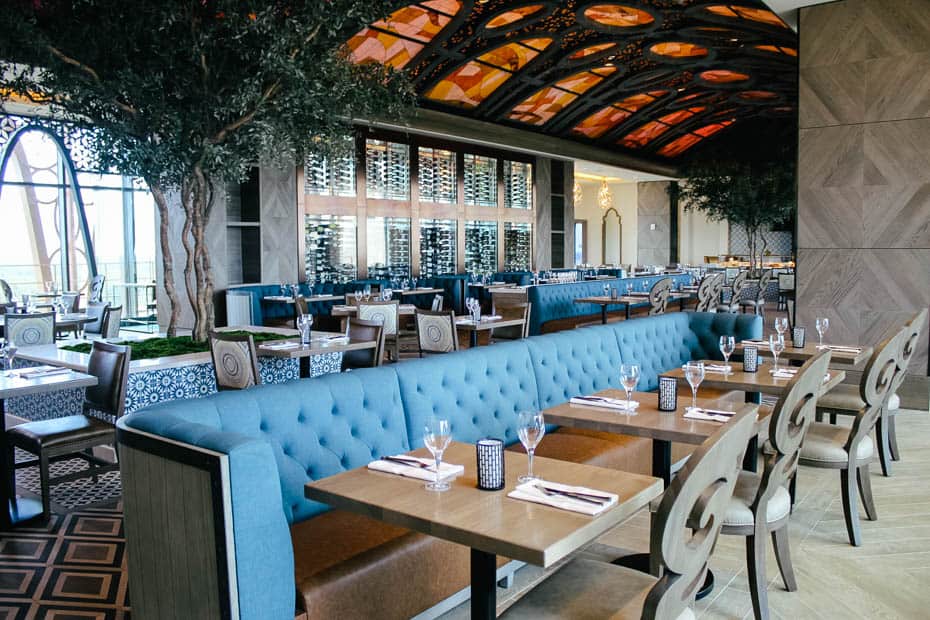 This ceiling fixture is stunning, and it actually reminds me of sunset tones.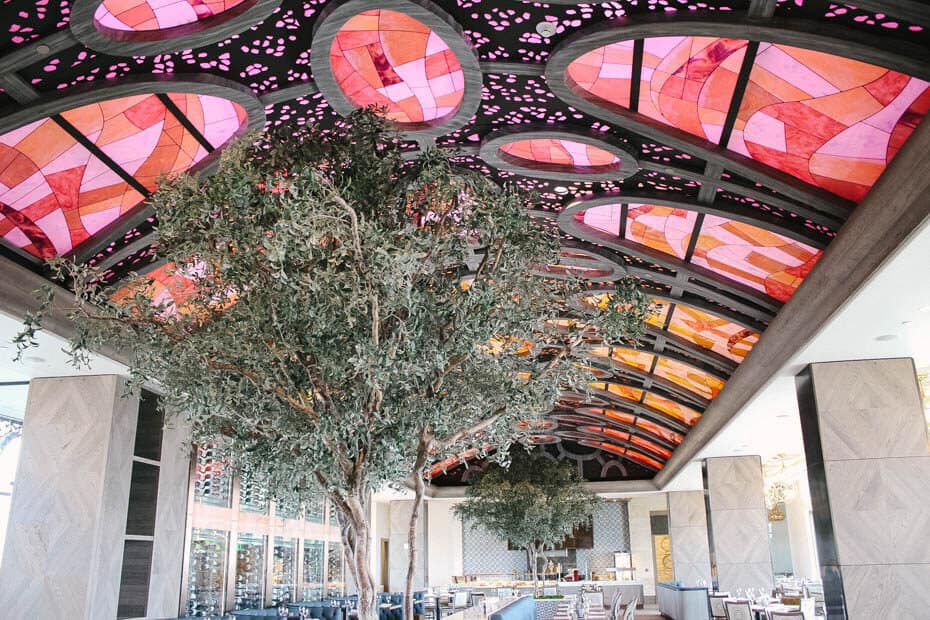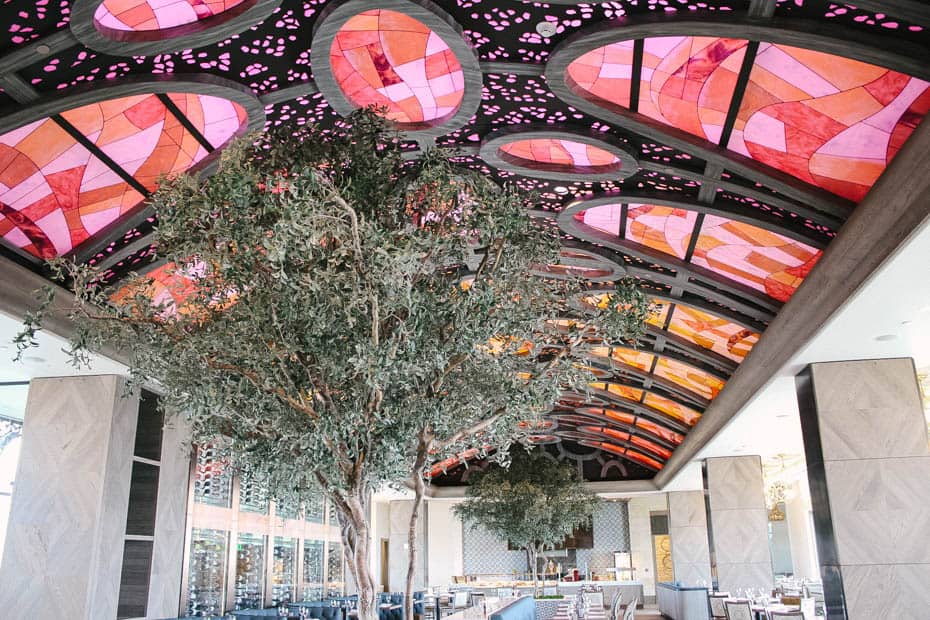 We had tapas for starters, and our selection was quite tasty.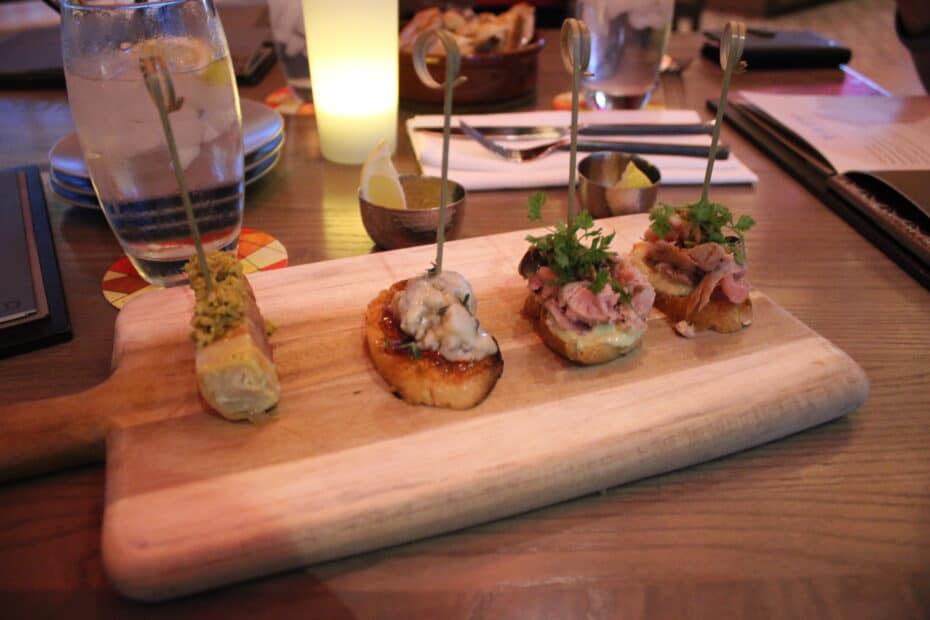 This cheesy bread dish with Marcona almonds sounded more promising than it actually turned out.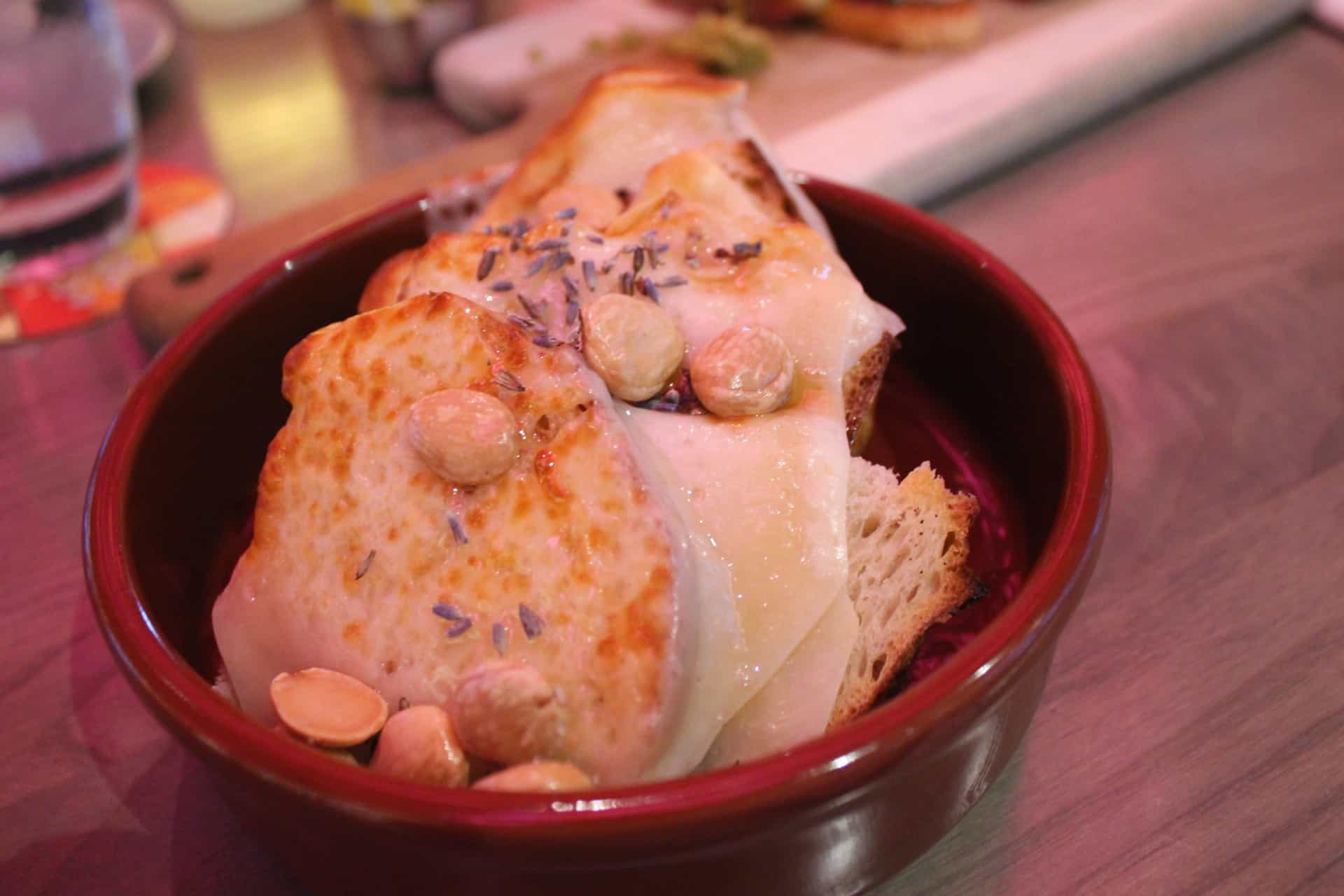 One of our tablemates ordered the Halibut, and it was an excellent choice. And I had one of the best vegan entrees and desserts I had ever tasted.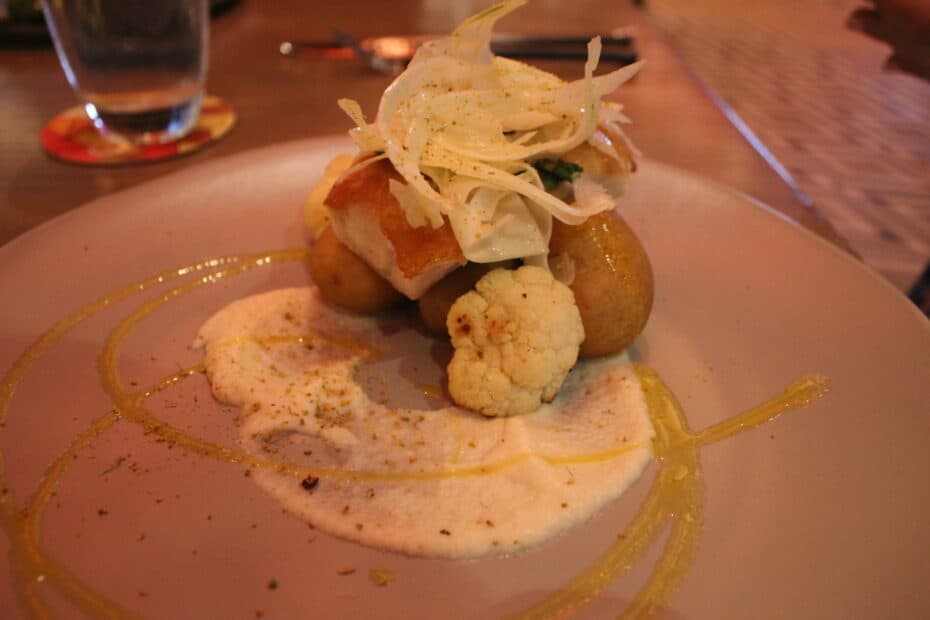 Remember, if you decide to eat here on vacation, you will want to get reservations in advance.
Other Coronado Springs Restaurants
Our last handful of restaurants at Coronado Springs are the ones spread out over the grounds of the property. Since the resort has recently expanded, they have built three bridges across the lake.
If you have visited Coronado Springs before, you will find this to be a huge plus. Somewhere along every section of the resort, you can now opt to take the bridge across the lake to head to your destination. Making it a much shorter walk. Previously you had to walk the whole way around the lake to get where you were going.
Three Bridges Bar and Grill
In the middle of the three bridges is a new dining location, Three Bridges Bar and Grill. Yes, Three Bridges Bar and Grill sits out in the middle of the 22-acre lake. It's one of the new restaurants available to guests, and they have plenty of seating overlooking the water.
Initially, when taking these photos, I didn't notice the "Villa Del Lago" signage on the building. But when I started to layout this review, I noticed that Villa Del Lago was not listed anywhere on Disney's site.
Fortunately, a quick Google search revealed that the restaurant was supposed to be named Villa Del Lago. Still, at some point (after the sign installation apparently), they decided to go with Three Bridges Bar and Grill.
In case you were wondering, Villa del Lago, means "lake villas," so it totally would have worked.
With so many options, at least the name Three Bridges Bar and Grill immediately identifies the location and what kind of food you can expect to receive here.
Anyway, they have a really nice seating area.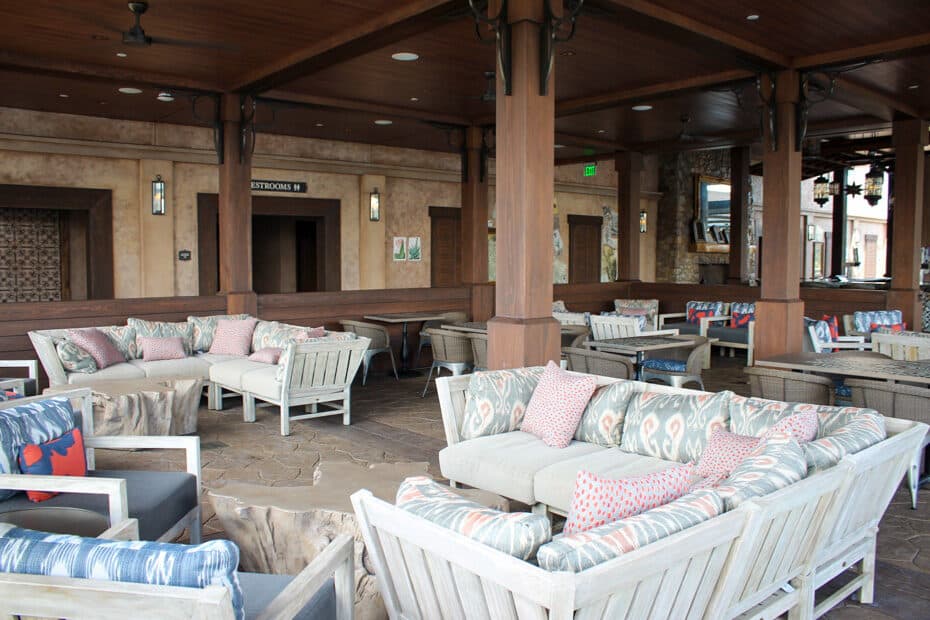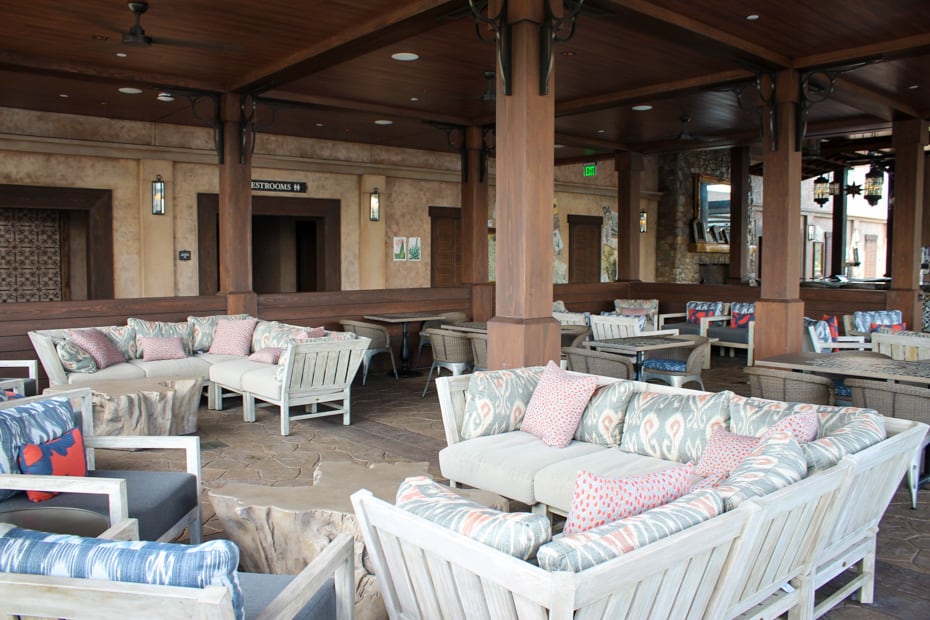 Here is a look at the menu that was posted outside. The last time I stayed here, I was hoping to stop in and try a few things, but I ended up at El Mercado because that was the simple option to take back to my room.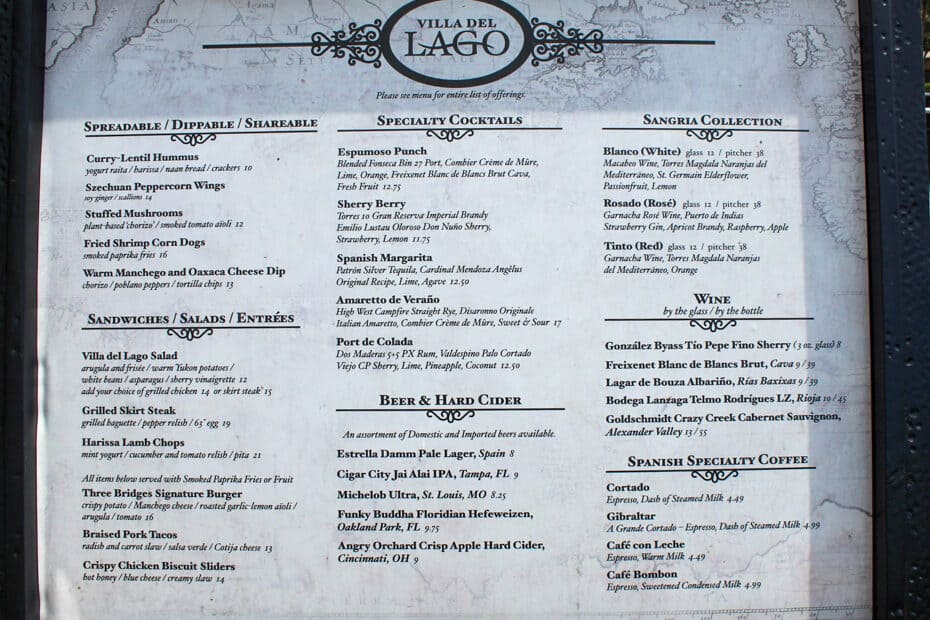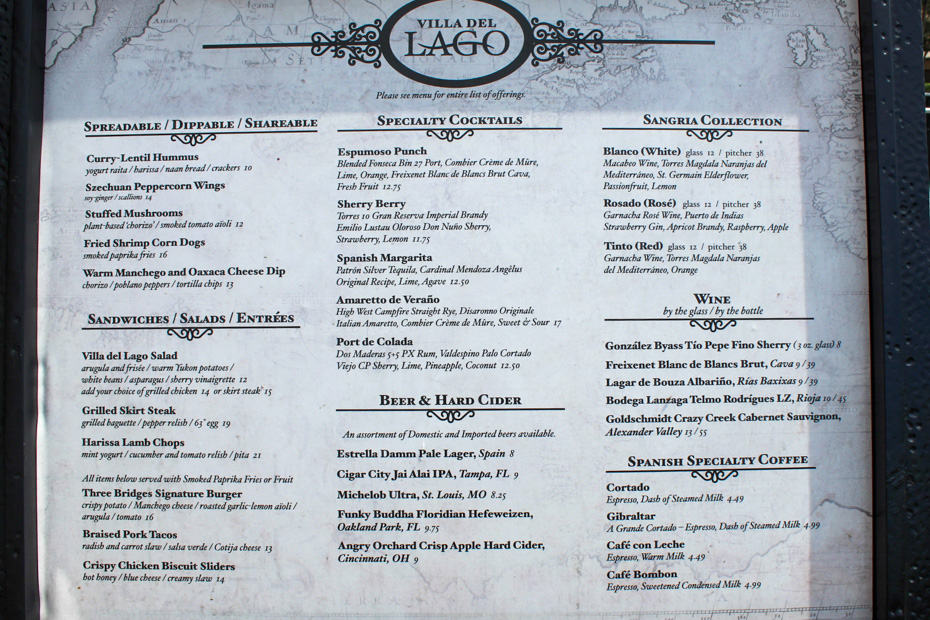 Eventually, I'll get back over that way, but with so many new things going on, other stuff tends to take priority.
Siestas Cantina
Speaking of priority, if you are staying at Coronado Springs, you have to check out The Dig Site. The Dig Site is where you will find the resort's Lost City of Cibola feature pool, play areas, arcade, and Siestas Cantina.
There isn't any wonder it ranks at the top of our list for best pools at Disney World.
From my Animal Kingdom Lodge restaurant guide, you might remember that one of my top choices counter service dining locations is The Mara. Well, Siestas runs a close second. However, that was before I'd eaten at Primo Piatto at the Riviera.
All three of these options are great!
Siestas Cantina has bar seating. Additionally, you will find tables and chair sets with umbrellas spread out around the area. If you notice in the picture below, Siestas is fenced off separately from the pool area. Anyone visiting the resort can dine here without being an actual resort guest.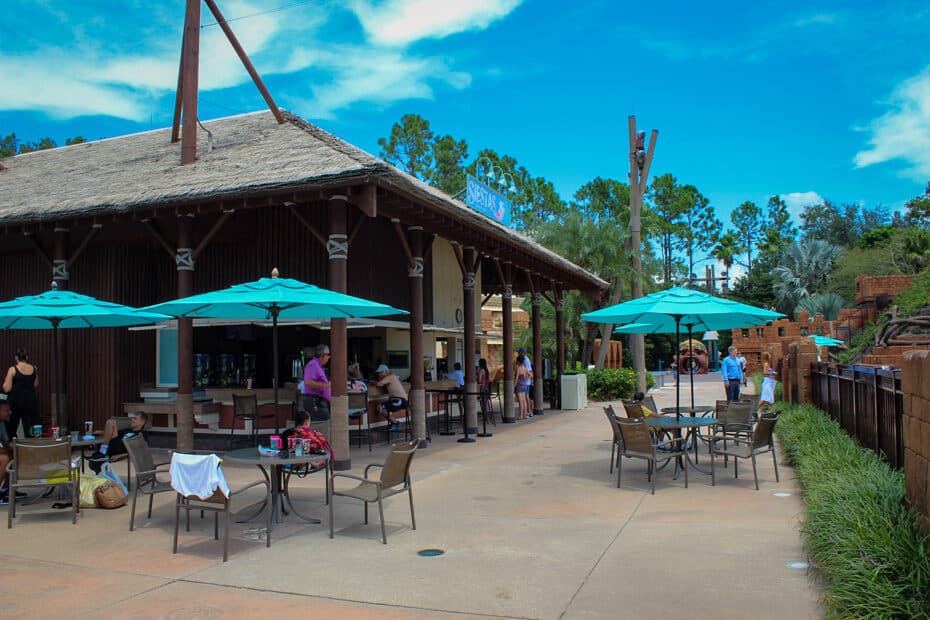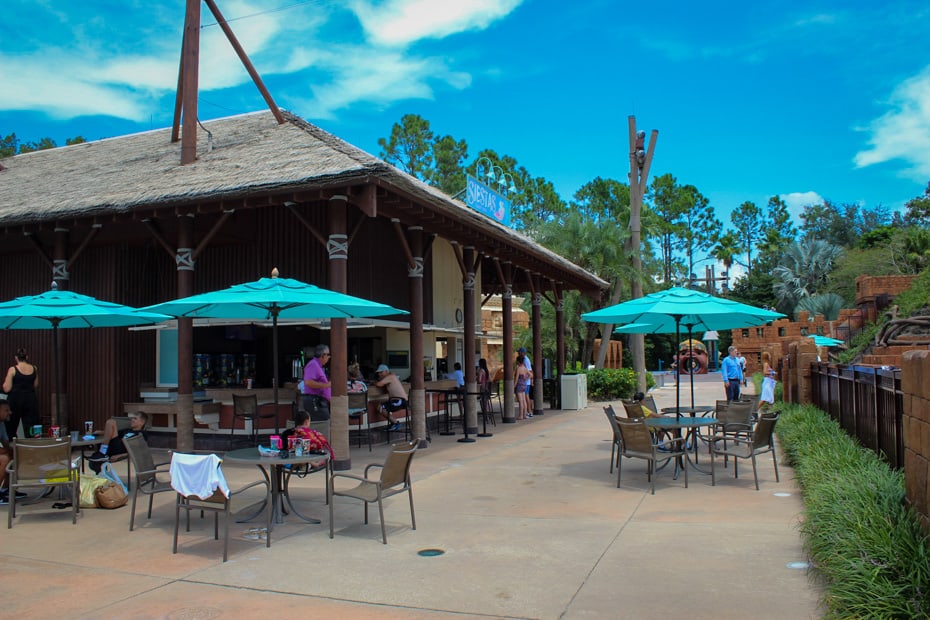 Free ice water is usually available at the bar. And if you know me, I'm all about free ice water when I'm not sipping on Evian, which is very rare since I became a Disney blogger.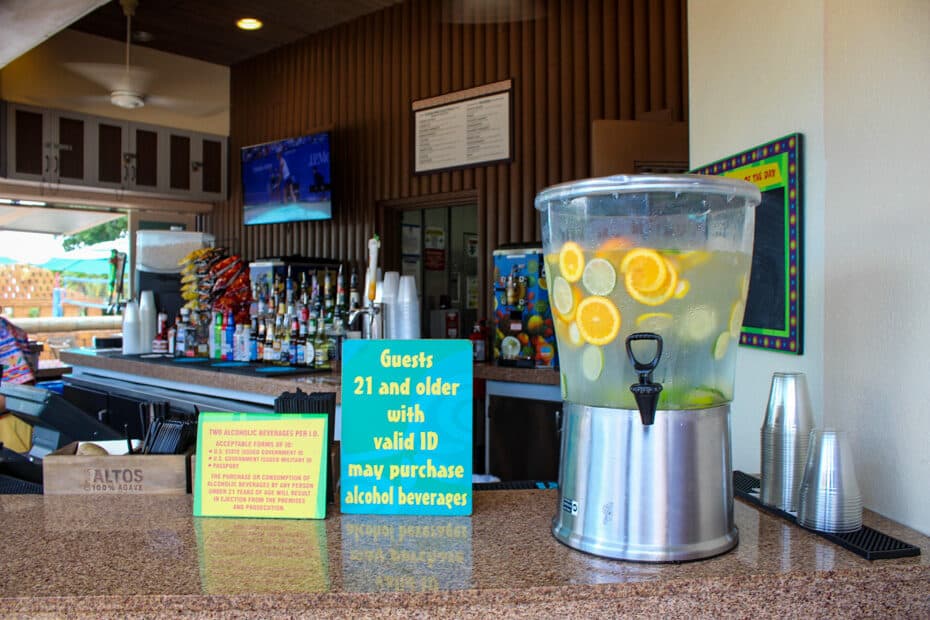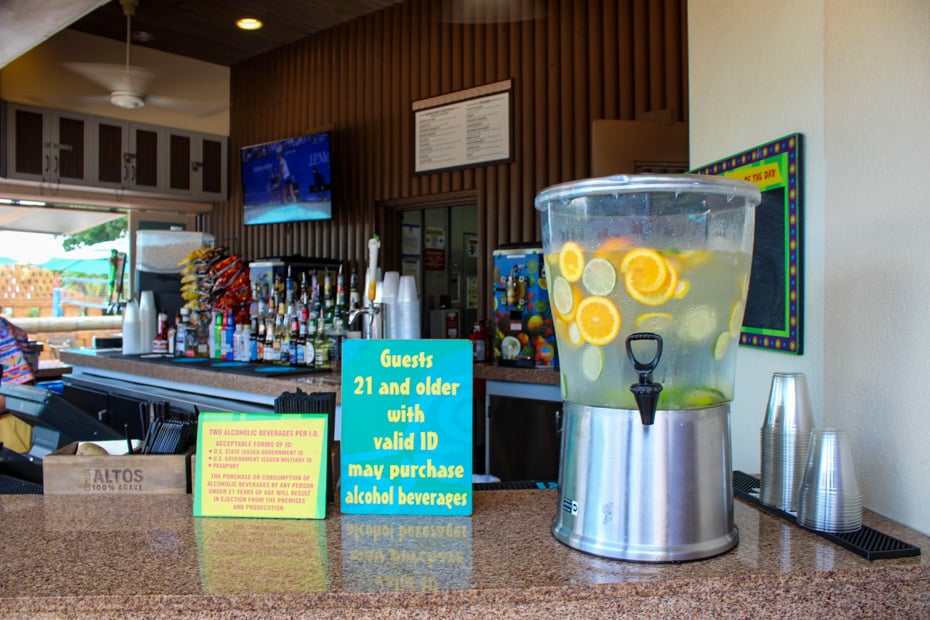 The menu at Siestas is the thing that makes this location shoot up to the top of my list. They have some unique items, including fish tacos, Kale Power salad, and a Snake River Wagyu hot dog.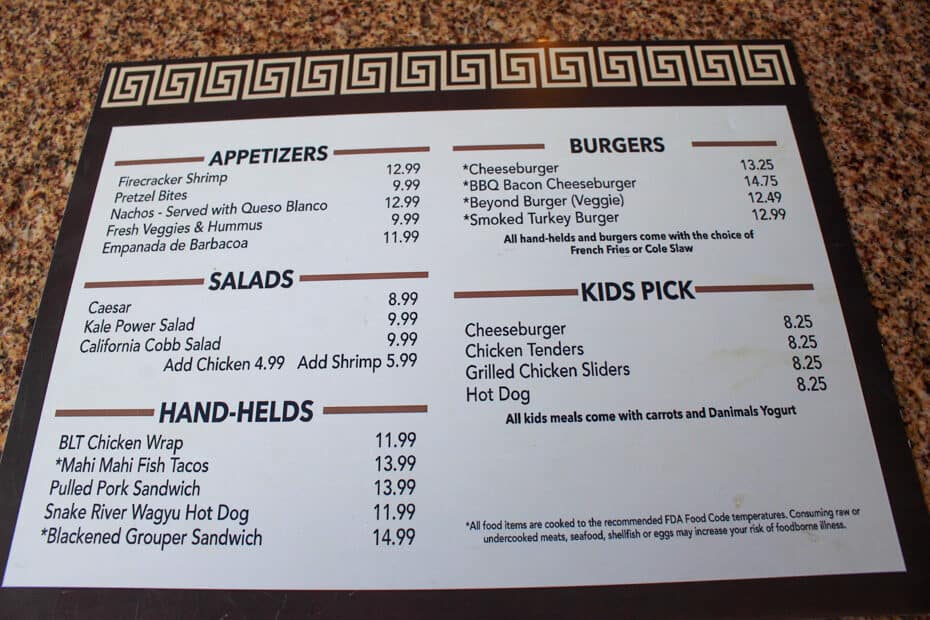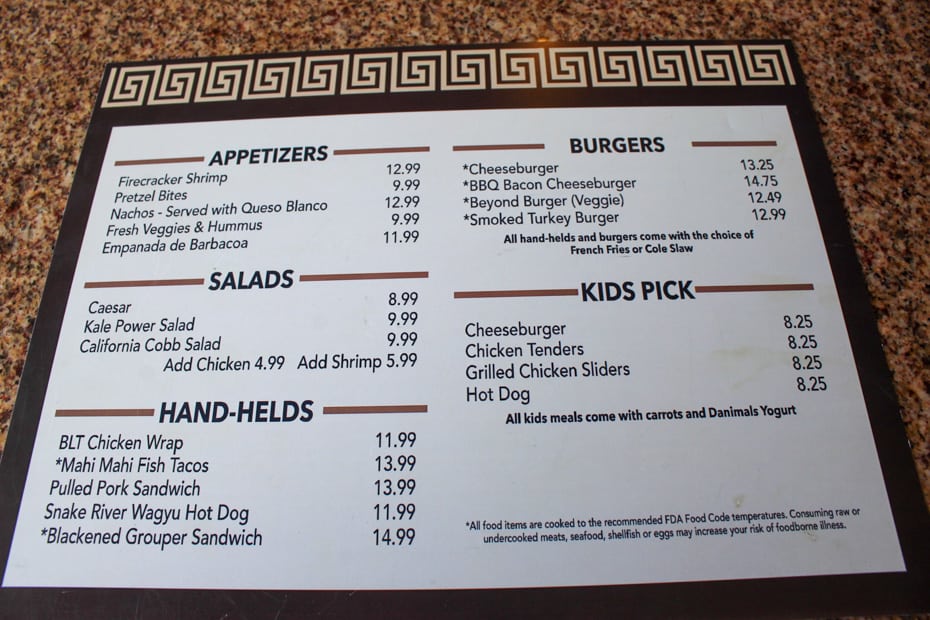 There's even a veggie burger!
They also have several signature and frozen cocktails.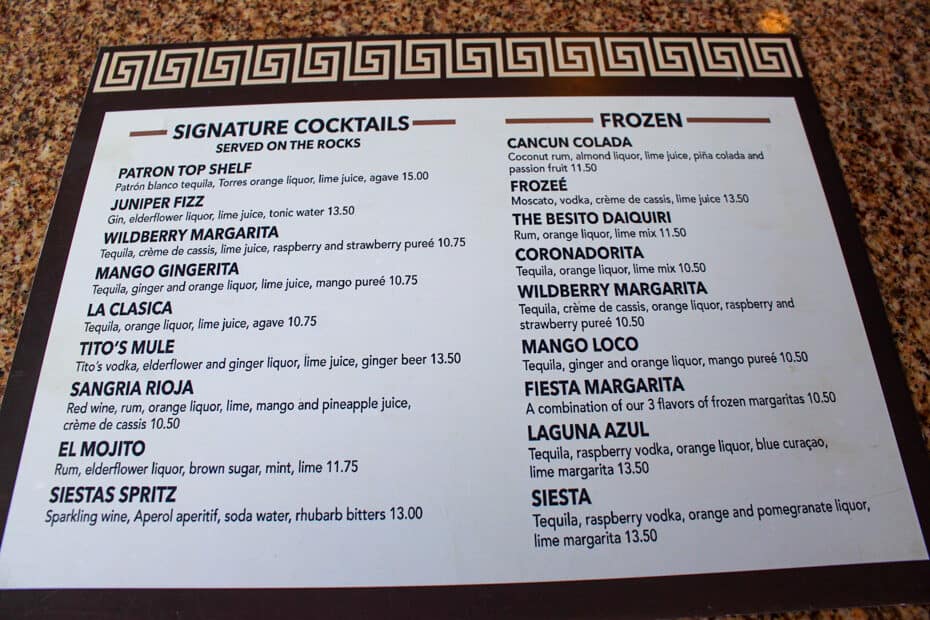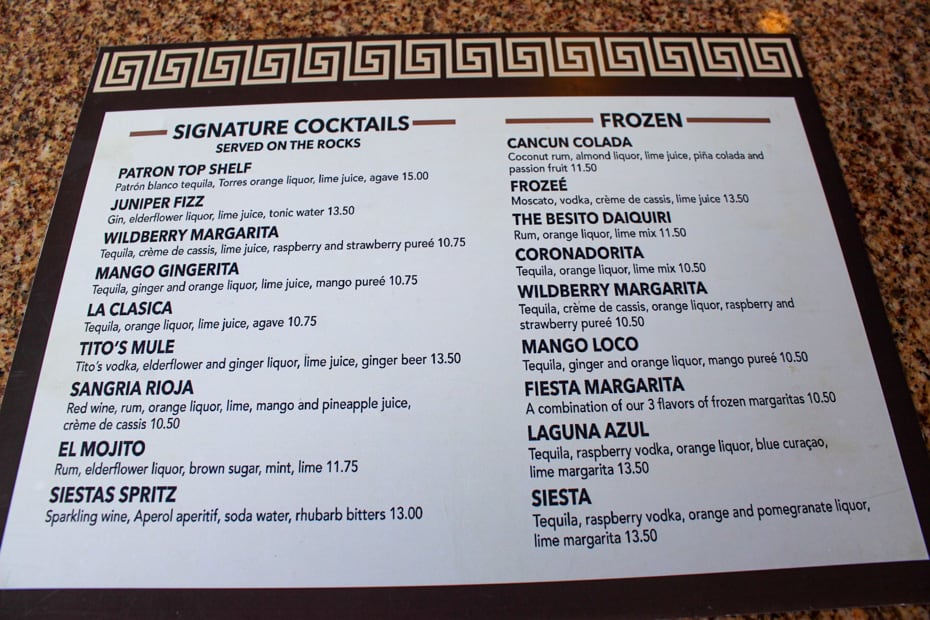 I have had the fish tacos multiple times, and it is always a good choice. First, because they are delicious, and secondly, because they are somewhat healthy.
Minus the fries in the background, of course.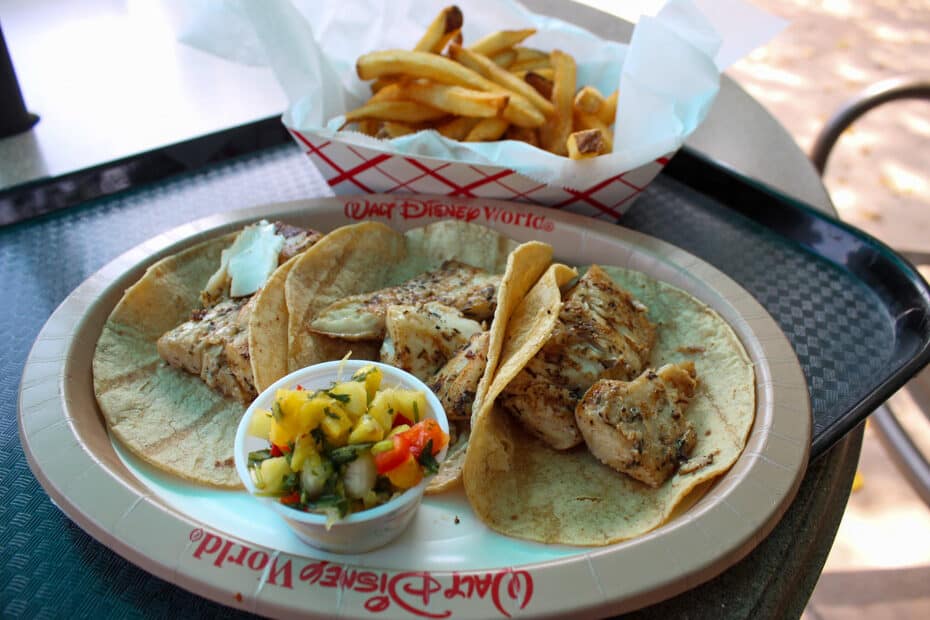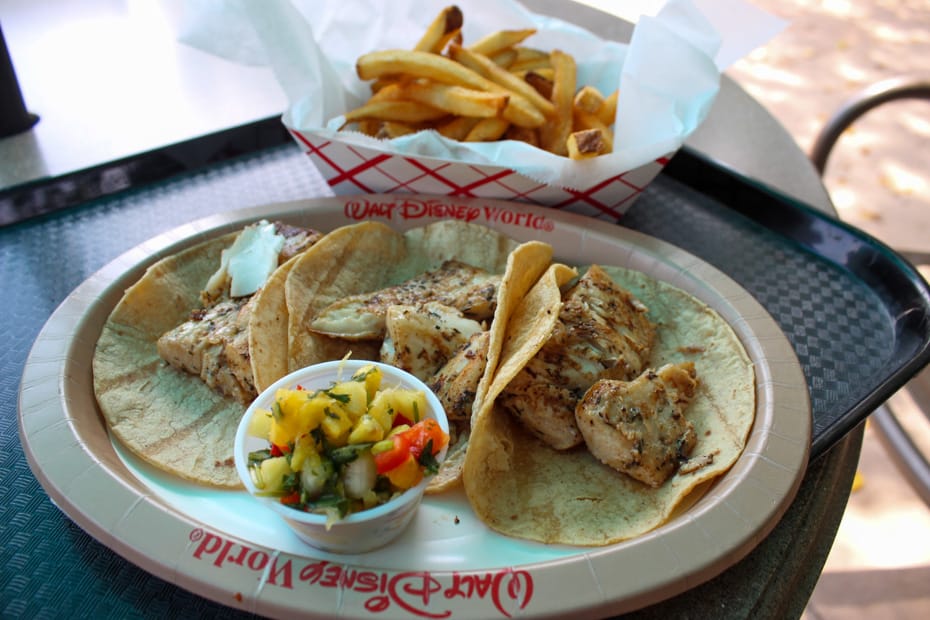 As you can probably see, they come with a nice-sized portion of fish.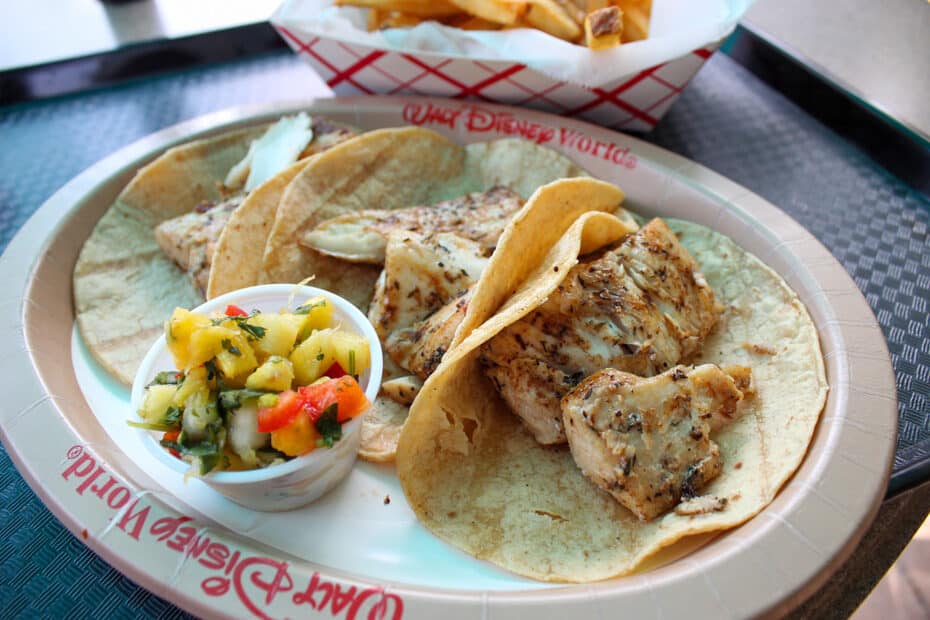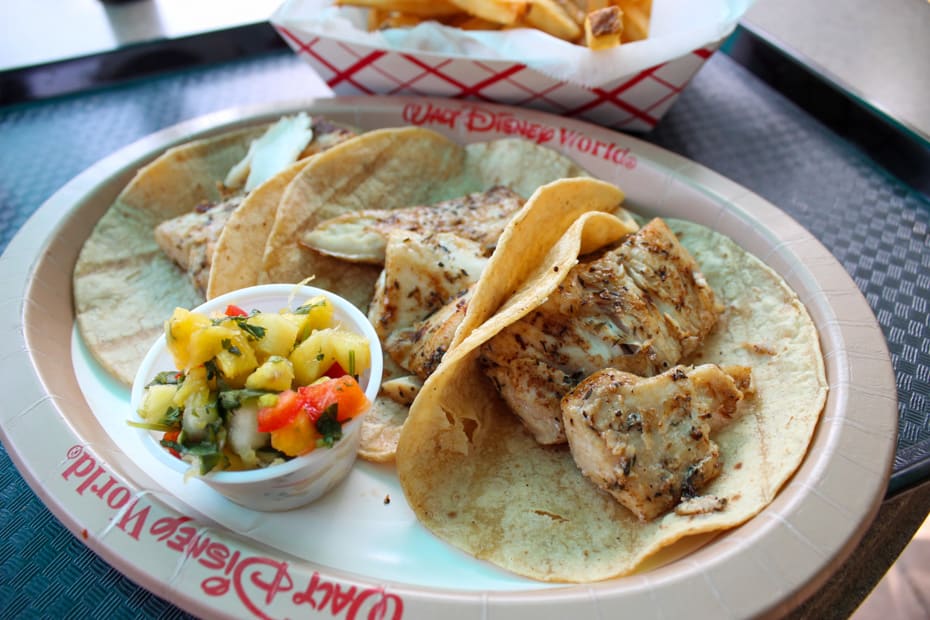 Laguna Bar
Finally, our last Coronado Springs dining stop is Laguna Bar. The bar overlooks the lake from the lobby at El Centro. When you step out the back door of the lobby, you will run almost directly into Laguna Bar. It typically opens around 4:00 p.m. until later in the evening.
Laguna Bar might be a great stop to grab a cocktail while you sit outside and stare across the lake at Three Bridges Bar & Grill.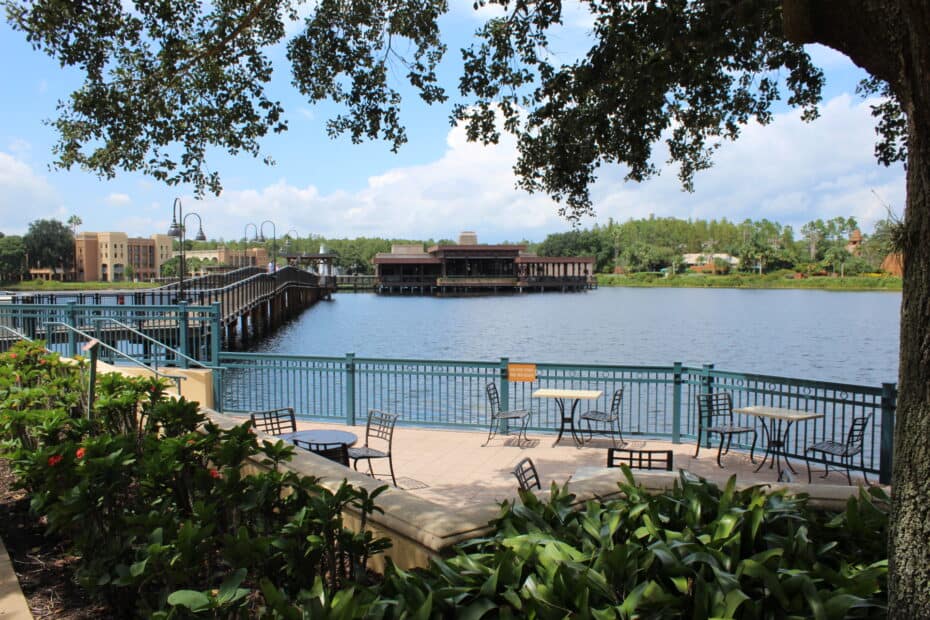 Preferably around sunset. It's actually the kind of place that gives off a tropical vibe. Maybe there will be someone there waiting to hand you a margarita when you finally come home.
Or maybe just bottled water at the end of a long jog. That doesn't sound too bad.
Final Thoughts on the Restaurants at Coronado Springs
As you can tell, staying at Coronado Springs has quite a few restaurants to choose from while you are on vacation. I highly recommend taking the time to plan some of these options prior to your vacation.
A trip to Disney can wear you out if you aren't careful. Don't forget to actually vacation with a little food, drink, and pool at your resort while there. You won't regret it!
Make sure to check out the full list of Disney restaurant reviews if you are interested in the options available at other resorts.
Additionally, you might also enjoy these resort specific dining reviews:
I also have a full review of staying at Disney's Coronado Springs. It includes an in-depth look at recreation, rooms, and the other amenities you'll find at the resort. Or you might enjoy perusing the entire list of Walt Disney World Resorts Reviews. It includes a link to every single resort review available on the site.
Let me know your thoughts on the restaurants at Coronado Springs in the comments below.