Disney's Coronado Springs Restaurants Guide
When it comes to Disney's Coronado Springs restaurants, the options seem endless. It's one of the perks of planning a stay at the resort.
Since there are so many dining options, I decided to put together a list of the restaurants at Disney's Coronado Springs. For those planning an upcoming stay, it's essential to familiarize yourself with these options in advance.
This article will go over each restaurant at Coronado Springs and provide a summary. Additionally, I'll link to each restaurant menu and other dining reviews.
While Disney's Coronado Springs is a moderate resort, it has more dining options than the other moderates. How many? Coronado Springs has ten different dining locations.
My only complaint? How can you fit it all in when you stay here? It's no wonder the resort ranks at the top of our list for best moderates.
Related: The Best Disney Moderate Resorts
This article was updated on April 2, 2022.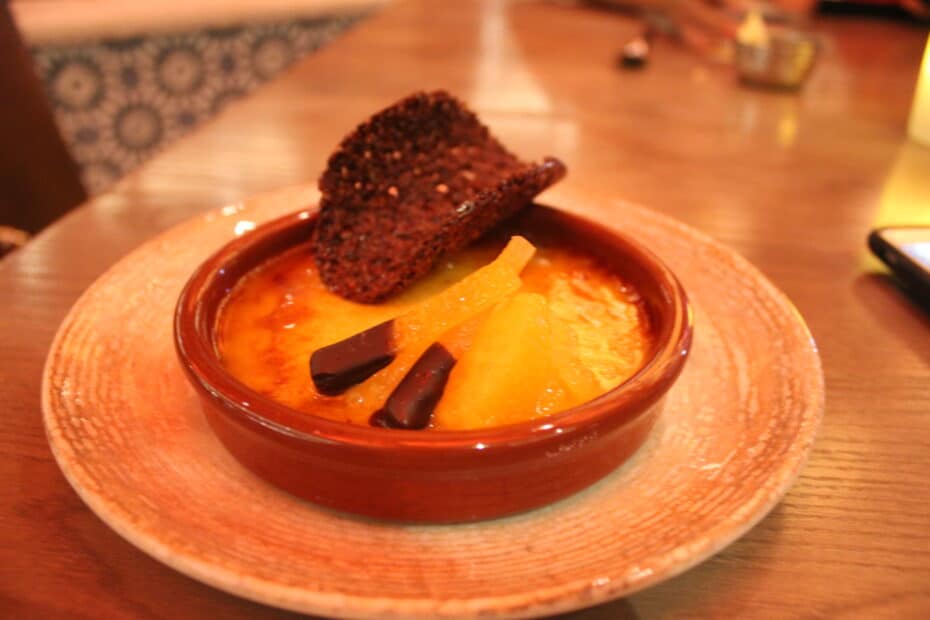 Coronado Springs Restaurants
Below you'll find a list of the restaurants at Coronado Springs. Usually, I break down these resort dining guides by type of restaurant.
However, Coronado Springs is such a large resort I decided to list these by location.
Restaurants at El Centro
El Mercado de Coronado
Maya Grill
Rix Sports Bar and Grill
Cafe Rix
Laguna Bar
Restaurants at Gran Destino Tower
Barcelona Lounge
Dahlia Lounge
Toledo, Tapas, Steak, and Seafood
Around the Resort
Three Bridges Bar and Grill
Siestas Cantina
Dining Experiences
Below, there's an overview of what to expect at each restaurant.
El Mercado de Coronado
El Mercado de Coronado is the primary counter service dining location at Disney's Coronado Springs Resort. This location was formerly known as Pepper Market.
El Mercado serves breakfast, lunch, and dinner and is open daily between 7:00 a.m. and 11:00 p.m. This dining location is a large food court that offers multiples cuisines.
Here is a look at the dining room for El Mercado.
You'll find a menu over each different station. However, most guests will mobile order from the My Disney Experience app these days.
For breakfast, you can order items like:
Egg and Cheese Sandwich
Sausage, Egg, and Cheese Sandwich
Grande Fiesta Breakfast Bowl
Mickey-shaped Waffles
Buttermilk Pancakes
The breakfast menu is available here.
For lunch and dinner, a few of the selections include:
Nachos
Crispy Santa Fe Chicken Sandwich
Chicken Tenders
Beyond Burger (Plant-Based)
Philly Cheese Steak
Multiple Flatbreads
Previously, Coronado Springs had a create-your-own pasta option. Unfortunately, that option has not returned. However, there are a few fresh-tossed pasta dishes:
Jumbo Italian Meatballs
Penne Primavera
Italian Sausage and Grilled Chicken
Chicken Parmesan
The lunch and dinner menu is available here.
One of the things El Mercado has going for it is the dessert case.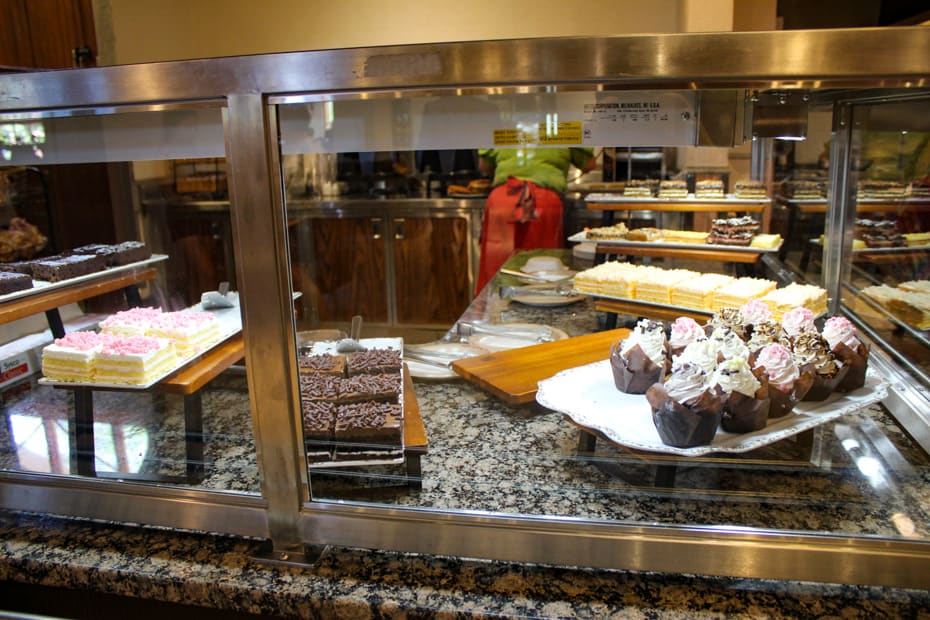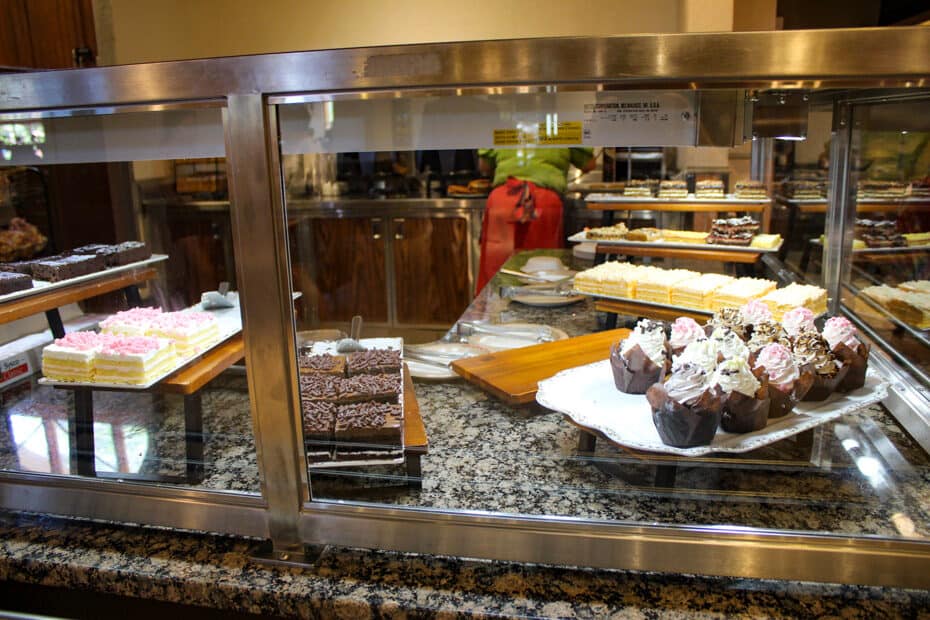 The last time I was at Coronado Springs, I spent some time staring at the extraordinary dessert case. There is usually an excellent selection of sweet treats.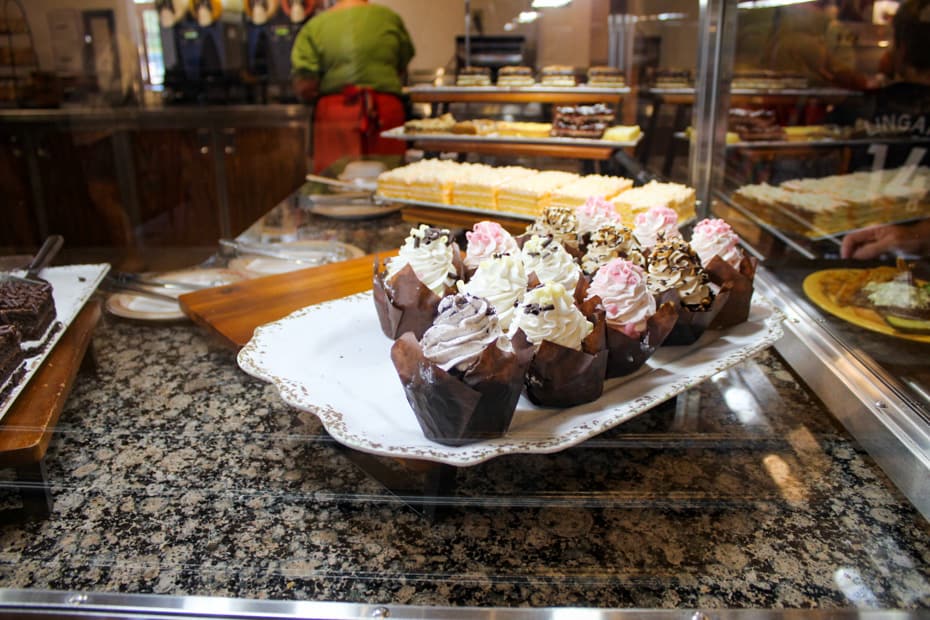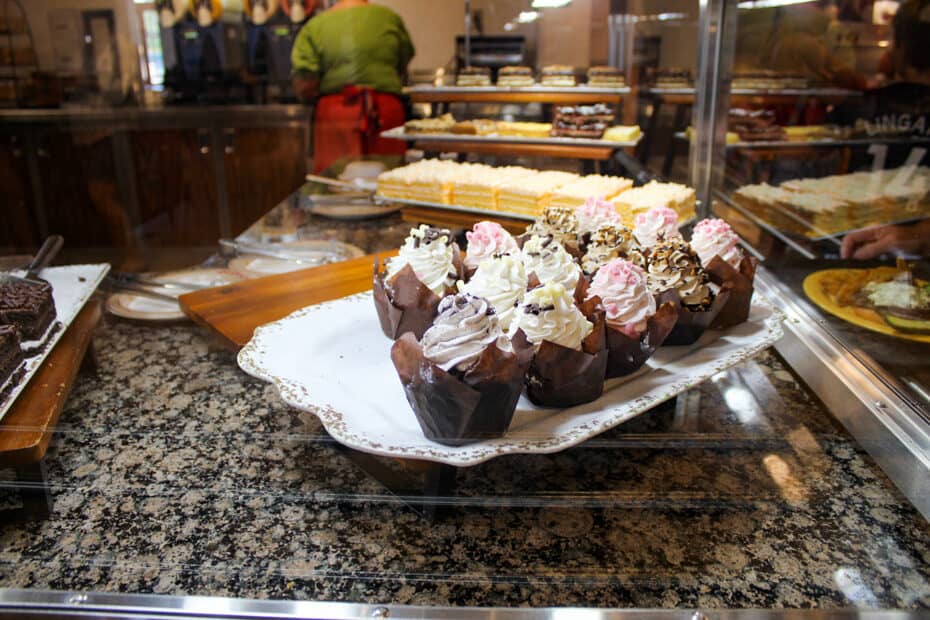 In addition to dessert, El Mercado has plenty of grab-and-go items. Everything should be listed in the mobile order section of the My Disney Experience app,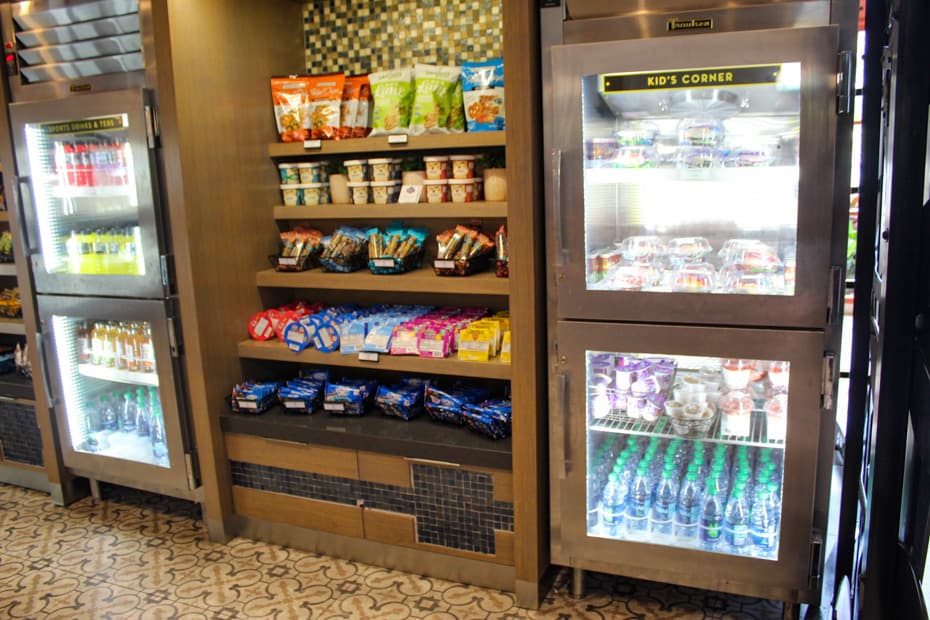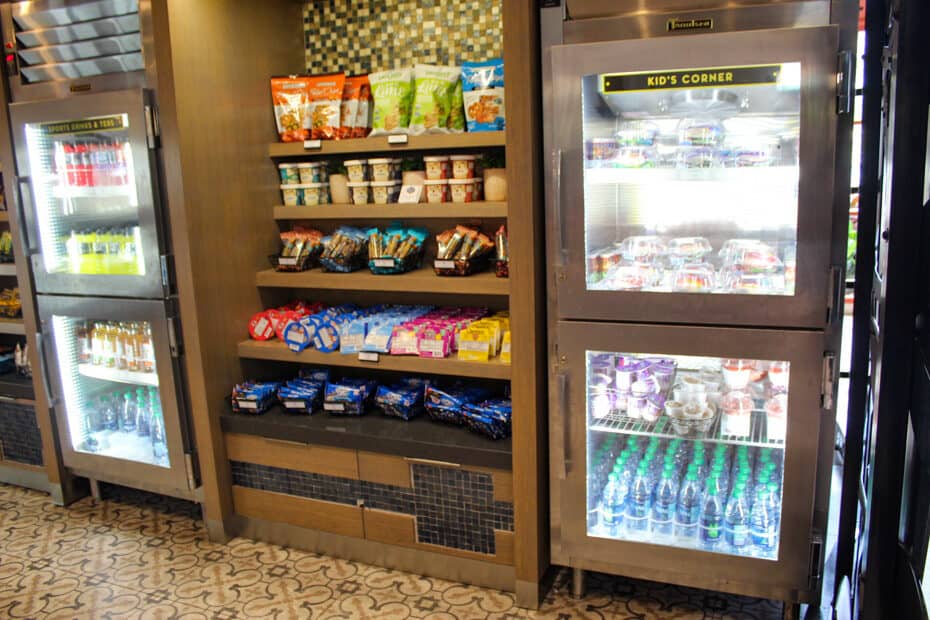 Here are a few of the beer selections.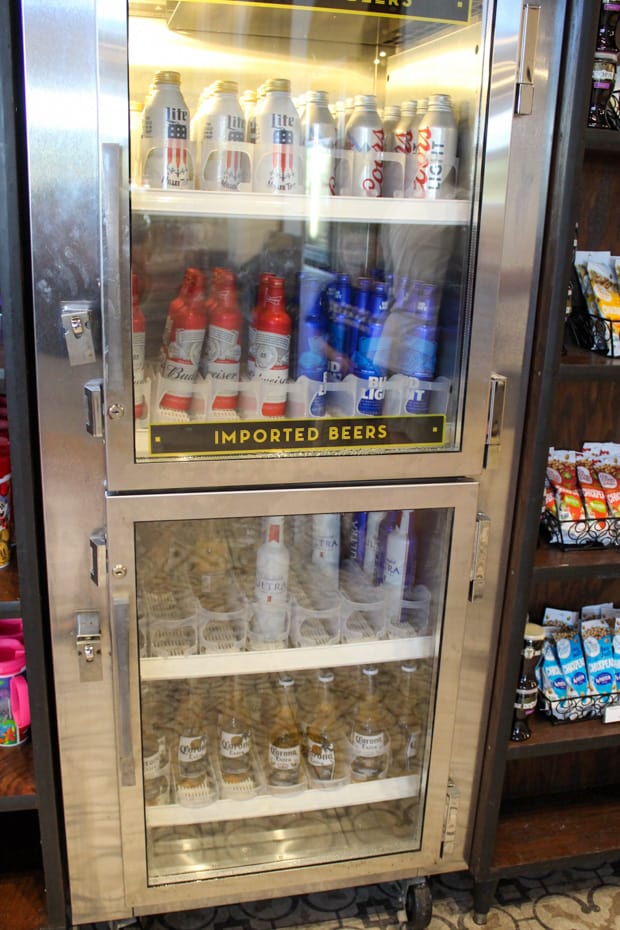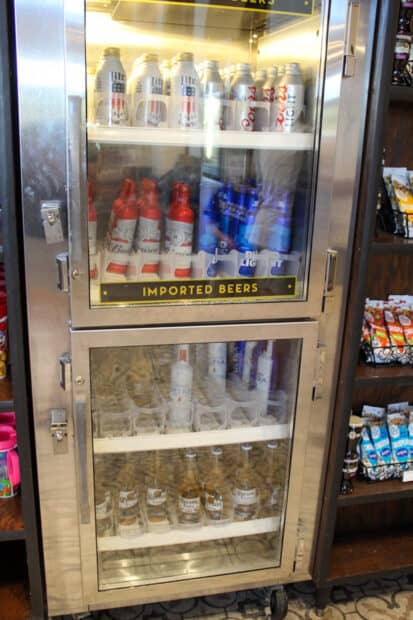 Below is a photo of the overall setup in El Mercado.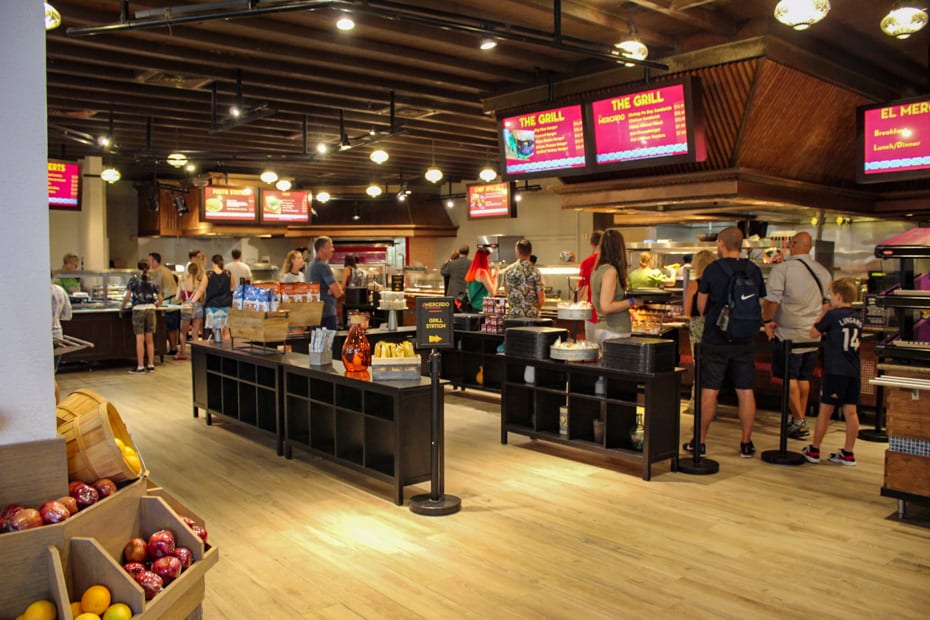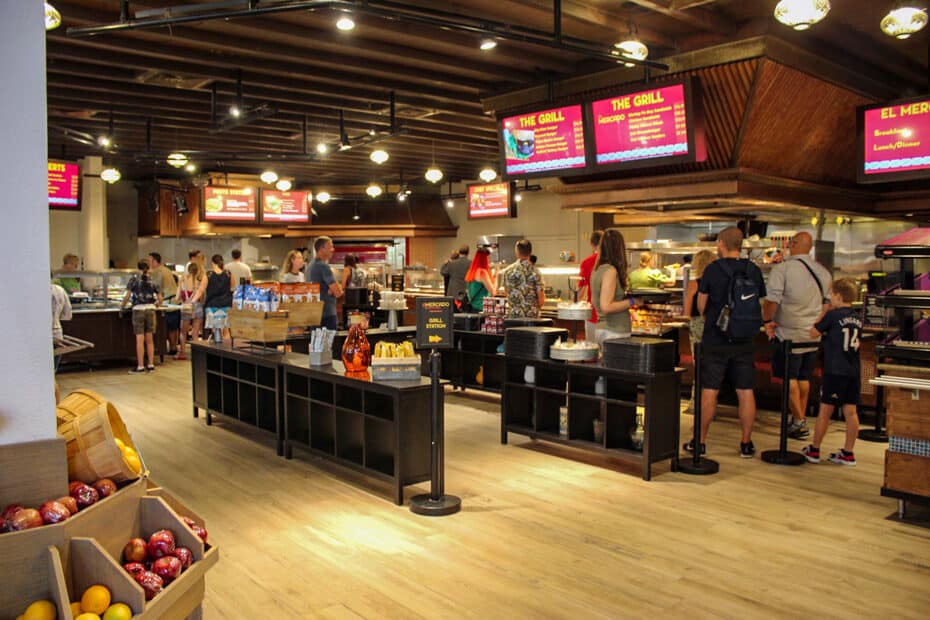 For those dealing with food allergies, ask to speak to a chef. Someone will come out and take down your allergy information and discuss your options.
Here are a few items that were available on the last visit.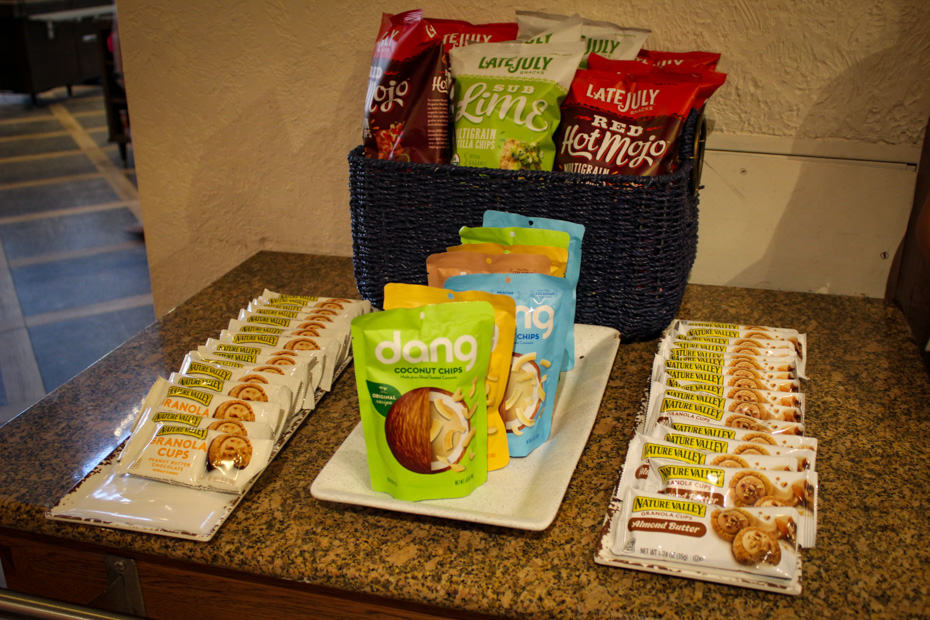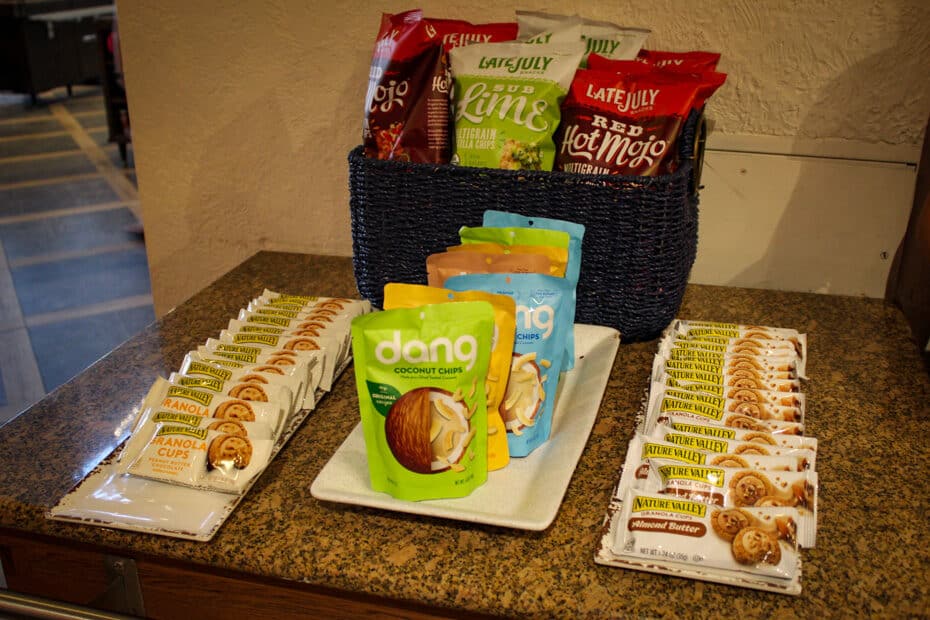 There are usually a variety of hot sauces on the condiment stand at El Mercado.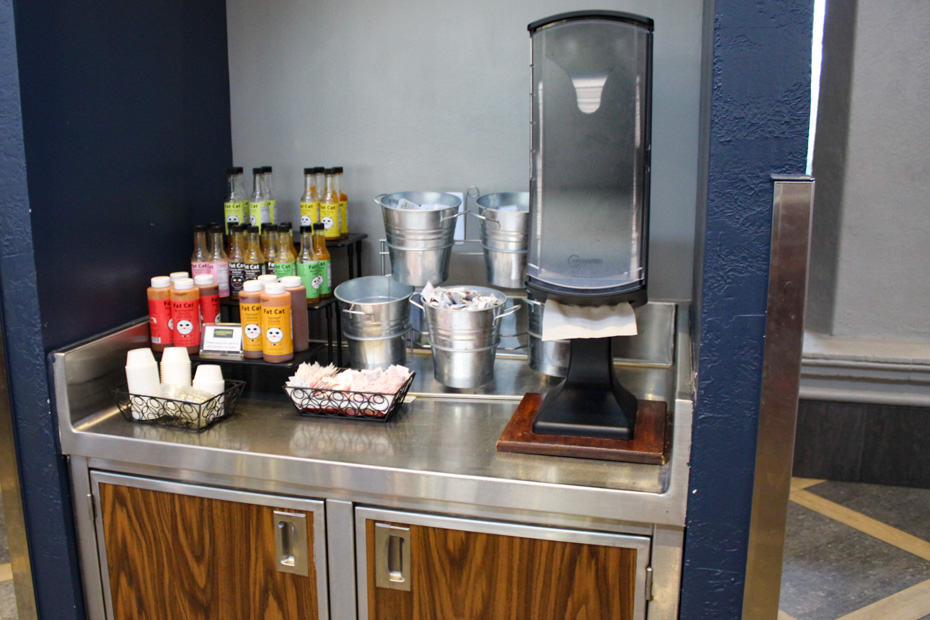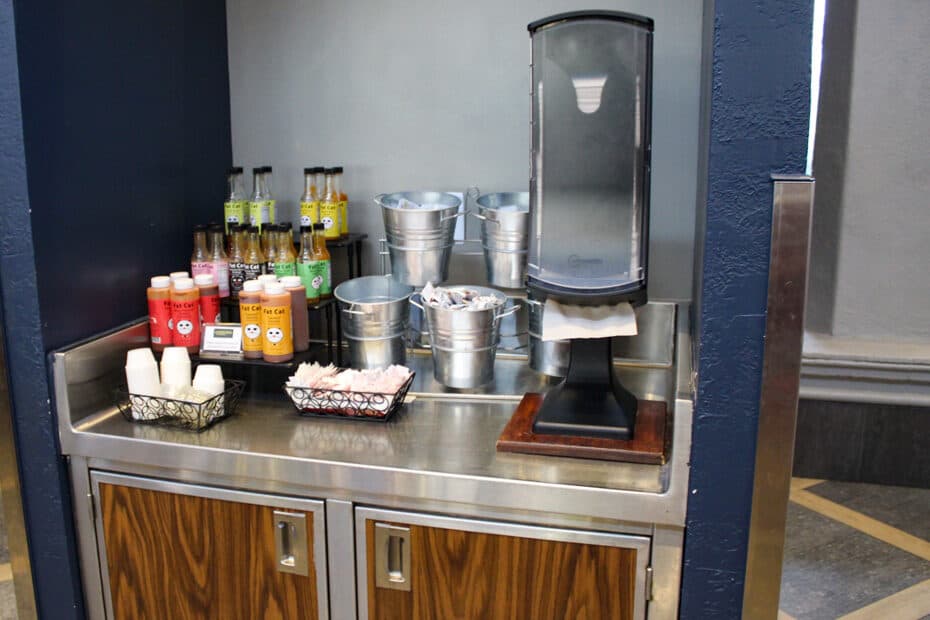 Coffee, fountain drinks, and hot chocolate are available.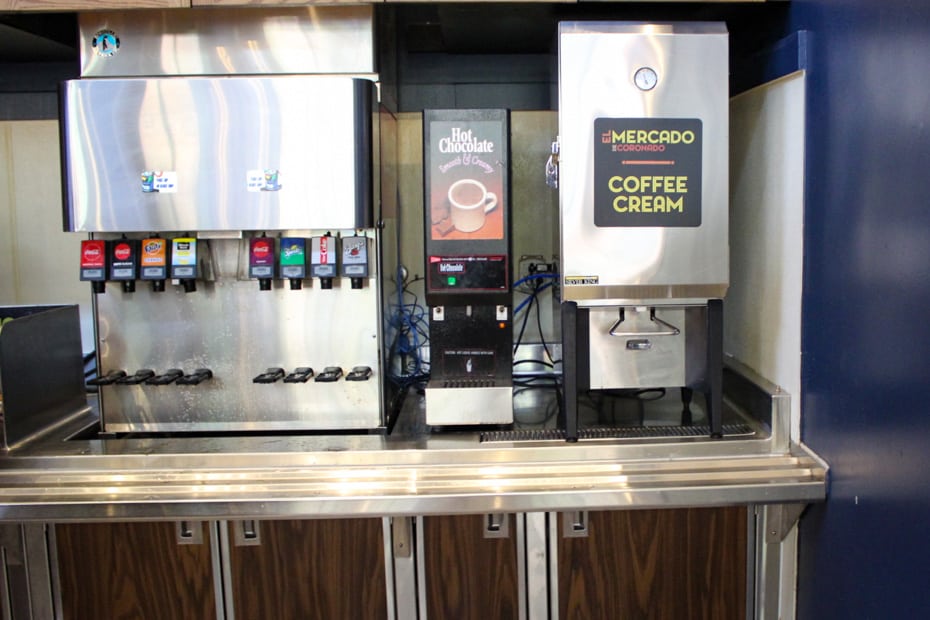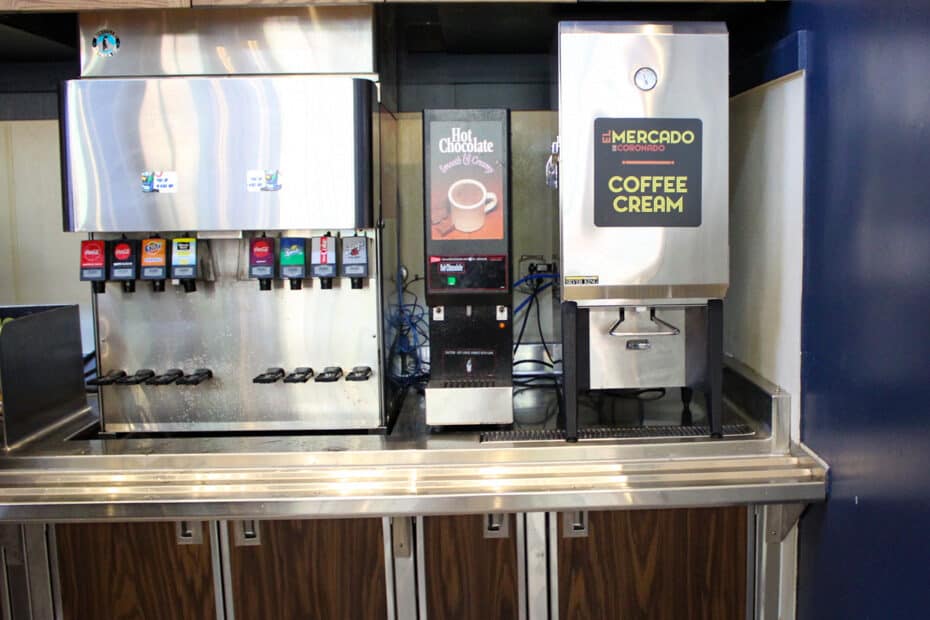 When temperatures are pleasant, I wouldn't miss an opportunity to dine outside.
Overall, El Mercado has a decent selection of menu items, and it's an excellent stop for a quick meal.
Maya Grill
Maya Grill is a table service restaurant at Disney's Coronado Springs. The restaurant is located at the end of a long hallway off the hotel lobby.
Maya Grill is a restaurant that specializes in Mexican cuisine. They are usually open on Thursdays through Monday from 5:00 p.m. to 10: p.m. The restaurant is closed on Tuesdays and Wednesdays.
Starters at Maya Grill include:
Chips and Salsa
Fiesta Nachos
Empanada de Barbacoa
Southwestern Tortilla Soup
Shrimp Mojo
A few entrees:
Baja Fish Tacos
Sous Vide Short Rib
Plant-based Chicken Enchiladas
Queso Fundido Burger
And desserts:
Fried Baby Churros
Impossible Cake
You can preview all of the menu items, including fajitas and salads, here on Disney's site.
(You might remember that there used to be two table service restaurants at Coronado Springs. Las Ventanas was the other option, but that windowless restaurant closed a while ago.)
Rix Sports Bar and Grill
Rix Sports Bar and Grill is a casual table service dining location at Disney's Coronado Springs. In the past, I would have called it more of a lounge.
The sports bar and grill is located around the corner from El Mercado, off the main lobby area.
However, the now are open daily for the following services:
Breakfast 7:00 a.m. — 10:30 a.m.
Lunch 11:00 a.m. — 4:55 p.m.
Dinner 5:00 p.m. — 11:00 p.m.
Unfortunately, I haven't had the opportunity to try Rix since the changes. But I do have it on my radar to try for breakfast on my next resort stay.
In fact, I've heard consistent rave reviews for their breakfast as of early 2022. Here are a few items listed on the breakfast menu:
Rix Omelet
Coronado Breakfast Burrito
Bagel & Lox
Big Stack Pancakes
Citrus & Mascarpone French Toast
Steak and Egg Skillet
The breakfast menu is available here.
For lunch and dinner, there are various appetizers, soups, salads, and entrees. A few entrees include:
Kona Burger
Nashville Hot Chicken Sandwich
Philly Cheese Steak
Meatloaf Sandwich
California Chicken Sandwich
The entire lunch and dinner menu is here.
This location does accept reservations, but walk-ups will be available in most instances.
Cafe´ Rix
Cafe´ Rix is a quick-service dining location at Disney's Coronado Springs. The cafe is located off the resort's lobby near El Mercado. They are open daily from 7:00 a.m. until 12:00 p.m.
Inside, you'll find a variety of treats. For example, here is the selection of donuts.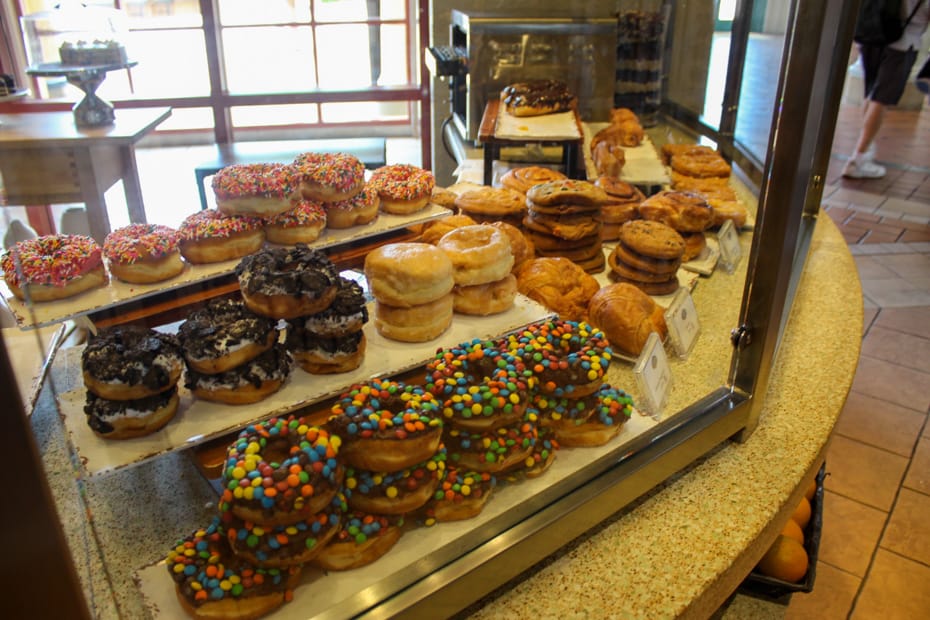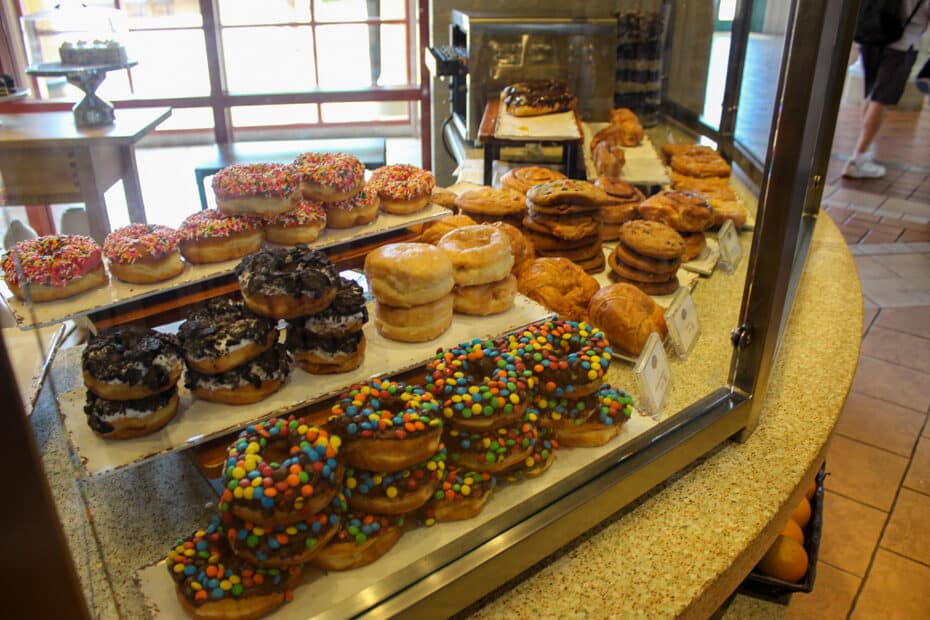 And there were croissants, cookies, and cinnamon rolls.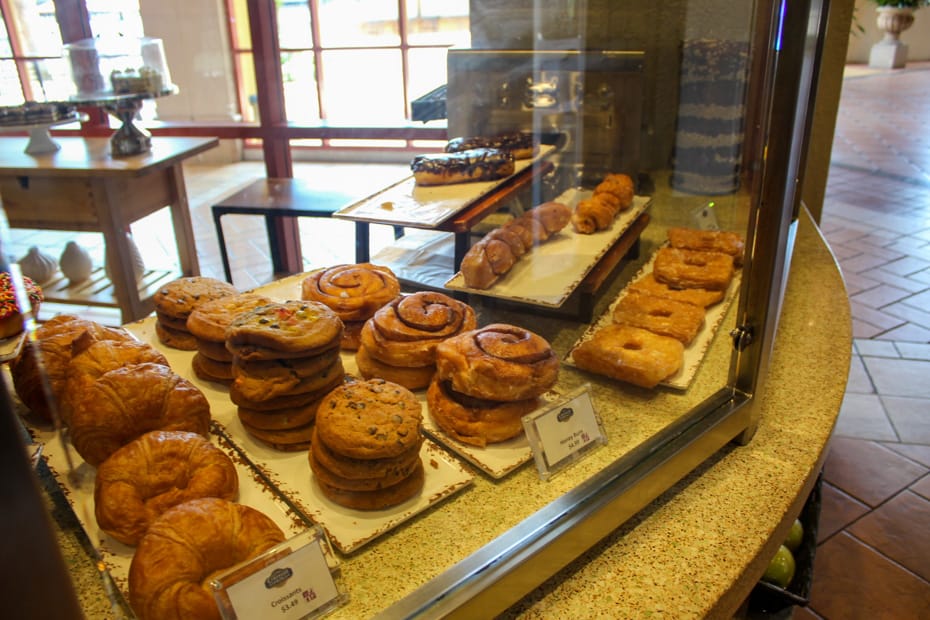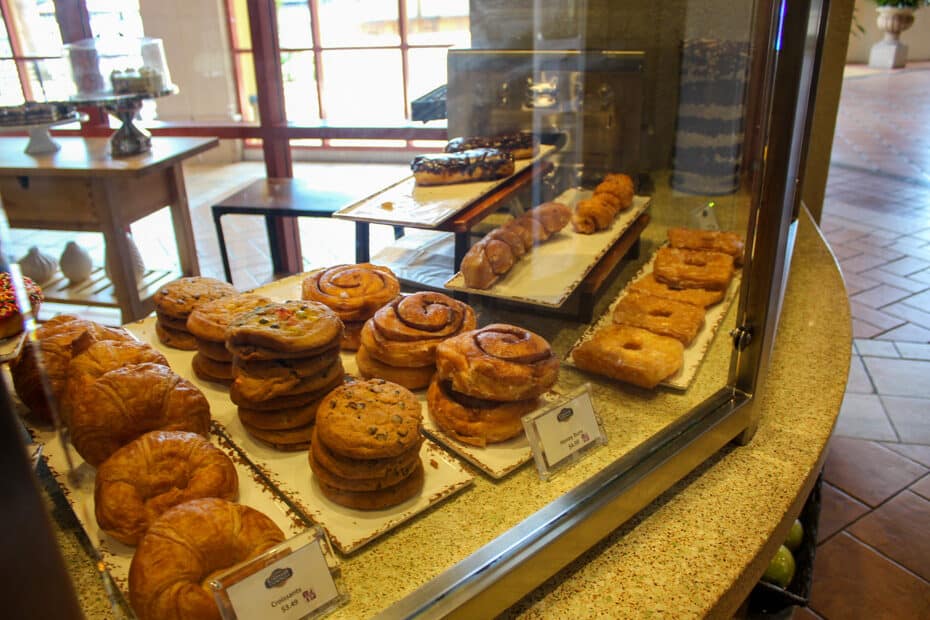 A refrigerated case holds pre-made salads, sandwiches, and a few other items.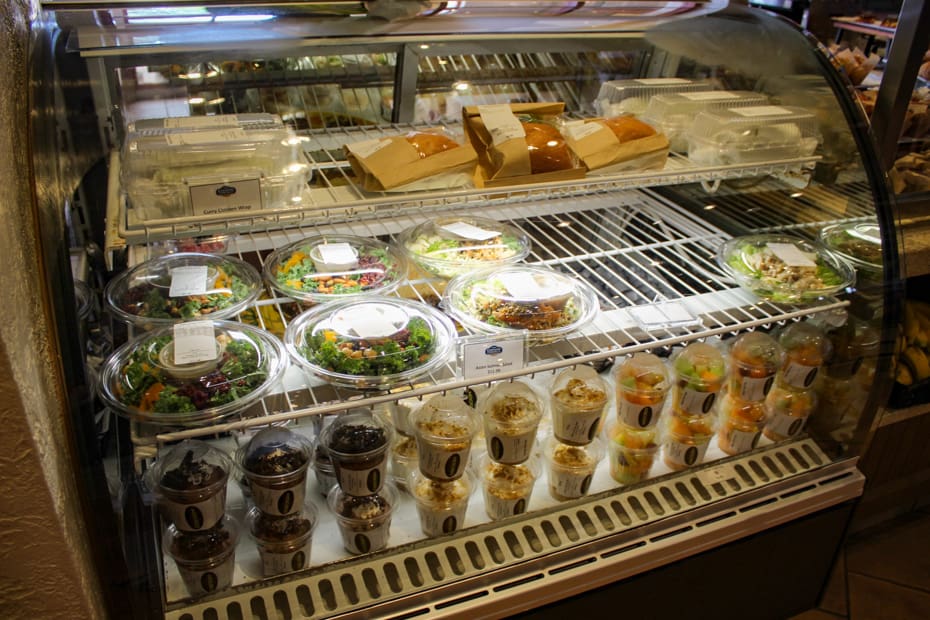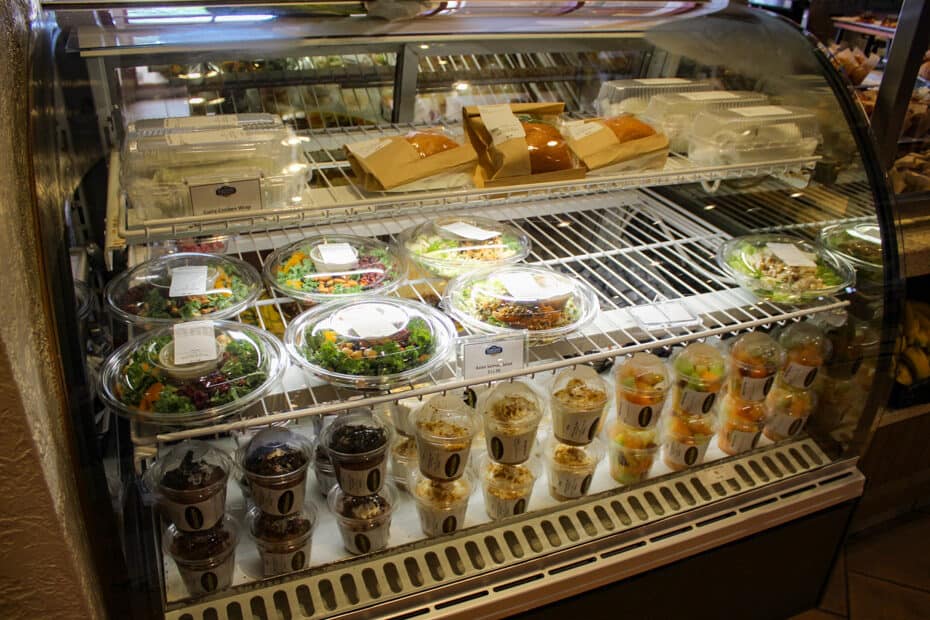 Or you can stop in for a gelato treat.
There's a mix and match trail mix station on the wall. However, I'm not really for sure if those items are healthy.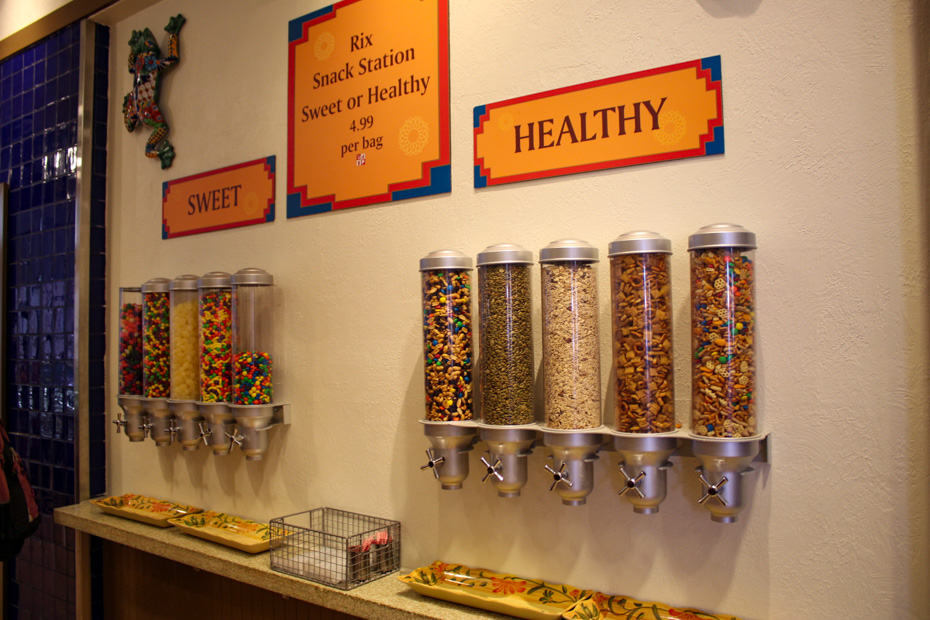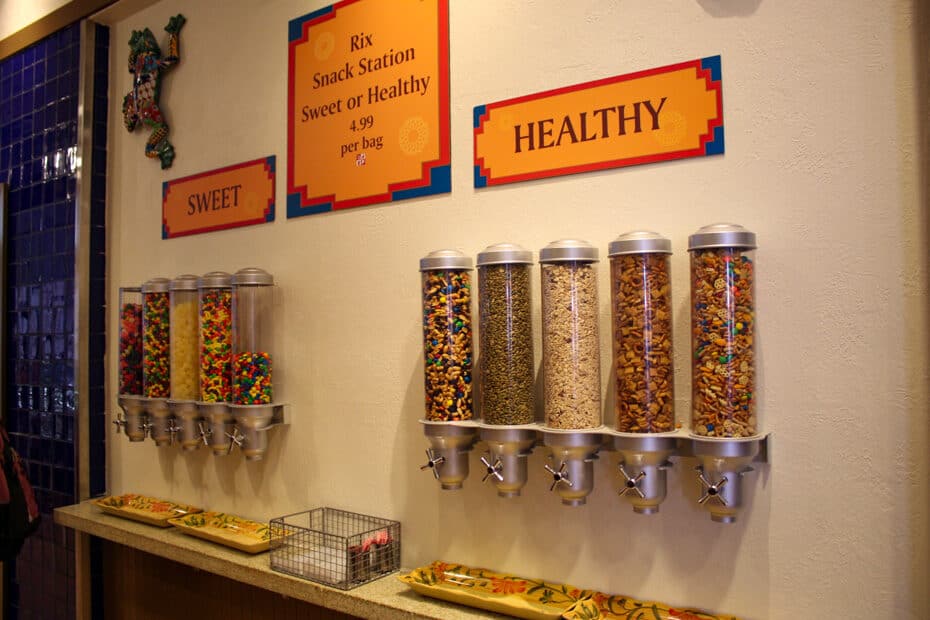 Additionally, there's a separate beverage station. If you purchase a rapid refill mug, you can fill it here.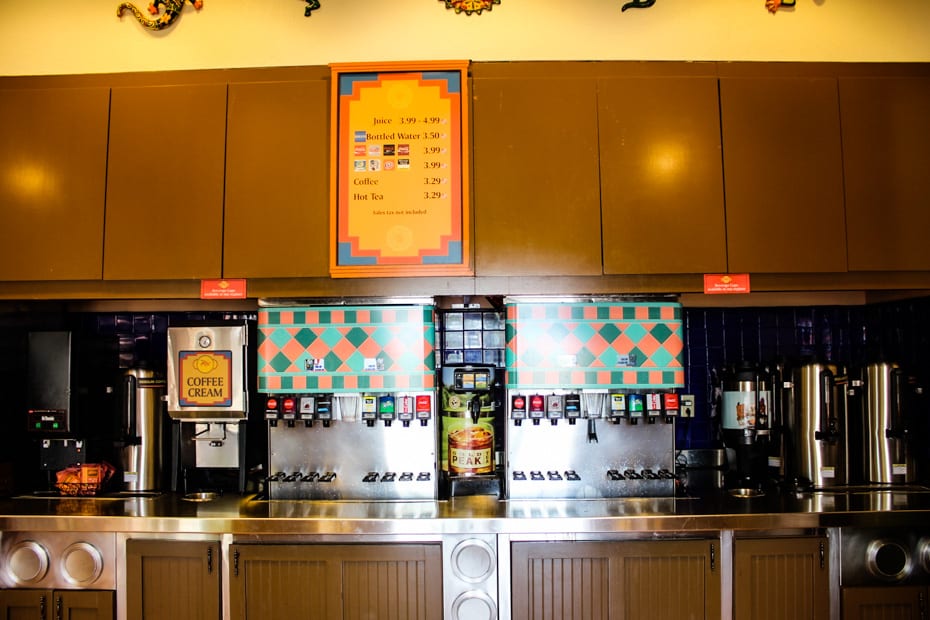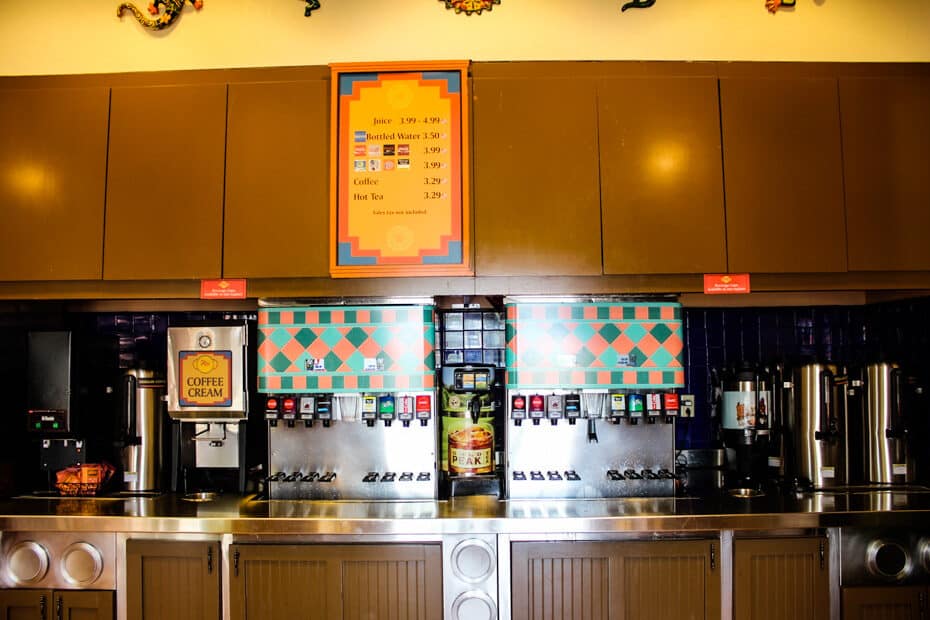 Before moving from El Centro, let's look inside the resort's gift shop to see what food and beverage items might be available.
Panchito's
While it's not an actual dining stop at Coronado Springs, Panchito's does offer a few food and beverage items. Panchito's is the resort's retail store located off El Centro's main lobby.
Most of the pantry items are located on the back wall of the store.
You'll find a sizeable refrigerated case with beverages like milk, water, soda, juice, wine, and beer. In addition, a few shelves contain different snacks items.
Next, we'll wander over to Gran Destino Tower to preview the dining options.
Barcelona Lounge
Barcelona Lounge is a lounge and coffee bar located at Gran Destino Tower. The lounge is located on the lower level of the resort's lobby.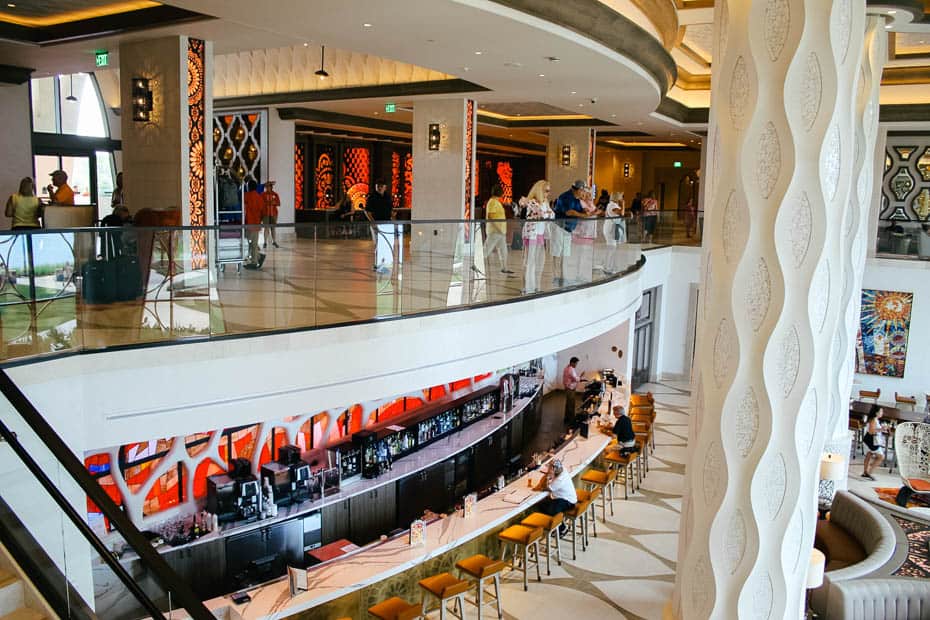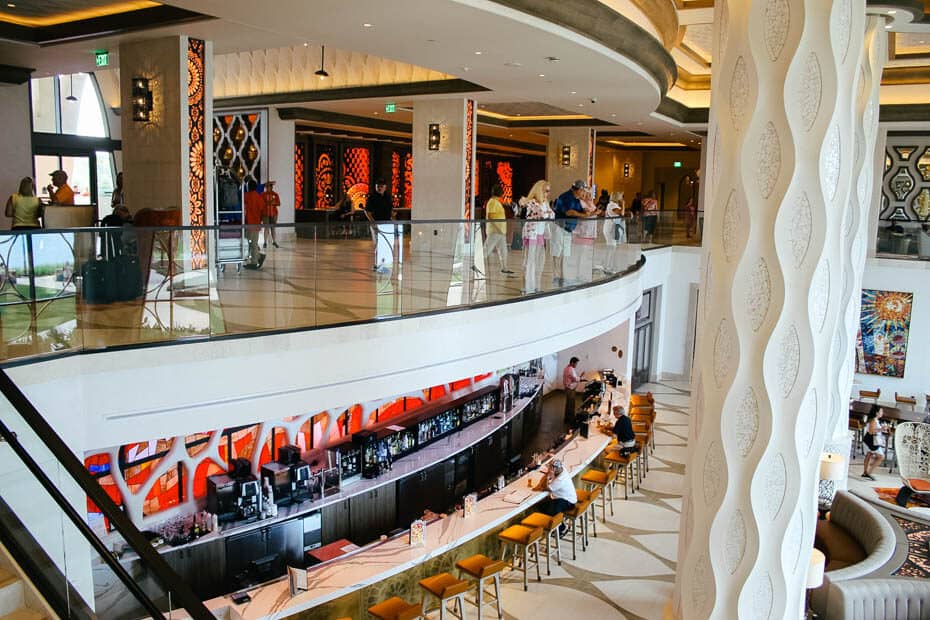 The bar area has a stained glass backdrop and is accented by tremendous stone countertops.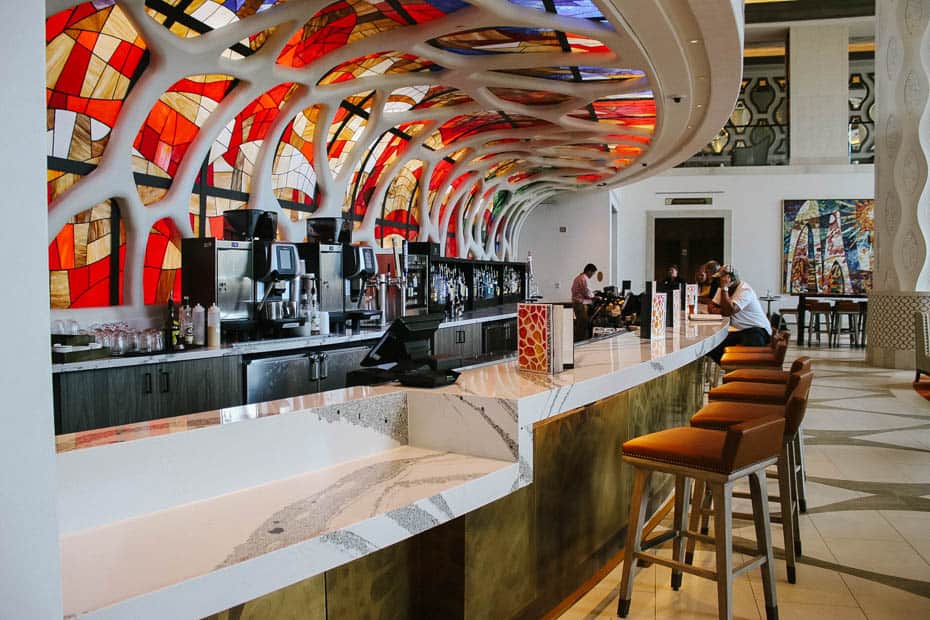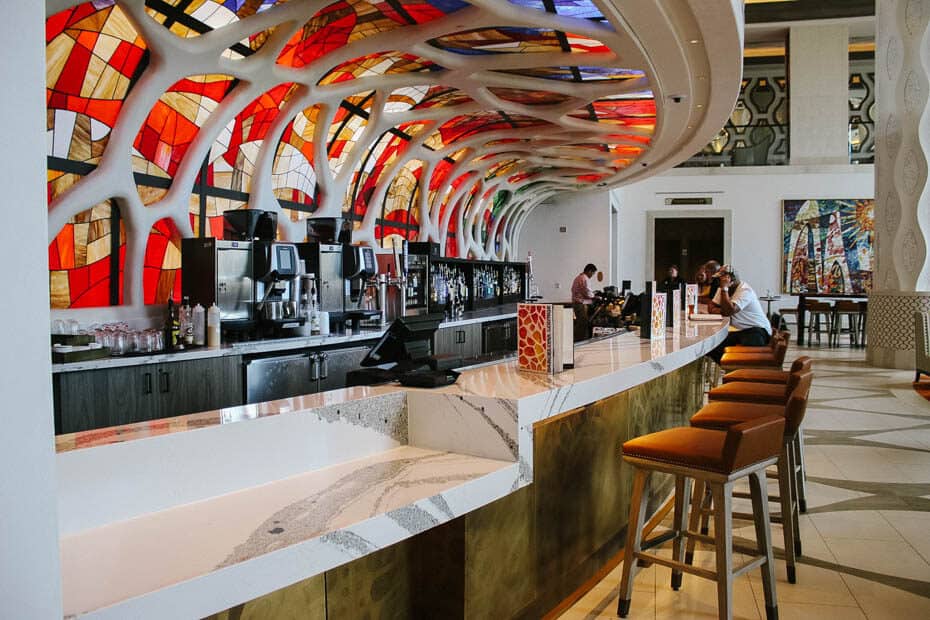 Coffee stations are located on each end of Barcelona Lounge. They have a variety of specialty coffees.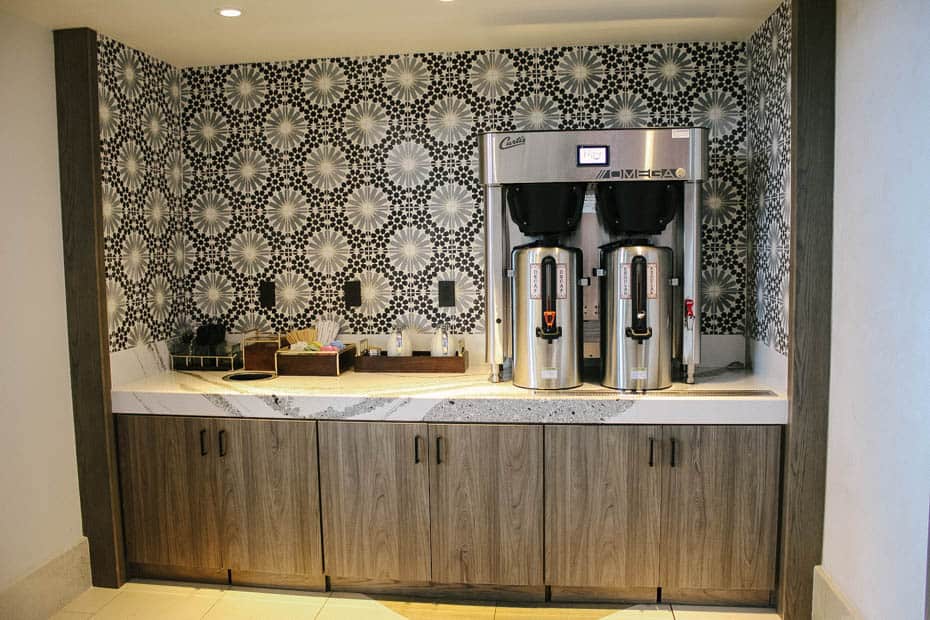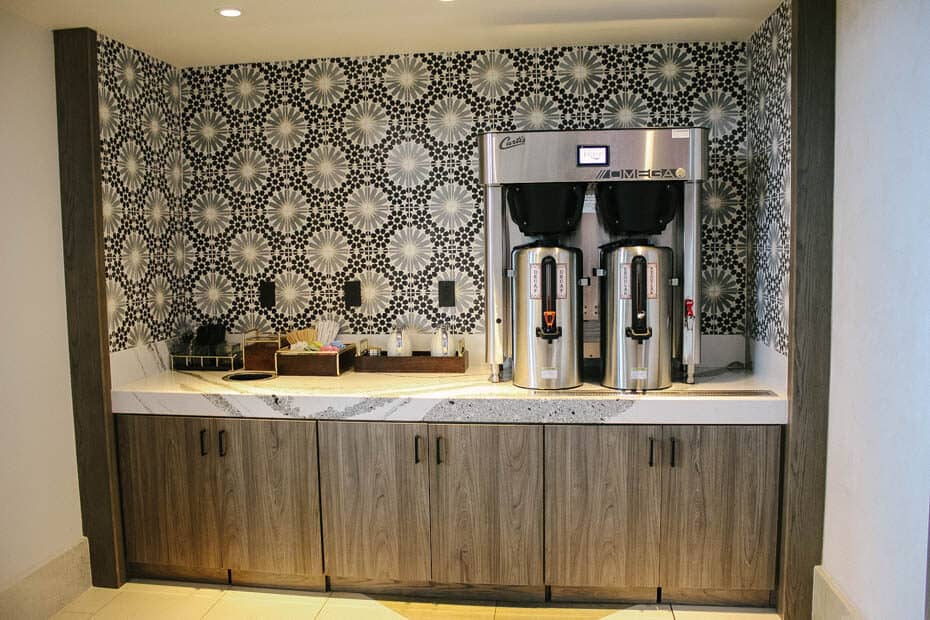 Barcelona Lounge is open daily from 6:30 a.m. until 12:00 p.m and then in the evening from 3:00 p.m. until 12:00 a.m.
The lounge offers a few breakfast sandwiches, coffee, and juice during the morning hours. You can preview the menu here.
For evening hours, there are a few light bites like veggies with hummus, marinated olives, charcuterie, and cheese plates. In addition, Barcelona Lounge has an extensive cocktail menu. Preview that menu here.
Behind the bar at Barcelona Lounge, there's a large seating area. This space doubles as part of the lower-level lobby.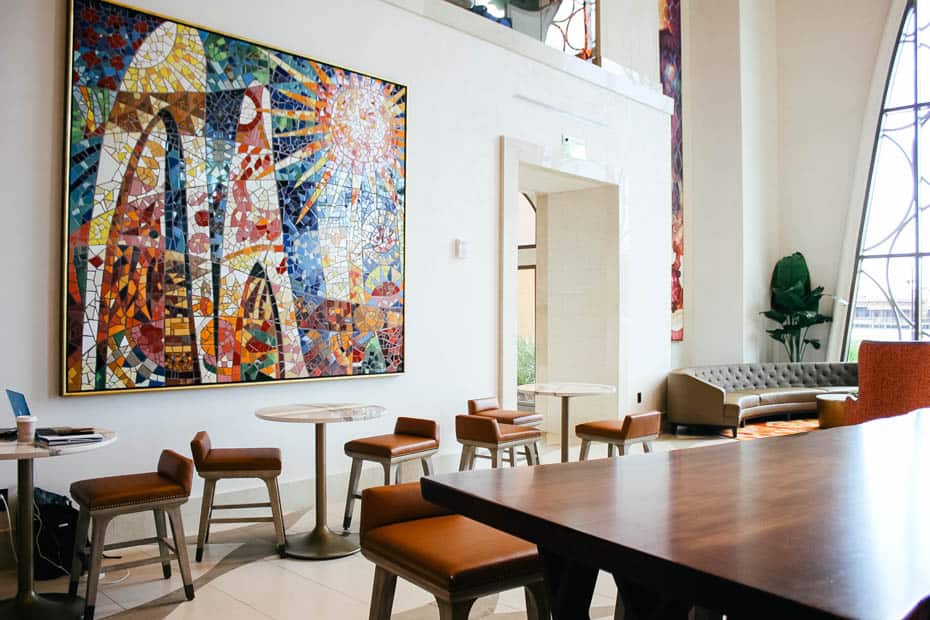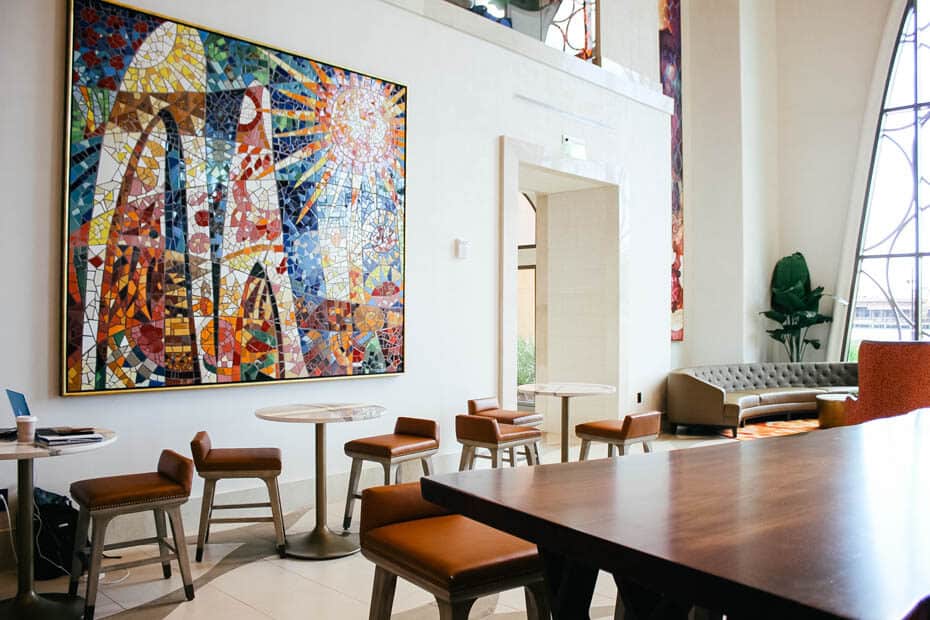 Since Coronado Springs is one of Walt Disney World's convention centers, you will find work-friendly seating areas and amenities.
Dahlia Lounge
Dahlia Lounge is located on the top floor of Gran Destino Tower. This lounge is open daily from 5:00 p.m. until 12:00 a.m.
Dahlia offers a variety of specialty cocktails you can find at most Disney Resorts. In addition, they have their own signature cocktails specific to this location.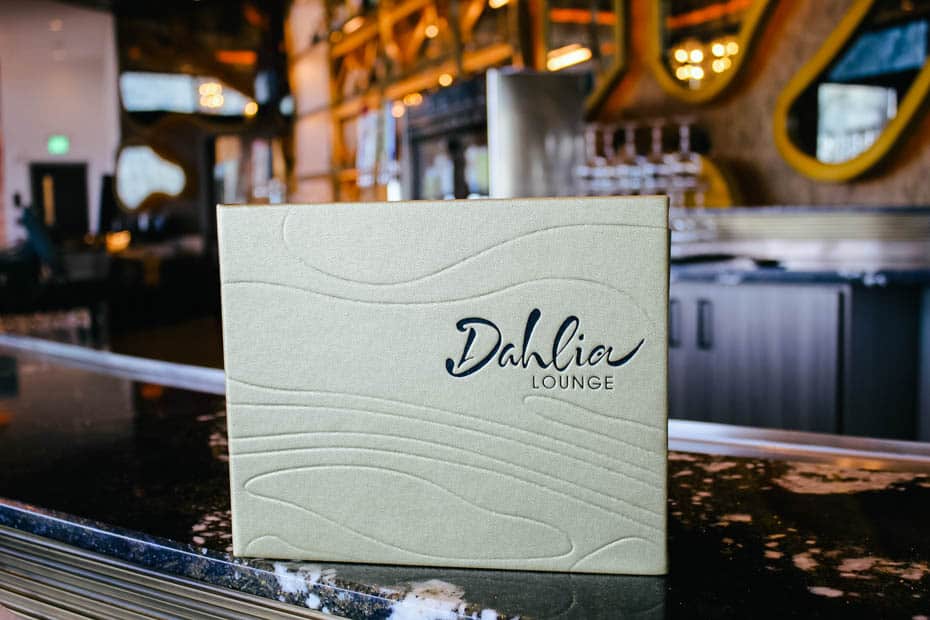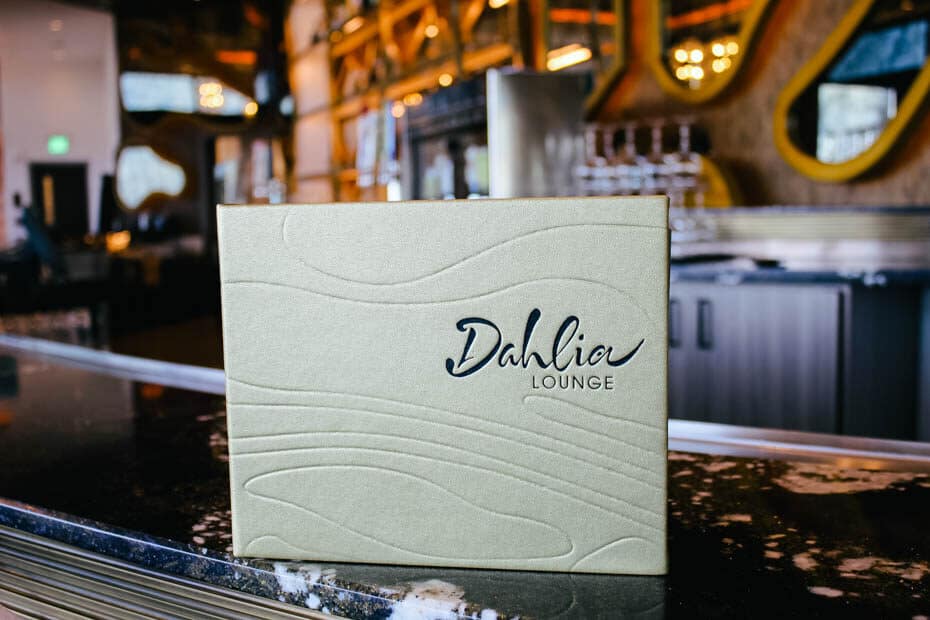 Dahlia has a beautiful interior.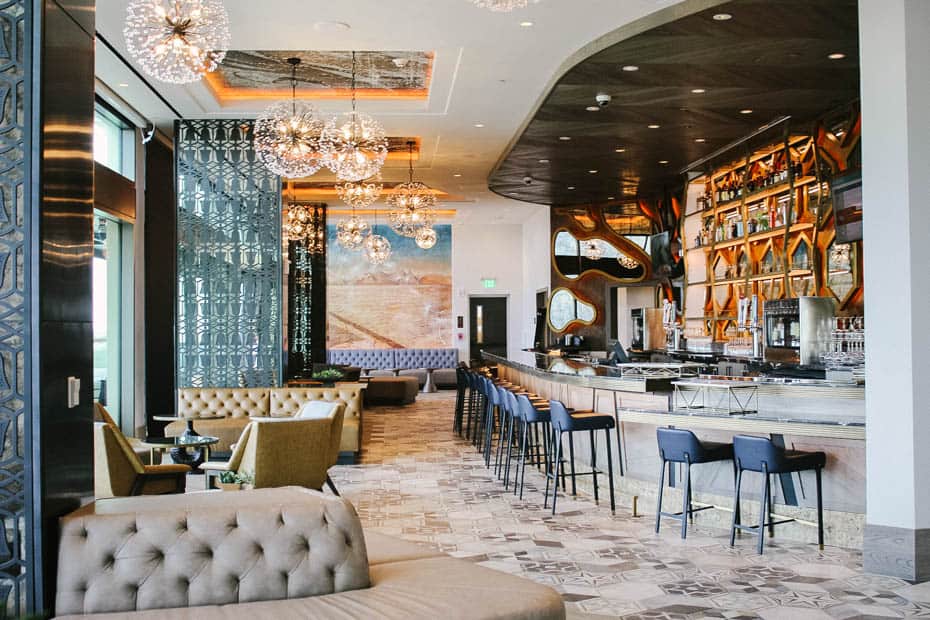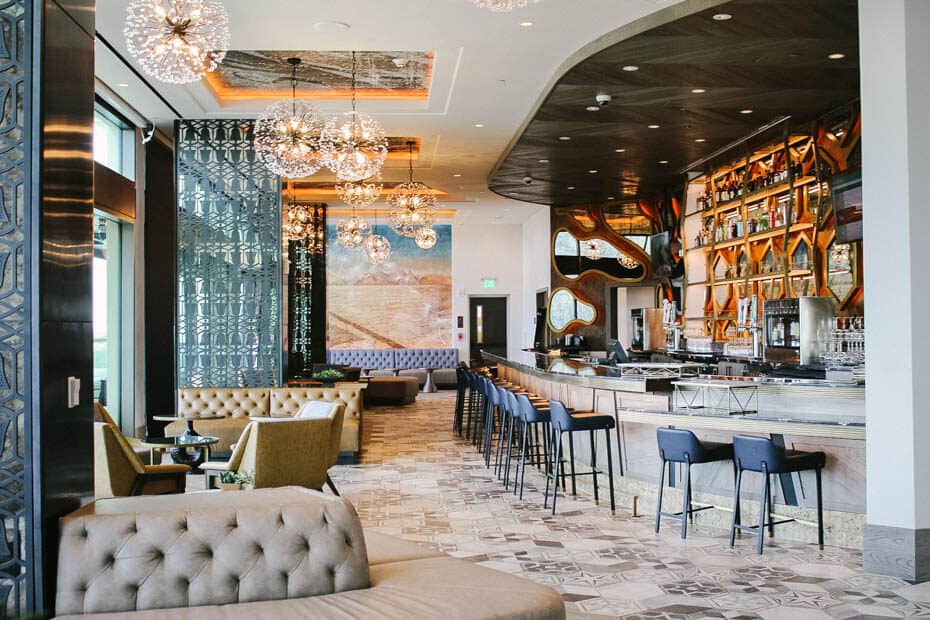 But the outside observatory is what makes the place, in my opinion.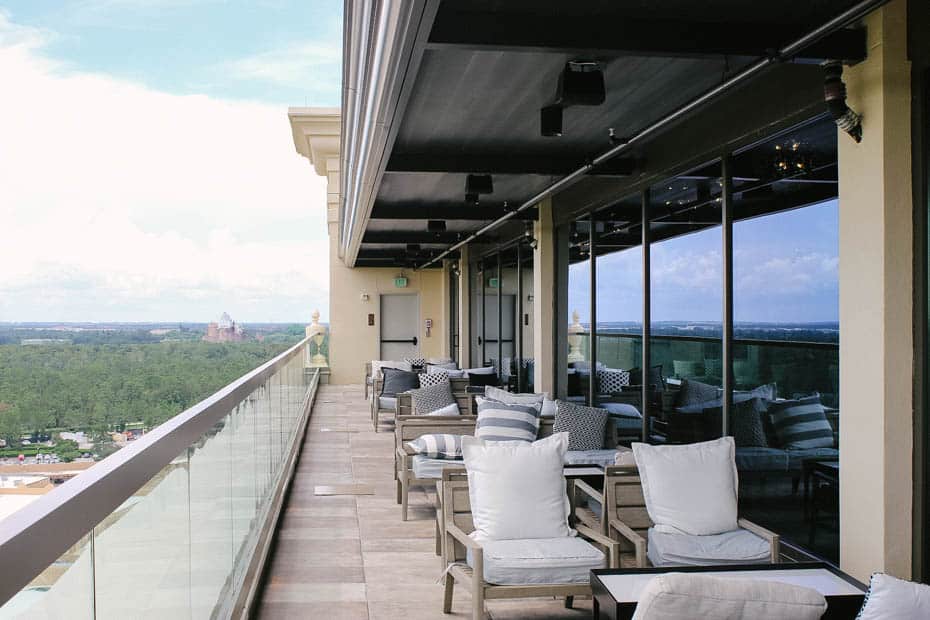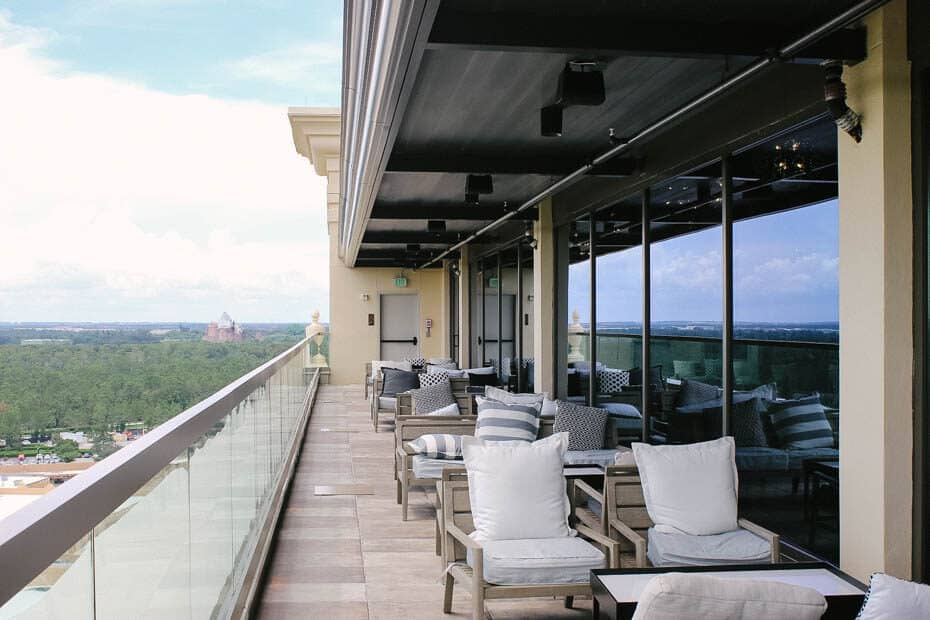 There are a variety of tables, bars, and lounge-style seating available.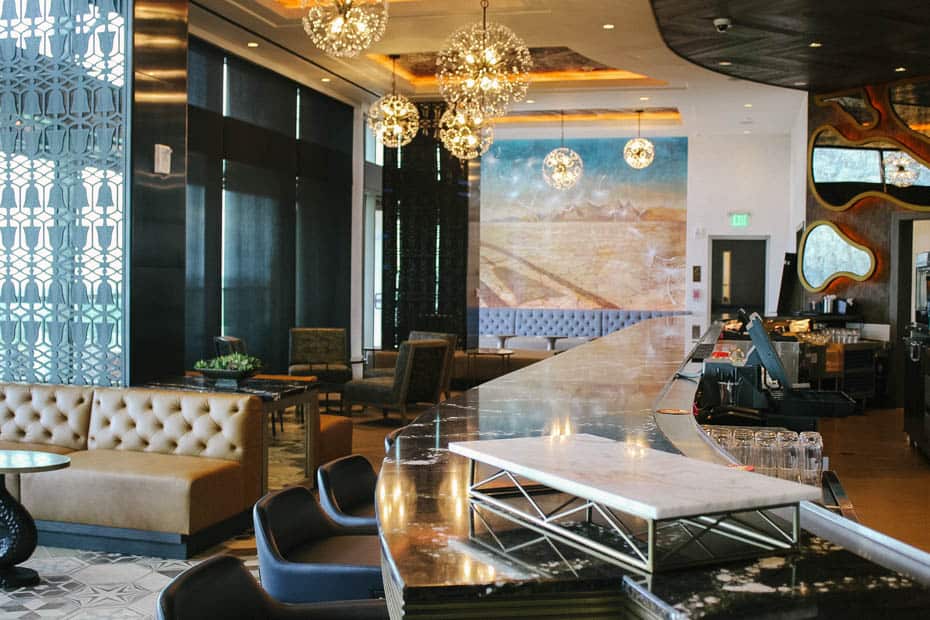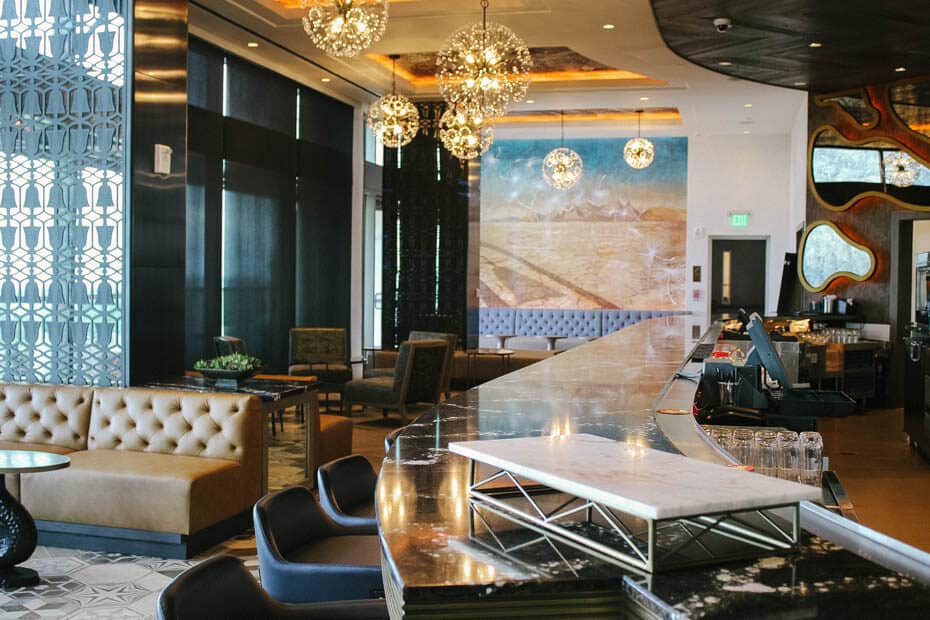 Here is the view from the inside looking out.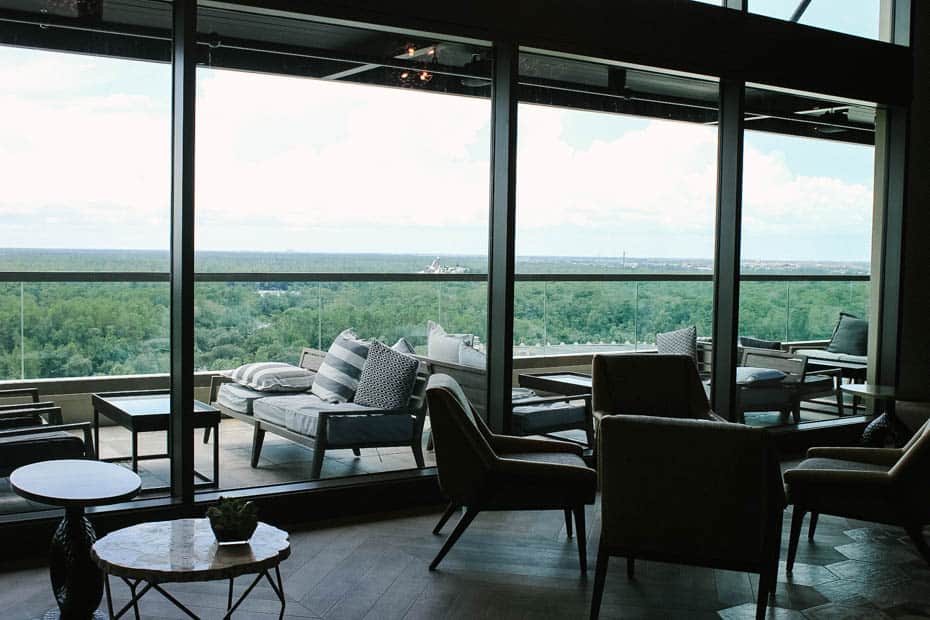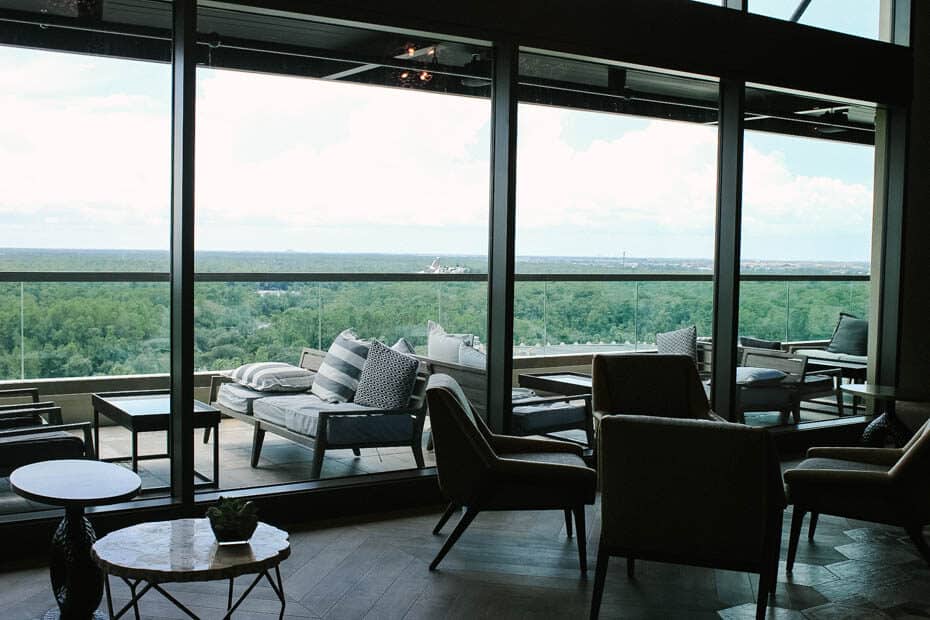 And below is the view from the deck of the rooftop lounge. The Swan and Dolphin hotels are a notable architectural structure on the property to the far left. To the far right is the Hollywood Studios Tower of Terror.
Related: Swan and Dolphin Hotel Review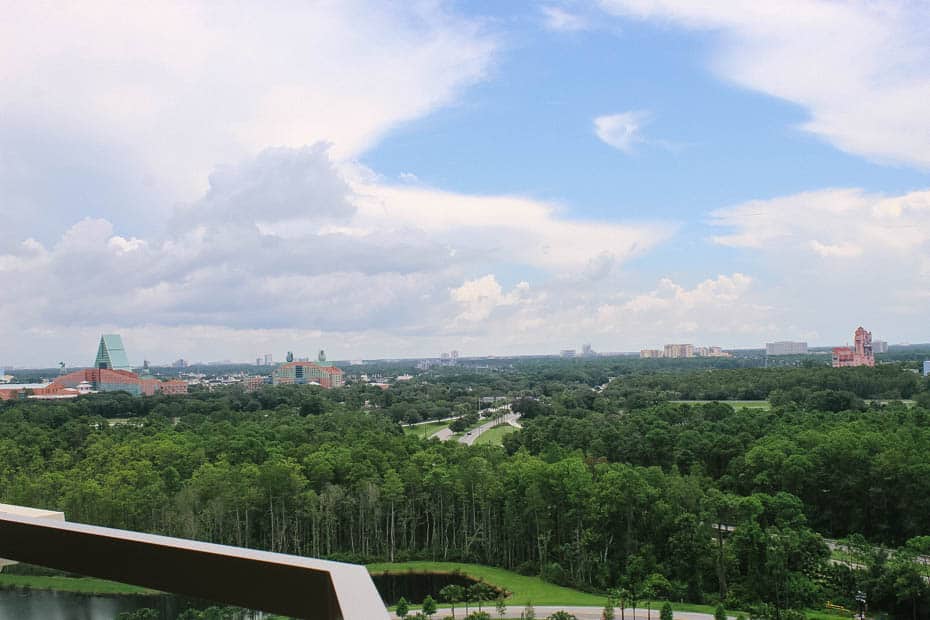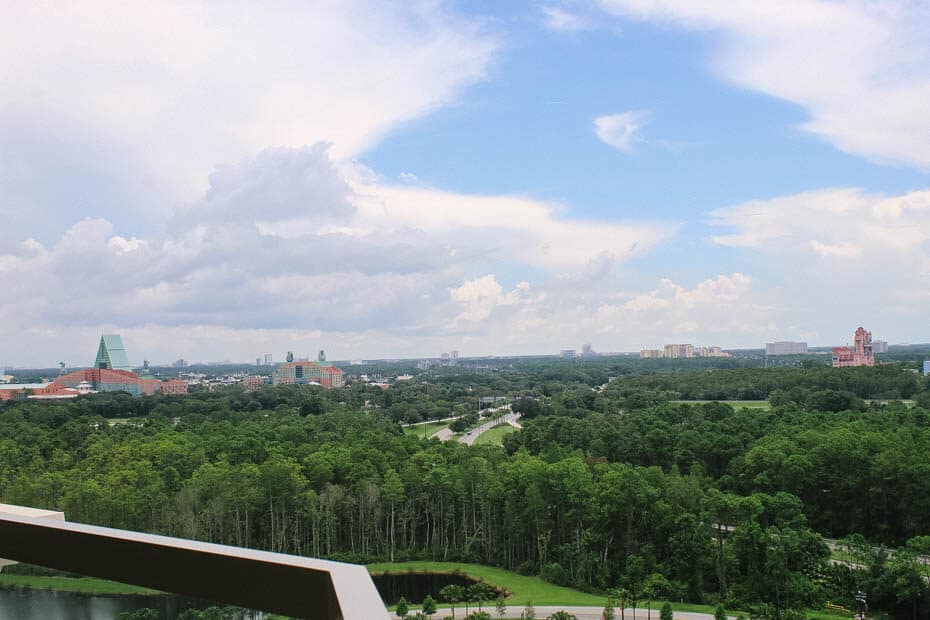 Dahlia Lounge has several appetizer options. Here are a few:
Tortilla Espanola
Wings
Croquettes
Crispy Artichokes
Spanish Charcuterie
The lounge has an extensive wine list, non-alcoholic options, and draft beer.
You can peruse the entire menu here.
Toledo
Toledo is a table service restaurant at Gran Destino Tower, located on the top floor across from Dahlia Lounge.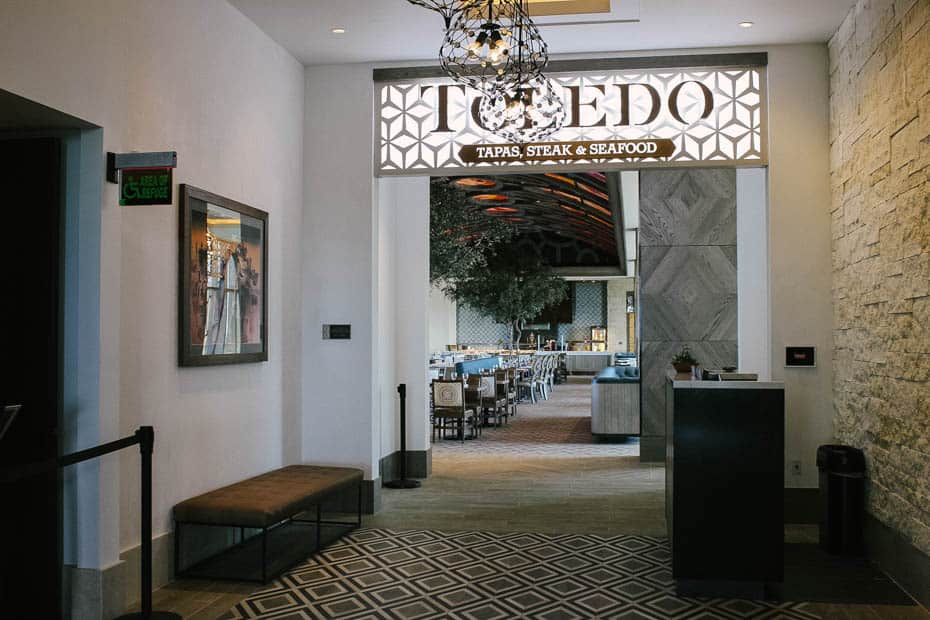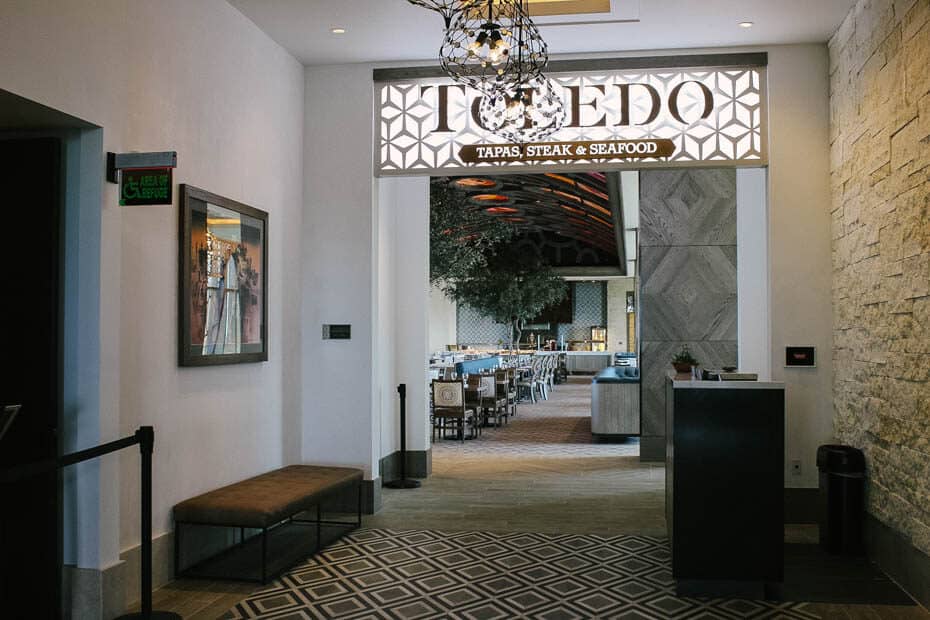 The restaurant is relatively unique, like the rest of Gran Destino Tower in design.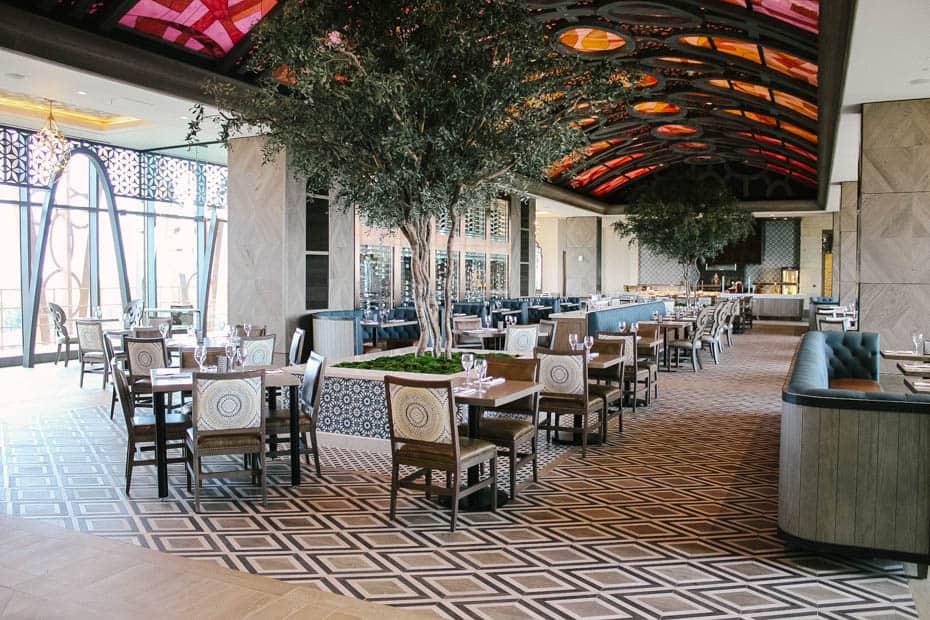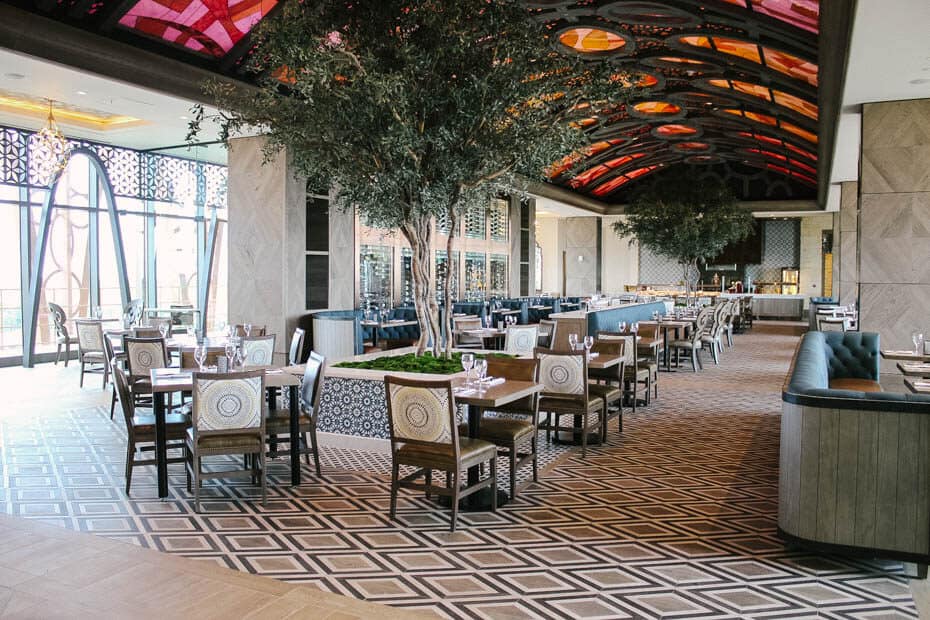 Here is a photo of the interior.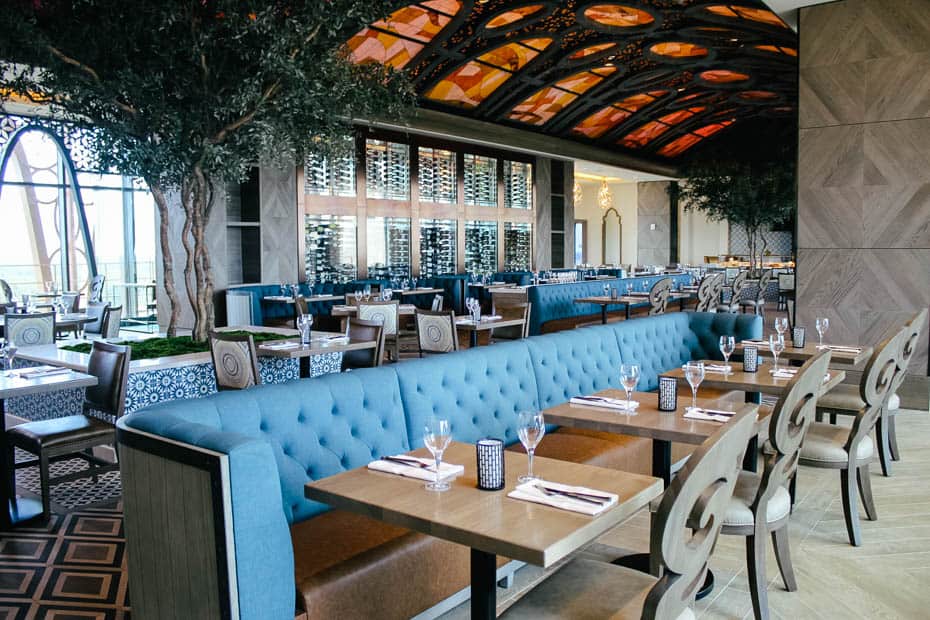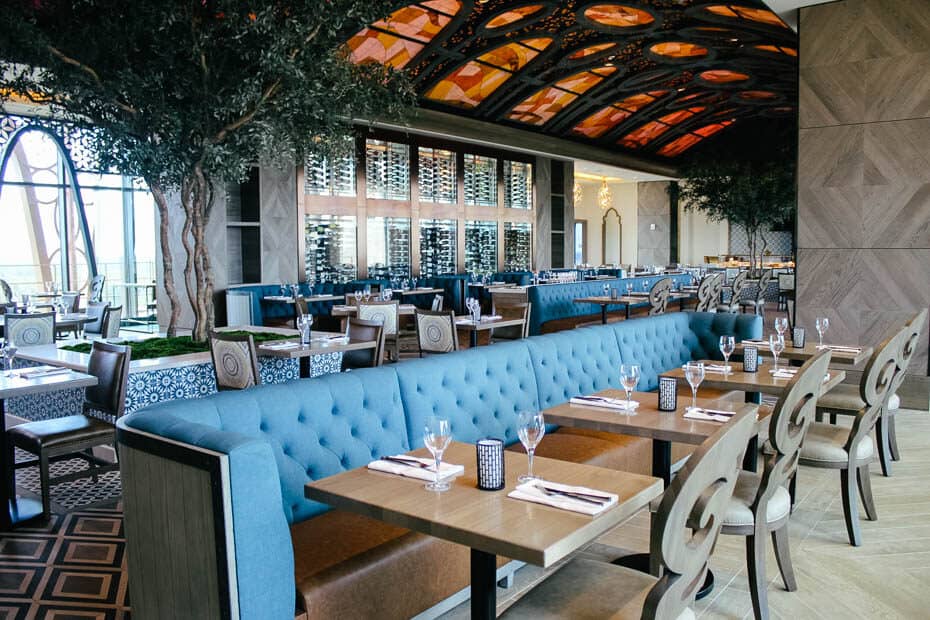 This ceiling fixture is stunning. It reminds me of sunset tones.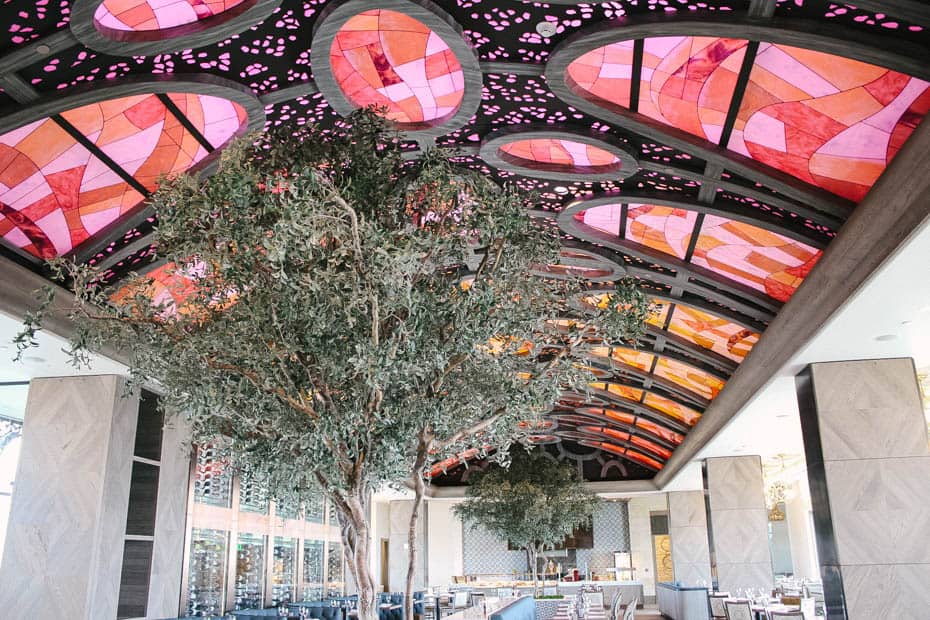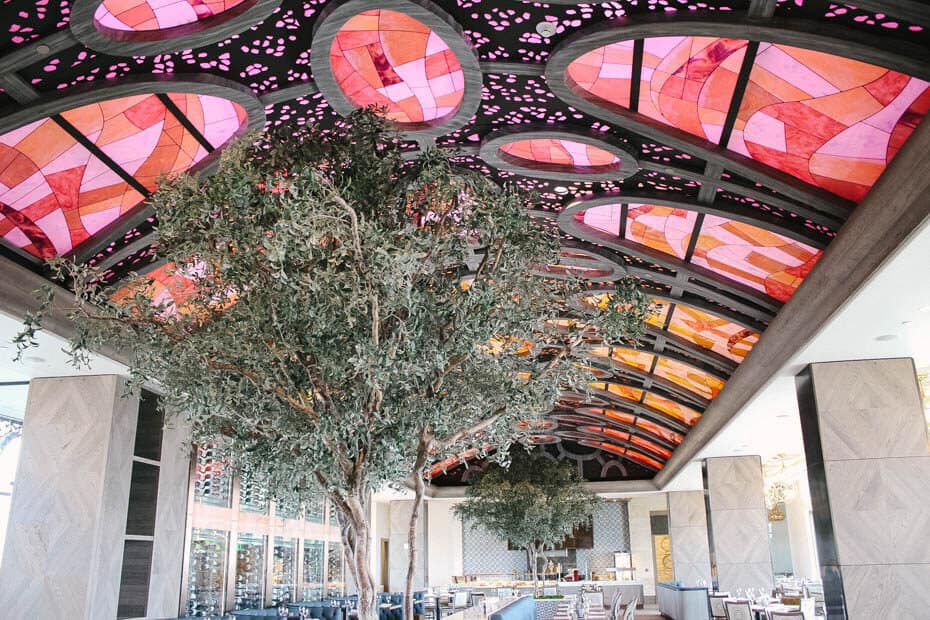 On our last meal at Toledo, we enjoyed a few tapas.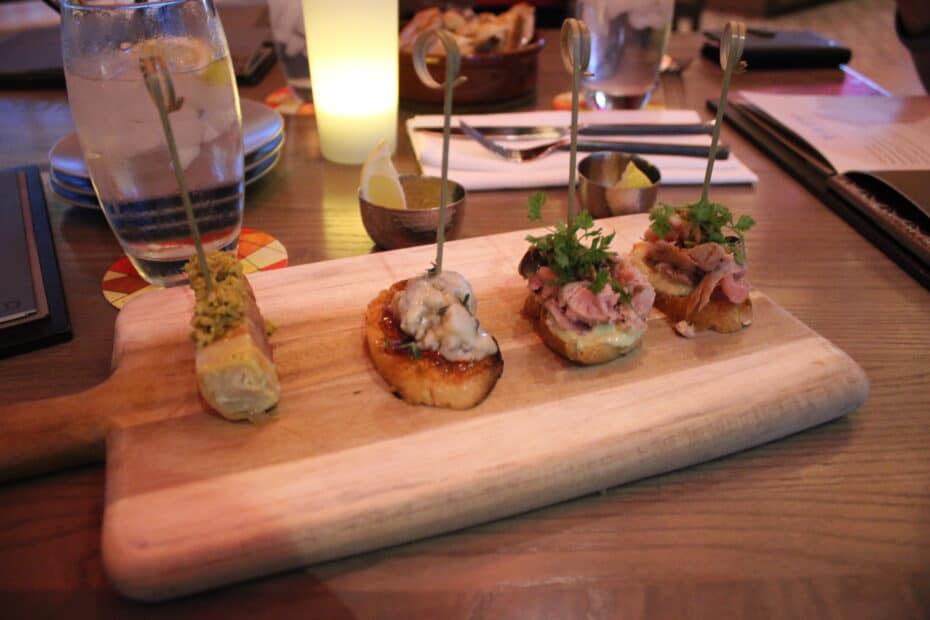 This cheesy bread dish with Marcona almonds sounded more promising than it turned out.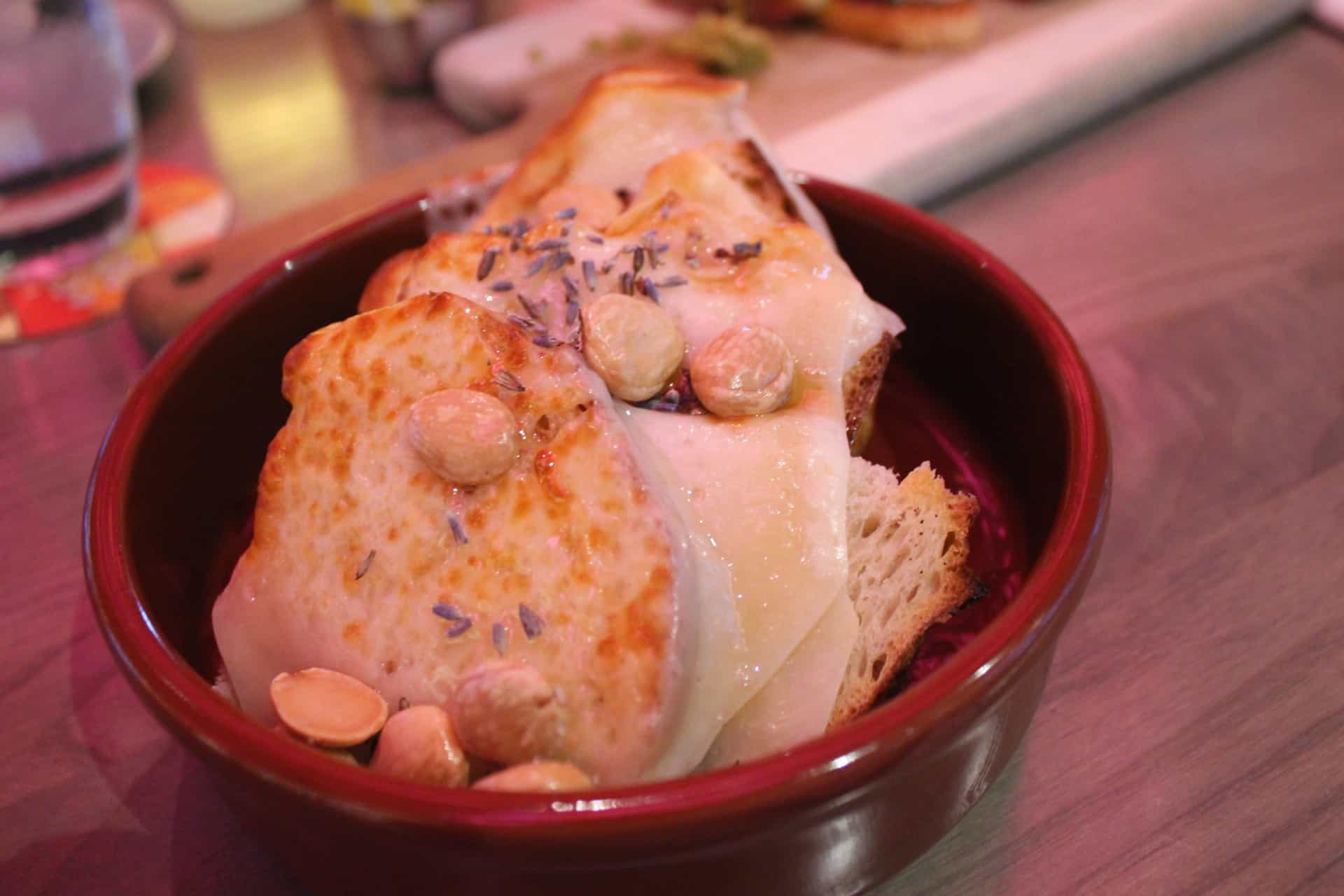 One person in our party ordered the Halibut, and it was an excellent choice.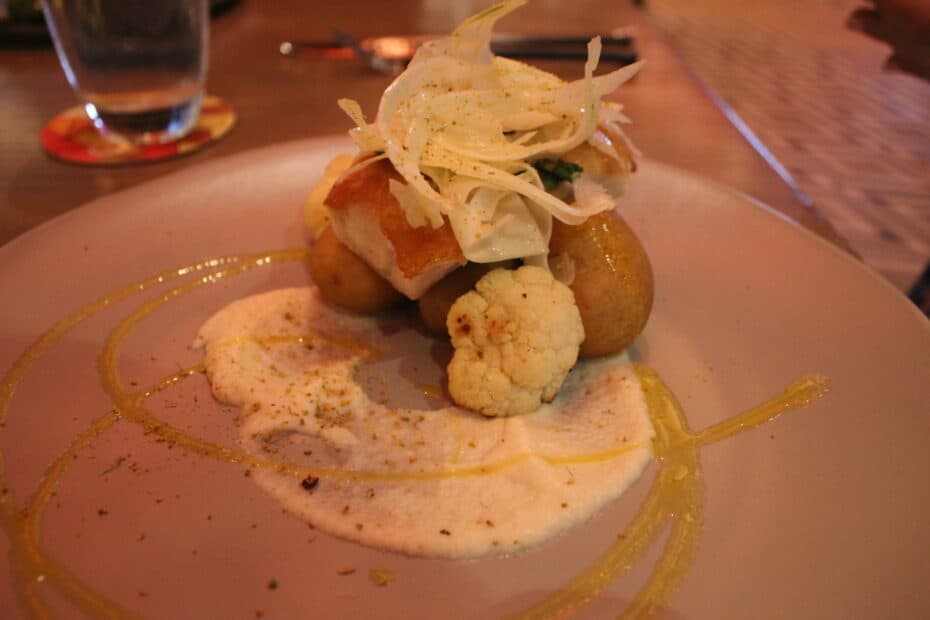 Additionally, we tried several other entrees and desserts. Almost everything was delicious, and we look forward to returning.
Related: Toledo, Tapas, Steak, and Seafood Review
Lastly, we'll preview a few restaurants at Coronado Springs spread out over the resort.
Three Bridges Bar and Grill
Three Bridges Bar and Grill is a unique dining location in the middle of Lago Dorado, the lake at Disney's Coronado Springs. If it's been a while since you visited, you might not be familiar with this location.
The lake has three bridges that run across it, which makes walking to and from the villages extremely convenient.
Anyway, a restaurant was built where the bridges meet in the middle of the lake. Hence the name Three Bridges Bar and Grill.
Initially, when taking these photos, I didn't notice the "Villa Del Lago" signage on the building. But when I started to layout this review, I noticed that Villa Del Lago was not listed anywhere on Disney's site.
Per Disney's site, the restaurant is formally called Three Bridges Bar and Grill at Villa del Lago. Villa del Lago means "lake villas."
I can't think of a nicer place to enjoy an afternoon or early evening. It's a fantastic location with a stunning view of the water and surrounding resort.
And the seating arrangements are so comfortable.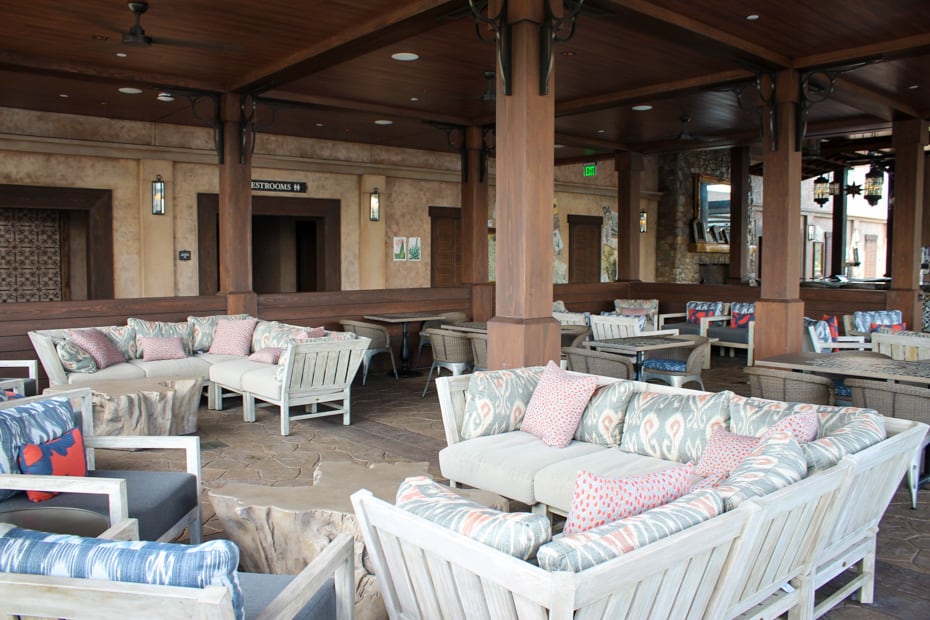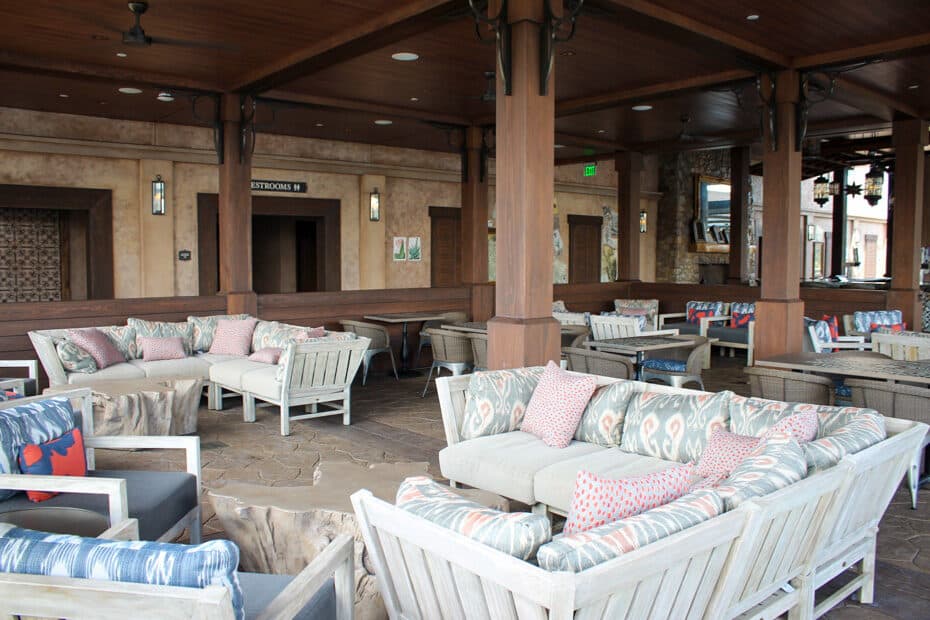 Here is a look at the menu posted outside on my last visit.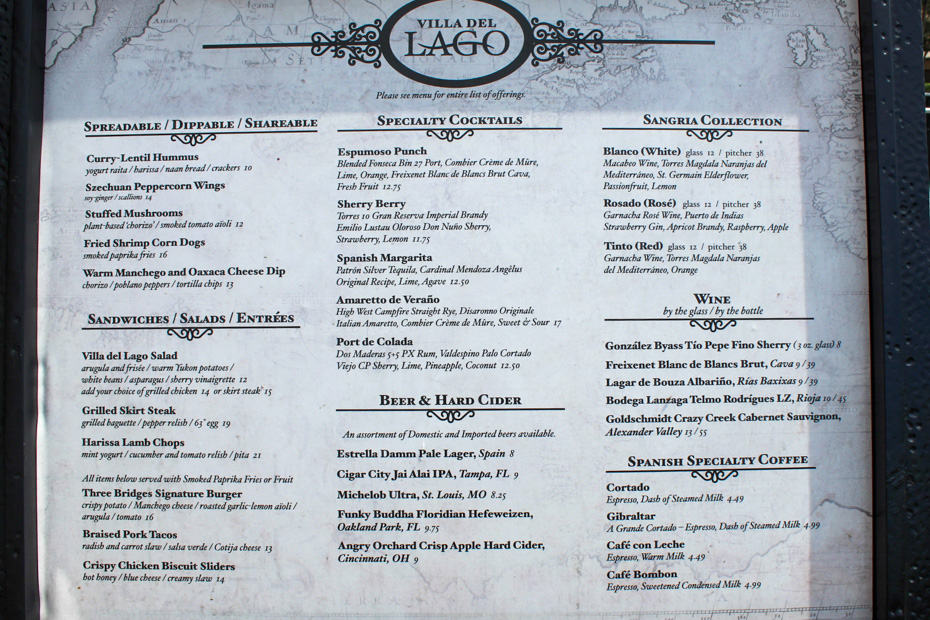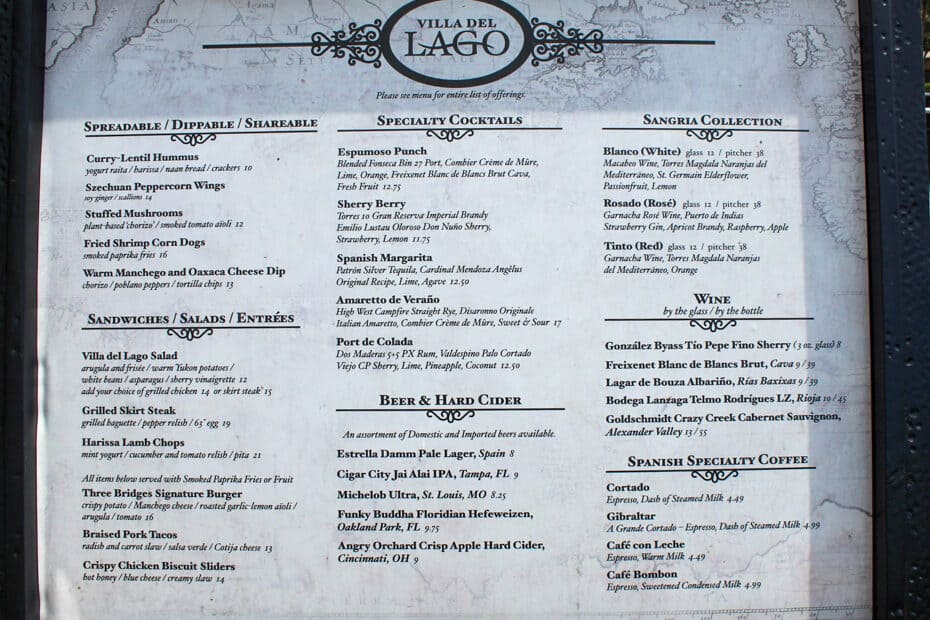 Three Bridges Bar and Grill is open daily from 4:30 p.m. until 12:00 a.m. Tables are available on a first-come, first-serve basis.
Here are a few of the appetizers listed:
Roasted Corn Dip
Warm Manchego Cheese and Oaxaca Cheese Dip
Szechuan Peppercorn Wings
And a few entrees:
Braised Pork Tacos
Coconut Curry Chicken
Three Bridges Signature Burger
Poke Bowl with House-cured Salmon
You can preview the menu here on Disney's site.
Siestas Cantina
Siesta Cantina is one of my favorite restaurants at Coronado Springs. Siesta is located at The Dig Site and is open daily from 10:00 a.m. until 12:00 p.m.
The Dig Site is where you will find the resort's Lost City of Cibola feature pool, play areas, arcade, and this quick-service dining location. With so much to do here, there isn't any wonder it ranks at the top of our list for best pools at Disney World.
Siestas Cantina has bar seating and plenty of tables and chairs spread out around the area. The quick service is fenced-off separately from the pool area. Anyone visiting the resort is welcome to enjoy a meal here.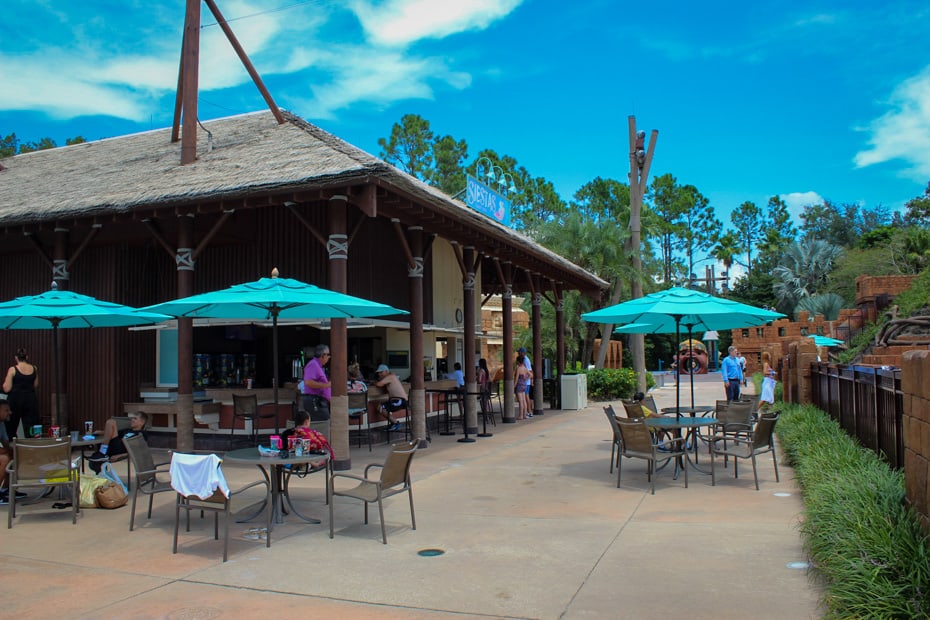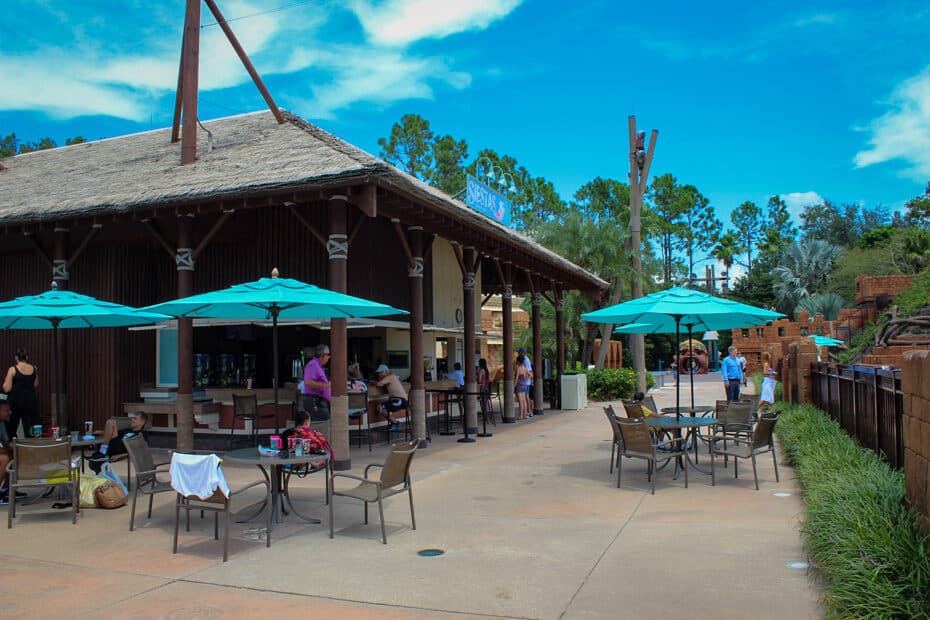 Free ice water is usually available at the bar.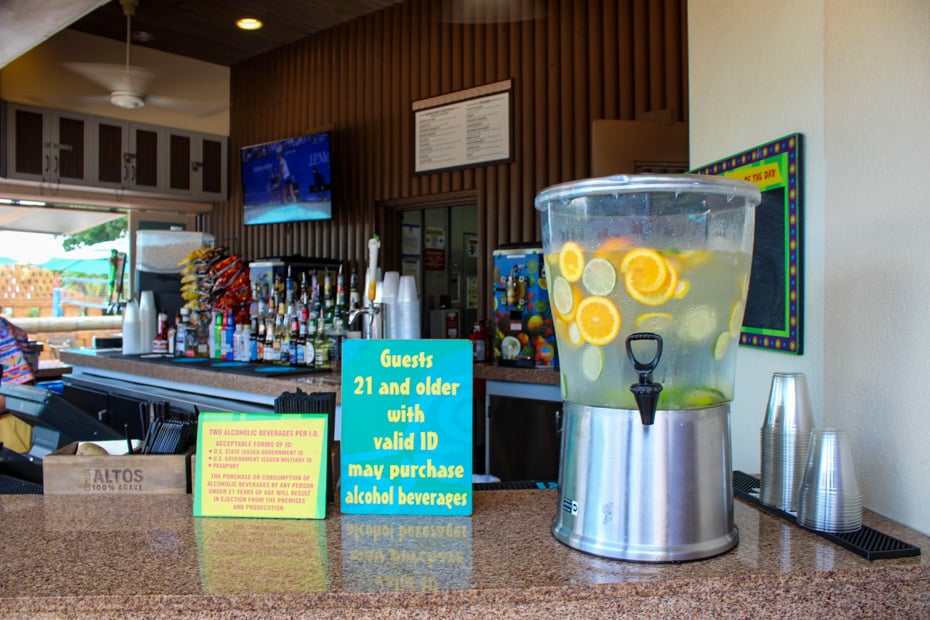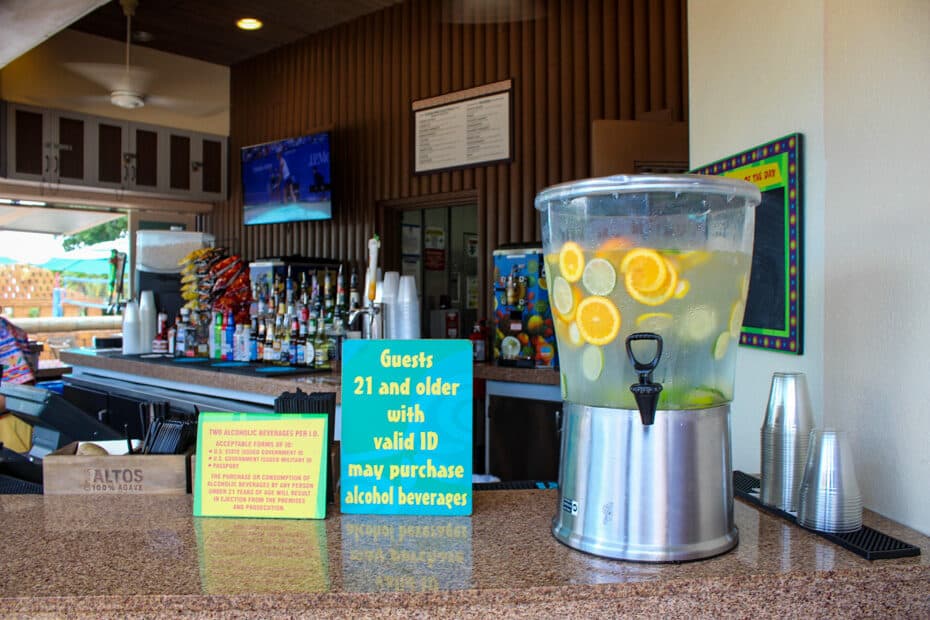 Siestas is a favorite because of its menu offerings. They have unique items, including fish tacos, a Kale Power salad, and a specialty hot dog, among other things.
Preview any menu updates here on Disney's site.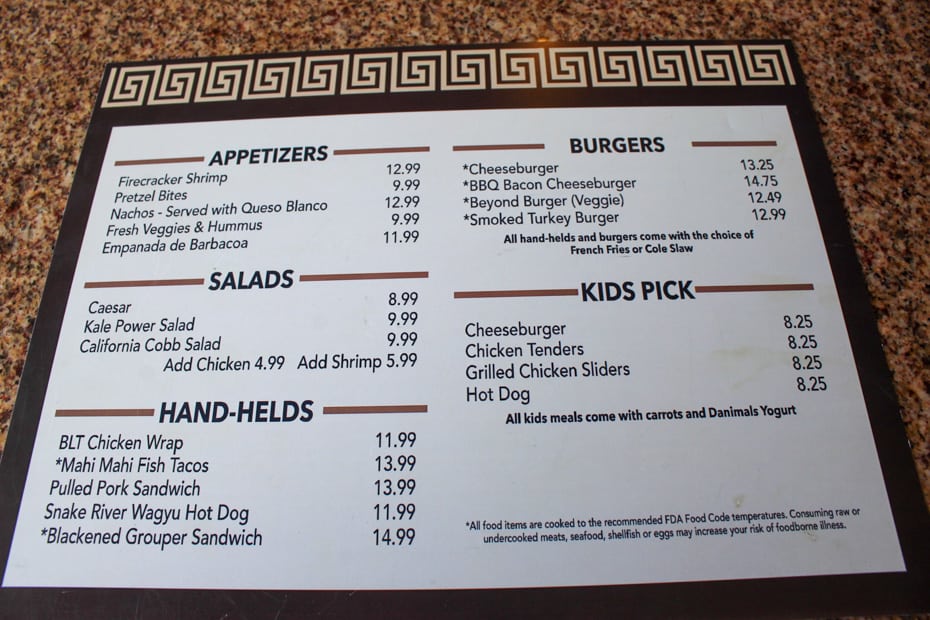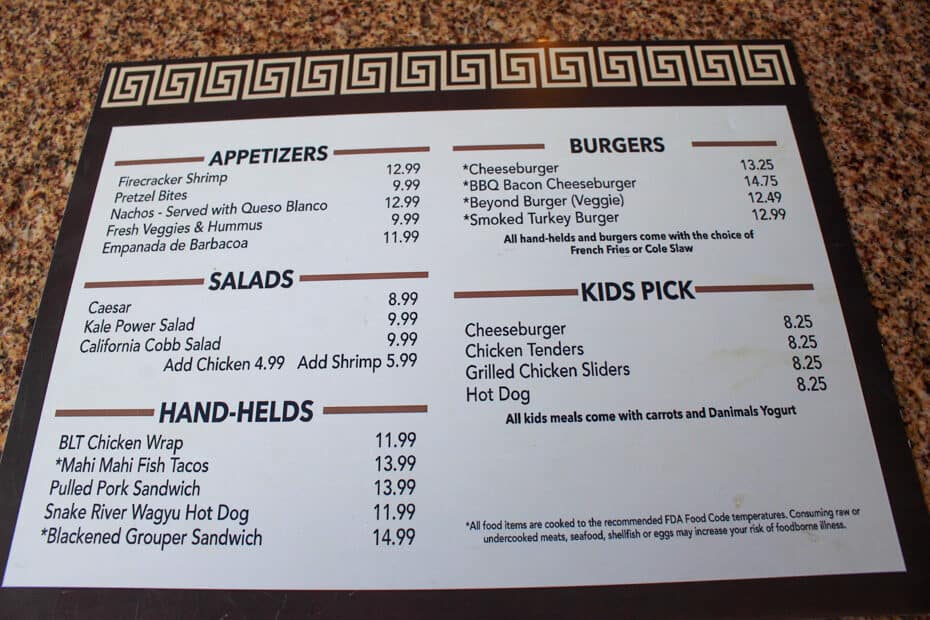 You'll also find a variety of cocktails and beverages.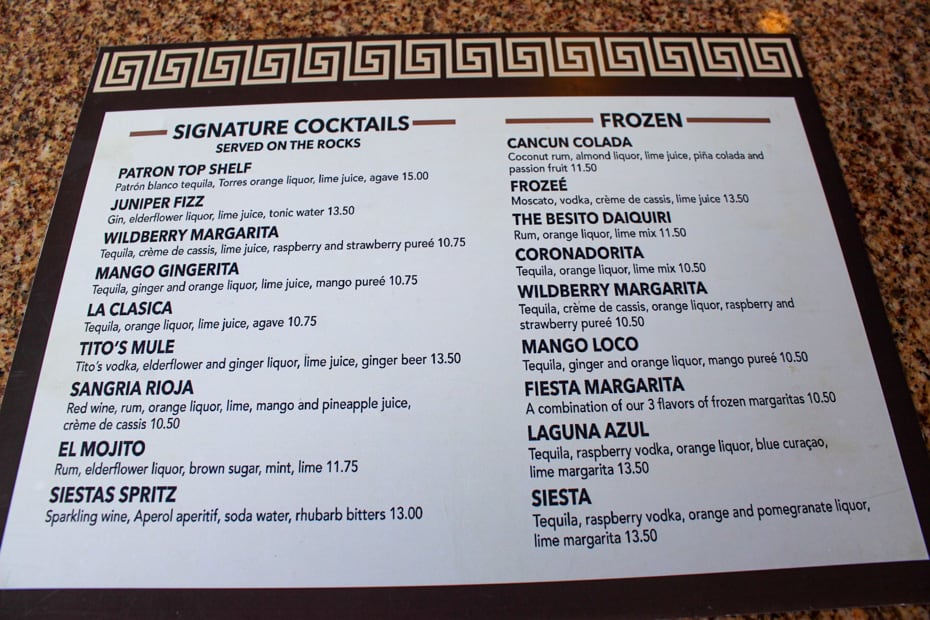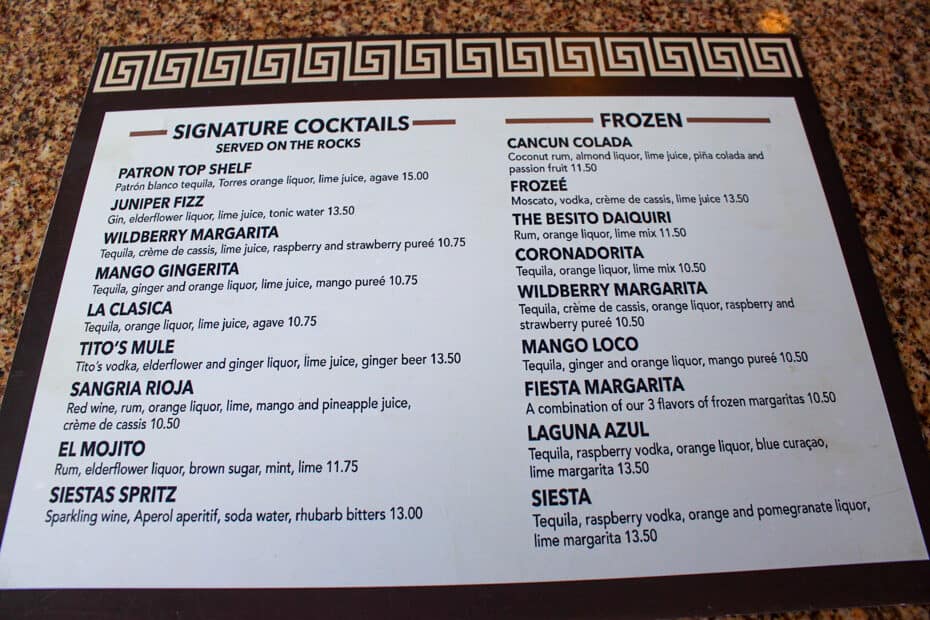 On several occasions, I've enjoyed the fish tacos at Siestas. It's my go-to order because the tacos are delicious and somewhat healthy.
Minus the fries in the background, of course.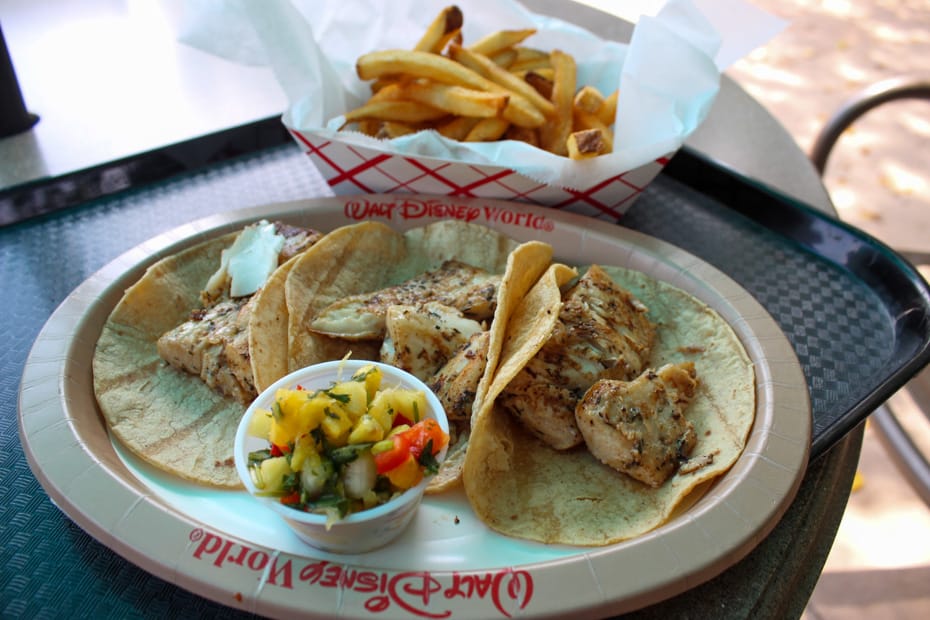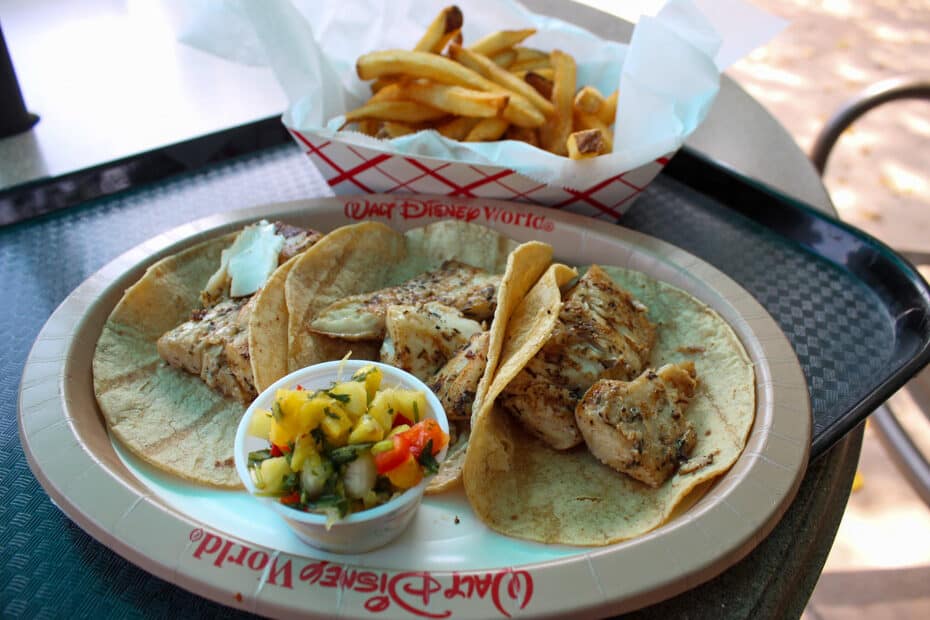 As you can probably see, this order comes with a nice-sized portion of fish.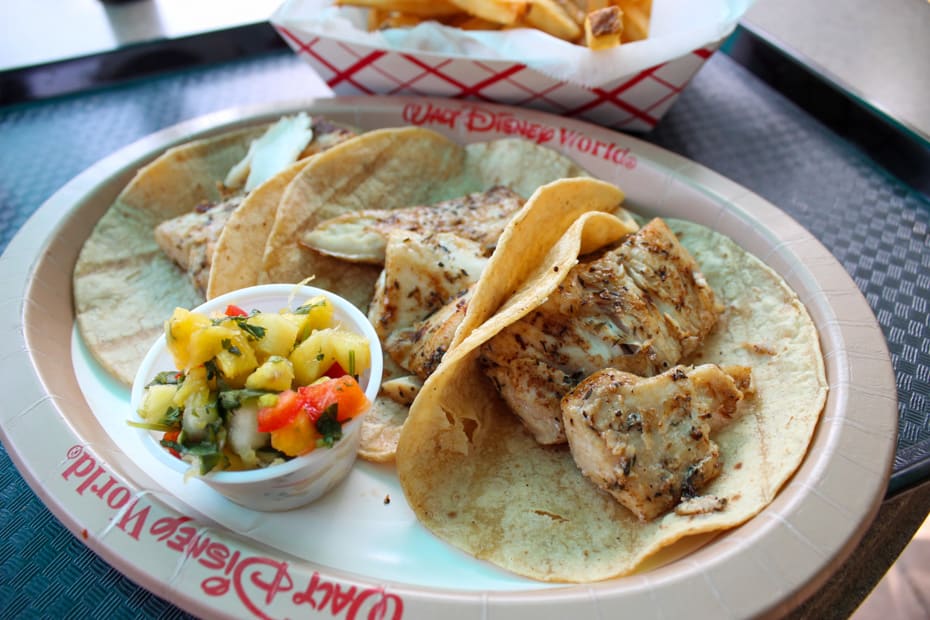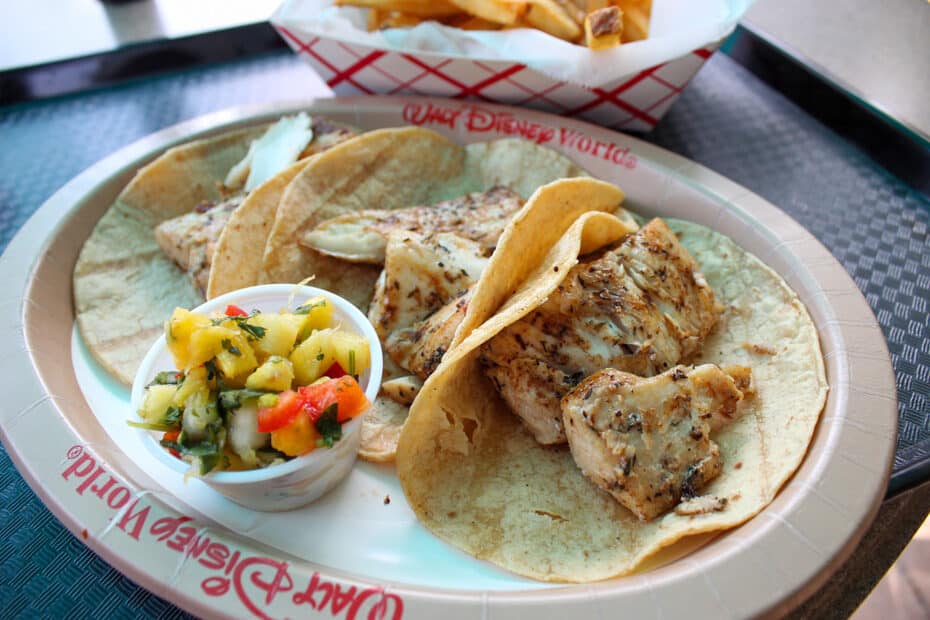 So if you're staying at the resort and would enjoy an alfresco meal, don't forget Siestas Cantina.
Laguna Bar
Finally, our last formal stop for restaurants at Coronado Springs is Laguna Bar. The bar is located on the waterfront directly behind El Centro.
Laguna Bar is open daily from 5:00 p.m. until 11:00 p.m. They offer Disney's standard cocktail menu along with a few signature drinks.
Below the bar area, there's a lovely sitting area that faces out to Three Bridges Bar.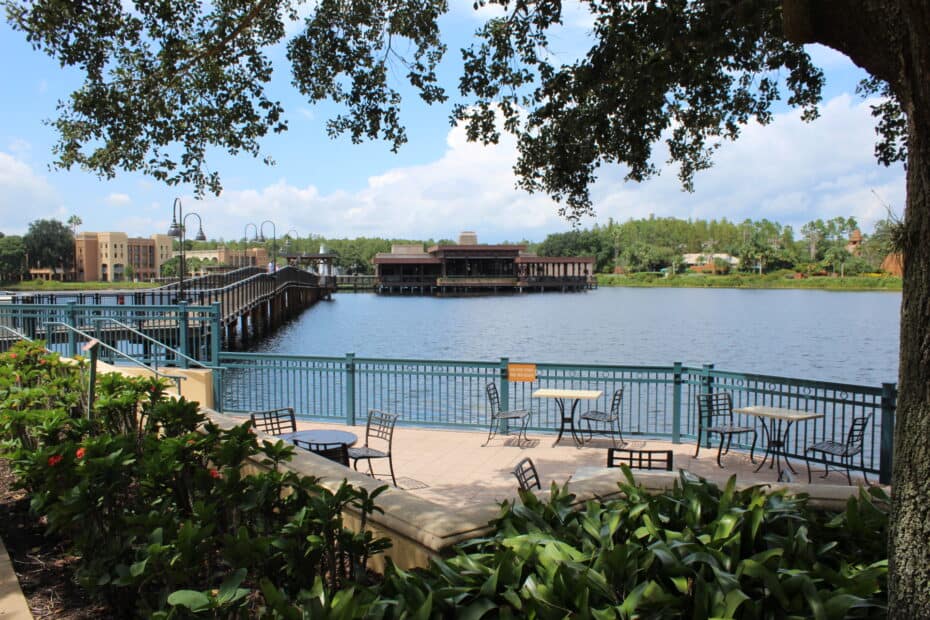 It's the perfect place to enjoy a break, preferably around sunset. Maybe there will be someone waiting to hand you a refreshment when you finally come home.
Or maybe just bottled water at the end of a long jog. That doesn't sound too bad.
Sangria University
Lastly, we'll briefly discuss a dining experience offered at Coronado Springs. Sangria University is held on Saturdays and Sundays and lasts for 90 minutes.
The experience cost is $90.00, and advanced reservations are required. You can make those reservations in the My Disney Experience app.
Guests must be 21 years or older or accompanied by an adult 21 years or older. Any guests who are not 21 years or older will be charged full price and provided with a non-alcoholic flight of beverages.
A professional will be at Sangria University to discuss several recipes for making sangria. In addition, guests will receive four tastings of sangria accompanied by a light appetizer.
You will also be able to make your own sangria with select fruits and spirits offered. For full details about this experience, try here.
Final Thoughts on the Restaurants at Coronado Springs
Coronado Springs has tons of restaurants. So many that it can become challenging to decide where to allocate your resort time when it comes to dining.
My best advice is to pick a few of these locations and add them throughout your trip. One of the nice things about having so many restaurants nearby is that you can plan a full day at the resort and never have to leave.
There are so many resorts that guests plan a resort day at the pool but then head to Disney Springs for dinner. You don't have to do that at Coronado Springs.
Related: Best Disney Springs Restaurants
For more information about Coronado Springs, all of our articles related to the resort are listed here. Or you might enjoy the following:
Additionally, you might enjoy our list of Disney Restaurant Reviews. And here is a list of our other resort dining guides.
In the comments: Have you tried any of these restaurants at Disney's Coronado Springs? Did you find this restaurant guide helpful?
Planning a Walt Disney World or other Disney Destination vacation?
Our friends and travel partner, Firefly Travels, excels at doing Disney differently. You can fill out a plan your trip form on their website, and someone will reach out shortly to discuss the specifics.