Meet Merida at Magic Kingdom (From 'Brave')
In this article, we visit Magic Kingdom to meet Merida from the Disney and Pixar film 'Brave.' Merida meets daily at Magic Kingdom in the Liberty Square Enchanted Glade Gazebo.
Merida, a Scottish princess once turned bear, is likely the most outgoing princess meet-and-greet at Walt Disney World. Formerly, she resided in the Scottish Highlands, aka Fairytale Gardens, near Cinderella Castle Magic Kingdom.
However, Mirabel from Encanto now meets at Fairytale Gardens. So, Merida has a new home in Liberty Square, minus her tapestry collection and whimsical décor.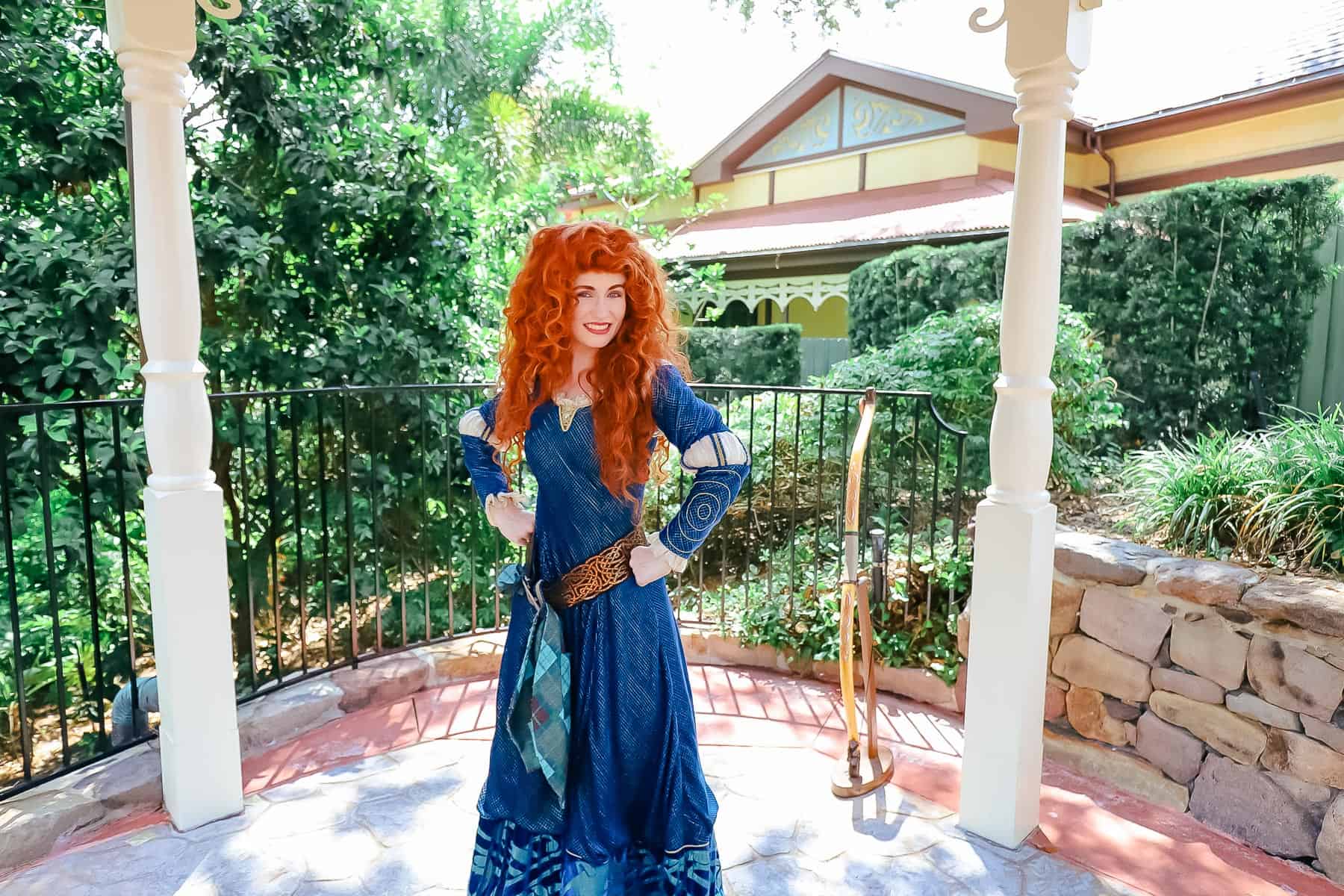 Merida at Disney World
This meet-and-greet at Magic Kingdom is the only place to meet Merida in Walt Disney World. She was formerly part of the Festival of Fantasy parade route. However, her float, along with the troupe of performers who accompanied it, has been missing from the parade for quite some time.
Occasionally, she takes part in the Adventureland Friends Cavalcade at Magic Kingdom. But her appearance is not guaranteed. Times for the cavalcade are listed in the My Disney Experience app.
Merida's meet-and-greet is a little off the beaten path. Being a princess from Scotland, her location in Liberty Square seems a bit unusual. However, it's pretty shaded. So, it's not the worst place for an entirely outdoor meet-and-greet.
The Enchanted Glade Gazebo sits immediately behind Ye Olde Christmas Shoppe. A few picnic tables are scattered around the area. The entrance to the Gazebo sits behind a large mound of shrubbery. So it's a little challenging to see.
Over the years, many characters have met at this location. So, if you've visited previously, you might be familiar with the area. Princess Tiana met here for quite some time before moving to Princess Fairytale Hall, where she now meets with Rapunzel.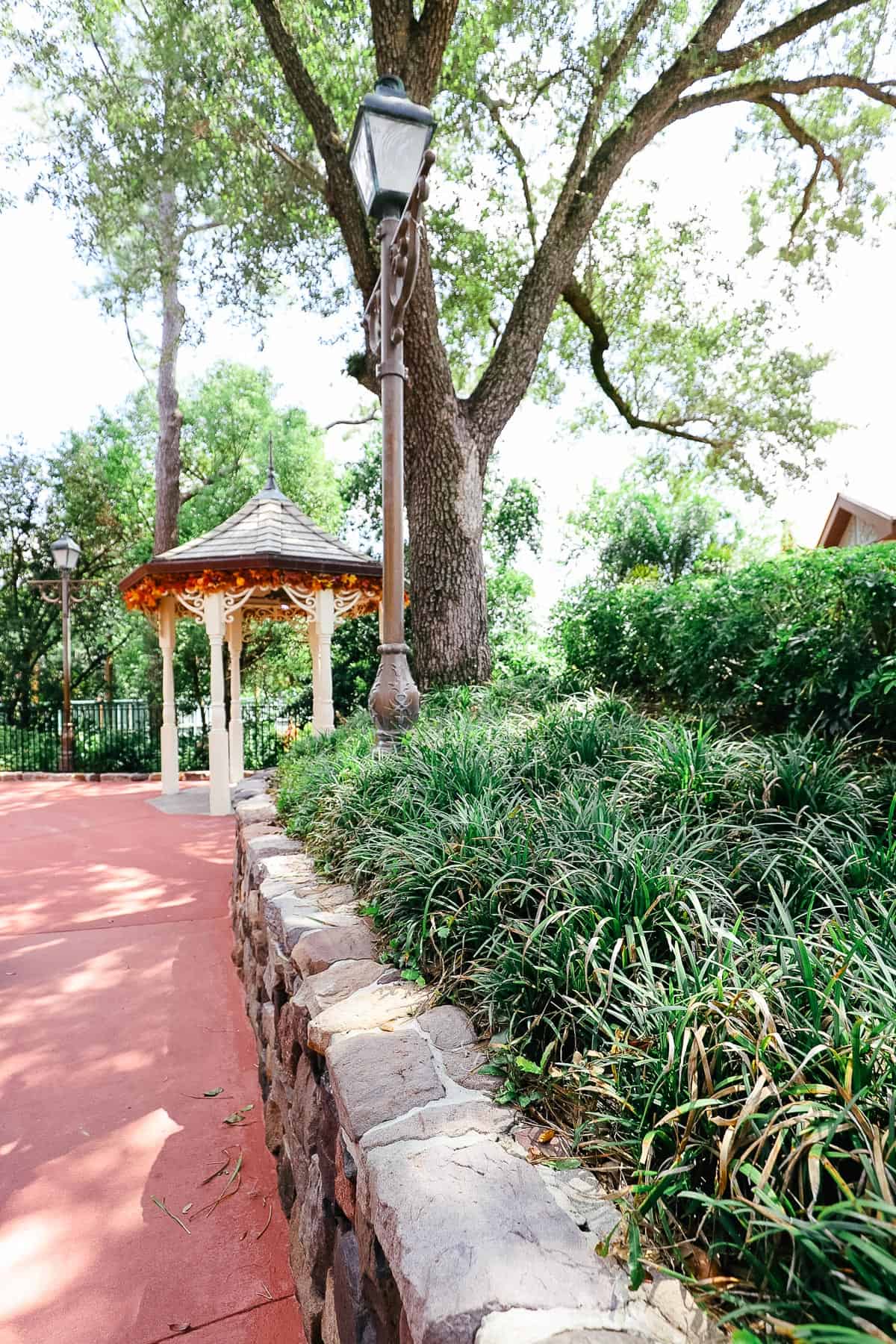 Merida is a popular princess. As a result, it's not uncommon to see long lines form well before her meet-and-greet times. She usually meets intermittently between 10:00 a.m. and 3:00 p.m. You'll want to check her exact times in the My Disney Experience app on the day of your visit.
On the day of this visit, we got in line at 1:35 p.m. for her next listed meet-and-greet time at 1:45 p.m. When we arrived, a few people were already waiting. Merida didn't arrive until 1:50 p.m. It was approximately 2:00 p.m. when we met her.
While we waited, I noticed a pretty significant line had formed behind us. So, after meeting Merida, I went back around to see how many guests were waiting. They had already closed off the area due to the line that had formed.
We try to stress this situation in most of our character meet-and-greet articles. If meeting a character is important to you, get there and join the line in advance. When the line is cut off, you no longer have an opportunity to join unless the character is meeting again that day.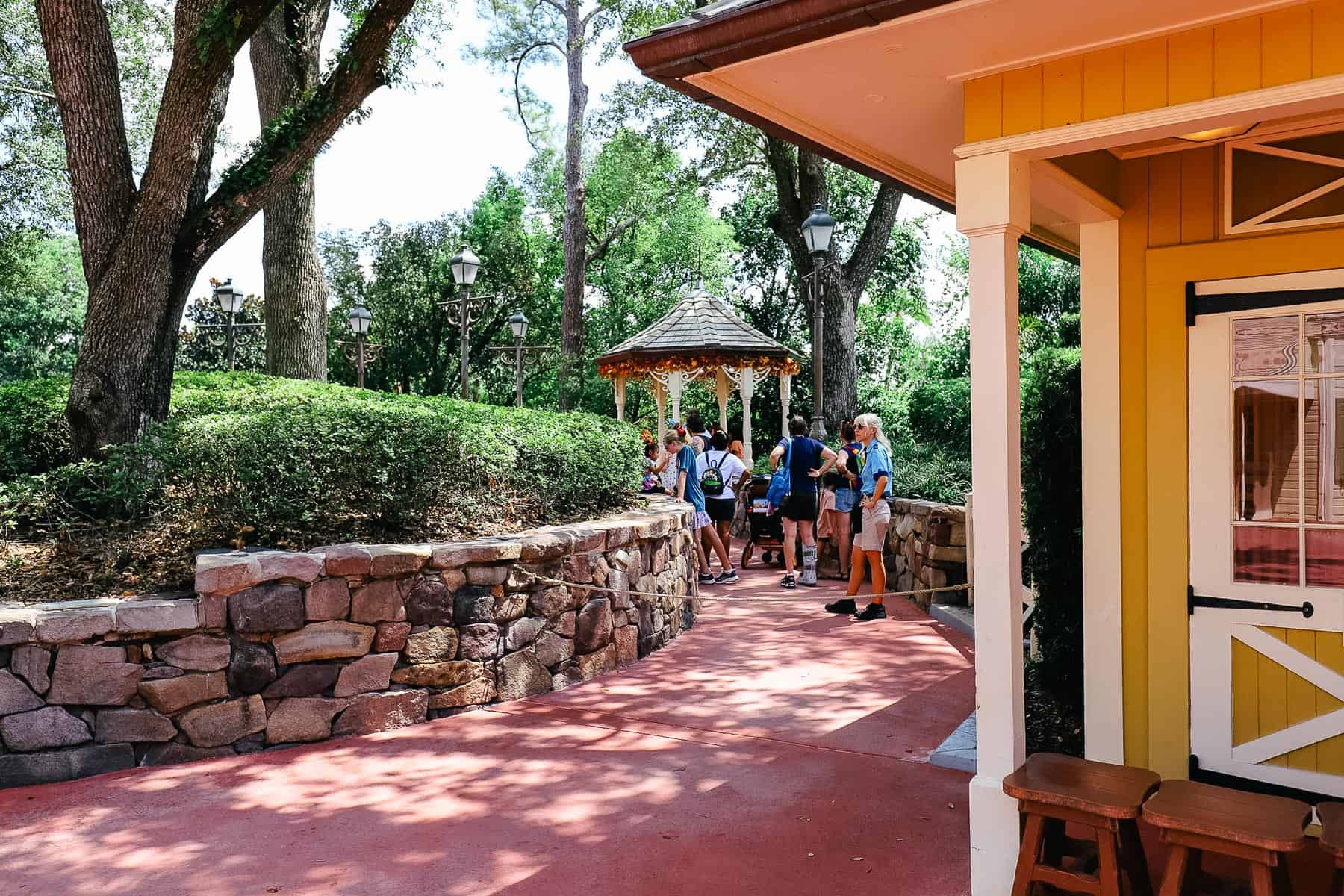 Merida meets under the Enchanted Glaze Gazebo. Cast members ask that you stay in the line until she comes to greet you. This allows each guest to collect their things and leave the area.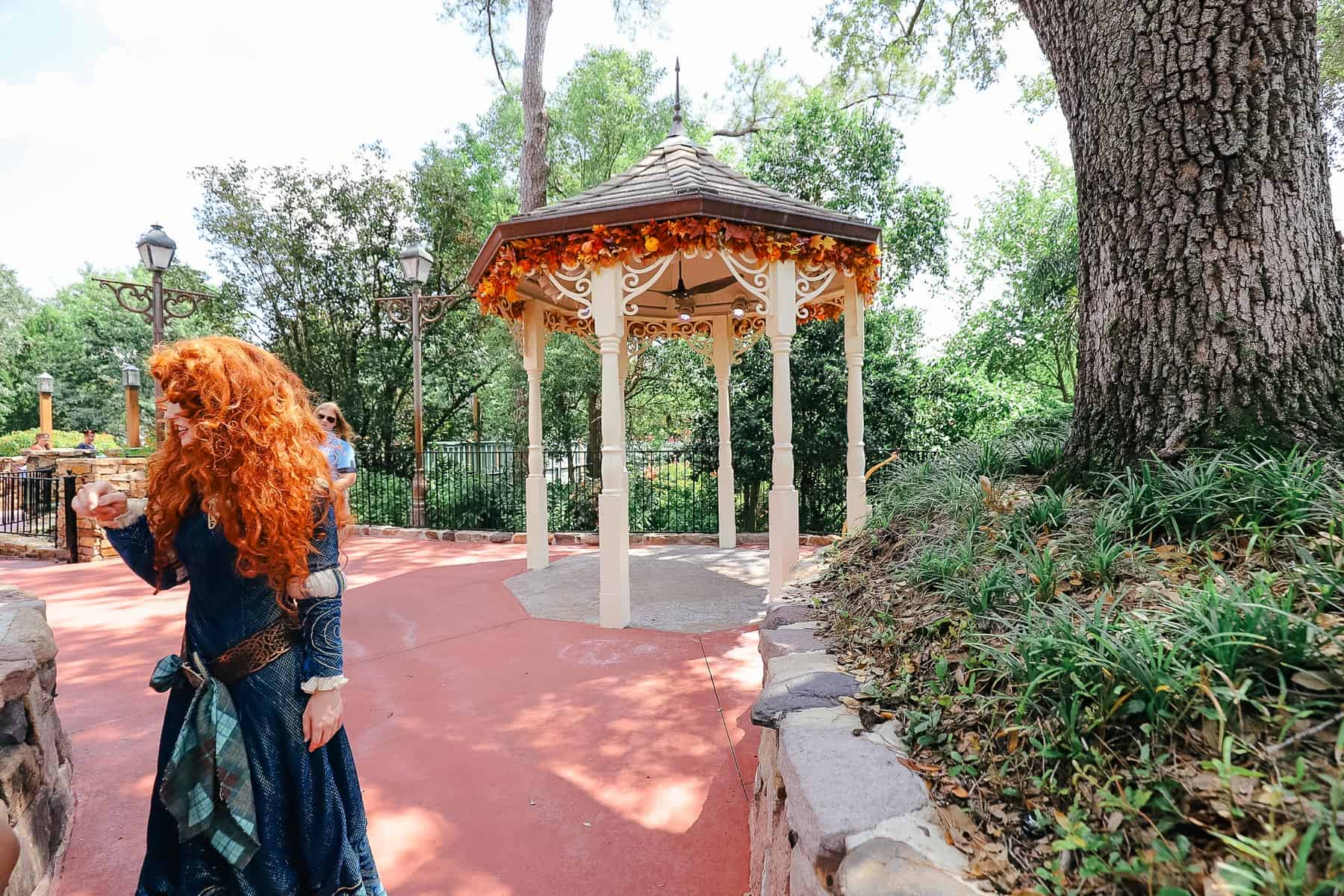 Then Merida will greet you and walk with you up to the Gazebo, where you can visit with her. Often, a PhotoPass photographer is available at this location. However, it is not guaranteed.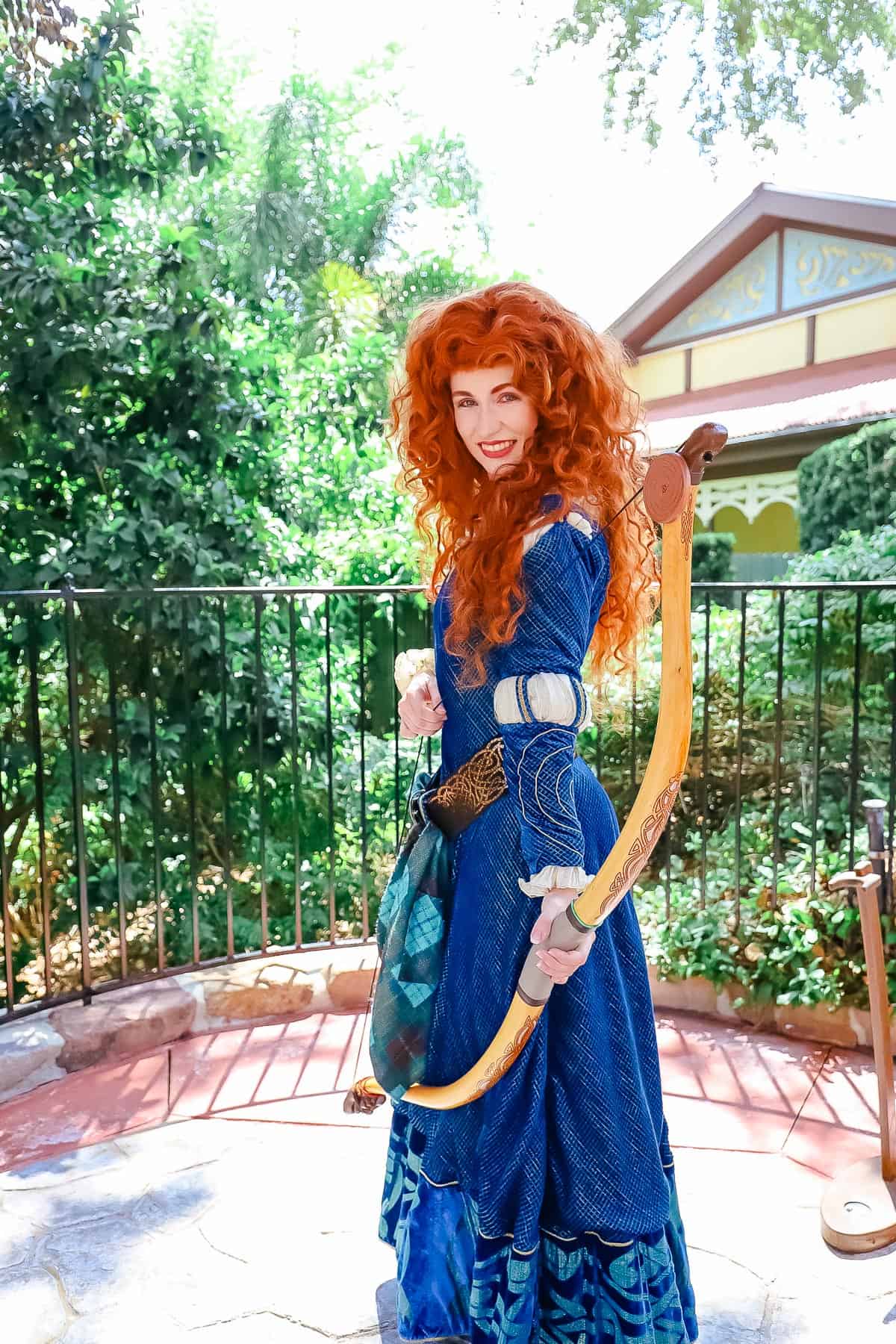 Merida stays in character, Scottish accent and all. She enjoys talking about her brothers and the rest of her family. You might ask her about shooting a bow and arrow, her horse Angus, and other athletic games she enjoys.
The red-haired heroine enjoys archery and often has her bow and arrow nearby. Unfortunately, she no longer has her archery targets at this location.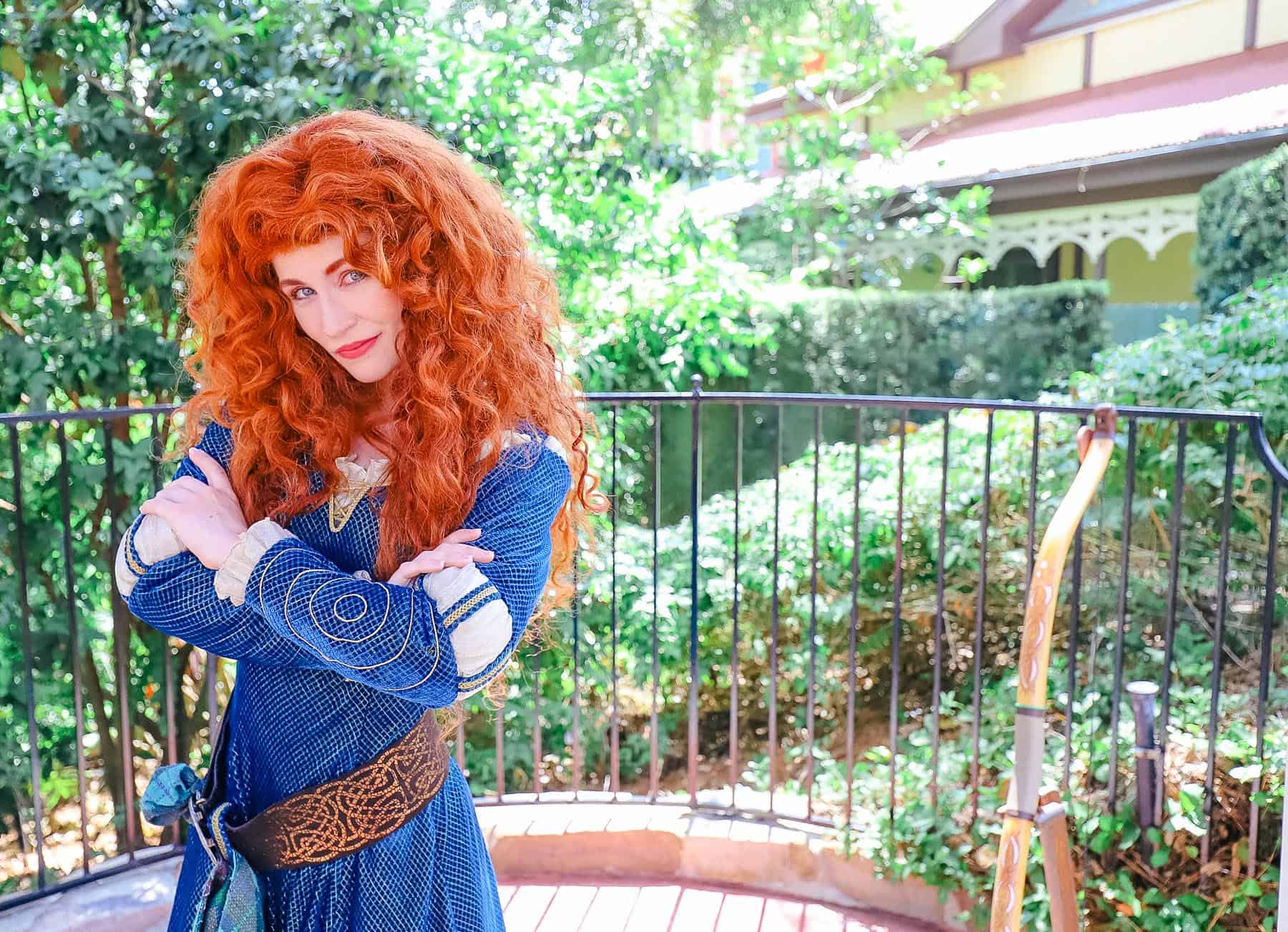 Merida is an autograph-signing character. So have your autograph books out and ready in advance.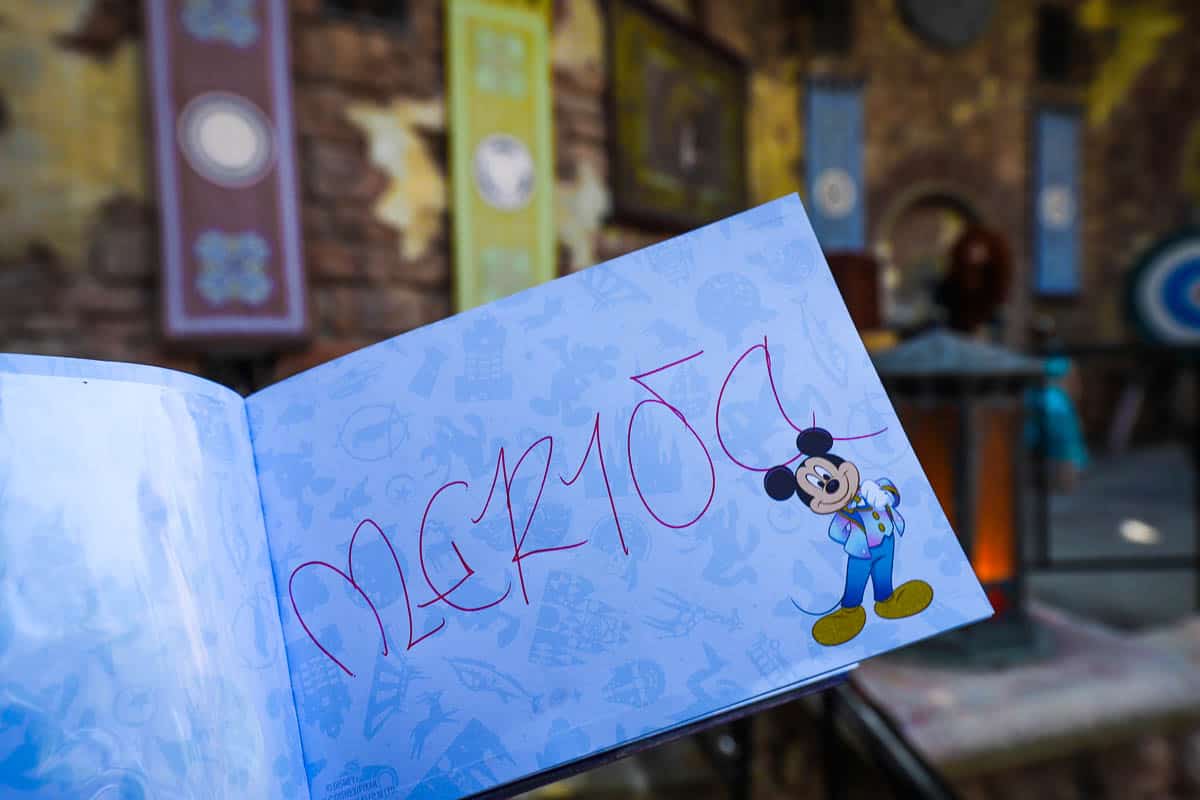 Ultimately, Merida is an excellent character who often commands long waits. Don't forget to check her times in the My Disney Experience app on the day of your visit. (The app will also list if any locations have changed. This location may change because it's often used for special meets over the holidays.)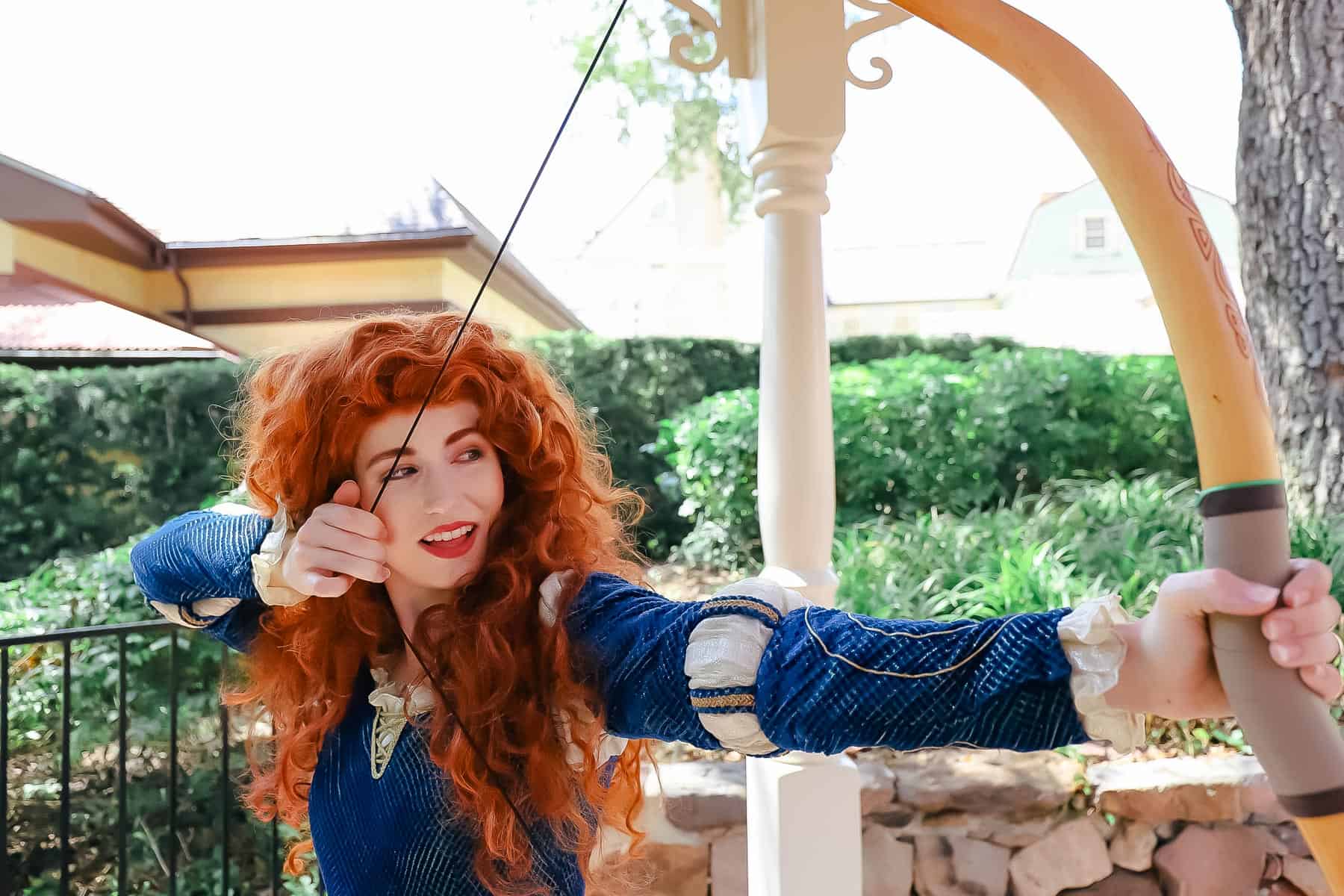 For more character meets at Magic Kingdom, try these:
Or you might like to browse our seasonal party guides:
Lastly, we have an entire list of Disney World Characters.
Will You Meet Merida?
Do you plan to meet Merida on your Disney World vacation? Is she one of your favorite characters?