Kilimanjaro Safaris Review with Photos
"Come see nature in its wildlife on the Kilimanjaro Safaris at Disney's Animal Kingdom." That sounds like one of the many slogans you might find in Africa at Disney World's Animal Kingdom
Unfortunately, most of us probably haven't had a chance to take a "real life" safari in Tanzania. But that's one of the things that is so great about a visit to Animal Kingdom.
Kilimanjaro Safaris provides the opportunity to experience a safari-style ride that replicates the African landscape on a much smaller scale.
This article was updated on March 9, 2022.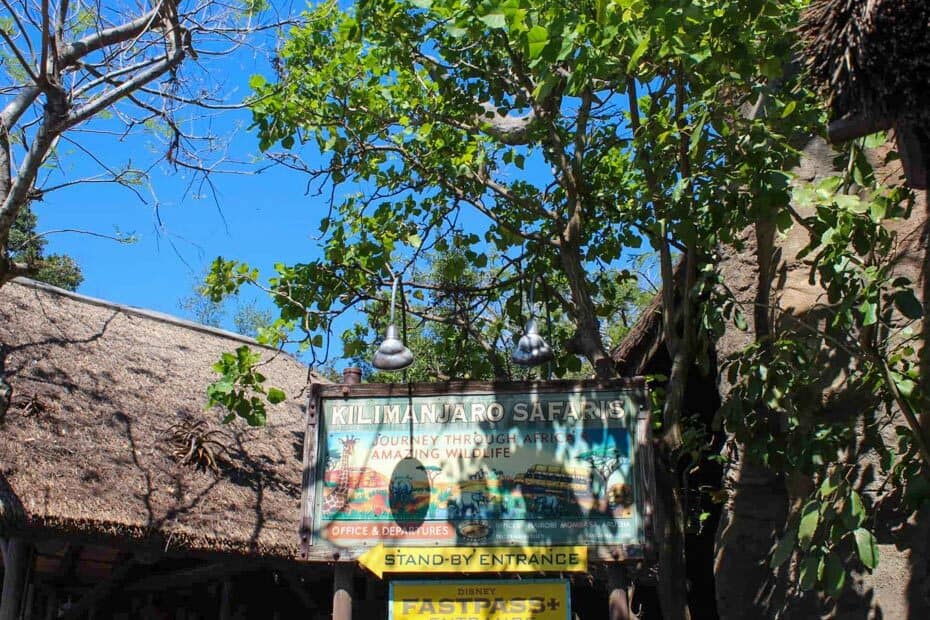 Here are a few quick reference details for the safari ride at Animal Kingdom.
Kilimanjaro Safaris
Animal Kingdom

Location:

Africa

Disney Height Requirement:

None

Disney Genie+ Eligible

Yes

Ride Type:

Safari

Seats Per Vehicle:

4-5 per row of the safari vehicle

Rider Switch at Disney:

None

Good For:

Everyone

Scare Factor:

None

Must-Do List:

High Priority

Perfect For:

Animal Lovers

Special Mention:

Try to do it at least twice! No two
safaris are alike.
Kilimanjaro Safaris Review
Kilimanjaro Safaris is located toward the Africa section of Disney's Animal Kingdom. It's an experience that I highly recommend riding at least twice on your park visit.
This review will look at the best times to ride the safari, Genie+ offerings, and what animals you can expect to see. Additionally, I will strive to answer a few frequently asked questions and throw in some extra tips toward the end of the post.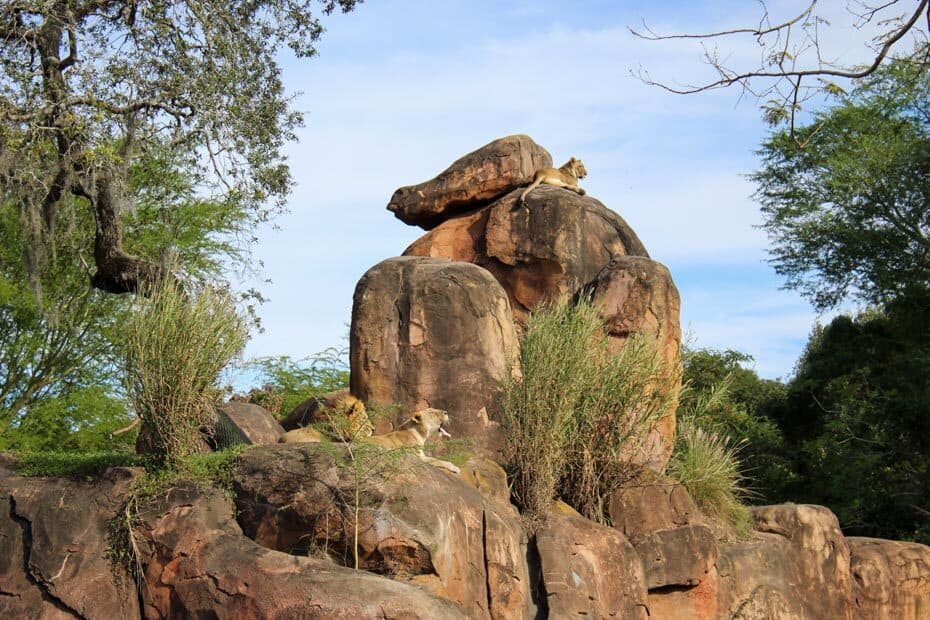 While you wait for your safari vehicle to head out on your excursion, you might notice some of the fun signage in the queue. For example, one sign indicates that Kilimanjaro Safaris offers an excellent opportunity to sharpen photography skills. Of course, the safari driver will also mention this as you enter the wildlife reserve.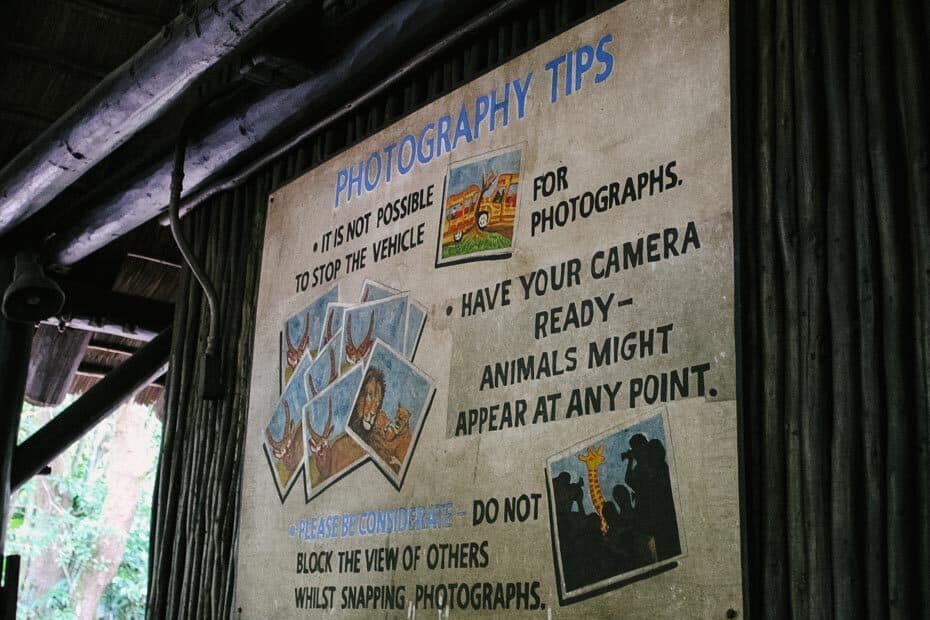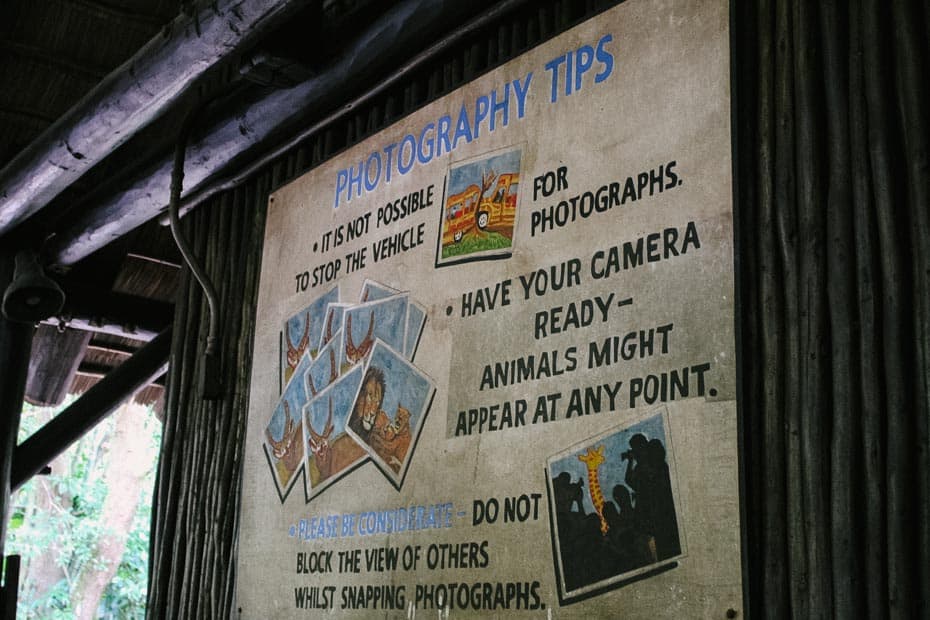 Here are a few things to remember:
The driver of your safari won't stop the vehicle for photographs. (If and when you do get to stop, take quick advantage of the moment.)
Have your camera ready and set it to a sports mode setting. The animals on Kilimanjaro Safaris are just as real and alive as the ones you would encounter in Africa. They are wild animals and some of the best shots might be action shots.
Try to remember to respect others and not block their views. There are a lot of children and on busier days they have to pack in the rows. This means everyone won't have the best view available.
If you have a zoom lens it might be more favorable for long-range shots. I haven't experimented a lot with this one because I really don't want to drag two lenses around the park all day. If you get the opportunity to see the cheetahs or lions out and about you will probably get a better shot with a zoom.
Here is a look at the loading area for Safaris.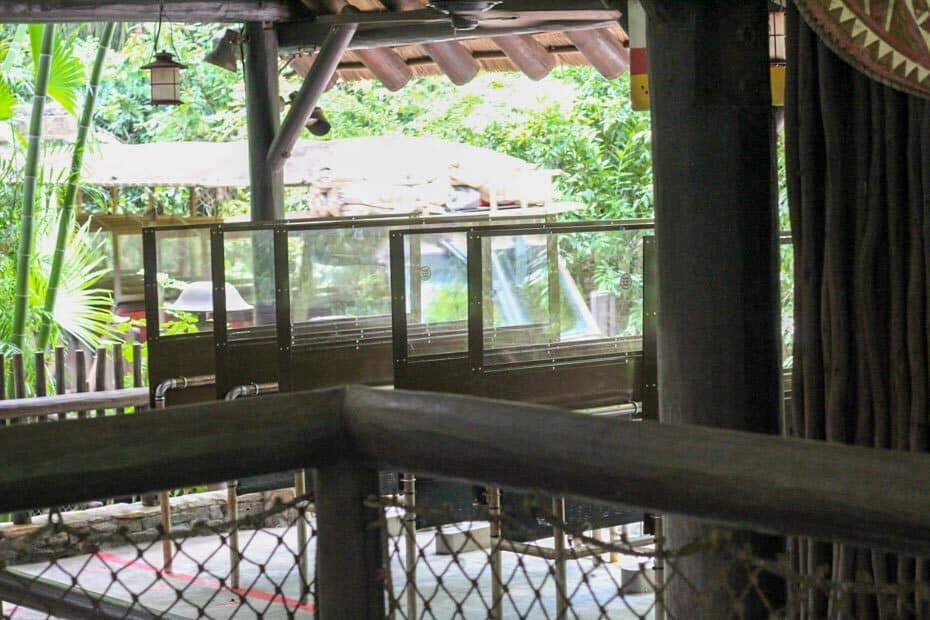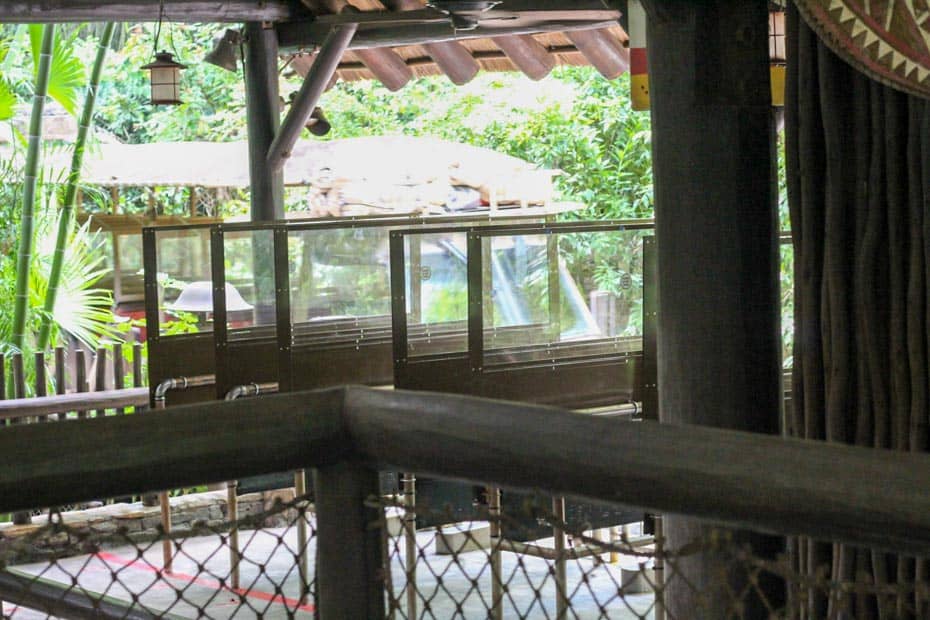 At least 34 species of animals call the Harambe Wildlife Reserve home at Disney's Animal Kingdom.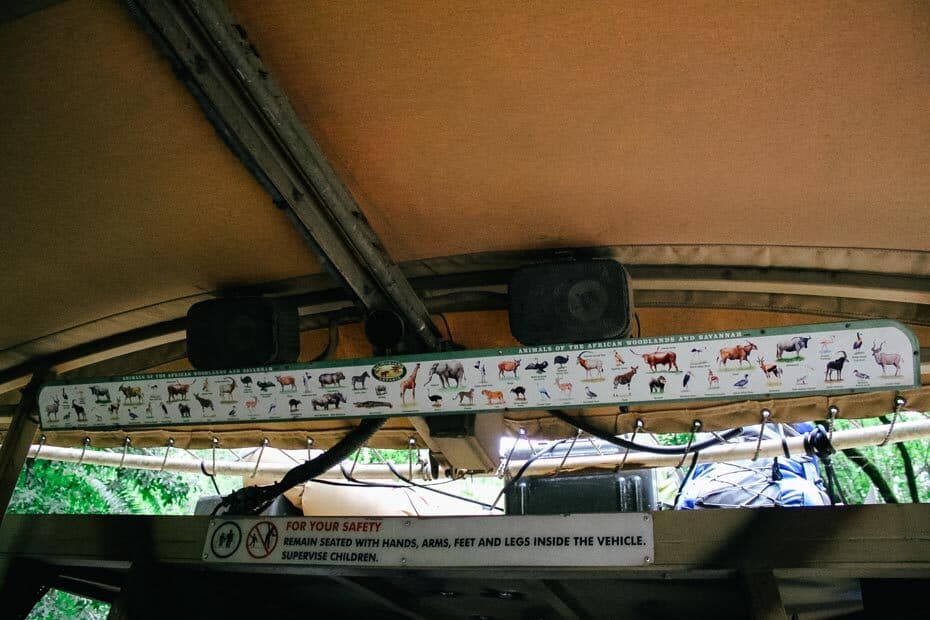 When you board your safari vehicle and take your seat, you might notice a sign up above. This sign lists the "Animals of the African Woodlands and Savanna" along with pictures to help identify some of the animals you might encounter.
The picture below shows where a safari vehicle has just entered the reserve ahead of our own.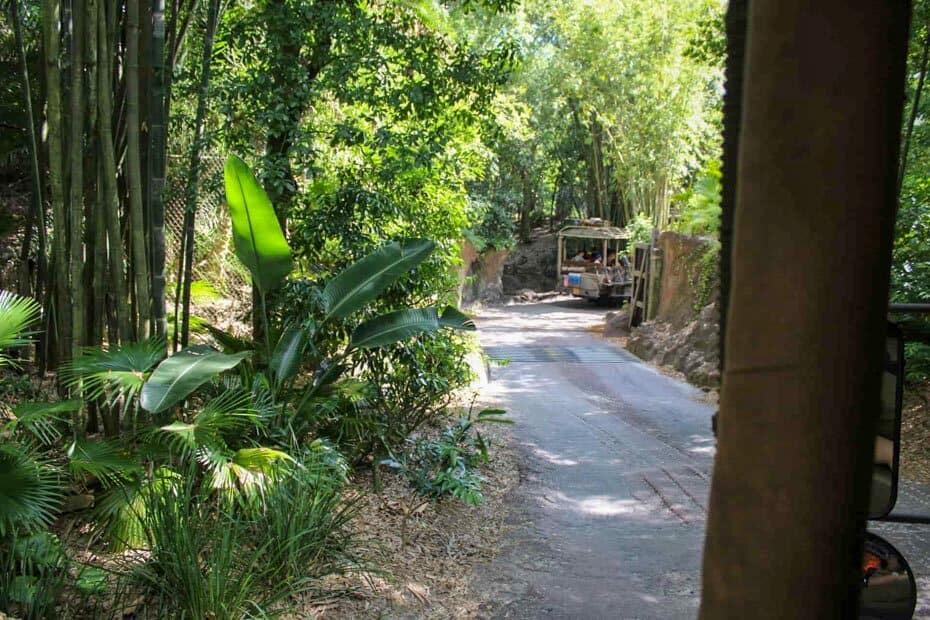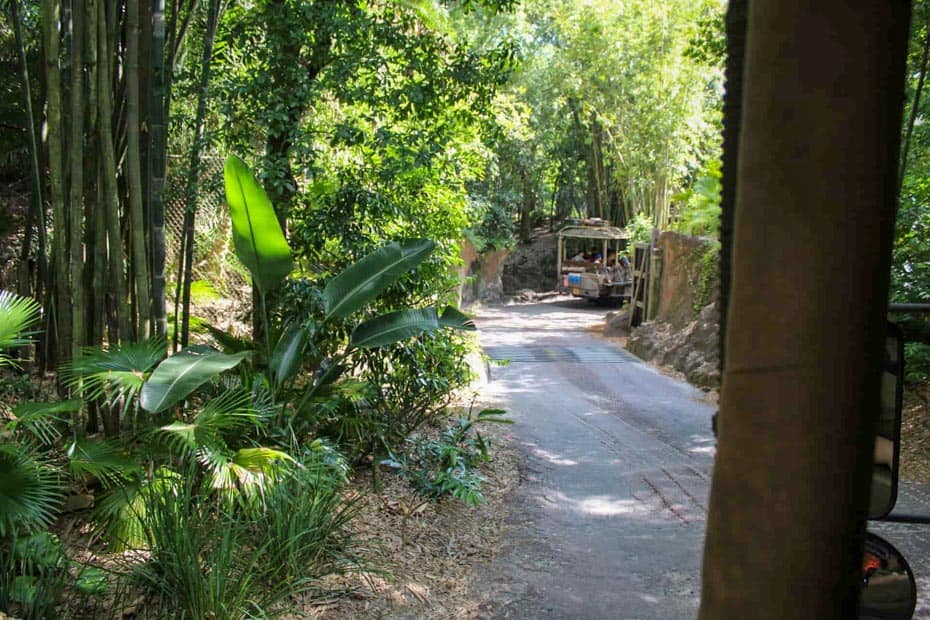 After entering the reserve gates, you might get a look at an Okapi. An Okapi is a beautiful animal that appears to resemble a zebra. Please don't get it confused, though, because of the size and striping. The Okapi is part of the giraffe family. This area in the picture below actually serves as a double viewing area.
You can't tell but on the opposite side of this Okapi is the Gorilla Falls Exploration Trail. Make sure to allow time for this trial in your schedule after you exit Kilimanjaro Safaris. It is full of animal encounters and unique scenery.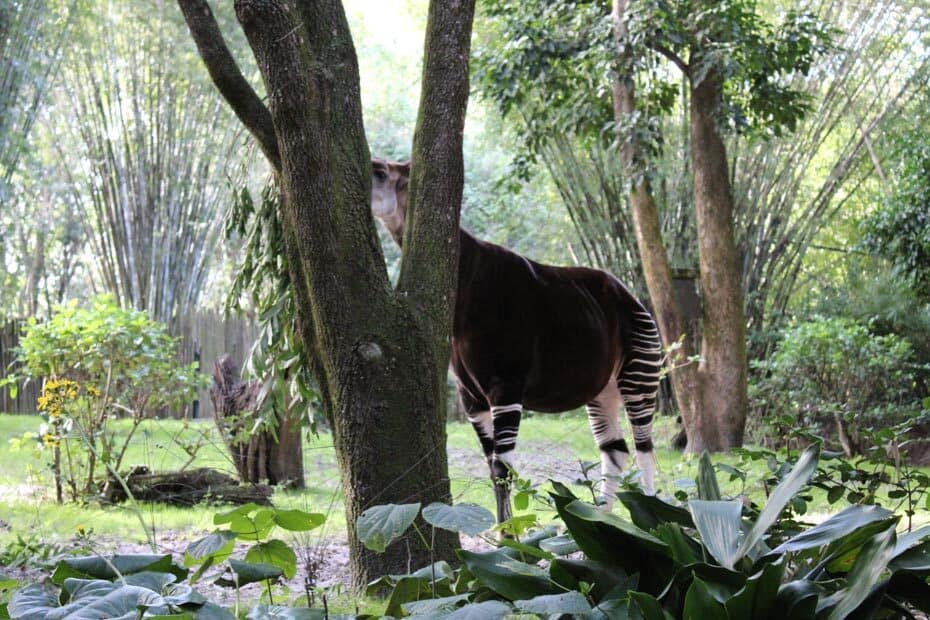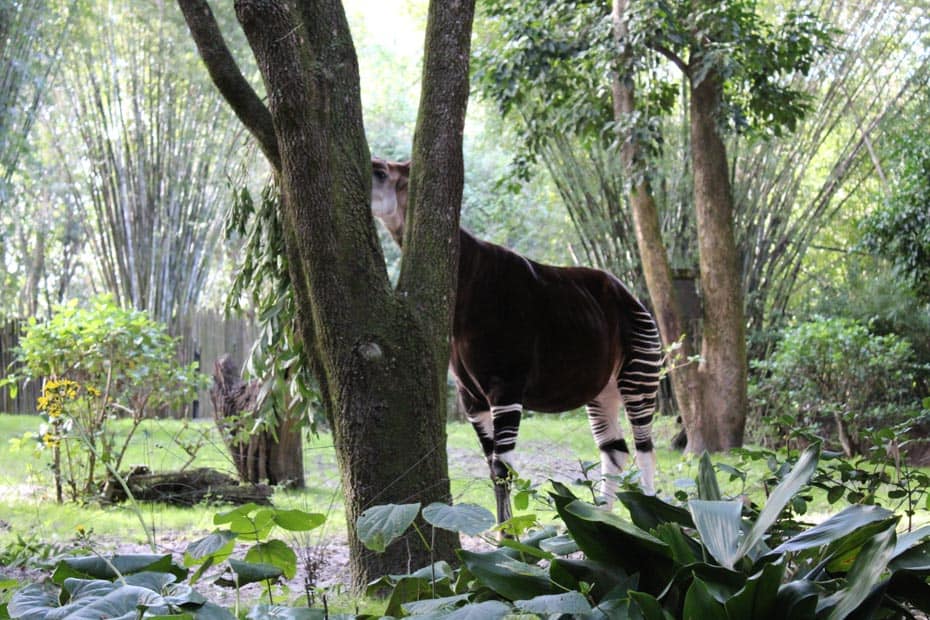 The Bongo is one of the first animals you will likely see on Kilimanjaro Safaris. Here is a look at one that was close to our vehicle.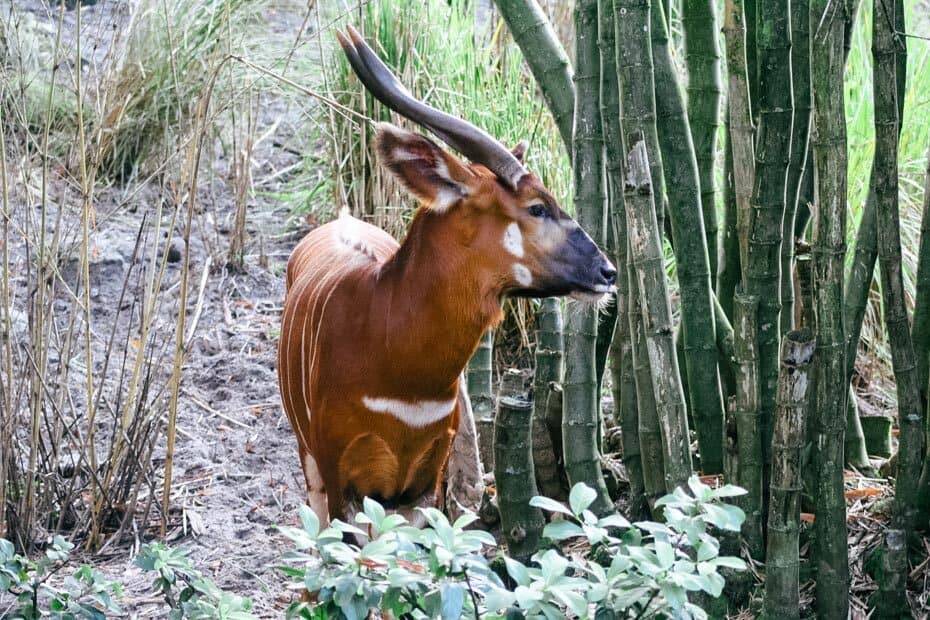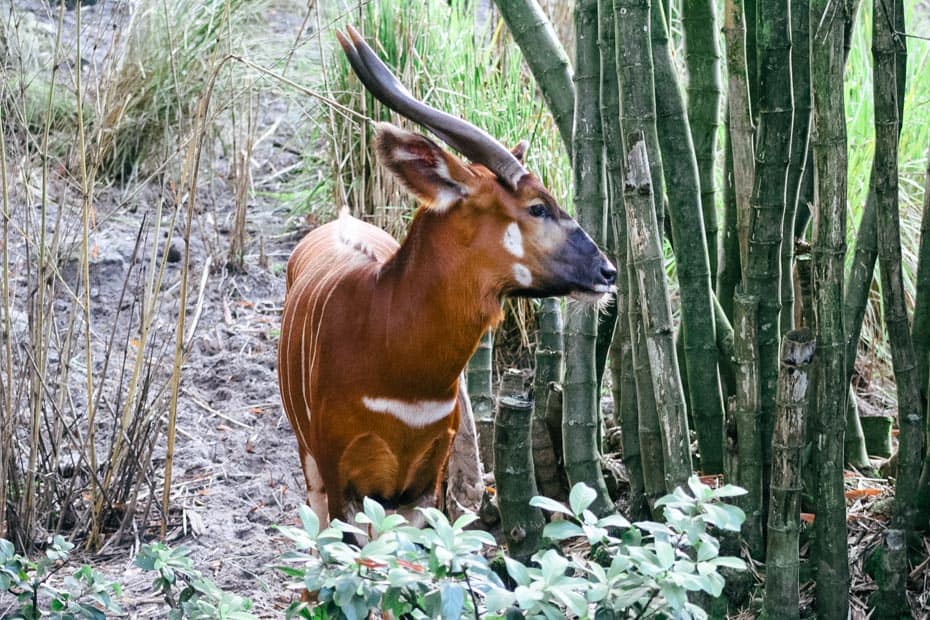 Another encounter closer to the beginning of Kilimanjaro Safaris is the Black Rhinoceros. It will be on the left-hand side.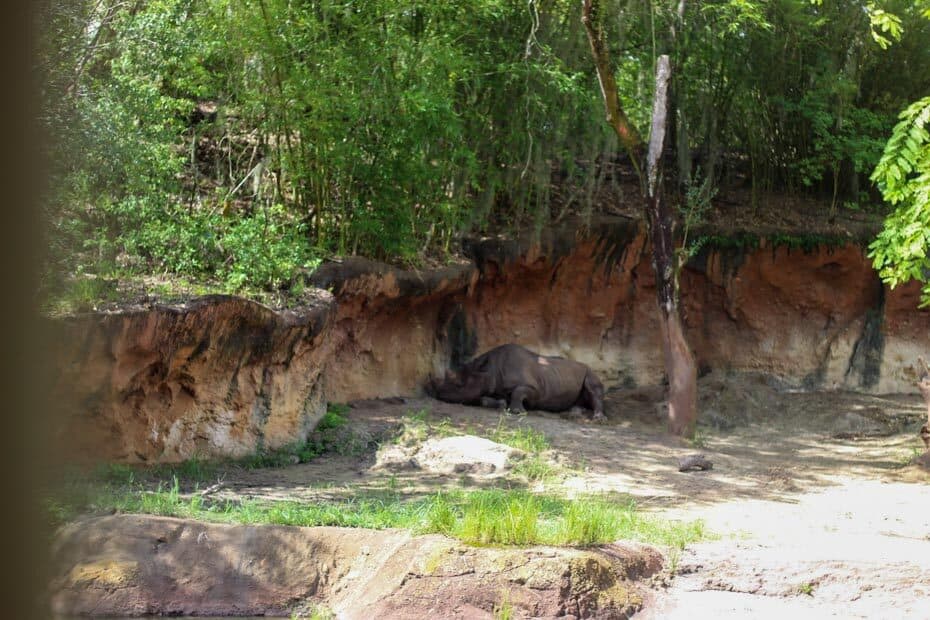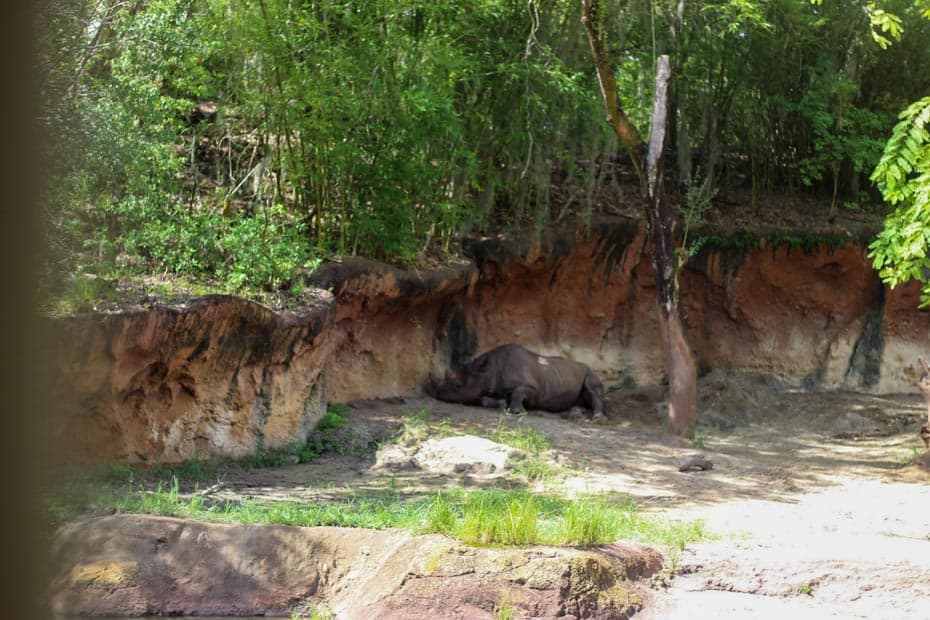 Usually, one or two of them are visible in the area. These rhinoceros are on the endangered species list. They are hunted and poached for their horns. The main, distinguishable difference between them and the white rhino is their hooked lips. It is said that there are only around 5000 left in the world.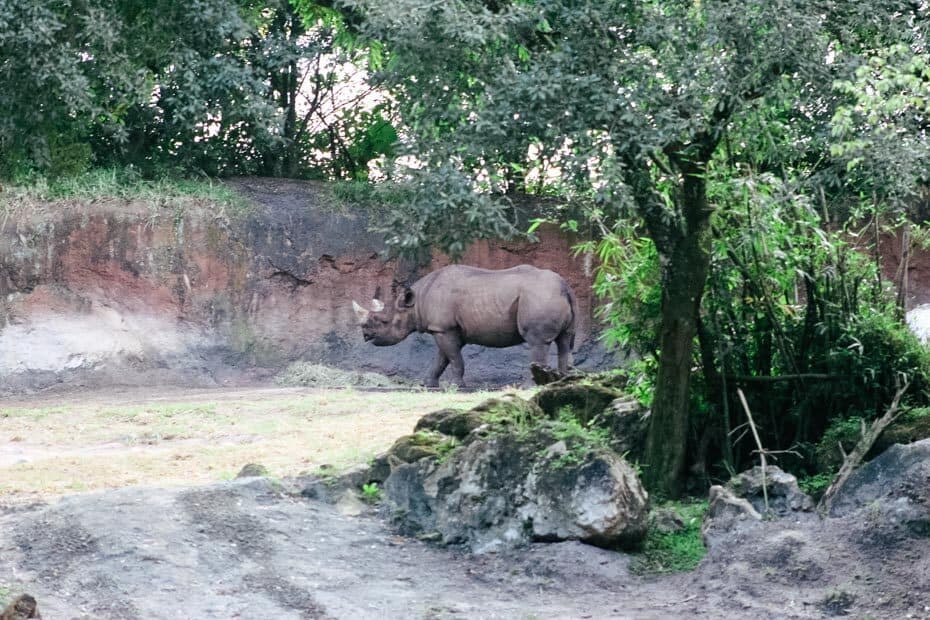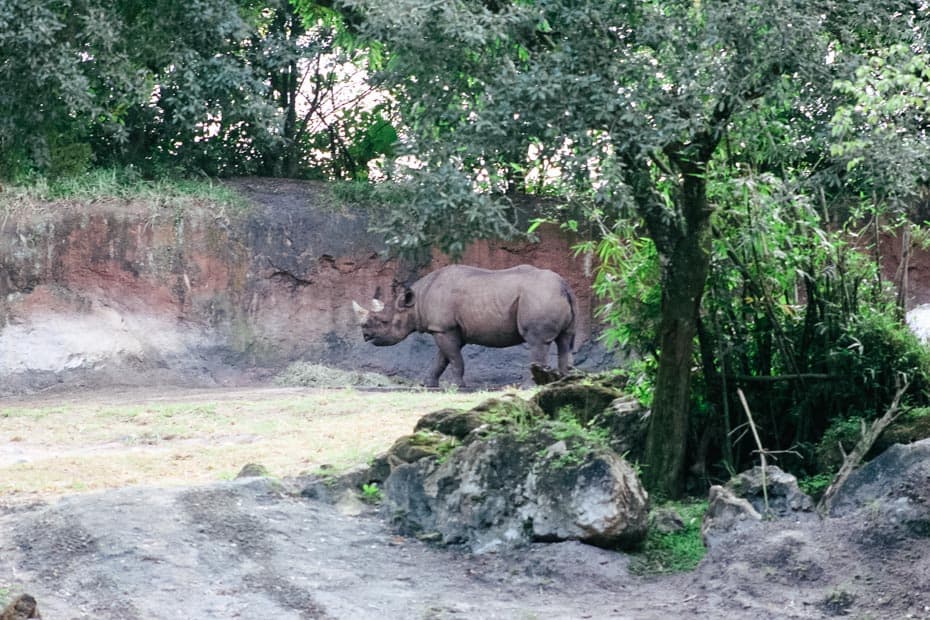 Soon you will find yourself peering into the waters of the Harambe Reserve, hoping to get a glance of bloat, which is a group of hippos hanging out together.
Here's one!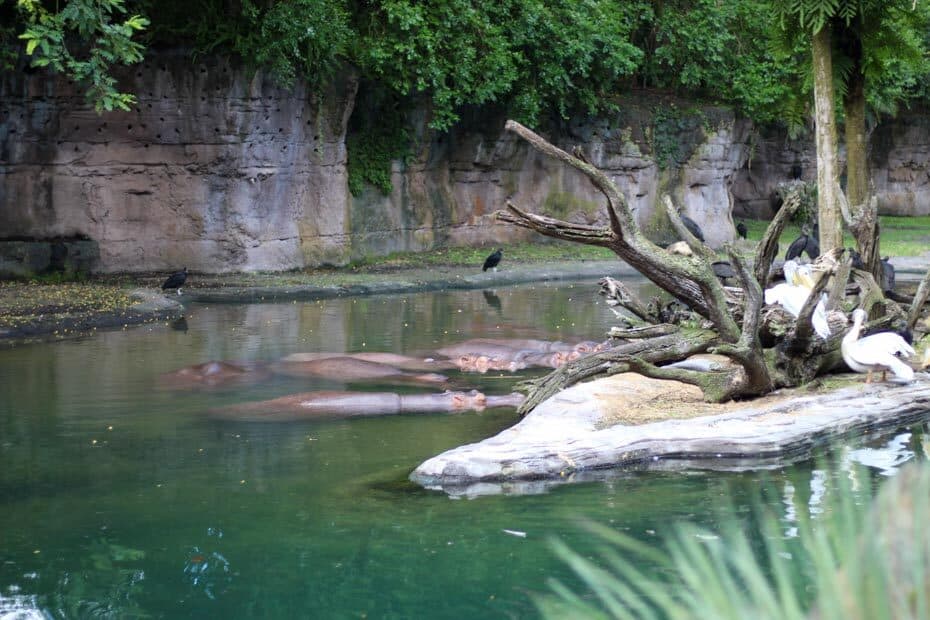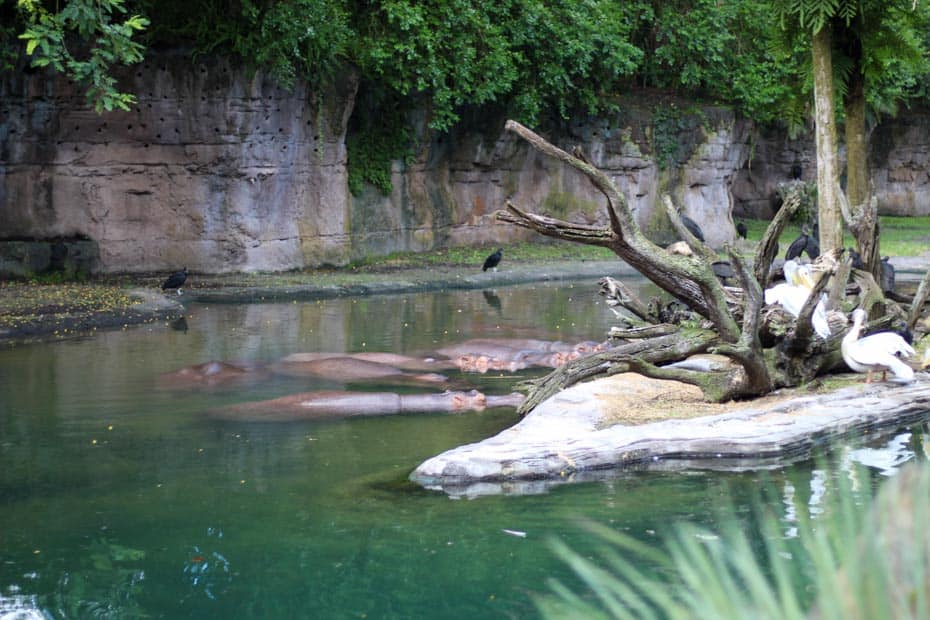 Additionally, you might see a few vultures in this area on the fence posts. If you see them like this with their wings spread out, they are probably sunbathing. That helps them keep their feathers healthy.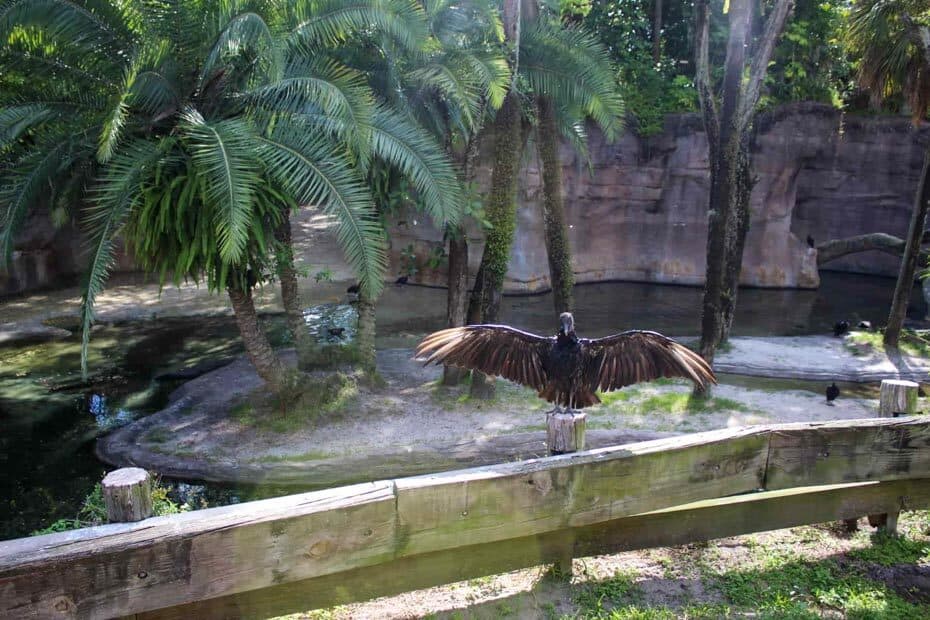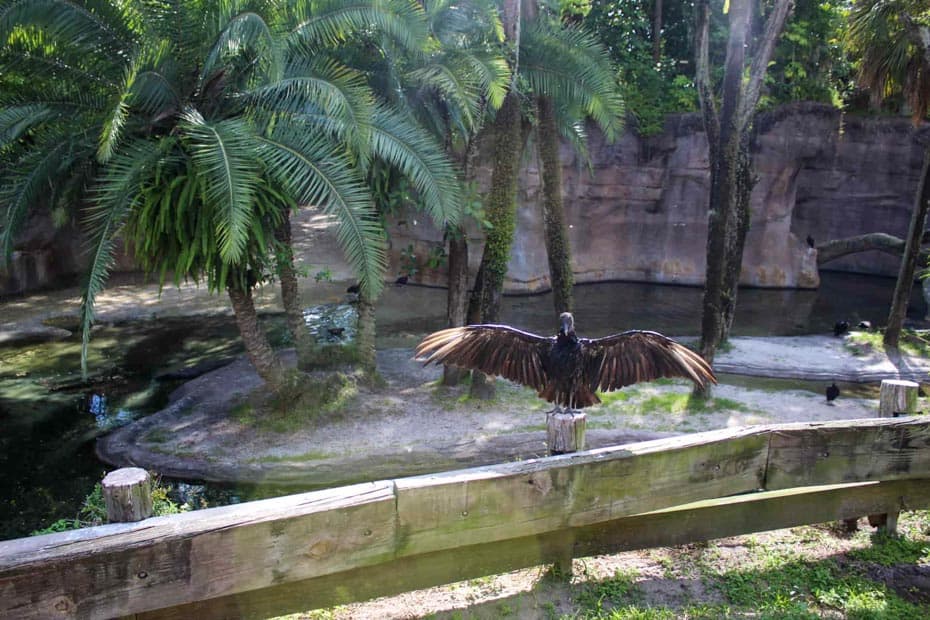 But don't get too distracted by the funny little vulture because if you look close, you will more than likely see a hippo!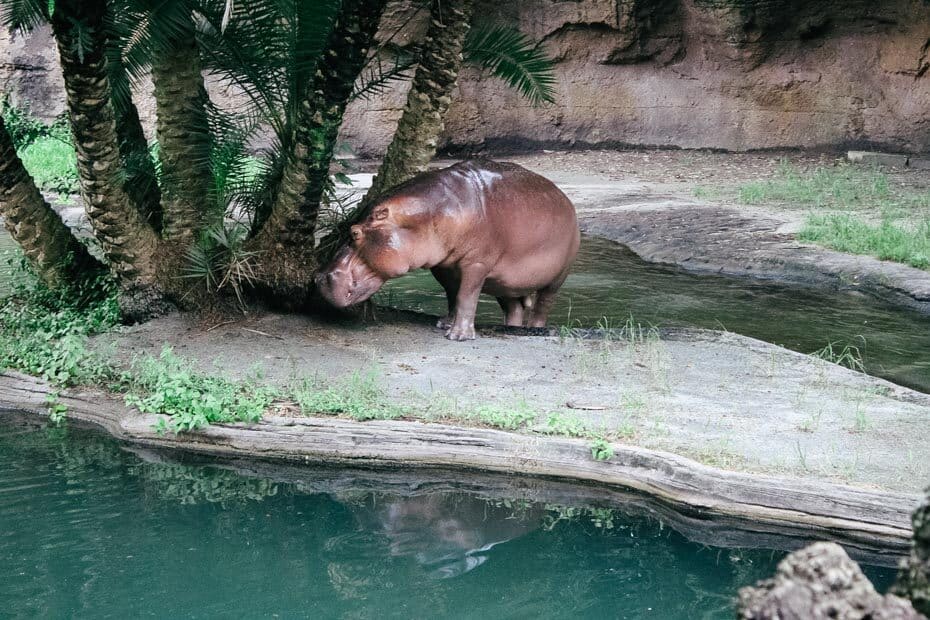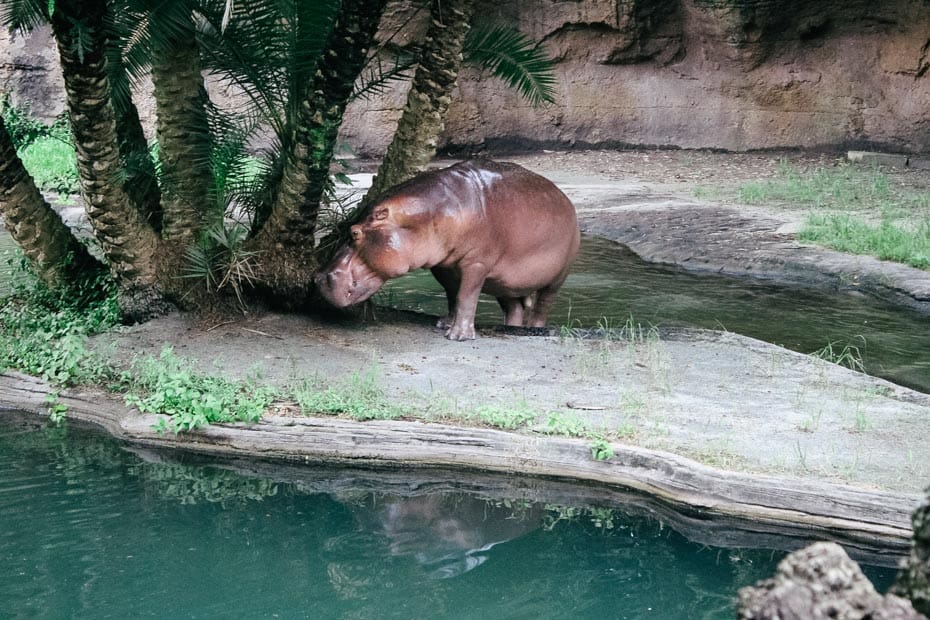 Below is a picture of baby Augustus with his mom. Augustus was moved to a zoo in Dallas in late 2020. He was born a few years ago at Disney's Animal Kingdom.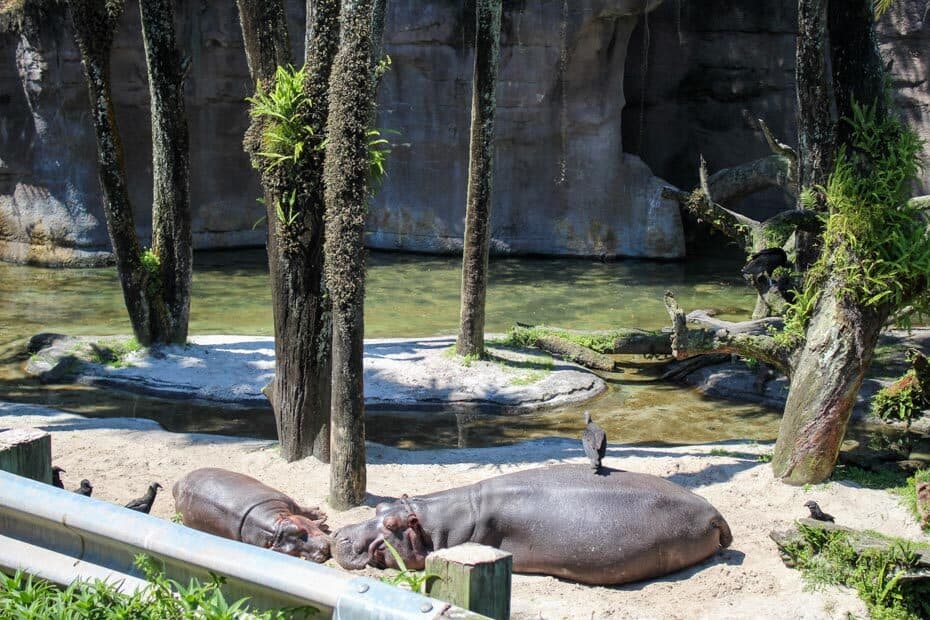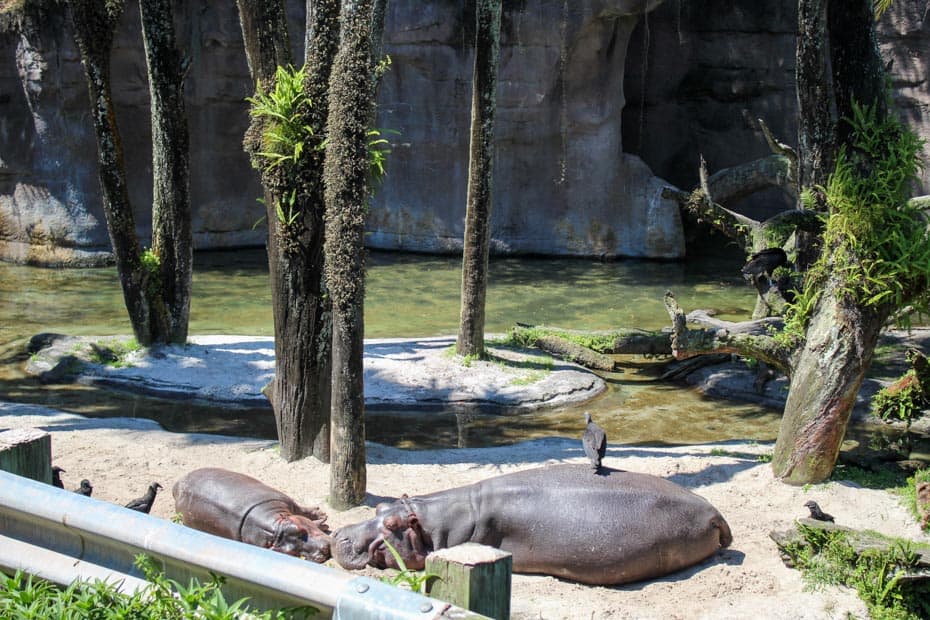 Right past the hippo area, there will be an area on the left-hand side where you can look down and see Nile crocodiles. They are pretty large, and it is rare to see them moving.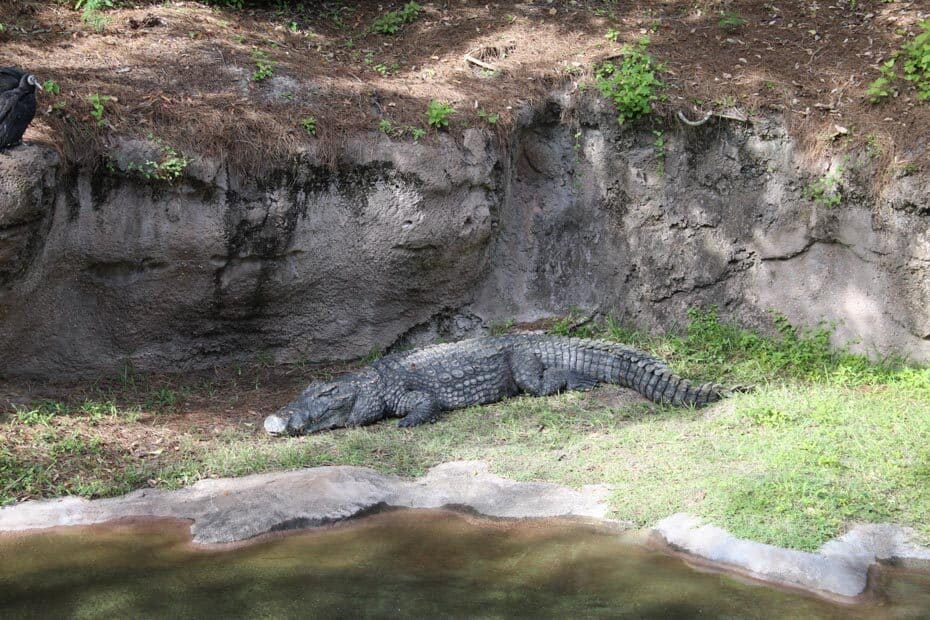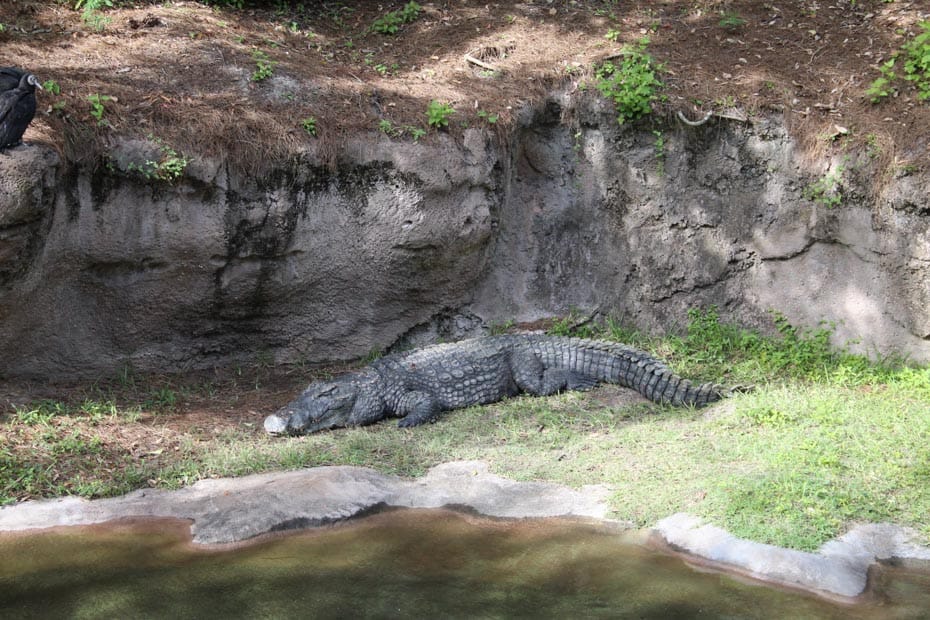 Here is a close-up.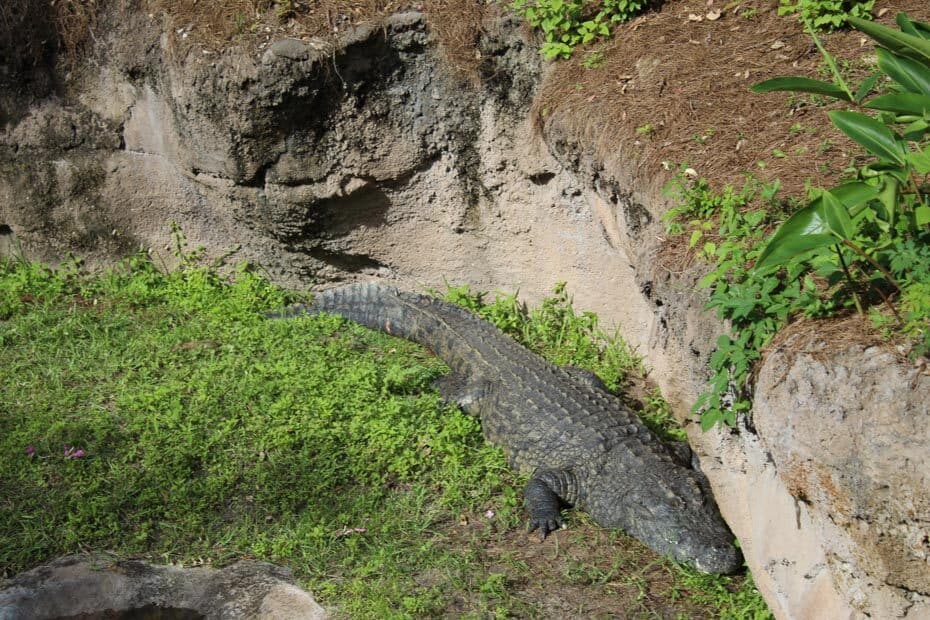 The next stop is the large, open savanna area after passing through the Nile crocodile region on your safari. Here you will find a variety of animals grazing the plains, including giraffes. Let's take a look at a few animals you might find.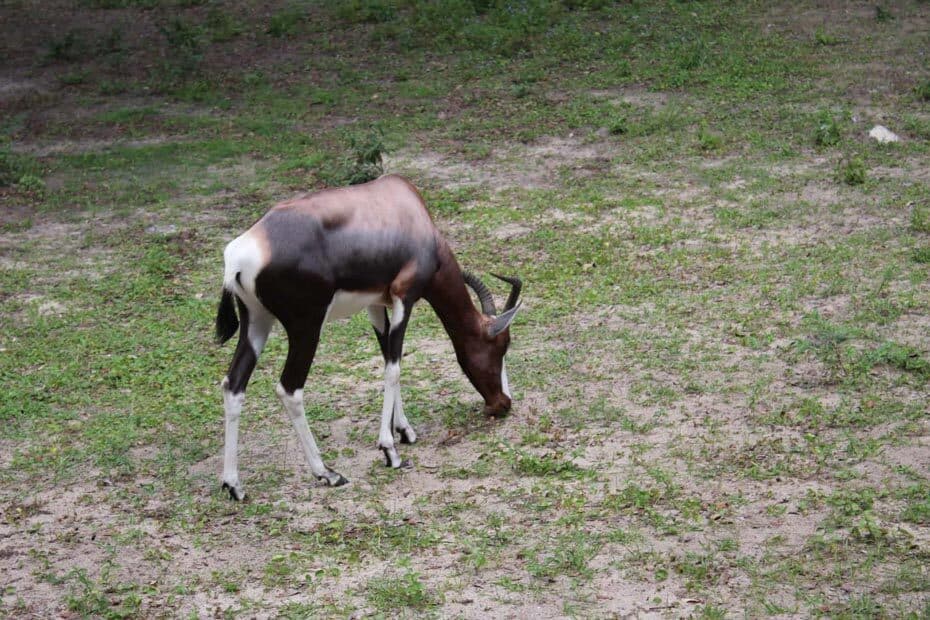 Below is the springbok, and I'm happy to share with you that this is my favorite animal on the safari! These little guys are adorable, but don't let their genteel looks deceive you.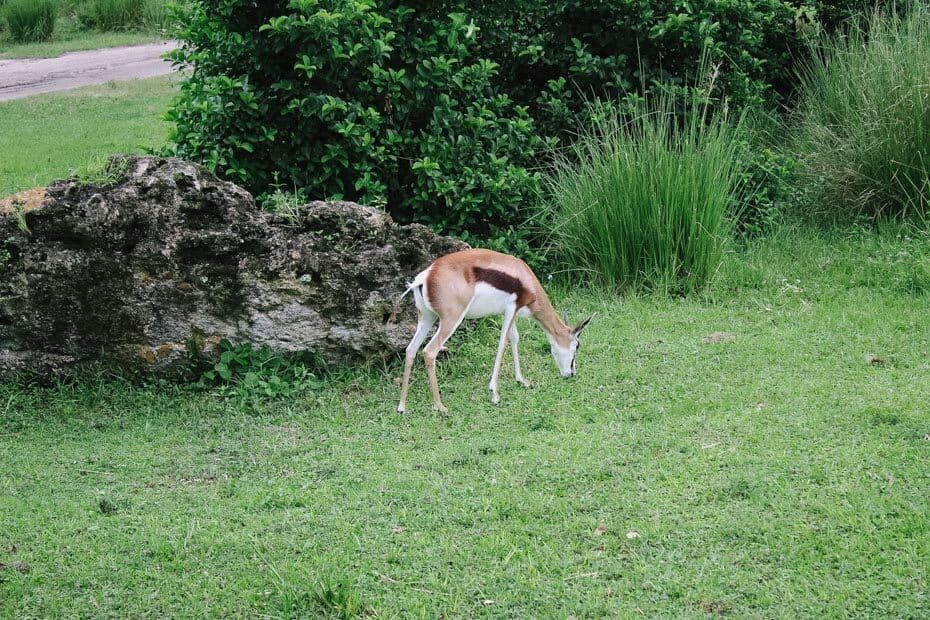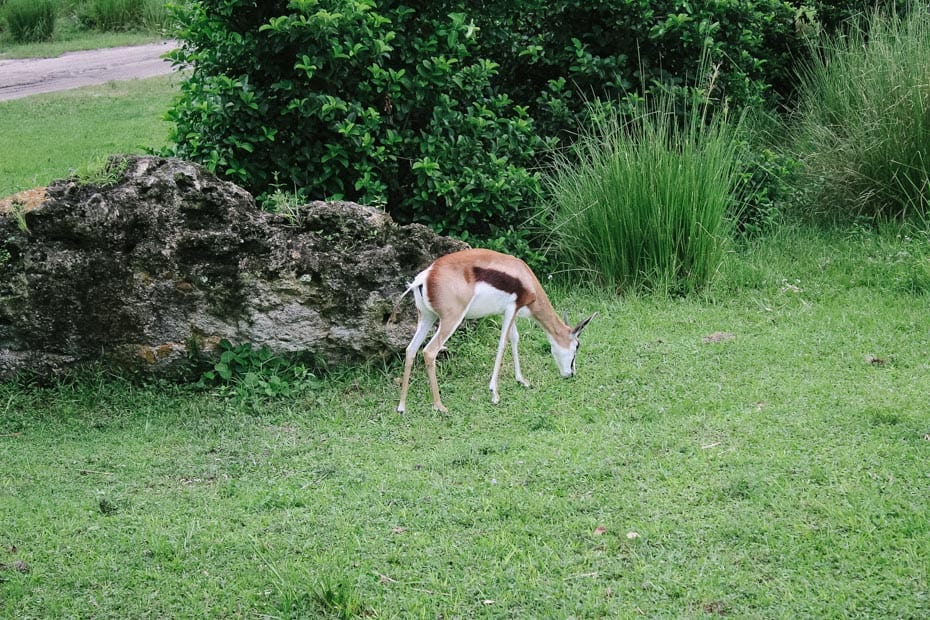 The springbok can reach speeds up to 55 miles per hour. And not only that, they do this thing called pronking. I've only seen them in action once on the safari, and it was absolutely amazing. Everyone, including our driver, was blown away.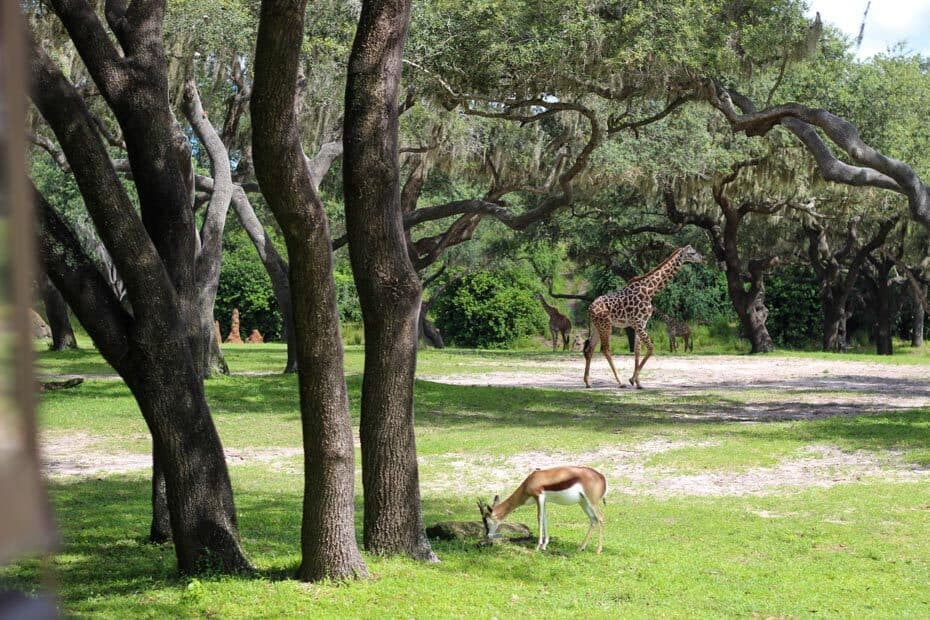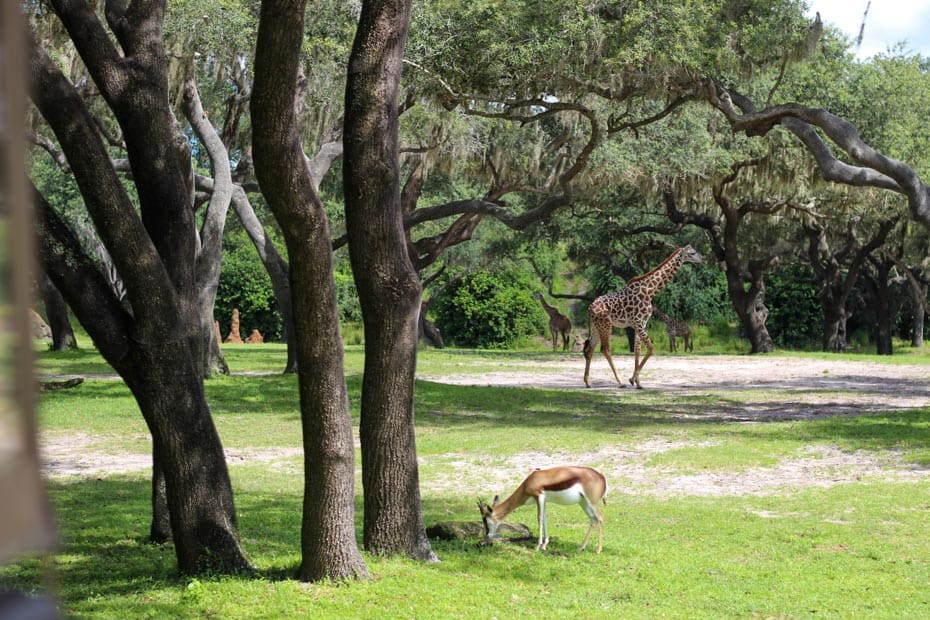 The savanna is home to so many different animals.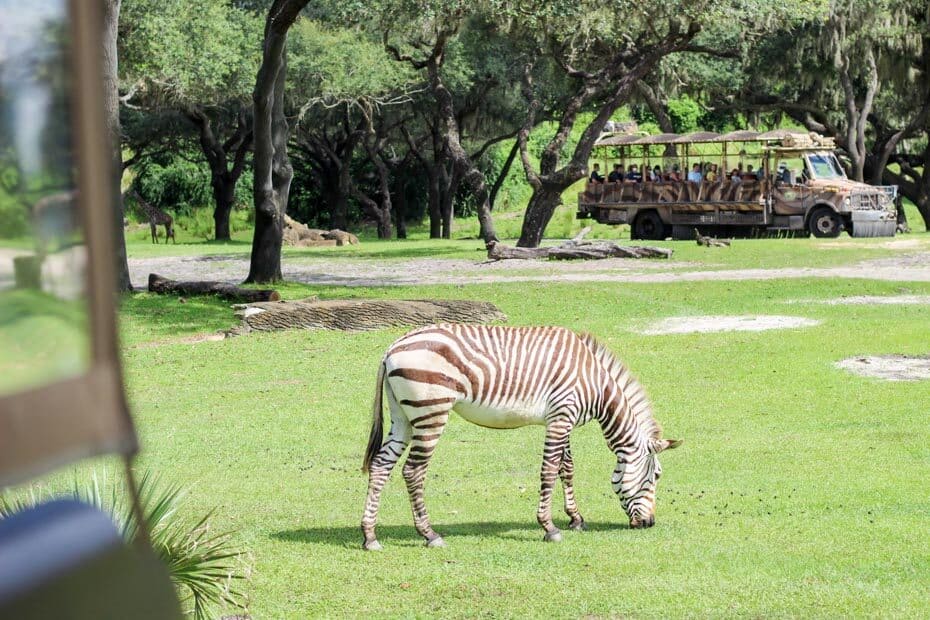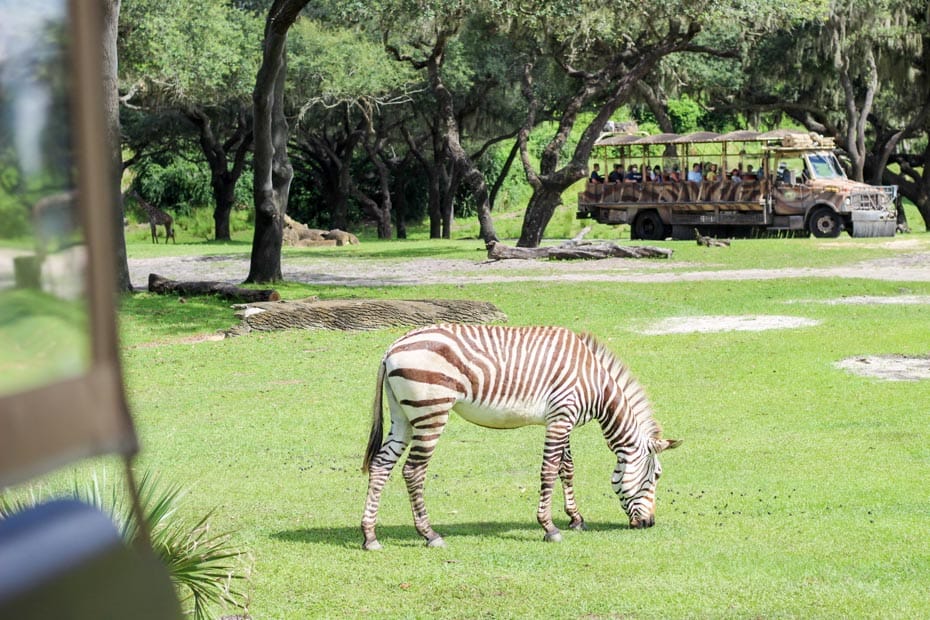 Make sure to look all around. Some animals are easy to see, while others might be hiding in plain sight.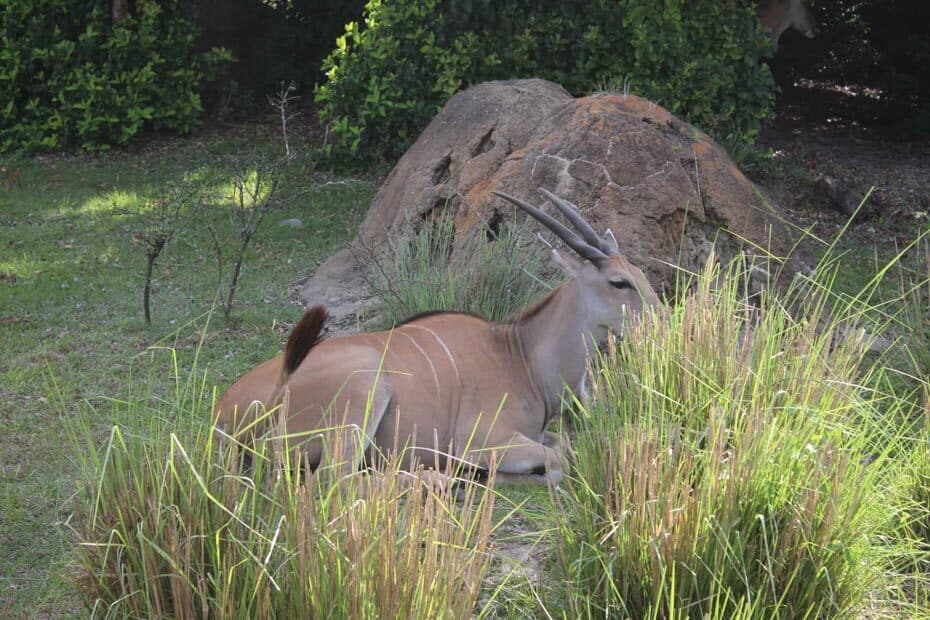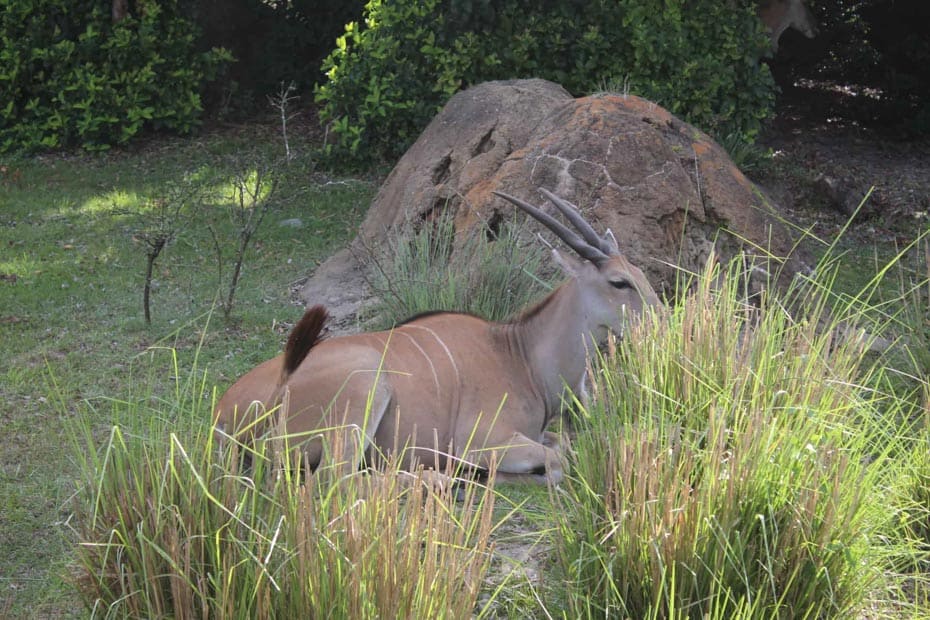 Here is a large group of wildebeests resting. They are often found in sizable herds.
You'll probably run into Ankole cattle at some point as well.
These massive horns are not near as heavy as they look.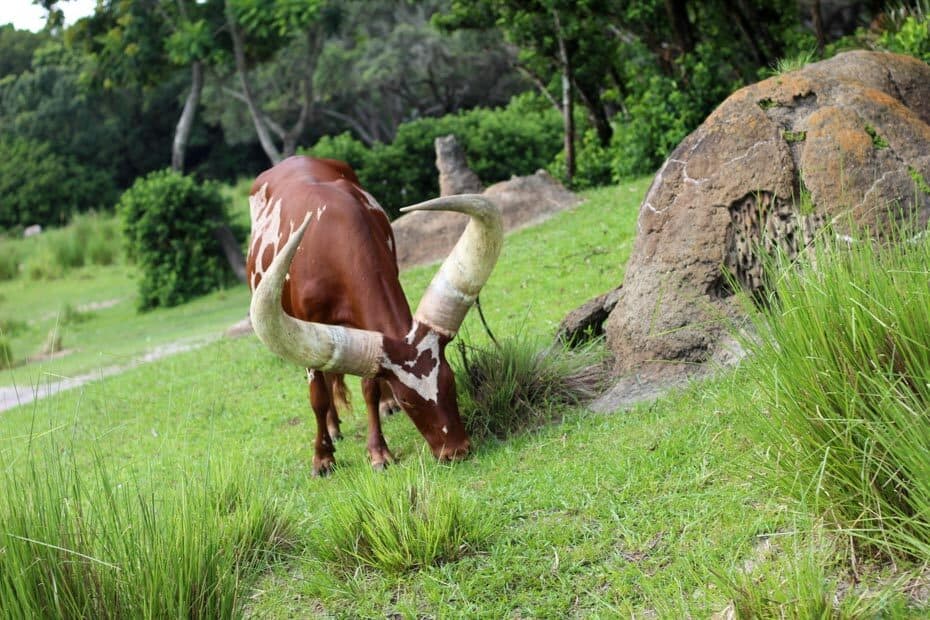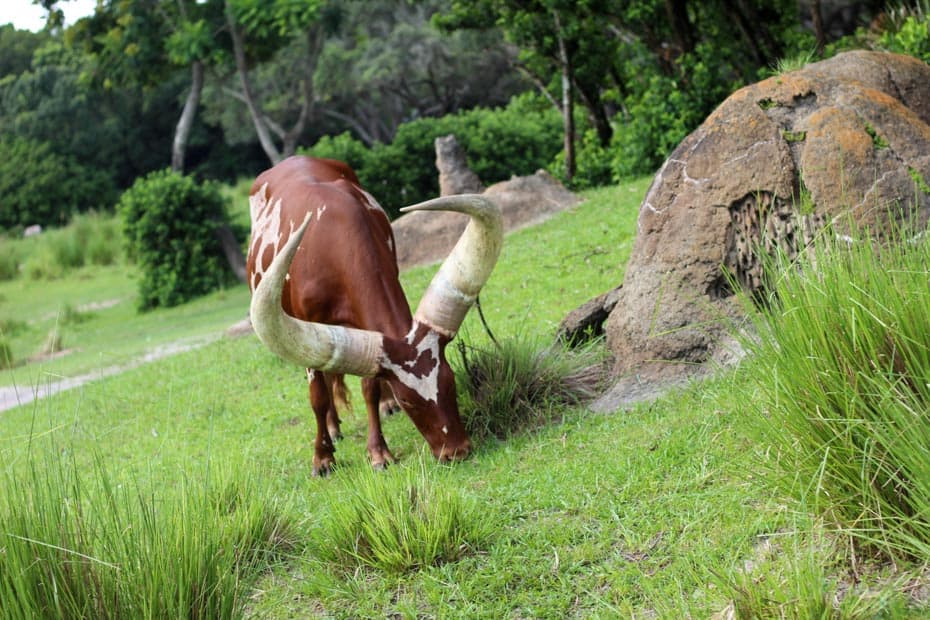 The first enclosed area on the savanna is home to one of two different animals. There are African Painted Dogs and sometimes hyenas. Lately, I've seen the painted dogs out most of the time. Often they can be found napping in this den-like area.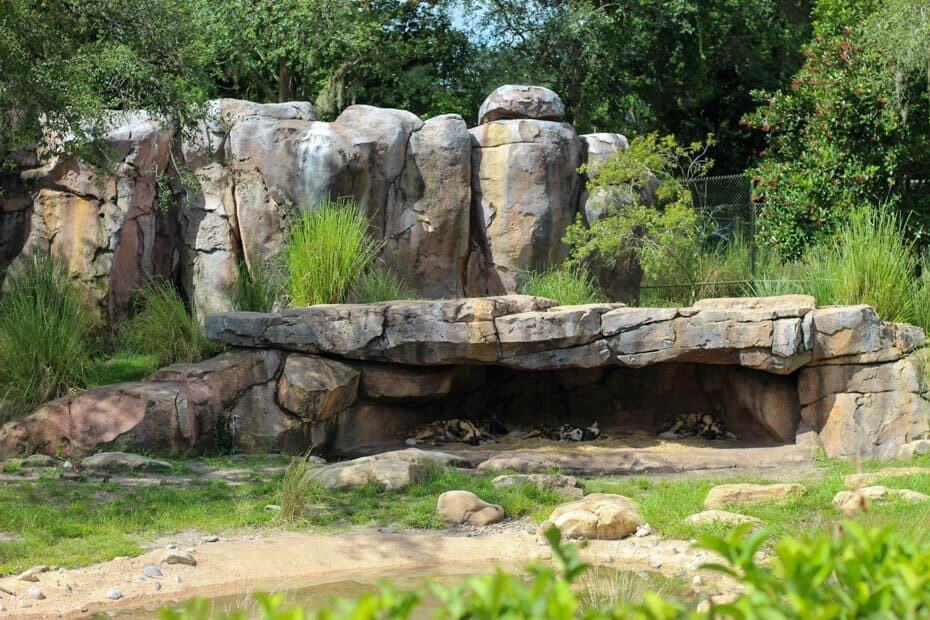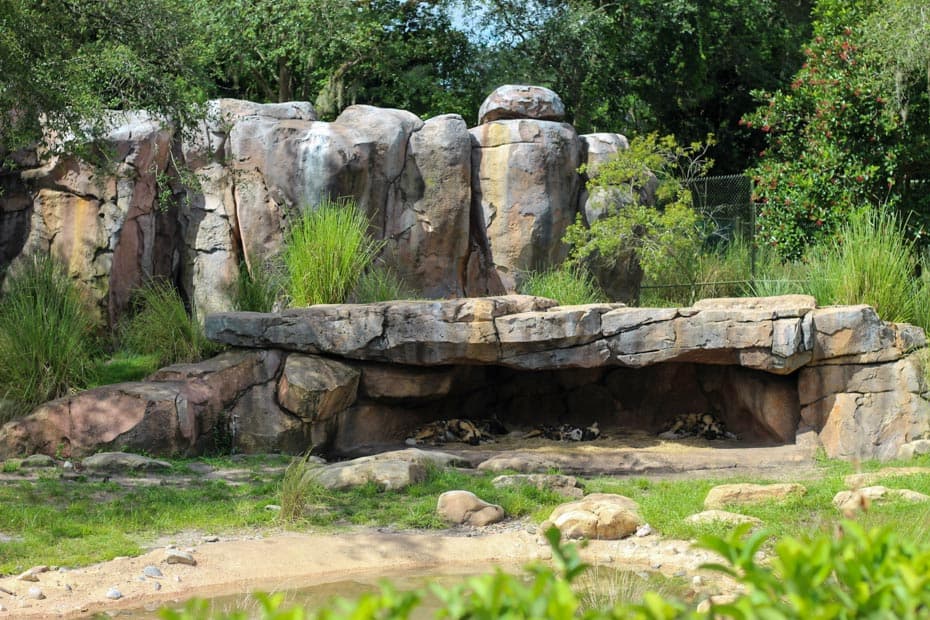 Occasionally, they might be standing still. But that doesn't happen much from my experience.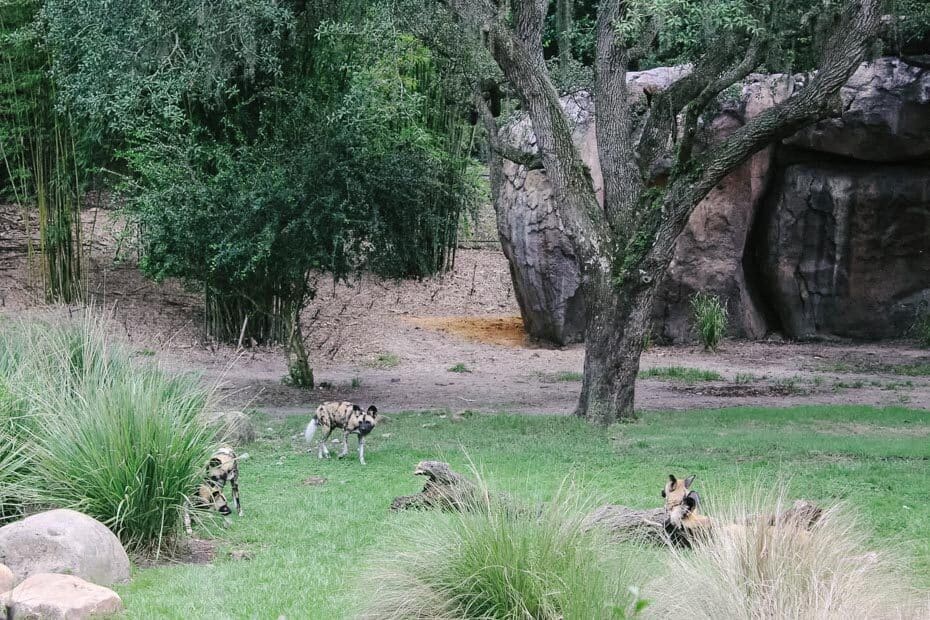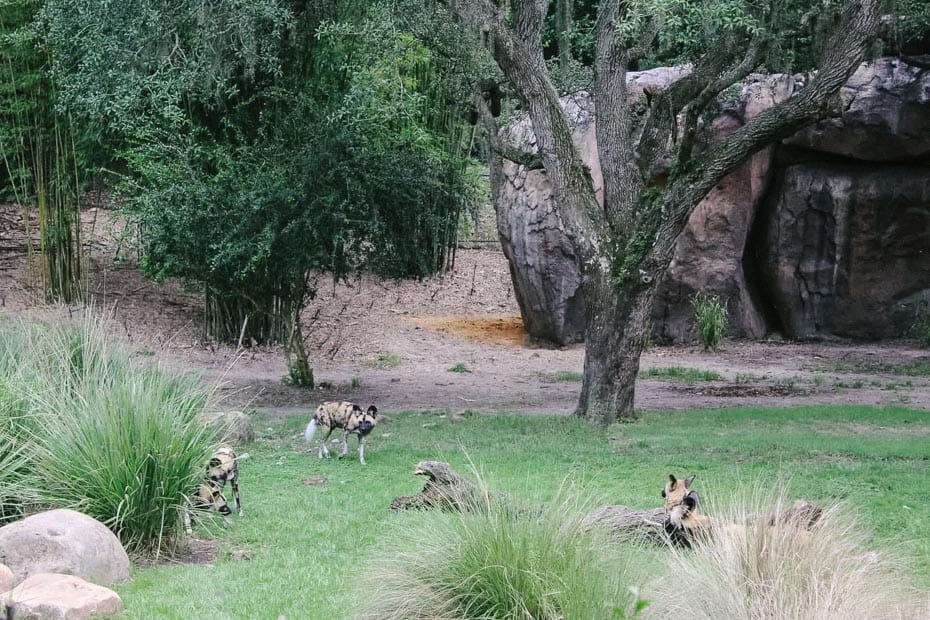 As you curve your way around the savanna, expect to see a variety of animals coexisting together.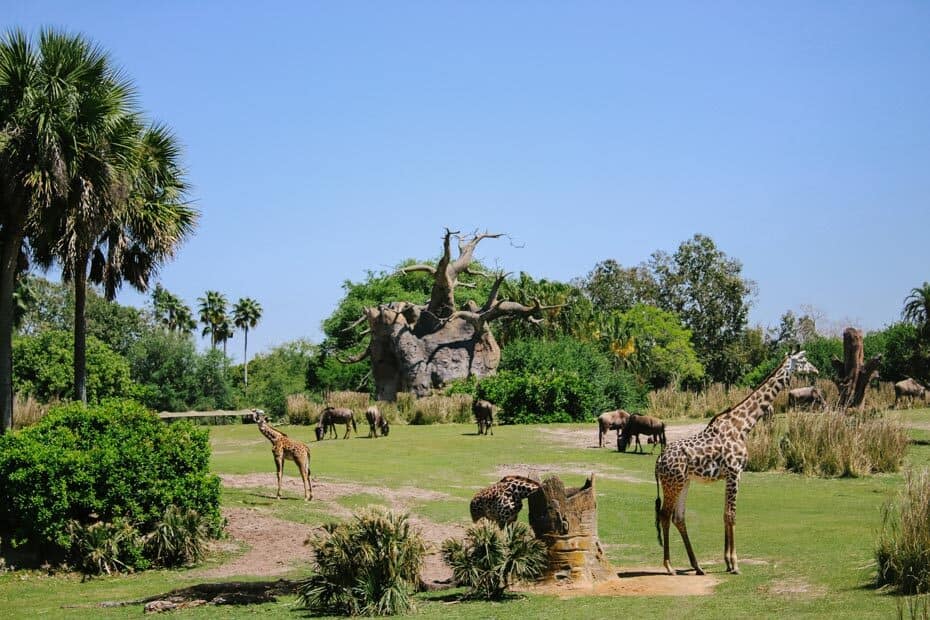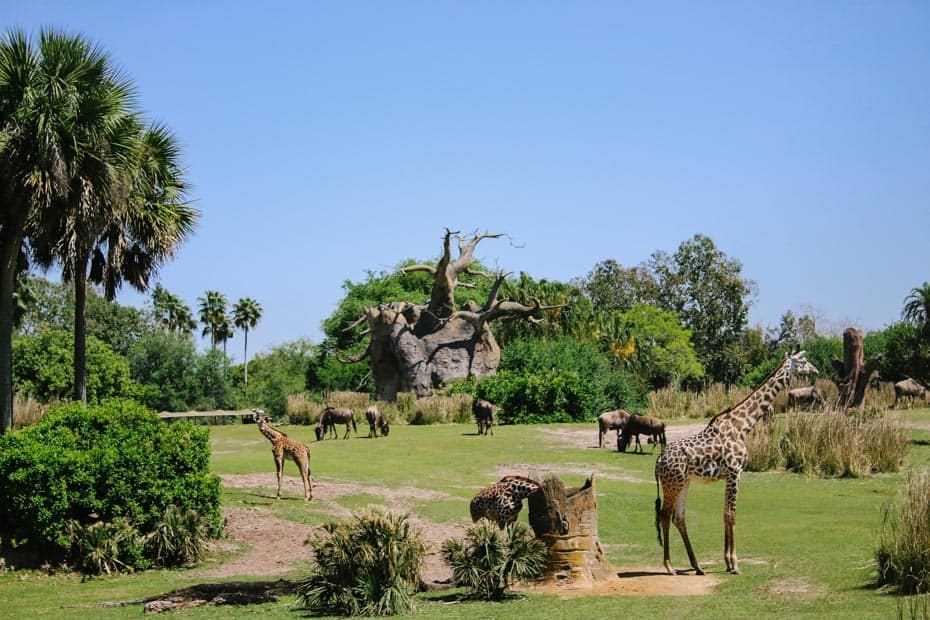 Lately, there have been quite a few zebra.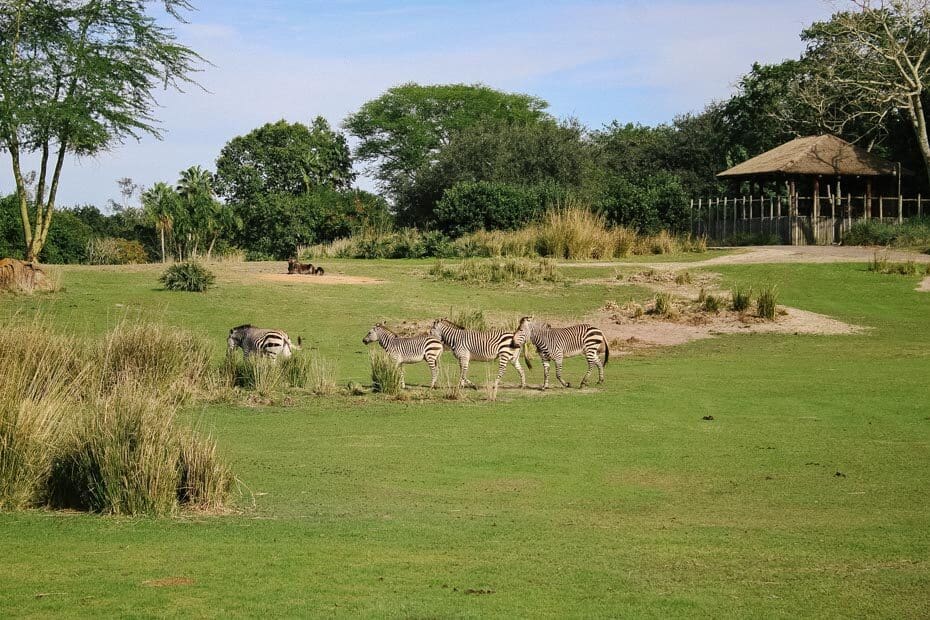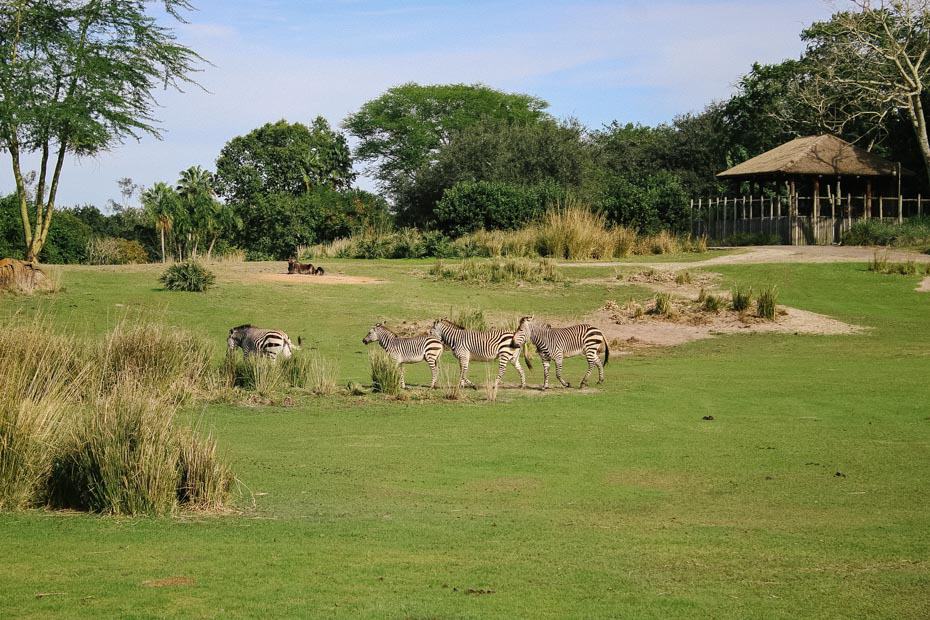 The giraffes found on Kilimanjaro Safaris are Masai giraffes. There have been several babies born over the past few months. Did you know that they are up and walking within a matter of minutes?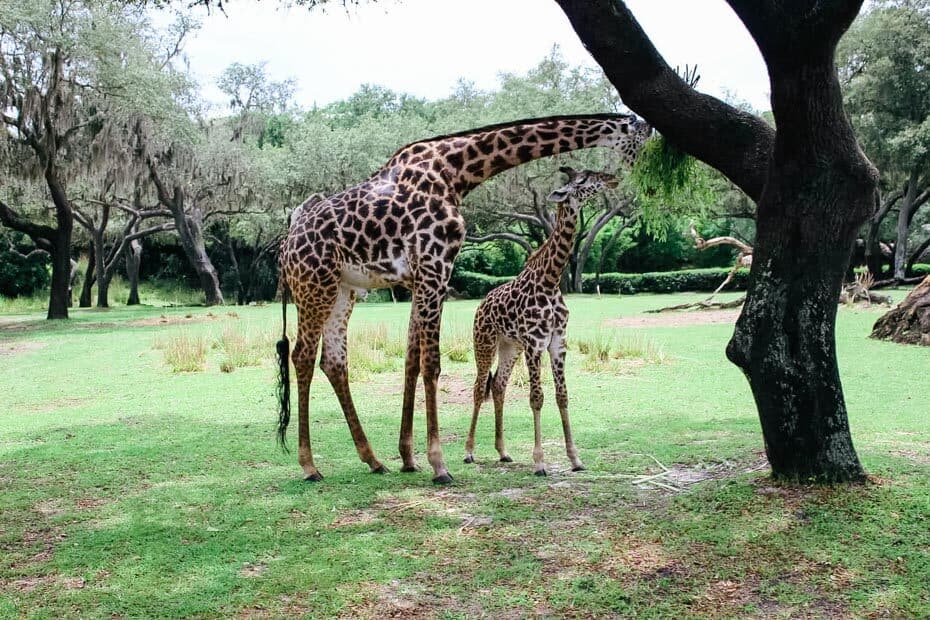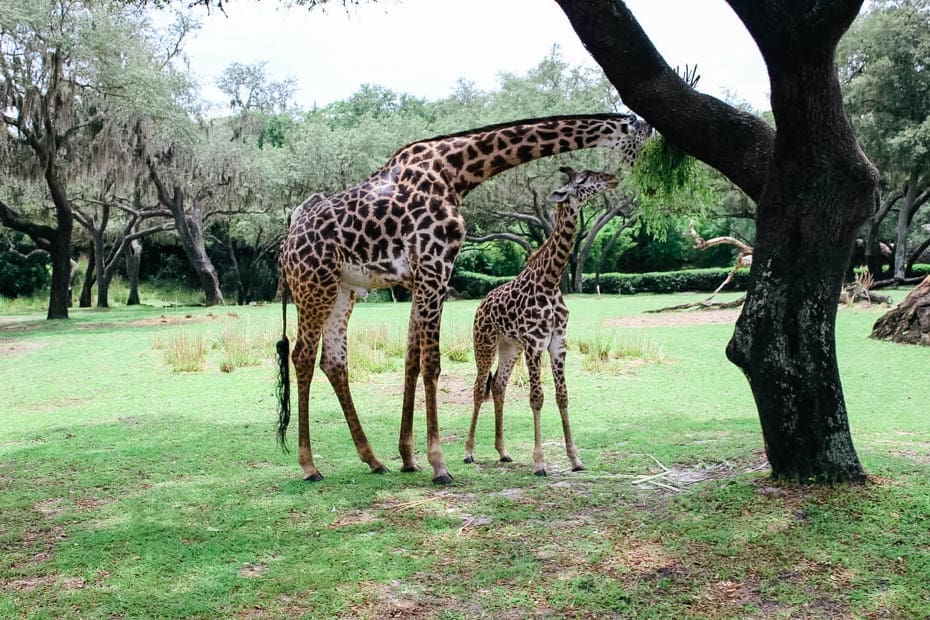 Your guide will likely be very knowledgeable. And with the giraffes so prevalent on the safari, you can learn a lot about them in a short amount of time.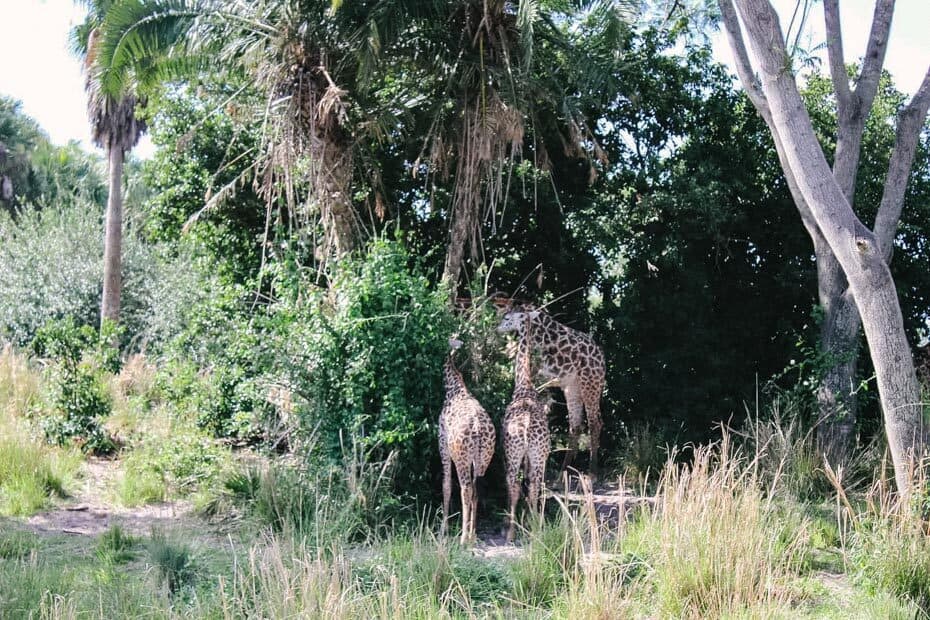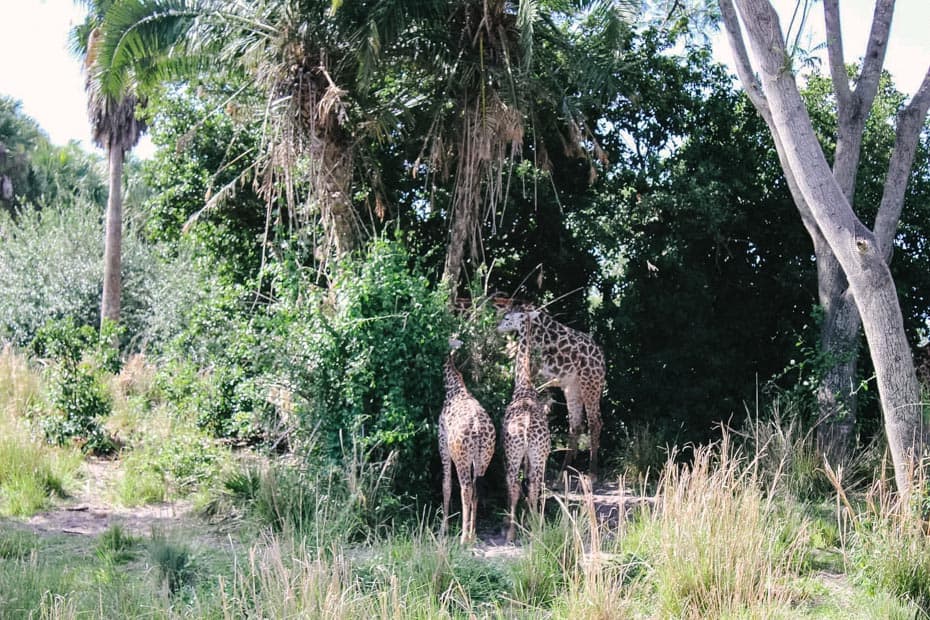 The giraffes love and take care of each other. As a result, they tend to group in what is called a "tower."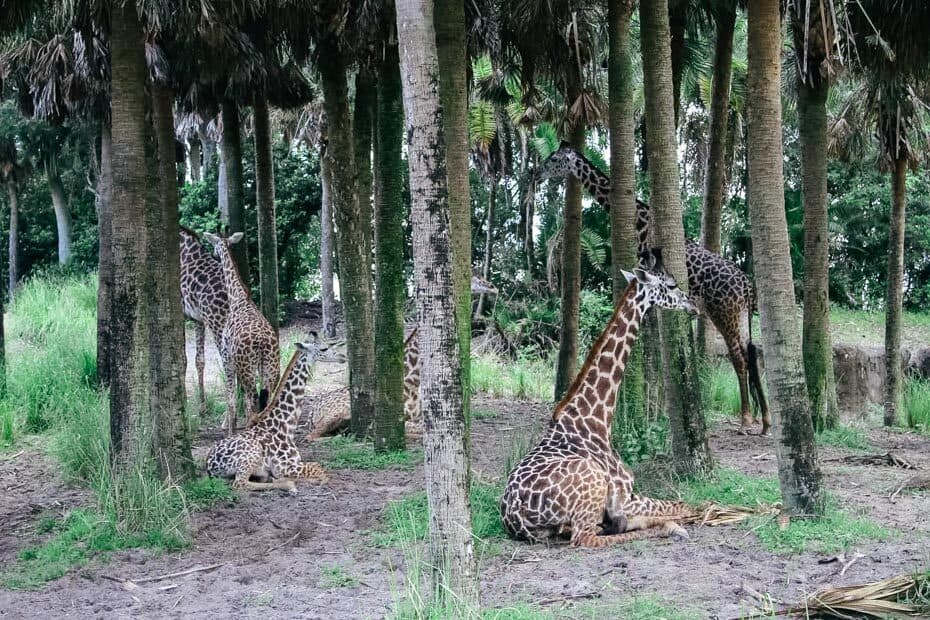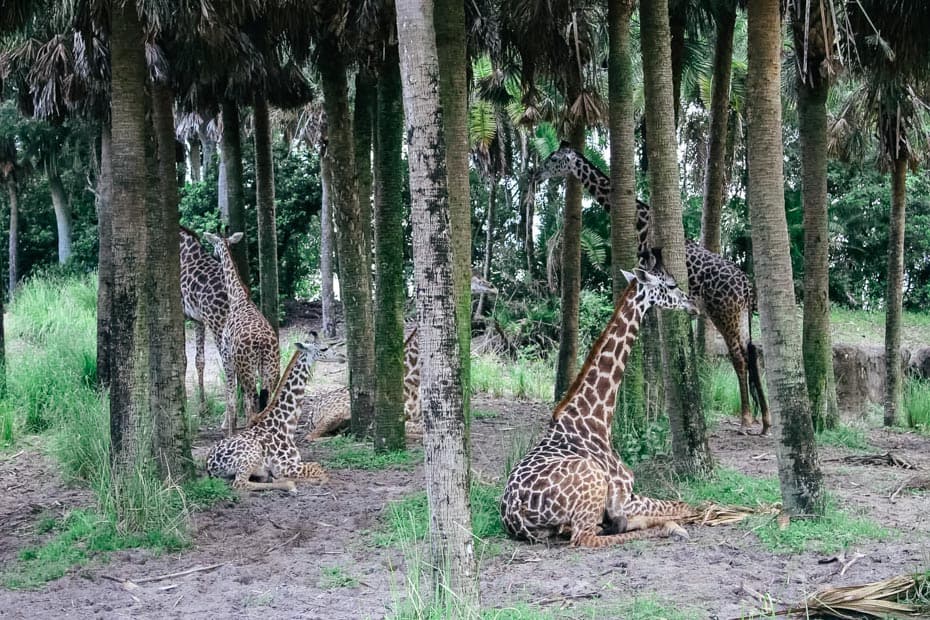 Here is one of the babies below looking out onto the savanna.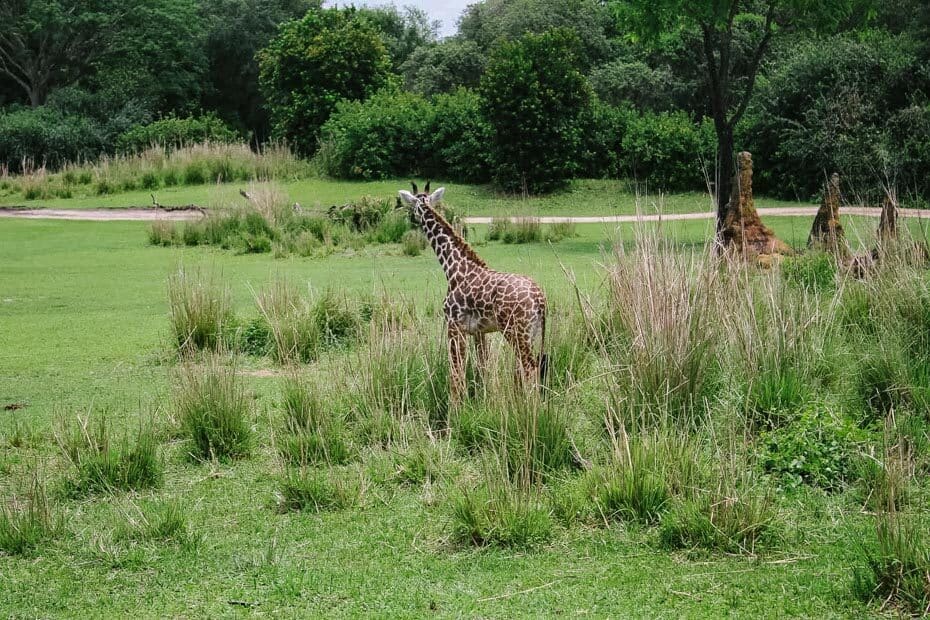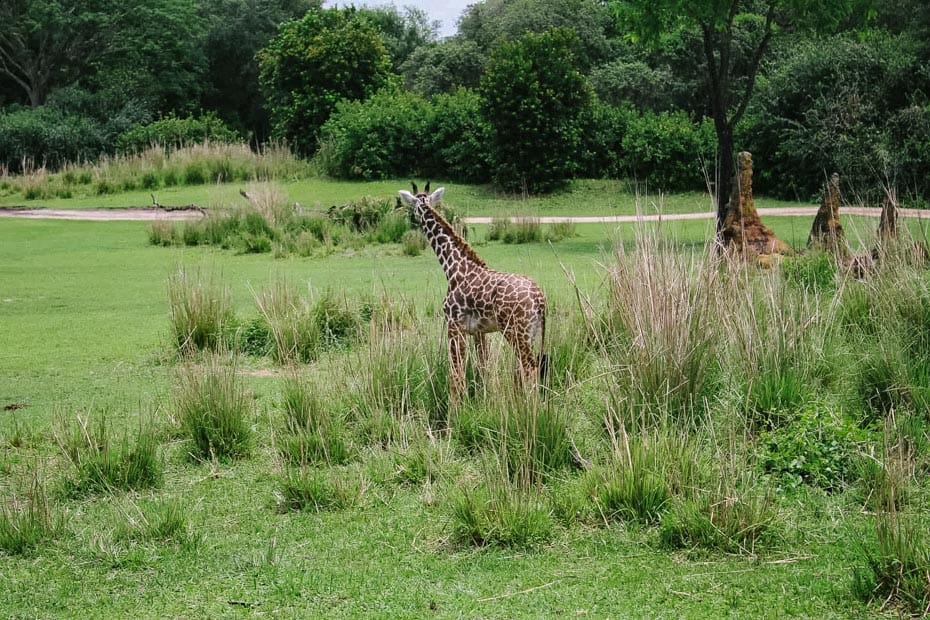 And sometimes, they walk right up to your vehicle.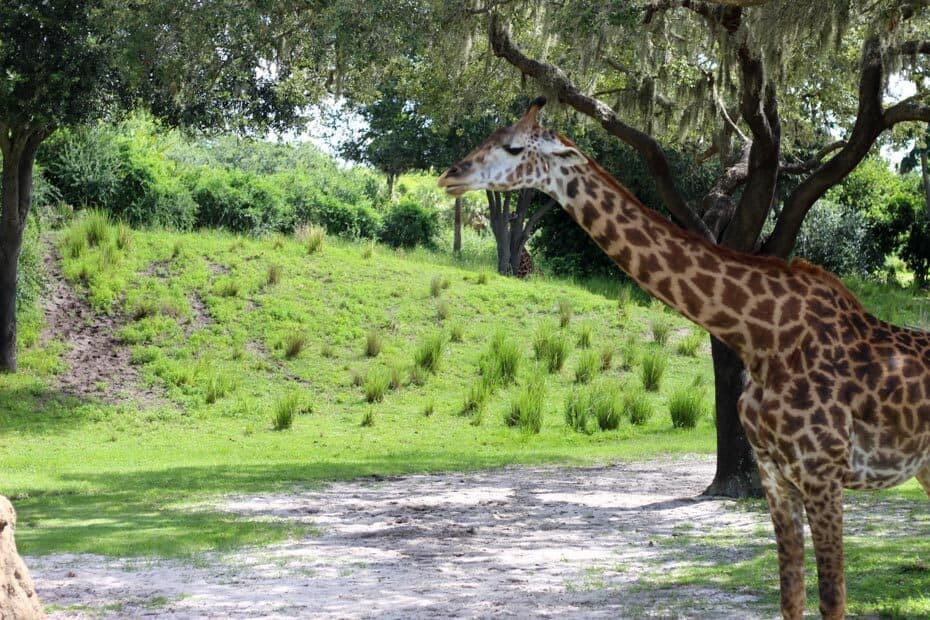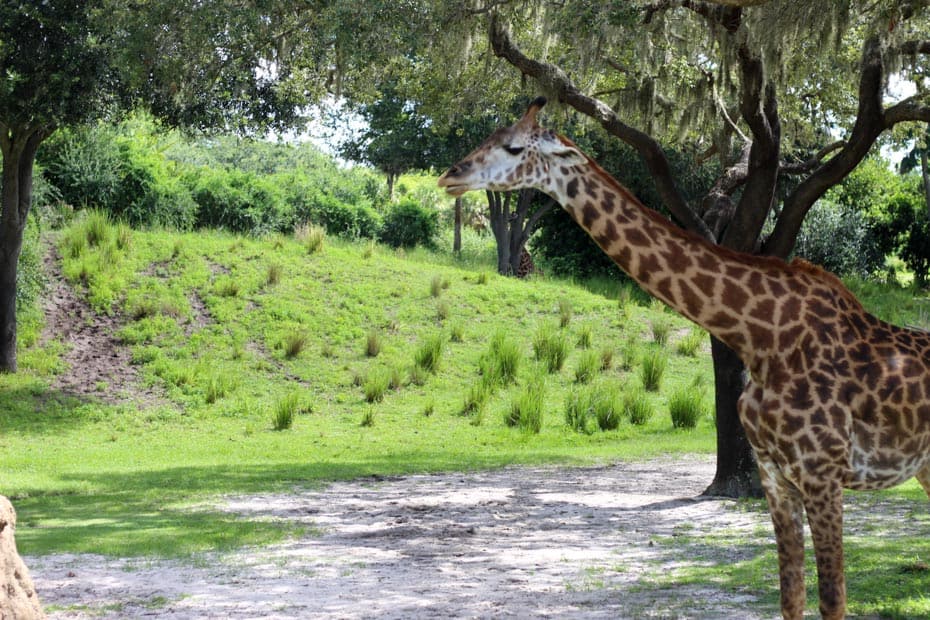 If you don't see any on the main portion of the savanna, don't worry. Sometimes they are all grouped together in this area up ahead on the left.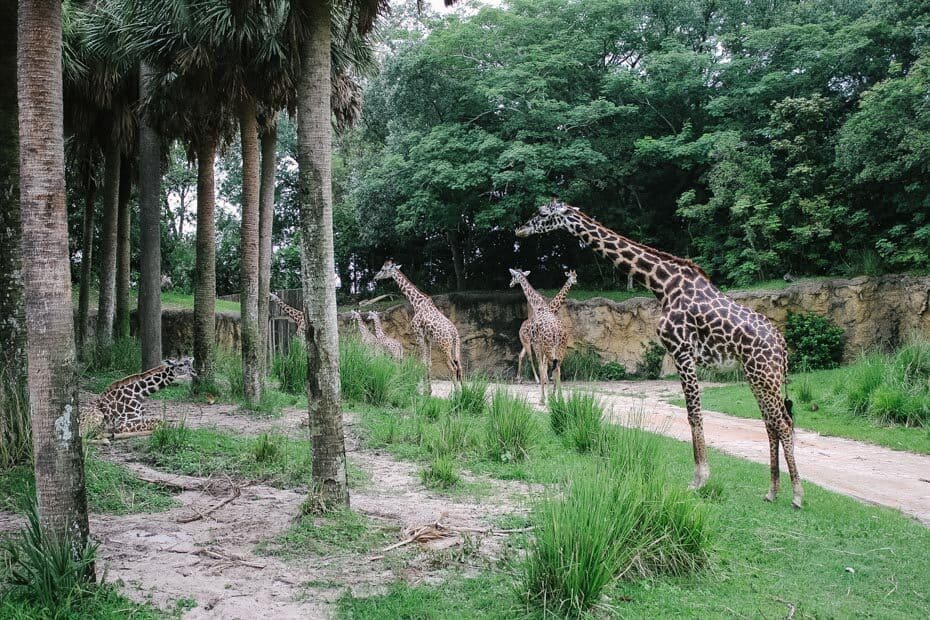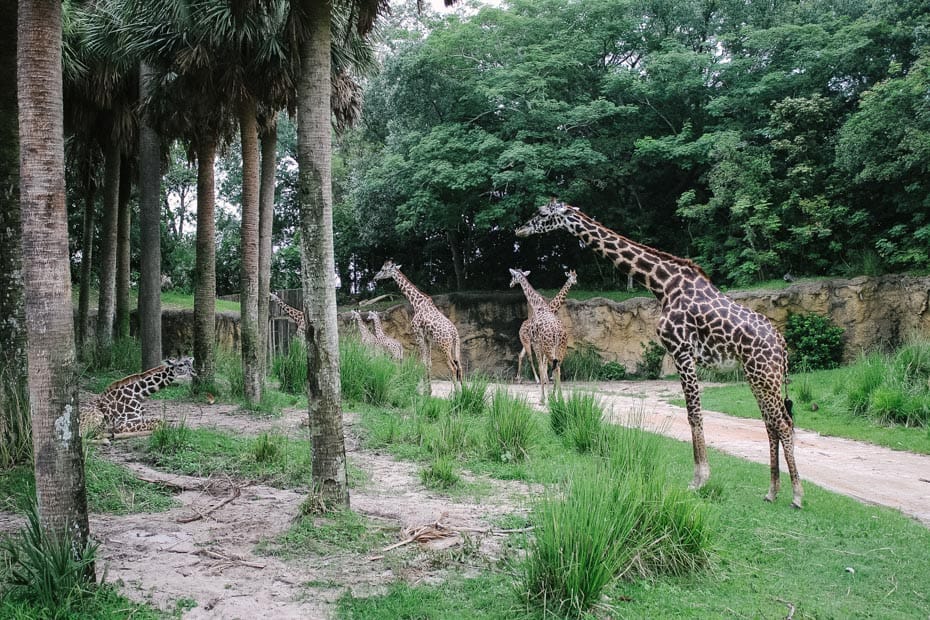 After passing the main giraffe area, you will likely see a lone male elephant.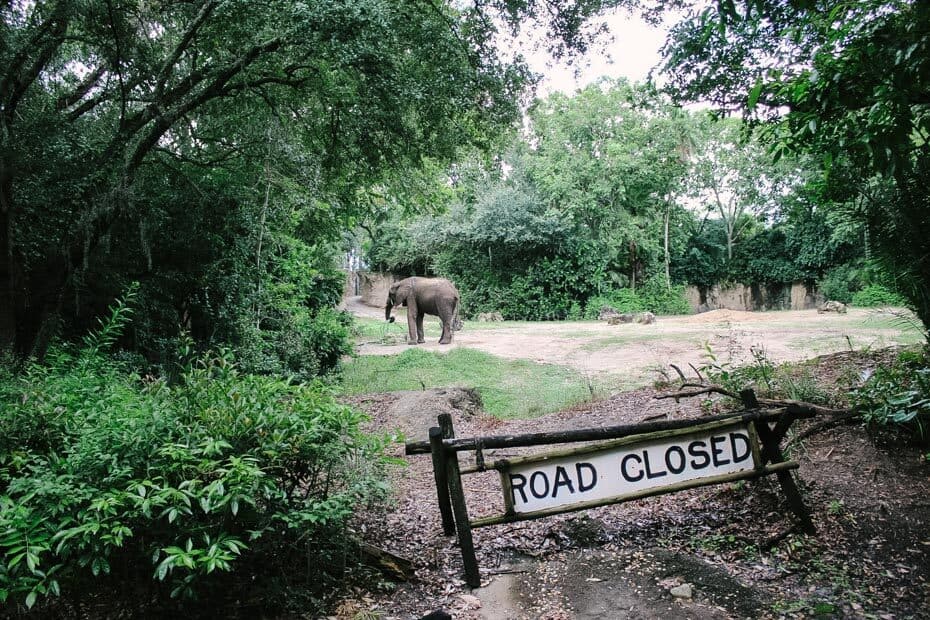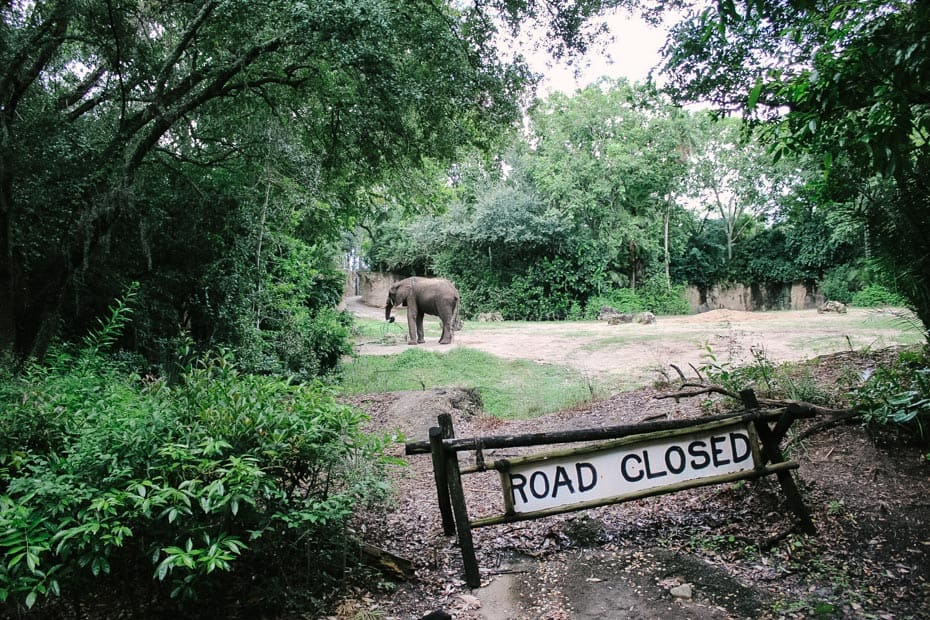 Male elephants tend to hang out alone and away from the rest of the group.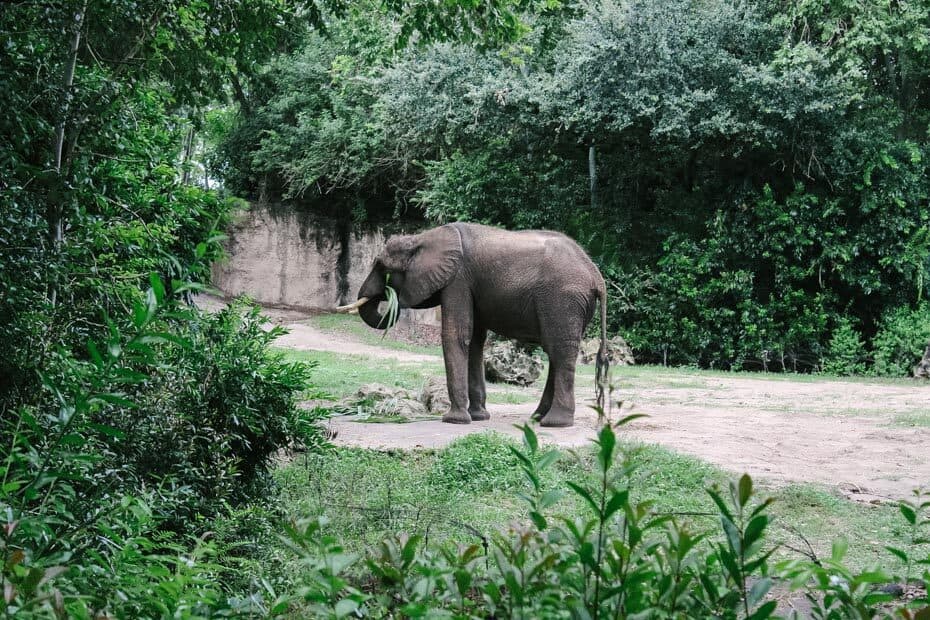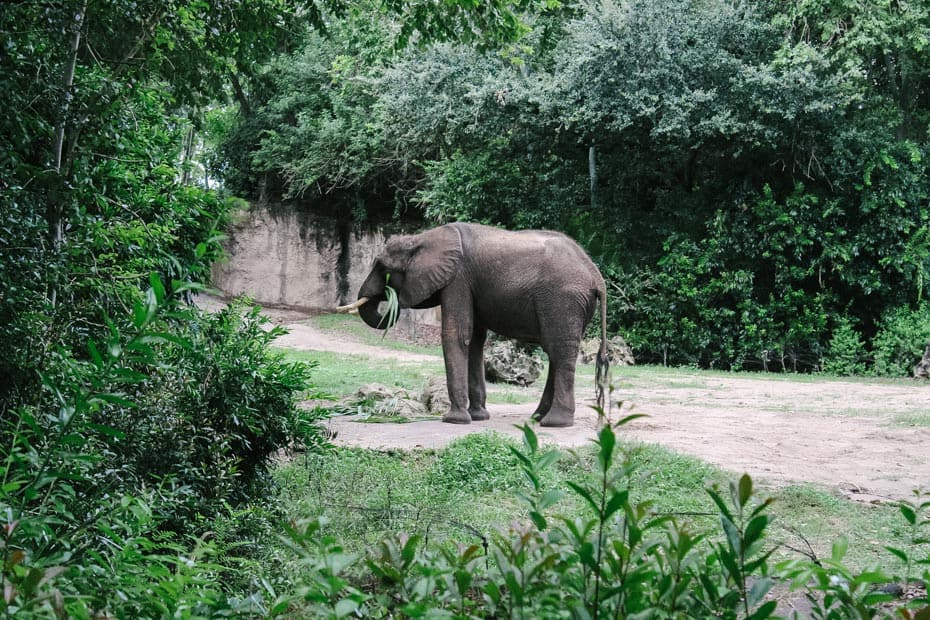 Across the way, from this single elephant, you might get lucky and catch a glimpse of the Mandrills at play. They will be on the left-hand side and can be challenging to spot. For example, there are two in the picture below.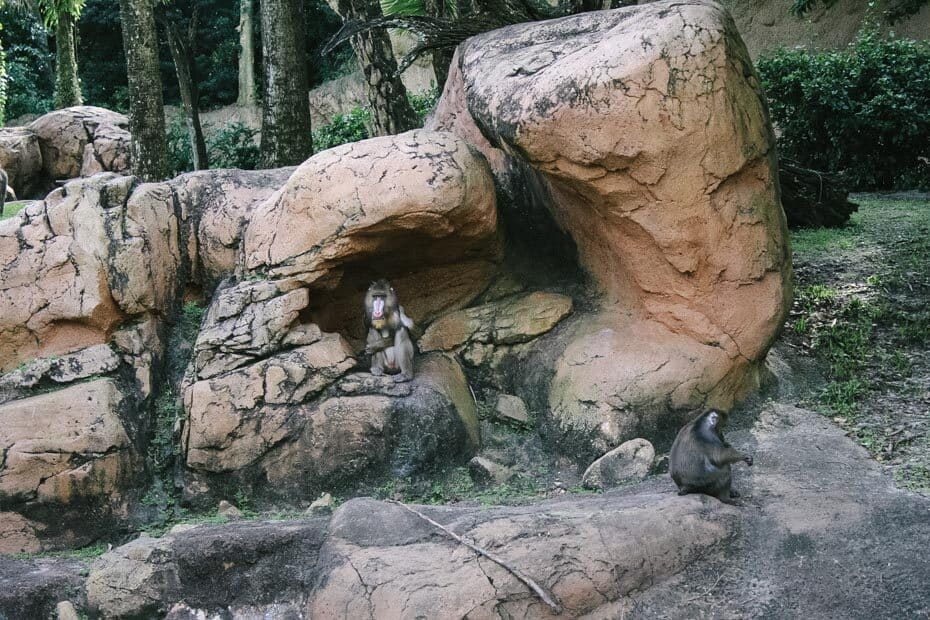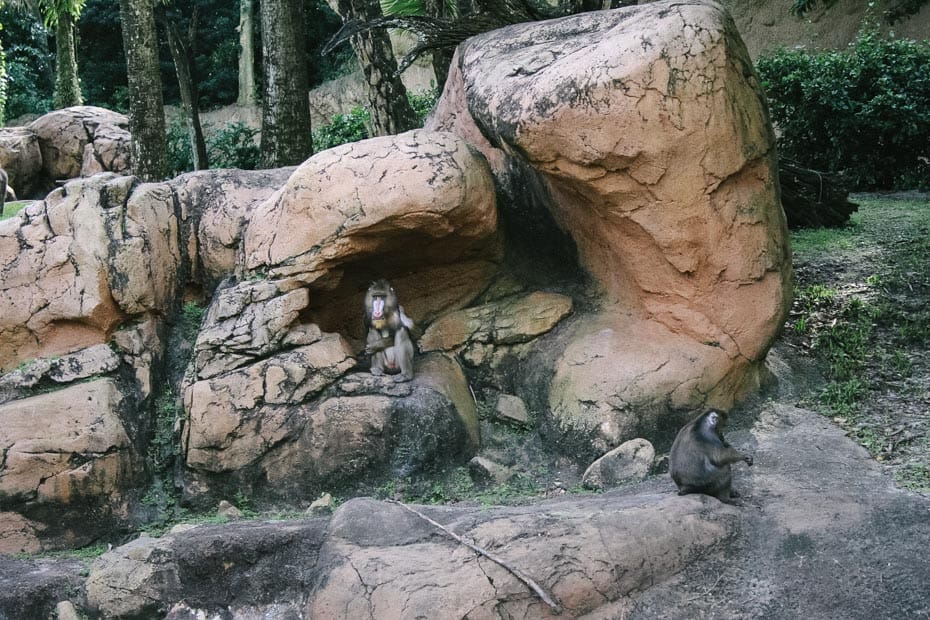 As you travel, you will catch up with the rest of the elephant family.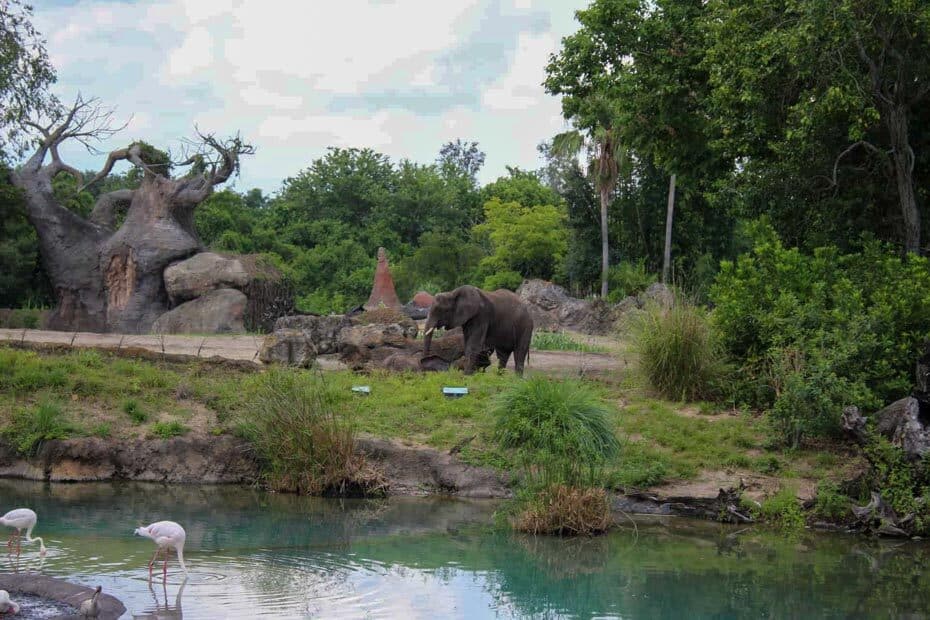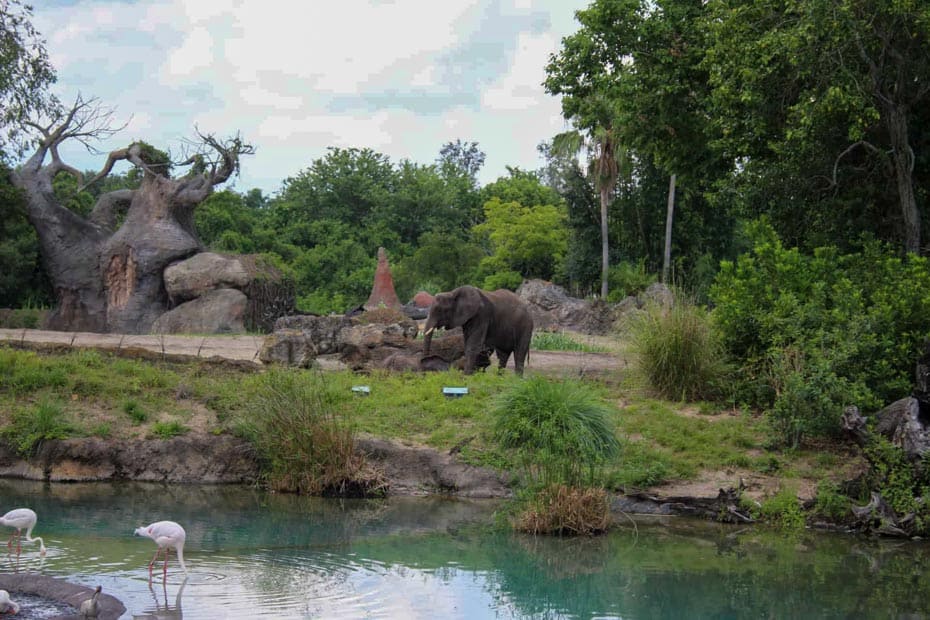 Usually, there are 4-5 elephants out in the following area, and baby Stella (who is going on four!) might be out with the group!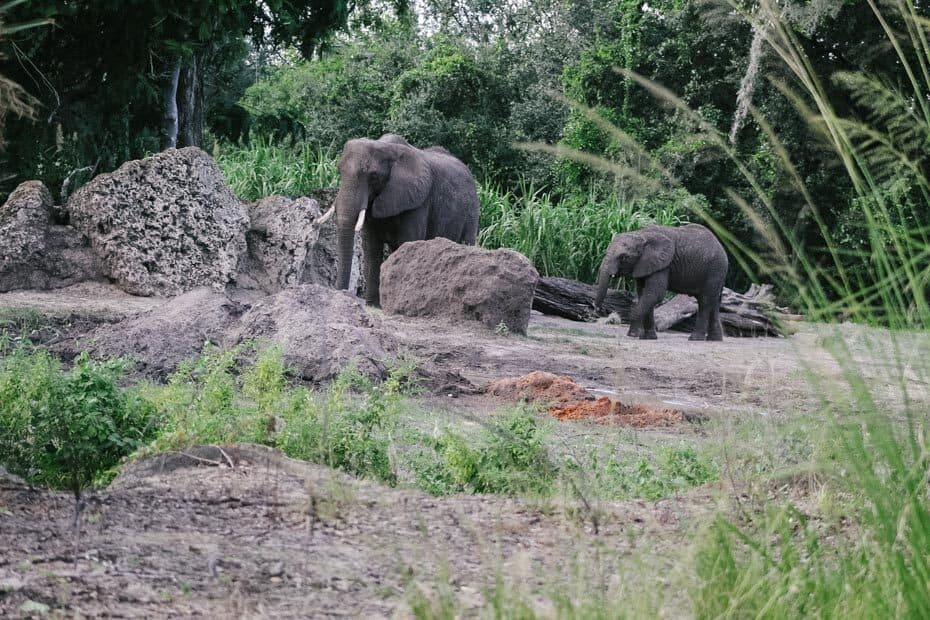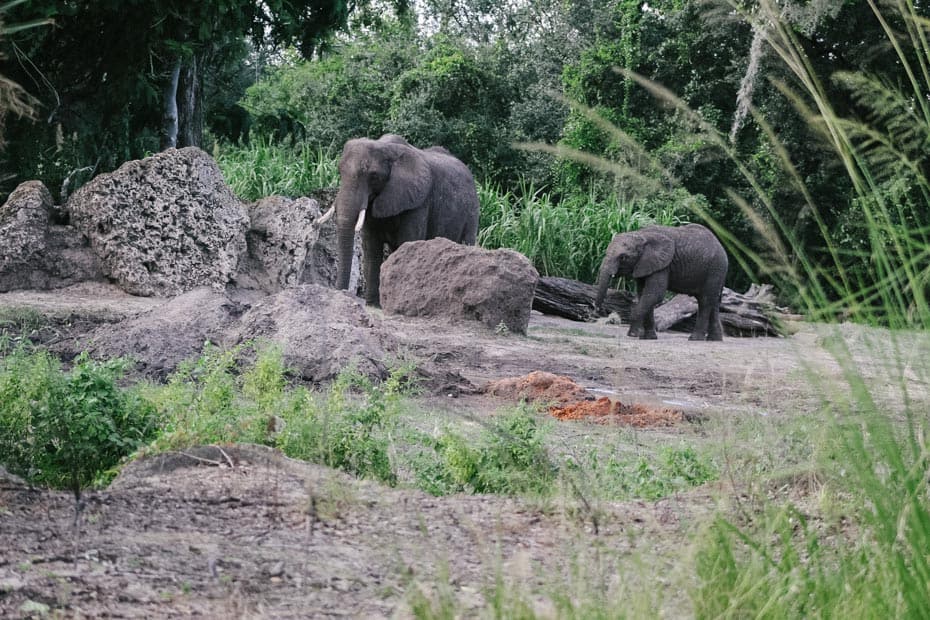 Visiting the Animal Kingdom so often has been a special blessing in my life. I know all the babies and have watched them begin to grow up over the past few years.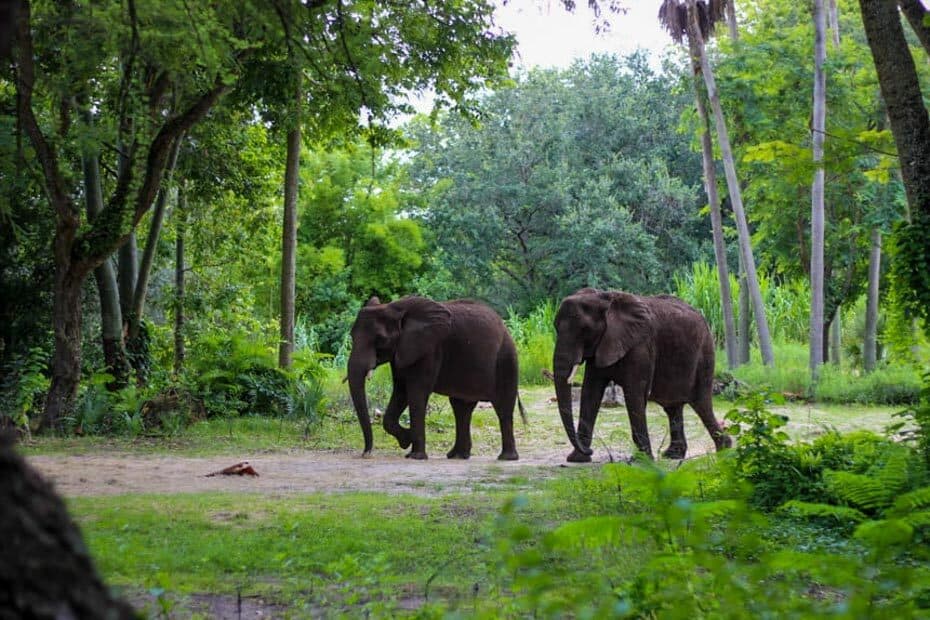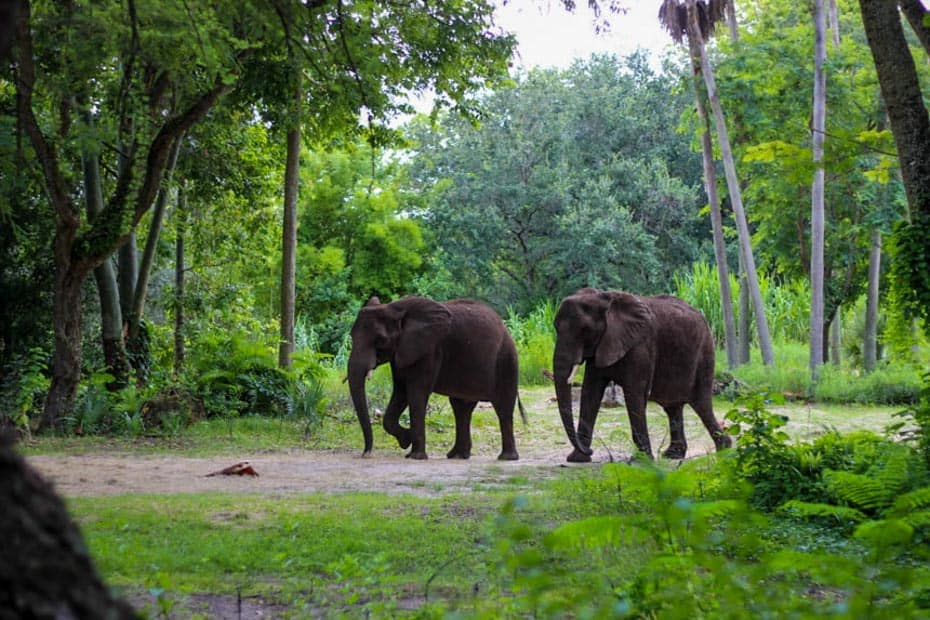 One of the things not always mentioned on the safari is that they all have names. I understand why it would be tough to keep them straight. But knowing a few of them and being able to recognize them on the safari feels kind of surreal sometimes.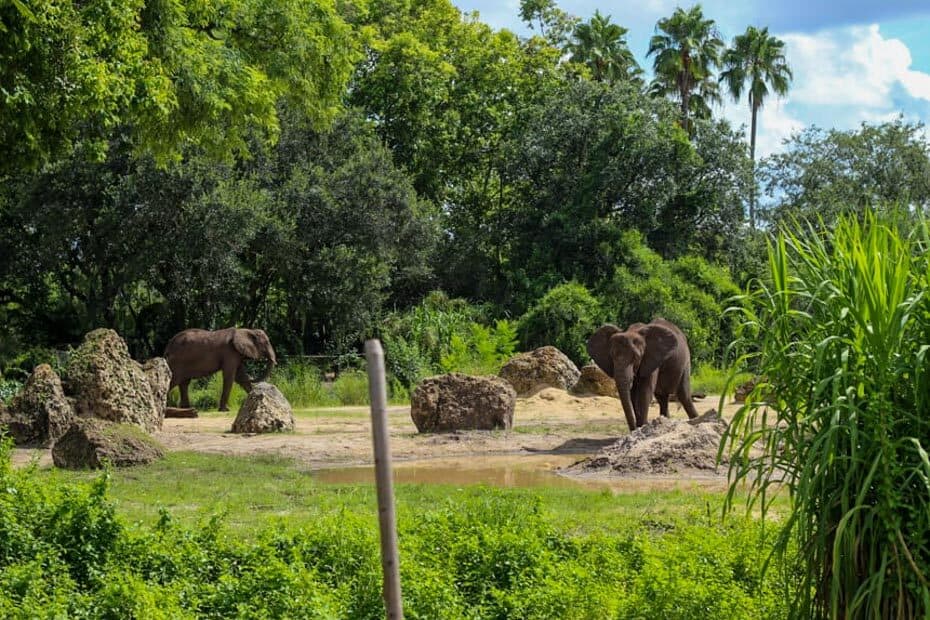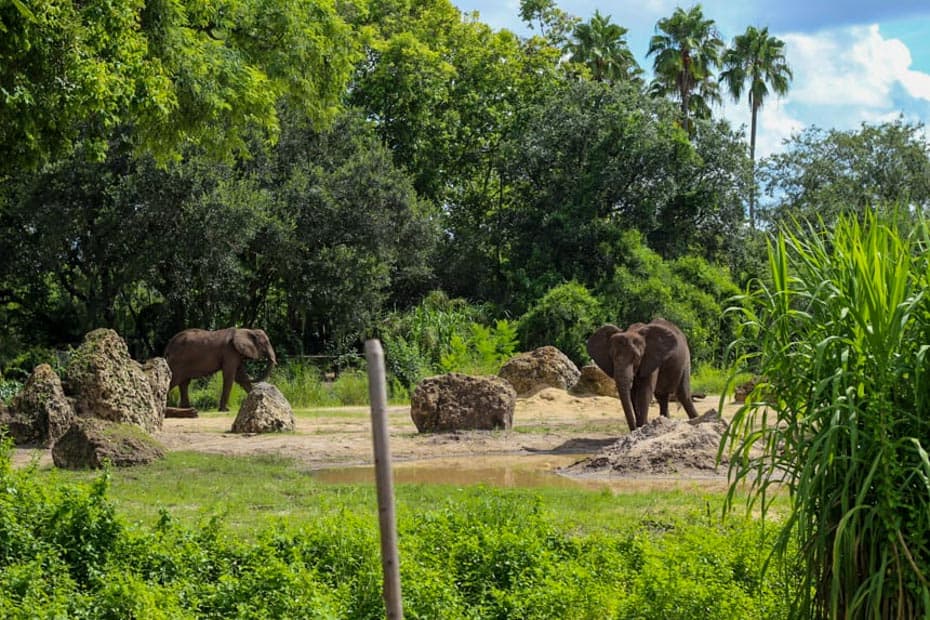 As you pass the elephants, you will see an exquisite flamingo watering hole. If watering holes can be described as exquisite?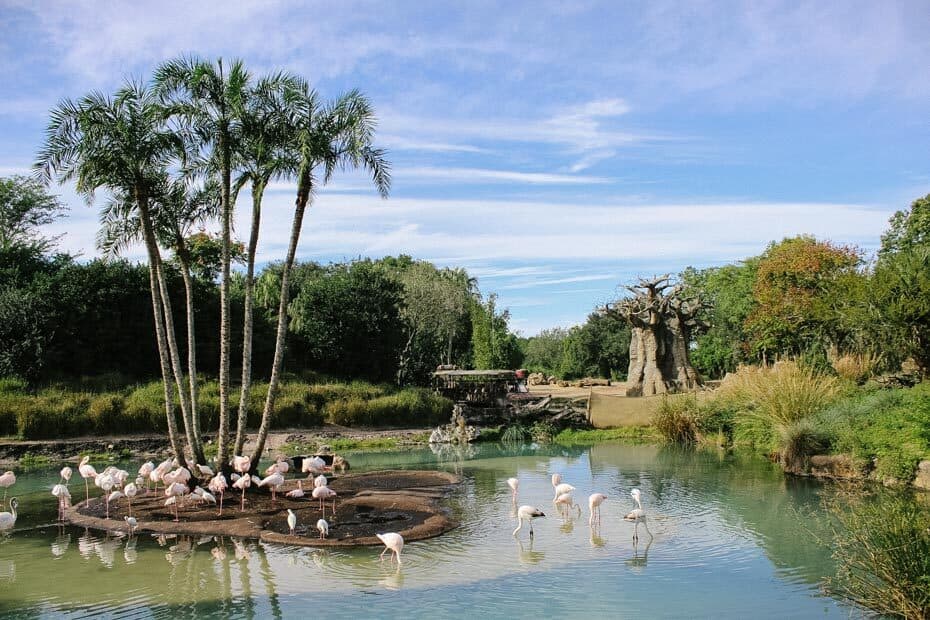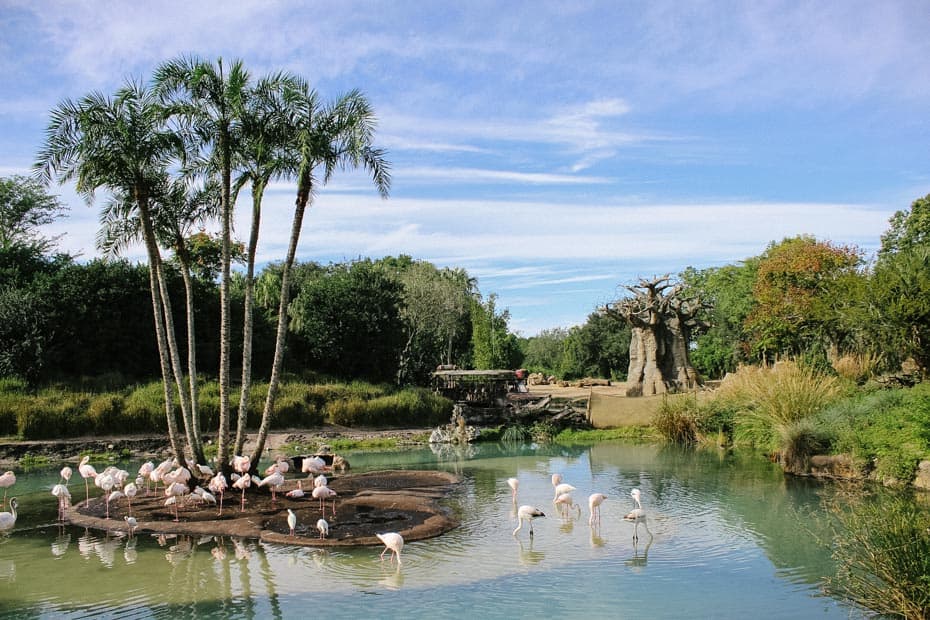 You might notice that there are a few newborn flamingoes down below. You can tell which ones they are because they are covered in grey feathers. On the day I took these photos, they were less than a week old.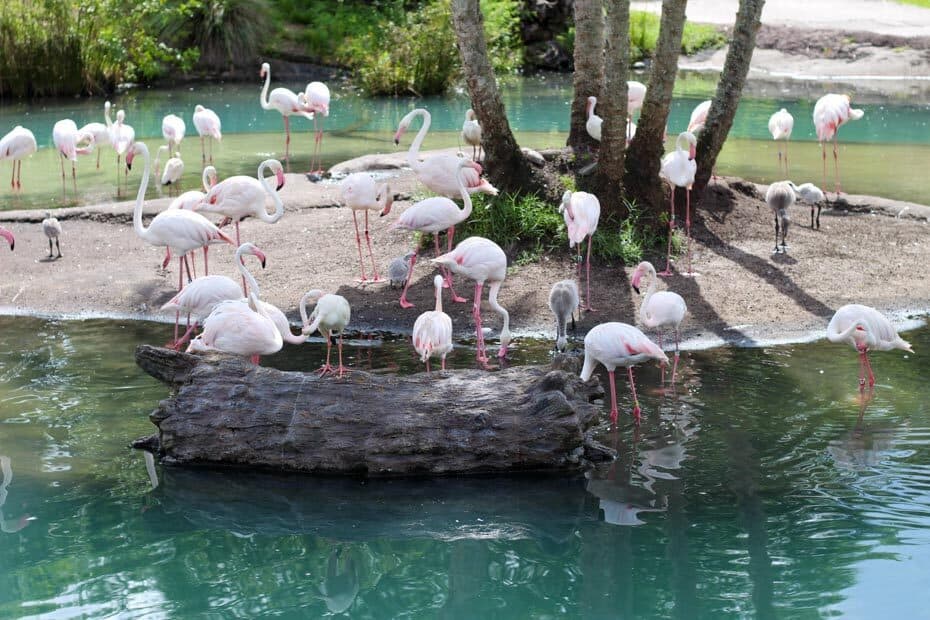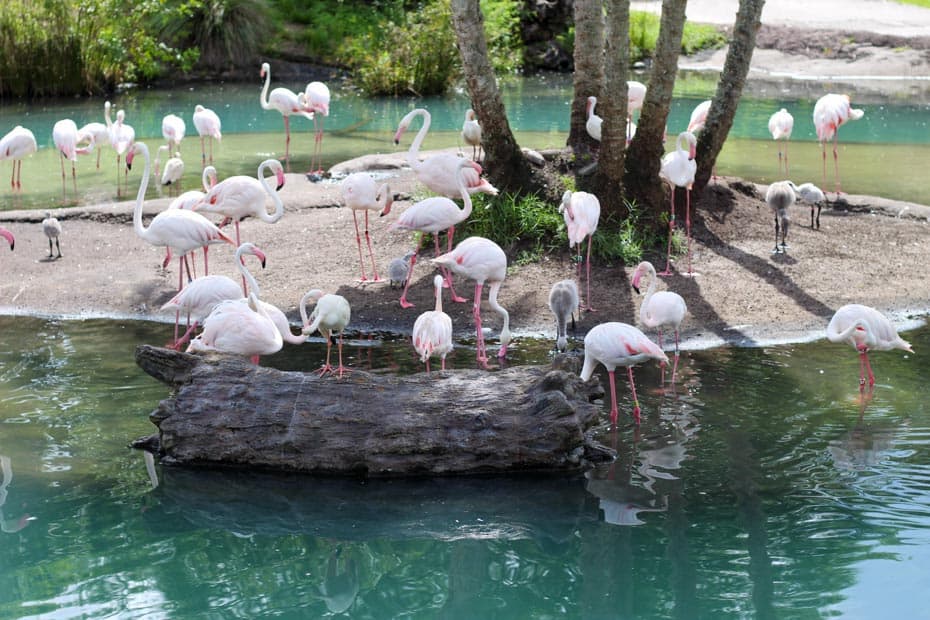 Make sure to look close! That tiny island has a familiar and unique shape.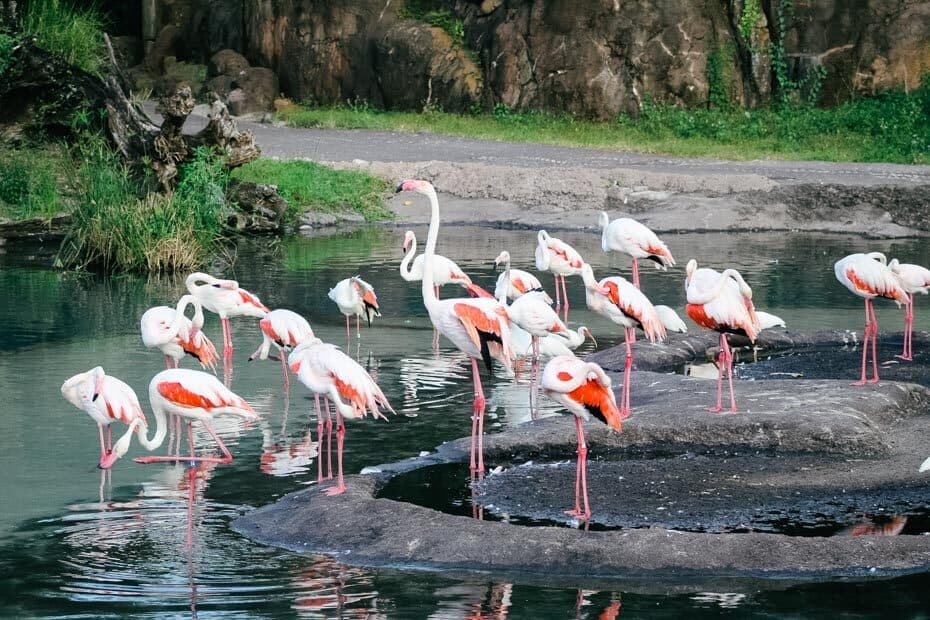 After passing the flamingo Mickey-shaped island, there are usually some rhinoceros roaming. Lately, I've had the fortune of encountering a good deal of them up close and personal.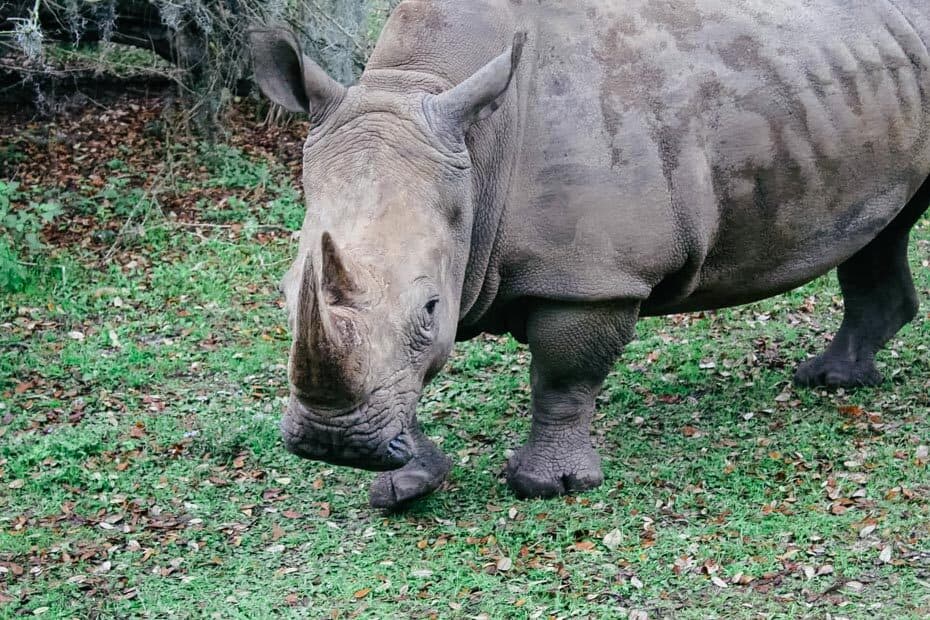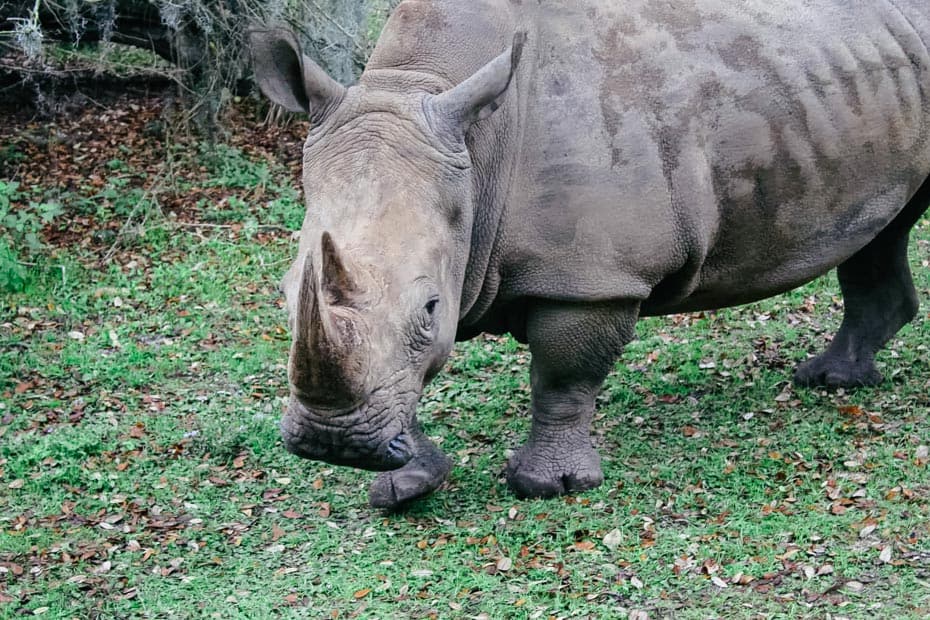 One day I even had a pair of them walk next to our ride vehicle for about a full minute. They were so close I felt like I could have reached out and touched them.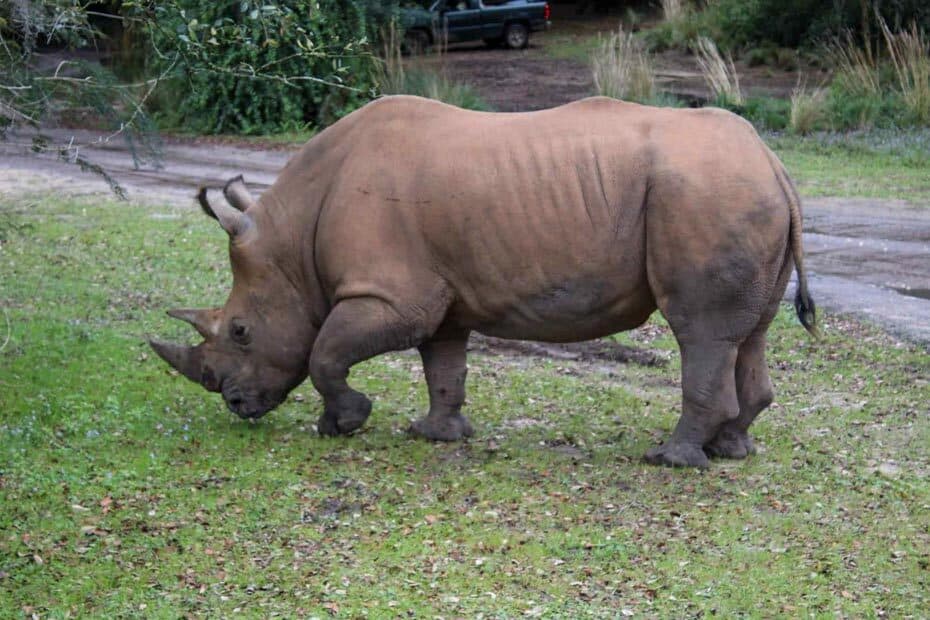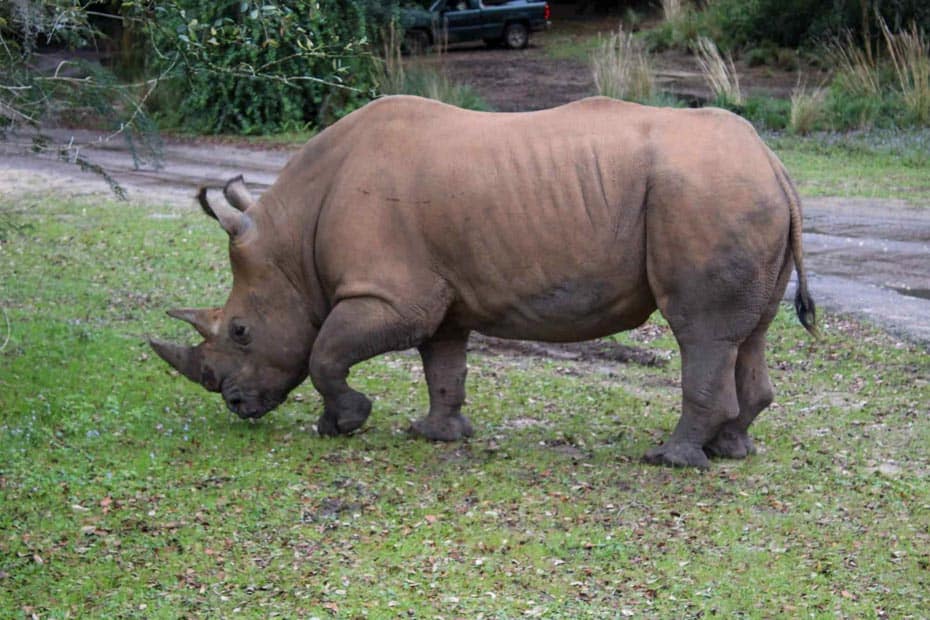 But of course, that would be very dangerous, and they are so large I couldn't imagine!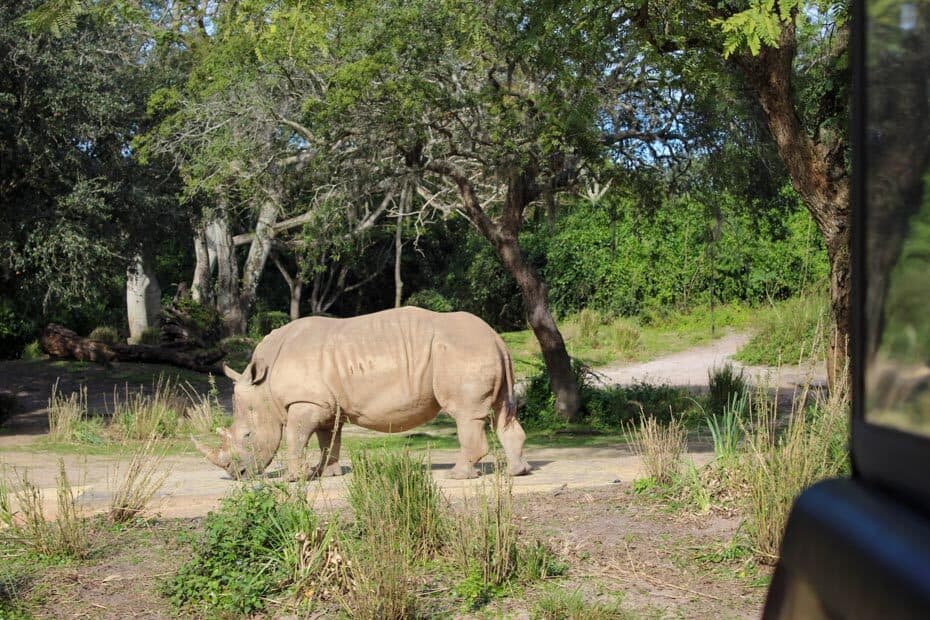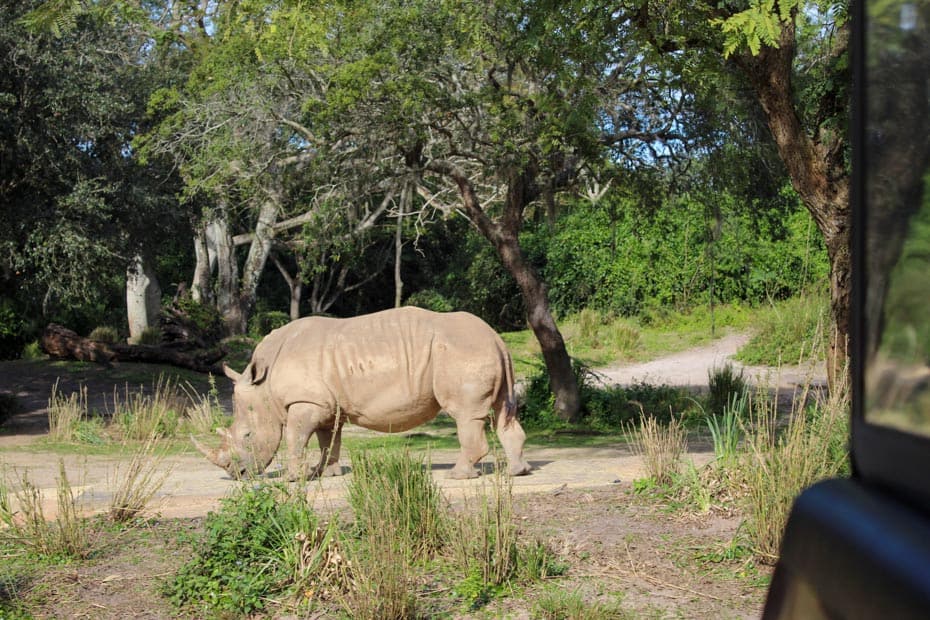 Sometimes when it's been raining, you might even get to see them wallowing in the mud. I always call this Rhino-spa-time!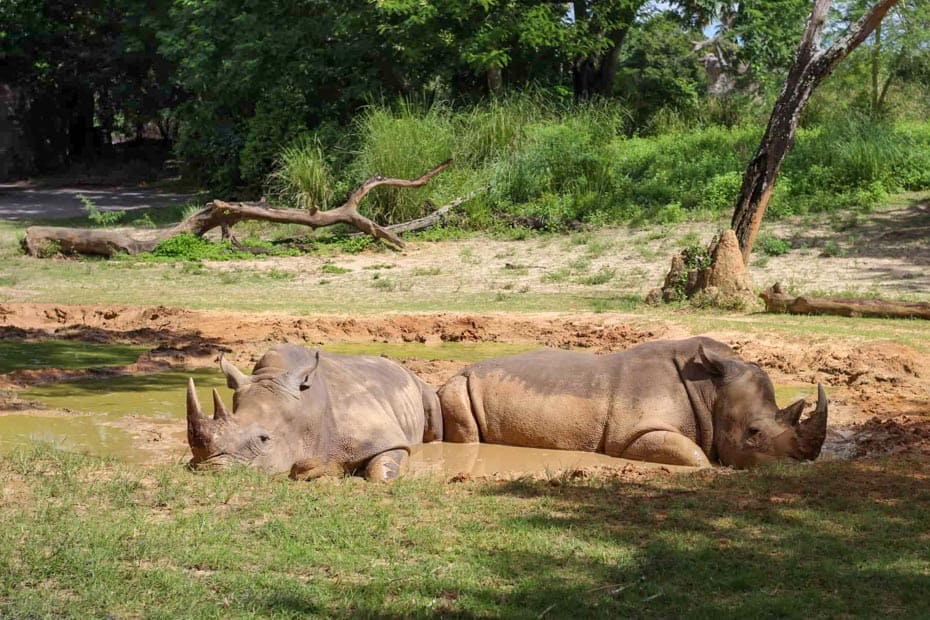 Moving on, the cheetah might be the hardest animal to see and photograph on the safari. The cheetahs are usually lying around in the shade, and you might be able to see a pile of spotted fur.
They do, from time to time, walk around. This would be a good one for that zoom lens. As you can see below, this is what you get with a nice, middle-of-the-road camera.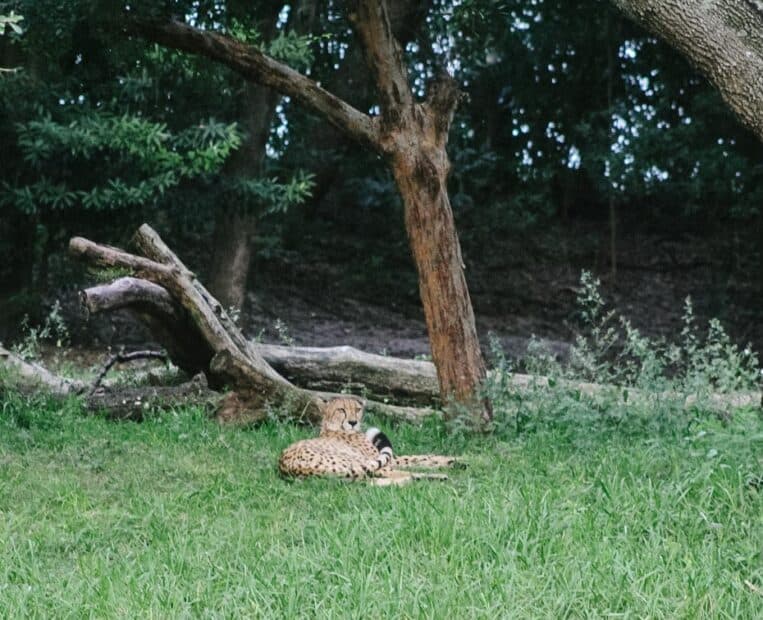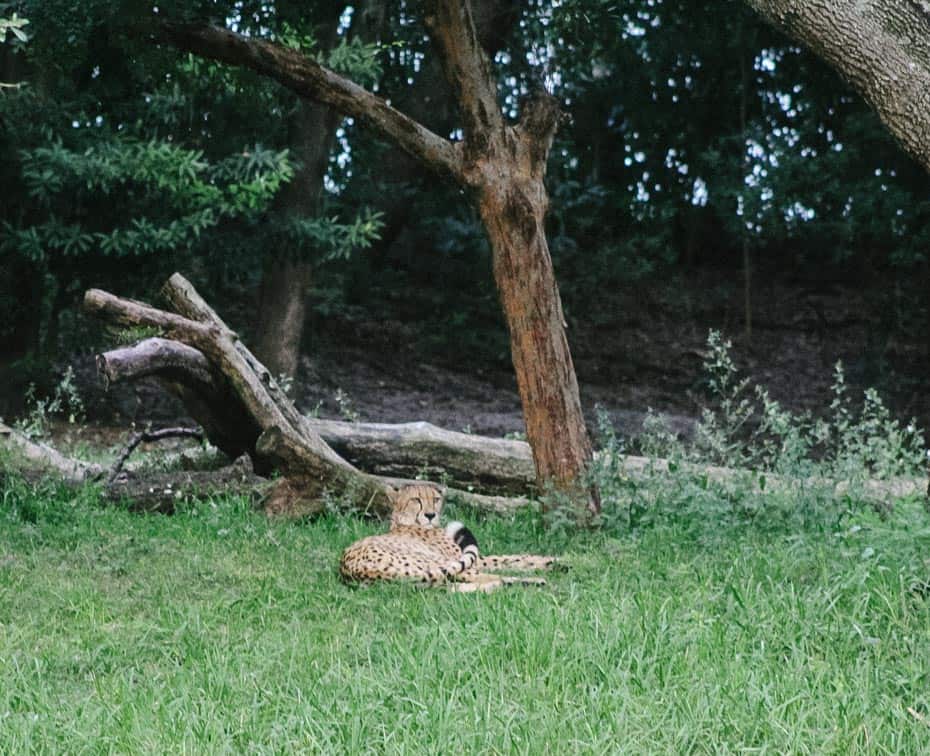 Perhaps in a grand finale sort of way, the lions are close to the end of Kilimanjaro Safaris. Get the feel of living among lions as you pass by their den. That feeling is probably sleepy because that's what they do most of the day.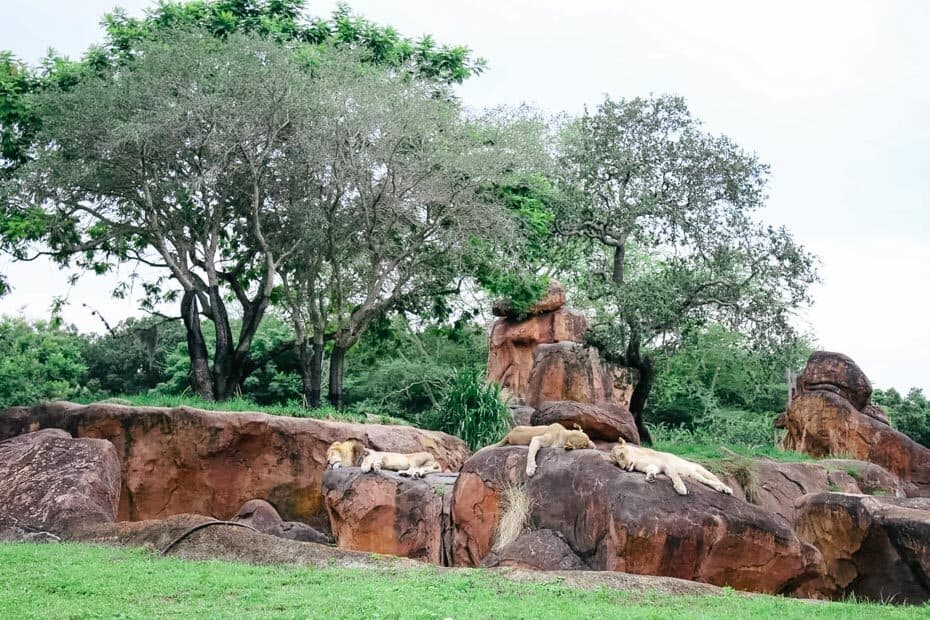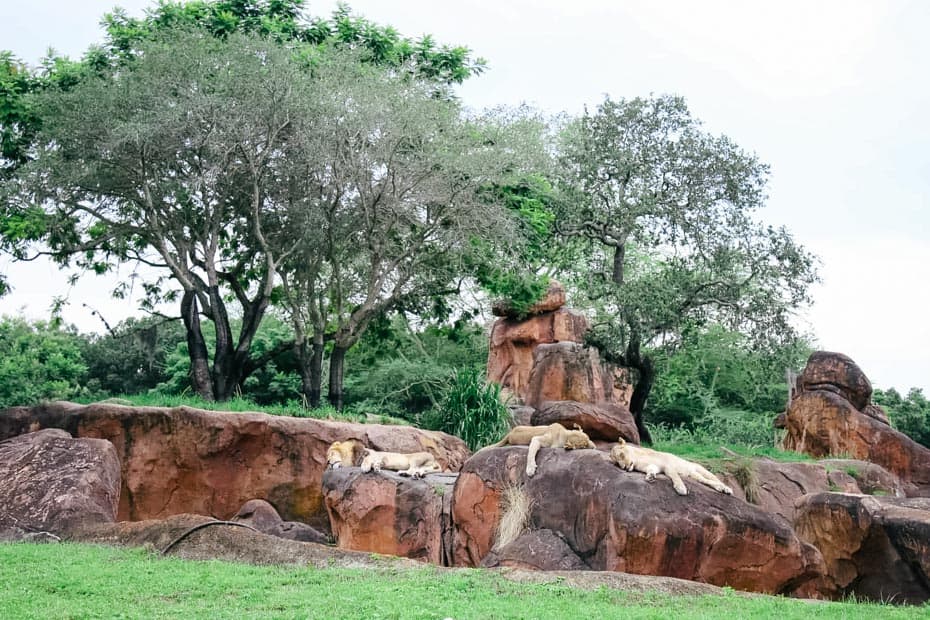 Sometimes you might see a lioness perched high on her rock overlooking the kingdom.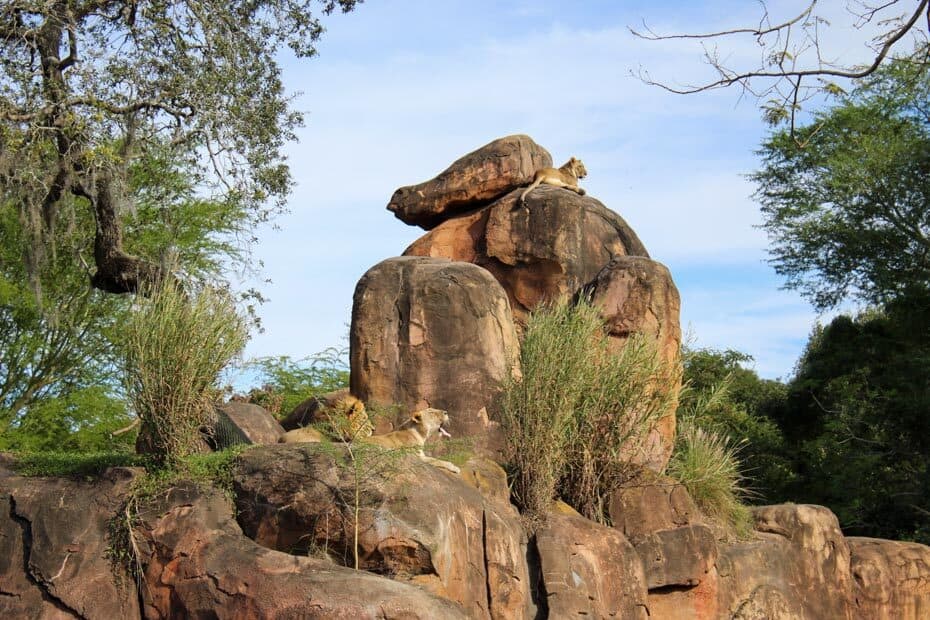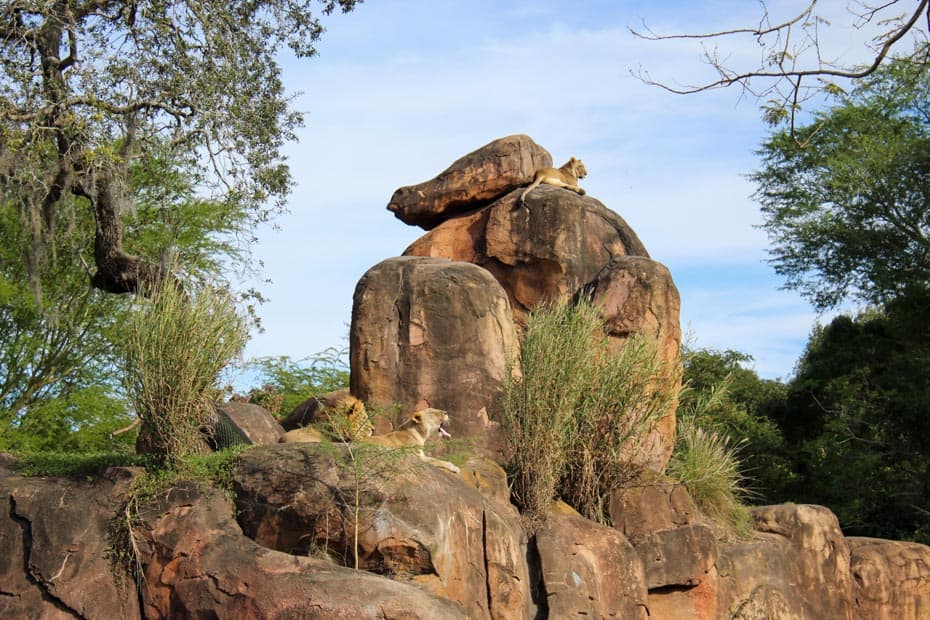 But most of the time, you will see them sleeping like below. Lions are a more nocturnal animal and can best be viewed around sunset to the early evening hours.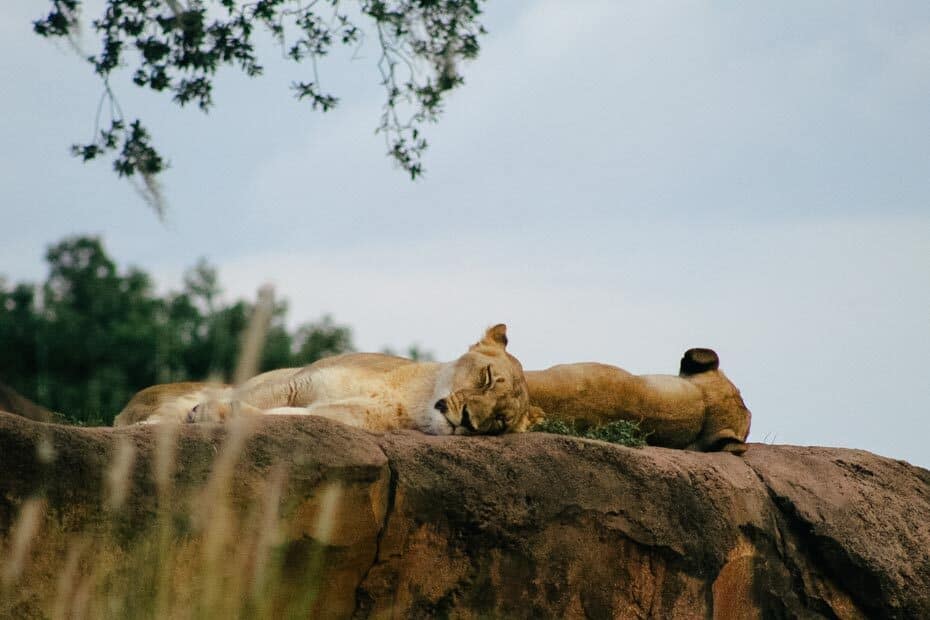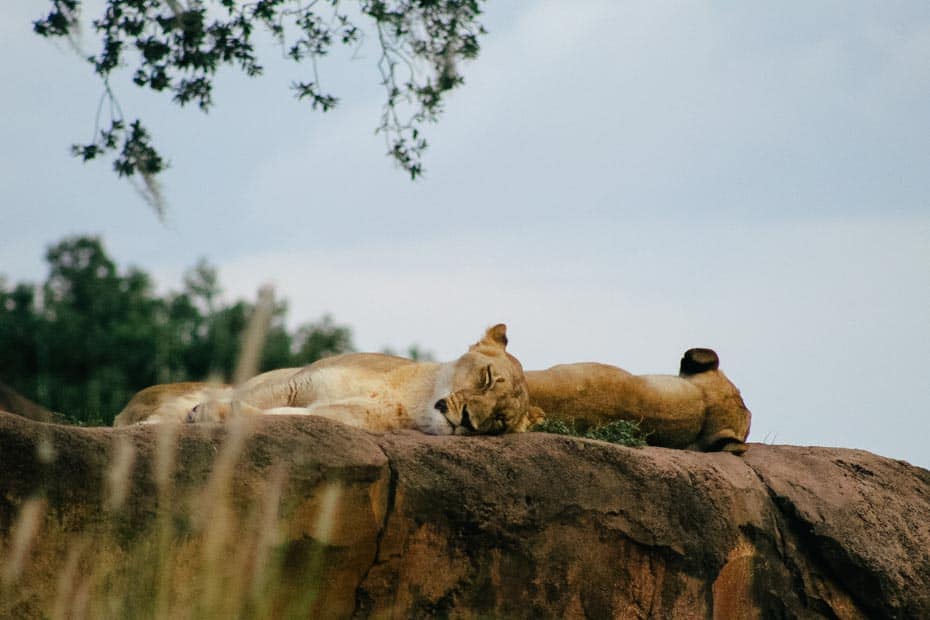 The evening would be the most opportune time to hear them as well. They make quite an unusual noise, and if you have the chance, I would ride the safari for a second time later in the day.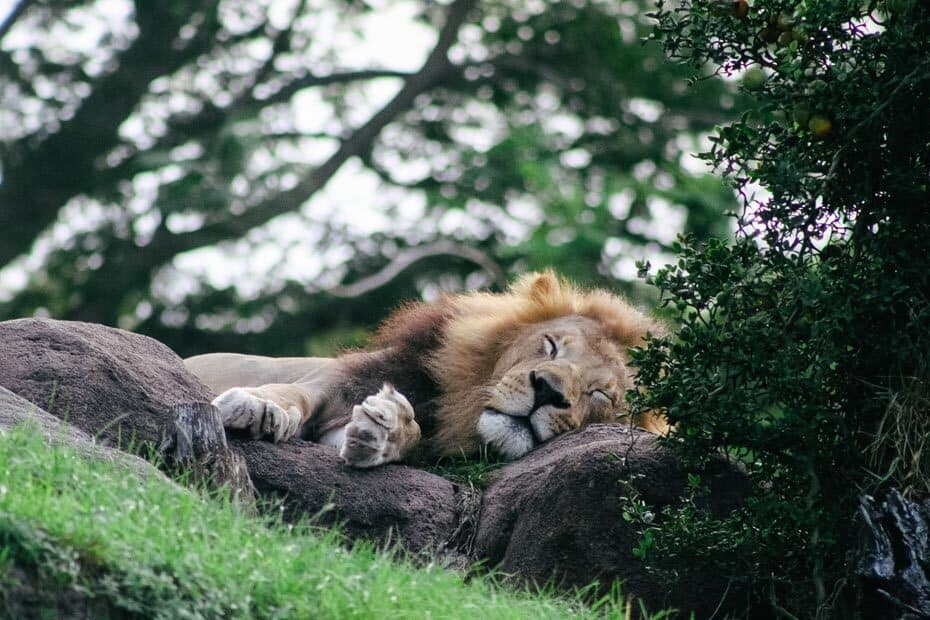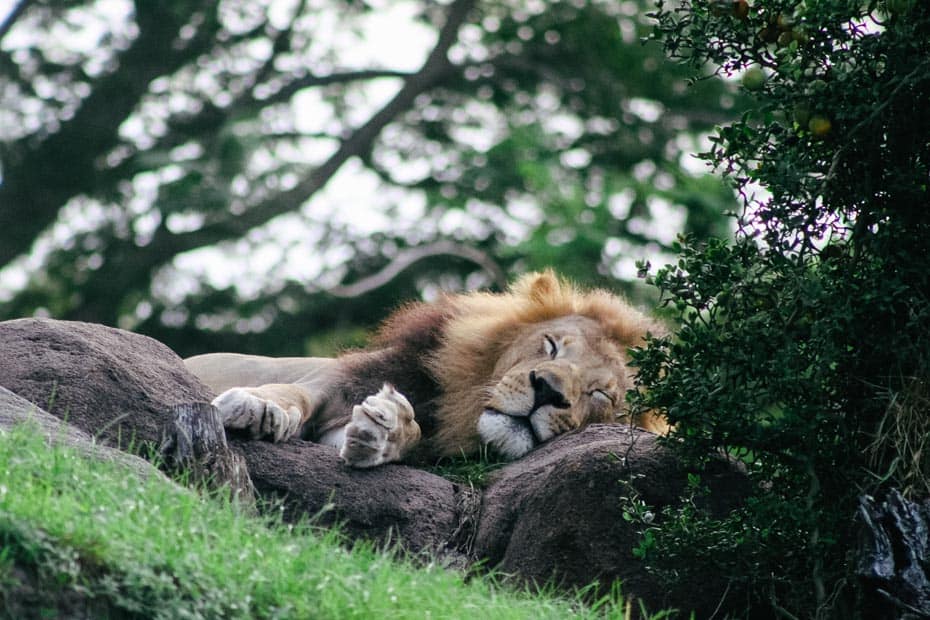 After you pass the lions, there are usually a few more encounters. You might see a family of warthogs or more grazing animals. Often, there are more rhinoceros in the area, along with a zebra or two.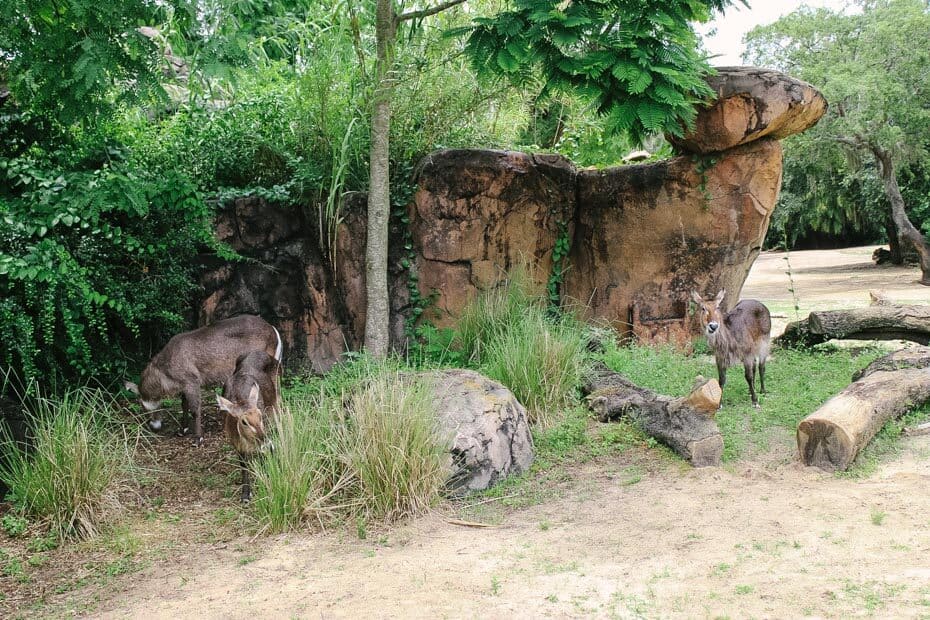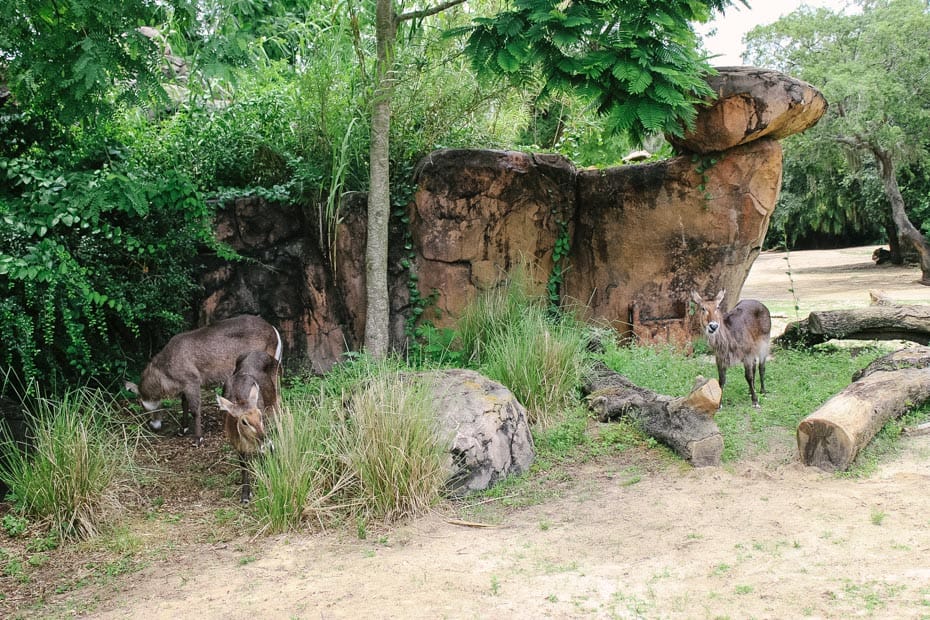 I have often seen ostriches come up close to the safari vehicle in this area.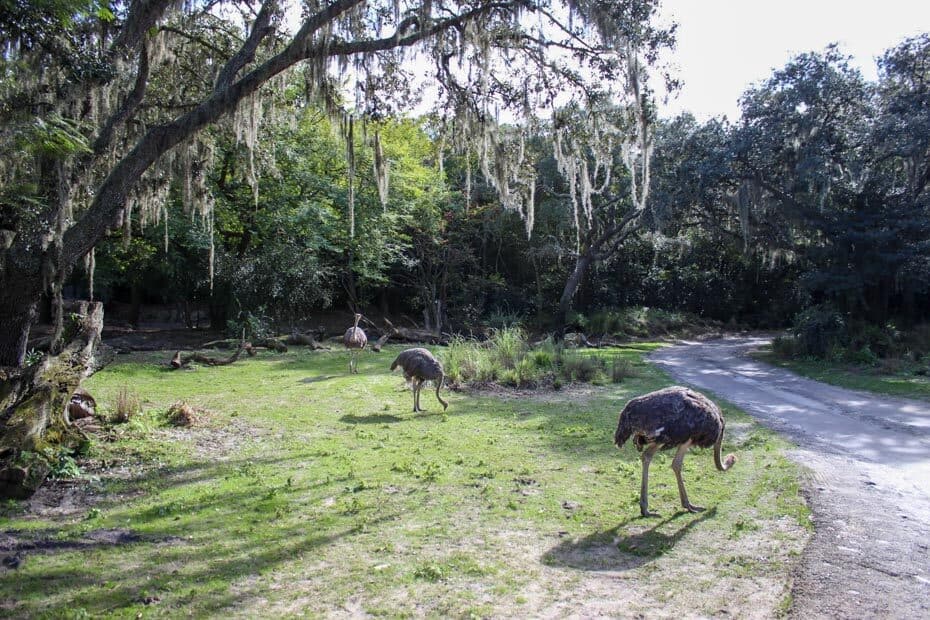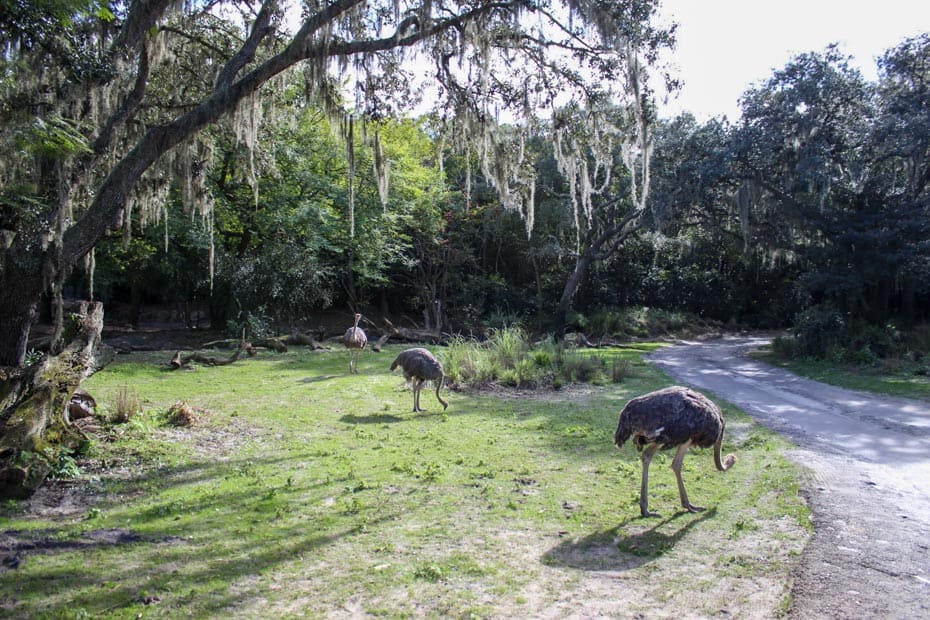 Like this one.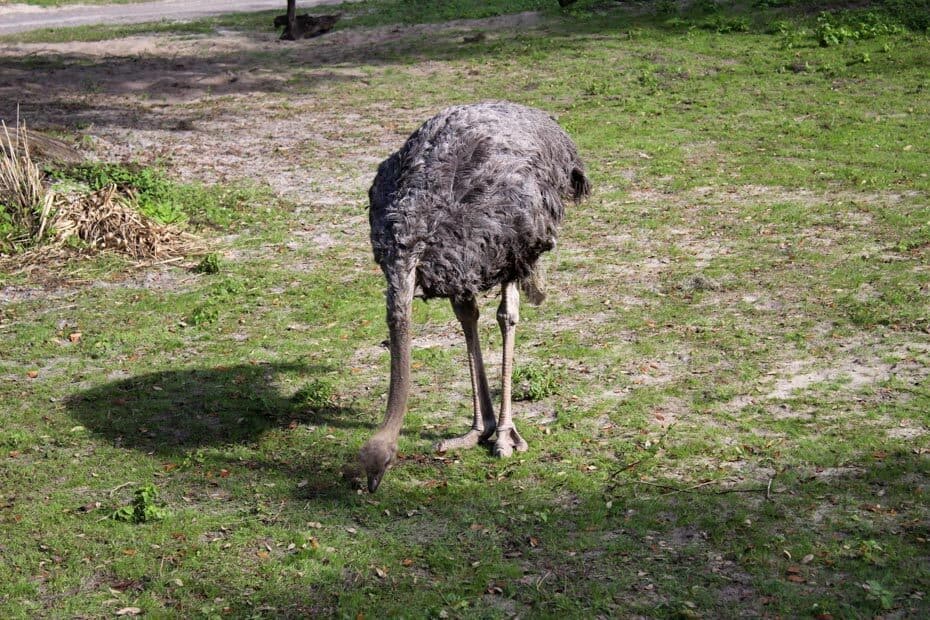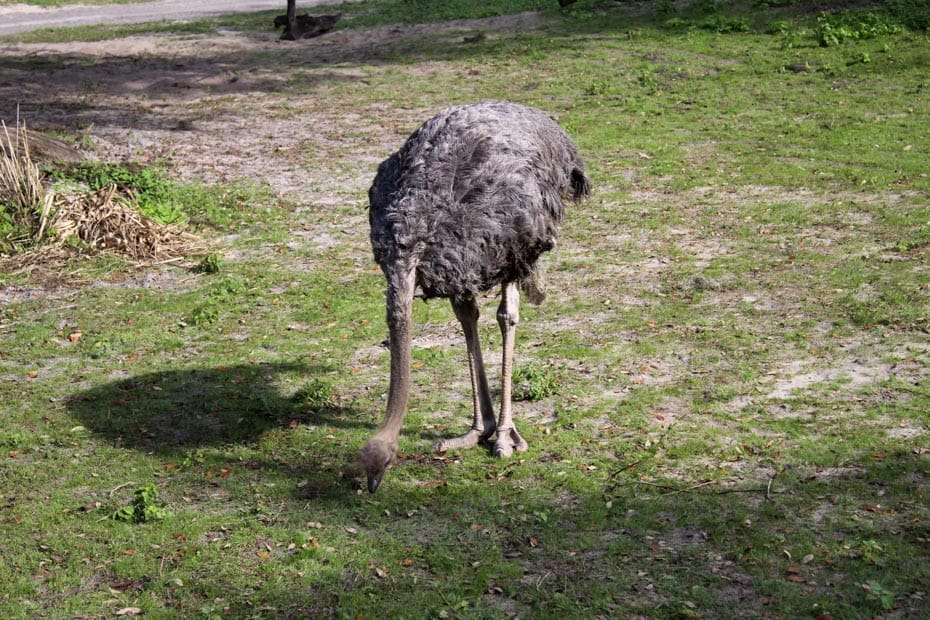 At the very end of Kilimanjaro Safaris, there's a new animal that's been added. Below is a picture of the enclosure.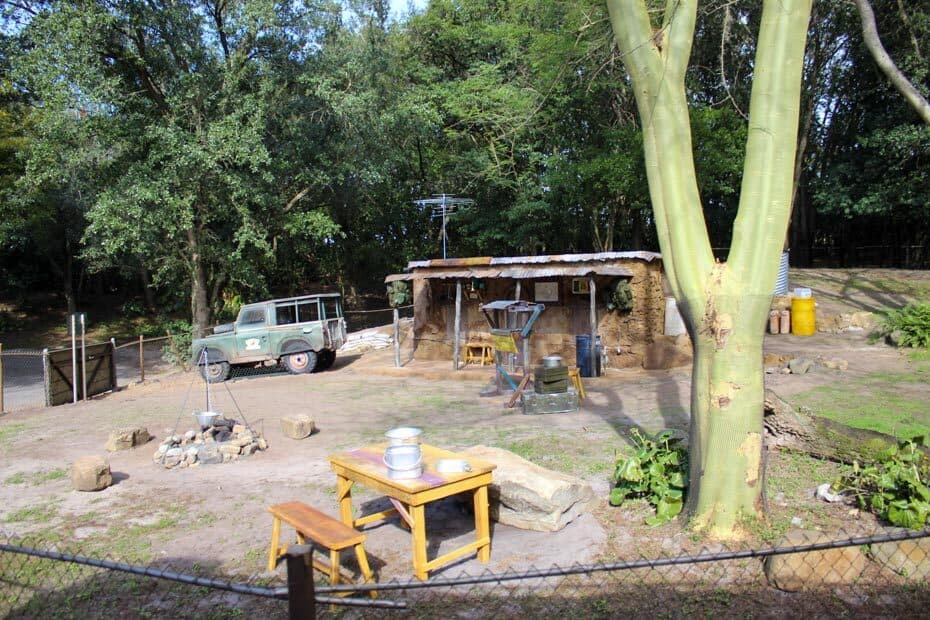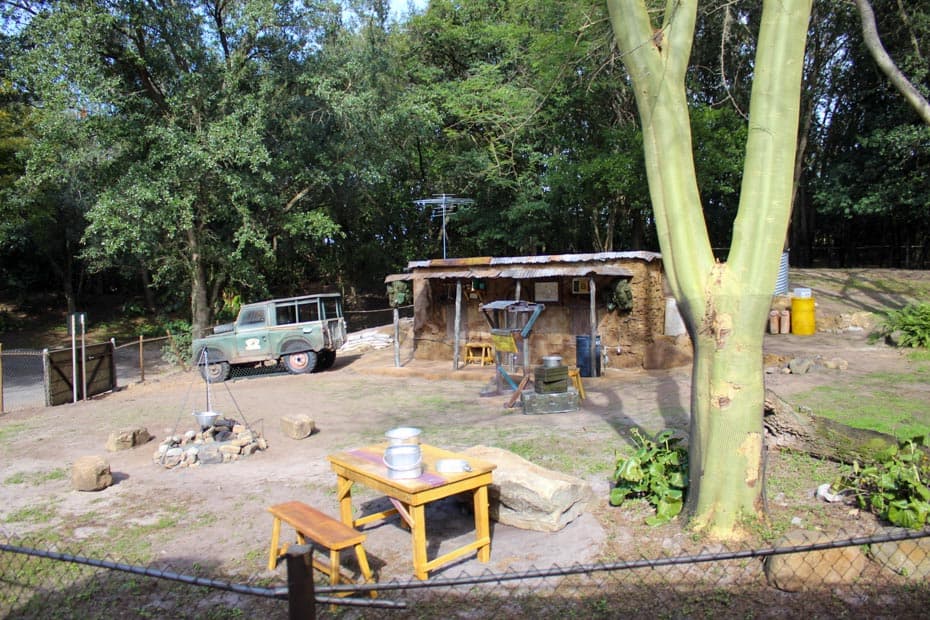 Nigerian Dwarf Goats were added here in the past few years. You can take a look and read more about them here on the Disney Parks Blog if you like.
As we wrap up our tour of the animals you'll find on Kilimanjaro Safaris, let's take a look at a few commonly asked questions.
How long is Kilimanjaro Safaris?
The Disney website notes that the safari ride is about 18 minutes. That is probably a pretty accurate average with a few exceptions. Those exceptions are the activity of the wild animals on your safari.
For instance, if an animal walks out onto your path, you will stop and wait. There have been many times I've been on a 30 plus minute safari due to animals blocking our travels.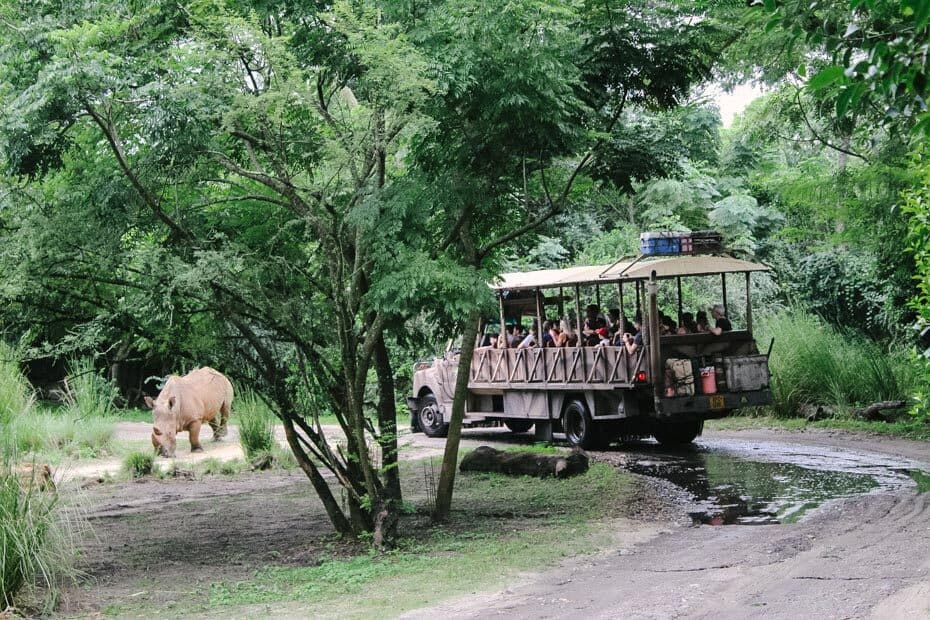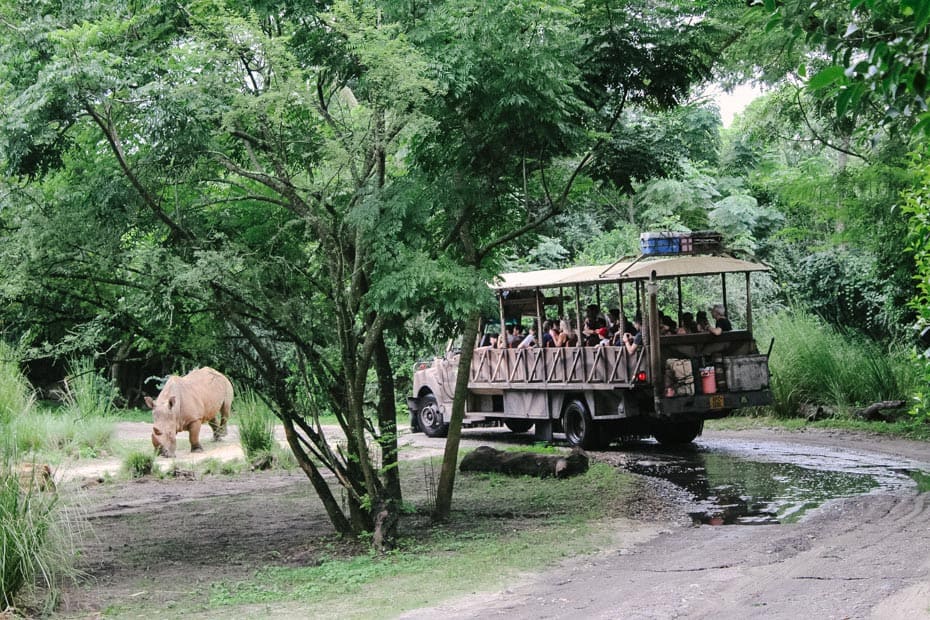 What is the best time to ride Kilimanjaro Safaris?
I'm not too fond of this question because I know the popular answer is early in the morning or later in the evening when it cools off a bit. So yes, animals might typically be more active at these times.
My answer, though, is Anytime! These animals are not getting paid to put on a show and slacking off in the heat of the day. Every single safari experience is unique and different.
No two safaris are alike! I have even been on Kilimanjaro Safaris in the rain and have had some of my most memorable experiences.
Should we ride Kilimanjaro Safaris at night?
Yes! But I would try to ride it in the daytime first. Then go back for an additional ride around sunset into the early evening.
You aren't going to see near as much the darker it gets. However, there is staging with the lighting in areas to help. It is also a completely different and unique experience.
Riding Kilimanjaros Safaris with Genie+
Yes and No! It depends on what time you plan to ride it, and the weather plays a huge factor. If you upgrade to Genie+, by all means, use it to ride the safari.
And if you don't upgrade to Genie+ then try to experience the safari as early as possible. Then try to get in line again later in the day.
If it is raining or recently stormed the wait time also will have probably dropped significantly. I have had good luck with riding it back to back with no waits during and after rain. The wait time also tends to drop the later it gets and you can ride fairly easily later in the evening.
Just make sure to check the operating hours for the ride. Even though the safari is open later, sometimes it does close earlier than the rest of the park.
Additional Animal Experiences at Kilimanjaro Safaris
Under normal circumstances, there are several additional animal experiences available that are related to Kilimanjaro Safaris. However, at this time, these types of interactions have been put on hold. Here are a few that might be offered again in the future:
Caring For Giants provides more up close experiences with the elephants. Disney has more details here on their site.
Up Close with Rhinos is a similar experience, only rhinos. Disney has some additional information about it here.
If you want to go all out and spend a couple of hours on safari you might elect to book the Wild Africa Trek here. It's a pretty big deal with a price running up to $250.00 per person.
Whatever you decide to do I'm sure you will have an excellent day at Animal Kingdom. And that's whether you get to do an "extra" tour or just ride Kilimanjaro Safaris a time or two.
For those planning a Disney Animal Kingdom visit, make sure to check out the full list of attractions at Animal Kingdom.
You might also enjoy our specialty, the Disney World Resort Reviews. For resorts near the Animal Kingdom, try these:
Or if you are considering an off-property stay that's still nearby, try my review of Orange Lake in Kissimmee. We recently stayed in a studio room at the West Village and really enjoyed the trip.
So how many times do you plan to ride Kilimanjaro Safaris on your next trip? Let me know below in the comments.