Canada Marketplace Review at Epcot's 2023 Food and Wine Festival
It's no secret that the Canada Marketplace at Epcot's International Food and Wine Festival is a fan favorite. A mere meander past the booth will make you think guests are waiting for a popular attraction.
As far back as I can remember, Canada has had a miniature version of Le Cellier's filet mignon alongside a cheddar soup on its menu. This tradition continues in 2023. Below, we'll preview this year's menu with prices and look at the items you can expect to find.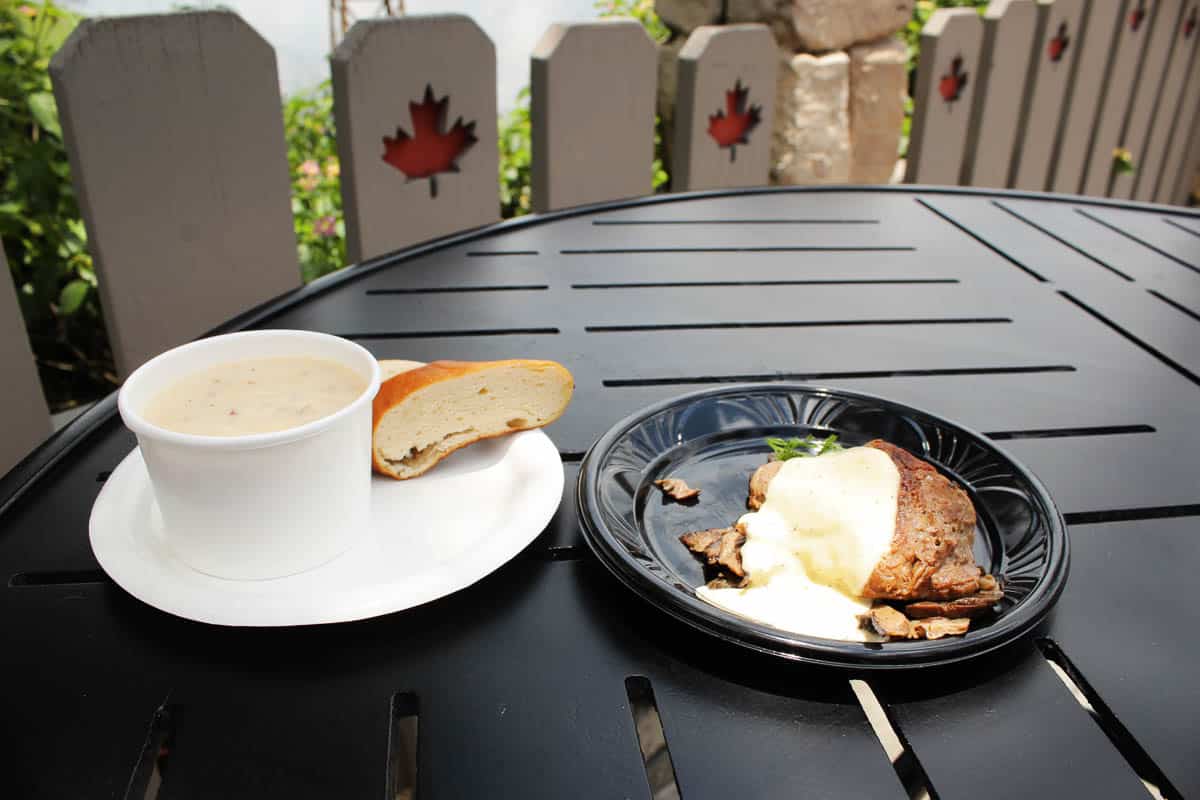 Canada Marketplace Menu Items
Here is a list of each item available at Canada's Marketplace with prices.
Canadian Cheddar and Bacon Soup ($6.00)
Canadian Filet Mignon ($9.75)
Beverages:
Collective Arts Audio/Visual Lager ($5.50 or $9.50)
Chateau de Charmes Cabernet Sauvignon ($7.50)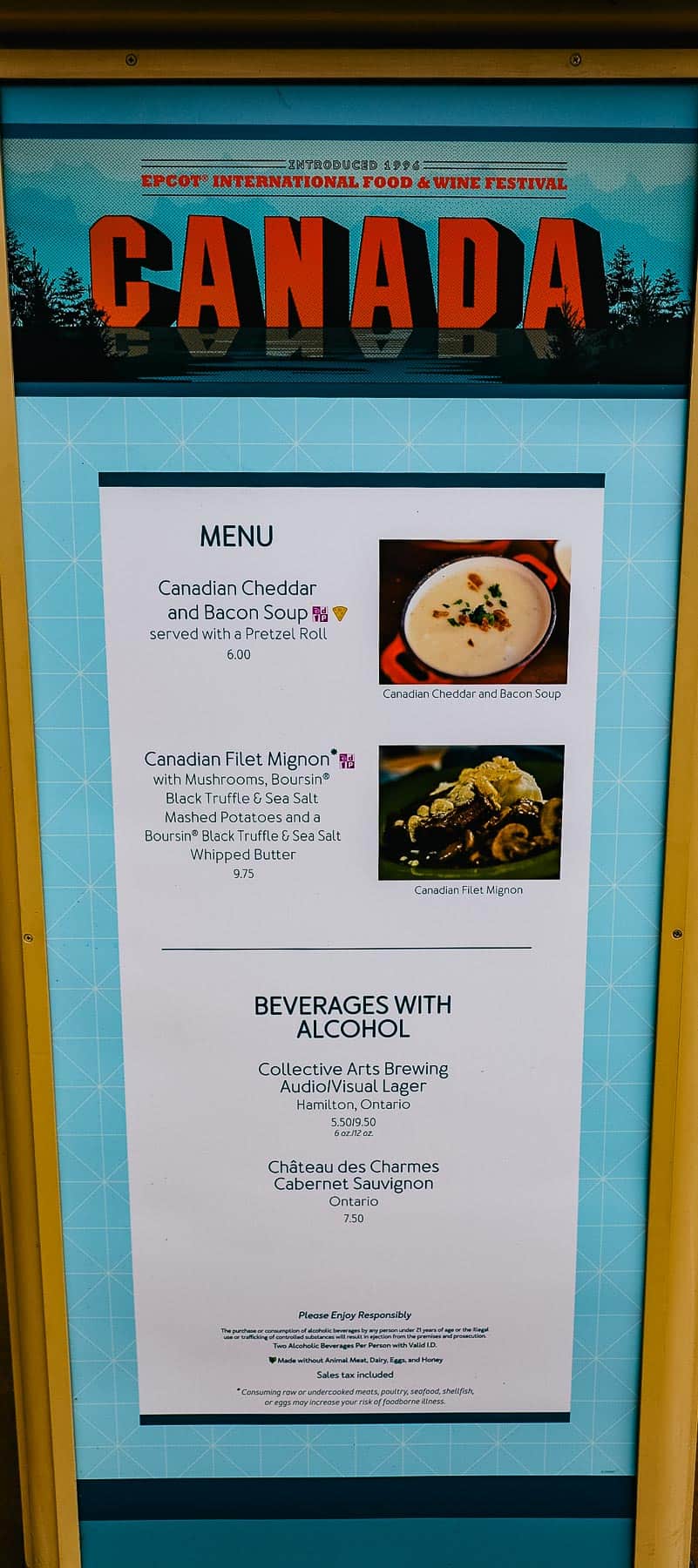 Canadian Cheddar and Bacon Soup
First, we have the Canadian Cheddar and Bacon Soup, which is truly a festival favorite. Guests wait in long lines for the opportunity to try this soup, even when it feels like a scorching 100+ degrees outside.
It's a simple soup with delicious bites of bacon in the mix. The side of pretzel bread is a nice touch.
However, since this dish is served piping hot, it's not the best thing to enjoy outdoors in July. Wouldn't it be nice if the festival ran between September and November? September is hot too, but October tends to lend a break in the extreme heat patterns.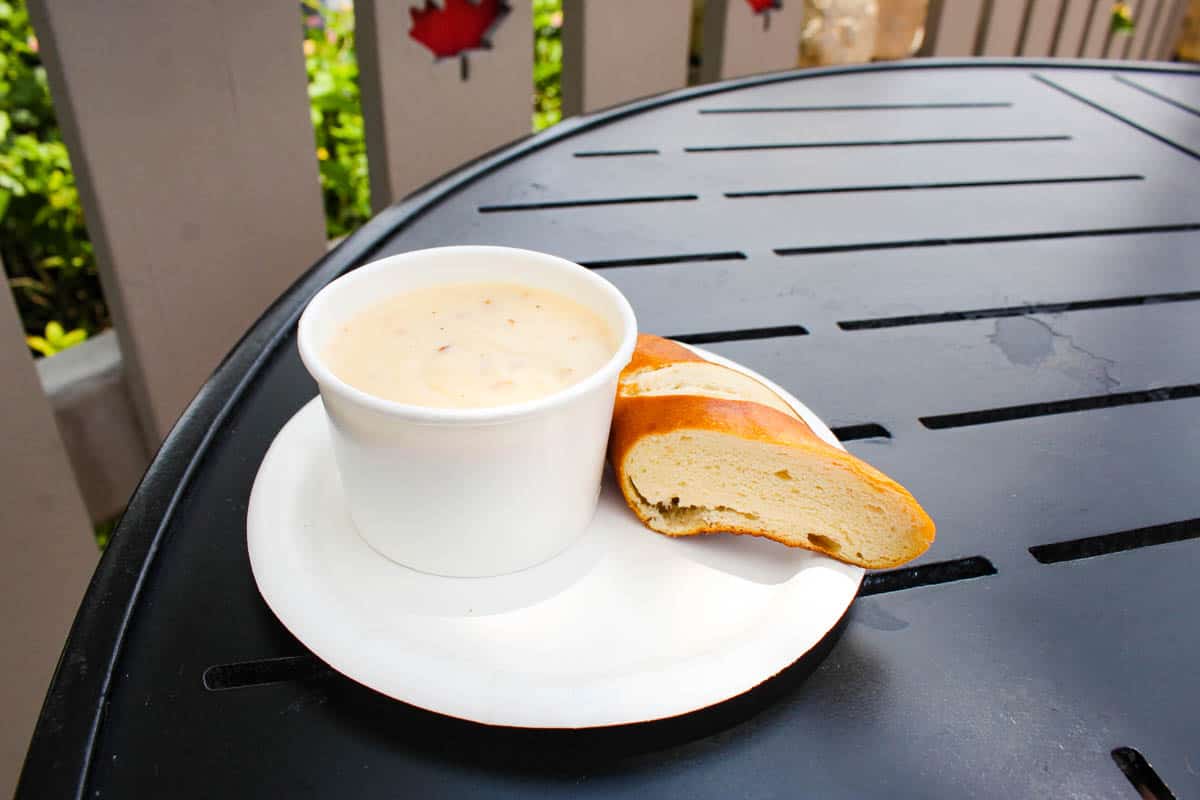 Canadian Filet Mignon
The good news is that the $9.75 price tag for the filet mignon is reasonable. My portion was an excellent cut of filet mignon cooked to the perfect medium temperature. The filet comes with a truffle butter sauce and mushrooms. It's garnished with a sprig of parsley.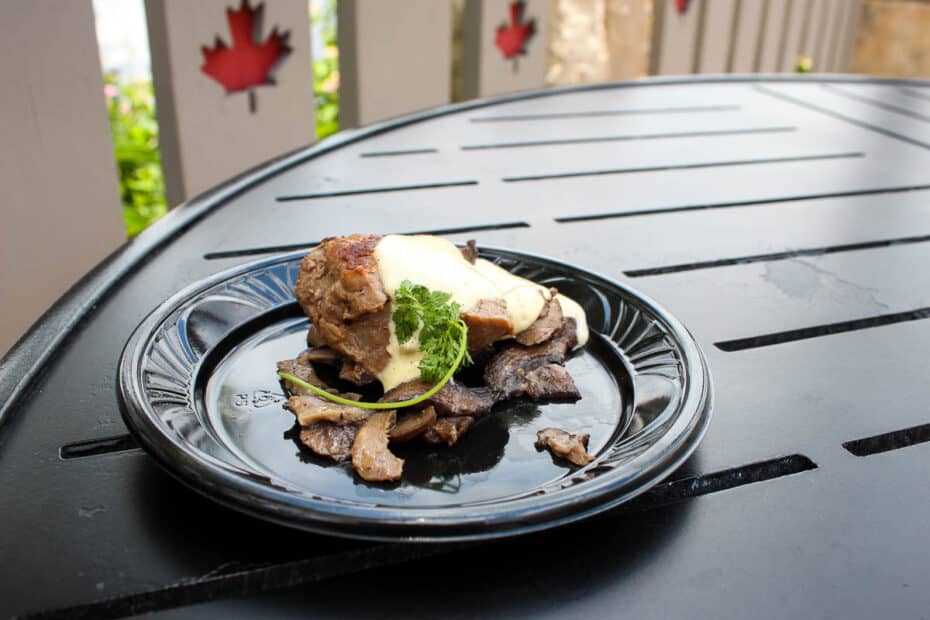 My filet was truly tender, and the truffle sauce was divine. The mushrooms added a nice texture and complemented the dish flavor-wise.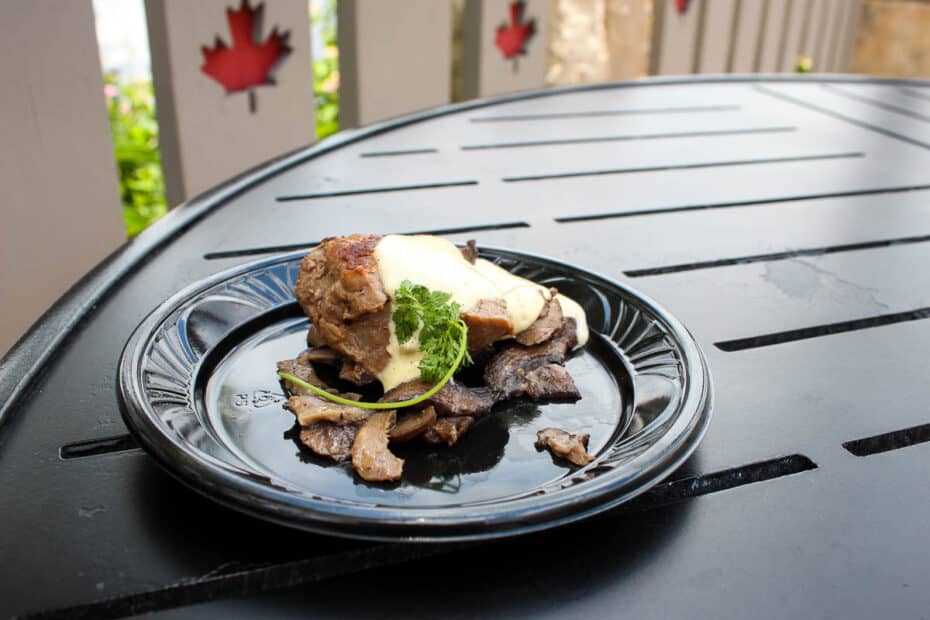 So if you want a bite at Epcot's Canada Pavilion without the formality of a reservation at Le Cellier, join the line and be prepared to wait. Trust me, it will probably be long.
There's a reason the Canada Marketplace endures year after year with the same two items. For more festival reviews, you might enjoy the following:
Or you might also enjoy our list of menus and prices for the Epcot Food and Wine Festival.
Return to Epcot Festivals.
In the Comments
Do you have plans to try either of these items at the Canada Marketplace? Which one will you choose? Or will you try both?