---
Disney's Art of Animation Resort
Disney's Art of Animation Resort is located in the Lake Buena Vista area of Walt Disney World in Orlando, Florida. This Disney Resort Hotel is considered a value resort and offers standard guest rooms along with family suites.
1850 Animation Way
Lake Buena Vista, FL 32830
Check-In Time: 3:00 p.m.
Check Out Time 11:00 a.m.
Art of Animation Overview
---
Disney's Art of Animation is one of those resorts where children's faces light up repeatedly! From the larger-than-life classic characters displayed throughout the resort's grounds to the walking path made to look like Route 66 in the Cars section of the resort–there's so much to explore!
Art of Animation is located on the Disney Skyliner and sits across the lake from Disney's Pop Century Resort. Both resorts are connected by a bridge and a walking trail that surrounds Hourglass Lake.
Guests of each resort have access to the Disney Skyliner, which sits in the center of the bridge between the resorts. Skyliner transportation is available to nearby resorts and connects to both Epcot and Disney's Hollywood Studios.
Art of Animation is unique from other value resorts because it's comprised of two major room types: standard rooms and family suites. Standard rooms are comparable to a value resort. However, the rest of the resort is made up of oversized family suites that accommodate up to six guests per unit. We'll discuss specifics for each section in more detail below.
Resort amenities include multiple pools, a children's splash pad, a playground, nightly movies, and a jogging trail around the lake, among other things. With so much to do at the resort alone, it's difficult to fit everything in during a week's vacation!
Below, we'll further discuss rooms, family suites, amenities, dining, shopping, and transportation at Disney's Art of Animation. Additionally, we'll link to other articles that share more specifics on individual topics related to the resort. For instance, for a candid take on the resort, you might enjoy the opinions we provide in our review of staying at Disney's Art of Animation.
Family Suites
Disney's Art of Animation has over 1100 family suites. These suites are in a completely separate category when it comes to pricing. (Think $460.00 and up per night without a discount.)
Family suites sleep up to six guests with a queen-size bed, one double-size sleeper sofa, and one double-size pull-down table bed. They come with a kitchenette that includes a sink, a refrigerator, and a microwave. Family suites also have two bathrooms, which helps tremendously when getting ready.
Art of Animation has three sections dedicated to family suites:
Finding Nemo Family Suites
Cars Family Suites
The Lion King Family Suites
Value Section of the Resort
You might have noticed the family suites section didn't mention The Little Mermaid. This section of the resort is comprised of standard resort rooms. The Little Mermaid section of the resort has over 900 standard guest rooms. Theming in this section features larger-than-life statues of Ariel, Ursula, and King Triton.
Rooms in the Value Section
Our largest complaint about Disney's Art of Animation is in relation to the rooms in The Little Mermaid section. While a big fan of The Little Mermaid animated film, I find the Little Mermaid standard rooms to be the worst of all the value resorts at Walt Disney World.
They aren't terrible, and significant improvements have been made in recent years. However, they are truly designed to provide an "under the sea" feel. Unfortunately, an underwater feel makes the small space feel more cramped than nautical.
Here is a video from our last stay. Rooms in this section of the resort sleep up to four guests and have two queen-size beds. A few rooms with a king-size bed that sleeps up to two guests are also available.
Rooms have a mini-fridge, iron, an ironing board, and an in-room safe. Bathrooms feature a tub with shower combination.
Here are a few more photos of the room:
---
Each of the four areas of Disney's Art of Animation is divided into courtyards. First, there's the Finding Nemo Courtyard, where you'll find Crush and other characters from the Disney Pixar film Finding Nemo.
Next, there's the Cars section of the resort, which is home to the Cars suites, Radiator Springs, and a miniature Cozy Cone Motel that sits outside the pool area. This area is also where you'll find Lightning McQueen, Sally, Sherrif, Mater, and other cars from the animated film.
The Lion King section of the resort sits between Finding Nemo and The Little Mermaid. This is the only courtyard that doesn't have a pool. So you'll have to decide which pool best suits your family. All pools are available to guests of Art of Animation, no matter the area in which they are staying.
The last section of the resort has Disney's The Little Mermaid theming. This courtyard features Ariel, Flounder, Ursula, King Triton, Sebastian, and Prince Eric.
---
When it comes to dining, Art of Animation has two options. Landscape of Flavors is the primary option. This quick service restaurant is a food court with several stations offering various cuisines.
Landscape of Flavors is open daily between 7:00 a.m. and 11:00 p.m. They serve breakfast, lunch, and dinner. We have a separate review of Landscape of Flavors that previews the menu along with photos of all the grab-and-go items that were available on our last visit.
You can expect items like sandwiches, pizza, burgers, pasta, and chicken nuggets for lunch and dinner. Some might prefer to have pizza delivery or some other form of takeout during their stay.
Additionally, Art of Animation has one pool bar, The Drop Off Pool Bar. This pool bar serves snacks and a variety of beverages. It sits at the front of The Big Blue Pool.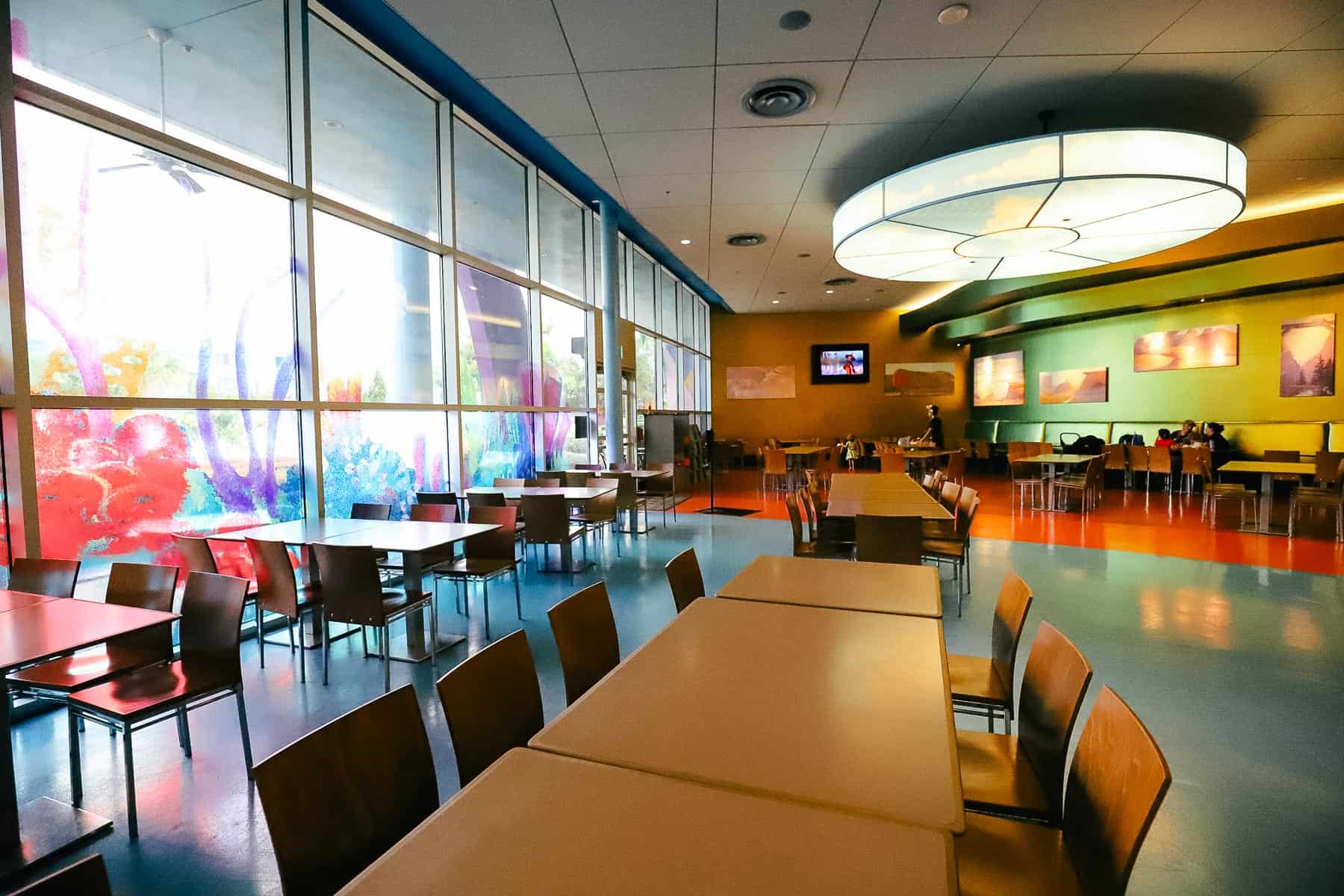 ---
Disney's Art of Animation has three resort pools. First, there's the resort's feature pool, The Big Blue Pool, which is the single largest resort pool at Walt Disney World.
Then there's the Flippin' Fins Pool, which is centered between the Little Mermaid rooms. This pool features Sebastian as he conducts a sea orchestra.
Lastly, the Cozy Cone Pool is in the Cars section of the resort. This pool has cabanas that sit underneath larger-than-life traffic cones.
If you would like specifics about the pool, we have an article that discusses the Pools at Art of Animation. That article provides lots of photos of the pool and details about changing rooms, showers, and pool hours.
In addition to its pools, Art of Animation has several recreational activities. Guests can enjoy a scenic walk or jog on a trail that loops around Hourglass Lake.
Art of Animation is home to the Pixel Play Arcade. This arcade is packed full of games and provides the perfect place to hang out during a thunderstorm!
Nightly Movies Under the Stars are held at The Big Blue Pool. Make sure to take a photo of the resort's recreation calendar upon your arrival. It will list the movie schedule for each night along with activities available during your stay.
Disney's Art of Animation is home to one gift shop, the Ink and Paint Shop. We have an article with tons of photos providing an overview of the kind of merchandise that's available at the resort's gift shop.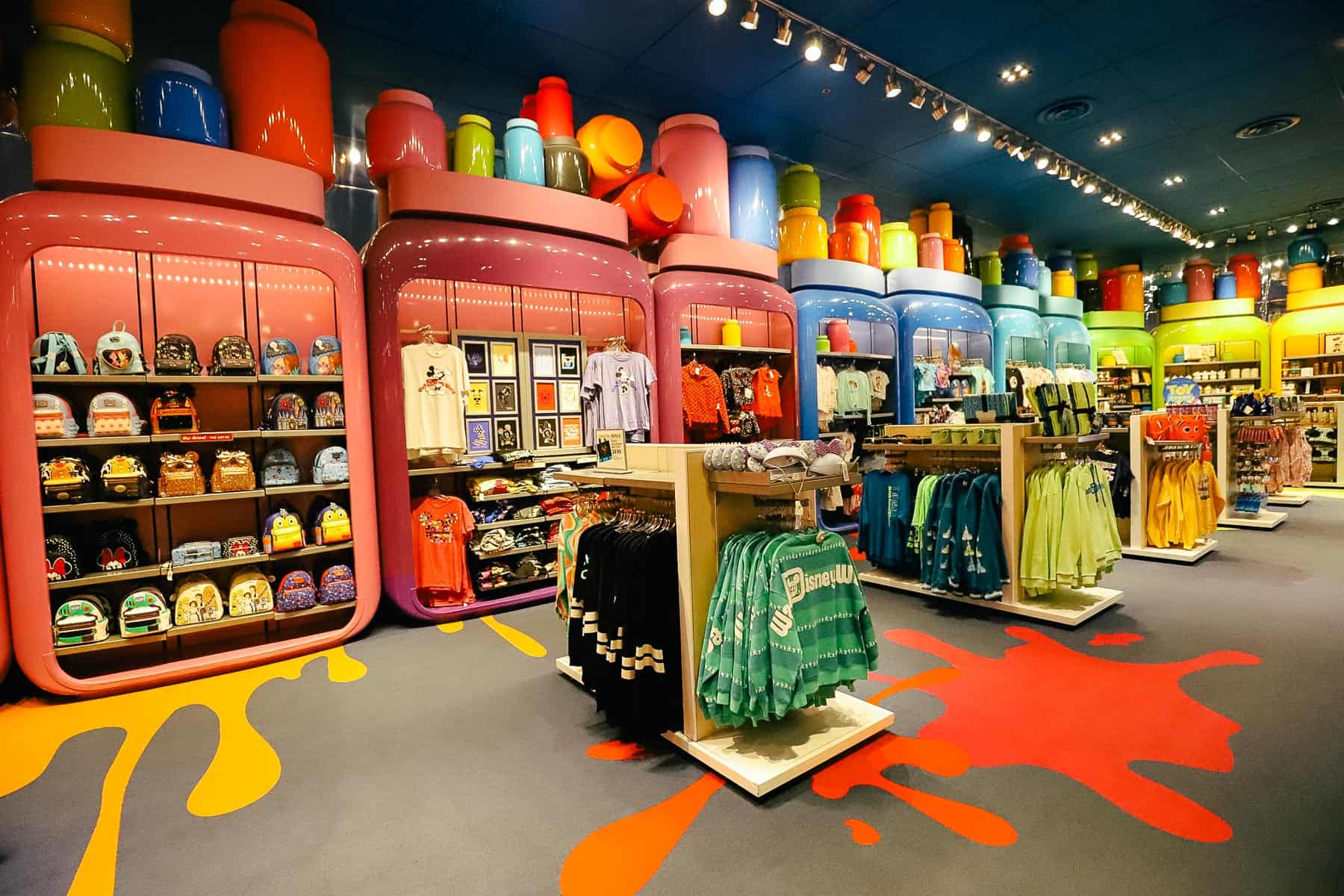 Laundry facilities are also available at every Walt Disney World Resort. Art of Animation has a laundry room at each of the three pools. We have an overview of prices and photos of the laundry area at Art of Animation, if you want to learn more.
---
Two forms of transportation are available at Art of Animation, the Disney Skyliner and Disney's Bus service. You can travel to and from the following locations:
Epcot and Hollywood Studios (Skyliner Gondolas)
Animal Kingdom and Magic Kingdom (Disney Bus)
Disney Springs and Water Parks (Disney Bus)
For the full scoop on how to get around, read over our transportation guide. It provides useful tips on how to get to and from many popular destinations.
---
Here are a few other articles related to Disney's Art of Animation.
Nearby Resorts:
Preview all of the Walt Disney World Resorts.
Photos of Disney's Art of Animation
---
Disney's Art of Animation Resort