Gran Destino Tower Room Tour (at Disney's Coronado Springs)
This article previews a standard guest room at Gran Destino Tower at Disney's Coronado Springs Resort. For reference, it was room number 9537 on the 15th floor (club level).
Gran Destino Tower is a fantastic choice if you're trying to decide between staying at a deluxe or moderate resort. Since it's a tower-style hotel, all its rooms have interior access.
For reference, standard guest rooms at Coronado Springs are located in villages with exterior access. Gran Destino is a unique addition to the resort, offering a few extra amenities you don't typically find at one of Disney's moderate resorts.
Below, we'll look at all the amenities you can expect in a room at Gran Destino. Additionally, I'll share a video of the room tour toward the end.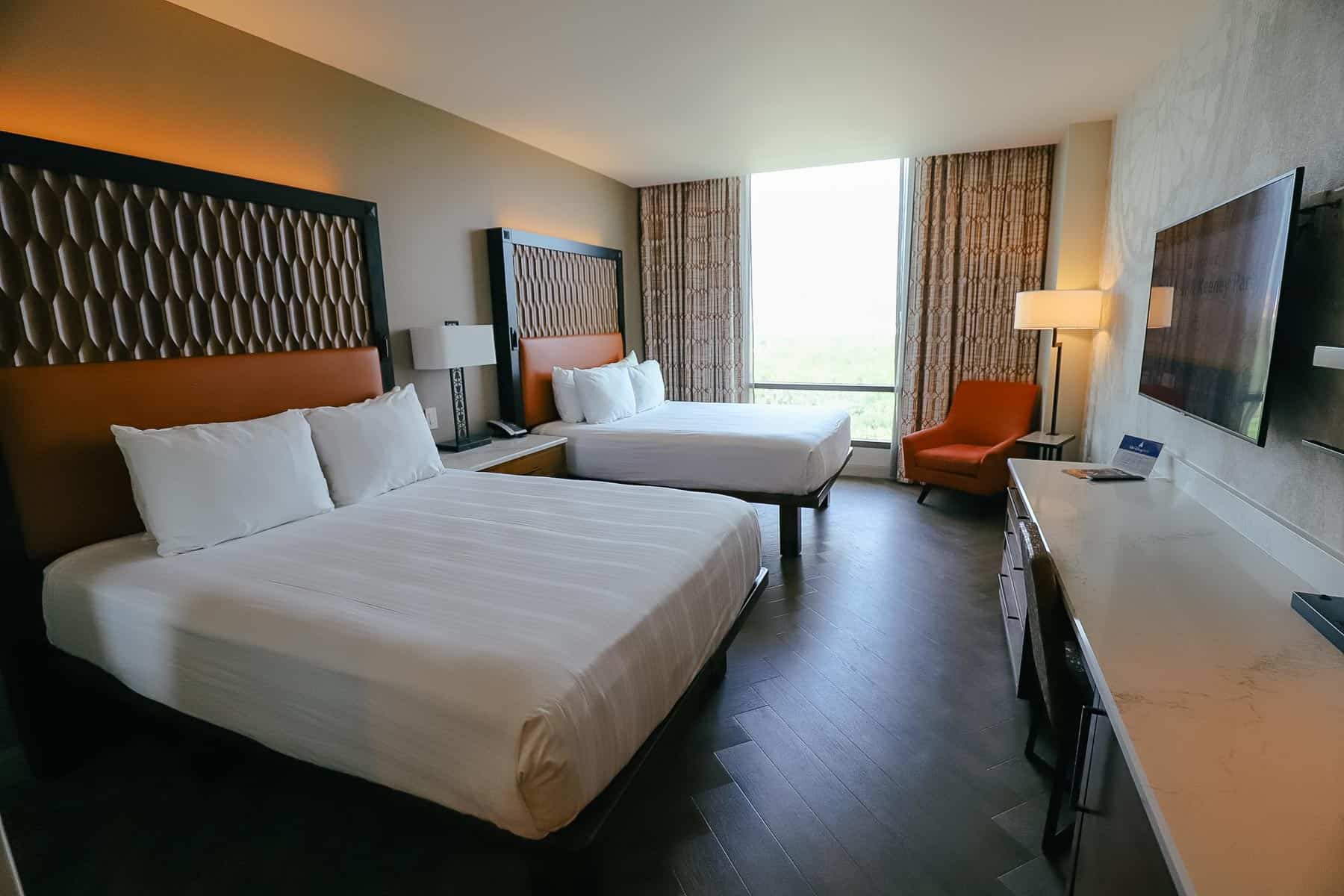 When you first open the door of a room at Gran Destino Tower, you're greeted by a foyer and solid surface flooring with a herringbone pattern. A large door on a track is to the immediate left. It slides across the opening to close off the bath area.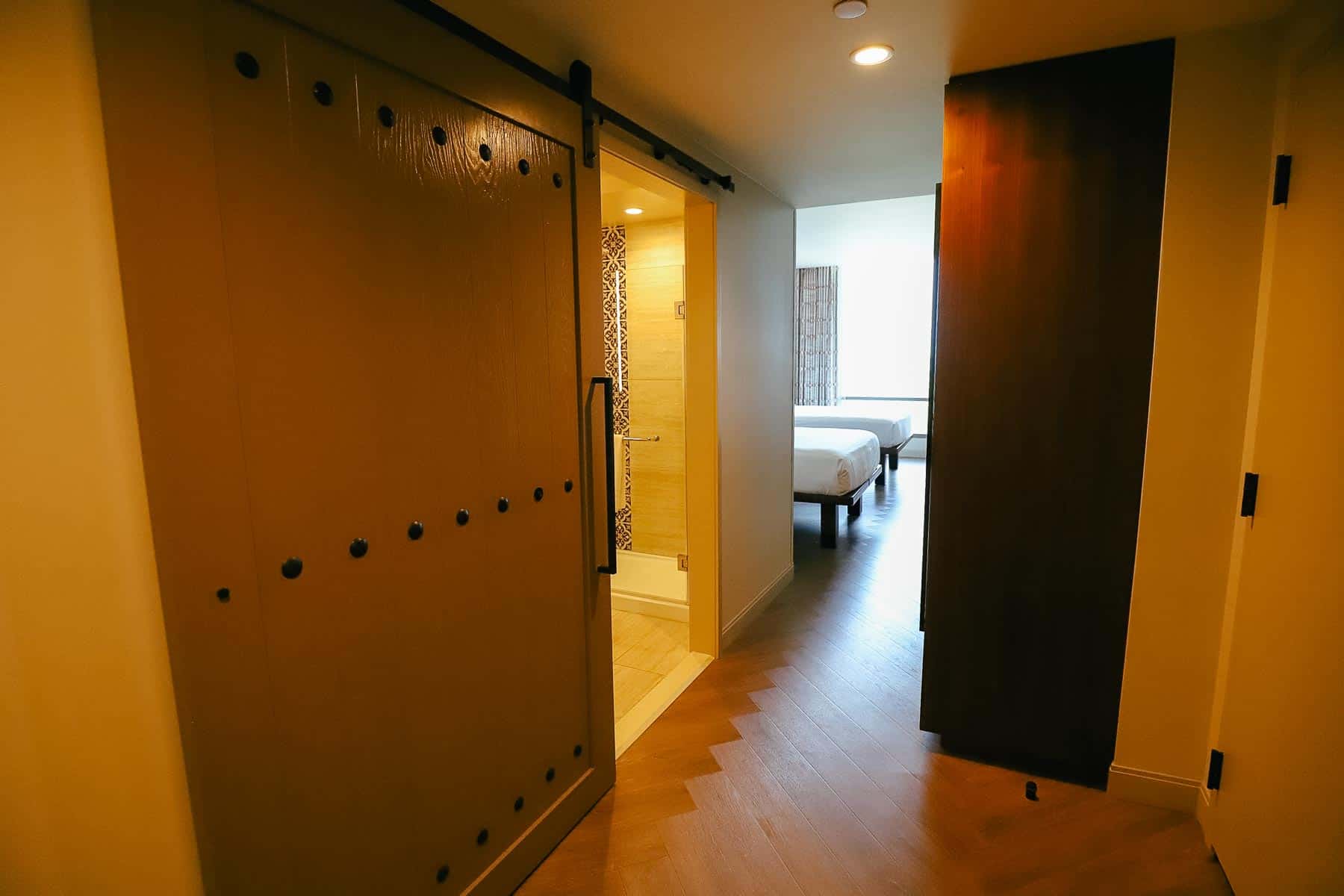 For this impromptu stay, a club-level room popped up for our dates, and I immediately secured it. However, I want to note that, like most club levels, standard rooms are not any different on the concierge floor. You're only paying extra for access to the lounge and concierge services.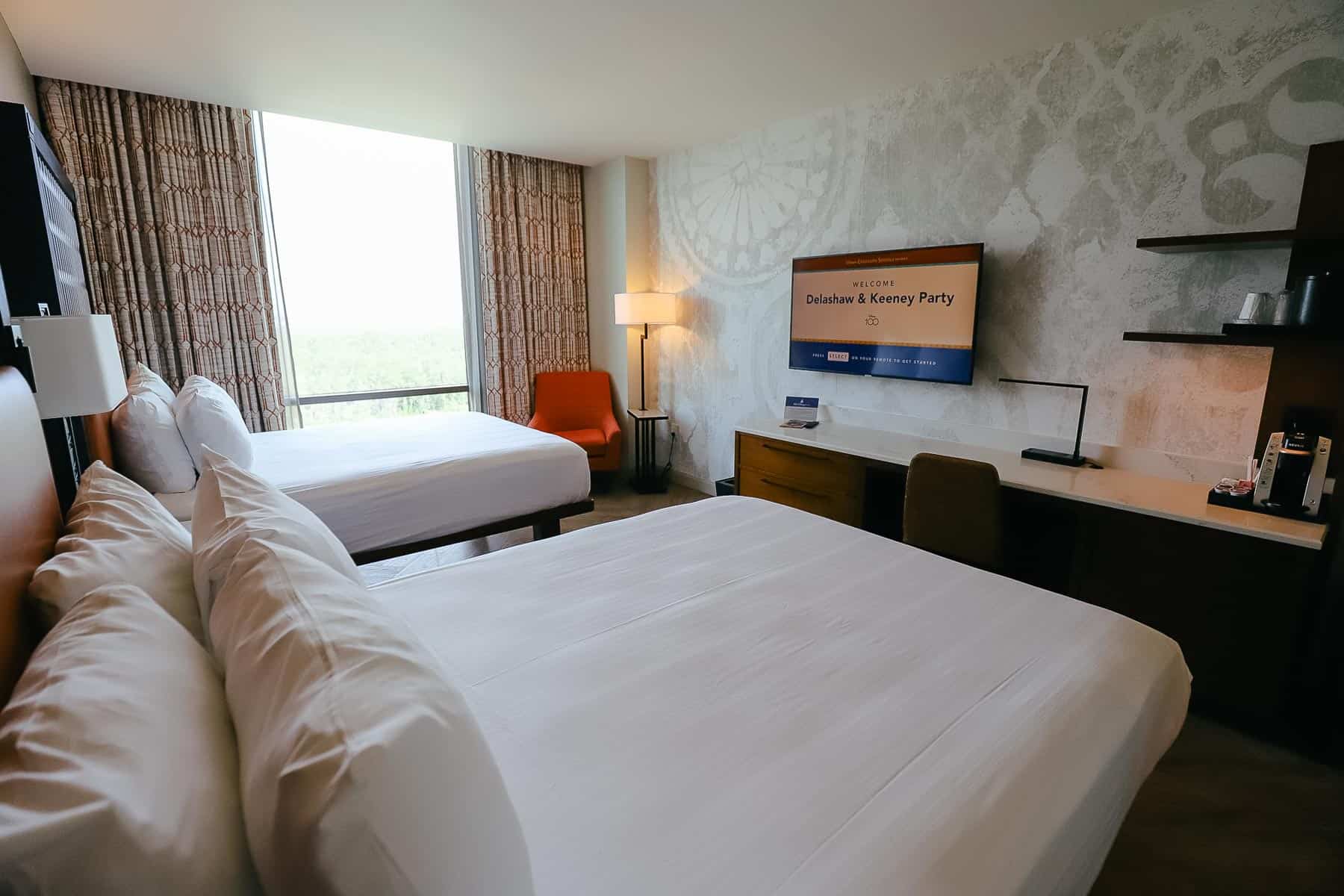 So if you reserve a standard guest room with two queen beds at Gran Destino Tower, this is what it will look like.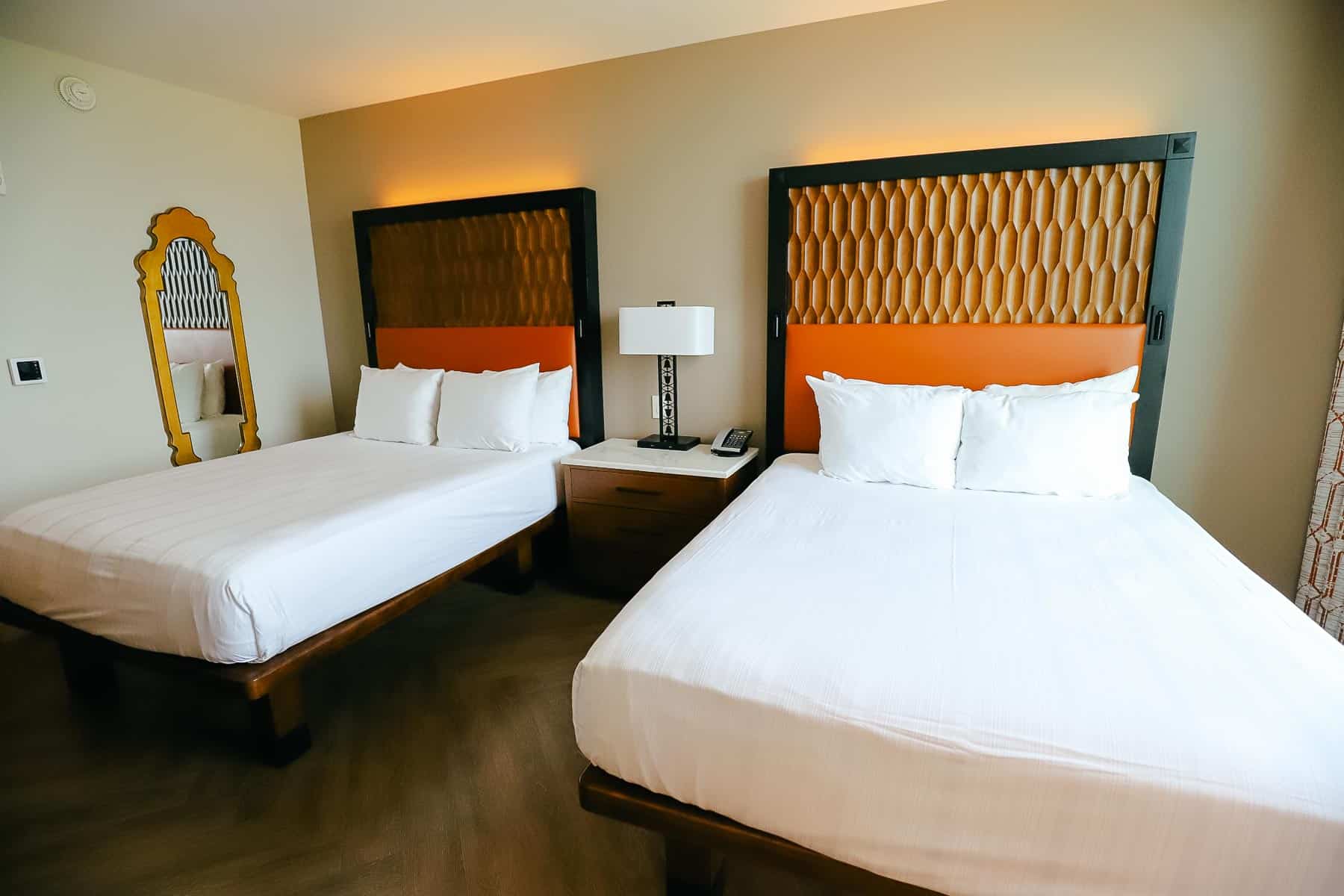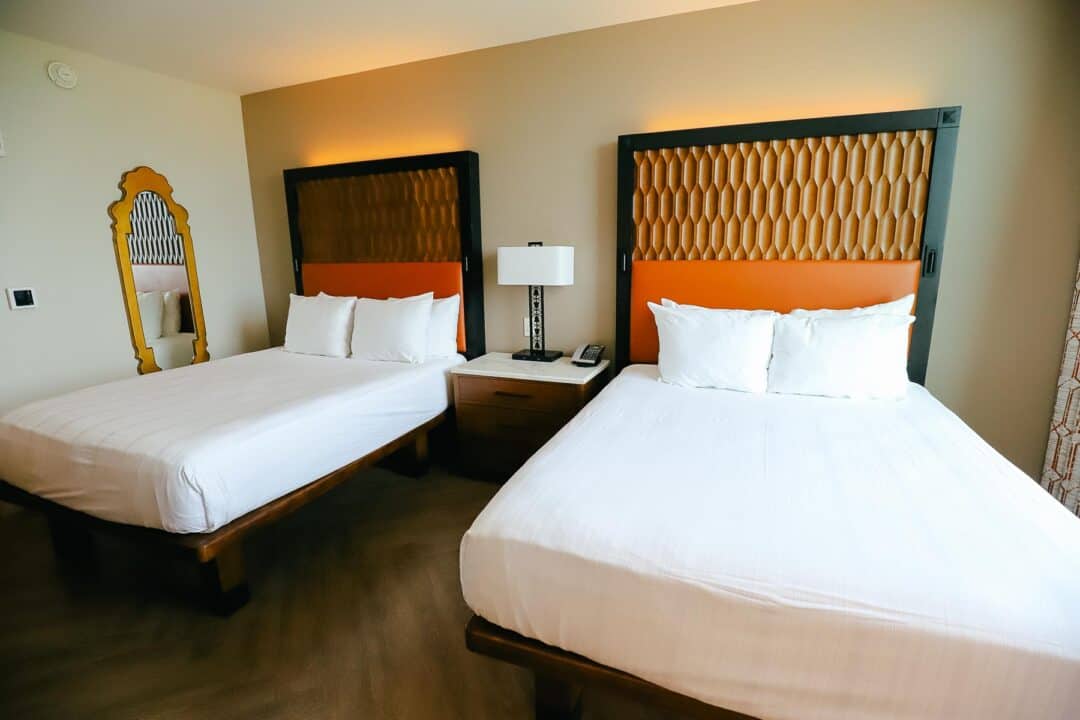 A nightstand sits between the beds. It had several drawers for storage and provided ample counter space. However, the outer edges of the bed do not have counter space for a drink or a place to charge your phone.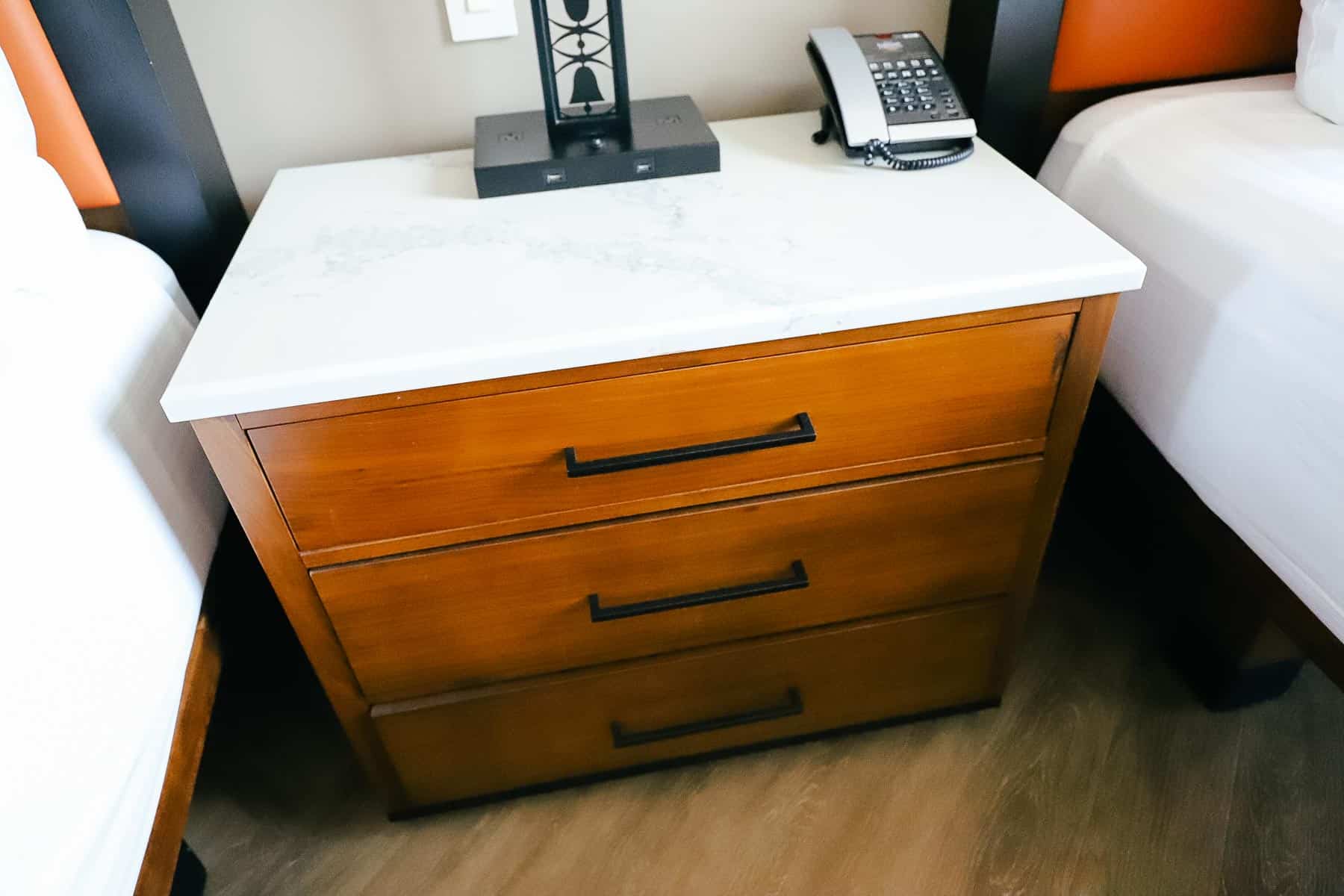 Electrical outlets and USB ports were available in the base of the lamp. Pin lights are built into each side of the bed for extra reading light at night.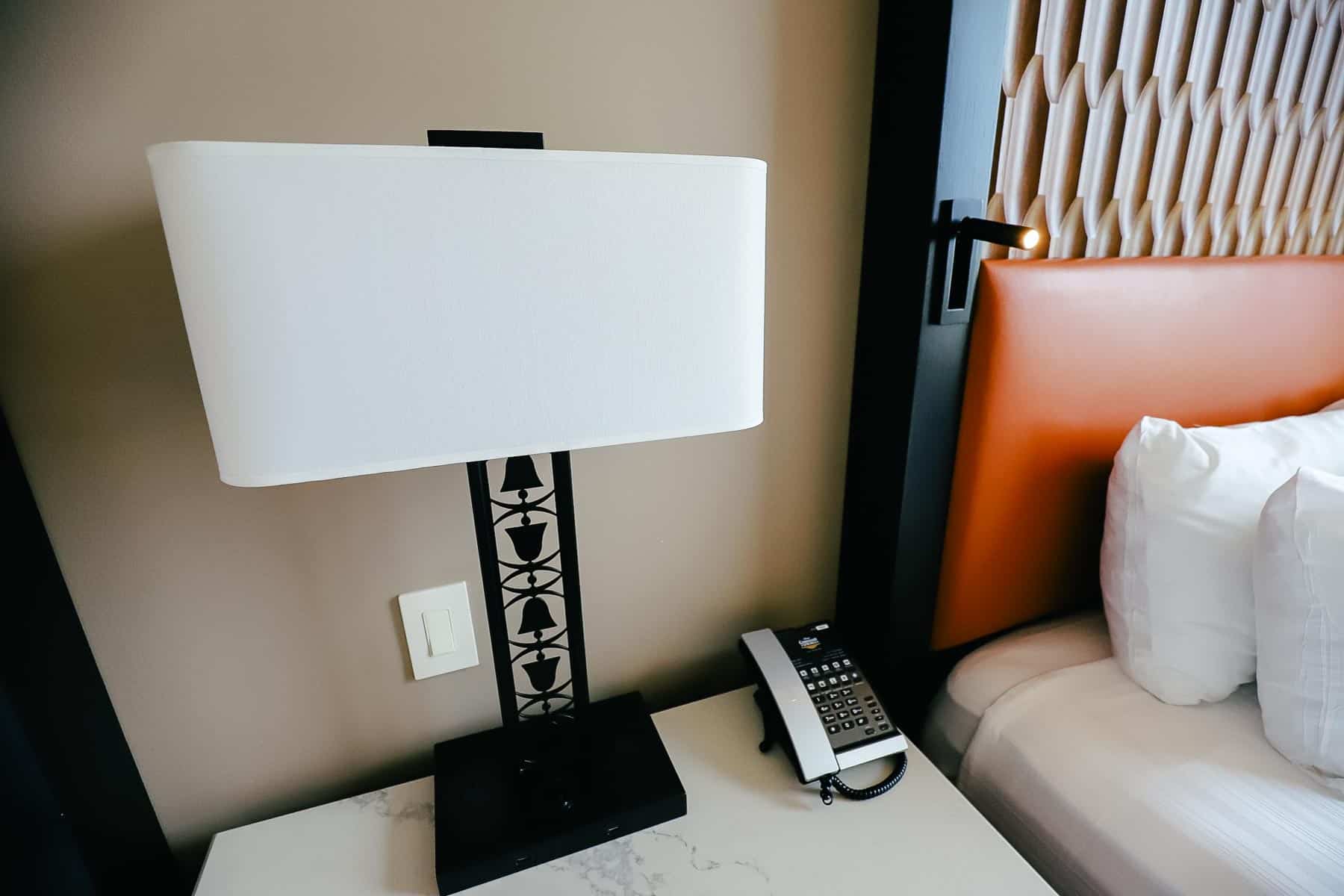 Across from the beds, a long piece of furniture doubles as a desk with a chair. This area provided additional drawer space and housed a few other in-room amenities.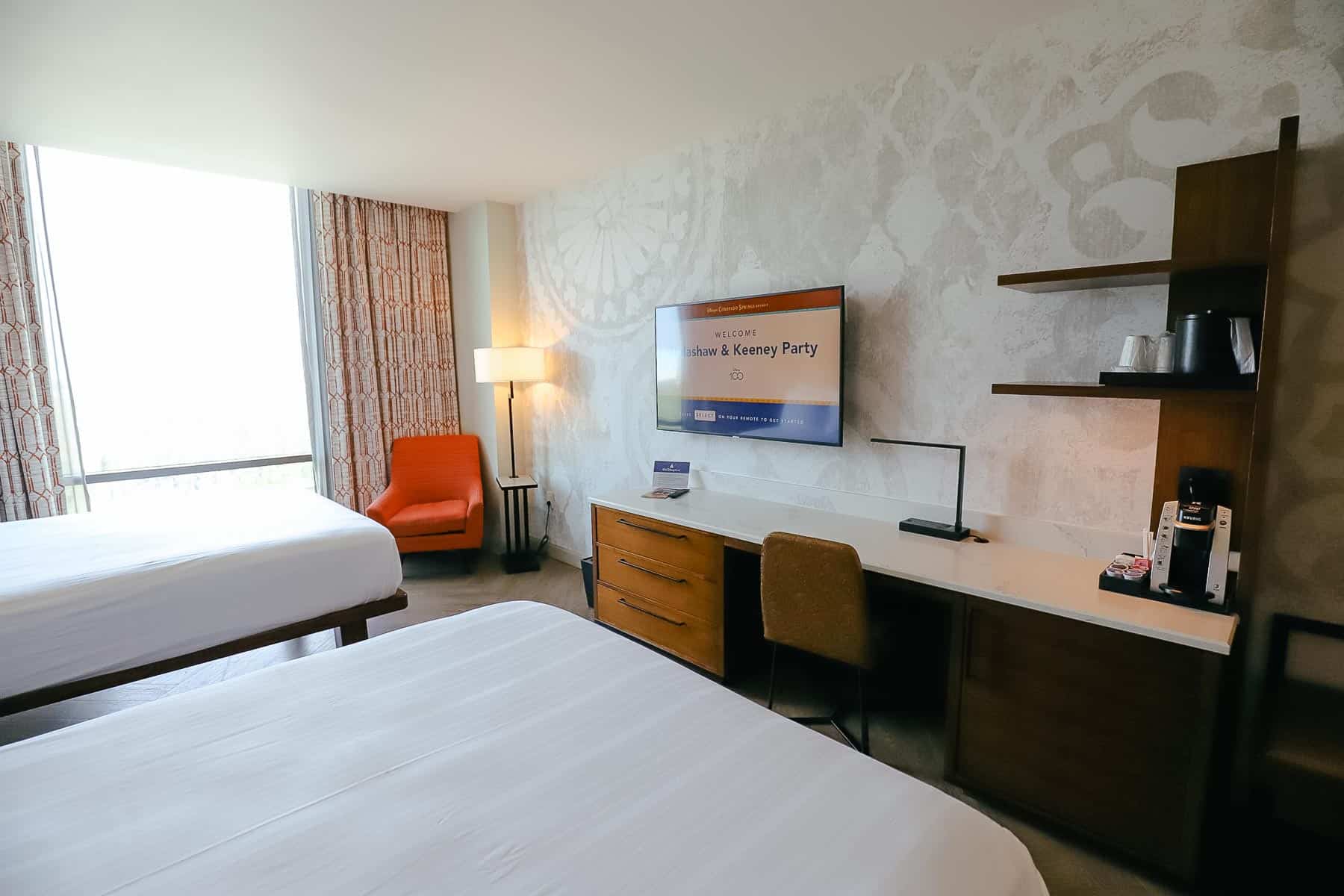 Here's a closer look. If you have to work while on vacation, this room provides a nice place to set up a temporary office space.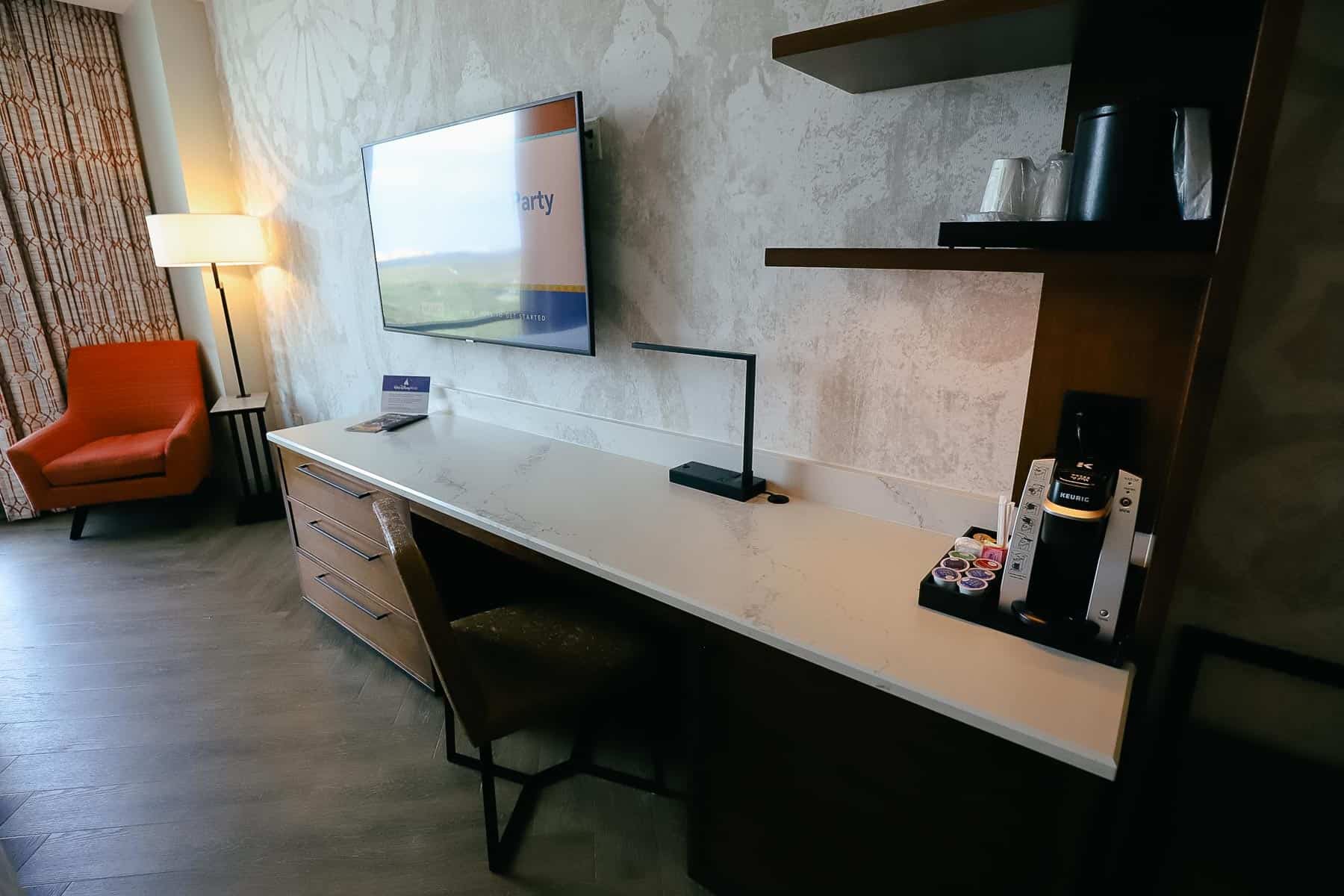 A few open shelves sit on one end.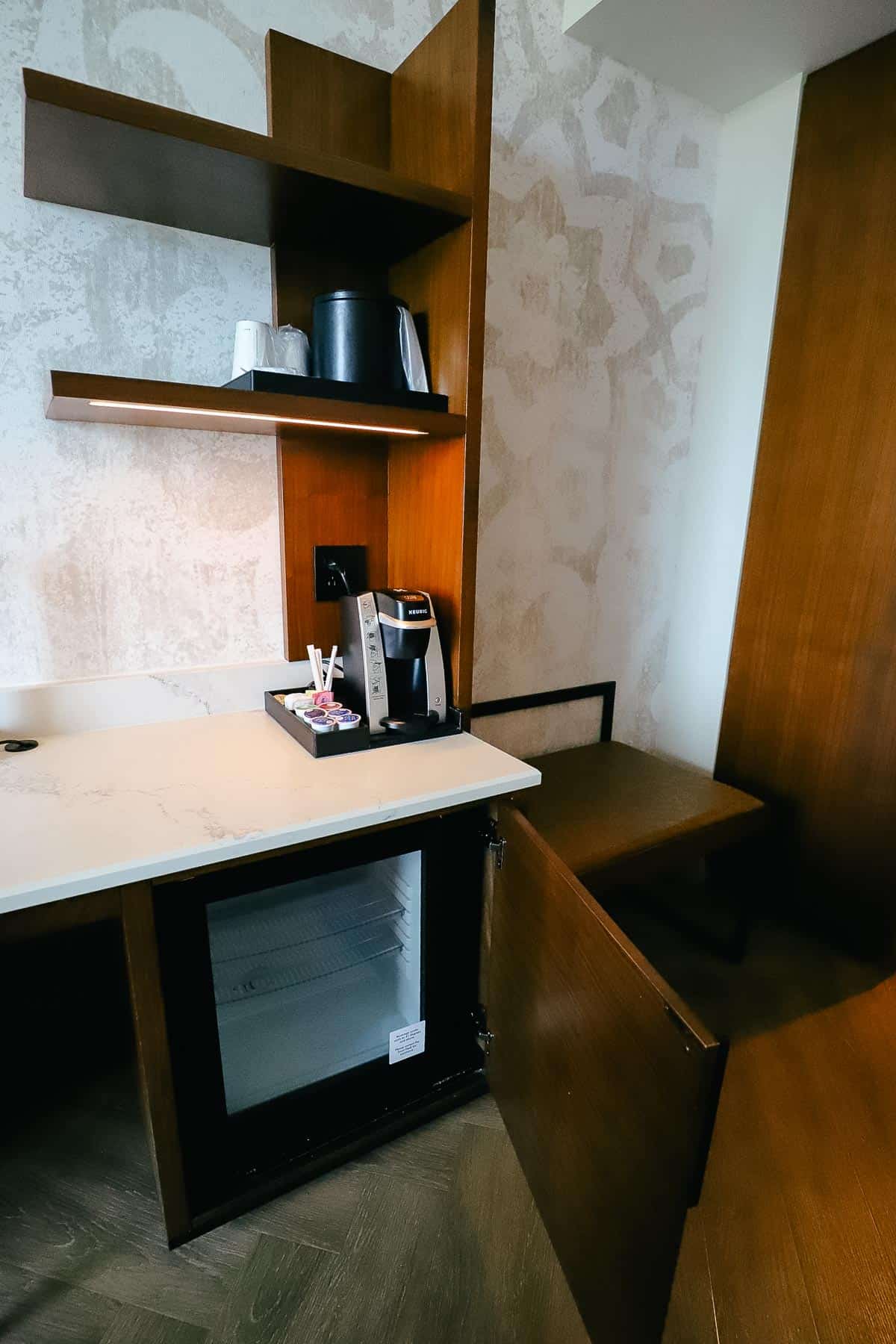 An ice bucket and disposable cups were available. Maybe one day, we'll see regular glassware return to Disney's hotel rooms.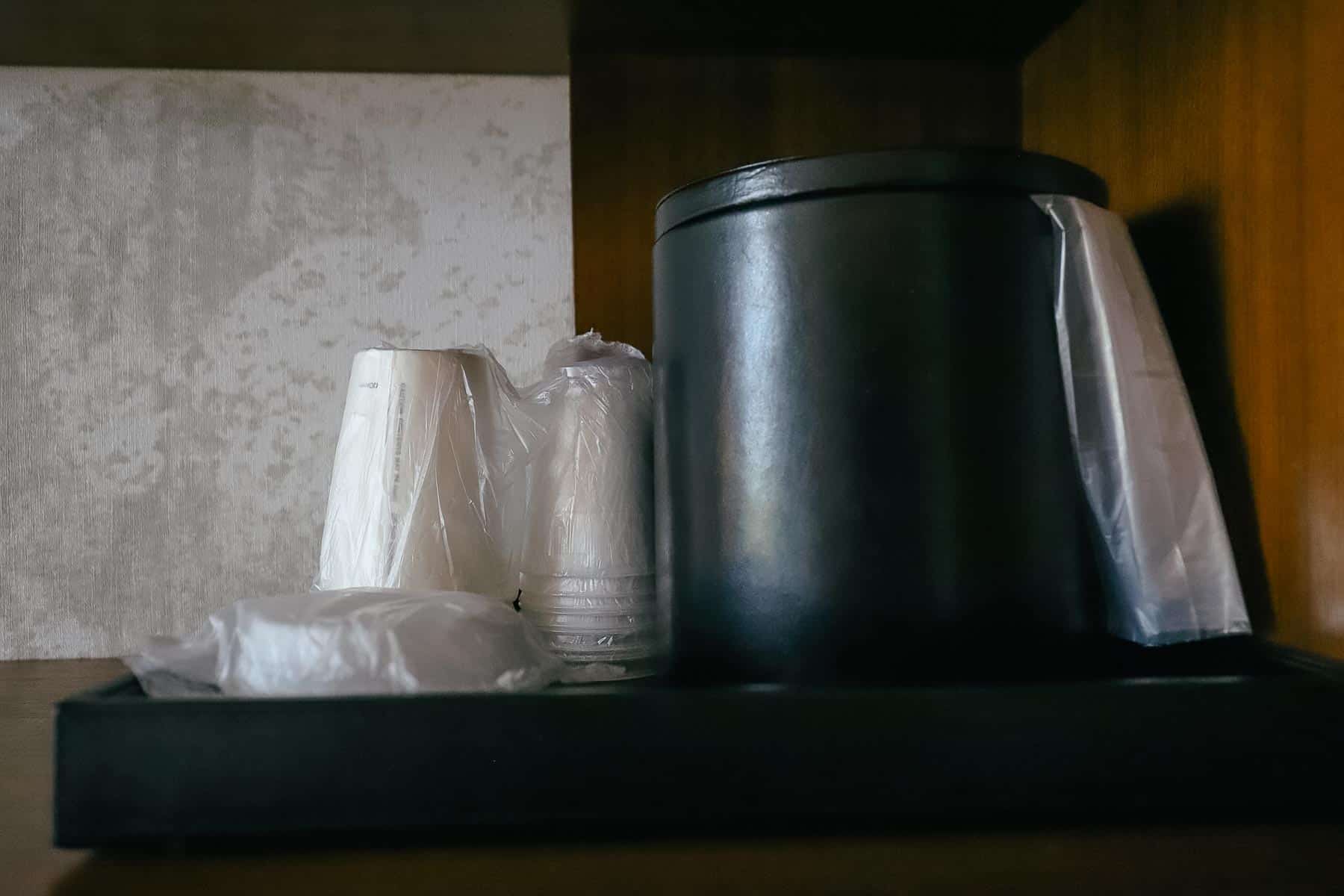 A Keurig coffee maker had several kinds of coffee, tea, and other accompaniments.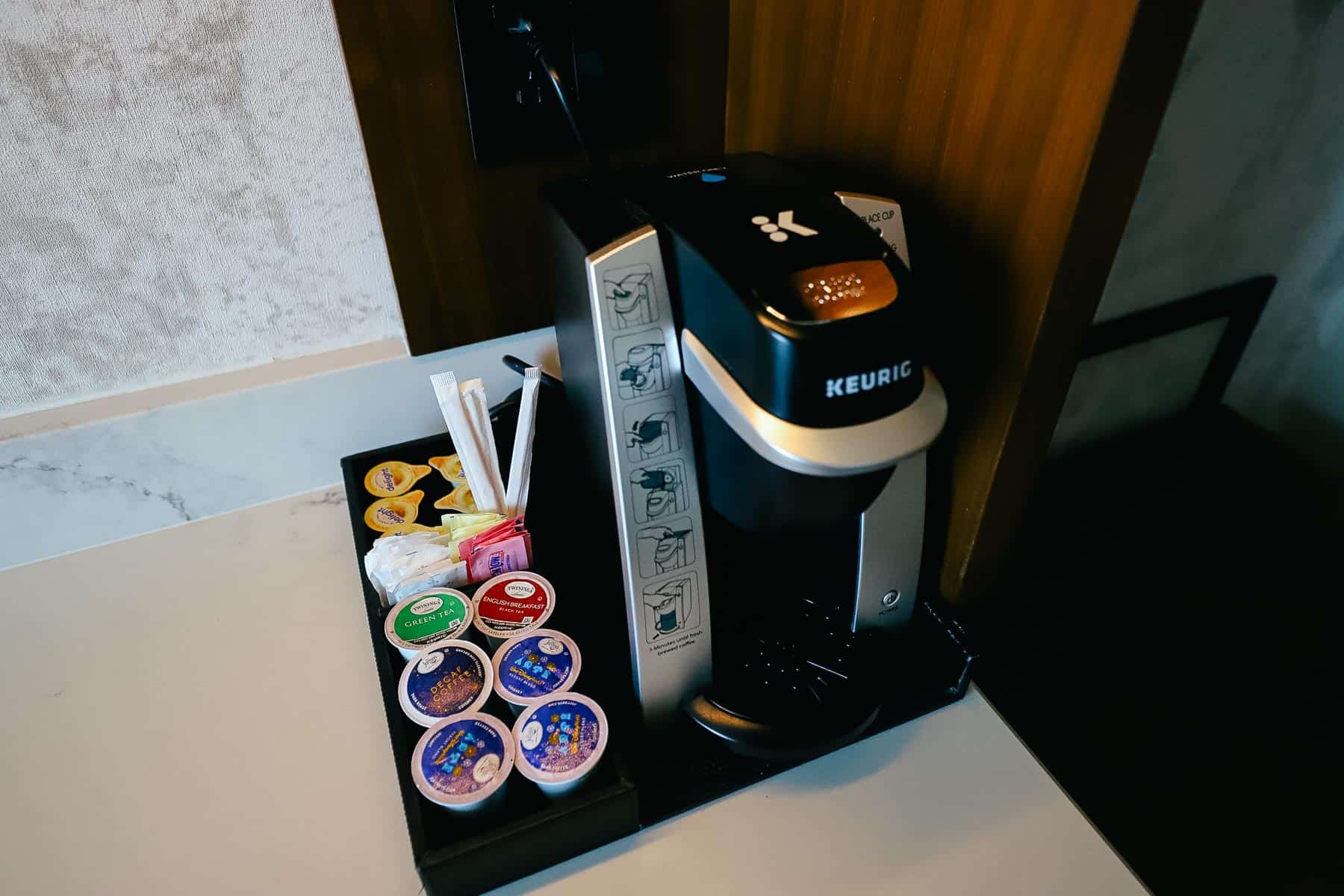 At the bottom, a cabinet door opens to reveal the room's beverage cooler. These are pretty much standard in all regular hotel rooms at Disney World. Per their label, they are not designed or guaranteed to keep items from spoiling.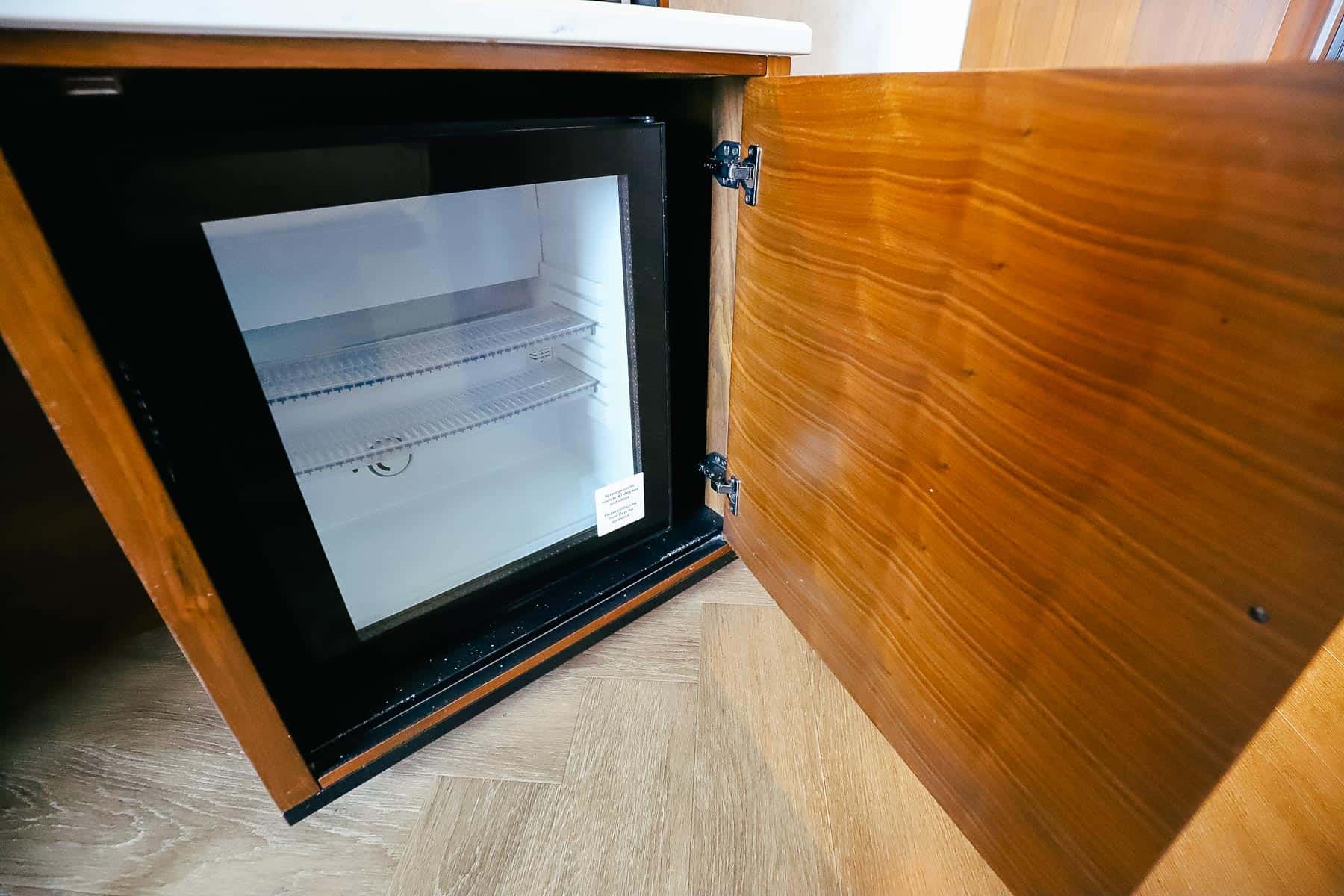 To the right of the desk area, you'll find a bench that provides a comfortable spot to change in or out of shoes. You can store shoes underneath it.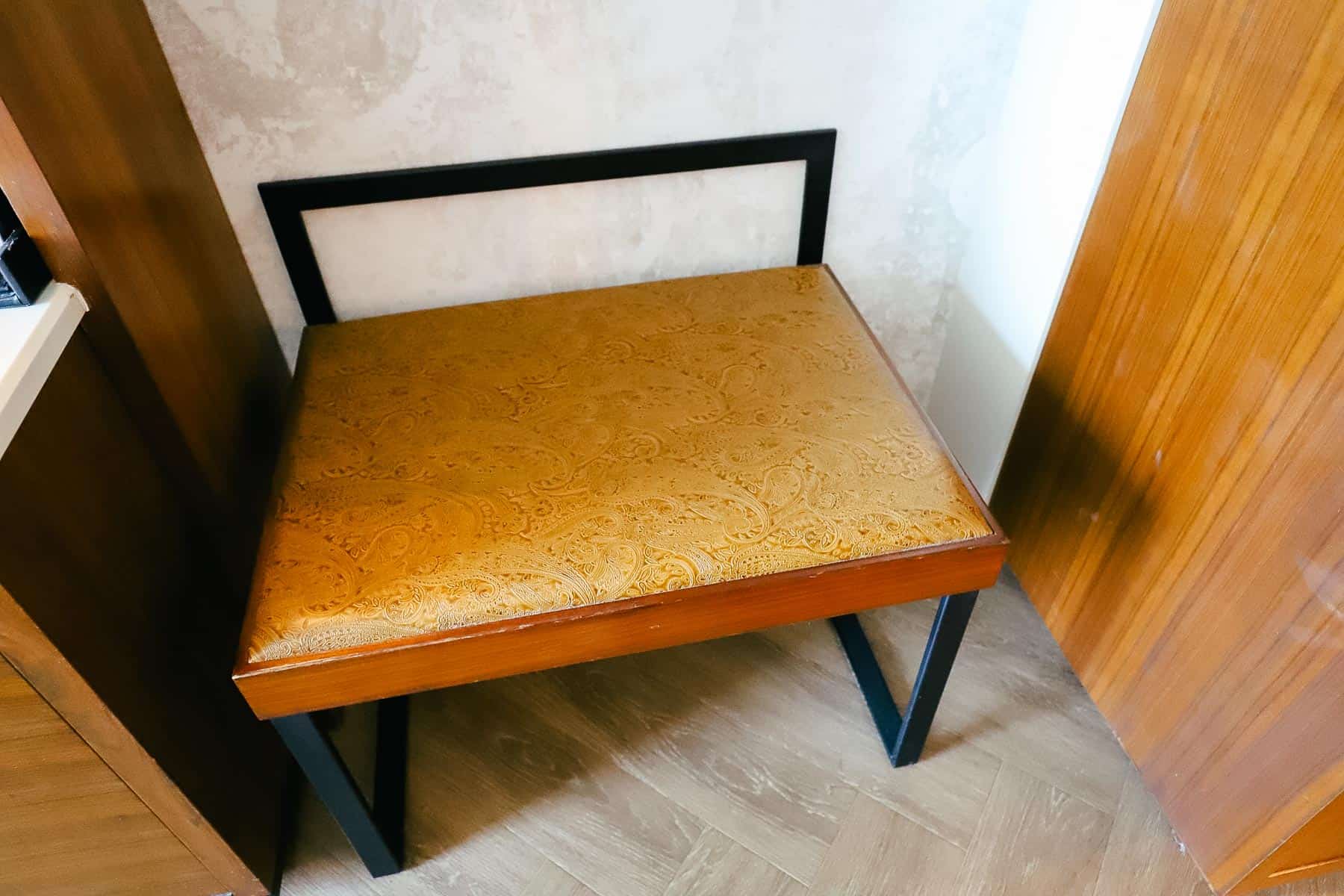 Here is an alternate view of the room from the opposite corner. We both thought this room felt more spacious than most. The use of white tones in the room likely contributed to that feeling.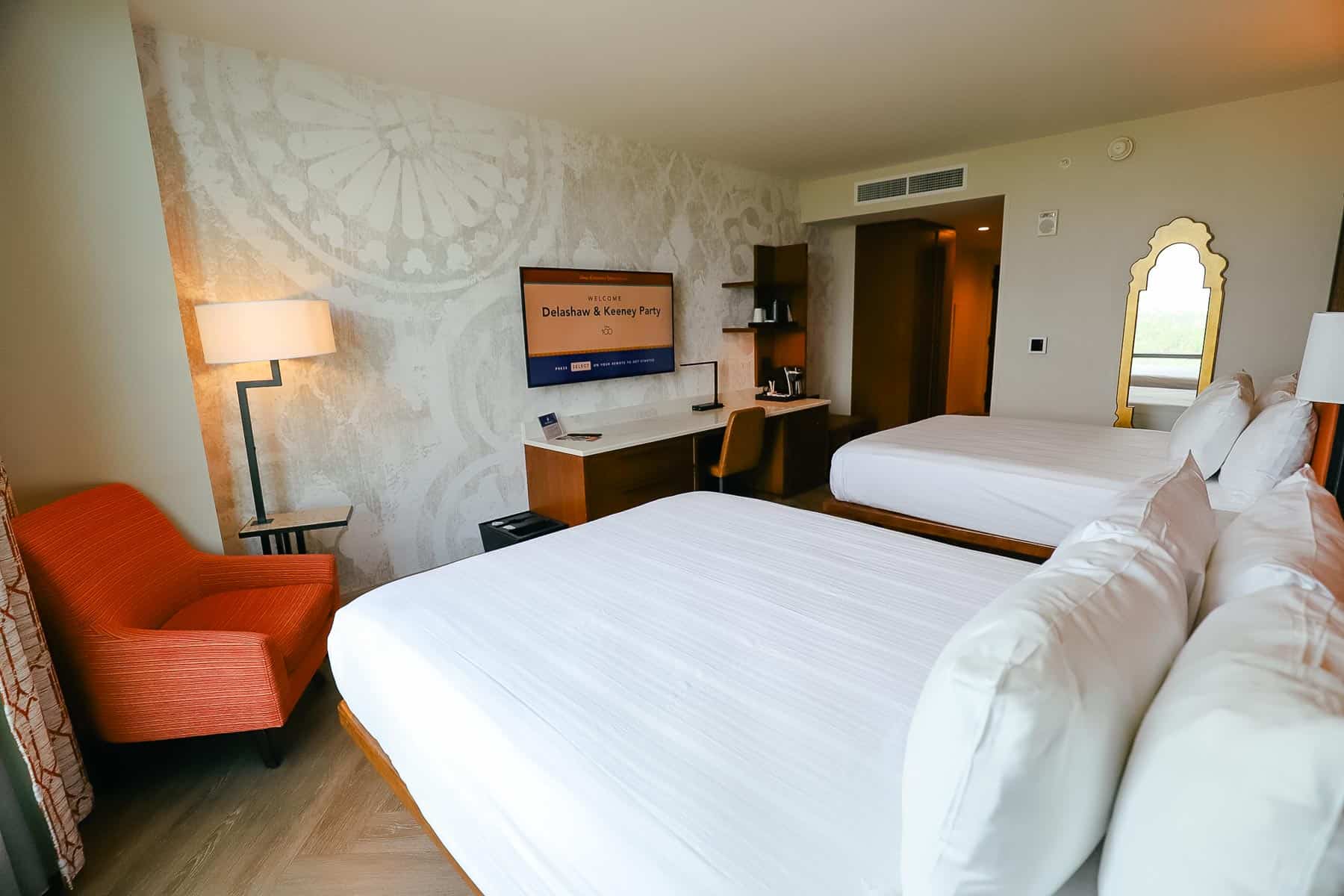 We had a standard view, which looked out toward Epcot. We could see the Swan Reserve, the Swan and Dolphin, and Spaceship Earth at Epcot in the distance.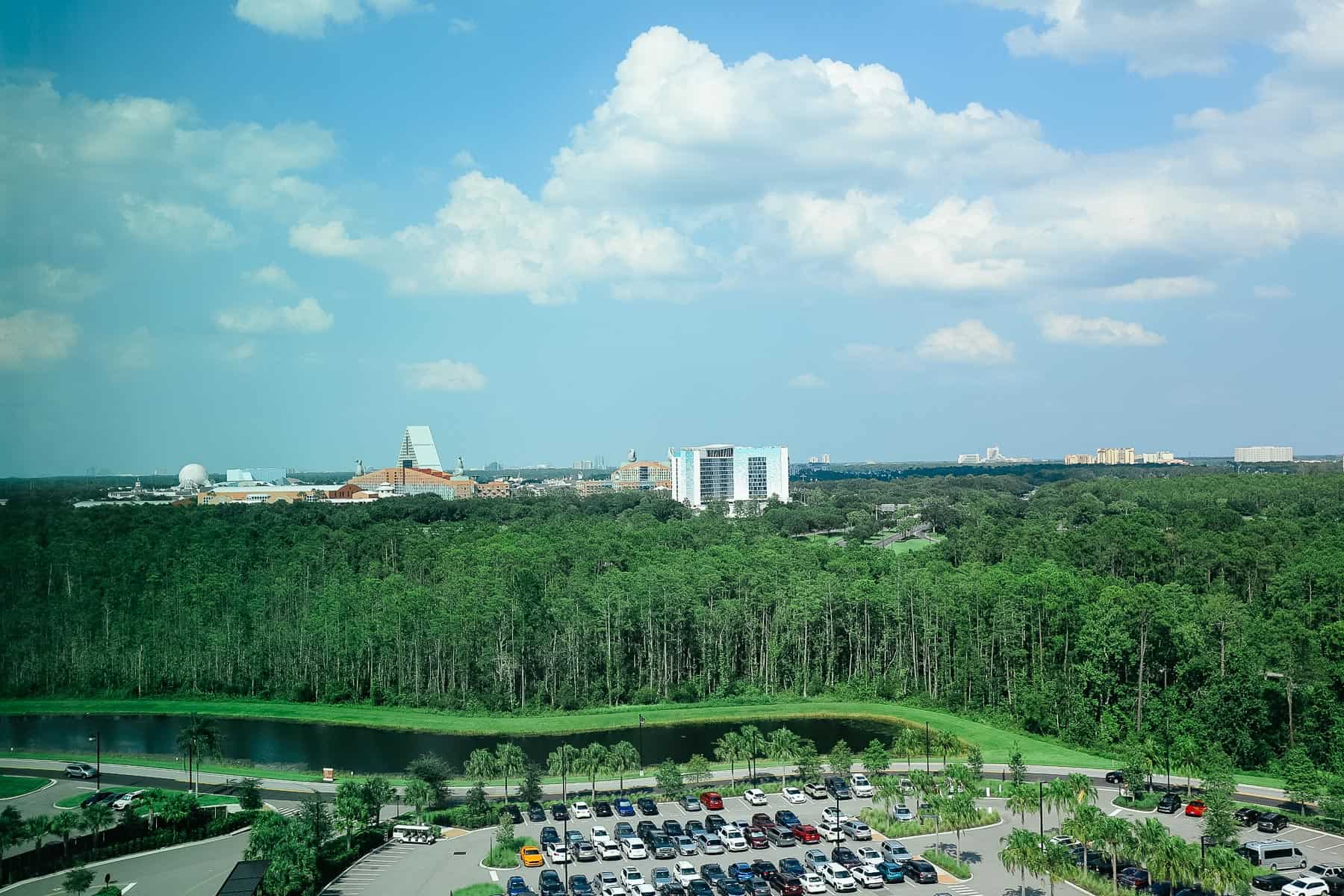 My room had a water view on my last stay at Gran Destino. After comparing both room views, I think it's hard to go wrong with either. But I did find the water view, which looked out to Coronado Springs, more pleasant and peaceful.
This photo below is older. But it shows a room view from the opposite side of the tower, a water or resort view.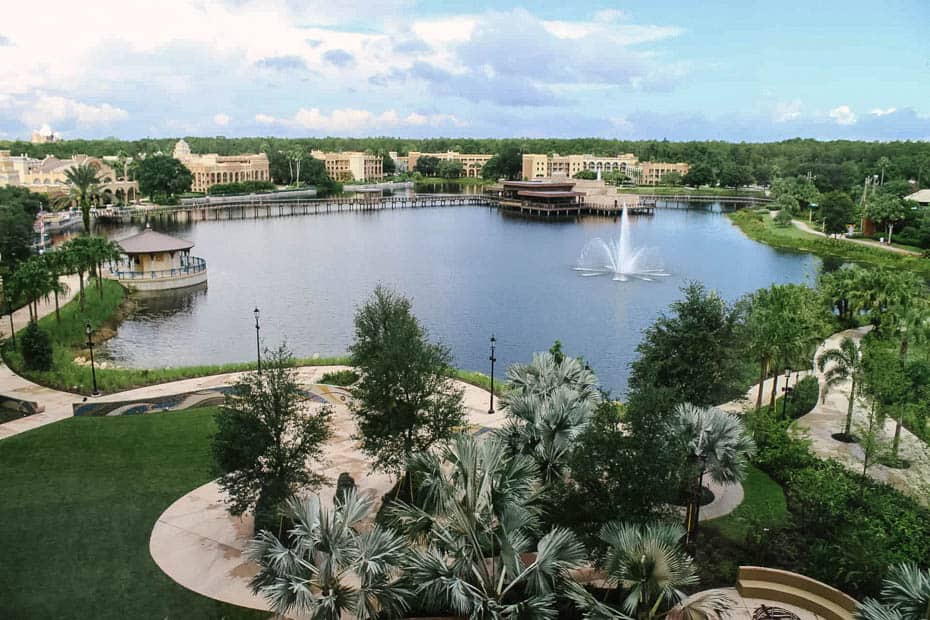 Our closet contained space to store items, an extra pillow and blanket, an iron with an ironing board, and a luggage rack.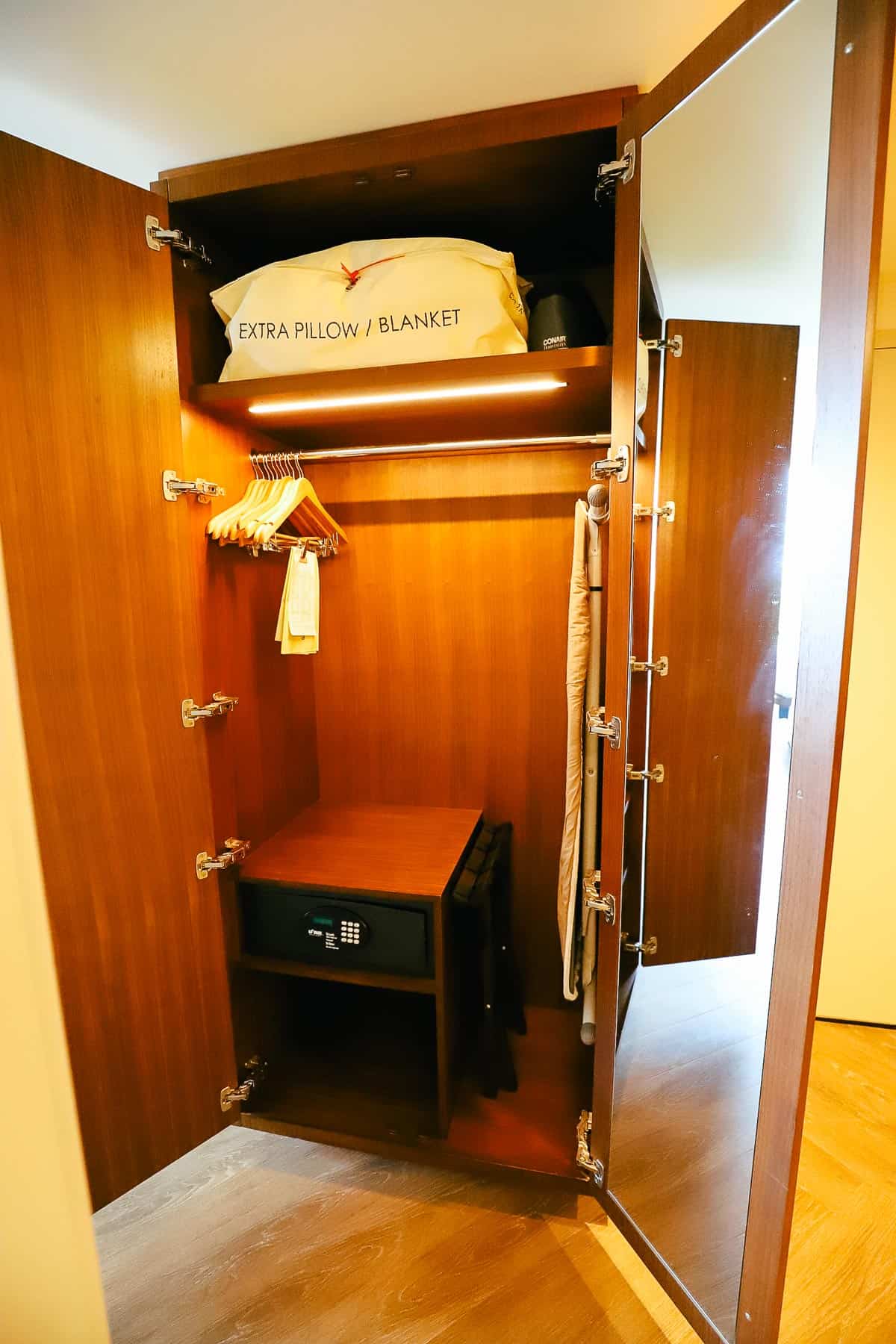 It also had an in-room safe, a shelf for storage, and a cubby hole under the safe.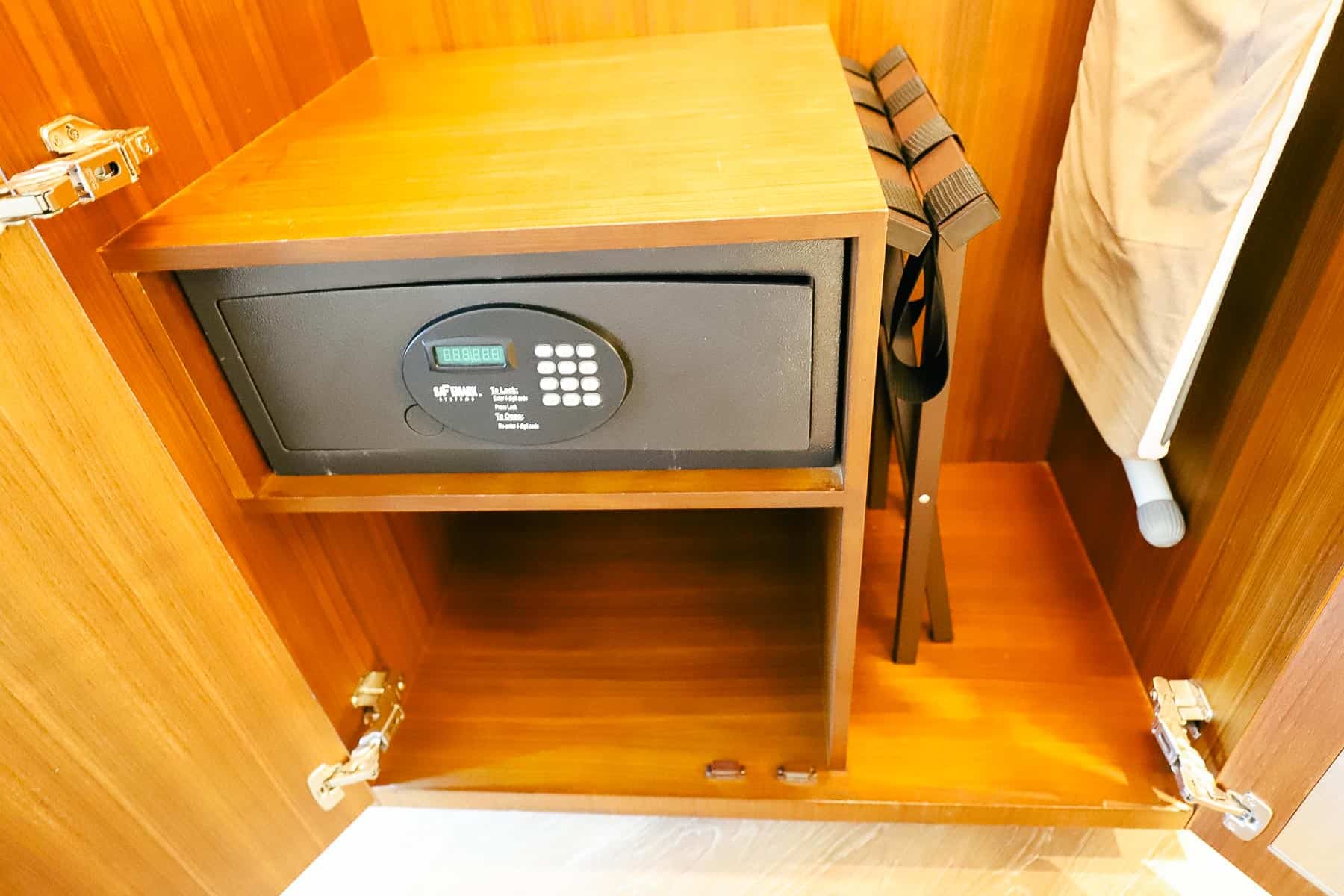 Back toward the room's entrance, we'll look at the guest bath. The only problem with the space is that only one person can use the shower area. If you're using the shower and close the barn-style door, it cuts off access to the water closet.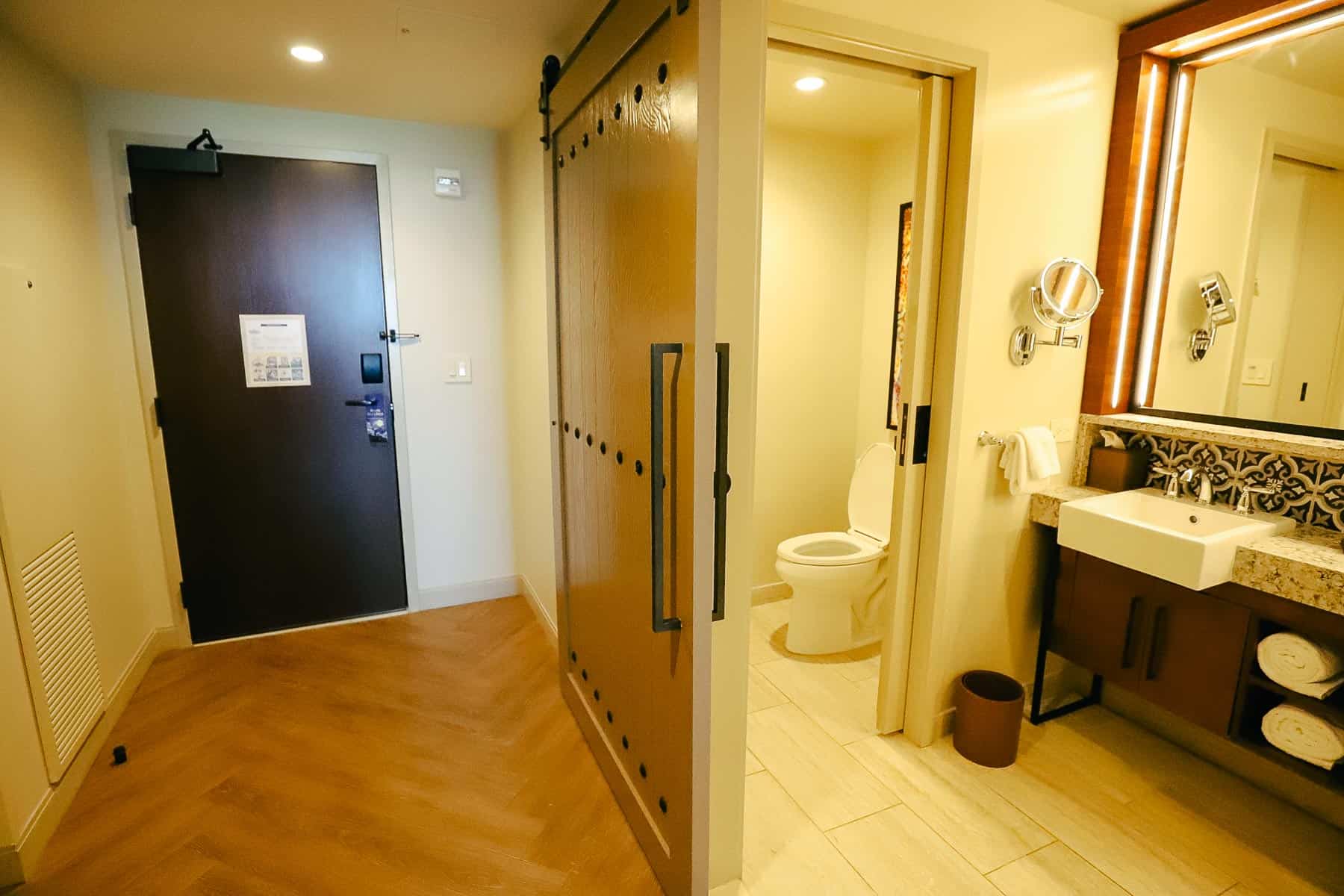 But the bathroom is nice and feels high-end. Two sinks are available, and the ledge above the sinks is an excellent place to store personal items.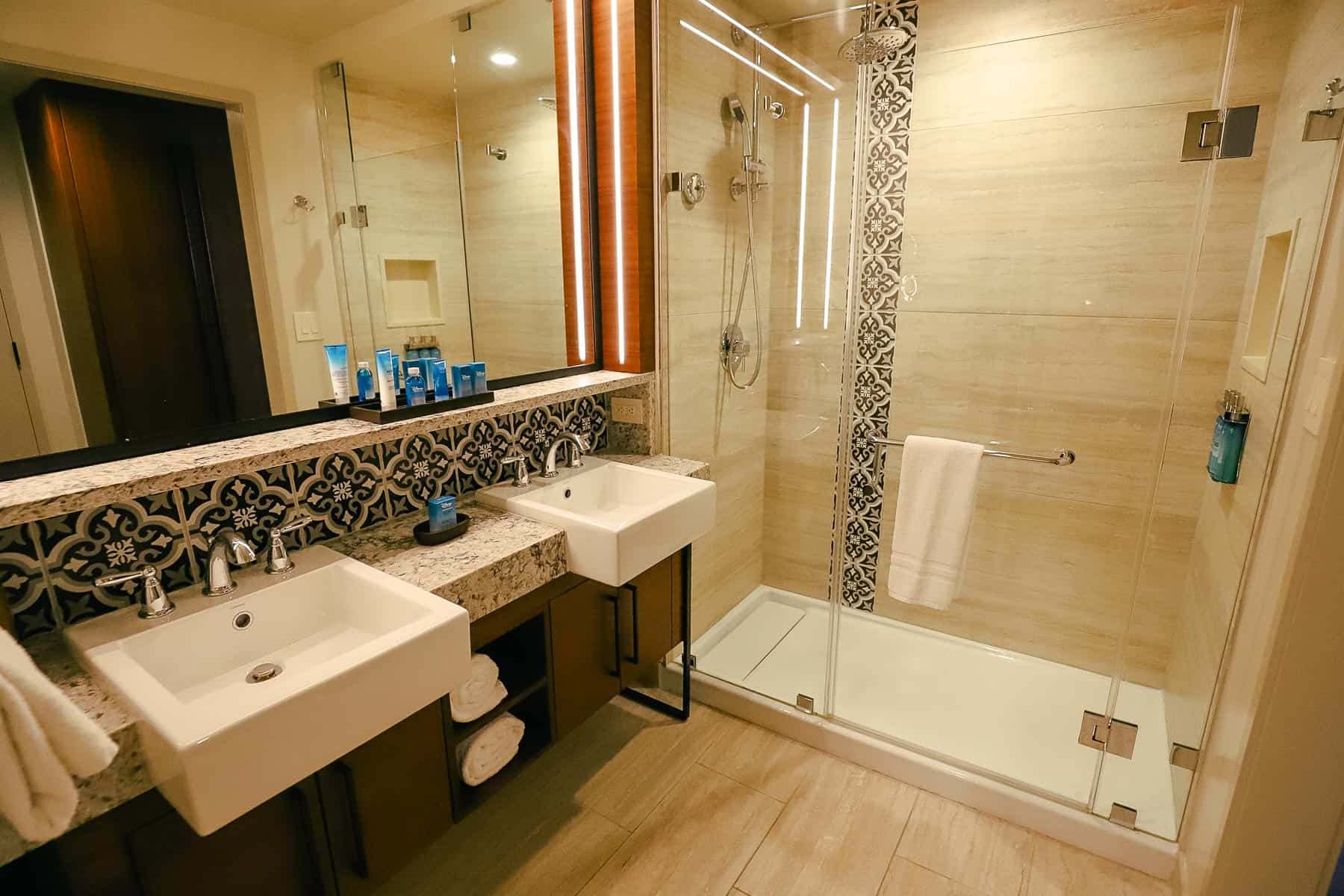 Two cabinets under the sink provide additional storage space. However, I would caution against using this space. You could easily stick something in one and forget about it. A hairdryer is available in one of these cabinets.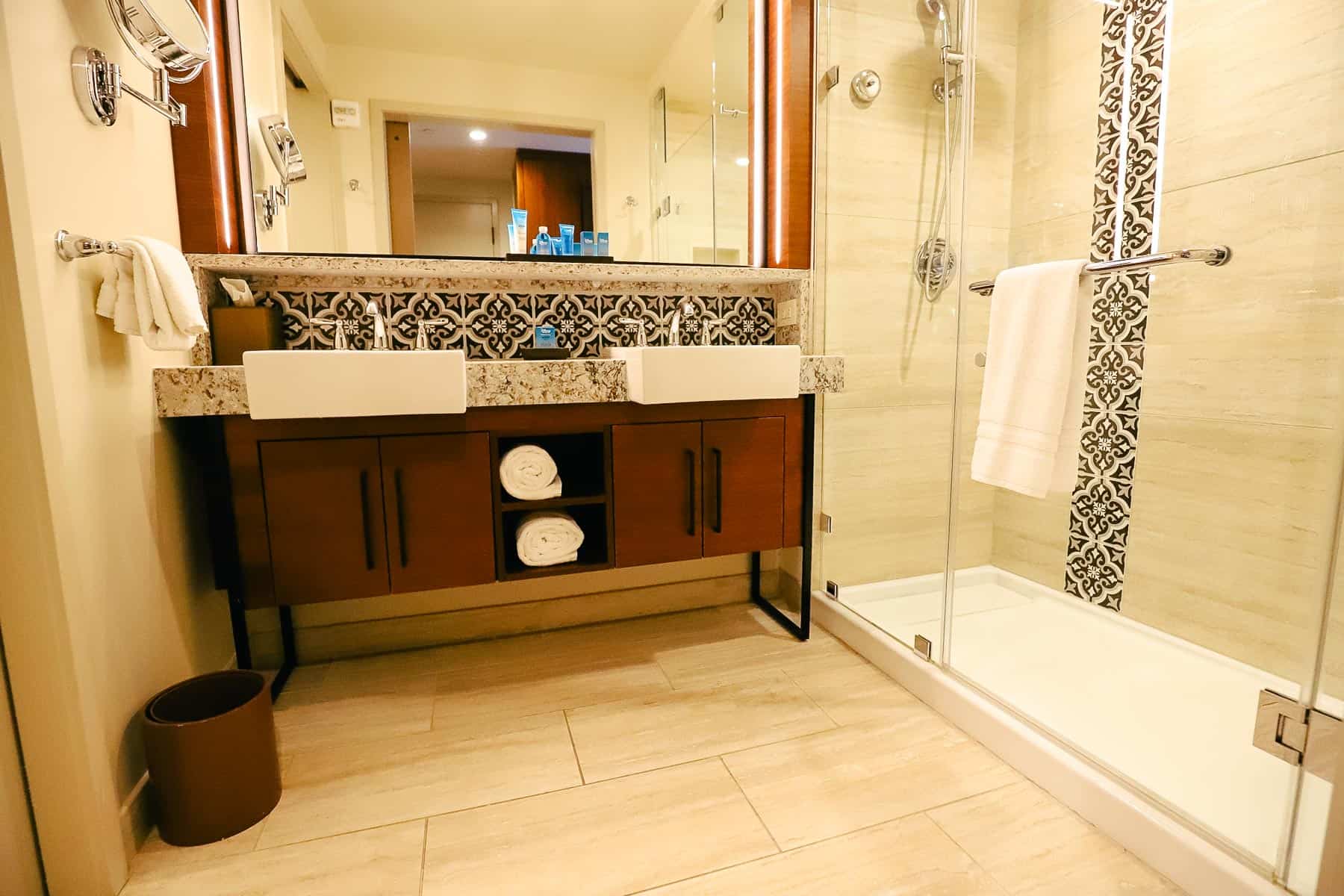 My other issue with the bath is the shower. It doesn't have a bench or a ledge. So while it's a beautiful shower with built-in toiletries, a rain shower head, and a detachable shower head, it's not quite as efficient as most modern hotel showers.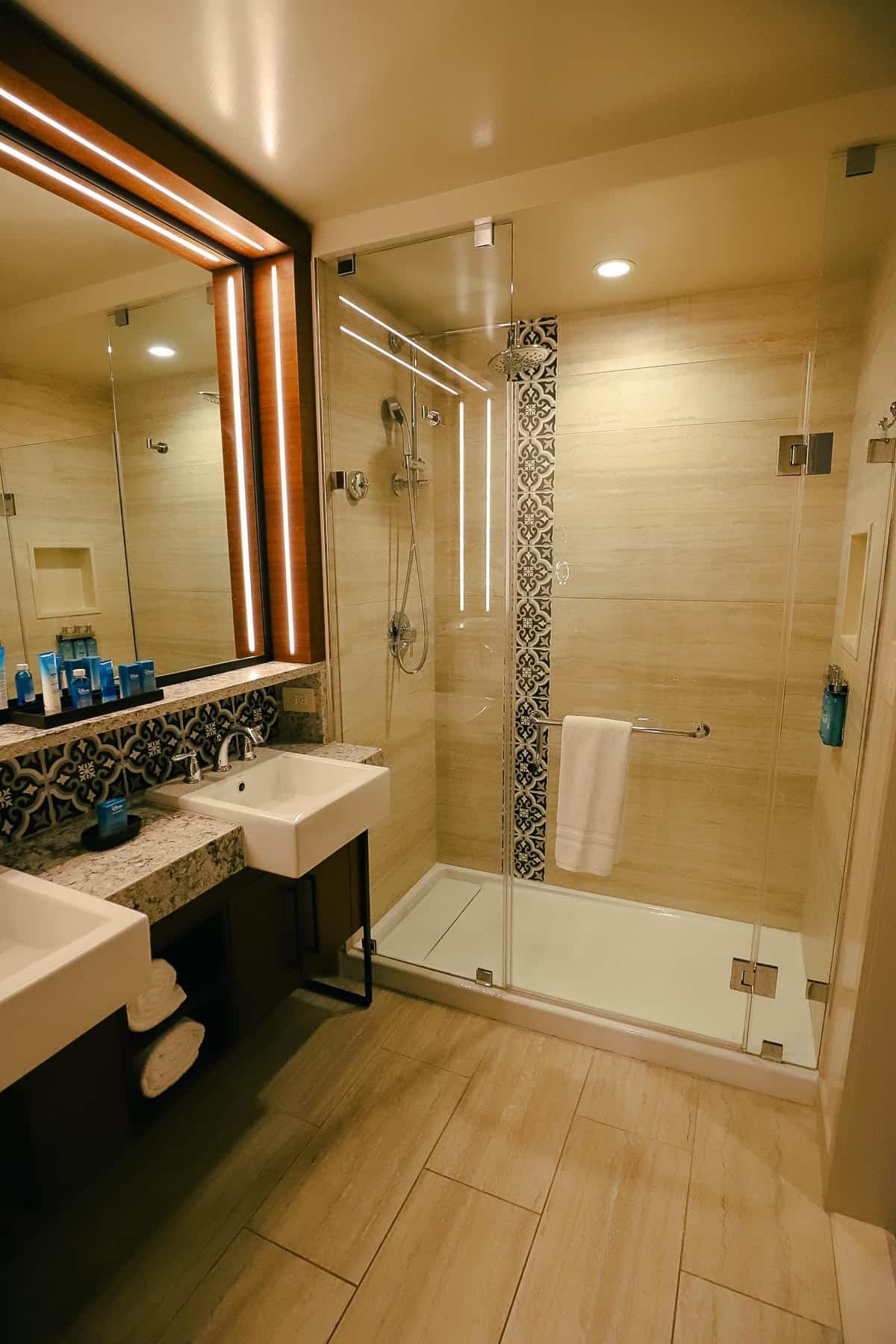 Lastly, the water closet is separate from the rest of the bath. It's also where you'll find all the towels–nowhere near the shower. Again, this isn't a deal-breaker. But several things in the bath area feel like an afterthought instead of providing convenience.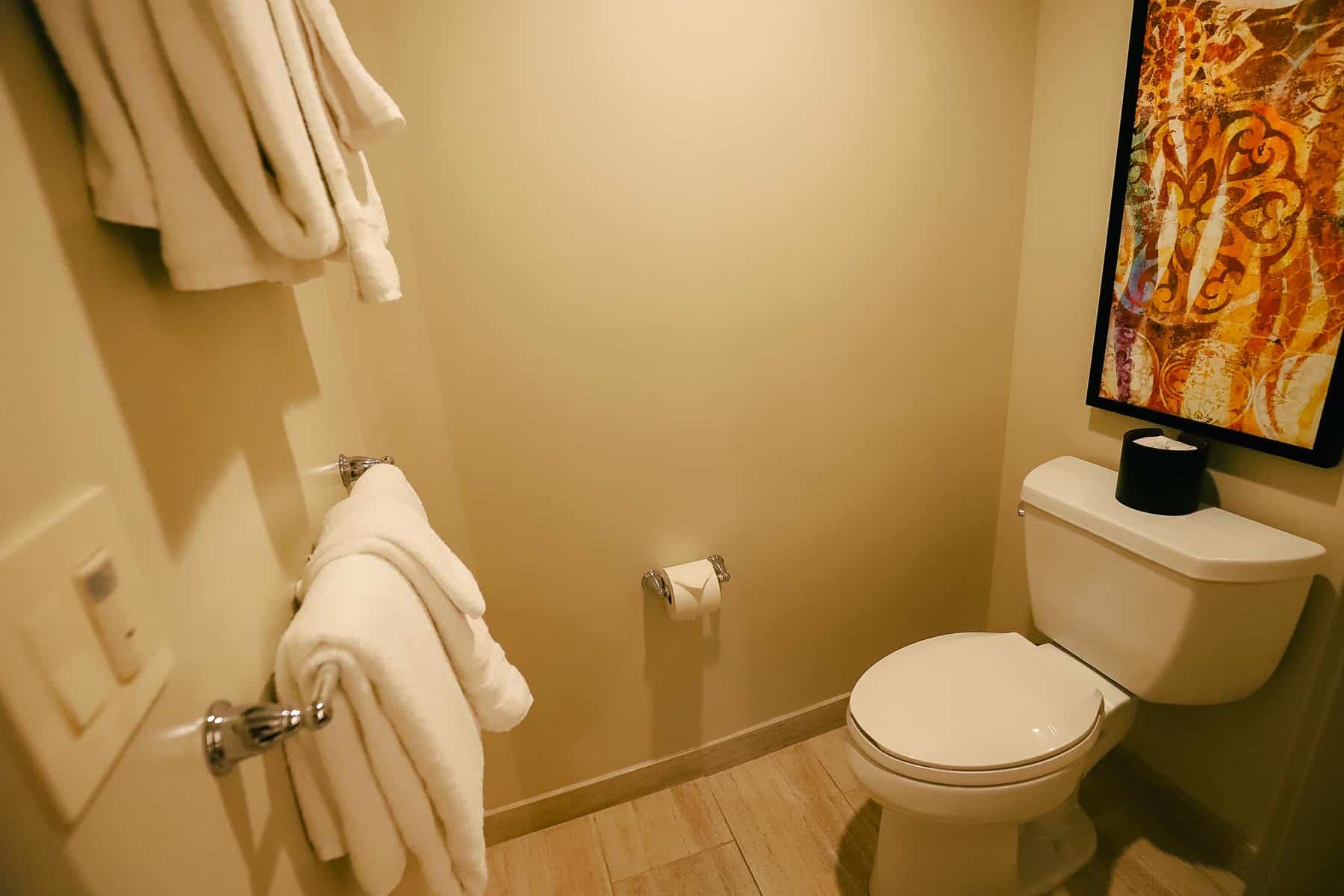 Most will agree that convenience is a significant factor when planning to spend an entire week in a hotel room. Some of these items might be worth your consideration, especially if you're a family of four sharing one room.
Video: Gran Destino Tower Room
Final Thoughts
Overall, we enjoyed our room at Gran Destino Tower. It's a beautiful hotel offering a luxury feel for those on a moderate budget. In the coming weeks, we will have an updated review of Gran Destino Tower. Additionally, I'll provide a separate review of the Chronos Club at Gran Destino Tower, the resort's concierge floor.
All our coverage of the resort is listed in a resort guide:
Or you might enjoy the following:
In the Comments
What do you think? Could you spend a week in a standard room at Gran Destino Tower?