Disney's Contemporary Incredibles Room Review
Are you trying to decide if you should stay in one of the new Incredibles rooms at Disney's Contemporary Resort on your next Disney World vacation? With so many choices, it can be hard to commit to a specific resort, especially given the price tag that a resort like the Contemporary commands.
The last thing you want is to drop your hard-earned vacation dollars on a resort where you don't end up caring for your room. That would be terrible.
I'll shoot straight. The new Incredibles rooms at Disney's Contemporary probably aren't for everybody. While that statement's true for almost any resort, it's even more so for the Contemporary as a whole.
My family loves the Contemporary, its giant backyard, the monorail, and most of all, the proximity to Magic Kingdom. However, I am aware that some people clearly do not feel the same about the resort or the new Incredibles rooms.
So below, we'll preview the new Incredibles rooms and examine a few pros and cons of staying in one. Then you can decide whether or not the Incredible rooms are a good fit for your group.
We recently spent eight days and seven nights in the Garden Wing. With this long stay, I was able to get a good idea of how these newly refurbished rooms worked over the course of an extended vacation.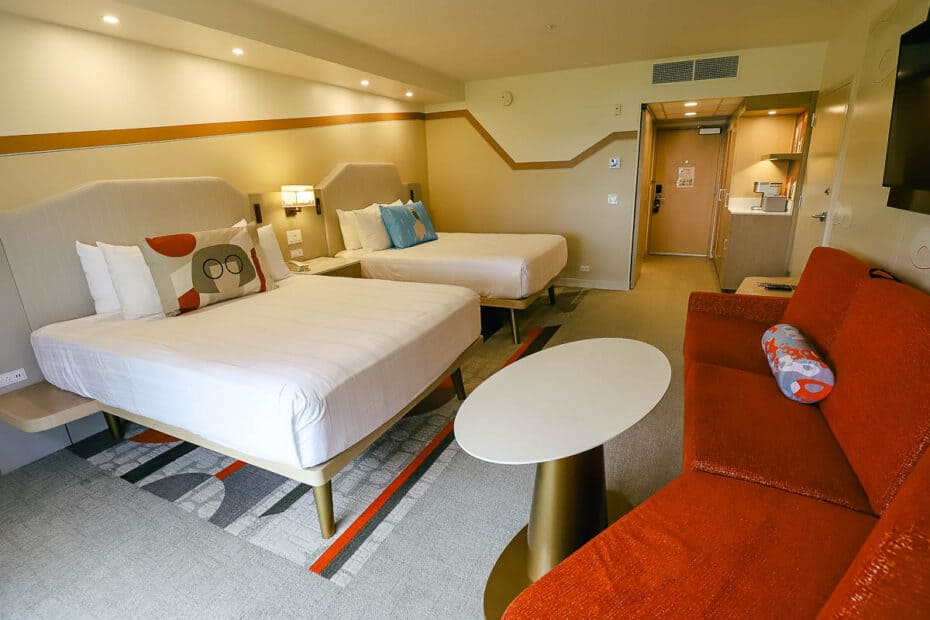 Incredibles Rooms at Disney's Contemporary
It's no secret that I already knew I enjoyed staying in the Garden Wing at Disney's Contemporary. This resort is my go-to location when I want to be near Magic Kingdom for a holiday or a special event.
When I arrived at the Contemporary on the day of check-in, I was frazzled by the time I got to my room. First, my room wasn't ready on arrival.
Then, I was hoping to get checked in, have luggage delivered, and photograph the room before heading out to Mickey's Not So Scary Halloween Party by 4:00 p.m. Somehow, it all worked out.
Upon entering the new Incredibles room, I thought it was light and bright, which most of us can appreciate. Formerly, the rooms were dark and reminded me of a cave.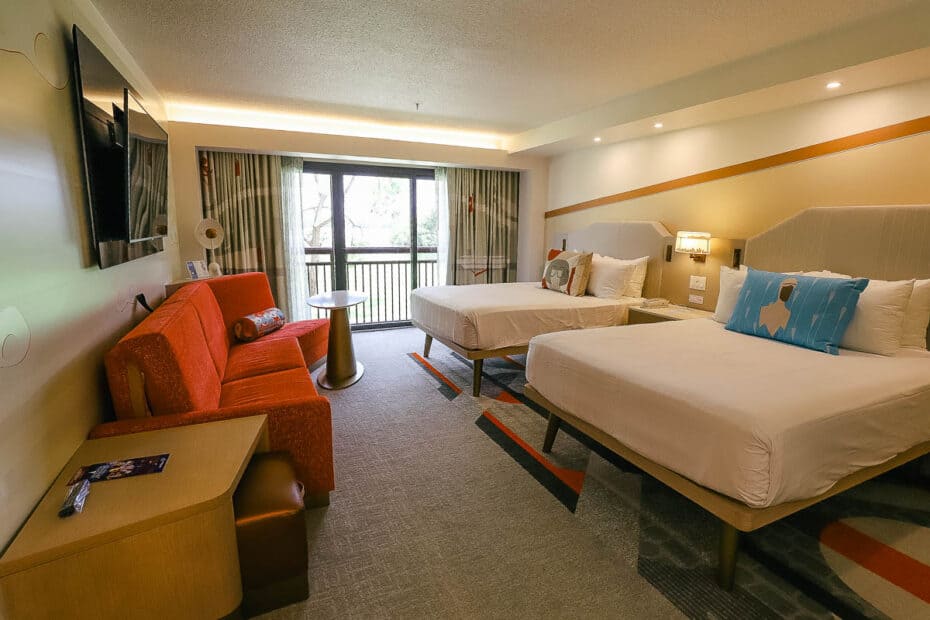 A standard guest room at Disney's Contemporary has two queen-size beds. These are platform-style beds that allow you to store your luggage underneath.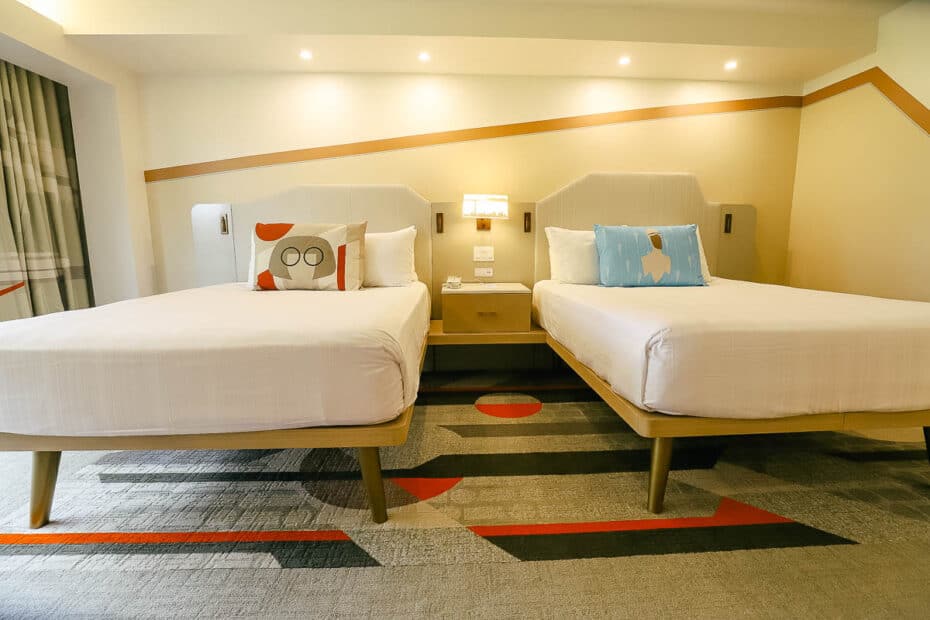 Since we were a party of three, this worked out well. The majority of our luggage went underneath the bed and remained out of sight for the entirety of our trip.
Our room had a futon-style sofa with an extension on one end. The extended area continues to provide a small seating area when the bed is in use.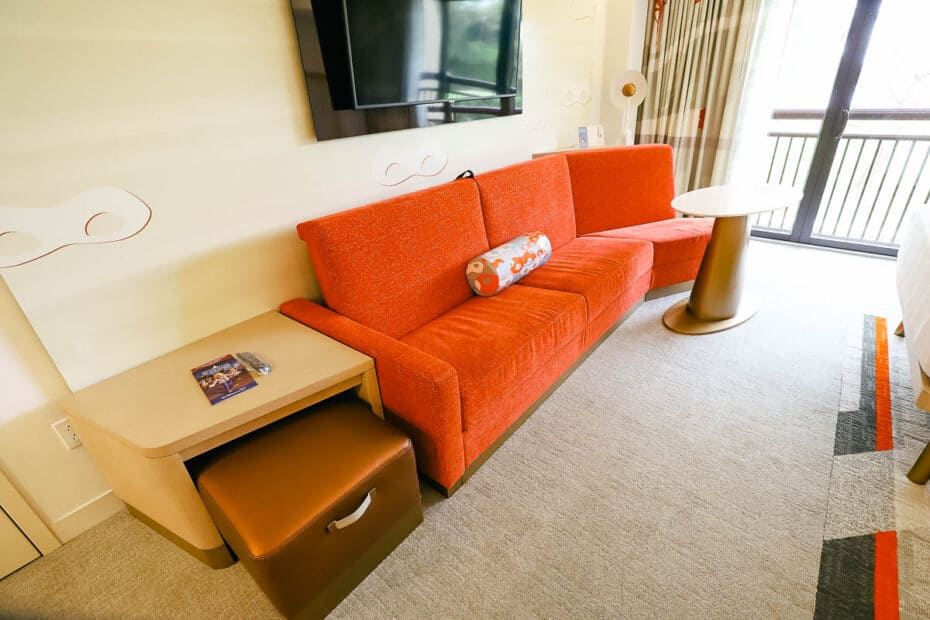 On the opposite side, this small end table serves a double purpose with the ottoman that slides out. The ten-year-old in our group enjoyed a few snacks at the table during our stay.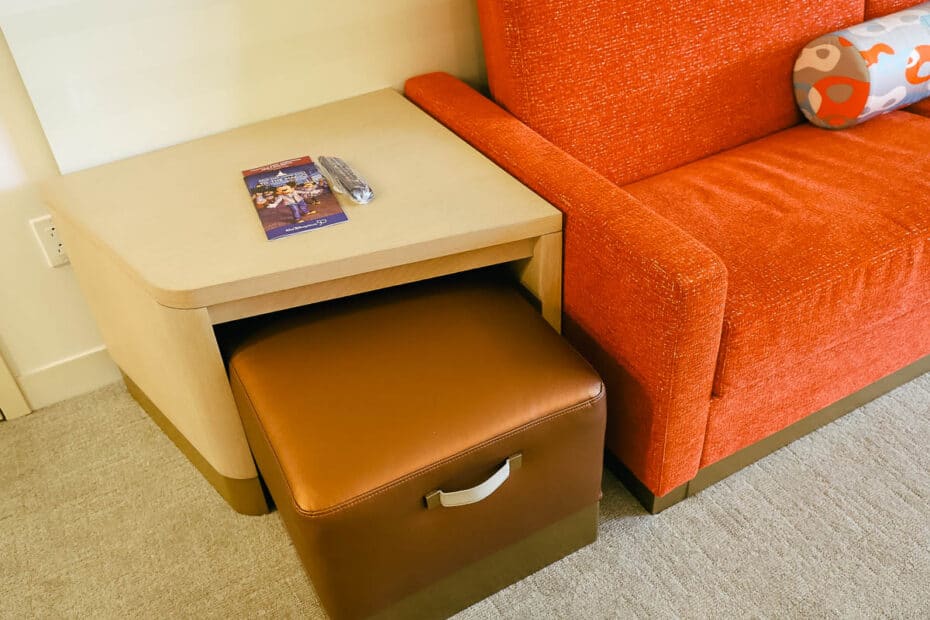 Behind the sofa, there's a small black strap.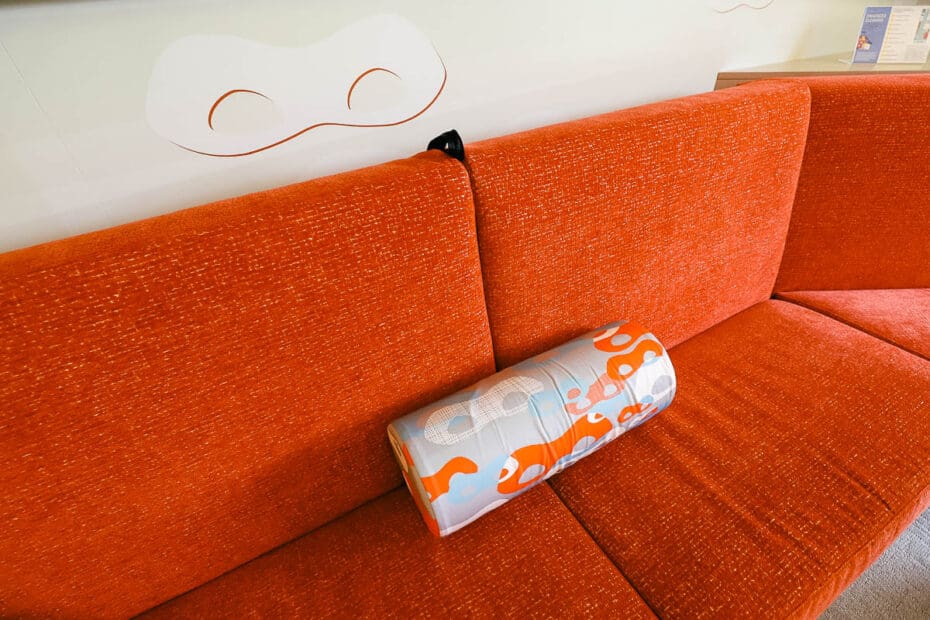 Pull it toward you to reveal the single-size bed. Below you can see where the seat remains with the table.
There are two things I want to note here. First, do not let your mobile phone or anything else fall between the bed and the sofa. If you do, call someone to assist you in pulling the entire sofa away from the wall to retrieve what you lost.
It's so heavy and difficult to move. Ask me how I know this.
Secondly, the table is a little high for the seating area. Due to the nature of this business, I have to work while I'm traveling. Because of the table's height, I could not use it for typing on my laptop. (Eating was a bit awkward, too.)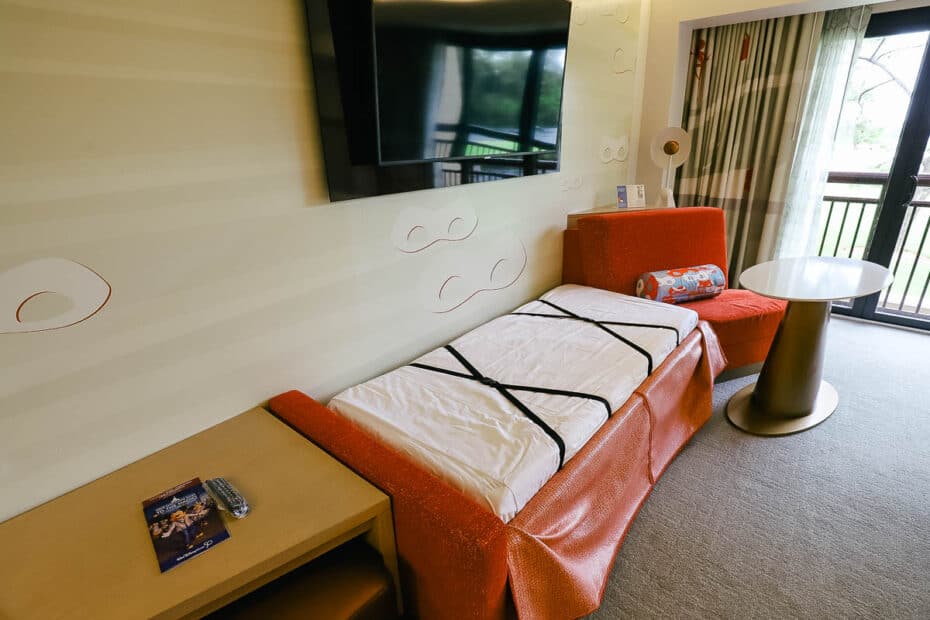 Additionally, the table is heavy-duty, like the sofa. It's not going anywhere without a lot of effort. So if you have small kids, caution them from running into it.
As for comfort, the little guy in our room loved the pull-out bed and slept on it the entire week with no complaints. However, I don't think an adult would enjoy having to rest here for more than a night or two.
On the right-hand side, there's a triangular piece designed to meet the back of the couch, where it stands out from the wall. At night, I laid my MagicBand+ on top of it to charge. There were several built-in outlets and USB ports on the side.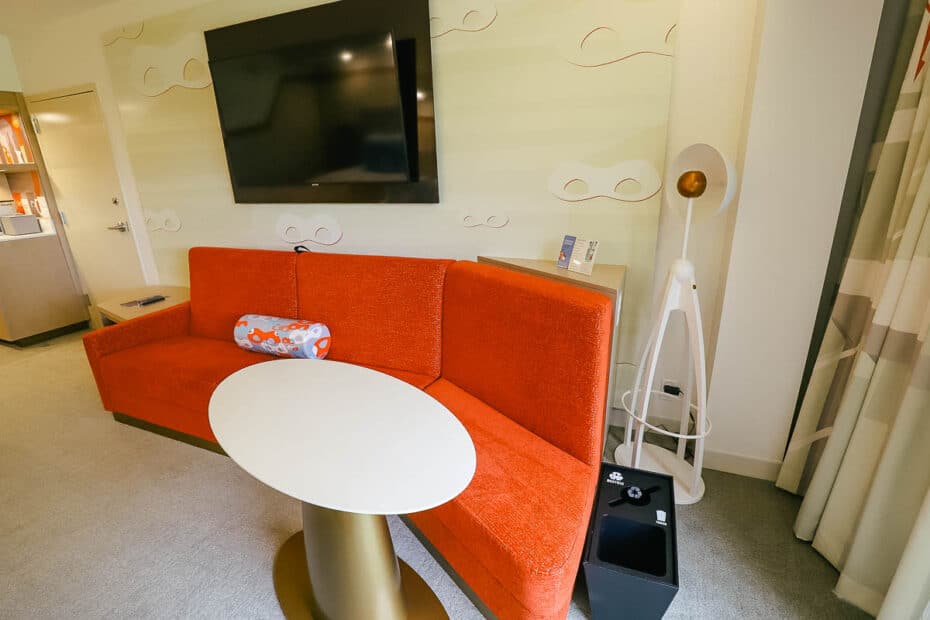 Here is an alternate view of the room.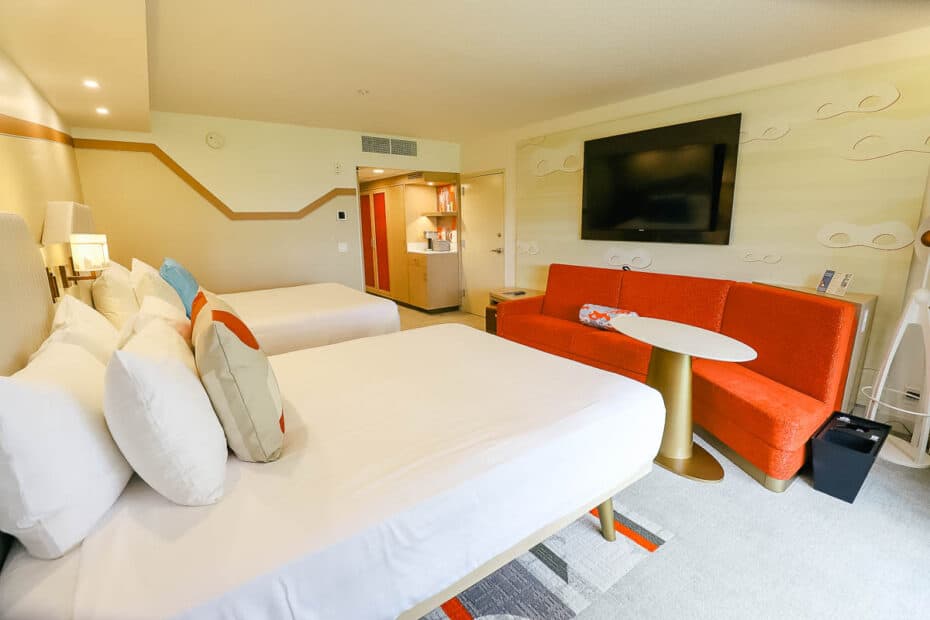 Instead of a nightstand on each side of the bed, there's a shelf with plenty of outlets and USB ports.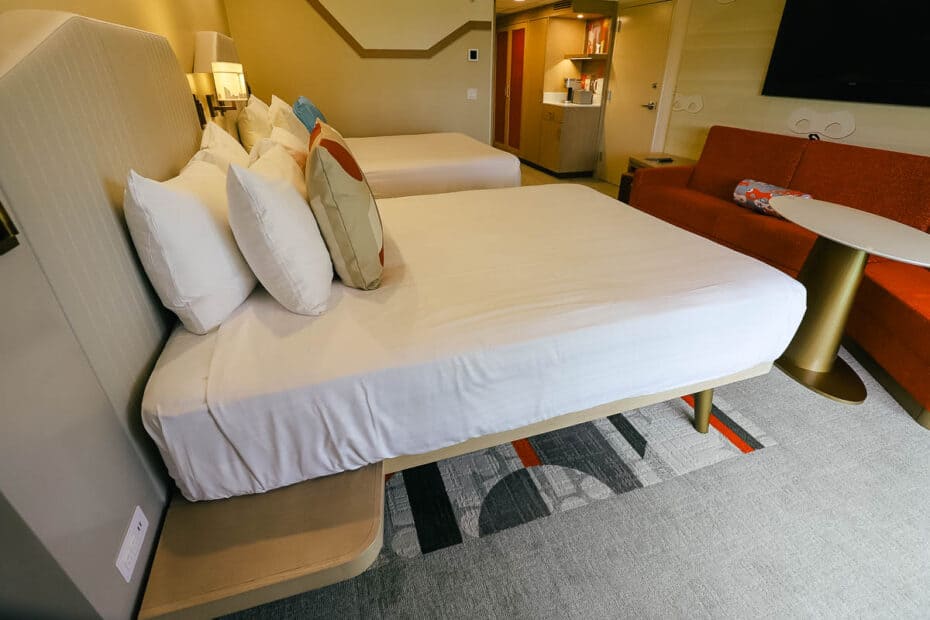 Additionally, there's a nightlight, built-in pen lights for reading, and several other outlet options between the two beds.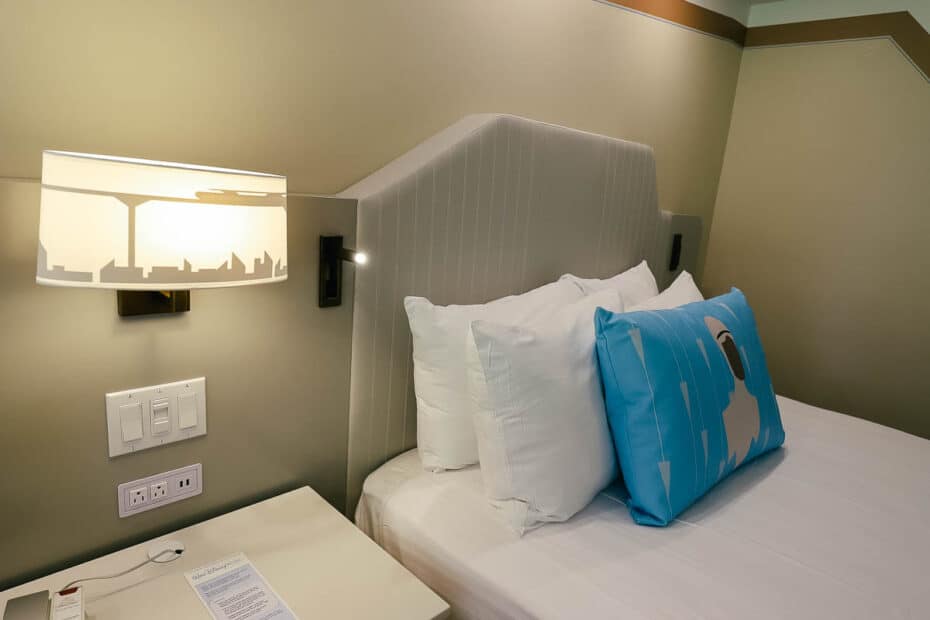 One lone drawer sits between the beds. It had a few things left over from when the Incredibles stayed here. I thought these touches were cute and not in-your-face.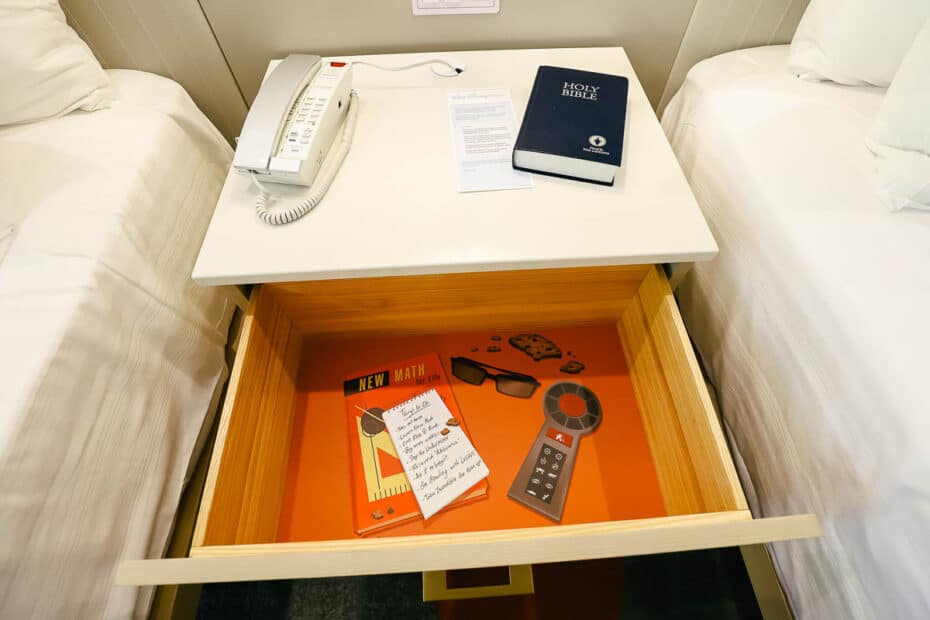 You'll find some other details inside the built-in closet area.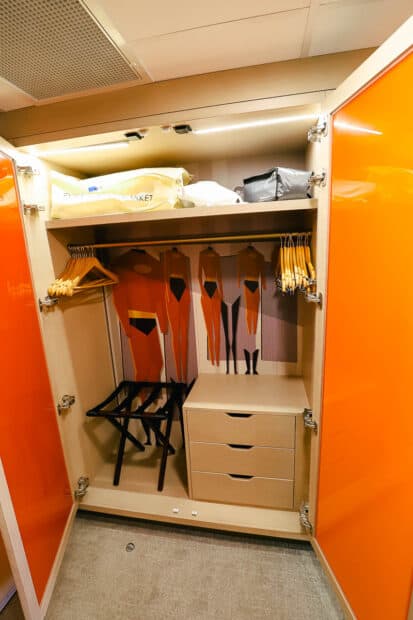 I couldn't help but think, "Honey, where's my super suit?" when I opened the doors.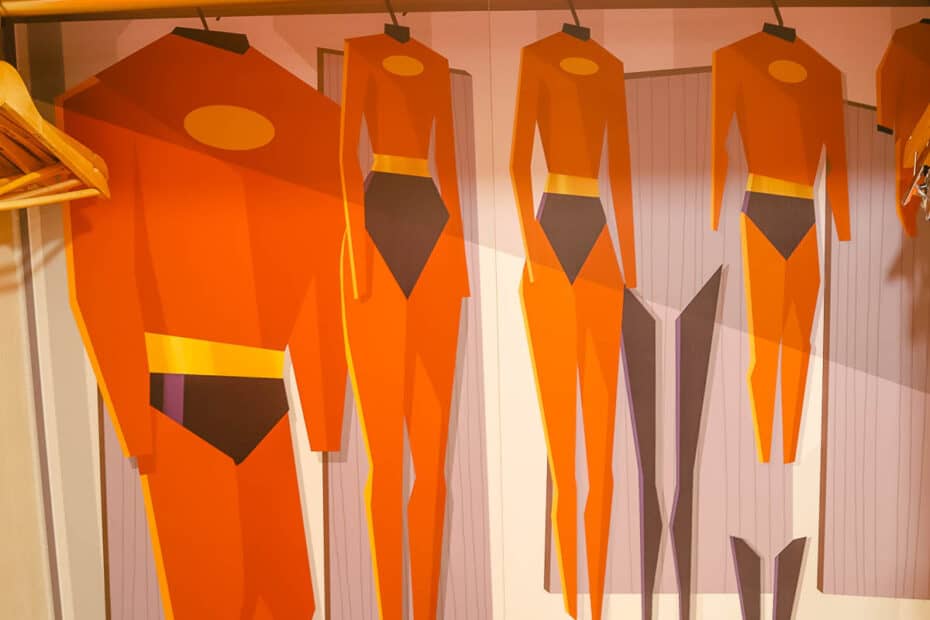 On first look, I was concerned that we wouldn't have any drawer space in our room. However, there was plenty in the wardrobe and closet area.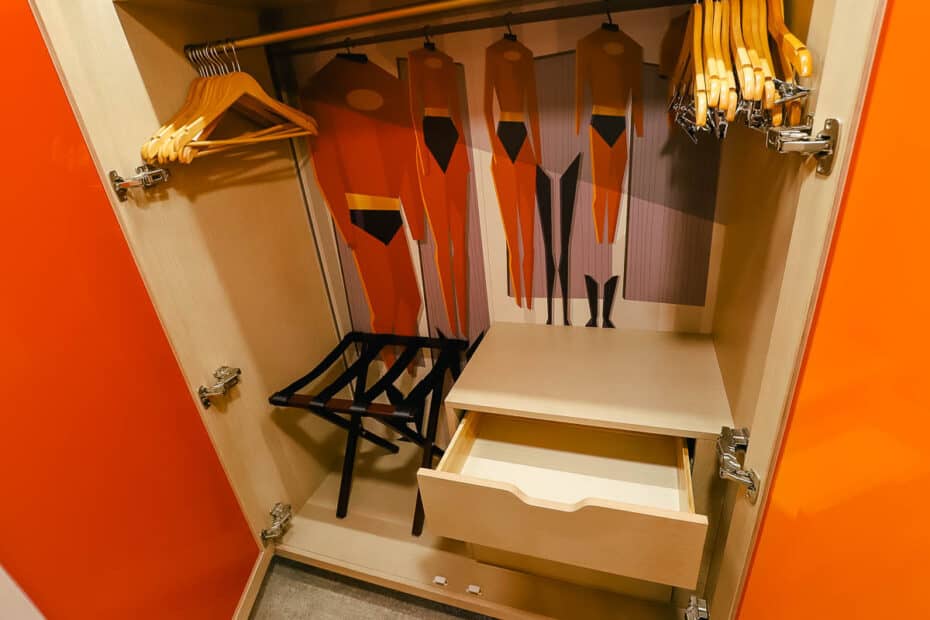 Up top, there's extra bedding for the sofa bed, a hair dryer, and a steamer. A steamer is available in place of the usual iron and ironing board.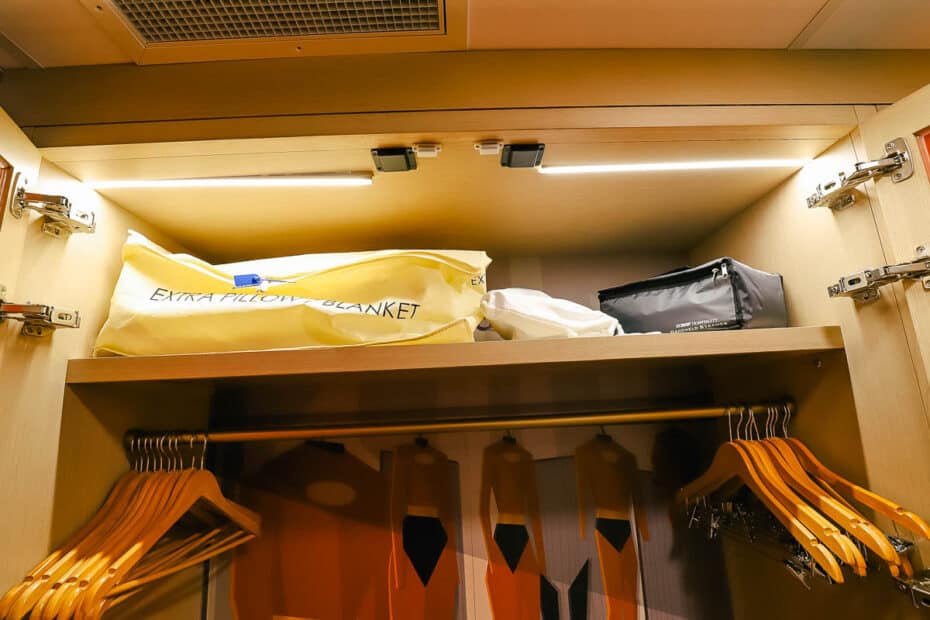 In the other built-in, we find more storage space, drawers, and an in-room safe.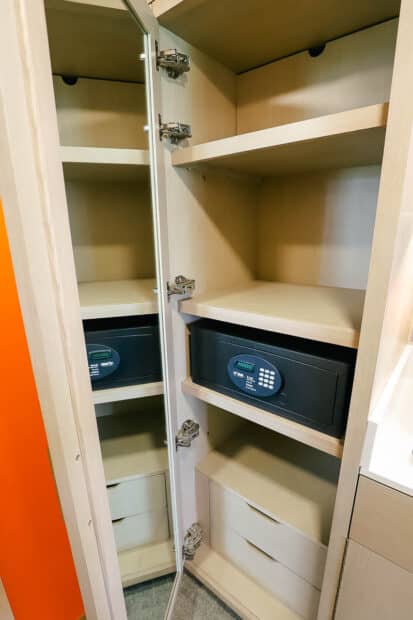 The safe easily held my Macbook and a few other items.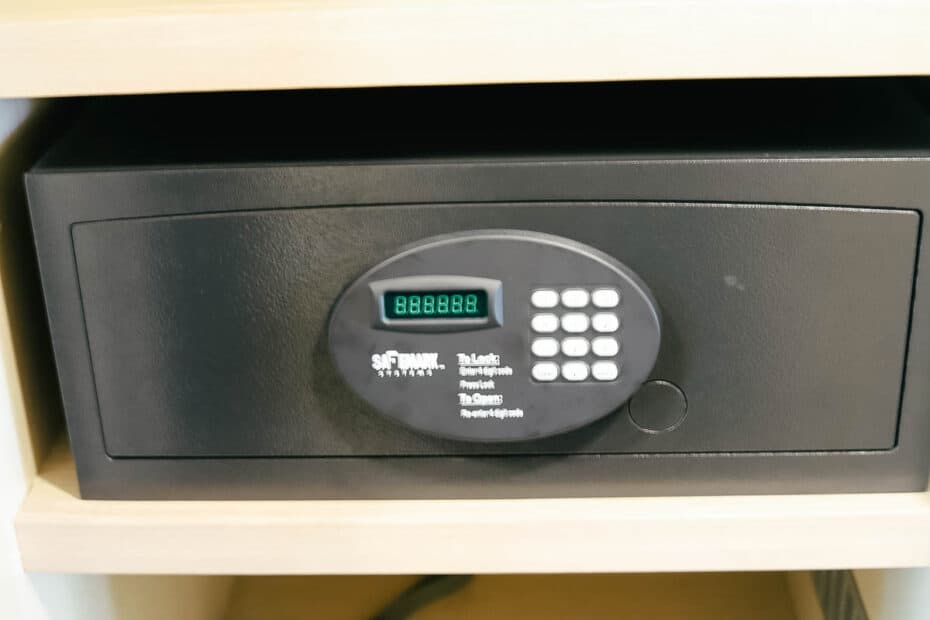 Unfortunately, I didn't get a picture of the Keurig coffee maker because I was too busy taking a photo of the Incredibles mugs. I'll take one Edna Mode mug, please.
Nevertheless, there was an individual cup coffee maker and a drawerful of accompaniments underneath. Unfortunately, however, the in-room coffee isn't that great.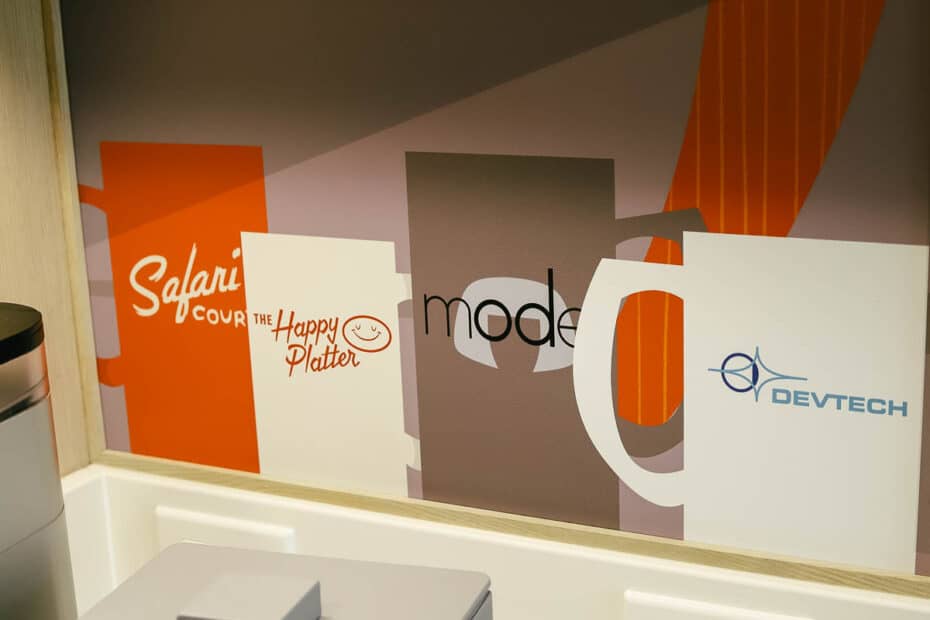 One thing that impressed me was that the guest baths were significantly redone. For example, there used to be two separate vanities for each sink, and the sinks were the ones that sat on top of the counter.
Now there's plenty of counter space and storage available underneath. Compared to other Disney Resort room remodels, the only thing I felt missing was a ledge over the vanity.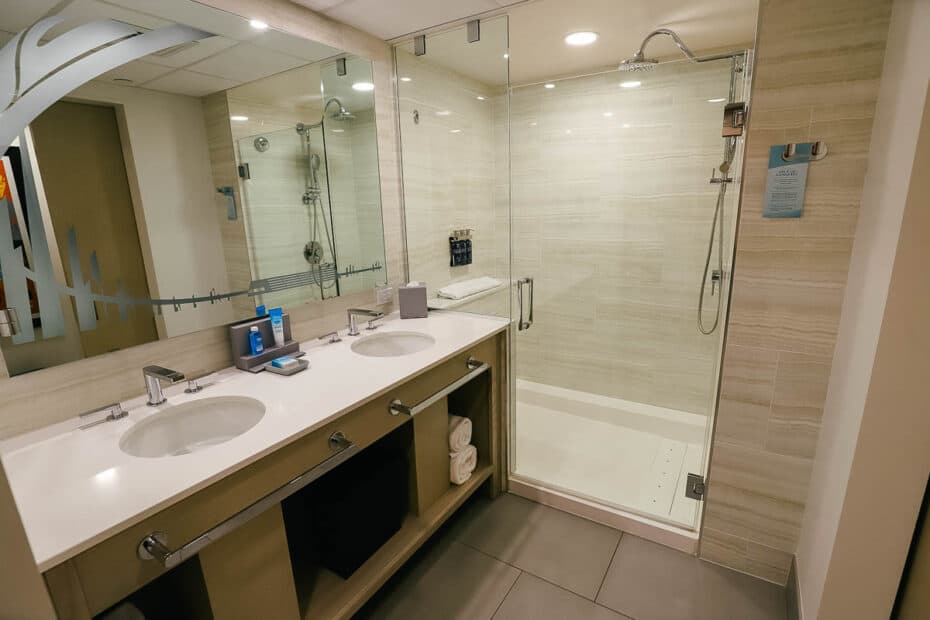 The ledge is nice for storing personal items. I always feel like having one keeps housekeeping from having to touch my things and makes it easier for them to service the bath area.
I don't know about you, but I hate coming back to my room and finding my toothbrush moved or lying on a towel. And I'm sure the housekeepers would prefer not to deal with my items either.
Our guest bath has a water closet with a separate door. However, you have to walk through the bathroom to access it, making it difficult for multiple guests to use the facilities simultaneously.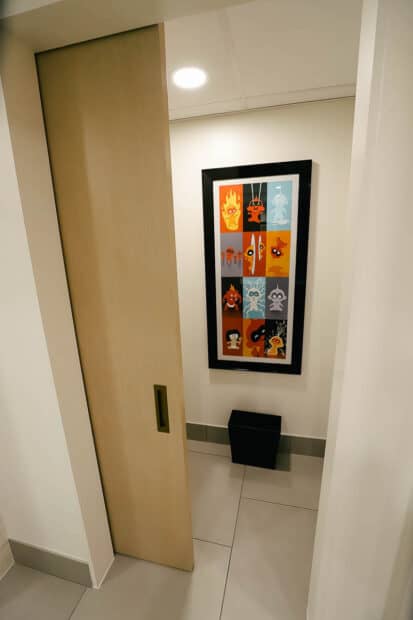 We had a walk-in shower. Some rooms have a tub with a shower combination, so make a special request if needed.
There are built-in soap, shampoo, and conditioner dispensers on the back wall. I hate to mention the name since the line recently announced they were permanently closing.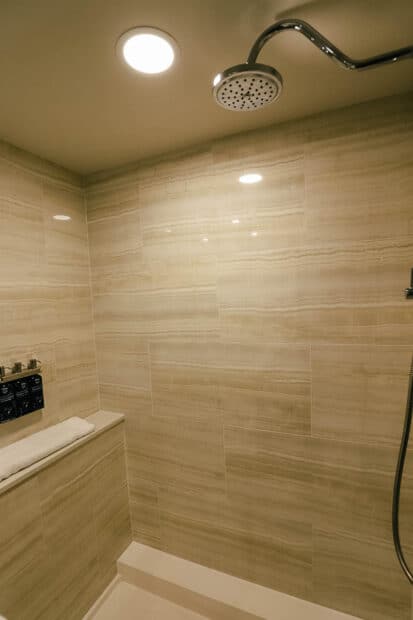 Here's a close-up of the vanity area.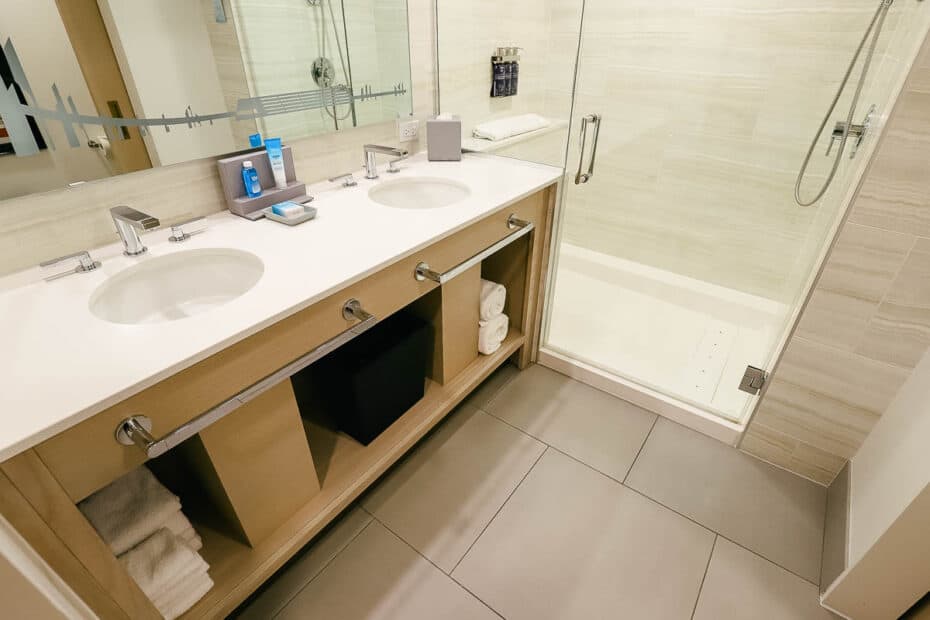 As always, the makeup mirror is a nice touch.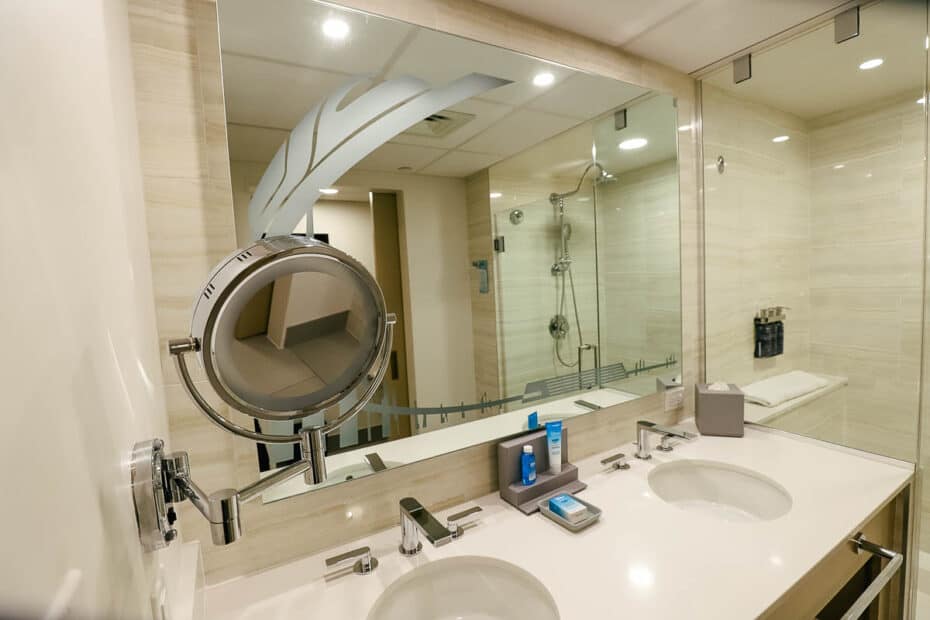 I had reserved a garden view room at the Contemporary for this stay. This resort is one of the few places where I recommend upgrading the view.
If not, you're likely stuck with a view of the parking lot. However, you can see the monorail from the parking lot view.
We've stayed in the Garden Wing several times, and I love having a view out to Bay Lake. I sat here many days watching the various boats pass.
At night, the Electrical Water Pageant floated through on its way to the nearby stops. Then it would float back through returning home after its performances.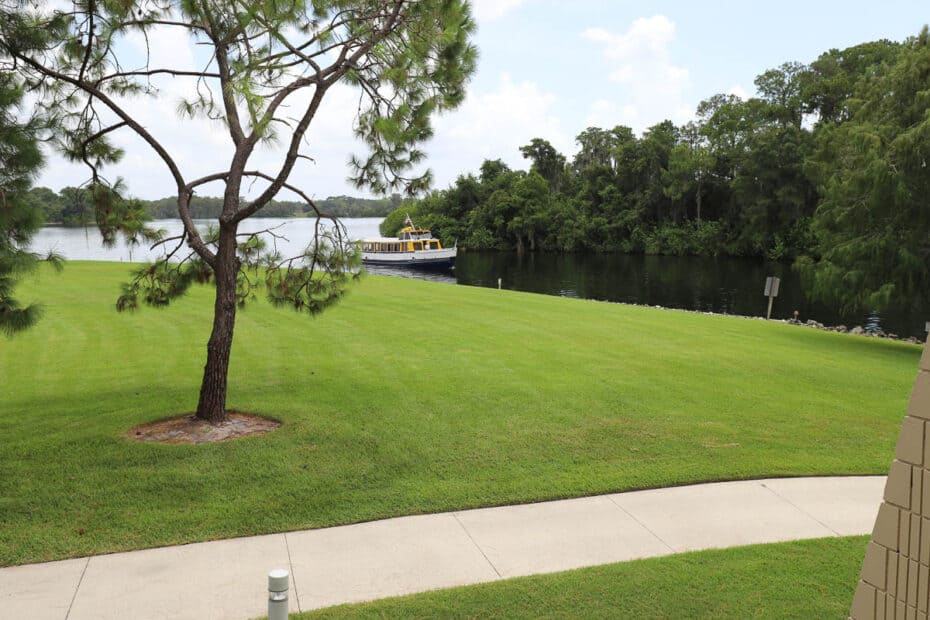 One crucial thing, floors two, three, and four of the Garden Wing do not have balconies. The sliding glass doors open, but you're immediately met with a railing.
If having a place to sit outside during your stay is important to you, you'll want to request a room on the first floor. And even then, not all room requests are guaranteed.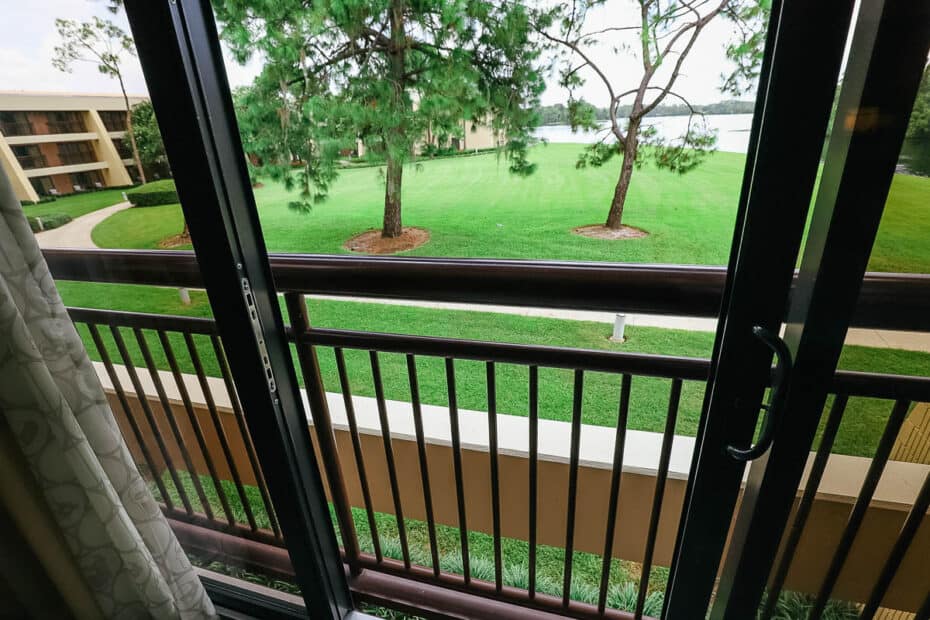 Here are a few more fun details in the room. I thought the accent wall with the subtle hero masks was a charming touch.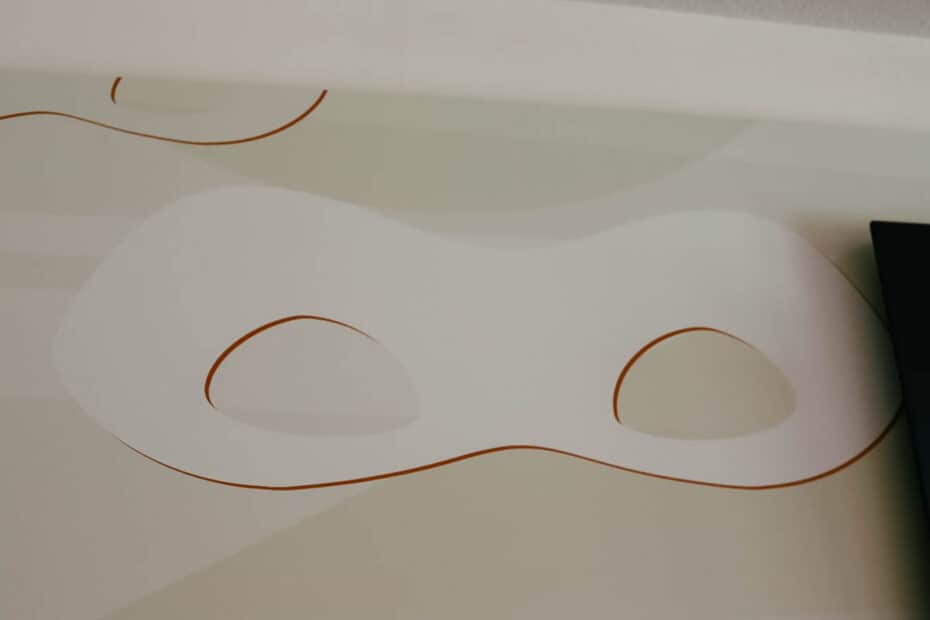 Curtains contained bright pops of Mr. Incredible and others.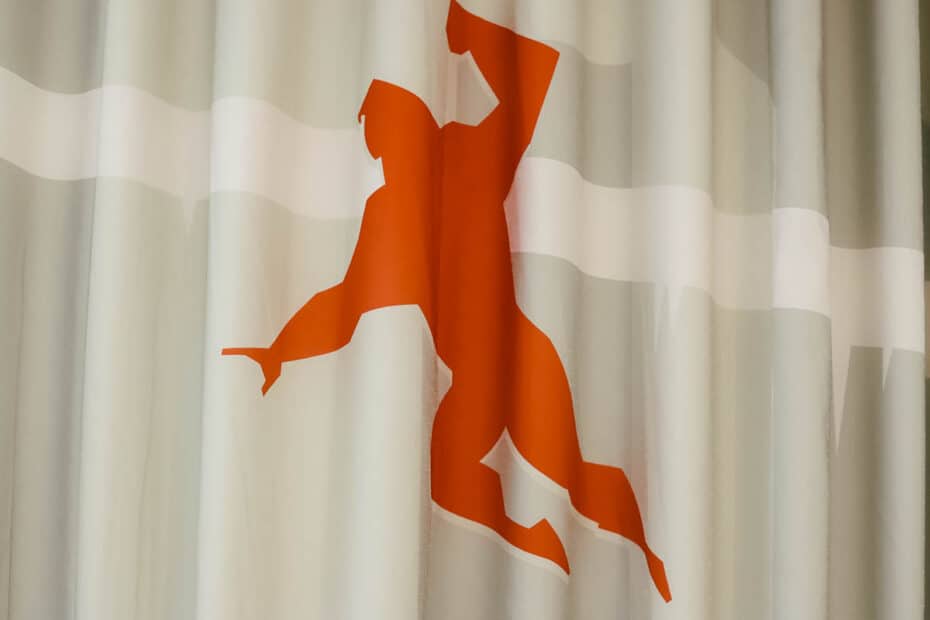 My favorite accessory was this Edna Mode pillow.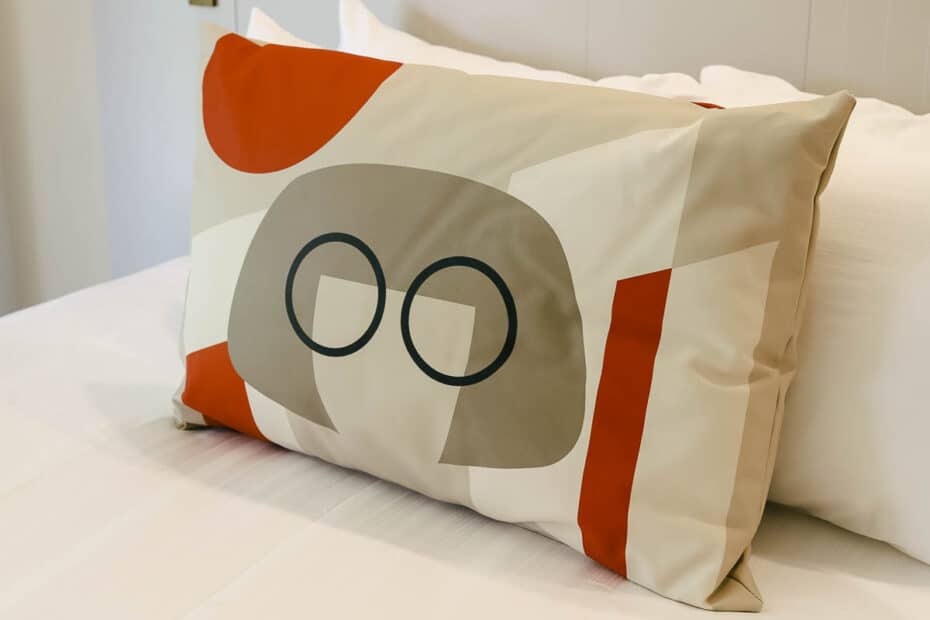 Frozone was on the other pillow. Both of these accent pillows are made of vinyl. So they aren't pillows you'll use for sleeping.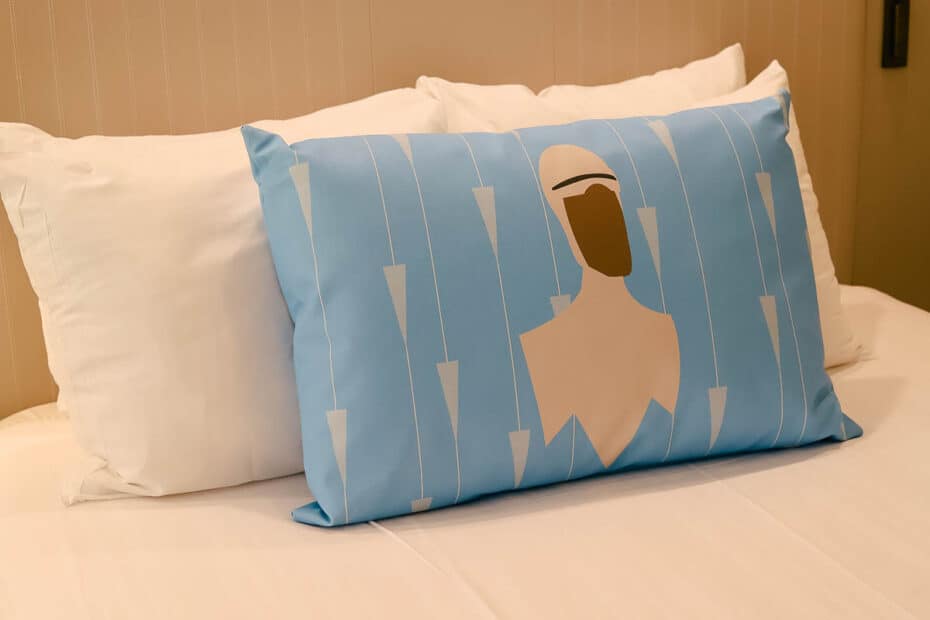 Overall, our Incredibles room felt light and airy. Between the cool undertones and pops of color, everything worked well together.
Video Room Tour:
Ultimately, with the touches of Incredibles, it felt like we were staying at a Disney hotel. But was it a high-end feeling like the rooms we've seen at Disney's Riviera? No, not at all.
But I also didn't feel we were staying at one of the value resorts like Pop Century. Those rooms are fun but do have cheaper finishes.
Related: Pop Century Resort Review
Over the years, I've seen many complaints about how more recent remodels have sucked all the Disney out of the rooms. However, it seems that Disney has tried to reinstate their characters in a fun and somewhat inventive way with these Incredible rooms.
So, now the complaint is that the rooms don't feel high-end enough for where you're staying. Well, I can't entirely agree.
In general, Disney's Contemporary has never felt that high-end. If you want that look and feel, you're better off at a swanky resort like the Grand Floridian or Disney's Riviera Resort.
Related Reviews:
Disney's Contemporary is a classic hotel that was once modern before its time. When you have a hotel that's so unique, it's hard to let it be anything other than what it is at its core.
That, my friends, is an original 1971 hotel with a monorail running through it. You know, the one with breathtaking views of a massive lake that's only a few minute's walk from the Magic Kingdom.
And let's not forget the cool mural created by the infamous Mary Blair. Additionally, there's that fancy restaurant up top that desperately needs to return to a regular dinner menu and reinstate brunch on Sundays.
Anyway, I hope this look at the Incredibles Room at Disney's Contemporary helped you decide if the resort was a good fit. We'll happily return in the future.
For more information, all of our articles for the resort are listed in our guide:
You may also like the following:
In the Comments:
What are your thoughts about the new Incredibles rooms at Disney's Contemporary? Are you a fan of these modern rooms with a splash of Incredibles?