The Pools at Disney's Contemporary Resort
Pool time, anyone? As controversial a resort as the Contemporary is, we'll take things a step further as we look at the resort's pools.
For some, the pools at Disney's Contemporary Resort are bland compared to pools at other deluxe resorts. For others, the Contemporary's pools provide a serene place to relax only minutes from the magic.
I don't know about you, but I fall into the latter of that group. If you've read my other articles about the resort, you know I'll take anything that comes with a view of Bay Lake on any given day.
So for this article, we'll take a detailed look at the pools at Disney's Contemporary. By the time we're finished, you'll be able to decide whether or not you want to spend a portion of your vacation in the Contemporary's backyard.
Additionally, if you have an upcoming stay planned, you might want to consider the Feature Pool's upcoming refurbishment:
From January 9, 2023 through early April 2023, the Feature Pool and whirlpool spas at the Contemporary will be closed for refurbishment. The water play area and Bay Lake Pool will remain open for your enjoyment. (Reference here.)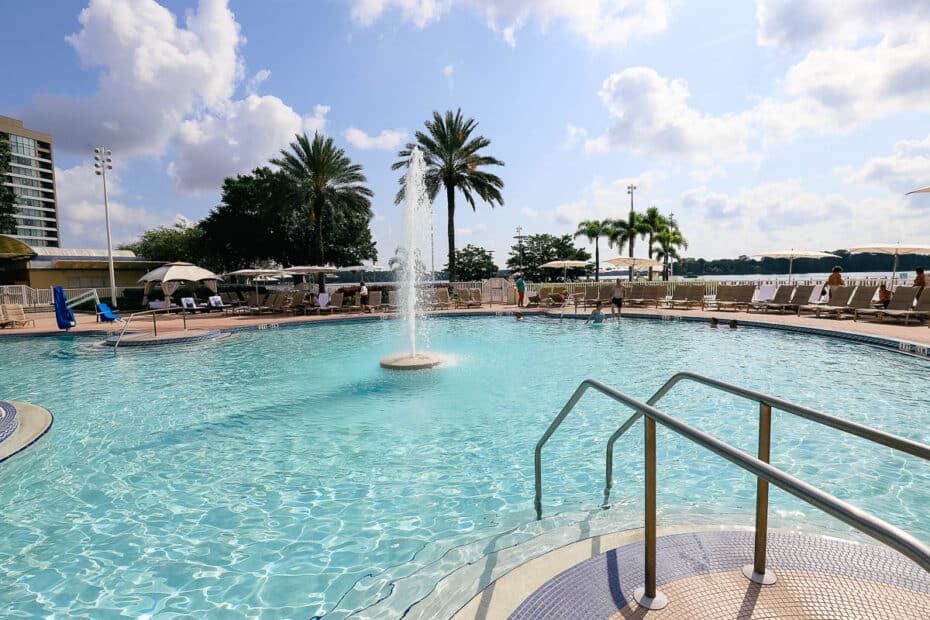 We'll start at the Feature Pool. That's right, the Contemporary's primary pool is called the Feature Pool.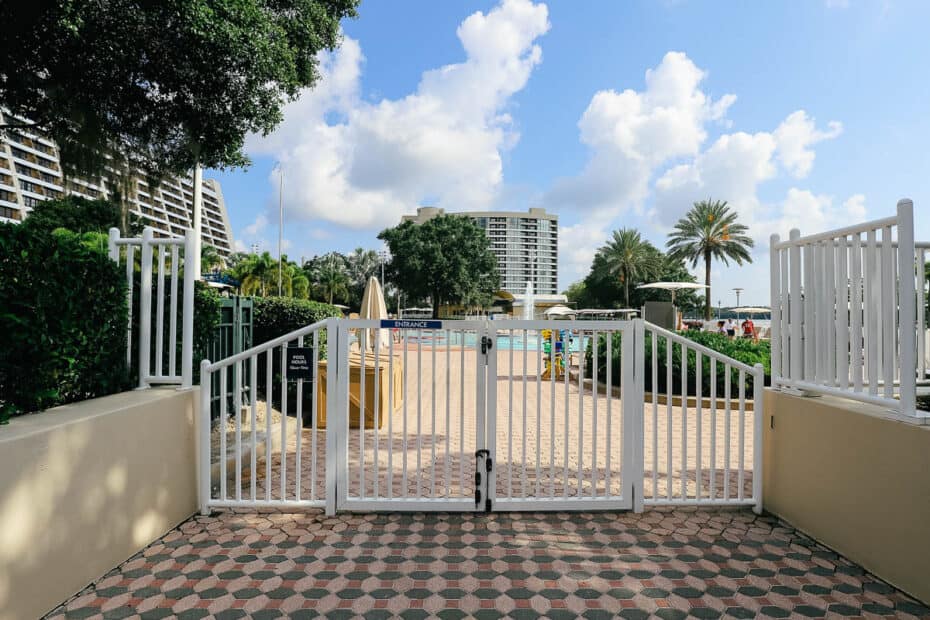 Pool hours were between 10:00 a.m. and 11:00 p.m. during my stay. However, those hours might be reduced depending on what time of year you visit.
Related: Walt Disney World Pool Hours and FAQs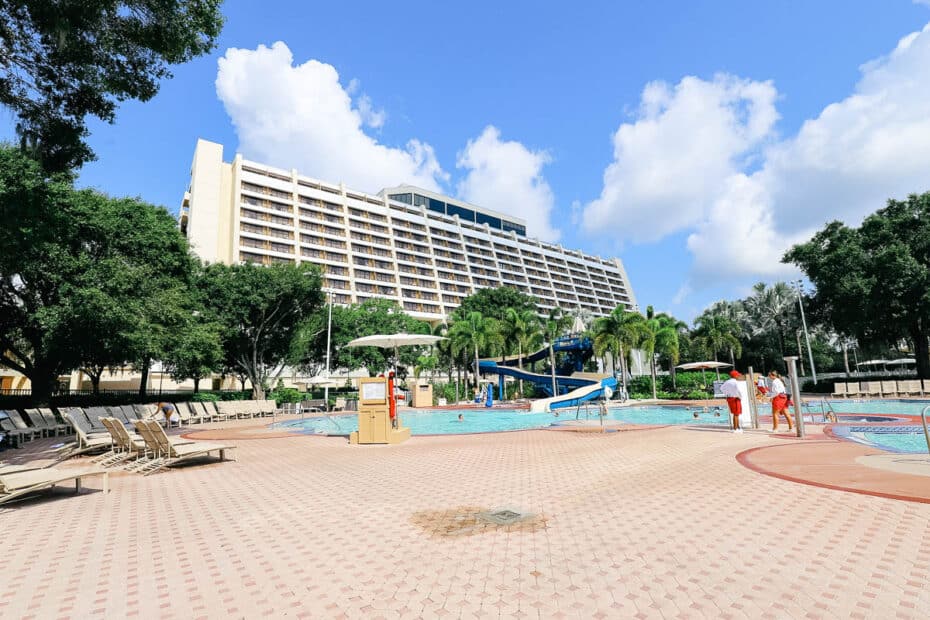 Regardless the pools at Disney's Contemporary are heated to 82 degrees in the cooler months. So you should be able to swim when outside temperatures dip.
However, if the temperature becomes unseasonable (probably around 60ish degrees or lower), all pools at Disney World will close.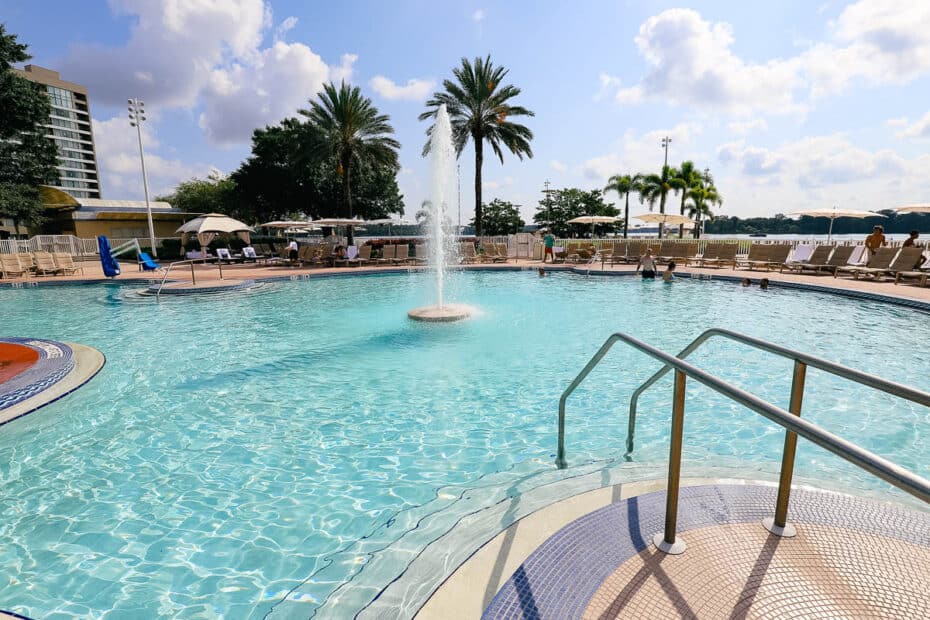 Anyway, the Feature Pool sits directly behind the tower and to the front side of the Garden Wing.
Related: Contemporary's Garden Wing Review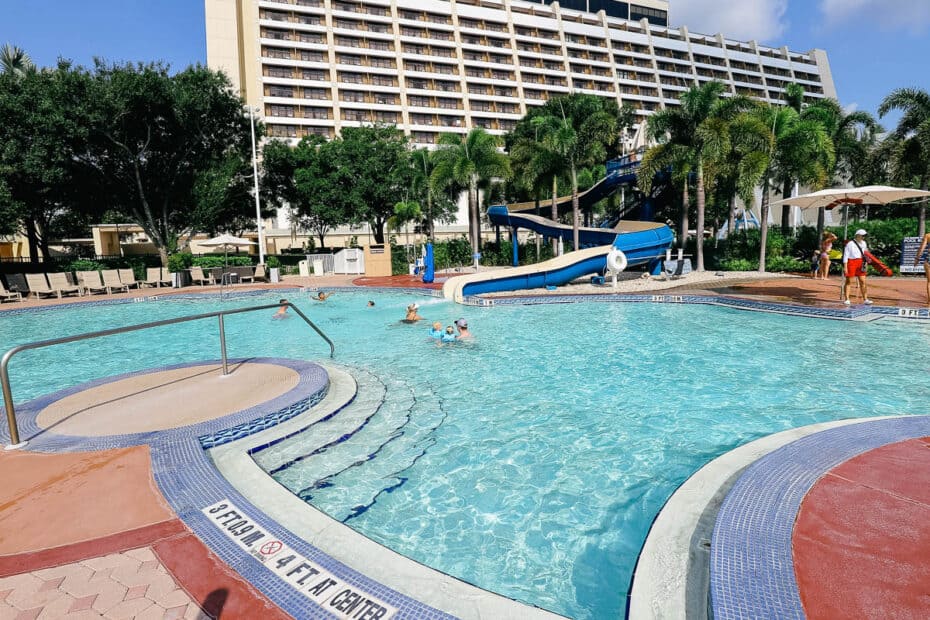 Per the signage, water gets 4′(feet) deep at the pool's center.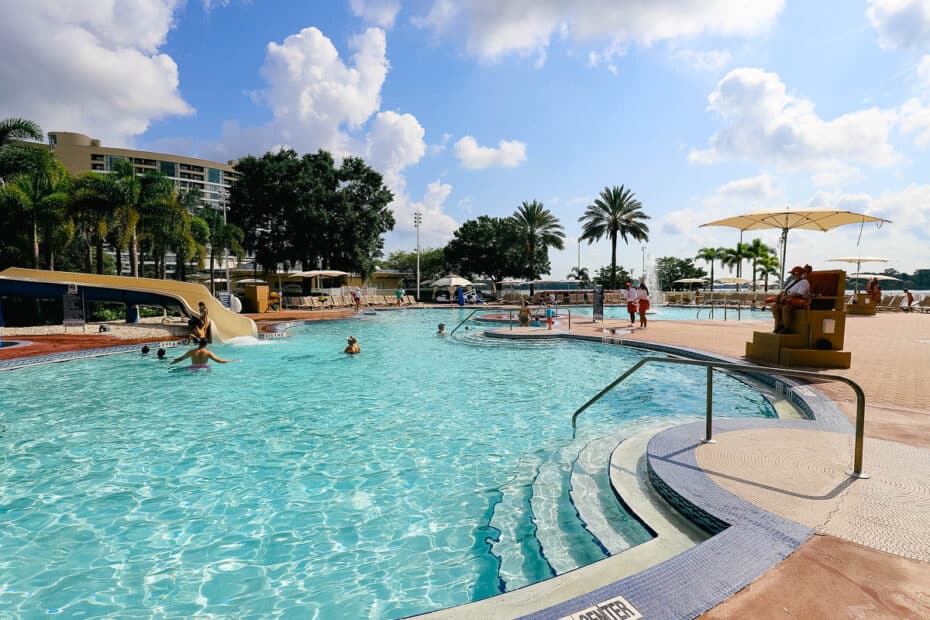 While the pool is simple, it offers some fun features, like the water spray element.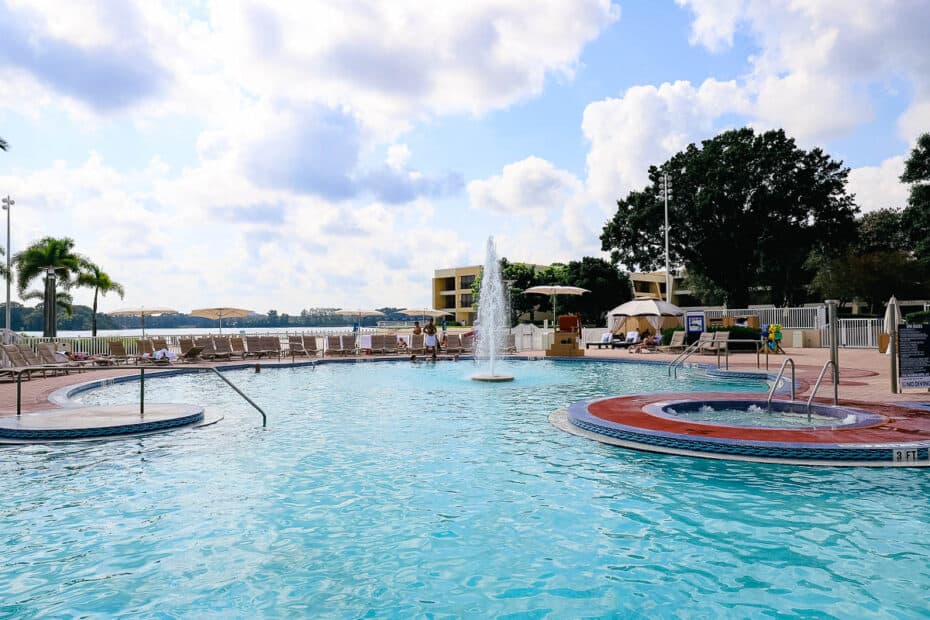 Additionally, two hot tubs sit almost directly within the pool. You can quickly get from cold to hot water or vice versa from either spa.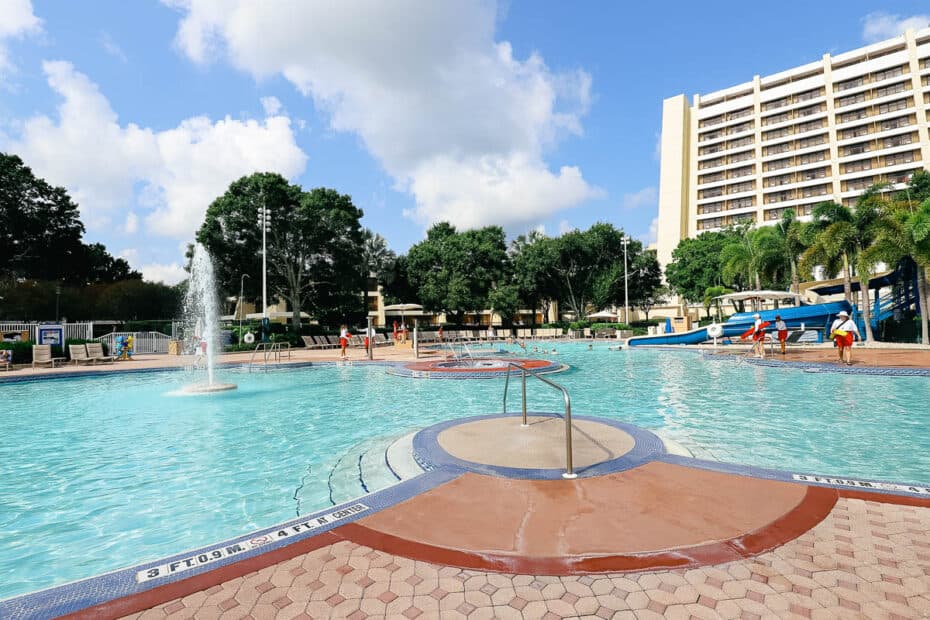 Toward the front of the pool, there's a 17′ (foot) tall water slide.
Related: Resorts with Water Slides at Disney World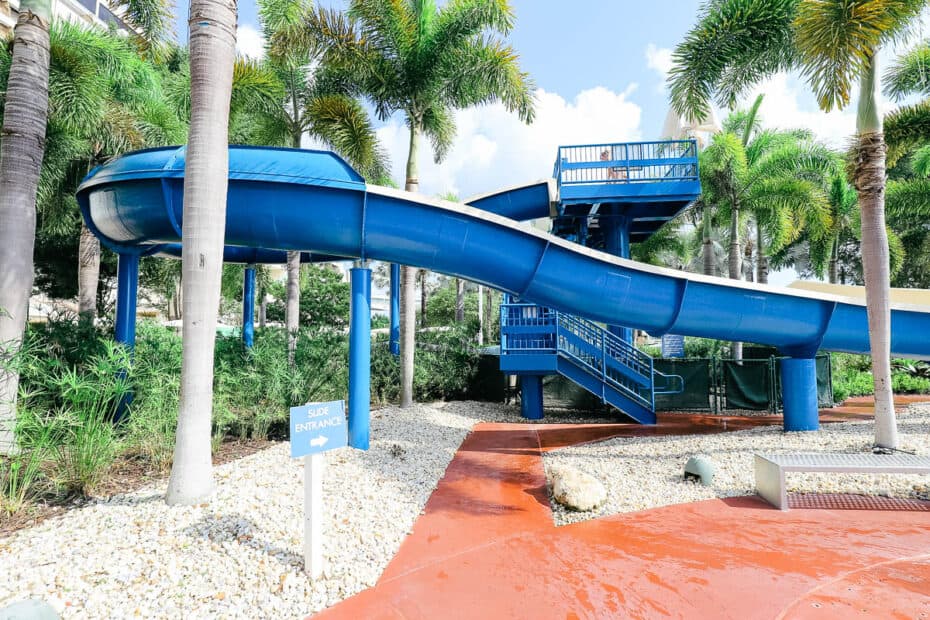 A set of slide rules indicates that only one rider can enter the slide at a time. You'll wait until the light turns green to enter the slide. Pool depth at the bottom of the slide is 3′ 4″ (3 feet, 4 inches).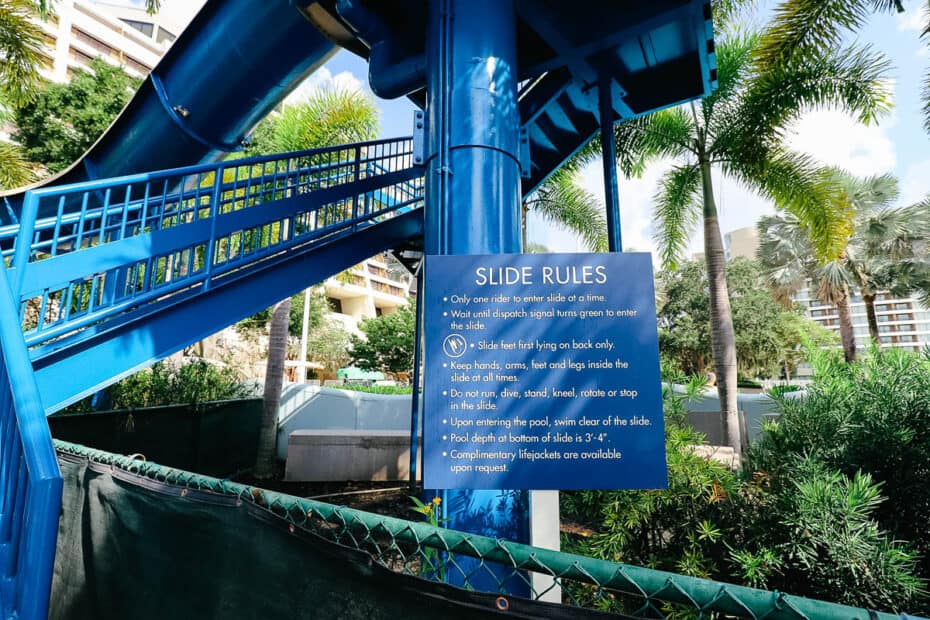 It's a fun slide that curves through a group of palm trees on the way down.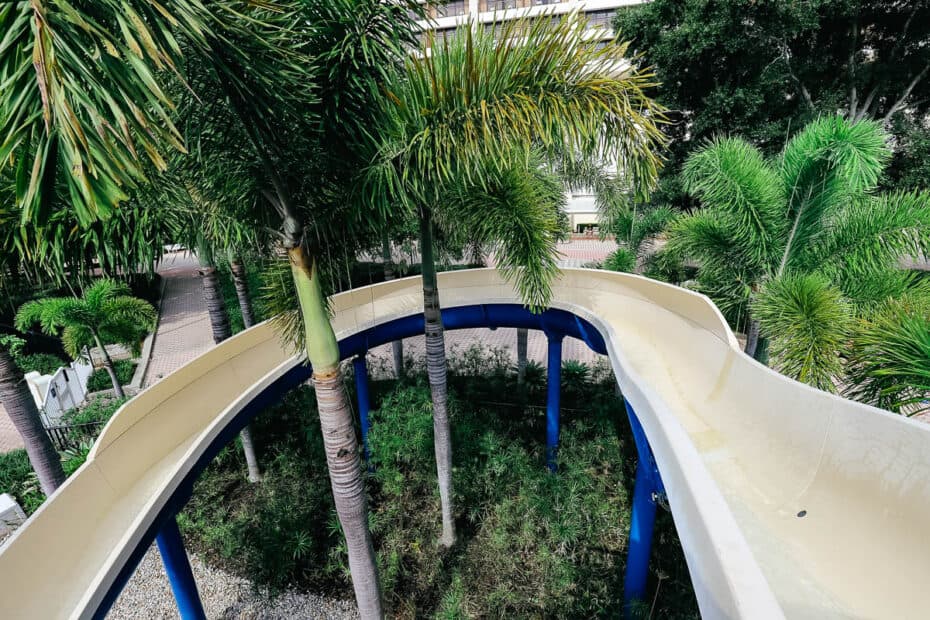 Then splashes into the Feature Pool.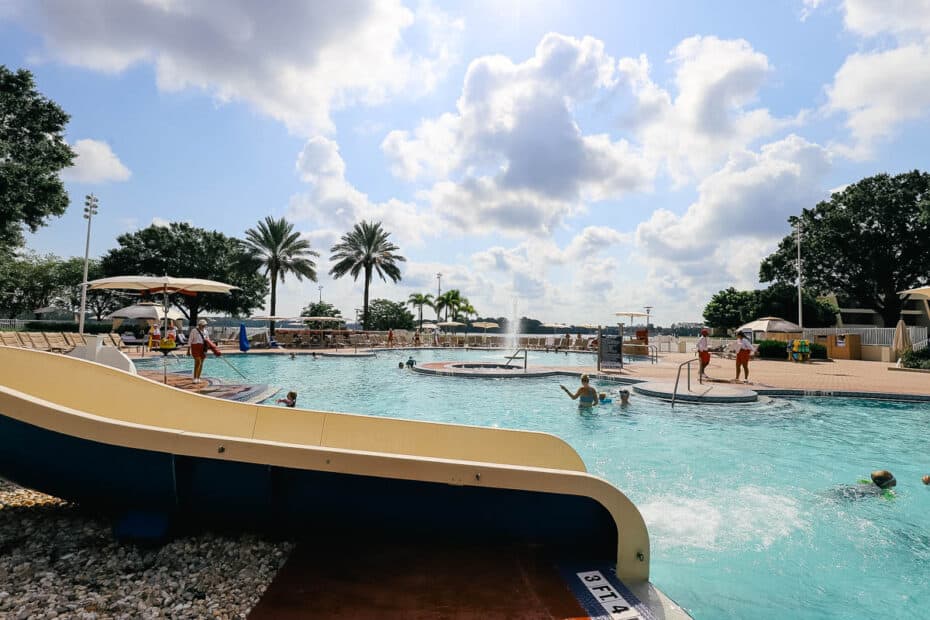 Additionally, the second hot tub sits near the slide.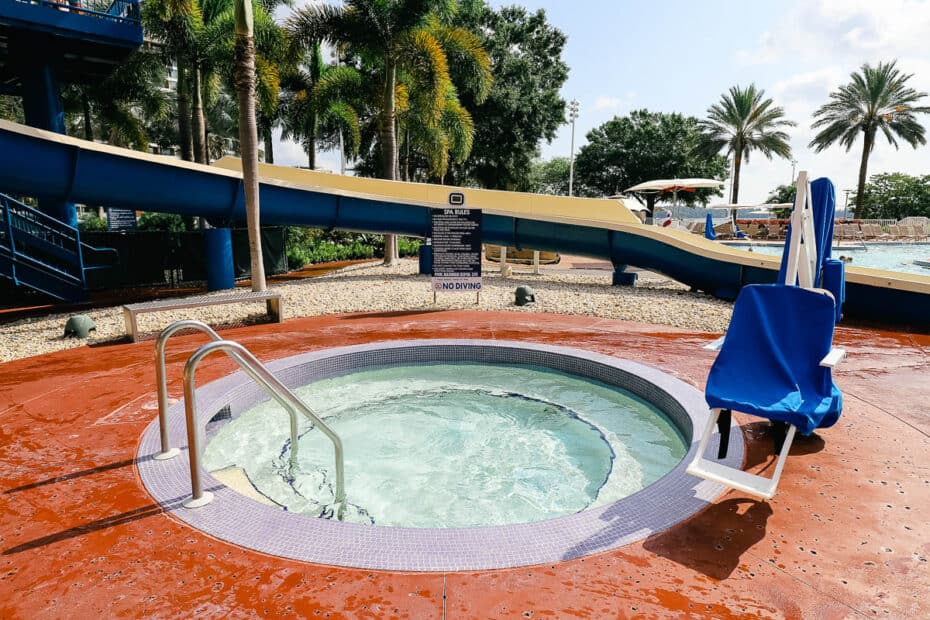 Of course, I had to climb to the top for photos.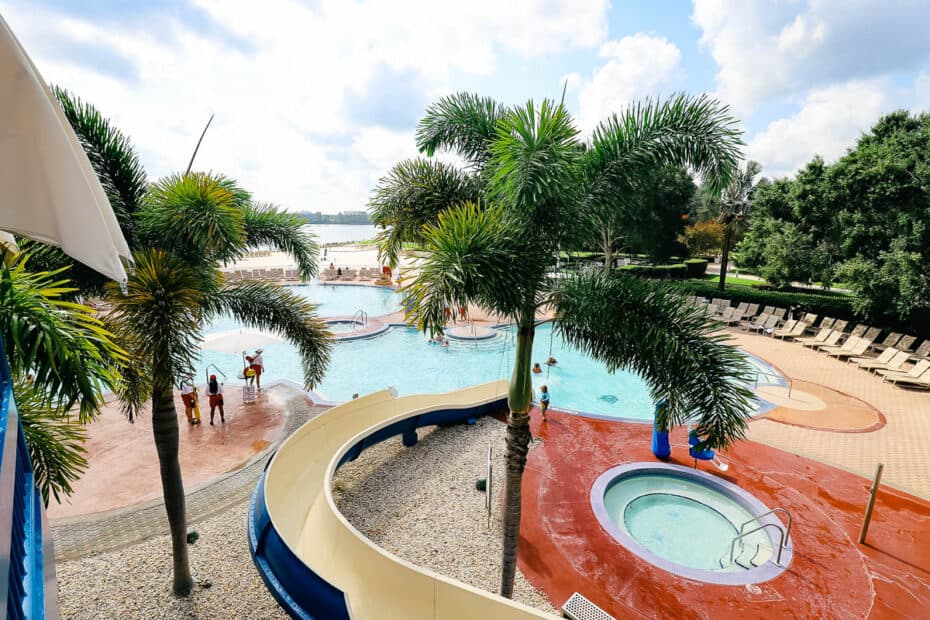 While there, I snapped a few shots of the main tower.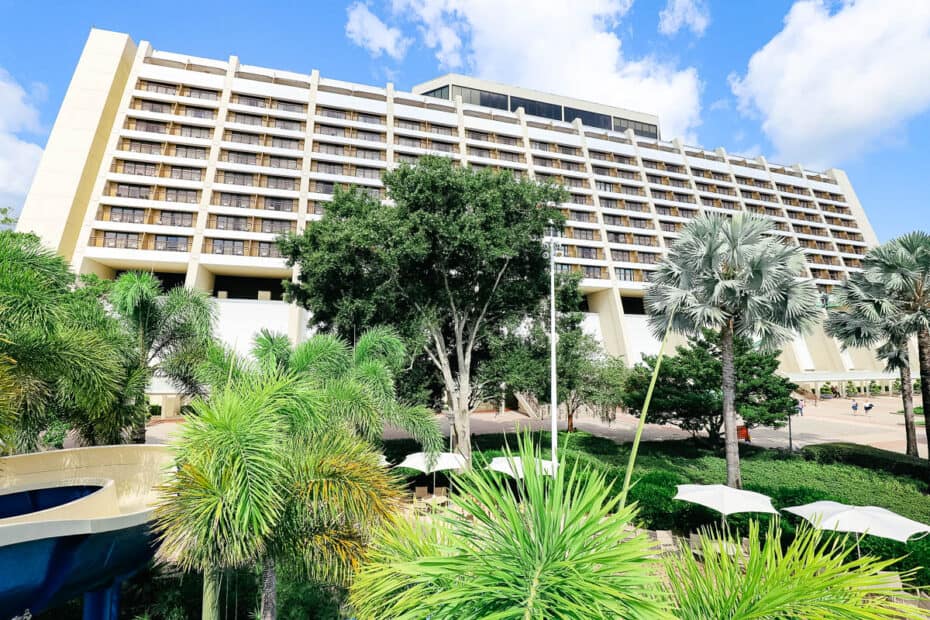 Here is Bay Lake Tower, which sits next door. Guests of Bay Lake Tower can use the Contemporary's two pools. However, guests of the Contemporary do not have access to the pool at Bay Lake Tower.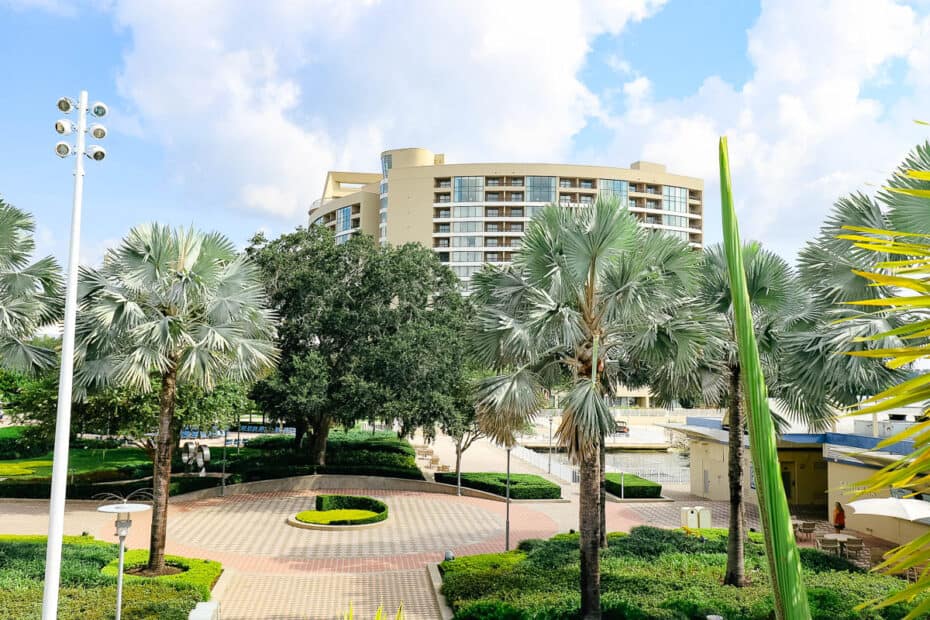 Bay Lake Tower is one of Disney's Vacation Club Resorts. So things work a little differently for DVC guests.
Related: Bay Lake Tower Review
Life jackets are available for guests. Additionally, towels are provided at both pools.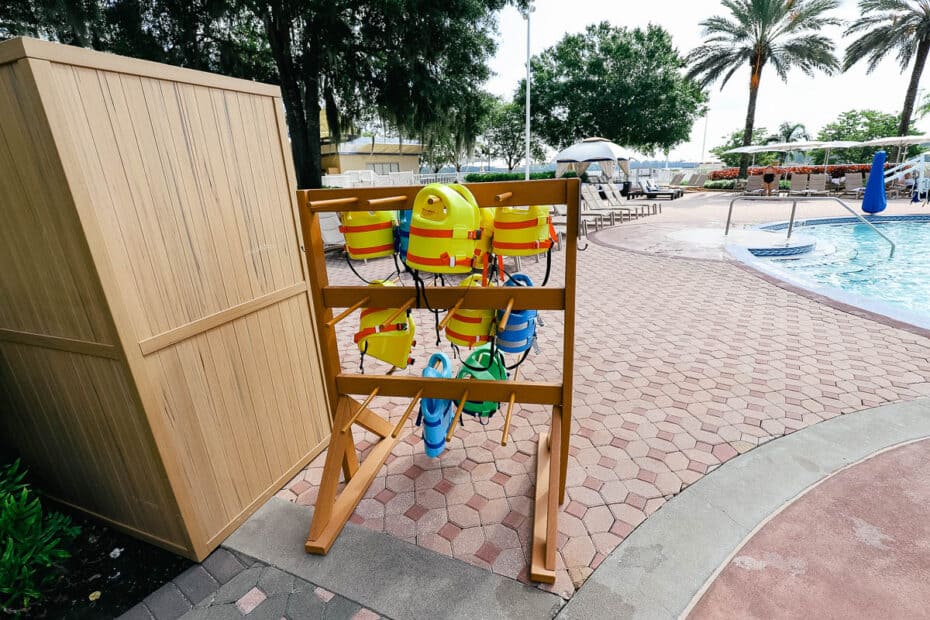 Cabana rentals are available at both the Feature Pool and Bay Lake Pool. Cabanas are available for booking 60 days before your stay. They are on a first-come, first-served basis.
Related: Poolside Cabana Rentals at Disney World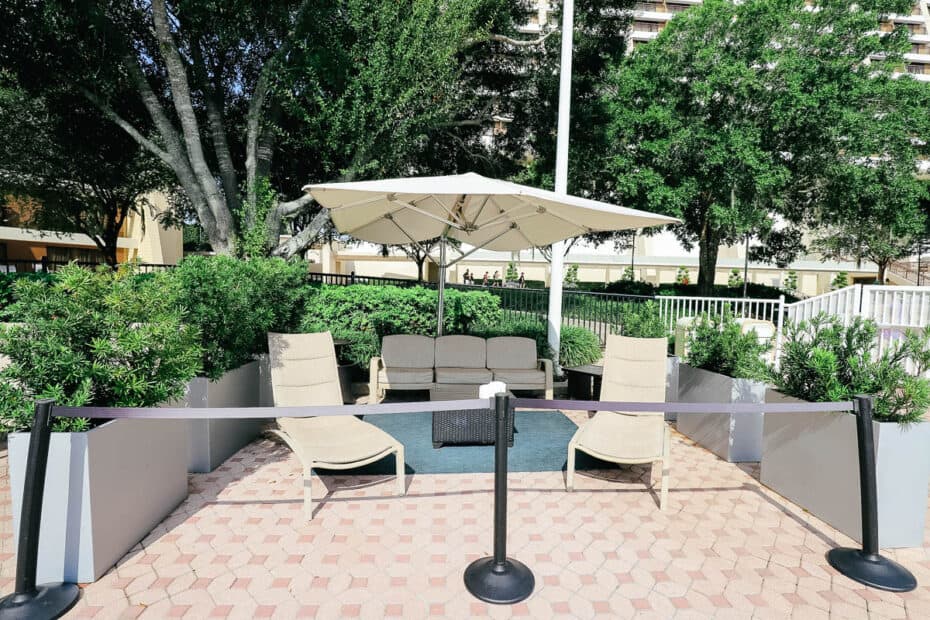 The dedicated seating and service are nice extras if you're planning to spend an entire day at the pool.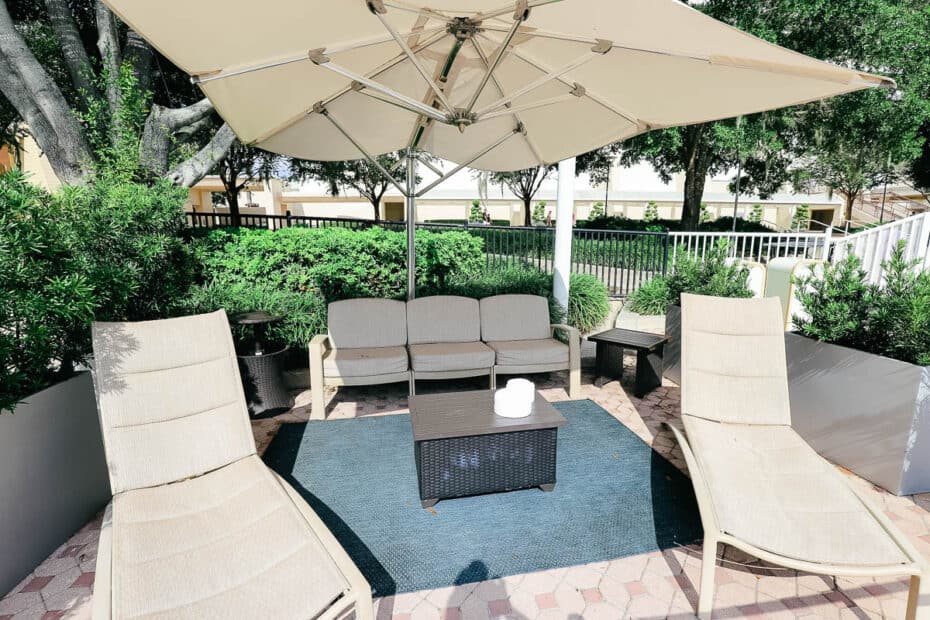 We'll walk out to the Bay Lake Pool, which is considered a leisure or quiet pool.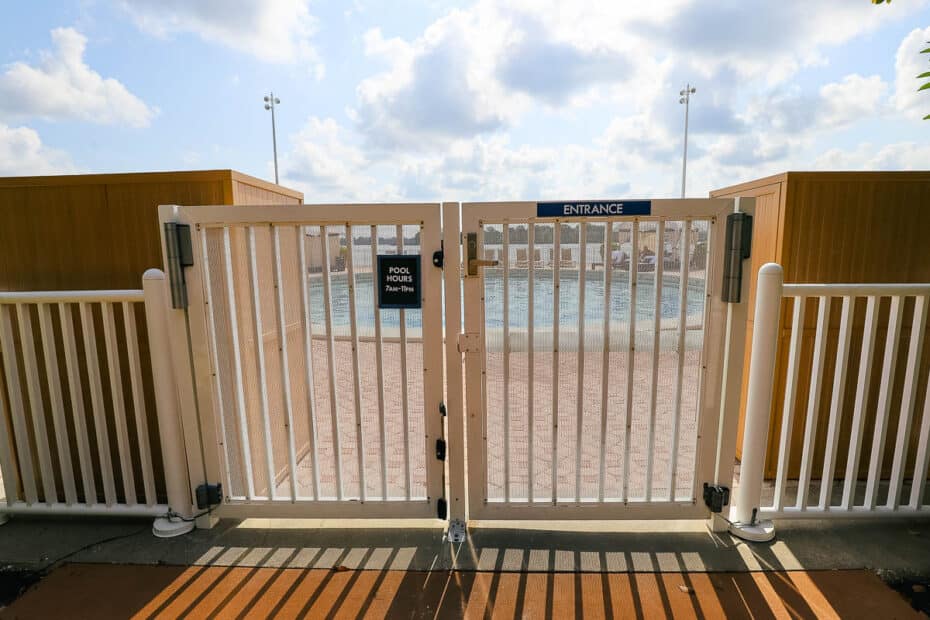 This particular pool floats out on the lake.
Perhaps, the most significant perk is that the Bay Lake Pool is rarely crowded.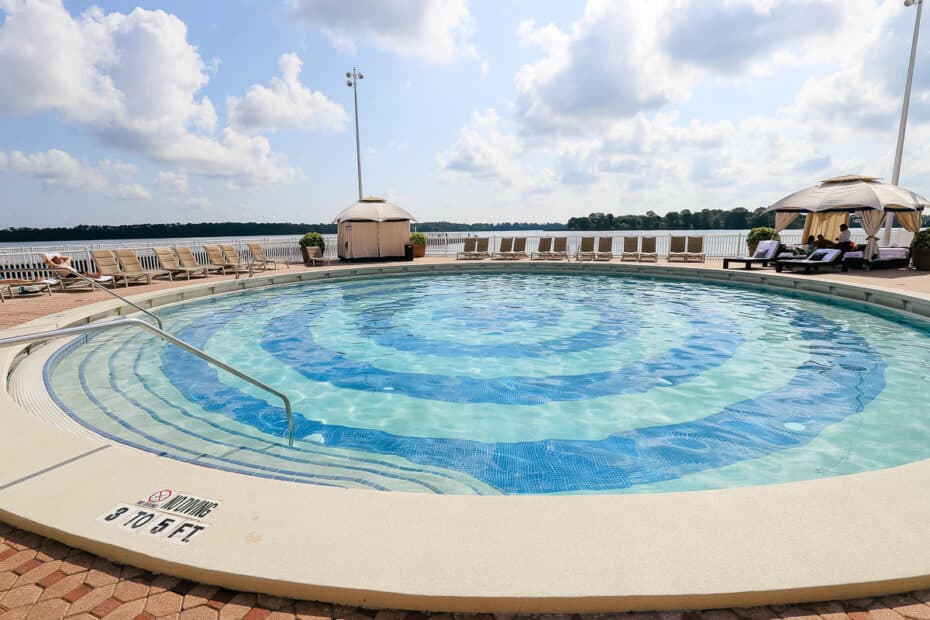 Several tables and chairs surround the pool. Often we've picked up Contempo Cafe and brought it out here so we could enjoy an early dinner at the pool.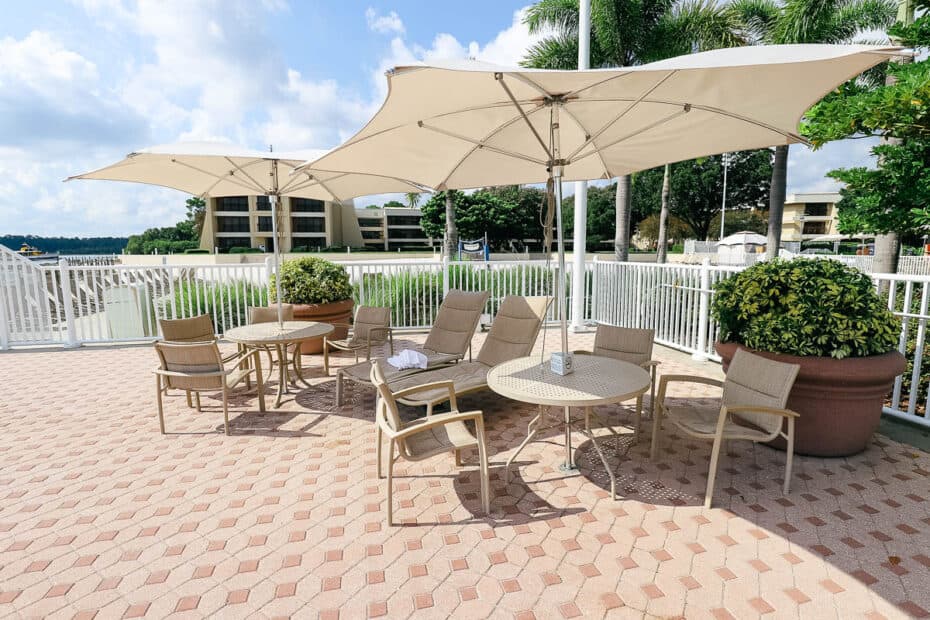 Of course, since Steakhouse 71 offers mobile to-go orders, you could pick up something even tastier if desired.
Related: Disney's Contemporary Restaurants
You can't beat sitting out here and taking in all the views of the surrounding lake. It's absolutely gorgeous.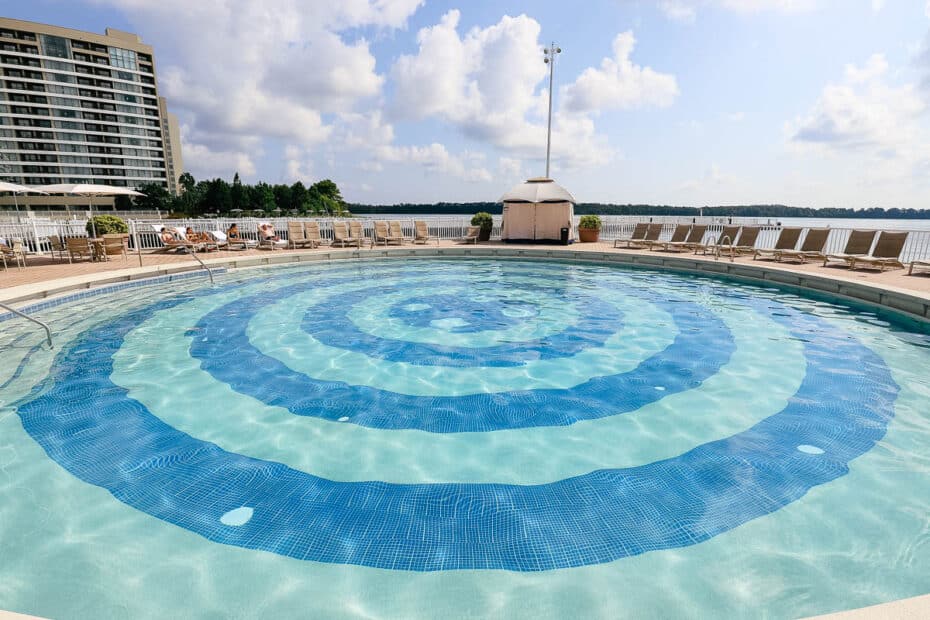 In addition to the two pools at Disney's Contemporary, there's a splash pad area for children. The splash pad sits outside of the enclosed pool area near the water slide.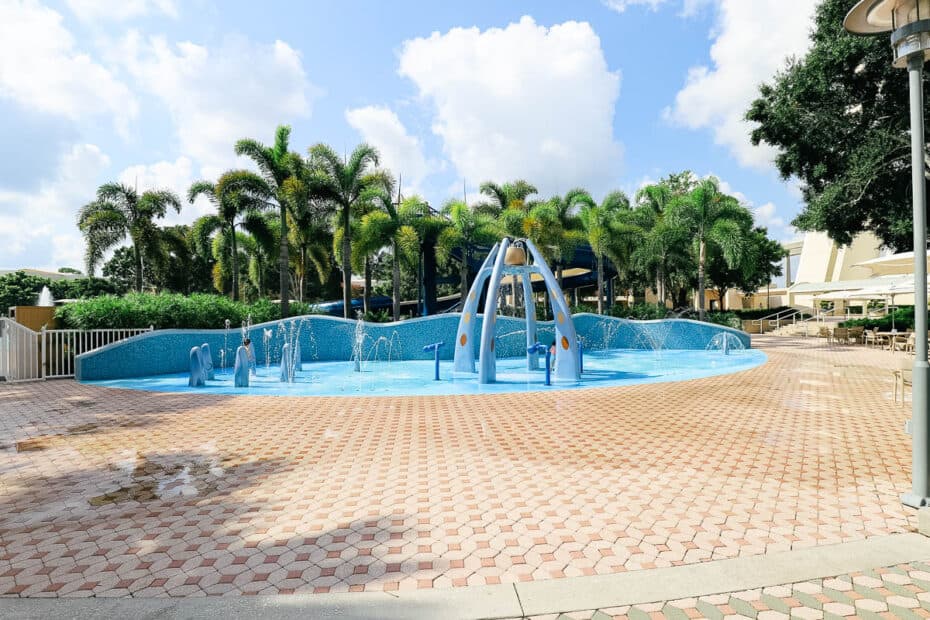 Overall, the pools at Disney's Contemporary are simple yet delightful. If you enjoy spending time at the lake or prefer the serenity of peaceful surroundings, you'll love spending time here as much as I do.
However, if you're the type that loves lots of action, things to do, or have children at varying ages, a pool like Stormalong Bay at Disney's Beach Club might be a better fit. That pool is more like a water park than a hotel pool.
For more information about the Contemporary, all our articles are listed in our full guide:
Additionally, you might enjoy a few of these other articles:
In the Comments
Have you stayed at Disney's Contemporary before? If so, did you enjoy spending time at the pool? Or do you prefer a resort pool with a few more bells and whistles?