Disney's Contemporary Resort Dining & Restaurant Guide
When it comes to dining at Disney's Contemporary Resort, there are quite a few options. Not only is the resort within a short walking distance to Magic Kingdom, but you can easily take the monorail around to access dining at the Polynesian or Grand Floridian Resorts.
In this Contemporary Resort dining guide, we'll take a look at all the different restaurants available at the resort. Anyone planning a vacation at the Contemporary will be able to familiarize themselves with all the options available to them.
Additionally, toward the end, I'll reference a few favorite restaurants located in the Magic Kingdom Resorts area.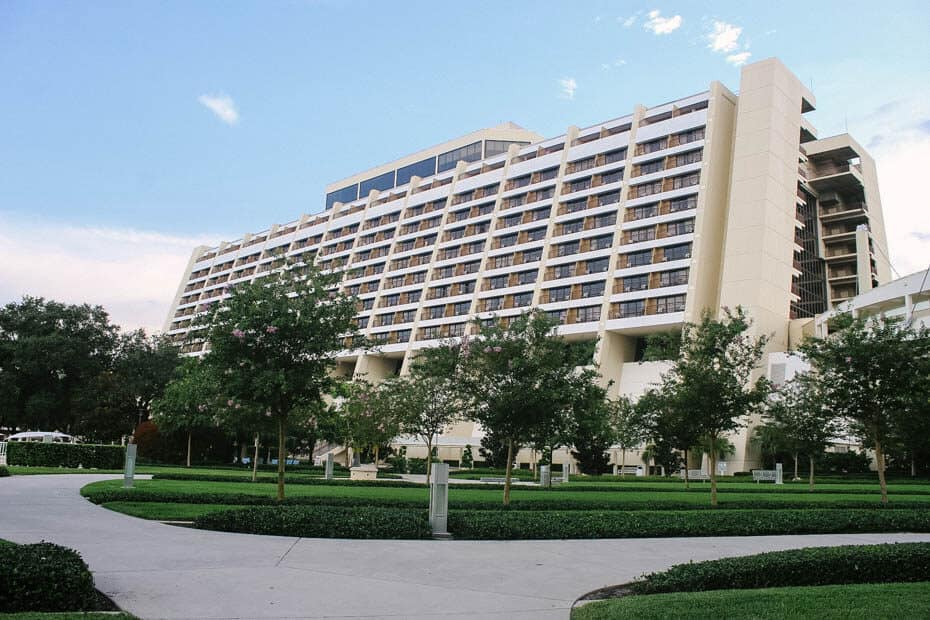 Contemporary Resort Dining
Disney's Contemporary Resort includes neighboring Bay Lake Tower (review). Between the two, there are quite a few different dining options. Below is a list of all the restaurants you'll have immediate access to when staying here.
Counter Service
Lounge/Bar
Steakhouse 71 Lounge
Outer Rim
California Grill Lounge
Table Service
Steakhouse 71 (Formerly The Wave)
Chef Mickey's (Character Dining)
California Grill (Signature Dining)
Pool Bars
The majority of dining options at Disney's Contemporary are located on the fourth floor of the resort. This floor is called the Grand Canyon Concourse and is home to the resort's main counter service, a lounge, character dining, and shopping.
Guests can access the fourth floor by taking the escalators or elevator up from the first-floor lobby. Or those visiting via the resort monorail service will exit and take the escalator or elevator down one floor.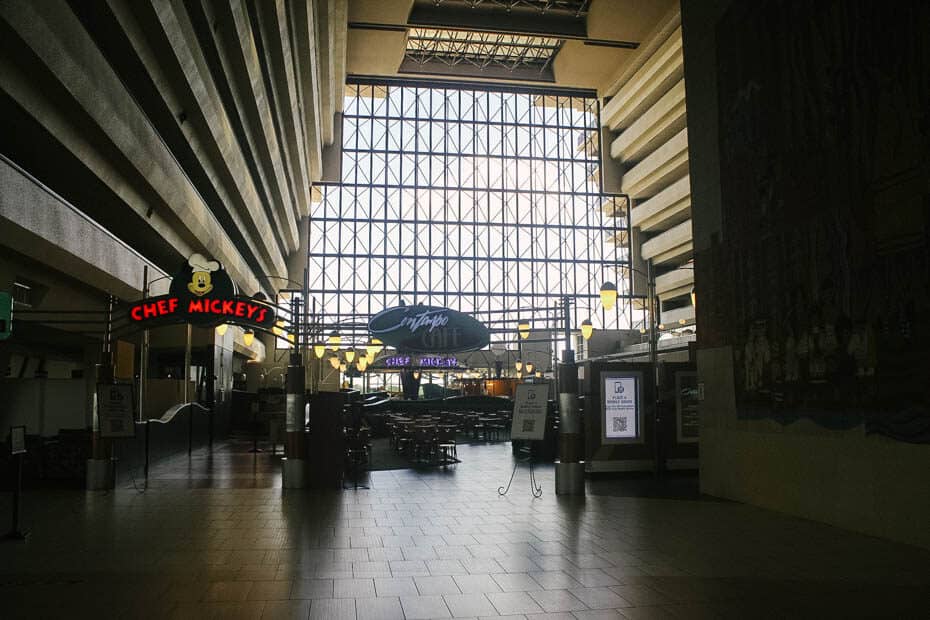 Furthermore, guests coming over from the tower next door can access Grand Canyon Concourse by crossing the bridge.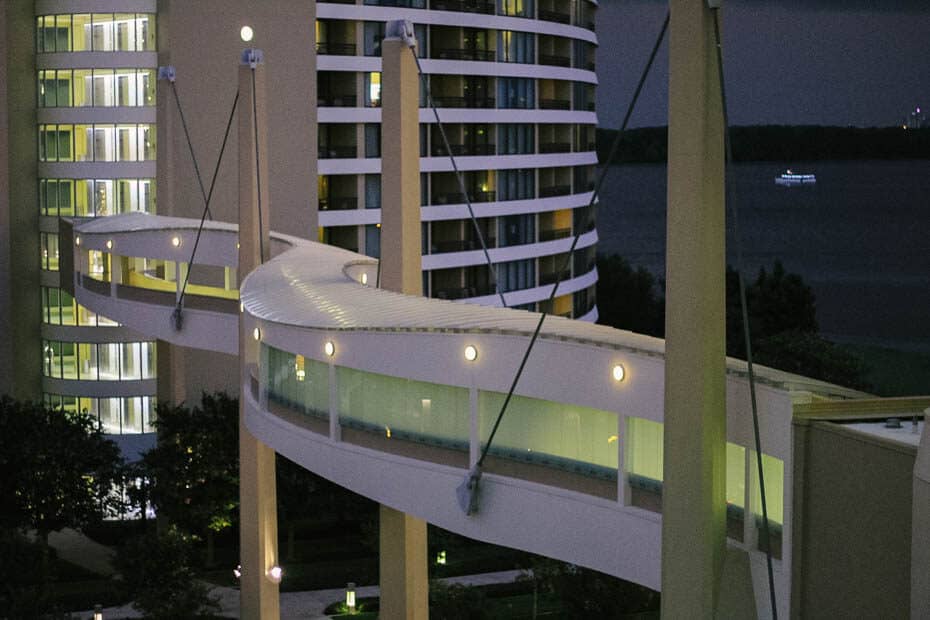 Most guests who visit Walt Disney World are familiar with this resort because the monorail runs through up above.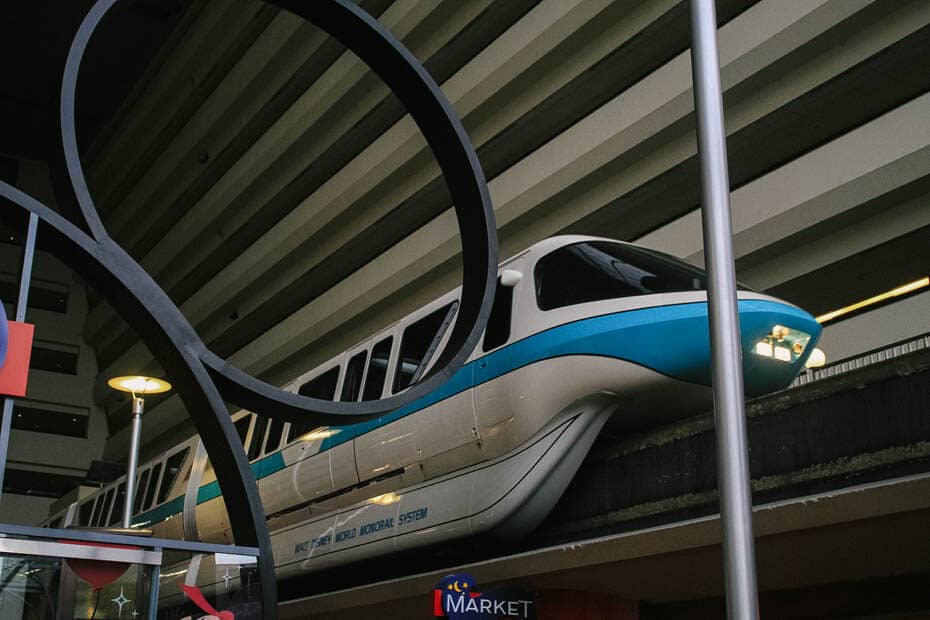 And here is a small portion of the infamous Mary Blair mural located in the same area.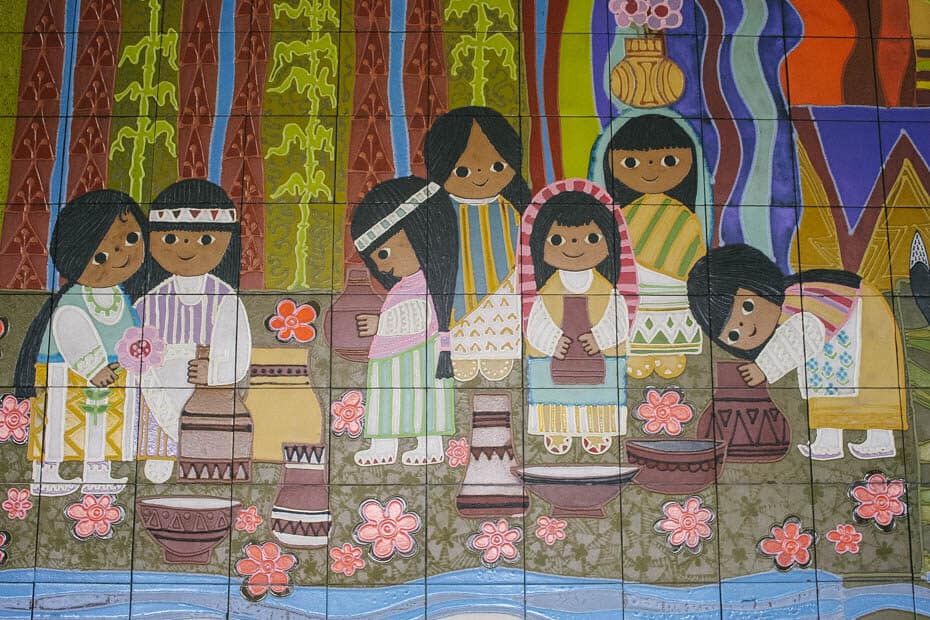 As you can see, there are quite a few things that are worth taking a visit over to Disney's Contemporary even if you aren't staying as a guest. So why not plan to have a meal here while you are at it?
Contempo Cafe
Contempo Cafe has to be one of the most underrated quick services at Walt Disney World. So often, I see planning advice that references how guests must go to Chef Mickey's for a meal because the monorail glides overhead while you are eating.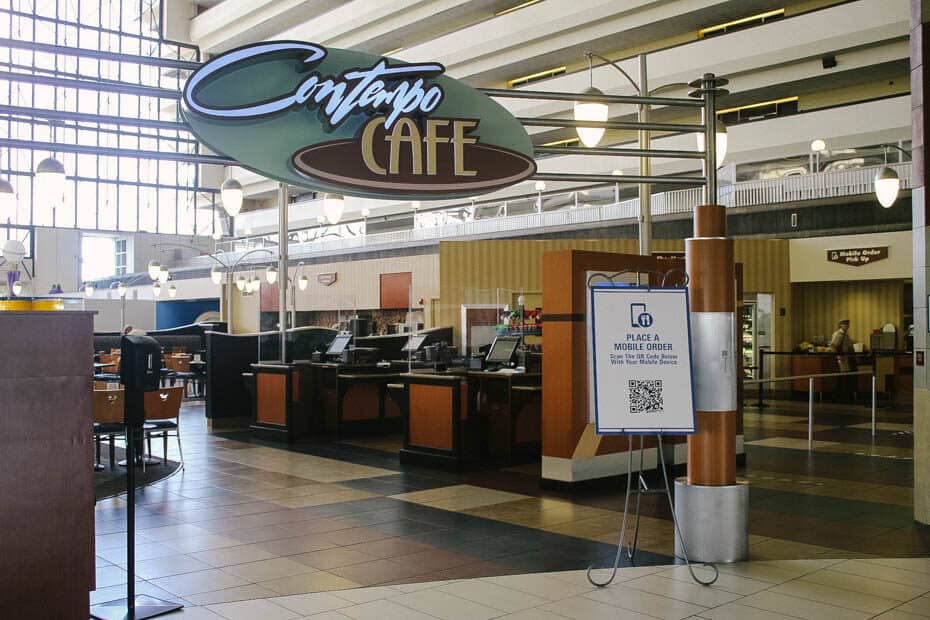 Guess what? Contempo Cafe sits next door to Chef Mickey's and offers a similar experience as far as seeing the monorail goes. Sure it doesn't have the characters, but the food is better, and the price is lower at Contempo Cafe.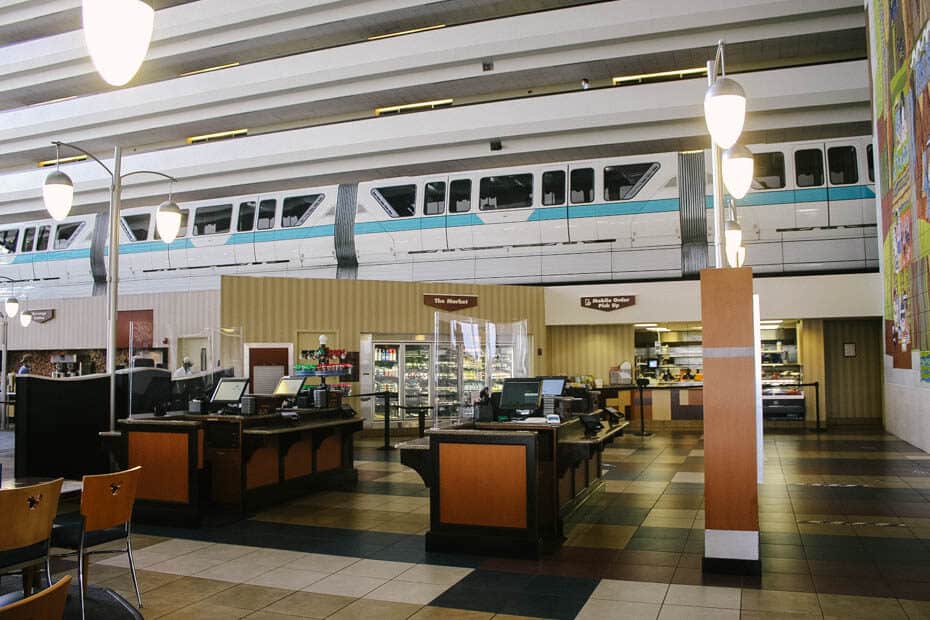 Another perk is you don't have to have a dining reservation. Contempo Cafe offers Disney mobile order as well. If you are in your room or leaving Magic Kingdom, you can order through the My Disney Experience app and then pick up your food when you get there. There are plenty of places to dine inside at Contempo Cafe after picking up your meal.
Below is the dessert case; the items in it will be available for order on the app.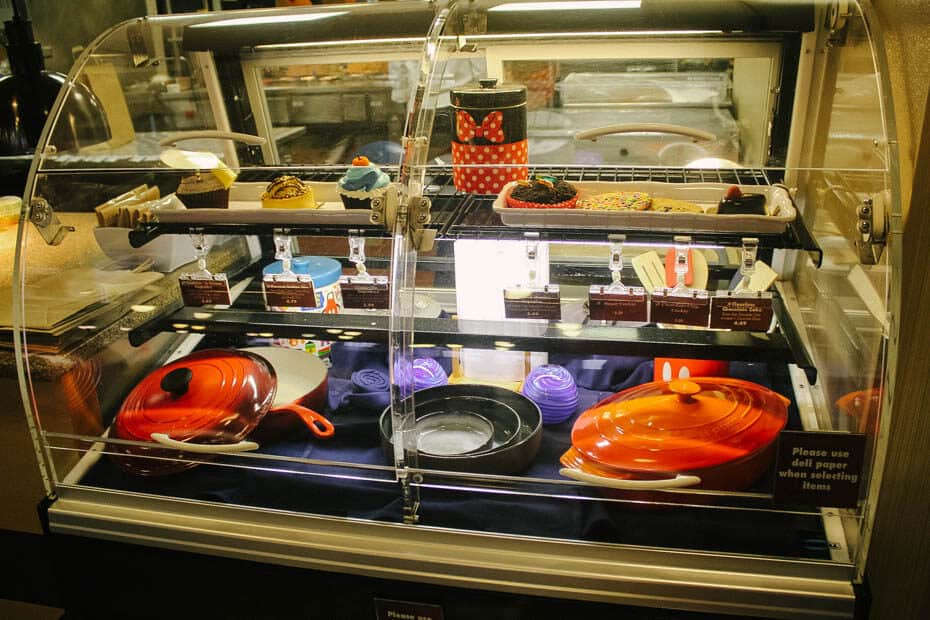 As far as food goes, you'll find that this Contemporary Resort dining option offers all three meals daily. So expect to find items like flatbread pizza, burgers, chicken nuggets, and plant-based menu items.
Below is the Kale Power Greens Salad that the menu describes as Greens, Farro Wheat, Roasted Sweet Potatoes, Avocado, Pickled Onions, Toasted Garbanzos, Lime Vinaigrette.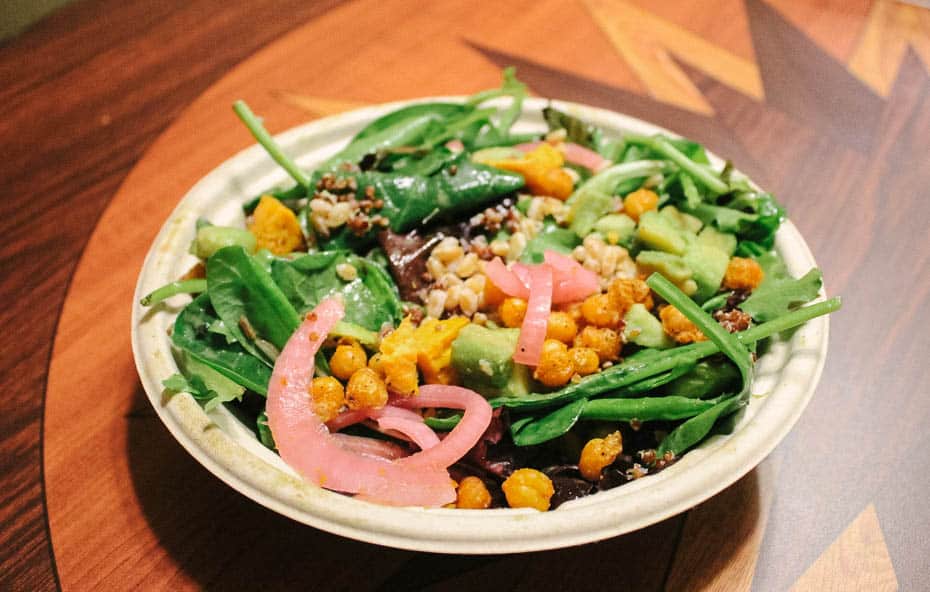 I ordered this one evening when I was leaving the Magic Kingdom. Then I walked over to pick it up. I had a little shopping to do at the resort store. So when I was finished I selected the "I'm Here, Prepare My Order" and it was ready within minutes.
The salad was a wonderful option as far as quick service plant-based meals go. You can probably tell it was large and hearty with the roasted sweet potatoes and garbanzos.
I ordered the flourless chocolate cake on my last resort stay and took it back to my room. It's always nice to have a little chocolate before bedtime, right?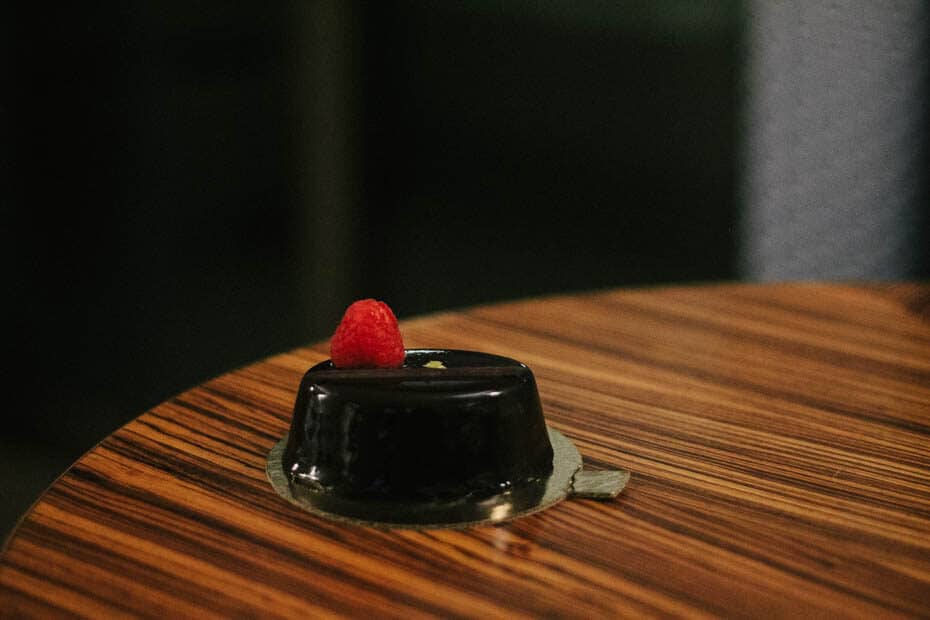 I do enjoy the flourless chocolate cakes at Disney. They are kind of a cross between a brownie and a pudding. The smooth, creamy texture of the rich chocolate cake often hits the spot when it comes time for dessert.
If you would like to glance over all of the menu items at Contempo Cafe, you can view their menu here on Disney's site.
Lounges
Outer Rim is also located in the same area as Contempo Cafe. Most of their seating area is to the far side of the floor and looks out to Bay Lake in the distance. Guests can pick up a cocktail here if they like. However, I would recommend visiting The Wave Lounge when looking for a unique cocktail menu.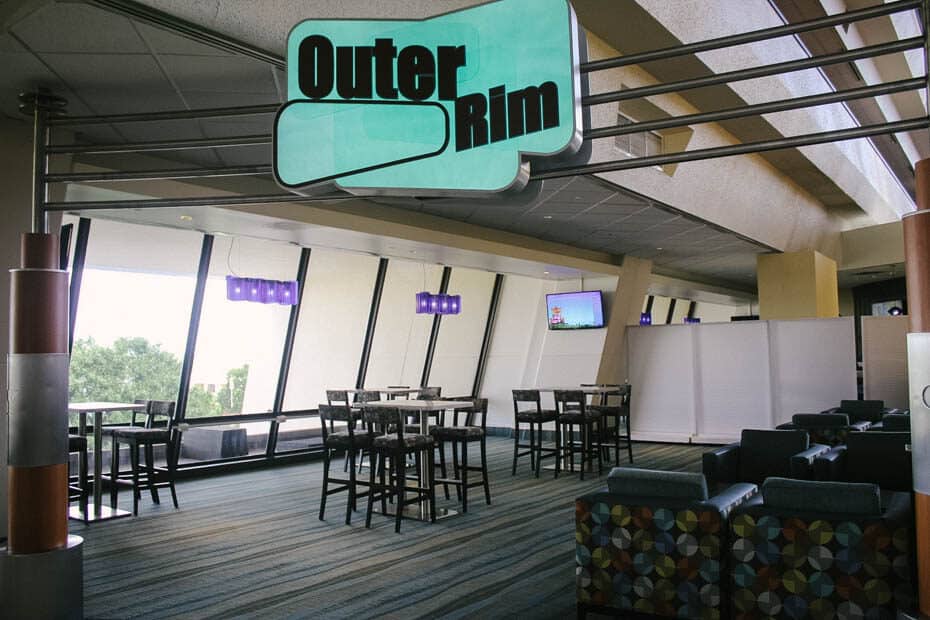 Steakhouse 71 will have a lounge located inside the restaurant. This new dining location with a lounge is scheduled to open on October 1, 2021. Guests dining at the restaurant will need to have a reservation. However, the lounge portion is open to walk-ups as seating allows. The below picture is of the former lounge for The Wave.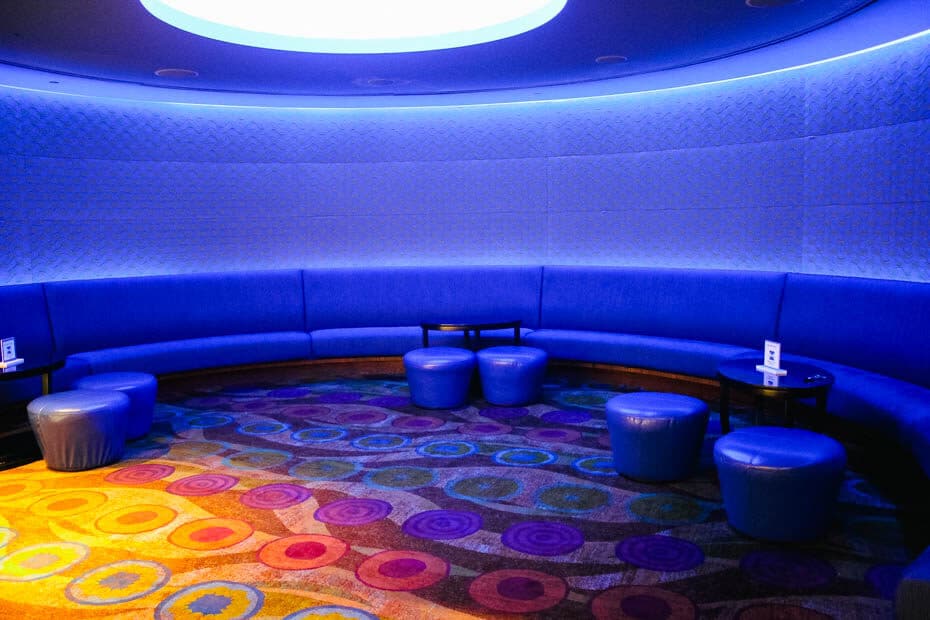 And the bar is tremendous, with plenty of room to have a full meal if you want to grab a bite to eat. The lounge does offer the same menu as the restaurant.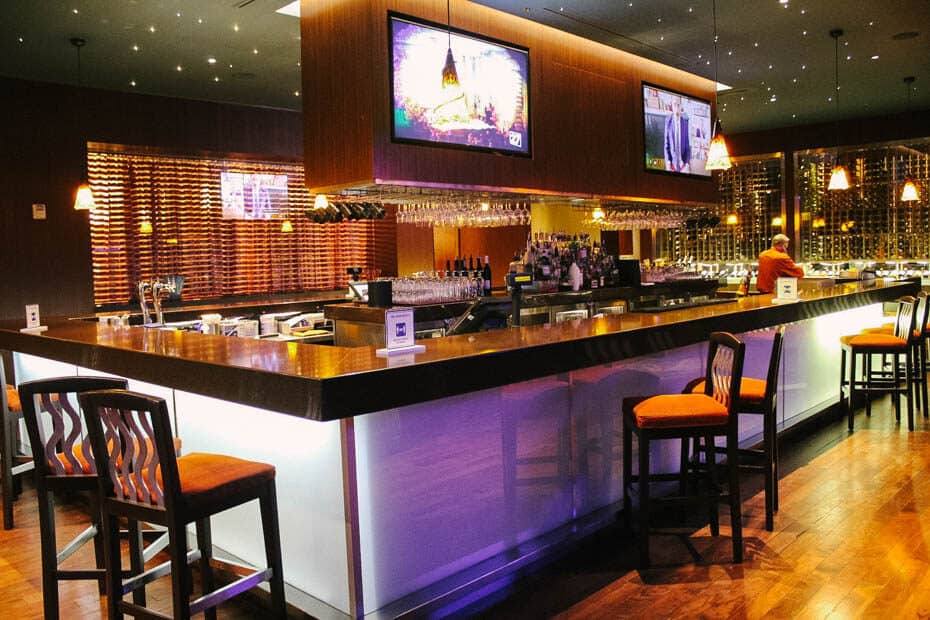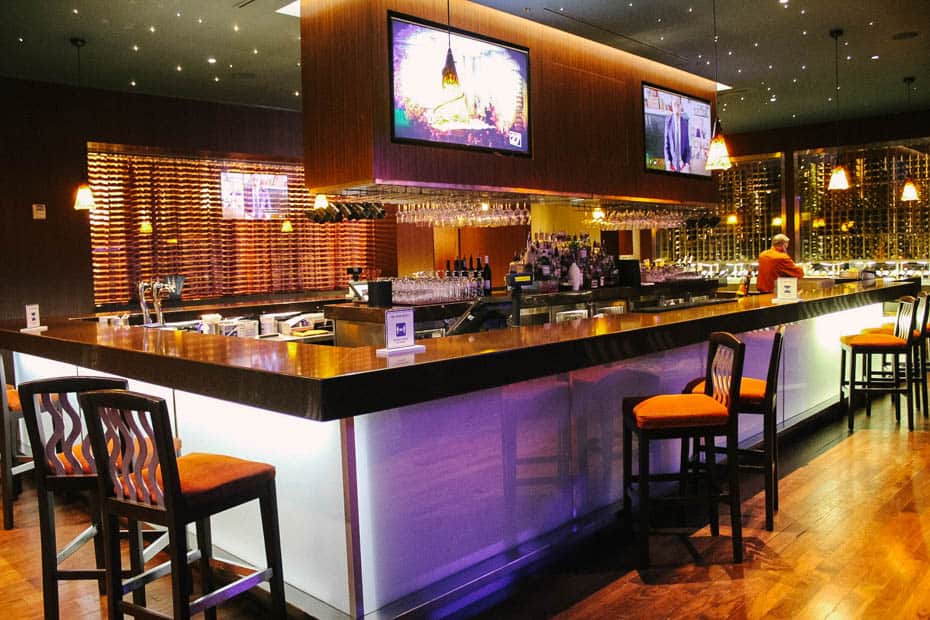 Both the lounge and restaurant are casual and family-friendly. I've often seen sizable families enjoying a meal in the lounge area when seating was not available at the restaurant in busier times.
Lastly, the California Grill Lounge is an option. You will need to visit the hostess stand on the resort's second floor and ask if they have any bar or lounge availability.
If you cannot secure a dining reservation in advance, there is usually room at the bar. That is, as long as you don't mind eating at the bar. However, they do offer the restaurant's full menu. And if you keep reading, you'll find out why you don't want to miss a meal here.
Chef Mickey's
A part of me hates to even share this with you, but I've never actually eaten at Chef Mickey's. I've also never heard anything good about the food here. Trusted friends and travel advisers that I know would not recommend eating here. Therefore, it's one of the few restaurants I haven't gotten around to yet.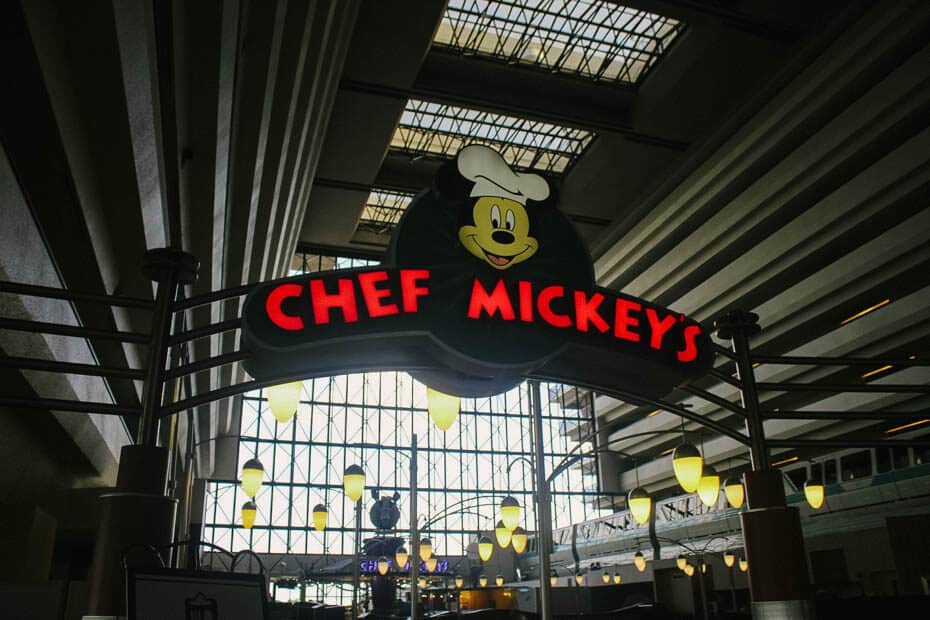 Chef Mickey's is popular because of the monorail and classic characters. However, the majority of character breakfasts we've attended at Disney have had not-so-great food. For example, the meals we attended at Akershus Royal Banquet Hall and the 'Ohana breakfast with characters. Both had terrific character experiences but outrageous prices with low-quality food.
I feel that Chef Mickey's is probably not any better and haven't been in the mood to fork out the cost of another character meal disappointment. With that being said, we had an excellent character breakfast at Topolino's Terrace.
And that's where I would recommend going for character dining at Walt Disney World.
Steakhouse 71 (formerly The Wave)
Next on our list of restaurants at Disney's Contemporary, we have Steakhouse 71, which is scheduled to open in October 2021. This new restaurant will be replacing The Wave. We'll have more updates when it opens. You can preview the menu here.
This is another dining option I like to consider a bit of a hidden gem.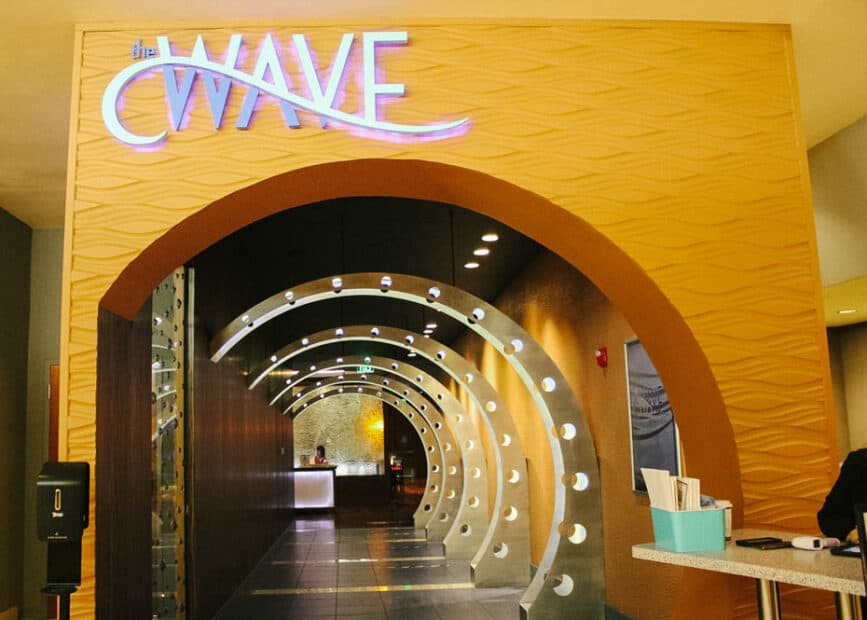 I've had several great meals here for breakfast and lunch. Typically, The Wave has a reasonably popular breakfast buffet. However, given current times buffets are not available. So on my last visit, I ordered the avocado toast for breakfast.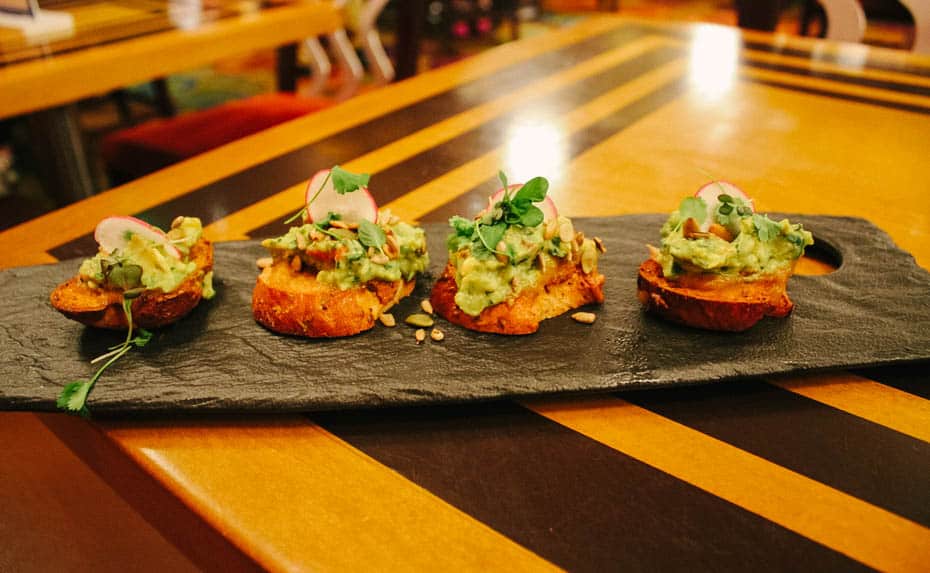 This was a reasonable option, but honestly, nothing in comparison to the avocado toast I had a few months back in my Grand Floridian Cafe review.
With that being said, The Wave has a very nice selection of menu items with reasonable pricing. The service here is usually good but almost always on the slower side. The restaurant can be extremely busy in the mornings. And I've also found that true when the weather is a bit rough outside, and guests aren't so likely in a hurry to venture out.
The Wave does take walk-ups, but you might have a lengthy wait. Therefore, I recommend getting a reservation in advance before dining here.
California Grill
Our next dining stop at the Contemporary is a classic that most have at least heard of in passing. Anyone looking to experience signature dining at Disney will want to include the California Grill in their list of options. This high-end restaurant is located on the top floor of Disney's Contemporary.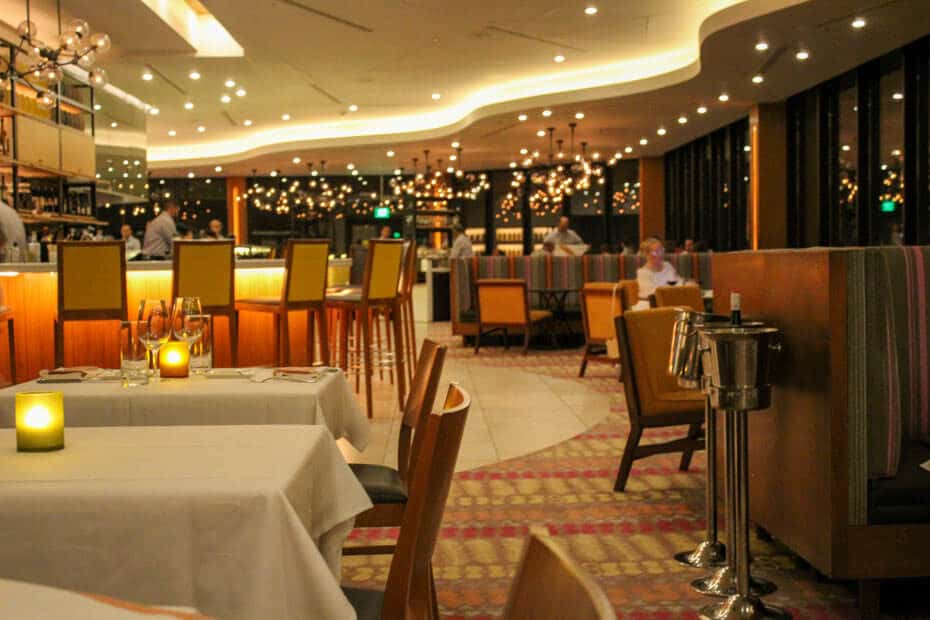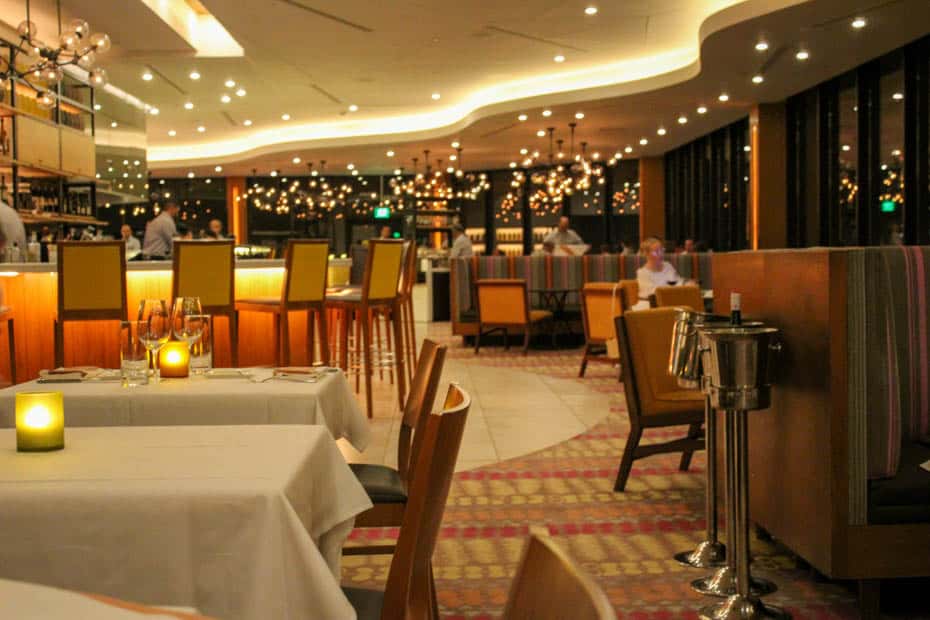 Upfront, I have to warn you that it is my number 1 favorite restaurant in all of Disney World. It's a place I've dined at often over the past few years. And as a lover of food, there are not many days that go by without me thinking about a past meal here. Or maybe looking forward to my next reservation.
The Contemporary's bellwether restaurant is known for several of its signature menu items. This Sonoma goat cheese ravioli (an appetizer) is one of them. While indulging in this delicious ravioli adorned with crispy mushrooms, goat cheese oozes into the tomato broth. The bread service delivered to the table will help you ensure no yumminess is left behind.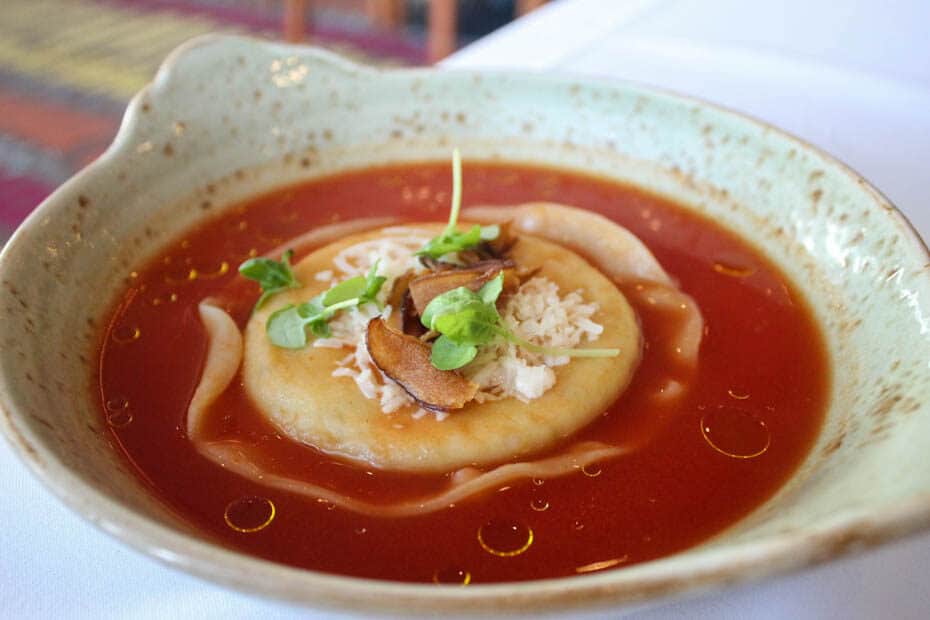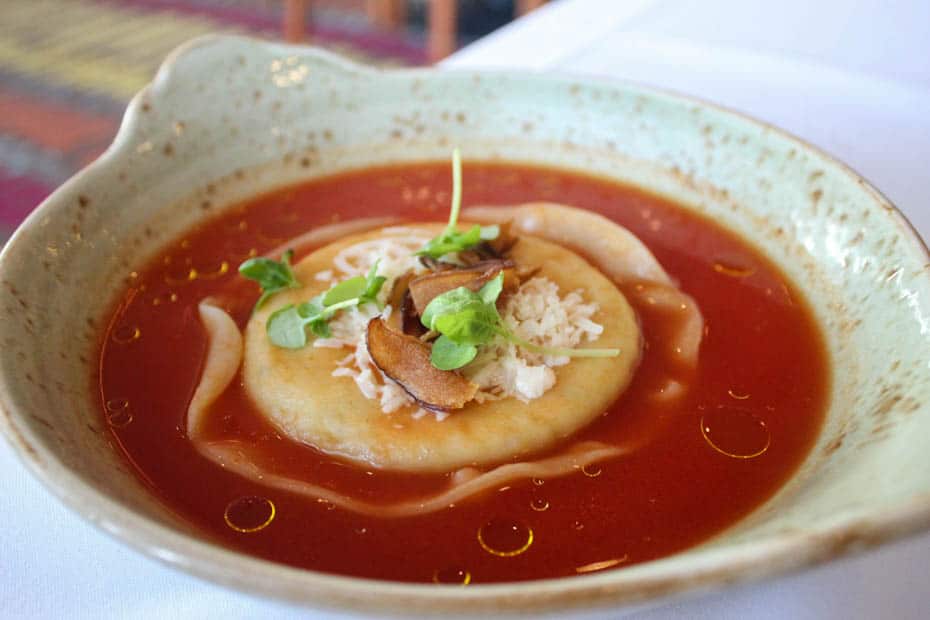 The restaurant is also known for its seasonal salads. Below is the Market strawberry salad with Burrata cheese. And yes, it tasted even better than it looked.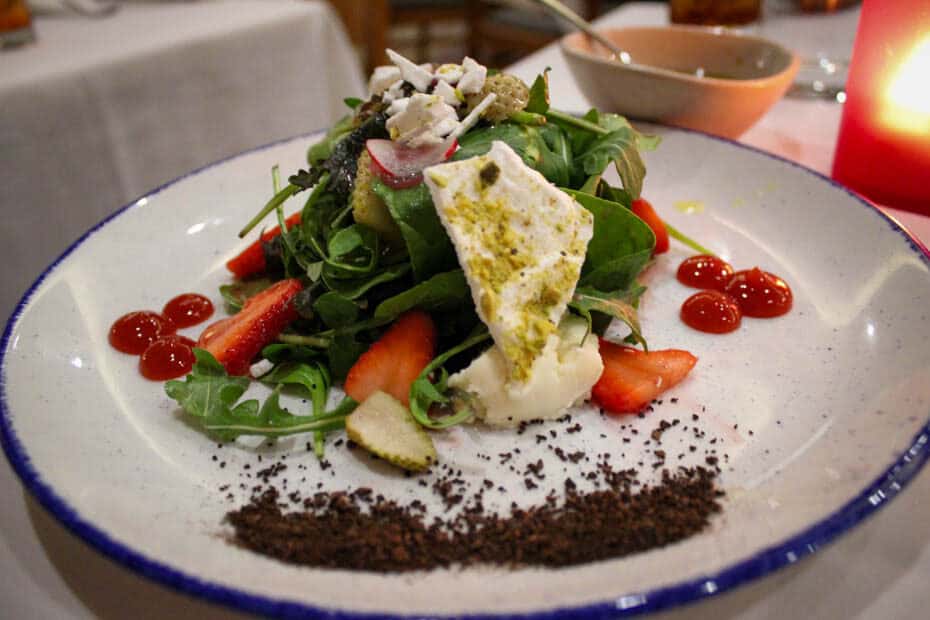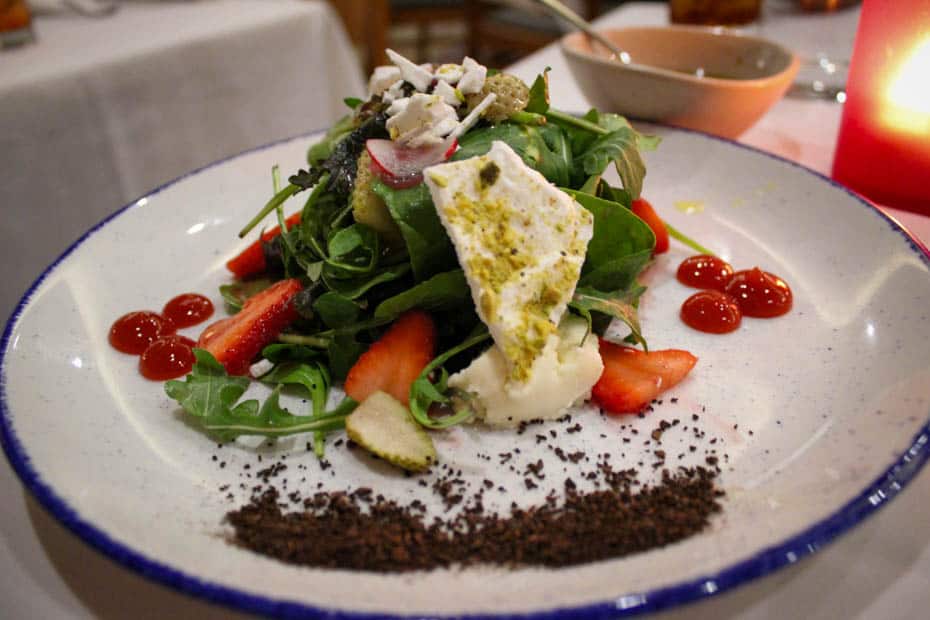 You can read the full review of Disney's California Grill here.
Lastly, California Grill is also known for its extensive wine list, hand-rolled sushi items, and, dare I say, Sunday brunch?
Yes, the California Grill Brunch is something you will want to include in your plans for a future trip. But, unfortunately, these types of dining experiences have yet to reopen.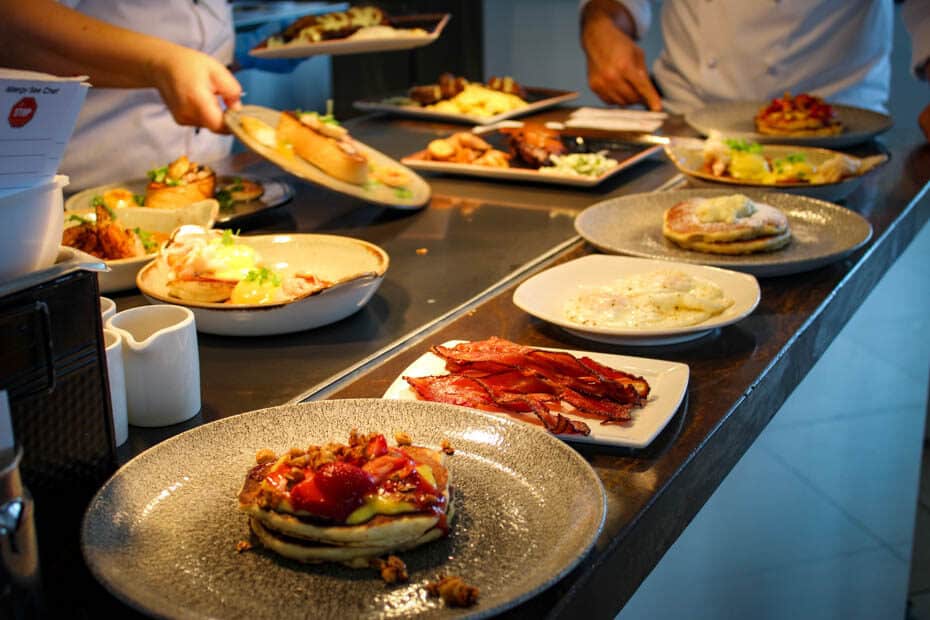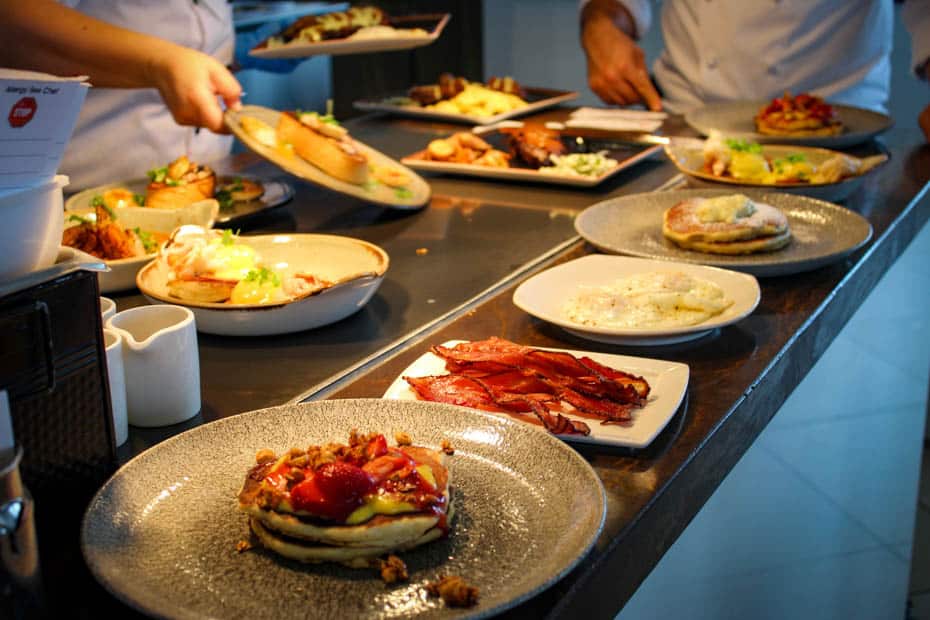 Thankfully, the restaurant is open every night for dinner. Anyone looking for that one unique dining venue at Disney will want to do their best to secure a reservation here. They can be tough to come by.
If you want to do the California Grill Brunch when it returns, you can read about a few of my past experiences here.
Additionally, if you are planning any of these meals, you can return to the California Grill around fireworks times on the same day. Show your receipt, and you can enjoy fireworks from the rooftop.
Pool Bars
As a Resorts Gal, I recommend planning a full resort day while you are visiting Walt Disney World. Those staying at the Contemporary will find they can spend the entire day out at one of the pools. Since there's excellent counter service dining nearby, you won't even have to leave your relaxation spot to pick up something to eat.
The first pool bar is the Cove Bar, which is located at the pool directly behind Bay Lake Tower.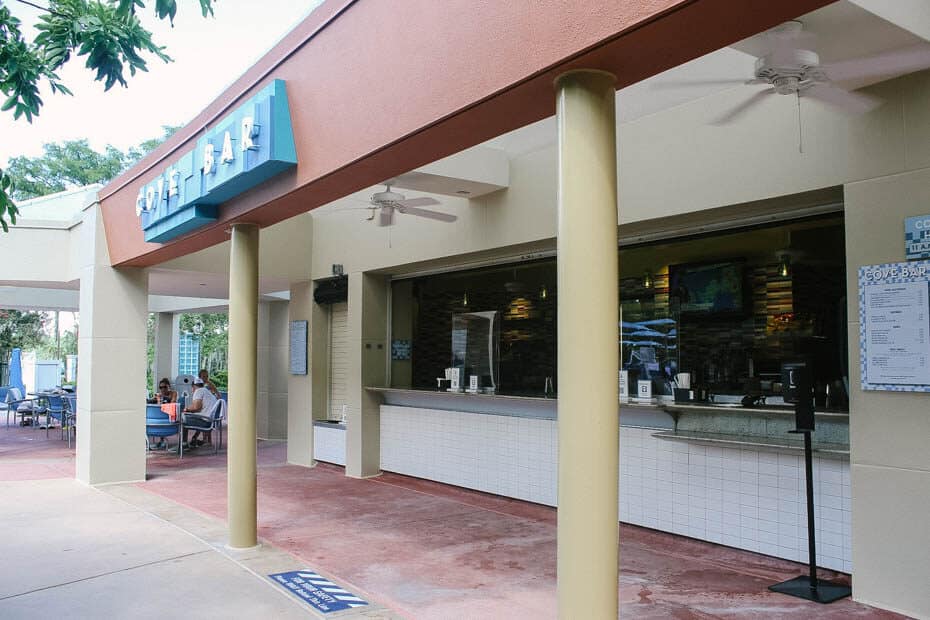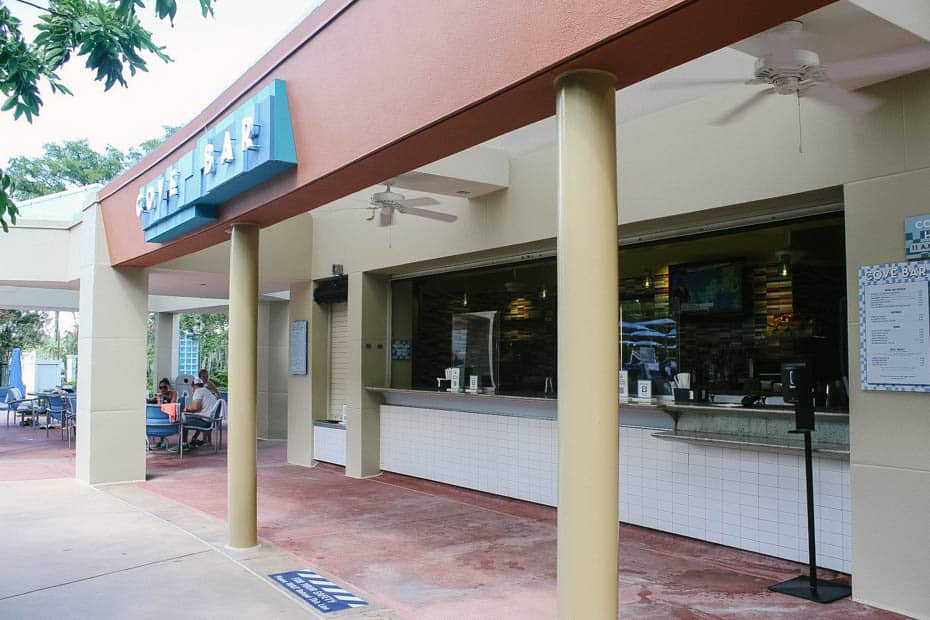 The Cove Bar has a nice menu with a wide variety of items from beverages to entrees.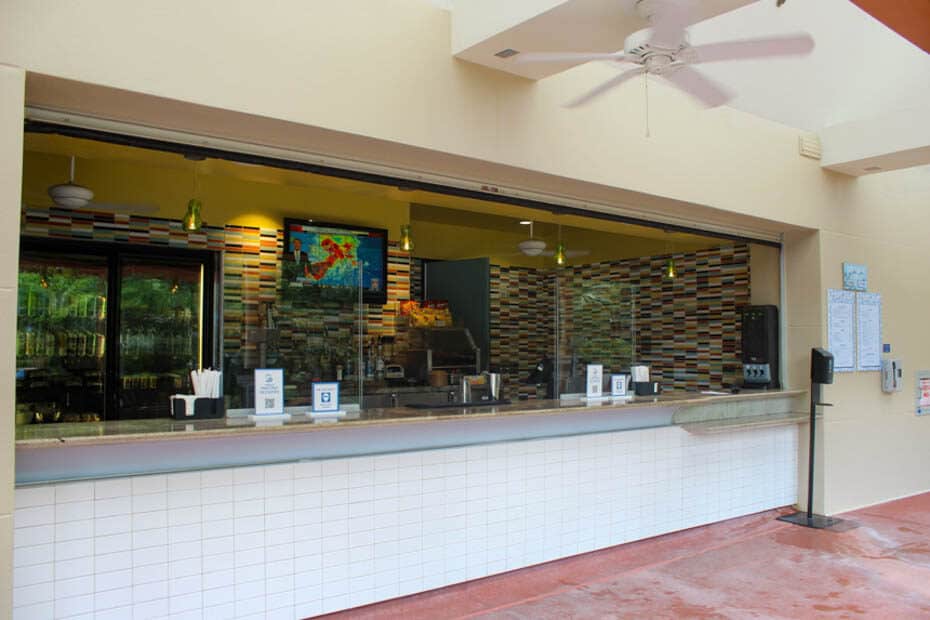 Below is a preview of their menu. They have a turkey wrap, hot dog, and Caesar salad in the entree section.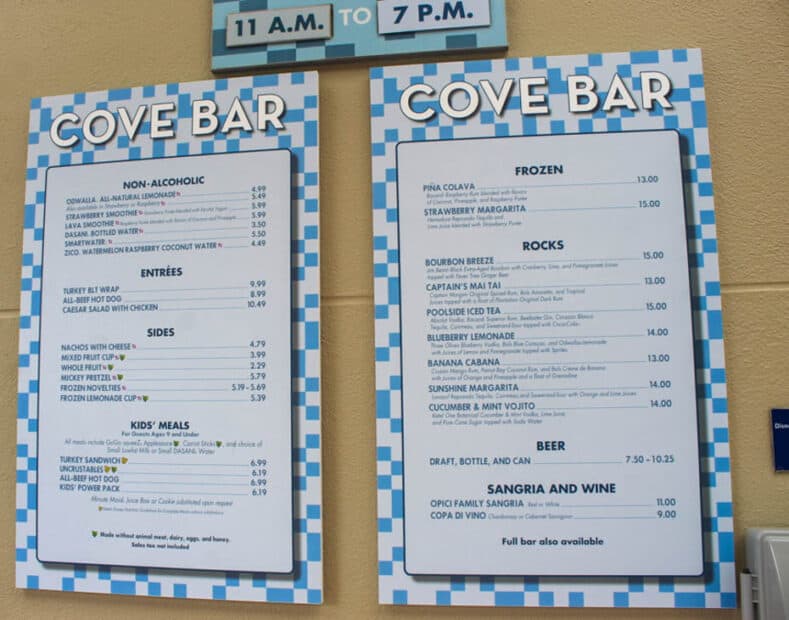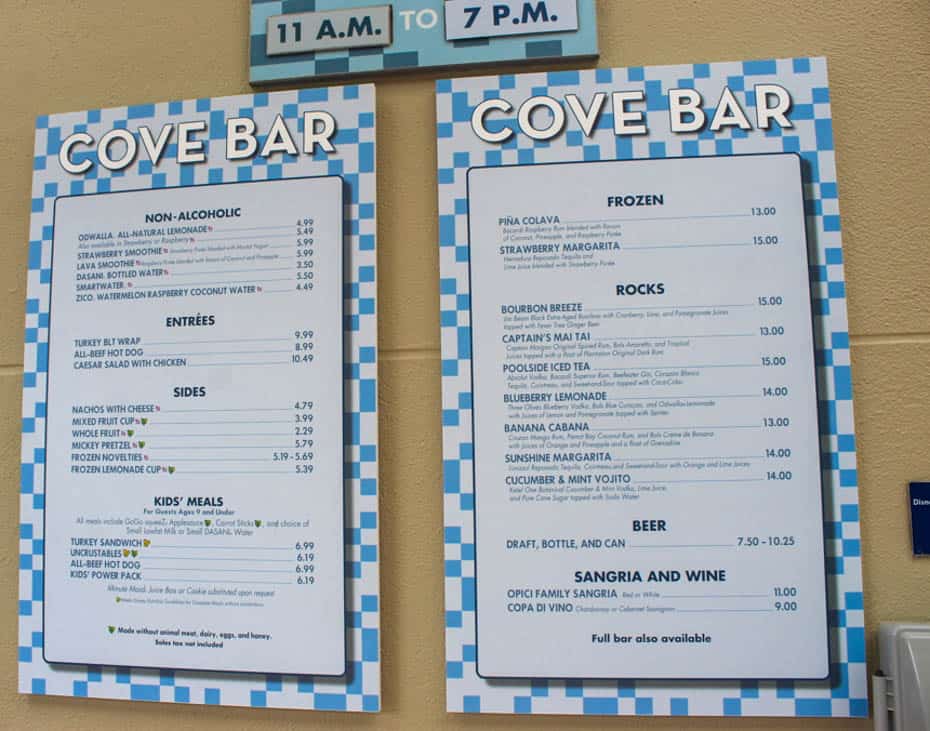 These types of places usually have great kids' meal items as well. One of my best tips is to remind you that ordering a kids' meal is entirely okay. I find that I'm often more than satisfied with the food and price when I go this route.
Over at the feature pool, you'll find the Sand Bar.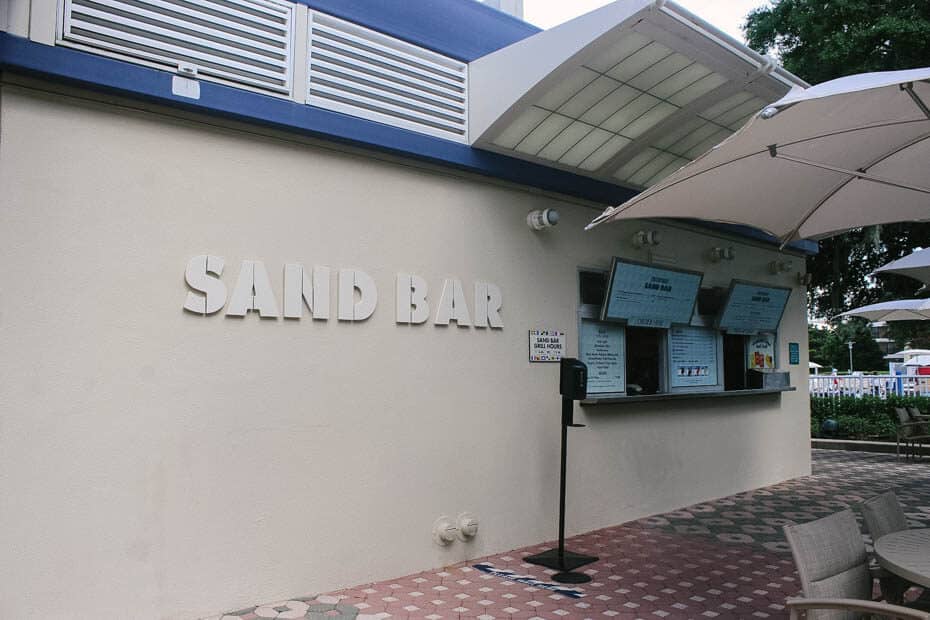 They have a cheeseburger, hot dog, and garden salad in the entree section. Keep in mind the menus are reduced right now at most locations. When things return to normal, we should see more options return.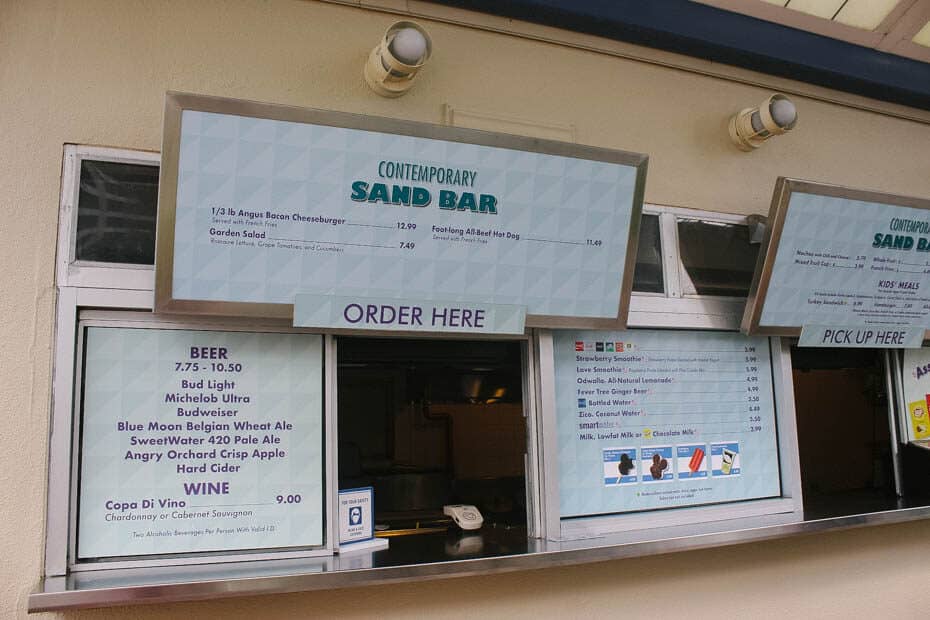 Below are the different available beverage items.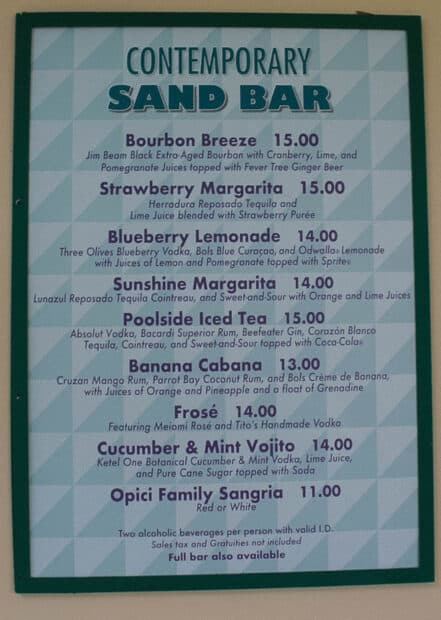 Guests can also order frozen treats, sodas, and such at either of the pool bars.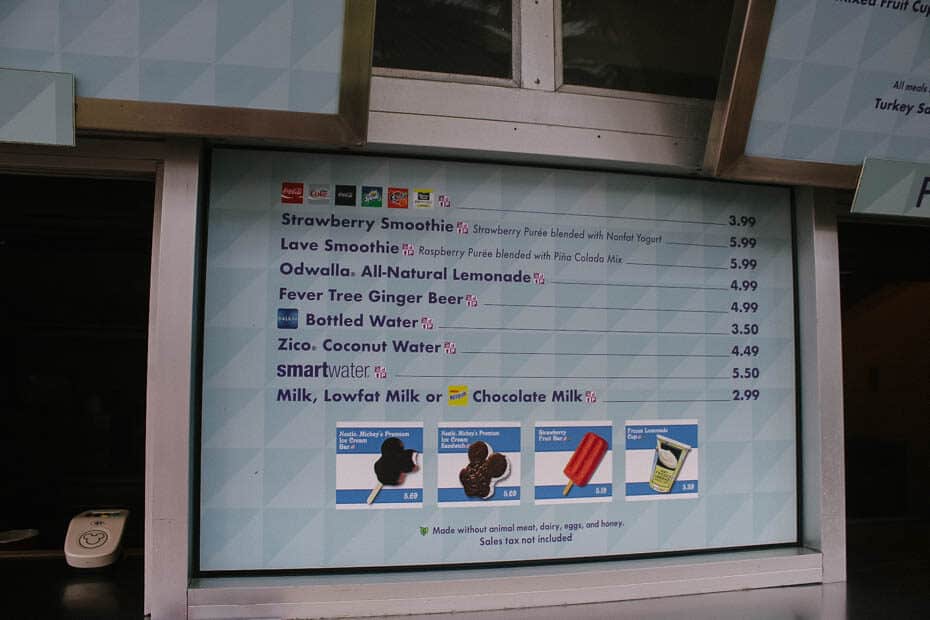 If you don't want to eat at the pool or are visiting as a day guest, you can still access the pool bars. In addition, there is plenty of room to dine outside in the Contemporary's beautiful backyard.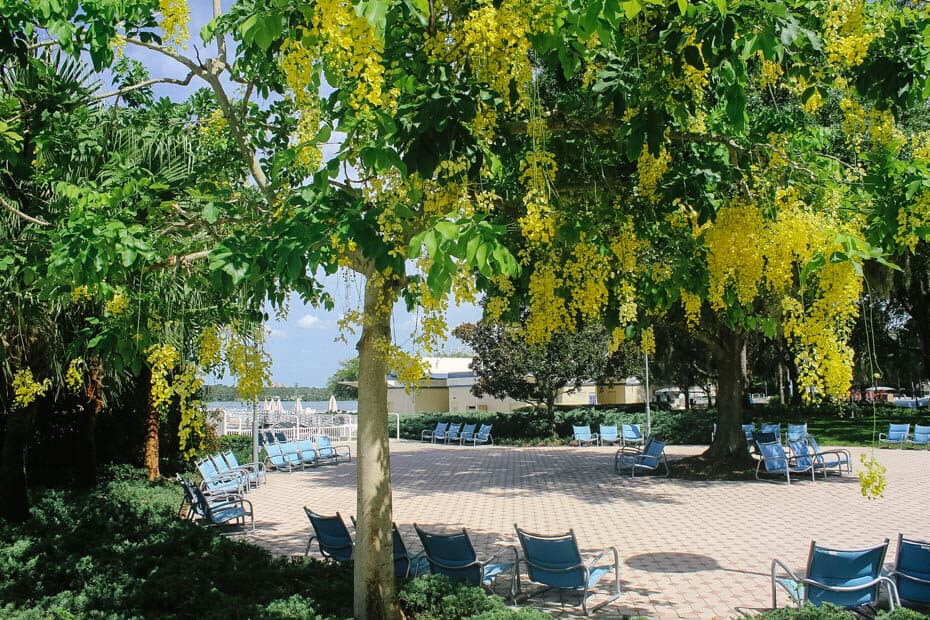 Back inside, guests can pick up a snack at Fantasia Market, which is also located on the resort's fourth floor.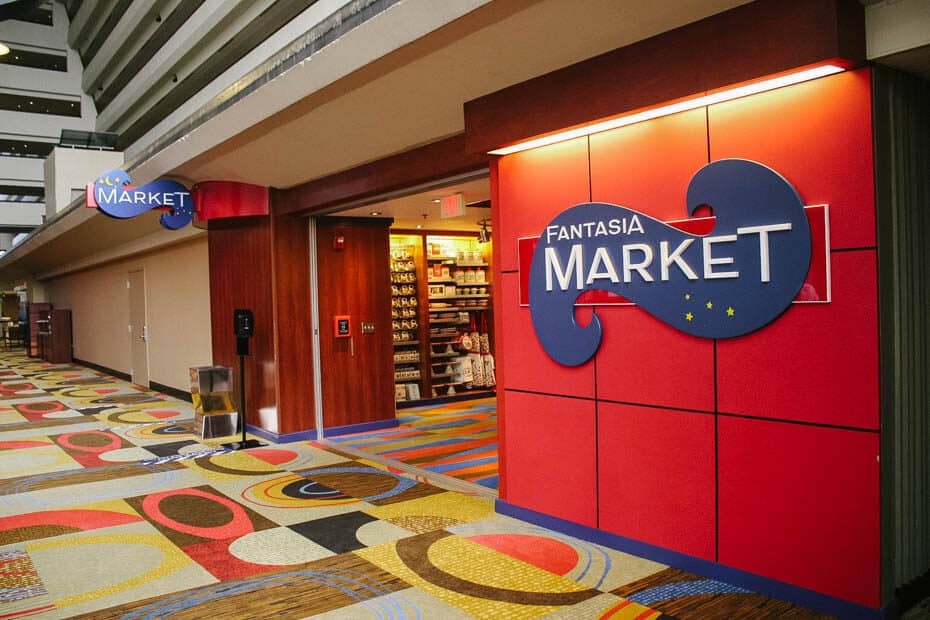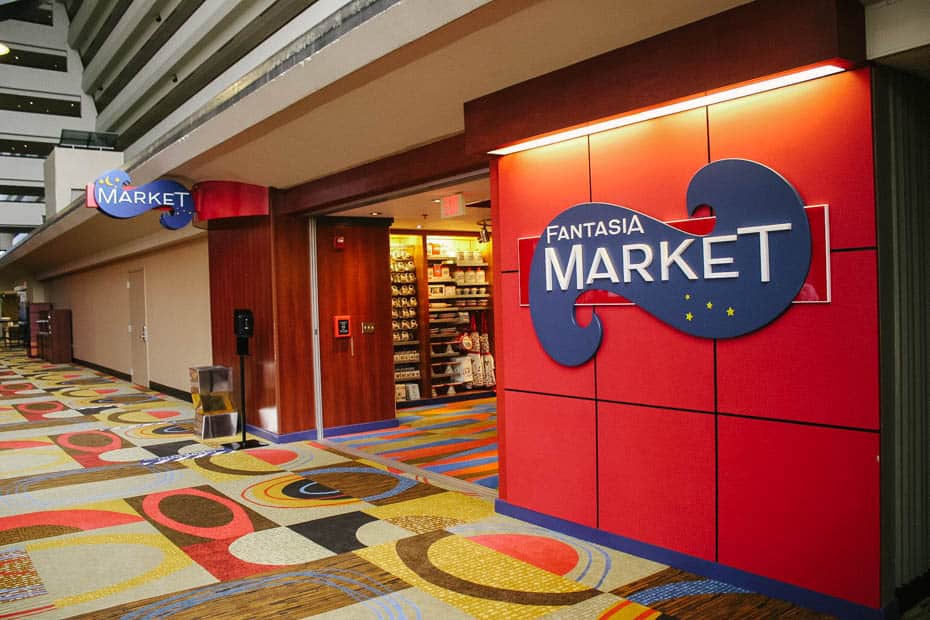 I took a photo to give you an idea of what you might find in there. Naturally, all the items are inflated to match the Disney price tag.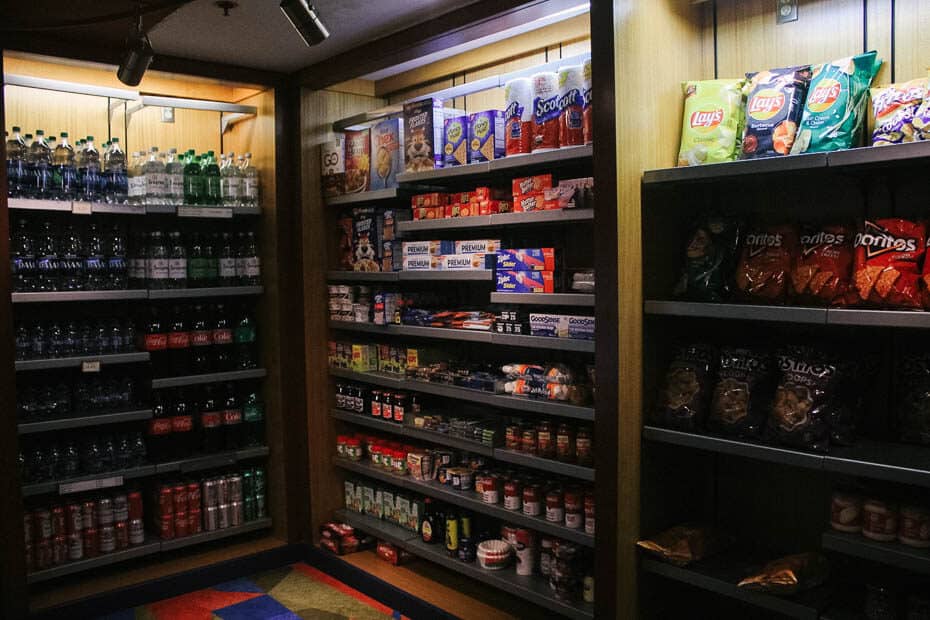 We have one last stop at the Contemporary for coffee before wrapping things up. Contemporary Grounds is a coffee bar of sorts located off the lobby. They serve Joffrey's brand coffee along with pastries. So if you need a morning coffee fix, this is a simple stop before heading out to the parks.
Final Thoughts on Contemporary Resort Dining
Whether you are planning a week-long stay here or interested in what the modern hotel has to offer, most will find that a visit to the Contemporary is warranted. It's a unique destination with a major form of transportation running through it all day long. You can check out the full Contemporary Resort review here to learn more.
For those staying at the resort, don't forget all the great dining options that are only a monorail ride away. I've already mentioned Grand Floridian Cafe, which is excellent for breakfast, lunch, or dinner. The Grand Floridian also has Gasparilla Island Grill, which is another excellent counter service.
Over at the Polynesian, you might like a reservation at Kona Cafe for breakfast, lunch, or dinner. You might also enjoy perusing the entire Polynesian Resort Dining Guide.
When boat service is available, you might also enjoy breakfast at Whispering Canyon Cafe or dinner at Geyser Point Bar and Grill. Those are both at the Wilderness Lodge.
Dining at Disney World gets complicated sometimes. There are so many different options, price ranges, and experiences. I'm working to put these resort dining guides together to help make those dining decisions simple.
Sometimes when we are tired and hungry, we make sporadic decisions to grab something to eat at the first available place. I get it.
You might make that overpriced dining reservation at Chef Mickey's because you always "hear" people mentioning it. However, I can guarantee you the money spent at California Grill will not be regretted, like the money spent dining with the mouse.
And I love characters. But I love food more, so don't think I'm being harsh about the character meals.
If you want to learn more about Disney dining, check out our full list of Disney Restaurant reviews. I have every single dining review we have available listed there.
Resorts Gal specializes in providing information about the resorts at Disney World and the surrounding Orlando area. If you are looking for the right resort for your next vacation, our Disney Hotel Reviews is a good place to start.
Hopefully, this review was able to help you get a better idea about the Contemporary Resort dining options. It's such a marvelous place to partake in a meal. Leave a comment below and let me know your thoughts.