Disney's Contemporary Resort Restaurants Guide
Disney's Contemporary Resort has quite a few options when it comes to restaurants. And when it comes to deciding where to get a meal at the resort, those options can make for a tough decision.
Not only does the Contemporary have good restaurants, but it's also only a short monorail ride away from other great options at nearby resorts. Before you know it, you've easily spent an hour deliberating over where to have dinner.
Well, that is, if you are aware of all your options. So to help you deliberate (hopefully not for an hour) I've put together a restaurant guide for the Contemporary Resort.
In this Contemporary Resort dining guide, we'll take a look at all the different restaurants available at the resort. Anyone planning a vacation at the Contemporary will be able to familiarize themselves with all the options available to them.
Additionally, I'll reference a few favorite restaurants located nearby in the Magic Kingdom Resorts Area.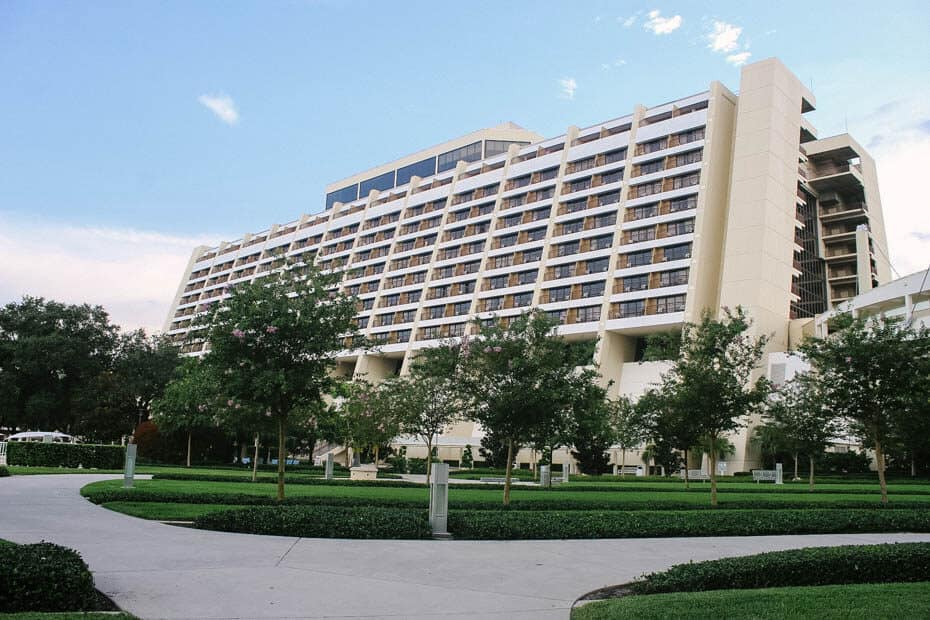 Contemporary Resort Restaurants
Below is a list of all the restaurants at Disney's Contemporary Resort.
Counter Service Restaurants
Lounges and Bars
Steakhouse 71 Lounge
Outer Rim
California Grill Lounge
Table Service Restaurants
Steakhouse 71
Chef Mickey's
California Grill
Pool Bars with Counter Service
All of the above restaurants are located specifically at Disney's Contemporary Resort with the exception of the Cove Bar. The Cove Bar is located on the Bay Lake Tower side of the resort.
For reference, Bay Lake Tower is the Disney Vacation Club Resort that is connected to the Contemporary. Guests of the DVC Resort will have access to all the amenities of the Contemporary.
Related: Bay Lake Tower Review
The majority of dining options at Disney's Contemporary are located on the fourth floor of the resort. This floor is called the Grand Canyon Concourse.
Guests can access the Concourse by taking the escalators or elevator up from the first-floor lobby. Or those visiting via the resort monorail service will exit and take the escalator or elevator down one floor.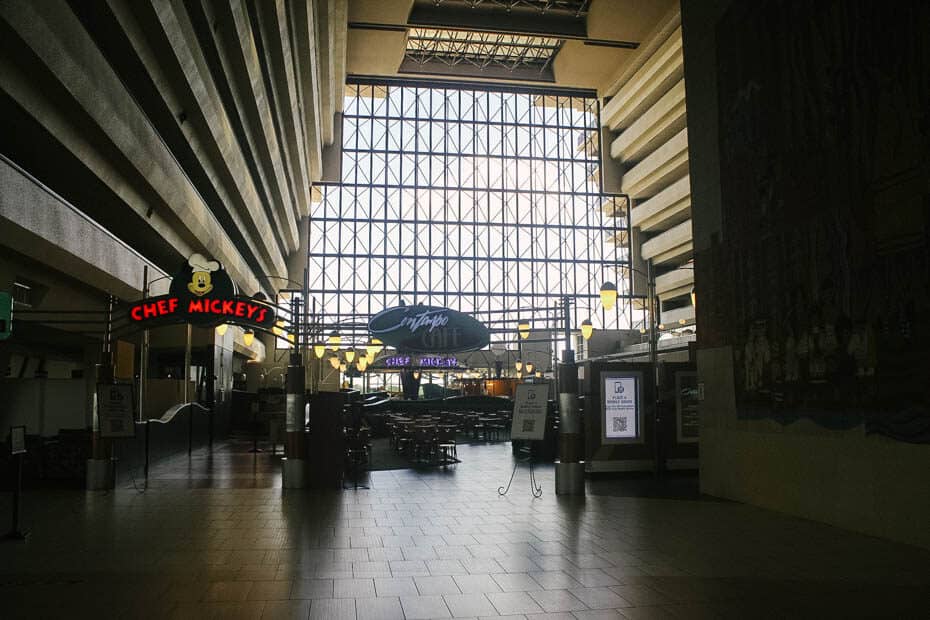 Furthermore, guests coming over from Bay Lake Tower can access the Concourse by crossing the Skyway bridge.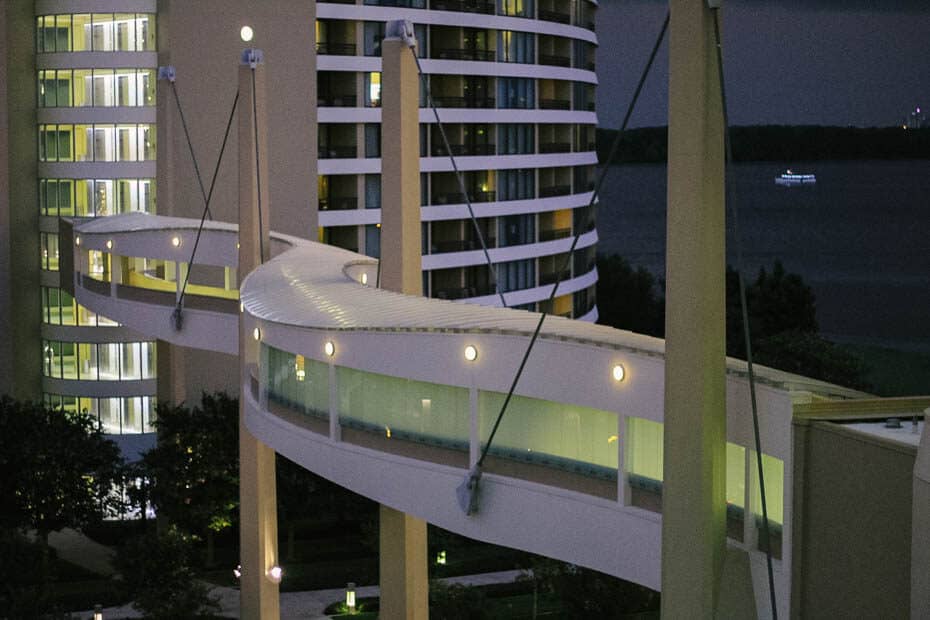 The Concourse floor serves as the main gathering area of the resort. The monorail runs one floor above this level, so you can see it coming through on either side while dining or shopping.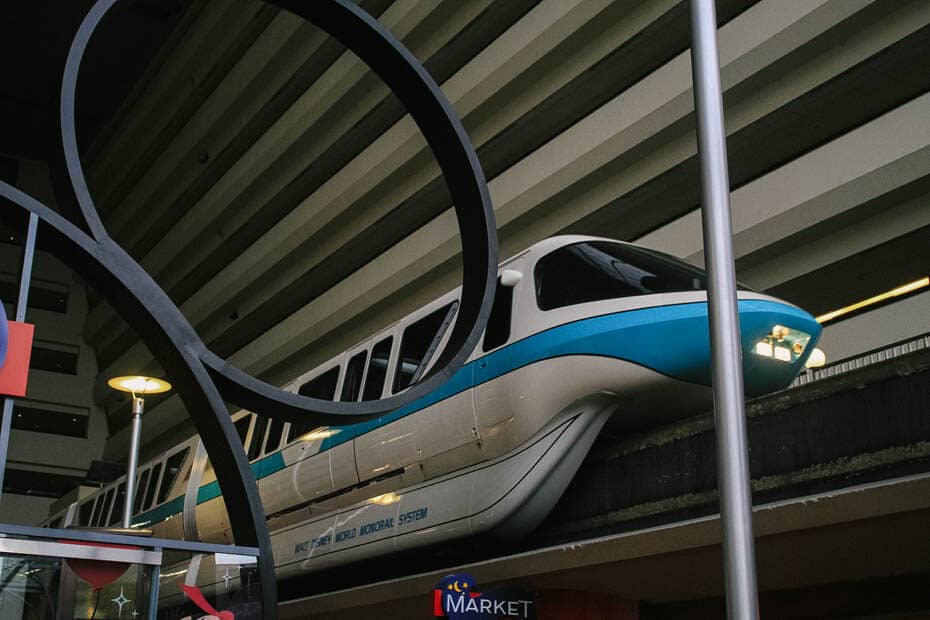 Contempo Cafe
Contempo Cafe has to be one of the most underrated quick services at Walt Disney World. The counter service restaurant sits in the middle of the Concourse.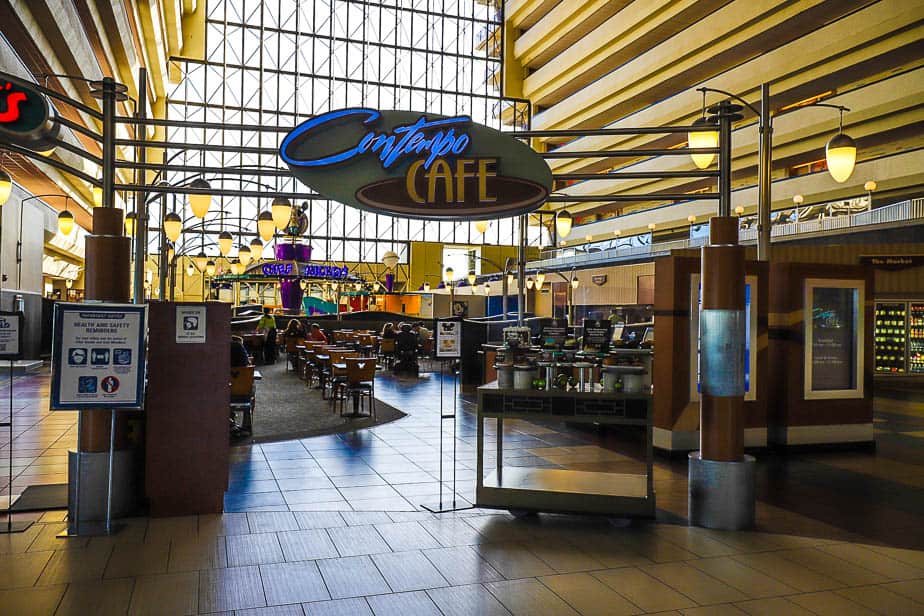 I recently stopped by in December of 2021 to take a few updated photos for this article. At this time, all of the bakery items are on display toward the entrance. There were several seasonal treats and a few special items celebrating the 50th anniversary of Walt Disney World.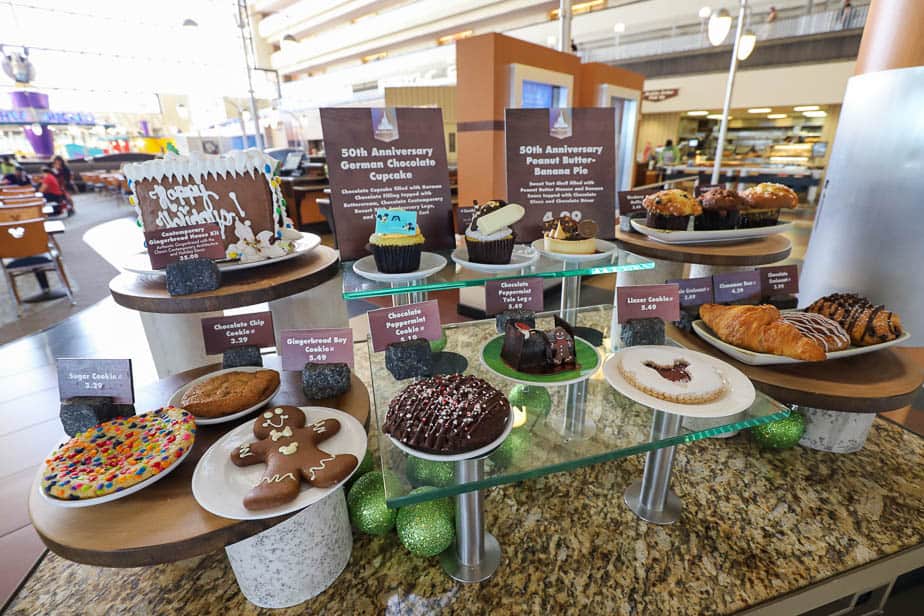 As far as meals go, Contempo Cafe serves breakfast, lunch, and dinner. They are typically open between 7:00 a.m. and 11:00 p.m. Prices run around $14.99 and under per item.
You can expect to find items like flatbread pizza, burgers, chicken nuggets, and plant-based menu items for lunch and dinner. At breakfast there's items' like Mickey waffles, breakfast platters, oatmeal, and even a breakfast tofu bowl.
Below is the Kale Power Greens Salad that the menu describes as Greens, Farro Wheat, Roasted Sweet Potatoes, Avocado, Pickled Onions, Toasted Garbanzos, Lime Vinaigrette. This is one of the plant-based menu items.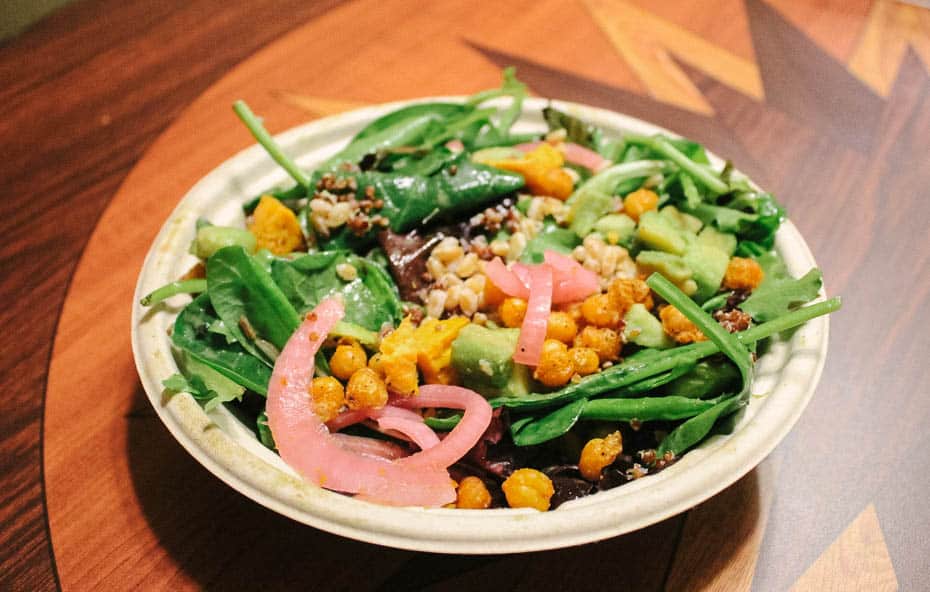 I mobile ordered this salad one evening when I was leaving the Magic Kingdom. Then I walked over to the Contemporary to pick it up. I had a little shopping to do at Bayview Gifts before heading back to my hotel room.
The salad was a wonderful option as far as quick service plant-based meals go. You can probably tell it was large and hearty with the roasted sweet potatoes and garbanzos.
On our last visit, I ordered the cheeseburger kids' meal and my son ordered allergy-friendly chicken tenders. We had been out touring the resorts and decided to stop in at the Contemporary for a bite to eat.
This is one of our go-to spots because we love seeing the monorails coming through while we enjoy our meal.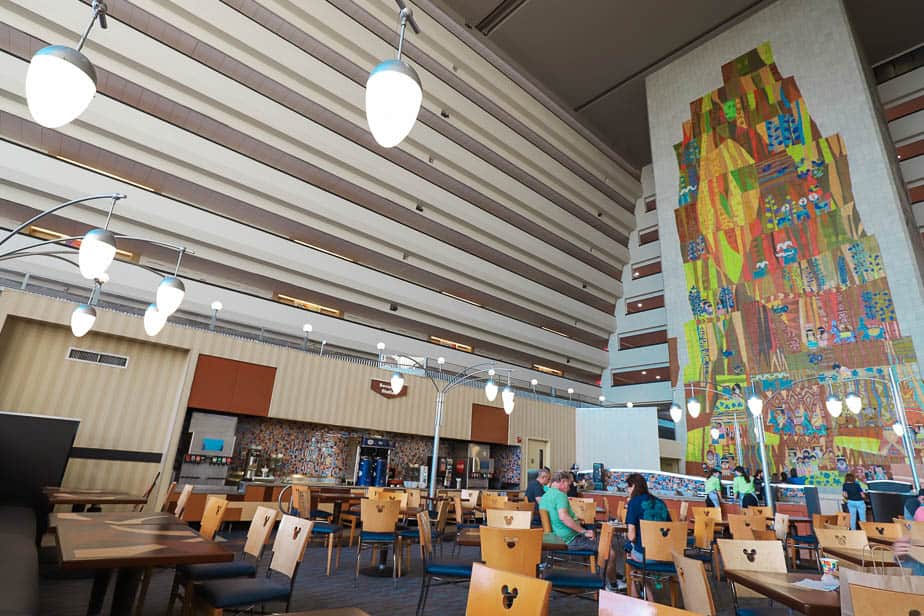 So often, I see planning advice that references how guests must go to Chef Mickey's for a meal because the monorail travels overhead while you are eating. But you actually get the same experience at Contempo Cafe minus the characters.
And the cost of a meal at the Contemporary's counter service restaurant is considerably less than Chef Mickey's. So consider having a meal or two here during your stay.
For more information about Contempo Cafe, you can preview their menu here on Disney's site.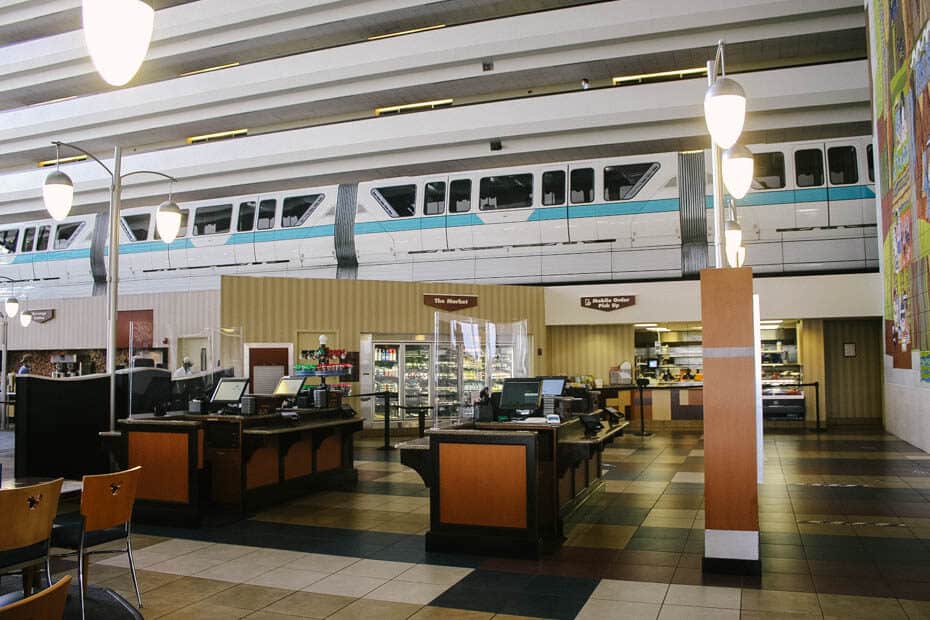 For other counter services at nearby resorts, try these:
Lounges at Disney's Contemporary
Across the way from Contempo Cafe is a stand-alone lounge area called Outer Rim. Most of their seating area is to the far side of the floor and looks out to Bay Lake in the distance.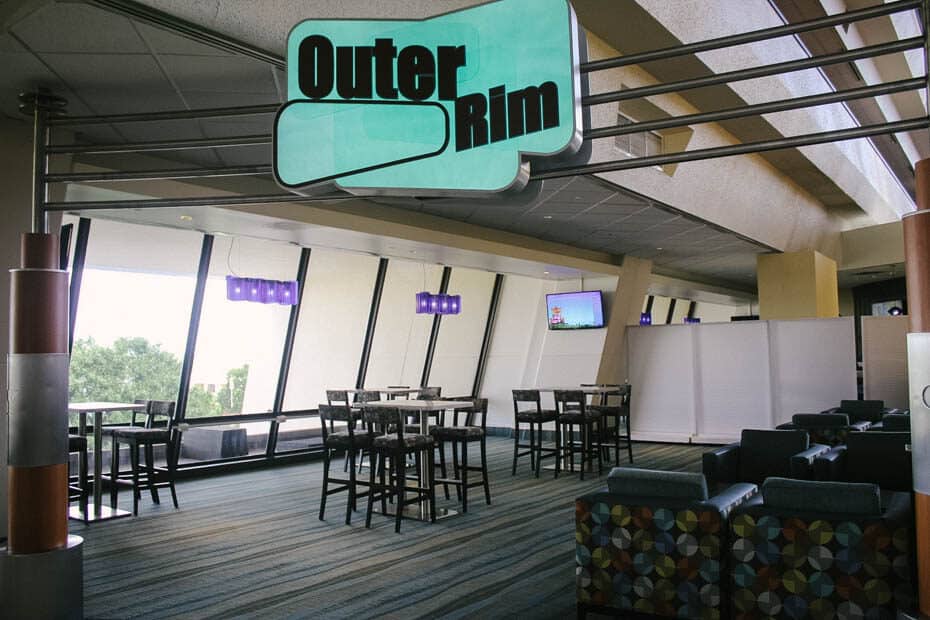 Guests can pick up a cocktail here if they like. However, in most instances, I would recommend checking out the lounge at Steakhouse 71. They should have a more unique cocktail menu than Outer Rim.
Steakhouse 71 is the newest lounge at Disney's Contemporary Resort. I haven't had a chance to check out the lounge area here yet. The location only recently opened in the last quarter of 2021.
Guests dining at the restaurant will need to have a reservation. However, the lounge portion is open to walk-ups as seating allows.
And the bar is tremendous, with plenty of room to have a full meal if you want to grab a bite to eat. Additionally, the lounge offers the same menu as the restaurant.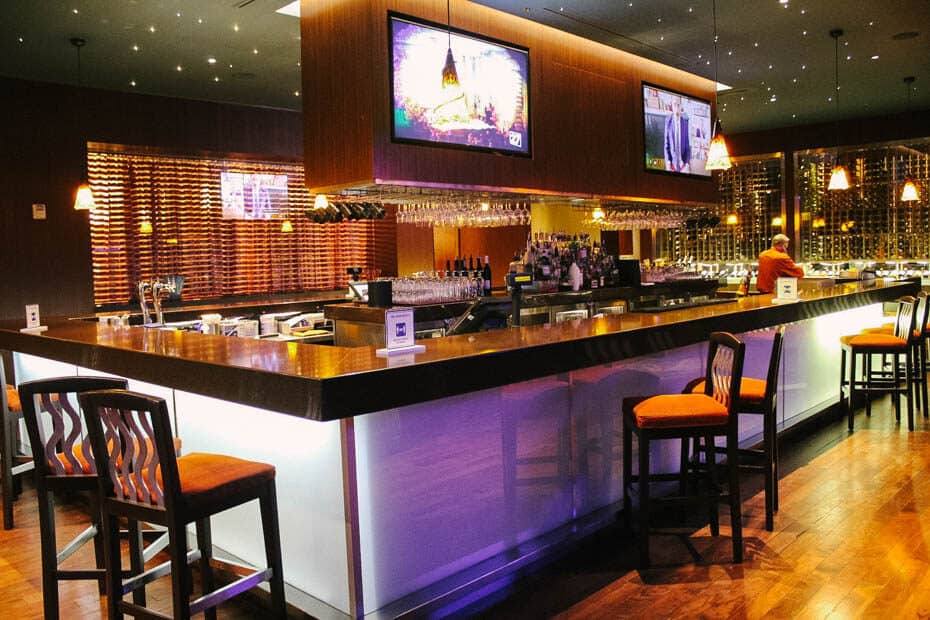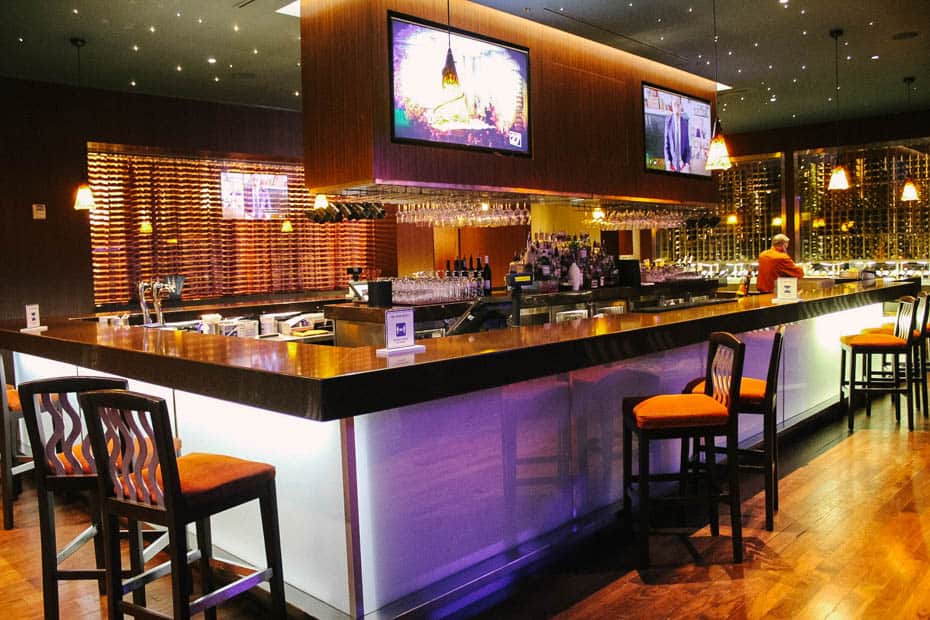 Both the lounge and restaurant are casual and family-friendly. I've often seen sizable families enjoying a meal in the lounge area when seating was not available at the restaurant.
Lastly, the California Grill Lounge is an option. You will need to visit the hostess stand on the resort's second floor and ask if they have any bar or lounge availability.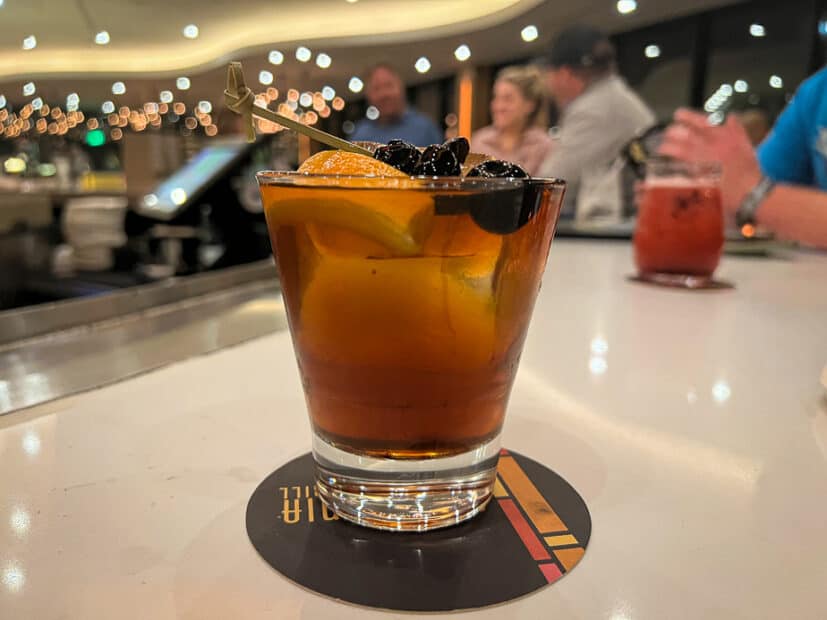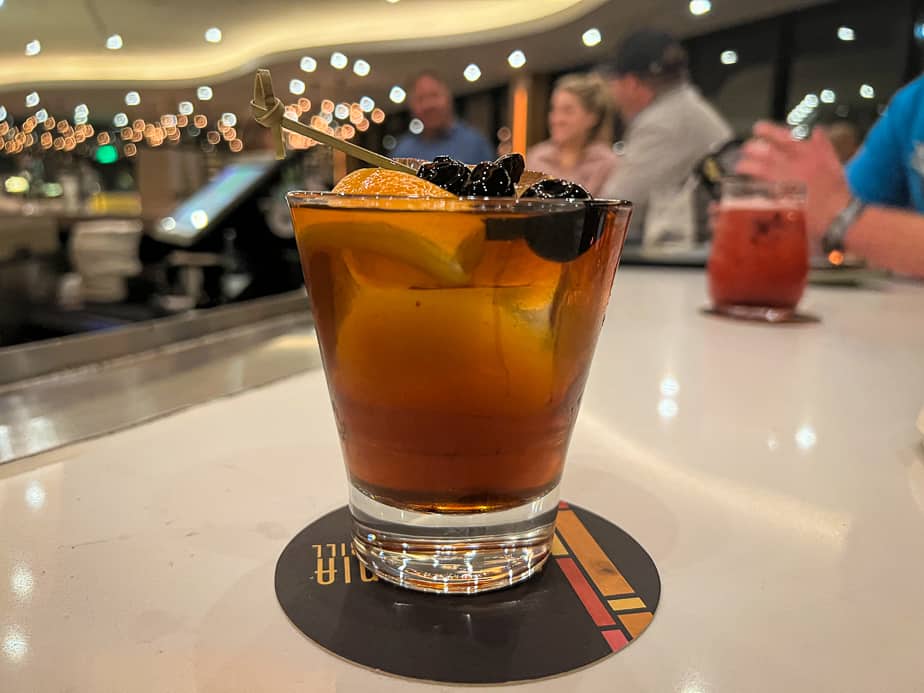 Unfortunately, most of the lounge seating has been converted to space out table settings in the restaurants. So at this time, lounge seating is limited to the bar. We were lucky enough to grab a few seats there a couple of months back.
Since the restaurant is offering a prix fixe menu at this time, the bar menu is extremely limited. I was able to order sushi. However, it wasn't near the quality of sushi I usually receive when I dine here.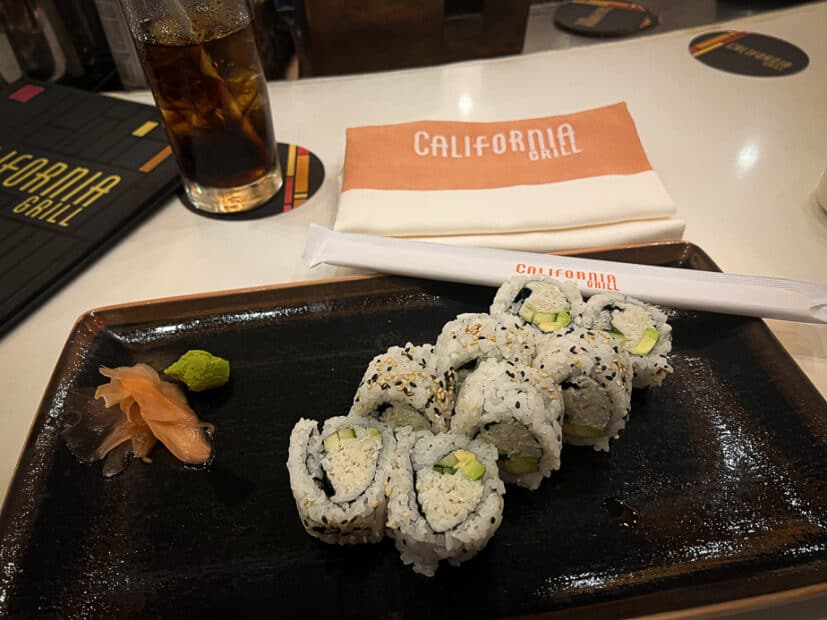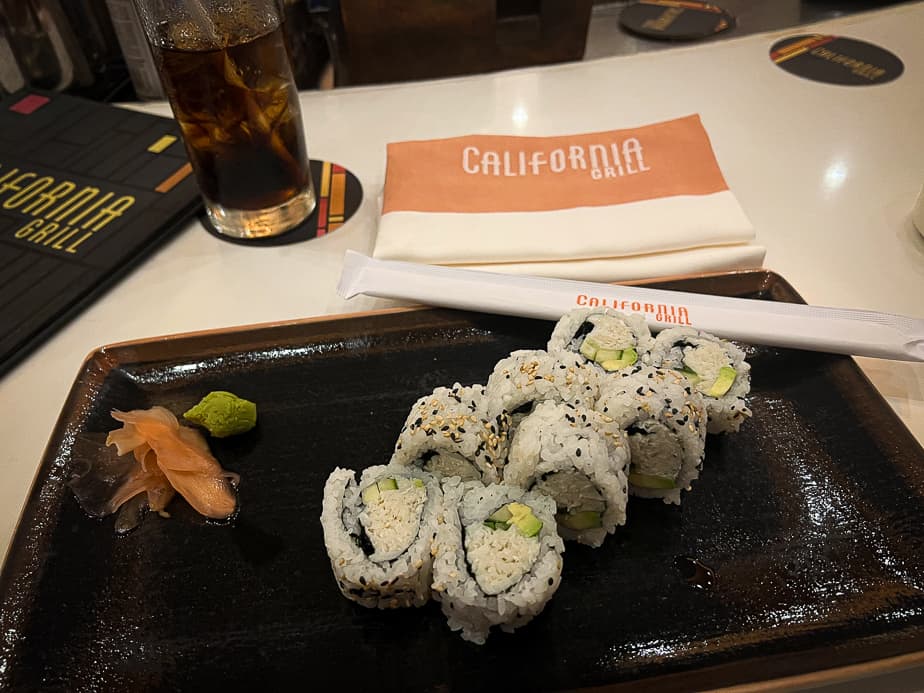 Hopefully, the regular menu will return in the future and things will go back to normal.
Other lounges at nearby resorts that are worth the visit include:
Chef Mickey's
A part of me hates to even share this with you, but I've never actually eaten at Chef Mickey's. I've also never heard anything good about the food here.
Trusted friends and travel advisers that I know would not recommend eating here. Therefore, it's one of the few restaurants I haven't gotten around to yet.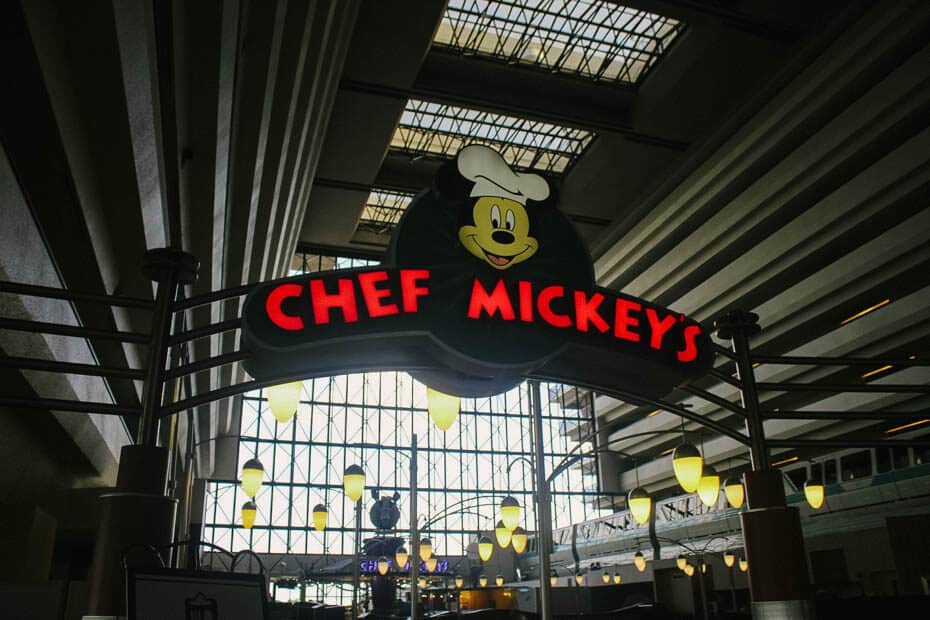 Chef Mickey's is popular because of the monorail and classic characters. However, the majority of character breakfasts we've attended at Disney have had not-so-great food.
For example, the meals we attended at Akershus Royal Banquet Hall and the 'Ohana breakfast with characters were not great. Both had terrific character experiences but outrageous prices with low-quality food.
I feel that Chef Mickey's is probably not any better and haven't been in the mood to fork out the cost of another character meal disappointment. With that being said, we had an excellent character breakfast at Topolino's Terrace.
And that's where I would recommend going for character dining at Walt Disney World.
Steakhouse 71
Next on our list of restaurants at Disney's Contemporary, we have Steakhouse 71. This is the resort's table service dining option that replaced The Wave this last year.
Steakhouse 71 serves breakfast, lunch, and dinner. It's one of those restaurants I consider a great value. You can preview their menu here on Disney's site.
You may remember I used to call The Wave a bit of a hidden gem. But it's not fair to call Steakhouse 71 a hidden gem, because everyone seems to know about it.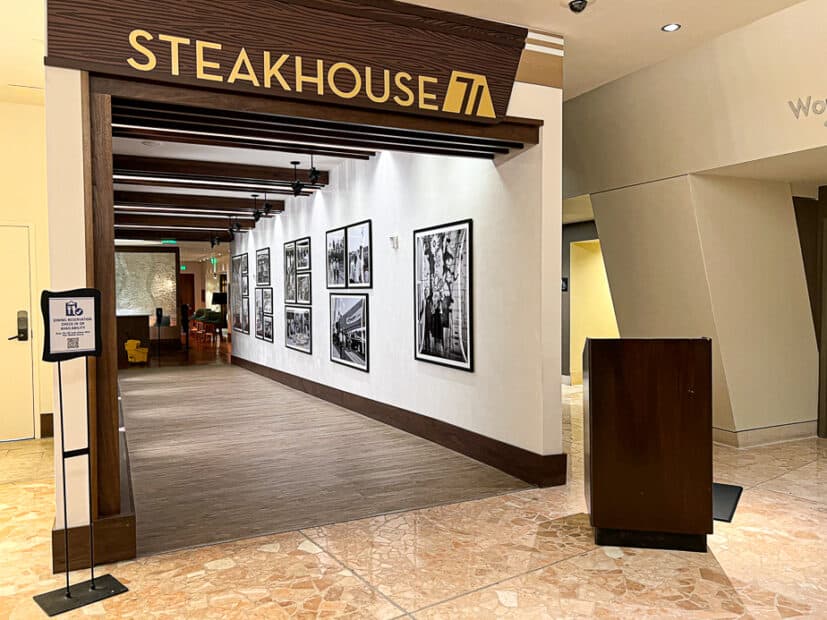 Since Steakhouse 71 recently opened, I've had an opportunity to have breakfast there. And I had an extremely delicious meal consisting of pancakes, sausages, and a side of grits.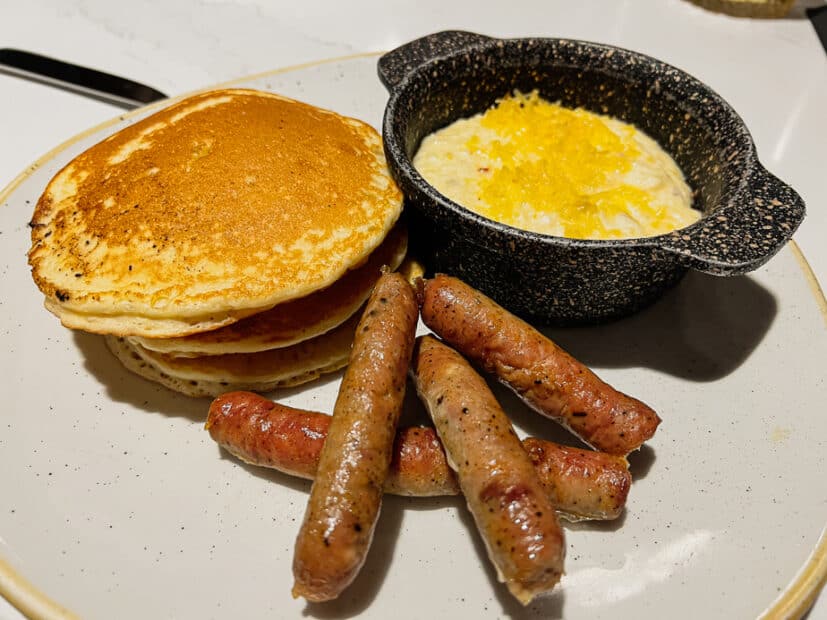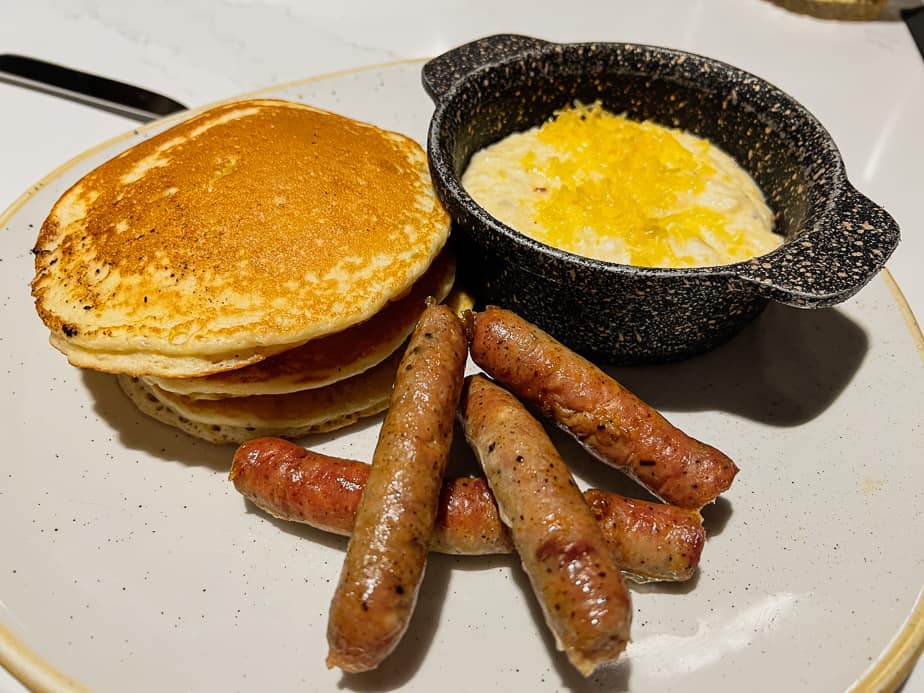 My only complaint was that the breakfast menu was a little egg-heavy. I felt like this was one of the few items I could order that didn't contain eggs.
So many people deal with sensitivities to eggs these days, it seems more items should have been offered on the menu.
Related: Steakhouse 71 Breakfast Review
For other nearby breakfast options in the immediate area, keep these options in mind:
Additonally, you might try Kona Cafe at the Polynesian. They have Tonga Toast and Macadamia Nut Pancakes on the menu. It's included in our Polynesian Restaurants Guide.
California Grill
Our next dining stop at the Contemporary is a classic that most have at least heard of in passing. Anyone looking to experience signature dining at Disney will want to include the California Grill in their list of options. This high-end restaurant is located on the top floor of Disney's Contemporary.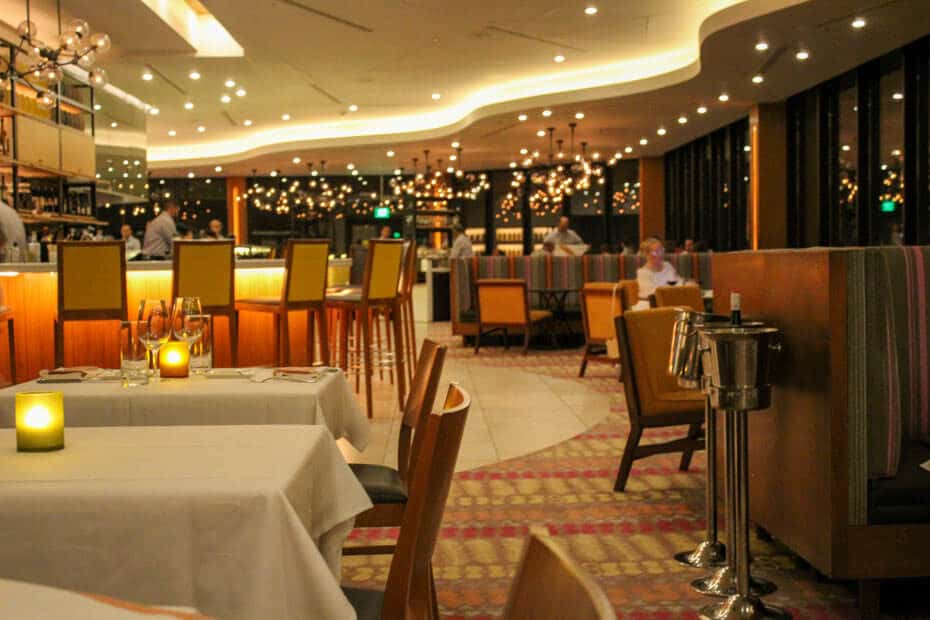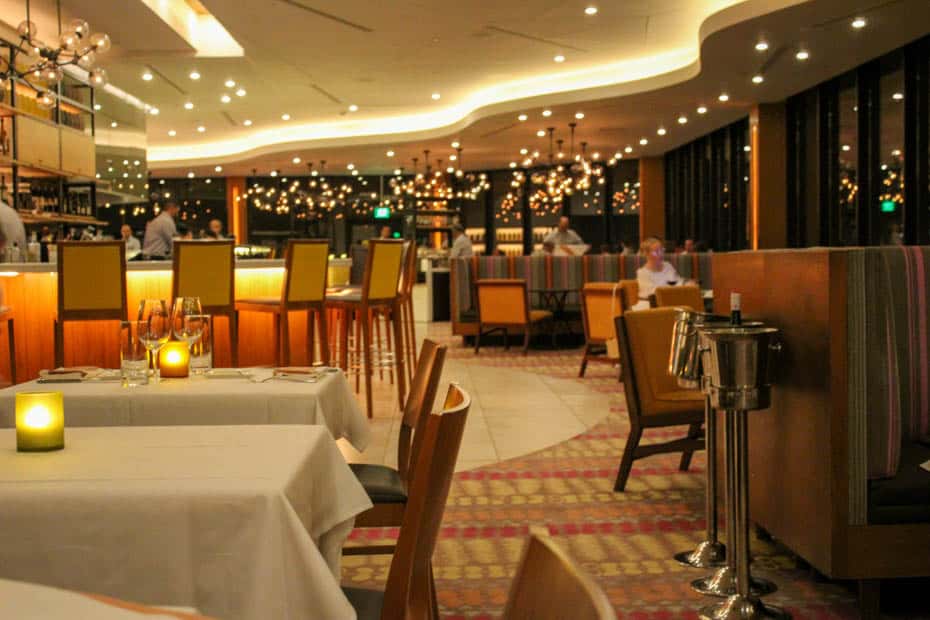 Upfront, I have to warn you, this is normally my favorite restaurant in all of Disney World. However, at this time they're offering a limited prix fixe menu. And unfortunately, I don't care for the current set up.
Related: California Grill's 50th Anniversary Celebration Dinner Review
I'll look forward to some of the items covered below returning to the California Grill.
The Contemporary's bellwether restaurant is known for several of its signature menu items. This Sonoma goat cheese ravioli (an appetizer) is one of them.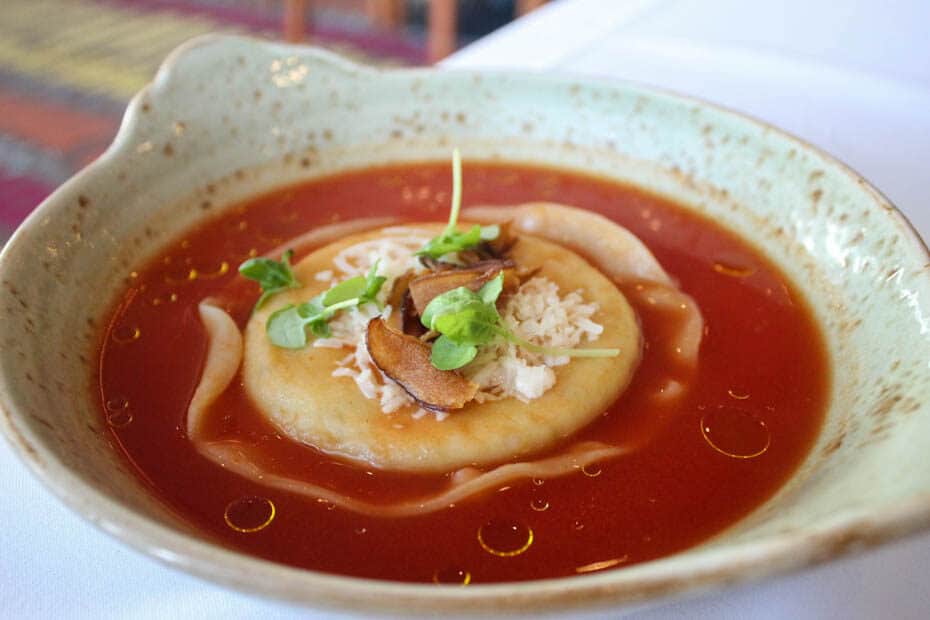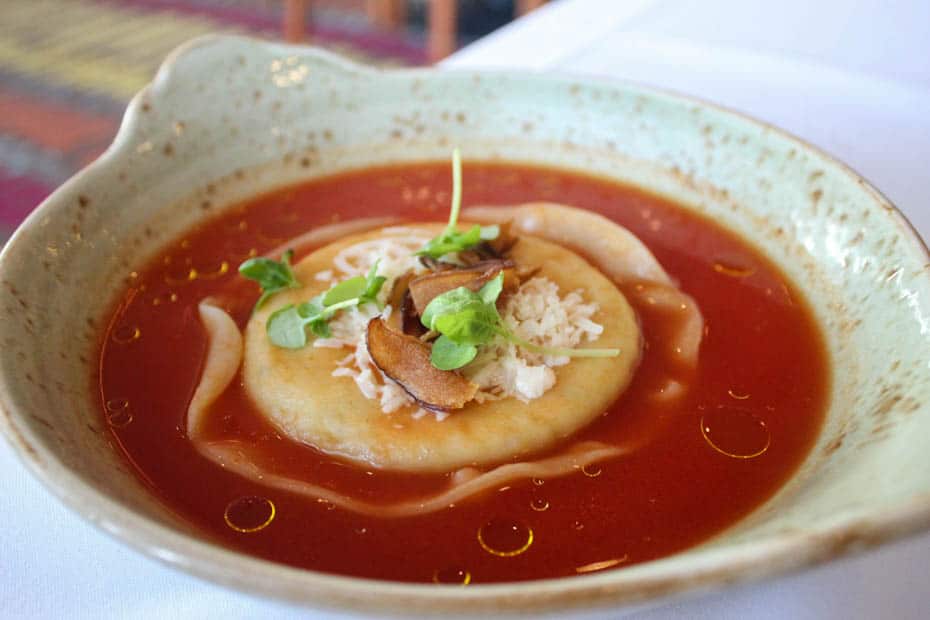 While indulging in this delicious ravioli adorned with crispy mushrooms, goat cheese oozes into the tomato broth. The bread service delivered to the table will help you ensure no yumminess is left behind.
The restaurant is also known for its seasonal salads. Below is the Market strawberry salad with Burrata cheese. And yes, it tasted even better than it looked.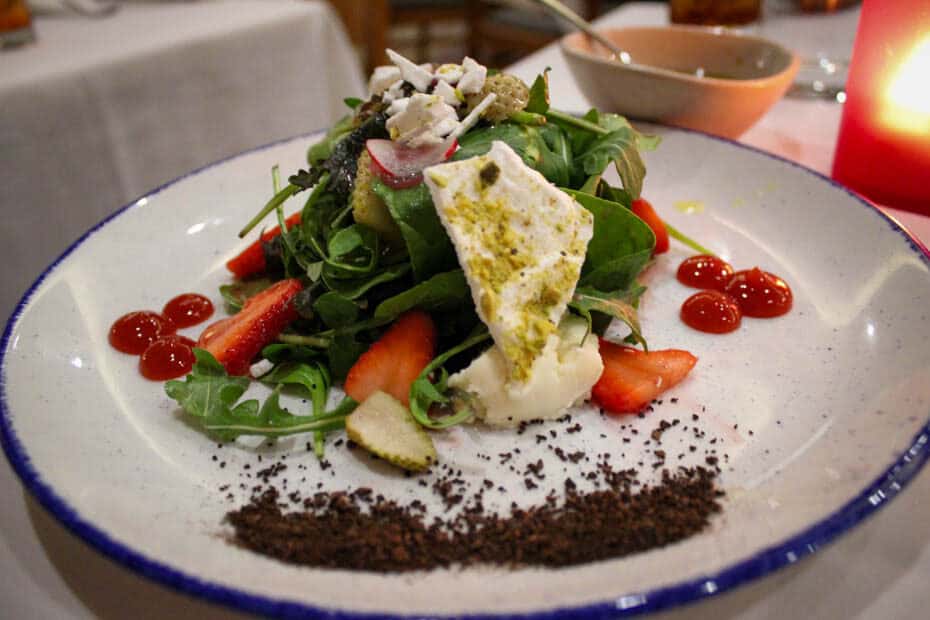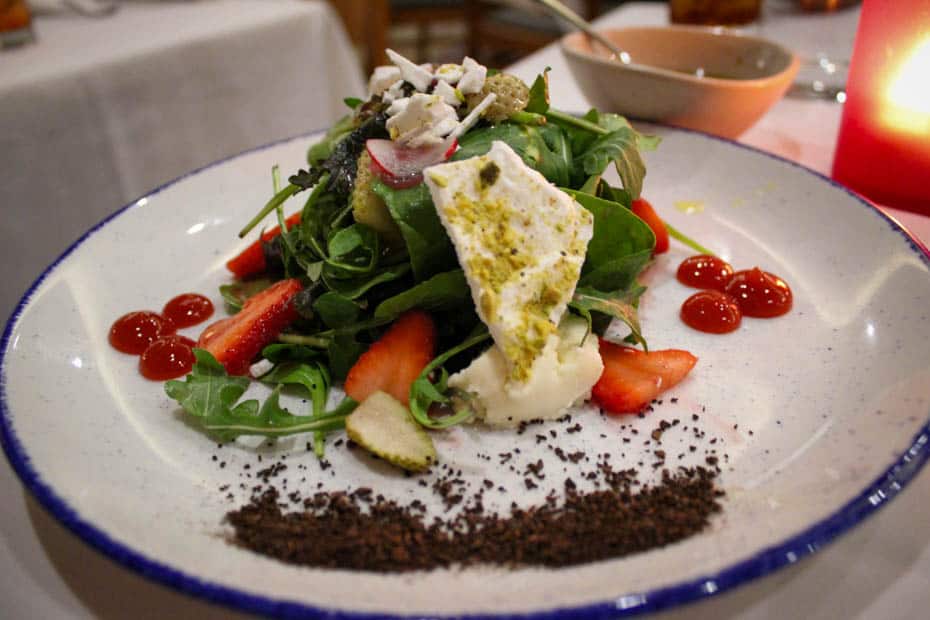 You can read the full review of Disney's California Grill here.
Lastly, California Grill is also known for its extensive wine list, hand-rolled sushi items, and, dare I say, Sunday brunch?
Yes, the California Grill Brunch is something you will want to include in your plans for a future trip. But, unfortunately, this is another dining experience that hasn't returned to date in 2022.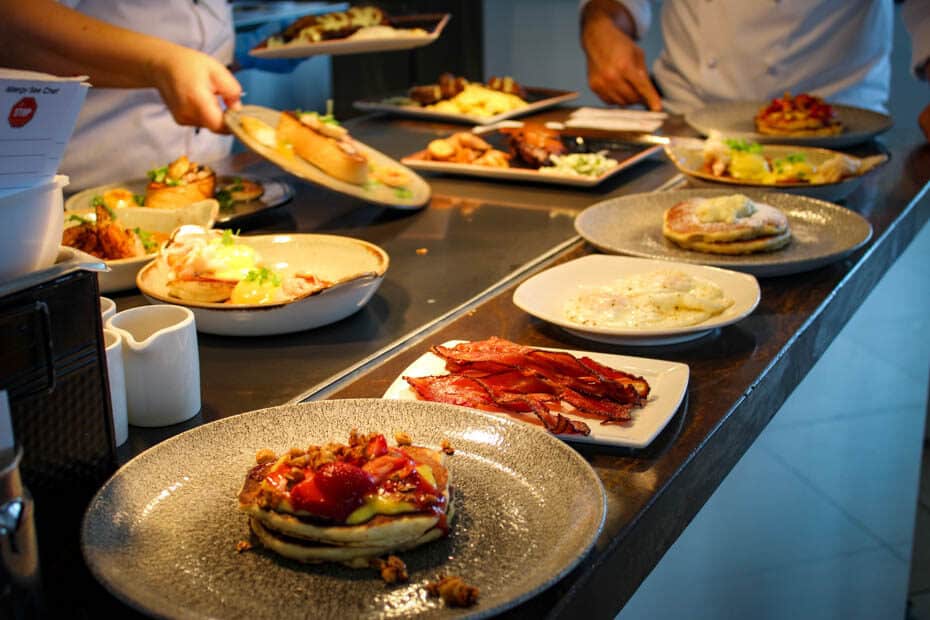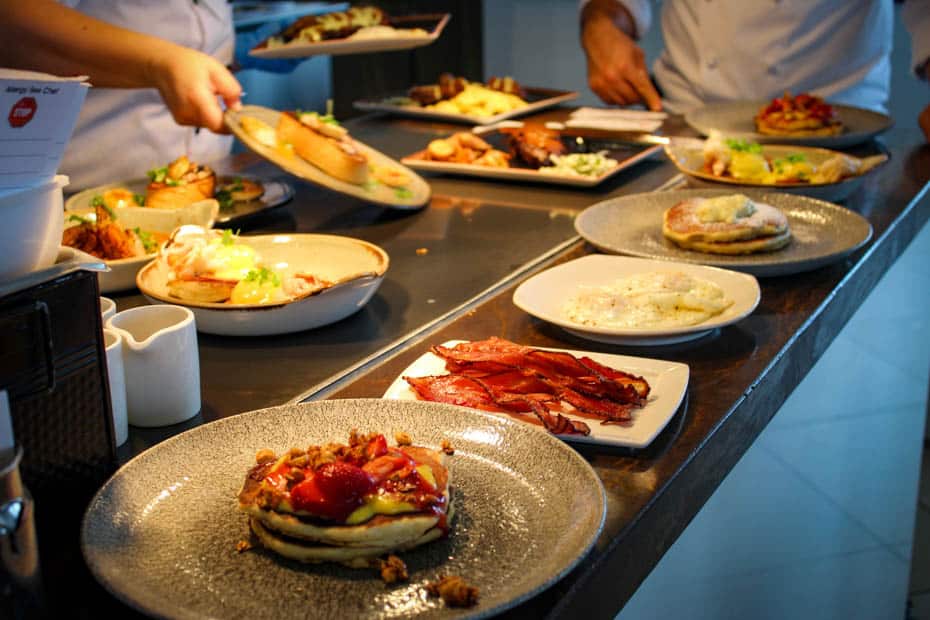 If you want to do the California Grill Brunch when it returns, you can read about a few of my past experiences here.
Additionally, if you are attend any of these meals, you can return to the California Grill around fireworks times on the same day. Show your receipt, and you can enjoy fireworks from the rooftop.
Pool Bars at the Contemporary
Disney's Contemporary Resort has two different pool bars available to guests. The first pool bar is the Cove Bar, which is located at the pool directly behind Bay Lake Tower.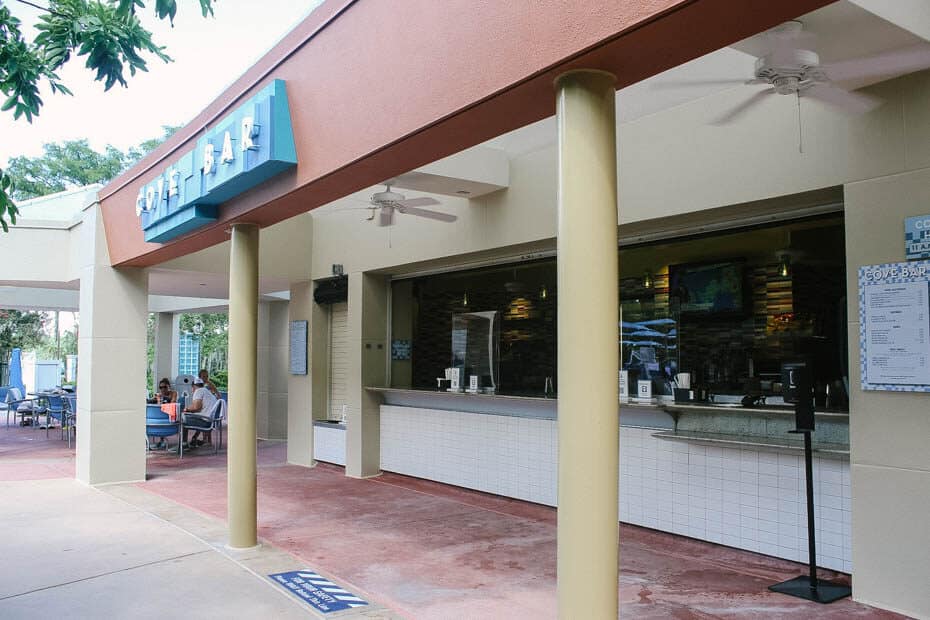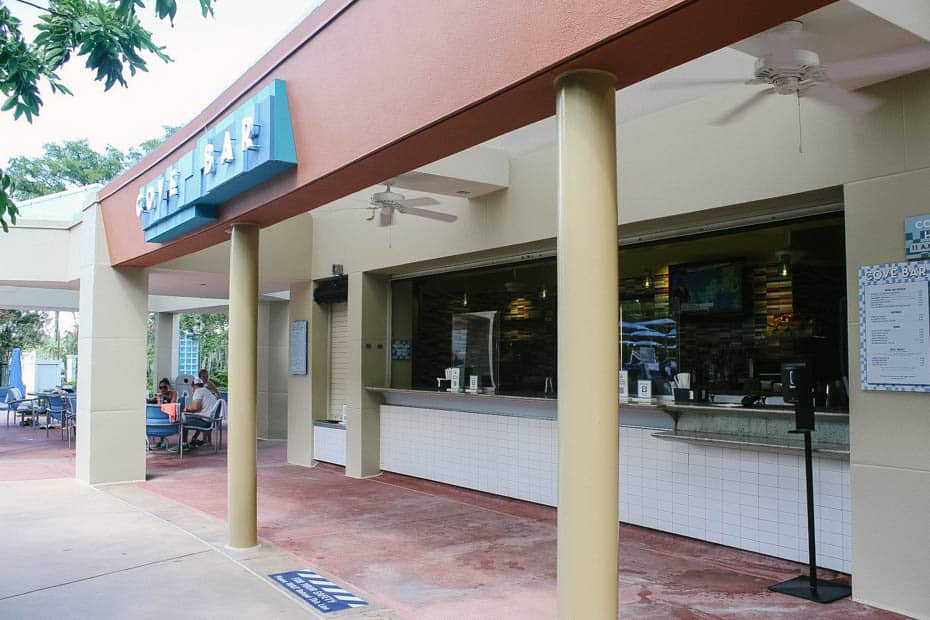 The Cove Bar has a nice menu with a wide variety of items from beverages to entrees.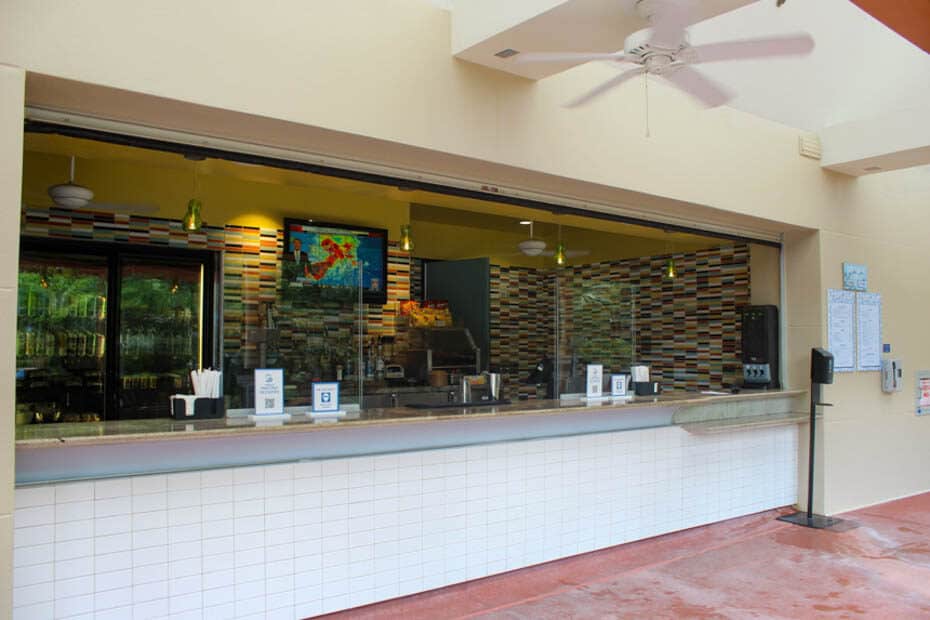 Below is a preview of their menu. They have a turkey wrap, hot dog, and Caesar salad in the entree section.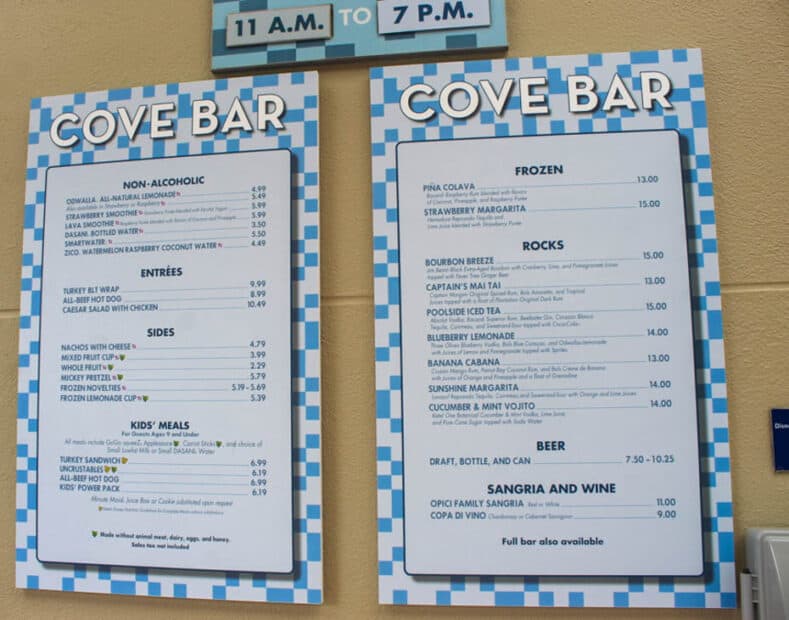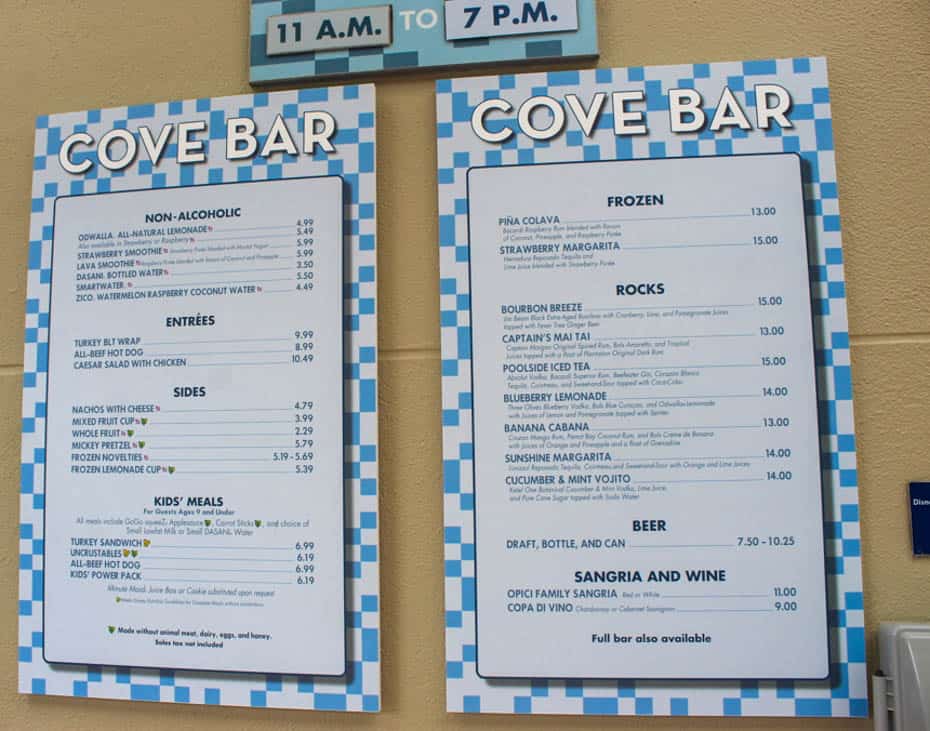 These types of places usually have great options for kids' meal. One of my favorite tips is to order a kids' meal. Often, I find that I'm more than satisfied with the food and price when I go this route.
Over at the resort's feature pool, you'll find the Sand Bar.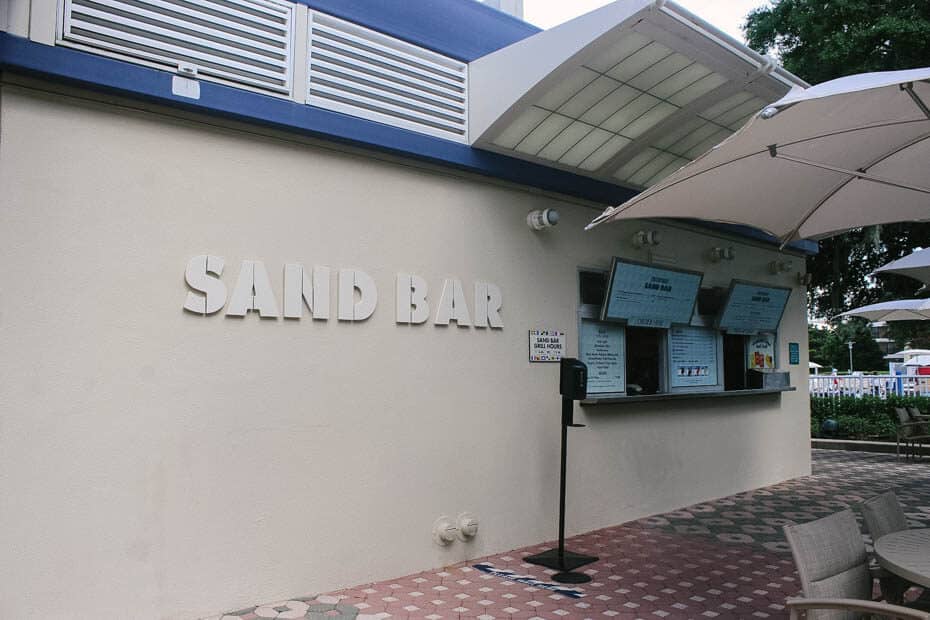 They have items like cheeseburgers, hot dogs, and garden salads in the entree section. Keep in mind the menus are reduced right now at most locations. When things return to normal, we should see more options return.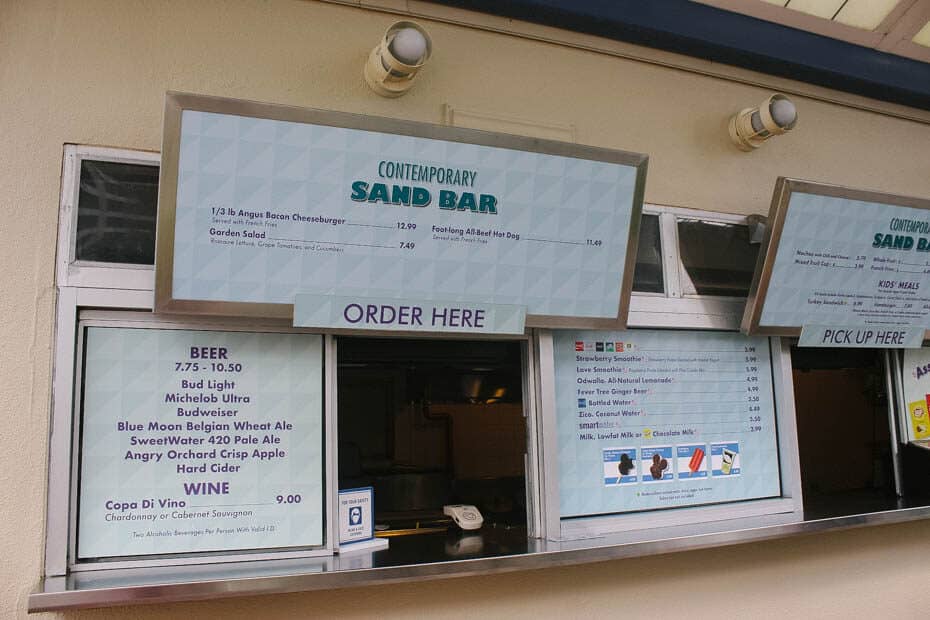 Below are the different available beverage items.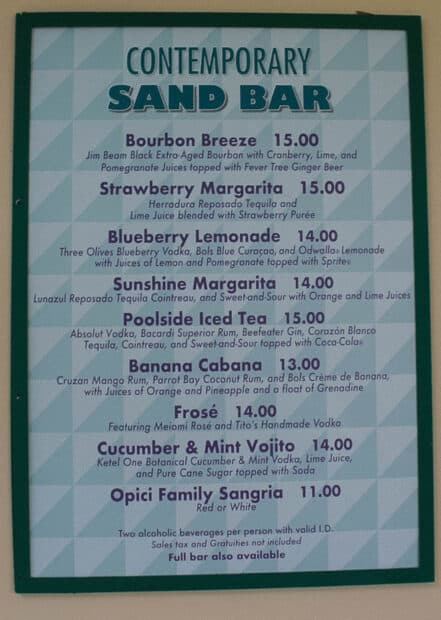 Guests can also order frozen treats, sodas, and such at either of the pool bars.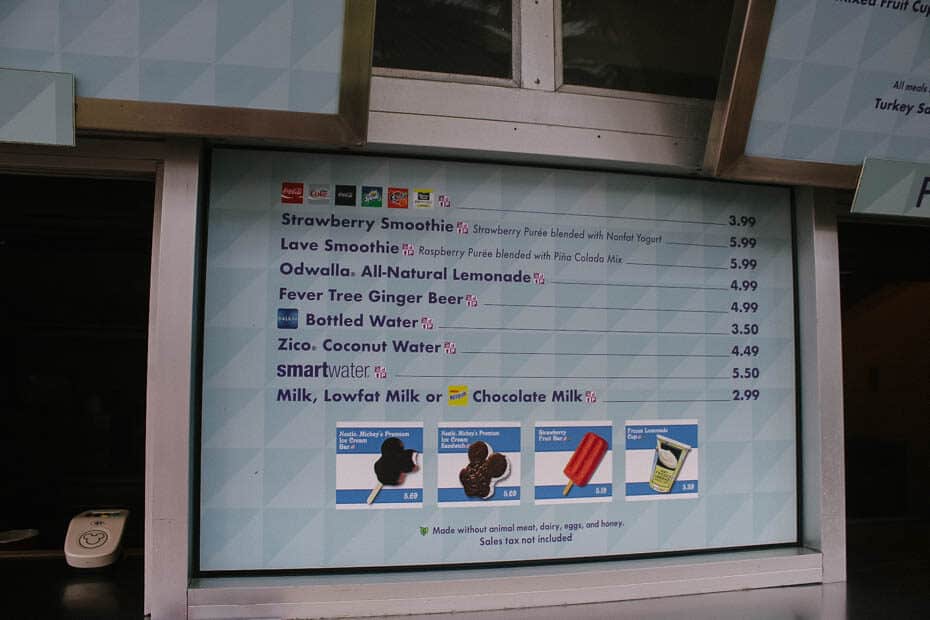 If you don't want to eat at the pool or are visiting as a day guest, you can still access the pool bars. In addition, there is plenty of room to dine outside in the Contemporary's beautiful backyard.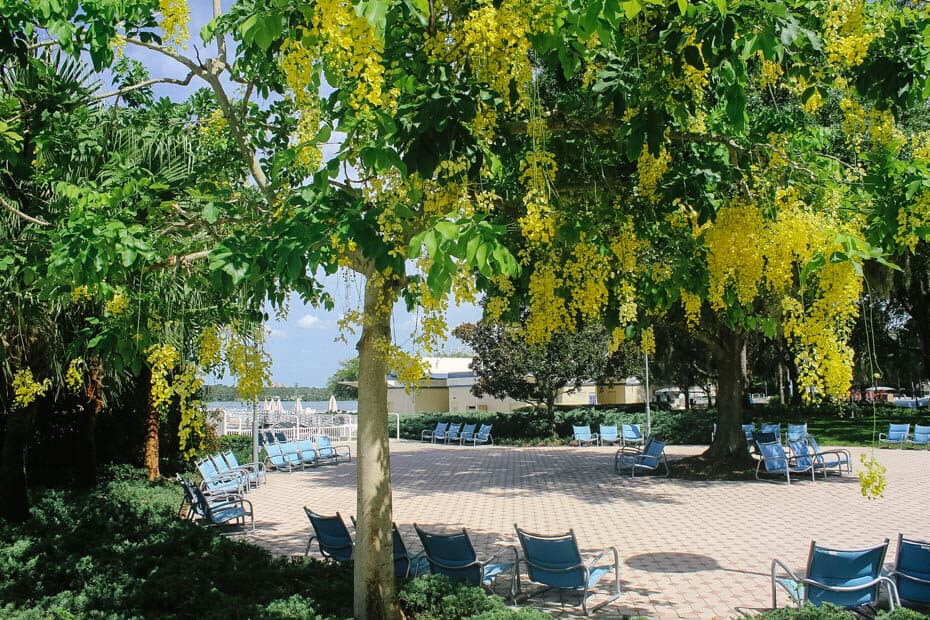 Back inside, guests can pick up a snack at Fantasia Market, which is also located on the resort's fourth floor.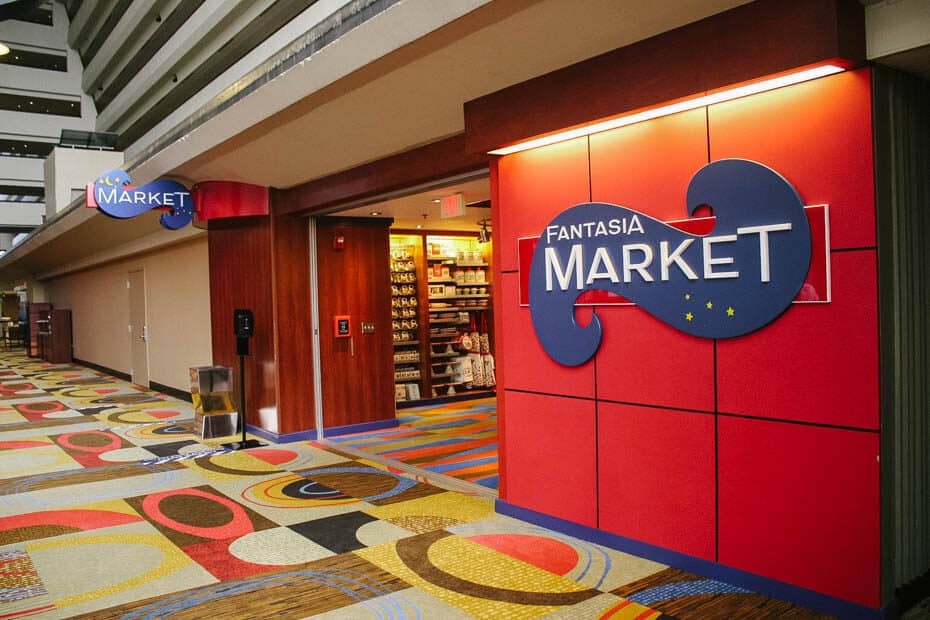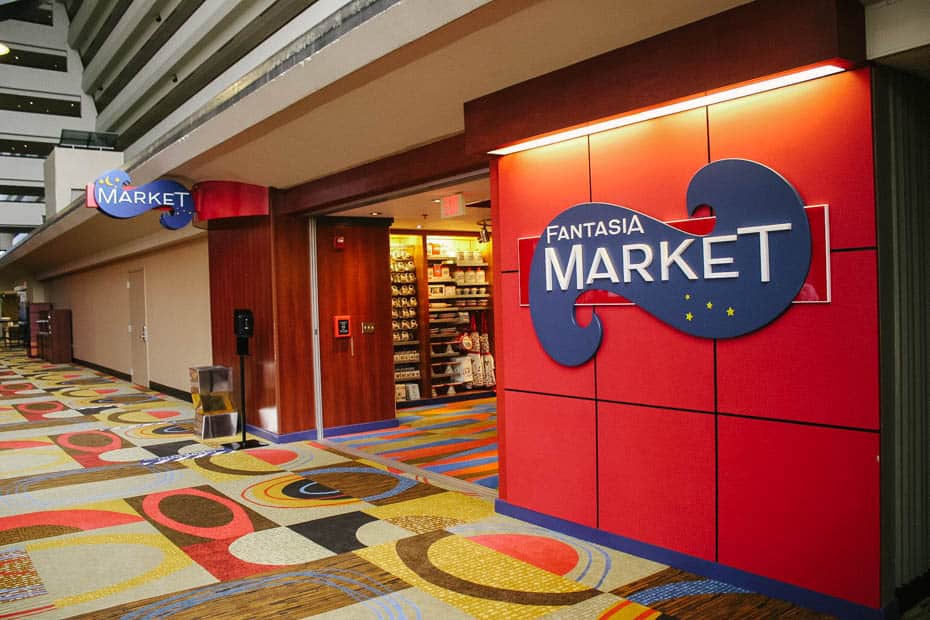 I took a photo to give you an idea of what you might find in there.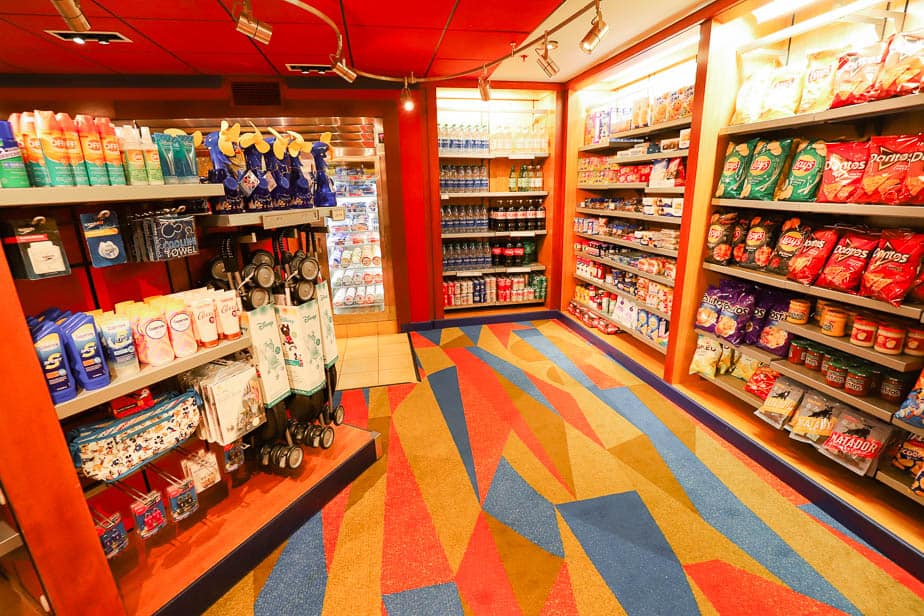 We have one last stop at the Contemporary for coffee before wrapping things up. Contemporary Grounds is a coffee bar of sorts located off the lobby.
They serve Joffrey's brand coffee along with pastries. So if you need a morning coffee fix, this is a simple stop before heading out to the parks.
Final Thoughts on the Restaurants at Disney's Contemporary
Whether you are planning a week-long stay or only interested in a meal, most will find that a visit to the Contemporary is warranted. It's a unique destination with a major form of transportation running through it all day long.
For those staying at the resort, don't forget all the great dining options that are only a monorail ride away. I've mentioned most of those places throughout this guide. However, we do offer full dining guides for some of the surrounding resorts:
Dining at Disney World gets complicated sometimes. There are so many different options, price ranges, and experiences. Hopefully, these resort dining guides will help make some of those decisions simple.
Sometimes when we are tired and hungry, we make sporadic decisions to grab something to eat at the first available place. I get it.
You might make that overpriced dining reservation at Chef Mickey's because you always "hear" people mentioning it. However, I can guarantee you the money spent at California Grill will not be regretted, like the money spent dining with the mouse.
And I love characters. But I love food more, so don't think I'm being harsh about the character meals.
If you want to learn more about Disney dining, check out our full list of Disney Restaurant reviews. Every single dining review we have is listed there.
Resorts Gal specializes in providing information about the resorts at Disney World and the surrounding Orlando area. If you are looking for the right resort for your next vacation, our Disney Hotel Reviews is a good place to start.
Additionally, every article we have for Disney's Contemporary is listed here. Some other good resources for the resort include:
Hopefully, this review was able to help you get a better idea about the restaurants at Disney's Contemporary Resort. Do any of these options look like must do's for your next trip? Have you visited any of these before? Leave a comment below with your thoughts.