Disney's Animal Kingdom Lodge: Is it Worth it?
Is Disney's Animal Kingdom Lodge worth it? For most of us who have stayed at the resort, the answer is simple. Yes, a stay at the Animal Kingdom Lodge is worth it.
This article will look at why a stay at the Animal Kingdom Lodge is worth it. Not only is the hotel gorgeous, but it also offers a unique appeal, unlike any other Disney World Resort.
A while back, I was sitting in the resort's lobby enjoying my afternoon. I couldn't help but overhear the enthusiasm of a family visiting to kill a little time before they left on a cruise.
"We're staying here next time," said the father to his wife and child. And if you overheard the way he said it, you couldn't help but smile. He genuinely expressed the kind of feeling you want to get when you visit Disney's Animal Kingdom Lodge.
That feeling includes a mix of happy and positive overwhelm served with a side of magic. And when you walk through the doors of Disney's Animal Kingdom Lodge, it's easy to be blown away.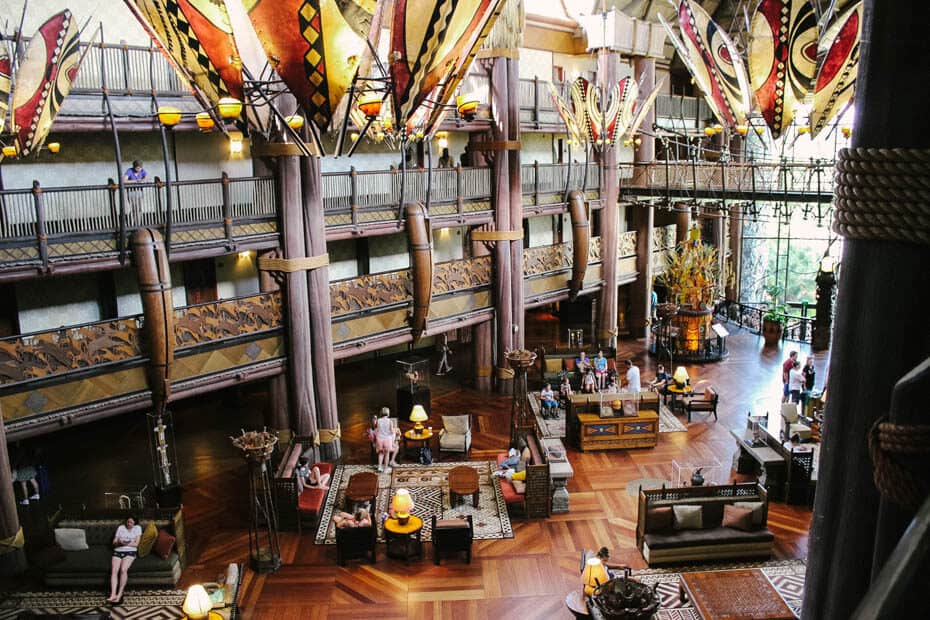 The lobby of the resort is tremendous. There are plenty of sitting areas, and you'll feel as though a warm glow surrounds you.
One of the things I enjoy about the Animal Kingdom Lodge is that the hotel is always so calm and inviting. You'll feel immediate relief from the hot Florida weather as soon as you step foot inside. The lobby is truly an oasis.
Not only that, the lobby doubles as a museum of sorts. There are different art and cultural exhibits displayed as conversation pieces throughout the area. Additionally, you'll find art displays in the hallways and other locations throughout the hotel.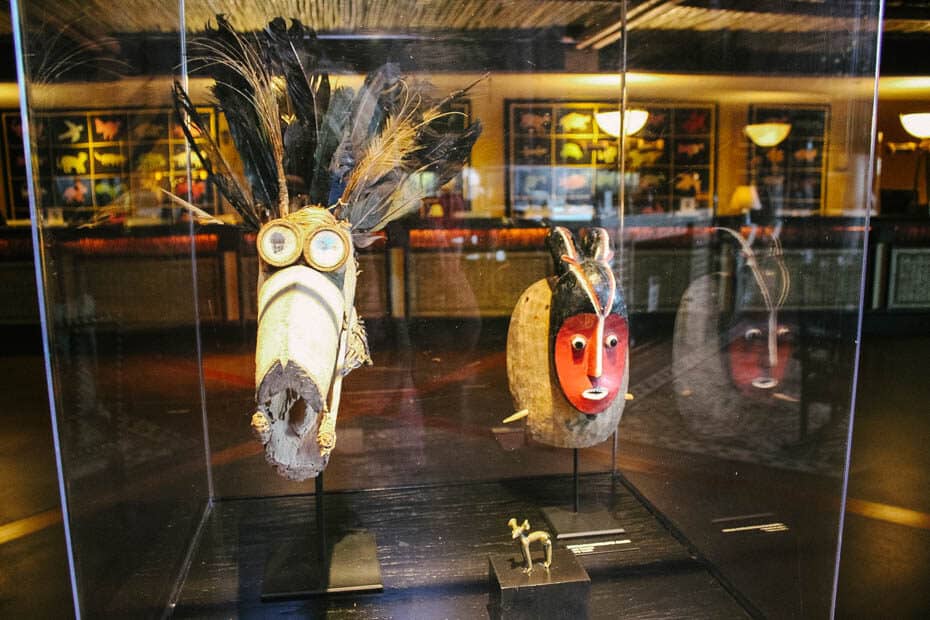 All of the displays offer some sort of educational explanation. For instance, there's an authentic mask display located down one of the hallways off the lobby. Below is a picture of the sign that provides information for each mask.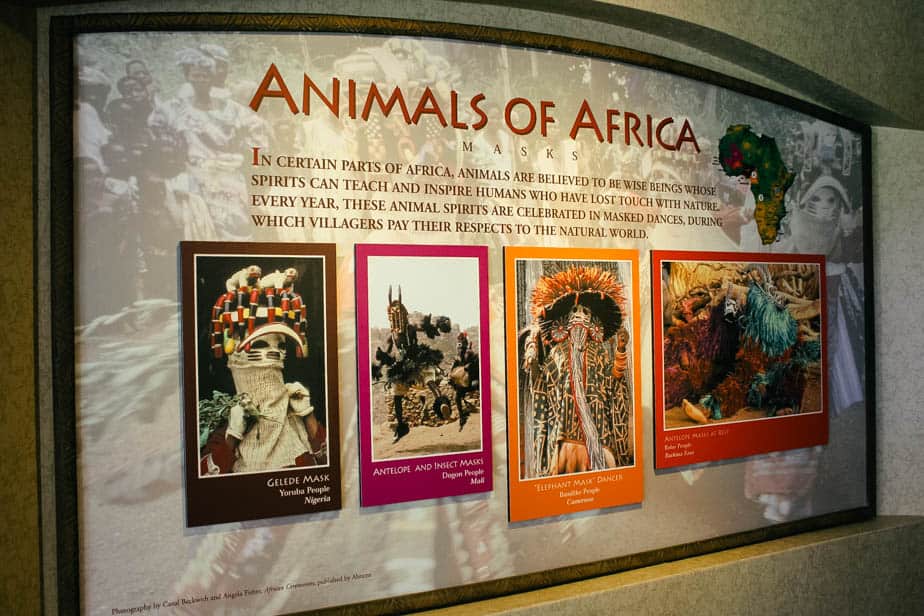 I don't know about you, but I find these kinds of things interesting. Animal Kingdom Lodge has more than 380 pieces, making it the most extensive African art collection outside of Africa.
If you enjoy museums, history, and anthropology, a stay at Animal Kingdom Lodge is going to be worth it for you. You'll probably be surprised at what all this "theme park hotel" has to offer that has nothing to do with a theme park.
So we've covered the lobby and discussed some art. But what else does the hotel have going for it? Well, dining. Oh my goodness, the dining at Disney's Animal Kingdom Lodge is out of this world good.
First, there's Sanaa, which is located down at Kidani Village. Sanaa is where you get the popular bread service that comes with various accompaniments. Here's a photo of our last order.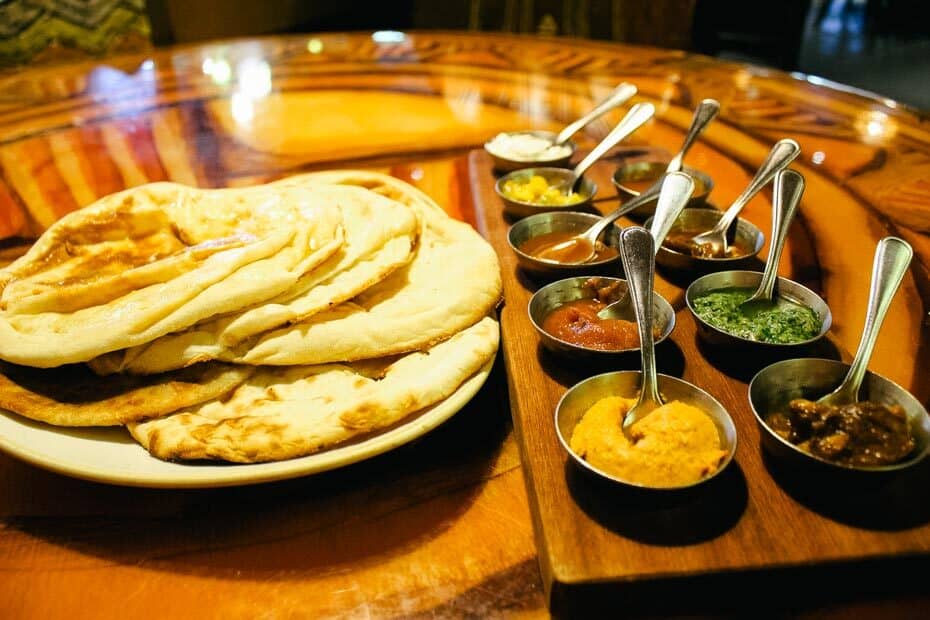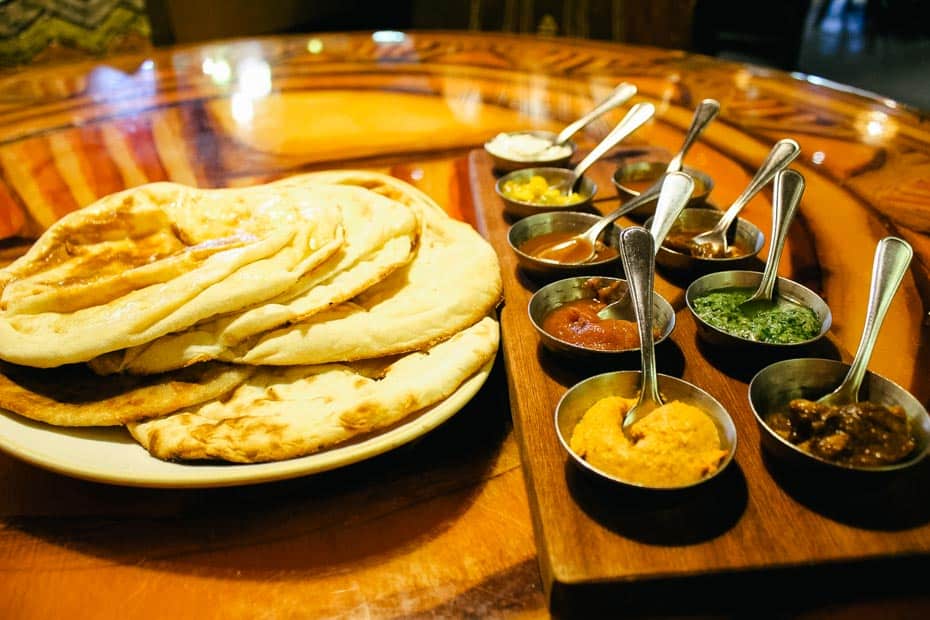 Related: Sanaa Review with Bread Service
And then there's Boma, Flavors of Africa. Boma is also known as one of the best breakfasts at Disney World. The buffet usually boasts up to 75 different items!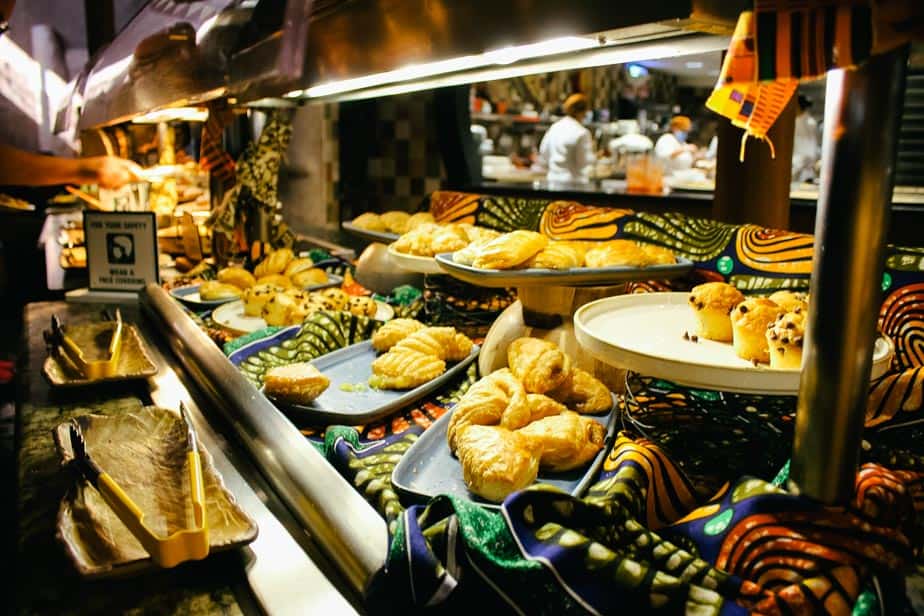 Related: Boma Breakfast Buffet Review
And that's not even mentioning Jiko, The Cooking Place, which comes in as one of our top five signature dining restaurants at Disney World.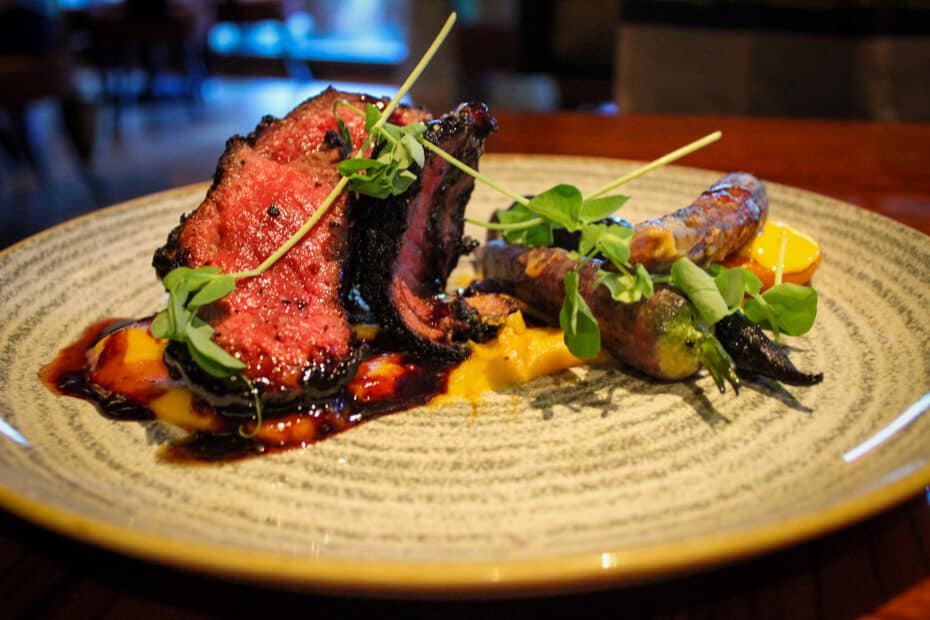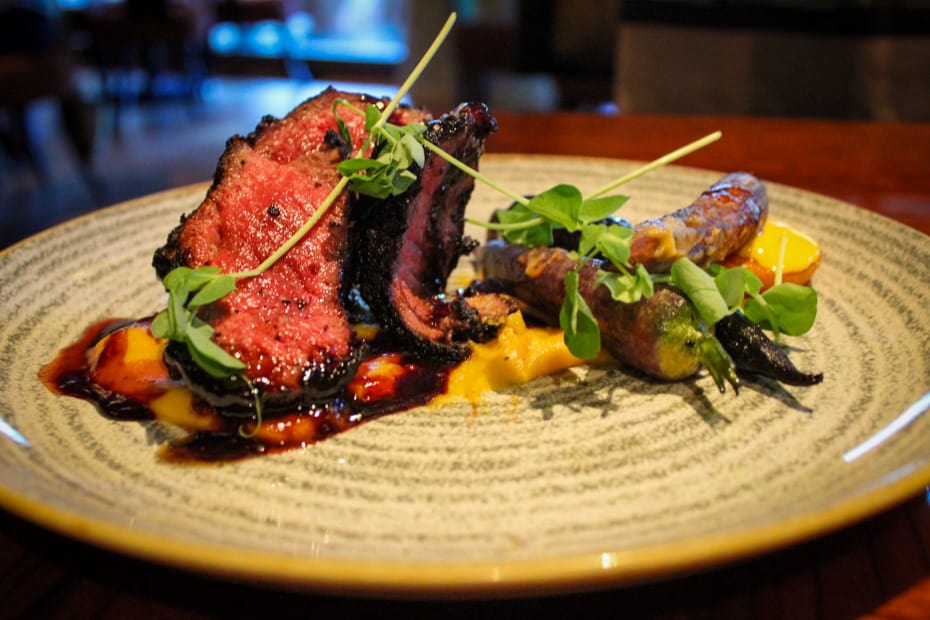 Related: Jiko, The Cooking Place Review
Additionally, The Mara ranks as one of the best quick service dining restaurants at the Disney Resorts. The Mara has distinctive menu items that you won't find anywhere else.
Oh, and you can pick up zebra domes in the cooler at The Mara too! If you've had zebra domes before, you know they are most definitely worth it.
Now, I've mentioned many "bests" for dining at this resort, but it's true.
While some resorts might have one or two restaurants worthy of a meal, the Animal Kingdom Lodge has multiple excellent options.
After all that dining, you might be wondering what else could this resort possibly have to make it worth a stay here? The answer is recreation. The Animal Kingdom Lodge has one of the most beautiful pools around.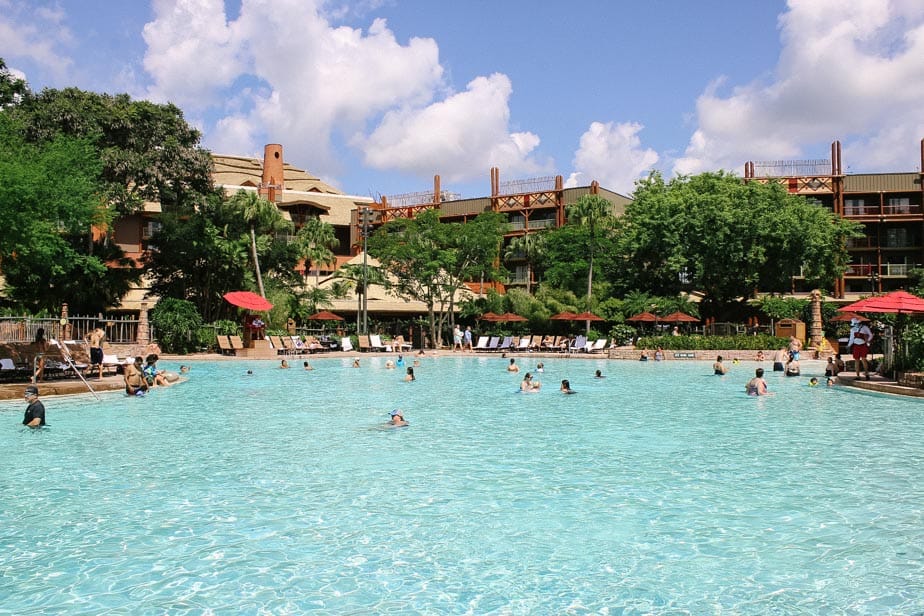 Related: The Pools at Disney's Animal Kingdom Lodge
There's a water slide, kiddie pool, and multiple whirlpool spas around the sizeable outdoor space. In addition, the layout of this area is convenient and easy to get around.
The Mara and Uzima Springs pool bar are positioned around the pool area. And the arcade and fitness center are only a few steps away from the pool as well.
Those with smaller children will want to check out the Samawati Springs Pool at Kidani Village. That pool has a three-part water play area for children 12 and younger. Don't worry, mom and dad, there are plenty of places to lounge while the children play.
You'll want to plan at least one whole resort day at the Animal Kingdom Lodge during your trip.
Lastly, there's one other mandatory item to consider when trying to decide if the Animal Kingdom Lodge is worth it to you? It should come as no surprise that the animals on the savanna are the number one thing that makes this resort worthy of a stay.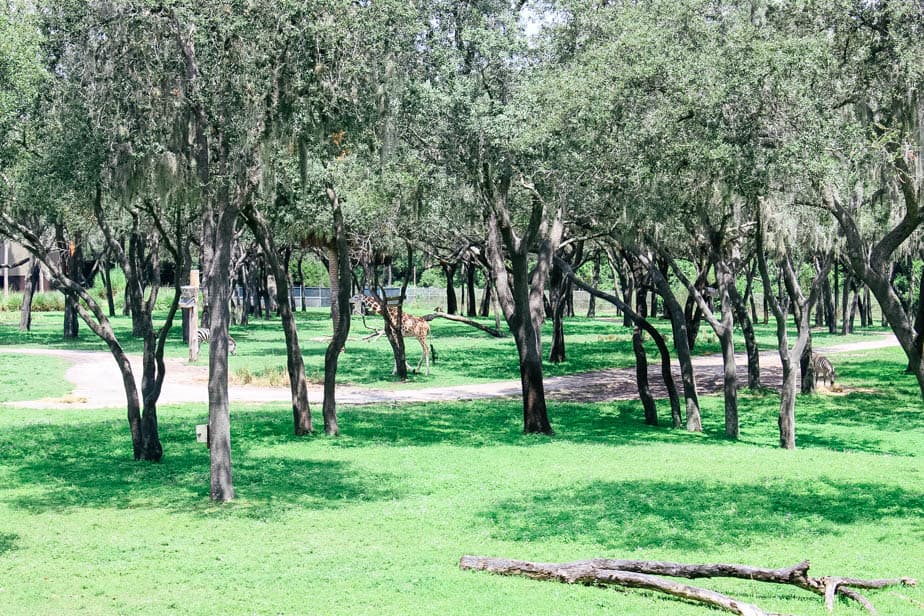 Four different savannas make up a 43-acre wildlife preserve. The savannas contain over 200 animals and 130 birds. That's a lot of animals.
On any given day, you might see animals like giraffes, wildebeests, or zebras grazing in the distance.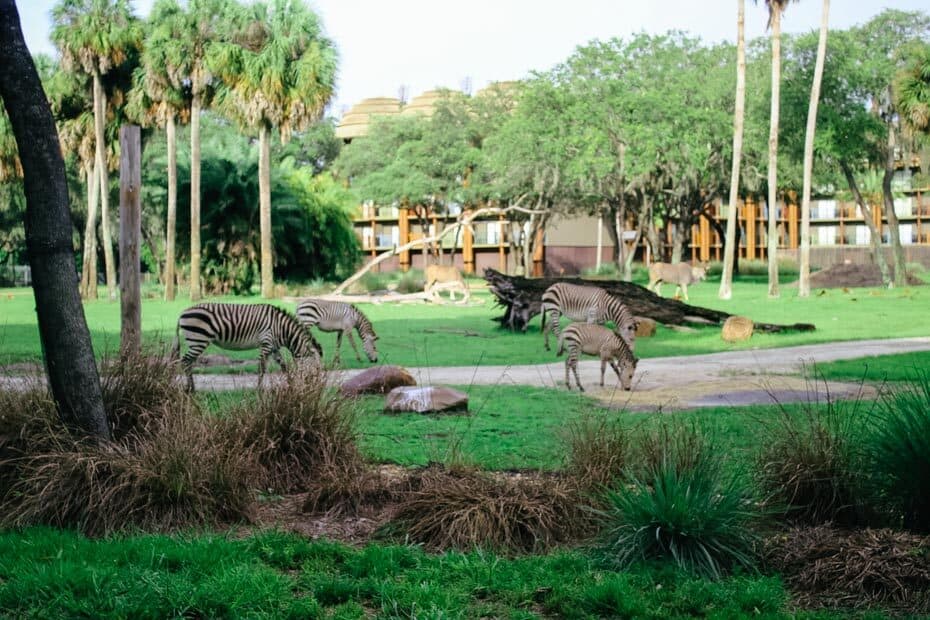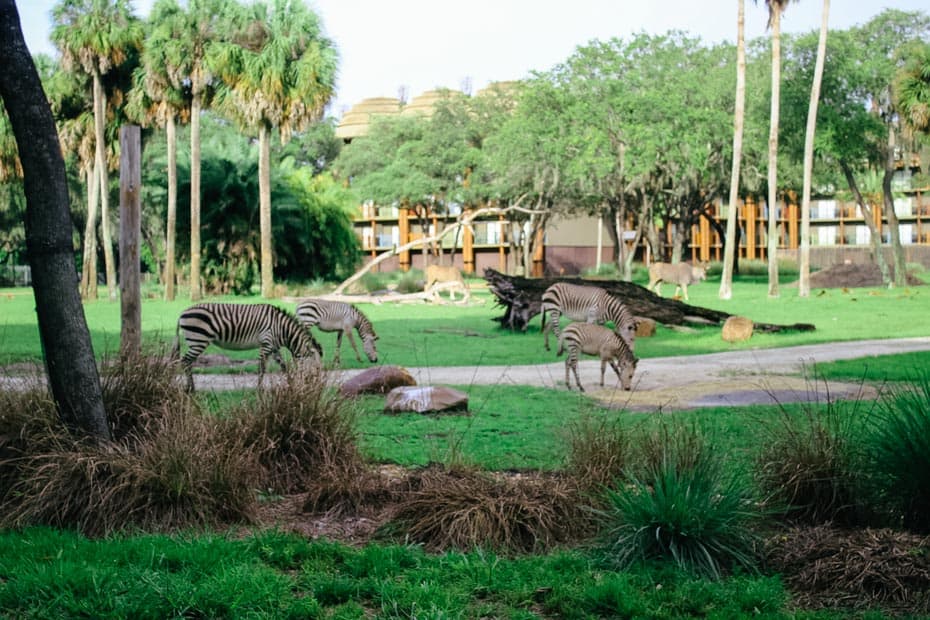 Do you need a savanna view room to enjoy these views of the animals? Thankfully, no. However, I believe that a savanna view room is worth the extra expense if you can swing it.
There are multiple public viewing areas around the resort. Some of these areas are located off the lobby. Another savanna sits back behind the Uzima Springs Pool.
Additionally, the hallways have large windows and outdoor decks where you can sit and enjoy the views.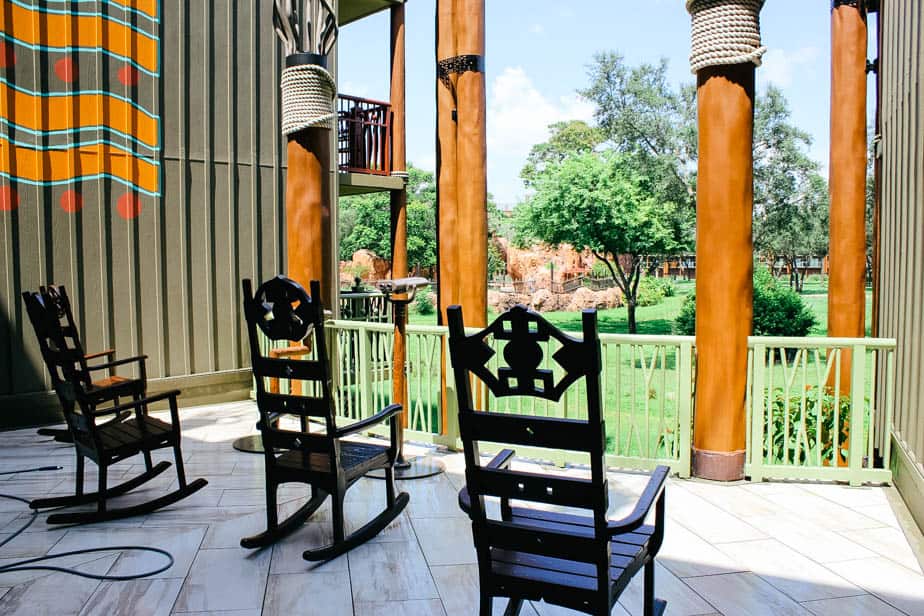 Take the time to roam the resort and look for these private areas. You'll probably forget that you're on a Disney vacation.
While I could go on and on about Disney's Animal Kingdom Lodge, I'll leave it up to you to decide whether or not it's worth it for your next vacation. For me, the answer will always be yes.
And for the record, Animal Kingdom Lodge ranks on our site as the best deluxe resort at Disney World. For those who know me, you know a hotel has to exceed my standards to give it such a high ranking.
As for negatives, every resort has them. The main problem I've encountered at the Lodge is its bus service.
Slow bus service is a common complaint at the Lodge and has been an unresolved issue for quite some time. However, the buses to Animal Kingdom Park run frequently since it's located nearby.
For more information, all of our articles related to the Animal Kingdom Lodge are available here. Or you might enjoy the following:
Preview all of our Disney World Resort Reviews.
In the comments: What are your thoughts about this resort? Have you stayed here yet? Does it sound like a stay at Animal Kingdom Lodge is worth it to you?