The Best Table Service Restaurants at the Disney World Resorts
Planning a little dining for your Disney World vacation? Then, we've got you covered!
In this article, we will discuss the best table service restaurants at the Disney World Resorts. In addition, I'll provide a few tips for what to order.
Our choices for best table service are based on food quality, atmosphere, and price point. So whether you want to eat in an elegant setting offering fine cuisine or enjoy some delicious comfort food that won't break the bank, there are options for everyone.
Best Disney Resort Table Service Restaurants
We'll start our options for the best table service in the Epcot Resorts Area. These hotels are all within walking distance or only a Skyliner ride away from the park. Therefore, if you are staying in this area, you can easily access these restaurants.
#1 Ale and Compass
Our first stop is Ale and Compass restaurant at Disney's Yacht Club Resort. This table service restaurant offers American fare with a modern twist.
Some of their most popular items include chocolate waffles for breakfast and a New England seafood pot pie at dinner.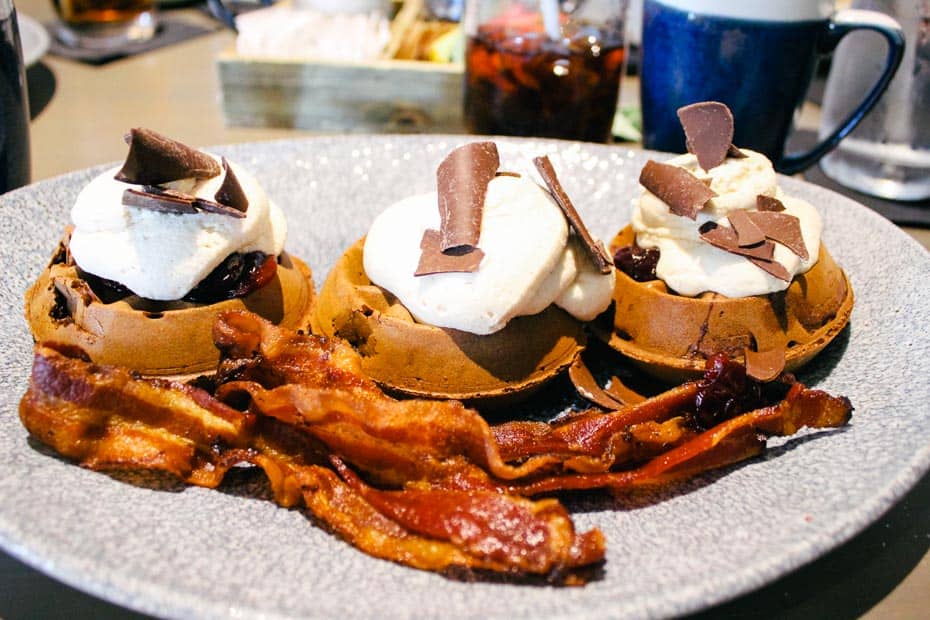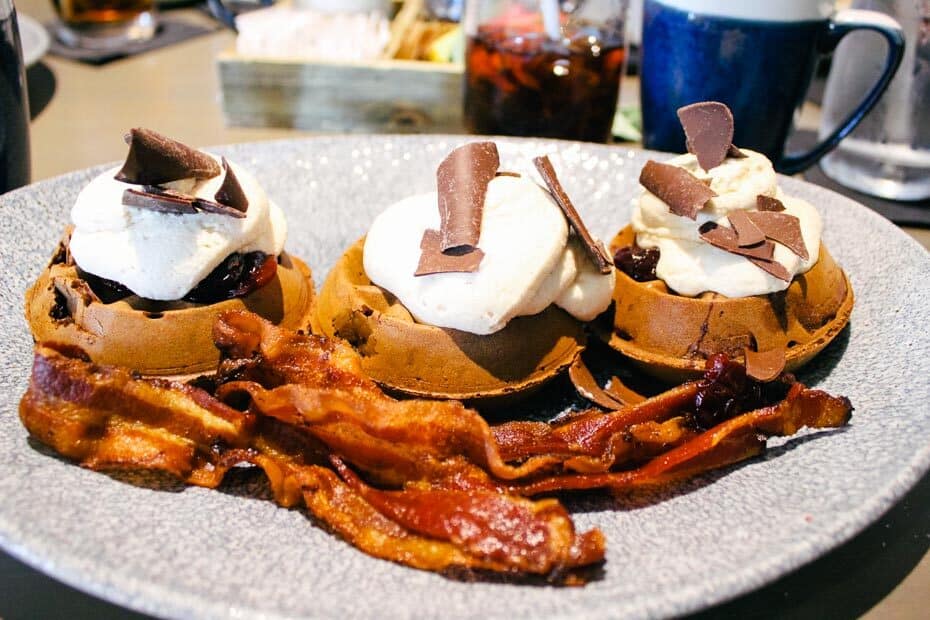 The location is perfect for families as well as couples looking to enjoy a nice setting along with a reasonably-priced meal.
Additionally, this restaurant is one of our top choices to enjoy breakfast at Disney World. Our breakfasts here have always been budget-friendly, and the entrees we've tried to date have been superb.
Related: Ale and Compass Breakfast Review
At this time, Ale and Compass is offering to-go orders for both breakfast and dinner. This is a great option if you prefer to dine outside or take a meal back to your room.
For my last meal here, I was staying at Disney's Caribbean Beach Resort. So I ordered a meal, picked it up, and took it back to my room. And as you probably have already guessed, I ordered the Parker House Rolls.
Related: Caribbean Beach Resort Review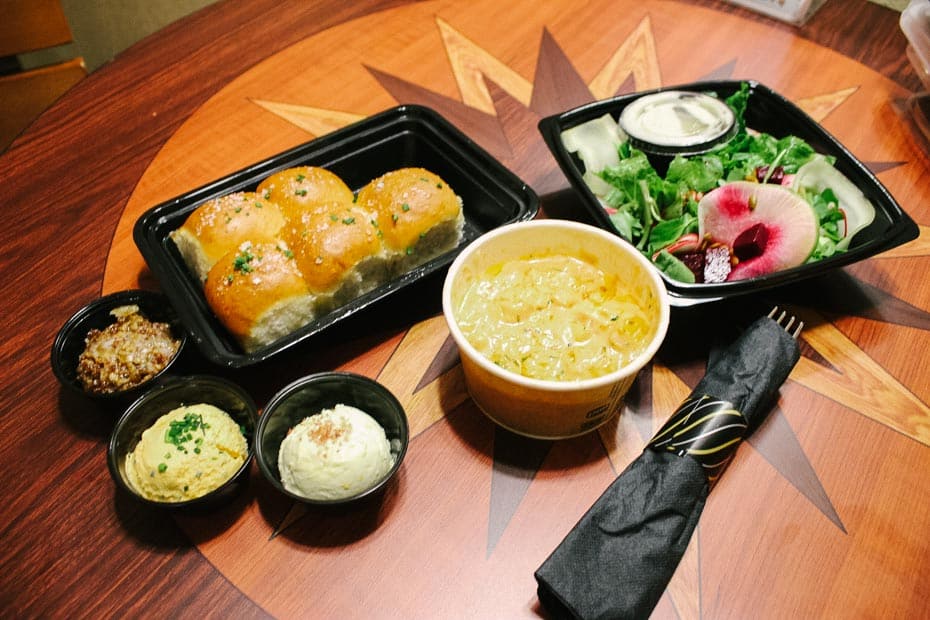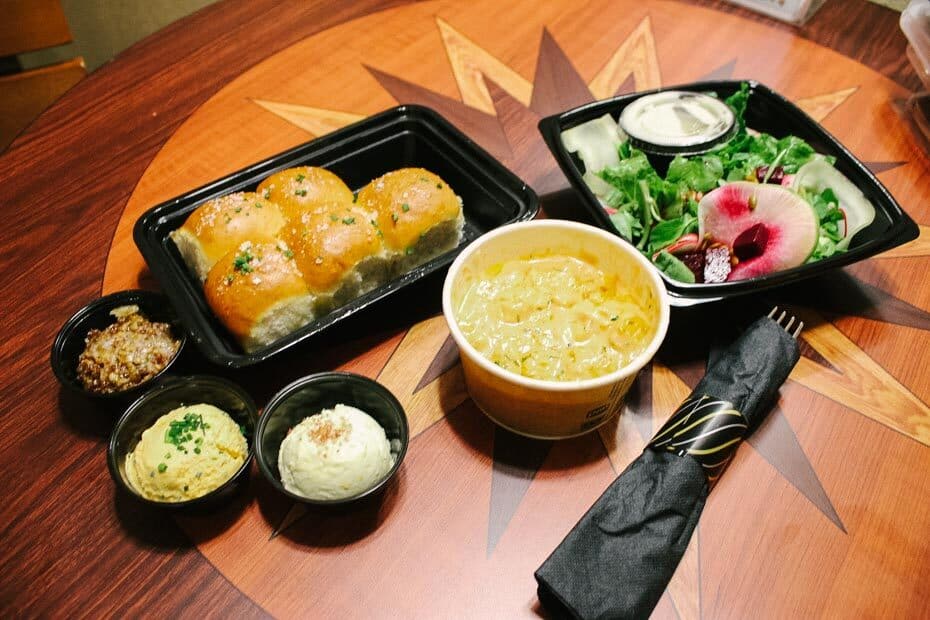 Yum! This picture always makes me laugh because you can tell I had already eaten a roll on the way back to my room before I took a photo.
Then Kristen and I had dinner here back in the Fall. We ordered a couple of appetizers to share along with a burger to split.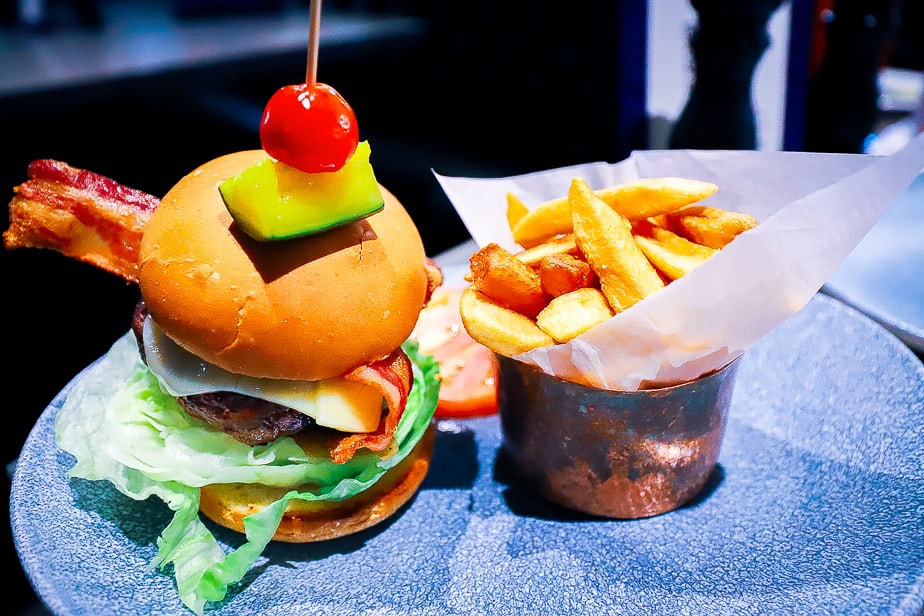 It was an excellent dinner and a fun way to try several different menu items.
Related: Review: Dinner at Ale and Compass
Tip: Those rolls are available next door at the lounge. They are so good.
#2 Yachtsman Steakhouse
If you've ever read our Disney fine dining guide, you know that Yachtsman Steakhouse ranks in our top five restaurants for signature dining at Walt Disney World.
Related: Best Signature Dining at Disney World
This is THE PLACE to secure a reservation if you're looking to enjoy a little surf and turf.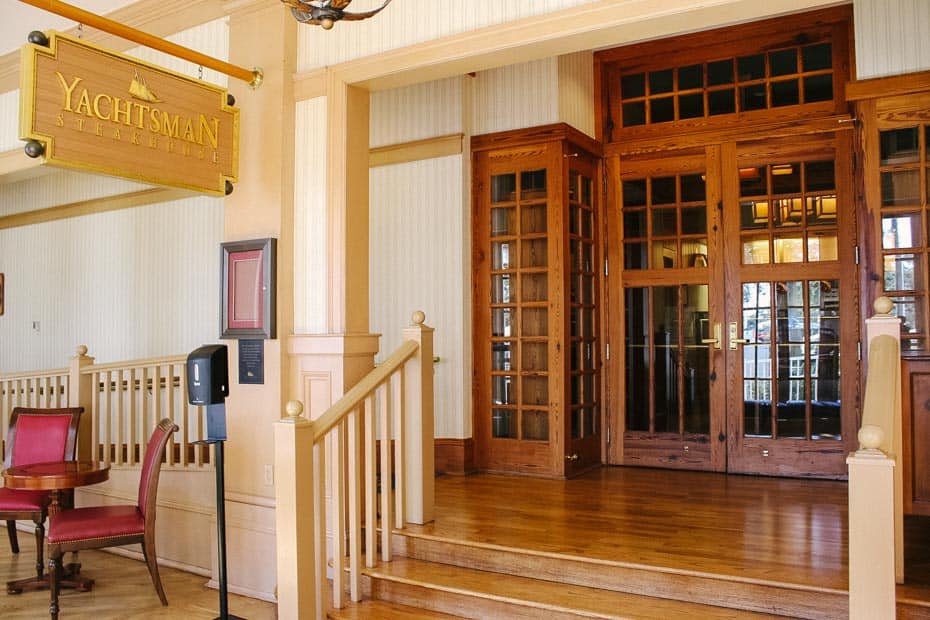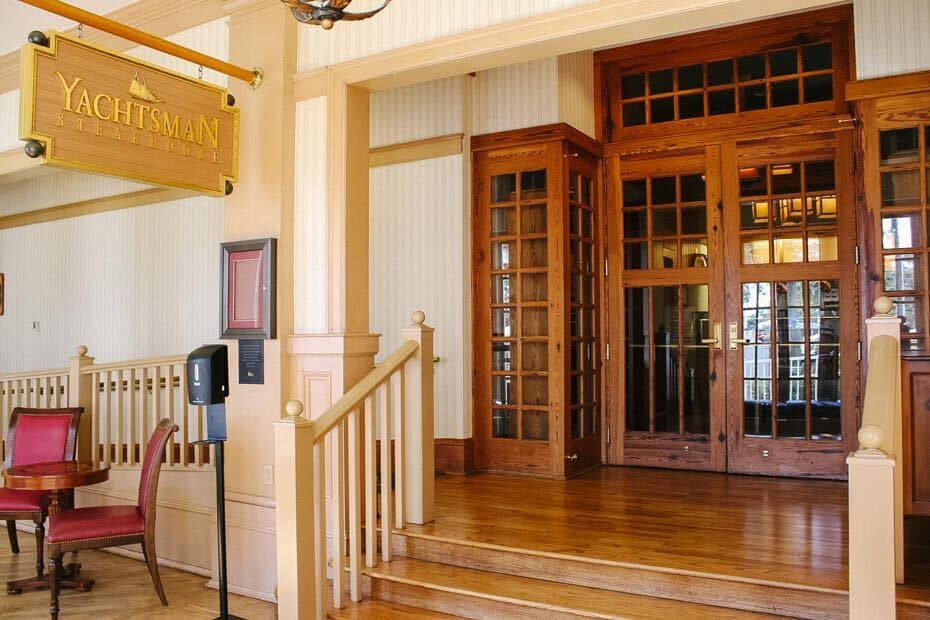 In fact, this table service restaurant's menu includes mainly steak and seafood options. Some of our favorites include the filet mignon, lobster bisque, and those oh-so-good onion rolls!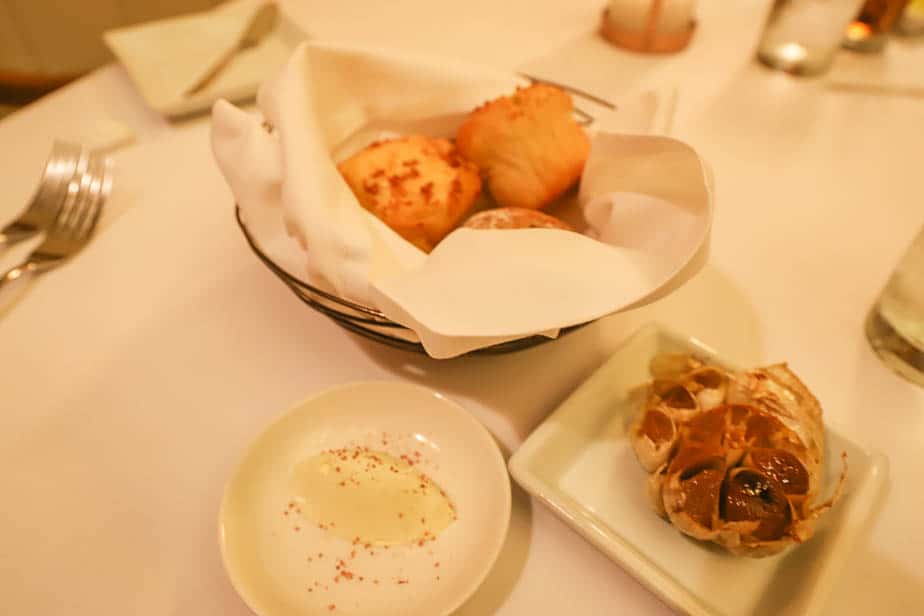 Since this restaurant re-opened, they have a revamped menu. A couple of the items that I have my eye on for a future reservation include the seafood cioppino and the pineapple with coconut tart.
On our last visit we enjoyed the prime-rib, ribeye, a side of asparagus, and an order of house-cut fries. It was one of the best meals we'd had in a while.
Related: Yachtsman Steakhouse Review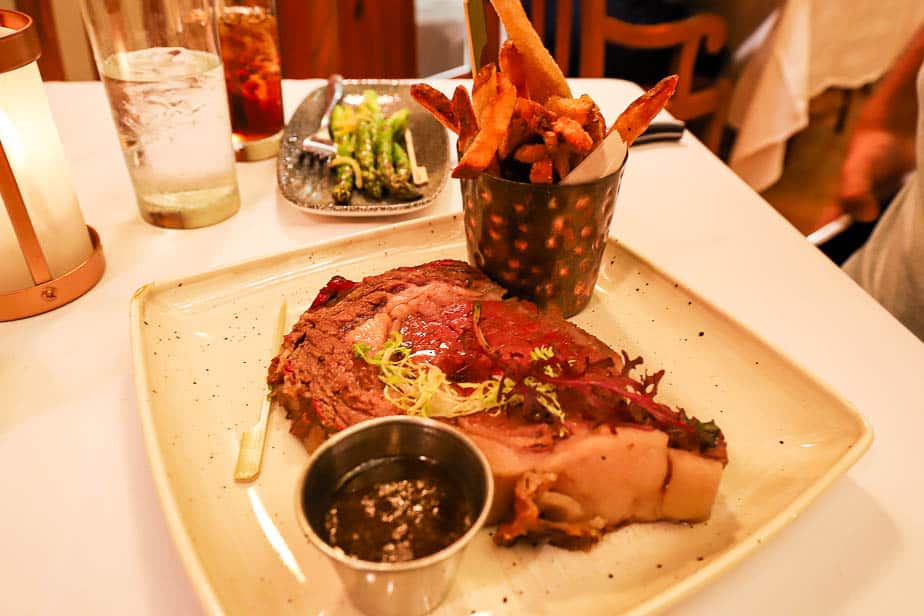 We were so full by the end of our meal, that I completely forgot to order dessert!
Warning, this location is going to be on the expensive side. However, it's definitely worthy of being that "one" nice restaurant for your vacation.
Yachtsman is a great choice for couples who want to enjoy a romantic evening. Time it just right, and you can walk over to enjoy fireworks at Epcot after your meal.
Or you might want to have dinner on the early side and enjoy a sunset stroll around Crescent Lake afterward.
Related: Disney's Yacht Club Resort Review
#3 Beaches and Cream Soda Shop
Our next stop keeps us at the same resort. However, this time we're on the Beach Club side. Beaches and Cream Soda Shop is probably one of the most popular diners in all of Walt Disney World.
They have burgers, sandwiches, soups, fries, and onion rings. And then there's the ice cream menu.
Some of the ice cream selections the soda shop is known for include the No Way Jose and the Kitchen Sink. The Kitchen Sink literally comes in a plastic Mickey-themed kitchen sink and contains eight scoops of ice cream!
On my last visit, I tried the patty melt with onion rings. It was delicious and definitely one of those guilty pleasure meals.
Related: Restaurants at Disney's Beach and Yacht Club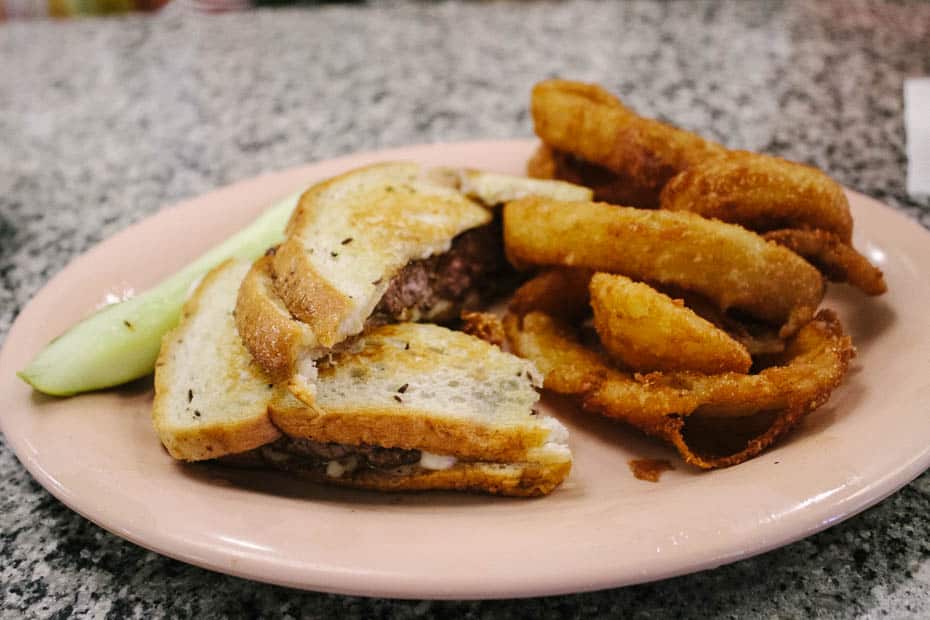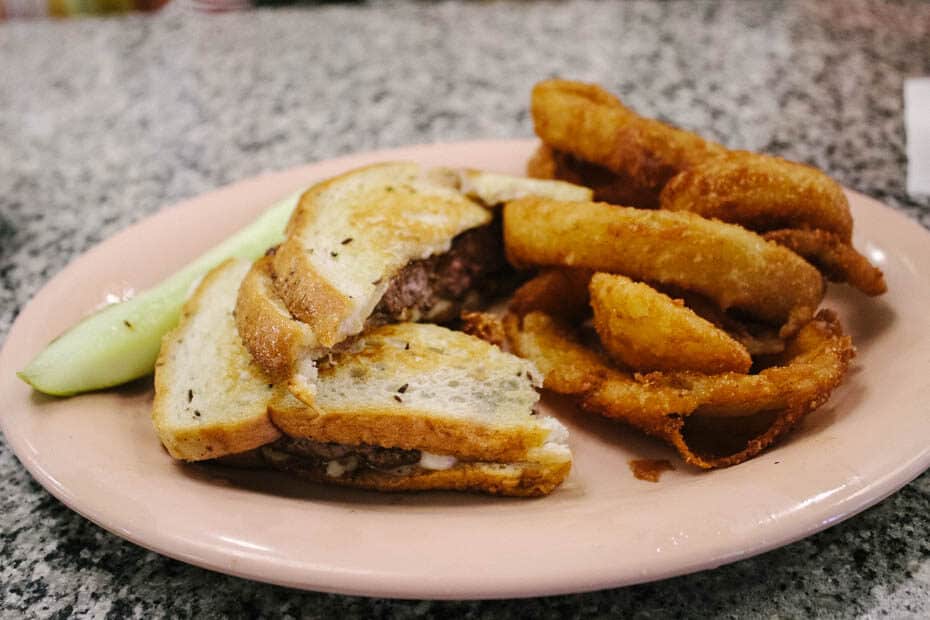 This best table service restaurant at the Disney Resorts is fun for everyone! Make sure to get an advanced reservation. They fill up fast here!
Related: Disney's Beach Club Resort Review
#4 Topolino's Terrace
Next, we'll take a look at one of the newer table service restaurants at Walt Disney World's Riviera Resort. Topolino's Terrace offers a character dining experience for breakfast and transitions to signature dining in the evening.
For dinner, you can expect entrees like lobster linguine, veal, and there's even a plant-based cassoulet. And the table service location has a children's menu, which is perfect if you're traveling with little ones. However, children will probably prefer the character meal over fine dining.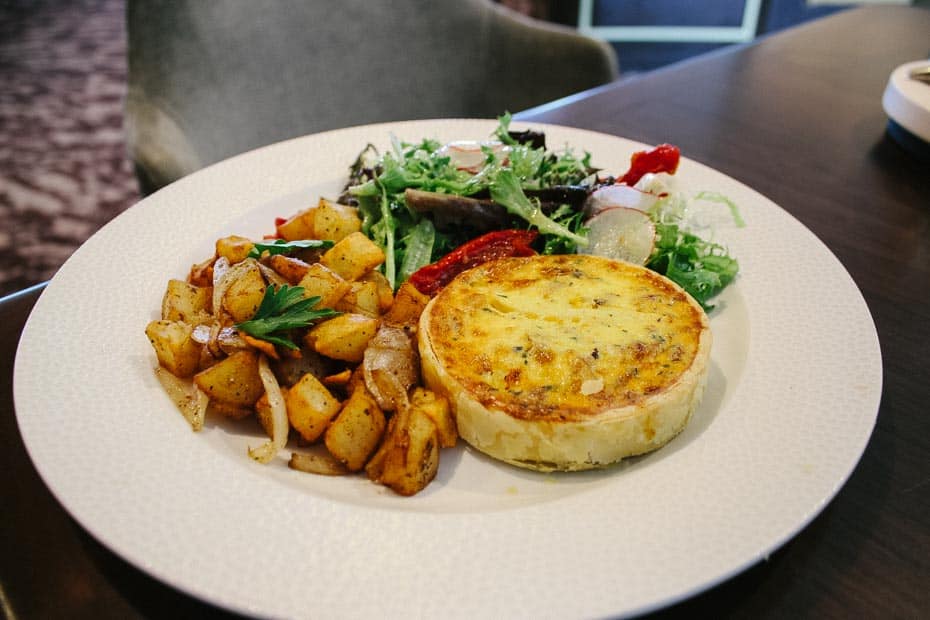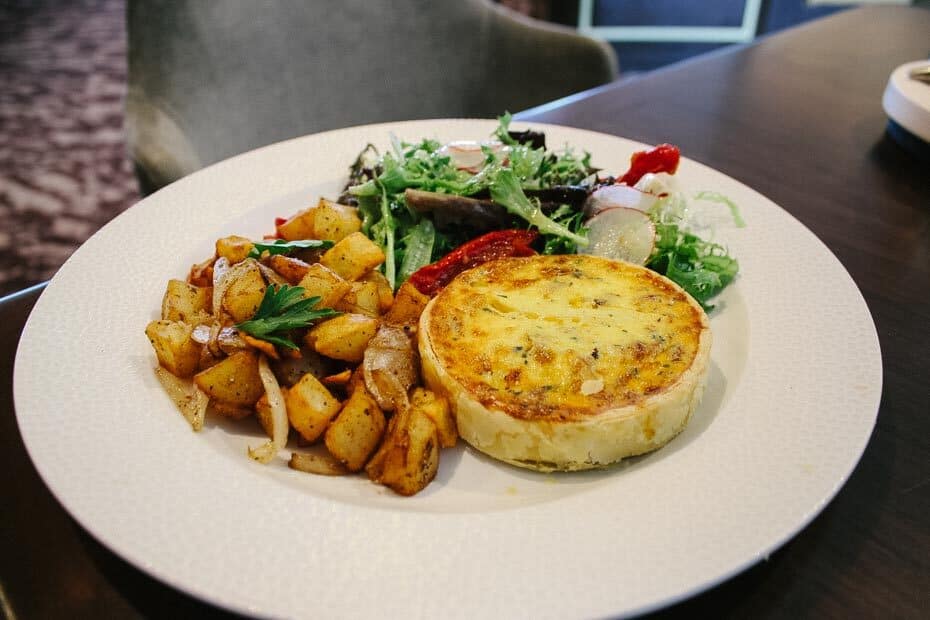 This resort table service restaurant is currently my number one recommendation for those looking for a character dining experience. You'll have the opportunity to see Mickey, Minnie, Donald, and Daisy during your meal. And the food is excellent, which, unfortunately, isn't always the case at these types of meals.
Related: Topolino's Terrace Character Breakfast Review
#5 Sanaa
If you have heard anything at all about Disney dining, you've probably heard mention of Sanaa. At least, I hope so. Sanaa is located at Kidani Village at Disney's Animal Kingdom Lodge.
Kidani is the secondary Disney Vacation Club Resort that sits on the Lodge's property.
Related: Kidani Village Review
Sanaa is amazing! Their claim to fame is bread service. Anyone that enjoys bread or dips, in general, won't want to miss this tremendous appetizer. It comes with five different types of Naan and has nine unique sauces.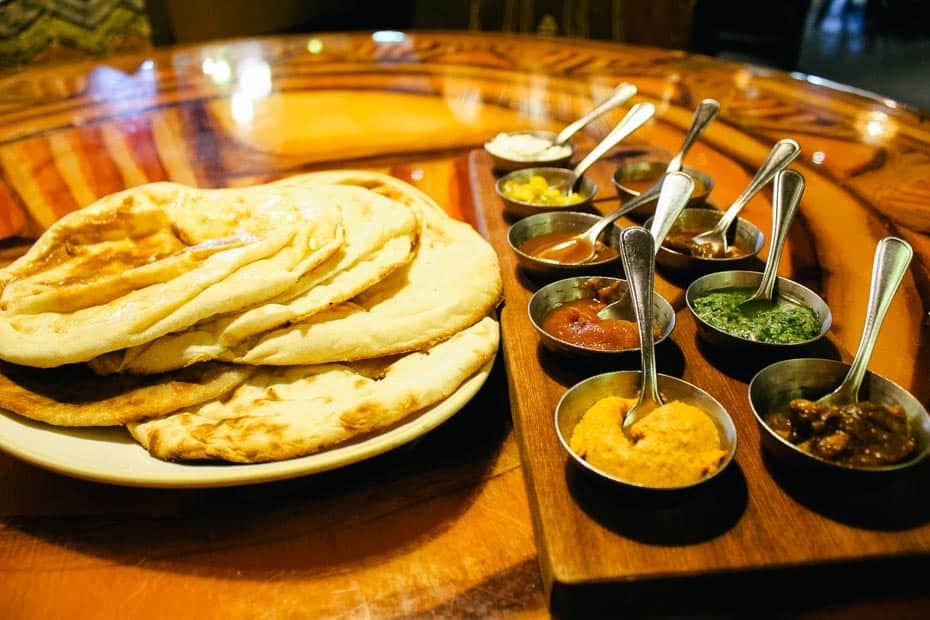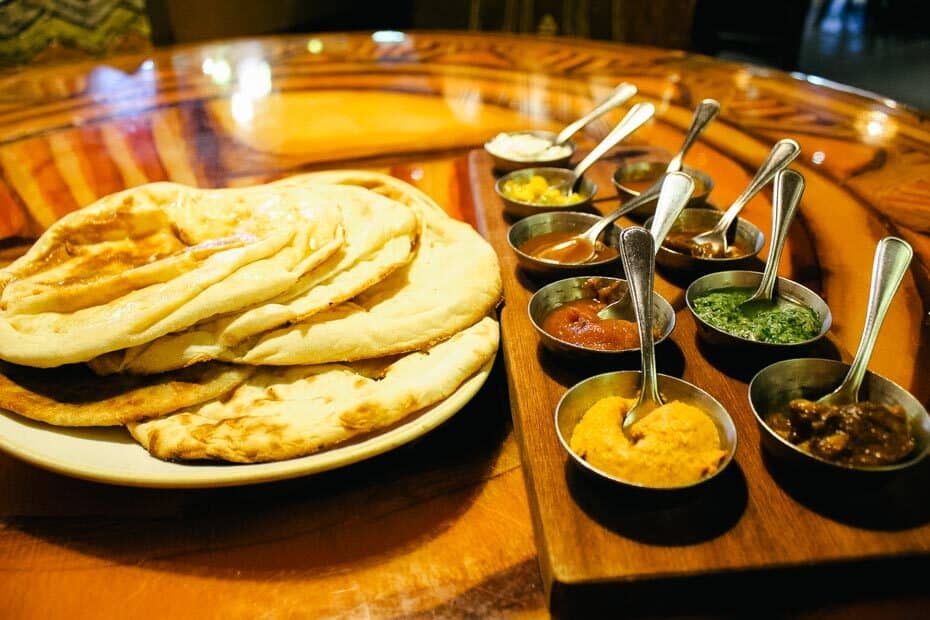 Additionally, the table service menu at Sanaa features dishes with a variety of spices from Africa. And there are Indian and Asian influences as well.
This table service restaurant has been consistently ranked among the best on the property by many Disney enthusiasts. If you'd like to learn more, we have a full review of Sanaa that includes the bread service.
#6 Jiko, The Cooking Place
While we're at the Animal Kingdom Lodge, we'll stop in for two more restaurants deemed worthy of our best resort table service list. The first of those is Jiko, The Cooking Place, which is located on the lower level of Jambo House (the main lodge).
Jiko is a fine dining restaurant that is only open for dinner. Additionally, this is another restaurant that ranks high on our list of fine dining locations at Disney.
On our last visit to Jiko, I went with a cocoa-crusted bison dish. It came with the most appealing root vegetables for sides. There was even a side of whiskey-poached peaches with a saffron crema.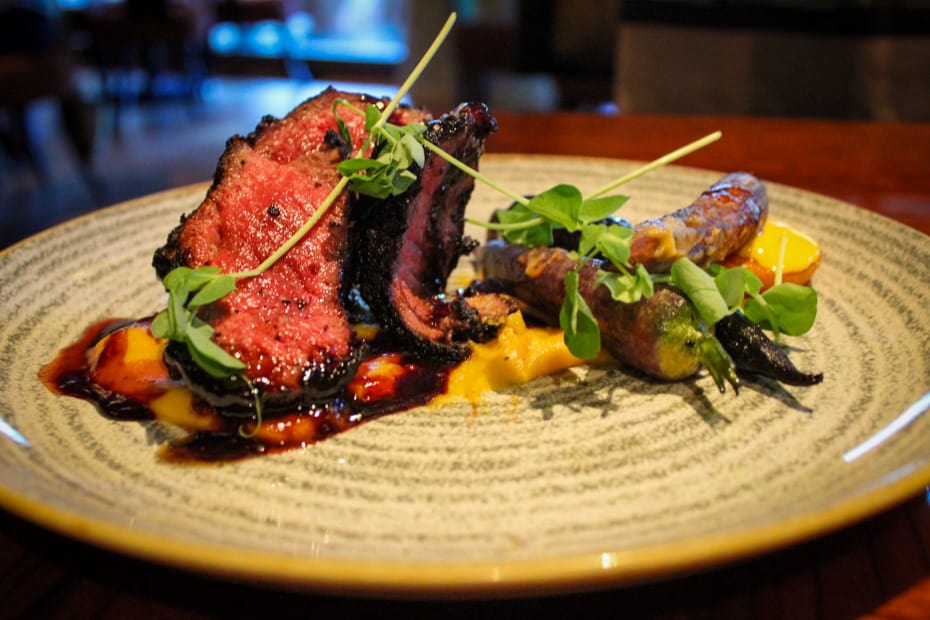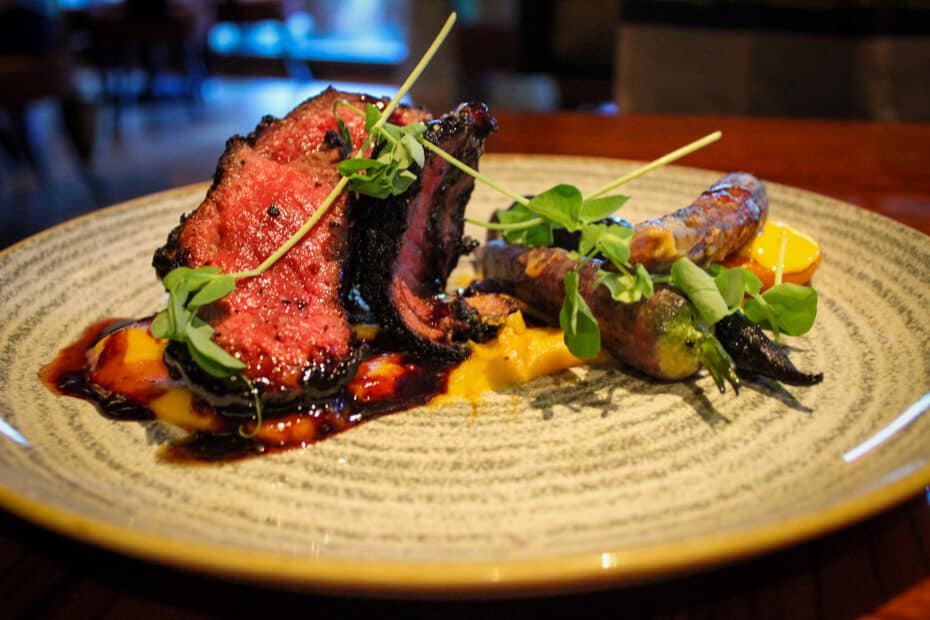 A meal here is always a pure delight to the taste buds. While Jiko is pricey, I've never left there wishing I had eaten somewhere else. And I doubt you will either.
You can read the full review of Jiko, The Cooking Place, here.
If you're looking for something a little extra, make sure to see if the Wanyama Safari is available. That meal includes a private safari experience with multiple courses at Jiko. You can check for details here on Disney's site.
#7 Boma- Flavors of Africa
Breakfast or Dinner? You're probably going to want to try both! I'm not kidding.
Boma is amazing. While it doesn't make much sense for me to visit the same restaurant repeatedly, this is one of the few for which I'm willing to make an exception.
But if you're going to do more than one meal here, might I recommend breakfast? That's because Boma has an excellent breakfast buffet selection with African-inspired items and a variety of other menu options.
There is a carving station with corned beef and ham that has a Boma mustard on the side. And this is one of those places you'll want to try all the sauces and extras that you might not be familiar with. Trust me.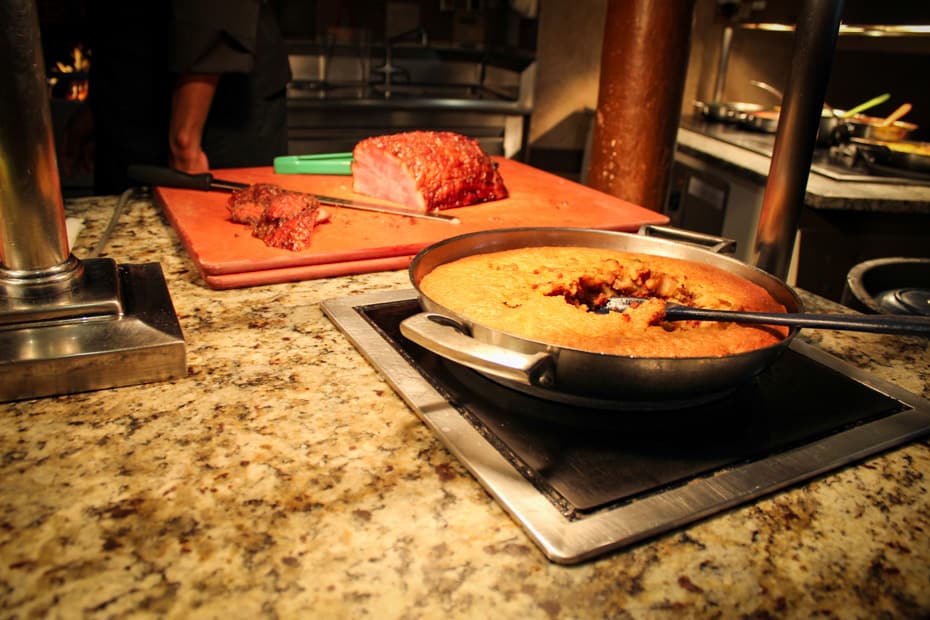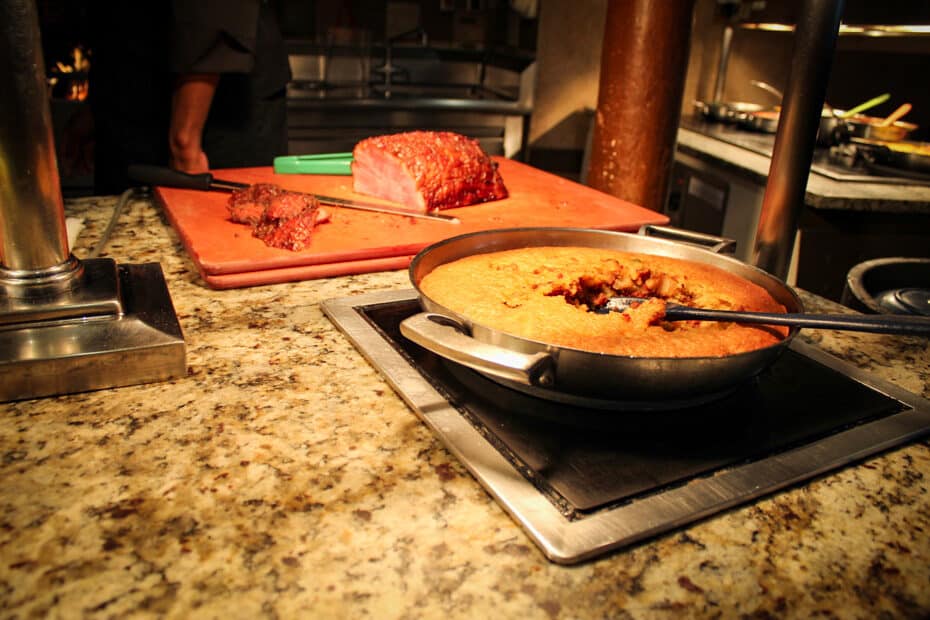 Additionally, there are several items like corned beef hash and turkey bobotie. My mouth is watering from the memories of these tasty dishes!
Boma's dinner buffet has a plethora of items that make this meal period a fan favorite. Oh…and speaking of fan-favorites, zebra domes are on the dinner buffet. You'll probably want to try them.
However, if you don't end up having dinner here, zebra domes might be available in the cooler at the Mara. They make a perfect late-night snack to enjoy in your room while you're lying in bed watching Mickey Mouse shorts. (I wouldn't know anything about that.)
Related: Boma Breakfast Buffet Review
#8 California Grill
Moving on to the Magic Kingdom Resorts Area, we'll take a look at what I consider to be the best table service restaurant in all of Walt Disney World. Now, I want you to understand that I do mention favorites fairly often here on the site.
Sometimes I might say my favorite buffet is Boma, or my favorite breakfast is at Ale and Compass. That's true. There are so many good-quality restaurants at Disney that sometimes you have to categorize your favorites.
Related: Best Breakfasts at Disney World
And you don't want to get stuck dining at the same restaurants over and over, even if they're soooo good!
But I digress. California Grill is my favorite restaurant (yes, of all time) at Disney World. And I think it might be yours too! Here's why.
Disney's California Grill sits on the top floor of Disney's Contemporary Resort. They offer dinner service every evening starting at 5:00 p.m.
For starters, the food is excellent, and the menu is seasonal. This means if you were to return repeatedly (it's okay to do that here), there will be new items on the menu.
And if you are truly a sucker for ordering something you consider safe, there are always classic dishes available like the Sonoma Goat Cheese Ravioli. You can't go wrong with that dish.
Related: California Grill 50th Anniversary Review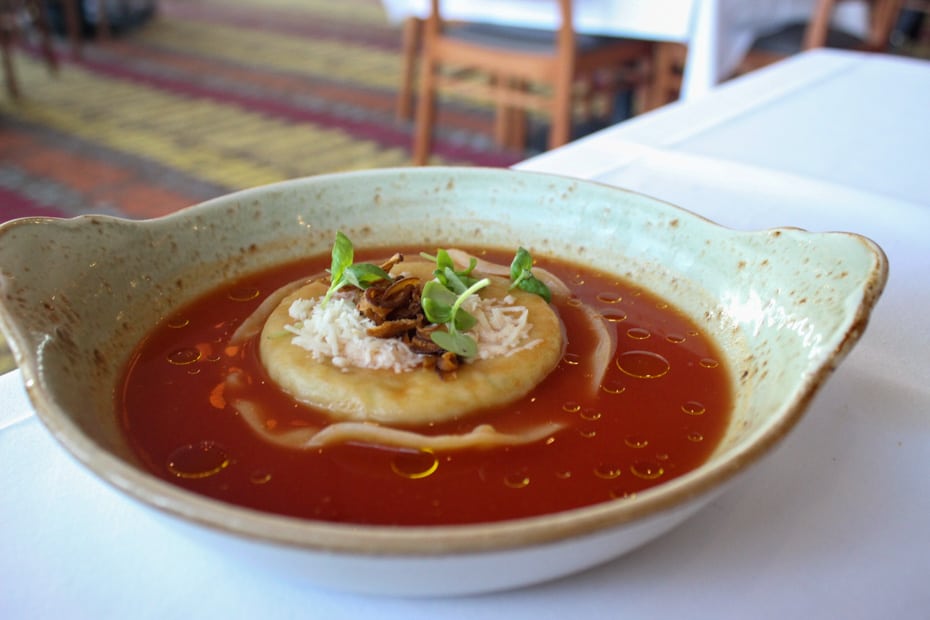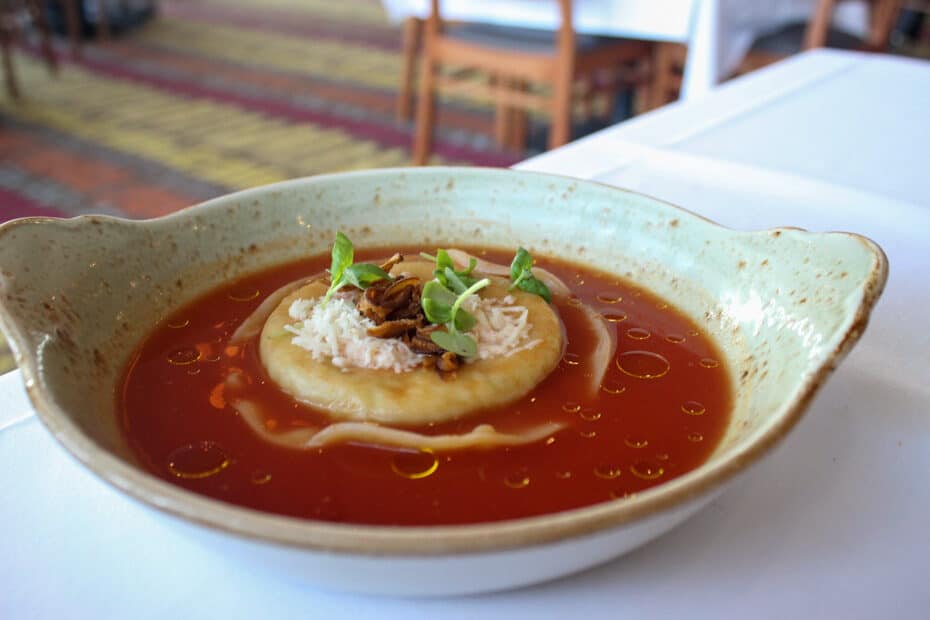 Not only is the meal good here, but the experience makes you feel…special. You know, kind of like maybe for a few hours over dinner, you were a member of some elitist club, and dining at California Grill was just a regular thing.
However, if you're anything like me, you secretly know it isn't, which makes it all the more exciting. And if you do eat at exclusive restaurants on the regular, you might consider that some of your nearby table neighbors probably don't either.
And that's okay too. We can't all be the same.
The other "special" thing about this resort table service restaurant is the fact that it has views for days of the Magic Kingdom. Those views can be enjoyed during the nightly fireworks from your table or the observation deck.
Say you dined here and left around 6:00 p.m., but the fireworks didn't start until 9:00 p.m. Bring your receipt back at about 15 minutes before the start time, and you'll be escorted back up to the restaurant's observation deck.
On the deck and inside the restaurant, there are speakers that stream the music for the spectacular. So it will feel like you are right in the middle of the magic.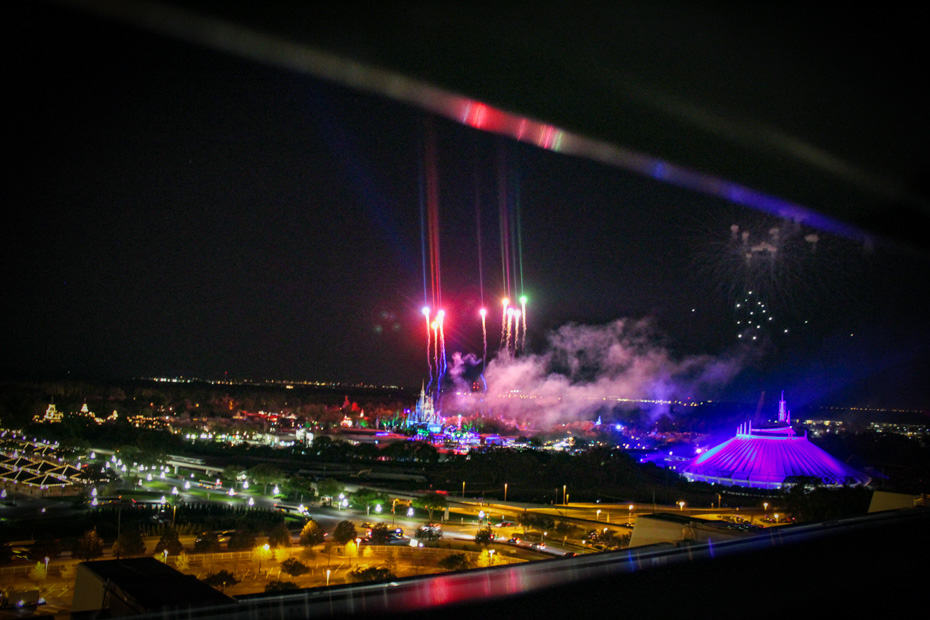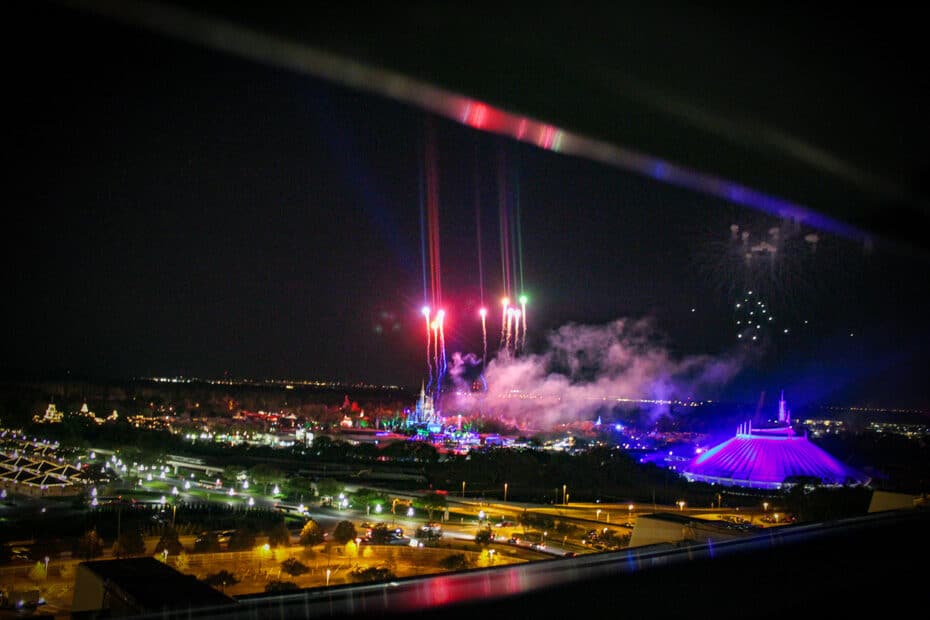 Most will agree, a meal at California Grill will make for a note-worthy end to the evening.
#9 Kona Cafe
As we take the resort monorail around from the Contemporary, our next stop is Disney's Polynesian for a meal. Kona Cafe is located on the second floor of the Great Ceremonial House.
Kona Cafe was one of the first table service restaurants that came to mind when I drafted this article. It's family-friendly, affordable, and has a great menu that's suitable for large groups.
You'll find that the menu includes Asian cuisine like sushi and duck confit fried rice. It's even included in our list of the best sushi at Disney World.
Related: Kona Cafe Review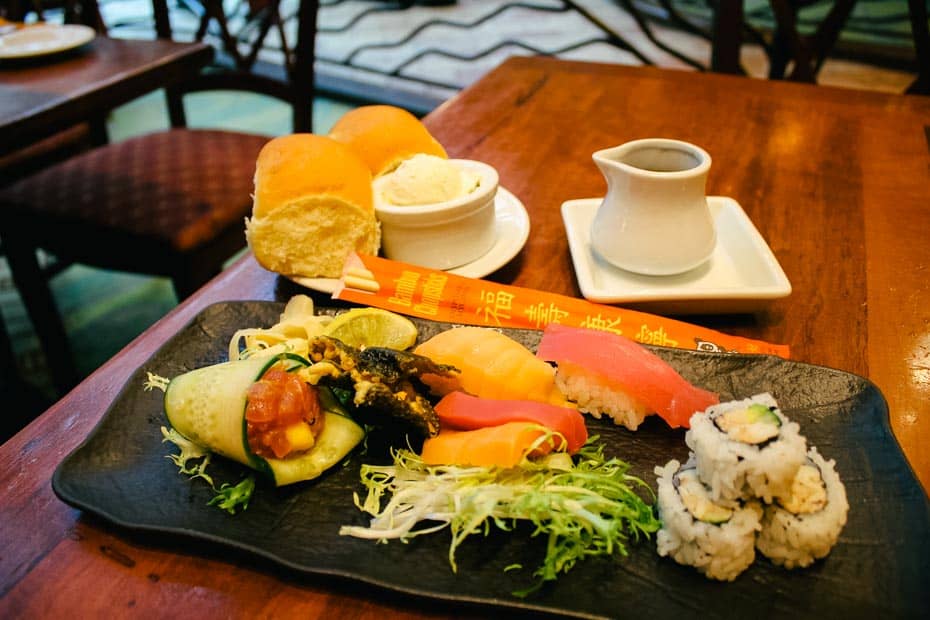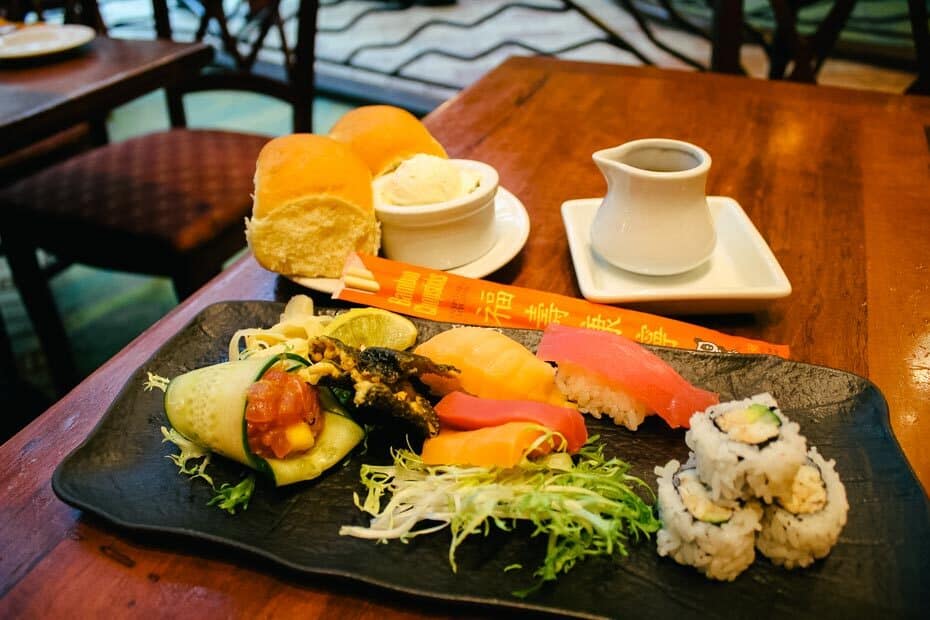 There's also American fare, like burgers and chicken wings. And the kids' meals include grilled chicken tacos (which is something different from everywhere else) in addition to mac and cheese and cheeseburgers.
Additionally, for breakfast, you can enjoy fan-favorites like Tonga Toast or Macadamia nut pancakes. Tonga Toast is a French toast stuffed with bananas, rolled in cinnamon sugar, and features a compote of strawberries.
Lastly, if you're not staying at the Polynesian, you should definitely drop in for a meal during your vacation. The tropical-themed resort is sure to put you in relaxation mode as soon as you step foot on its property.
Related: Disney's Polynesian Resort Review
#10 Grand Floridian Cafe
Our last stop for best resort table service at Disney is next door to the Polynesian at the Grand Floridian Resort. Grand Floridian Cafe is located on the backside of the lobby on the first floor.
This is one of the most convenient restaurants to visit for breakfast or lunch before a long day at the Magic Kingdom. Often, we prefer to enjoy lunch here because it combines both the breakfast and lunch menu.
Related: Breakfast at Grand Floridian Cafe
For us, my son always enjoys breakfast items for lunch here over the standard lunch fare. At the same time, I like to order items like the chilled shrimp cocktail or the Miso glazed salmon.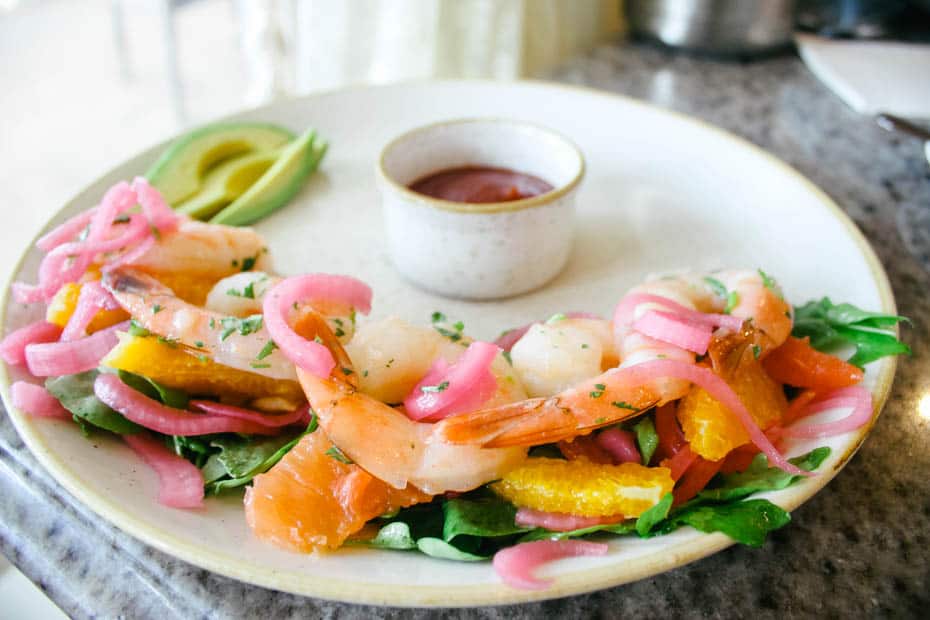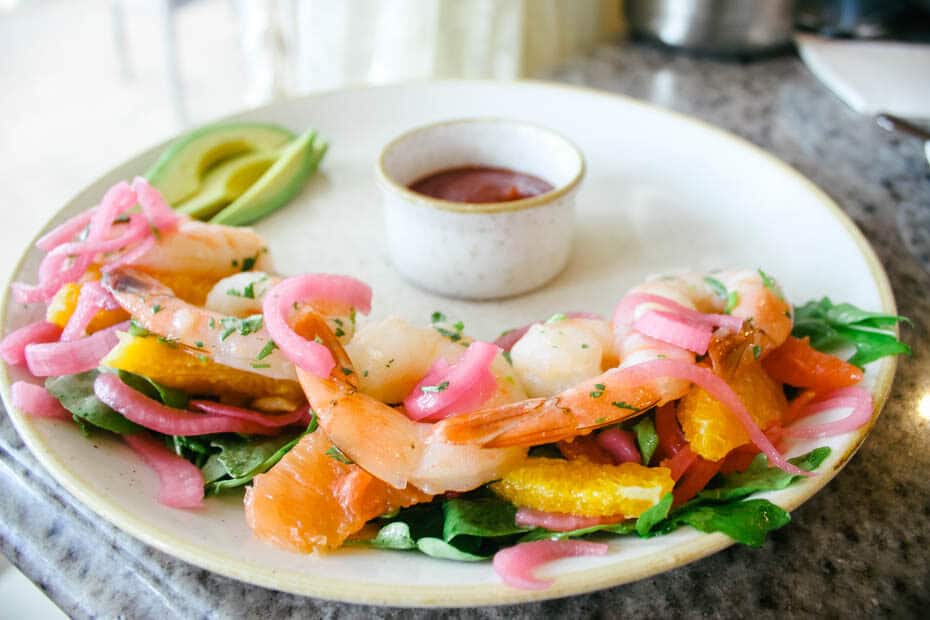 We have a full review here of the Grand Floridian Cafe.
Of all the restaurants we've discussed here in this article, I have to admit I've eaten at Grand Floridian Cafe more than any other. Of course, Ale and Compass and California Grill aren't too far behind.
It's just that the Cafe is family-friendly, reasonably priced, and they have the best servers. Plus, now you can walk from the Grand Floridian to the Magic Kingdom. So that makes it even more convenient.
A meal at the Grand Floridian Cafe is a no-brainer. And if you were to visit over the holidays, you'll want to allow a little extra time before or after your meals to tour the Grand Floridian at Christmas.
Final Thoughts: Best Resort Table Service Restaurants at Disney
Well, we've finally arrived at the end of our journey to uncover the best table service restaurants at the Disney Resorts. I hope this article was successful in highlighting a few restaurants to consider for your next vaction.
How many table service restaurants did you recognize from the list?
For other dining spots at the resorts, you might want to check out a few other articles:
That list is significant if you plan on doing a little resort-hopping and need to know where to enjoy a meal without a reservation.
Planning a Disney vacation? Make sure to check with our friends at Firefly Travels. They offer full-service vacation planning and concierge-level services that will elevate your vacation to a whole new level.
With so many restaurants to choose from, it can be hard to know where you want to eat. Hopefully, this list of the best table service restaurants at the Disney World Resorts will help you find a new favorite!
Let me know yours in the comments.
Planning a Walt Disney World or other Disney Destination vacation?
Our friends and travel partner, Firefly Travels, excels at doing Disney differently. You can fill out a plan your trip form on their website, and someone will reach out shortly to discuss the specifics.