A Review of the Waldorf Astoria Orlando
Understated opulence is what comes to mind when I think of the Waldorf Astoria Orlando. The hotel sits among several high-end resorts in the Bonnet Creek area yet reigns supreme compared to its neighbors. 
In this Waldorf Astoria Orlando review, we'll look at what a stay at the infamous hotel brand entails. When it comes to amenities, I doubt you'll be disappointed.
In addition to the amenities, we received unparalleled service at this award-winning resort. Dare I say. It was the best service I had received in quite some time.
However, before we get too far into this review, I wanted to offer a brief mini-history of the hotel brand. In the 1930s, two competing cousins constructed hotels in New York. The first was the Waldorf, and the second was the Astoria.
In time the two cousins came to an agreement and built a corridor that combined the hotels. That corridor was named Peacock Alley. And that's how the Waldorf Astoria began, which at the time was the largest hotel in the world.
Not only was the Waldorf Astoria the largest hotel, but it was also the only hotel of its time that offered electricity on every floor and room service. In addition, a single rose was delivered with each room service order. Imagine that.
Many dignitaries, including Queen Elizabeth II, have been guests of the original Waldorf Astoria. So I was delighted to find this curio in the lobby of our very own Waldorf Astoria Orlando, identifying a few famous past guests.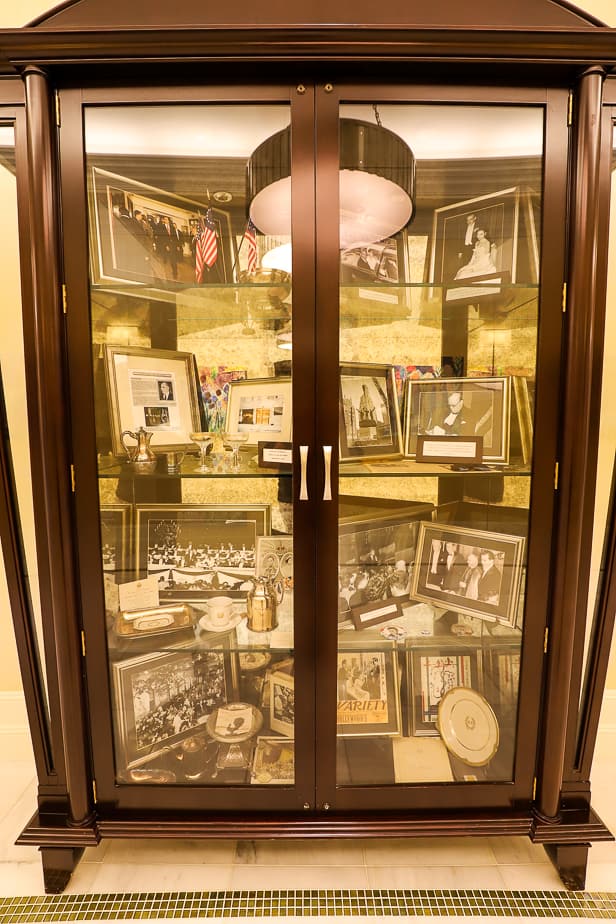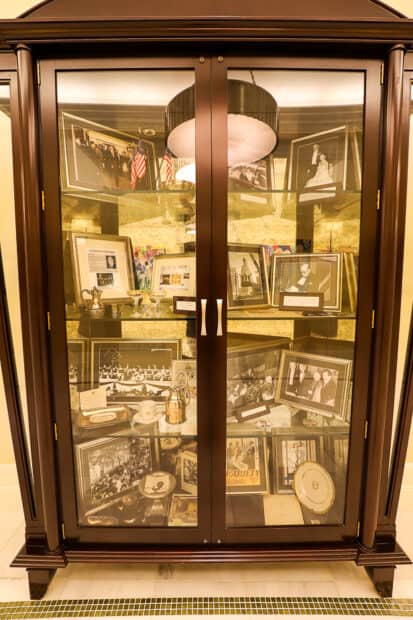 As interesting as this little history lesson may be (or not?), I digress. You can learn more about the history of the hotel chain here on this darling site if you like.
Location-wise, you'll find the Waldorf Astoria Orlando at the end of Bonnet Creek Lane, just off Chelonia Parkway. When you are on Buena Vista Drive headed toward Disney Springs, Chelonia is the first turn to your right past Disney's Riviera Resort.
While the Bonnet Creek Resorts are technically not on Walt Disney World property, they are practically on property. You or I would never know the difference.
The hotel has 15 floors and offers a scenic backyard with a stunning pool area. A golf course sits in the distance.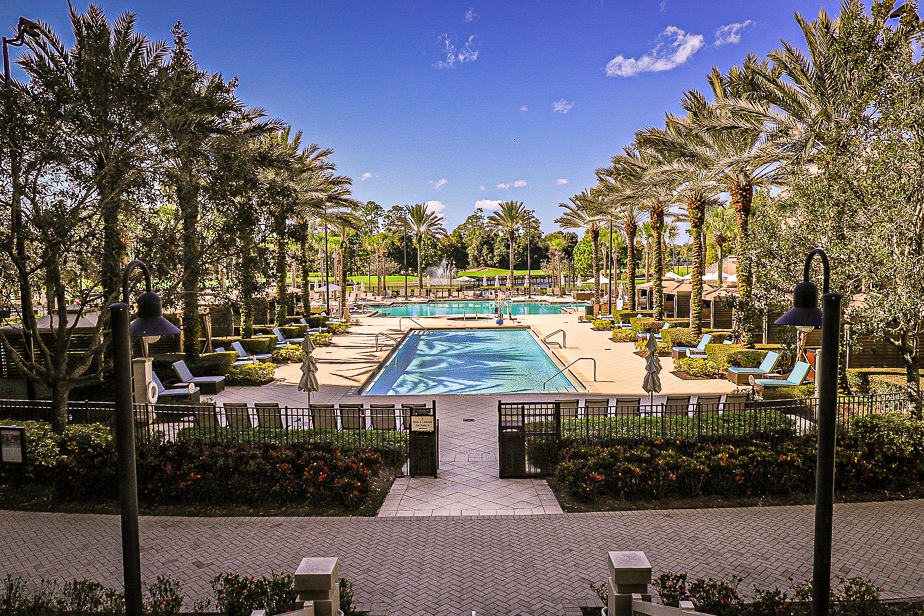 Inside I was surprised to find that the warm halls of the hotel resembled an art gallery. Canvases large and small were displayed.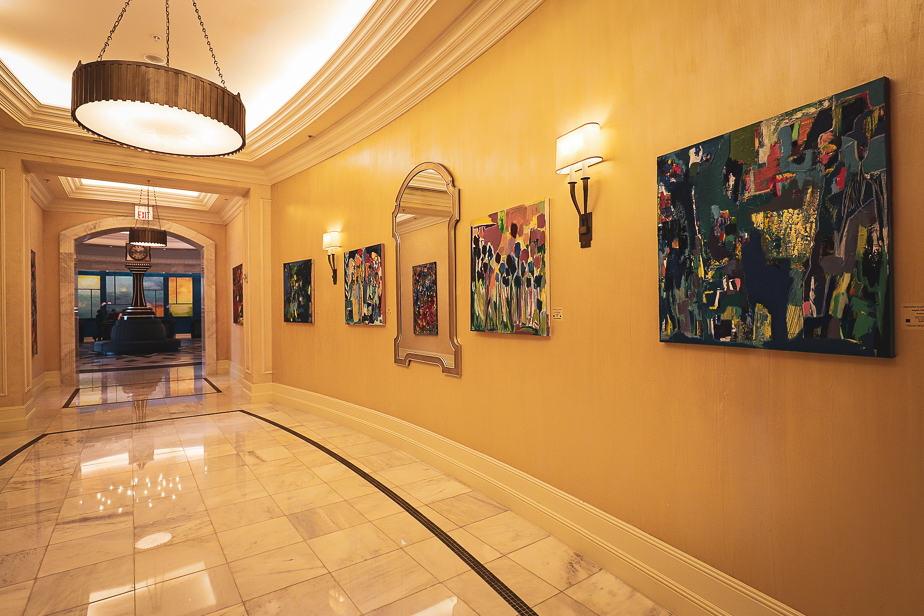 And if you fancy a piece of art, many are available for purchase. How conventional.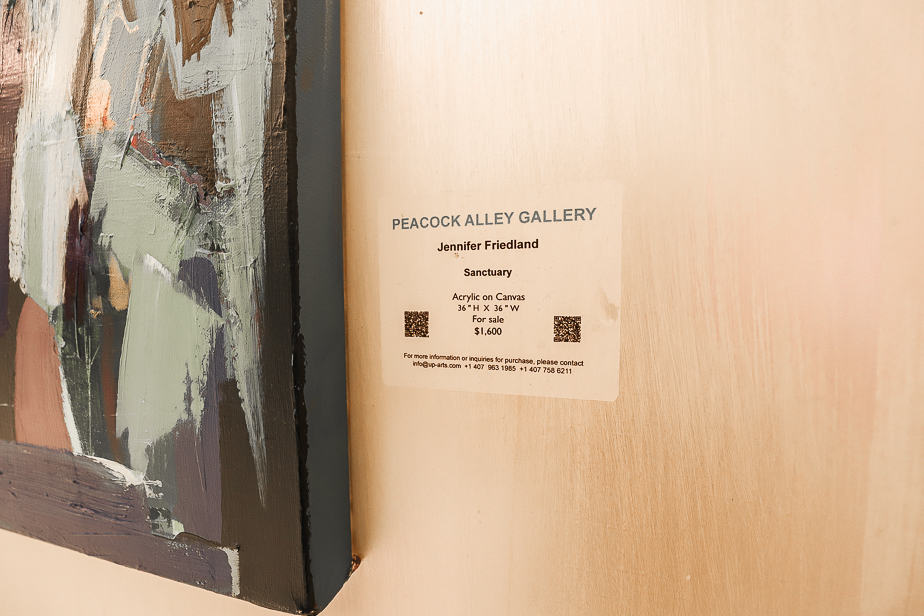 Upon arrival, I pulled up to the front entrance of the resort. Since I was driving my vehicle, I was able to either self-park in the nearby garage or valet.
Normally, I would self-park. However, I had several errands to run and felt the need for convenience over cost. Self-parking at the Waldorf is $30.00 daily, and valet parking is $40.00 daily.
Anyway, I was immediately attended to. My luggage was removed from my car, and I was given a water bottle. The bottled water was a nice touch.
And then I entered through those large front doors to the hotel's foyer.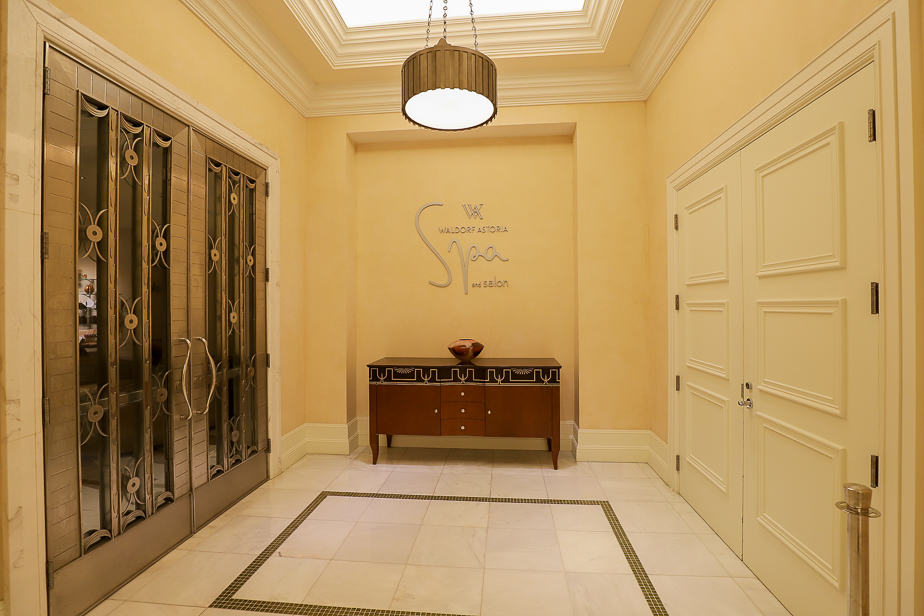 A lobby greeted me with a clock tower sitting underneath a large chandelier. The cove ceiling is gorgeous.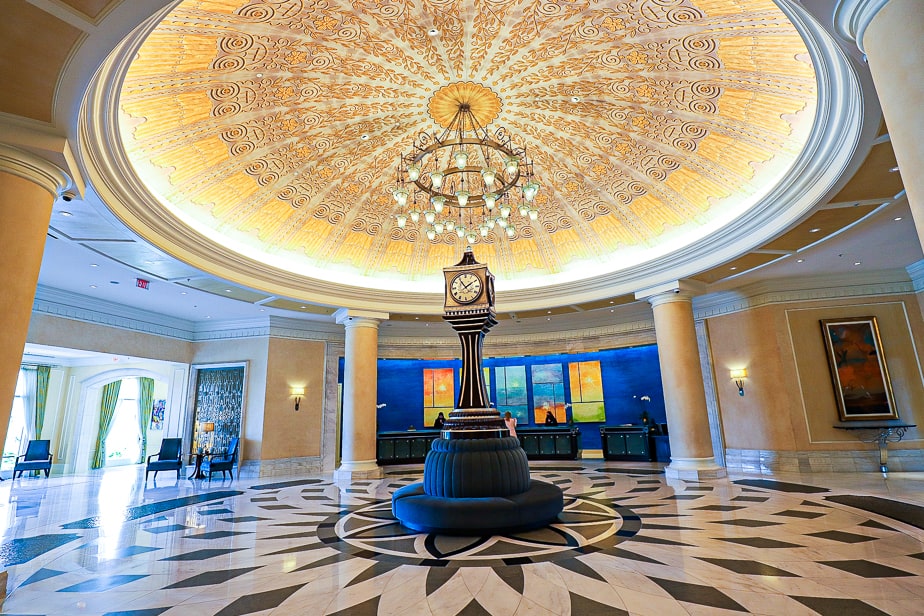 Since I had arrived early, I decided to see if my room was ready. However, it wasn't quite lunchtime, so I didn't expect to be able to check in yet.
The staff instructed me that the room would be ready shortly. Thankfully, I had my camera and used this time to photograph the resort.
I was early because I had stayed next door at the Signia by Hilton the previous evening. Signia was formerly the Hilton Bonnet Creek but underwent a name change this past year.
Anyway, I had stayed at the Signia many times and wanted to provide a fresh update since their latest room remodel. Because the hotels are adjacent, they share each other's amenities.
Related: Hilton Signia at Bonnet Creek Review
For instance, guests of the Waldorf can walk next door and use the lazy river at the Signia. And vice versa for guests of the Signia. There is a private pathway at the back that adjoins each property.
Additionally, a large conference center sits between the two resorts. And you'll never guess what they were preparing for during my visit!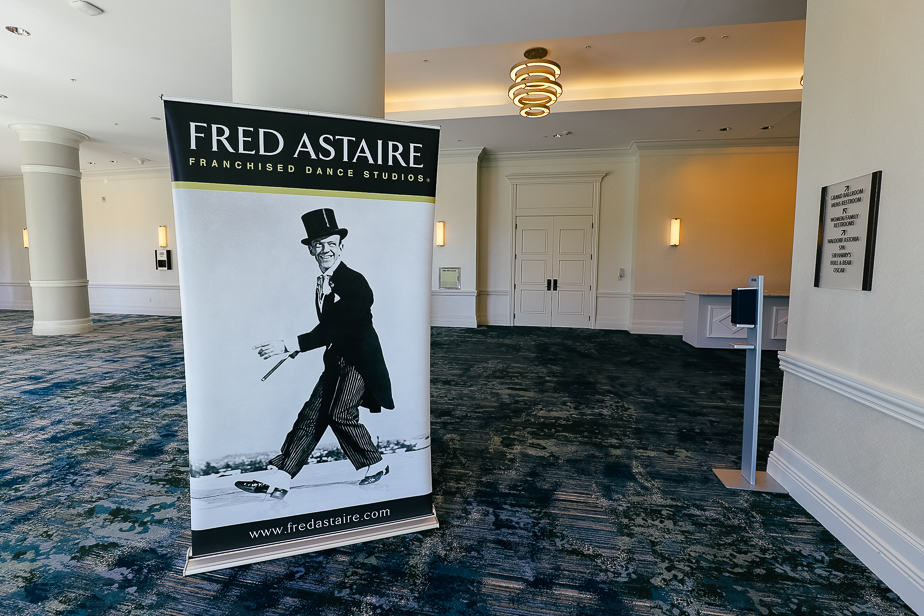 It was the national ballroom dancing championships! Had I known, I might have planned my stay during the actual competition. That would have been something you don't see every day, right?
From here, I headed toward the convention center side of the hotel. The halls of the resort were stunning with these large open areas. To think, this picture below is a foyer for one of the ballrooms.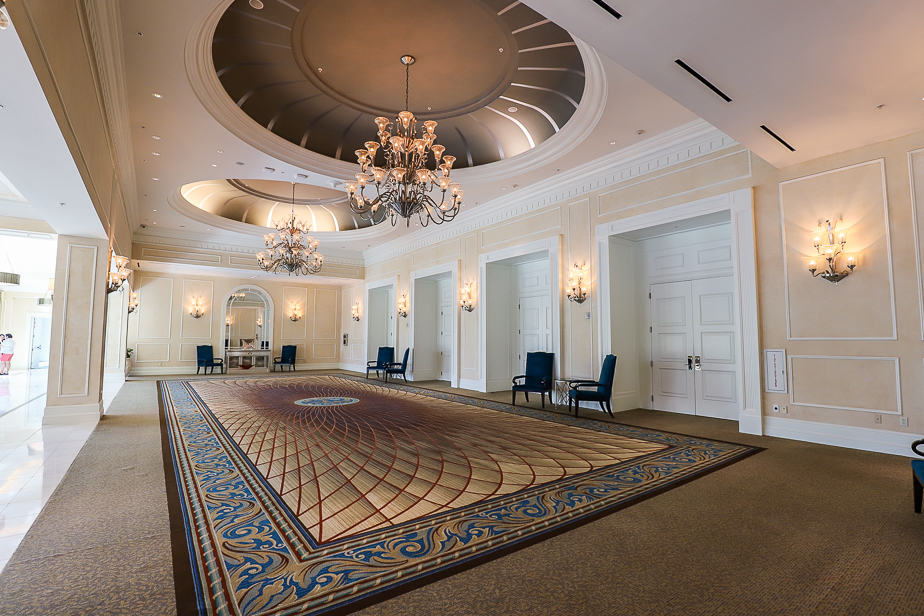 The attention to detail throughout the resort did not go unnoticed.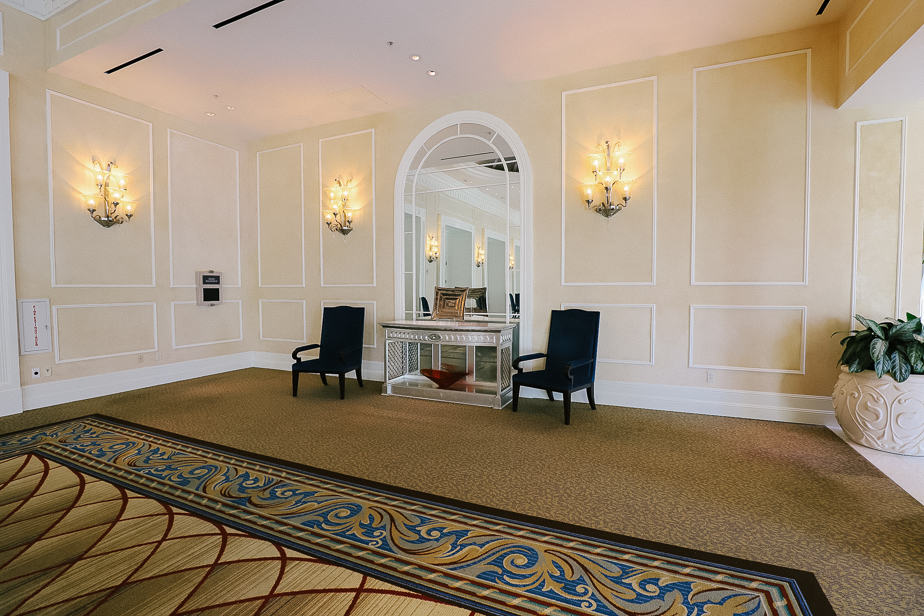 From the convention center's end, I elected to walk outside and tour the resort's large backyard.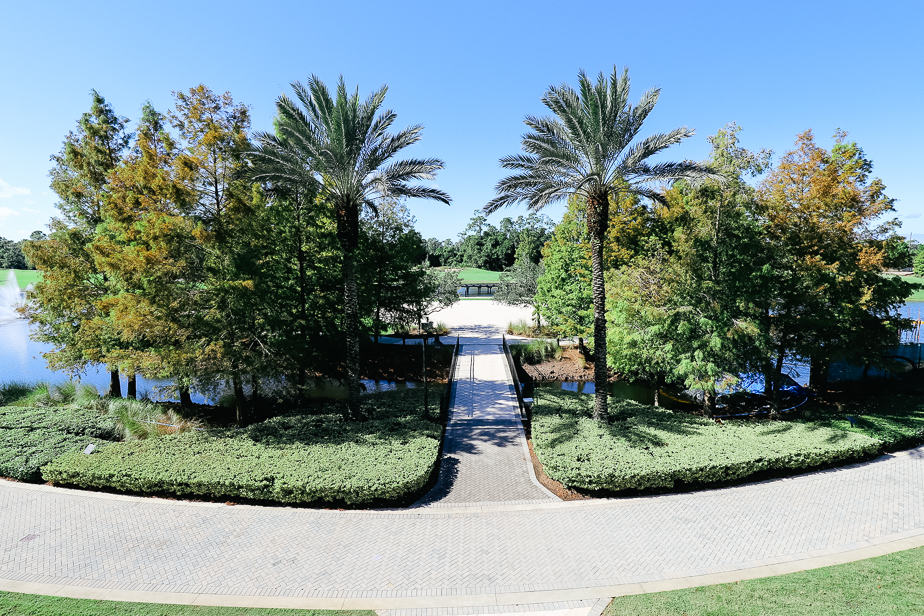 You can expect impeccable landscaping.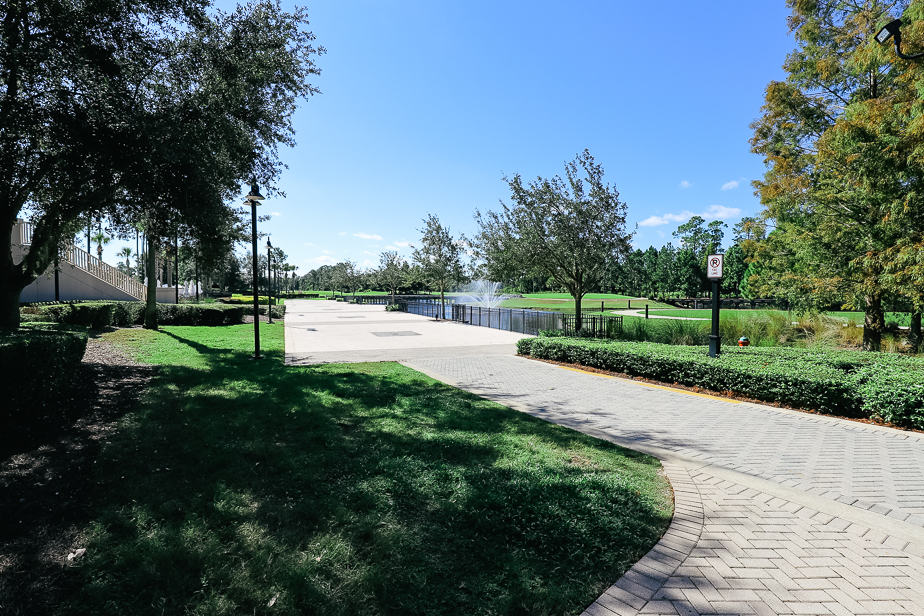 I assume this area in the photo below was designed with wedding ceremonies in mind.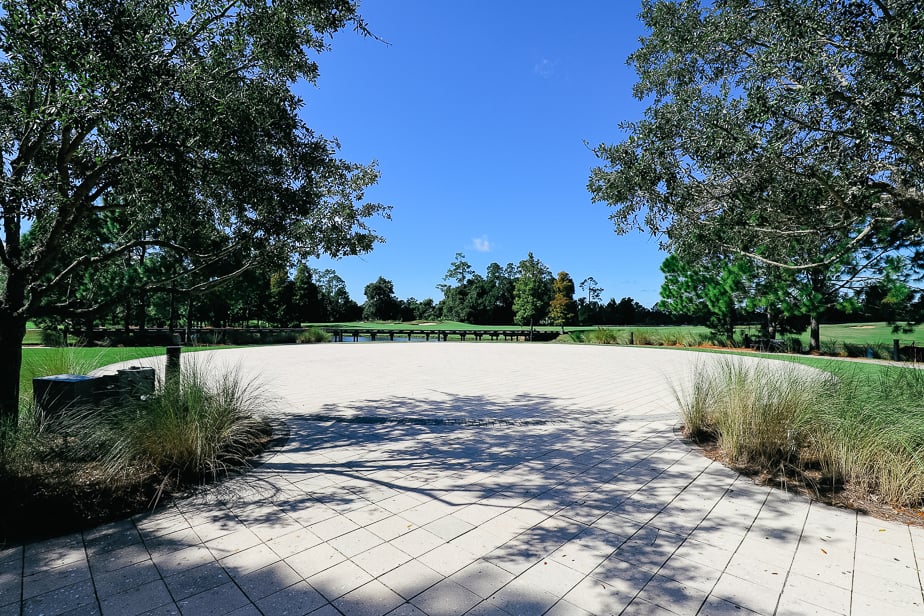 Here is the view back to the Waldorf Astoria.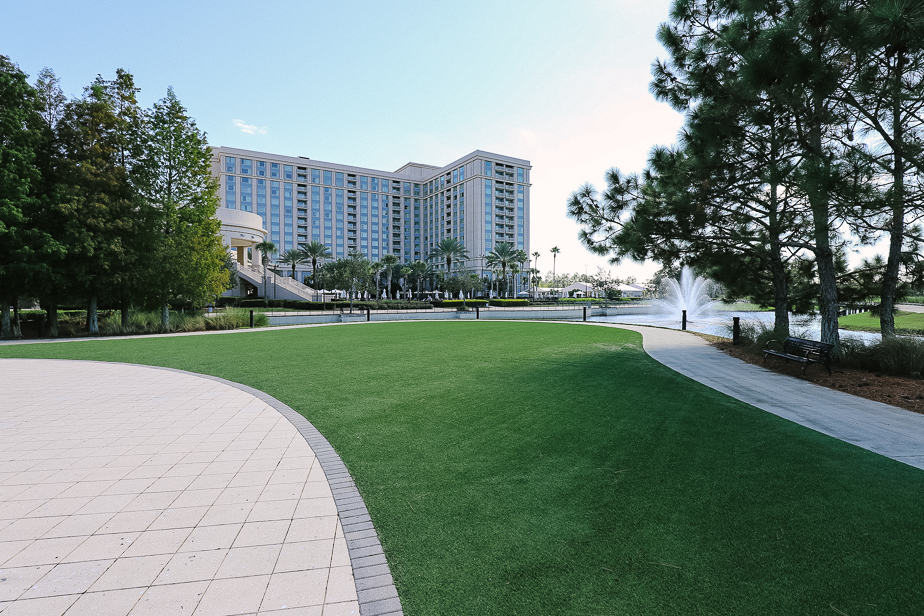 In the distance, there was a golf cart bridge across the lake.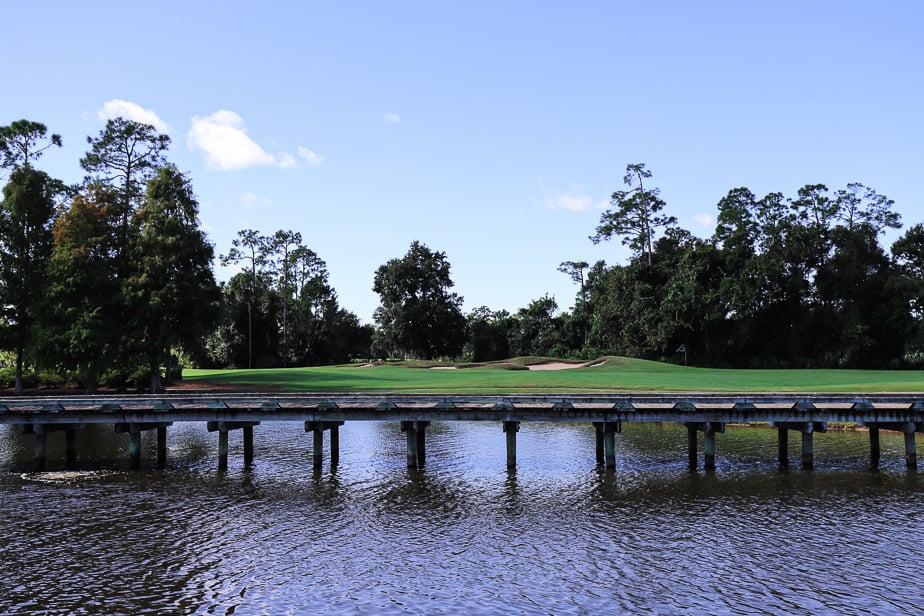 On this particular day, the sun was shining brightly, and I couldn't have imagined a more peaceful place to spend my day.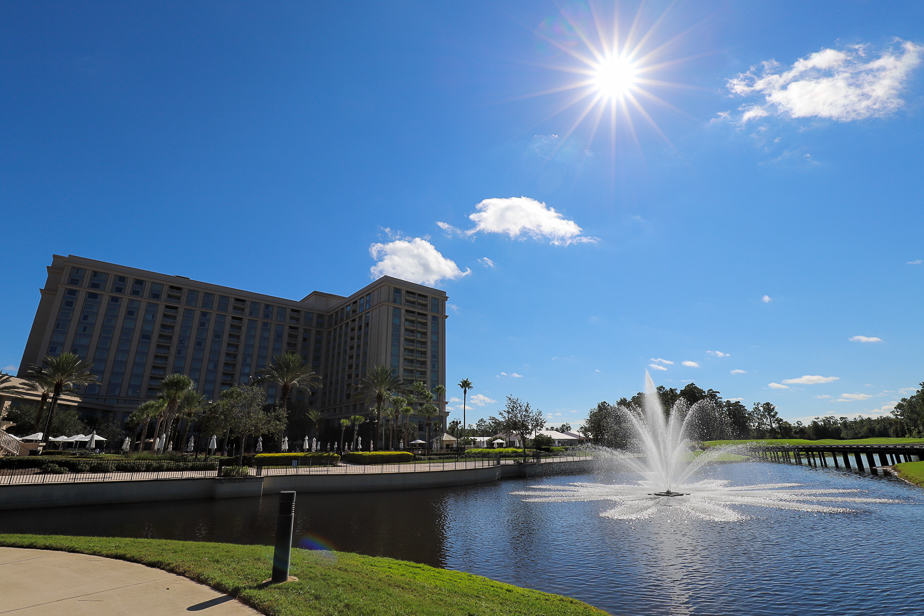 You probably won't want to leave either.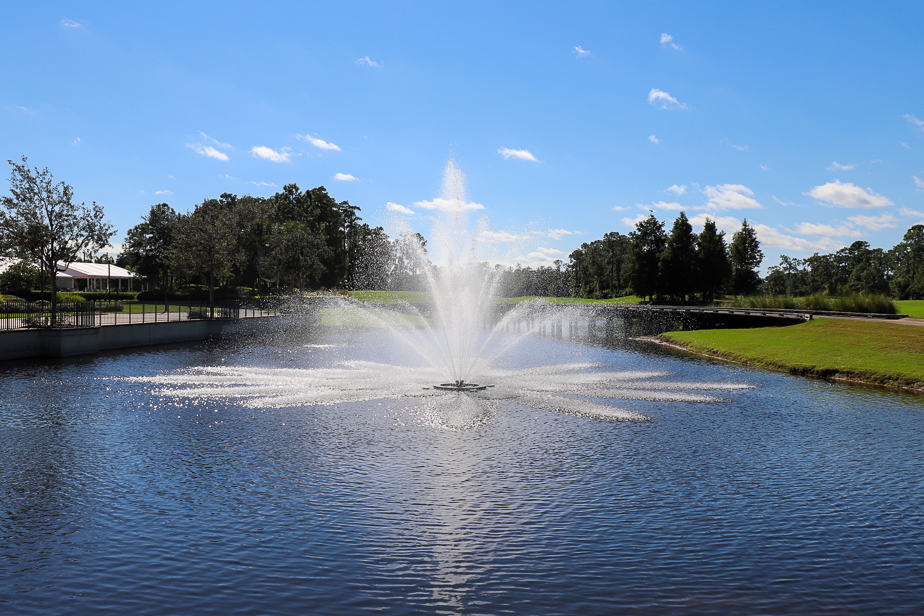 As we make our way back up to Orlando's Waldorf Astoria, we'll look at the pool area.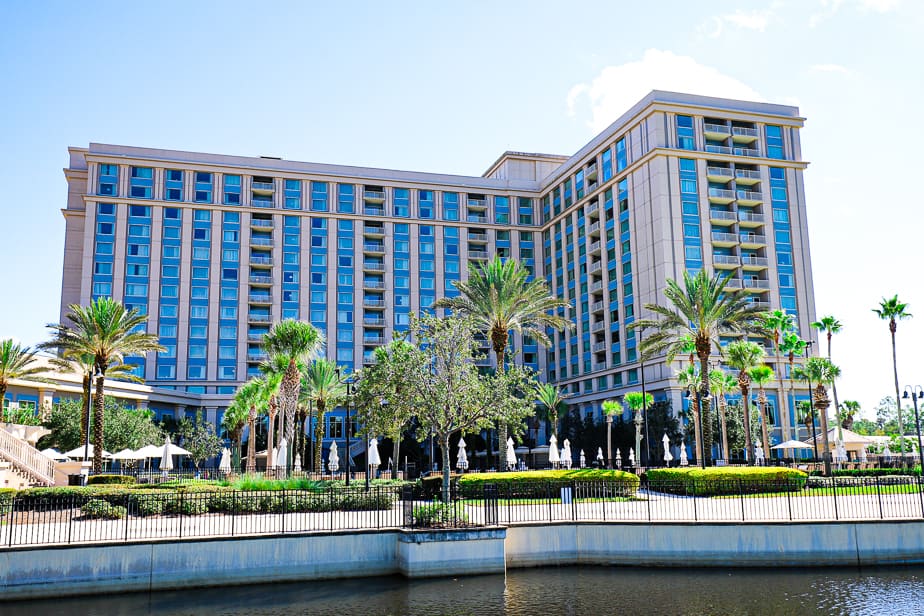 And it's a lovely pool area indeed.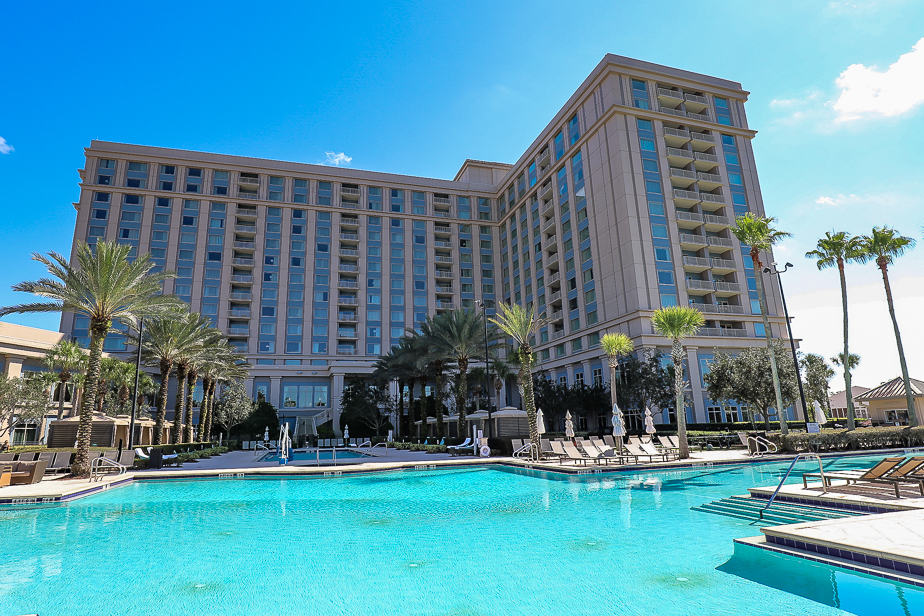 A variety of lounge chairs on each side surrounds the main pool.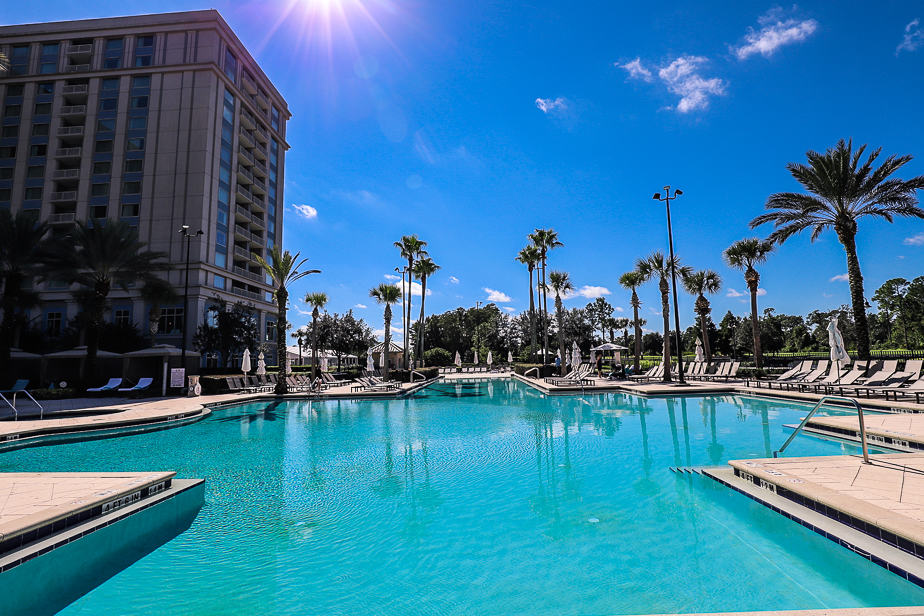 Also, sofas with fire pits spaced out around the Waldorf pool.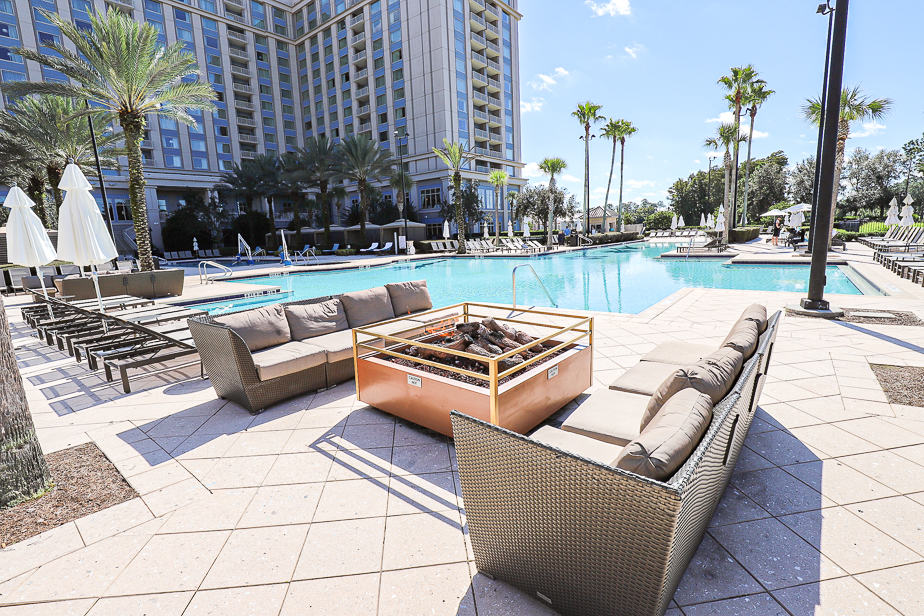 Aquamarine is the poolside bar.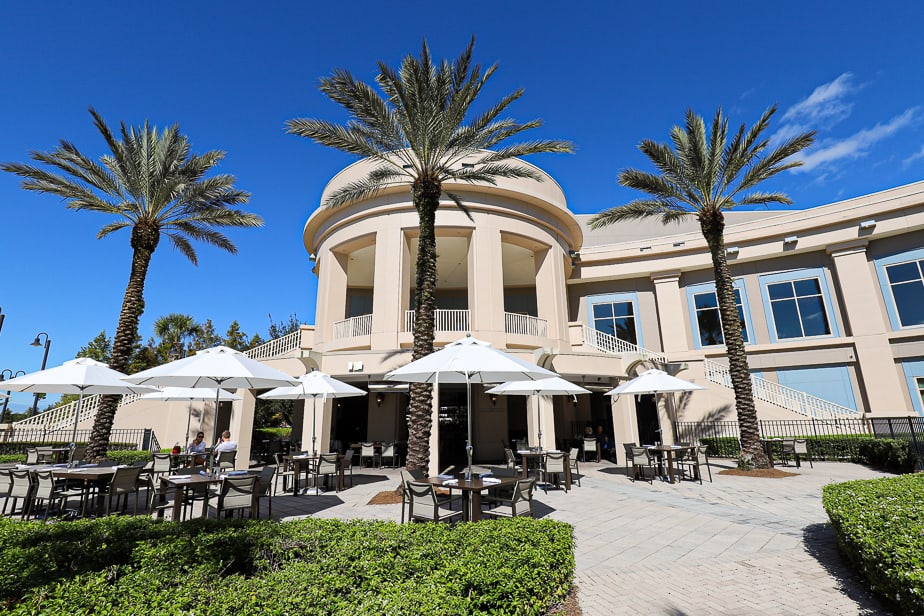 Like most resorts these days, the Waldorf Astoria offers private poolside cabanas around the cabana pool.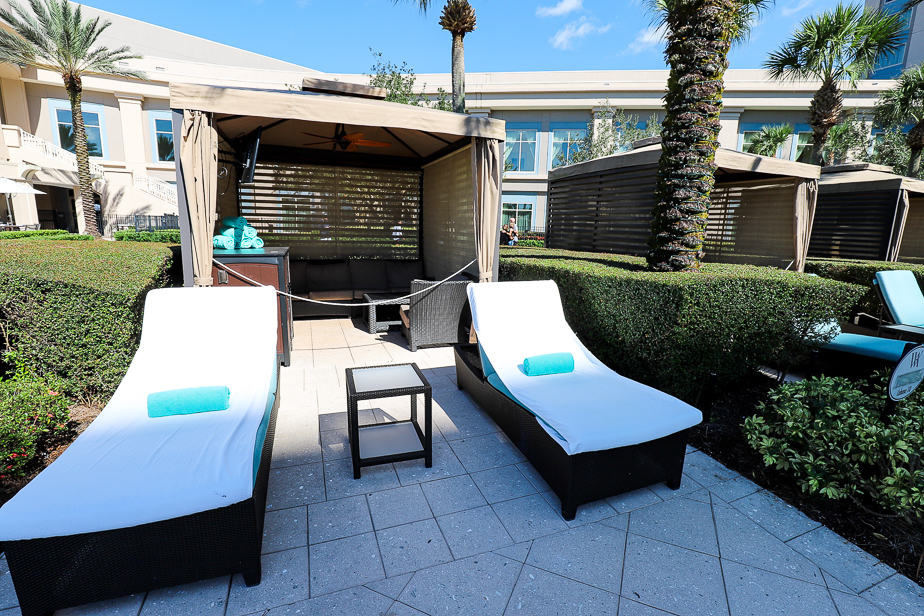 Several whirlpool spas are available as well.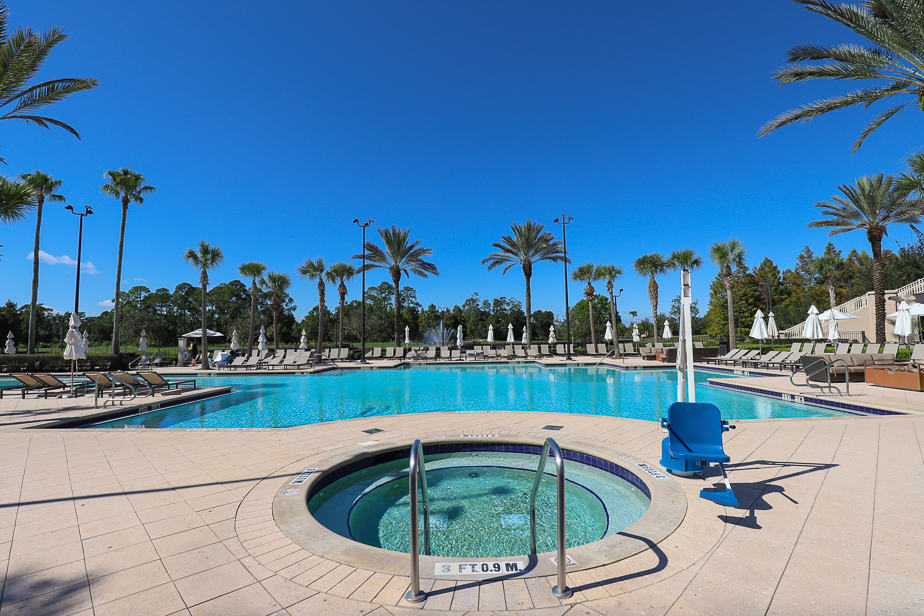 Behind this set of cabanas, there is a mini-golf course.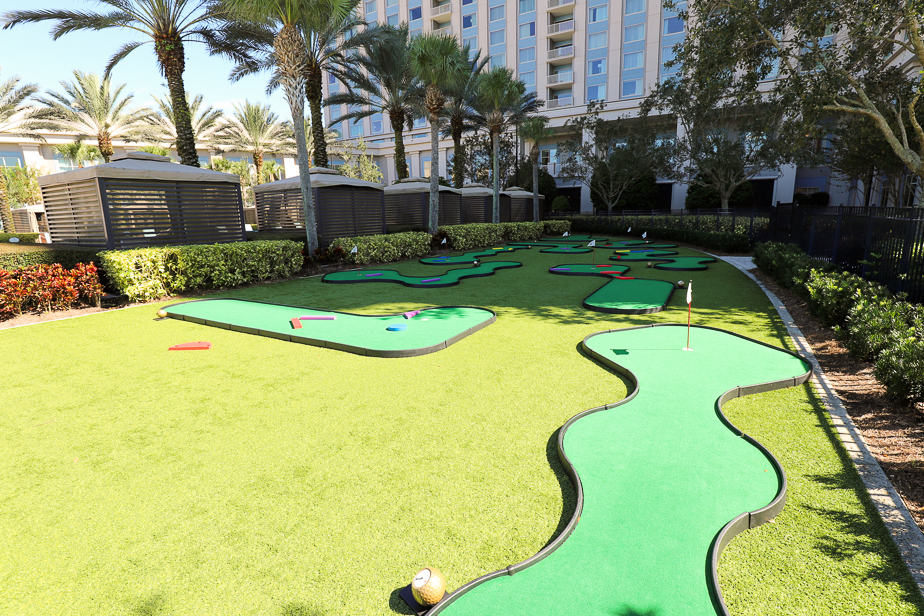 A separate stand called the Splash Hut is where you can pick up towels for the pool. Additionally, they have other pool items for purchase if needed.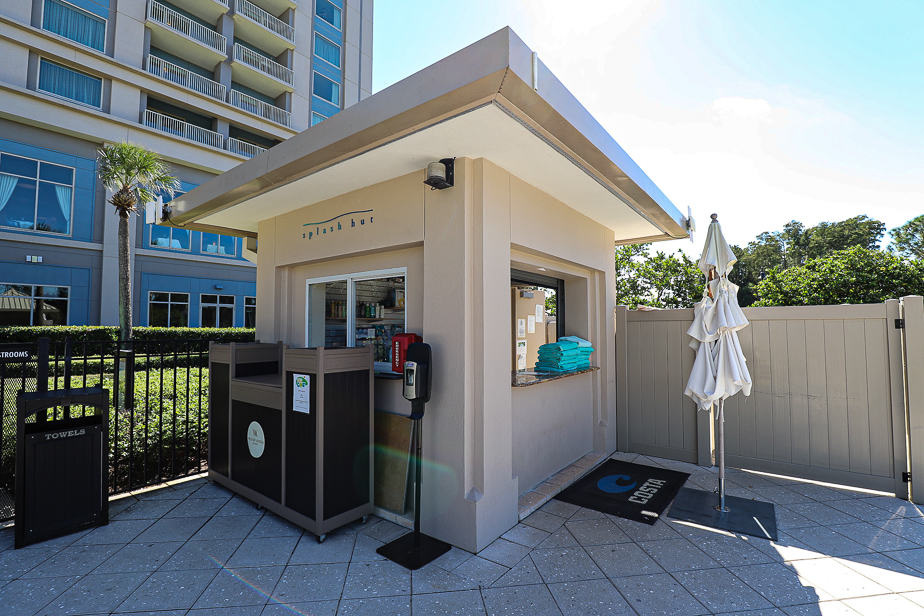 The picture below shows the outdoor pool's far side with a zero-depth entry.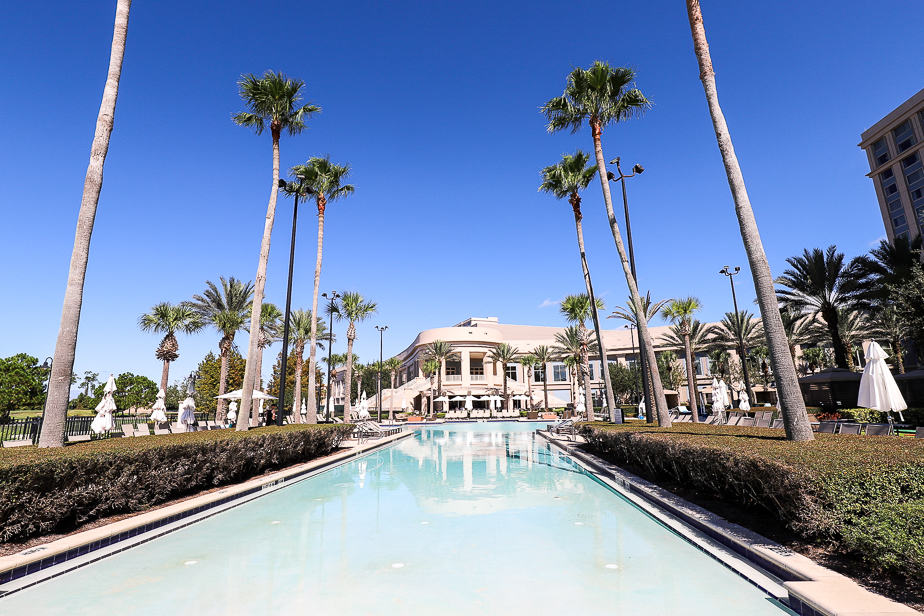 The other side of the lawn had a variety of outdoor games for guests. Sometimes these simple things end up being more memorable than you would expect.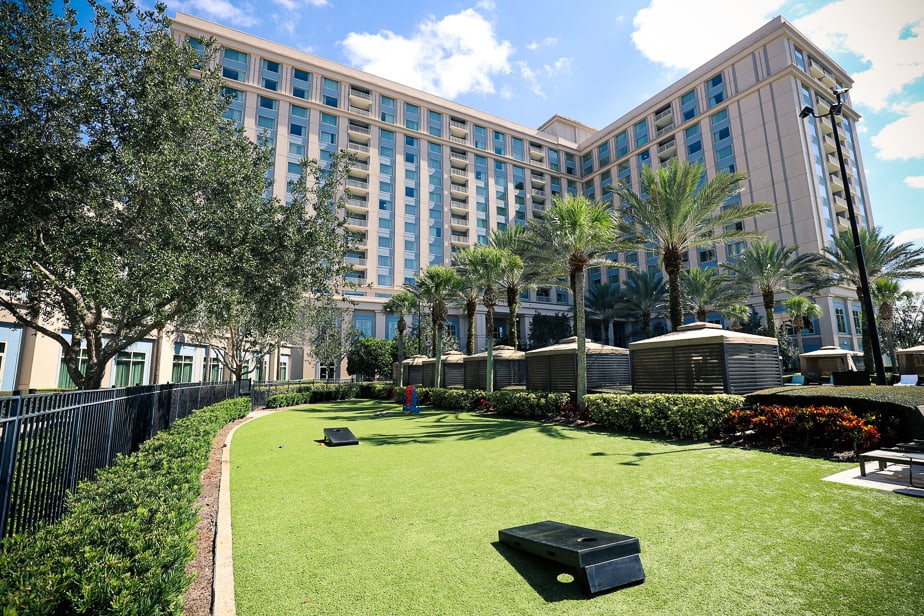 Gorgeous palm trees surround the cabana pool.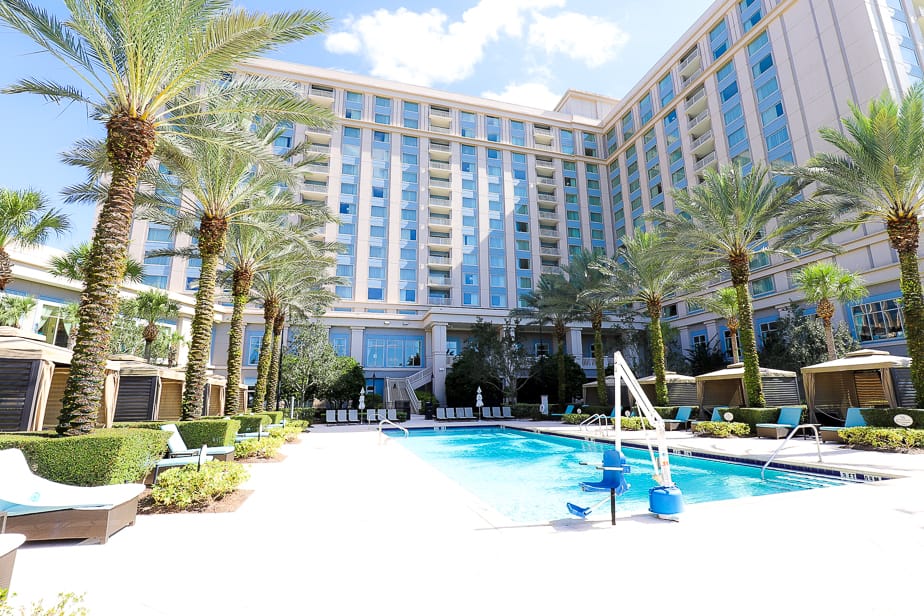 The private cabana rentals accommodate up to eight guests and include complimentary sodas, water, and a fruit platter. A few items include poolside service, a television, two chaise lounges, a sofa, and a chair.
It sounds similar to our poolside cabana rental at Disney World.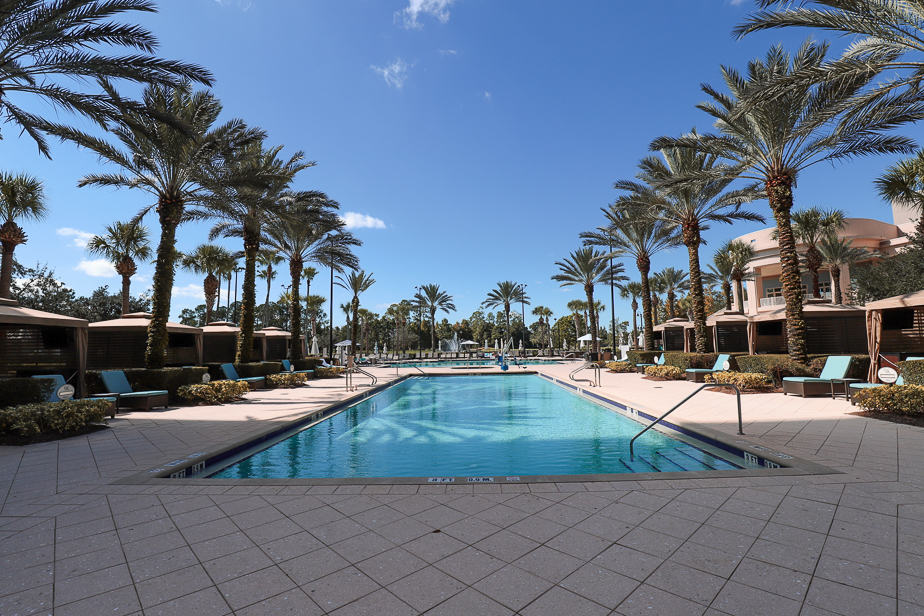 At this point, I had pretty much toured everything outside. It was nearing lunchtime, so I finished my photos before finding a bite to eat.
This time I entered the resort from the bottom floor and ran into Oscar's. Oscar's, an American Brasserie, is one of several dining options for the Waldorf Astoria Orlando.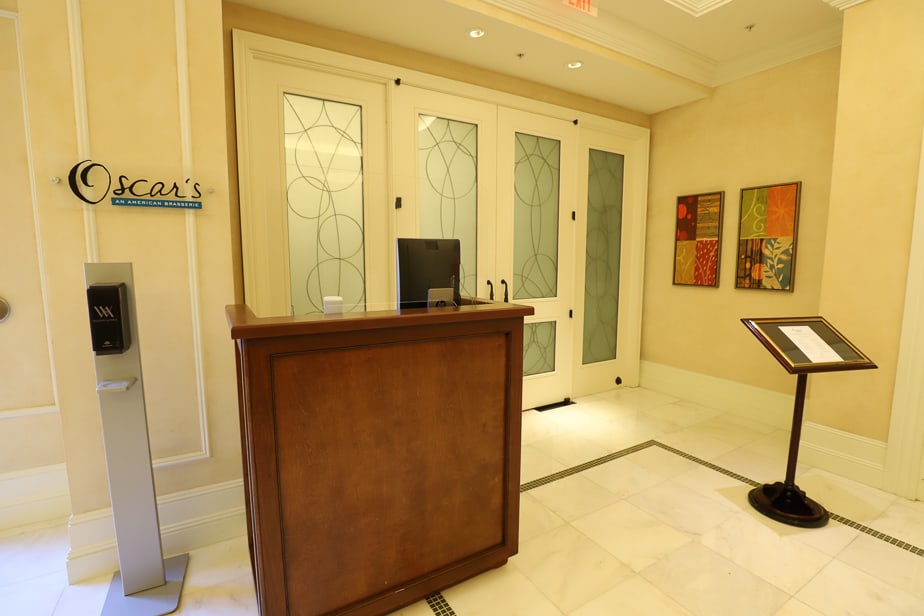 Oscar's is open daily from 7:00 a.m. until 11:00 a.m. They have a continental buffet priced at $26.00, or you can upgrade to the full breakfast buffet for $36.00.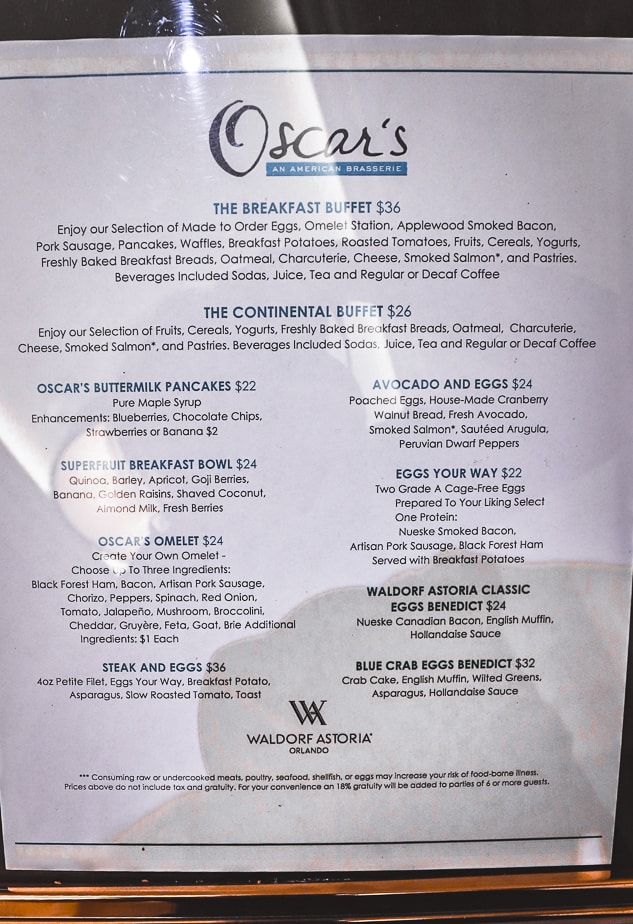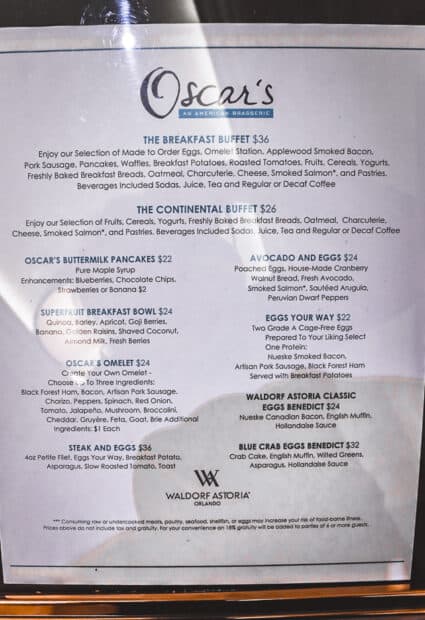 With the continental breakfast, you mainly get cold items like fruit, cereal, charcuterie, smoked salmon, and pastries. However, if you upgrade to the breakfast buffet, you can get cooked to order eggs, pancakes, bacon, and various other items.
In addition, Oscar's had a la carte items available for purchase. Unfortunately, I felt the prices were a bit steep on food at the hotel, and I didn't take the opportunity to eat here.
However, if you have a certain point status with Hilton, you might check to see what extras are included. At this caliber of a hotel, you could likely do well.
Moving on, I noticed the gym and kids club were located within the same area down the hall. Unfortunately, the kids club wasn't open on my visit, but it looked like a great option, from what I could tell.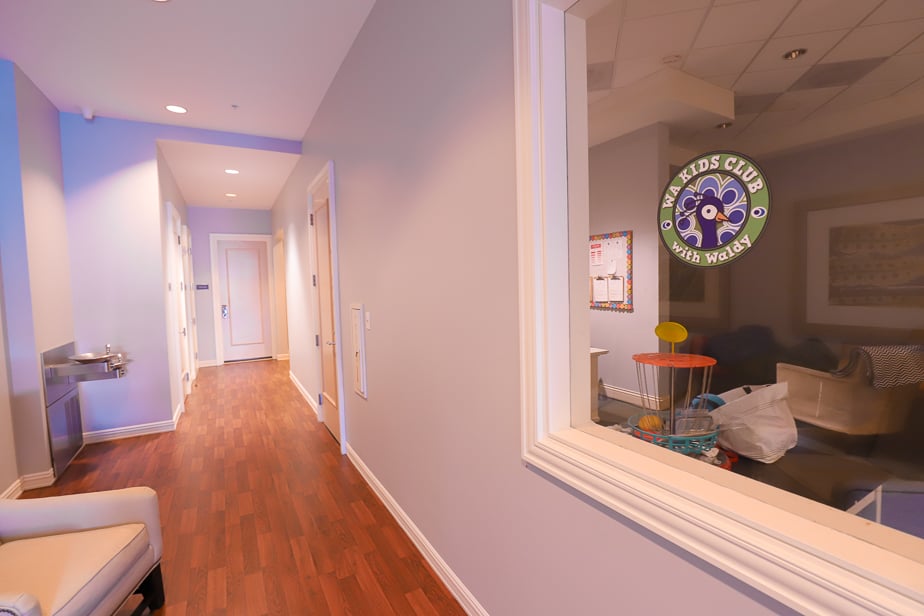 Another empty gym.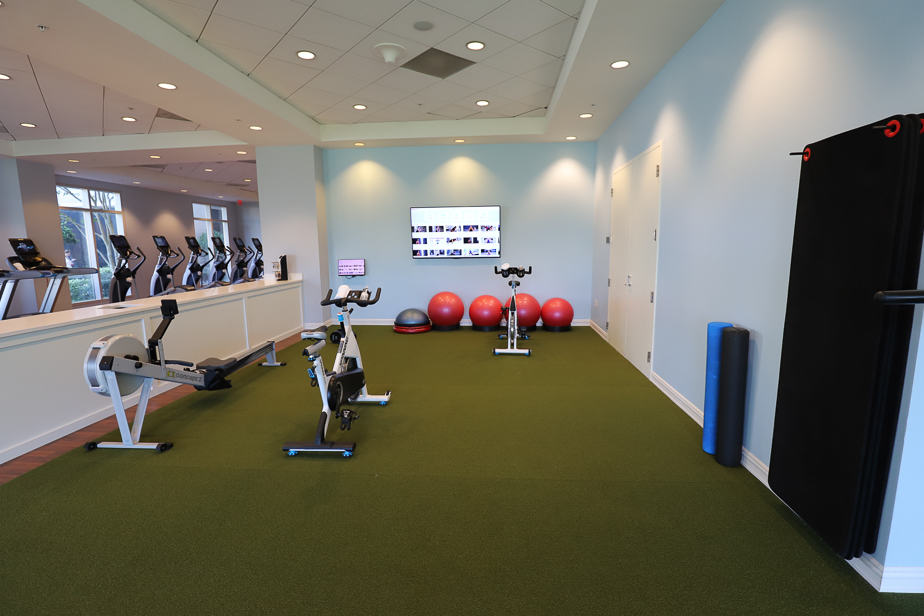 However, I have to say this is the nicest gym I've encountered in the Orlando area to date. It had even more extras than usual.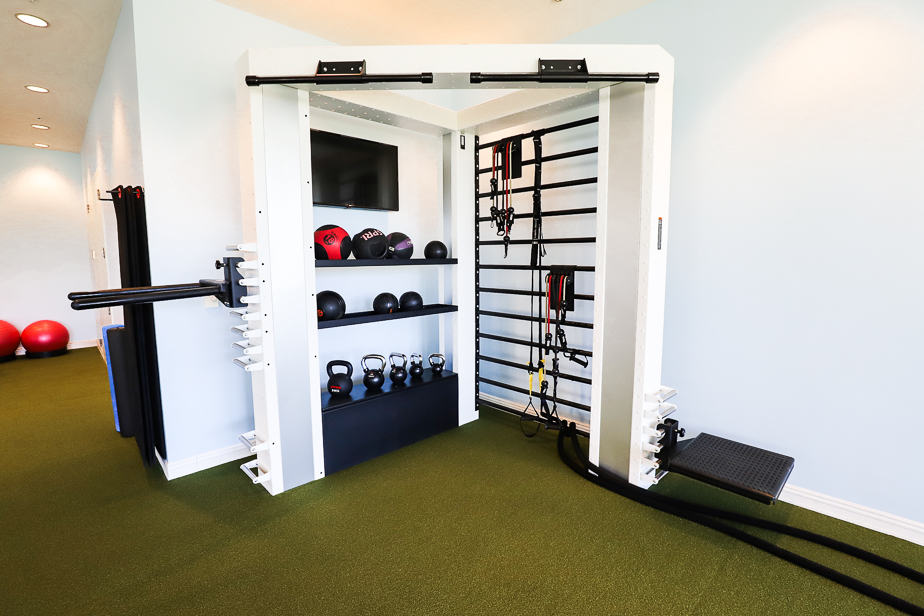 Additionally, recyclable headphones were provided for the win!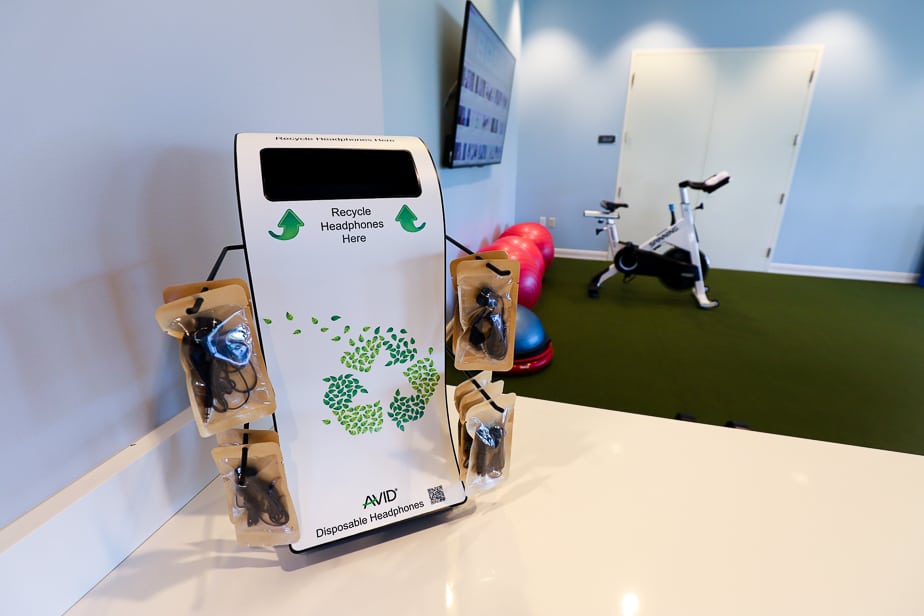 Waldorf Astoria's gym was tremendous.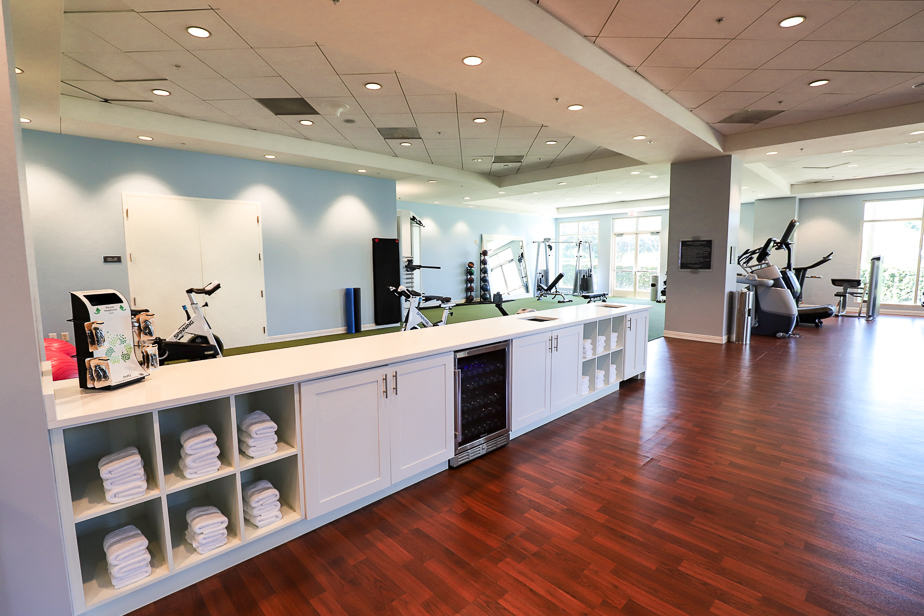 I couldn't get a picture that genuinely showcased the size of the gym. Most of the windows looked out to the pool area.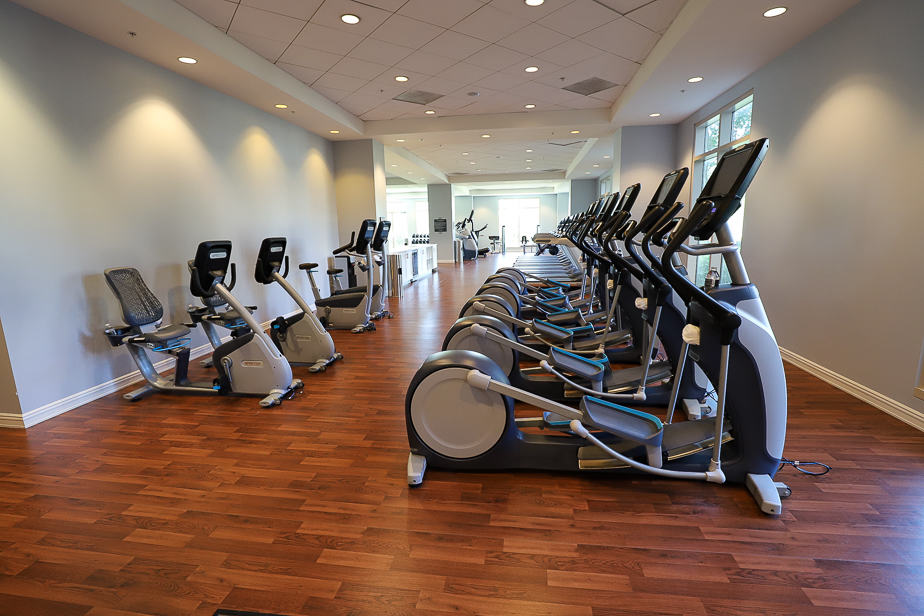 We'll head back up to the lobby level where Bull and Bear is located. Bull and Bear is the fine dining location for the Waldorf Astoria Orlando.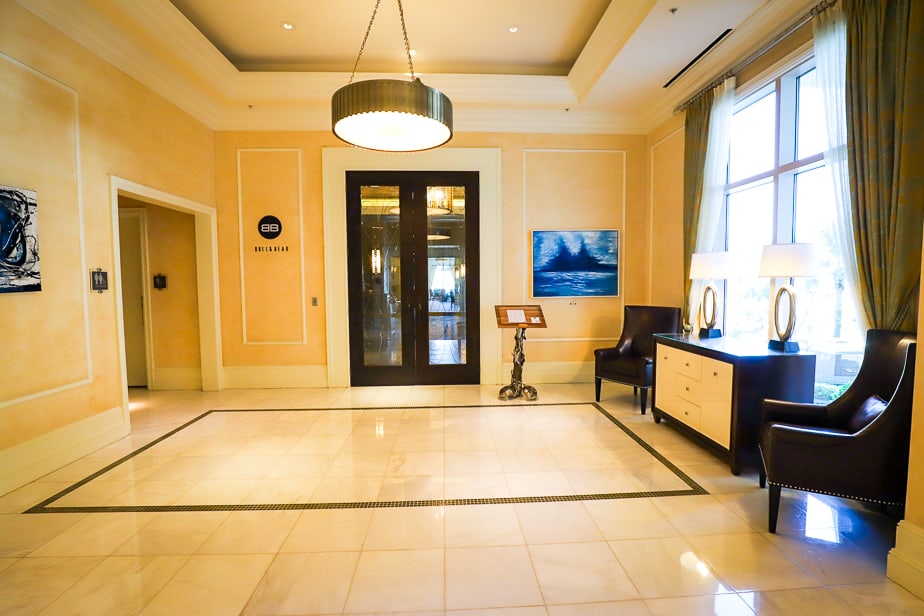 The restaurant is listed as one of the top 100 restaurants in the United States by OpenTable. They are open Tuesday through Saturday from 6:00–10:00 p.m.
Additionally, this location has a signature dish, the Bull and Bear Fried Chicken, that gets rave reviews. You can preview the entire menu here.
Between the hotel's lobby and Bull and Bear sits Peacock Alley, the resort's lounge. And it's a gorgeous, accommodating lounge.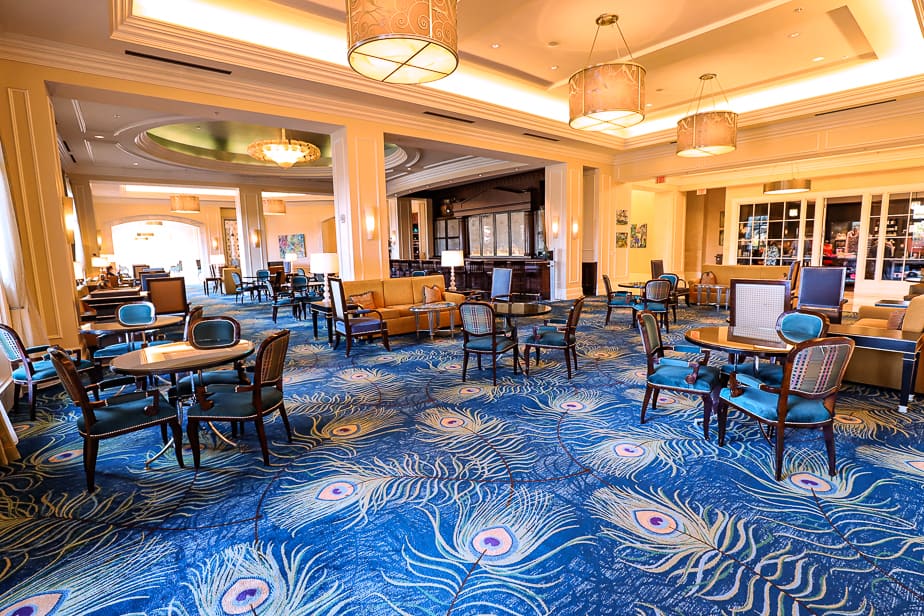 Peacock Alley is open for breakfast from 6:00 a.m. until 11:00 a.m. They serve items like hot breakfast sandwiches, pastries, croissants, fruit, and a variety of coffee.
The lounge reopens in the evening from 5:00 p.m. until late. Peacock Alley is a great place to enjoy an appetizer or dinner in a casual setting. The lounge offers a full menu that has anything from salads to full-size entrees like filet sliders. You can preview the menu here to get a better idea.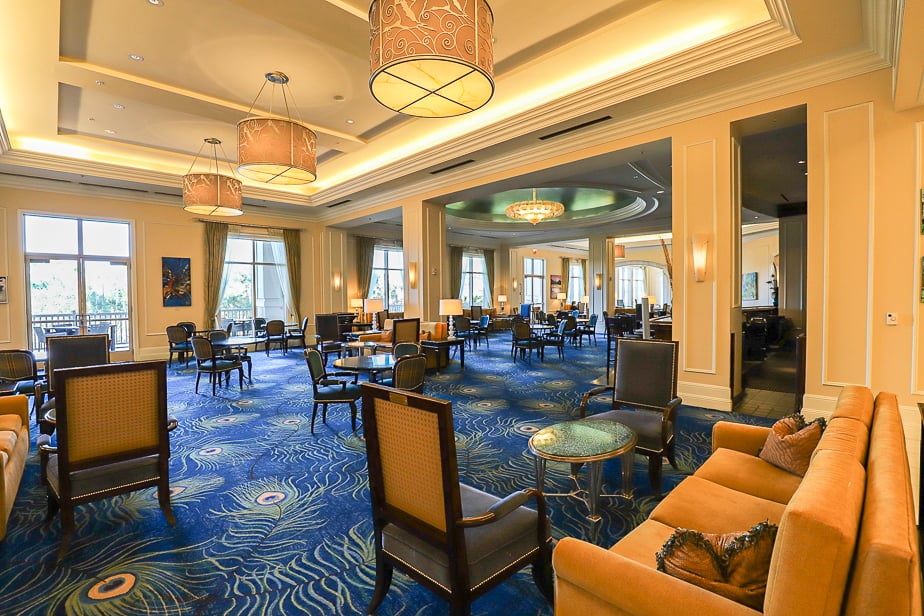 At the front of the lounge, there is a bar. Several football games were playing this Sunday afternoon.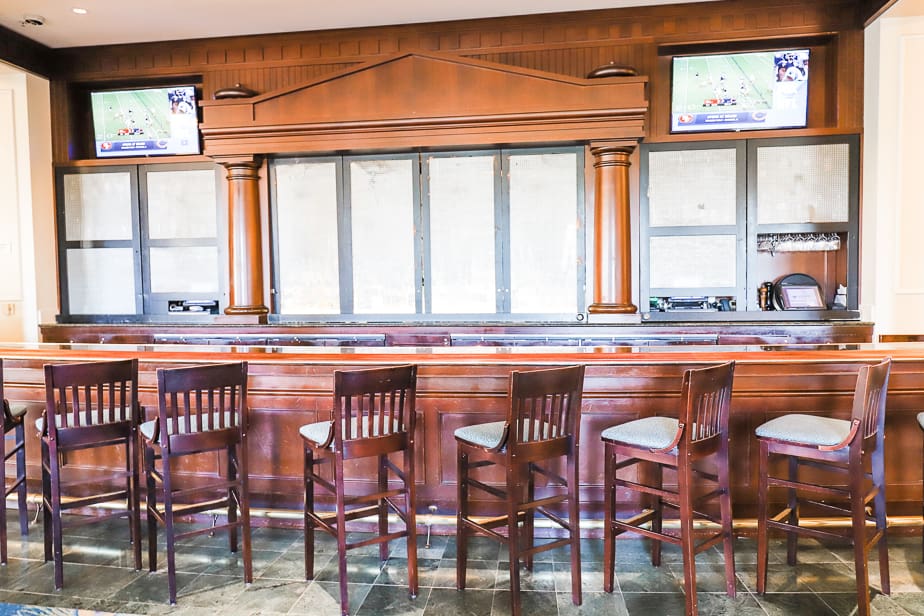 Back down the hallway, there were several boutiques—the one below offered clothing items.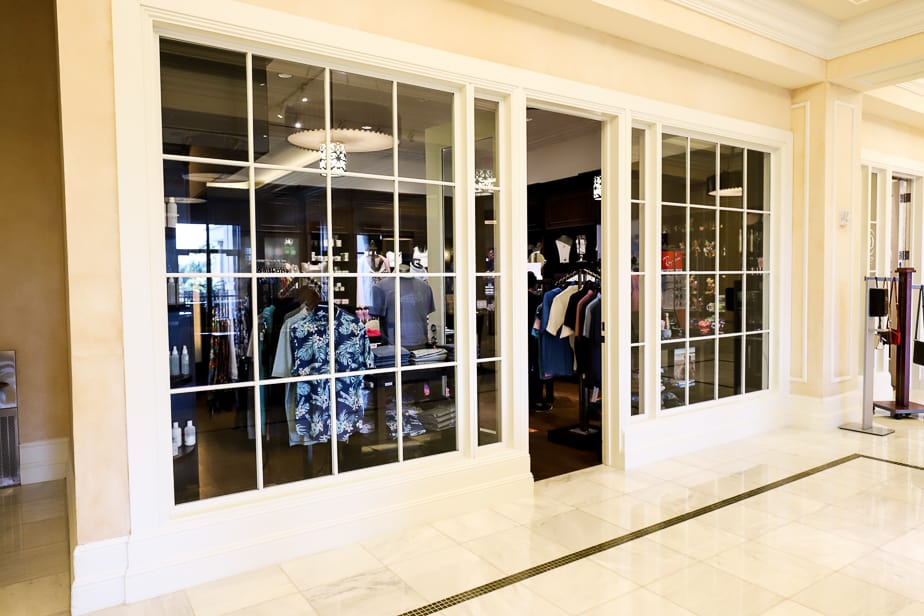 Additionally, there is a Daniella Ortiz, a luxury handbag line. If you want to do a little shopping while in Orlando, the Mall at Millenia offers several exclusive stores like Prada, Versace, Louis Vuitton, and Saint Laurent.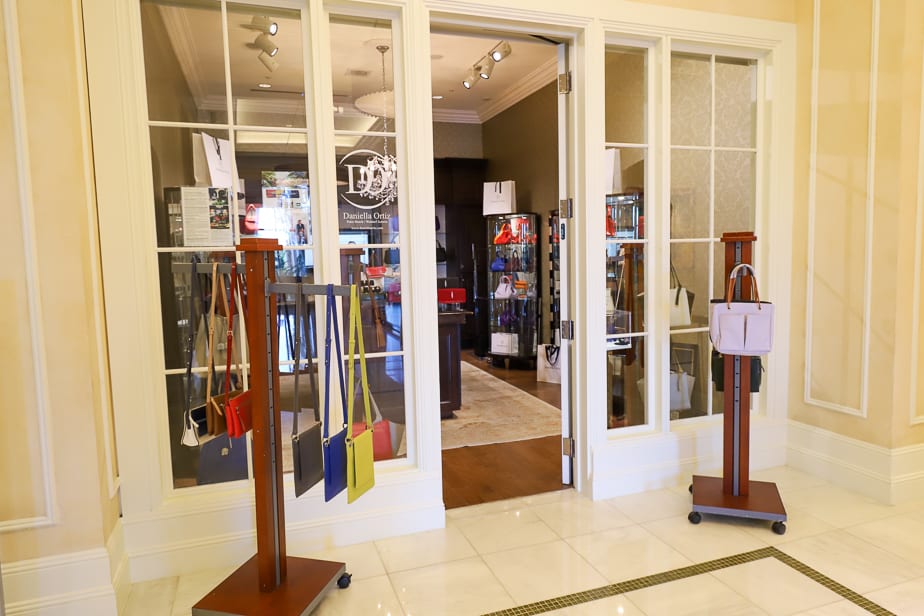 Or there's always Disney Springs right up the street.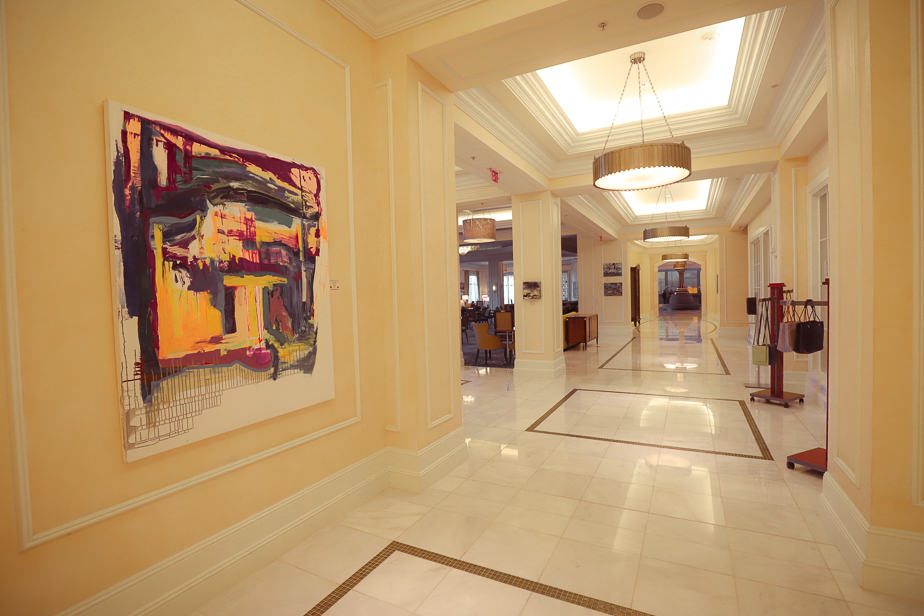 At this point, I decided it was time to find something for lunch. Since the weather was pleasant, I figured dining poolside would be my best option.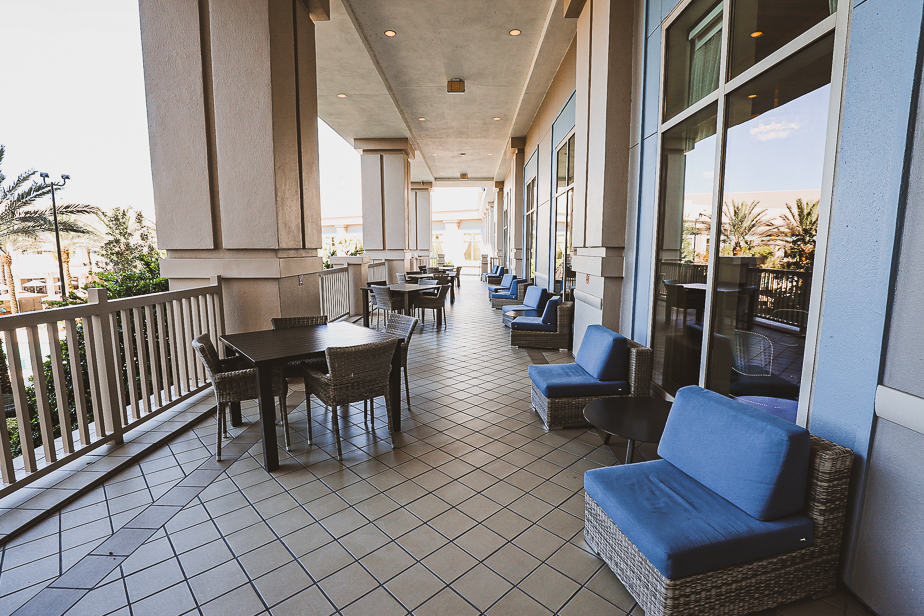 So I headed out of the lobby and down the stairs to the pool area. This is the area where you get that signature shot of the Waldorf with the palm-tree-lined pool area.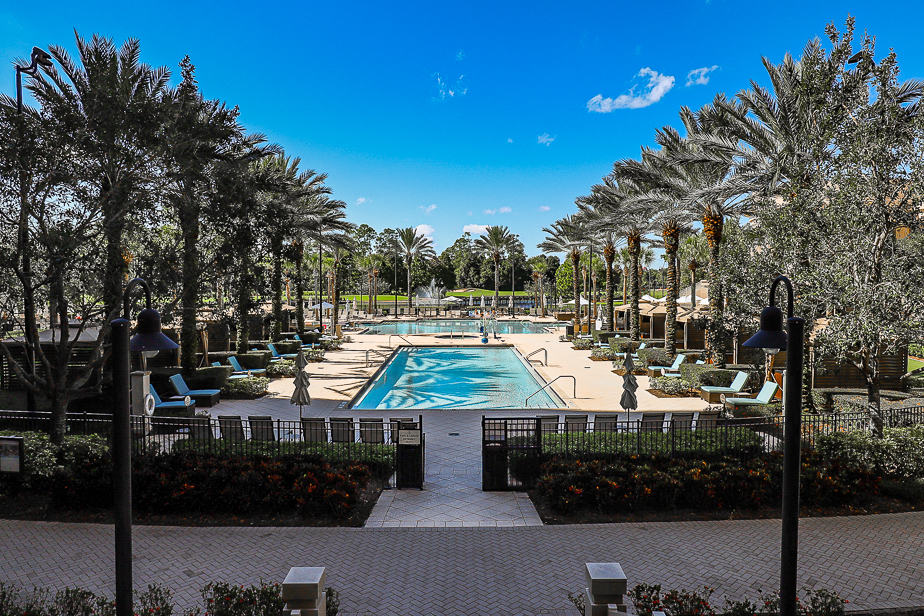 Aquamarine had just opened for lunch upon my arrival.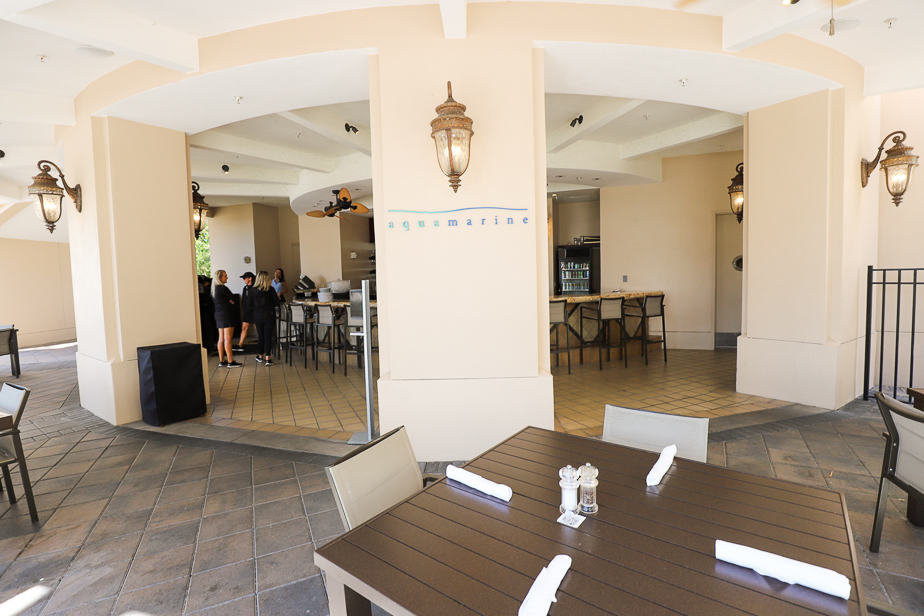 If you like, you can dine in the bar area.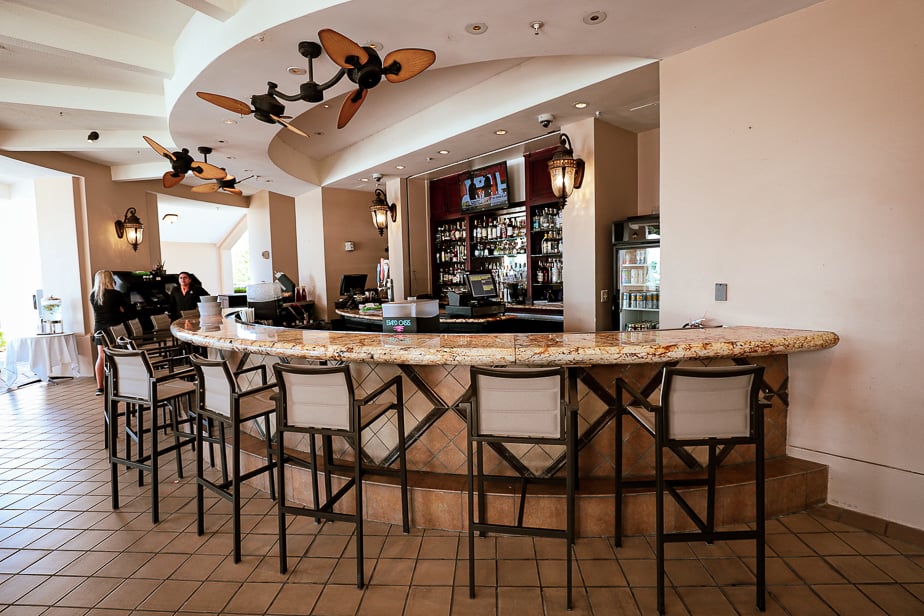 Or you can find a table with chairs under an umbrella. That is what I elected to do.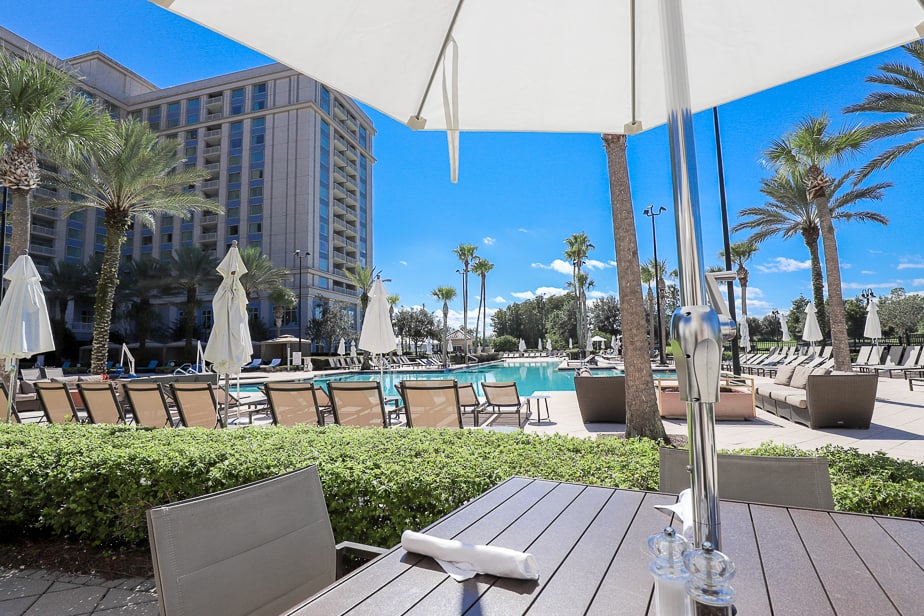 After browsing the menu, I couldn't decide on a beverage. I wanted something non-alcoholic that was refreshing but not too sweet. The server suggested a blueberry lemonade topped with a touch of soda water, which turned out to be an excellent option.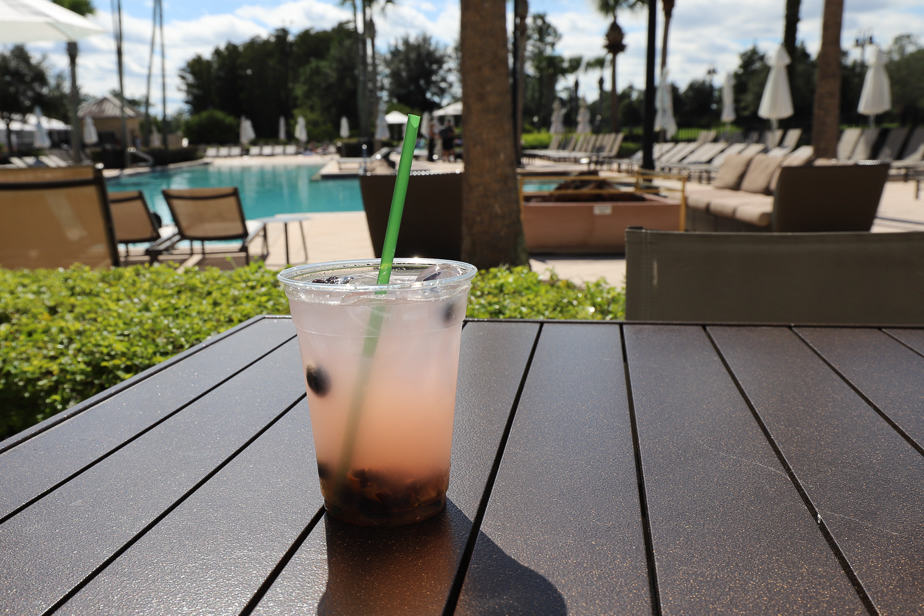 However, I wouldn't have ordered two of them had I known they were $10.00 each.
I ordered the Caesar salad at $15.00 and added grilled salmon for an additional $8.00 upcharge for my lunch. The entire menu for Aquamarine is available here.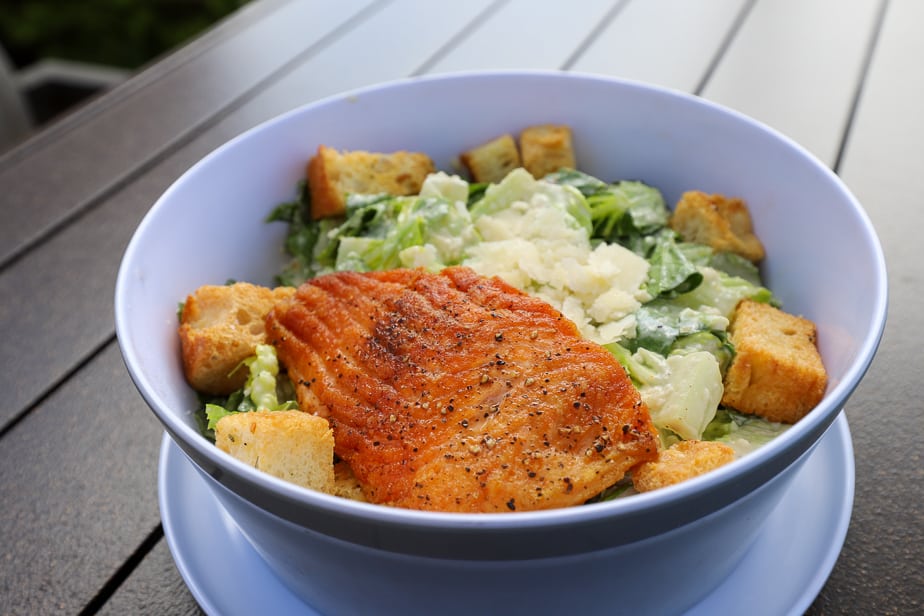 The salad with salmon was a fine meal. However, I couldn't say it was elevated compared to a similar salad from an average restaurant.
My main complaint is that my two lemonade drinks and salmon salad cost over $50.00 with tax and tip. Granted, it was my fault for not paying attention to the price of the drinks. In addition, it took almost 45 minutes to receive the salad.
Had I realized the price of the drinks, I would have stuck with the complimentary water provided as soon as I sat down. Or maybe I would have just ordered one lemonade instead of two.
In comparison, if I had gotten a regular drink and a Caesar salad somewhere like Gasparilla Island Grill at the Grand Floridian, it would have run about $20.00.
I could have mobile-ordered my lunch and taken it out by the pool to enjoy. It wouldn't have taken long, and tips are not expected when ordering counter service.
However, surprisingly, room rates cost much more at the Grand Floridian than at the Waldorf Astoria Orlando. The Waldorf, for most, will be the nicer of the two hotels. However, it's not within walking distance of the most magical place on earth.
Related: Grand Floridian Resort Review
After I finished lunch, I had yet to receive confirmation that my room was ready. So I decided to stop back by the front desk and check before heading out for the afternoon.
Thankfully, my room was ready. And the front desk called bell services to retrieve my luggage and meet me in the room. Bell services expedited my luggage. They got to the room at the same time I did.
On my way, I couldn't help but notice the hallways of the Waldorf Astoria were gorgeous. They reminded me of the hallways at the Grand Floridian Villas, except maybe a little more formal.
Related: Grand Floridian Villas Review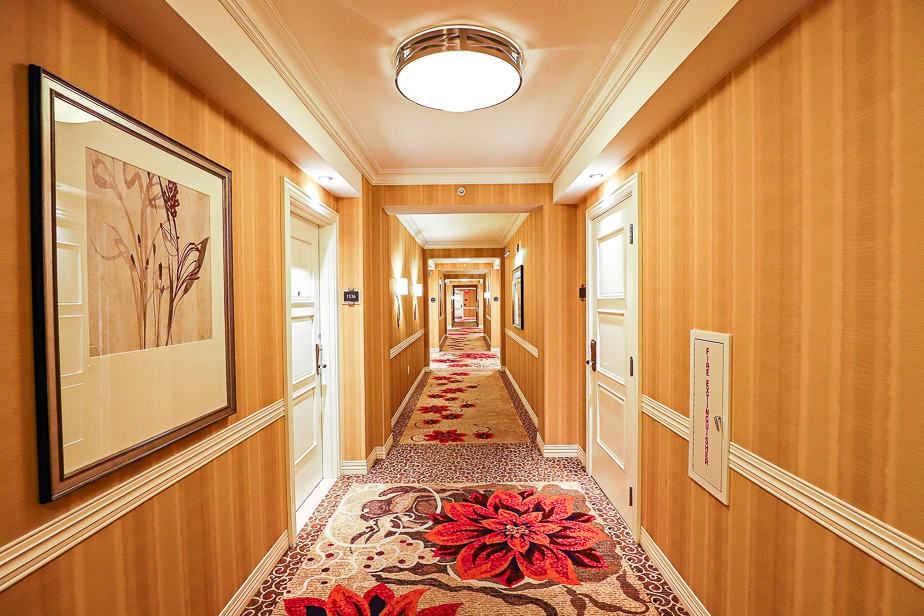 Our guest room was a deluxe suite with two queen size beds. Below is a photo of the standard room at the Waldorf Astoria. It's approximately 448 square feet, making it larger than most. For reference, a standard hotel room runs around 330 square feet.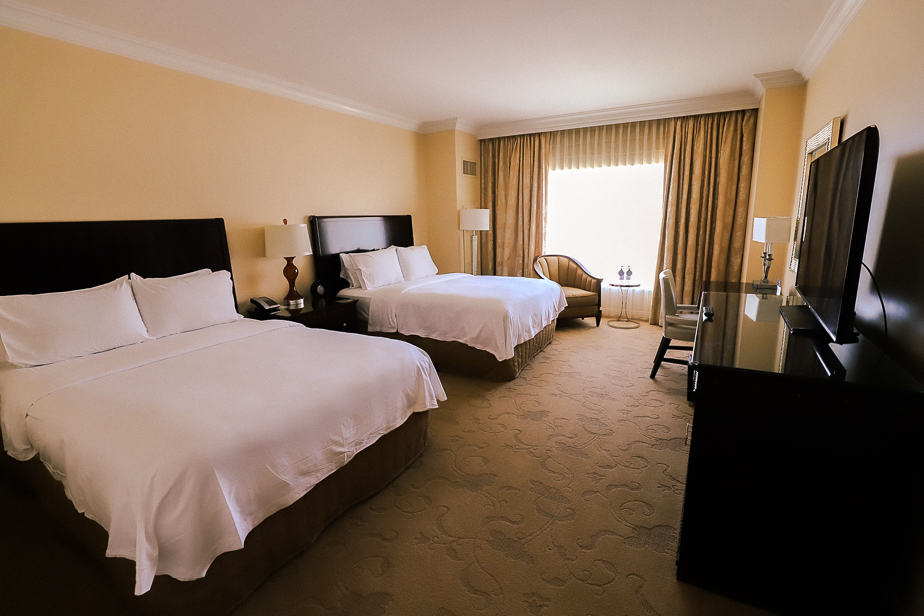 The beds have premium linens and down comforters. It was one of those plush beds you kind of fall into at the end of a long day. I slept like a baby.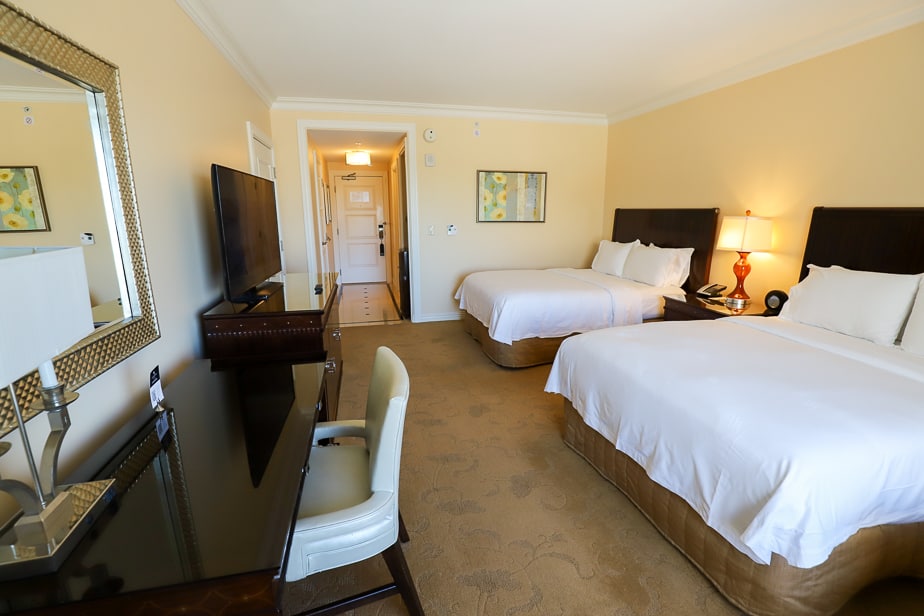 Most guest baths these days come with a stand-alone shower or a tub with a shower combination. However, at the Waldorf, you get a large master bath.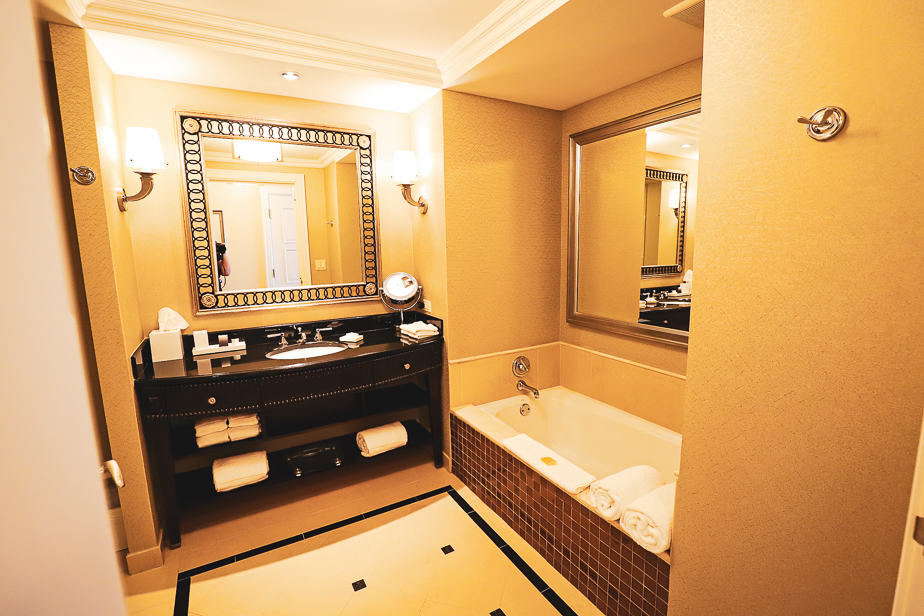 The separate soaking tub is an almost unheard-of amenity in a hotel.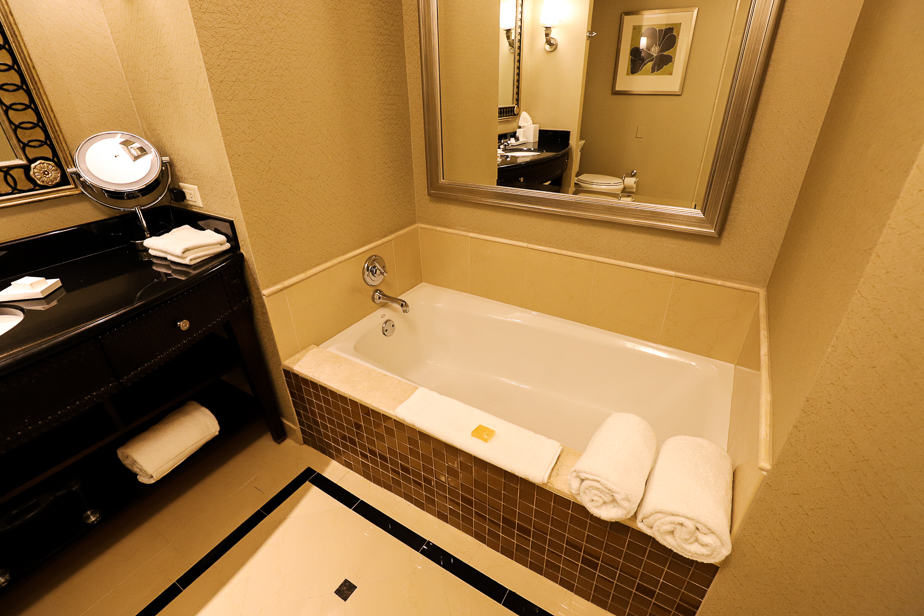 Our bath had a separate walk-in shower and a large vanity area with a sink.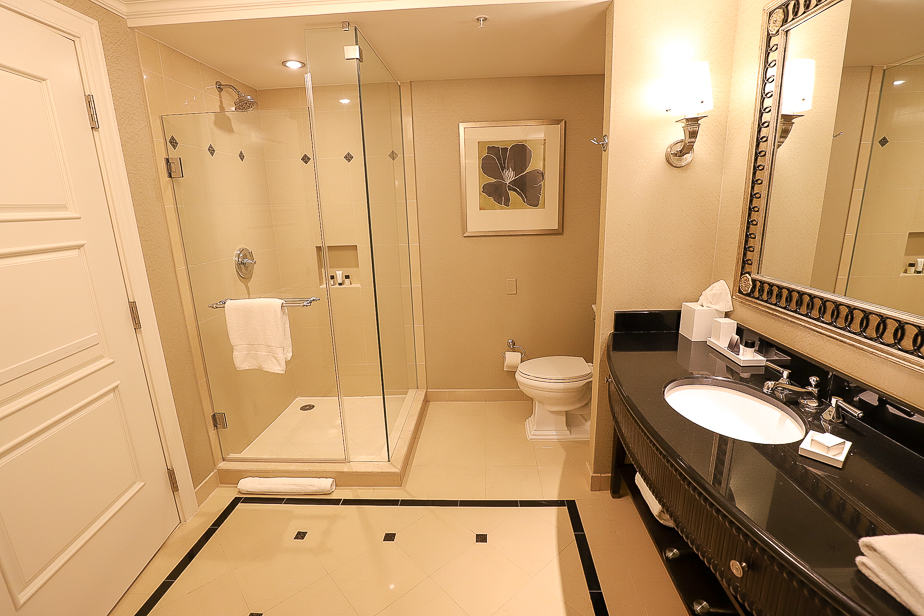 My only disappointment was the Waldorf did not provide us with a robe or slippers. That is relatively standard when you stay in a fine hotel, and I think it's to be expected at the Waldorf Astoria. I can only assume that this extra touch was left off during the housekeeping process.
There was an espresso machine and complimentary water provided in our room.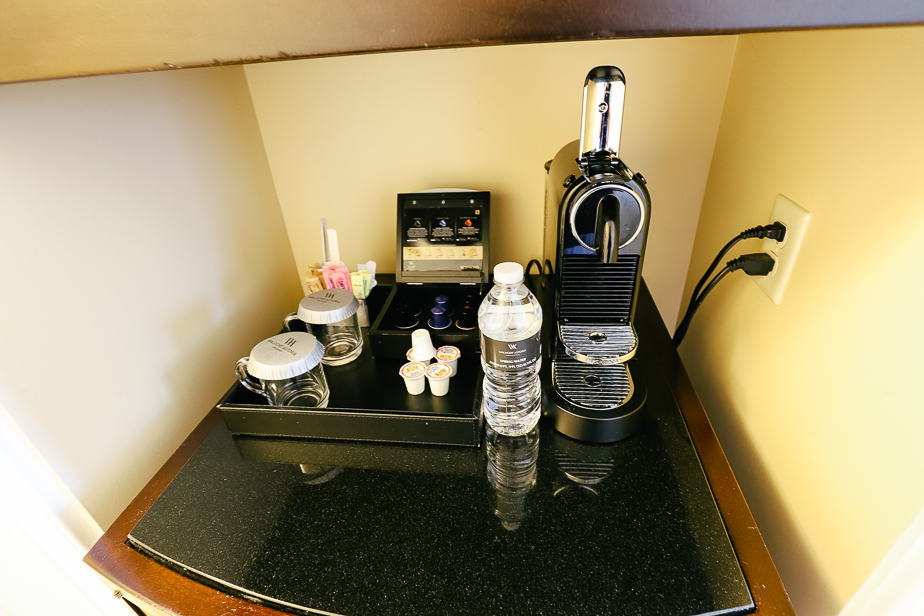 Bell services offered to bring fresh ice when they dropped off the luggage.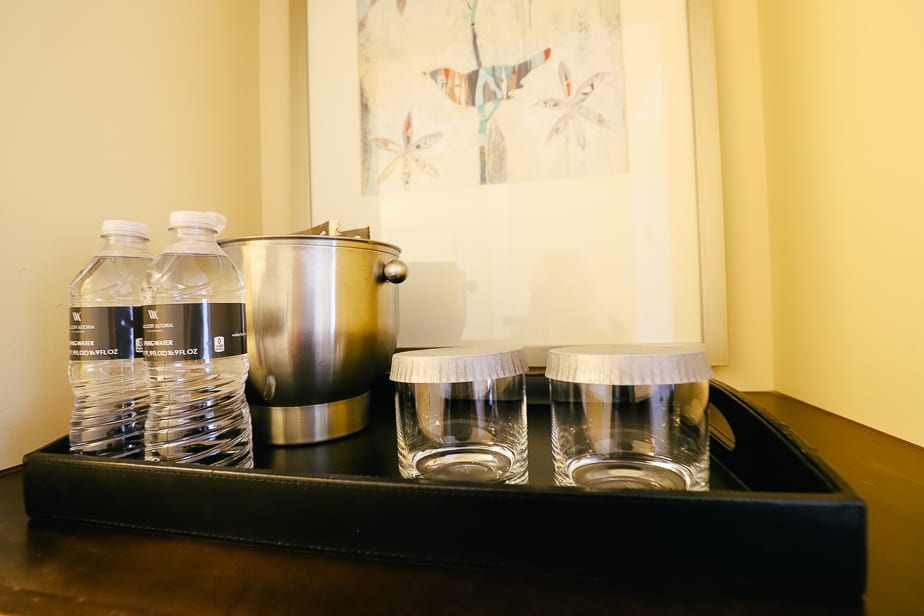 And here is the view from our room. Note there is a good deal of construction going on in the area. You can see some of it in the picture below.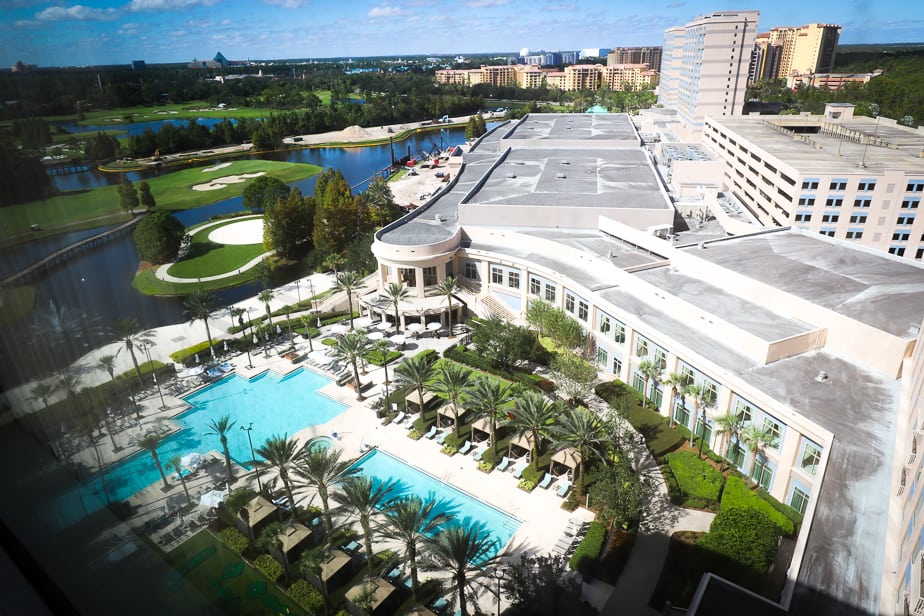 The construction had left a good coat of dust on the windows. However, the view was amazing. Look closely toward the center of the horizon, and you can see Spaceship Earth at Epcot.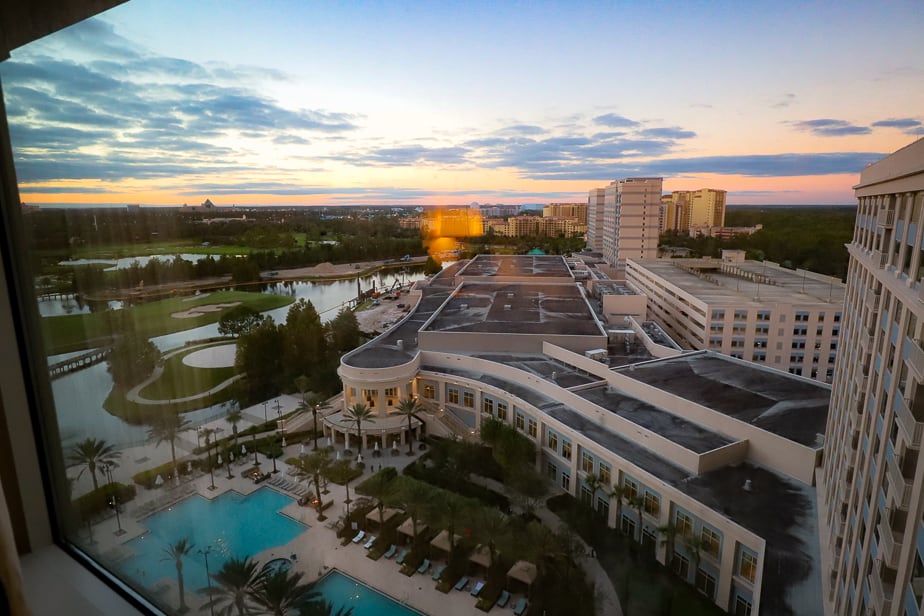 Additionally, we could see Epcot fireworks from our room at night. You'll want to make sure to turn off all the lights in the room to reduce glare on the windows.
Here is a video tour of the room:
Overall, we enjoyed our stay at this Bonnet Creek Resort Hotel and look forward to returning in the future. Before we wrap things up, I wanted to touch on a few other items specific to the hotel.
For golfers, the Waldorf Astoria Orlando has an 18-hole par 72 golf course that sits behind the hotel. In addition to regular tee times, the course has a pro shop, a practice range with a putting green, and offers individual private lessons. More information about the course is available here.
If you are curious about how close the Waldorf Astoria Orlando is in relation to each theme park, it's close. As I mentioned toward the beginning of this review, you'll never know that the hotel's area isn't sitting on Walt Disney World property.
You'll be as close to the theme parks as you would if you were staying at Disney's Riviera Resort, Caribbean Beach, Pop Century, and Art of Animation. The only downside is you won't have immediate access to Disney's Skyliner or bus service like these resorts do.
Related: Disney's Skyliner Resorts
However, the Waldorf Astoria shares bus service to the theme parks and Disney Springs with the adjacent Hilton. You can view the shuttle service times here for your anticipated travel dates.
If you would like to use the service for travel to a Disney Park, I recommend using it on your way there. However, if you have plans to stay at Magic Kingdom and see the fireworks, you might consider walking over to the Contemporary Resort and using a car service like Lyft or Uber for your return.
It's challenging to plan for Disney, and it is stressful to constrict your schedule where you are required to be at a bus stop at a specific time. You could be in a lengthy line for an attraction or at a dining reservation that ran late and not have adequate time to make it back to the bus stop.
Additionally, guests of the Waldorf receive Disney's early theme park benefits. This is where guests of select hotels receive 30-minute early access to the parks during Disney's 50th-anniversary celebration.
Lastly, I wanted to mention that the Waldorf Astoria Orlando has a resort fee of $45.00 per day. Their website lists the following amenities included with the resort fee:
Premium wireless internet access
Two bottles of water per day (in room)
Shuttle Service to Disney Parks and Disney Springs
20% off spa treatments at the Waldorf Spa
Access to Waldorf Astoria Golf Club practice facilities
Complimentary golf club rentals after 2:00 p.m. at the Waldorf Astoria Golf Club
20% off apparel and merchandise at the Pro Shop
Access to the fitness center
Hopefully, this Waldorf Astoria Orlando review was able to provide you with the information needed to plan a stay here. For more information about staying on or off-property at Disney World, you might enjoy these articles:
Have you stayed at the Waldorf Astoria before? Or do you have any questions about staying here? Leave your thoughts below in the comments.