El Mercado de Coronado (Coronado Springs Food Court)
Until a few weeks ago, I still lived in a world where I considered El Mercado de Coronado one of the best quick service food courts at Walt Disney World. But, unfortunately, things have changed.
A mere visit to the quick service resulted in a disappointment I didn't even know was possible. When I saw the long line of guests waiting to eat at Rix Sports Bar and Grill, I should have known something was amiss.
We are taking a long overdue visit to El Mercado de Coronado for this article. First, we'll look at what kind of meal you can expect to find there. Then we'll discuss why you probably won't want to eat it.
Don't get me wrong. I don't particularly enjoy writing this sort of review. But if you have an upcoming trip to Coronado Springs, you probably anticipate having at least a meal or two at the resort's quick service.
I know we always do when we stay there.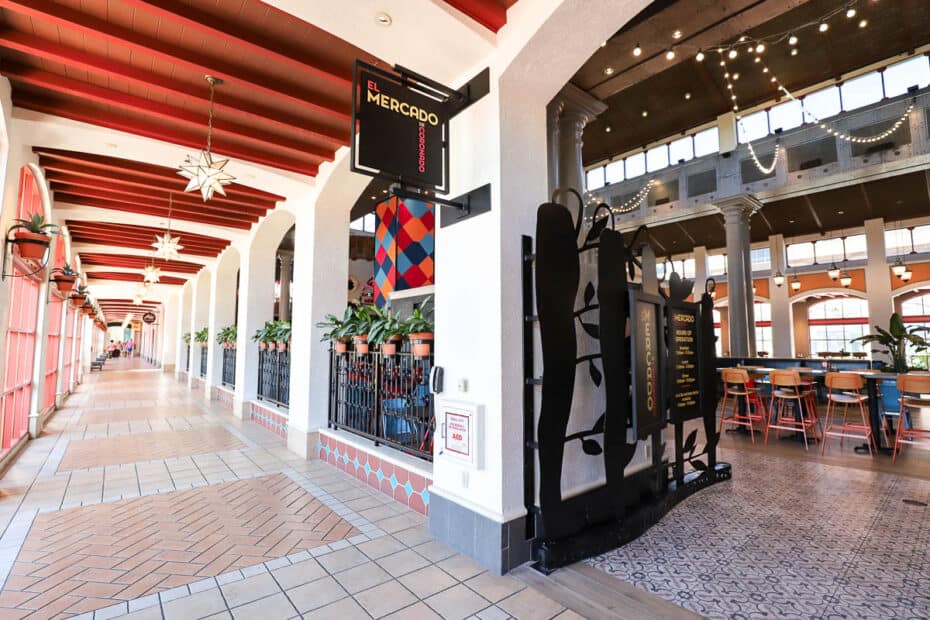 To give you a little history, Coronado Springs came out of an entire resort refurbishment in 2019. El Mercado, previously Peppers Market, was completely remodeled, resulting in improvements and the new name.
The whole thing turned out exceptional. The new food court at Coronado Springs had multiple stations with plenty of choices.
There was even a beautiful dessert case packed full of treats. You could walk up and peer through the glass. A cast member would box up your selections.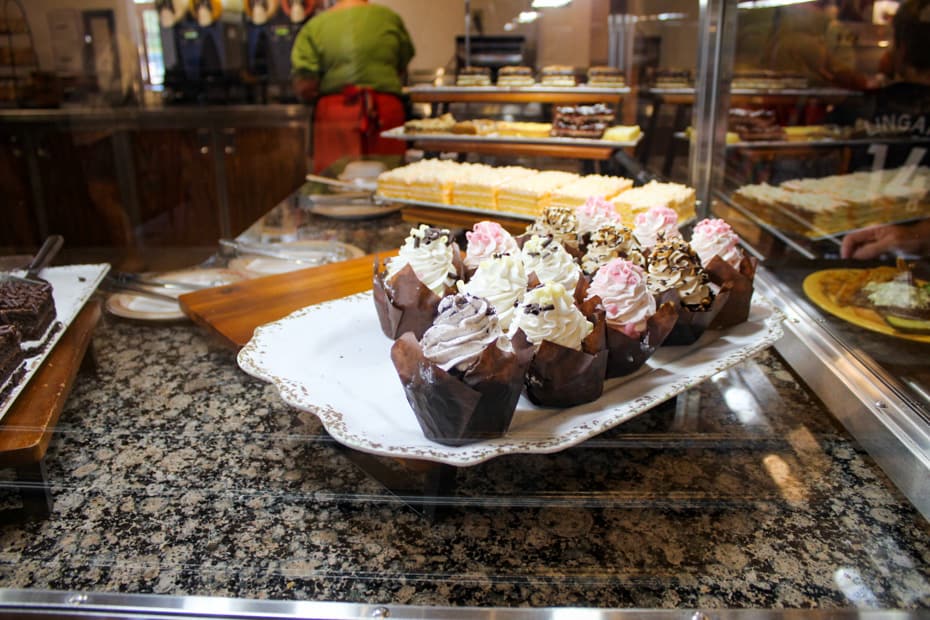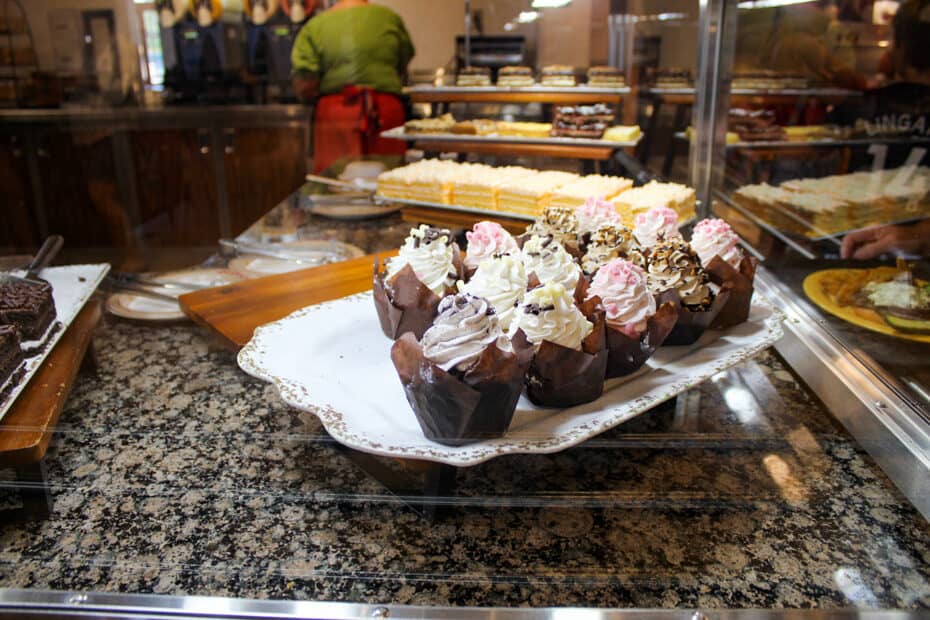 Unfortunately, these kinds of things are no longer available. Now, your options are sitting under a heat lamp. Anyone can walk up and grab a meal.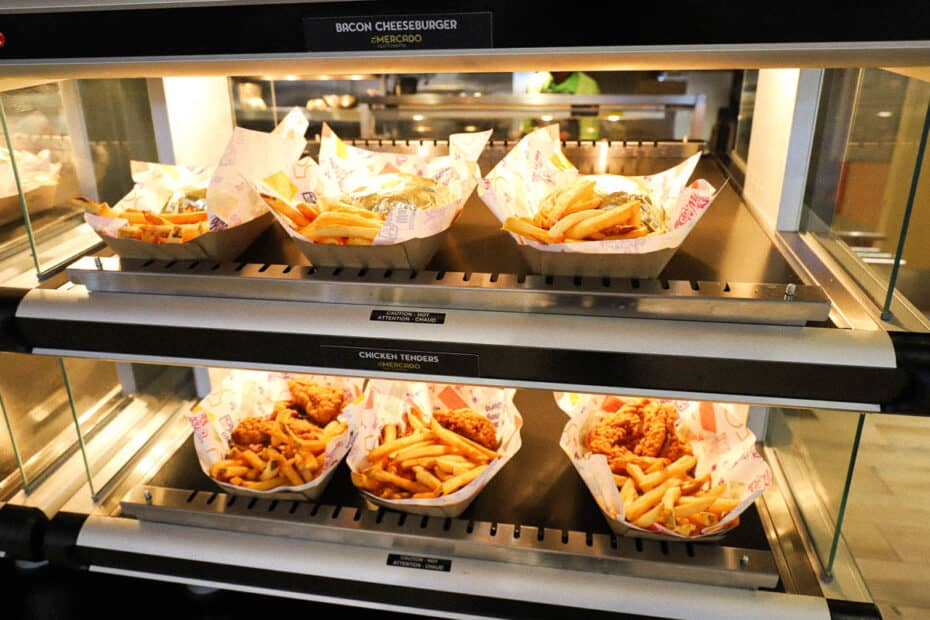 There's no telling how long the food has been sitting there. And now you also know why there's a never-ending line at Rix Sports Bar next door.
The Horror.
Think about it. Rooms average $325.00 a night at Coronado Springs. So you're looking at somewhere around $2500.00 for a week's stay with taxes. (That's not including tickets.)
It's been a long day. So you decide to pick up a late meal at El Mercado de Coronado on your way back to the room. All of your options are spread out before you, under heat lamps when you arrive.
When you invested your money in this trip, did you expect this level of cheapness? Is $2500.00 for the week not enough to expect to be able to purchase a freshly prepared meal?
I wasn't even staying at Coronado Springs on this visit, and I felt like I had been slapped in the face. This situation is as bad, if not worse, than the whole re-occurring pre-made sandwich debacle we keep running into at the Epcot Resorts.
Latest Instance: Beaches and Cream Review
You might think I'm a little over-dramatic about the issue, but I can't wrap my head around Disney serving their loyal resort guests this type of food.
It's not acceptable. But wait….there's more.
As we continue, I'll walk you through El Mercado de Coronado just as I found it. After that, you can decide for yourself.
El Mercado serves breakfast, lunch, and dinner. The restaurant is open daily between 7:00 a.m. and 11:00 p.m.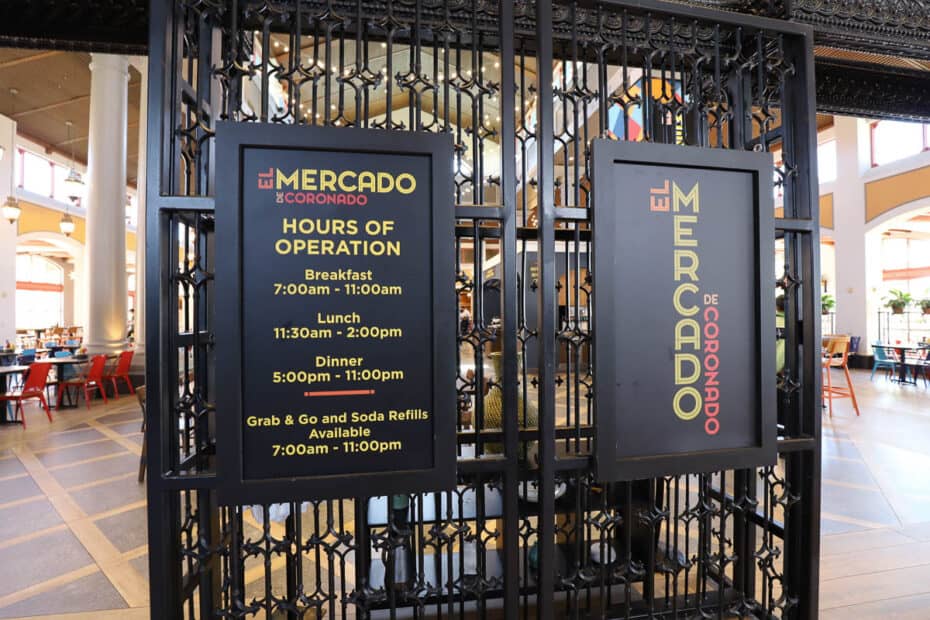 When you walk in, you're met by several different stations. Formerly, you could walk up and order something from the overhead menus.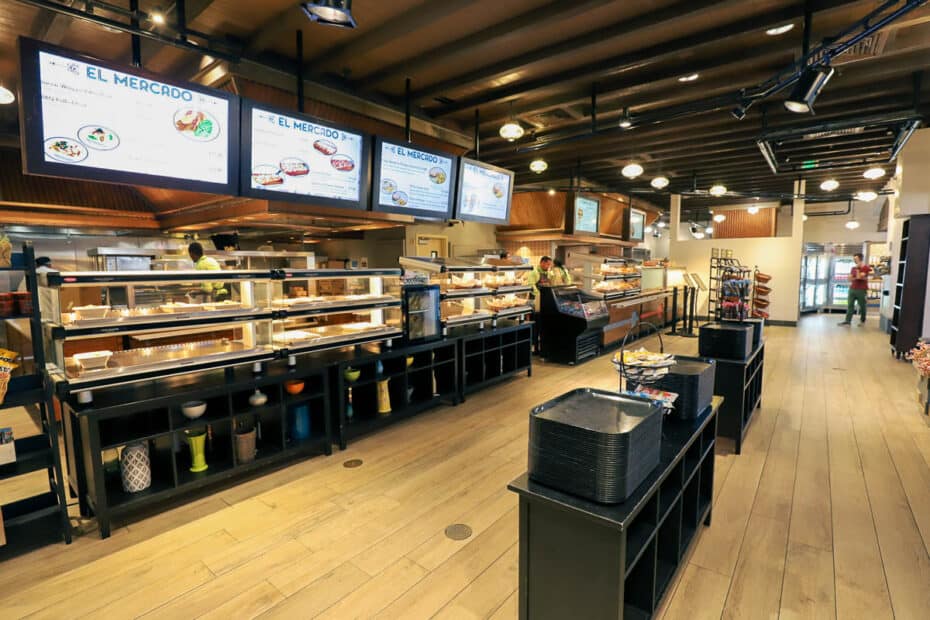 But now, most of the options are sitting on plates under the heat lamps. And the prices are higher in comparison to other resort quick services.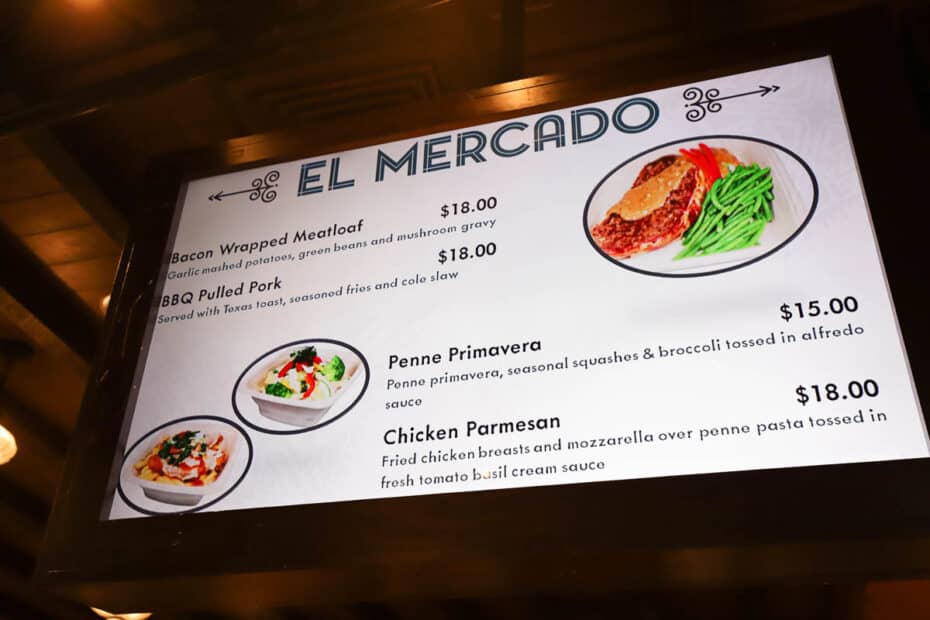 Do you want to pay $18.00 for a serving of pulled pork with Texas toast and fries? That's what's sitting under the heat lamp below.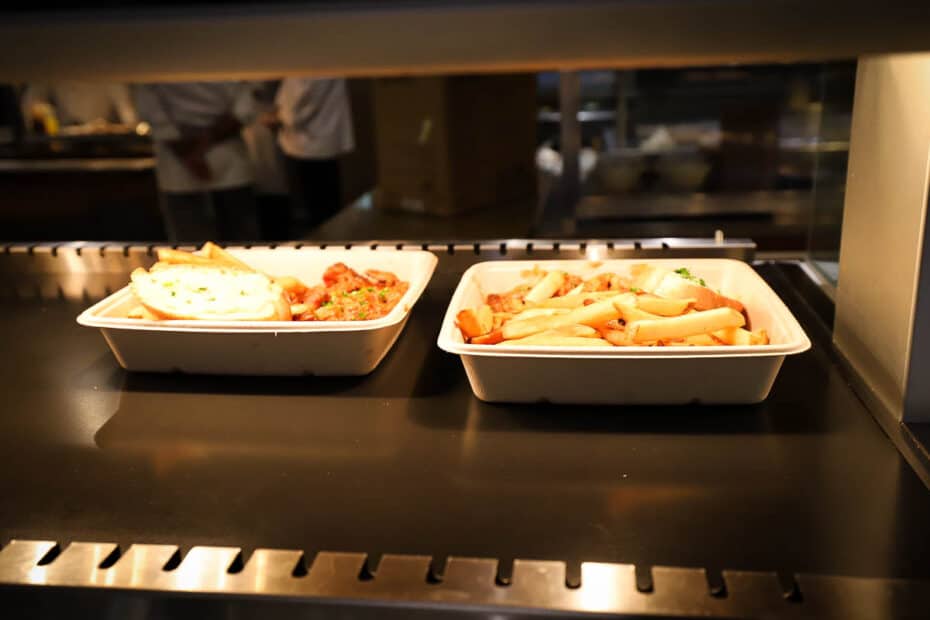 You're looking at a meal that costs $75.00 here at the bare minimum for a family of four.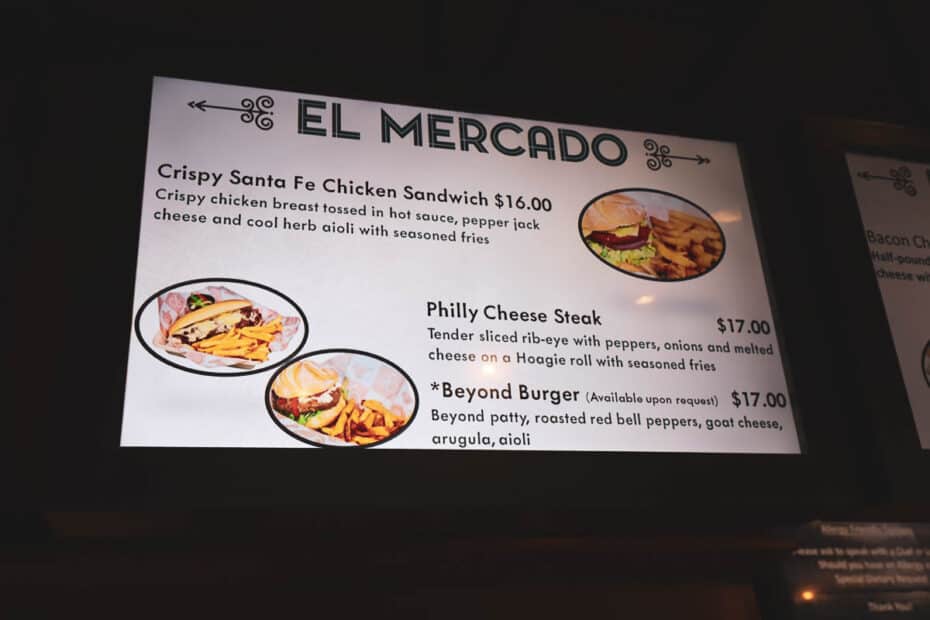 Oh, and do you expect premium burger toppings? You can pick up a pre-made package in a refrigerated case.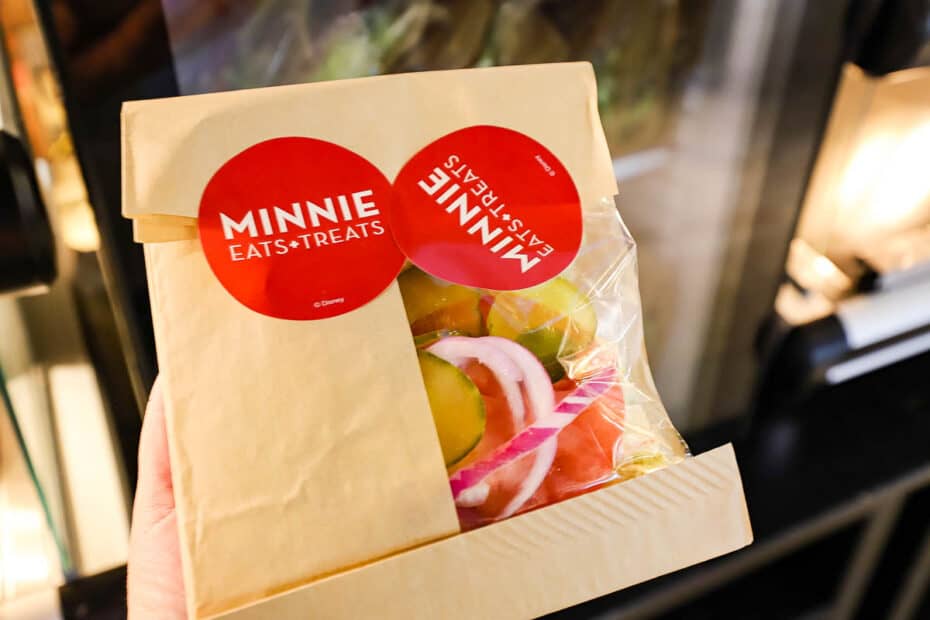 Do you have picky eaters in the family?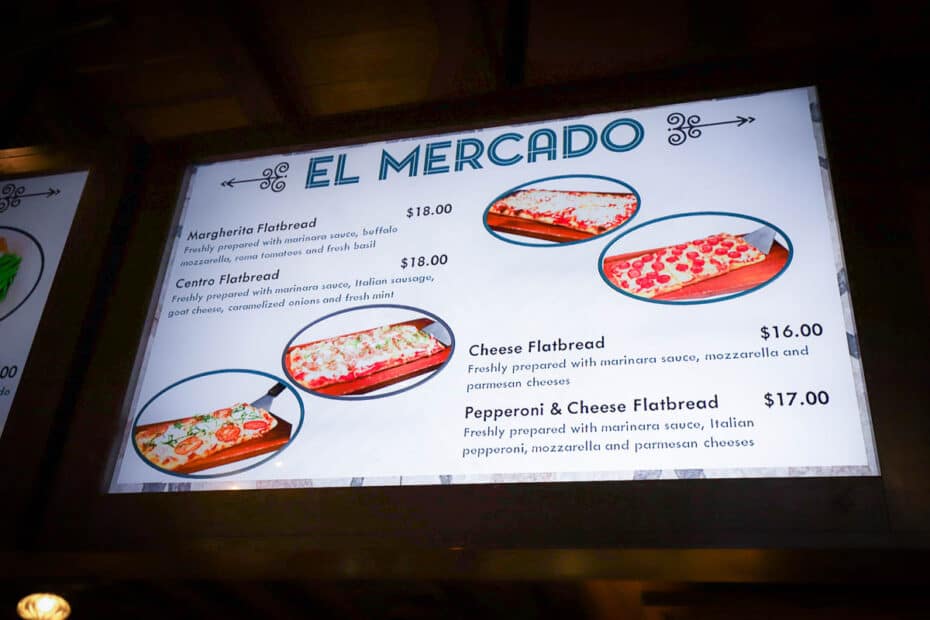 IT WAS THE FINAL STRAW when I saw the flatbreads in cardboard boxes under a heat lamp. You know, I had intended on having dinner here.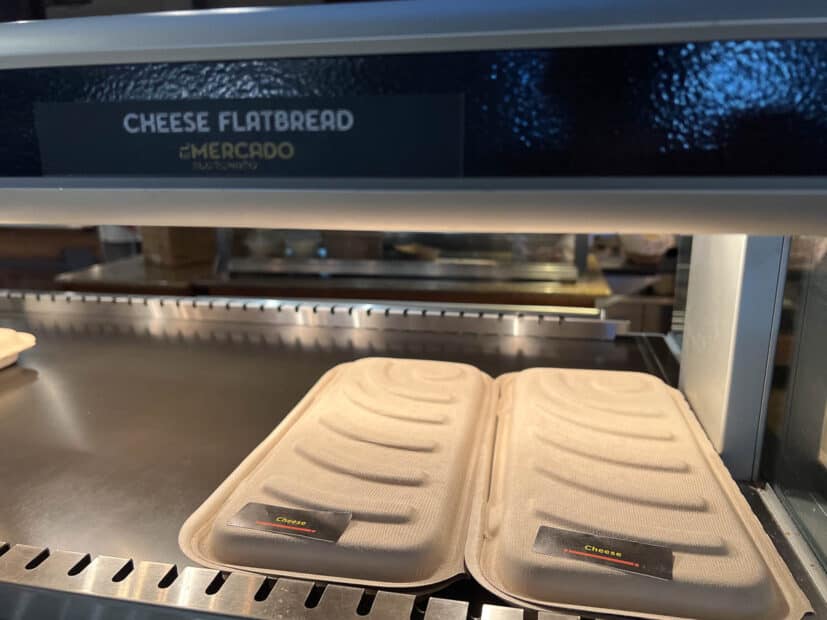 However, I knew I could pick up a decent, freshly prepared pizza on my way home for less than $20.00 that would provide multiple meals. And if you're staying at Coronado Springs, you could order one.
So I guess this is my biggest complaint about the state of Disney World right now. The company used to care about keeping you on the property. They wanted you to dine at their restaurants and spend money at the parks and resorts.
But with all of the budget cuts come the loss of quality and customer care. Don't get me wrong. Many cast members work hard daily to provide guests with a pleasant experience.
It's understandable that we as a country are experiencing a great resignation and that there's an extreme shortage of workers nationwide. But if I brought my family to Disney World and these were my main options at the resort, I wouldn't be as likely to return.
And yes, Coronado Springs does have a plethora of dining options. But this is their only quick service aside from the pool bar, which operates on a limited menu.
Related: Restaurants at Coronado Springs
A few more options included a bacon cheeseburger and chicken tender basket.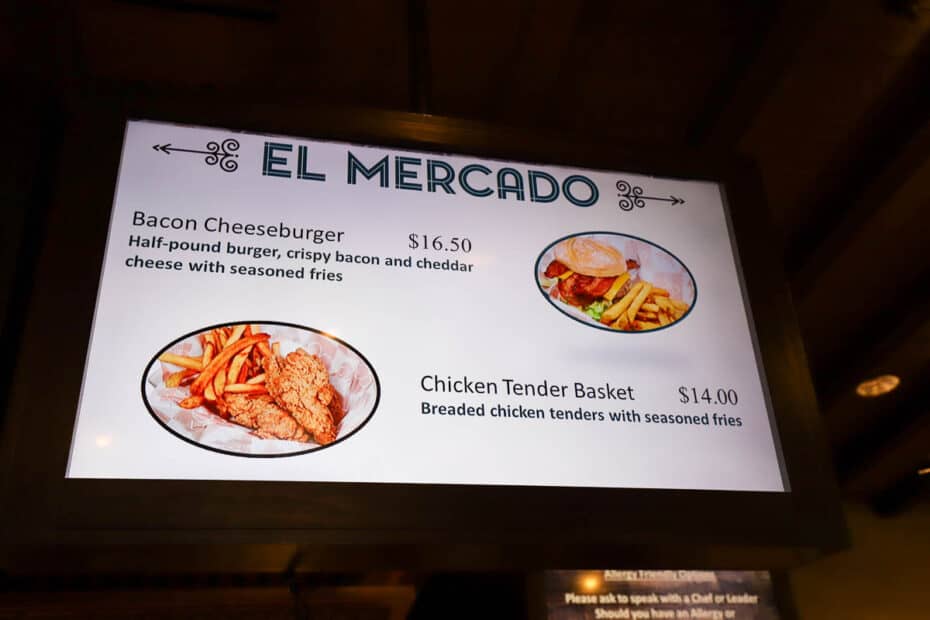 Here they are again.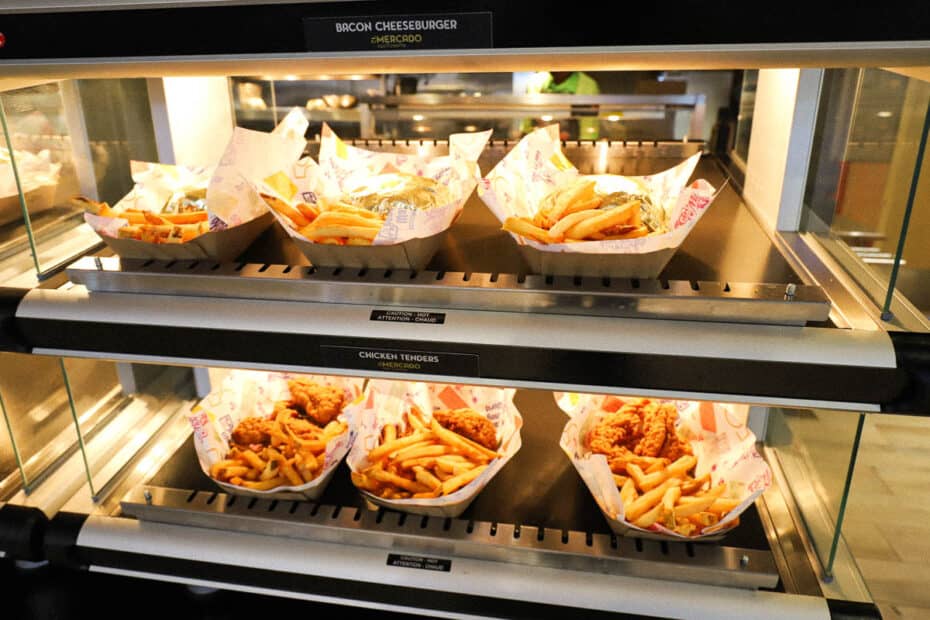 You might see the following menu and think, oh, maybe the nachos sound like a good option.
They are ready and waiting for you.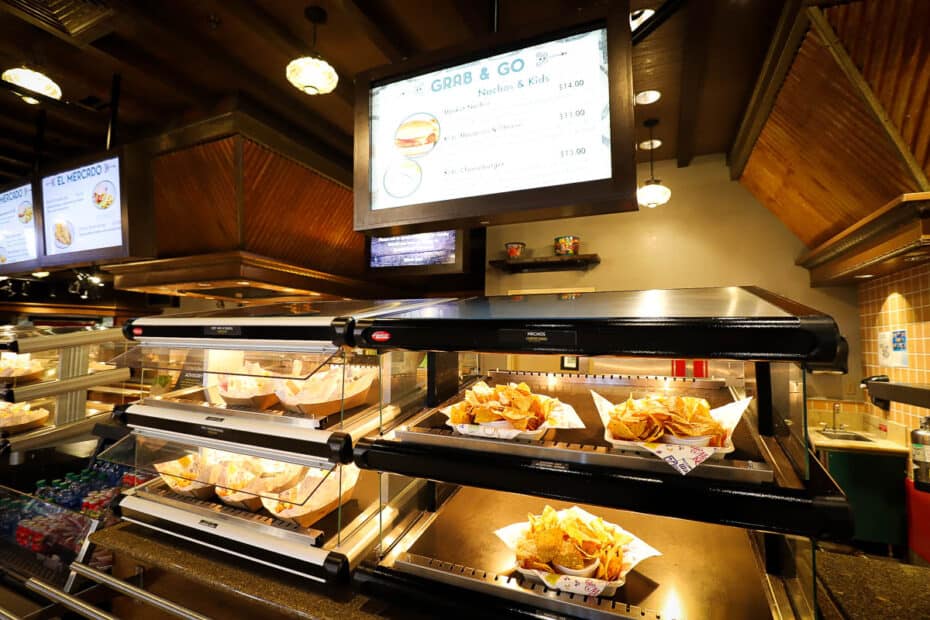 The chips are covering the toppings. However, I see some of that nice 50th-anniversary paper sticking out underneath.
The decorative wrap does not hold a sign of what's been. But, perhaps, a significant issue.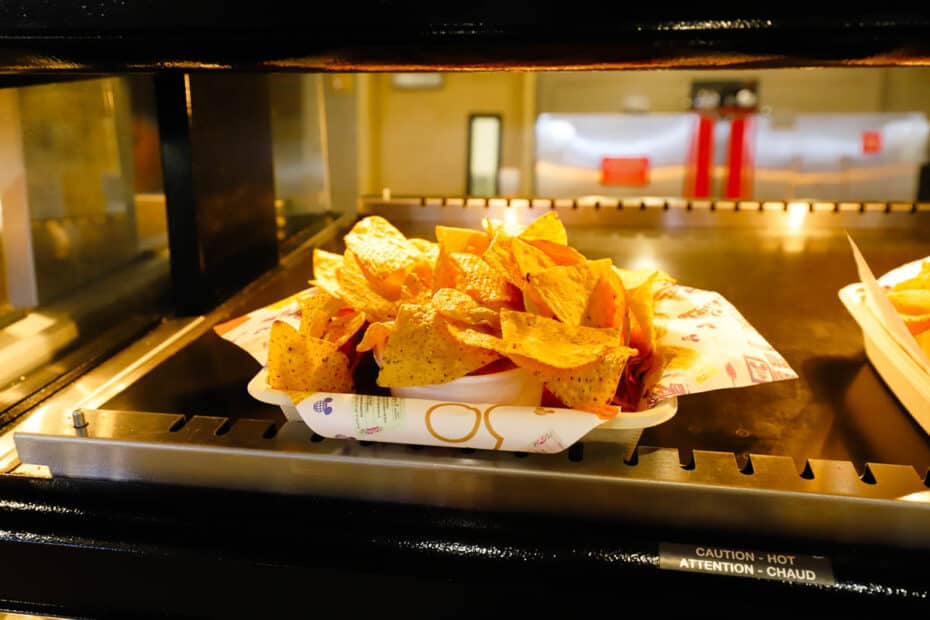 Here are a few items to pair with the kids' meals. I guess the sour cream and salsa are for the nachos?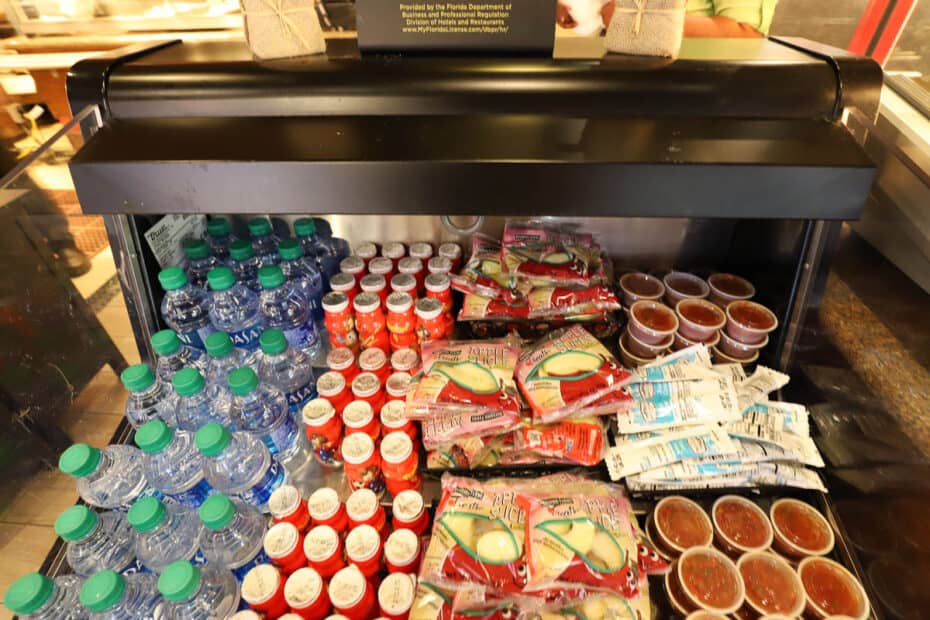 And remember that beautiful pastry case? It's been reduced to grocery store racks with the items packaged in to-go containers.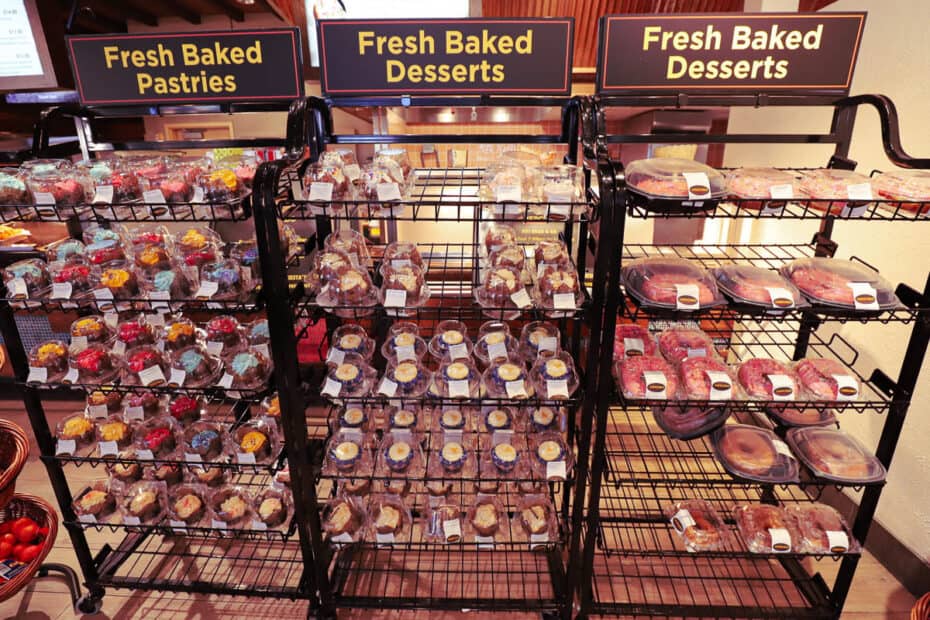 Here are the prices for said treats.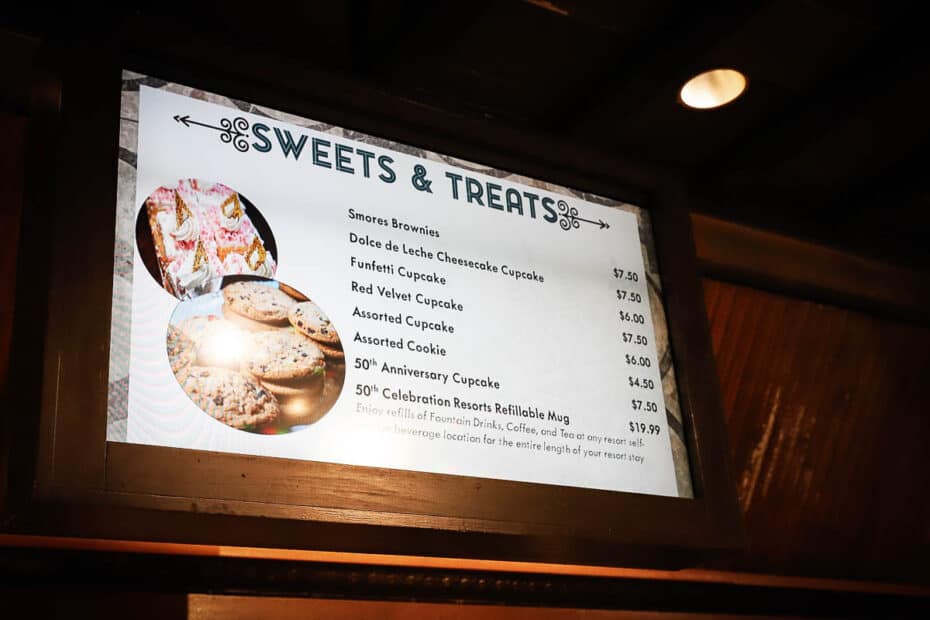 I felt like maybe some of these items should have been refrigerated. And it looks like the vanilla blueberry cupcake had an accident.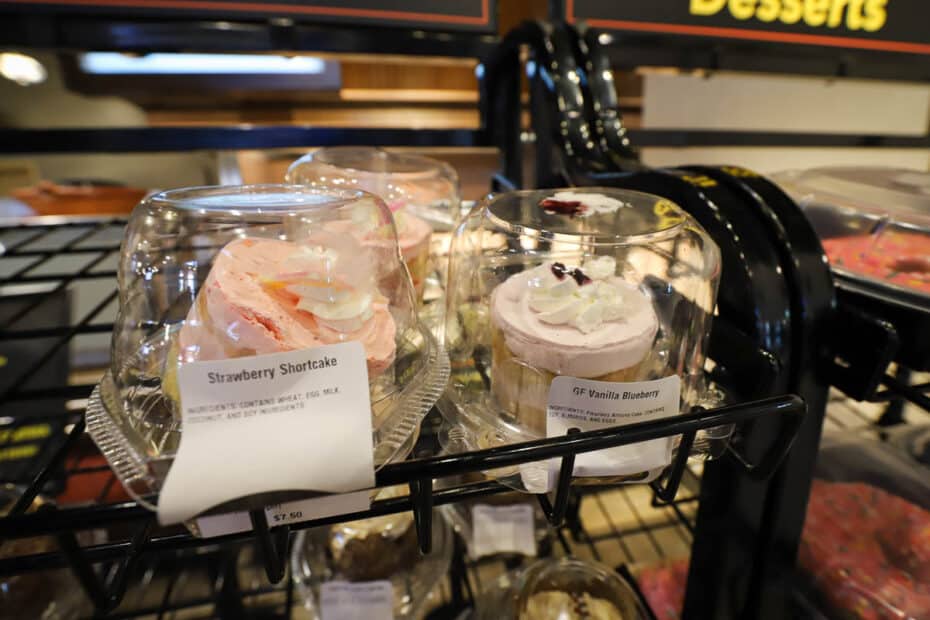 These are the same donuts that are available at all the Joffrey's. They are the breakfast of champions.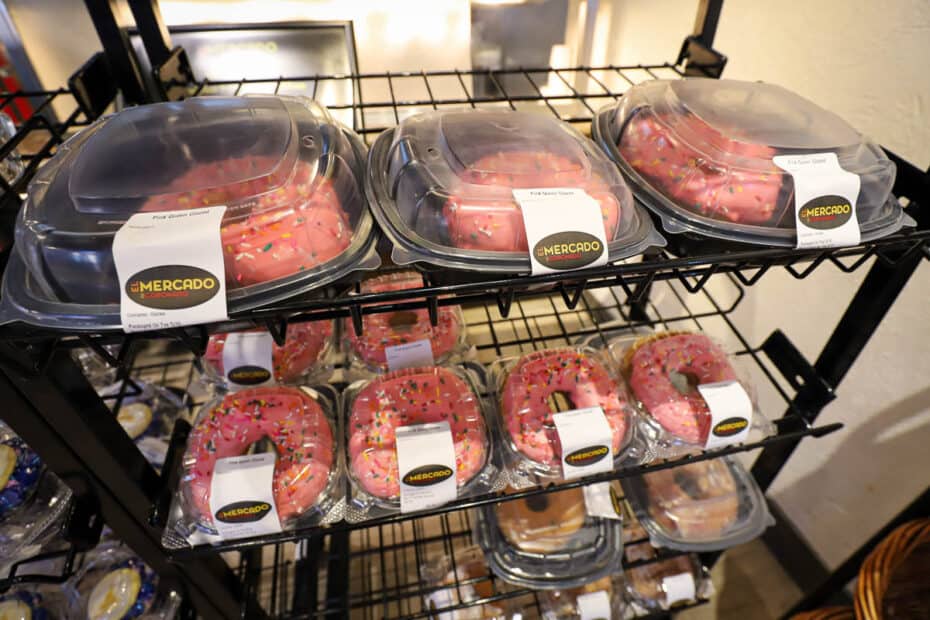 Don't you love how they position the fruit next to the junk food?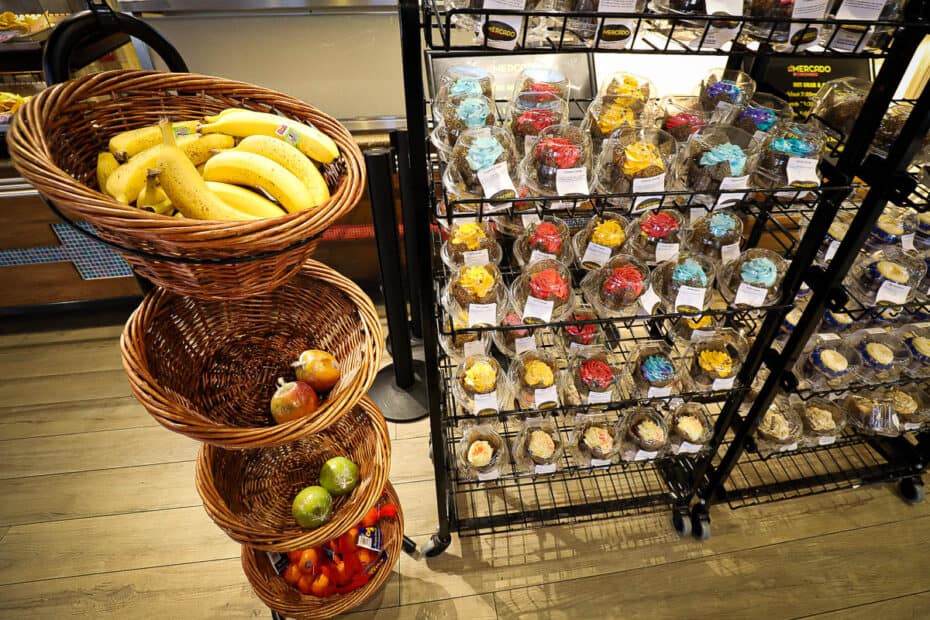 One of the refrigerated cases contained a variety of seltzers.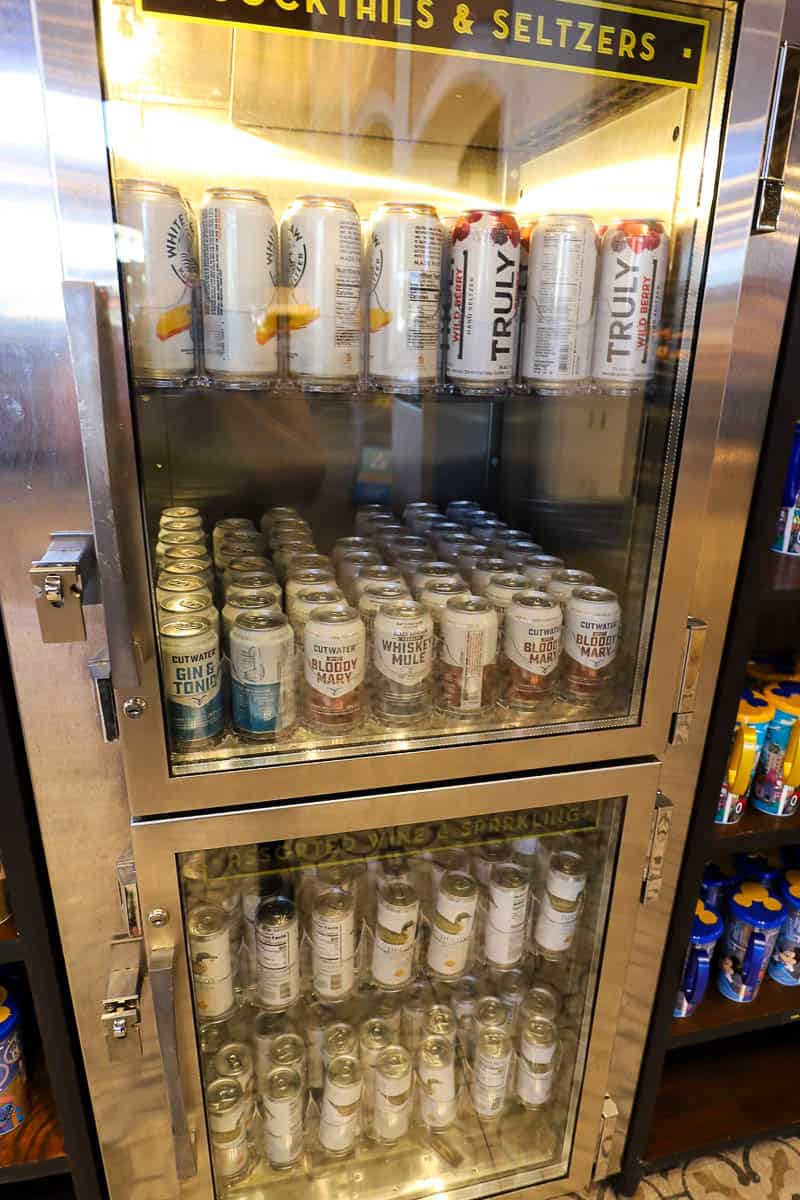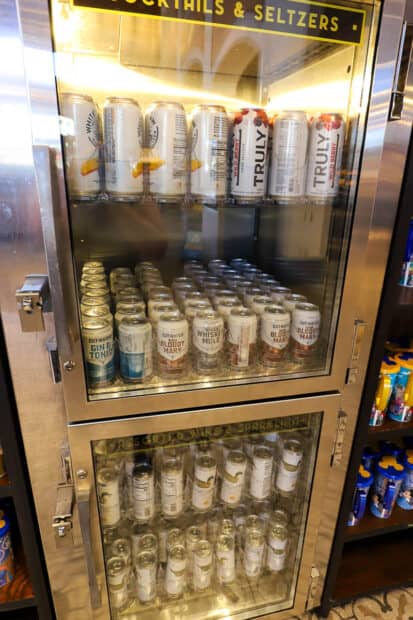 Another case had beer.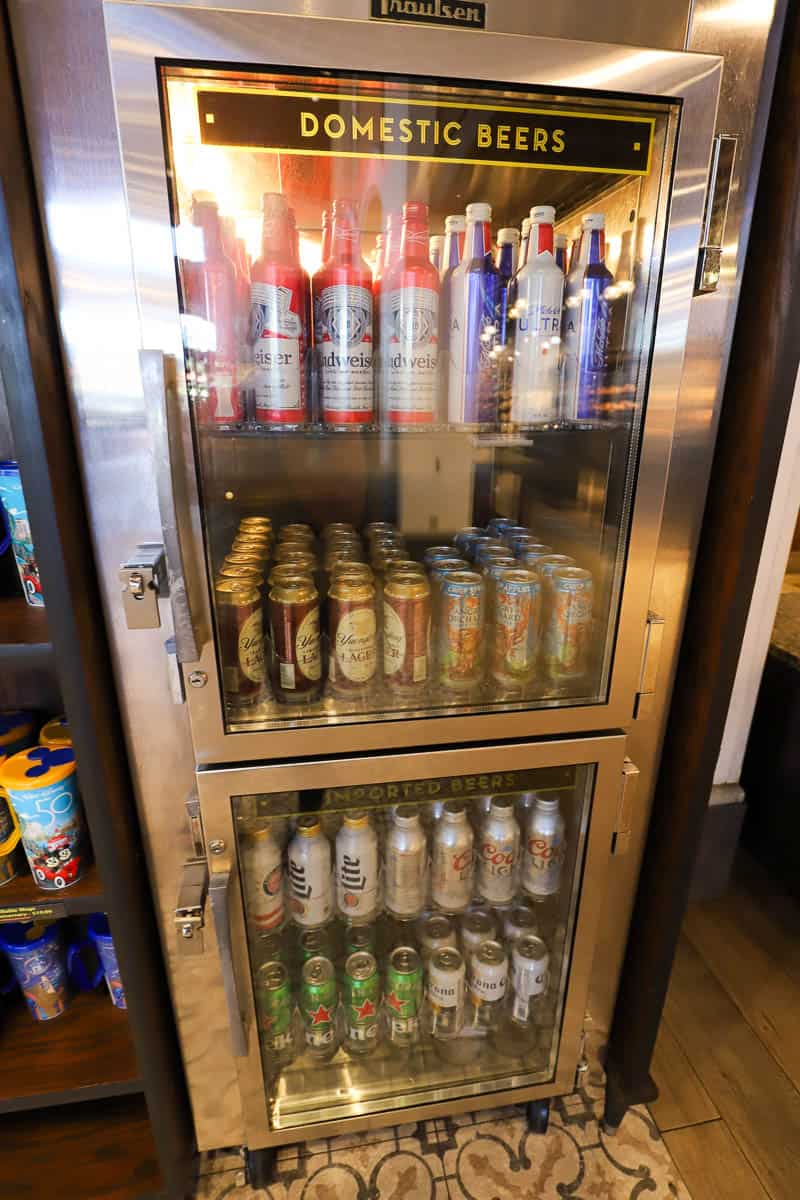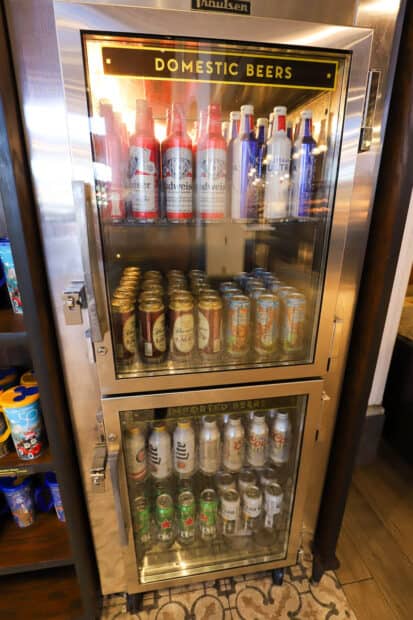 These chips with dips are likely better than the ones already made.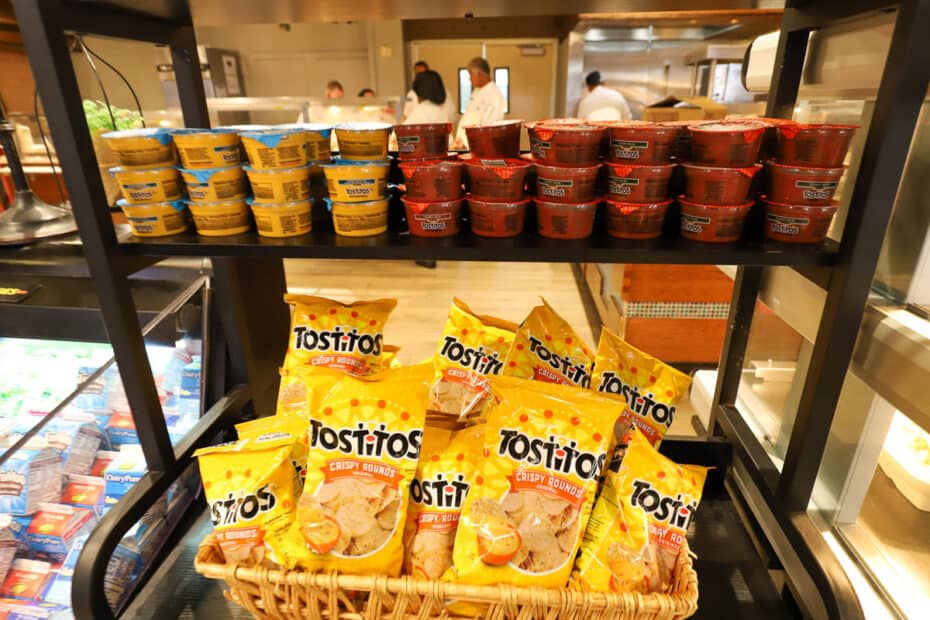 Chickpeas.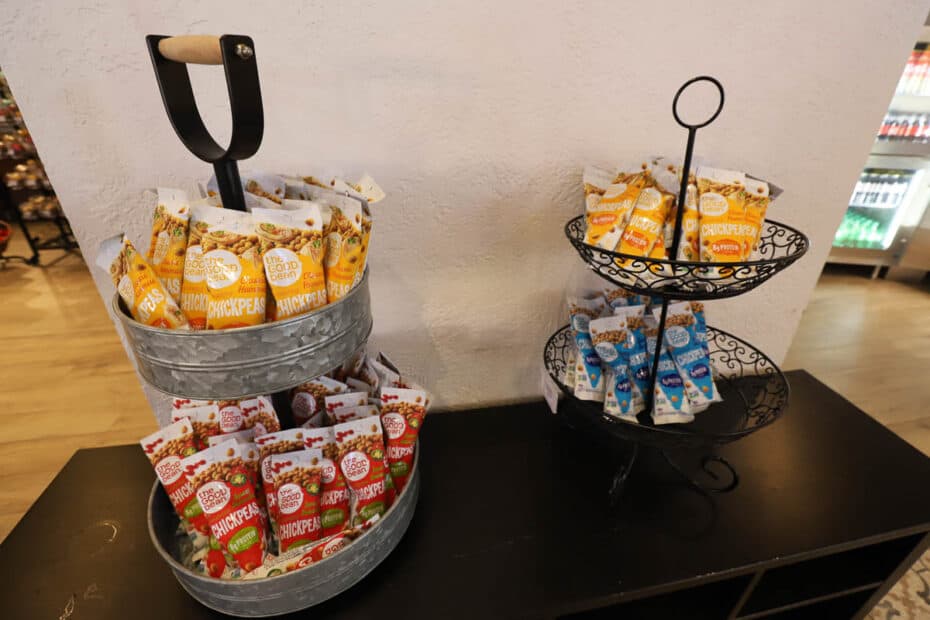 Rapid Fill mugs are available. They have a new design that features Mickey Mouse on the lid.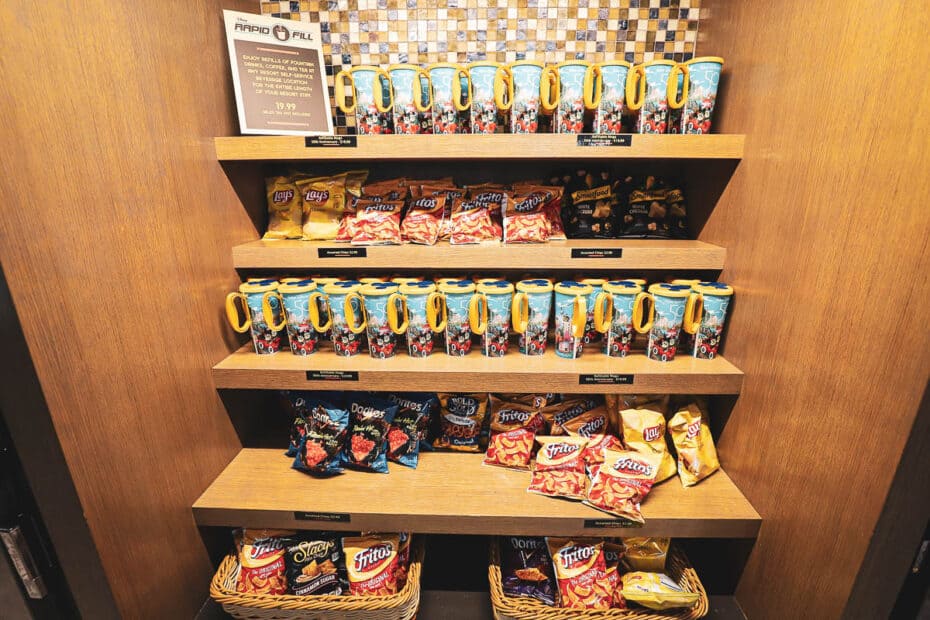 For $19.99, you get a mug that is refillable at the resort for the length of your stay.
So if you'll use it at least seven times, you should get your money's worth compared to purchasing individual fountain drinks. Additionally, you can use them for water, tea, and coffee.
There were a variety of individual cereal and oatmeal packages available. I always recommend getting an extra side of milk with a kids' meal and then using it for cereal later.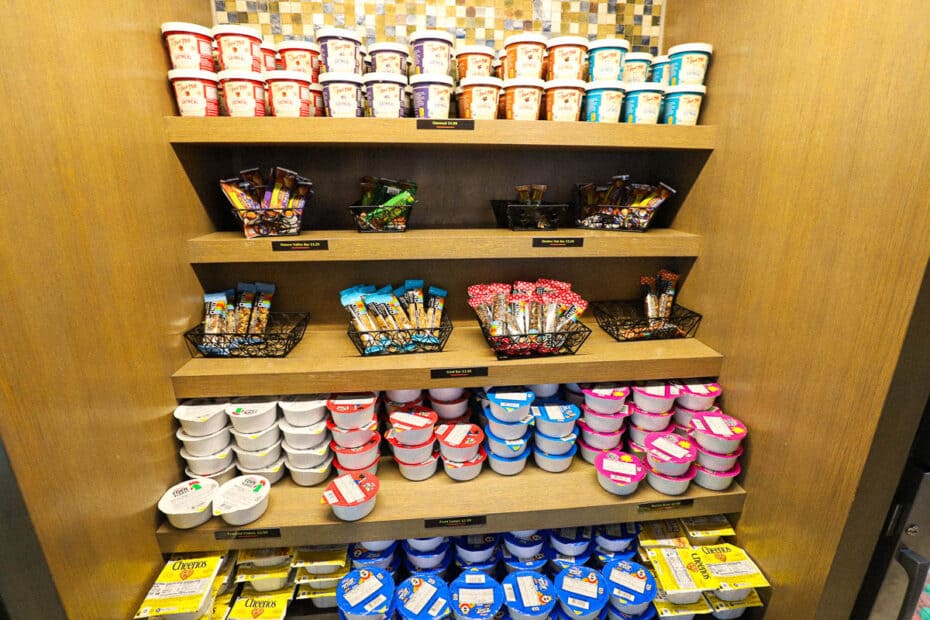 There were a few desserts in a refrigerated case.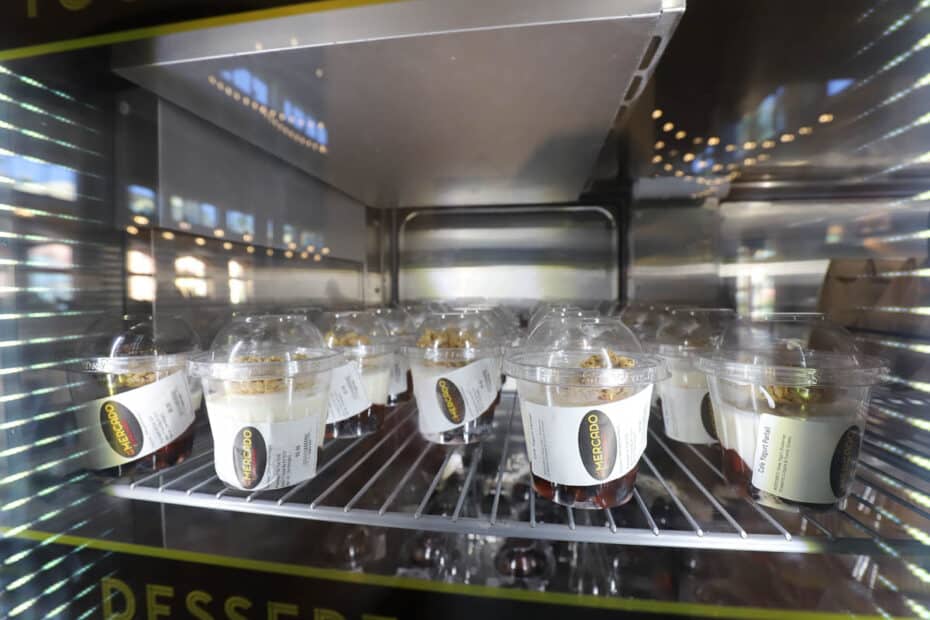 Here is a tub of grapes.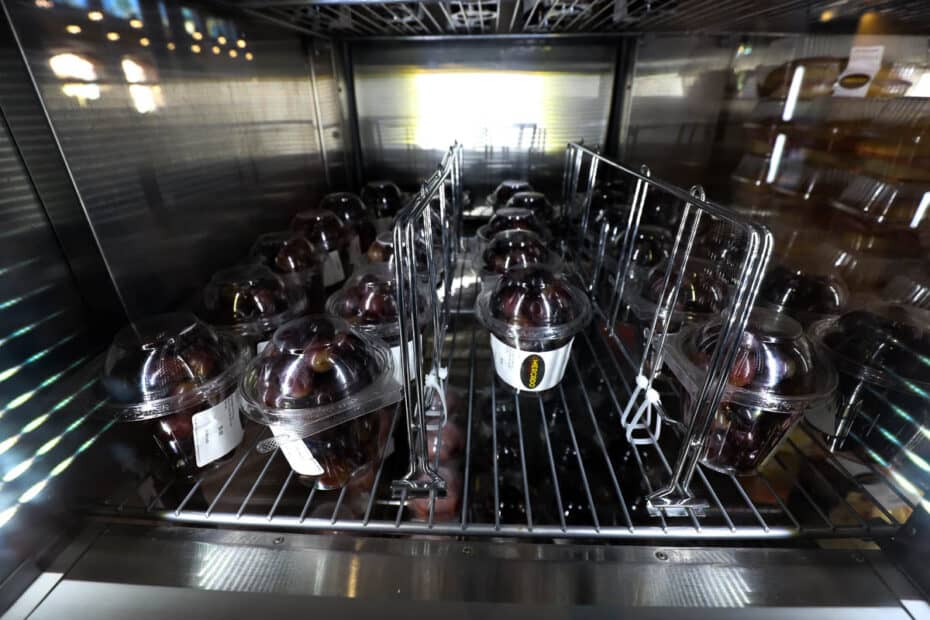 Fresh veggies and hummus trays were $10.00 each.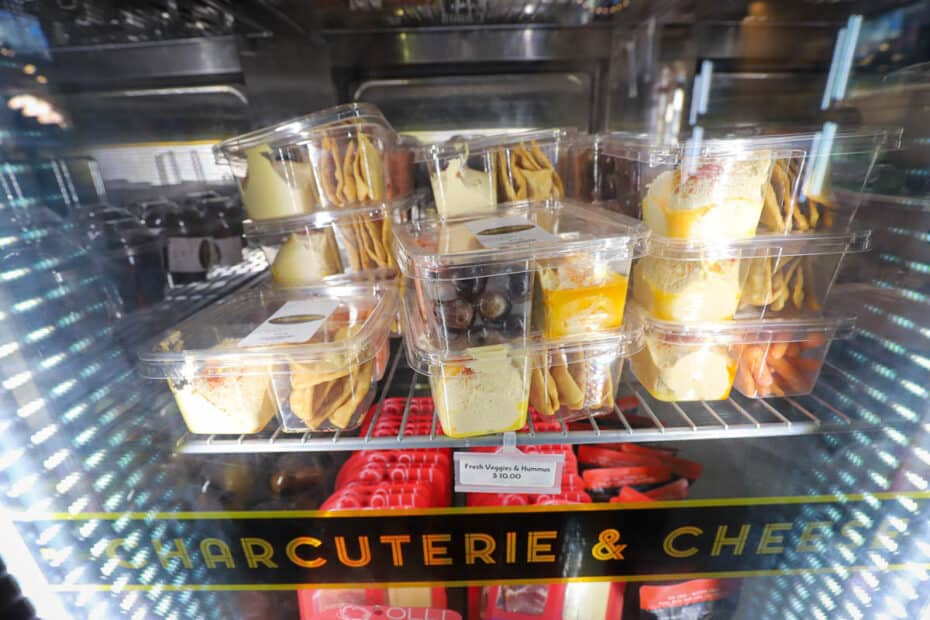 Pre-made sandwiches have invaded El Mercado as well.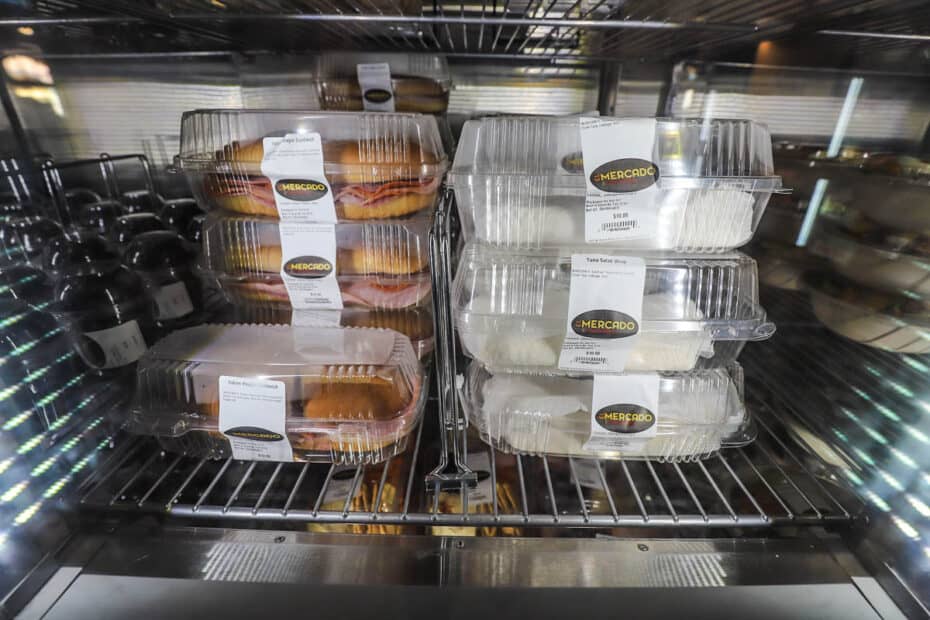 These are Cafe ham and cheddar if that makes you feel better. For $12.00! I'm sorry, what?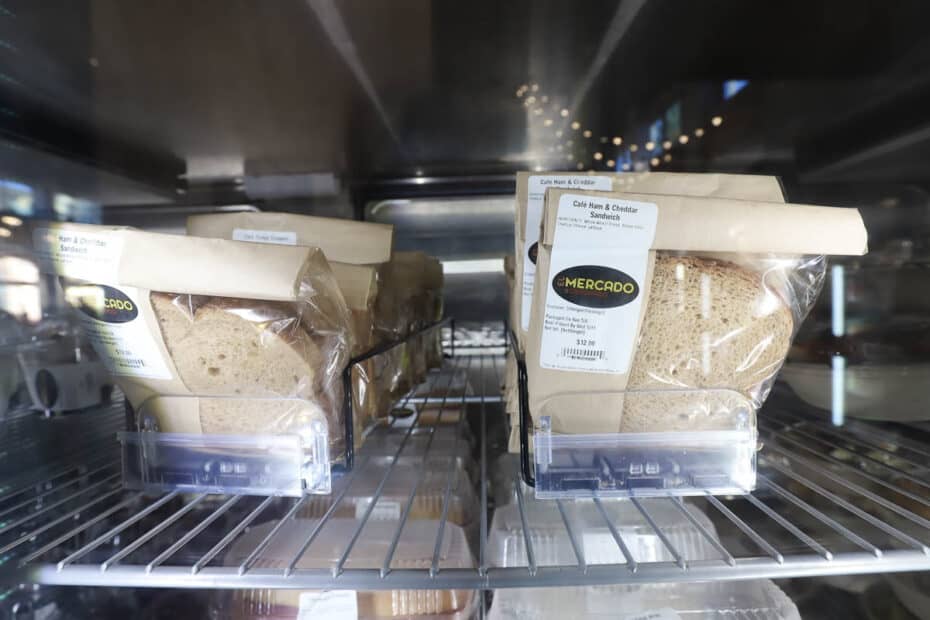 I did see a few people grabbing a salad out of the case.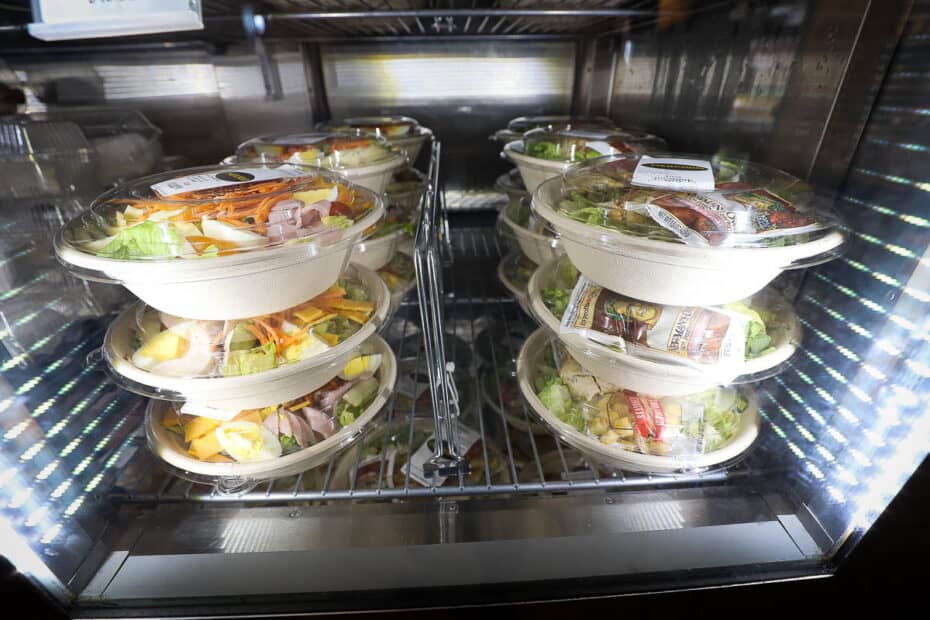 There are plenty of sodas, water, ginger ale, sports drinks, etc.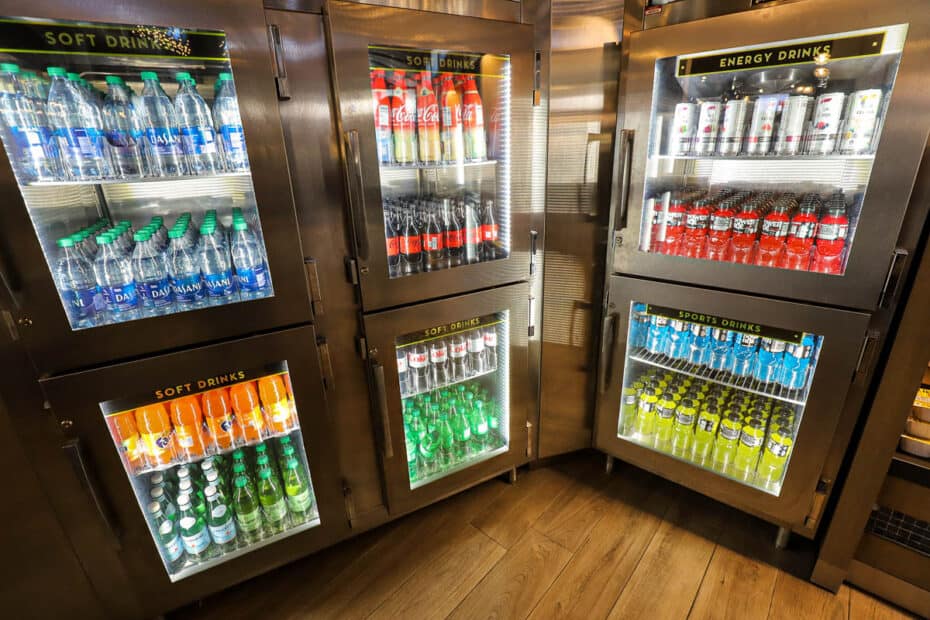 And a nearby case contained several juices.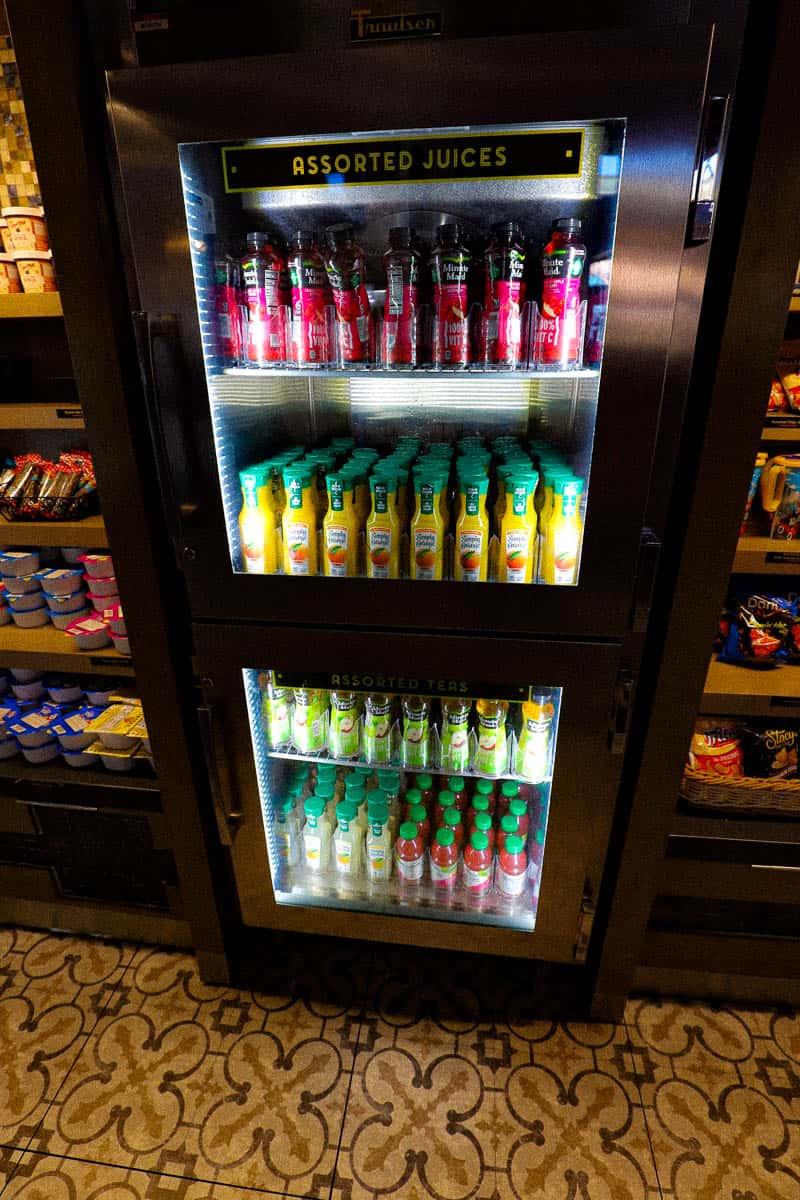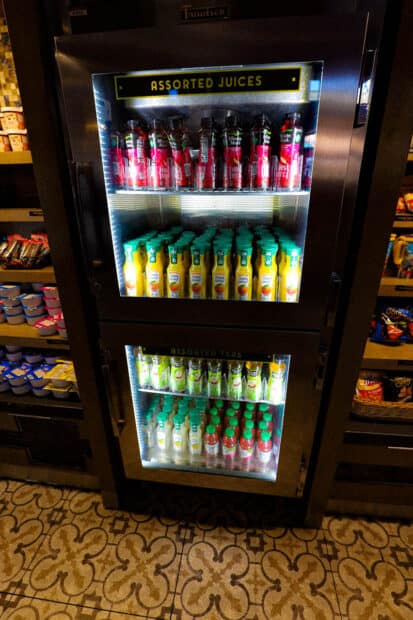 There were a few specialty items and allergy-friendly products on display.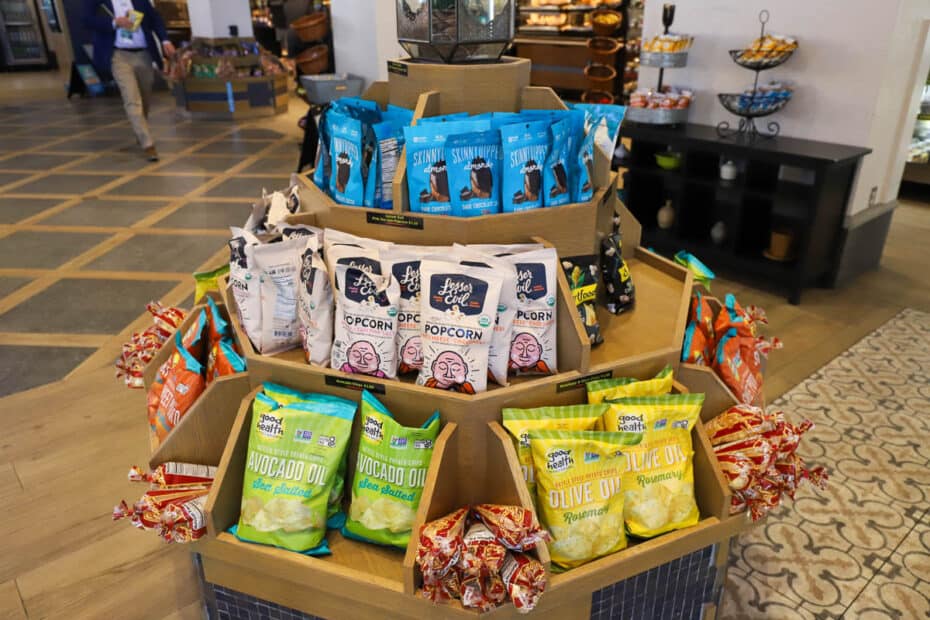 Lastly, here's a look at the refillable beverage station.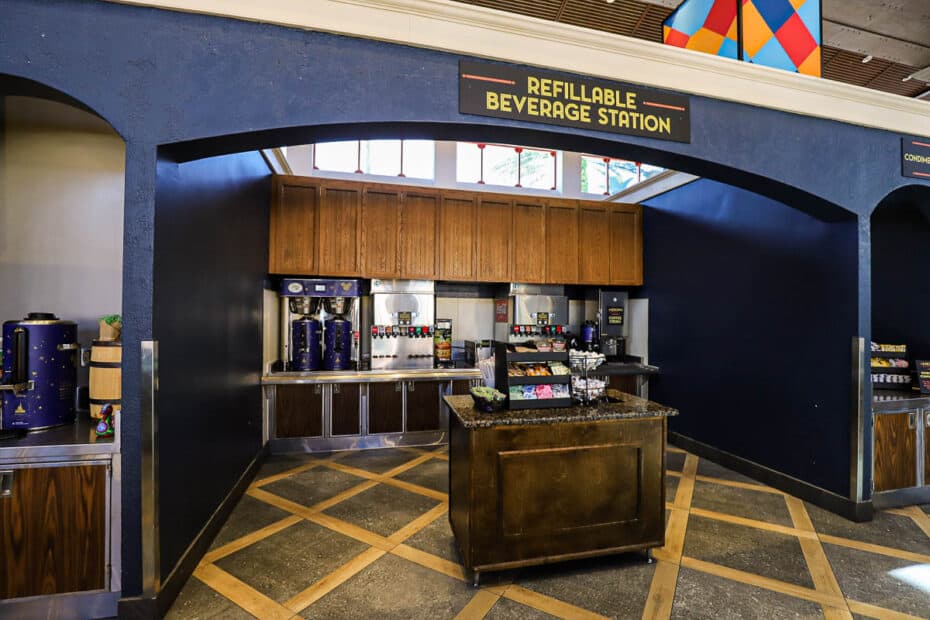 Fountain drinks choices are standard Coca-Cola products.
Several large dining areas provide plenty of space. This photo is a good indicator of the lack of guests dining at El Mercado. The dining room was empty at 6:00 p.m.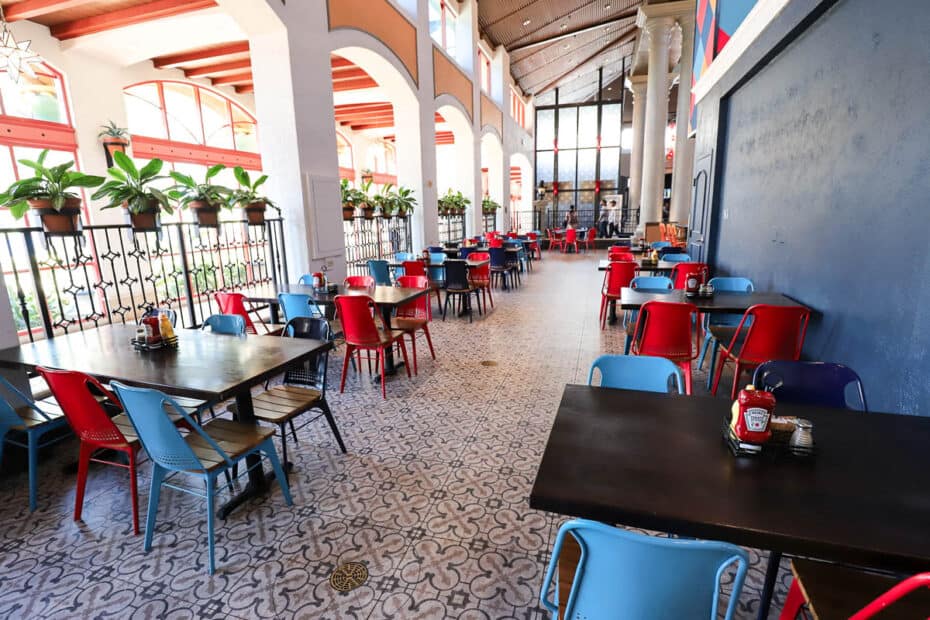 You might think everyone was at the parks, but a convention had let out while I was taking these photos. There was a good deal of guests in the immediate area.
As I was leaving, I noticed this photo prop sitting near the entrance. A sarcastic voice deep within me whispered "sucker" as I thought of having my picture made with it before a meal here.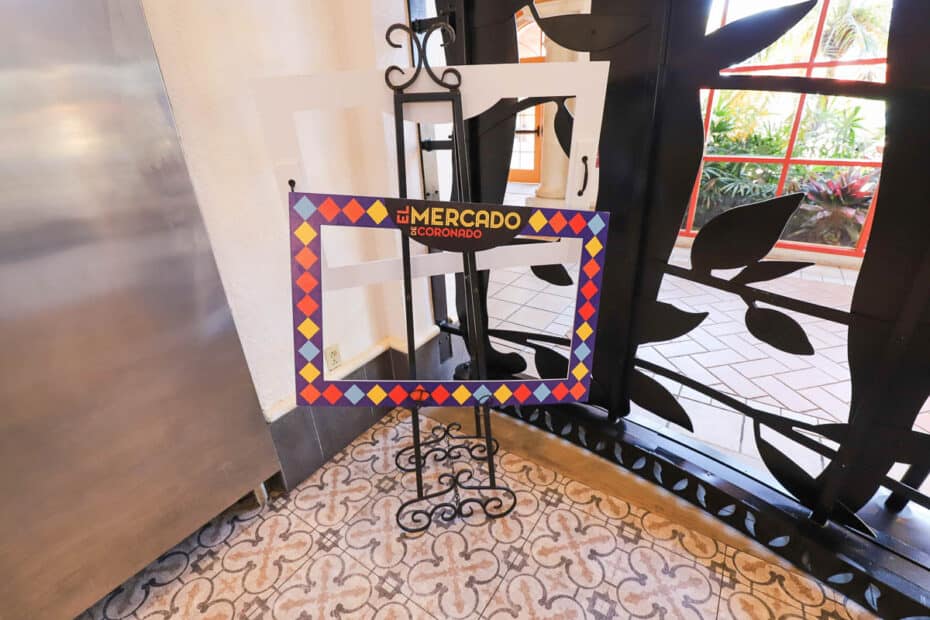 Unfortunately(?), I haven't been back to El Mercado to see what's available at breakfast. But you can preview those items here on Disney's site if you like.
Overall, my visit to the counter service left me surprised and ultimately disappointed. Hopefully, this review of El Mercado wasn't too off-putting.
Because Coronado Springs is a beautiful resort, it's my top choice for the best moderate resort at Disney World.
Surely, things will improve at El Mercado in the future. We'll have a few more new articles coming out for Coronado Springs over the next week.
All of our articles for the resort are listed in our guide to Disney's Coronado Springs Resort.
Individual articles include:
In the comments: What do you think about my findings at El Mercado? Do these things bother you, or would you grab the hours-old chicken nuggets and go?
Planning a Walt Disney World or other Disney Destination vacation?
Our friends and travel partner, Firefly Travels, excels at doing Disney differently. You can fill out a plan your trip form on their website, and someone will reach out shortly to discuss the specifics.