Room Tour: Deluxe Studio at Disney's Riviera Resort
When it comes to staying at Disney's Riviera Resort, there are more than a few room options. However, the unit that's most comparable to an average room is the deluxe studio.
Since Riviera is a dedicated Disney Vacation Club Resort, the rooms have upgrades you wouldn't find in a standard hotel room. To further clarify, all of the resort's rooms are studios are higher category rooms. There are no standard guest rooms at the Riviera.
This article will preview a deluxe studio at Disney's Riviera Resort. This room offers two queen beds, a small kitchenette area, a balcony, and an upgraded guest bath.
Most will appreciate the in-room upgrades that elevate the look and feel of the deluxe studios. This floor plan has become one of my favorite room layouts at Disney World.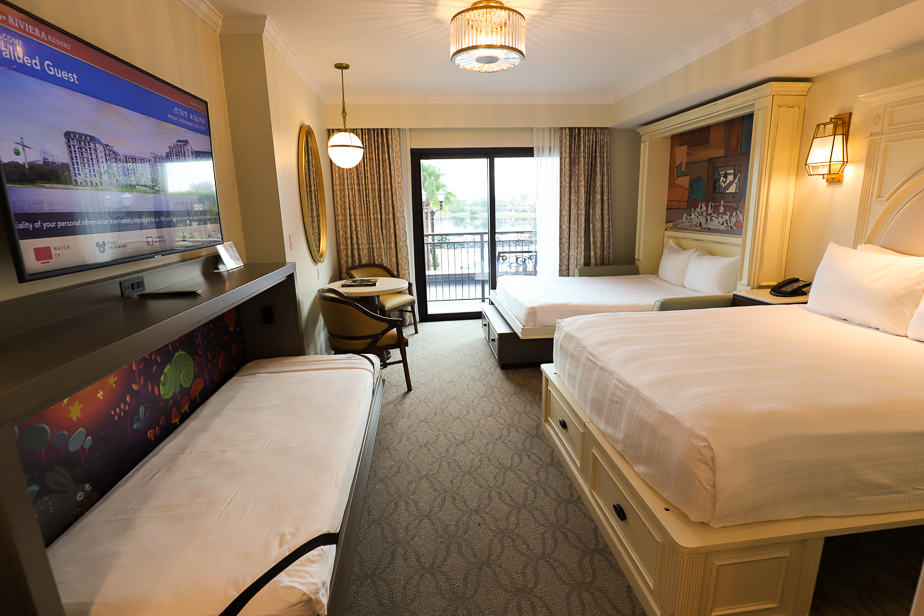 What I like most about the room is that the second queen-size bed doubles as a sofa providing extra living space when it's not in use.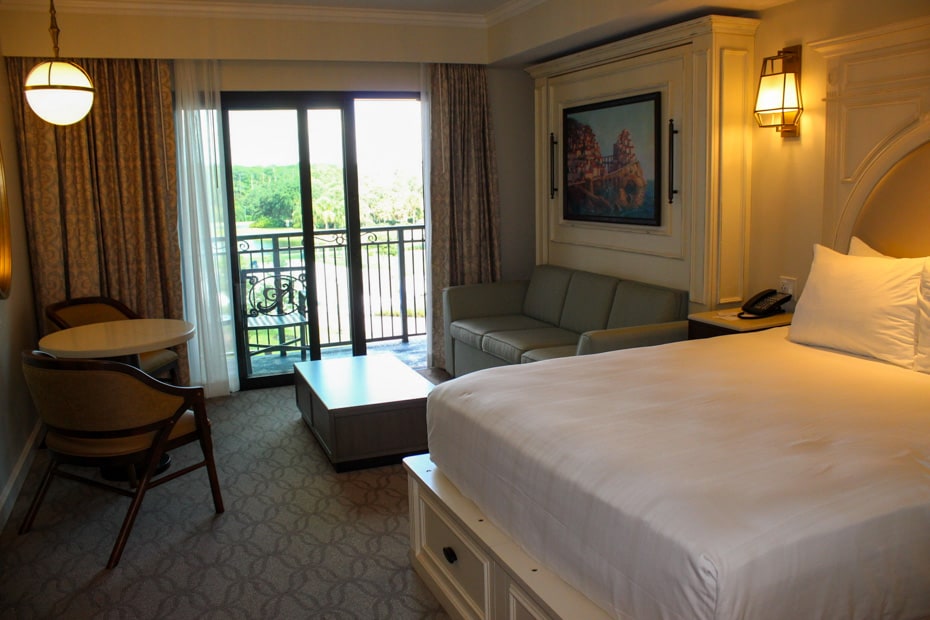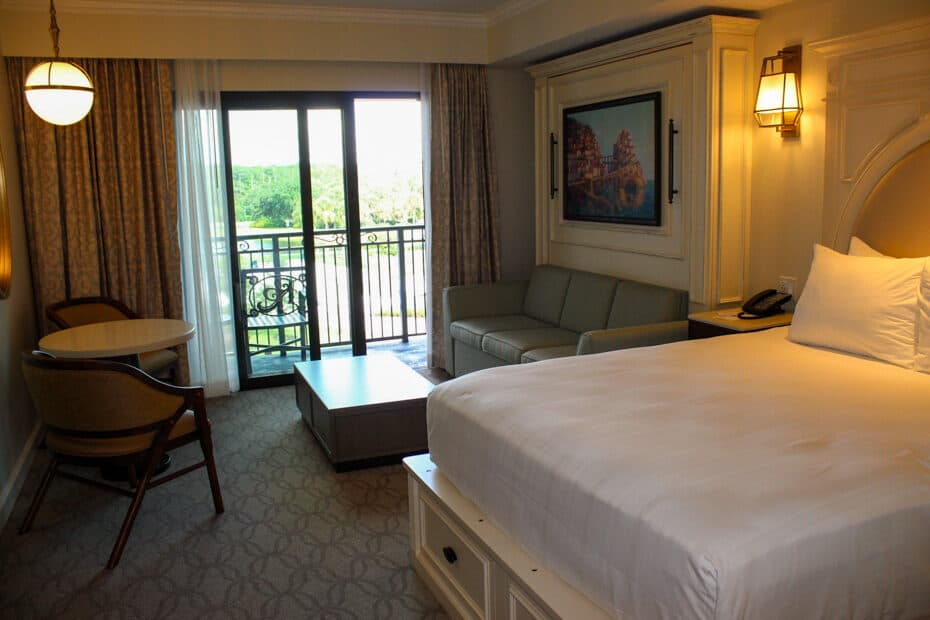 At the end of the evening, the Murphy-style bed pulls down from the wall revealing an extra place to sleep. One advantage of this bed style over a sofa sleeper is that you don't have to deal with large sofa cushions taking up extra space in the room while the bed is in use.
But we can all agree that the real benefit here is that a regular mattress is much better than one built into a sofa. You can trust me if you haven't slept on one of these beds yet.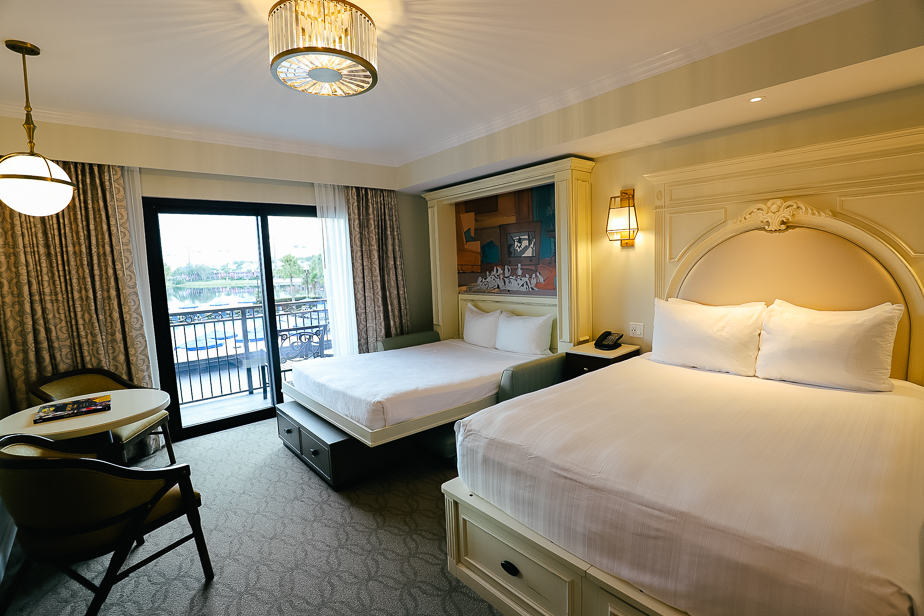 In addition, a single trundle bed is built into the wall underneath the flat screen television.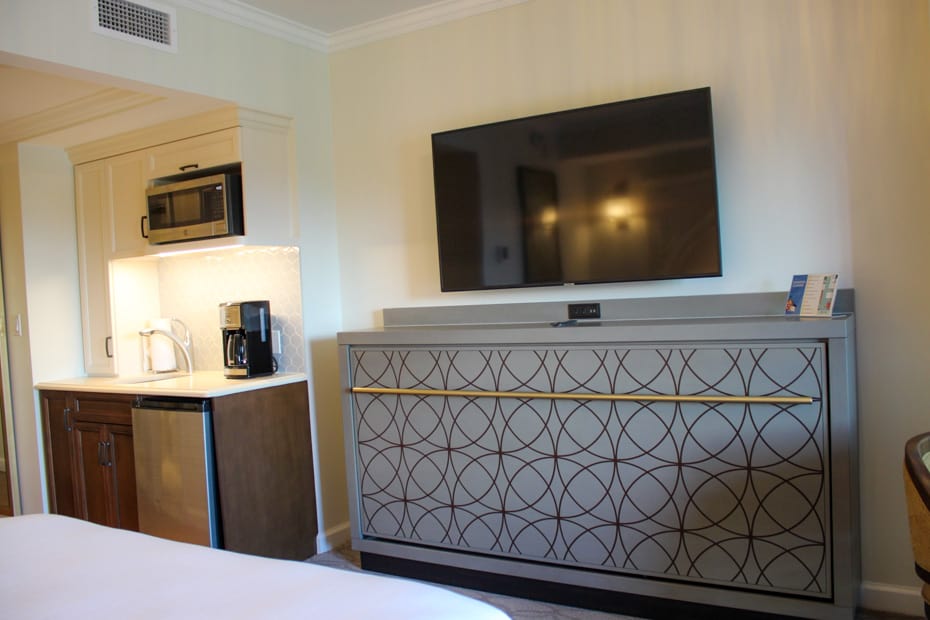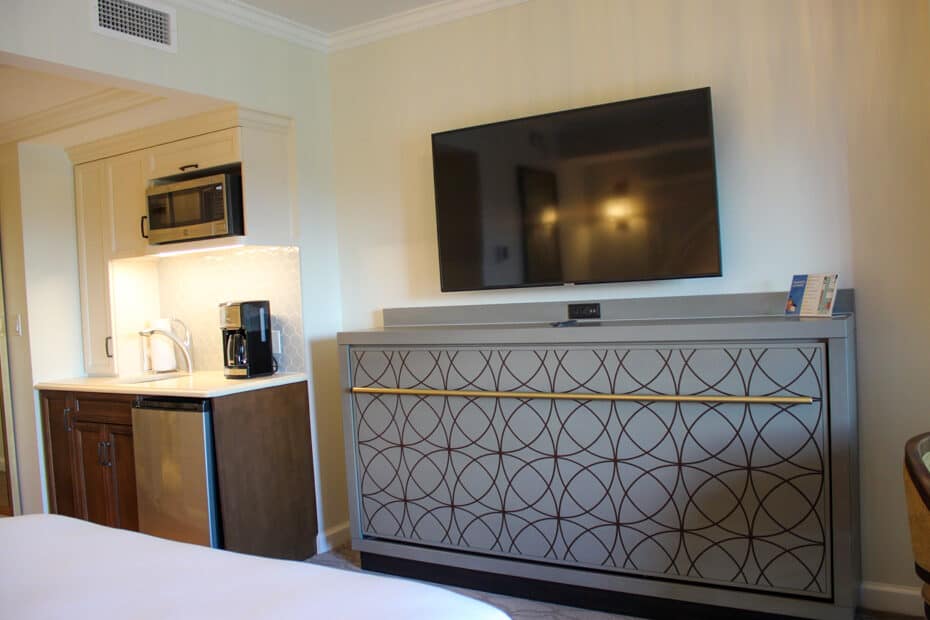 Artwork inside the trundle features Pascal from Tangled. Trundle beds are ideal for guests around the ages of 10 and under. For those traveling with multiple children, it's nice to have the option to accommodate up to five guests in one room.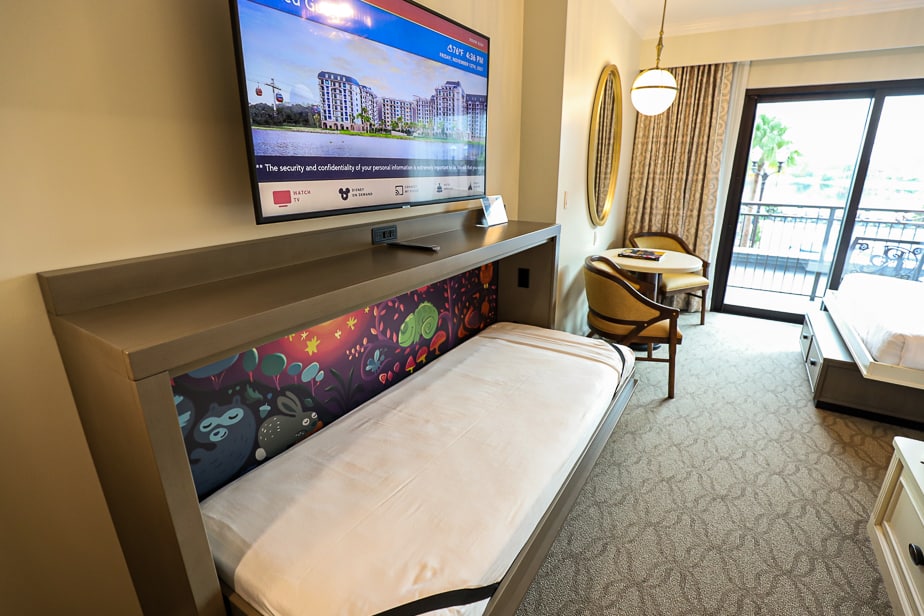 Another attribute of the space is the large split guest bath in the deluxe studio. The bathroom featured a Carrara marble with dark veins that contrasted nicely with the brushed brass fixtures.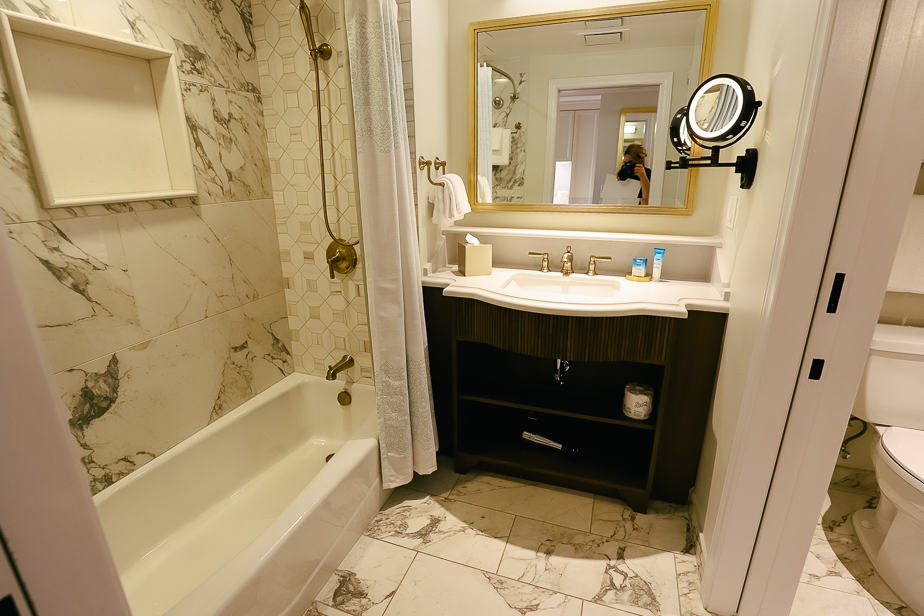 Let's talk about the layout of this split bathroom. Riveria's deluxe studio bath is divided into two rooms by a pocket door. Each area of the bath has an entrance from the hallway.
Above, we are looking at the part of the bath with the vanity area and tub with shower combination. A guest could use this space to shower, bathe, or get ready at the vanity.
Below is the other divided space, which contains the water closet and a walk-in shower. Guests can use the water closet here or take a shower while someone else is getting ready or bathing on the opposite side.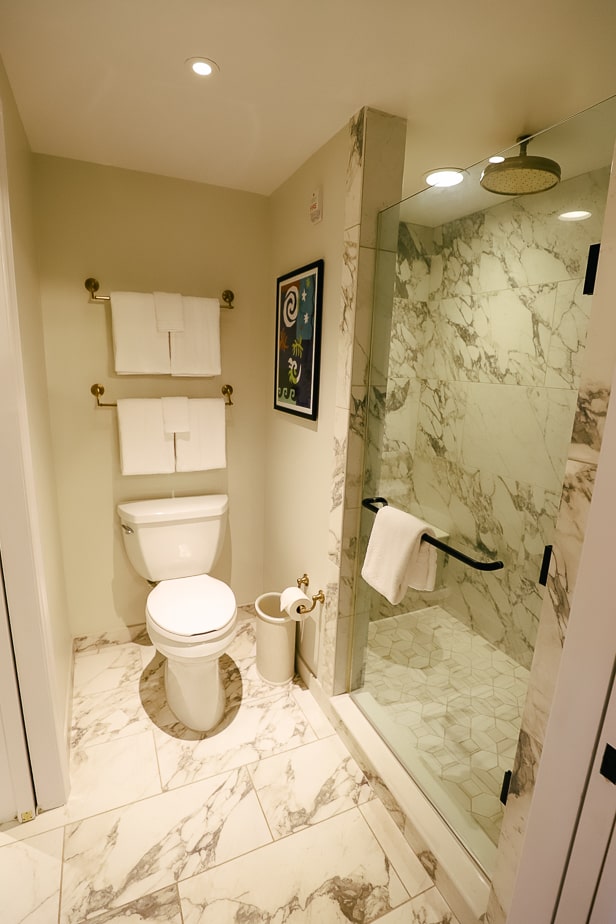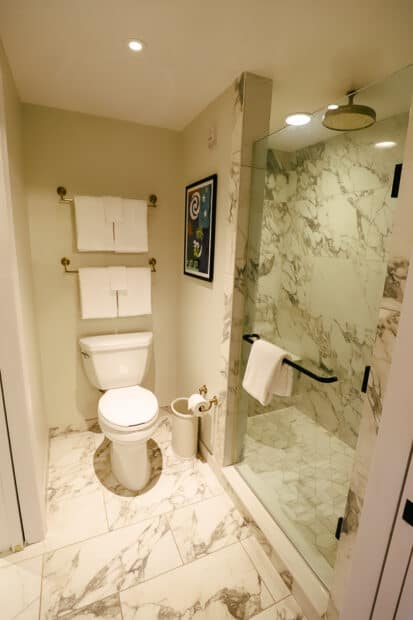 This layout makes the bath area extremely efficient by providing spaces for multiple guests to get ready simultaneously.
Riviera's deluxe studio also has a kitchenette that provides a space to prepare small meals or reheat leftovers. In addition, each room has a sink, microwave, toaster, mini-fridge, and coffee maker.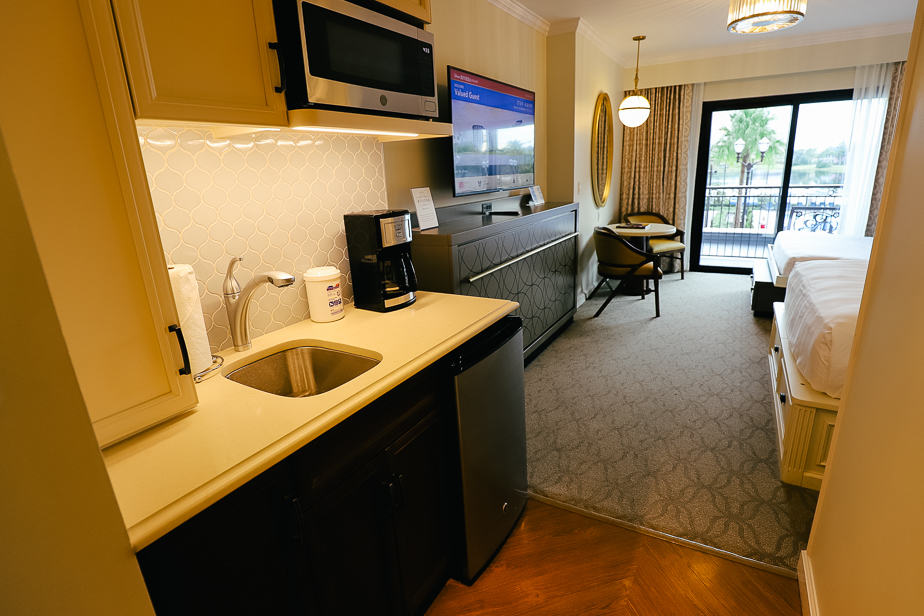 Paper towels, dish soap, coffee, and other accompaniments are available in the room.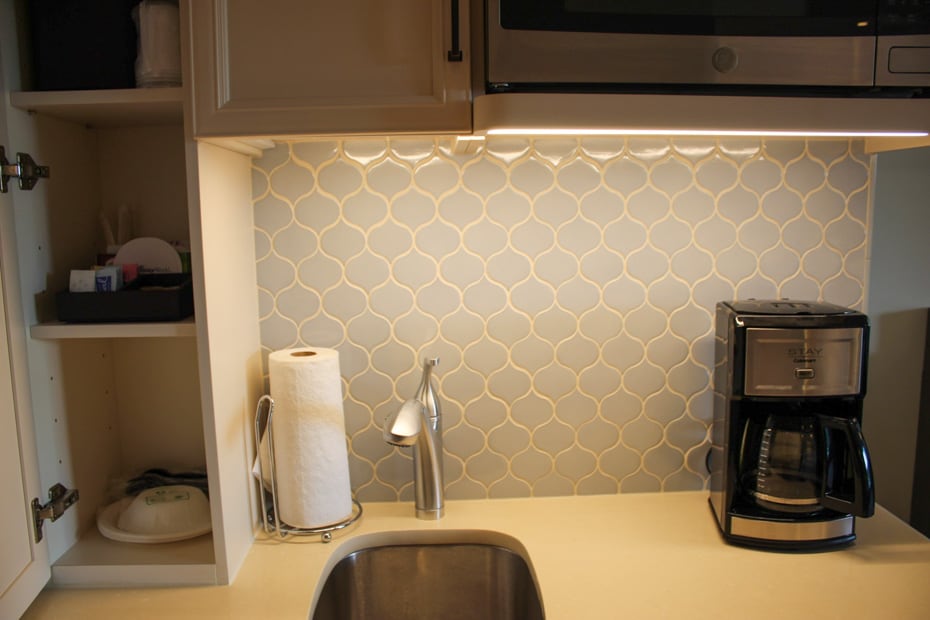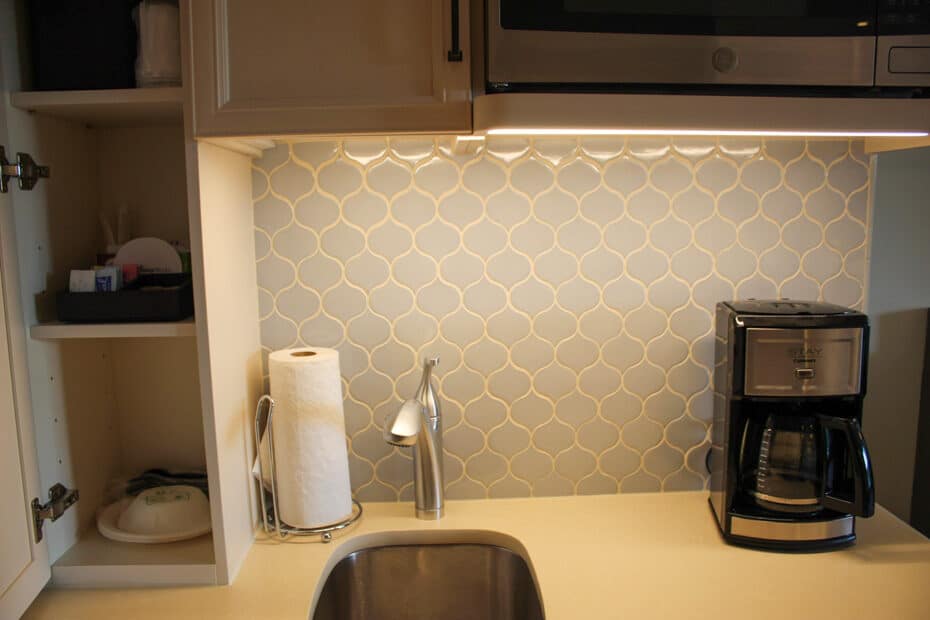 The sink has a detachable faucet that comes in handy for rinsing water bottles and whatnot.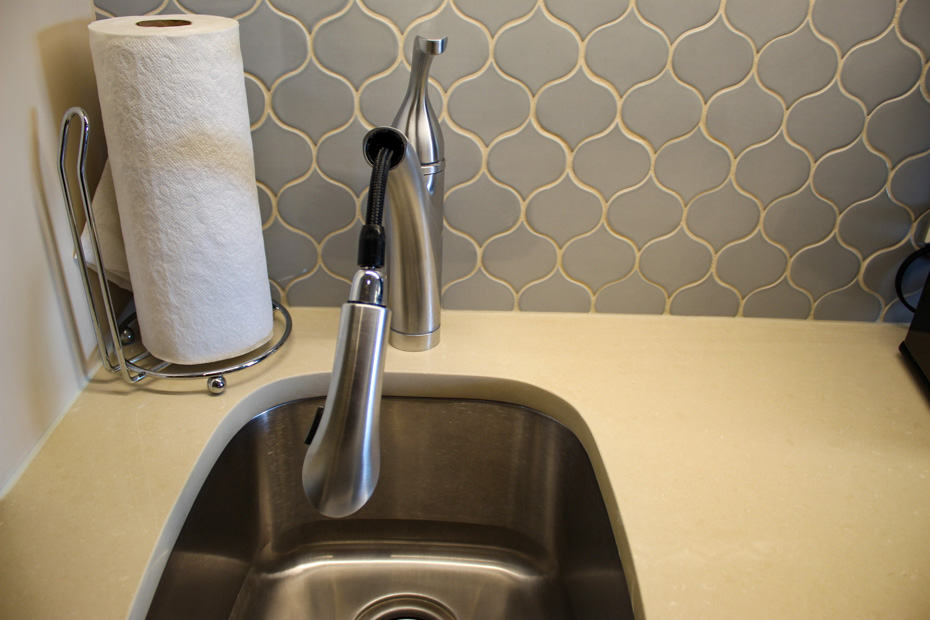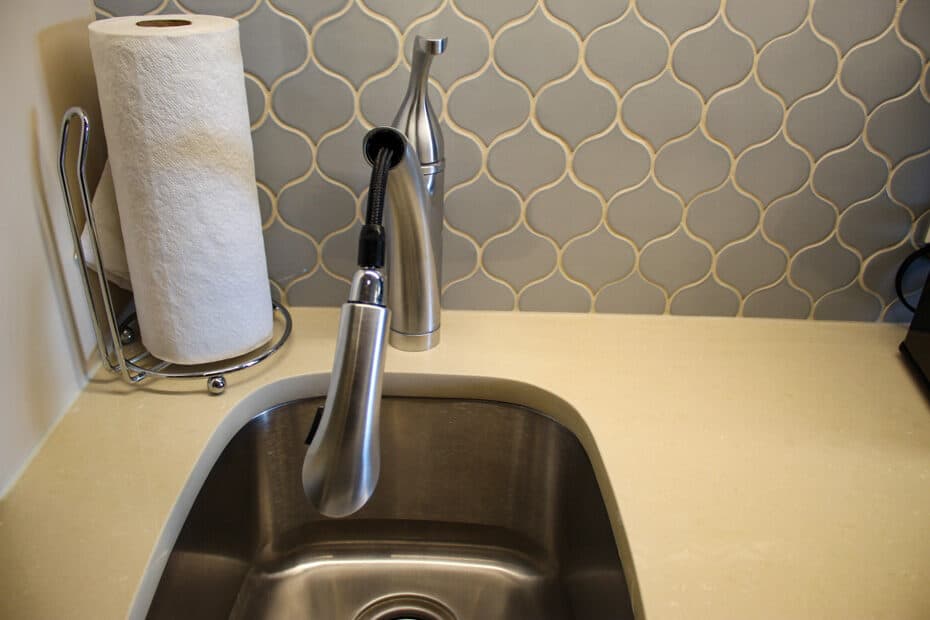 Here is a close-up of the Cuisinart coffee maker.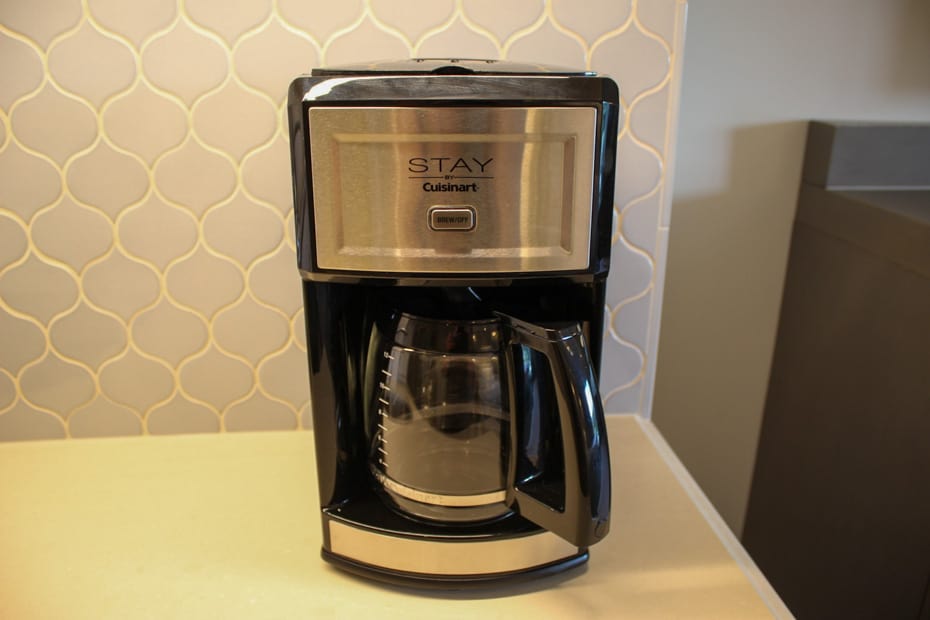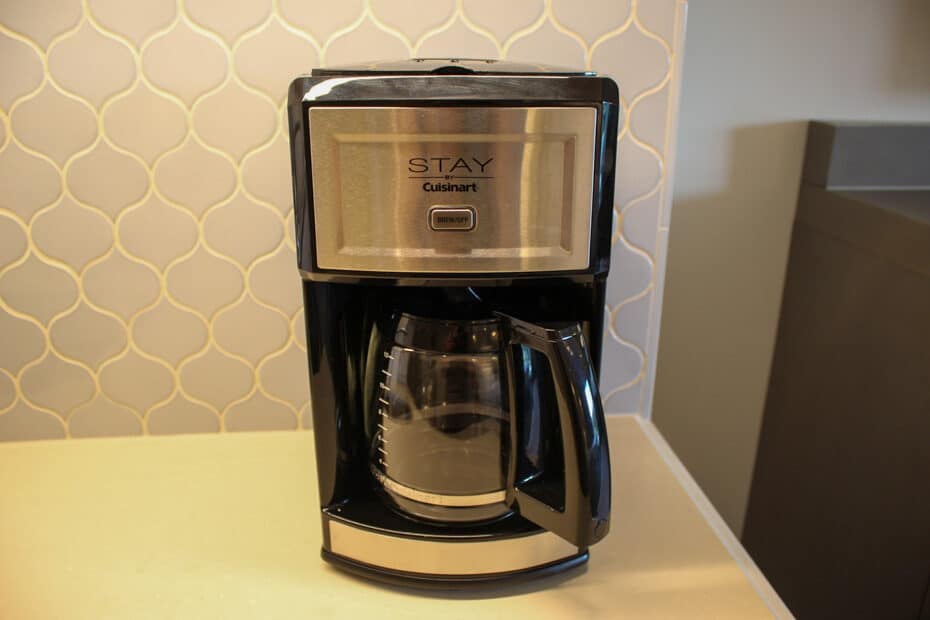 The toaster oven was stored away in an upper cabinet.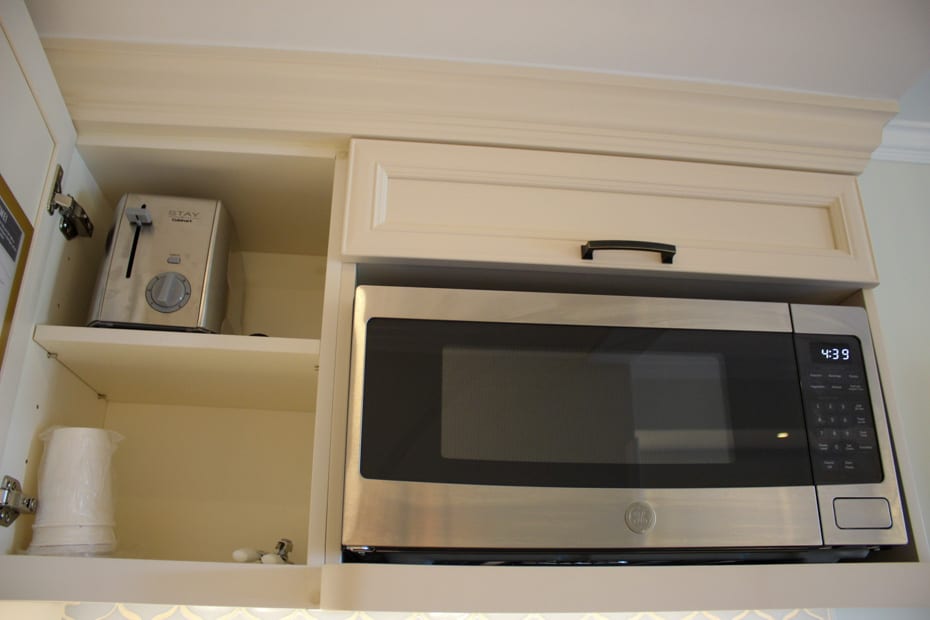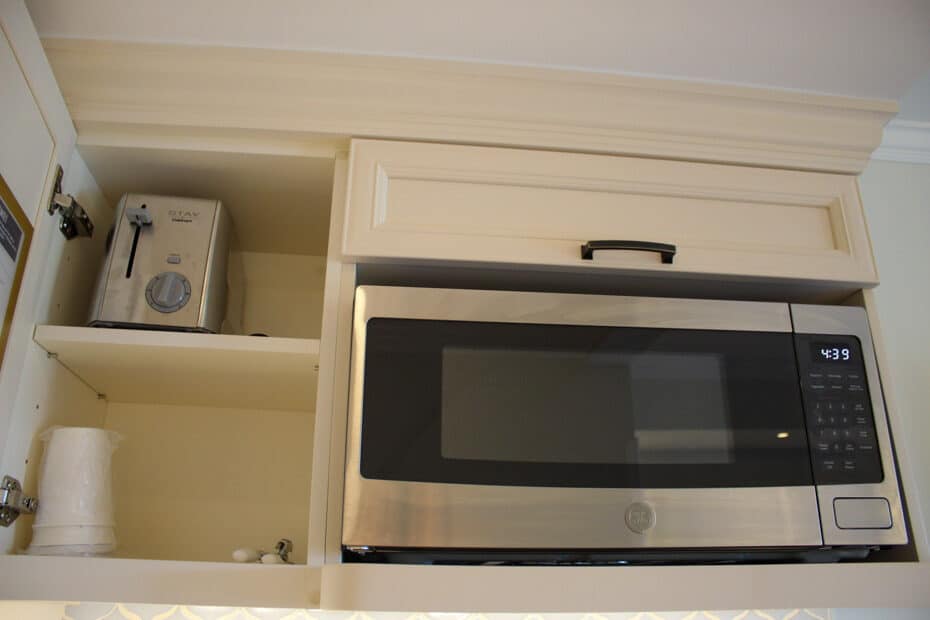 Below the sink, there's a place to store trash and recycle. The room's mini-fridge is larger than the beverage coolers in standard hotel rooms.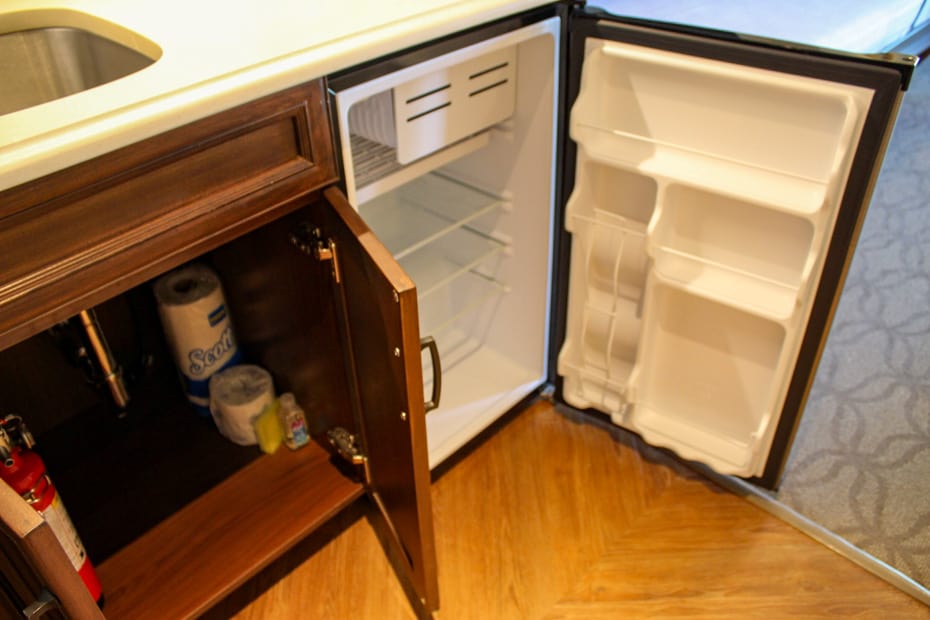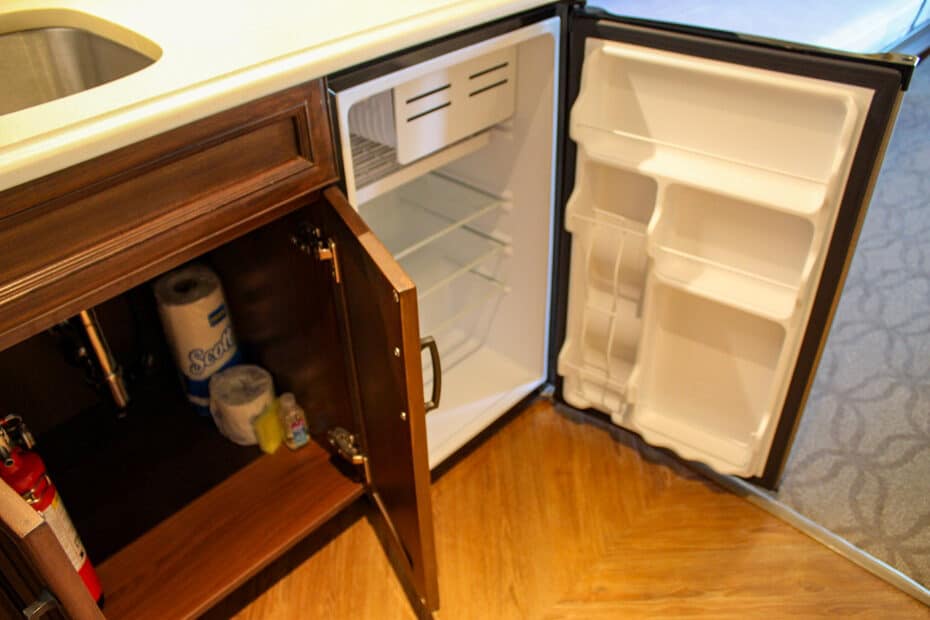 Toward the front of the room, a decent size foyer welcomes you home. You'll find a double-door closet with an extra place to store your luggage.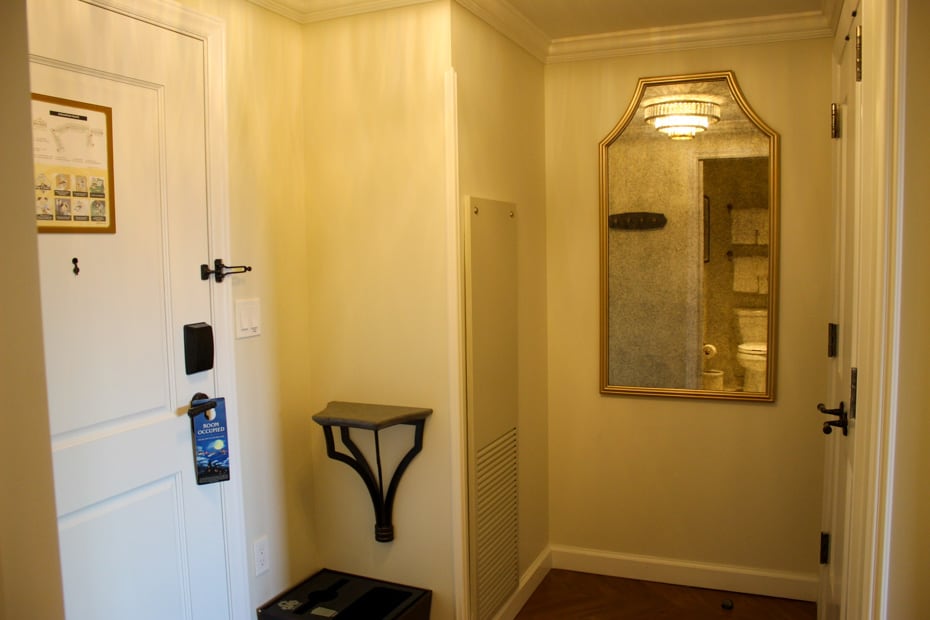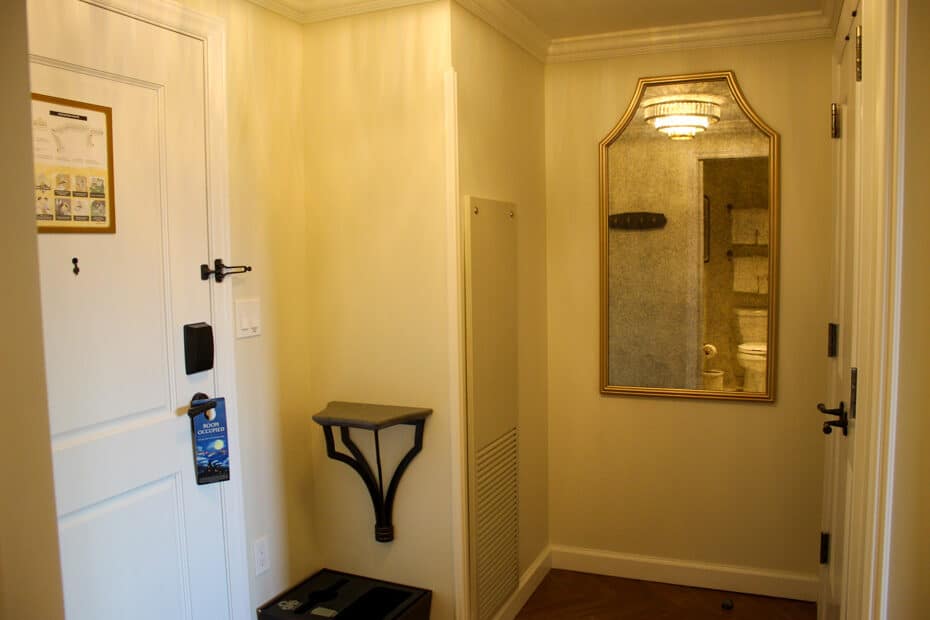 Inside the closet were a few other amenities like a vacuum cleaner, a full-size ironing board, and the in-room safe.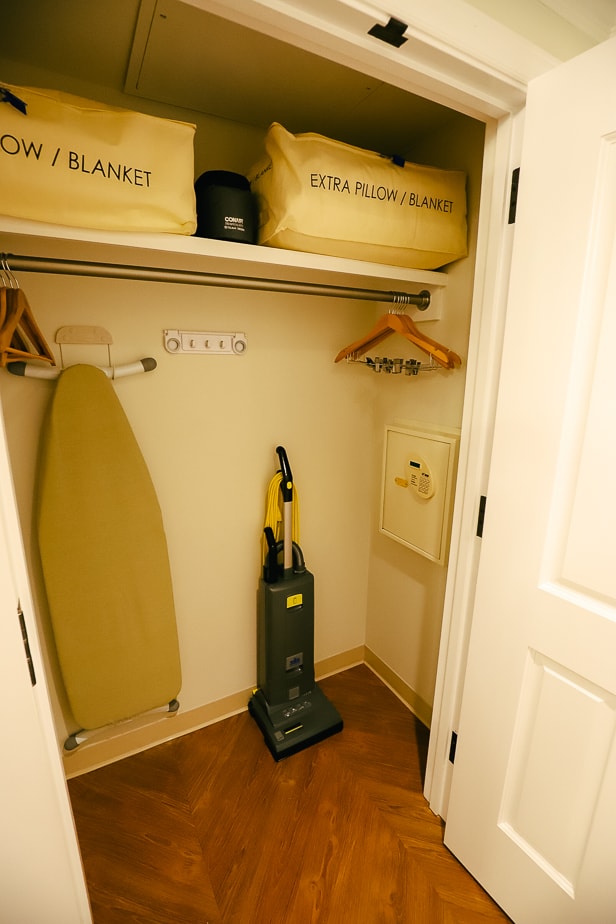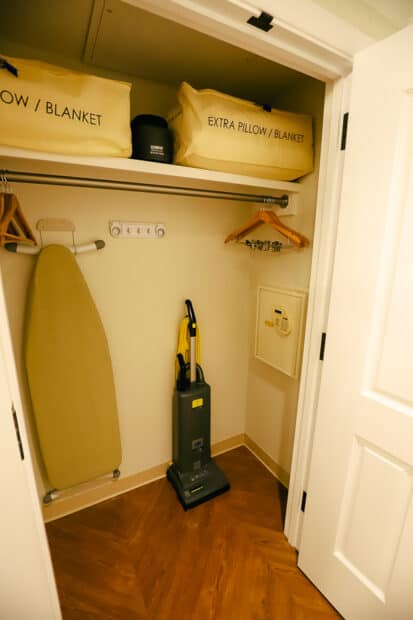 Last but not least, the deluxe studios at Disney's Riviera Resort have a balcony. Balconies are a great place to relax and enjoy the views when the weather is pleasant.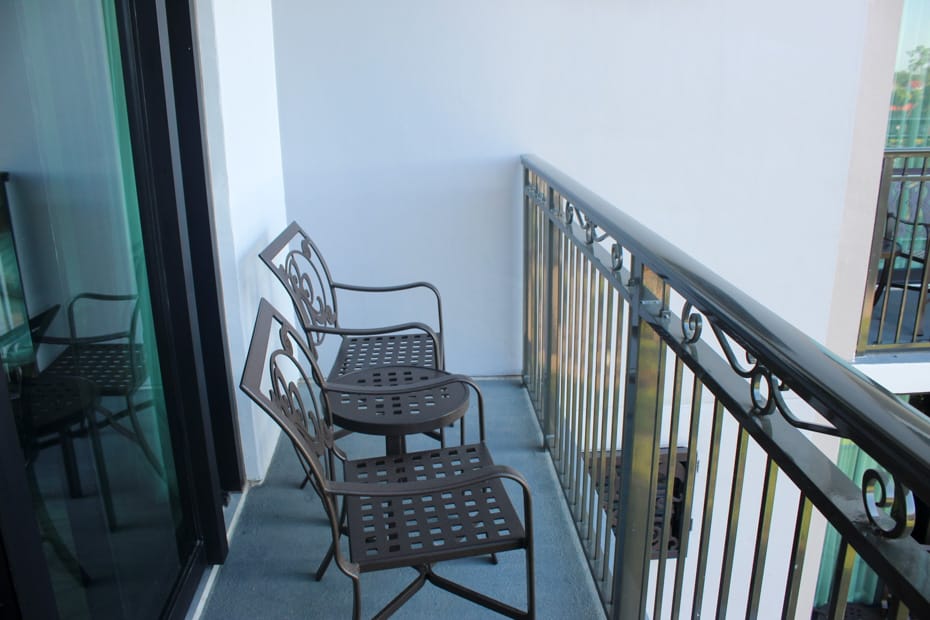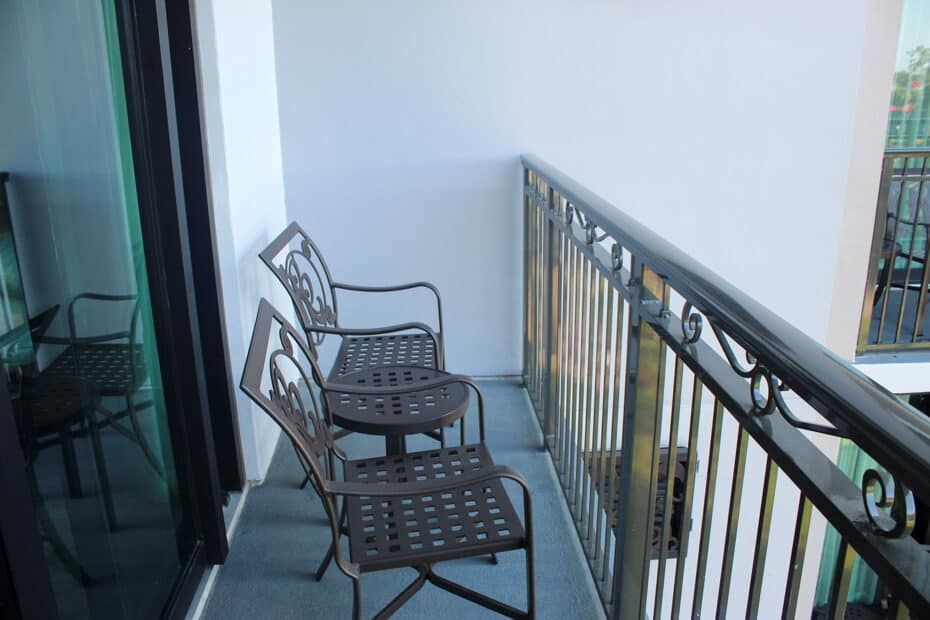 Our studio had a preferred resort view which looked out toward Disney's Caribbean Beach Resort. A portion of the resort's feature pool area was immediately underneath our room.
Related: The Pools at Disney's Riviera Resort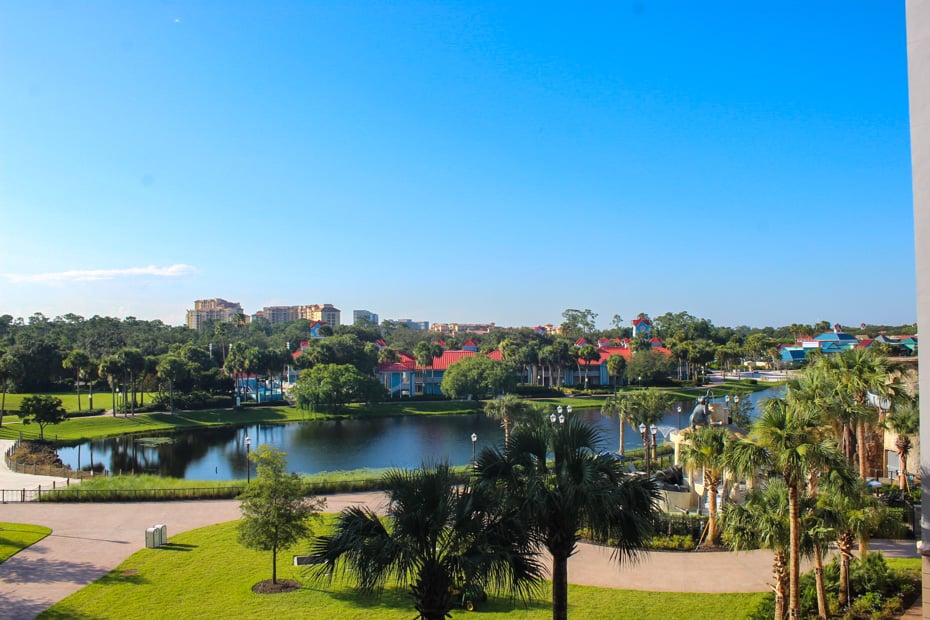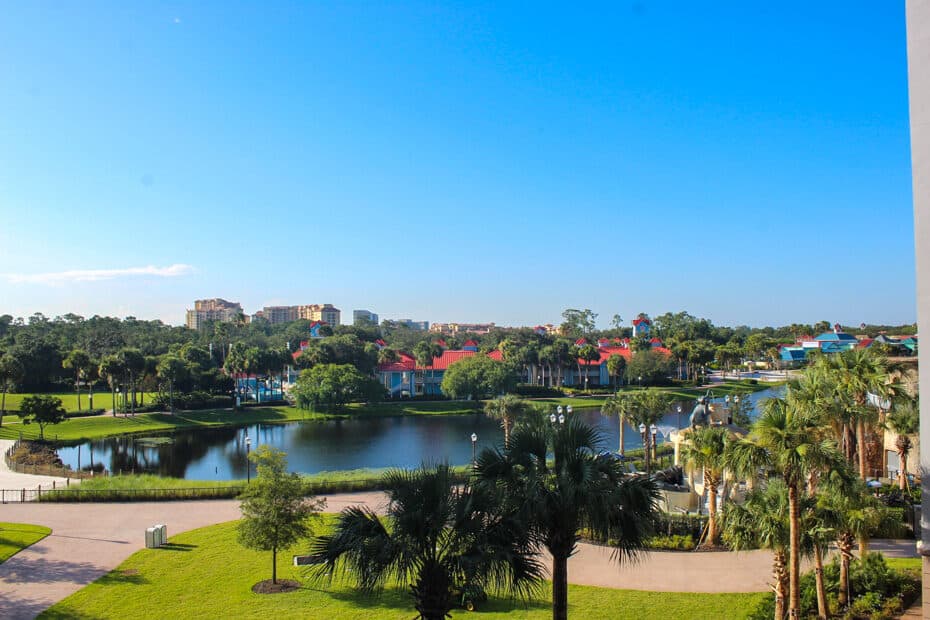 Overall, the deluxe studio at Disney's Riviera Resort provides an exceptional layout while maintaining a high-end feel. This room type is perfect for those needing a single extra bed or a few convenient amenities that aren't offered in standard hotel rooms.
For more information about this resort, try our guide:
Or try one of these other room tours:
What are your thoughts on the deluxe studio at Disney's Riviera Resort? Would this option work for your group?
Planning a Walt Disney World or other Disney Destination vacation?
Our friends and travel partner, Firefly Travels, excels at doing Disney differently. You can fill out a plan your trip form on their website, and someone will reach out shortly to discuss the specifics.