A Preview of the Menu for Steakhouse 71 (Replacing The Wave)
Disney recently announced that a new dining experience, Steakhouse 71, will be replacing The Wave restaurant at Disney's Contemporary Resort. Steakhouse 71 is expected to open on October 1, 2021, as part of Walt Disney World's 50th-anniversary celebration.
Additionally, the menus for Steakhouse 71 have been released along with pricing. Those with plans to stay at Disney's Contemporary Resort in the future might like to peruse the menus and consider having a meal here.
With so much going on at Walt Disney World, I thought we'd take a brief pause and preview the menu. After all, it will be a Disney hotel restaurant. And I kind of do cover resorts here on the site. Plus, who doesn't like to enjoy new dining experiences on their vacation?
*All images in this review are ©Disney.
Below we have a preview of the breakfast menu for Steakhouse 71. One of the items that caught my eye was Walt's Prime Rib Hash. It's a dish composed of prime rib, caramelized onions with peppers, potatoes, and topped with a fried egg. Prime rib combined with those fixings sounds like a pretty substantial way to start your day.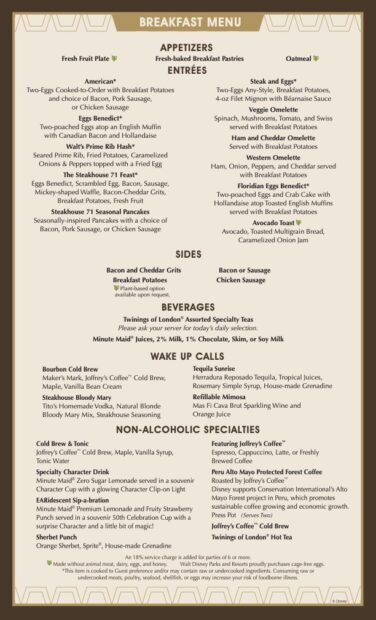 You can view the full menu here on Disney's site with pricing. Pricing ranges from $15.00–$35.00 per adult.
There are several sandwich options for the lunch menu (with prices here). As someone who previously enjoyed walking over from Magic Kingdom for lunch (or a late breakfast) at The Wave, I'm glad to see the price range remains comparable to its predecessor.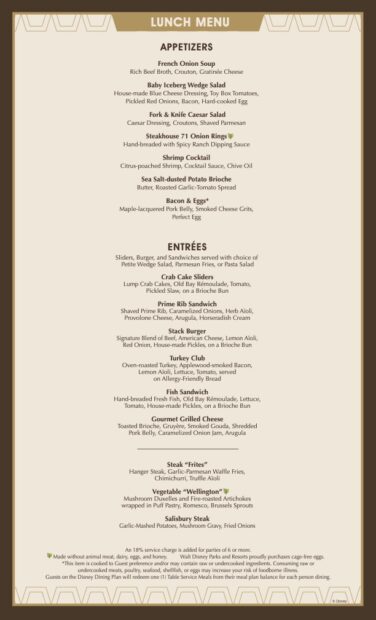 The gourmet grilled cheese looks like a win in my book. Is there anything that looks appealing to you? Prices for lunch remain between $15.00–$35.00.
Then there's the dinner menu (here) at Steakhouse 71. Pricing for dinner will average between $35.00 to $60.00. You'll notice that the menu highlights several steak offerings while pricing continues to remain reasonable considering it's Disney and a steakhouse.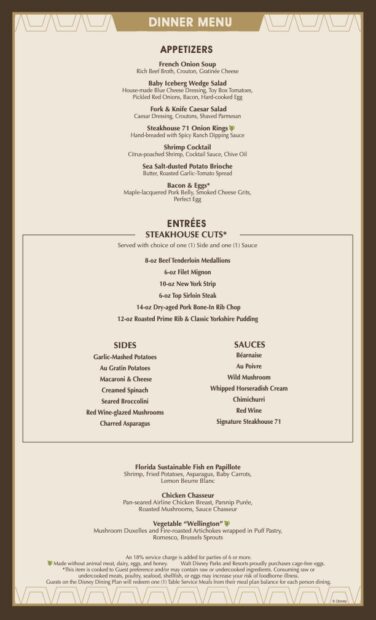 Hopefully, I can get over that way in the next few months to try things out. I sure wouldn't mind having some help trying out the Steakhouse 71 Chocolate Cake. Or anything else on the dessert menu.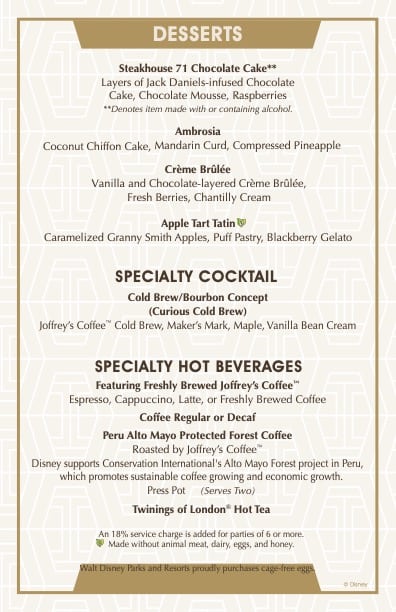 For reference, here is that giant slice of chocolate cake that Disney's been teasing nearly every time they mention the new restaurant. It looks wonderful.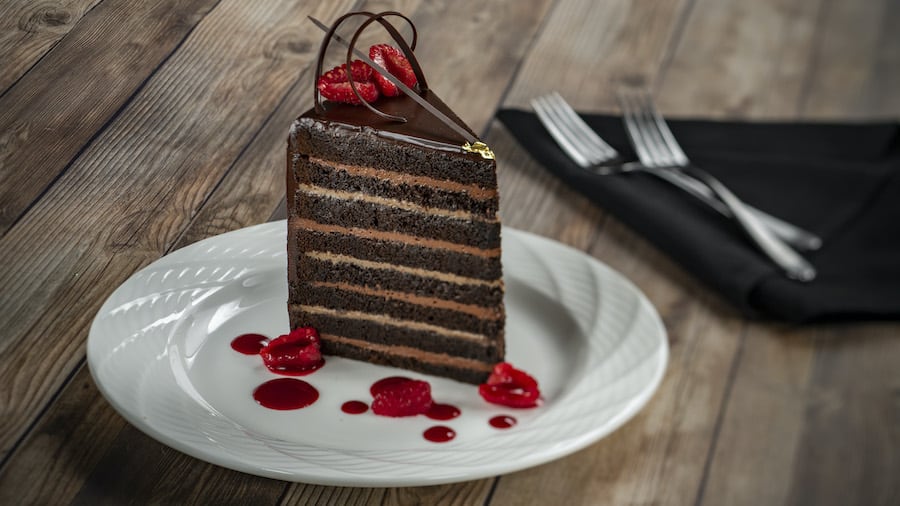 Lastly, if you were wondering, the restaurant will have a lounge. Lounges at Disney are some of the best places to enjoy a meal. For example, there's Territory Lounge at the Wilderness Lodge. And Crew's Cup over at the Yacht Club is a true hidden gem.
Hopefully, the lounge at Steakhouse 71 will follow suit and be another great walk-up spot that doesn't require reservations.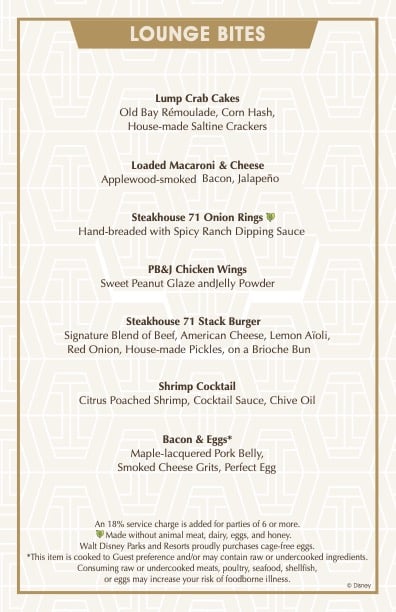 This menu preview leaves me with high hopes for the new dining location. For more dining options, we have a resort dining guide for Disney's Contemporary. And there's a review of our stay at the Garden Wing along with a full review of the Contemporary Resort.
Additionally, the resort is home to my personal favorite signature dining experience at Walt Disney World, the California Grill. You can read my review of Disney's California Grill here if you would like to learn more. The restaurant will have a new unique dining experience to celebrate the 50th anniversary.
Related: 50th Anniversary Dinner at California Grill
Disney's Contemporary is in the midst of a major and much-needed refurbishment. It's a bit shocking to visit during this time and see the amount of work being done.
Steakhouse 71 is part of that refurbishment, and I, for one, can't wait to try it. Budget-friendly restaurants at Disney are kind of like the Haunted Mansion. There's always room for one more.
Updated: Review of Breakfast at Steakhouse 71
What are your thoughts on Steakhouse 71? Will you be securing a reservation for your next vacation? Any stand-out items on the menu? Leave a comment below with your thoughts.