Contempo Cafe Review (The Quick Service at Disney's Contemporary)
Contempo Cafe is the primary quick-service restaurant at Disney's Contemporary Resort. This fun location is one of our favorite places to get a casual bite at Walt Disney World.
In this Contempo Cafe review, we'll look at the menu, grab-and-go items, and a few items we've tried. I'll also share a few tips for why we frequent this location and how you might enjoy it.
It's no secret that the Disney World monorail runs through the center of the Contemporary Resort. So if you are a monorail fan, you'll love to know that the monorail travels overhead while dining at Contempo Cafe. But that's not the only perk.
Contempo Cafe is located on the resort's fourth floor. This area of the resort is formally called the Grand Canyon Concourse.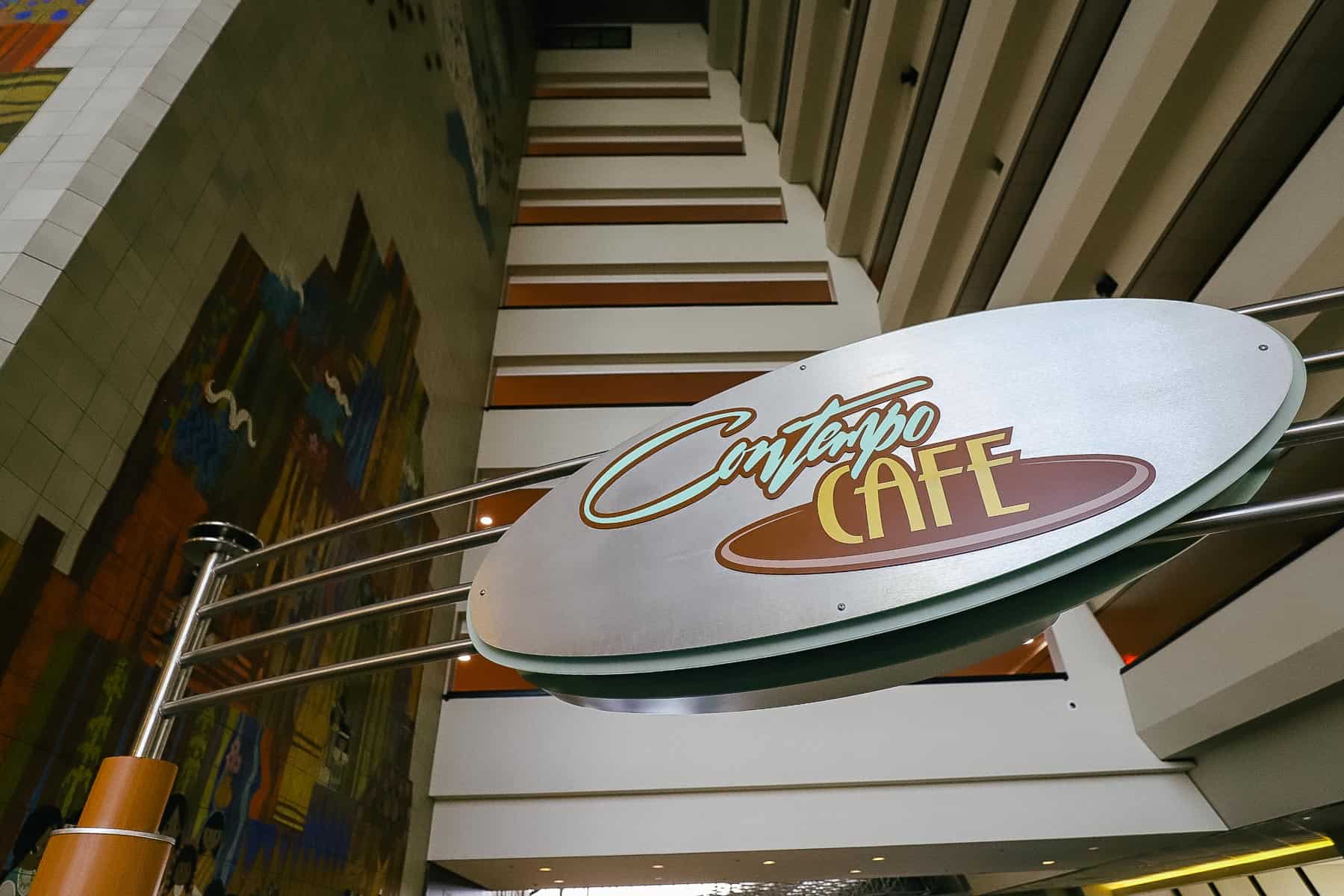 From my understanding, when Walt Disney saw the plans for the massive fourth-floor interior, he said it was as large as the Grand Canyon. He then commissioned artist Mary Blair to create a mural for the space.
Therefore, the space was named the Grand Canyon Concourse, and the mural reflects colors you would expect in the Grand Canyon and America's Southwest. That mural features over 18,000 hand-painted and glazed mosaic tiles. One side of it faces Contempo Cafe.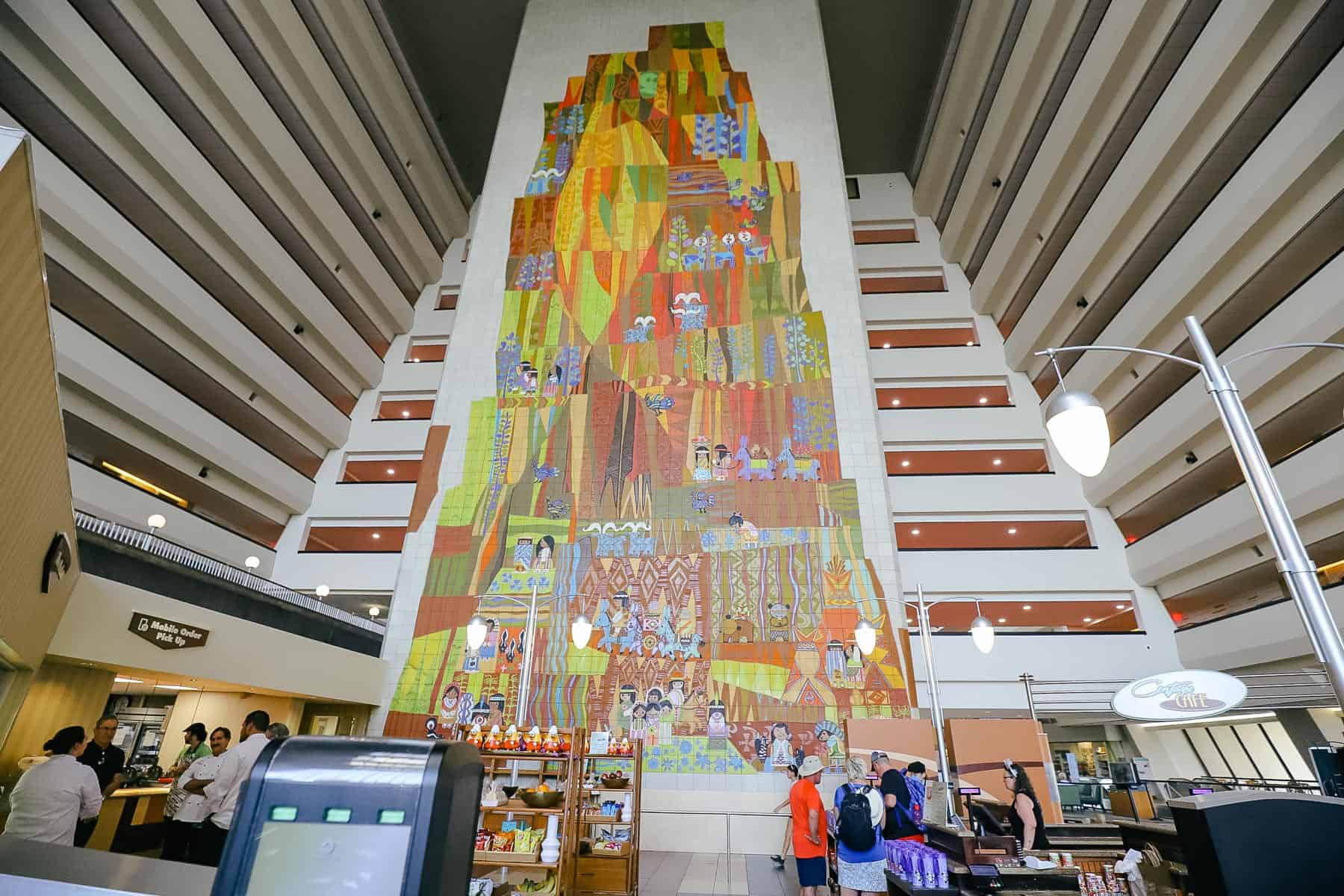 On the opposite side, a large wall of windows allows sunlight to filter through, giving a warm glow to the space about mid-afternoon. You may notice that Chef Mickey's restaurant sits directly behind Contempo Cafe. That is the resort's character dining location.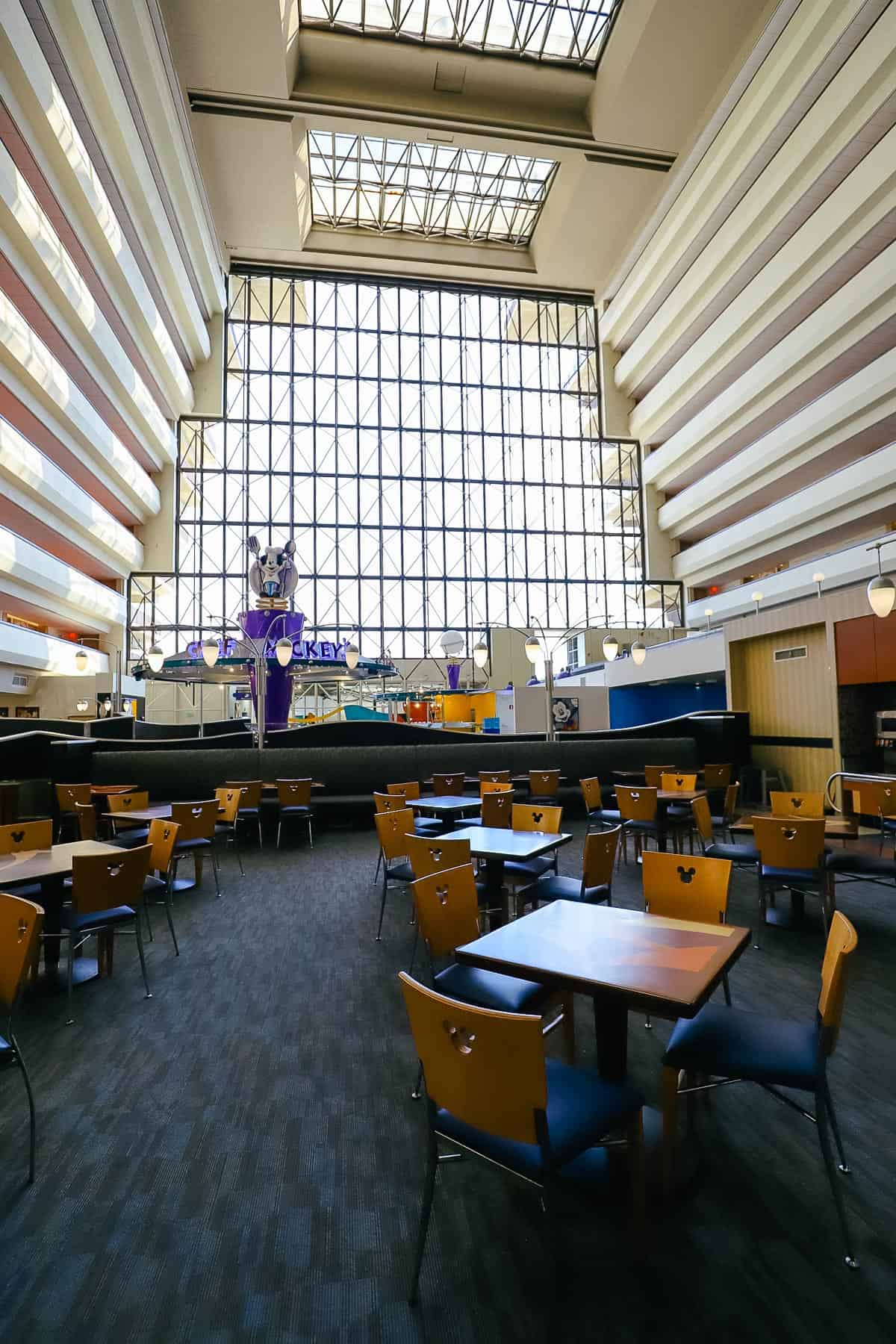 Here is another view of the space with the monorail coming through.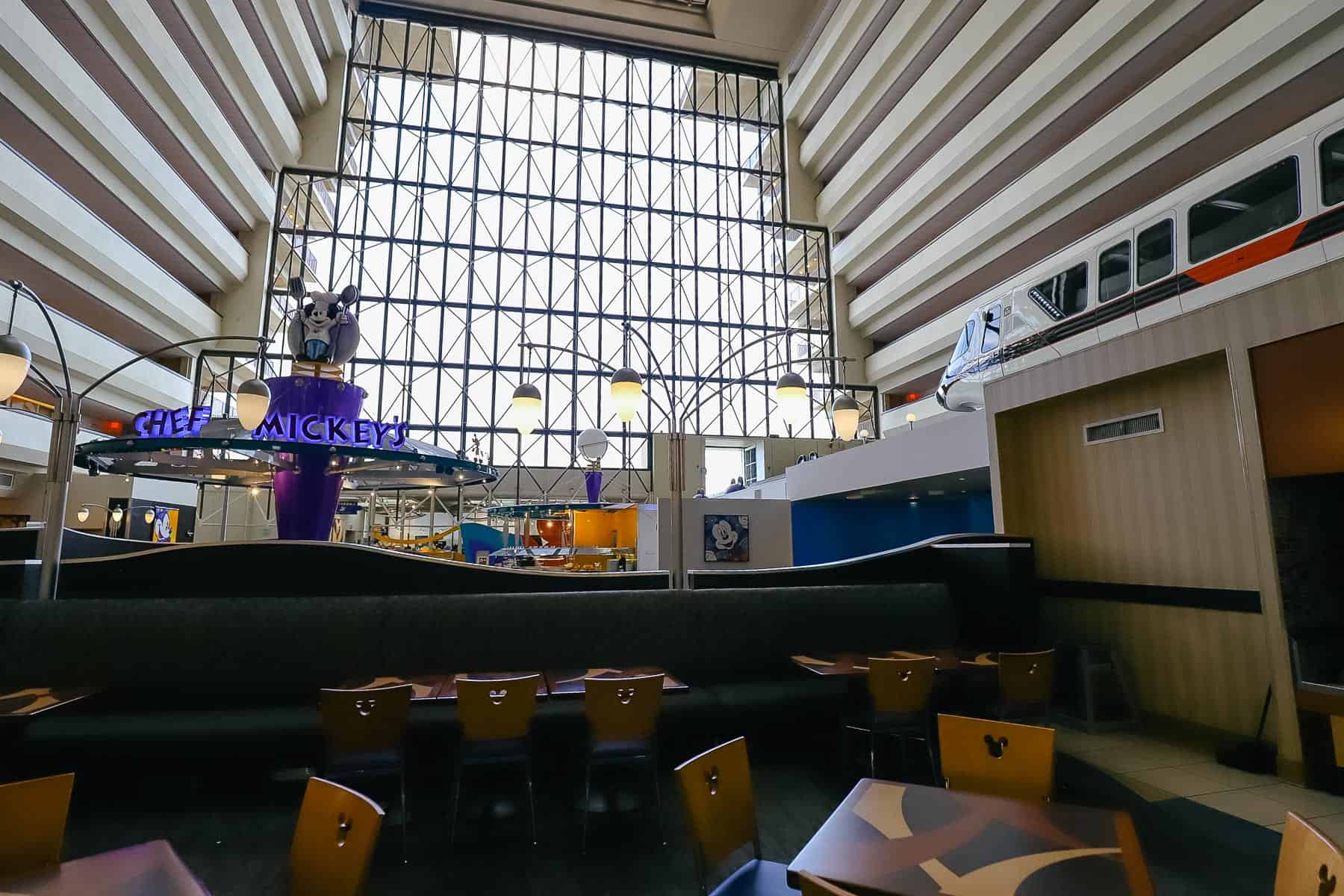 So if you decide to have a meal at Contempo Cafe, you are surrounded by modern architecture, a tremendously famous piece of artwork, and a monorail passing through every few minutes.
You get all of this for the price of a quick service meal or maybe just a snack or soda. Not too bad, huh?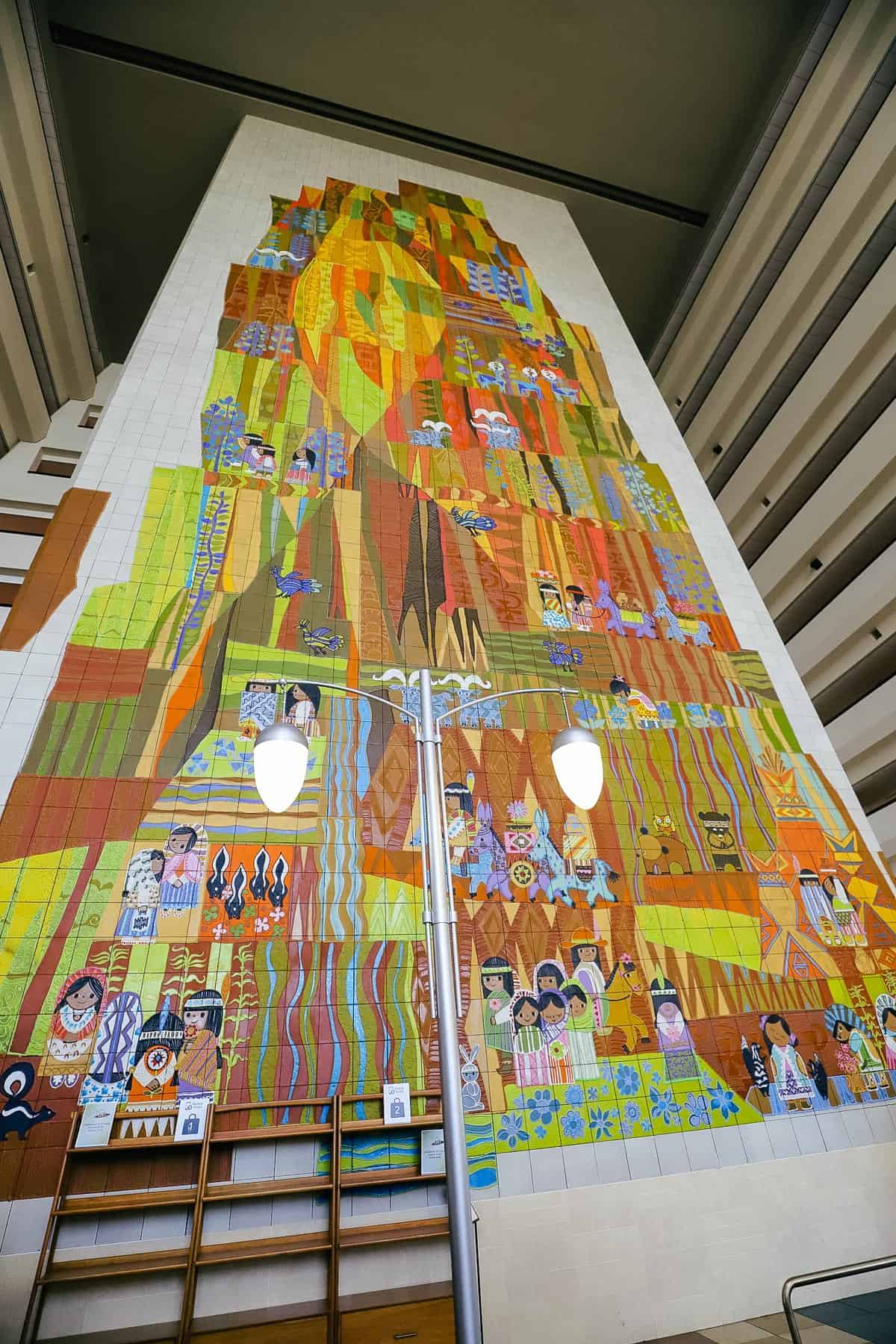 Several new electronic signs with menus were recently installed inside the entrance of Contempo Cafe.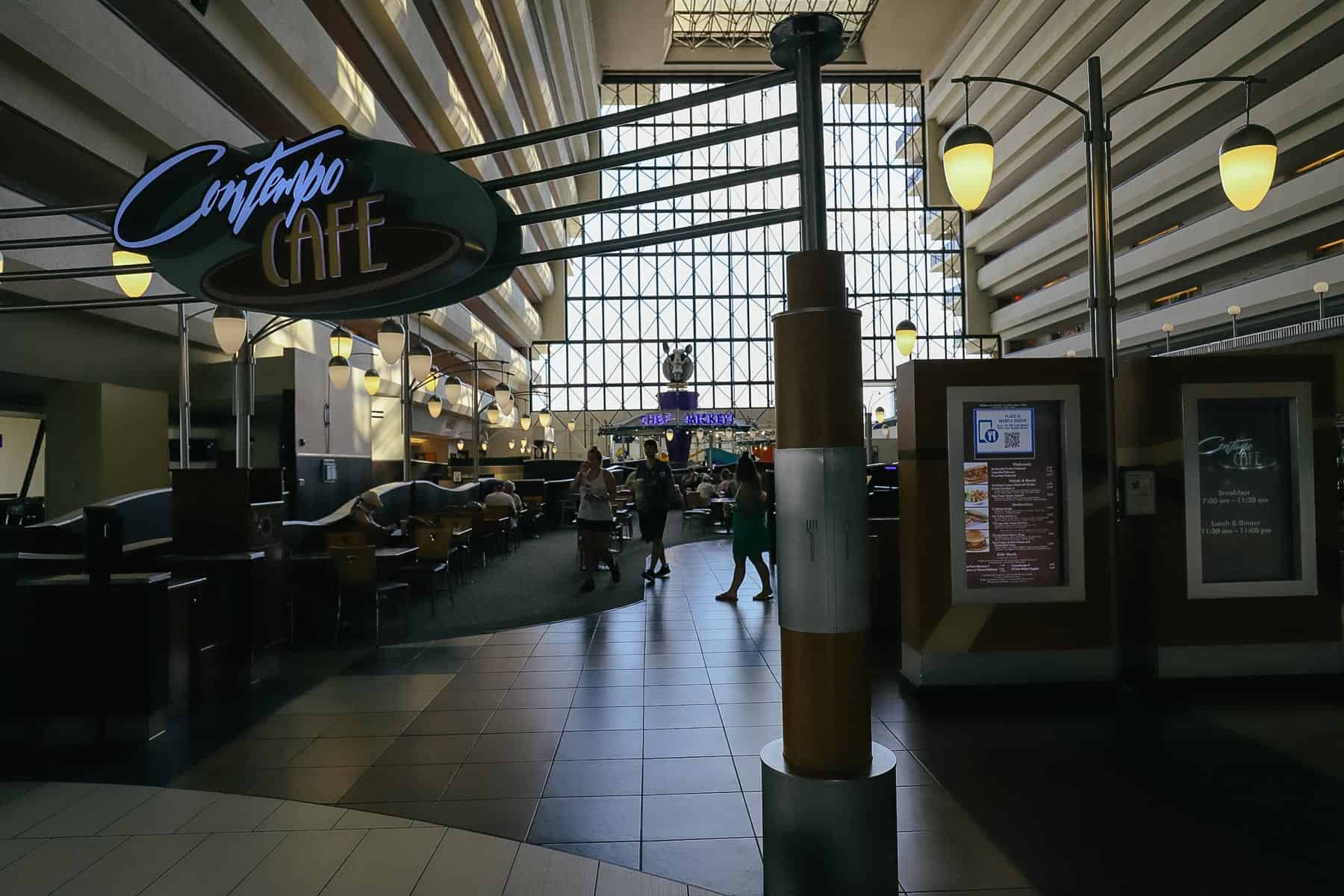 Contempo Cafe is open daily from 7:00 a.m. until 11:00 p.m. Breakfast is served from 7:00 a.m. through 11:30 a.m. Then lunch and dinner are available between 11:30 a.m. and 11:00 p.m.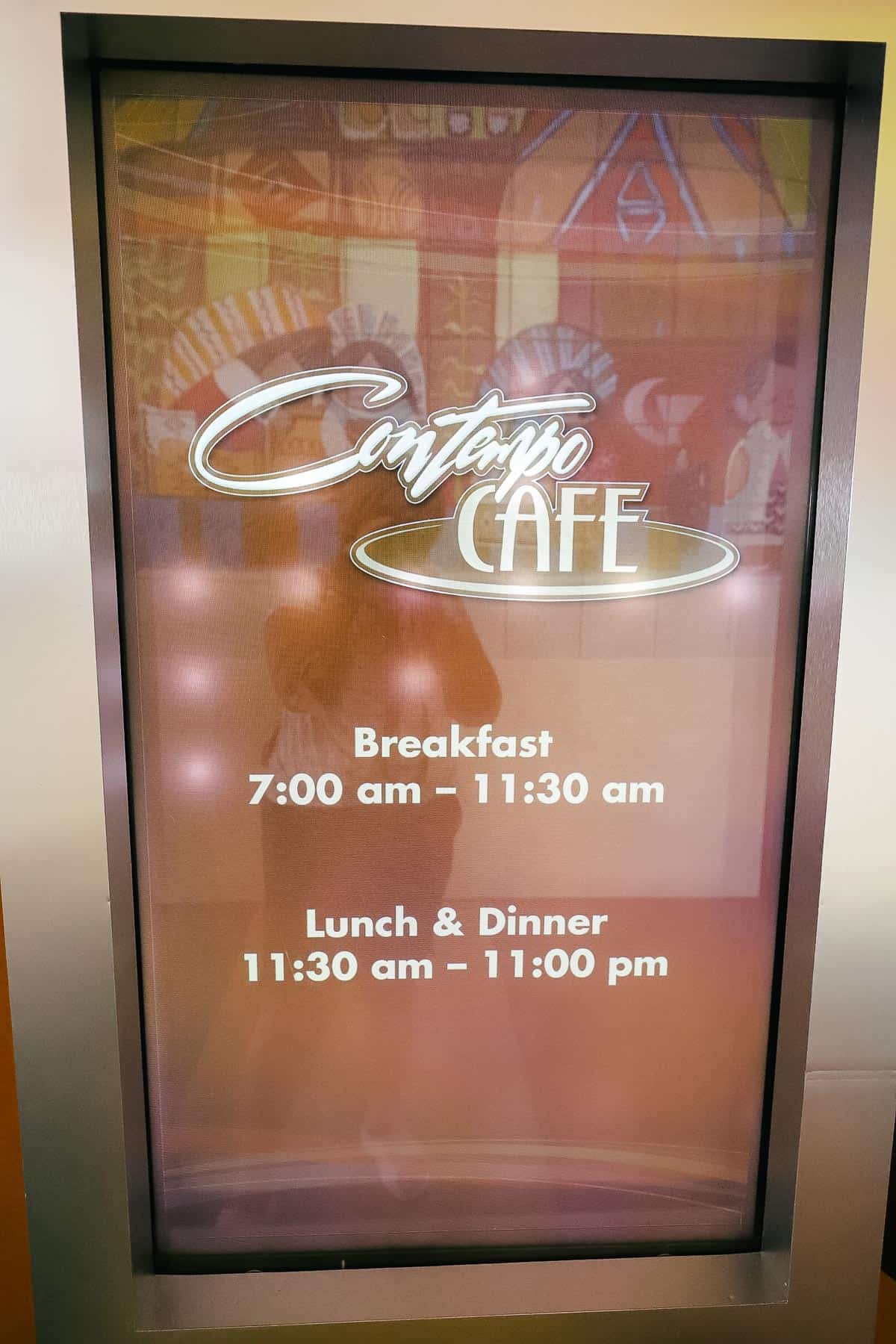 Lunch and dinner include the following menu items.
Salads:
Contempo Caesar Salad with Chicken
Caesar Salad
Grilled Tofu Bowl (Plant-based)
Kale Power Greens Salad (Plant-based)
Entrees:
Contempo Burger
Hot Turkey Sandwich
Spicy Chicken Sandwich
Barbecue Chicken Flatbread
Vegetable Flatbread
Three Meat Flatbread
Chicago Style Italian Beef Sub
Chicken-Bacon Ranch Wrap
Four Cheese Grilled Cheese with Tomato Basil Soup
Kids' Meals:
Turkey Pasta Marinara
Pepperoni or Cheese Flatbread
Cheeseburger
Chicken Nuggets
*Many of these lunch and dinner items are relatively new and show in the My Disney Experience app. However, some things are not listed on the online menu at the time of publication.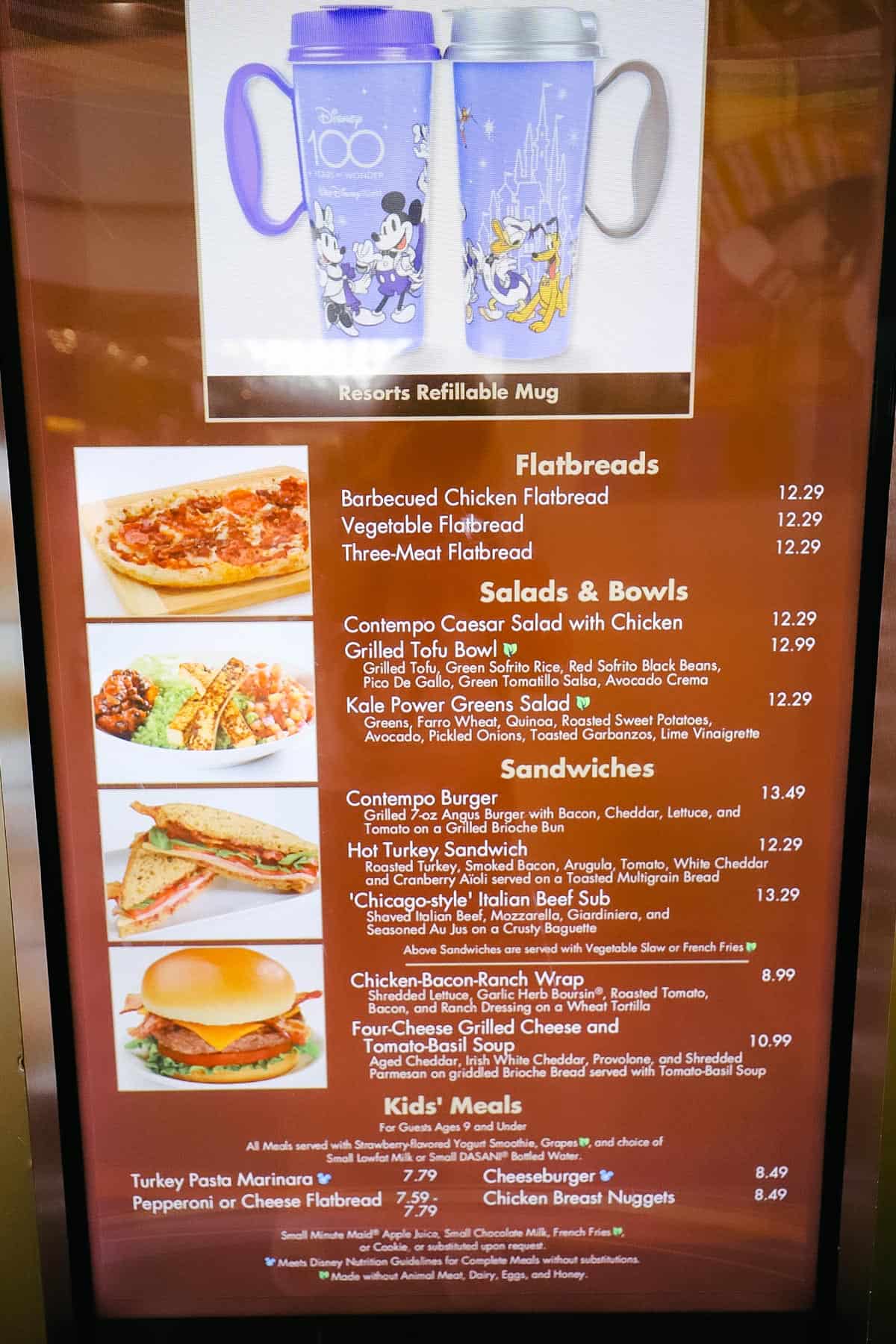 Breakfast items include:
Bounty Platter
Grilled Breakfast Sandwich
Mickey-shaped Waffle
Plant Based:
Breakfast Tofu Bowl
Oatmeal
Side of Breakfast Potatoes
Sides:
Pork Sausage
Single Waffle
Bacon
Scrambled Eggs
Kids' Meals:
Breakfast Platter
Breakfast Sandwich
Small Mickey-shaped Waffles
You can preview the menu on Disney's site.
Mickey Dome Cakes are available. Guests often order these for a graduation or a birthday celebration.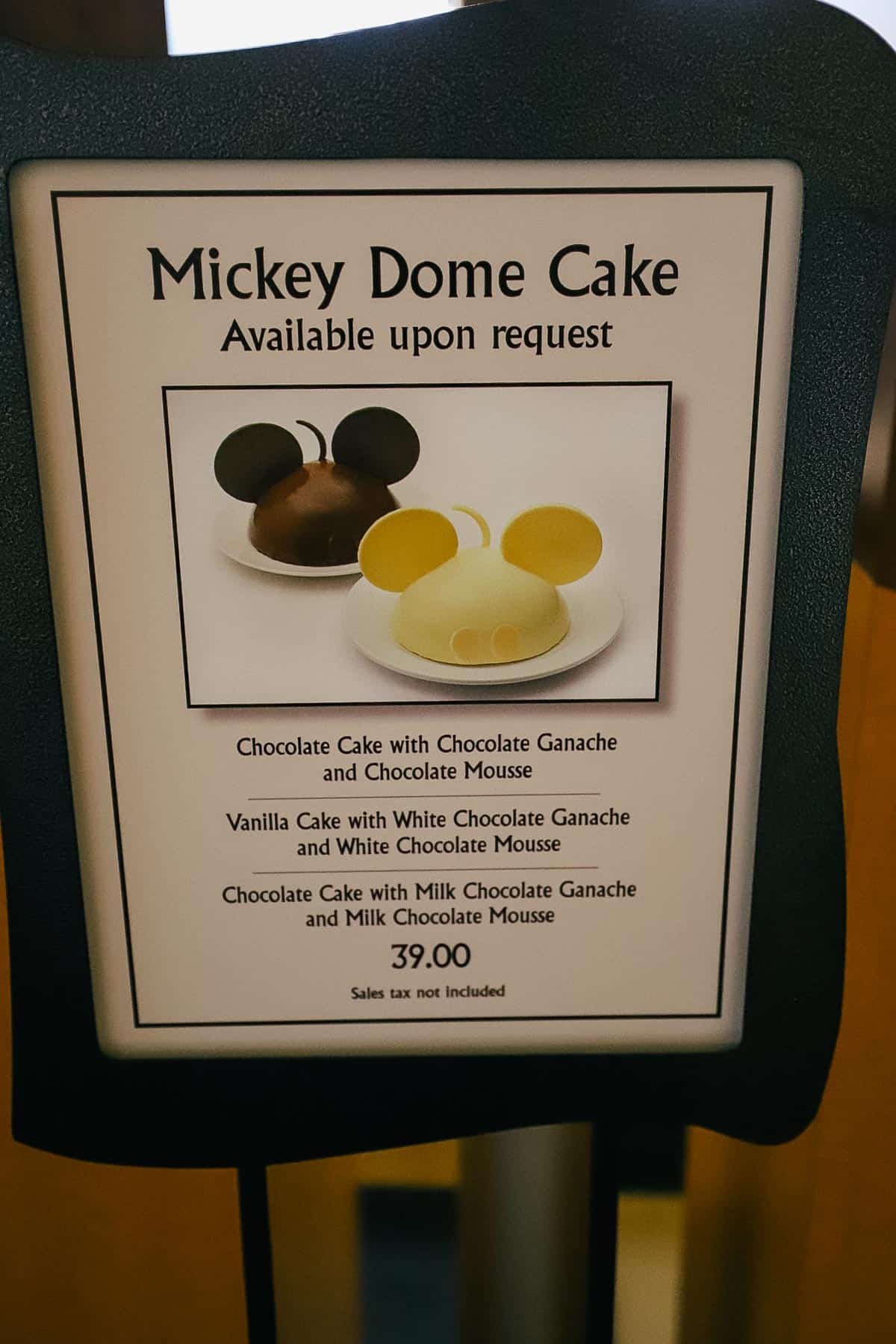 Here are a few of those newer menu items with descriptions. I eat at Contempo Cafe several times a year and can confirm that each item below is new to the menu.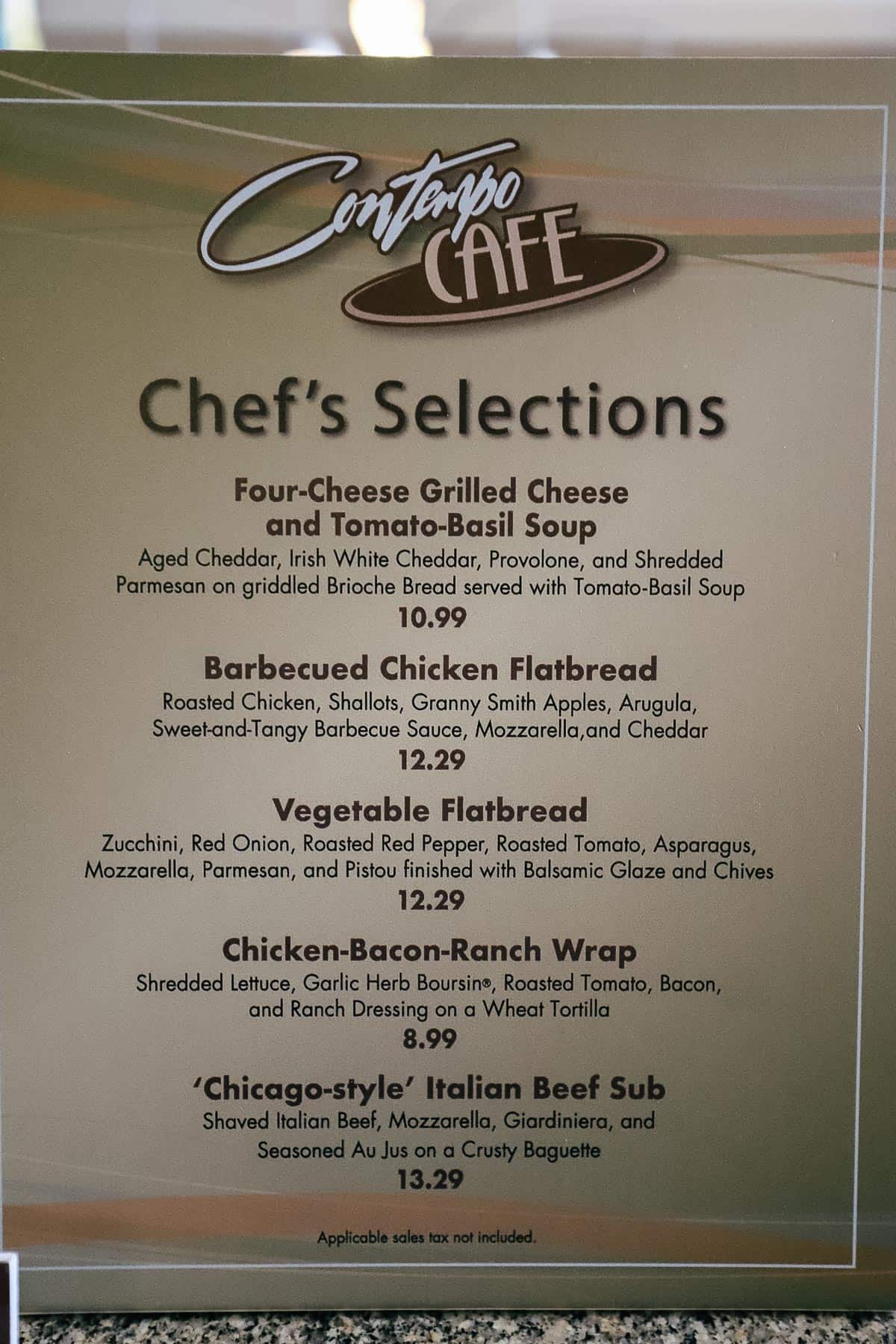 Several stands have pantry-style items. However, at the opposite end of the Grand Concourse, a store called Fantasia Market has a wider variety of snacks and grocery items.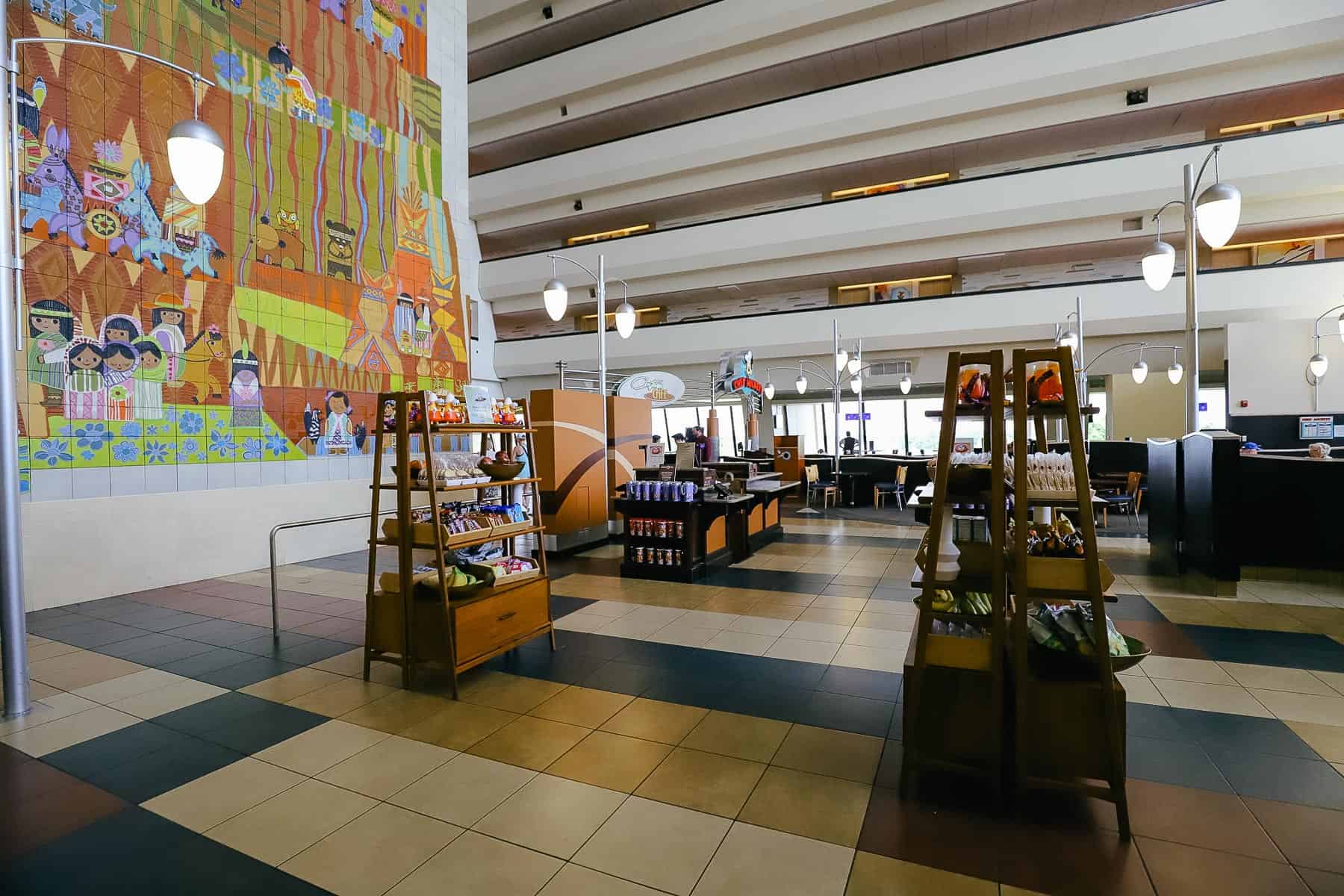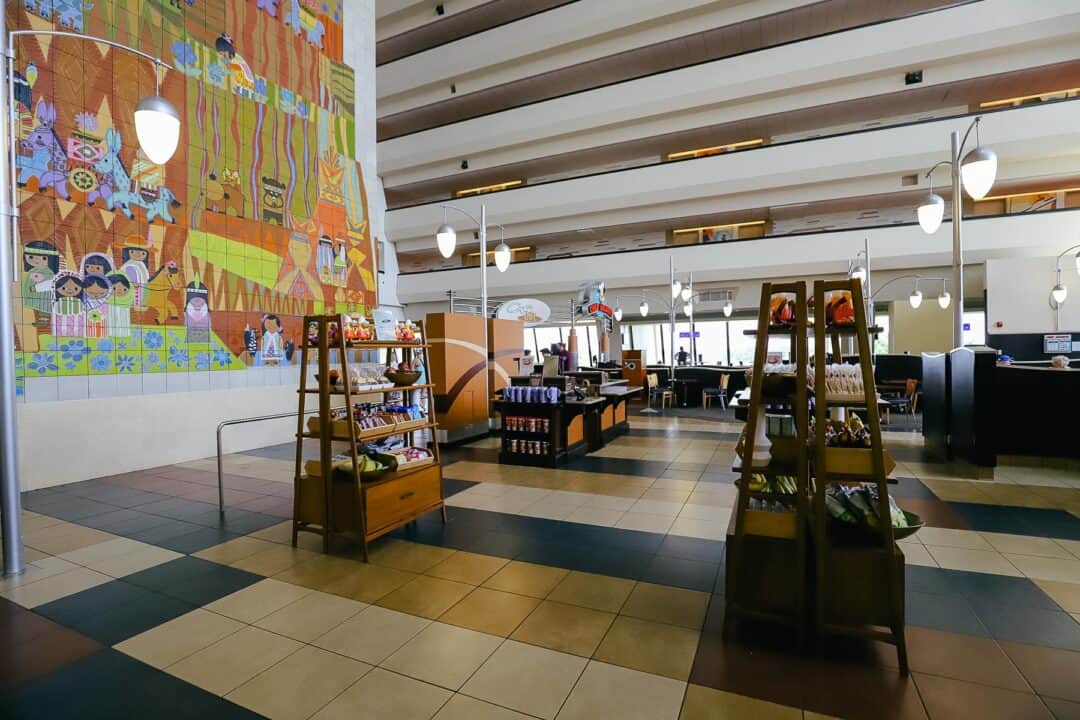 Rapid Fill mugs are available. The current pricing is $21.99, and they are good at any resort's self-service beverage location for the entire length of your resort stay. You can enjoy refills of fountain drinks, coffee, and tea.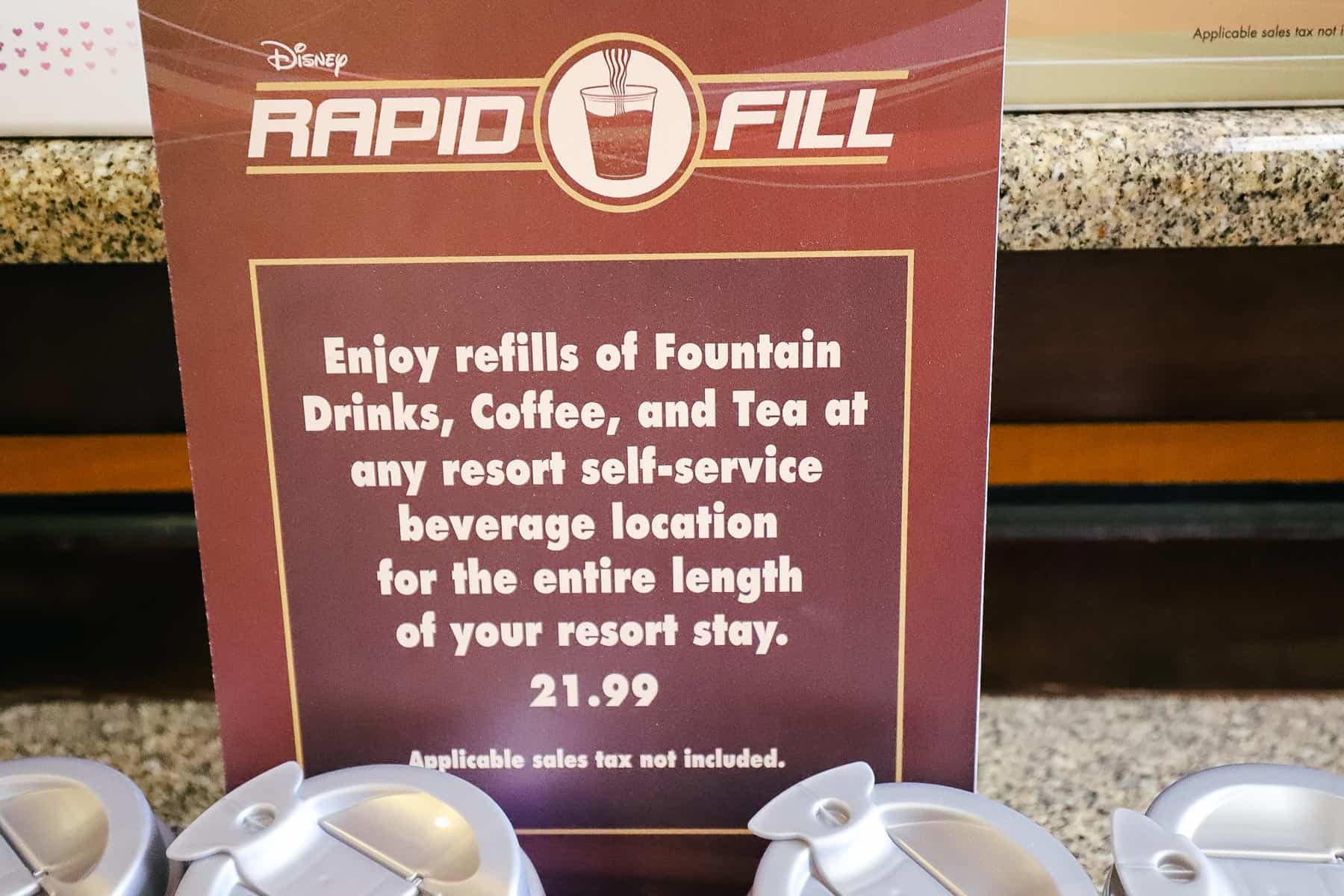 Here are a few of the mug selections.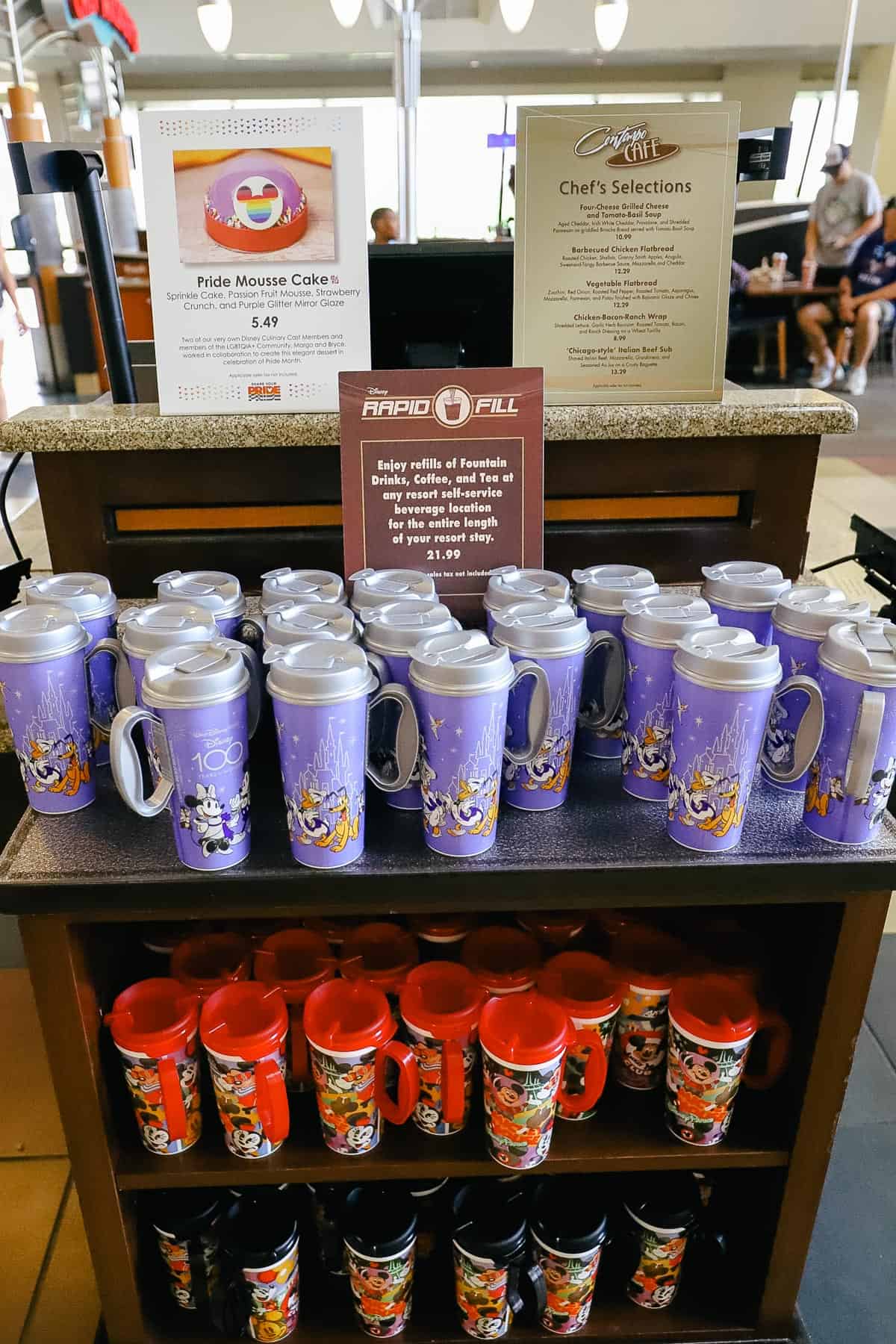 Contempo Cafe accepts mobile orders. So if you decide to order something, you can pick it up on a stand propped against the bottom of the mural.
You can always enjoy to-go orders in the dining area. For instance, you might like to order something from your room and then take the elevator down when it's ready.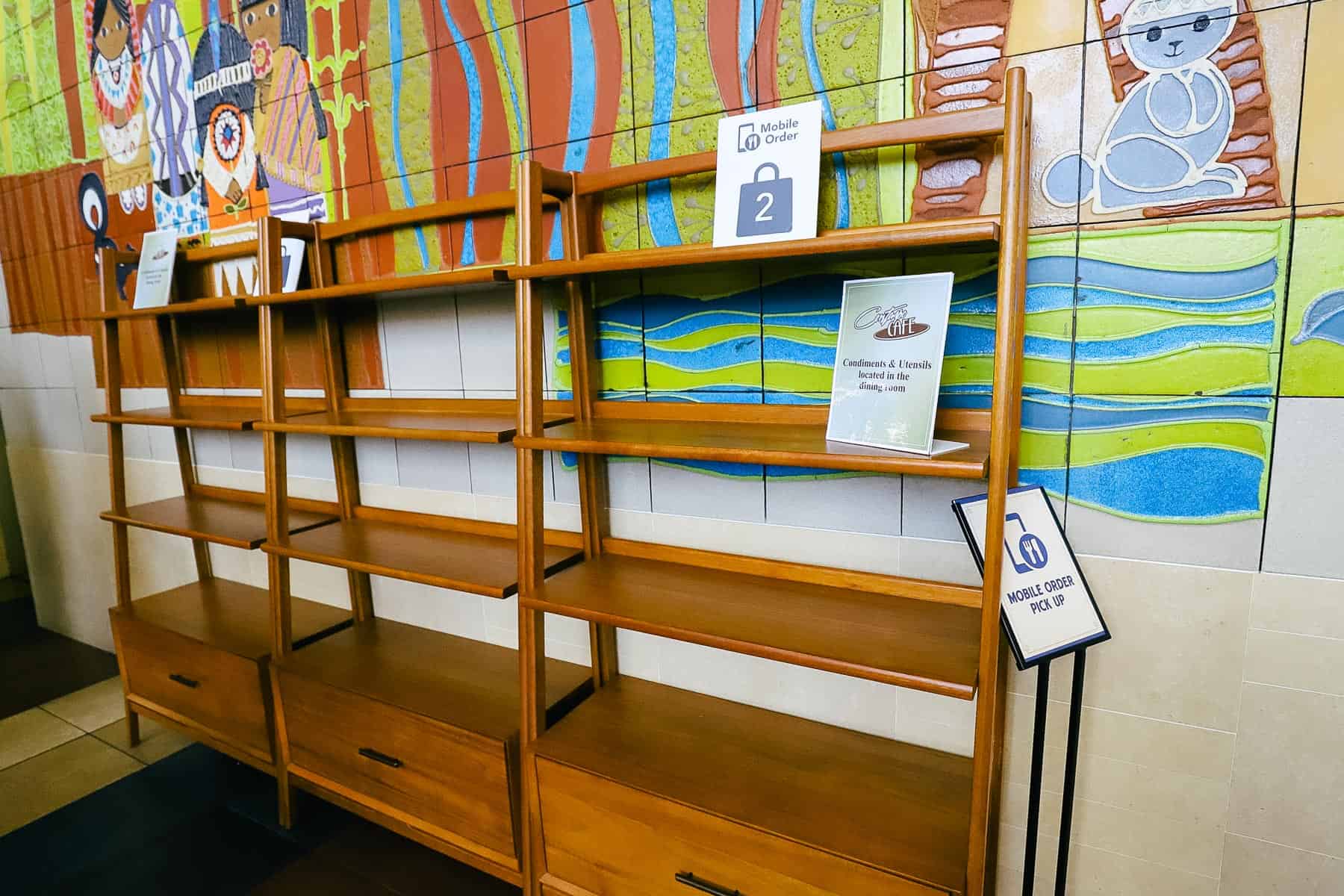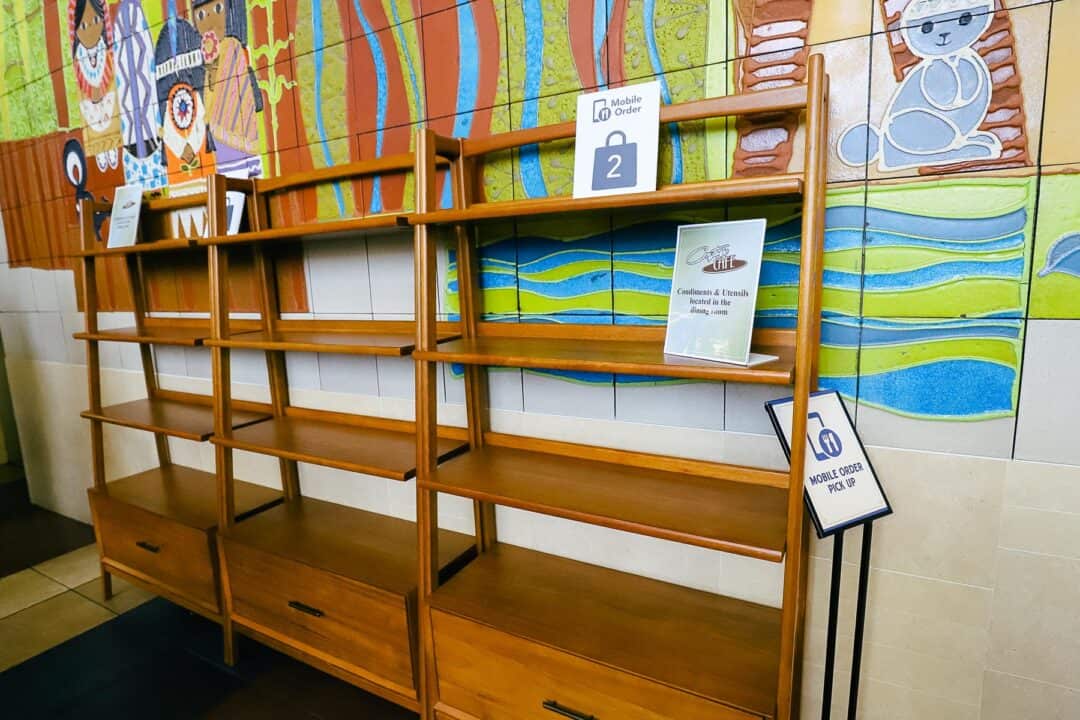 Several pre-packaged chips, snacks, individual fruits, and cereals were available.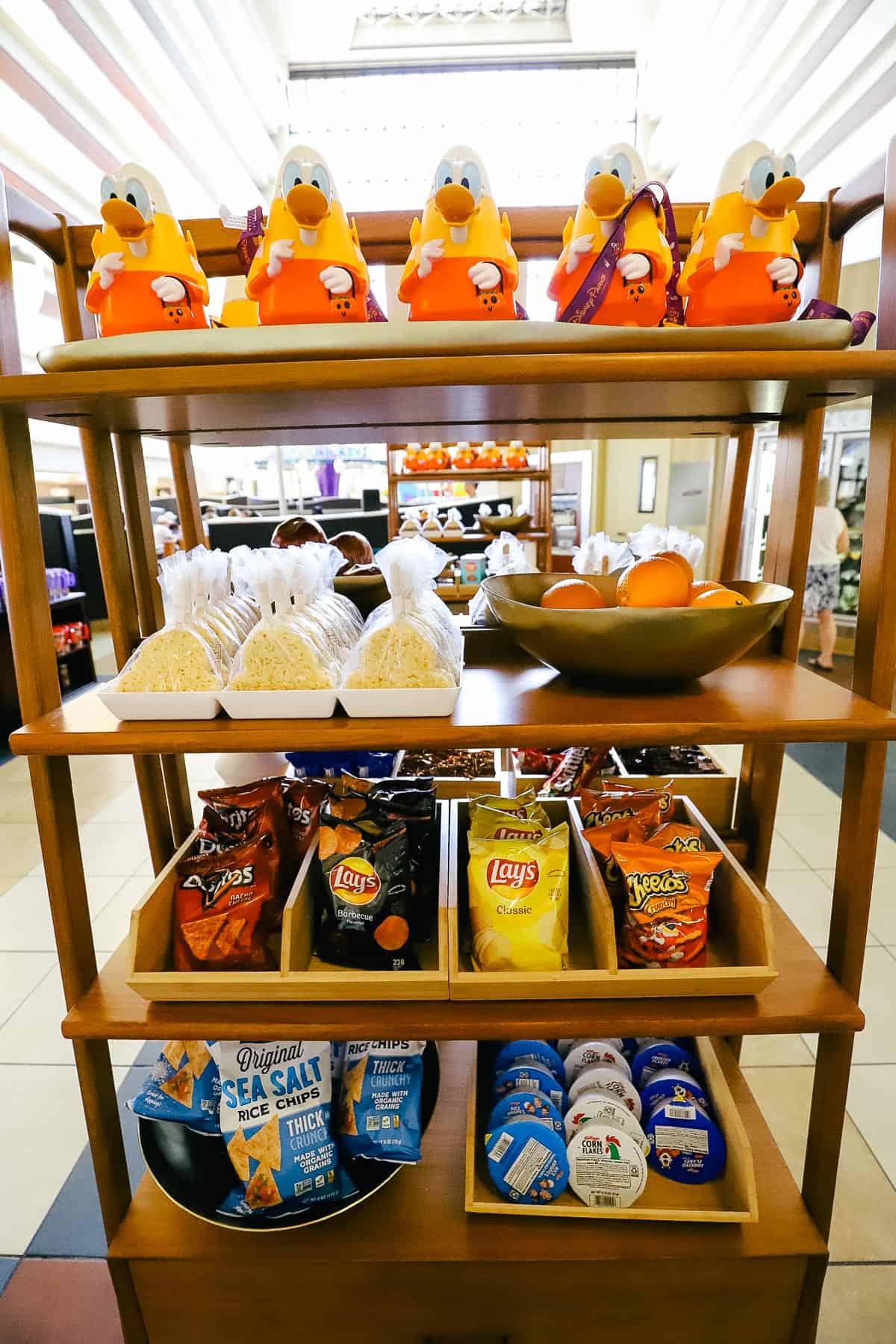 No, they do not already have Halloween merchandise displayed. They found a few boxes of these Donald Candy Corn Sippers from previous years and put them out.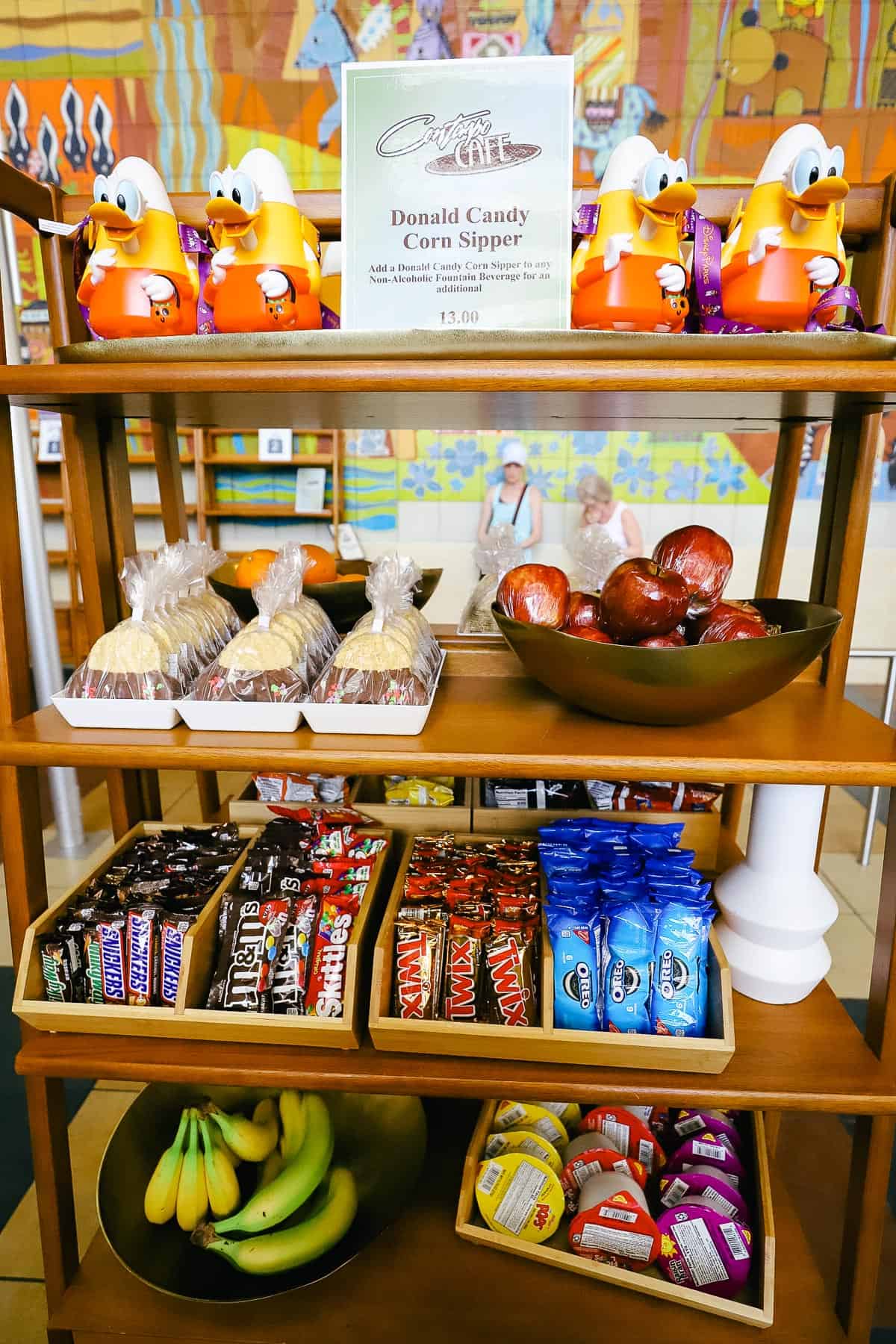 Here are a few more items.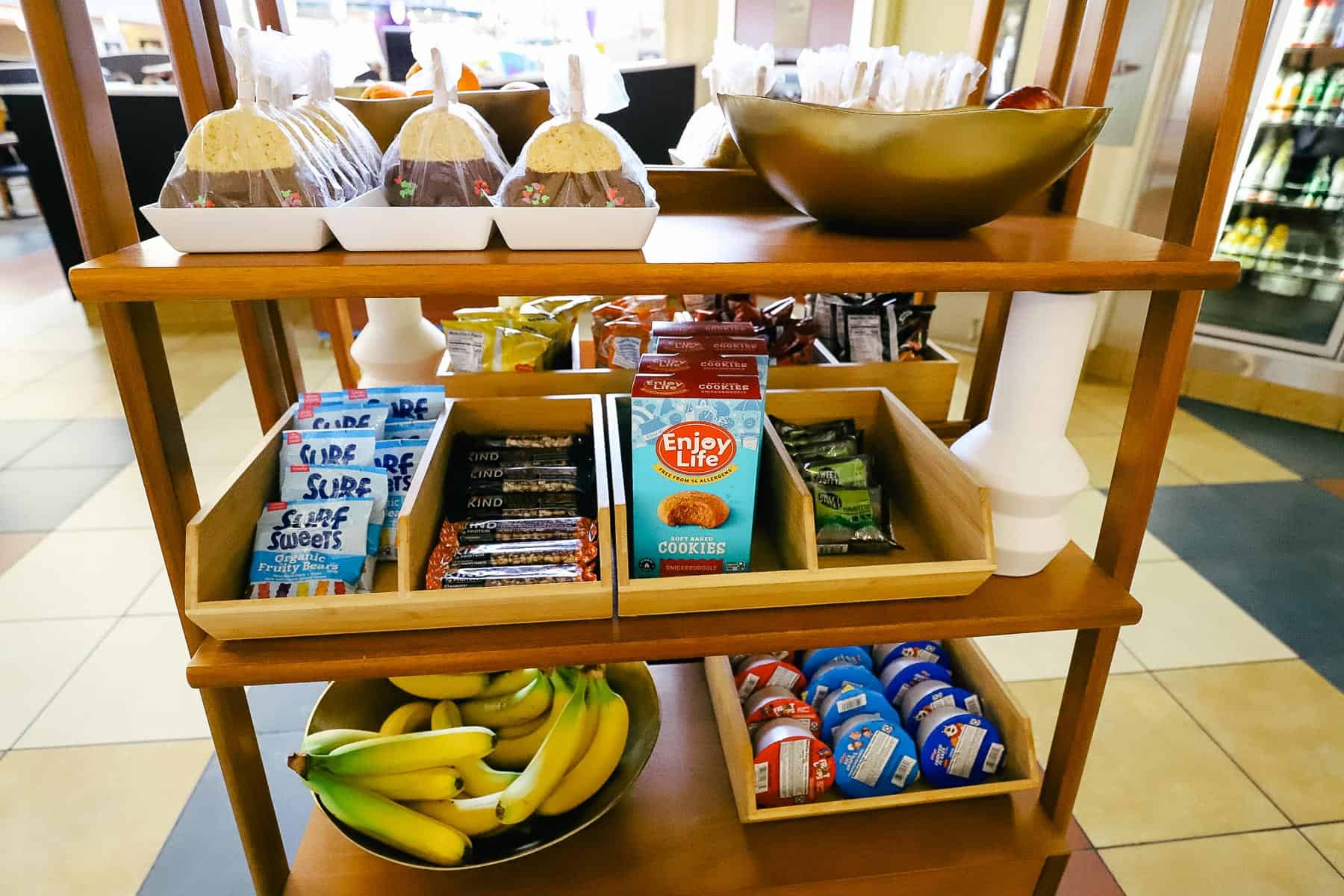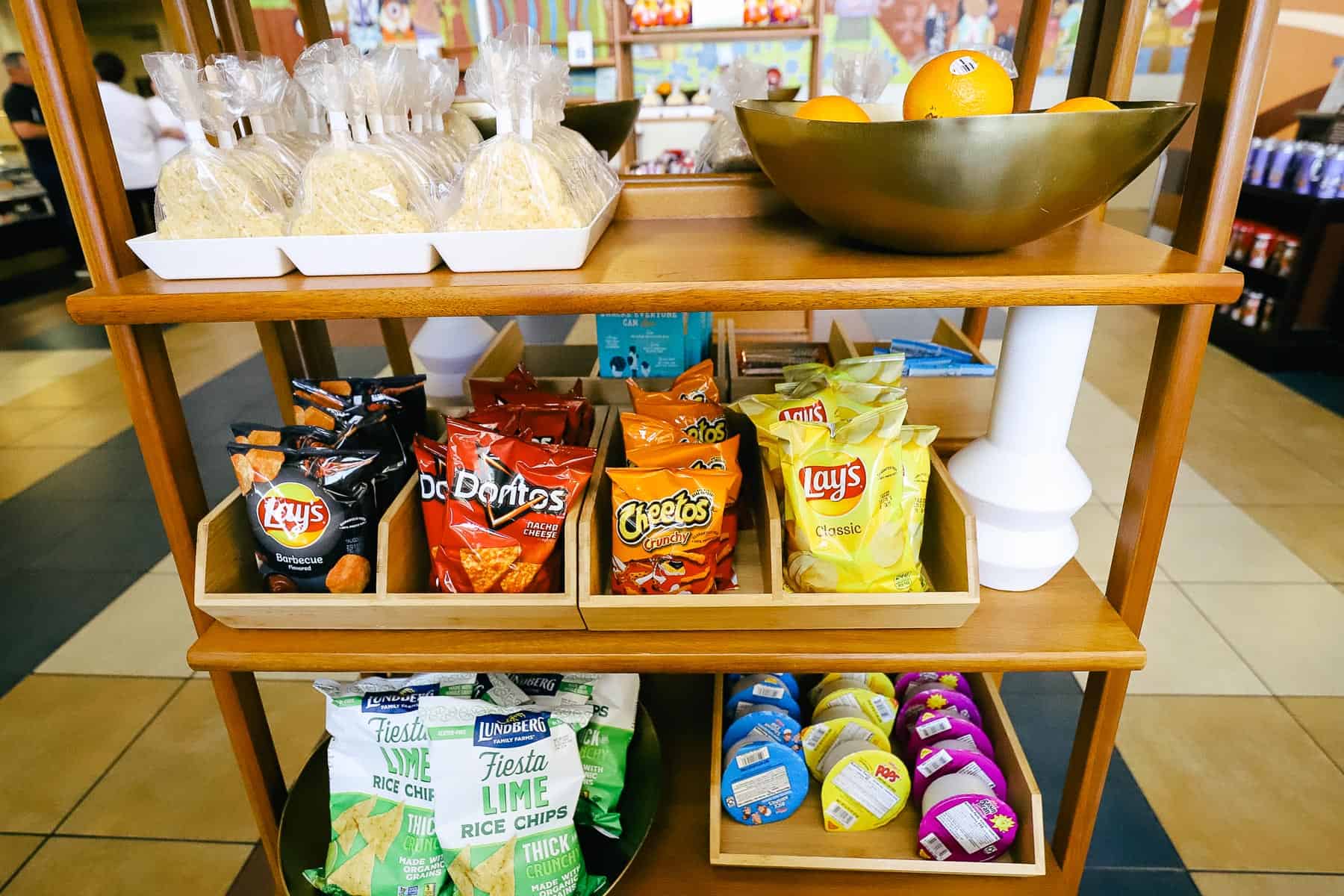 A refrigerated case sits along the back wall.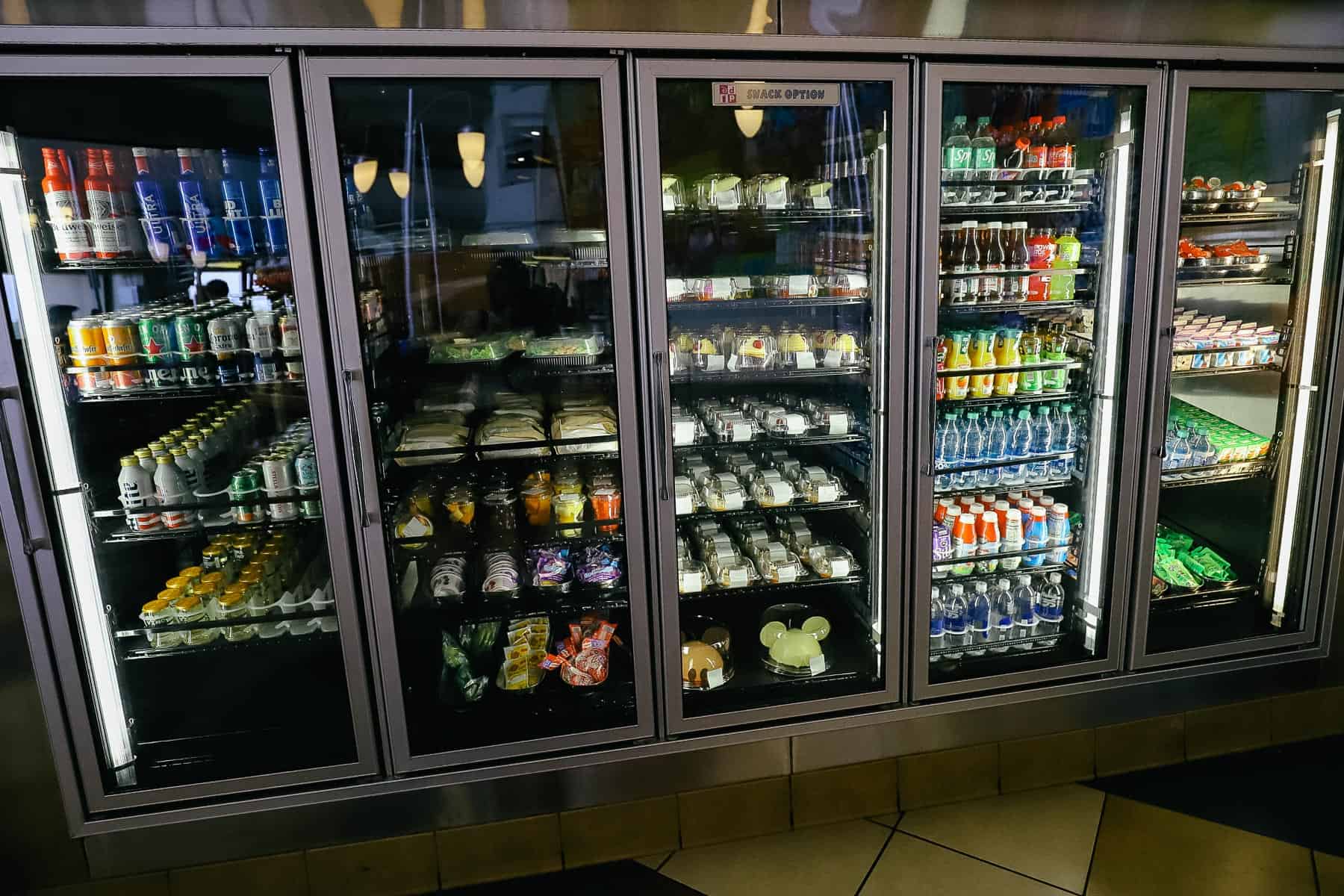 A variety of beers and individual wines were available.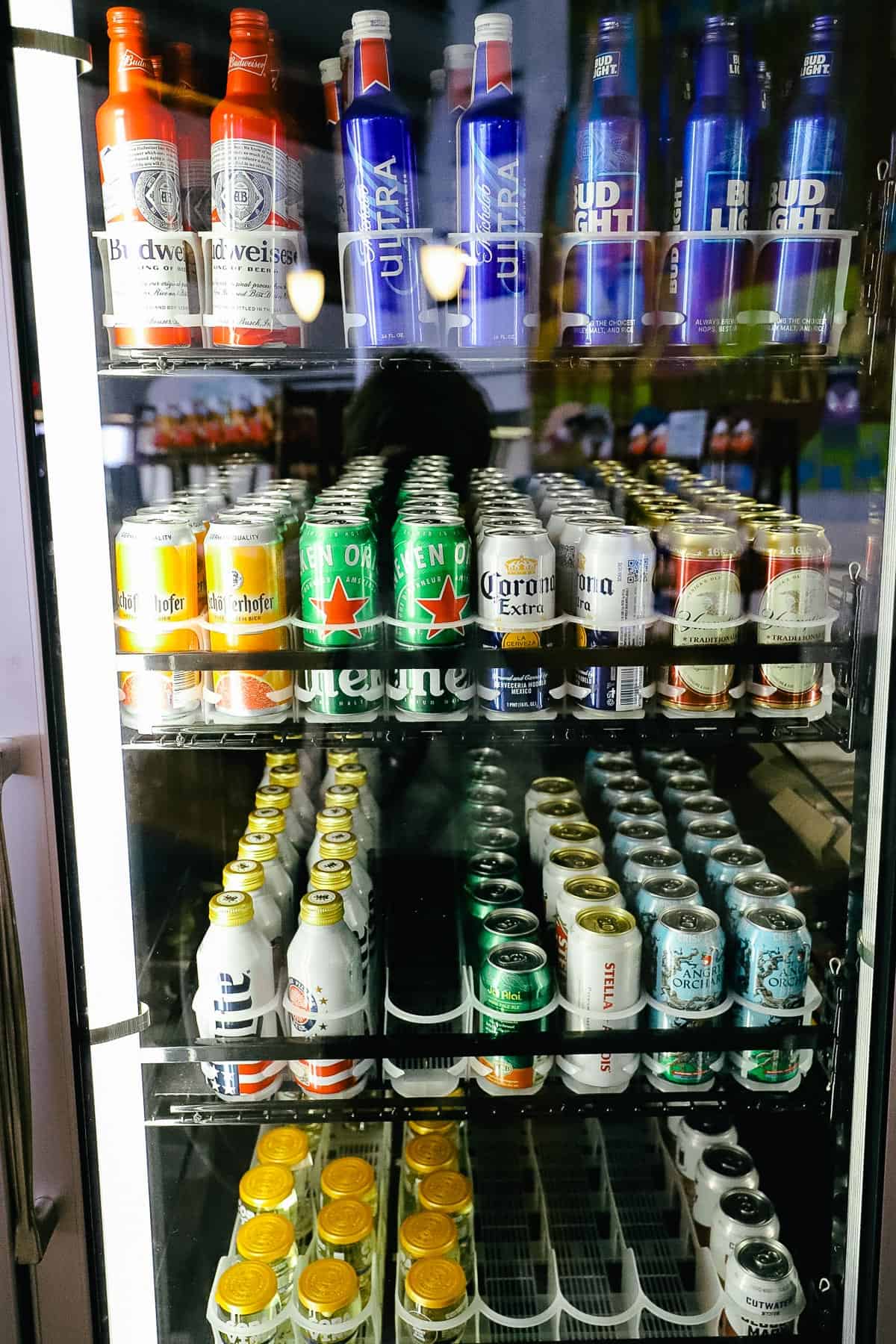 Here are a few salads, premade sandwiches, fruit cups, yogurts, and kids' meal items.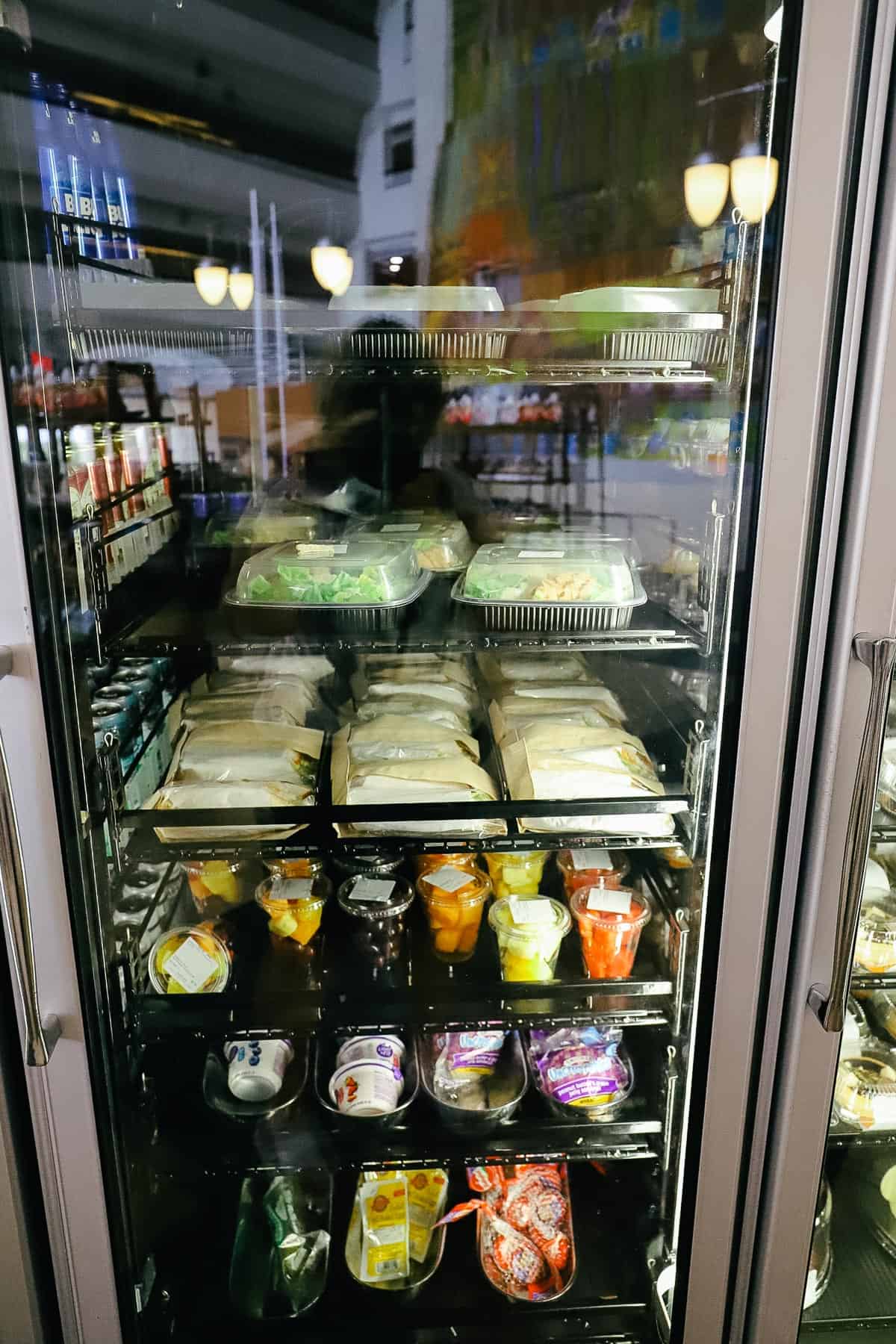 Contempo Cafe always has a decent selection of cupcakes and other desserts.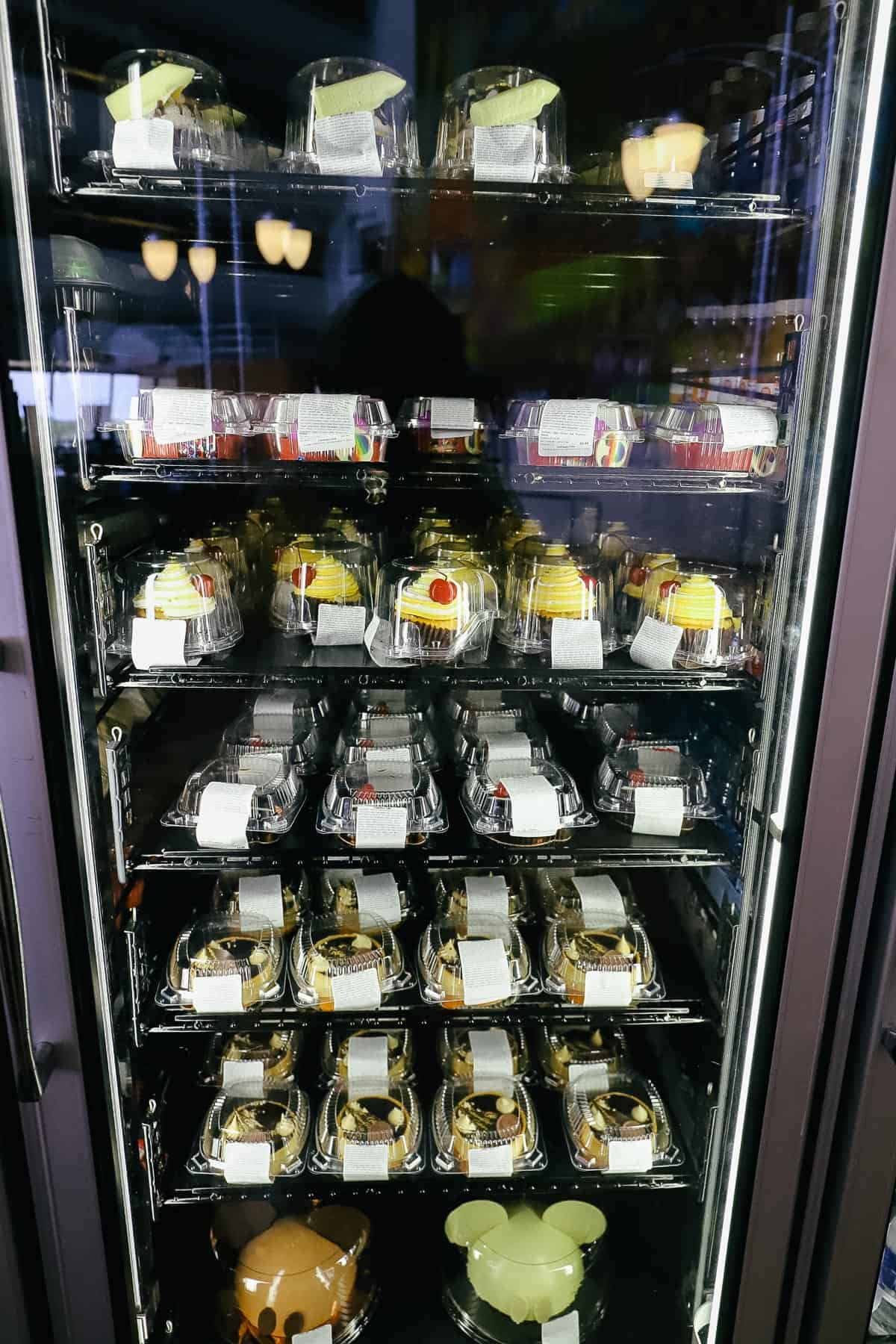 Here is the trendy Dole Whip cupcake.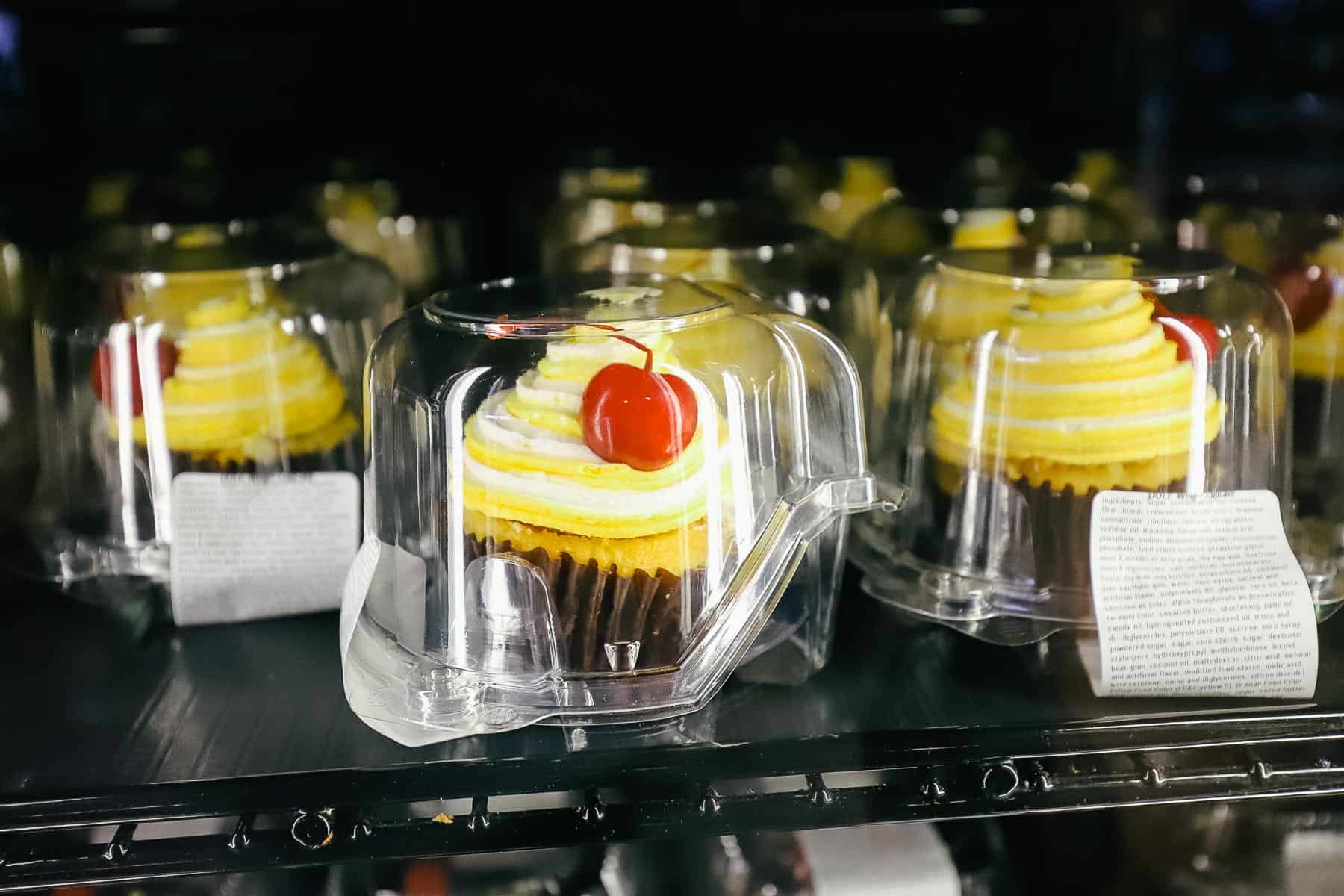 Additionally, the peanut butter pie remains after the 50th anniversary. They've now dropped the 50th, though. And the flourless chocolate cake is a lovely dessert option I've had a time or two.
This particular photo was taken around Easter when they had each dessert on display toward the front of the restaurant. Since then, the display case has been removed, and the electronic menu signs were installed in the area.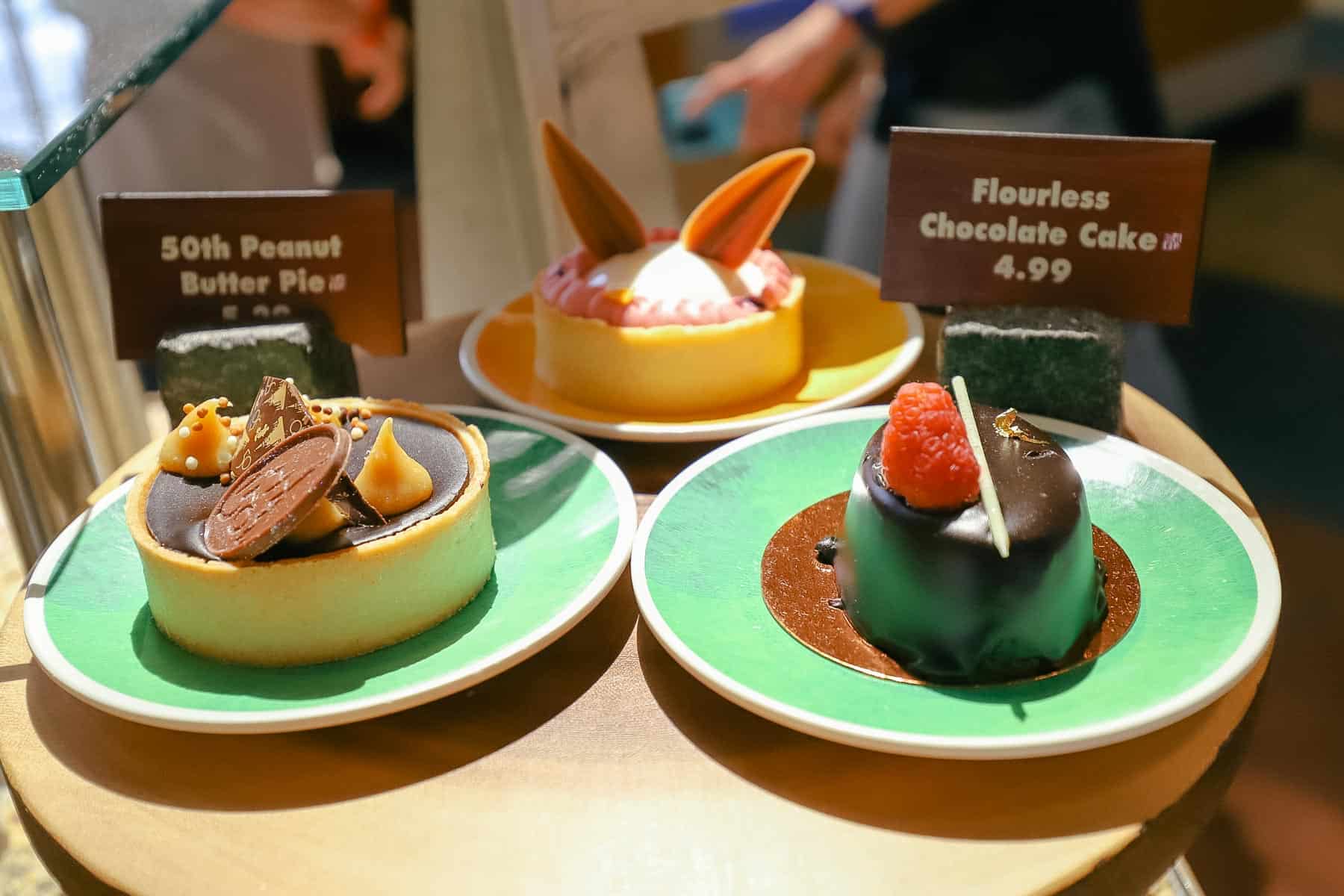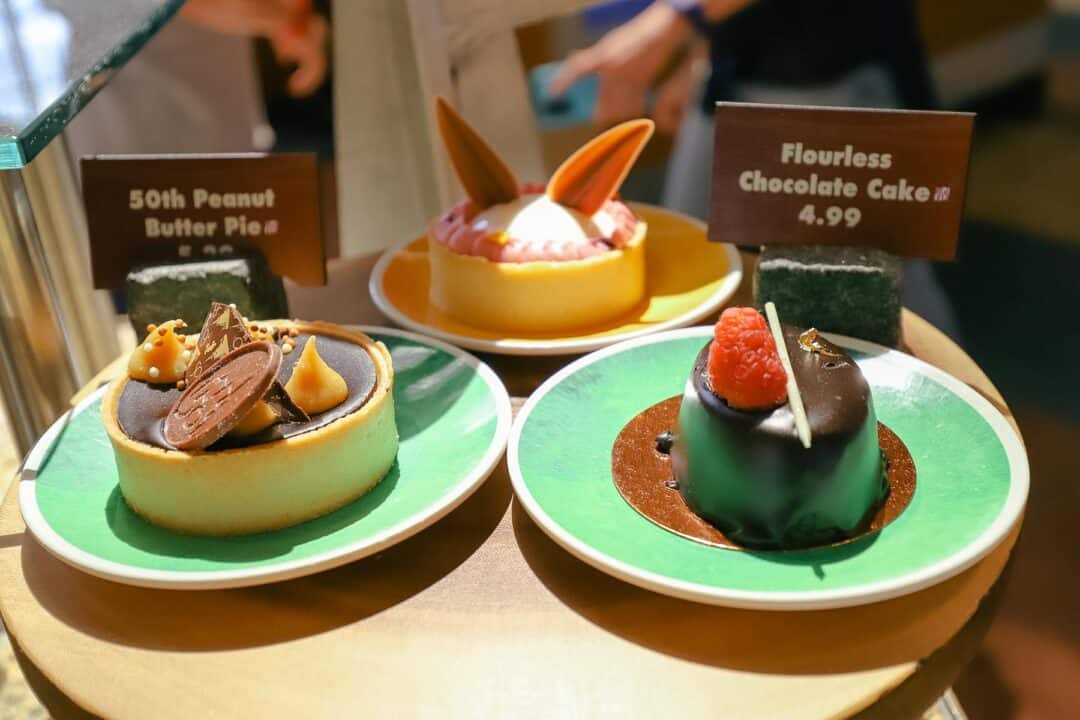 Bottled soda, juices, water, sports drinks, and milk were available in another area of the cooler.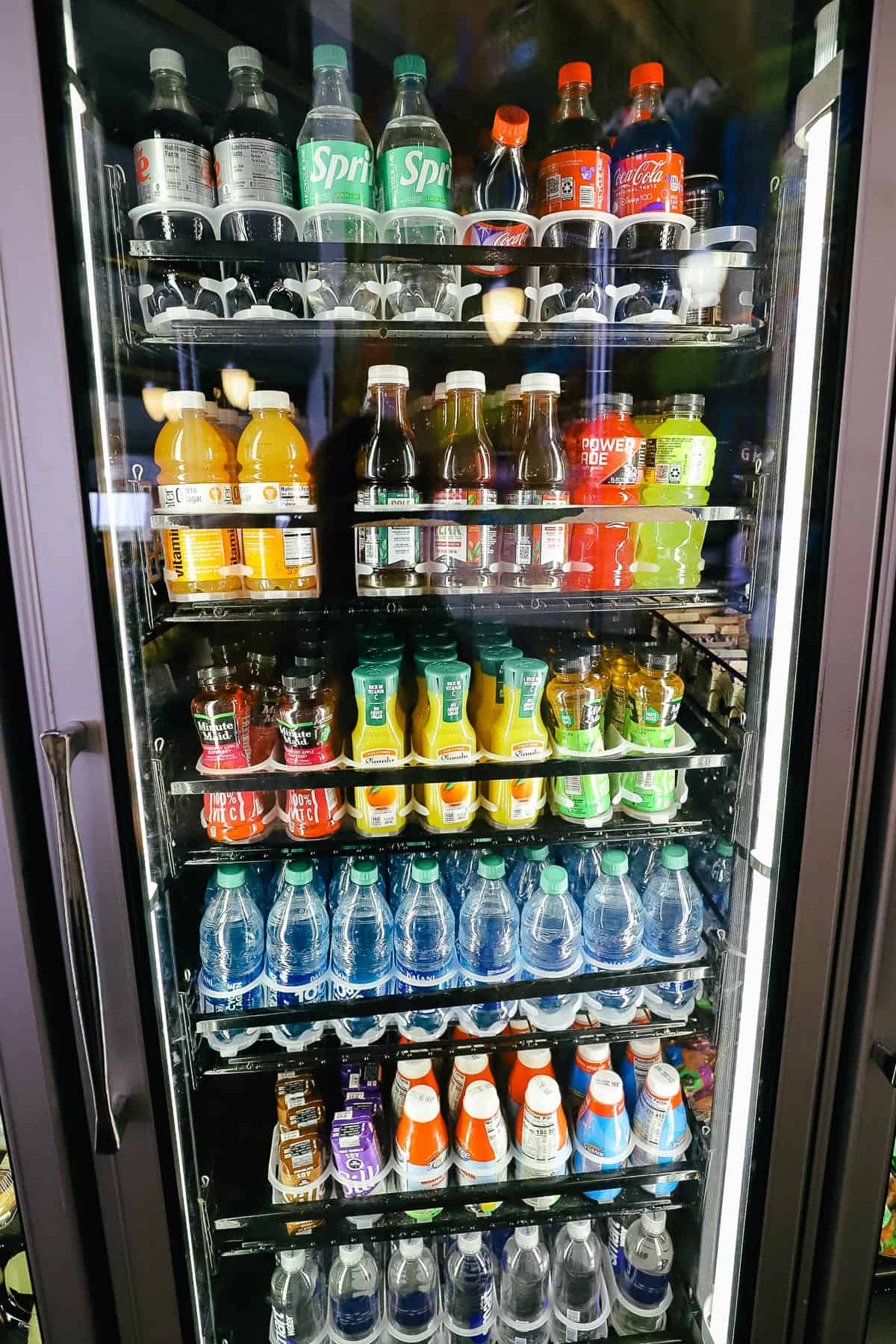 Most of the items in this photo come with kids' meals. Make sure you get all the components of the kids' meals. Kids' meals typically come with two sides and a drink.
While that drink might be listed as a juice box, milk, or water, you can request a fountain beverage instead, and they will provide a small refillable cup. Additionally, you can order fries in place of one or both of the other sides if you prefer.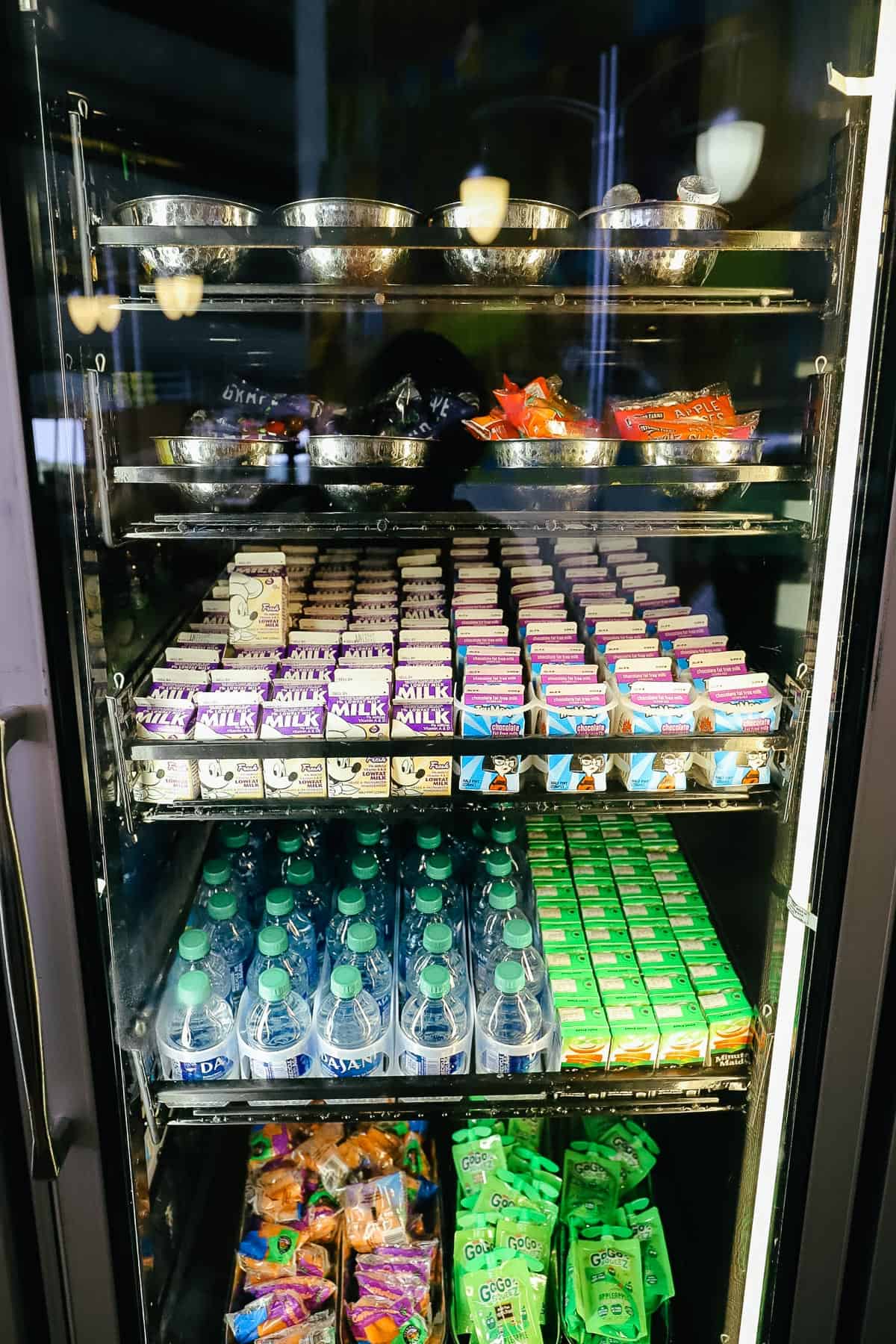 A pastry case was filled with cookies, bagels, cinnamon rolls, croissants, muffins, and other treats.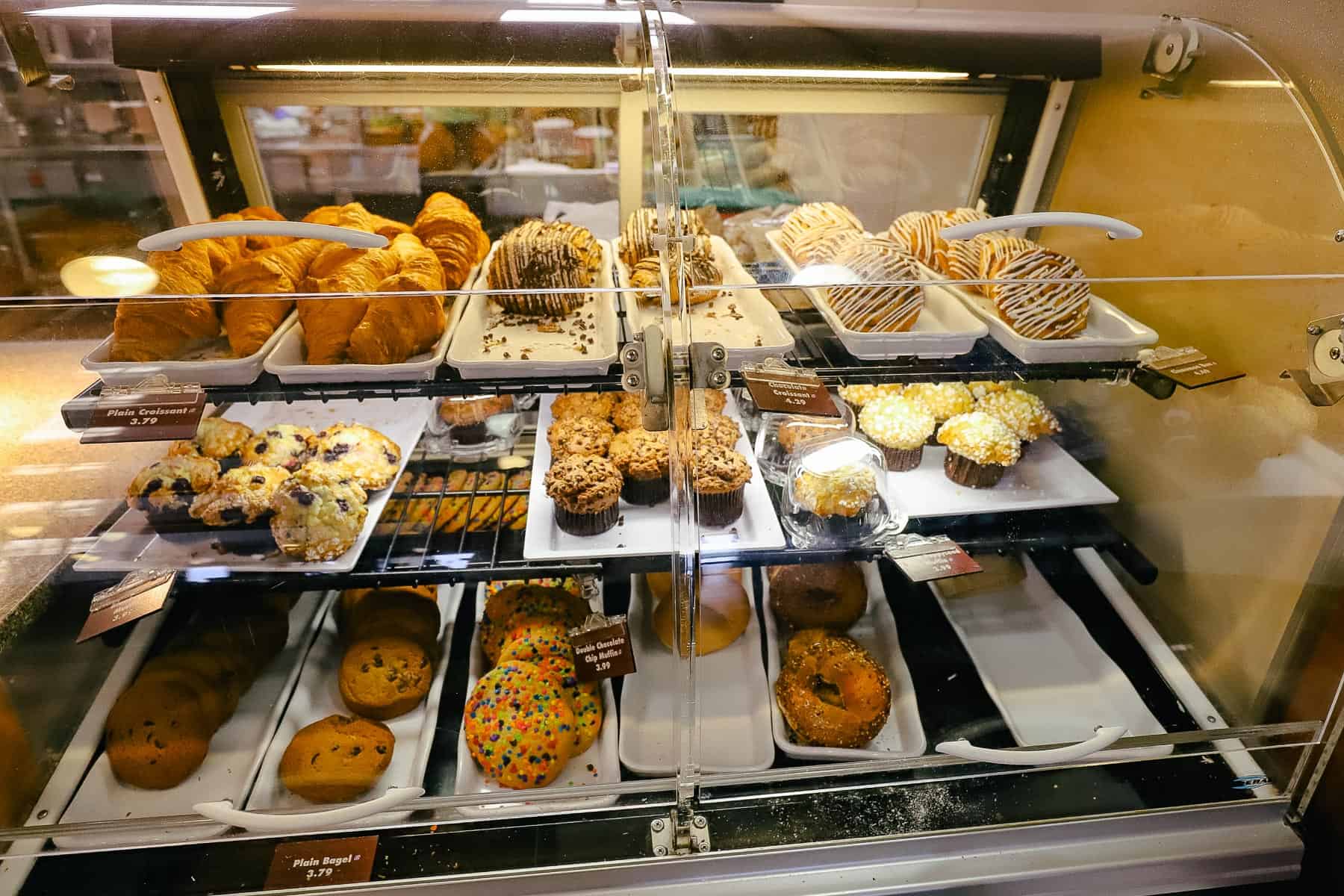 Several popular Disney ice cream novelties were available.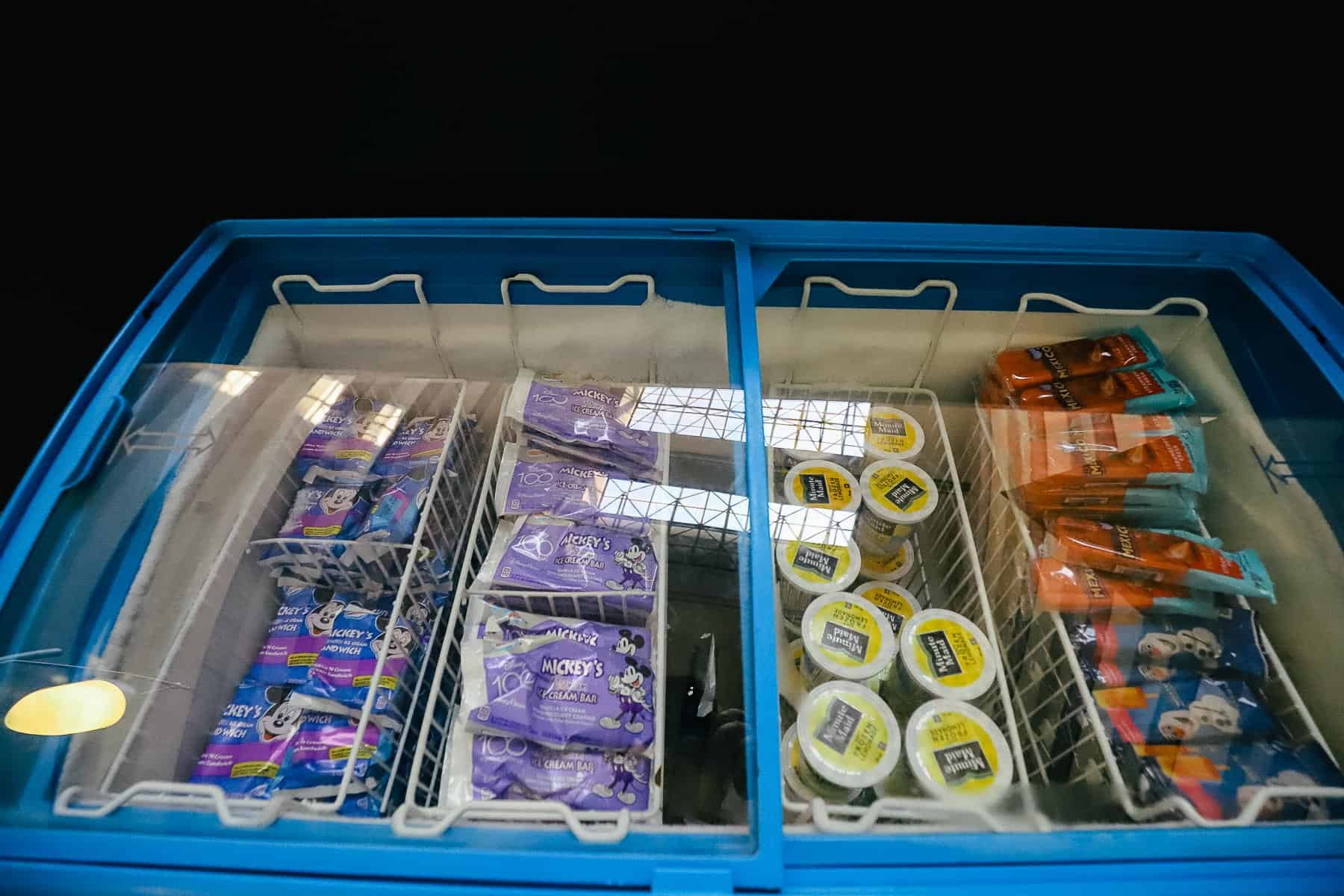 Contempo Cafe also has vanilla, chocolate, and swirl frozen yogurt.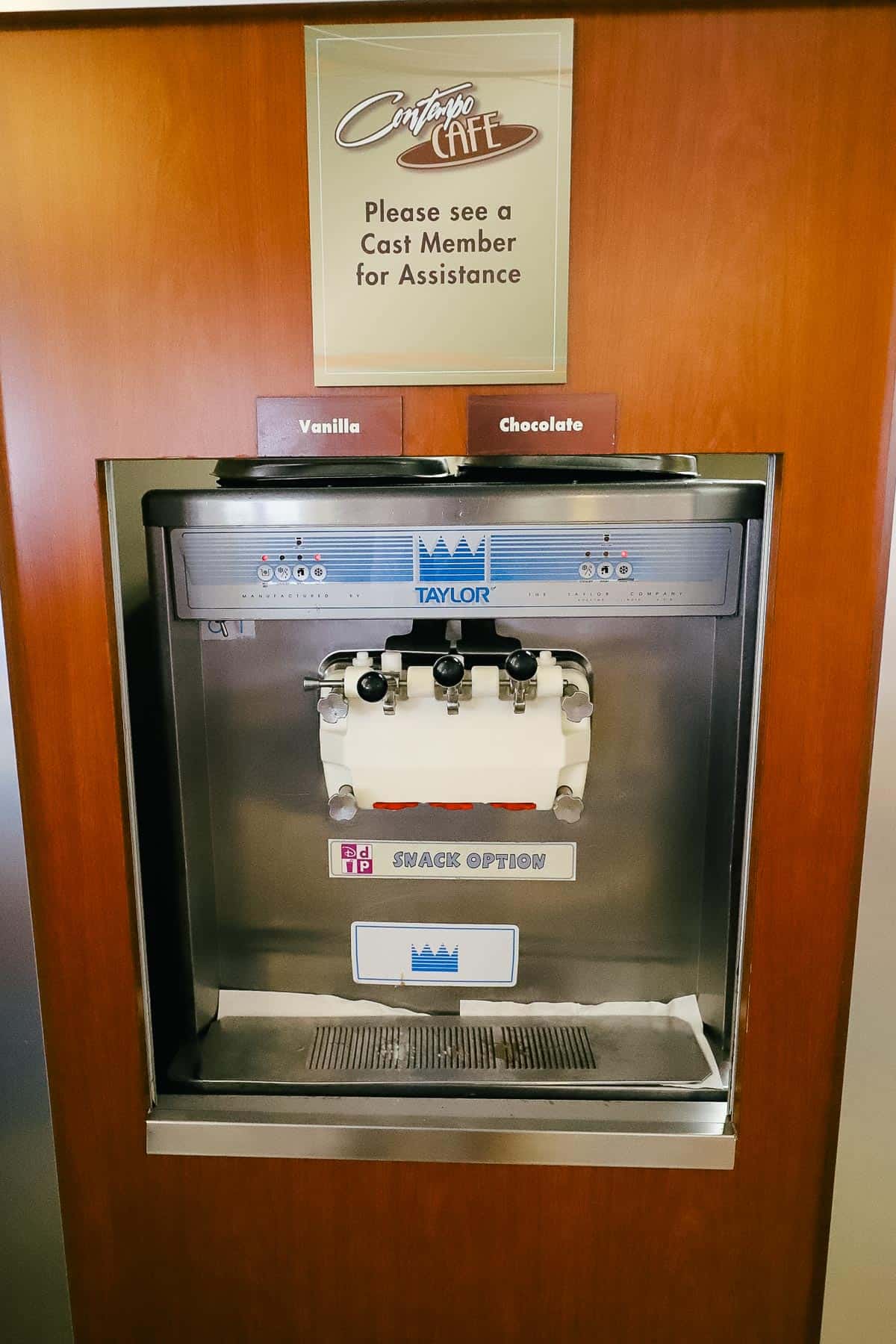 Before we preview a few menu items, here's a closer look at the dining area.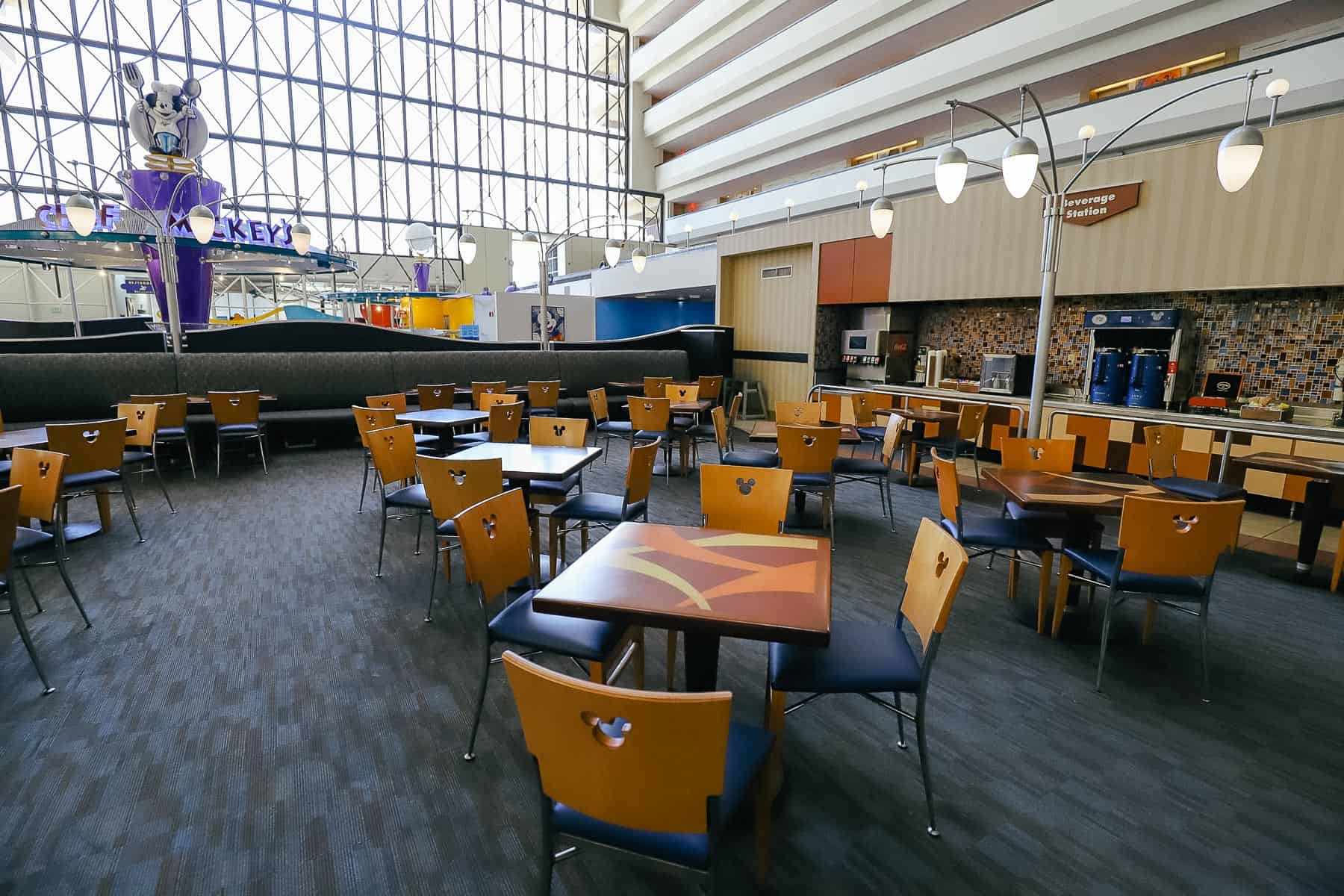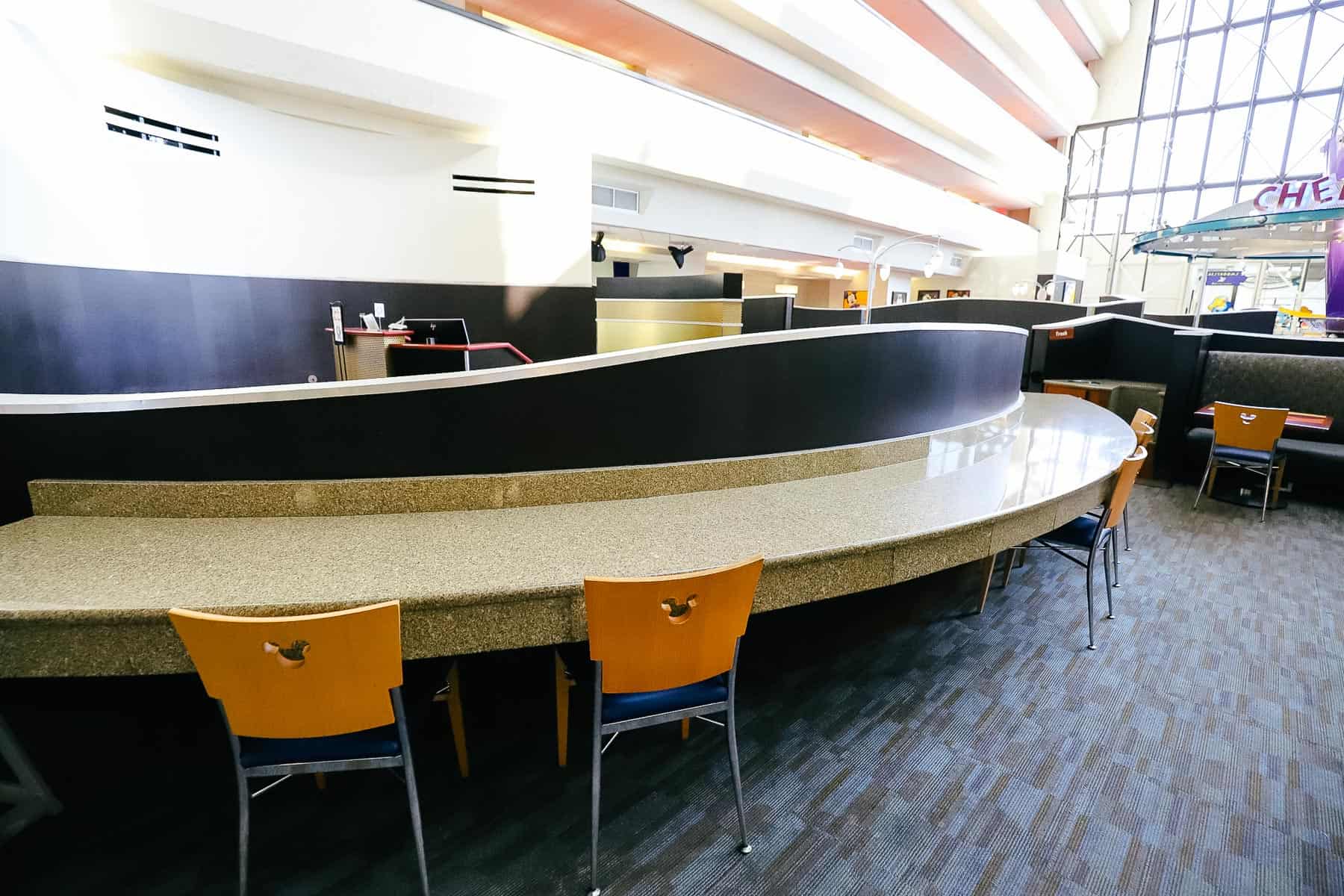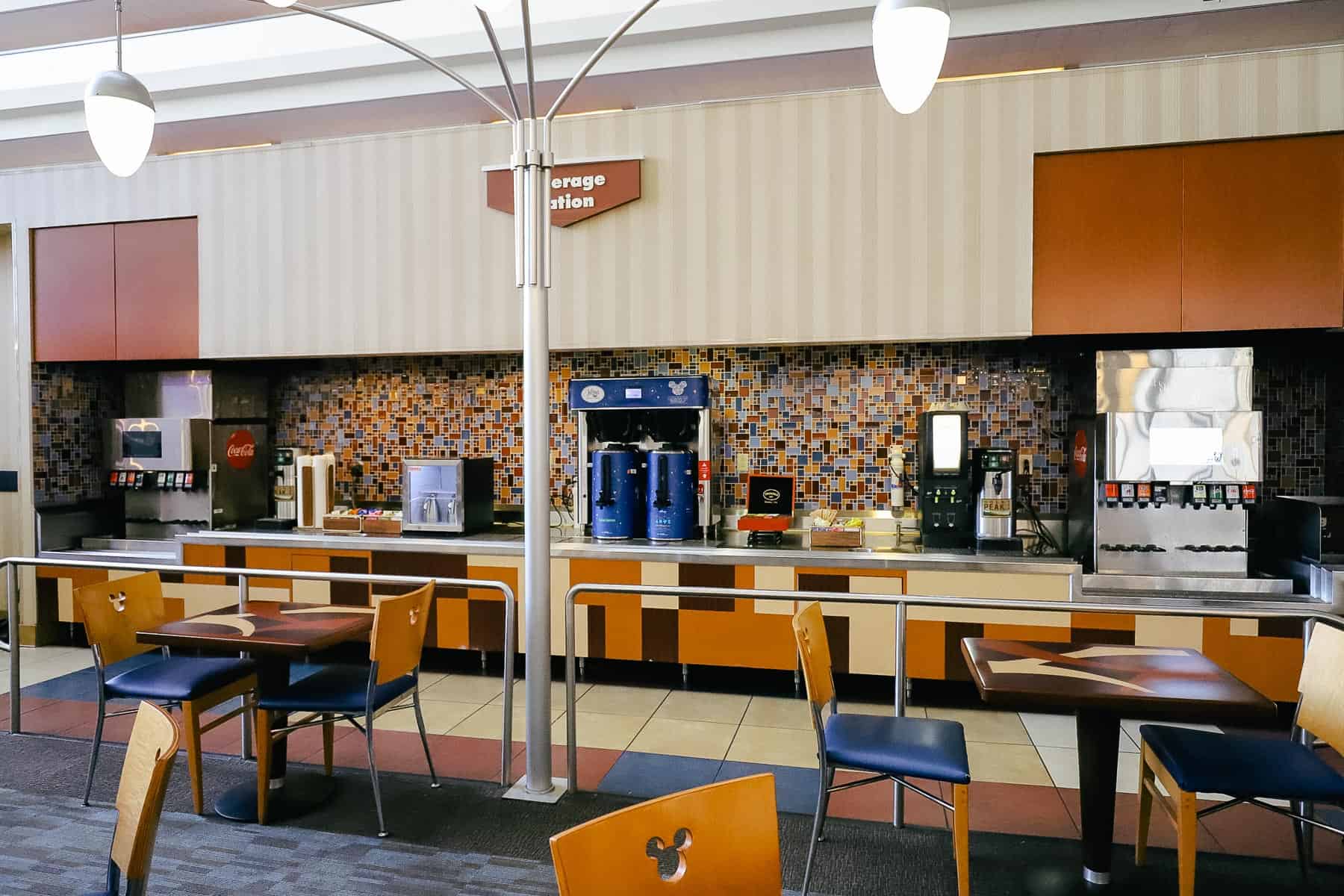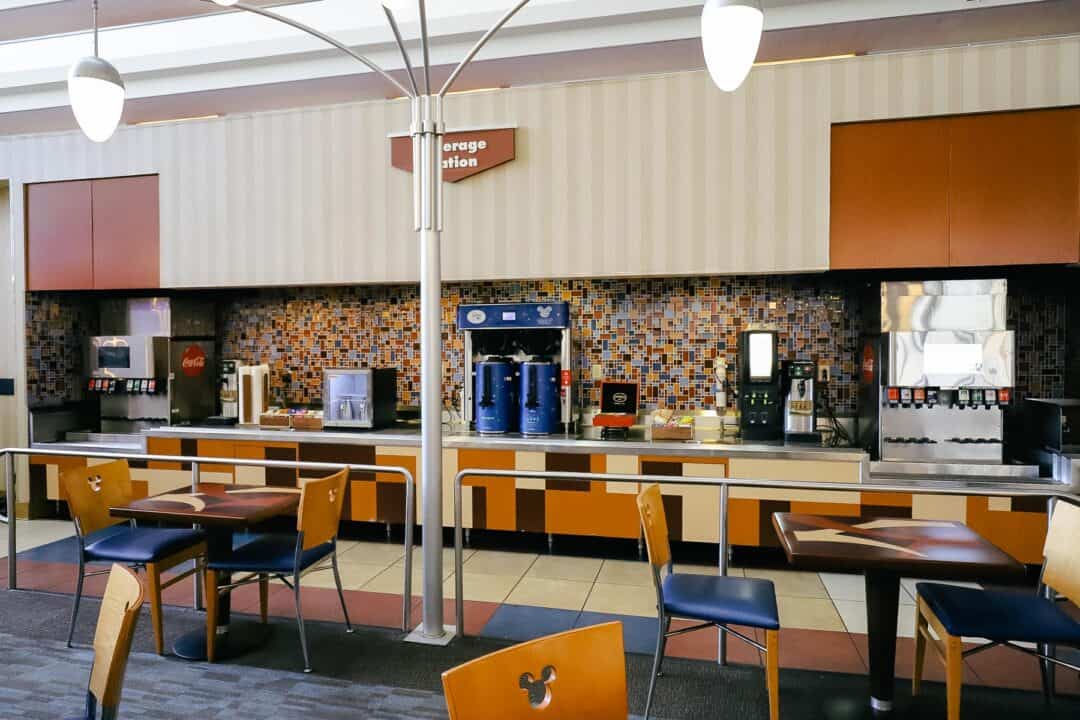 Fountain beverages consist of Coca-Cola products.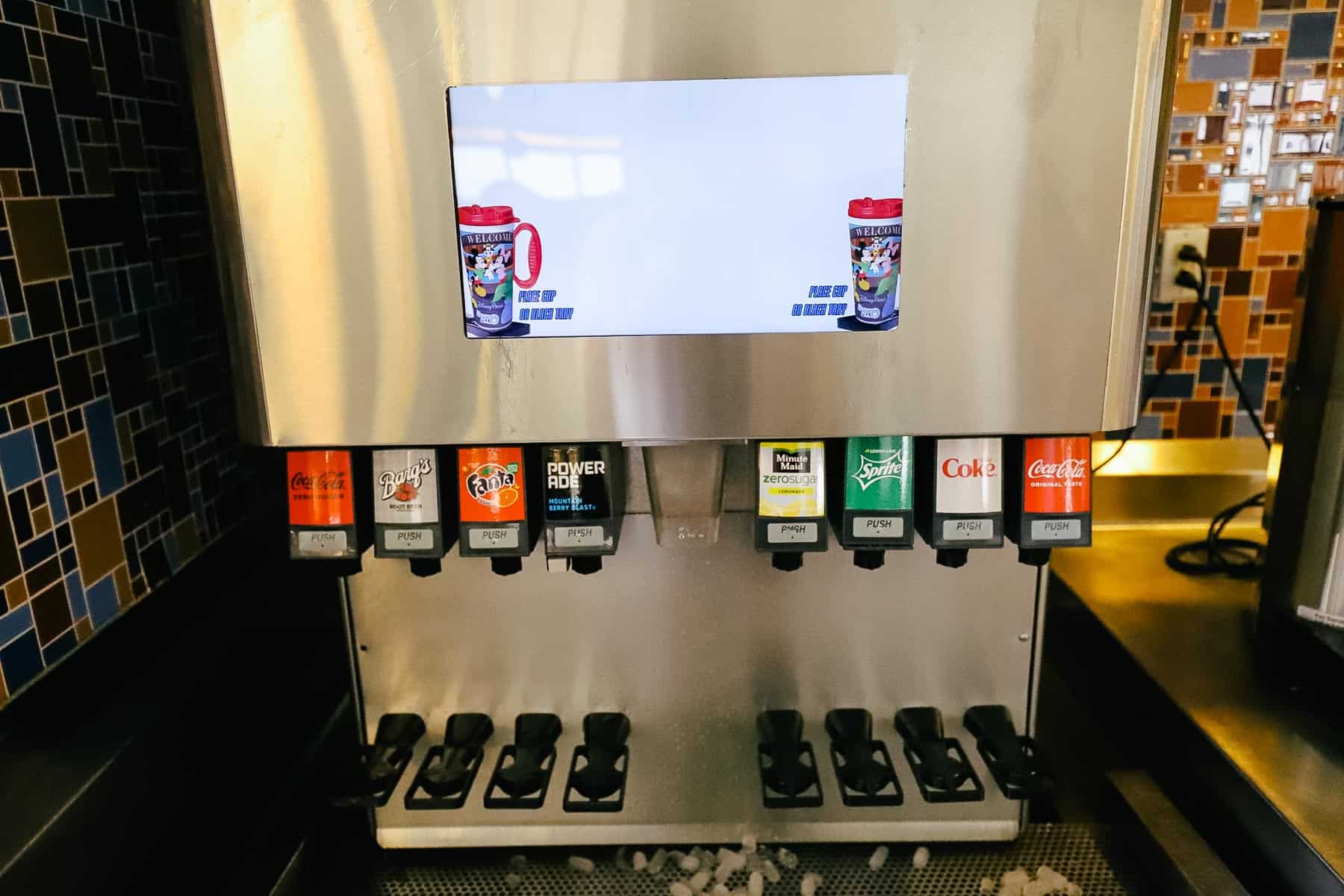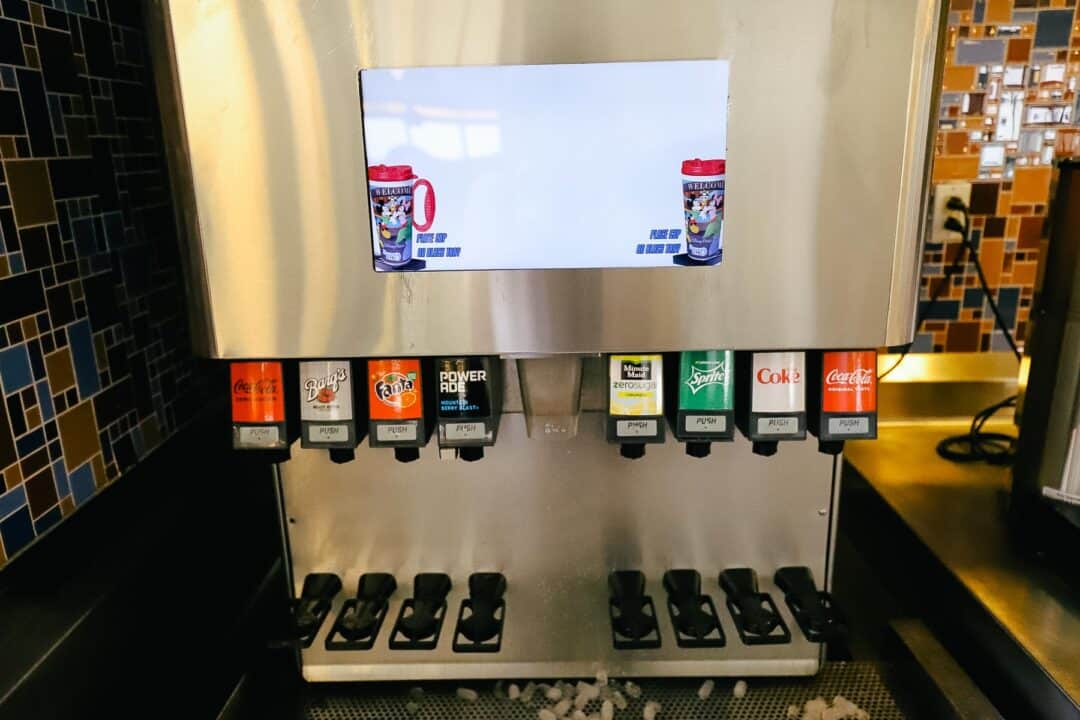 Gold Peak Tea is available.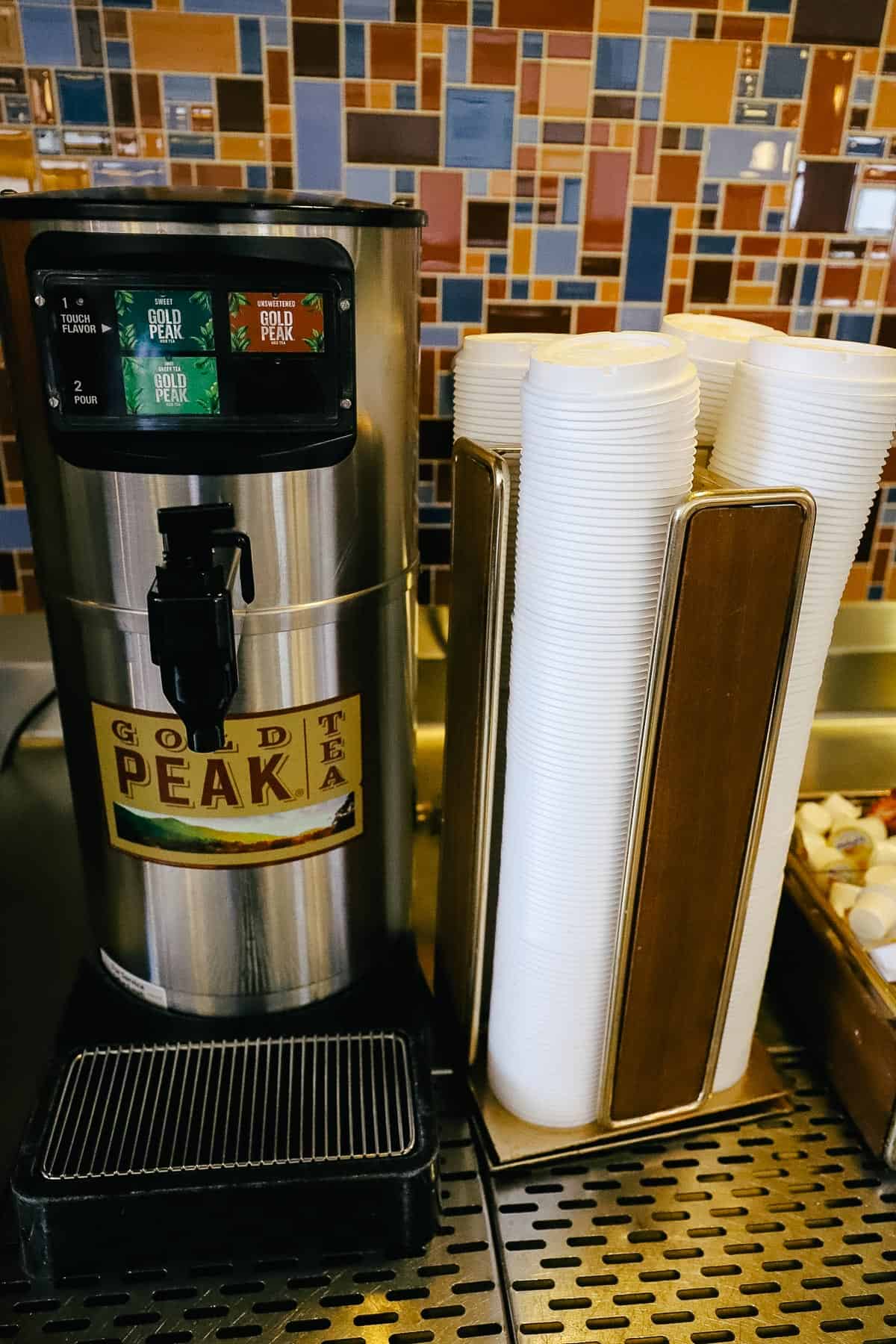 Coffee accompaniments include various creamers, sugar, and artificial sweeteners. Honey packages are available for tea or hot water.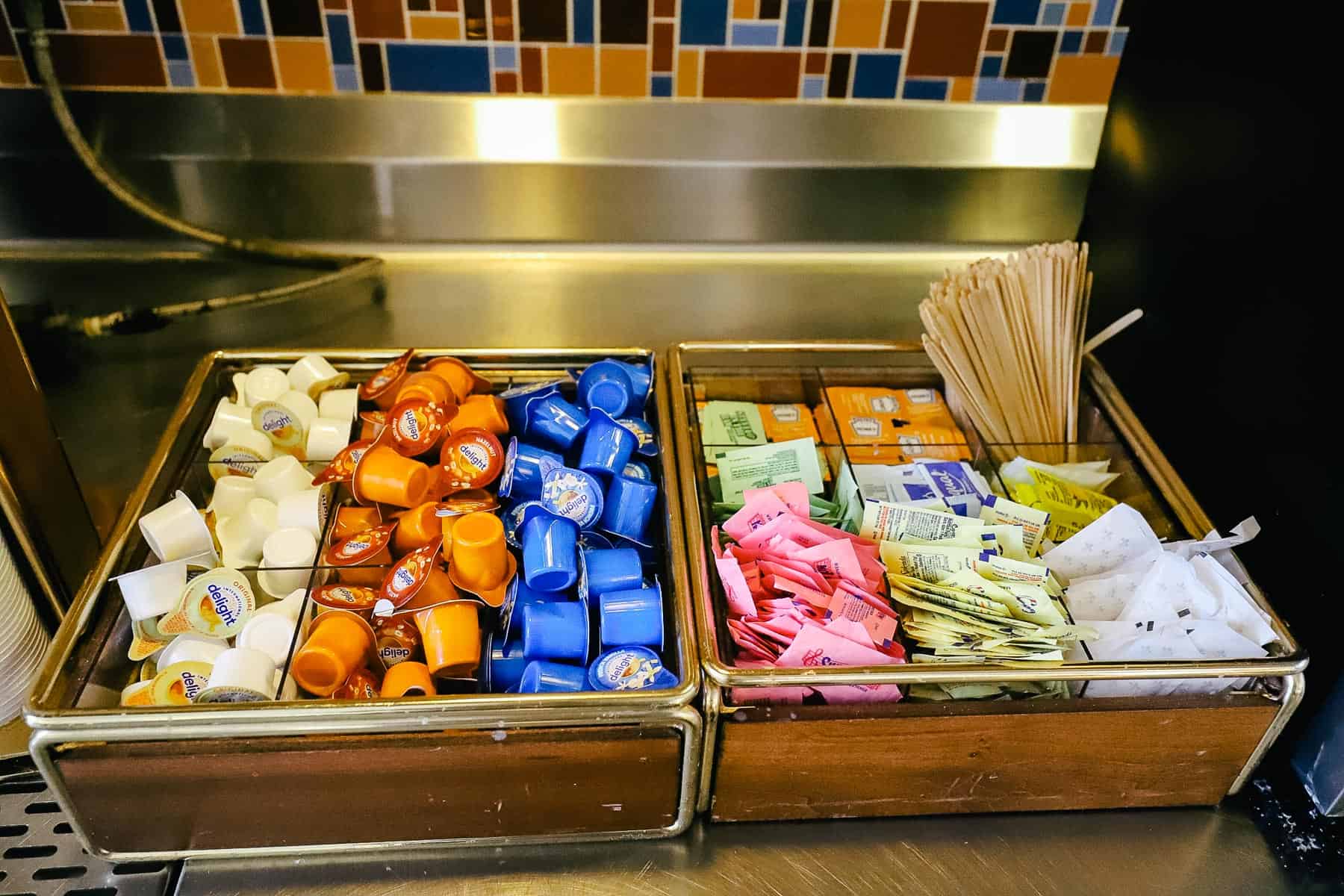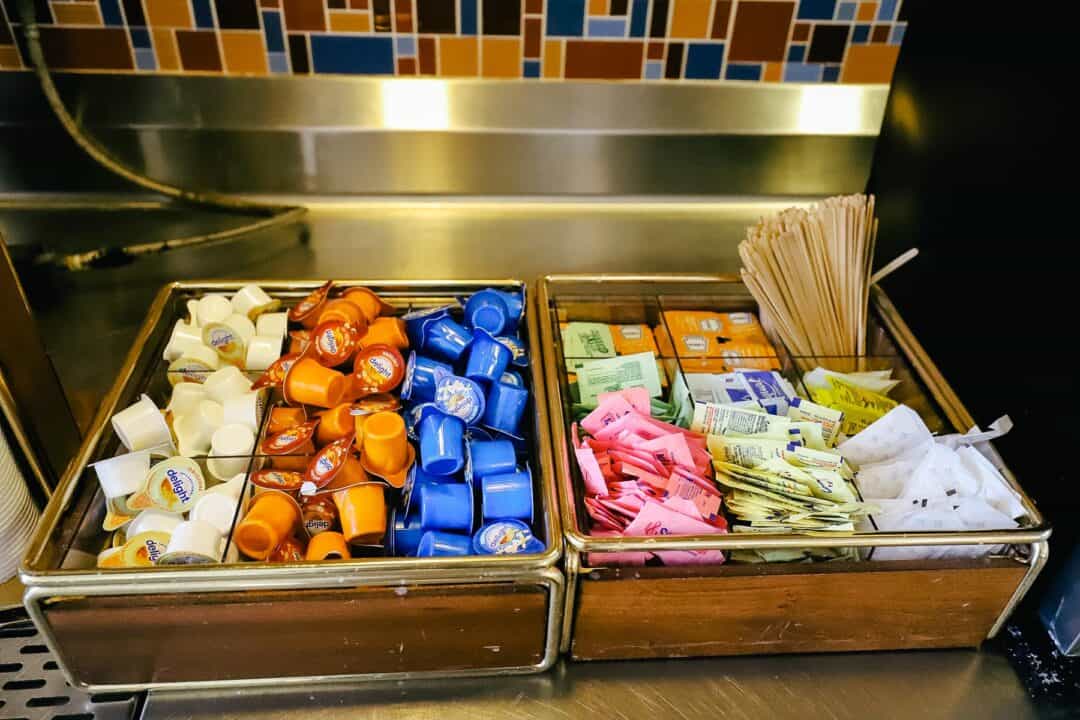 I appreciated the mini-fridge with fresh creamer and milk. It is rare to see these carafes refrigerated, and I'm always wary of using them when I pick up a coffee late in the day. However, since Contemporary Grounds is now open later, I would pick up my coffee at that location on the resort's first floor.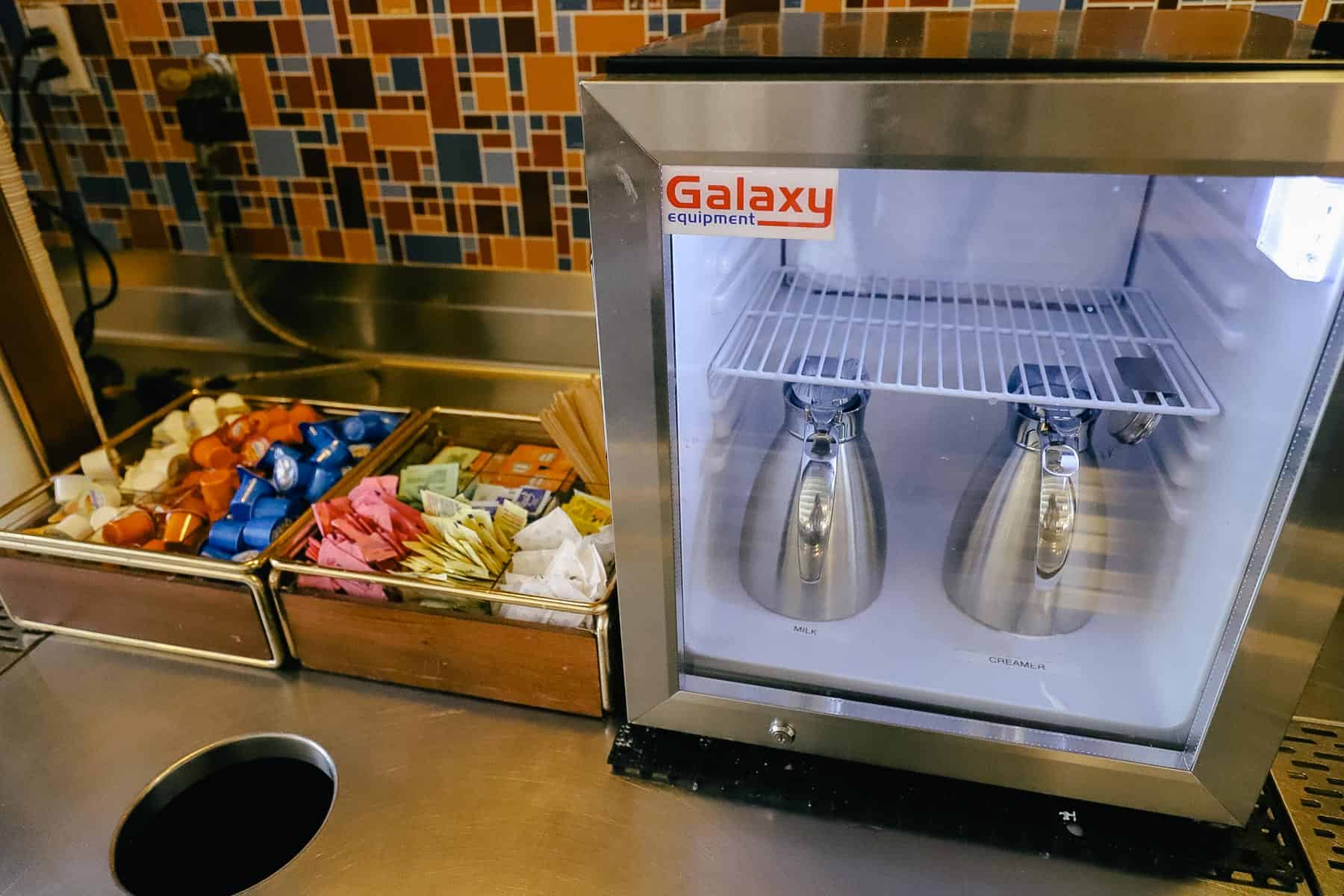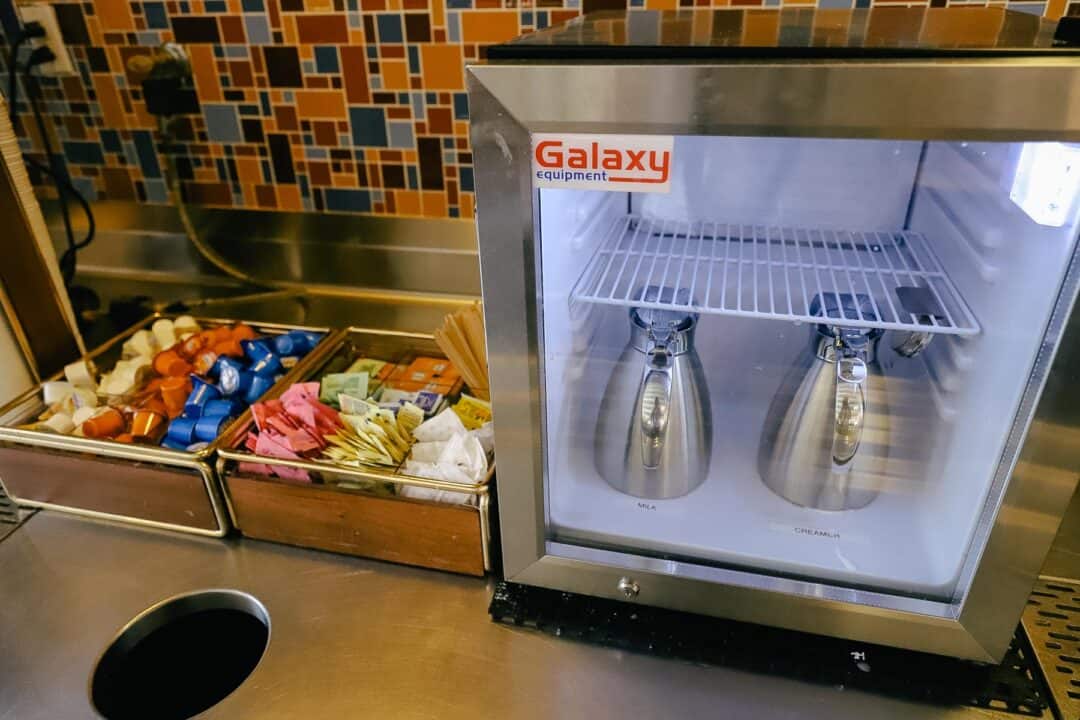 But if you need something quick, Joffrey's coffee is available at Contempo Cafe.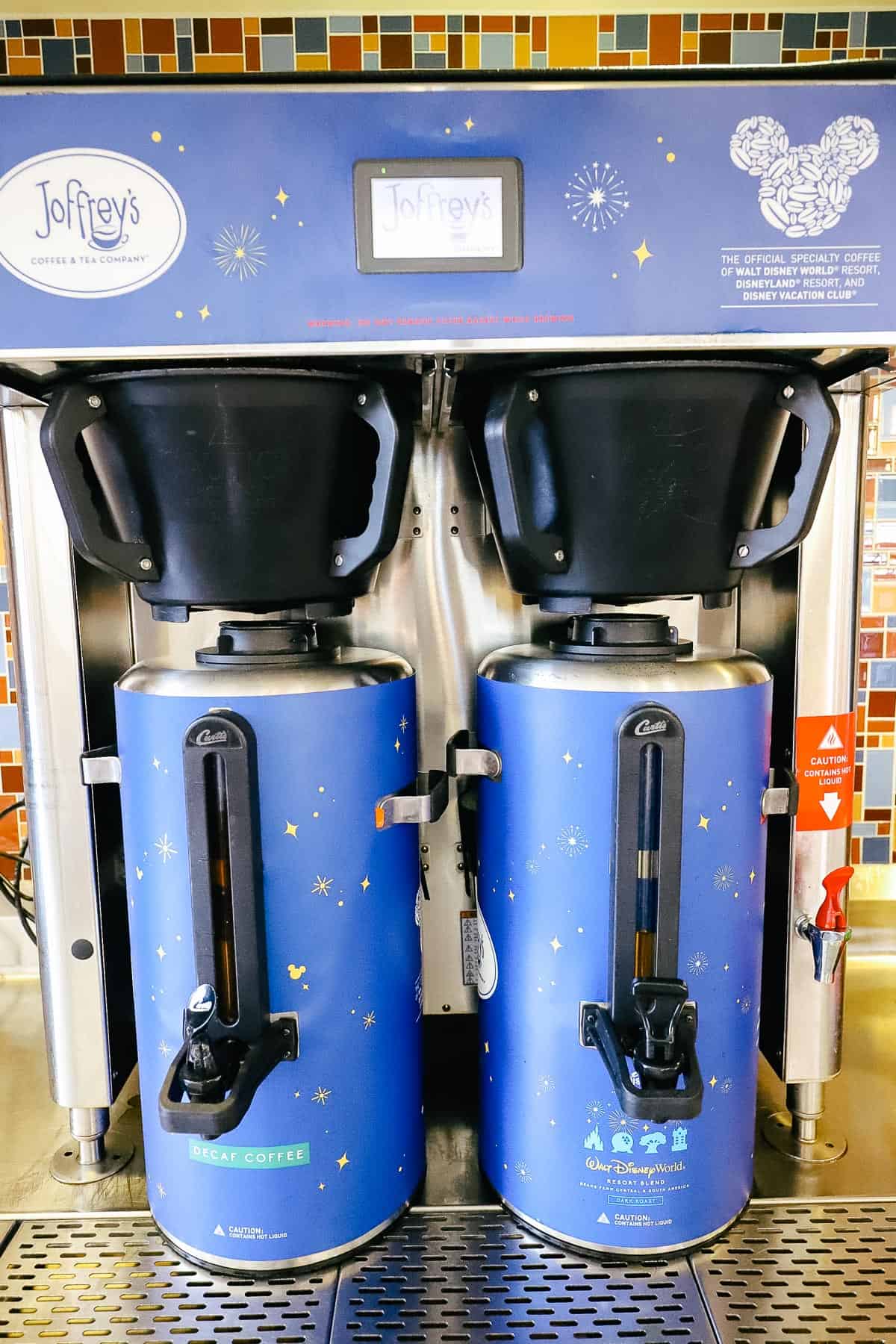 Several Twinings tea bags sat in a box nearby.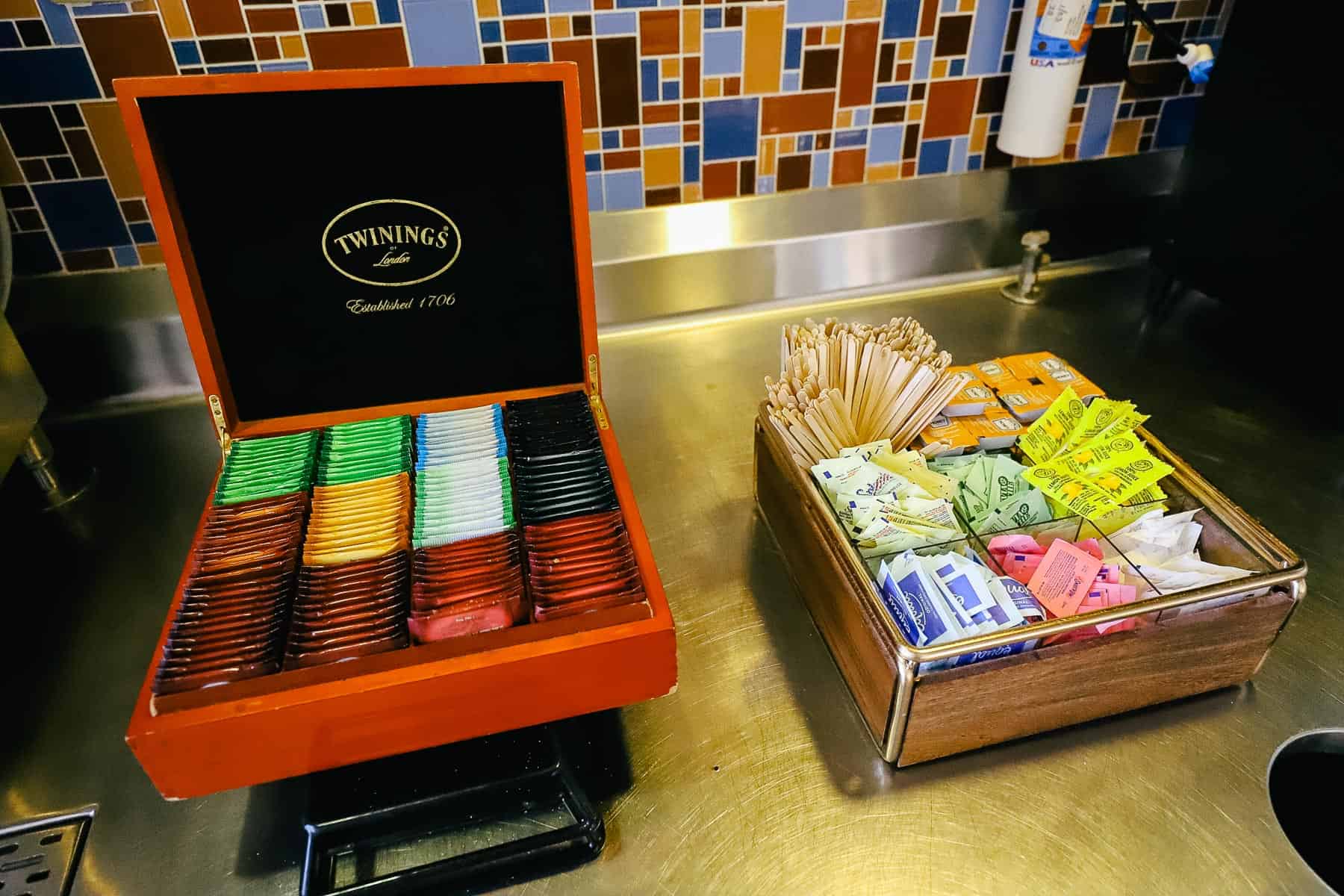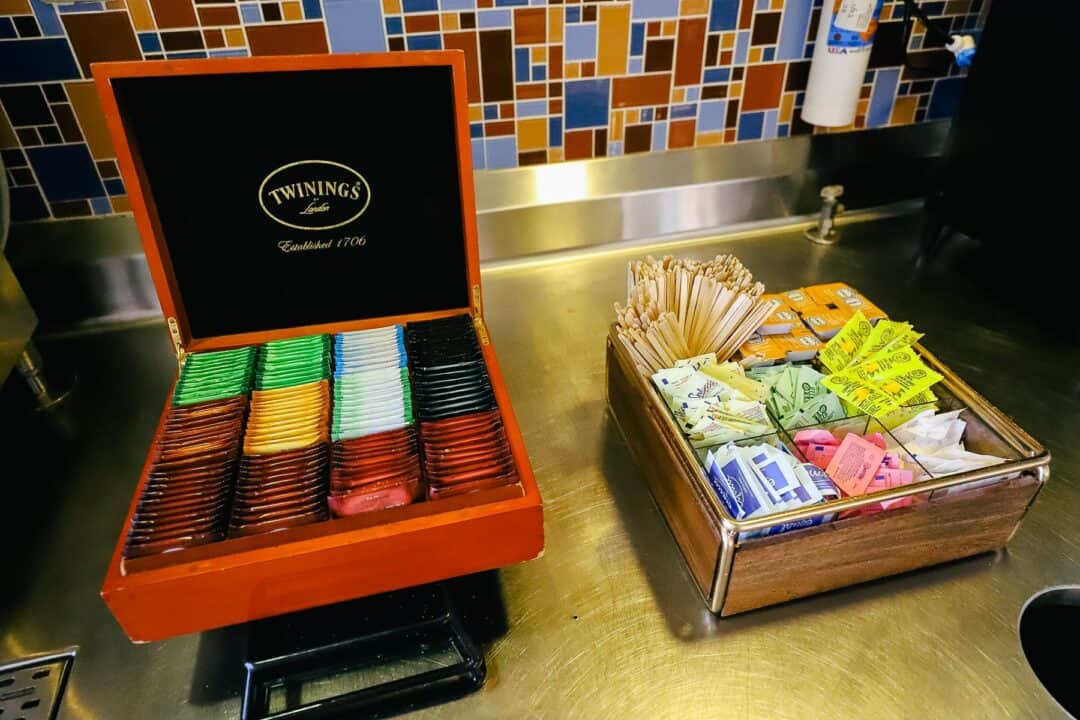 This is one of those Nescafe machines. I can never get a good photo because the electronic screen always turns out like this.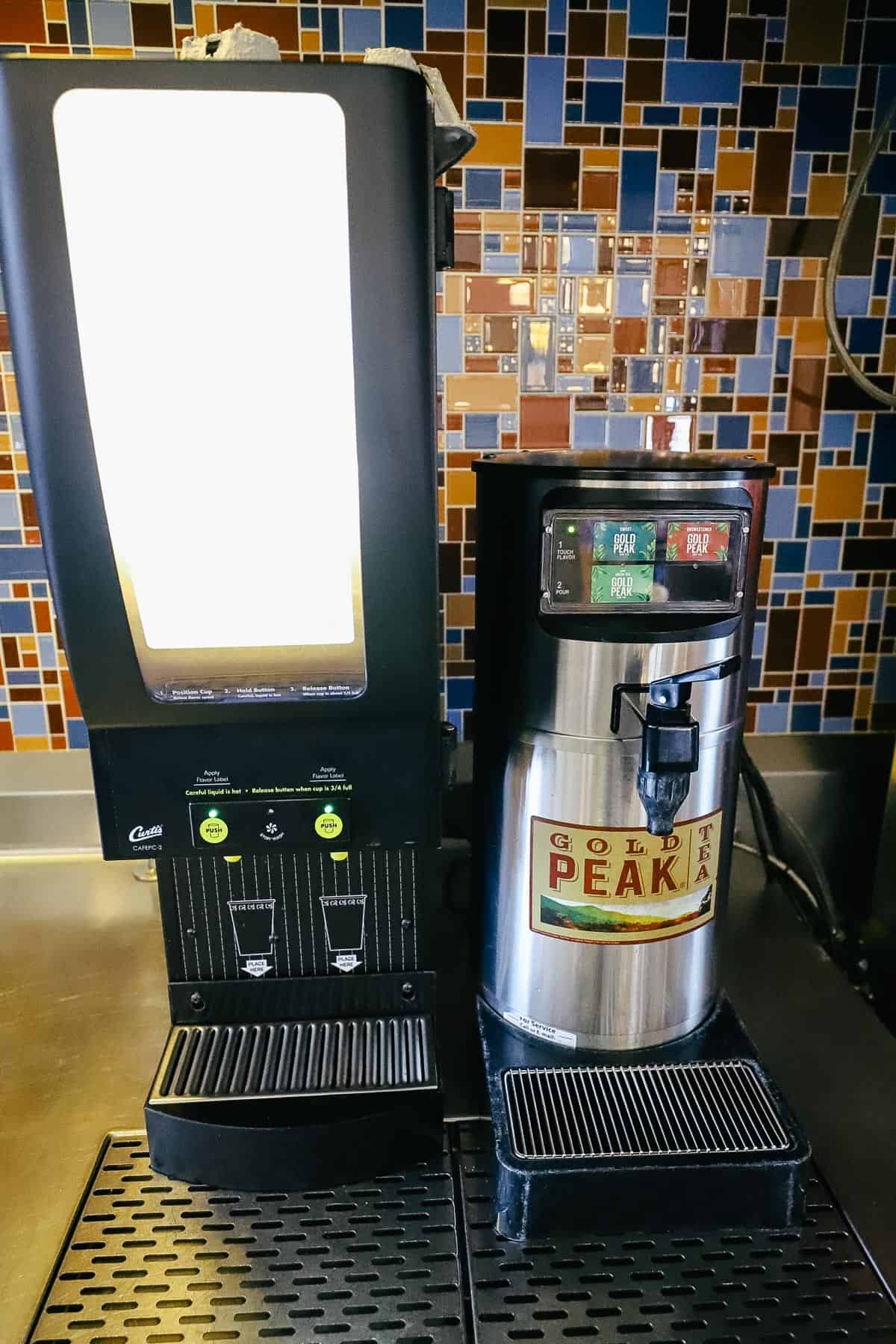 Several toaster ovens are available.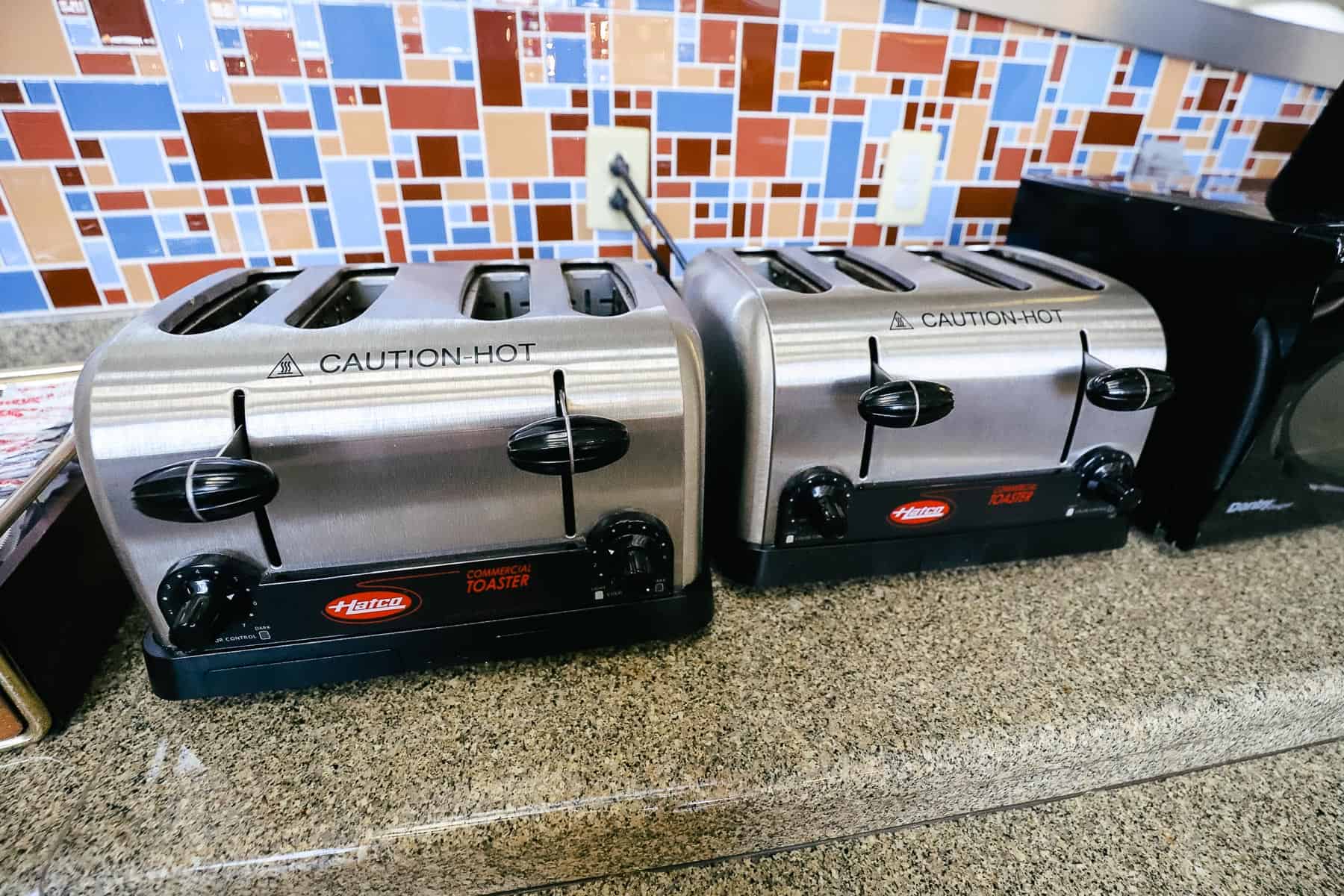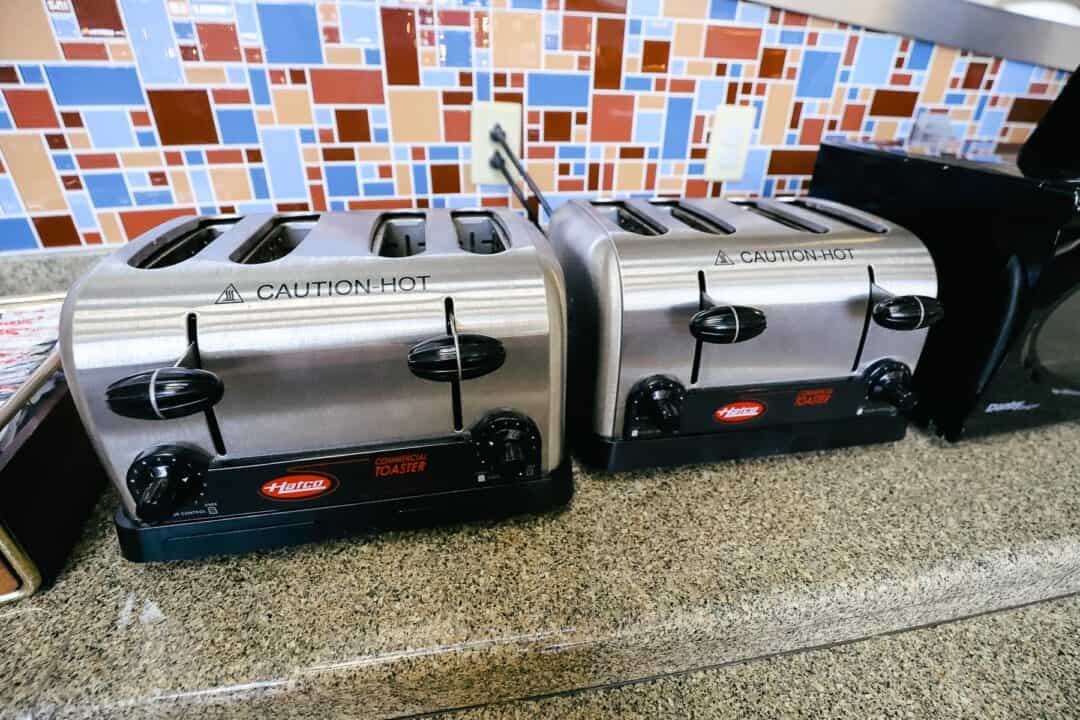 Additionally, a microwave was available.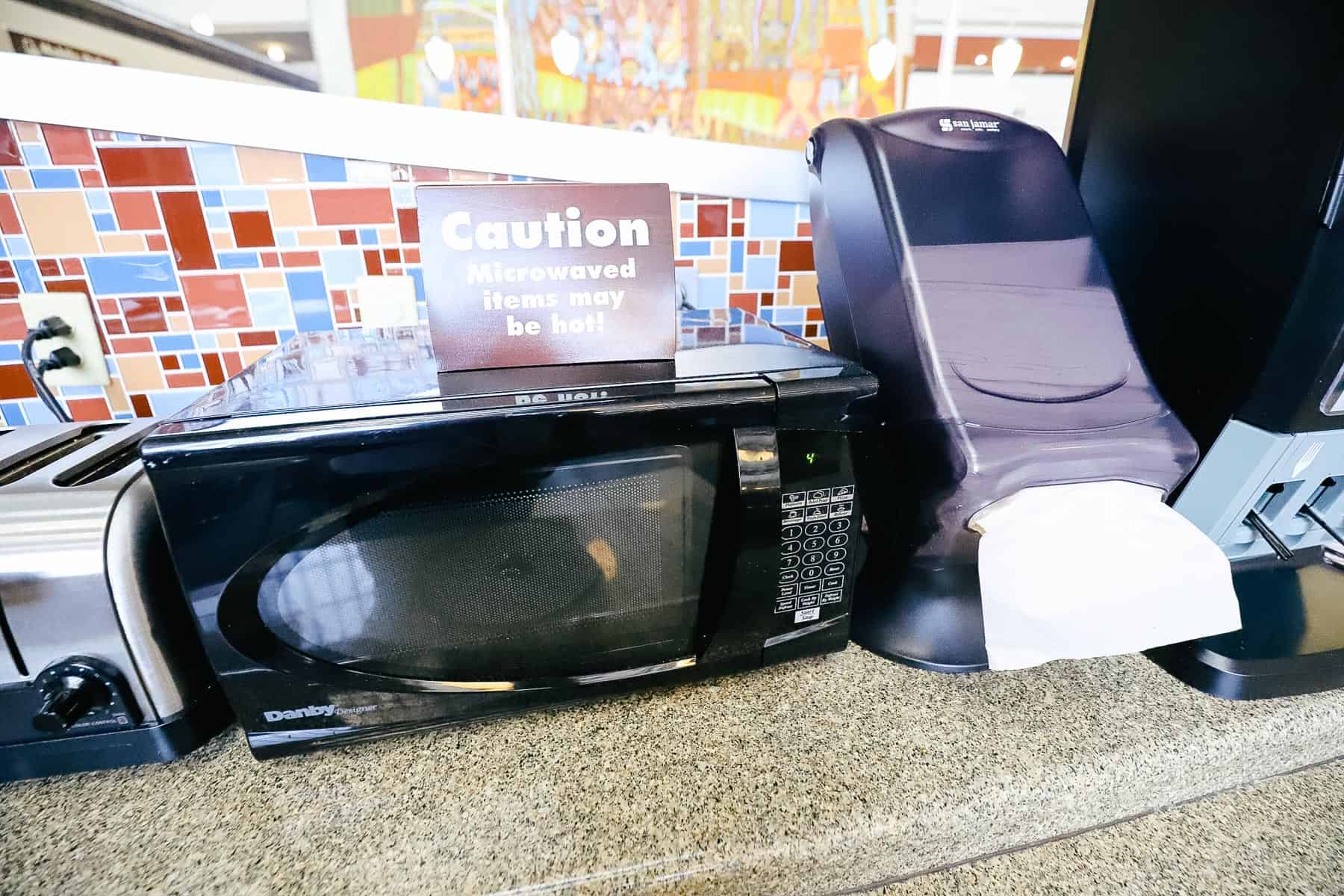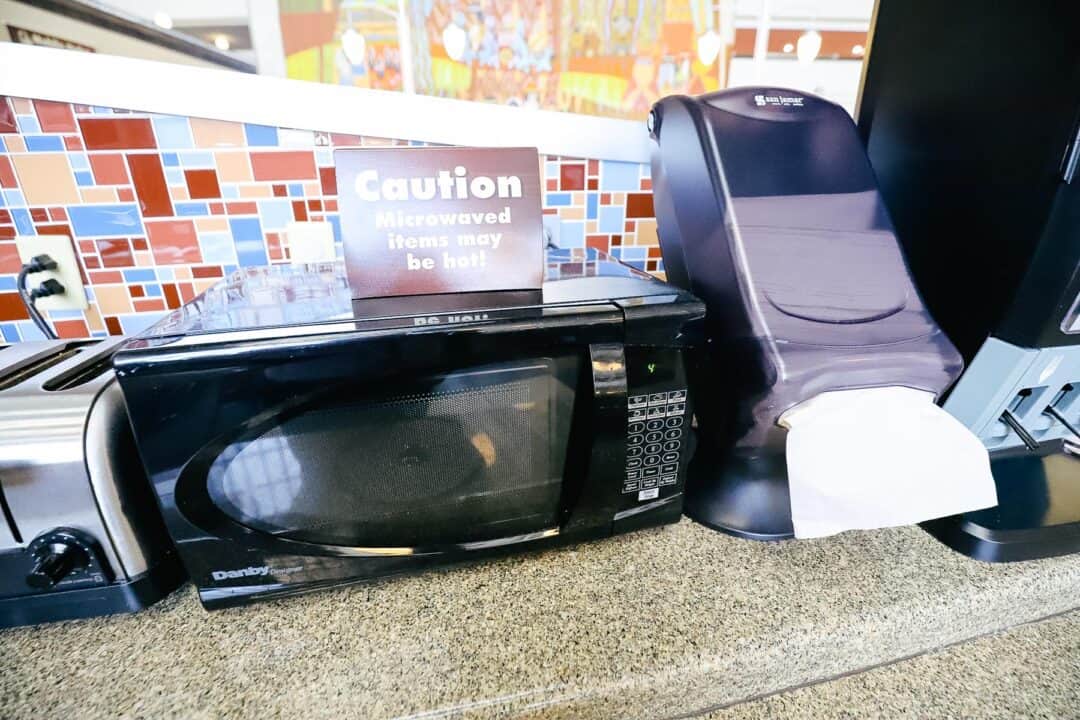 Here is an overall look at the area.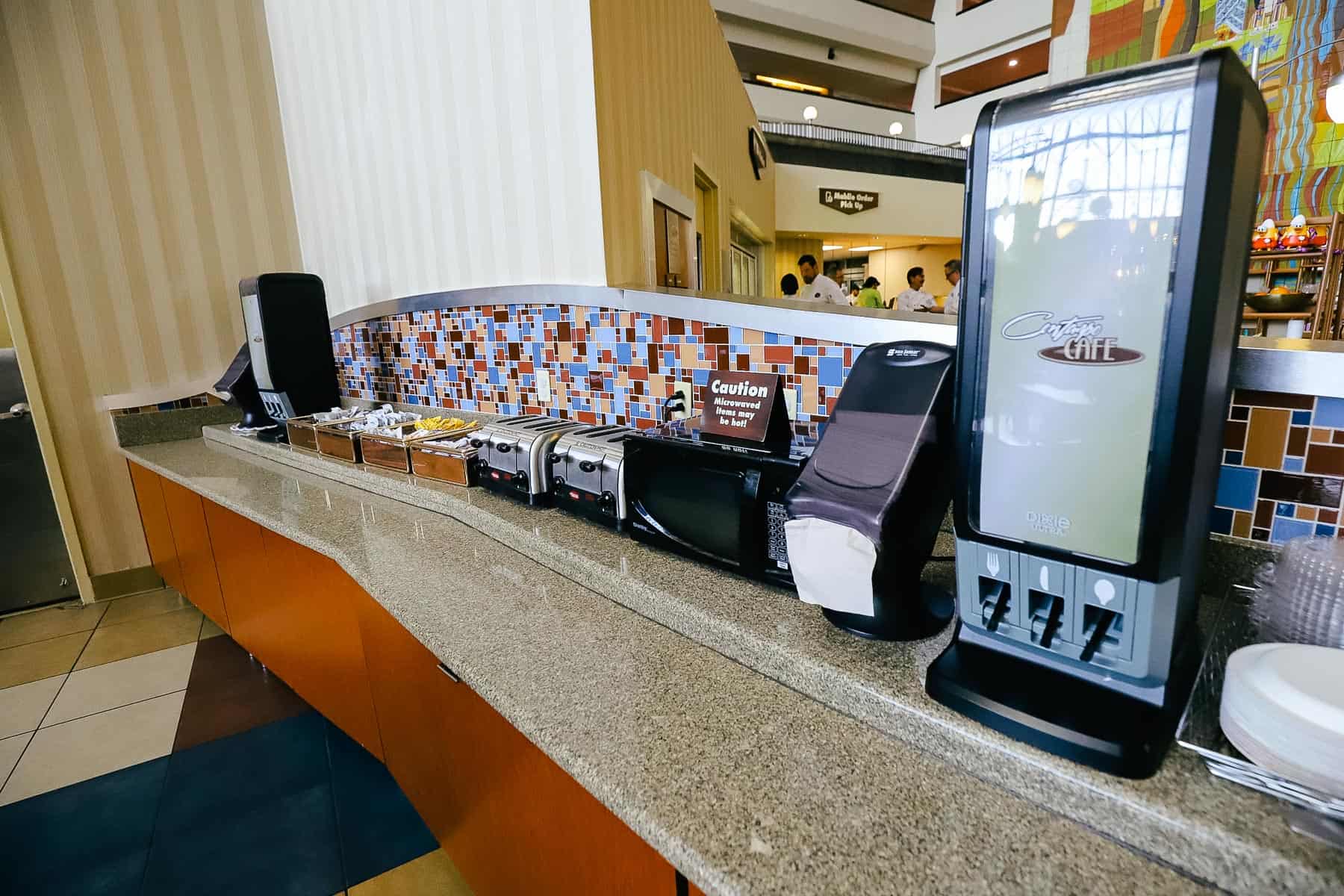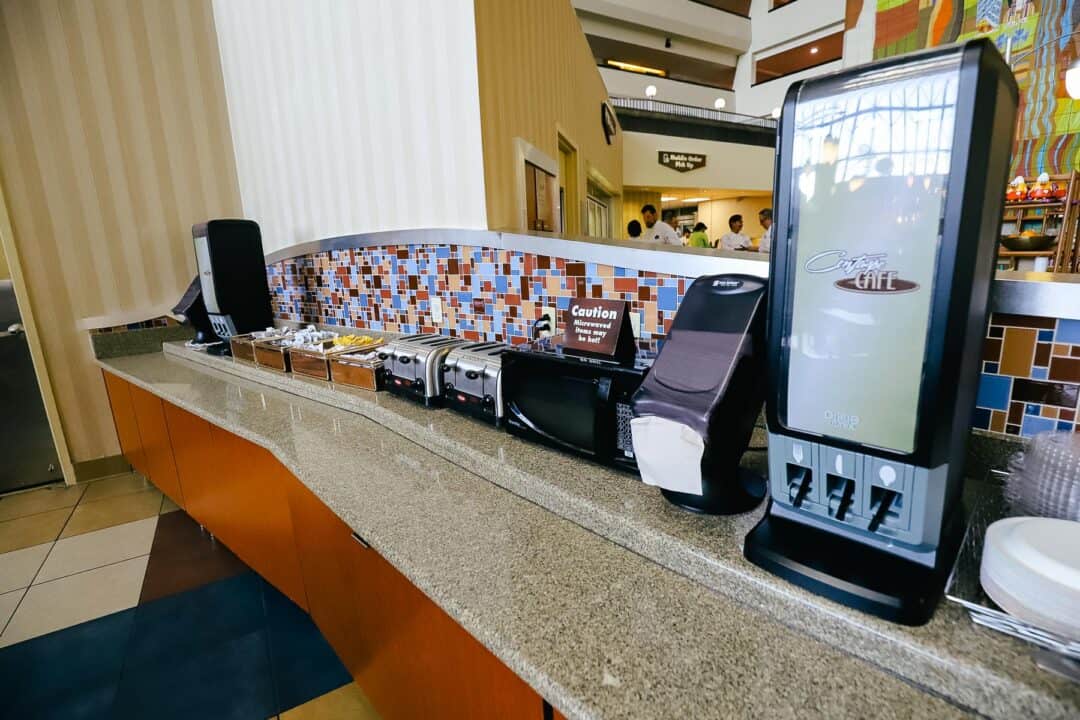 I had the breakfast sandwich one morning when we stayed at the Contemporary last summer. However, most mornings, we ordered breakfast to-go from Steakhouse 71 and brought it upstairs to enjoy in the Grand Canyon Concourse. We have a breakfast review of Steakhouse 71 that we'll revisit soon.
As for this breakfast sandwich, it was a good option consisting of egg, ham, and a triple cheese blend on Brioche. My only complaint was that the Brioche felt more like basic sandwich bread.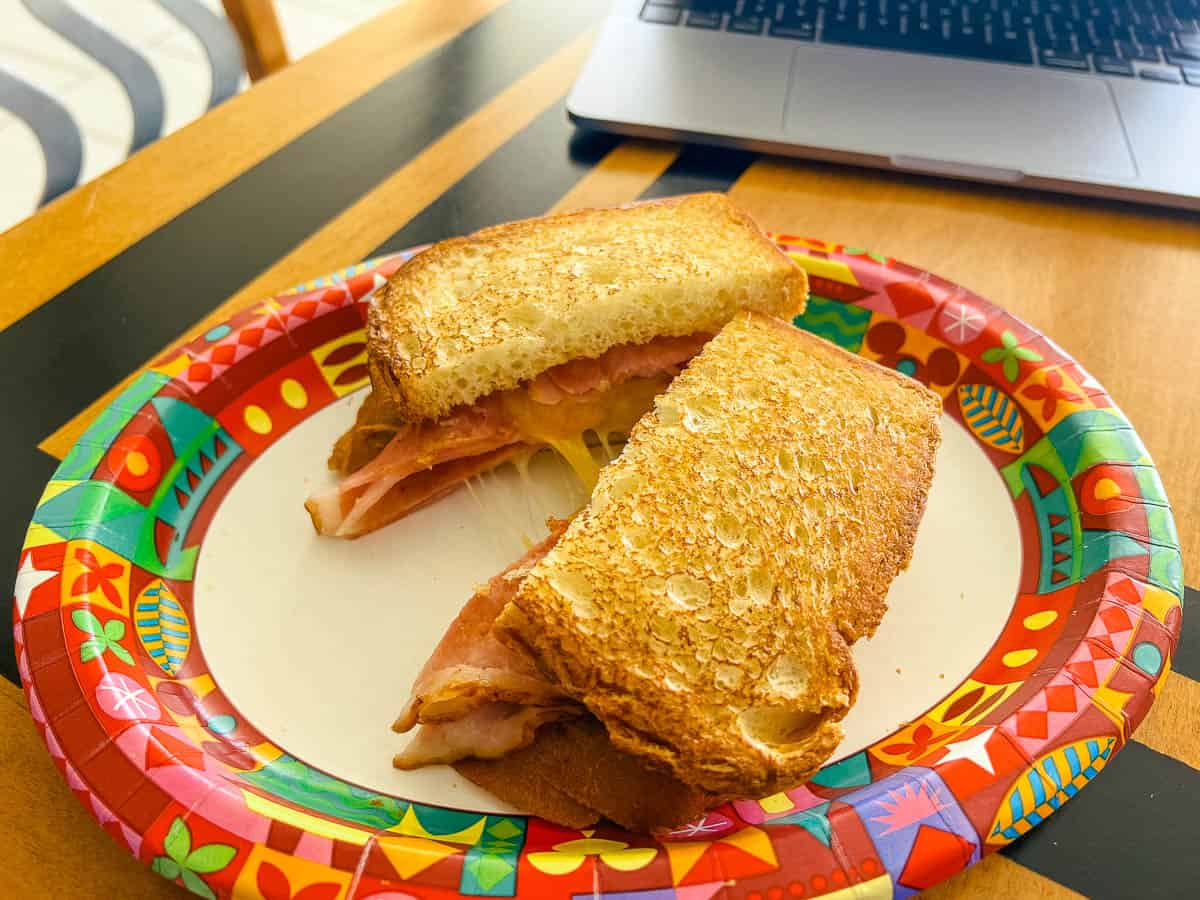 But it was still a decent breakfast. I ordered mine without the egg.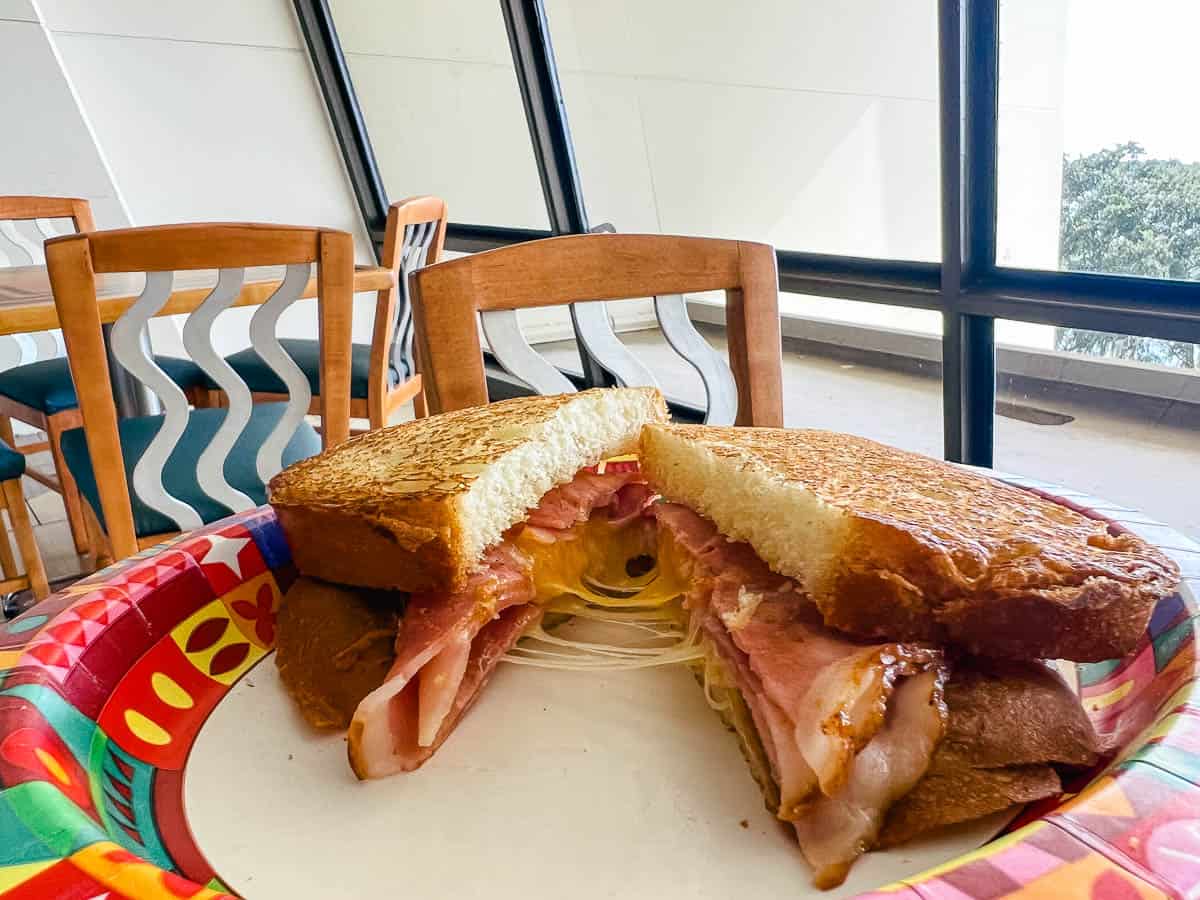 Here is a photo of the kale greens power salad. I've had this option twice. The first time I ordered it, I thought it was delicious. However, the next time, I received almost frozen sweet potatoes instead of roasted ones.
It was likely due to employee shortages during that time. So I think it was probably an error. But I haven't ordered it again. It has many toppings but doesn't usually come deconstructed like this example.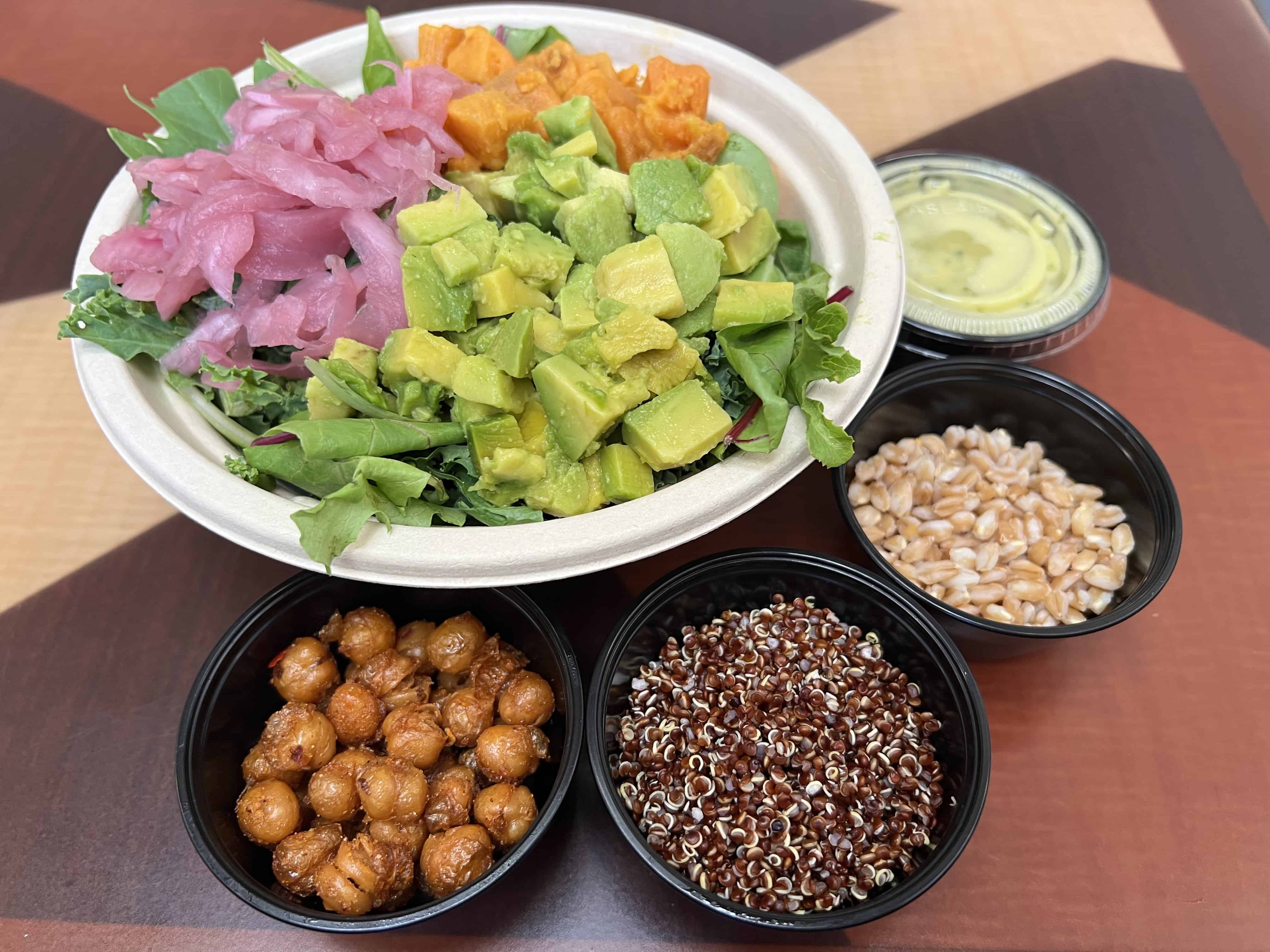 On this last visit, I ordered a hot turkey sandwich. This is the kind of meal I expect from a quick-service restaurant. It was an excellent offering, freshly prepared with lightly toasted multi-grain bread. It usually comes with cranberry aioli, but I ordered mine without.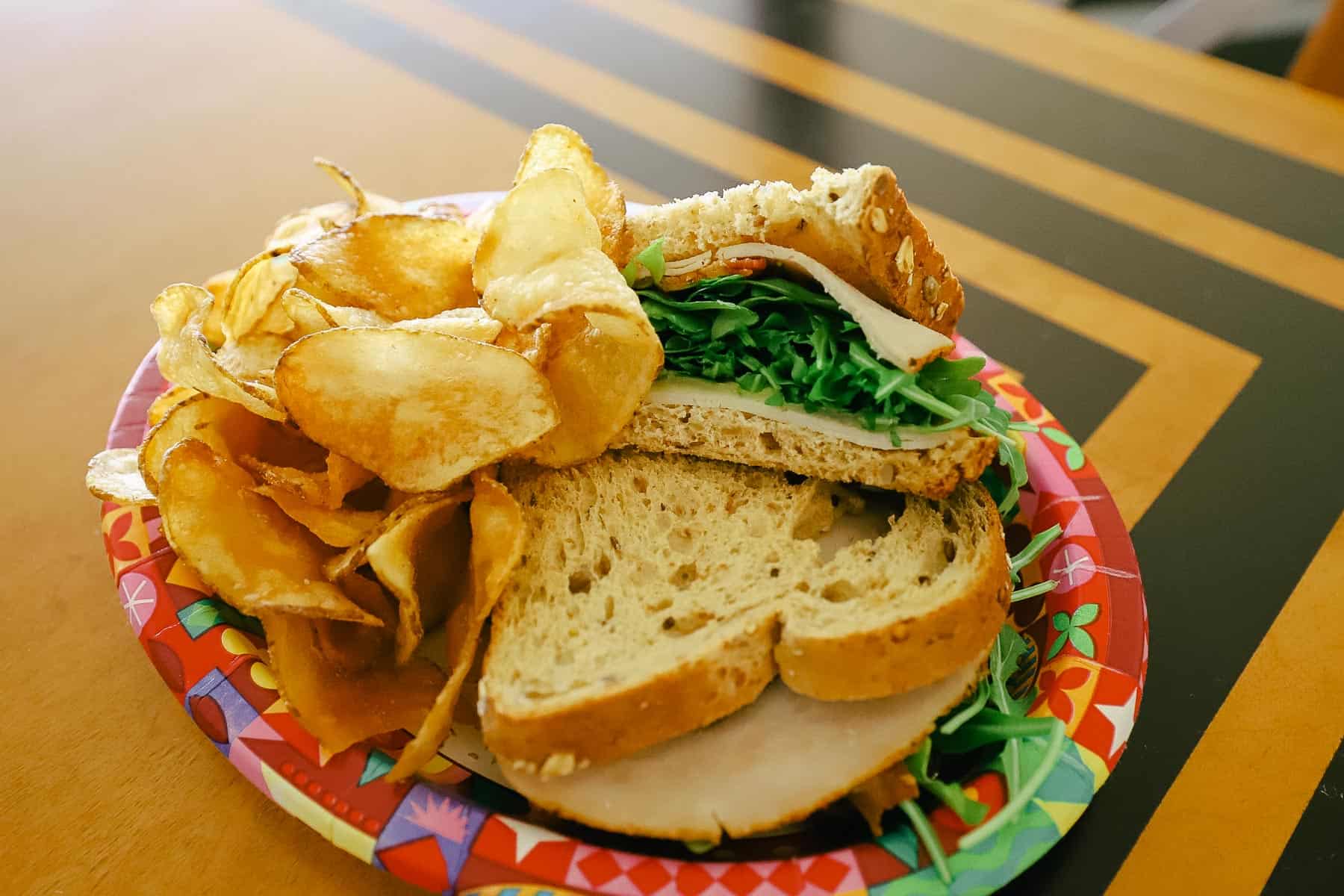 Those are a few menu items I've tried at Contempo Cafe this last year. Over the years, we've enjoyed many meals at this fast-casual location.
It's always been one of our resort go-to's for ordering allergy-friendly chicken nuggets for my son. On those visits, I often ordered a kids' cheeseburger meal for myself.
If you're visiting the Magic Kingdom and need a break, you can always hop on the monorail or walk over to the Contemporary. You do not have to stay at the resort to visit or enjoy a meal there. Contempo Cafe is a great place to escape and have a simple meal surrounded by Disney's history.
For more information about Disney's Contemporary, we have a resort guide:
Or you might enjoy the following:
In the Comments
Have you ever enjoyed a meal at Contempo Cafe? What did you think of this review? Will you stop in for a meal in the future?