Disney's California Grill Brunch Review
Disney's California Grill Brunch is one of the most ultimate experiences in Disney dining. We all know that Disney does many things right, but this brunch is one thing they do really right.
From the smorgasbord buffet that includes charcuterie for days to the musicians playing live music next to bread with a view, this is one meal that any gourmet will not want to miss!
The experience is so fancy it even has its own name, Brunch at the Top!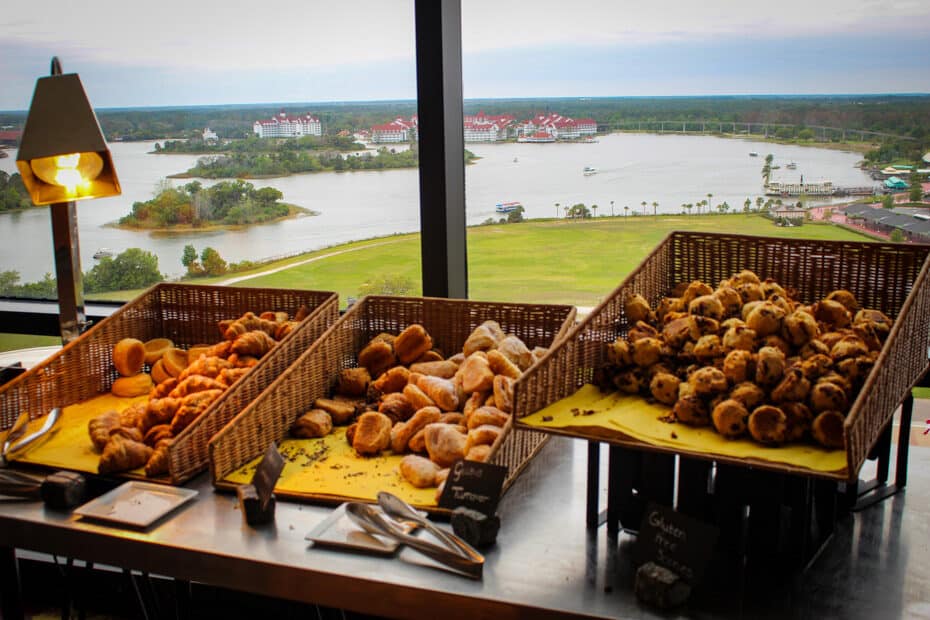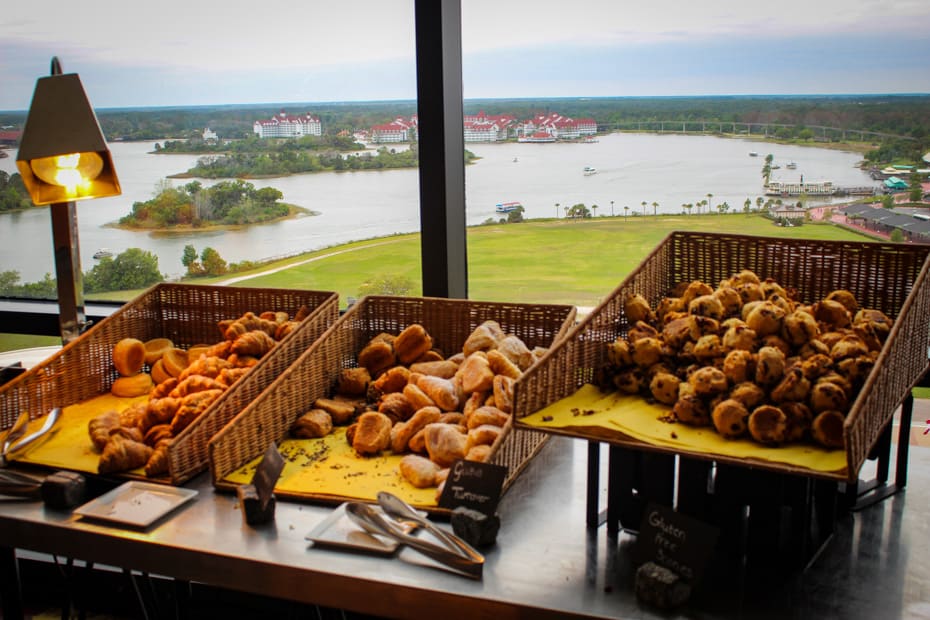 This review will specifically cover Disney's California Grill Brunch that's normally hosted every Sunday at the restaurant. We'll touch on the entire experience, including price, food offerings, and atmosphere. So come along with me to the Contemporary's California Grill for a delightful brunch at the top.
California Grill Brunch Review
If you have any interest in Disney signature dining, consider yourself a foodie, or are just looking for the next stellar Instagram post, the California Grill Brunch is probably the right choice for you.
My review and thoughts are derived from several different experiences at this brunch over the last few years. If you read my California Grill dinner review (here), you already know this is my favorite restaurant on Disney property.
Additionally, this brunch is my absolute favorite dining experience at Disney. And with that being said, I still don't find it perfect. There are just too many positives that allow me to overlook a few of the slight downfalls.
I also want to note that the price of brunch is significantly higher than most dining experiences. So be prepared for the extra expense.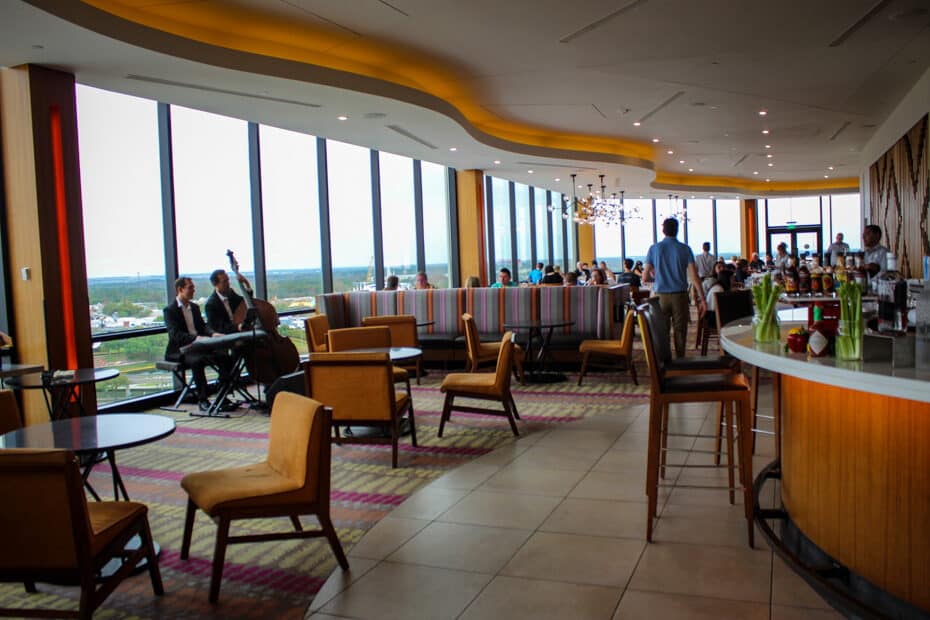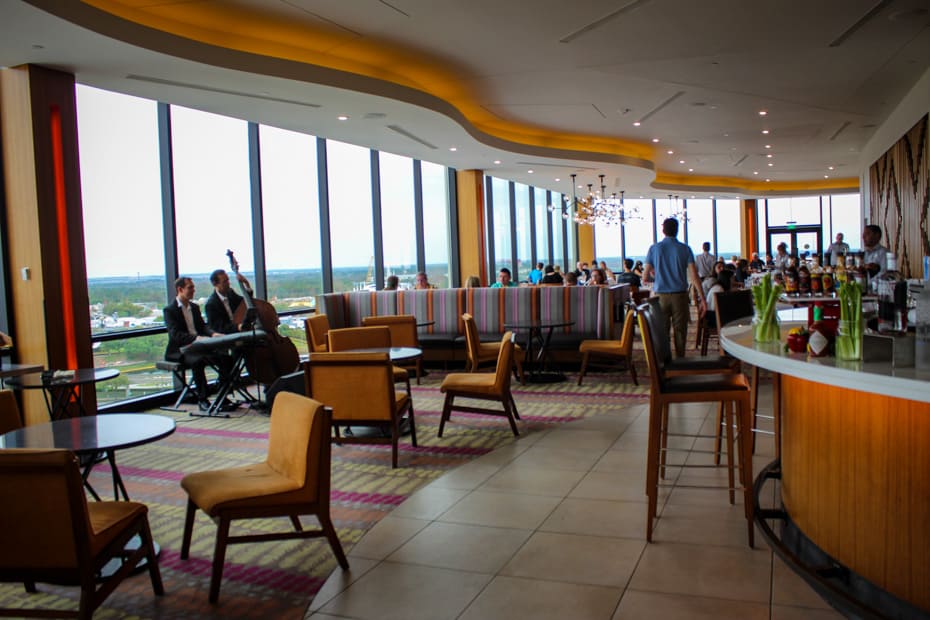 Disney's California Grill is located on the top floor of Disney's Contemporary Resort (review). You can obviously get to the resort several ways, depending on where you just left.
Personally, we are prone to take a bus to the Magic Kingdom and walk over to the Contemporary. If you drive over to the resort, the restaurant offers complimentary valet parking for brunch guests. You can tell the valet upon arrival, and then show your receipt when you pick your car up.
Additionally, guests staying in the Magic Kingdom Resort area might enjoy taking the resort monorail around to the Contemporary.
Check-in for brunch is located on the second floor of Disney's Contemporary Resort. A cast member is attending the check-in stand to validate your reservation. The hostess usually takes your phone number to send you a text when your table is ready. It has been my personal experience that you will almost immediately be seated.
After this, you will be escorted to a special elevator and sent soaring to the top with no stops for any other floors on the way. Sounding over the top already? What else could you expect from brunch at the top?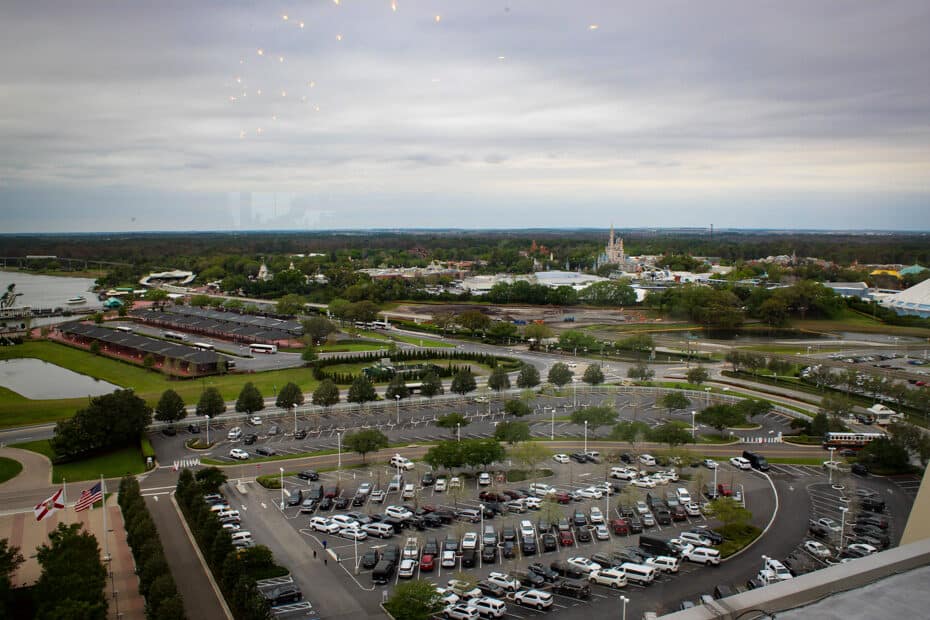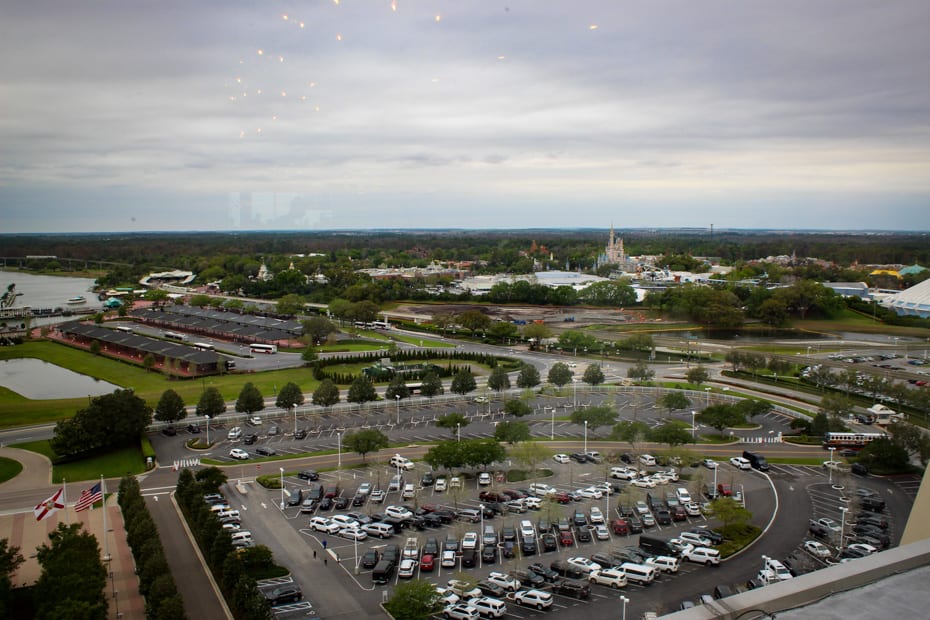 When you get to the top floor, you will be greeted at an additional check-in stand. Here they will print your reservation and any special notations like birthdays, anniversaries, surprise proposals, and food allergies.
After this secondary check-in, someone will escort you to a table with a stop at the mimosa bar. This stop will allow you to pick up a complimentary mimosa or sparkling cranberry juice on your way to the table.
On this particular day, the restaurant was serving strawberry mimosas. They have boba balls in them and sometimes offer a larger straw for the juicy, fruity balls. I've previously been served blueberry mimosas here and sometimes just champagne.
The mimosas are bottomless and the server will continue to refill your drink tableside or bring you fresh ones during the course of your brunch.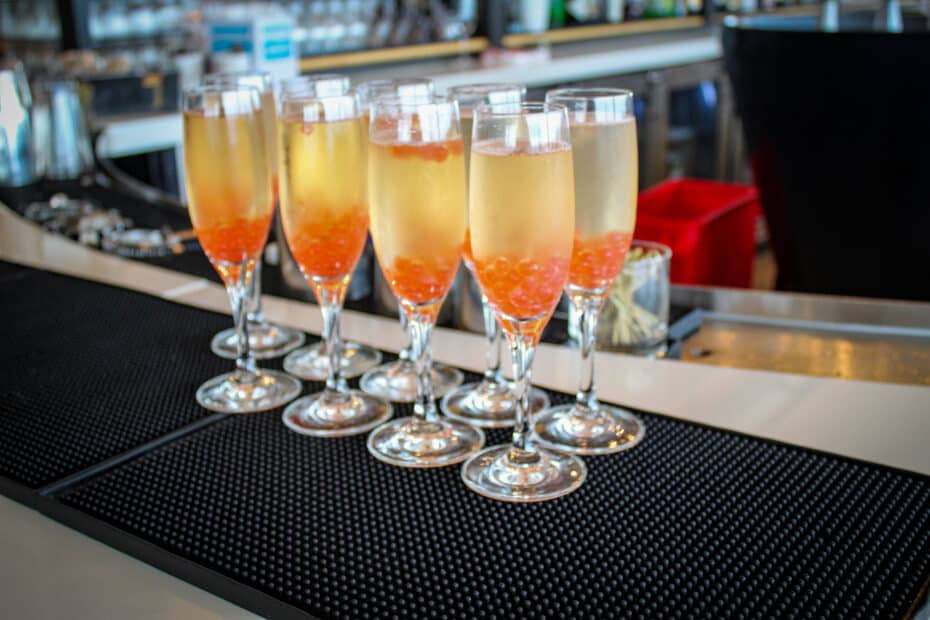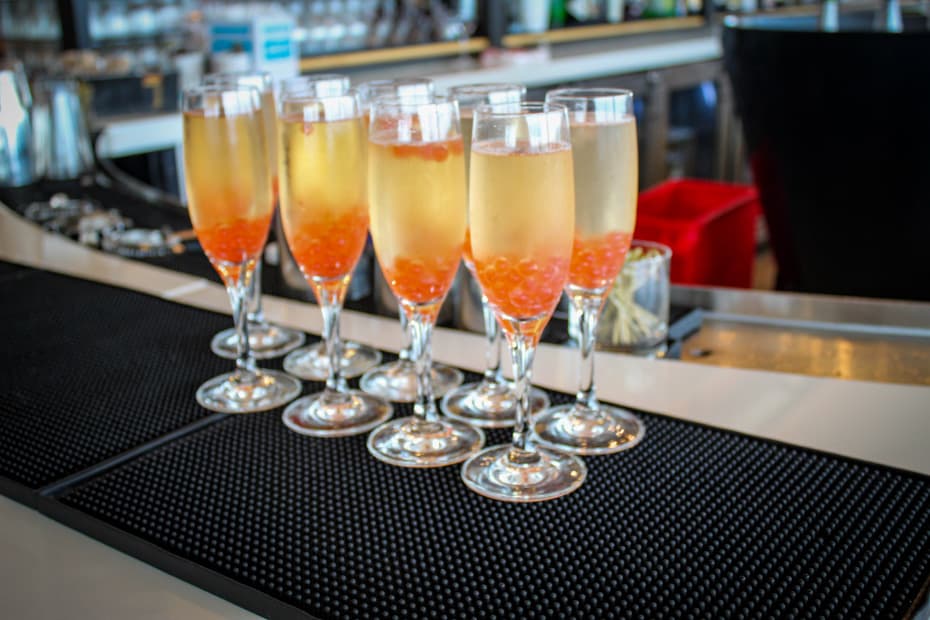 California Grill Brunch Menu
In standard fashion, you will arrive at your table and handed a menu for review. As mentioned before we have eaten here quite often and one thing to note is the menu changes often.
You can normally review the online menu here on Disney's site before your visit. However, I wouldn't expect it to be up to date. (Update – Unfortunately, the menu is not available at this time. I'll add it back in when the experience resumes.)
The menu items at brunch are very seasonal. The chefs use quality ingredients available in their prime. I really respect this ever-changing menu, and it's one of the reasons we return so often.
When we first sit down and receive the menu, we take this time to order coffee and usually a soda. Additionally, a server will bring water for each person at the table. All coffee, tea, water, and soda are complimentary with the meal. There is an upcharge for filtered water and other specialty drink items.
You will receive a special French pressed pot of coffee if desired. The coffee is quite delightful. It has a depth and deliciously rich taste. This is the kind of coffee you will receive if you order coffee. It is also included in the price of the California Grill brunch experience.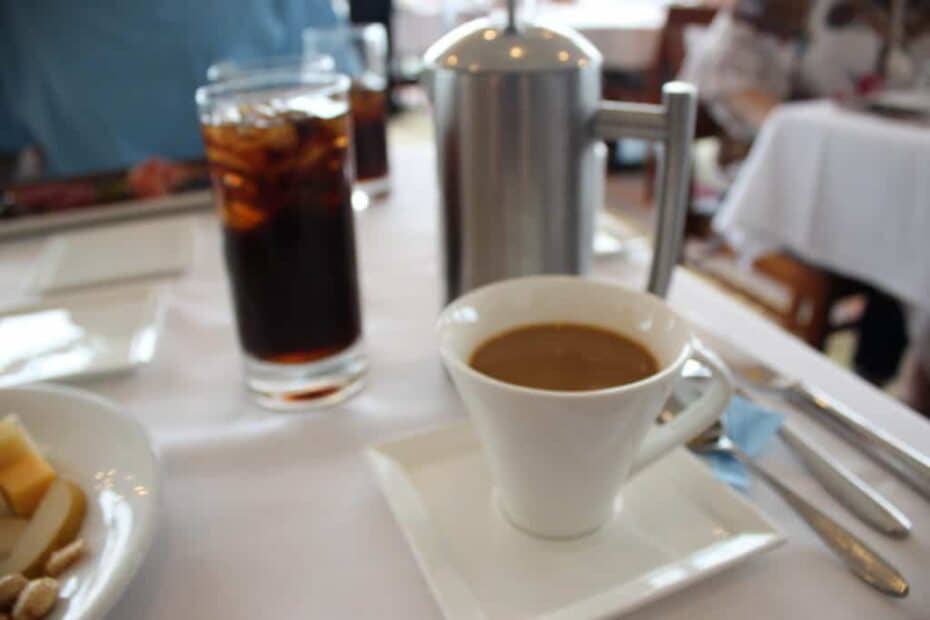 After ordering drinks, I peruse the entrée section of the menu. As normal, this menu was different, serving two new items since our last visit. One of the new items was being served for the first time that day, the Chicken and Toast.
The menu also had a fairly new offering, Lemon-Ricotta Pancakes. This item had only been on the menu for a few weeks per the server. Speaking of lemon-ricotta pancakes, I recently had the most wonderful order at Primo Piatto at Disney's Riviera.
The entrees at the California Grill brunch always seem to be a hit or a miss for me. That's one of the slight downfalls I mentioned above. I've had several excellent offerings and a few that I didn't care for that much.
However, there's so much food available at the brunch. I've never felt disappointed when I didn't care for the entree. At the same time, I can also say I've probably had the best omelet entree I've ever tasted here. And it was stuffed full of lobster.
Overall, I do think the buffet portion has stronger offerings than some of the entree selections. So keep this in mind when you place your entree order.
Here are a few of the items we've ordered.
Blueberry Pancakes–These are a lot prettier than what they actually taste like, unfortunately.
Below is the vanilla bean French toast, it was a very nice selection.
And that Lobster Chef's Omelet (Wow, excellent option!) Overall this has been my favorite item at California Grill Brunch. You can see that it was full of delicious lobster, and that's a bechamel-like sauce on top.
This is the Hangar steak, and also one of my son's special food allergy preparation entrees. No complaints with this order either.
For this visit, I decided to go with the Chicken Toast–Avocado, House Made Sourdough, Aji Panca Mayo, Yuzu Pickles Cilantro, Parsley.
It was okay but not as good as the omelet I had previously tried.
The chicken was served very hot and topped with pickles and pickled onions. There was also a spread of avocado underneath the chicken.
My only complaint on this dish was the brioche toast was a little soggy when I finally got toward the middle. It is quite a large menu item. This piece of chicken was massive.
Here is another angle representing the size.
Several people in my immediate area ordered this dish as well, and I noticed they had a lot of red-orange sauce drizzled over the dish. It was some sort of aioli, and I am not a fan of most aioli's. Therefore, I ordered mine without.
My son ordered the Allergy-Friendly Pancakes with Bacon on this visit. In fact, it's his go-to order when we dine at California Grill brunch. The chef makes pancakes from an allergy-friendly batter they have on hand.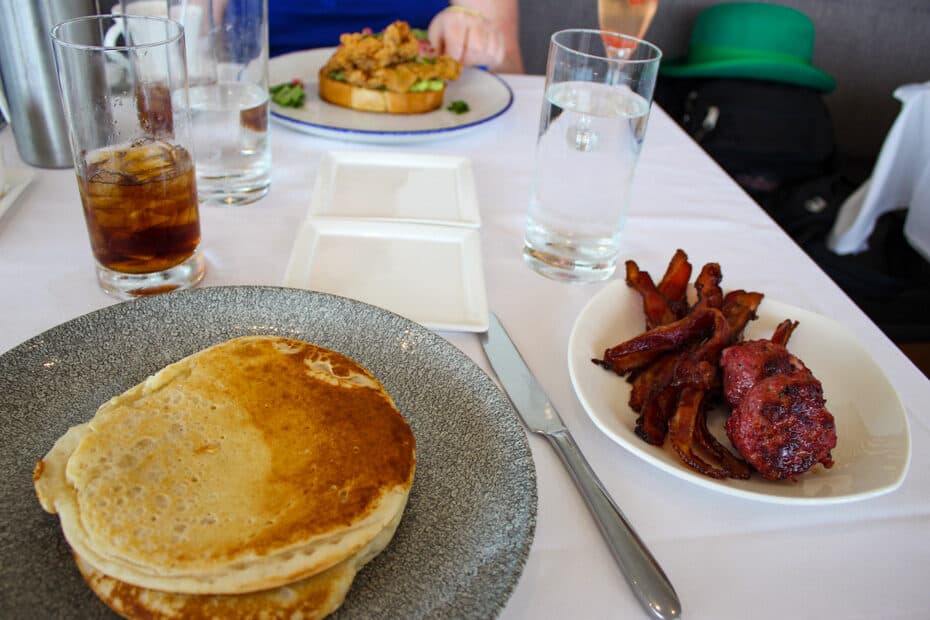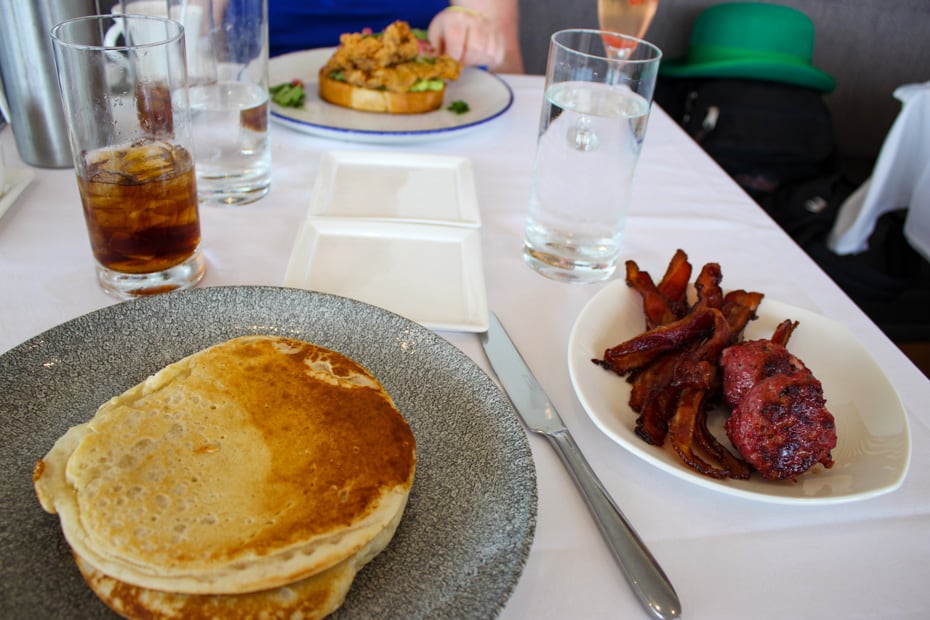 As far as timing goes you really want to allow for a slower-paced meal.
When you place your order, ask the server to hold off on the entree items to allow enough time to enjoy the buffet.
The experience includes a lot of food, live music, and a unique atmosphere. You are paying for this, so make the most of your brunch at the top.
California Grill Brunch Buffet
After placing your order and giving directions to the server to hold off for a while on submitting it, you will then head to the buffet. What can I say? There's Charcuterie, Sushi, Smoked Salmon, Quiche, Fruit, Yogurt, Bagels, and Bread.
There are a few other things as well. Let's take a look because, as I'm sure you know, a picture is worth a thousand calories or more!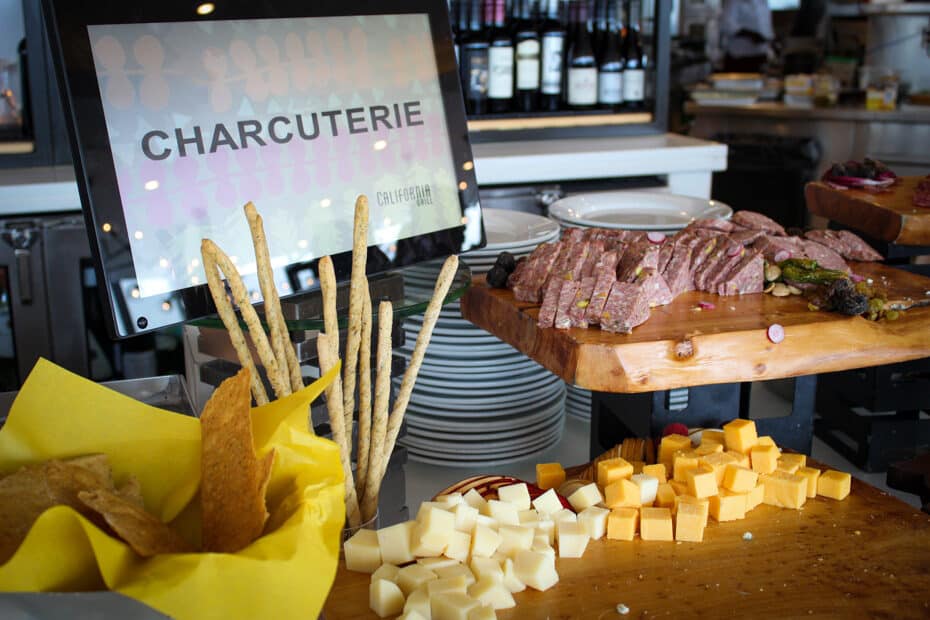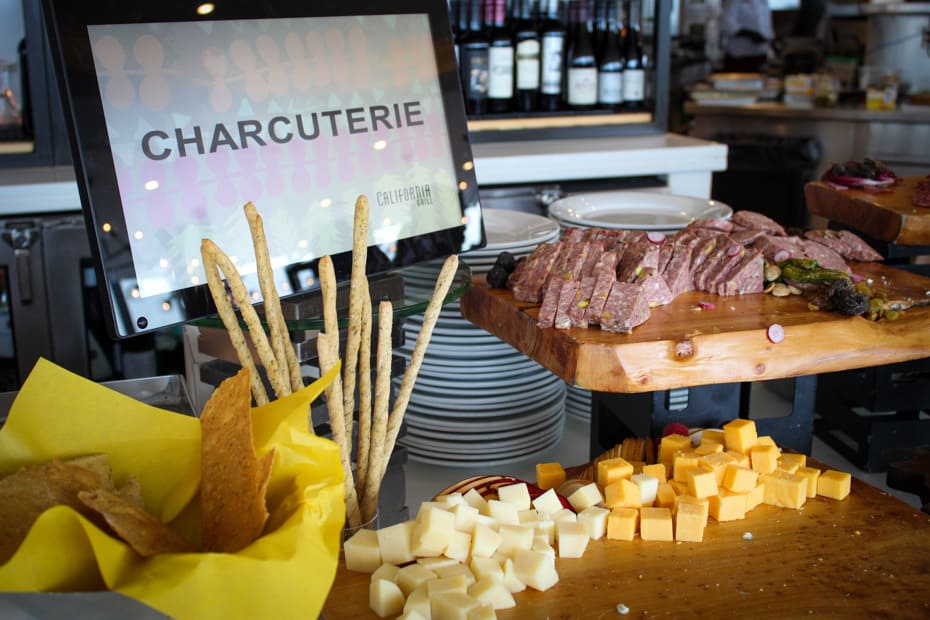 This is usually my first stop at the charcuterie area. The buffet offers a nice selection of sausages, hams, and cheese.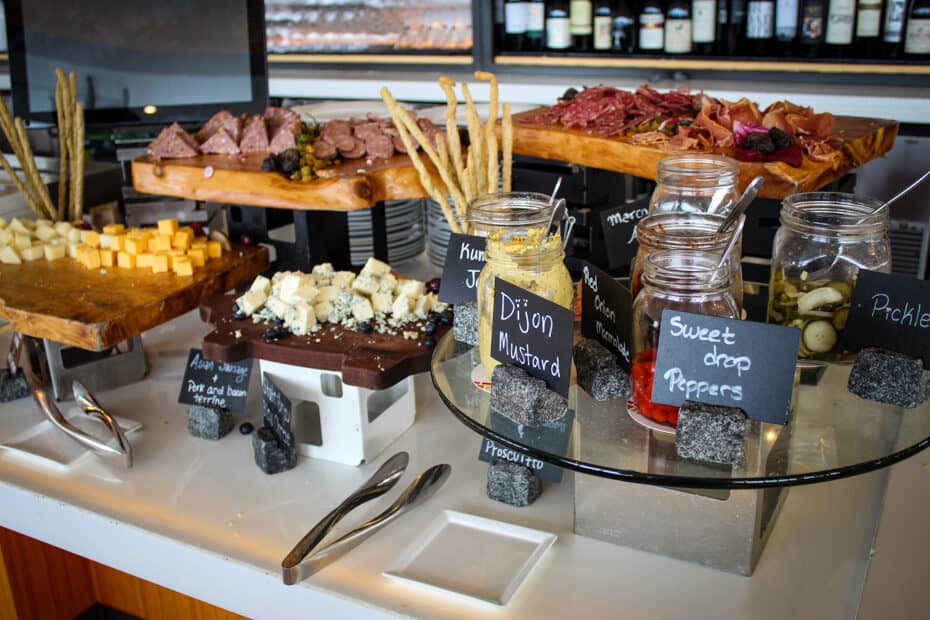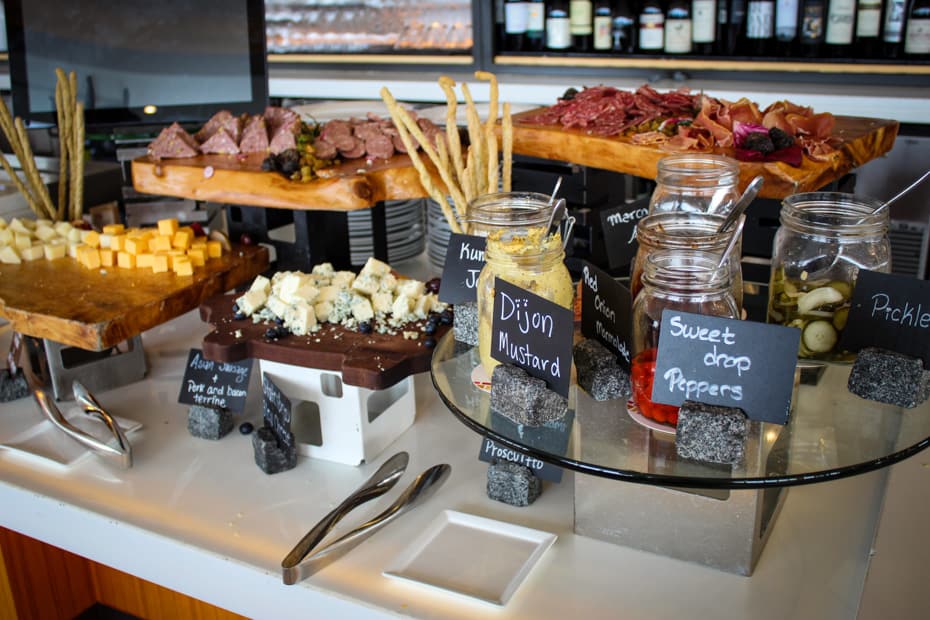 These little jars in the picture below need not be overlooked. There are some red onions, jams, marmalades, pickles, and more. You will surely be glad you tried them!
Here is a close-up. These are mainly prepared in-house per our server. I specifically enjoy the onions and Kumquat jam.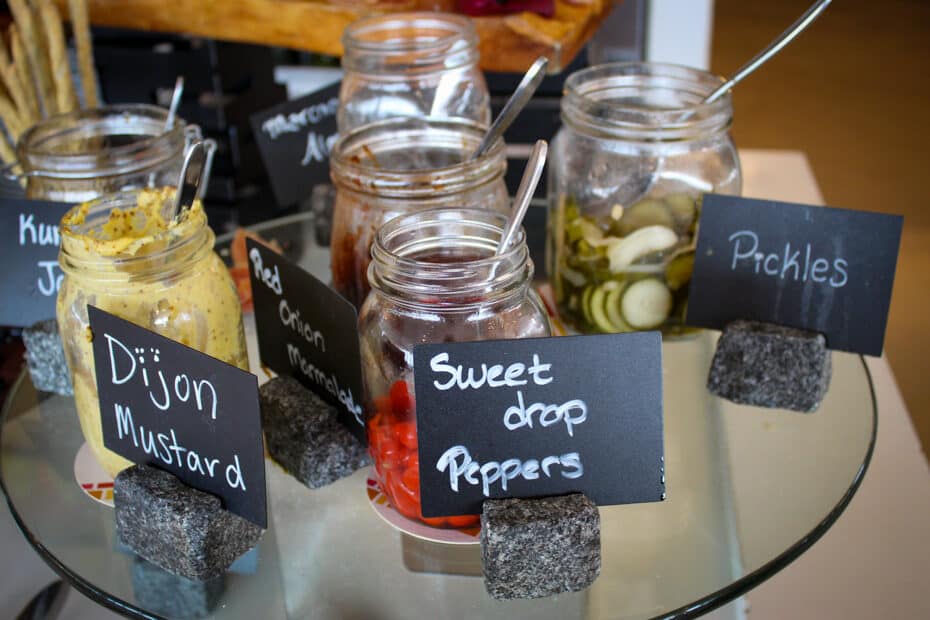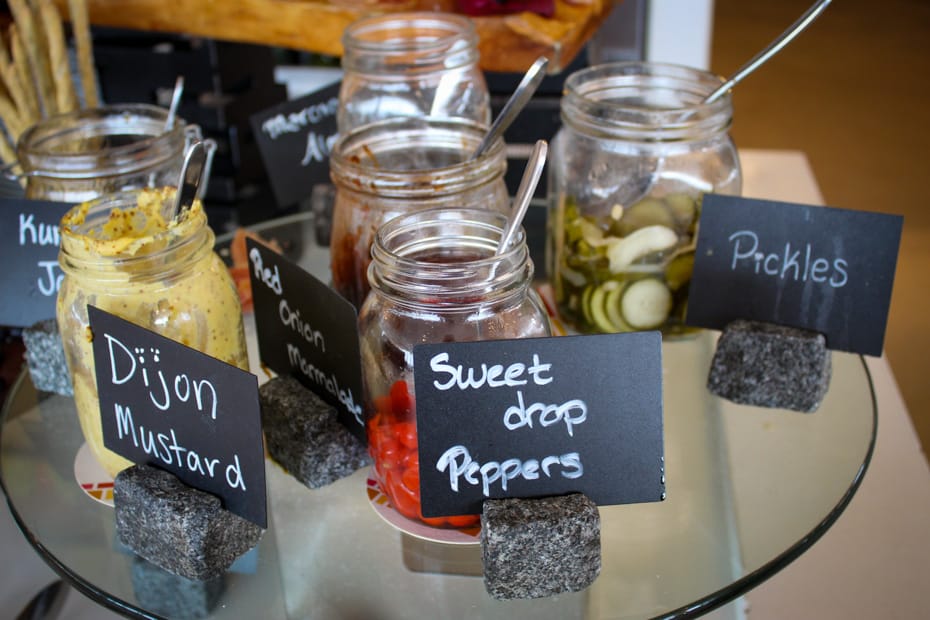 The California Grill brunch is known for its special salads selections. On my visits, there are typically two salads available on the buffet to try. I would recommend getting a little of both. The apple salad has nuts and goat cheese on the ingredient list.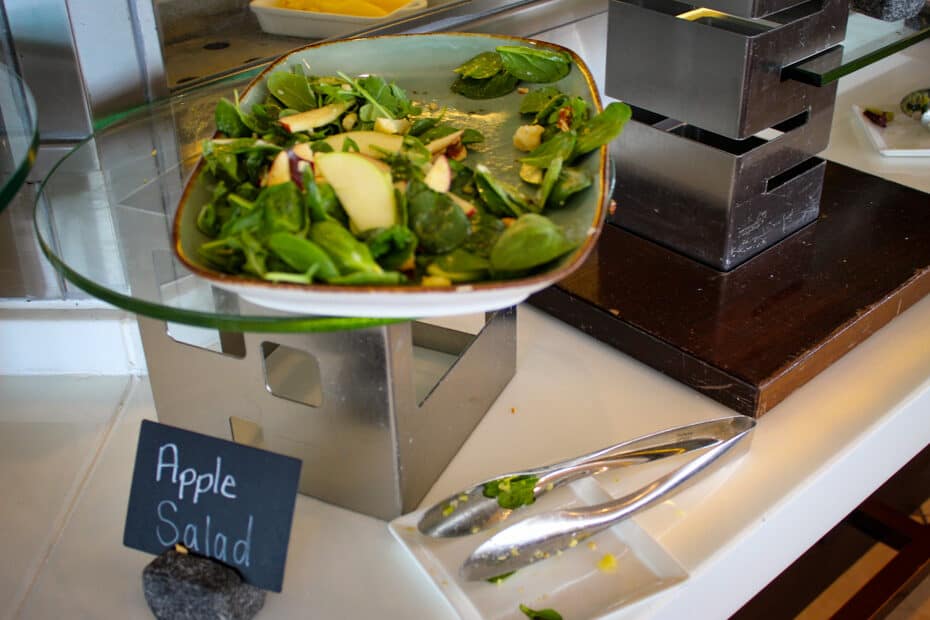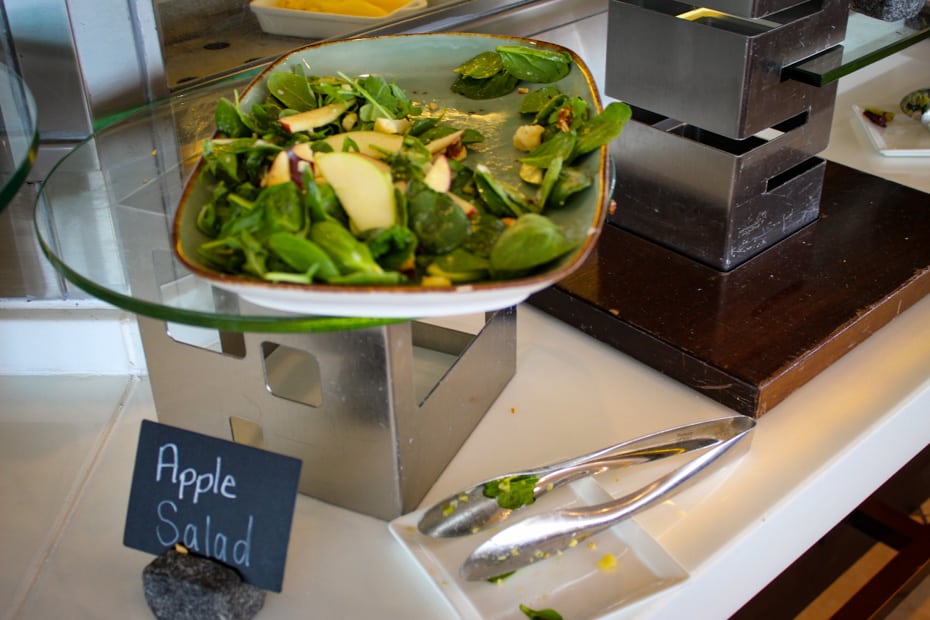 The Bacon and Egg Salad is a little more in the savory direction. You could really make an entire meal out of these.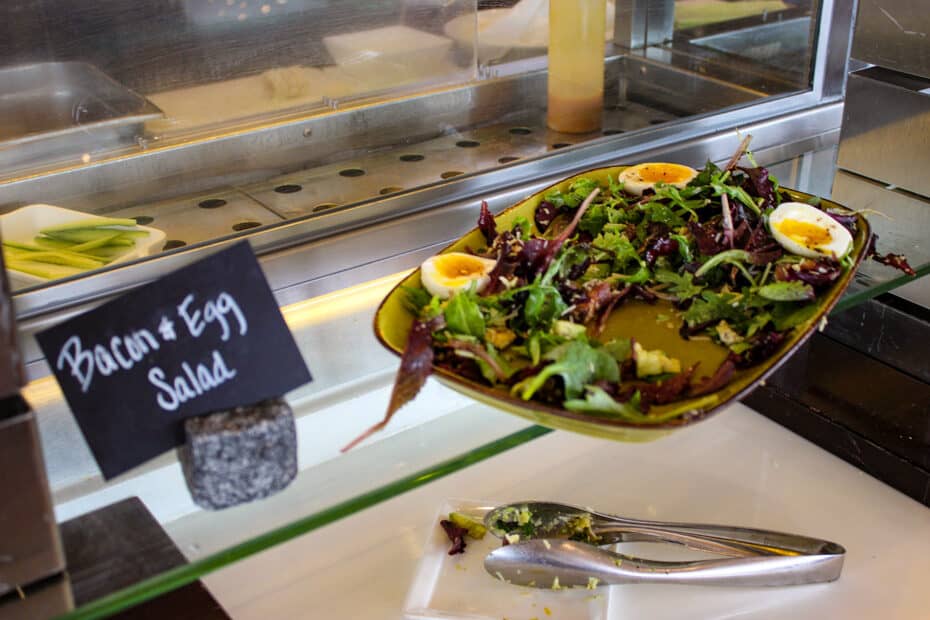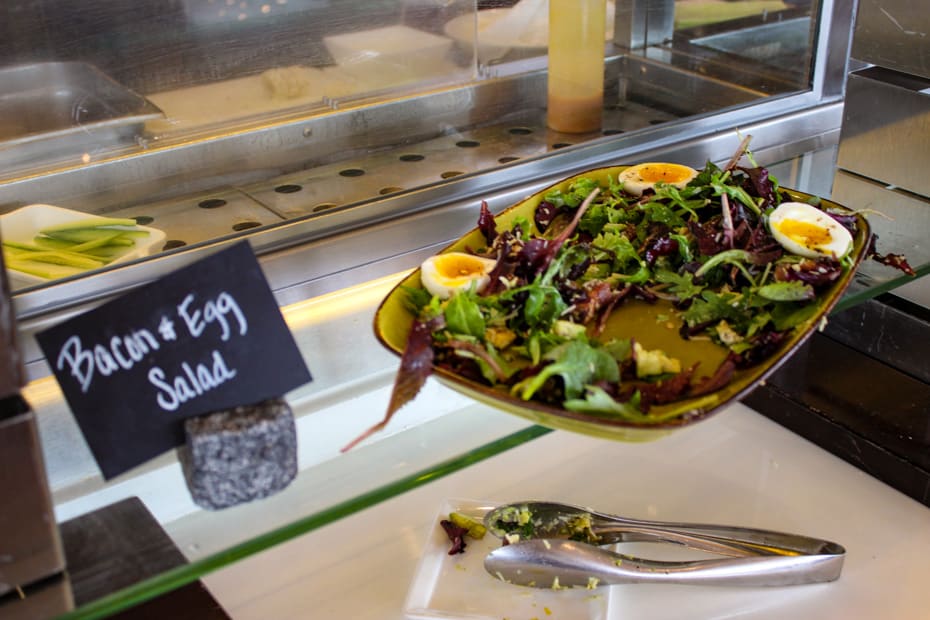 Moving on down the brunch buffet, you'll run into a variety of sushi items. I tried to put one of each item on a plate to give you an idea of the different sushi rolls and sashimi available.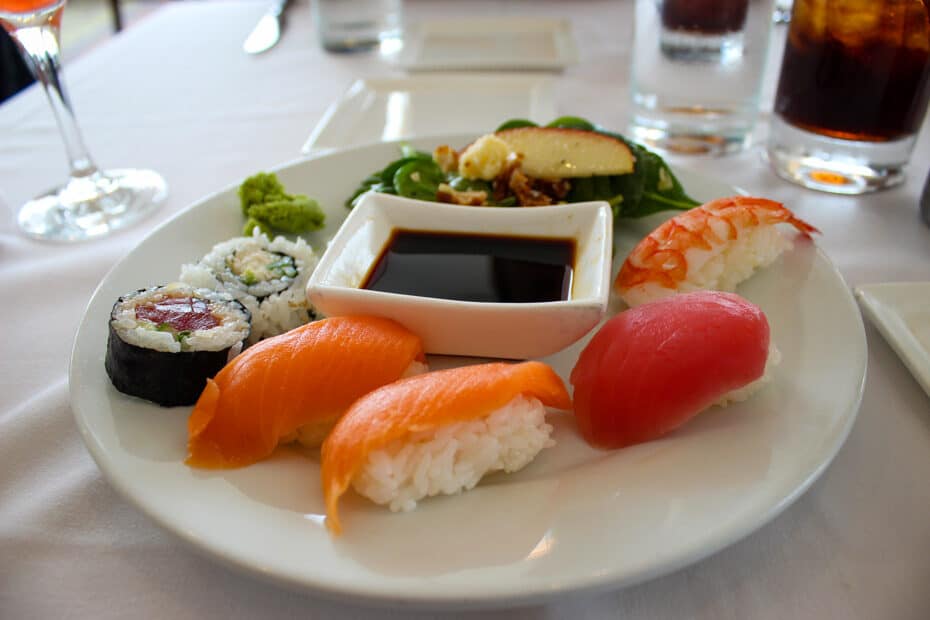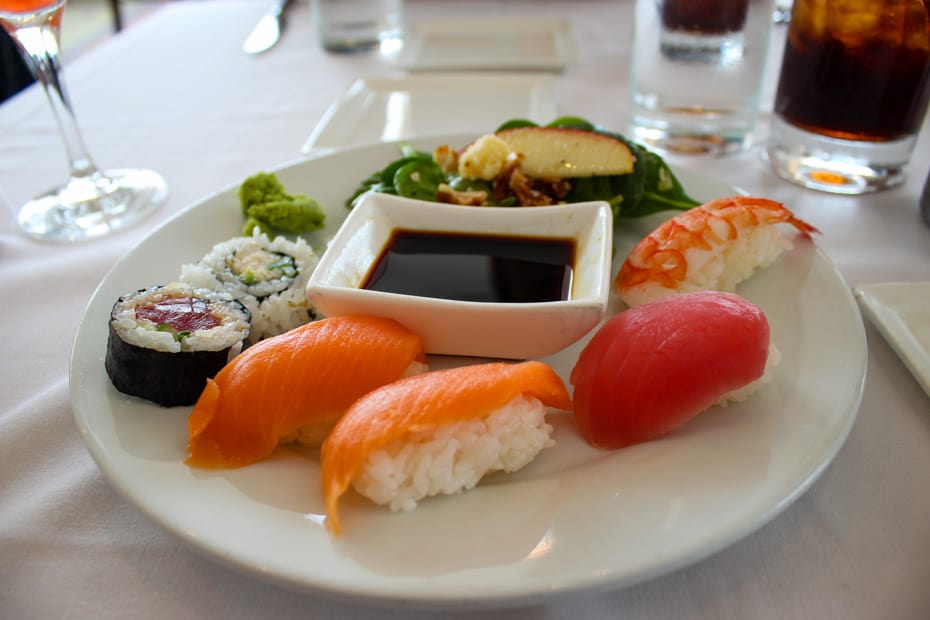 Here's what they look like on the brunch buffet. They typically have salmon, tuna, and shrimp prepared sashimi-style. Additionally, there are some roll preparations like California roll and typically one that contains raw ingredients.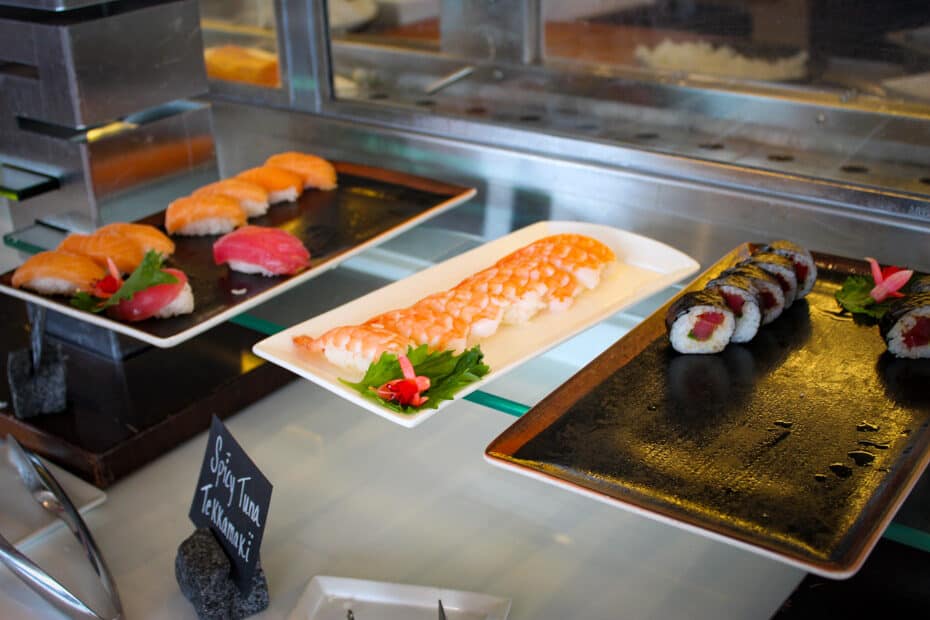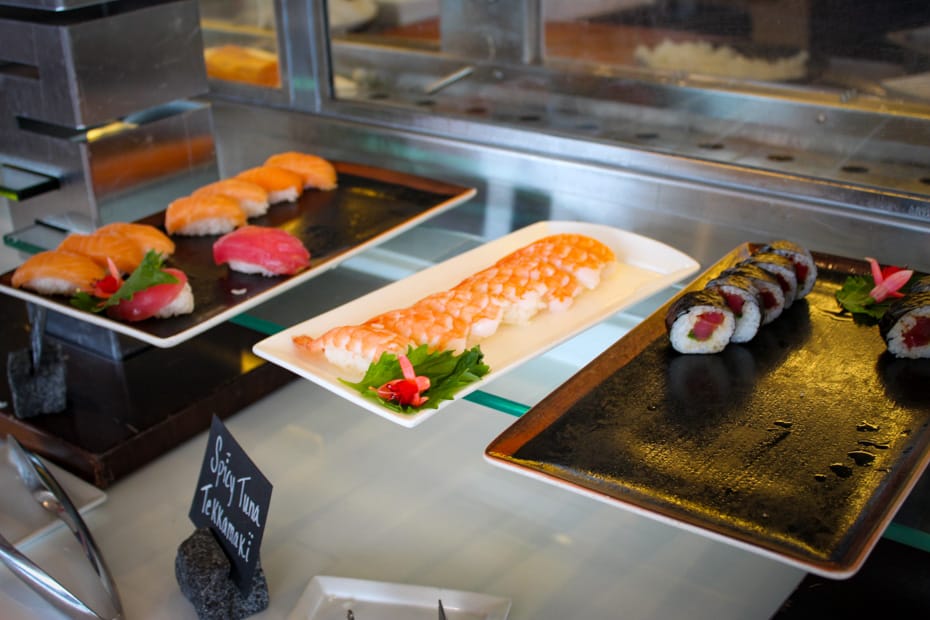 Quiche has been on the buffet on my last two visits to the California Grill Brunch. My review of the quiche is to make sure to snag some up before it's gone. I notice they have to replenish it quite often. It's a very nice option.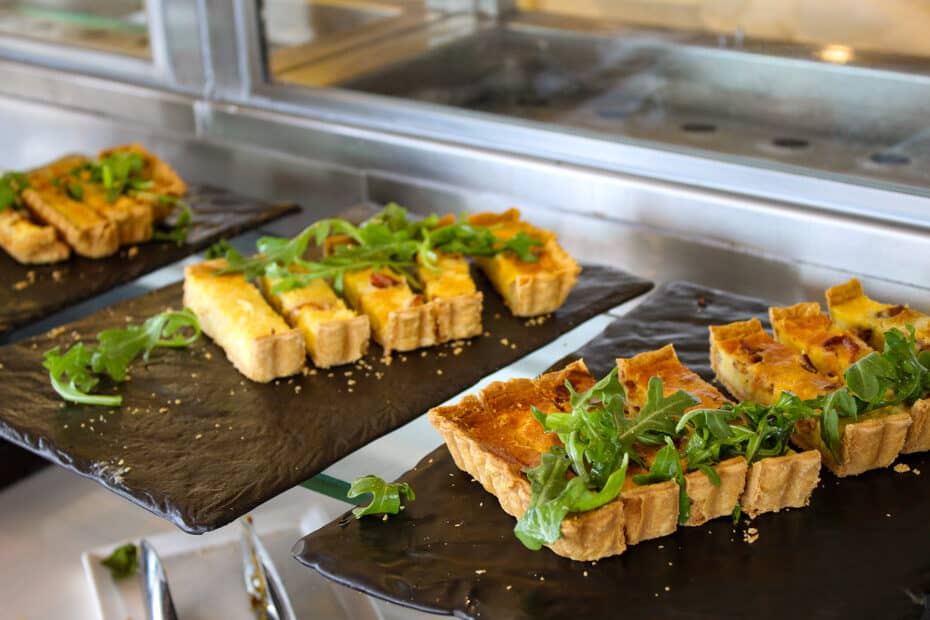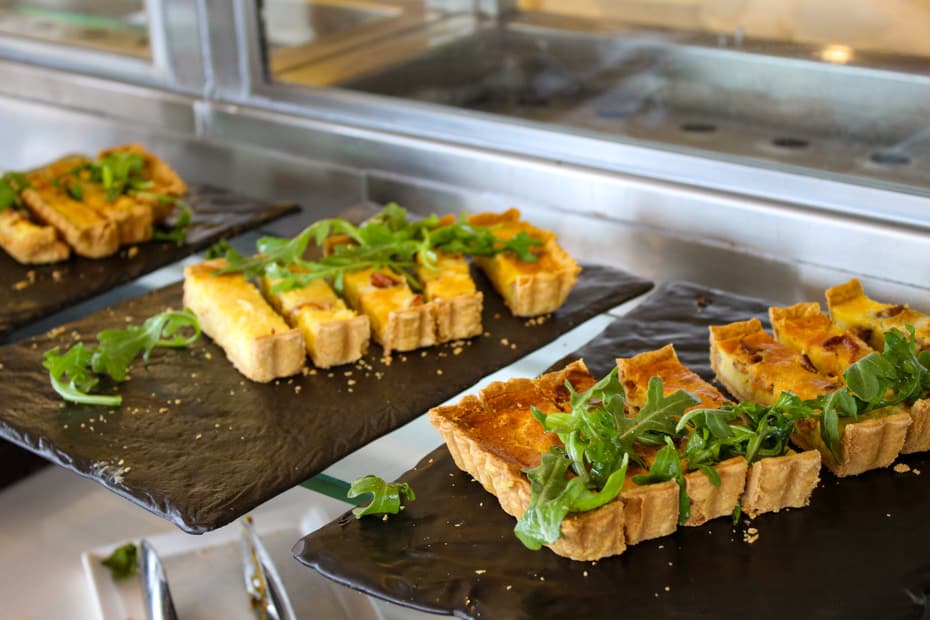 There are bagels with standard accompaniments to go with the smoked salmon.
I haven't had a chance to try these because I'm partial to my mom's deviled eggs. But I have read several other reviews giving good recommendations.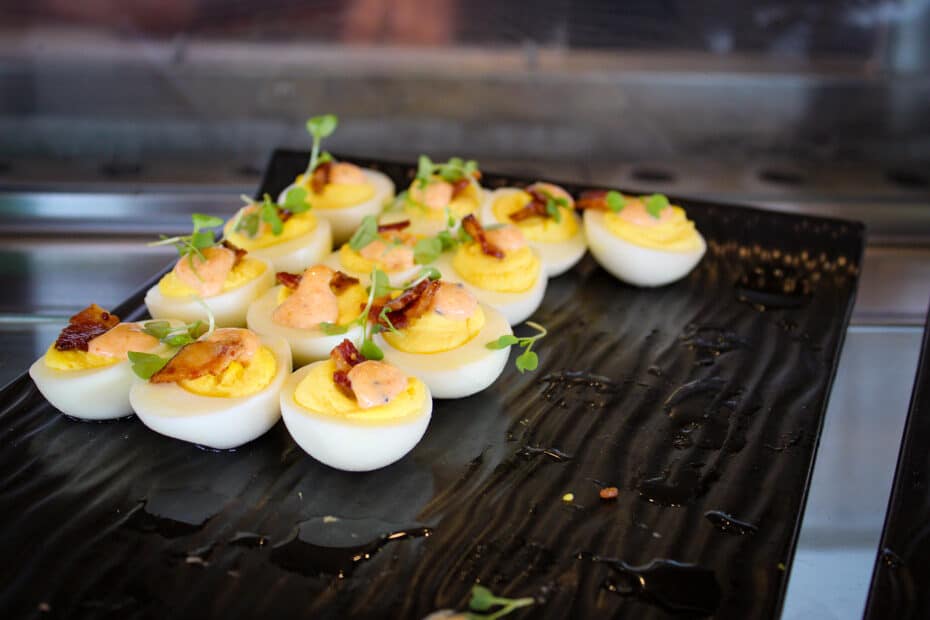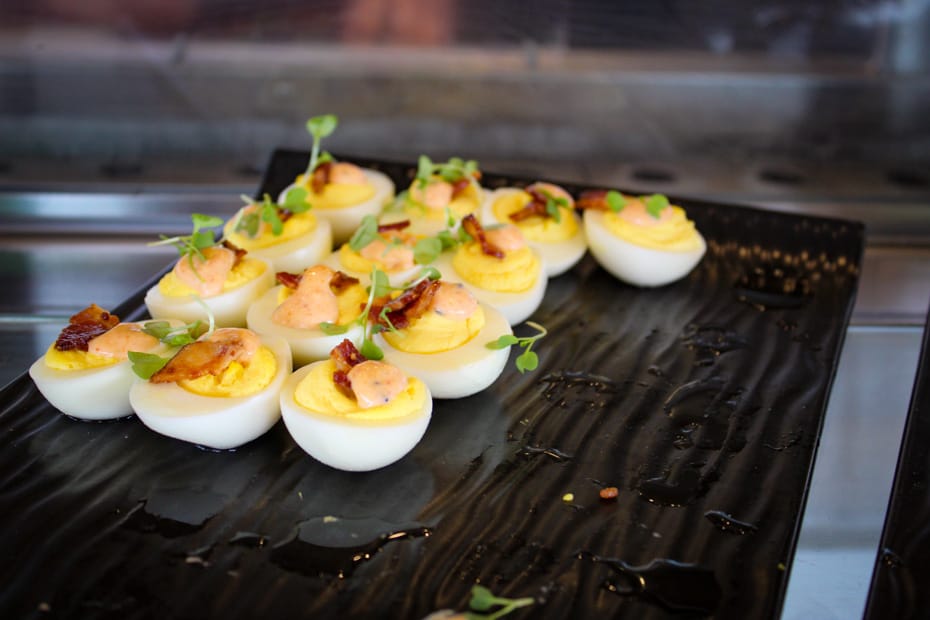 They gave the bread section quite a nice view. One of these is a gluten-free item and is specified on the label. There are also croissants, guava turnovers, and a cheddar cone.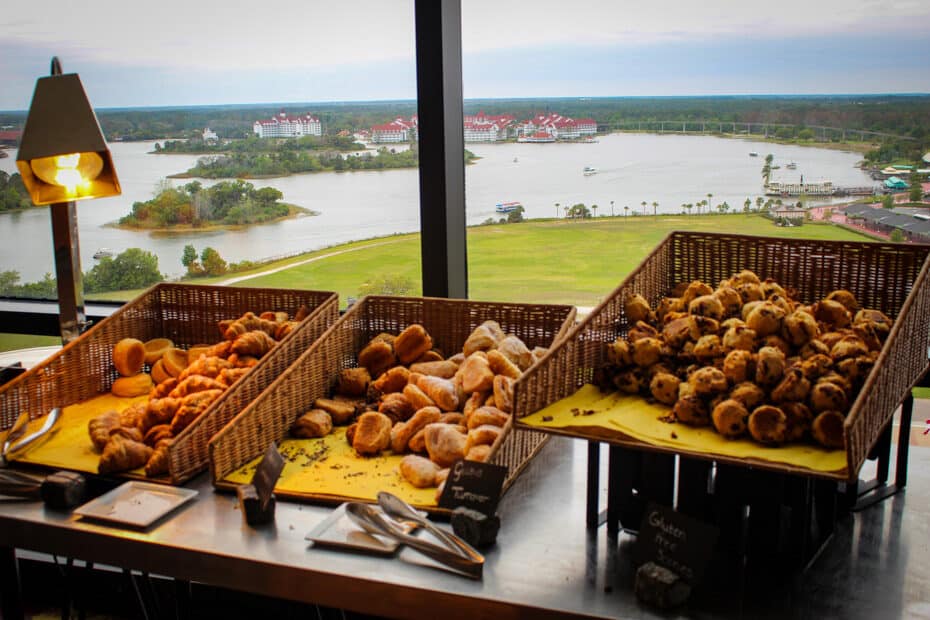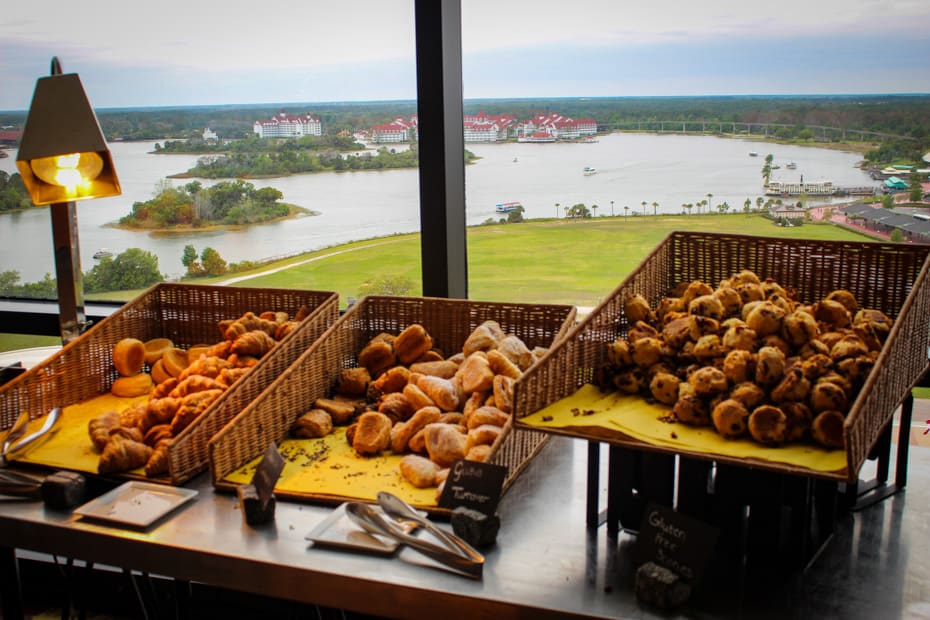 Besides the bread, you will find this Bourbon Baba station. Typically, a sous chef is on-site preparing the Baba. They have all the ingredients set up surrounding the station.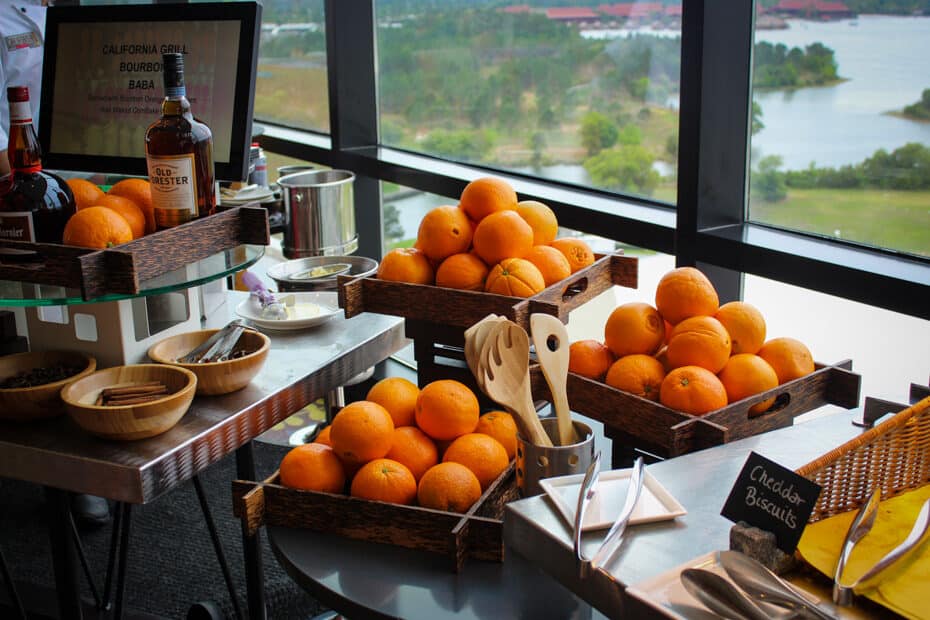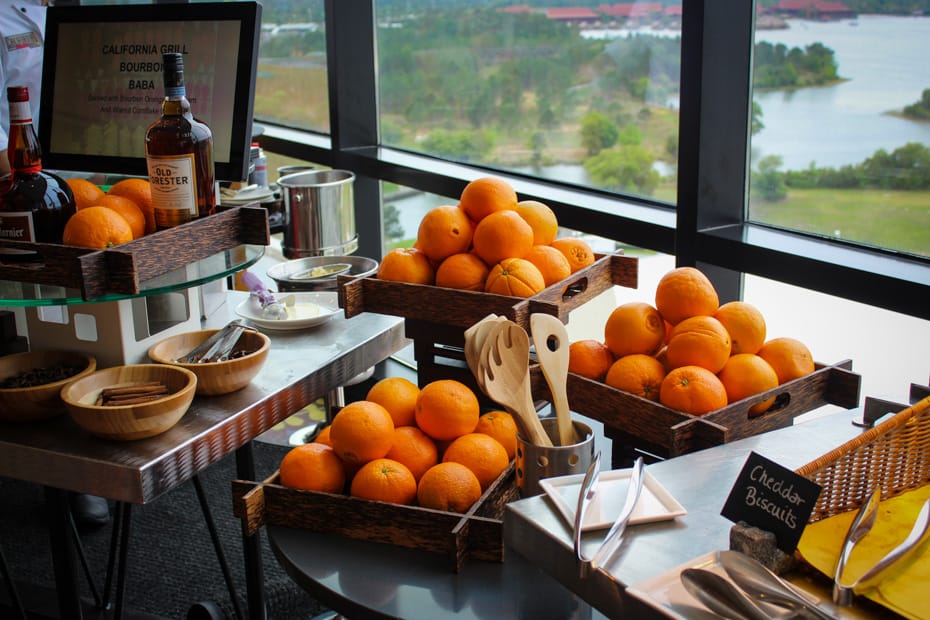 If you like a little orange or citrus taste in any way, then yes, you want this! It's a wonderful sweet treat with the warm fluffy bread and smooth ice cream mixture melting over it. It's a very memorable taste and easy on the palate.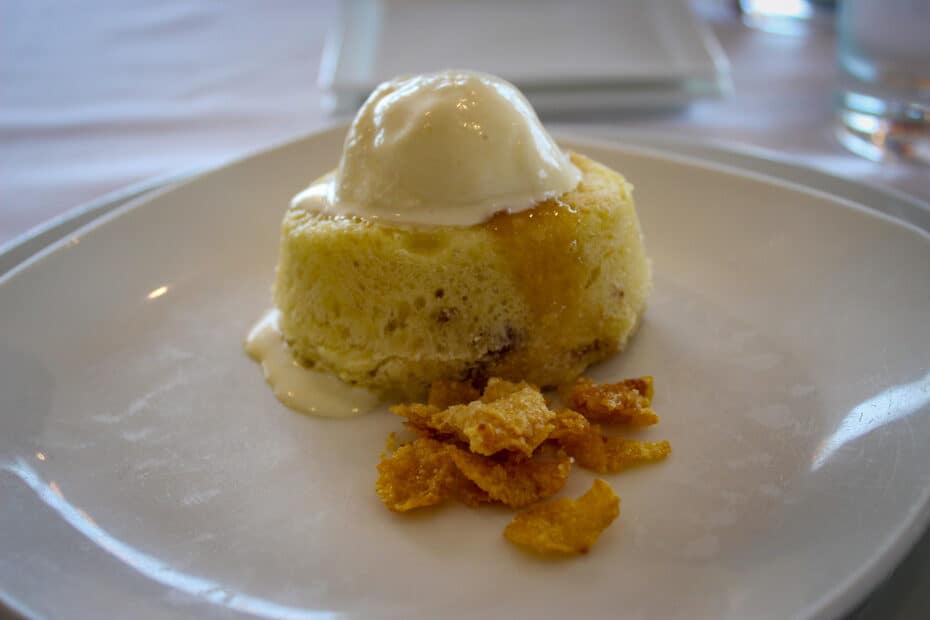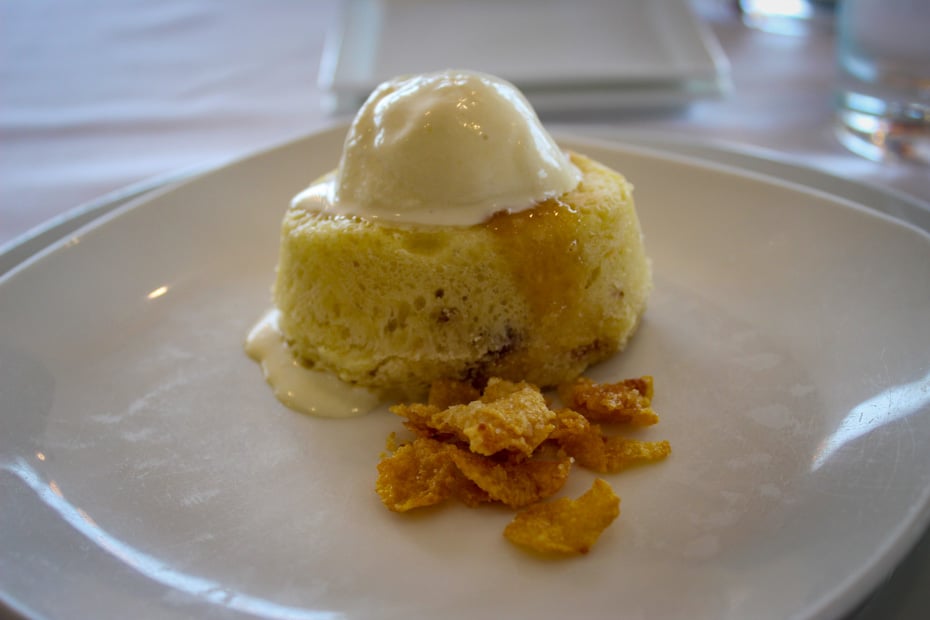 Here is another picture of a few of my personal selections.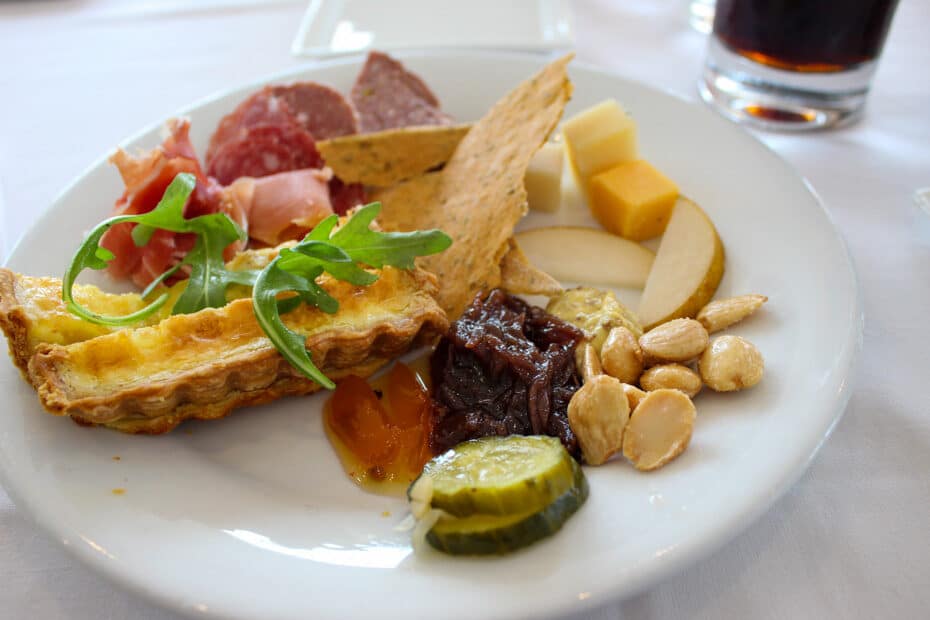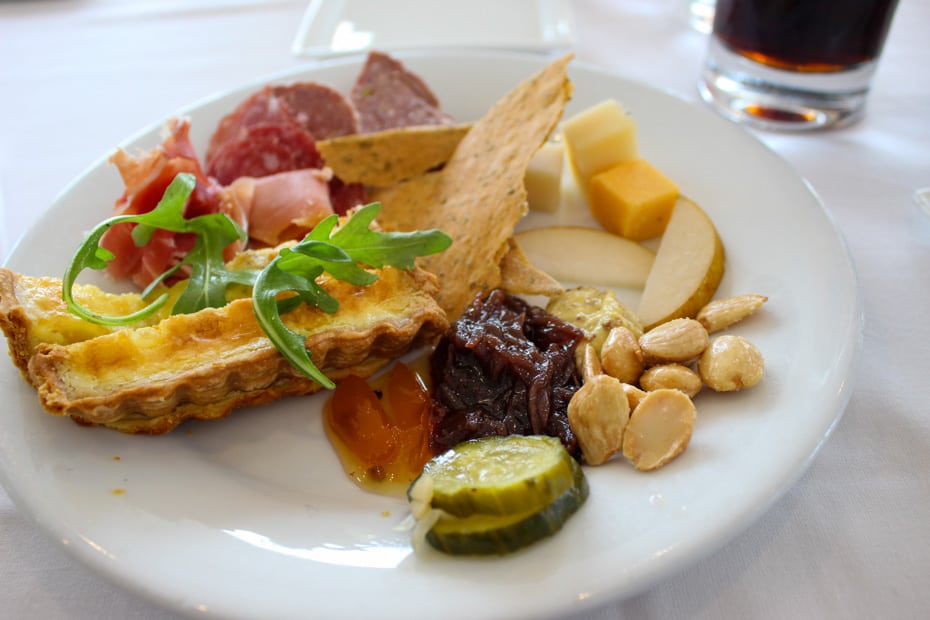 After reviewing the buffet, you might see why I suggest having the server hold off on entrees upfront. Typically, your entrée will come out hot. The last thing you want is it cooling off while you indulge in other treats.
You might end up not enjoying your entrée at all or feeling torn between finishing your current endeavor at the buffet or digging into that beautiful entrée that's sitting there waiting for you. Life is full of hard decisions. Try your best to remember this tip. Especially while investing in brunch at California Grill.
As far as food allergies and the buffet goes, the chef will prepare buffet items and bring them to the table to avoid cross-contamination if needed. In our case, my son usually has charcuterie selections, a specially made salad, and fruit. On past accounts, sometimes, he has done two entrees in place of the buffet items.
Oh, and dessert, in case all of the buffet and entree items were not enough already. What a sweet finish! This picture below is my dessert from a California Grill Christmas Brunch a few years back.
I still have that snowman, several years later, tucked in my Disney souvenir box. I'm not for sure what that says about me or the ingredients we consume. He is still in mint condition, literally.
The reason I didn't get a photo for this Spring brunch was that we had our dessert boxed to go. Ultimately, I recommend taking the dessert to-go and store it in your room if you are staying nearby.
Below is my son's allergy-friendly dessert of Enjoy Life cookies with a special coconut faux ice cream. This is always a nice gesture for the chef to prepare a special dessert.
Don't be afraid to ask if you have a special need. California Grill's staff is willing to accommodate your needs in every way possible.
If you feel like you ever get a bad answer from a server or that needs aren't being taken seriously, ask again. Better yet, ask to speak to the chef directly. I have never had an issue here but have had to make a few clarifications at other places on Disney property.
This picture below is of the window where entrees are being finished before sending out. If you look close, you'll notice a side of bacon, a side of plain eggs, and a special order of pancakes. If any of these types of things interest you, ask for a side order with your meal.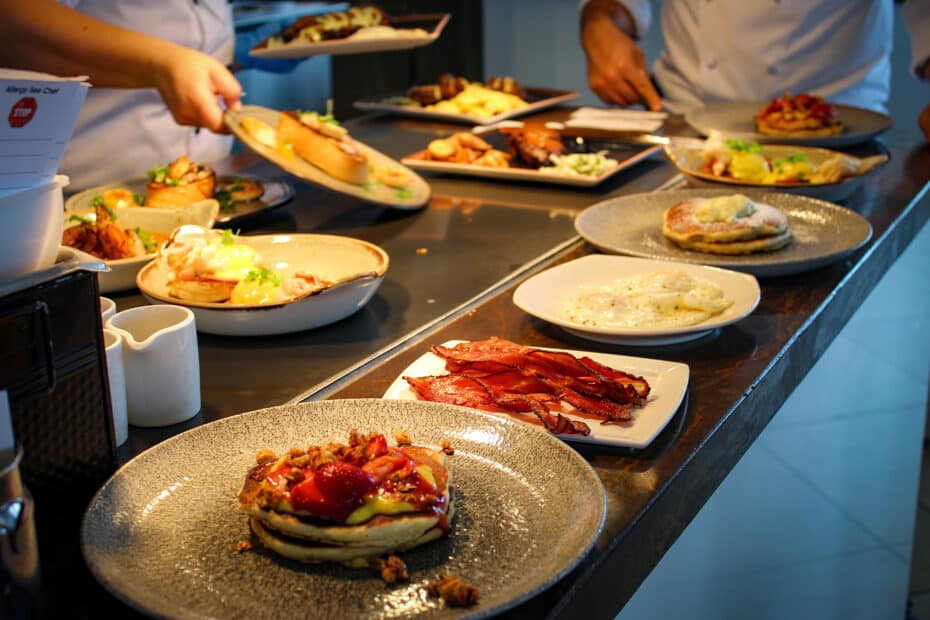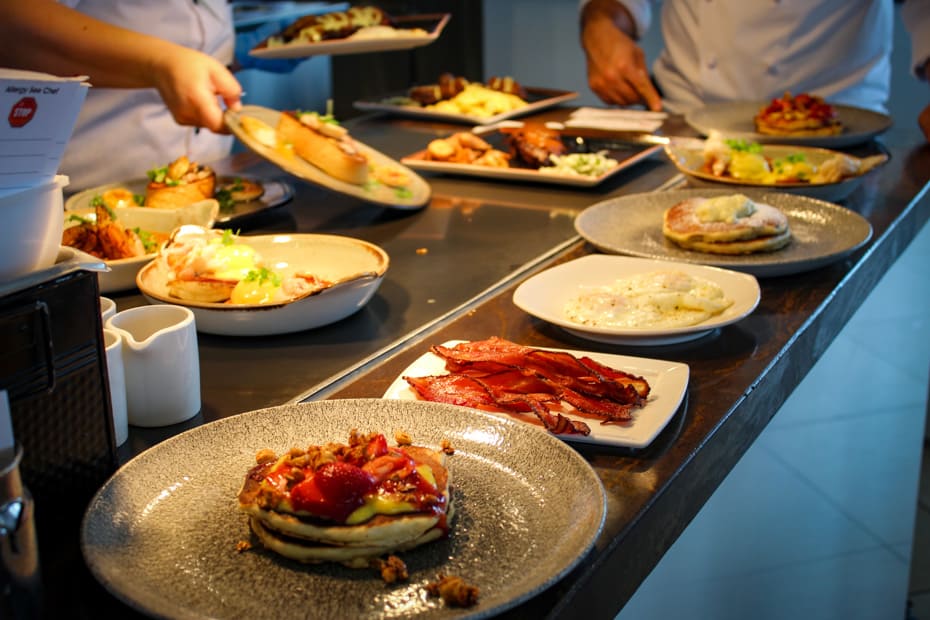 The brunch is prepared in an open-style kitchen. There are many people busy in the background while you are dining. It really is just part of the ambiance of the entire restaurant.
It's not quiet, but the noise all kind of turns into a low, subtle buzz that allows for privacy in your own conversation at the table.
There are also musicians that play during the brunch service and that's a really nice touch.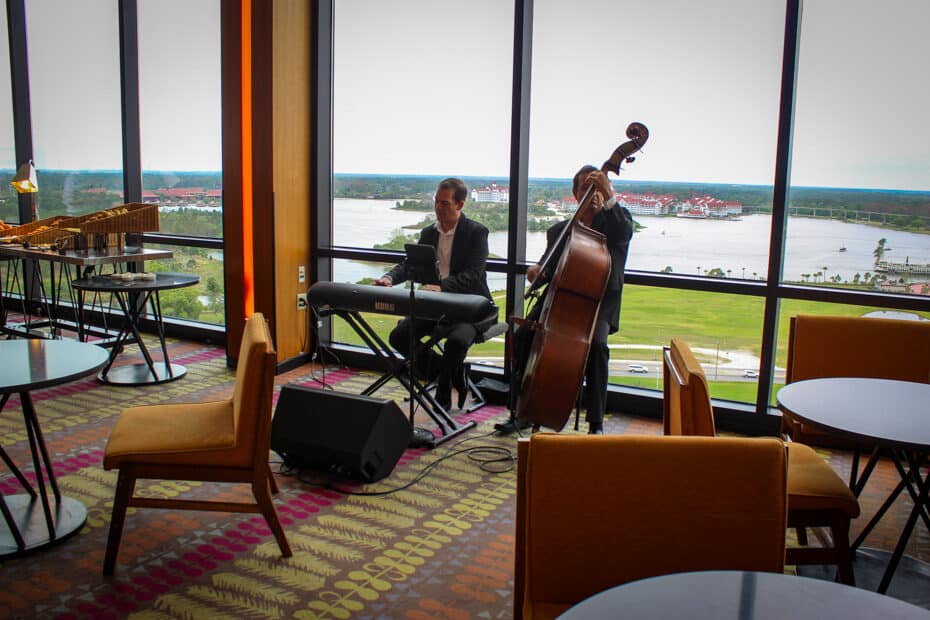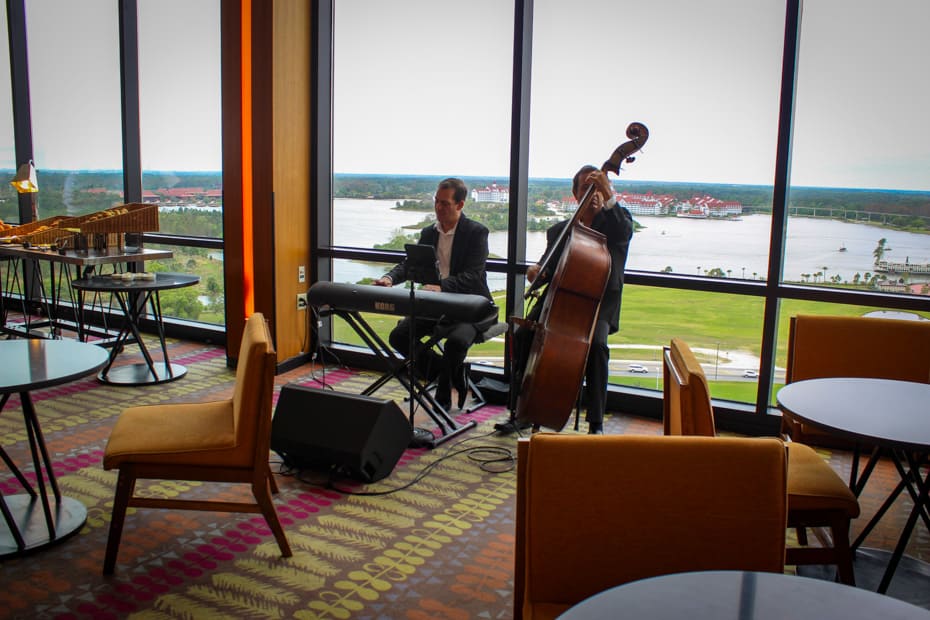 This is the view from the California Grill on an overcast day. The other direction faces Disney's Grand Floridian Resort (review).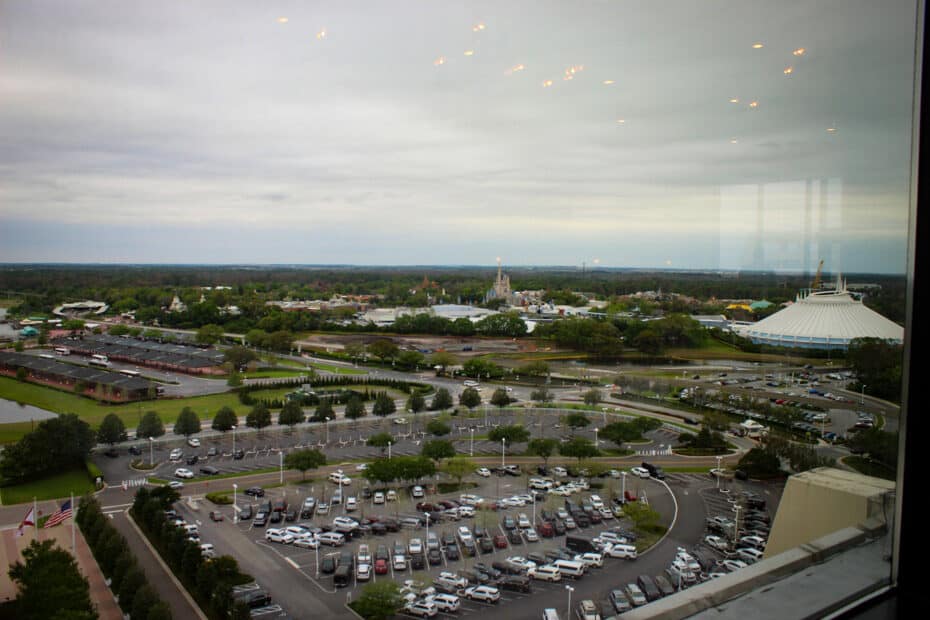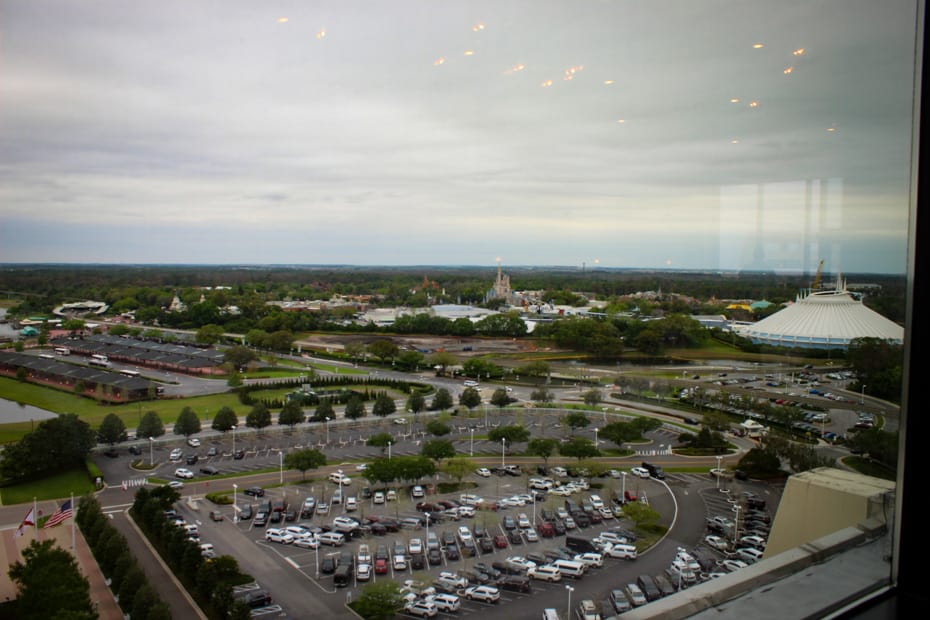 I could sit here all day and take in the entire view.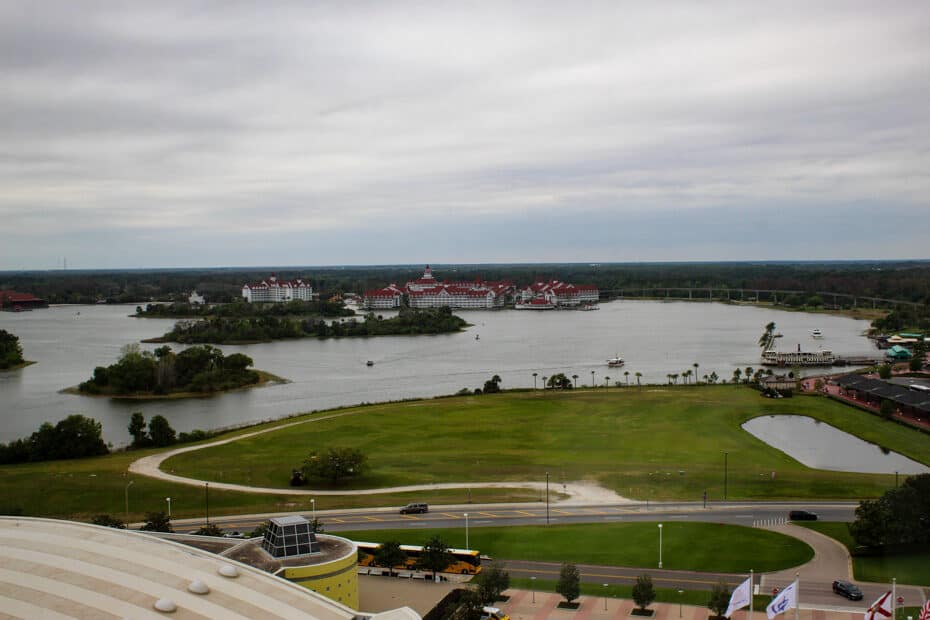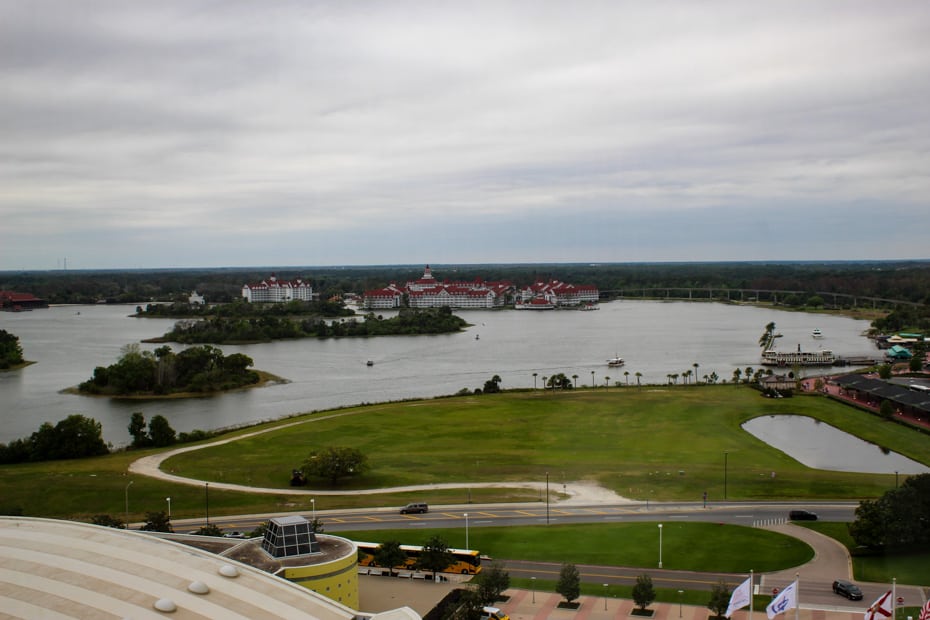 Final Thoughts on Brunch at California Grill
After experiencing brunch here for the first time, I would have to say I was completely blown away. When you return to the same restaurant, you don't always feel the same way about it over time. That is not the case with the California Grill Brunch.
It continues to exceed expectations. In fact, at some point on nearly every single Sunday morning, I have a reflection on brunch. Wondering when and with whom I'll be returning. California Grill, you were always on my mind.
One final thing I forgot to mention–if you save your receipt, you are welcome to come back for fireworks that same evening. They have a wonderful observation deck with a nice view of the Magic Kingdom.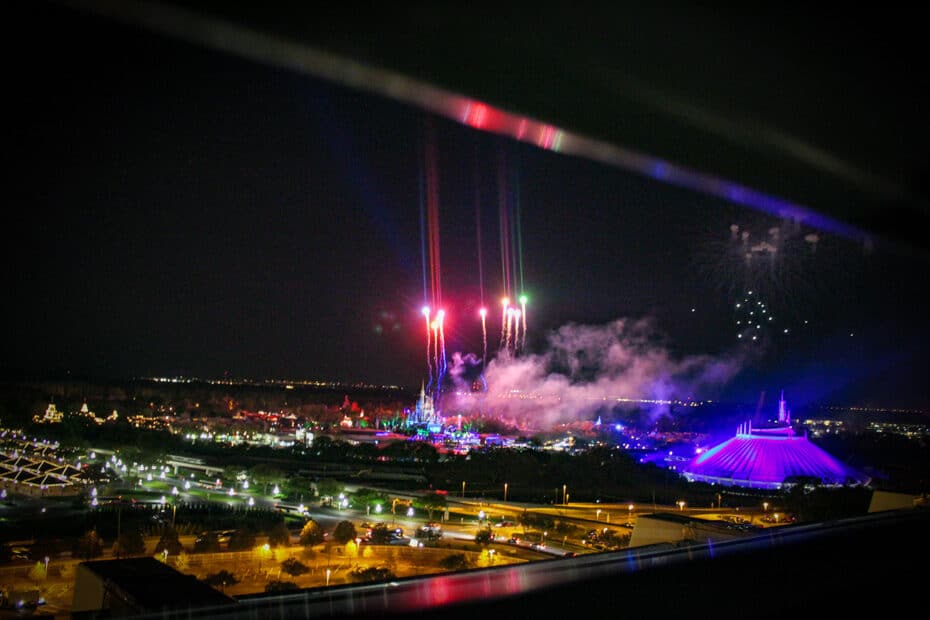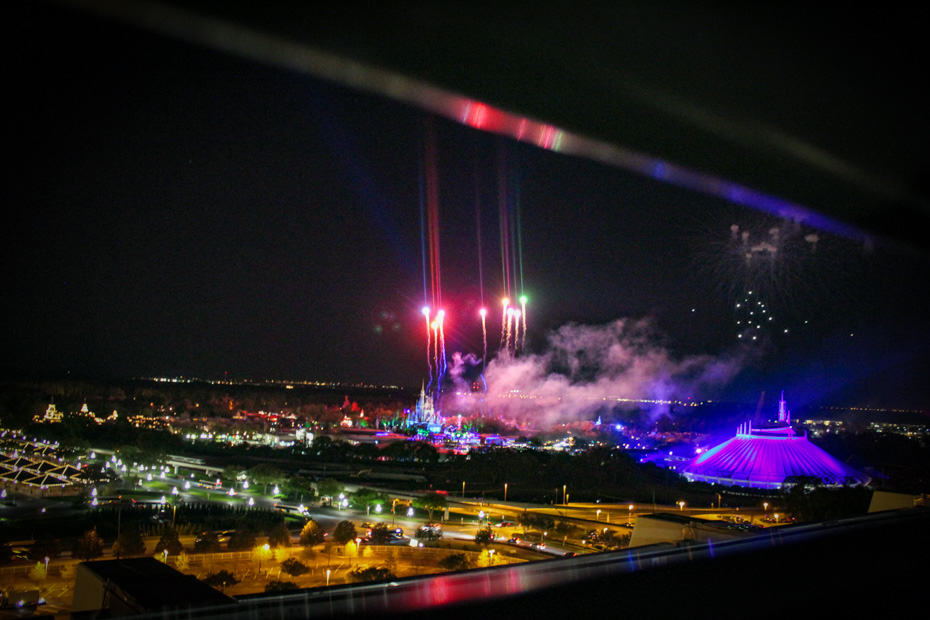 A speaker system pipes in the audio to the "Happily Ever After Fireworks" spectacular. Just try to get back to the check-in stand about 20 minutes before showtime.
And don't forget to show your receipt for free valet parking. Just use the valet to park, tell them where you are headed, and then show your receipt when it's time to pick up your car.
I hope you have enjoyed this review and found it helpful. Make sure to browse our full list of Disney restaurant reviews.
And here's a few specific dining reviews that might interest you:
As for Disney's California Grill Brunch, I doubt you'll find a better experience. Leave me a comment and let me know your thoughts on having a meal here. Have you tried brunch yet? Or what are you looking forward to the most?