Meet Princess Jasmine at Disney World
Princess Jasmine is a popular character meet-and-greet at Walt Disney World. She greets guests daily in the Morocco Pavilion at Epcot.
Below, we'll walk through Princess Jasmine's meet-and-greet at Epcot. Then, we'll look at where and when you can find her and a few other tips for meeting her.
Additionally, I'll share a few other places where you might run into Jasmine during your Walt Disney World vacation. For instance, at one location, she meets with Aladdin.
Let's take a closer look.
This article was updated on January 24, 2023.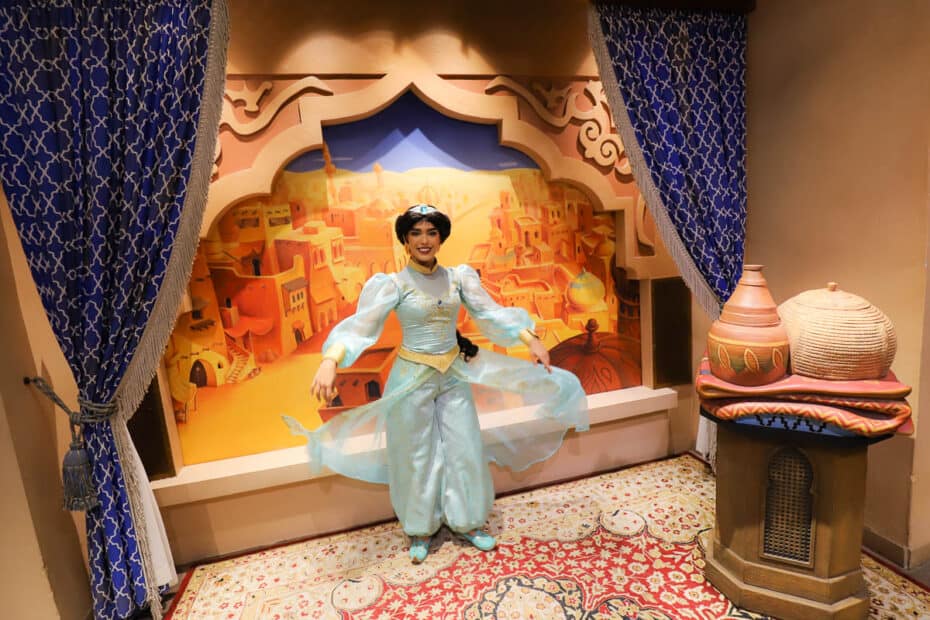 Princess Jasmine's main meet-and-greet is in Epcot's Morocco Pavilion. She meets guests toward the back of the pavilion in Lamps of Wonder.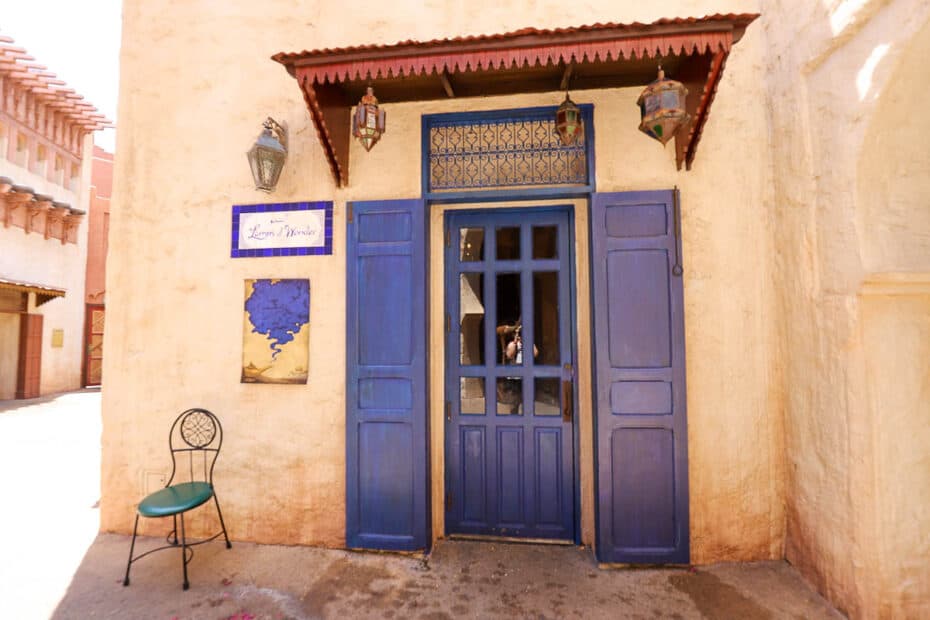 A typical day for Jasmine consists of several meets between 9:00 a.m. and 4:00 p.m. For example, her schedule might look something like this:
9:30 a.m.
10:30 a.m.
11:30 a.m.
12:30 p.m.
2:20 p.m.
3:30 p.m.
However, you'll want to check the My Disney Experience on the day of your visit for her exact times. Or you can check the schedule here on Disney's site.
Like the other character meets in the World Showcase at Epcot, you'll want to get in line before her scheduled time. If not, you risk the chance of her line getting cut off before your arrival.
If that happens, you'll have to come back and try again later. However, if the line gets cut off for the last meet of the day, you're out of luck.
I mention getting in line early because, as you can see below, Jasmine holds a very long line. And you can't see the interior portion of the queue from this view.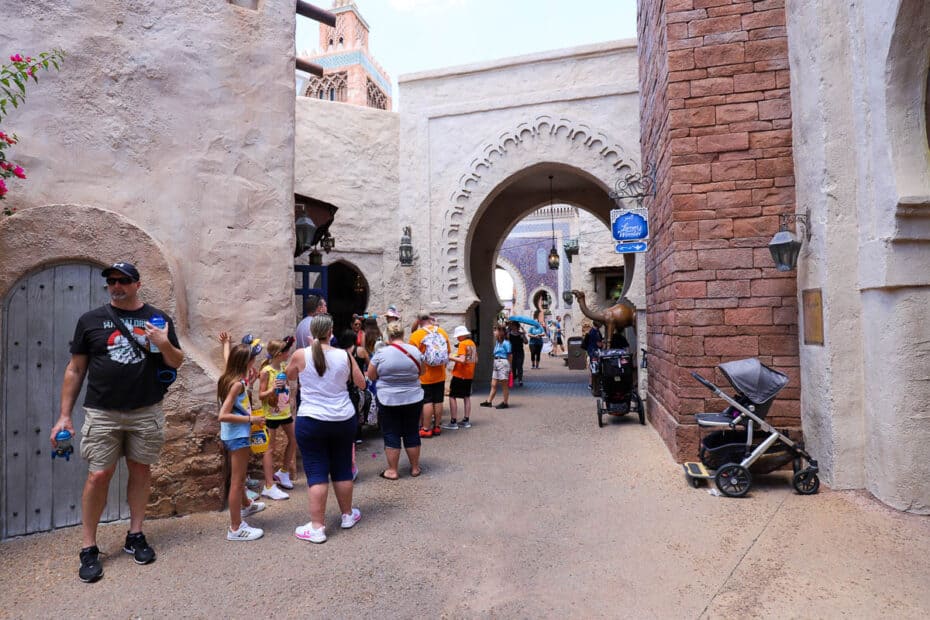 Inside Lamps of Wonder, various genie lamps are mixed in the theming. Everything is kid-friendly, and children can interact with the displays.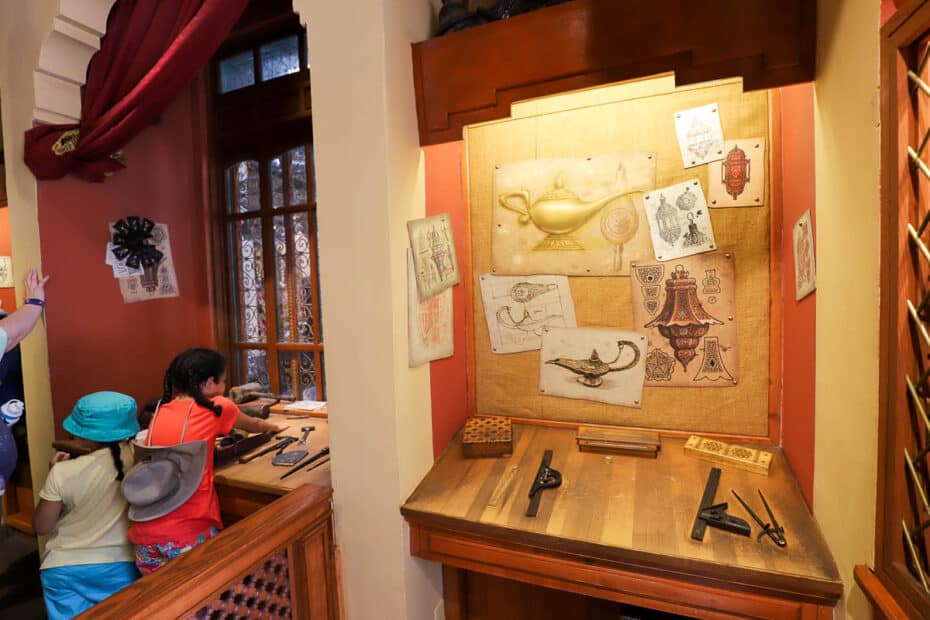 Jasmine has a pleasant meet-and-greet area. Of course, it doesn't hurt that the interior portion of the queue is air-conditioned.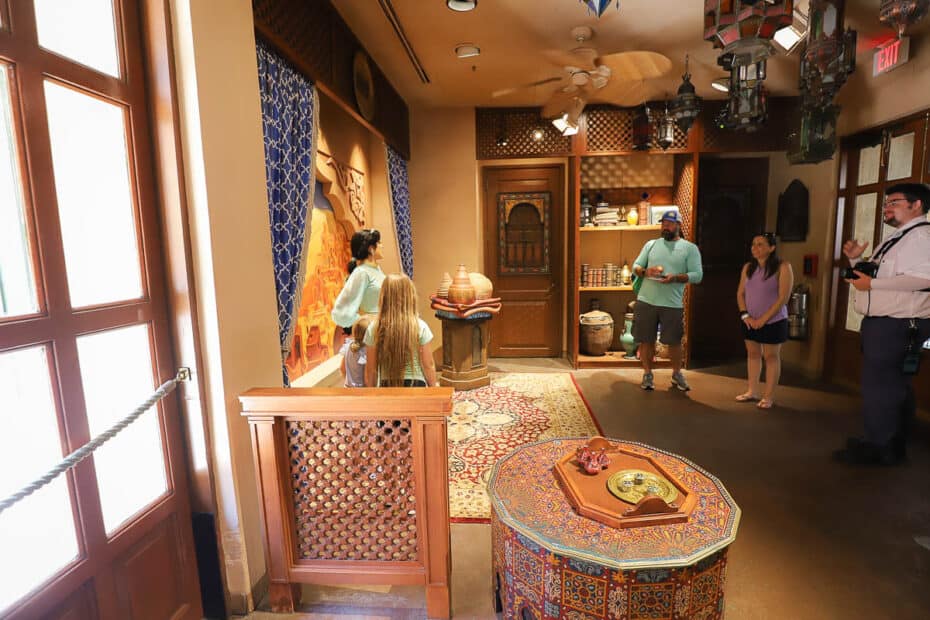 There was a PhotoPass photographer present to take pictures. If you don't have the Memory Maker, you can ask the cast member to take a family photo with your device.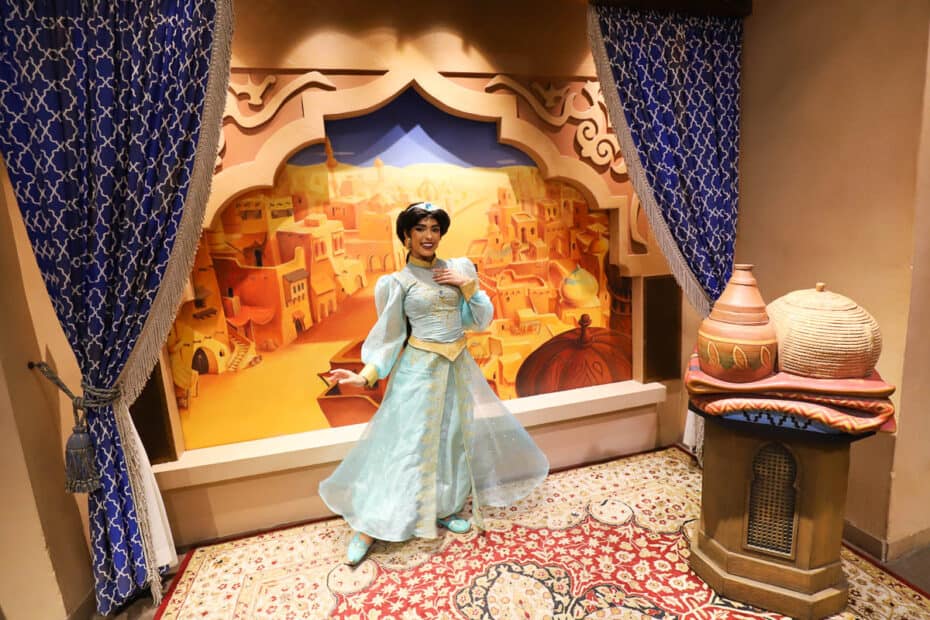 The Agrabah backdrop is a nice touch.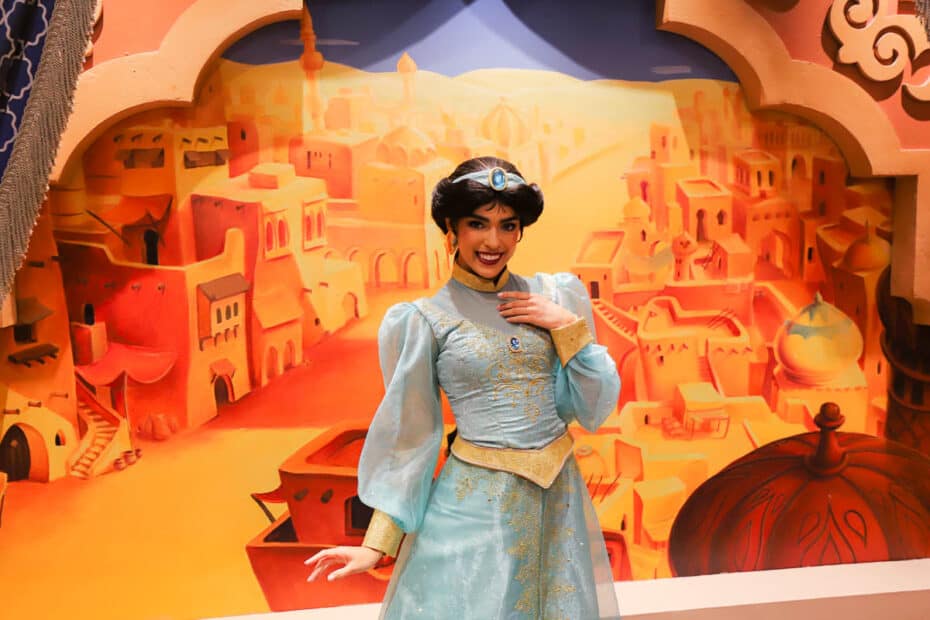 Jasmine signs autographs, so make sure to have your autograph book available.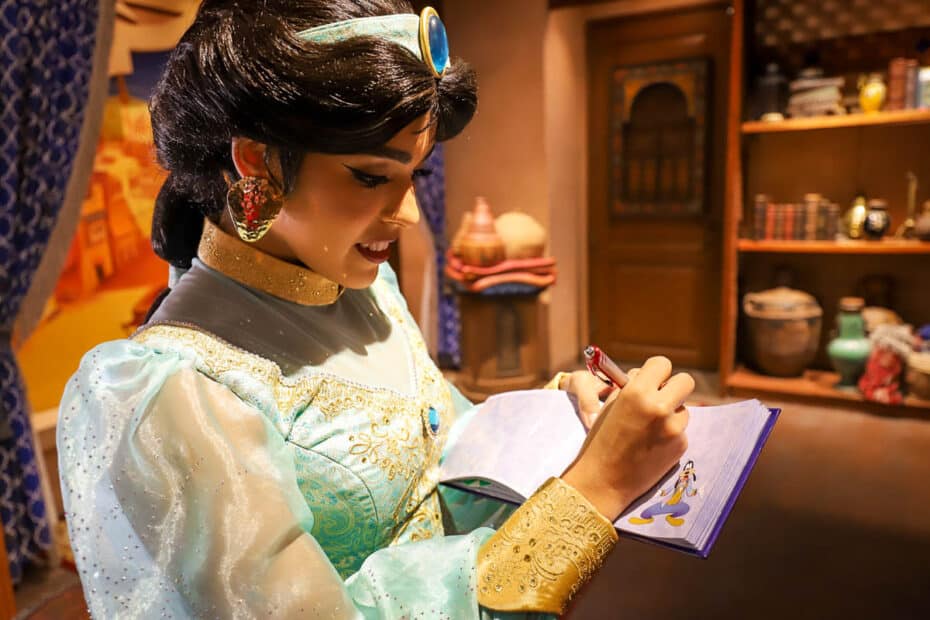 Here is a photo of her signature.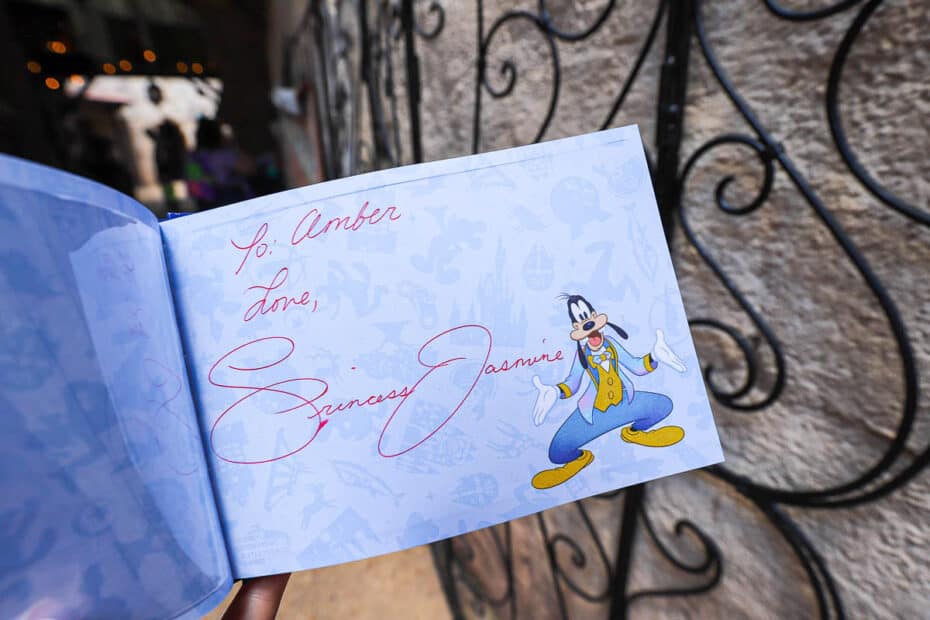 Jasmine enjoys talking about Aladdin, Abu, or her tiger Rajah. She is one of the friendliest meets I've encountered to date.
Princess Jasmine also meets at the Agrabah Bazaar in Adventureland at Magic Kingdom. She meets with Aladdin at this location.
Related: Meet Aladdin with Princess Jasmine at Disney World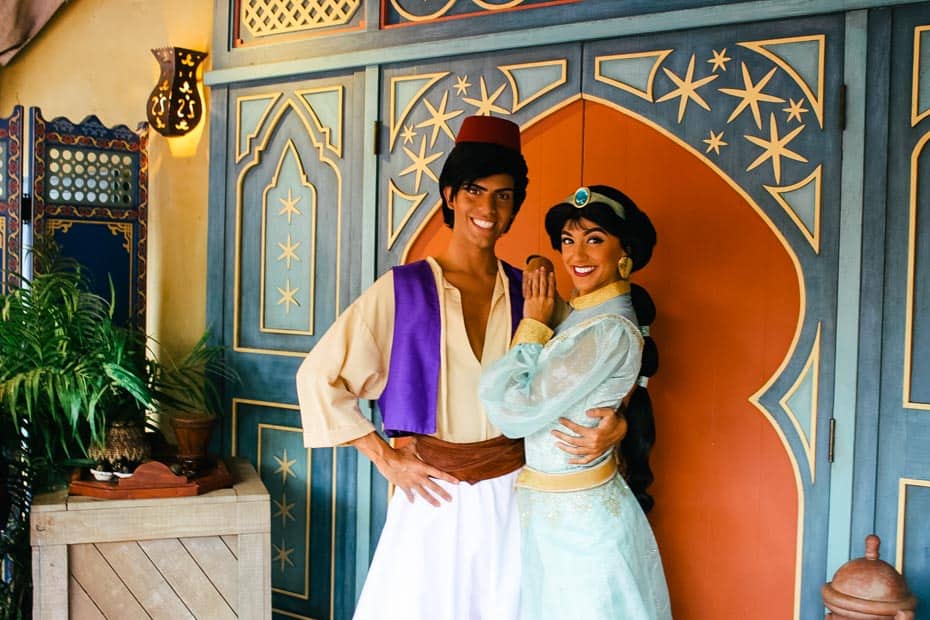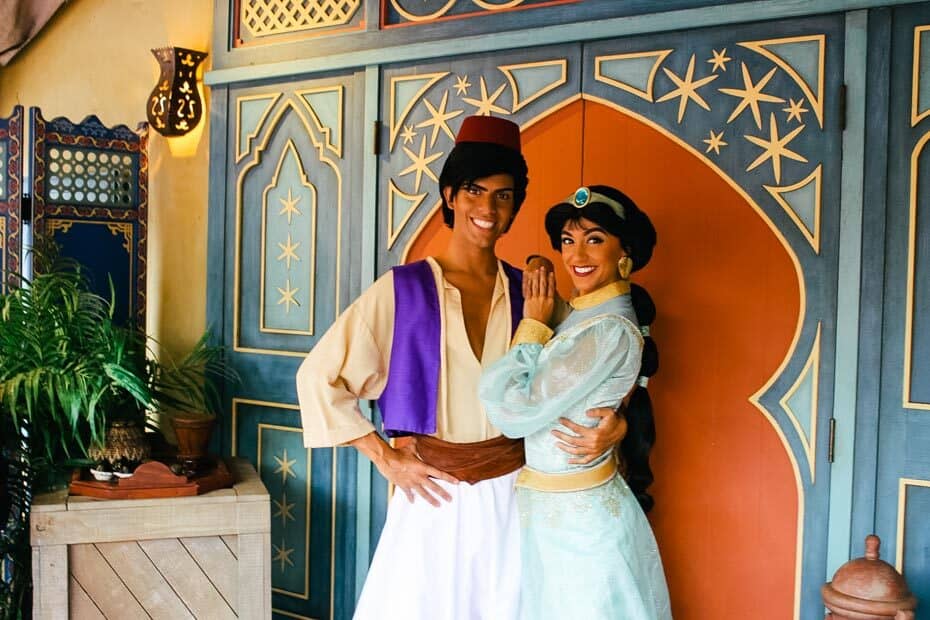 Additionally, Jasmine is one of the princesses on rotation at Cinderella's Royal Table in Magic Kingdom. Characters are expected to return to that meal in 2023.
Related: Character Dining at Walt Disney World
Princess Jasmine also meets at the seasonal parties at Magic Kingdom. We saw her meet with Genie at both the Halloween and Christmas parties this last year.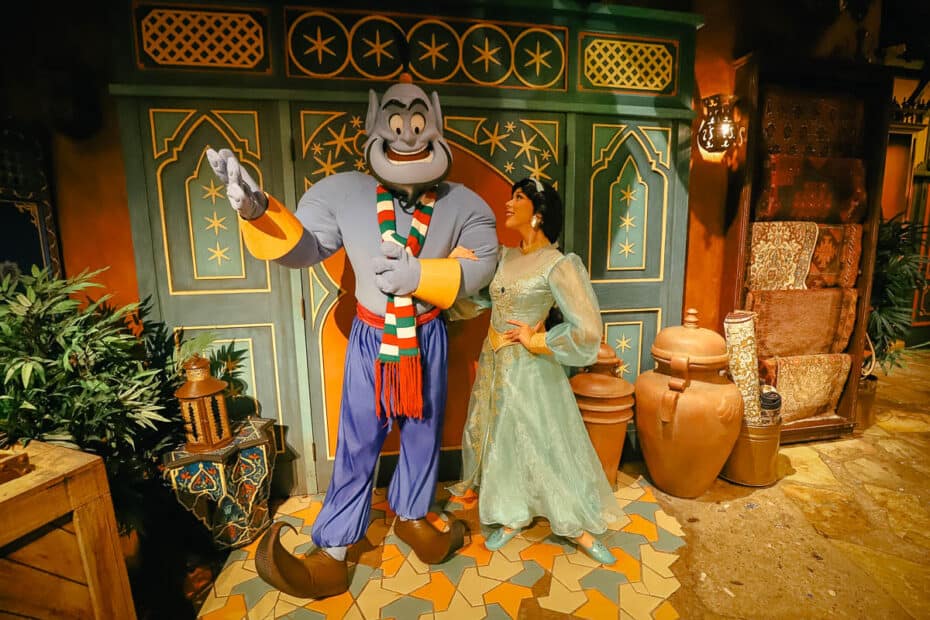 Both parties are extra-ticketed events that usually sell out well in advance. We have character guides for both events.
Hopefully, these details will help you locate Princess Jasmine on your next vacation. She is an excellent character meet opportunity and a wonderful example of a strong, independent princess.
If you enjoy meeting characters, you might want to check out these other meets in the parks:
Or you can preview the entire list of characters at Disney World.
In the Comments
Are you a fan of Princess Jasmine? Are you hoping to meet her on your vacation? Leave a comment below and let us know.
Planning a Walt Disney World or other Disney Destination vacation?
Our friends and travel partner, Firefly Travels, excels at doing Disney differently. You can fill out a plan your trip form on their website, and someone will reach out shortly to discuss the specifics.