Where to Meet Moana at Epcot (Her Character Meet-and-Greet Near Journey of Water)
Moana is the newest addition to the character lineup at Epcot. This formal character meet-and-greet recently debuted next to her attraction, Journey of Water, Inspired by Moana.
Below, we'll discuss specifics for meeting Moana at Epcot. As usual, be prepared for a long wait. We waited 35 minutes to meet Moana and were the first guests in line after a break!
Moana is a popular character. However, you could rarely find her in the parks until her meet-and-greet location at Animal Kingdom debuted. Before then, she only made rare appearances, mainly at extra-ticketed events. So don't be surprised to find a lengthy backlog of wayfarers waiting to meet the Chief of Motunui!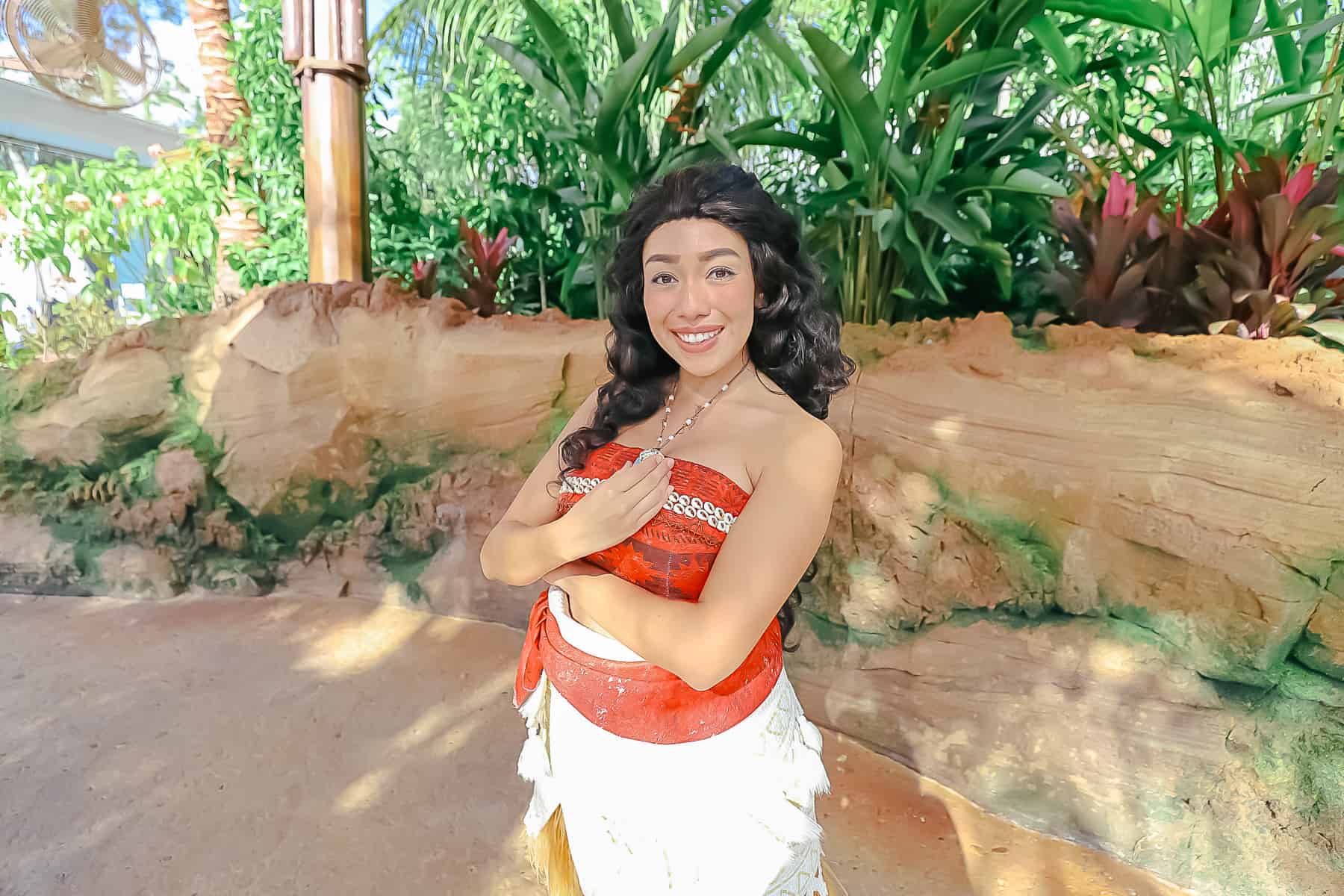 Moana's meet-and-greet at Epcot is located in World Nature across the walkway from the entrance of Journey of Water, Inspired by Moana.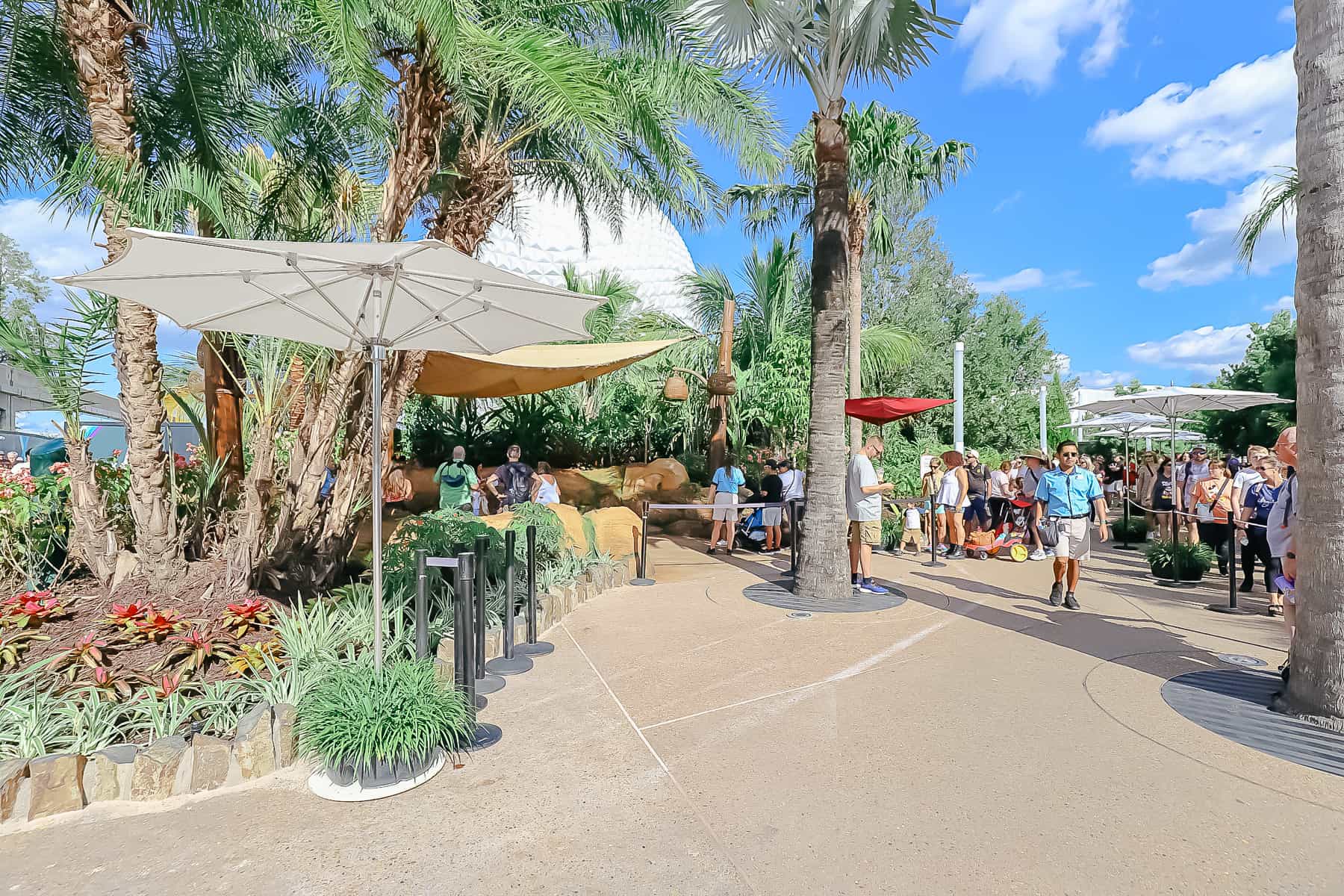 Moana meets guests intermittently throughout the day between 9:00 a.m. and 4:00 p.m. On the day of our visit, the My Disney Experience app listed her last meet-and-greet time as 2:30 p.m. However, when we arrived, signage outside her location indicated she should return at 3:45 p.m.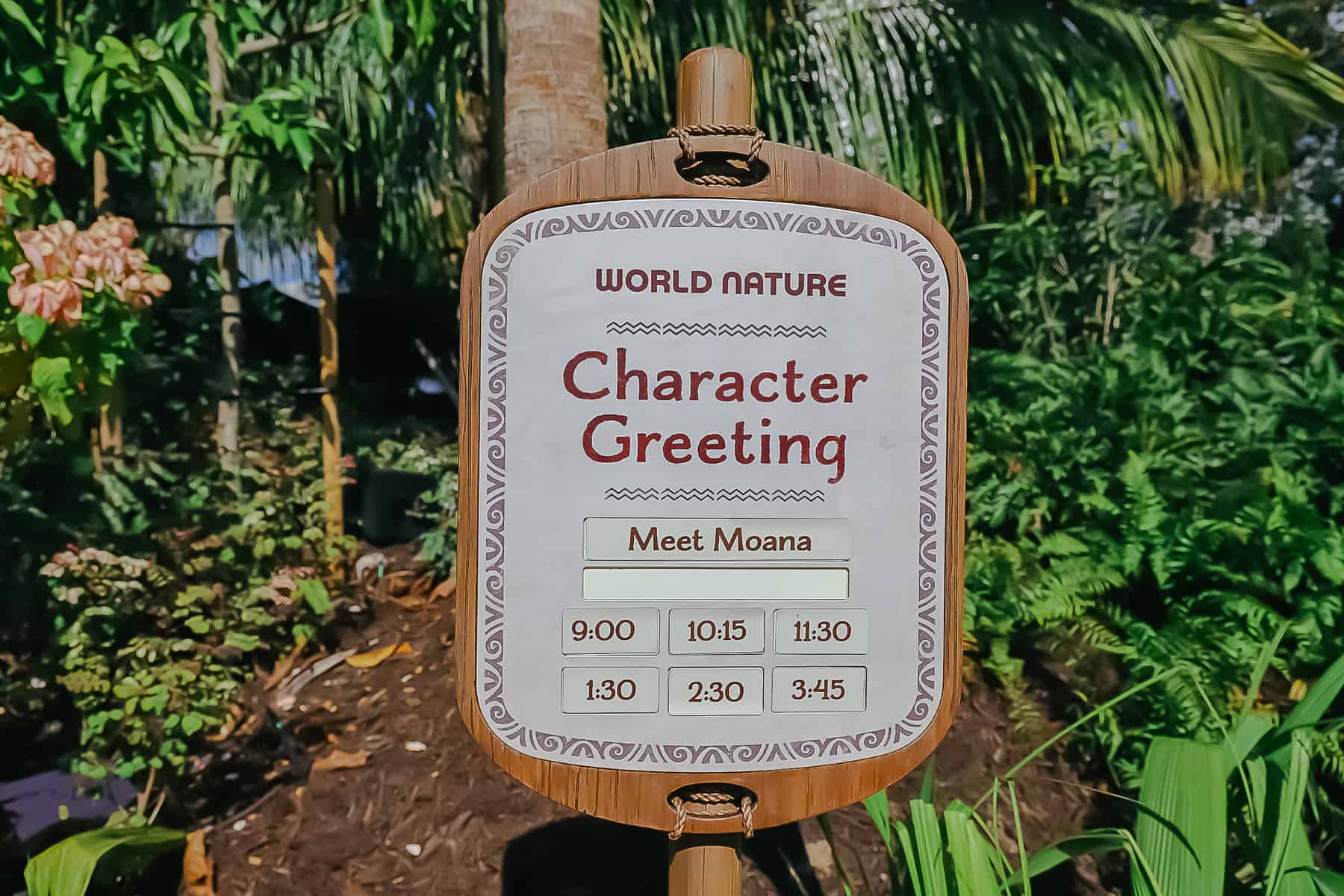 After confirming this with a cast member, we got in line and waited. It was 3:10 p.m., and she was set to return at 3:45 p.m. While waiting, at least 20 other guests asked the same cast member when Moana would return. Many of them joined the line behind us.
By 3:25 p.m., approximately 30 guests were waiting to meet Moana. When Moana returned from her break, the line had already been cut off for the day. Many guests were turned away.
After meeting Moana, we went to the back of the line to get a photo. In the photo below, guests on the right are waiting to meet Moana. Guests on the left are in the queue for the attraction.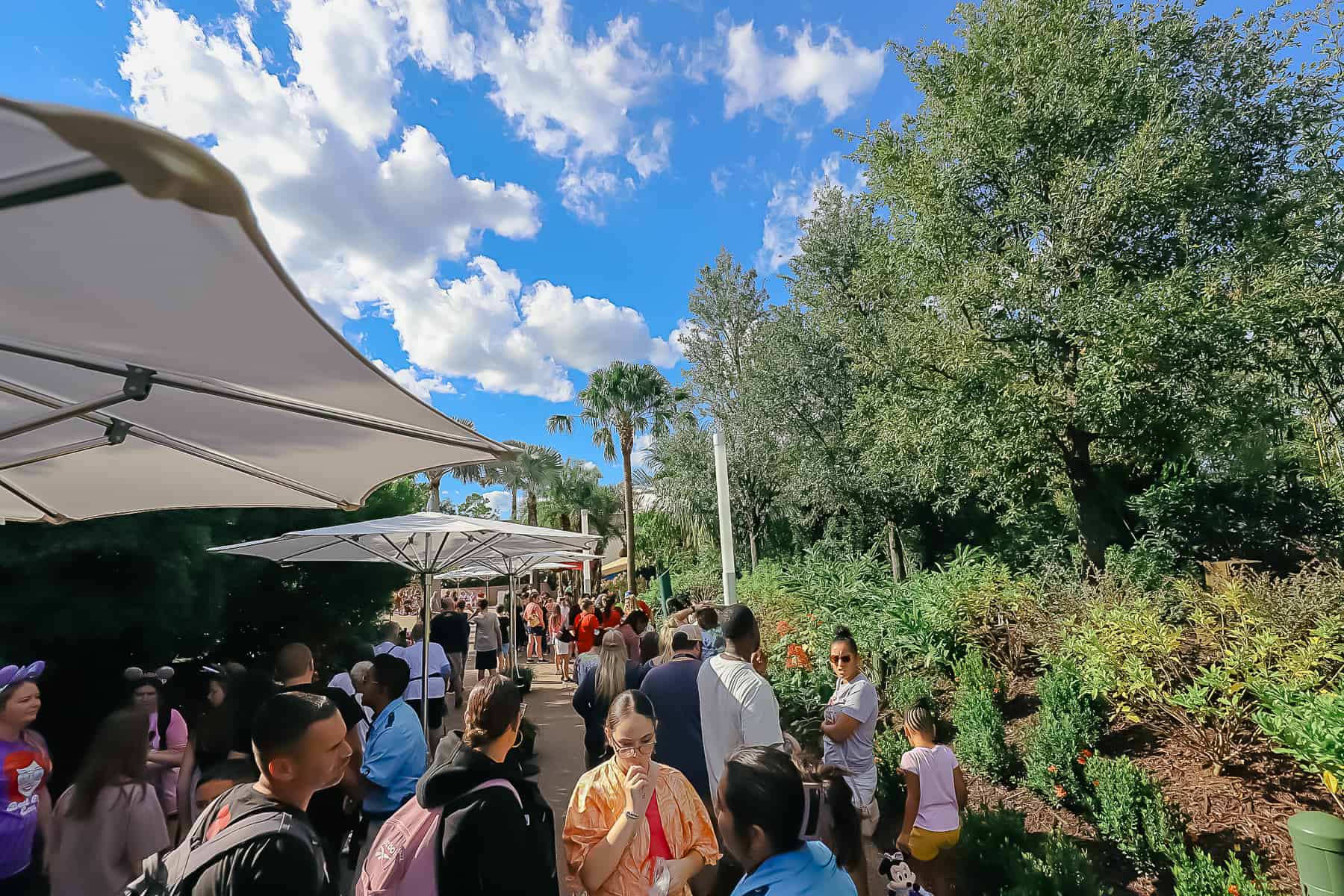 Moana is an excellent character to meet. She greets guests with a smile and has lots of excitement to share.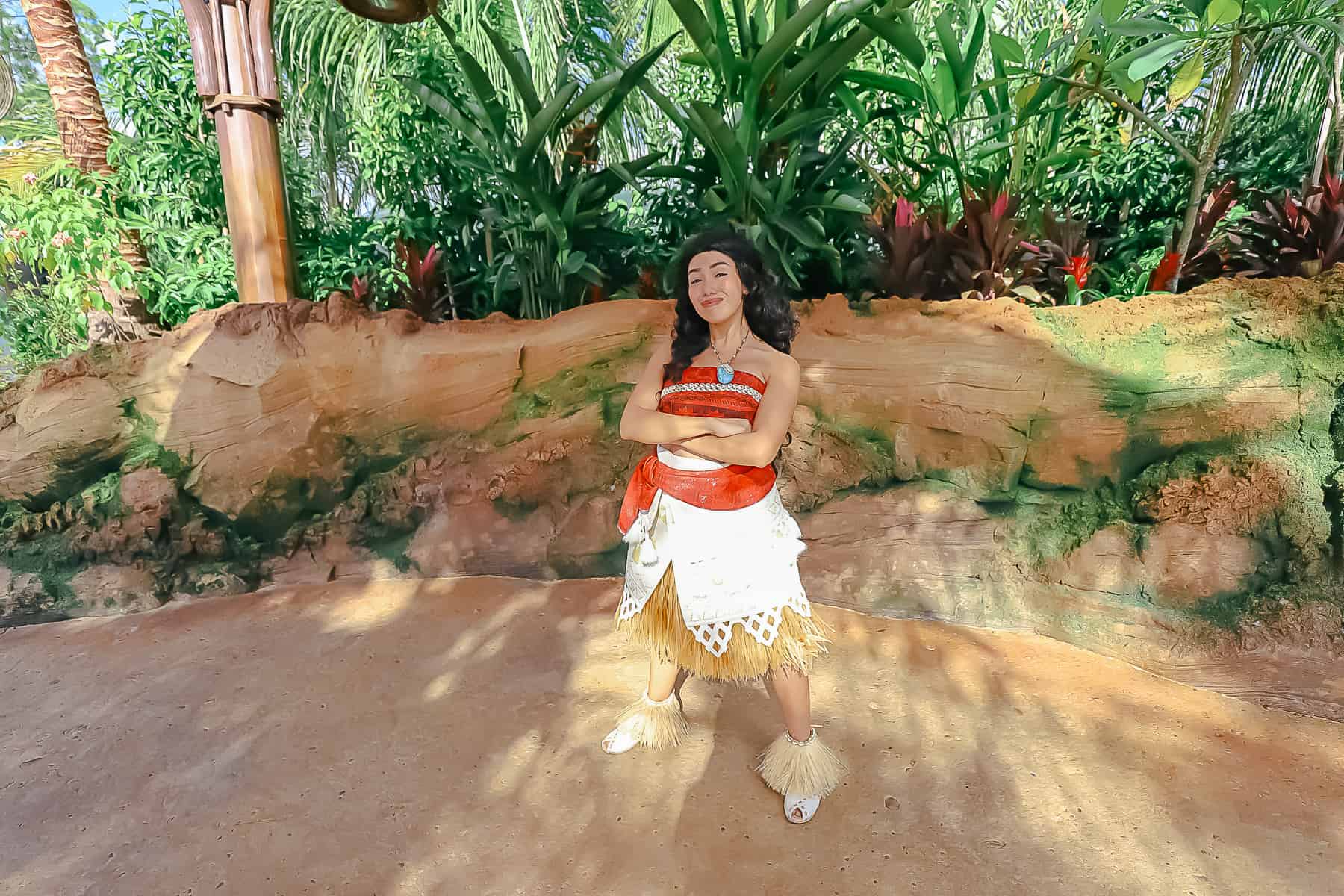 She asked if I had done any way-finding lately. Then I asked about Hei Hei and Pua.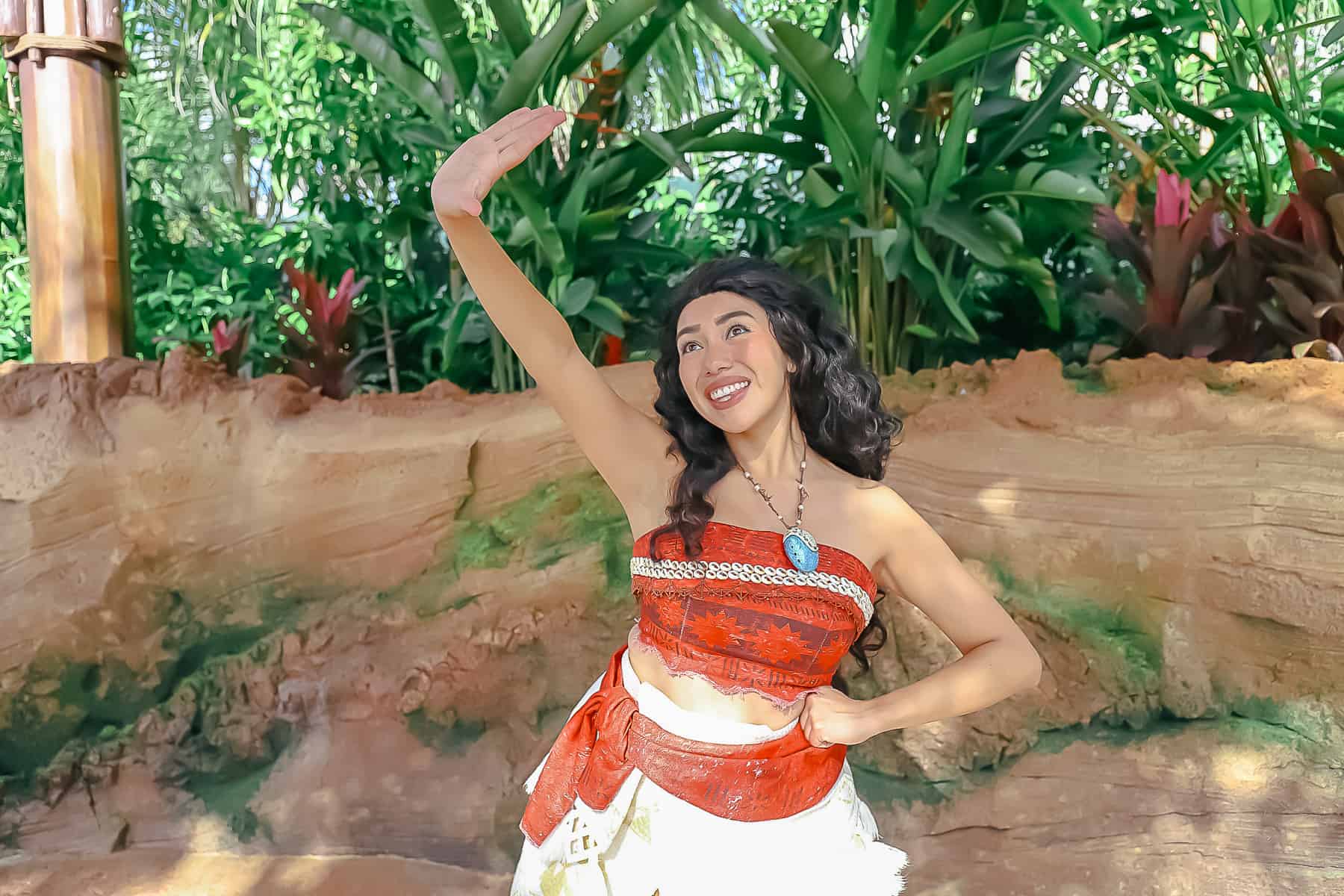 Since Moana is a talking character, you might think of something to ask her while waiting. Additionally, Moana signs autograph books.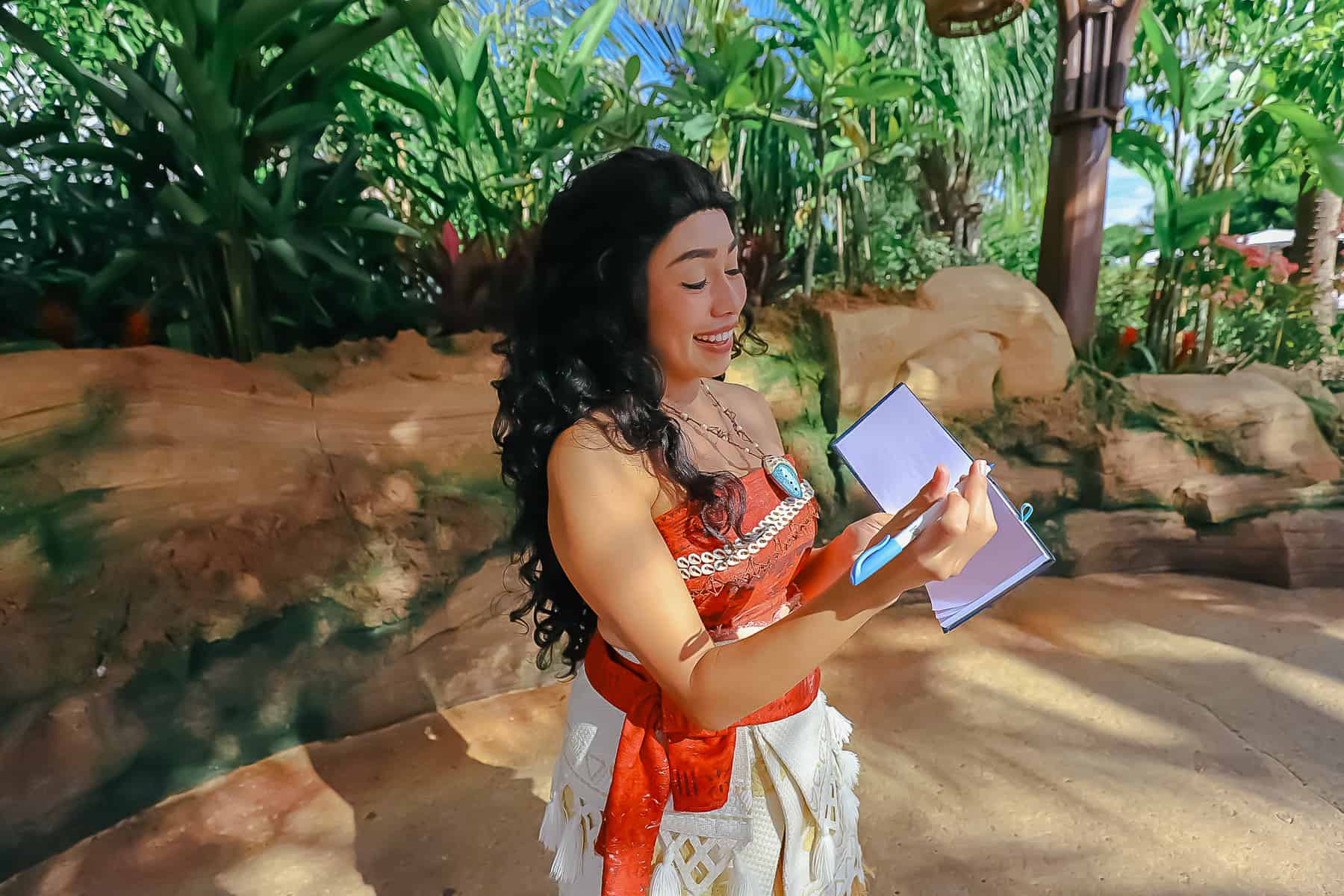 Cast members ask that you have your autograph book out with the page open where you want her to sign. Moana will sign her autograph before you pose for pictures with her.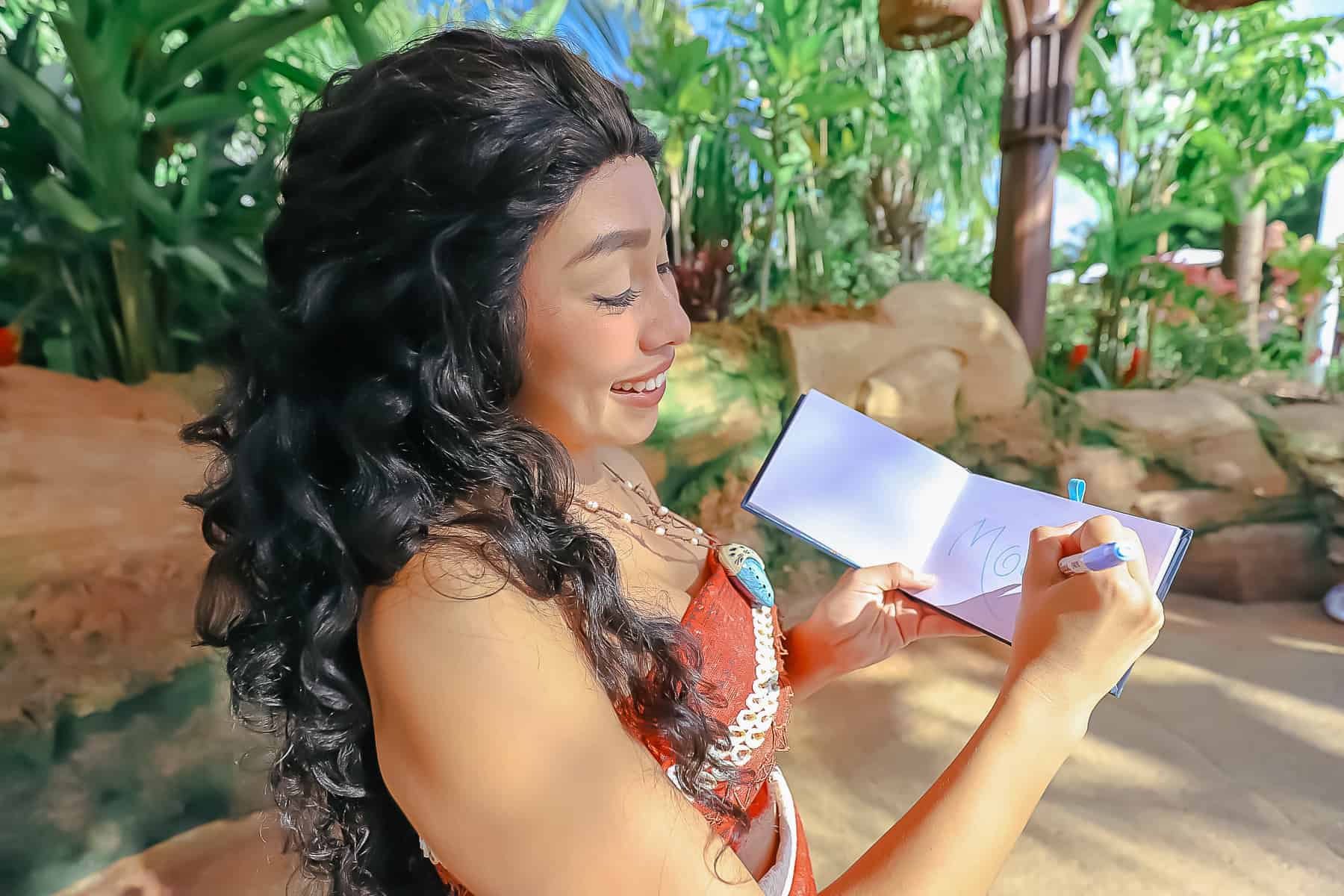 A PhotoPass photographer was present at this meet-and-greet location.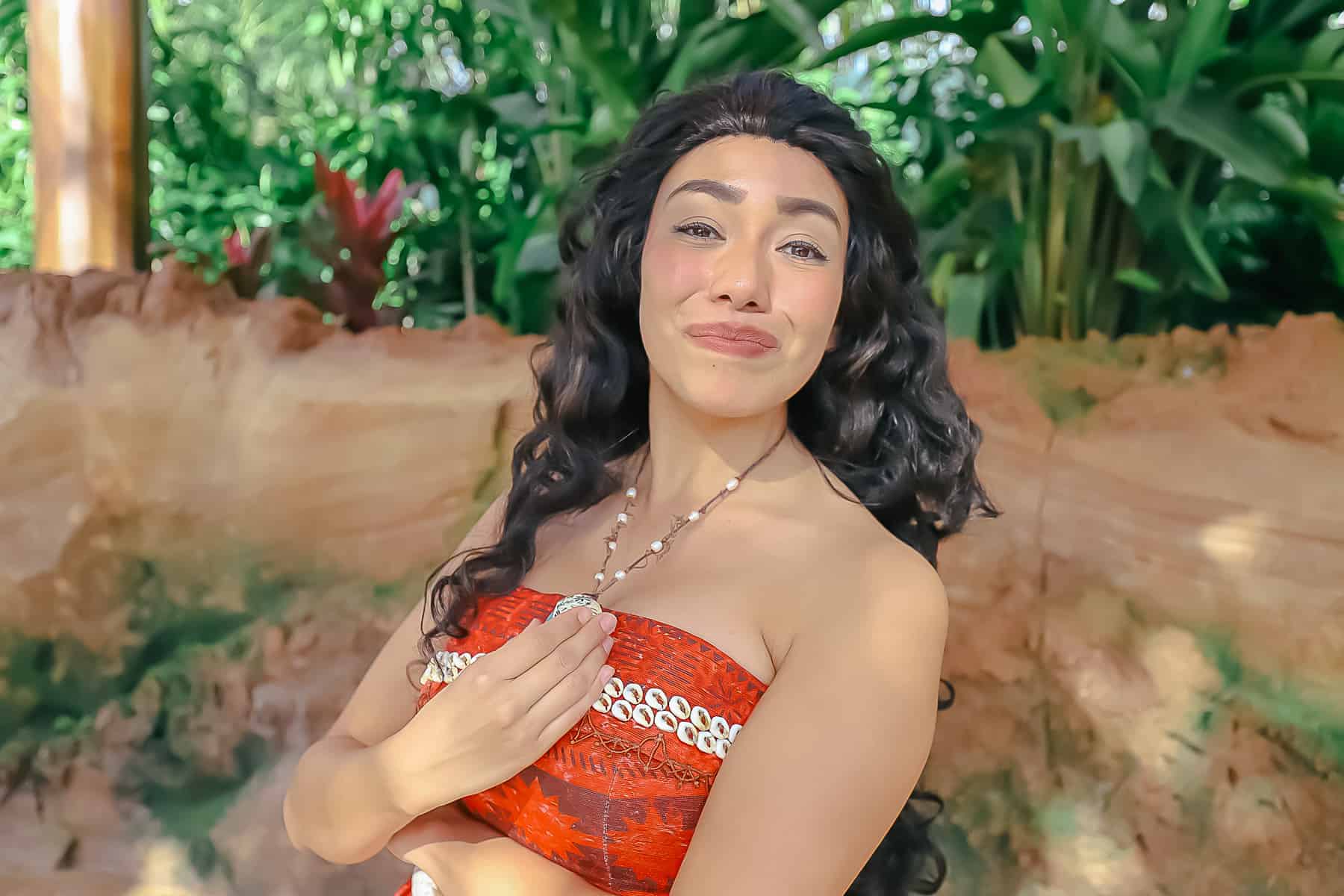 Here is a look at Moana's autograph. Does that "o" look familiar?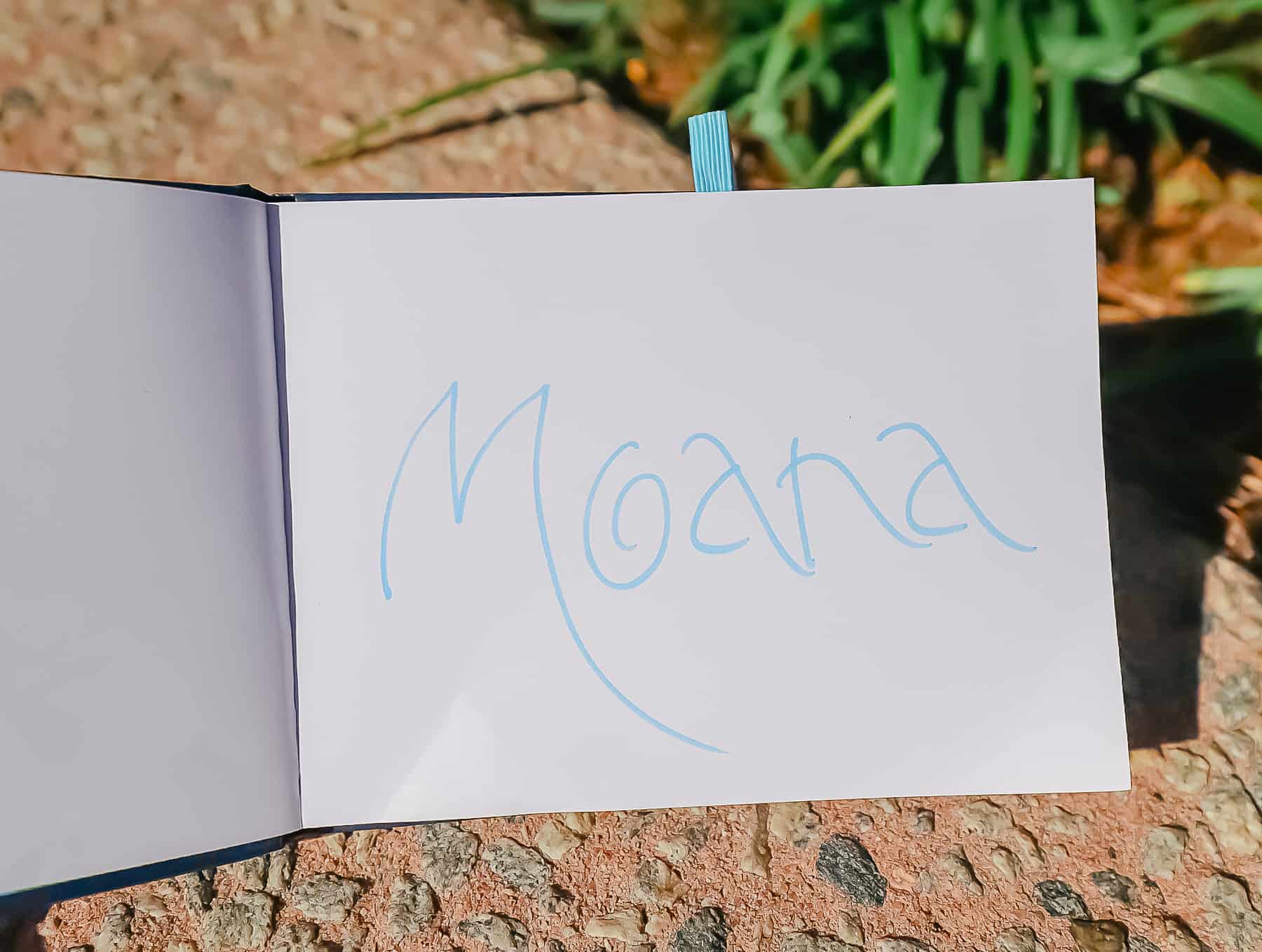 Check the My Disney Experience app on the day of your visit for exact times. Likely, they weren't displaying the last time on this day due to the line length.
Remember, you want to arrive at each meet-and-greet before the listed time. It's better to arrive early and guarantee your spot than to show up a few minutes late and get turned away because so many other people are already waiting.
For more characters meet-and-greets at Epcot, you might enjoy:
Or you might enjoy browsing the entire list of Disney World Characters that meet daily in the parks.
We hope you have fun meeting Moana! Is she on your list of characters to meet? Do you have any questions about this location? We'll be happy to answer them based on our experience.