Meet Mulan at Epcot's China Pavilion
So you or someone you love wants to meet Mulan on your Walt Disney World vacation? You're in luck because Mulan meets daily in the China Pavilion at Epcot.
However, there are some things you'll want to know in advance. So, this article discusses everything you need to know to meet Mulan at Epcot.
We'll look at timing for this character meet, photos, autographs, and a few tips. You'll have a full-proof plan for adding this special meet and greet to your plans when we're finished.
And Mulan is a special meet, indeed.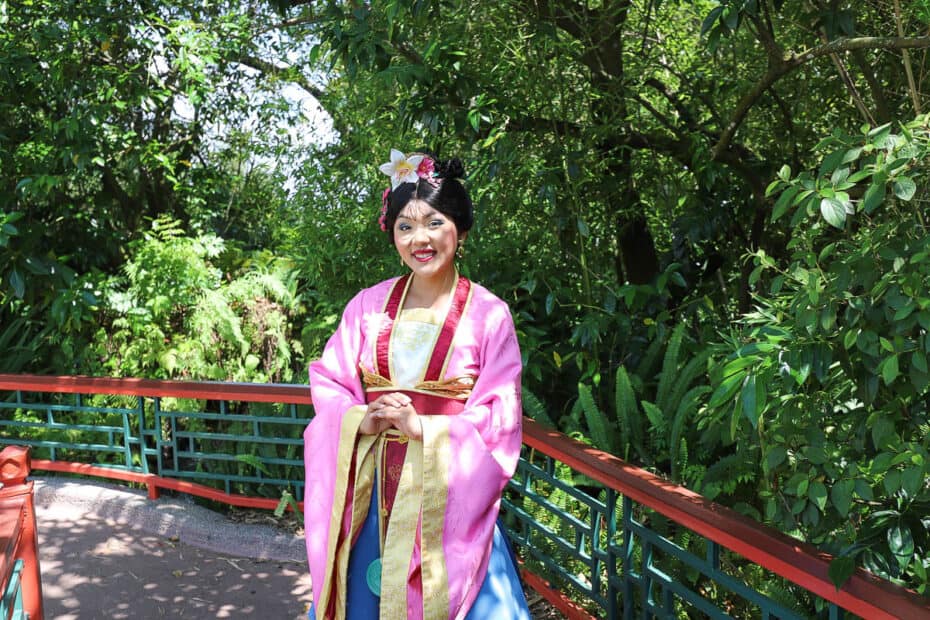 Mulan meets guests along a walkway to the far right of the replica of the Temple of Heaven in the China Pavilion. Her line forms directly behind the sign for the Nikon photo spot.
Below is a photo I took of the line to give you an idea.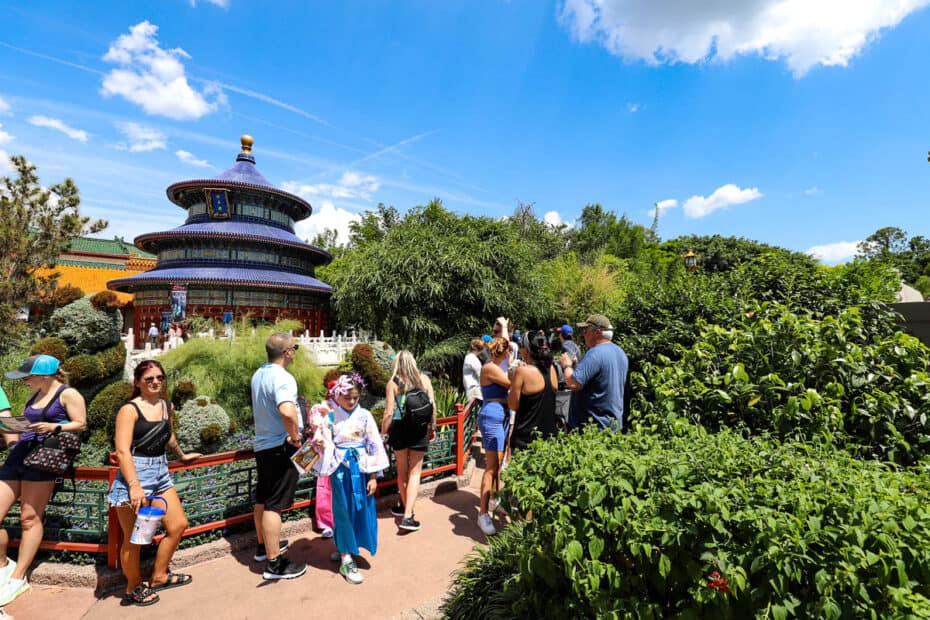 When I meet characters, I take a photo with my phone to get a time date stamp of what time I got in line. Then I'll make a few notes on my phone and take another photo to show when I met the character.
On this day, my notes go something along these lines:
I met Donald Duck at 2:54 p.m. in Mexico and then went straight to meet Mulan. I got in Mulan's line at 2:59 p.m. The line was closing, but the cast member was nice enough to let me and one other guest get in line. Mulan's line was very long, and no others were allowed to join behind us.
I met Mulan at 3:18 p.m. on this day. Her meet and greet times were listed as:
12:00 p.m.
1:00 p.m.
2:50 p.m.
3:50 p.m.
If you've read any of my other character coverage, you know I always say to check the My Disney Experience app on the day of your visit. I cannot emphasize the importance of making a plan in advance and double-checking those times on the morning of your park visit.
The other best tip I can give you is to get in line before the listed time begins. If a long line has formed before the meet, cast members will cut the line immediately.
Character meets at Disney World are exceedingly popular.
Before this, I was in a very long line in the Mexico Pavilion to meet Donald Duck. Then, after meeting Donald, I rushed to China because I didn't want to wait until 3:50 p.m. to meet Mulan.
Related: Meet Donald Duck at Epcot
The other person who got in line behind me was running with his daughter to join the queue. They had also just left another character meet and hoped to meet Jasmine next.
Unfortunately, her character meet and greet had already ended for the day. I knew because I was hoping to get by her meet for updates.
Related: Meet Jasmine at Epcot
We waited for approximately 20 minutes to meet Mulan, who had started meeting guests at 2:50 p.m. Mulan usually meets for 30 minutes before taking a break. However, those times will likely become even shorter in the summer months.
Unfortunately, the line was pretty much in direct sunlight. And the heat can get pretty intense, so be prepared.
Mulan meets in her full Chinese Hanfu dress. It's a beautiful costume.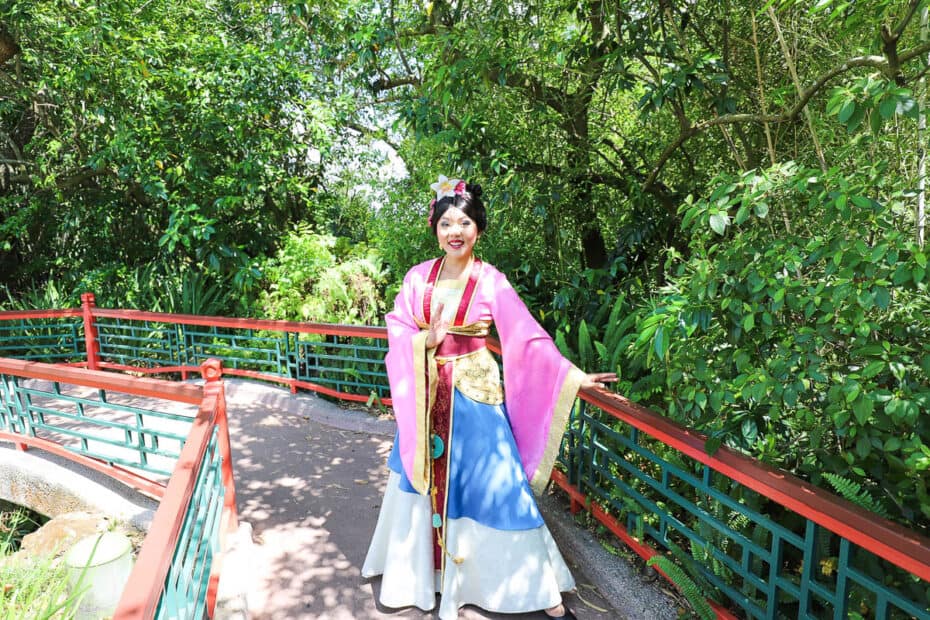 Mulan is a talking character and signs autographs. She enjoys talking about Mushu and Kahn, her horse.
You may like to mention talking points with children in advance. Characters remain in roles and do not deviate.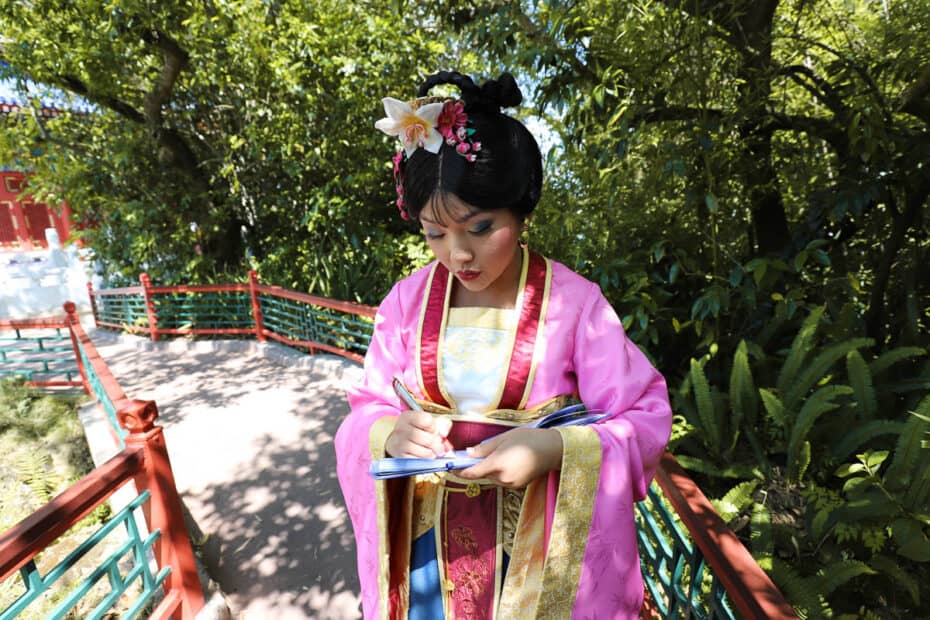 Additionally, a PhotoPass photographer is present to take your photo at this meet and greet. If you didn't purchase the Memory Maker, you can ask if they'll take a family photo with your device.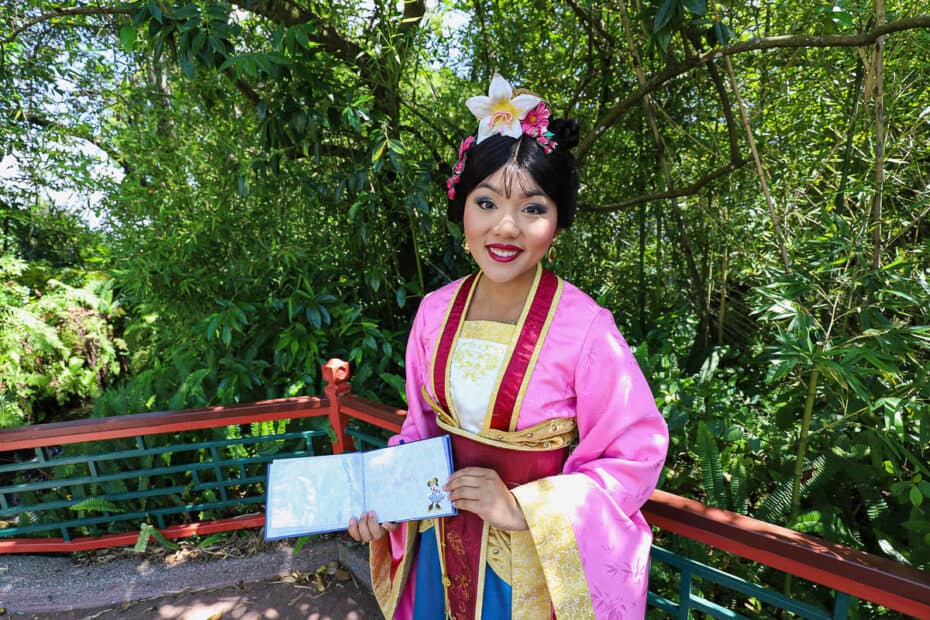 Since character autographs have returned, I purchased a new autograph book. I'm collecting signatures to show in these articles.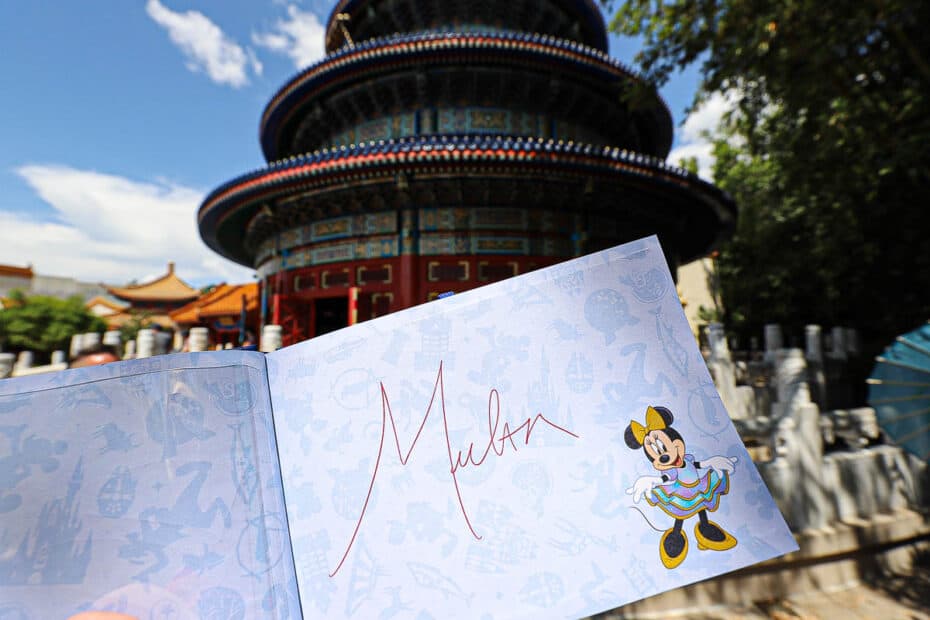 Each character has a unique signature, and they are fun to collect. You can purchase an autograph book in the parks. They run between $10.00-$15.00.
Or, if you're on a budget, you can purchase a small notebook to bring with you. Don't forget to bring a pen or Sharpie marker!
For more information, you might enjoy these other articles:
Or check out our entire list of characters in each of the Disney Parks.
Do you plan to meet Mulan on your next visit to Epcot? Leave a comment below with any questions or thoughts.