Meet Mulan at Epcot's China Pavilion
This article discusses where to meet Mulan at Epcot. We'll look at Mulan's meet-and-greet location, photos, and character autograph.
Mulan meets guests daily in the Epcot World Showcase. Specifically, she meets in the China Pavilion. Not only is this the best place to meet her, but it's one of the only places she makes an appearance in the entirety of the Walt Disney World Resort.
Occasionally, you might run into her at Magic Kingdom with some of the other Disney Princesses. However, as of 2023, most characters have returned to their original locations, including Mulan.
As of this update, Mulan's location is listed as being in the gardens of Epcot's China Pavilion. For the record, China is located between the Norway Pavilion and Germany Pavilion.
However, I recently found her meeting inside the replica of the Temple of Heaven. So if you're looking for her location in the garden, you might not know she's only a few steps away inside the pavilion's main building.
Let's look at both locations, so you'll know where to find Mulan on vacation.
This article was updated on February 1, 2023.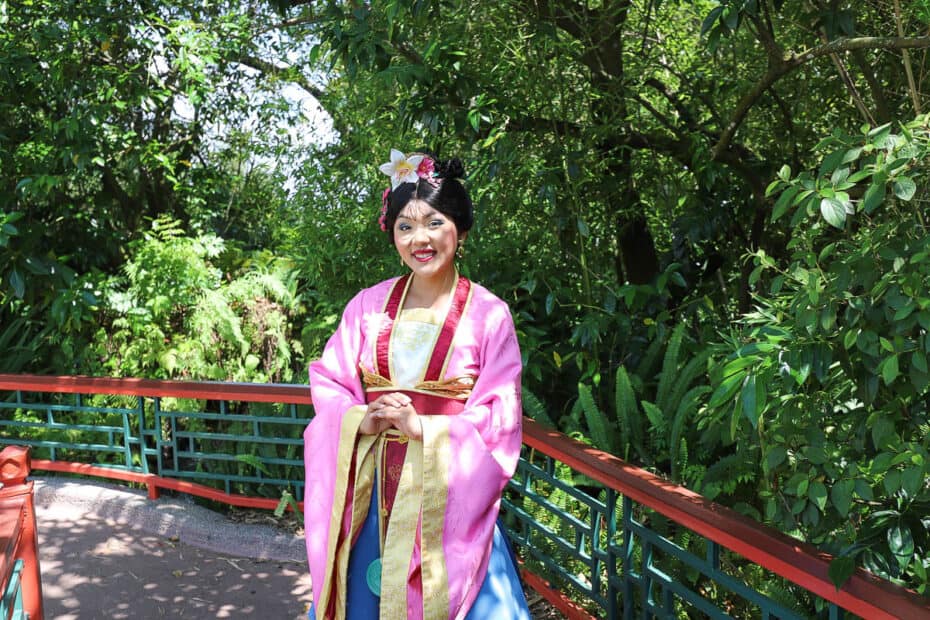 Mulan has met guests along the gorgeous water garden paths near the Temple of Heaven replica for many years. Her line usually forms directly behind the signage for the Nikon photo spot.
Below is a photo of the line to give you an idea. As you can see, Mulan can have an exceptionally long line.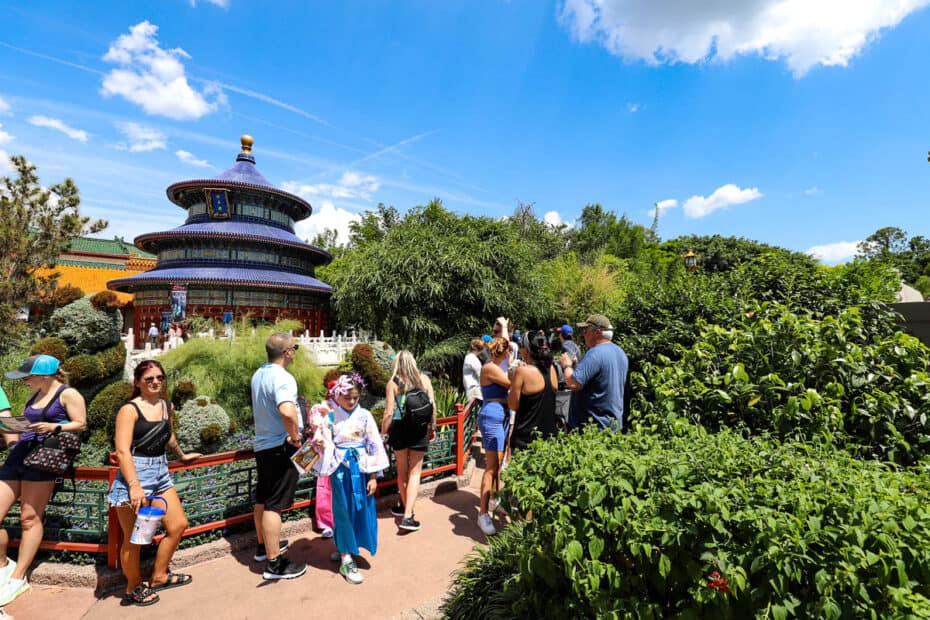 To give you an idea of how long the line was, here's how my afternoon went:
I met Donald Duck at 2:54 p.m. in the Mexico Pavilion. Then I joined Mulan's line at 2:59 p.m. Unfortunately, as soon as I got to the line, it was closing. So no other guests were allowed to join.
I met Mulan at 3:18 p.m. on this day. Her meet-and-greet times for the day were listed as follows:
12:00 p.m.
1:00 p.m.
2:50 p.m.
3:50 p.m.
So overall, it took approximately 20 minutes to meet Mulan this afternoon.
If you've previously read any of our character articles, you know we emphasize the importance of checking the My Disney Experience app on the day of your visit. You'll want to check for the character's exact timing and location.
Additionally, it's essential to get in line before the listed start time of the meet. Cast members will cut the line as they did in the instance above when a long line forms.
The saying goes, "if you're early, you're on time. And if you're on time, you're probably late." So, again, character meets at Disney World are exceedingly popular.
Mulan usually meets for approximately 30 minutes before taking a break. However, those times will likely become even shorter in the summer months.
Unfortunately, the line is pretty much in direct sunlight. And the heat can get pretty intense, so be prepared.
Mulan meets in her full Chinese Hanfu dress. It's a beautiful costume.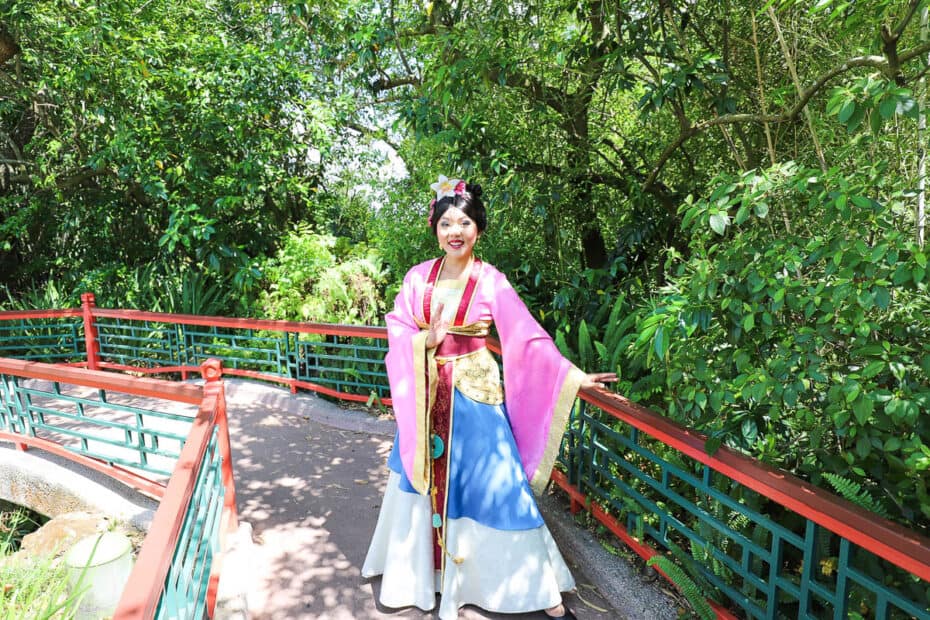 Mulan is a talking character and signs autographs. She enjoys talking about Mushu and Kahn, her horse.
You may want to mention talking points with children in advance. Characters remain in their roles and do not deviate.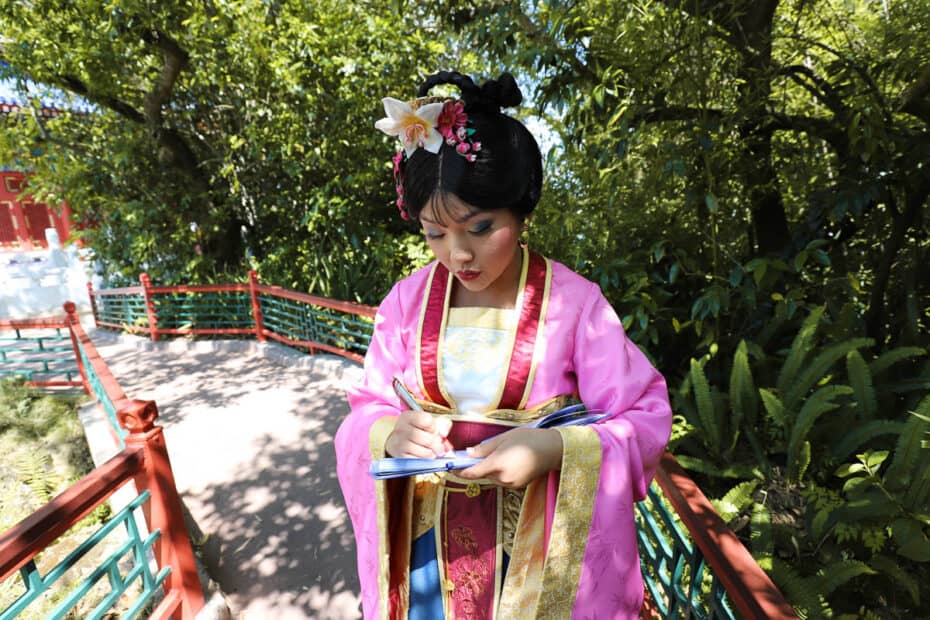 A PhotoPass photographer is usually present to take your photo at this meet and greet. If you didn't purchase the Memory Maker, you could ask if they'll take a family photo with your device.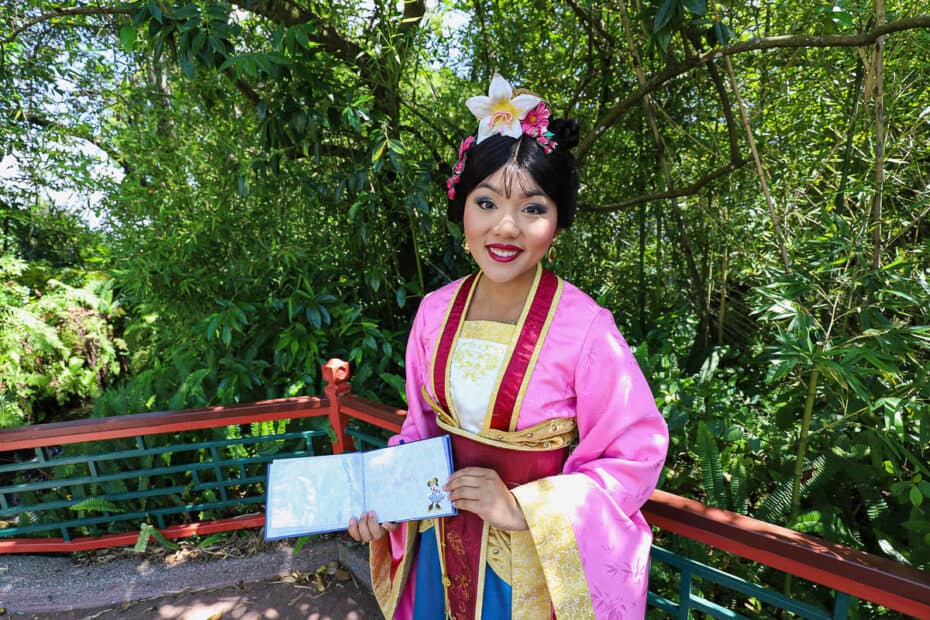 Here is a look at her character autograph.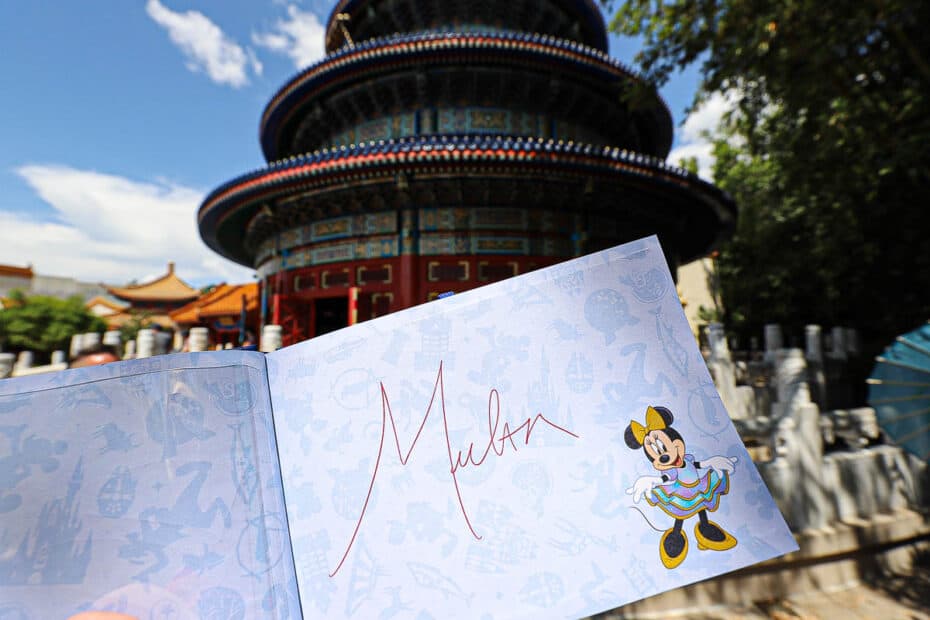 Each character has a unique signature, and they are fun to collect. You can purchase an autograph book in the parks. They usually run between $10.00-$15.00.
Or, if you're on a budget, you can purchase a small notebook to bring with you. Don't forget to bring a pen or Sharpie marker!
So on another visit to Epcot in early 2023, I ran into Mulan in a different location. I was on my way inside the Temple of Heaven replica to see Reflections of China.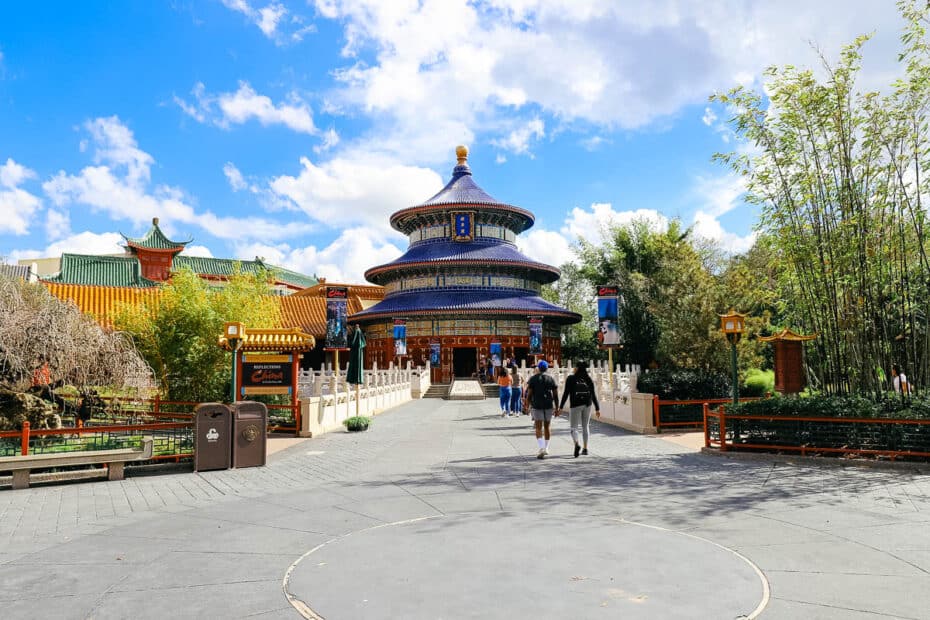 That's when I noticed a queue was set up inside the entrance, and guests were waiting in line. My first thought was how odd that people were standing in line to see Reflections. There's a large waiting area up ahead with benches.
Then I realized they must be waiting in line for Mulan. So I checked the My Disney Experience app, but it listed her meet-and-greet as being outside in the gardens.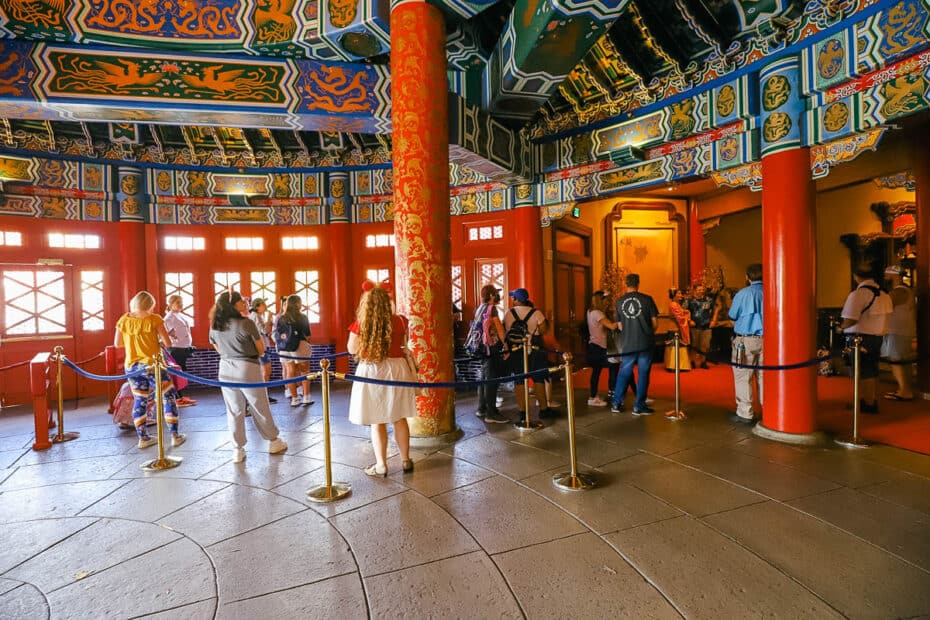 At about that time, Mulan entered the area and started meeting with guests. So I joined the line.
When it was my turn, I asked the cast member attending the meet if this was the best place to find Mulan. He said yes, it was much easier for everyone to be inside than out in the sun.
Most will agree this is an excellent location for guests and cast members. Hopefully, they'll improve the lighting and spruce the place up. Here are a few photos of this location.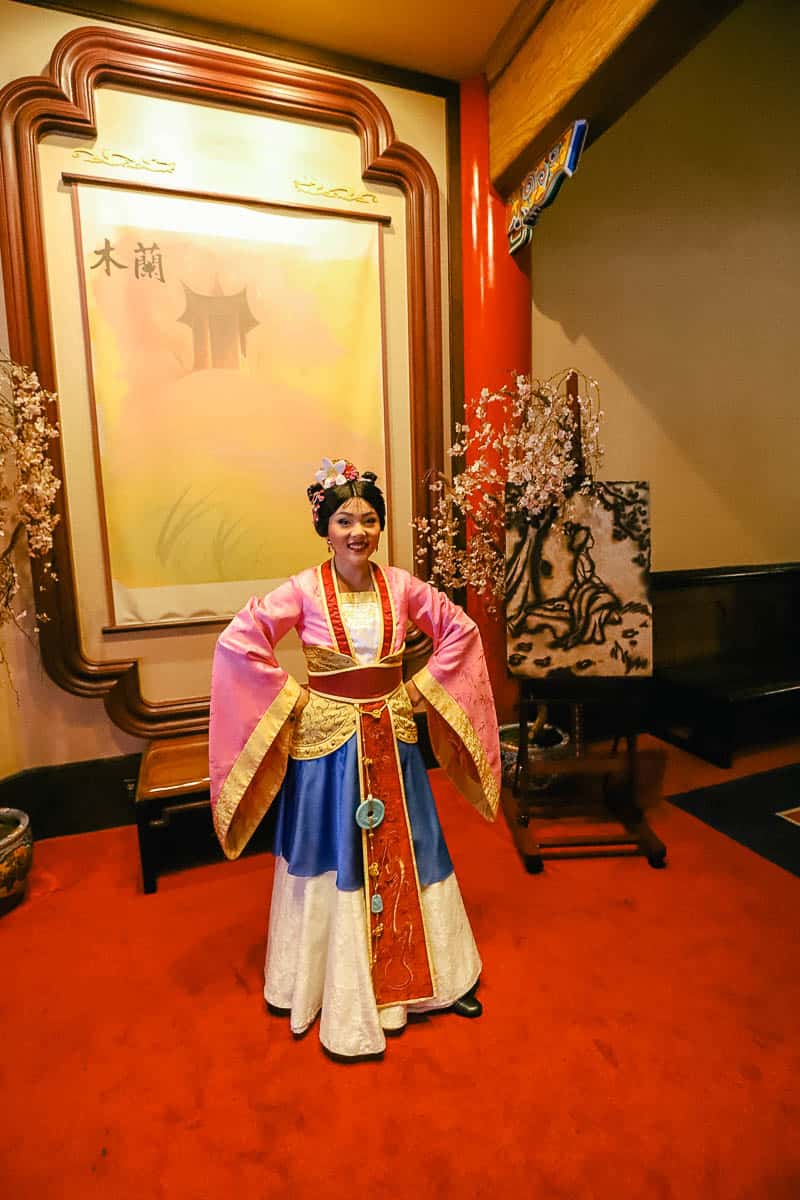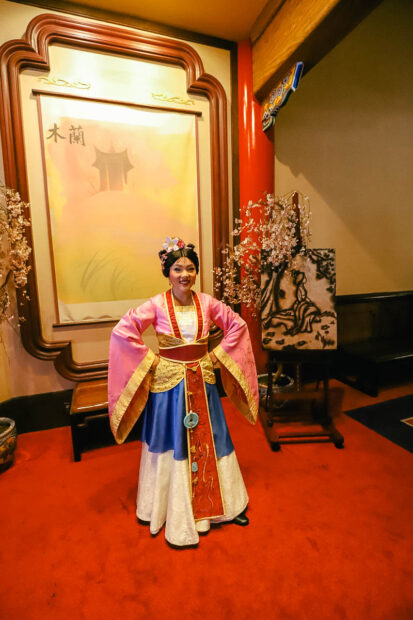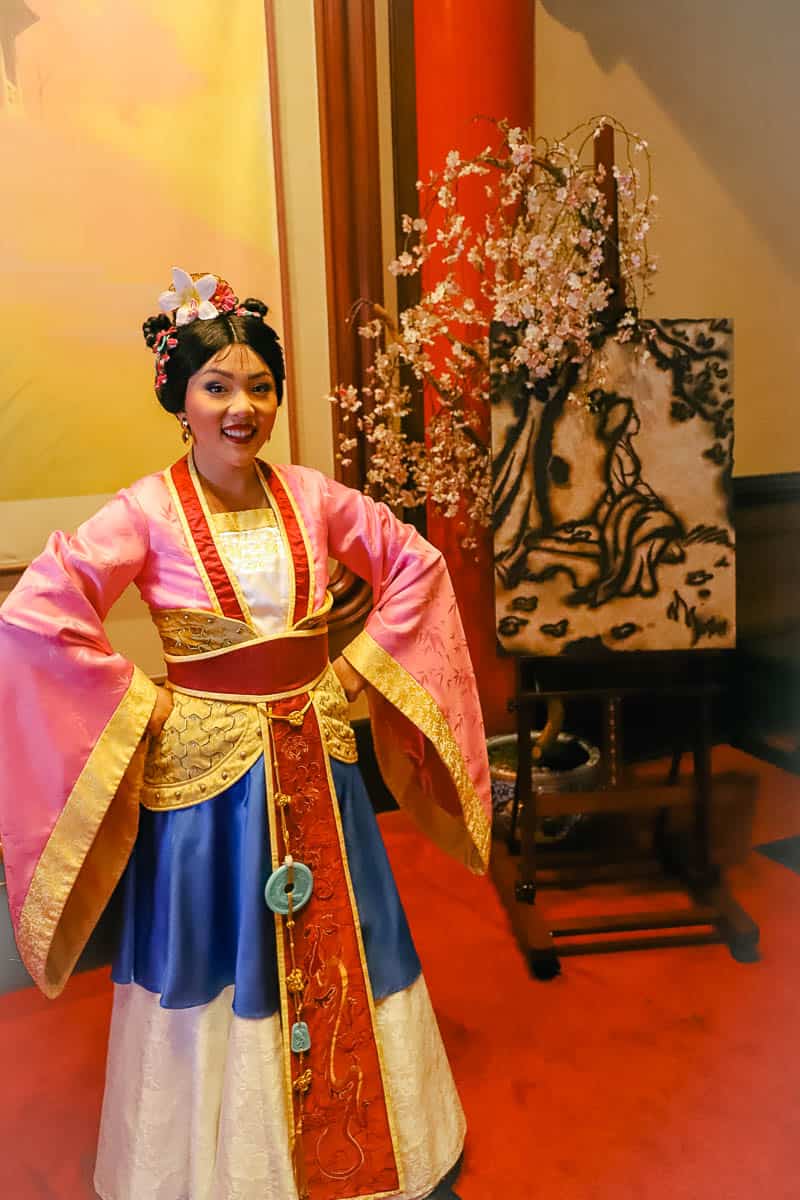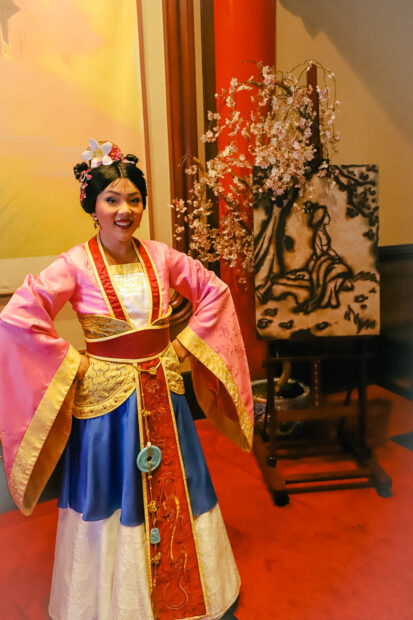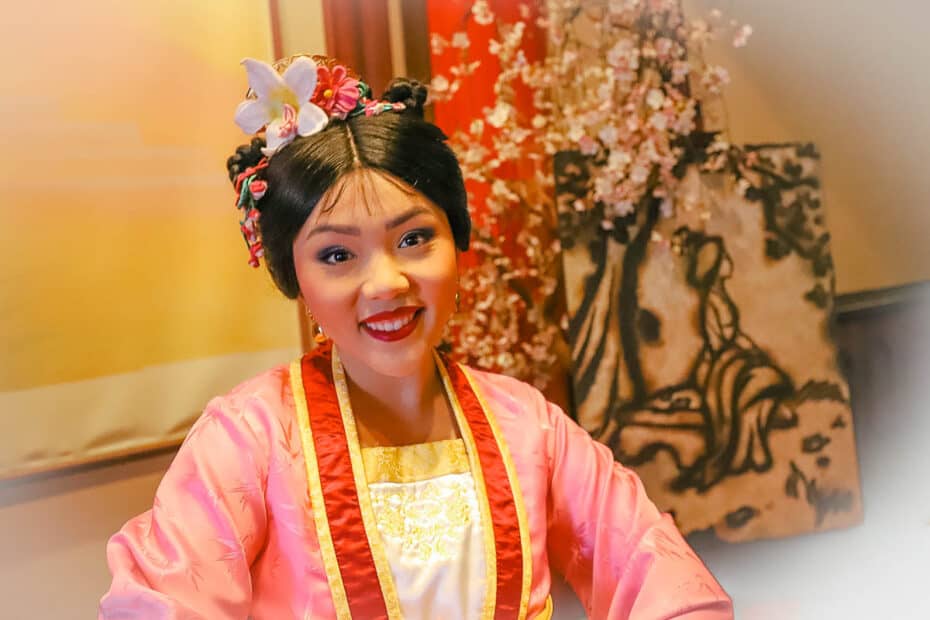 For more places to meet princesses at Epcot, you might try Akershus Royal Banquet Hall for Princess Fairytale Hall Dining. You can find Cinderella, Aurora, Ariel, Snow White, and Belle at that location.
Anna and Elsa meet next door at Epcot's Norway Pavilion at their Royal Sommerhus.
Related: Meet Anna and Elsa at Disney World
Or you might like some of these other character meets at Epcot:
Related: Entire List of Every Character Meet at Disney World
In the Comments
Do you plan to meet Mulan on your next visit to Epcot? Leave a comment below with any questions or thoughts.
Planning a Walt Disney World or other Disney Destination vacation?
Our friends and travel partner, Firefly Travels, excels at doing Disney differently. You can fill out a plan your trip form on their website, and someone will reach out shortly to discuss the specifics.