The Pools at Port Orleans Riverside
For most, planning a pool day is a must during your vacation. It's no secret that all Disney World Resorts have great pools and recreation areas.
This article will take a detailed look at the pools at Disney's Port Orleans Riverside Resort. Since Riverside is one of the largest resorts at Disney World, the pools are spread out over the grounds.
Ol' Man Island, the feature pool, is centrally located near the resort's main lobby. When you walk out of the lobby's back entrance, you'll cross a bridge over to the island.
Additionally, Port Orleans Riverside has five leisure pools that offer a more private setting than Ol' Man Island. Two of the leisure pools are located among the mansions in Magnolia Bend. The other three quiet pools are deep in the swampy territory of Alligator Bayou.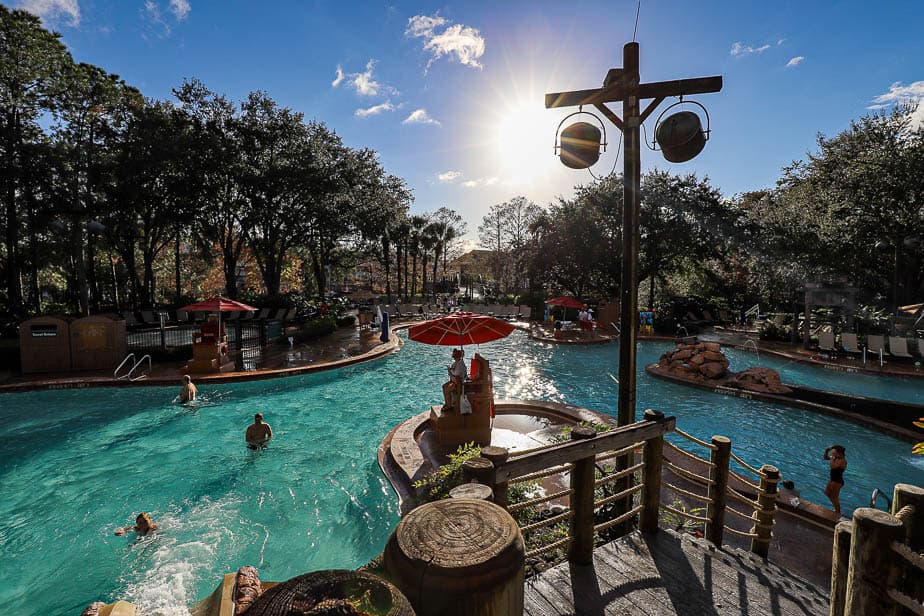 Ol Man Island is a 3.5-acre island centrally positioned between Riverside's lobby, Alligator Bayou, and Magnolia Bend. A bridge stems from each section over to the extensive feature pool area.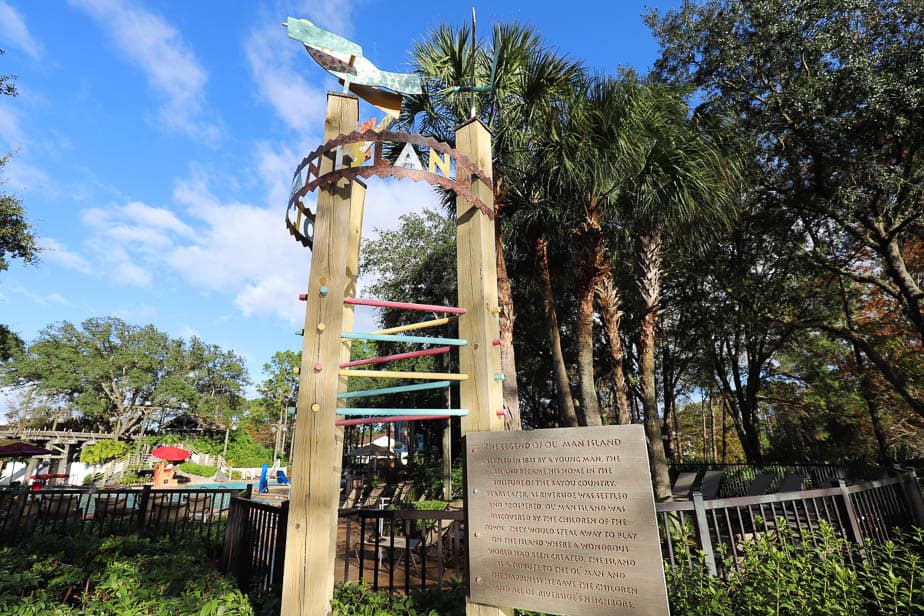 On my last visit, posted pool hours were between 10:00 a.m. and 10:00 p.m. Make sure to check the exact hours of operation during your visit. While these hours are relatively standard, they can change from time to time based on the season.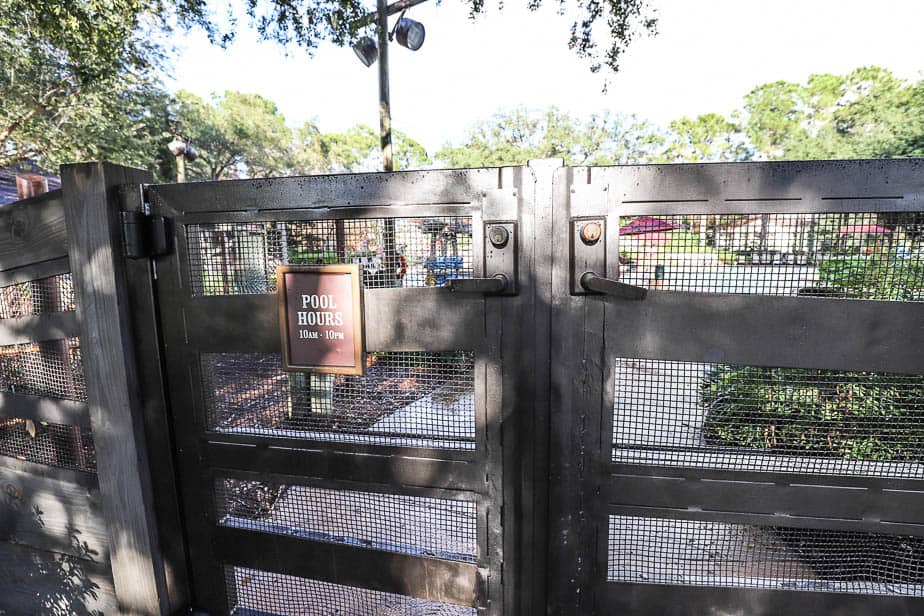 There are a few pool rules posted. The feature pool can accommodate up to 175 guests. Guests of either Port Orleans Riverside or the French Quarter can use the pool here.
However, it is a bit of a walk down from French Quarter. And personally, I prefer the one pool at Port Orleans French Quarter.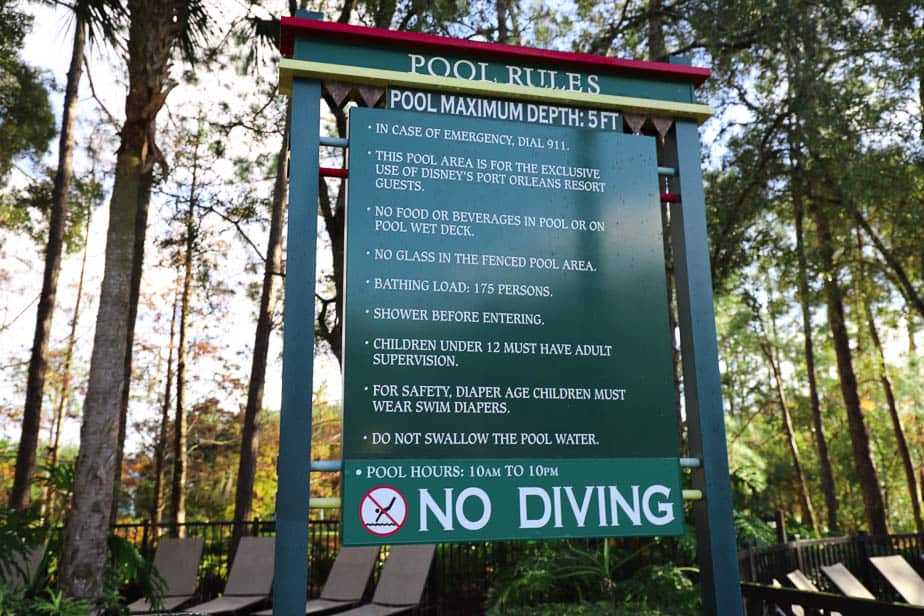 Ol' Man Island does offer a separate kiddie pool. Signage outside the kiddie pool indicates that it has a maximum depth of 15″.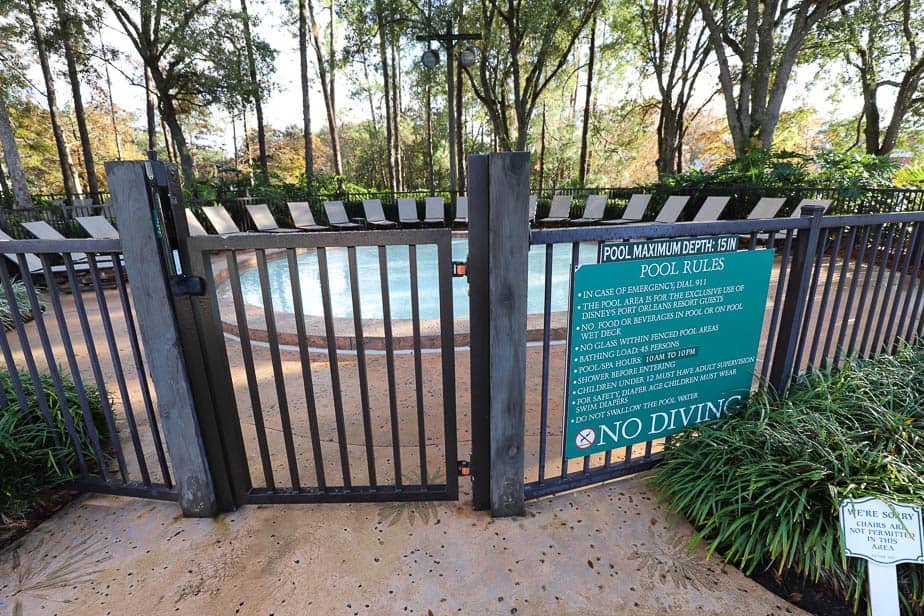 Here is a better look.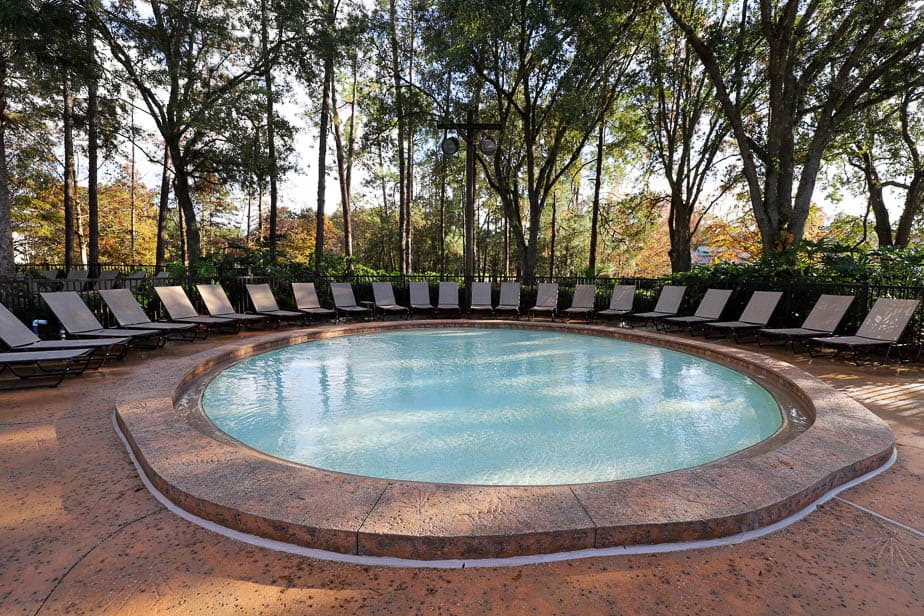 The feature pool area is fashioned after an abandoned sawmill.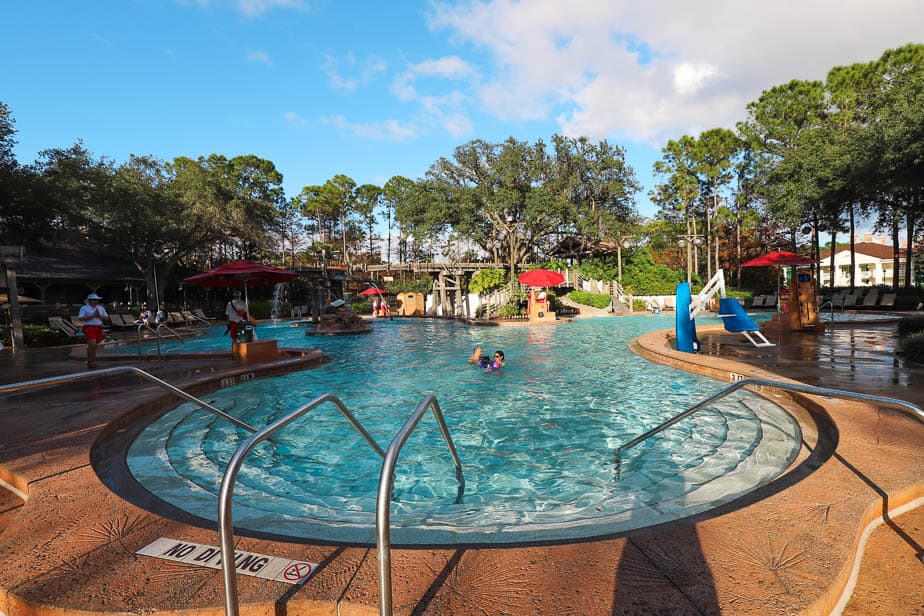 There are several water elements and sprayers throughout the pool.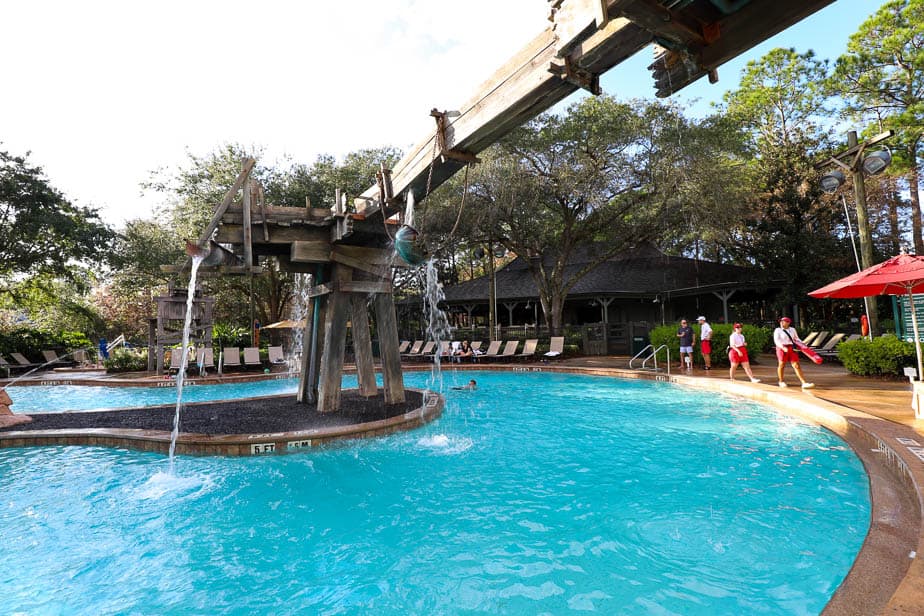 A bridge crosses over the waterslide area toward the back of the pool.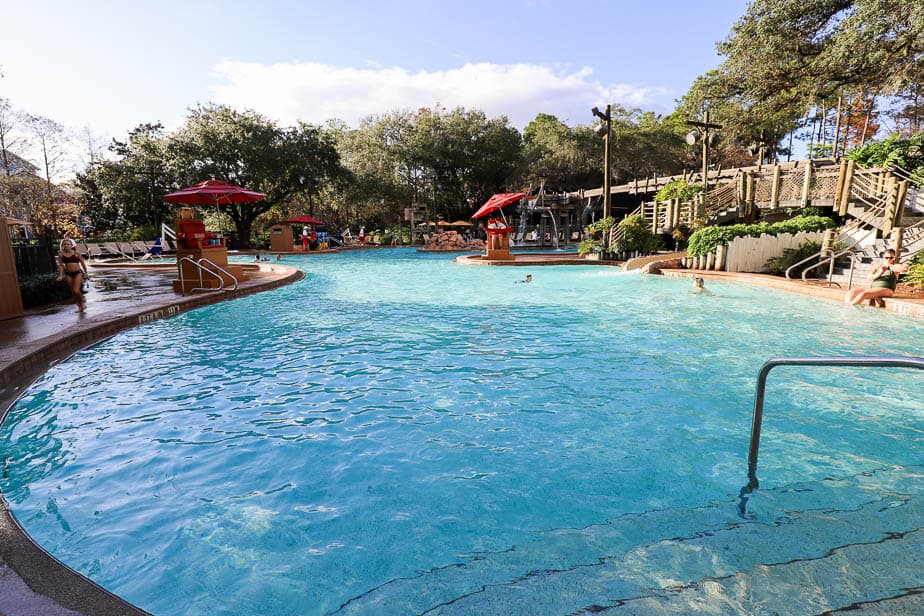 Here is a picture of the walkway up to the waterslide.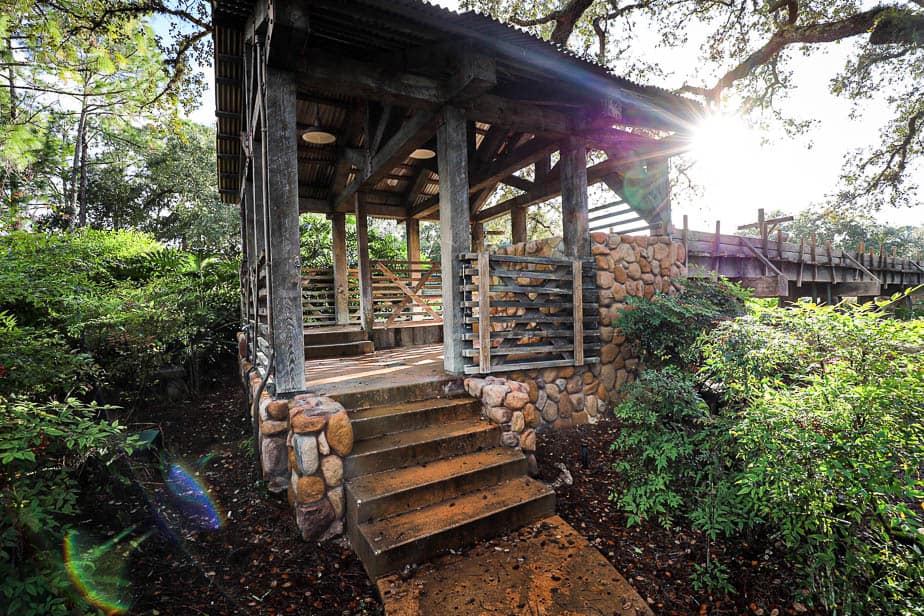 The waterslide is 95′ long. Pool depth at the bottom of the slide was posted at 3.5 feet.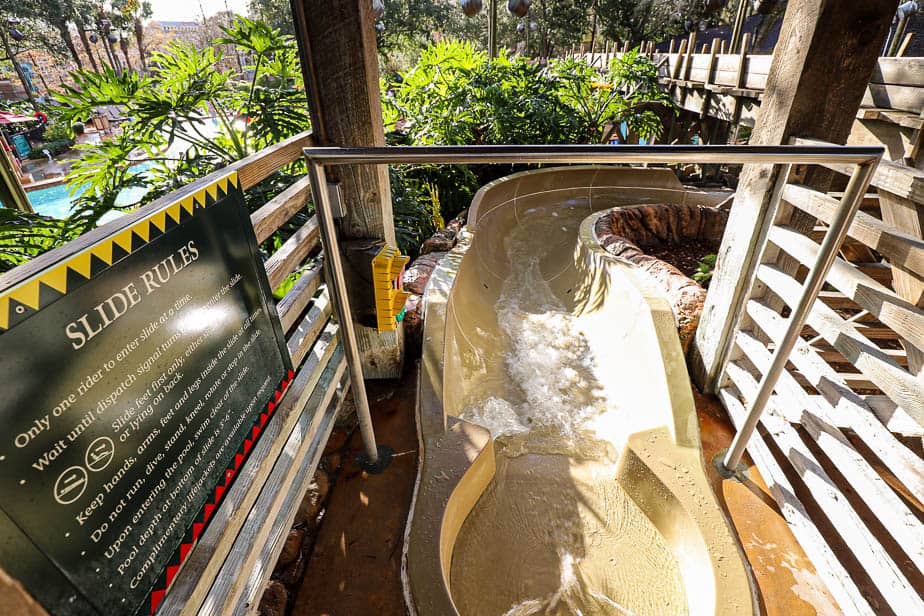 Here's where the slide loops around and continues under the bridge before it dumps you out into the pool. Again, it's a reasonably mild slide and nothing compared to a slide like the Flying Jib over at Stormalong Bay.
Related: Everything You Need to Know About Stormalong Bay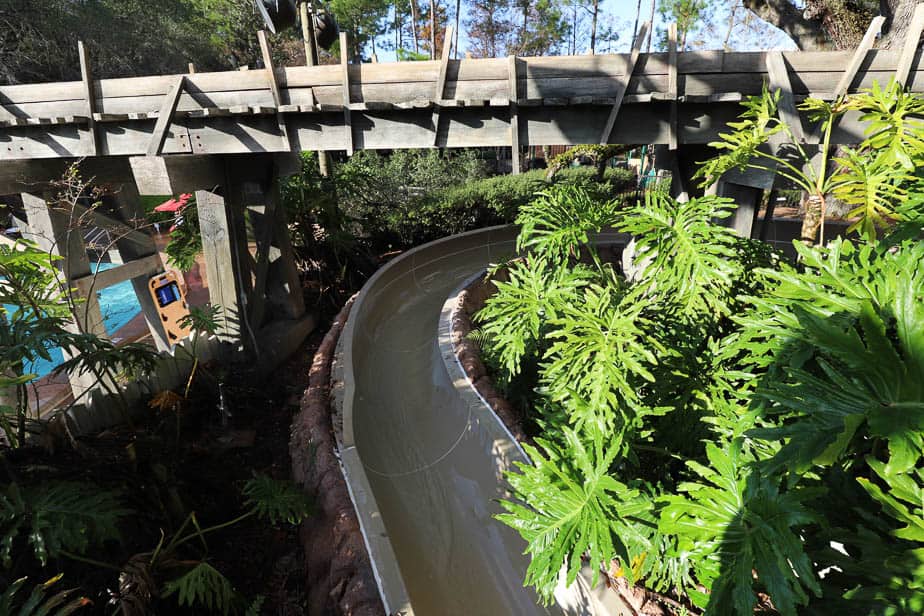 Here is another angle.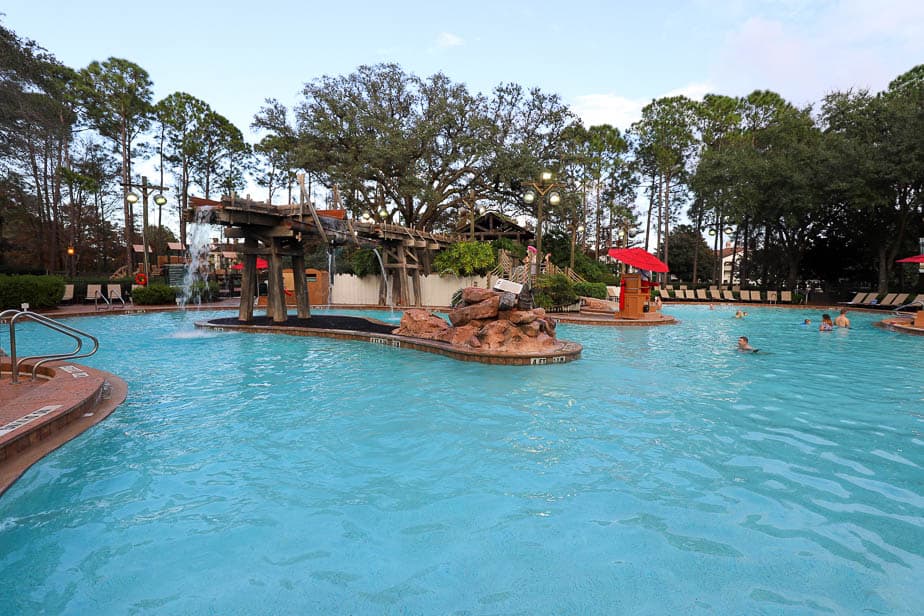 A covered pool bar called Muddy Rivers is back to the far left of the pool. The menu is pretty basic when it comes to food. They have a few sandwiches, a salad, and a couple of kids' meal options. You can preview the menu here.
If you don't see anything you like, I recommend placing a mobile order at Riverside Mill Food Court and walking over to pick it up.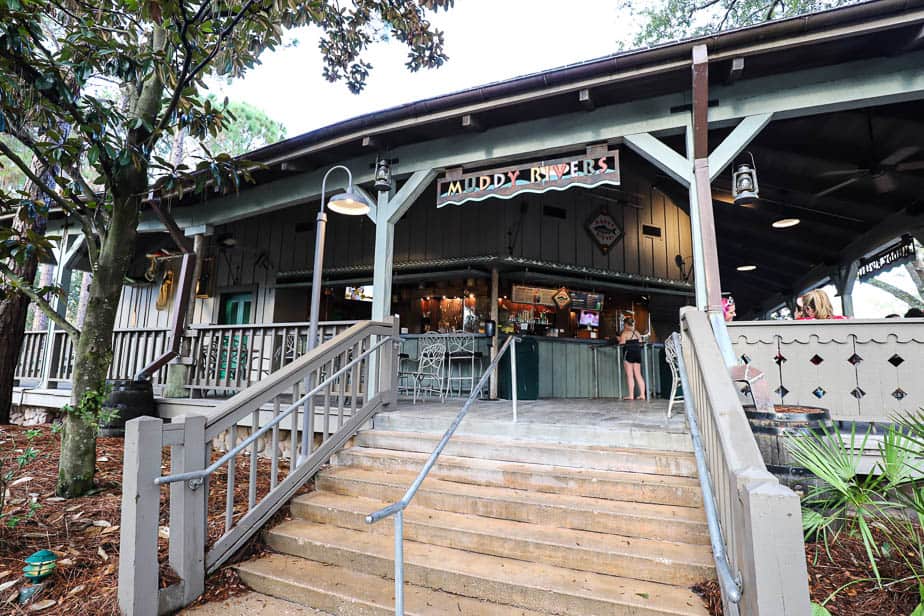 There are plenty of places to enjoy a meal out near the pool. And there is usually a runner during the busier times of the day. So if you're sitting at a lounge chair and trying to keep an eye on the kids, eventually, someone should come by and take your order.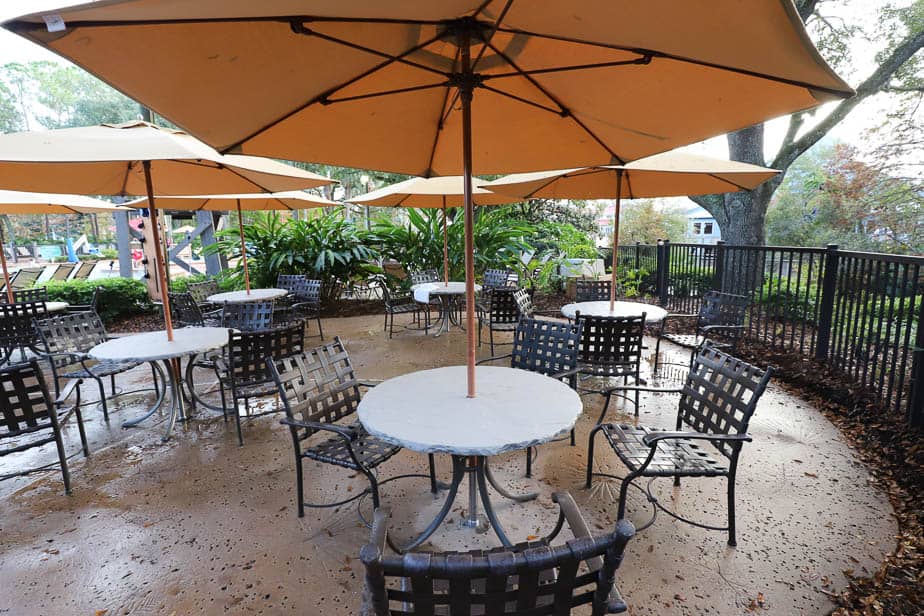 A few hammocks are available within the pool area along with one whirlpool hot tub.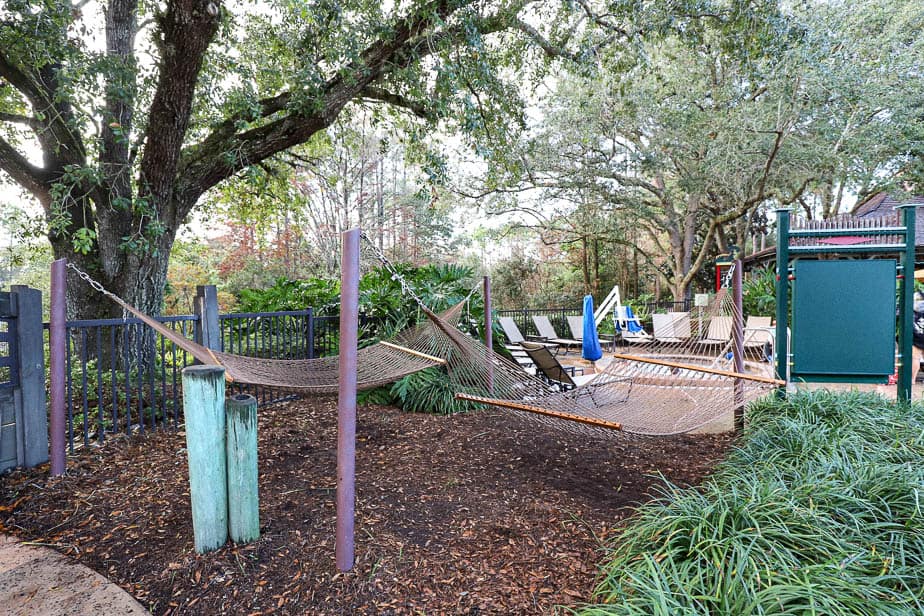 And on the far side of the pool, behind Muddy Rivers, there's the Ol' Man Island playground.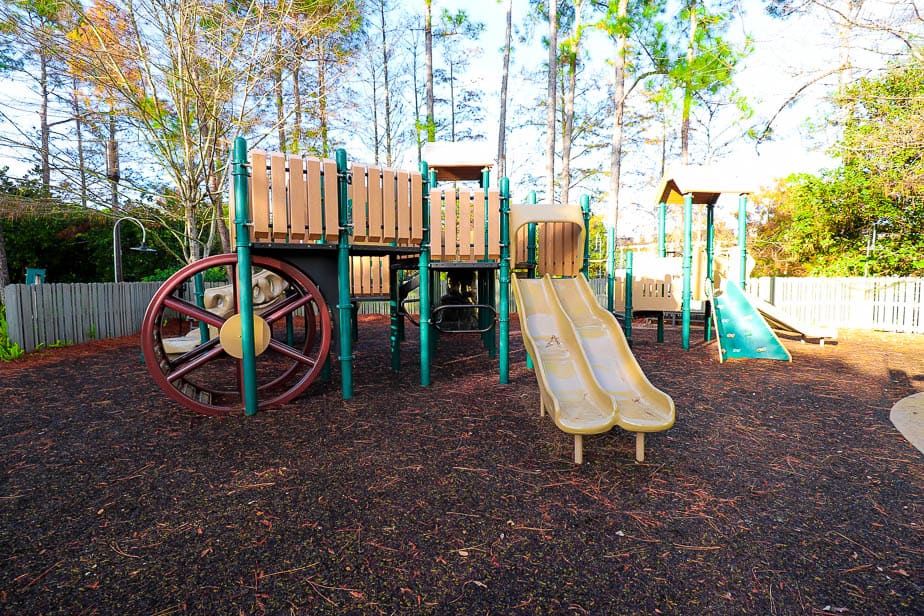 Moving on, we'll walk across the bridge over to Magnolia Bend. There are two quiet pools among the mansions on this end of the resort.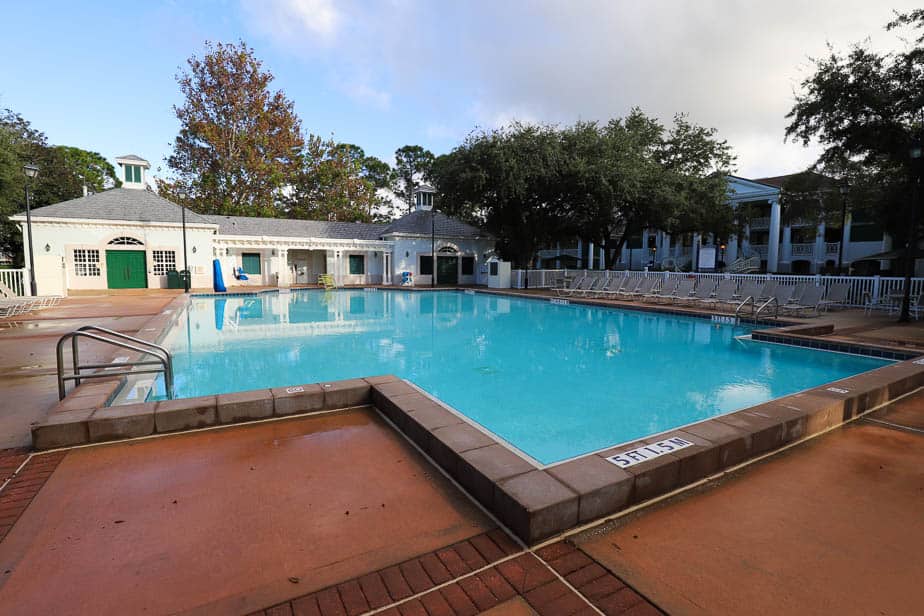 These quiet pools are pretty much identical.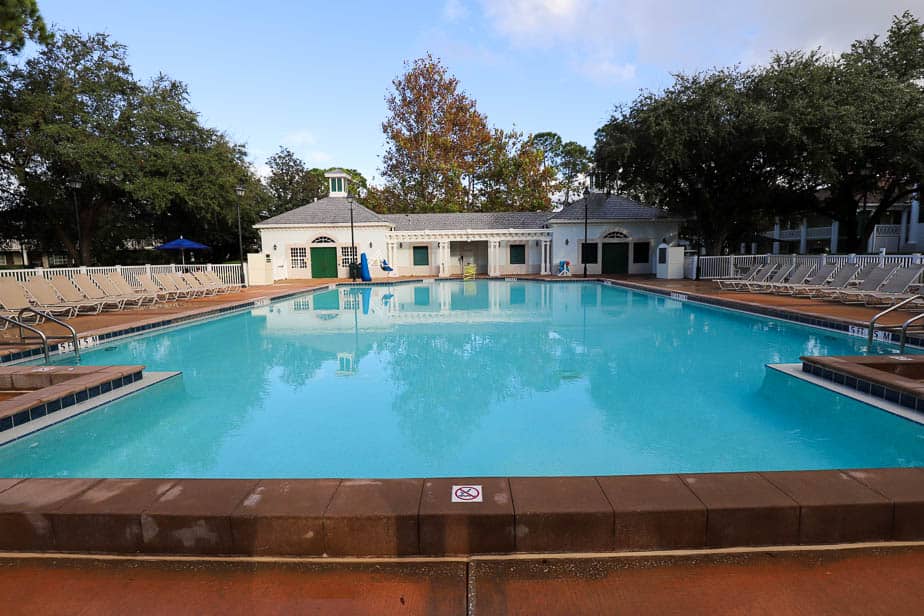 And while they are larger pools with plenty of seating, they are rarely crowded.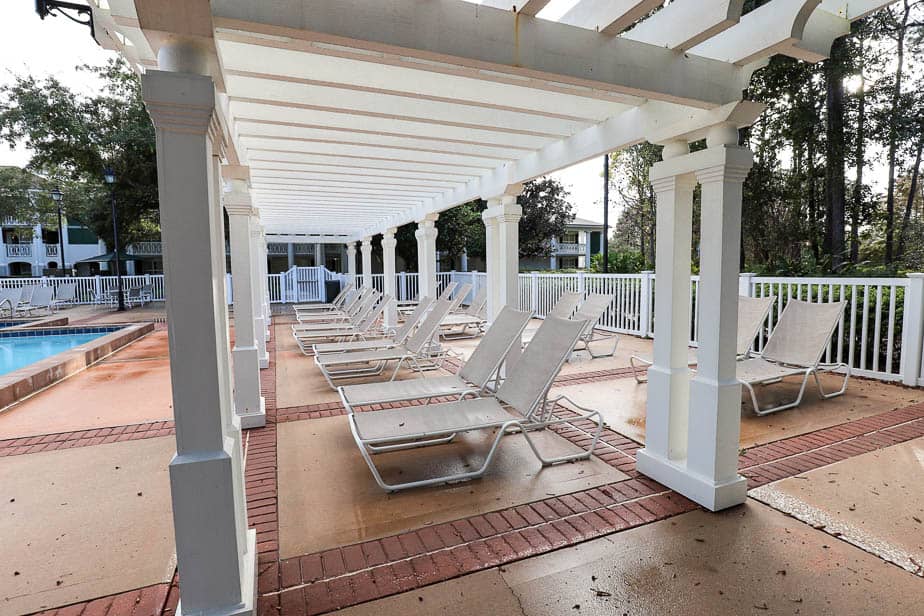 There wasn't anyone at any of the quiet pools this afternoon. Granted, it had come a small rain shower, but it was a comfortable 85 degrees out.
Speaking of temperature, the pools at Disney are heated to 82 degrees. However, the feature pools do close if the outdoor temperature is frigid.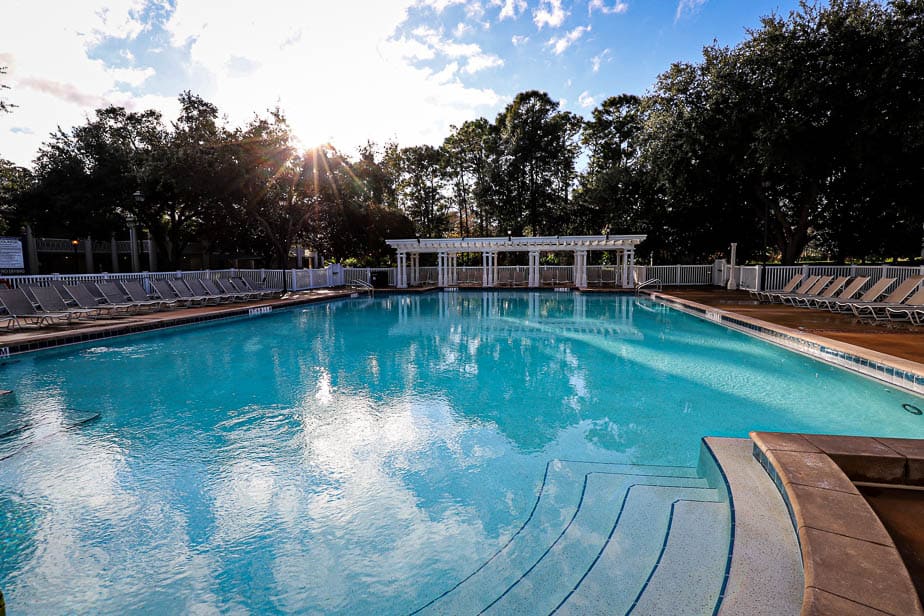 If you need to do some laundry during your vacation, all of the quiet pools have a laundry room.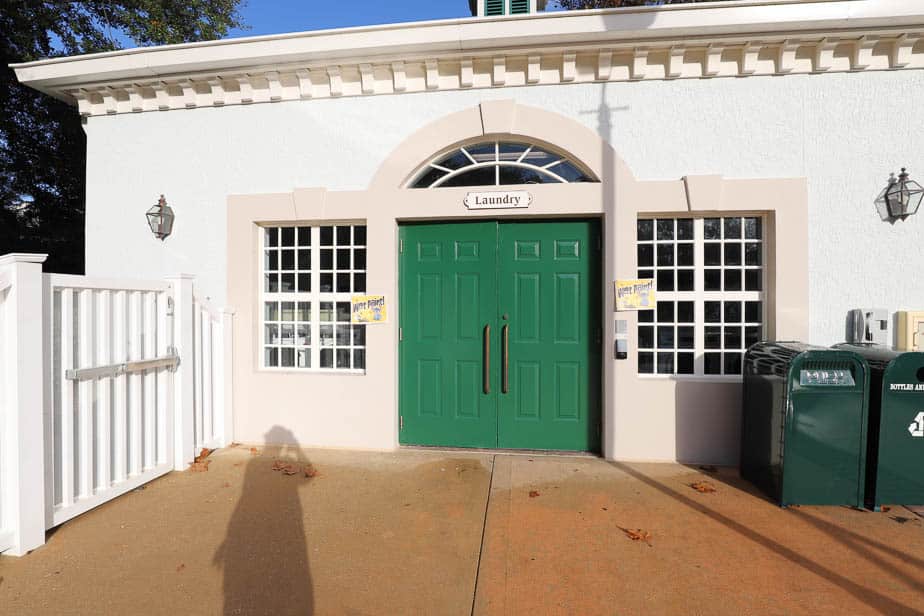 We'll head over to Alligator Bayou briefly. There are three quiet pools in this section of Port Orleans Riverside.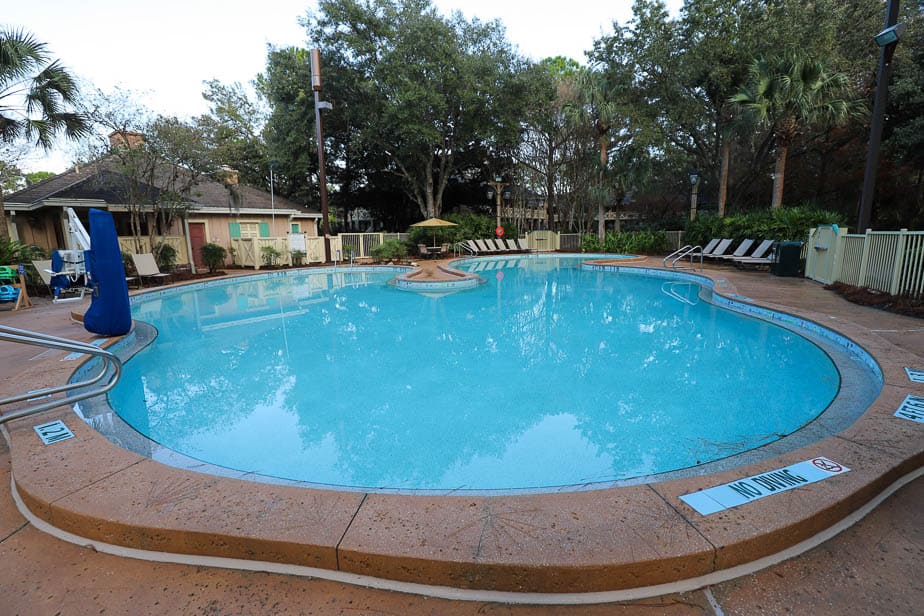 Each one is lagoon-shaped.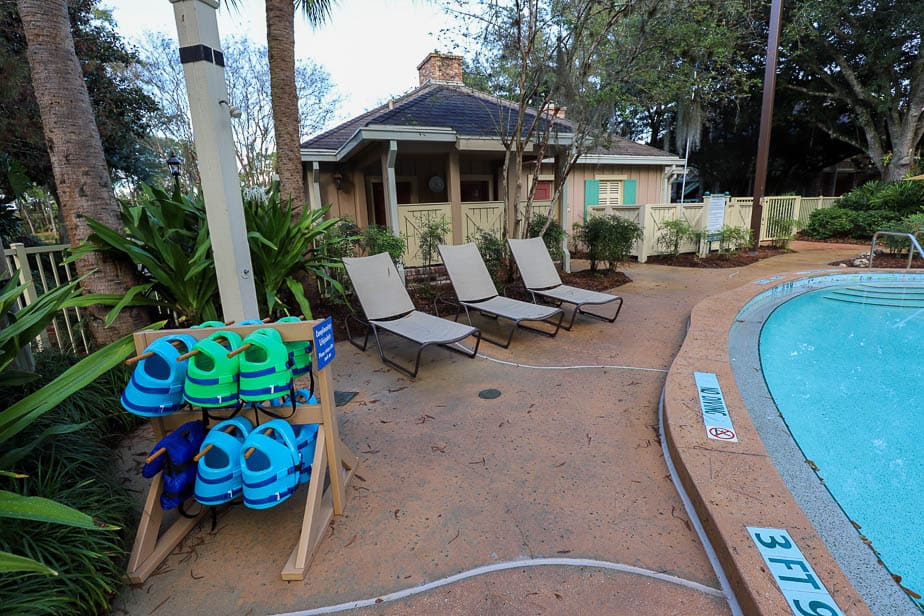 The pools on this end have a posted maximum depth of 5 feet.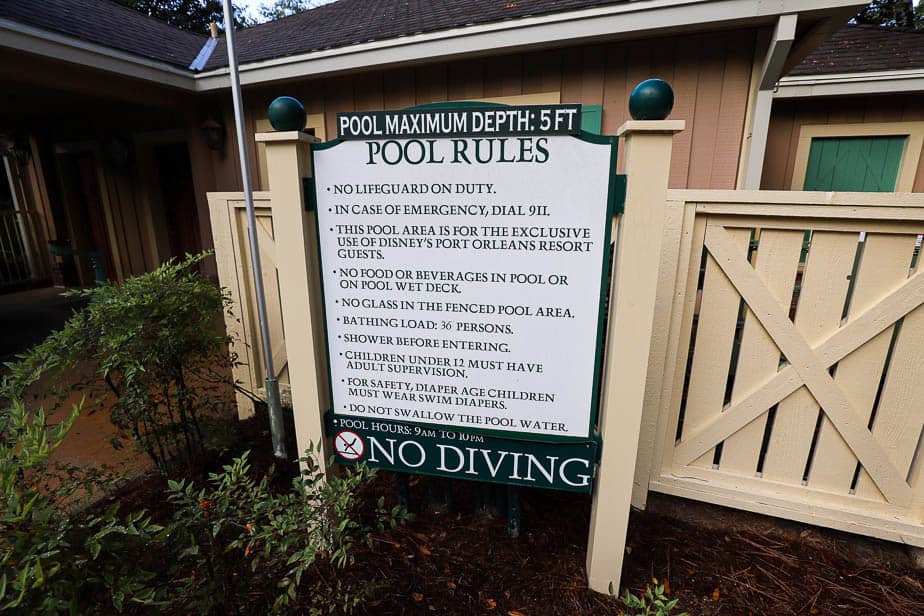 One of the nice things about Port Orleans Riverside is that it has a lot of trees. Everything is shaded and provides a nice layer of protection from the sun.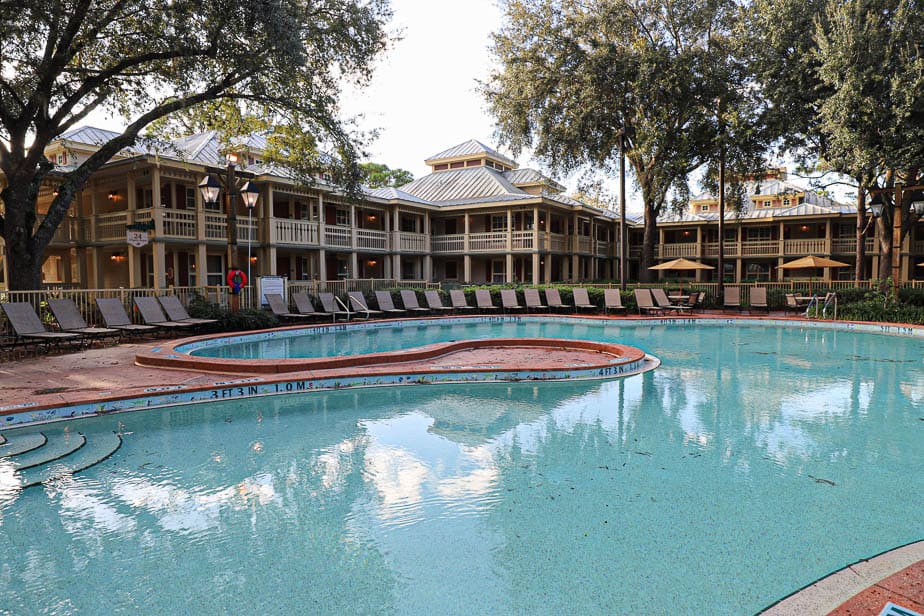 While I do like Riverside, unfortunately, the resort does not make our list of the best pools at Disney World.
Don't get me wrong. I don't necessarily have an issue with the pools at Riverside. But I think some of the other moderate resorts have better pool areas.
For instance, the pools at Caribbean Beach are pirate-themed and offer more water features. And I love The Dig Site at Coronado Springs, it's themed to resemble a Mayan pyramid.
If you would like to learn more about Riverside, all of our articles related to the resort are available here.
Or you might enjoy these:
Have you had the opportunity to spend any time at Port Orleans Riverside? What do you think about the pools at the resort? Leave a comment below and share your experiences.