2021 Epcot Flower and Garden Pictures
For those of you missing Epcot this season or planning a trip soon, I wanted to share a picture review of the Epcot Flower and Garden Festival. These pictures of the 2021 Epcot Flower and Garden Festival were taken the first week of the festival.
This time of the year, in early March, is usually when Epcot is in full Spring bloom. Things in Florida tend to bud out a little bit earlier than the rest of the country due to the warmer temperatures.
I hope you will enjoy the photos. Since I started Resorts Gal, I am shifting away from having as much park coverage. That way, I can focus on being the resort resource for planning a Disney vacation. The resorts are my favorite places to spend time at Disney, and I have a plethora of reviews and updates coming up over the next few months!
Now about those Flower and Garden pictures!
If you arrive at the main entrance to Epcot, you are probably in for a surprise.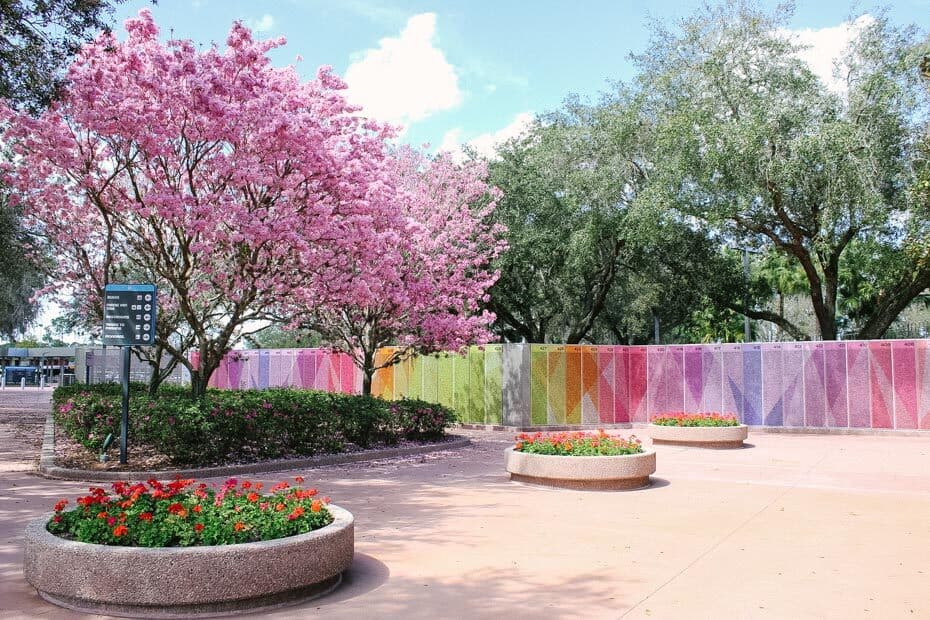 The former monuments that sat out front have been turned into these walls of color. I think all of the trees in bloom make the area look even more extra right now.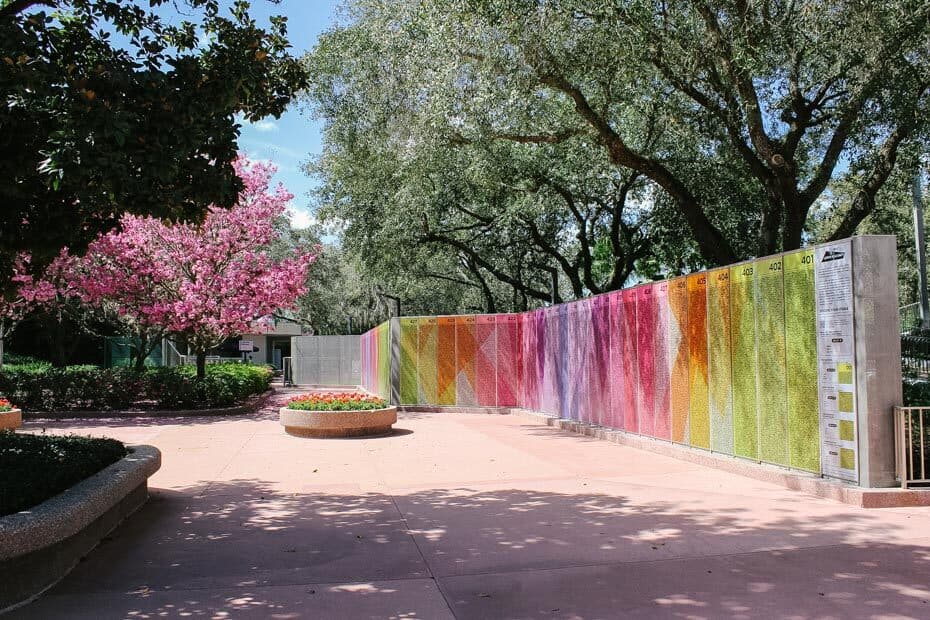 There is a new fountain, custom lighting, and background music at the front of the park. Sorcerer Mickey sits out in front of Spaceship Earth this year.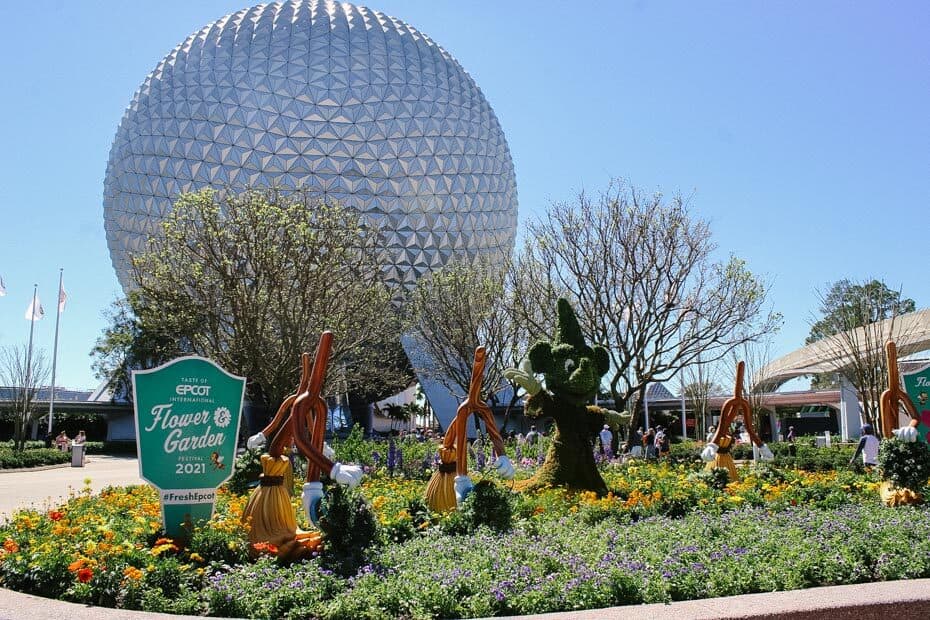 Other Fantasia topiaries are on display. For some reason, this one reminded me of myself. I probably don't want to explain why.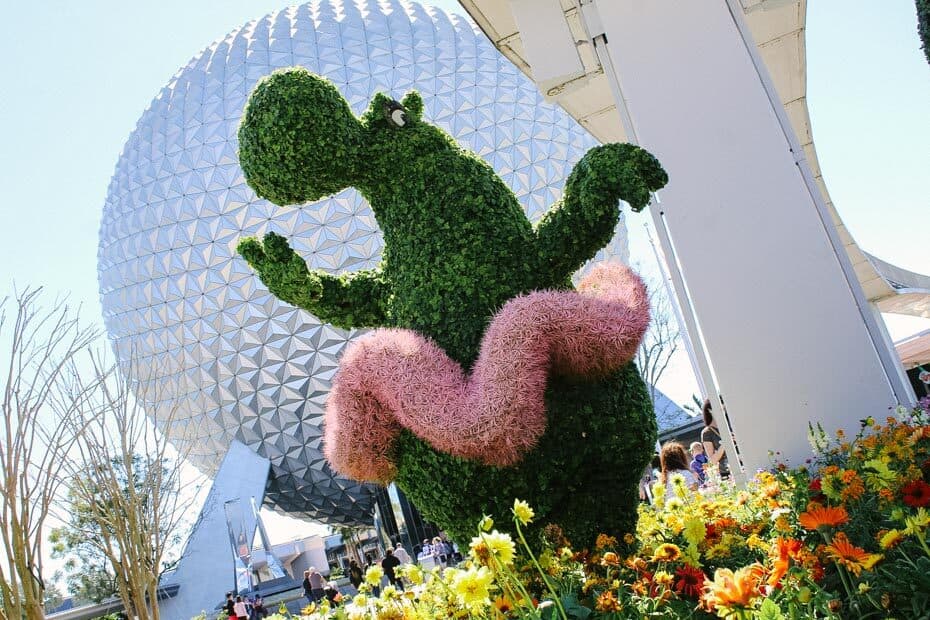 And the one behind me is probably my friend warning me that Epcot is a construction zone right now. Speaking of this, I've had multiple friends and family members plan half days at Epcot lately. They've "heard" that there really isn't anything to do at the park at the moment.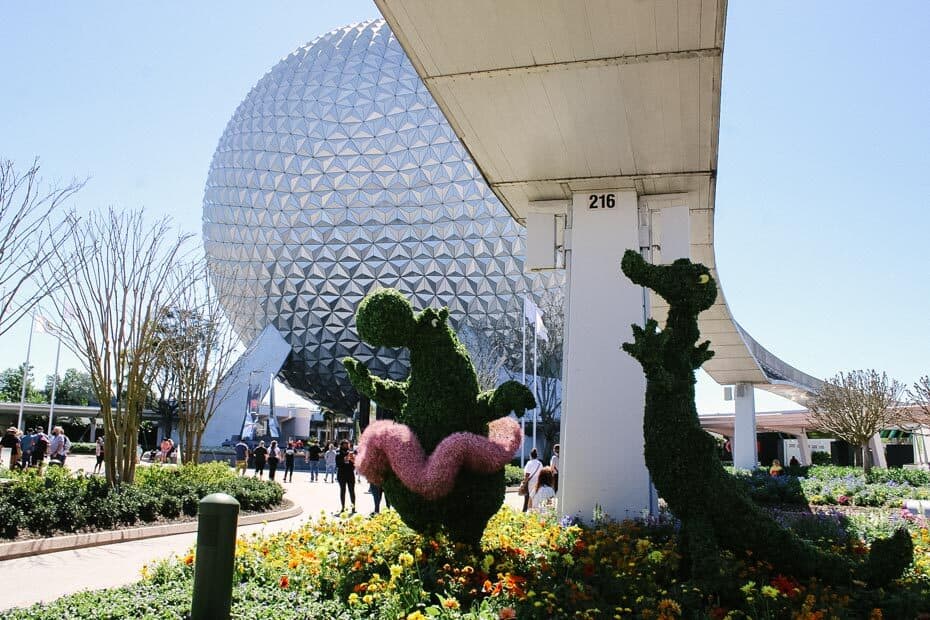 I don't know who is spreading these terrible rumors. Yes, the whole center of the former Future World is gutted. But there is still plenty to do and see here. None of the parks are half-day parks. Each one has unique opportunities to explore after you hit up those headliners.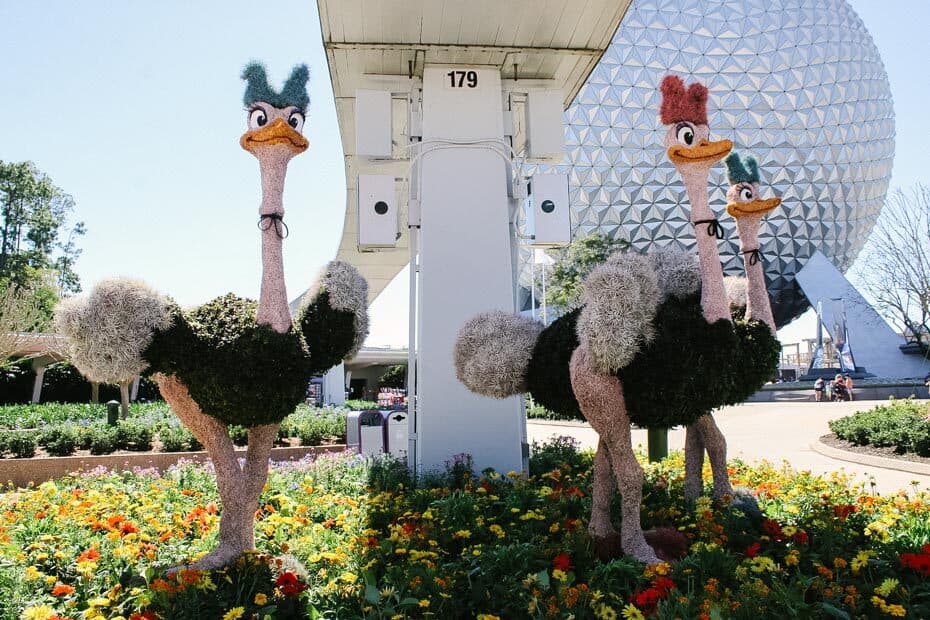 Sometimes I wonder if people are out riding all the must-do attractions and not making it back to all of the things that make the park enjoyable as a whole. I feel like the big-ticket items are supposed to be the draw for visiting. While all of the little things are what truly keeps guests coming back.
Anyway, back to our Flower and Garden pictures. These ostriches are so much fun!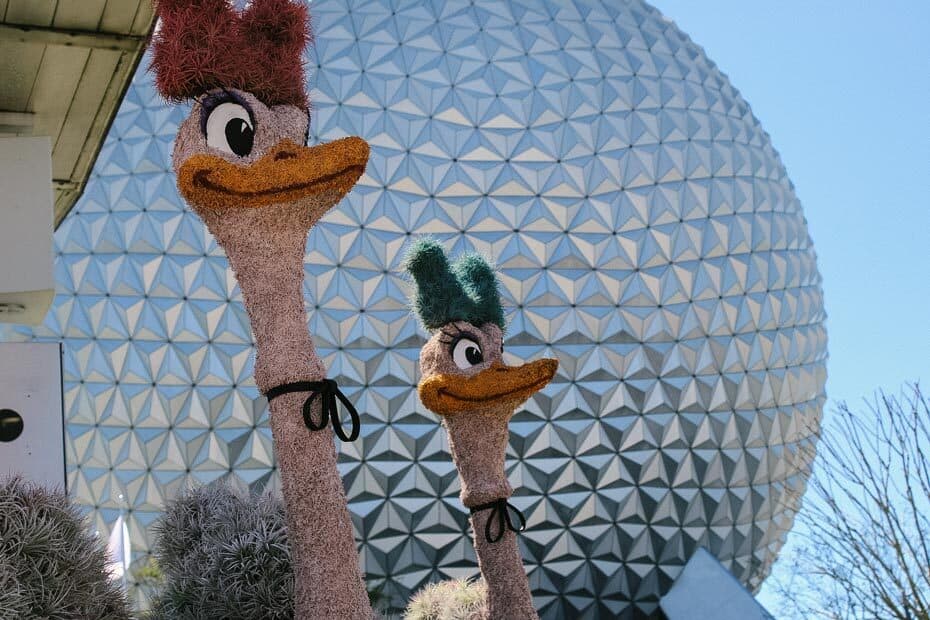 There's a minimal window each year for getting these photos with the trees in bloom.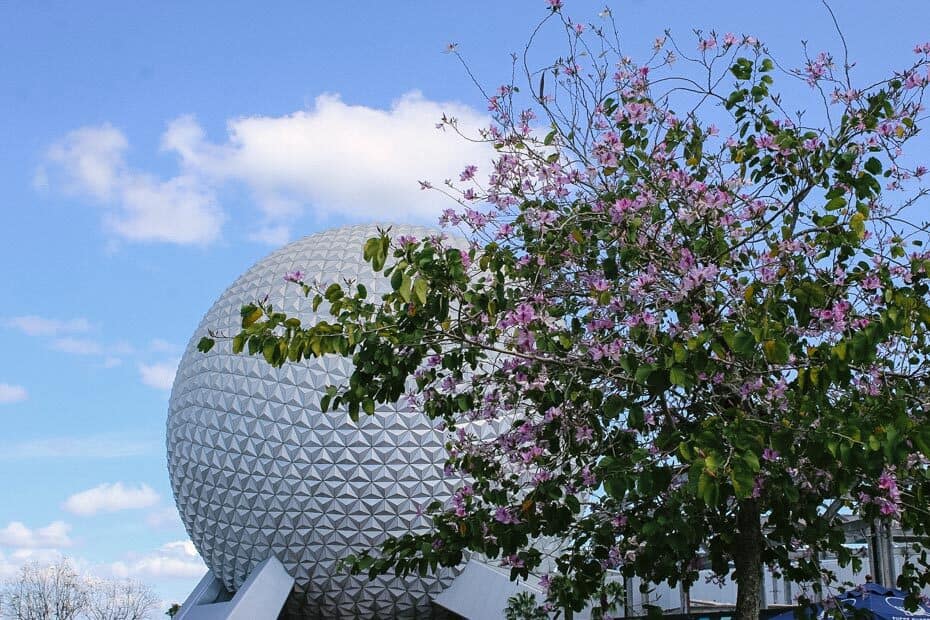 I'm so glad I was able to make it this year, even though things are a bit different.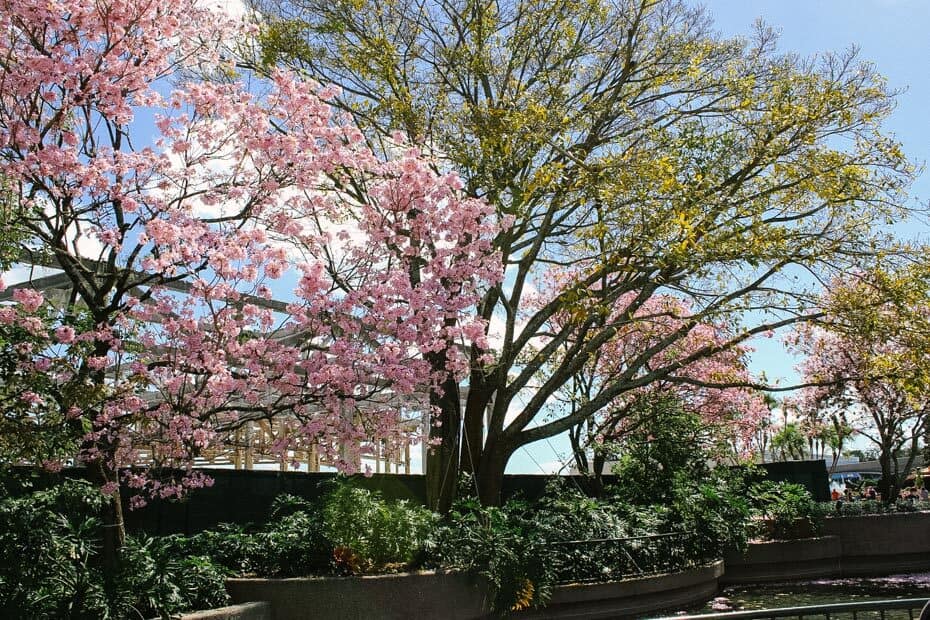 These photos were all inspired.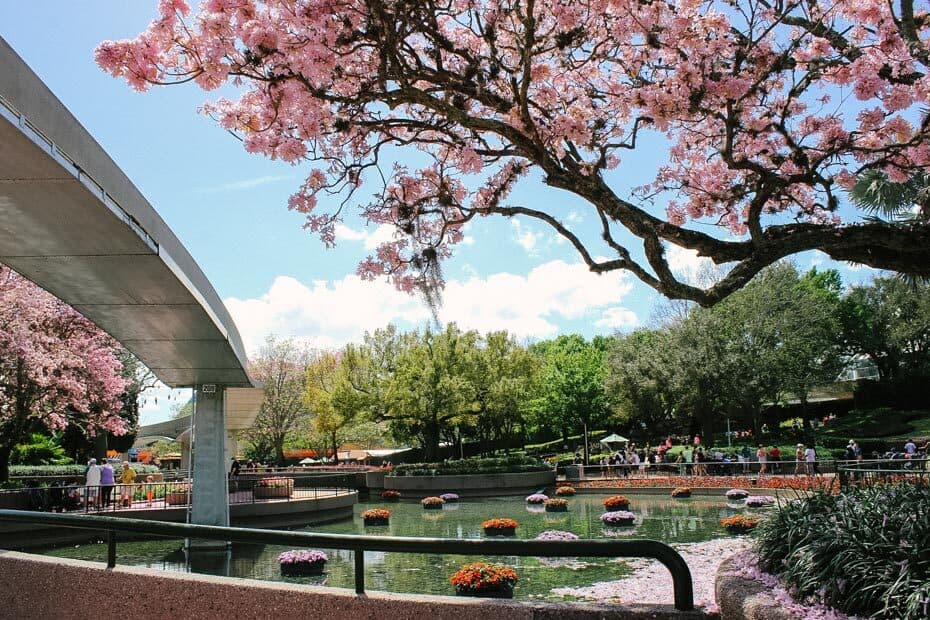 Around the Land Pavilion, you'll see a few floating gardens. If a breeze is blowing you'll get to see them moving around a bit.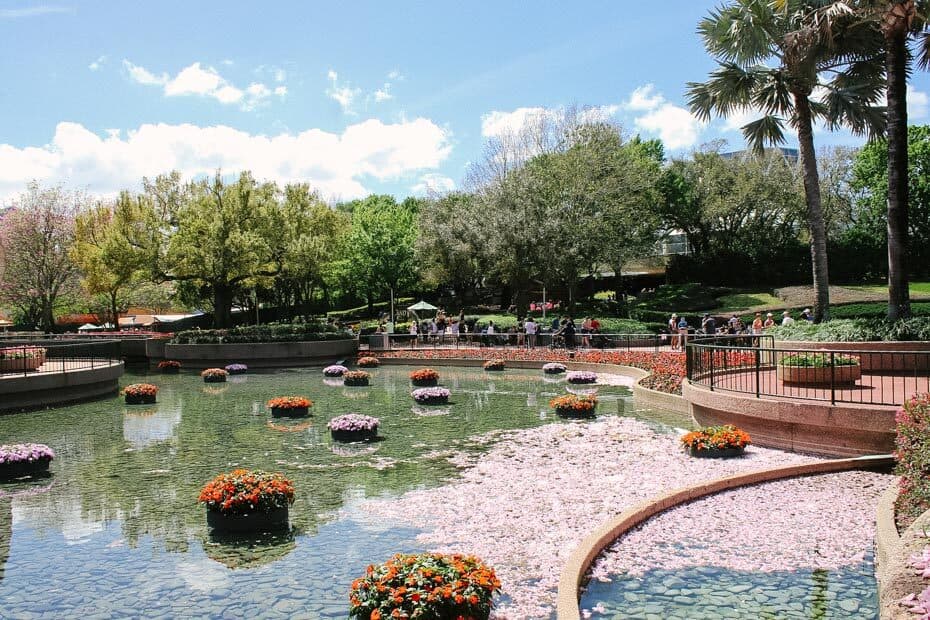 And here is a picture of all the different trees in bloom around the Seas Pavilion.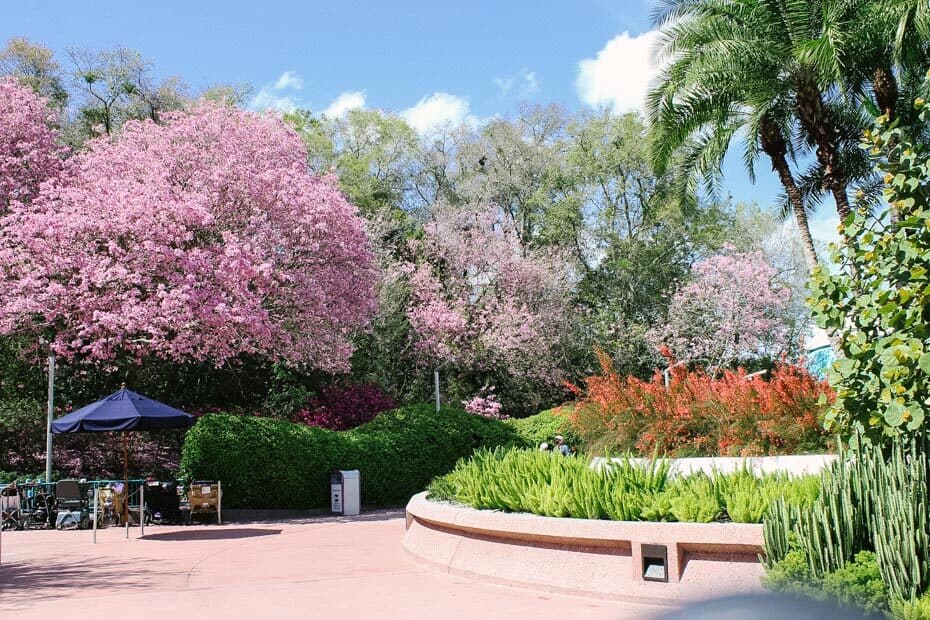 Breathtaking.
I always look forward to the Springtime when everything is new again. Don't you?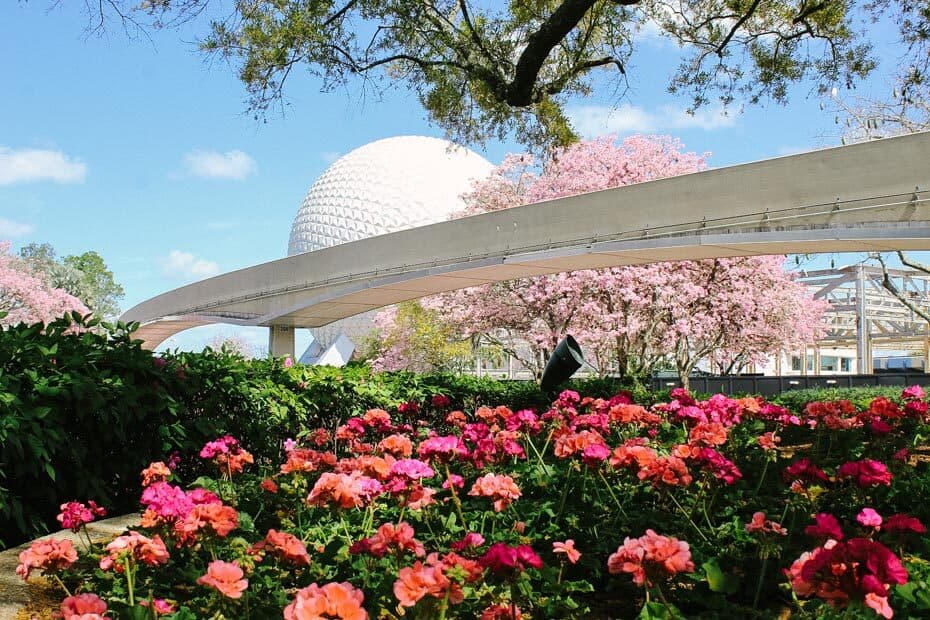 Woody was out nodding his hat to the former Innoventions building. I thought it was a kind gesture.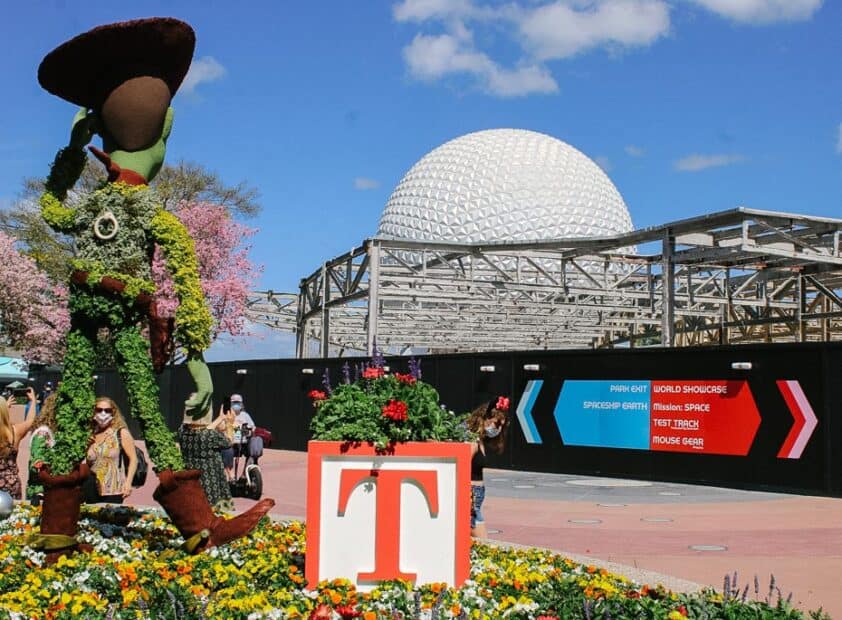 A glance at the front.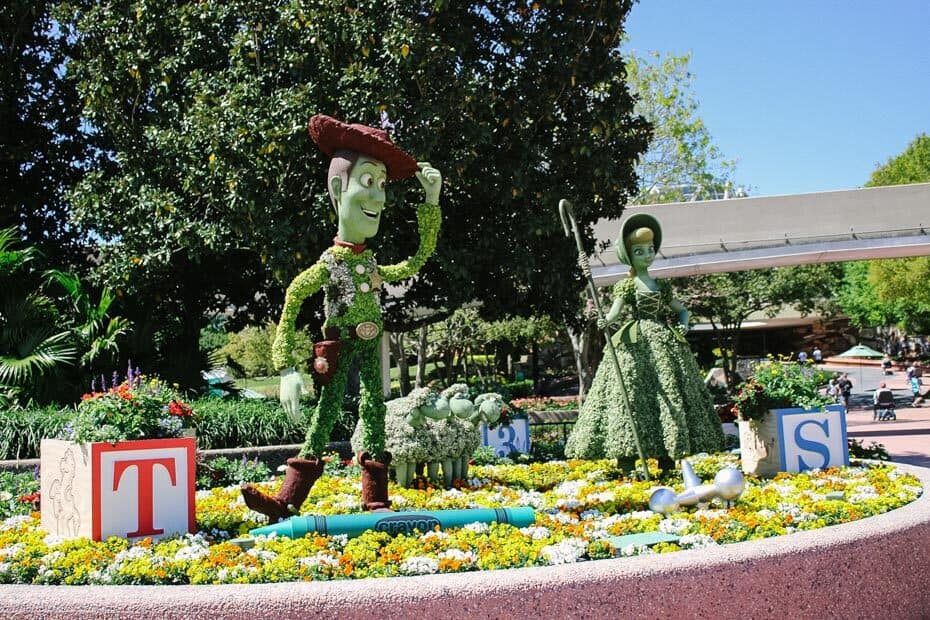 A few more photos.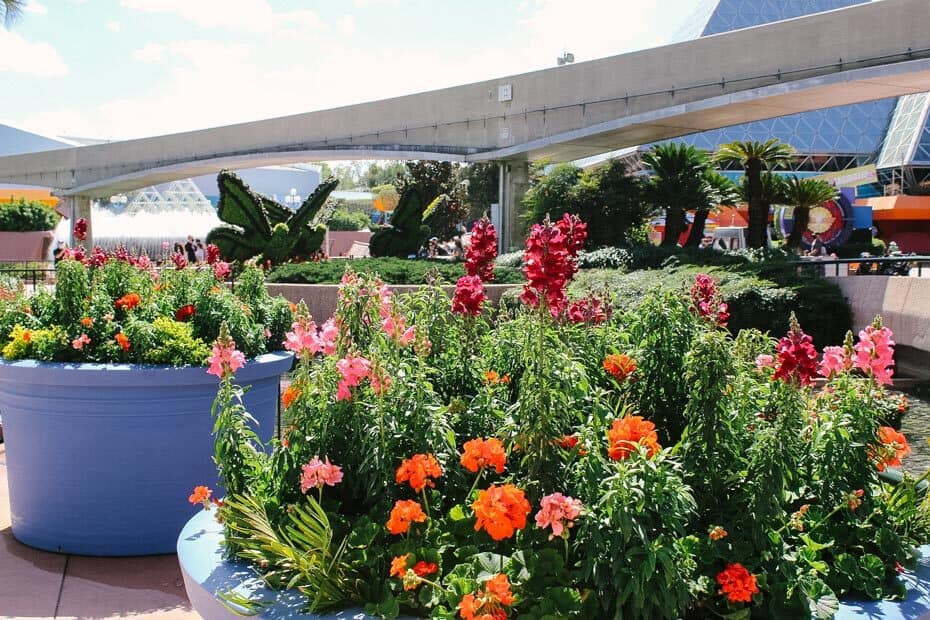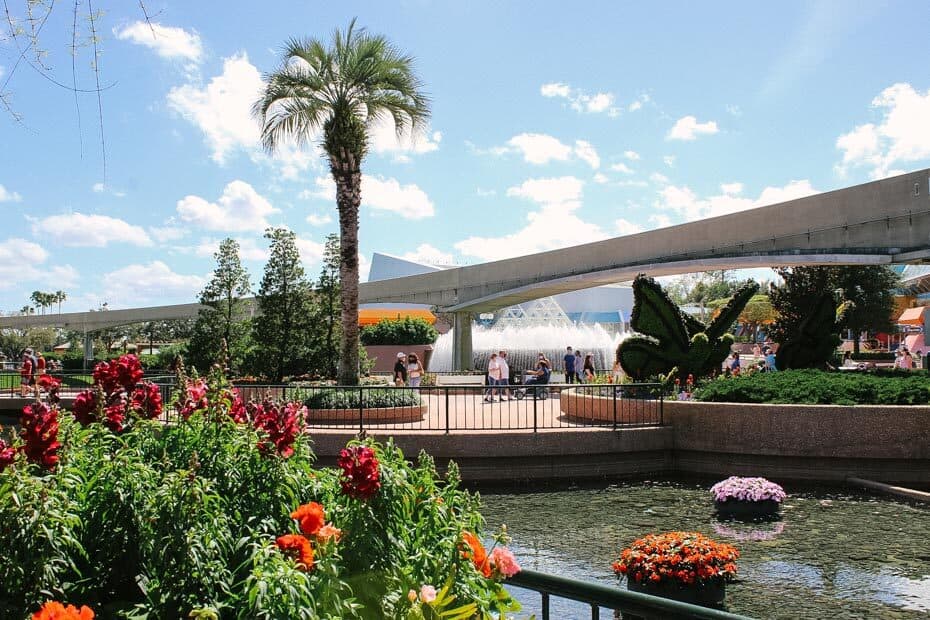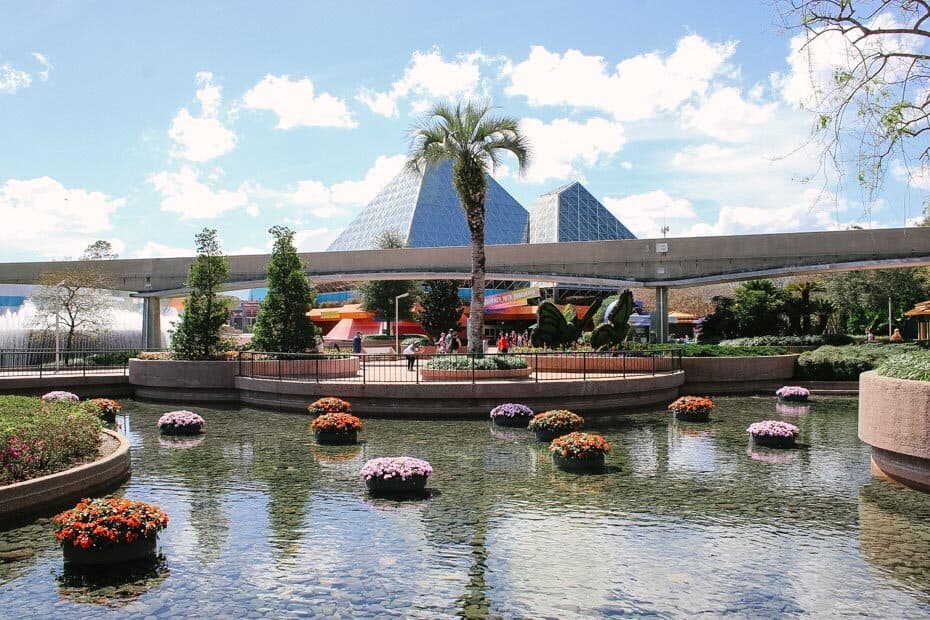 Below is a partially new topiary this year. Usually, Rafiki is holding up Simba around Refreshment Outpost.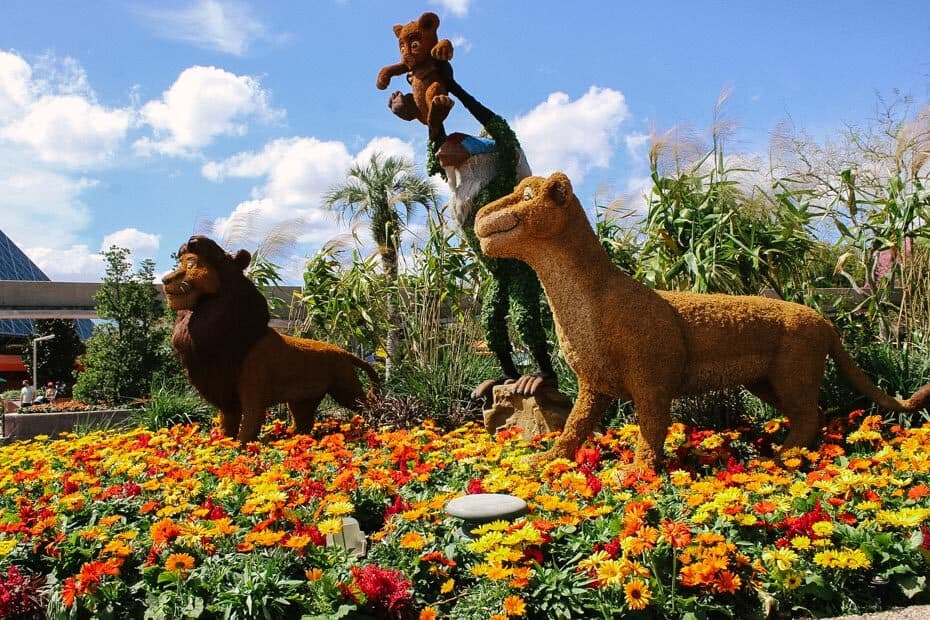 It's nice to see a different placement.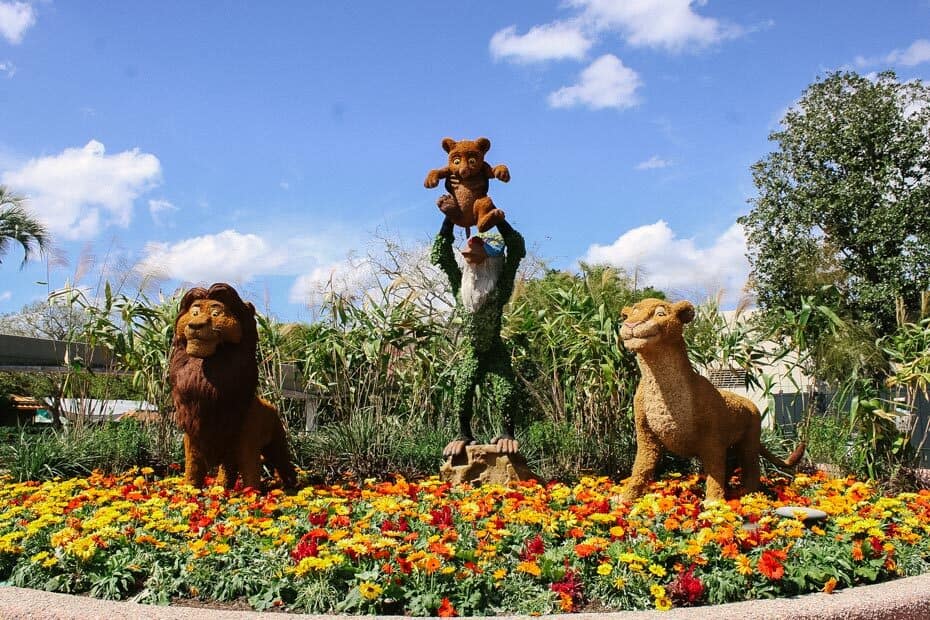 The flowers around the base were gorgeous. They reminded me of a blend of fiery sunset colors.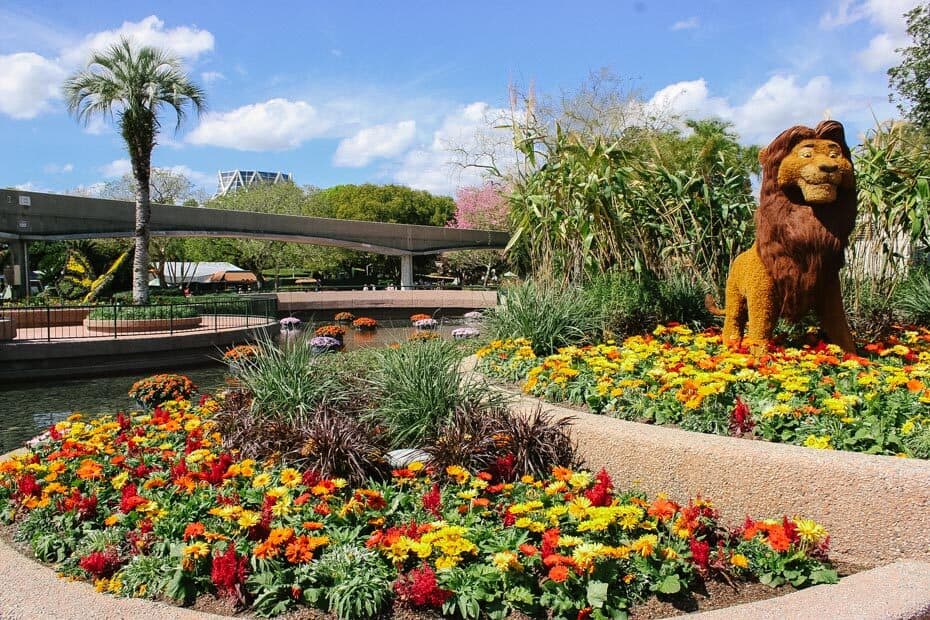 Something about this area compels me to always stop for a photo.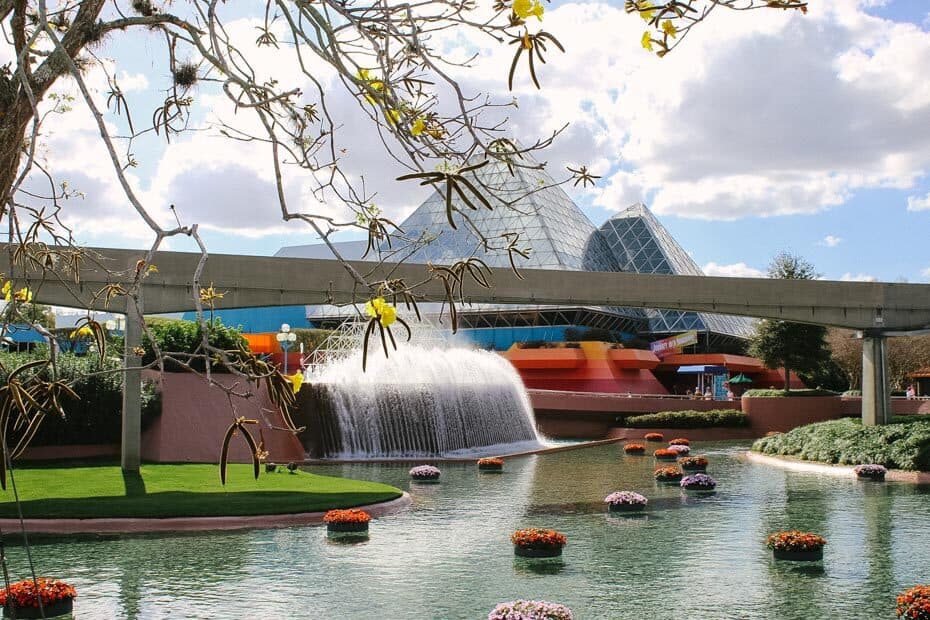 Figment sits outside Journey Into Imagination.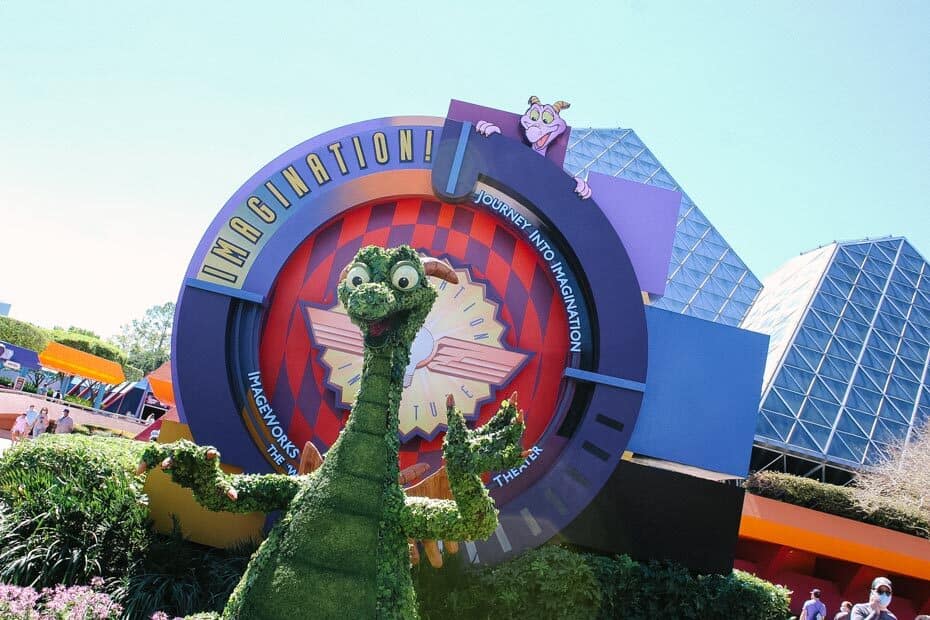 These pictures are from the 2021 Epcot Flower and Garden Festival's butterfly house.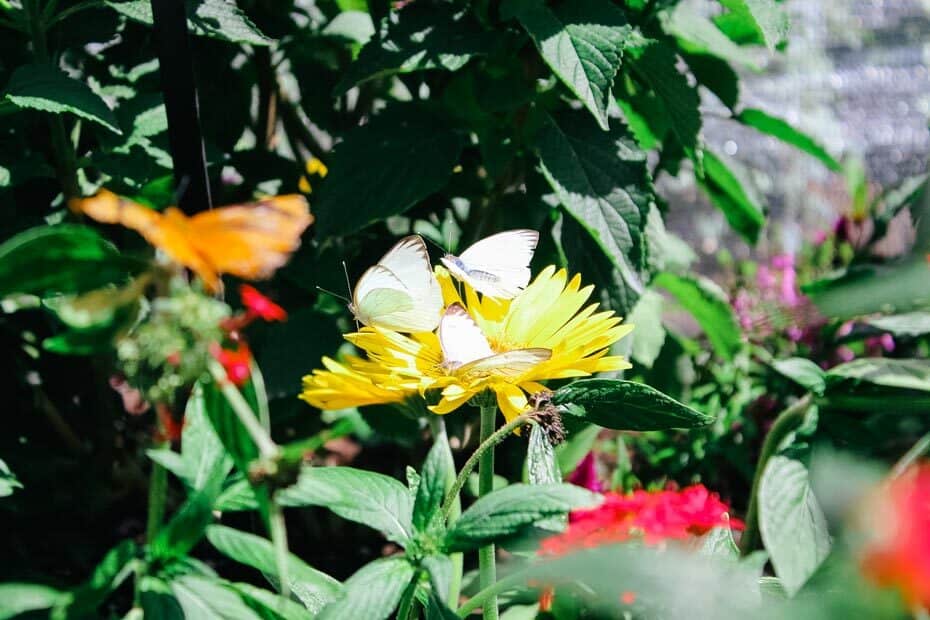 Make sure to walk through at least once during your visit.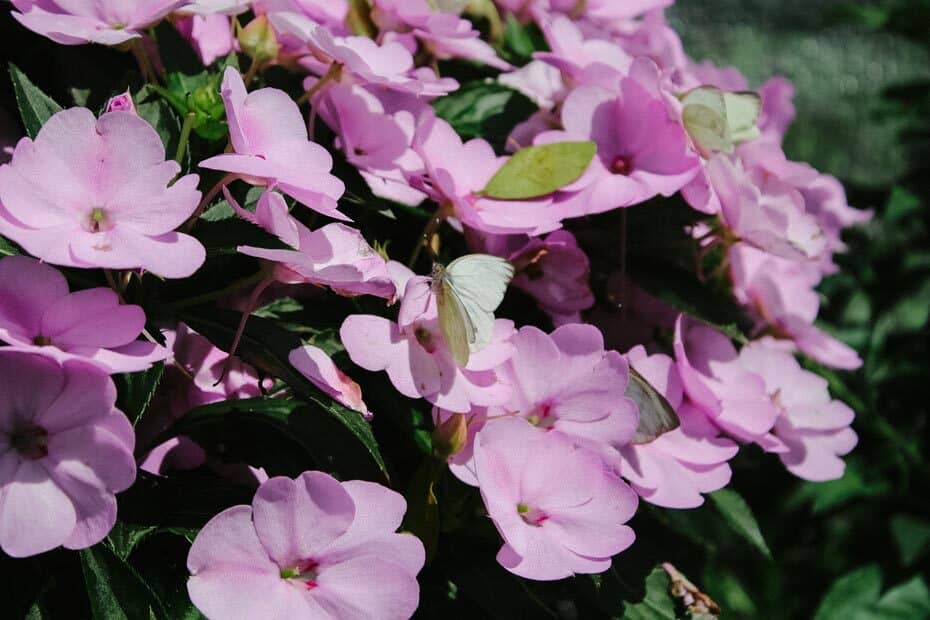 Another photo.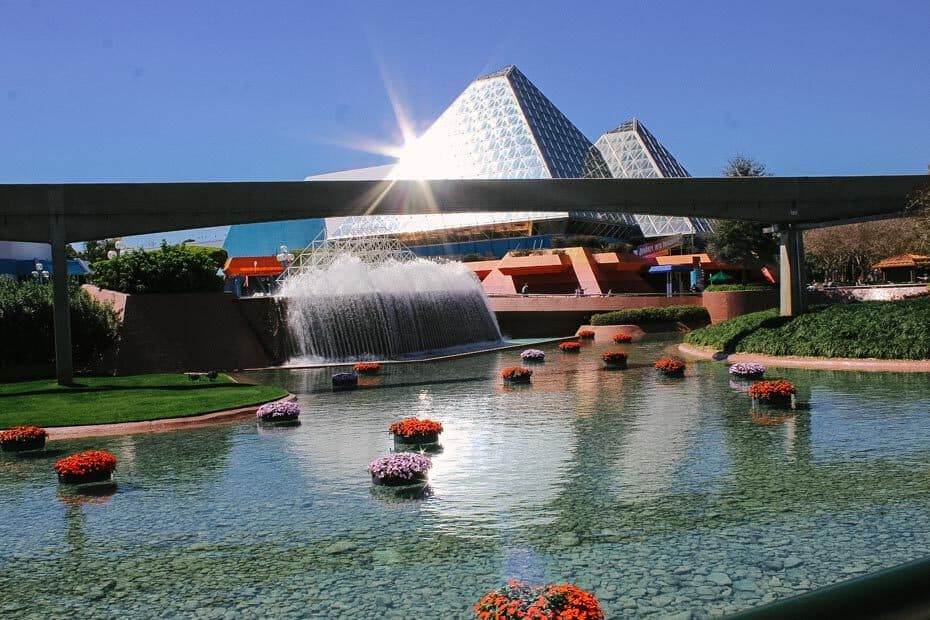 The flower mural is always stunning.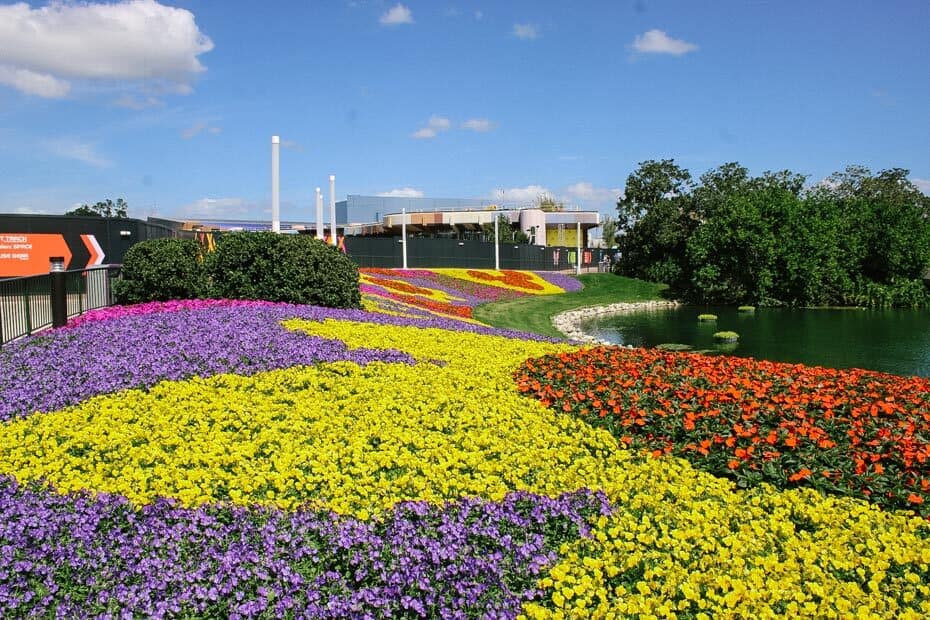 Even though the monorail isn't running through Epcot right now.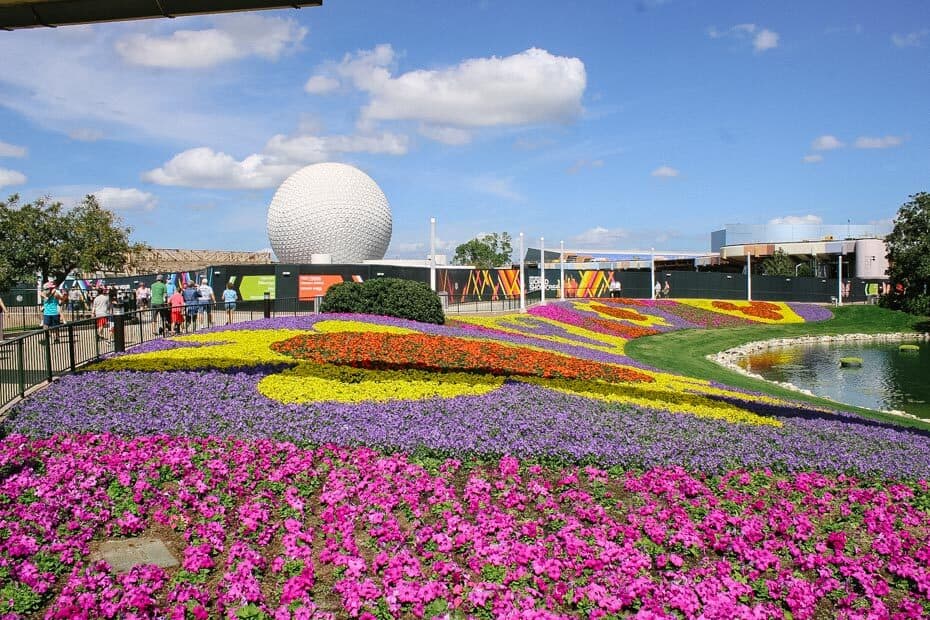 Marigolds in the pots.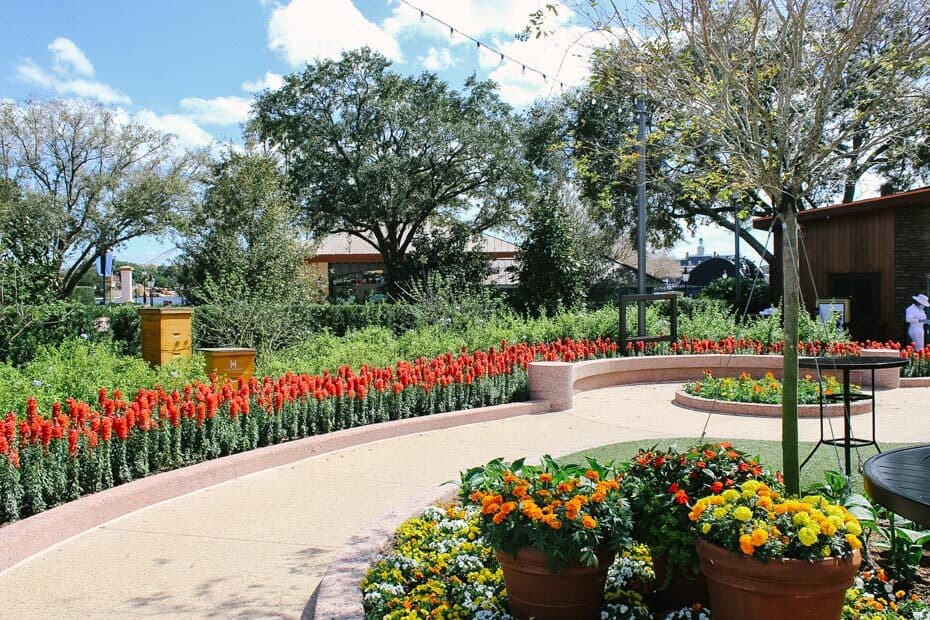 I'm sure you've heard there's a massive barge or two or three out on the lagoon. The thought of fireworks coming from these things kind of scares me. I assume this was a go big or go home type of project. On the flip side, it seems like it would be hard to cut the budget for this production.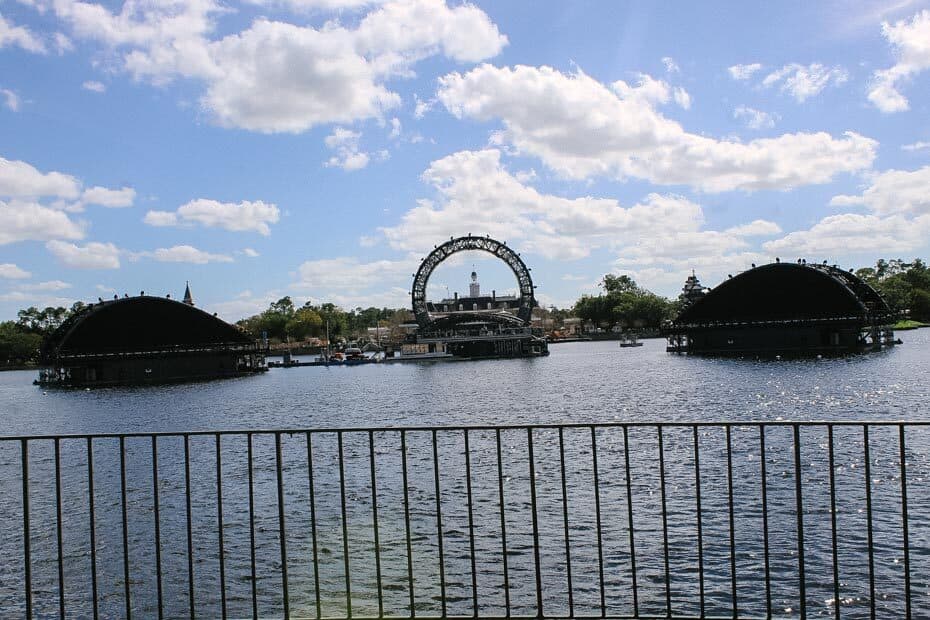 I am taking you on this Flower and Garden picture tour the way I tend to walk around Epcot lately. We started on the far right side of the park and have made it to the right side of the World Showcase in the Canada Pavilion.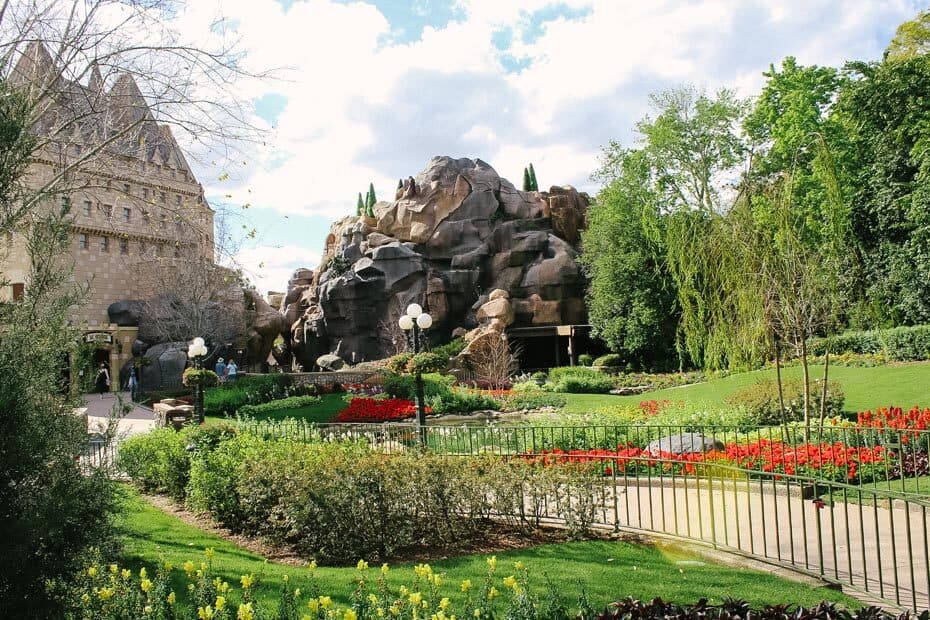 The gardens here are beautiful no matter when you visit. But the Begonias add a nice touch.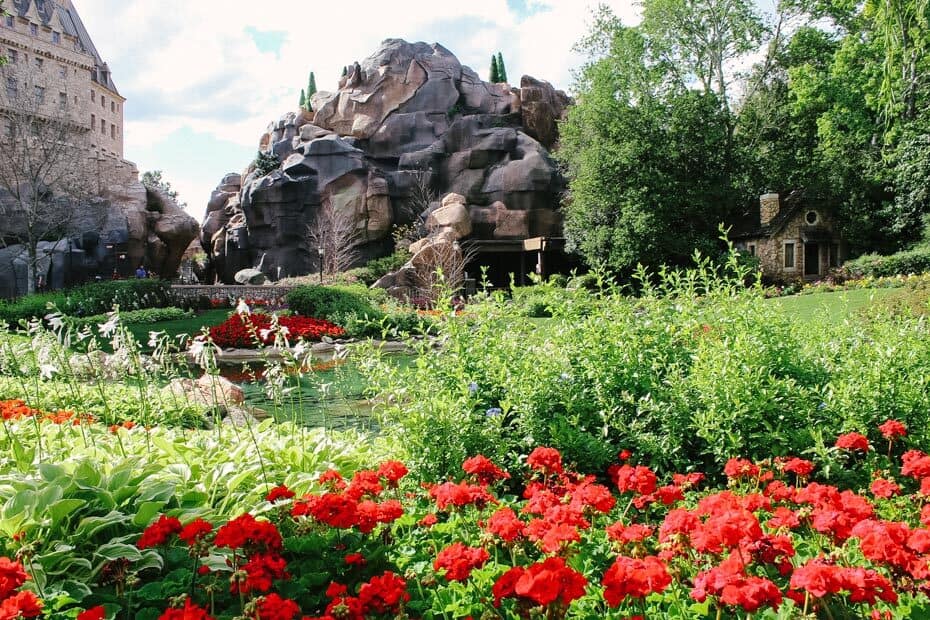 Miss Piggy sits out in front of the lagoon between Canada and the UK.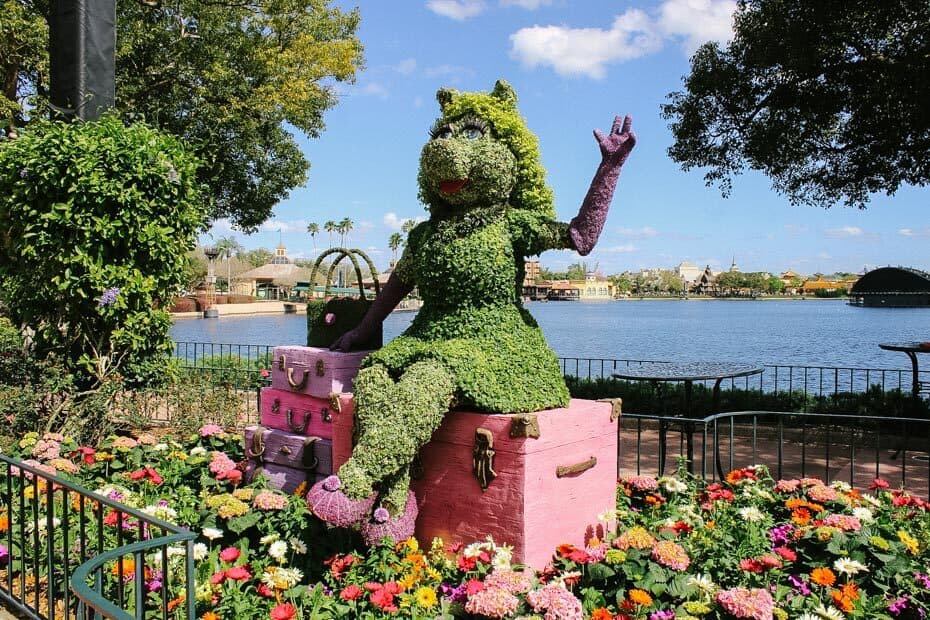 I thought her shoes were super cute.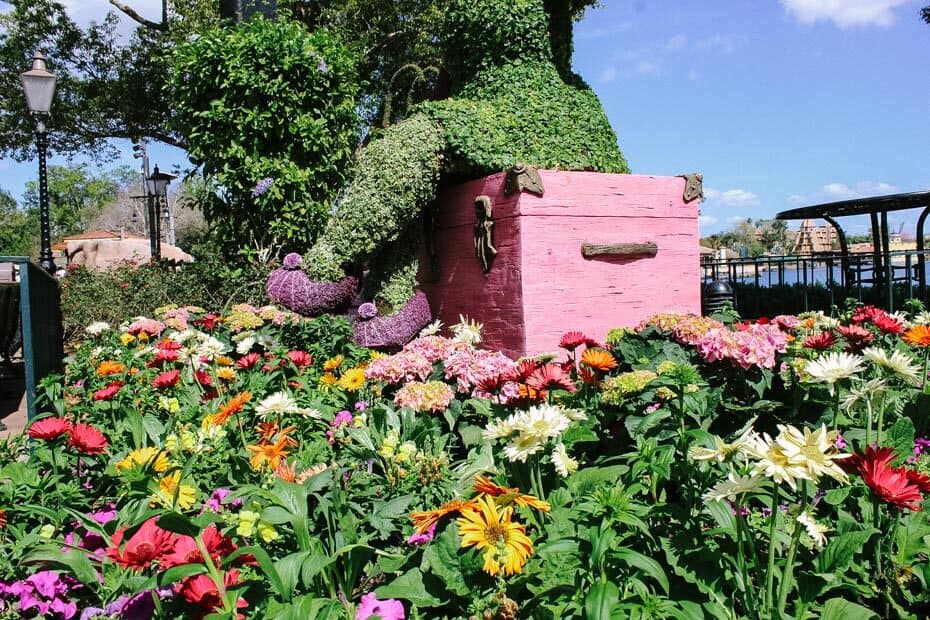 Kermit is not far from her side, waving with a friendly expression.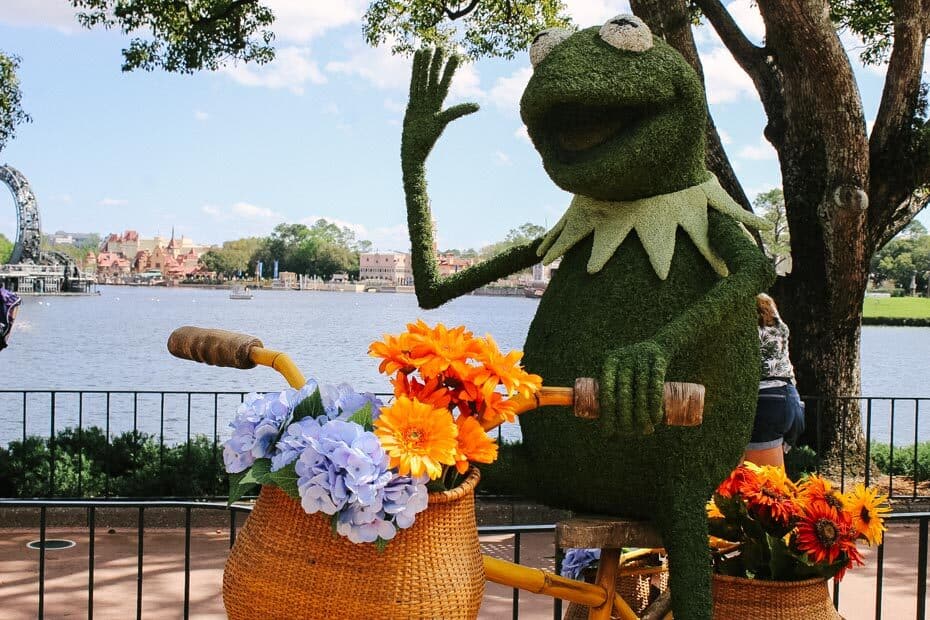 The bicycle with flower baskets is a nice touch.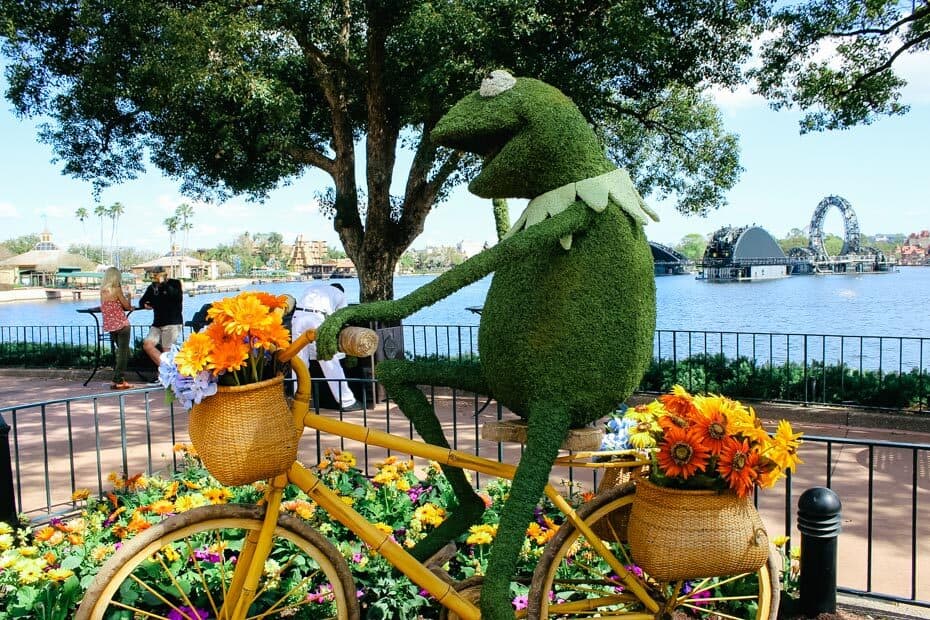 Tigger, Eeyore, and Piglet are positioned out in front of the United Kingdom Pavilion.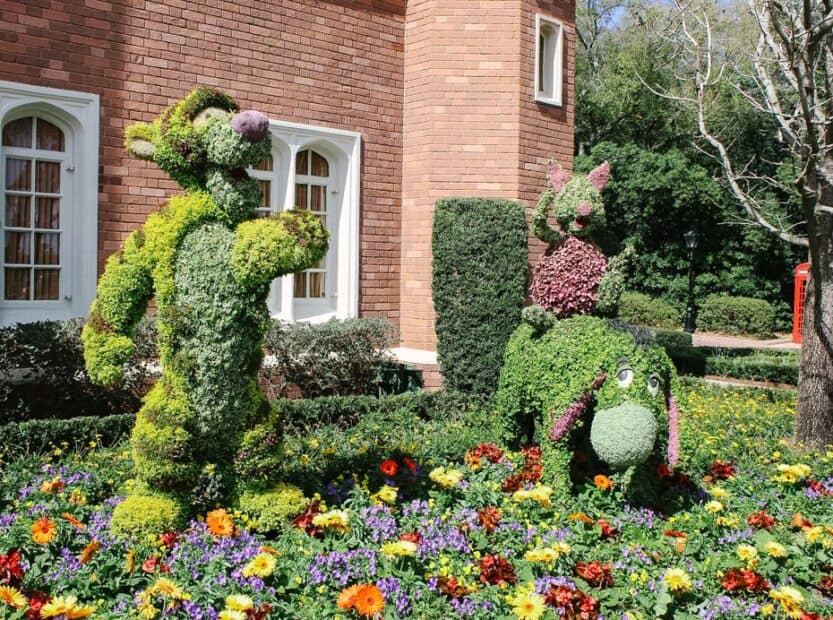 Winnie the Pooh and Rabbit are on the other side.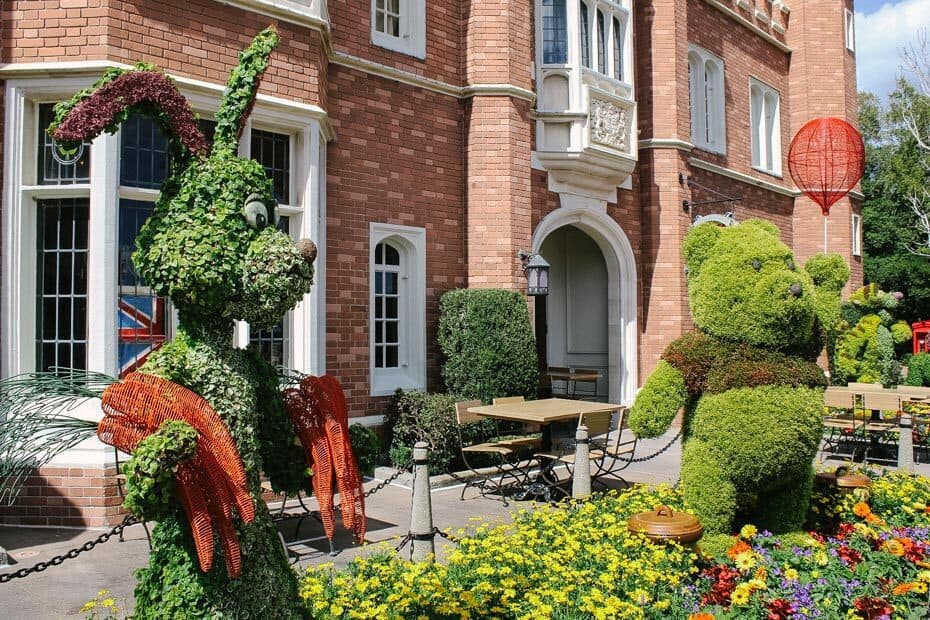 Toward the back of the pavilion, Tinker Bell is surrounded by fairy houses.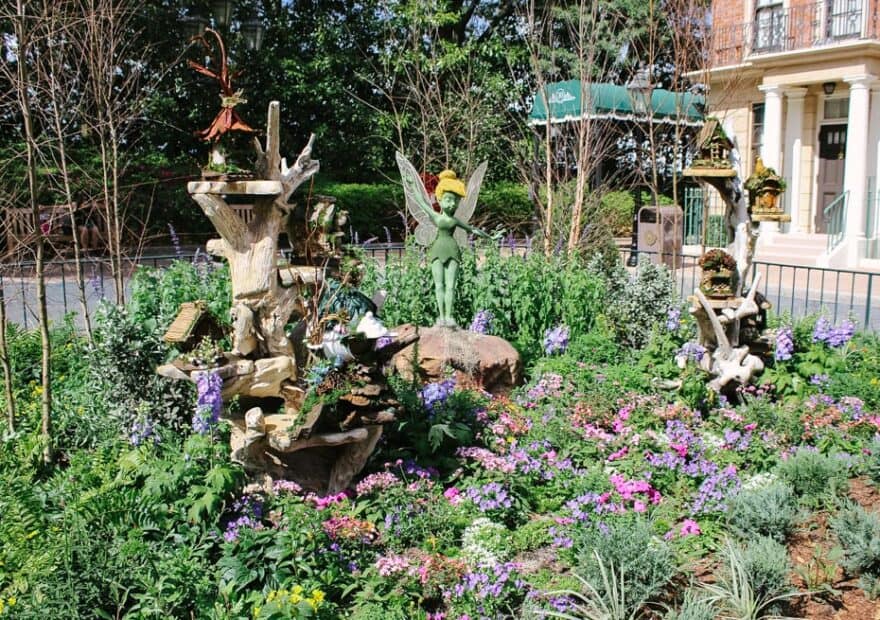 The English Tea Garden is in its heyday. Mary Poppins has a character meet here at Epcot. You can see her in the background.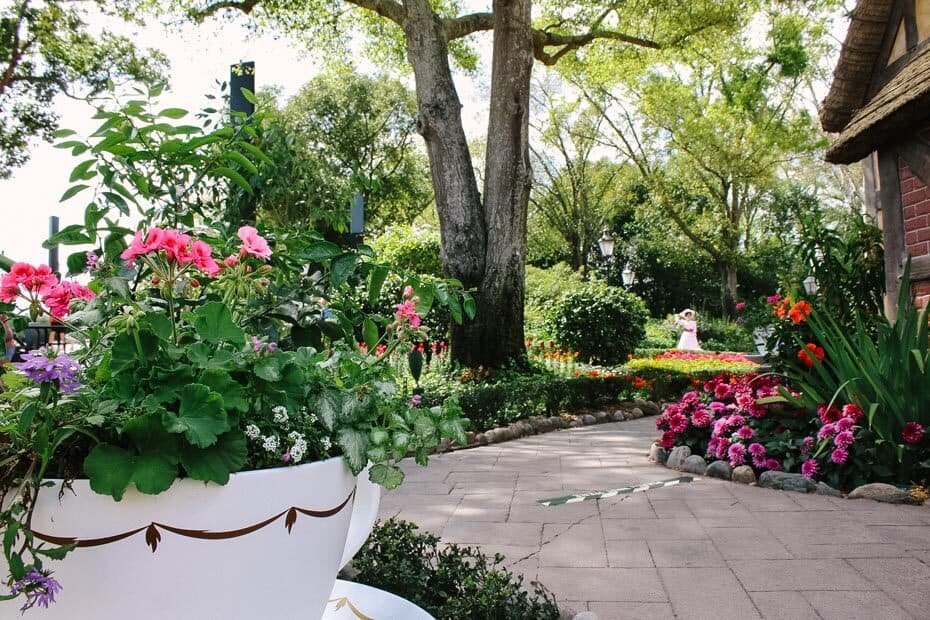 I've pretty much decided if I happen upon one of these teacup planters that we'll have one in our Florida yard. One day.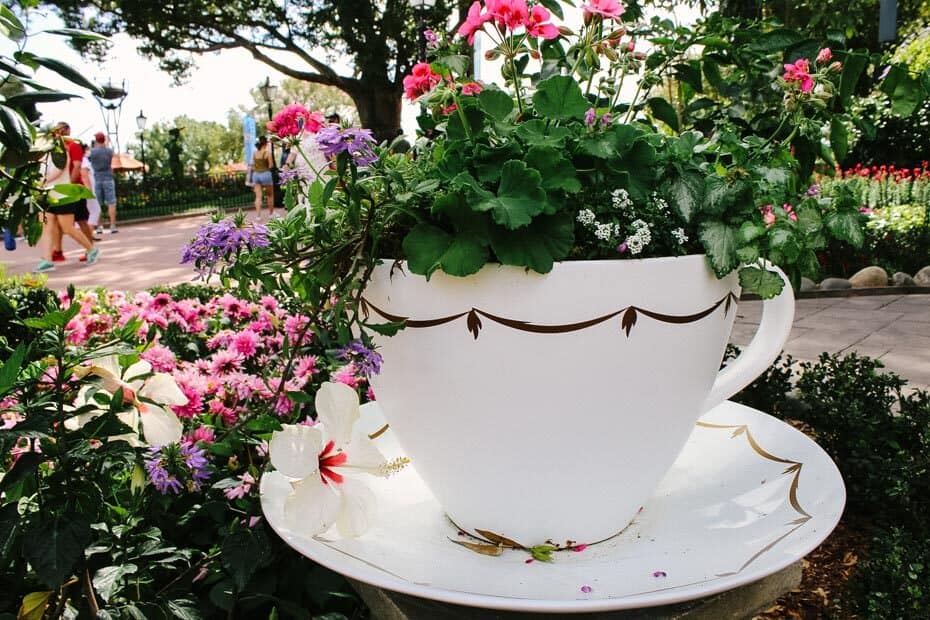 However, I'm not for sure if the yard will ever look as nice as these pictures.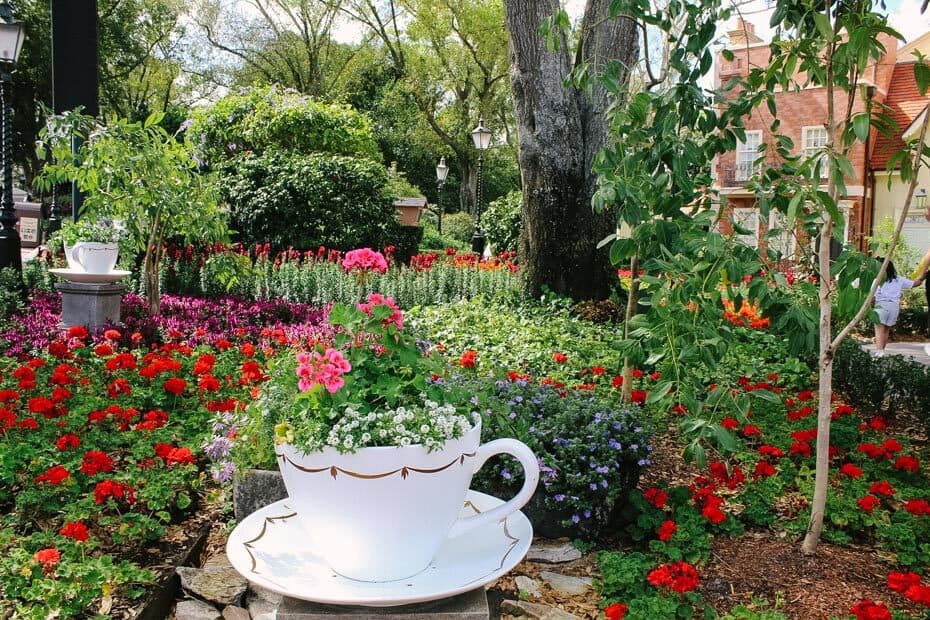 Back out toward the lagoon, you might want to be careful. Peter Pan and Captain Hook are having a duel.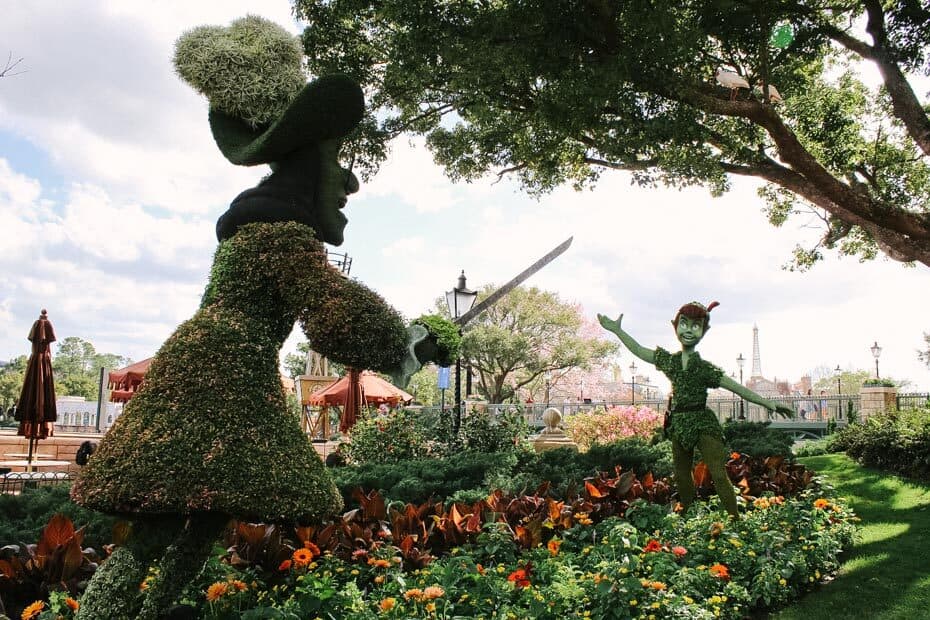 Moving on down toward the International Gateway, one of the butterflies sits making for a nice photo spot.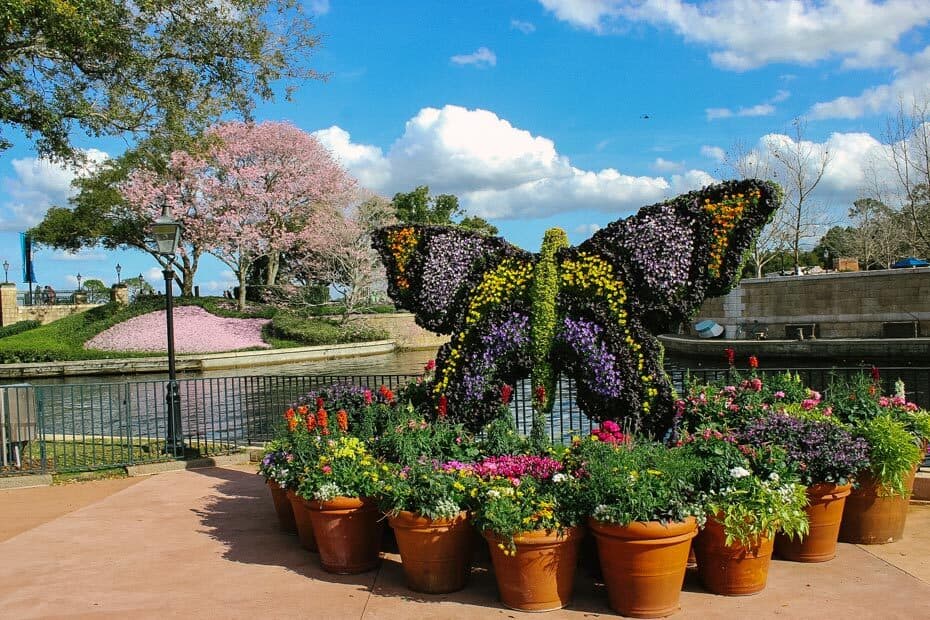 World Traveler as a fun Spring theme in the window.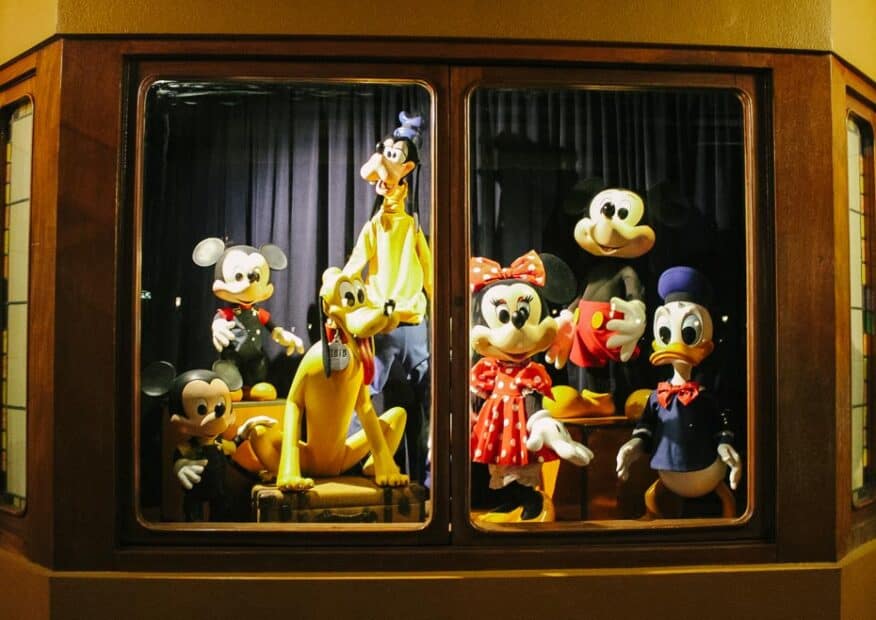 The bridge to France is my favorite Flower and Garden photo spot when the tree is in bloom.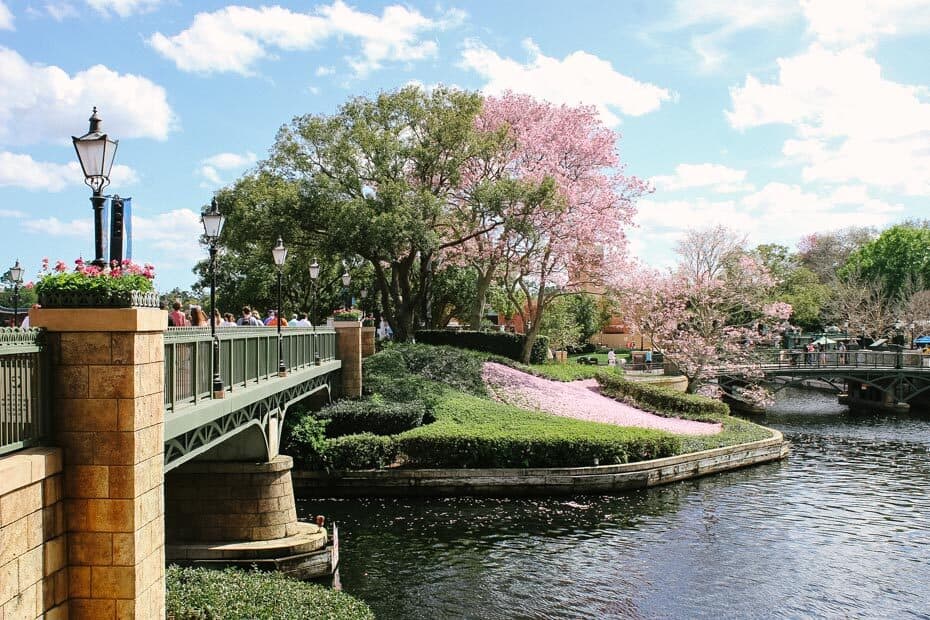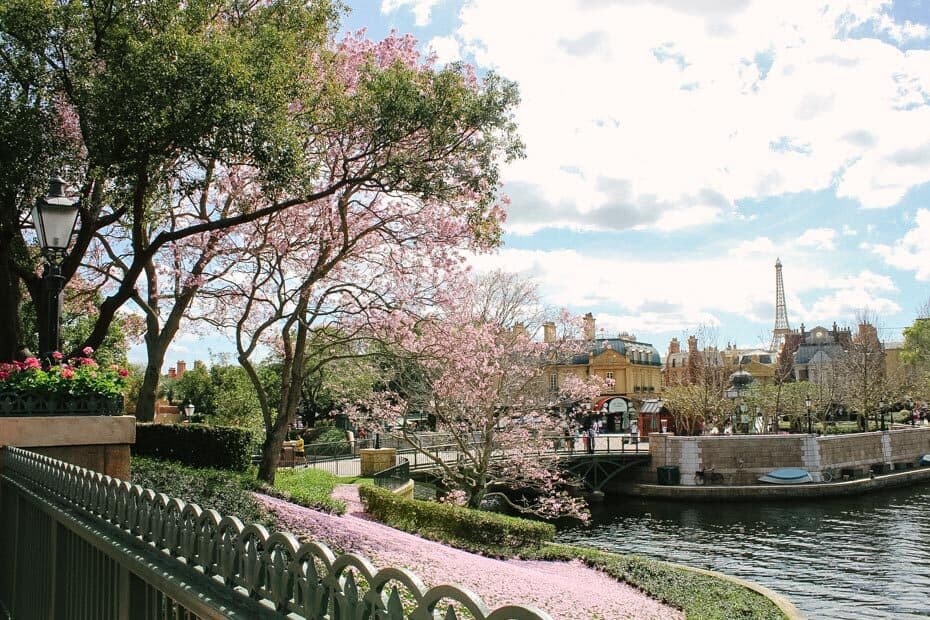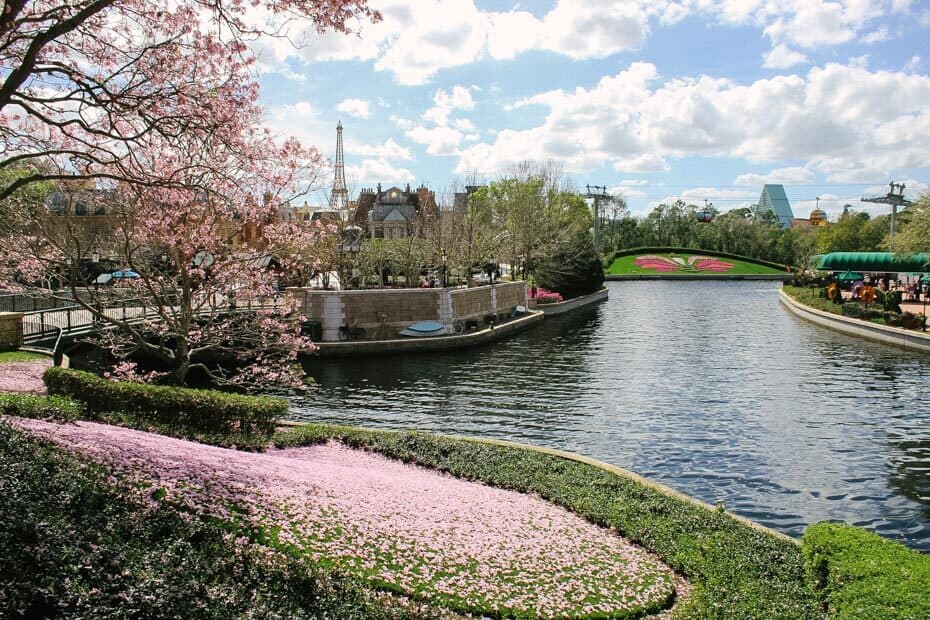 Looking toward the Disney Skyliner as it drops off outside of Epcot.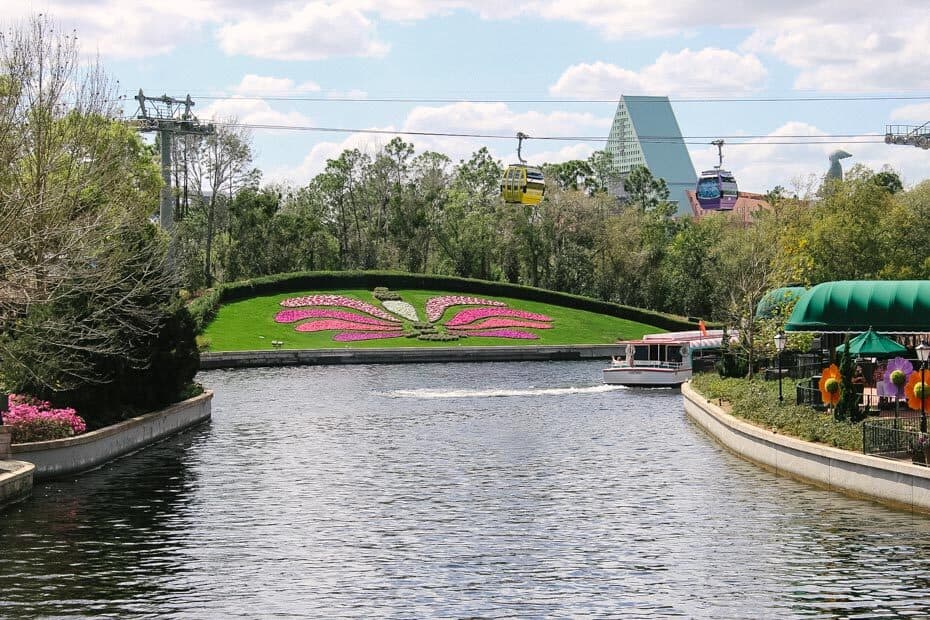 And then back toward the France Pavilion.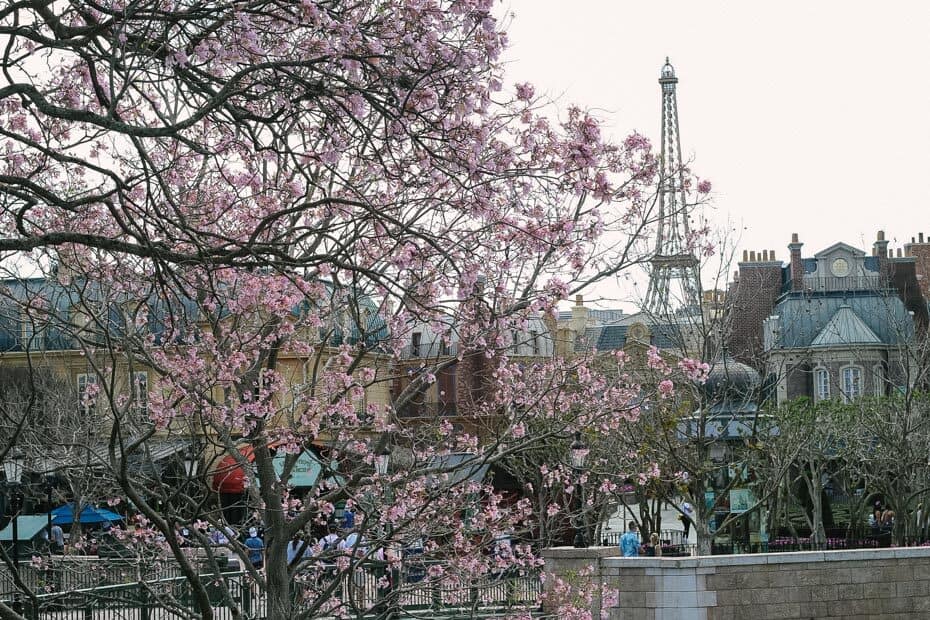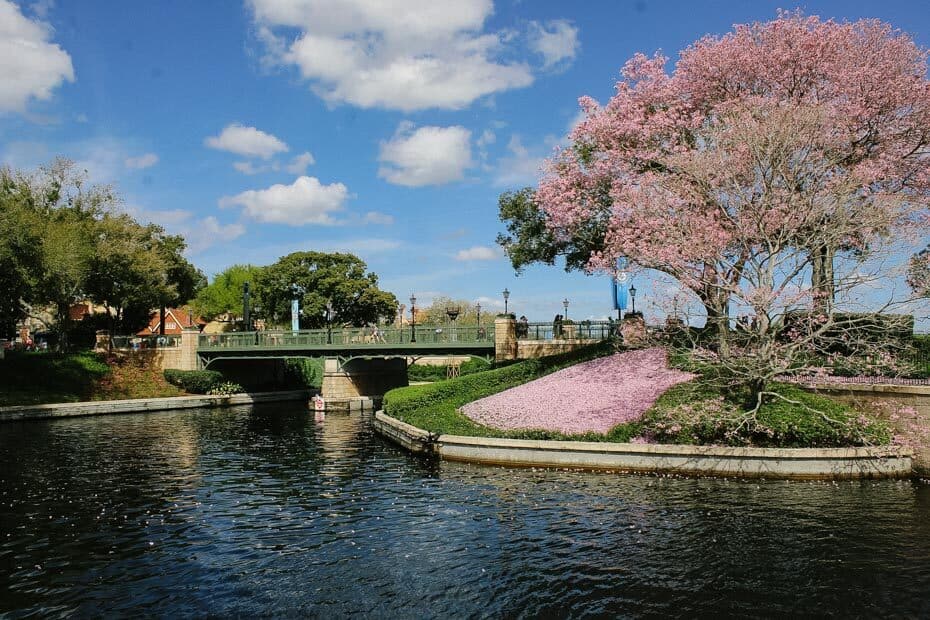 This picture was taken from the new walkway that will eventually lead us to Ratatouille.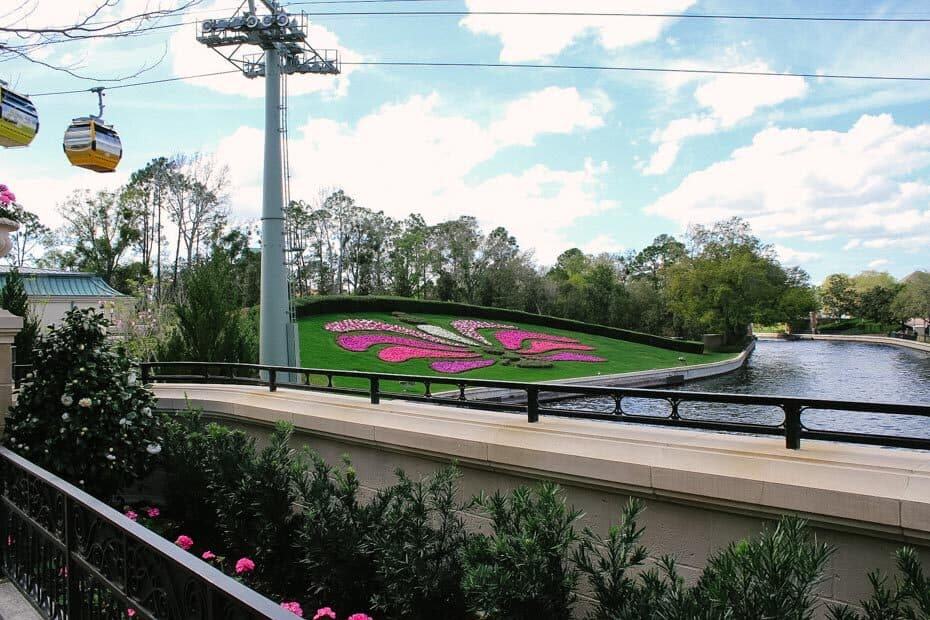 Beauty and the Beast were sharing a dance.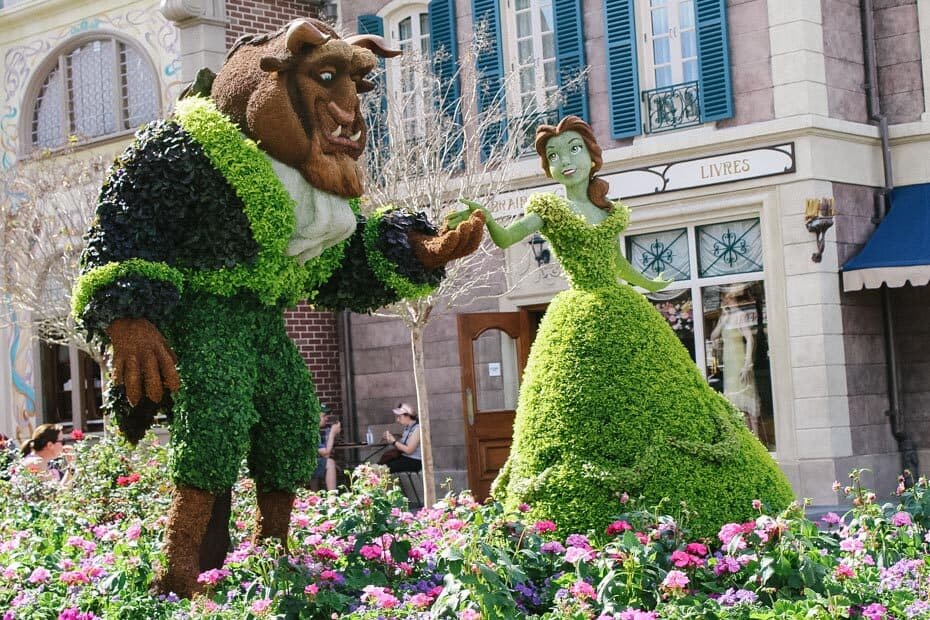 Japan has a pretty cool dragon in front of the Torii gate.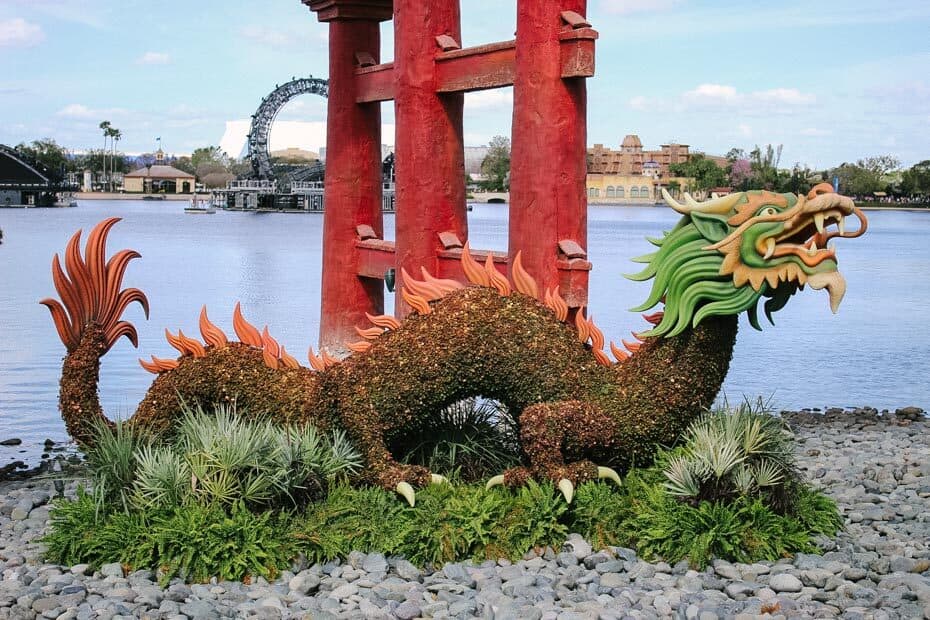 So many different things in one picture.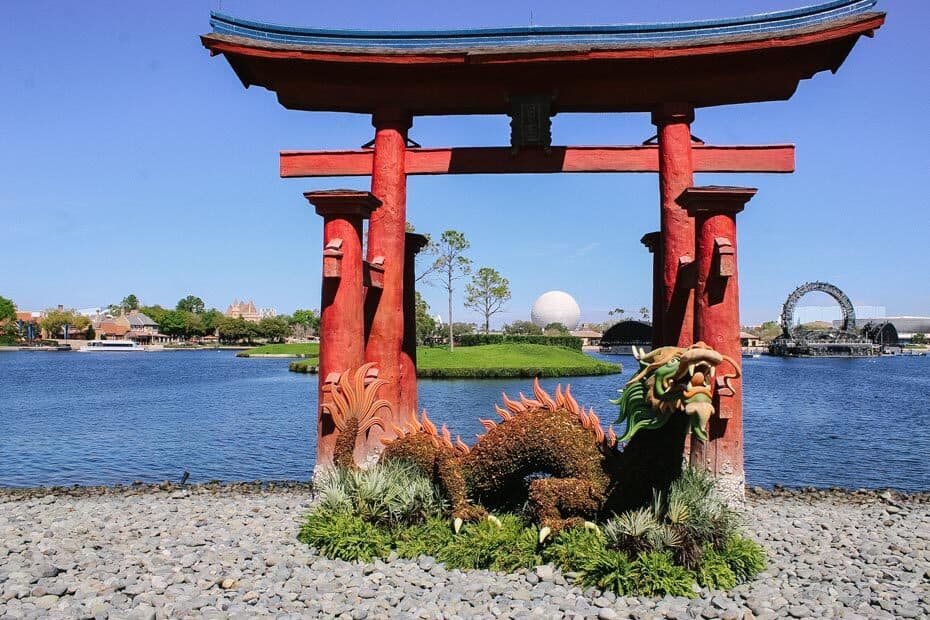 We find a massive planter in the Italy Pavilion.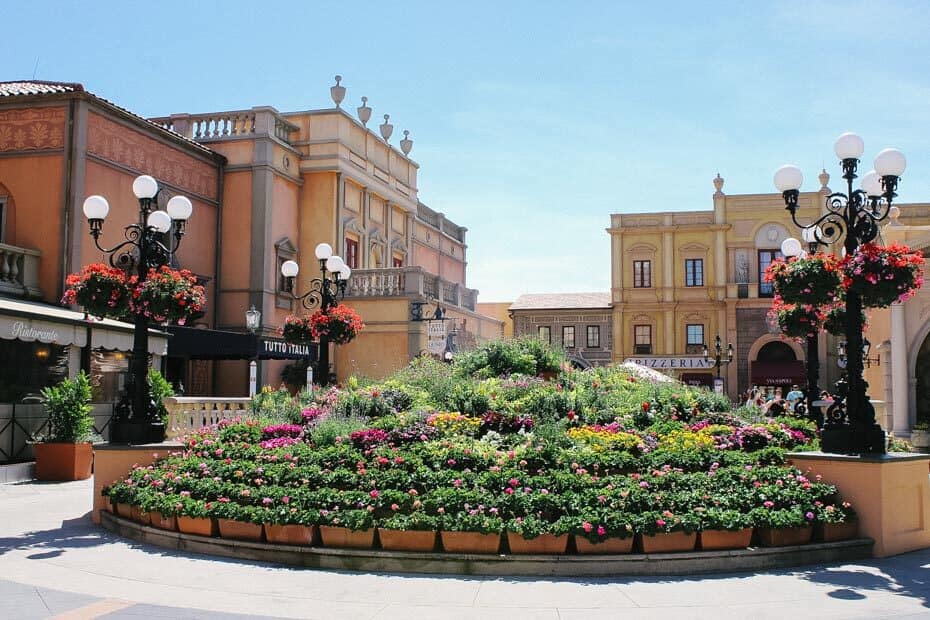 Lady and the Tramp sit out on the piazza.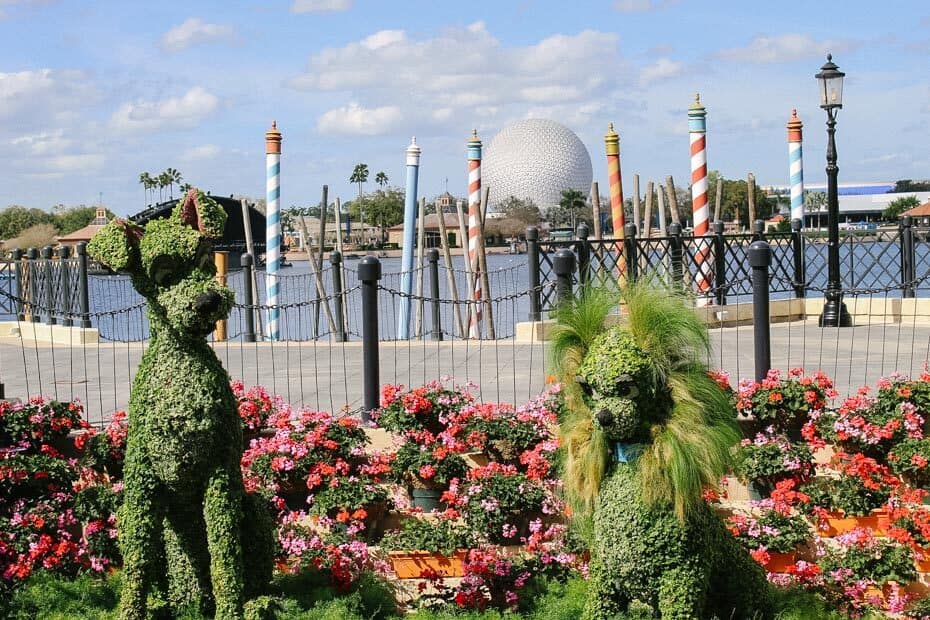 The entire pavilion is gorgeous.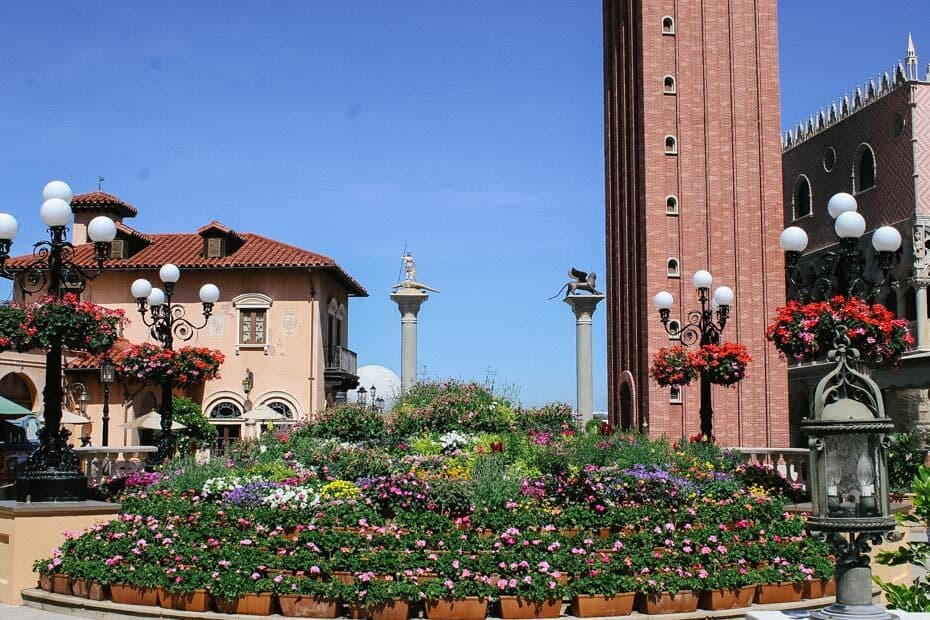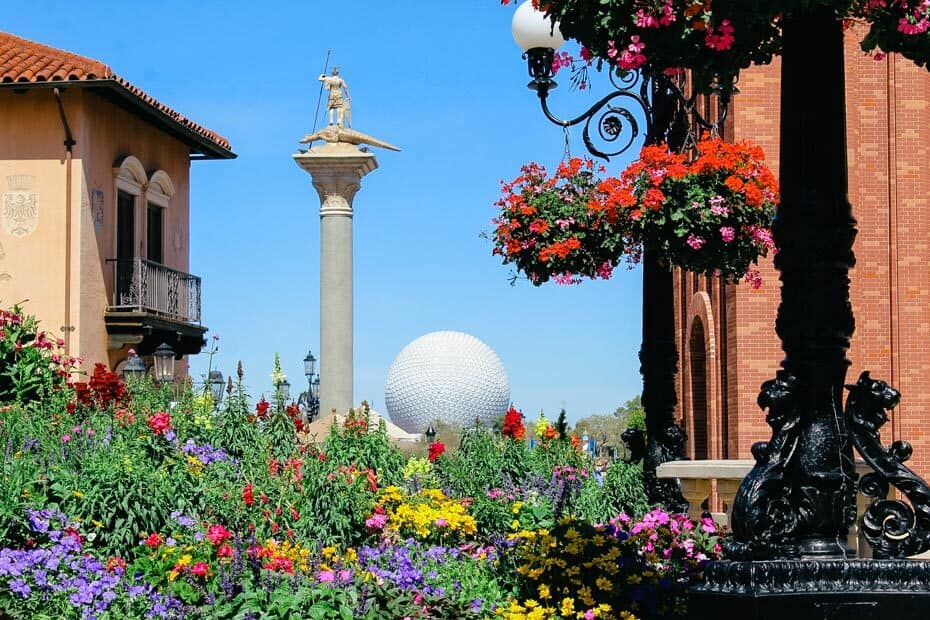 Snow White and Dopey are hanging out in Germany.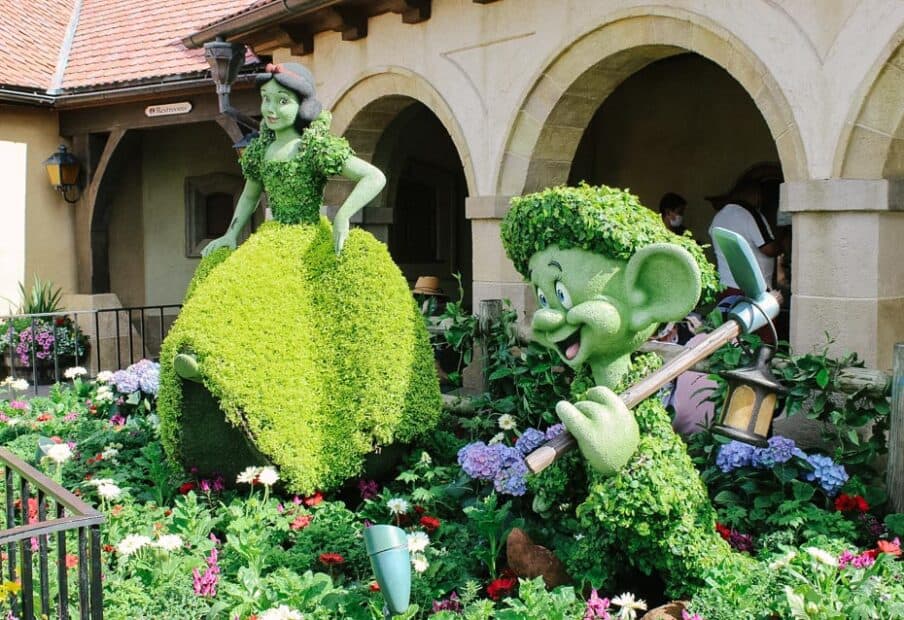 Whatever you do, don't forget to stop in and watch the Romantic Rd train station in the Germany Pavilion. They are having a Flower and Garden Festival too! If you look close, you'll see some of the signage hanging from their light poles.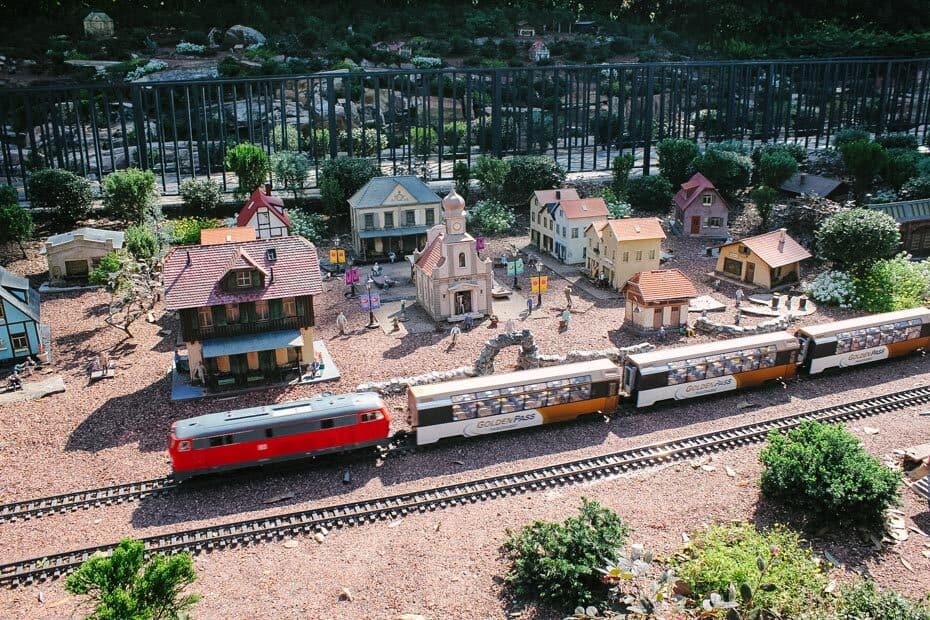 China was looking ravishing on this afternoon.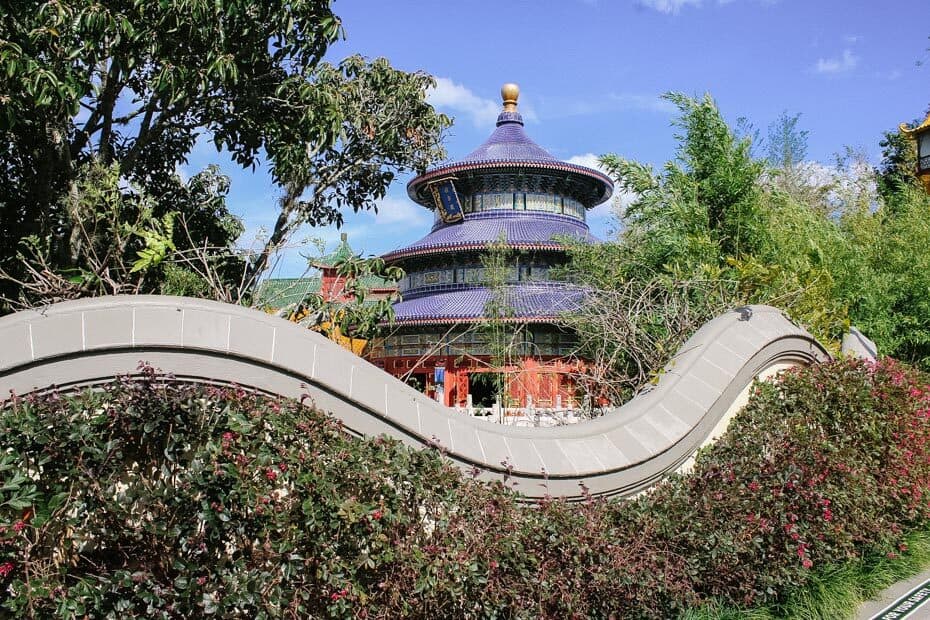 The pandas were placed in the pavilion's Nikon photo spot this year.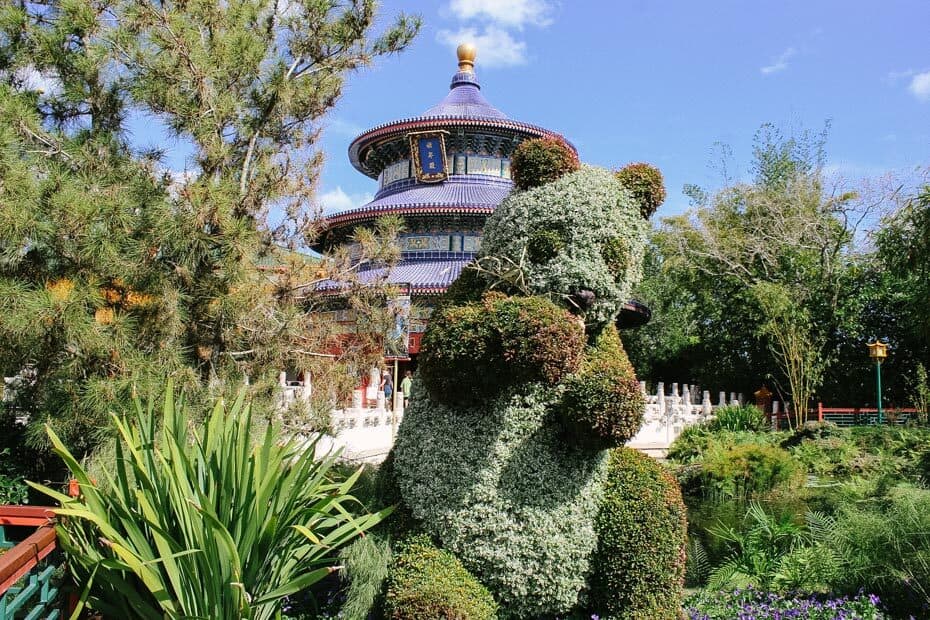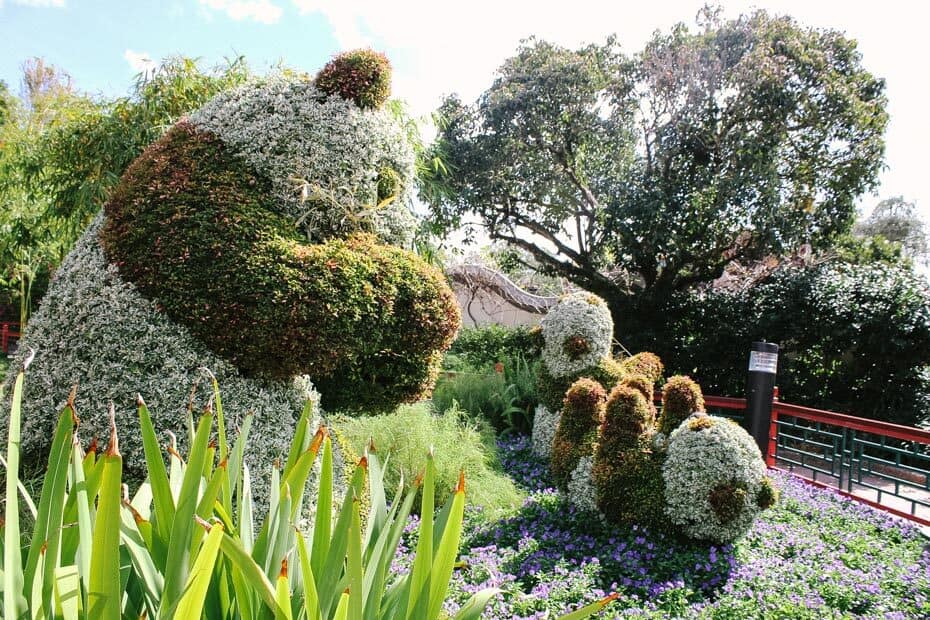 Seriously, look how beautiful the China Pavilion was on this afternoon?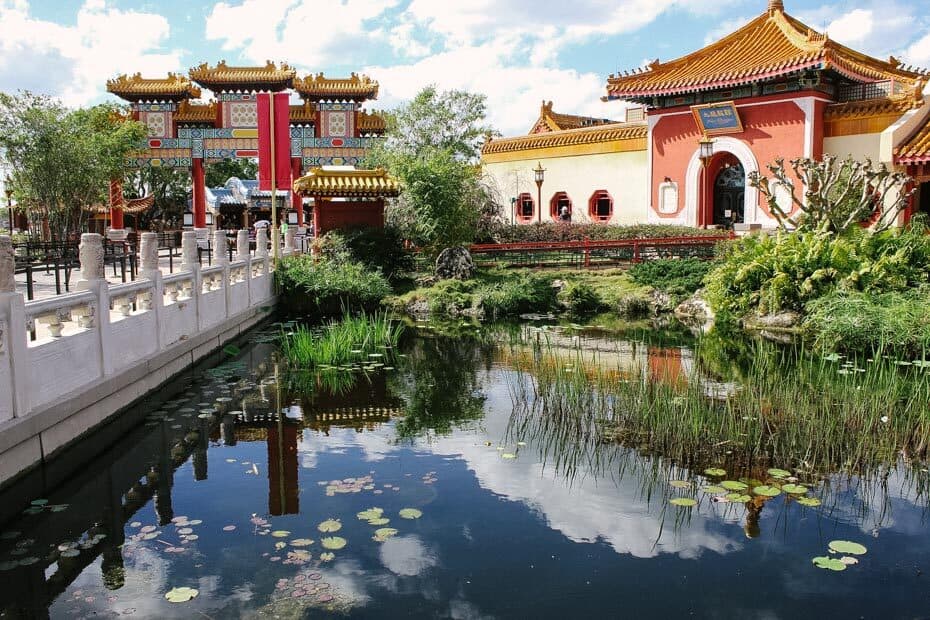 And then there's Norway. A troll with a light pole guards the outskirts.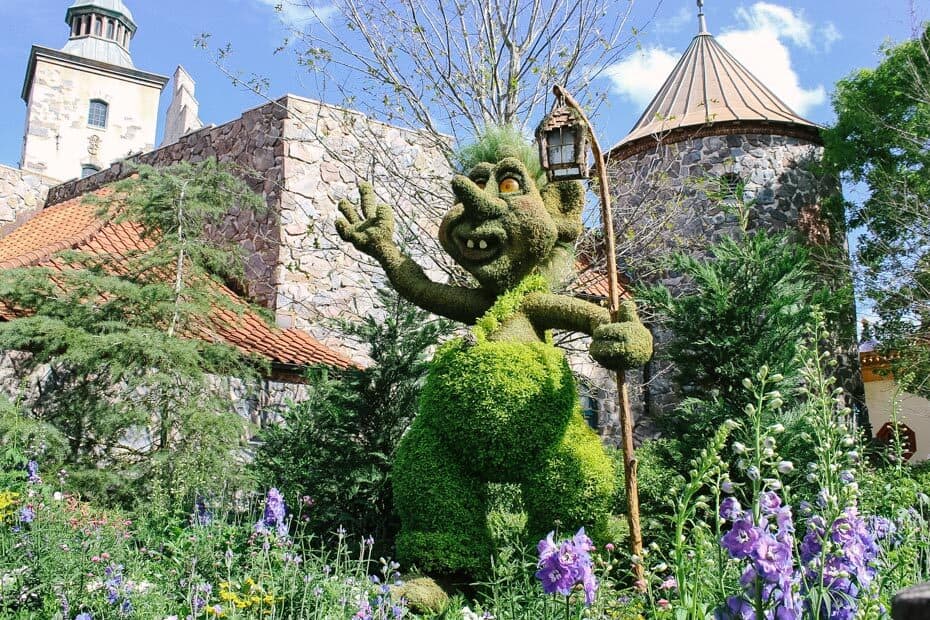 Anna and Elsa have a character meet here and a topiary.
As we make our way back around the promenade we pass Mexico. This bridge always makes for a nice picture.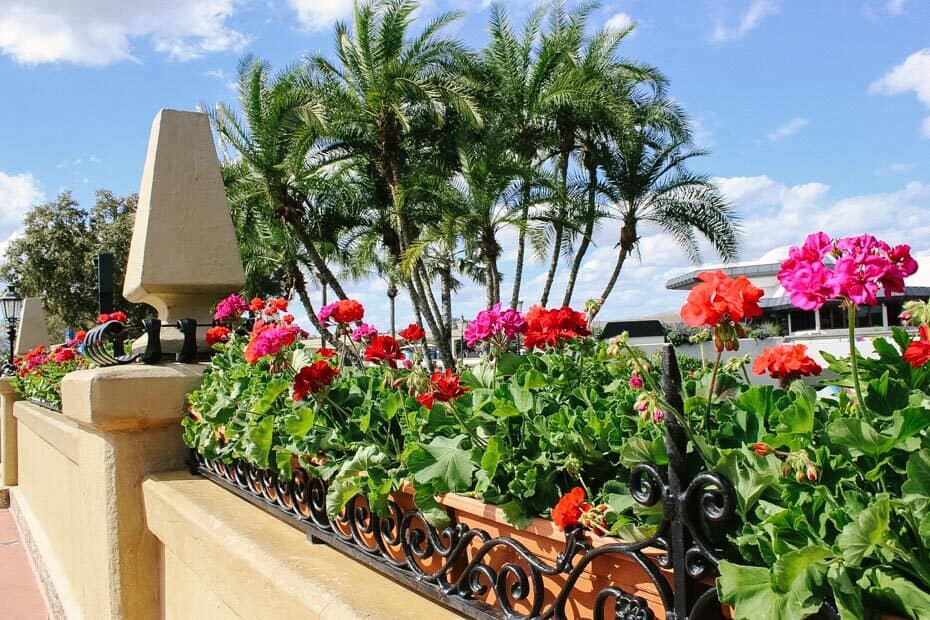 Looking toward the Odyssey building.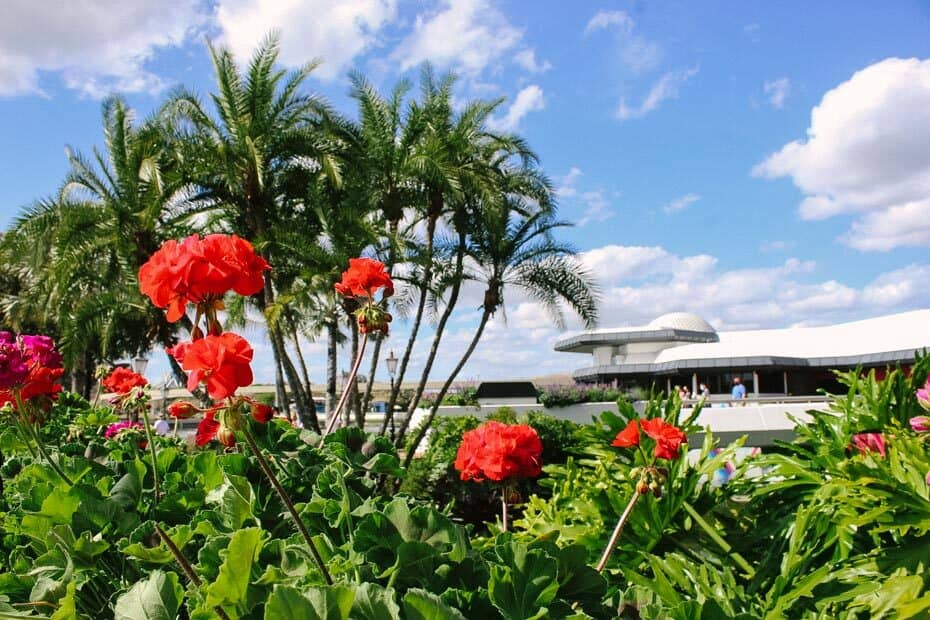 The Three Caballeros are a fun topiary trio.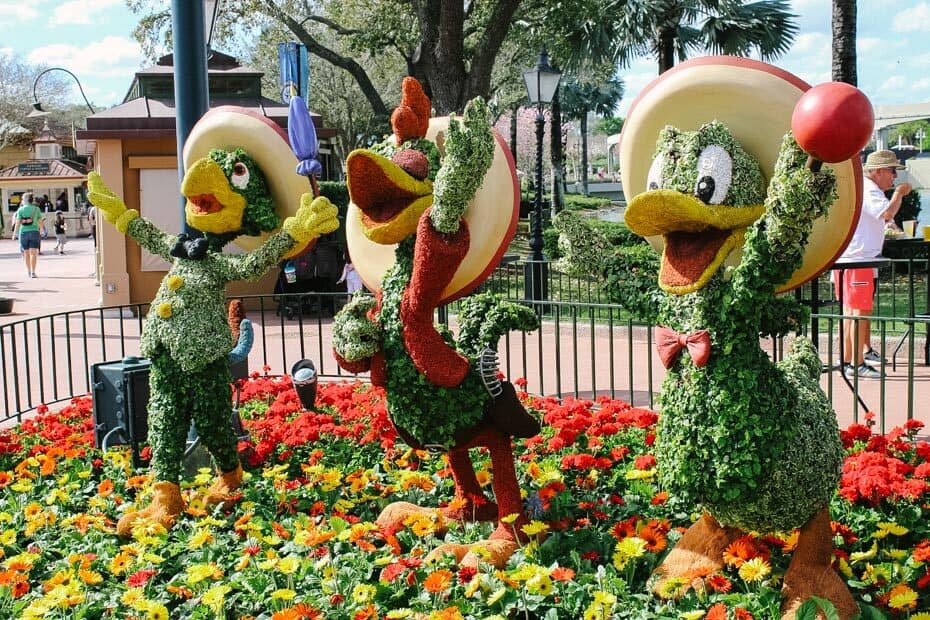 I love this sign.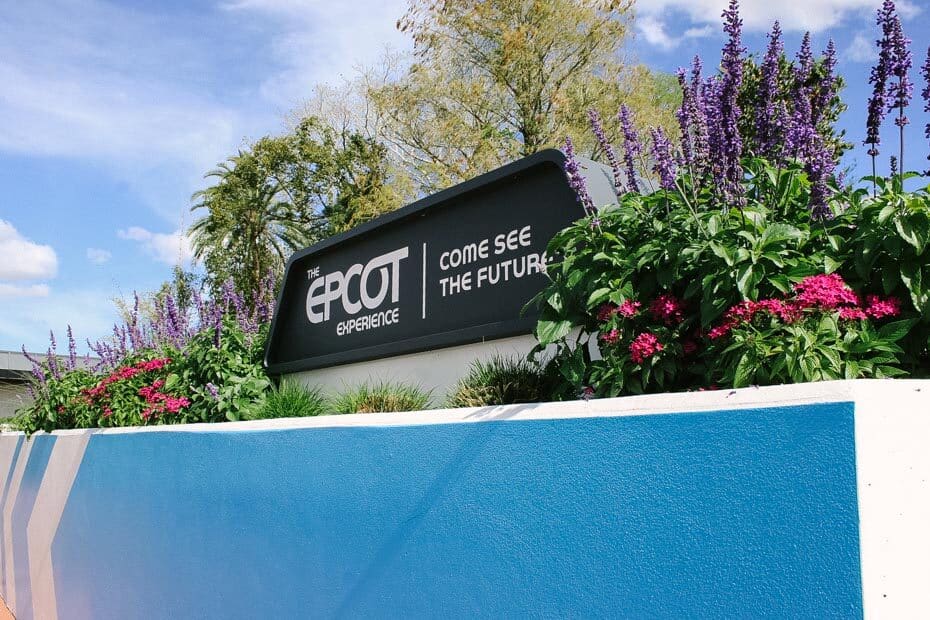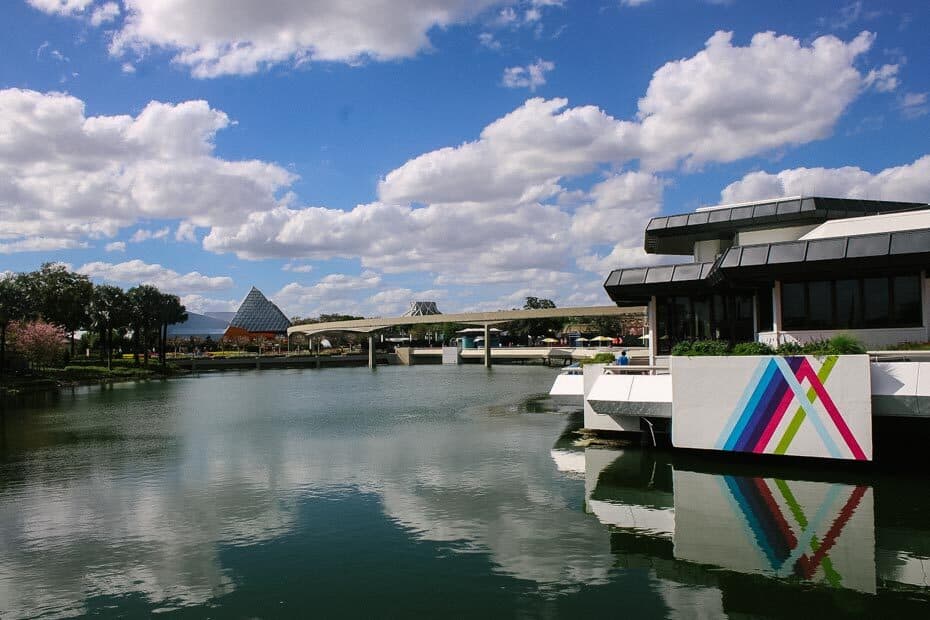 Buzz Lightyear greets guests warmly in front of Mission: Space.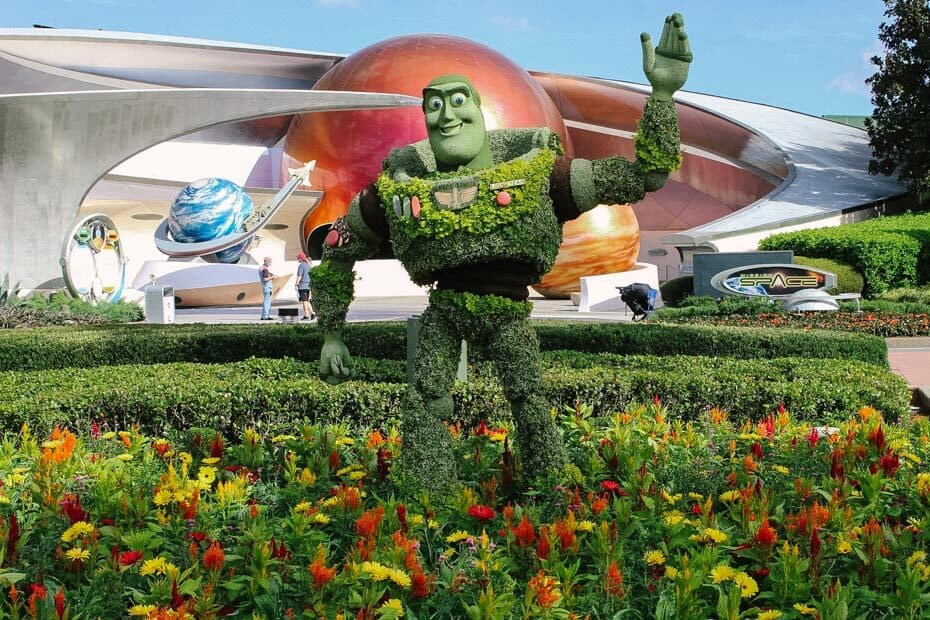 Bambi and friends have been hanging out in front of the temporary Mouse Gears for a while now.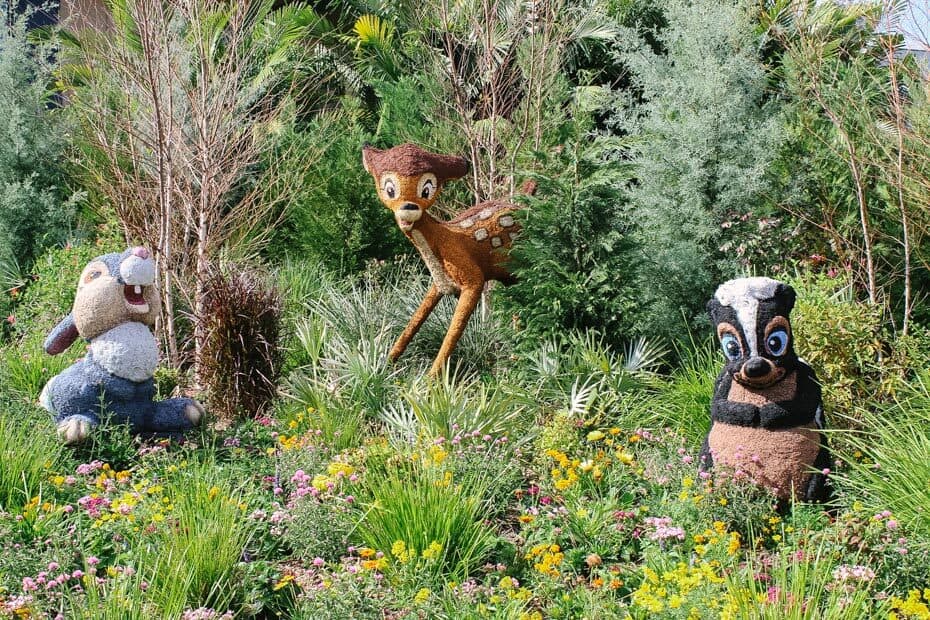 I thought this area looked really nice.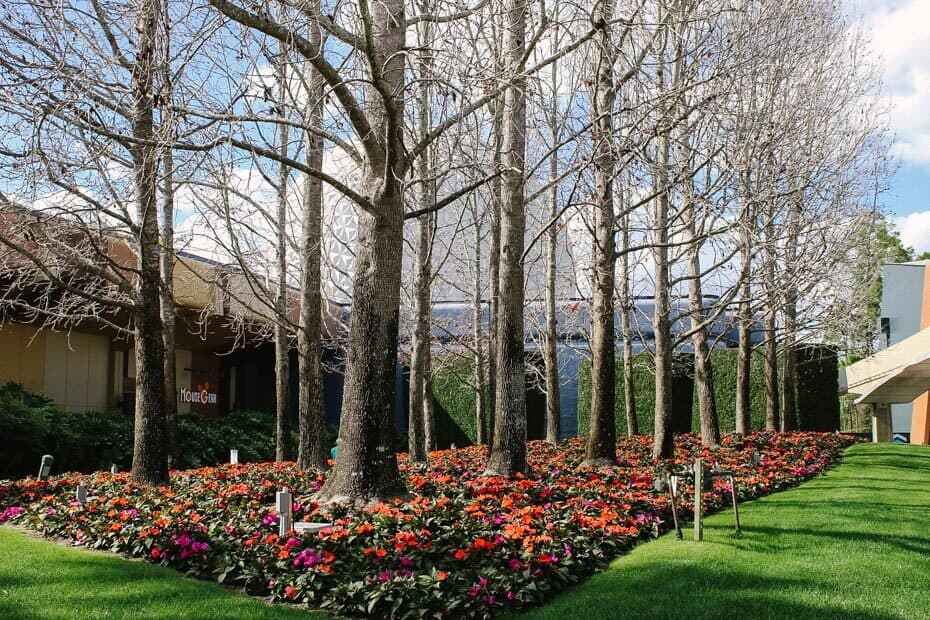 And back at the central plaza.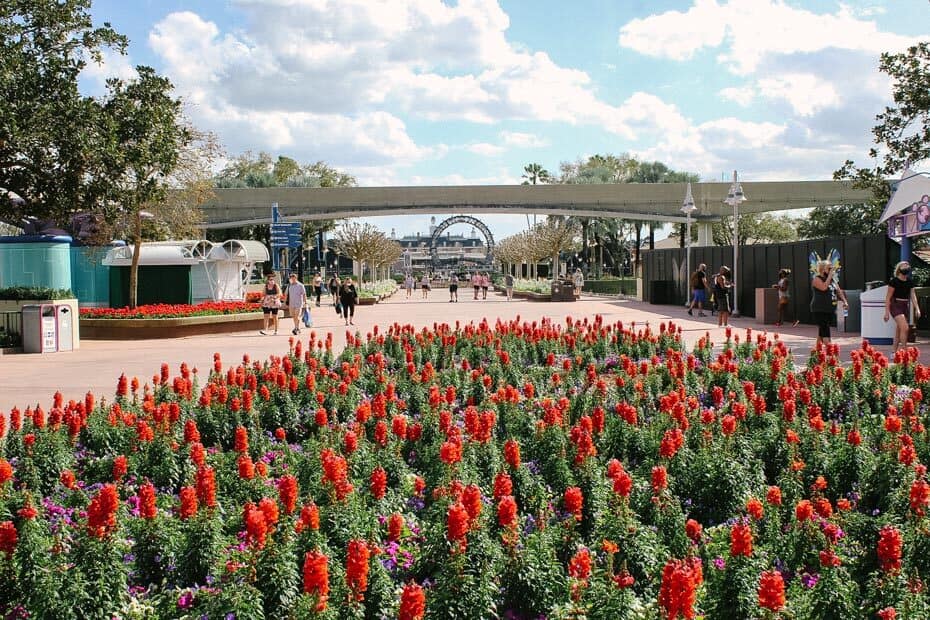 I found Mickey.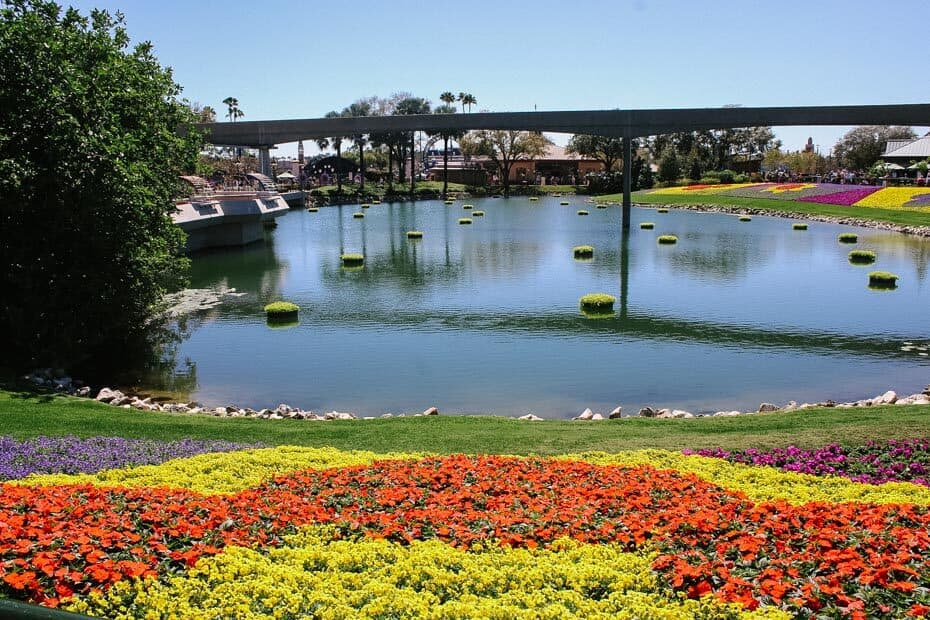 This Flower and Garden picture explains a lot.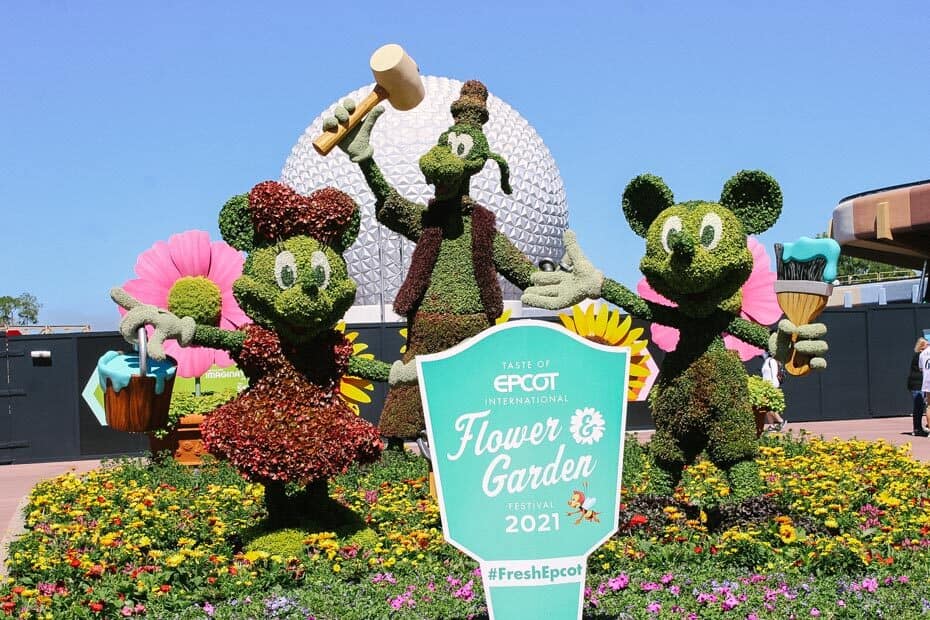 Pluto is wary over to the side. I felt like Chip and Dale could have been more prominently placed.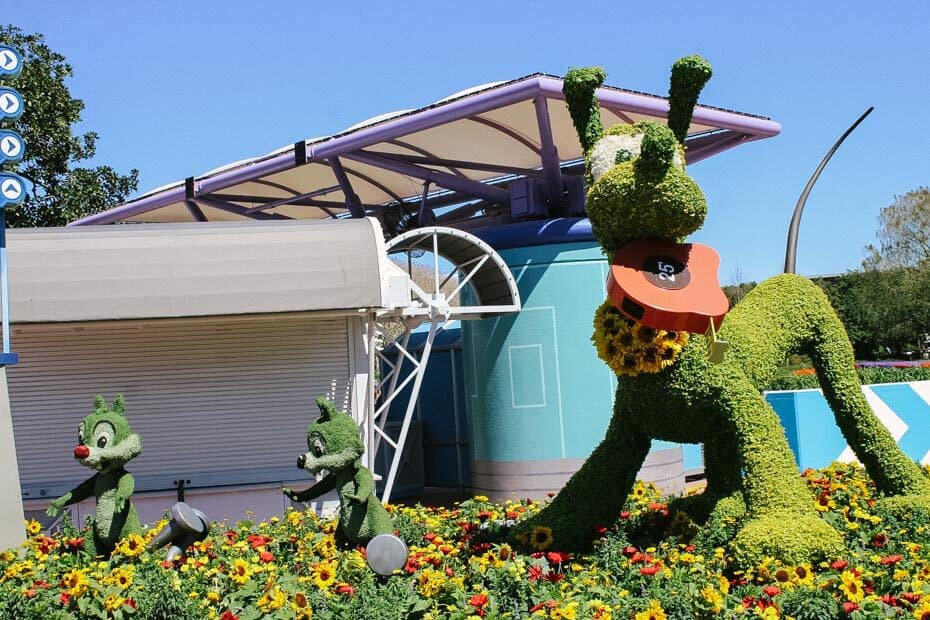 A tape measure.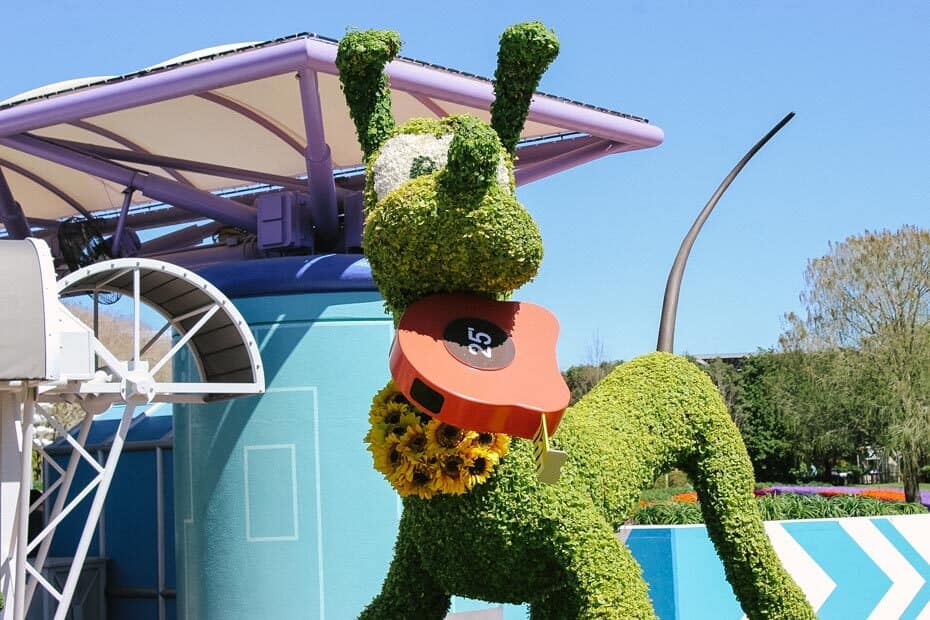 Another butterfly.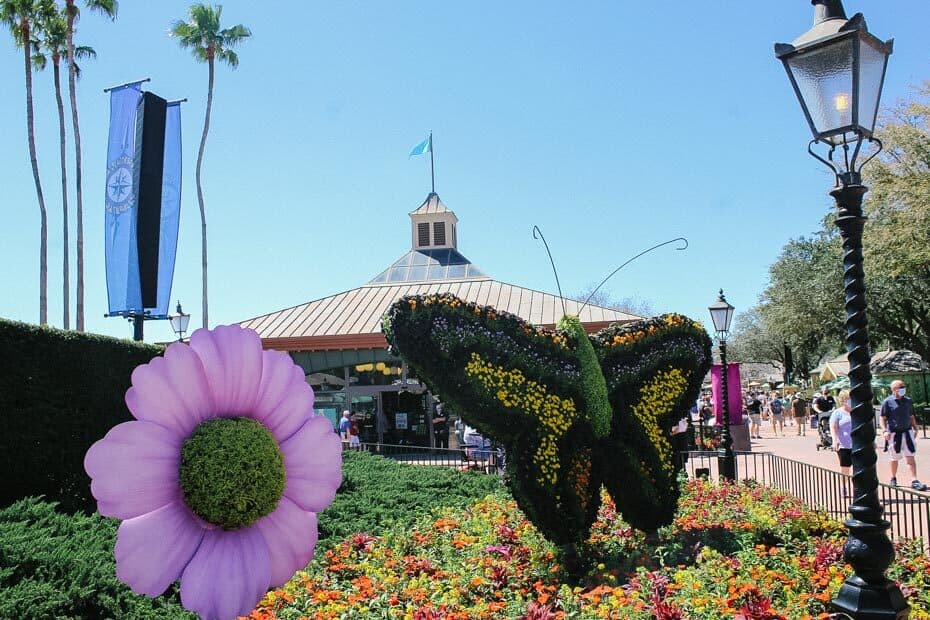 And one of my favorite new placements this year, Donald and Daisy Duck with the nephews. They have been in this area before, but I really loved the way they were positioned.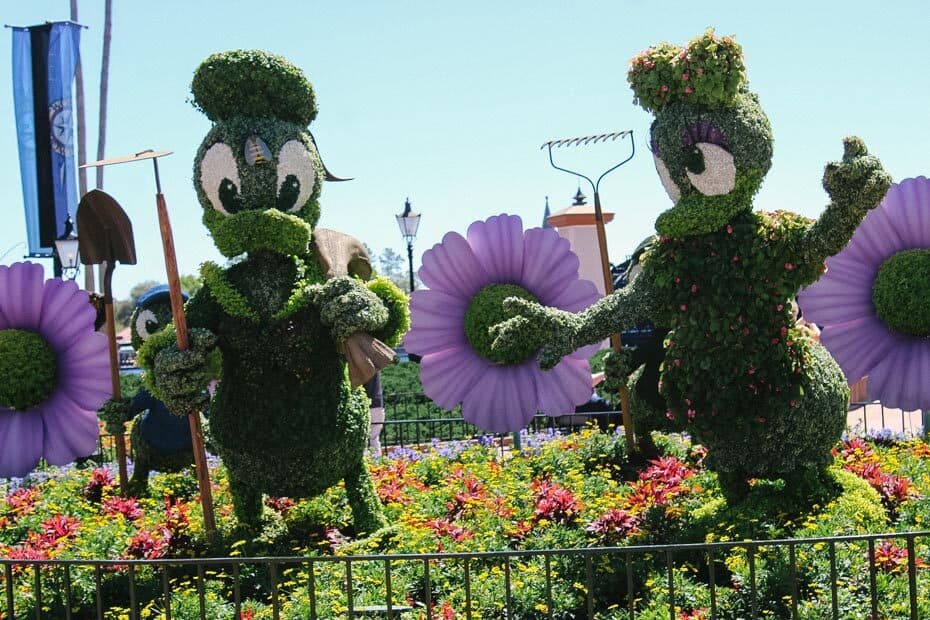 Because I thought the way they were gazing toward Spaceship Earth was darling.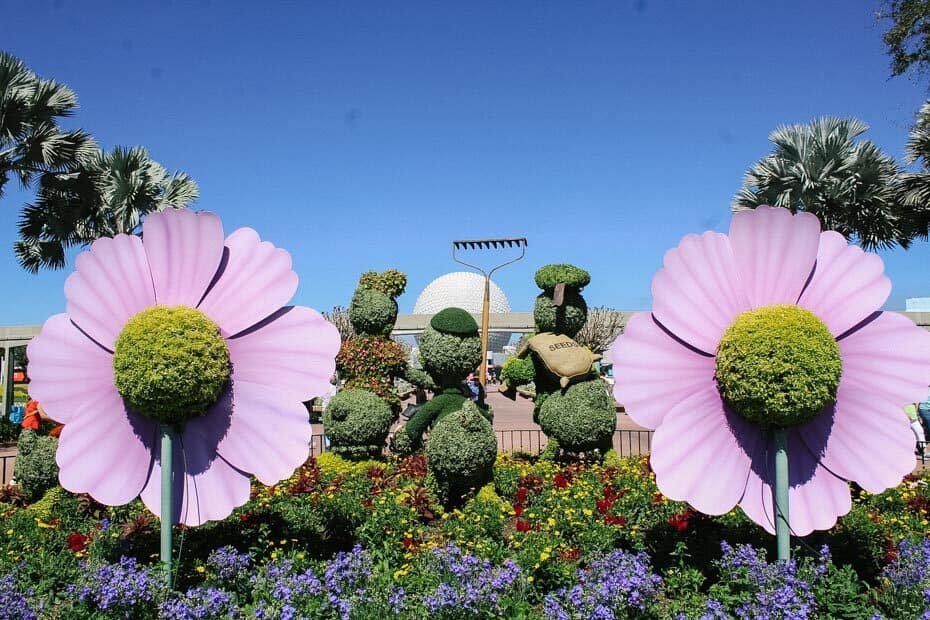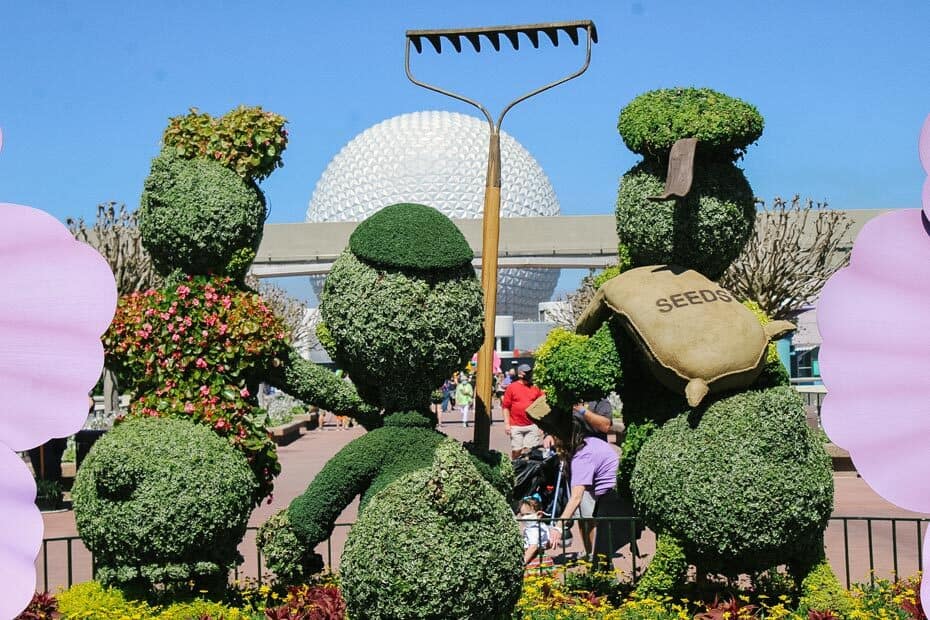 I hope you enjoyed these Epcot Flower and Garden pictures from 2021. Feel free to leave me a comment below. I always love to hear about your favorite topiaries and Epcot things!
If you are planning a trip to any of the Epcot Festivals, I highly recommend staying at one of the Epcot Resorts. They include the following:
Or you might enjoy staying at one of the Skyliner Resorts. They drop off at Epcot's International Gateway. They include:
I hope you enjoyed these photos from Epcot's Flower and Garden Festival. Are you planning a trip to the festival?