The Best Pools at the Disney World Resorts
Some of my fondest memories at Walt Disney World include pool days spent at the resort. Considering there are so many resorts with spectacularly themed pool areas at Disney World, it can be difficult to choose one.
Therefore, I decided to put together a list of the best pools at Disney World. Since I consider myself not only a Resorts Gal but a pool person, I knew immediately what pools to include in this list of the top 10 pools at Disney World. There are even two bonus honorable mentions!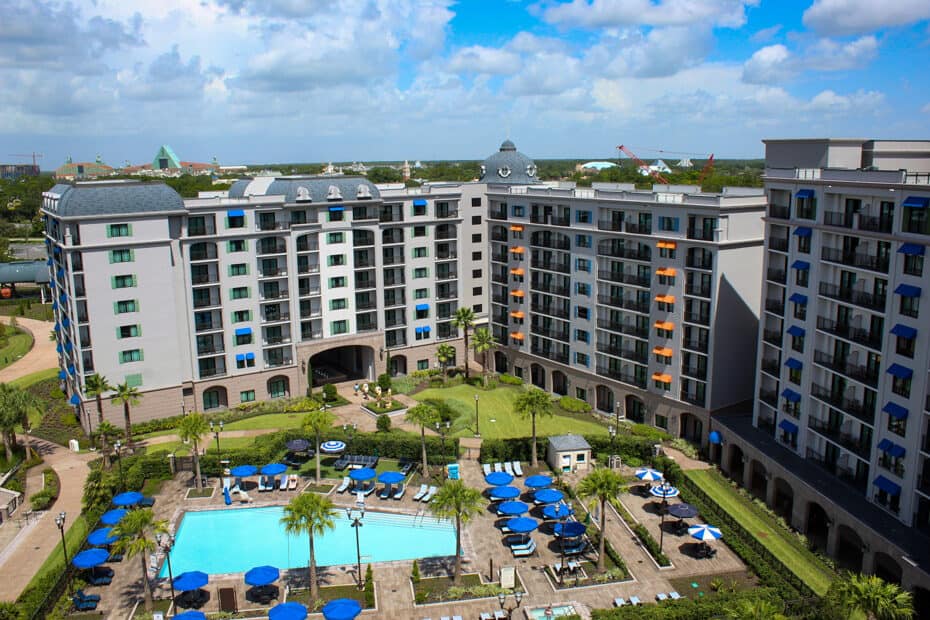 The factors that I've considered for this best pool list are the actual pool itself, surrounding views, amenities at the pool, and children's play areas. And don't worry, I've also taken the pool bars and dining options located nearby into account.
All you have to do is find a comfy spot (preferably a lounger in the sun) while you read and start daydreaming about that upcoming Disney vacation. By the end, you should have a pretty good idea of which resort (based on pools) is right for your family.
Best Disney World Pools
When it comes to the best pools at Disney World, there are quite a few choices. All of our top 10 pools are located at moderate resorts or deluxe resorts. Additionally, there is one value resort pool listed in the honorable mention section.
And here they are: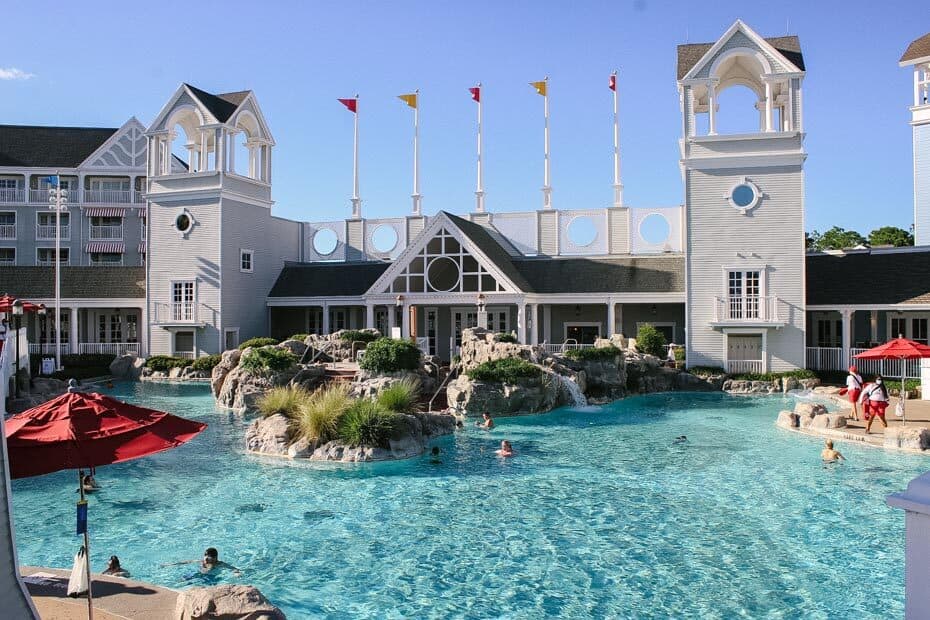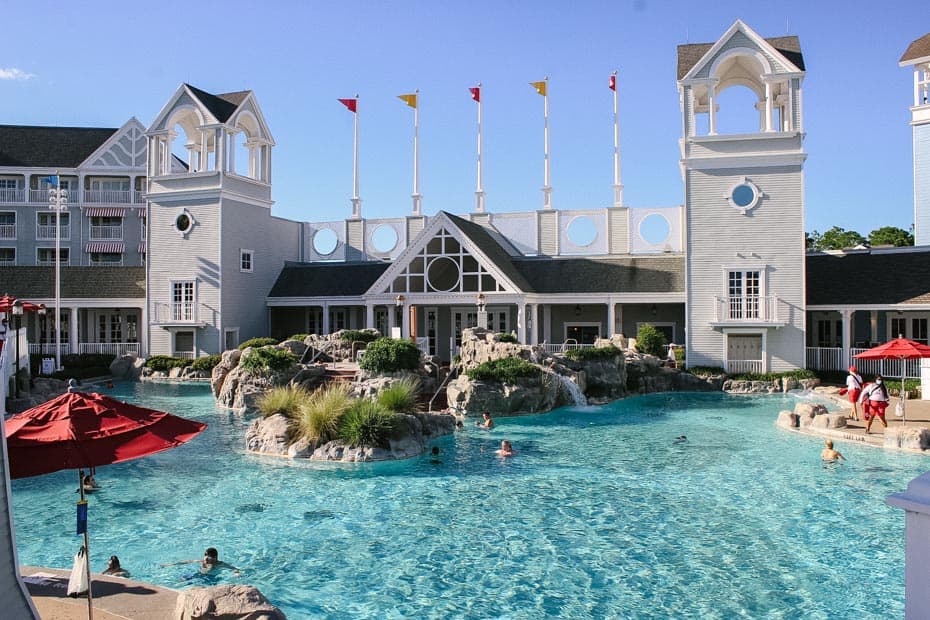 Before we get started on each pool, I wanted to mention pool hours at Disney briefly. Pool hours are typically subject to weather and seasonal crowds.
During the summer, you'll usually find long pool hours anywhere from 7:00 a.m. until 10:00 p.m for each resort's feature pool. But if you visit in January, the hours might be shorter, for instance from 10:00 a.m. until 8:00 p.m. You'll want to confirm the pool hours at the resort upon arrival.
Now that we got that out of the way let's look at each of our top ten pools and the factors that make them worthy of making the list.
#10 The "Feature Pool" at the Contemporary
Topping the list is the feature pool at Disney's Contemporary Resort. And no, you aren't doing a double-take. The pool is actually called "the feature pool." When considering pools, I knew this one had to be added because of the amazing surroundings and views of Bay Lake in the distance.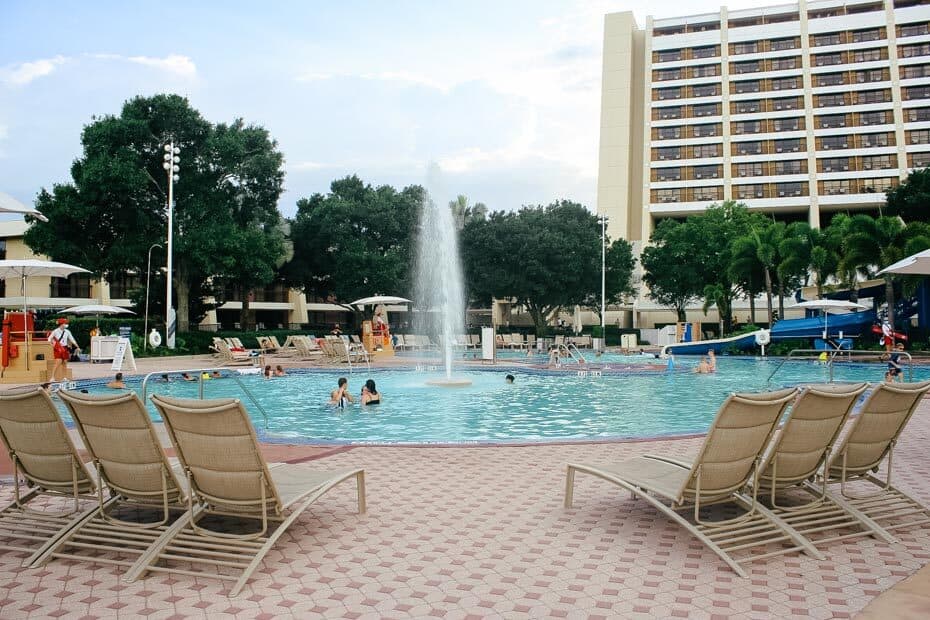 When I need a break, it's not uncommon to find me sitting out here on the white sand beach, taking in those views. This area below with the volleyball net sits directly behind the feature pool area.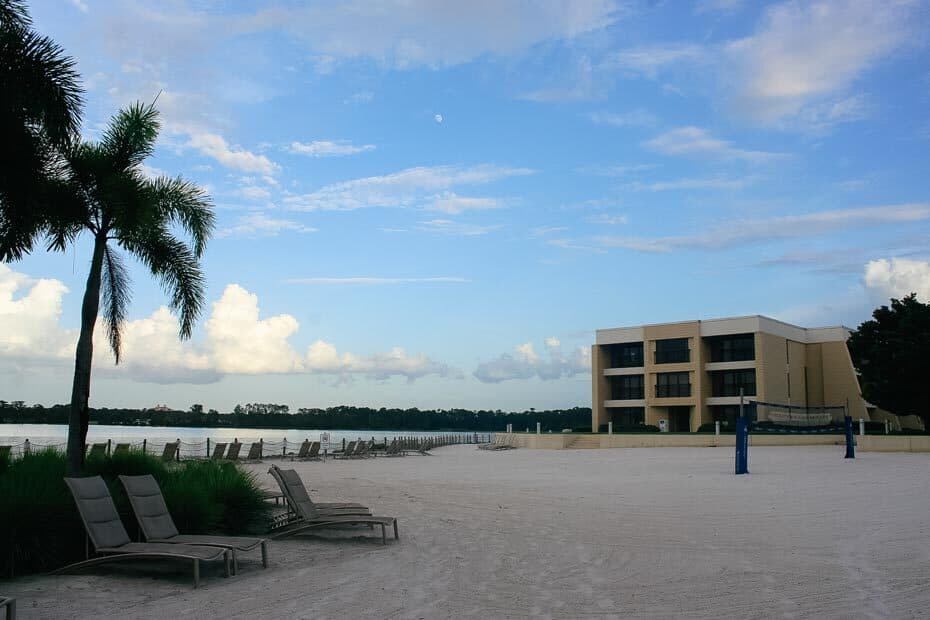 Additionally, the resort is home to this stunning quiet pool that gives the illusion it's floating out over the lake. If things at the main pool get crowded, you might enjoy spending a little time out here. One of the great things about the resort is that everything is conveniently located in this large backyard area. You don't have to trek to a separate area to find the quiet pool.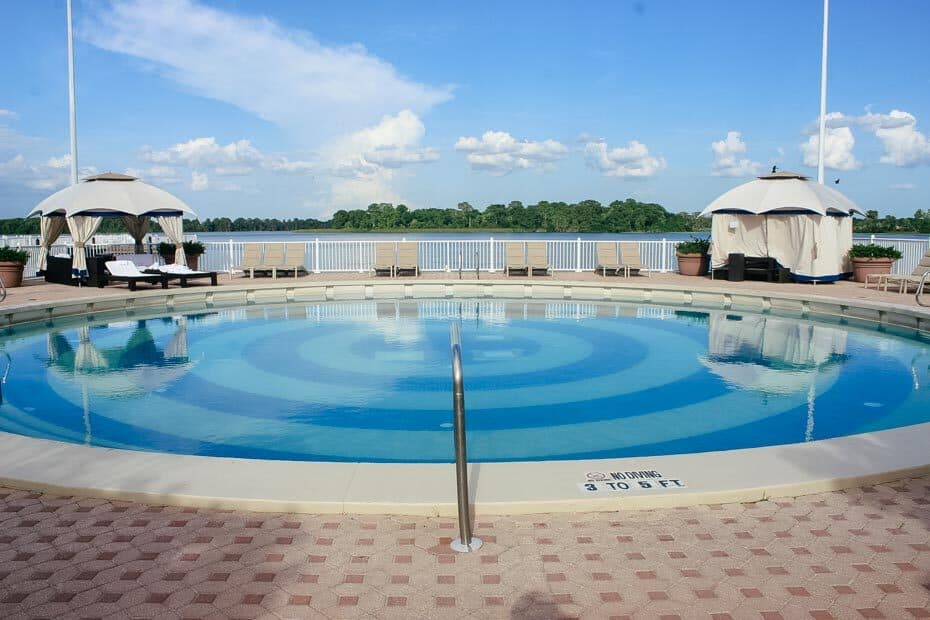 Also, kids that are old enough can easily enjoy the different activities in the surrounding area without them being too far out of sight. There is plenty to do here, like the main pool's 17′ high waterslide, two whirlpool spas, tabletop tennis games, and separate children's splash play area.
The only downside is that the pool bar, which is efficient, doesn't have a ton of variety in food offerings. You will find burgers, hot dogs, and nachos, but that's usually pretty much about it. (I think the plant-based item right now is an order of fries if that tells you anything.)
A full meal or lunch at the pool typically requires a walk inside the resort to pick up Contempo Cafe. Or you can walk over to the counter service at Bay Lake Tower's pool next door. Unfortunately, neither of those options is convenient.
#9 Uzima Springs Pool at Animal Kingdom Lodge
Our next best Disney pool on the list is the Uzima Springs Pool at Disney's Animal Kingdom Lodge. If you've stayed at the Animal Kingdom Lodge before then, you already know how special the resort is in its entirety. And the Uzima Springs Pool area is perhaps one of the most serene pool areas property-wide.
One side of the pool has a zero-entry and large, shallow wading area.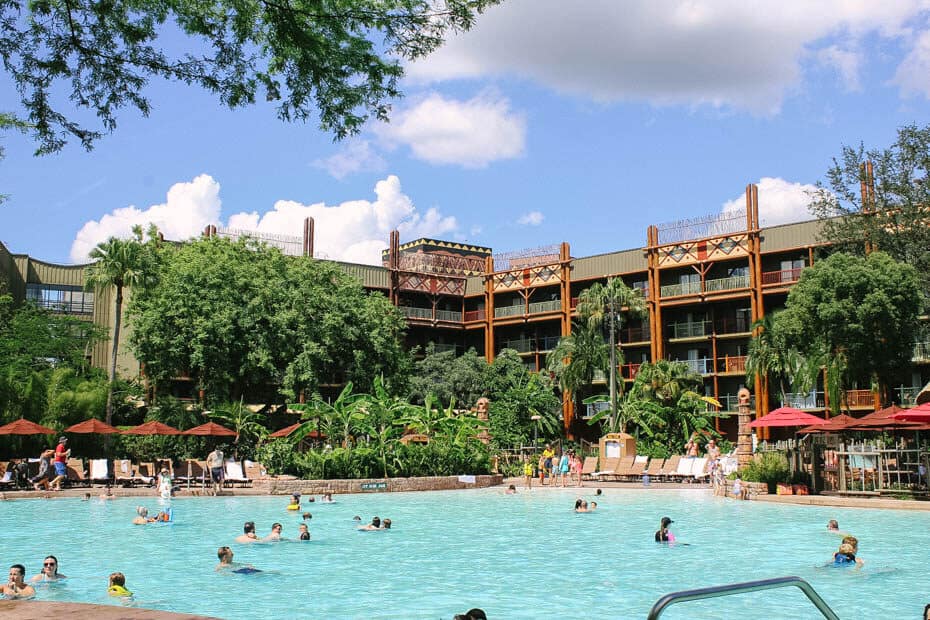 The pool features a gentle 67-foot long water slide. This slide is extremely kid-friendly because there isn't much height involved. However, the length of the slide still makes it a fun ride.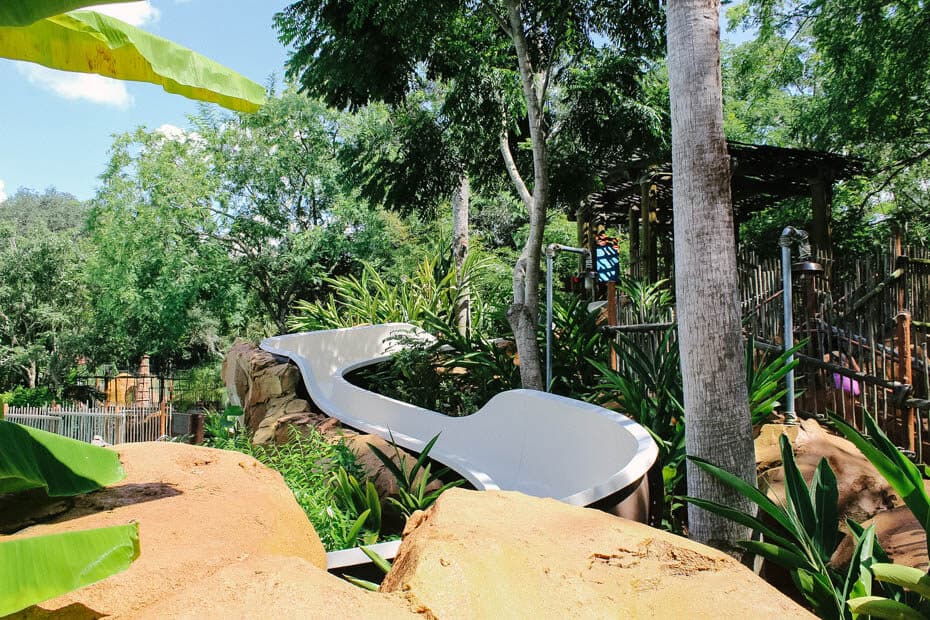 Near the resort side of the pool, there is a separate small wading pool for children. In fact, the entire area is extremely child-friendly. There's even a large playground with cork flooring only a few steps away.
If a resort could get my vote for the best spa area, it would be a toss-up between here and the Polynesian. Below is one of two large, private spas you'll find surrounded by luscious landscaping. It's really easy to walk right by and not even know they are there. And trust me, after a long day in the park, you'll need a place to relax those aching muscles.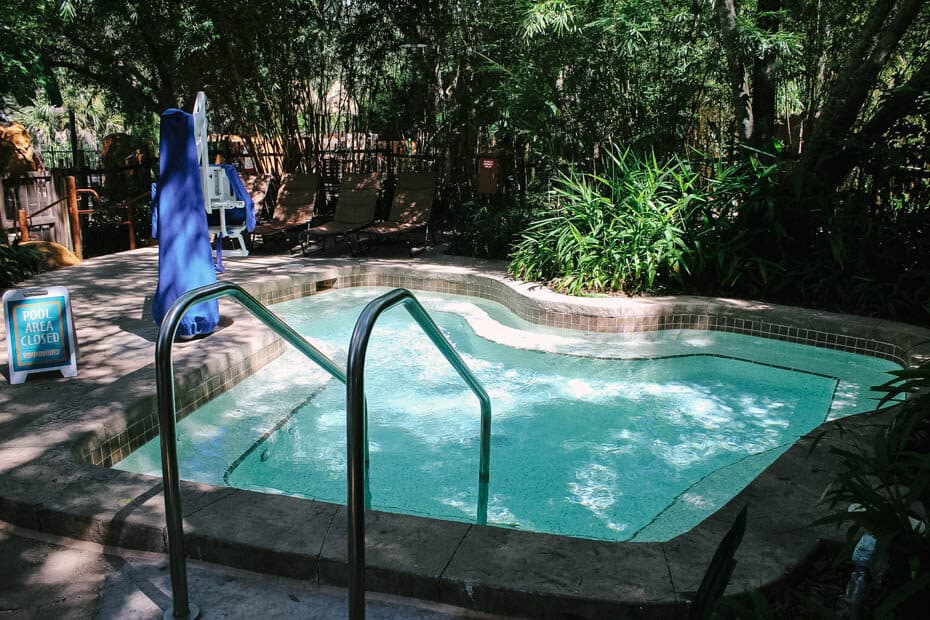 As for the best part of the Uzima Springs pool, it's a toss-up. First, the views are gorgeous, and you are only steps away from the savanna where animals are grazing.
Secondly, the food options are good here at both the Uzima Springs Pool Bar and The Mara. If you've read any of my reviews, you know I love The Mara. You can read more about it in the Animal Kingdom Lodge restaurant guide.
Coming in as our #8 choice for best Disney World pools is the Luna Park feature pool at Disney's Boardwalk Inn. You can probably see why!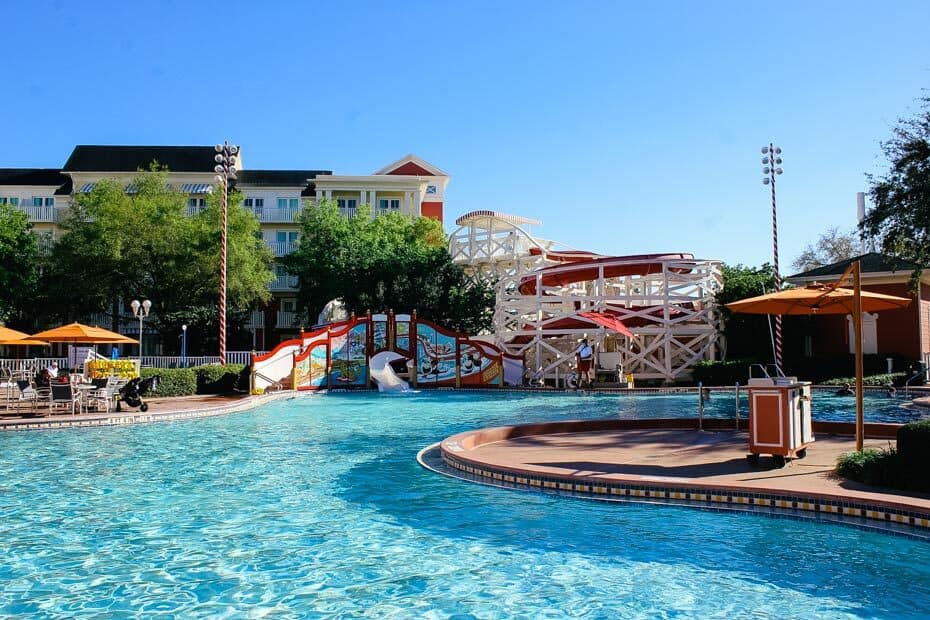 This fun pool features a roller-coaster themed water slide that's 200 feet long!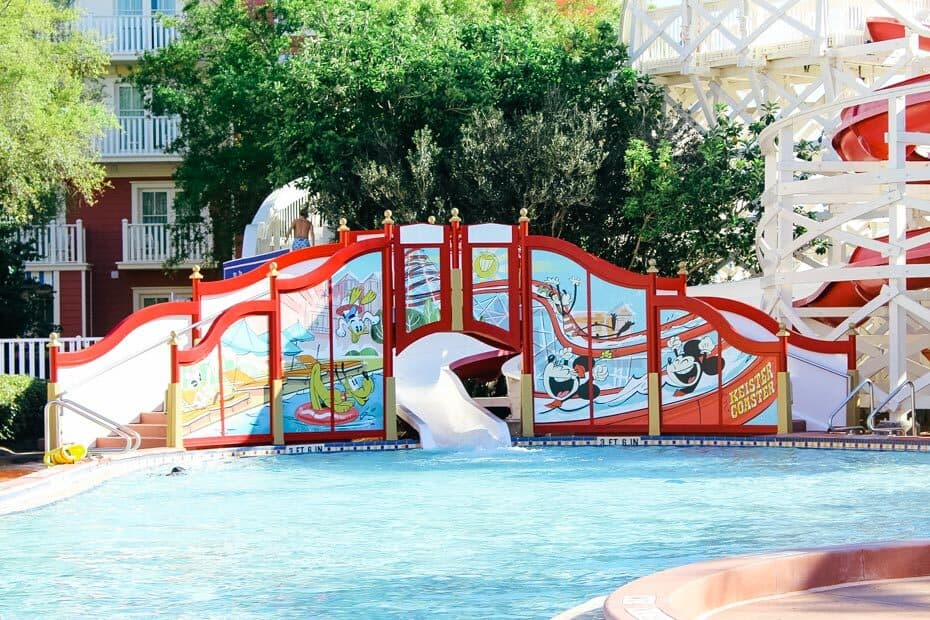 While there is a bit of a staircase involved to board the slide, the entire area is extremely child-friendly. You'll find a kiddie pool, playground, and pool bar within the enclosed feature pool area.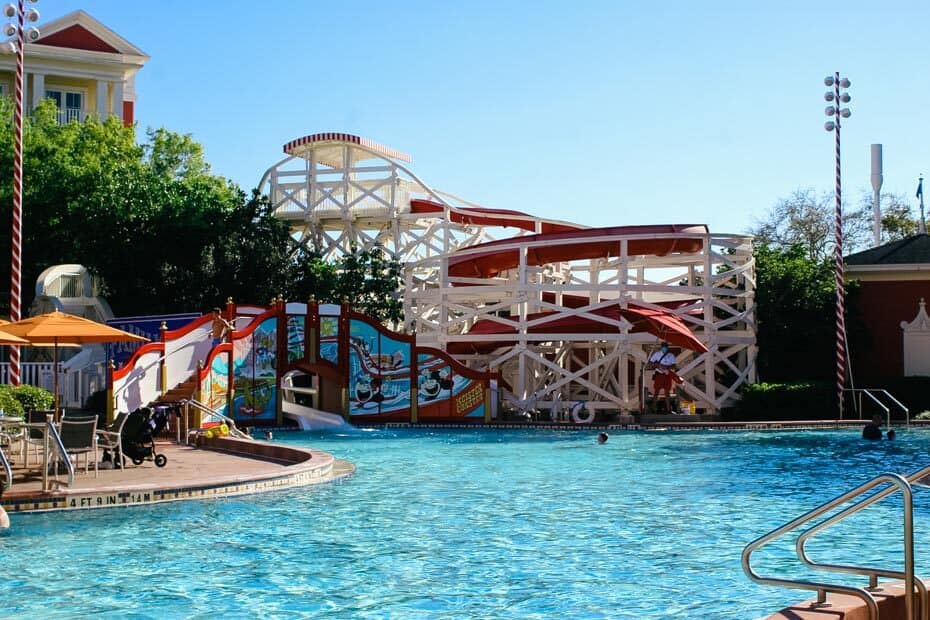 The only drawback is there aren't any good dining options nearby. It's really the only downfall of staying at this hotel. There are plenty of great table service options that require reservations. But when it comes to counter service, you've got the Boardwalk Bakery, which is really hit or miss, and hardly anything else. You would think all of the people at the pool might want to eat?
Back over at the Magic Kingdom Resort Area, we have a look at the beach pool at Disney's Floridian. I think we can all agree that it's one of the prettier pools at Disney.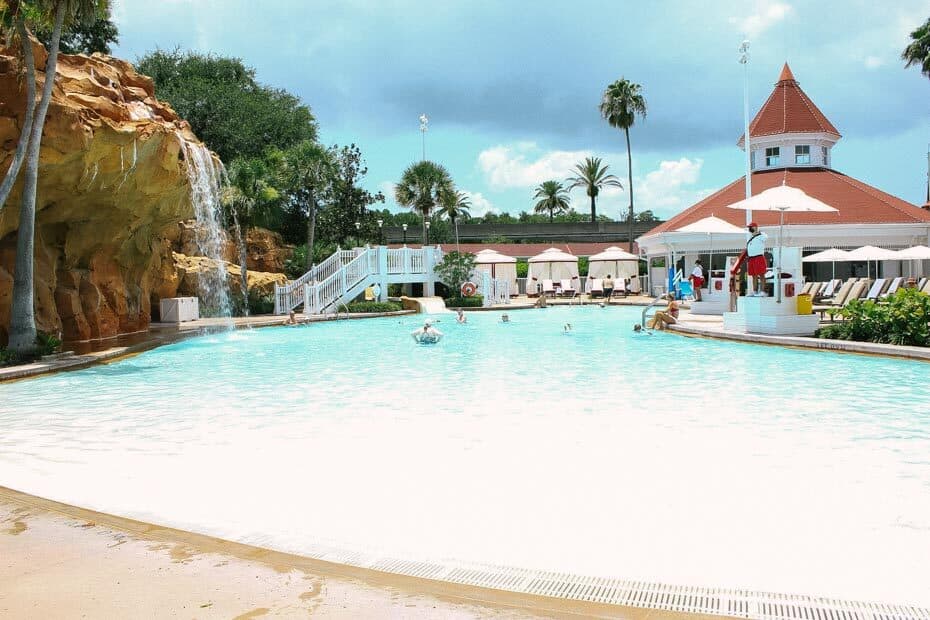 The Beach Pool has a water slide, waterfall, and zero-entry pool area. And there is a stunning white sand beach overlooking the Seven Seas Lagoon with Magic Kingdom in the distance.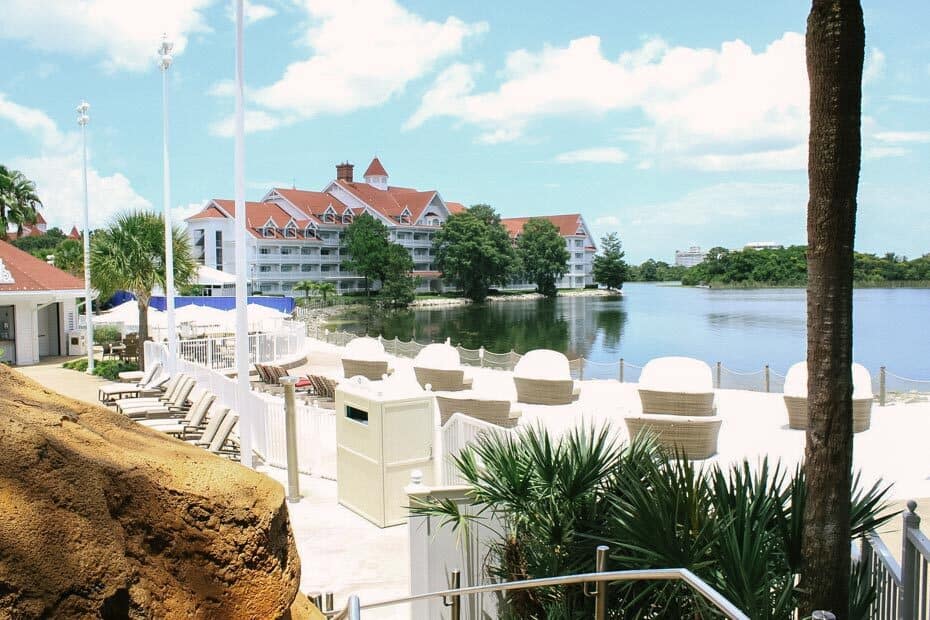 Sitting beside the pool is a fun Alice in Wonderland themed aquatic play area for children.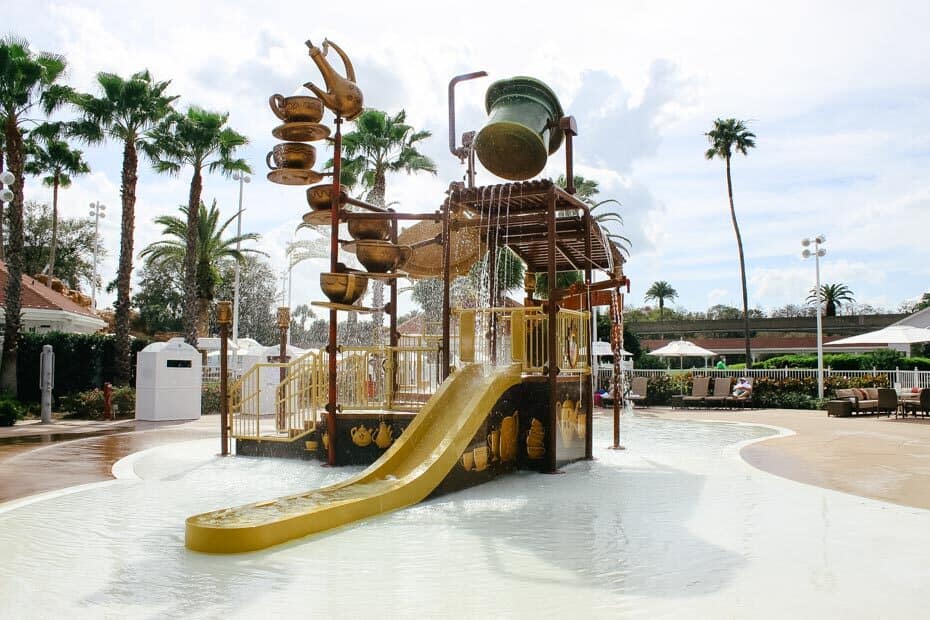 As for food items here, there are actually several good items at Beaches Bar and Grill. In addition, you can walk over to Gasparilla Island Grill if you would like to mobile order food to pick up. While it's not close to the pool, you don't have to walk inside the main building to pick up your meal.
You probably thought that the Polynesian would be in the top five best pools at Disney, didn't you? If it weren't for a newer resort and a bit of a surprise for #2, it would be. With that being said, I don't have many complaints about the Polynesian's pool.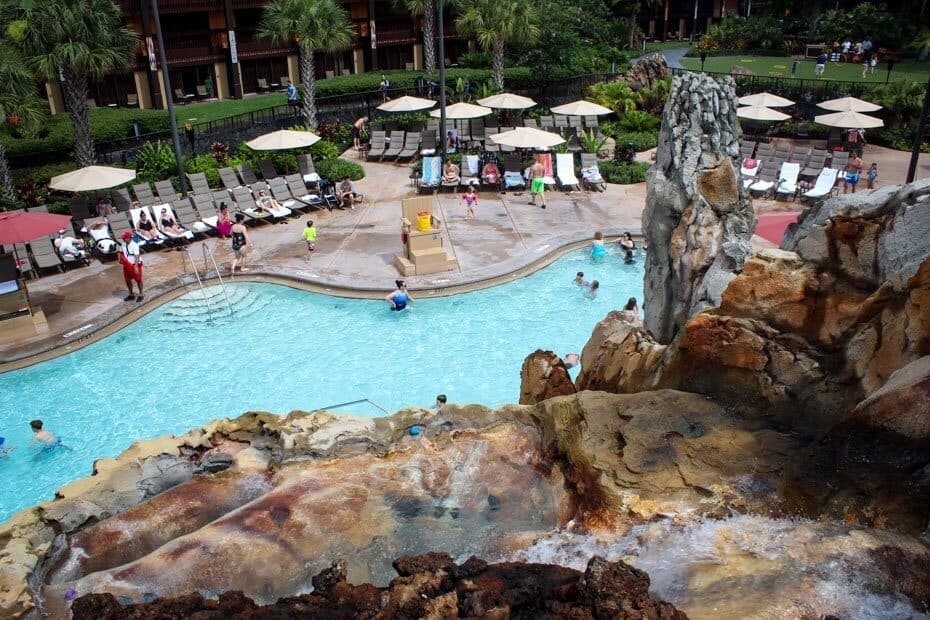 Well, except for one. The Poly's pool is usually a little more crowded than I would like. Don't get me wrong, all of the pools can get crowded. But with the volcano taking up one whole side of the pool, it's a little awkward to get around.
However, the Lave pool does have a pretty cool waterslide that runs even goes under a footbridge. Additionally, there's a zero-entry area, and a waterfall feature runs off the volcano into the pool.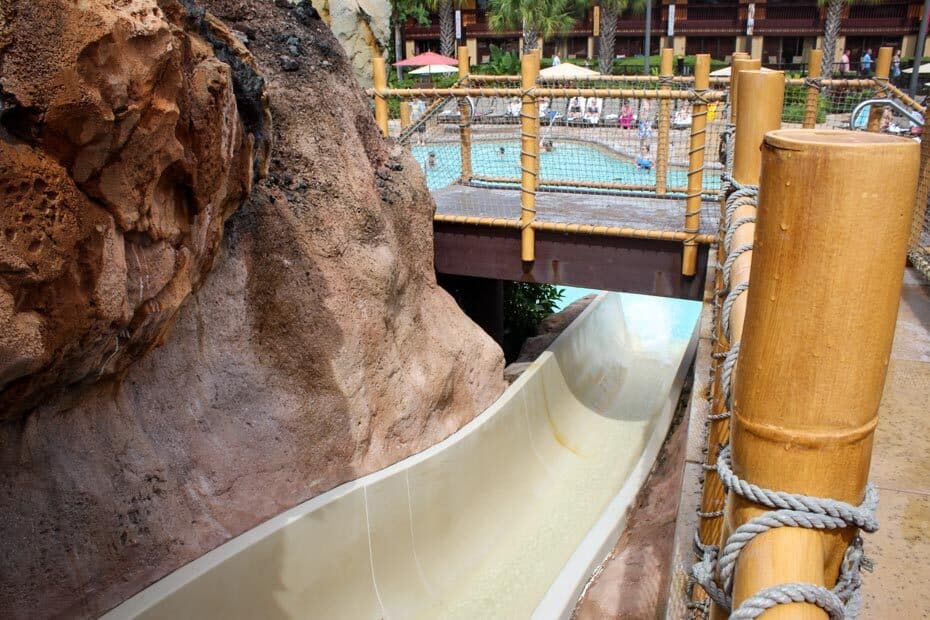 Again this is one of my top choices for whirlpool spas at Disney. The whirlpool at the Poly sits toward the back of the Lava pool with an infinity edge facing out toward Cinderella Castle. Nice, right?
Oh, and there's a large interactive aquatic playground for children on the front side of the Polynesian's pool. Plus, the Barefoot Pool Bar has plenty of options, and Captain Cook's quick service is only a few steps away. It's one of the better quick services at Disney World.
And maybe the Tiki Terrace will return soon, I'm hopeful. You can read more about staying at the Polynesian here in our full resort review.
# 5 The Riviera Pool at Disney's Riviera
Due to efficiency, nearby food, and pleasant views, the Riviera Pool at Disney's Riviera Resort has landed a spot in the top five best Disney World pools. And since the fun factor counts, it is definitely worthy.
As you can probably tell, this beautiful pool has a pleasant layout.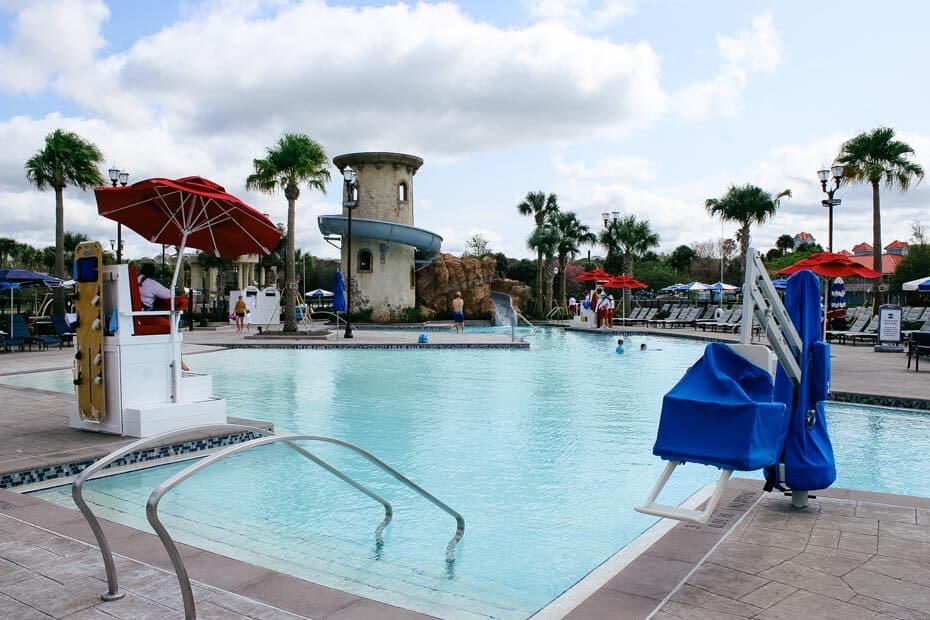 Surrounding the pool, there is a nice variety of seating including loungers and tables with chairs. One of the things I've noticed during my visits, is that it's all spaced out very nicely.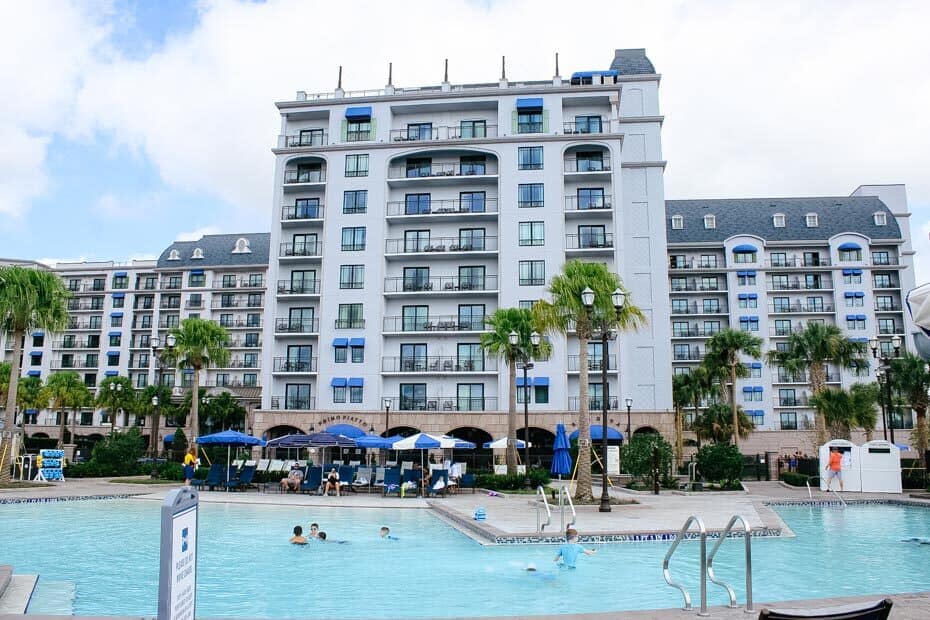 In addition, the Riviera has a larger tower water slide with a fun circular staircase to access it. And I think the kid's water play area is the best one available at Disney. It is too cute and so much fun for kids with its own twisty slide mimicking the larger one.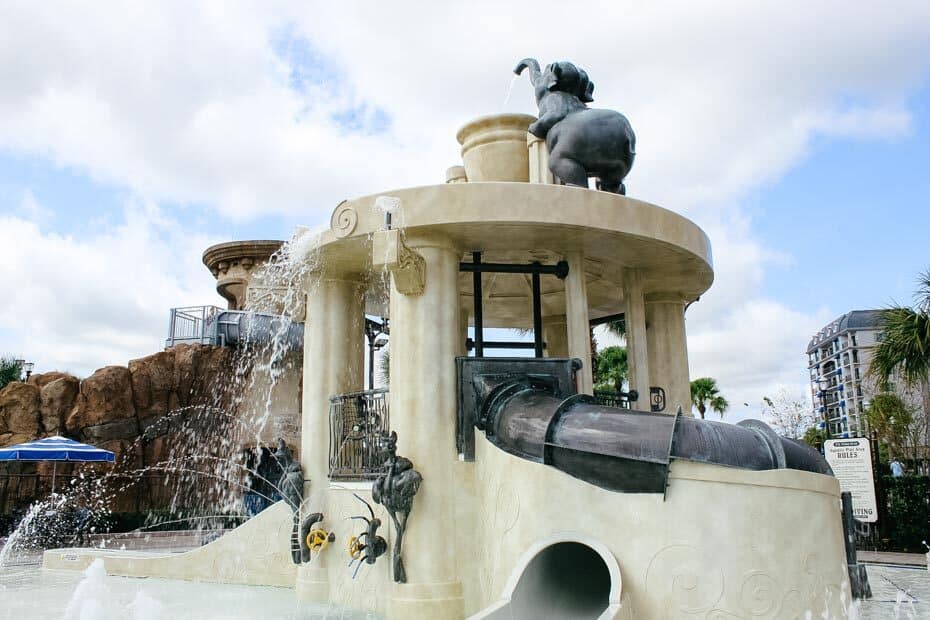 I could go on and on about all of the restaurants at Disney's Riviera. When spending the day at the pool, you'll want to take advantage of Primo Piatto and Bar Riva. You can't go wrong at either!
#4 The Lost City of Cibola Pool at Coronado Springs
For our number four pool, I went with the Lost City of Cibola Pool at Disney's Coronado Springs Resort. This pool is located at The Dig Site, which is the resort's large recreation area. It is tremendous in size and centered around this Mayan pyramid replica.
These steps on the far side lead up to the Jaguar slide that is a whopping 123 feet long!
In front of the pool sits the largest hot tub on Disney's property. Additionally, a kiddie pool sits beyond the hot tub in a shaded area.
And the pool bar, Siesta's, is a true hidden gem counter service location at Disney World. They have anything from fish tacos to standard items like burgers and fries. You can read more about it in my Coronado Springs restaurants guide.
Coming in at #3 on our list of the best pools at Disney is the Fuentes del Morro pool at Caribbean Beach Resort. This pool gets a slight edge over Coronado Springs because it has two waterslides. One is 102 feet long!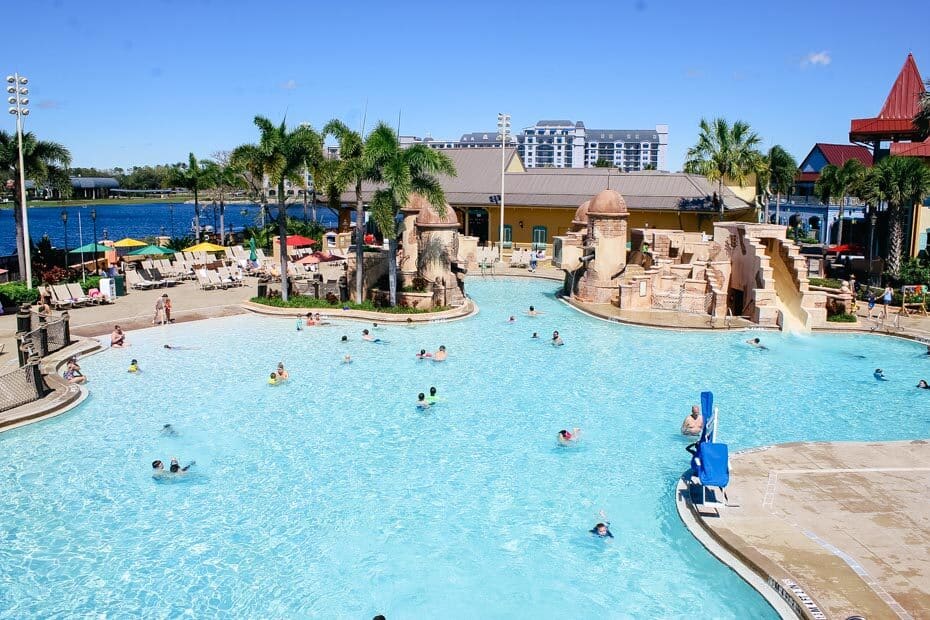 Besides, who doesn't like a pirate-themed pool area? Especially one that has a spa tub that sits up to 12 guests.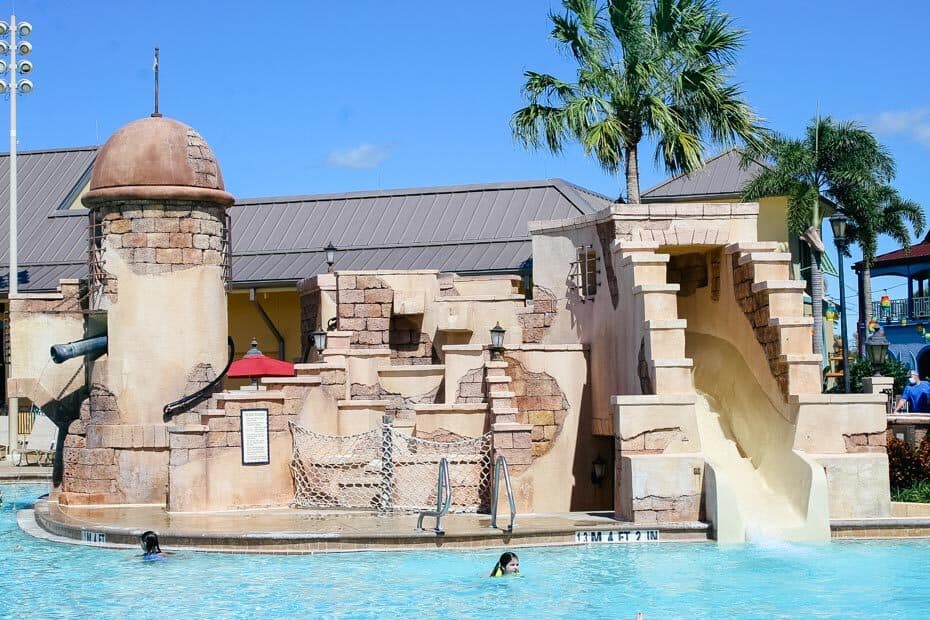 Toward the back of the pool, you'll find a separate children's water play area.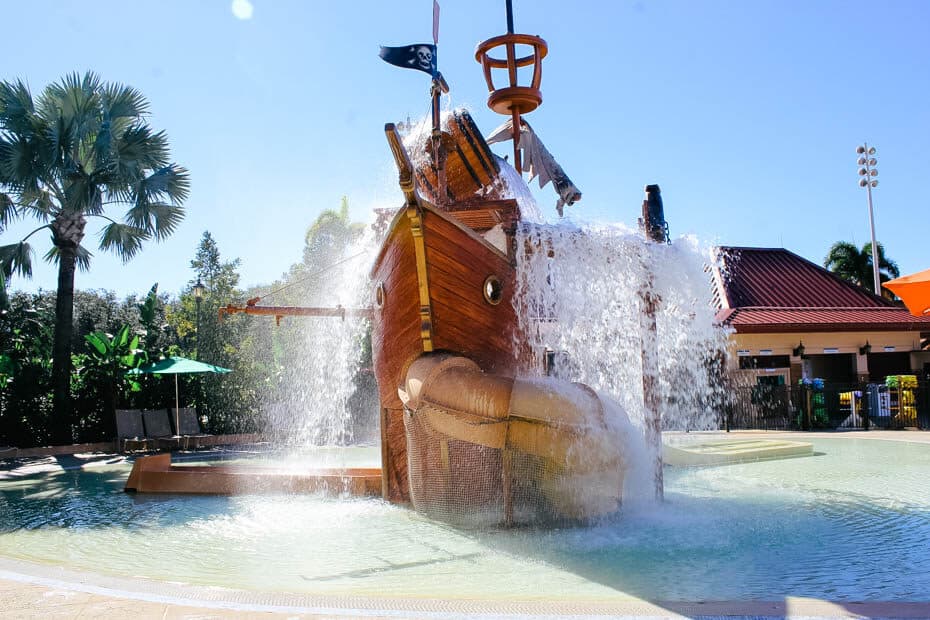 The Banana Cabana is the pool's dedicated bar area and has a counter service menu. But Centertown Market is only a few steps farther and will have a greater variety of offerings.
Overall, this pool is definitely worth a spot in our top 10 Disney pools.
Surprise! While Disney's Swan and Dolphin are not owned and operated by Disney, the resorts still make up part of the Epcot Resorts Area. And that alone makes it worthy of a mention in our top pools at Disney.
Additionally, the Grotto Pool itself is worthy of taking our number two spot. For starters, like its name, the pool has an alluring grotto tucked behind the waterfall.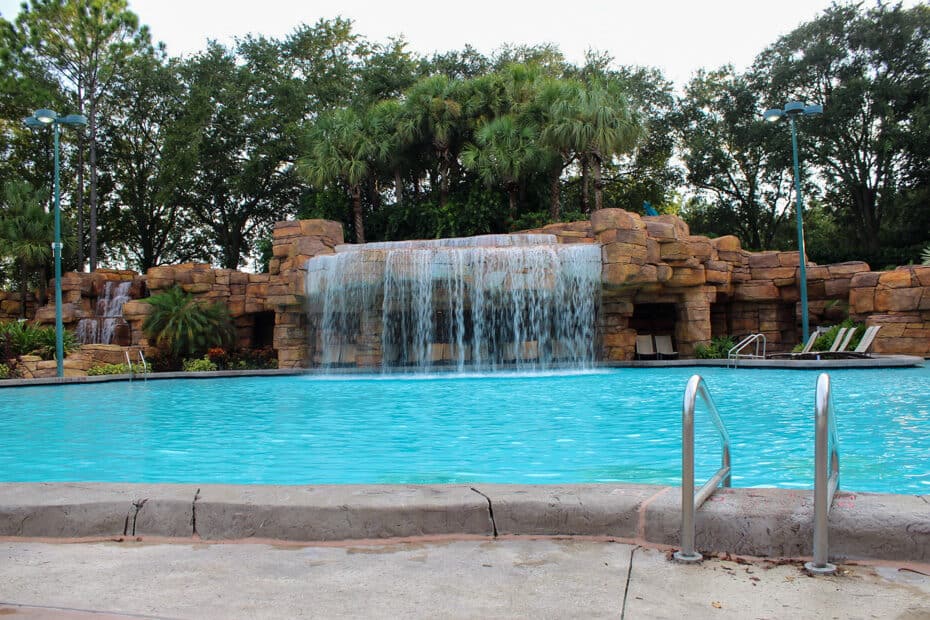 If you prefer the coolest place to sit on a hot summer day, you'll want to snag a spot here early! Trust me, chairs in this area are difficult to find before 5:00 p.m.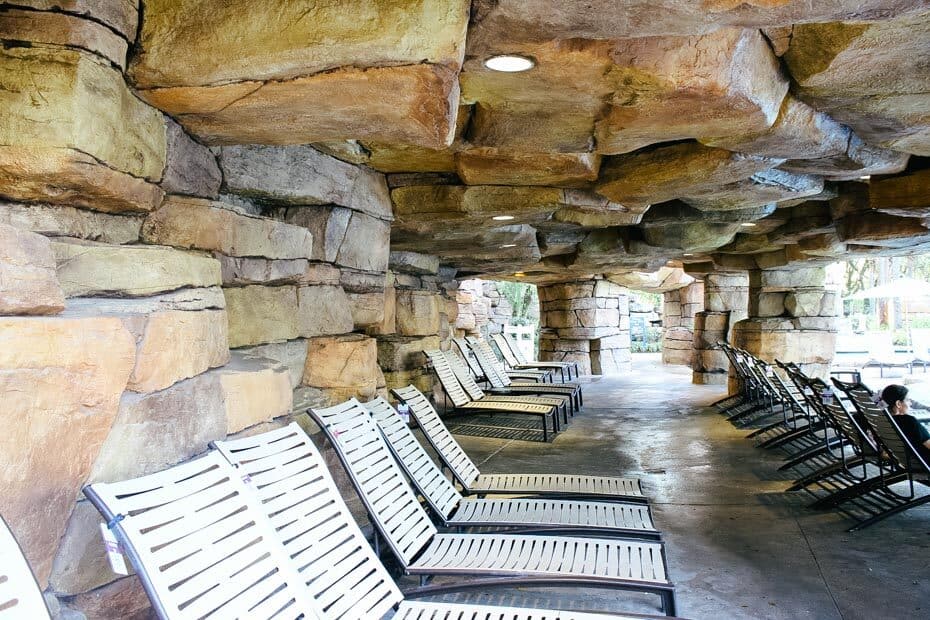 And the pool continues on and on around the large recreation area. Several bridges cross over the pool, along with a volleyball area, children's pool, and whirlpool tubs.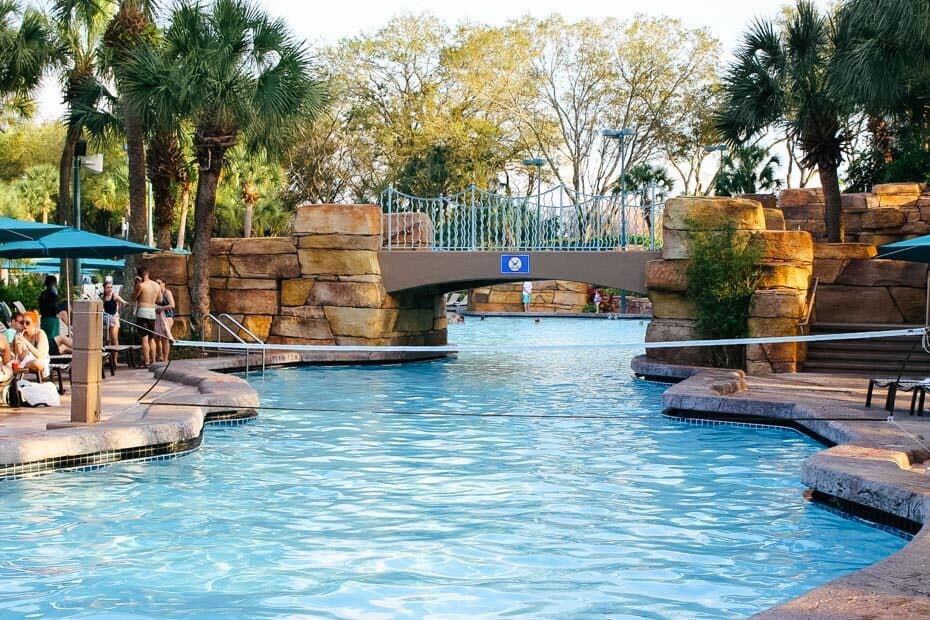 If you would like to learn more about this resort, make sure to read our full resort review of Disney's Swan and Dolphin.
#1 Stormalong Bay at Disney's Yacht and Beach Club
Drumroll, please! We have finally made it to the BEST POOL at Disney World, Stormalong Bay. While it might have been difficult to rank some of these Disney pools, there was never any question about which pool would come in as the top choice. In fact, I hate to even call this a pool because it's really more of a mini water park than anything.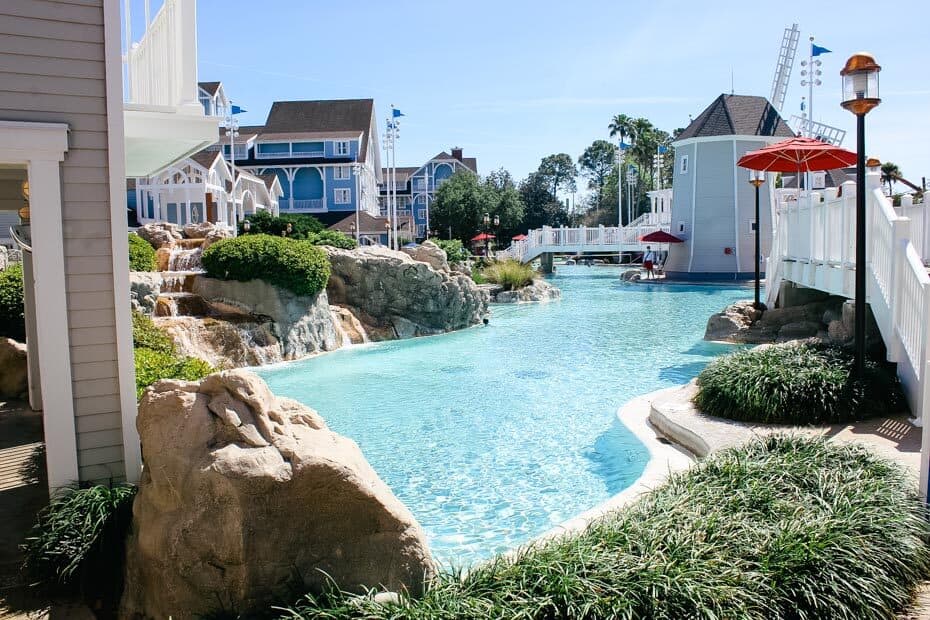 When we stay at the Beach or Yacht Club, we rarely visit a water park like Blizzard Beach, because there isn't any need. There is plenty to do right here at the resort. For example, Stormalong Bay has a lazy river, sand bottom pool with a play area, and a tremendous water slide.
There are even private cabanas you can rent!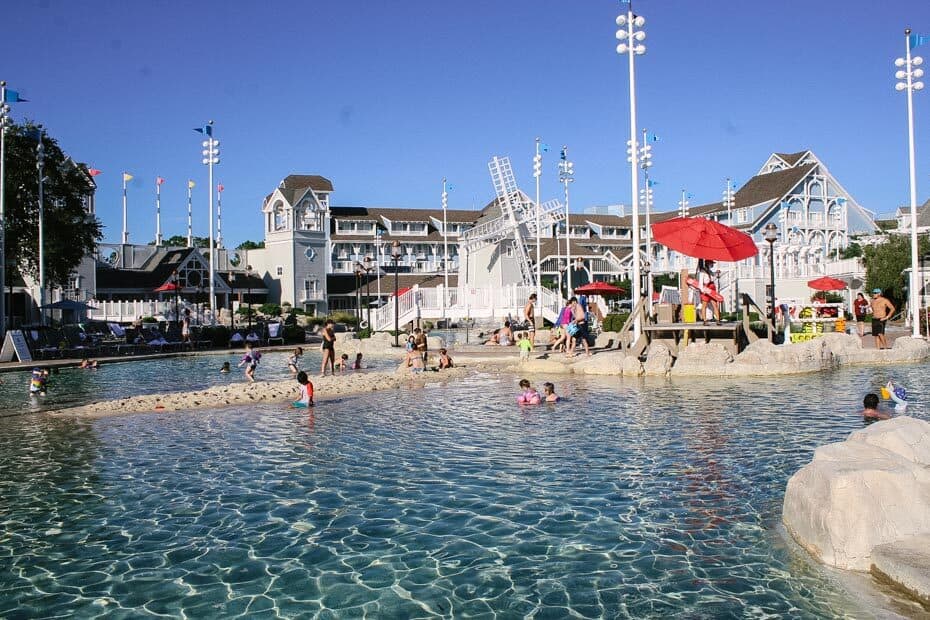 At the base of the slide, there is a kiddie pool with its own miniature slide for the little ones!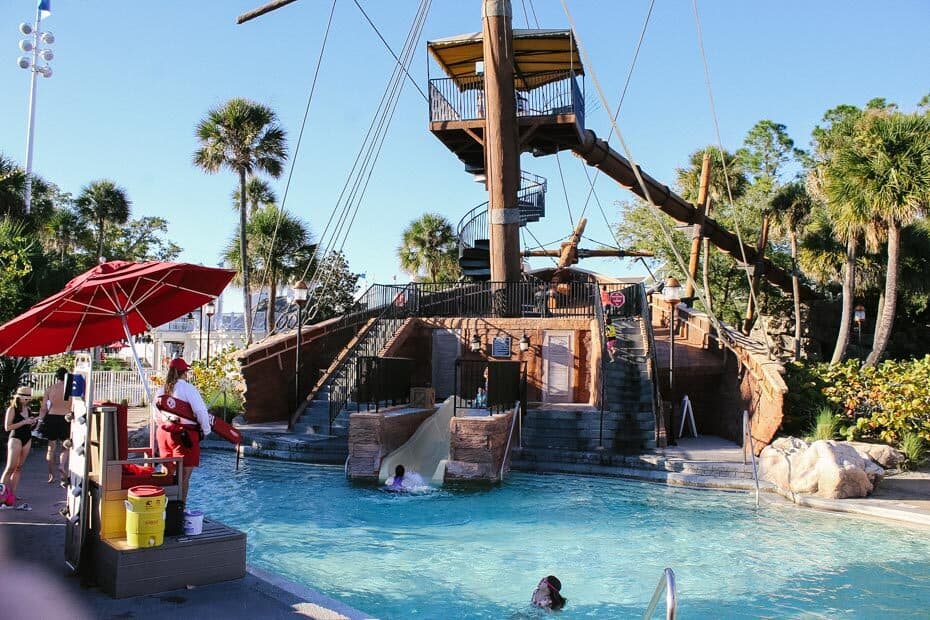 As for dining, there's Hurricane Hanna's, which usually has a lot of good options. Unfortunately, they've been lacking as of late, but those offerings should pick back up again soon with things improving.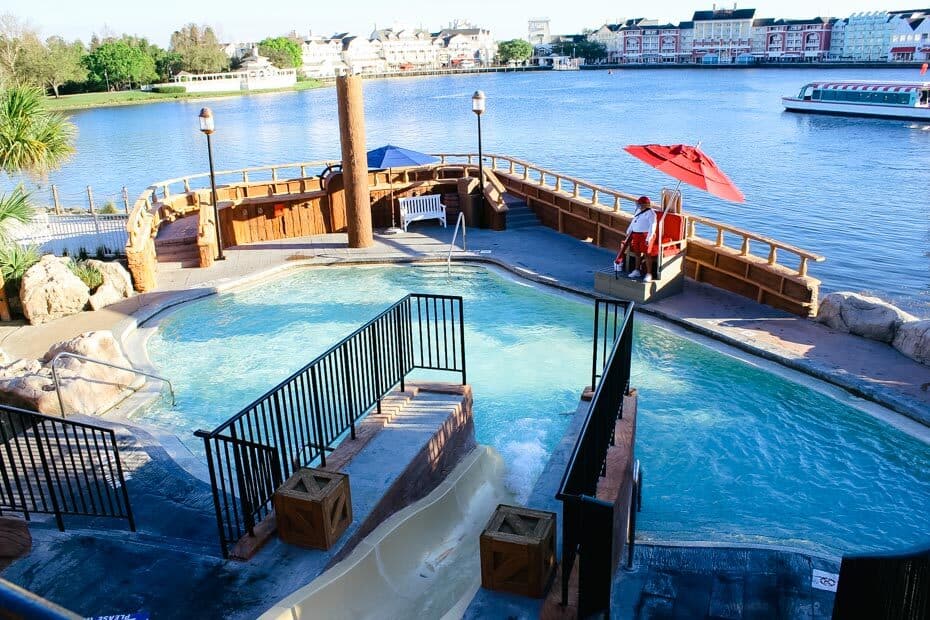 While I can't cover everything about the pool in this post, I have an extensive review covering all of Stormalong Bay here.
Honorable Mentions for Best Disney World Pools
When I initially drafted this review, I felt like there were two pools at Disney World that were definitely worth mentioning, even if they didn't make the top 10. The first is The Big Blue Pool at Disney's Art of Animation.
You won't find a waterslide here, but this is still a fun pool that holds over 300,000 gallons of water!
And the Schoolyard Sprayground is super cute and fun for the kids!
Lastly, Doubloon Lagoon at Disney's Port Orleans French Quarter has a sea serpent water slide. This moderate resort doesn't have a scheduled re-opening date yet. However, I couldn't leave it off the list without mentioning it.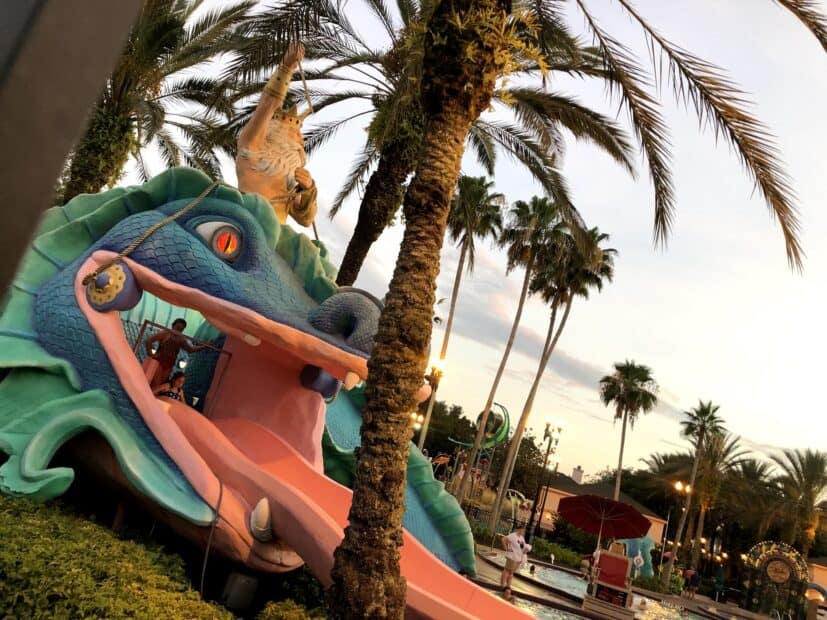 If you are thinking about planning a Walt Disney World vacation, make sure to check with our travel partners at Firefly Travels. They will make sure you don't miss a detail when it comes to your trip.
This wraps up our best pools at Disney World list! Now that you've read over all of them, do you have a pool that you favor? Let me know in the comments.