Review: Renting a Poolside Cabana at Disney World
Have you ever thought about what it would be like to rent a poolside cabana during your Walt Disney World vacation? Well, the bad news is it's a pretty expensive treat. But the good news is that you'll probably enjoy the cabana so much that you won't regret it.
Since I began specializing in providing resort-related information, the idea of renting a cabana rental has been at the top of my list of items to cover. Of course, you probably already know that Walt Disney World's Resorts have various extra-curricular activities, ranging from free to additional costs.
A cabana rental is one of them.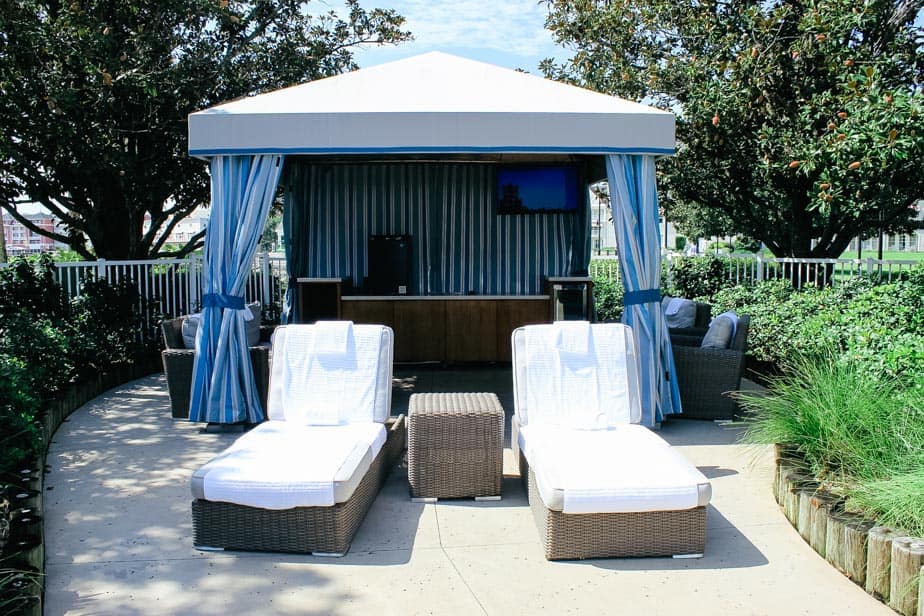 Several resorts offer cabana rentals at Disney World. They are as follows:
Disney's Yacht and Beach Club
Additionally, poolside patio rentals are available at Disney's Polynesian Village Resort. Poolside patios are slightly different from the cabana rentals, though, and pricing is not the same.
For more information on renting a poolside patio at the Polynesian, check here on Disney's site.
Poolside cabanas at Disney World cost around $300.00 per rental. If you decide to rent one, you'll need to confirm the exact cost with Disney.
From my understanding, the full price with tax for a cabana at the Beach and Yacht Club is approximately $318.00
Currently, cabana rentals at Disney World can be reserved 60 days out. You must have a confirmed reservation at the resort for the day you want to reserve the cabana.
Additionally, you'll want to make this reservation as early as possible on the 60-day mark in order to secure your cabana. Only four cabanas are available at the Beach and Yacht Club, so reservations are limited.
Call the number listed here on Disney's site to make this reservation.
Make sure to let the cast member know if you are an annual passholder or DVC member. There is a 15% discount, which you'll want to take advantage of if applicable.
What's Included in a Cabana Rental at Disney World?
Going into this experience, I had a fairly good idea of what to expect when renting a cabana at Disney's Beach Club. Most of the items you'll receive are listed on Disney's website.
For the Beach and Yacht Club, those items include:
A server from Hurricane Hanna's for food and cocktails.
A dedicated Cast Member servicing the cabanas.
Furniture, Lounge Chairs, Outdoor Sofas, and Chairs
Ceiling Fan
Safe
Charging ports and USB
Mini fridge with soda and water (included with the price)
Fruit Platter
Towels
Television with cable channels
In addition, we received a dessert tray in the afternoon. This item is not listed in the amenities on Disney's site.
However, I believe the dessert trays are a standard item with the cabana reservation.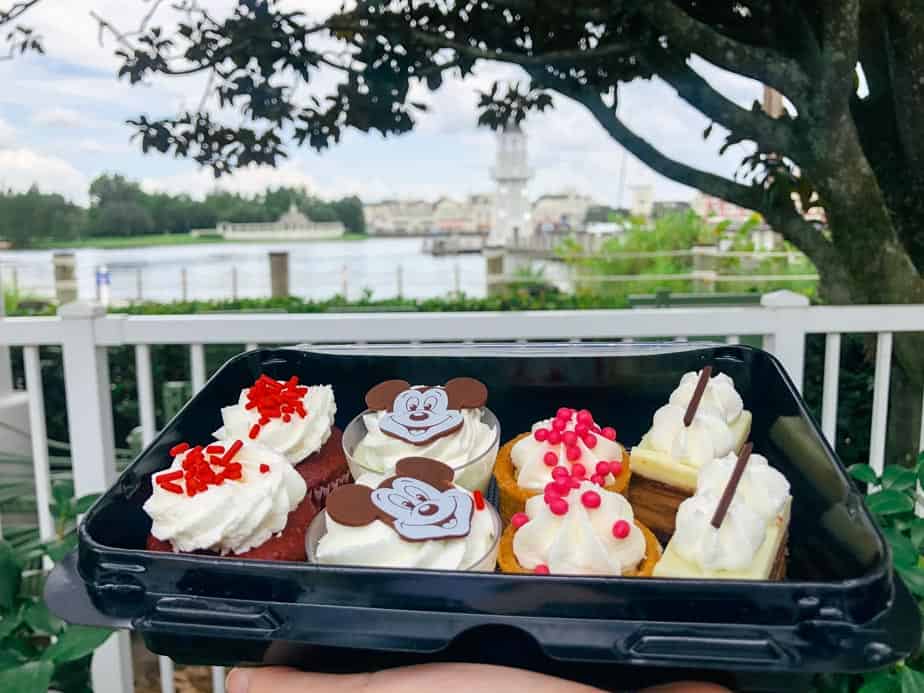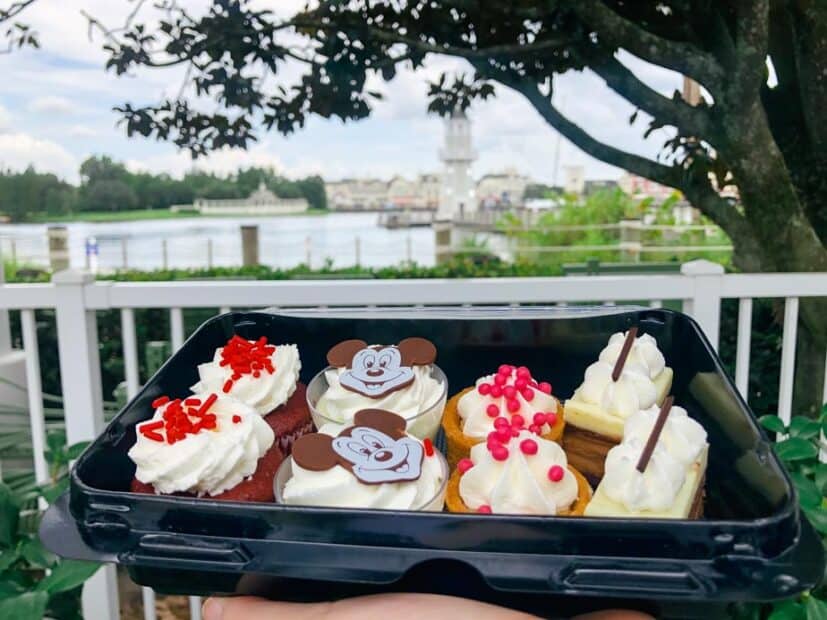 Our Experience Renting a Cabana
Now that we've covered the basics, I wanted to provide you with a walk-through of how our day went so you'll get the full story. This cabana was reserved at Disney's Beach Club Resort on our check-in day.
If you're arriving early enough in the day, this is a wonderful way to start your vacation. Cabana rentals begin at 10:00 a.m. and conclude at 7:00 p.m.
Most of our group flew in and arrived at the Beach Club around 1:00 p.m. Since I was already in Orlando, I ended up at the cabana around 11:00 a.m. that morning.
Upon arrival, I had to stop at the pool gate. Normally, a cast member scans your magic band for entry to Stormalong Bay. Then they'll provide you with a paper wristlet for accessing the pool during the day.
When I indicated that I had rented a cabana, I was immediately escorted to the pool area.
Disney's Beach and Yacht Club share a large pool area called Stormalong Bay. Four cabanas are at the pool, all located in the same area.
Cabanas #2 and #1 sit out along the children's pool that has the sand bar. If you have smaller children, I would recommend requesting either of these. You'll be able to easily watch your child in the shallow pool from your cabana.
Here is a photo of #2, the first cabana you'll see upon arrival.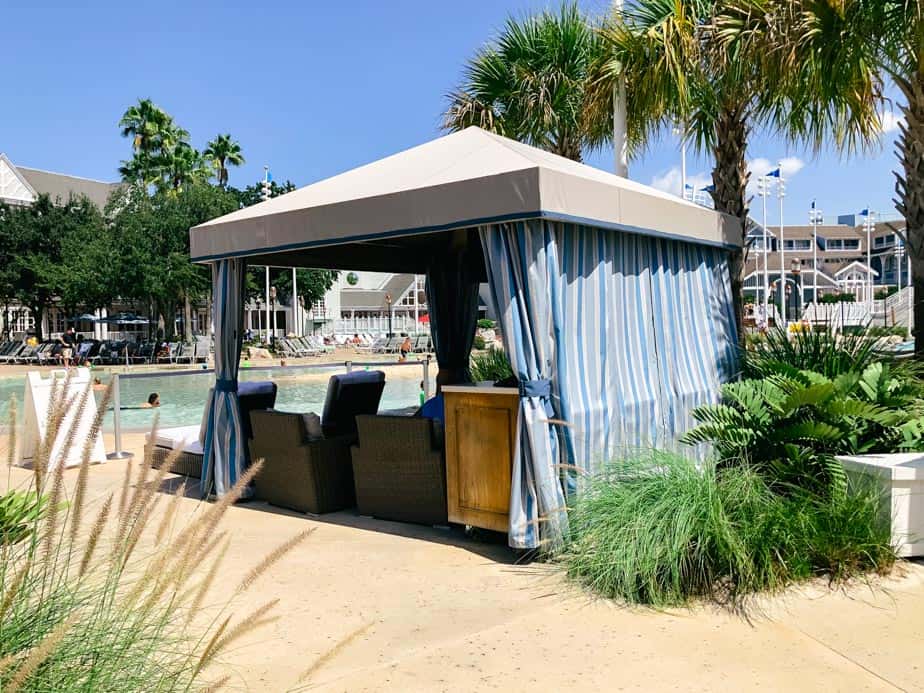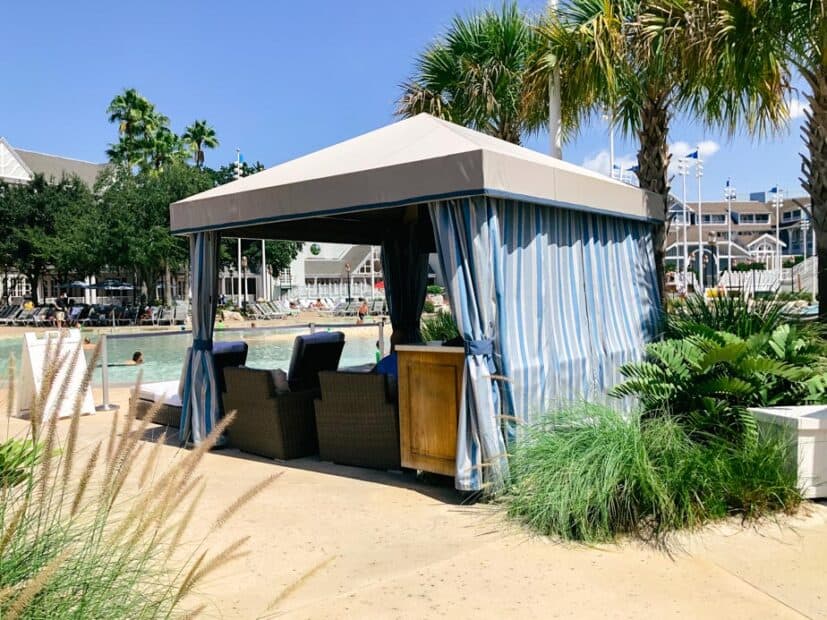 And cabana #1 sits beside it to the right.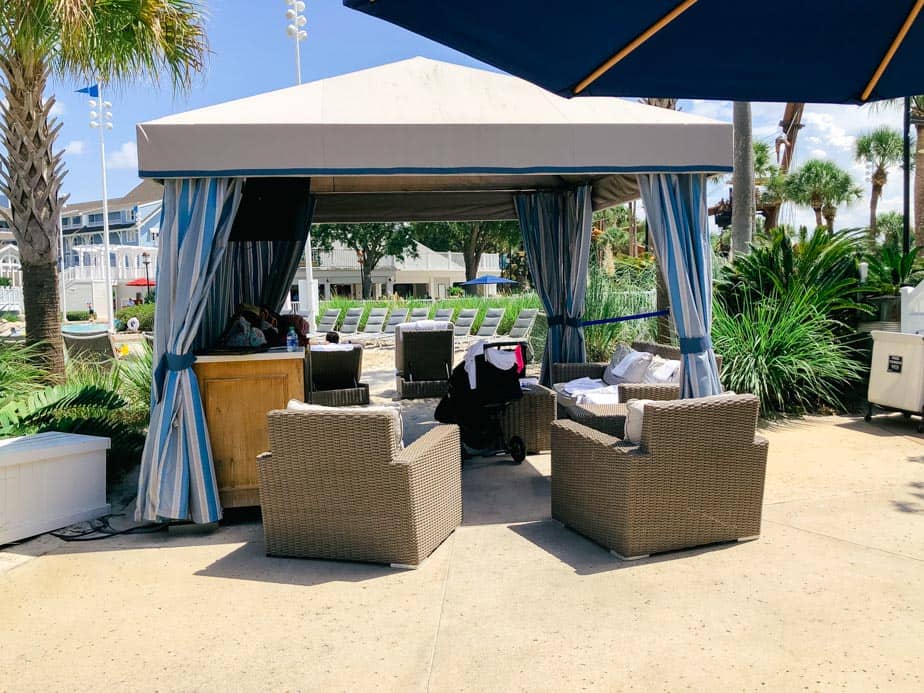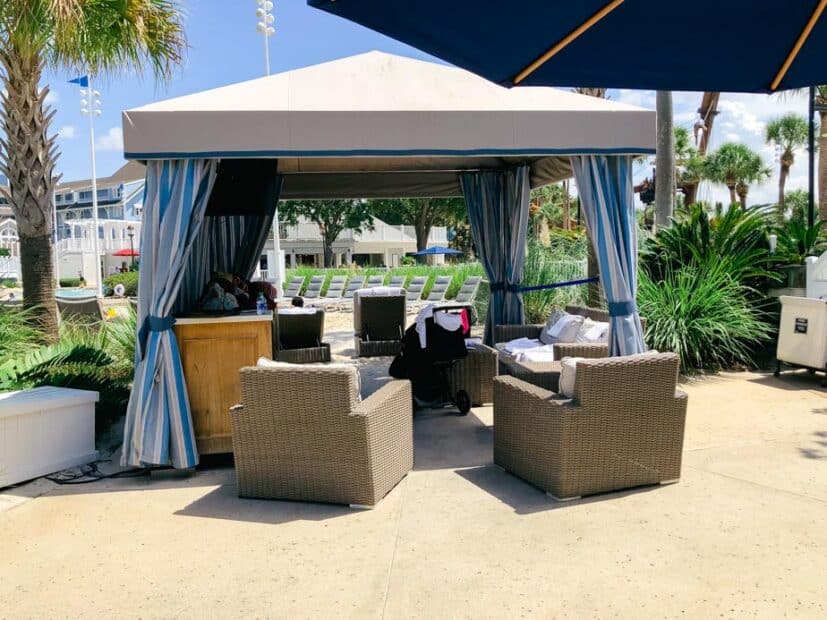 If I had teenagers or were a group of adults, I would request cabanas #3 or #4. For this trip, I had requested #4 because I knew it was the most private of the bunch.
Below is where we were in relation to the other cabanas.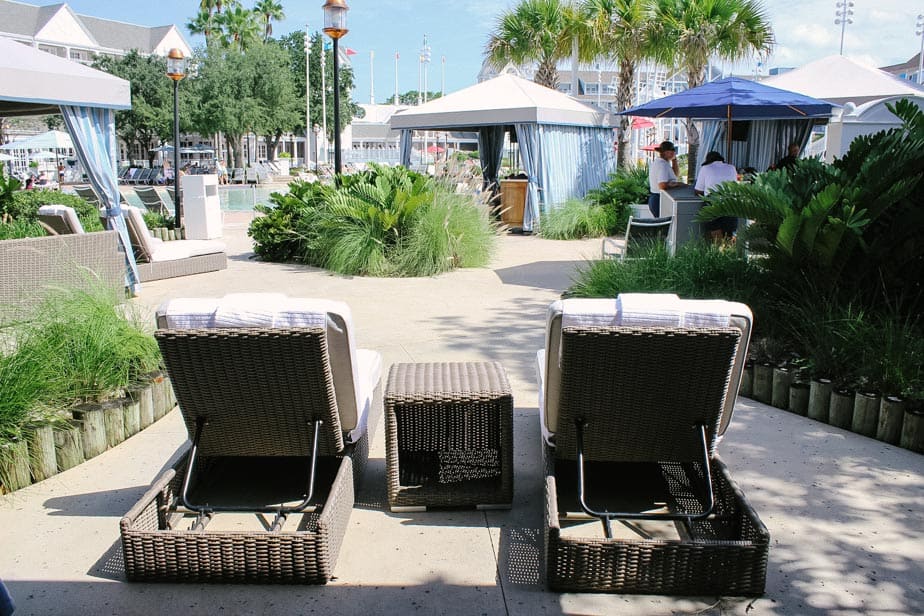 And here is Cabana #3 for reference.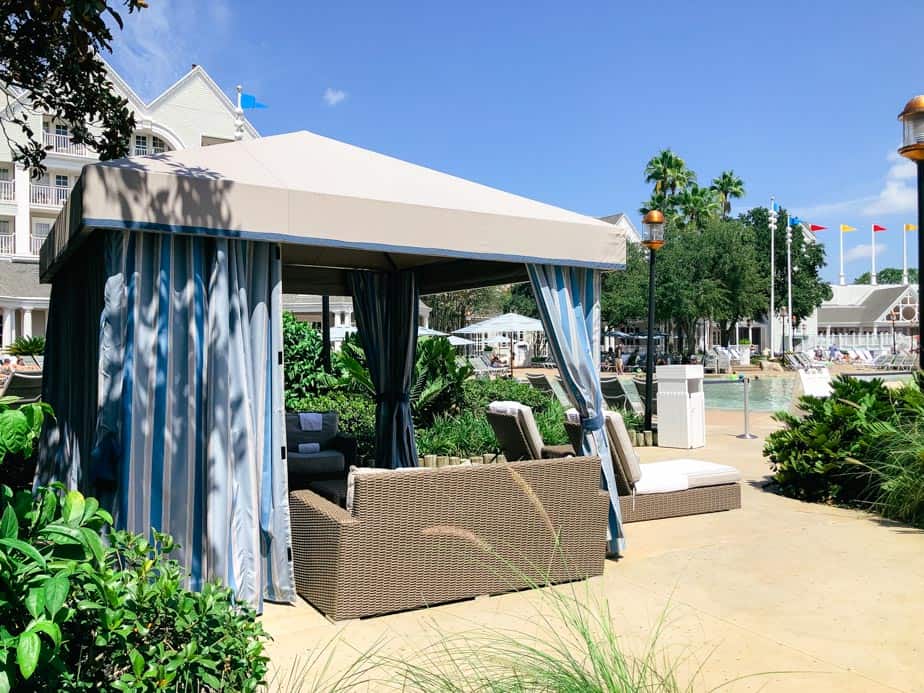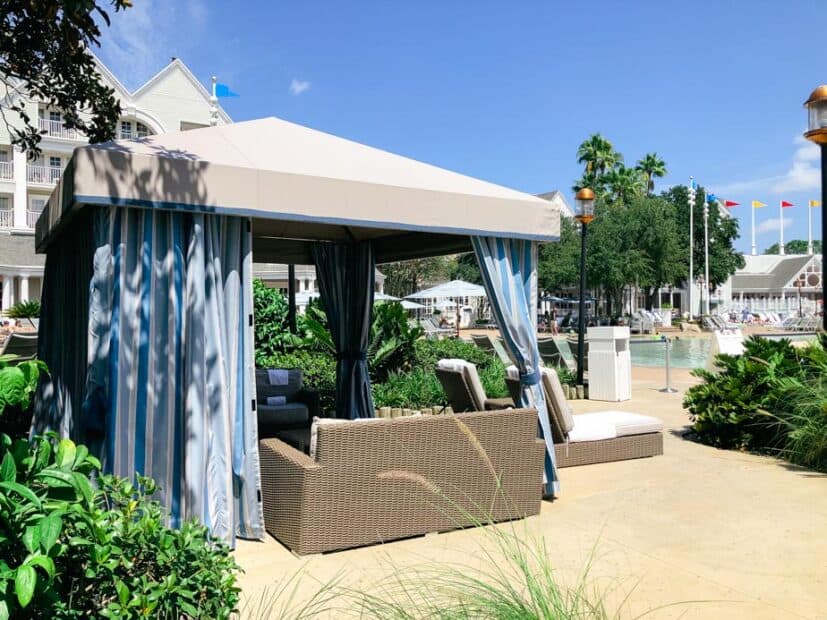 When we got to the cabana area, I was informed that they were moving us to #3 because the refrigerator was out in #4. This was very disappointing because I had specifically reserved #4 for privacy and the shaded area around the cabana.
You might notice in the last image that #3 didn't have much of a shaded area, while #4 was surrounded by trees on three sides. Additionally, #4 looked out to this view, which was a bonus.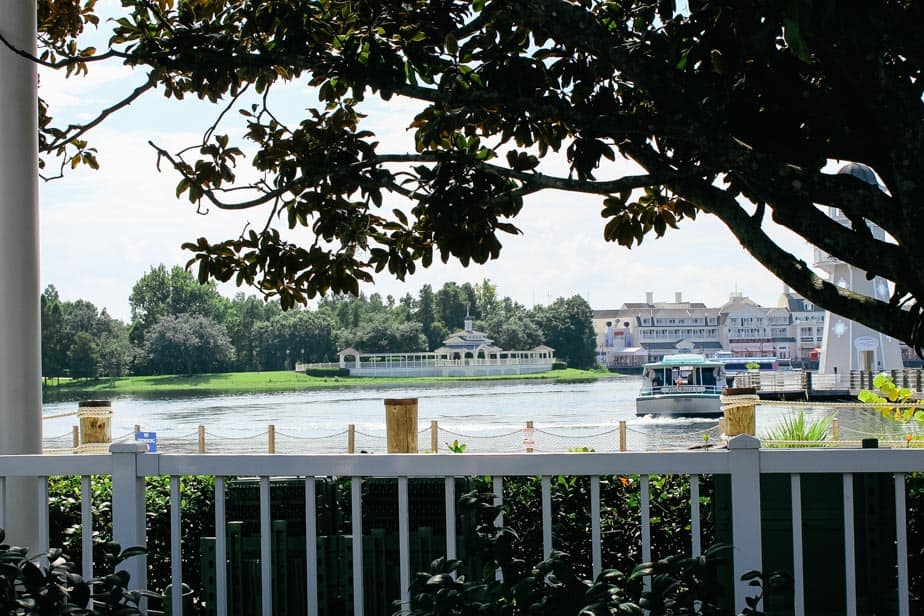 After setting my items down in #3, I decided it wouldn't work. Relocating us wouldn't have been a big deal had I not looked at the cabanas before making my reservation.
However, given the cost and that I had requested a certain cabana, it was disheartening.
So I asked the cast member if we could use #4 and pull our drinks from the fridge at #3. They said that would be fine, and the non-crisis was averted.
Unfortunately, that was my last real conversation with our cabana attendant.
But I digress. After settling in, I decided to take a few photos of everything to share with you. Here is the fruit tray.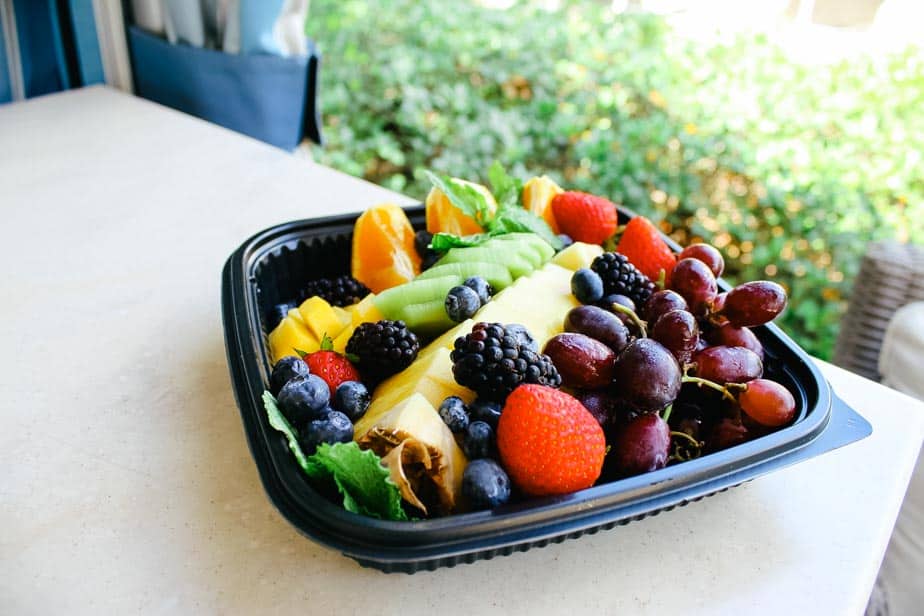 It was a nice assortment of fruit and the perfect refreshing treat to enjoy on a hot day at the pool.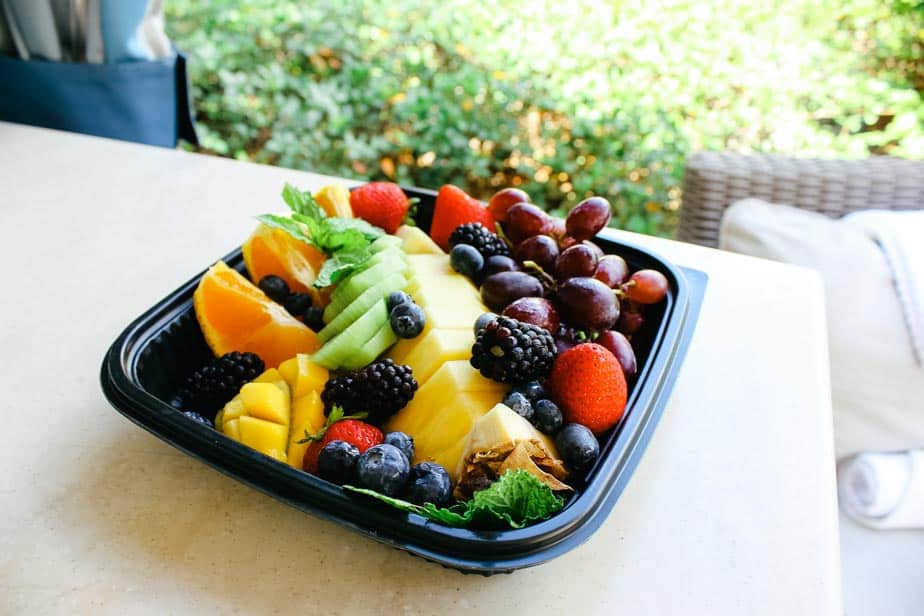 It would have been nice had we been given plates, bowls, napkins, and utensils for the fruit. As you can imagine, it was very awkward not having these things, and we didn't know we were supposed to have them.
Our fridge was fully stocked with coke, diet coke, apple juice, and bottled water. The funny thing was our "broken" refrigerator had ice-cold drinks while the drinks in the neighboring cabana were warm.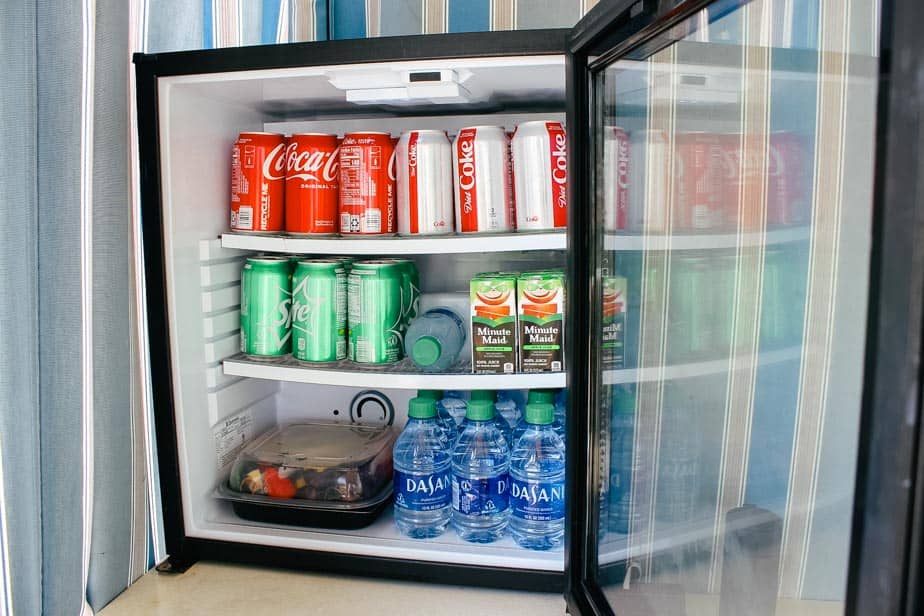 Two chairs were available on one side of the cabana.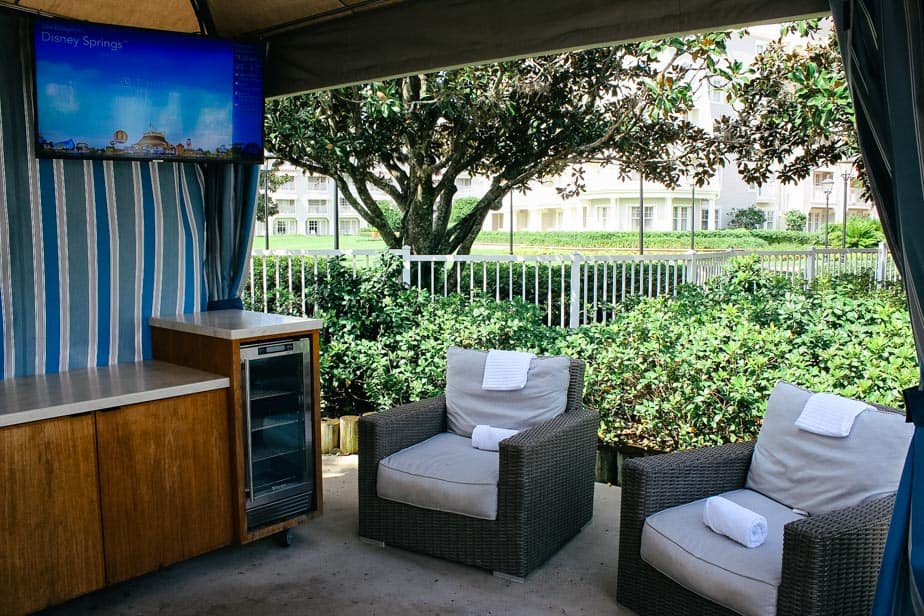 In front of the sofa, there were a few wicker end tables. Each of them had compartments where you could store your belongings.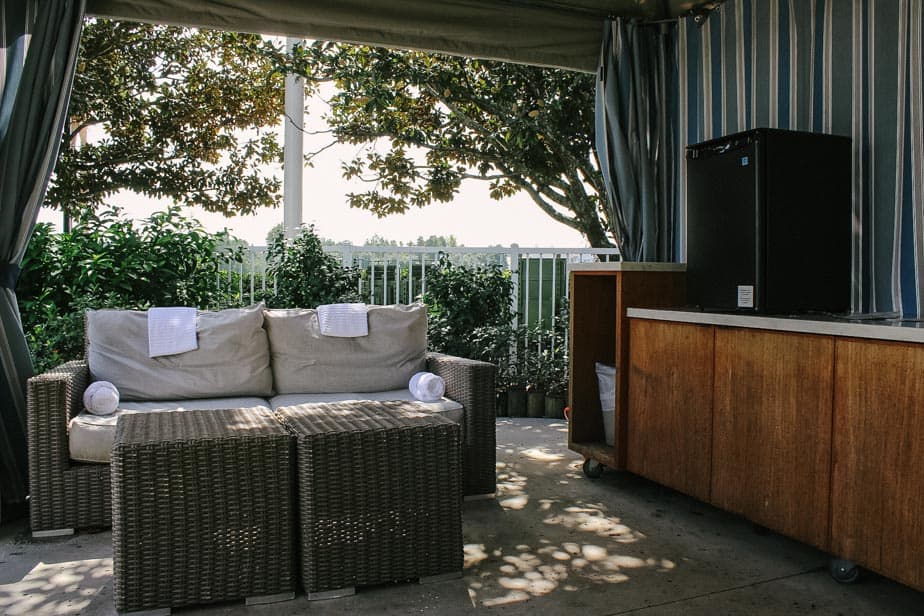 A long cabinet on the backside of the space provided plenty of storage.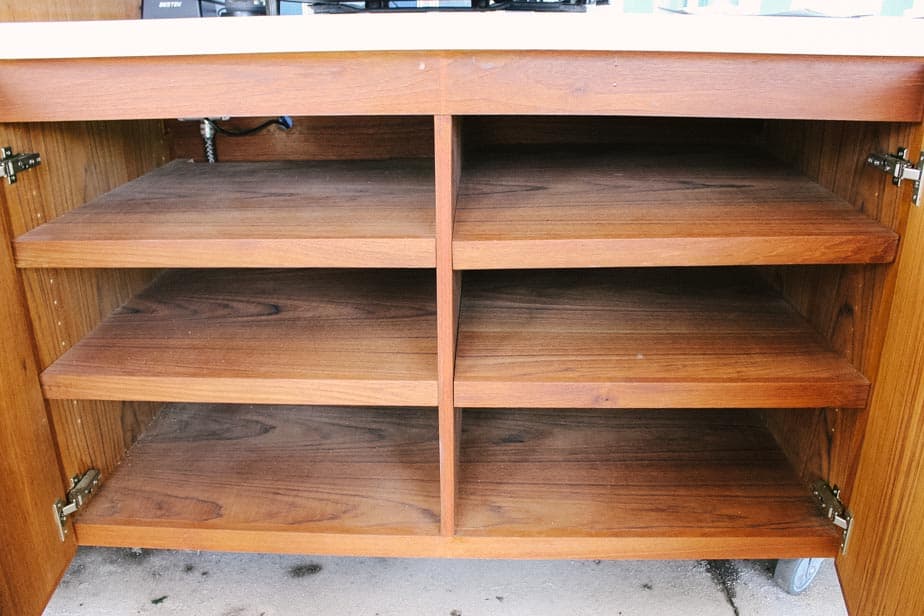 One of the nicest touches was the security safe. Since we hadn't received our room assignment, I had my electronic devices on me. So it was nice to store those items and our wallets while we enjoyed the pool.
There was a Bluetooth speaker and plenty of charging ports. These all came in handy.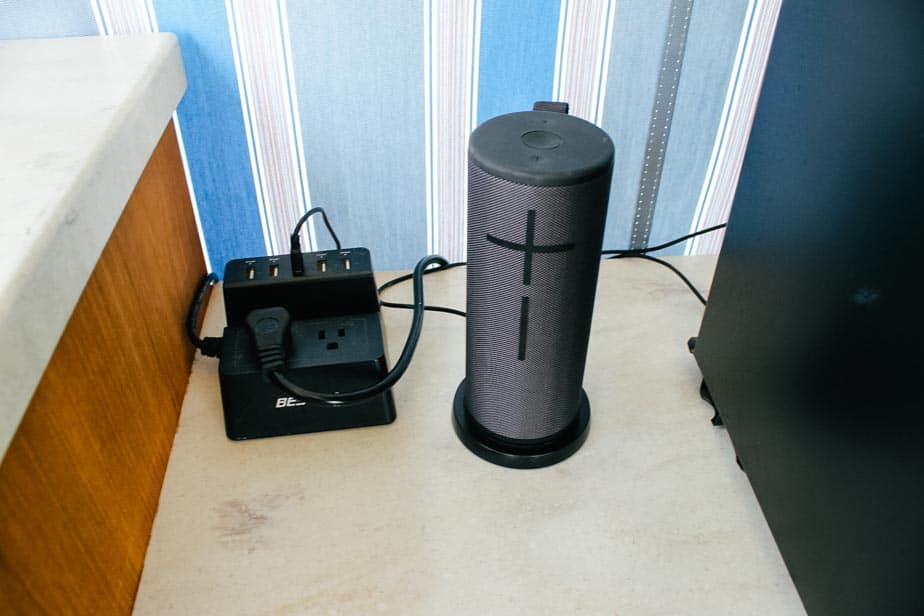 Of course, the television was another fun perk. I felt the television would be good for anyone wanting to enjoy a football game over the weekend. It's also nice to let children take a break and watch a few Mickey shorts while they eat lunch or nap.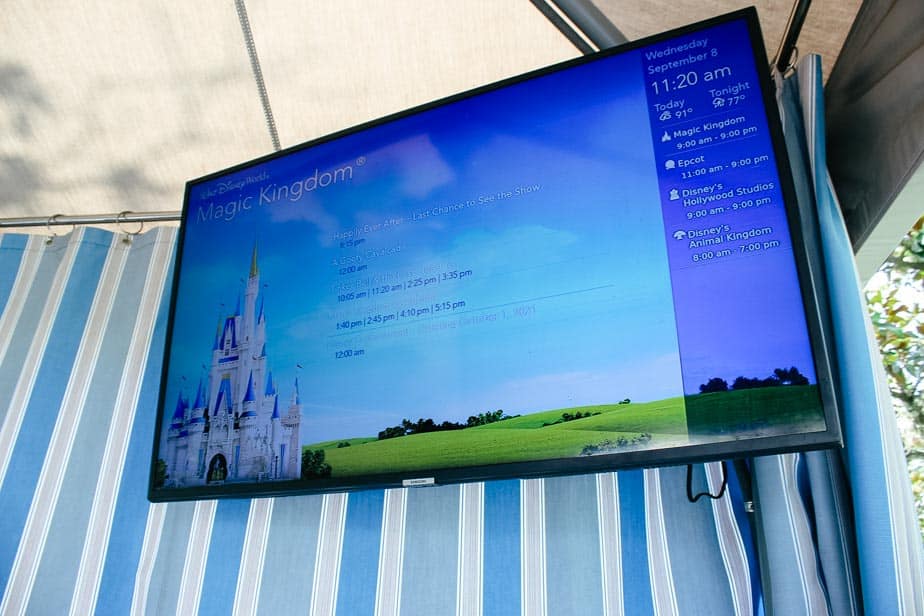 Later in the day, we experience a tremendous downpour. Since there was no lightning involved, we let the curtains down and enjoyed the breeze that came with the rain.
It was nice that we didn't need to rush anywhere to protect our belongings. Overall, I felt like there were many benefits to renting a cabana.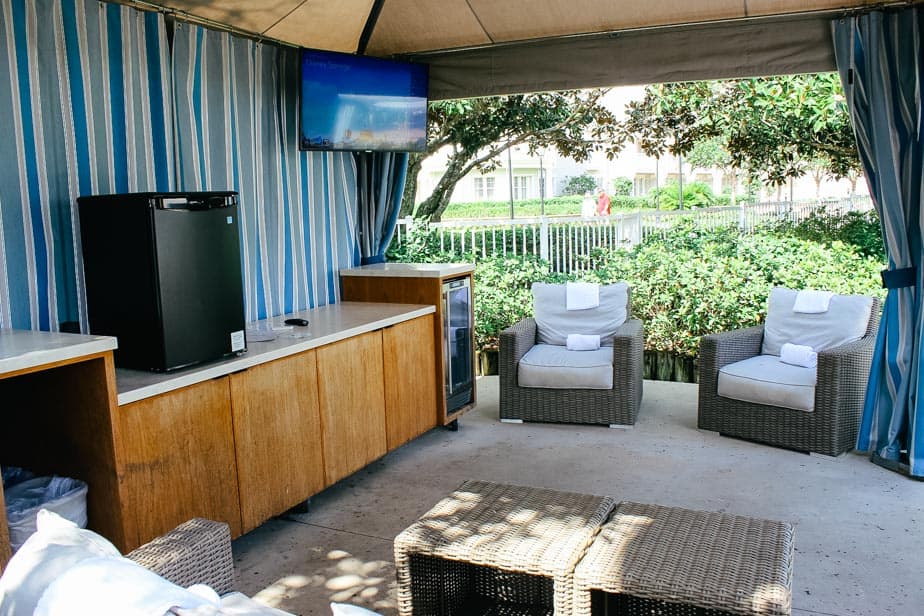 Our cabana also came with a list of television channels, menus for Hurricane Hanna's, and a list of complimentary snack items. Unfortunately, we were never offered any snack items until much later in the day.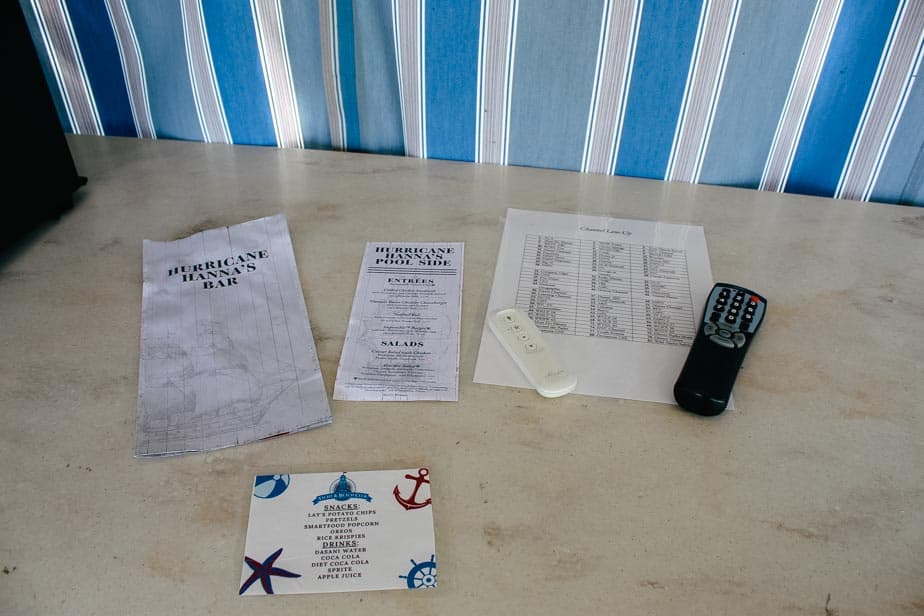 In front of the cabana, there were two lounge chairs. We ended up turning them around and pulling them into the shade.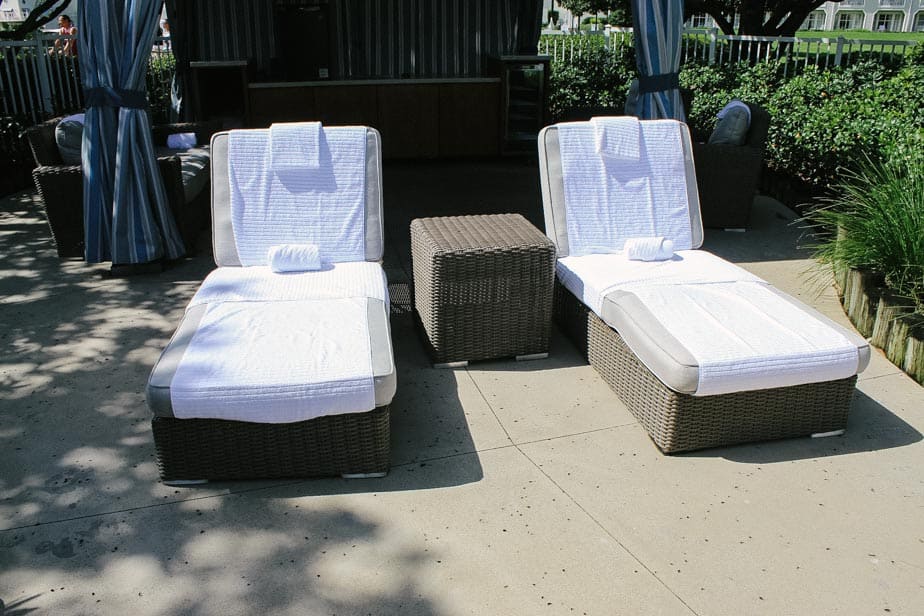 Cabana guests are given a set of blue wristbands that differentiate them from other guests. This makes it easy for the attendants to identify guests coming and going from the cabana area while keeping regular pool guests out.
You wouldn't want to come back from the pool and find someone using your rented space. And that's probably why all the cabanas are in the same area on the far side of the pool.
It is important to note that even though the large, shallow children's pool is nearby, most will want to use the larger pools. So while they aren't far, you will have to walk to those pool areas to enjoy them.
Don't rent a cabana here, thinking the pool will be within a few steps of the cabana unless you want to hang out in the kids' pool.
We had a server from Hurricane Hanna's wait on us. This server came by when he was making his rounds at the pool.
When he got near our area, he would check in to see if we wanted to order anything. I'm mentioning this because it's the same exact service you would get at any lounge chair or table at the pool.
I'm not hard to please, and I know this sounds trivial. However, this is a review, and I want to paint a clear picture.
We had a great server, but he was swamped. So when it came time for lunch, we had to go and find him after waiting over 30 minutes for him to stop back by. While it wasn't his fault, it would have been nice to have someone check in more often.
Speaking of someone checking in, during the entirety of our afternoon, the cast members dedicated to the cabanas never acknowledged us. Nor did they offer us snacks, ask if we were doing okay, or provide any value whatsoever.
We had no idea there was a large cabinet full of snack trays they were supposed to bring by and offer throughout the day. Not only that, all those napkins, plates, and similar items we needed were sitting right there in that cabinet the whole day.
It was frustrating.
When our server returned, we ended up ordering a kids' meal. The kids' meals usually come in a pail that children can use to play in the nearby sand bar pool.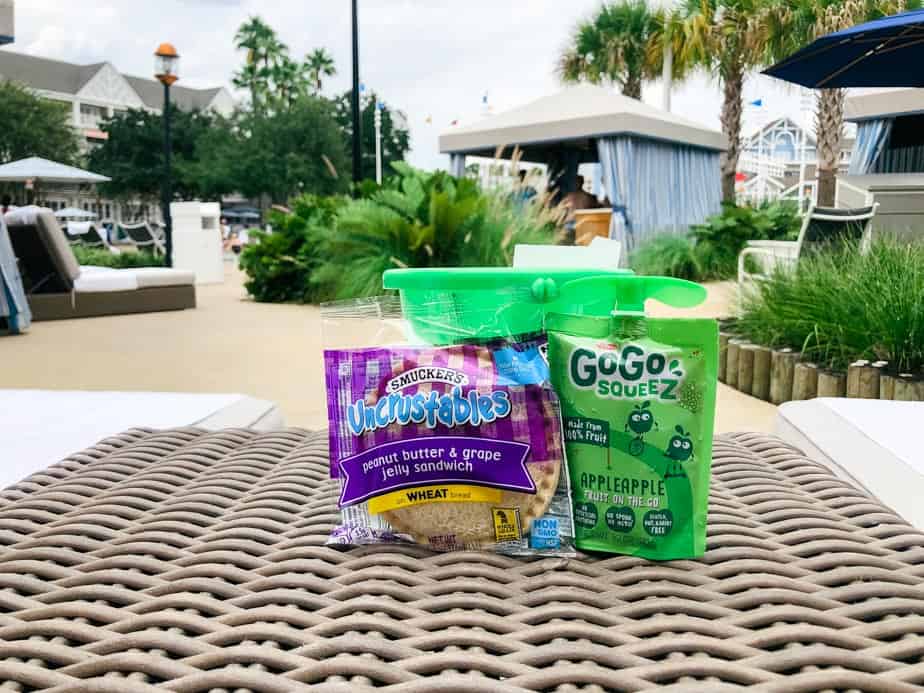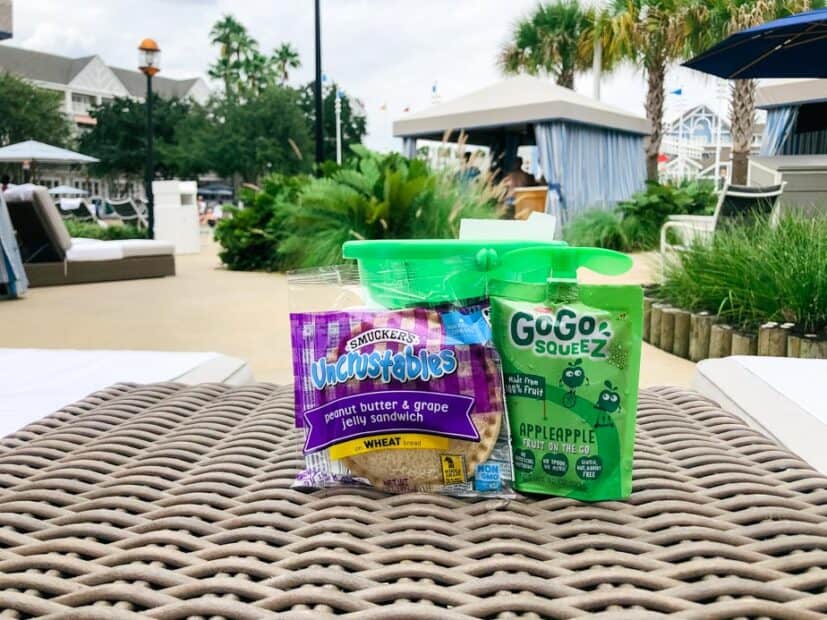 And I ordered a grilled chicken sandwich.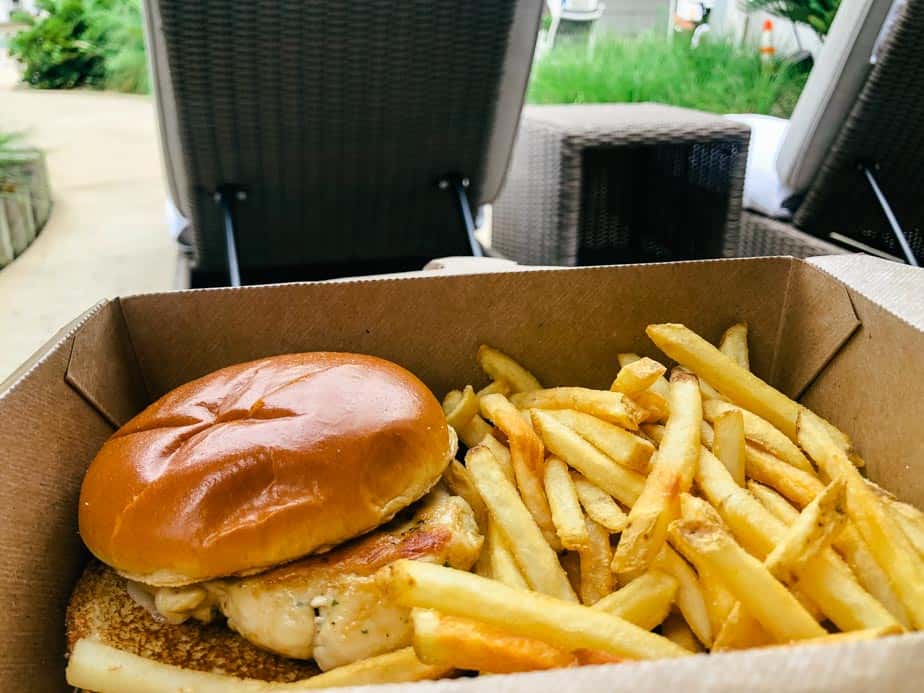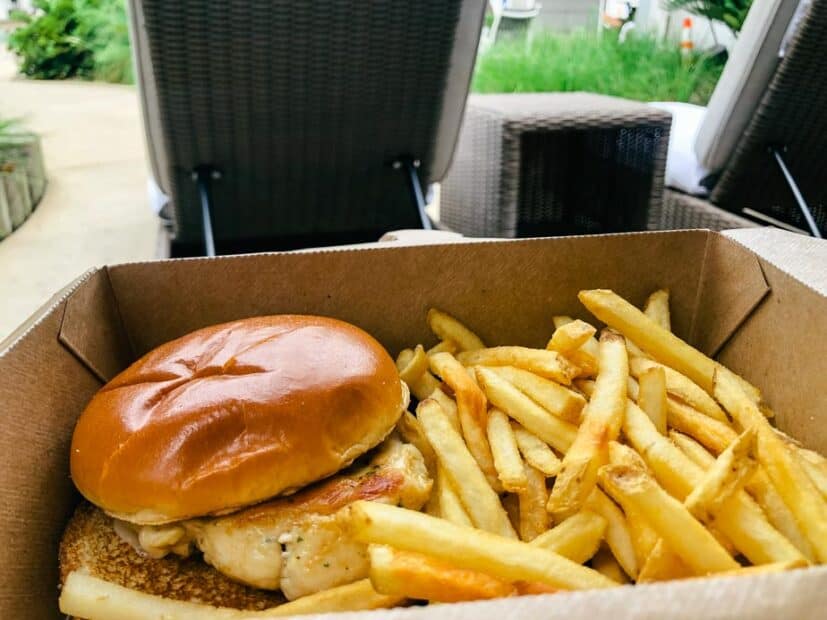 Thankfully, the grill at Hurricane Hanna's is operating at full capacity again, meaning they have a larger selection of menu items available again.
Here are the choices we had:
Grilled Chicken Sandwich
Hanna's Bacon Cheddar Cheeseburger
Seafood Roll
Impossible Burger
Caesar Salad with Chicken
Garden Salad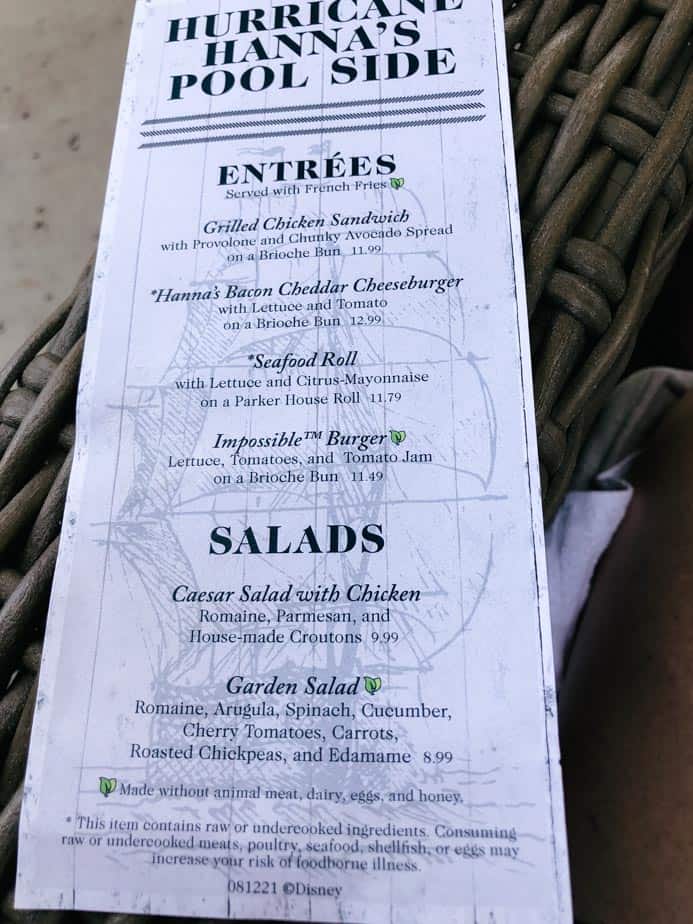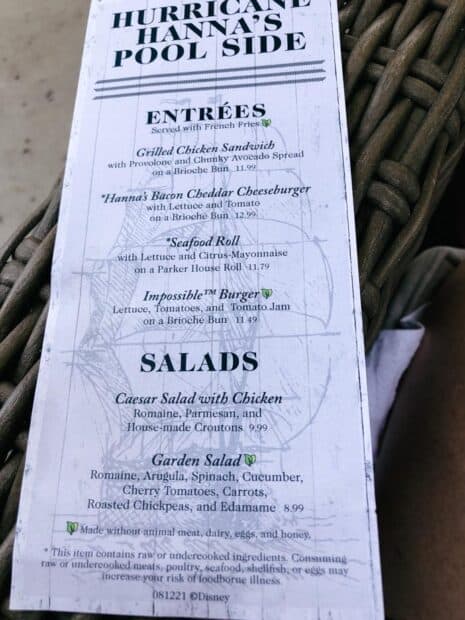 Most of the grab-and-go items are the same pre-made items they have in the other counter service locations in the area. I recommend ordering something fresh.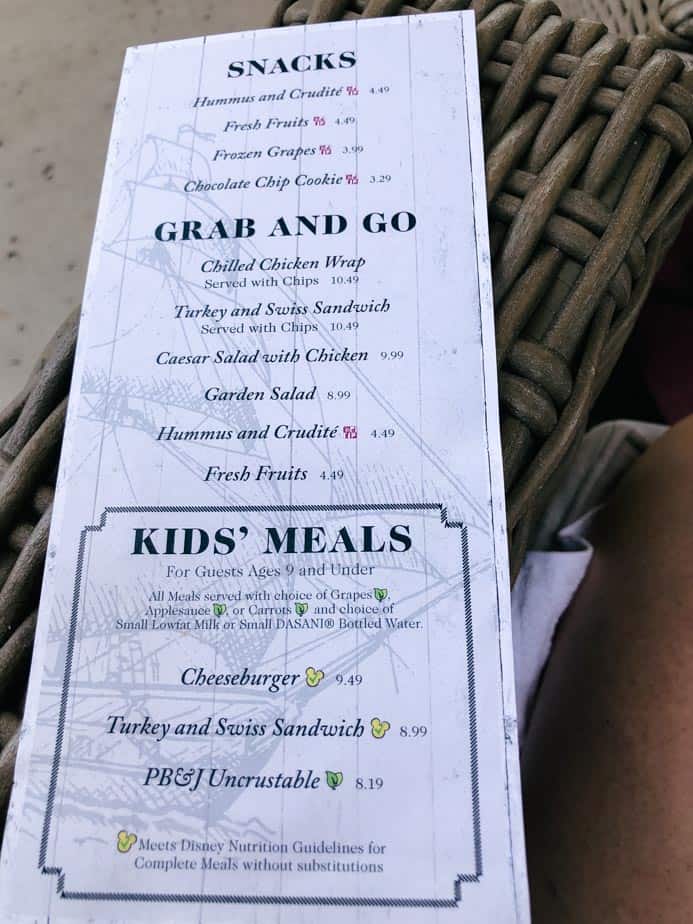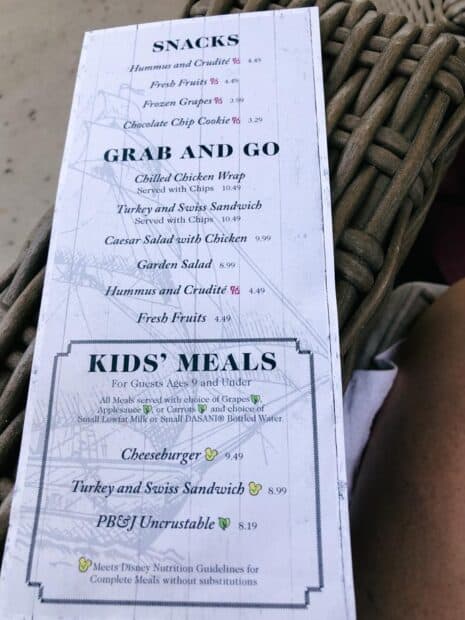 A cocktail menu was also available. You'll want to note that anything you order extra (food or drinks) from Hurricane Hanna's is at your expense. The only food items you'll receive with the cost of the cabana are the fruit tray, snacks, and dessert tray.
At approximately 2:00 p.m., an attendant brought us a dessert tray. We thought this was a very nice gesture. (Note this was the only interaction we'd had since initial check-in.)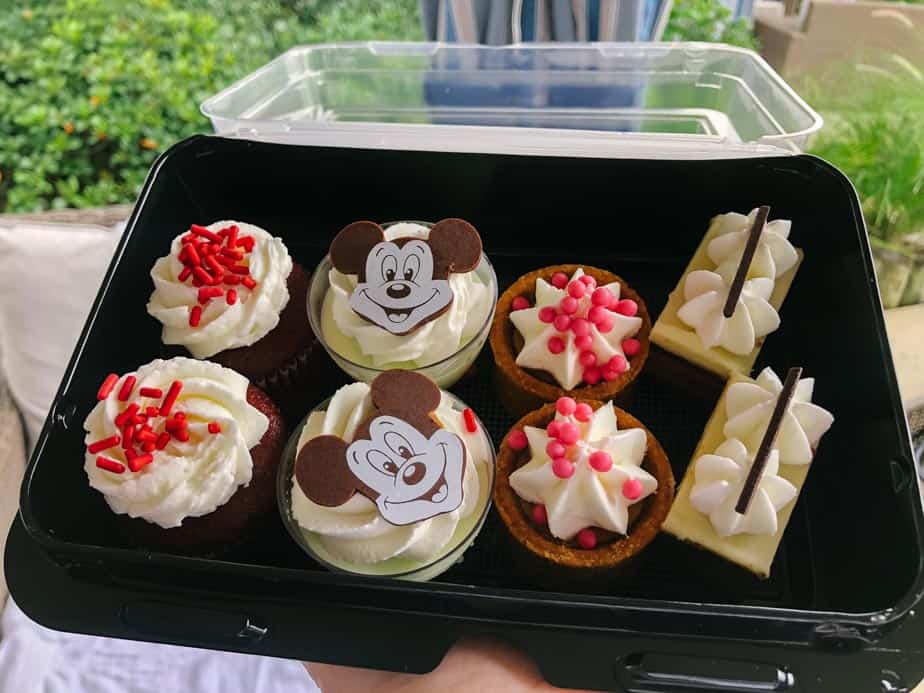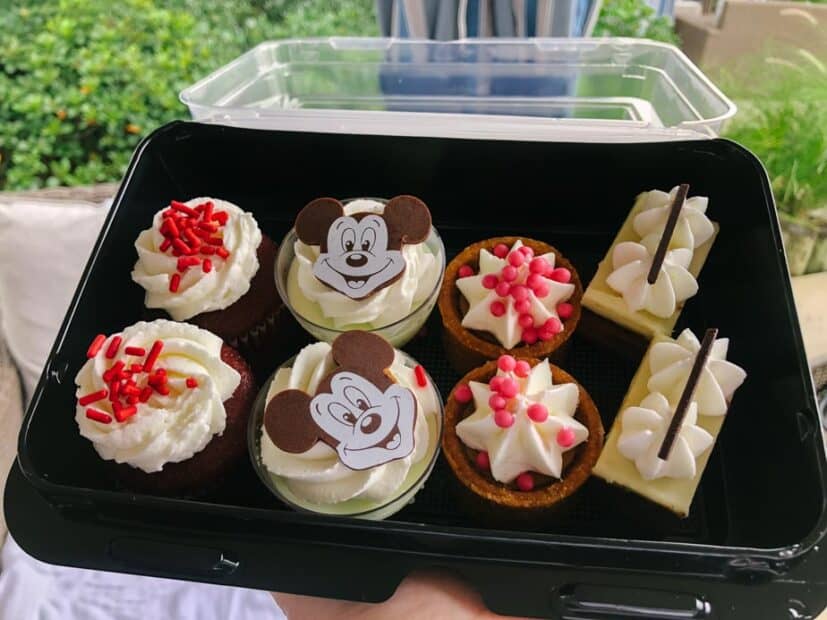 Our afternoon snack tray contained red velvet cupcakes, key lime cups, a mocha-flavored dessert, and a cheesecake with chocolate. Everything was tasty, and it reminded me of the times when we used to enjoy the club level at the Beach Club.
After finishing our meal and waiting the full thirty minutes to let our food digest, so we didn't sink to the bottom, we headed out to the pool. Okay, between us, we probably didn't wait the full thirty minutes.
Stormalong Bay ranks as our top choice for the best pools at Disney World. The pool area is a small water park with a lazy river area, waterslides, and spas.
We have a full list of reasons you'll love the pools at Disney's Beach Club if you want to learn more.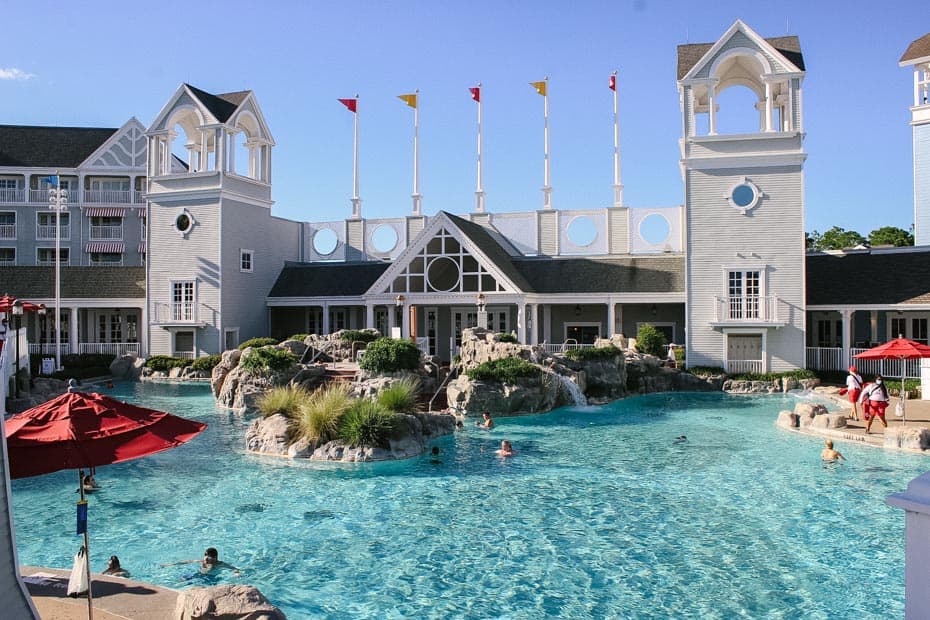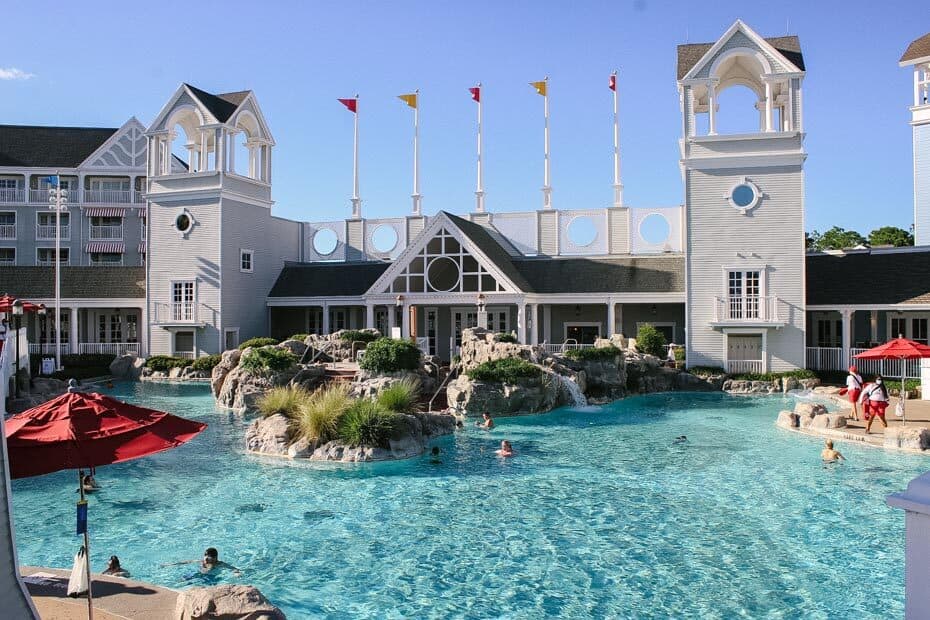 When we got back from the pool, it was nearing 4:00 p.m. Unfortunately, bad weather was approaching. At that time, a new cast member had appeared and introduced herself.
This cast member was so kind and immediately checked to see if we needed anything and offered to bring us snacks. I told her no one had checked on us all day except by dropping off the dessert tray.
She said that was not how things should be and got her manager.
We ended up explaining our day to the manager. It was a bit uncomfortable. Given the current times and circumstances, I would never want anyone to get in trouble.
If you've had the opportunity to visit recently, you probably already know the situation at Disney World isn't ideal. There is a lack of employees, and many new ones have not been thoroughly trained.
Personally, I've taken the stance to try to remain patient and understanding. No one was rude or mistreated us at the cabana. But it felt like we were left out on an island and that no one cared we were there.
That's not the way you want to feel when you drop $300 for a cabana, and I HATE to have to share these negatives. But the reality is we didn't get the standard of Disney care that we were accustomed to experiencing.
With all of that being said, we did enjoy our time at the cabana. And it's something I would consider doing again. Only next time, I'll know a little more about how things are supposed to go.
Before we left, our group discussed what kind of people would enjoy this type of rental. We felt like a group of women, like us, or a bridal party might enjoy that extra luxurious feeling.
Those traveling with grandparents who can't stay out in the sunshine might enjoy resting in the shade. Or a family with small children who would use the nearby pool.
One member of our group suggested that a child could easily take a nap on the sofa during the day. It would be nice not to have to leave the pool area.
If you decide to rent a cabana, I recommend planning a full resort day. You might even plan to enjoy Movies Under the Stars at your resort that evening after the rental has ended.
Overall, it was nice to have the dedicated space, even though it was unfortunate that we didn't receive the full cabana experience.
Are cabana rentals a necessity? By all means, no.
They are something I would only do sparingly and when fully committing to spending the day there. Additionally, I would consider renting a polar patio at a water park like Blizzard Beach or Typhoon Lagoon.
If you would like to see our cabana from a different perspective, here is a video I took before everyone arrived.
Planning a Walt Disney World vacation? Make sure to check with our friends at Firefly Travels. They can help you make all your vacation plans, including a cabana rental. Their contact form is listed a little further down.
For more information about Disney's Beach Club, all of our articles related to the resort are here in our guide:
Or you might enjoy the following individual hotel reviews:
In the comments
Now I want to hear from you. What are your thoughts on renting a cabana at Disney World? Have you had the opportunity to try this before? Do you have any questions?