Tour a Three-Bedroom Grand Villa at Kidani Village
If you're looking for a place to accommodate up to 12 guests on your Walt Disney World vacation, you might consider the three-bedroom grand villa at Kidani Village. This luxurious two-story villa comes with all the amenities you'll need for a relaxing and enjoyable stay.
We'll take a photo tour of the three-bedroom grand villa at Kidani Village in this article. I recently had the opportunity to tour this villa and found the space impressive.
Kidani Village is the Disney Vacation Club portion of Animal Kingdom Lodge. It sits next door to the Lodge, commonly referred to as Jambo House.
The main difference between Jambo House and Kidani Village is the rooms. In comparison, Jambo House does have some DVC rooms. However, all of the rooms at Kidani Village range from deluxe studios to this three-bedroom grand villa.
Related: Kidani Village Resort Review
We'll start with the main living area. When you enter the three-bedroom grand villa, you're greeted by a large, open living floor plan.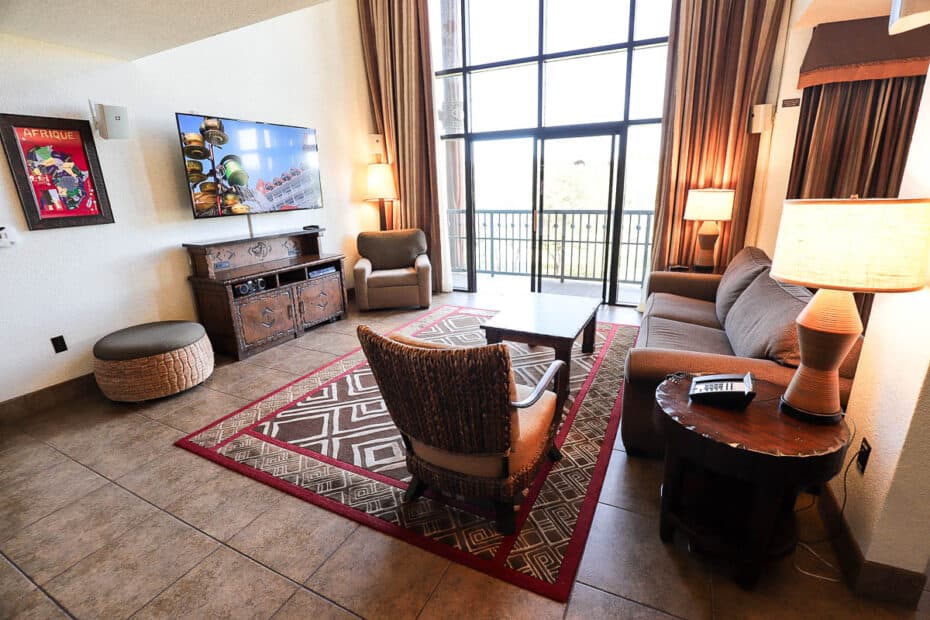 Since this suite has two levels, the living room portion has a vaulted ceiling. The entire outer wall comprises windows and sliding doors that lead out to the balcony.
Looking back, you can see a balcony with a loft area on the second story above.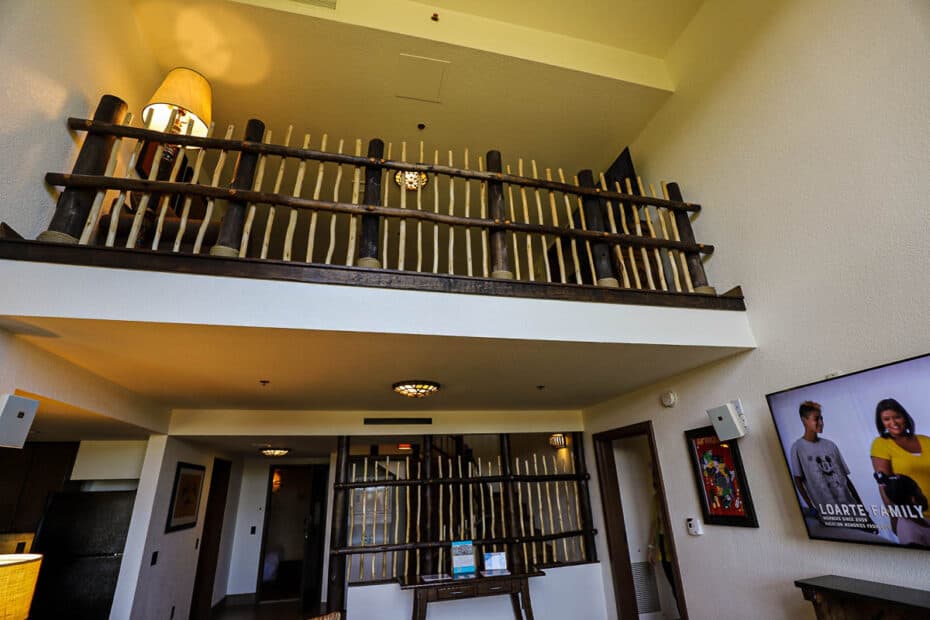 And here's a look toward the foyer.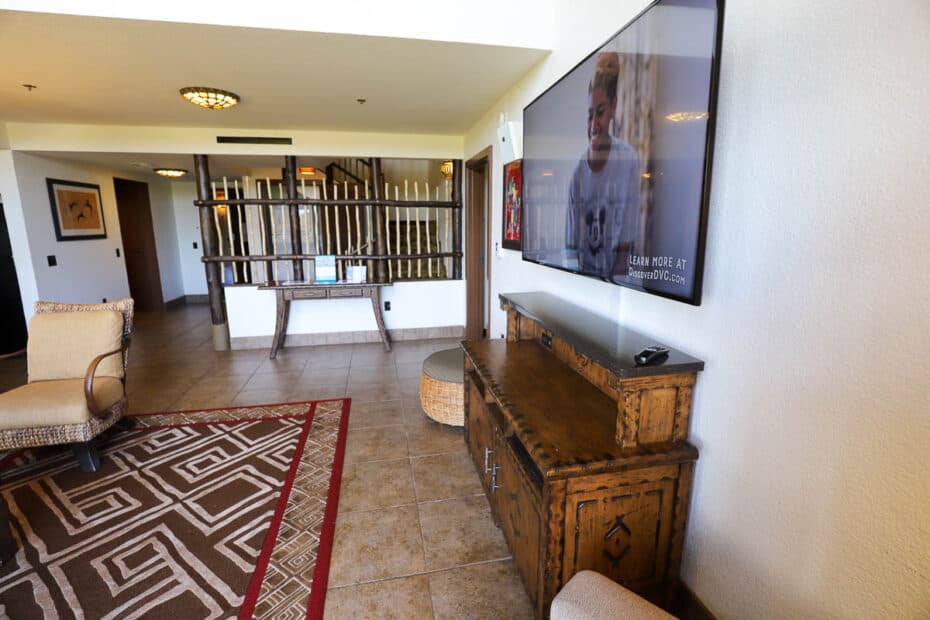 The grand villa kitchen at Kidani Village is tucked into the corner behind the living space.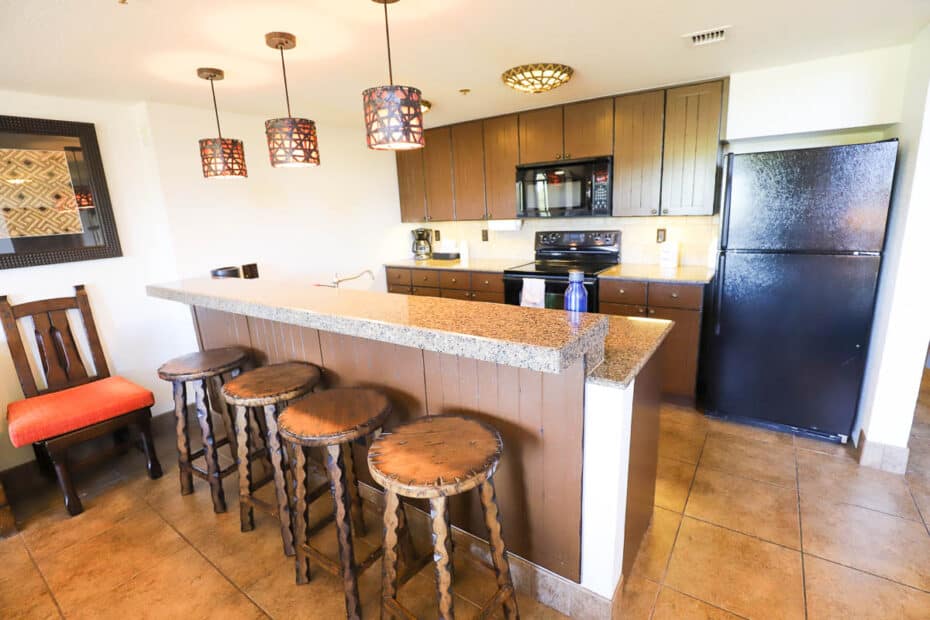 There's a smooth top range with an oven and built-in microwave overhead. In addition, the suite has granite countertops and all the essentials necessary for preparing food.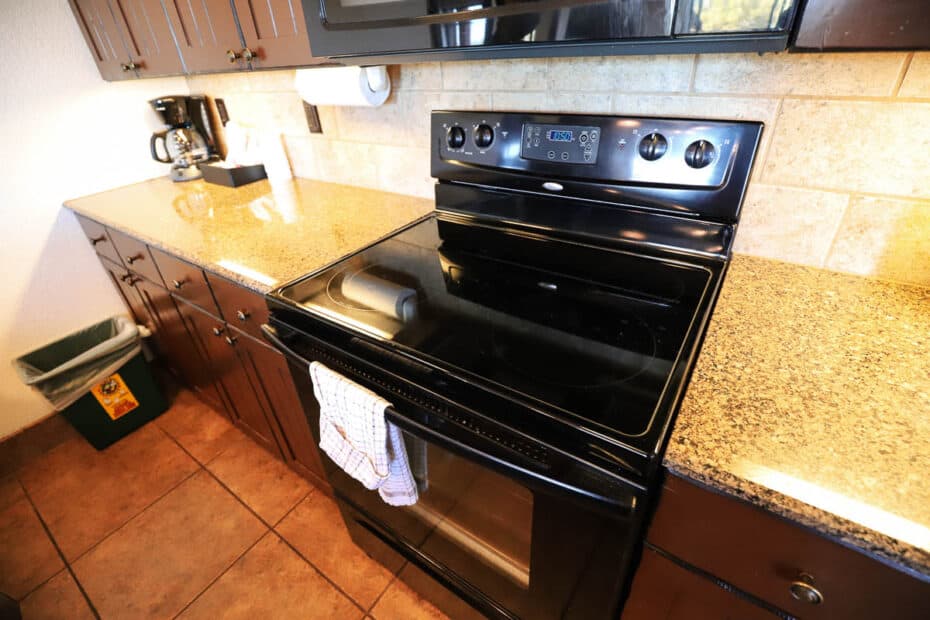 The dining room table expands to sit up to eight guests. In addition, there are four barstools available at the kitchen island.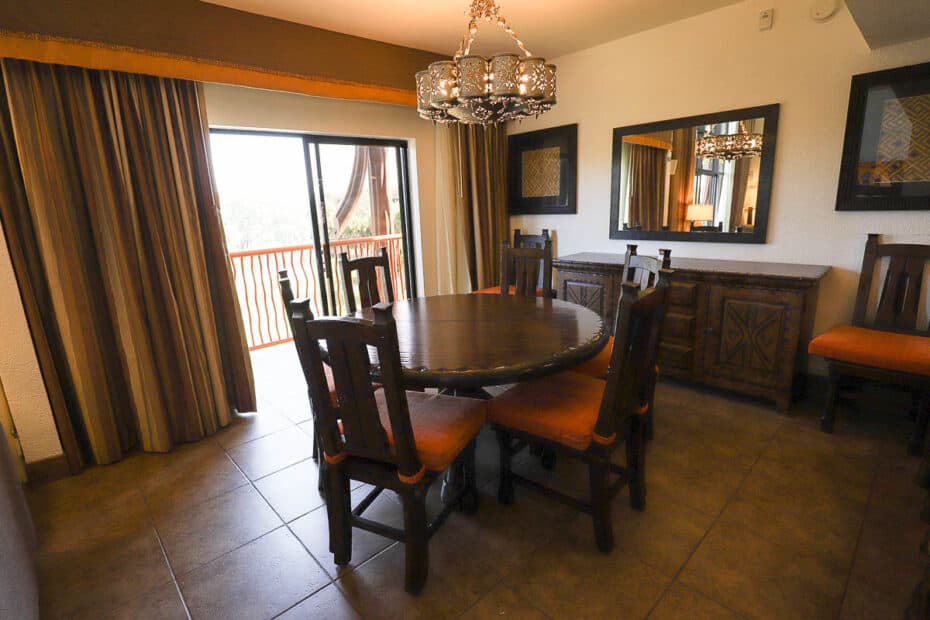 There is a large guest bath to the right when you enter the villa. This bath features a tub with a shower combination.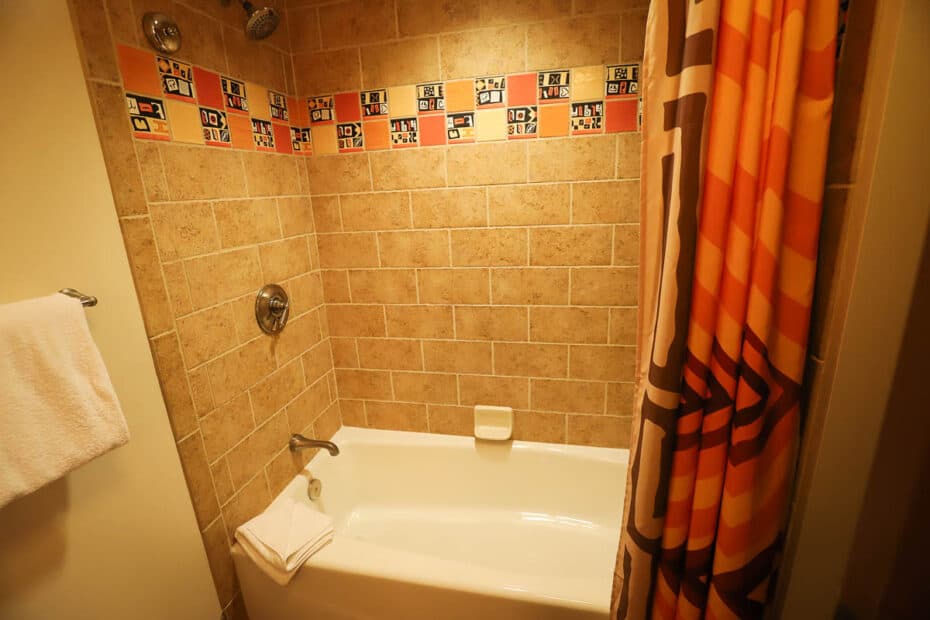 The front bathroom is placed here for guests who use the sleeper sofa in the main living room. So while guests sleeping on the sofa won't have a formal bedroom, they will have a dedicated bathroom.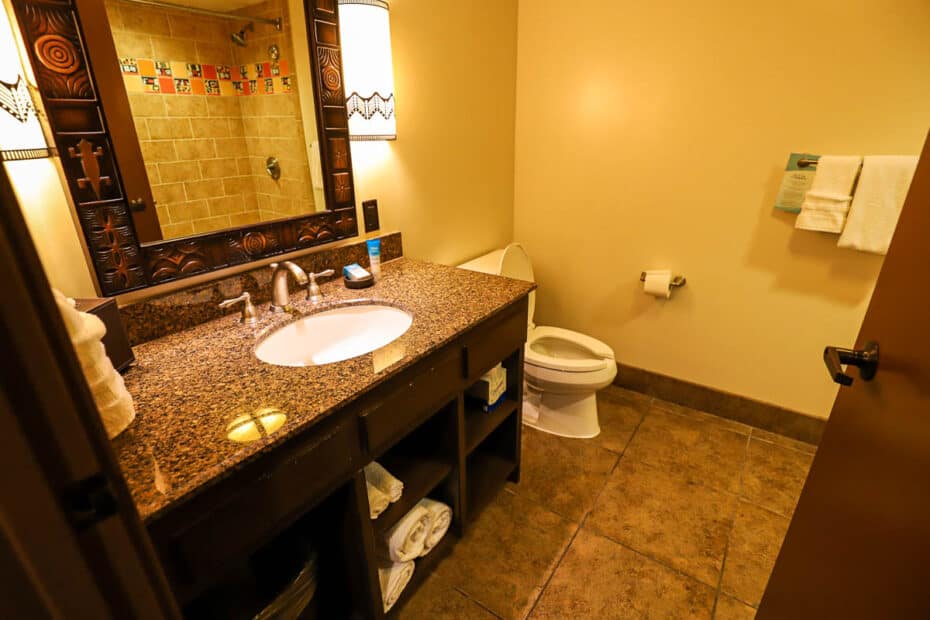 On the opposite side of the lower level is the master suite. This bedroom features a king-size bed and has access to the large balcony area. The balcony is the length of the entire suite on this level.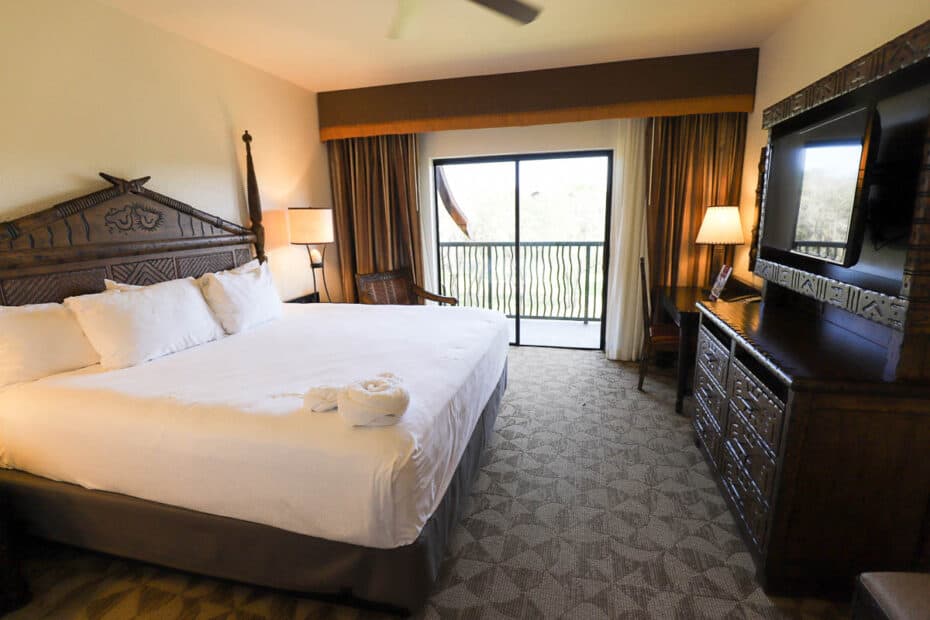 This bedroom has a reading chair and an on-suite bath.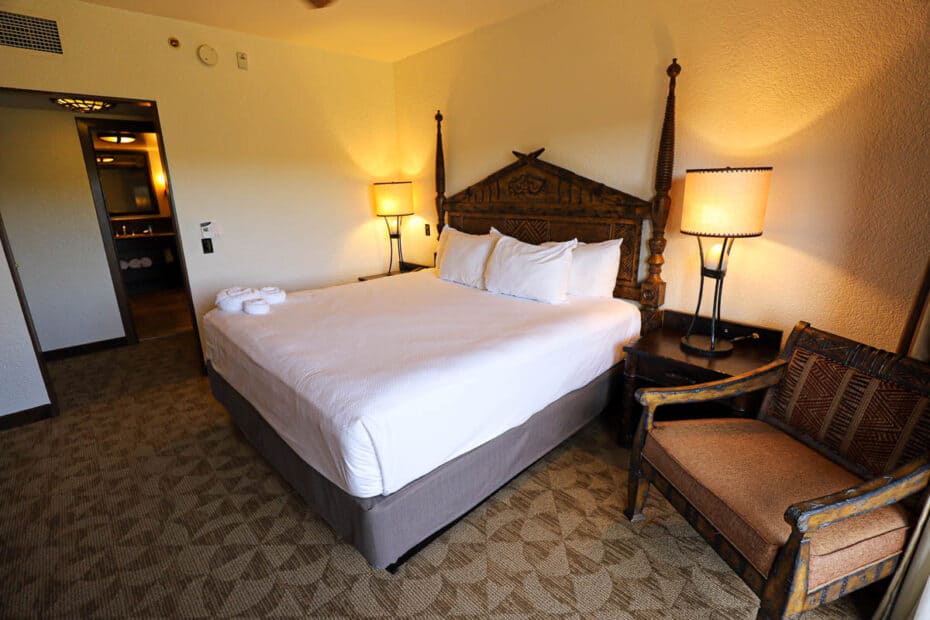 In addition, there's a desk with a chair, flat-screen television, and a dresser for storage.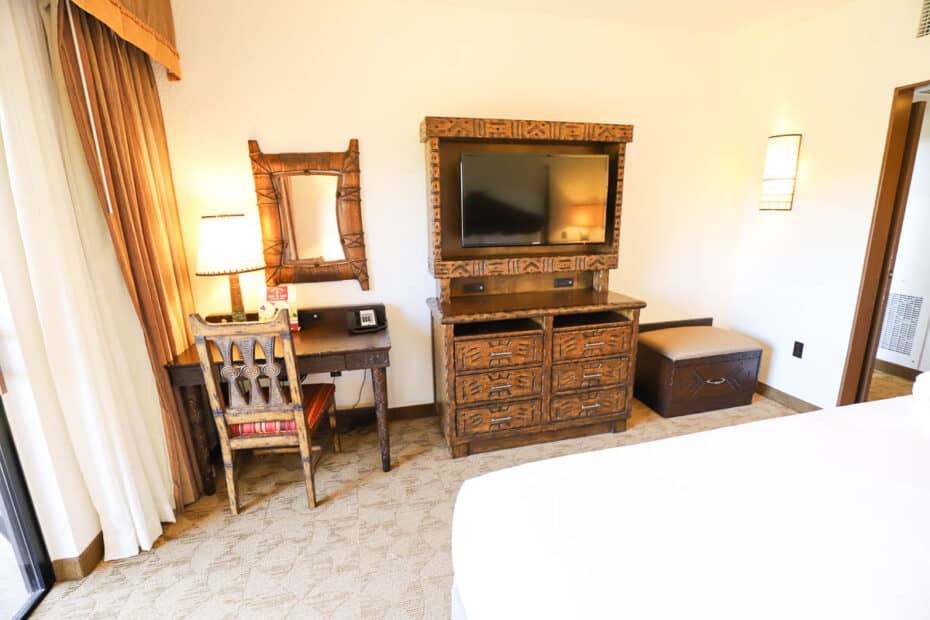 This bench provides a nice place to remove your shoes and store them underneath.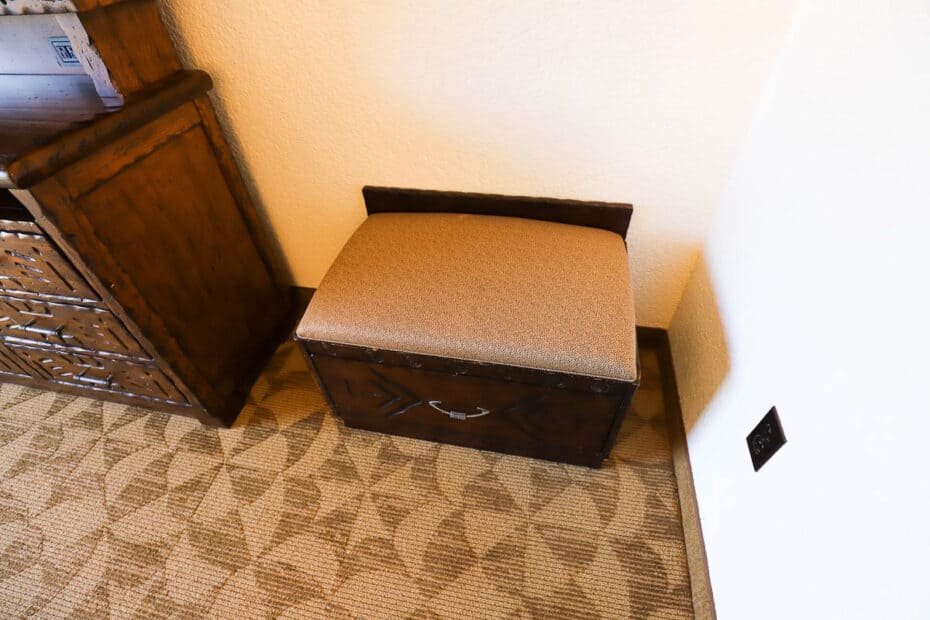 While I appreciated the large master bath, I felt there was some wasted space. However, it would be nice to turn on the Disney shorts channel and watch a few cartoons while soaking in the tub at the end of the day.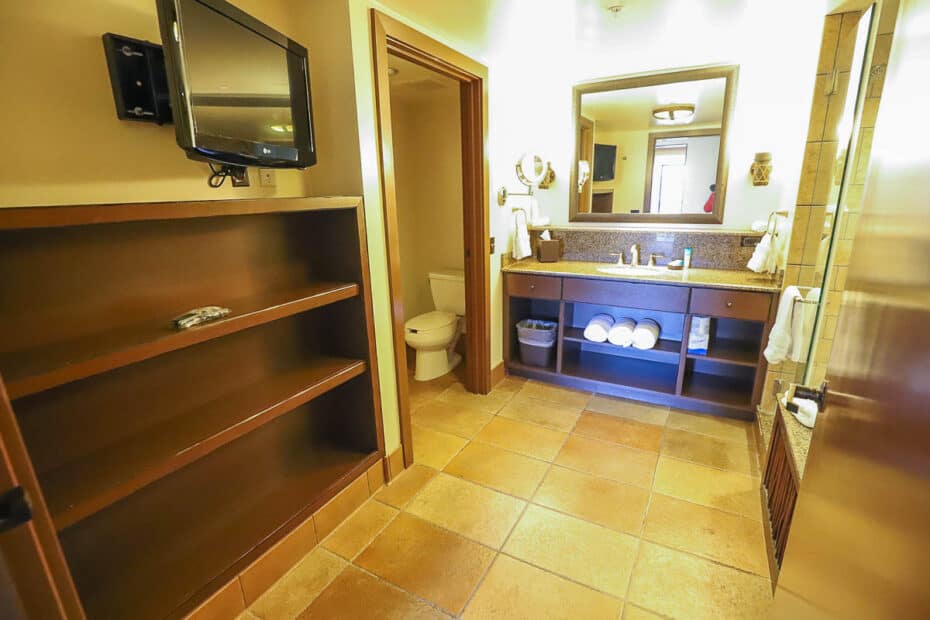 The vanity provides plenty of counter space and storage. I appreciate the ledge built over the sink area. I always use this area to lay out my cosmetics and things when settling into our hotel room.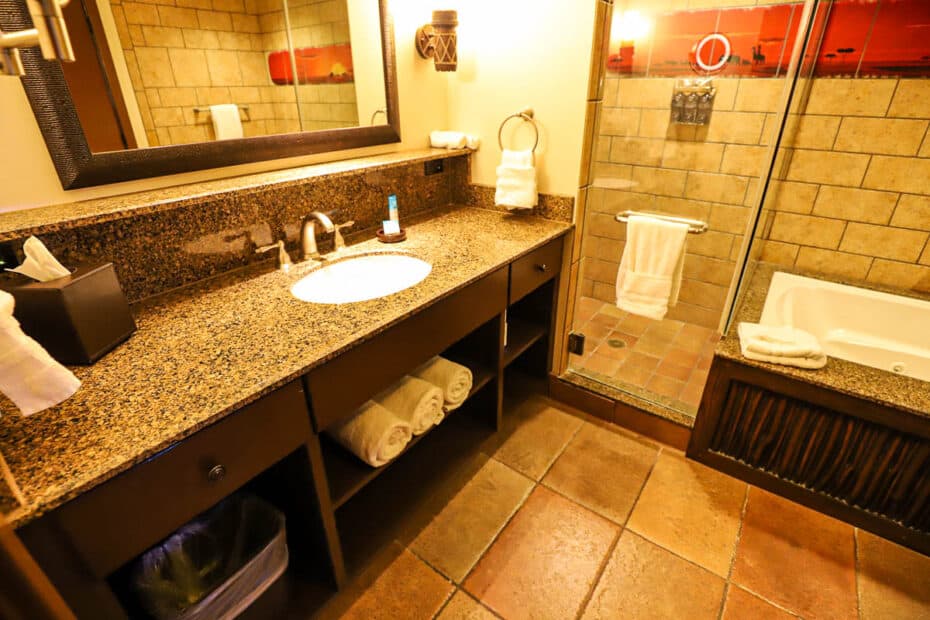 There's a stand-alone shower adjacent to the large jetted tub.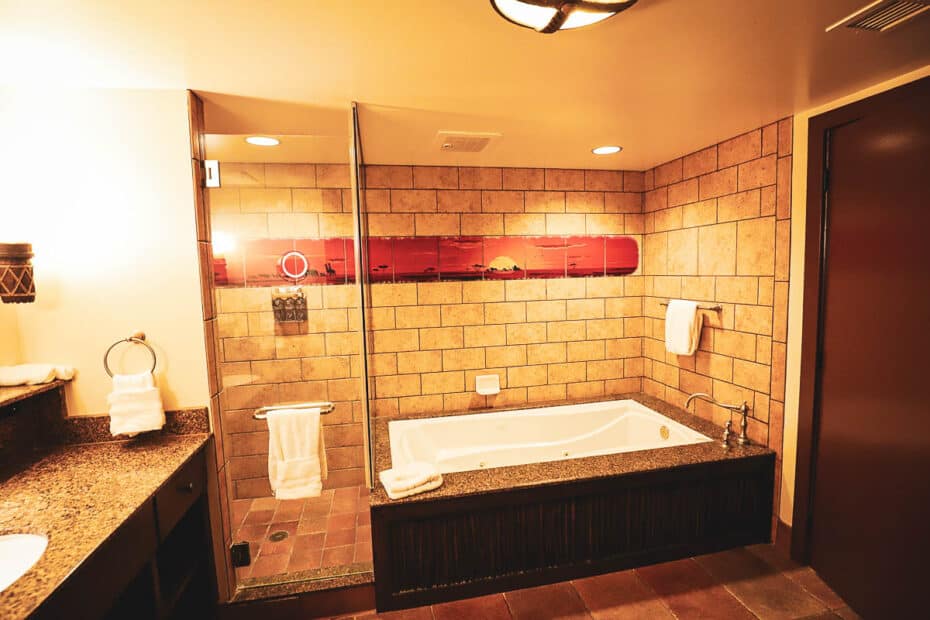 You'll appreciate this asset after you've walked 25,000 plus steps in the parks.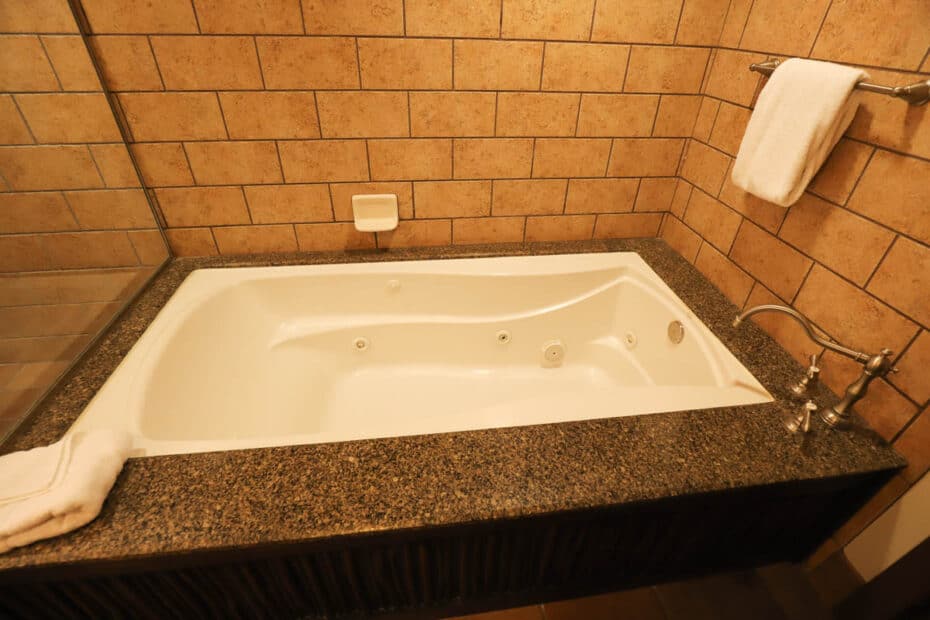 The sunset savanna mural is a nice touch.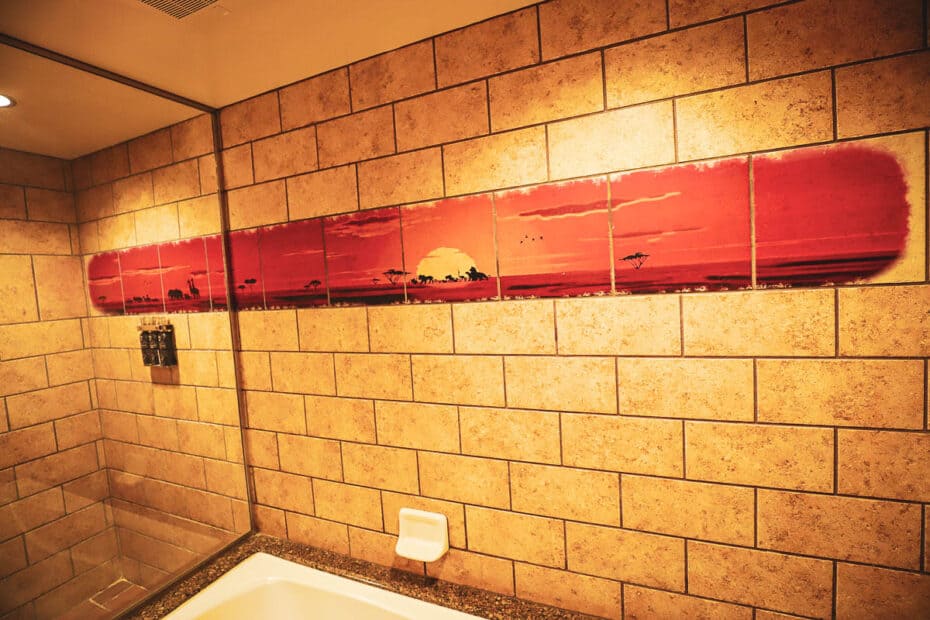 Now that we've seen everything downstairs, we'll head up to check out the second level. A stackable washer and dryer sit in a closet at the base of the staircase.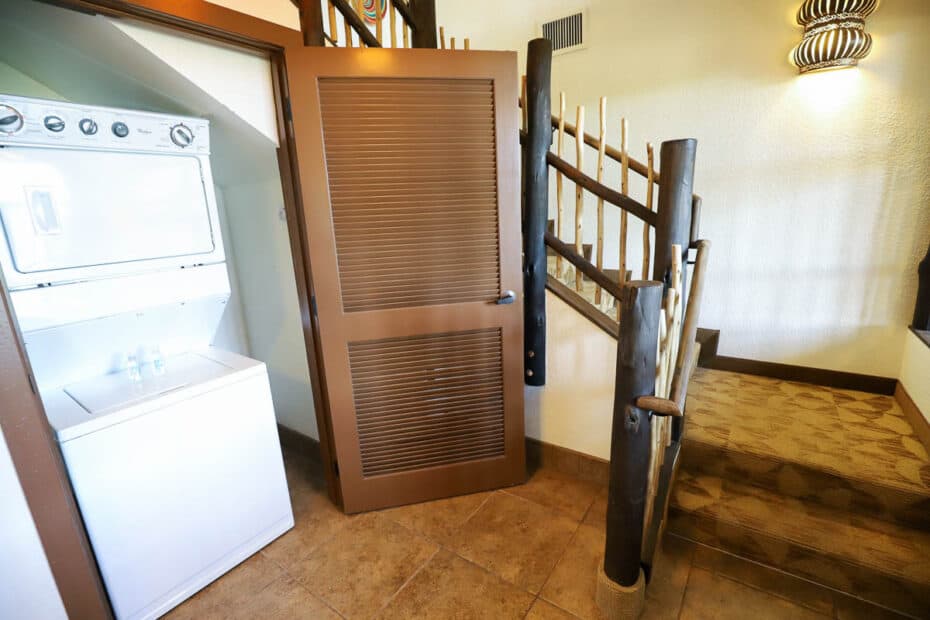 Upstairs the floor plan is split with two bedrooms on each side of the level. A large loft area sits between the rooms.
This first bedroom offers two queen-size beds and has a private balcony.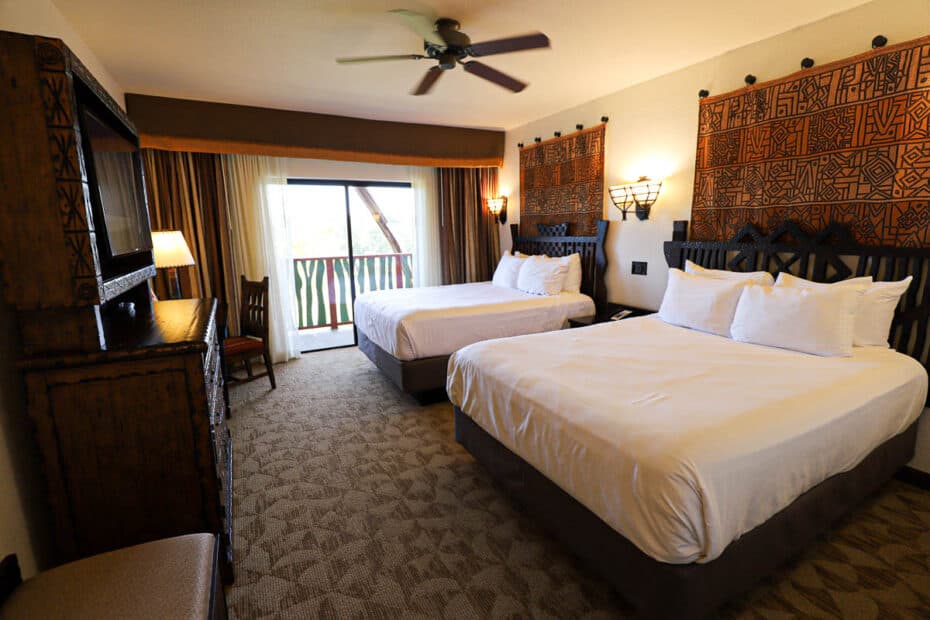 We see the same amenities as downstairs, like a dresser, television, bench, and a desk with a chair.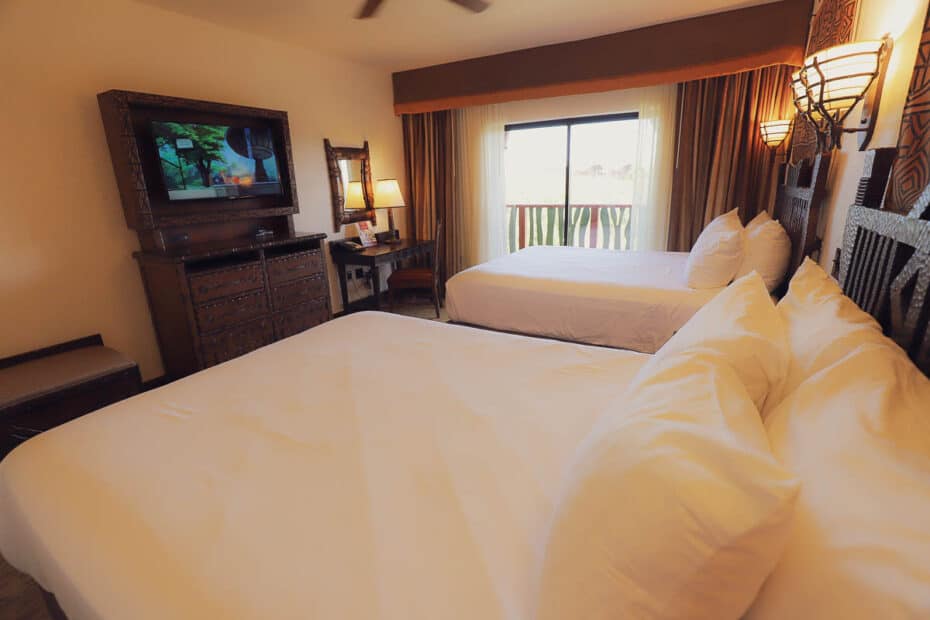 This bedroom has an on-suite bath. In addition, there's a separate water closet in this guest bath, which is a nice touch.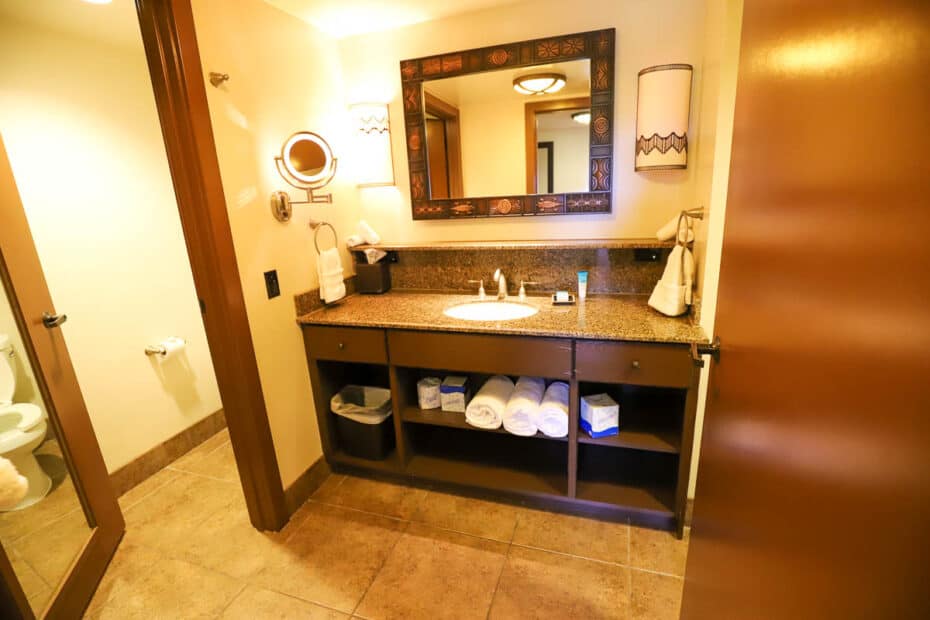 Additionally, the bath features a tub with a shower combination.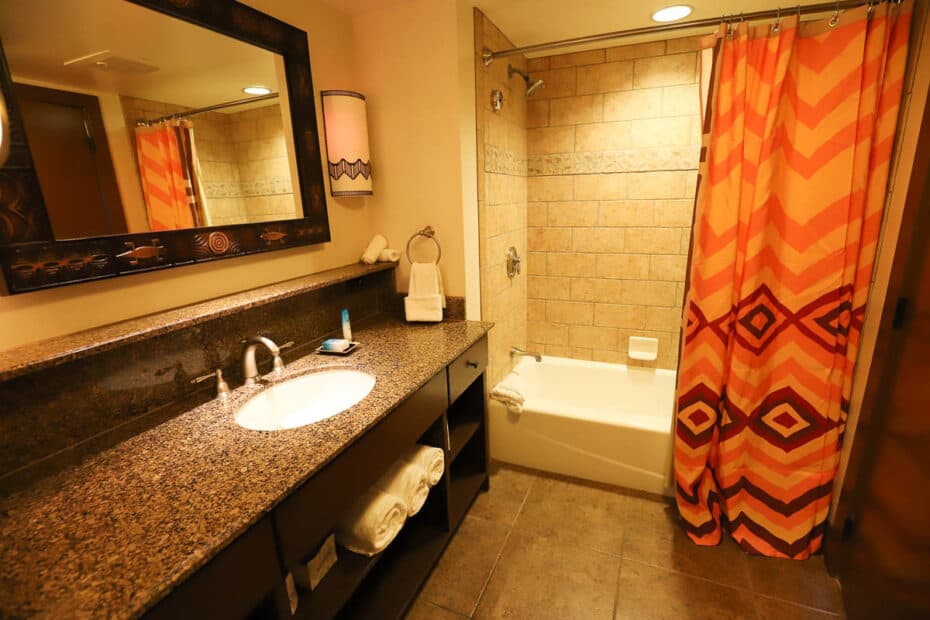 Here's a look at the loft area. The loft is a fun space to hang out, especially if you have a large group.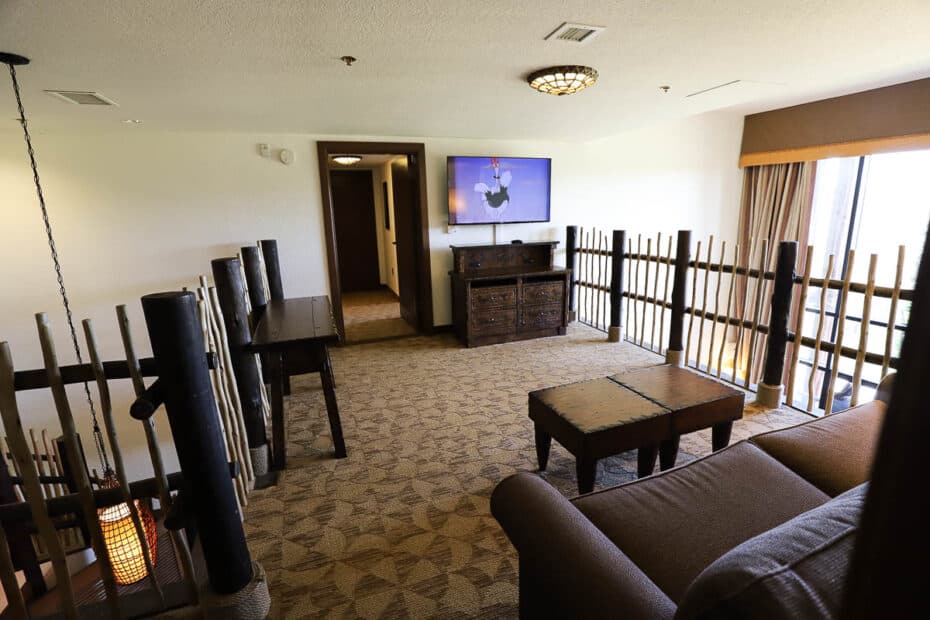 I imagine this space being used about midday when the temperature outside becomes unbearable. Smaller children can go down for a nap while the older ones watch a movie or play a few games.
The third bedroom has the same setup with two queen-size beds, a desk with a chair, a television, and a dresser.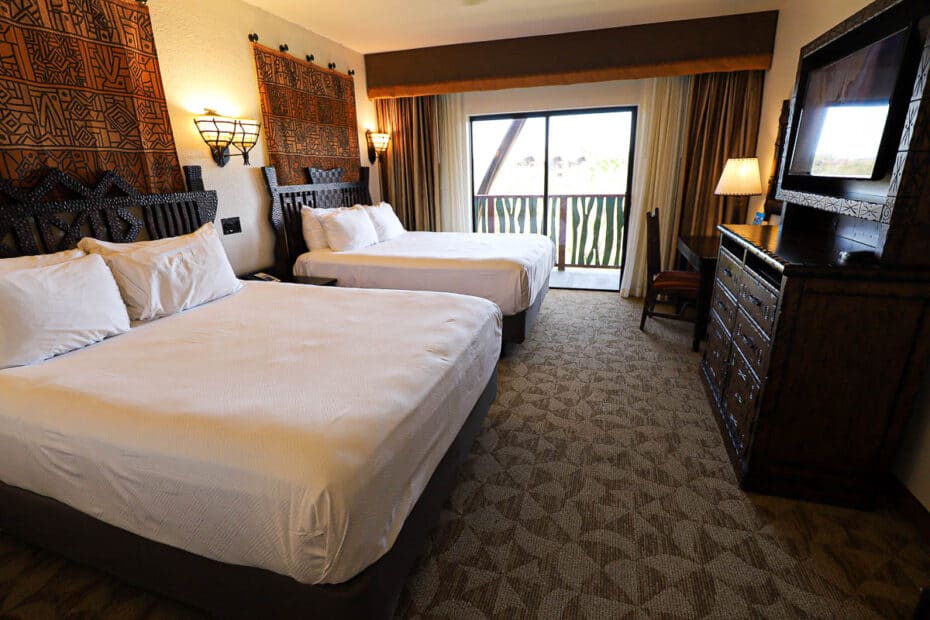 In addition, this bedroom has a private balcony.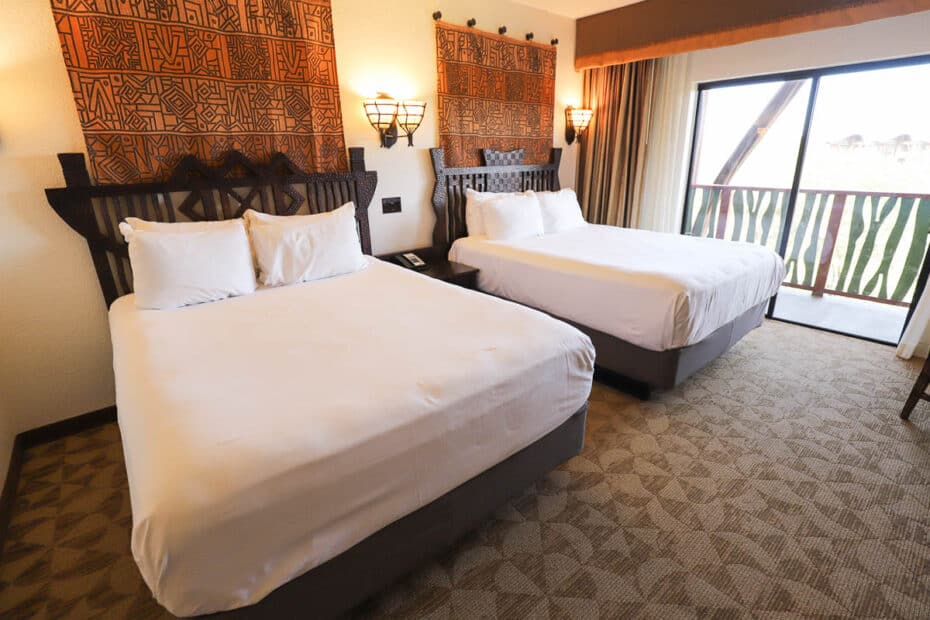 The bath setup is similar, offering a tub and shower combination.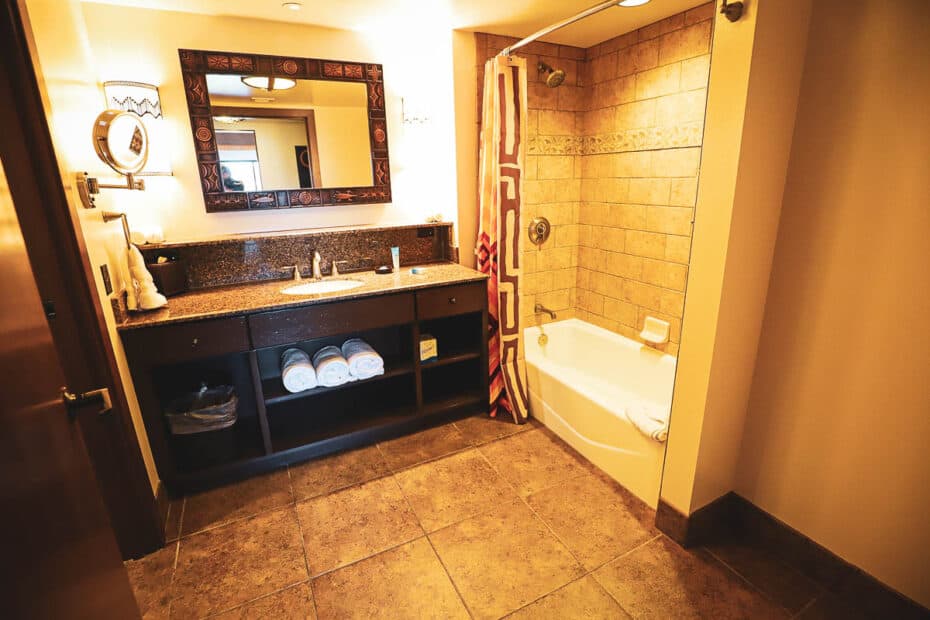 We'll head back downstairs to check out one more very important item.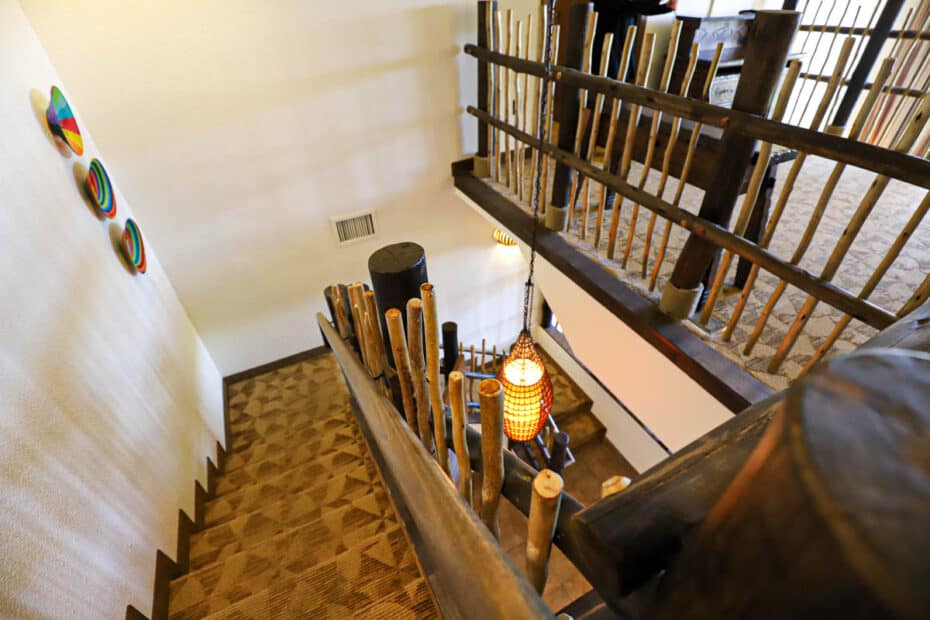 And that's the large outdoor balcony looking out to the savanna.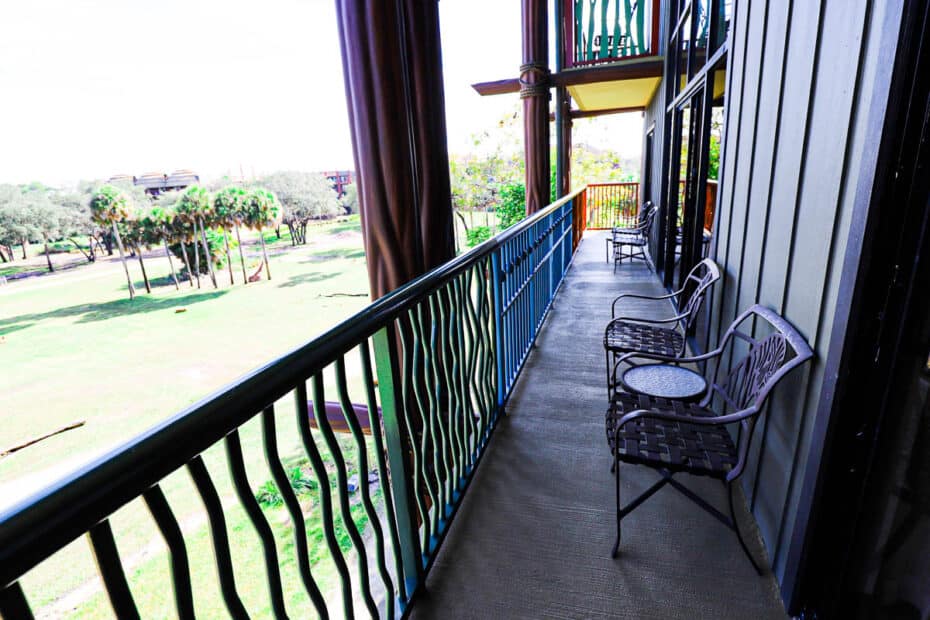 This three-bedroom grand villa has a savanna view. However, there is the option to reserve this unit with a standard view.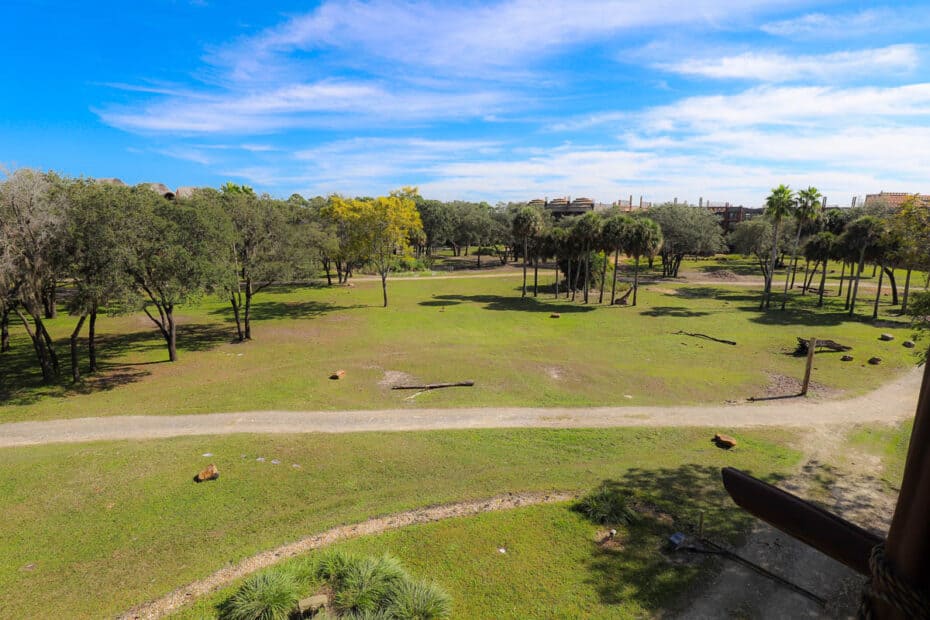 You can see a giraffe resting underneath the trees in the photo below.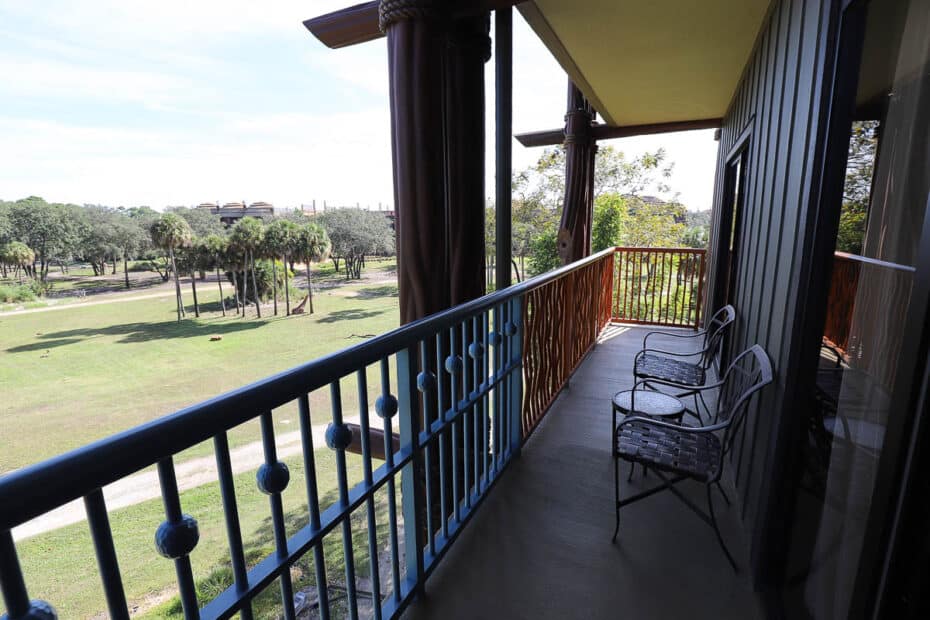 Disney's Animal Kingdom Lodge and Kidani Village are some of the few places I recommend upgrading room views. The savanna view is an extremely rare offering that you won't find anywhere else.
As far as price goes, the three-bedroom grand villa starts at 75 points per night but averages much higher throughout most of the year.
For those paying cash, this unit averages $3000 a night. So you're looking at a considerable investment.
However, there aren't too many places on Walt Disney World property where you'll find such ample space. A few other Disney World Villa Resorts you might consider are:
Additionally, the cabins at the Wilderness Lodge are an excellent option.
For more information about staying at Disney's Animal Kingdom Lodge, all of our articles for the resort are available here. Or you might enjoy the following:
Hopefully, this photo tour of the three-bedroom grand villa at Kidani Village provided you with a good idea of what to expect. As much as I would enjoy a stay here, we rarely travel with the number of people needed to fill this room.
In the comments: What do you think about the three-bedroom grand villa? Have you had the opportunity to stay at Kidani Village before? Would this unit work for your group?
Planning a Walt Disney World or other Disney Destination vacation?
Our friends and travel partner, Firefly Travels, excels at doing Disney differently. You can fill out a plan your trip form on their website, and someone will reach out shortly to discuss the specifics.