Dining Options at Disney's All-Star Sports
Dining at Disney's value resorts works differently than the moderate or deluxe resorts. That's because the value resorts only have two options: a quick-service food court and a poolside bar.
In this article, we'll look at the dining options at Disney's All-Star Sports. We'll preview the End Zone Food Court, the menus, and a few grab-and-go items available during our last stay.
Additionally, we'll check out Grandstand Spirits, the pool bar. If you want to pick up a cocktail, this will be the only place to get one at the resort.
End Zone Food Court at All-Star Sports
End Zone Food Court is open daily from 6:30 a.m. through 11:00 p.m. Below is an overview of the food court's layout.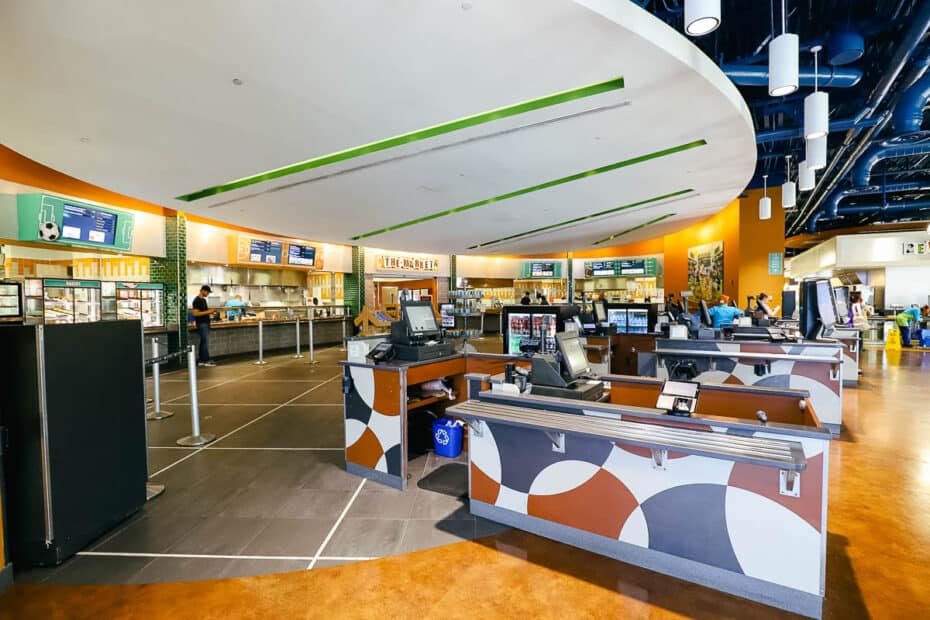 End Zone serves breakfast from 6:30 a.m. through 11:00 a.m. Lunch and dinner are available from 11:00 a.m. to 11:00 p.m. One of the positive aspects is that food items are available at the resort fairly late into the evening.
Most quick services prefer that guests use Disney's mobile order service. However, you can walk up to the stations and order a meal. Several registers are usually open.
But there is something to be said about being able to order a slice of pizza at 10:00 p.m. when you're on a bus from one of the theme parks back to the resort. As you disembark the bus, you'll waltz right in and pick up your order bypassing everyone else waiting in line.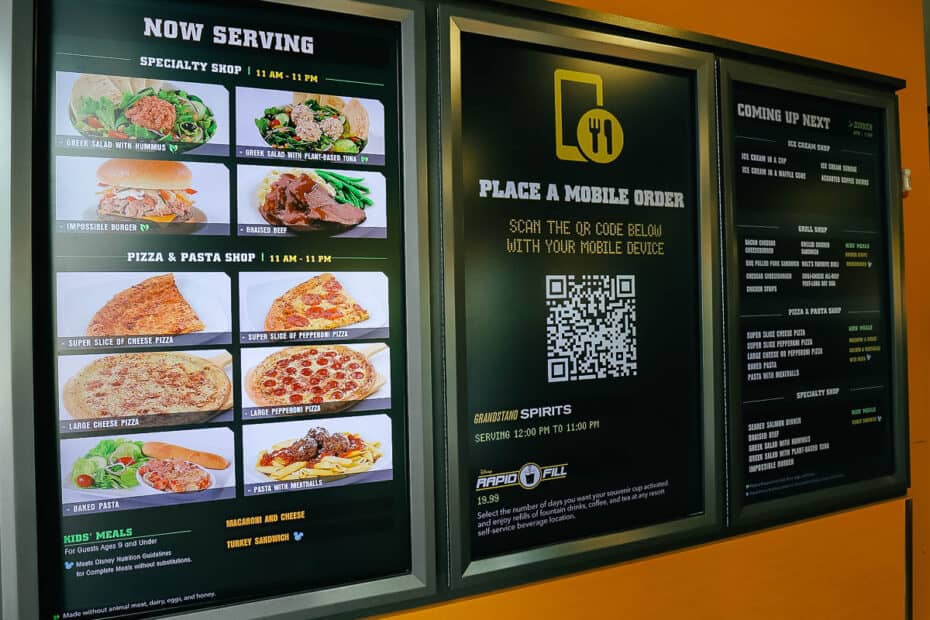 Here are a few menu items that were available during my stay.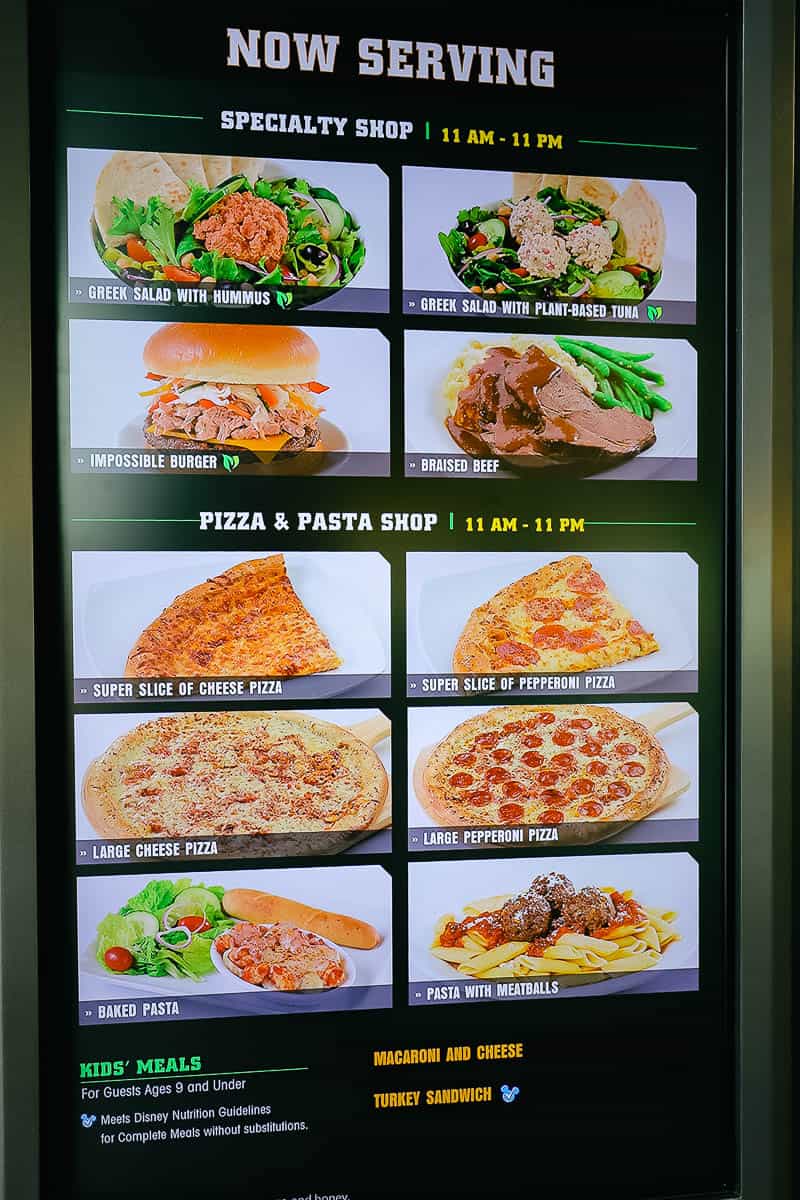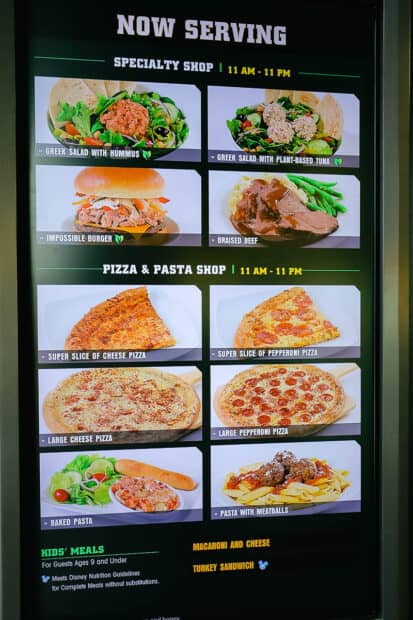 You can get anything from a salad to a foot-long chili cheese hot dog.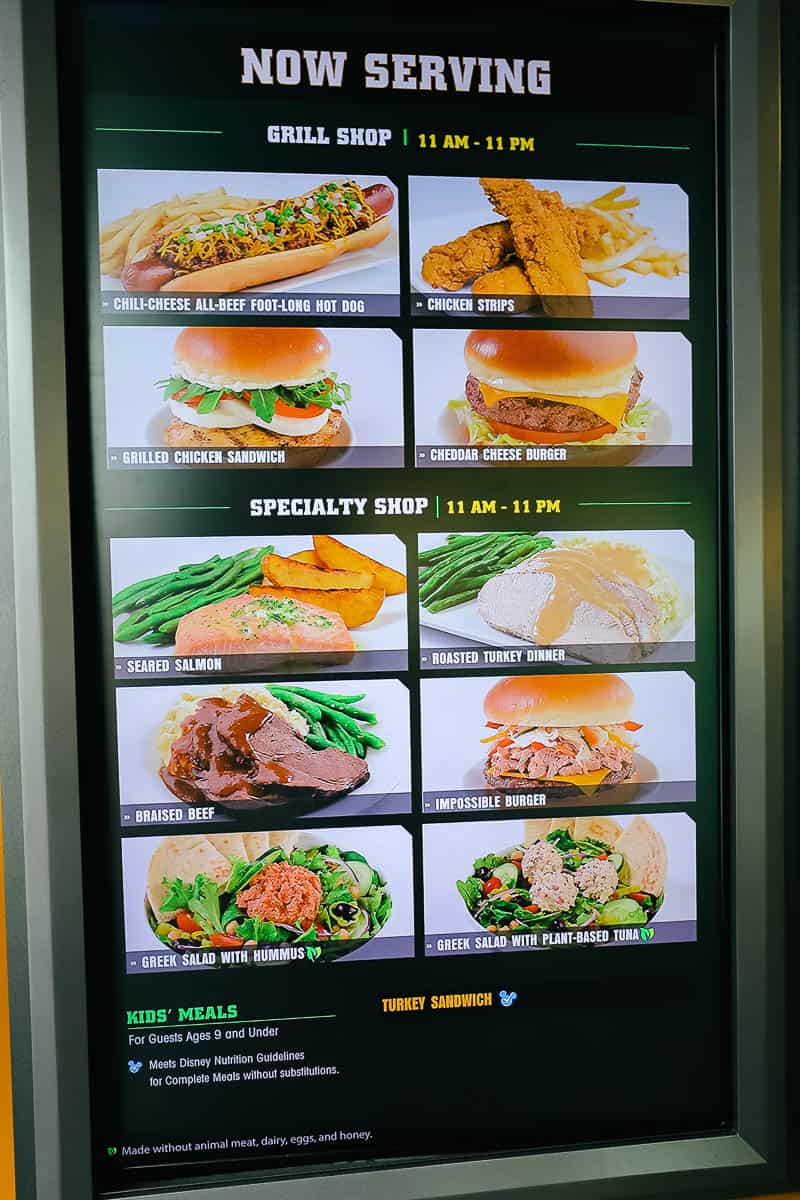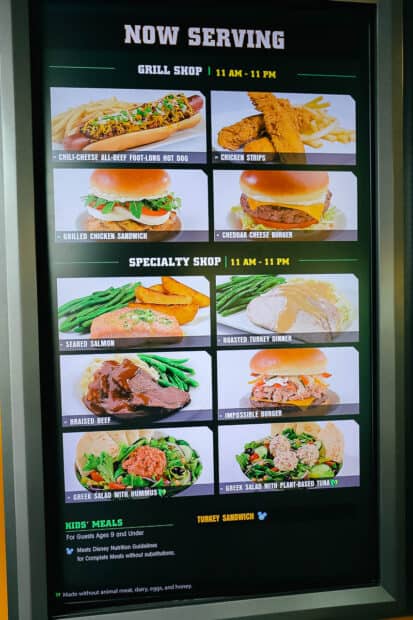 Regular items like burgers, chicken fingers and pulled pork sandwiches were available.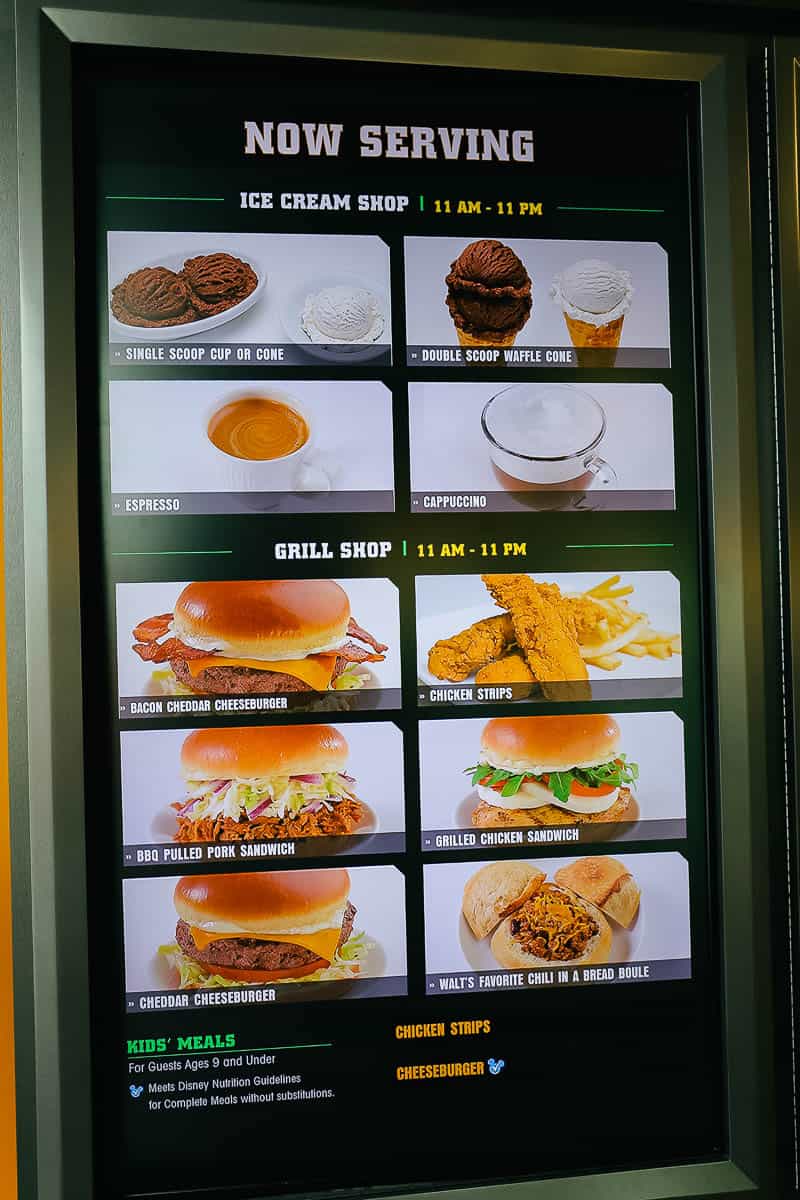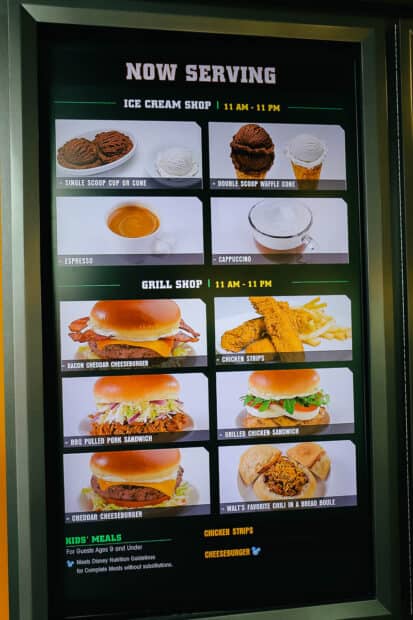 Unfortunately, I never got a photo of the breakfast items. But I did have breakfast at End Zone a couple of mornings. I ordered the kids' oatmeal with a side of sausage.
You can preview the entire menu here on Disney's site.
Below is a section of the food court devoted to desserts.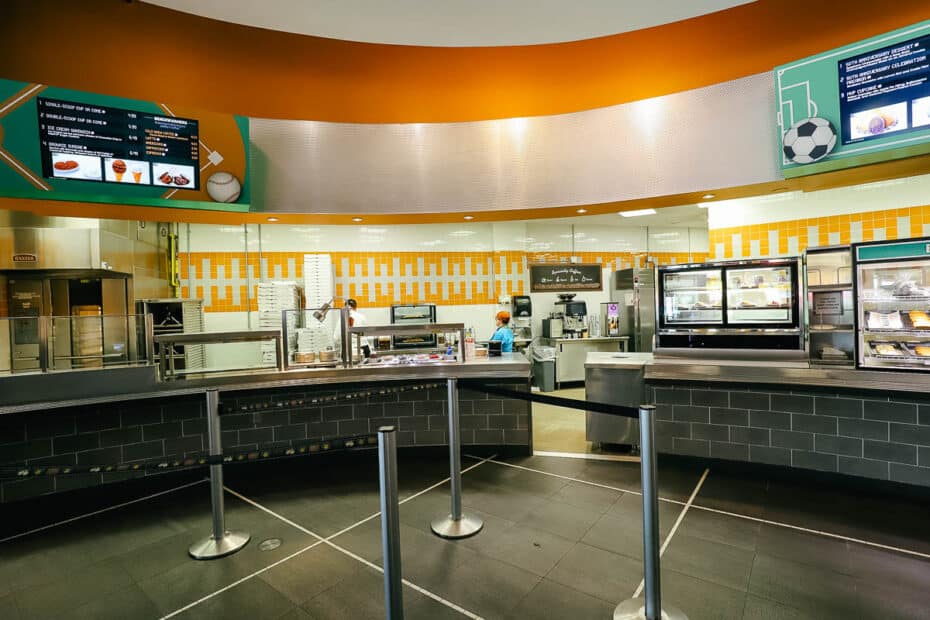 There were cookies, cupcakes, donuts, mini loaves of bread, muffins, and other options.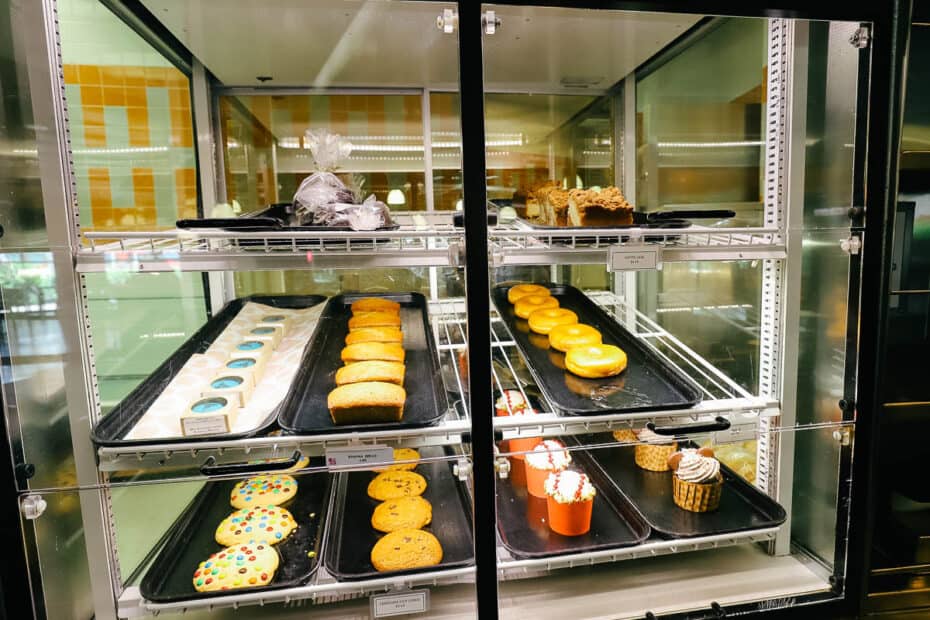 This case had various danishes and pastries.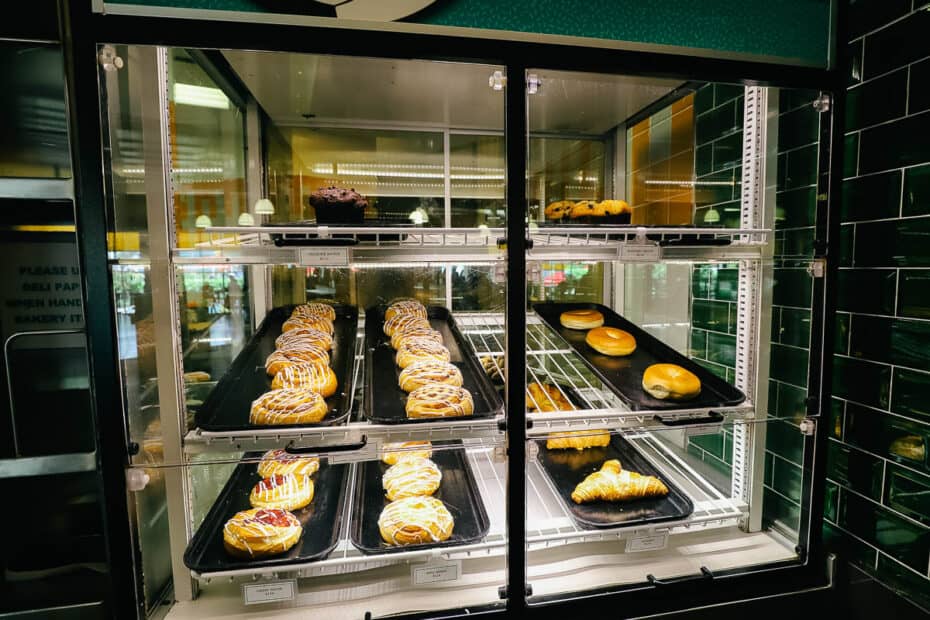 I thought the ice cream shop with toppings bar was a fun idea.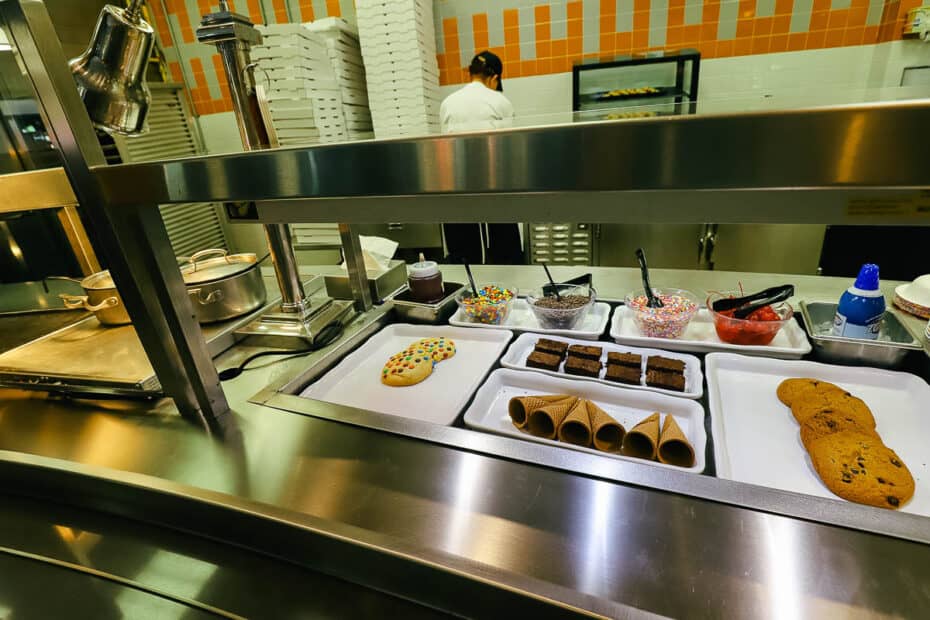 Opposite the ice cream bar, there's a make-your-own salad bar.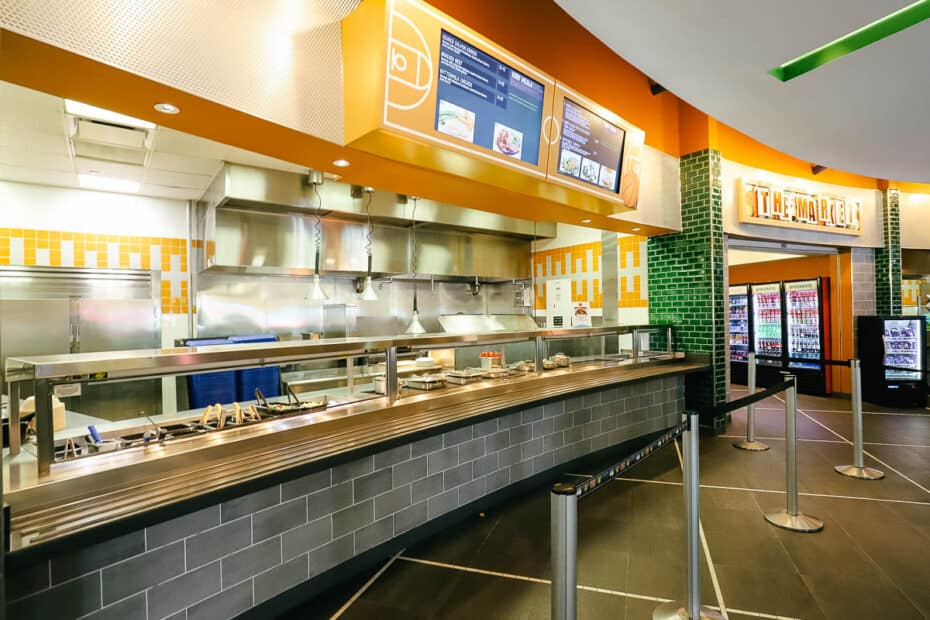 Except someone makes it for you. I don't necessarily have an issue with the current setup.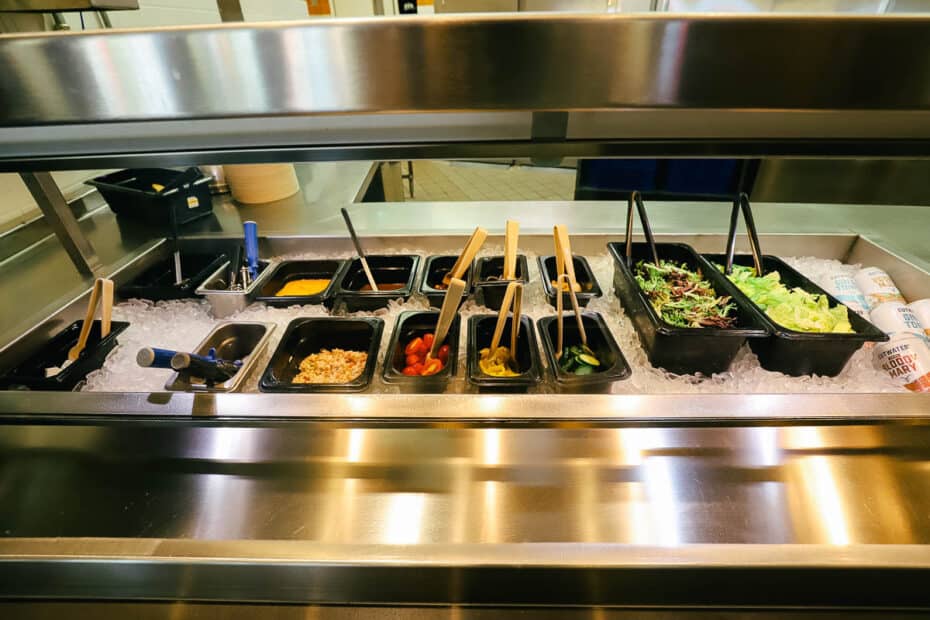 But when I stayed at Universal's Cabana Bay earlier this summer (comparable to one of Disney's value resorts), their salad bar far exceeded this one. It was so good, I had a salad for dinner two nights in a row.
Underneath these lids, there are various hot foods.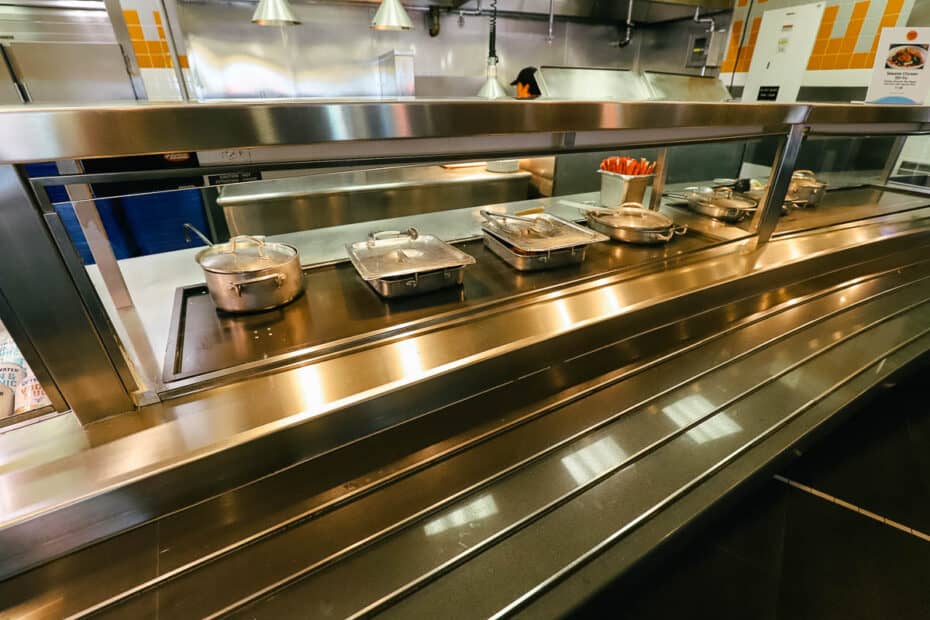 You'll find one of the most popular stations on the far end of the food court.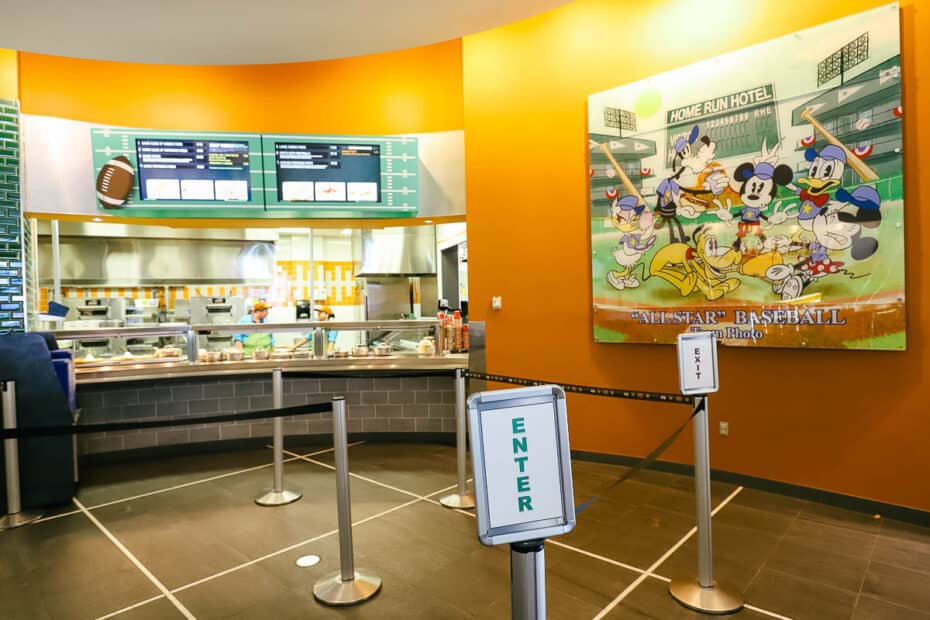 The Italian station has pizza (pepperoni or cheese), pasta, and breadsticks.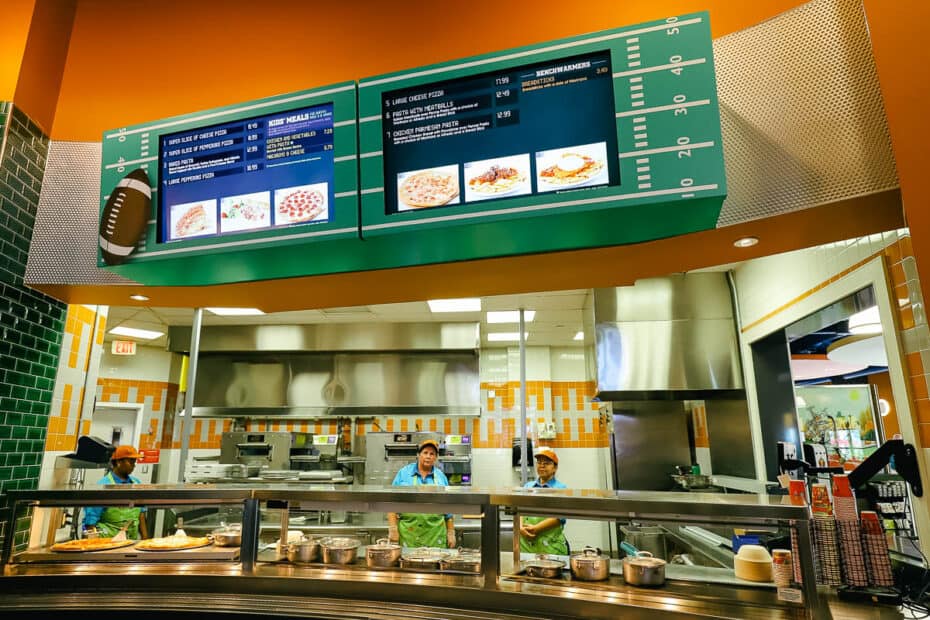 A full day in the theme parks equates to a giant slice of pizza right before bed. Or not?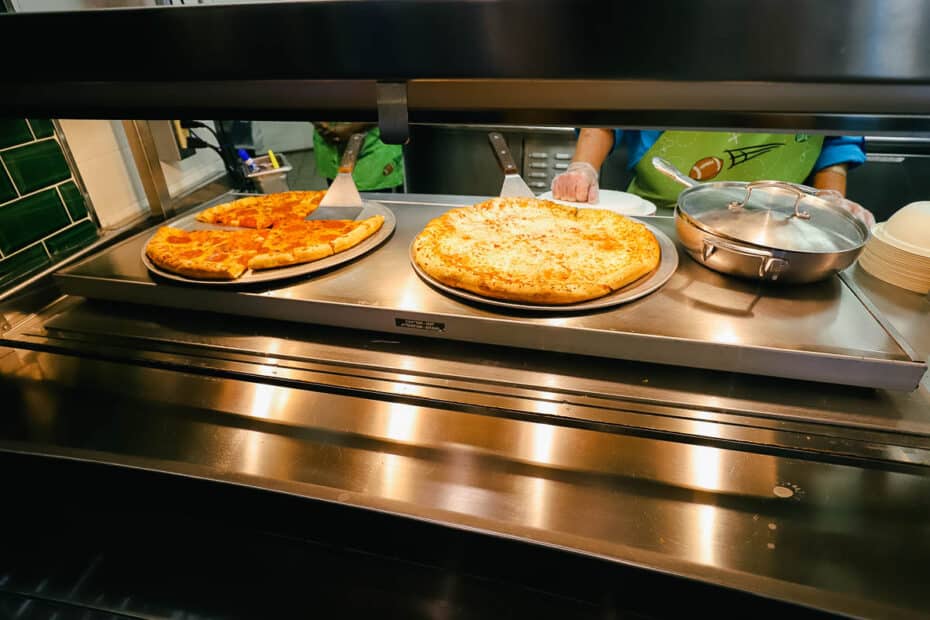 You might prefer chicken nuggets instead. Seriously, how often do you visit Disney World without consuming an order of chicken nuggets at least once?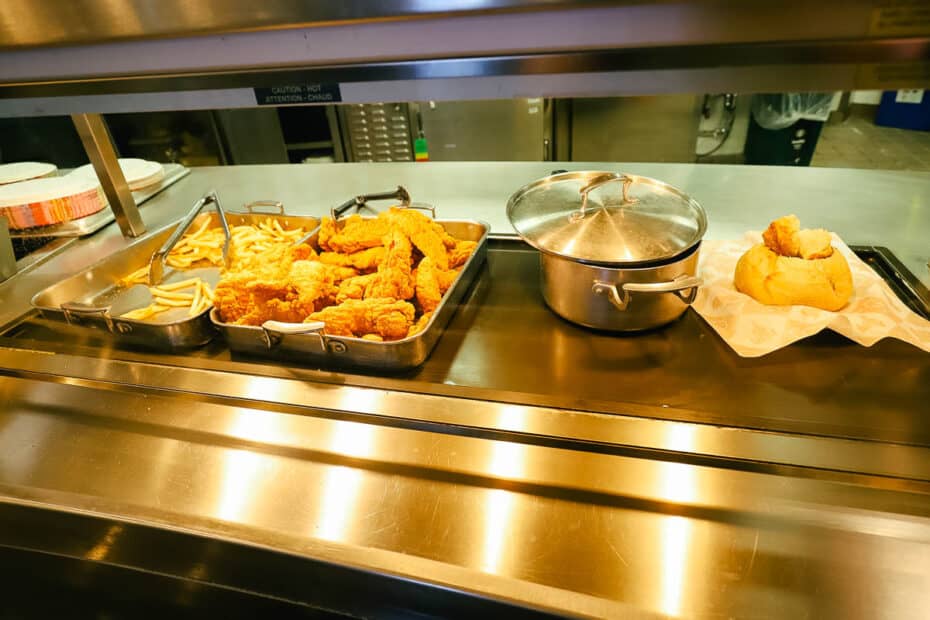 When I took these photos, I noticed signage indicating a special item was available. You may or may not find limited-time offerings on your visit.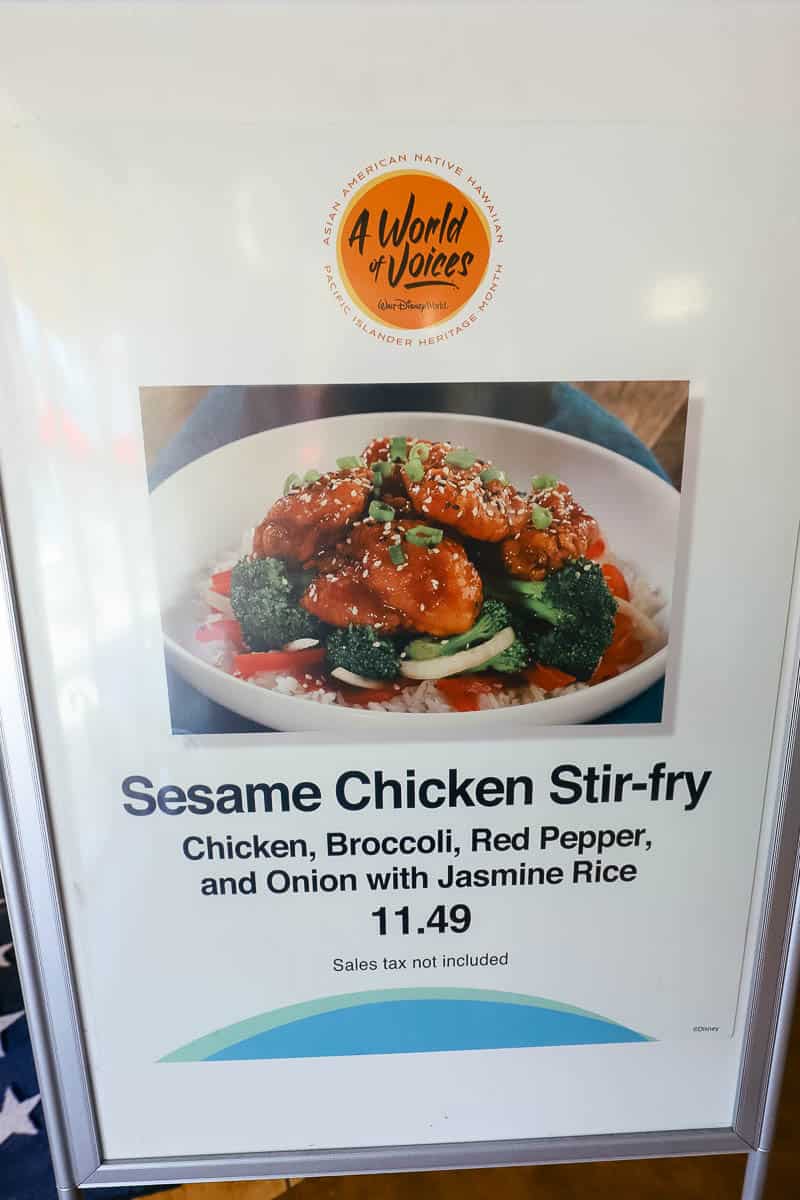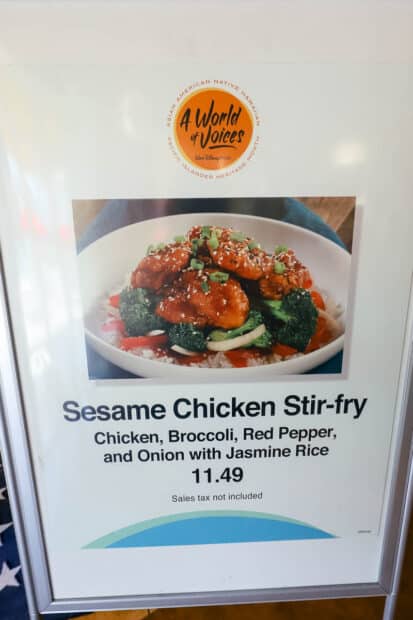 A few grab-and-go items are available inside the food court. Here we have chips and a selection of Enjoy Life products (allergy-friendly).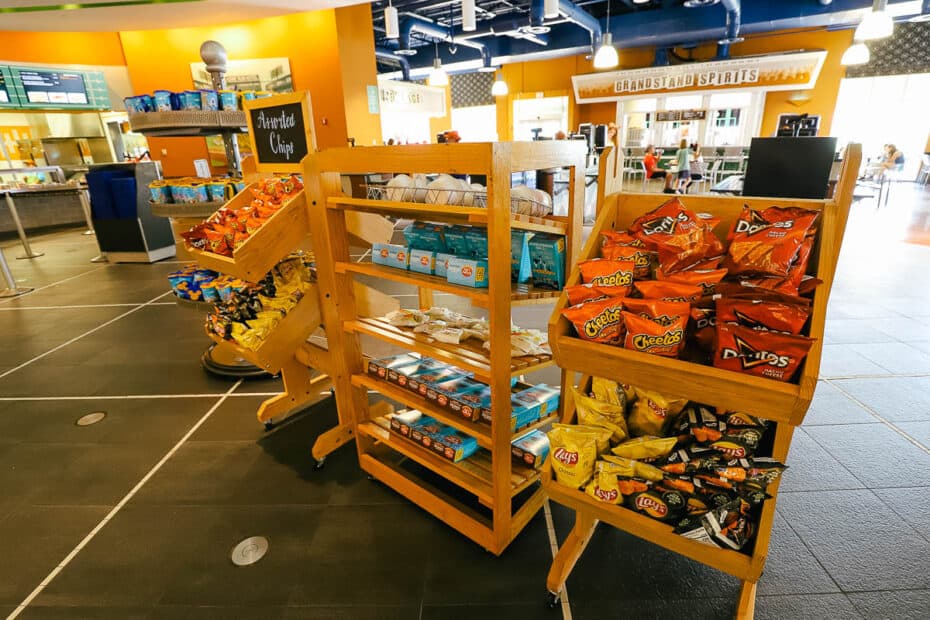 At the back of the food court, there's a large area that says The Market. This space consists of refrigerated cases.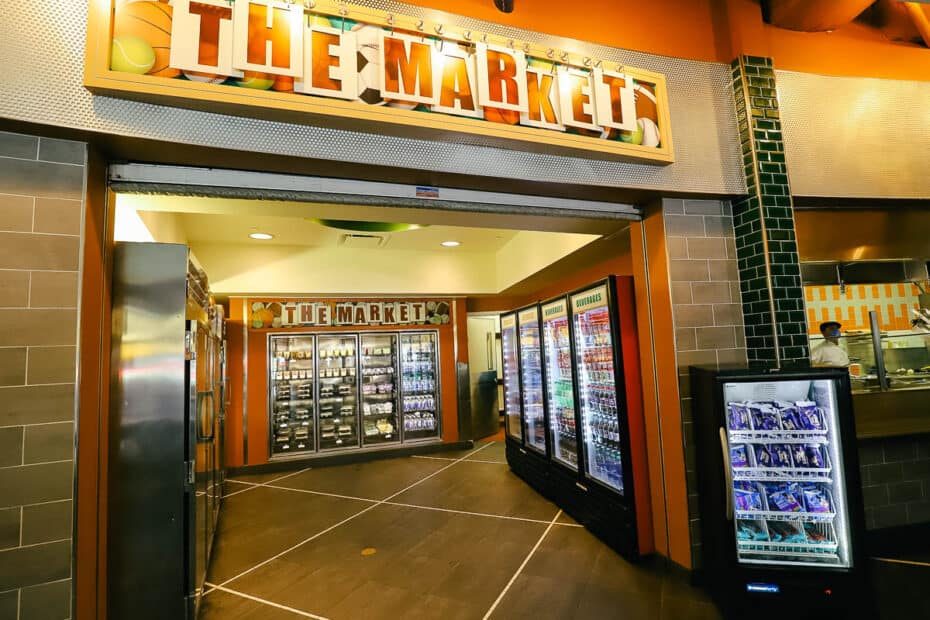 I was impressed with the selection of soft drinks, sports drinks, and other beverages.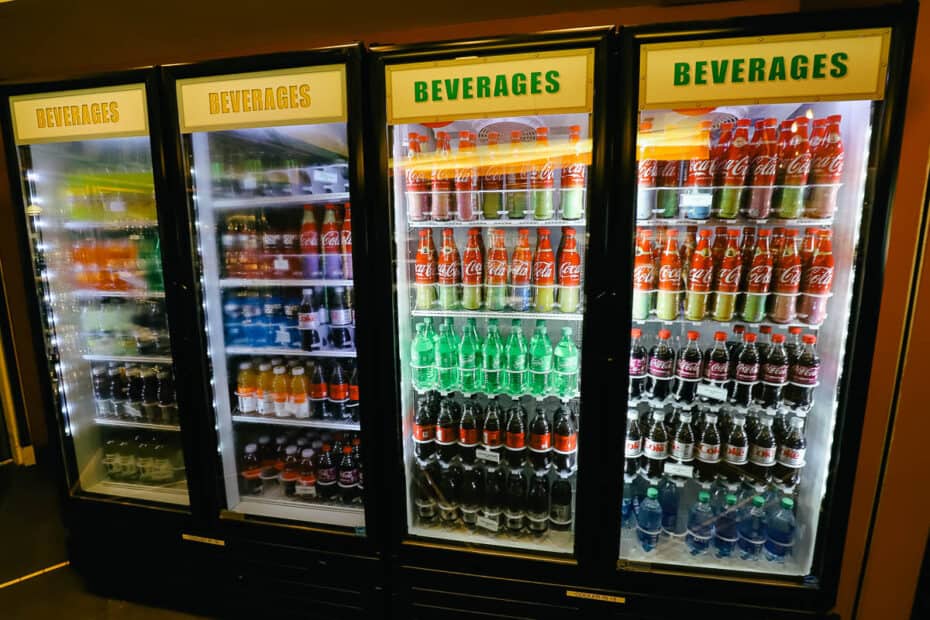 Here we have fruit cups, pre-packaged salads, and other items. I've got to where I drink Smart Water a good deal to help replenish electrolytes.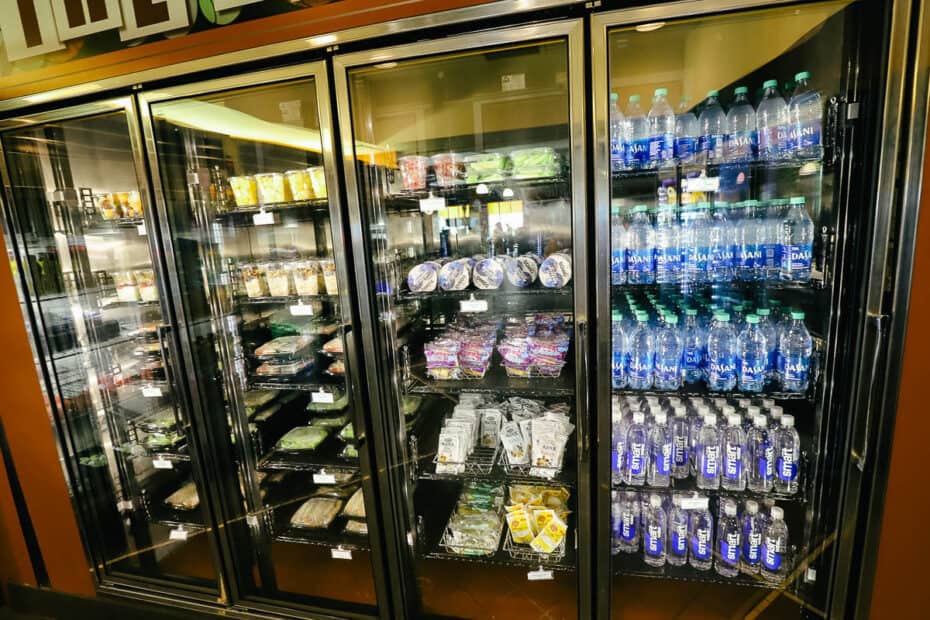 Here are a few other items: grapes, honeydew melon, blueberry yogurt, and Uncrustables.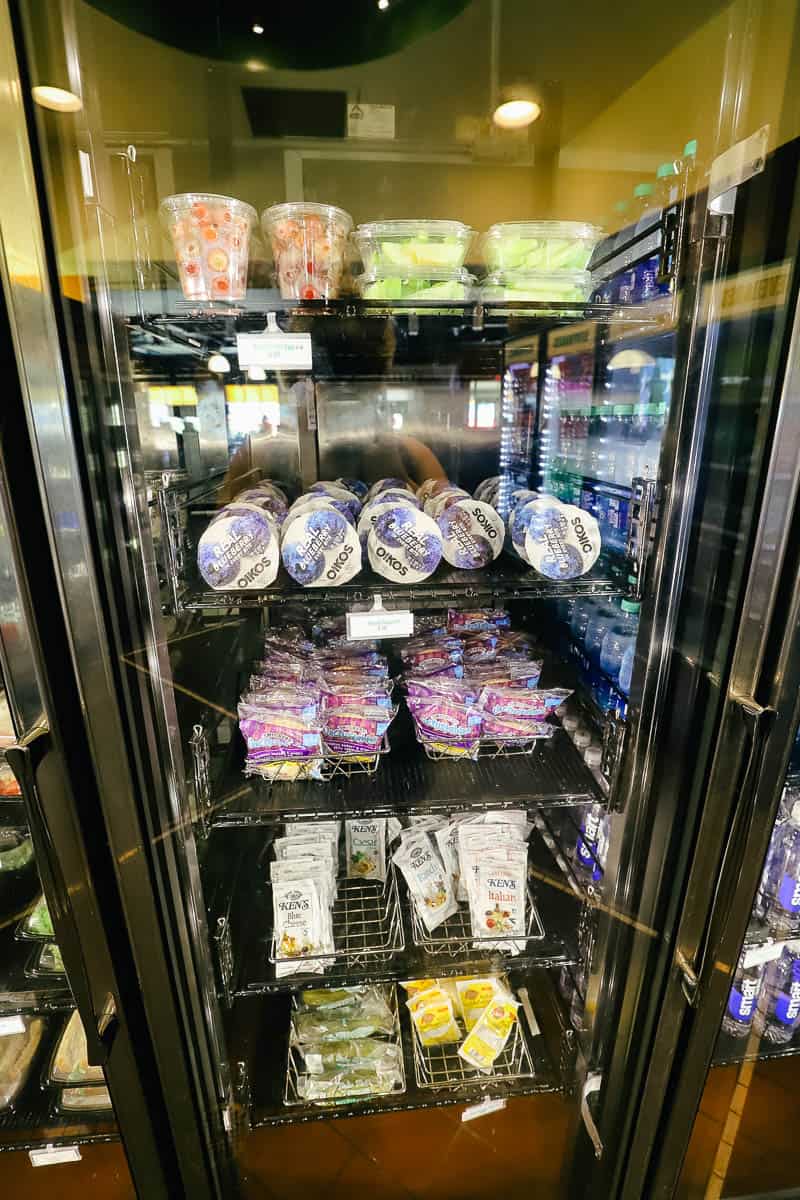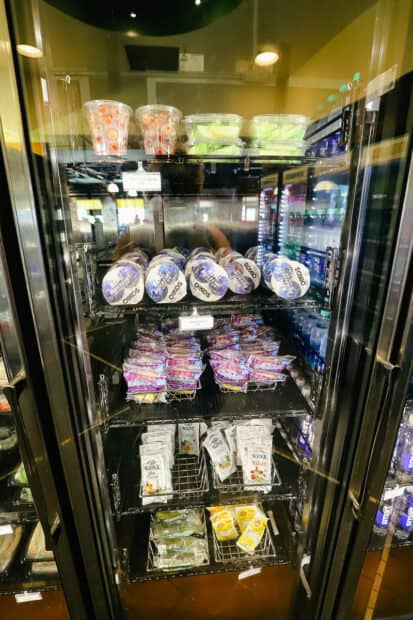 I'm not a big fan of pre-packaged salads and sandwiches, but I often buy these fruit cups.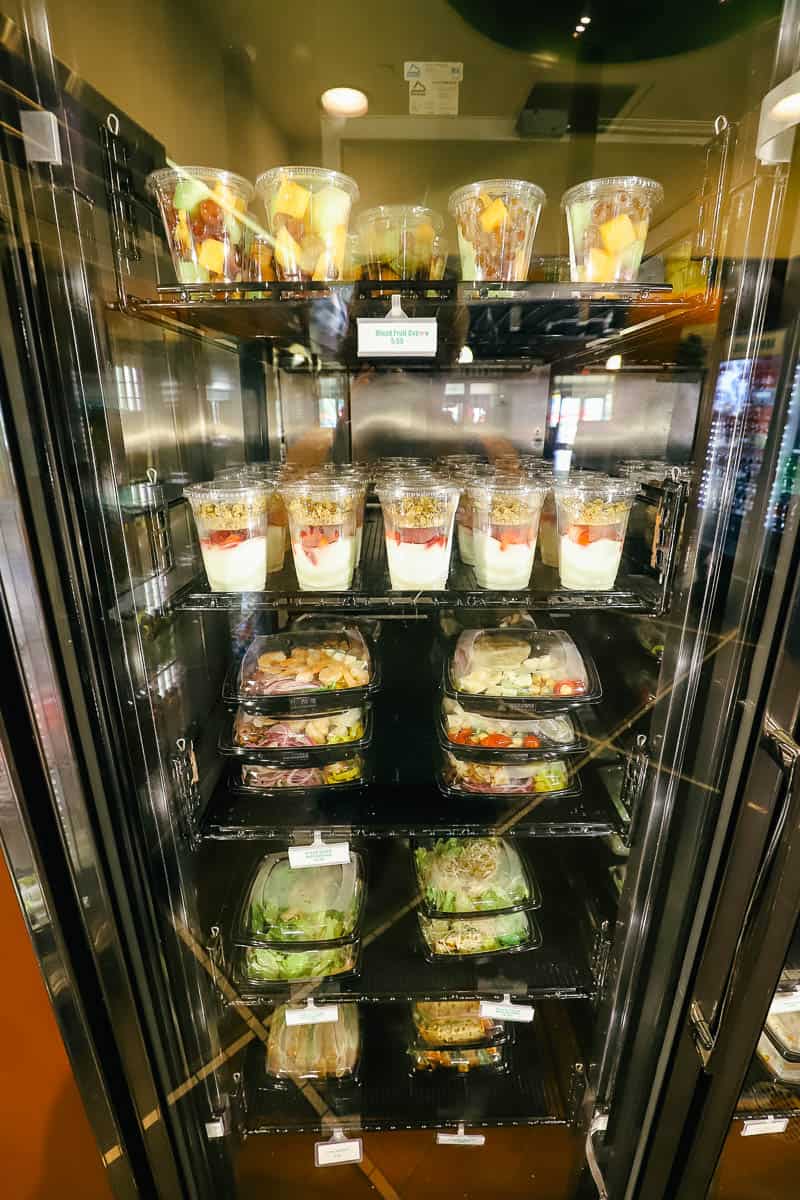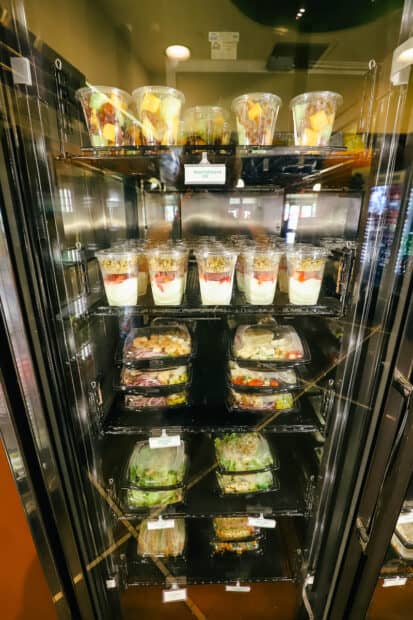 Here we have orange juice, Silk products, regular milk, flavored milk, and other condiments.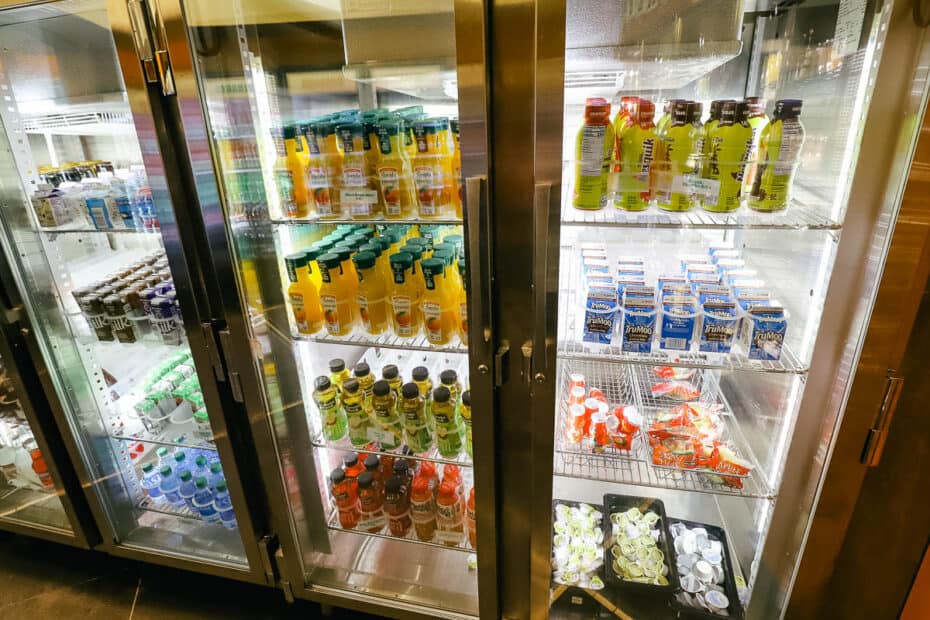 On the far end, we see a selection of wine and beer.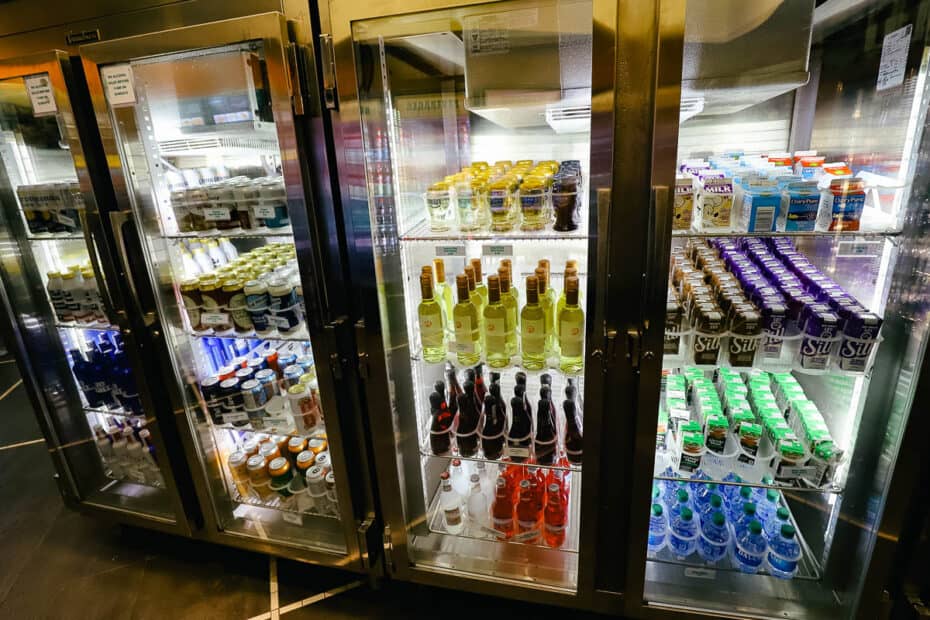 Here's a close-up in case you're wondering about the variety.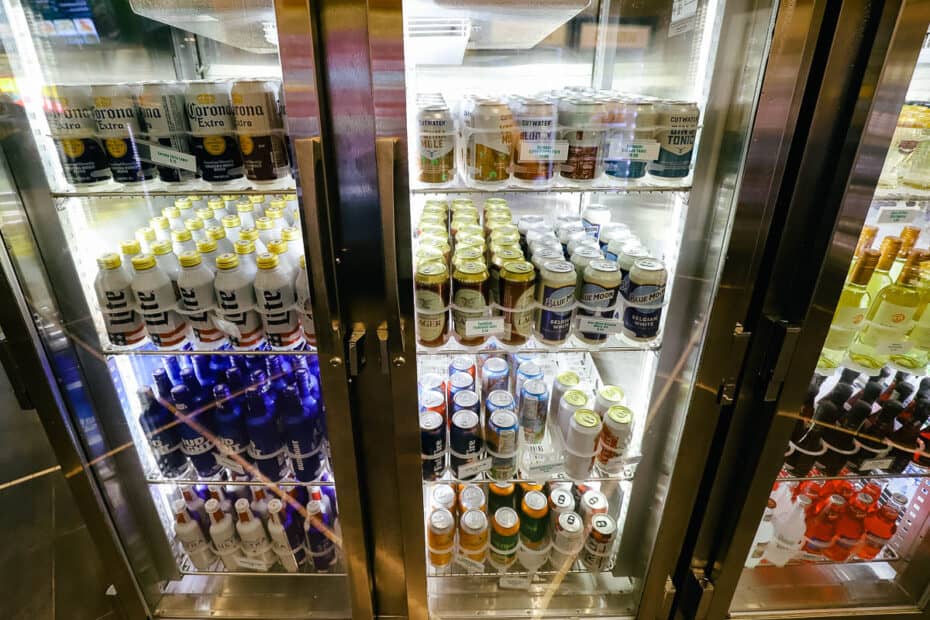 All-Star Sports offers a Rapid Refill mug option for the length of your stay. You can purchase the mug and refill it here at End Zone.
However, you can purchase disposable cups at the register if you prefer.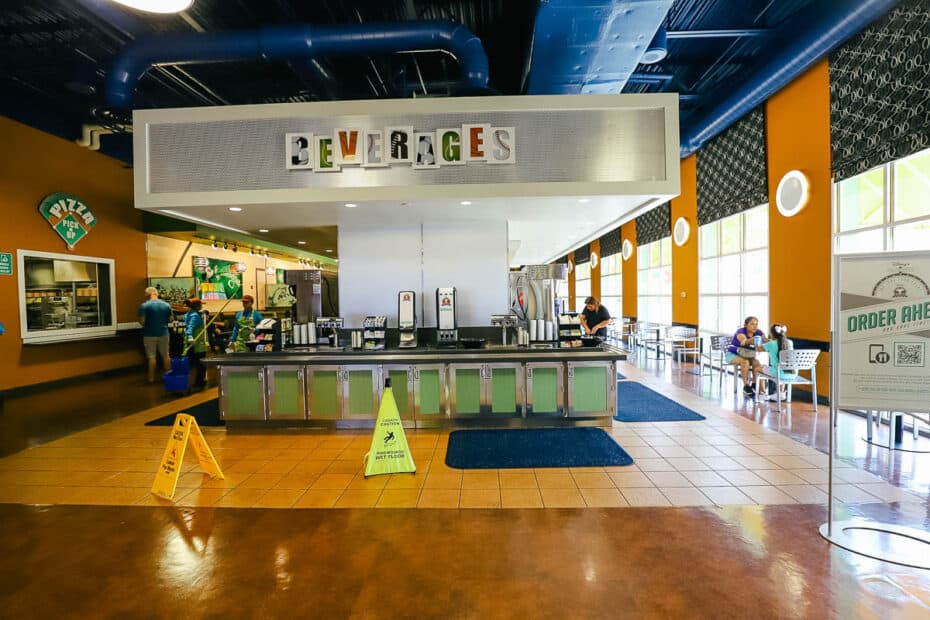 Fountain drinks, tea, and coffee are available.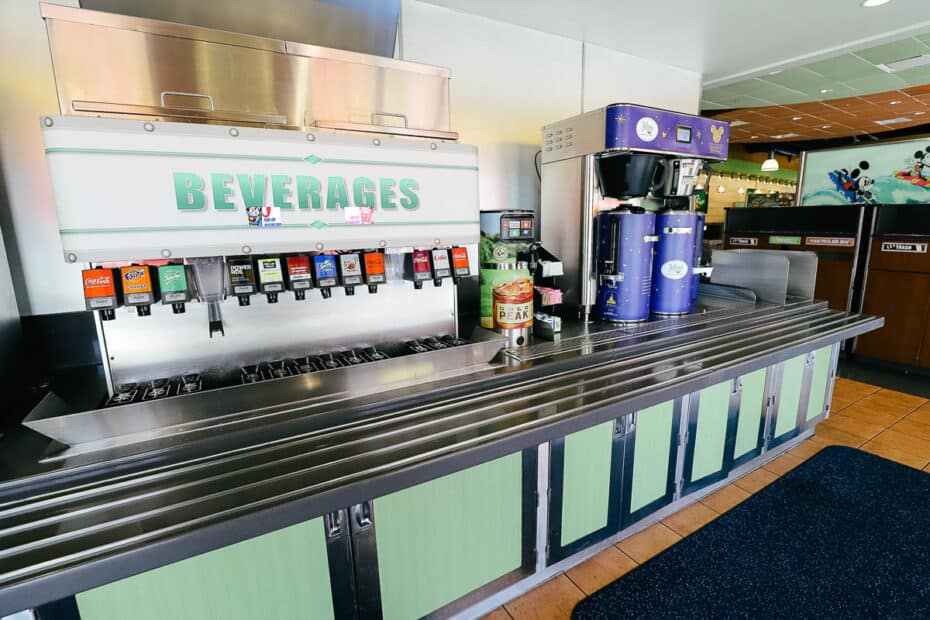 Here is a close-up of the selection of fountain drinks.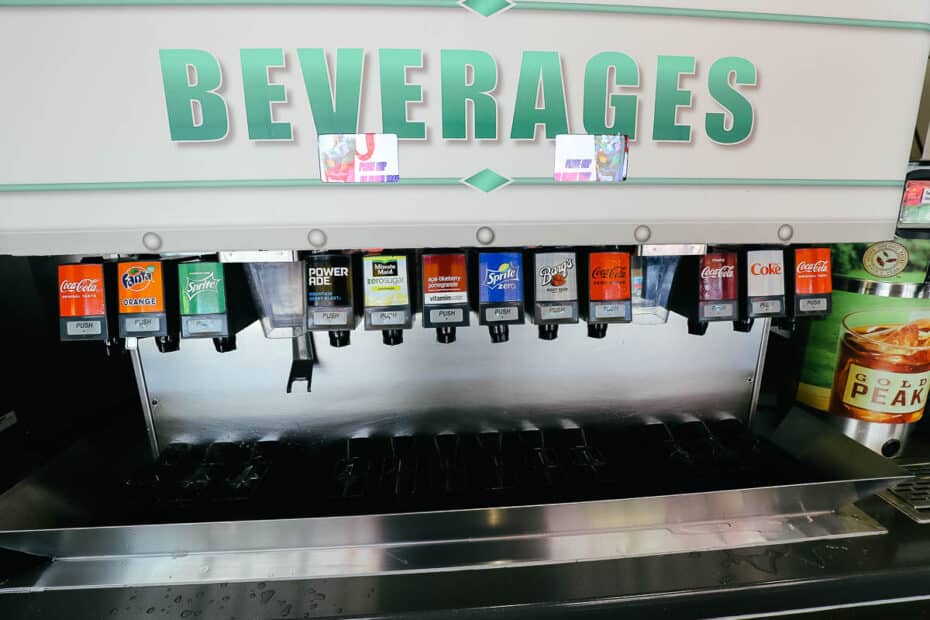 One of the things I appreciate most at the All-Star Resorts is the dining halls at each food court. They all offer plenty of room.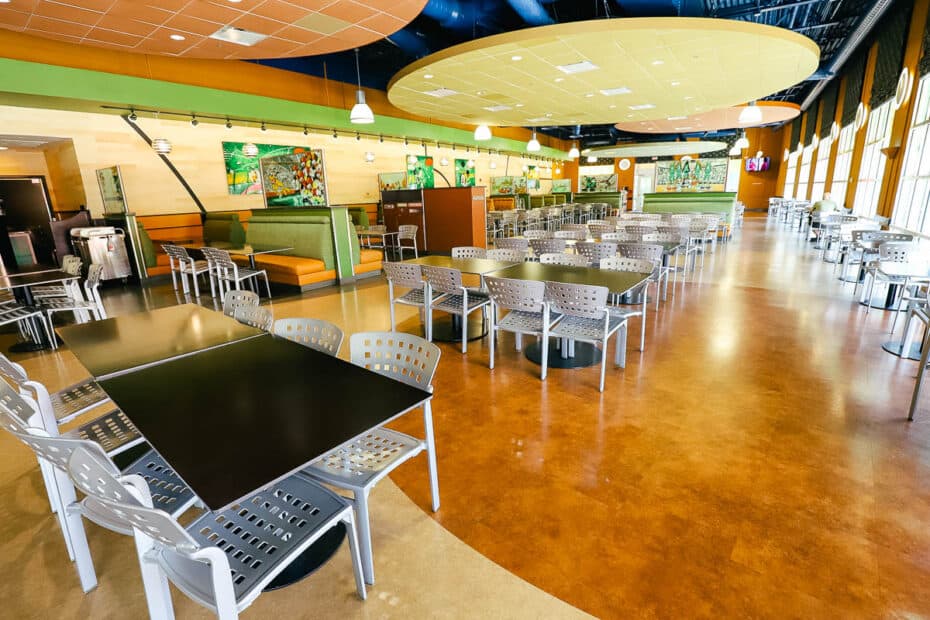 With that said, the food courts can get crowded when a large number of school groups are staying at the resort. We stayed at All-Star Music one year over Spring Break, and I remember their food court being substantially crowded due to school groups.
Grandstand Spirits
All-Star Sports has one bar that serves a cocktail menu, Grandstand Spirits. The pool bar is outside between the Surfboard Bay Pool and the End Zone Food Court.
Related: The Pools at Disney's All-Star Sports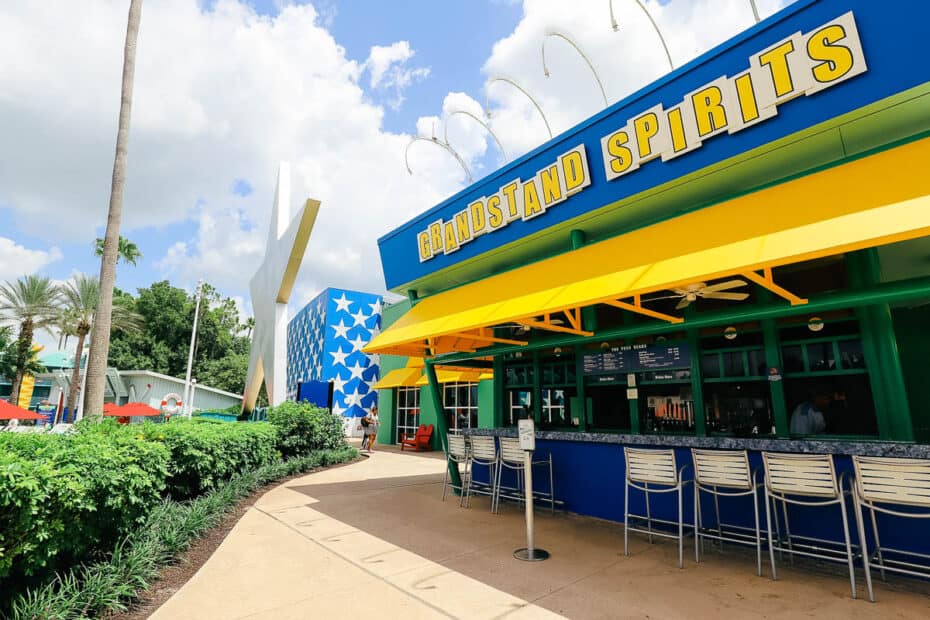 A separate ordering window is available inside the food court.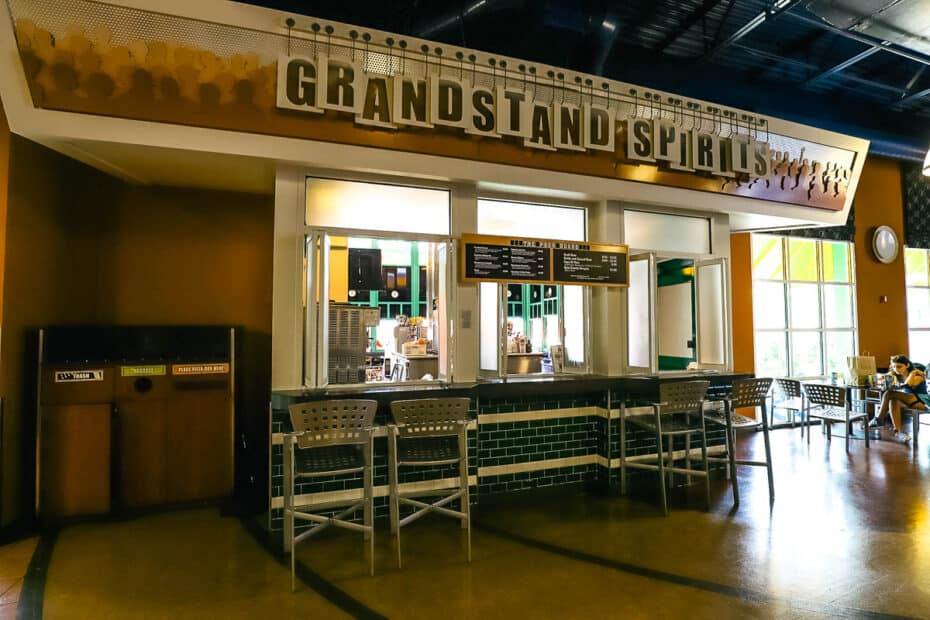 Here is a look at the menu which is mainly made up of specialty cocktails. A few items like pretzels, chips, and pre-made salads are available. You can preview the menu here on Disney's site.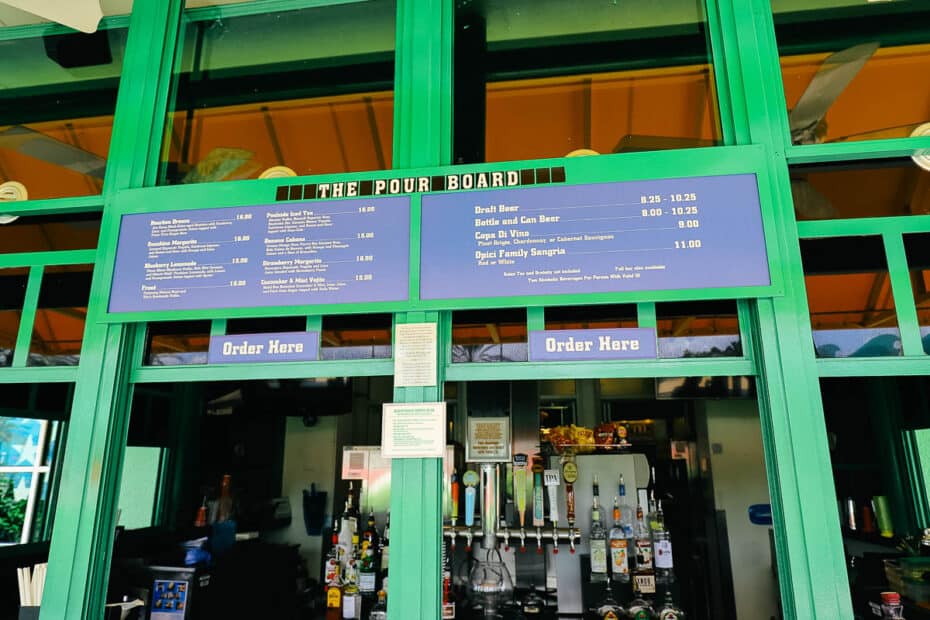 Overall, I felt there was a decent selection of food items at Disney's All-Star Sports. However, unfortunately, I don't think you would want to rely on eating the majority of meals at the resort.
While there is variety, food courts can get old quickly. It seems like there could be more options. Often, I wonder why Disney doesn't partner with several fast-food chains to provide a better selection.
I have no idea how something like that would work. But I do see plenty of guests having McDonald's, Chick-Fil-A, and pizza delivered to the resort.
One evening on my way back, I even picked up Chick-Fil-A to bring back to my room. Ultimately, it sounded better than a slice of pizza or chicken nuggets.
In the past, Disney was a bubble. You flew there, got on their bus at the airport, ate all of your meals there, and never left until it was time to go home.
Now you plan a trip to Orlando and visit Disney World while you're there. So if you don't care for the options at the food court, you can always order something you know you'll like and have it delivered.
As a business owner, having to tell you that makes me cringe. But I'm sure not going to sit in my room enjoying my chicken sandwich and waffles fries and tell you that your dinner needs to come from the food court.
It doesn't. And that's not necessarily due to modern technology. There's always room for improvement.
For more information about this resort, try our full guide.
Or you might enjoy these other articles:
For more dining details, preview all of our Disney Restaurant Reviews.
In the comments
What are your thoughts on the dining options at Disney's All-Star Sports? Would you eat most of your meals at the resort? Or would you consider ordering takeout from nearby?